Hi guys! This time it's just me, Happy. As usual Busy is always busy so when there's a trip which just popped up, he can't join.  This time I'm with two of my friends, Michael and Chris.  So here is our quick spontaneous trip in Vigan! Oh yes we did not plan this! It just popped up!
Come on! Let's go to Vigan!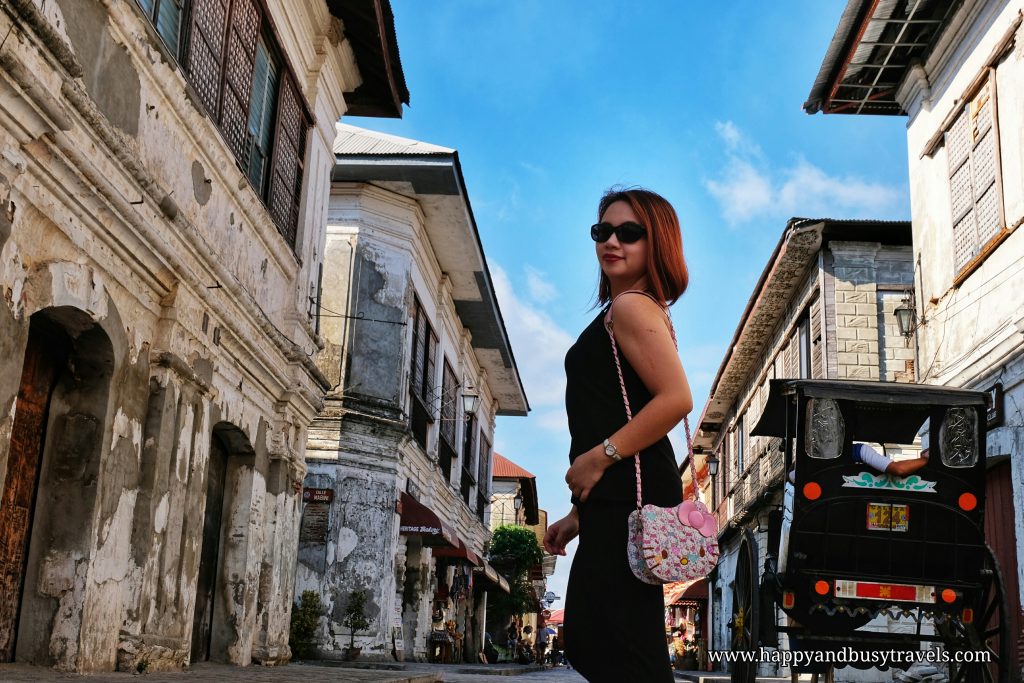 Vigan is a city in Ilocos Sur, in the northwestern part of the Philippines. According to a post in Pambansang Museo, Vigan got its name from the word "Bigaa" which is a lush plant from the species of the Gabi plant. The city reminds the visitors of the rich history of the Philippines during the Spanish colonization.
Friday, February 23, 2018
7:00PM
We arrived in Partas Bus Station.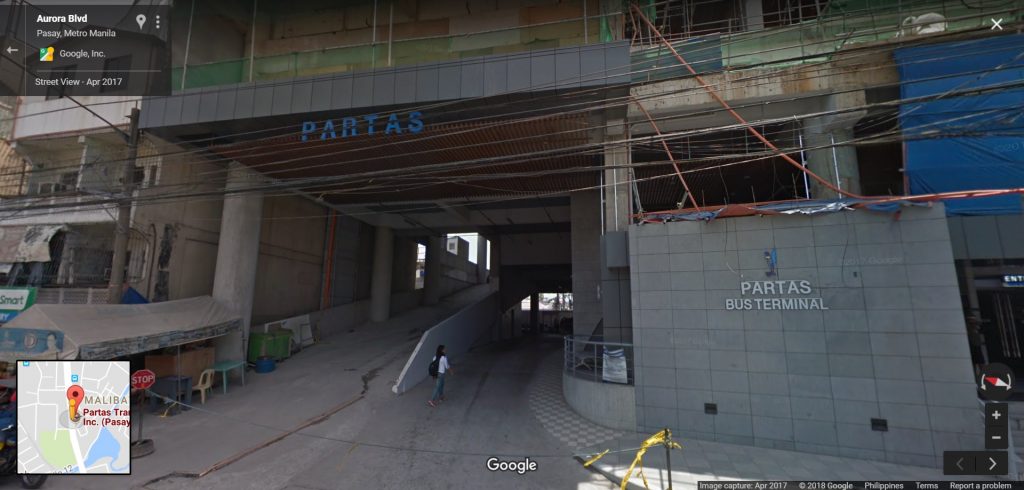 Here are the bus schedule: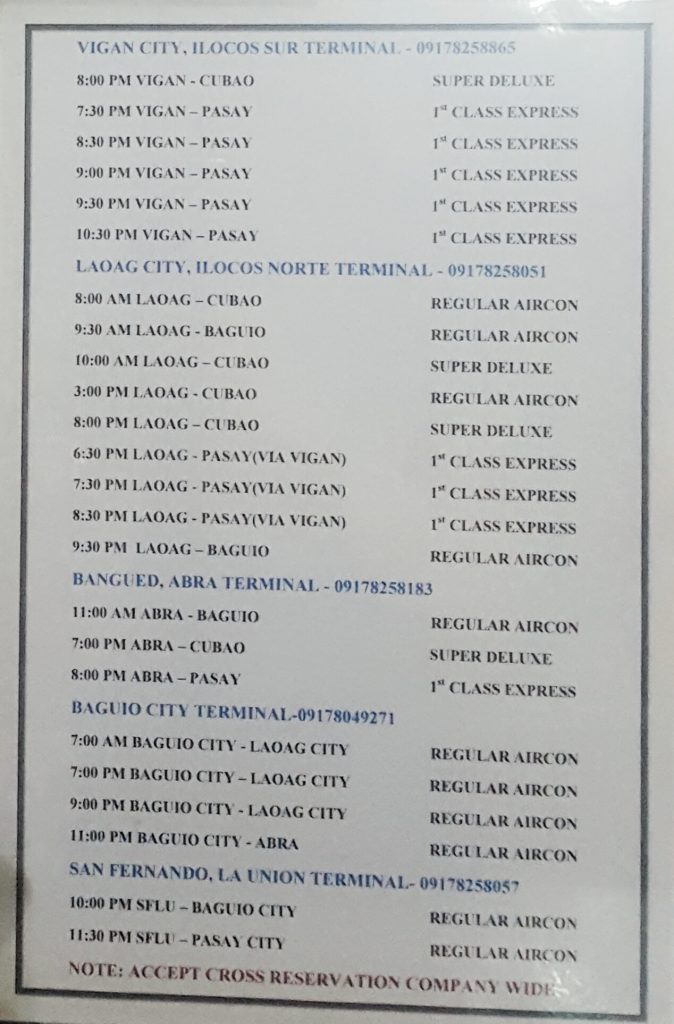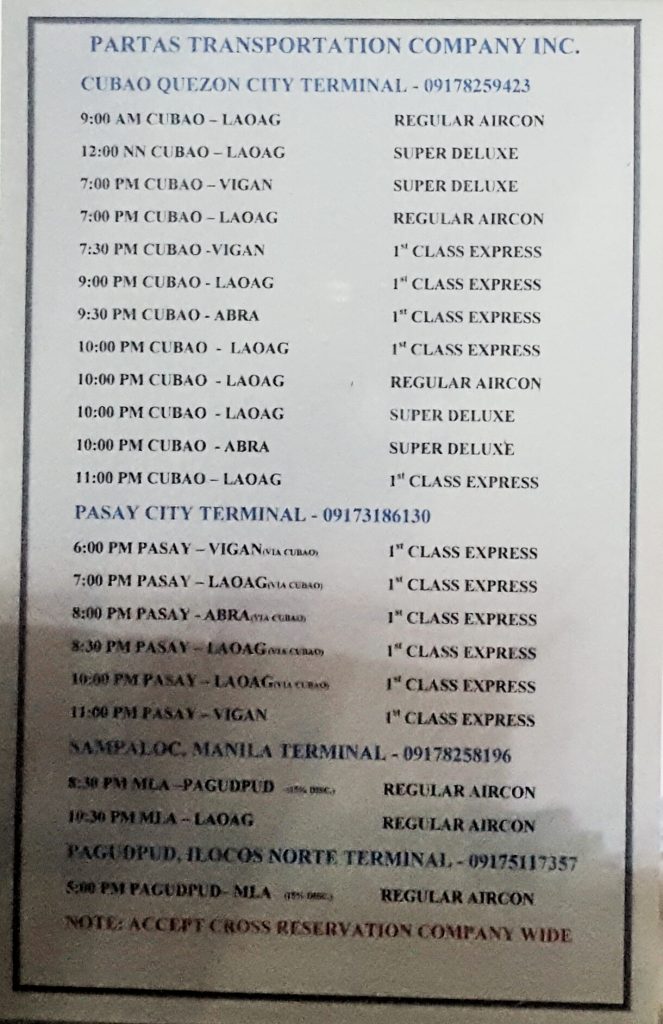 We bought the bus tickets which is scheduled to depart at 8:30 PM. We skipped the 7PM bus so we can still have our dinner. The ticket costs Php 760.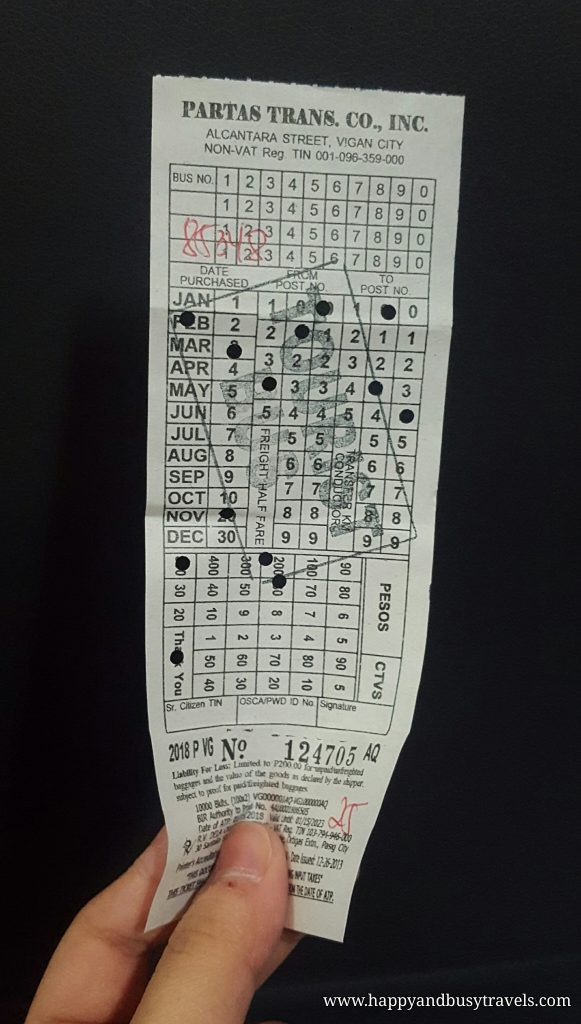 We had our dinner in Jollibee located beside the Partas Bus station in Pasay City, Metro Manila. After eating, we looked for our bus.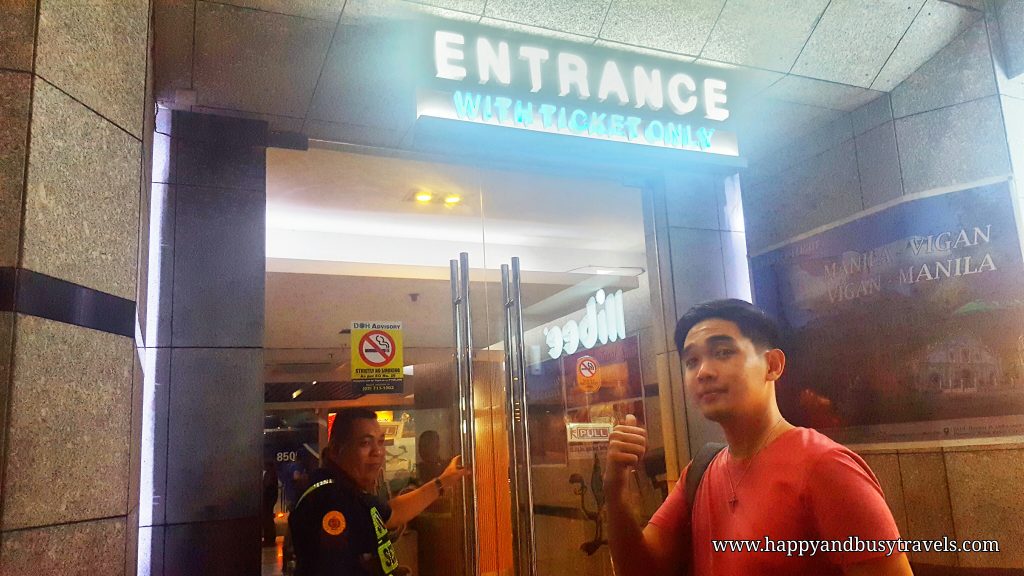 The terminal looked nice and it has clean comfort rooms.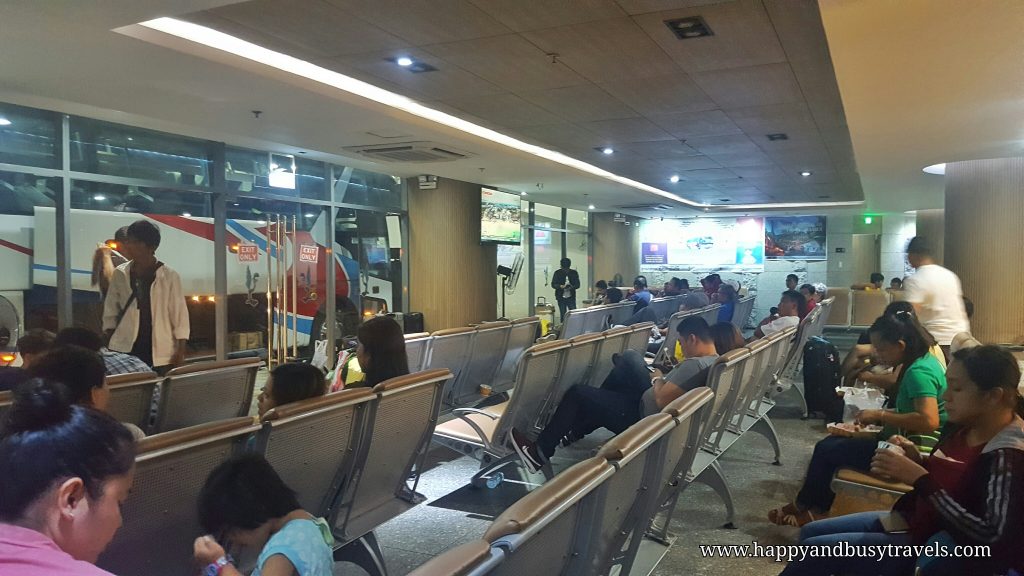 And then we saw our bus…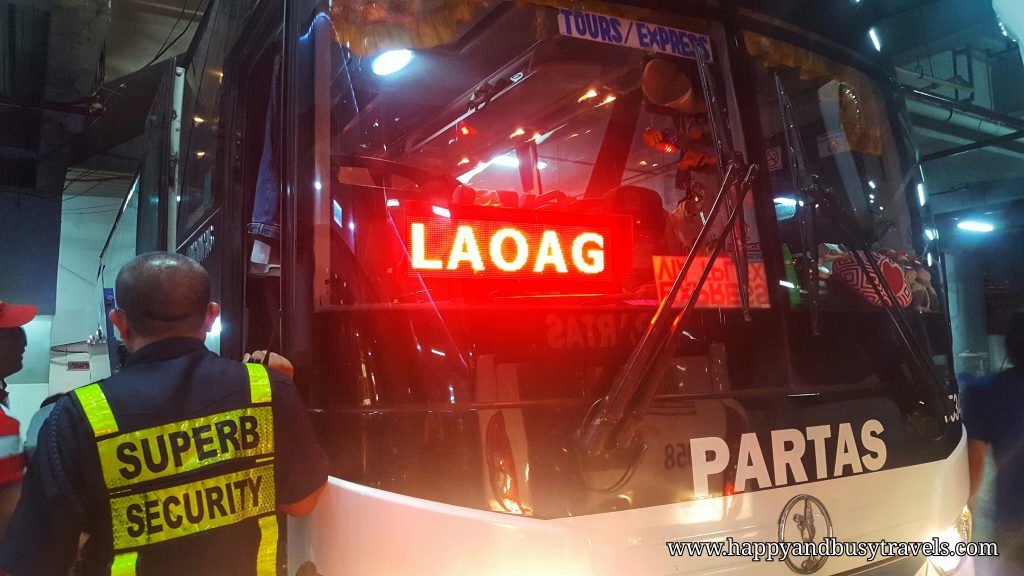 The bus has a "Laoag" sign. Do not worry because the bus will drop the passengers in Vigan before they reach their final destination, Laoag.
The bus left the terminal around 8:56 (as usual Filipino time hehehe, always late)
Goodbye Manila!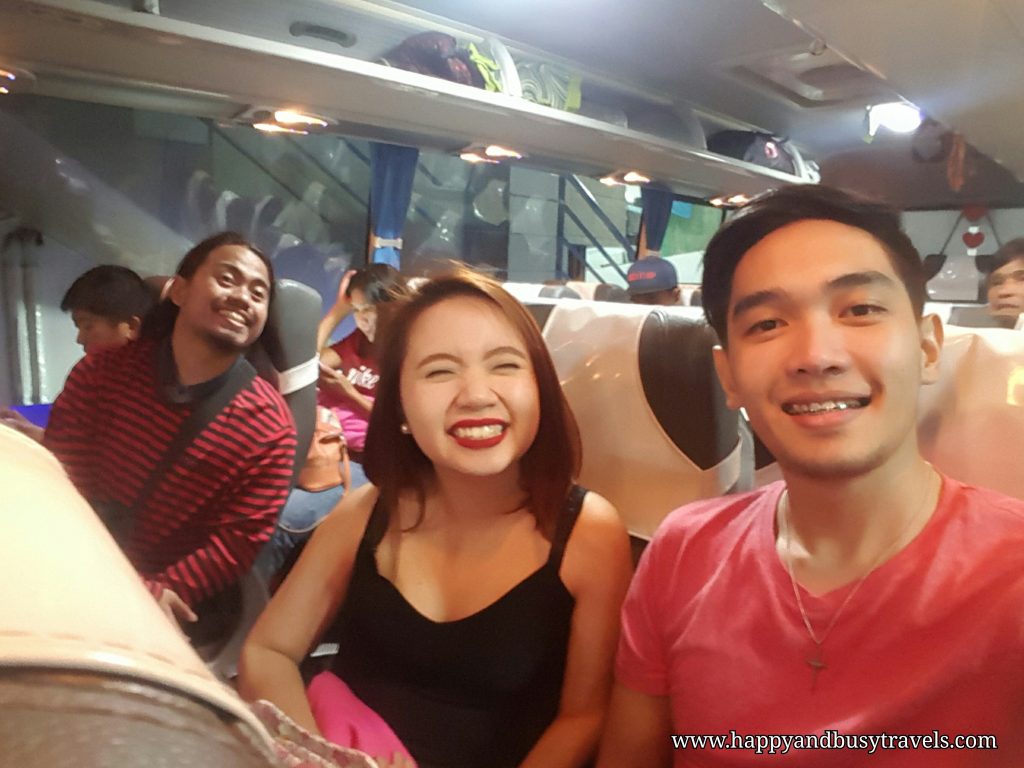 The first stop of the bus is their Cubao Bus Terminal. You should pee and get yourself ready because the next one is far.
1:10AM
Second Stop
At 1:10AM we arrived in their second Bus stop. I think this is somewhere in the North already. There are several establishments to fuel up. 1:10AM is still dark so this picture that I took is from the morning during our bus ride from Vigan to Manila.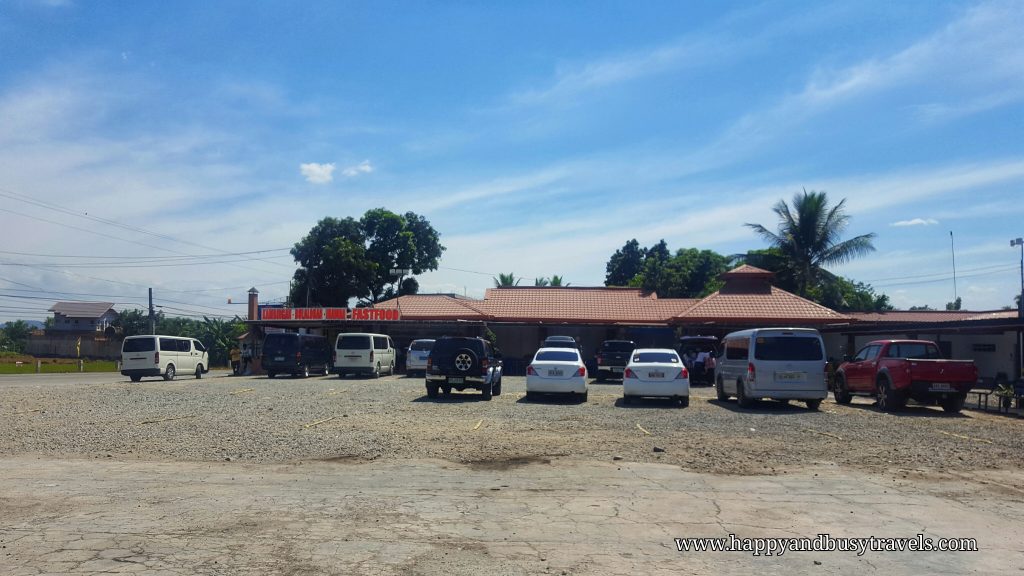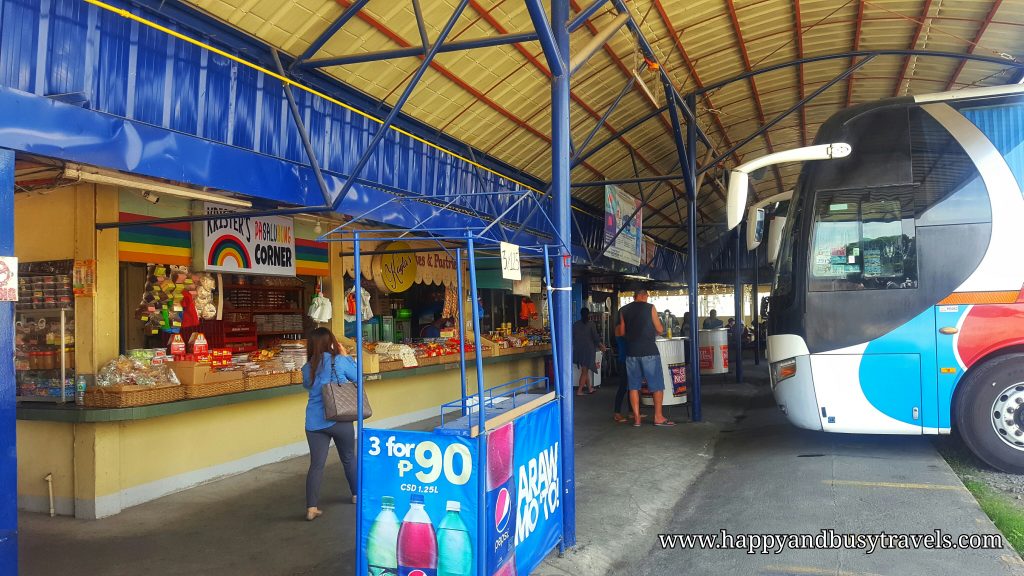 Everybody were given 20 minutes to eat and freshen up.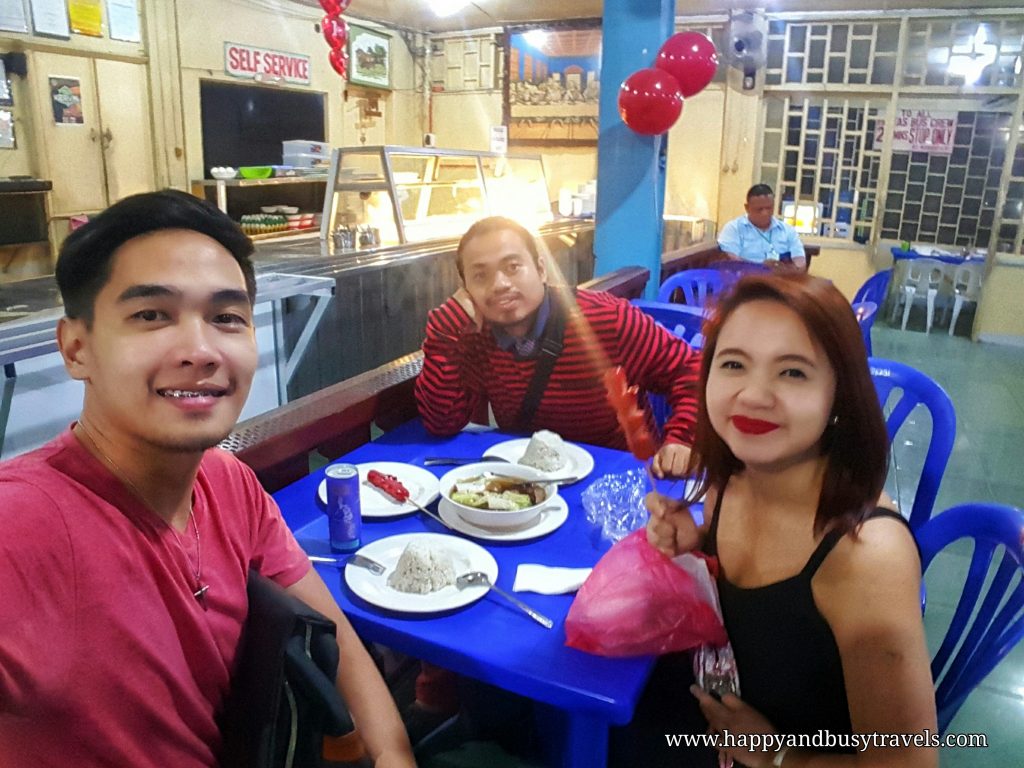 4:45 AM
HELLO VIGAN!
We arrived in Vigan! It only took us 8 hours to reach it. We immediately started our tour even though it's soooo early in the morning.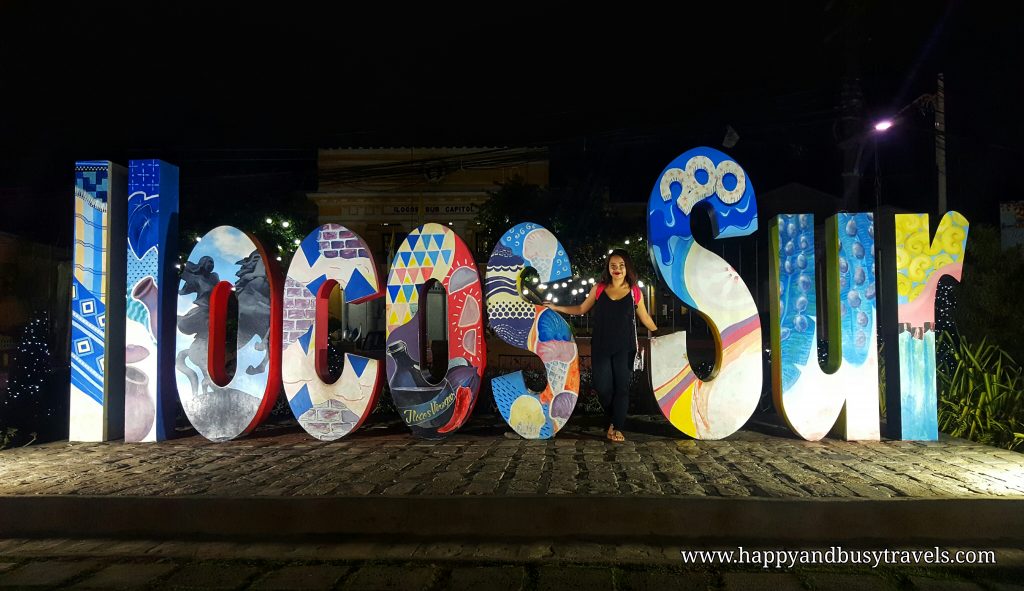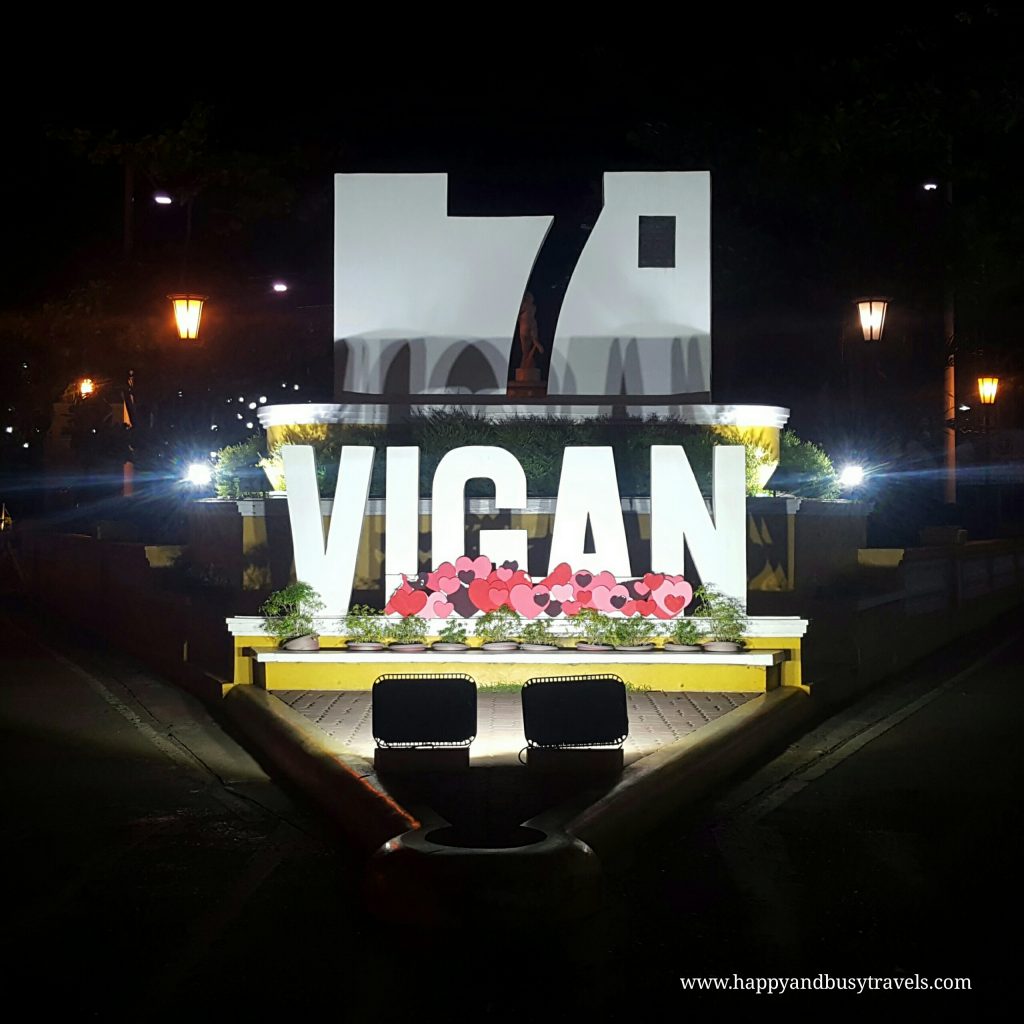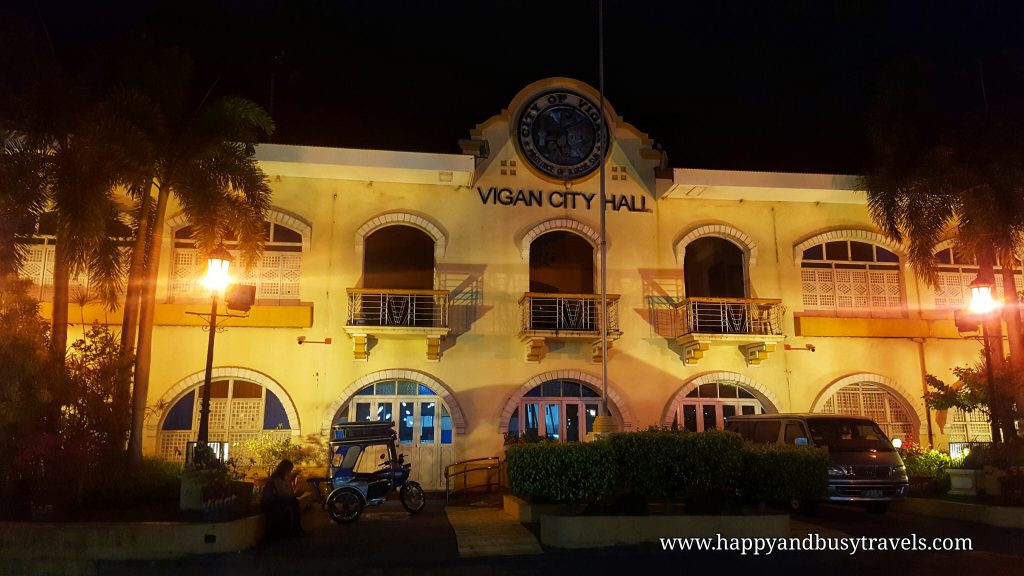 5:00 AM
Plaza Salcedo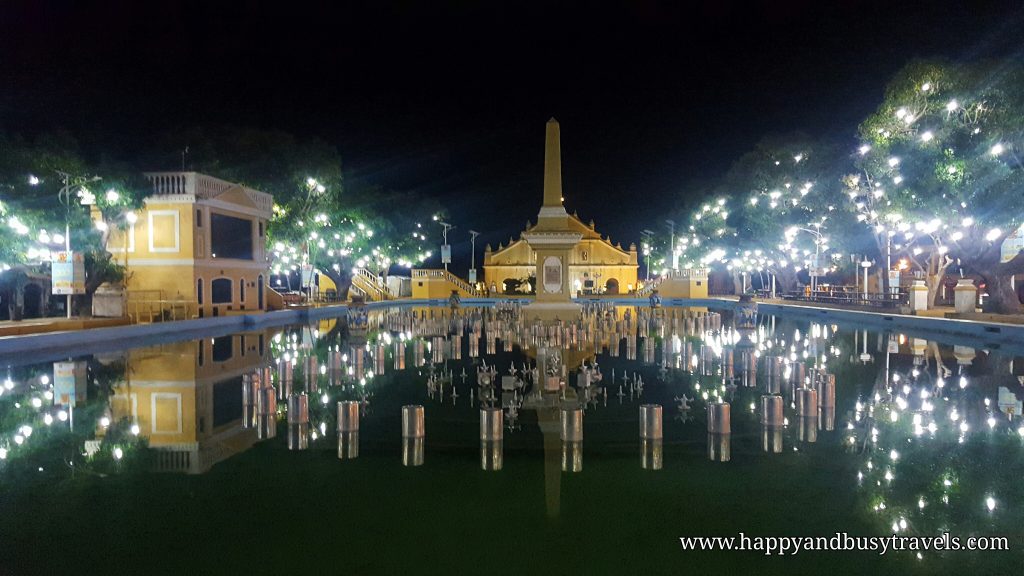 Plaza Salcedo was built on the area where Gabriela Silang, the first revolutionary woman in the Philippines, was executed.
5:10 AM
Vigan Cathedral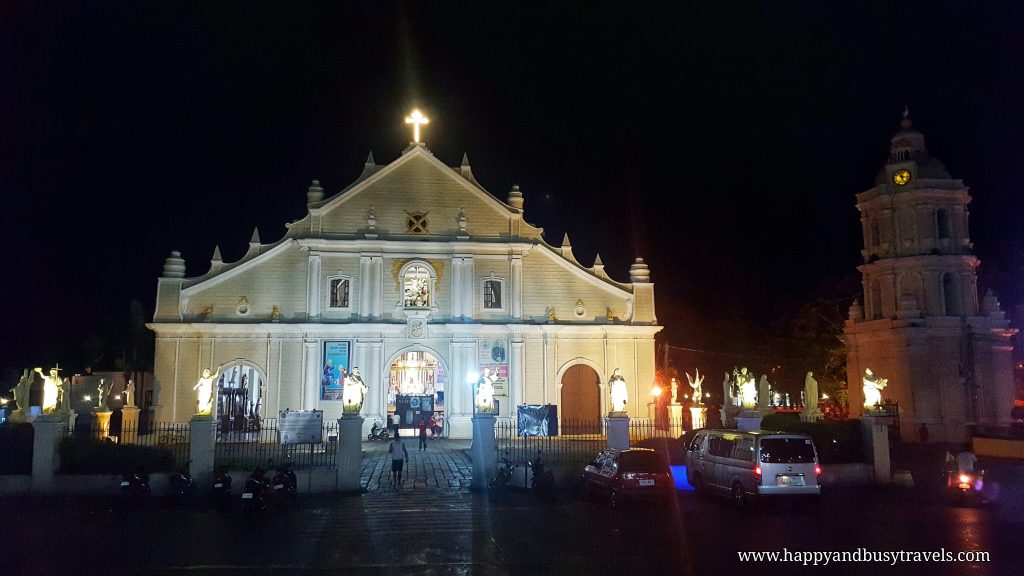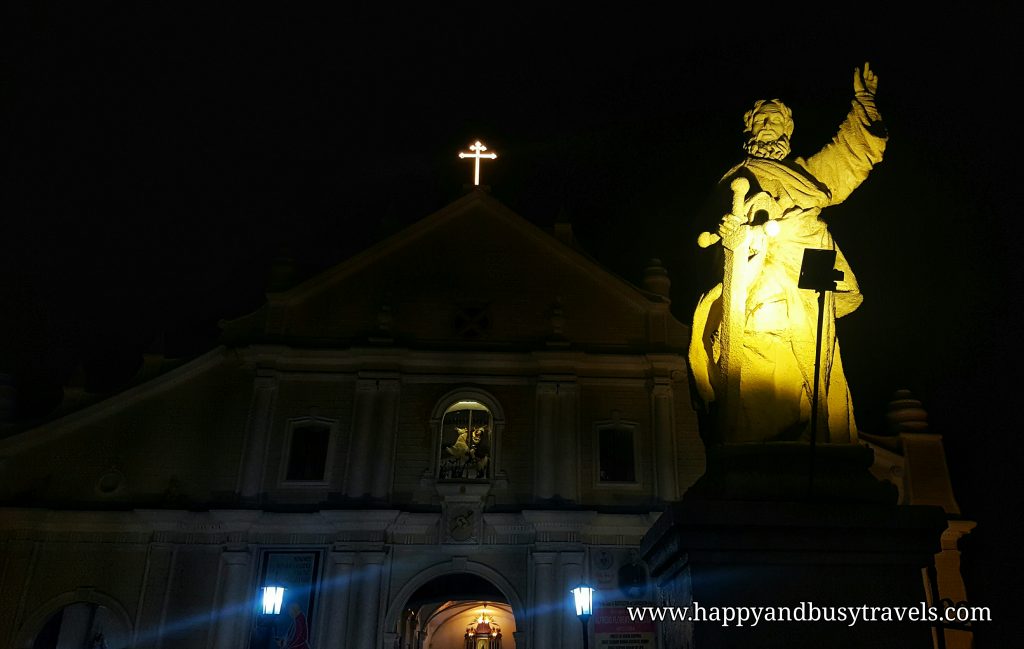 It was nice that Vigan Cathedral is open even though it's so early.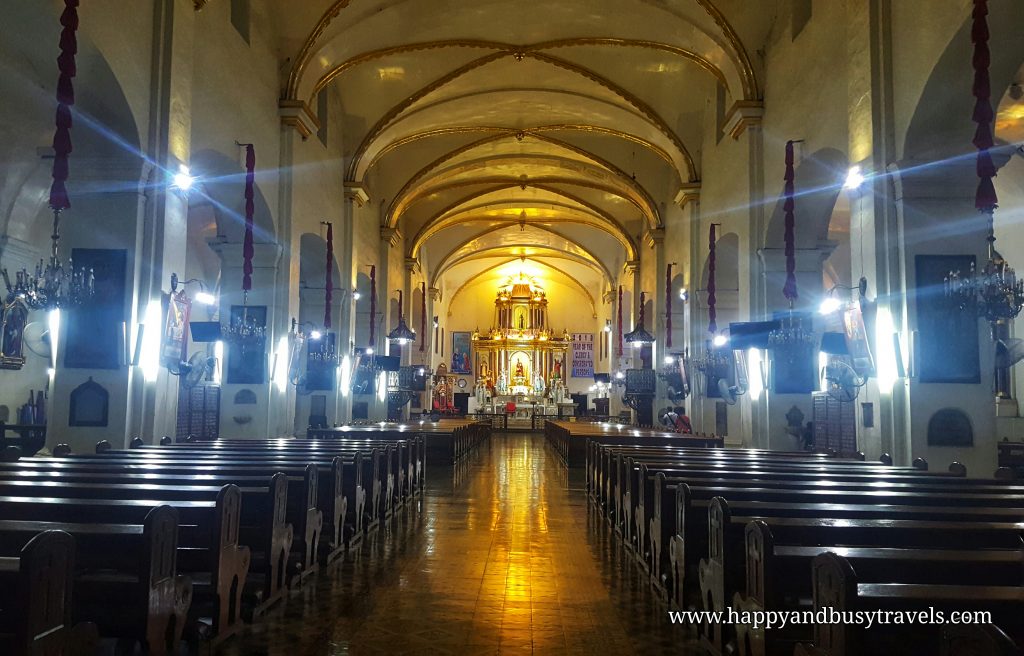 5:30 AM
Calle Crisologo
We immediately started the tour even thought it's still dark, because we know during the day and night, Calle Crisologo can be crowded.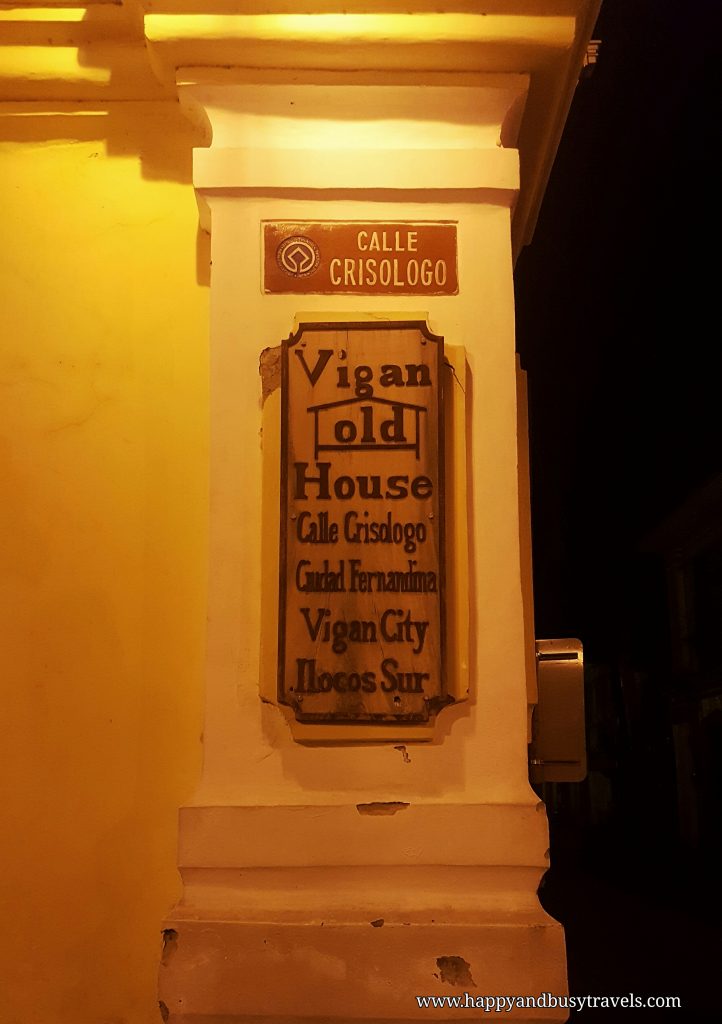 Calle Crisologo is a street wherein the Spanish houses of the rich people in the past are located. The ambiance of the street is kept through the years.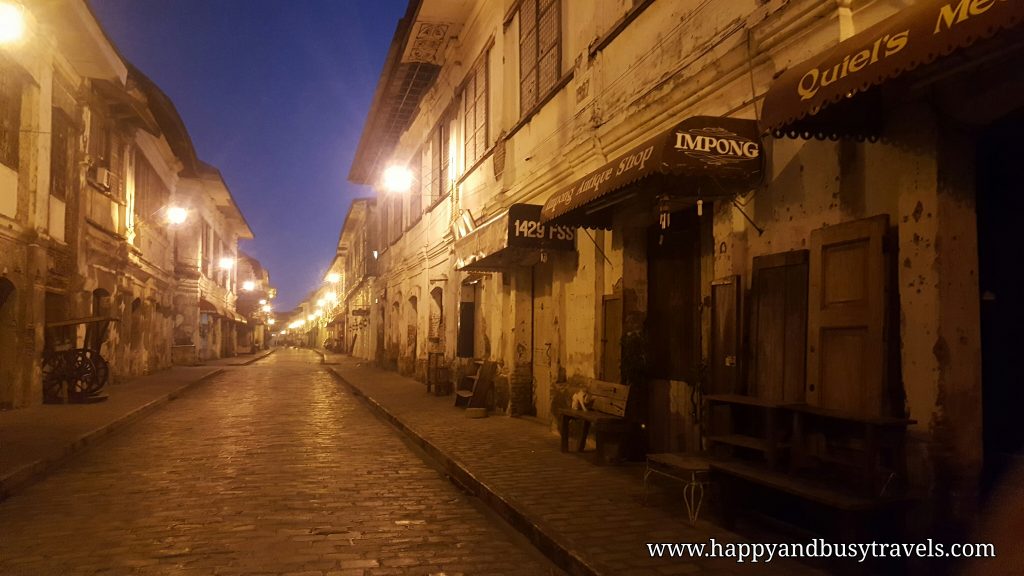 Our timing was perfect! There were only a few number of people in the area, and the ambiance was delightful!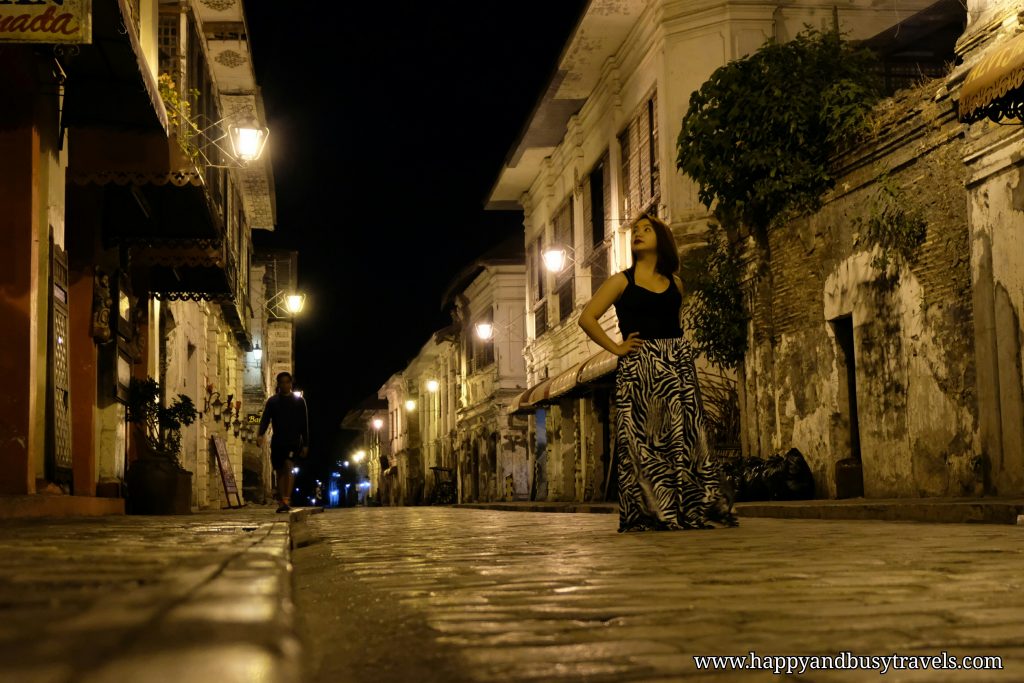 Of course we did not miss the opportunity to have our pictures taken 😆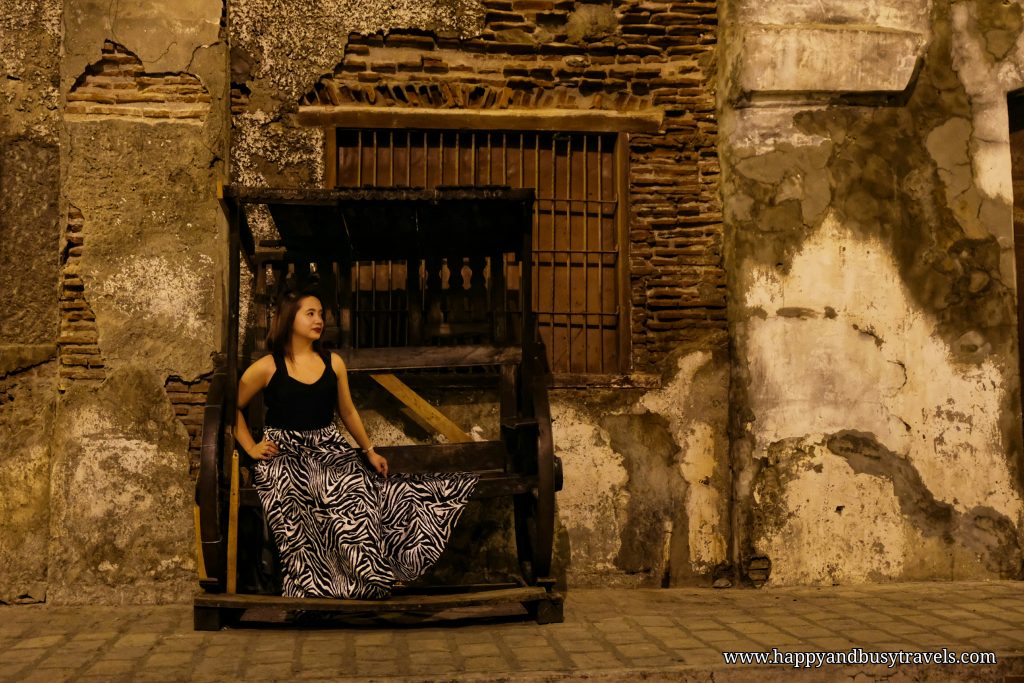 Even it's so early, there are some tricycles in the area. So, we booked a tricycle (Php 600) to take us in the tourist spots in Vigan. We wanted a Kalesa but they will be available at 10AM.
6:04 AM
Bell Tower & San Agustin Church
The Bell Tower and San Agustin Church accepts visitors starting at 6 in the morning. So when we arrived we were just in time!
The Bell Tower of Sanctuario de Nuestra Senora de Caridad, St. Augustine Parish was constructed as the belfry of the church and at the same time the watch tower of the town.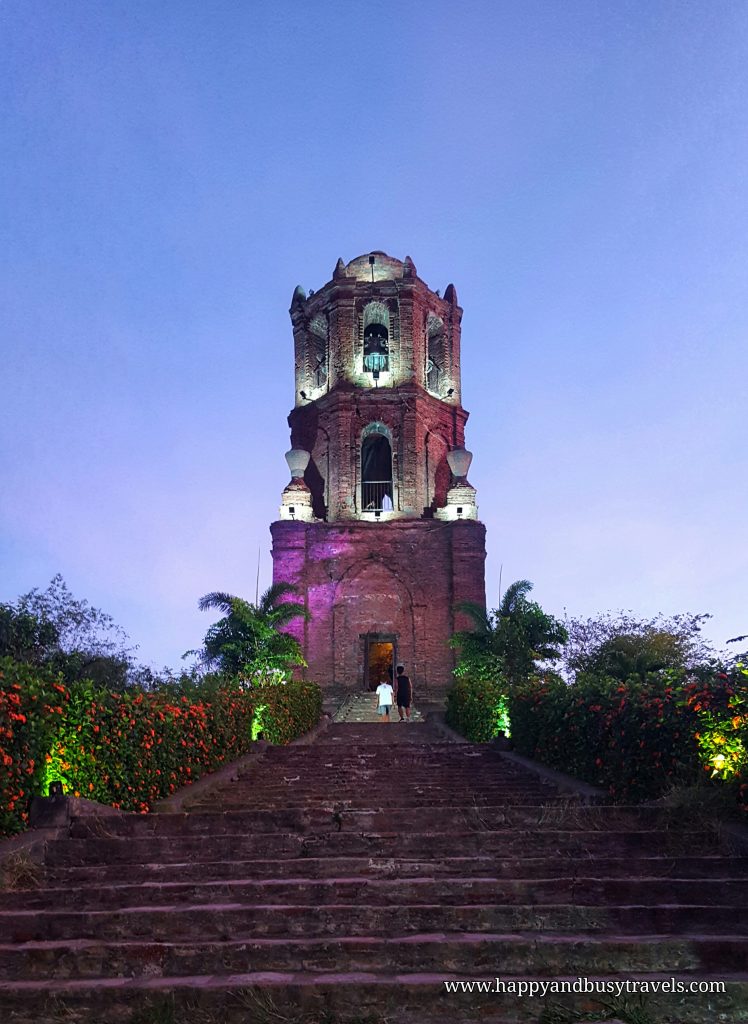 You have to register first and give a donation before going inside the Bell Tower compound.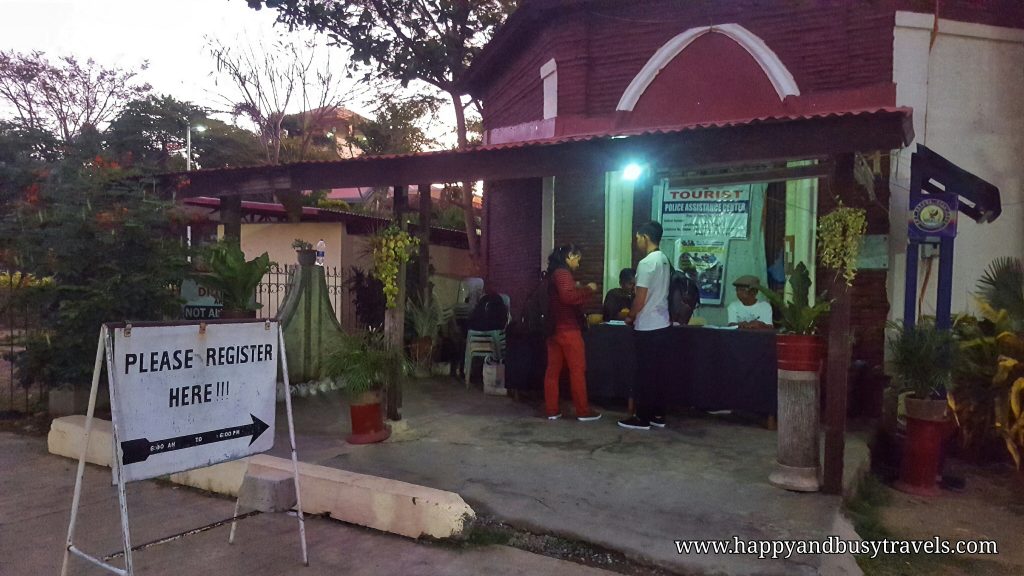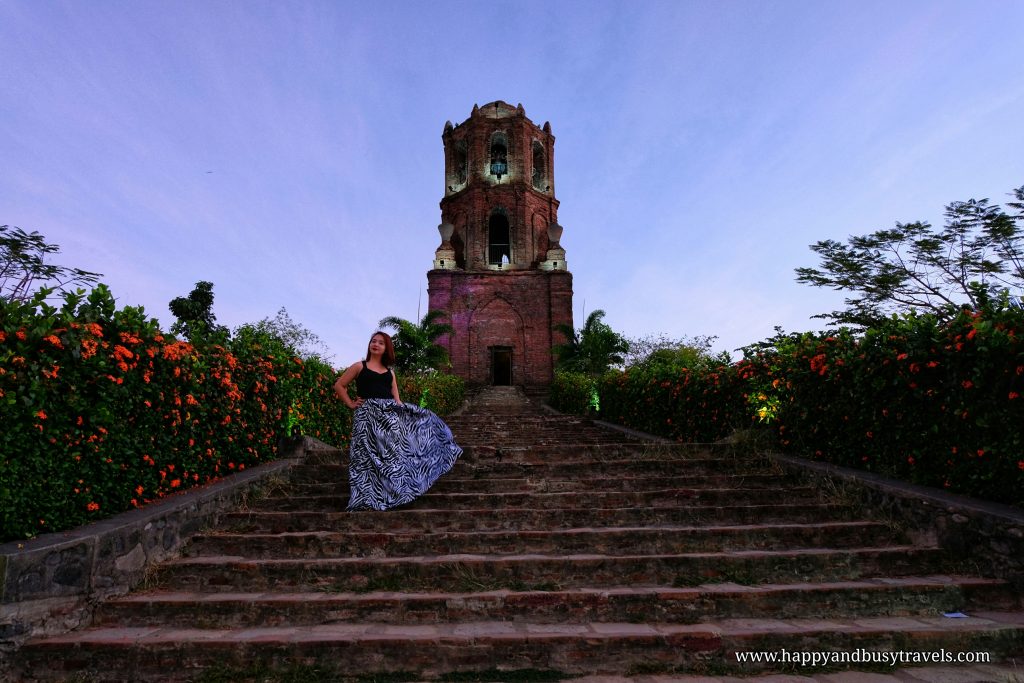 We climbed up the Bell Tower and saw the bells up close.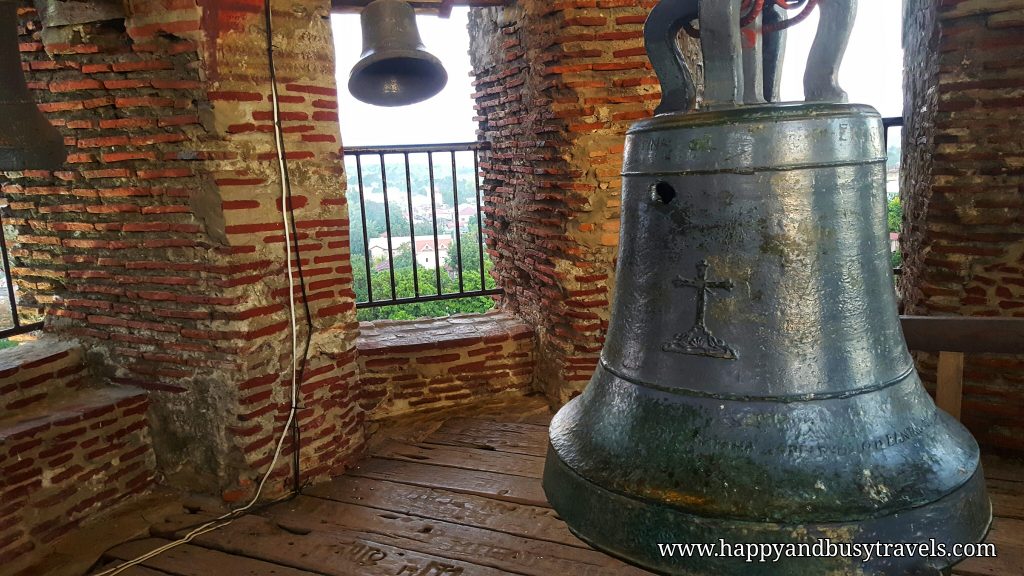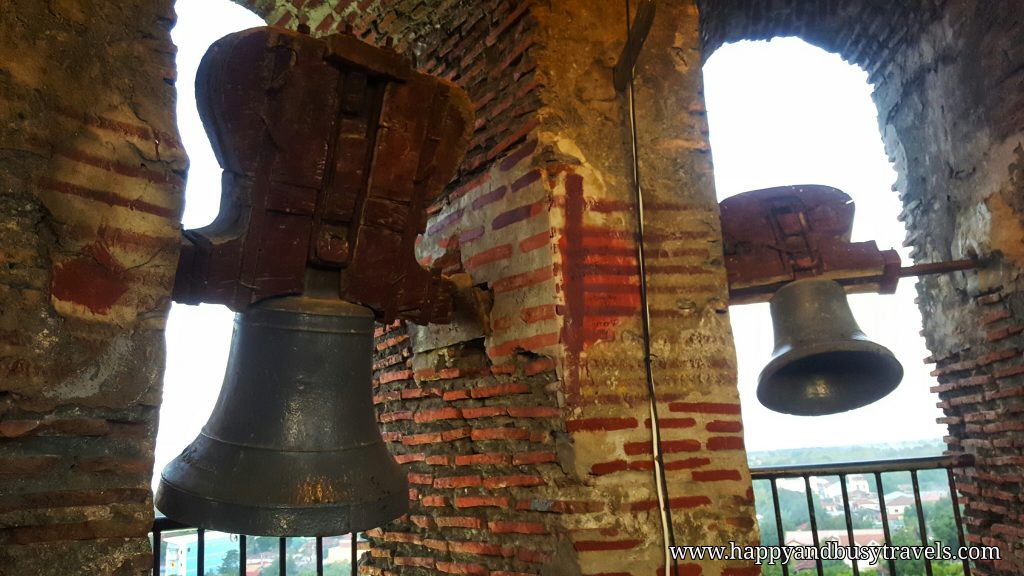 Again…. we also had our photos taken hehehe 🙂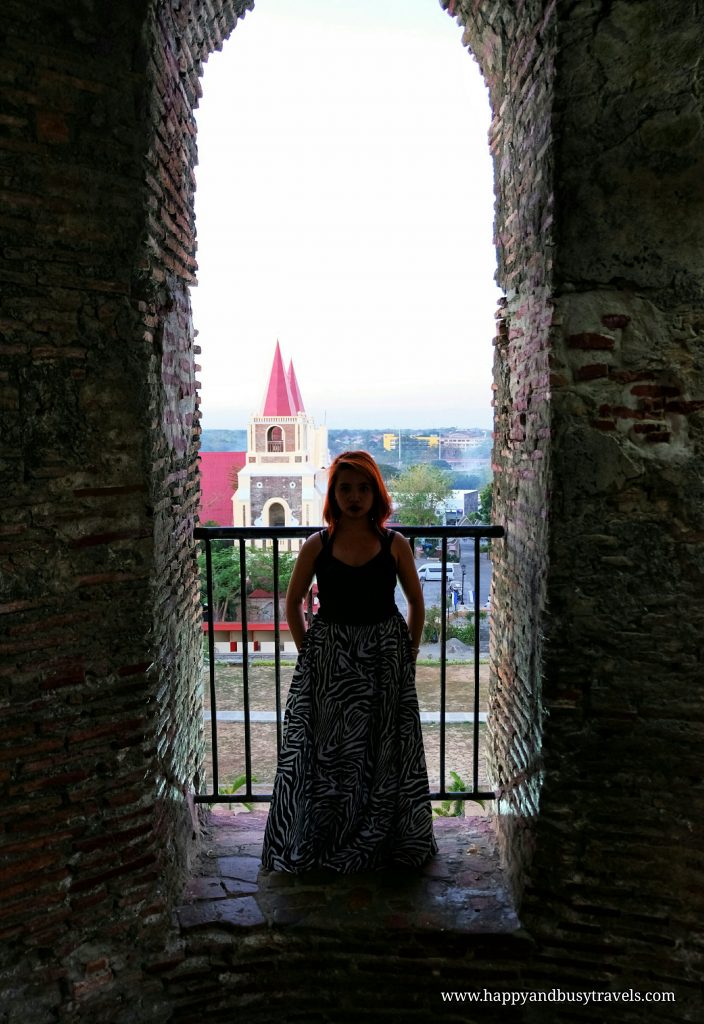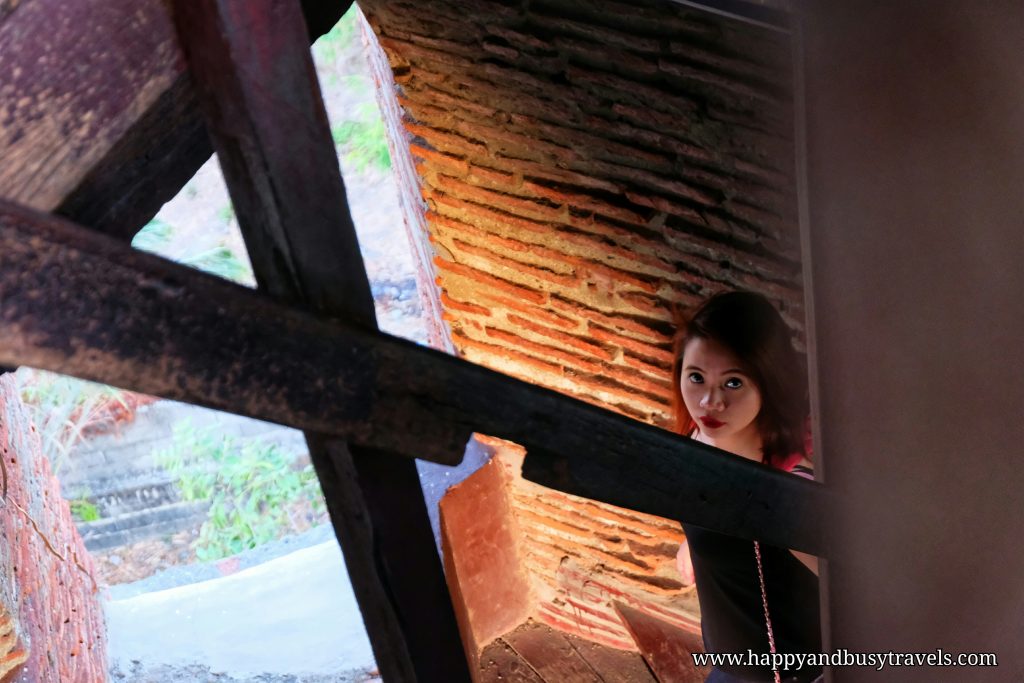 The sunrise viewed from the tower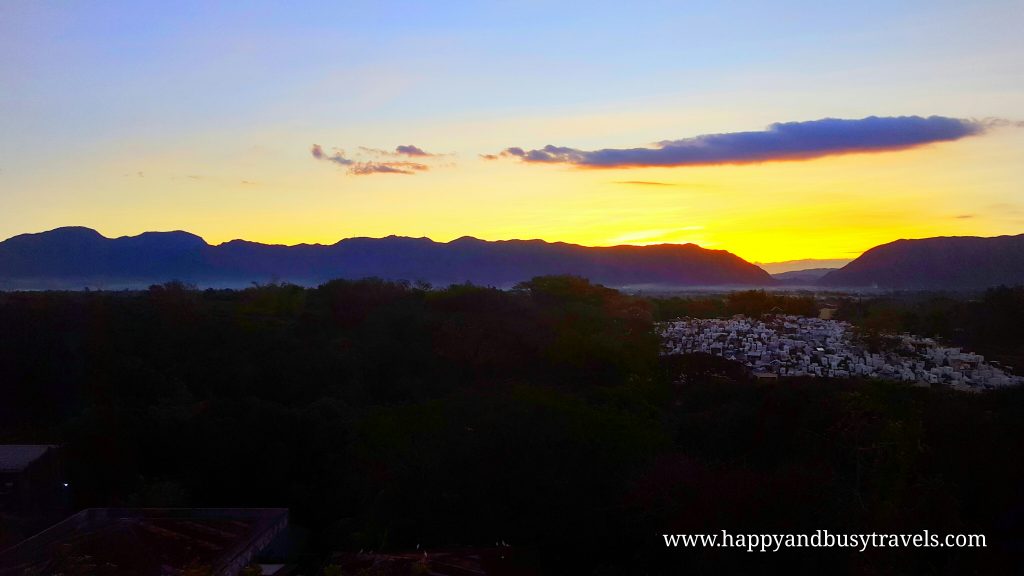 Right by the side of the Bell Tower is the San Agustin Church. It was opened for visitors around 6:35 in the morning.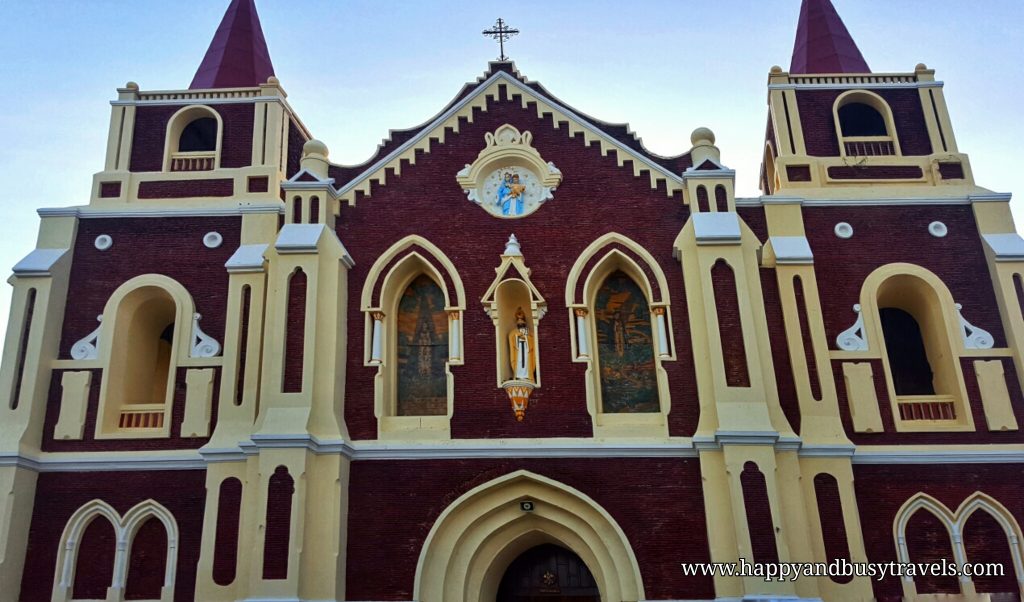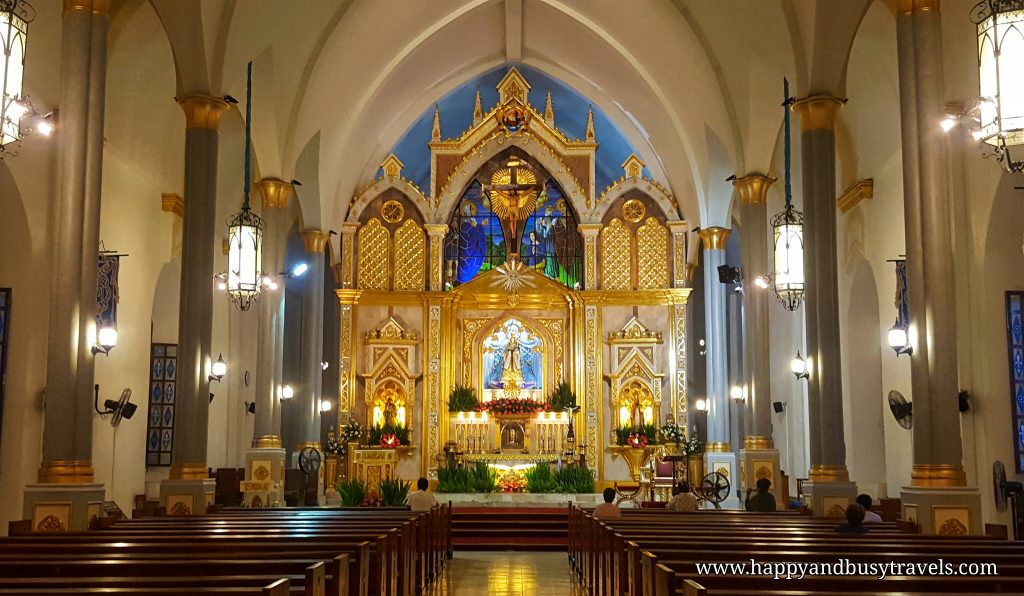 6:40 AM
Carl Louie Longanisa
A tour will be complete when you buy your pasalubong (souvenir). So before our tour heats up, we bought Vigan Longanisa and Bagnet. You can buy Longanisa and Bagnet almost anywhere in Vigan but we took the advise of our tricycle driver to try this brand of Vigan Longanisa and Bagnet.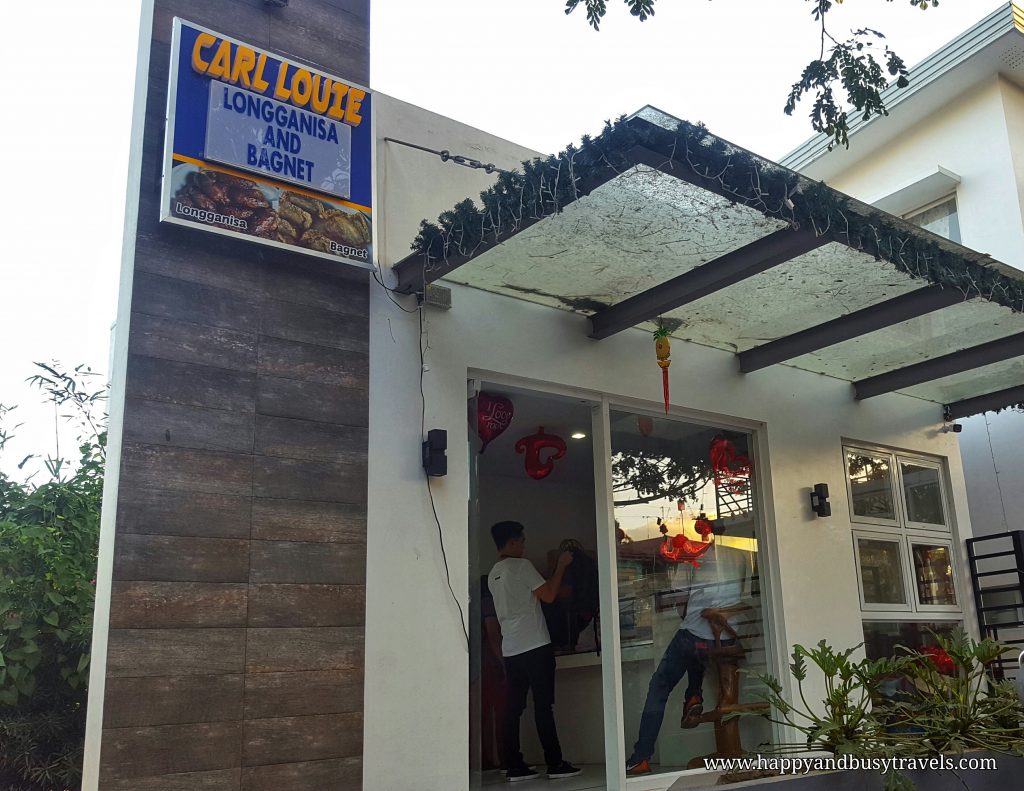 Vigan Longanisa is a local delicacy. This is a sausage made out of Pork and lots of spices.  Prices are:1 dozen, small Php 120, big, Php 140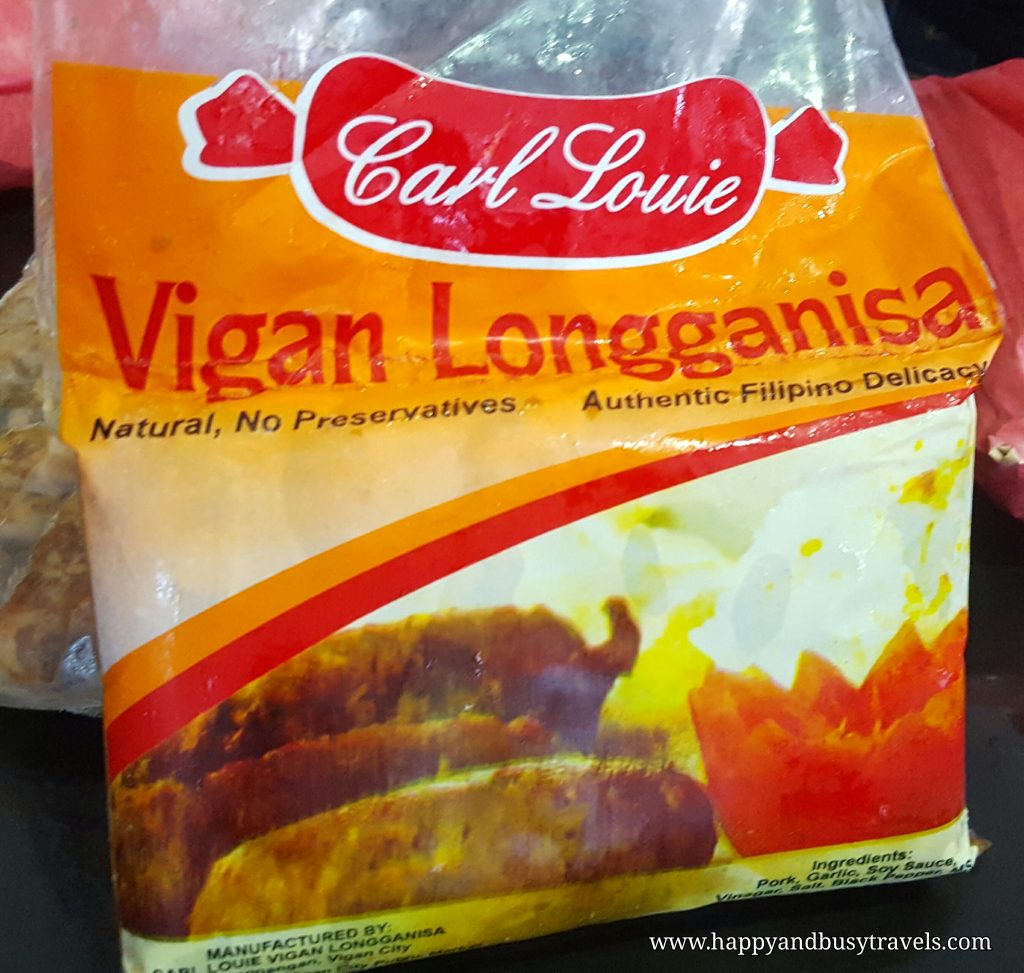 Bagnet is also a local delicacy. This is made out of large Pork belly which is cooked until it is super crispy. This delicacy is well known throughout the Philippines because it can keep it's crispiness for a long time.  Price is Php 380 per kg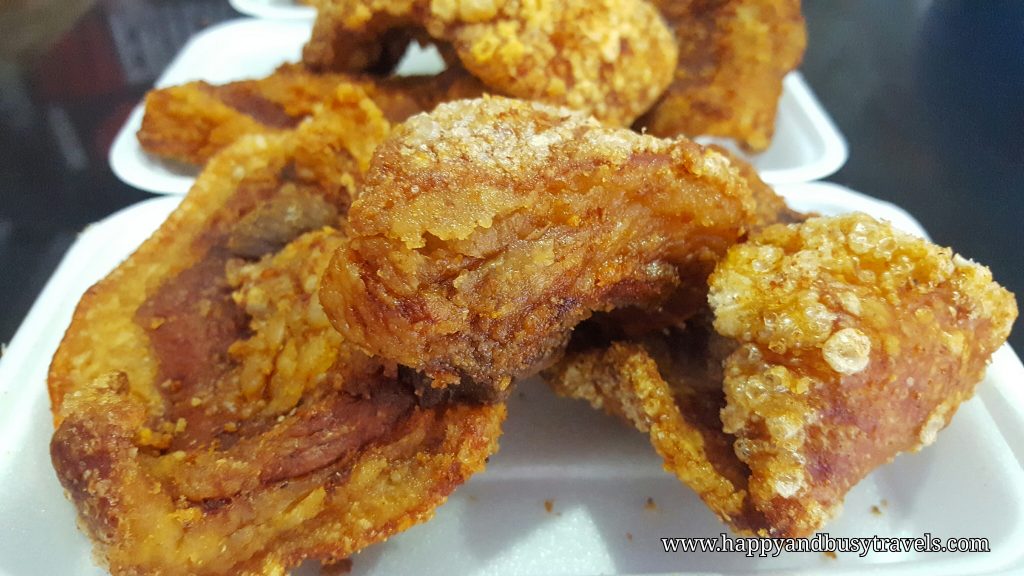 7:00 AM 
Baluarte
Baluarte is a zoo which is owned by Chavit Singson. He is a local politician and businessman here in the Philippines. You can visit the zoo for FREE because there is no entrance fee!
The zoo accepts visitors from 6:00AM to 6:00 PM everyday.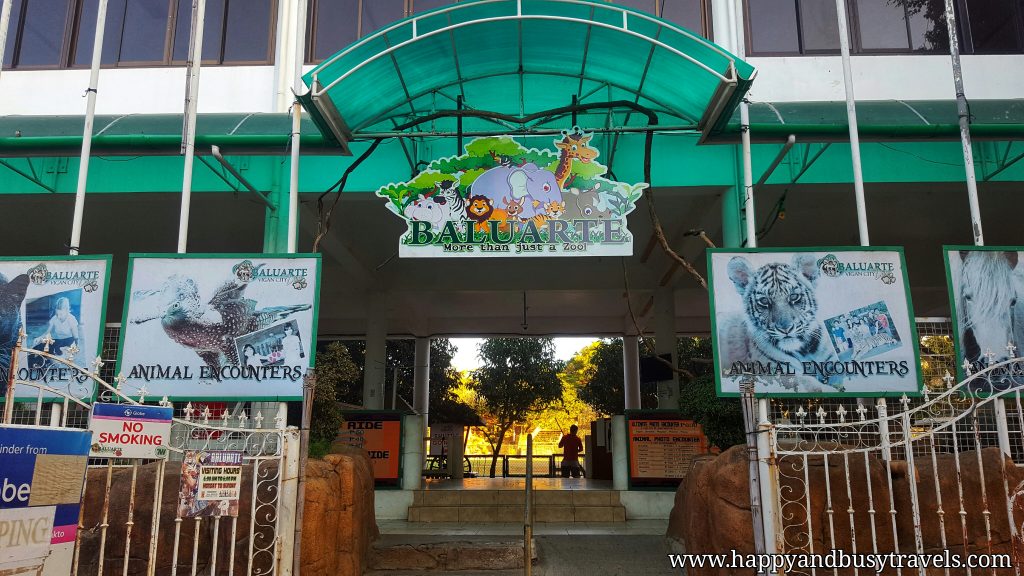 Here are some of the animals inside: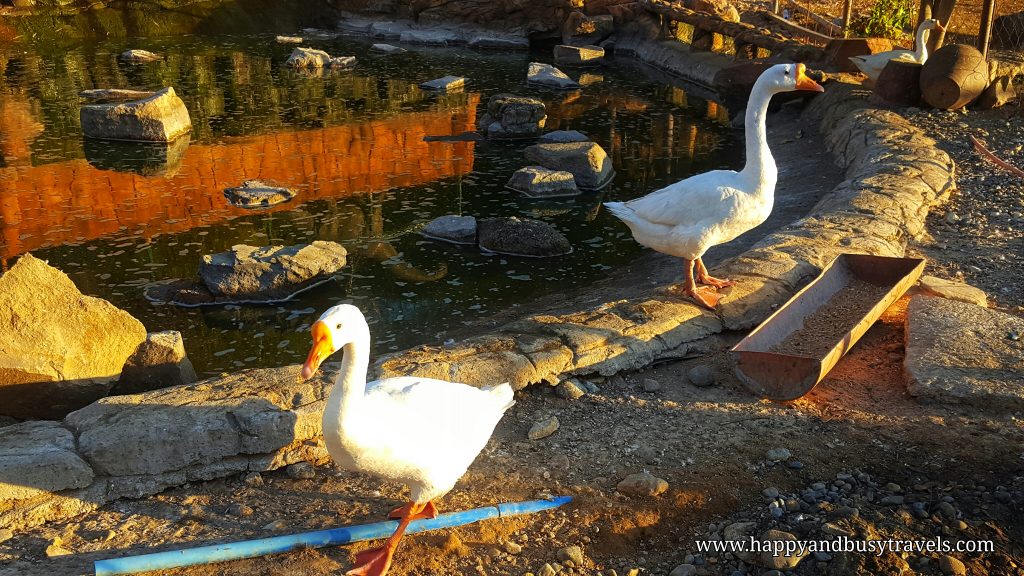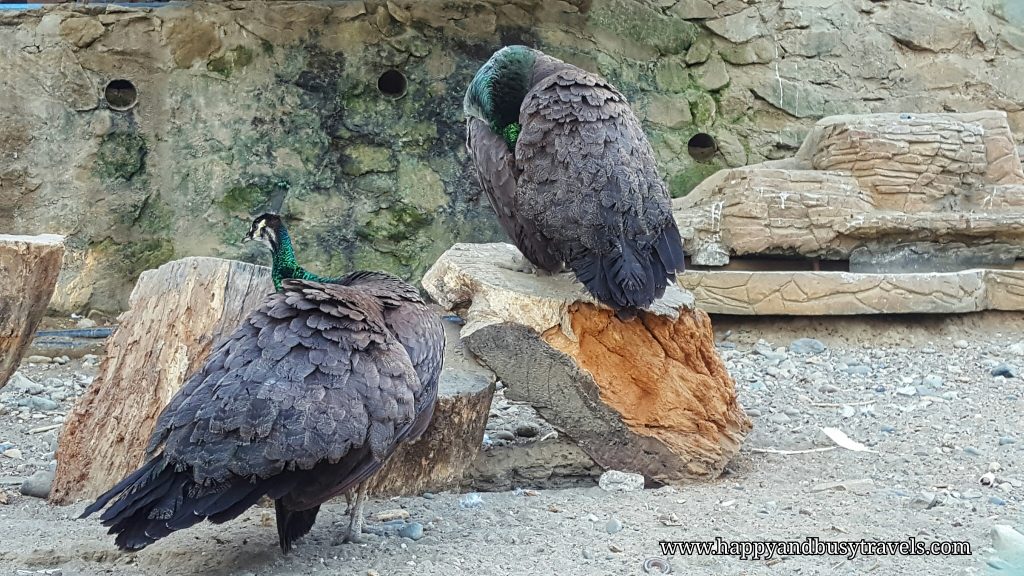 We were surprised that there is a Kangaroo and Albino Wallaby in the zoo! We do not have to go to Australia anymore 😆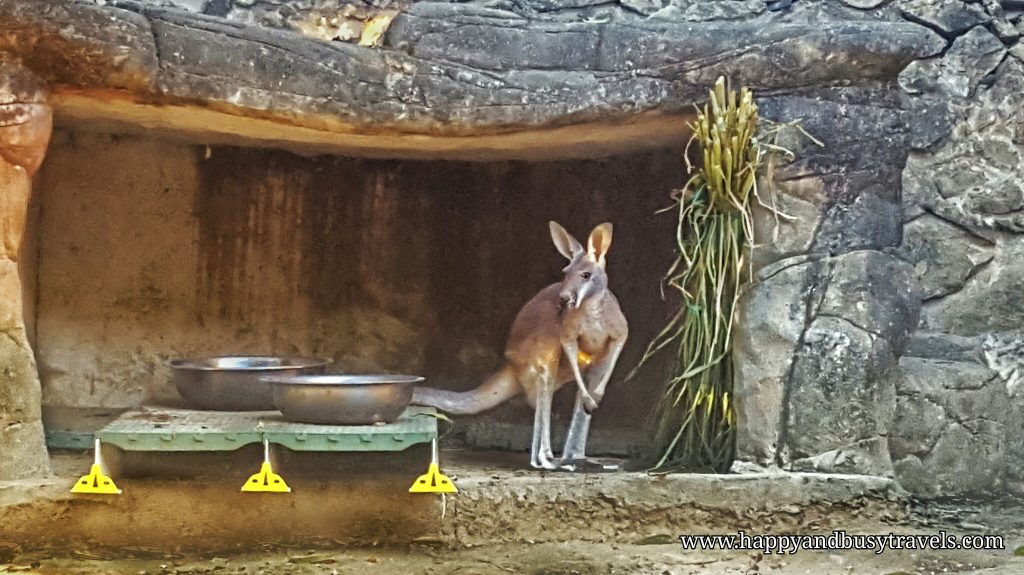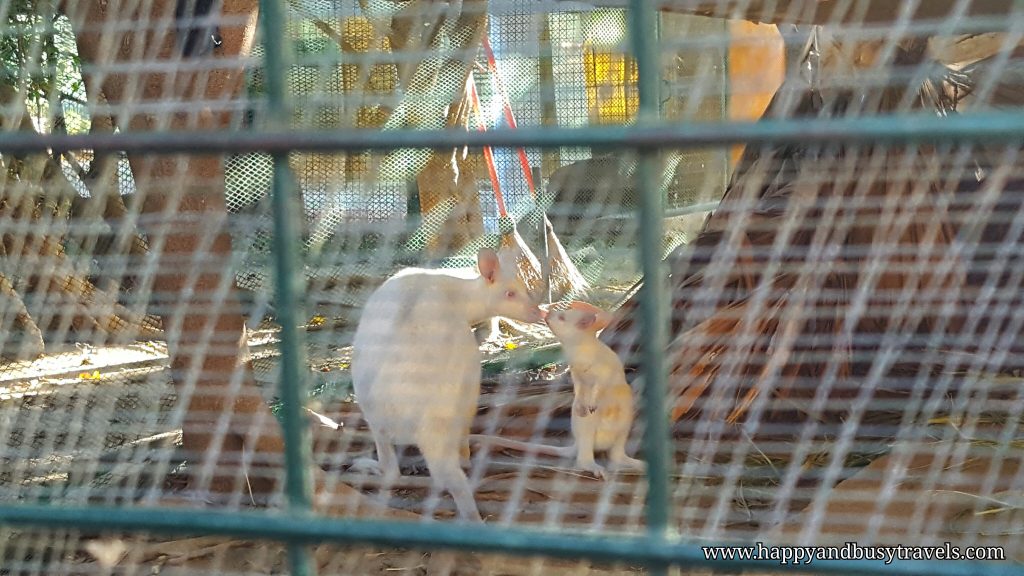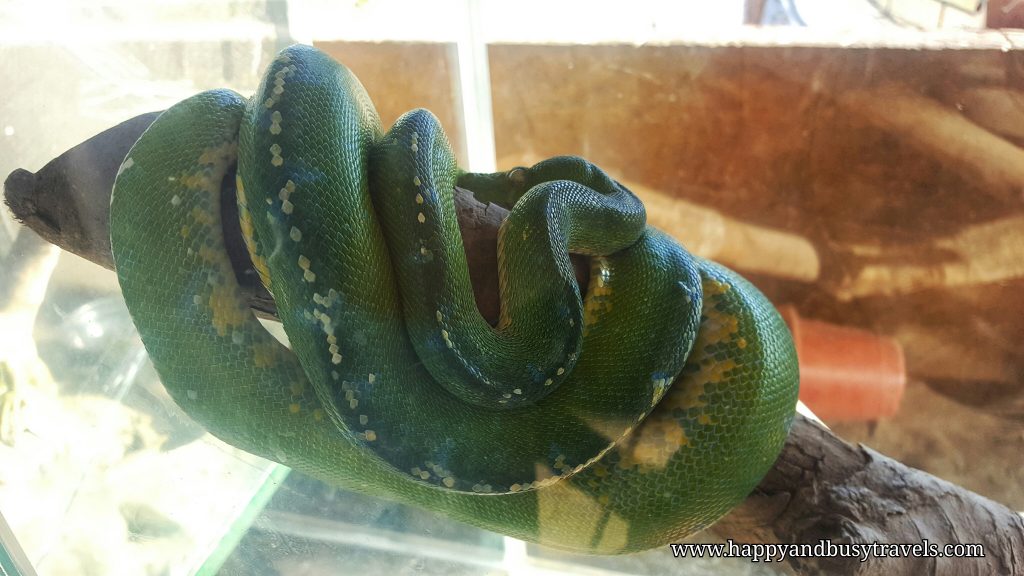 This snake is one of the animals used for the animal encounter. Lucky me, I had a chance to meet one of the snakes before the animal encounter started.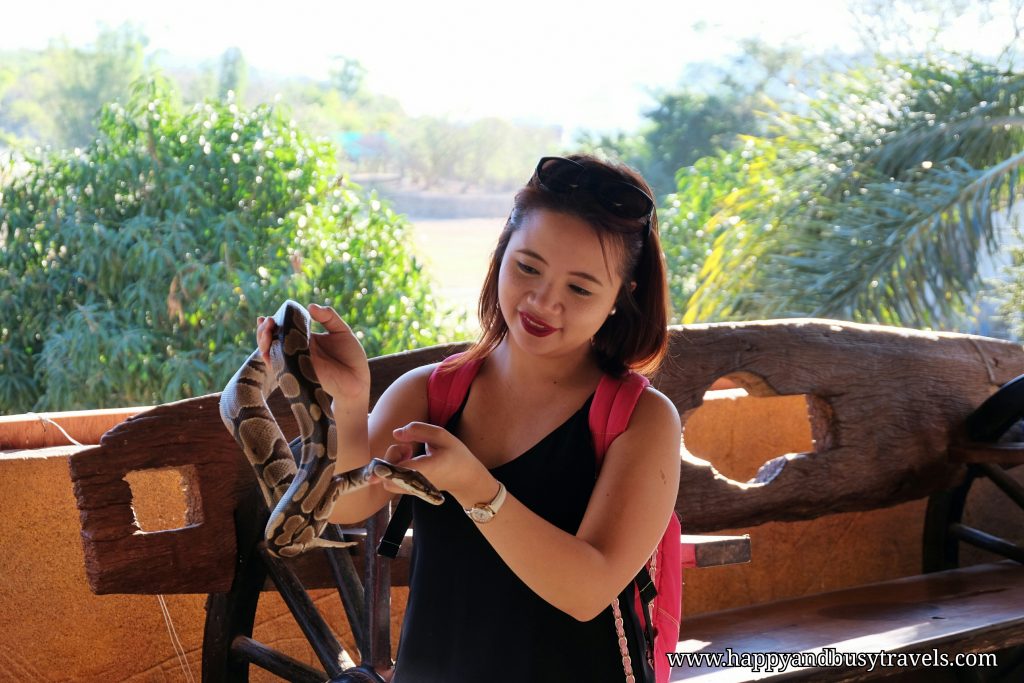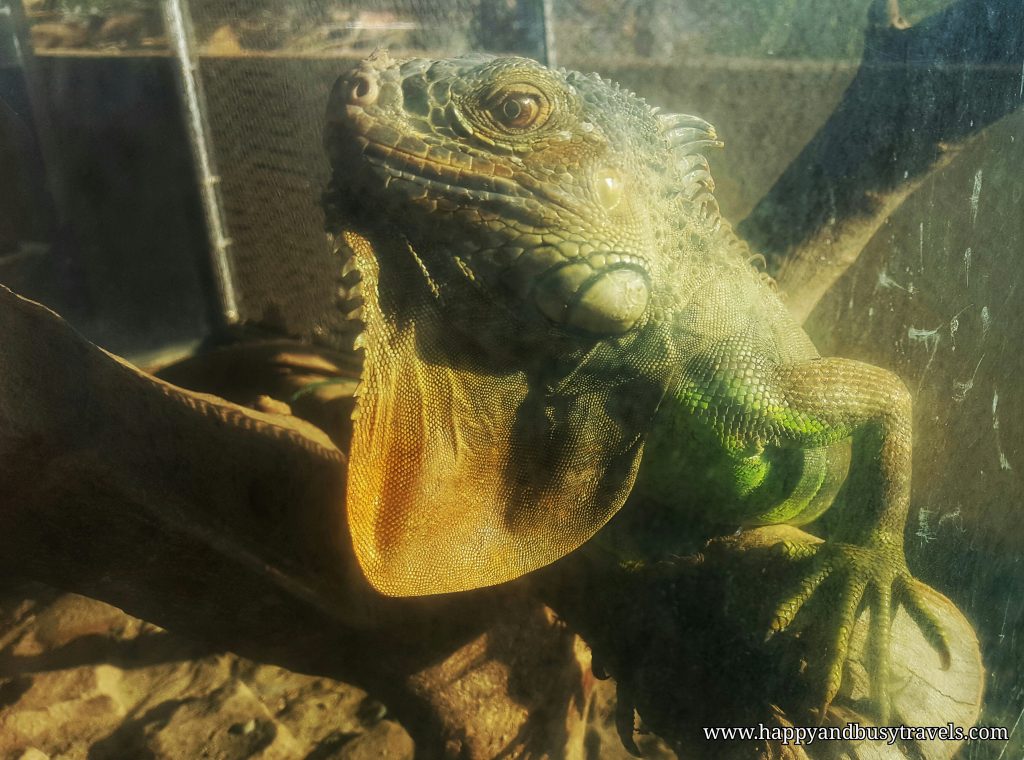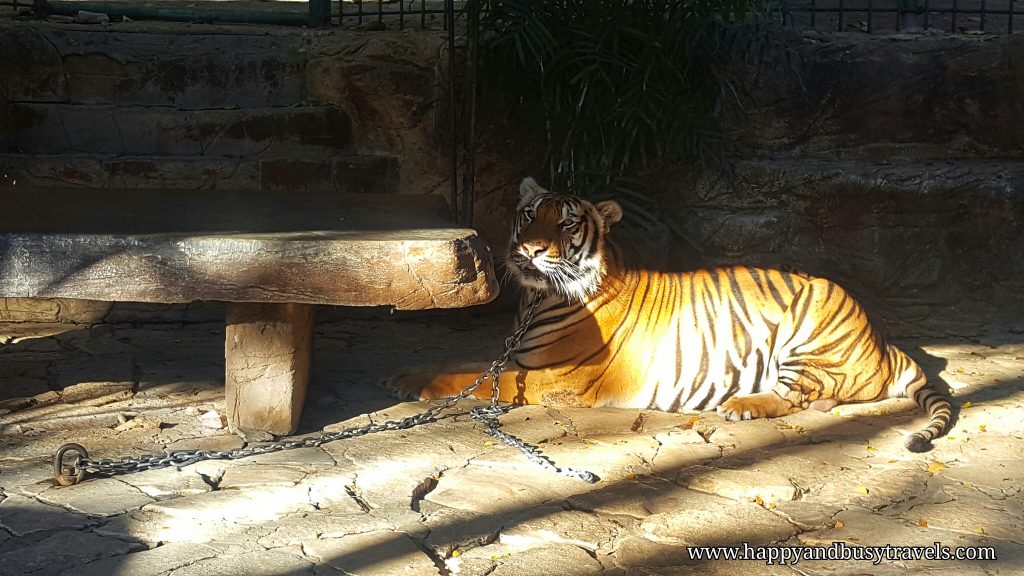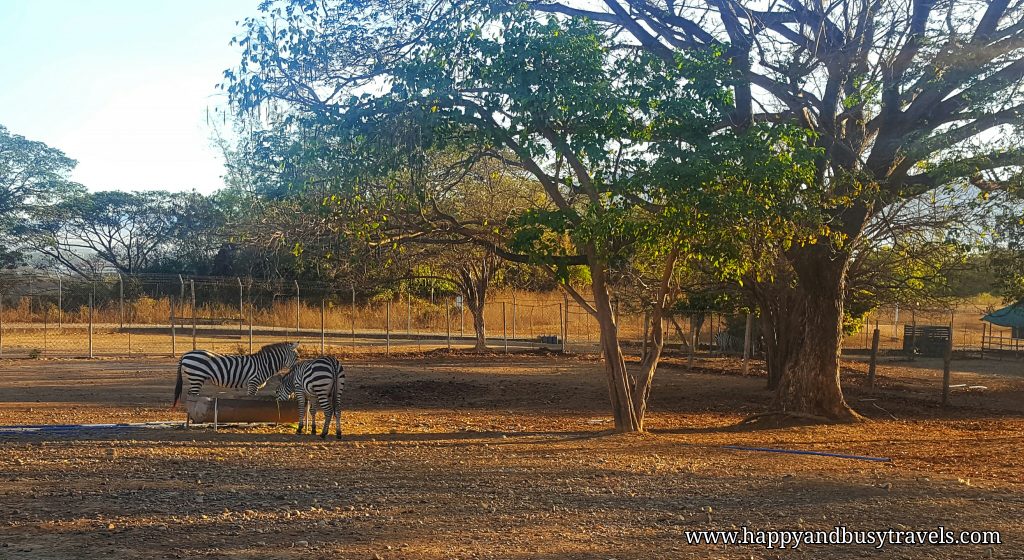 Again, we were surprised by the zoo…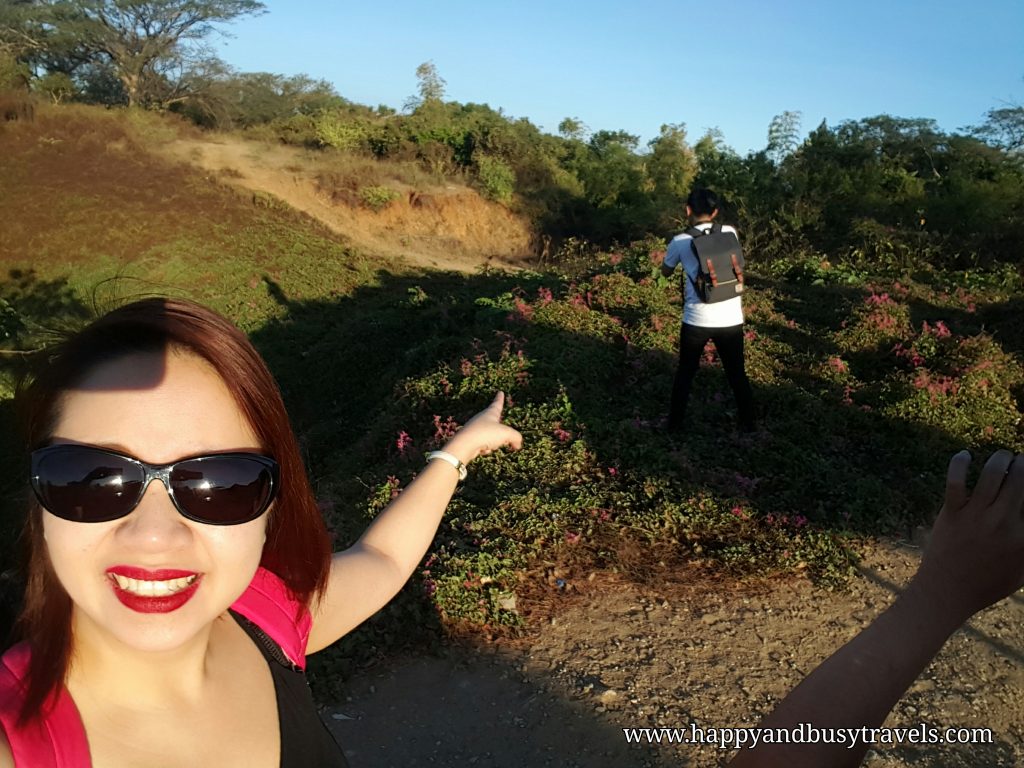 There is a Deer in the wild!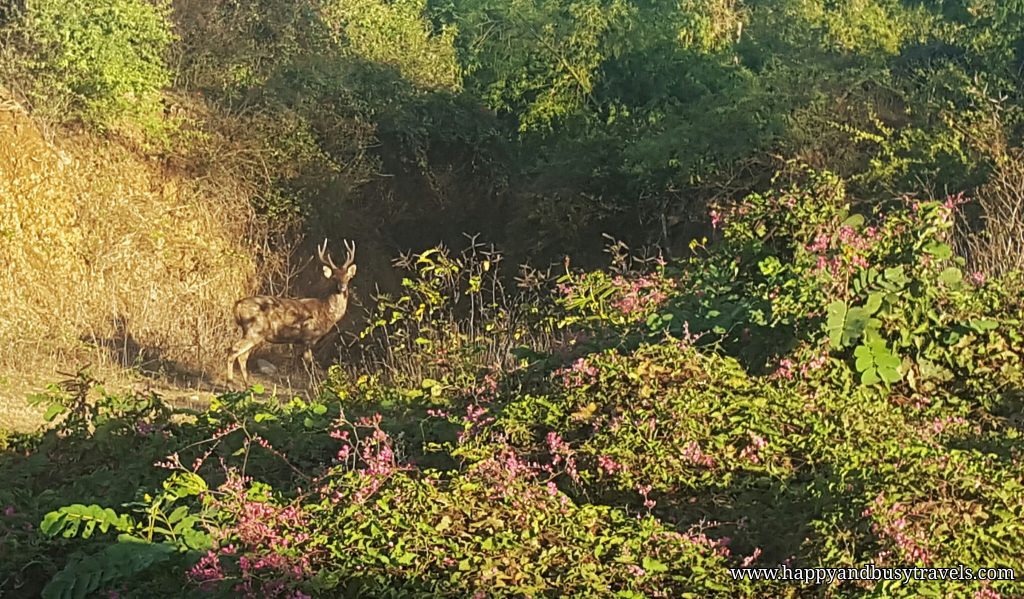 There's more!!!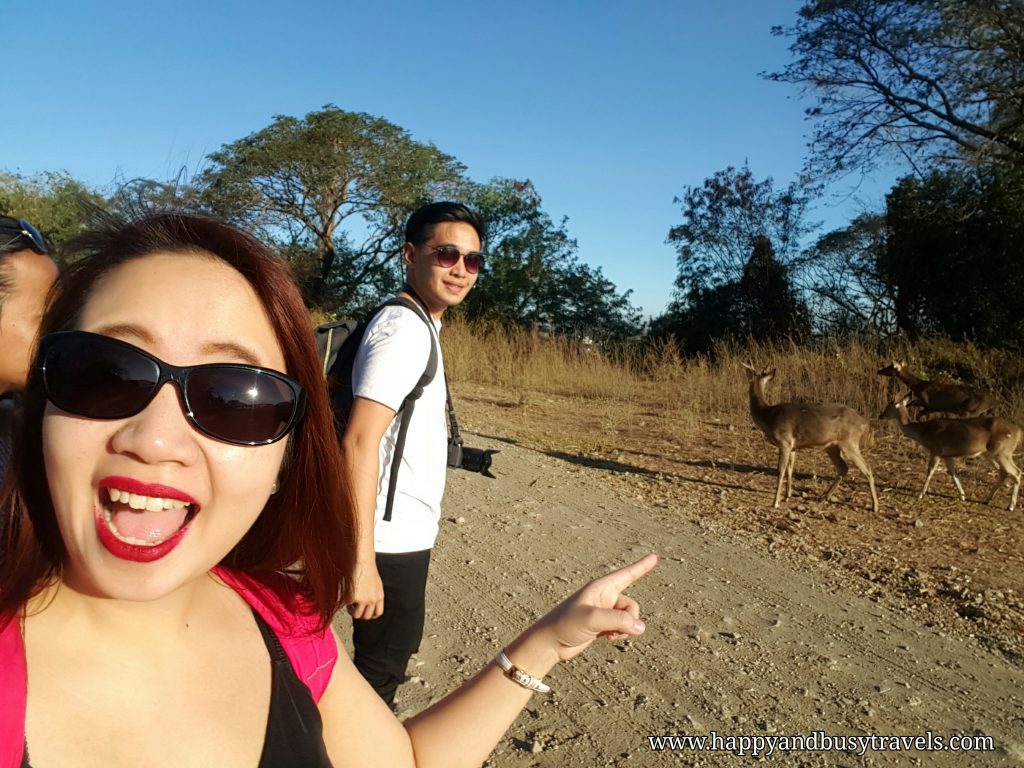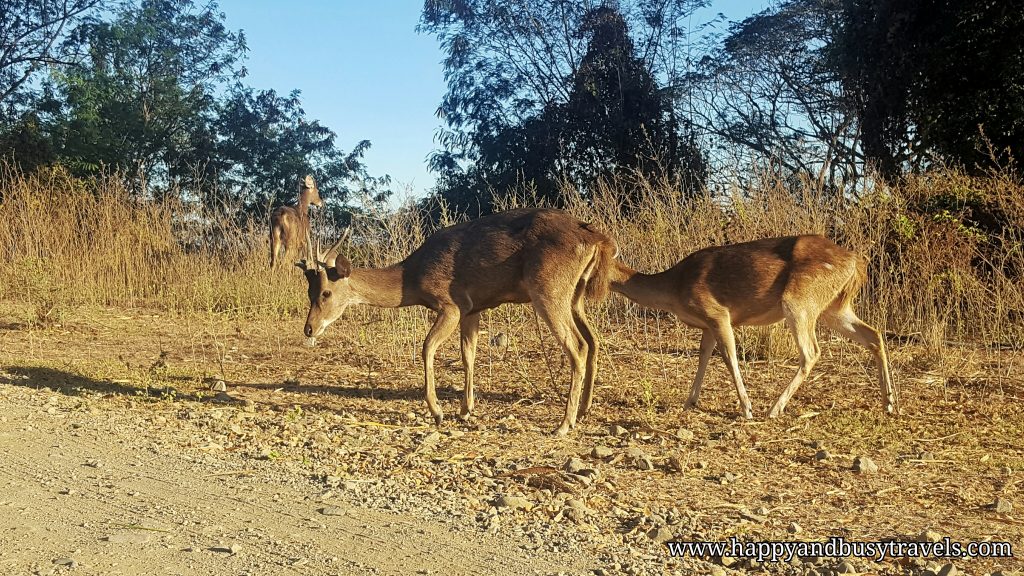 I also met one of the friendly Deer… 1…2…3… Smile! 😁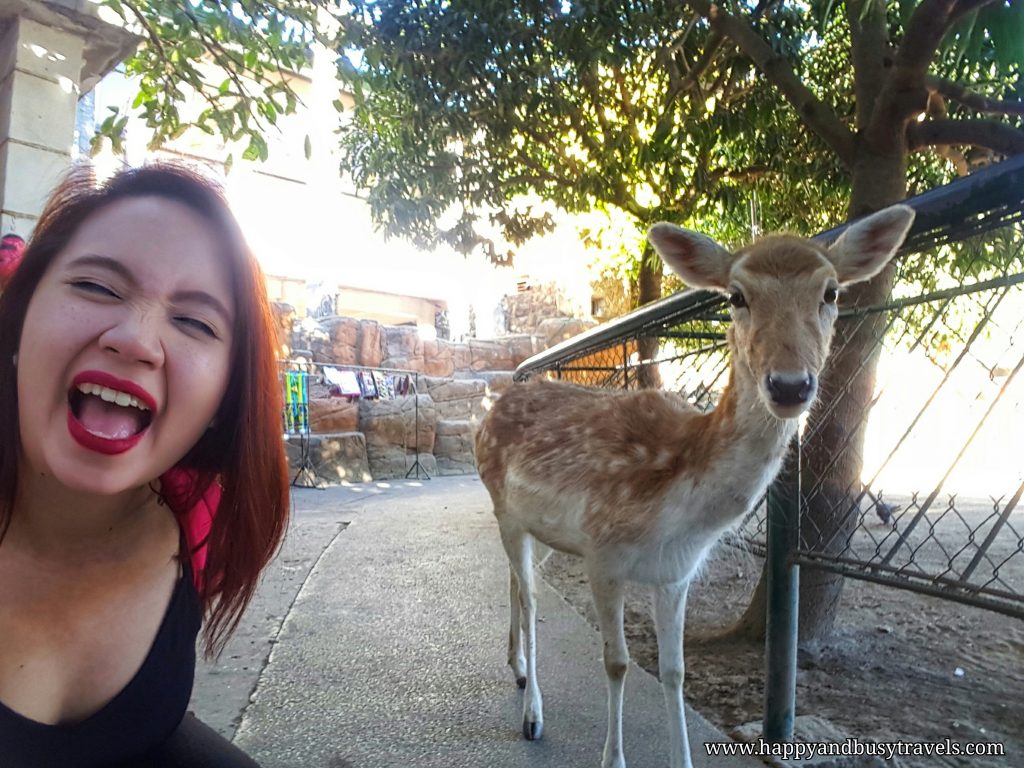 There is also a gallery inside the zoo.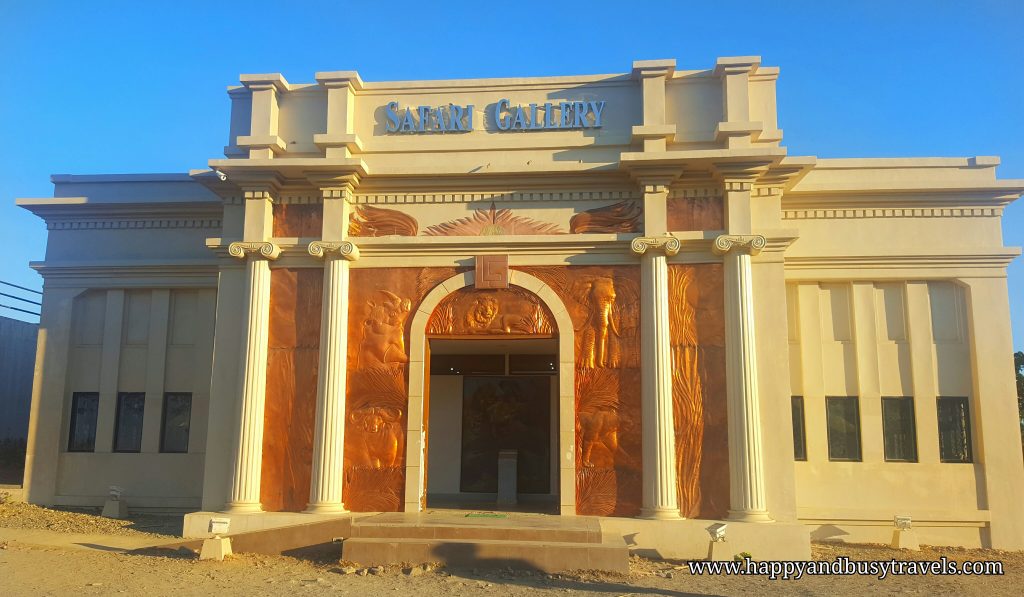 It features the animals that Chavit Singson hunted.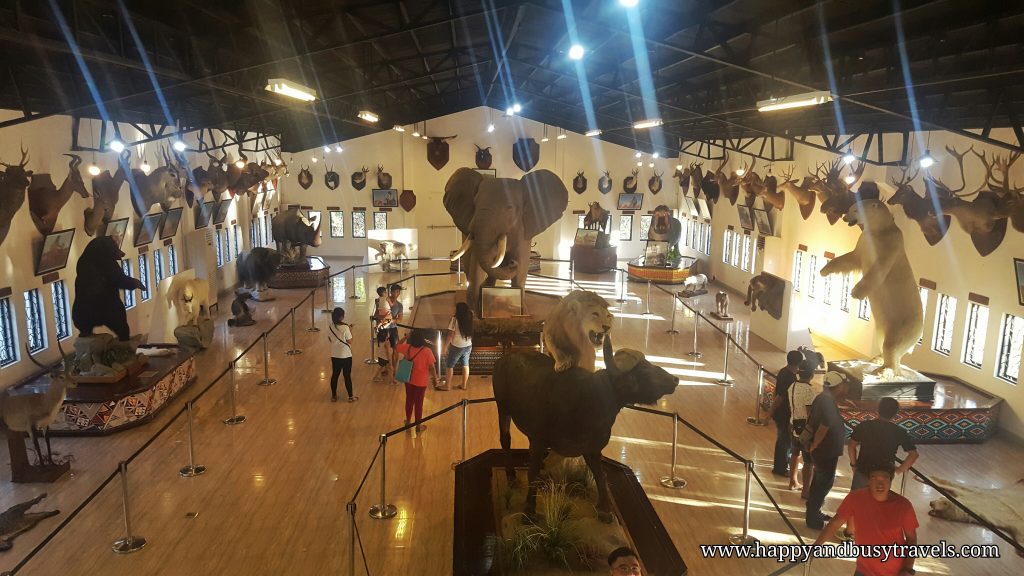 There is a lot of animals which undergo taxidermy!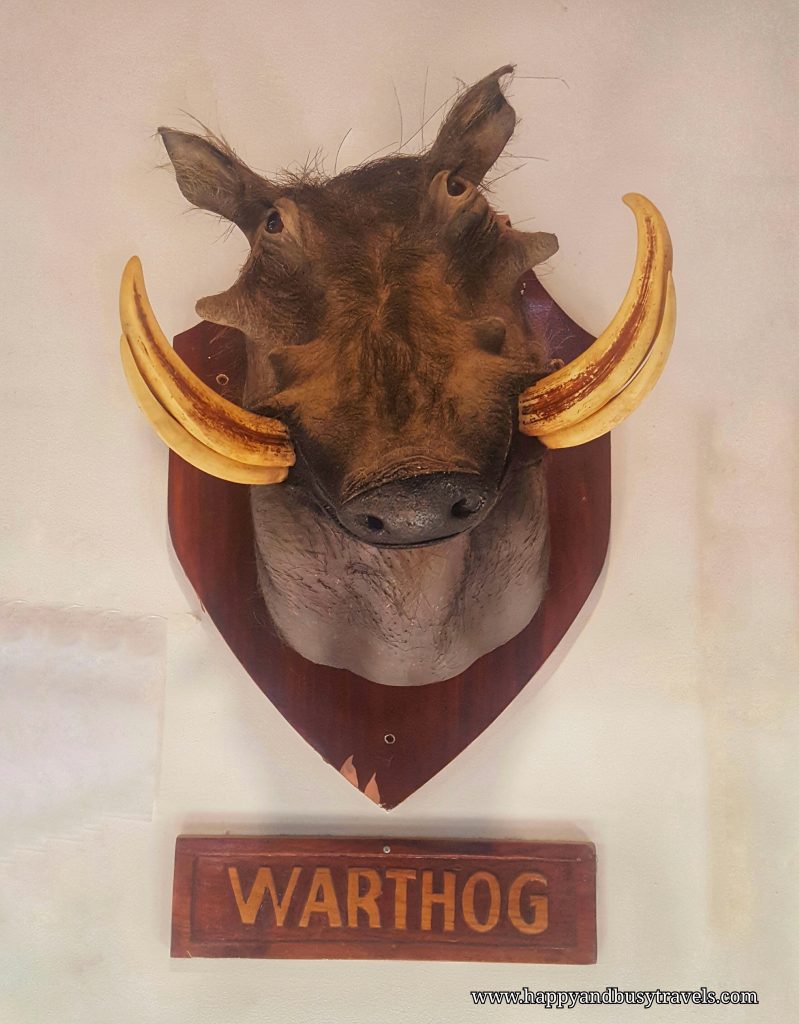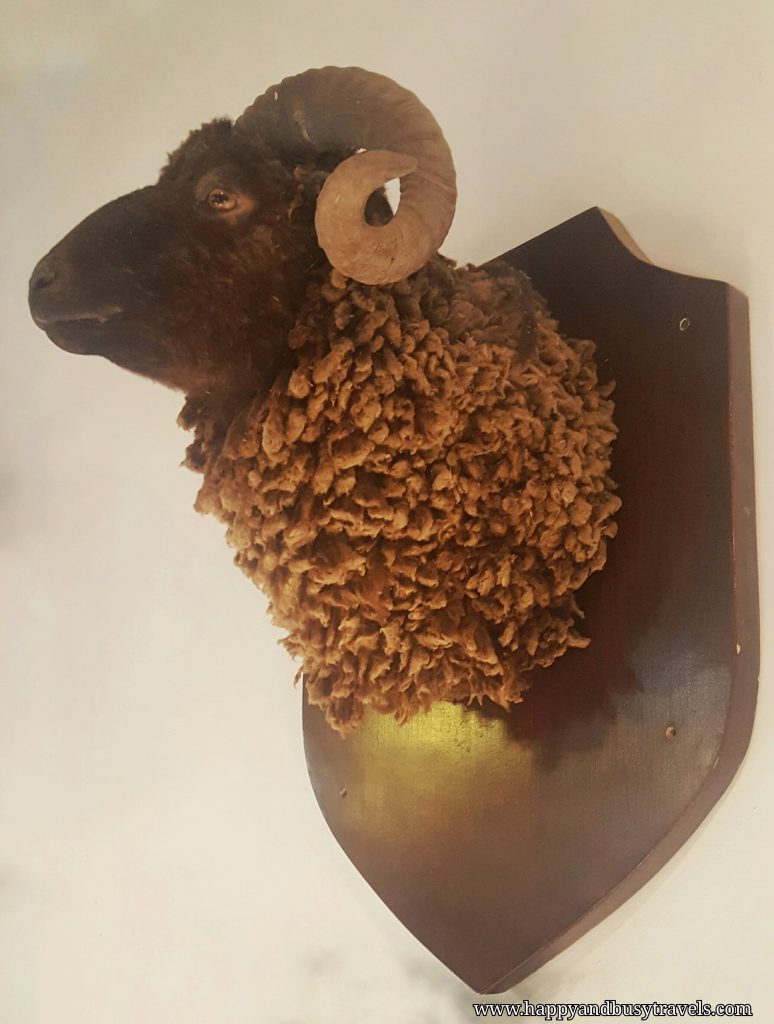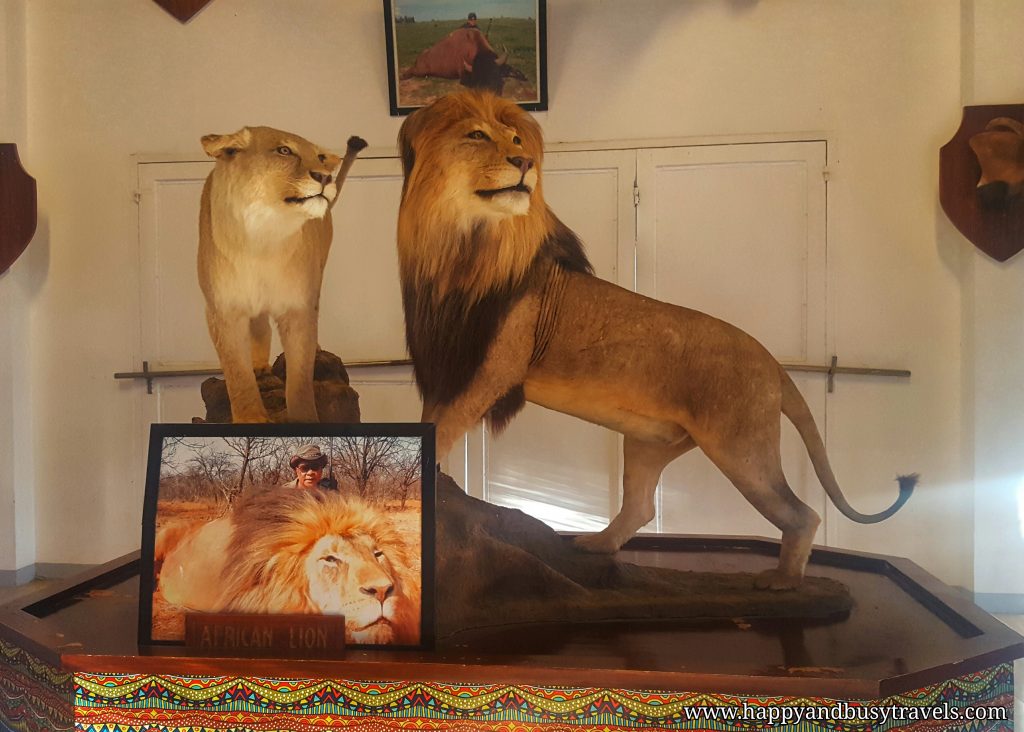 It was amazing to see all of these creatures, however I slowly beame sad while looking at each taxidermy. I think it will be better if we see these animals alive.
There are also some activities in the zoo, here are the prices for each activity: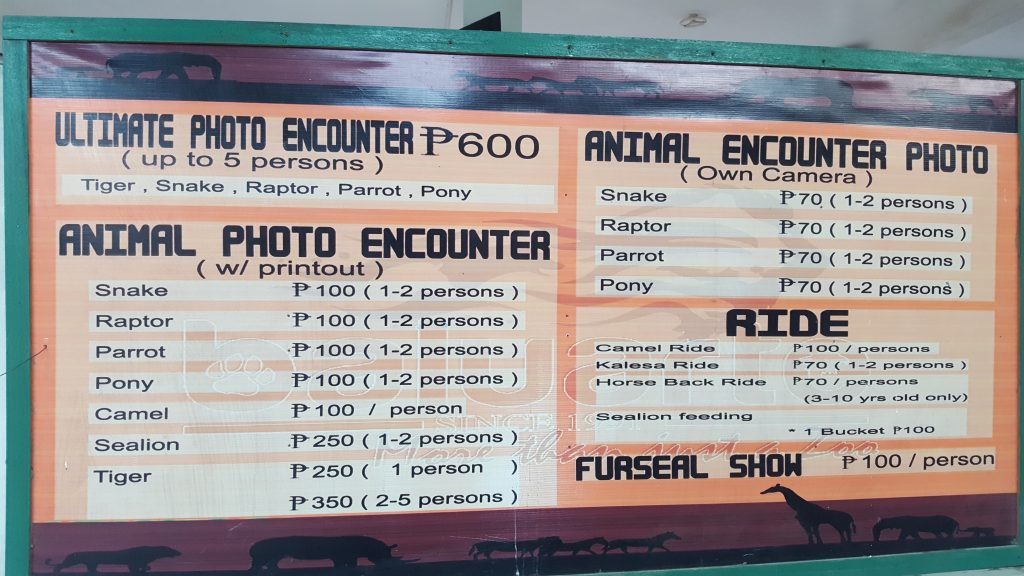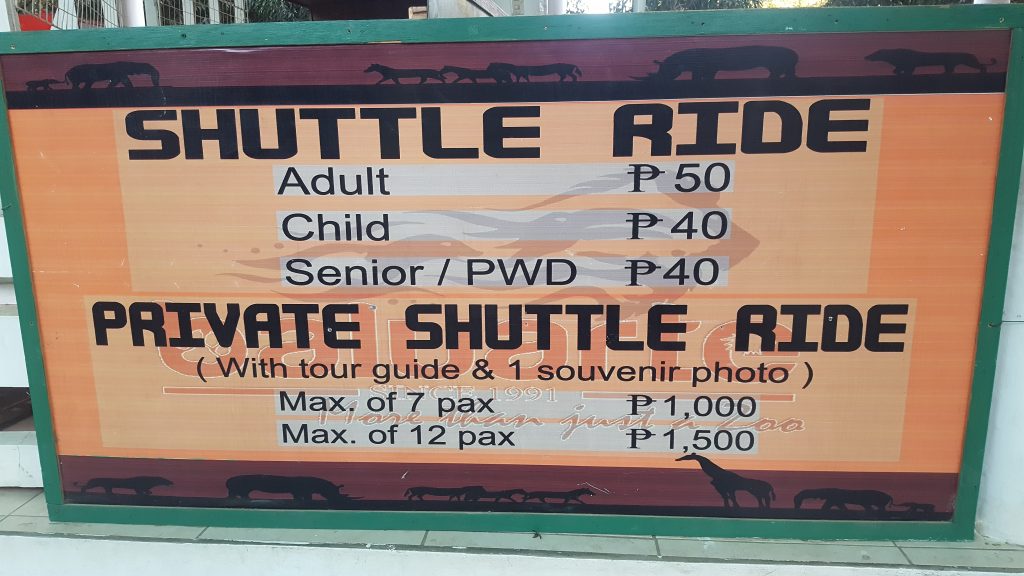 7:50 AM
Hidden Garden Restaurant
We were starving, so we have decided to eat in Hidden Garden Restaurant.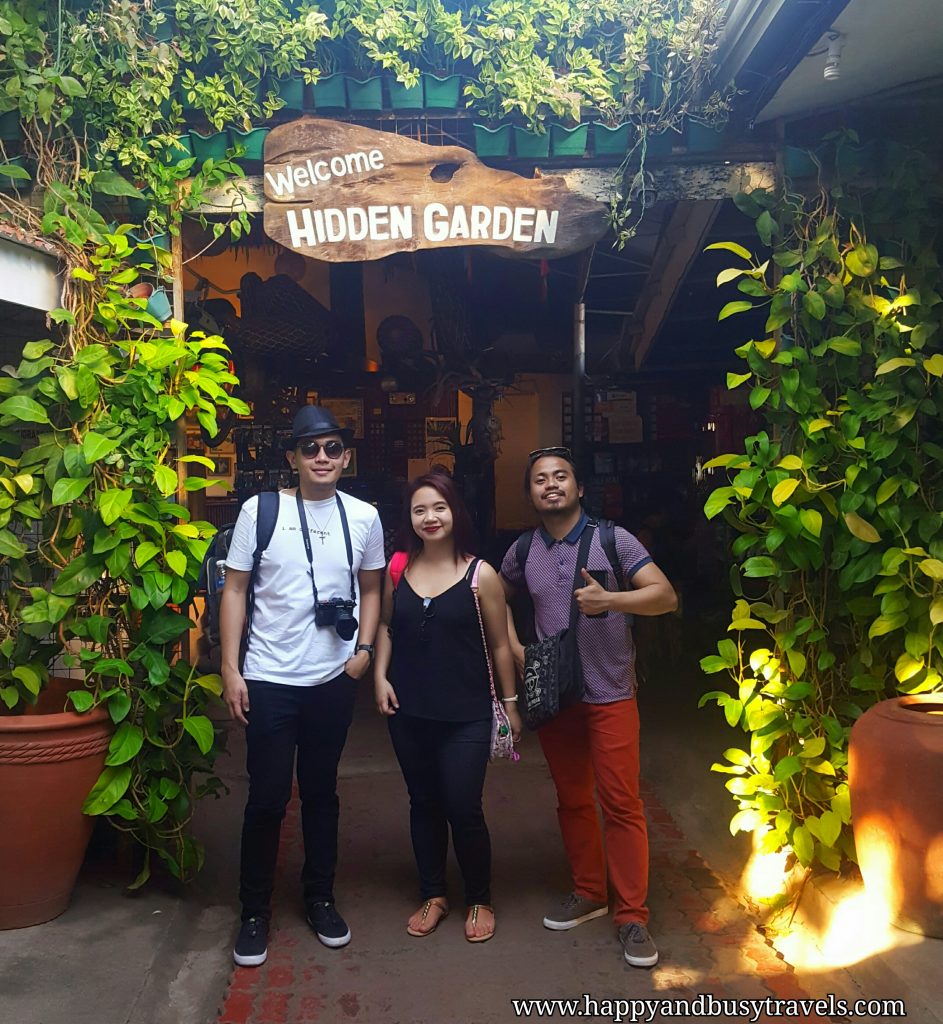 We would like to have the buffet but it is not available for breakfast, so we just ordered Longsilog. Longsilog is a Filipino breakfast combination of Longanisa, Sinangang (friend rice), and Itlog (egg).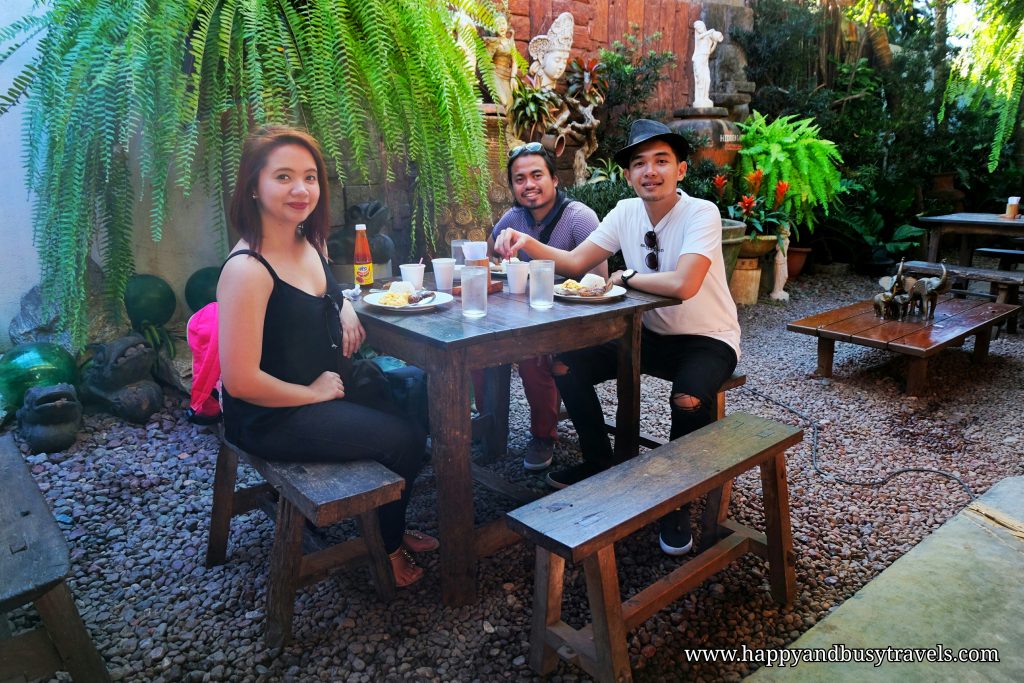 We also took the time to go around the restaurant.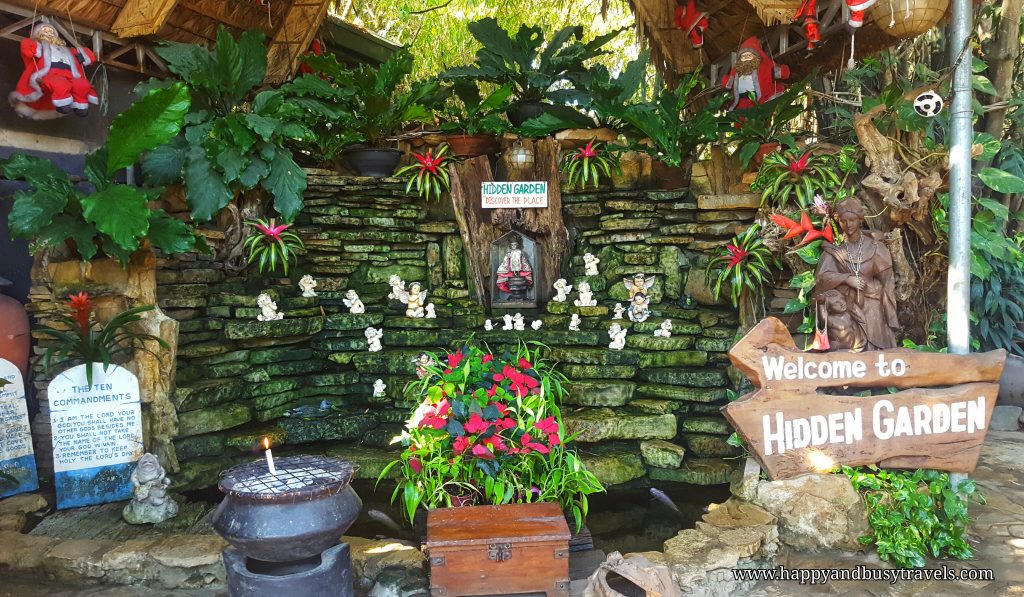 As the name says, Hidden "Garden", of course they have a lot of plants inside.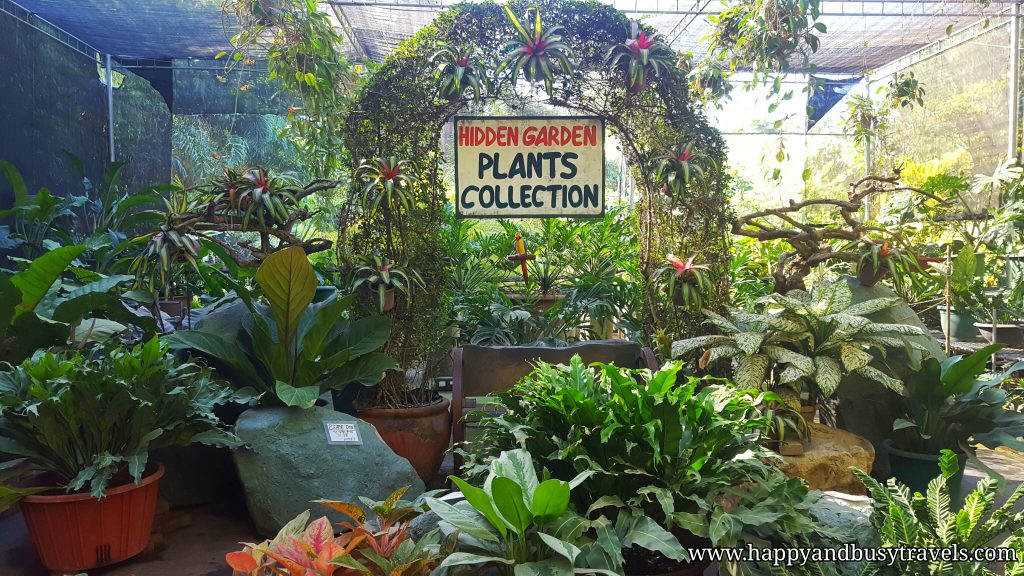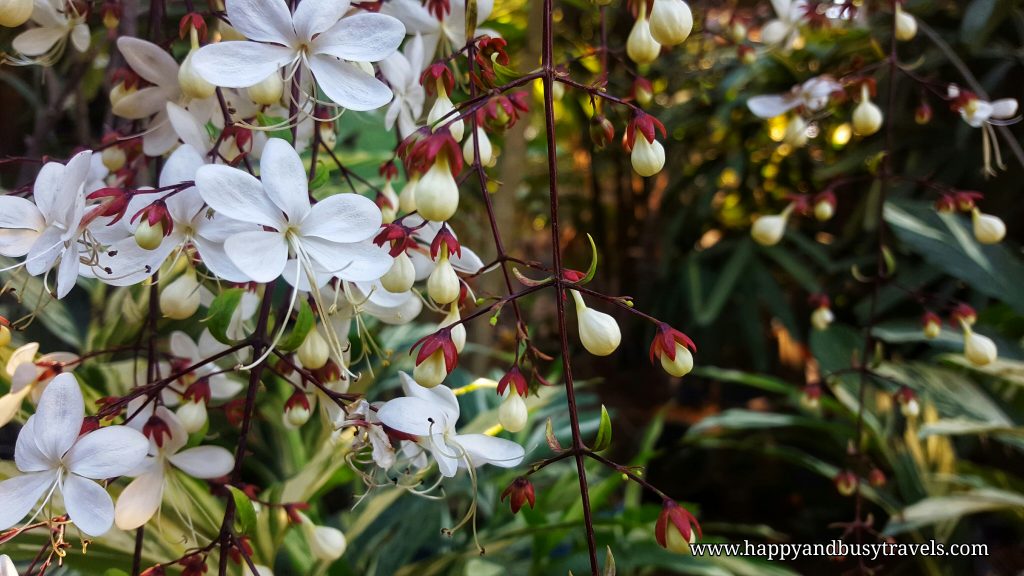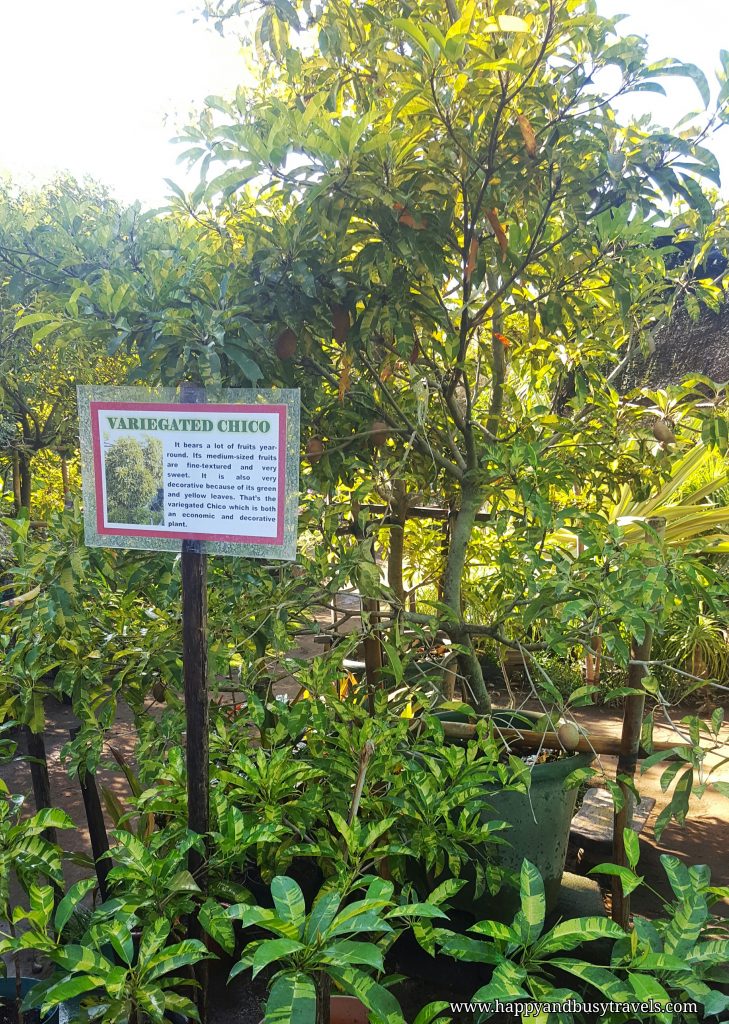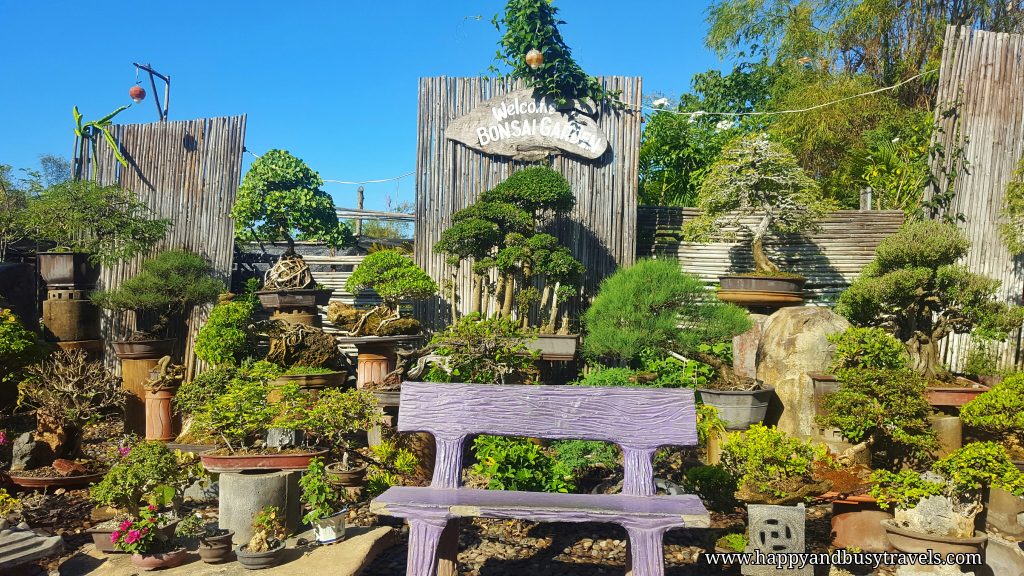 Photo Opp! 😄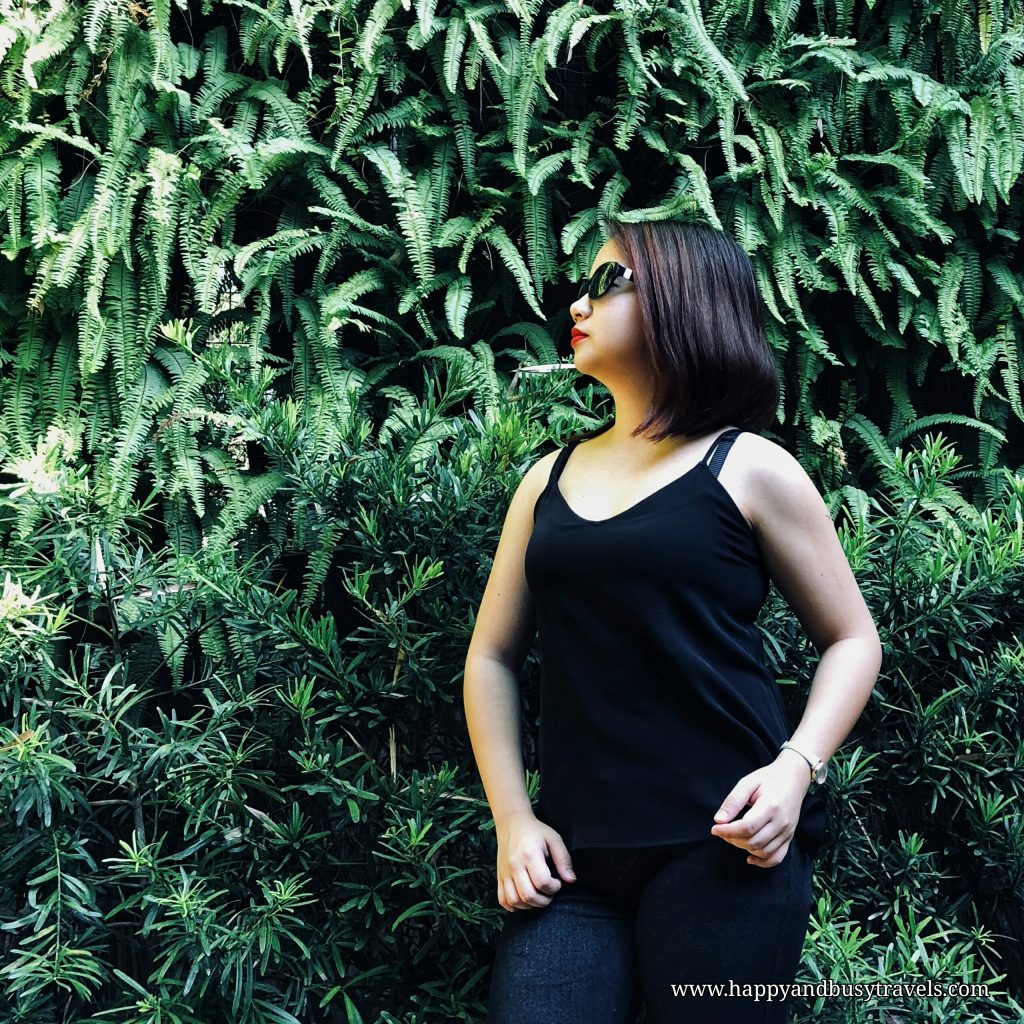 The restaurant has interesting Art pieces, here is one of them
Another plus of the restaurant are their comfort rooms.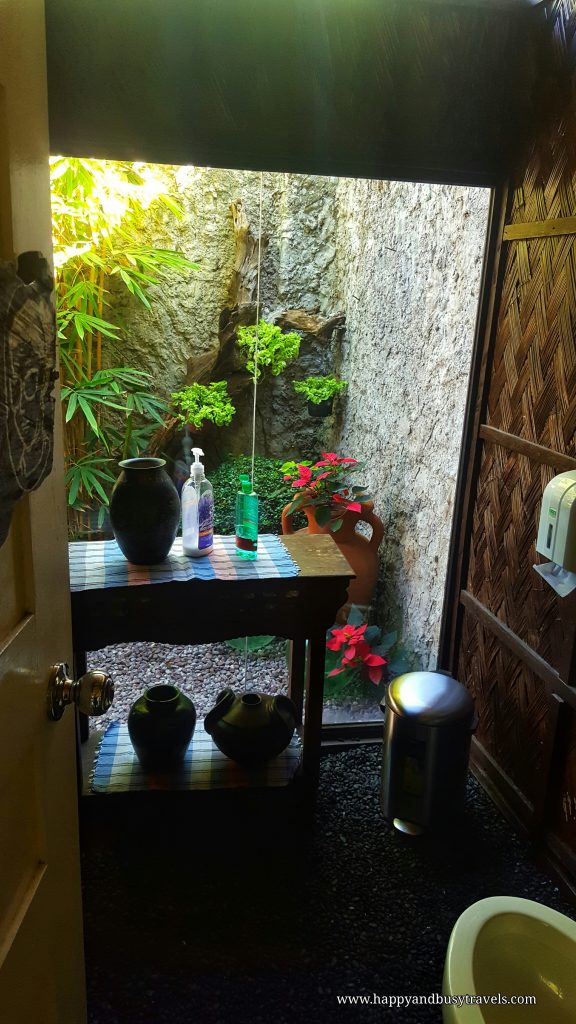 You'll surely be one with nature!!! 😝
9:35 AM
RG Jar Factory
Pottery is one of the major industries in Vigan, making the jar factories one of the tourist spots. There are lot of Jar Factory in Vigan, but we were taken in RG Jar Factory by our driver.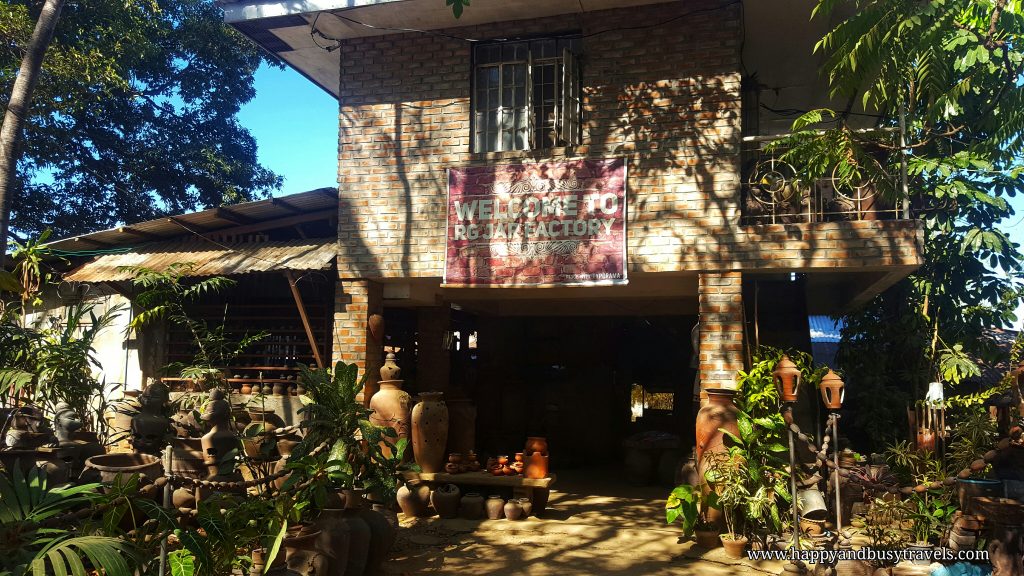 The spinning table is manually kicked to spin.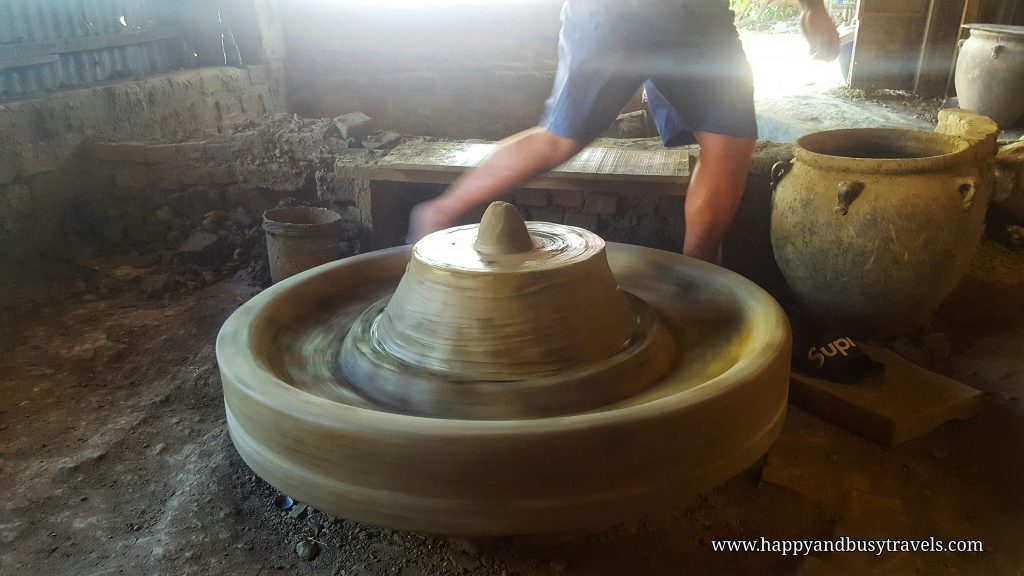 Then the man started making the pot.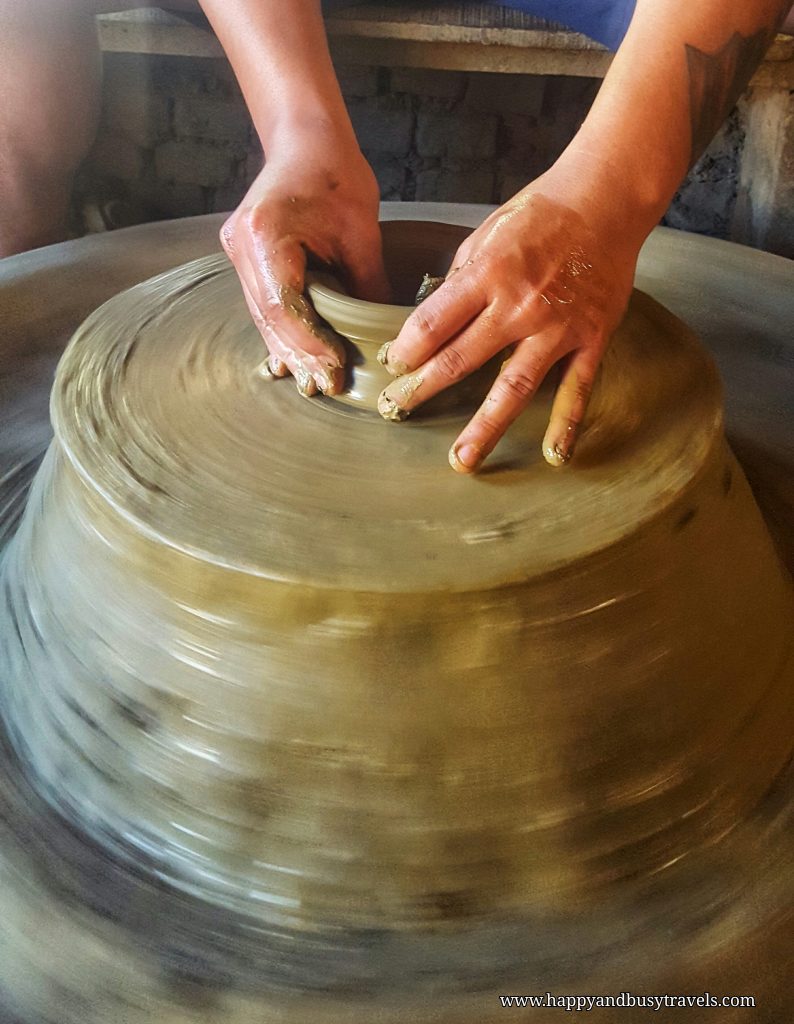 Until he reached his final product, a cute jar with a heart shape opening.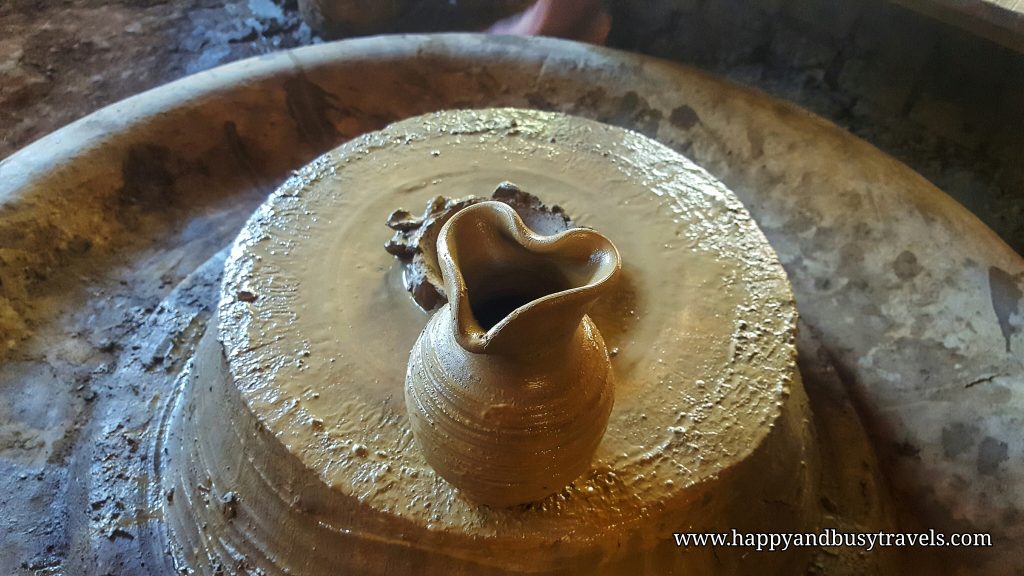 Outside the jar factory, we bought Vigan Chichacorn to bring home to our family and friends. Chichacorn is a snack made out of crispy corn kernels. You can also buy this all over Vigan. Price is Php 50.00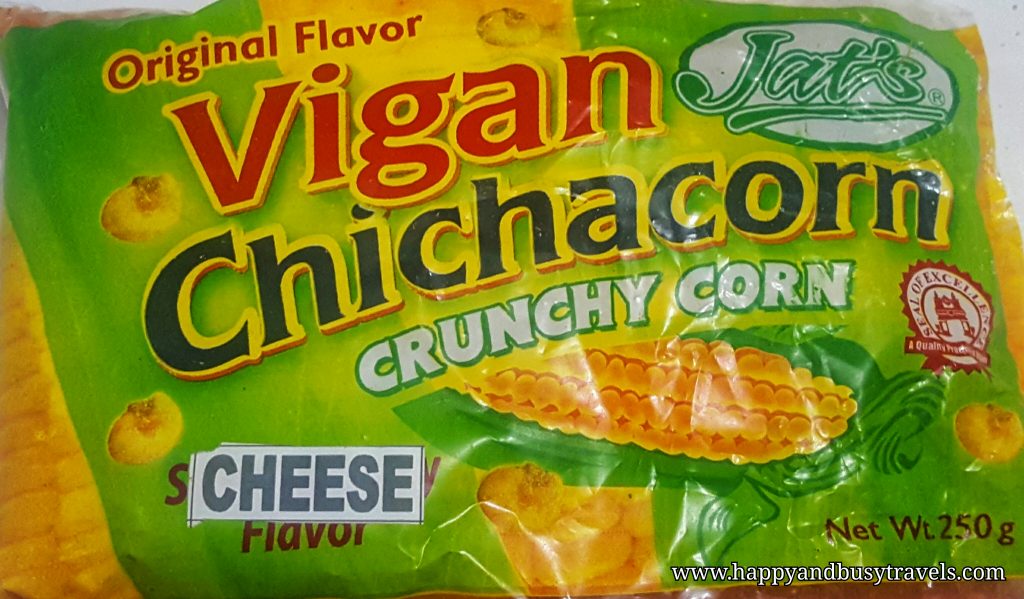 10:00 AM 
Crisologo Museum
We also went inside the Crisologo Museum. There is no entrance fee but you have to register and donate. The museum is open from 8:30 AM – 11:30 AM and 1:30 PM – 4:30 PM everyday.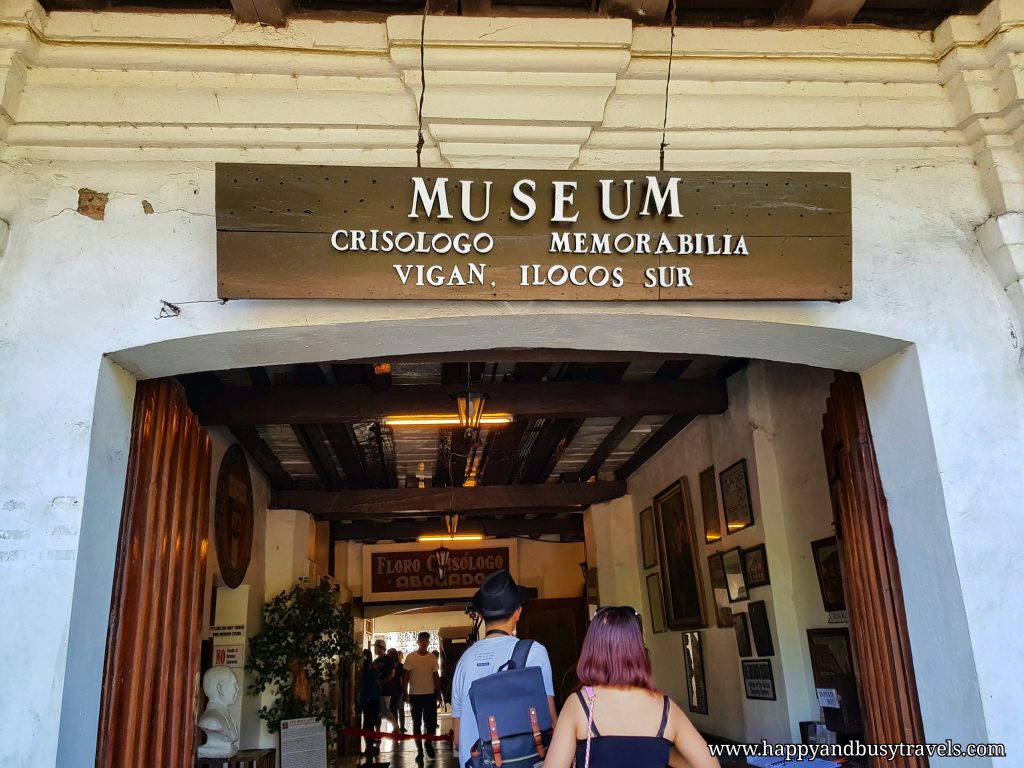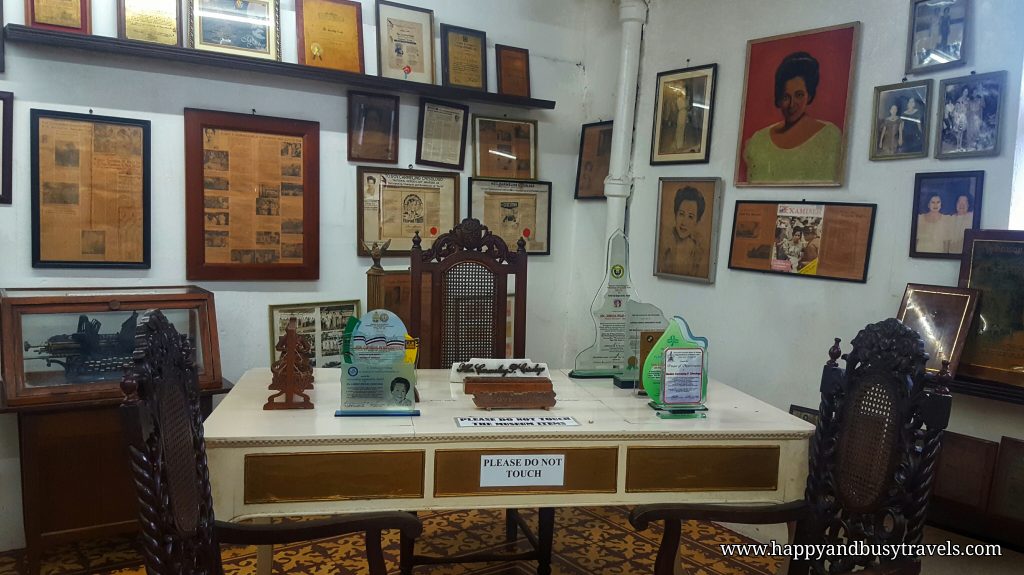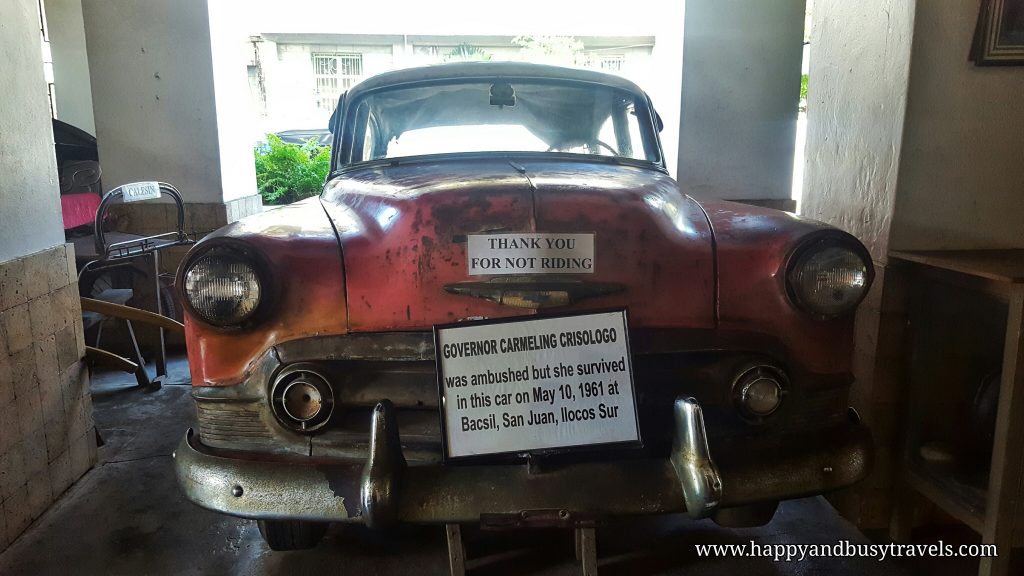 The walls of the old kitchen of the Crisologo house was not touched so the people can see what does it really looked like cooking with charcoal in the past.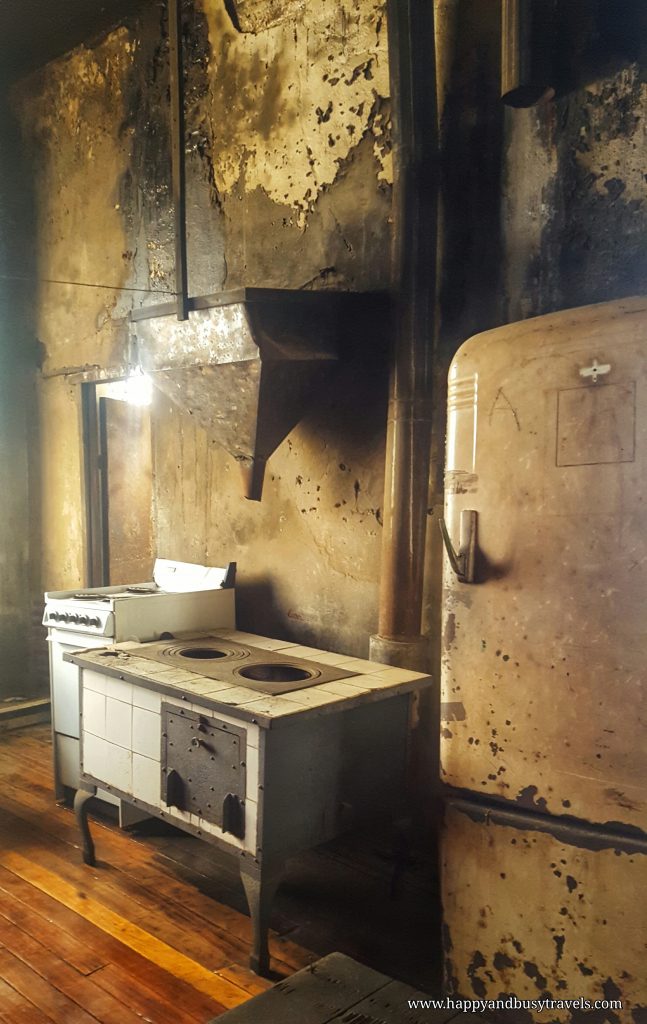 Here is the family picture of the Crisologo family.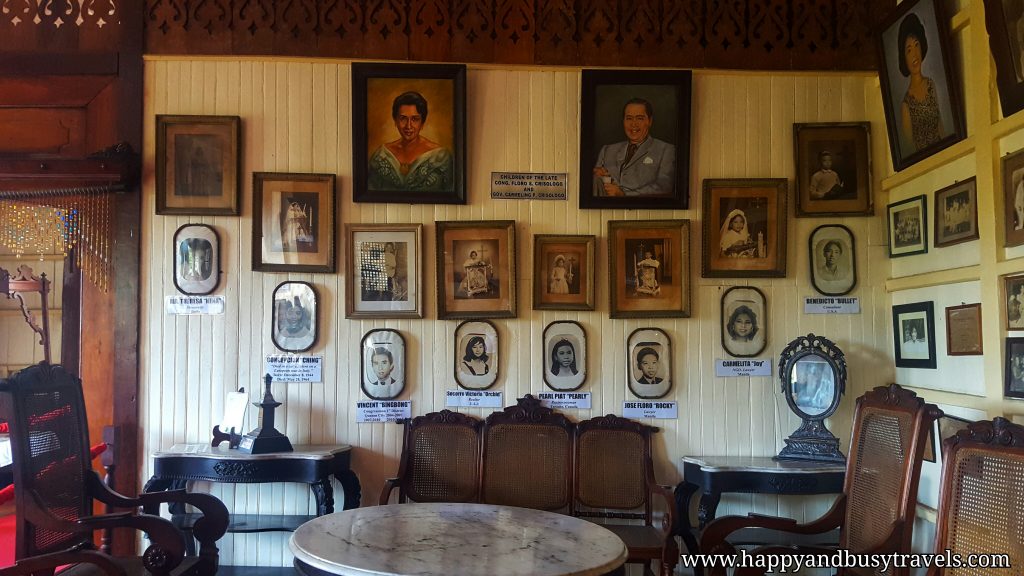 10:50 AM
Syquia Mansion
Another museum in Vigan is the Syquia Mansion. The mansion is also significant because President Elpidio Quirino once lived in this mansion.
The museum is open from 9:00 AM to 5:00 PM everyday except Tuesdays. There is also a charge upon entering.
Php 100.00     Regular rate
Php 40.00       Senior citizen, PWD, and Private school students
Php 10.00       Public School students
FREE               Children below 7 and public school teachers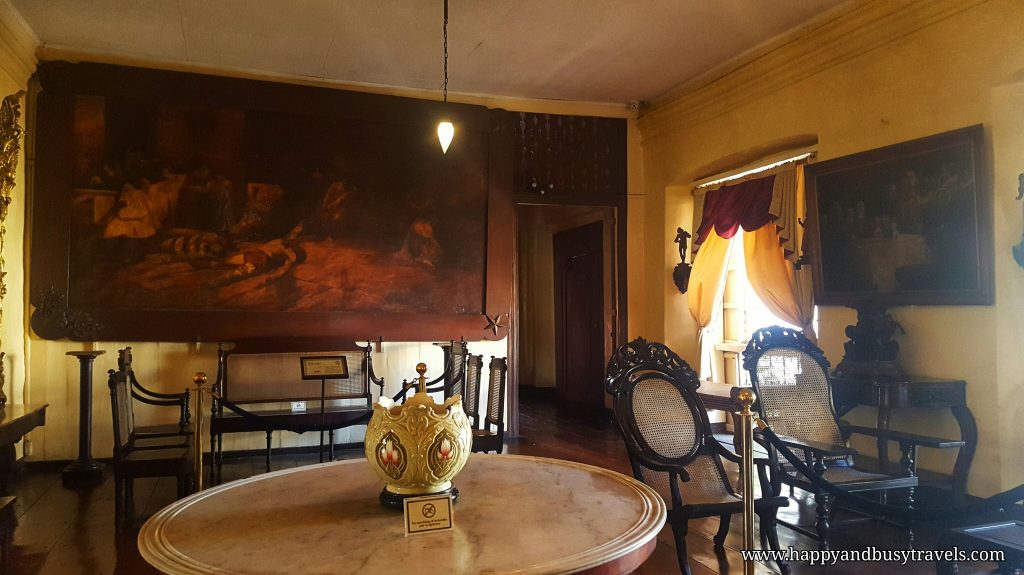 Inside the mansion, we saw different art pieces, and the room arrangement in the past.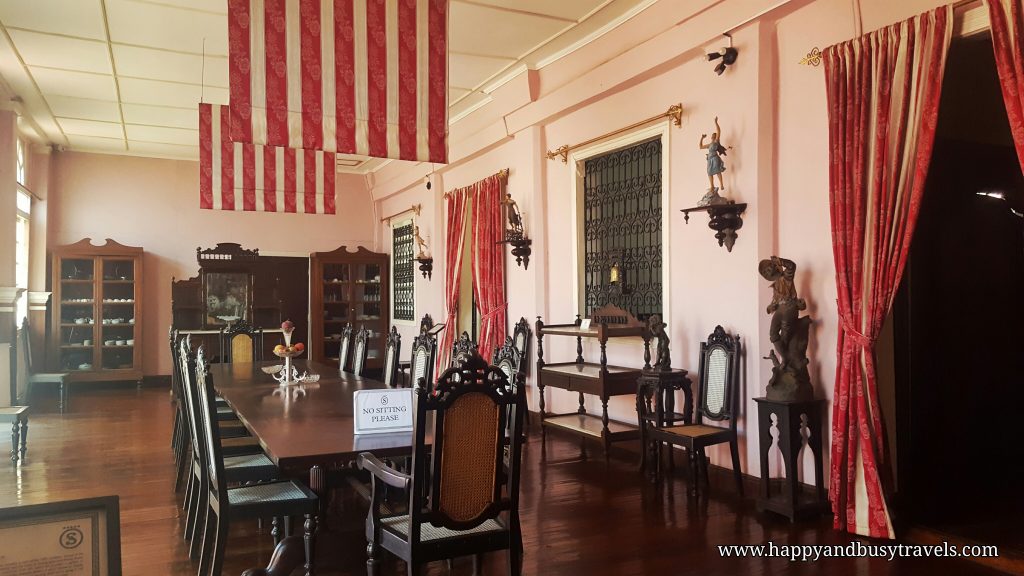 The cloth from the ceiling were used by the helpers in the past to lower the temperature in the dinning room.
Inside the mansion, there is a memorabilia hall for President Elpidio Quirino.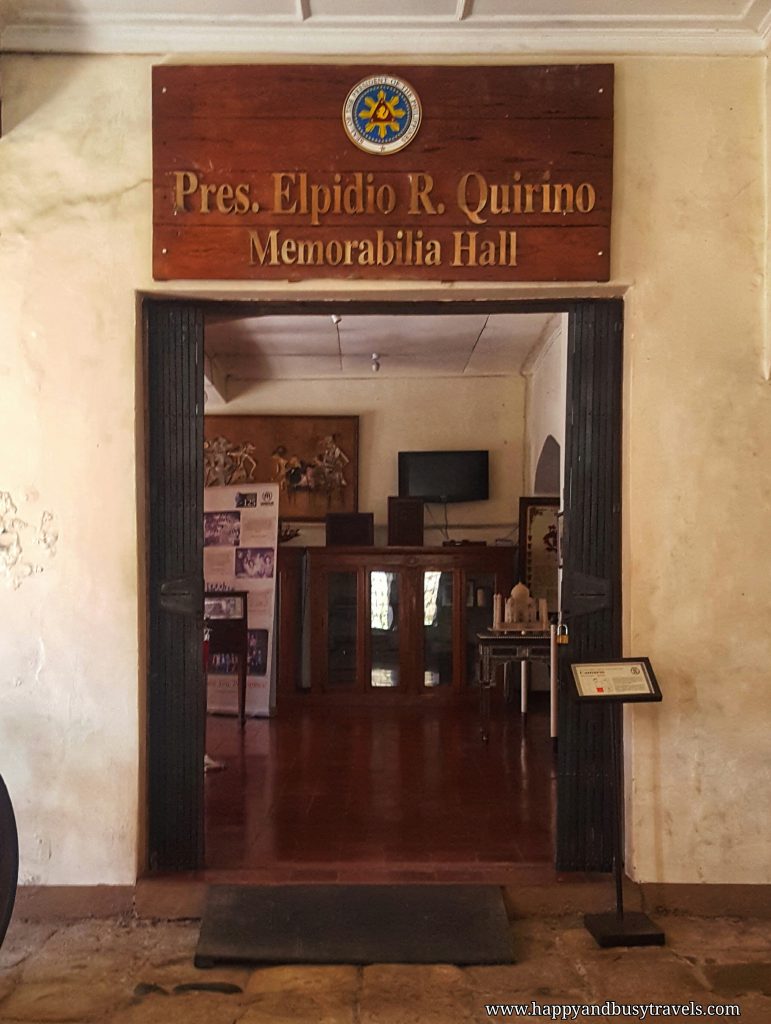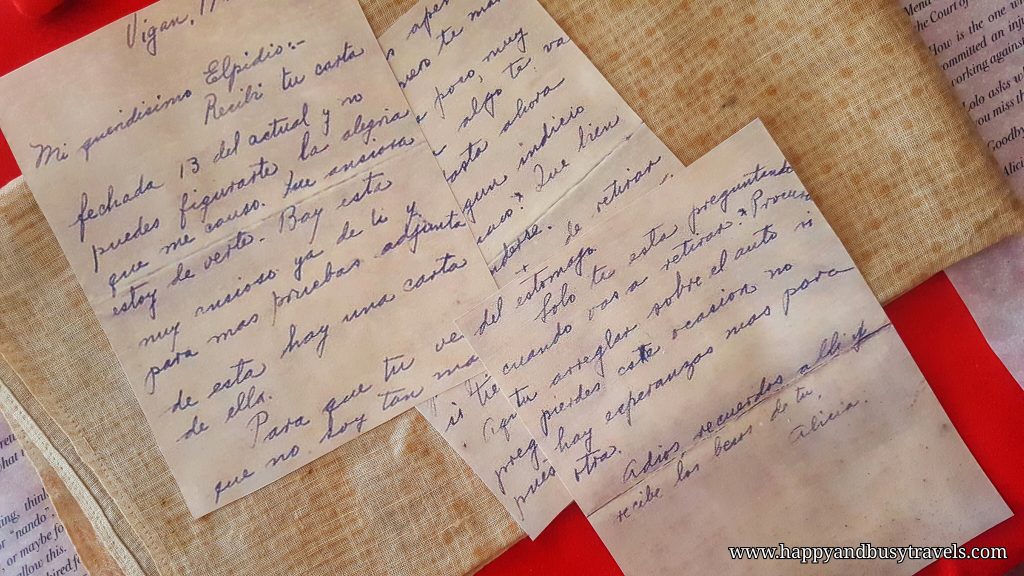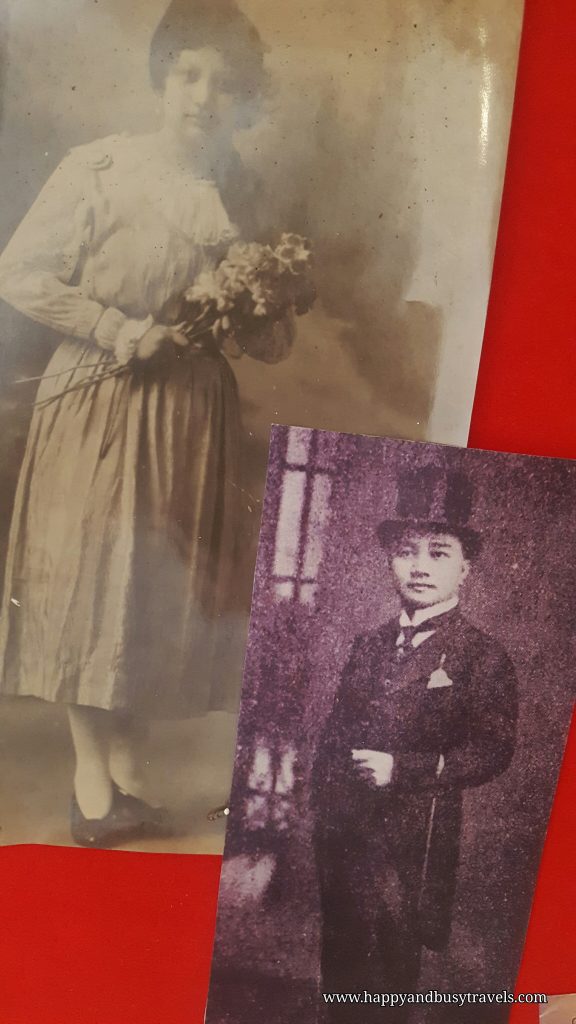 An art gallery is also featured during our visit. This time they partnered with Pinto Art Museum.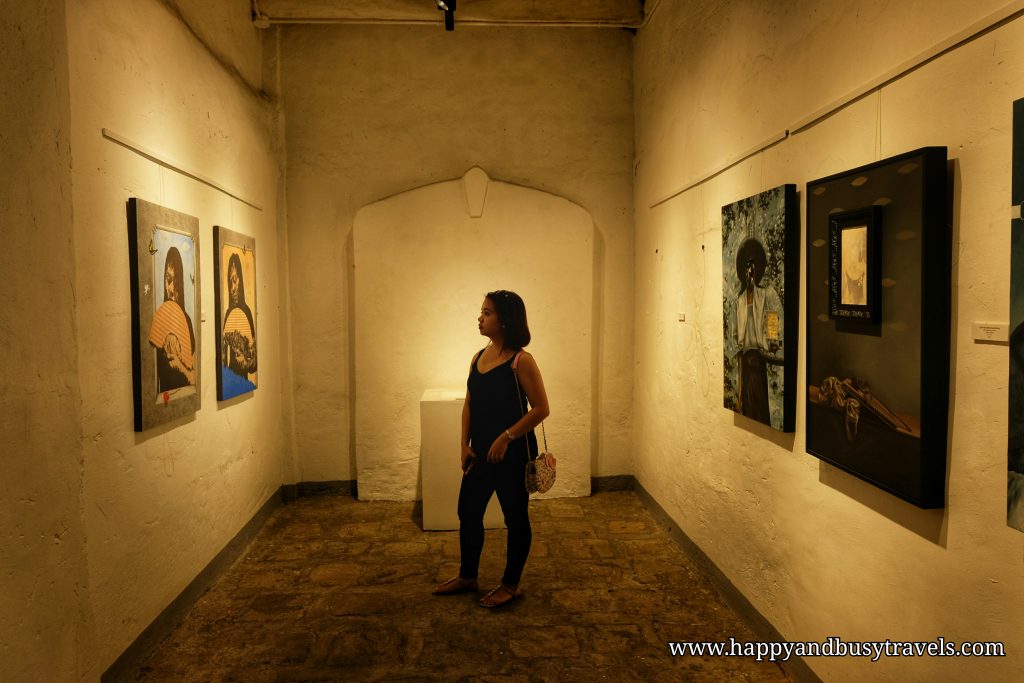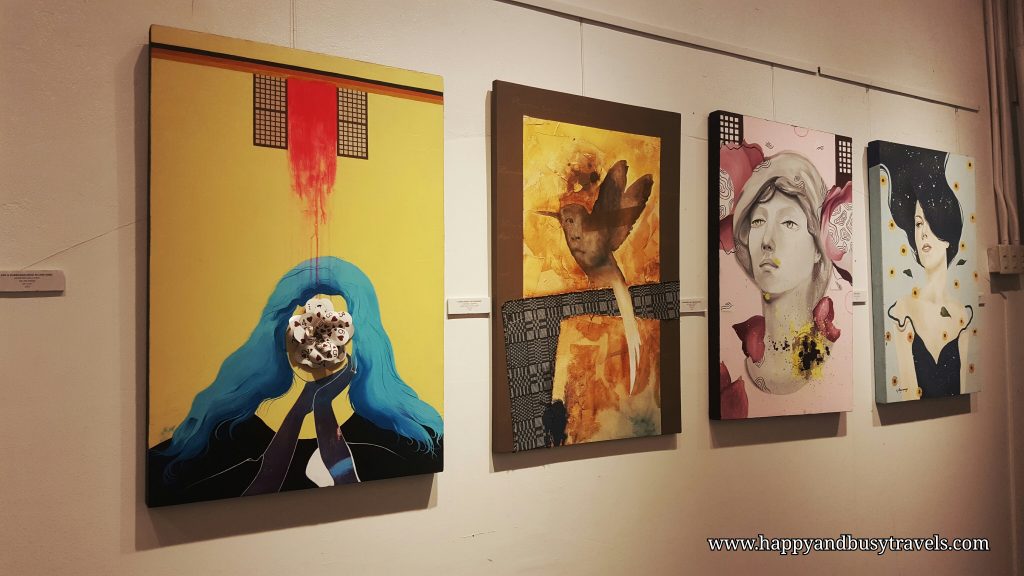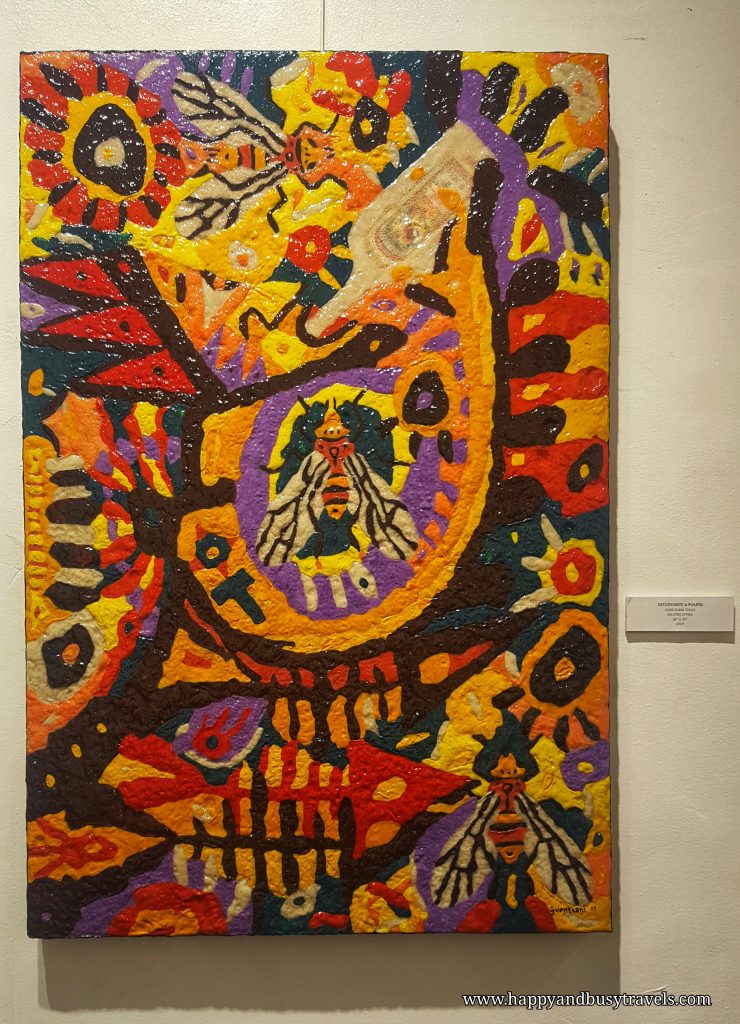 11:10 AM
Weavers
Weaving is also one of the major industries in Vigan. This particular weaving shop informed us that they supply some of the products of Kultura (A store which sells Filipino handicrafts in SM Malls).
I took the opportunity and I tried weaving!
I think I did well 😅😆😜
11:30 AM
Cordillera Inn
In our initial "plan" we will not check in a hotel because we will go home after our tour. However we were tired because of the high temperature! and we also thought that we went to all of the tourist spots already. So when we ended our tricycle tour in Calle Crisologo, we looked for a hotel through the internet… After a while we noticed that we are just in front of Cordillera Inn, so we just checked in the hotel.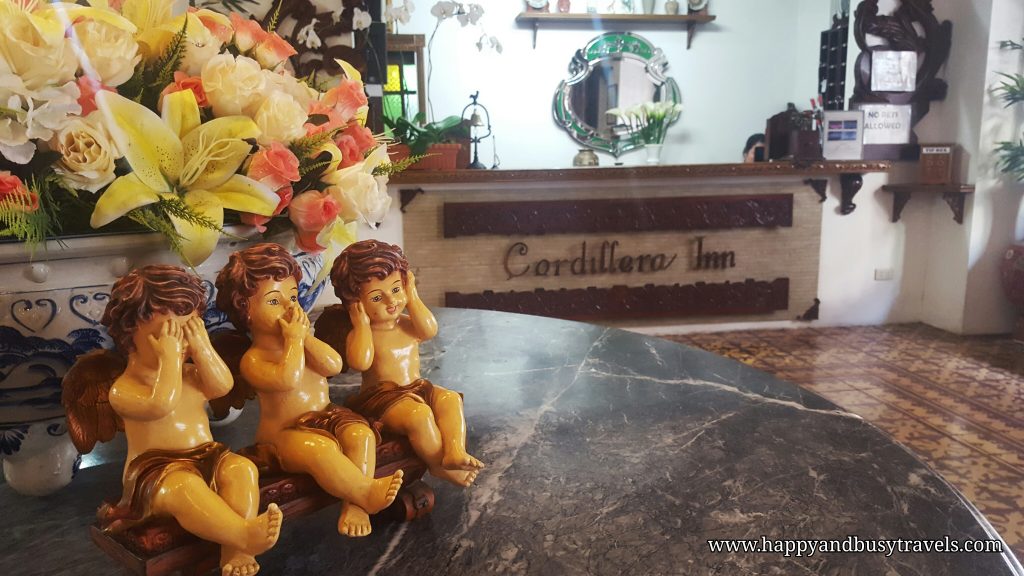 You can also book them through Agoda
Here are their rates and contact details: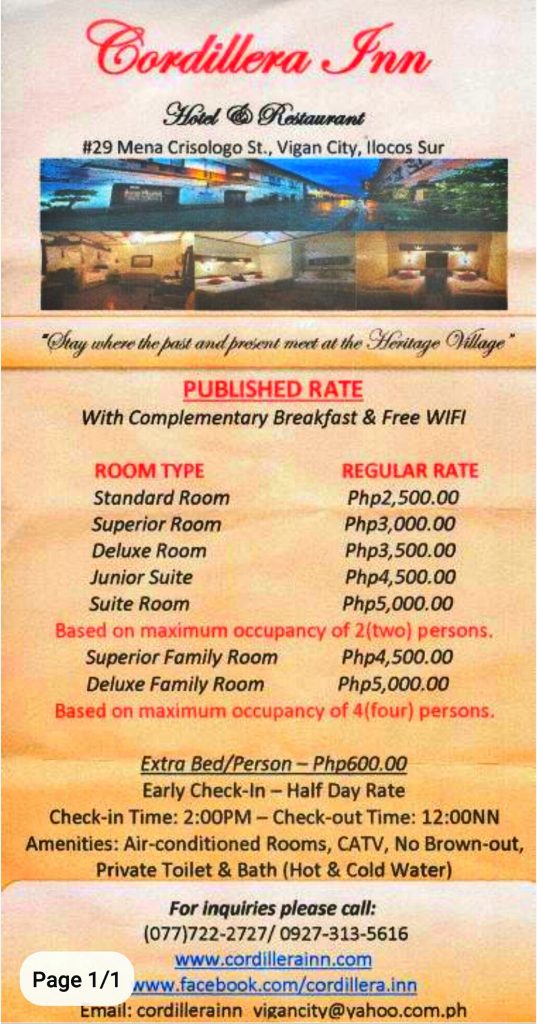 We booked a standard room with an extra bed.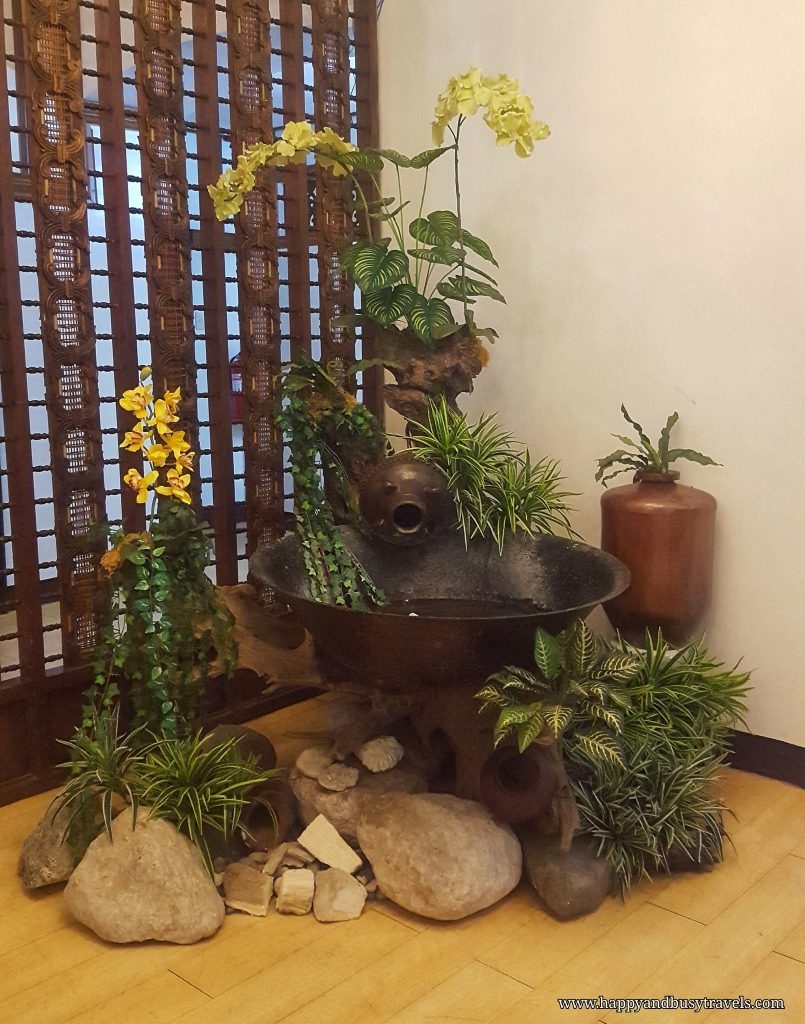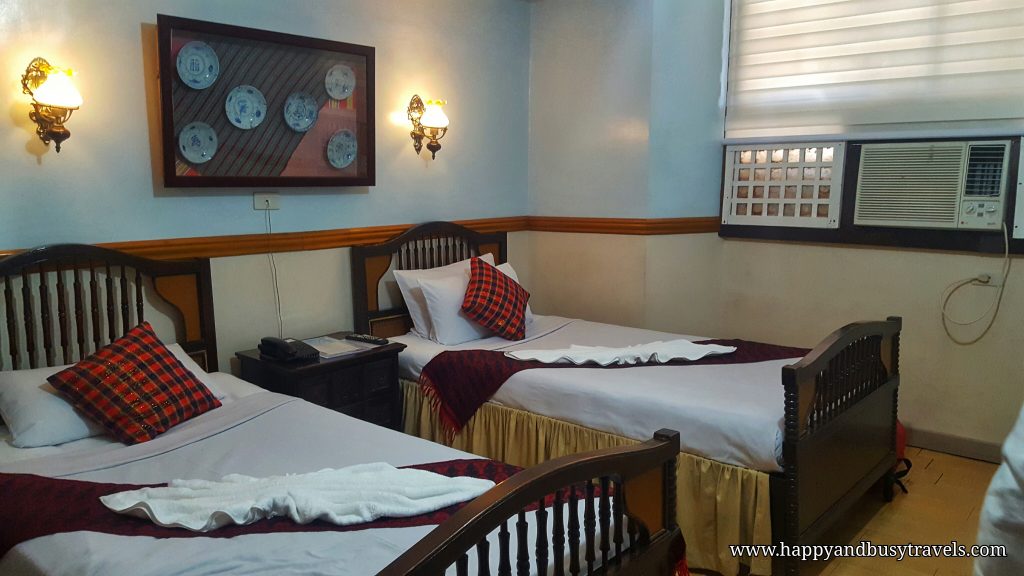 The room has air conditioning, television, towels, and toiletries.
1:00 PM 
Cafe Leona
We freshened up a bit and we went to Cafe Leona to have our lunch. We were lucky that a table is already available because, the place is a must go restaurant, so it is always packed with visitors.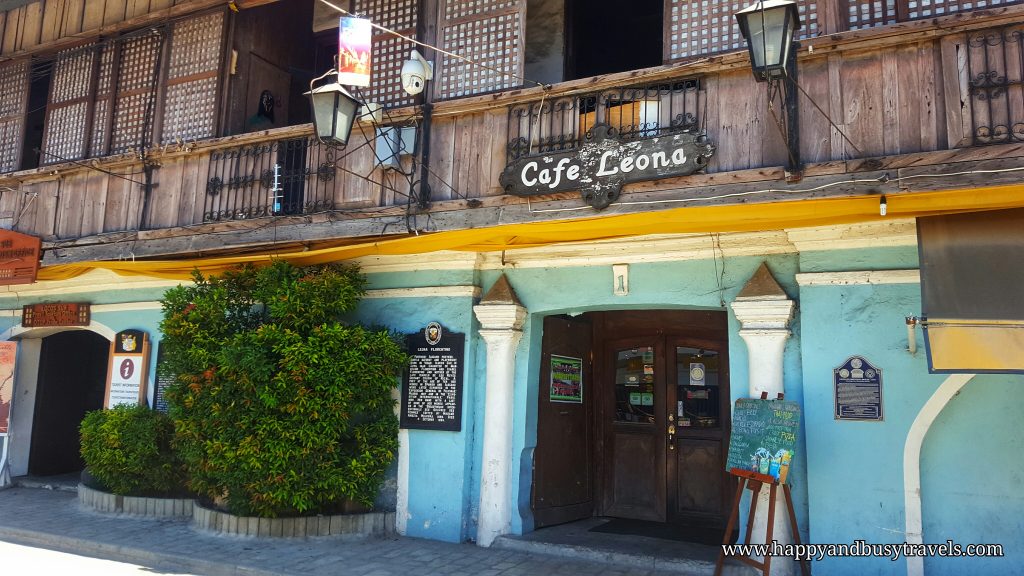 Unofficial Facebook Page: https://www.facebook.com/pages/Cafe-Leona-Vigan-Heritage-Village/
While reading the menu, we asked what can they recommend. They recommended their Bagnet and Longanisa Pizza. Aside from Bagnet and Longanisa Pizza we also ordered Sinigang Malaga (fish in sour soup).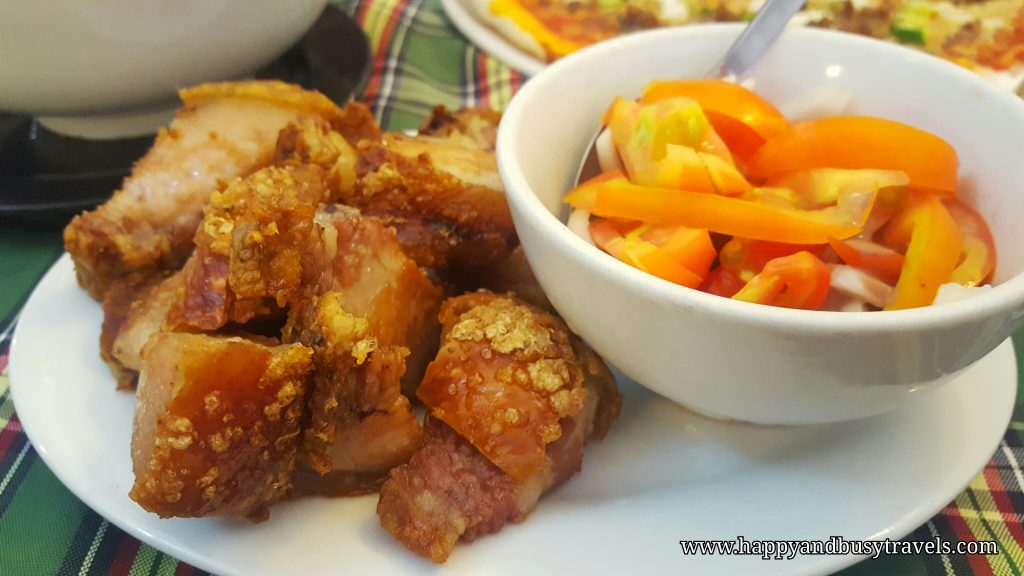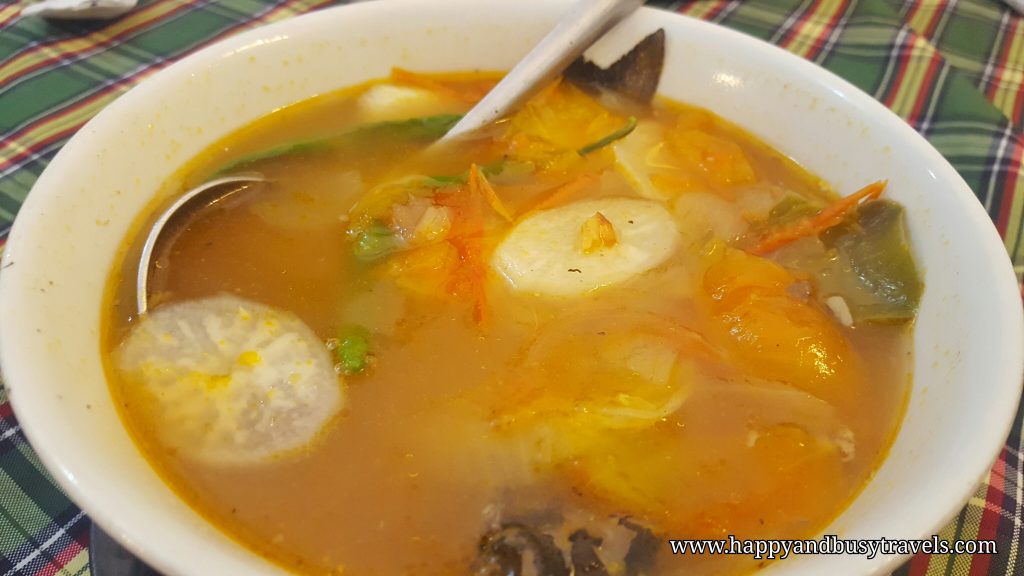 Then we're full! We love eating! Hahaha
2:55 PM
Kalesa Ride
We rented a Kalesa for Php 150/hour and asked the Kutchero (driver of the Kalesa) to take us anywhere.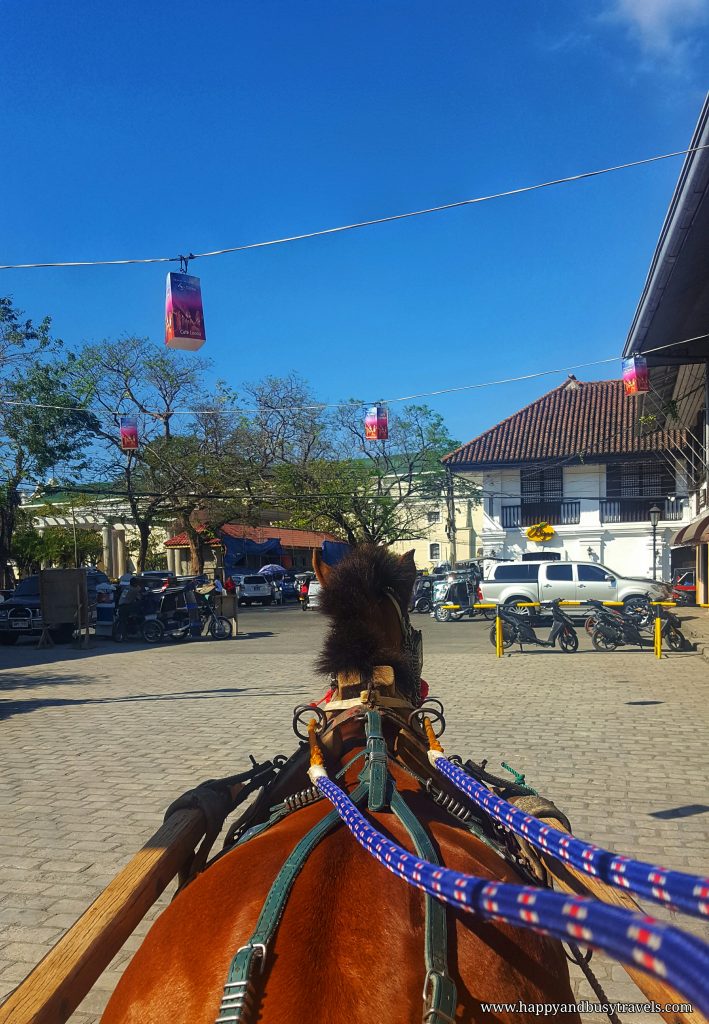 A Kalesa is a traditional two wheeled vehicle pulled by a horse.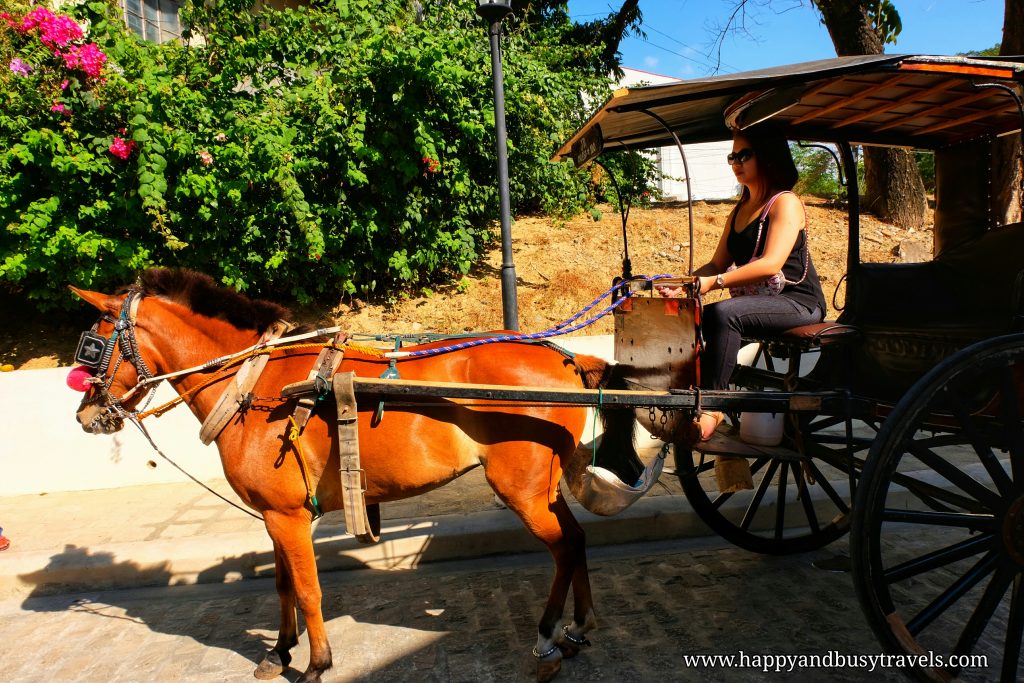 3:00 PM 
Padre Burgos House – Pambansang Museo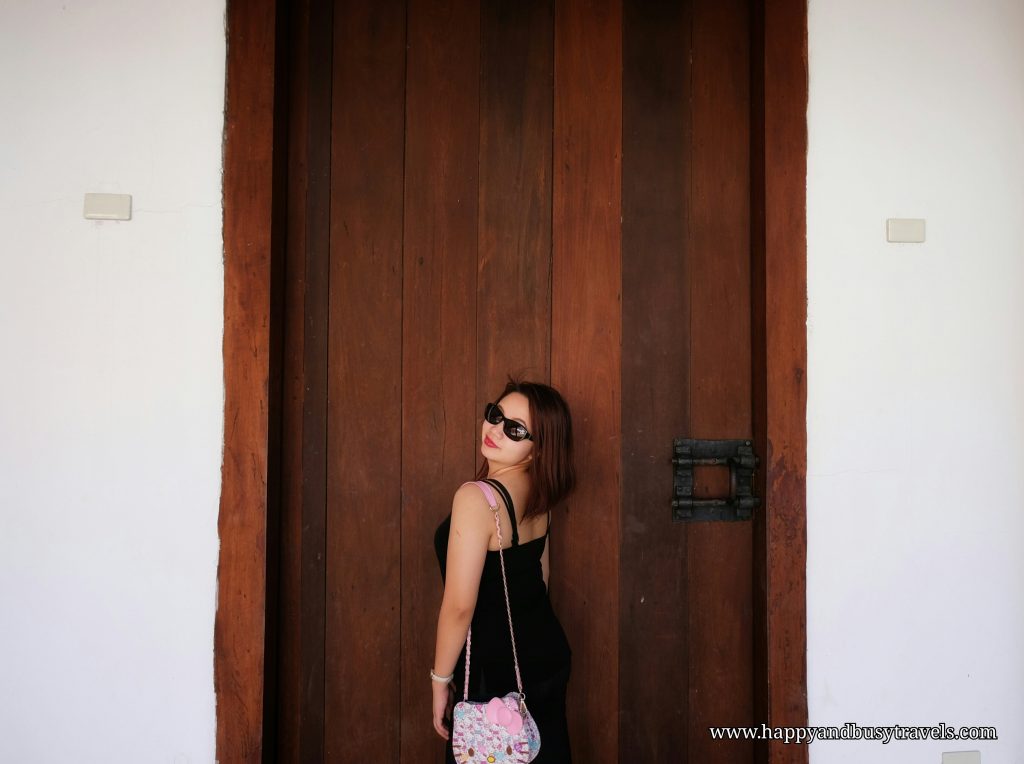 The Kutchero tooked us to Pambansang Museo or the Padre Burgos House
The museum is the ancestral house of Fr. Jose Burgos, one of the martyr priests that died during the Spanish era. It is open from 10:00 AM to 5:00 PM everyday.
The museum caters the culture of the people in Vigan.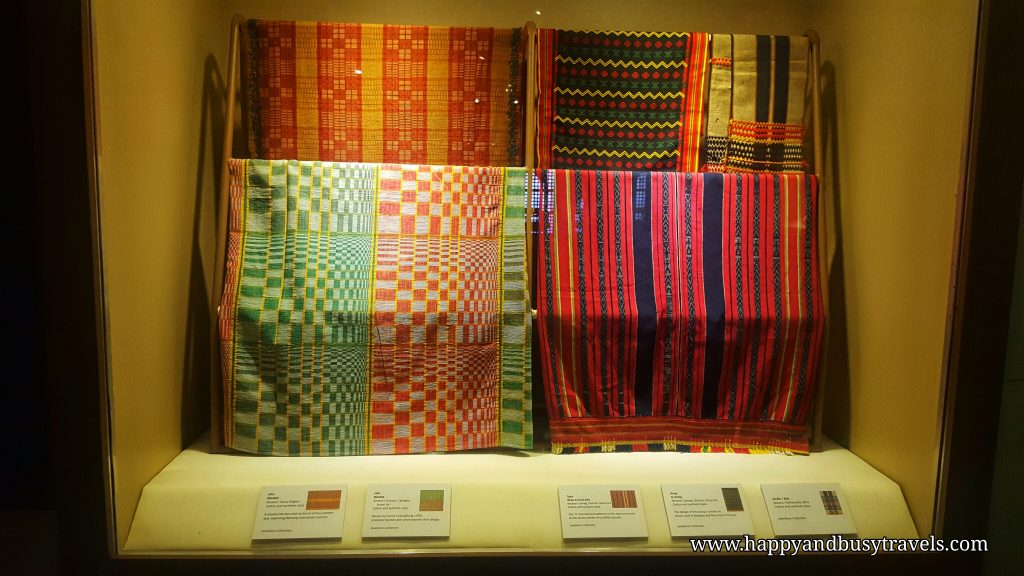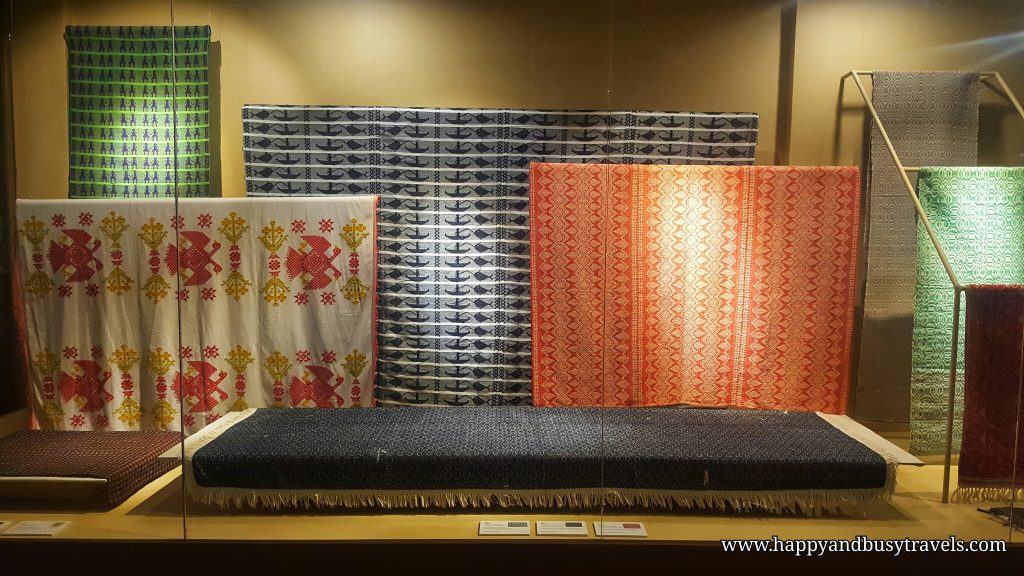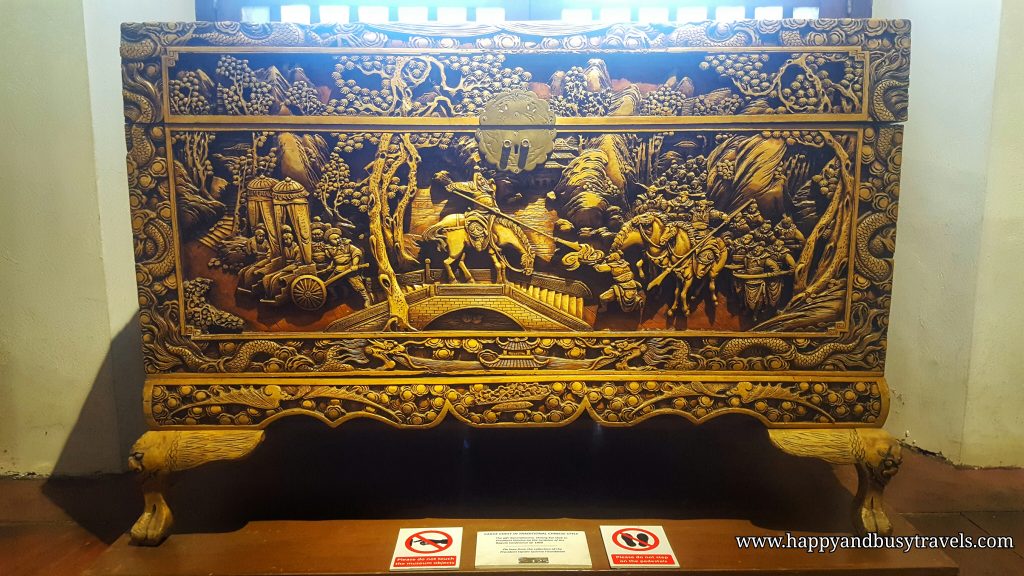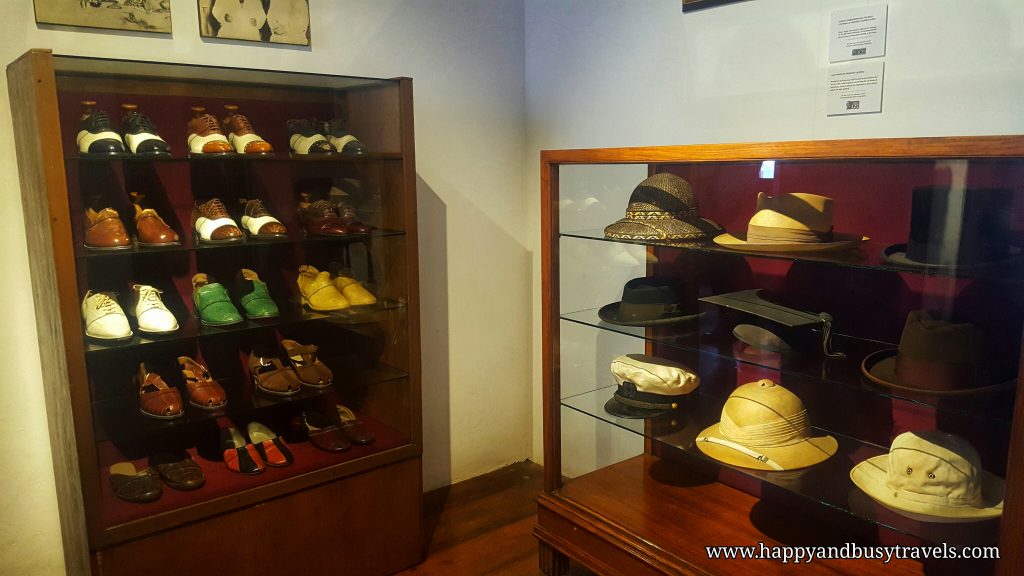 3:55 PM
Dirty Ice Cream and Sugar Cane Juice
Our Kalesa ride ended in Calle Crisologo. We bought some refreshments available in the area such as Ice Cream and Sugar Cane Juice.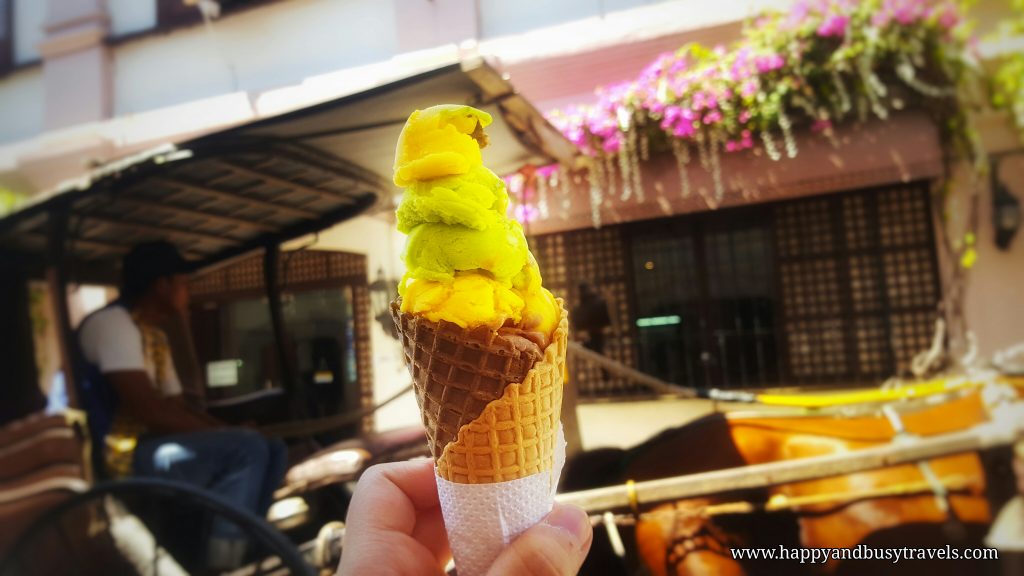 It was a delight eating ice cream in a very hot day.
A sip of Sugar Cane Juice can be also refreshing
5:00 PM Rest in the hotel
We started the day early, so I think we deserve a rest. We slept for 2 hours while waiting for the fountain show.
7:30 PM
Plaza Salcedo Fountain Show
The fountain show was splendid! It was more than what we anticipated. The wait for the show is so worth it!
The show starts every 7:30 PM and 8:30 PM on weekends and 7:30 PM on weekdays.
8:00 PM Quick trip to Watsons to buy some things.
8:30 PM 
Irene's Empanada
We asked the locals where should we eat Vigan Empanada, they all suggested Irene's Empanada. Vigan Empanada is a local delicacy made out of fried pastry stuffed with pork, egg, and other spices.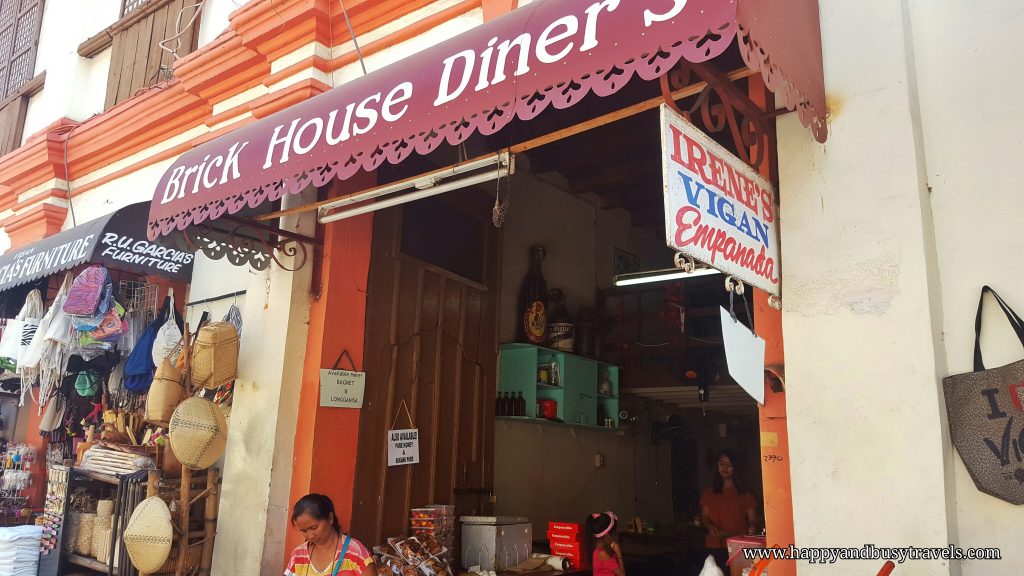 After the fountain show, we bought some Vigan Empanada and ate it while seating down on Calle Crisologo. The empanada costs Php 45.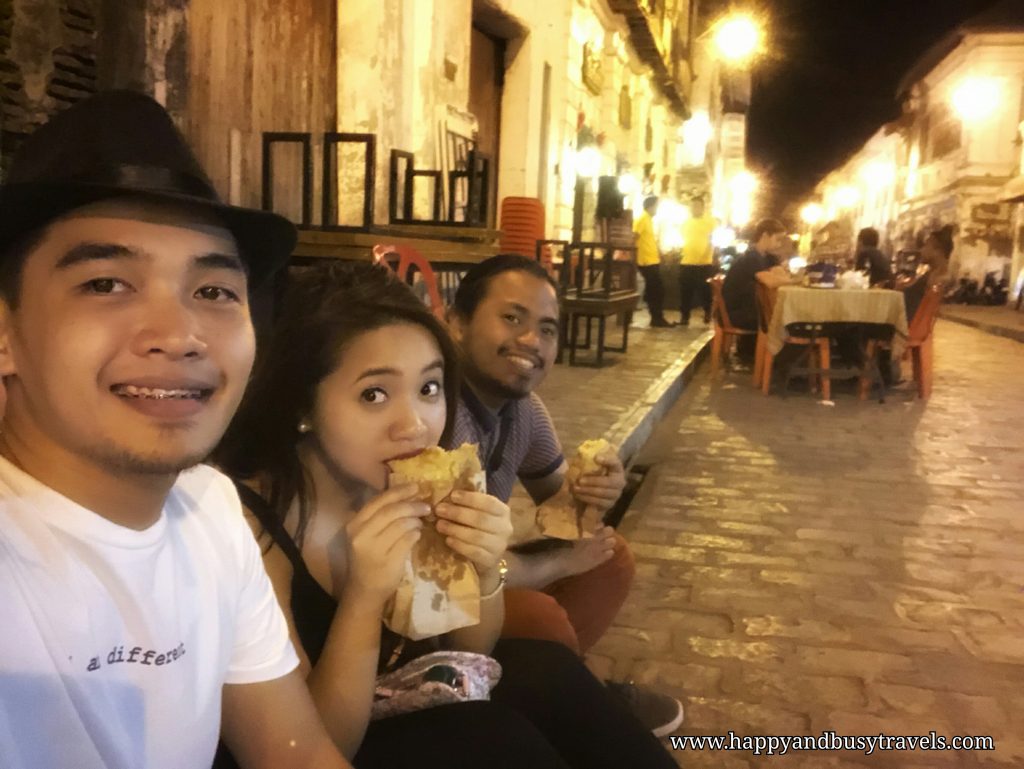 9:30 PM
BarTech
We ended our night with a dinner and a simple night out in BarTech.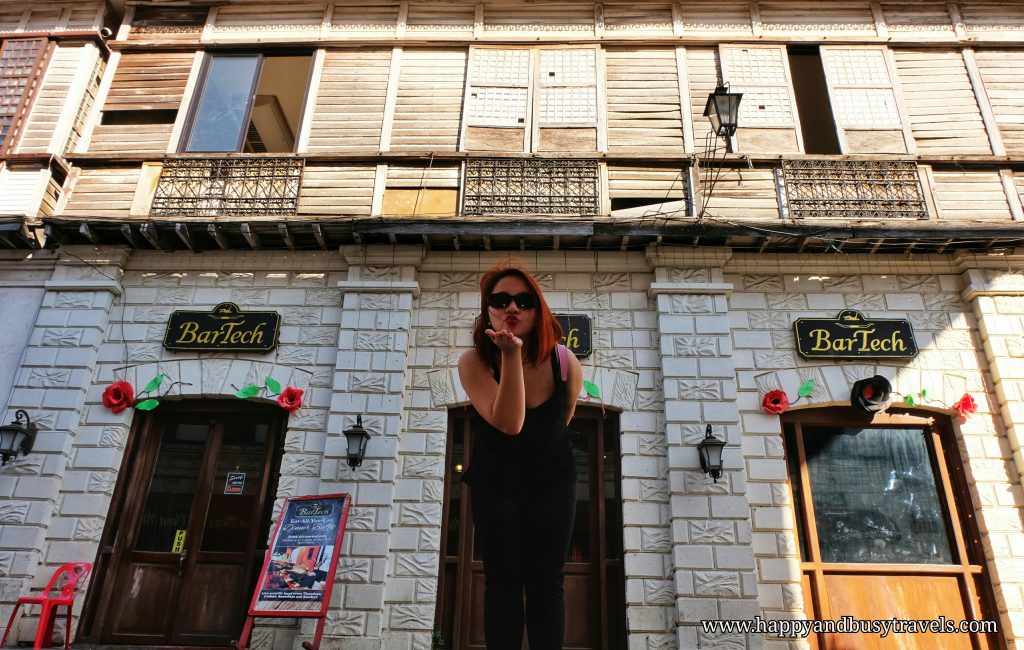 Contact Number: +63 917 544 1792
Facebook page: https://www.facebook.com/ViganBarTech/
BarTech is the only remaining bar in Calle Crisologo. They offer dinner buffet until 9:30 PM and they will start serving the food from their regular menu after the buffet. We were not that hungry so we decided to order from their regular menu. My friends also wanted to drink, so they bought some alcoholic drinks. As usual, I do not drink alcoholic drinks so I ordered Cucumber Juice 🙂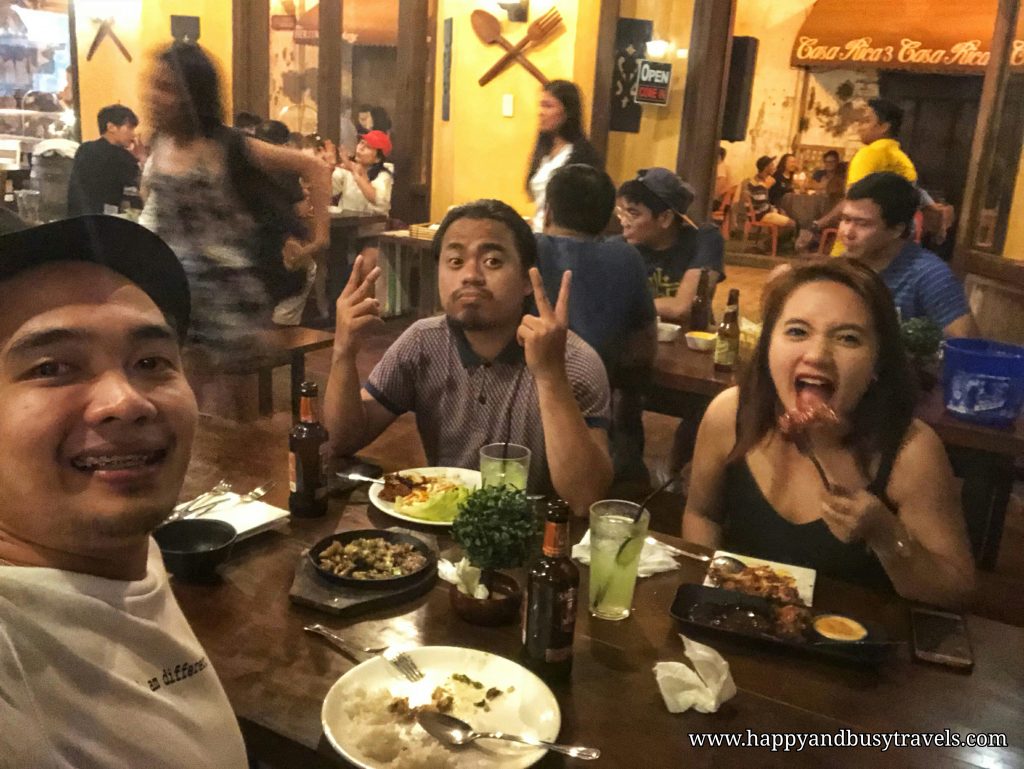 We also joined the entertainers and sang our hearts out hahaha.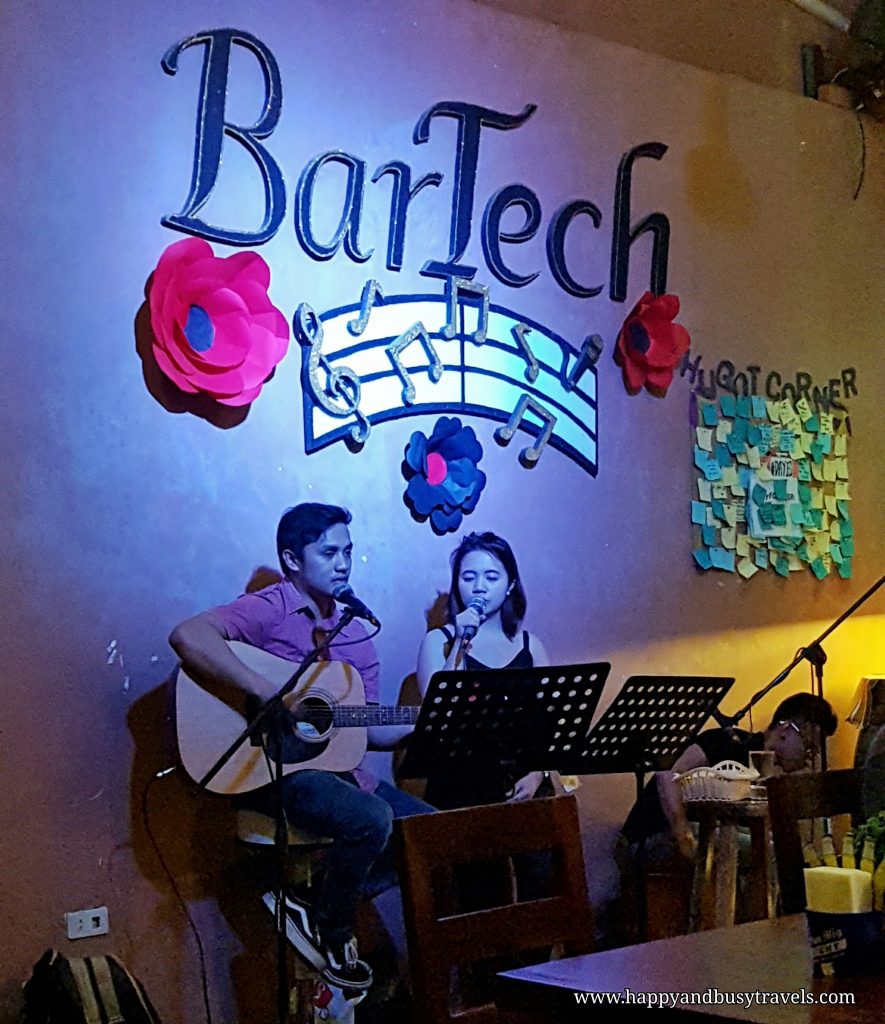 11:30 PM – After a good day and a great night, we returned to the hotel and slept.
6:00 AM – We had our breakfast in the hotel and we checked out.
7:00 AM – We were at the Partas Bus Station in Vigan and hopped on the bus going to Cubao.
Our trip in Vigan is not planned but we achieved our goals, have fun, relax, take pictures, and have an adventure.
Let's do this again!
Notes:
When booking  a hotel in Vigan, choose a hotel in Calle Crisologo
One whole day is recommended if you want to visit the tourist spots in Vigan.
There is a River cruise tourist spot in Vigan, however we chose not to do it.
Transportation: Tricycle Php 600 & Kalesa Php 150/hour. The price for Kalesa is fixed for all, but for the tricycle, try to ask for a lower price 🙂
Happy and Busy's Smileys
Location – 

Ambiance – 

Value for money –