Bearseum – A Teddy Bear Museum in Tagaytay
Busy and I went in Tagaytay and we saw Bearseum Suites, a hotel with a bear museum. So we went inside and explored it.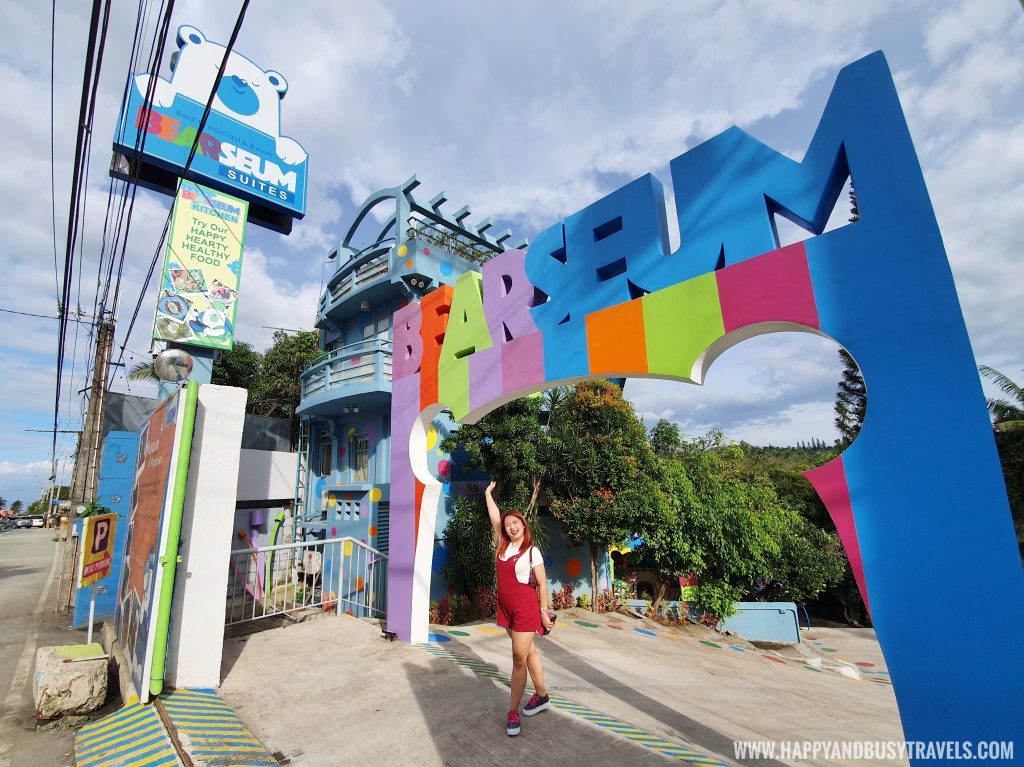 Quick Links
Going in Bearseum Teddy Bear Museum
Bearseum has a lot of parking areas, aside from the parking shown in the picture below, there is also a parking area at the other side of the road. We choose the other parking area because it's kinda scary to park here, the entrance is very steep.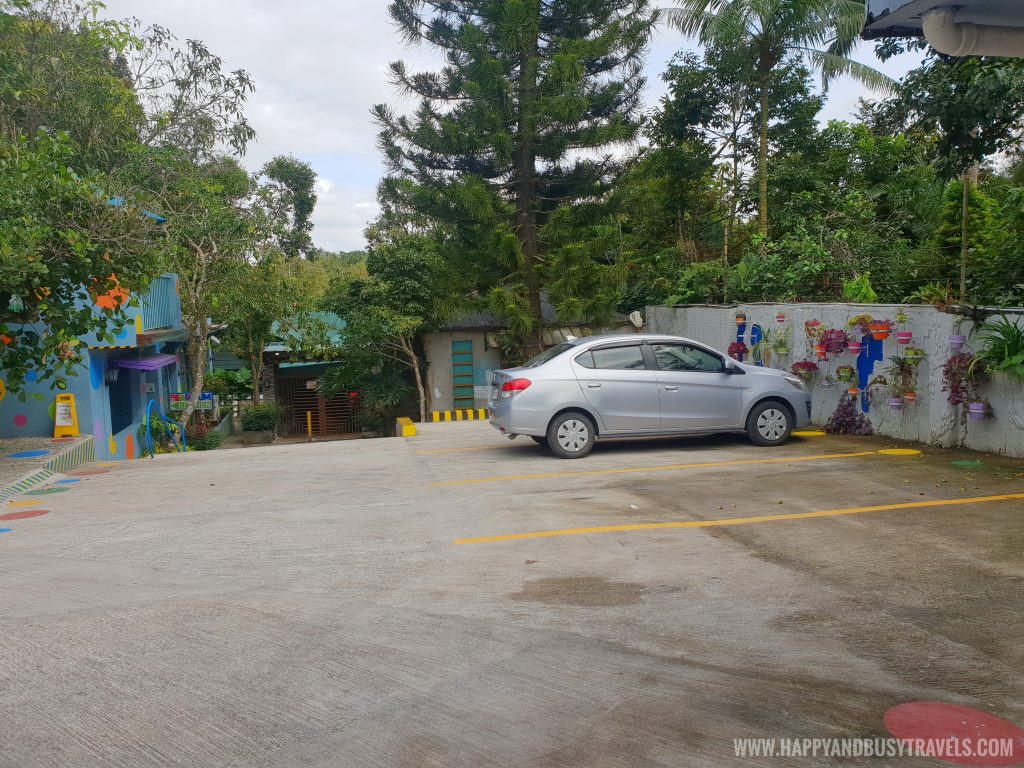 After parking our car, we went inside the bear entrance.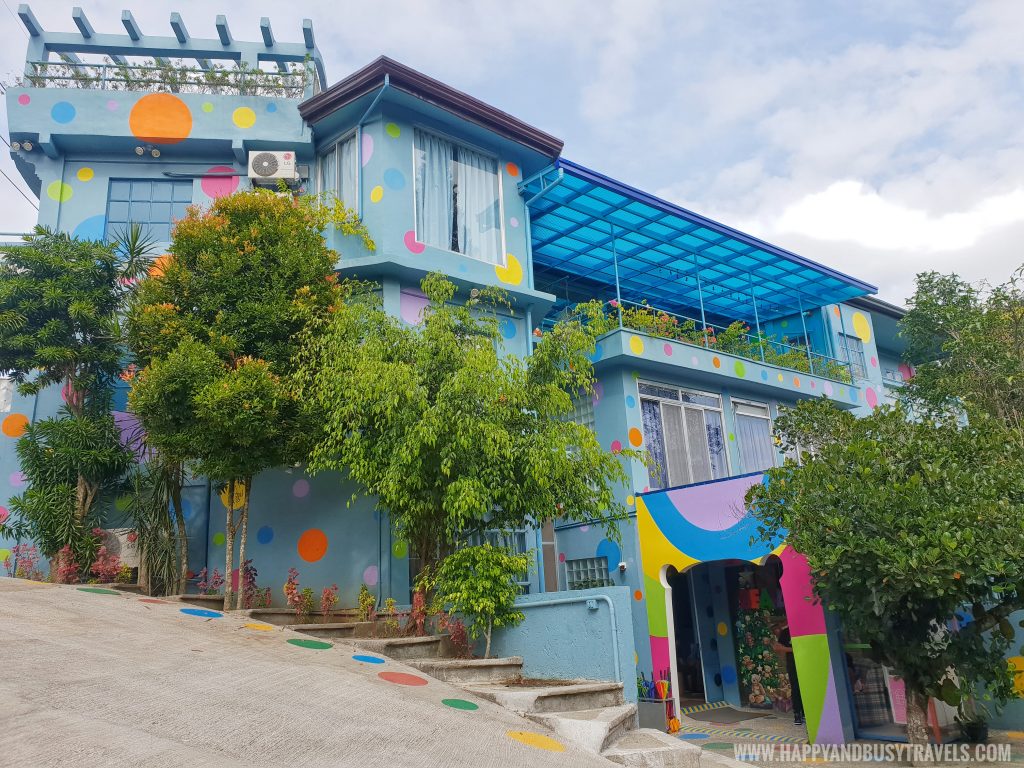 I was expecting that the museum has a lot of IG worthy places. The place didn't disappoint me, right from the entrance there is an IG worthy spot.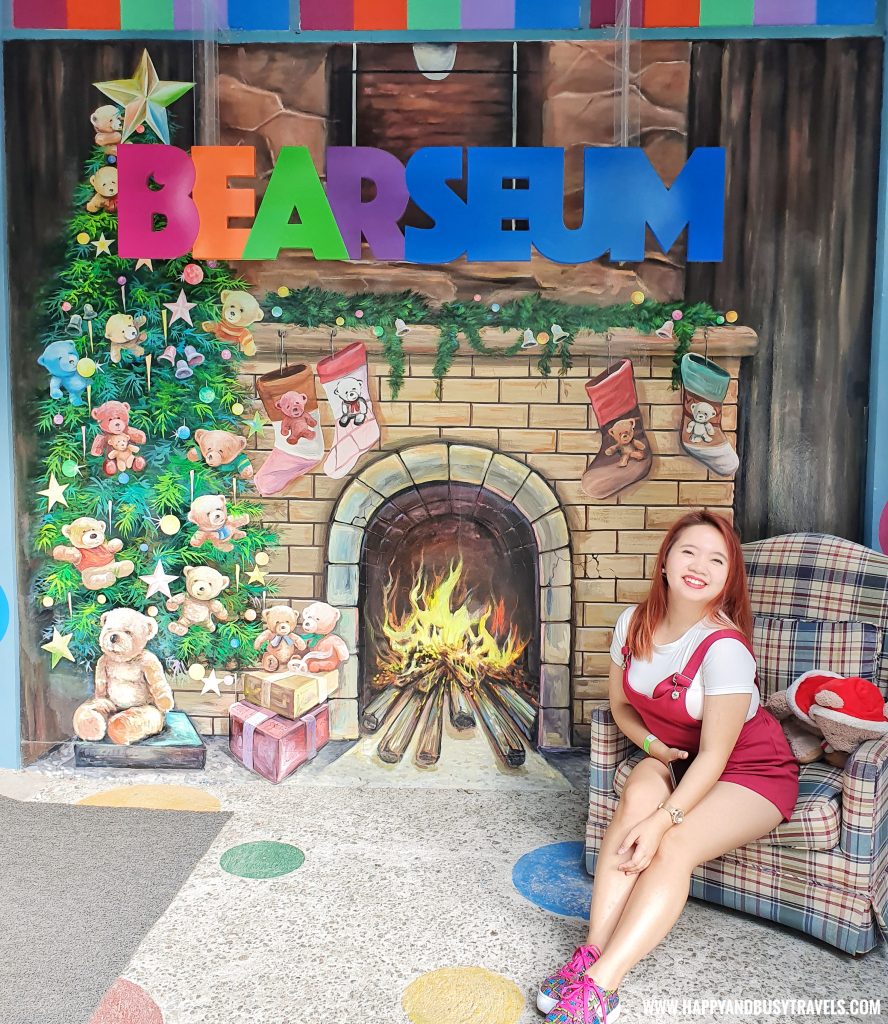 Bearseum Registration Process
As soon as we entered the lobby, decorations welcomed us. We were excited!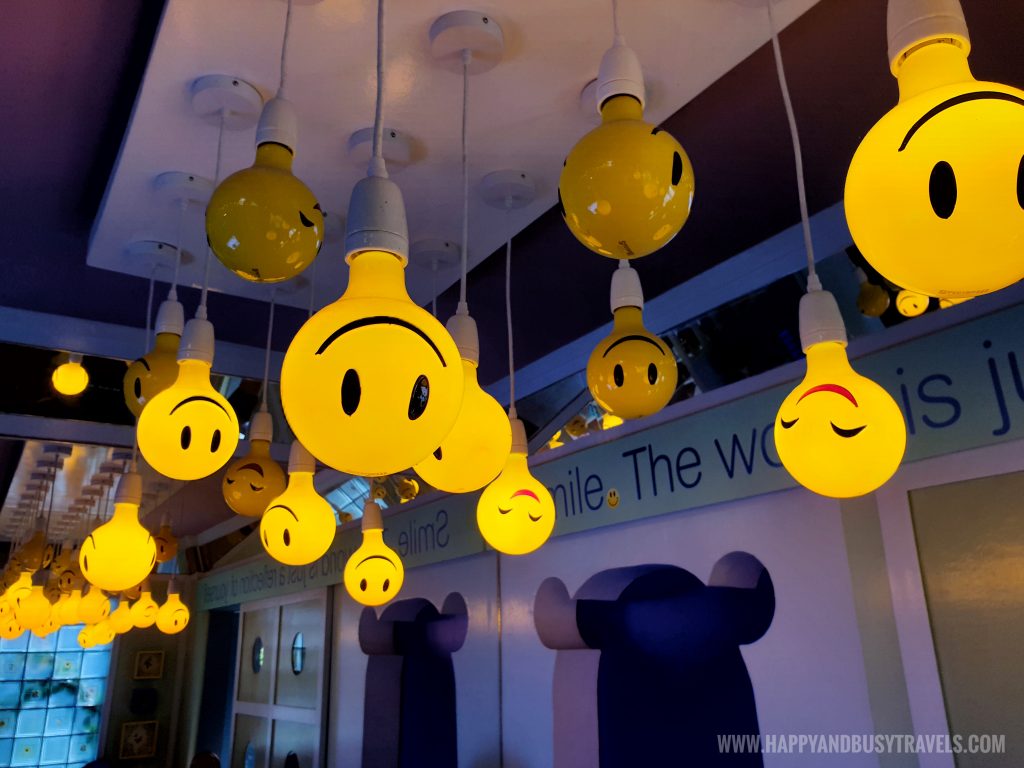 We went to the counter and paid the entrance fee.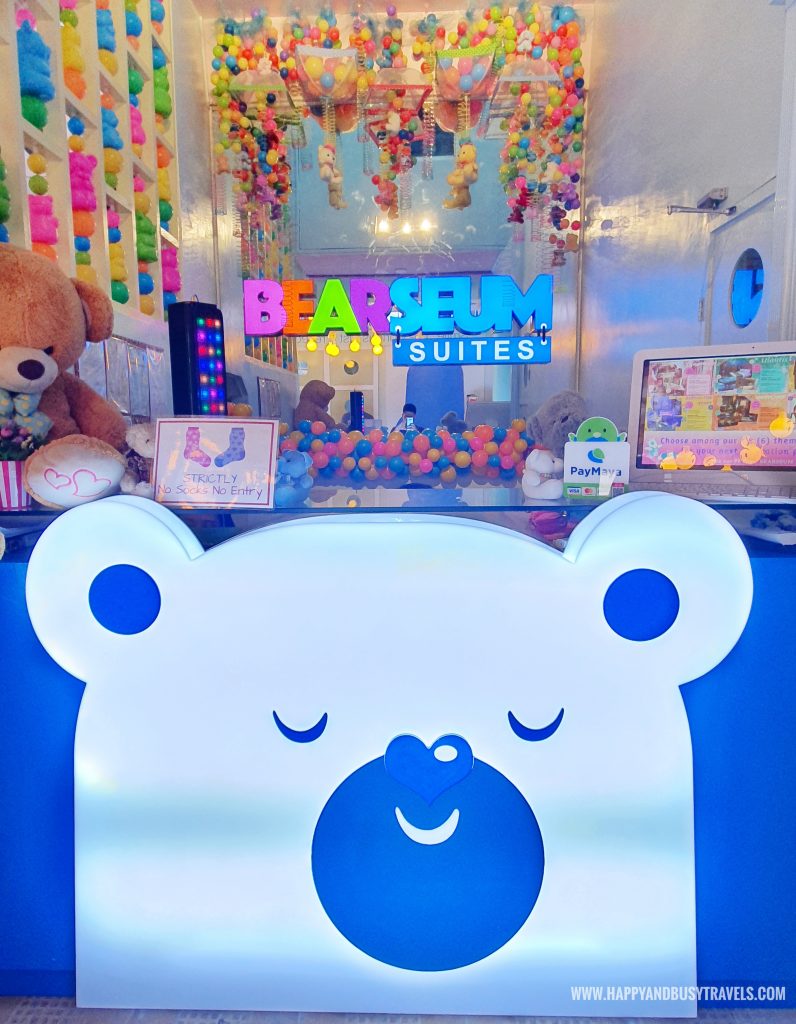 Here are the fees, and the rules and regulations of the teddy bear museum.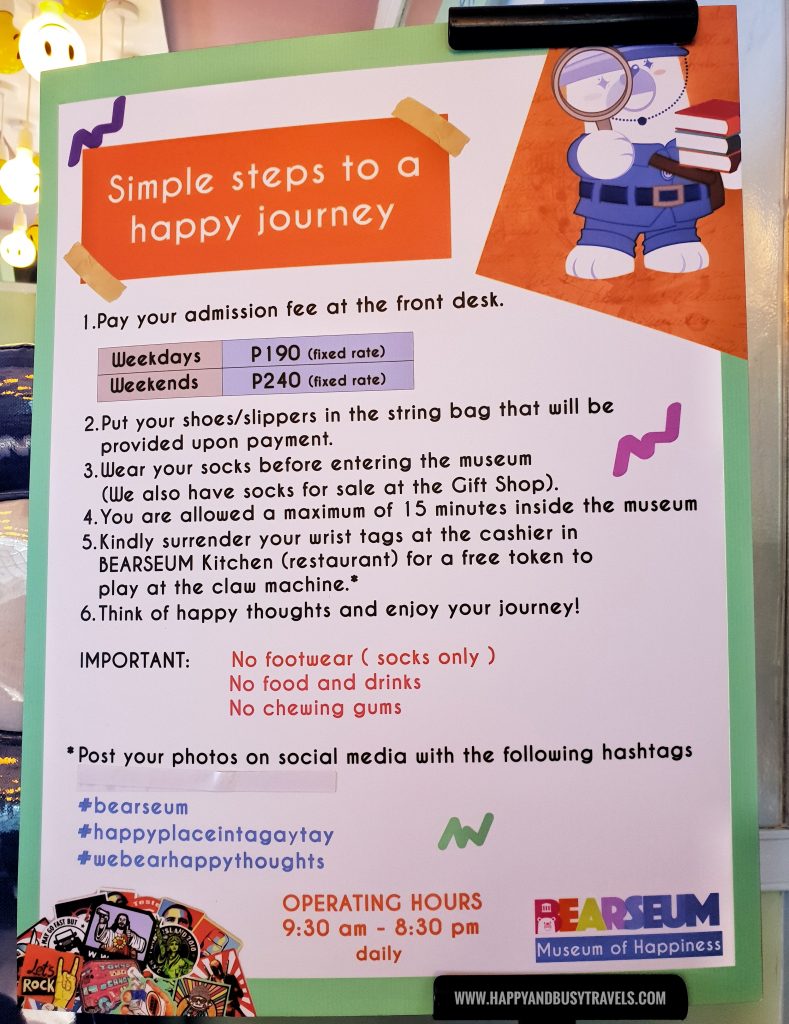 It was a weekend so we paid Php 240. It is a bit pricey, so we were hoping that visiting the museum is worth it.
As soon as we paid, we were given an ecobag and wristband per person, and a number. The number will be our batch number, and we will use the ecobag to store our shoes.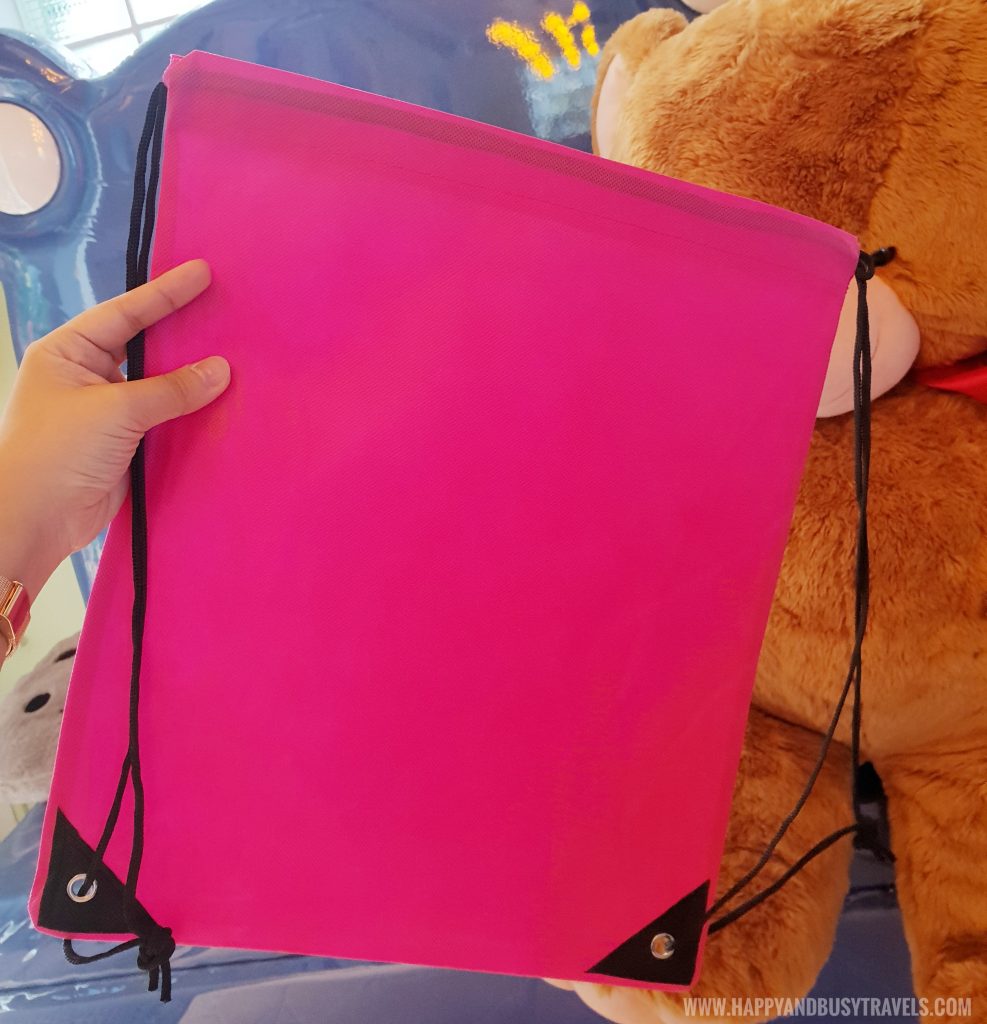 Shoes are not allowed inside the museum, so socks should be worn all the time. This is good because the cleanliness of the museum will be kept.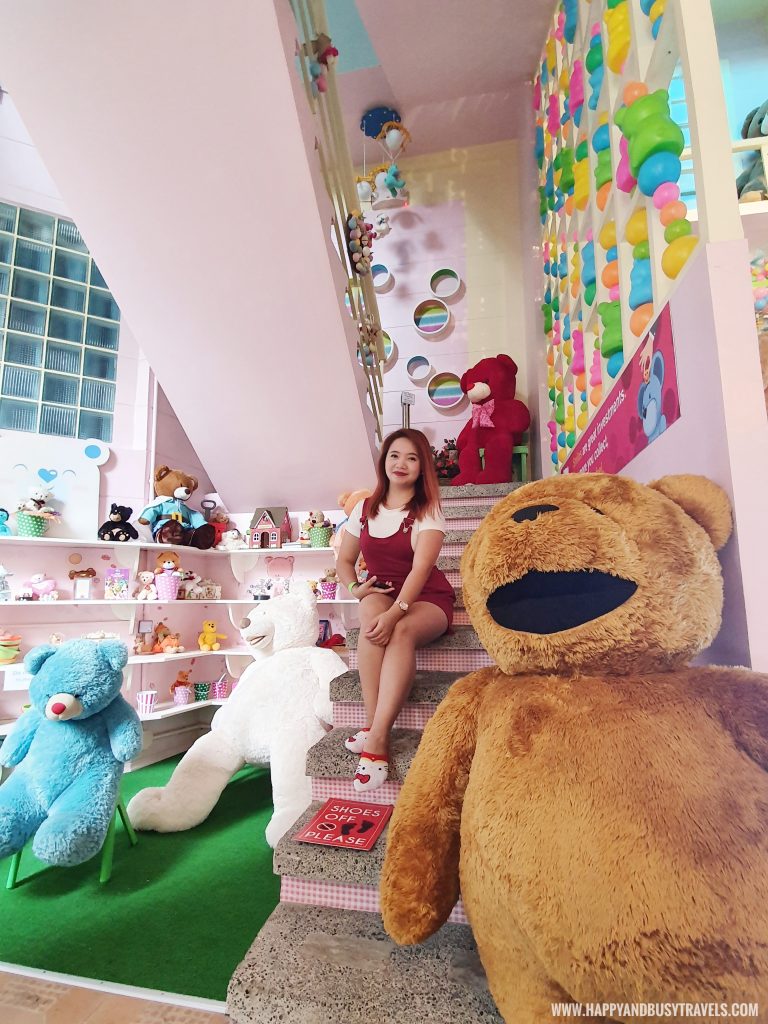 It is also nice that there are batches. This will prevent overcrowding the museum.
When our number was called, we went inside this door.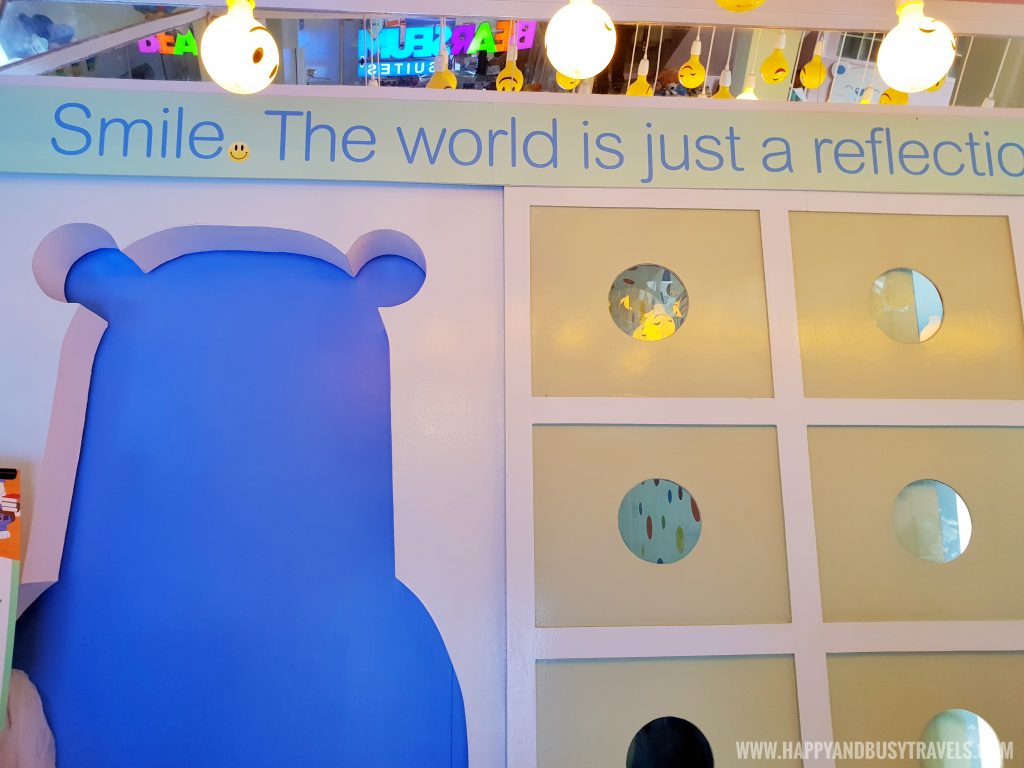 Inside Bearseum, Teddy Bear Museum
First Exhibit – Endless Circle
As soon as we entered the museum, we were wowed by the big teddy bear, it was really huge! This bear is the icon of Bearseum.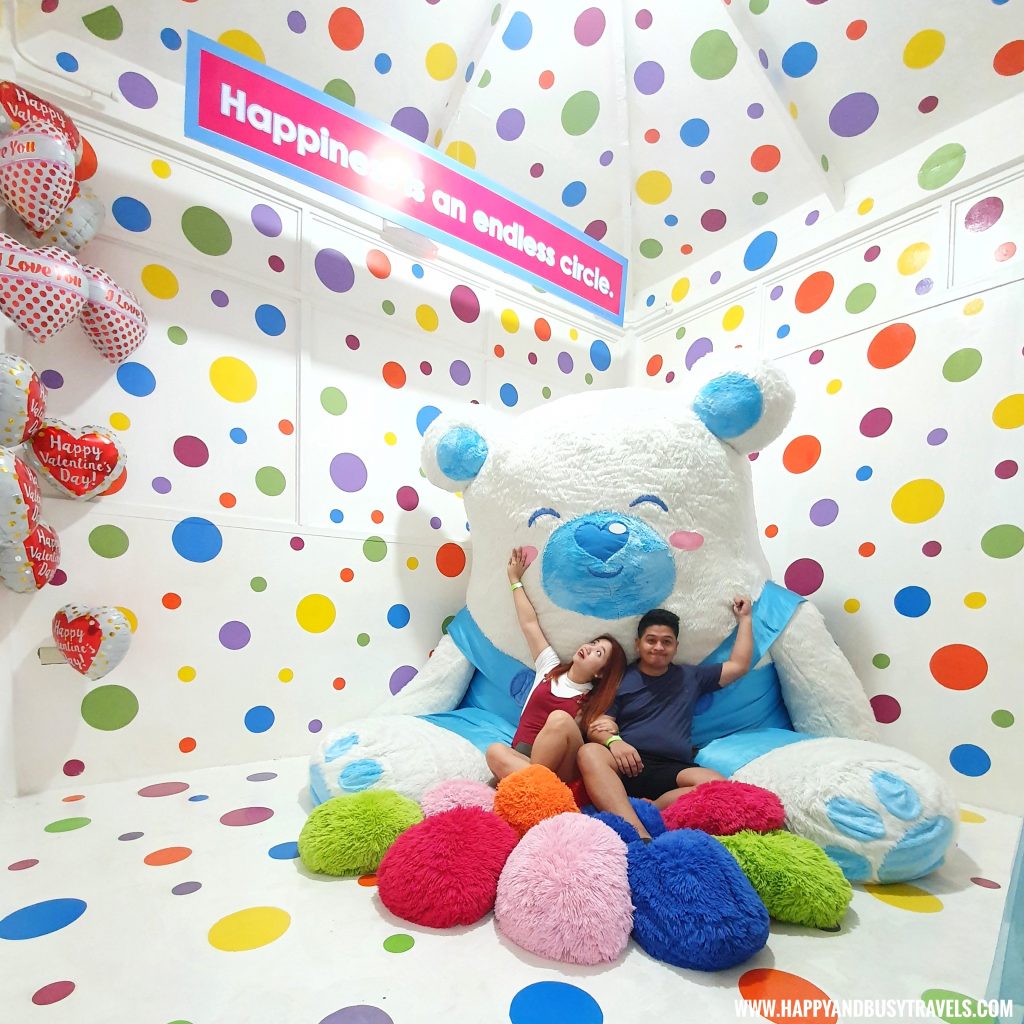 If you wonder how do we take our photos, we usually use a tripod, but this time there are staff inside the museum who are very willing to take your photos. They also suggests some poses, just like this pillow fight picture below.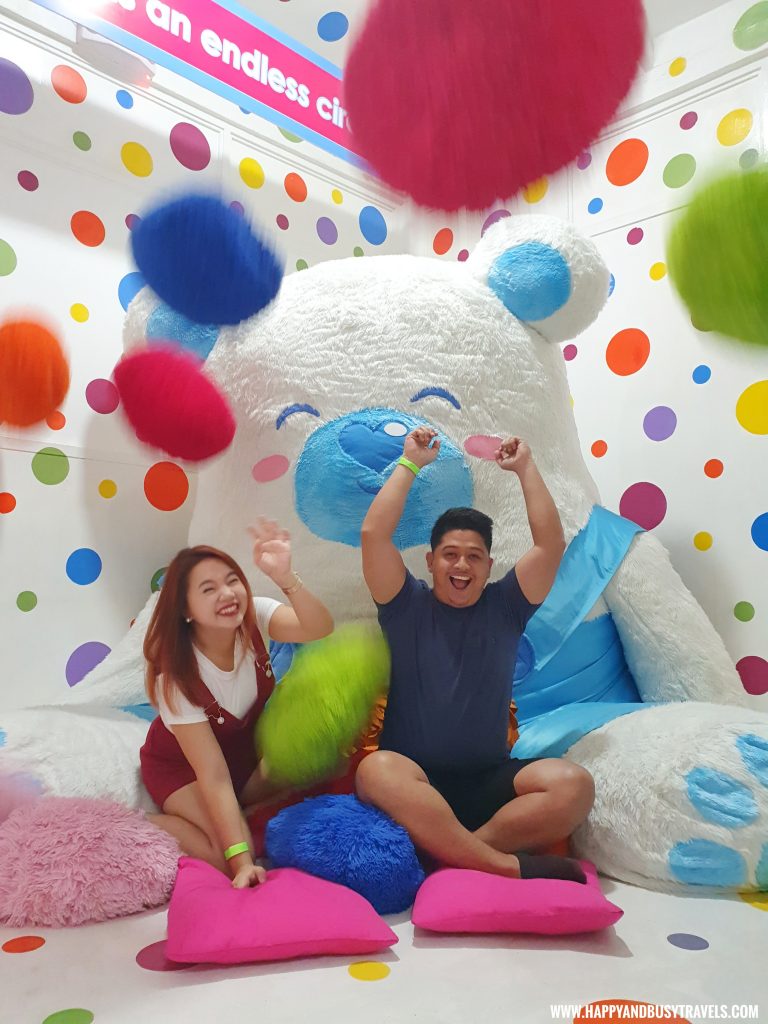 Second Exhibit – Hugging
There is a small room with 2 sides, first is this side with pink teddy bears.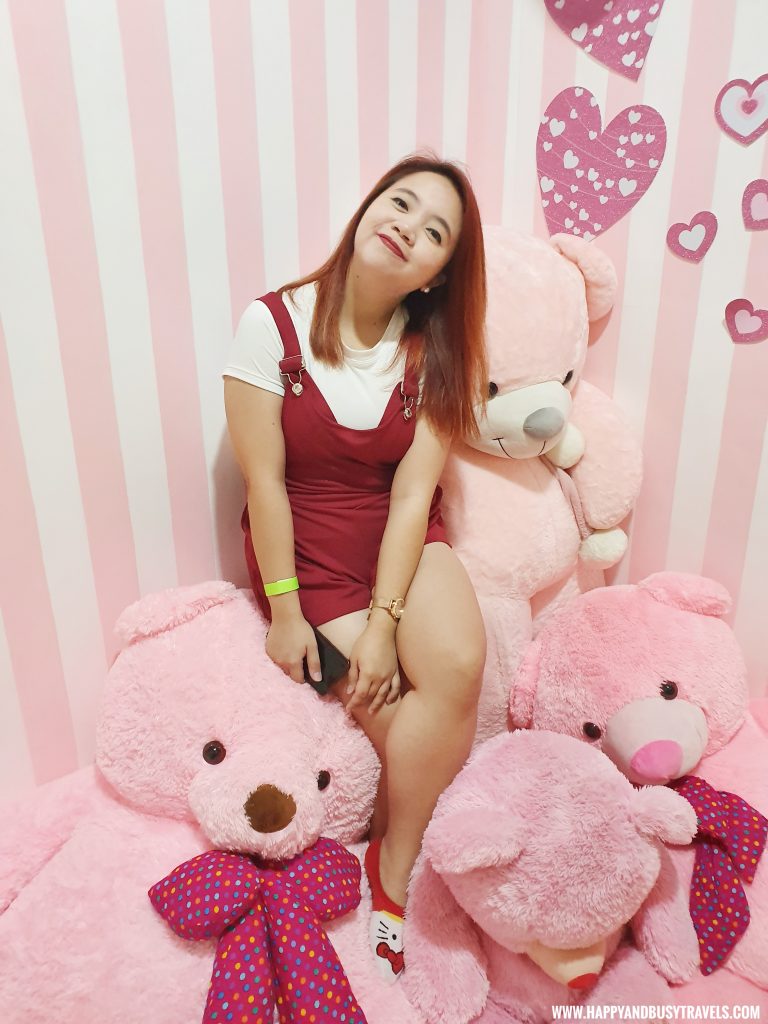 Then, this side with classic brown teddy bears.
Busy hugs them so much, so I have decided to join the hugfest 😆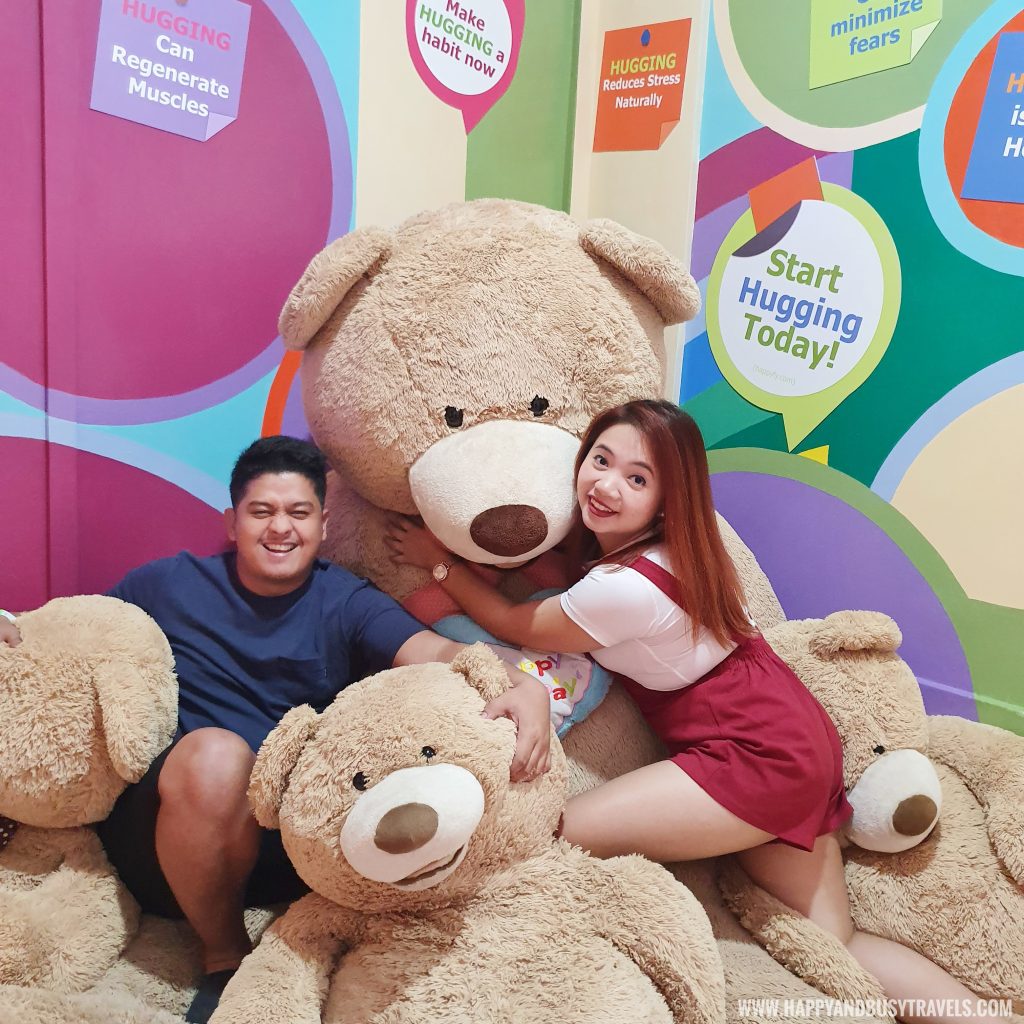 Third Exhibit – Bathing with love and happiness
This exhibit is very much in season, it's January so Valentine's Day in February is near!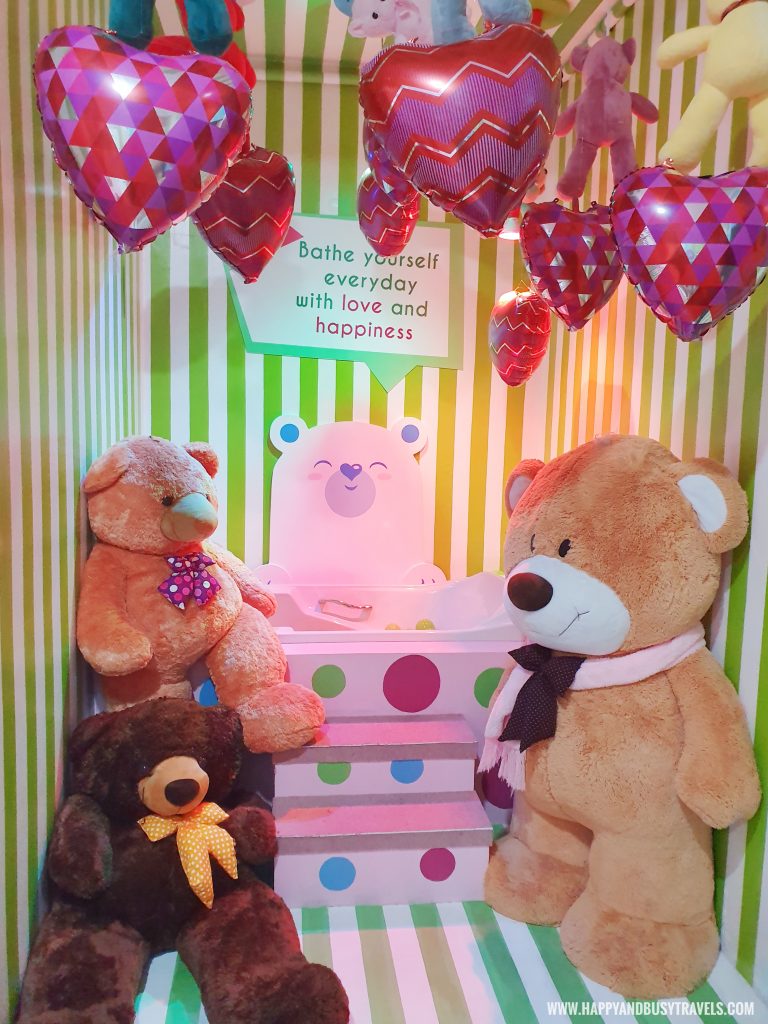 This exhibit has a real bathtub with mini balls in it.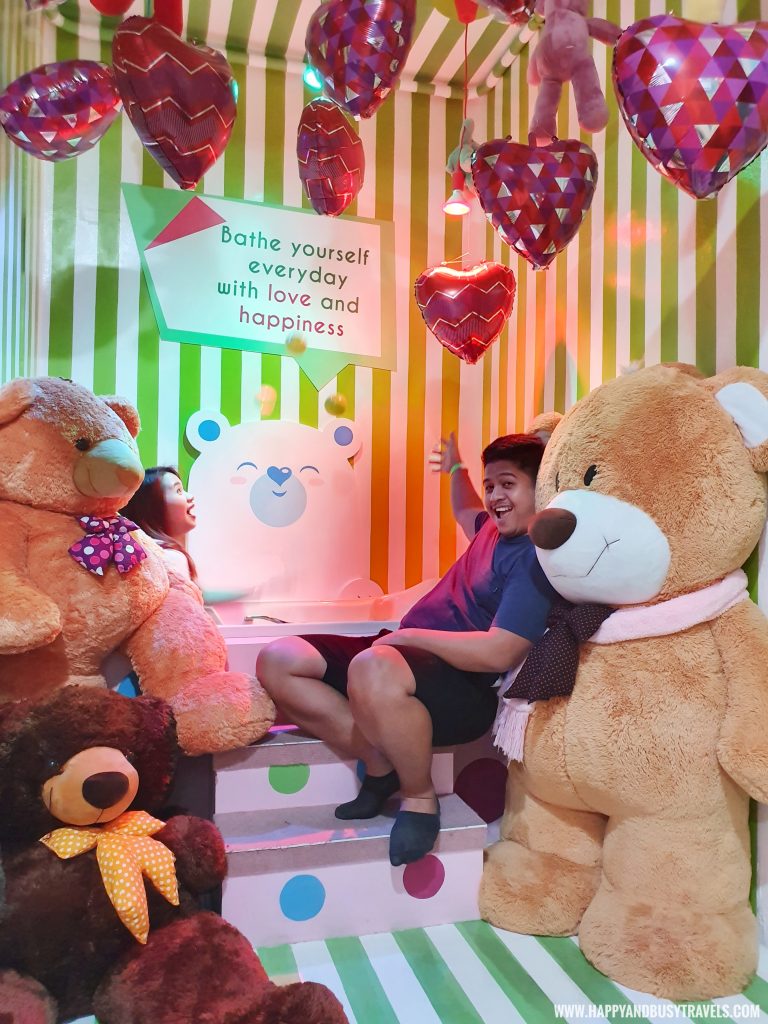 Busy and I played with it while the staff is taking our pictures.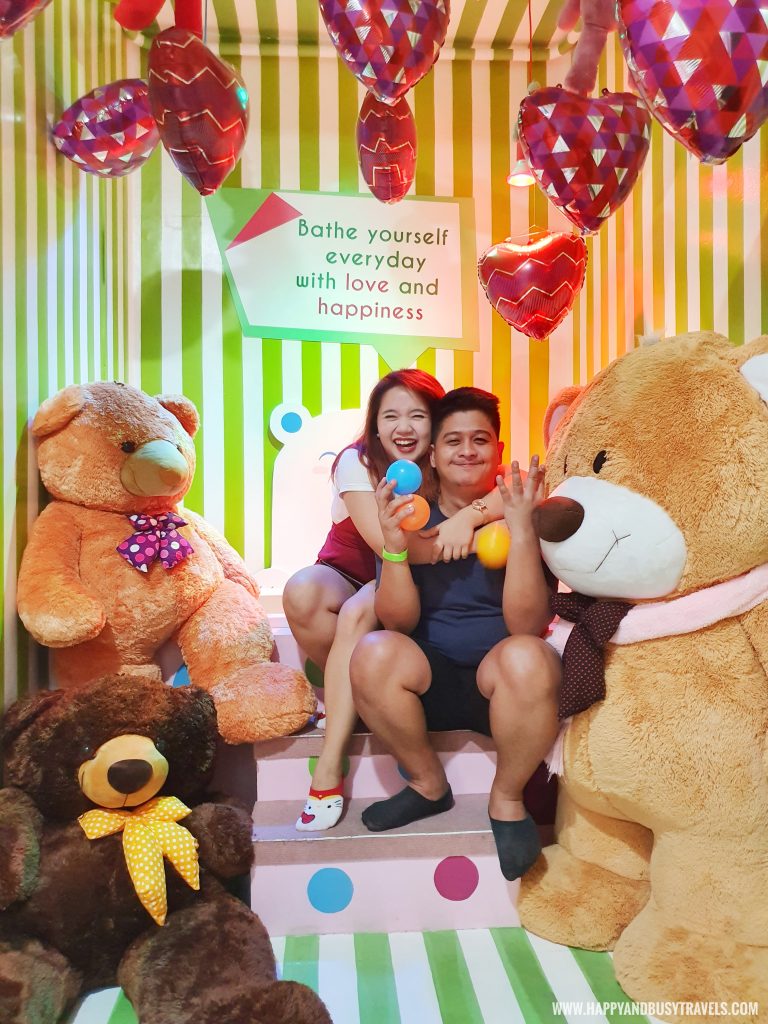 Fourth Exhibit – Stairway to Happiness
Who doesn't love Pandas? They are so adorable! These small Panda stuffed toys are placed on the stairs to happiness, which made us smile.
At the end of the stairs, there is a mirror and a pink teddy bear which holds a sign saying "Your way to happiness is your own self." This is very inspirational.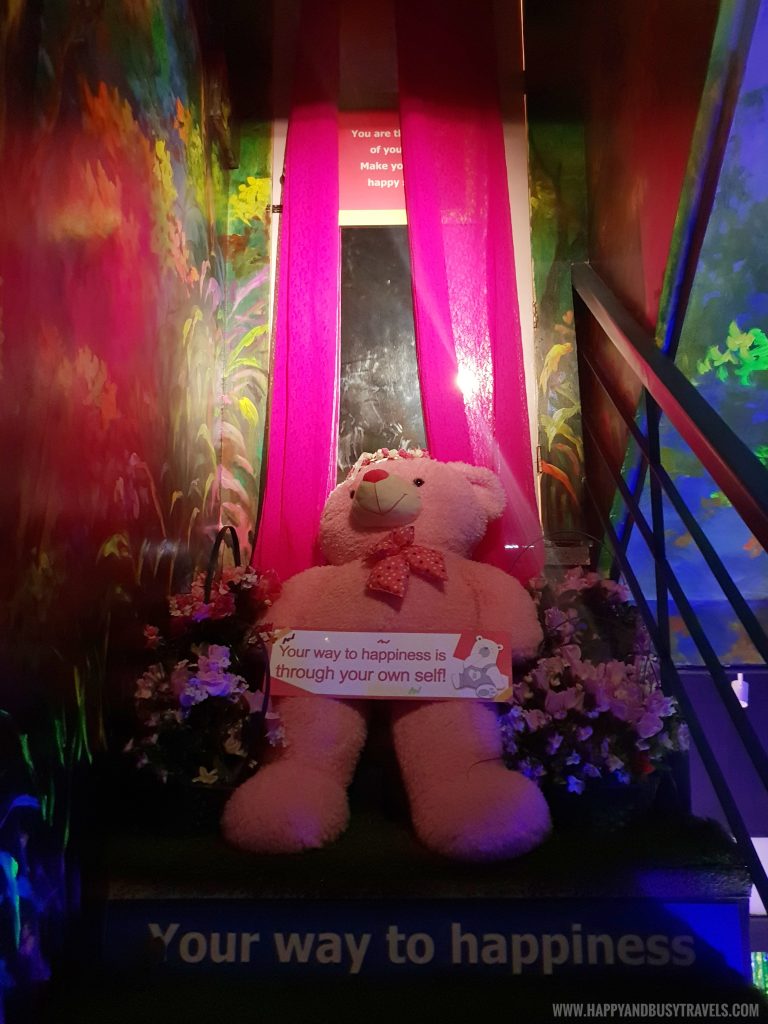 At the bottom of the stairs is this big box of Toy Bear. You can come in and take a photo with it just like you are a part of a teddy bear for sale.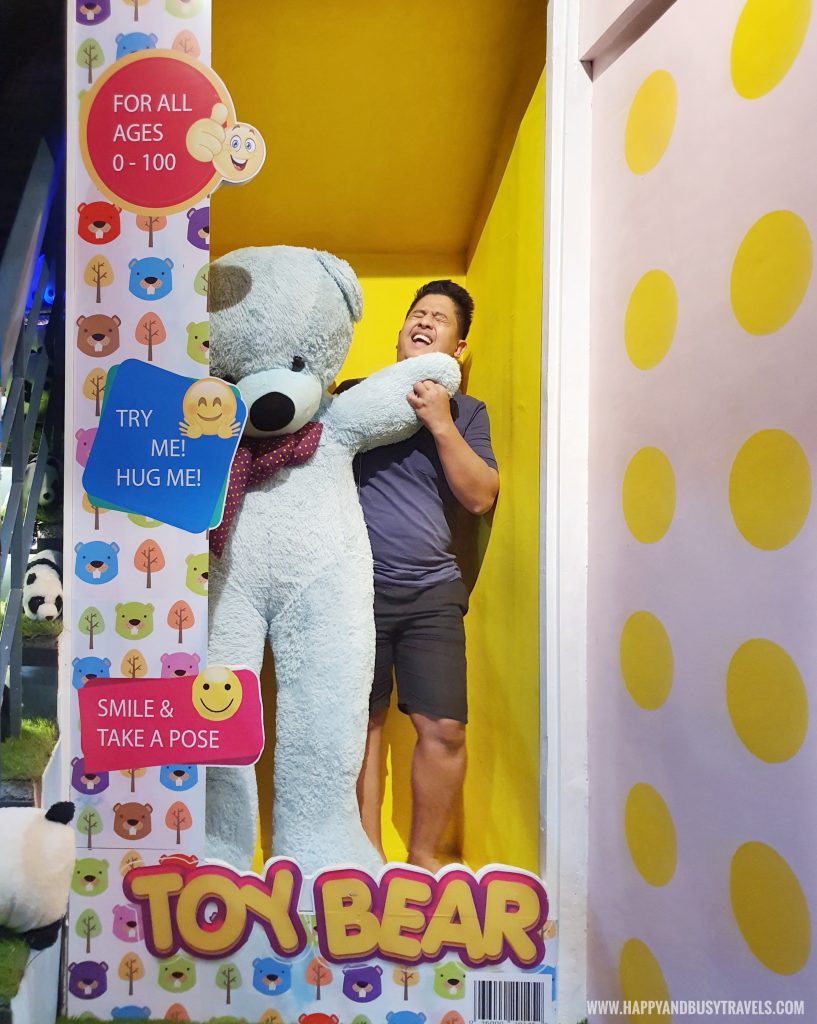 Fifth Exhibit – Love
This portion is just a very small portion. I think this is just used if the guest should wait because the guest before them is not yet finished with the next portion.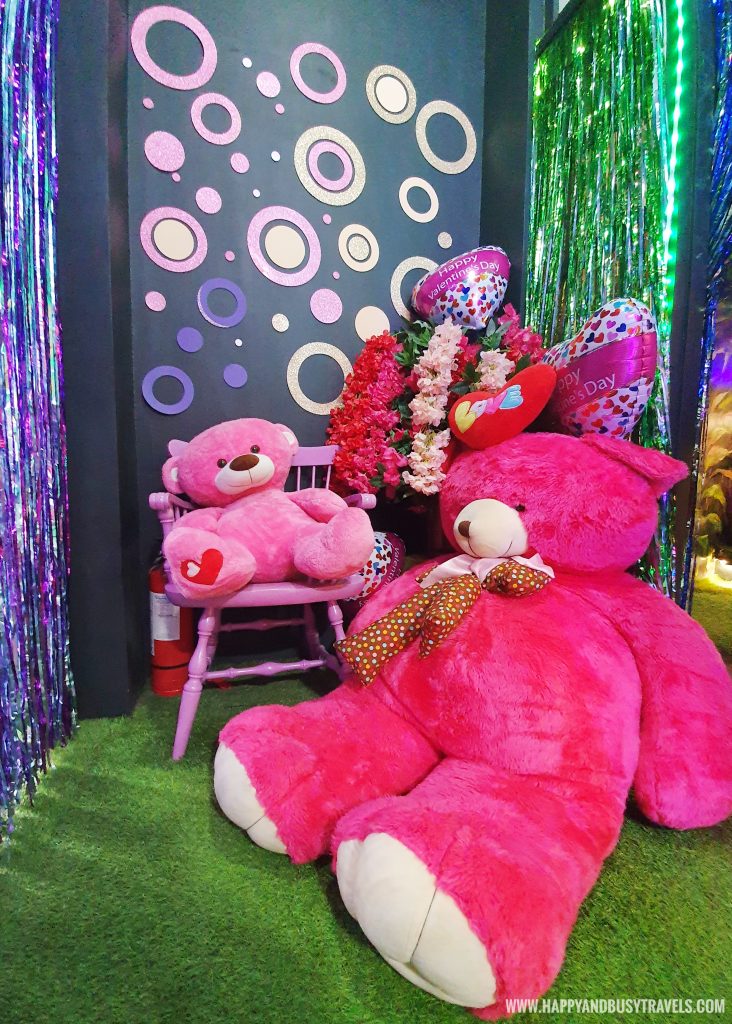 Advance Happy Valentine's Day everyone!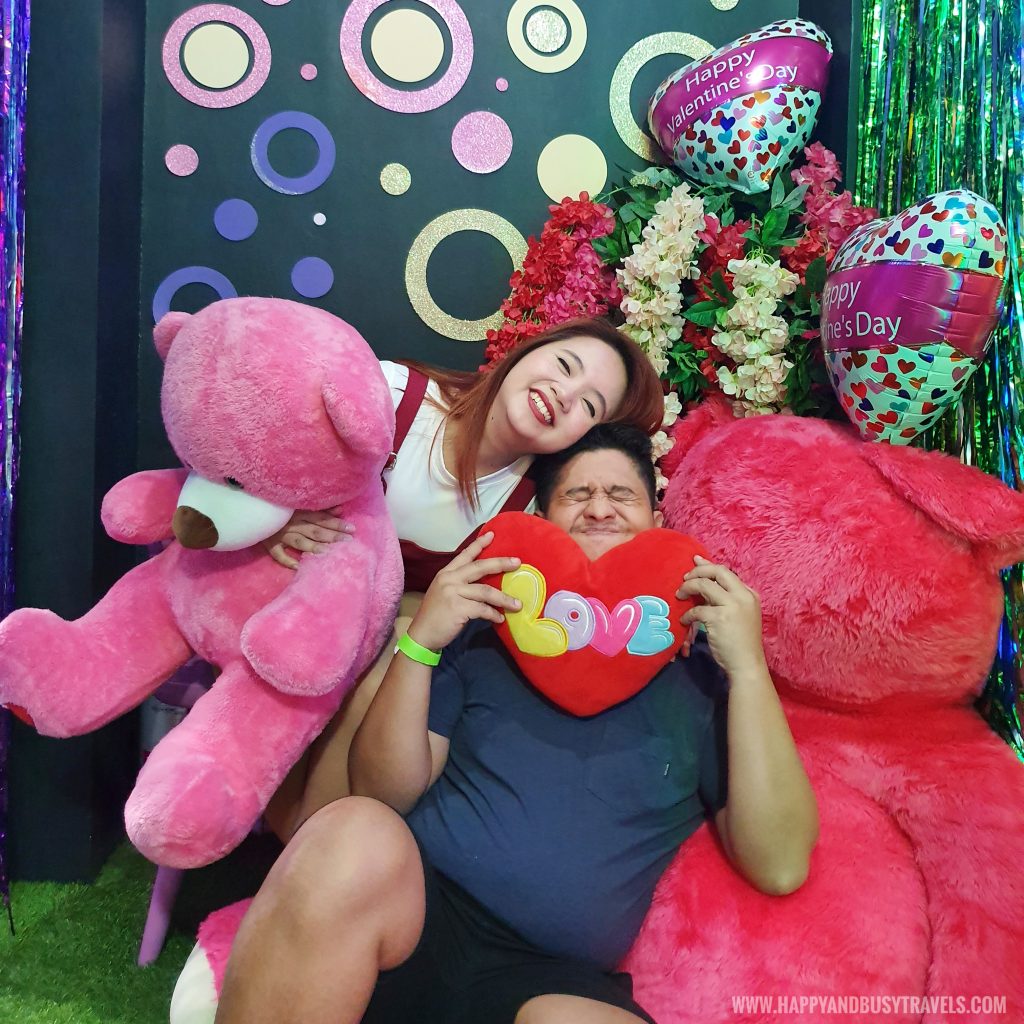 Sixth Exhibit – Bear-y Happy
This is the largest and the most beautiful exhibit. That's why there is a small exhibit which is like a waiting area, there is a lot to see in this part.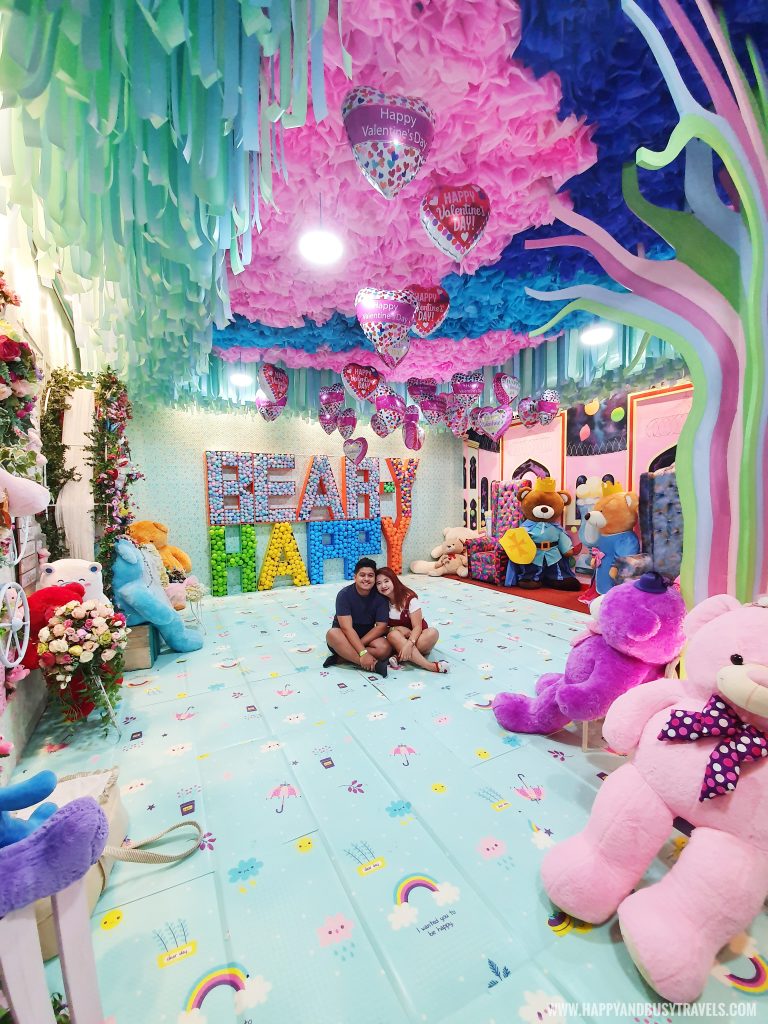 Let me show you all of the sides of this exhibit.
This portion is like… okay… a wedding hahaha or just a bridal shower. 😉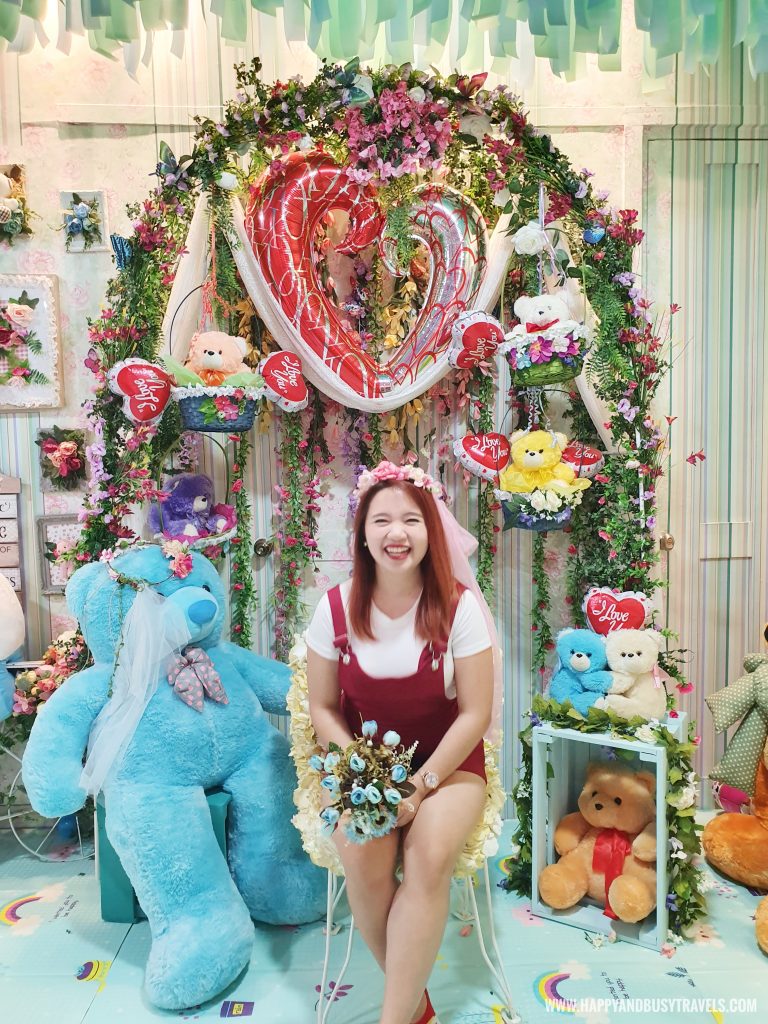 Beside it is this sweet portion.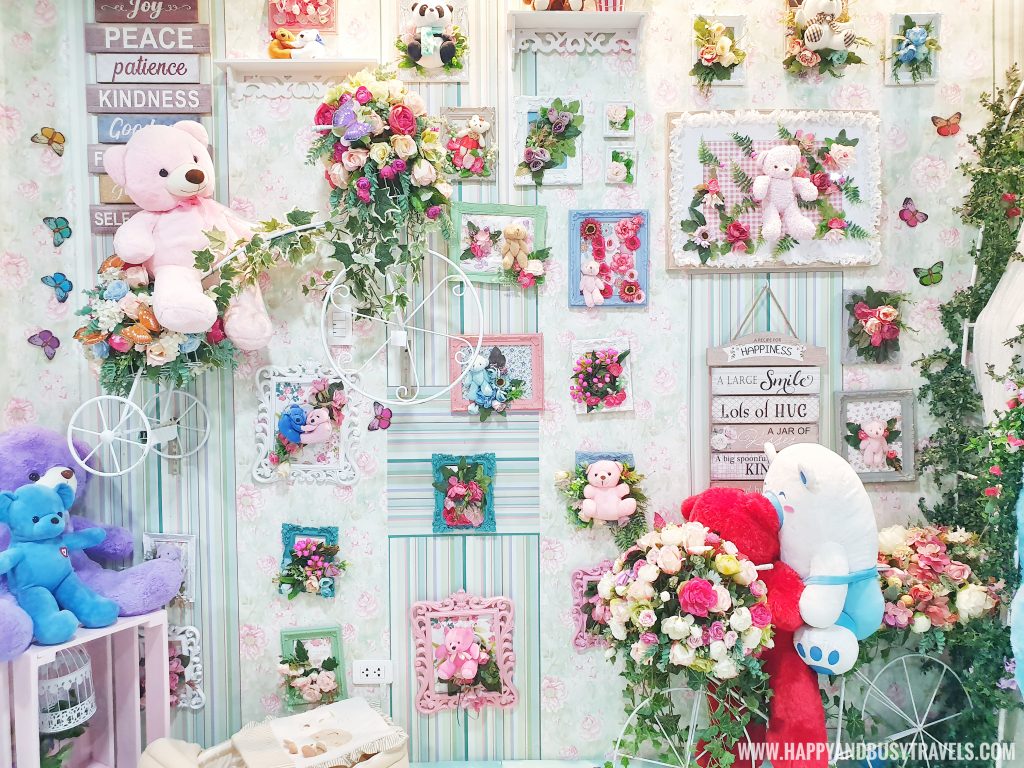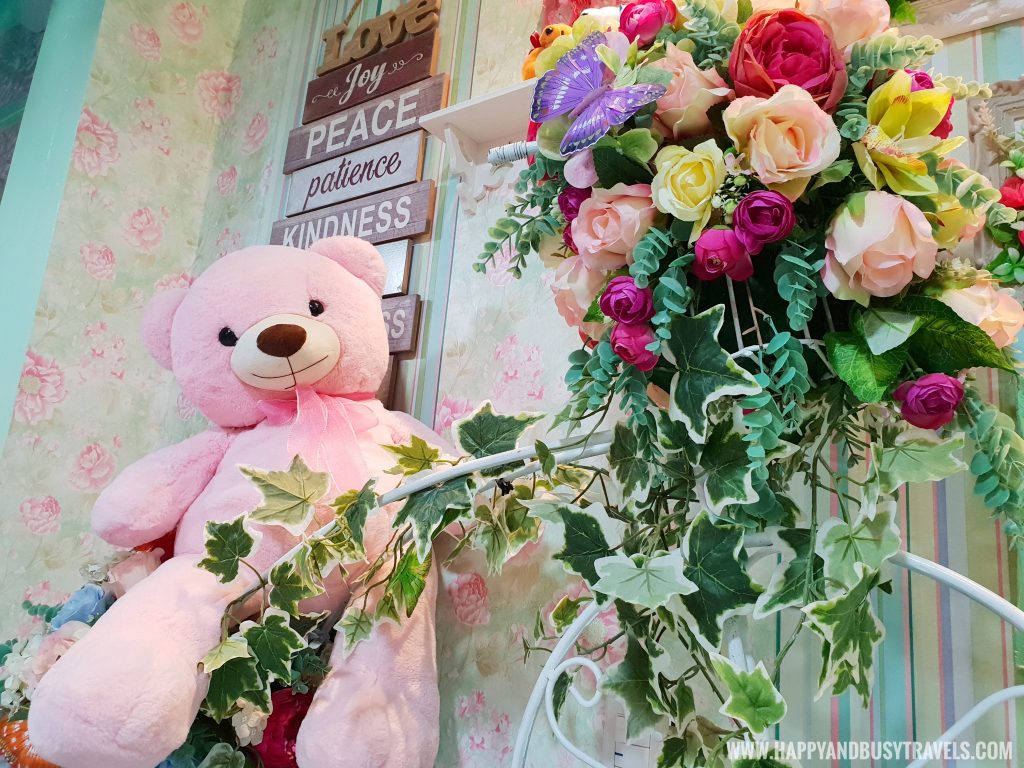 And yeah there are baby teddy bears! This room is like showing how a family develops.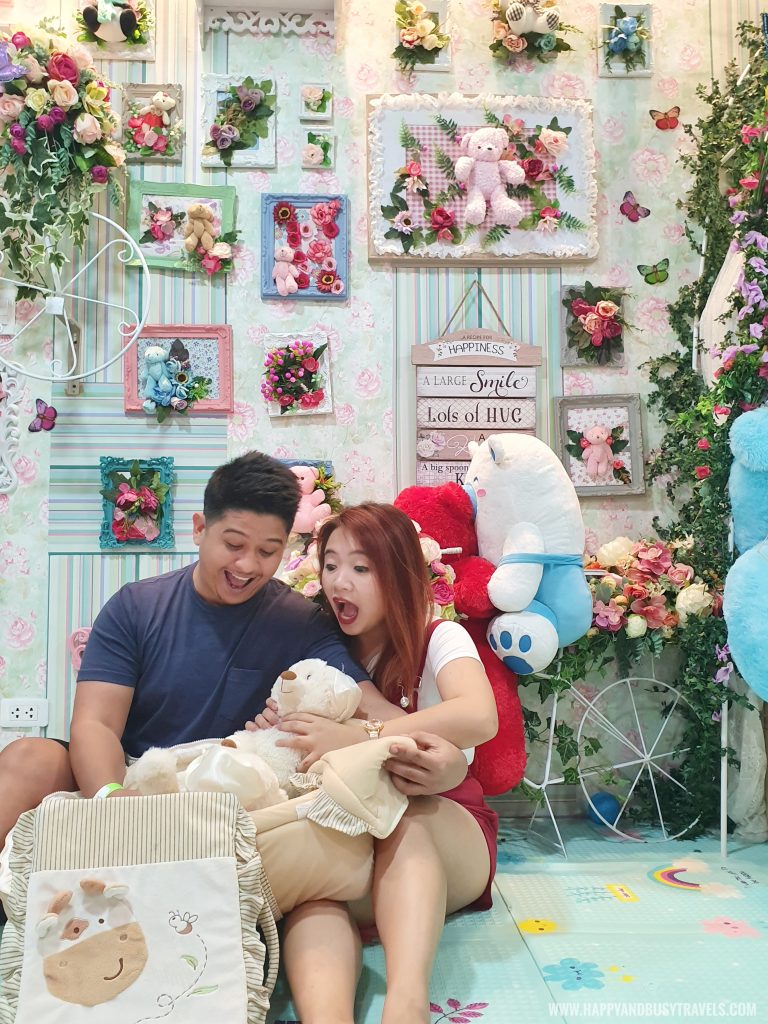 Then, there is this king and queen teddy bear set. The man is the king and the woman is the queen of the house.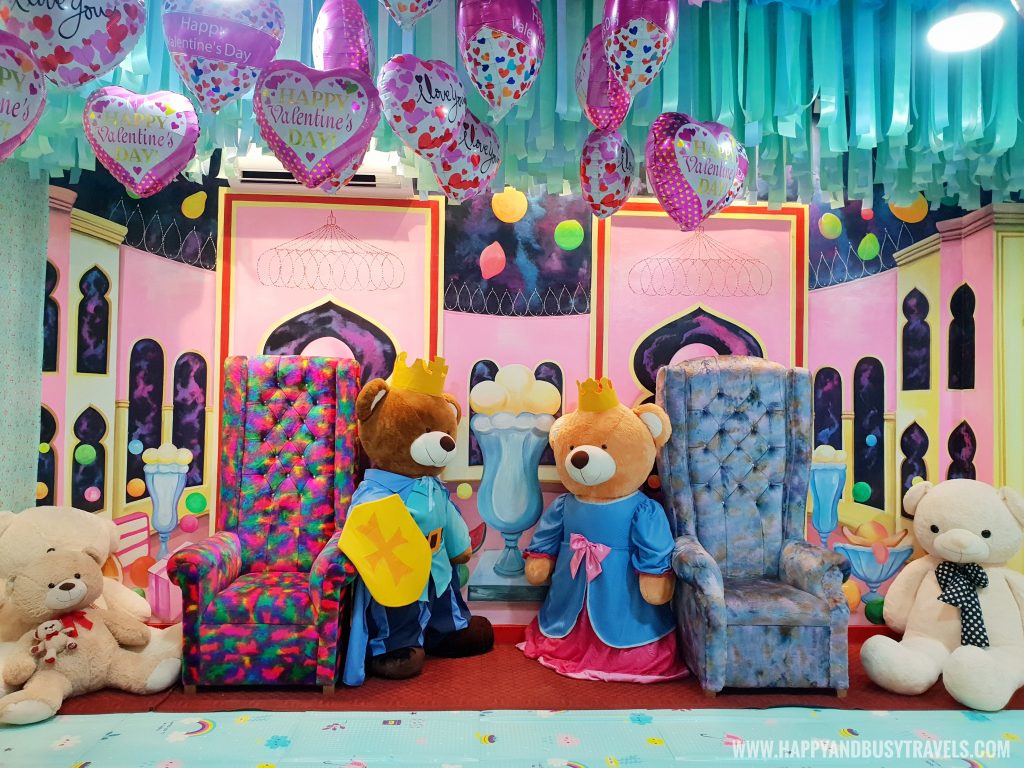 On the other side is this "Bear-y Happy" wall which I think signifies the feeling of the couple… or any other guests who went in Bearseum.
Finally, there is this tree… it's a bear tree… or shall I call it the bear family tree!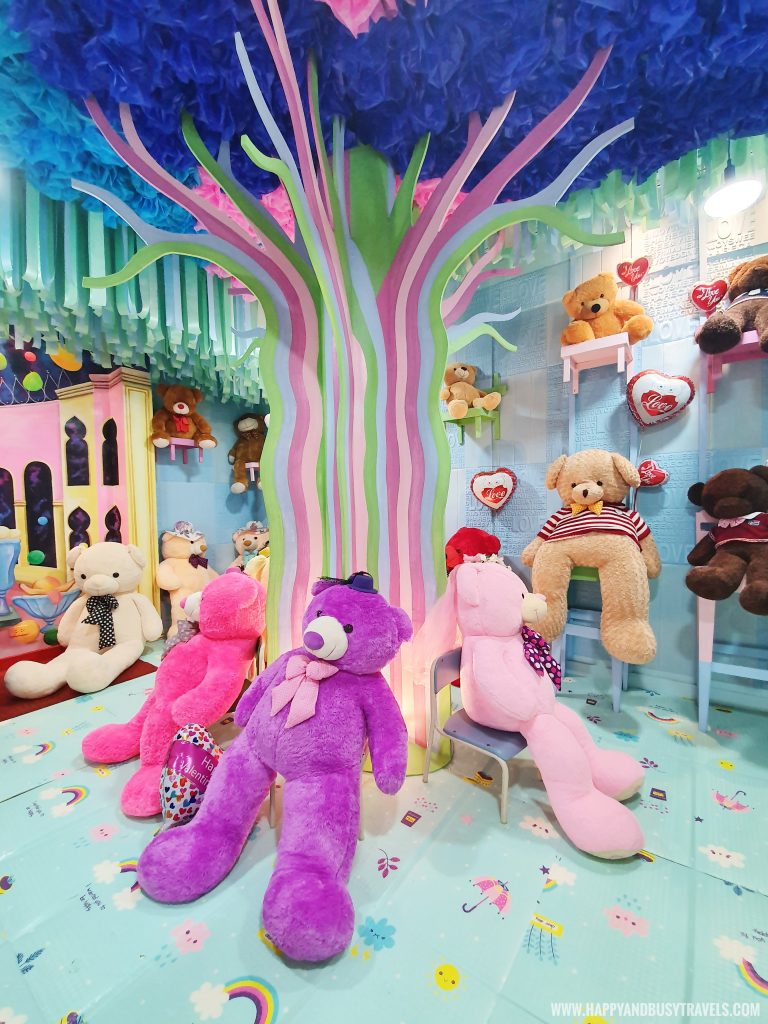 The cloth which stands as the leaves of the tree expands throughout the entire room.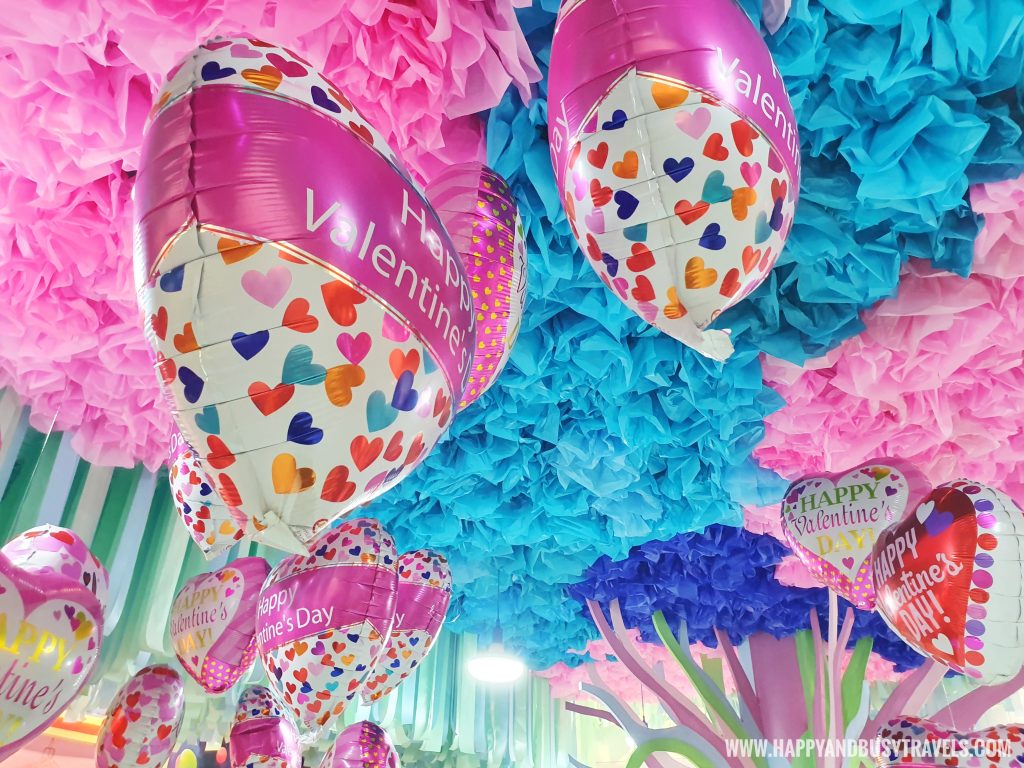 Just like your family, it keeps growing and expanding. 🙂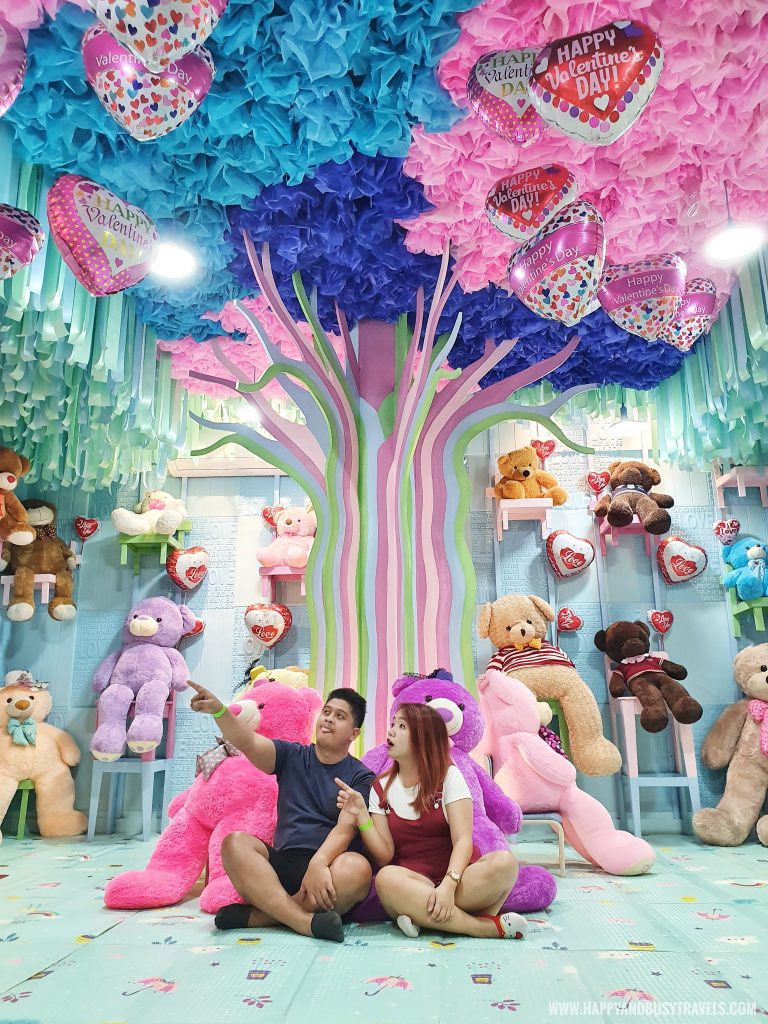 After the Exhibit
The exhibit was good and we had fun, but right after the exhibit, Bearseum has a bonus! Right after we bring back the wristbands, we were given 2 tokens each to play in this claw machine. Busy gave me one of his tokens, so I got to play 3 times!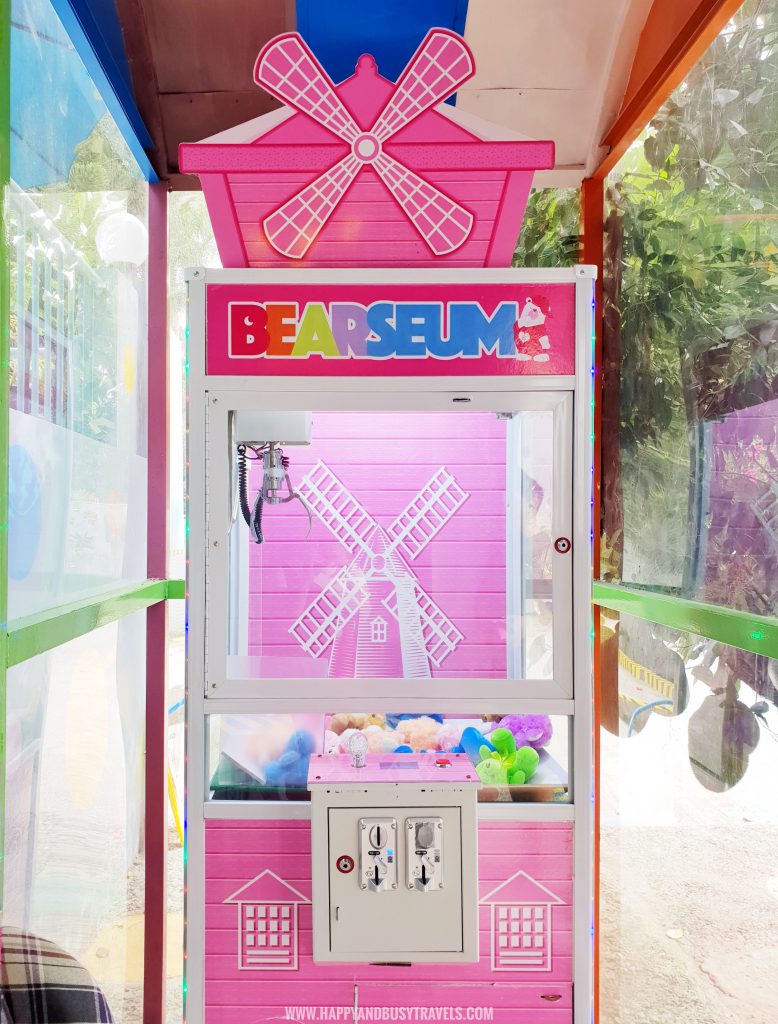 Tips and Notes
Use a camera with a wide option, or use a fish eye lens. Some spaces are small so you might not get the whole area in one picture.
You don't have to bring your tripod because there are assigned staff to take your pictures.
Please freshen up before entering, wipe off your perspiration. The area is very well air-conditioned to keep everything fresh and clean.
Bring your own socks.
Lastly, handle the teddy bears and other items with care.
Summary of Rates
Weekdays P 190
Weekends P 240
Children below 3ft P40 off, 11-month old below can enter for free
Is it your birth month? You can enter for FREE!
Bearseum Contact Details
Website: https://bearseum.ph/
Facebook: https://www.facebook.com/Bearseum/
Contact Numbers: (046) 412 3794
Email: [email protected]
Operating Hours: 9:30AM – 8:30PM daily
Address: Santa Rosa – Tagaytay Road, Tagaytay City, Cavite
Google Maps: https://goo.gl/maps/QuE7xwgDUQg33WYd8
Happy and Busy Travels' Smileys for Bearseum Teddy Bear Museum
It was a nice decision to visit Bearseum because we had fun! The exhibit is well thought off, it made us feel the love, and it was inspiring. This is great for everybody especially couples and children.
Location 


Perfect, the location is just along the main road so it is very easy to visit.
Ambiance


The feeling of "love" and happiness is all over while we were inside. We had an early Valentine's day celebration.
Value for money 


We visited on a weekend so the rates are a bit higher. This is understandable because there are a lot of visitors during weekends. But to answer my question earlier if is it worth it? Yes the cost is worth it.
Fun


Visitors were given 15 minutes to enjoy the whole exhibit. It is the ample amount of time to have fun even though I wish we could've stayed longer.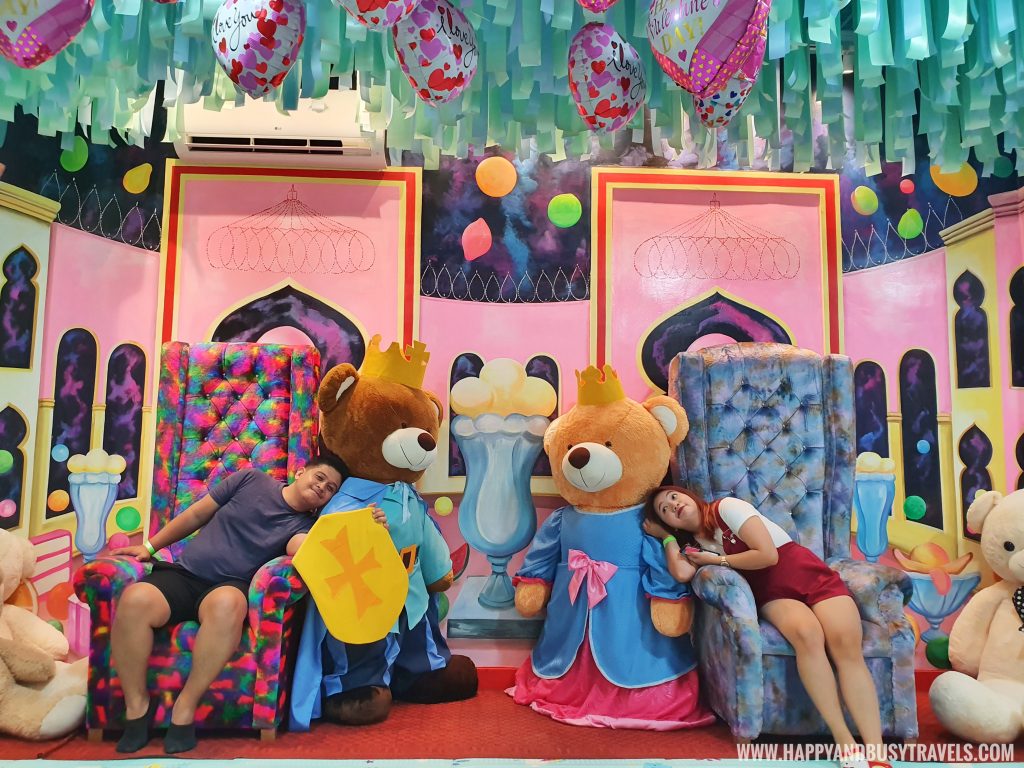 More exciting activity reviews at https://happyandbusytravels.com/category/activities/