See the Flying Carnival 2020 in Carmona, Cavite
Philippine Hot Air Balloon Fiesta which is also known as "The Weekend of Everything that Flies" which has run for over two decades is here again! The Flying Carnival 2020!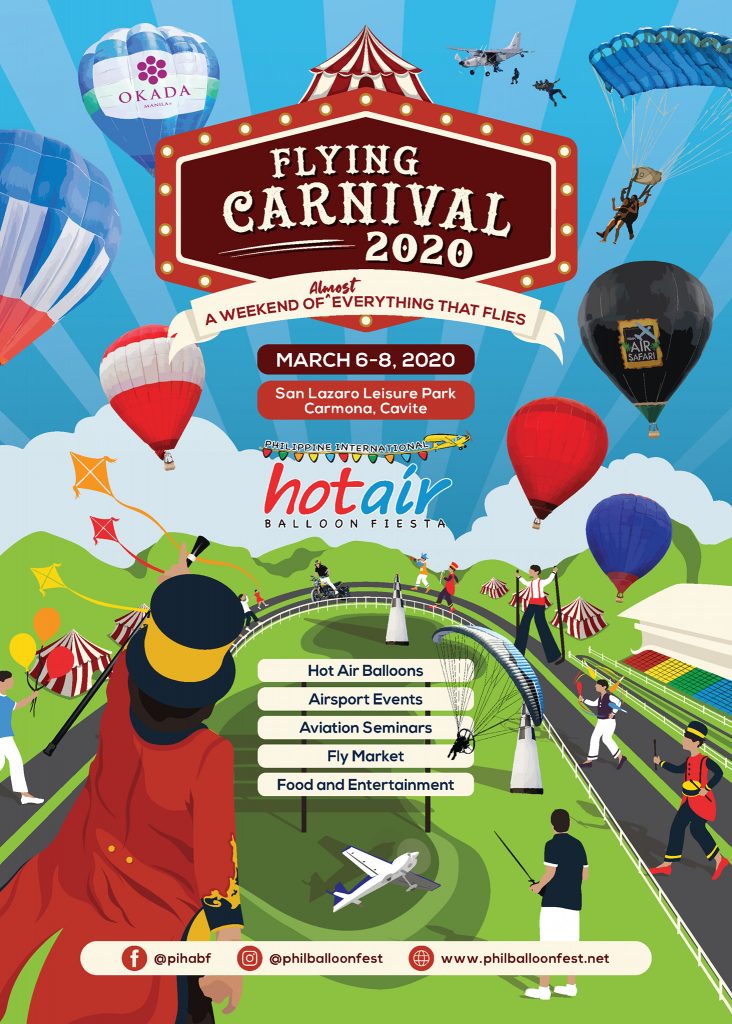 "The Flying Carnival 2020: A Weekend of Almost Everything that Flies," a 3-day spectacle of hot air balloons, helicopters and air sport events, combined with aviation career seminars, fly markets, food booths and family entertainment! The event will be held at the San Lazaro Leisure Park in Carmona, Cavite on March 6-8, 2020.  
What's in the Flying Carnival Event?
The Flying Carnival event has a lot to offer, from hot air balloon flights, exhibitions like skydiving, paragliding, helicopter demonstrations, RC control line exhibitions, and kite flying. Guests can enjoy it by riding these, or by watching through the spacious viewing area.
Aside from these exhibitions, there will be a carnival like market where you can get to entertain yourselves and buy souvenirs. Plus, at night, there will be firework displays.
Those considering a career in aviation can attend the Aviation Career Seminars to be given by renowned aviators and industry practitioners such as:
Fighter pilots from the Philippine Air Force
Naval Air Group pilots from the Philippine Navy
A female captain from Cebu Pacific Air
Air Traffic Controller from the Air Traffic Service
FAI World Record holder from Spain, Michel Gordillo
Hot Air Balloon pilot from the United Kingdom, Pete Bish
Capt. Joy Roa of Asian Air Safari.
The seminars will be available to Business Class ticket holders. Seminar attendees will be given a certificate of completion, and can enjoy meals and gain admission to the event
If you want to have an all-access pass, the First Class Ticket is for you. This can be bought so you can have an all-access pass to the event! This includes air-conditioned bazaar, private viewing area, and meals!
Event Organizers
The event is co-presented by Okada Manila, the country's ultra luxury integrated resort, and Rewards Circle. For tickets and other information, visit www.philballoonfest.net or stay up-to-date with event info by following @PIHABF on Facebook, and @philballoonfest on Instagram.
Tips on How to Enjoy the Event
Here is our blog about the event that was held in Clark: https://happyandbusytravels.com/philippine-international-hot-air-balloon-festival/