Busy and I together with 2 of his friends went to SM Dasmariñas and looked for a restaurant wherein they can have their meeting. We did not looked too long because we immediately saw Buku-Buku Kafe, SM Dasmariñas branch.
The store can be seen easily because of the stunning design of the entrance.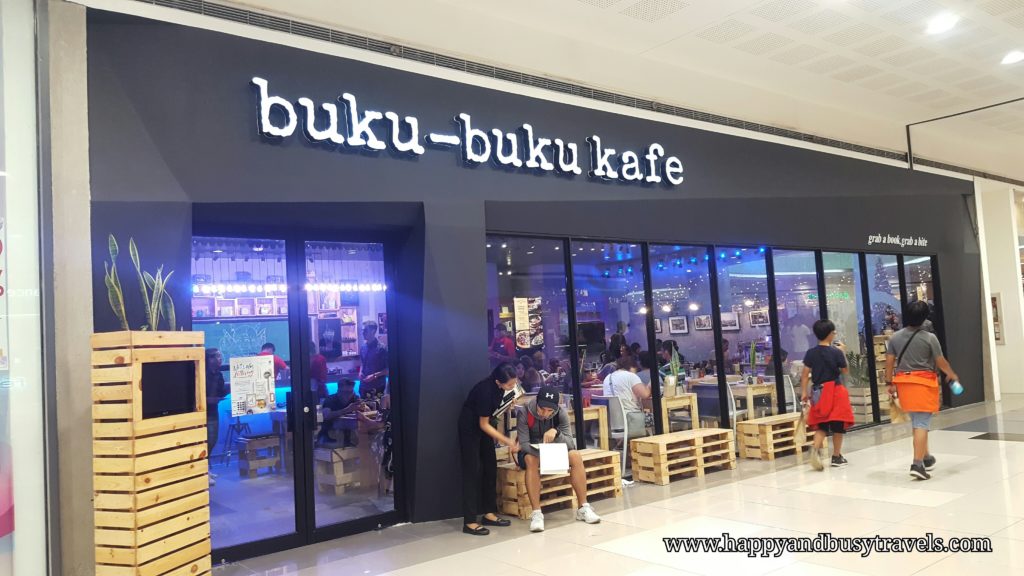 Address: Lower Ground Floor, SM Dasmariñas, Dasmariñas City, Cavite
Contact Number: +63 46 424 0681
Facebook Page: https://www.facebook.com/Buku-Buku-Kafe-1500182020057357/
Every Buku-Buku Kafe branch is stunningly decorated. For this branch, I think their theme is Movie Theater.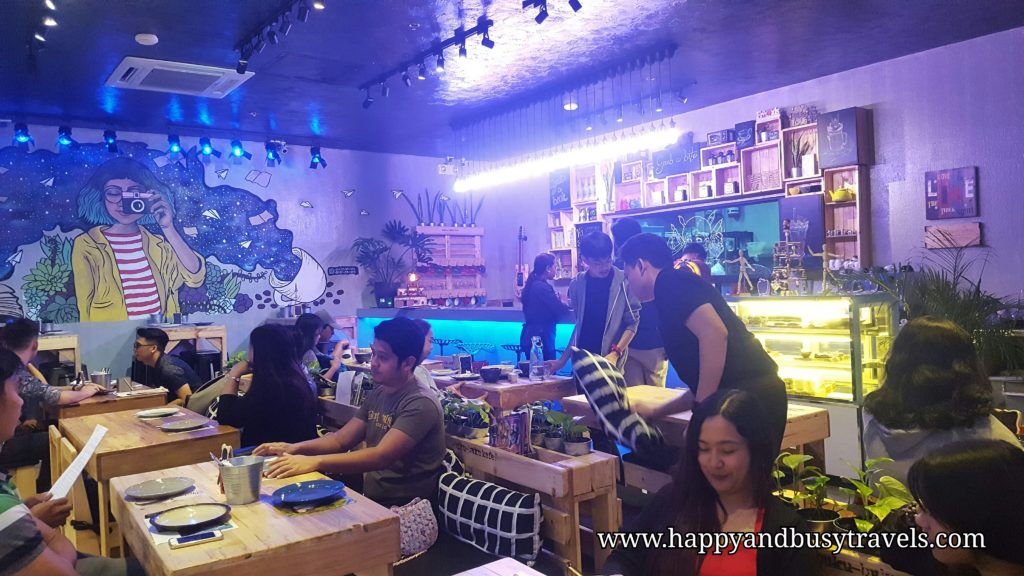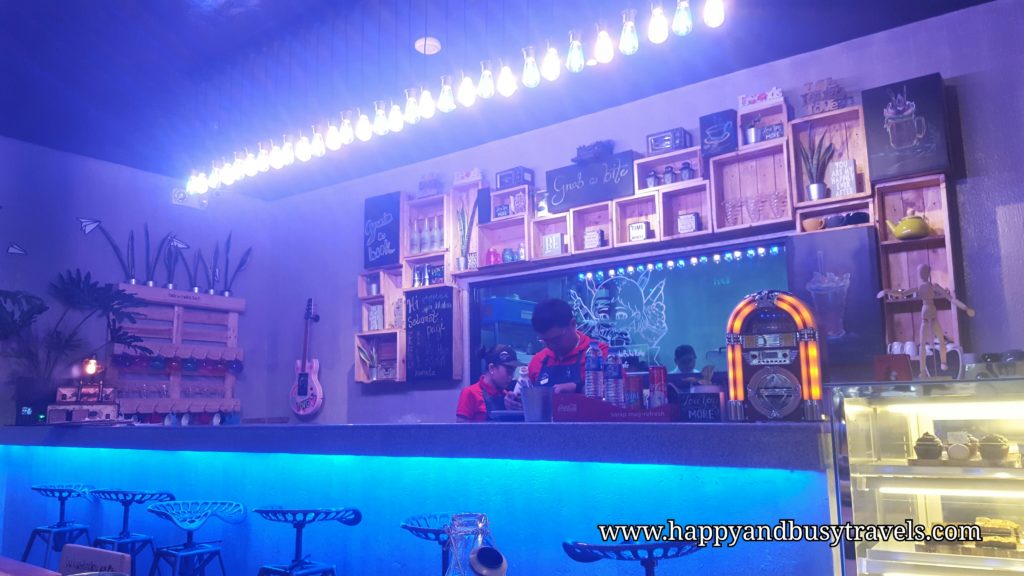 There is also a beautiful mural on the wall.
We love it! Too much effort is used in building the cafe.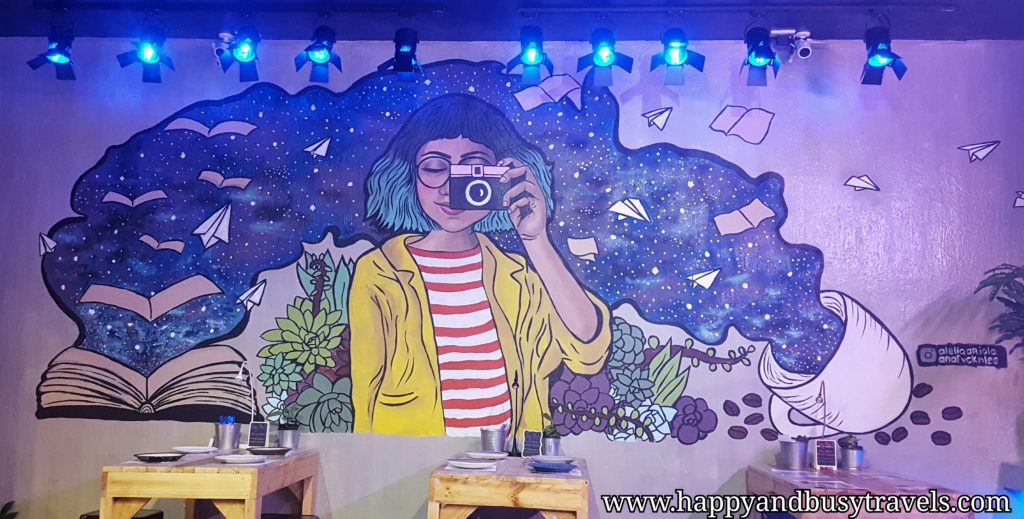 Time to order
As we entered the cafe, we choose a place to seat, and we looked at their menu.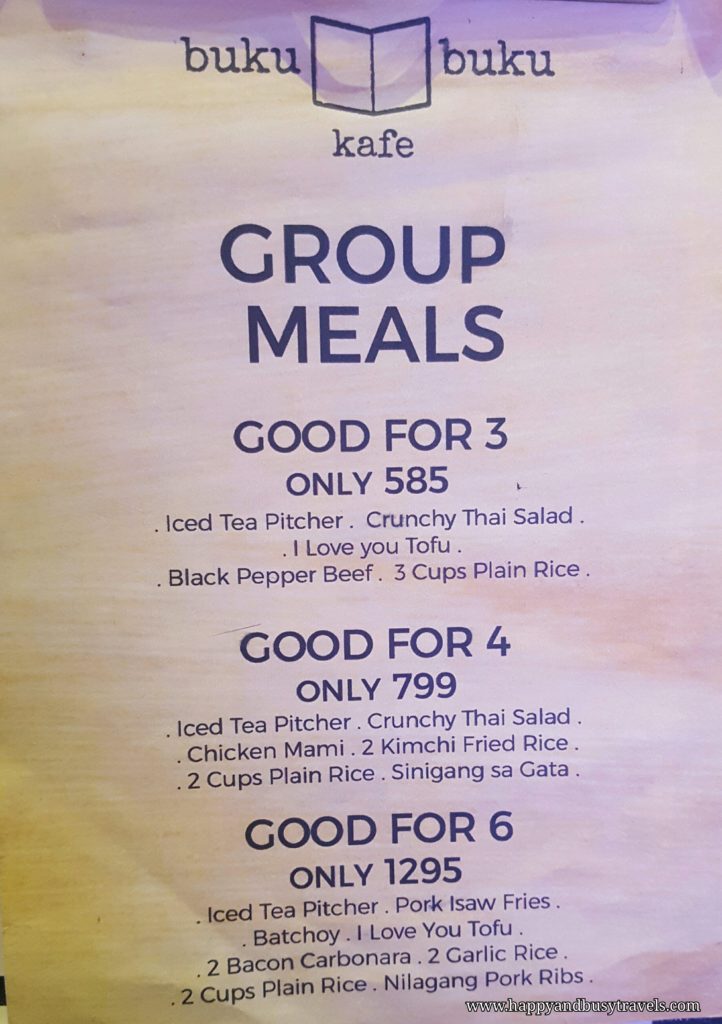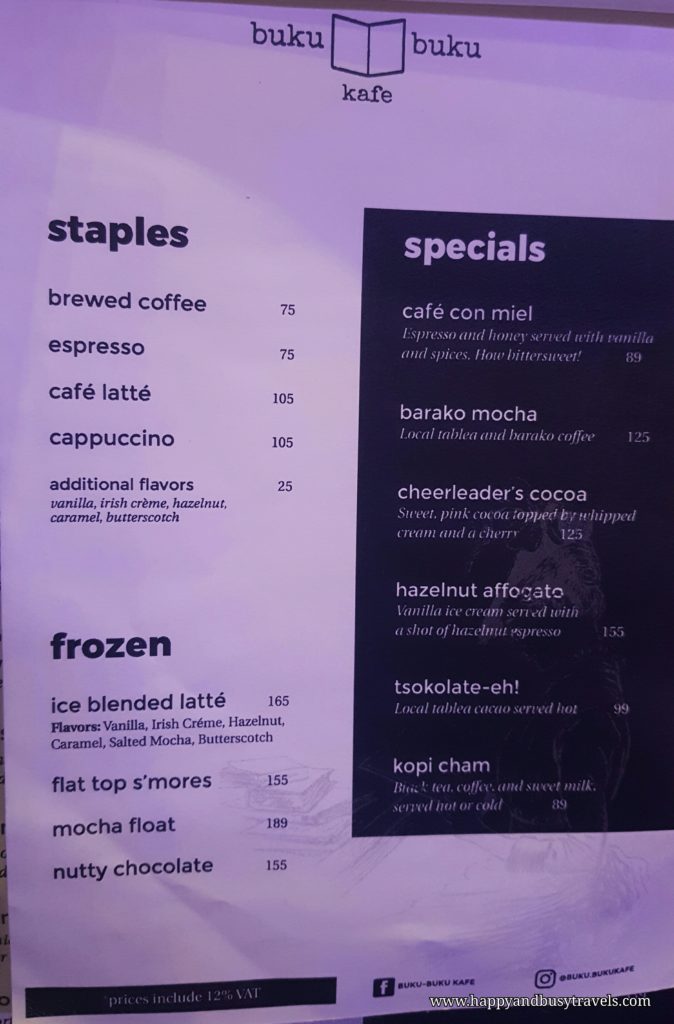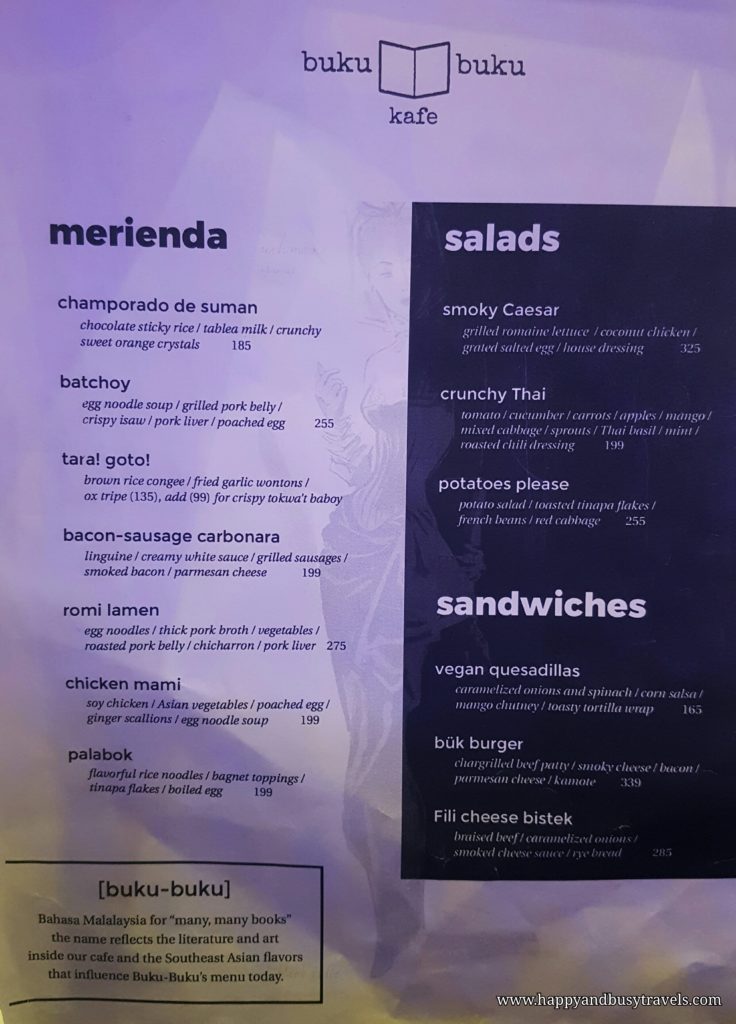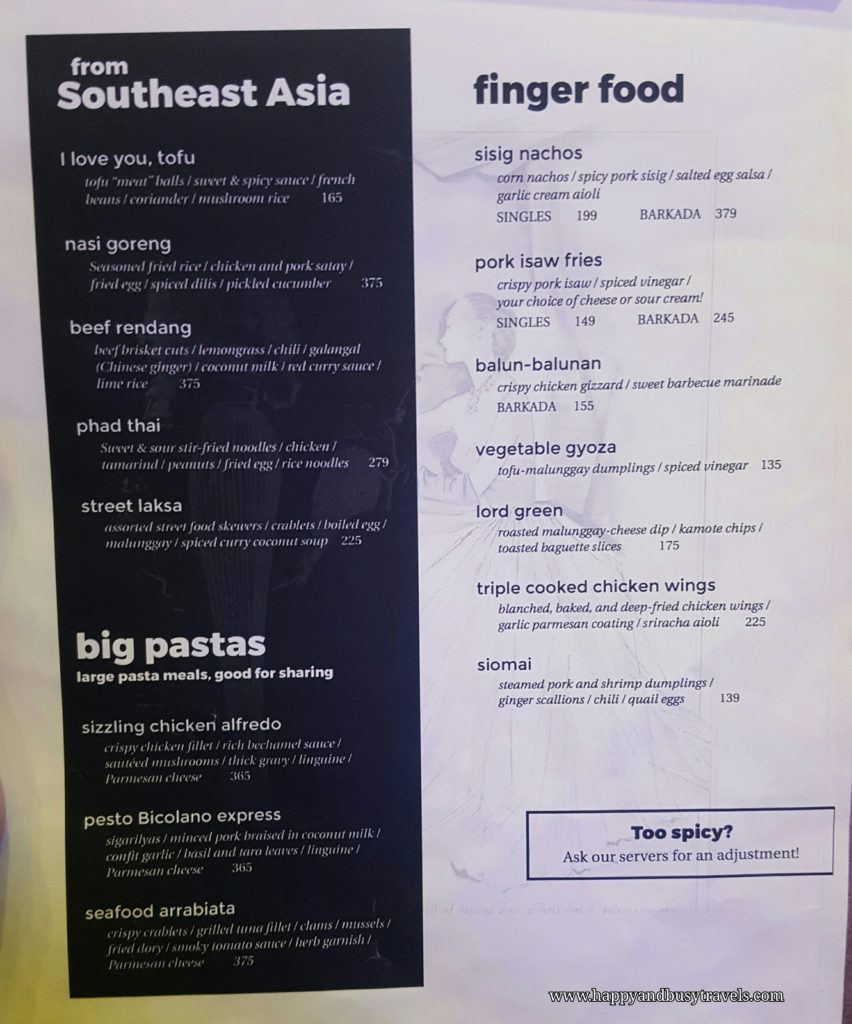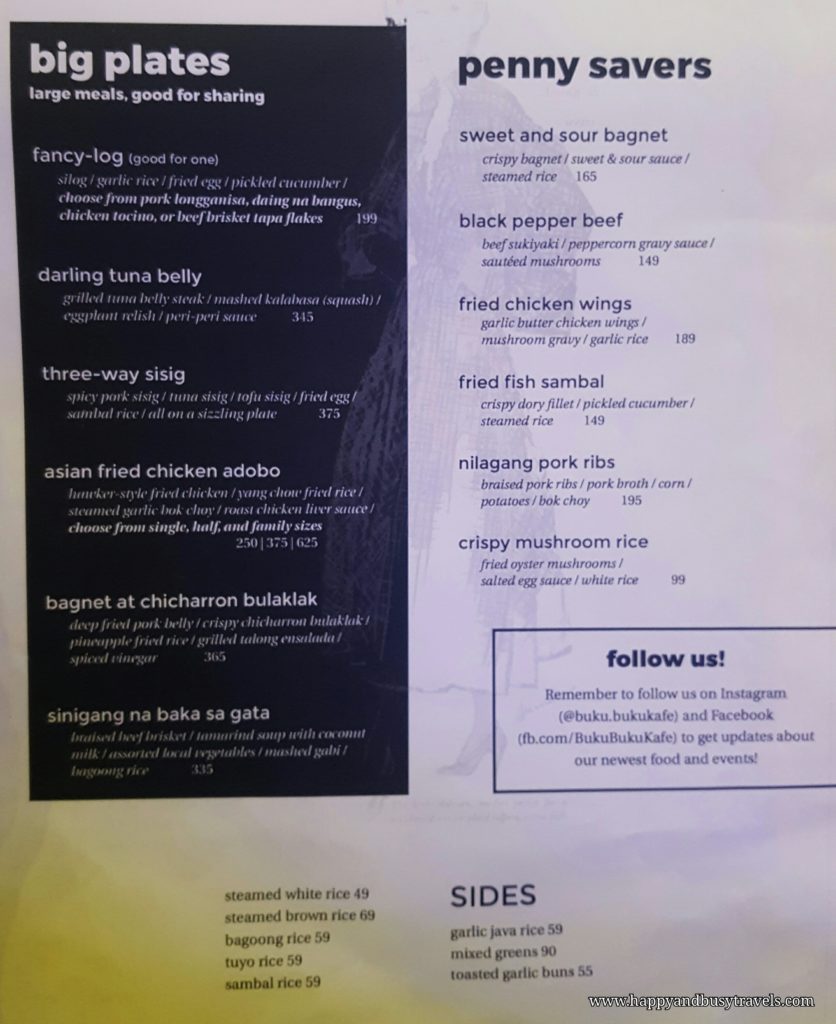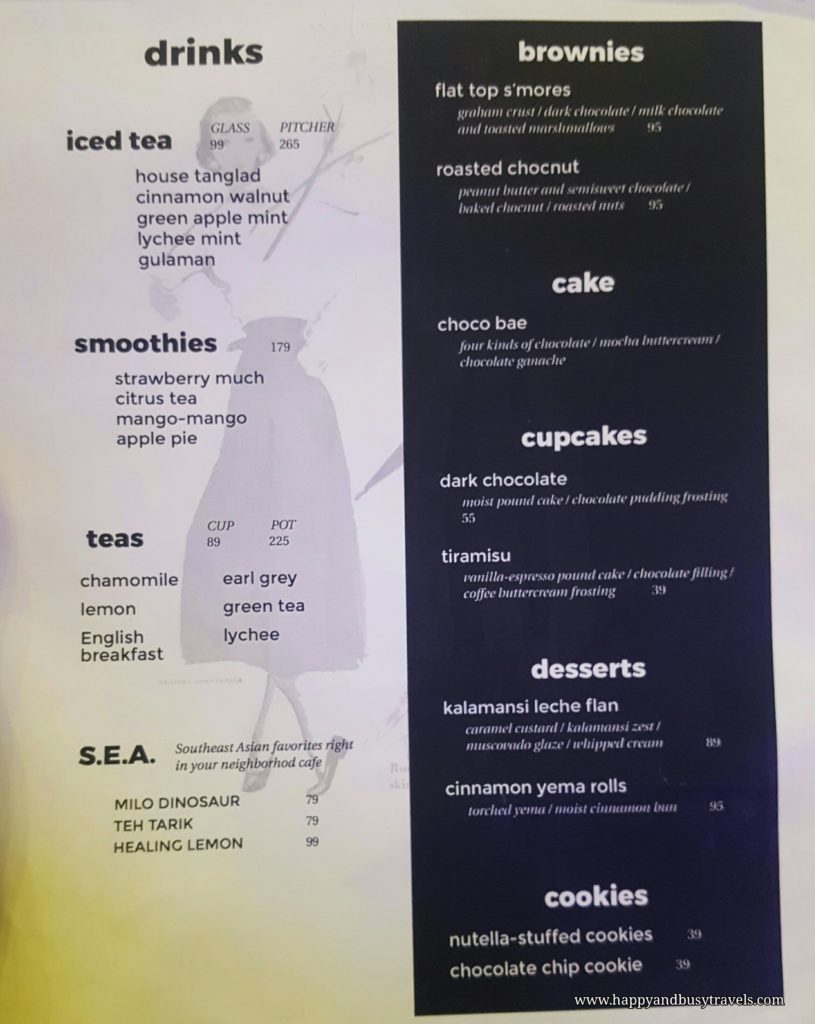 We have decided to order the group meal good for 4. This includes Iced Tea Pitcher, Crunchy Thai Salad, Chicken Mami, 2 Kimchi Fried Rice, 2 cups plan rice, and Sinigang sa Gata. The group meal is priced at only Php 799.
I also ordered Kalamansi Leche Flan, however it is not available during our visit. The waiter suggested the Oreo Cheesecake, one of their best sellers, so we ordered one.
According to the description found in their menu, Buku-Buku means "many, many books" in Bahasa Malaysia. The name reflects the literature and art inside their cafe and Southeast Asian flavors that influences their menu.
While waiting for your food. You can browse through the books and play some board games inside the cafe.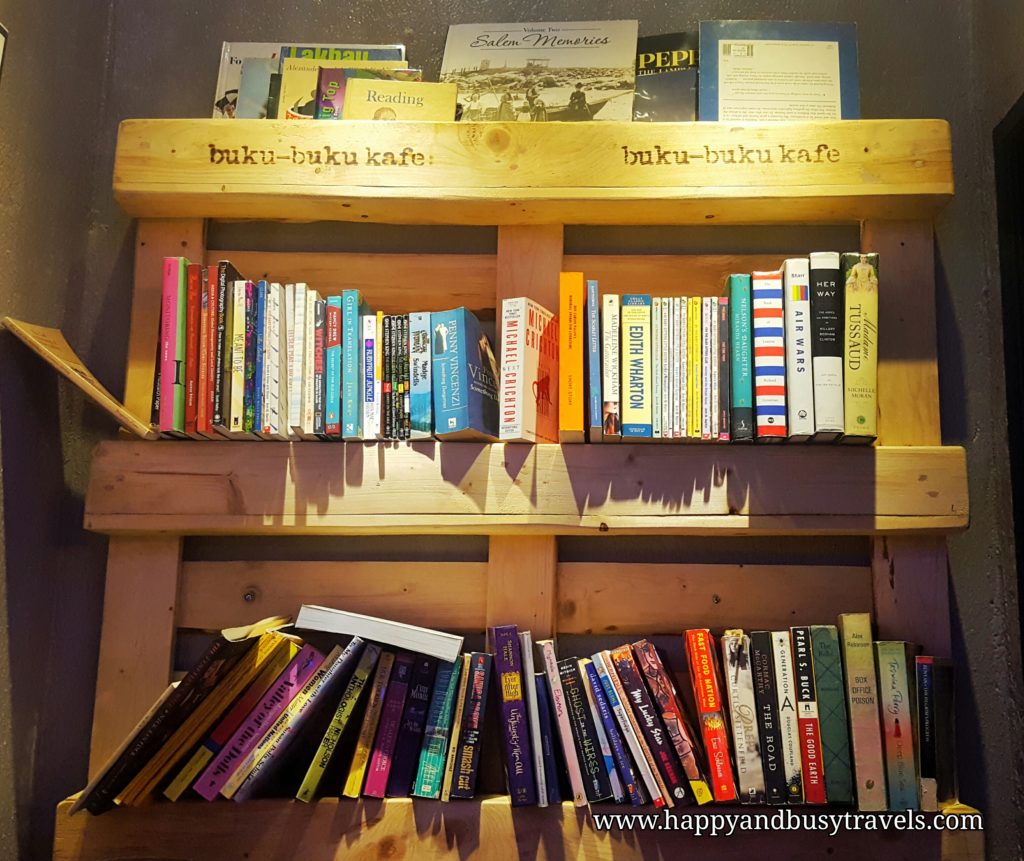 There are also some books for sale.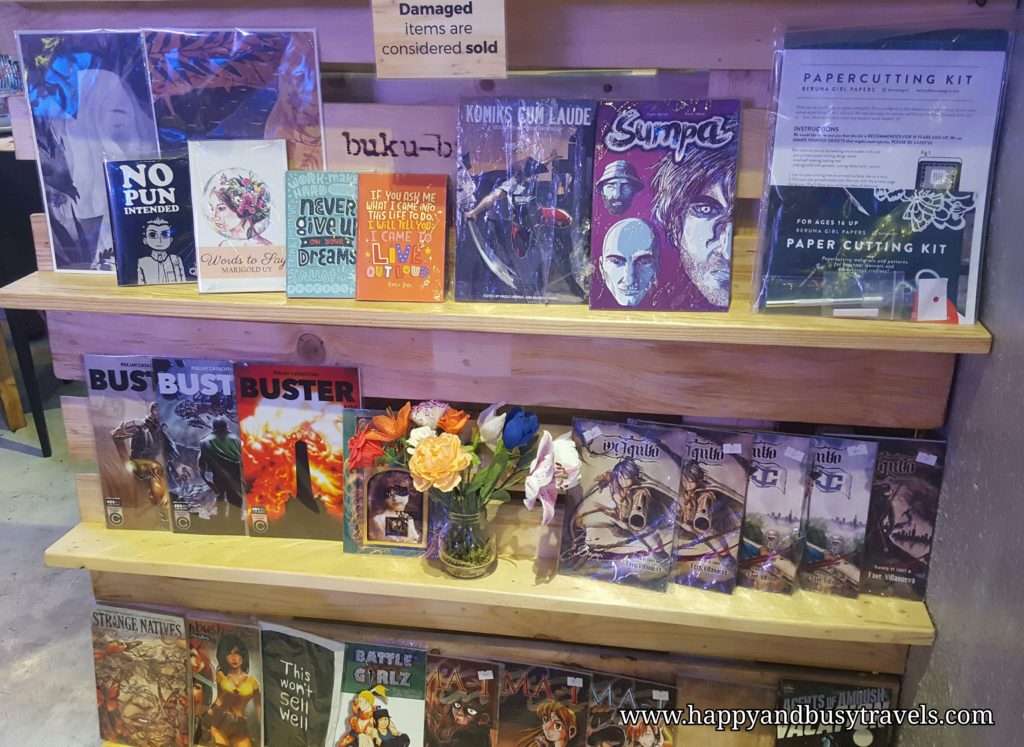 The cafe also displays some of their desserts for sale.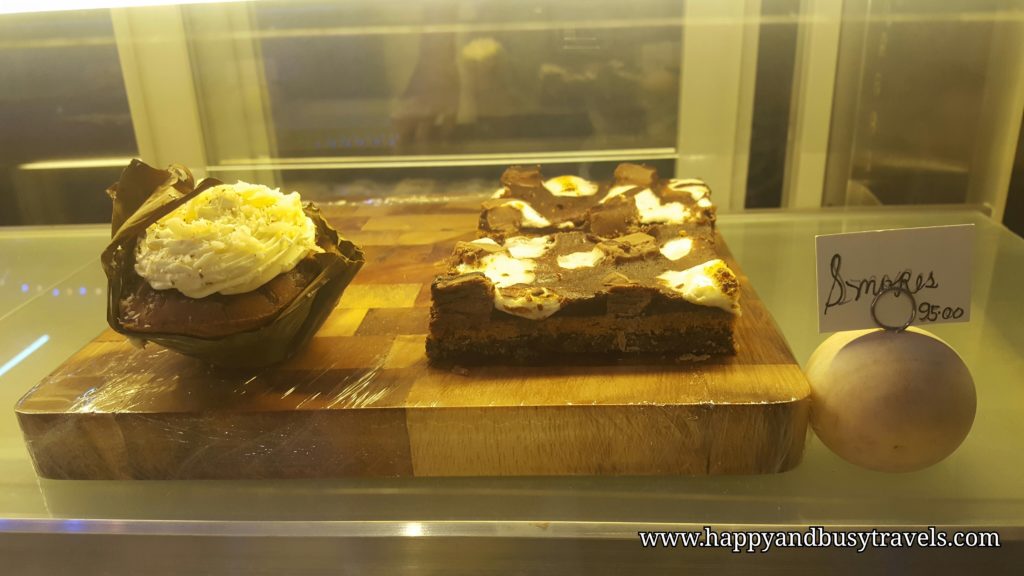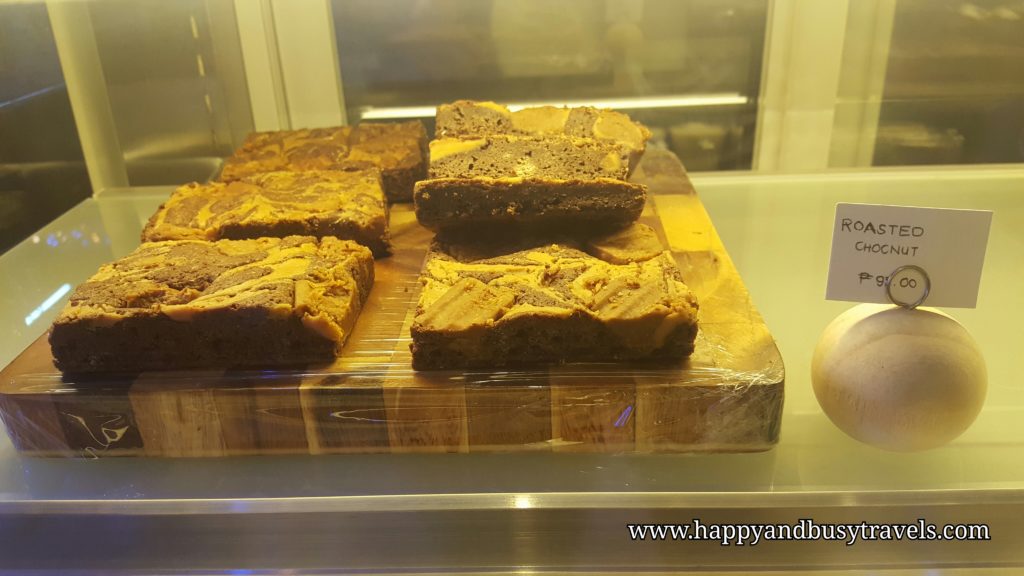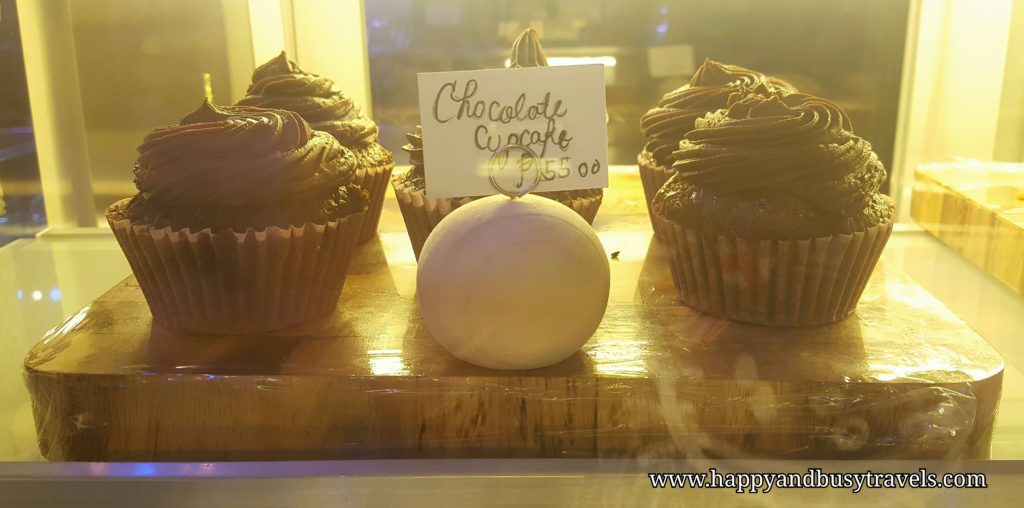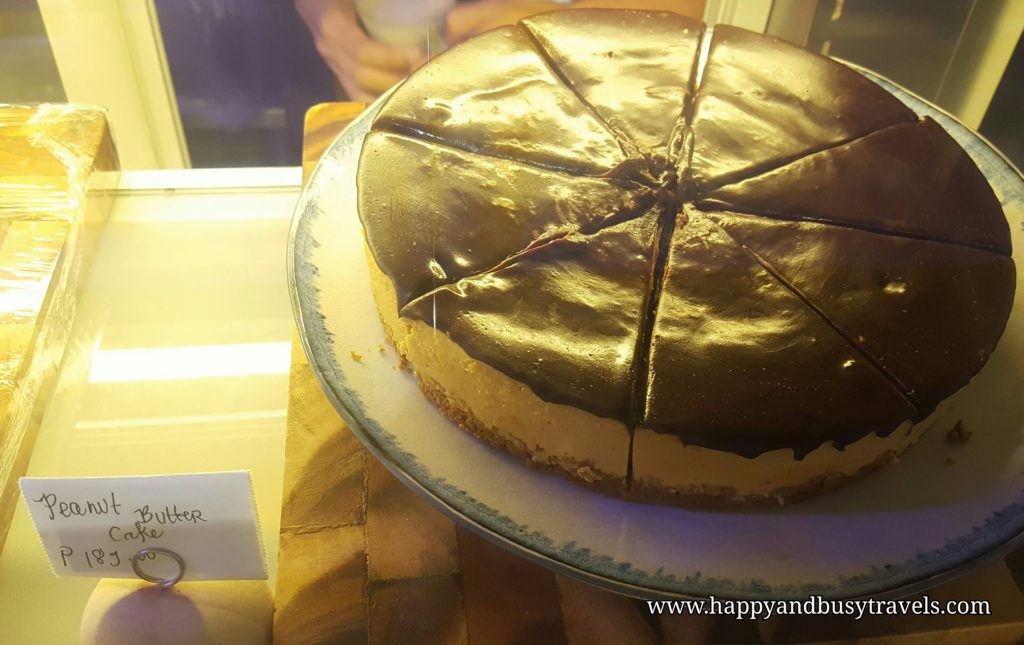 Food is here!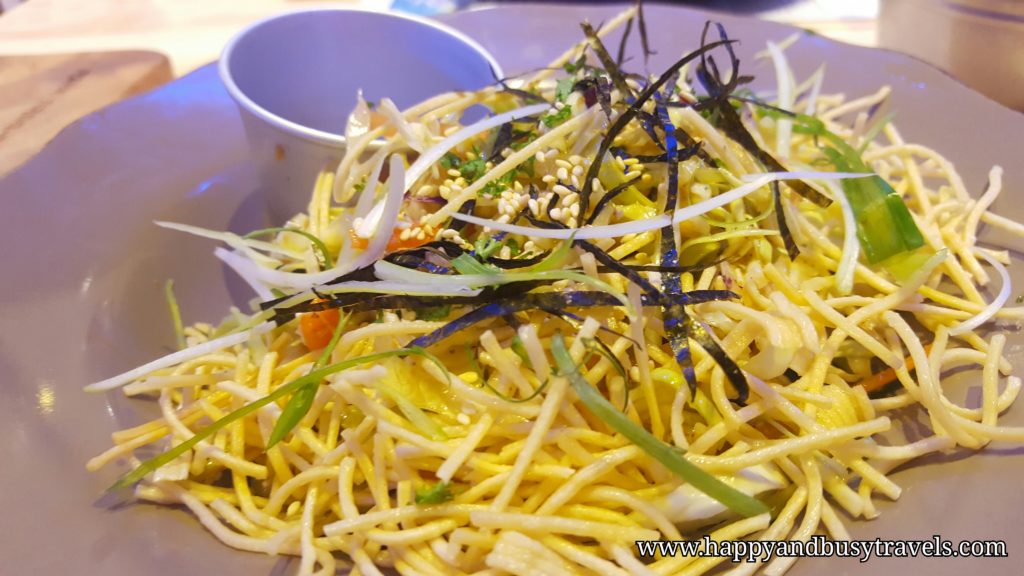 The salad is made up of crunchy noodles together with (as described in the menu) tomato, cucumber, carrots, apples, mango, mixed cabbage, sprouts, Thai Basil, Mint, and Roasted Chili Dressing. I think the salad has seaweed wrap also. Those are the black stripes above the crispy noodles.
The Chicken Mami is made up of egg noodle soup with Asian vegetables, Ginger scallions, Poached egg, and Soy Chicken in skewers.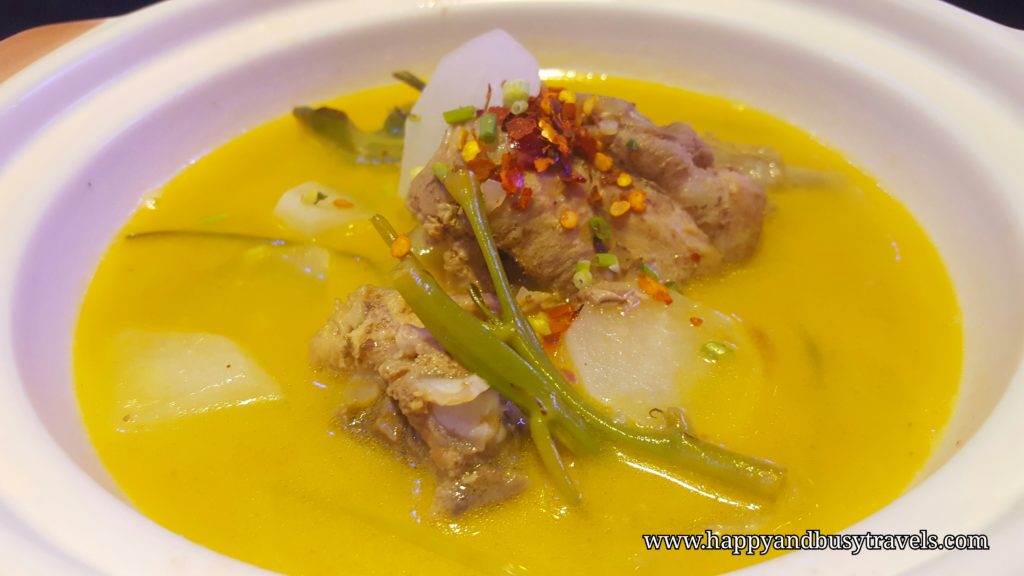 This dish is made up of pork ribs (instead of beef or Baka in Filipino) in tamarind soup with coconut milk, assorted local vegetables such as Water Spinach and Radish, and mashed Gabi, with Chili flakes on top to give it a spicy kick.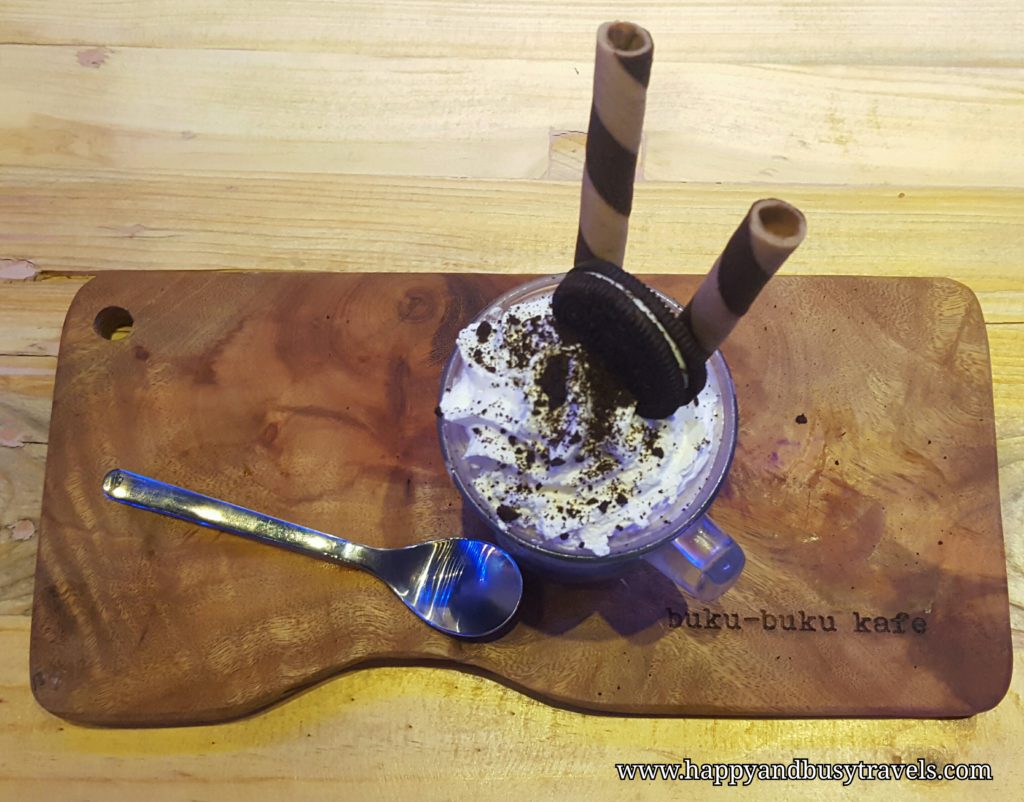 I love the presentation. The cheesecake is a bit salty for me, but for Busy the taste is just right. Maybe I am still thinking about the Kalamansi Leche Flan ahahaha 🙂
Before they serve the food, we were informed that the Kimchi Rice is not available, so they replaced it with Garlic Rice. The Baka (Beef), the main ingredient in Sinigang na Baka sa Gata, is also not available so they replaced it with Pork.
To compensate on the unavailability of the ingredients, the cafe gave us FREE dessert!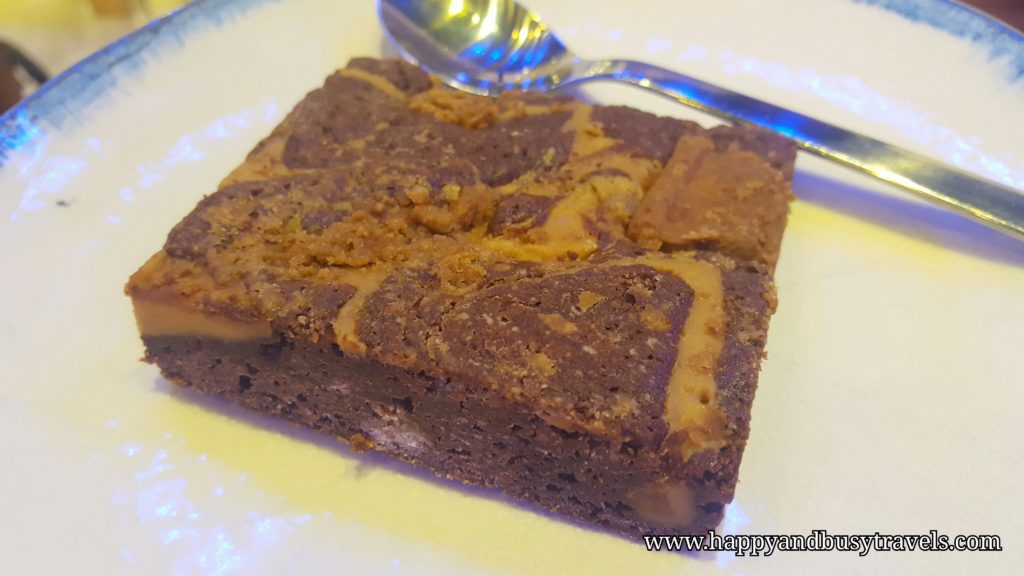 Thank you Buku-Buku Kafe!
the meeting in Buku-Buku Kafe is a great idea. We had a great experience in dining in the cafe.
Notes:
There is no service charge
Wifi is available
The staffs are friendly and service is superb
Comfort Room is available
Borrowed board games and books should be used responsibly
Happy and Busy's Smiley
Food – 

Location – 

Ambiance – 

Value for money – 

Service – 

Comfort Rooms – We did not have a chance to check the comfort room
No selfie for this time! haha We forgot to take our photo! Anyway Busy is there in one of the pictures haha  🙂