Coffee and Dreams Tagaytay
Busy and I went out and checked out Coffee and Dreams Tagaytay. This is a newly opened restaurant in Tagaytay which serves delicious food and has the perfect ambiance. Super IG-worthy!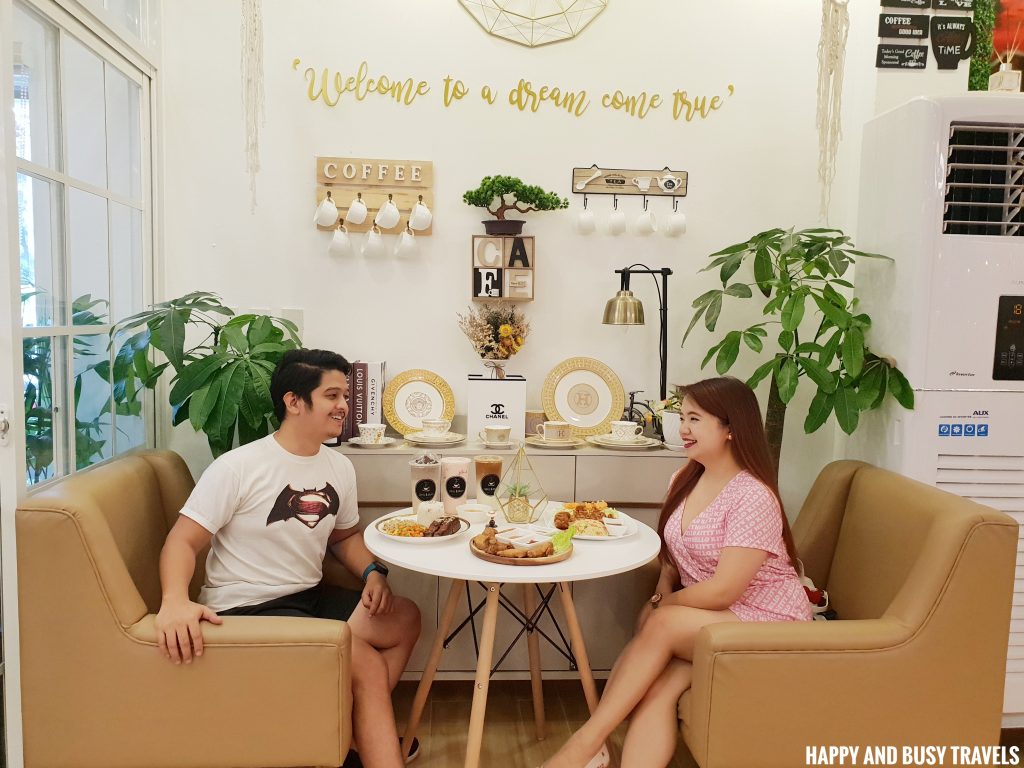 The whole restaurant is chic, classy, and dreamy! You'll realize that it is designed with love, made by skillful hands, and well thought out by the owner.
Important Information
Facebook: https://www.facebook.com/CoffeeAndDreamsOfficial
Contact number: 0927-5407163
Email Add: [email protected]
Operating Hours: Weekdays 9 AM to 6 PM & Weekends 9 AM to 7 PM (During MECQ)
Dining Options: Dine In, Take Out, Delivery
Payment Options: Cash
Address: 1315 Olivares Plaza, Emilio Aguinaldo Hwy, Silang Junction South, Tagaytay, Cavite
Google Maps Link: https://goo.gl/maps/
Inside Coffee and Dreams Tagaytay
The restaurant is very easy to locate, so we easily saw it.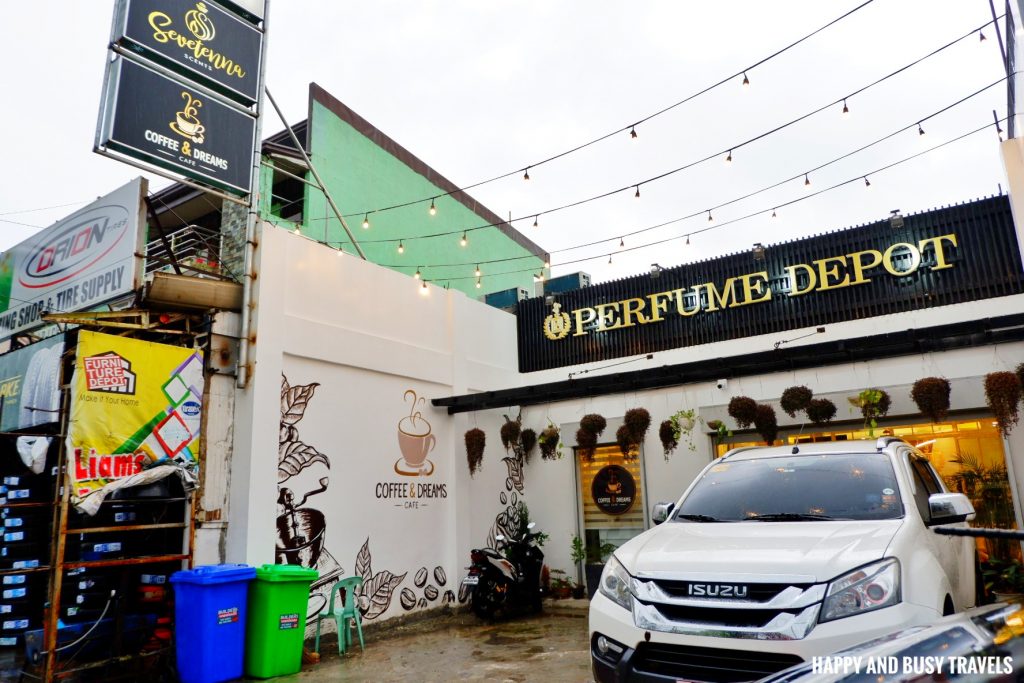 Upon entering…
When we entered the restaurant, we first saw the perfume shop.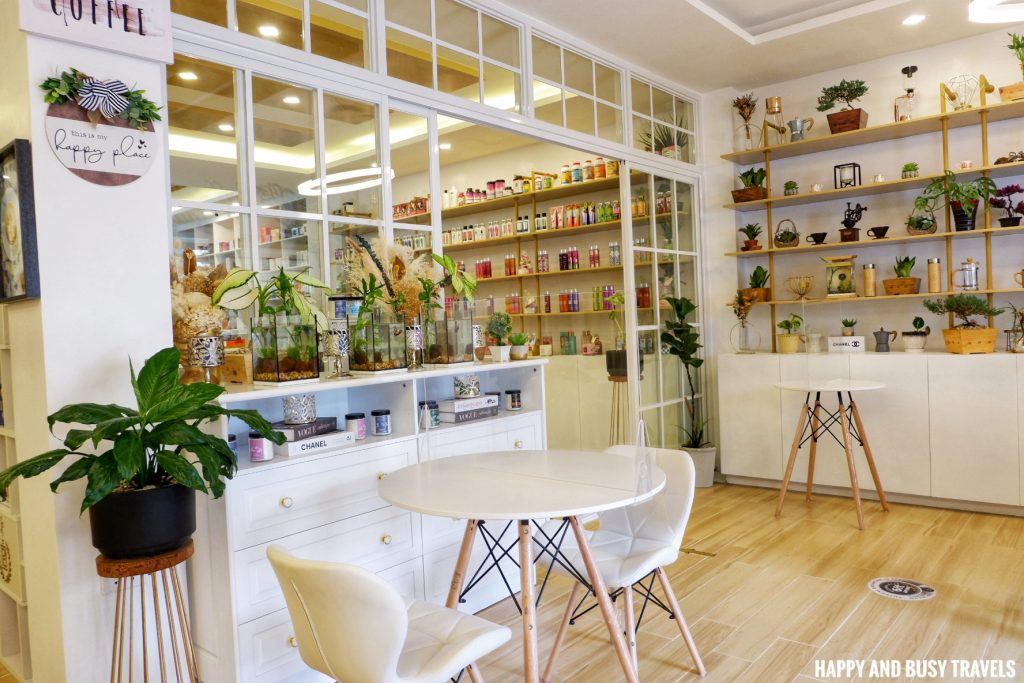 There are tables and chairs in this area, so if you wanted to dine here, you may do so.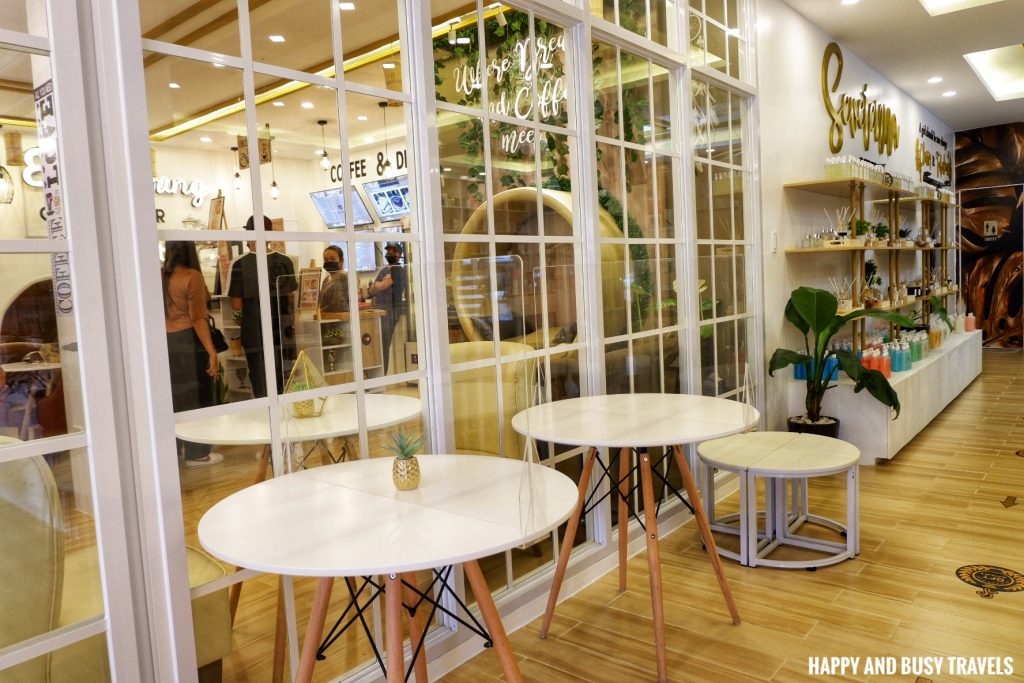 We can easily tell that the owner loves plants, fish, and the Scandinavian interior decoration style. Team Kahoy!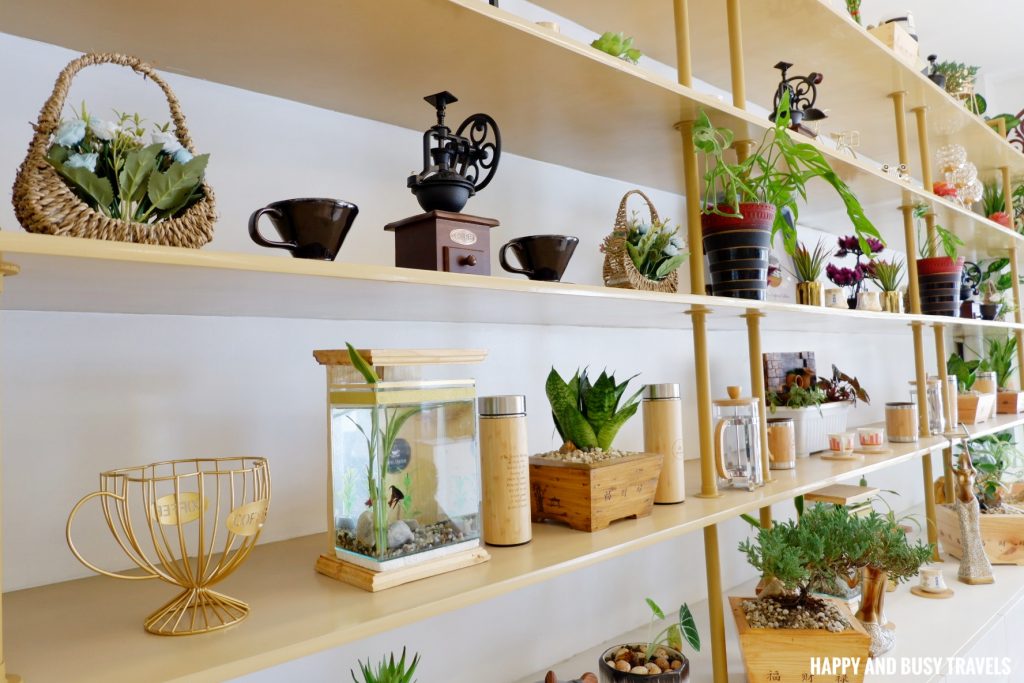 There are a lot of fighting fishes here and they look good.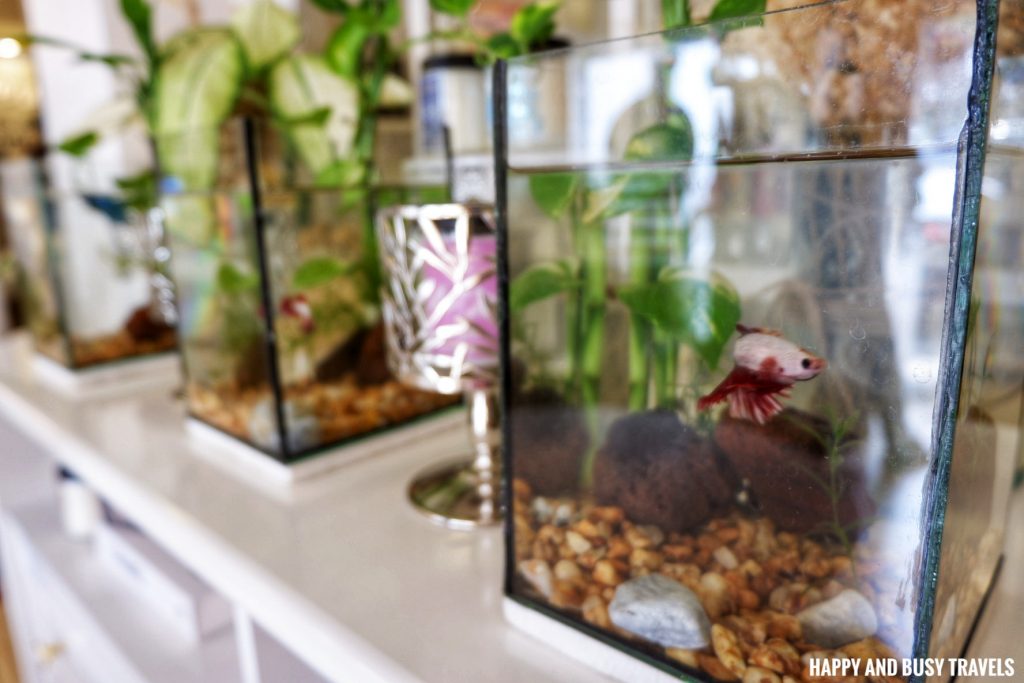 Inside the Actual Restaurant
The restaurant has a lot of IG-worthy spots. First is this portion wherein the wall is painted to look like a classic restaurant in France.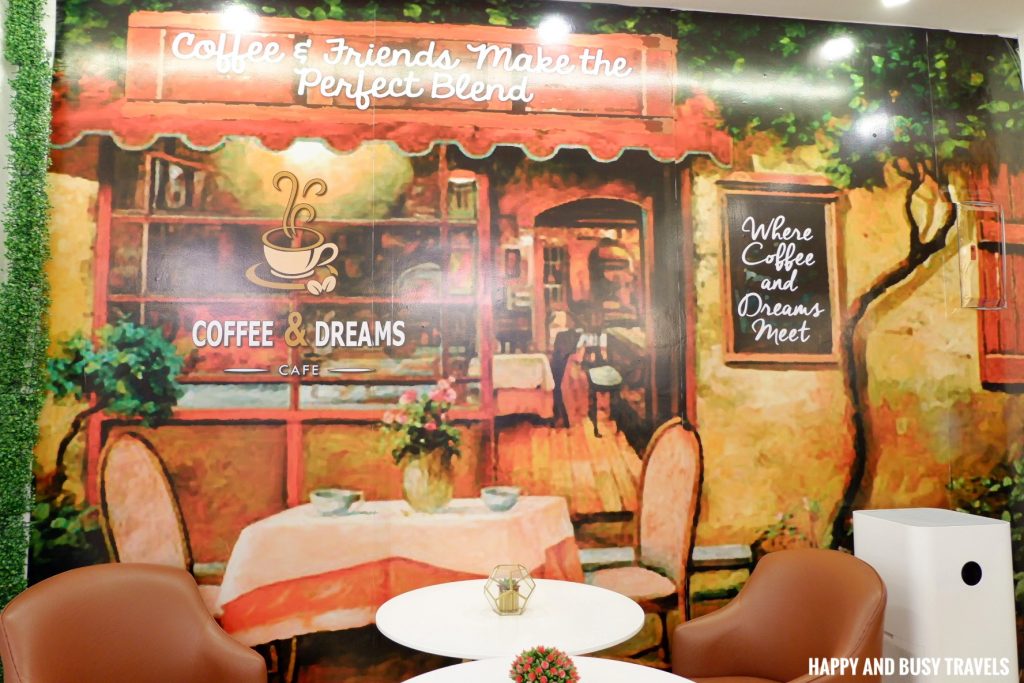 Next is this wall has a lot of bar stools and is matched with a tall table.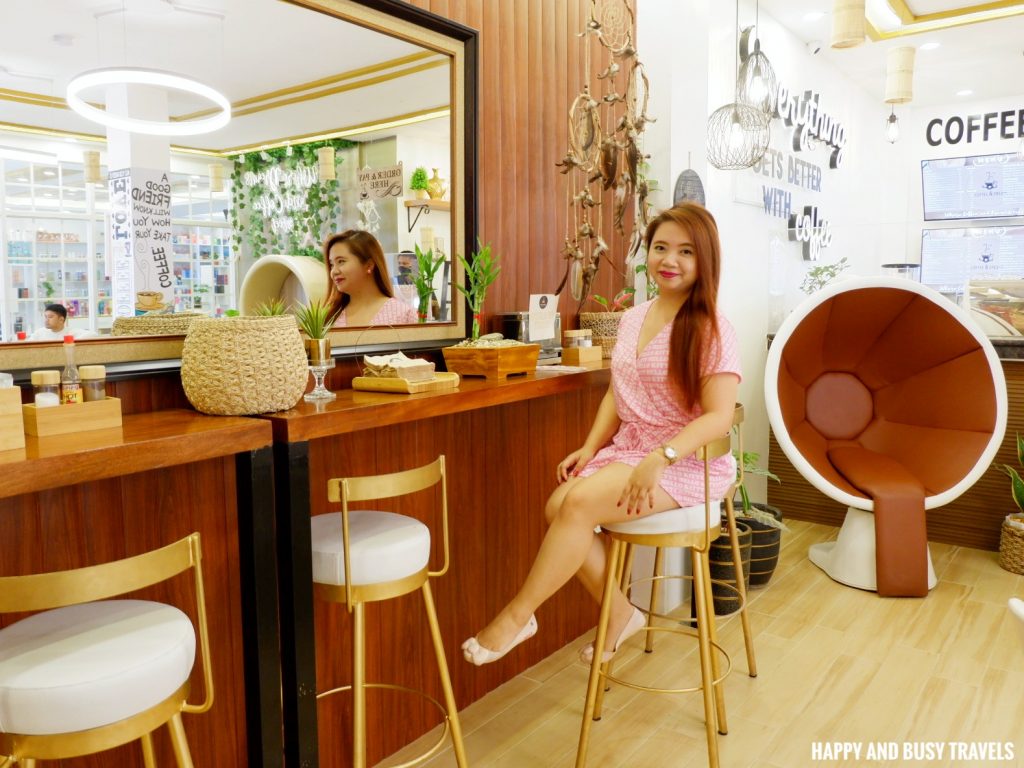 The third is this spot, which is one of my favorites. It's so dreamy!
I even took some photos, which I immediately uploaded to my Hello Kitty fan page.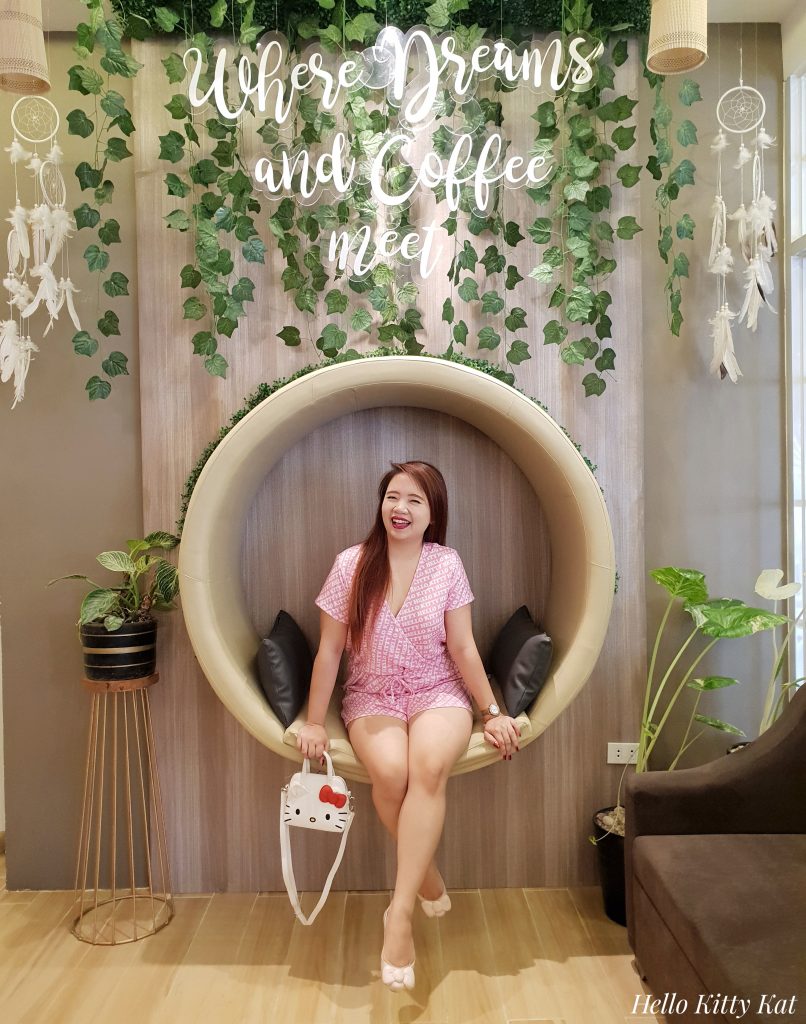 Oh yeah, this spot is really IG-worthy! Come and take a sip!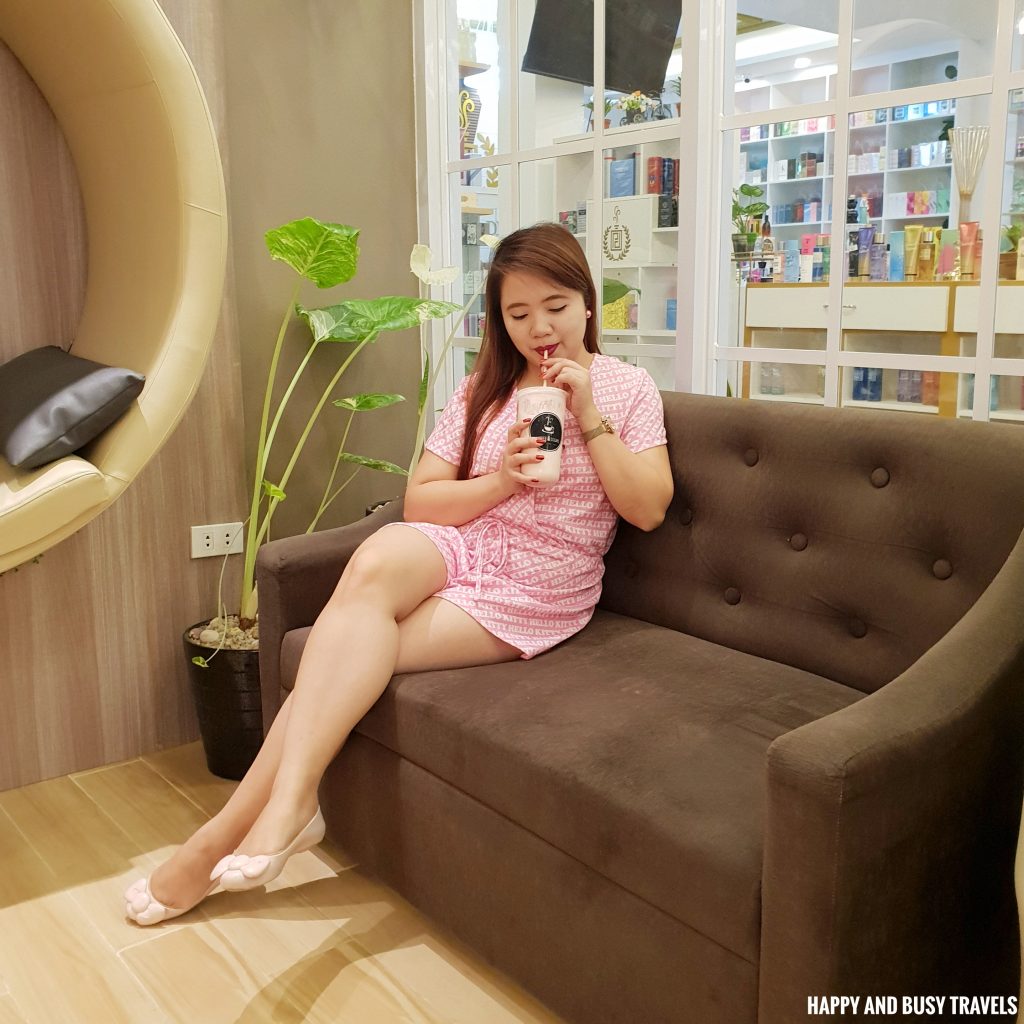 Finally is this spot, where Busy and I had our dinner. When you seat here, it's like the place is just yours, so you'll have a great time dining here. I, therefore, conclude that this is the best spot to dine. Hahaha
Ohhh looks expensive.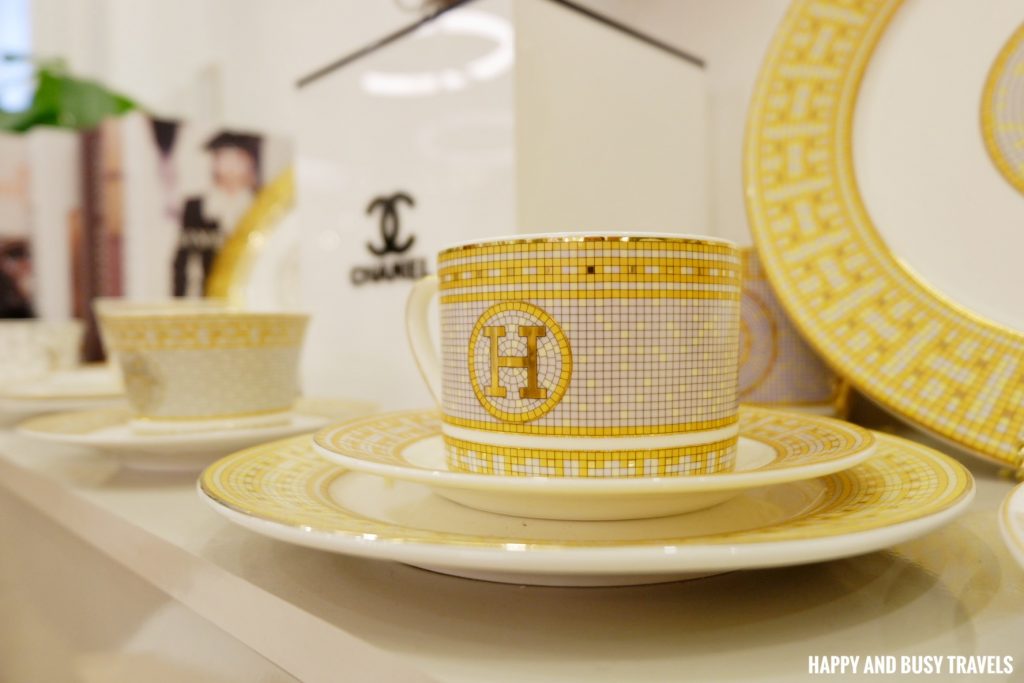 Order yours here…
This portion is of course the area wherein you have to order and pay. It looks good too!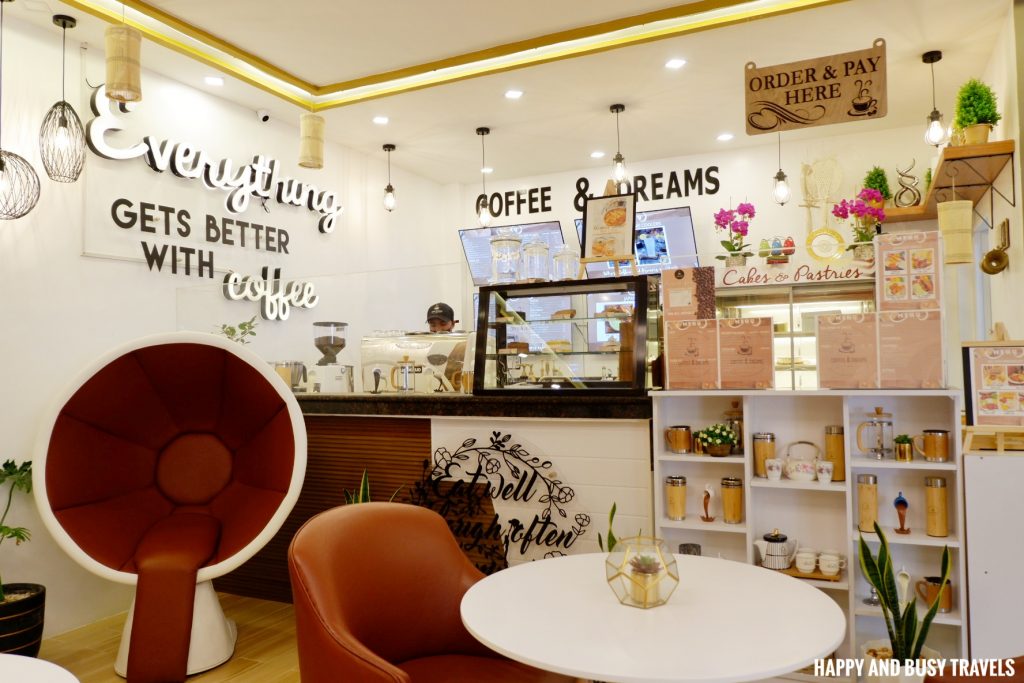 There is a lot of dream catchers in the restaurant that will surely give you good dreams, and catch your eye. 😉
The Food
Coffee and Dreams Tagaytay serves a lot of drinks and dishes, so we are showing some of them.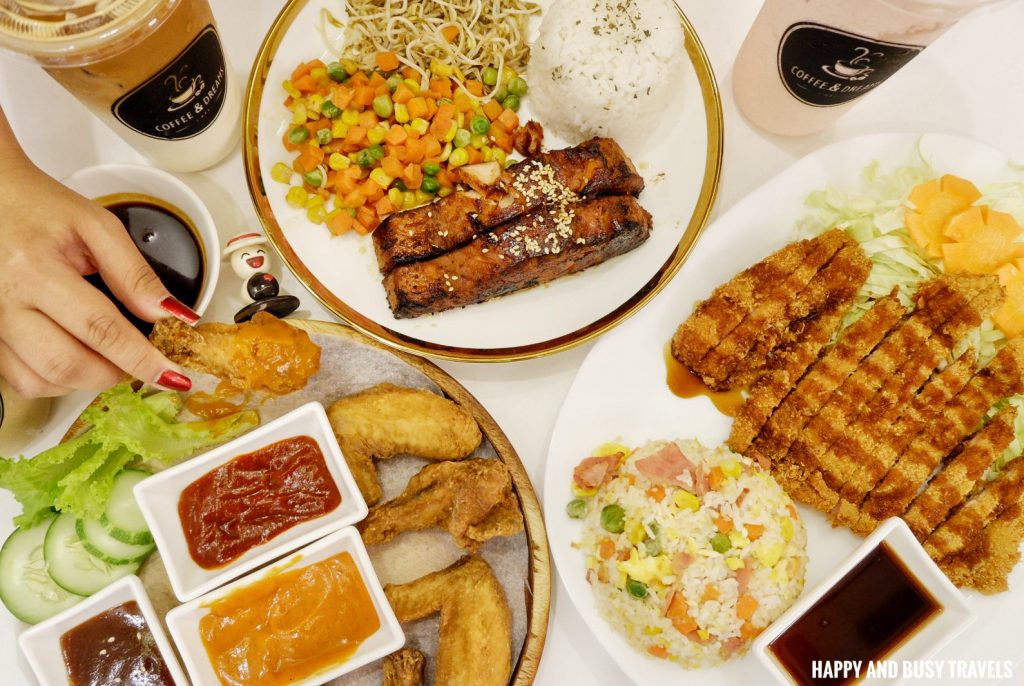 Dishes
Chicken Wings
Soon on their menu, they will be serving Chicken Wings.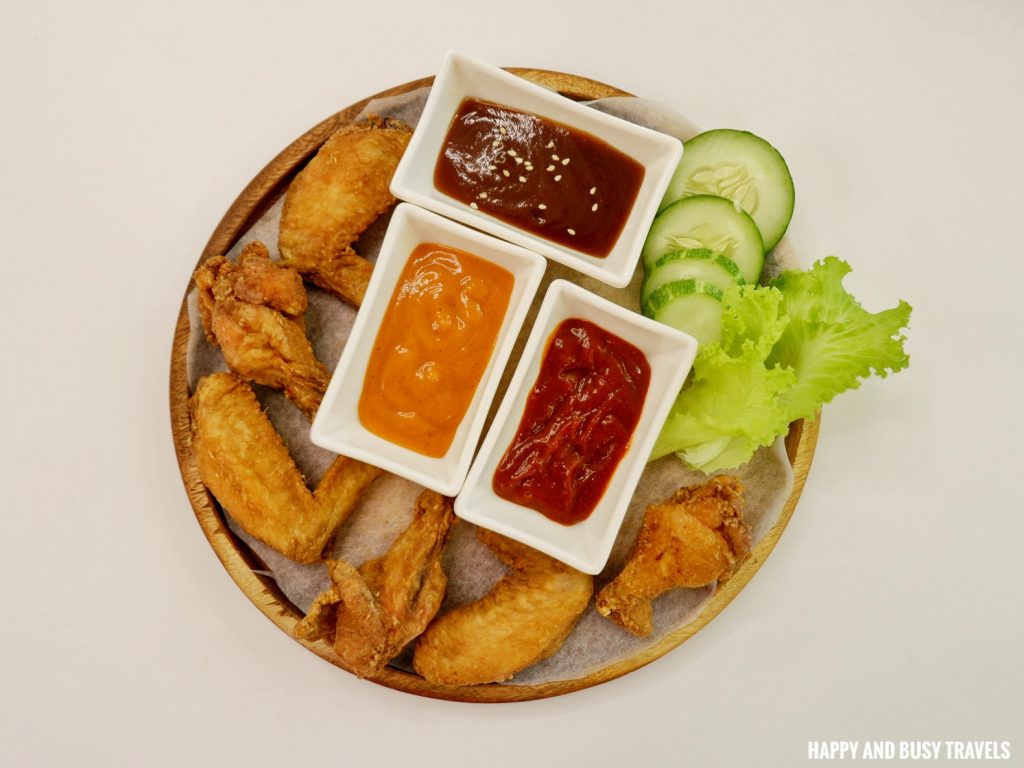 You can choose your sauce, so we choose Hickory, Classic Buffalo, and Sriracha.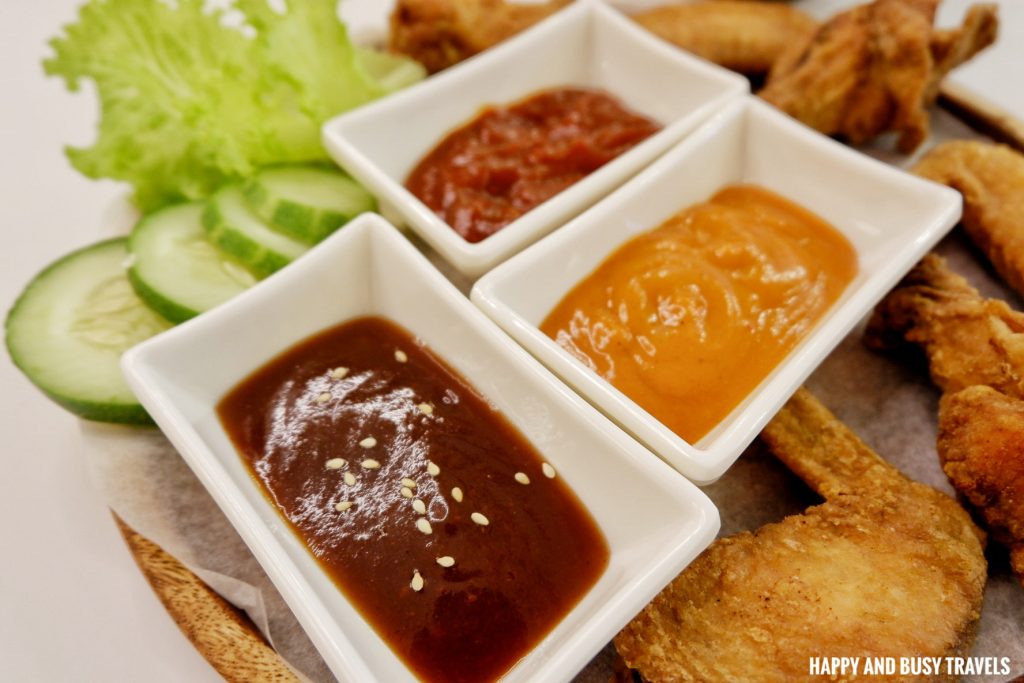 Each wing is fried perfectly, they were juicy and tender.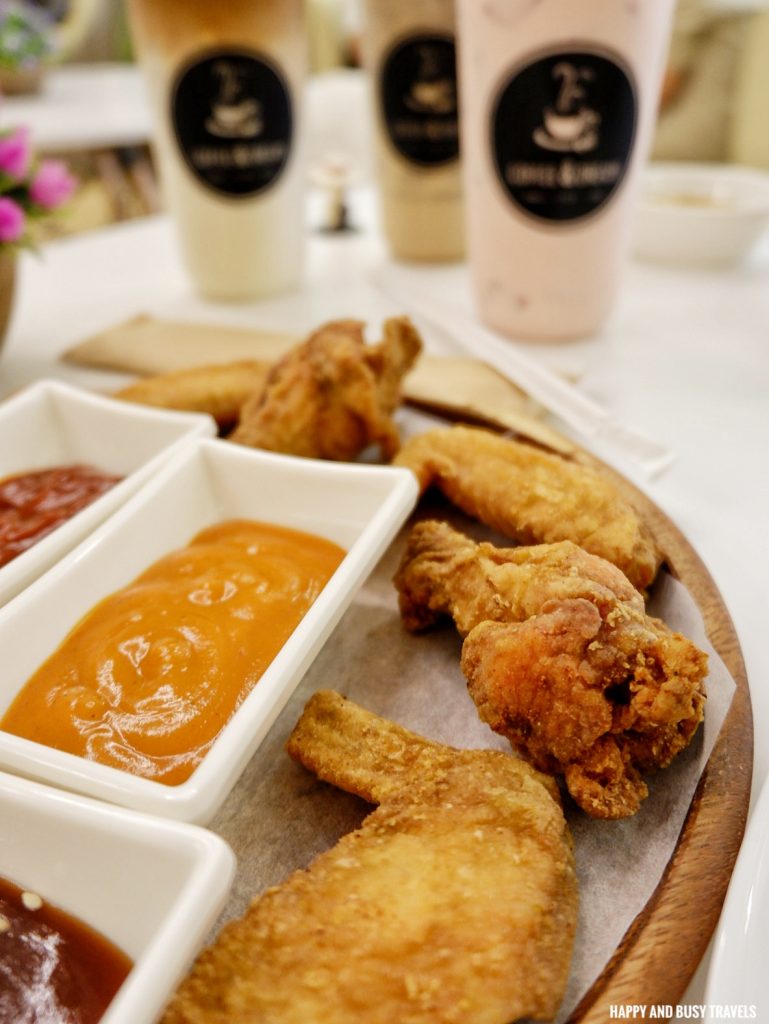 I like the idea of dipping the chicken wings instead of serving the chicken wings coated with sauce.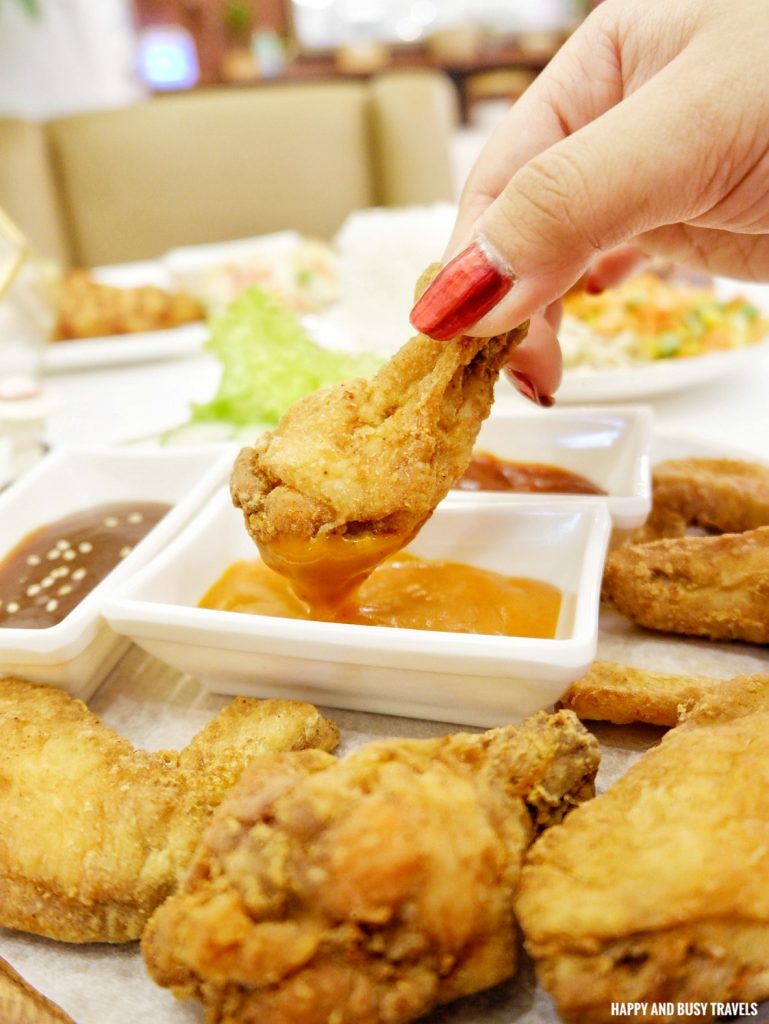 My favorite is the Hickory sauce, and Busy's favorite is the Sriracha sauce.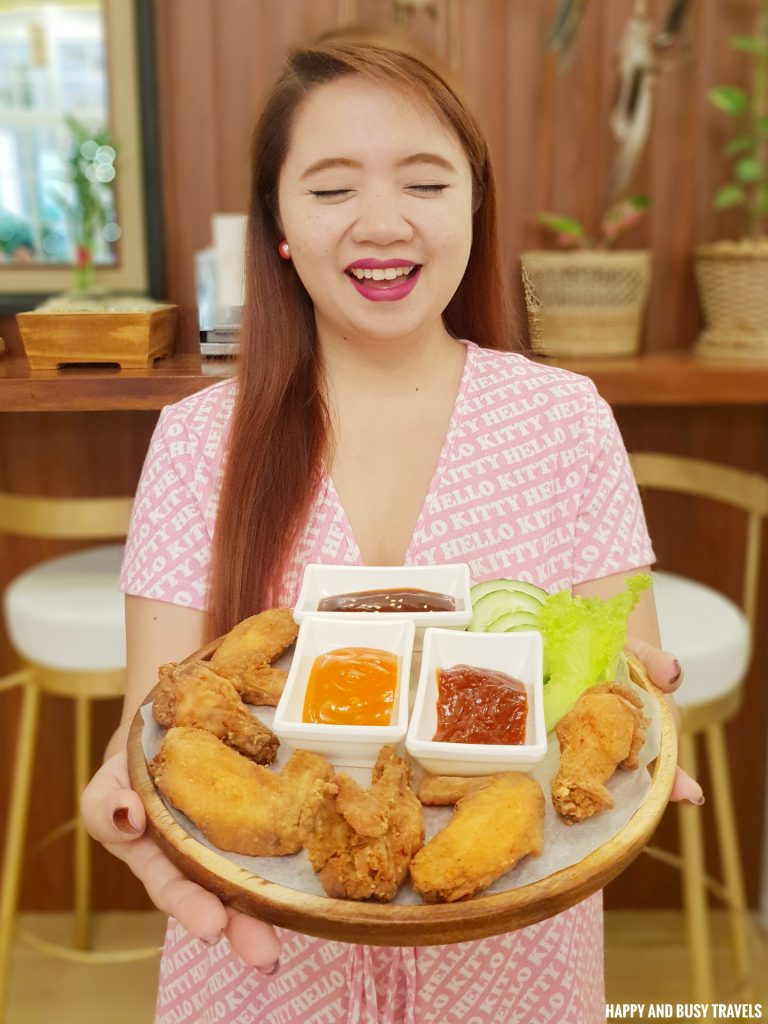 Pork Tonkatsu
This dish, Pork Tonkatsu, is from their Japanese Menu.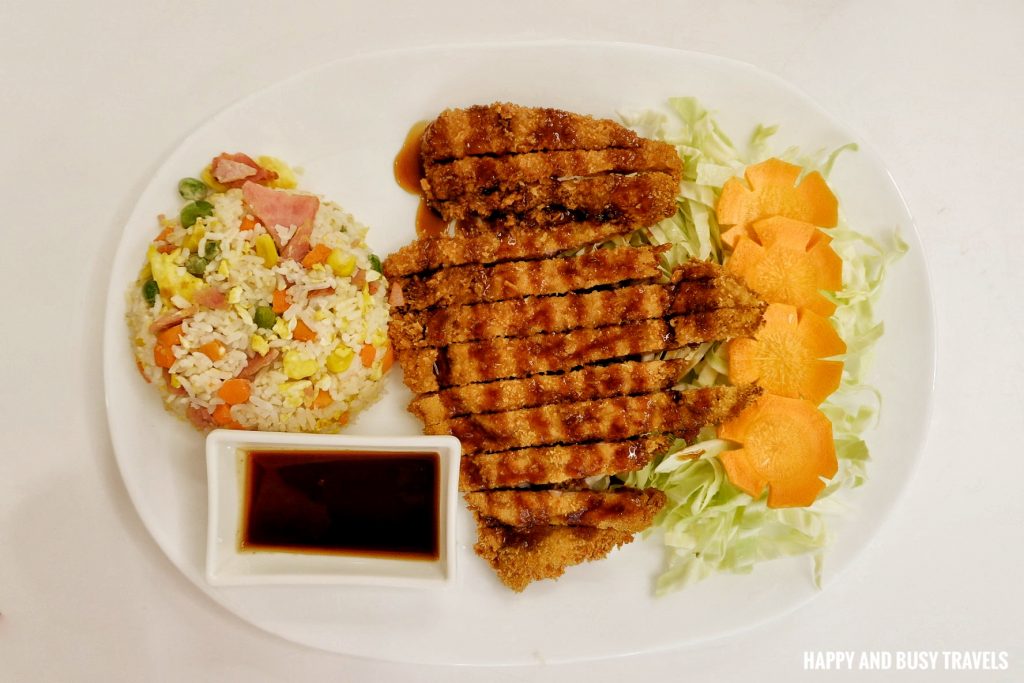 Each serving of Pork Tonkatsu consists of the large Pork Tonkatsu, sauce, fried rice with generous serving of ham corn, carrots, and peas, and veggies like carrots and cabbage.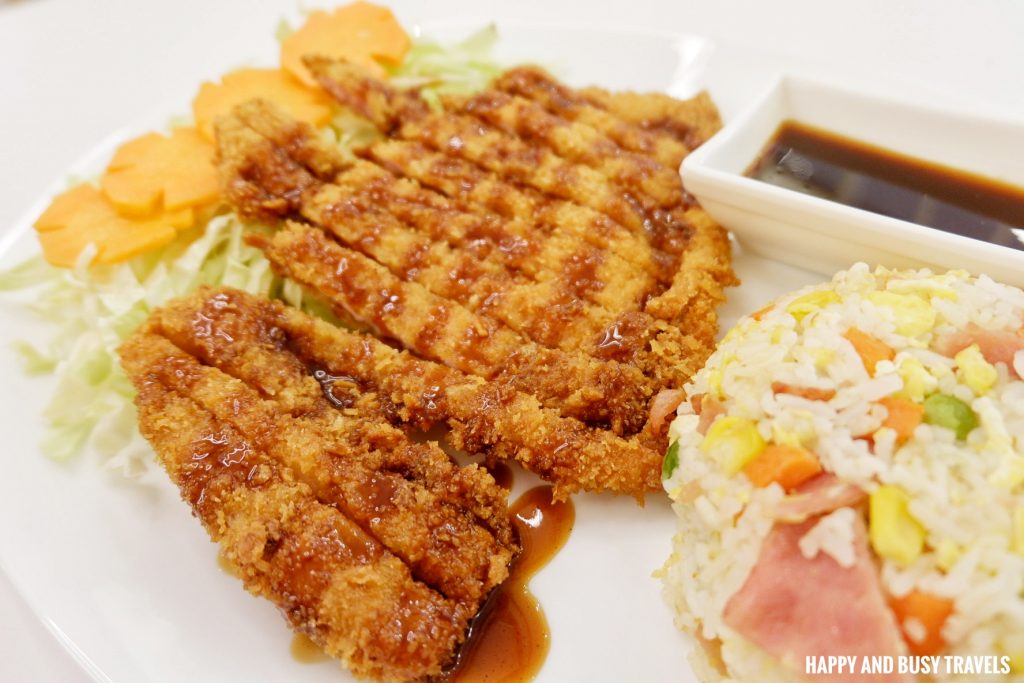 Just look at this tonkatsu! It is fried perfectly too because as you can see the pork is still juicy and it is tender too!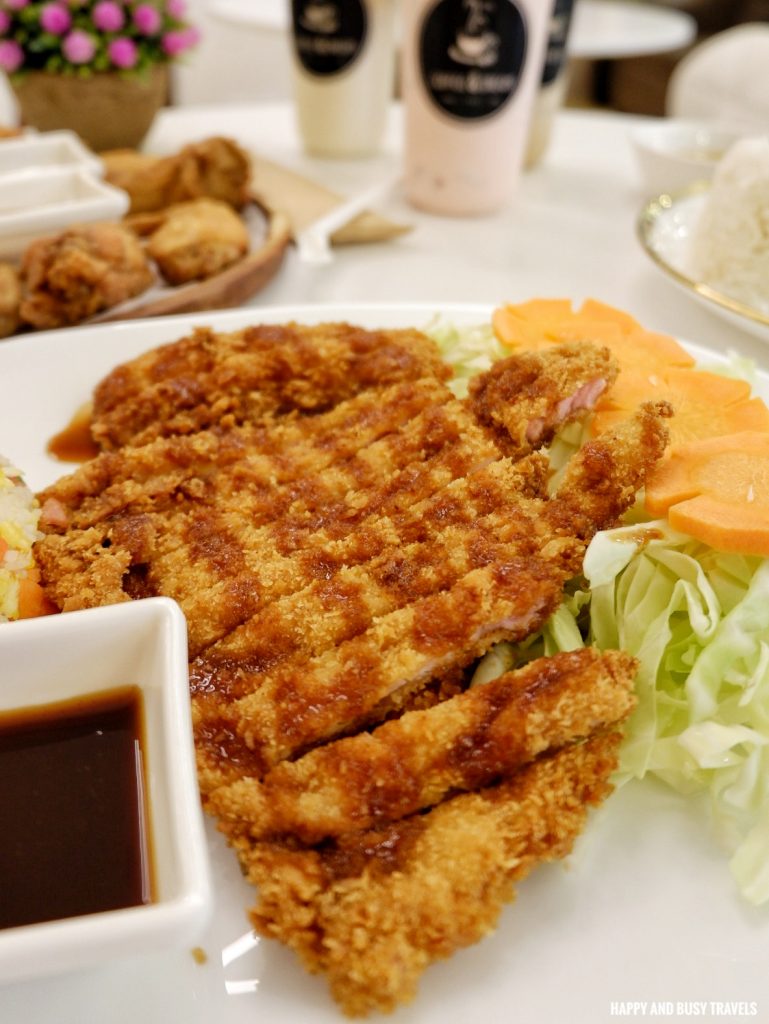 I enjoyed eating this dish, and it made me full immediately.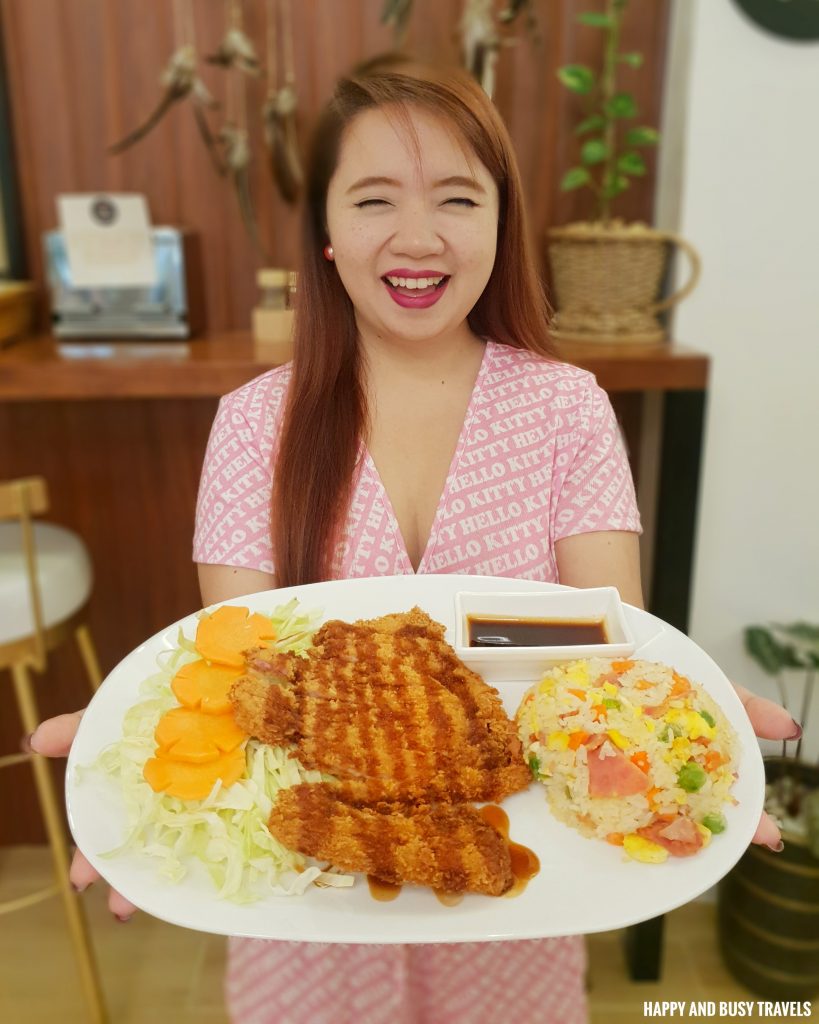 Grilled Salmon Teriyaki
This one is from their Japanese menu too.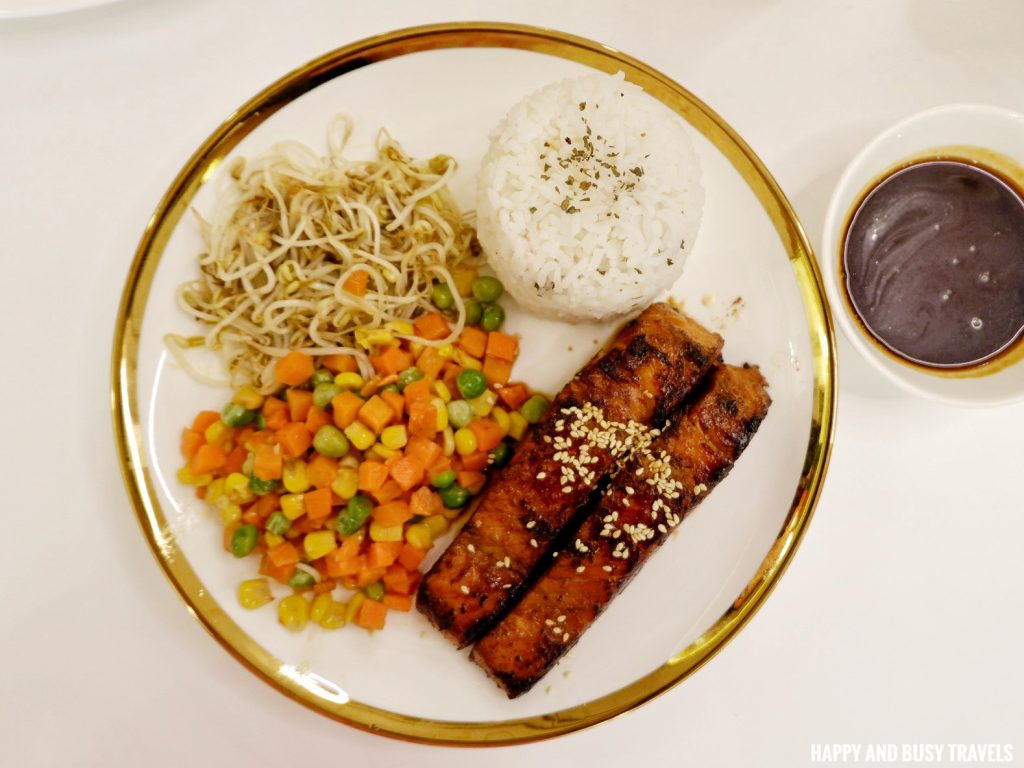 Each serving consists of the Grilled Salmon Teriyaki sprinkled with sesame seeds, extra Teriyaki sauce, buttered corn, carrots, and peas, a cup of rice, and sauteed bean sprouts.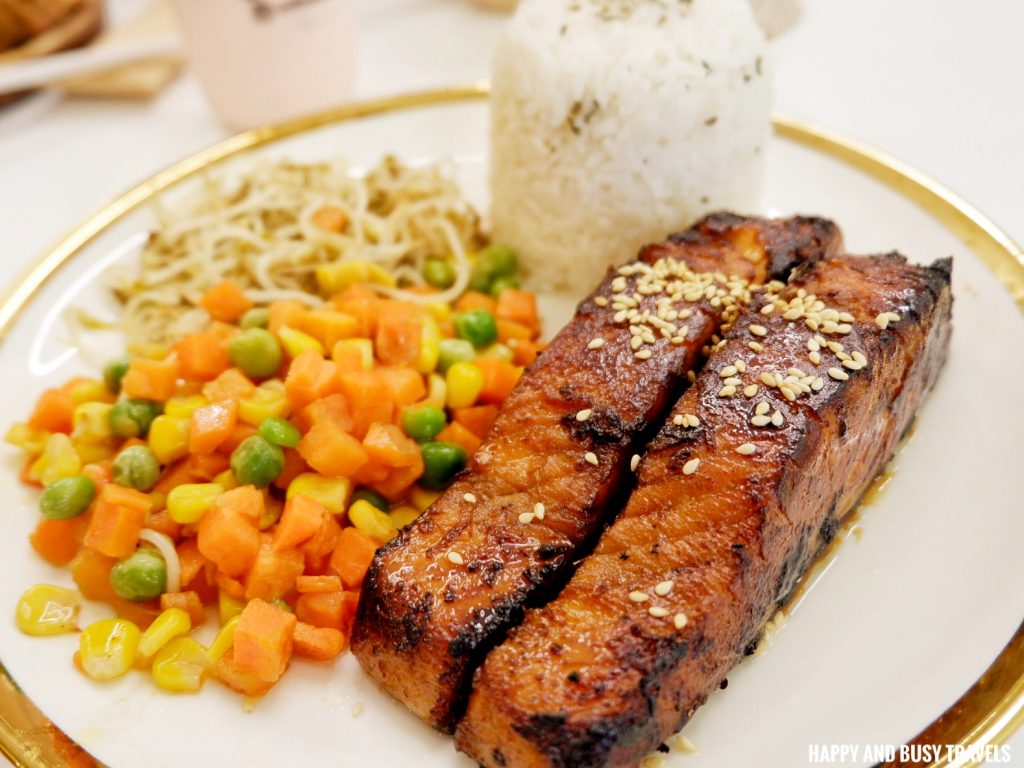 Busy ate this dish and he was very satisfied.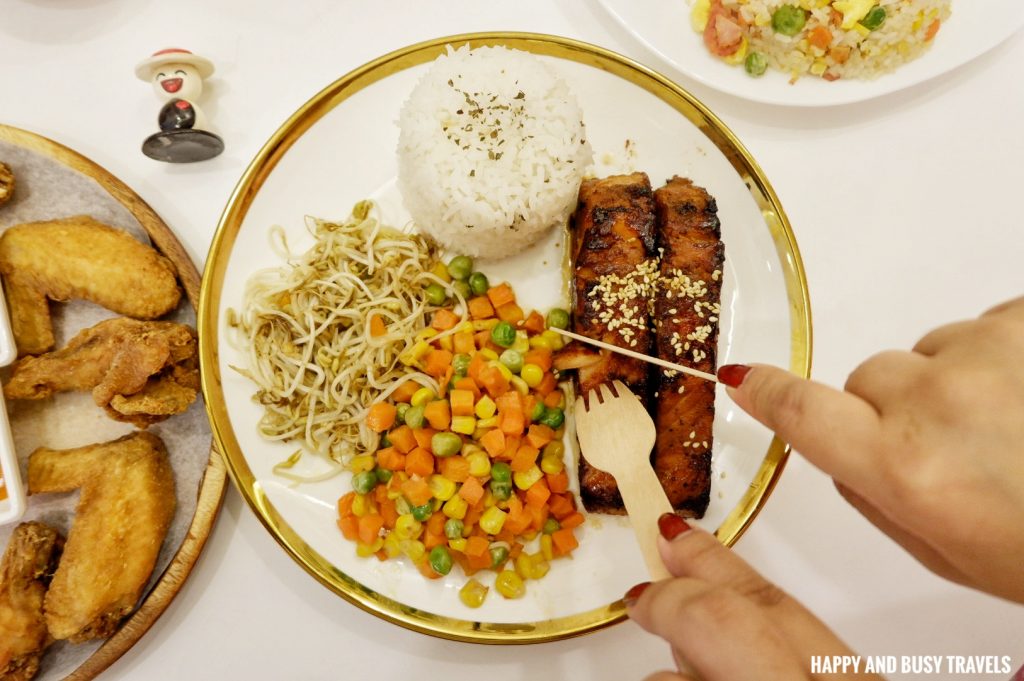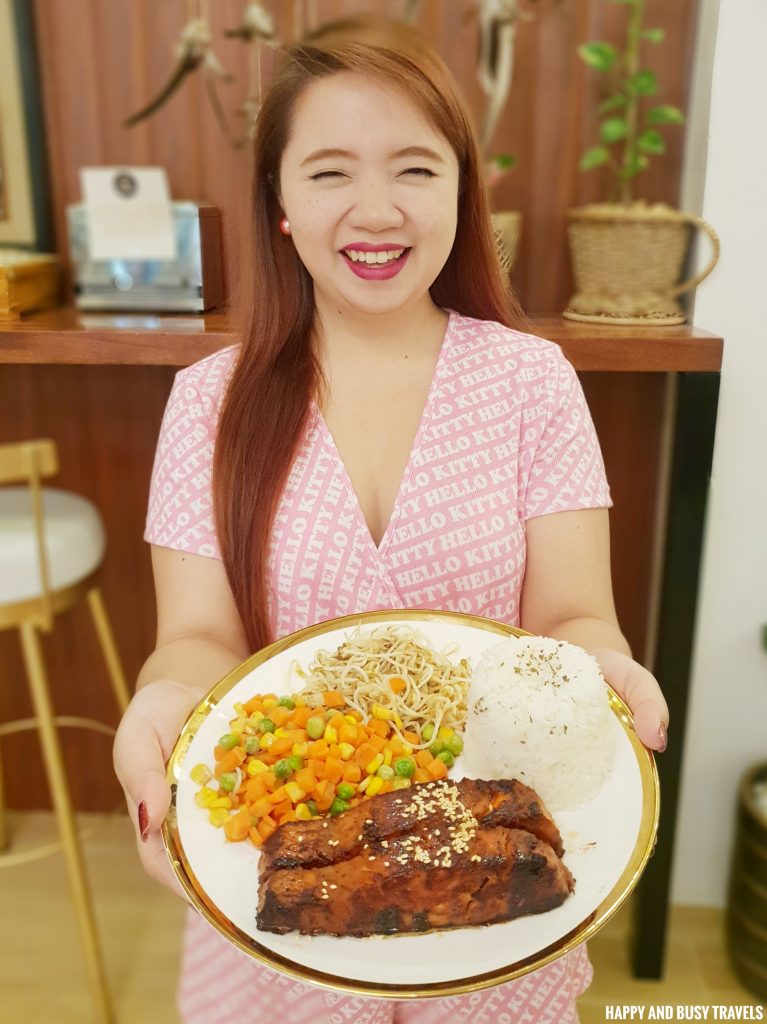 Drinks
From its name, Coffee and Dreams, of course, they serve good drinks here especially coffee!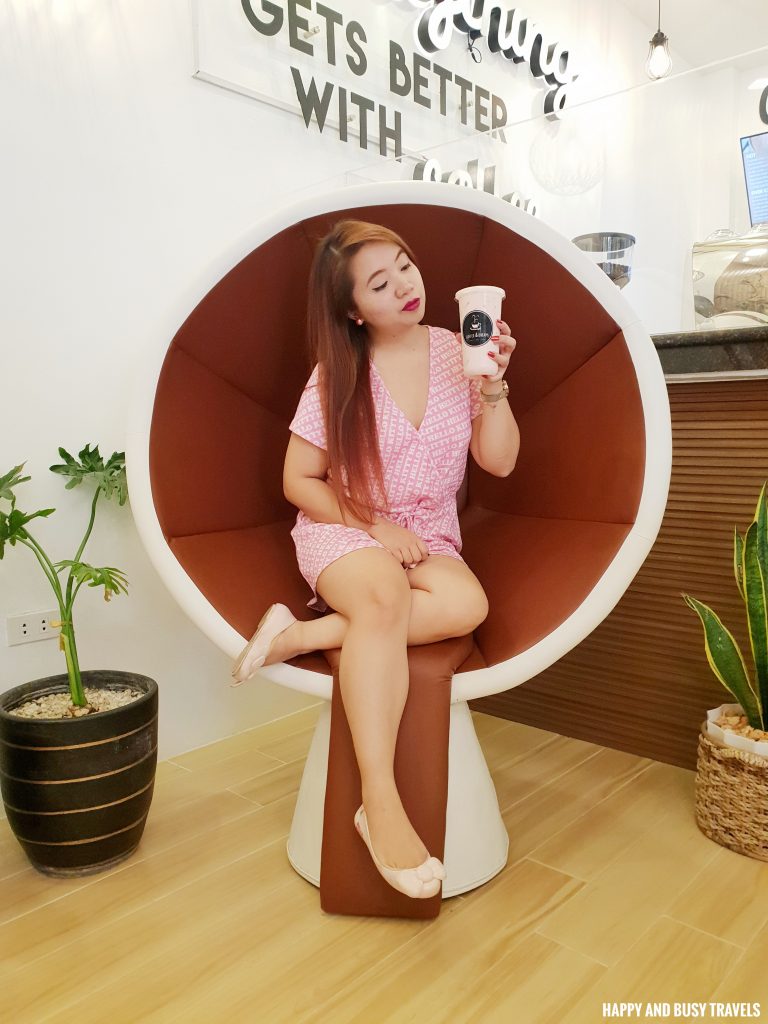 Coffee and Dreams Signature Drink
If you are looking for a drink that is not very caffeinated, you have to order this Coffee and Dreams Signature Drink.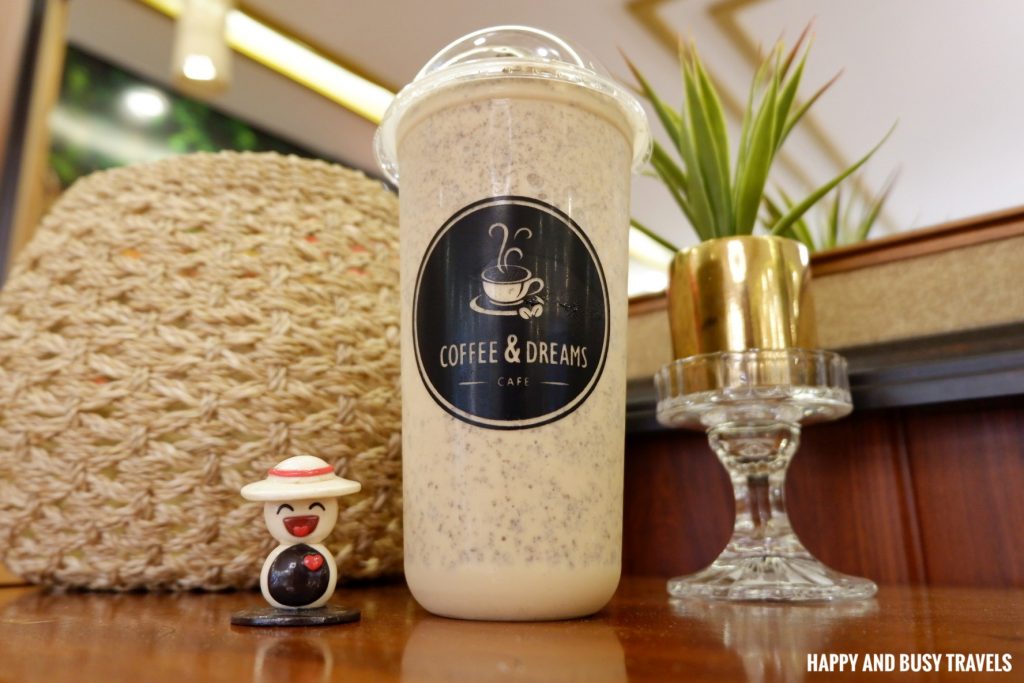 Strawberry Apple Smoothie
Then, if you want something refreshing, you have to order their Strawberry Apple Smoothie. This is my favorite! Aside from it matches the color of my outfit haha, it is very refreshing and yummy. I can drink tons of this drink hahaha.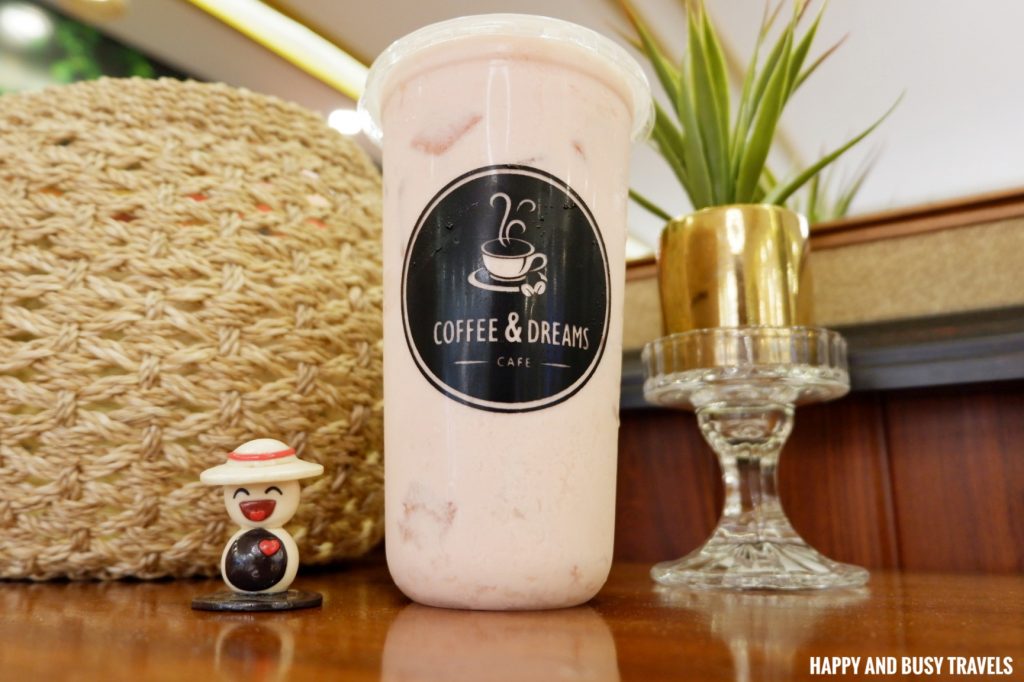 Spanish Latte
Finally, if you prefer a cold coffee drink, you have to order their Spanish Latte. It has the right combination of coffee and milk.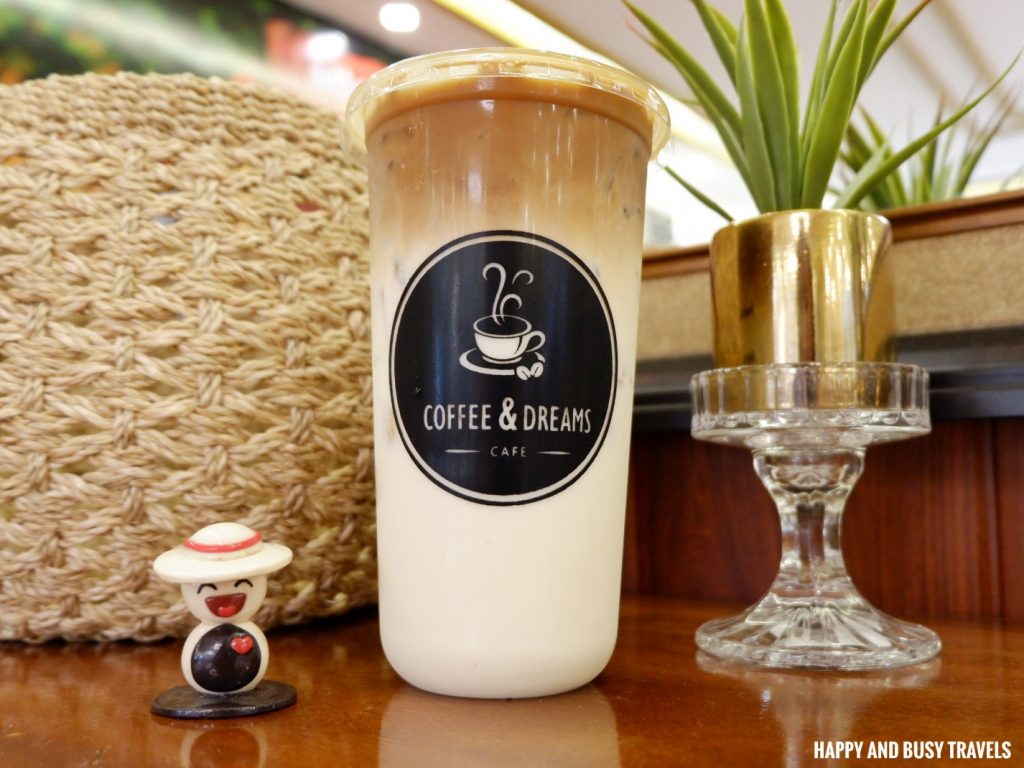 We enjoyed their dishes while we talk and relax in their restaurant. You have to visit them to experience everything.
Menu of Coffee and Dreams Tagaytay
Ohh I almost forgot, the restaurant is also pet-friendly! Just look at this adorable dog that I asked for a photo.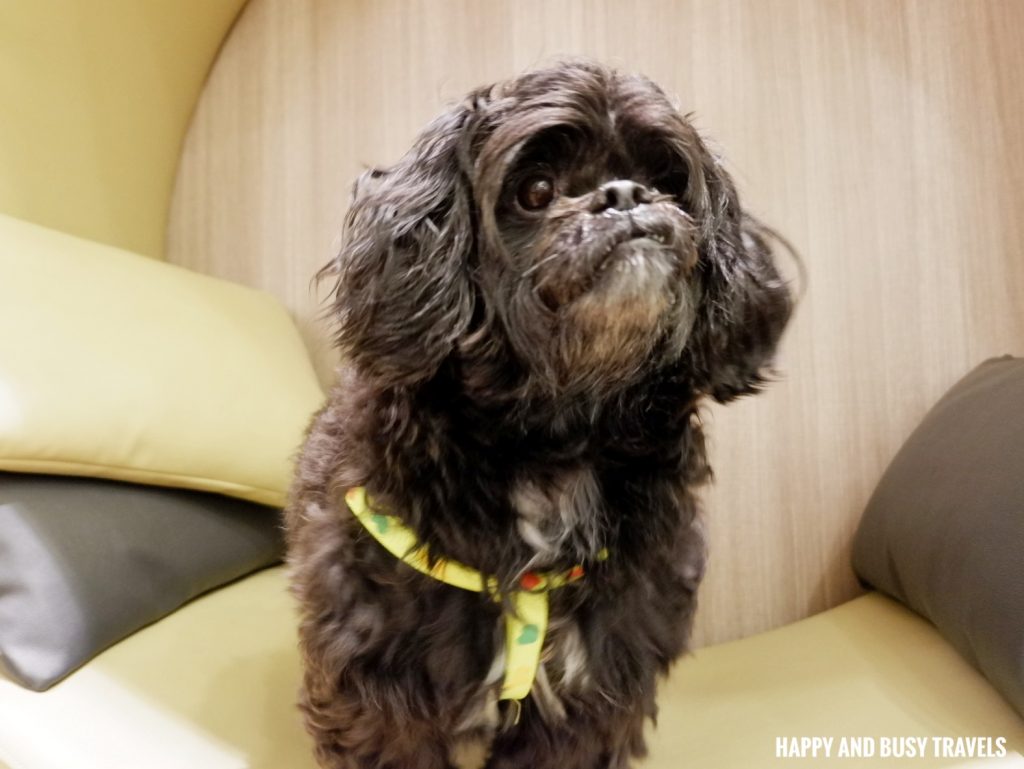 Happy and Busy's Smileys for Coffee and Dreams Tagaytay
Overall, Busy and I had a great long time in the restaurant. We ate their delicious meals, sip their refreshing drinks, and took a lot of pictures with their IG-worthy restaurant. We highly recommend that everybody should try dining there so they can experience the restaurant too.
Food

Even though our food got cold because we took a lot of pictures, everything is still delicious.
Location

It is just beside the major road. Parking is limited but there are other parking options near them. If you are taking public transportation, you can also easily reach them.
Ambiance

Oh what can I say, I can even give them more than 5 smileys. The ambiance is perfect! The whole restaurant is indeed created with skillful hands and the design is well thought out by the owner! The place looks classy and dreamy!
Value for money

Service

All of their staff are friendly.
Comfort Room

Even though there is just one comfort room for men and women, there is no problem. It is always cleaned and it smells good.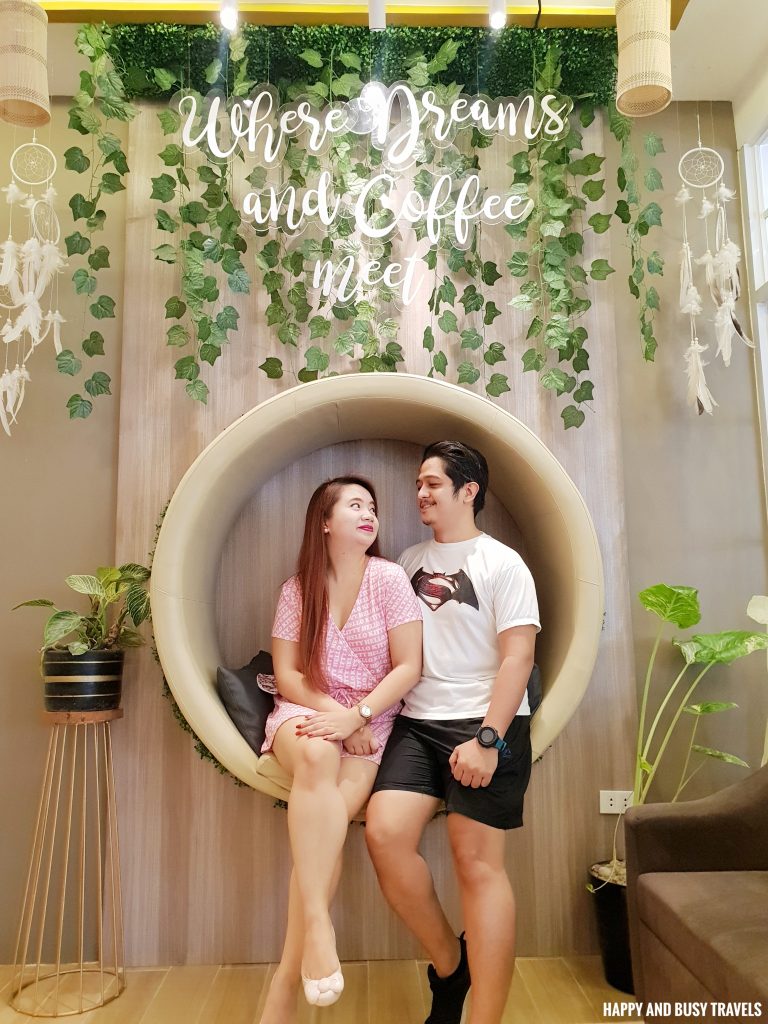 More exciting food and drinks review at https://happyandbusytravels.com/category/food-and-drinks/ so do not forget to check it out!
More Pictures from Coffee and Dreams Tagaytay