Estancia Resort Hotel Tagaytay
After Busy and I went to the Flying Carnival 2020, we went to Tagaytay and checked in Estancia Resort Hotel Tagaytay. This resort is one of the pioneer hotels in Tagaytay City, Cavite, and it is well known for its Santorini inspired theme.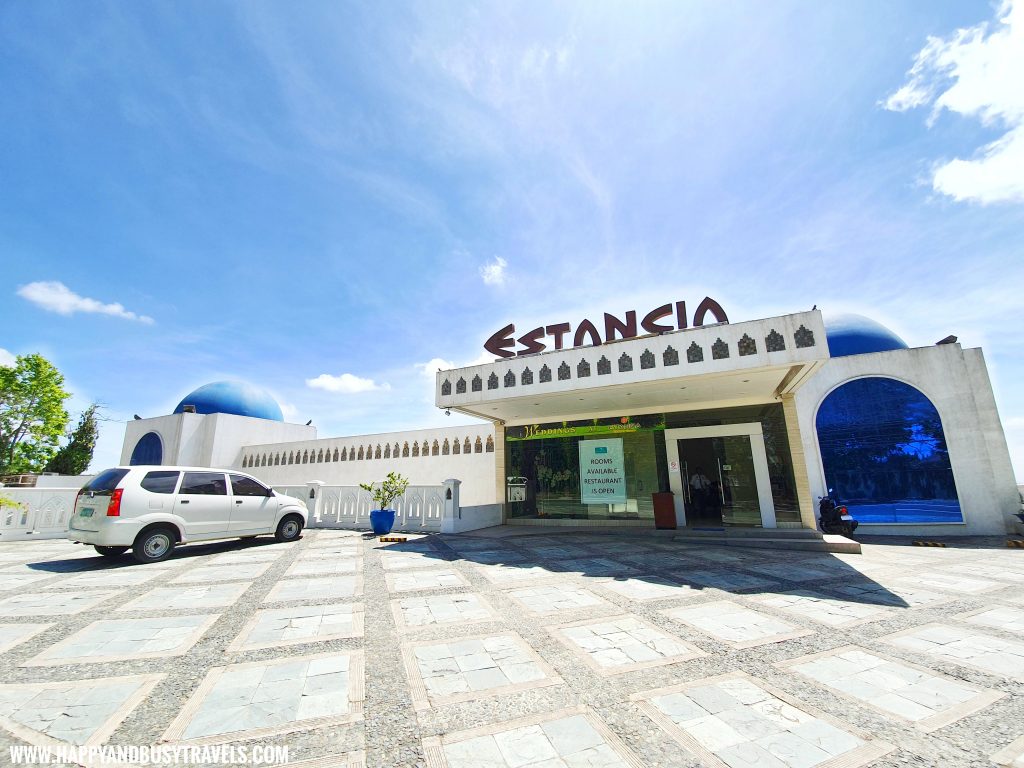 Facebook: https://www.facebook.com/EstanciaHotel/
Website: http://www.estanciatagaytay.com.ph/
Contact Numbers: +6346 413-1133 to 35 ; +63939 237 9813
Address: Zone II, Brgy San Jose, Tagaytay City, Philippines
Google Maps Link: https://goo.gl/maps/vUbdtJYtGyn1cEmQ8
Quick Links
Reception – Checking In Estancia Resort Hotel
After parking, we went to the reception area. This picture below is the stairs that you will be using if you parked in front of the hotel. We parked at the larger parking area below the resort, so instead of going down, we went up the stairs.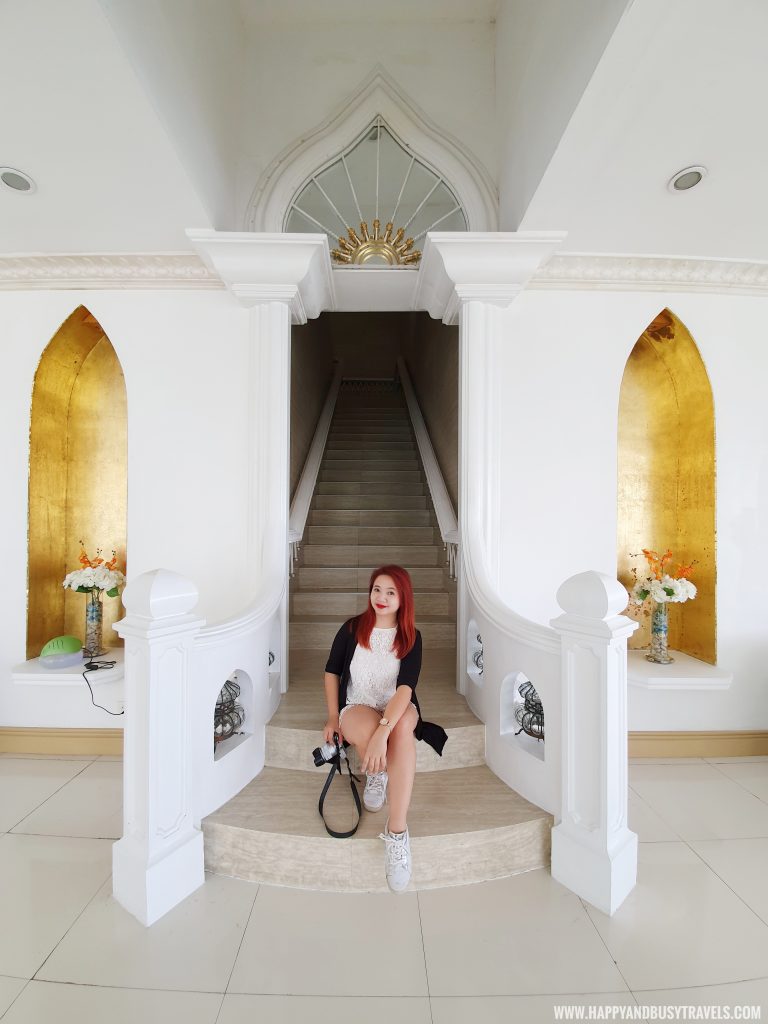 Reception
The staff are very welcoming, but they are a bit shy in this picture 🙂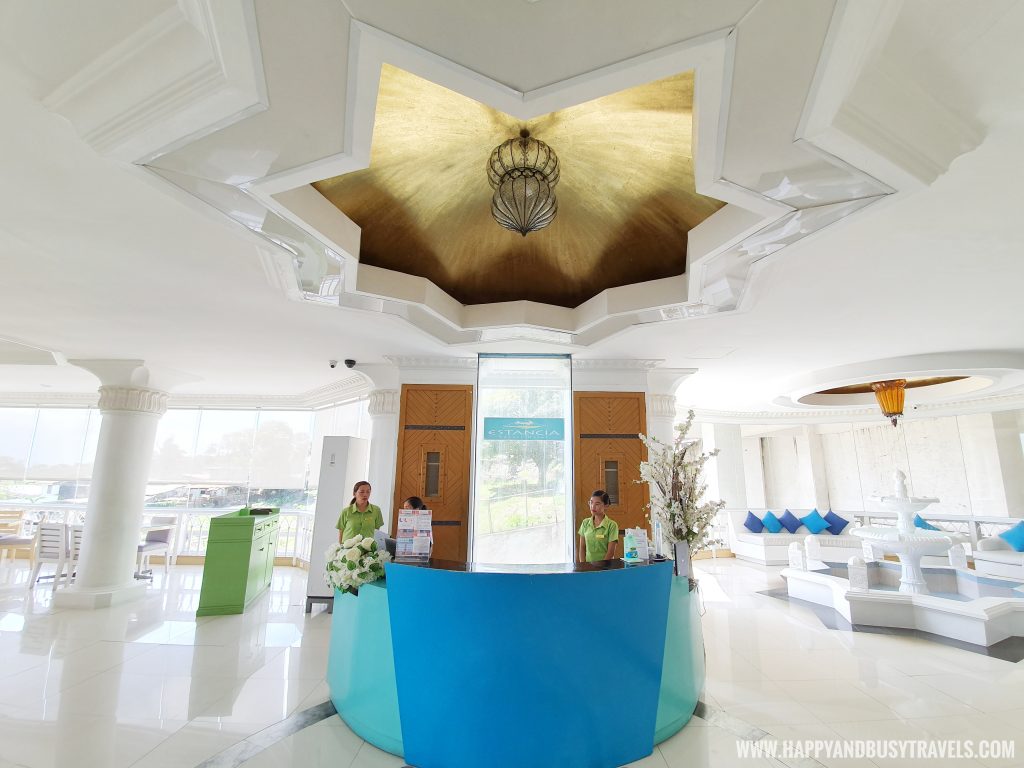 We were immediately given welcome drinks, which Hapsy enjoyed.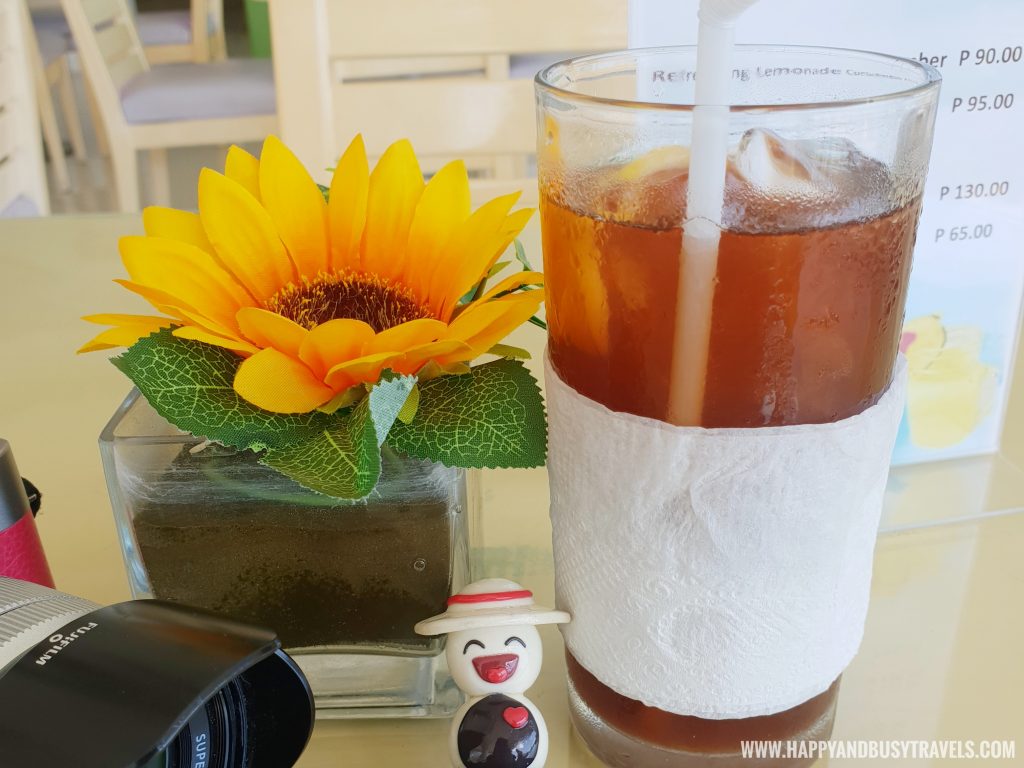 Lobby
Estancia Resort Hotel's Lobby is huge. It can cater a lot of guests waiting to be checked in or waiting for their event.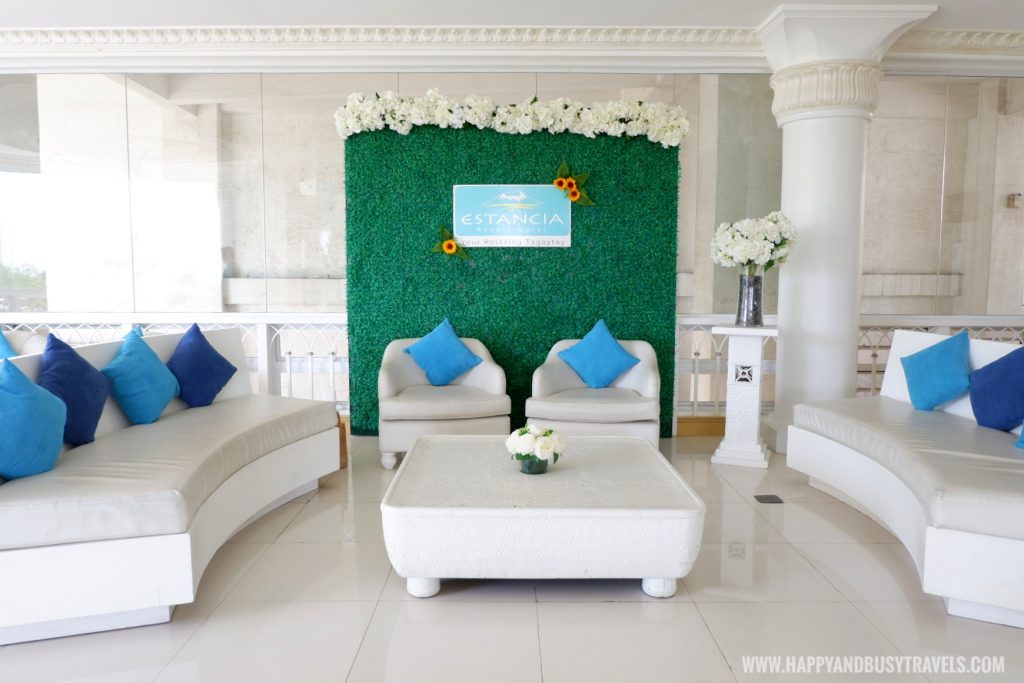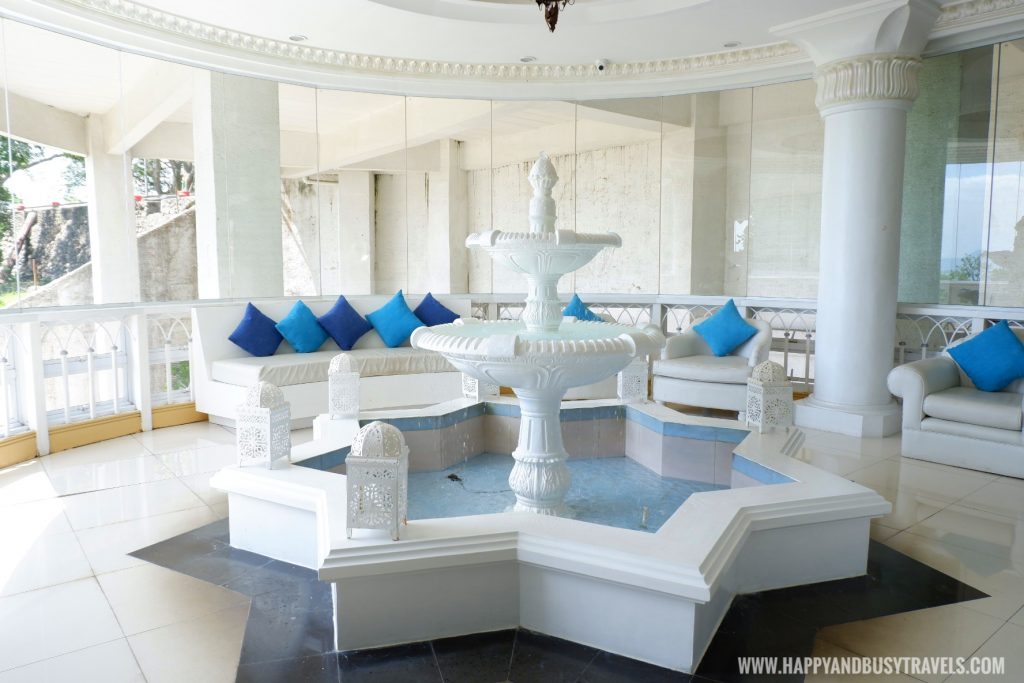 Rooms of Estancia Resort Hotel
We wanted a tour first to see some of their rooms and amenities, so one of their staff guided us. I will show the rooms first, then the amenities.
Deluxe Room
We first took a glimpse at the deluxe rooms.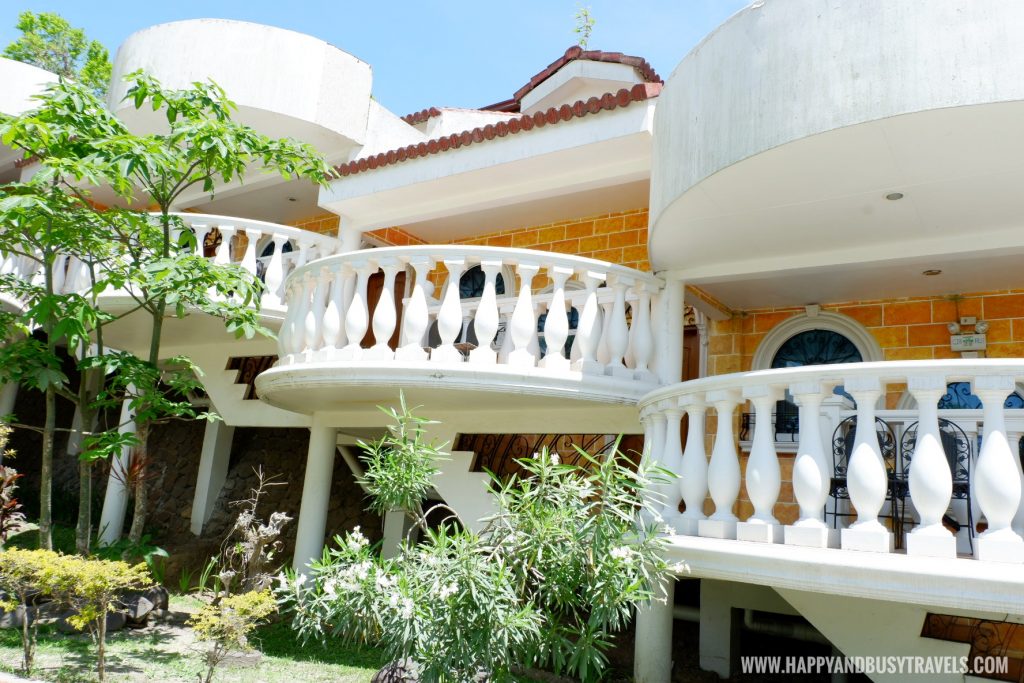 The area is nice, it has a Mediterranean vibe.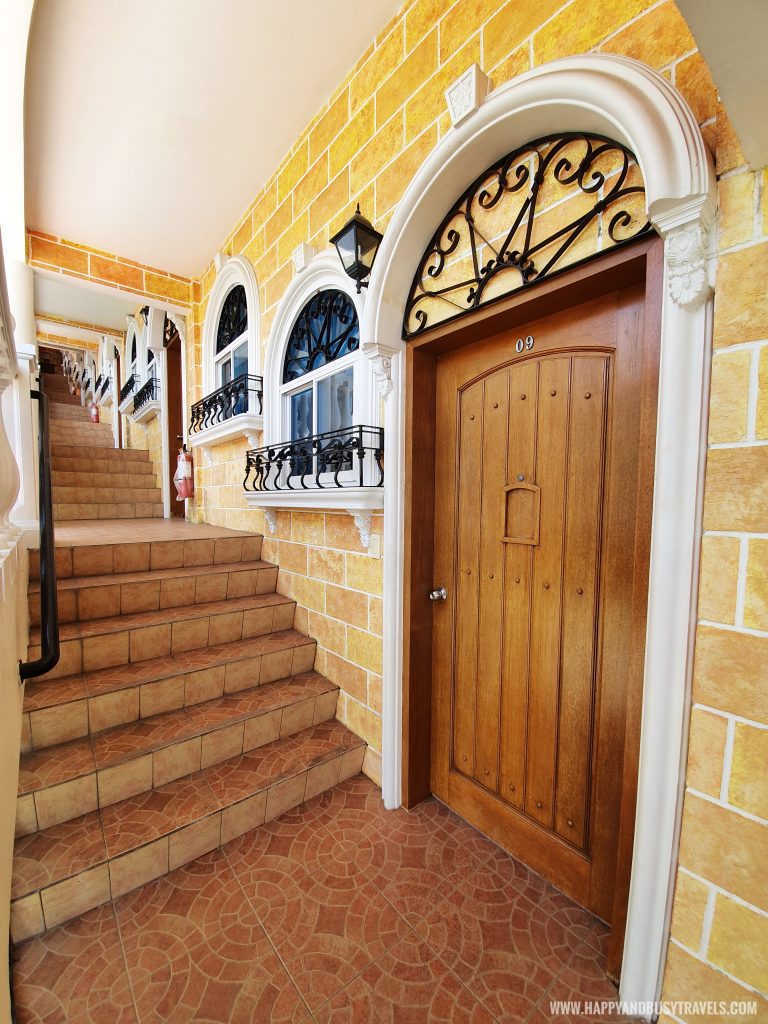 This is the room that the resort let us looked at, Room number 12.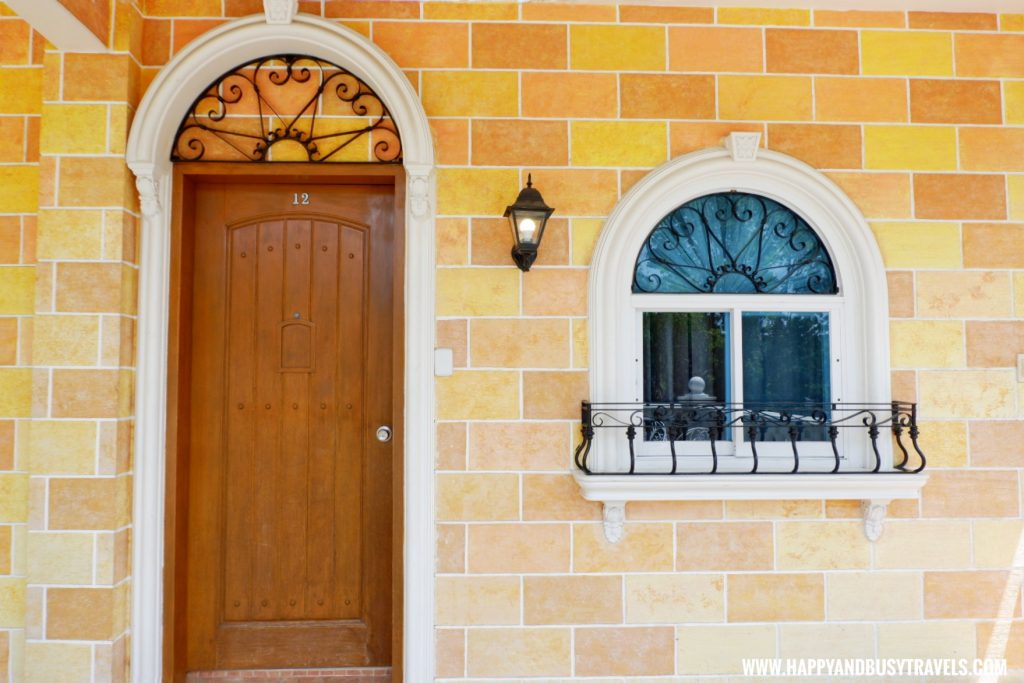 It is still orange inside. Cool!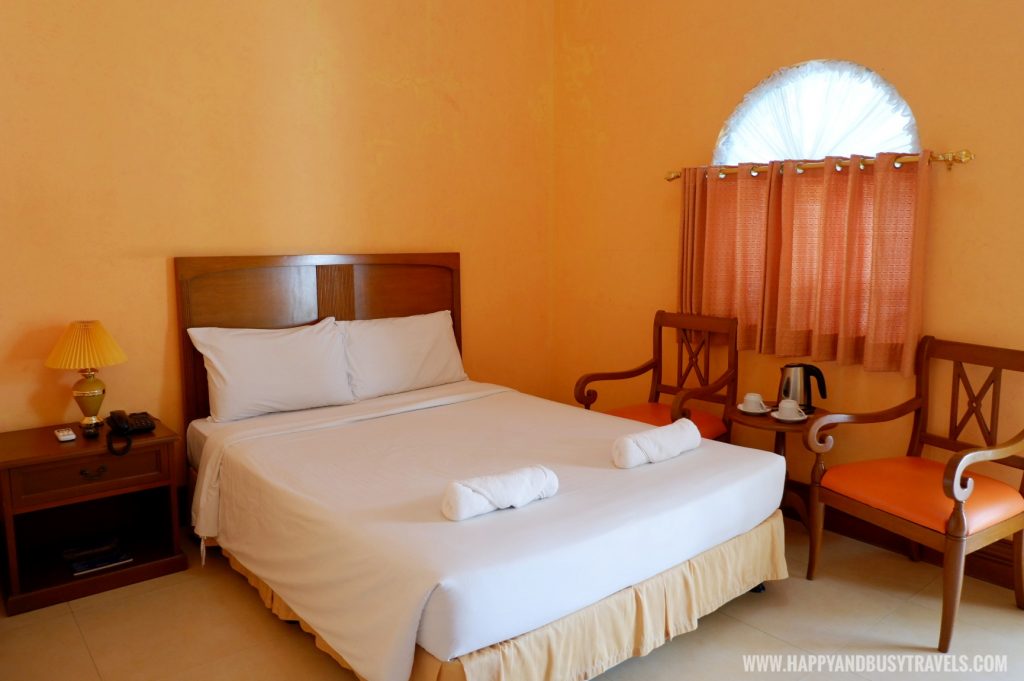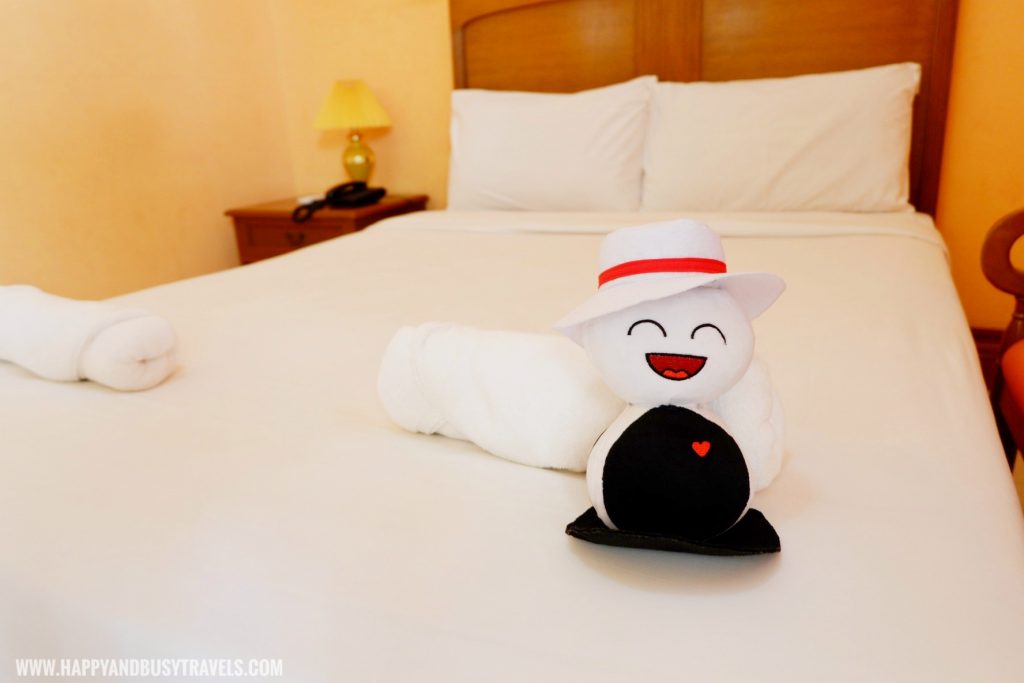 It has an air-conditioning unit, television, mirror, refrigerator, snacks, and complimentary water.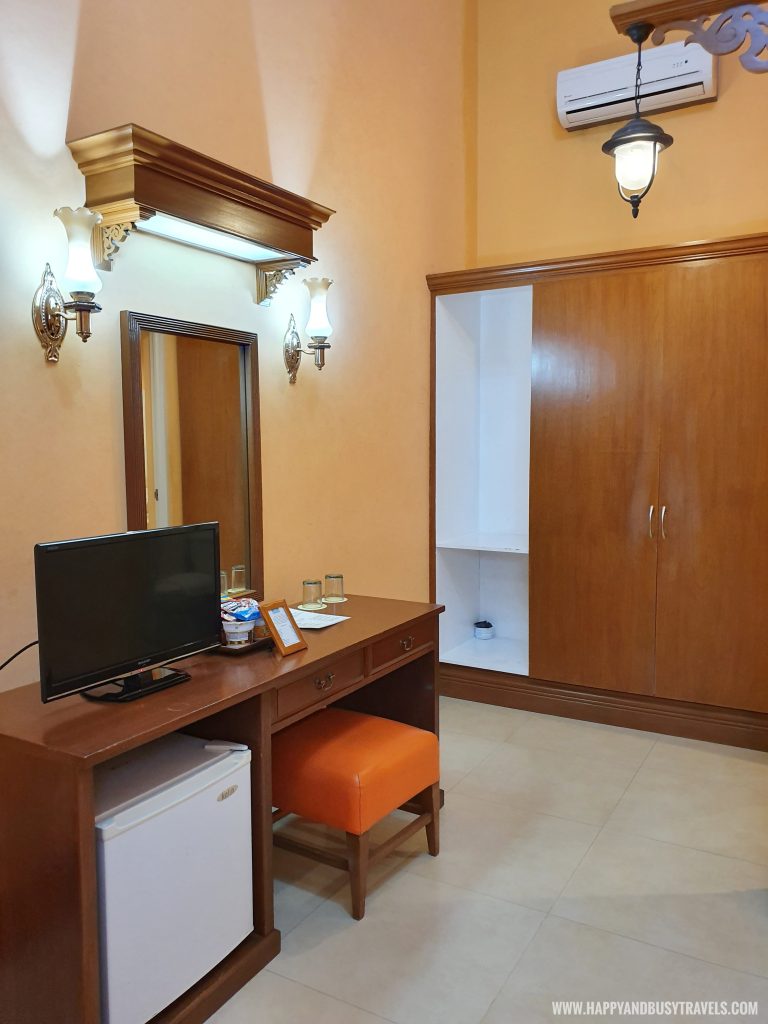 The comfort room is still orange, and I just noticed that the door is huge. This is nice because it is PWD friendly.
Santorini Room
Then, we went to our room, the Santorini Room. We have to walk for I think 100 meters to reach the area. Yes it is a bit far, but this is also a good exercise 🙂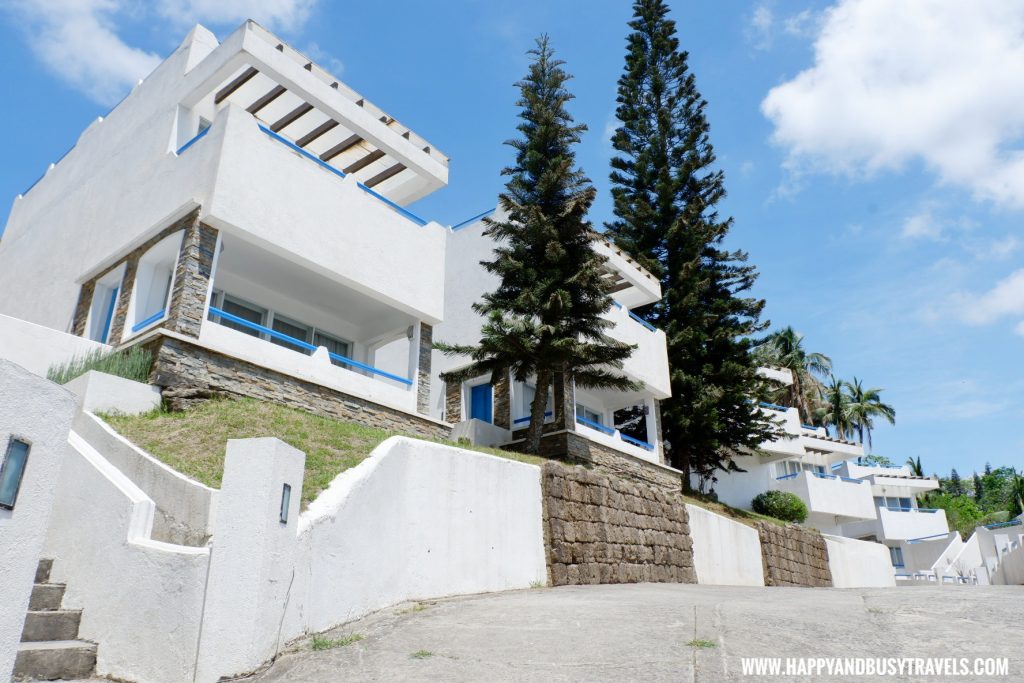 The area is so nice! It feels like we were in another place.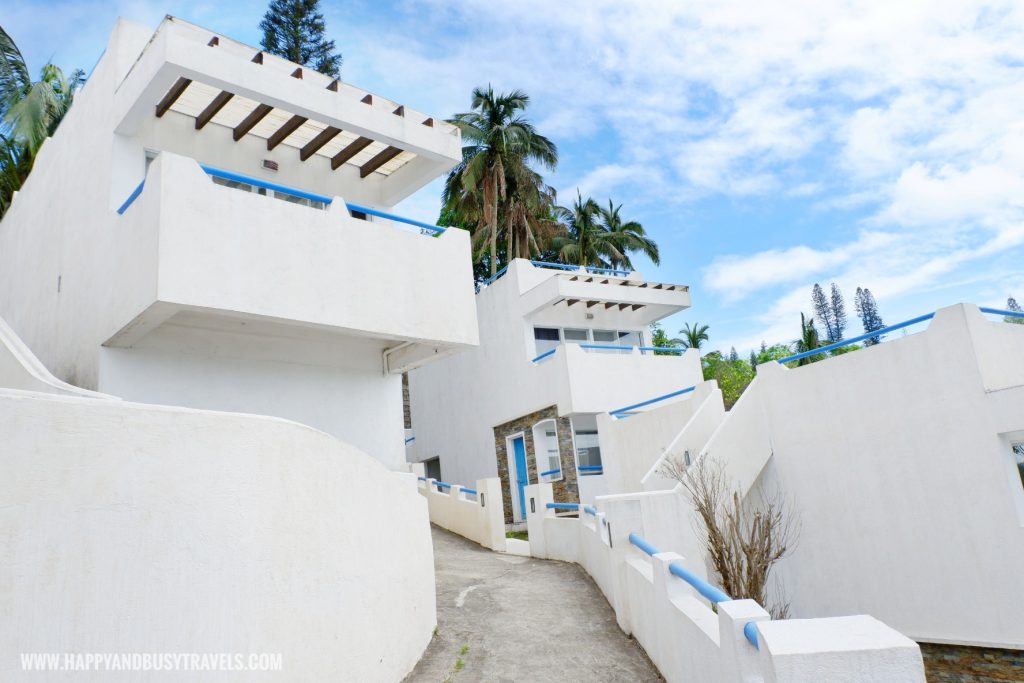 It was almost 12PM, so we immediately took some pictures and went inside the room because it was hot.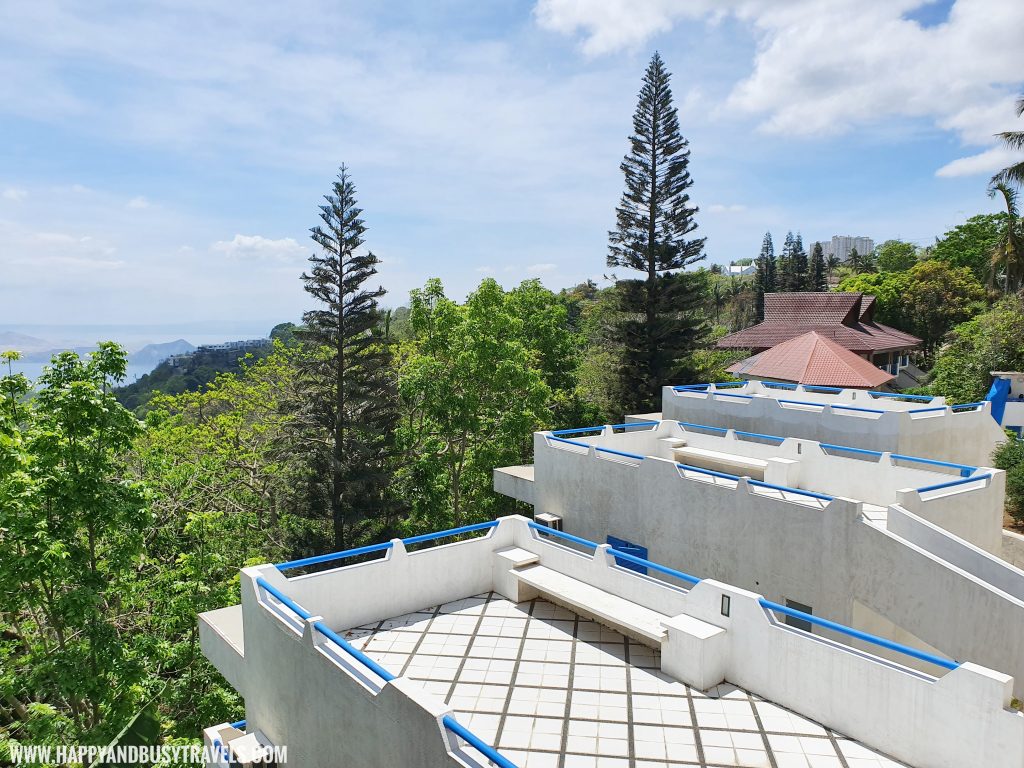 The room looks cool inside, the theme is really felt.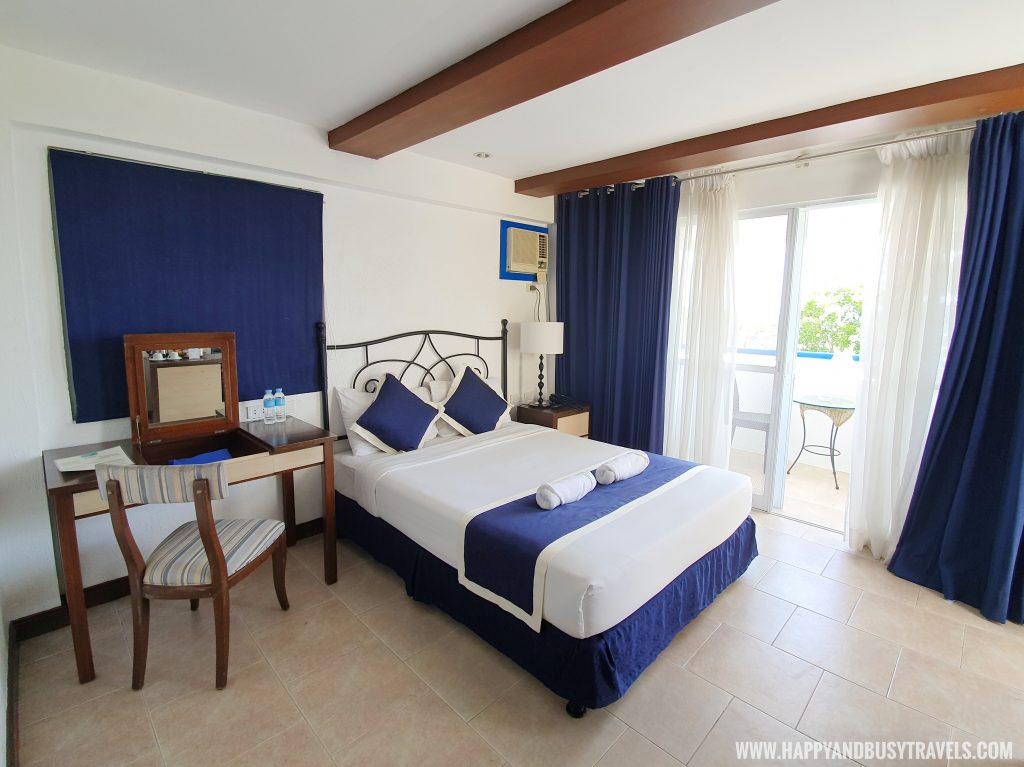 Just look at the bed, I think Hapsy enjoyed it.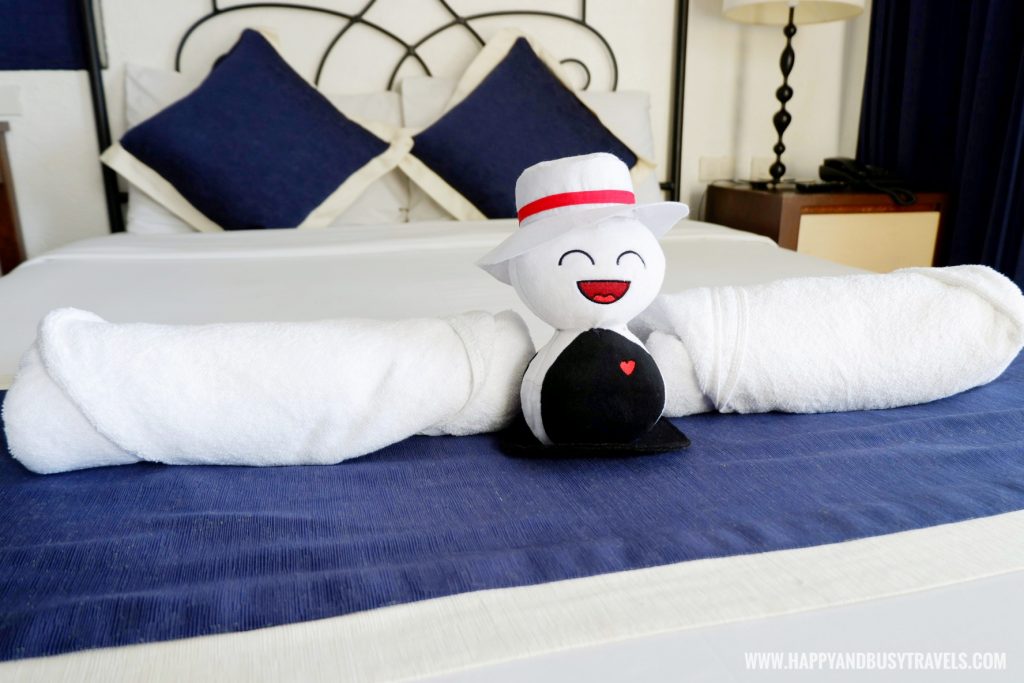 Then look at the view from the terrace! It is so relaxing. We can just sit here all day and look at it. By the way, Taal volcano island is directly in our view.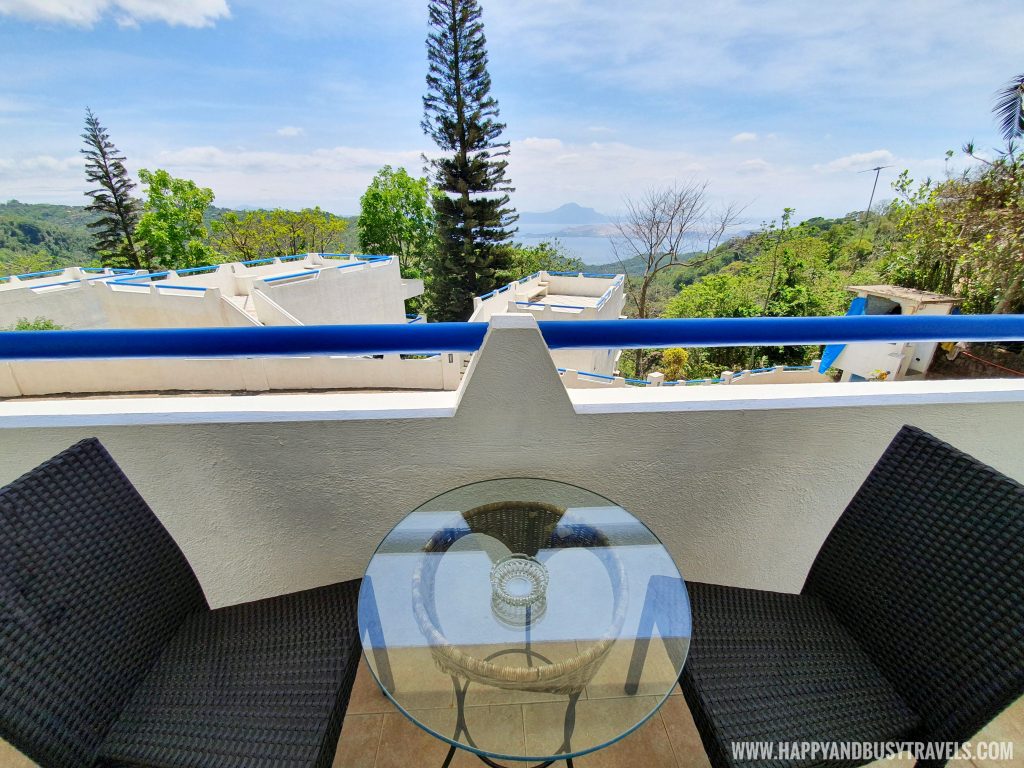 Our room has a cabinet which has hangers inside, a desk, and a chair.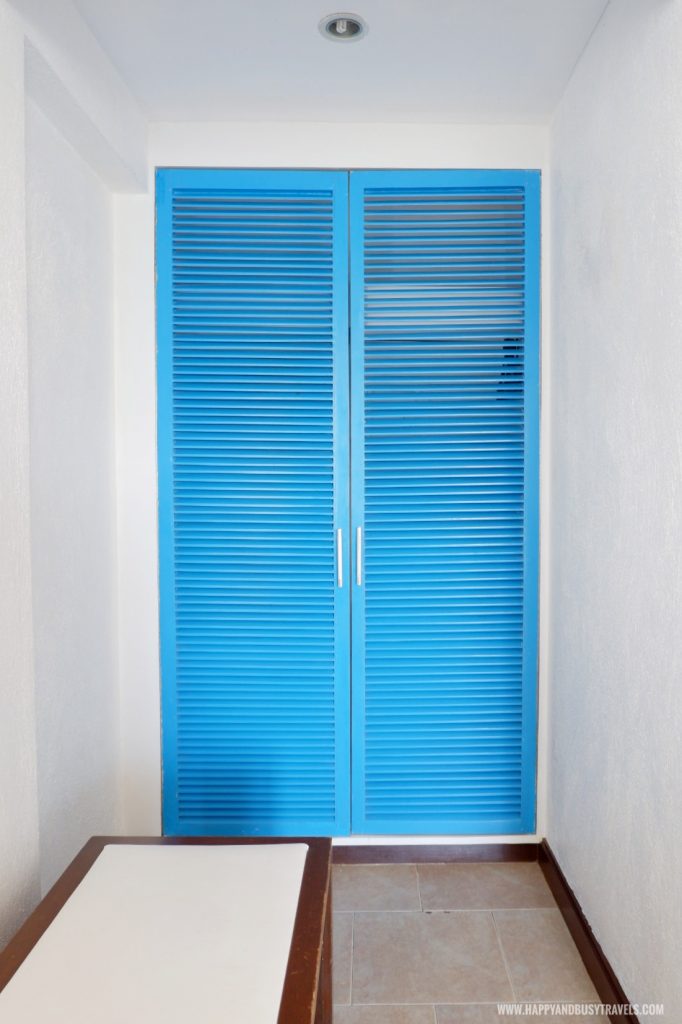 And we also have a television, magazines, snacks, water heater, cups, refrigerator, and complimentary bottles.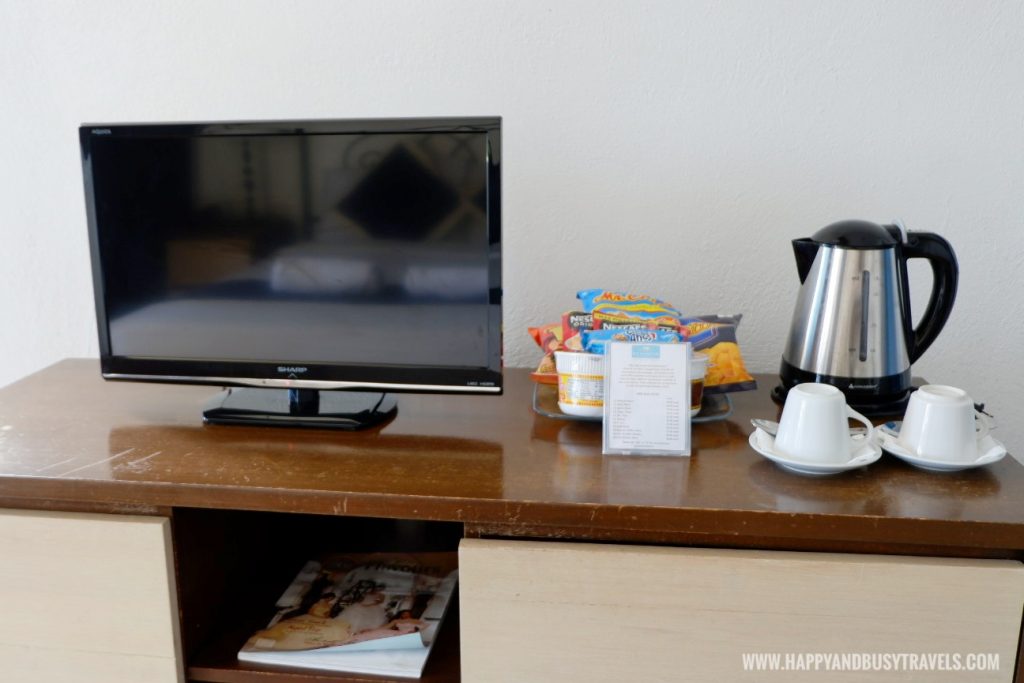 Here is the comfort room of the Santorini Room.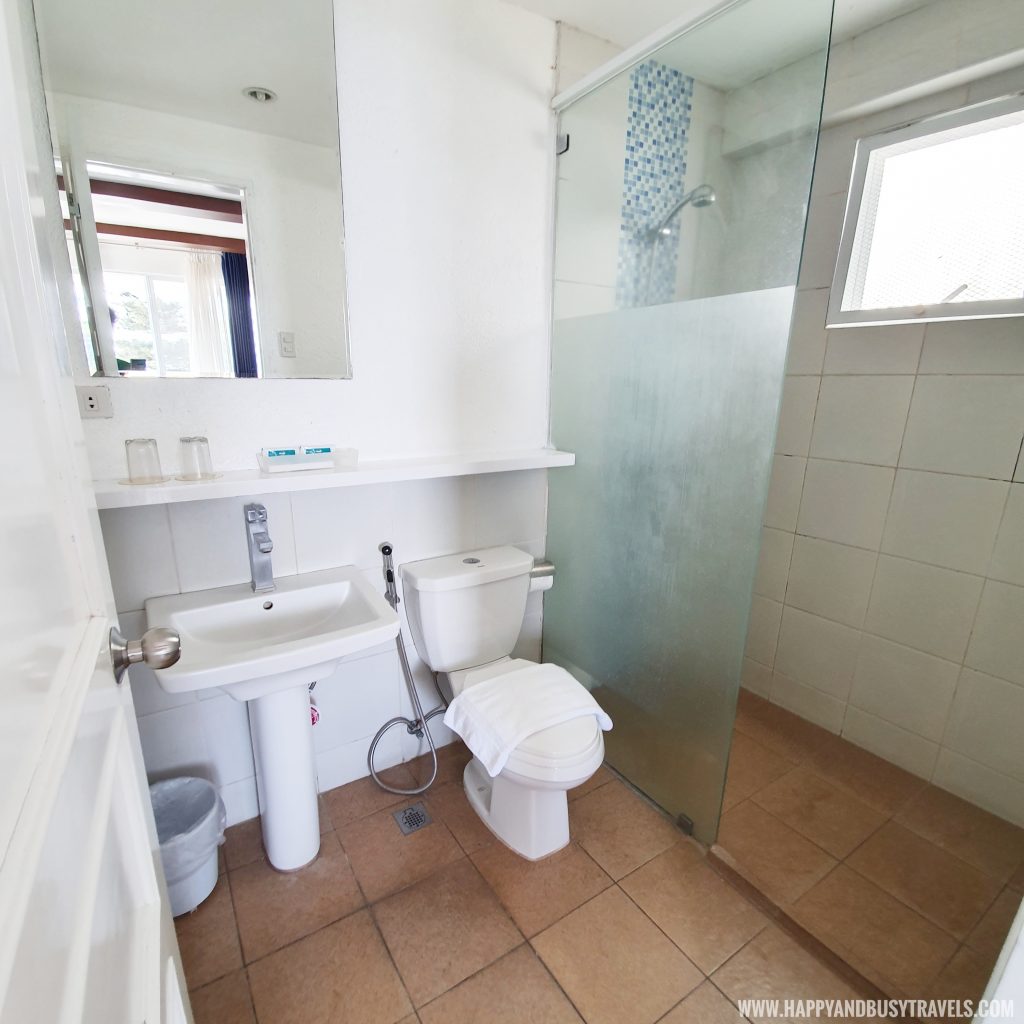 Toiletries are available too.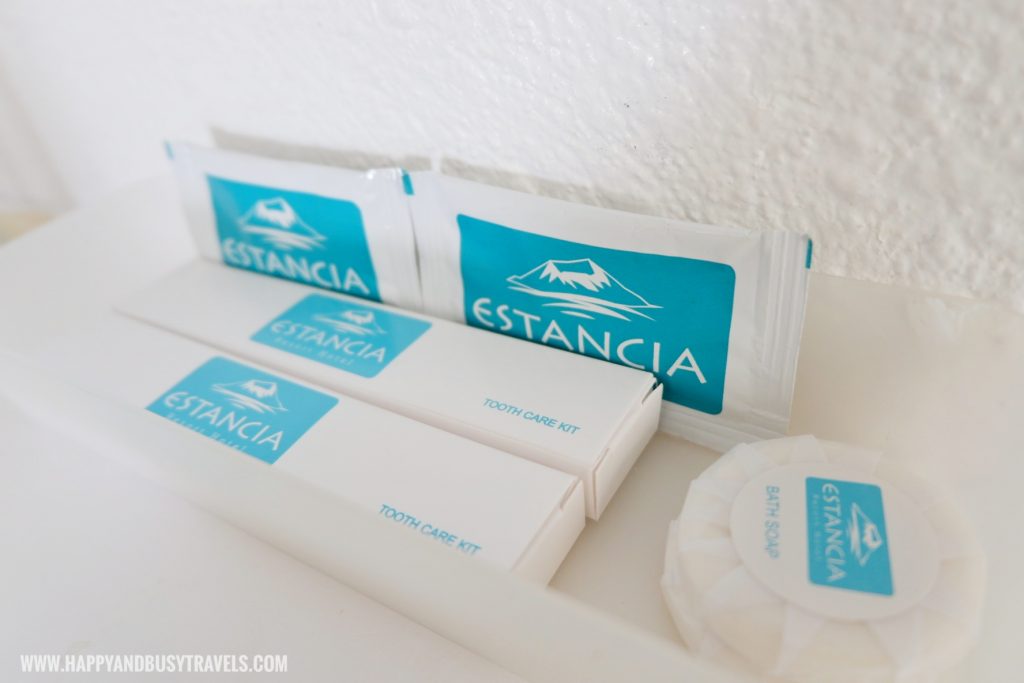 After we have settled, we took a nap. We were up since 3AM for the Flying Carnival 2020, so we really had to rest for a while. Then, at 4PM we went outside and took some photos again.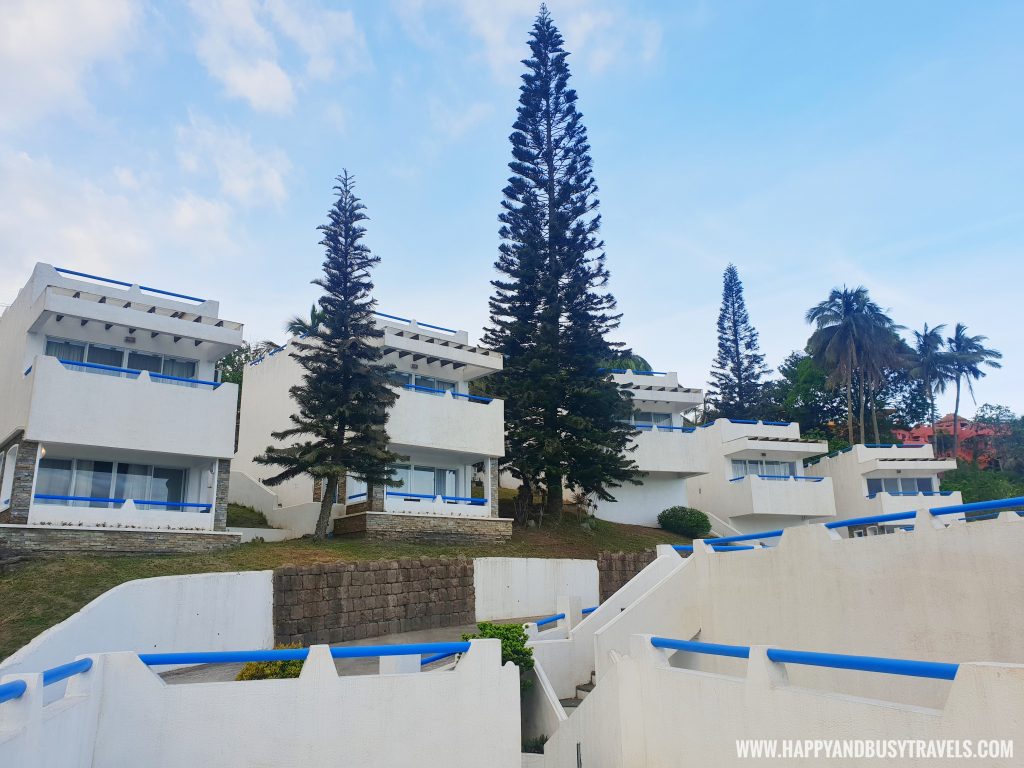 The natral light is not anymore that great, but it's okay 🙂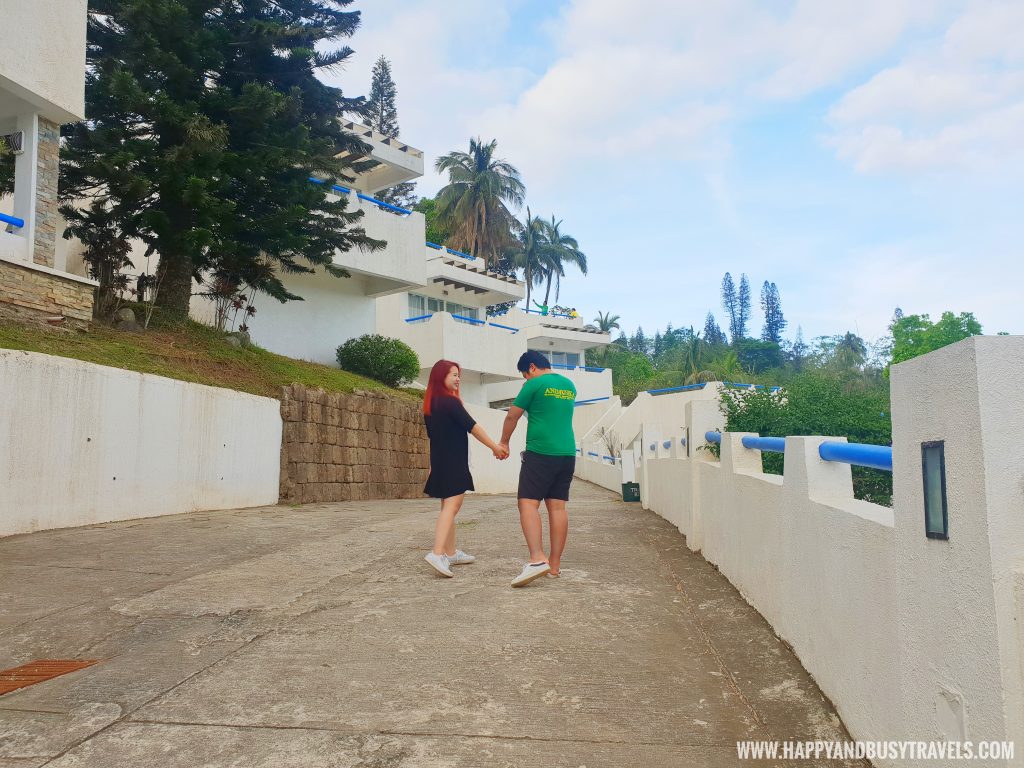 It was getting dark, but the view keeps on getting lovelier.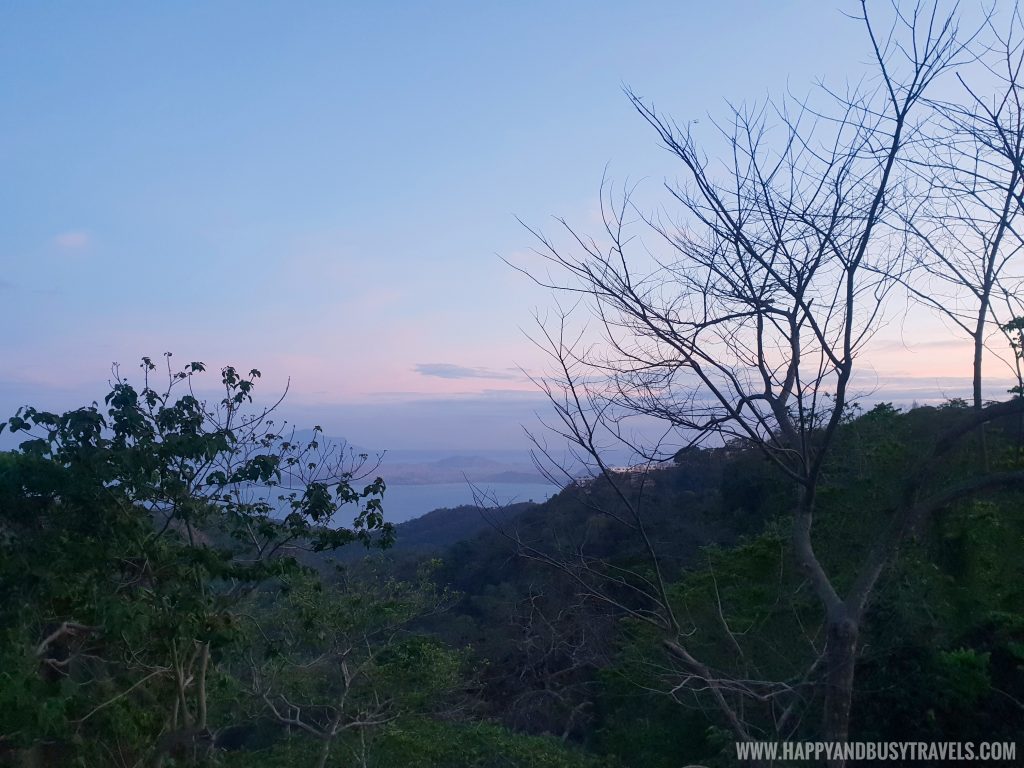 Restaurant of Estancia Resort Hotel
Just located right beside their reception area and the lobby, the restaurant can be easily accessed. You may also have your meals delivered to your room.
Lunch
Before we took a nap in the afternoon, we had our sumptuous lunch first.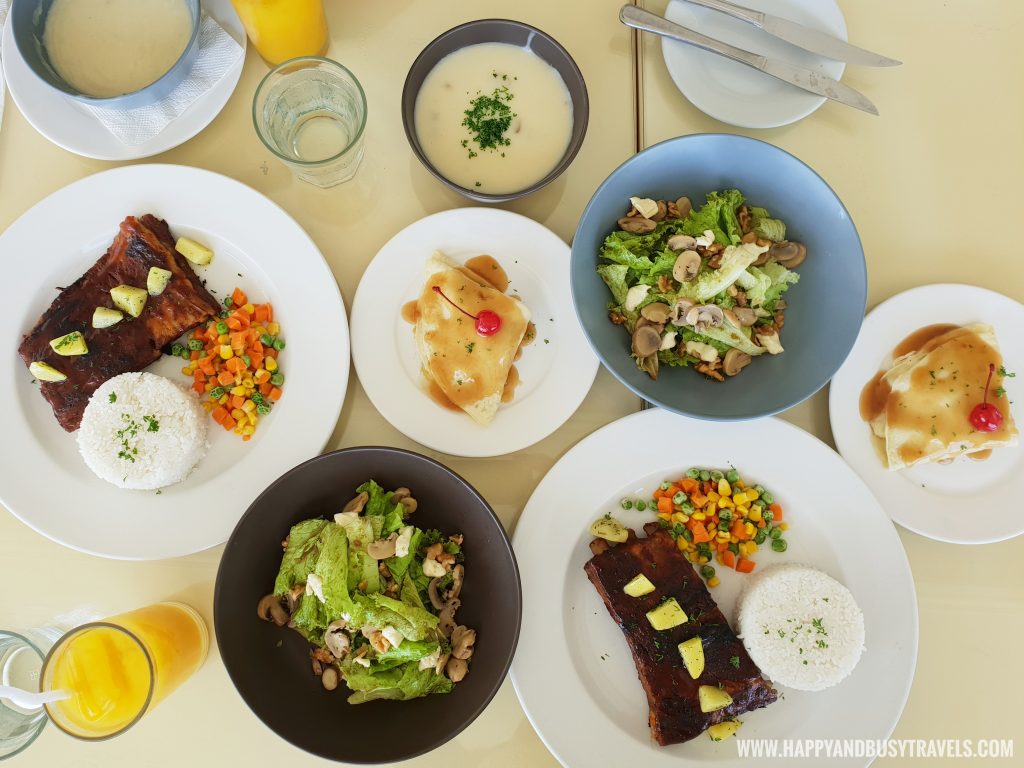 Creamy Mushroom Soup
We started with the Creamy Mushroom Soup. This is made out of Tagaytay's mushroom, and fragrant herbs. Busy loved this so much, he ate half of my soup because I can't eat soup anymore.
Garden Salad
Then we ate this salad. It is made out of lettuce, fresh herbs, balsamic vinaigrette, sauteed mushrooms, walnuts, ad diced Laguna cheese potatoes.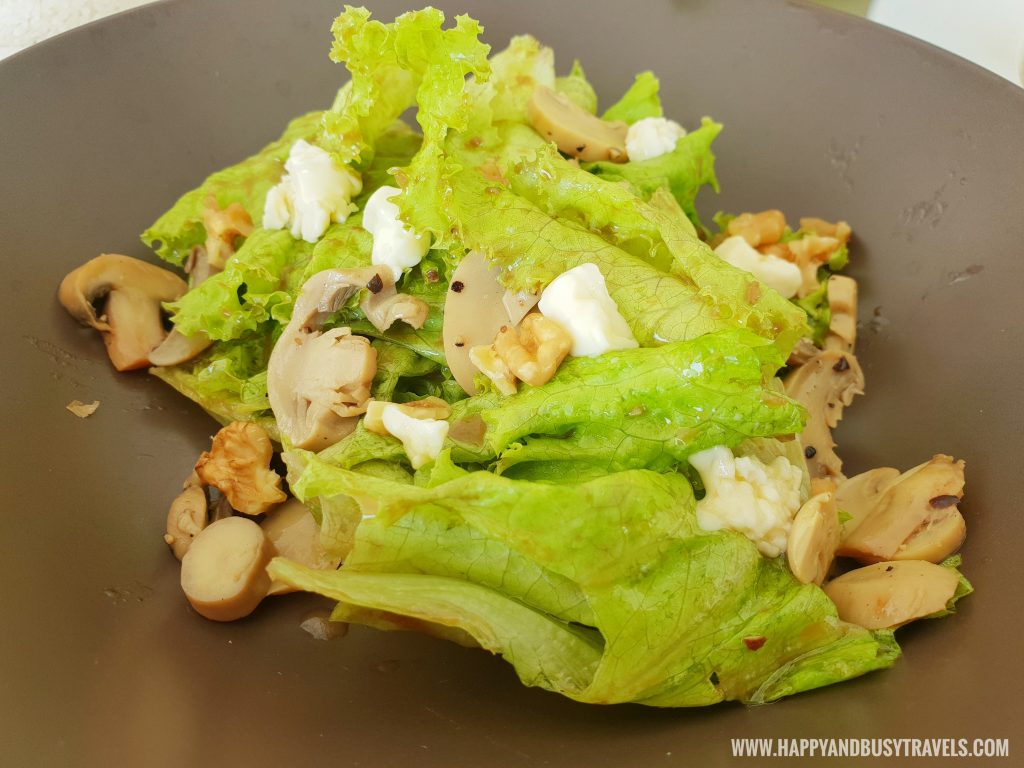 Baby Back Ribs
We had Baby Back Ribs for our main course. It is delicious, soft, and juicy, and it can be easily taken out of the bones. It is paired with potato squares, rice, and corn carrots and peas mix.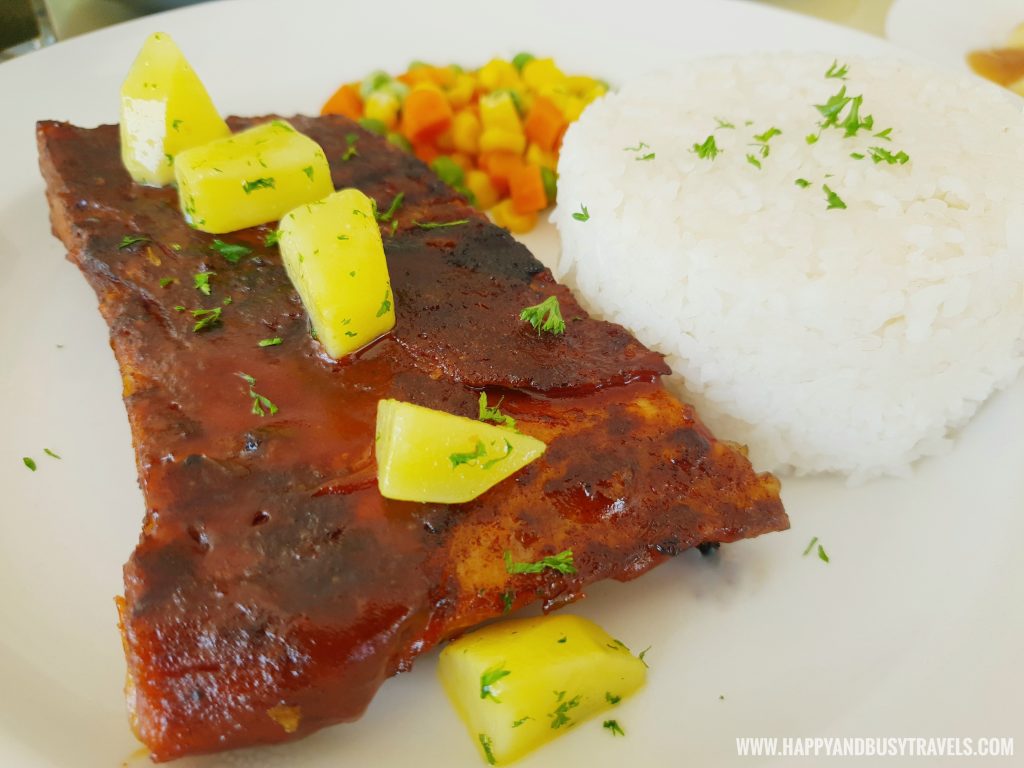 Banana Dulce de Leche Crepe
We finished our lunch with the Banana Dulce de Leche Crepe. This dessert is perfect for those who doesn't want too much sweetness.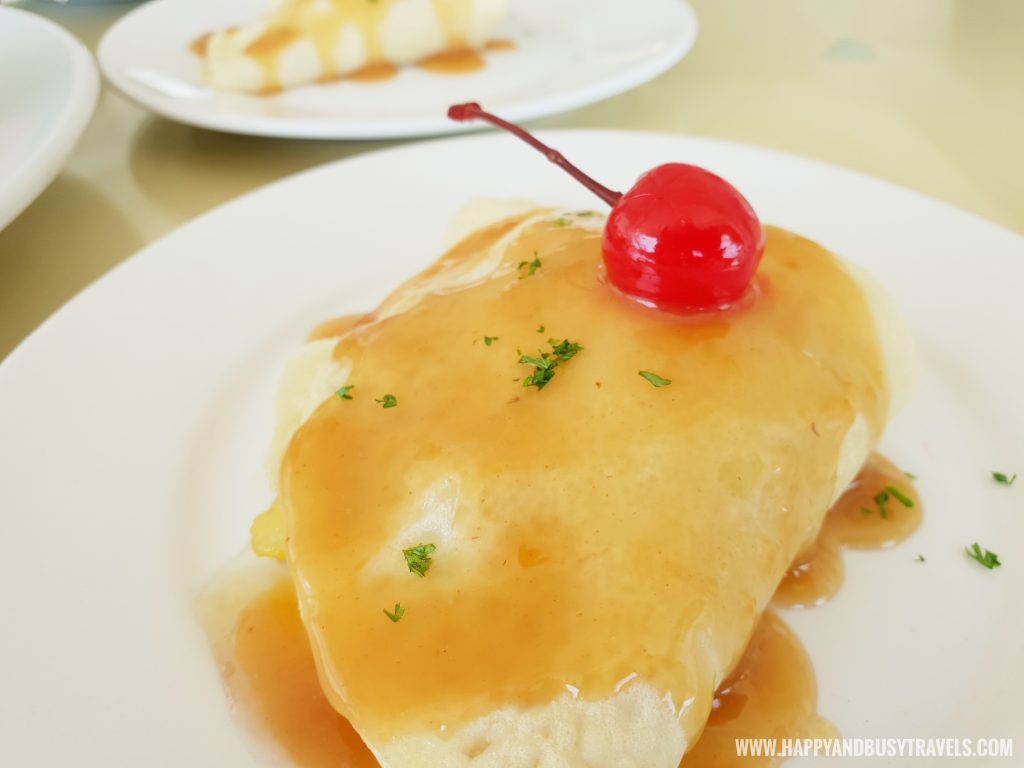 Breakfast
For our breakfast we ordered the Estancia Big Breakfast. There is a lot of choices for the big breakfast which is shown in the menu at the end of this blog.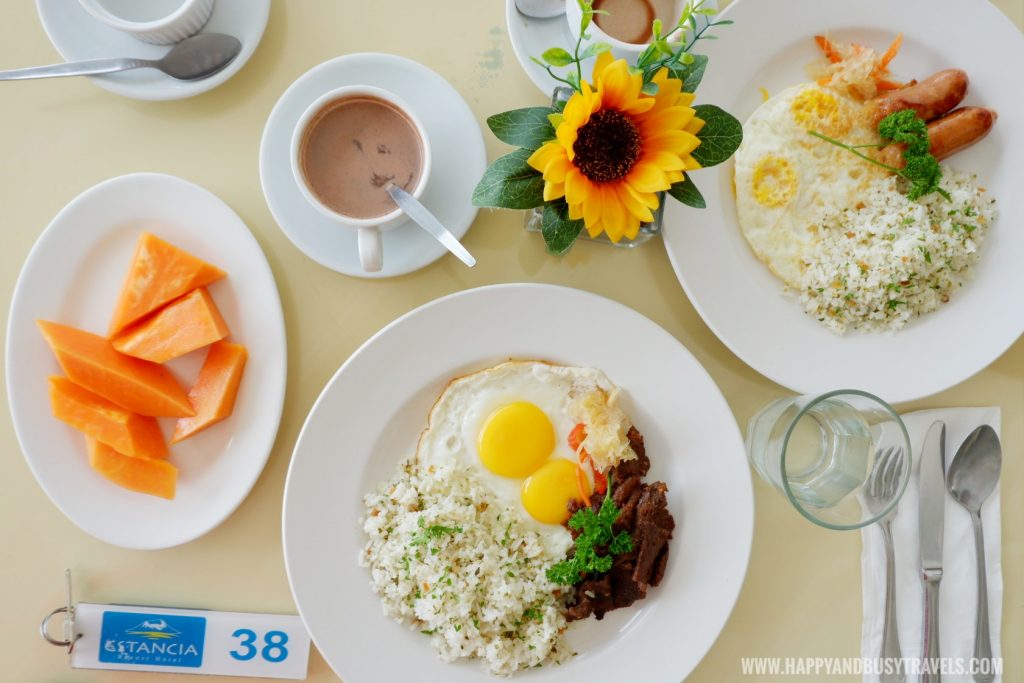 Longganisa Big Breakfast
Busyo ordered the Longganisa Big Breakfast with sunny side up egg, and garlic rice.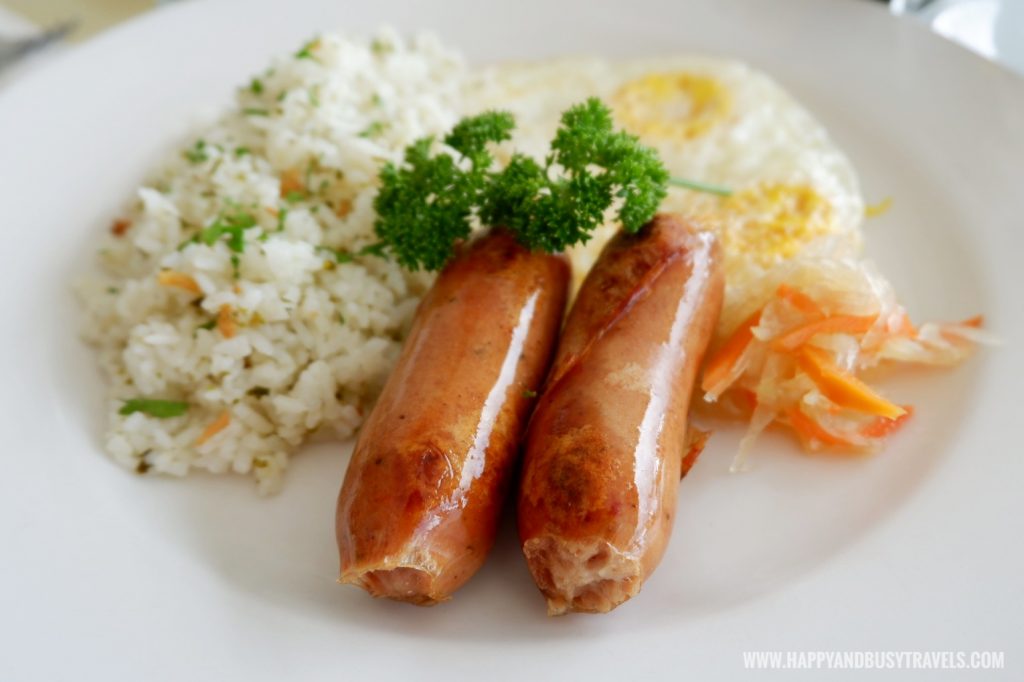 Beef Tapa
On the other hand, I ordered Beef Tapa with sunny side up egg, and garlic rice.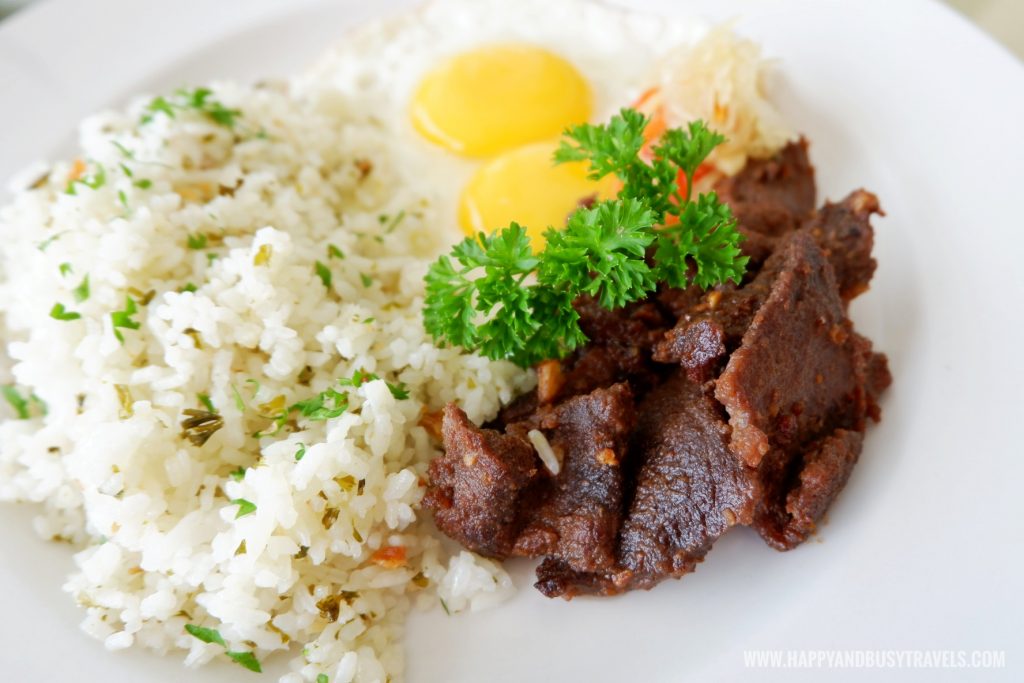 We both ordered hot chocolate instead of coffee, and we also got Papaya as the fruit of the day.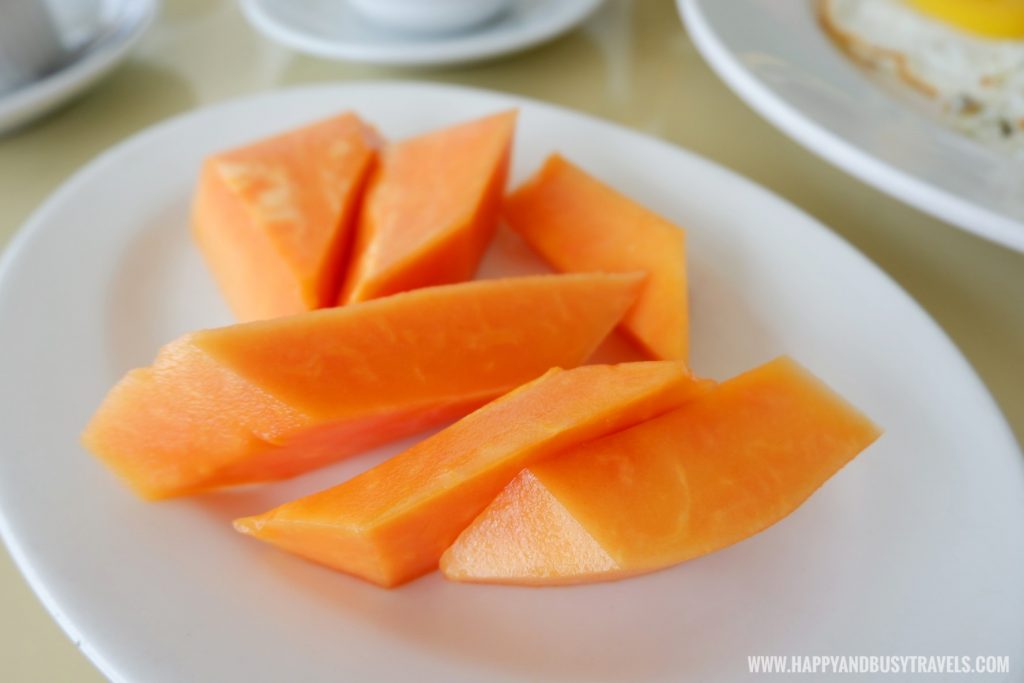 Other Amenities of Estancia Resort Hotel
The resort is huge and has a lot of amenities. Even though Taal Volcano just erupted, the resort managed to make most of their amenities available.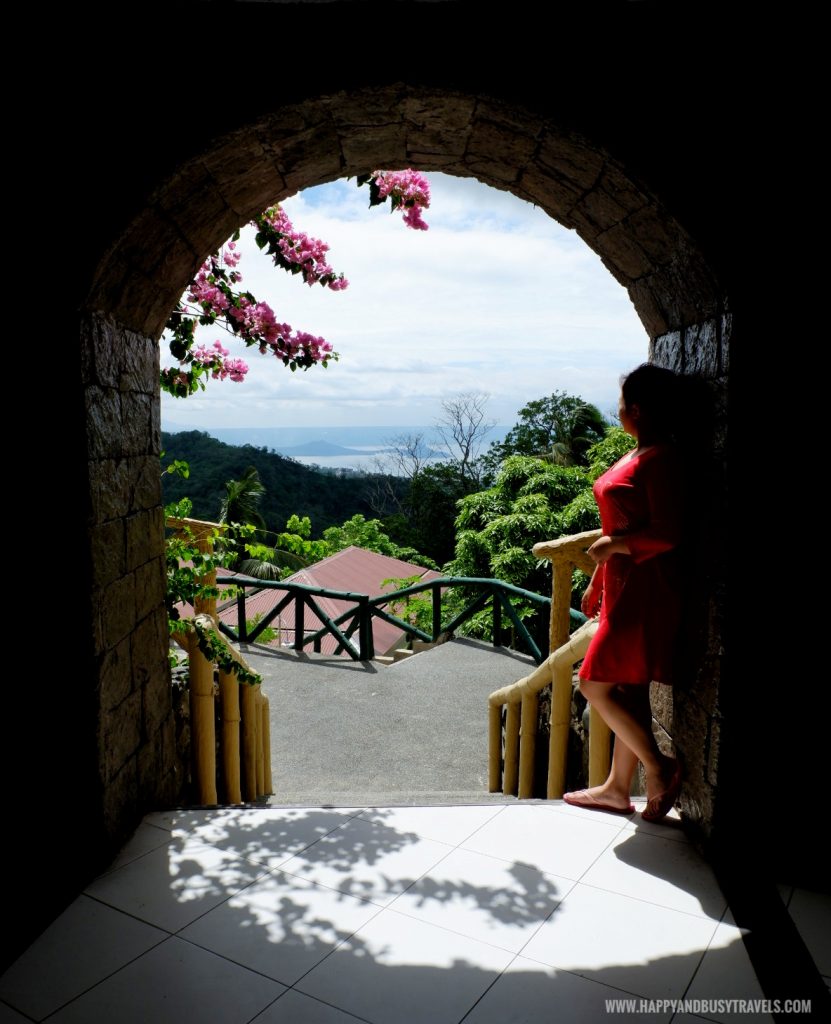 Function Rooms
There are a lot of functions rooms in Estancia Resort Hotel. I think there are around 4 to 6 function rooms.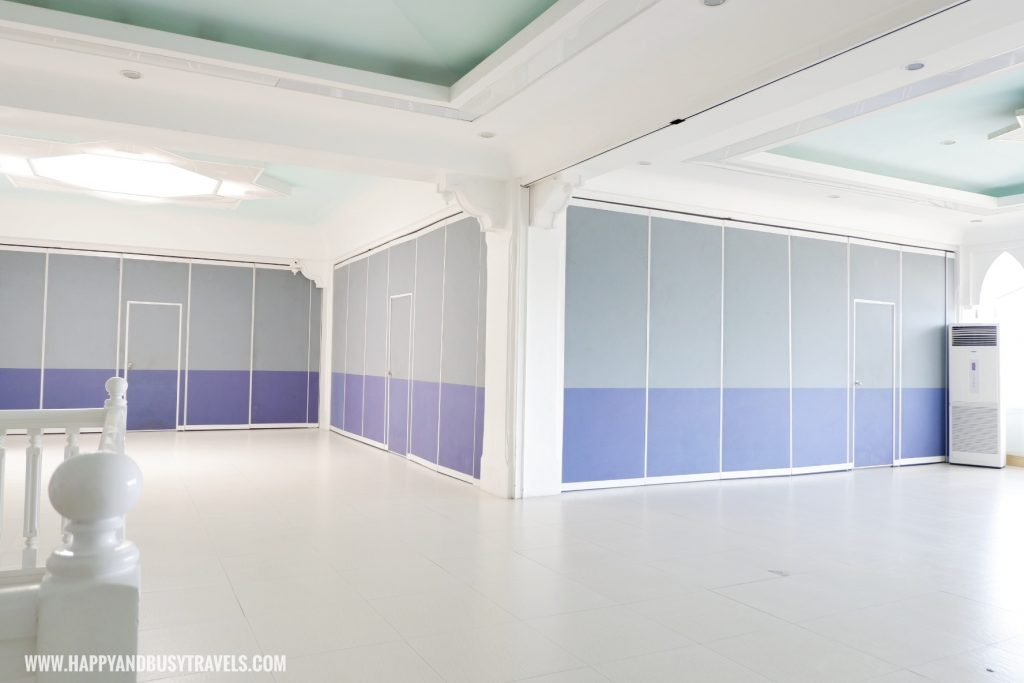 Swimming Pool
The resort has 2 swimming pools, this one is the small one, and the other pool is under renovation when we visited.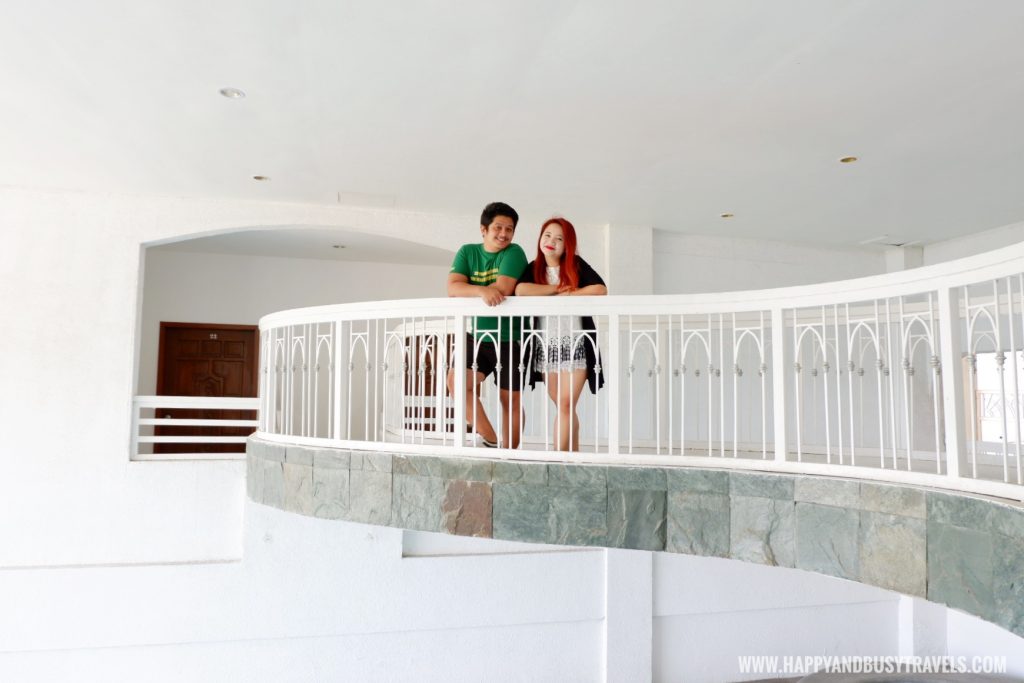 I love this pool because it's under the roof, my skin color won't be burned.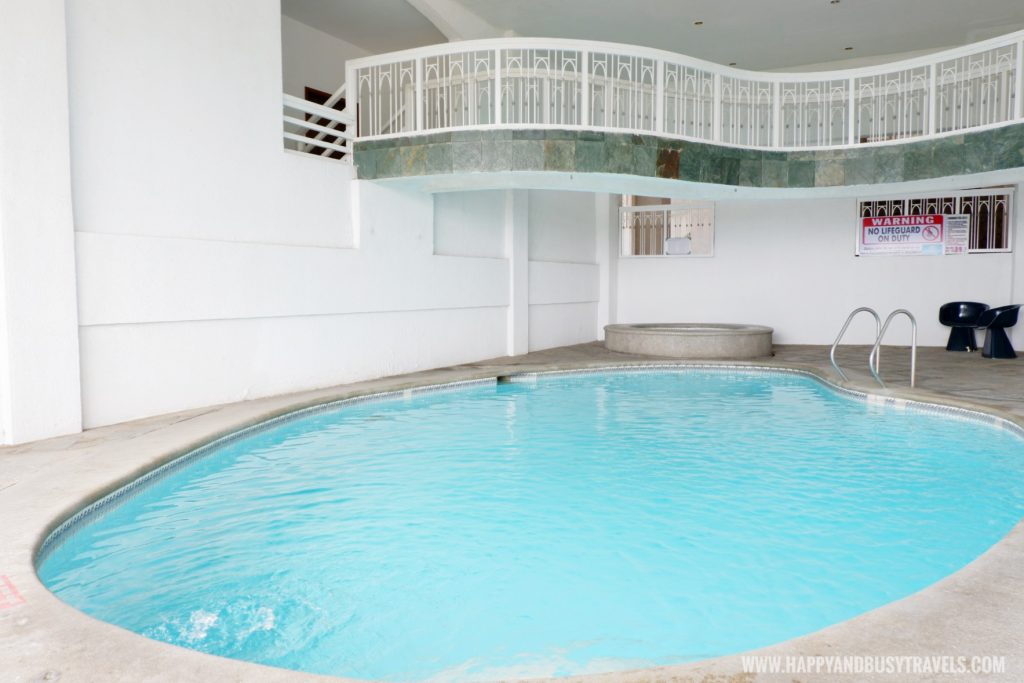 Elevator, Golf Cart, Entertainment Room
Even though there are a lot of stairs in the resort, this elevator is available. So, whenever there is a PWD, there won't be any problem.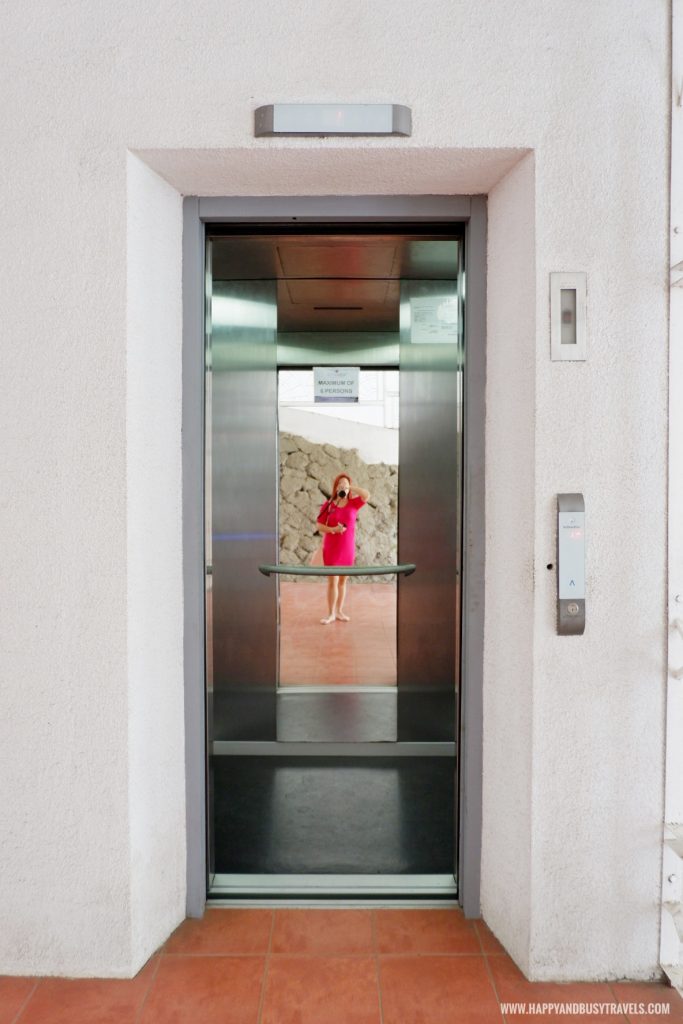 This golf cart can be also used to go to the Santorini Rooms area.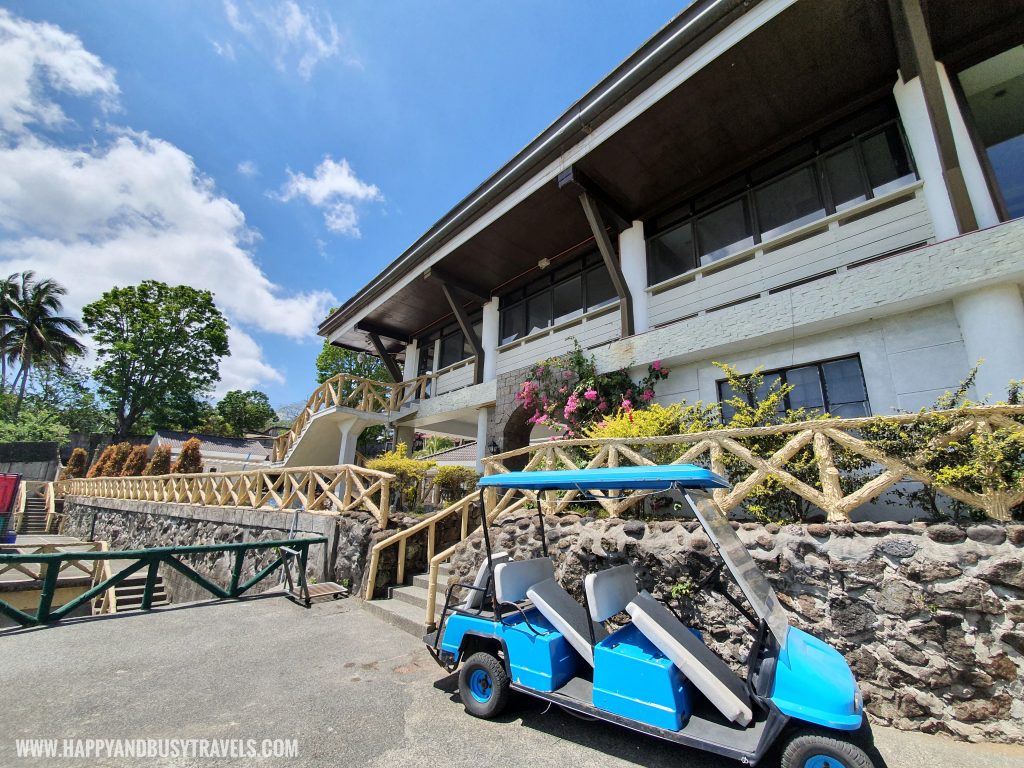 The Entertainment Room is closed during our visit. But they will soon reopen it.
Menu, and Room Rates of Estancia Resort Hotel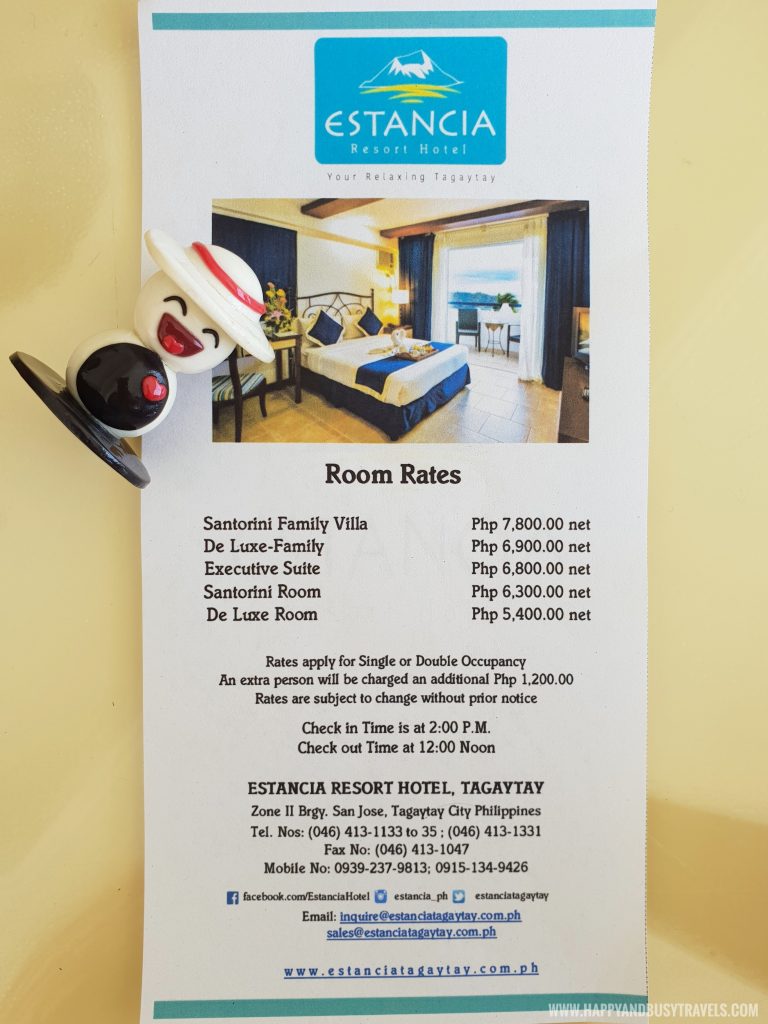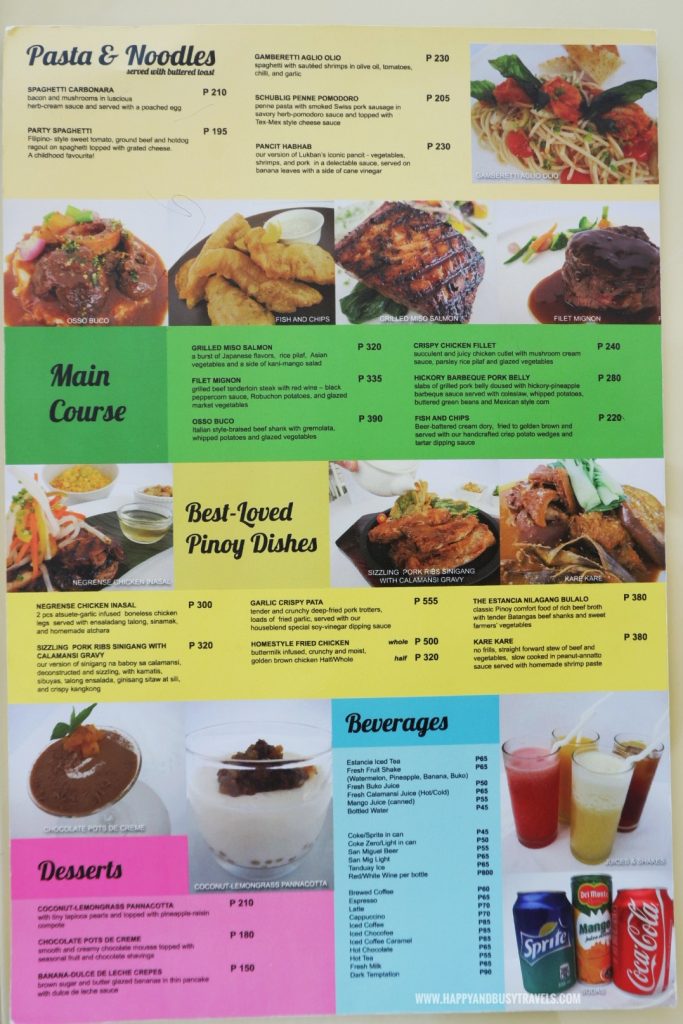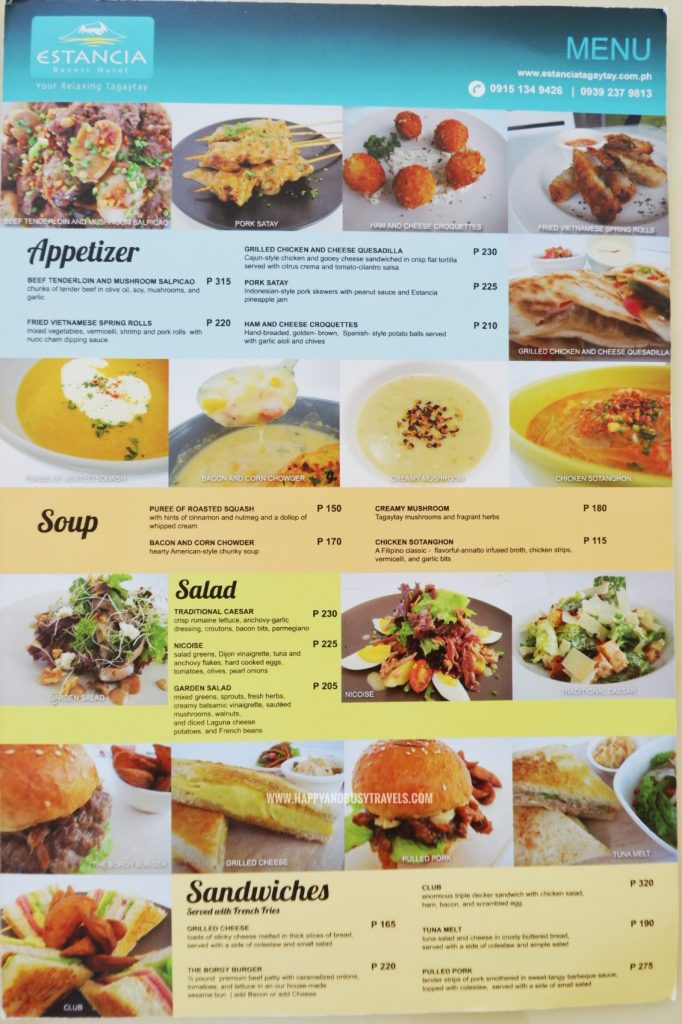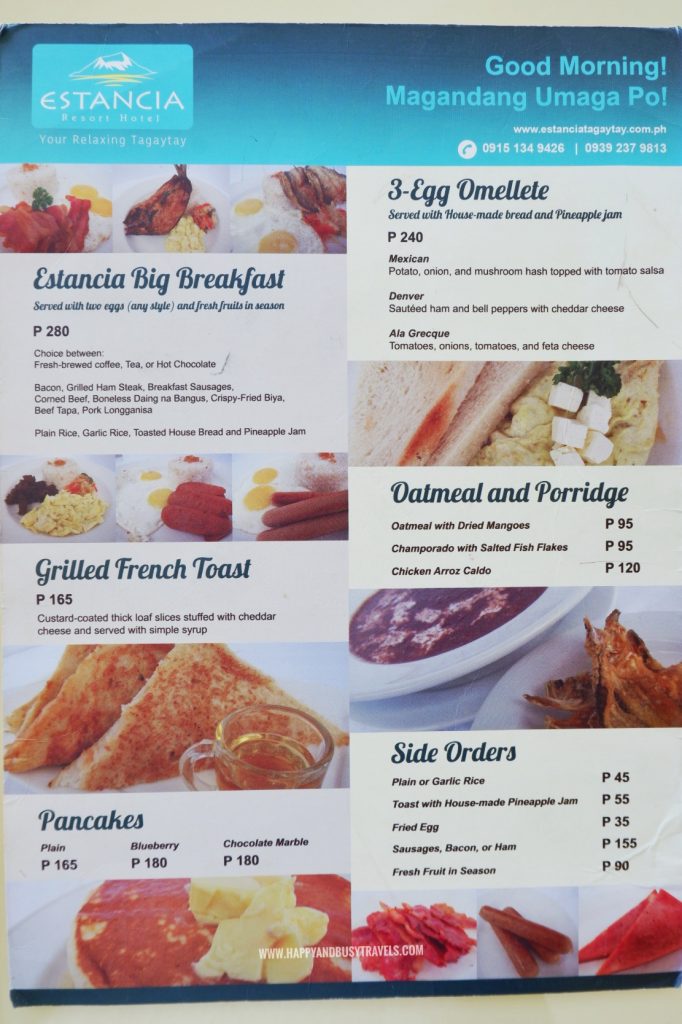 Happy and Busy's Smileys for Estancia Resort Hotel
Kudos to the staff and management of Estancia Resort Hotel. It was just a month after the Taal Volcano erupted, but they managed to clean all of the surroundings. The resort is huge so it will be hard for them to clean it especially the plants and trees. Plus, they have also managed to open the resort even though they are just in soft opening. By the way, when we visited the place, I think it's just us, and two other groups who are checking in.
Cleanliness

Most of the surroundings of the resort are already free of ashes. But of course, some ashes are still around, it can be from other areas brought by the wind.
Facilities

Service

All of the staff responded to our queries and needs immediately. I love how they welcomed and treat their guests.
Value for money

Location 

It is very accessible because it is just beside the highway.
Ambiance