Japanese technology is the best in the whole world. That's why they also have Fuji Q Highland, it is one of the best amusement park with a lot of thrilling and record breaking roller coasters. If the weather also is good, Mt. Fuji can be seen from the park.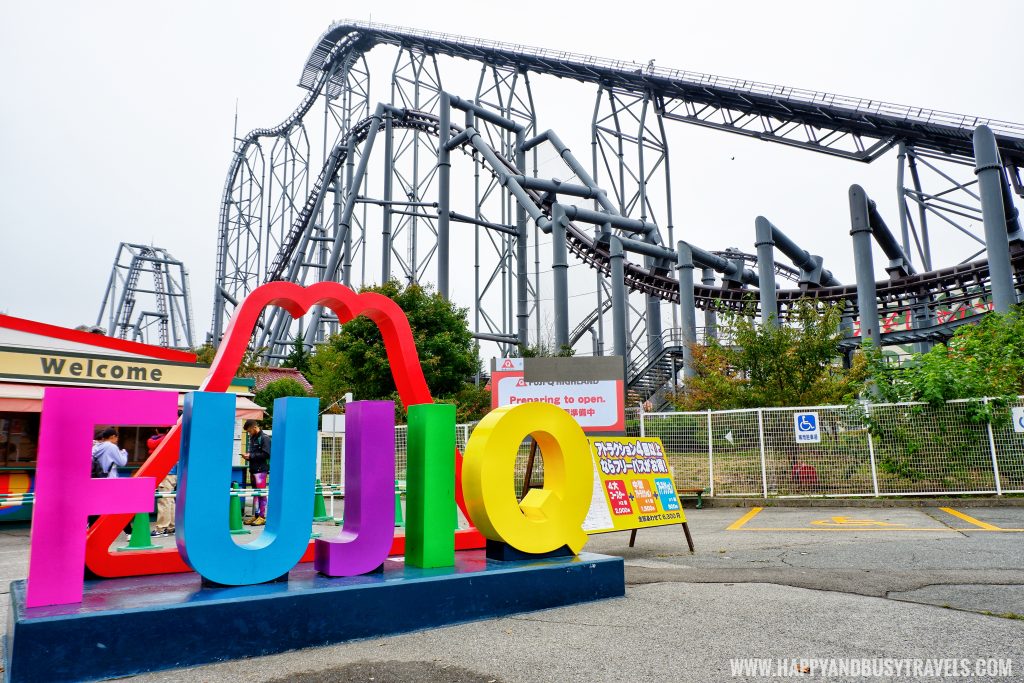 Website: https://www.fujiq.jp/en/
Operating Hours: 9:00 AM – 6:00 PM
Address: 5 Chome-6-1 Shinnishihara, Fujiyoshida, Yamanashi, Japan
Google Maps link: https://goo.gl/maps/PZqk5s1aaYF2rZbKA
Where to book tickets for Fuji Q?
We booked our tickets in advance through Klook
 .
What is Fuji Q Highland?
Fuji Q Highland is an amusement park with a lot of thrilling and record breaking roller coasters. Visitors, young or old, thrill seekers or not, can enjoy the park. There are various themed parks for those who would like to get IG worthy photos, and there are the famous world breaking roller coasters for the thrill seekers.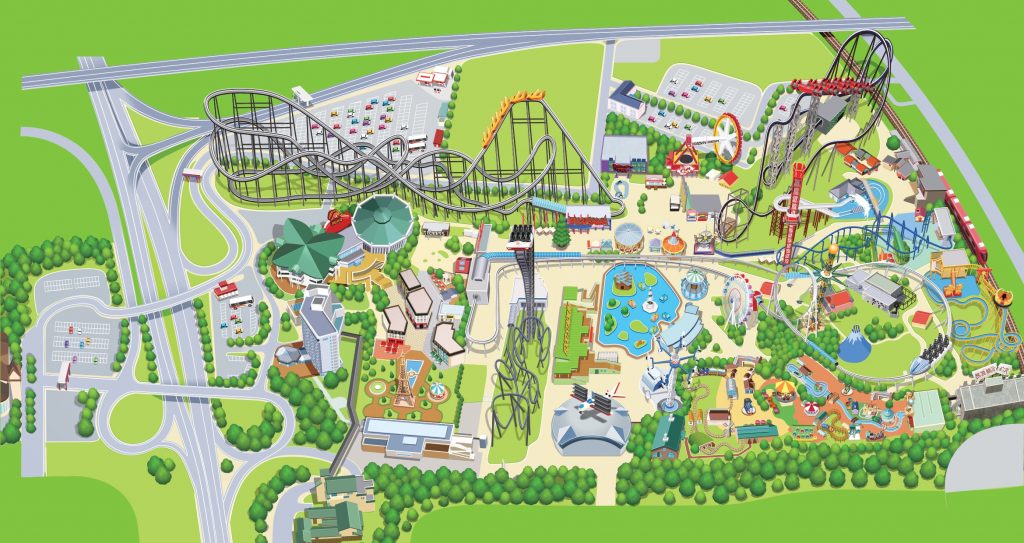 Our Fuji Q Highland Experience
During our trip in Japan, we went to Fuji Q Highland to ride all of the thrilling and record breaking rides. Unfortunately, we were there right after Thyphoon Hagibis, so it was raining the whole day, and Mt. Fuji is hiding in thick clouds. Usually Mt. Fuji can be seen in the amusement park.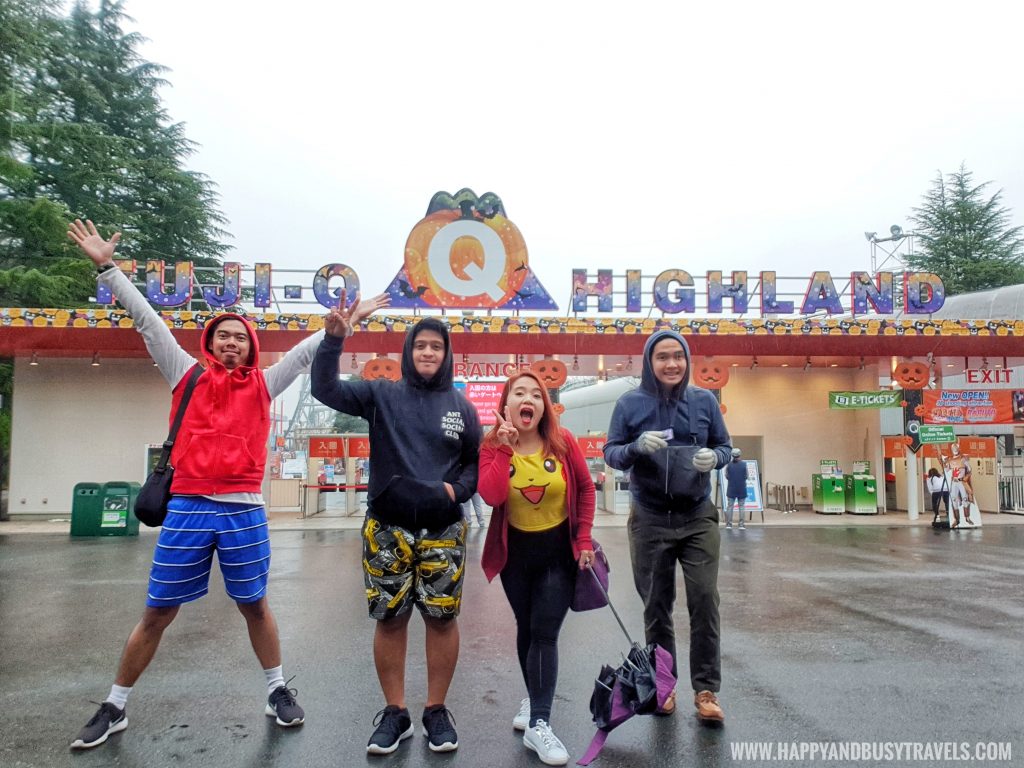 But it was fun because the park is decorated with Halloween decorations.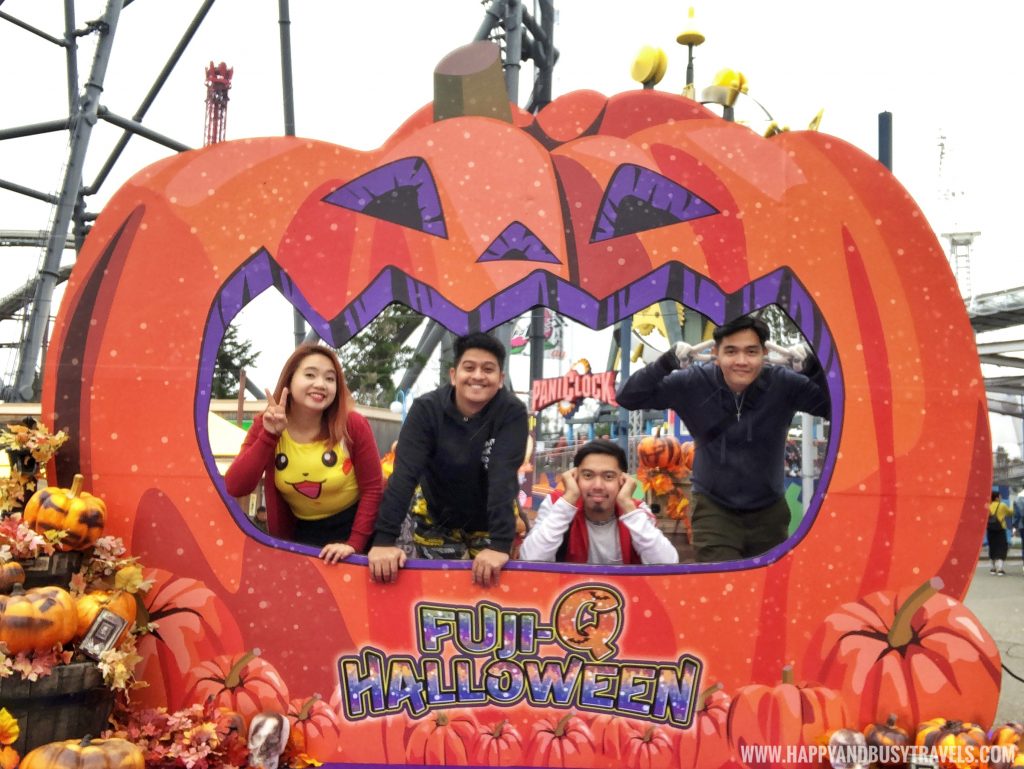 Ohh by the way, don't worry if you didn't bring your camera stand, or if you're shy to ask people to take your pictures. Fuji Q Highland has these Mt. Fuji selfie boxes.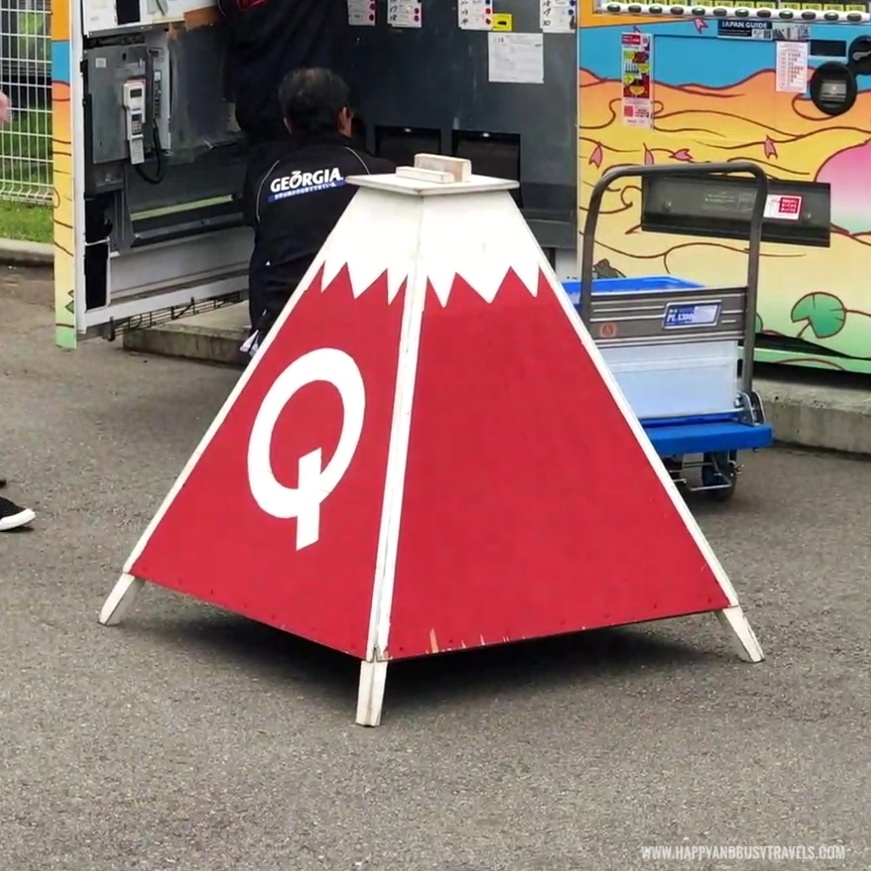 Just place your phone on the top and set the timer, or smile or wave (for other cellphones).
List of Rides in Fuji Q Highland
List of Themed Villages in Fuji Q Highland
Where to Eat in Fuji Q Highland?
There are a lot of stores that sell food in Fuji Q Highland. Just like this one.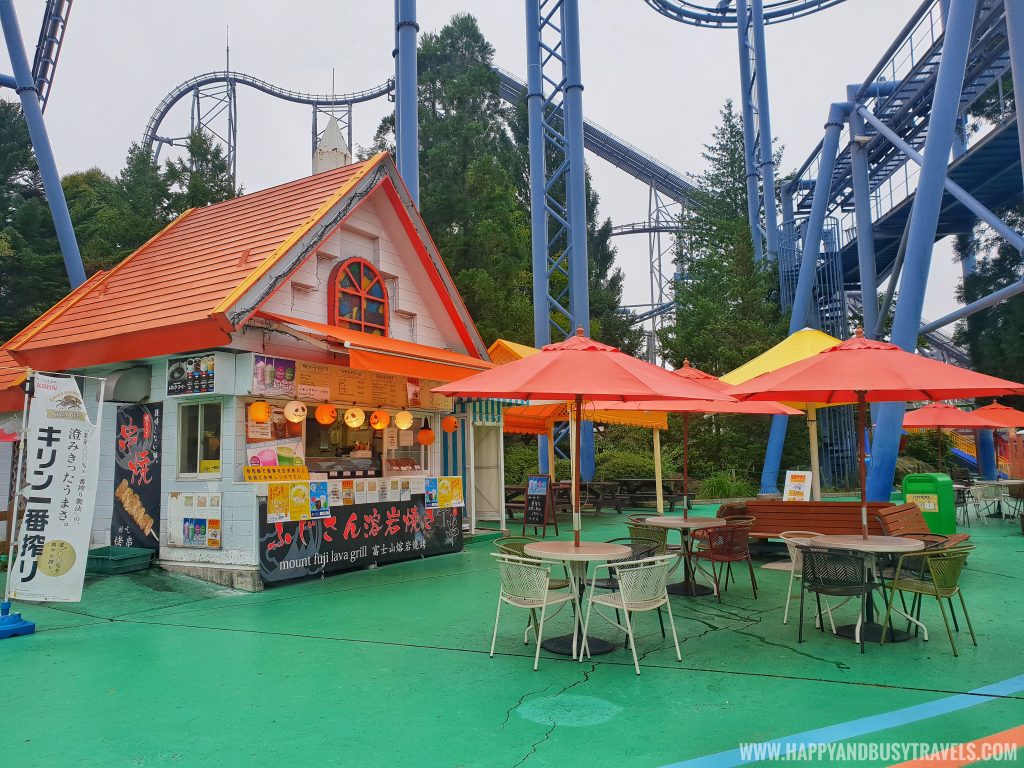 But we were cold and rain was pouring so we ate in Fujiyama Pizza.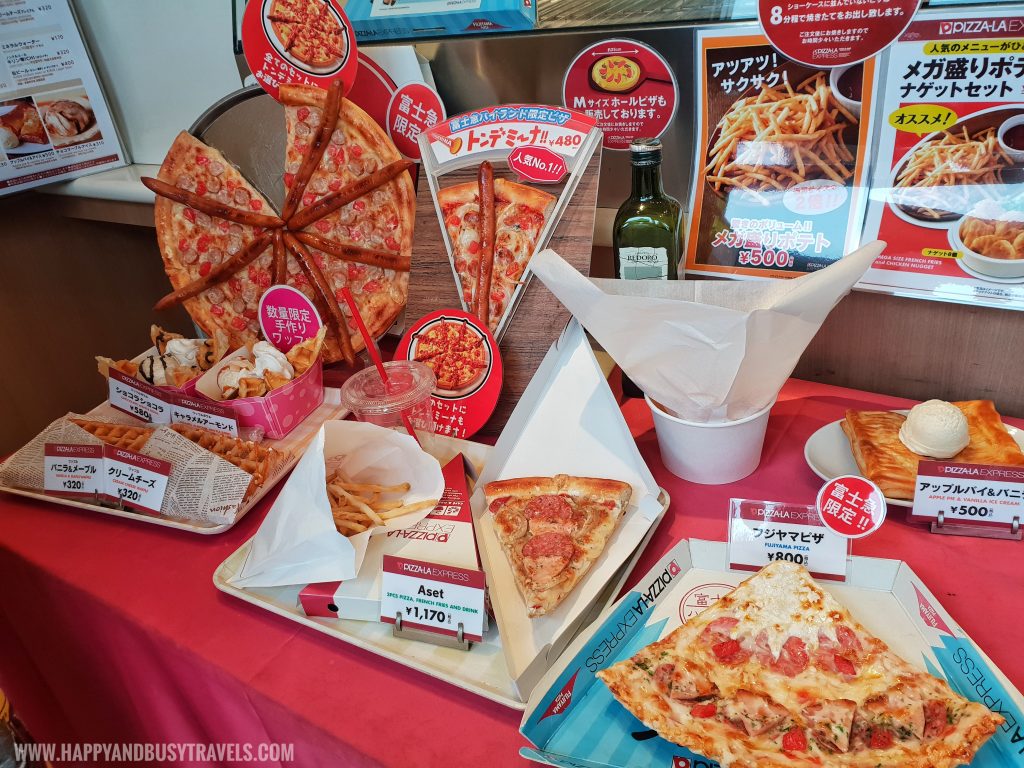 The Mt. Fuji Pizza looks appetizing so most of us ordered this one. We bought it with fries and a drink. Busy on the other hand bought the pizza with a whole sausage. The pizza slices here are big and is enough for one person.
Rides in Fuji Q Highland
As much as we would like to record our experience in riding the roller coasters by giving a rider's point of view, we can't. Action cameras are not allowed in the ride even though it will be mounted on your body. So, here are a few videos and pictures of each ride.
Dodonpa
As I have mentioned earlier, the amusement park has broken a lot of records. Dodonpa is one of them. This is the fastest roller coaster ride, and it also has the fastest acceleration. Unfortunately the ride is closed during our visit for safety reasons, it was raining hard.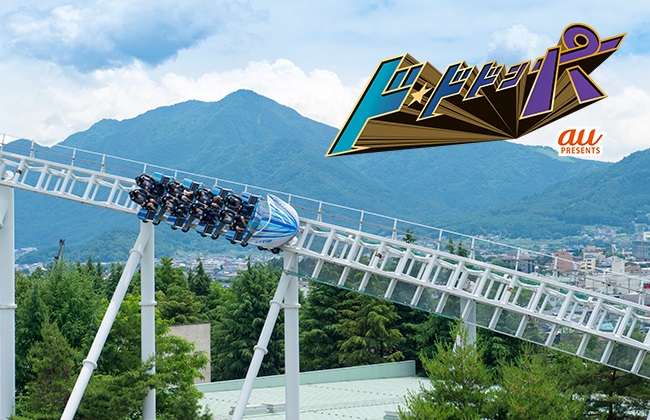 Takabisha
We experienced riding this ride, but it was already dark hahaha, but it was still thrilling. Takabisha is famous for its 121° drop angle.
Take note that this drop angle is not the first thrill in this ride. 😉 The ride began with a fast acceleration in the dark then a quick loop… still in the dark! Then after the darkness this famous angle came next, then a few more loops followed!
Eejanaika
This is the best roller coaster that we have experienced in our life so far! Eejanaika is the roller coaster ride that has the most number of inversions in the whole world! It has 14 by the way. The Eejanaika is described as the world's second 4th dimension coaster. It means the seats can rotate backward or forward for 360 degrees in a controlled spin.
The preparation to ride this is a bit long. When we had the ride, all of our things including our shoes should be kept in the locker. so everybody should do this. Our feet are hanging while having the loops, turns, and in full speed! It's really like floating in air, we didn't even noticed the seat in front of us. It was really a surreal experience!
After riding Eejanaika, we now know why is this billboard here. 😆 It may not refer to the ride but this is what you will feel… you'll be emotional hahaha.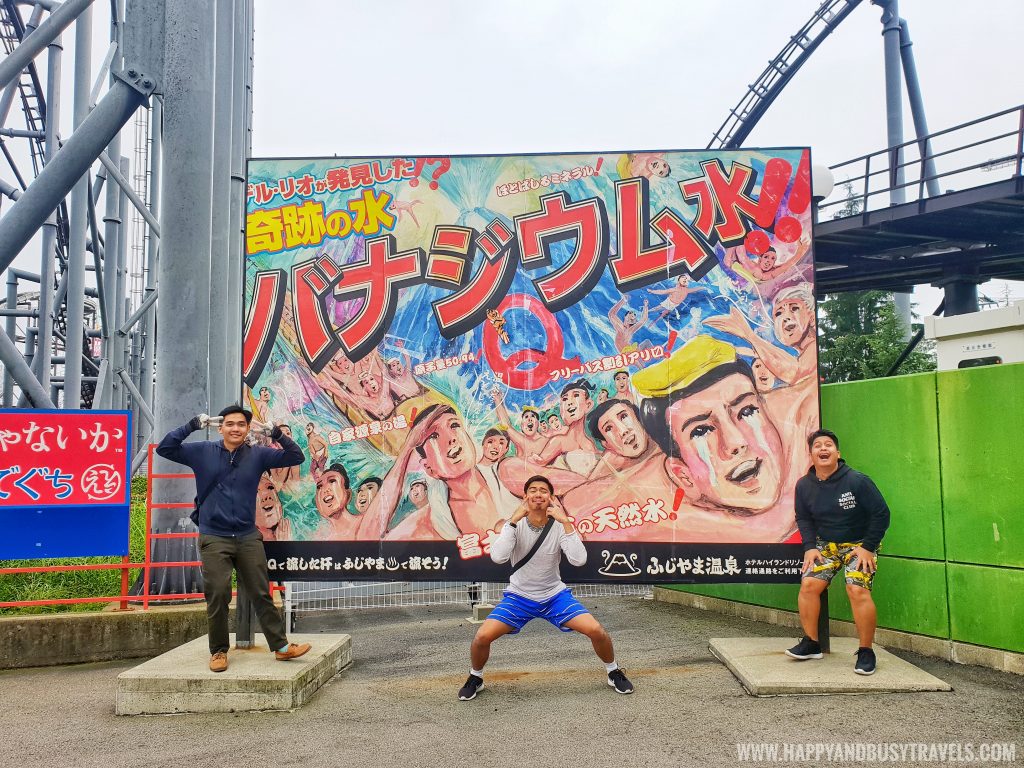 Fujiyama
This ride is also record breaking (during a few years of its operation) it has the following world records:
Tallest complete circuit roller coaster
Tallest roller coaster
Longest roller coaster drop
Fastest complete-circuit roller coaster
Fastest roller coaster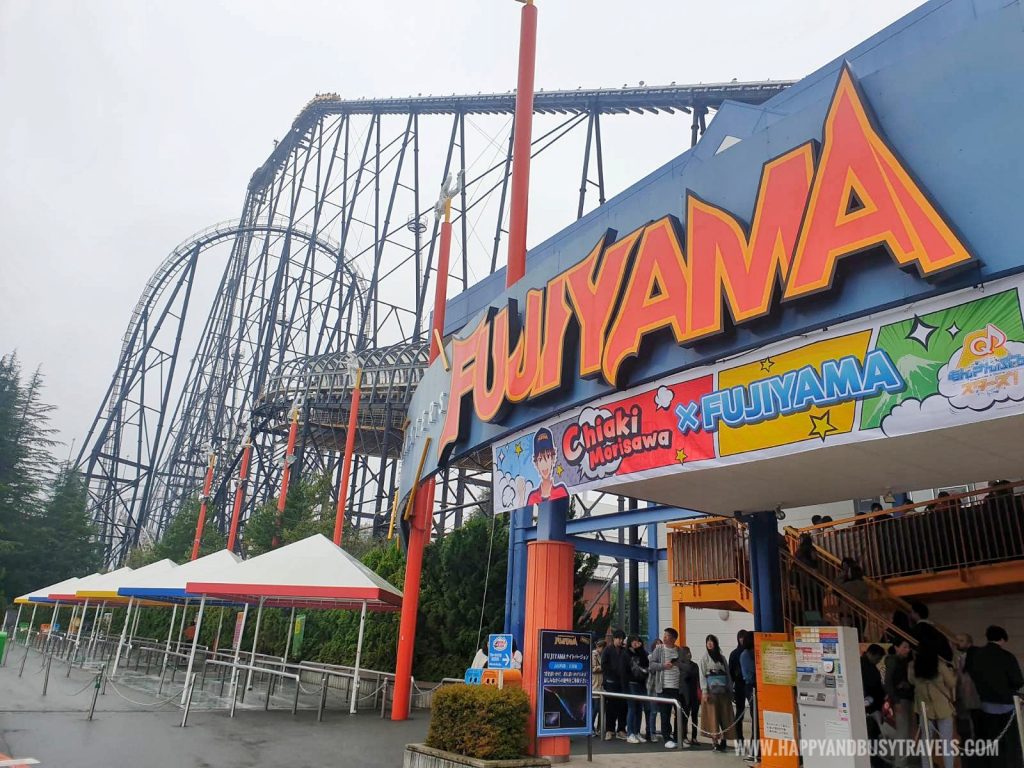 Fujiyama stands 259 feet tall, with a 230 feet drop!
When we ride this one, we felt a little bit like we are not safe (even though we are completely safe) because there is nothing in our heads 😆 I mean, the seat is up to our chest only hahaha. Unlike the other rides, the chair is up to our head. Imagine being in a loop with a chair up to your chest only.
Ninjutsu Experience
We had a chance to be a ninja in Fuji Q! Found in the Hidden Leaf Village, this Ninjutsu Experience made us throw Shuriken to the screen.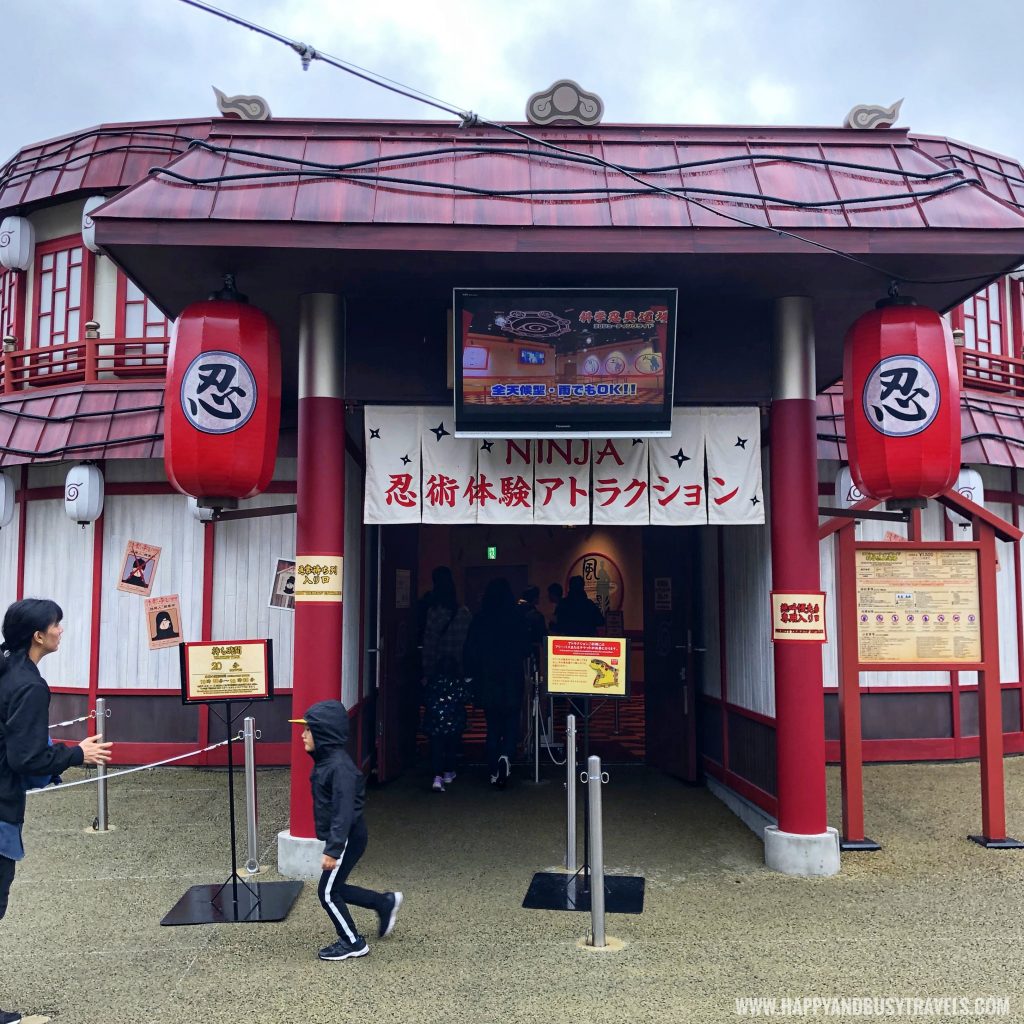 We wear these 3D glasses and we sat on a chair that turns and we used a gun like toy to throw Shuriken. At the end of the ride our points were shown and I had the highest point! Wooo!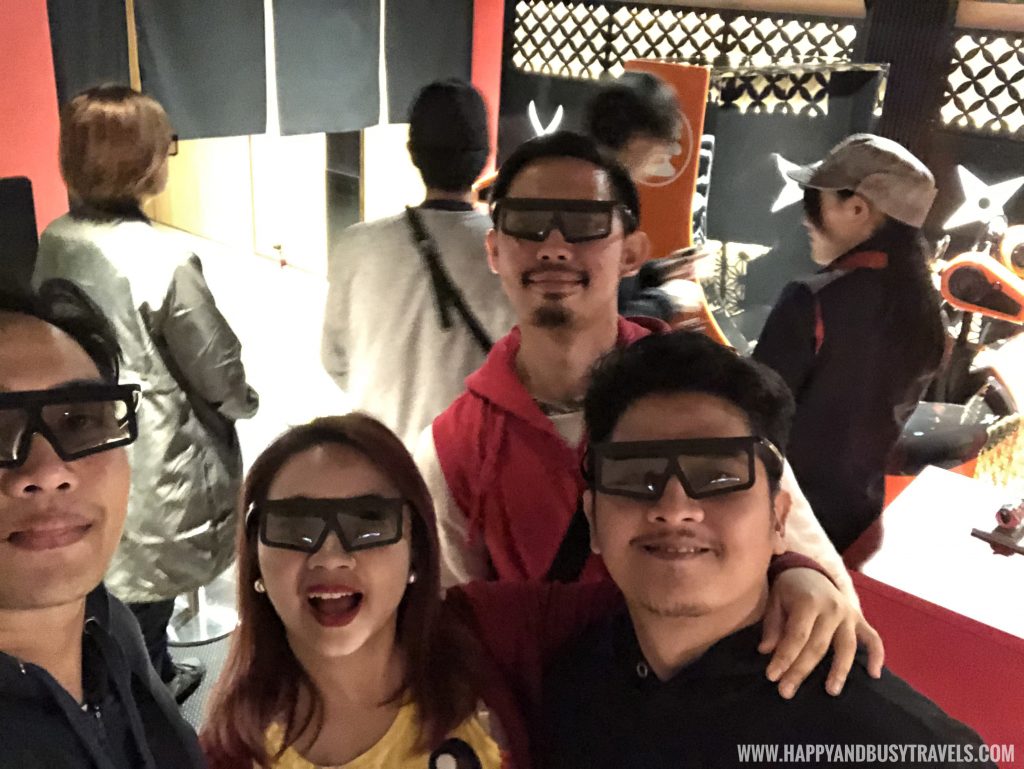 Endless Mine
This ride is a bit scary according to its description. Guests are seating on a ride with 2 seats per row, with headphones on while riding a dark mine.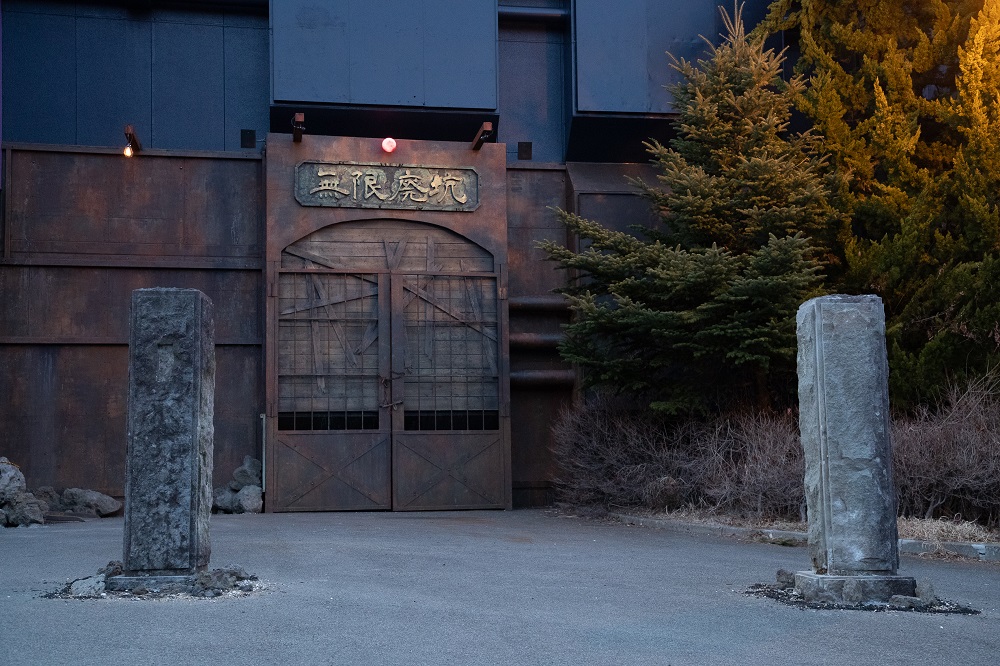 Again, due to time constraint, we haven't tried this one.
Paniclock
Ever wonder how does the hand of the clock feels? If you ride the Paniclock, you'll experience the feeling of the hands, plus too much adrenaline.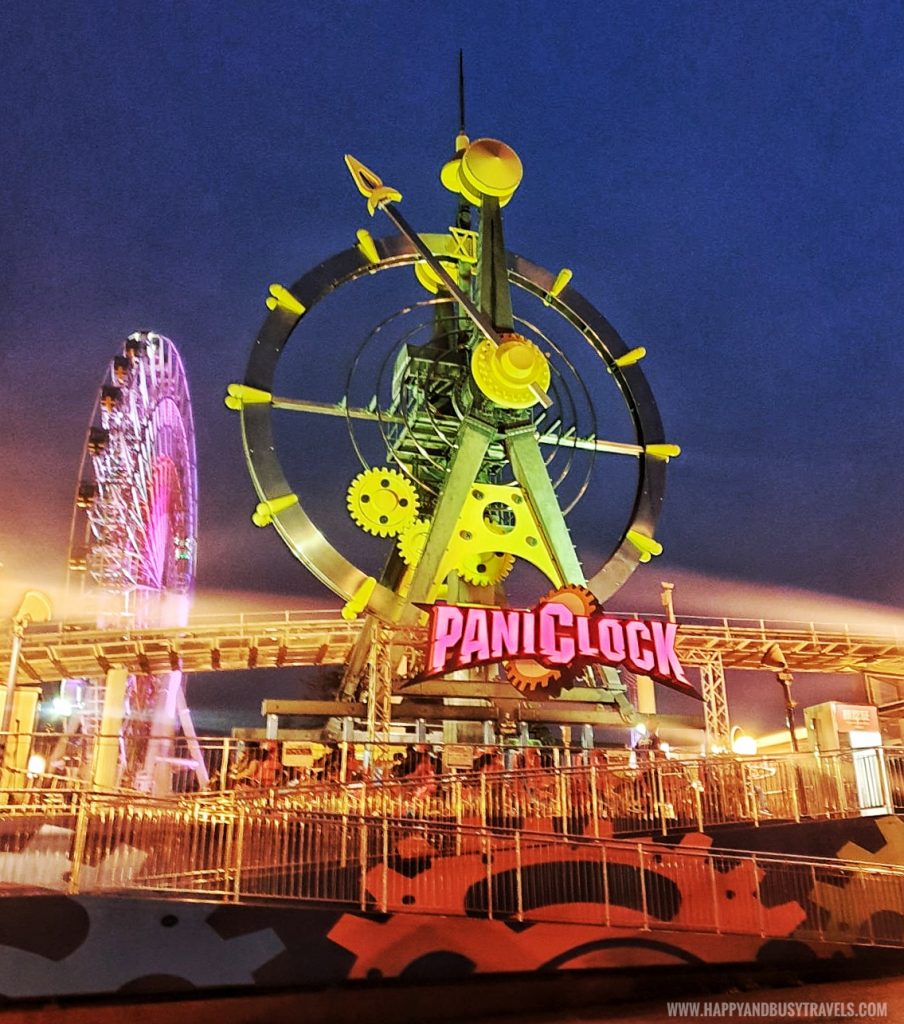 Nagashimasuka
This is a  ride that kids can also enjoy, but Nagashimasuka will surely get you and make you wet.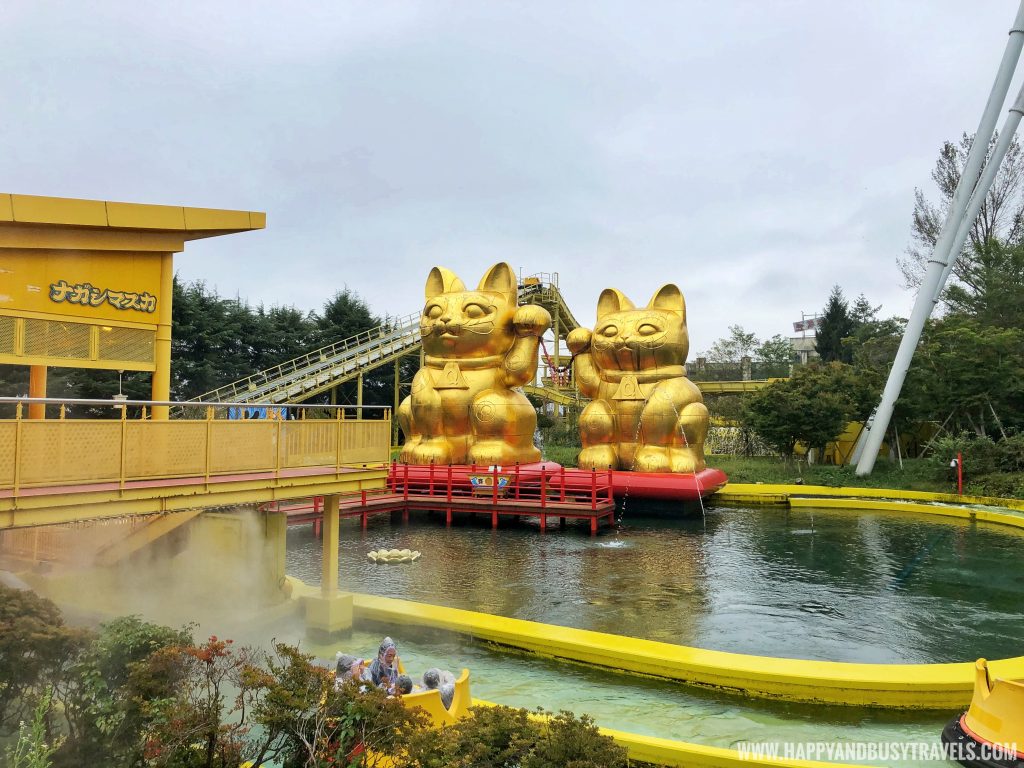 Haunted Hospital
This Haunted Hospital is made in an old hospital. Yes this is really an old hospital turned into an attraction.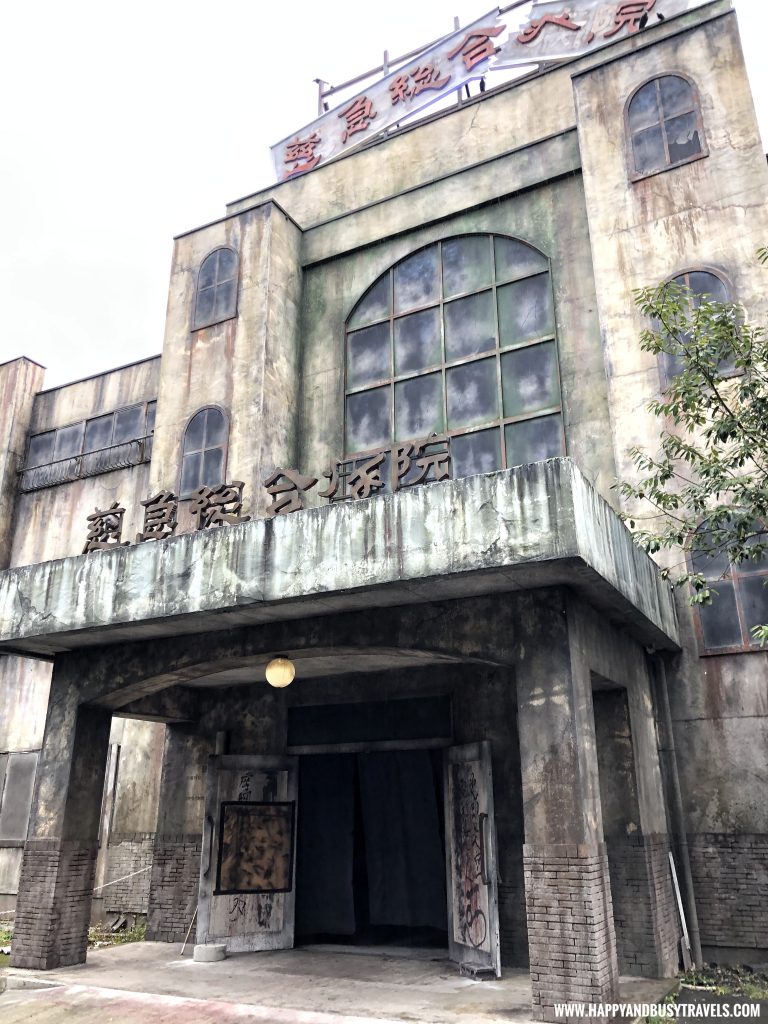 Just from the decorations outside the haunted hospital, you'll get a glimpse of what is inside.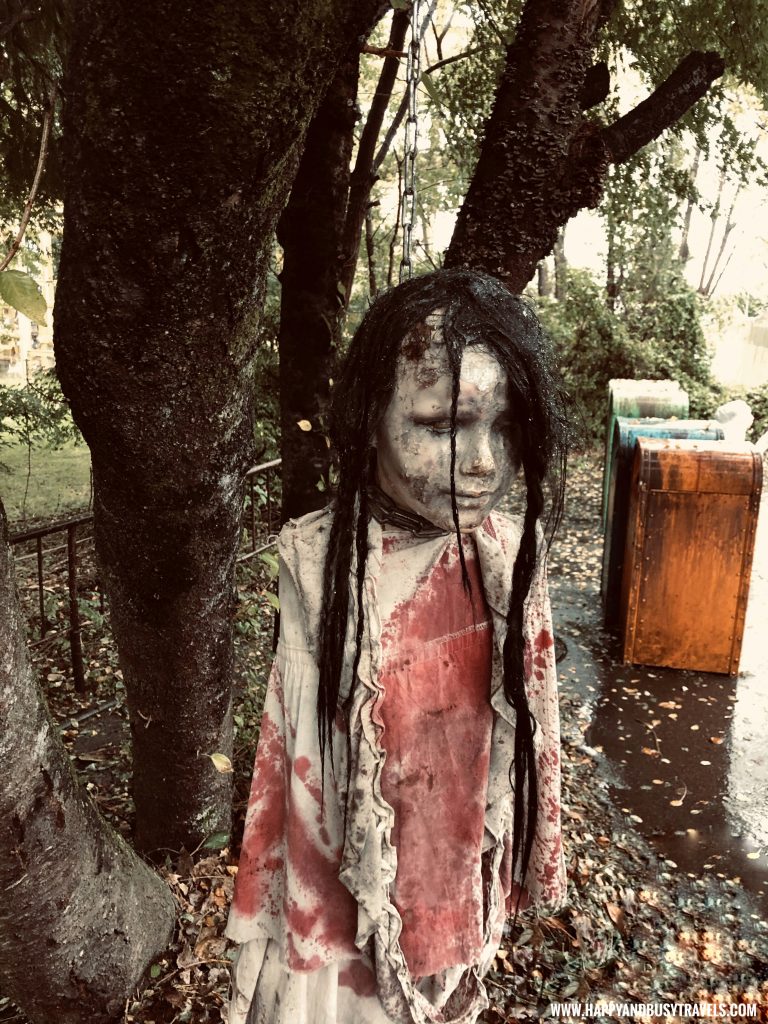 It was scary inside, but it was fun!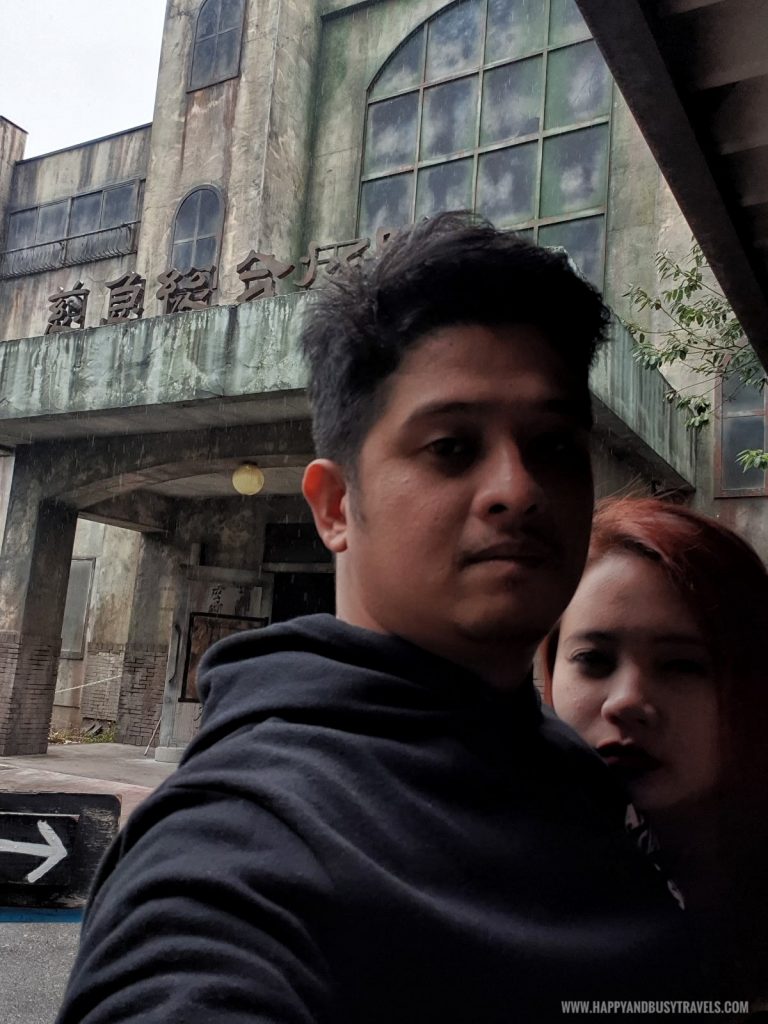 This attraction has a separate payment from the unlimited ride ticket. But, paying it is worth it.
Desperation Fortress 3
In desperation fortress we experienced how to be a detective in a few minutes. A gadget was given to us and we have to find our way out.
Tentekomai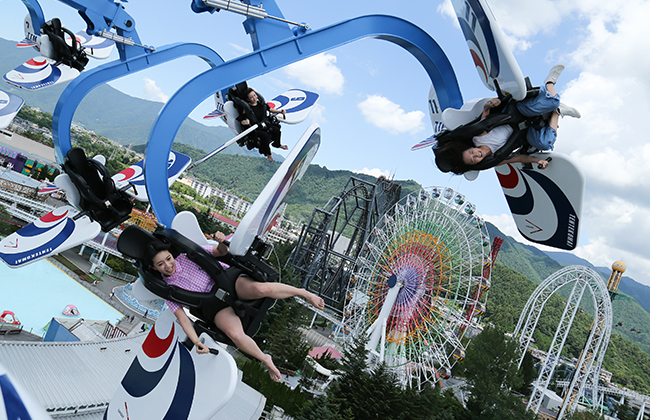 Tekkotsubanchou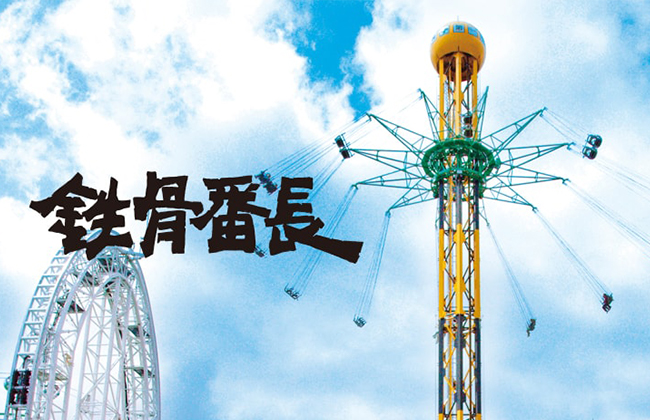 Red Drop Tower
We tried this one and we were excited for the drop. It was high, but it was not that scary.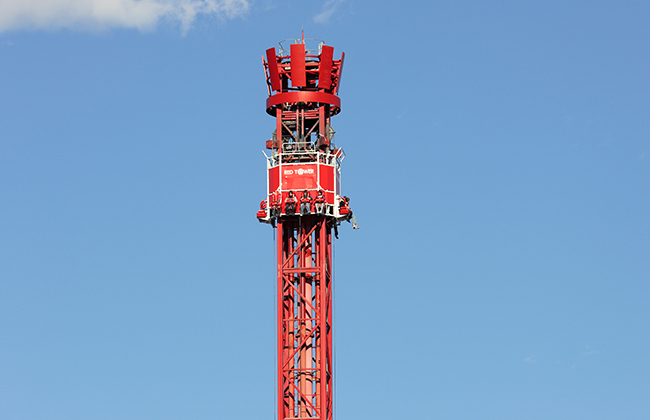 Tondemina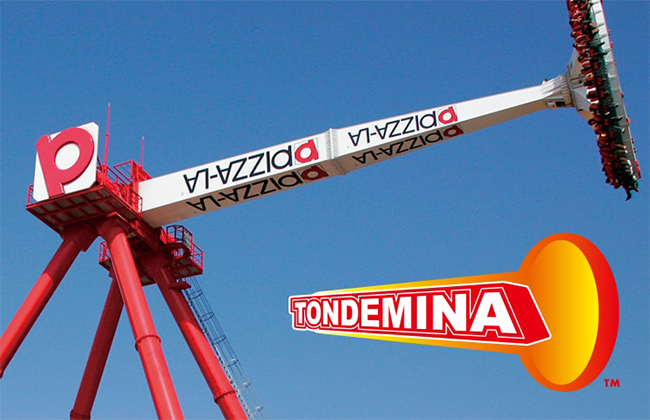 Cool Jappaan!
This is a more thrilling water ride than the Nagashimasuka. Riding this is like riding a roller coaster, but you'll surely be wet!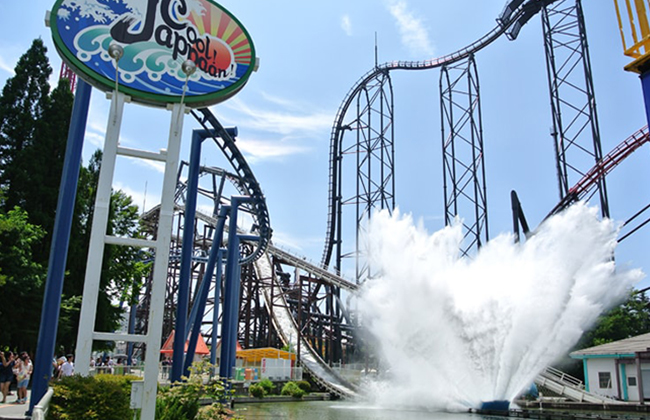 Themed Villages
Thomas Land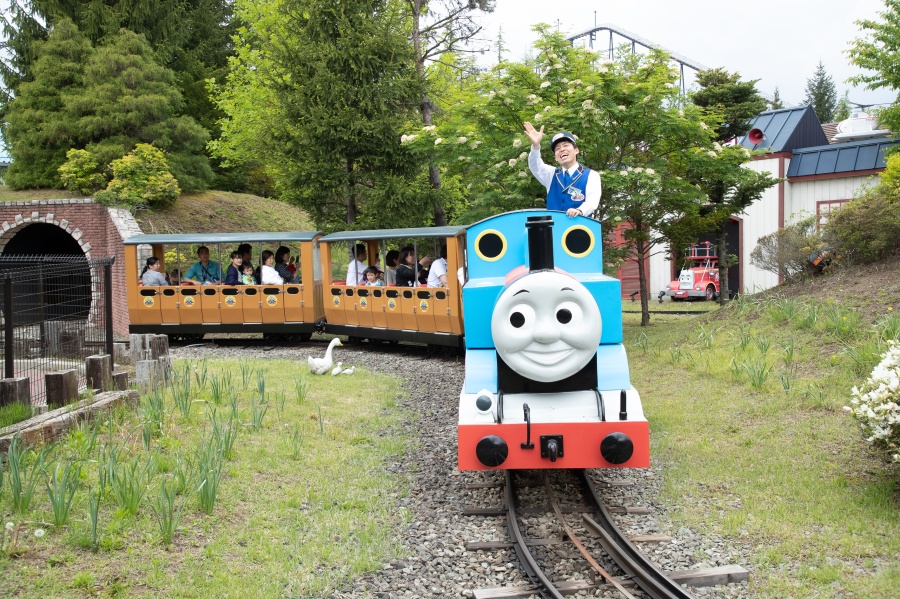 La Ville de Gaspard Et Lisa Garden
This themed village, La Ville de Gaspard Et Lisa Garden looked like a little Italian village.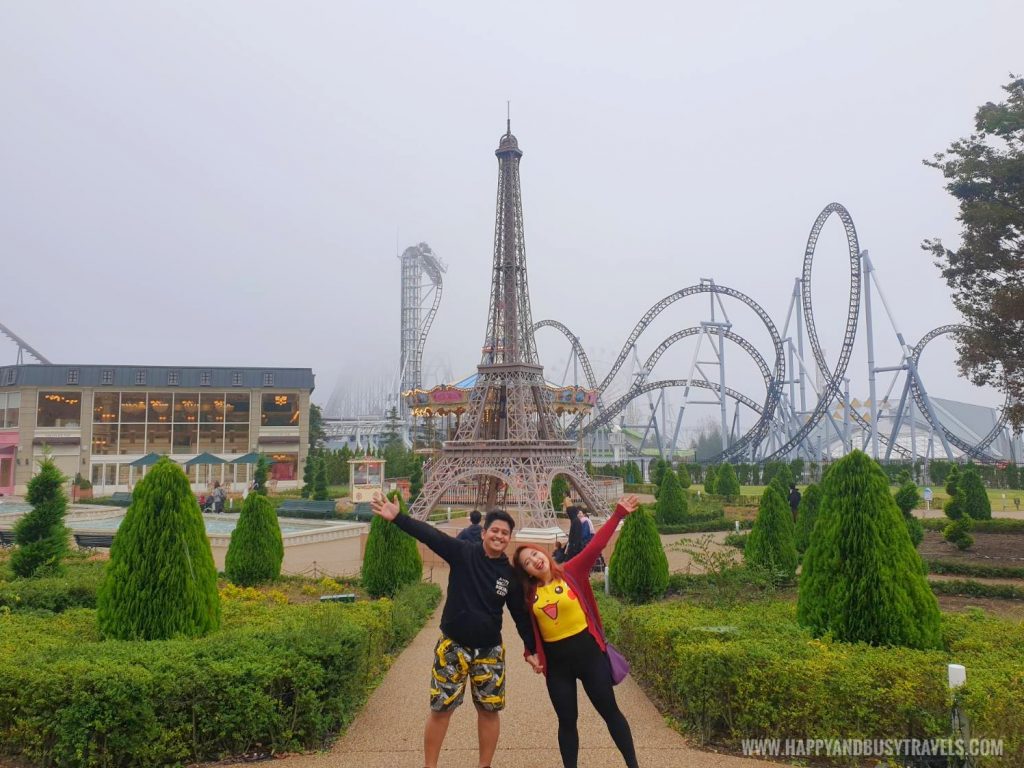 Some rails can be seen from the themed garden.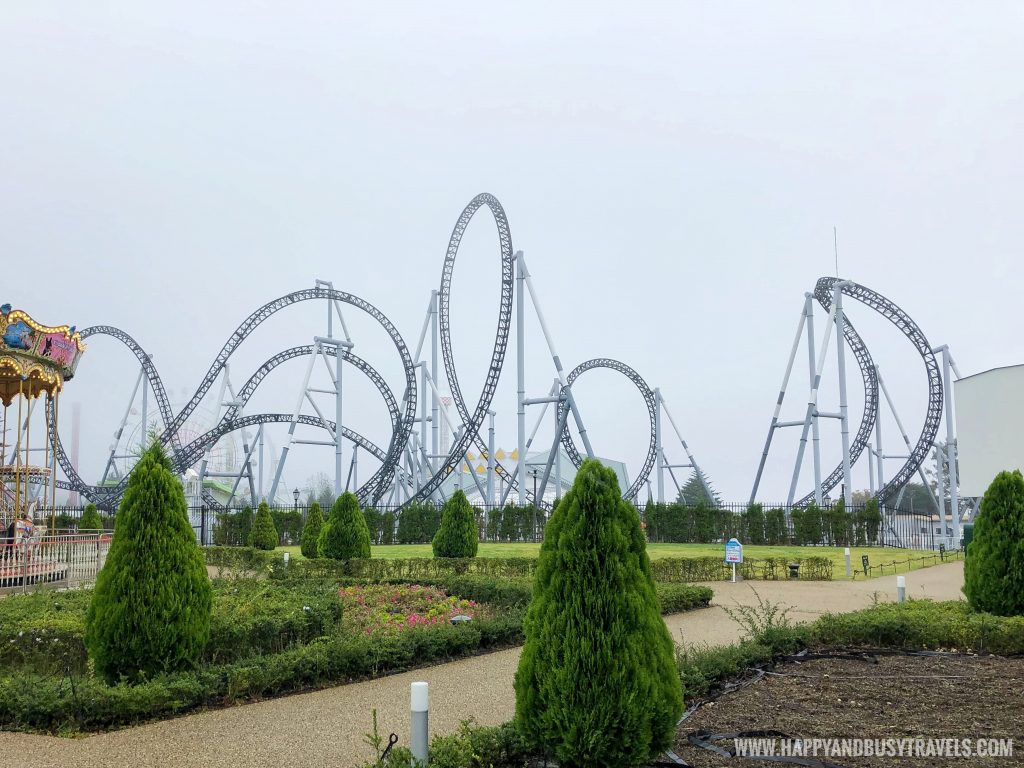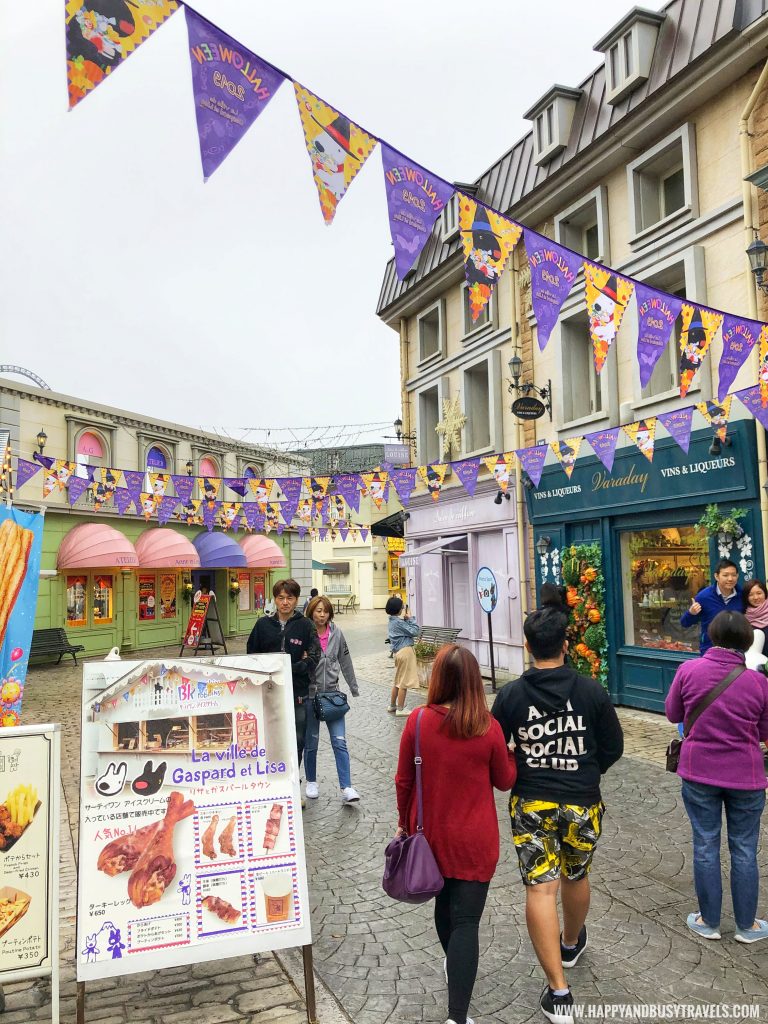 A lot of souvenir items can be bought here in the village. Just go through these houses and you'll find different souvenirs.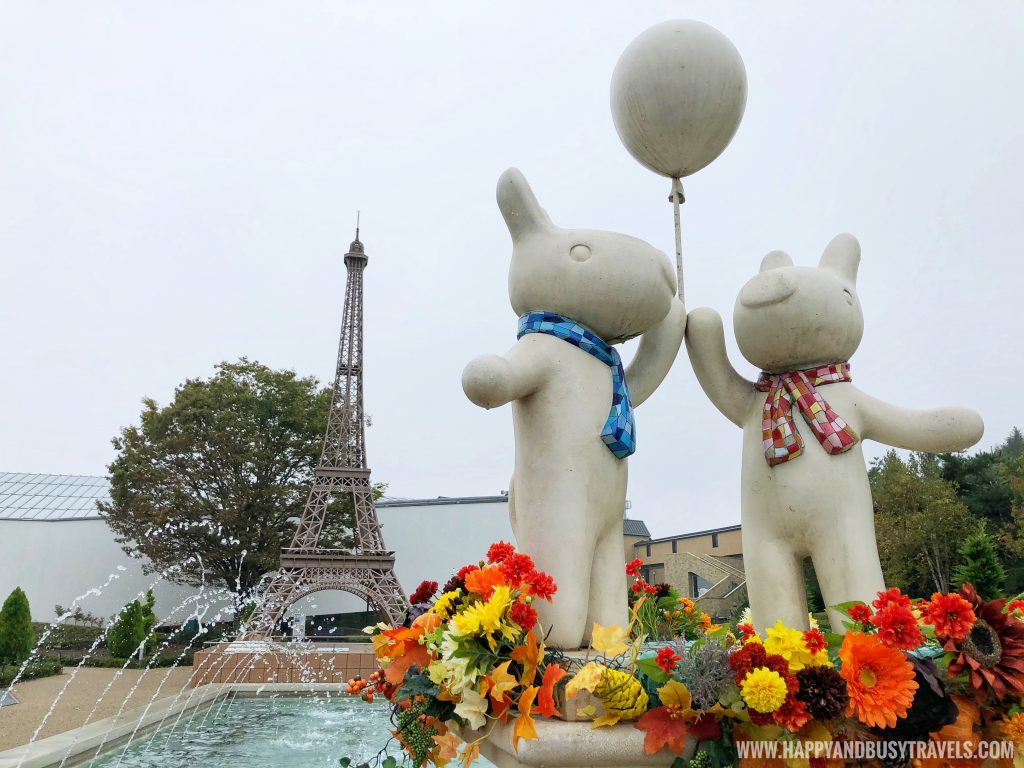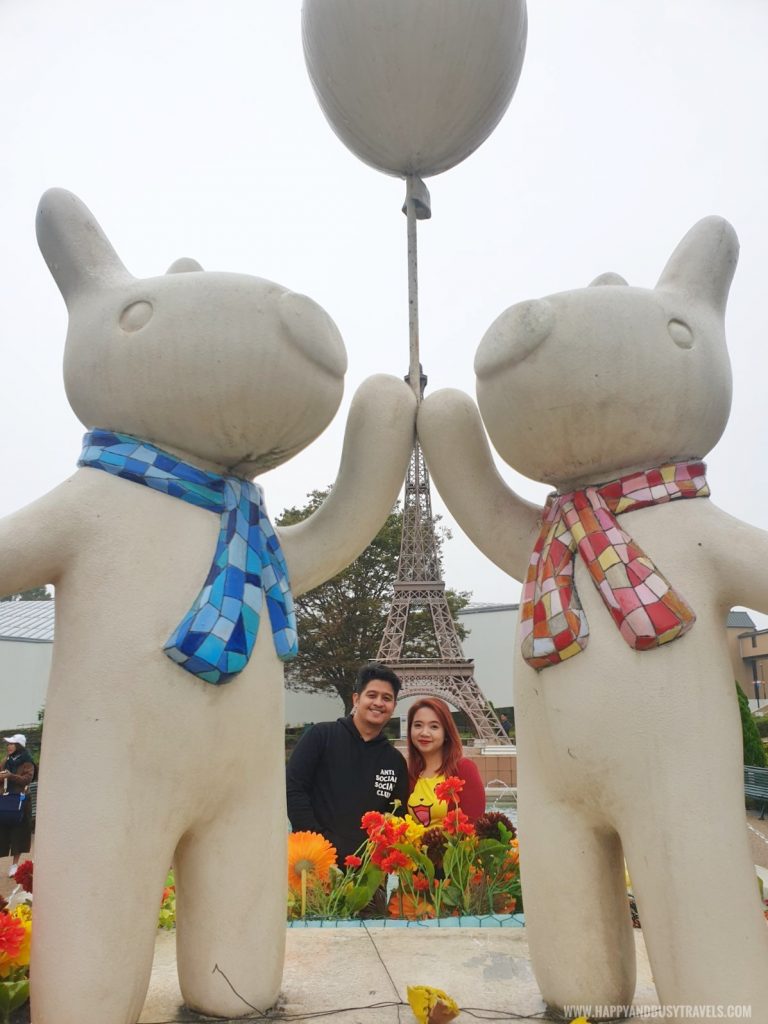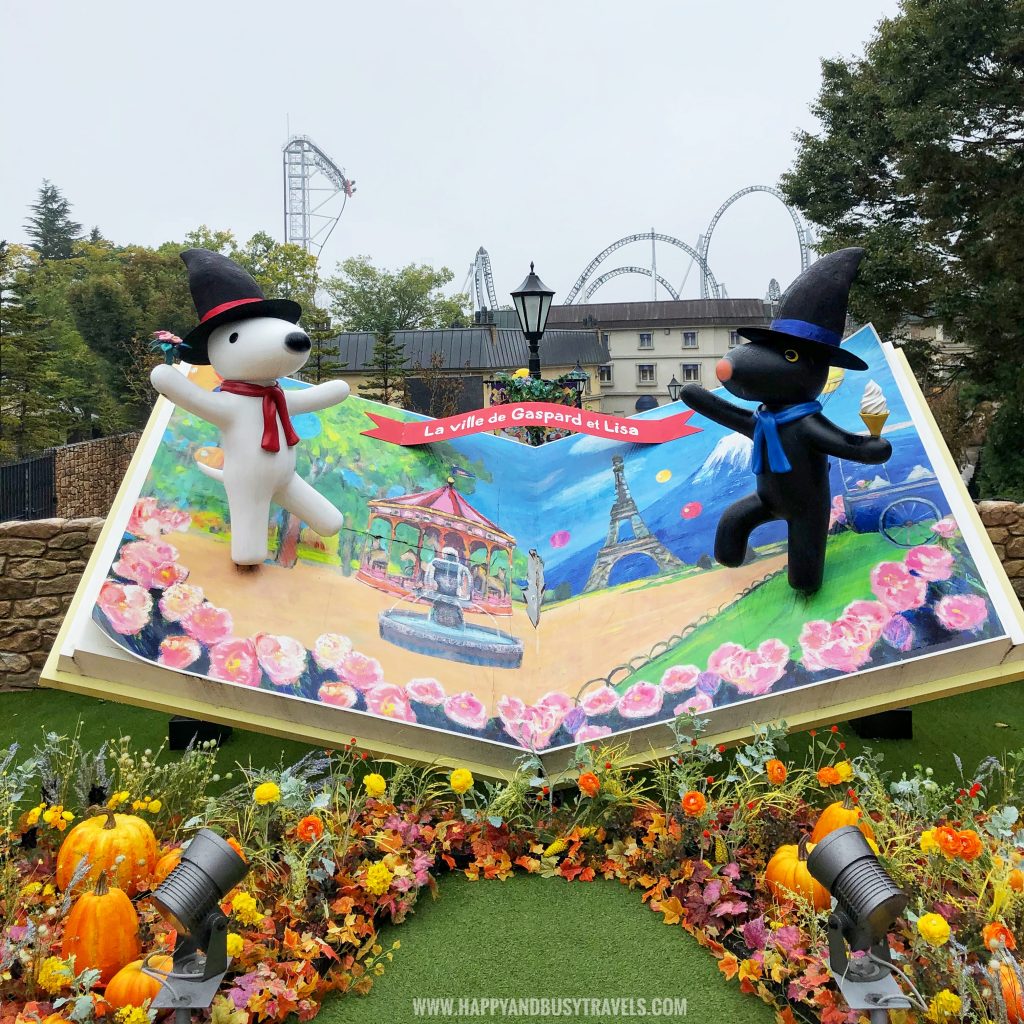 Hidden Leaf Village
Inspired by the Anime, Naruto, this village was made to look like the Hidden Leaf Village.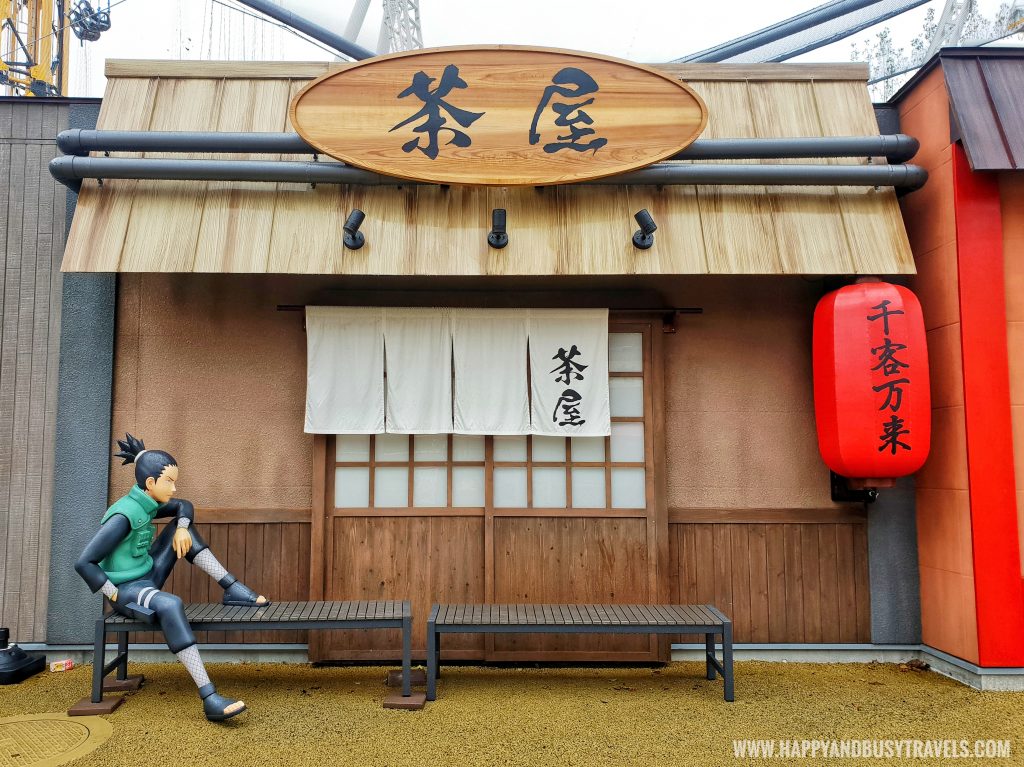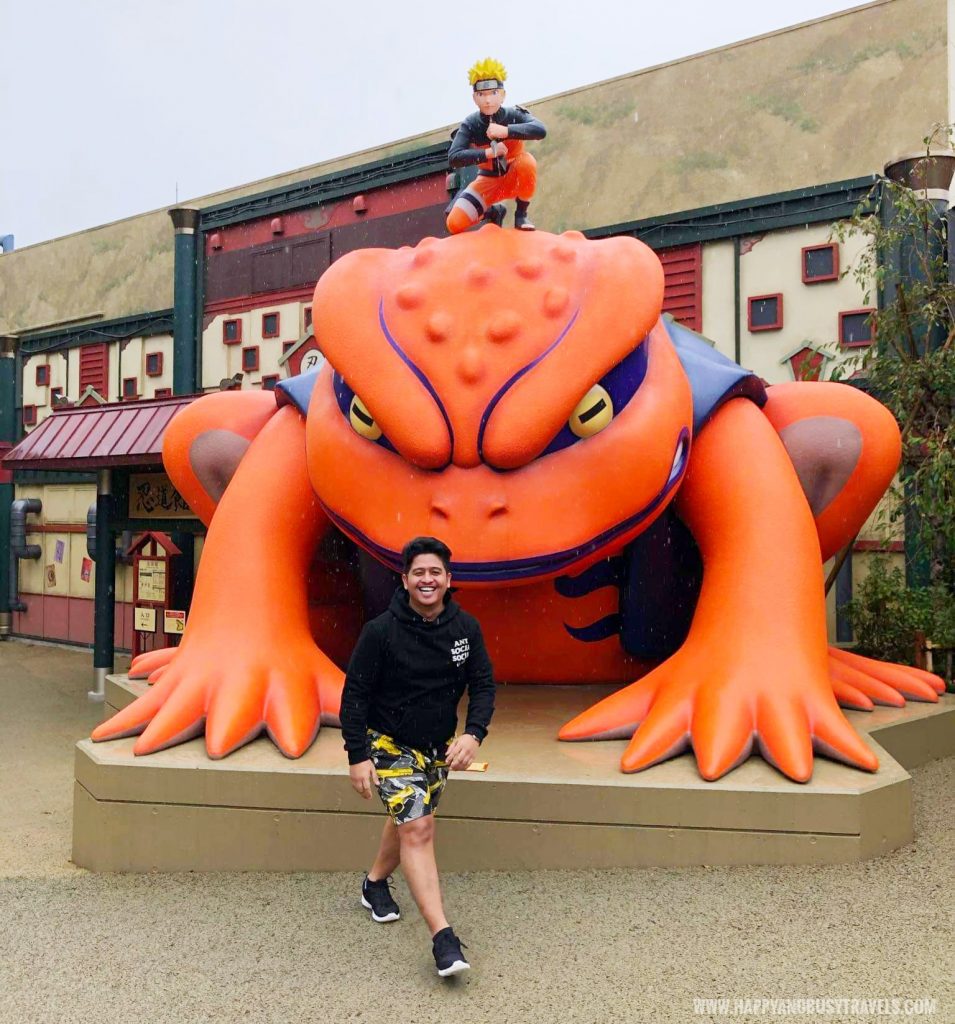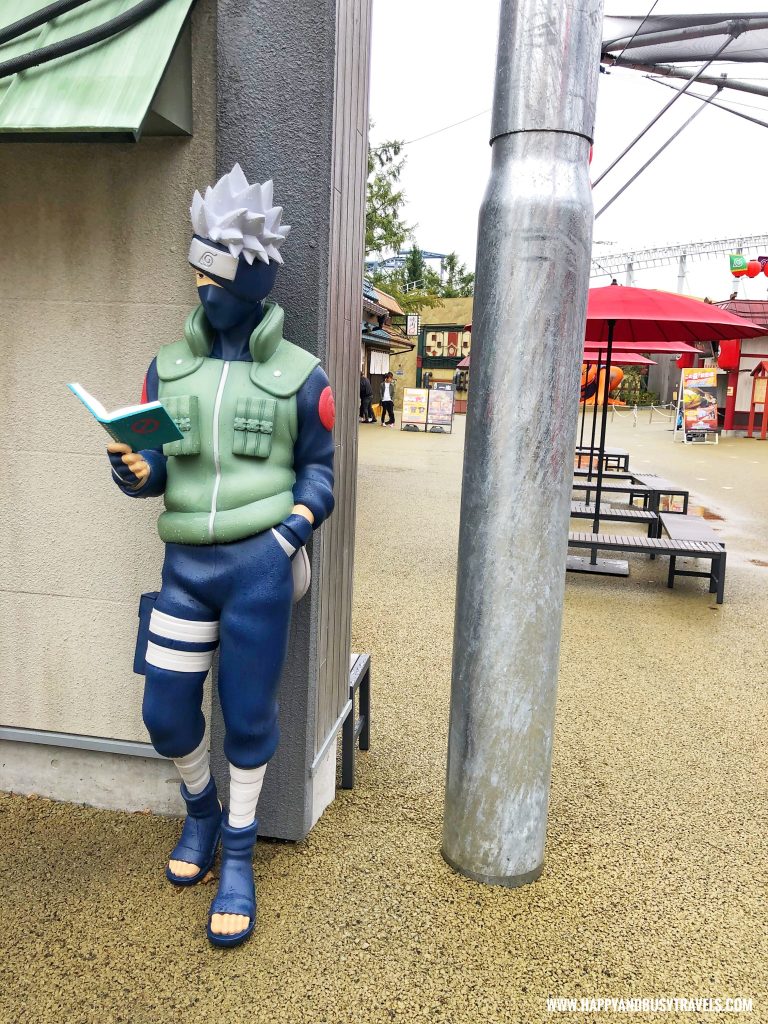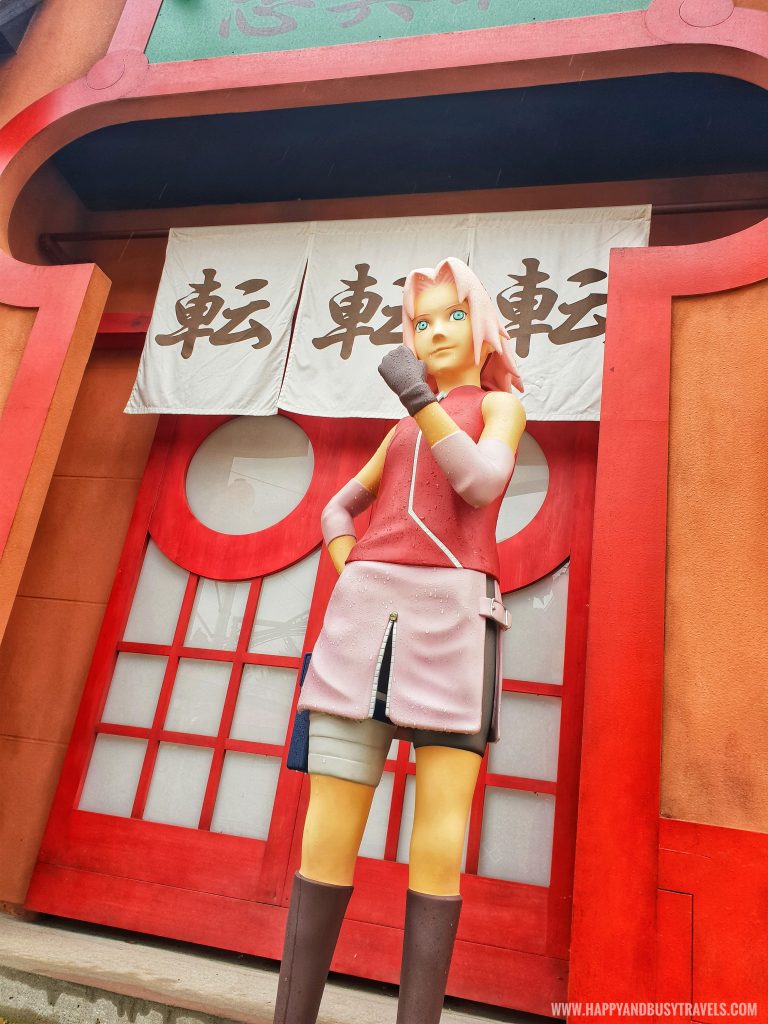 Other Themed Village
Aside from the main themed villages, there is also a part of the amusement park which looked like old Japanese town, we saw it as soon as we entered the village.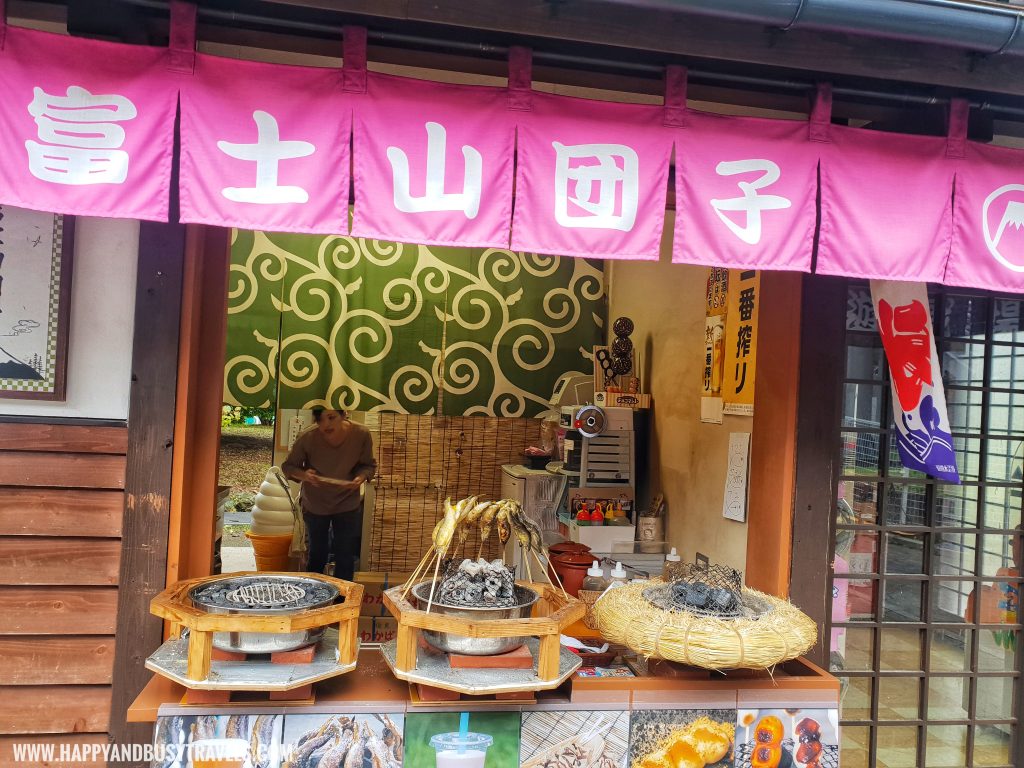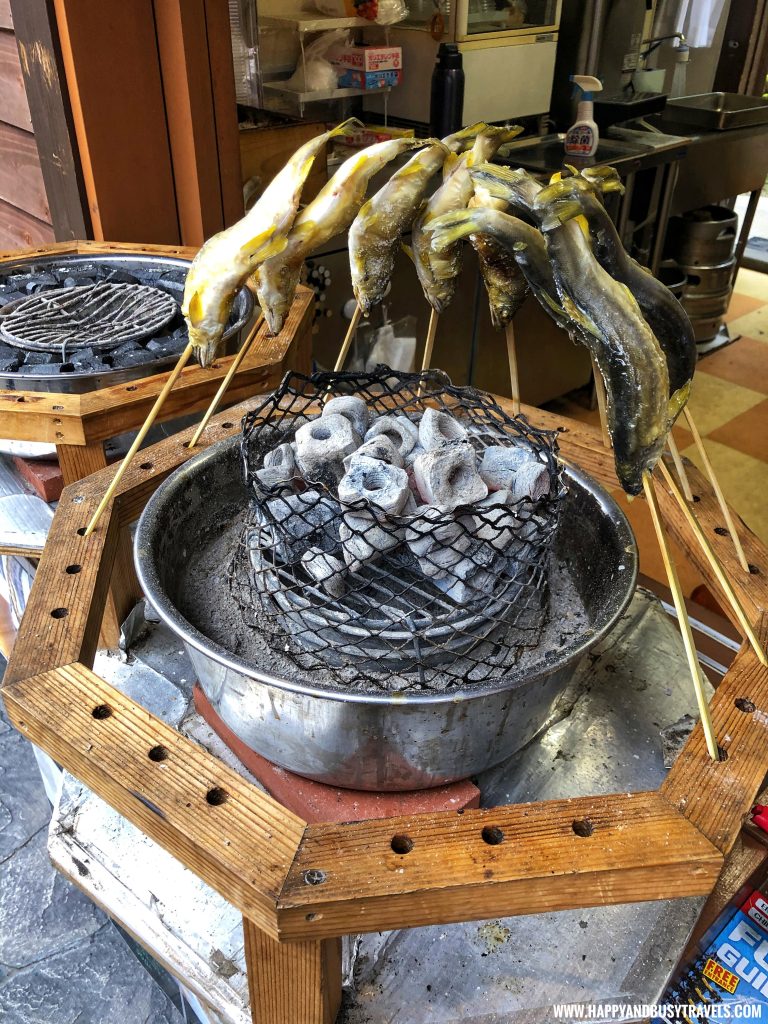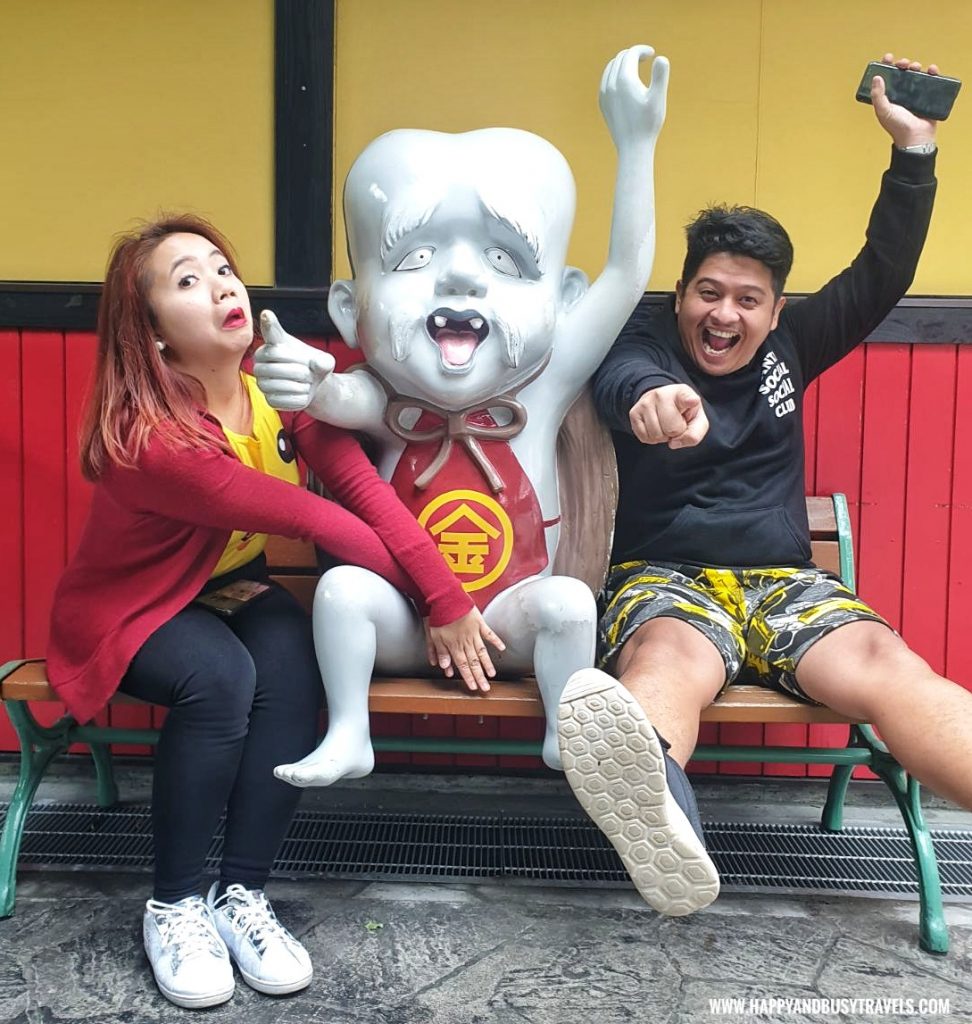 Happy and Busy's Smileys for Fuji Q Highland
For me, a whole day in the amusement park is not enough to try all of the rides. Like us, we didn't experience all of the rides. It is because first, it was raining all day, it made it hard for us to go from one place to another. Second, there is a line in every ride. Even though the line is not as long as those in Disneyland, it still made us wait. I wonder how long are the lines in each ride during peak days. To avoid the lines, visitors can buy the express pass.
Location 


The amusement park is far from the central Tokyo, but there are a lot of public transportation options to get here. But if I'm just going to rate it for the location, I will give it a perfect 5 because it's just near Mt. Fuji and you can see it from the park.
Ambiance


Just right in the entrance, we immediately felt the excitement in going in the amusement park. The rails of the rides are also placed perfectly because whenever you go in the park, you will always see them.
Value for money 


Even though you'll just ride one roller coaster, you have already spent your money wisely! I suggest that you get the unlimited ride so you'll have the full experience.
Fun


Even though it was raining when we went there, we had so much fun. What more if we go there on a better weather.
I hope we can come back and visit Fuji Q again. It may not be in the next few years, but I really want to go back.