Rafanya Sanctuary, Tagaytay
Tagaytay is the go-to place whenever you want a quick getaway from the city. So, Busy and I had a quick vacation here again. This time we rented a condominium unit which is called Rafanya Sanctuary. It is a Scandanavian-Korean inspired condo unit.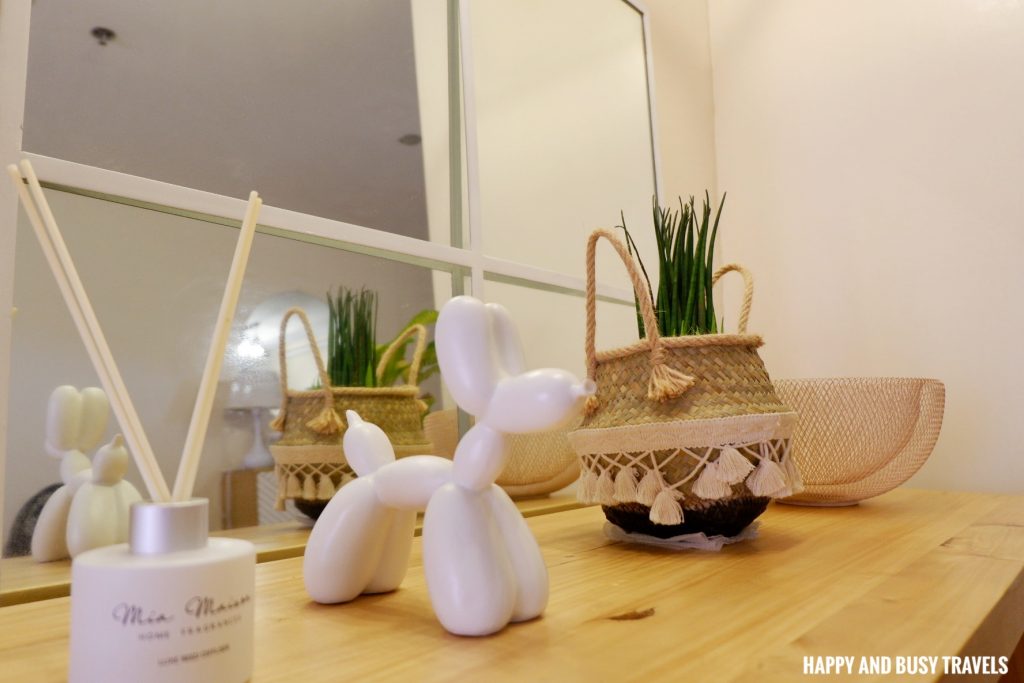 Rafanya Sanctuary is a penthouse suite that is known to have a pleasant ambiance throughout the unit. The interior design, furniture, and appliances are all well thought out. Plus, the whole unit smells like a five-star hotel. The unit is not just IG-worthy, but it is one of the nice places to have your pre-nuptial or pre-debut pictures.
Important Information
Facebook: https://www.facebook.com/rafanyasanctuarytagaytay
Contact Number: 0921 603 9399
Email Address: [email protected]
Address: Tagaytay City, Cavite, Philippines (Full address to be given upon booking)
How to book Rafanya Sanctuary
1. Create an Airbnb account to get a P3,100 discount on your first booking.
CLICK ON THIS LINK: https://www.airbnb.com/c/mariakatrinat
*This feature is currently on hold.
2. Book through Airbnb.
Quick Links
Checking In Rafanya Sanctuary
Checking in Rafanya Sanctuary is a breeze, we do not have to meet with anybody because we can check in by ourselves. Oh yes, they have a self-check-in facility. As soon as we get into the unit, there is a welcome corner.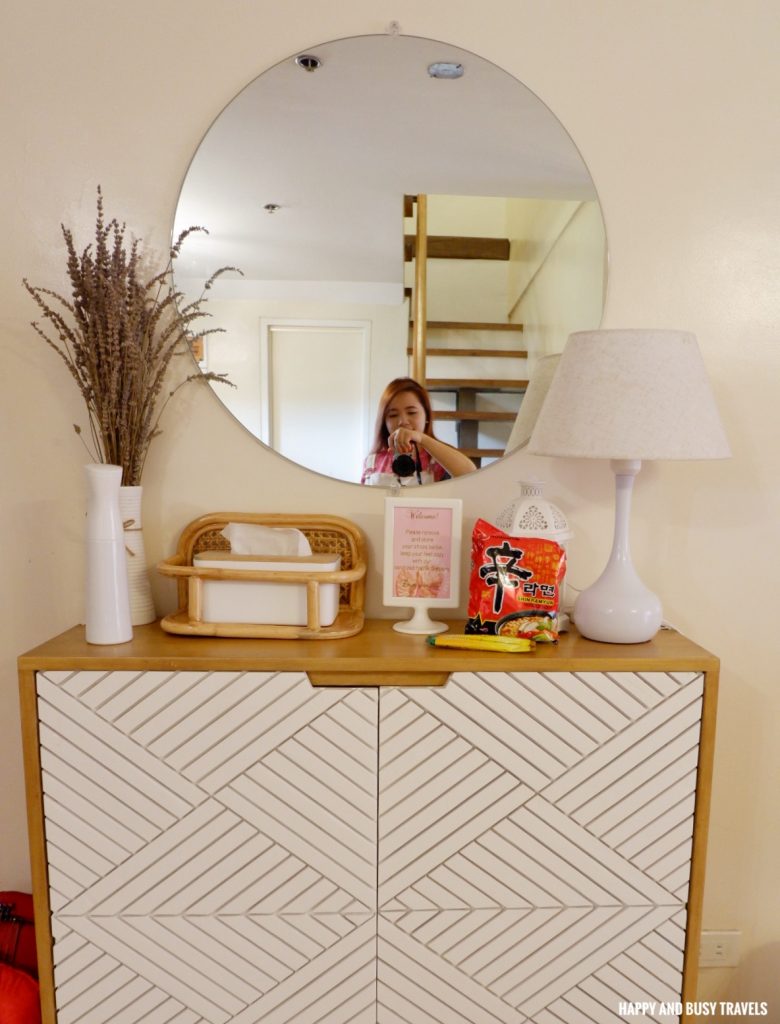 We left our shoes here and changed into the bedroom slippers.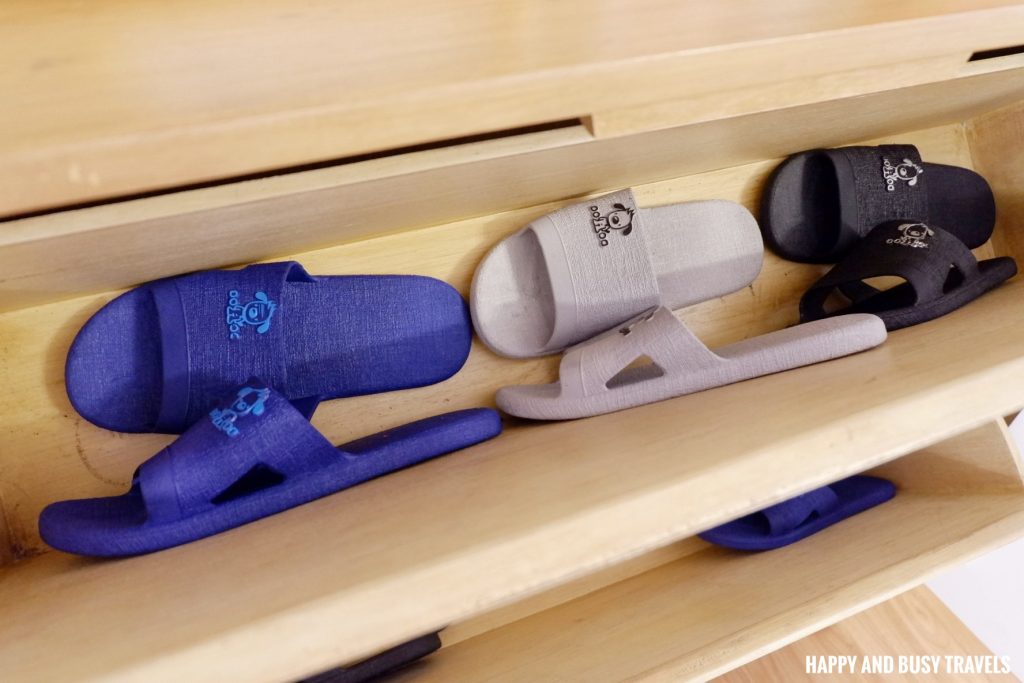 There is also a phone, emergency contact numbers, a Wifi router, and a bunch of remote controls near the door.
Dining Area
Their dining area is gorgeous. There is a large table with chairs, plus there s a lice huge lampshade, and a huge ceiling fan.
Kitchen
Their kitchen is small, but it has everything that you will need and more!
Features of the kitchen:
Induction Cooktop
Rice Cooker
Air Fryer
Toaster
Microwave
Cookware
Electric Kettle
Refrigerator
Plates, Glass, Spoon, Fork, Knife
Smart television with Netflix and Youtube access
I even cooked Carbonara, and I think Busy loved it. 😀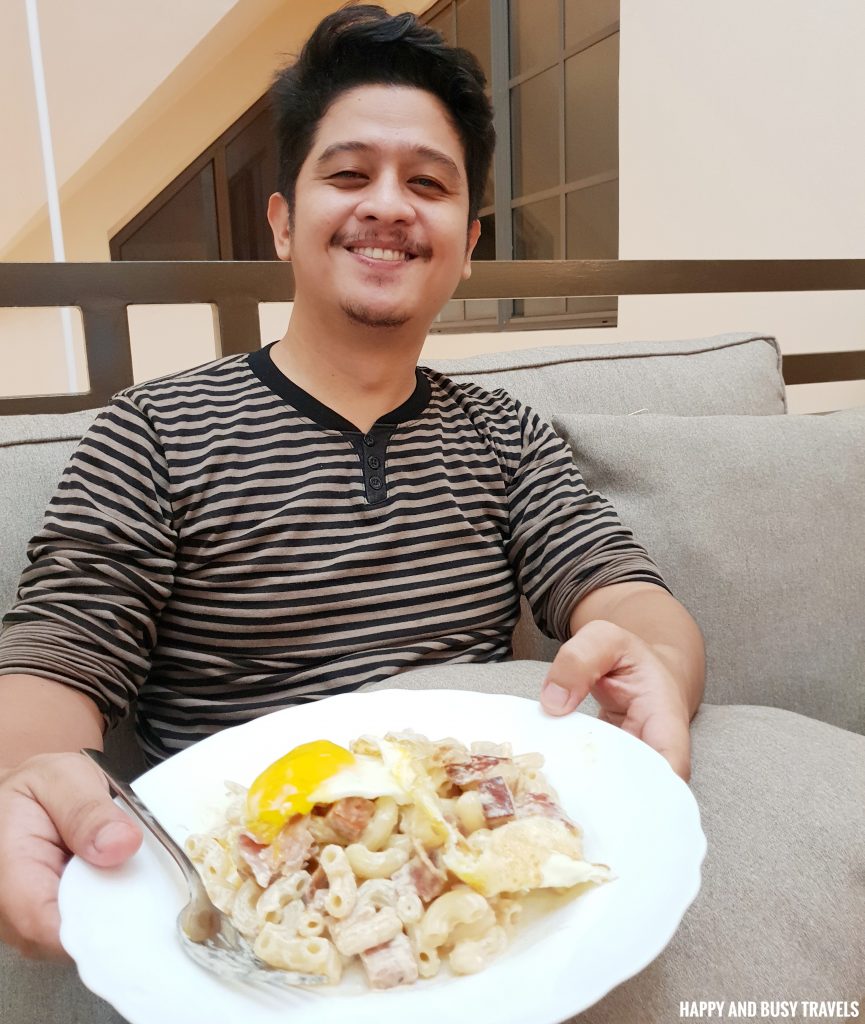 Living Area
When you go to the second floor, you will immediately see the living area.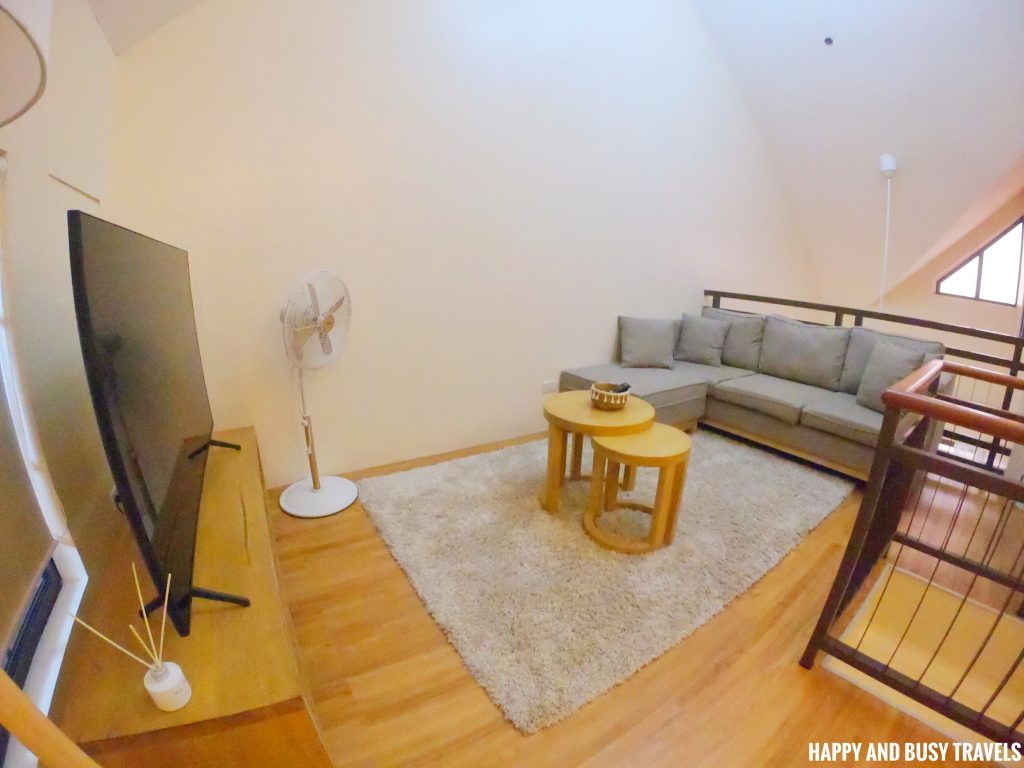 It has a huge couch and a big television. Look at that electric fan too… it looks fancy. The smart television has Netflix, HBO Go, and Viu access.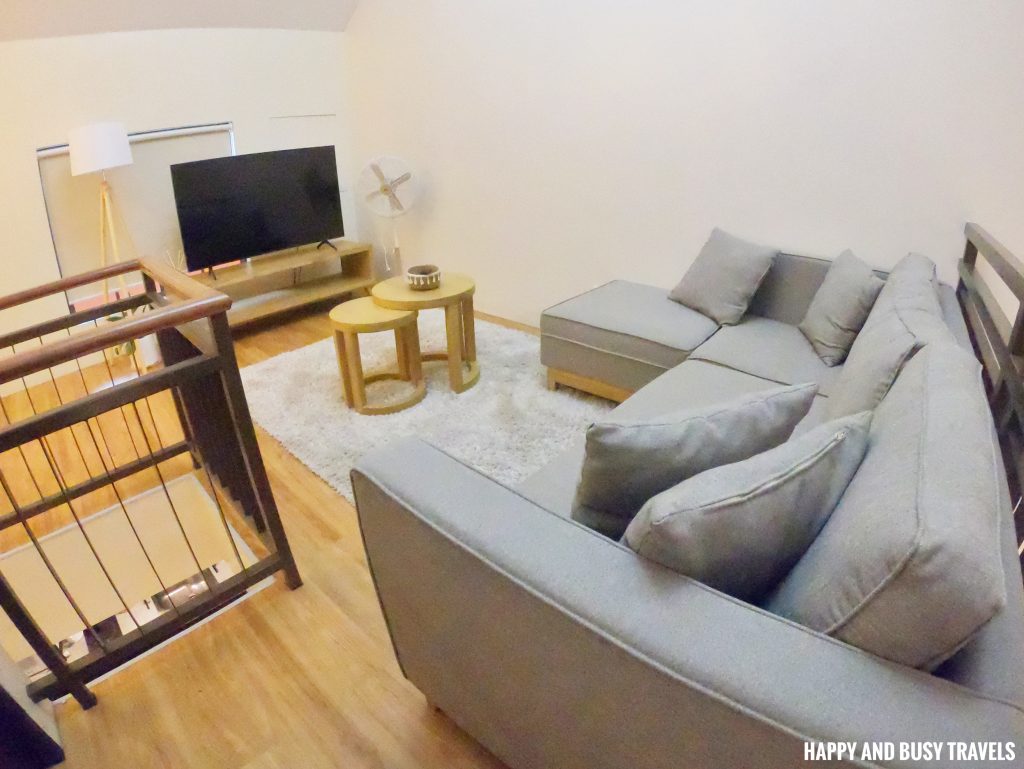 It's so nice to stay and chill here.
Bedrooms
There are two bedrooms in the unit, with one bed each, but there are extra beds if the visitors are more than four persons.
First Bedroom
The first bedroom is located on the first floor. It has a double bed, lampshade, air conditioning unit, pillows, linens, clothes rack, and hangers.
There is also a comfort room in the bedroom.
Second Bedroom
The second bedroom is located on the second floor. We stayed here because we think this one looks cozier. Just like the first bedroom, it has a double bed, lampshade, air conditioning unit, pillows, linens, clothes rack, and hangers. Plus, there is a sofa bed.
Balcony
The unit has a balcony too which is a nice area to stay if you want to have your morning coffee while watching the compound.
Amenities of Rafanya Sanctuary
There are a lot of amenities and things to do here.
Honesty Korean Store
Each guest will receive a complimentary Shin Ramen and two sachets of coffee. But if these are not enough, you may buy some more from their Honesty Korean Store.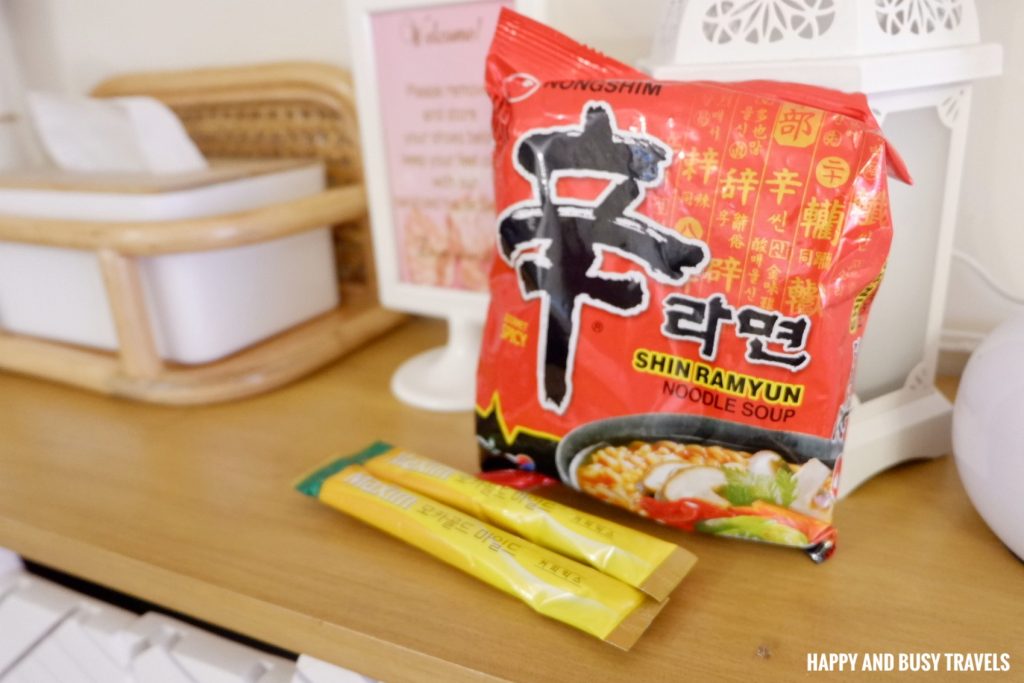 Here is their cute Honesty Korean Store, which can be seen at the second floor.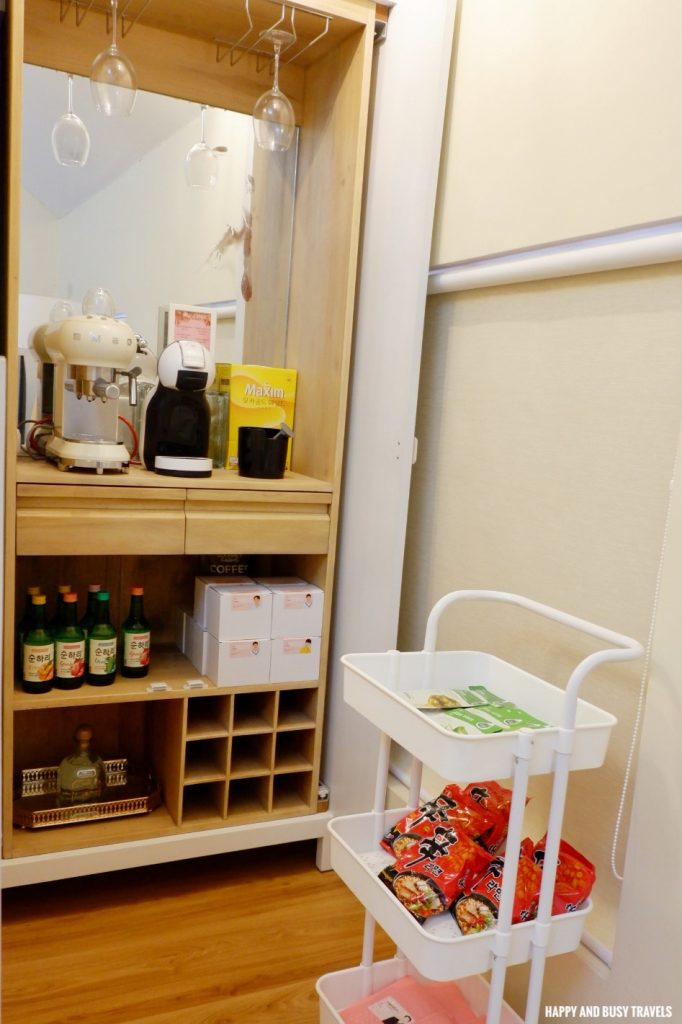 The store sells Korean facial masks, Shin Ramen, Oppa socket, Soju, Oppa Mug, Coffee.
There are wine glasses, and a SMEG Espresso machine if you want to use them.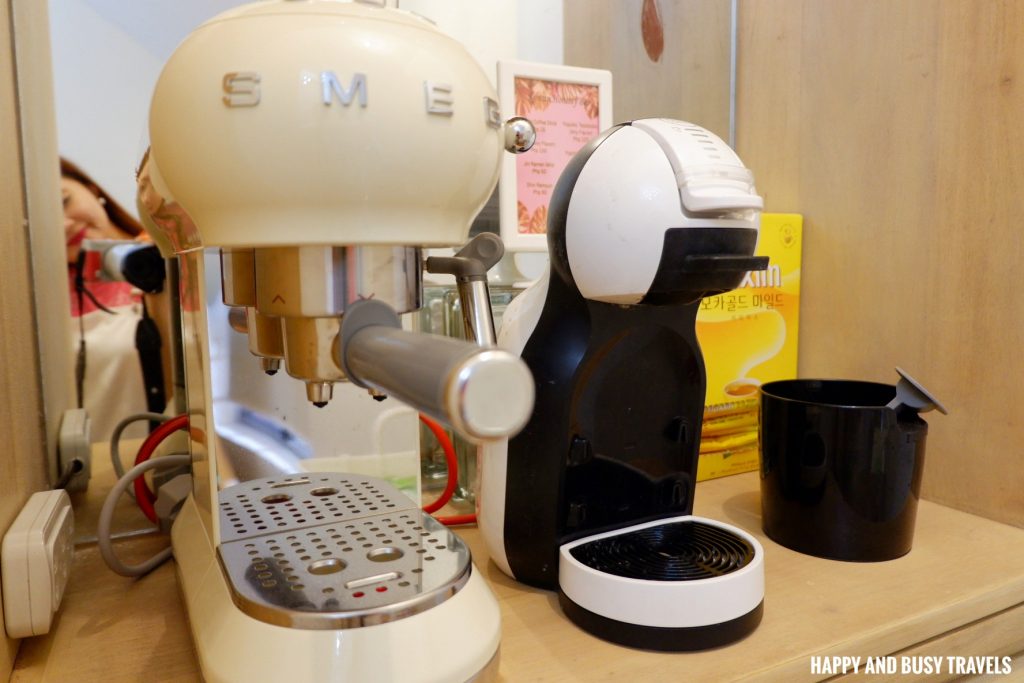 Swimming Pool
Busy loves swimming, so we also used the pool in the compound.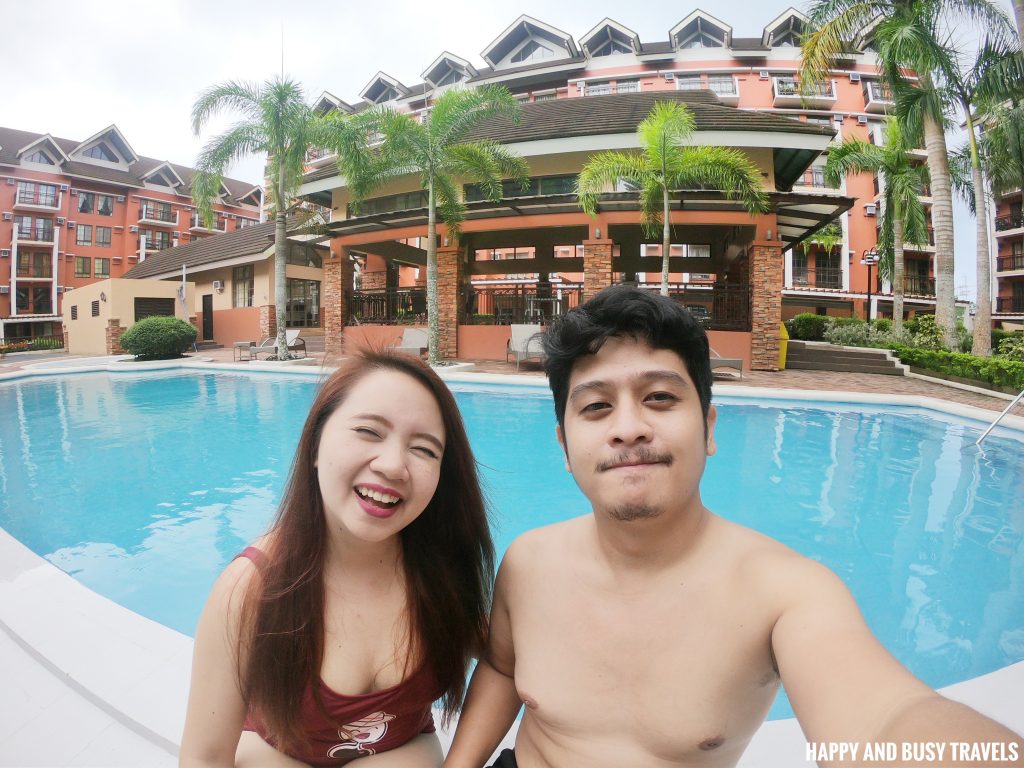 The pool can be used via reservation, so you must inform the owner of your preferred slot so she can reserve it for you.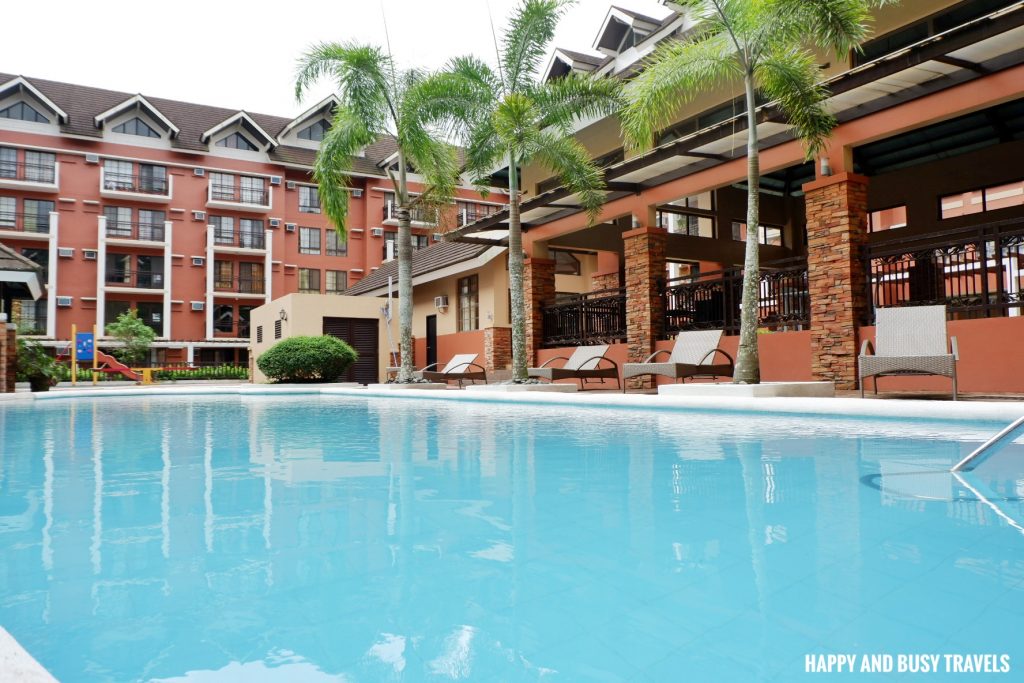 Foldable Bicycle
If you want to roam around the compound, or outside and through Tagaytay roads, you may do so by using the foldable bikes. Helmets are also available for your safety.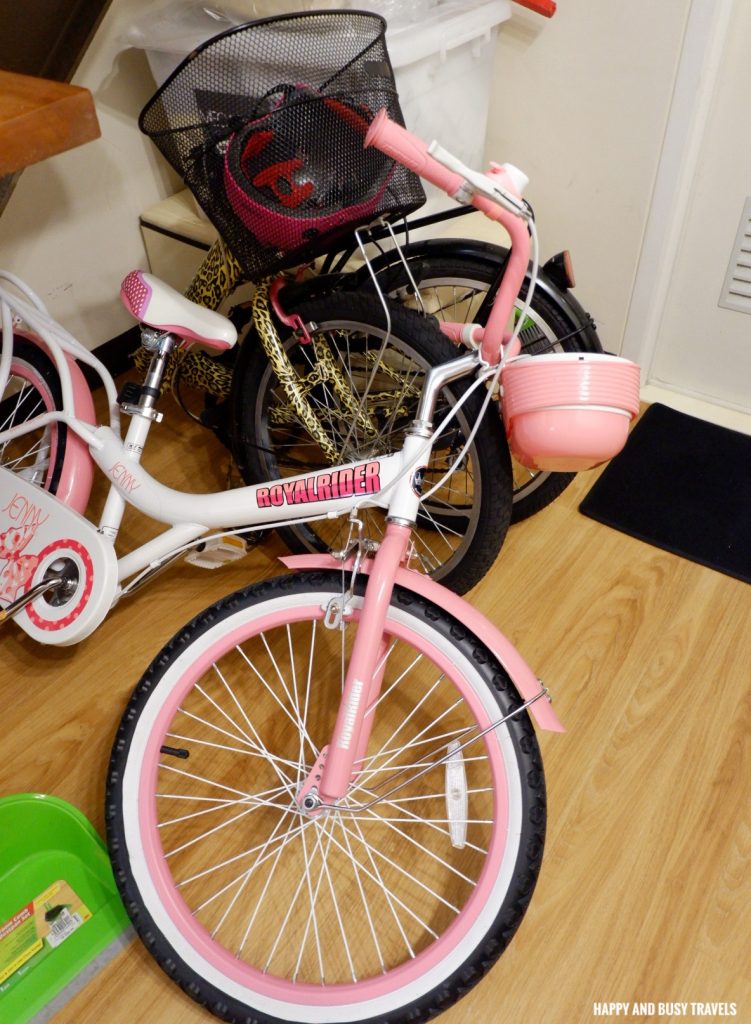 Events Area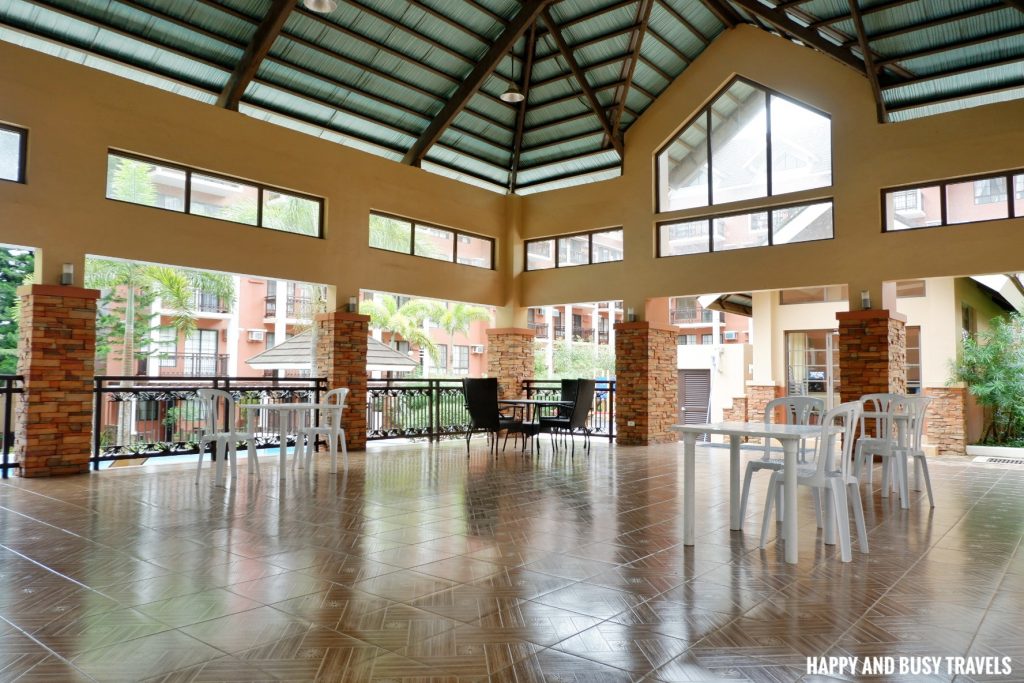 Basketball Court
You may bring your own ball and play here. There is a half-court here that you can use.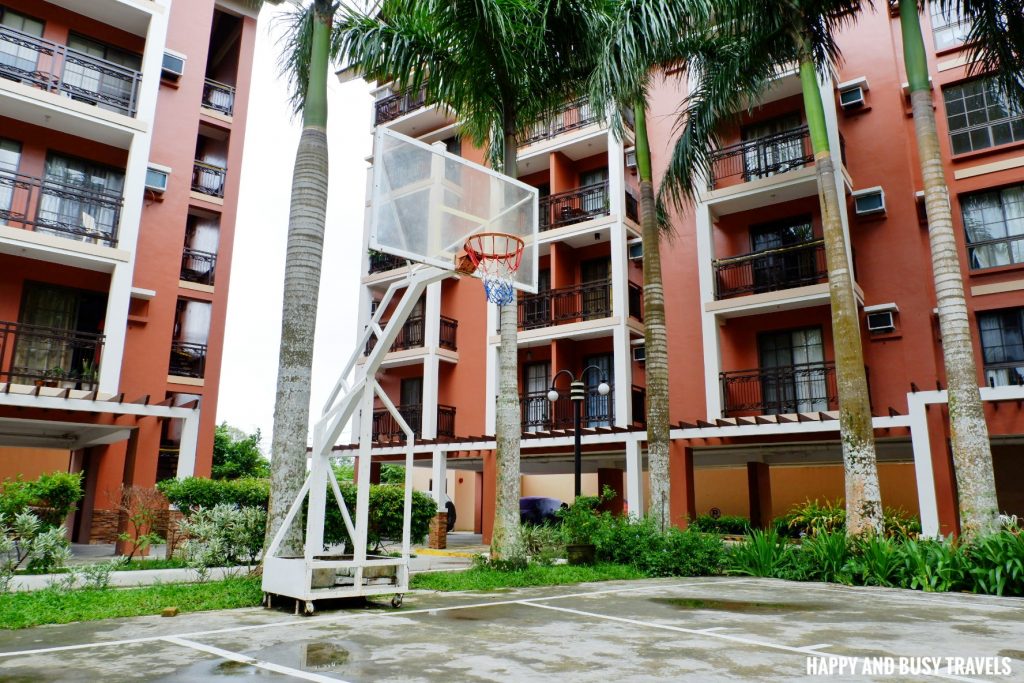 Main Bathroom
There are two bathrooms in the unit. The first one is in the bedroom, and this main bathroom is located beside the kitchen.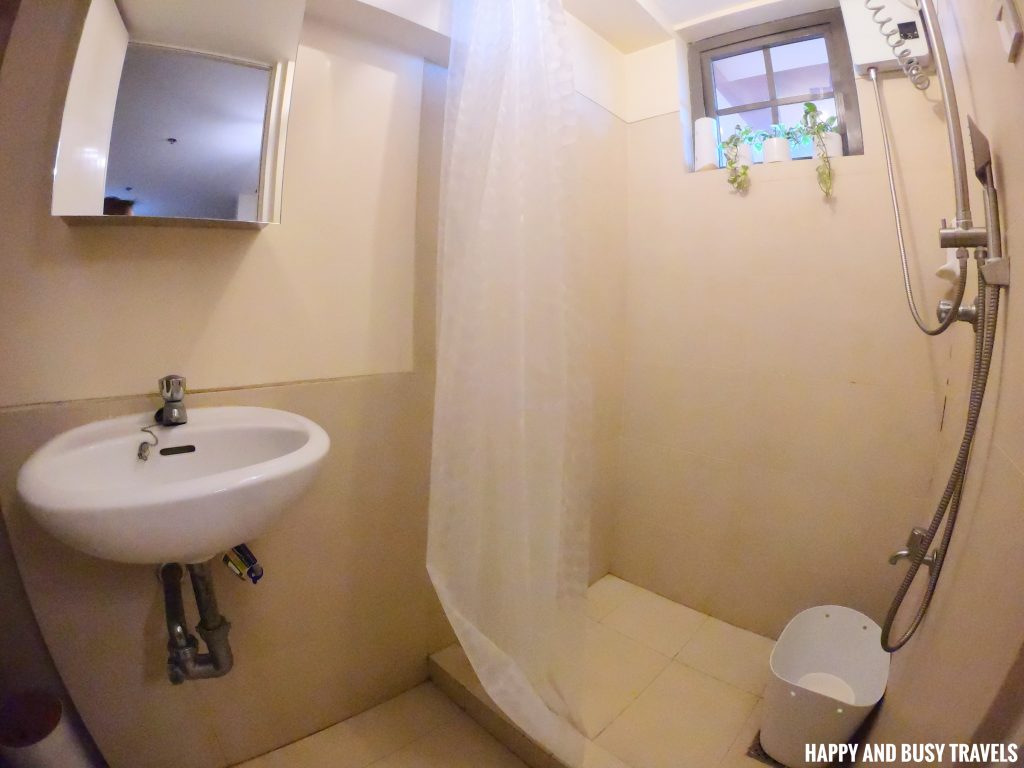 Happy and Busy's Smileys for Rafanya Sanctuary
Overall our stay in the condo unit is delightful. Just right after we checked in, we were already glad that we booked this unit. It has a self-check-in and check-out, there is a lot of amenities and facilities that we can use, and the area is close to restaurants, wet market, and groceries.
Cleanliness

Everything is well maintained and the whole condo unit smells so good.
Facilities

Service

From our booking to the actual stay, the owner and the housekeeper's service is on point! They respond immediately and provide whatever we ask for.
Value for money

The rate ranges from Php 5,000 to – 7,500 depending on how many are the guests. Minimum of 2 persons, maximum of 7 persons.
Location 

It is in Tagaytay! Plus the area is quiet.
Ambiance 

Every design, furniture, and appliance in the unit is well thought out. Plus, the smell of the unit is great! It's like we are in a five-star hotel.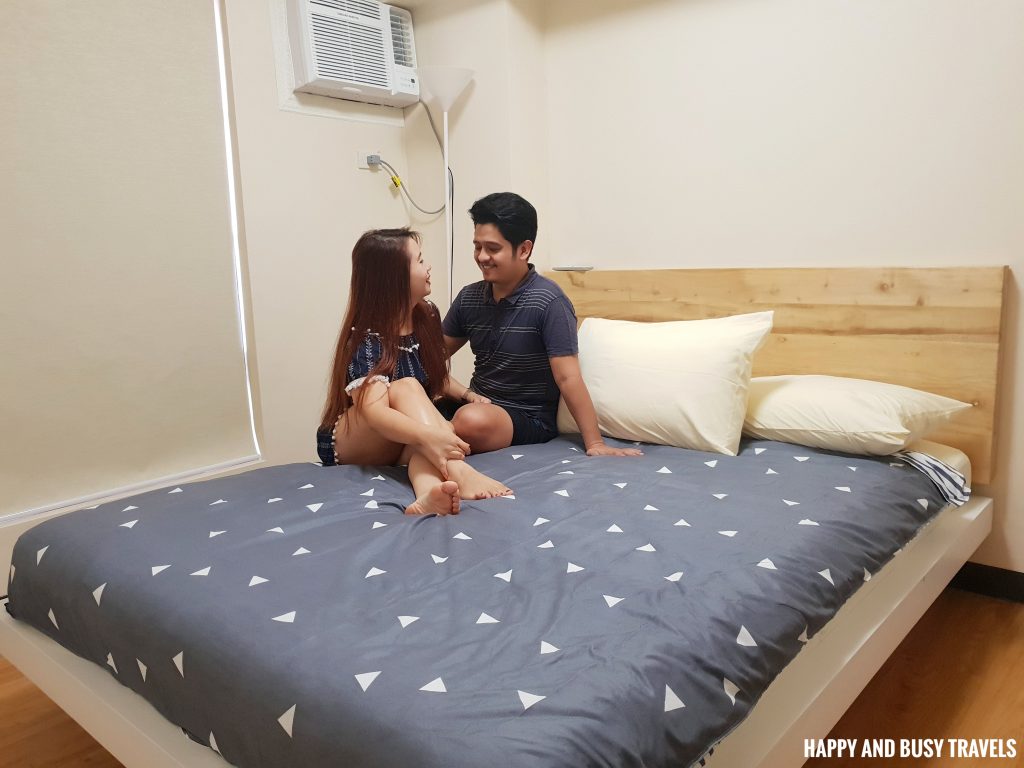 More exciting hotel reviews at https://happyandbusytravels.com/category/hotels/