During my and my mom's stay in Bohol, we tried some of the dishes in Shaka Restaurant Bohol Branch for our lunch. Shaka Restaurant is a Vegan or Vegetarian friendly restaurant.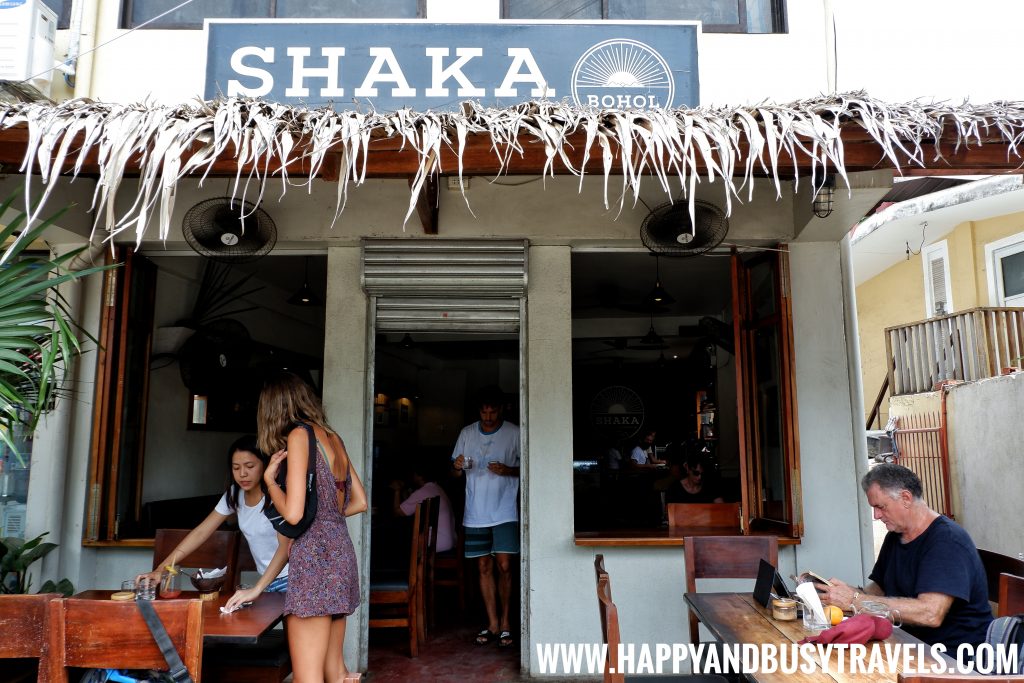 The restaurant was small but the area was enough to serve their guests 🙂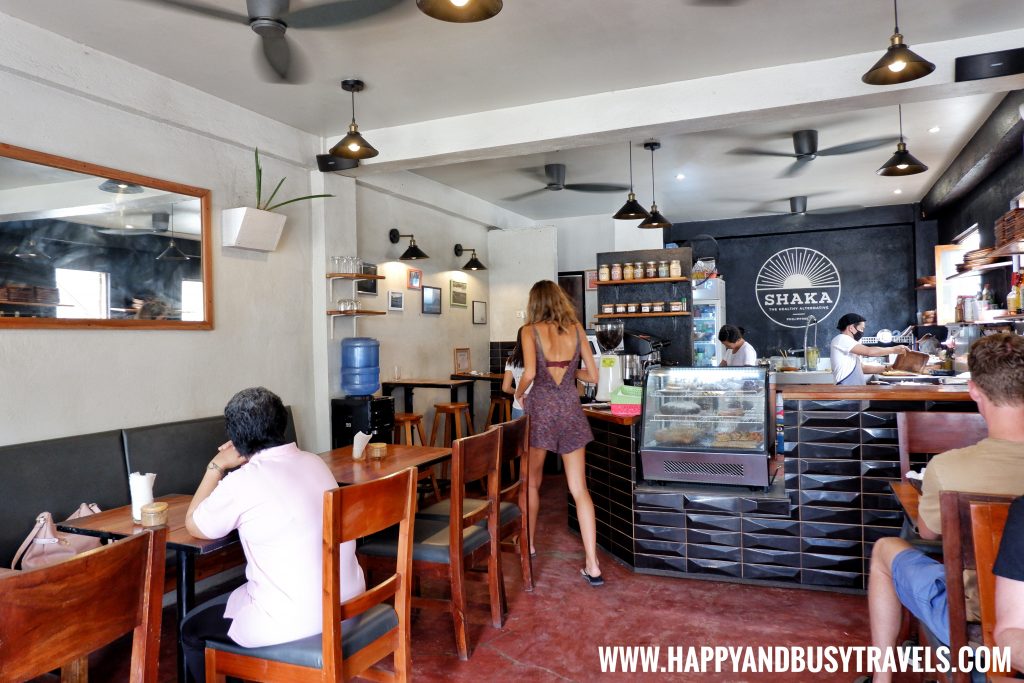 The restaurant was simple but it was also decorated with some pictures of nature and some lamps.
Some of the ingredients used in the dishes that Shaka Restaurant Bohol prepares, were also on display.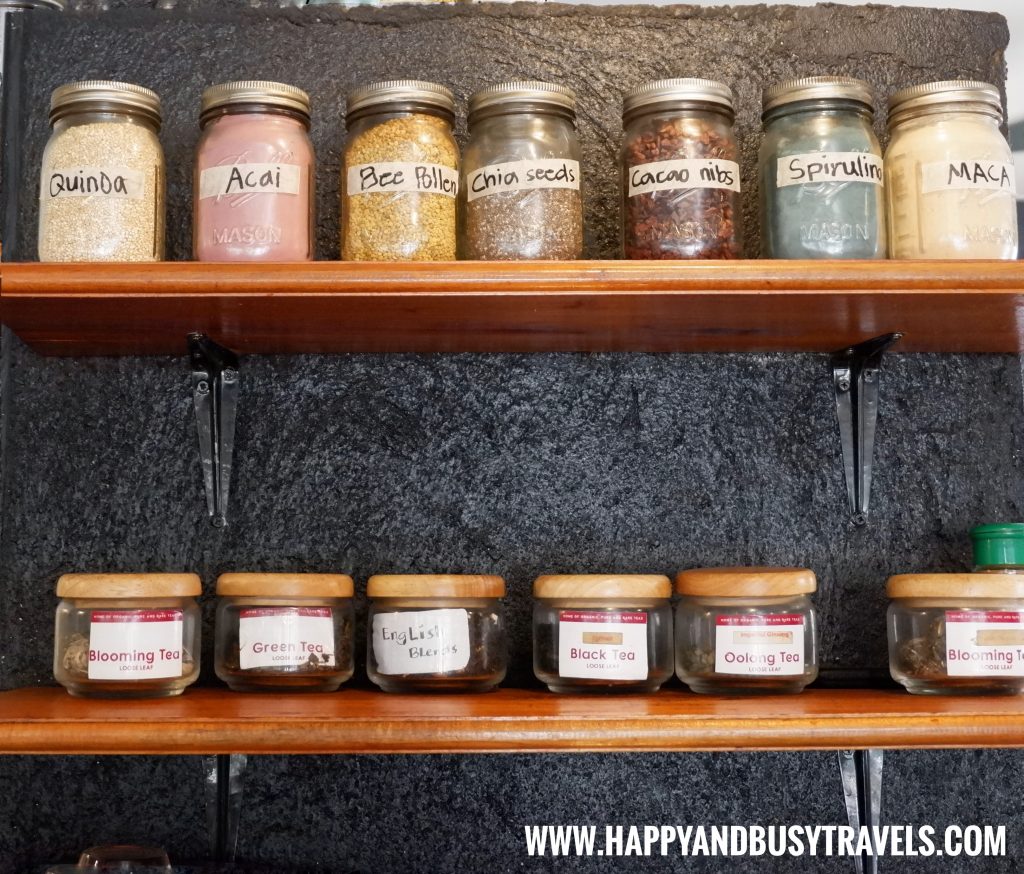 Shaka Restaurant Bohol's Menu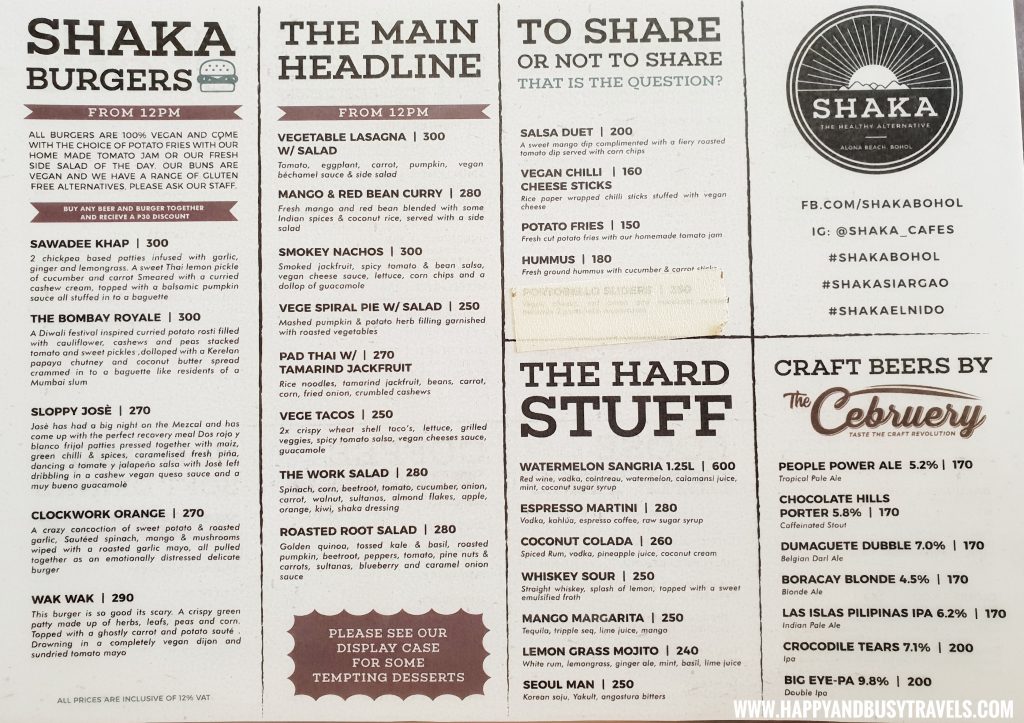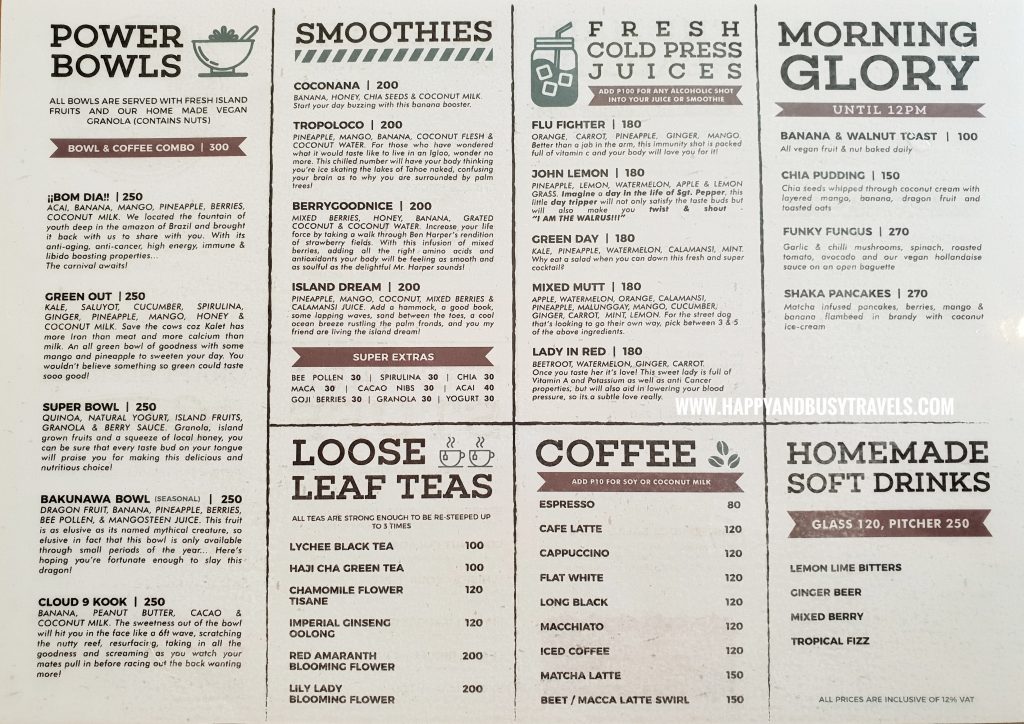 Shaka Restaurant Bohol's Dishes
We clearly saw how was our food prepared. Shaka Restaurant Bohol's kitchen is open so everybody can see that they serve authentic Vegan / Vegetarian dishes.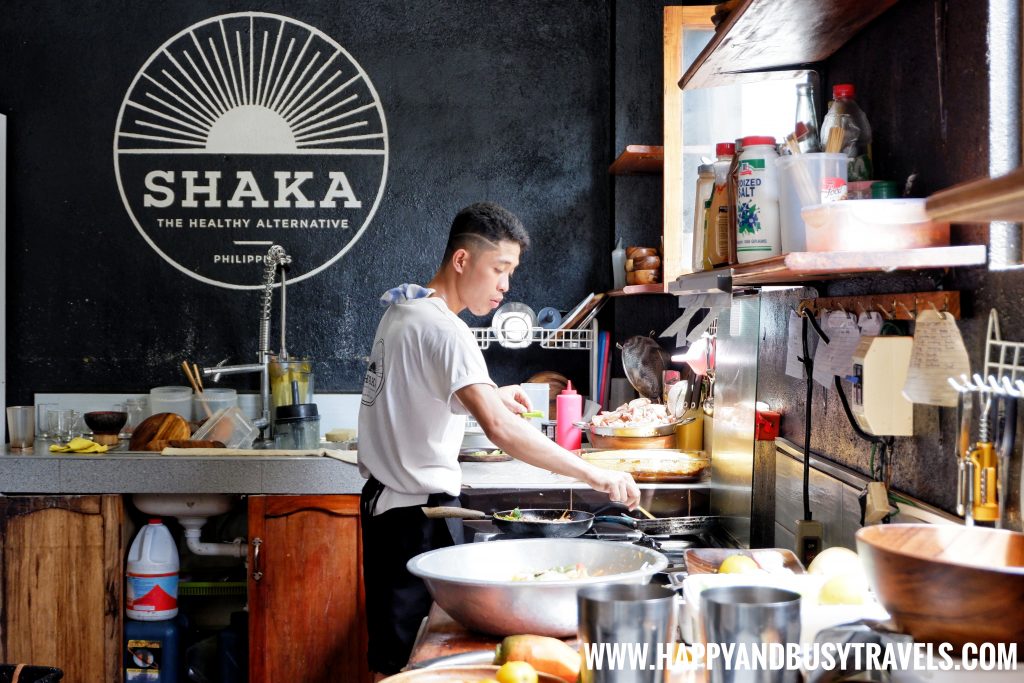 Our orders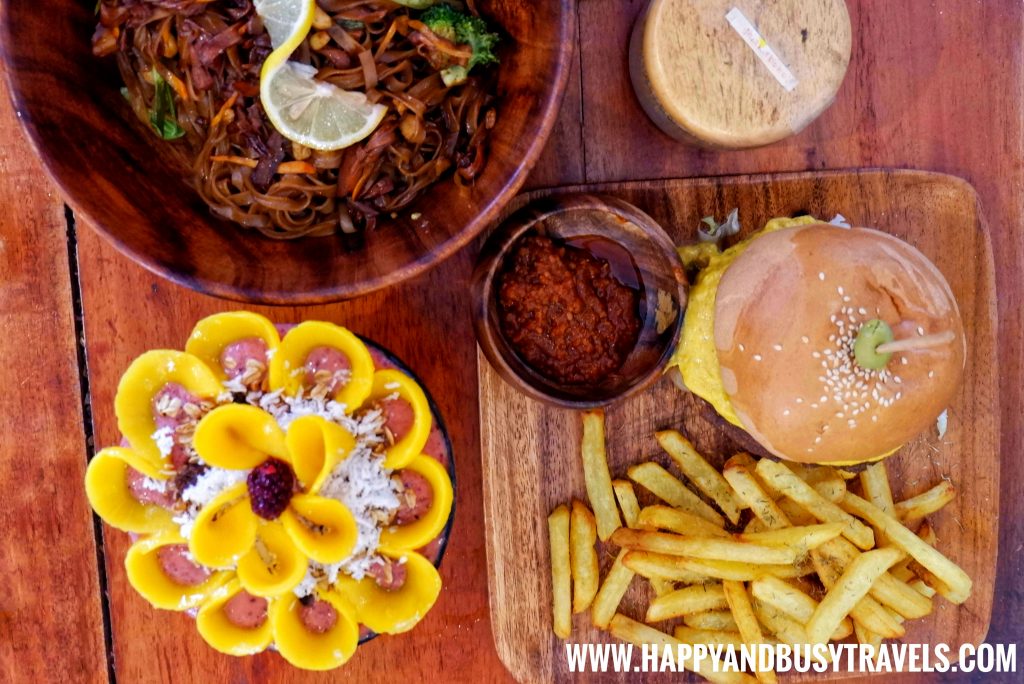 Pad Thai with Tamarind Jackfruit
My mom ordered Pad Thai with Tamarind Jackfruit.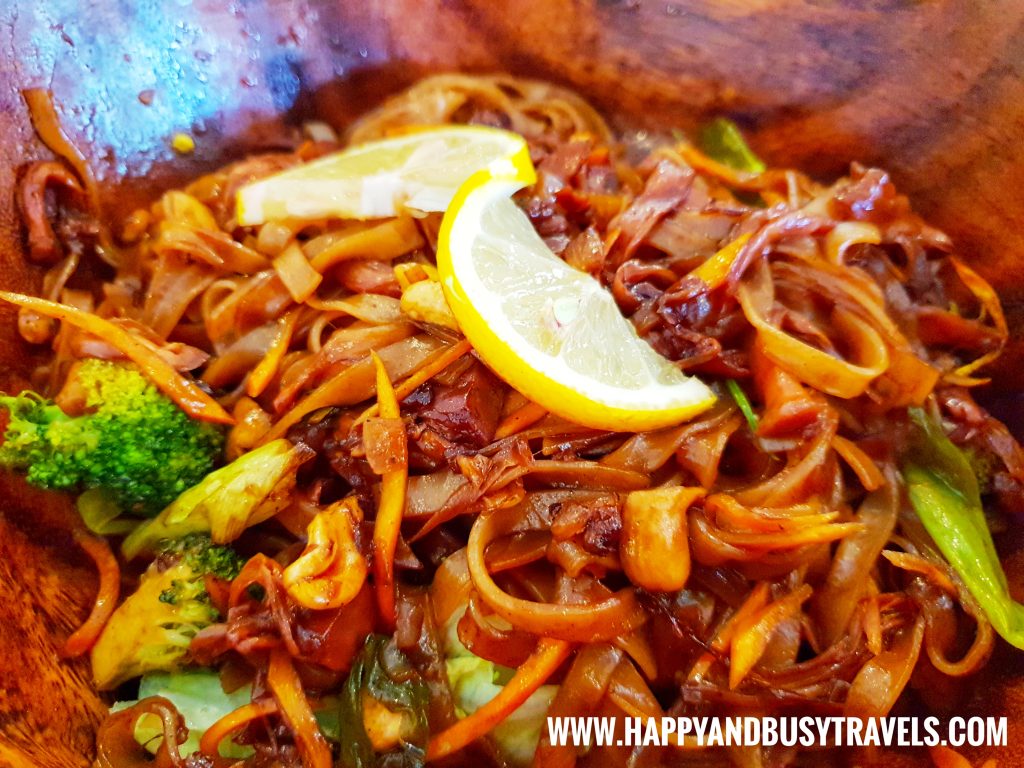 Shaka Restaurant's version of Pad Thai was on point! My mom loved it! It was tasty and really tastes like Pad Thai without the meat.
The dish was made out of Rice Noodles, Tamarind Jackfruit, Beans, Carrots, Corn, Fried Onions, and Crumbled Cashews.
When the dish was served, we were shocked because the serving size was big! The dish can feed two people.
Sloppy Jose
For my lunch, I ordered Sloppy Jose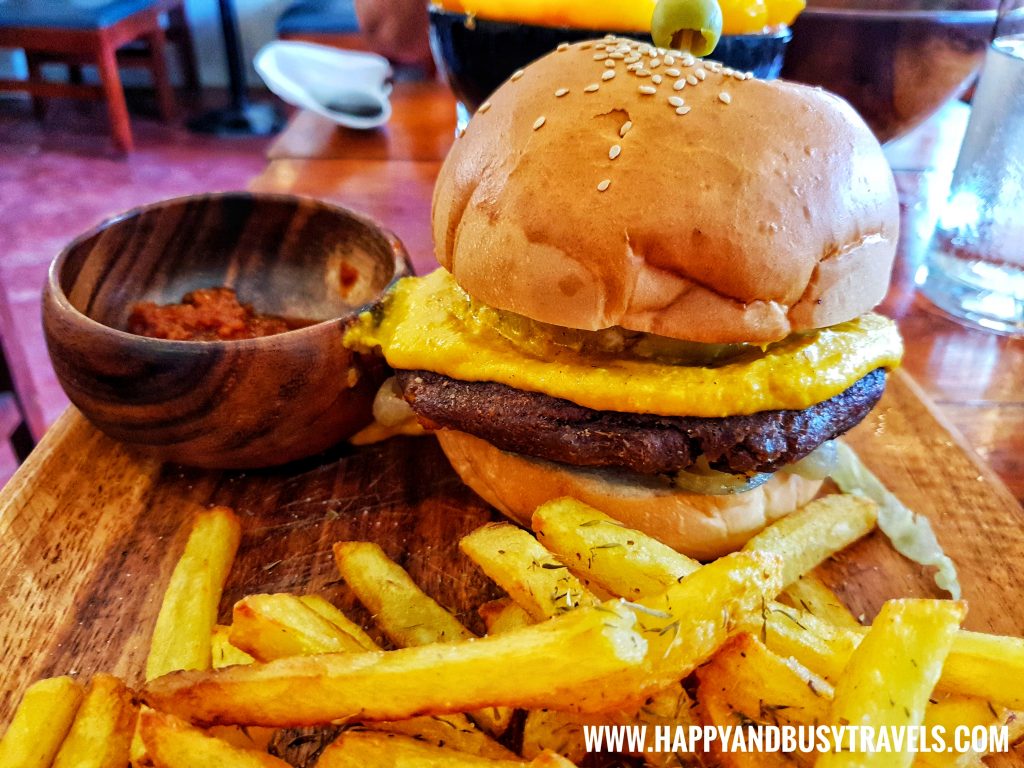 Let's take a closer look.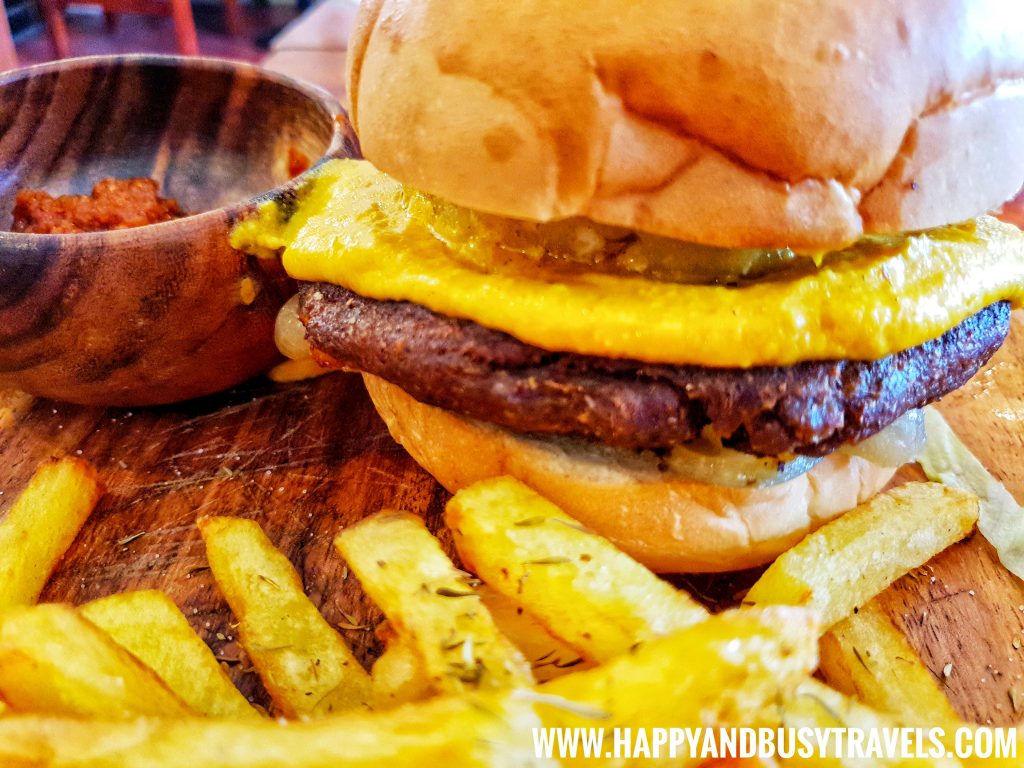 Sloppy Jose was one of Shaka Restaurant Bohol's burgers.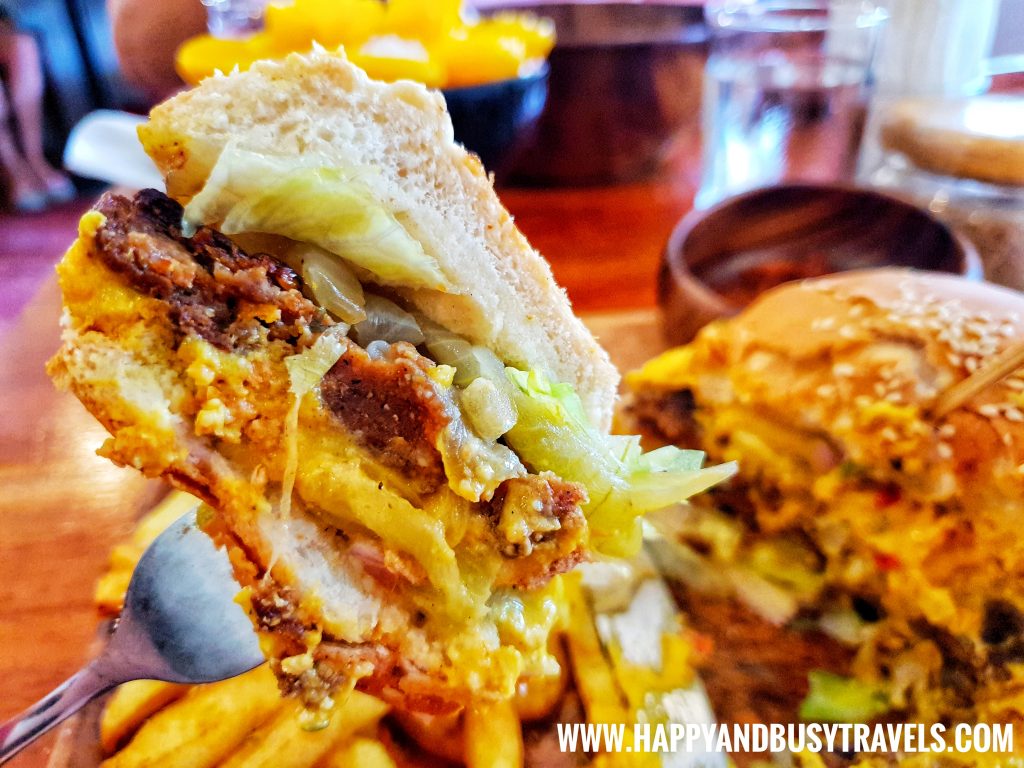 The bread from the burger has no eggs, making it Vegan friendly. The patty was made out of different beans, and herbs and spices. The burger also contains the sauce which they call Cashew vegan queso sauce. There were also different components inside the burger, like the slice of pineapple, caramelized onions, lettuce, and a mix of diced tomatoes, bell pepper, and onions. A stick with an olive was placed in the middle of the burger to keep the ingredients in place.
As a meat eater (a vegetable hater haha) I find the burger…. DELICIOUS!!!! DELIGHTFUL!!! YUMMY!!! TASTY!!! I really did not expect that I will love the Vegan burger! If this burger will be available in every corner, I might convert to being a Vegan ? The burger was well seasoned! The patty tasted like real meat! Ohh ohh before I forget to mention, the serving is also a lot!!! I only ate half of the burger and half of the fries ?
I ate the half of Sloppy Jose after 2 nights, it was still good! The burger did not spoil and it still tastes the same!
¡¡Bom Dia!! Power Bowl
We also ordered a power bowl… we planned to eat it as a dessert.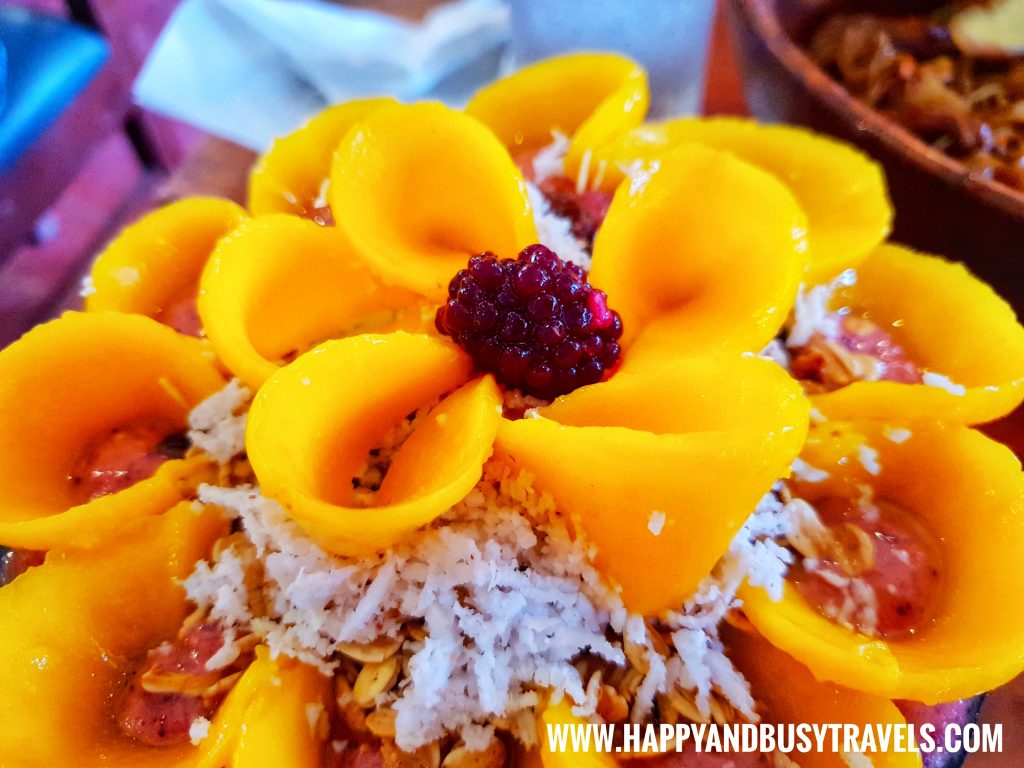 Our power bowl arrived with great power! hahaha It was soo cute! Shaka Restaurant Bohol's home made vegan granola was mixed with various berries placed in a coconut shell and decorated with mangoes, coconut shavings, and a raspberry in the middle. From what I ate, I think the home made vegan granola contains nuts, raisins, and crispy oats.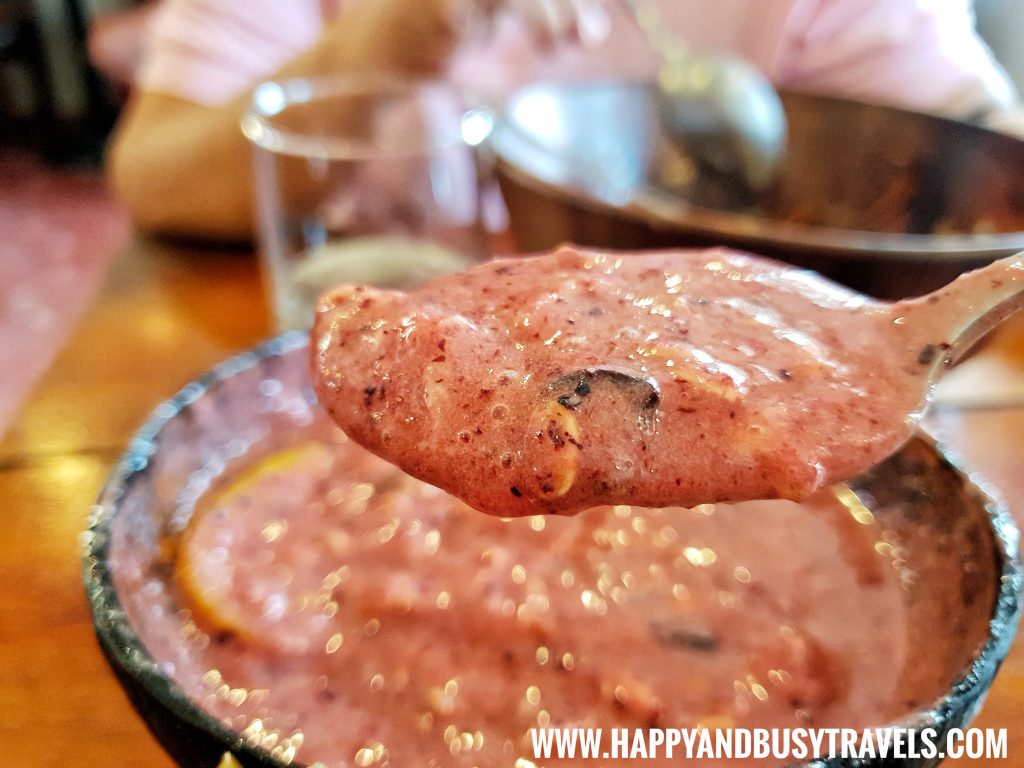 As I have mentioned earlier, ¡¡Bom Dia!! Power Bowl was supposed to be our dessert. However, the serving was a lot! The power bowl can be counted as one good meal! My mom and I took our time to finish the power bowl.
The power bowl was delicious! If you love fruits, this will satisfy your fruits craving!
The dish was also served cold! ohhhh a plus!
Dishes on Display
There were also some dishes on display in the restaurant. I checked out the dishes inside the refrigerated display cabinet which you can order and eat it immediately.
Vegetable Spiral Pie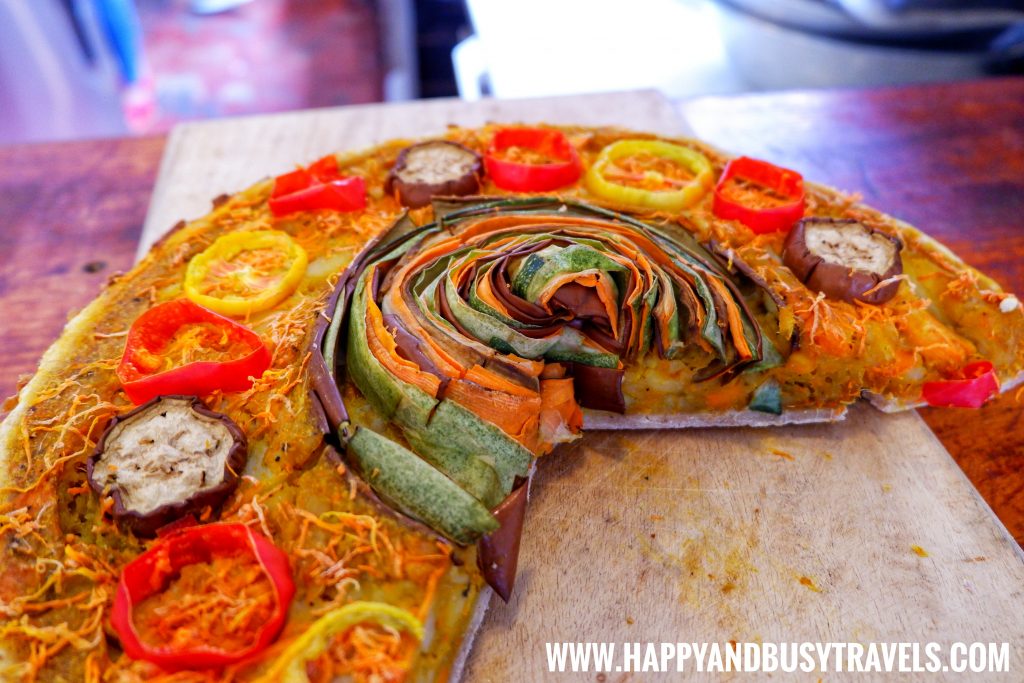 The Vegetable Spiral Pie is a potato based pie, decoratively mixed with Zucchini, Red Bell Pepper, Yellow Bell Pepper, Eggplant, and Carrots. The pie also has different herbs and spices to make it tastes better. The dough has no eggs so it makes this pie Vegan friendly.
Dates and Cashew Balls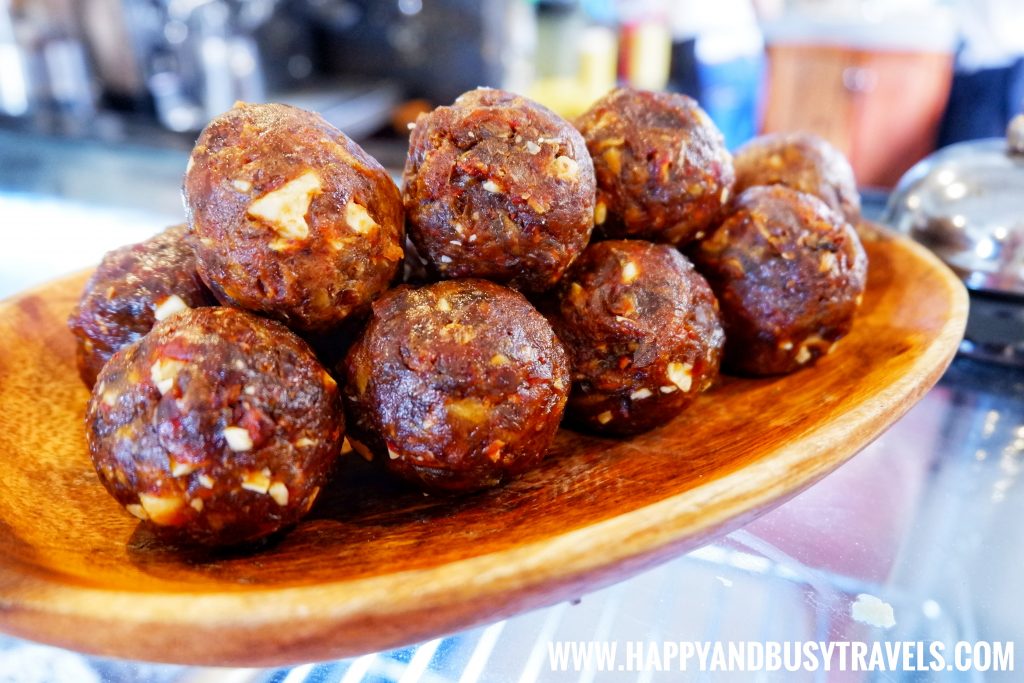 As the name says, the ball is basically a mix of mushed Dates and diced Cahew Nuts.
Dates and Cashew Balls with Coconut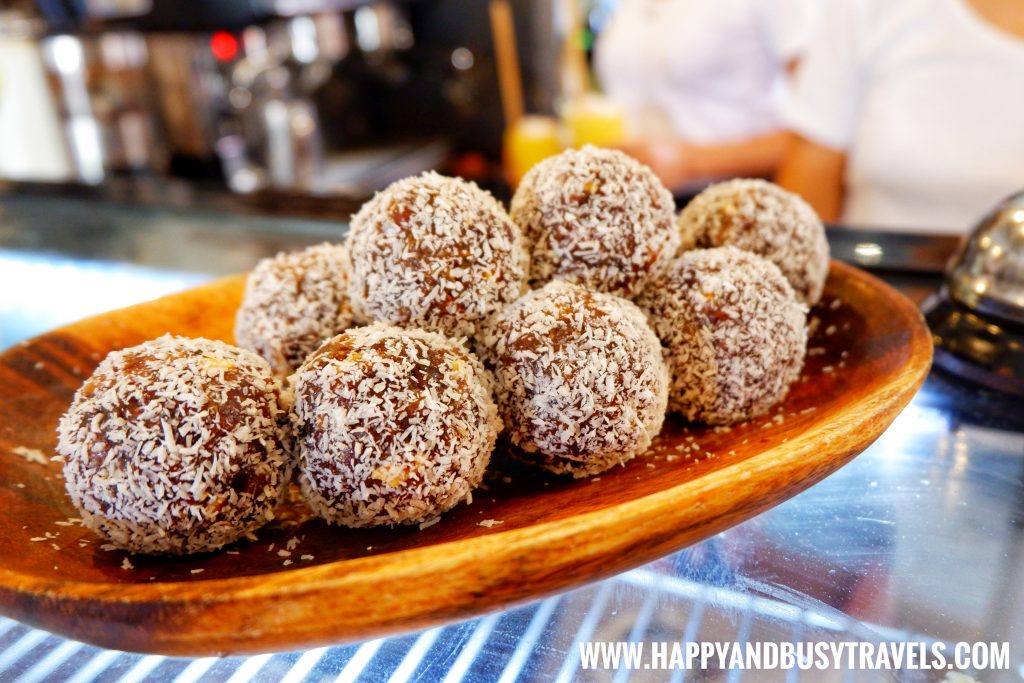 Just like the previous dish, this was also made out of Dates and Cashew nuts. But this one has coconut shavings all over its surface.
Vegetarian Lasagna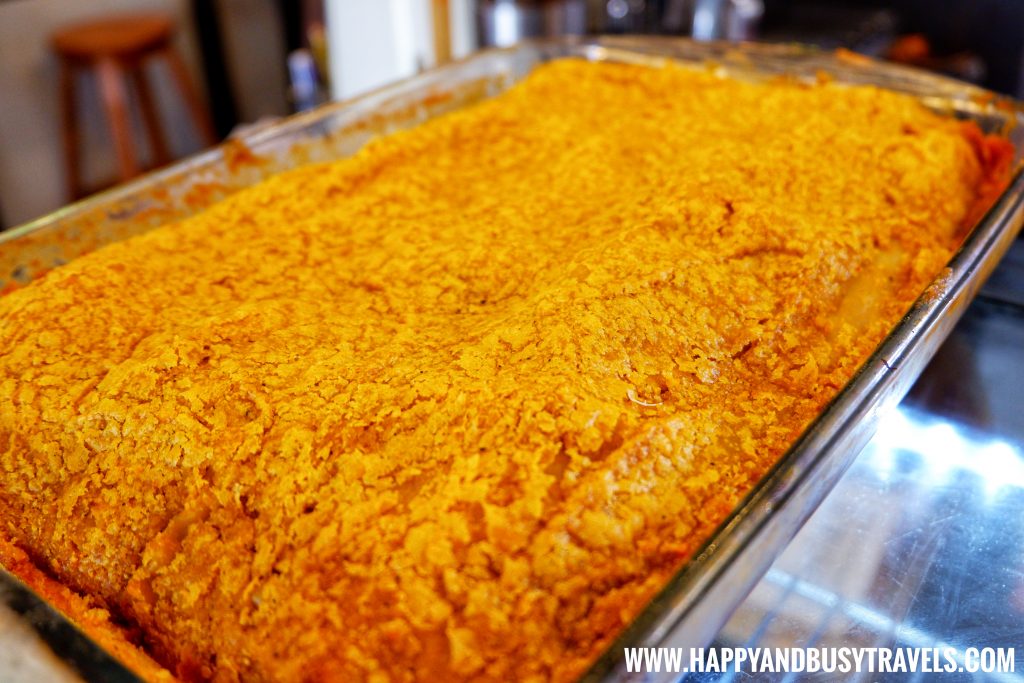 Shown above is the whole Lasagna in a tray.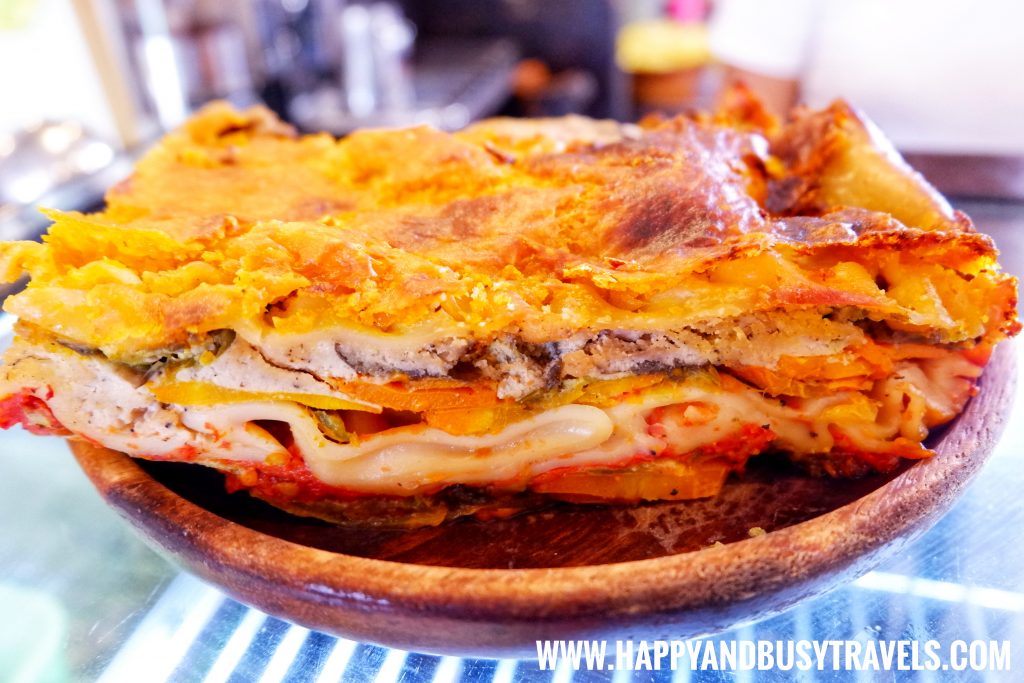 The Lasagna was made out of different layers of vegetables and pasta, cheese, and herbs and spices. The pasta has eggs and the dish has cheese.
Vegan Chocolate Cake
The Chocolate Cake has no eggs! Just imagine how can you bake a cake without eggs? The chocolate cake also has coconut sprinkled on the top of the cake. I also planned to order this as a dessert, however my stomach became full even though I did not yet finish eating my order. I'll try this next time 🙂
Mango Tart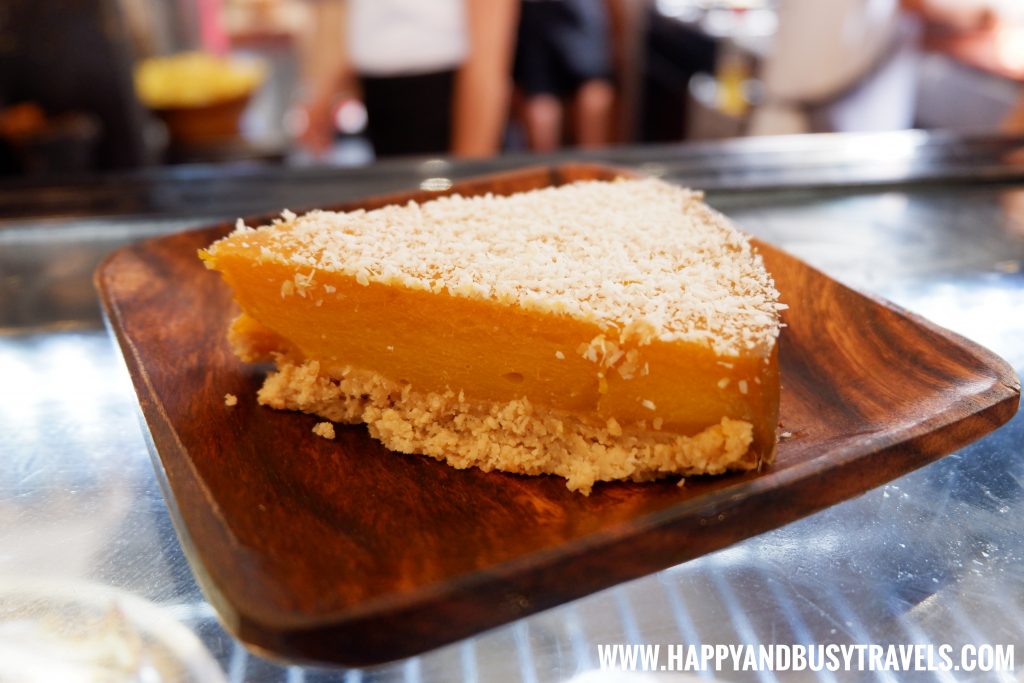 This one also caught my attention, I also want to eat this as a dessert hahaha. It was made with a Mango and sprinkled with coconut shavings.
Vegan Banana Cream Pie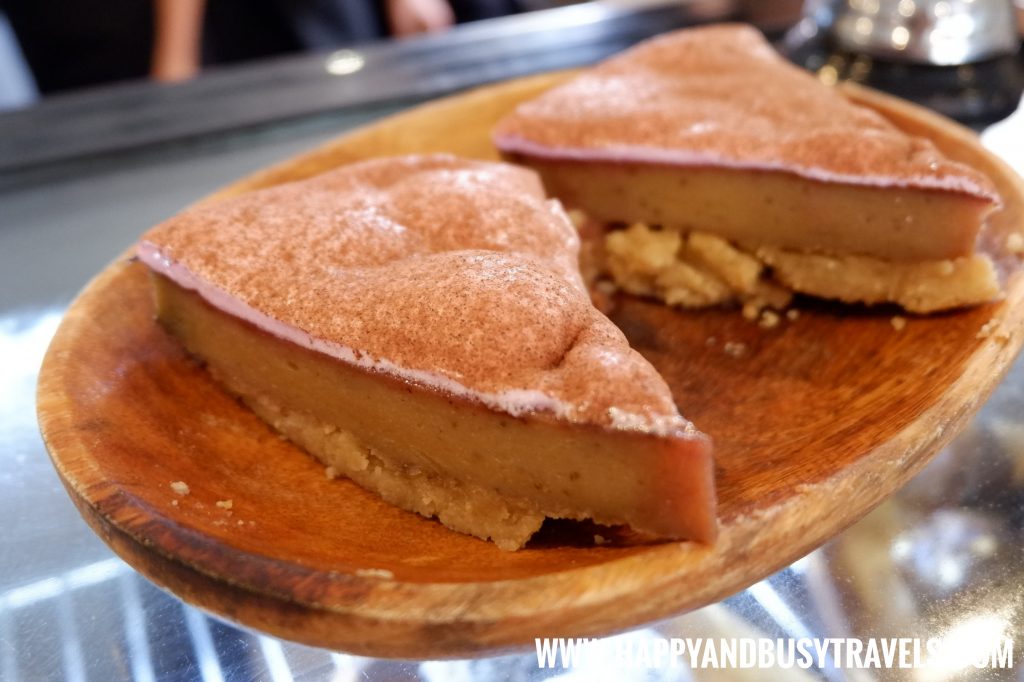 Ohhhh sugar overload! haha not literally haha That's just what I feel about seeing all of the "possible" desserts that I did not had the chance to taste ? This one is made out of Banana.
Service
Here is my favorite person inside the restaurant during our stay 🙂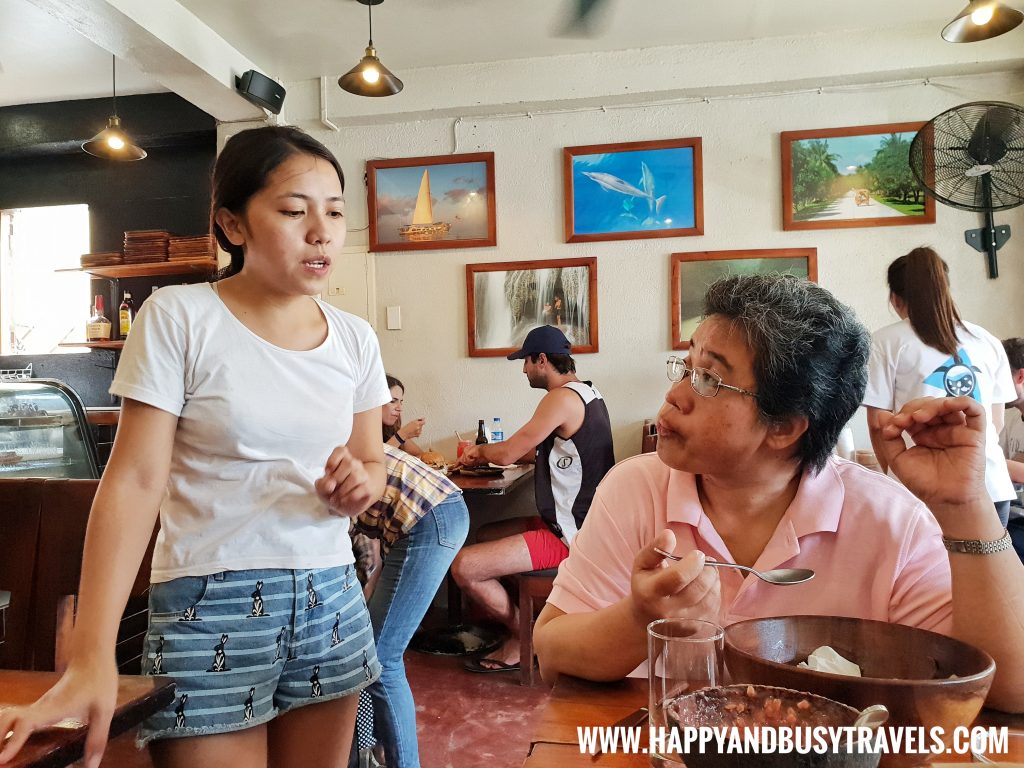 My mom was very curious on the ingredients of the food, so she interviewed the most friendly staff. I am so sorry I forgot her name, but she made our dining experience complete 🙂 She also entertained my questions and requests while taking a photograph of the food inside the refrigerated display case.
Conclusion
If I just have a huge stomach, I will taste all of Shaka's dishes hahaha. Unfortunately, even though I'm fat, I only eat a little ?
After eating in Shaka Restaurant in Bohol, I felt like my digestive system was given a powerful cleanse. ??? I will DEFINITELY go back to Shaka or visit any of their branches. They have a branch in El Nido, and in Siargao.
It's a shame we dine there for our last lunch in Bohol. If we dine there for our first meal in Bohol, we might visit the restaurant for each of our meal.
I just noticed that most of their customers were foreigners. I wish Filipinos will also embrace their dishes
More details about Shaka Restaurant Bohol
Facebook : https://www.facebook.com/shakabohol/
Operating hours: 6:30 AM – 10:30 PM
Contact Number: +63 921 234 6033
Address: Moon Fools Building, Alona Beach, Panglao, Bohol
Notes:
The staff were super friendly
Cash payments were only accepted
WiFi is available
The restaurant does not have an air conditioning unit, which is common in the restaurants in Alona Beach, Bohol.
Happy and Busy's Smileys
Food 

Location 

Ambiance 

Value for money

Service  

Comfort Rooms – They have comfort rooms but I forgot to check it out
Here's me and my mom 🙂 She is usually camera shy hahaha Don't tell her that I included our picture in our blog haha ?