While Busy and I waited for our movie in Evia Lifestyle Center, we had a quick dinner in STONS Minute Steaks + Onion Rings. The store captured our attention immediately because of the design… and of course… they sell… STEAKS!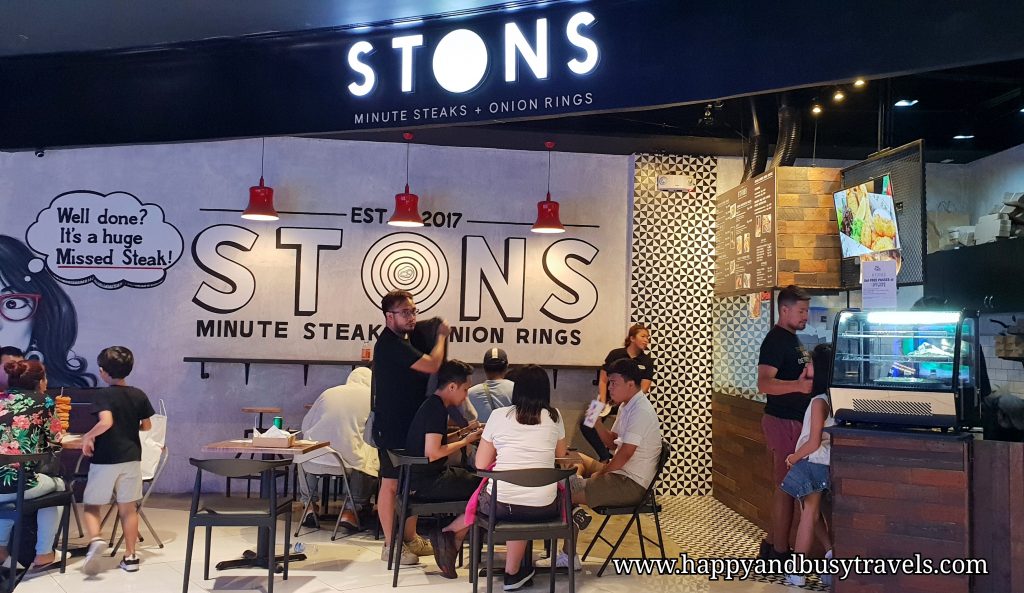 STONS Minute Steaks + Onion Rings'  store is just small but it has a nice design. The store also has an awesome mural on their wall…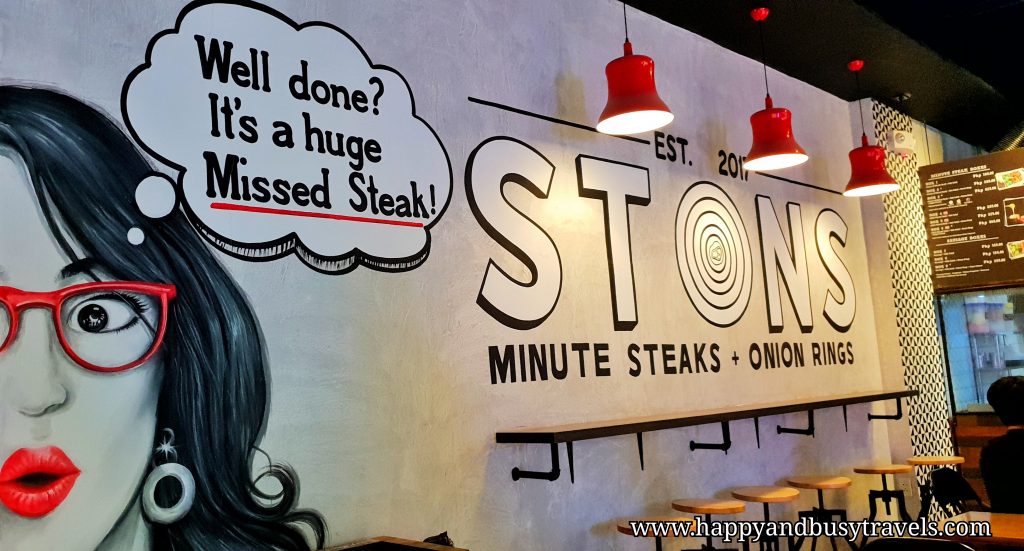 Facebook: https://www.facebook.com/Stons.PH/
Contact Number: (+632) 838 0085
Operating Hours: 10:00 AM – 11:00 PM
Address: Cinema, Evia Lifestyle Center, Las Piñas City, Philippines
STONS Minute Steaks + Onion Rings' Menu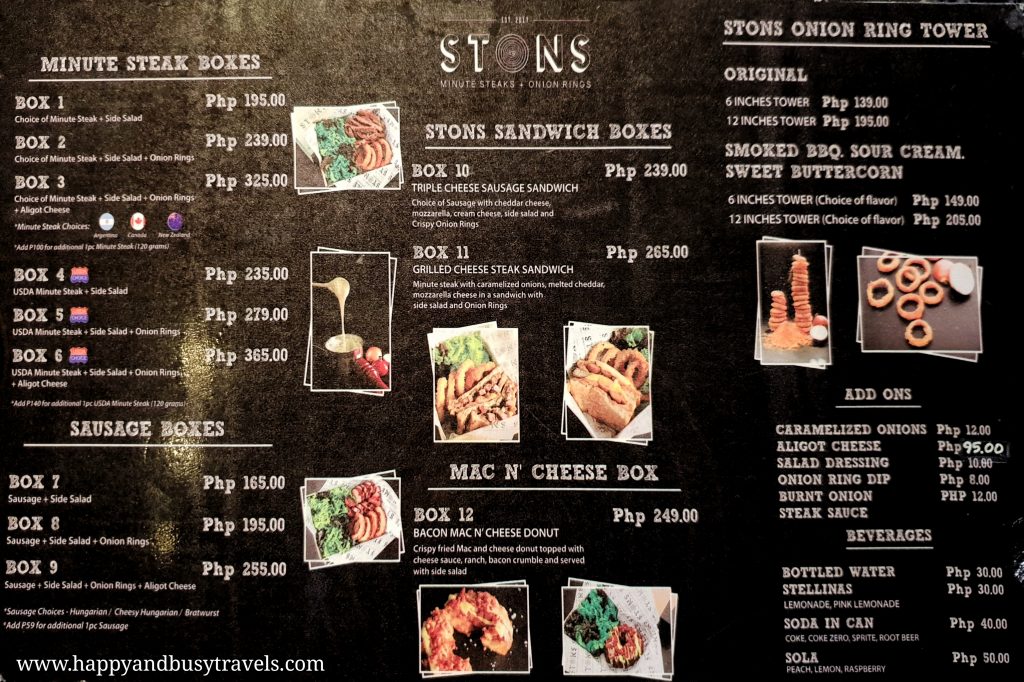 The Food
The food was immediately served after a few minutes.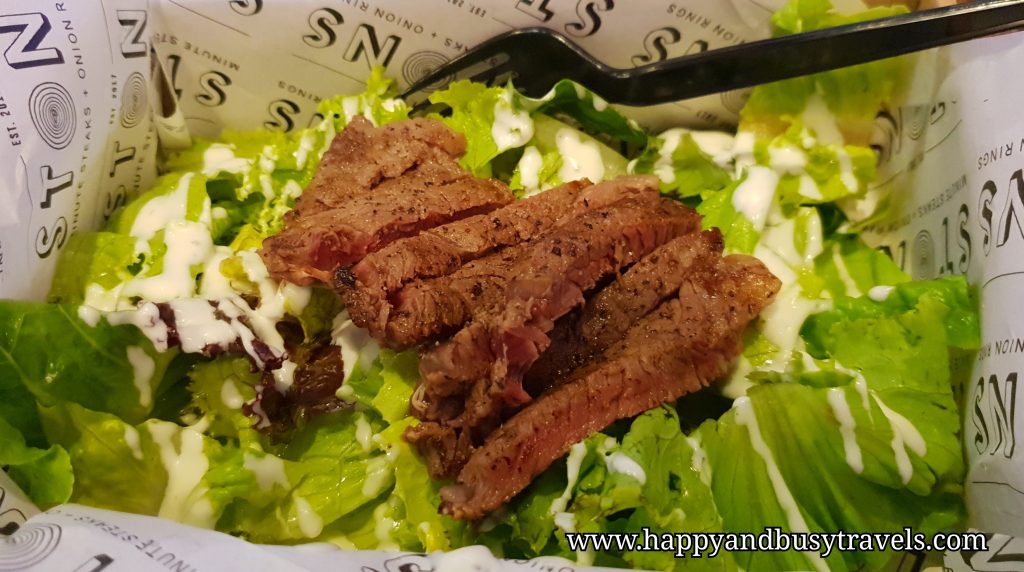 I ordered Box number 1 which is my choice of Minute Steak plus a side salad.
The available meat choices for the steak are: Argentina, Canada, New Zealand.
Amazingly, the steak was cooked perfectly and delicious! The steak was seasoned with just salt and pepper, that's why I tasted the meat very well.
If you want to feel healthy while eating steak, I suggest you order this one! ?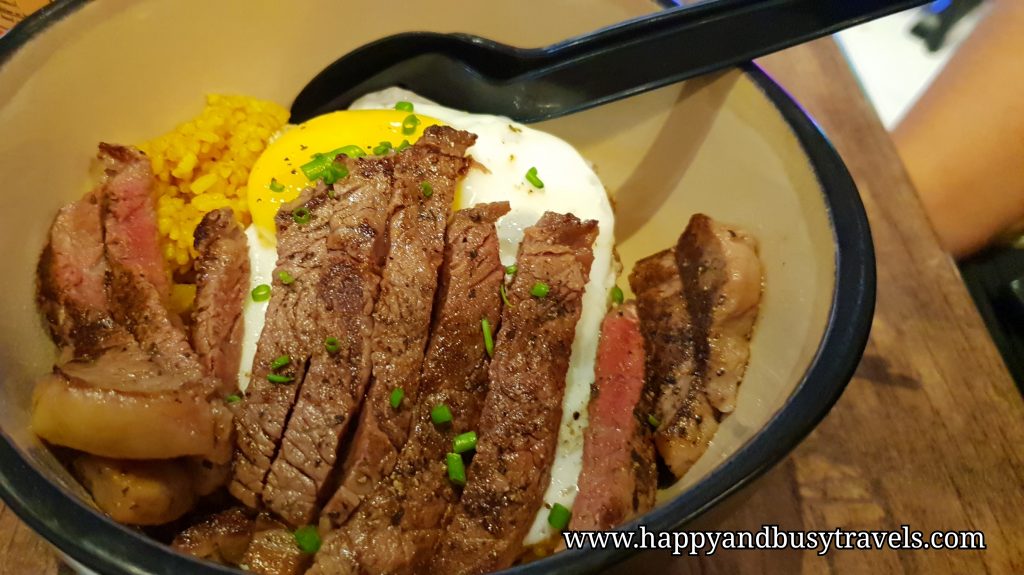 Steak, Eggs, and Rice
Busy on the other hand wanted to eat rice, so he ordered Steak, Eggs, and Rice.
This dish was made out of a Bubsy's choice of medium rare cooked Steak, Sunny side up Egg, and Dirty Rice. The steak is again properly cooked, and delicious.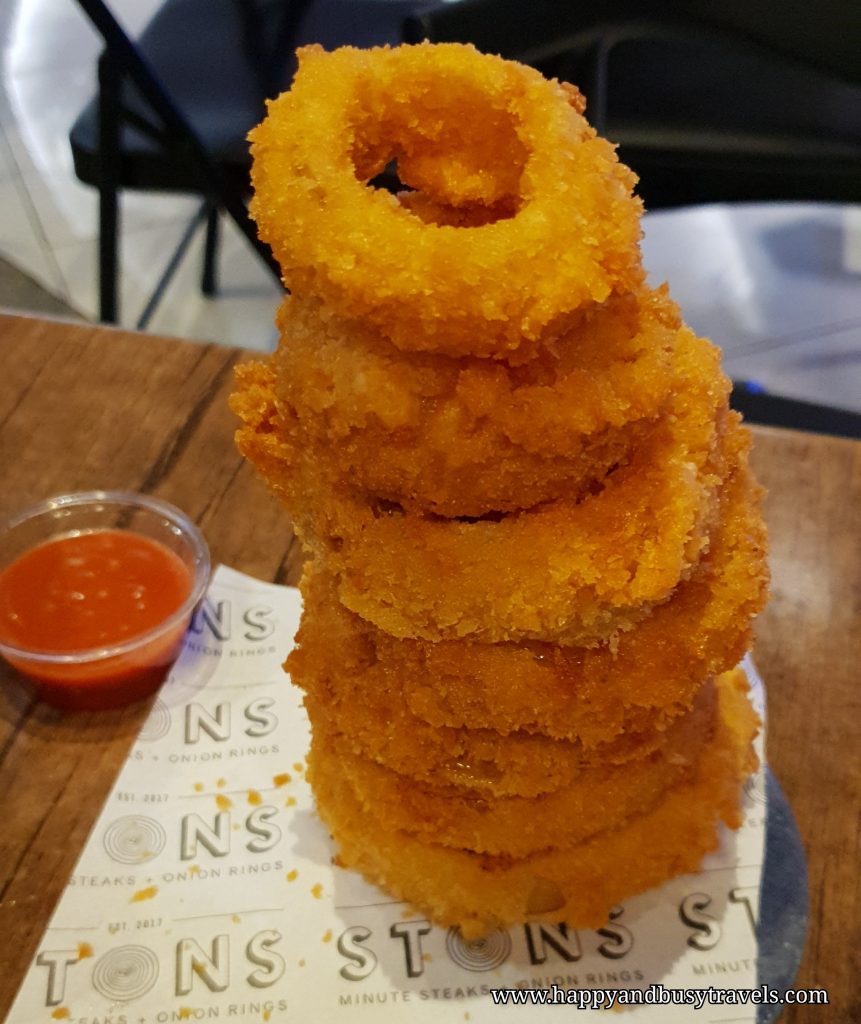 Of course we also bought Onion Rings! This one is the Original 6-inch Tower. It was adorably presented in a tower like structure, and it tasted just like the classic onion rings.
The onion rings were also available in other flavors like Smoked BBQ, Sour Cream, and Sweet Buttercorn. We'll try the other flavors when we return ?
Buying in the store was a great decision. The steak was cooked perfectly and it was sold for an affordable price.
Notes:
Only cash payment is acceptable during our visit.
The store is small and can only fit few customers. If there is a lot of customers, we suggest that you just take out your order.
The staff were very helpful and friendly.
Do not ask the staff to cook your meat well done! hahaha They already know how to cook the steak properly.
There is no service charge and they run through self-service. You have to go to the counter to order.
Happy and Busy's Smiley
Food – 

Location – 

Ambiance – 

Value for money –

Service – 

Comfort Rooms – Not Applicable