Taste of Joy
While in our office, we needed some food just for a simple celebration… celebrating life. So, we got something from Taste of Joy. They are one of the leading restaurants that focus on food for any festivities, banquet or "pang handa" in Filipino.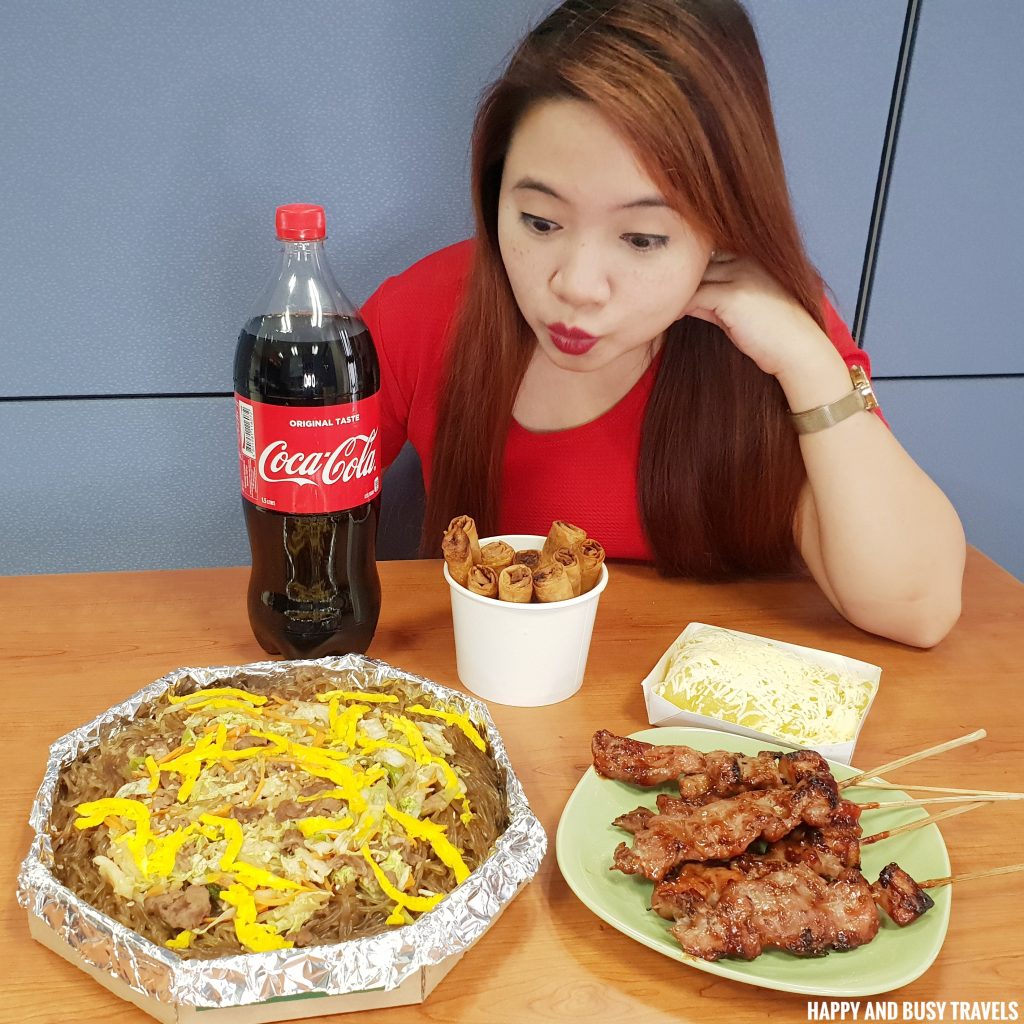 Taste of Joy started to enter the food industry back in 1993 and since then they were loved by the locals in Muntinlupa. Now they have branches all over the metro and continues to grow throughout the Philippines.
Important Details
Website: https://www.toj.com.ph/
Facebook: https://www.facebook.com/tasteofjoy.ph/
Instagram: https://www.instagram.com/tasteofjoy.ph/
Dining options: Take-out, Delivery & Grabfood
Contact number: Main store (02) 8777 2222
Operating Hours: 9AM – 6PM
Please see the list of branches at the end of this article.
Food bundle, packed meals, and ala carte are available.
Big Team Specials – Taste of Joy
We ordered one of the Big Team Specials of Taste of Joy, Team 4 to 6. This is a very affordable package because everything is already included like the drinks and desserts. For our bundle, I ordered Chap Chae for the noodles, and it is paired with Lumpiang Shanghai, Pork BBQ, Pichi Pichi, and a liter of Coca-Cola.
When the delivery arrived, I got a call from the driver. He was very courteous and friendly!
I immediately smelled the food! Urrgghh it was just 10 AM but I already craved for lunch!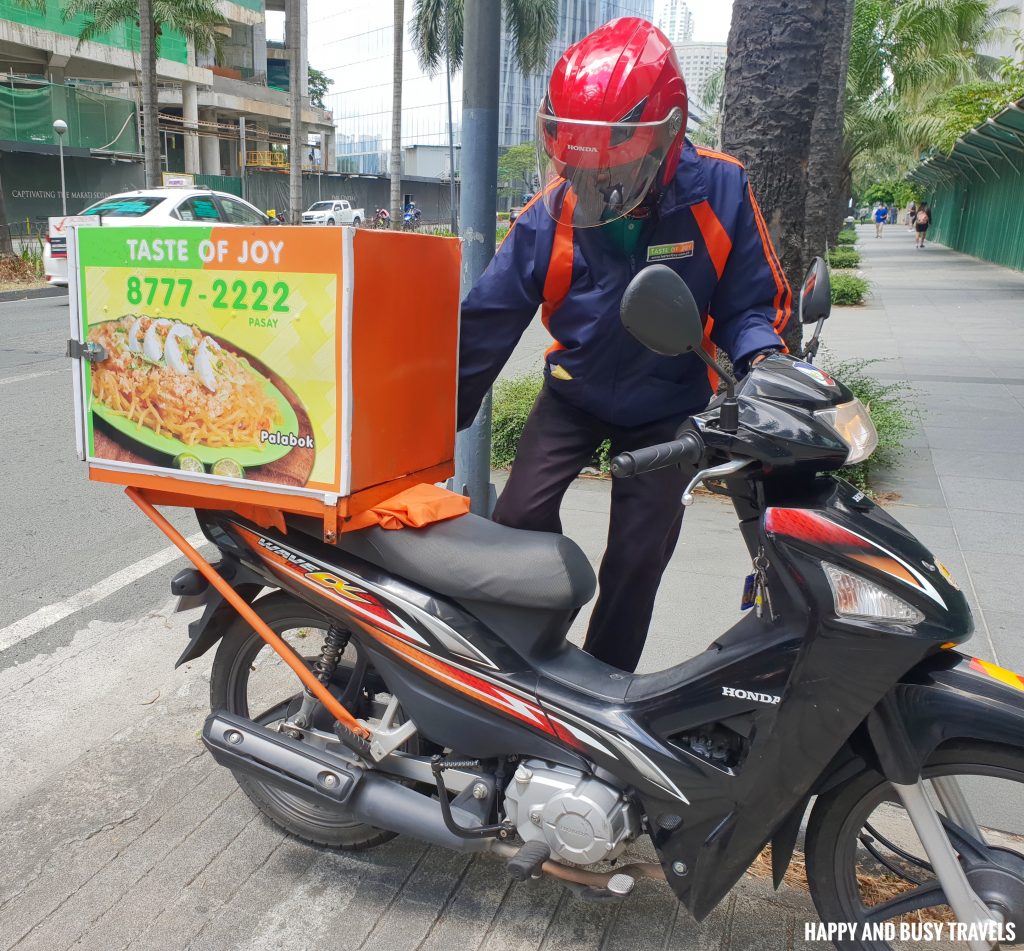 Chap Chae
I'll start showing you the Chap Chae.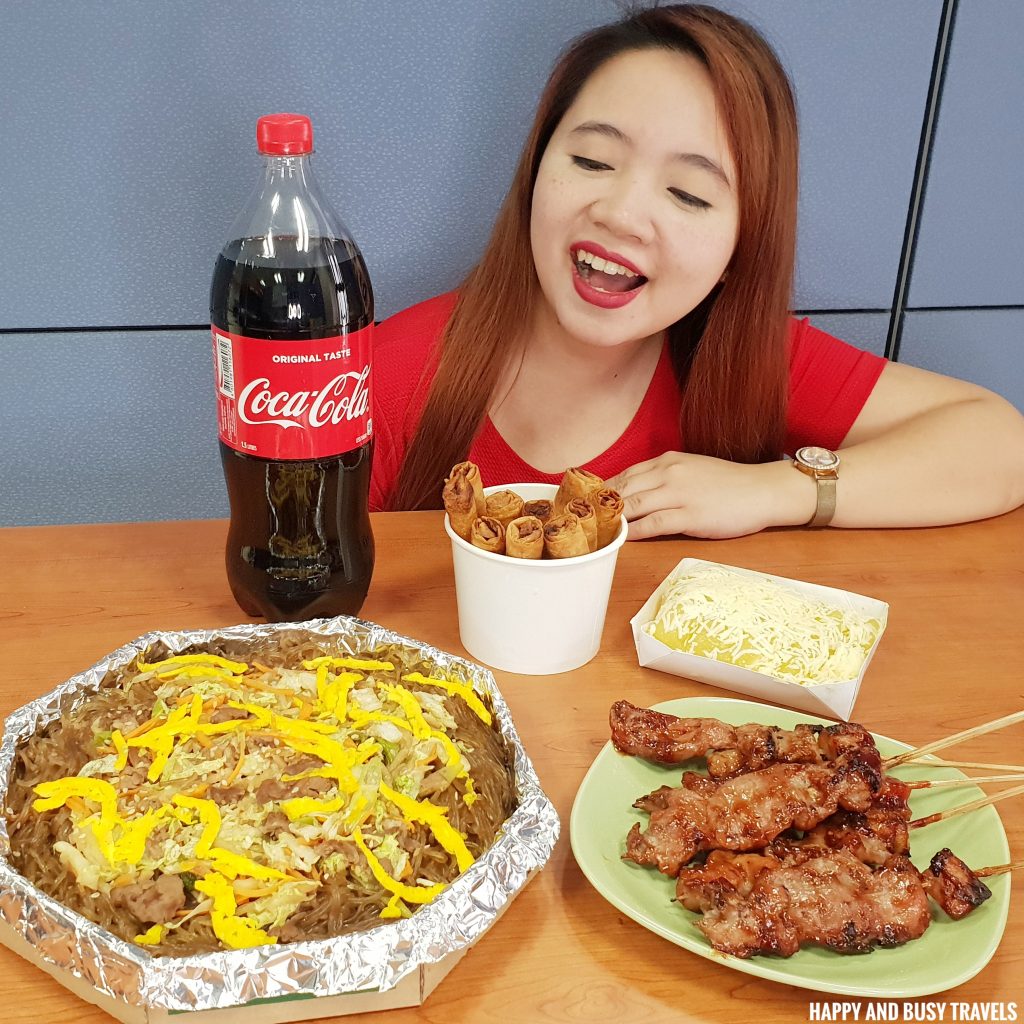 The box with the noodles is properly packed.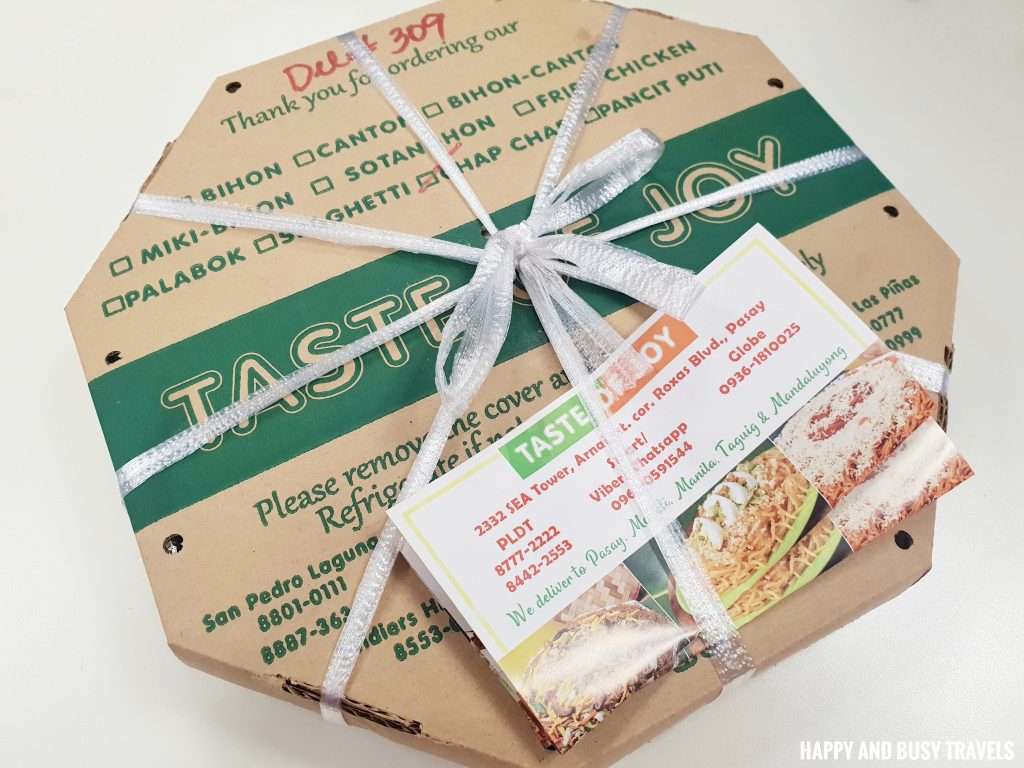 I had a great first expectation because this one looked so good! There is a lot of toppings, plus the noodles are compacted inside the box. There's a lot of serving!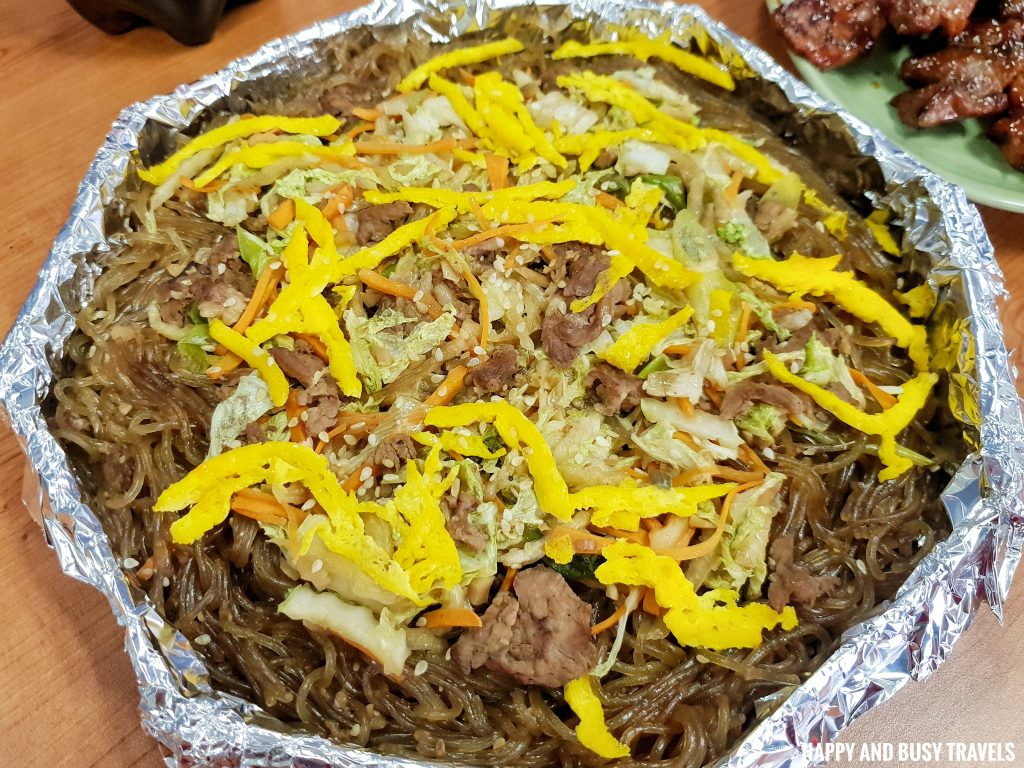 Lumpiang Shanghai
There are 10 pieces of Lumpiang Shanghai for this bundle, just right for 4-6 people.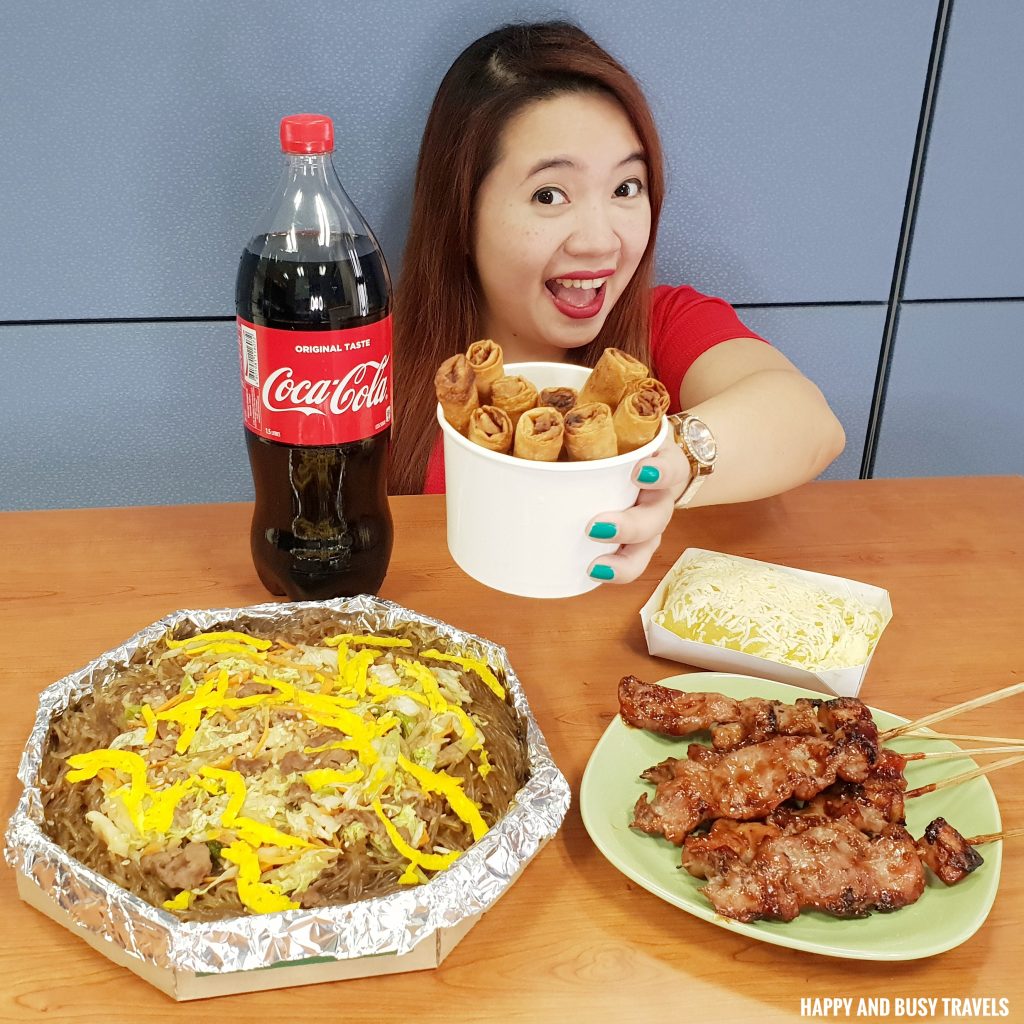 The Lumpiang Shanghai tasted like the classic Filipino dish! I liked it!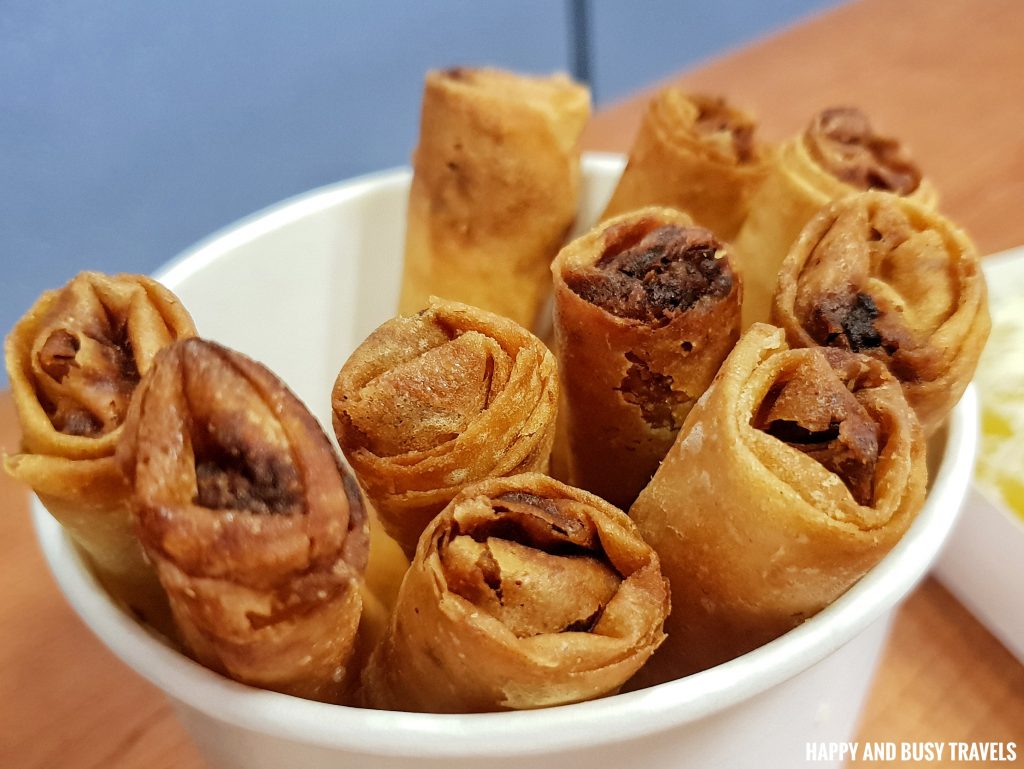 Pork BBQ
I love Pork BBQ so I was excited to taste this one. While taking a photo I am really very tempted to eat everything hahaha.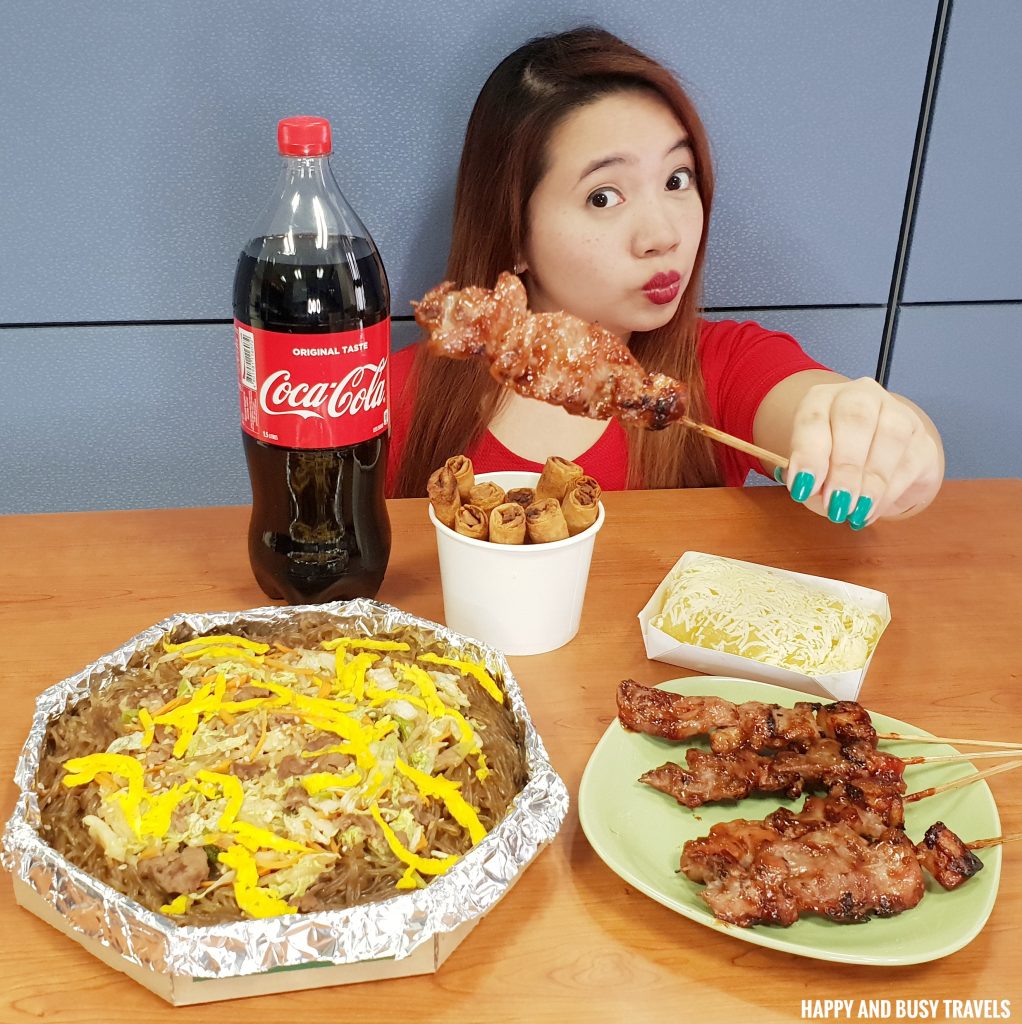 There are 5 sticks in this bundle and each stick has a lot of meat. Oh my!!! When I tasted the Pork BBQ, I was speechless! I am not joking, it was really that good! It's so tender that I do not have to put a lot of effort into biting it, and it's really delicious! I usually leave the fat behind because it is not healthy, but in this case I consumed all of the fat!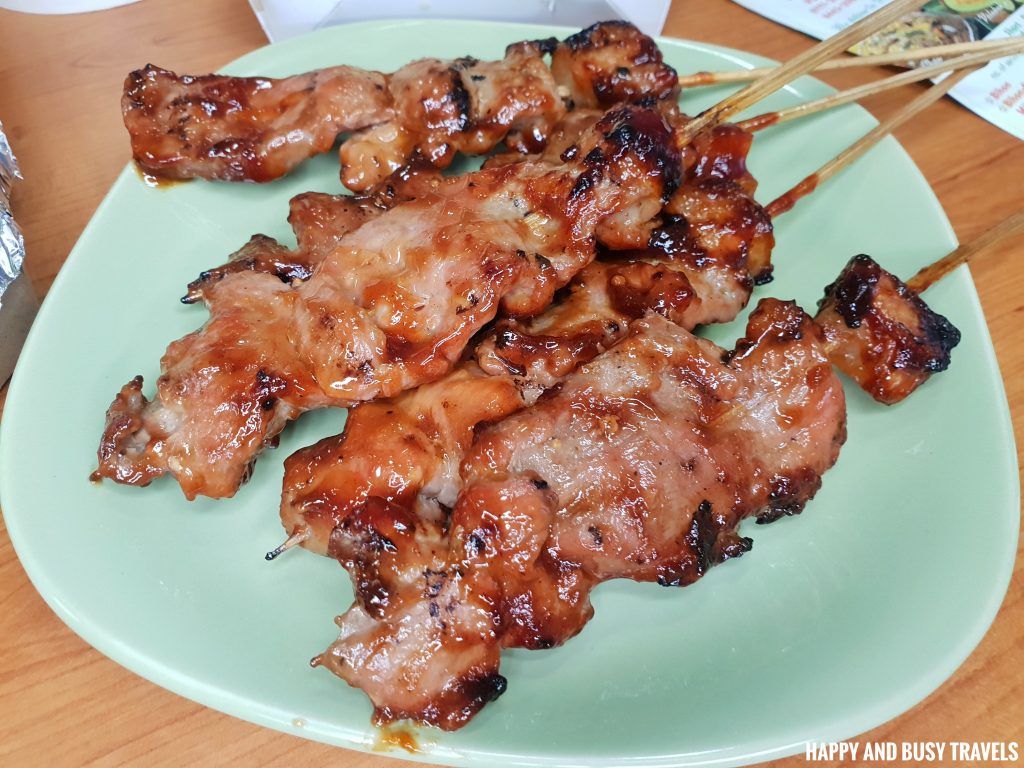 Pichi-Pichi
For dessert, the bundle included Pichi-Pichi, which is a traditional snack of Filipinos.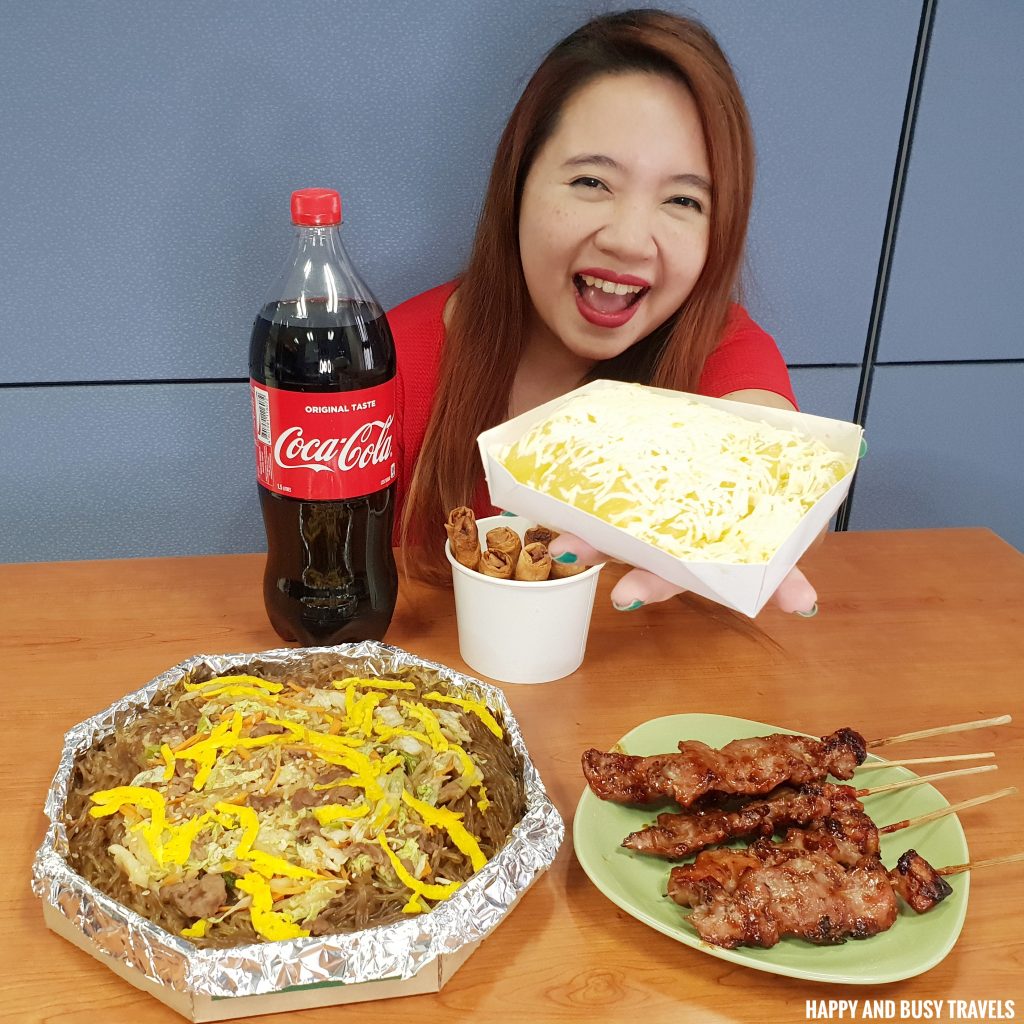 There is a lot of Pichi-Pichi in this box that I couldn't count them anymore haha. But I guess it is around 8 pieces… I also like their Pichi-Pichi because there is a lot of cheese and it is really tasty!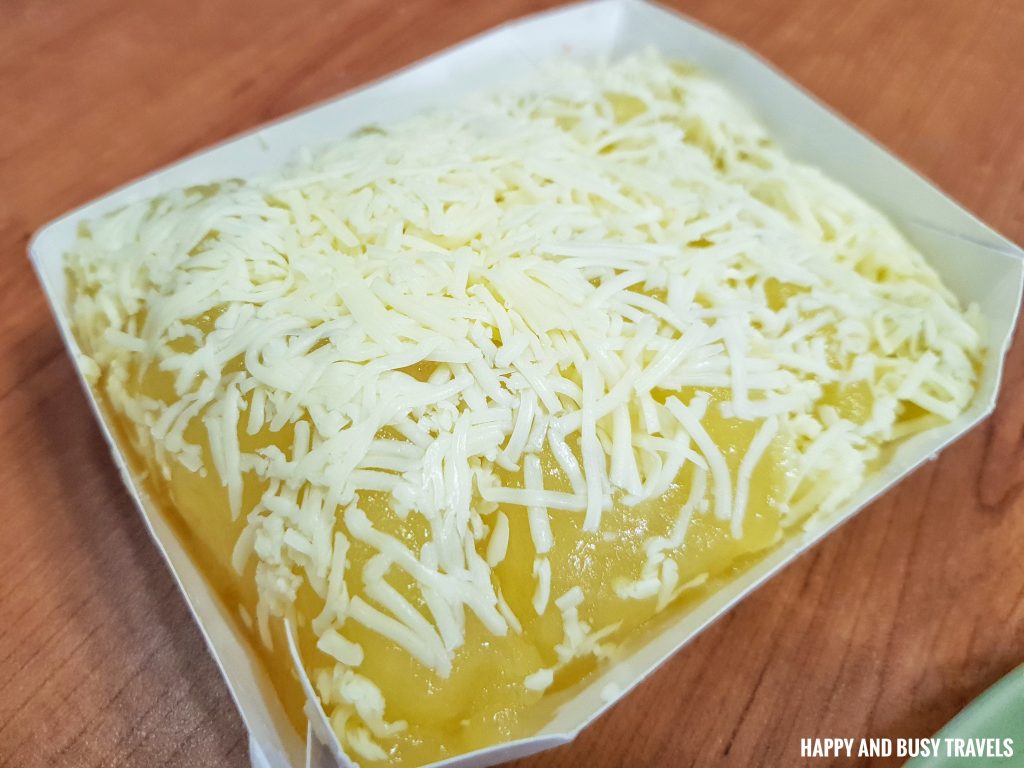 Branches of Taste of Joy
Almanza
8822-0777
0921-9850604 / 0975-8504108
+63998-3743394
[email protected](Across SM Southmall)
Unit E, AC & Sons Bldg,
Almanza Uno, Las Pinas City

Bacoor, Cavite
Opening Soon!
[email protected]

GF CMJ Bldg, Avenida Rizal St,
Bahayang Pag-asa Subd, Molino III,
Bacoor, Cavite

Bayanan
8804-0222
0929-8523031 / 0975-8504120
+63996-7409299
[email protected] National Road, Bayanan, Muntinlupa City
Paranaque
8478-9090
0908-4290583 / 0975-8504109
+63996-7409295
[email protected] B-18 Jaka Plaza, Dr A. Santos Ave,
San Antonio, Paranaque City
Pasay
8777-2222
0936-1810025 / 0961-0591544
+63961-0591544
[email protected] Fl, Arnaiz Wing, Sea Tower Bldg,
Roxas Blvd, Libertad, Pasay City
San Pedro
8801-0111
0947-2980115 / 0975-8504106
+63947-2980115
[email protected] Trading Building,
Old National Highway, San Pedro, Laguna
Santa Rosa
(049) 535-0333
0961-4426890 / 0995-6525890
+63956-2466899
[email protected] 8, Commercial Complex,
Francisco A. Canicosa Ave, Balibago,
Sta Rosa, Laguna
Soldiers
8553-0888
0928-3136114 / 0975-8504105
+63928-3136114
[email protected] 8 AFP-MBAI Commercial Arcade,
Putatan, Muntinlupa City
Southwoods
8283-1010
0968-6345933 / 0927-5080931
+63927-5080931
[email protected] 1A-1, Dona Rosario Complex,
San Pedro, Laguna
Menu of Taste of Joy
 
Happy and Busy's Smileys for Taste of Joy
Overall, I really really love all of the dishes that we ordered from Tate of Joy. I really had joy in my mouth while eating them. My favorite dish is the Pork BBQ! As I have mentioned, it is really tender and delicious! I wish Busy was with me in the office so he can also taste them haha.
Food

Everything is delicious.
Value for money

The bundle is very affordable and everyone who would like to have a banquet can order afford to order it.
Service 

All of their staff were really good and friendly and they responded to my inquiries immediately.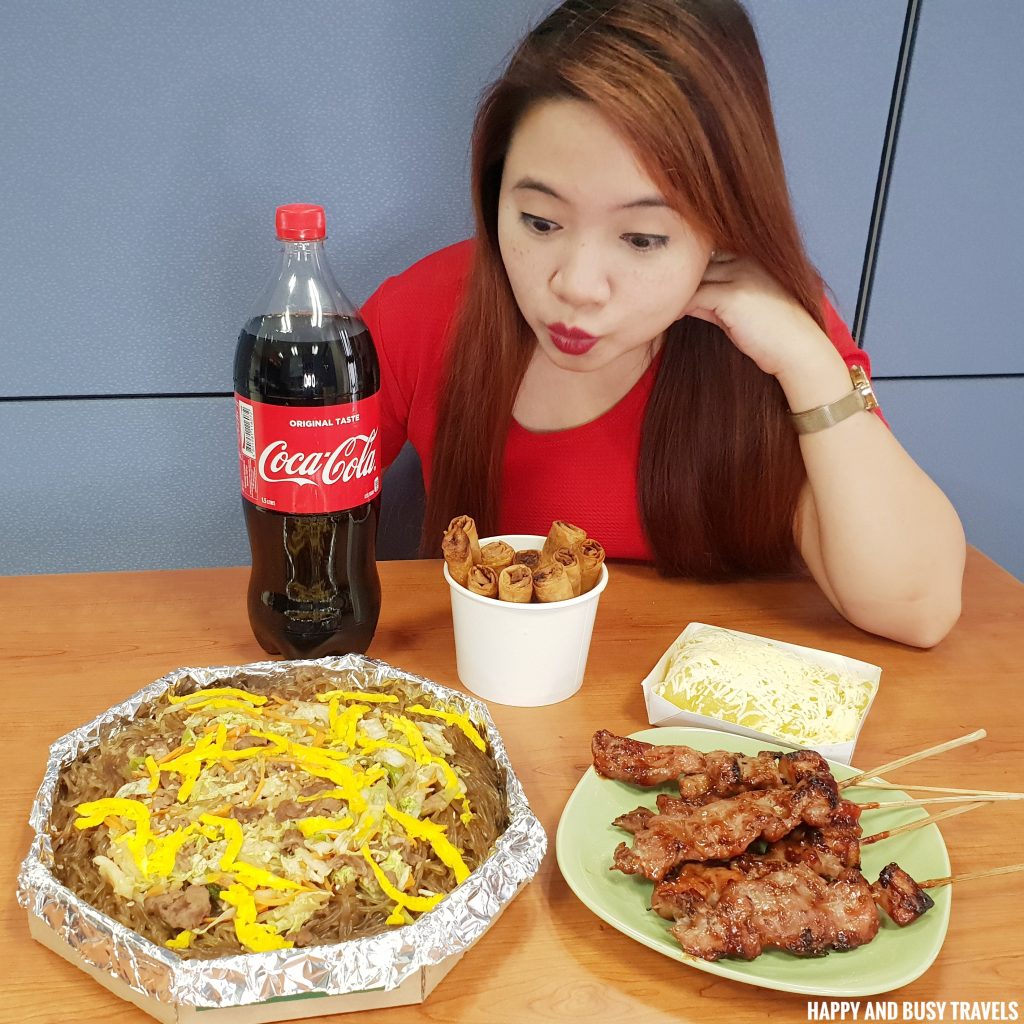 More exciting food and drinks review at https://happyandbusytravels.com/category/food-and-drinks/