20 Something Studios
Busy and I went to 20 Something Studios, a self-shoot photography studio wherein you get to take your pictures by yourself while using the studio and the available props. So, here is our experience in our first studio photoshoot.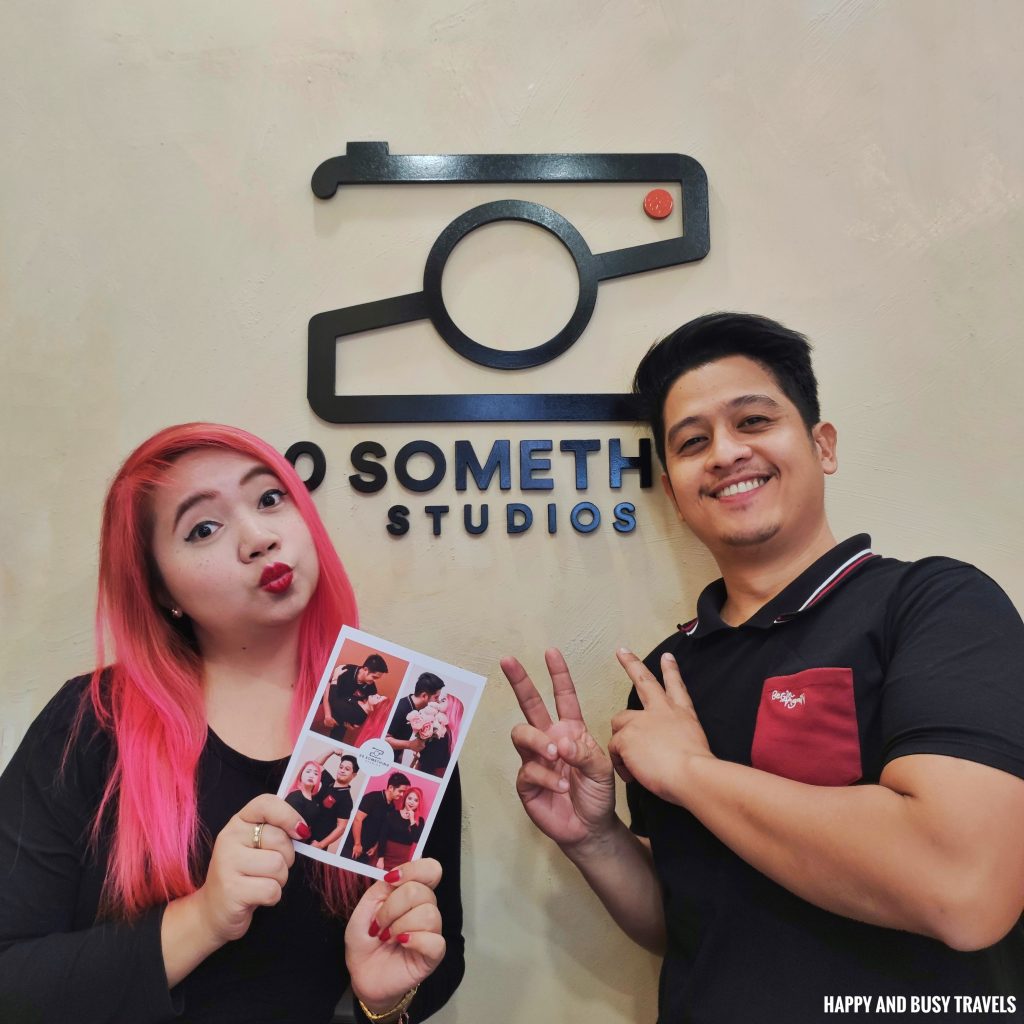 Important Information of 20 Something Studios
Facebook: 20 Something Studios
Instagram: 20 Something Studios
Operating Hours: 10 AM – 6 PM
Payment Options: Cash, GCash
Contact number: 0926 055 2565
Address: 411 N.S. Amoranto Sr. Street, Santa Mesa Heights, Quezon City, Metro Manila
Google Maps Link: https://goo.gl/maps/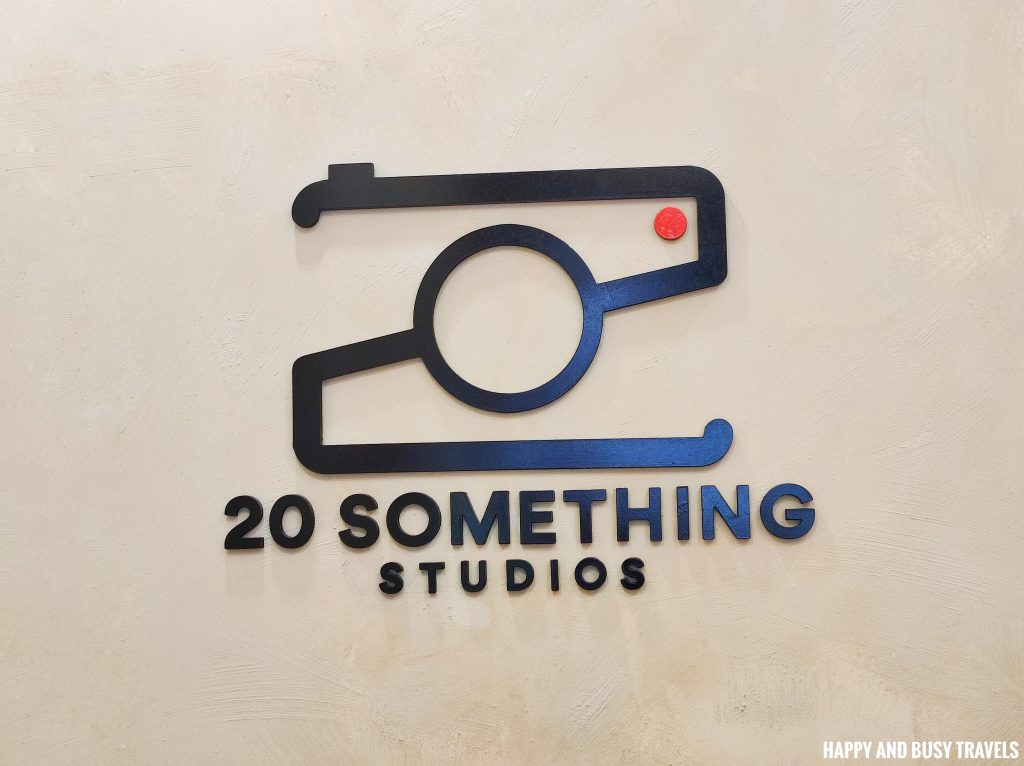 How to Book?
Booking is easy, you can just CLICK HERE to choose your package, and finalize your schedule.
Getting to 20 Something Studios
Since we came all the way from Cavite, we arrived a bit early for our schedule. We immediately saw the studio and parked just in front of it.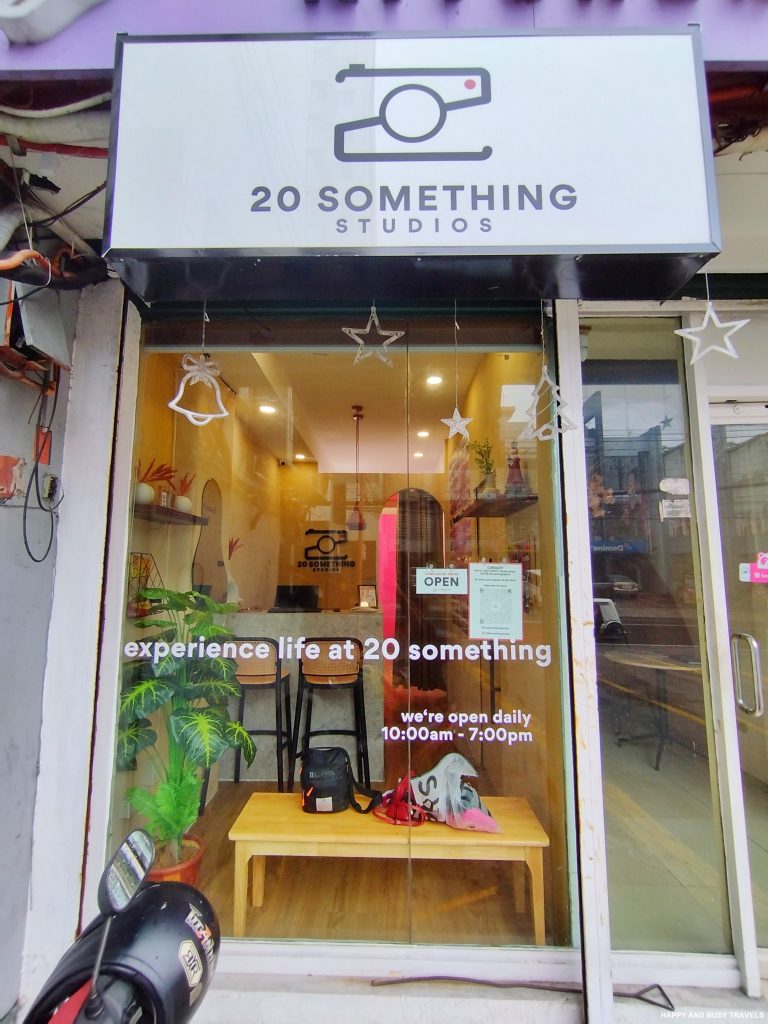 We checked out the studio if it is already open, and yes it is already open and ready to accommodate us.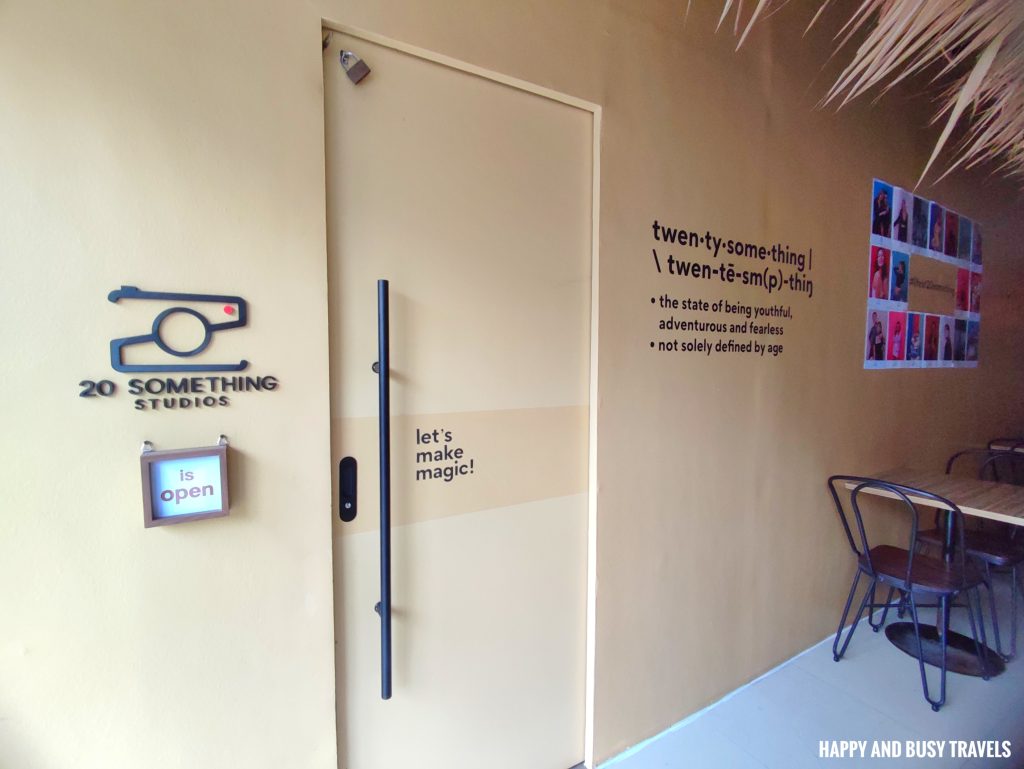 So, we walked into the studio and were immediately assisted. The studio looks nice and has a good vibe because everything is correlated. At this point, we are already excited to have our shoot! We got the package that has a 30-minute time limit for the photo shoot, so when the time started, we immediately make a pose.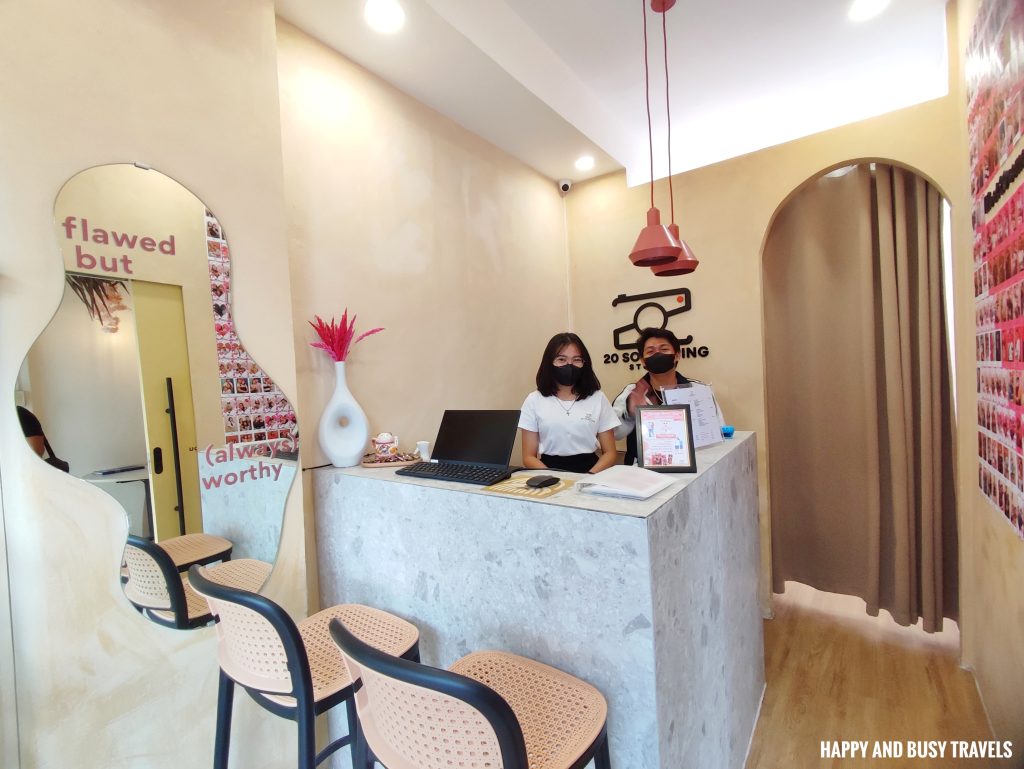 Inside the Actual Studio
The actual studio is located behind the brown curtain, and here is what it looks like.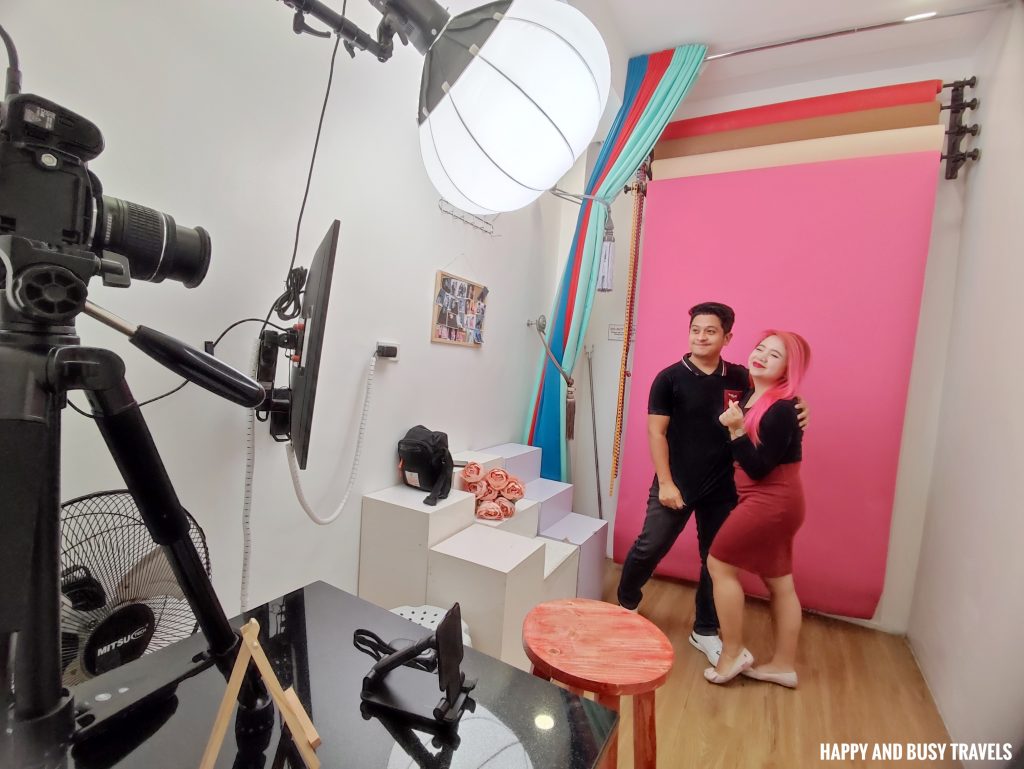 There are a lot of things that we can use in the studio.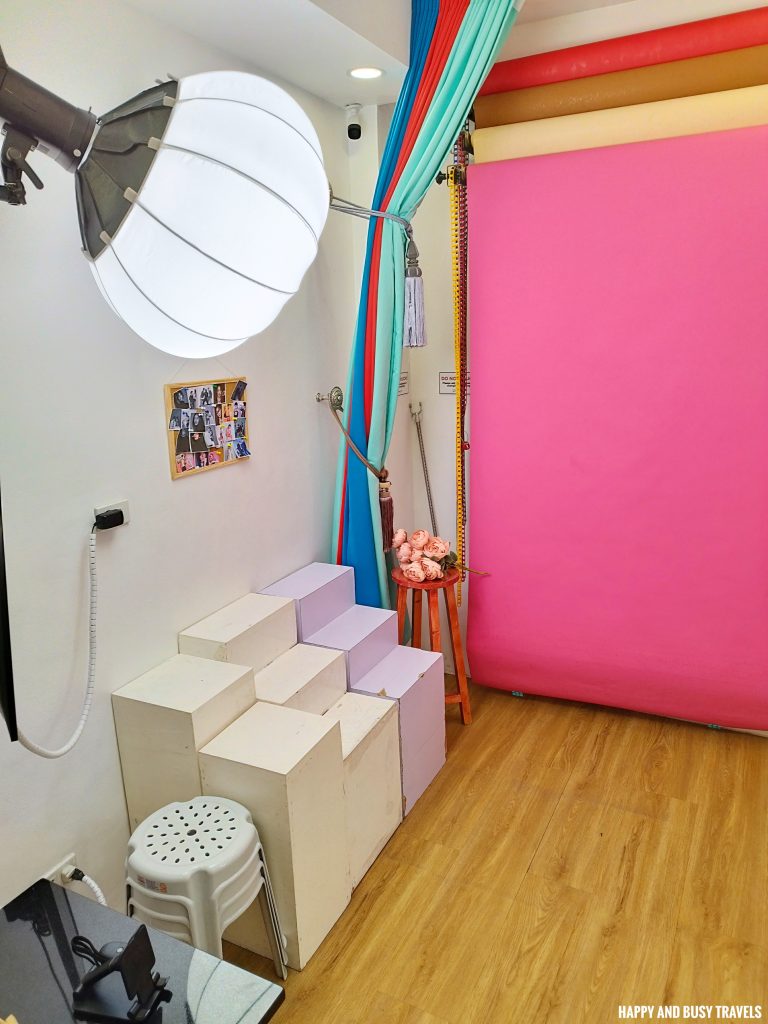 For the background, we can choose between four plain colors (Pink, Nude, Brown, and Red) and three curtains (Dark Blue, Red, and Blue Green). We were told that if we want to change the background, we have to ask the staff for assistance, so she can change the color while the time limit is on pause. We tried and use all of them to have a lot of variations.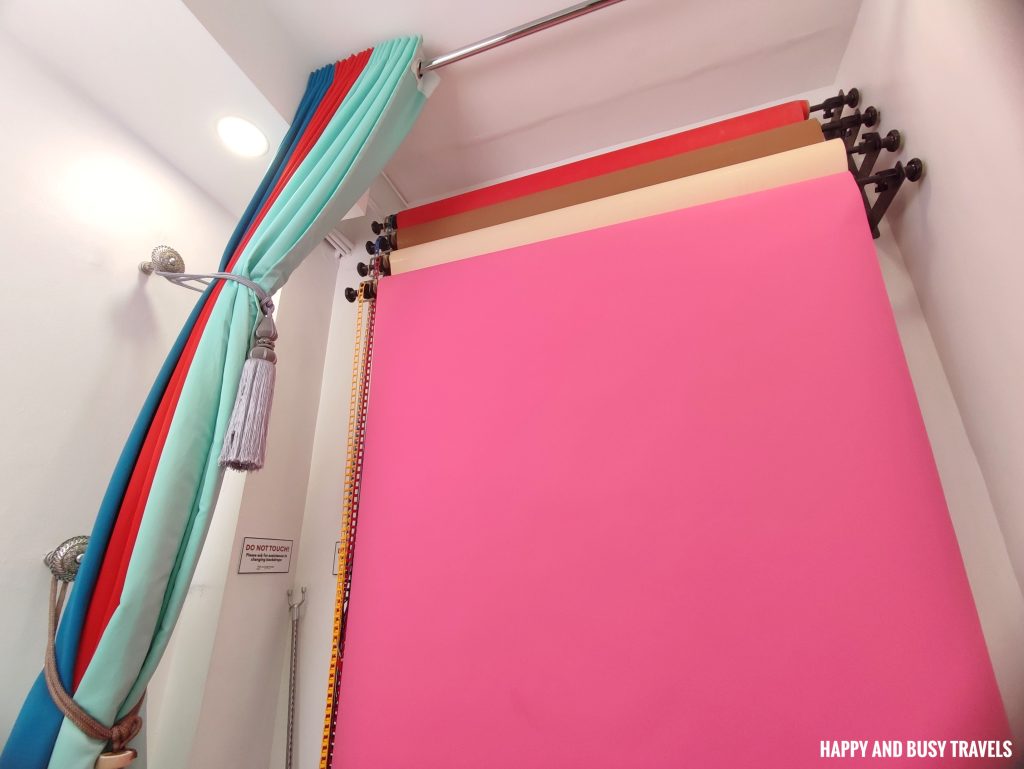 There are also accessories that we can use, sashes, eyeglasses, bouquets of flowers, and headdresses. We used some of the glasses, and of course, we used the bouquet a lot of times.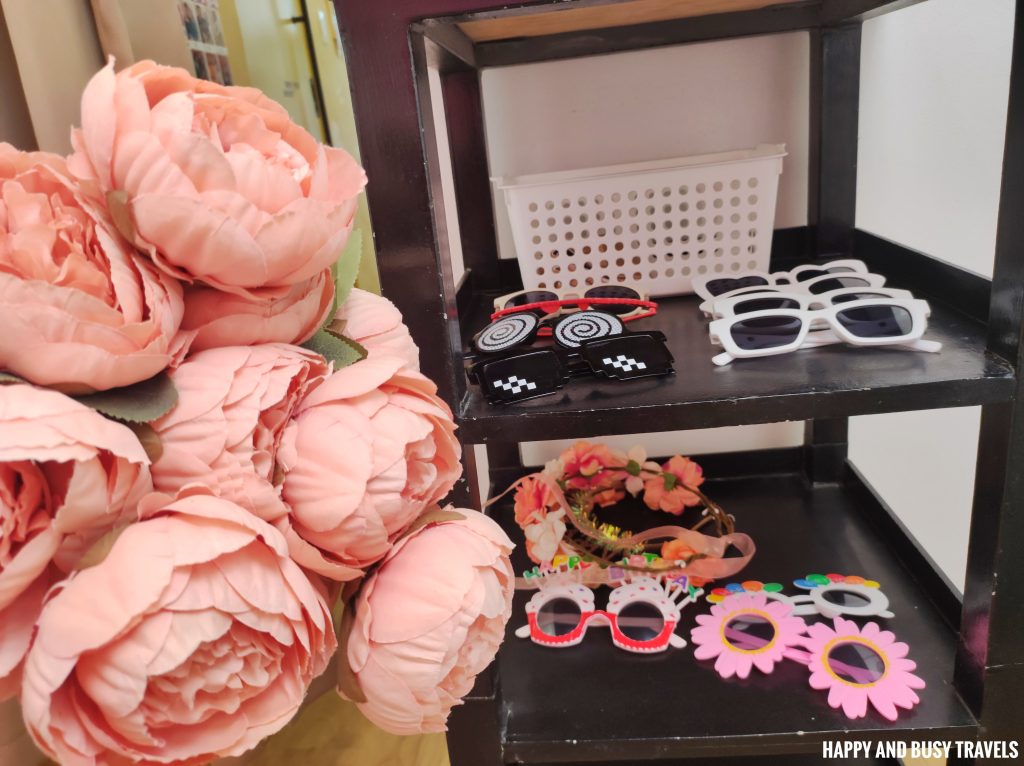 There are also different kinds of chairs and steps to choose from. We really should be ready with our poses before coming here so we can maximize our time. We actually used the wooden stool only for our shoot.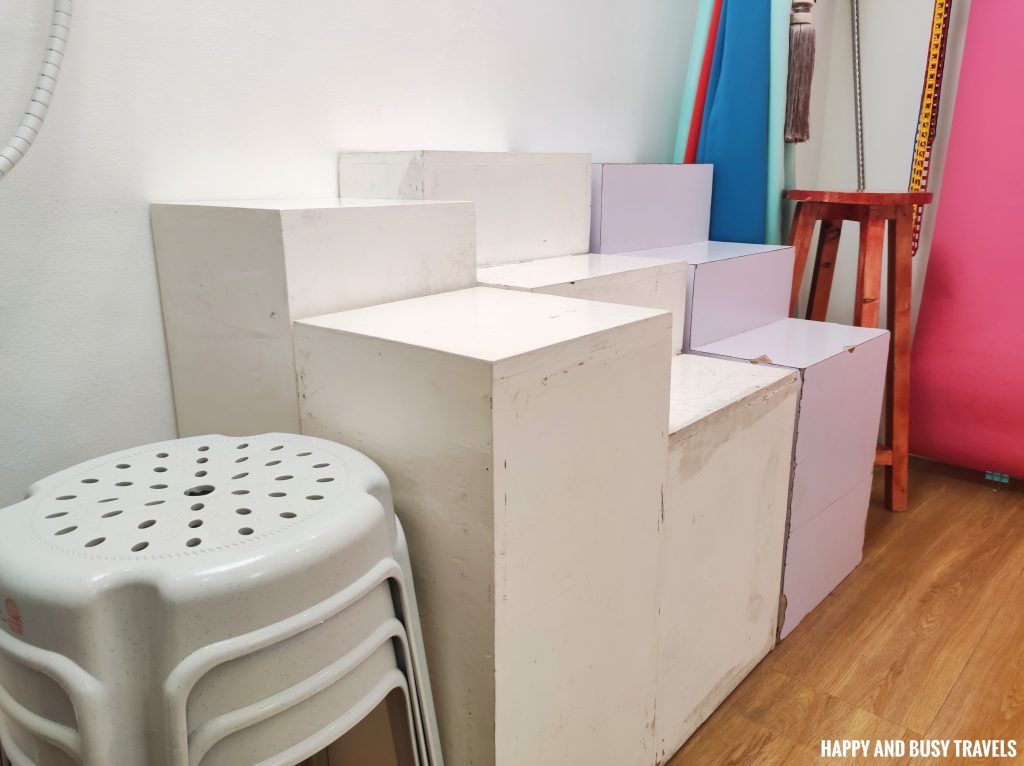 If guests are not prepared for their poses, there is a board with sample poses that guests can copy. We got some ideas from this board too.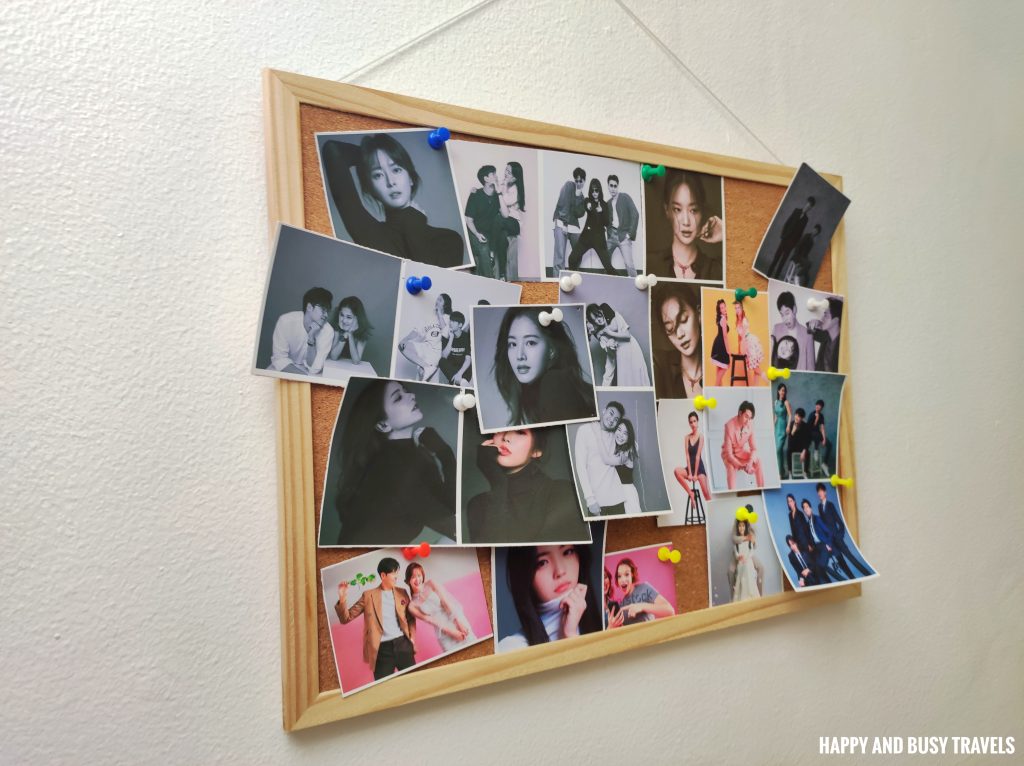 Here is the area with the camera, there is a monitor that you can use to see how you look in the camera, and the camera itself. There are also mini tripods beside the camera so guests can use them for their personal cell phones. Also, there is an electric fan inside, it is already cold in the studio so I think it's for the wind effect.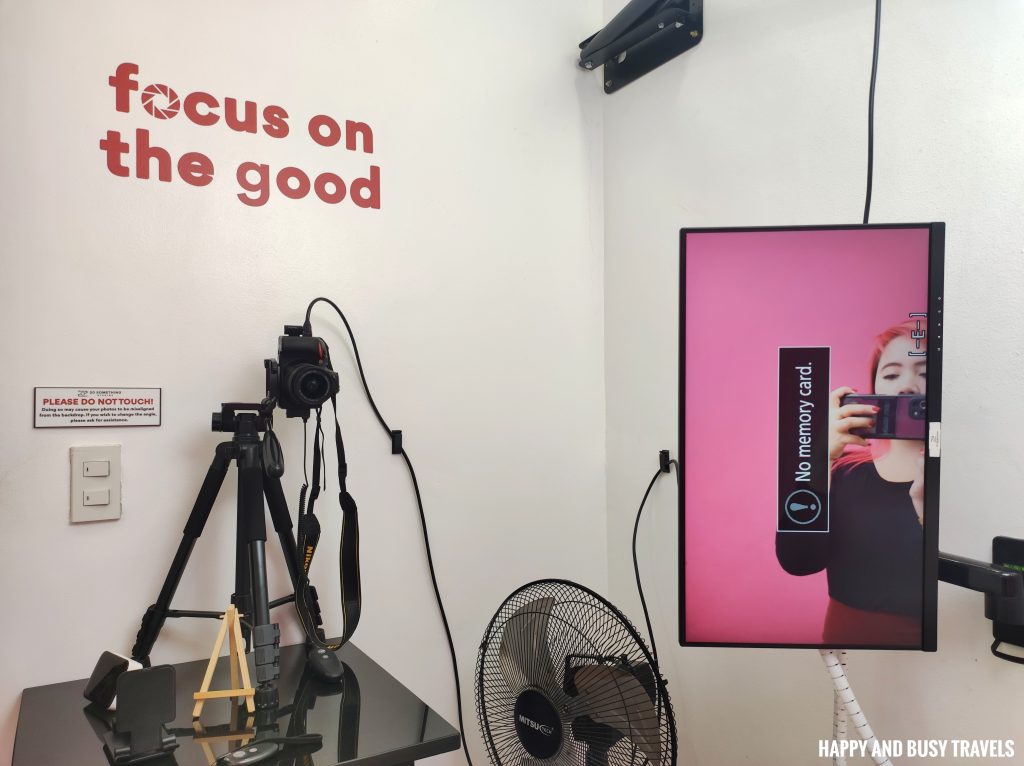 We were told not to touch the angle of the camera because it is already correctly positioned.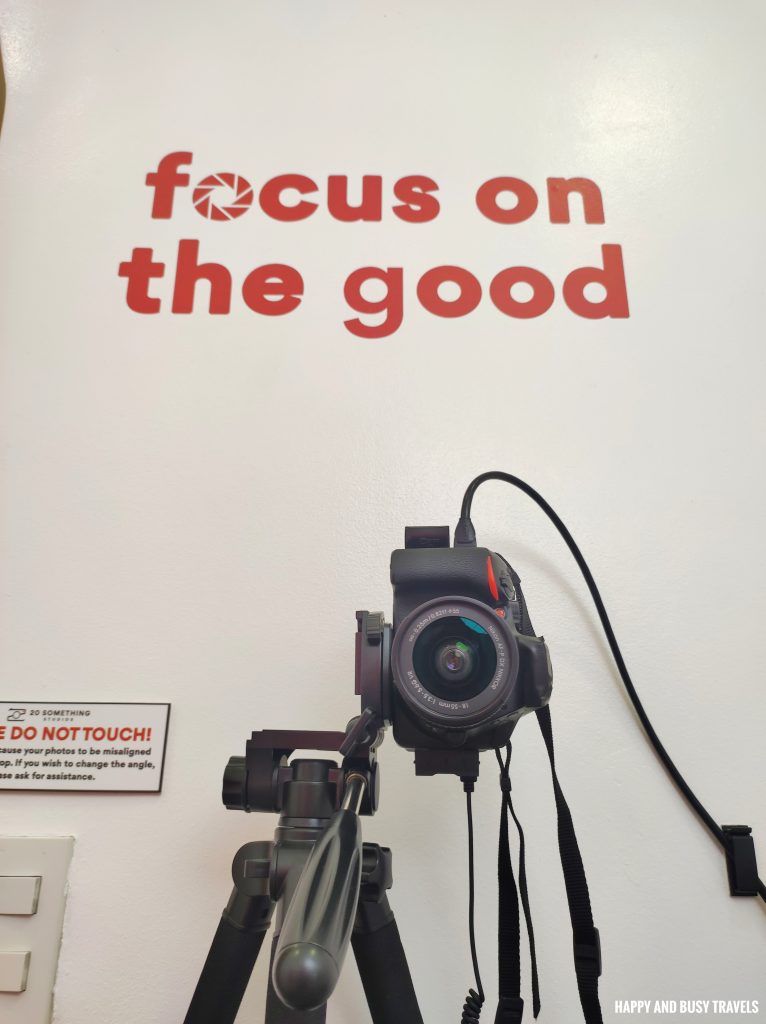 Picture Picking and Printing
After our 30-minute studio session, we were given 30 minutes again to choose the pictures that will be printed. These time limits depend on the package that you got, so it may vary for each guest. It is actually kinda hard to choose a picture for printing because we have a lot of good shots!
After a few touch-ups, our picture is finally ready! We also got a package that gives us a chance to save all of the soft copies of our studio pics. So, the studio uploaded everything in Google Drive, and gave our email addresses access for the softcopies.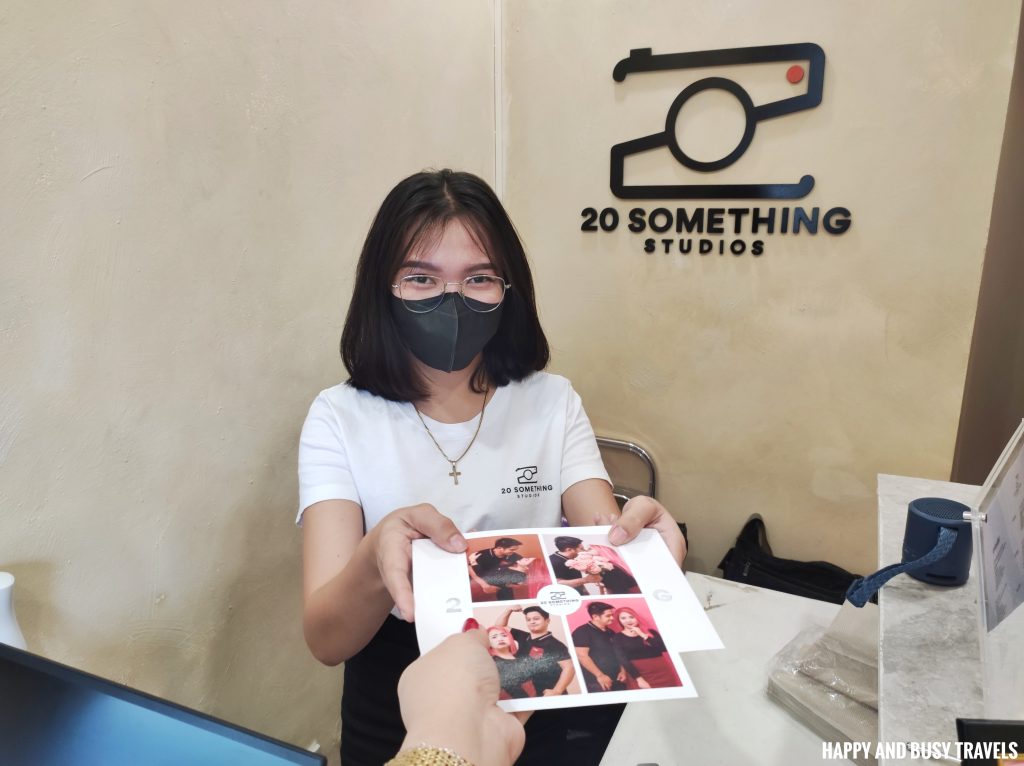 We were really glad that our photo turned out so well.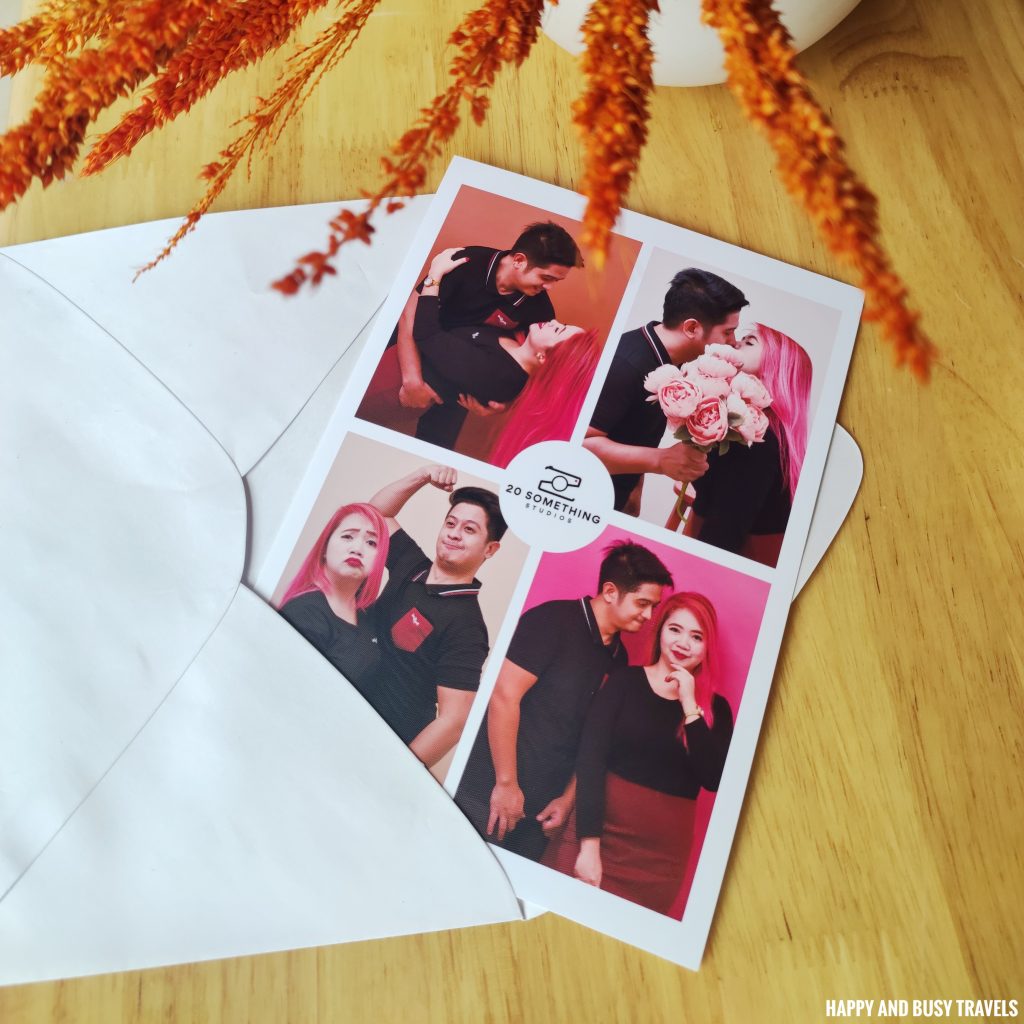 Why do you Have to Take your Pictures in a Studio?
You may ask why we need a studio picture, or why we have to take our pictures in a studio. We have a lot of travel photos already and it is taken in different locations. First, we love the experience while taking our photos. It was fun and a moment to remember. Second, now that we are in a digital age, we seldomly (or not at all) print our pictures. It is nice to have even one picture that is printed that you can see every day. Finally, we can send these pictures to different brands if needed.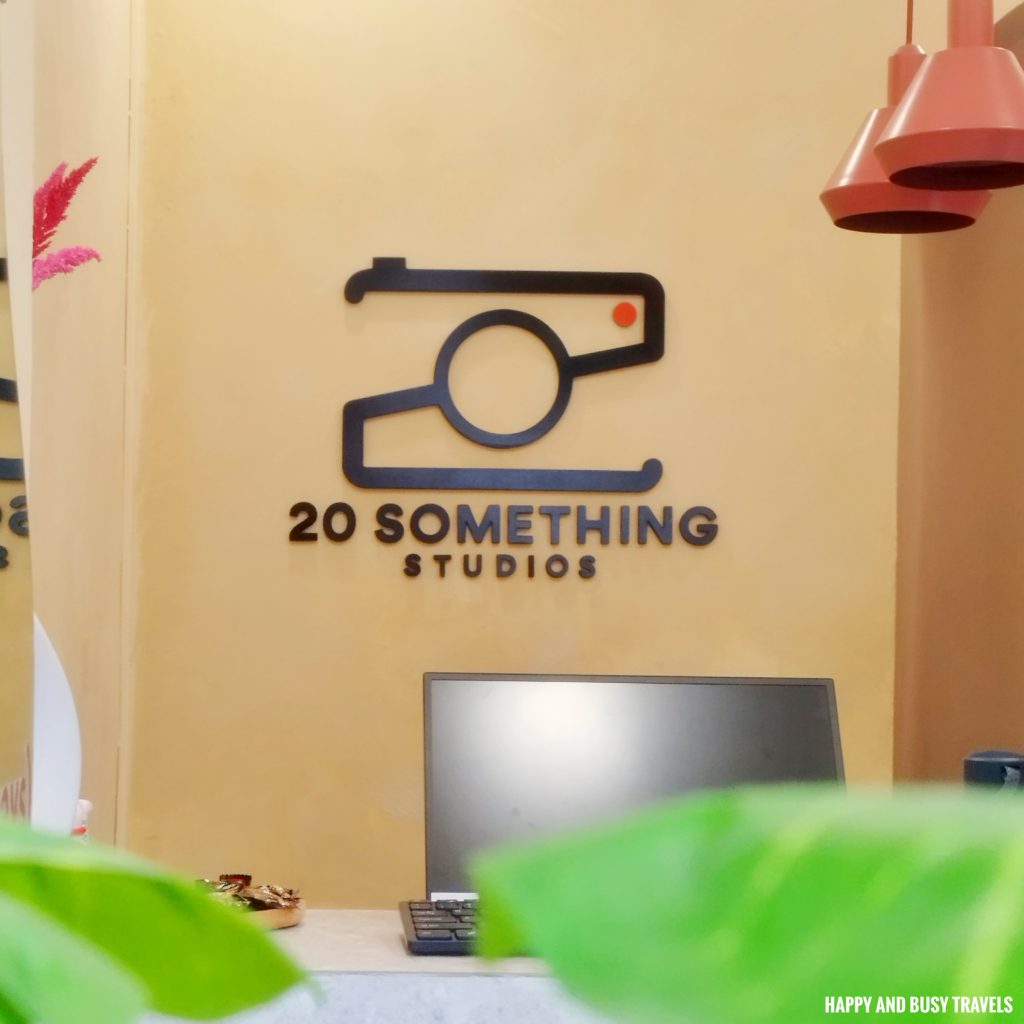 Studio Pictures
Here are some of the studio pictures that we have during our session.
Rates of 20 Something Studios
Here are the regular rates of the studio.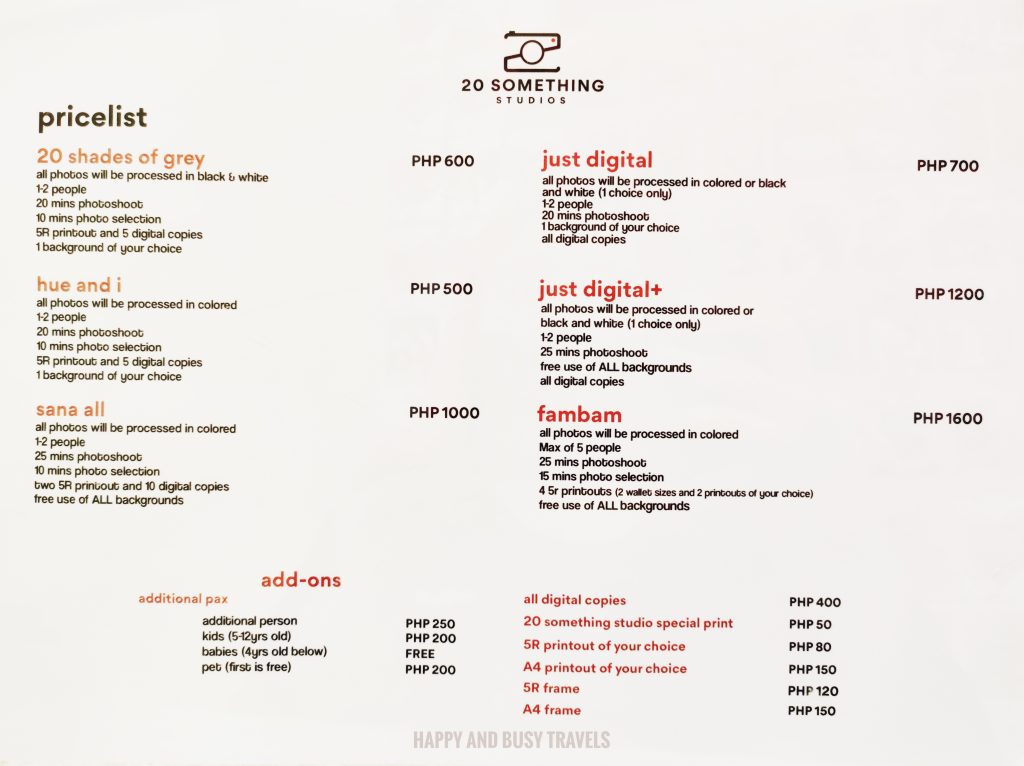 But, they usually have promos each month or occasion so you can take the opportunity when you see it.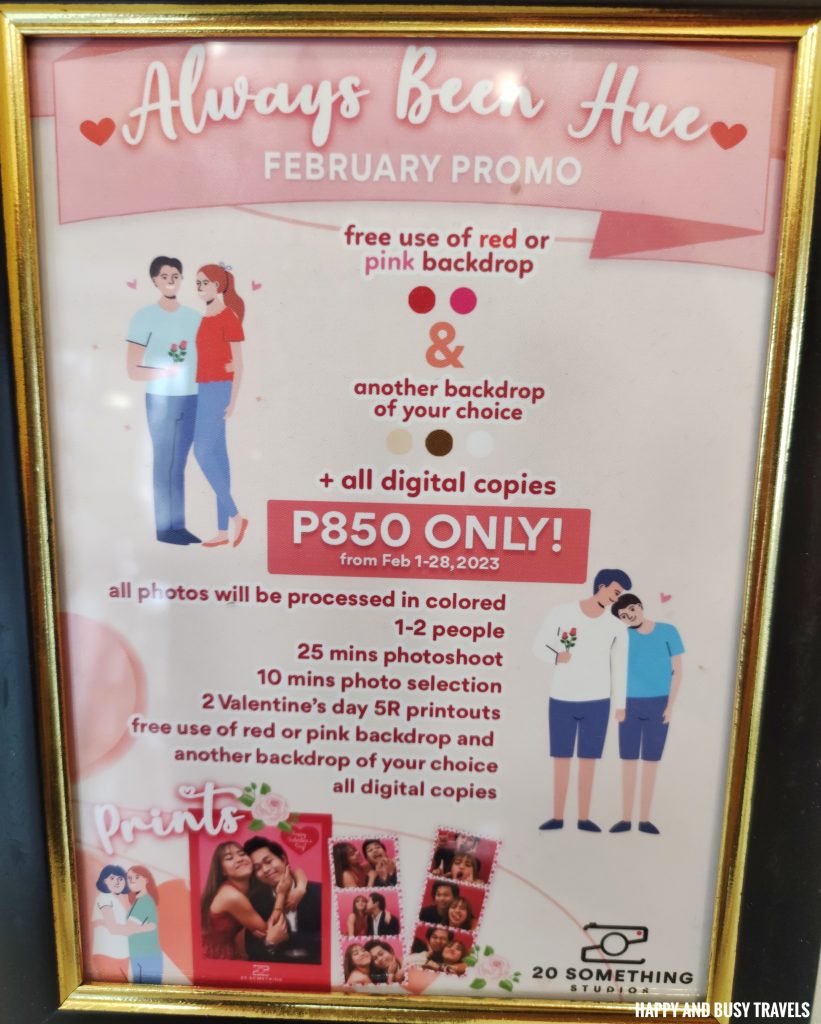 Happy and Busy Travels Smileys for 20 Something Studios
Overall, Busy and I had a really great time while doing the photoshoot. We will definitely come back if we are in the area again.
Service

Even though this is a self-service studio, they provided great service. Before our actual experience, they respond to our queries swiftly. Then, during our session, their staff greeted us so well and assisted us with everything we need.
Value for Money

There are different packages to choose from so you can choose what fits your budget. Plus, they have a complete studio set up, a lot of props, good service, and a bit of touch-up is already included in the pictures.
Facilities

There are a lot of backgrounds and accessories to choose from.
Location

It is easy to find, has a lot of parking spaces, and is near a lot of establishments. Being near a lot of establishments is great because we can do other errands in the same area.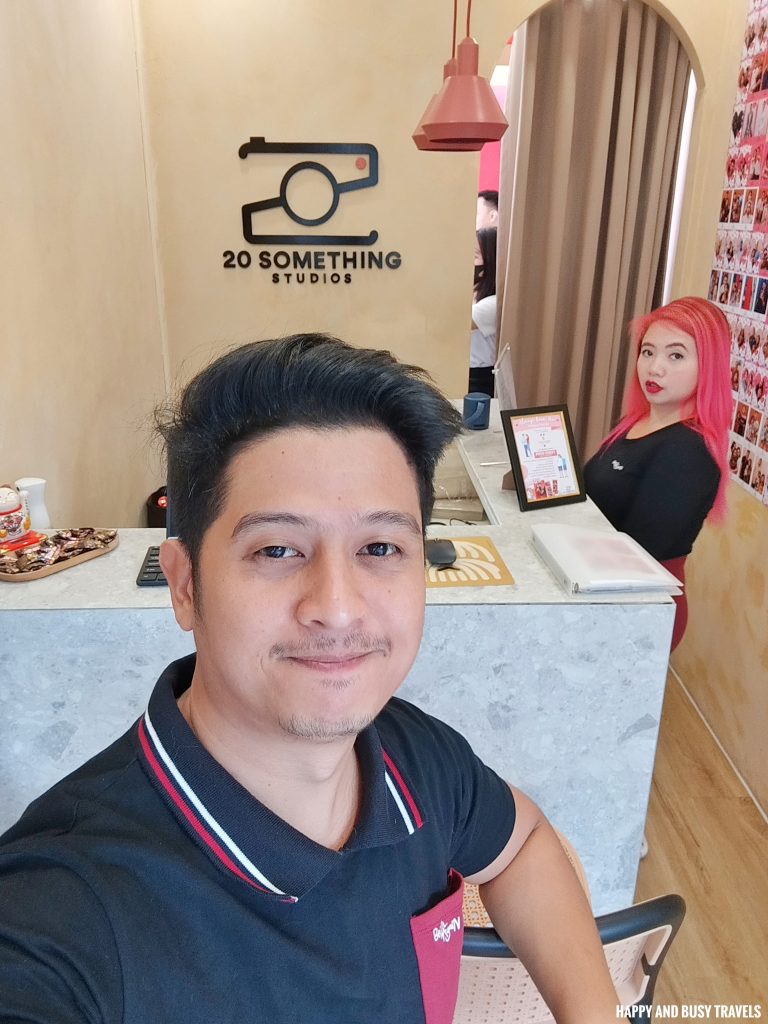 More service reviews are at https://happyandbusytravels.com/category/service/ so do not forget to check it out!
Like! Follow! Subscribe! to our social media accounts: