Meatogether Waltermart, Macapagal Road
Busy and I, together with our friends went to Pasay and tried Meatogether Waltermart Macapagal. We were invited to eat here because this is a new restaurant. Don't worry my write-up is still genuine, our experiences while featuring the restaurant are reviewed honestly.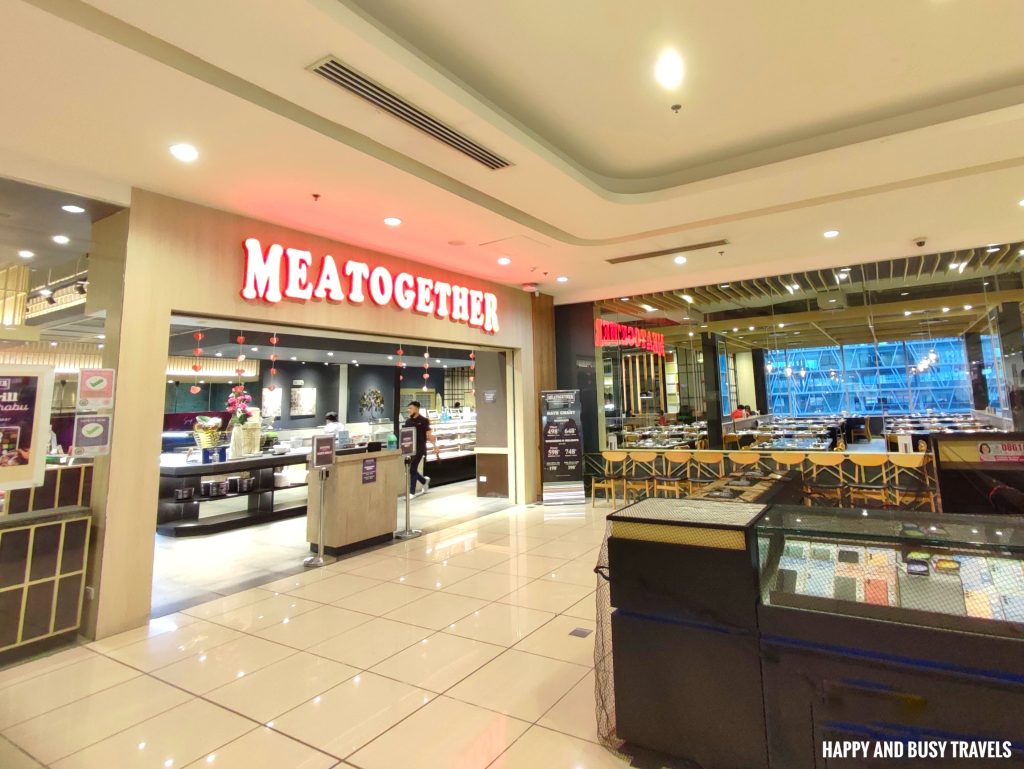 Important Information About Meatogether
Facebook: Meatogether Waltermart Macapagal
Operating Hours: 10 AM – 9/10 PM
Payment Options: Cash, Debit/Credit Card & GCash
Dining Options: Dine In
Contact number: 0917 170 4888
Address: 2F, Waltermart Macapagal Road, Pasay City
Google Maps Link: https://goo.gl/maps/
Inside Meatogether Waltermart Macapagal
The restaurant can be easily seen as soon as we arrive on the second floor because it is huge. The dining room is spacious and can accommodate a lot of diners.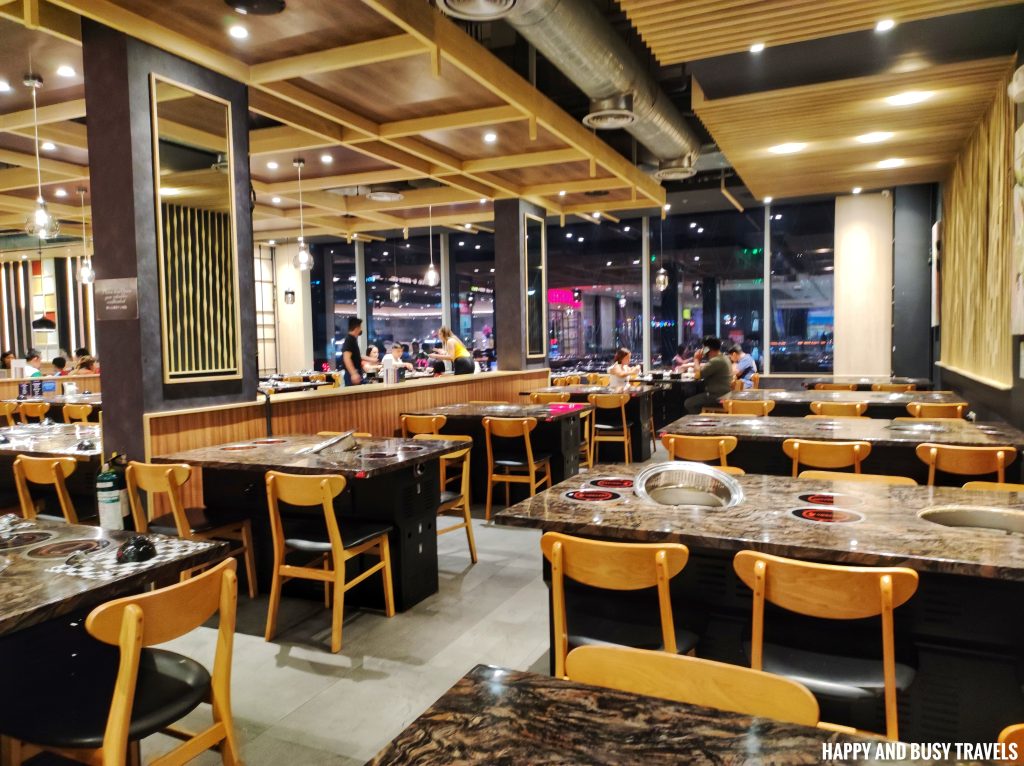 Each chair is paired with one induction cooker, so each guest can pick their own soup base for themselves. We like this idea because we wanted to taste all of the soup base.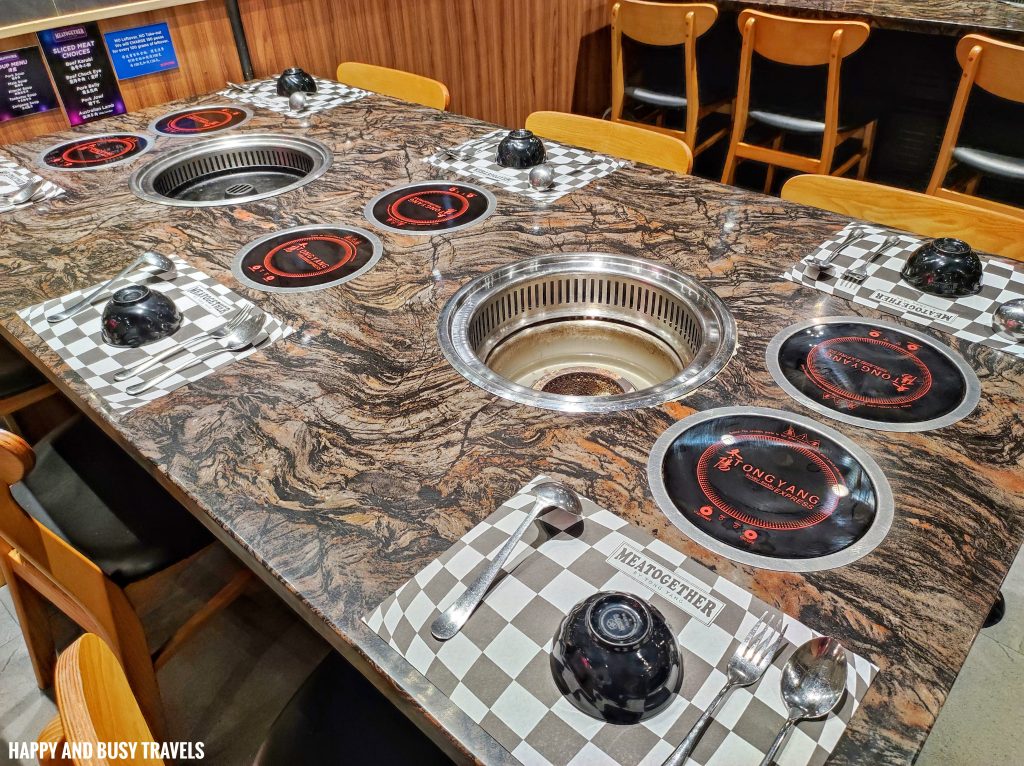 Here is the buffet area wherein we got the cooked and uncooked dishes.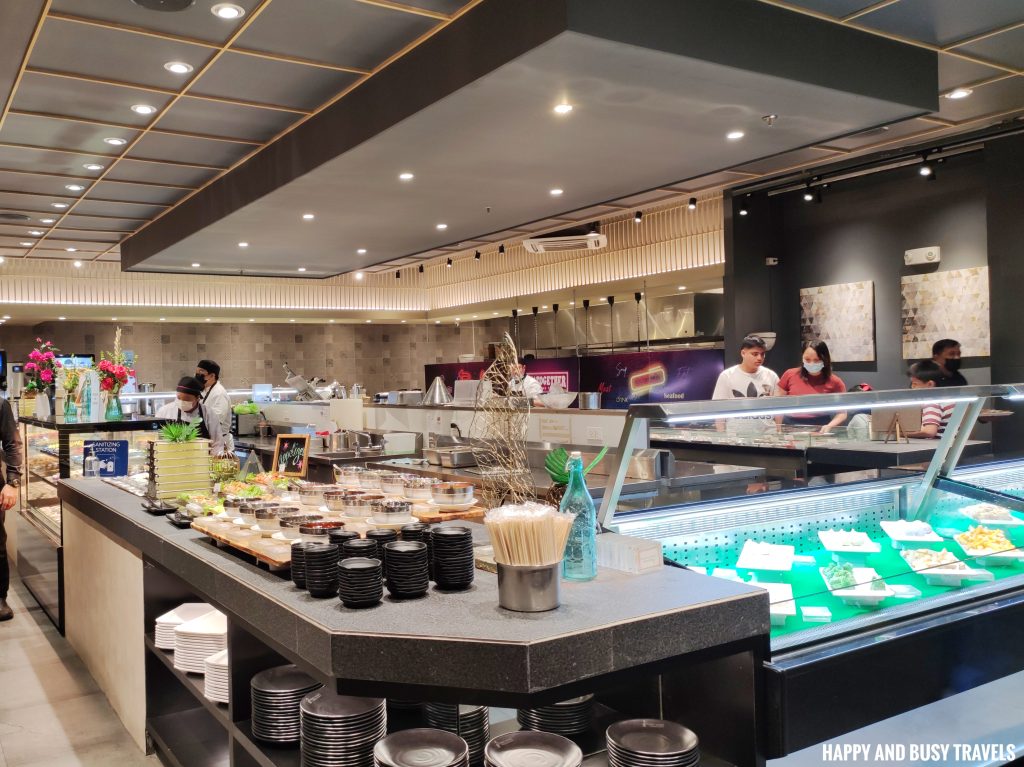 Food Choices of Meatogether Waltermart Macapagal
There is a wide variety of food choices, so we were all excited to try and eat everything.
Appetizers and Salad Bar
There is an appetizer section that contains different samgyupsal side dishes like Kimchi, Sweet Marble Potatoes, Raddish, and a lot more. You have to get some so you can eat something while waiting for your food to be cooked.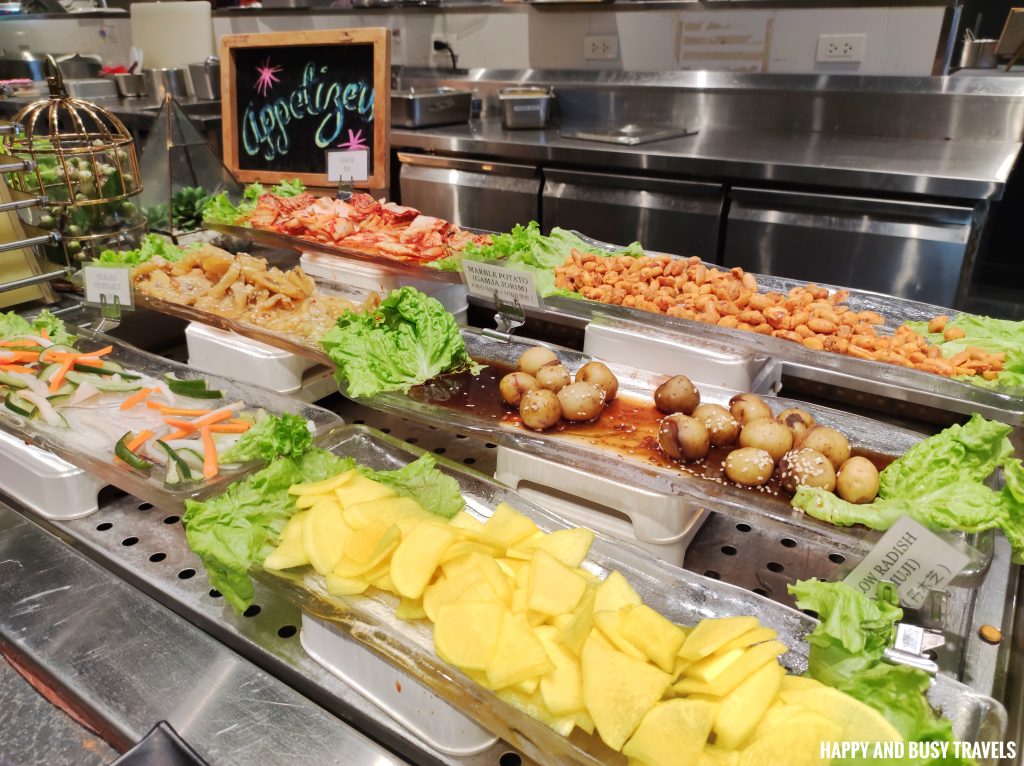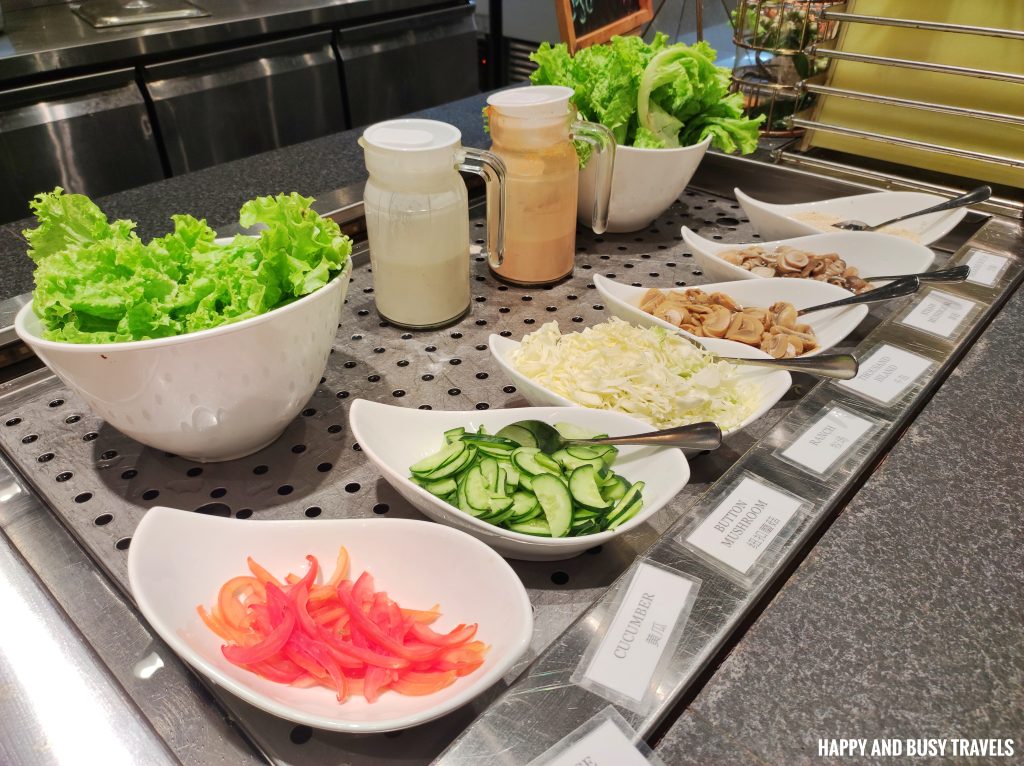 Sauces
There are a lot of sauces available too, if you want any go and get some.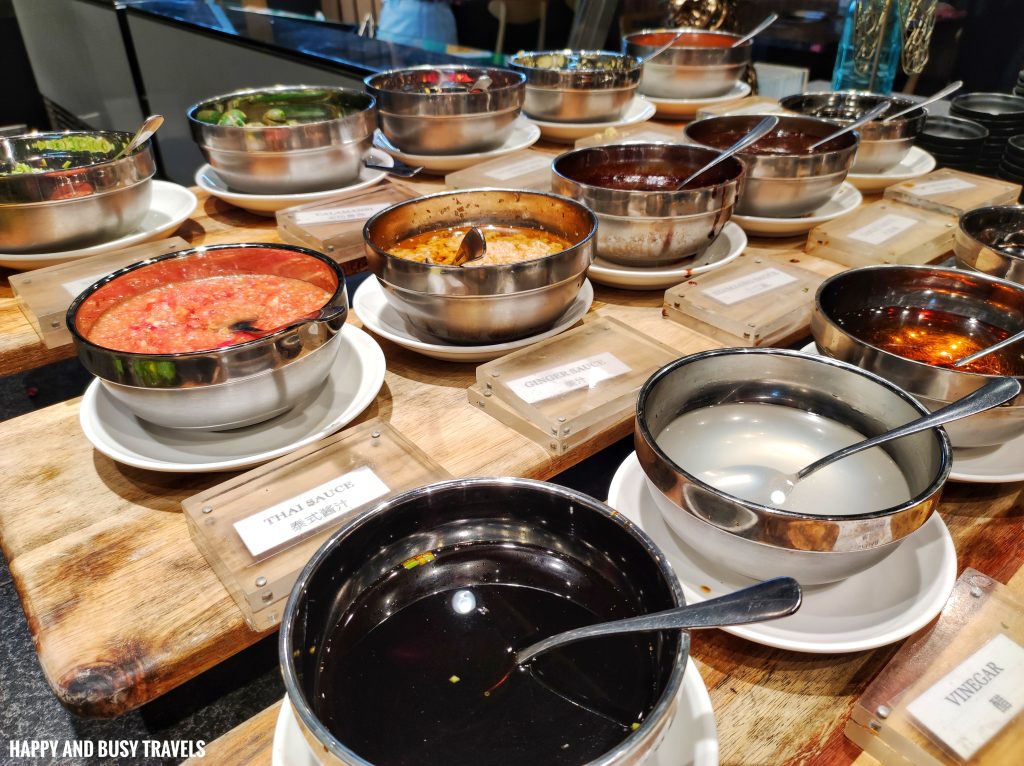 But if you do not know what sauce goes with the meat, feel free to approach any staff because they will be glad to help you. Like the picture below, we asked them what they can recommend as a shabu-shabu sauce, he happily made one for me.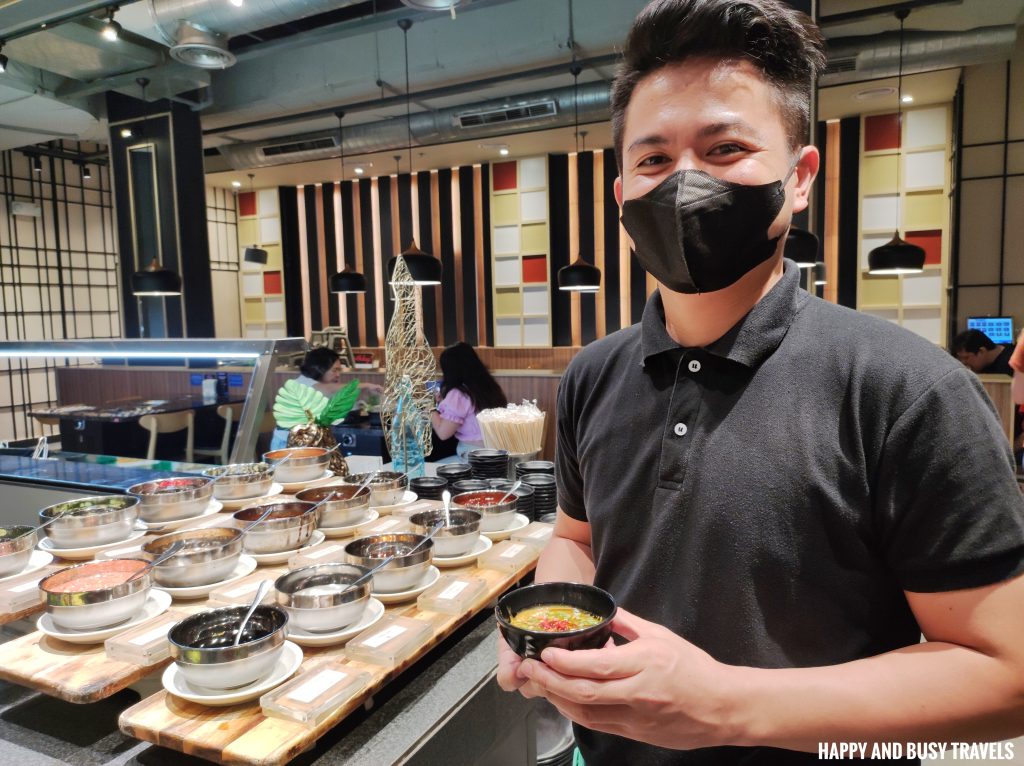 Shabu-Shabu / Hotpot Meat Items
Here are some of the items available for the hotpot.
Sea Urchin Balls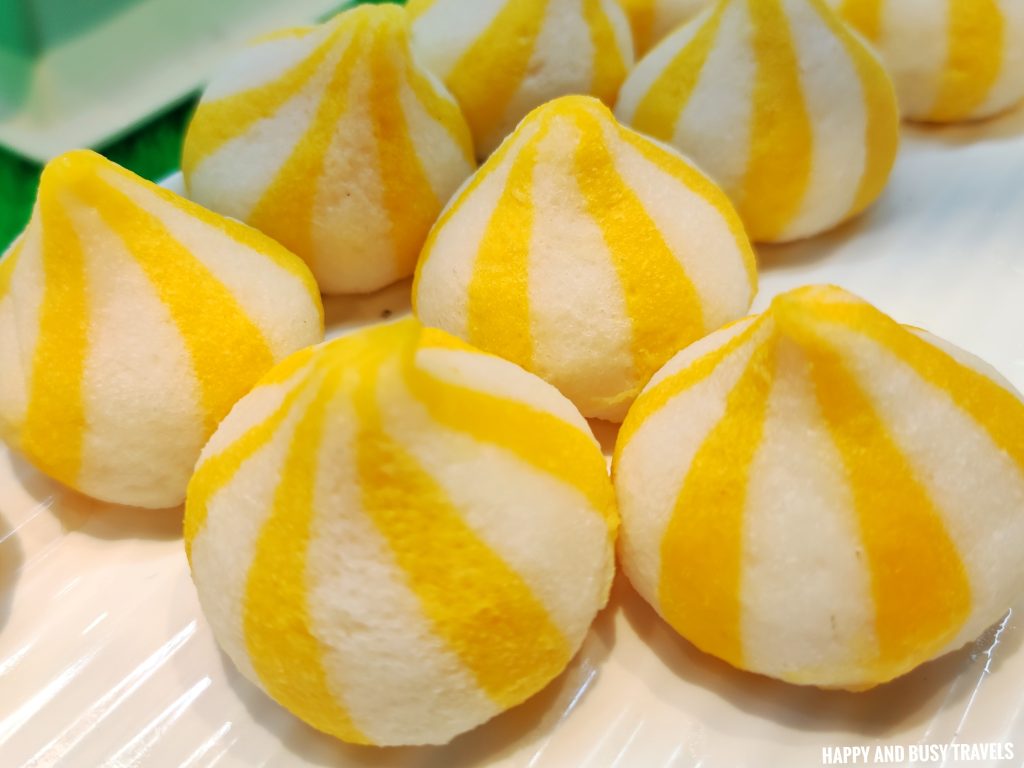 Squid Ink Balls
This is actually tasty but it tastes a little bit of squid ink only.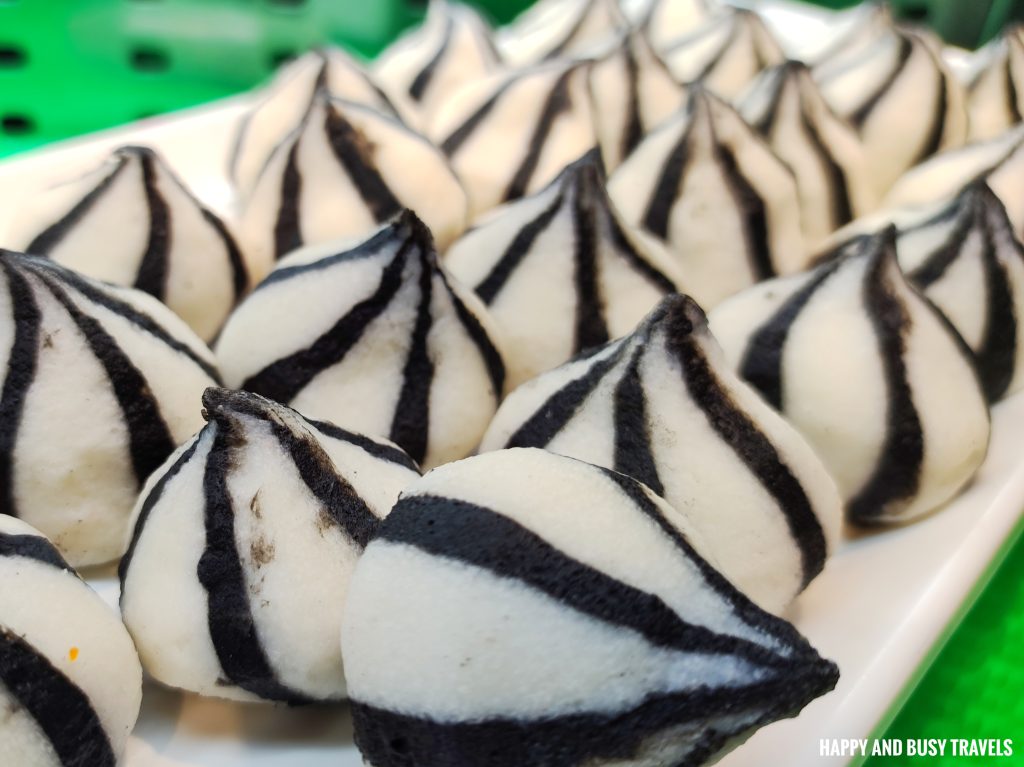 Paprika Caviar Stick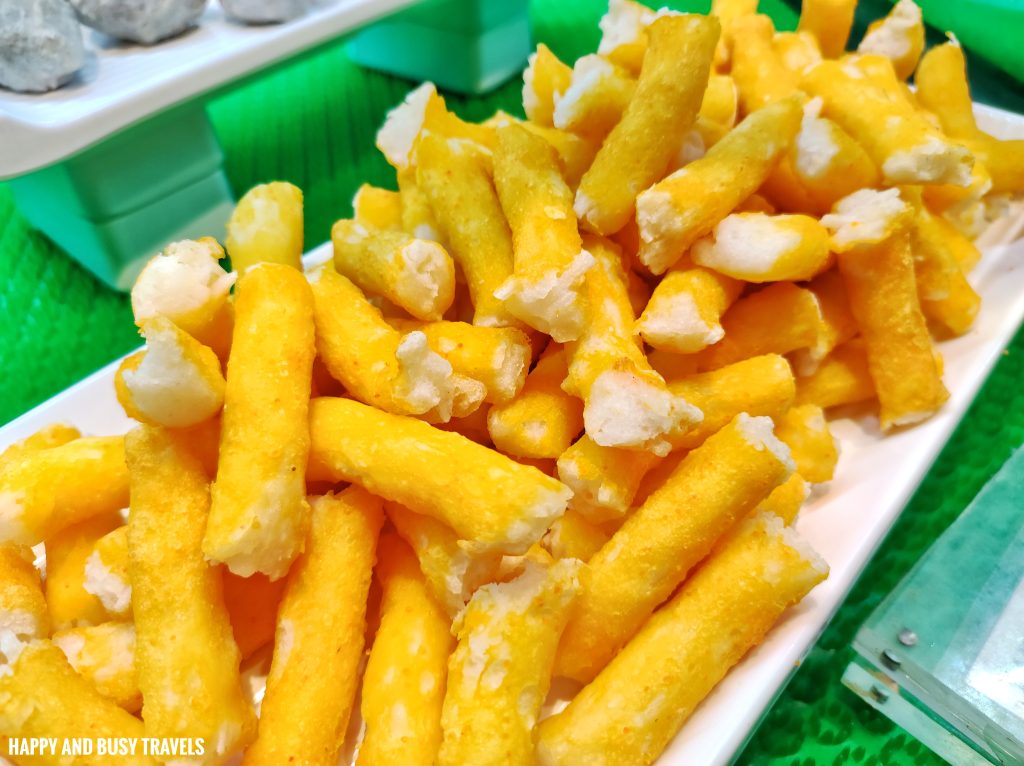 Lobster Sticks
These are some of the delicious items in the shabu-shabu area because it tastes like Lobster.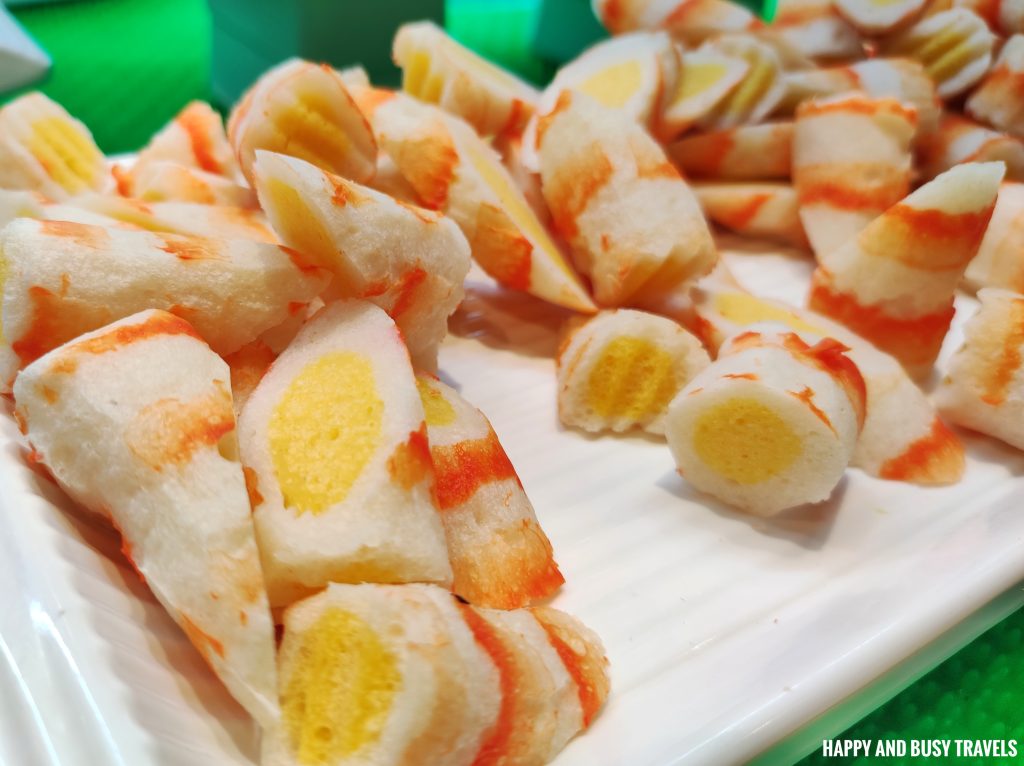 Mushroom Balls
This is perfect if you like a little bit of Earthy taste in your hotpot balls.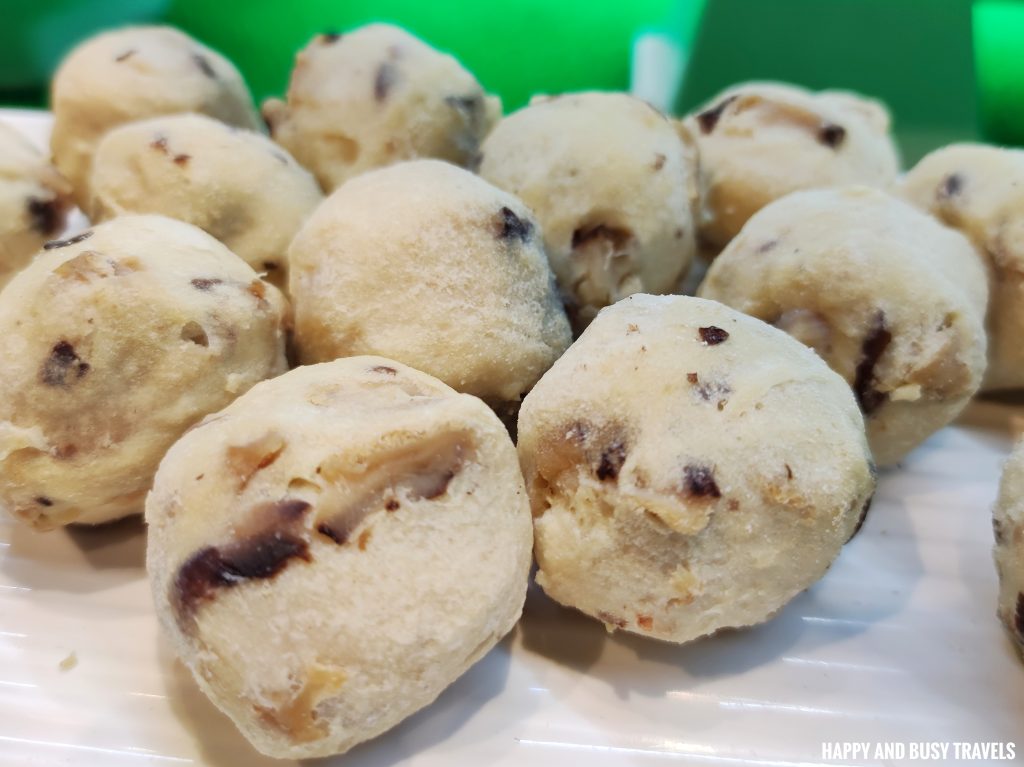 Seafood Sticks
I am not sure what is the name of this item, because there is no name when we saw it, but I like its taste too.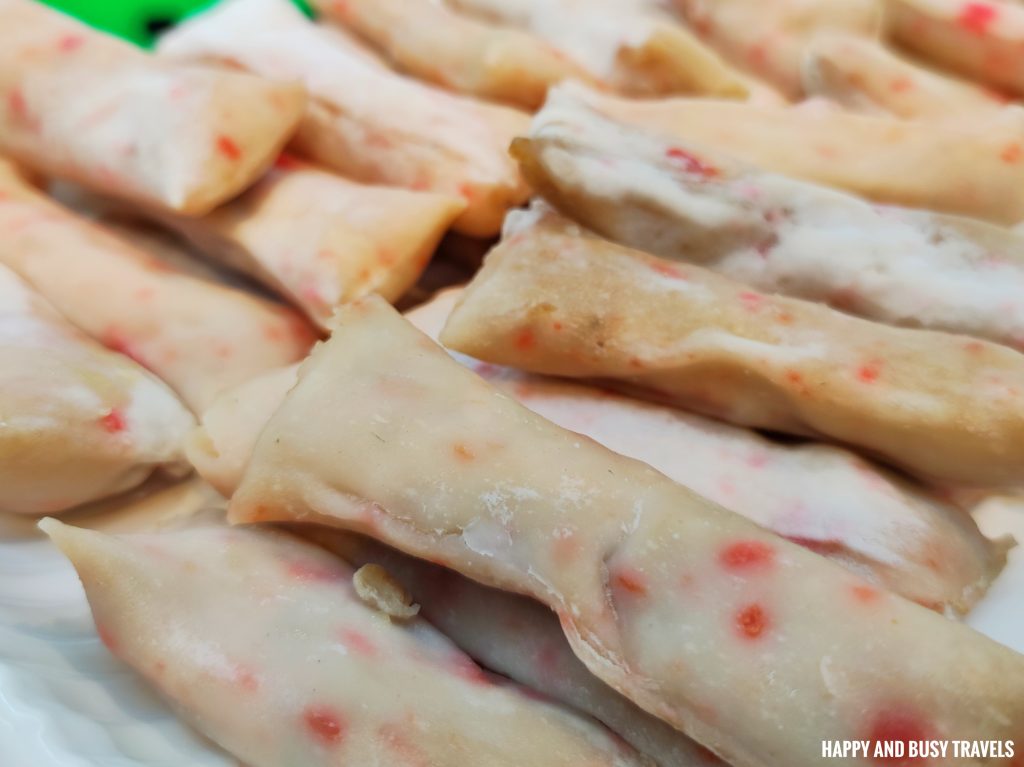 Fish Tofu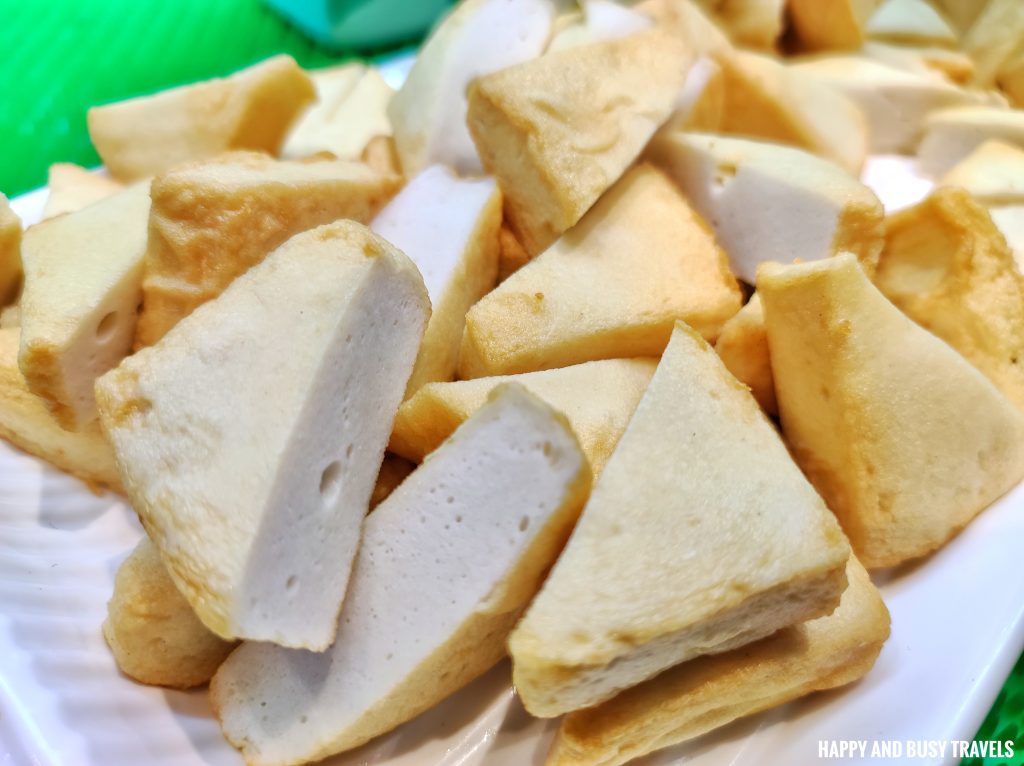 Taro Meatball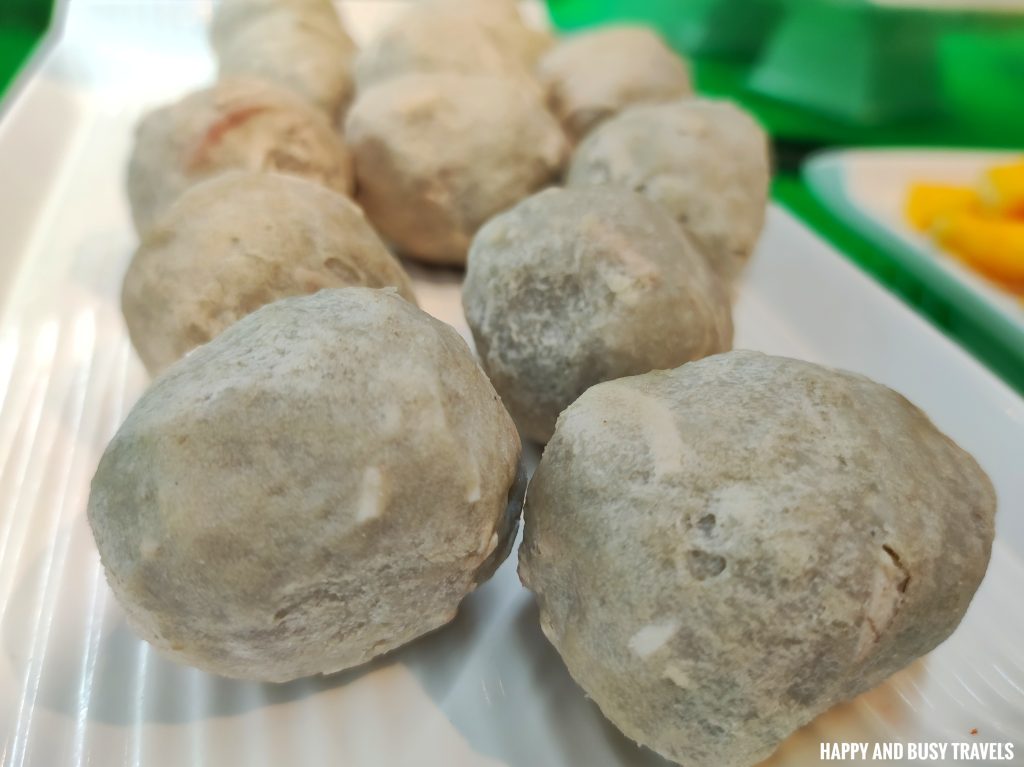 Green Crystal Ball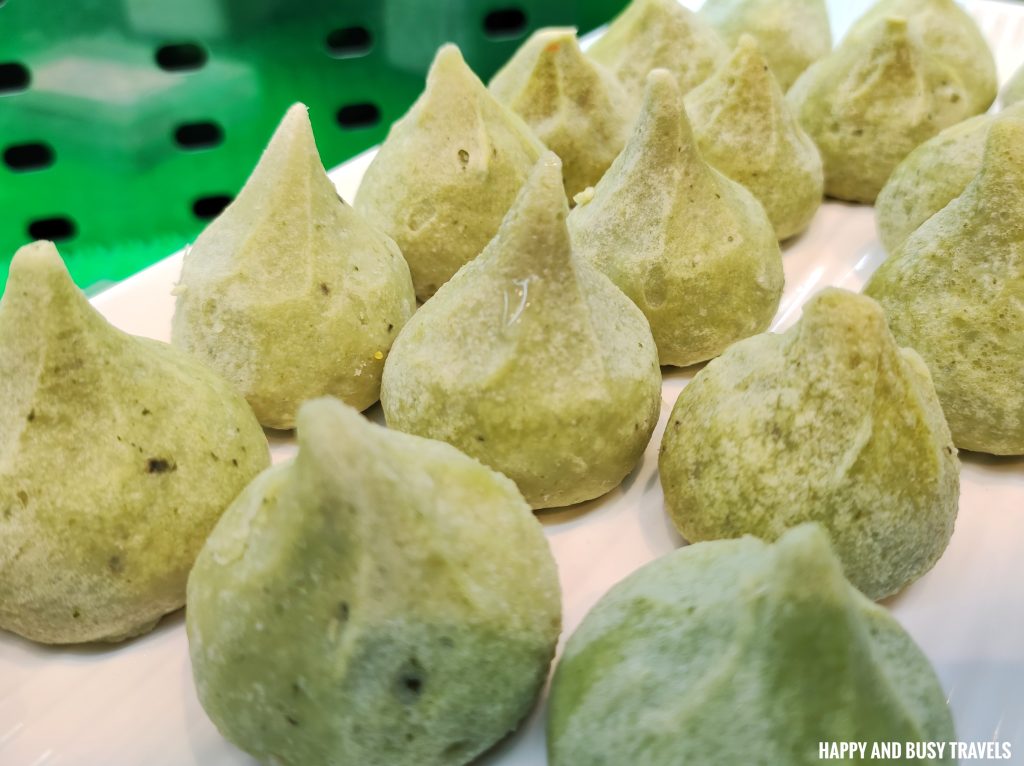 Dumplings
I also like this one, but the wrapper cooks fast, so when cooking this one, you have to get it immediately before the wrapper is torn apart.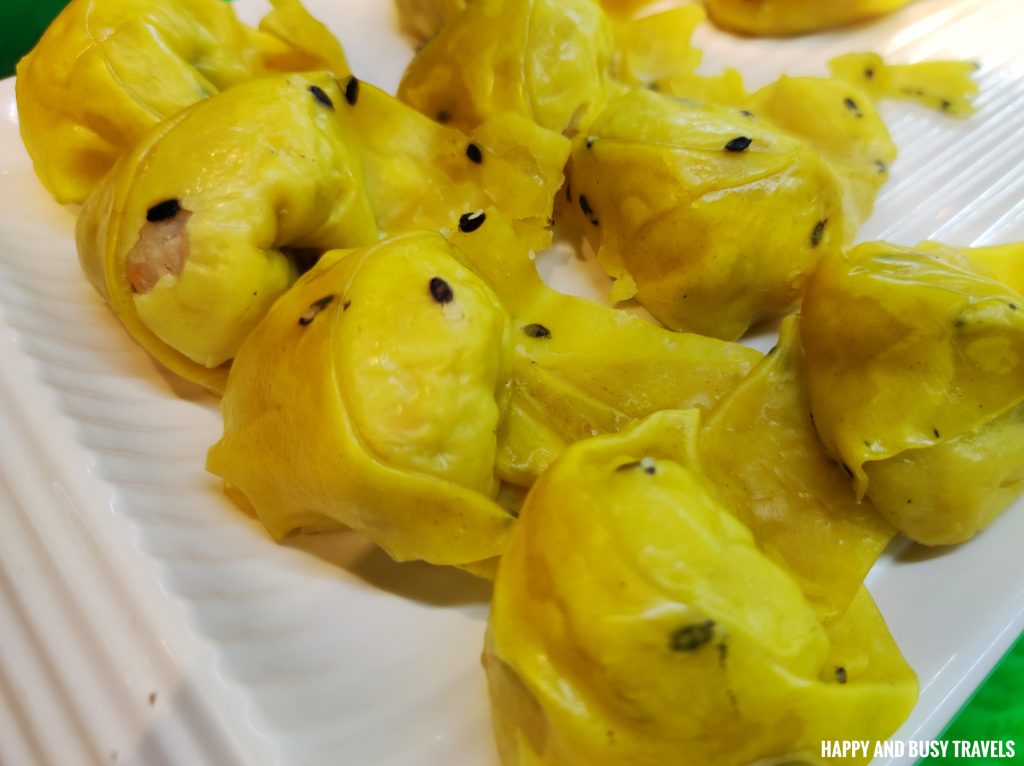 Shanghai Meat Dumplings
These dumplings taste good, it's like eating Lumpiang Shanghai but boiled.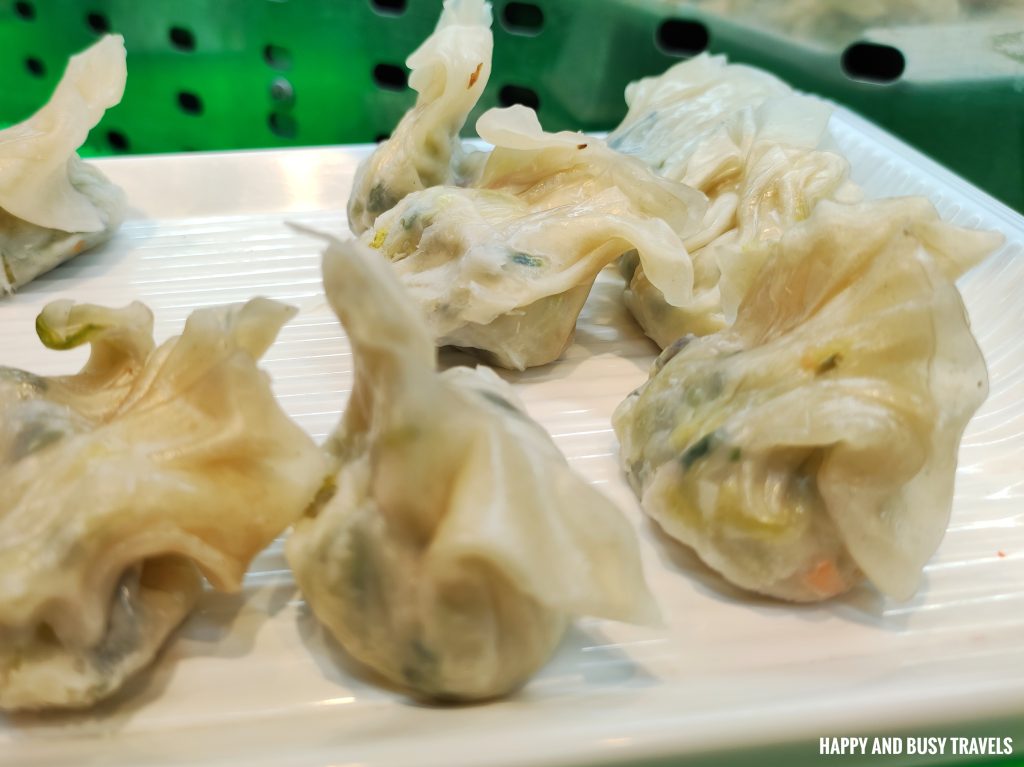 Stuffed Fish with Roe Ball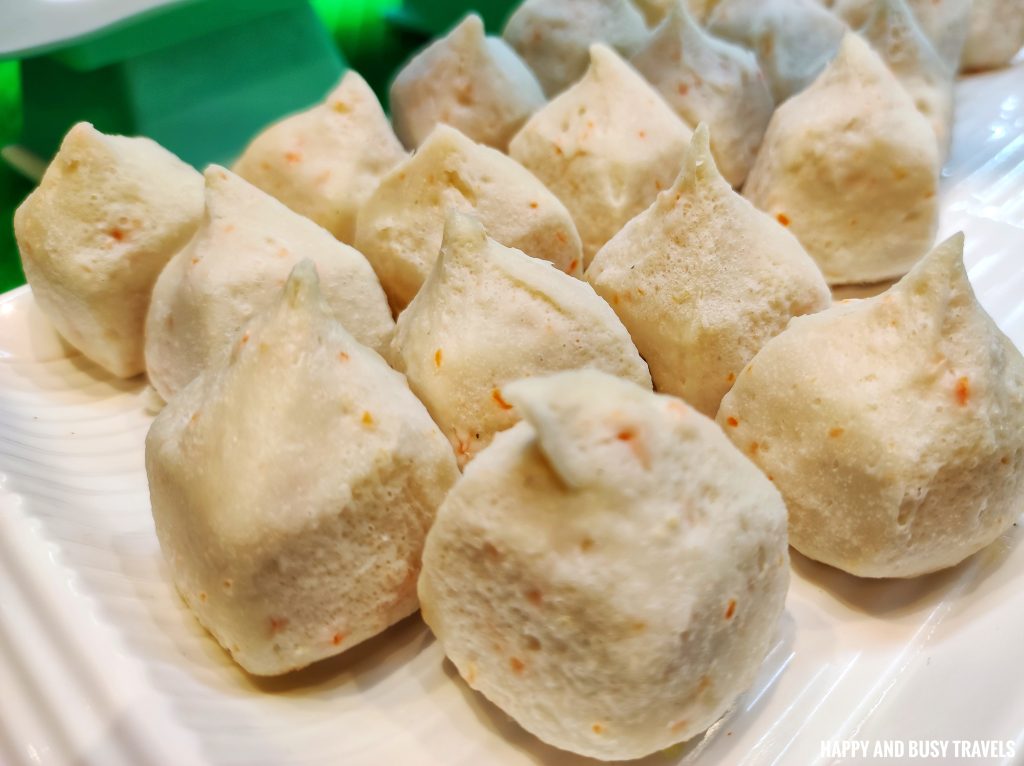 Items for Grilling
There is also a wide range of food for grilling, so here are some of them.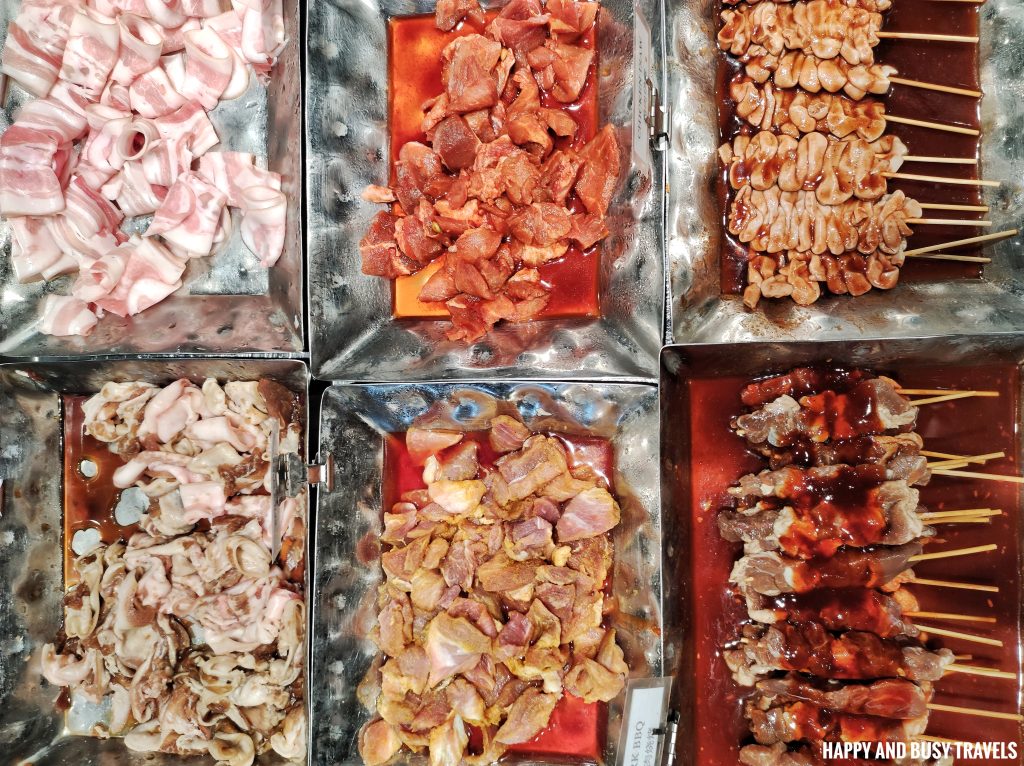 Pork Jowl and Belly
This is the basic meat that can be seen in all of Samgyupsal restaurants, the Pork Jowl and Pork Belly.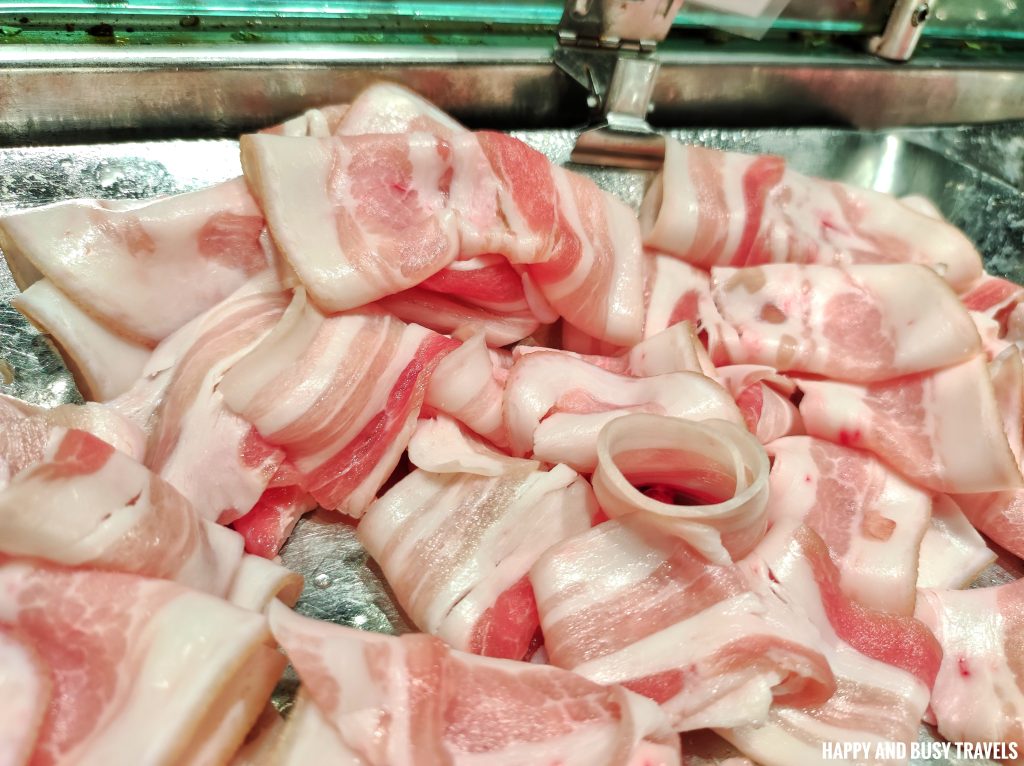 Spicy Pork Slices
This is one of my favorites in the grilling section, the Spicy Pork Slices, because I love spicy food.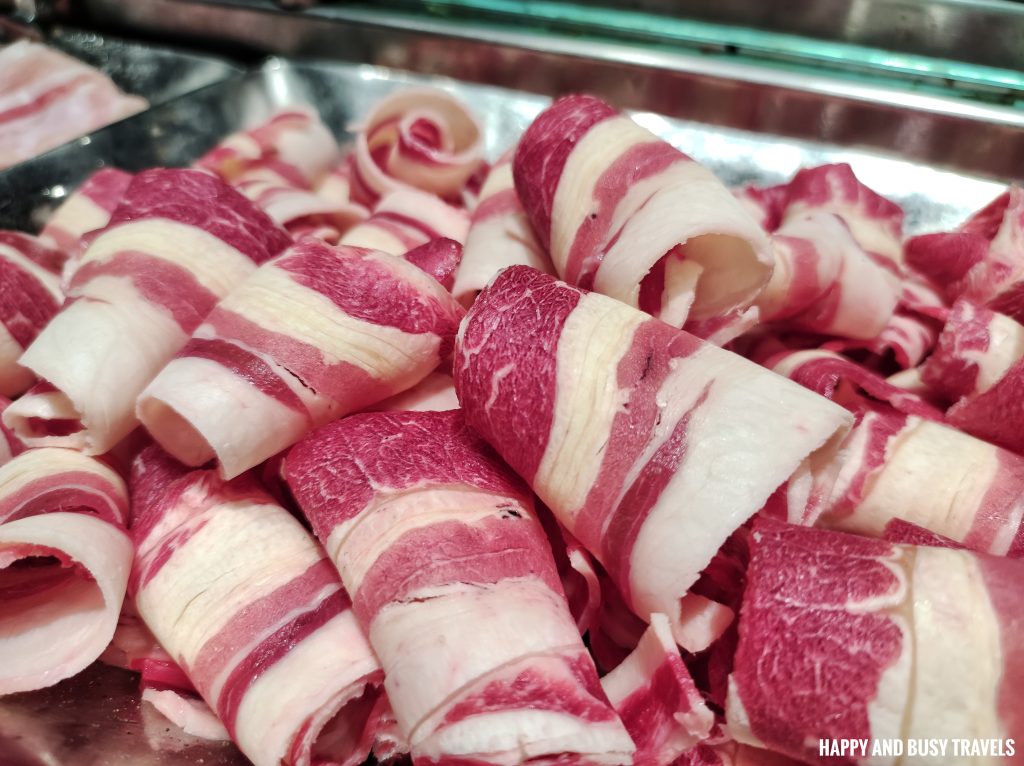 Kikiam
The afternoon before we went to dinner here, I was craving some Kikiam. So, I was very happy when I saw Kikiam is available.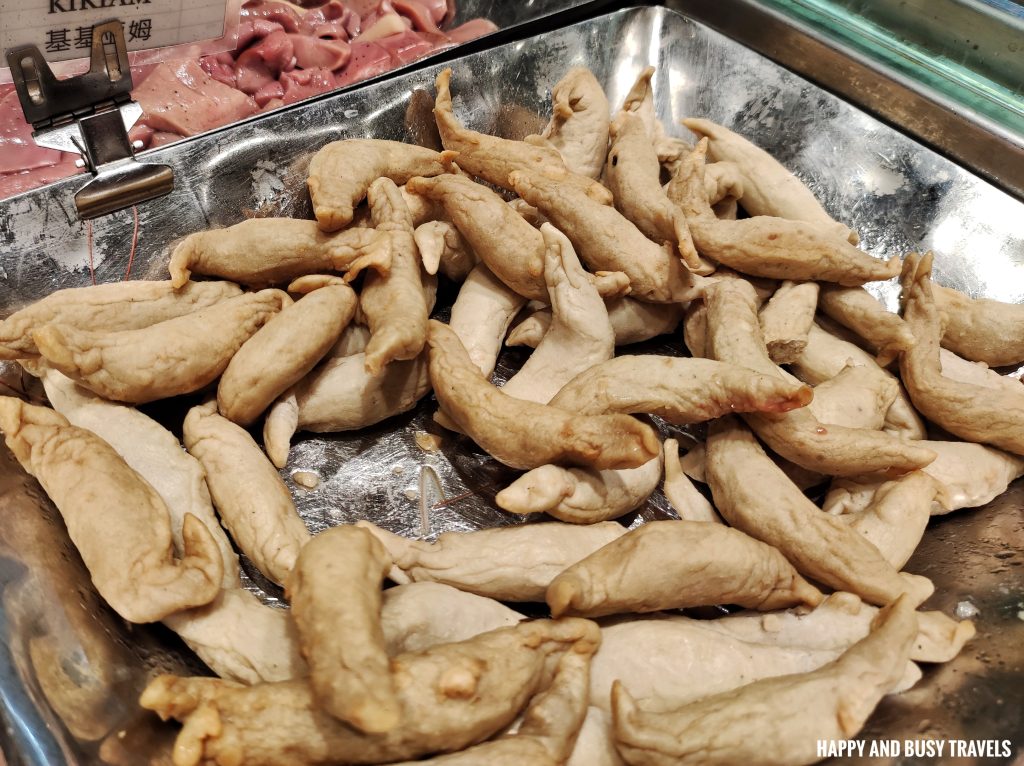 Spicy Pork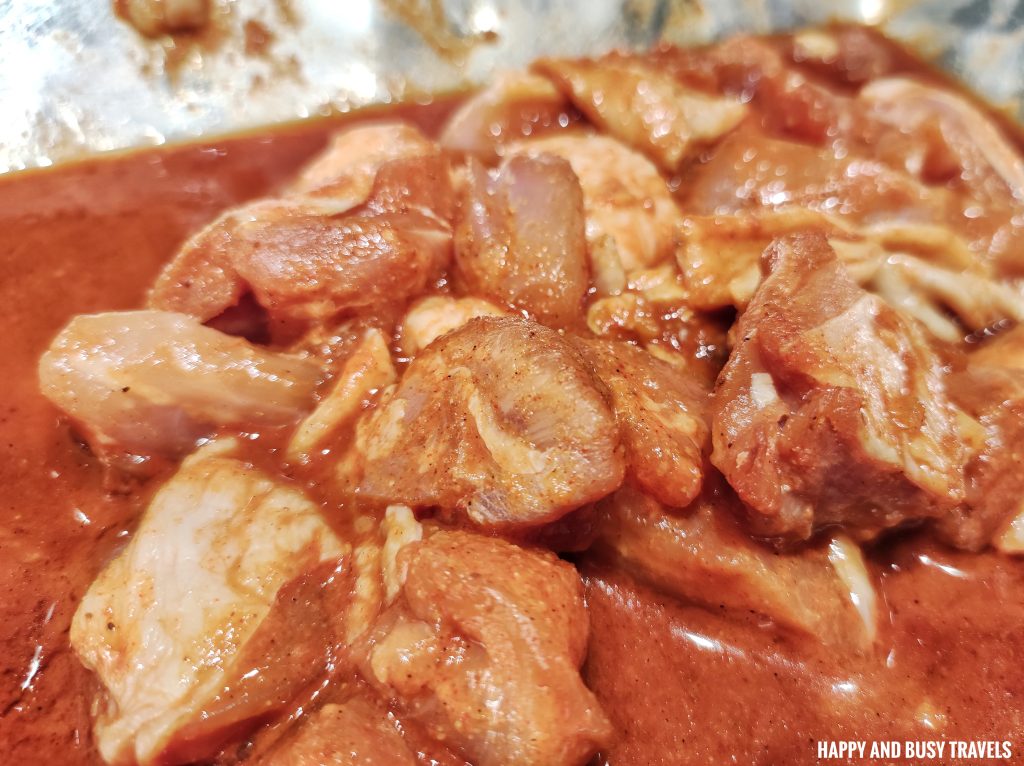 Marinated Pork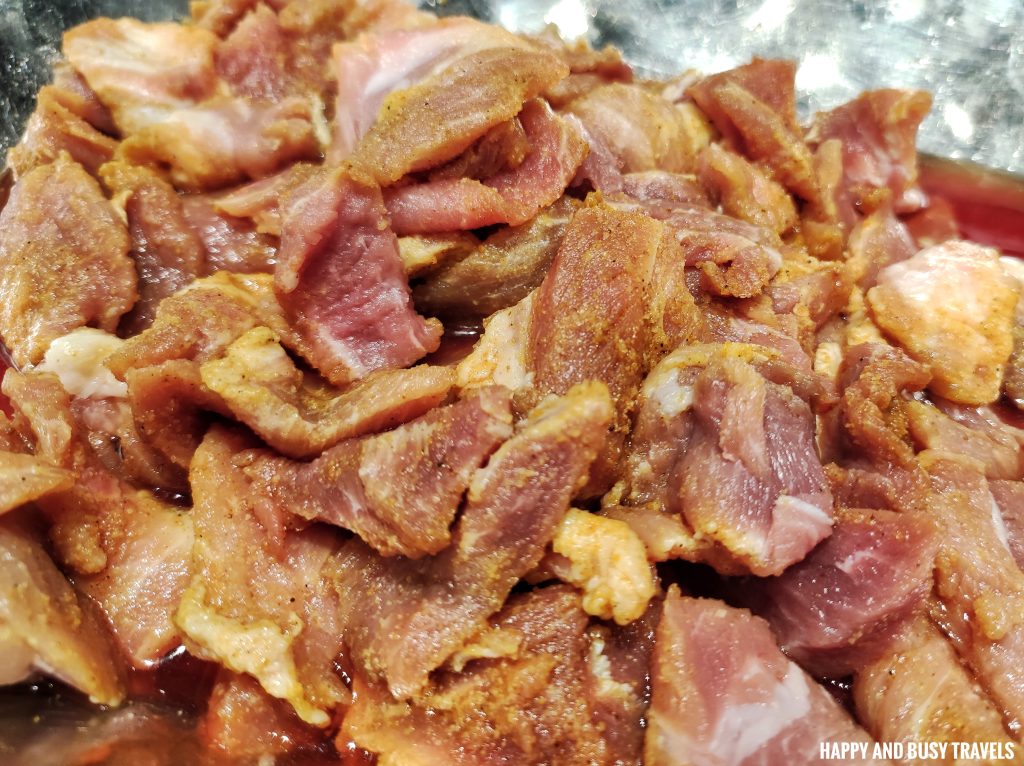 Salmon Belly
If you like to eat fish, there are some available fish slices here too. This one is the Salmon Belly.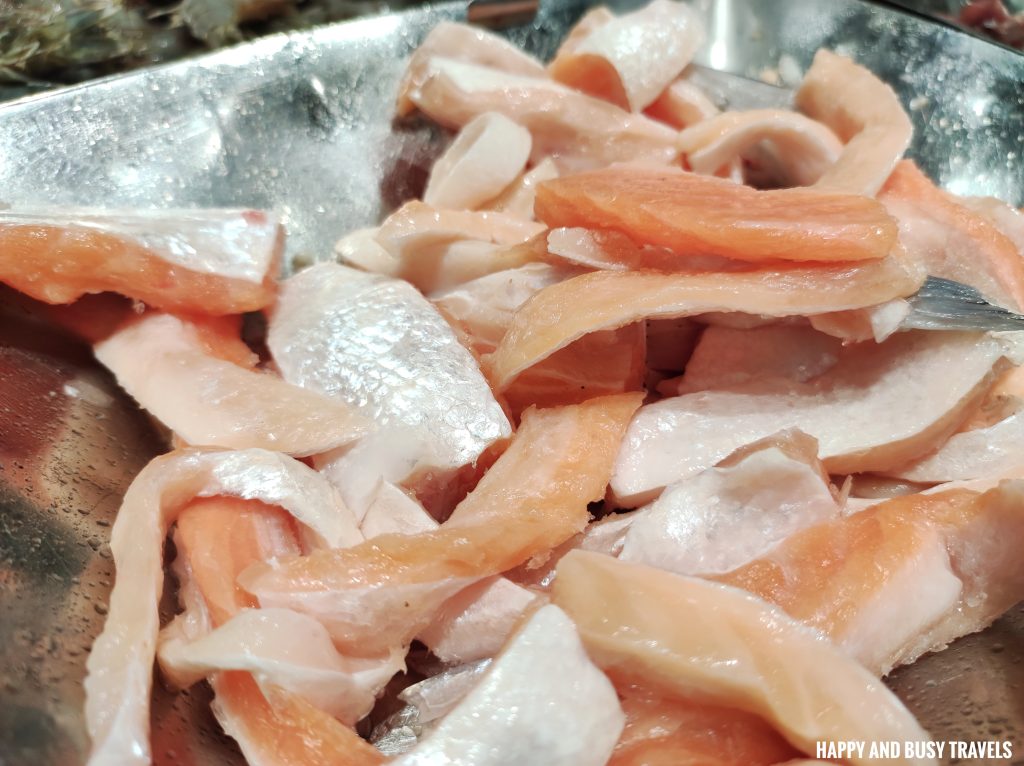 Garlic Salmon Belly
This is the Salmon Belly too but with a little Garlic upgrade.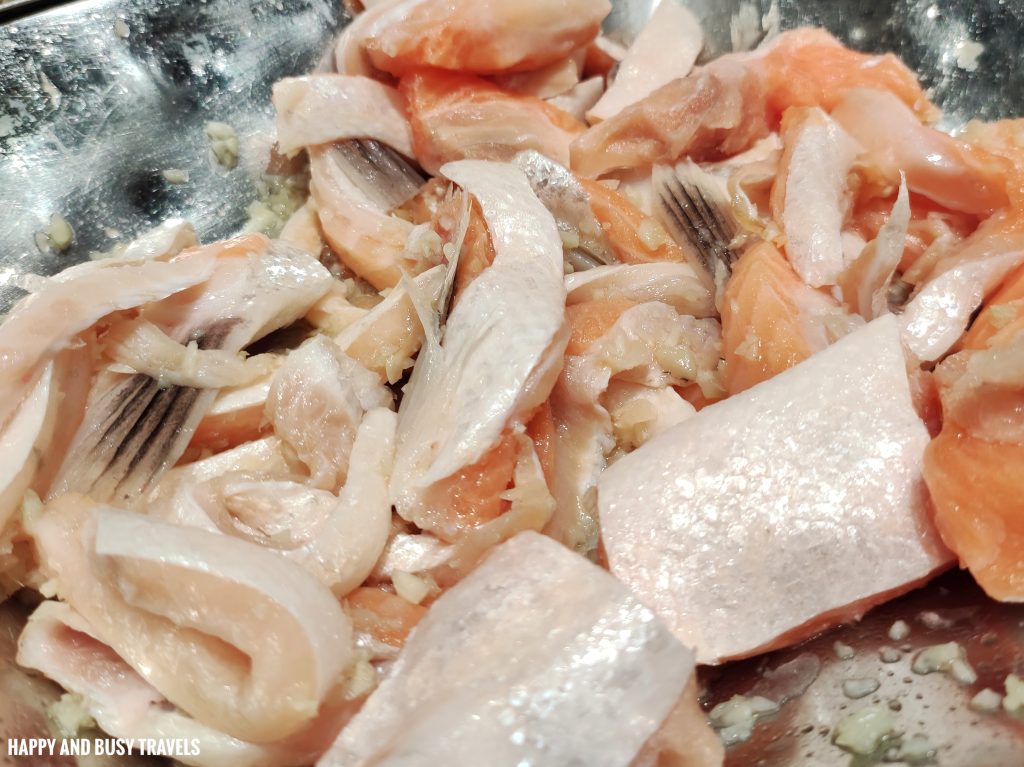 Snapper
There is Snapper fish fillet here too which is sprinkled with salt and pepper.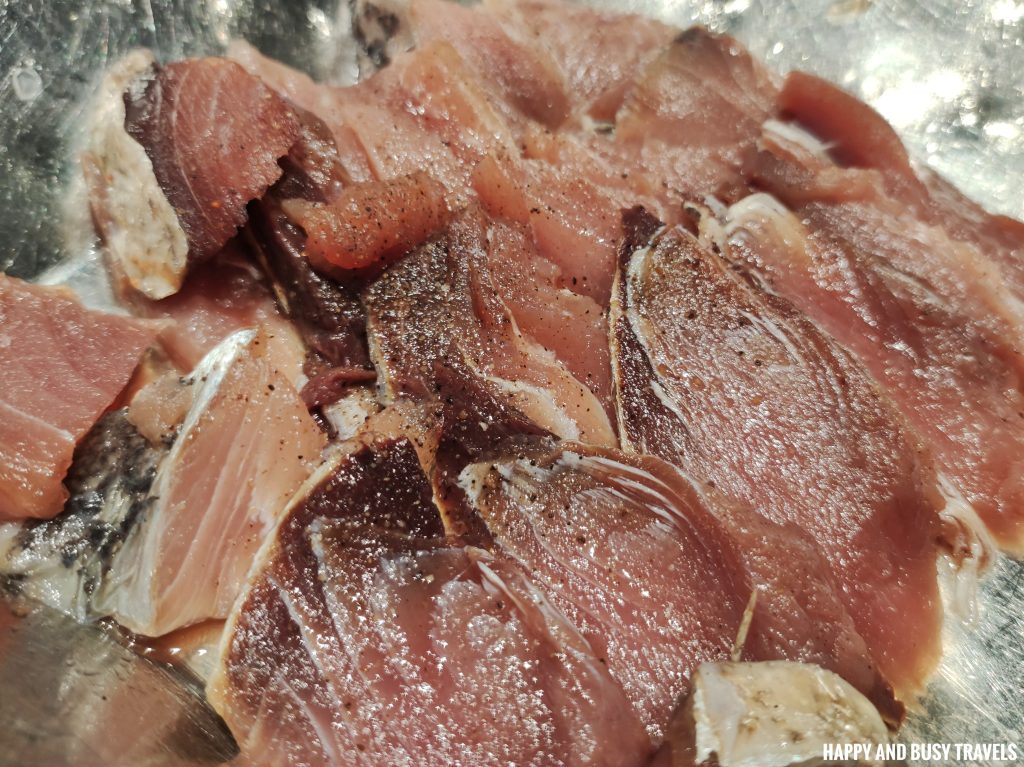 Cream Dory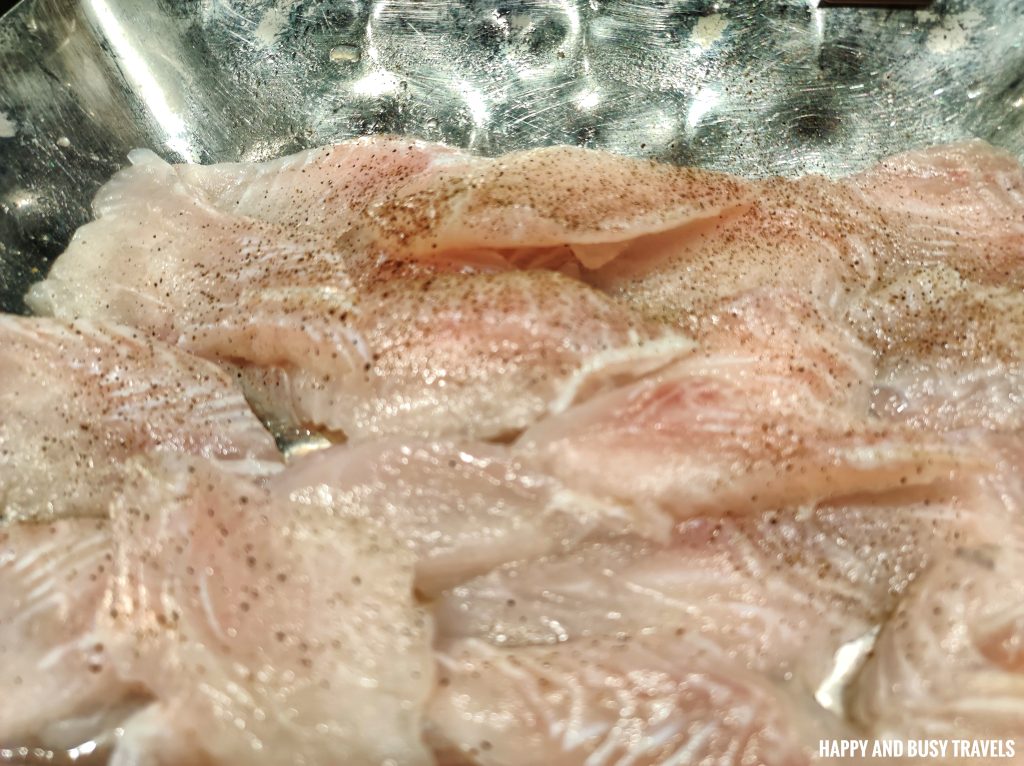 Squid
Here are some more seafood items, the squid.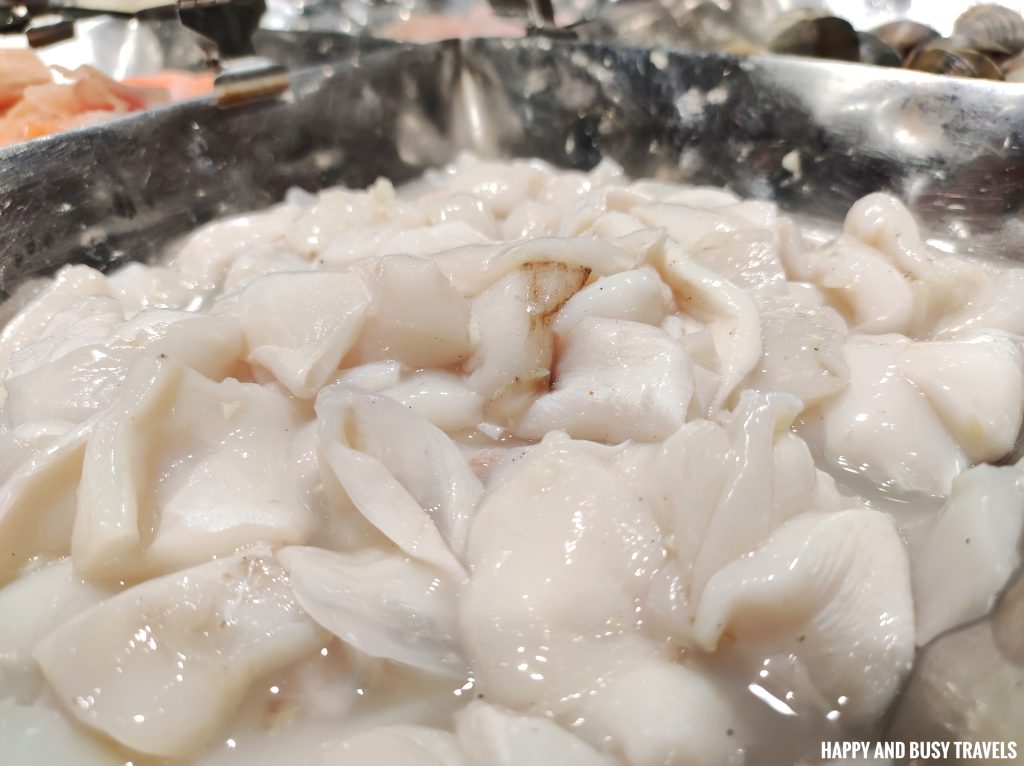 Marinated Squid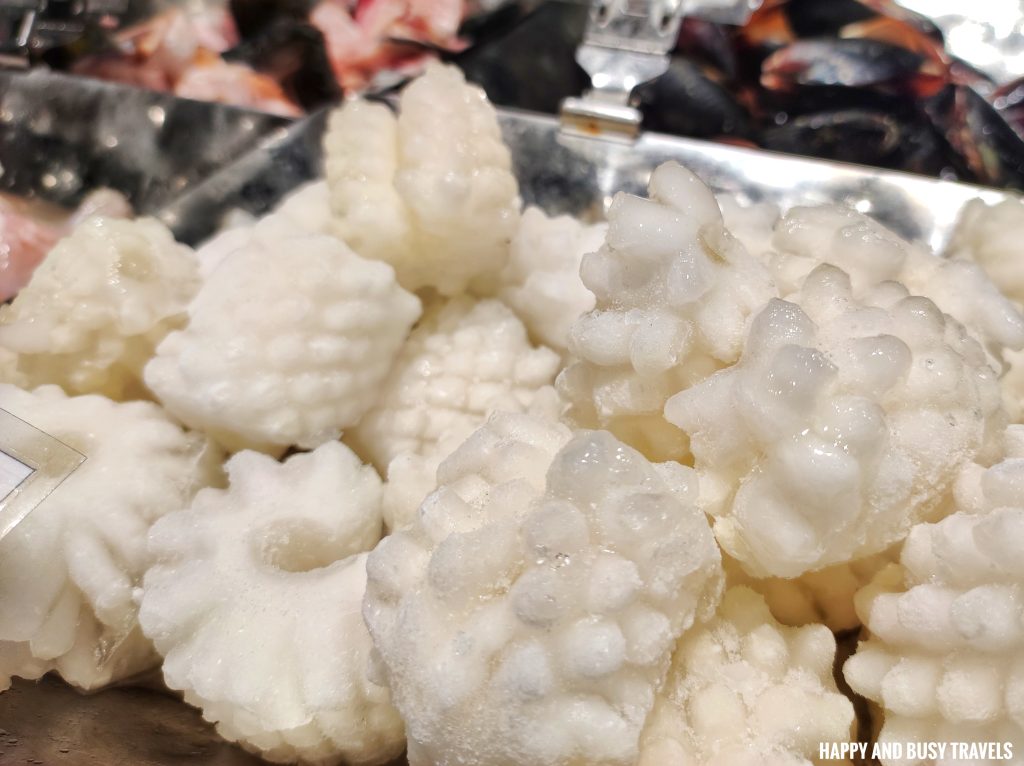 Squid Rings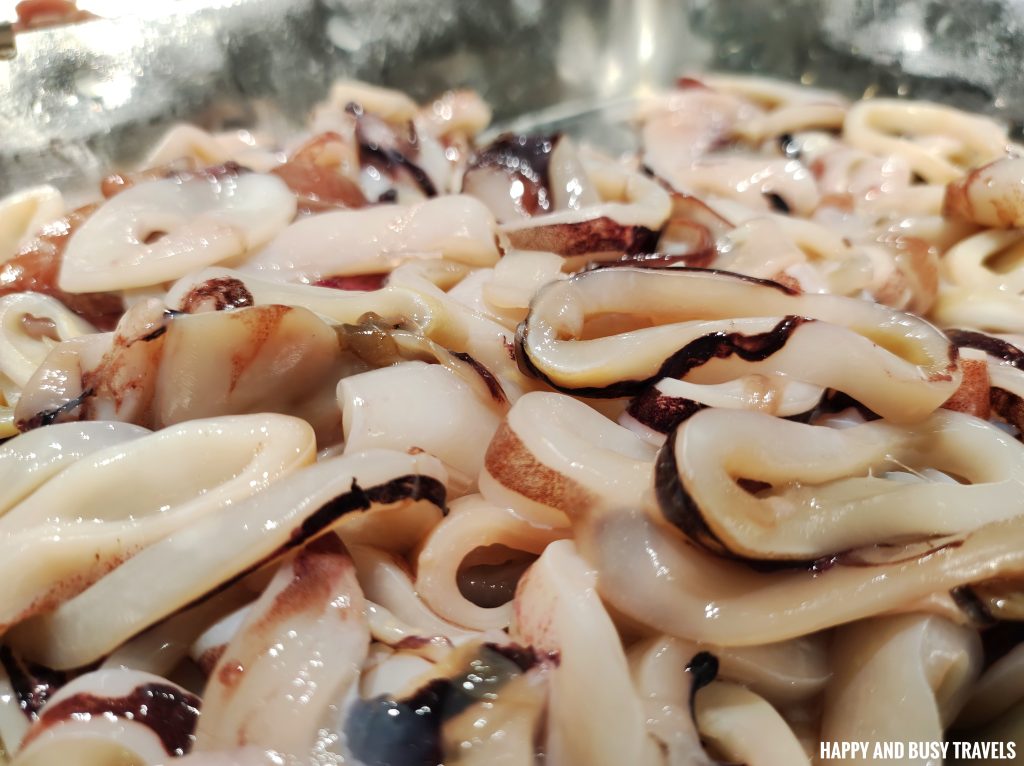 Shrimp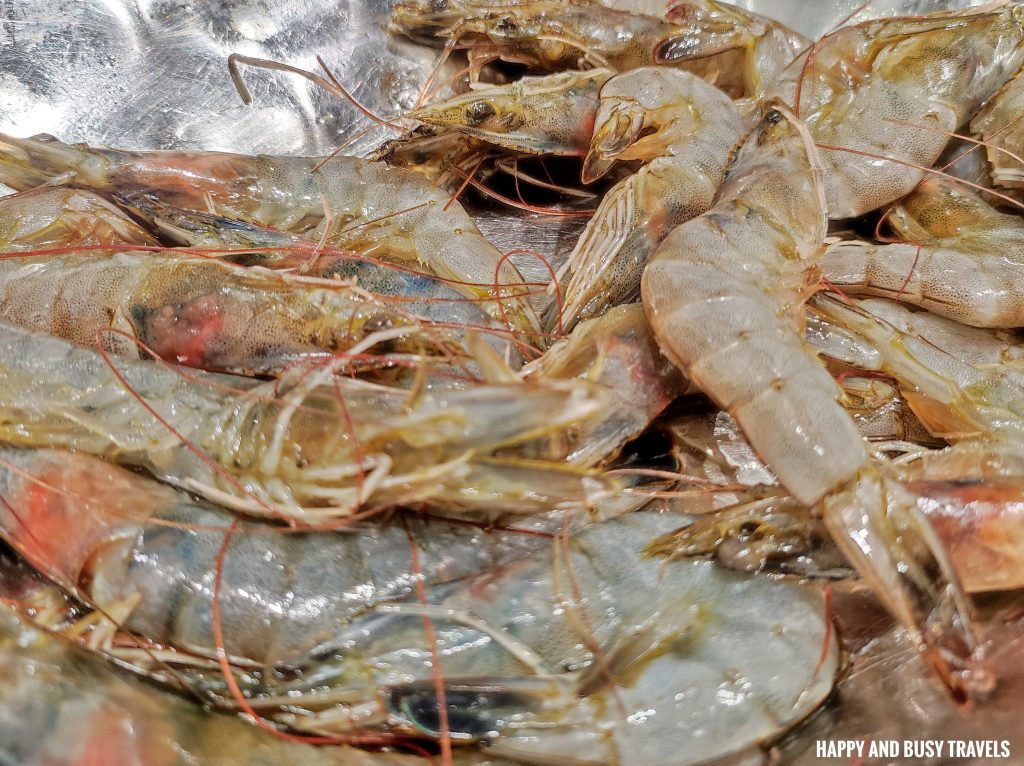 Different Clam Shells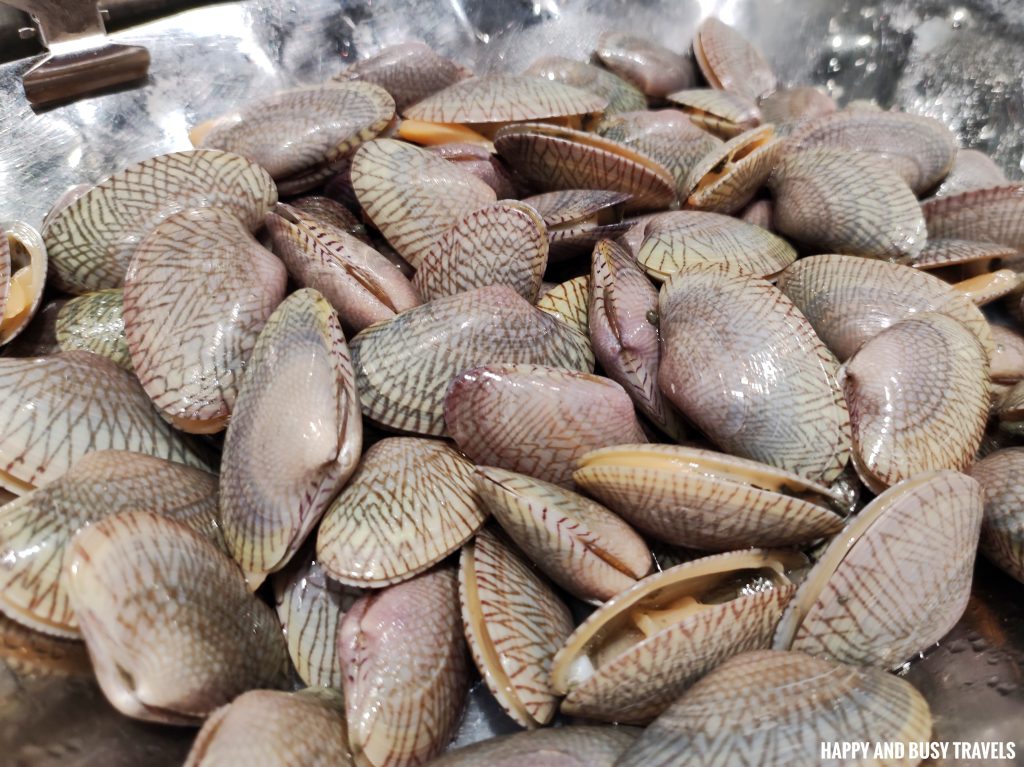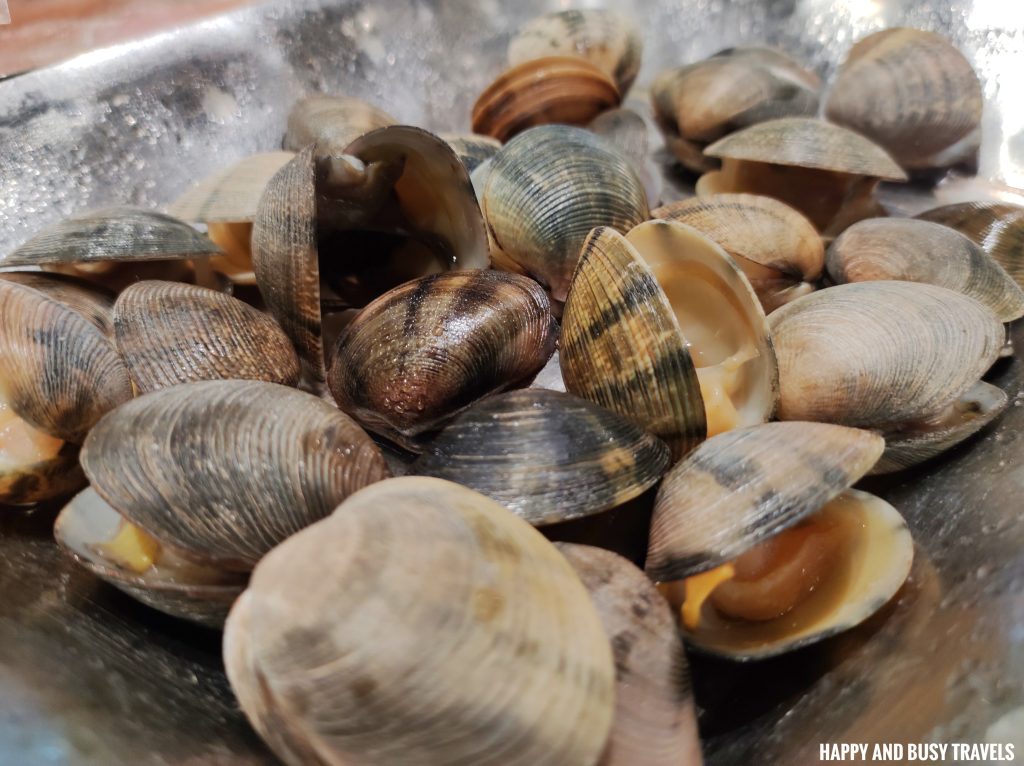 Mussels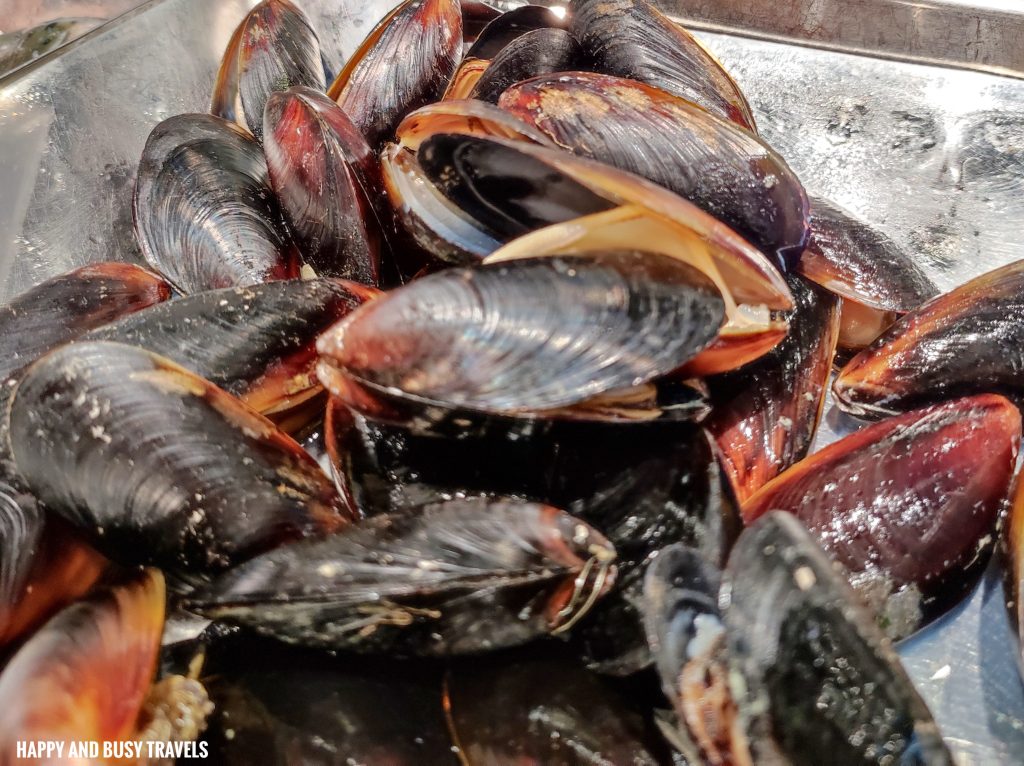 Vegetables
There are various Vegetables too to complete your hotpot experience. Of course, I didn't get any, but Busy got some veggies.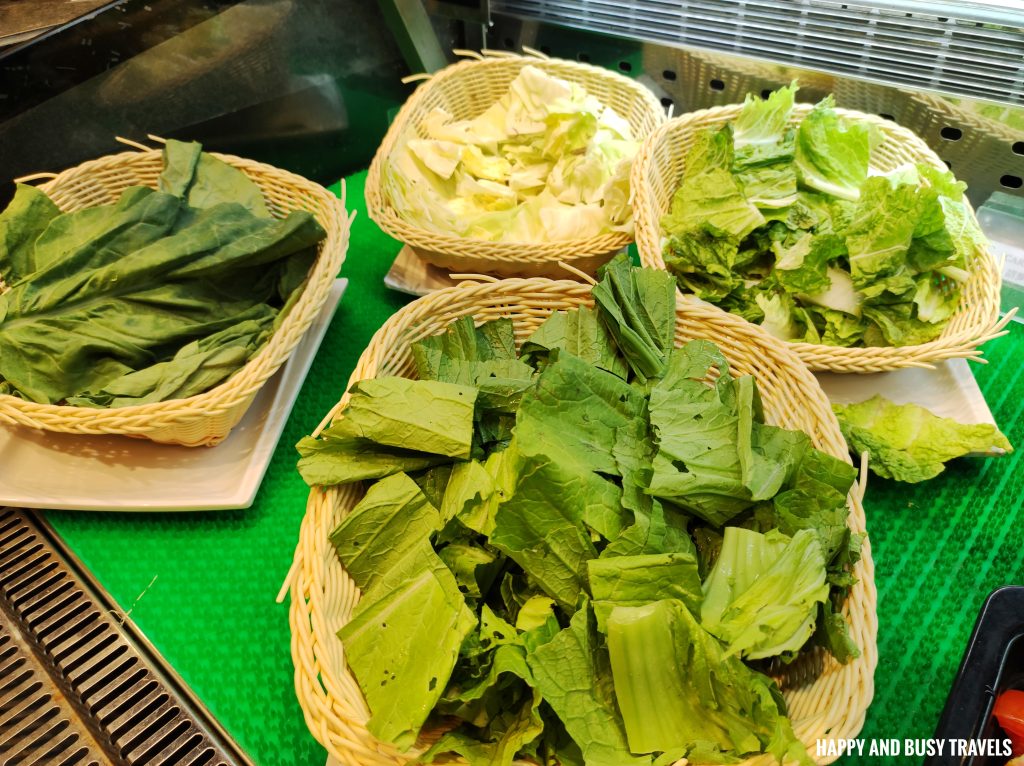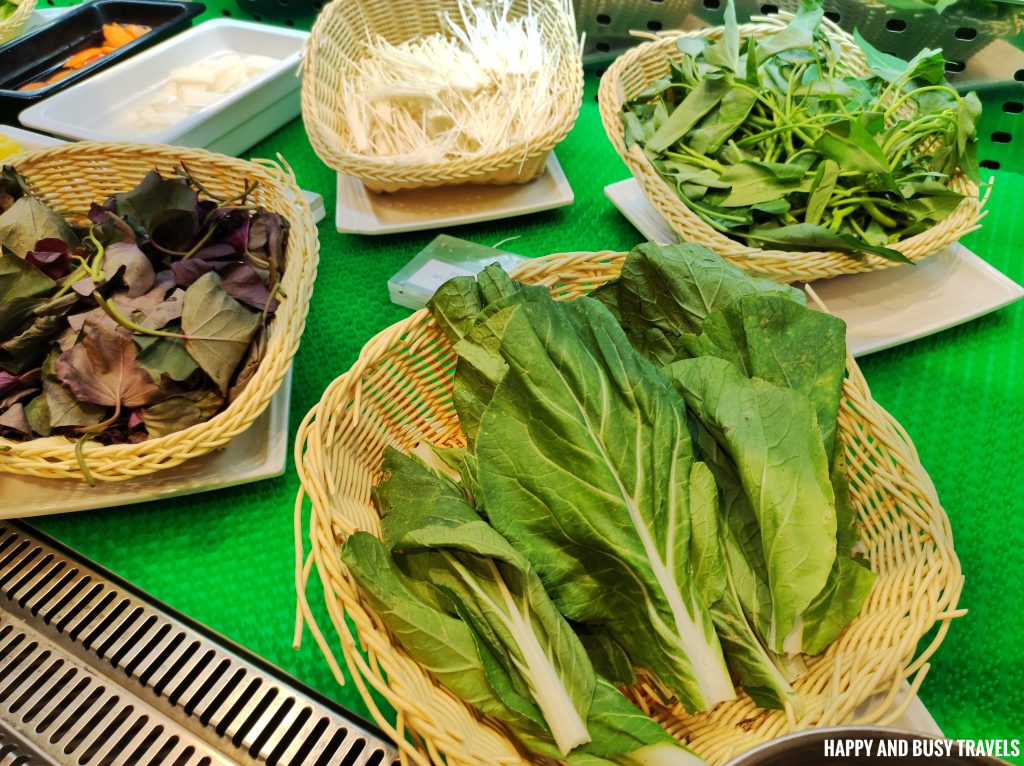 Rice
There were two types of rice during our visit, the plain rice, and the Kimchi Fried Rice.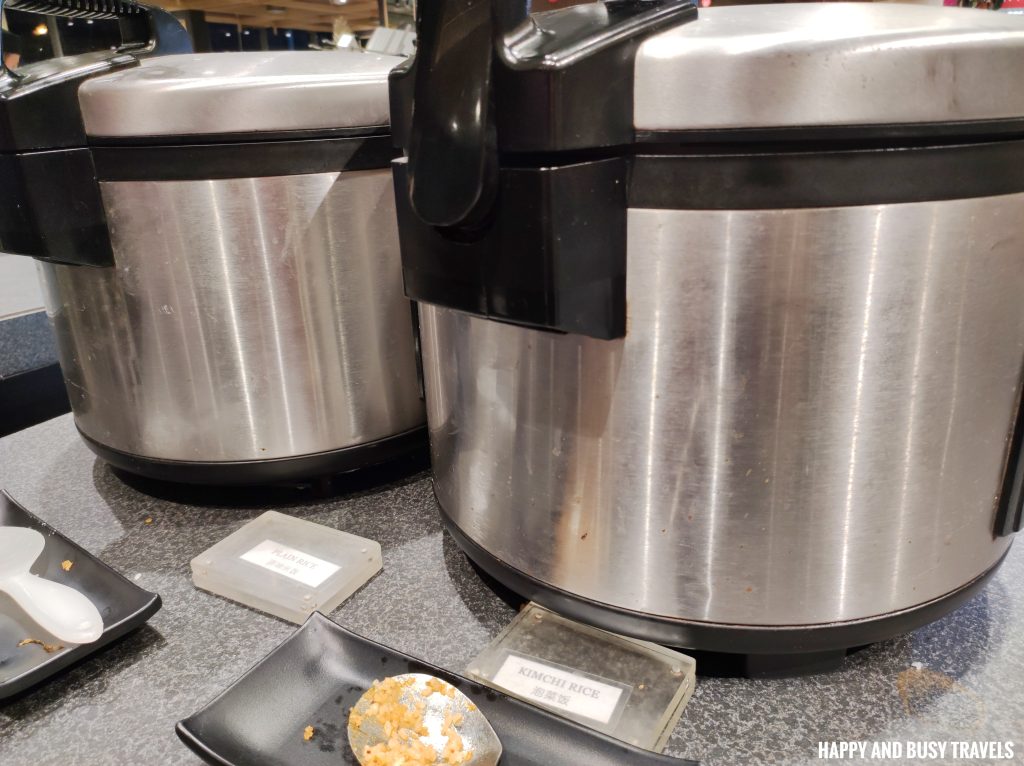 Noodles
Here are more carbs, because they also have a wide variety of noodles. These are perfect for shabu-shabu/ hotpot.
Mushroom Noodles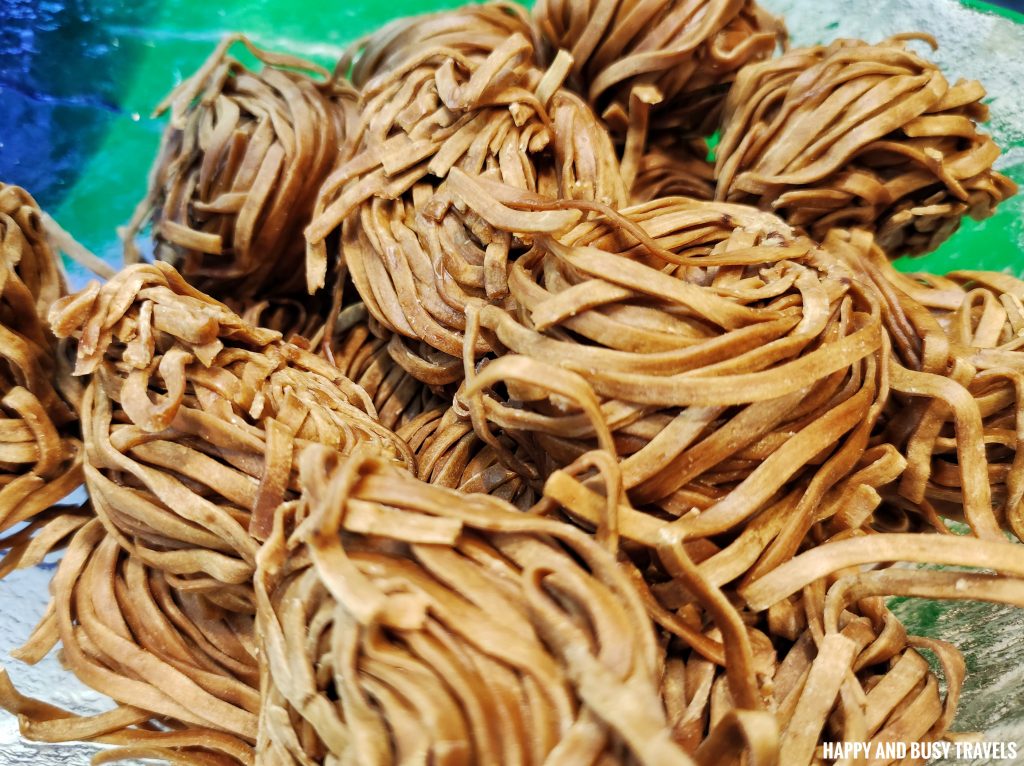 Polonchay Noodles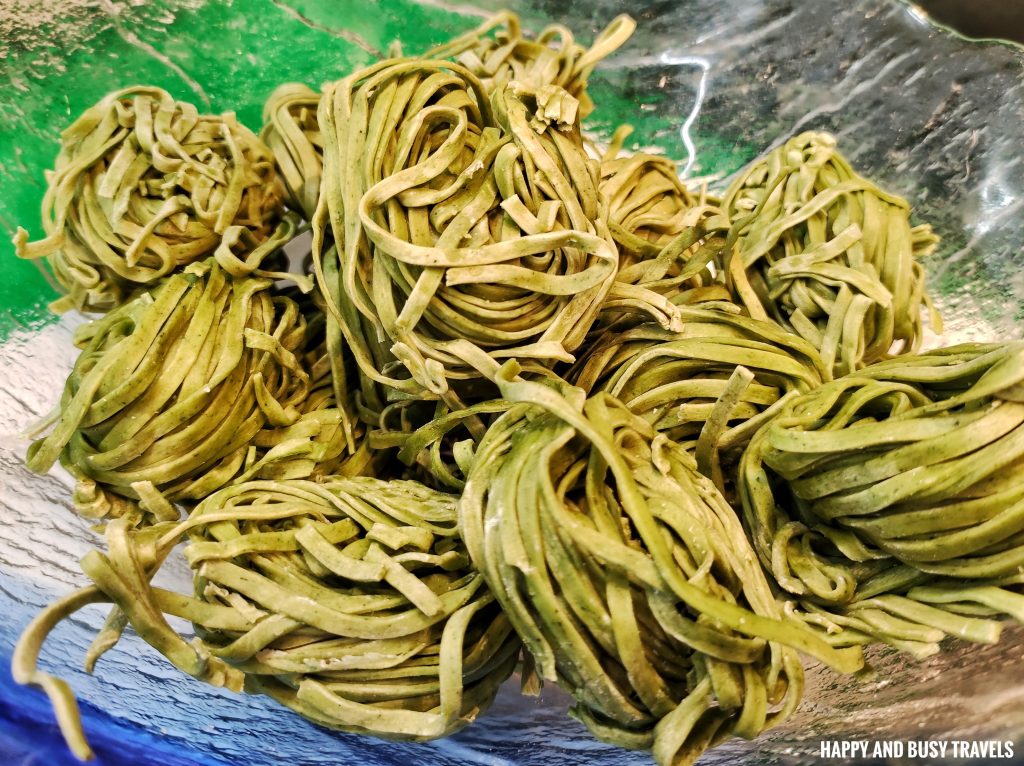 Carrot Noodles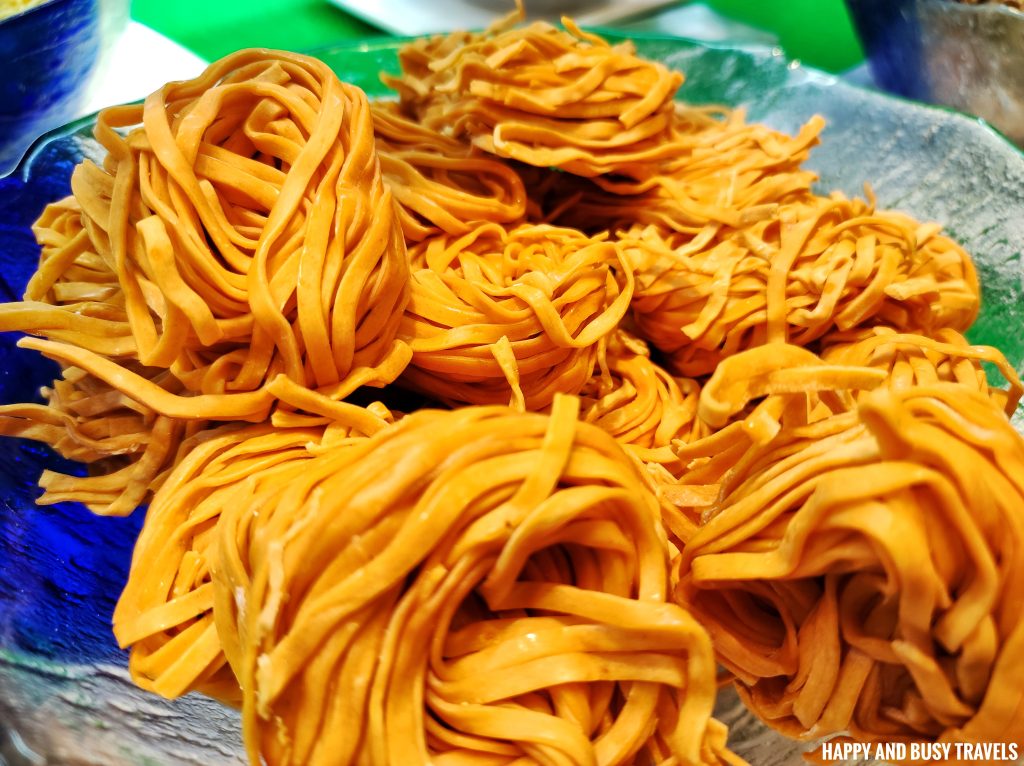 Instant Noodles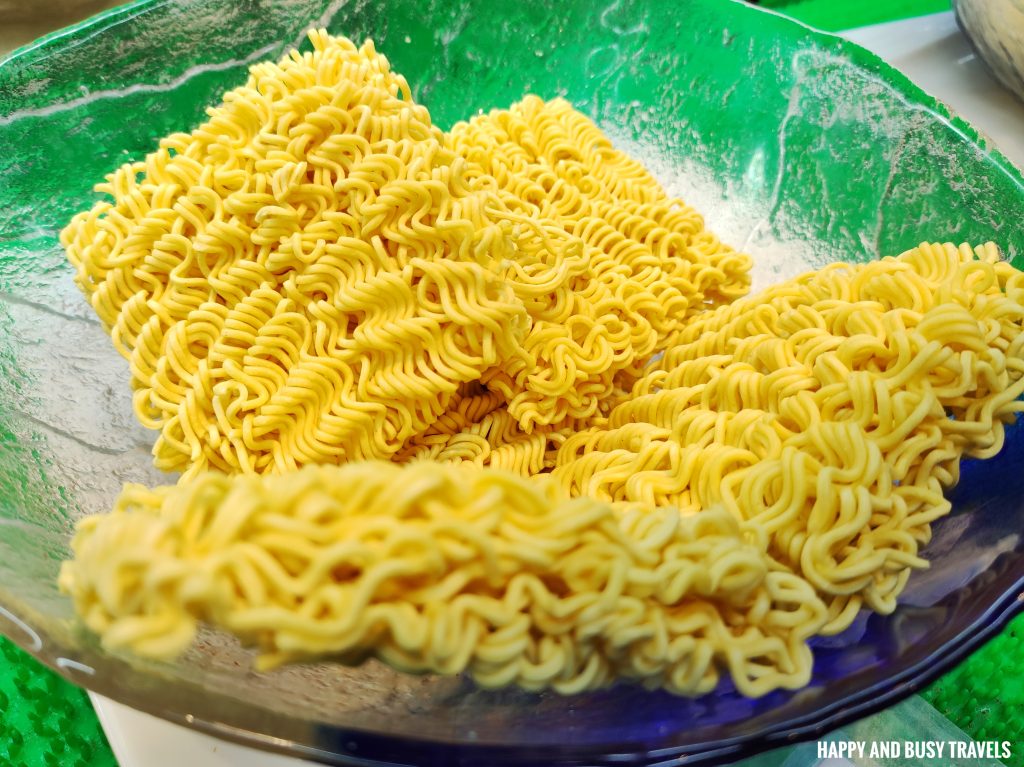 Udon Noodles
Glass Noodles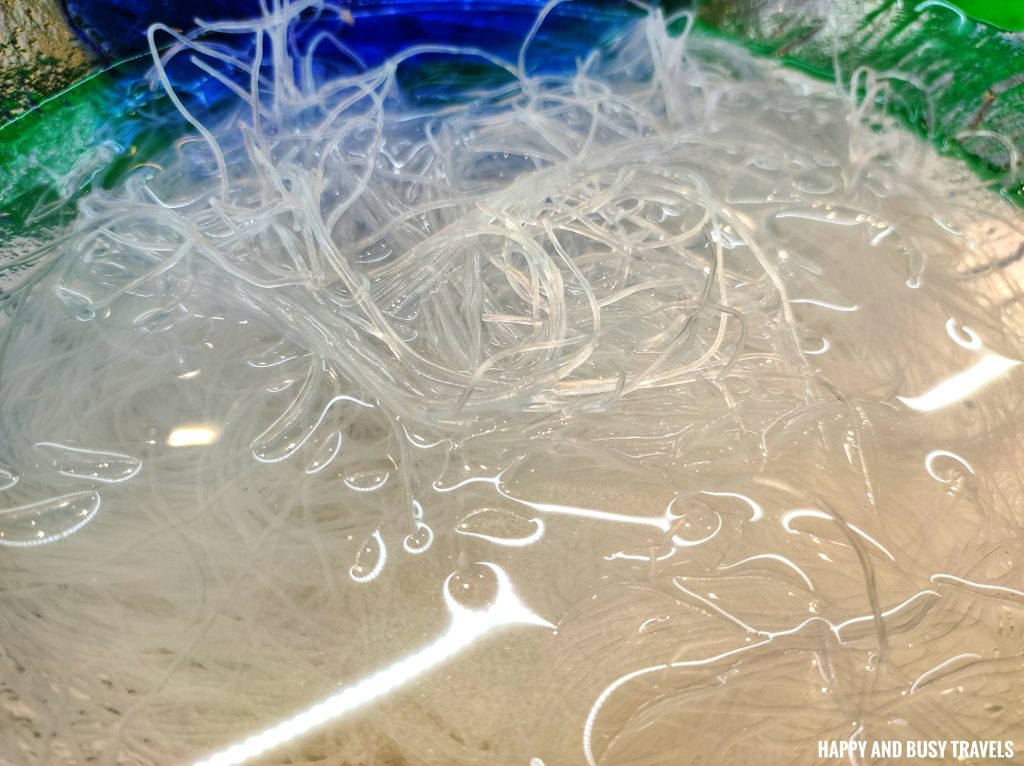 Hofan Noodles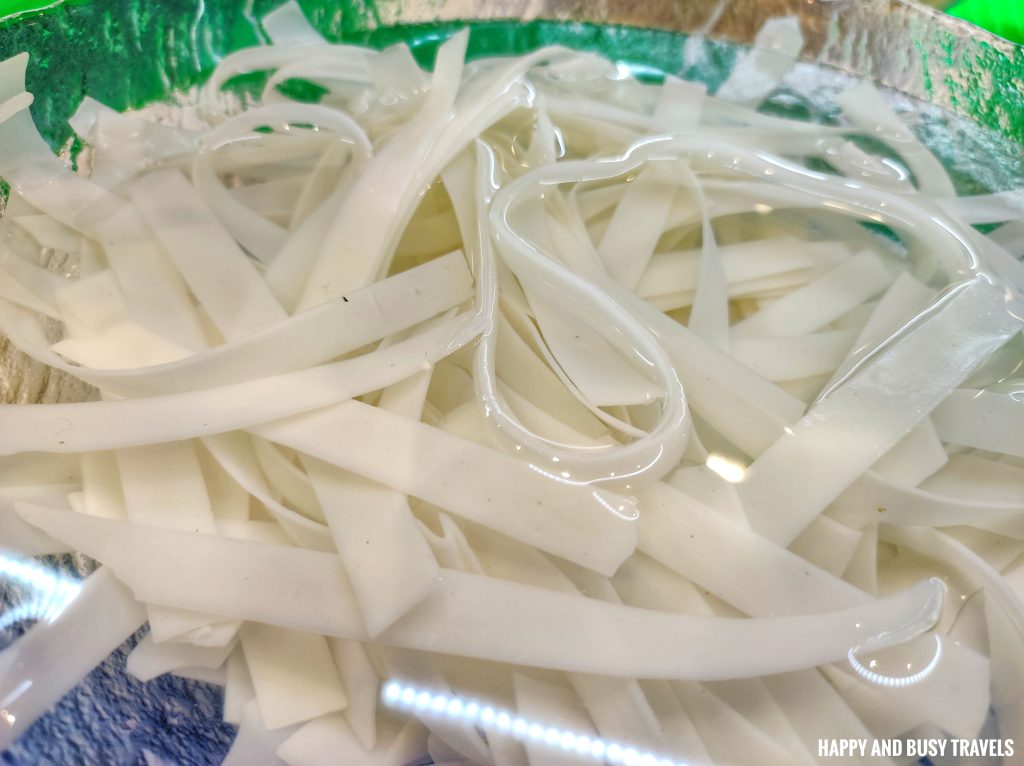 Quianzhang Noodles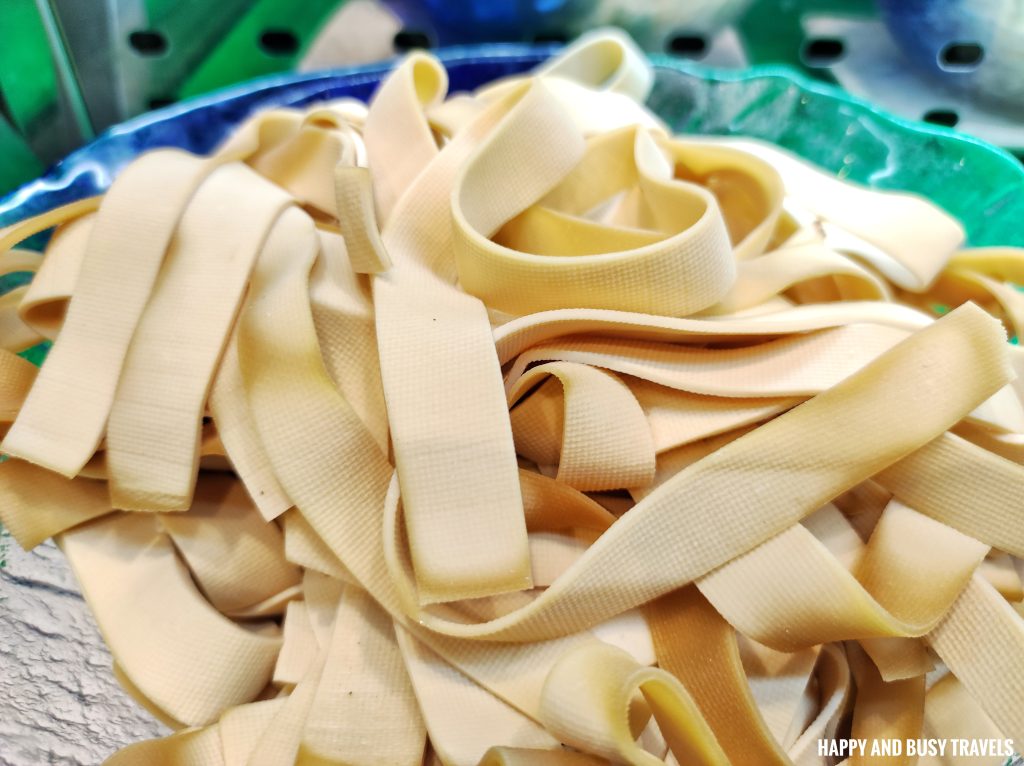 Soy Bean Noodle Ball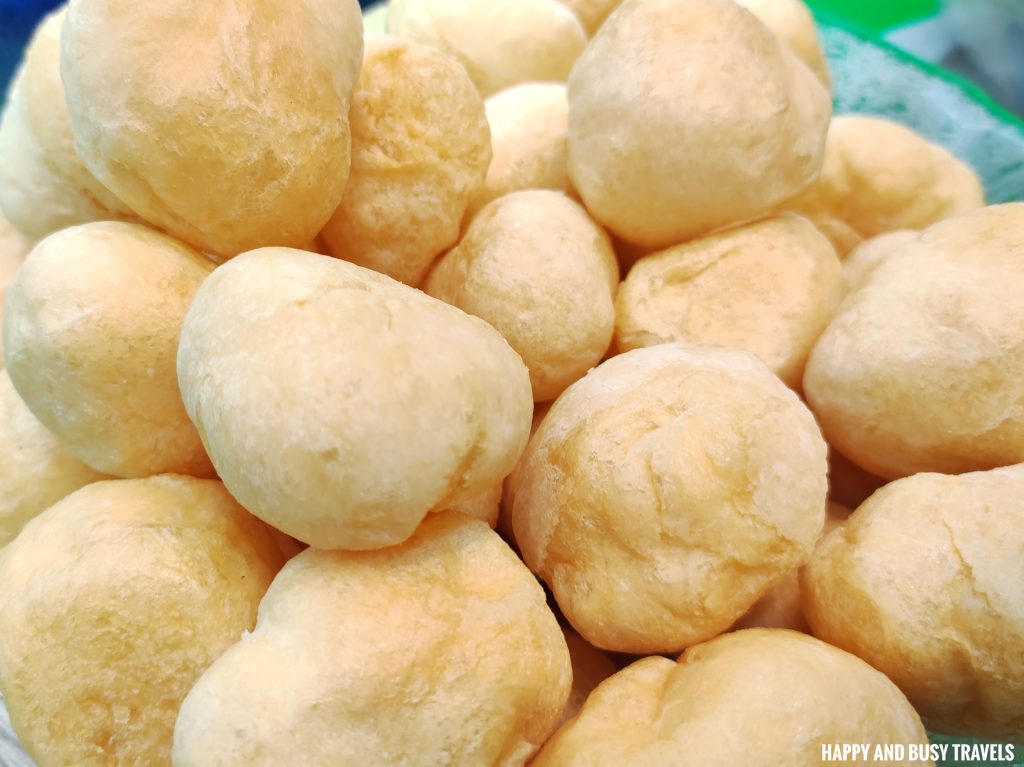 Dessert Section
Here is the dessert section which has a lot of desserts to choose from too.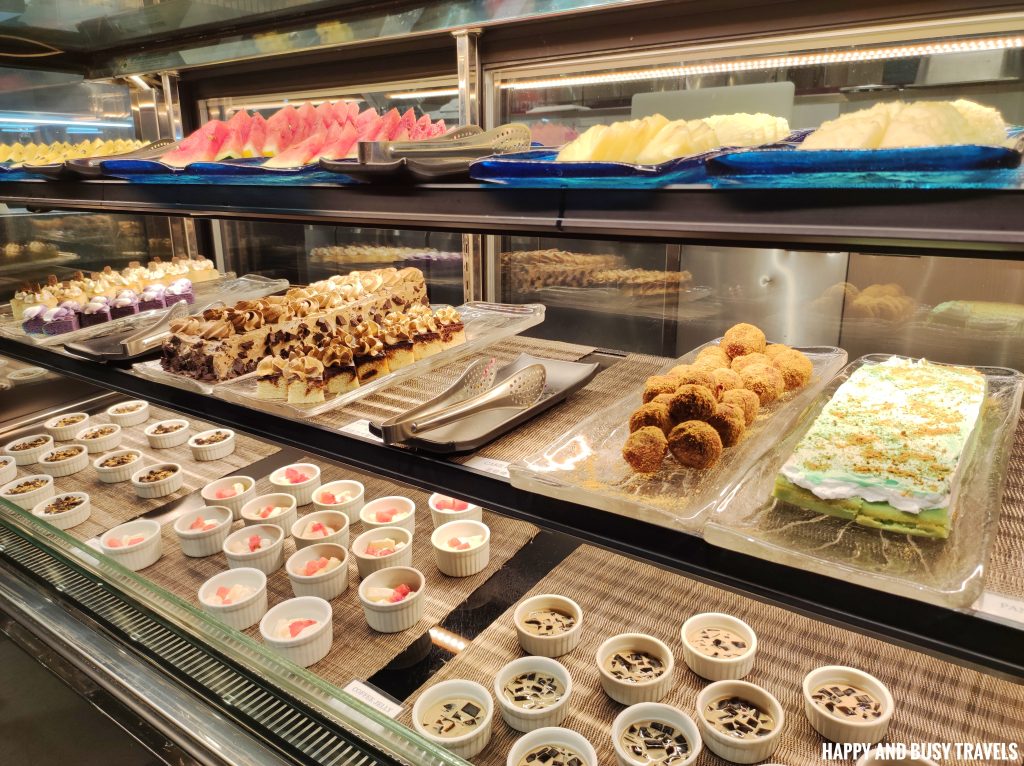 Ice Cream
Our favorite! There is a sign near this that we should ask for help, so we did. I like that rule for sanitary purposes.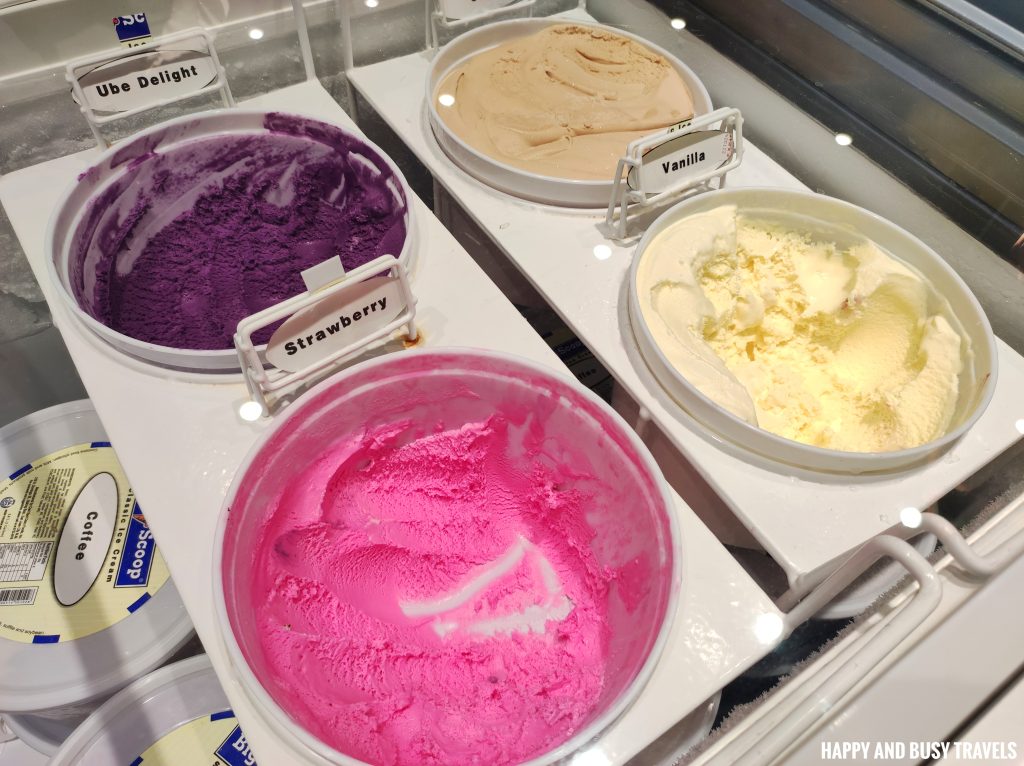 Halo-Halo Section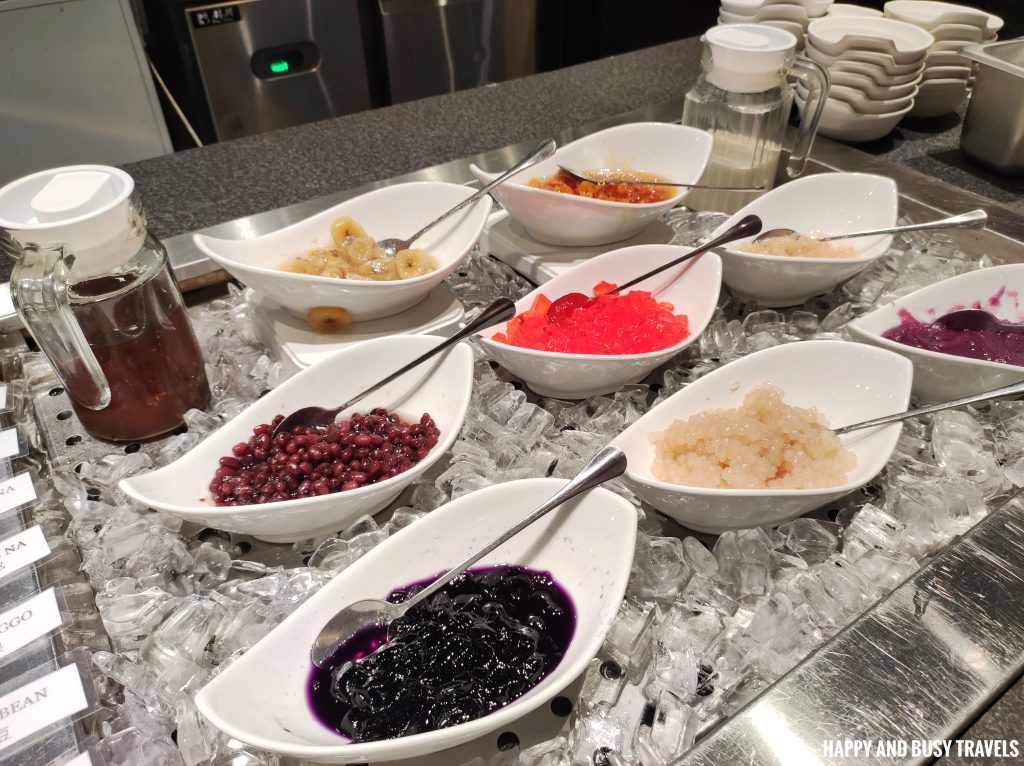 Watermelon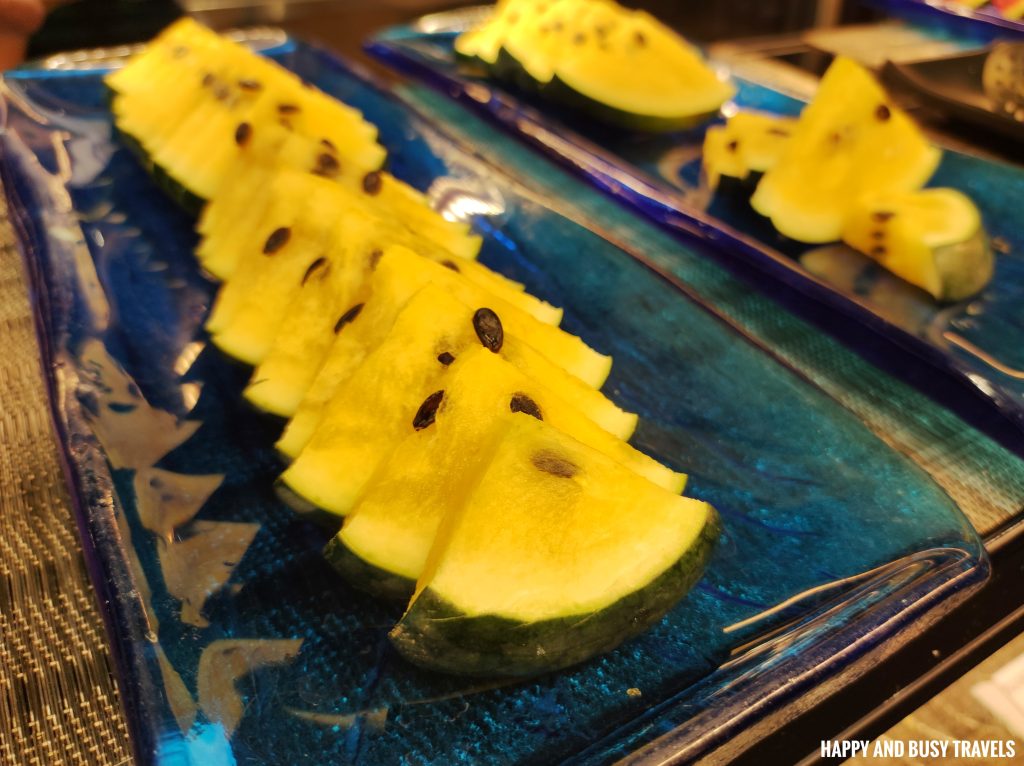 Banoffee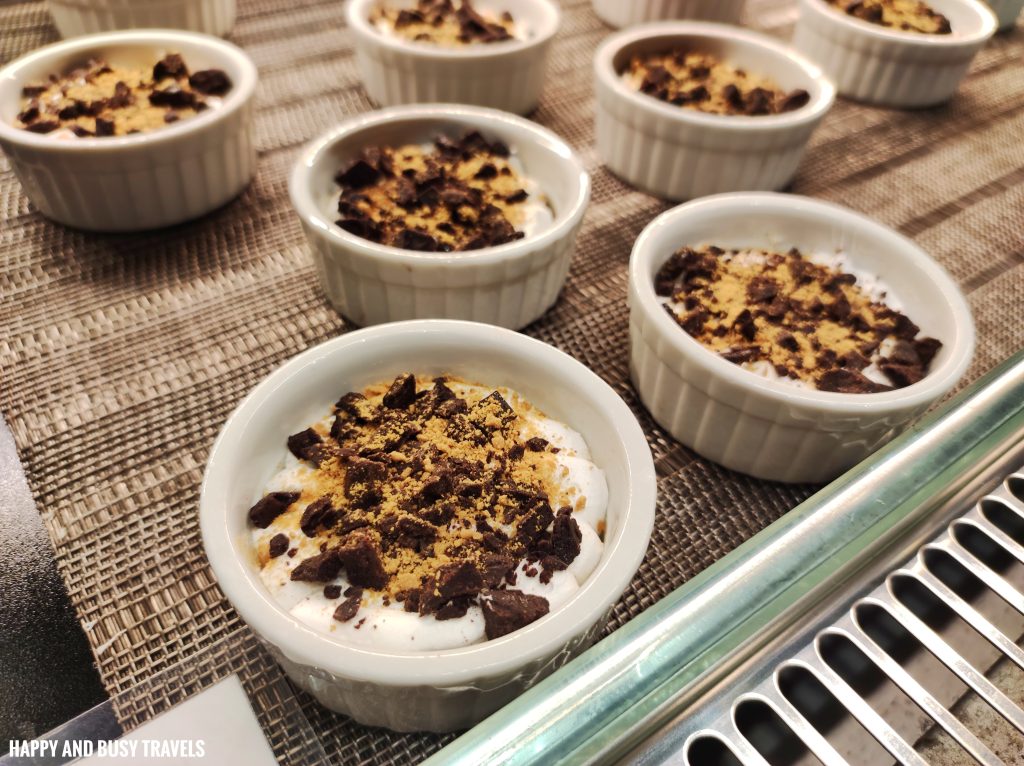 Valentine's Day Cake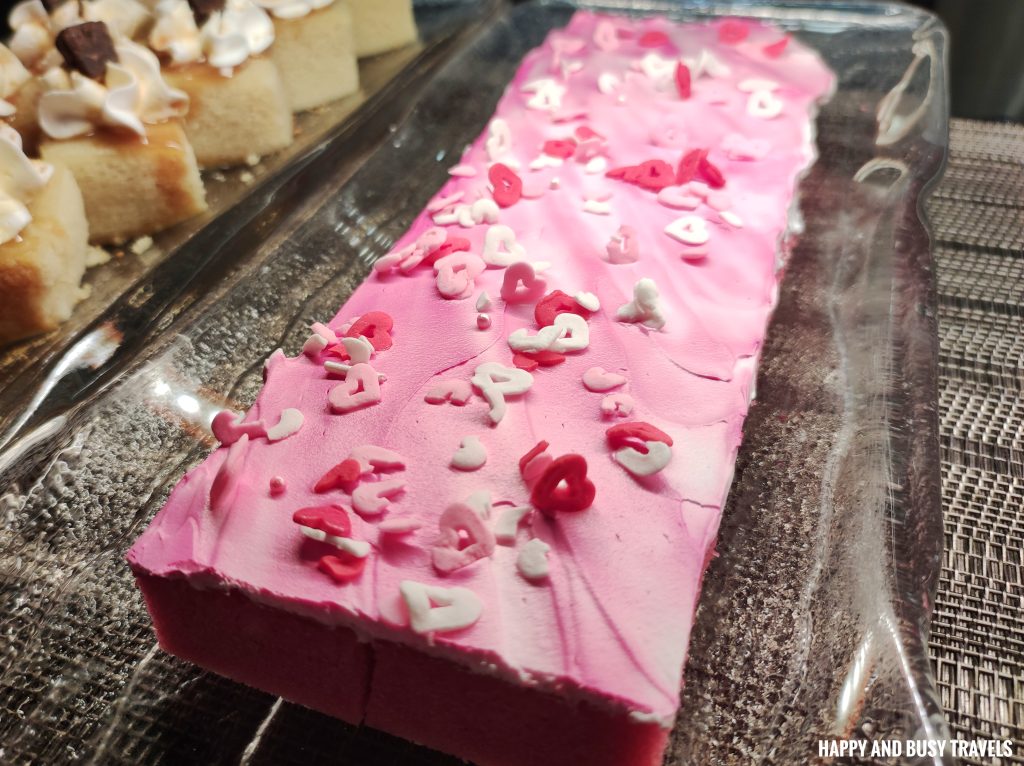 Vanilla Cake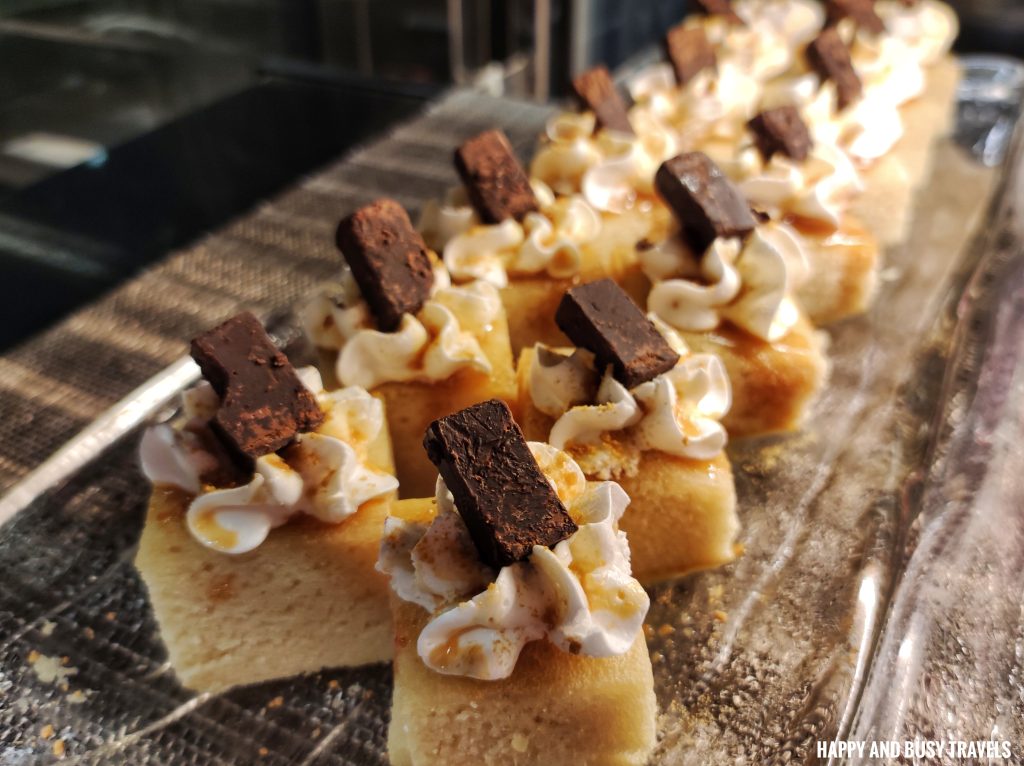 Ube Cake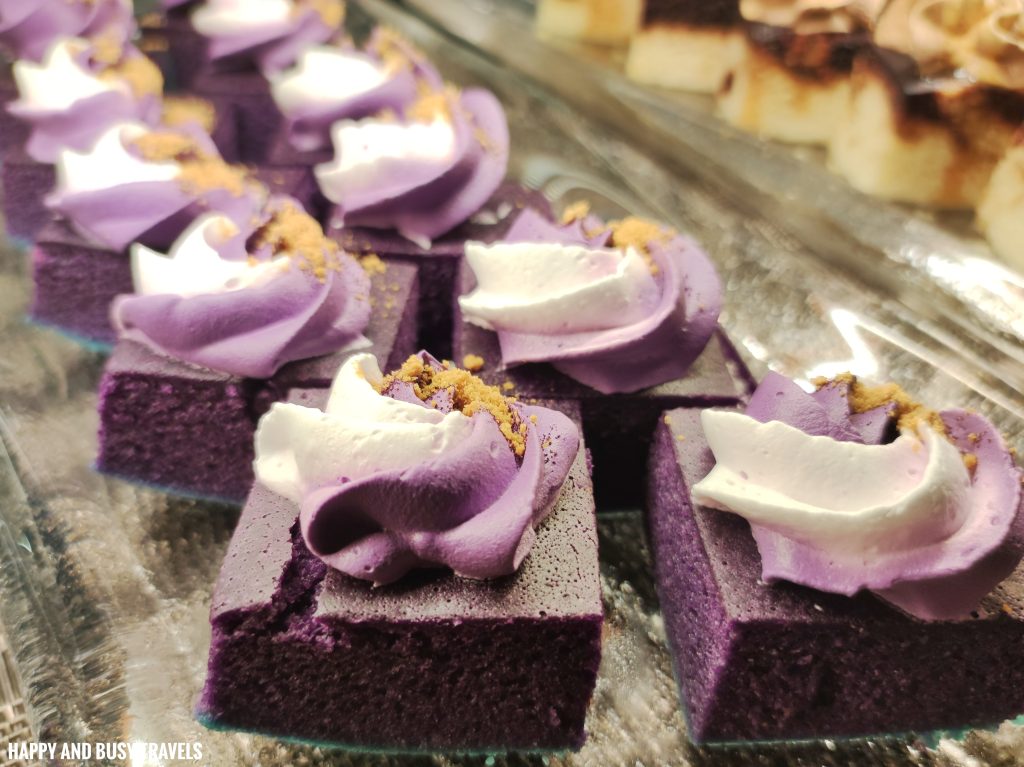 Cake Pops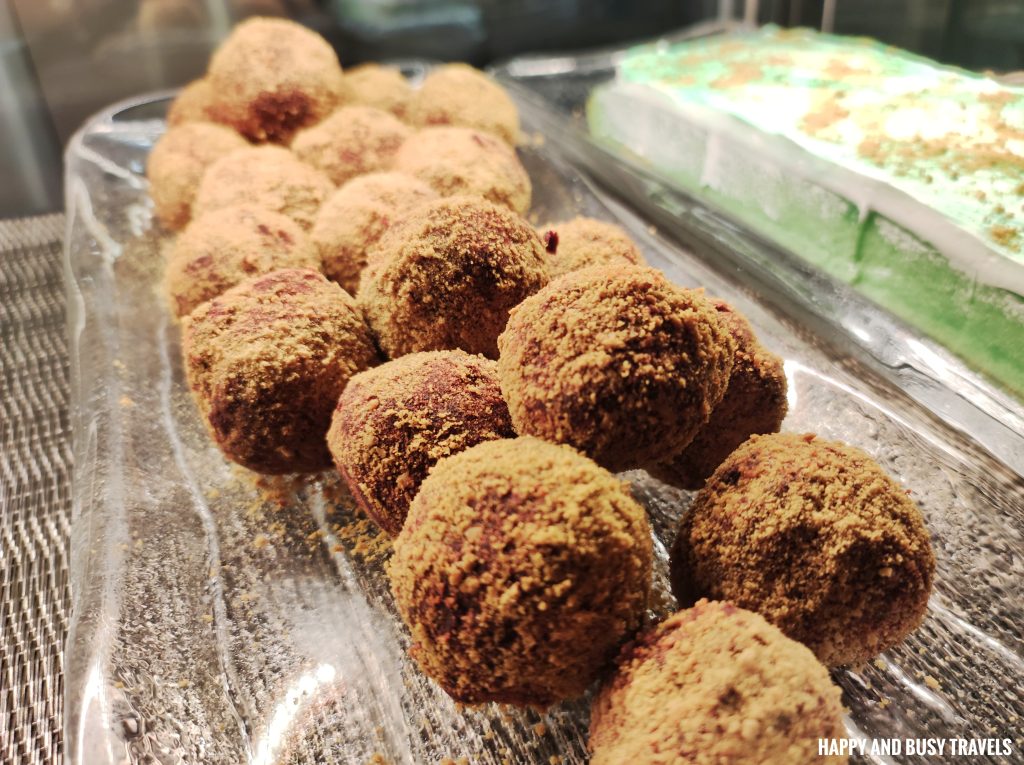 Drinks
There are unlimited drinks here too, such as juices, soft drinks, coffee, and tea.
But if you like beer, you can buy them here too.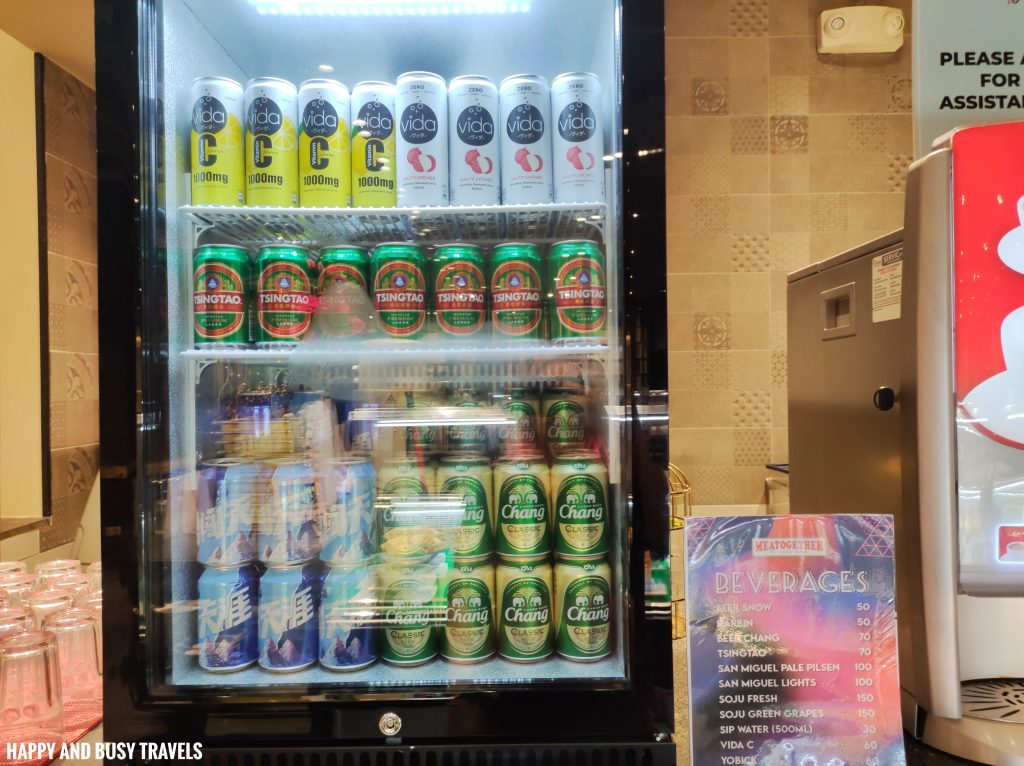 Dinner Time!
Busy and I together with our friends grabbed some items, and headed straight to our table to cook them.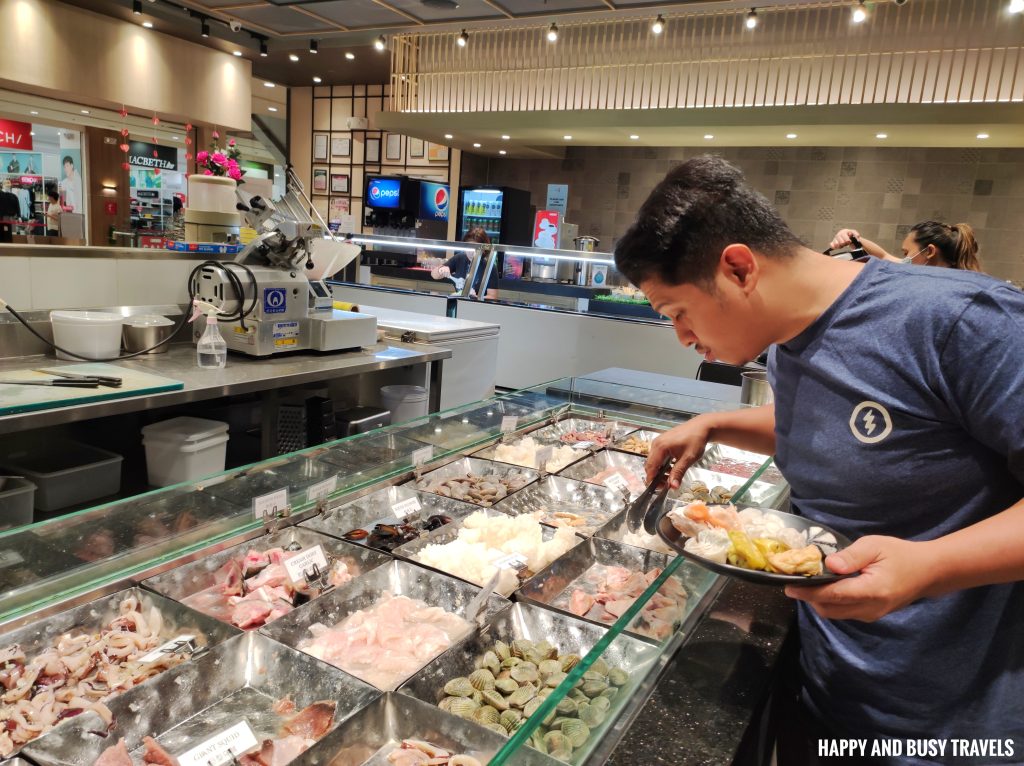 Here are some of the hotpot items that I took, I usually take one of each to taste, then when I really want any item, I go back and take some more.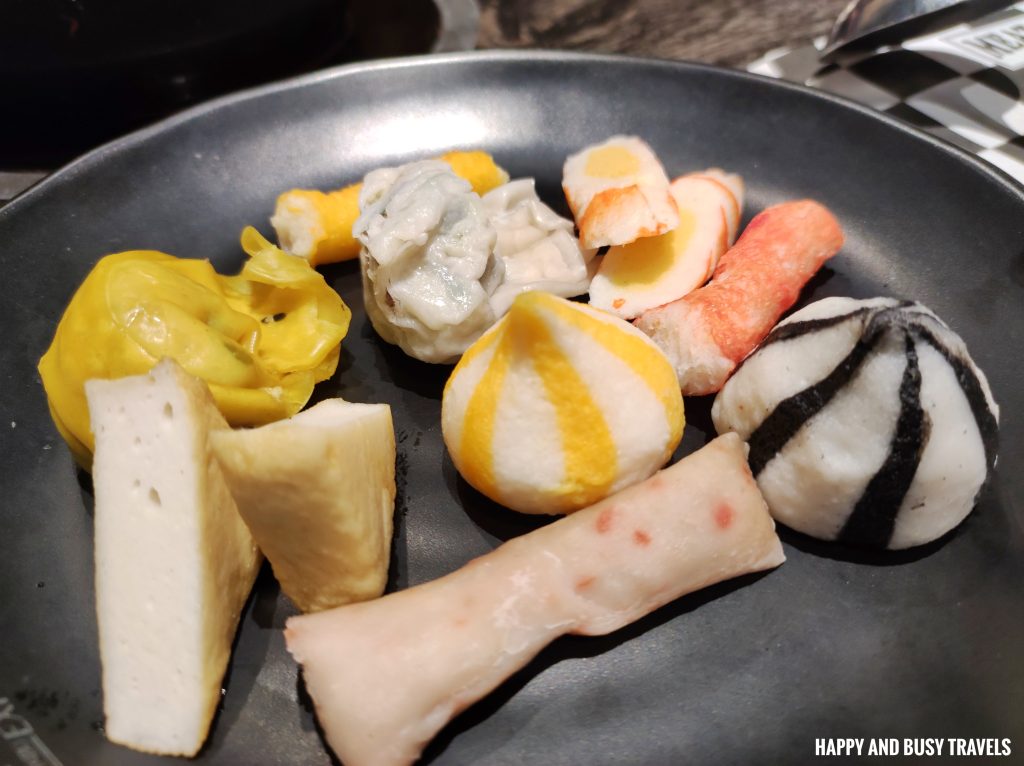 I got Kimchi, and Busy got Tonkotsu soup base. As mentioned earlier, I like that each person gets their hotpot because we get to choose for ourselves and we know whose item is still in the soup. Plus, we get a chance to control the heat of each pot.
After placing the items for the hotpot, here is what our pot looks like. Mine has a lot of balls.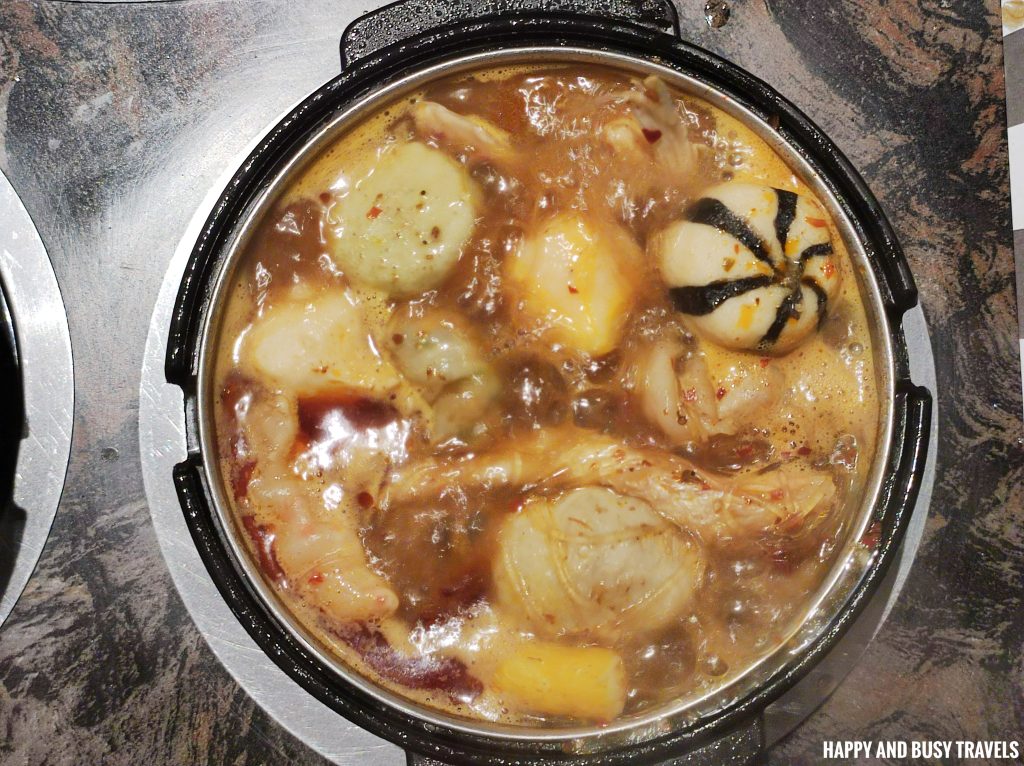 While Busy has a lot of seafood items.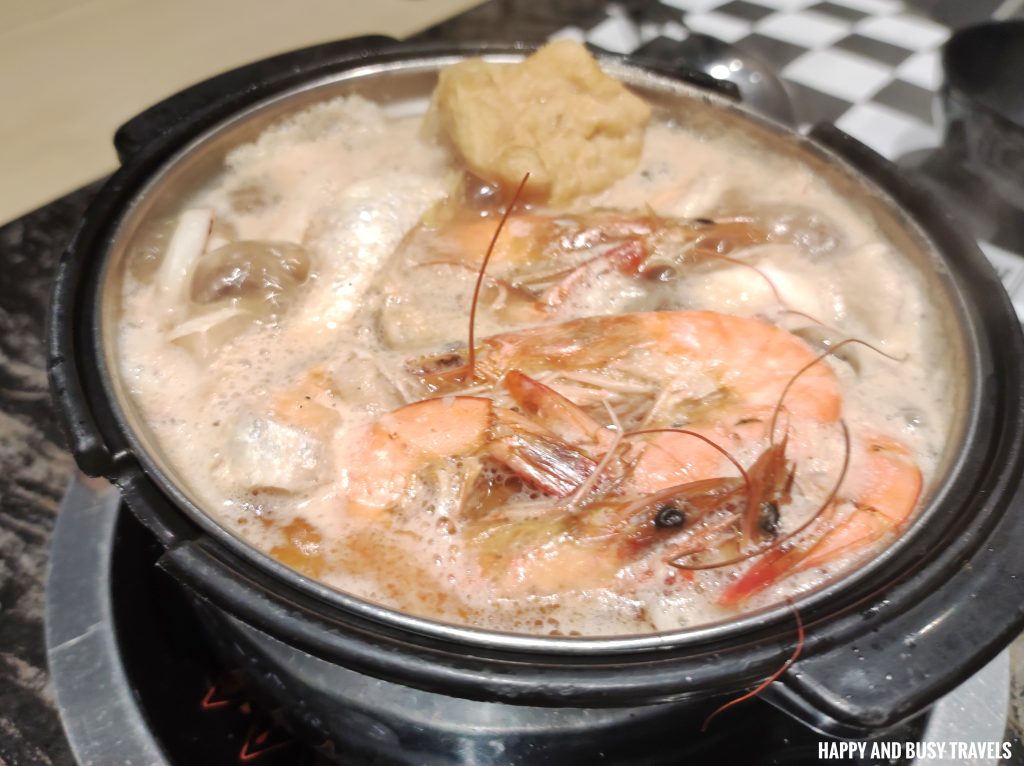 I also placed the items for cooking here because I am usually in charge of samgyup cooking. Whenever the wax paper is already torn or has burned pieces, we asked the staff to change the paper, and they do it swiftly.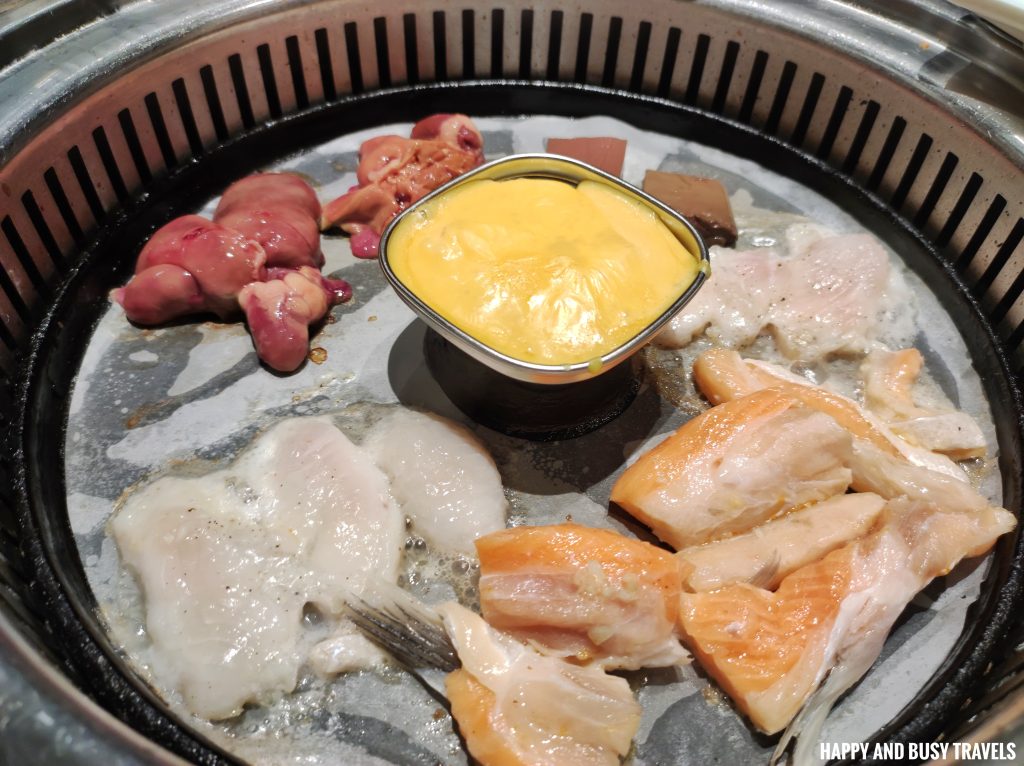 We need more of these dinner dates here at meatogether.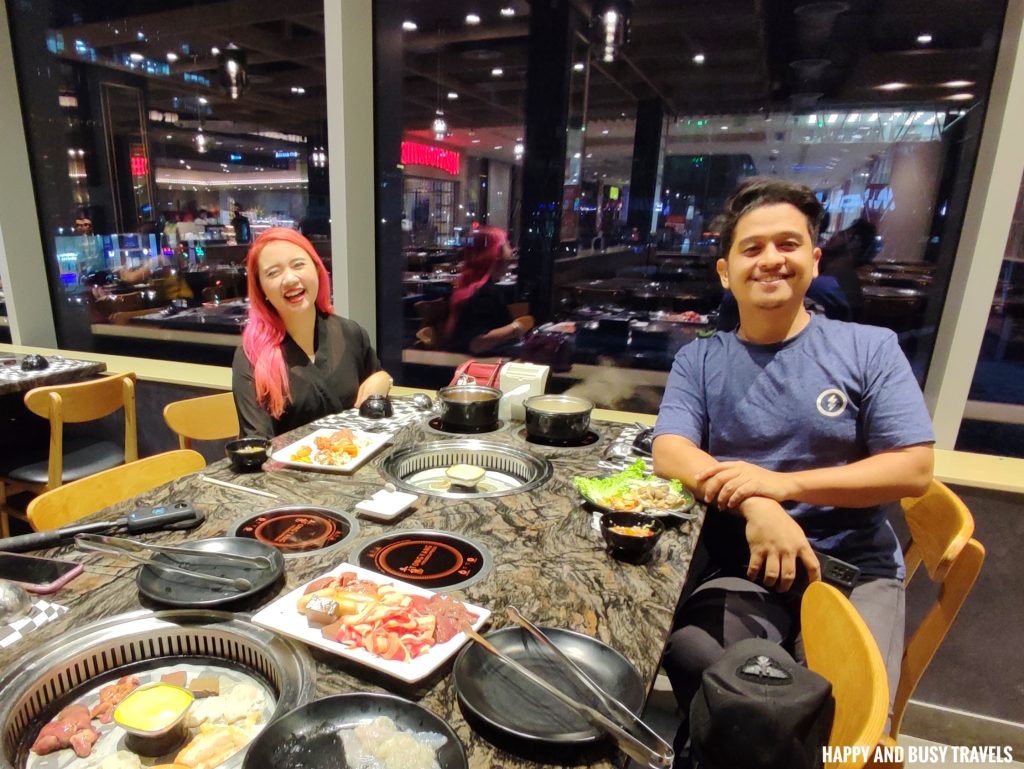 Soup Base Choices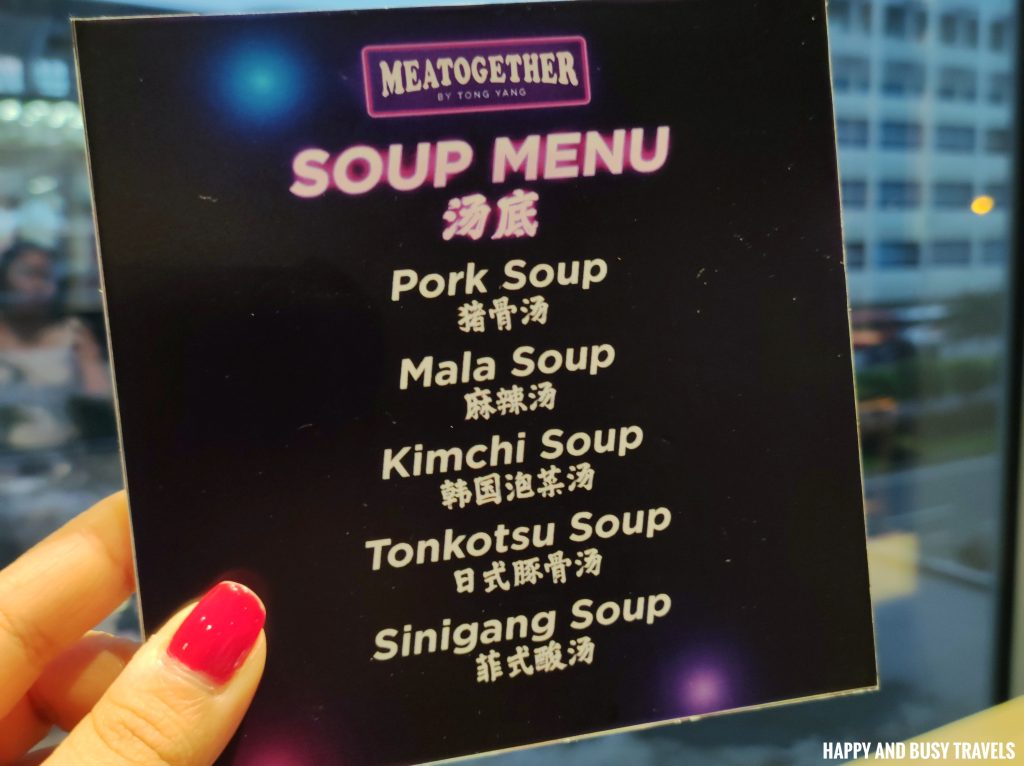 Rates of Meatogether Waltermart Macapagal Branch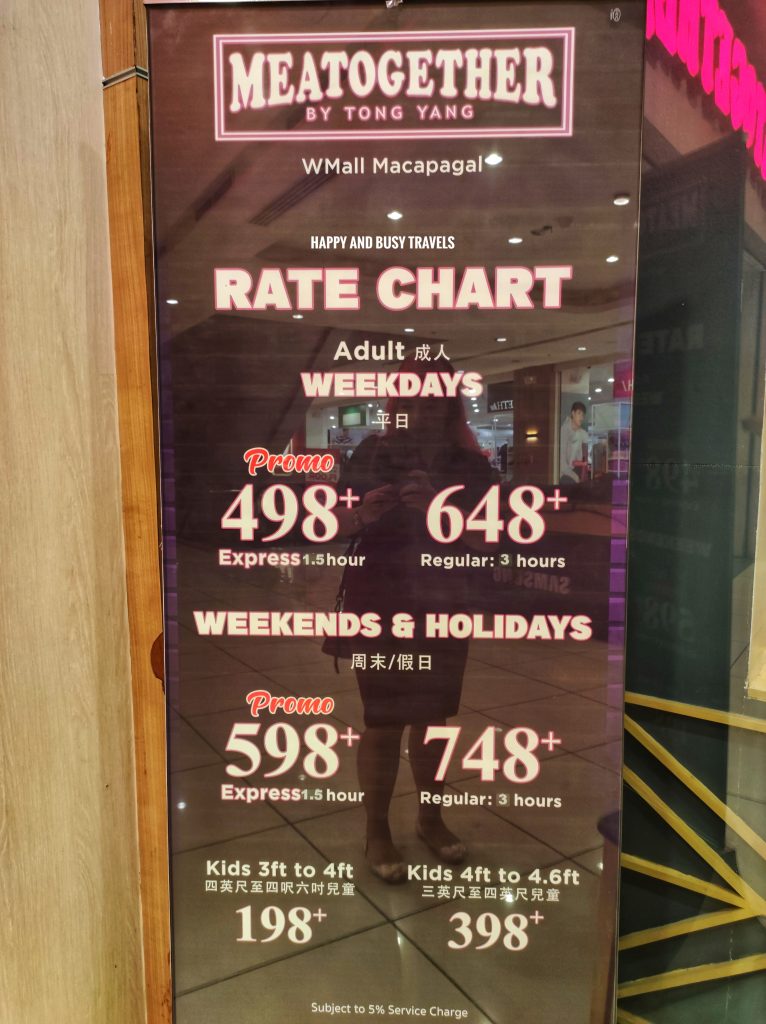 Happy and Busy's Smileys for Meatogether Waltermart Macapagal
Overall, we had a great experience dining in the restaurant. We do not need to choose if we only want to grill or just boil food, we can do both.
Food

Location

Ambiance

Value for money

There is a wide variety of food items, and customers can choose their prices depending on the time limit.
Service

Here's us having a double date with Travel with Karla. This is supposed to be a triple date but our friends are not available.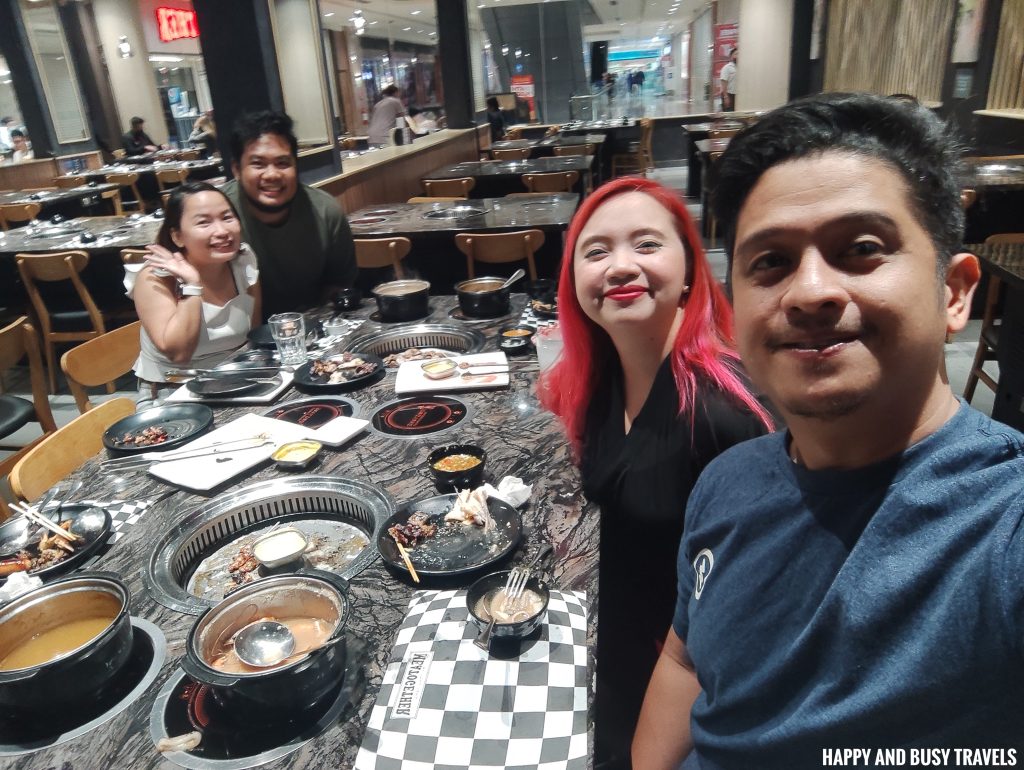 More exciting food and drinks reviews are at https://happyandbusytravels.com/category/food-and-drinks/ so do not forget to check it out!
Like! Follow! Subscribe! to our social media accounts: