2GOkada Creators Cruise 2023
Finally, the day that we've been waiting for is here! It is the 2GOkada Creators Cruise 2023! This is a 3-day event that is full of activities, with a quick tour of Western Visayas, various workshops, and this is attended by 100 content creators.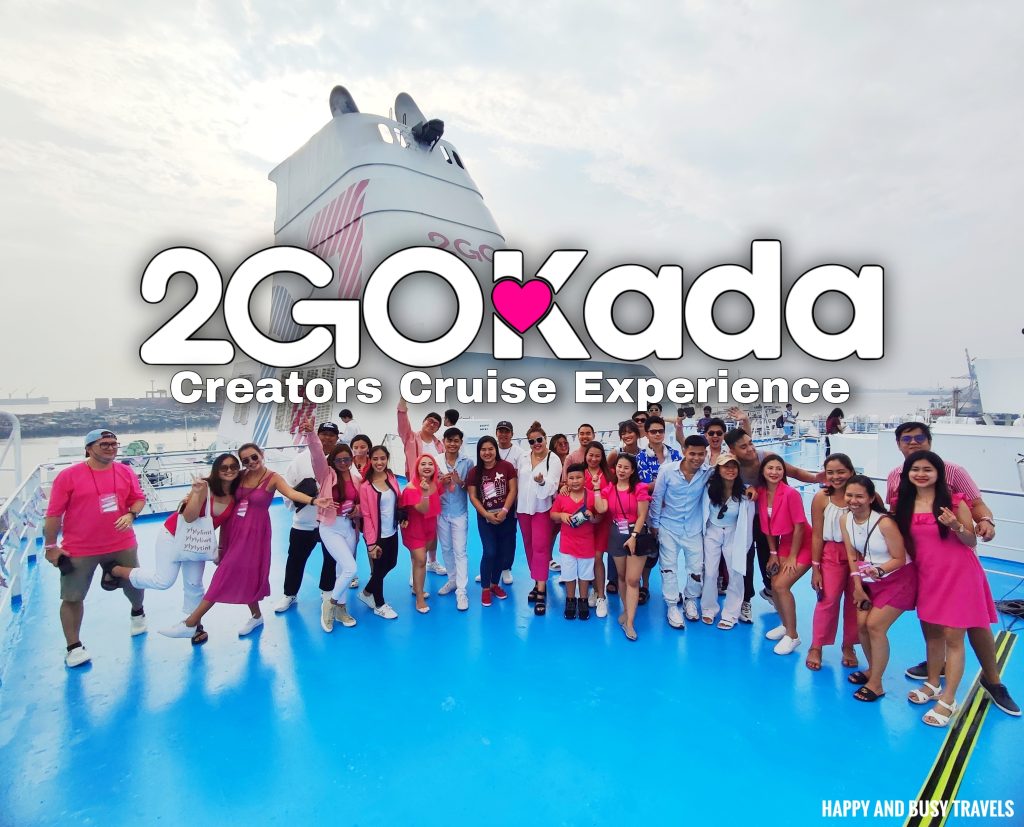 Busy and I were supposed to attend the 3-day event full of activities. But, Busy had an emergency, so I participated in the creators' cruise together with other friends.
Quick Links
Day 1 – Introduction – 2GOkada Creators Cruise 2023
This is the first day, we are all excited and glad to meet other content creators.

Bus Pick up
2GO Travel provided various shuttle buses to pick up content creators from Mall of Asia (MOA) and Trinoma. We also have the option to go straight to the port area, but we opted to choose this one.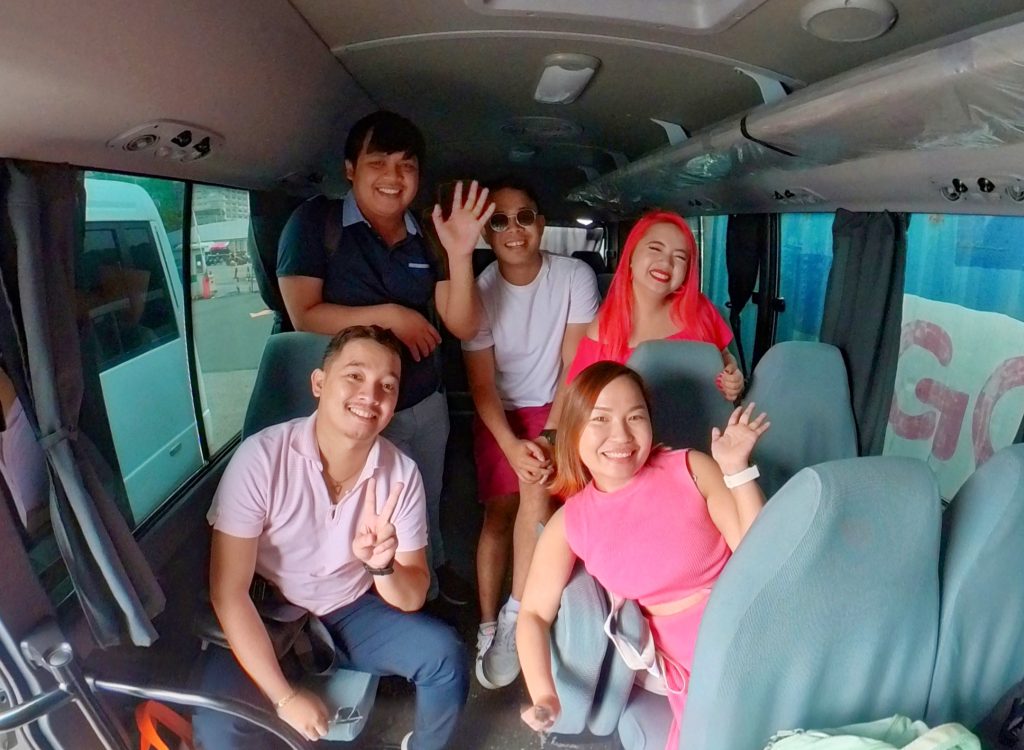 Drop Off and Boarding
Then, we were dropped off at the Northport Passenger Terminal. We surrendered our baggage so they can bring it to our rooms, got our room numbers, and waited for boarding.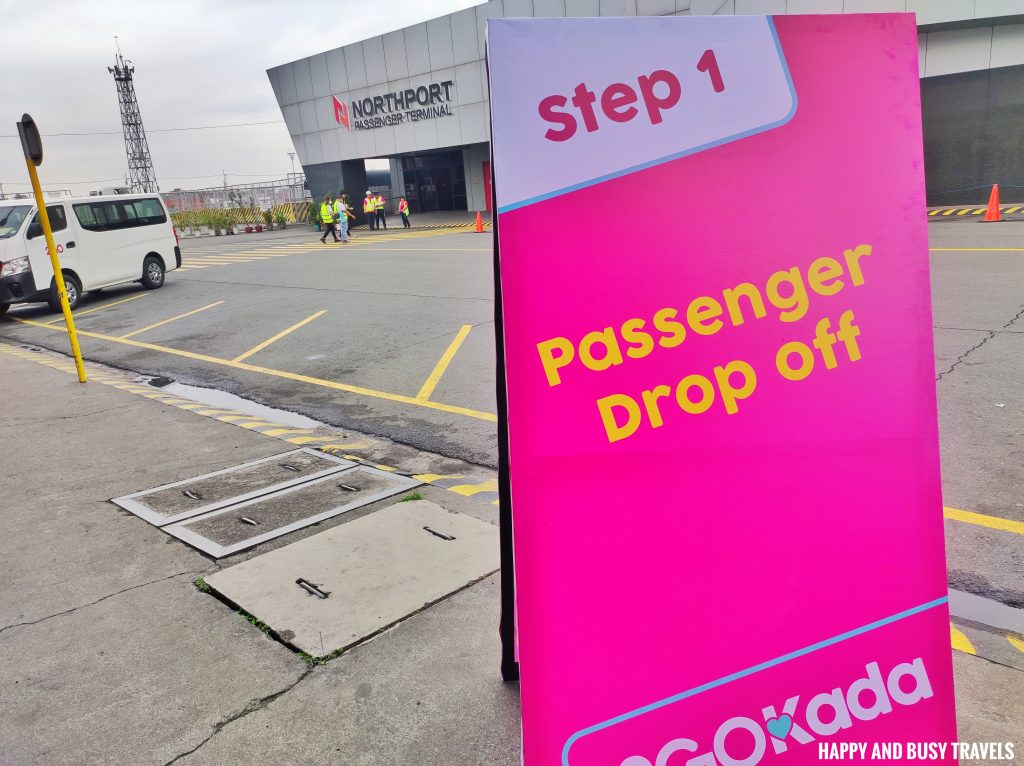 We boarded on time, and by group.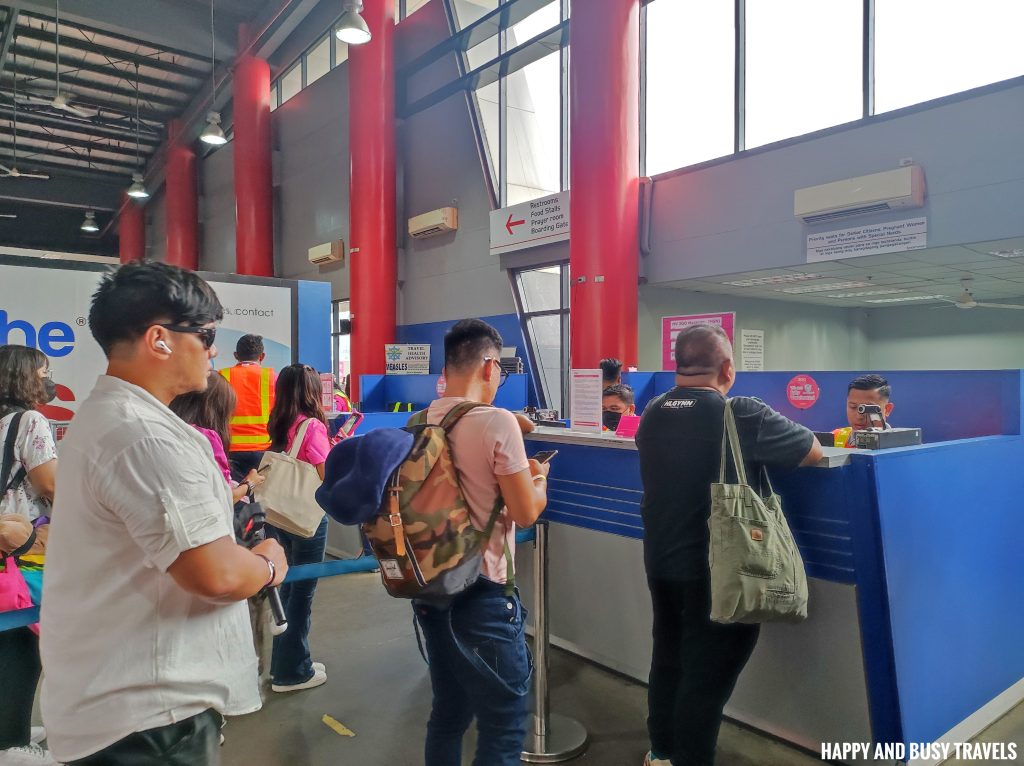 This time, we boarded MV Masagana, which is the largest and fastest passenger ship in the Philippines.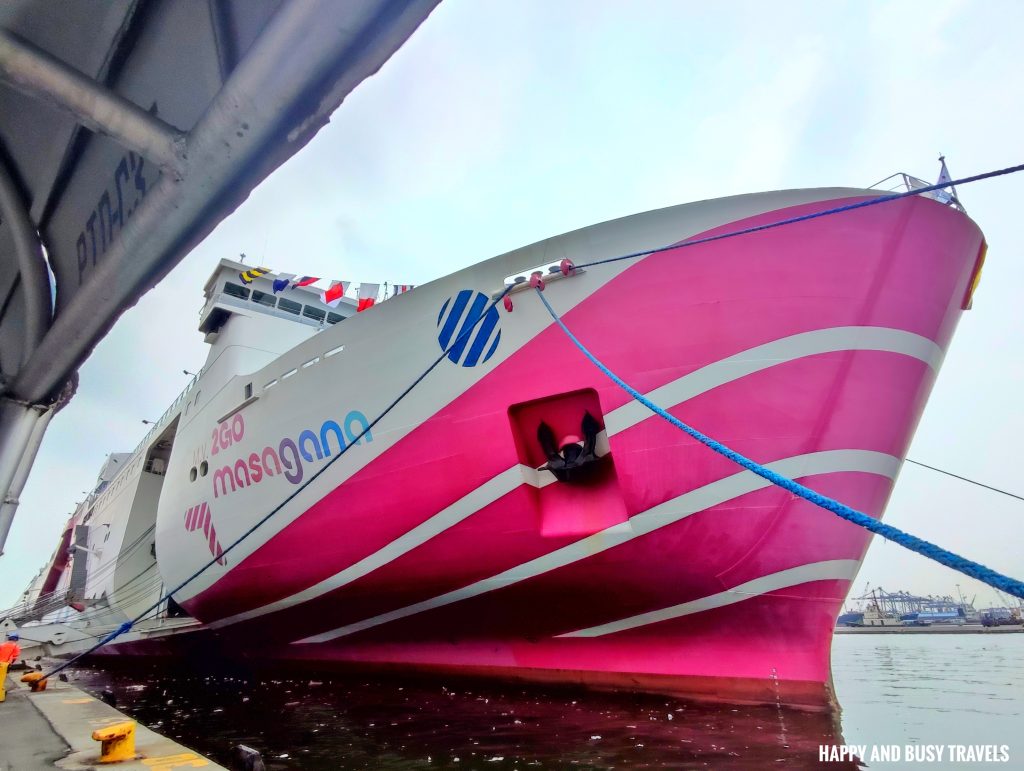 Start of Program
Shortly after we boarded the ship, the program started. Special guests are Bea Binene, James Reid of Careless Music, Mr. Kristoff Rada Head of Public Policy of TikTok Philippines, Mr. Frederic DyBuncio CEO of 2GO, and Ms. Marga Nograles COO of Tourism Promotions Board (TPB).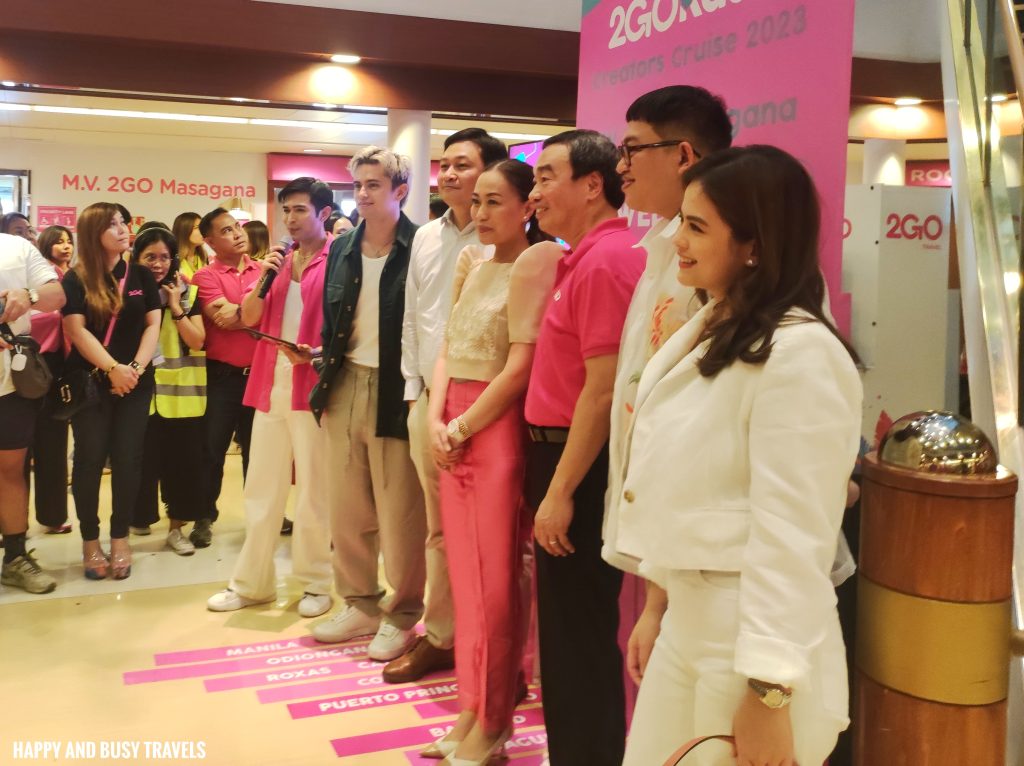 This is also the first time that we saw Jasper Tiongson, the host for 3 days (and who become our friend after the trip).
Lunch
This is our first meal in MV Masagana, so, for our first impression, this is actually good! The servings are a lot, and the food choices are good. I didn't get rice because the viand and veggies are already enough for me.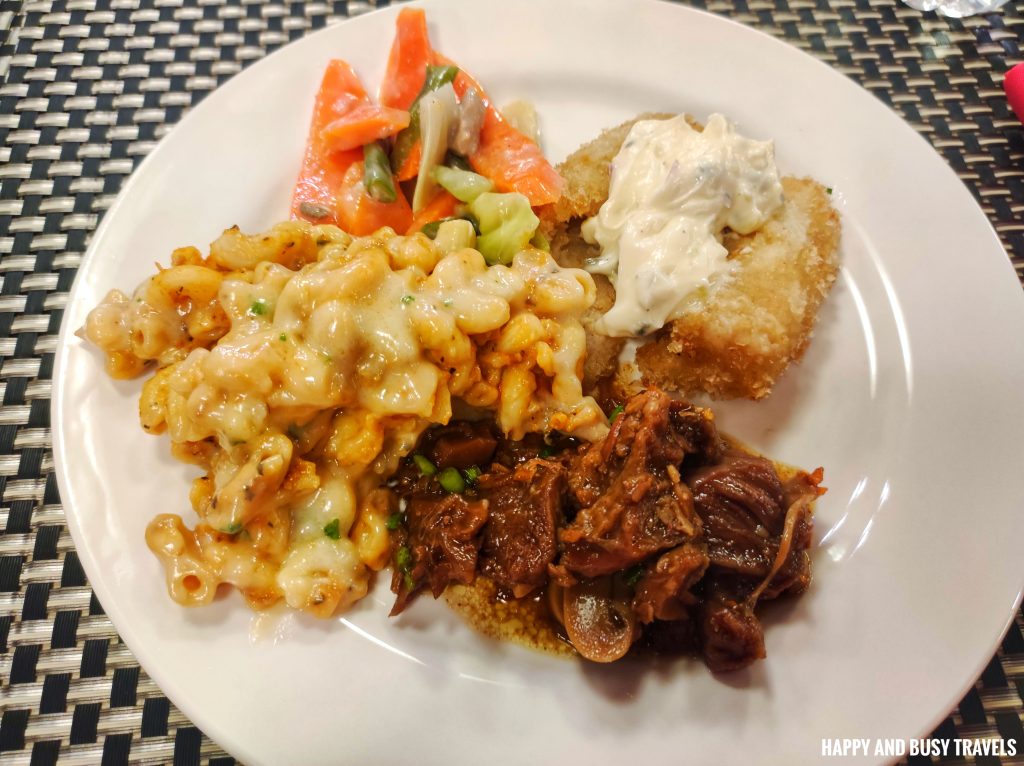 Each meal is also partnered with a juice or drink, plus a dessert. This is a Leche Flan with Lemon and Whipped Cream on top.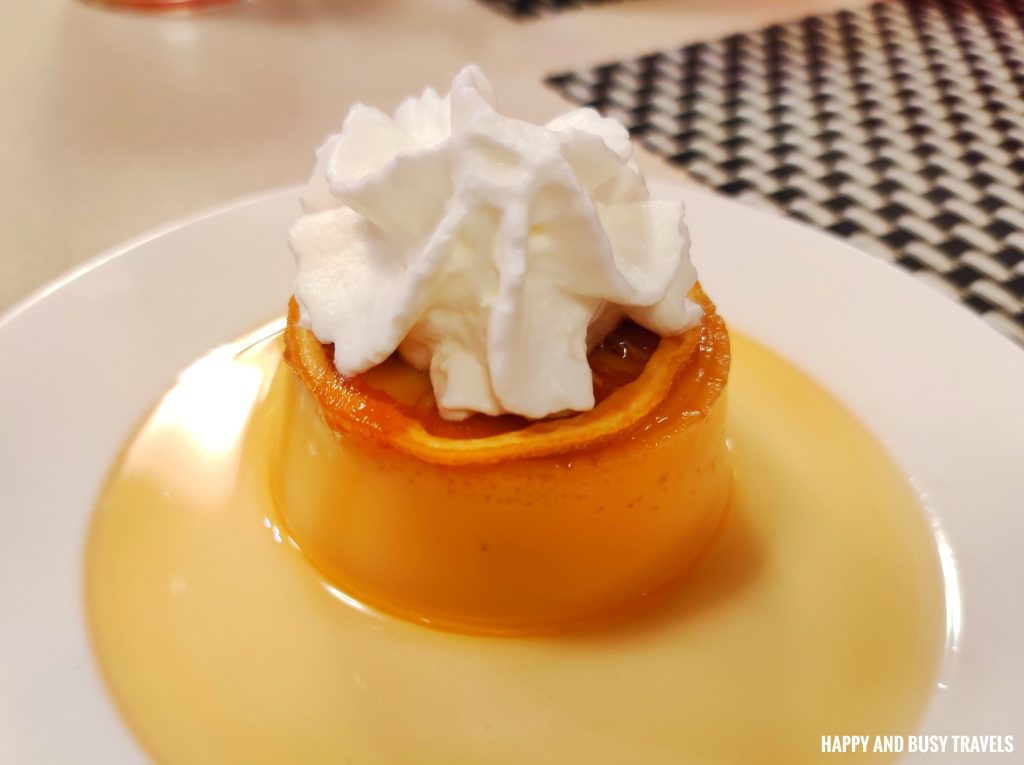 Room Check In
After the program and after eating, we went straight to our rooms and checked it out. Busy and I were supposed to be here all by ourselves, but he is not here. So, I asked Karla if she wants to transfer to our room. This is the Business Class room good for two.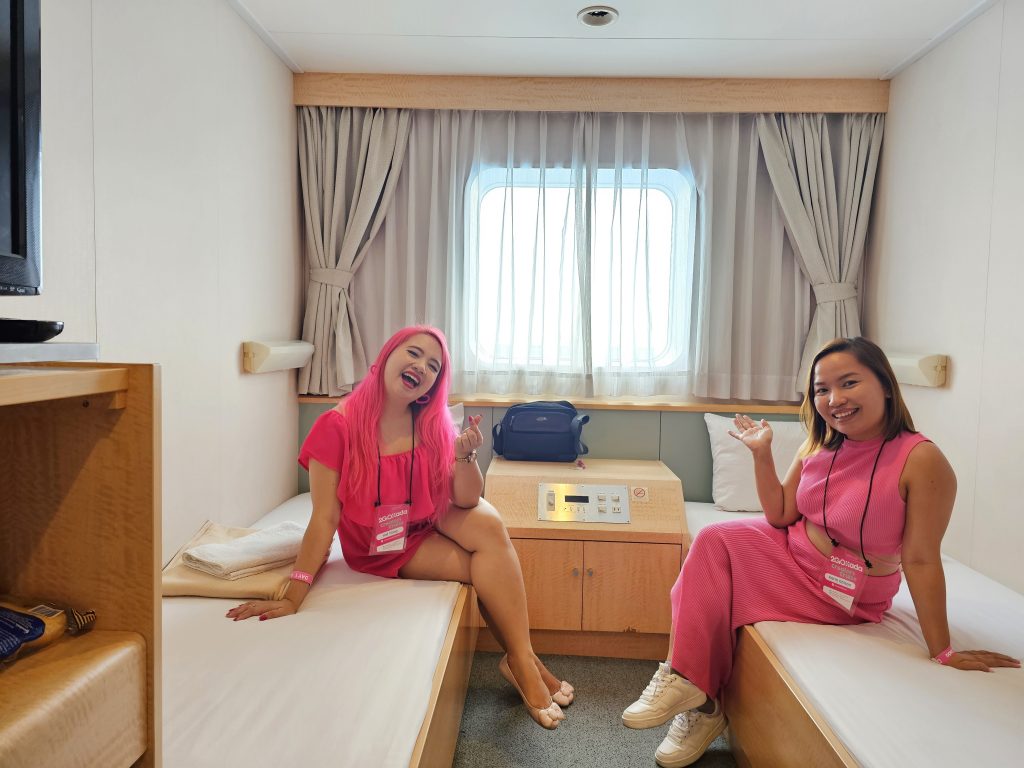 I'll be making a separate blog about our room so you can see it in detail.
Vessel Tour
In batches, we went on the vessel tour and saw how cool the ship is.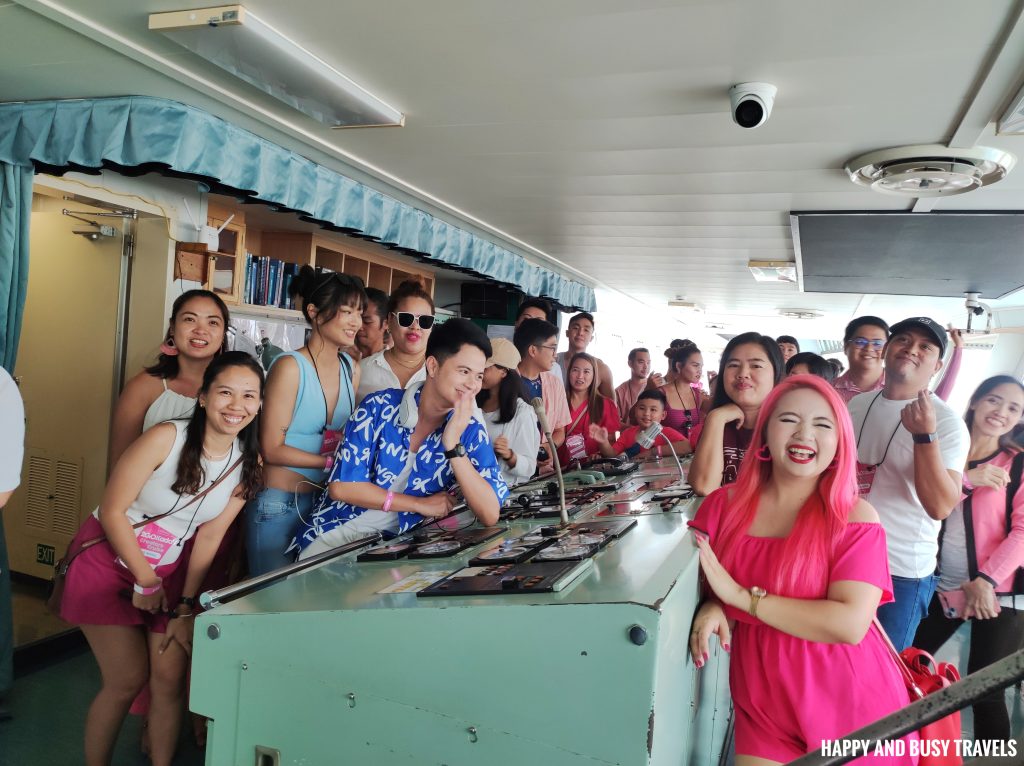 Aside from taking our own pictures for our content creation, we also took some awesome group pictures!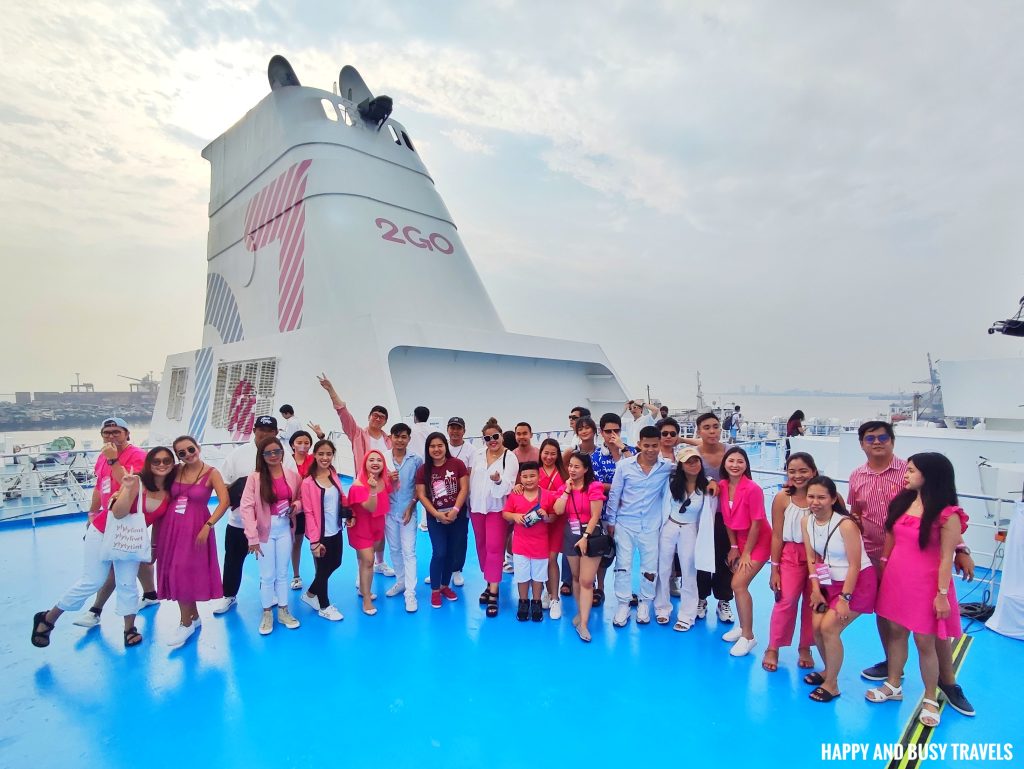 Taking pictures while at the Sun deck at sunset is one of the best picture taking time.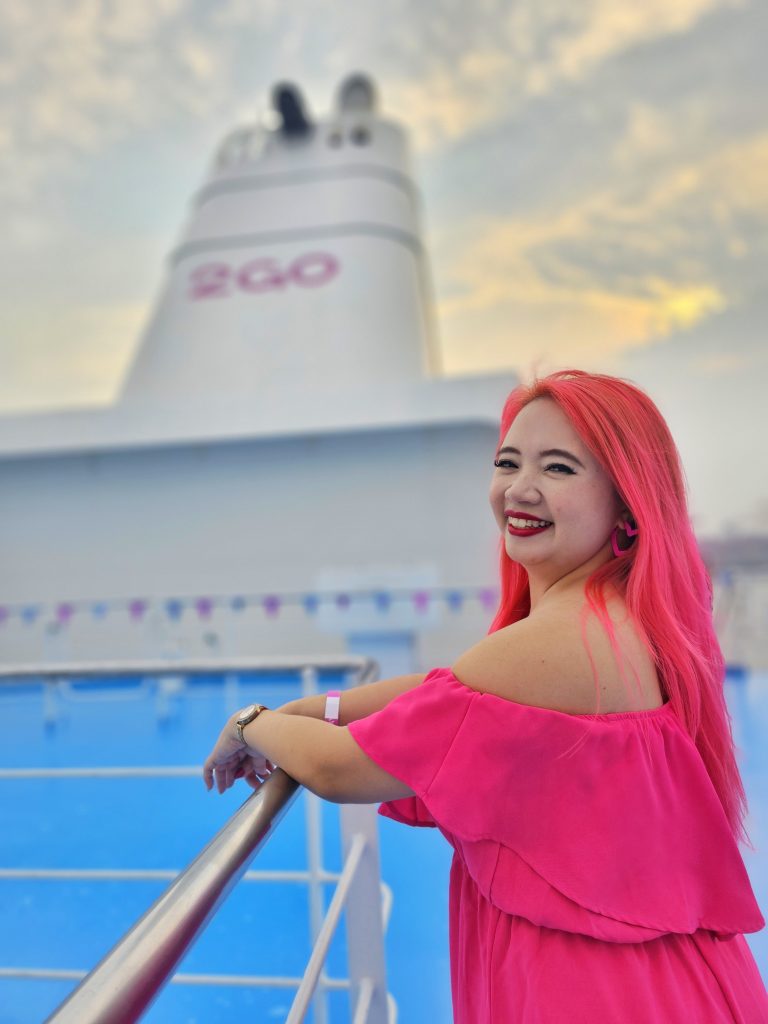 KTV During Freetime
During our free time after the tours, we went to the KTV room and sang our hearts out.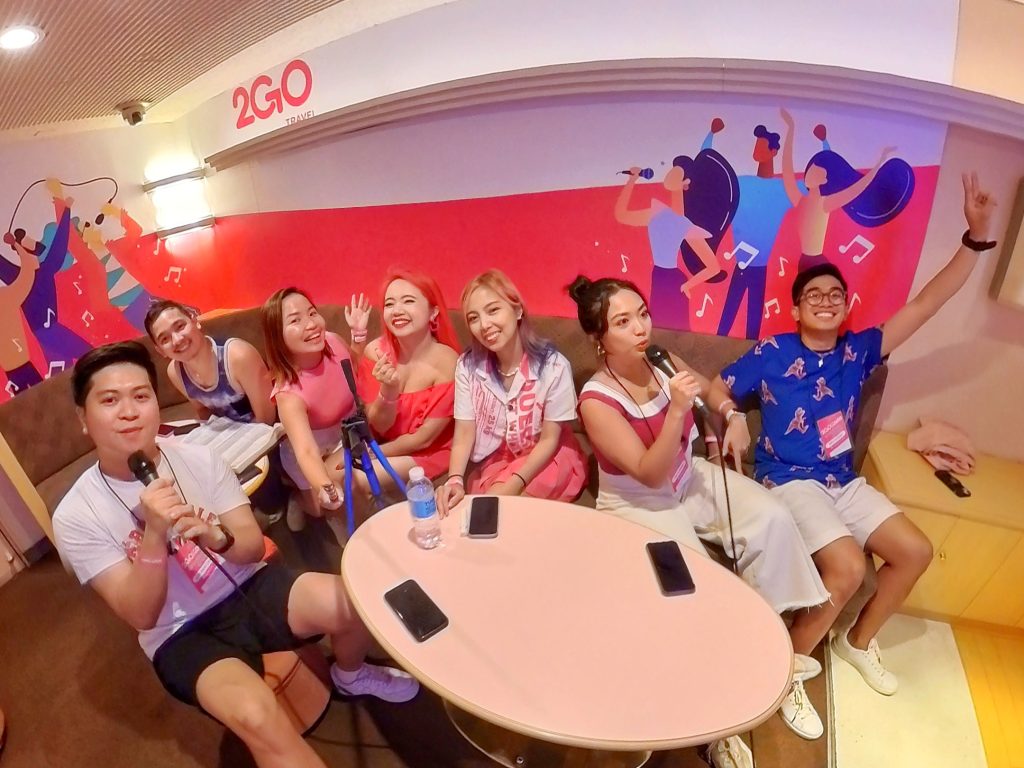 Dinner
Then, we had our first dinner at the event. We had Pasta, Roast Beef, Roasted Chicken, and Baked Salmon. Plus a Potato Salad with Bacon bits.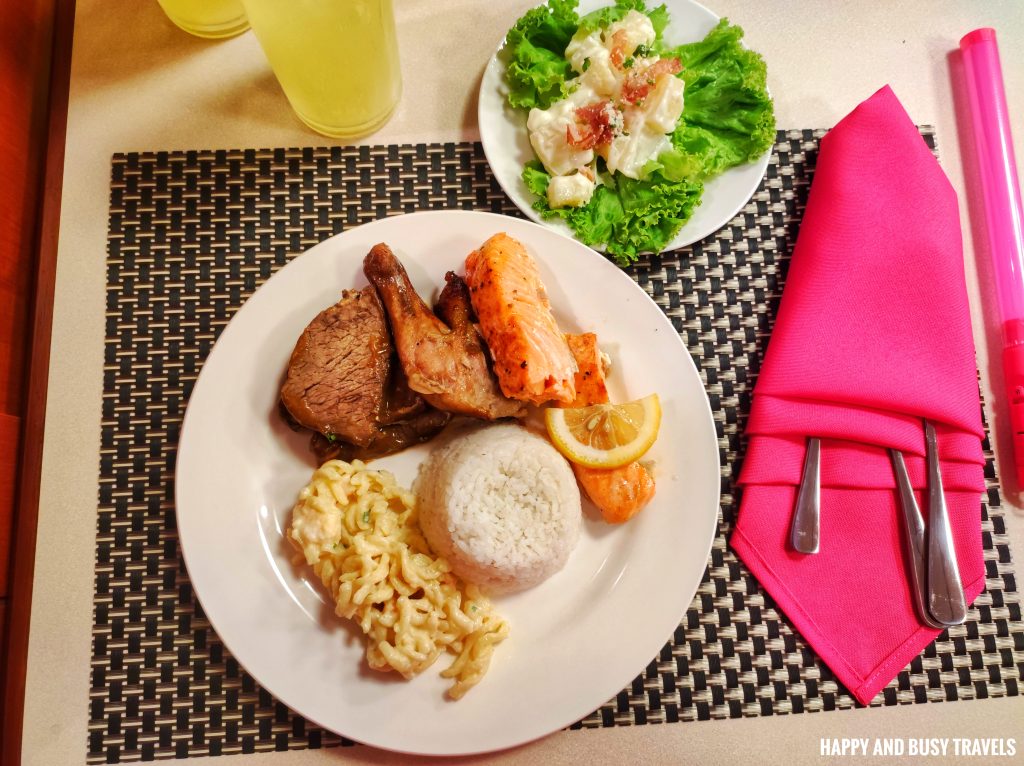 And a cup of Peach Mango Sago dessert.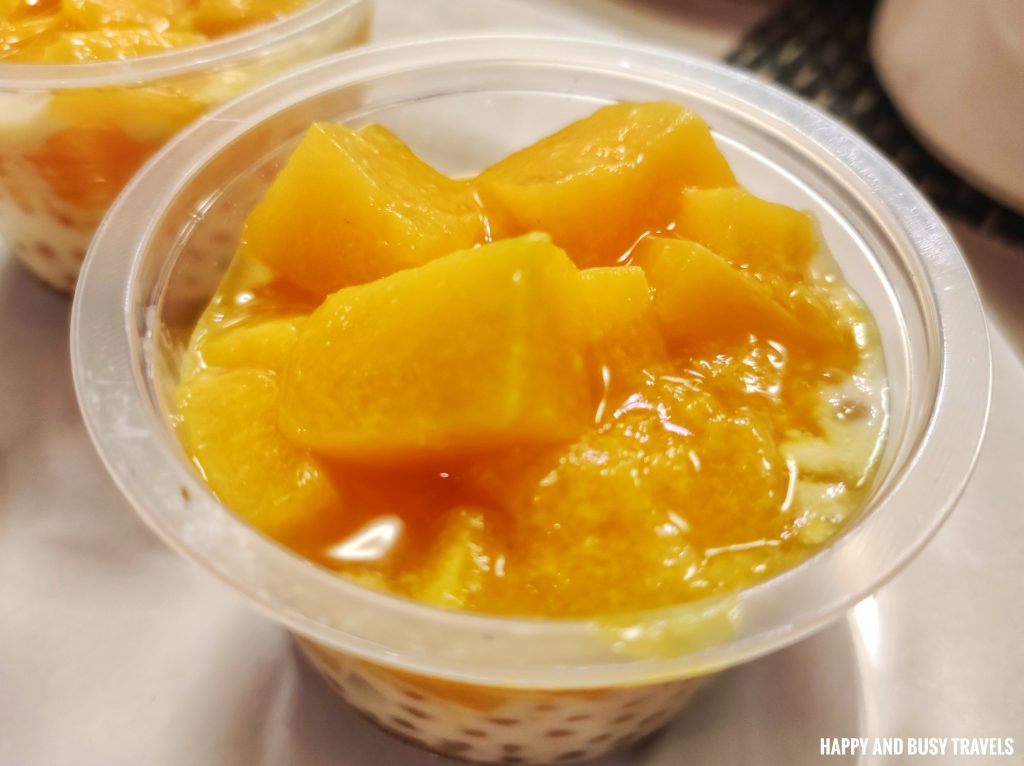 Brownies also gave us Brownie Bites for us to taste.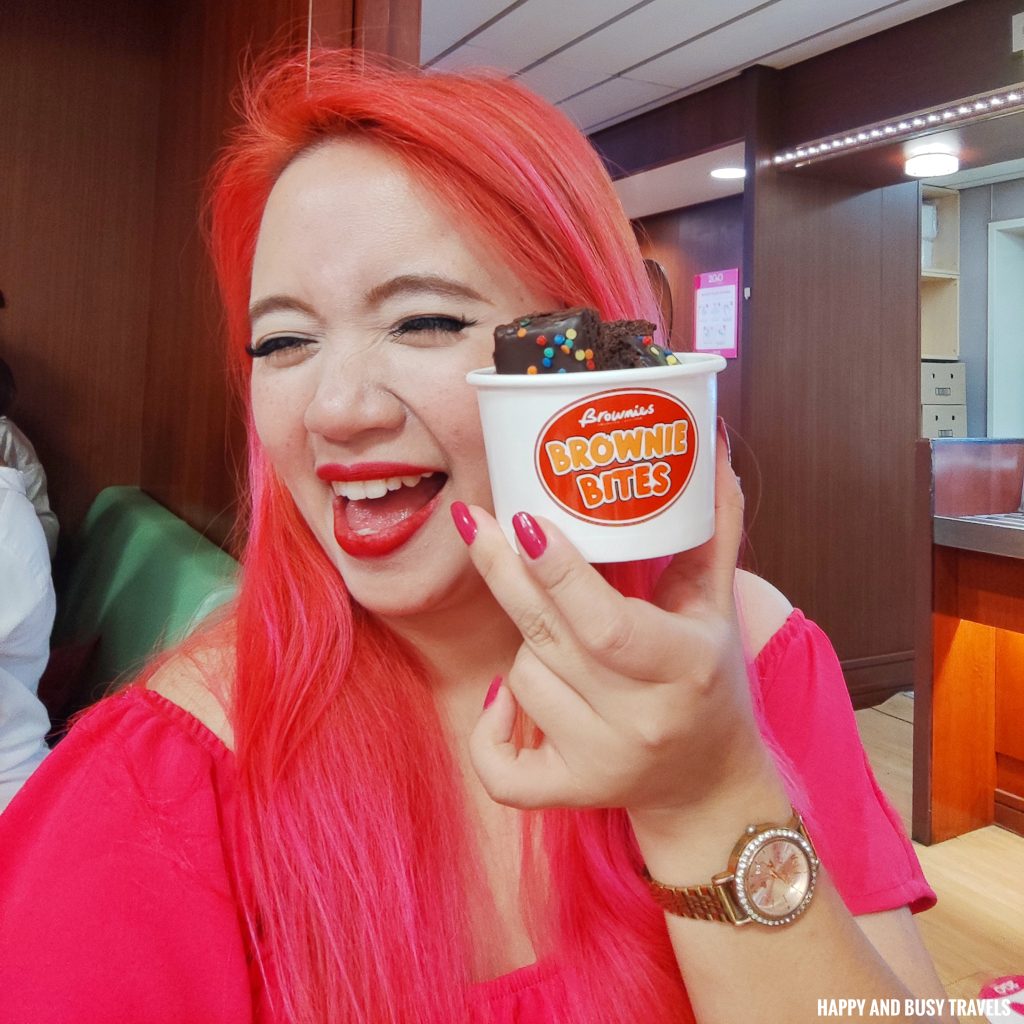 Open Mic Night
After dinner, we all went to the sun deck to have a party. The band started the party and followed by an open mic session.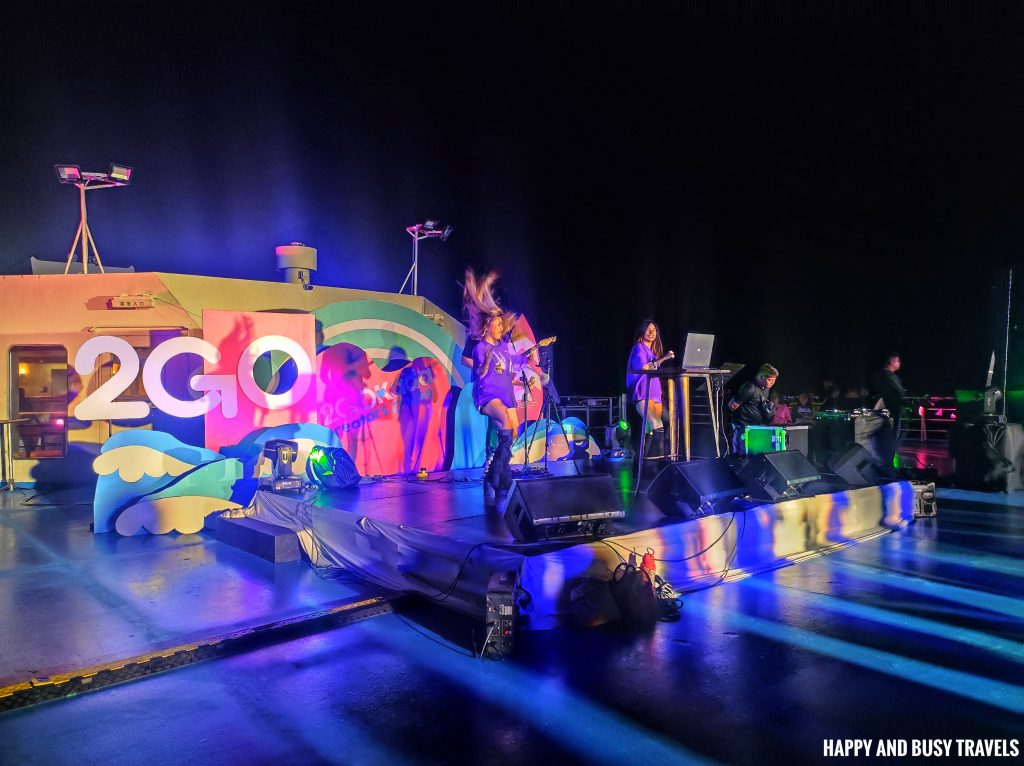 The band called all of the May birthday celebrants first, then asked them who can sing. Karla suggested my name so, with a nervous heart I went to the stage to perform. Hahaha, I was really nervous because I am not a professional singer and the audience are all content creators!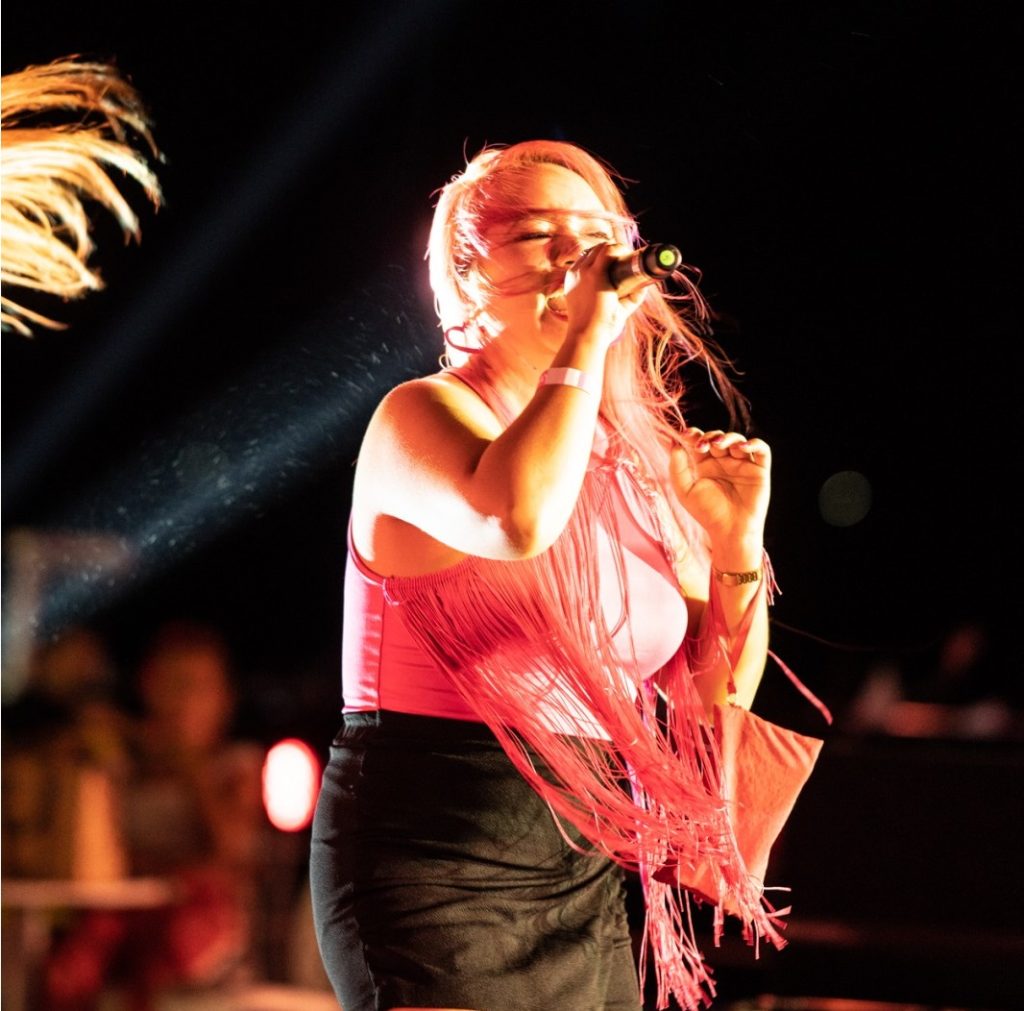 I had a really fun night, Thank you to the energetic audience and 2GO Travel for this opportunity!
Day 2 – Iloilo and Bacolod Tour – 2GOkada Creators Cruise 2023
This is the busiest day during this event because we have a quick tour.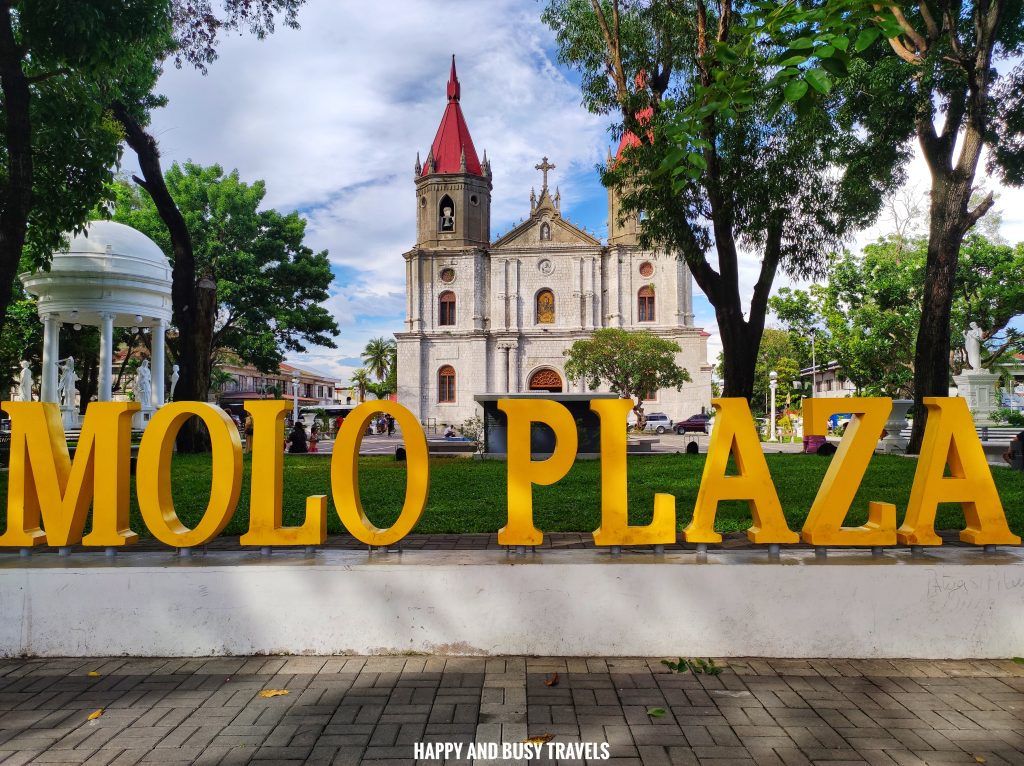 Yoga
We started the day with a meditation headed by Anina Rubio, and yoga by Movement in Play.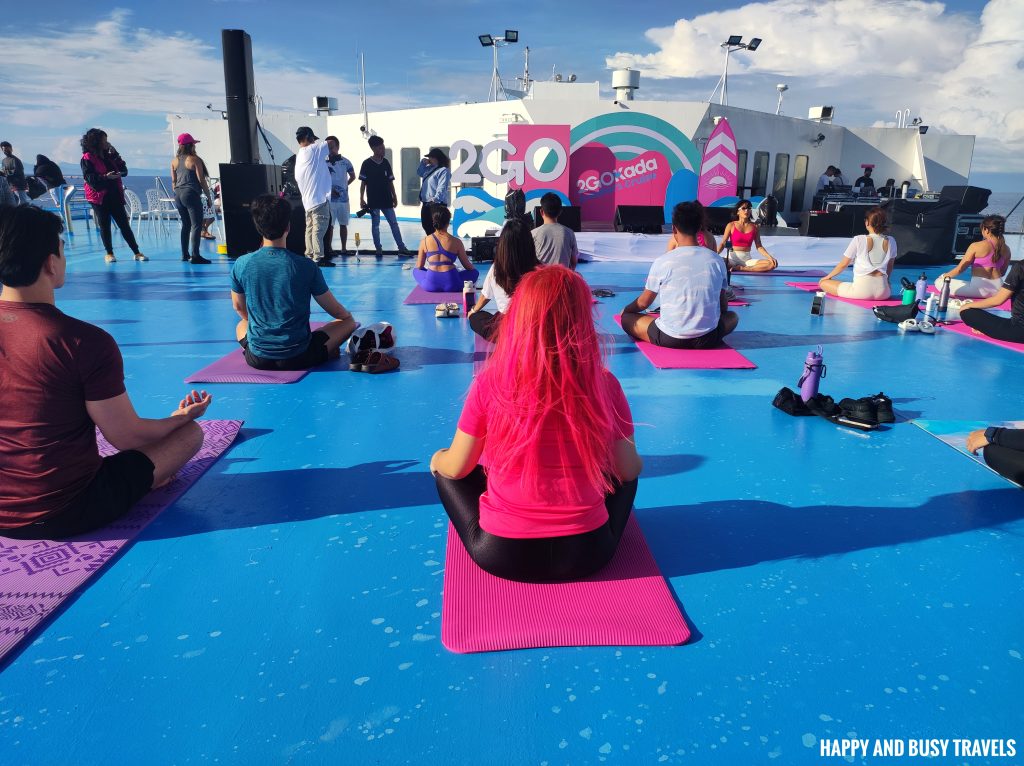 It was a fun activity because I get to do Yoga again, and this time on a ship!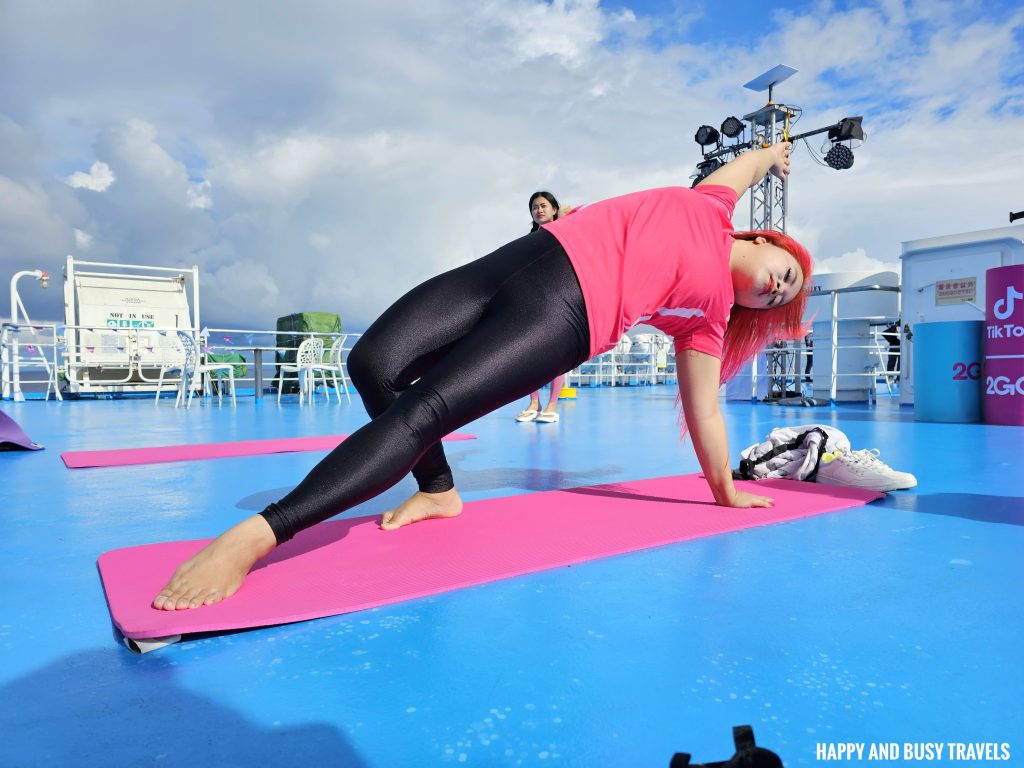 Breakfast
After the Yoga session, we had breakfast. The dishes available at that time are, Tocino, Tapa, Egg, Fried Banana, and Fried Rice.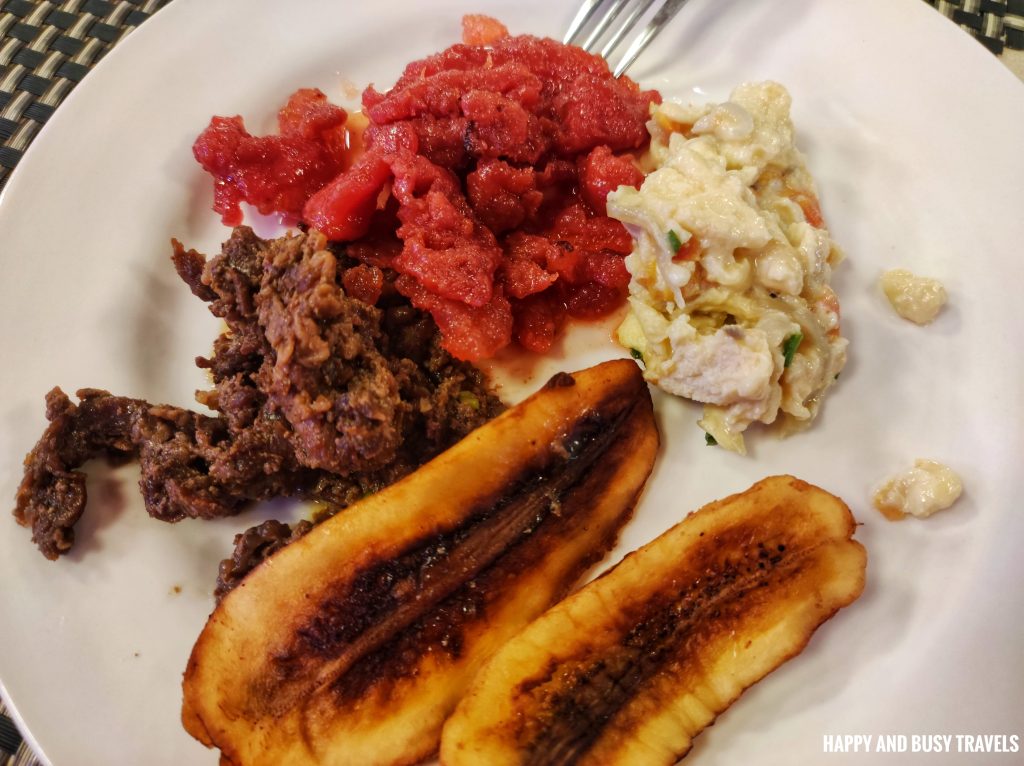 Early Lunch
After breakfast, we had time to prepare for the day. Then, we had an early lunch at 11AM.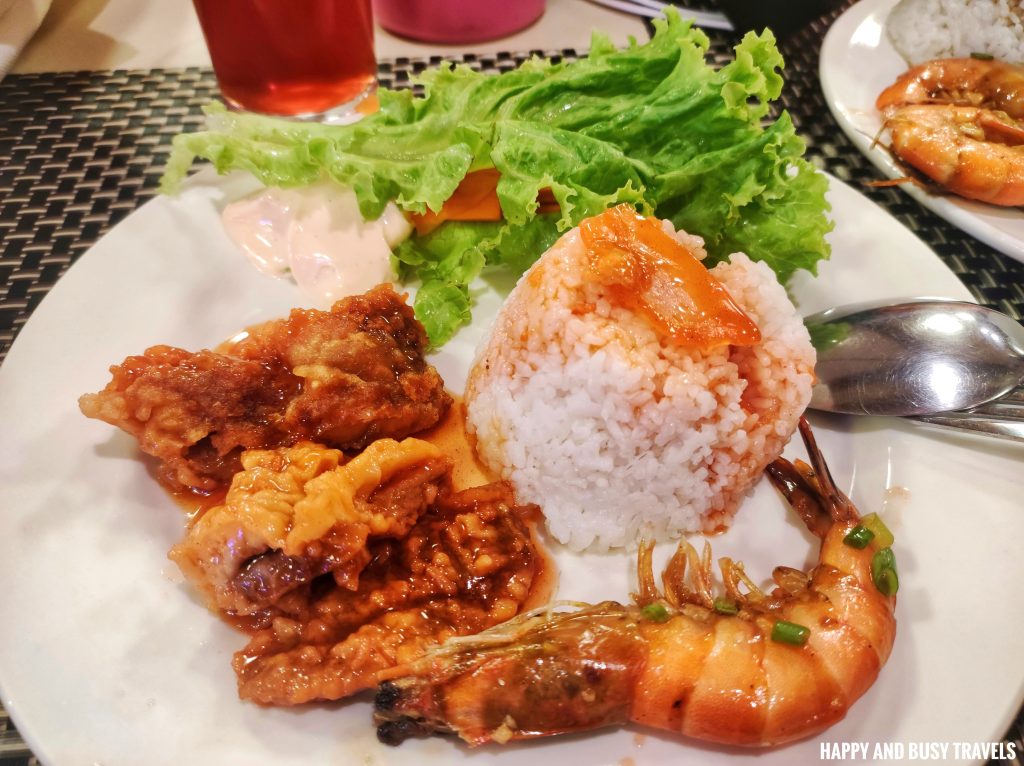 Iloilo Tour
We arrived at Iloilo Port and started our tour courtesy of the tourism department of Iloilo and Southwest Tours. There is a Dinagyang Festival-themed welcome when we arrived. After the warm welcome, we went to our assigned bus and started the tour.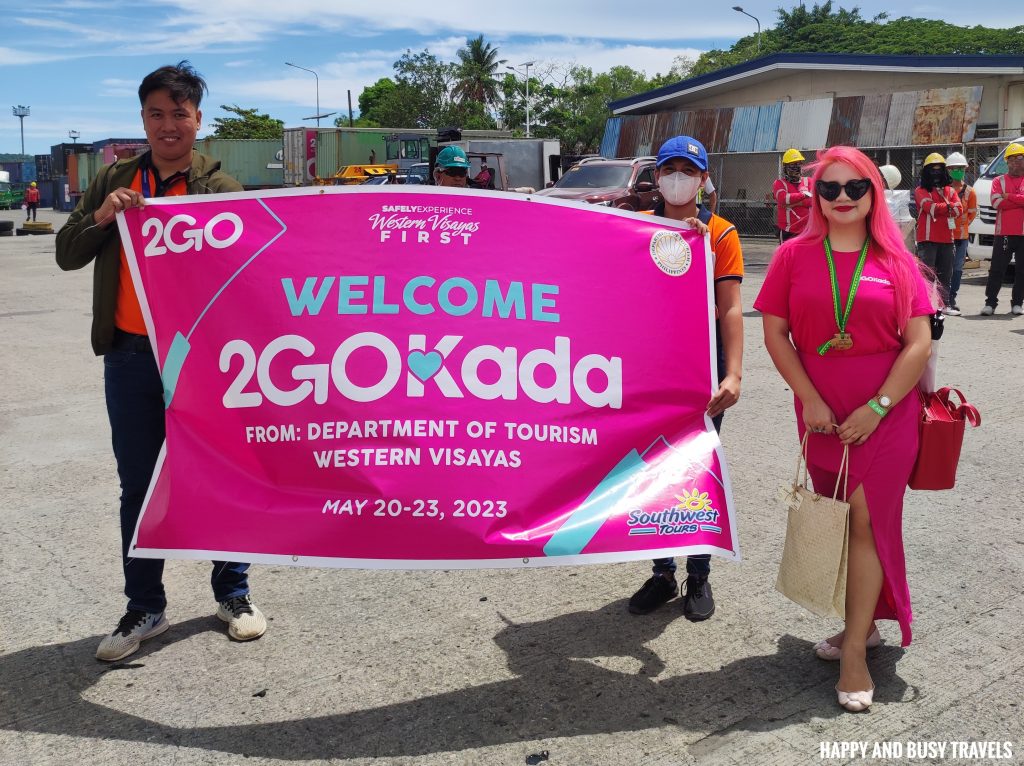 Museum of Philippine Maritime History
The first stop is the Museum of Philippine Maritime History which shows everything about our maritime history. The museum is placed here because Iloilo is known for their outstanding maritime schools.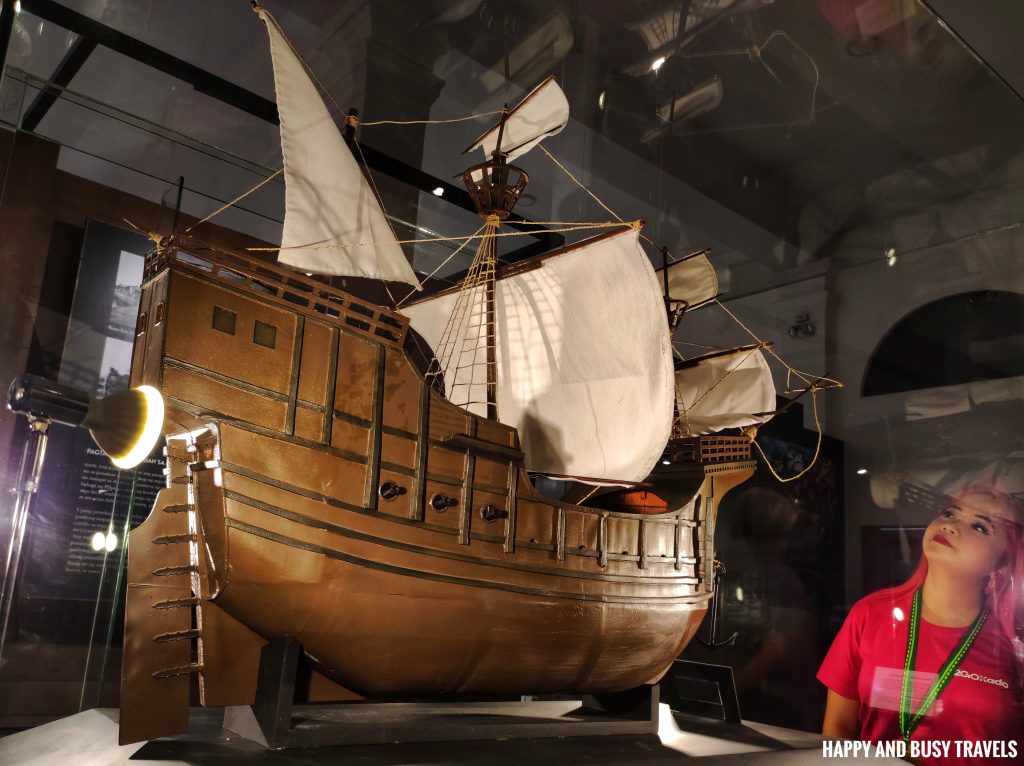 One of my favorite displays in the museum is this old Philippine 10 Peso bill which is brought by the Americans to us.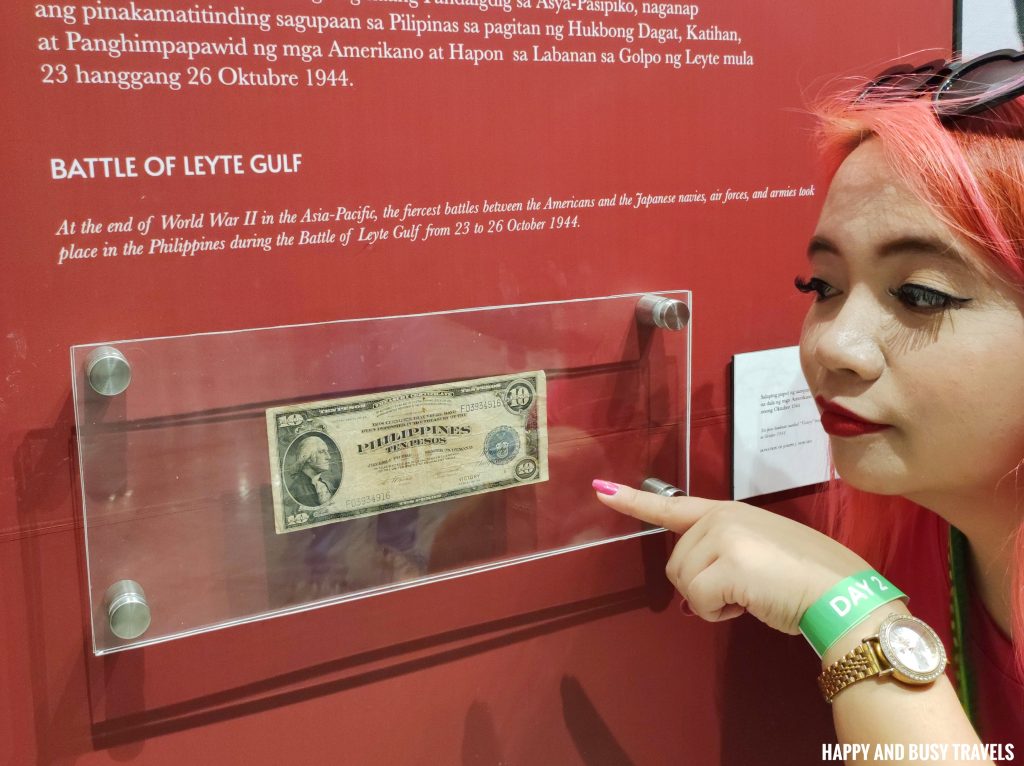 Jaro Cathedral
This is Jaro Cathedral, which is a famous church in Iloilo. There are two stories that stuck with me during our visit here. First, the statue of Mama Mary kept on growing for all these years. It is enclosed in the white box in front of the church. You can reach it by using the stairs in front.
Lastly, the saints here in the cathedral are all men, so this is the cathedral that male churchgoers go to if they are praying for a lifetime partner.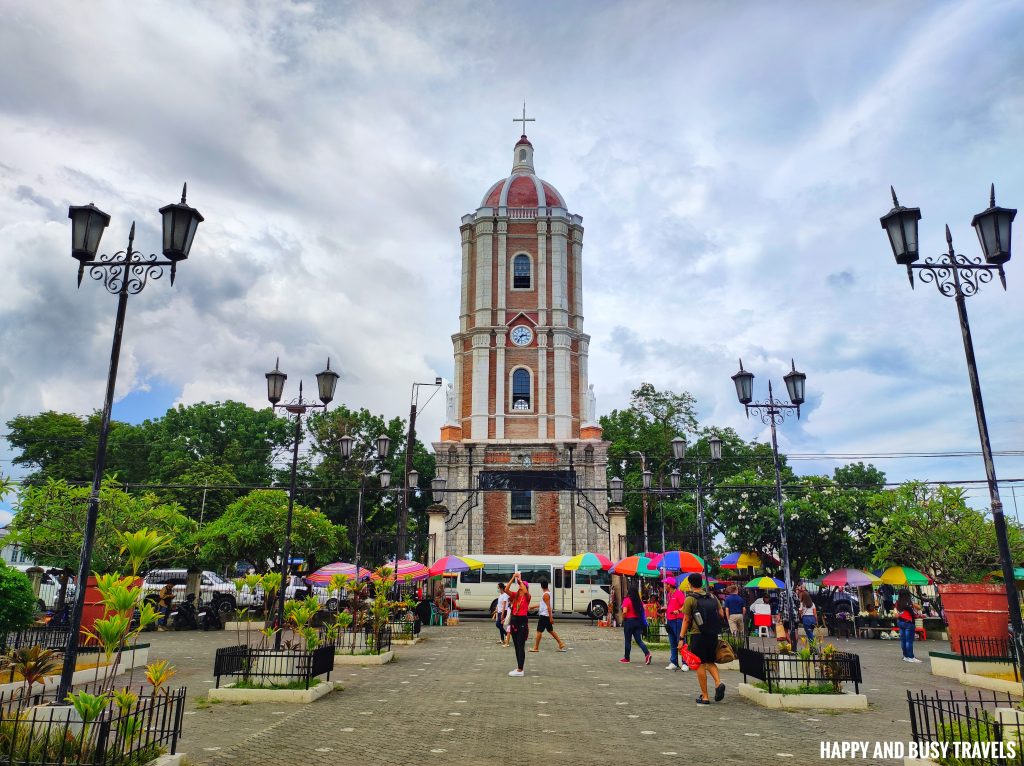 Quick Snack
We had a quick snack after the church visit. This is Pansit Molo, and Puto, which are two of the delicacies in Iloilo.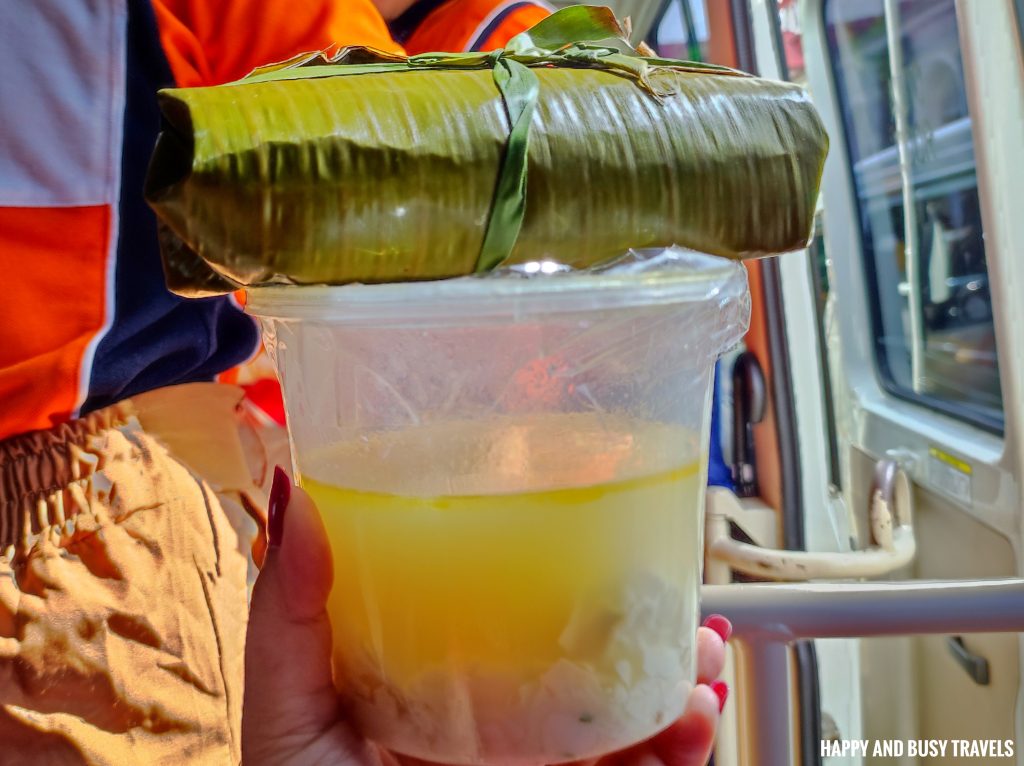 Molo Mansion
We had a quick stop at Molo Mansion, which is one of the outstanding samples of the mansions of the rich in Iloilo. As of this writing, the mansion serves as a store of different Filipino items.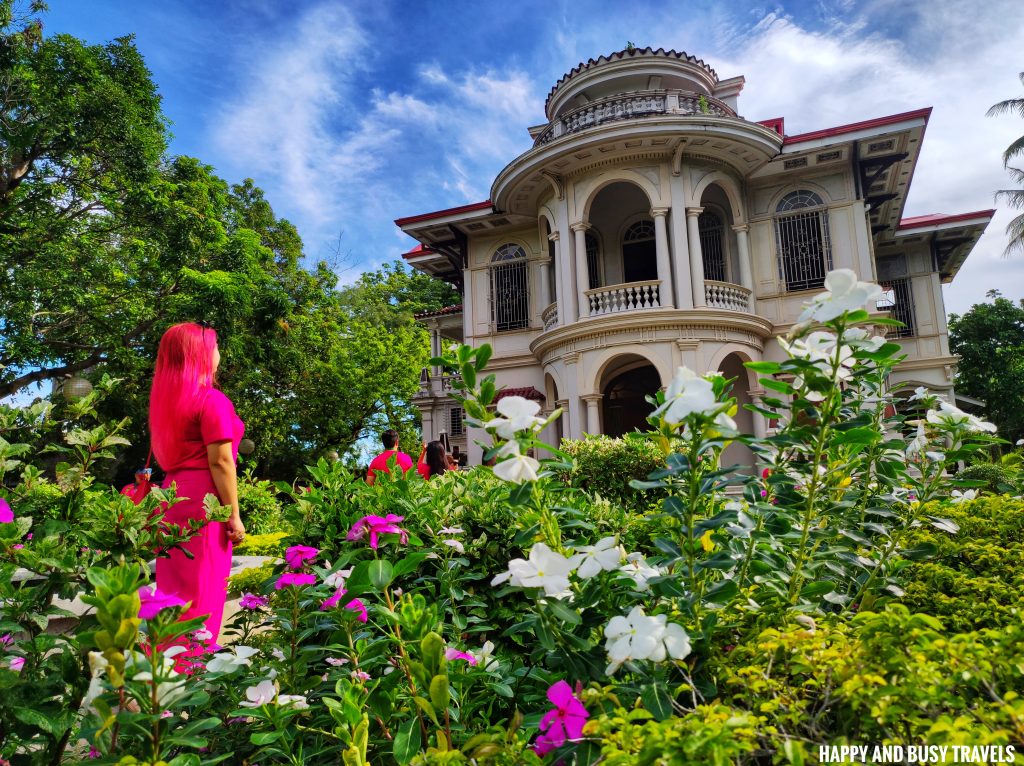 Molo Plaza and Church
Finally, we went to Molo Plaza and Church during this quick Iloilo trip. Just like Jasro Cathedral, one story stuck with me. The saints in this church are all women, so just like Jaro Cathedral, women churchgoers go here if they are praying for a lifetime partner.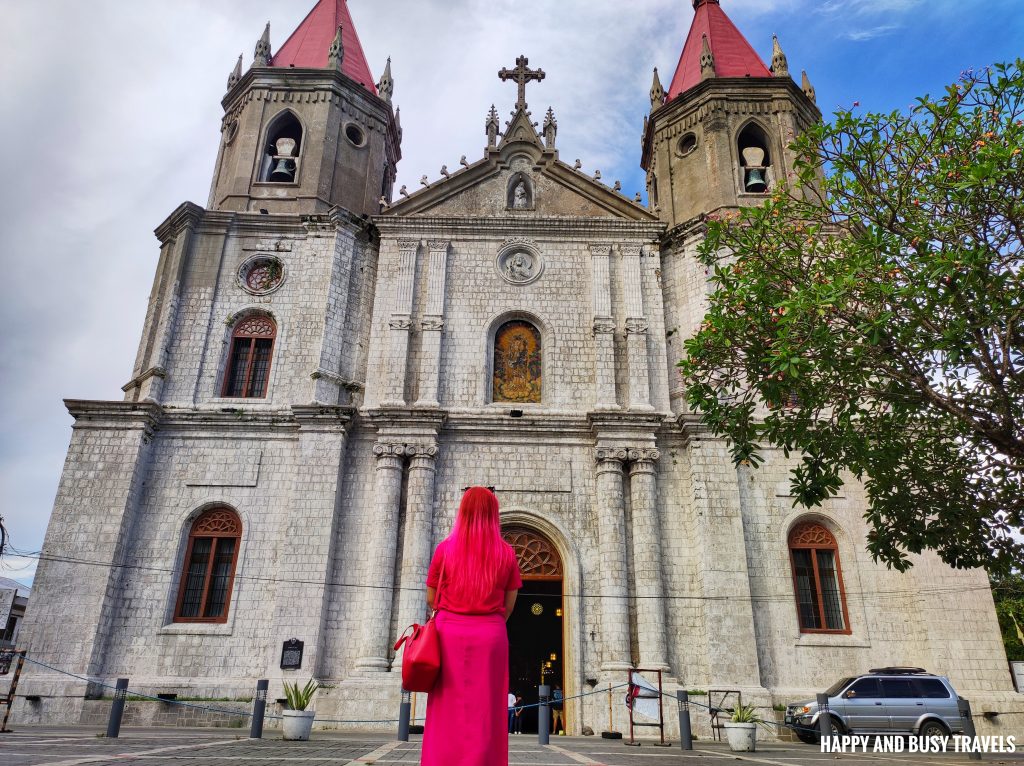 After the quick tour, we went to Iloilo Port to ride a fast craft and continue our journey to Bacolod.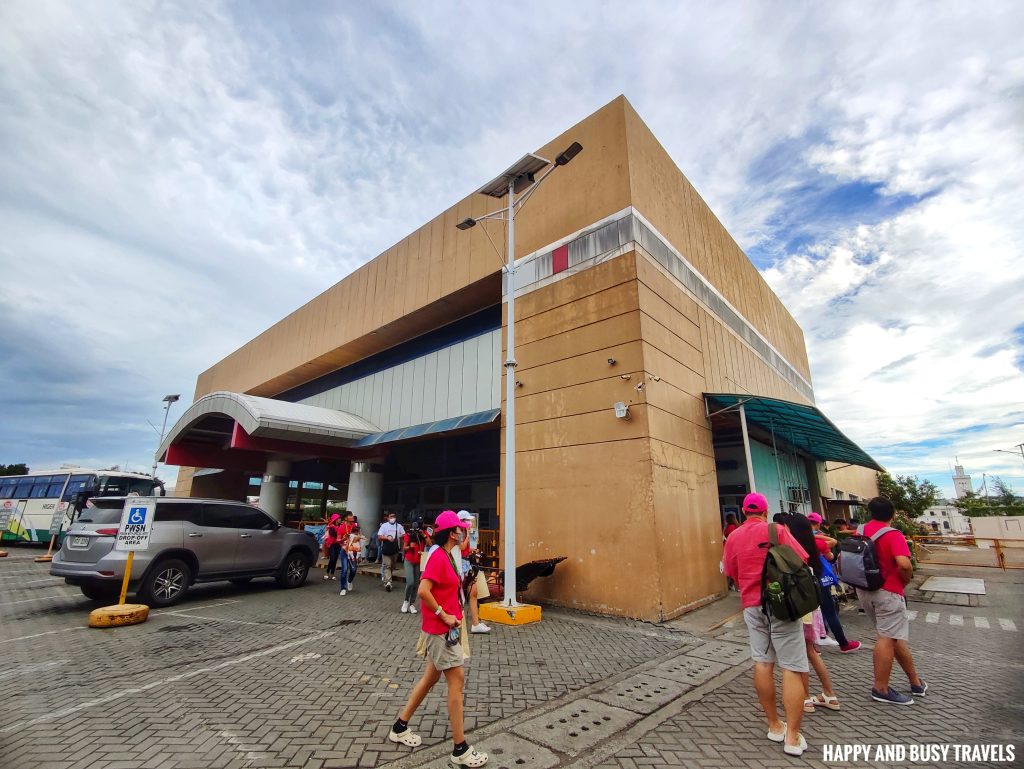 Arrival in Bacolod
We were welcomed by the Maskkara dancers! We even danced with them. After arriving, we ride the VIP vans which brought us to The Ruins.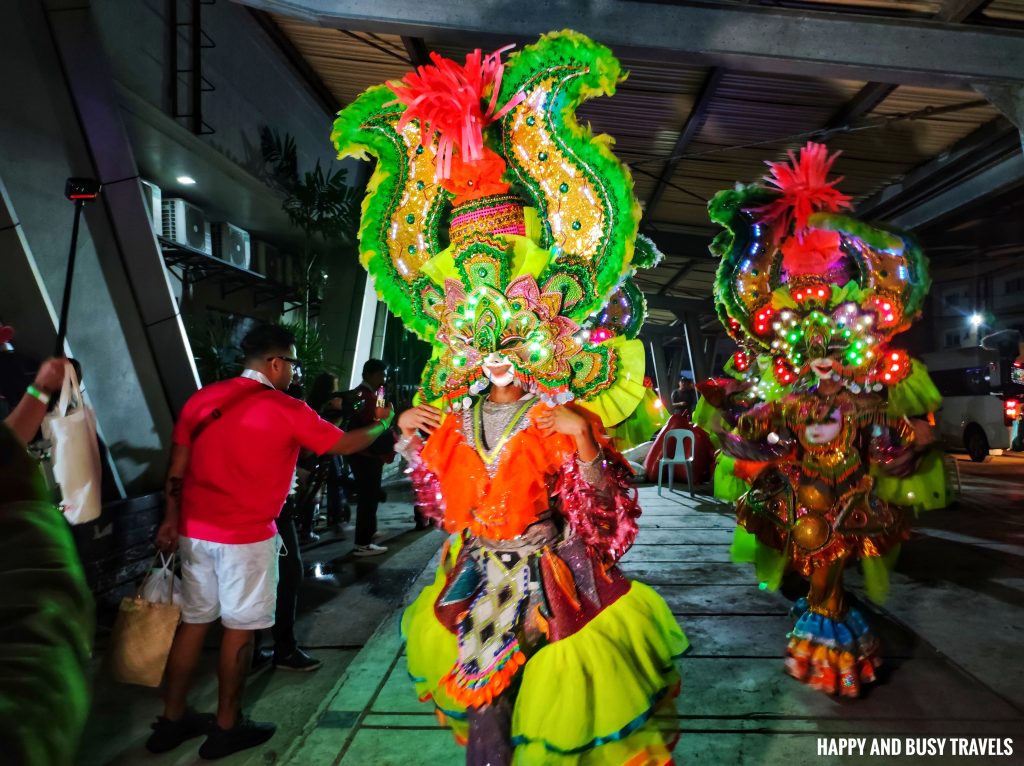 Dinner at The Ruins
Finally, we had dinner! Food is overflowing!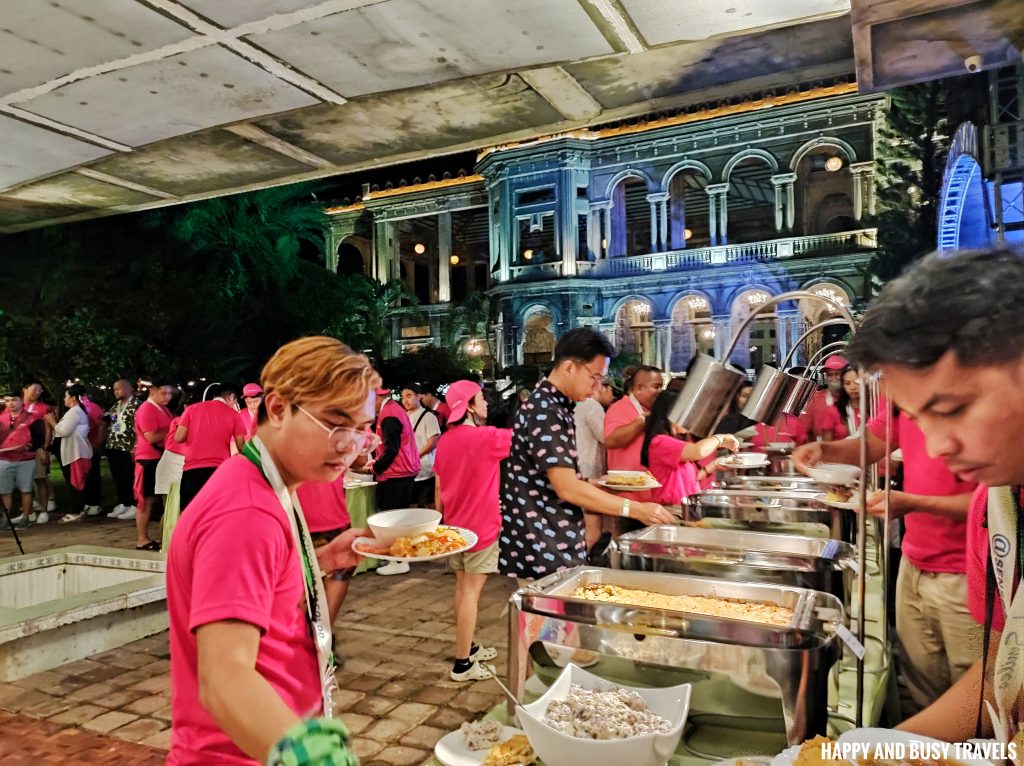 I had pasta, Hamonado Roll, Salmon, and Beef. There are other dishes like rice, veggies, and KBL. KBL means Kadios Baboy at Langka which is one of the known dishes in Bacolod.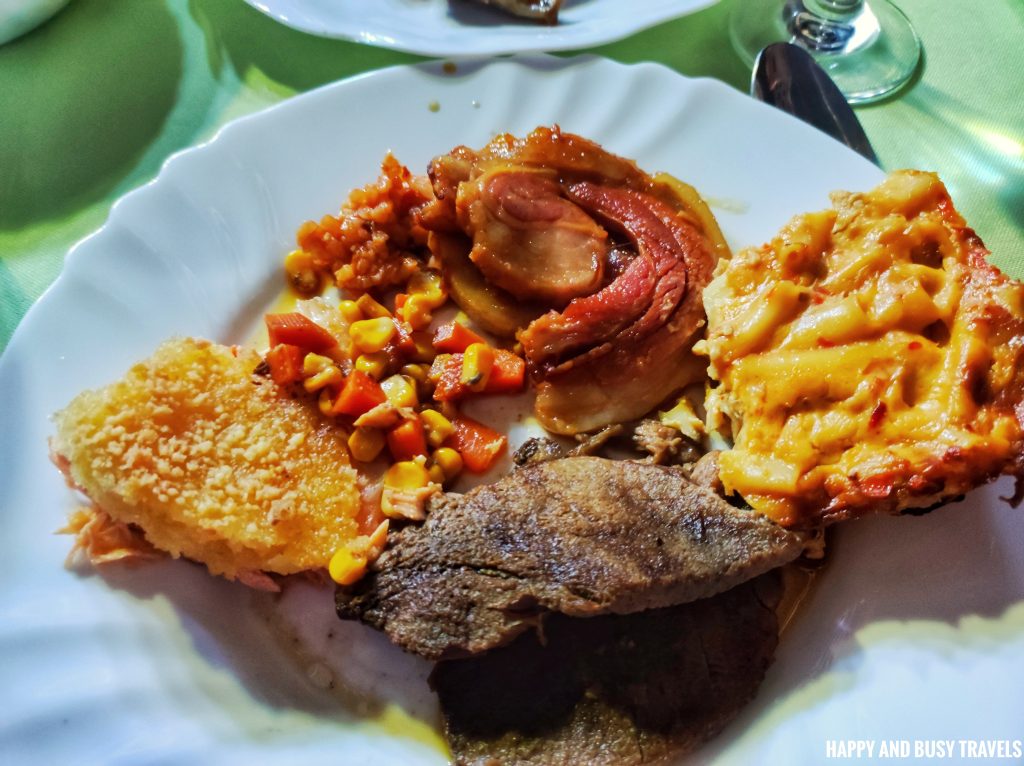 We even had unlimited Bacolod Chicken Inasal! Oh my!!!!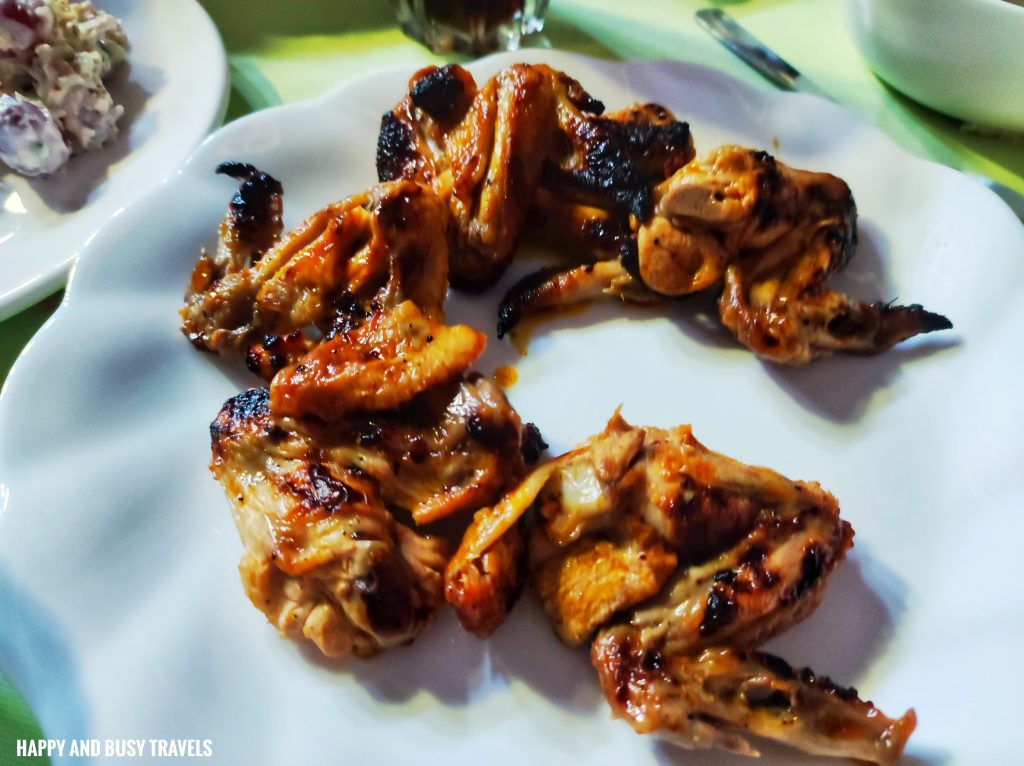 Iloilo brought Dinagyang to us, this time Bacolod brought Maskkara Festival to us. They gave us a full presentation of what people can expect at Maskkara festival.
2GOKada Music Festival
After our tour, we went to Bacolod port, bought some souvenirs, and headed back to the ship for the Music Festival.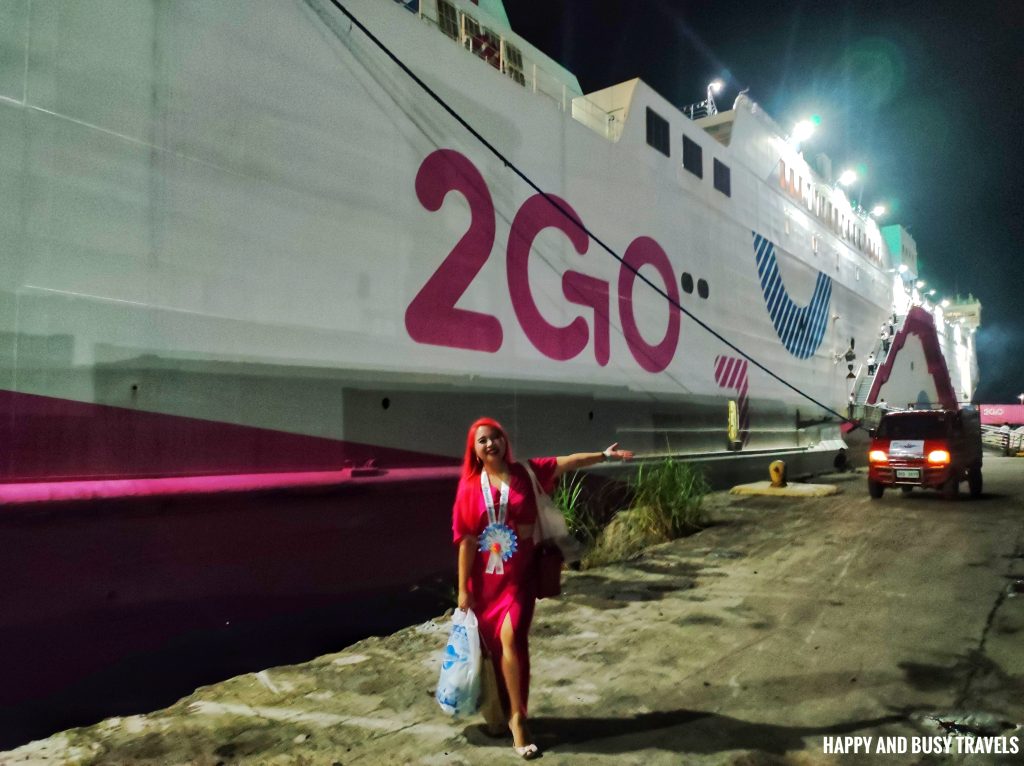 There are various artists from Careless Music, some of them are Jolliane…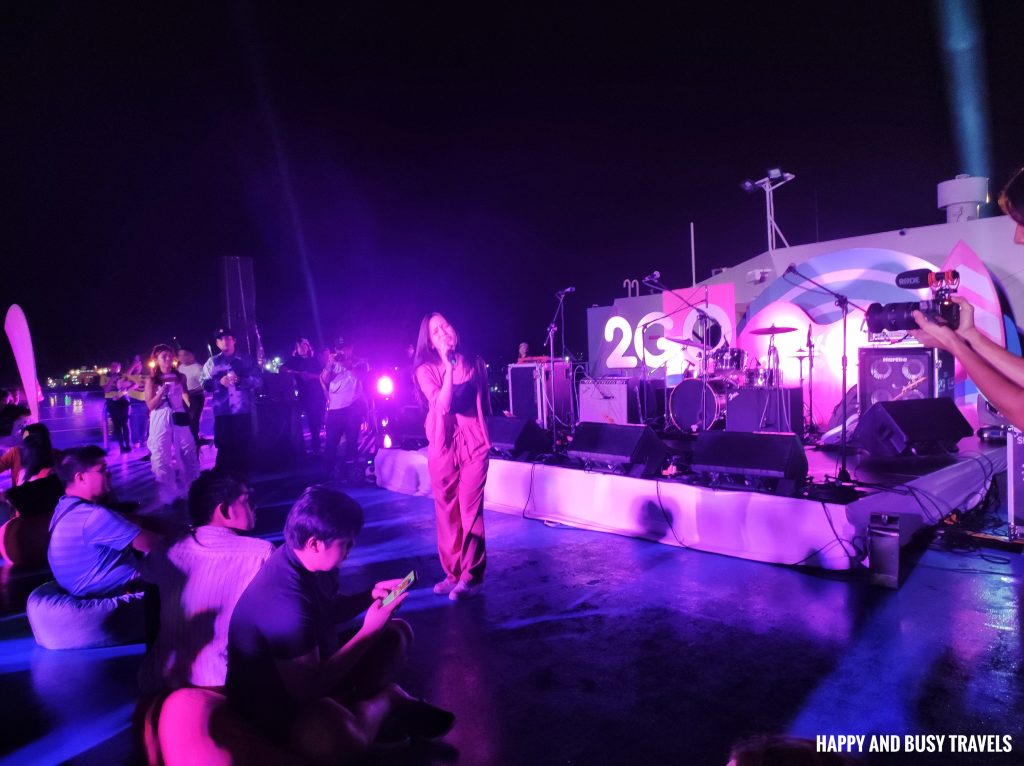 August Wahh…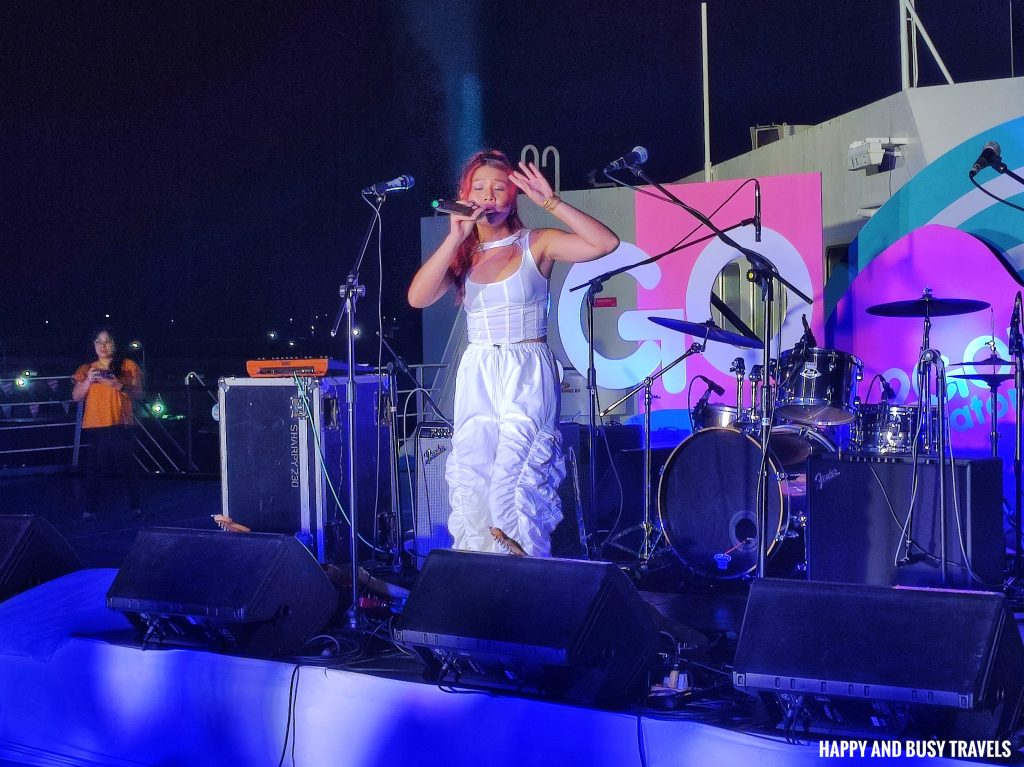 and SOS Band.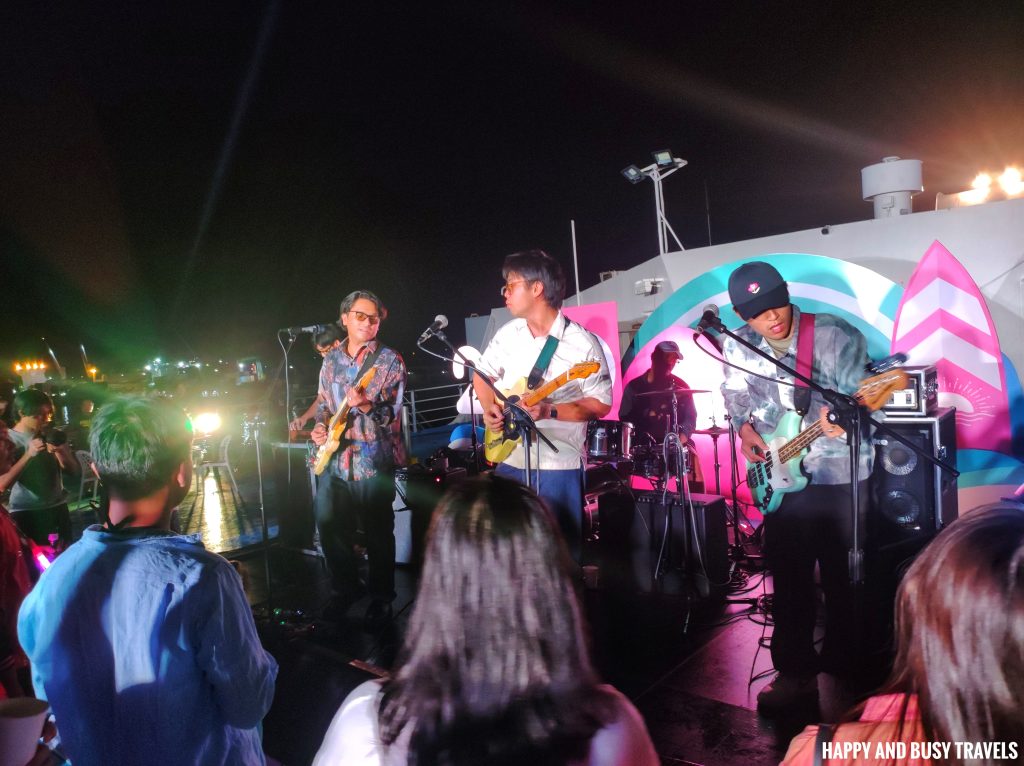 After their performance, there is a fun party wherein everybody enjoyed! I am not sure what time the party ended that night (or morning) but the ship sailed at 4:30 AM going to Manila.
Day 3 – Workshops – 2GOkada Creators Cruise 2023
This is the last day of the 2GOkada Creators Cruise, so we had a chill morning and lots of workshops throughout the day.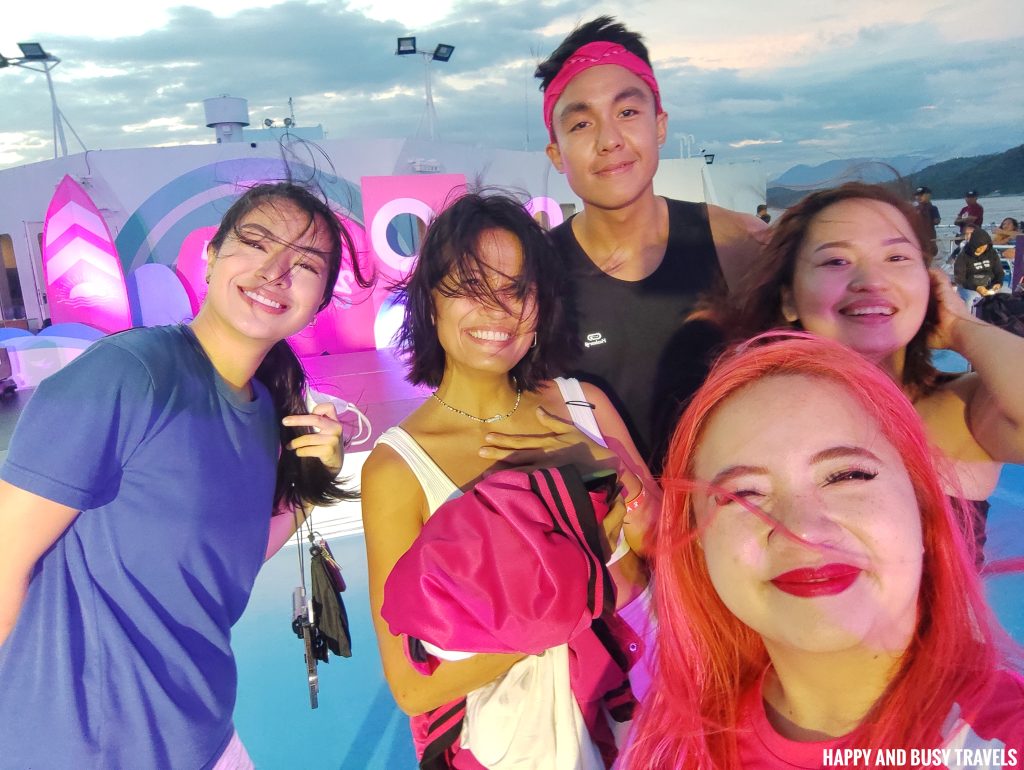 Breakfast
I planned to wake up late and just have lunch because we partied all night long. But, Karla and I woke up early and checked out the breakfast. UNLI BACON!!!! So, we had a quick breakfast and bonded with a few fellow content creator.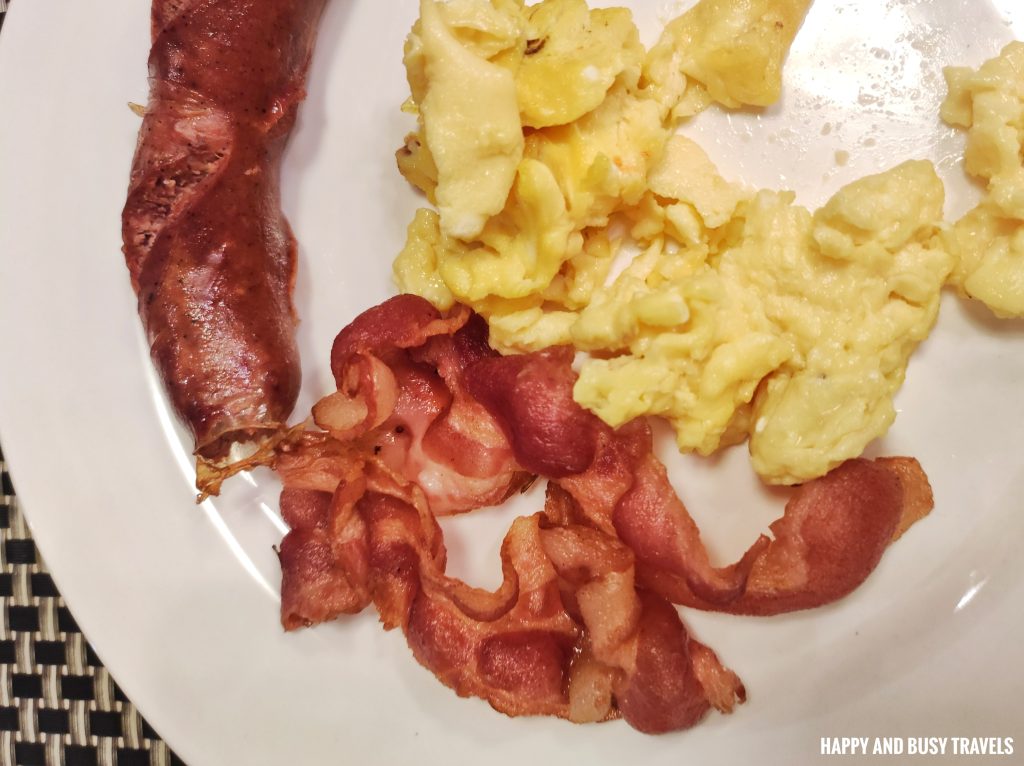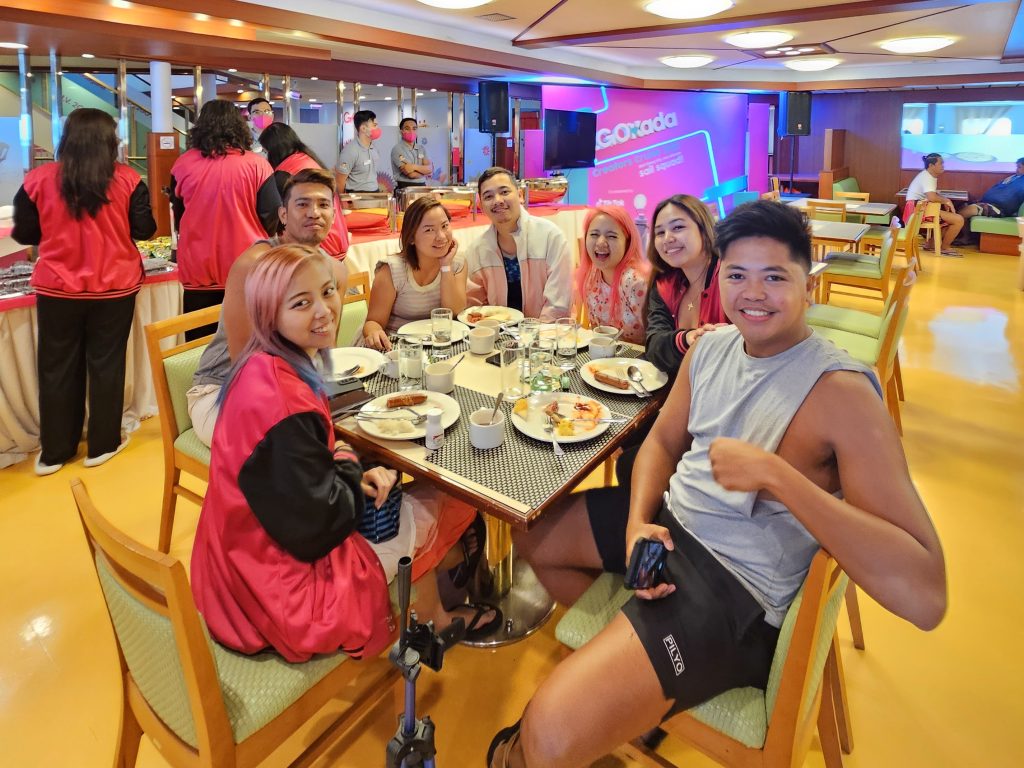 Checking Out Our Merch
We got a lot of merchandise from 2Go Travel and Iloilo, so I took the time to check it out during our free time in the morning.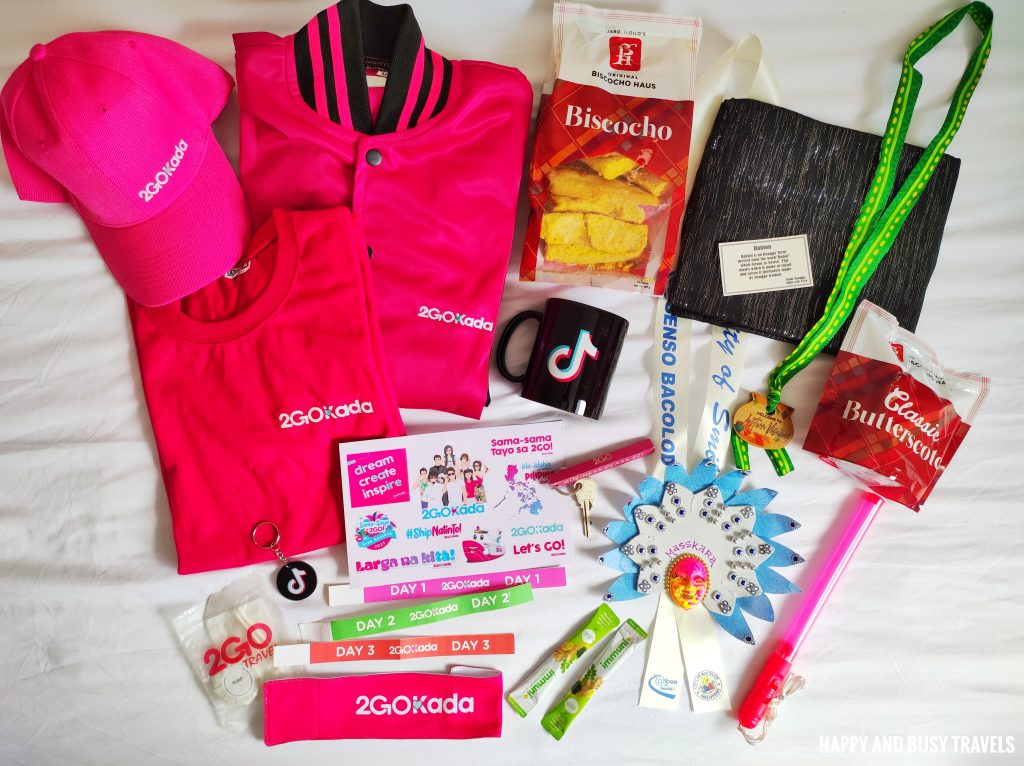 Lunchtime
Yeah! I know! We just had our breakfast! Hahaha but it's time for lunch already. We had Kani Salad, Fried Chicken, Pancit Canton, Kare-Kare, and a delicious mini cake.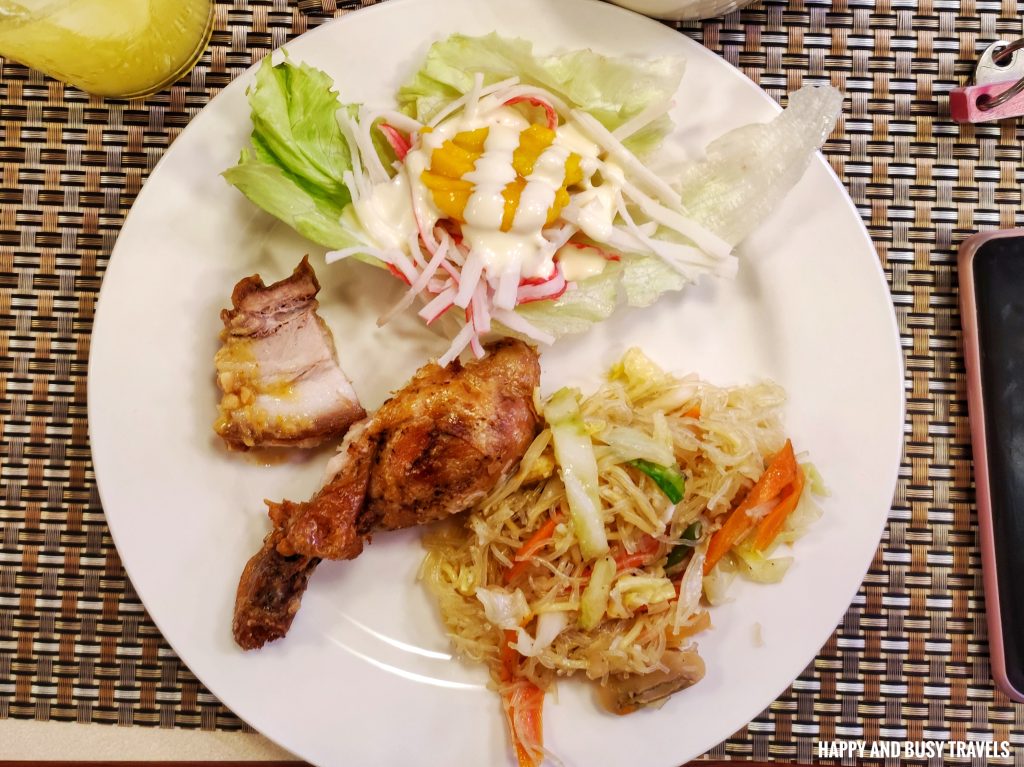 Ohh gosh! I love this cake! I cant to eat a lot!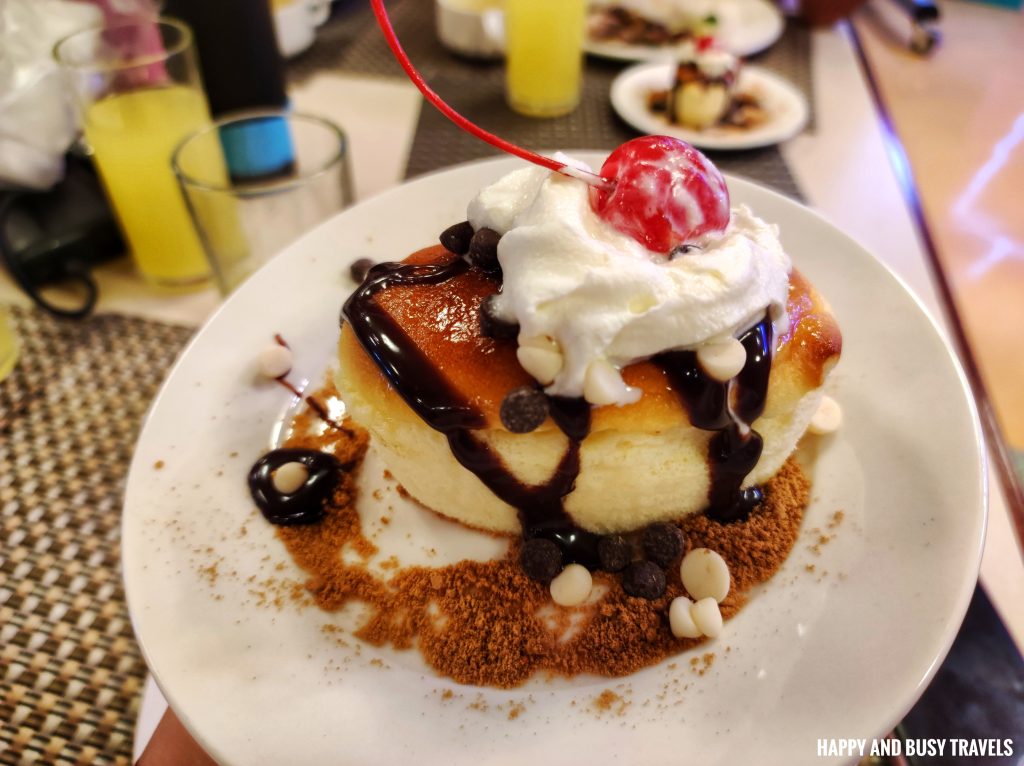 TikTok Workshop
Then, right after lunch, we had a great TikTok Workshop wherein we were taught some tips to get the attention of the audience. It was headed by Ms. Krisa Alcoriza, the head of Travel TikTok.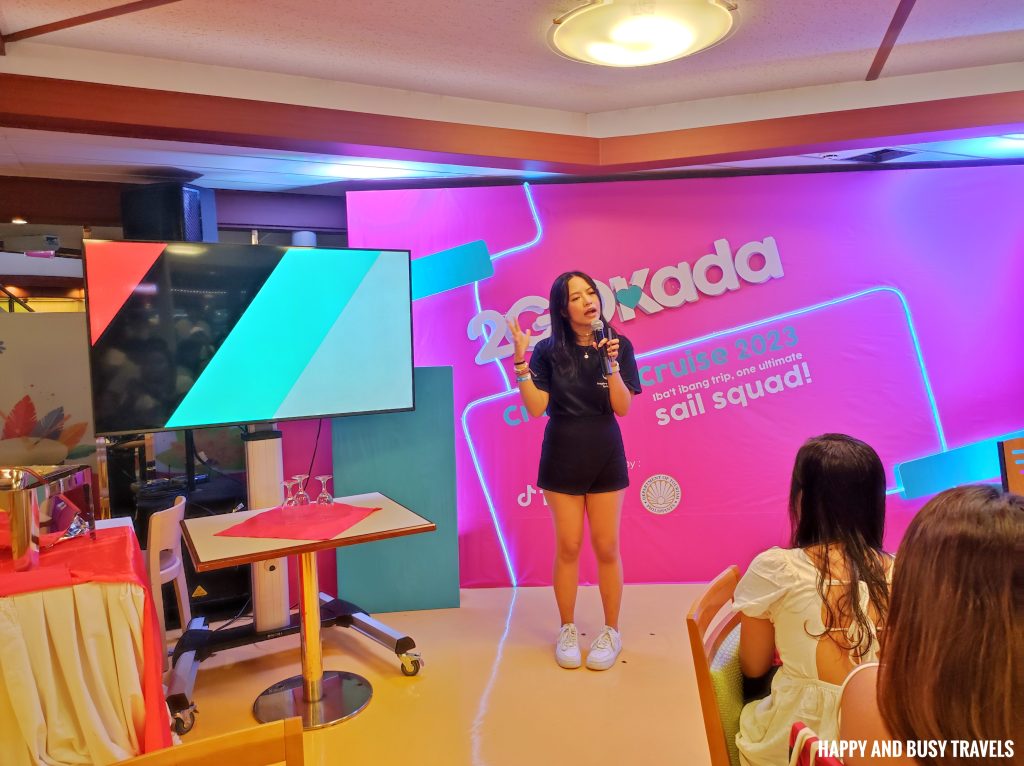 Wine Tasting Workshop by Ralph's Wines
Even though I am not a drinker, I enjoyed the quick workshop because Ralph's Wines discussed a few interesting things about wine.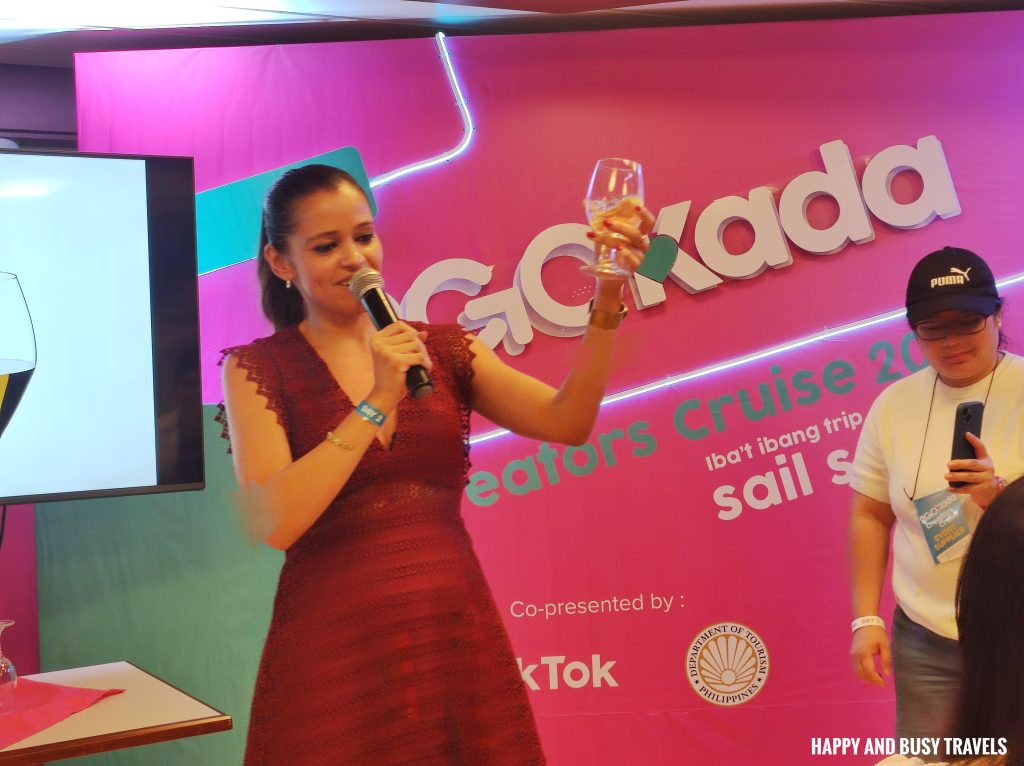 Plus, there is a lot of Charcuterie that we can eat.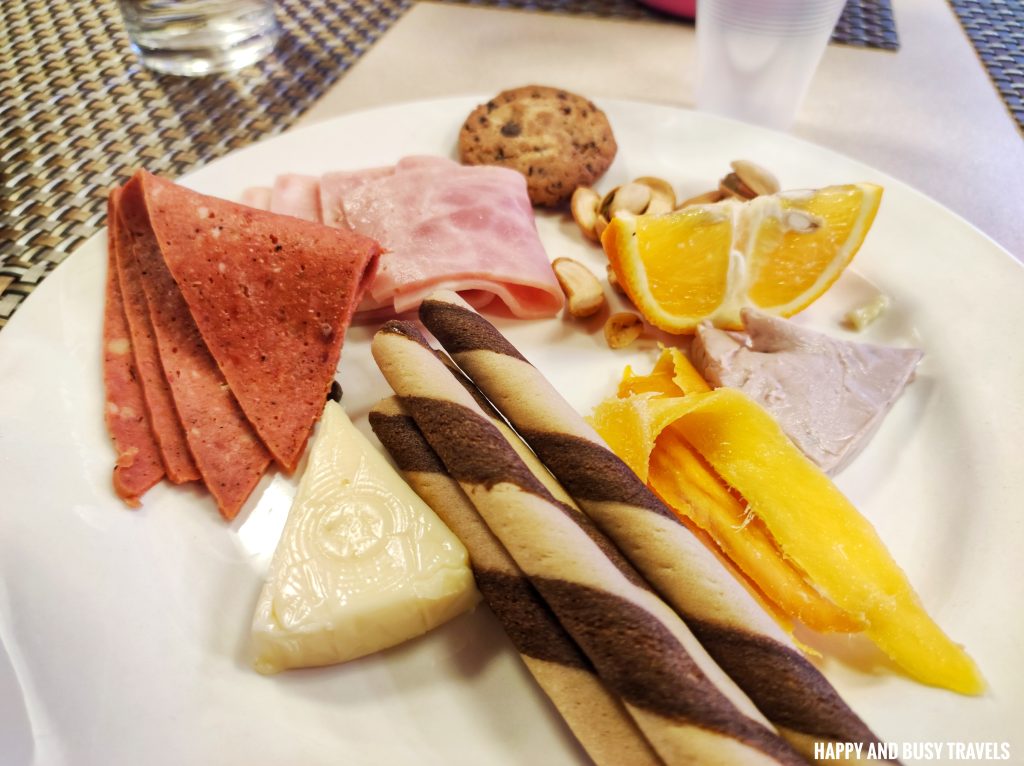 Photoshoot
Then, we had a quick photoshoot with everybody who participated in the event. It's so fun!
Sunset Yoga
After the pictorial, we had a meditation and breath work with Anina Rubio and the Sunset Yoga with Movement in Play.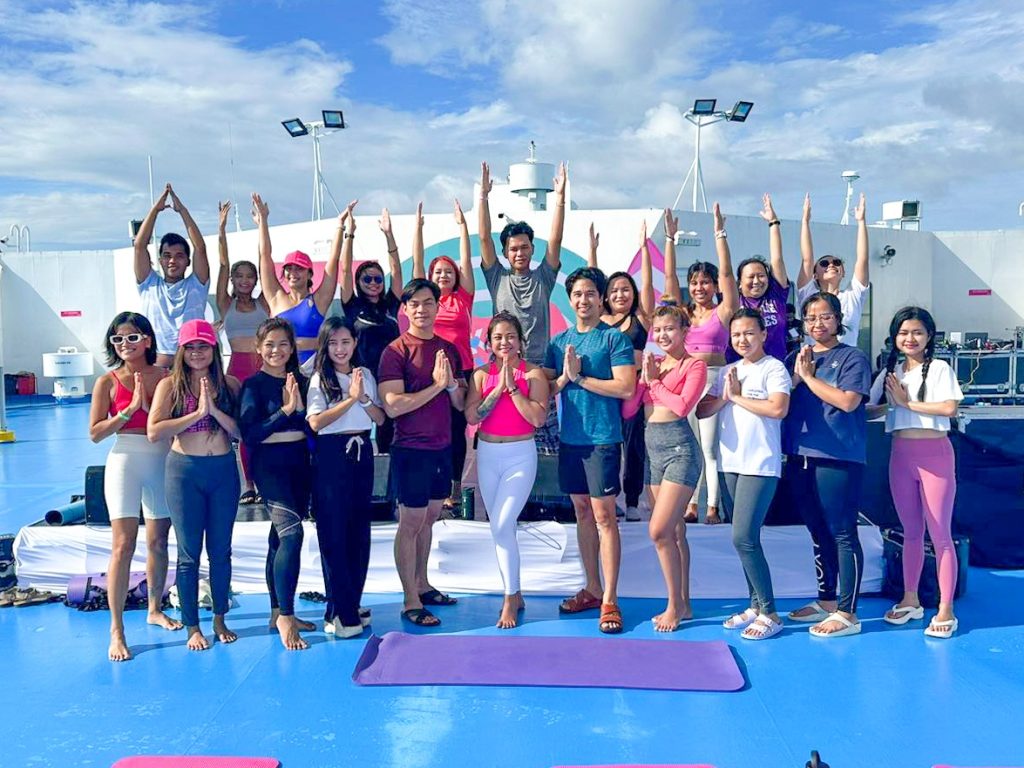 Even though it is windy and we are having a hard time with our mats, I enjoyed this activity.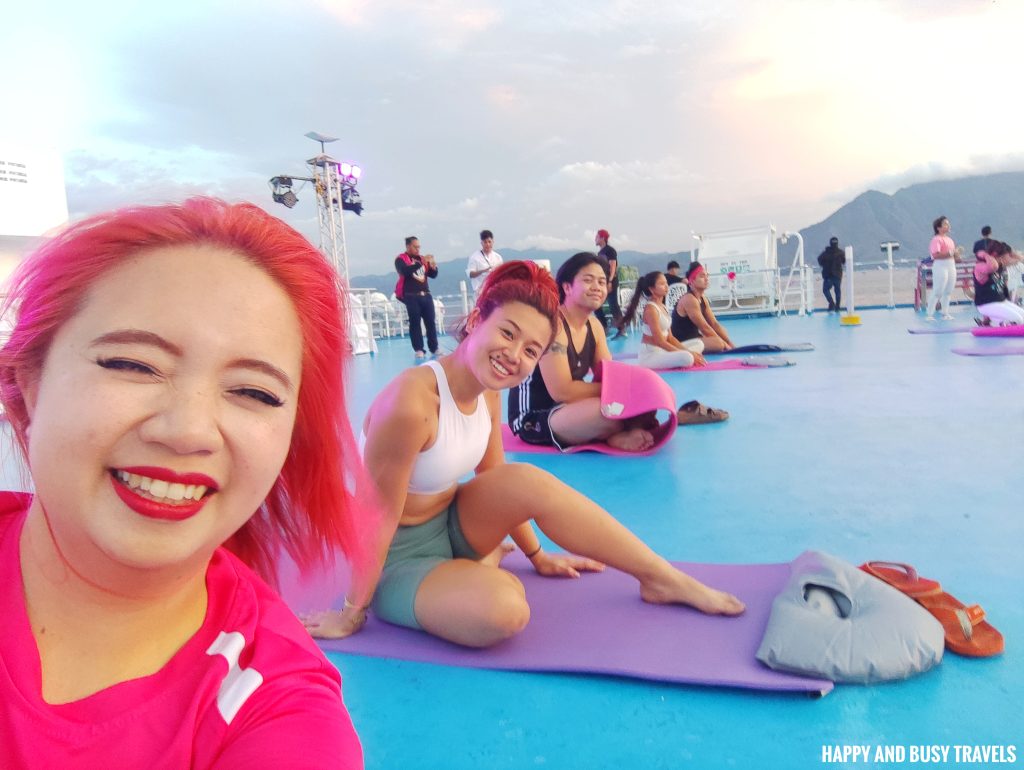 Dinner
This is our last meal during the 2GOkada Creators Cruise, so we enjoyed every dish that is there.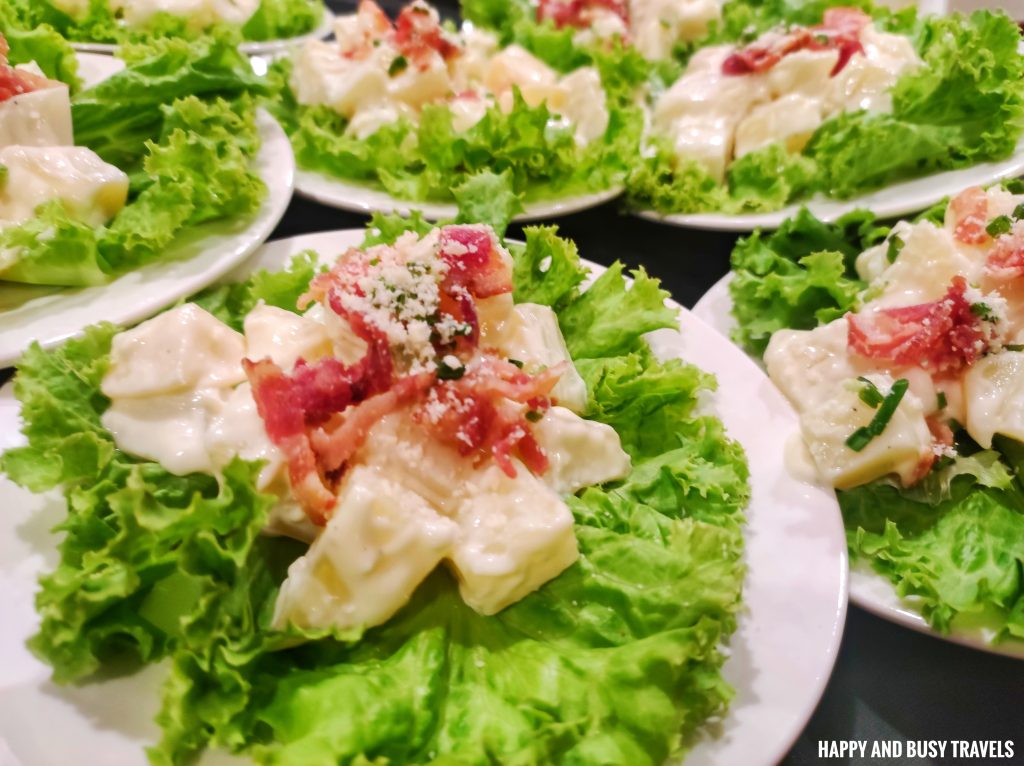 We had Potato Salad, Prawns, Veggies, Beed, and another Salad with lots of Chicken.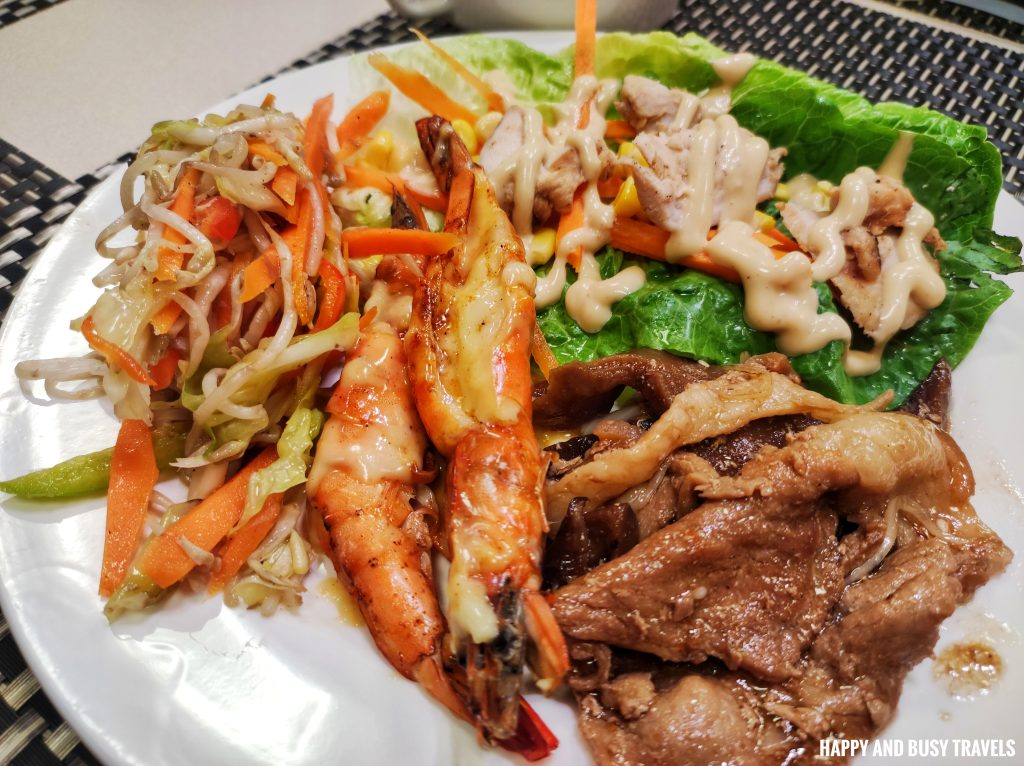 Talent Night
We are all talented, but this night showcased a lot of more talented content creators. Here are some of the performers during the night.
Jasper Tiongson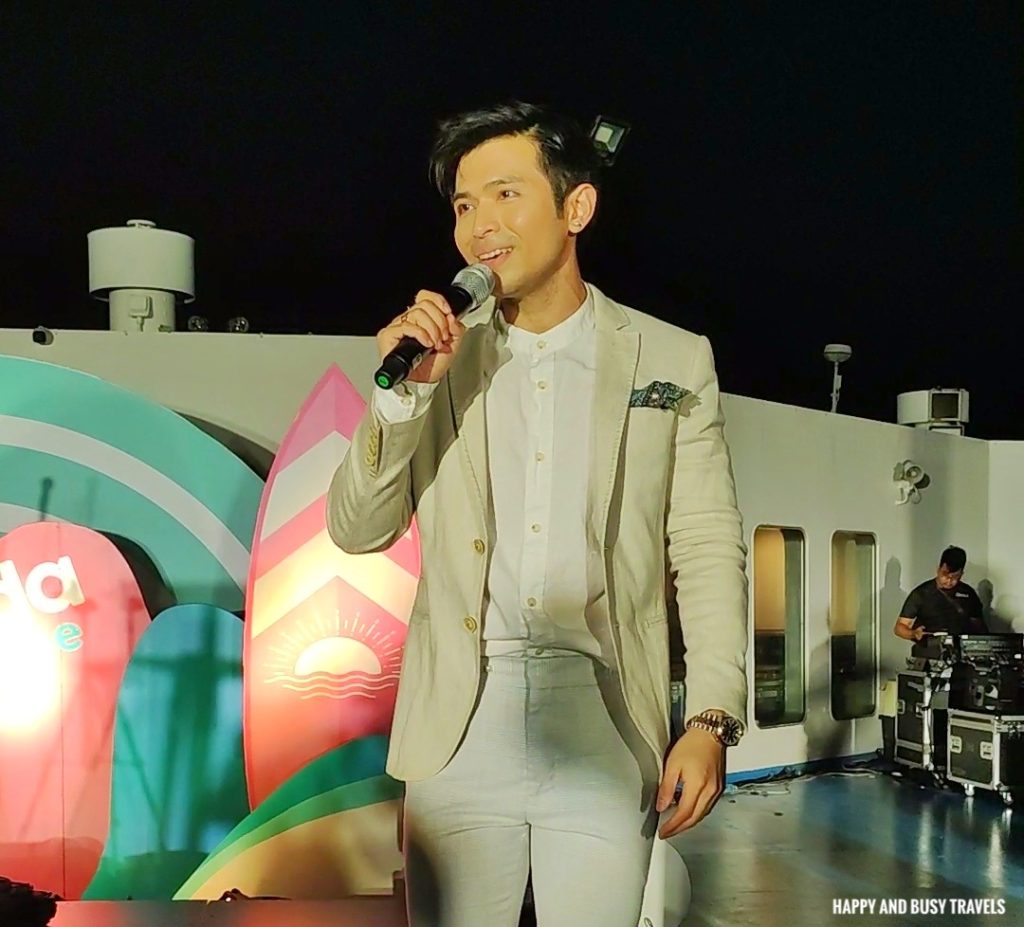 Vic Pingca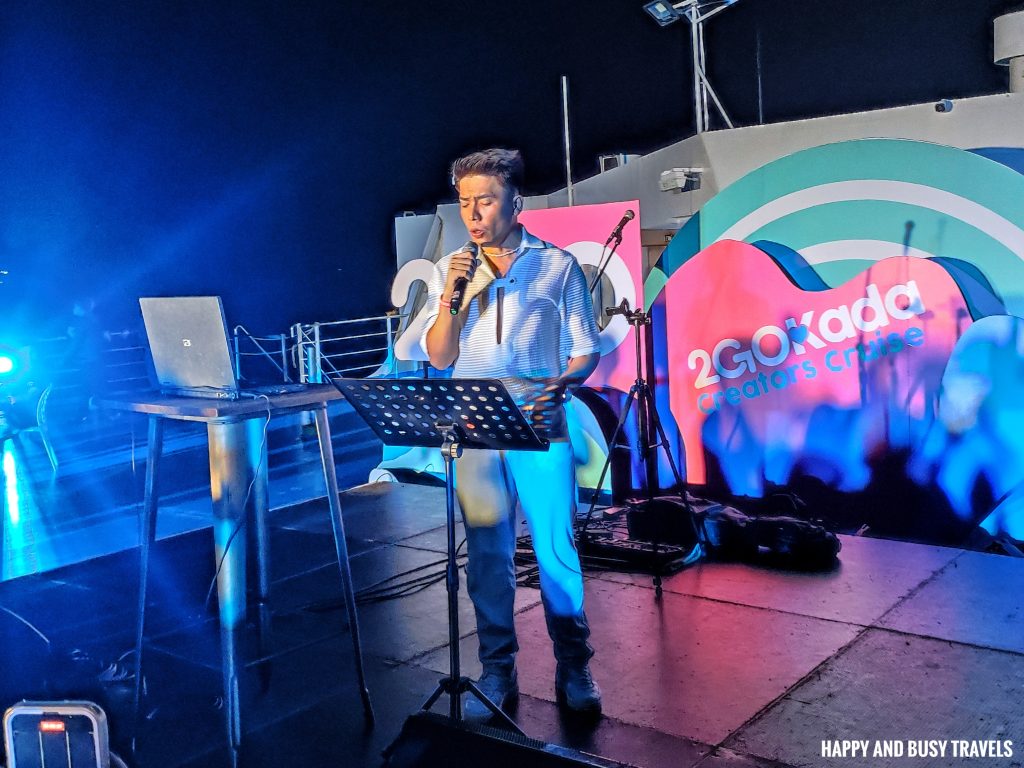 Lorenz Olleres and Ratziel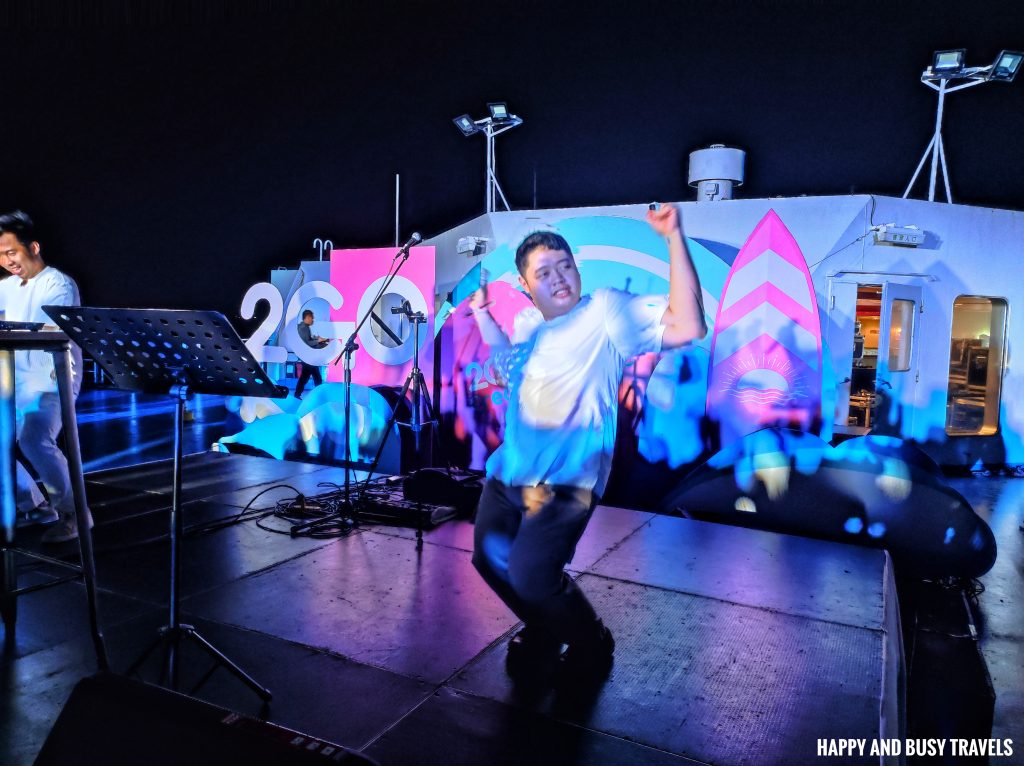 Kylie Dy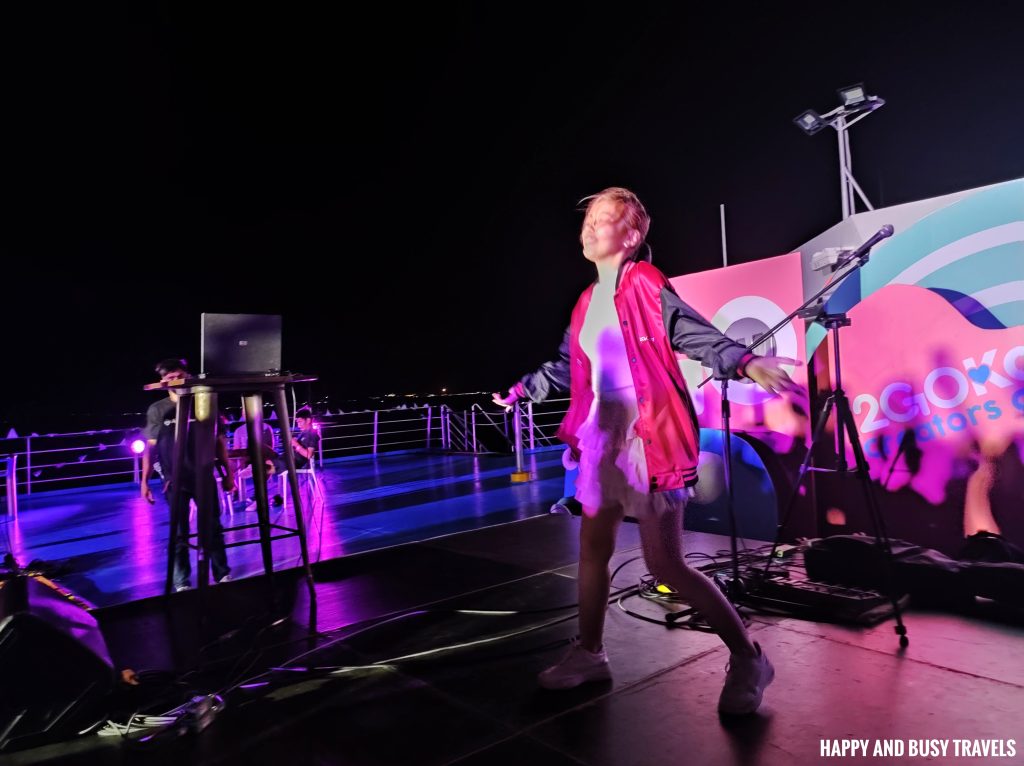 Paul Chuapoco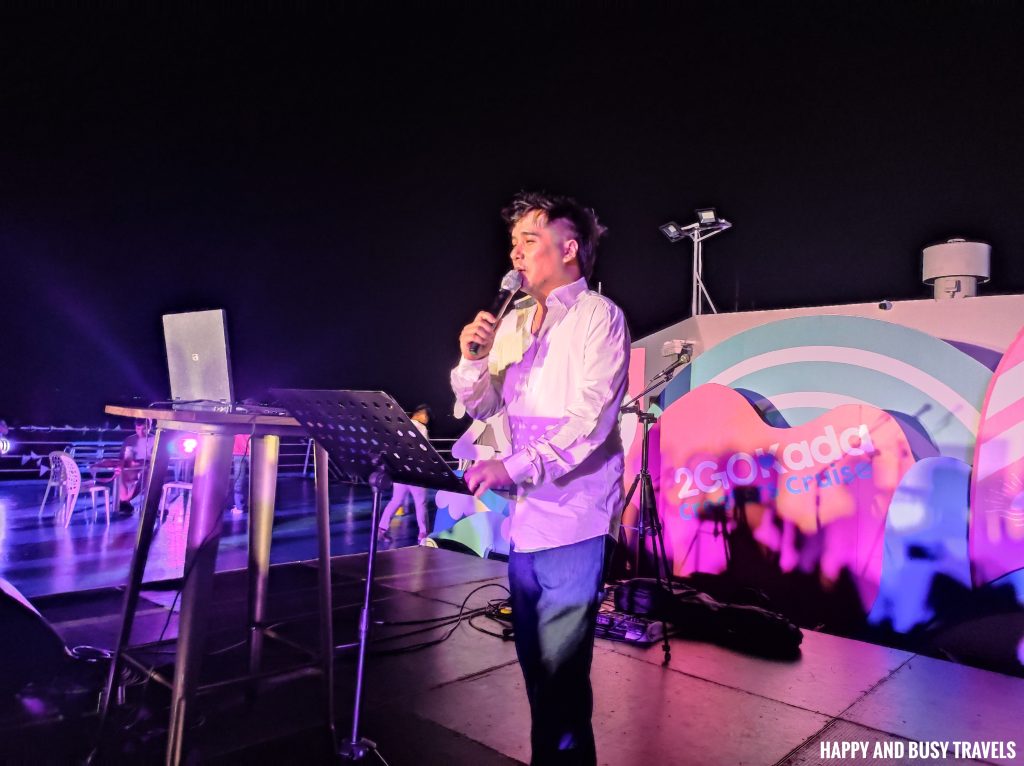 Julianne Soriano (Chuky)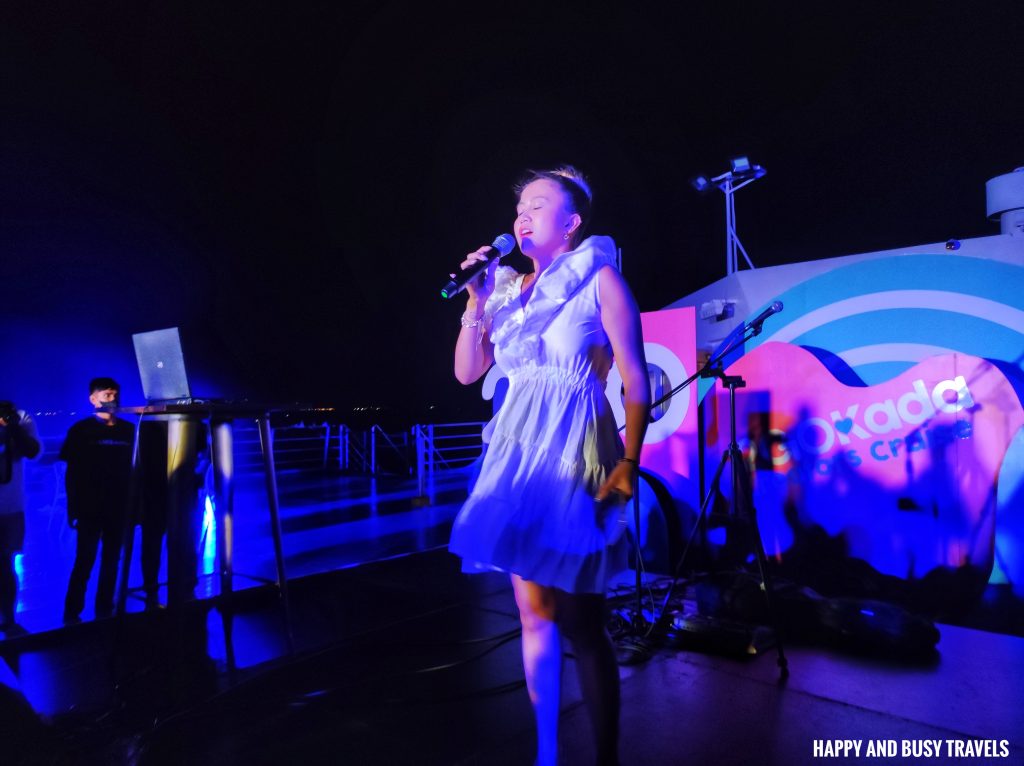 After the presentations, we had a quick party until 11 PM, then we started to pack up for arrival at Manila Port.
Going Home
After we arrived at the port, we were brought by the shuttle buses to the drop-off points and said our goodbyes to our fellow 2GOkadas. It is a sad movement that this fun event has come to an end. Hopefully, next year, there will be a next event.
Gallery of Pictures from 2GOKada Creators Cruise 2023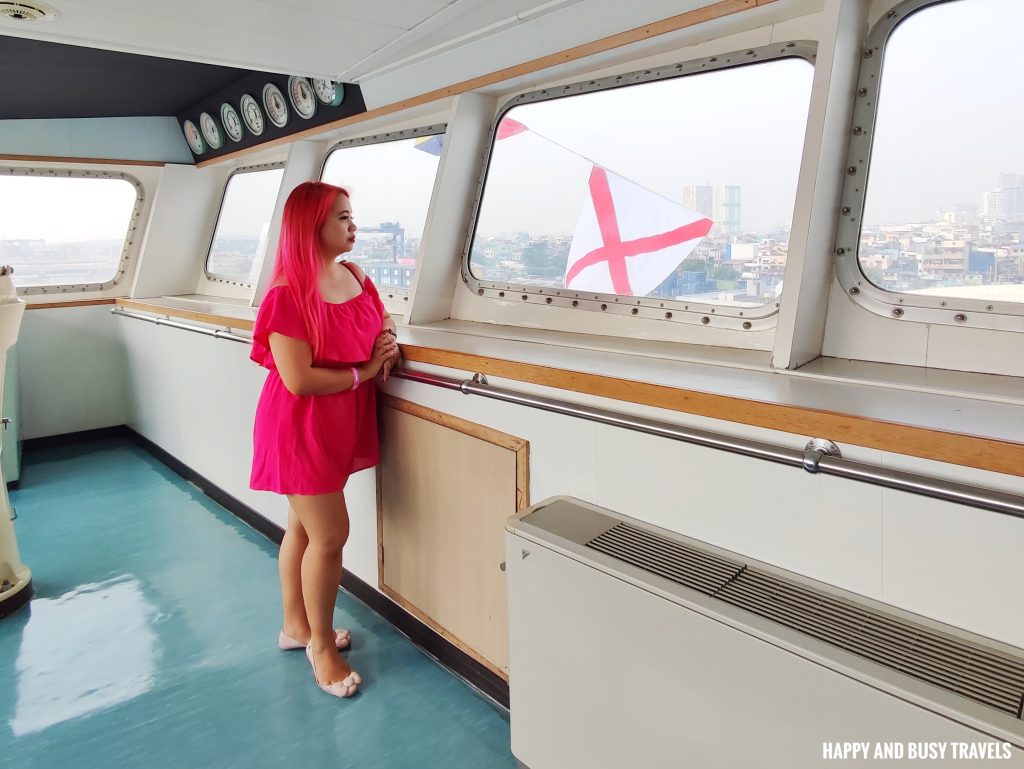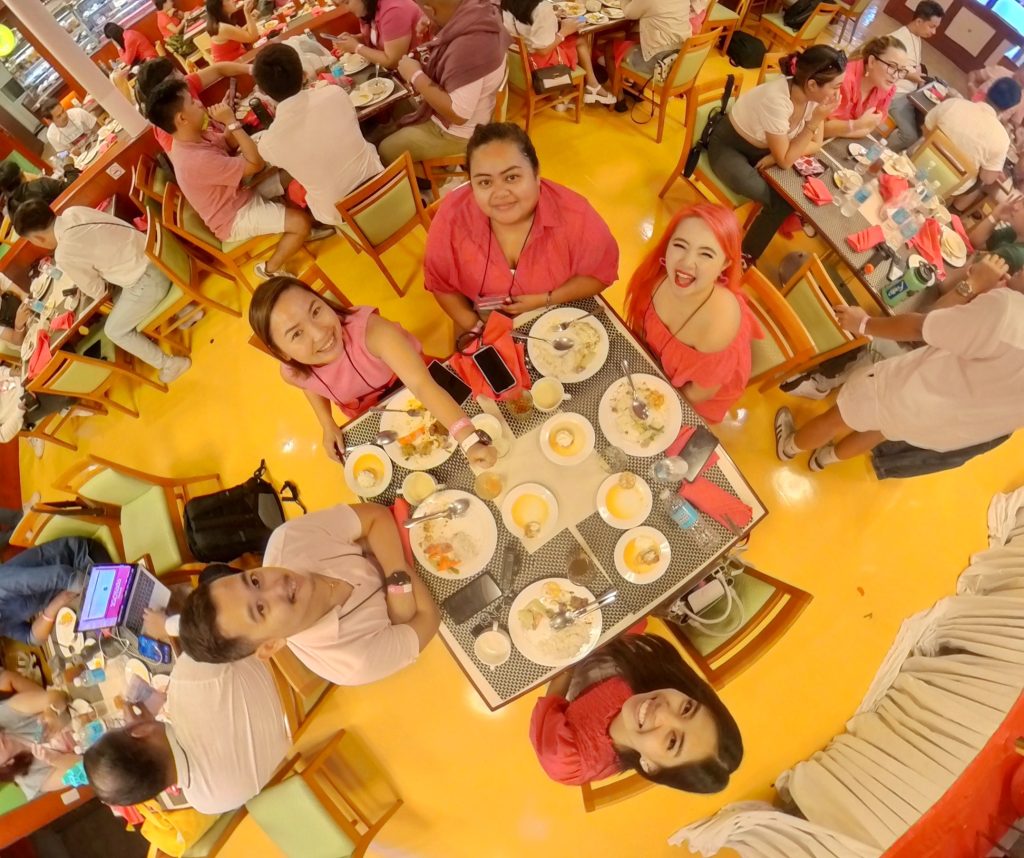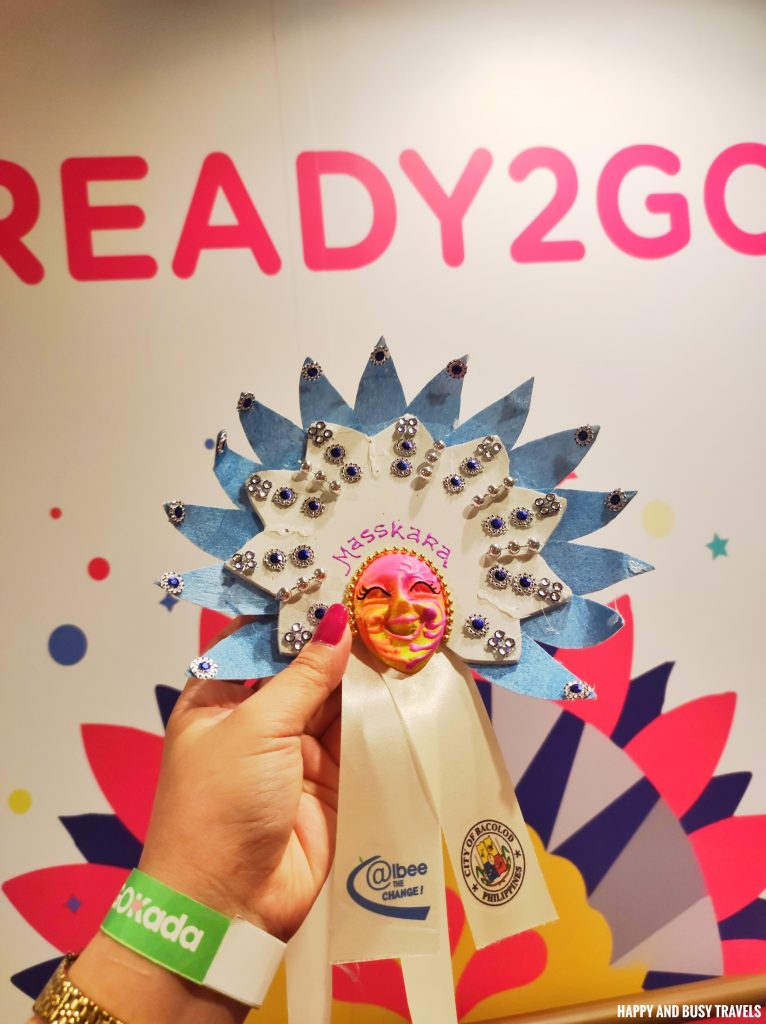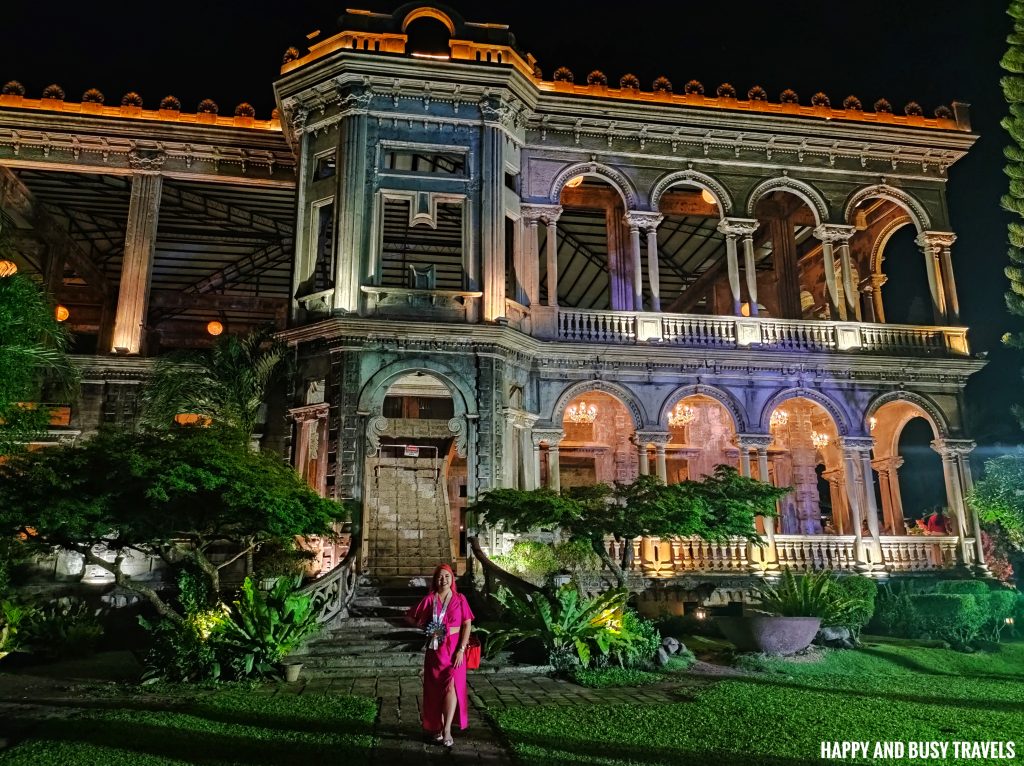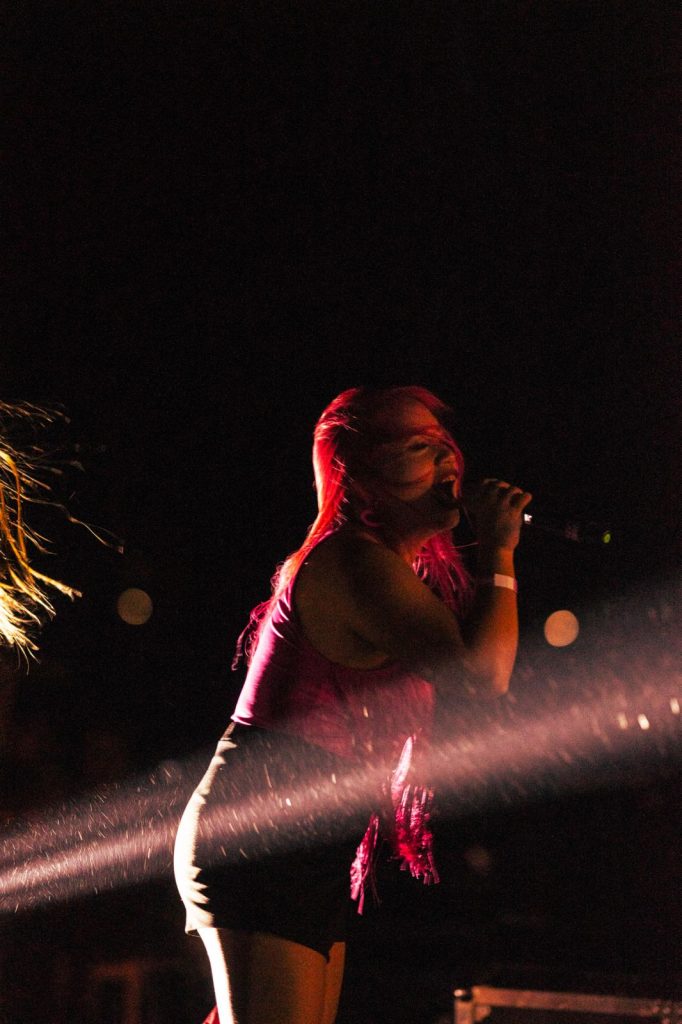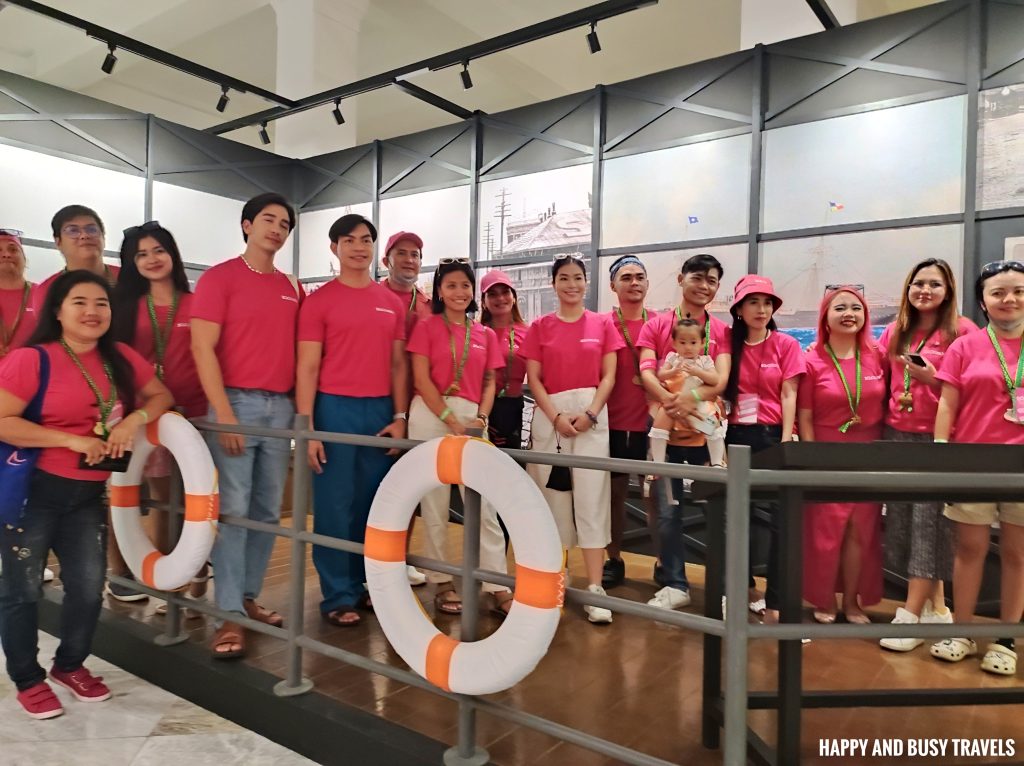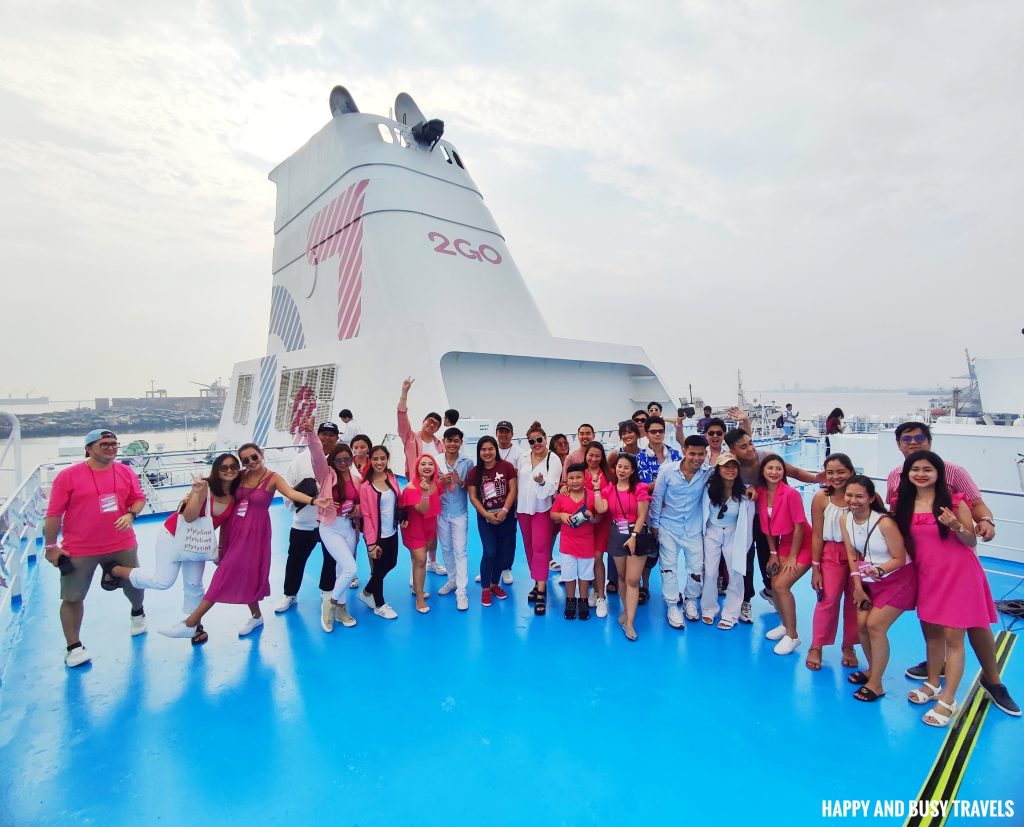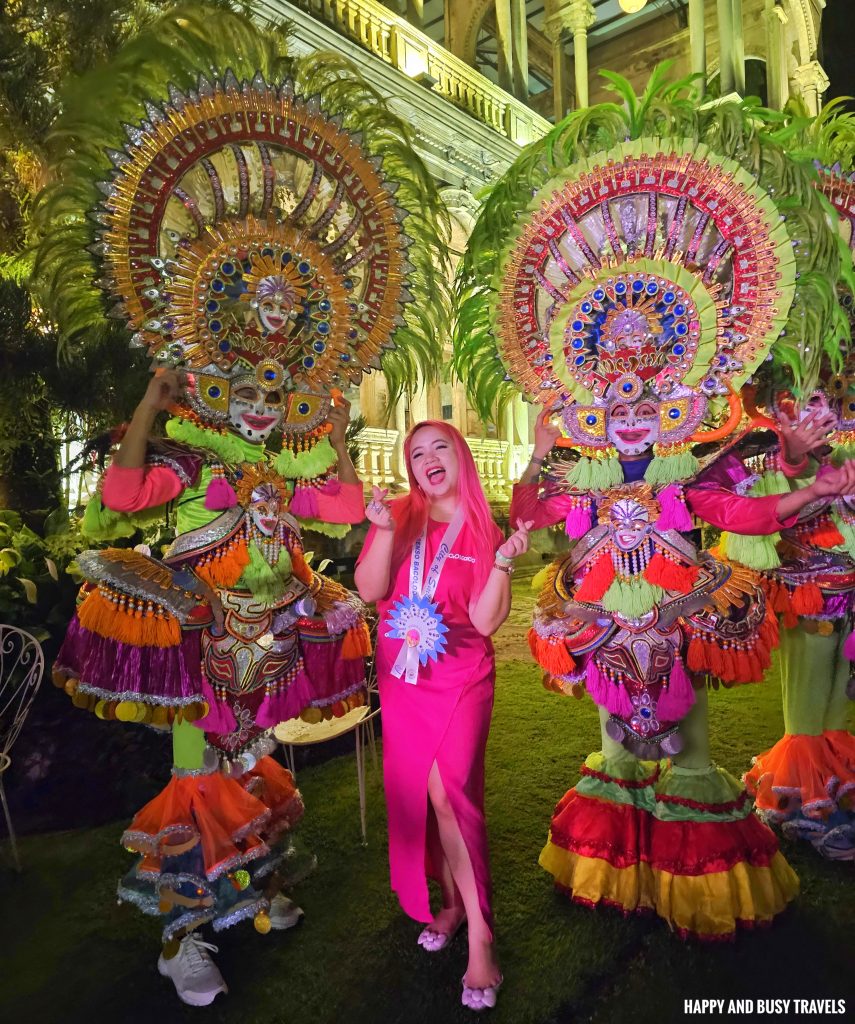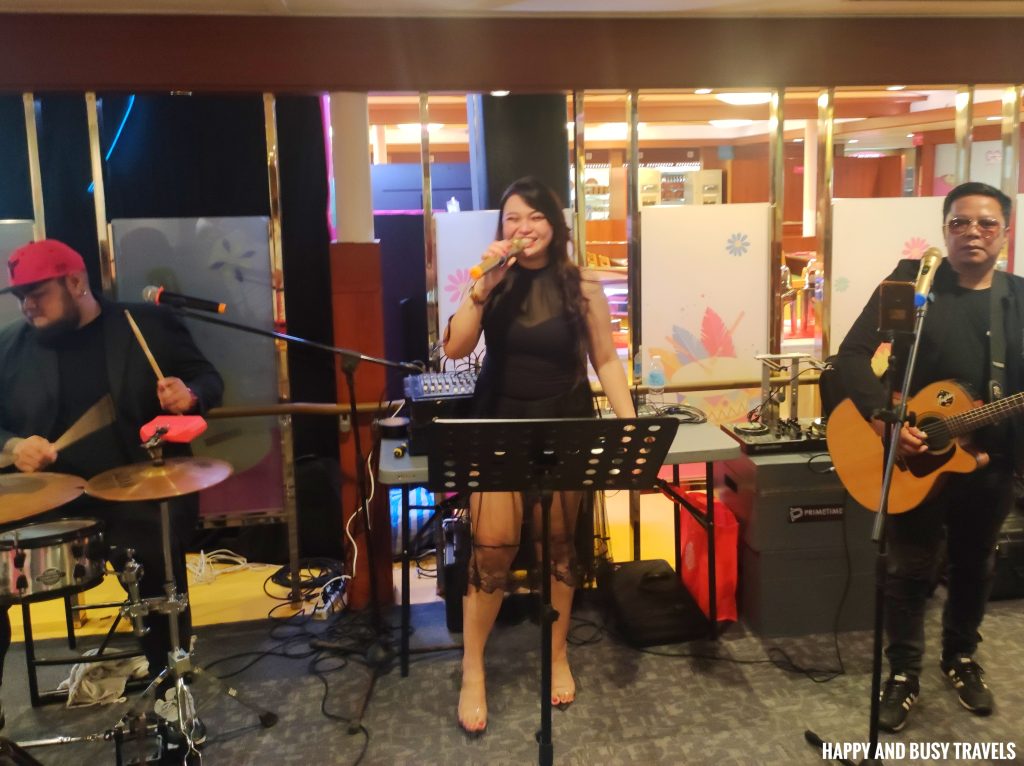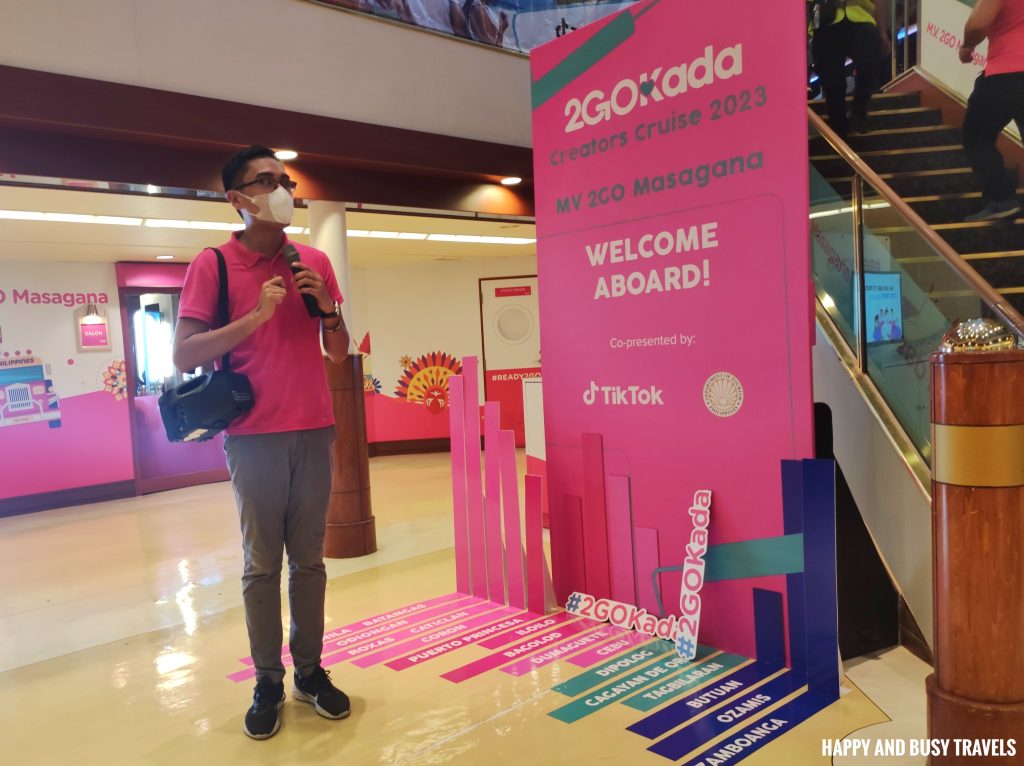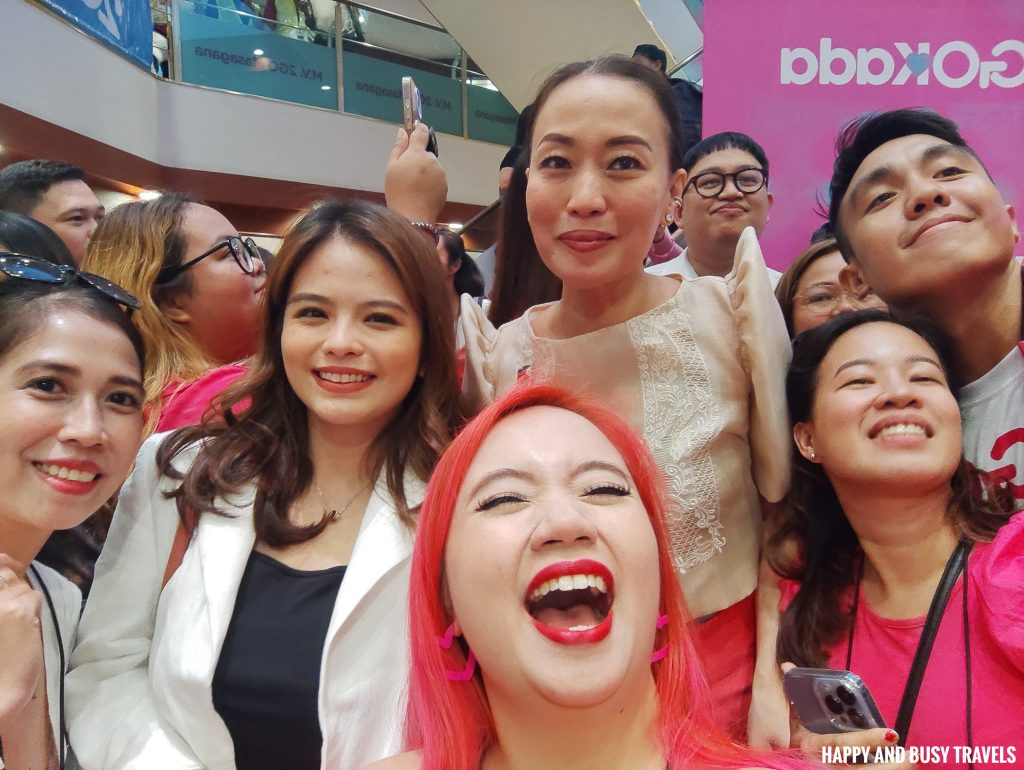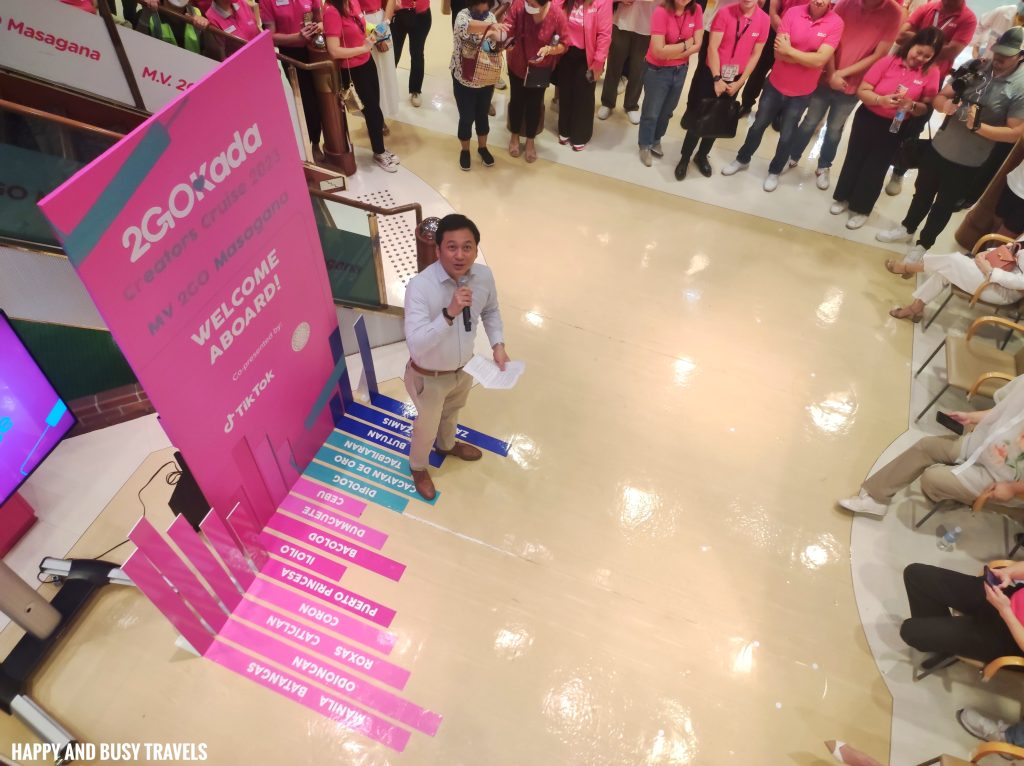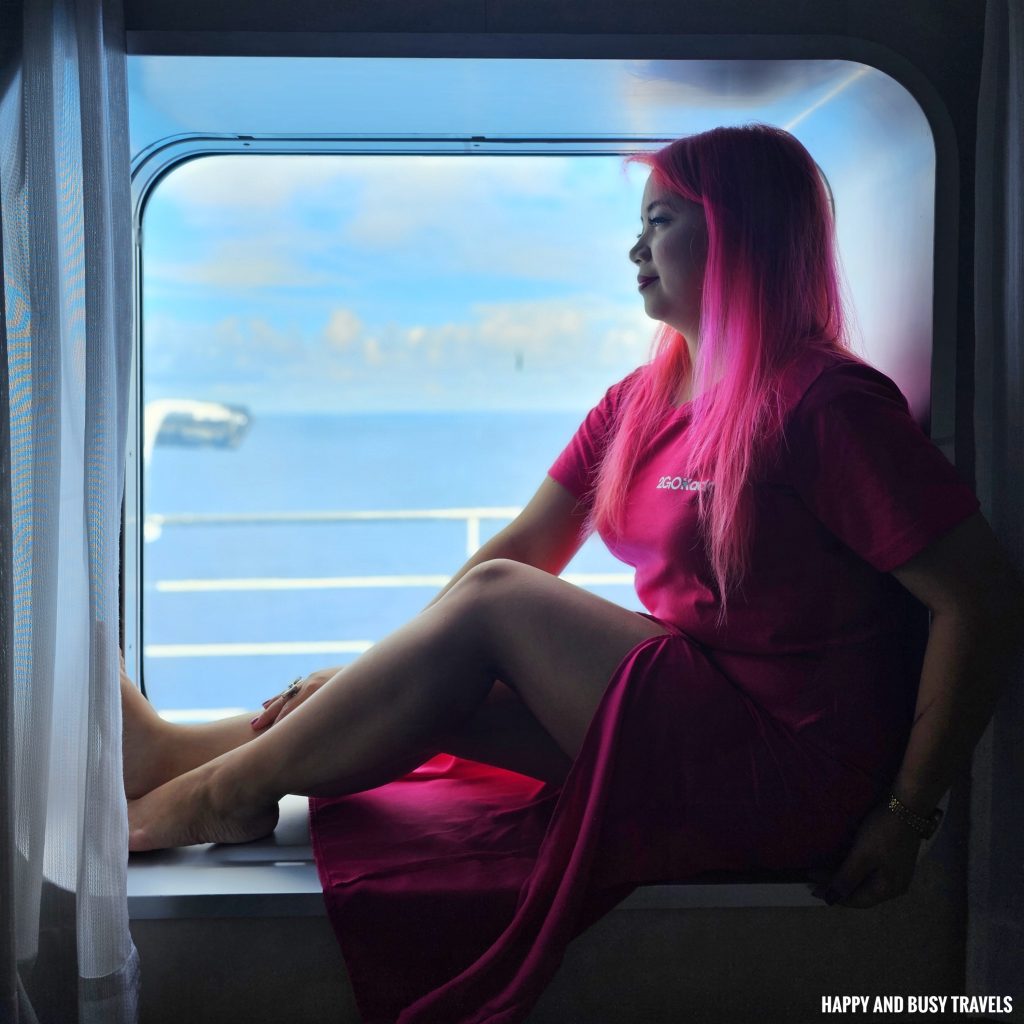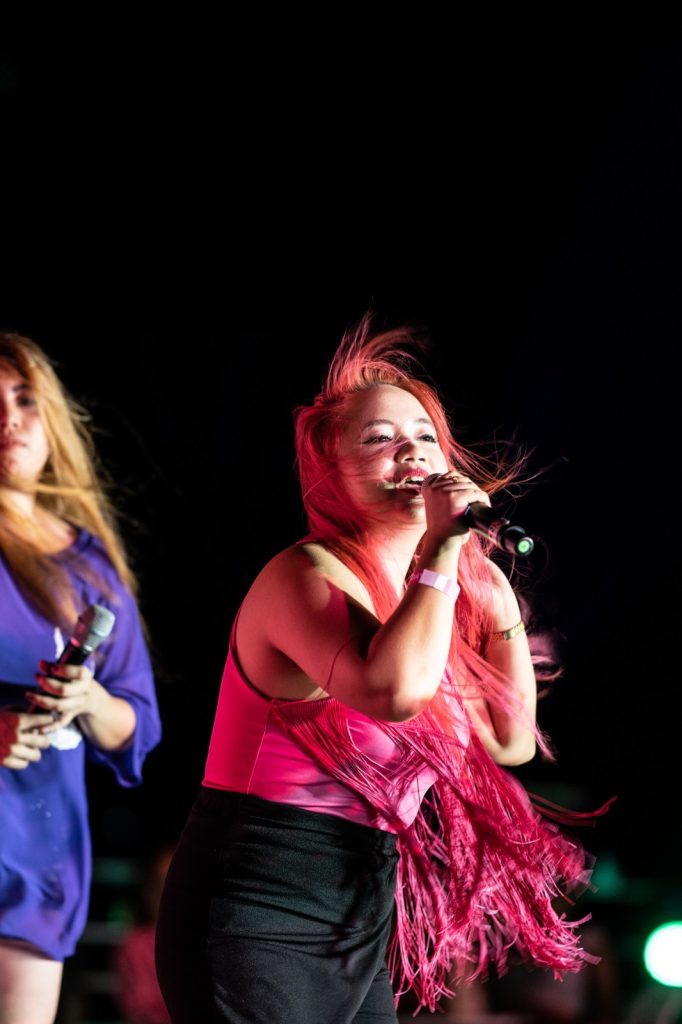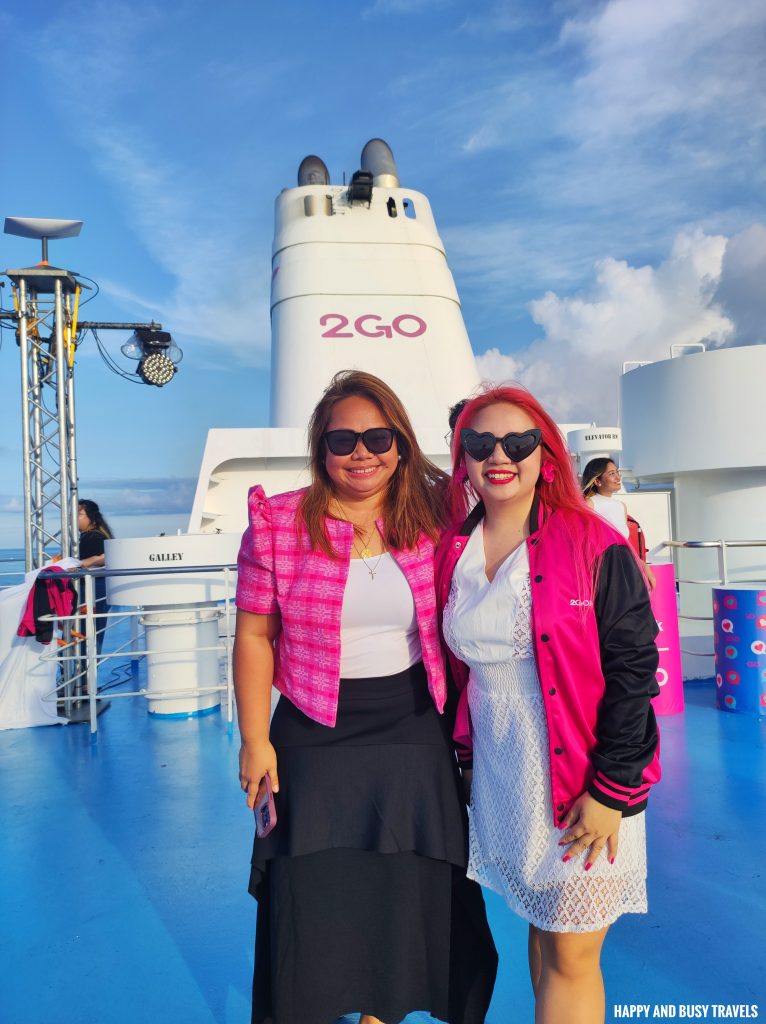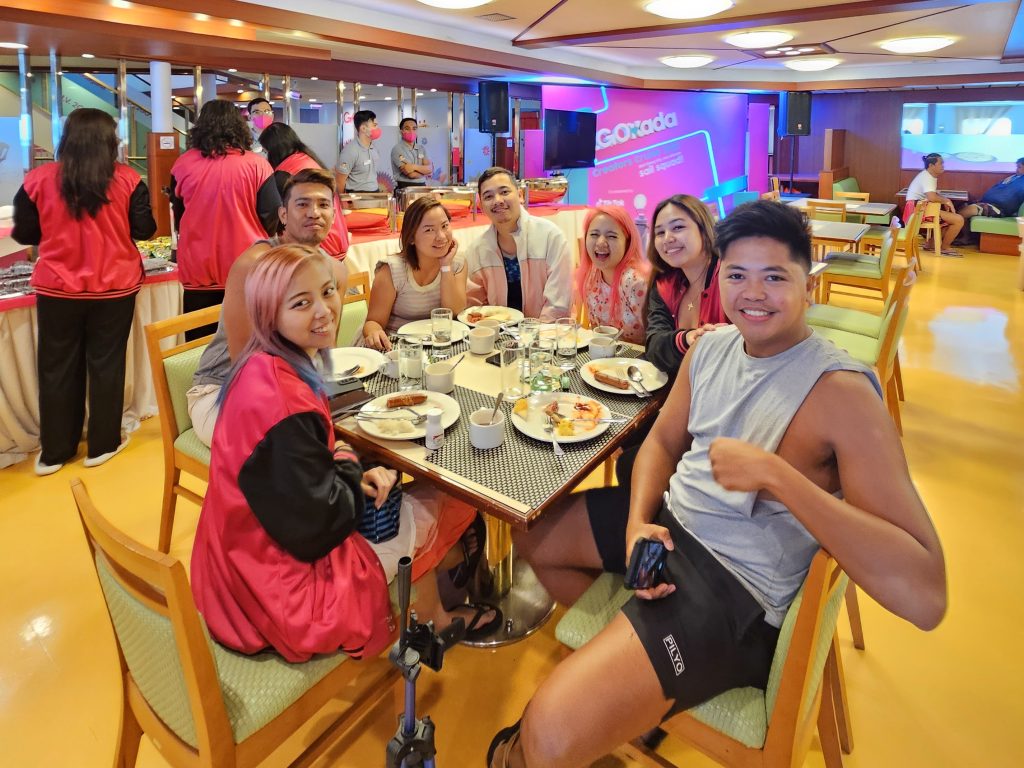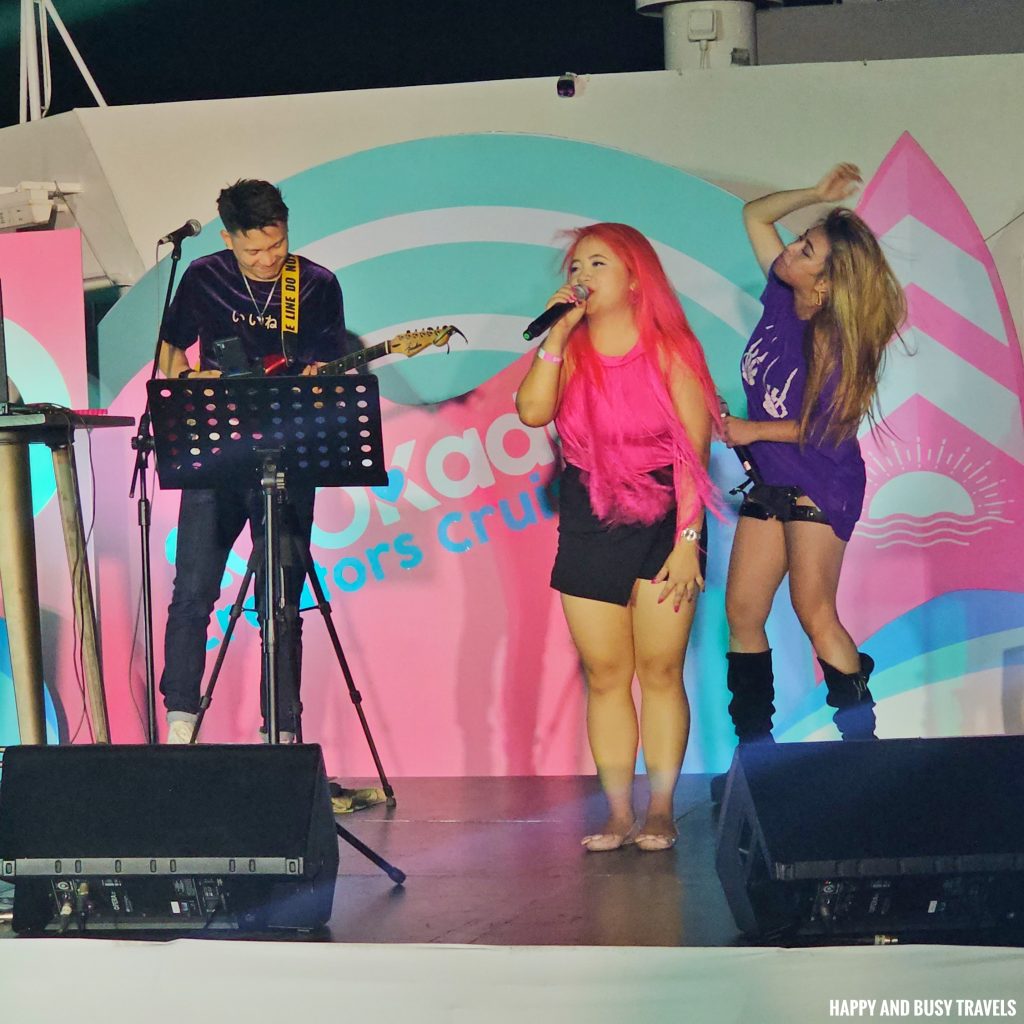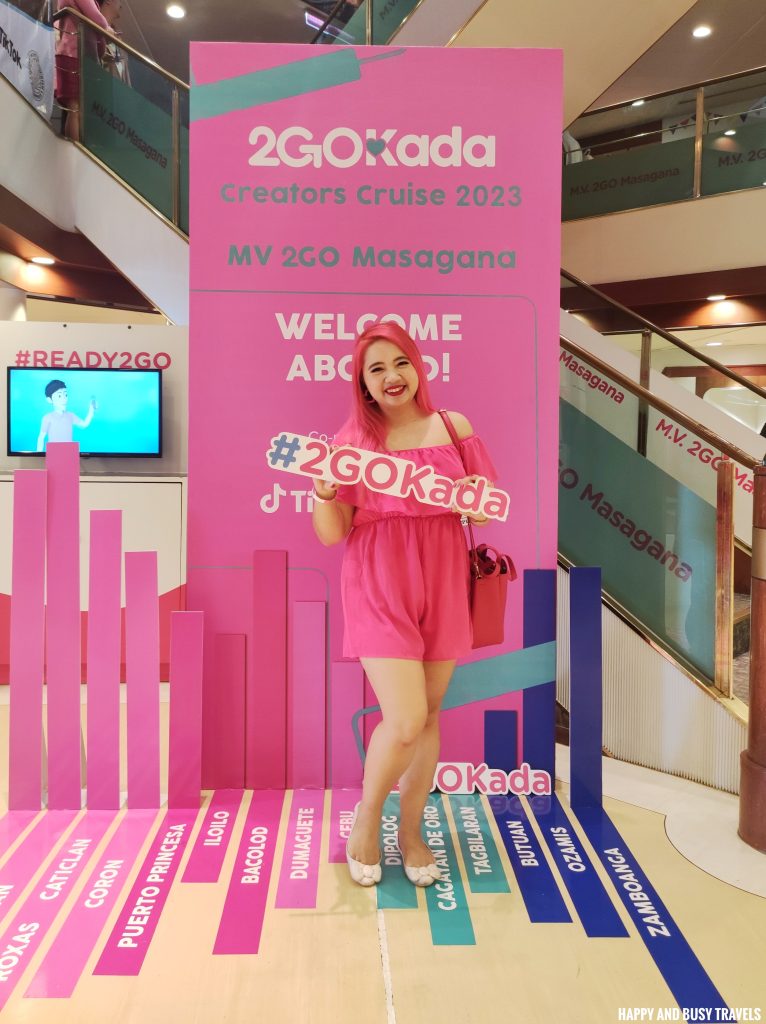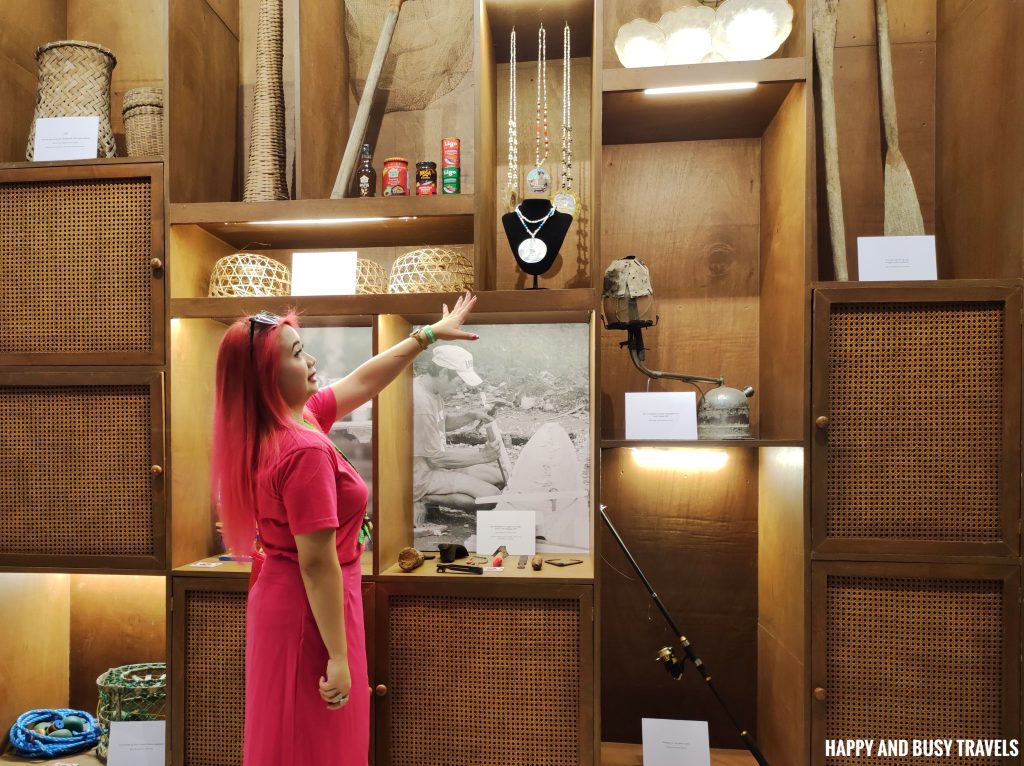 Happy and Busy Travels Smileys for 2GOkada Creators Cruise 2023
Urrgghh!!! I want to give it more than 5 smileys, but 5 is our perfect score already! We enjoyed every bit of the cruise.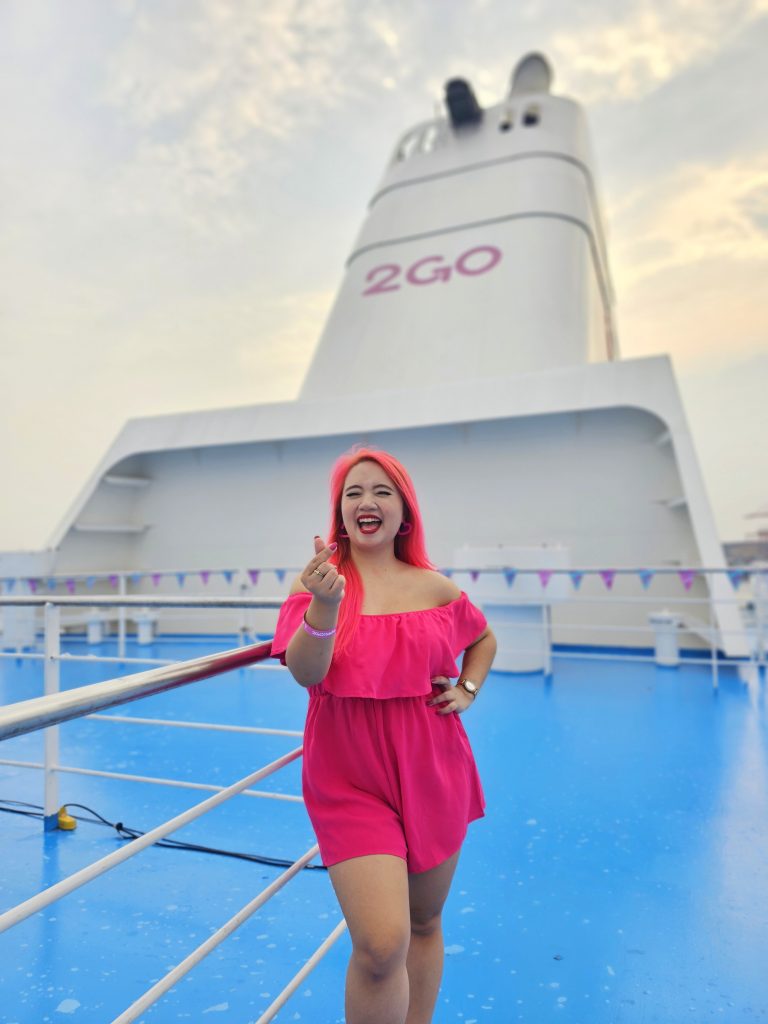 More events at https://happyandbusytravels.com/category/event/ so do not forget to check it out!
Like! Follow! Subscribe! to our social media accounts: