Calumbuyan Point, Calatagan, Batangas
Busy and I went to one of the newest resorts in Calatagan, Batangas, the Calumbuyan Point. This resort offers affordable but quality stay with various lodging options, plus they are cleverly located beside a hill but with access to the beach and ocean, so you can have the hillside view and swim in the ocean.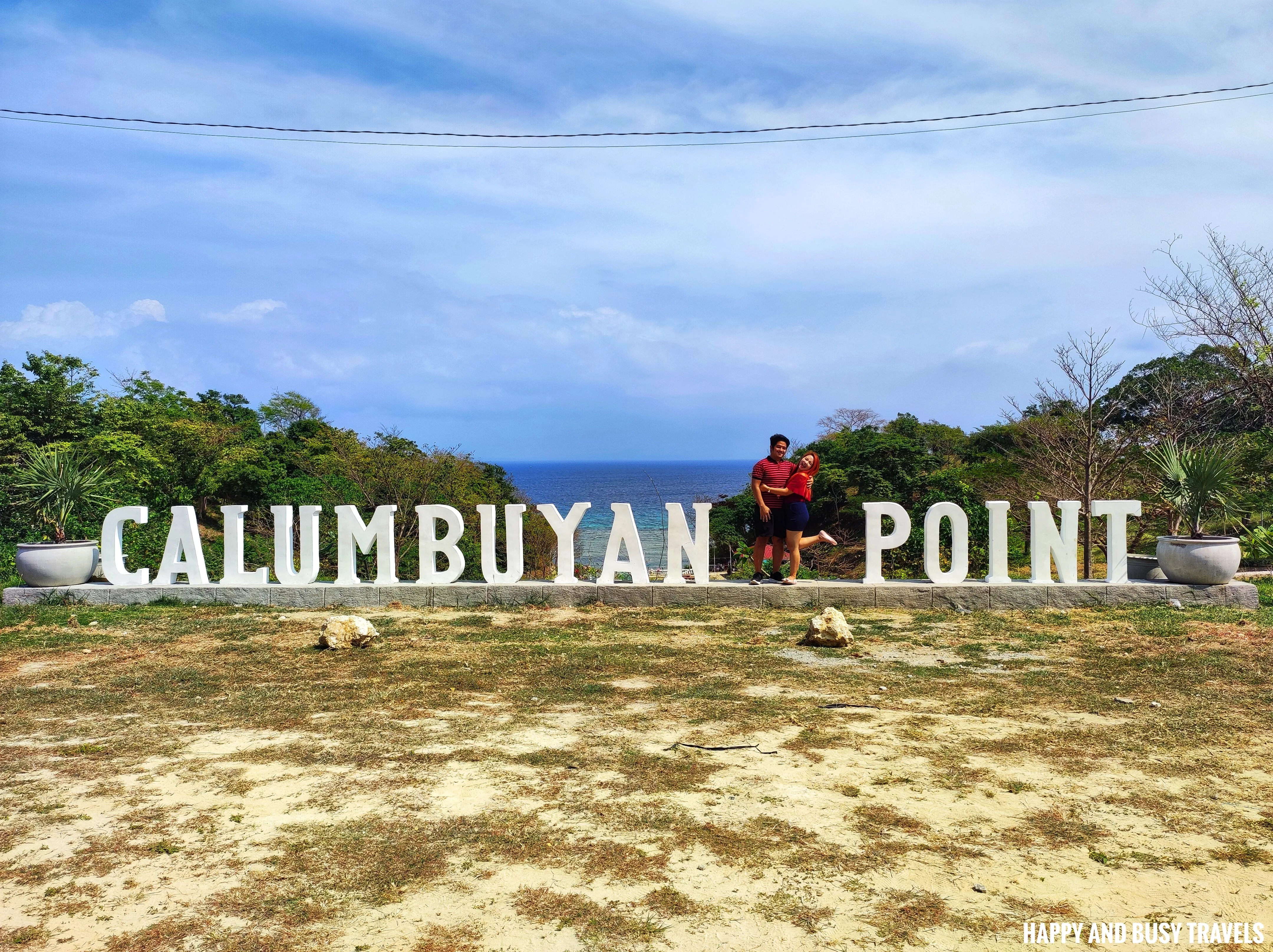 Quick Links
Checking in Calumbuyan Point
Going to Calumbuyan Point is a 2 to 3-hour drive from the Metro, but it can easily be found. So, when we arrived, we went through the security guard located at the top of the hill. The parking area is just below this guard post.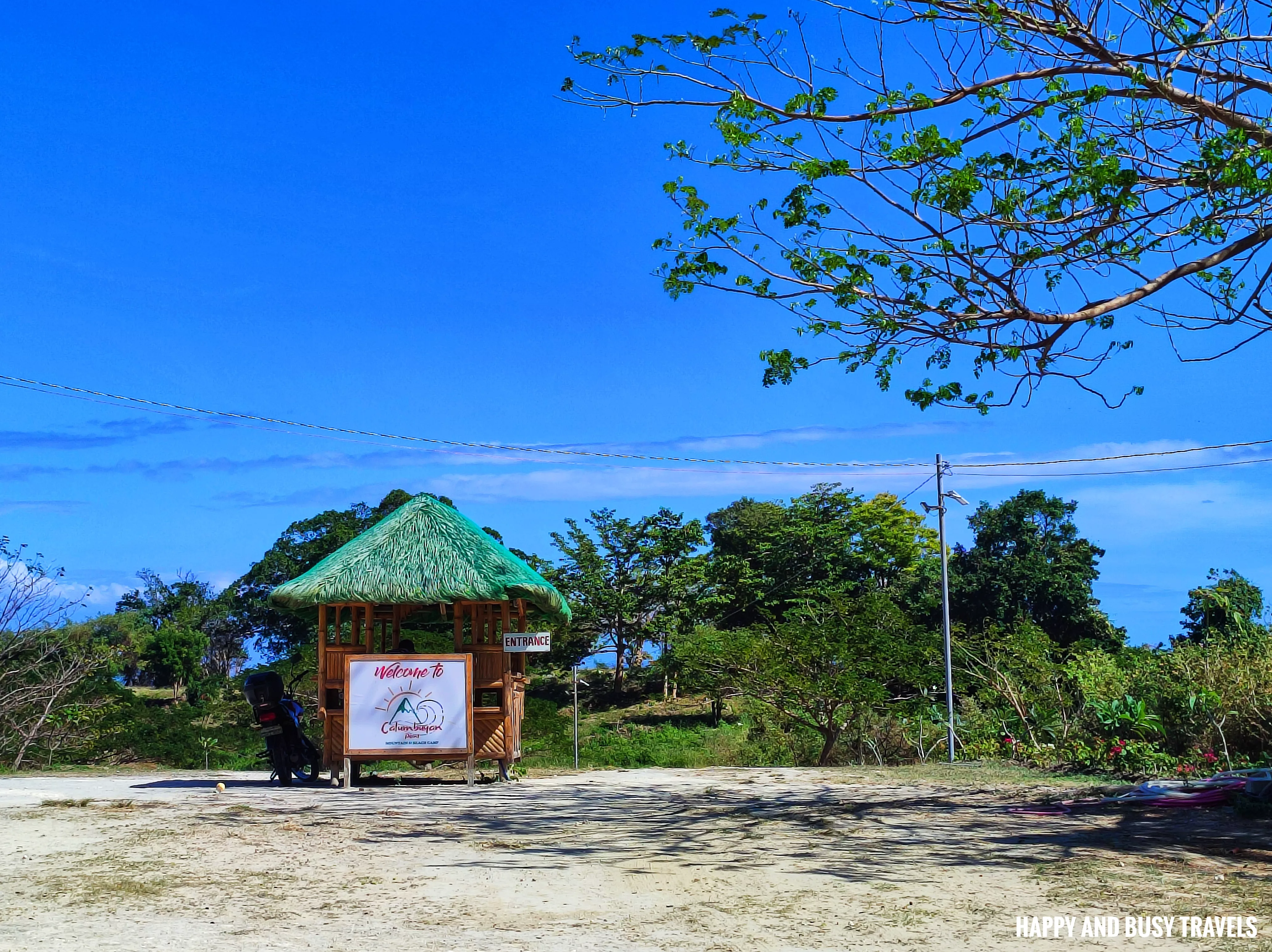 After we parked our car, we went to their reception and checked in. There is an incidental fee of Php 1,000 and an environmental fee of Php 60. We can get back the incidental fee before we check out the next day.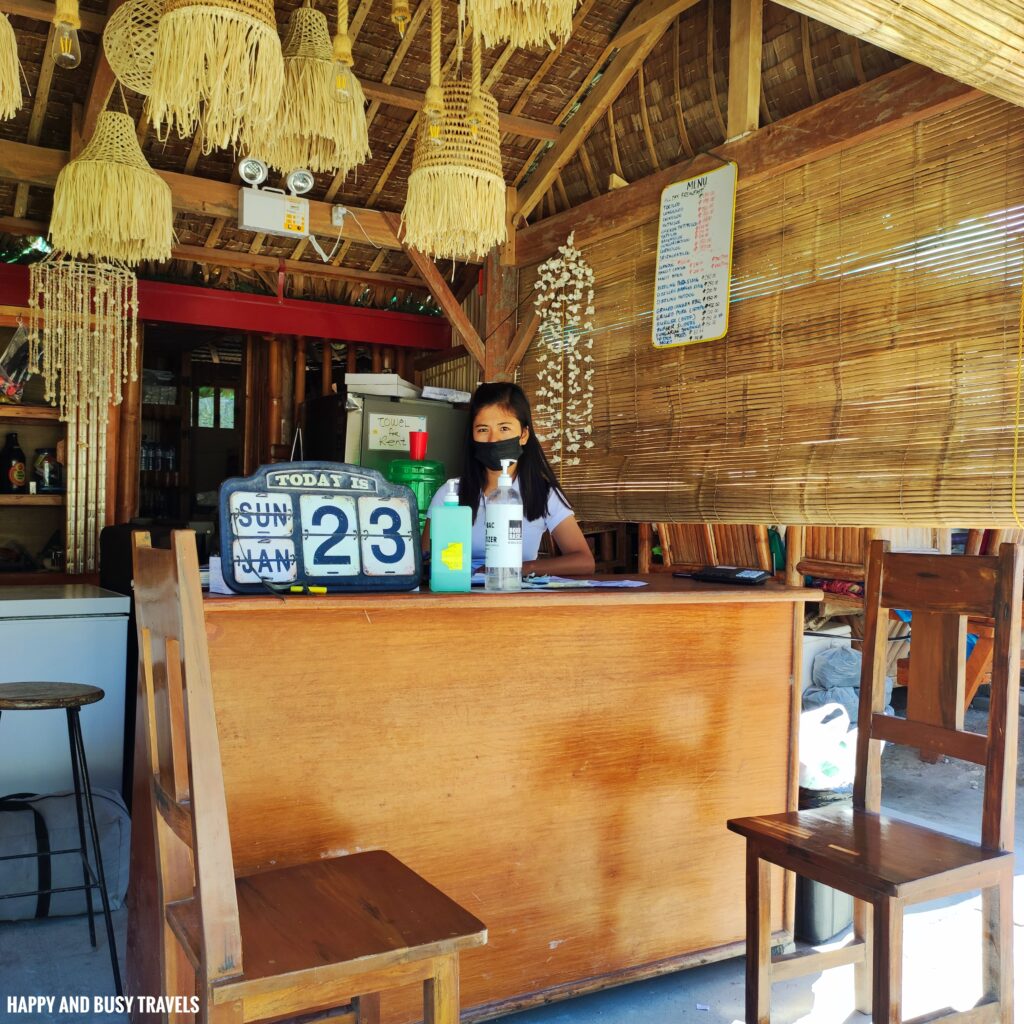 Then, we walked towards the Maya Cliffside Villa wherein Busy and I will spend the night.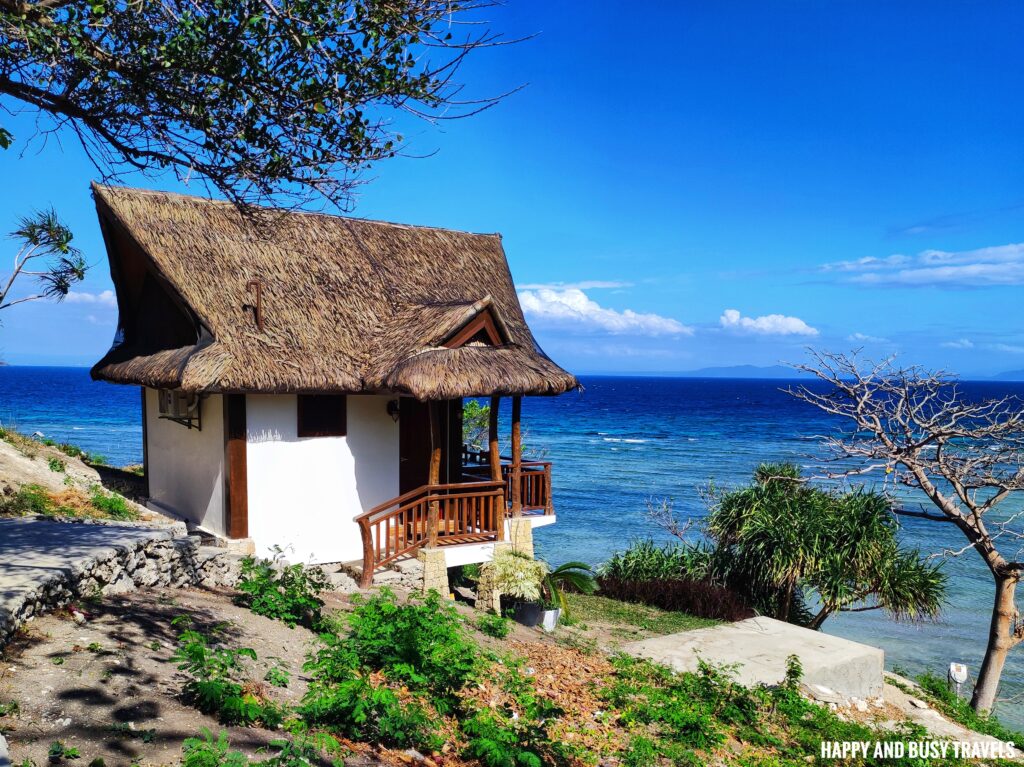 Types of Accommodations in Calumbuyan Point
There are various types of accommodations that you can choose from. Here are some of them.
Maya Cliffside Villa
This is the best accommodation in the resort, but during our visit, there is only one villa. (By the way, they are planning to put up more.) So, if you plan on reserving this one, you have to contact them immediately because this is usually fully booked.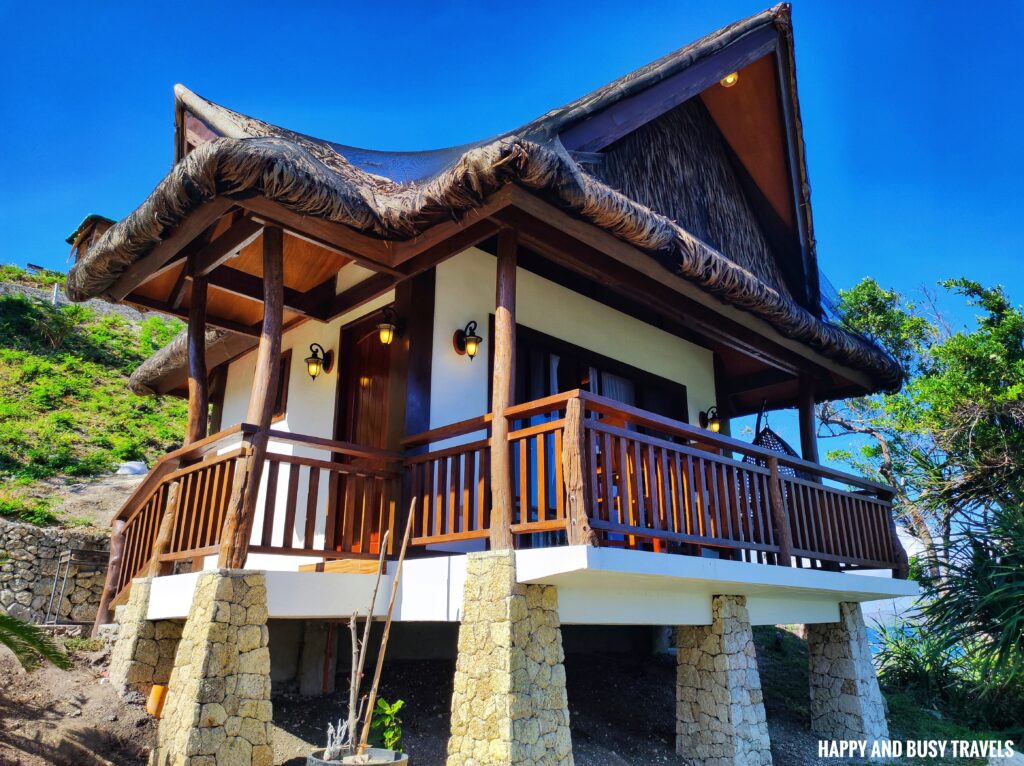 We went inside the villa instantly because we were excited to see it. We left our shoes outside the villa because we do not want sand inside our villa.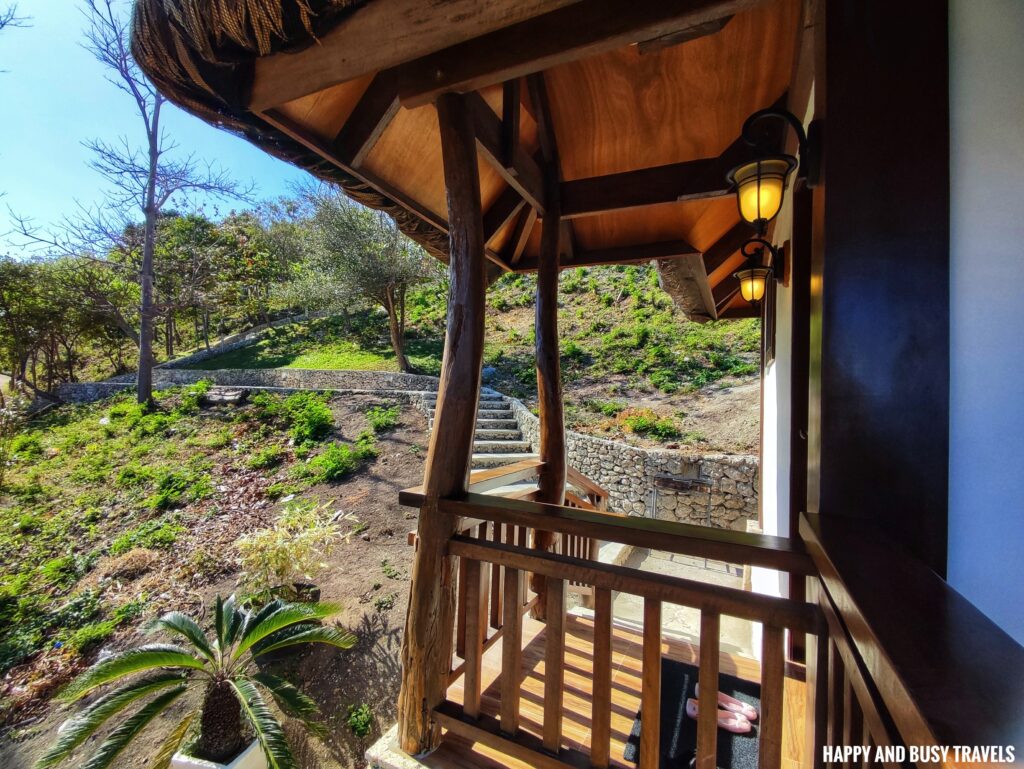 Bedroom
Here is the bedroom, it has a queen-sized bed facing the balcony.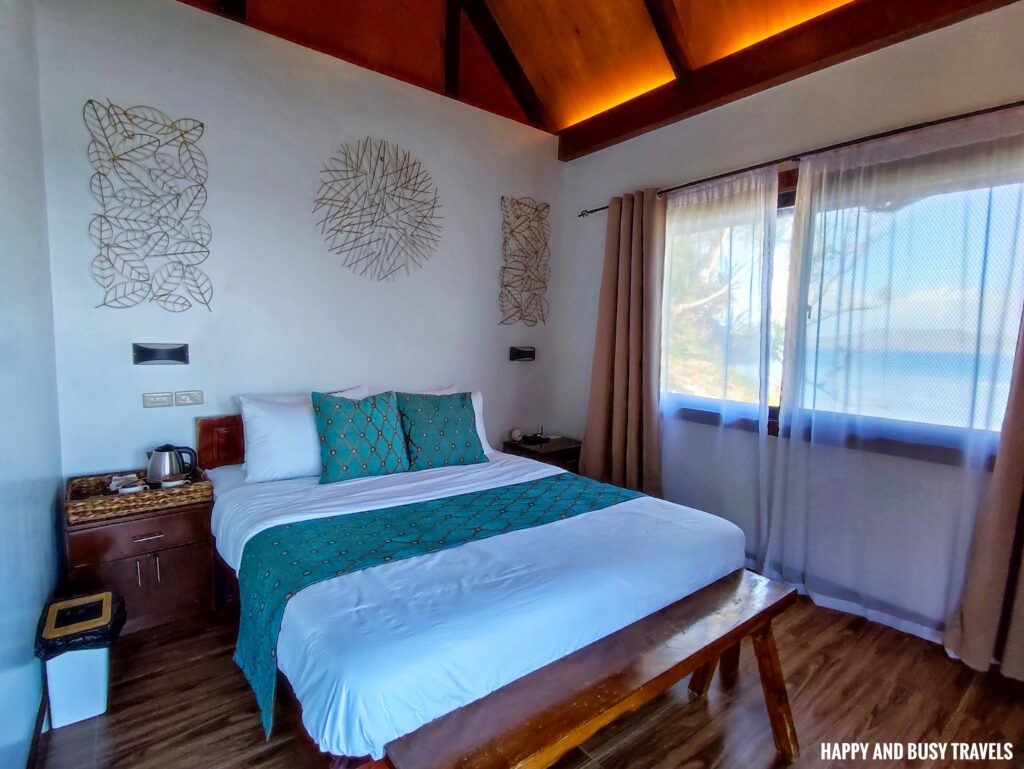 Here are some of the features of the villa, a two-way radio, various electronic sockets, coffee, electric kettle, bottled water, and coffee cups.
Balcony
The room looks good already, but wait till you see the balcony.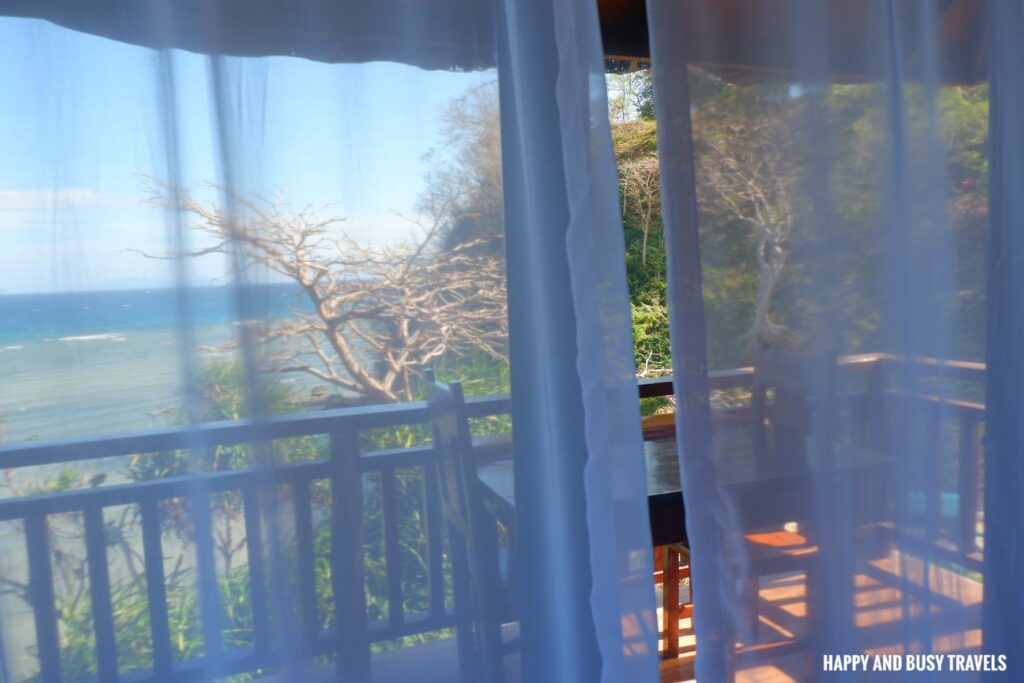 This is the best view! We can see the hills, the beach, and the ocean.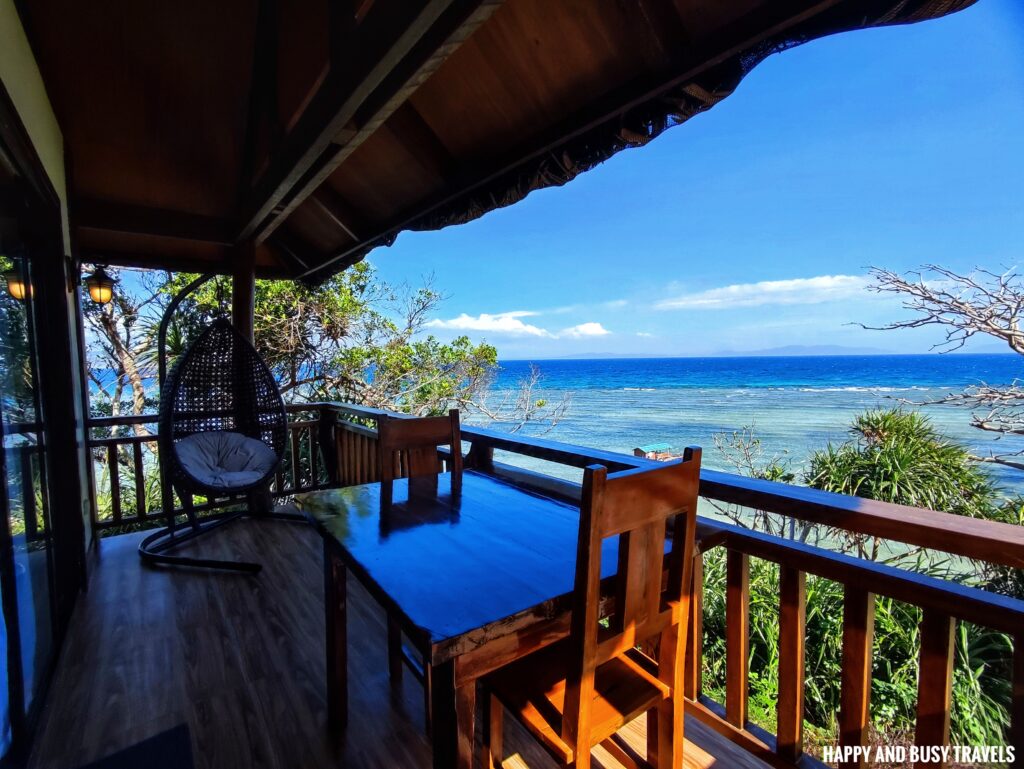 We also had our meals here. Guests can bring their own food, or just simply order from the resort. By the way, there is a griller beside the villa that you can use, and breakfast is included in each stay.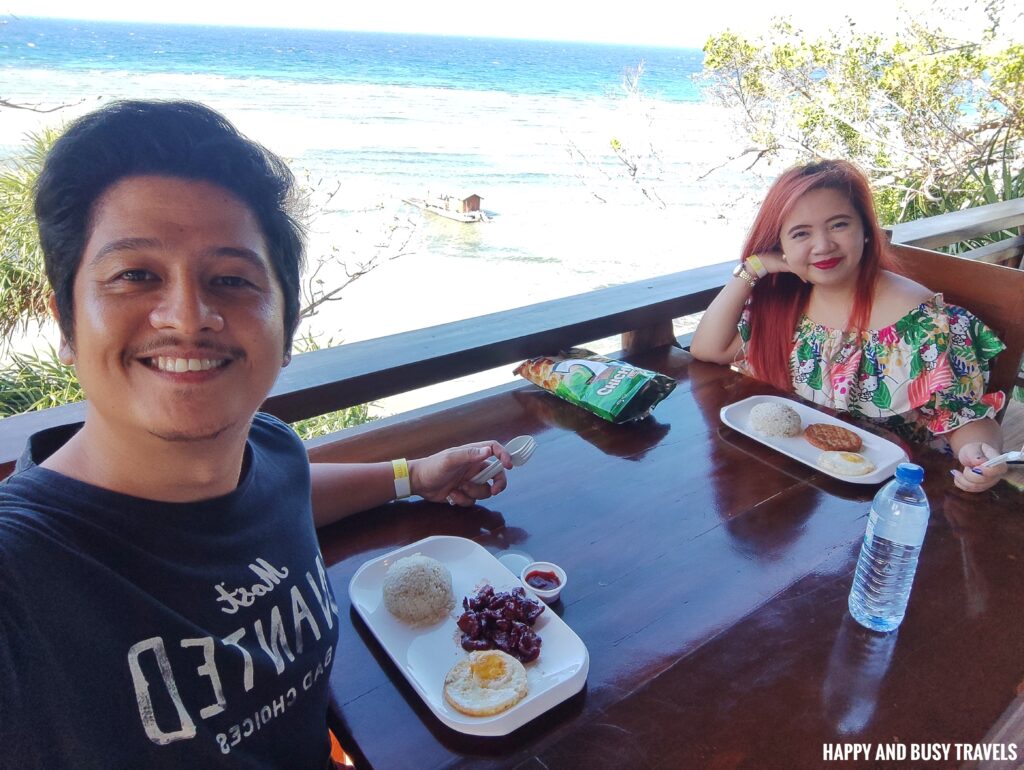 There is a cellphone signal through the resort, but this is the best spot for an internet signal in the villa, this is a nice place to relax and just feel the ocean breeze.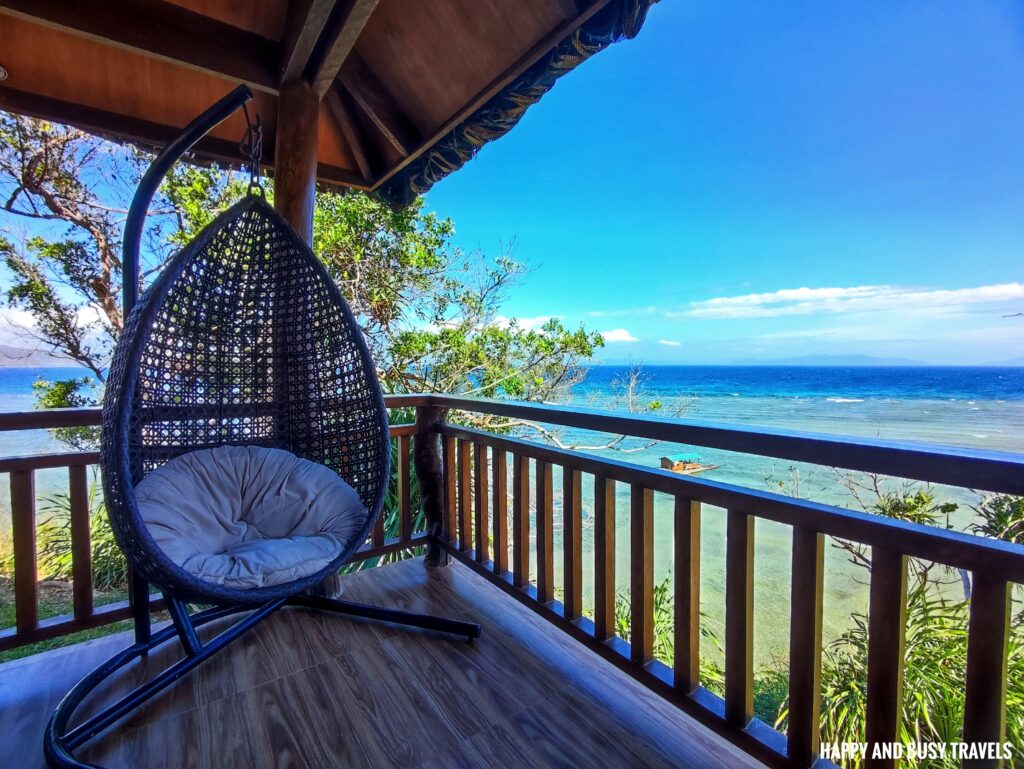 Comfort Room
This is the comfort room, which has every guests' needs. Oh yes, there is a bidet. 🙂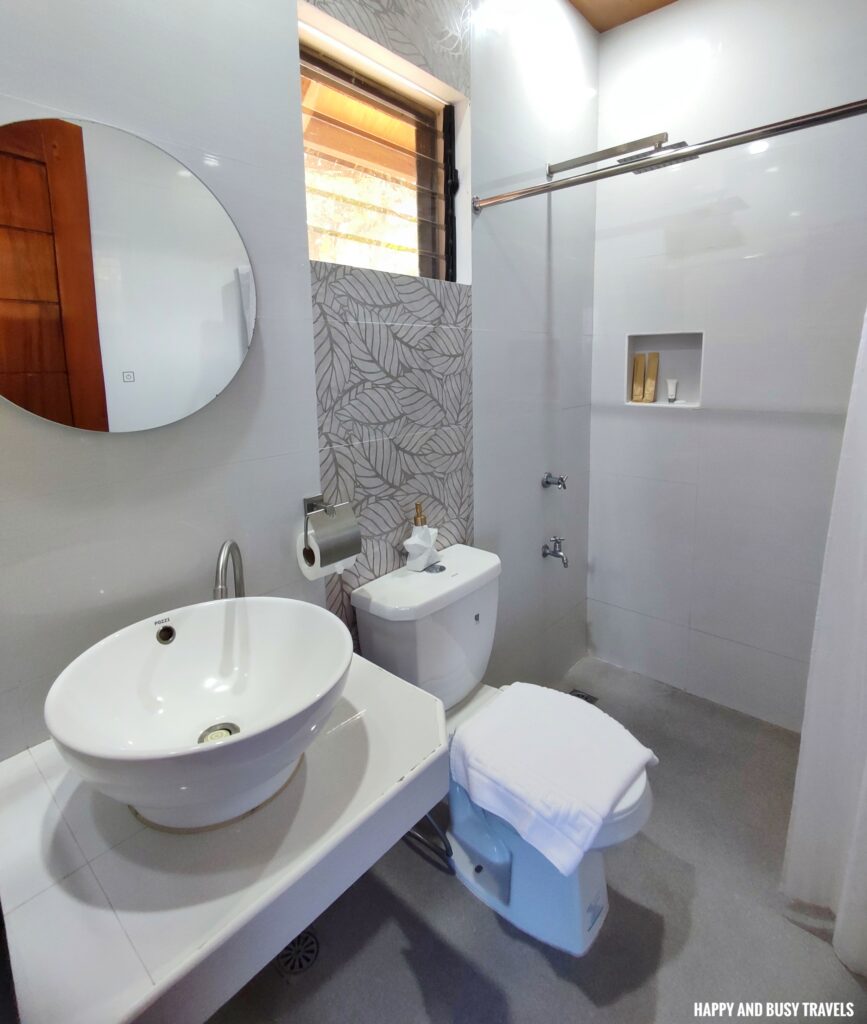 The Villa at Night
Here is what the villa looks like at night. You can see more pictures in the gallery at the end of this blog.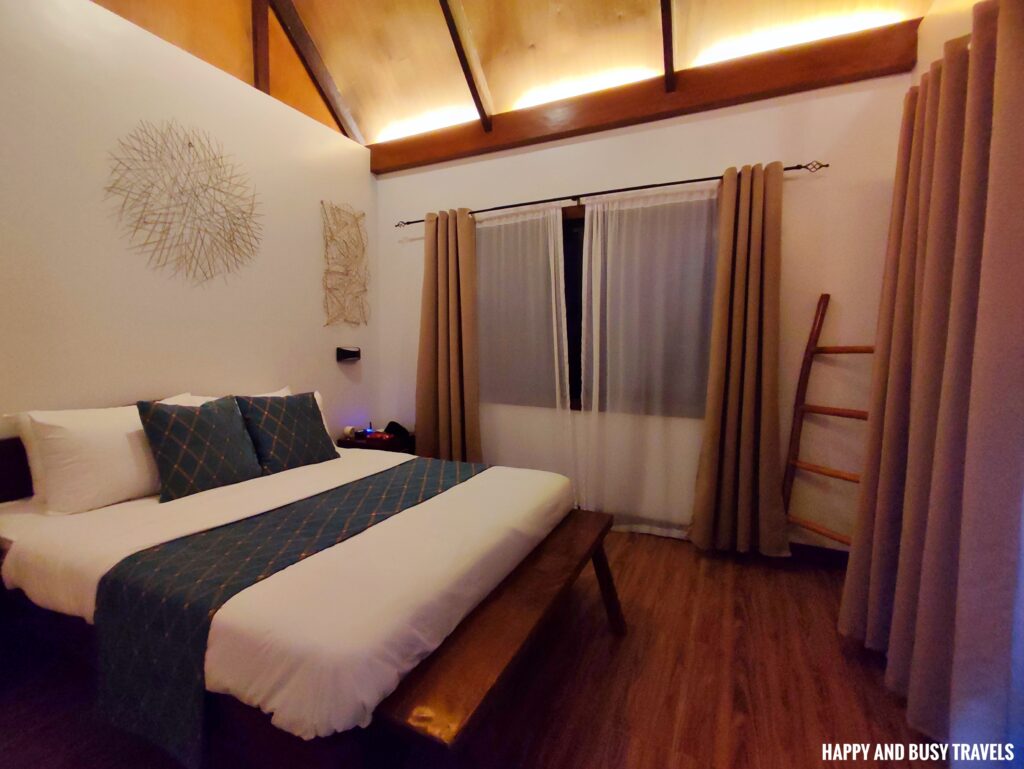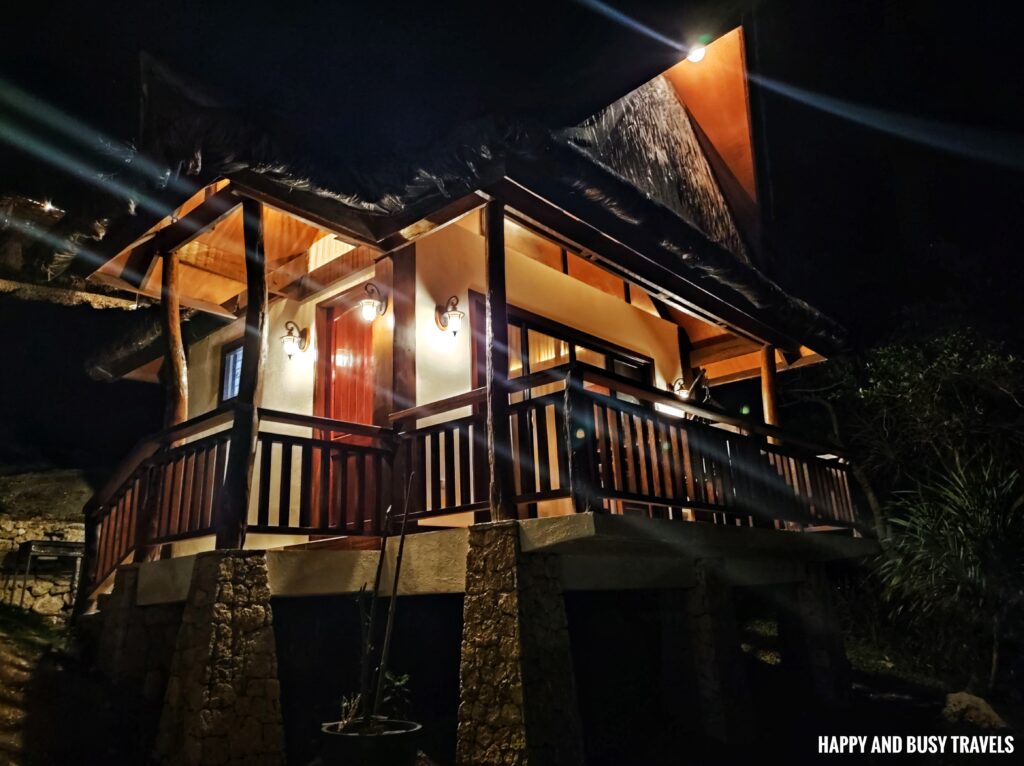 Summary of Maya Cliffhouse Villa Amenities/Features
Queen-sized bed
Airconditioning Unit
Ceiling fan
Numerous electric sockets
2-way radio
Coffee, coffee mug
Bottled water
Electric kettle
Balcony
Egg-Drop chair
Dining table and chairs
Griller
Private comfort room
Toothbrush, soap, shampoo, tissue paper
Three types of towels (Bath towels, hand towels, face towels)
Shower
Sink
Toilet Bowl with bidet
Teepee Hut
If you want a cute staycation, you can rent this one instead, the Teepee Huts.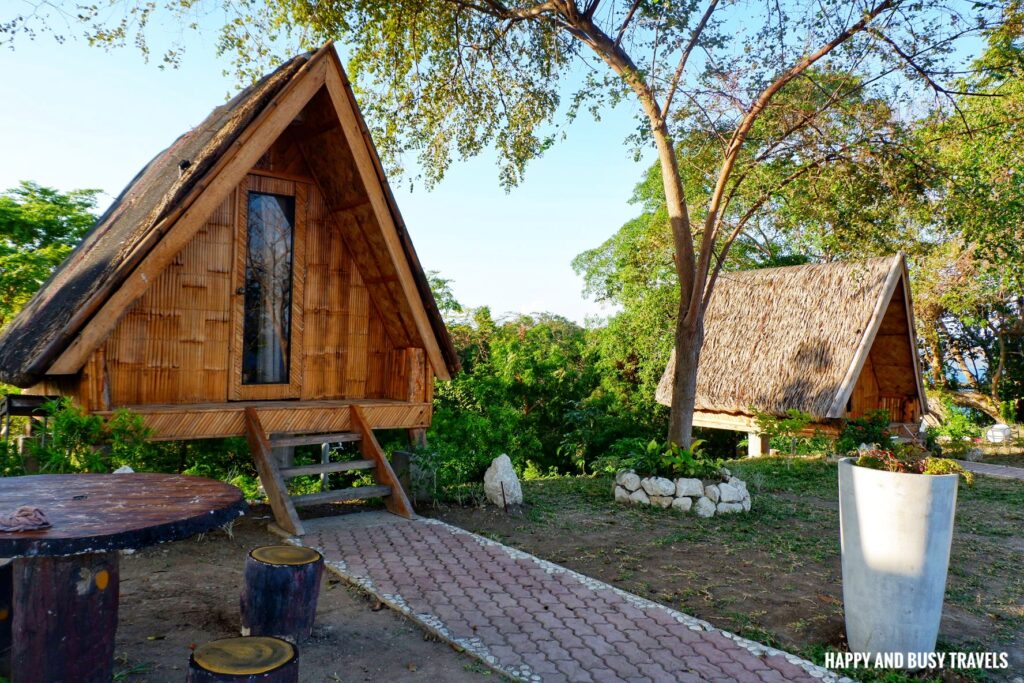 Each hut is air-conditioned and can accommodate two people.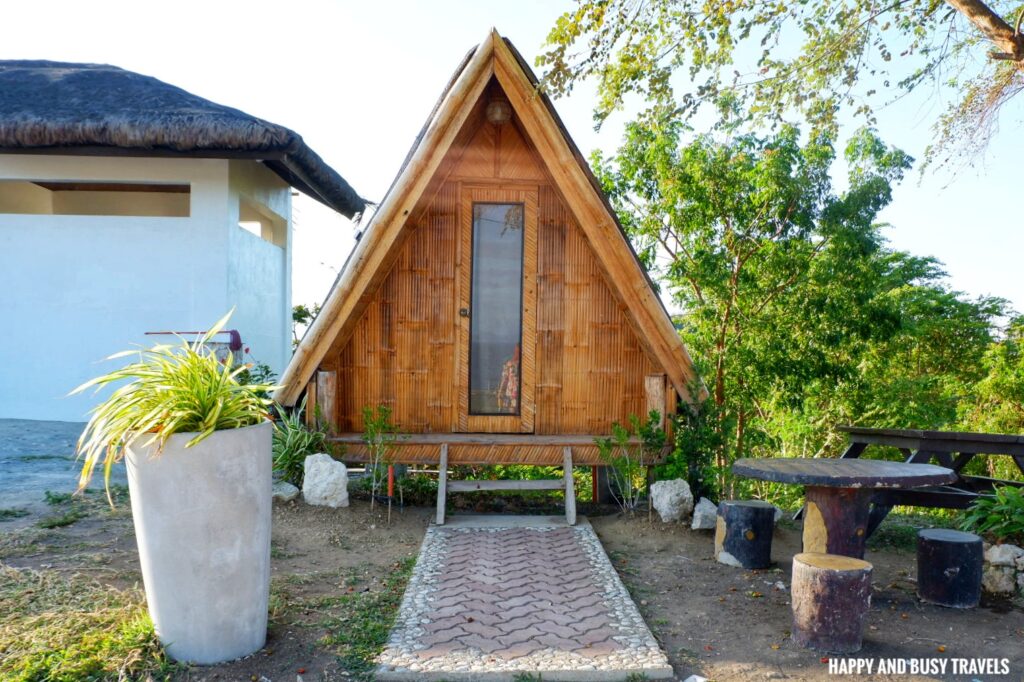 The huts are located at the top of the hill, so you'll have the top view of the property.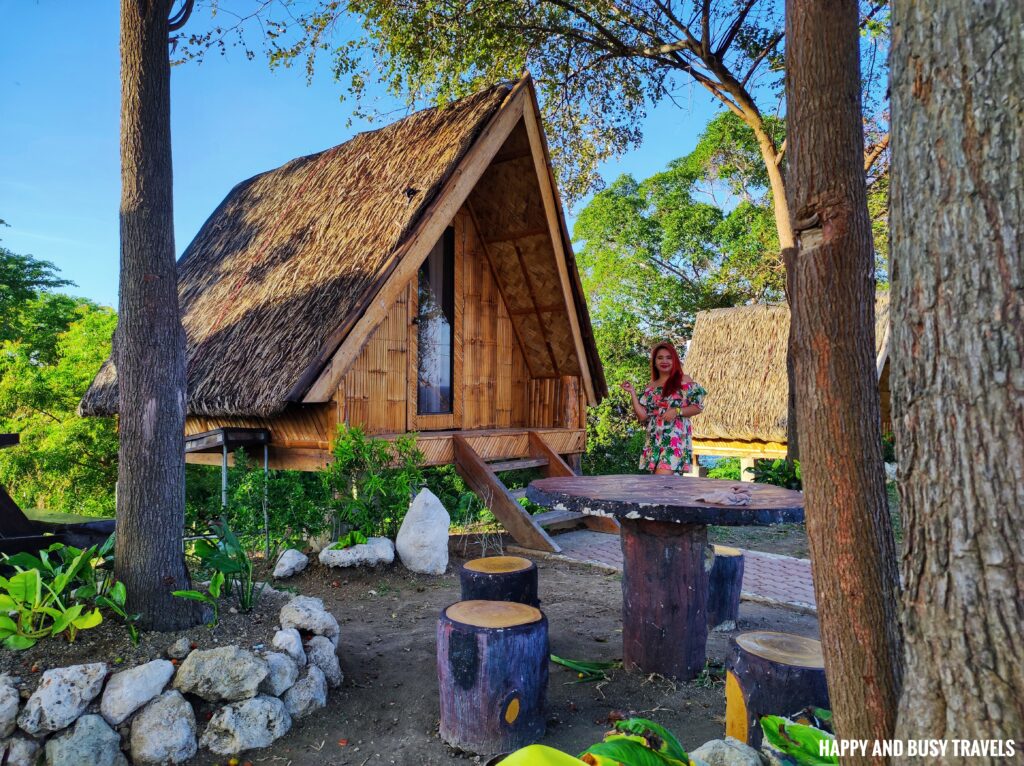 Summary of Teepee Hut Amenities/Features
Cute Nipa Hut
Double bed
Airconditioning Unit
Shared bathroom
Stone dining table and chairs
Griller
Cottages
There are various sizes and types of cottages in the resort.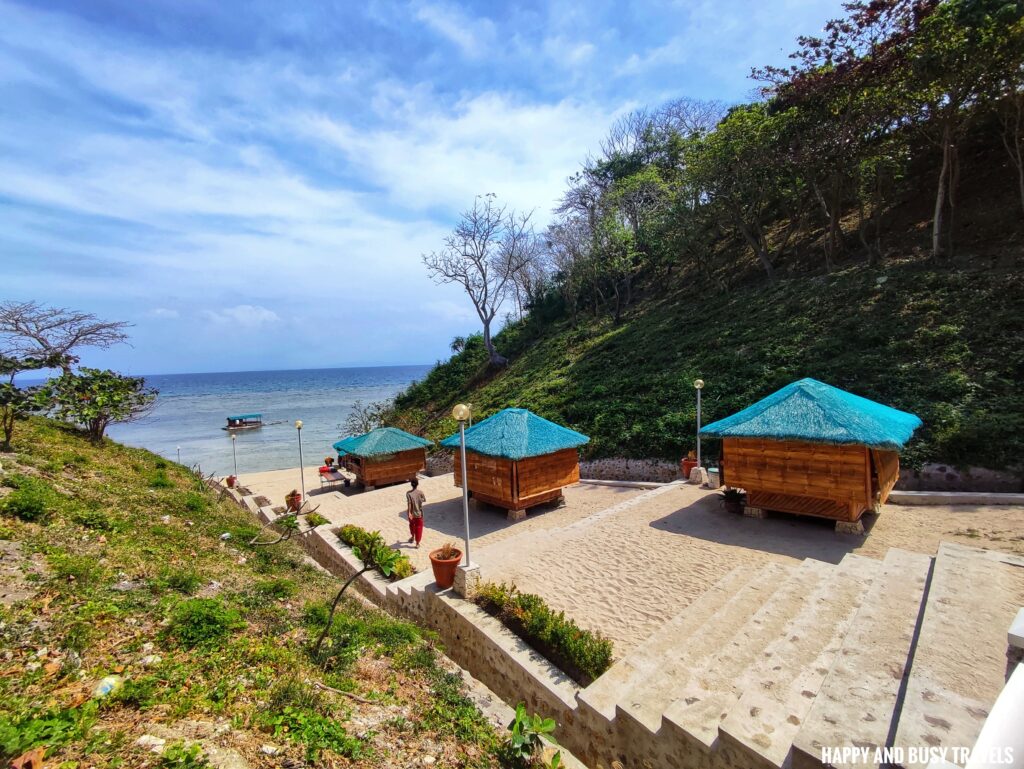 There are open cottages along the beach and the cliffside.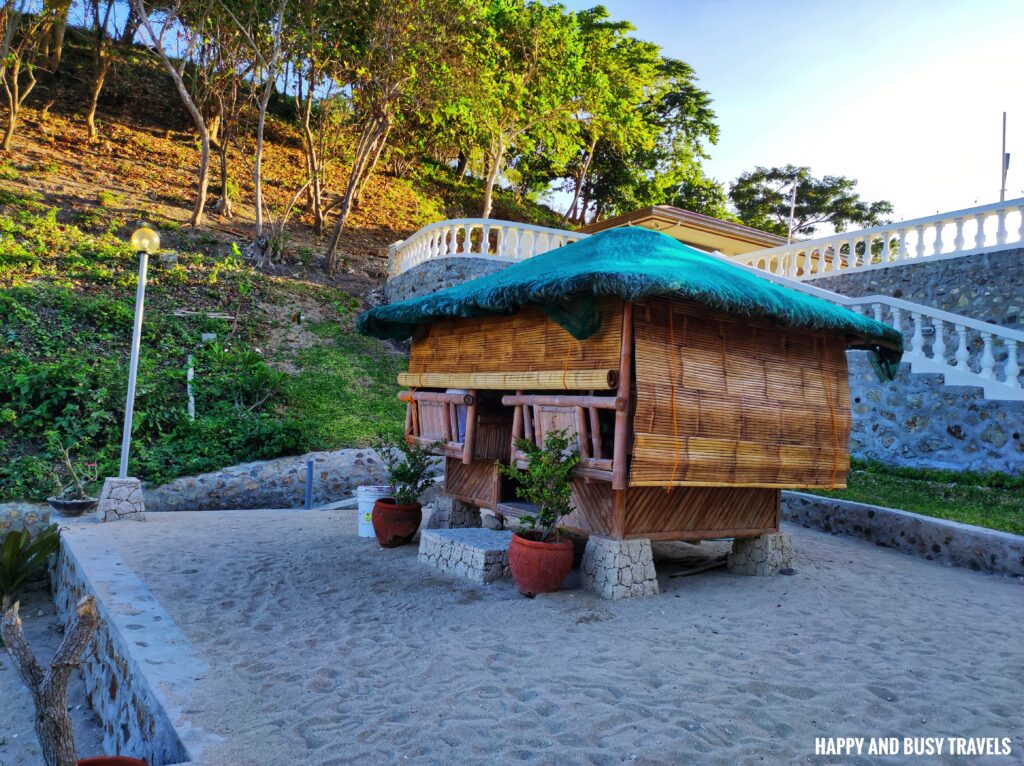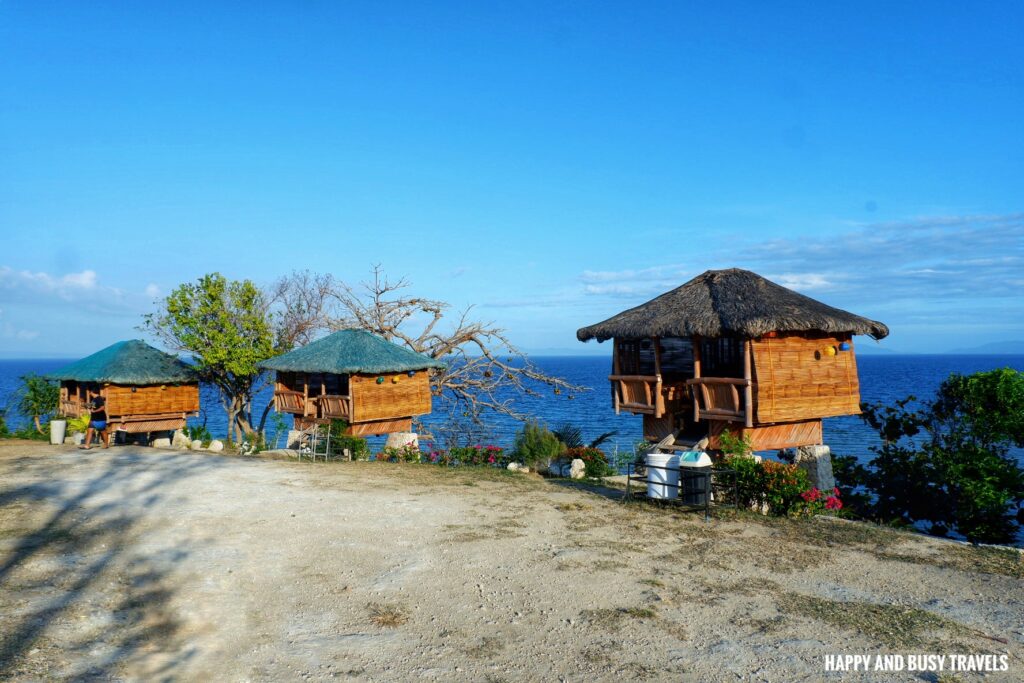 But there are also airconditioned cottages.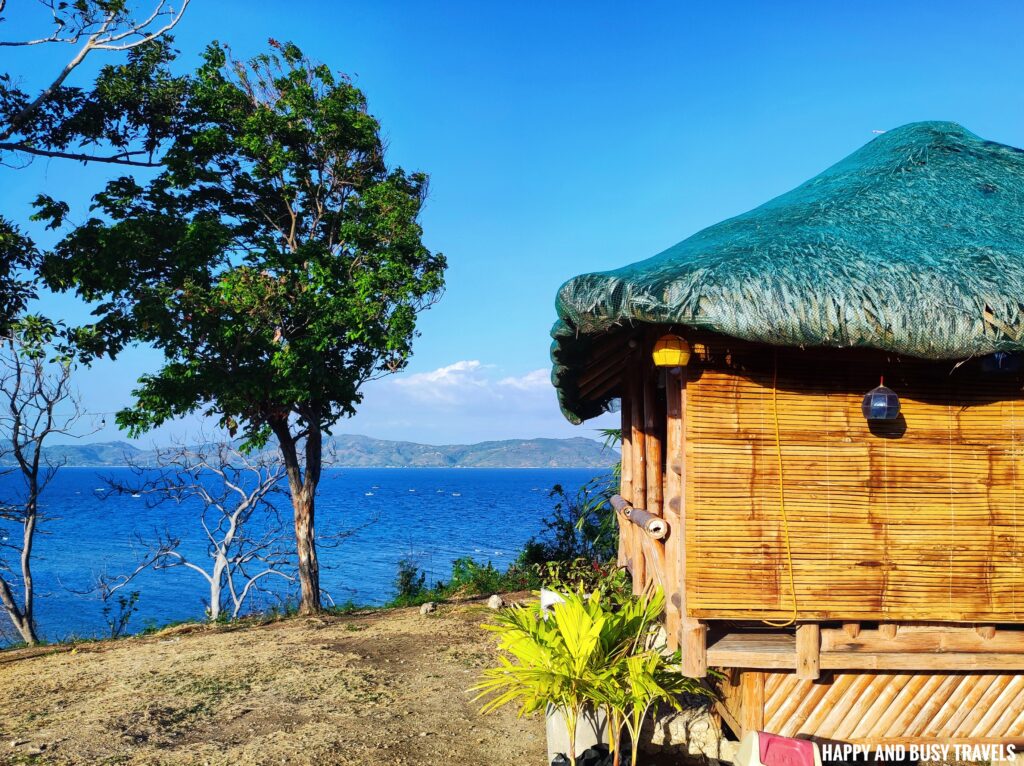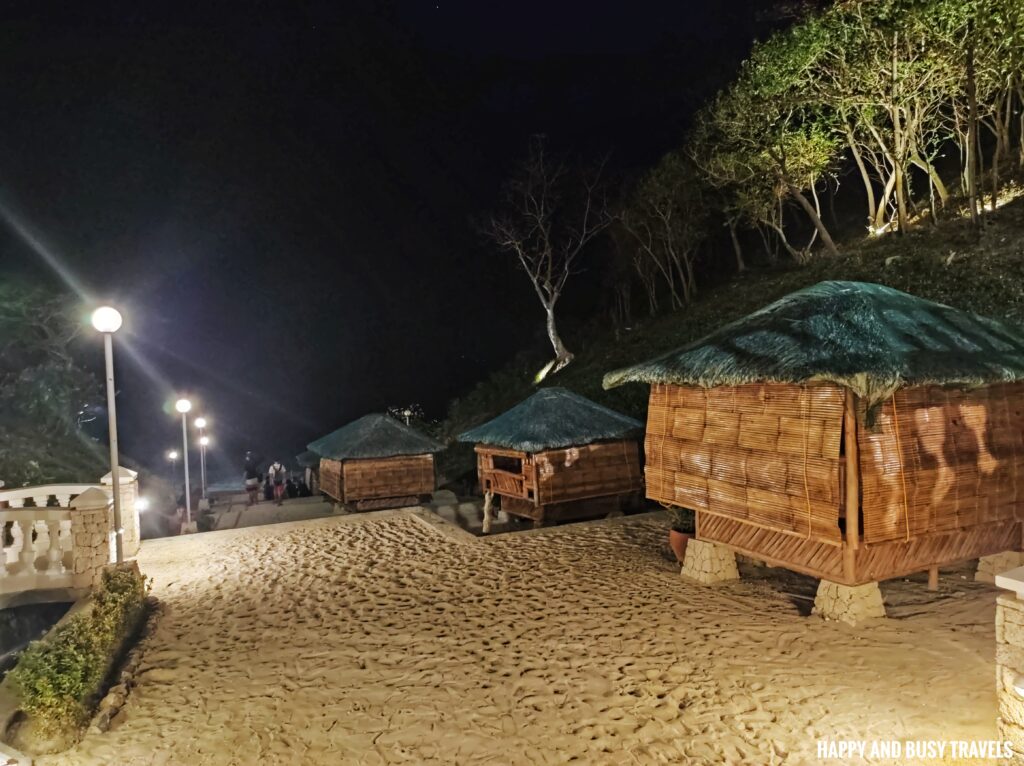 Floating Cottages
This is one of the unique cottages because you'll be in the ocean the whole time.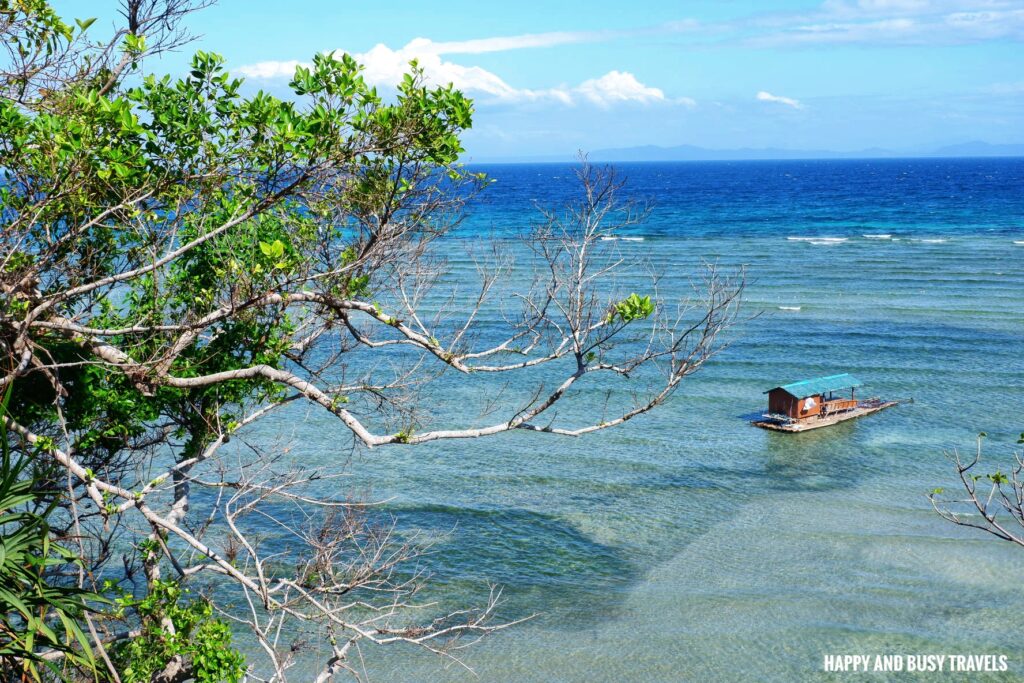 During our visit, overnight in these cottages is not yet recommended.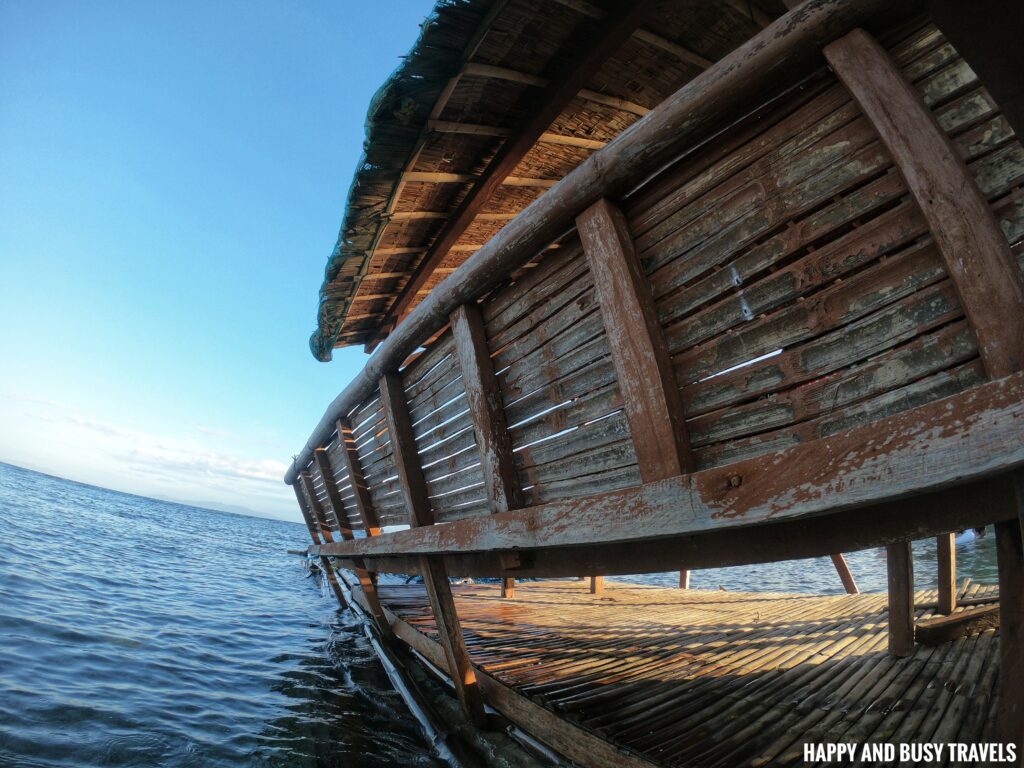 Tent
If you are a little adventurous, you can stay in the resort inside the tents. Guests can pitch their own tent, or just rent from the resort.
Shared Shower/ Comfort Room
Here is the shared shower/comfort room, it is spacious and clean all the time.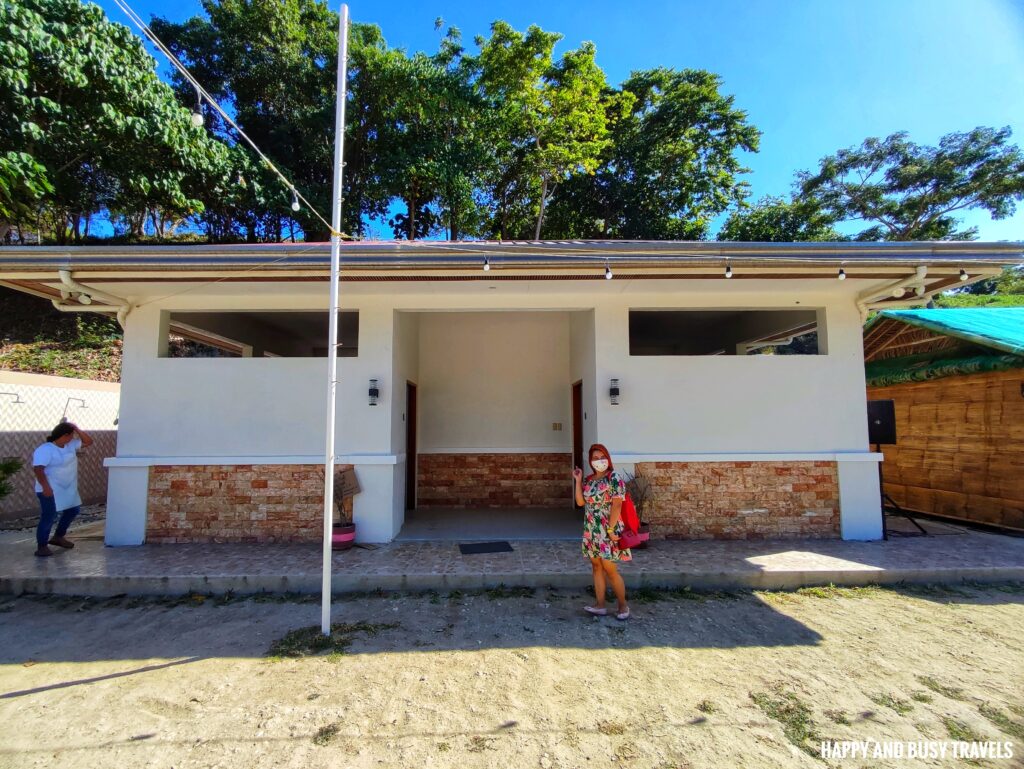 Amenities/ What to do in Calumbuyan Point?
There is a lot of amenities and things to do in Calumbuyan Point, here are some of them.
Go on a Daytour
Guests who can't stay overnight can go here for a day tour instead.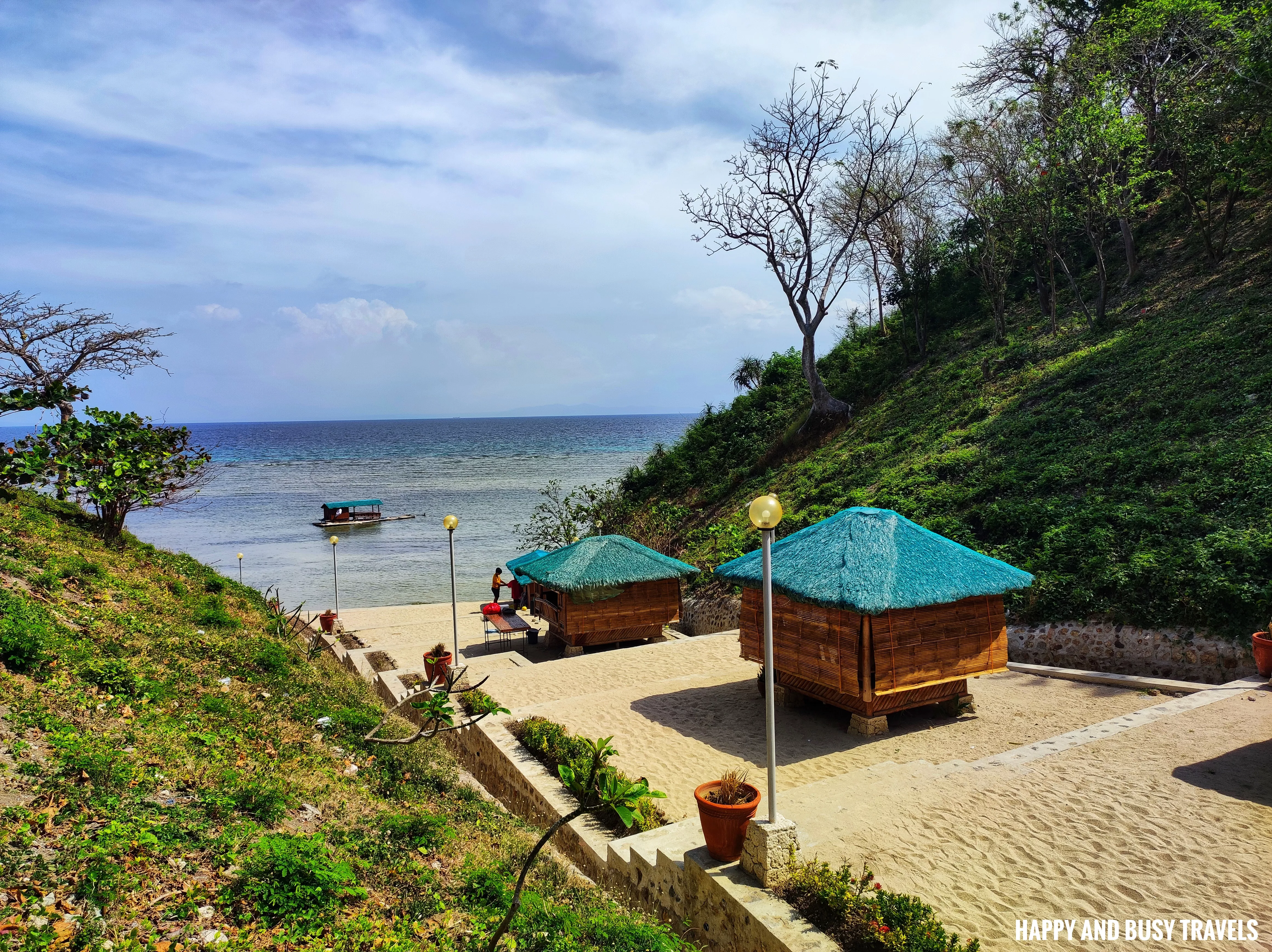 Have a Picnic
There are a lot of picnic tables that guests can use.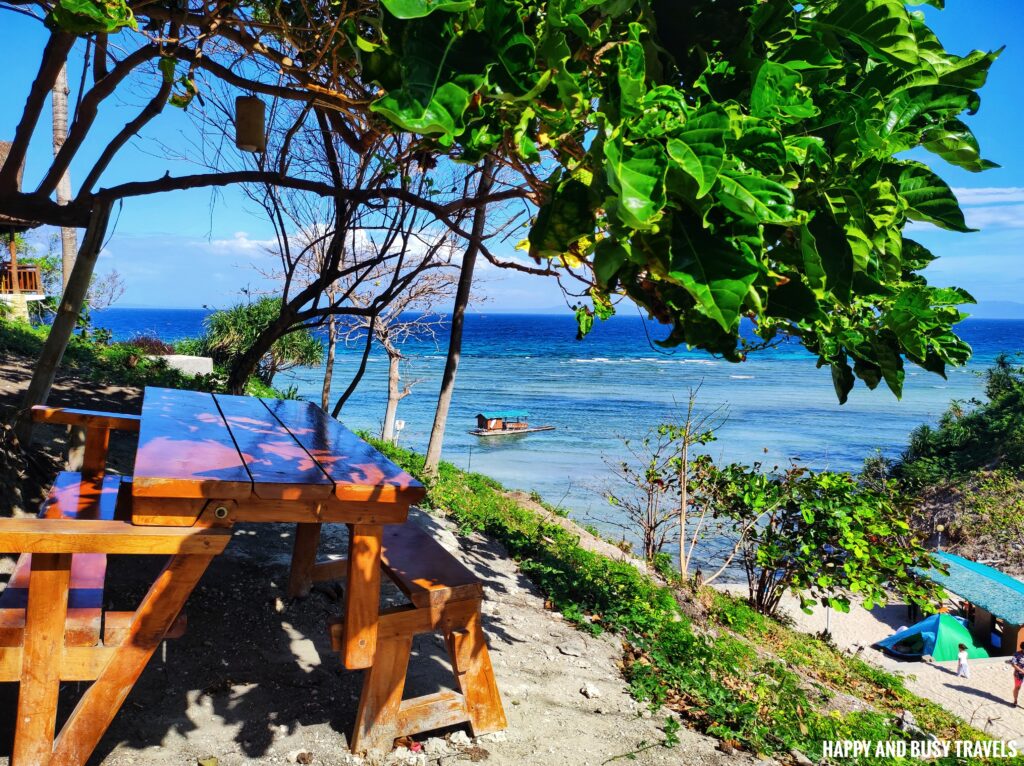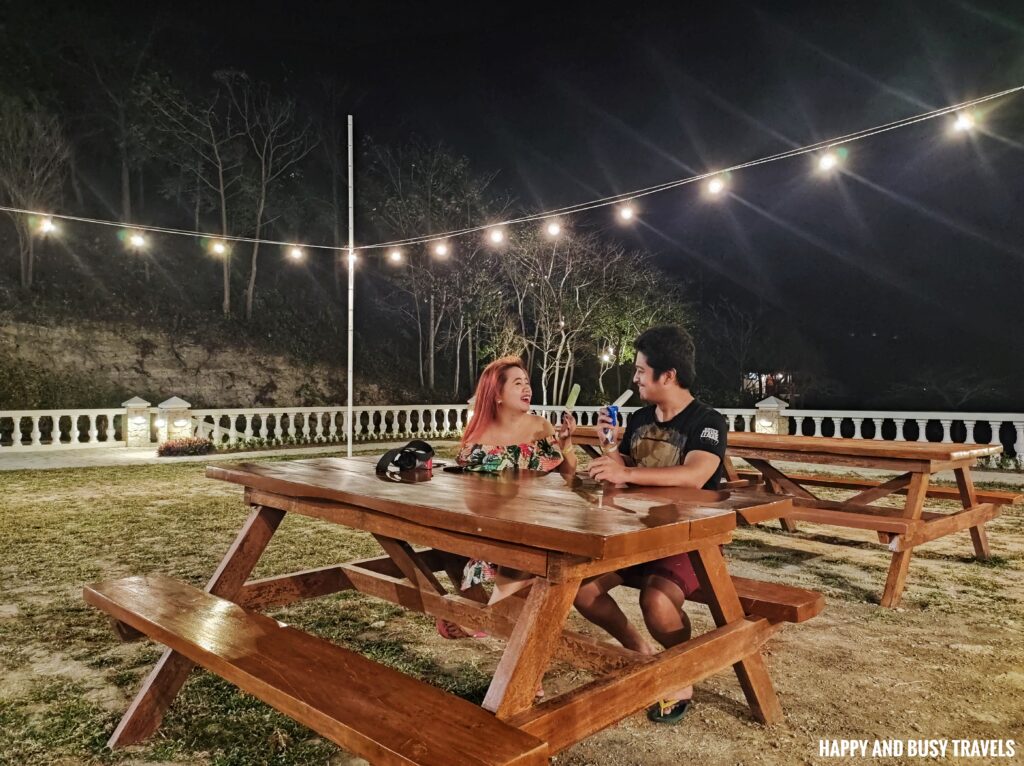 Swim
Of course this is a beach resort, so you can swim here anytime.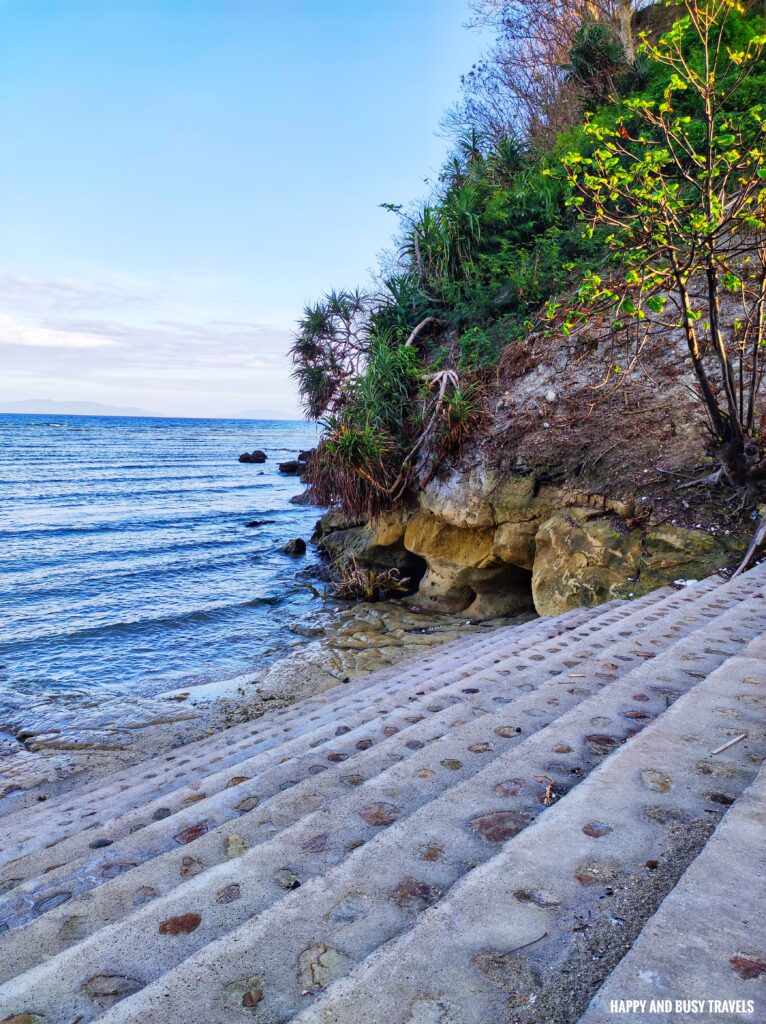 Kids are also safe here because even though they get far, the water is still knee-deep.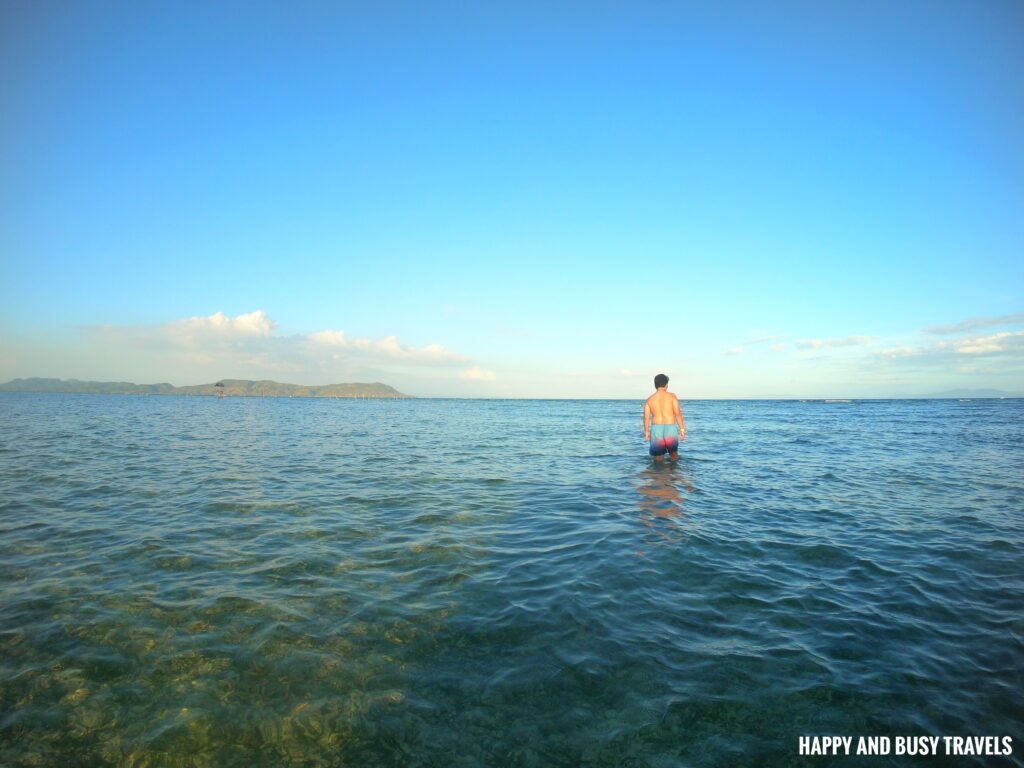 At night, there are lights, so you can still swim during the night.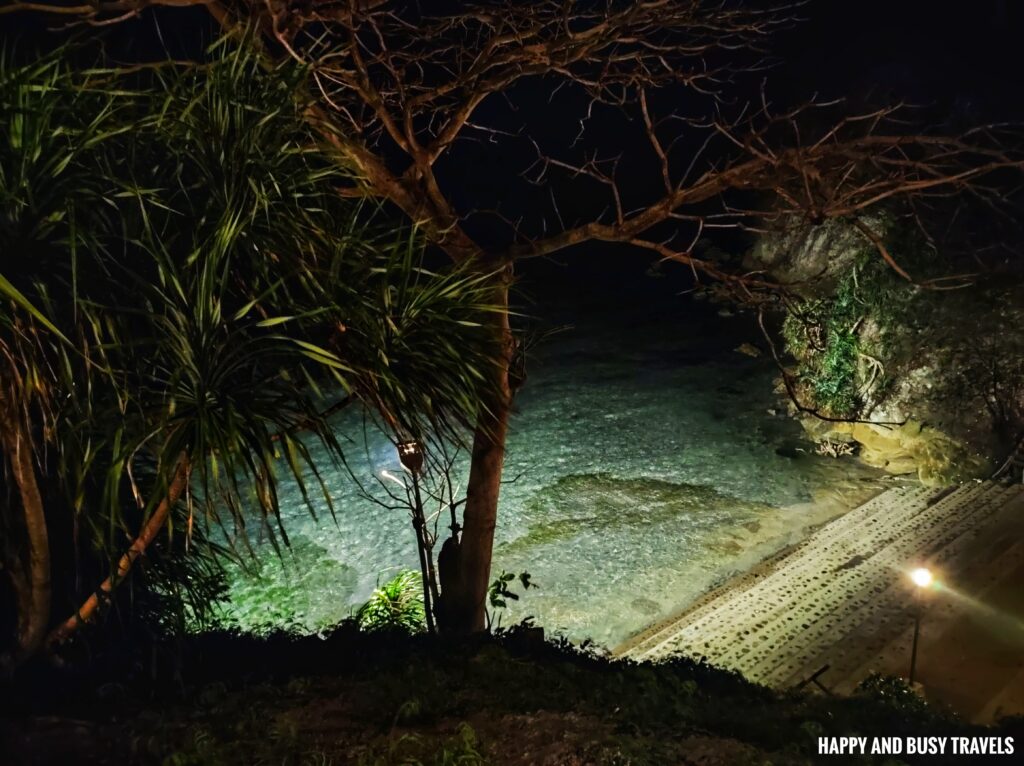 Enjoy the view
Just like Hapsy in the picture, enjoying the view from the hills/villa is nice and relaxing.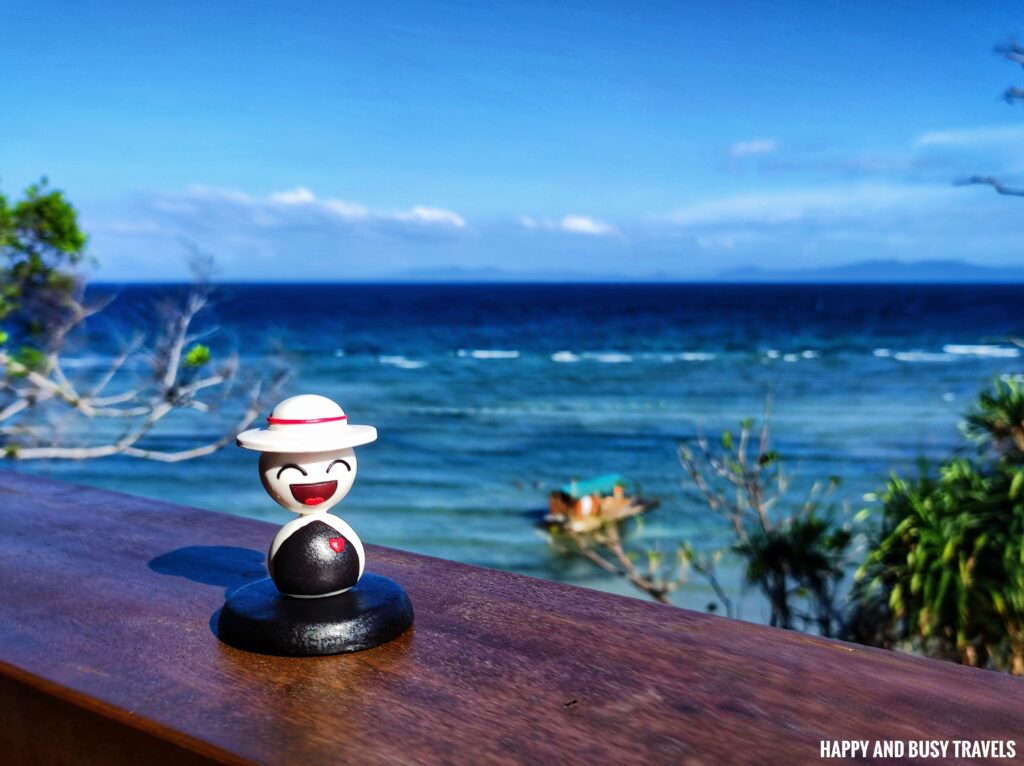 Have a Bonfire
Guests can ask the staff to prepare a bonfire which includes smores too.
Have a pictorial
The resort is IG-worthy during the daytime and even at night.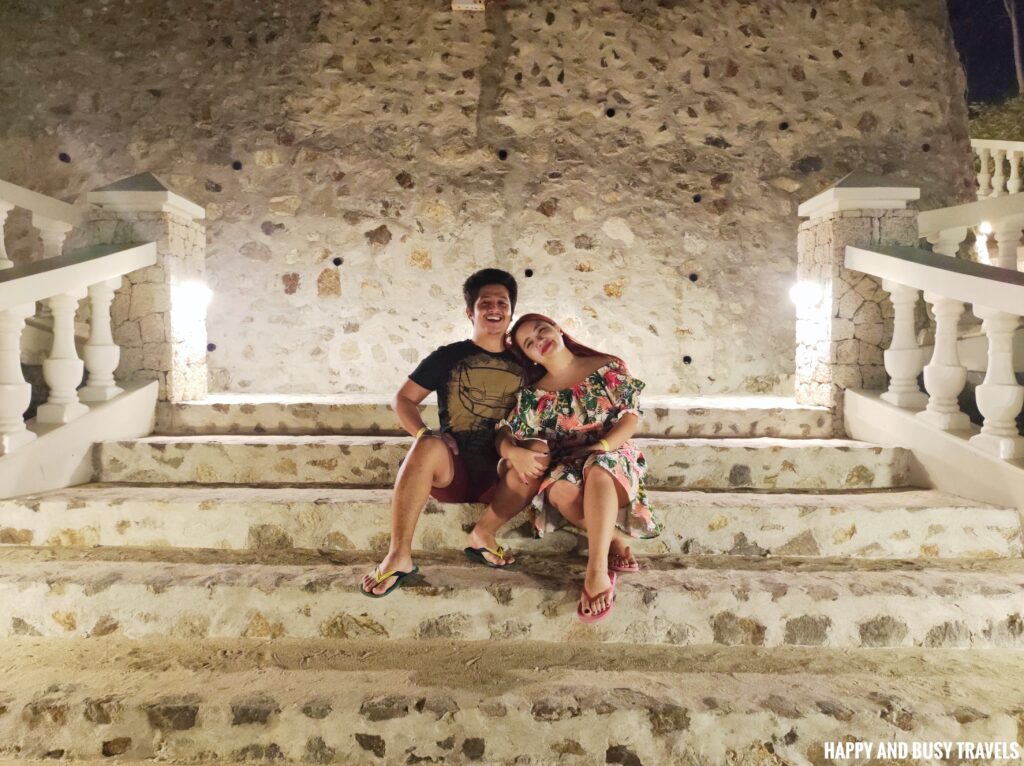 Enjoy the Night
Nighttime in the resort looks good too.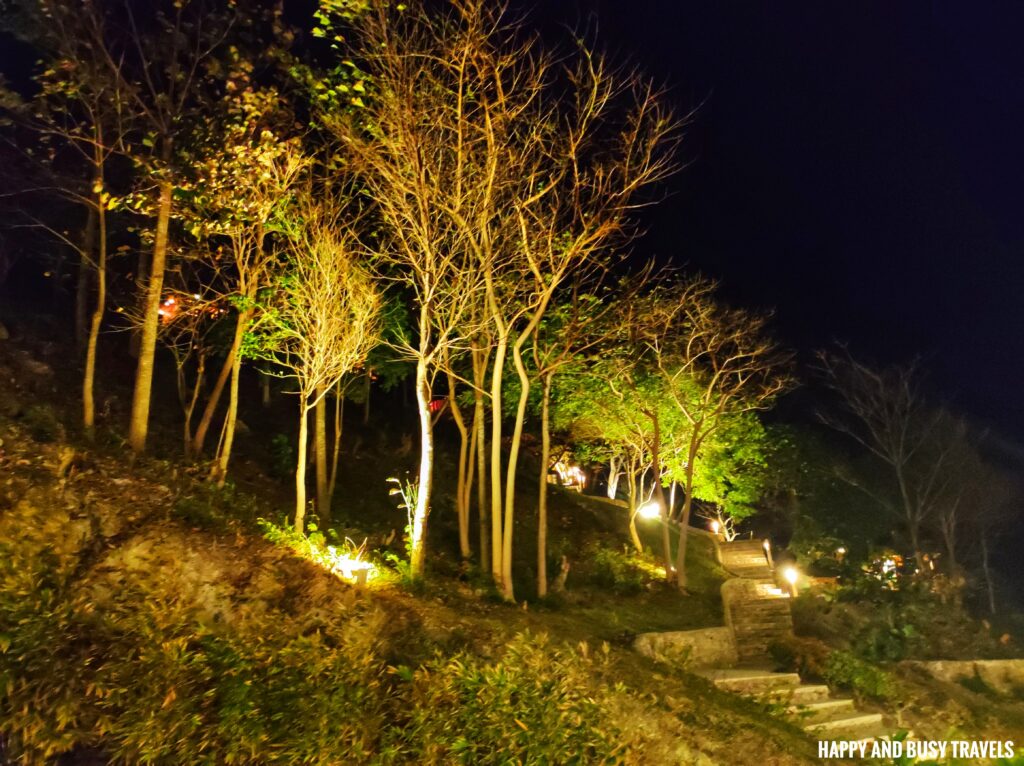 Eat
The resort serves short orders so you can also order from them, or bring your own food.
Important Information
Website: Calumbuyan Point
Facebook: Calumbuyan Point
Contact Nos: Globe 09176540730 ; Smart 09985590730
Email address: [email protected]
Address: Calumbuyan, Brgy. Santa Ana, Calatagan, Batangas
Google Maps Link: https://maps.google.page/
Rates of Calumbuyan Point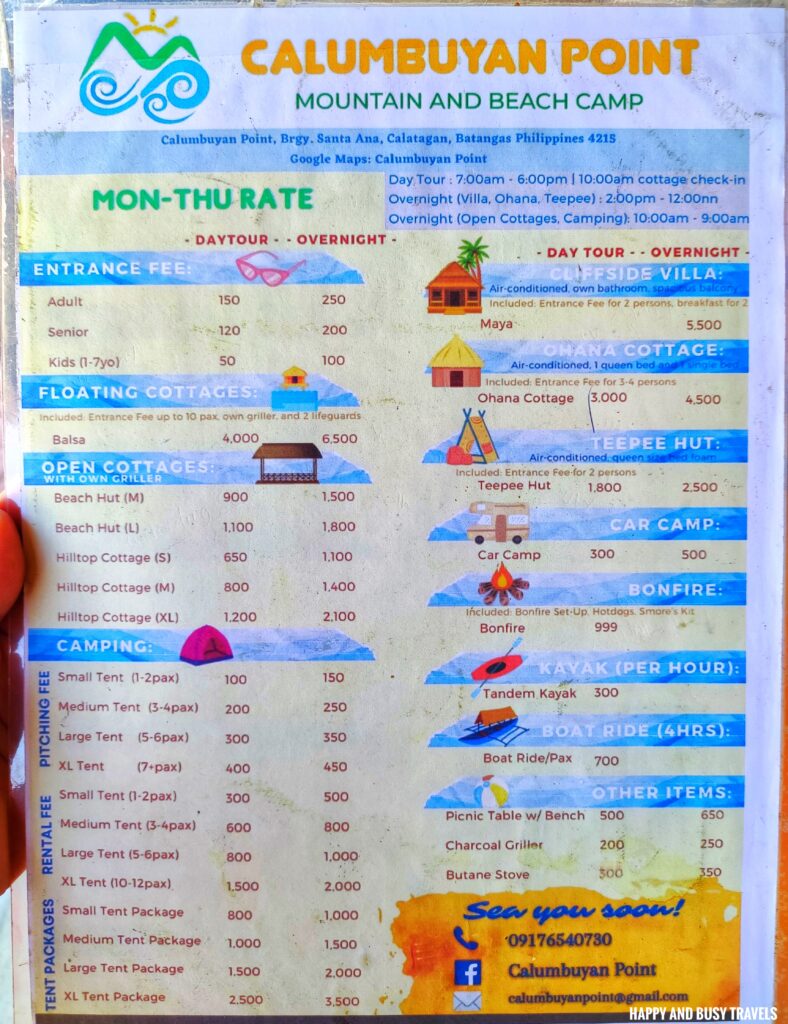 How to Get to Calumbuyan Point?
Public Transportation
Ride a bus in PITX going to Calatagan.
Go down at the Calatagan bus terminal
Ride a Tricycle to the resort (this usually costs Php 400 per way)
Private Transportation
Take SLEX, and CALAX
Continue to Sta. Rosa-Tagaytay Road
Upon reaching Tagaytay, turn right. At the roundabout take the second exit towards Tagaytay-Nasugbu Highway
Turn left after Andoks and continue on the Lian-Calatagan Highway
Upon reaching Calatagan, there are various signs that you can follow.
or just simply:
Use your Waze or Google Maps and search for Calumbuyan Point.
How to Book a Stay in Calumbuyan Point?
Option 1:
Book through their website
Option 2:
Email them ([email protected])
Option 3:
Message them on Facebook
Gallery – More Pictures of the Resort
Happy and Busy's Smileys for Calumbuyan Point
Overall Busy and I had an excellent time in the resort. We get to do two of the things that Busy likes in resorts, looking at the stunning hill/ocean view, and swimming. Me, I love the ambiance of the place, it is peaceful and enjoyable at the same time. Lodging is nicely placed distant from one another, so there is privacy for each guest.
Cleanliness
Facilities
Service
Value for money
Location 
Ambiance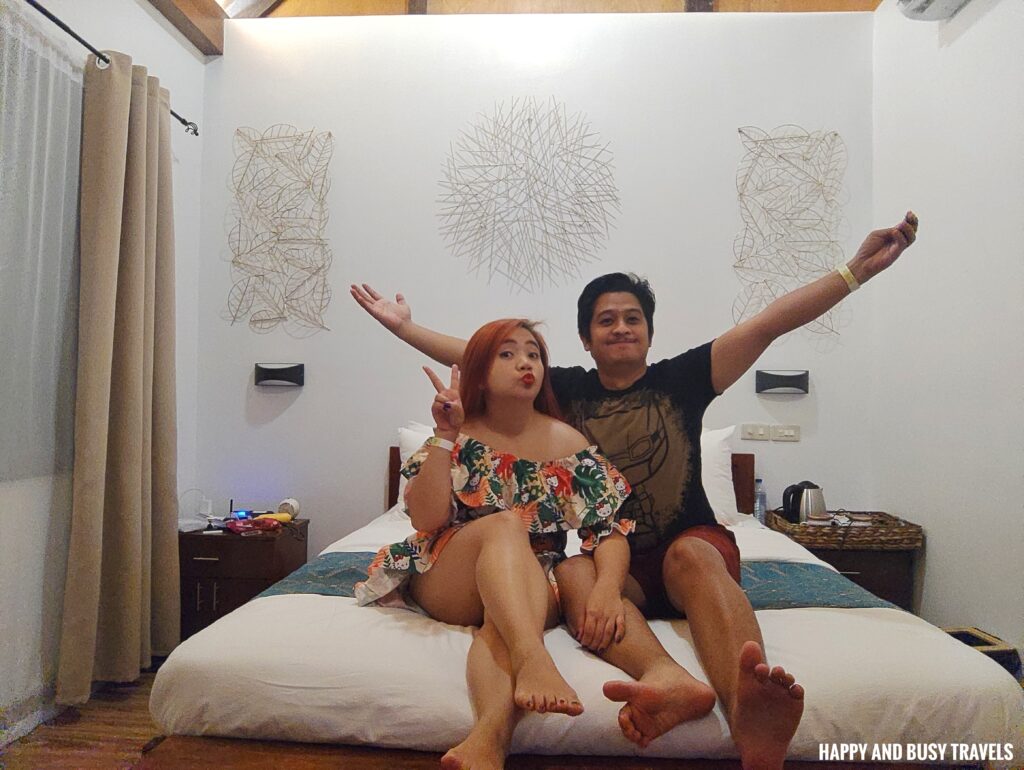 More exciting hotel reviews at https://happyandbusytravels.com/category/hotels/