Having an empty stomach is a big no! no! So Busy and I looked for a restaurant with buffet in Tagaytay. Goodbye diet! HAHA Hello D' Banquet Bakeshop and Restaurant!
The restaurant was easy to find, it was located at the corner of Emilio Aguinaldo Highway and the road to Pink Sisters. The location of the restaurant was ideal because those who just went to the church can go here directly.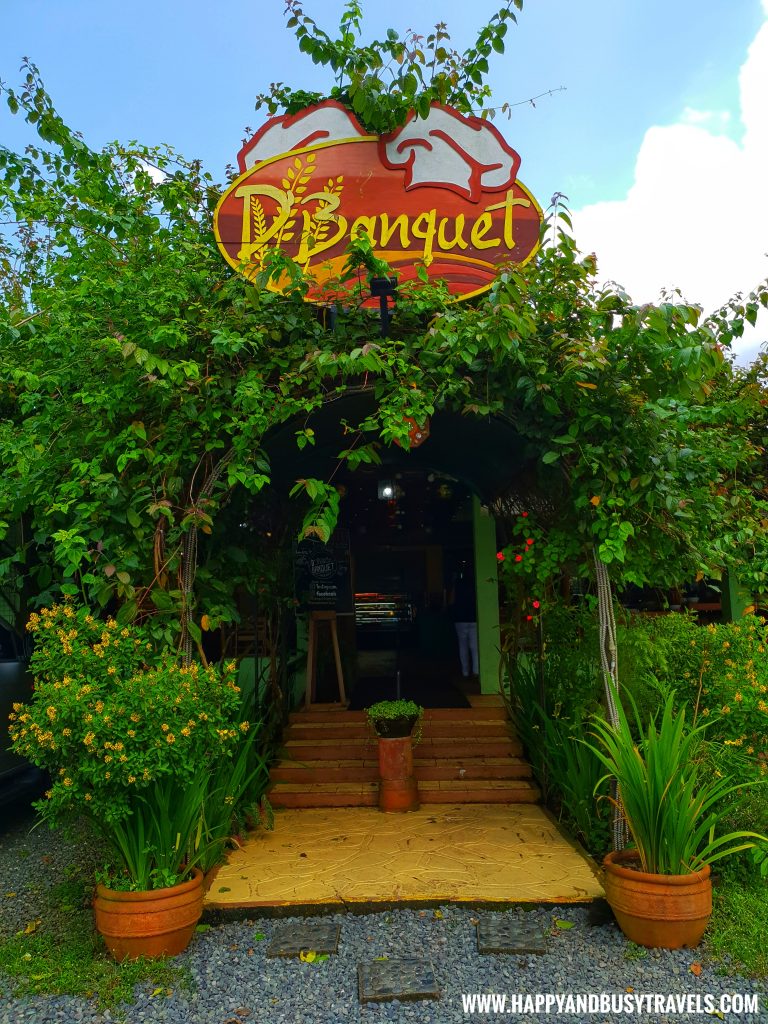 Facebook: https://www.facebook.com/dbanquettagaytay/
Instagram: https://www.instagram.com/dbanquettagaytay/
Contact Number: (+63 46) 483 0345
Operating Hours:
Sunday Buffet Service: 9:00AM – 3:00 PM
Ala Carte: 9:00AM – 8:00 PM
Address: Aguinaldo Highway, Corner Arnoulduz Road, Tagaytay City (Near Pink Sisters)
Google Maps: https://goo.gl/maps/mcpEgzjDY6K2
Quick Links
Finding D' Banquet Bakeshop and Restaurant
Busy and I saw this sign from Emilio Aguinaldo Highway.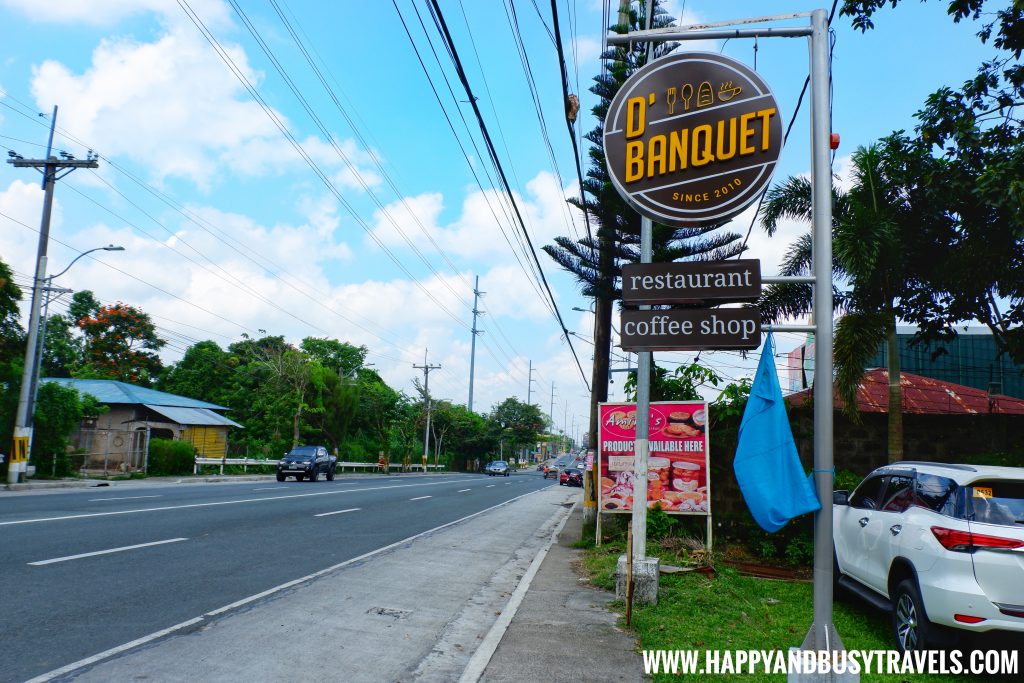 Ohhhhh buffet!!!!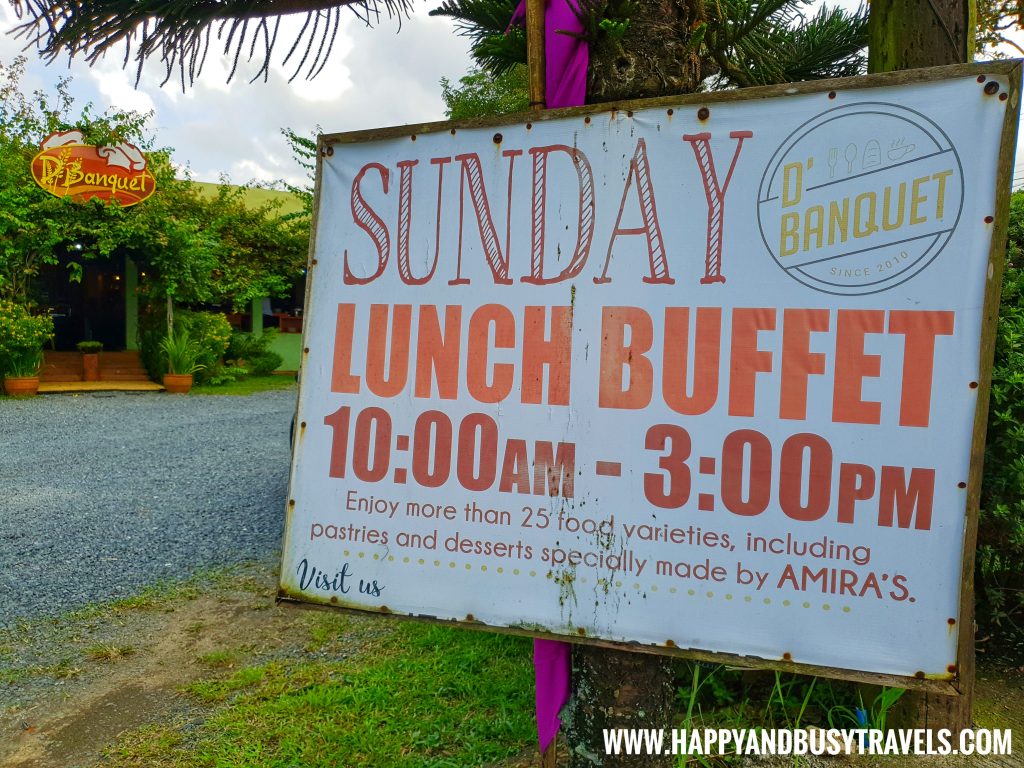 So we entered the vicinity and immediately parked our car.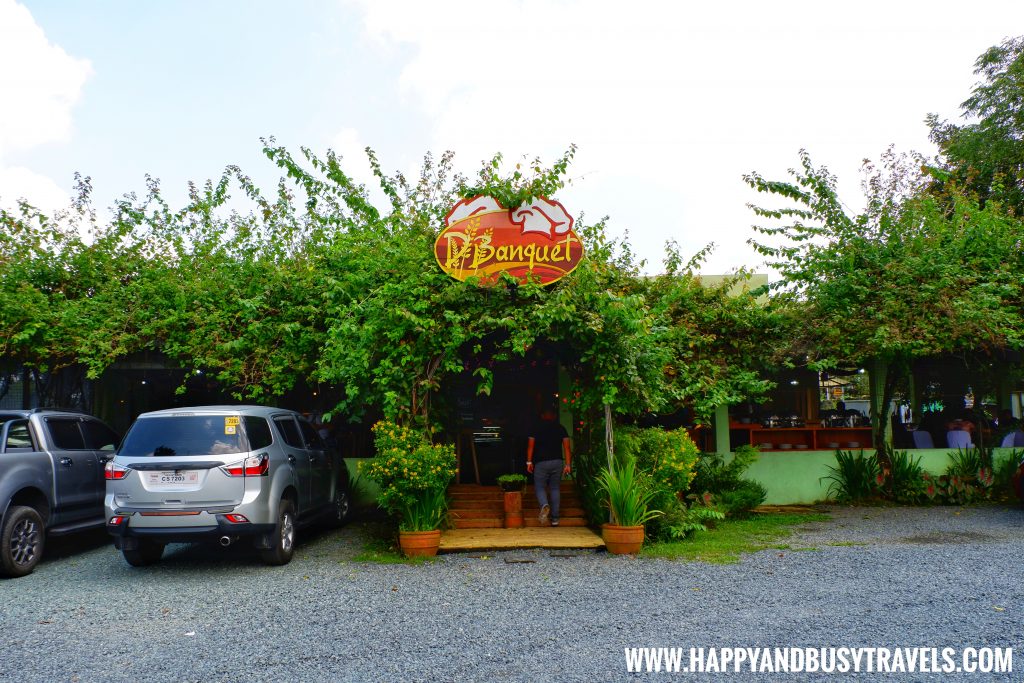 The buffet just costs Php 599!
Dining Area
So we immediately assisted to our table. There were two options, first was the al fresco area which was near the buffet tables.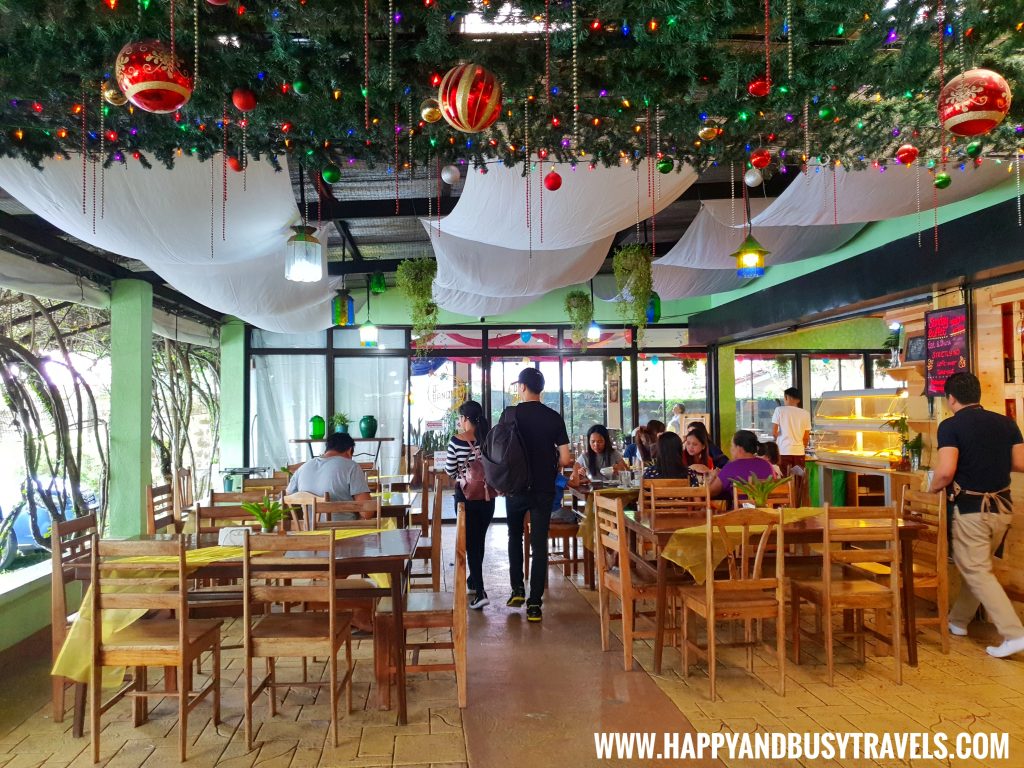 Second was the air-conditioned area.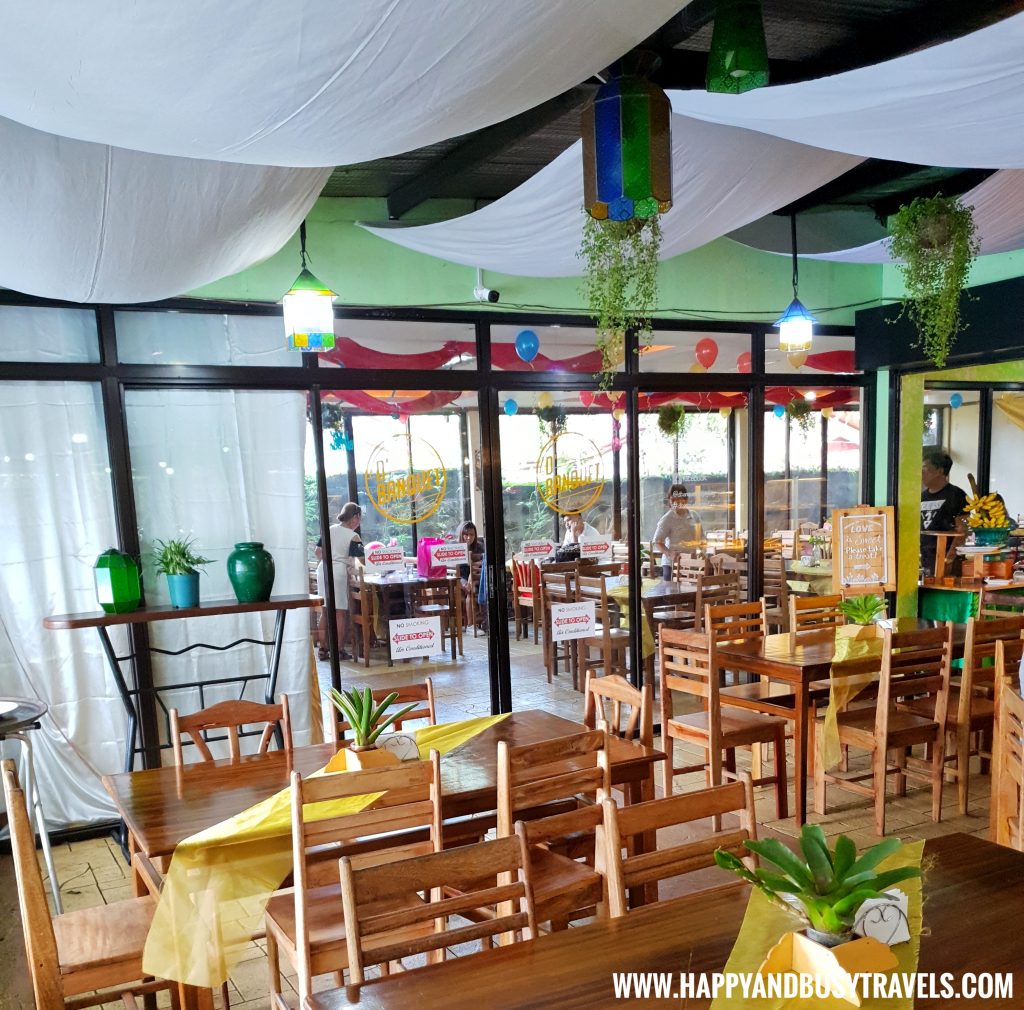 We choosed the air-conditioned area because there were no available table in the al fresco area.
The Food
Soup Area
We first visited the soup area. There were four soups available for the buffet service on that day. Bulalo Soup, Cream of Corn Shrimp Soup, Cream of Potato Soup, and the Chicken Binakol Soup.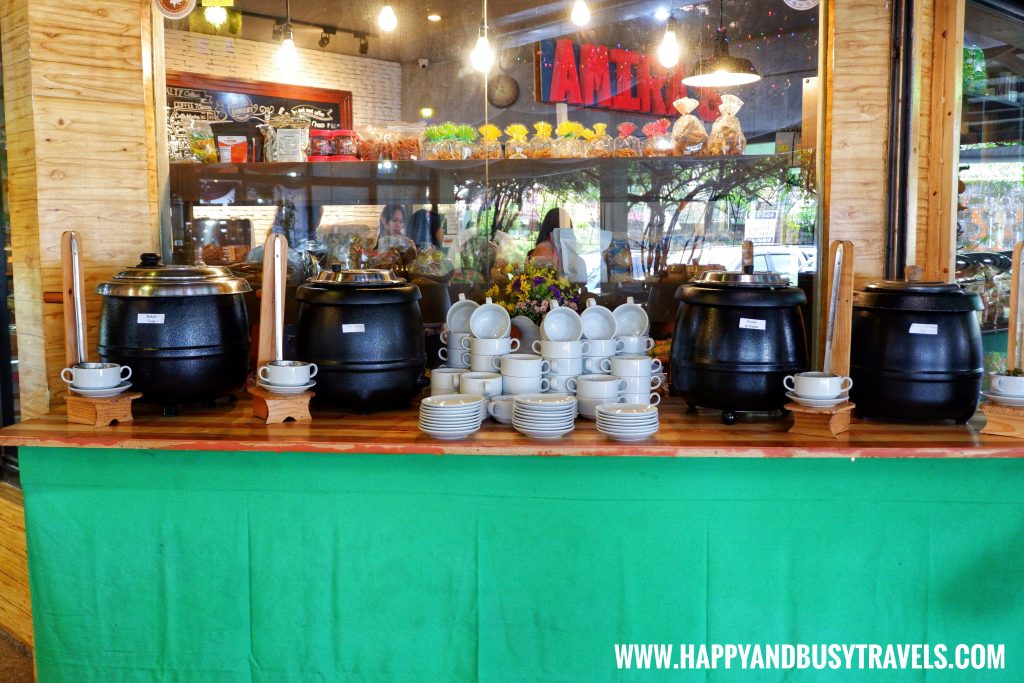 Busy had the Bulalo Soup.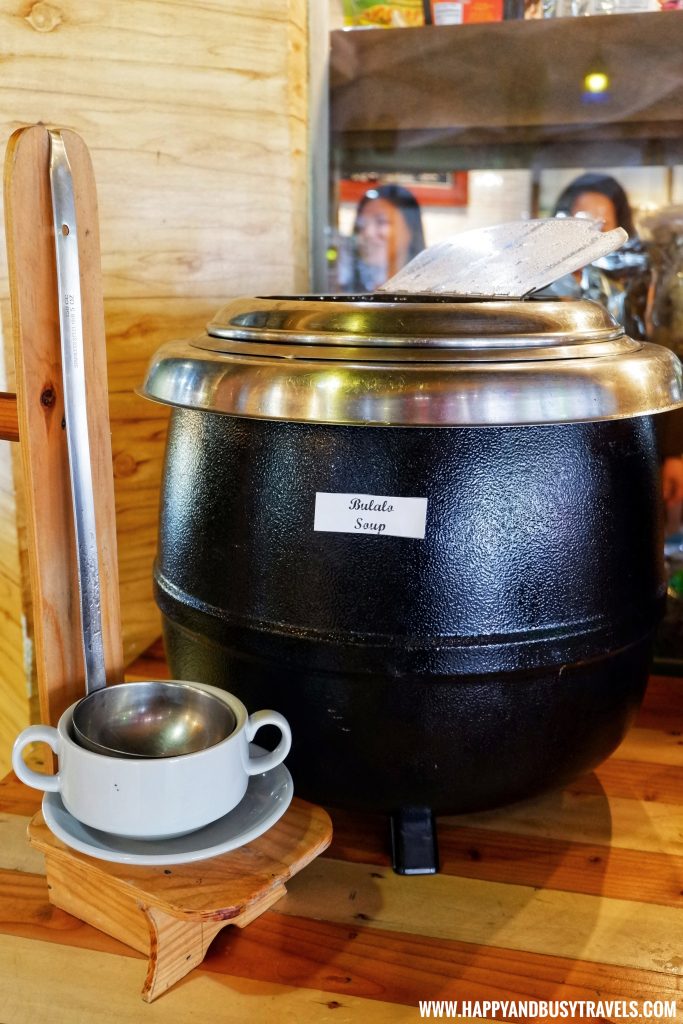 The soup were well presented and were hot!
We tasted Bulalo Soup and it was delicious!
Salad Bar
Next we went to the Salad Bar to check it out.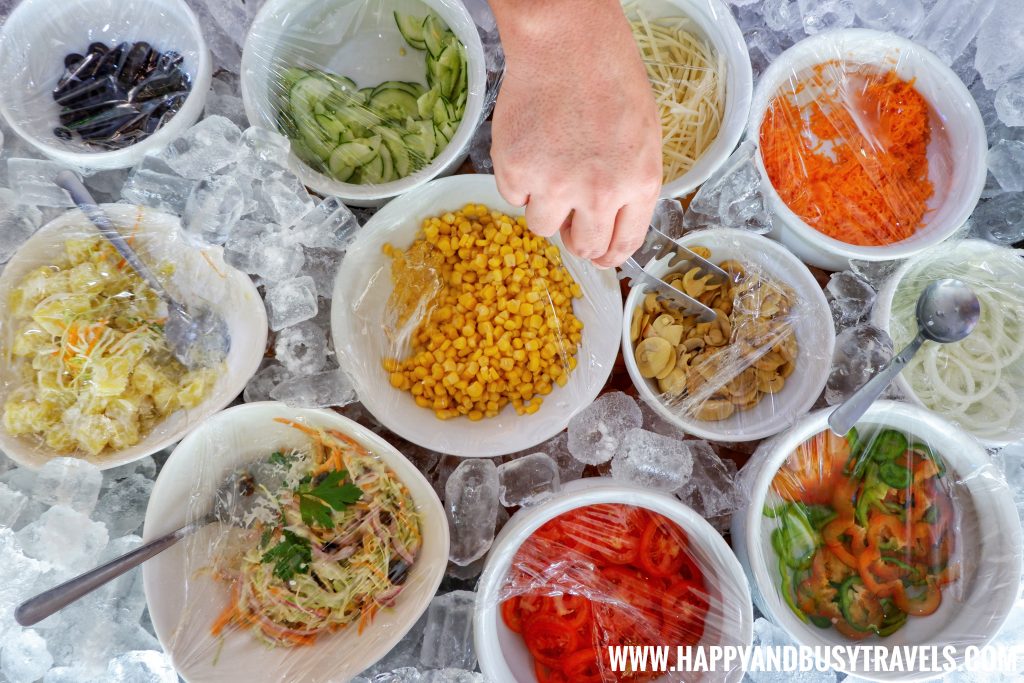 The condiments section was also placed here.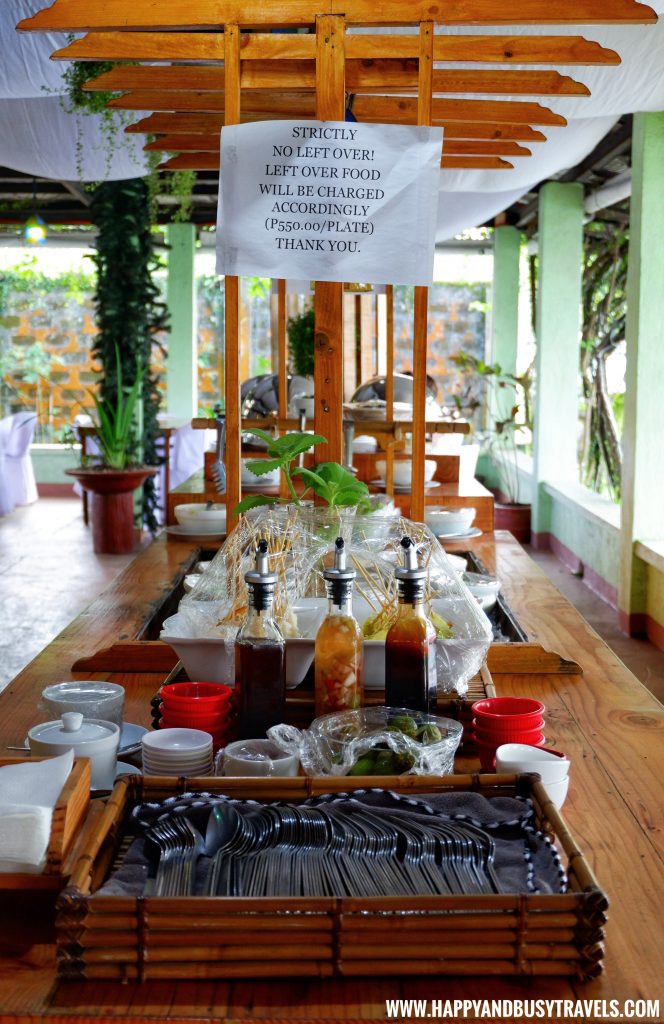 Appetizers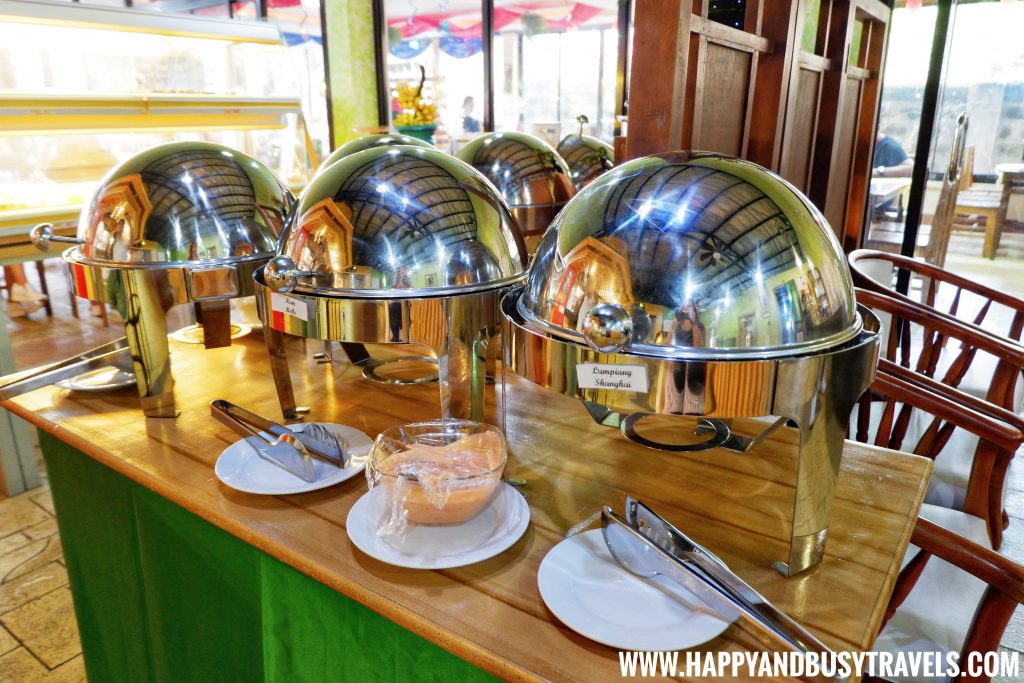 There were a lot of appetizers available in the buffet, some of these were the following.
The Onion Rings were good, even though it was cooked earlier and it was just kept in a warm container, the rings were not soggy!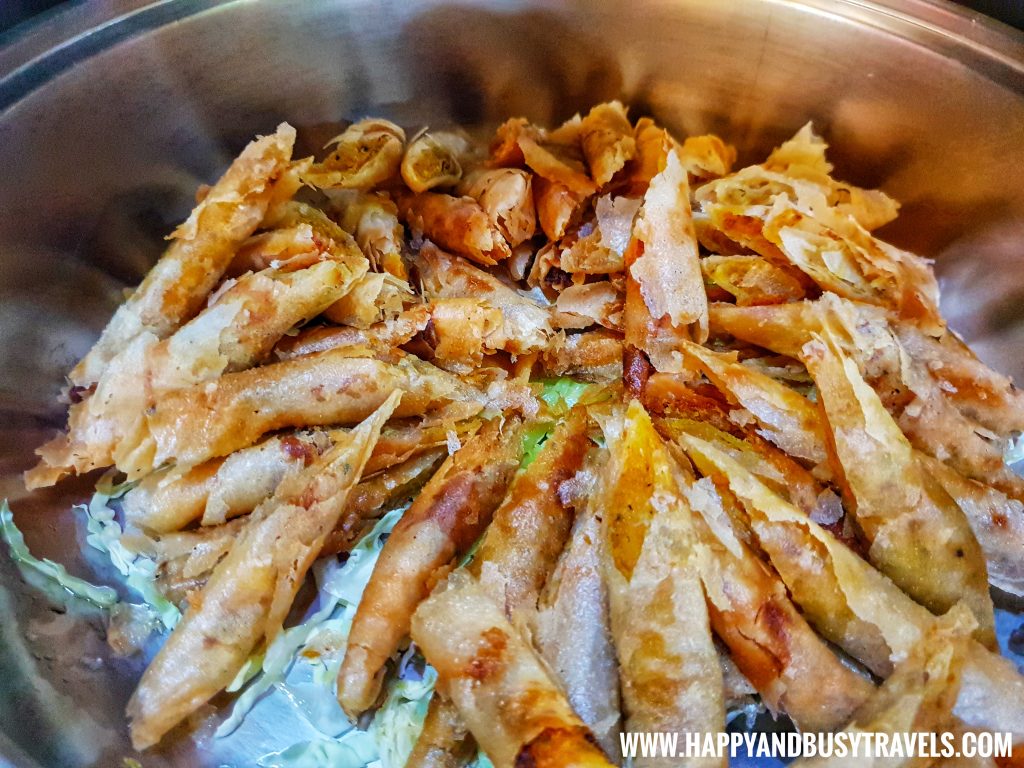 Ohhh Lumpiang Shanghai can also be a viand, not just an appetizer 🙂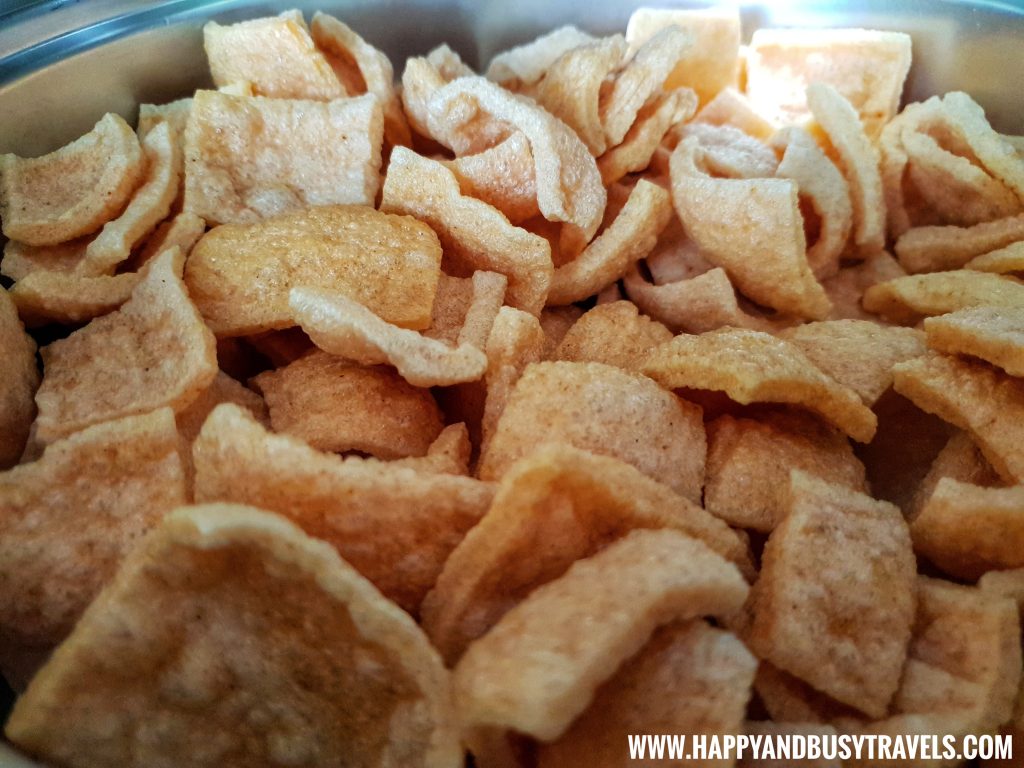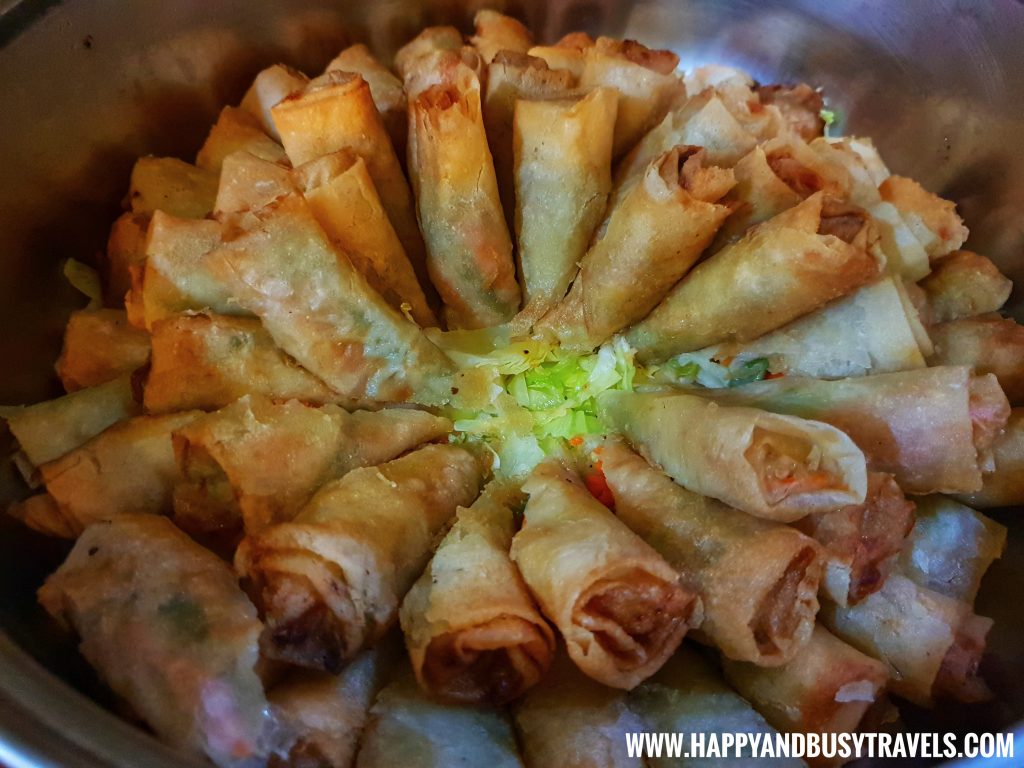 Ooops! Chicharon Bulaklak may be tasty and addicting but eating this should be regulated hahahah. Good thing we were still young and we do not yet have high blood pressure. ?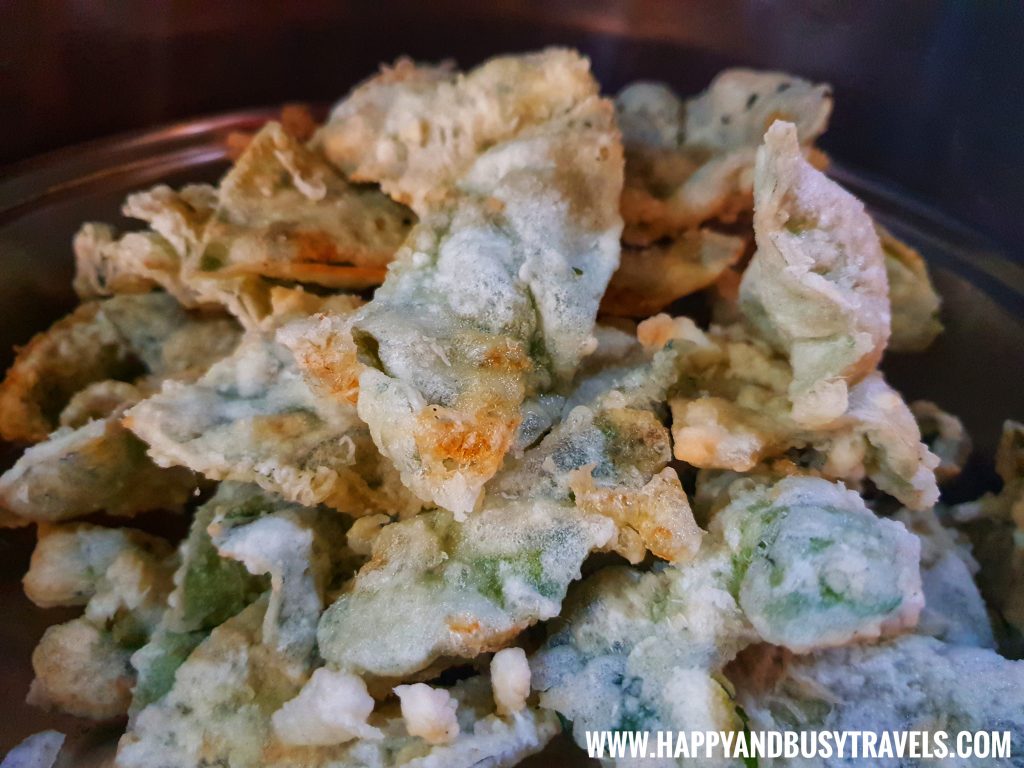 Again, I am not a veggie lover, but I love the Crispy Kang-Kong! Yum!
Main Dishes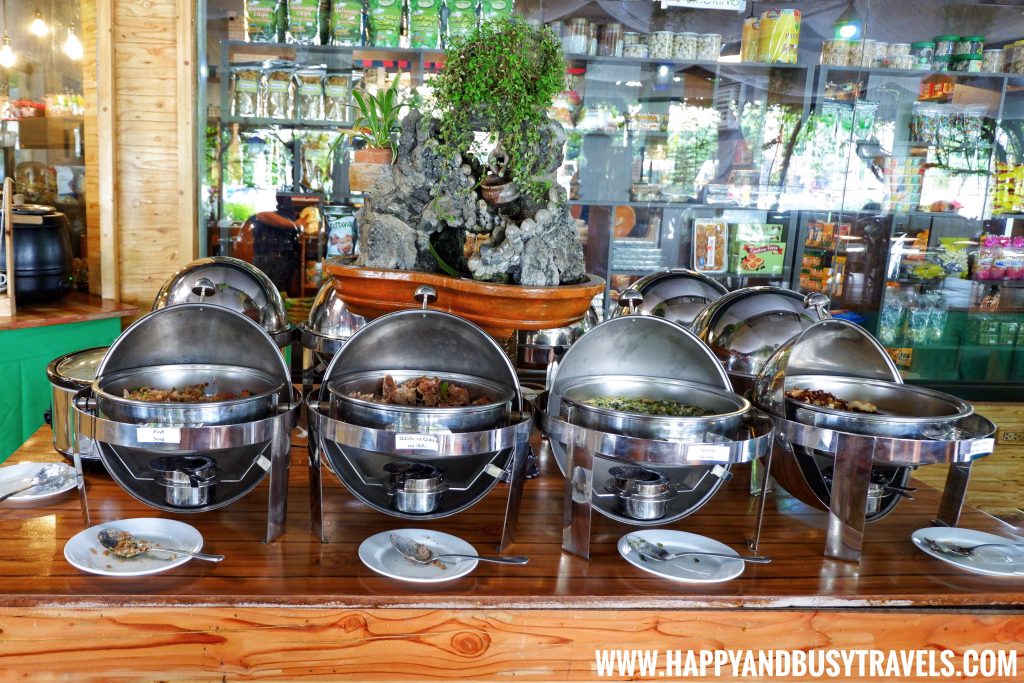 There were a lot of main dishes, here were some of them 🙂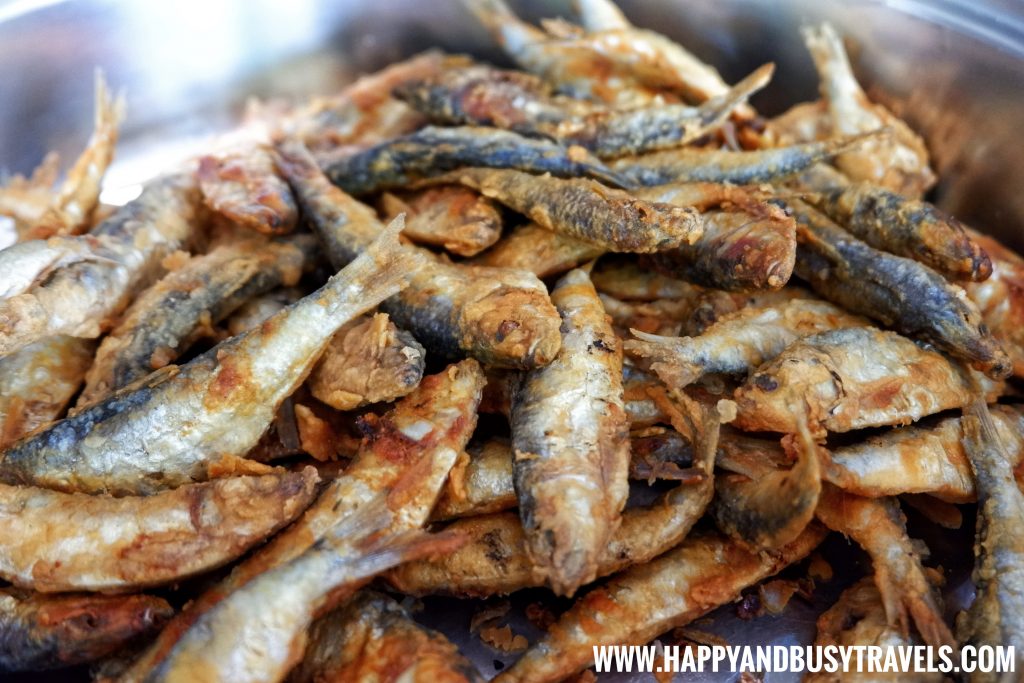 Tawilis (Sardinella Tawilis) is a fish that can only be found in the Philippines. This fish is common in Tagaytay or Batangas. So if you see a buffet of Tawilis, you better eat a lot!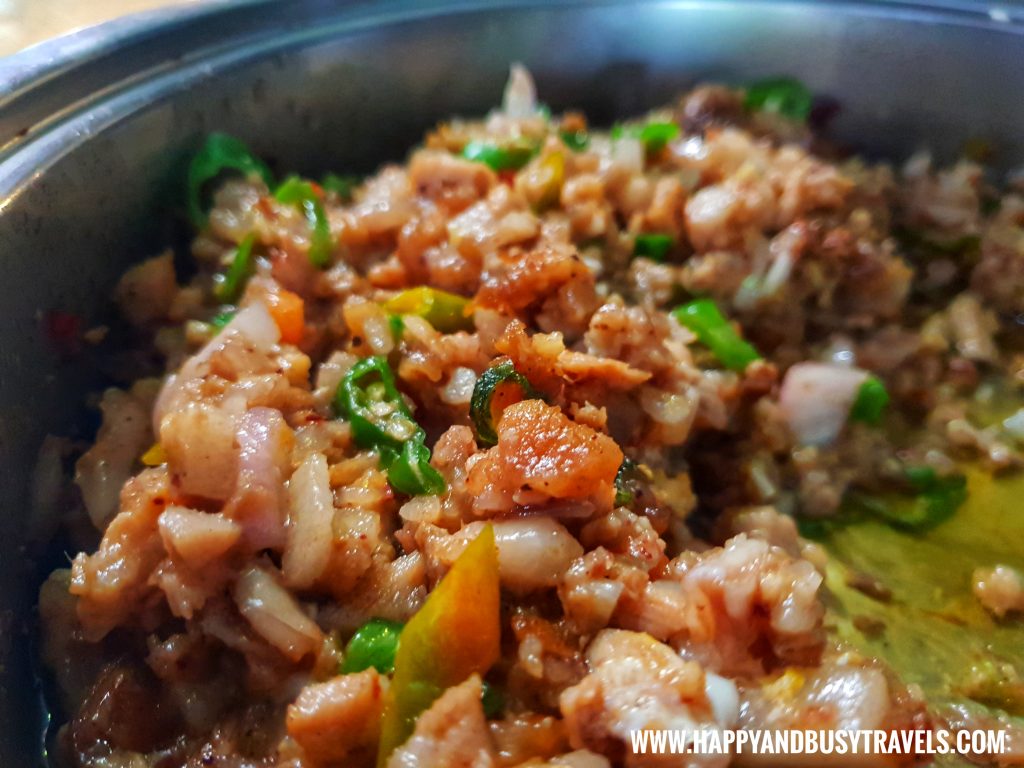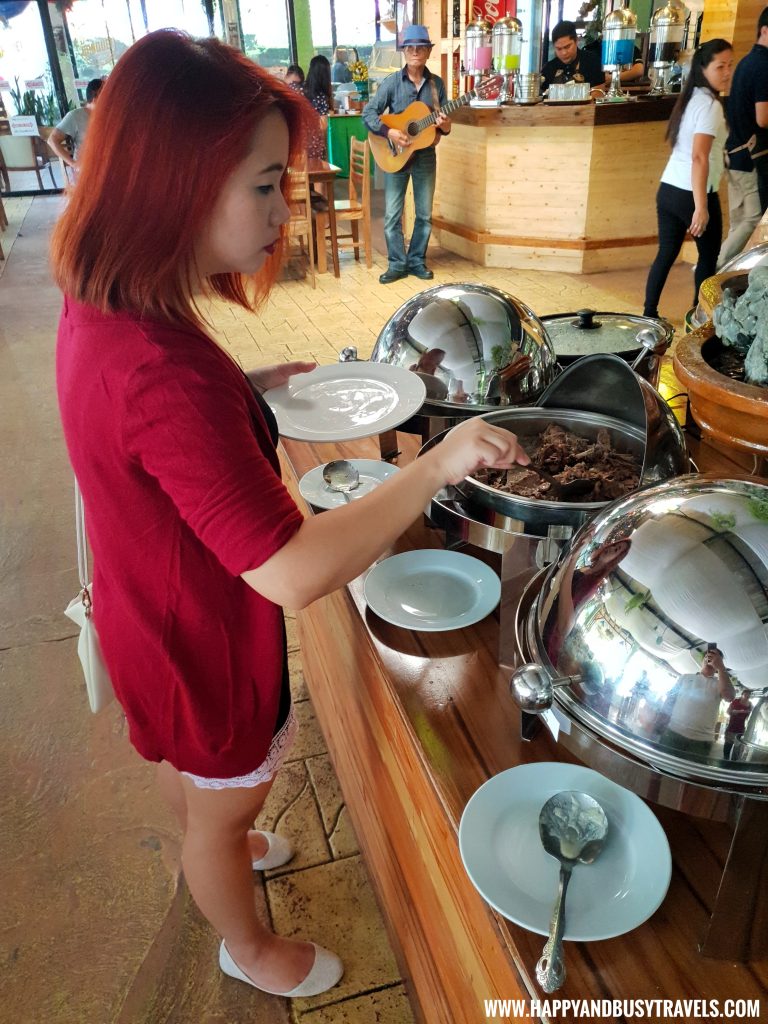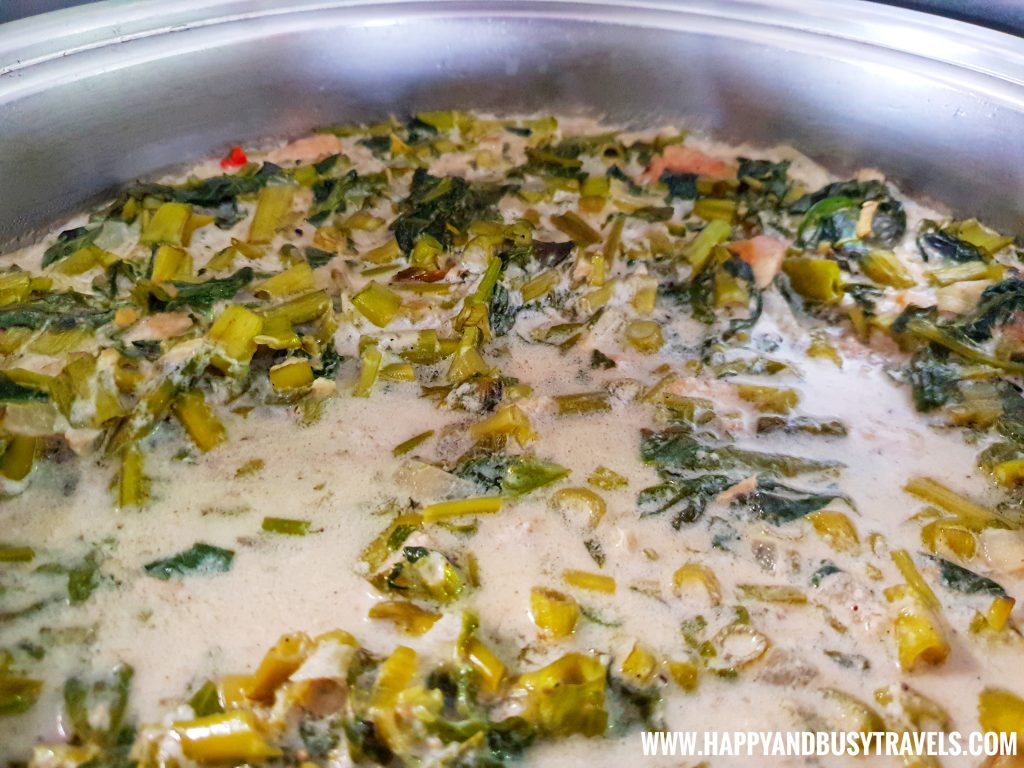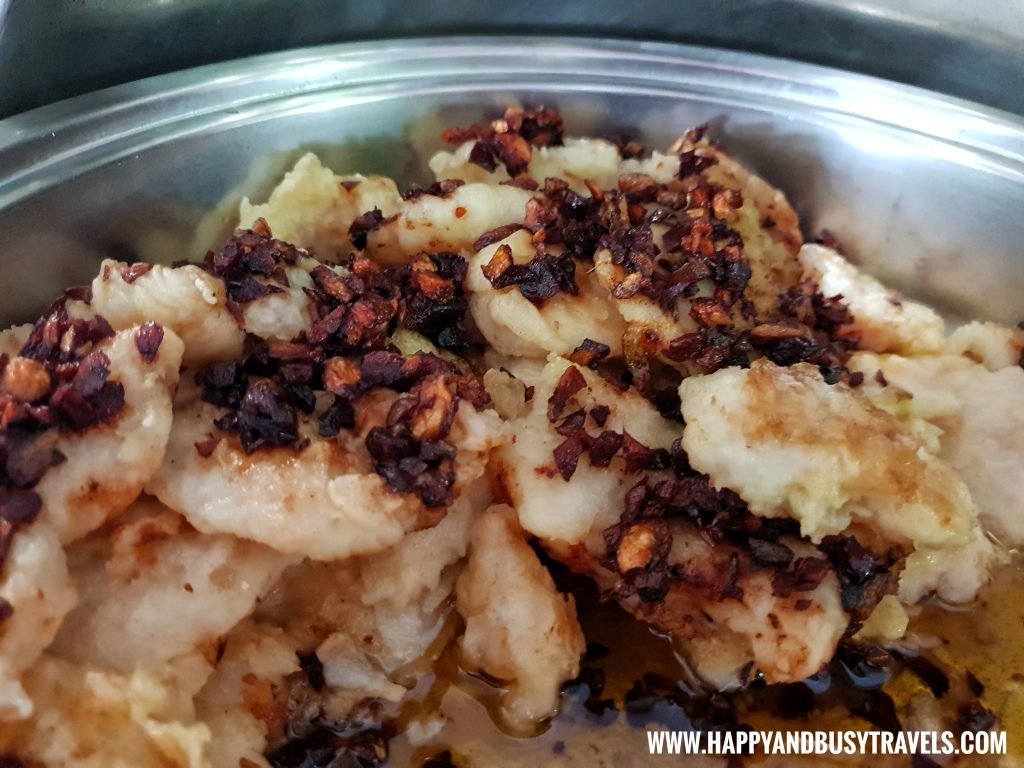 I love this dish, even though I'm not a fish eater that much, I had to get two servings of this 🙂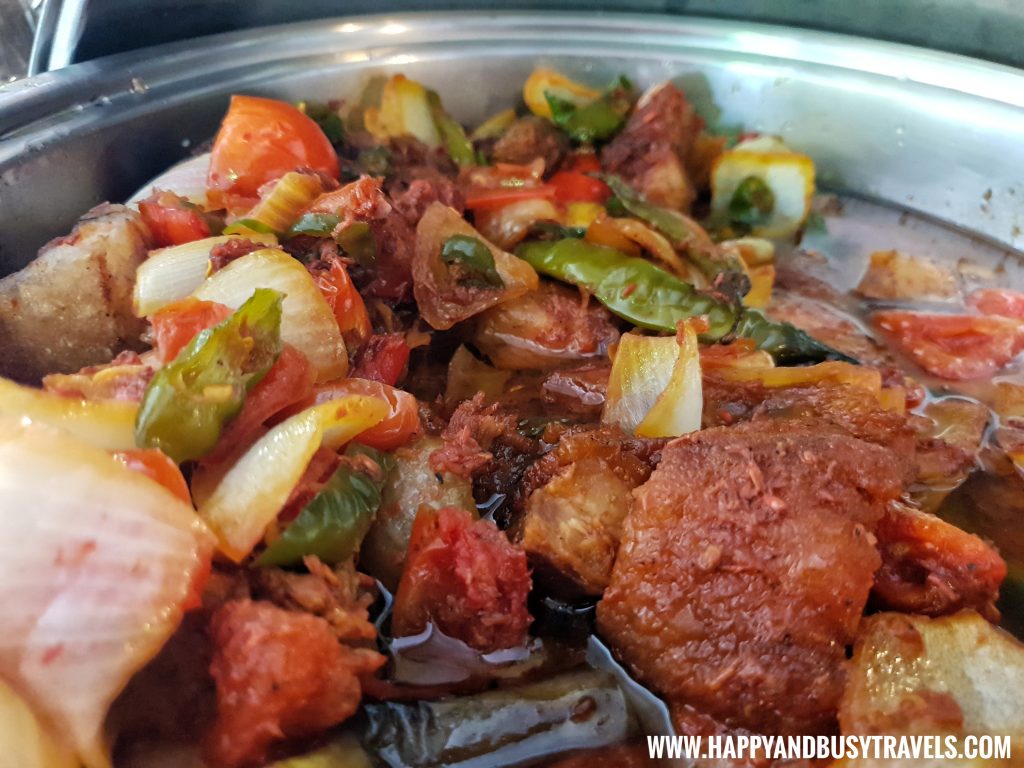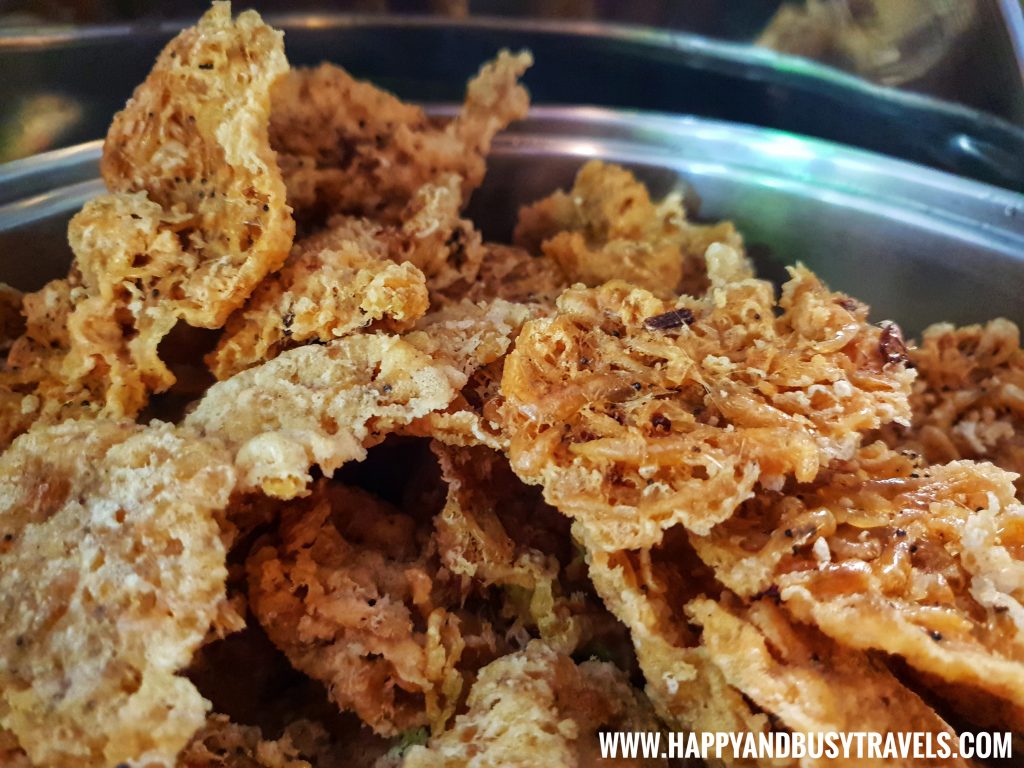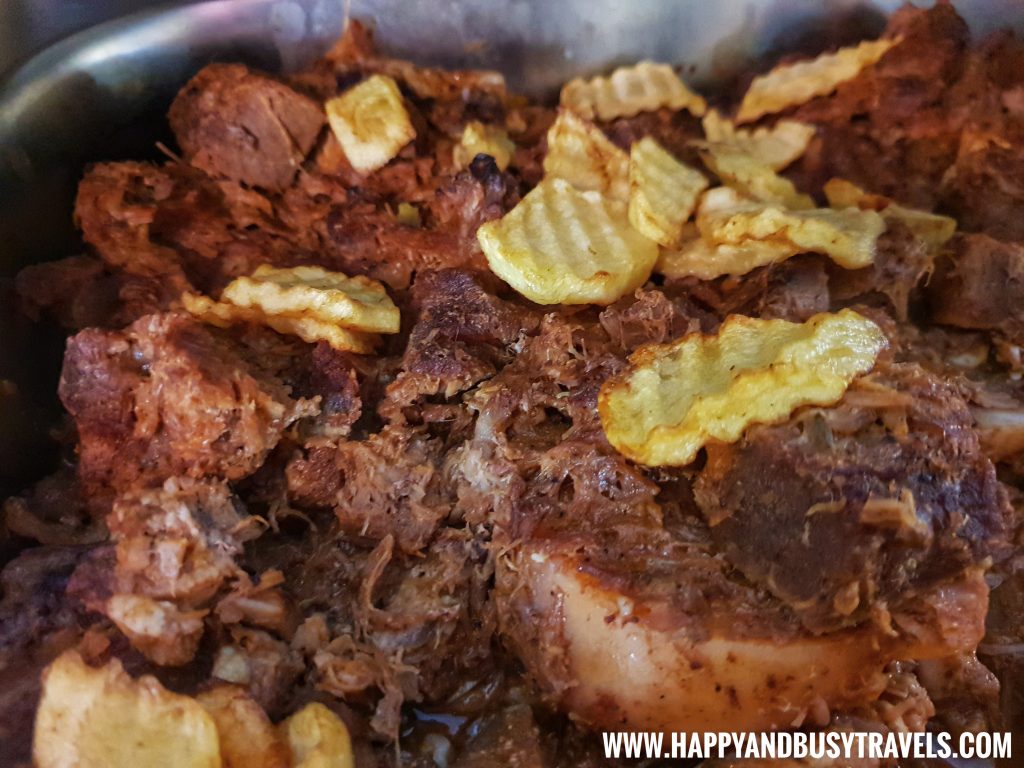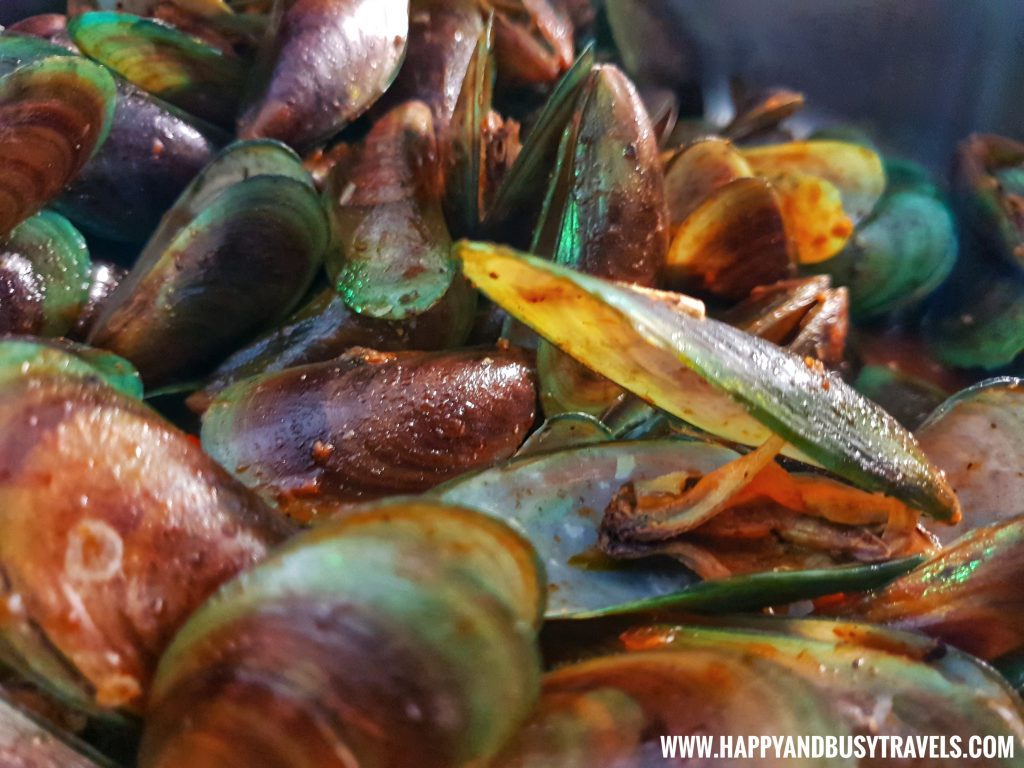 Spicy Mussels was one of my favorite dishes in the buffet. Again, I am not a seafood lover, but I ate a lot of mussels! I love the spiciness level, it was not overpowering!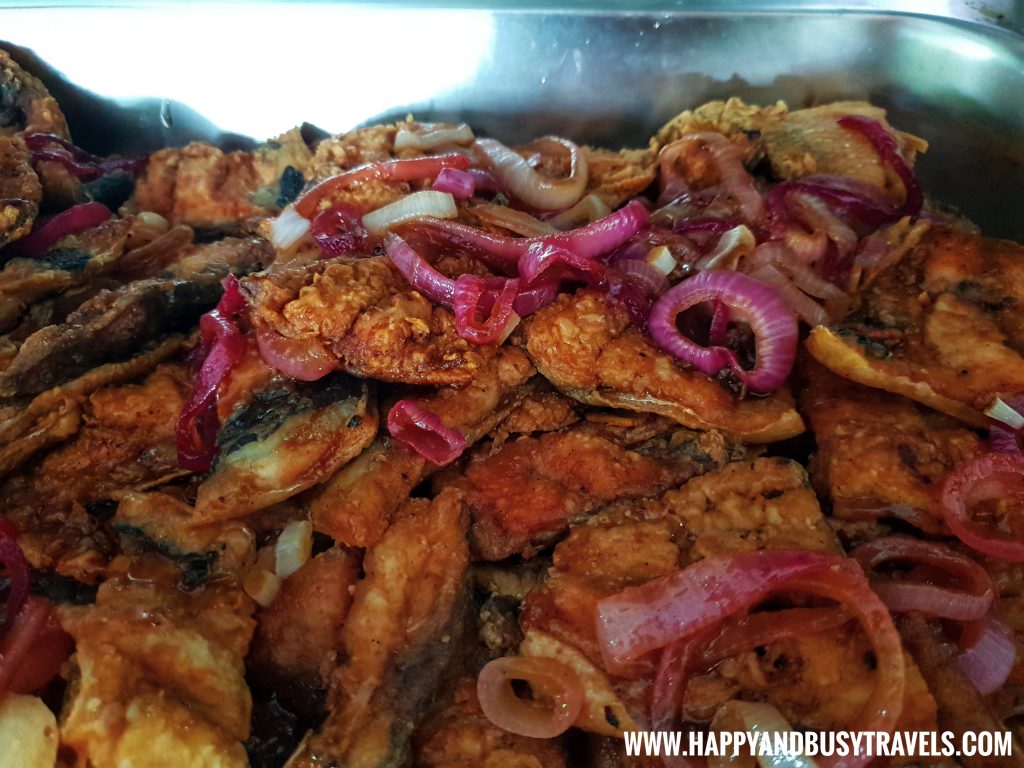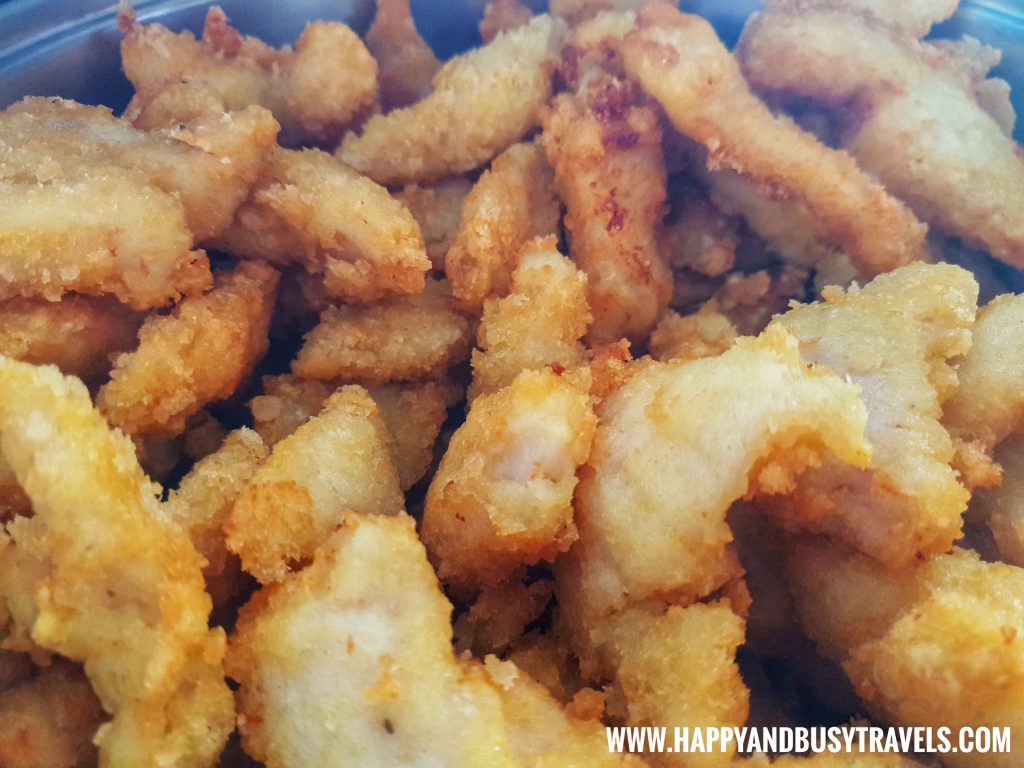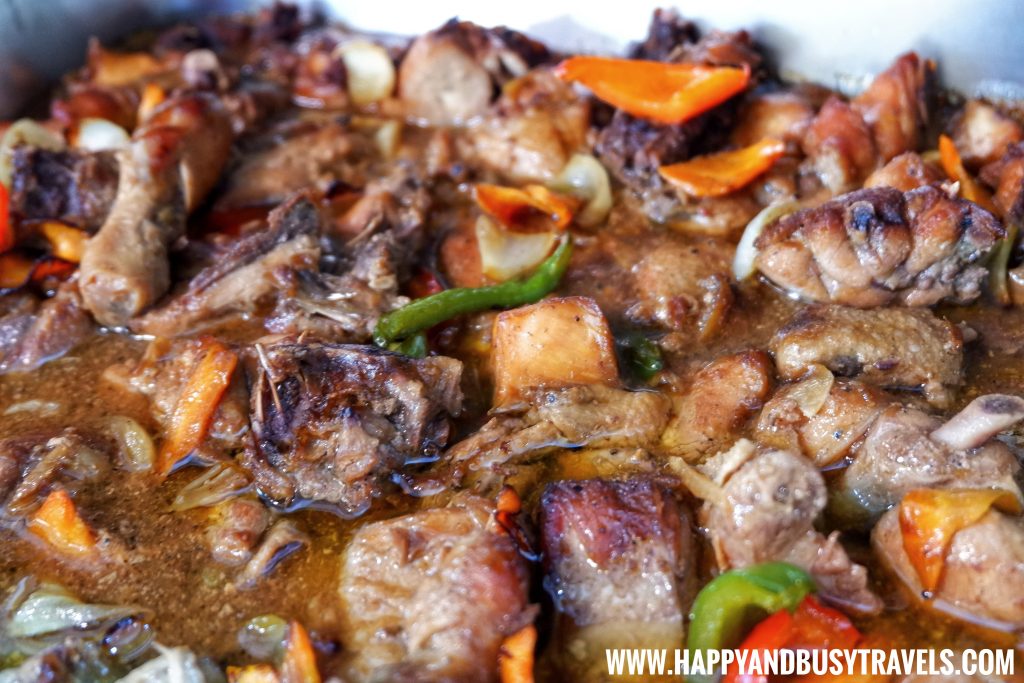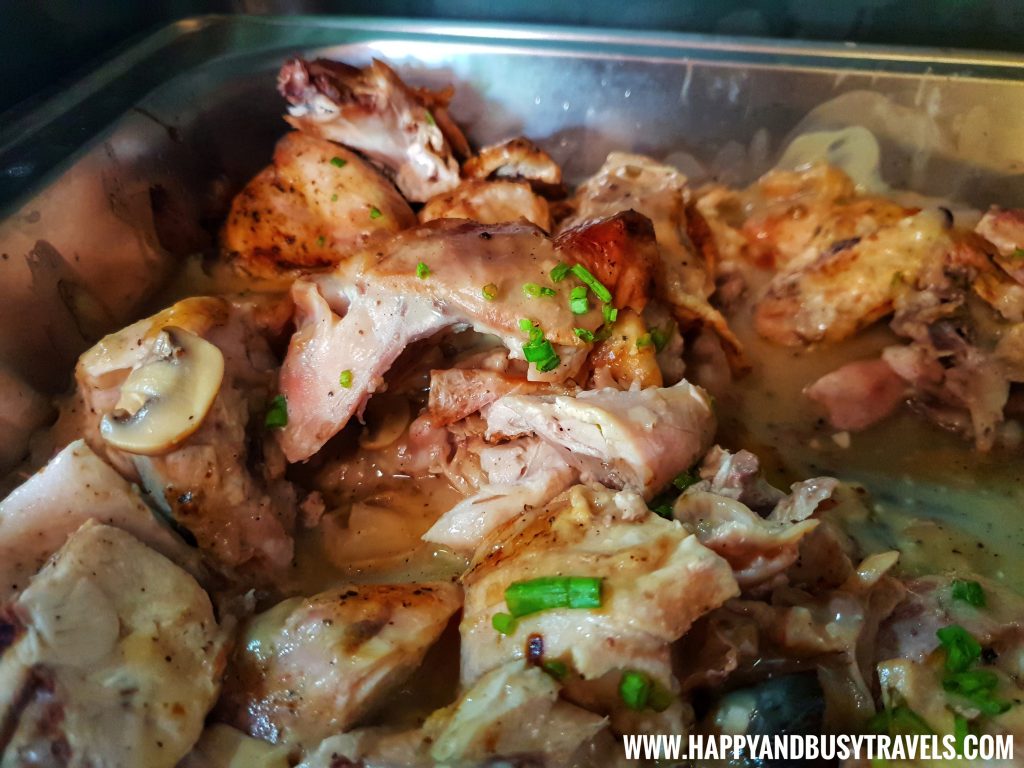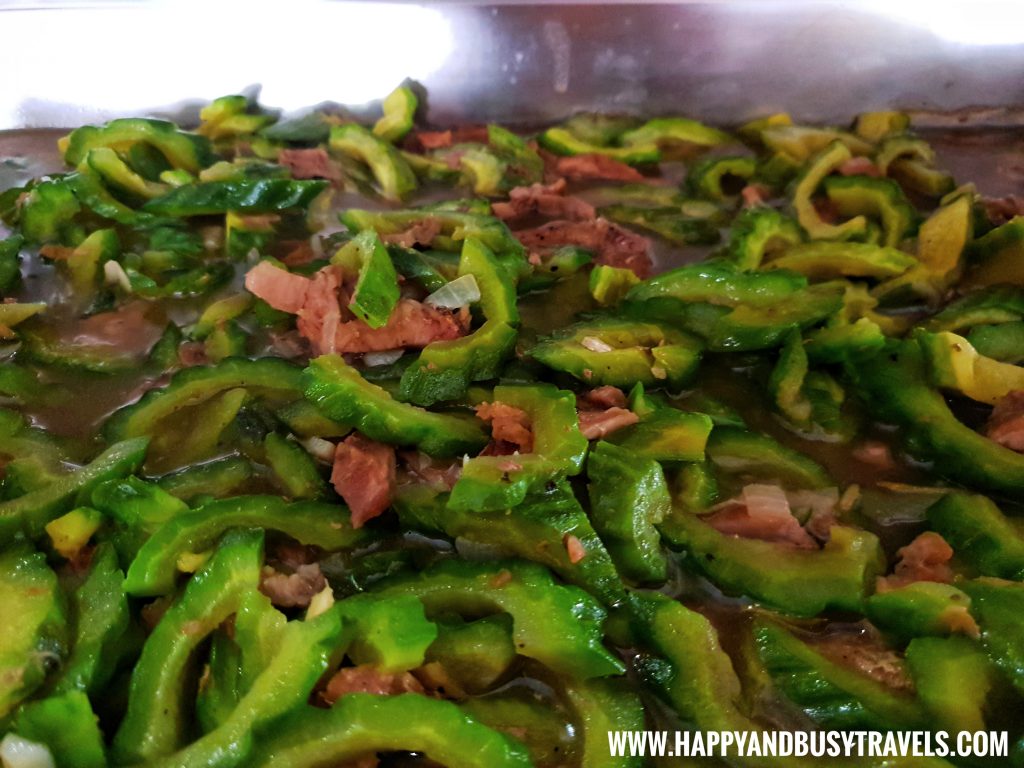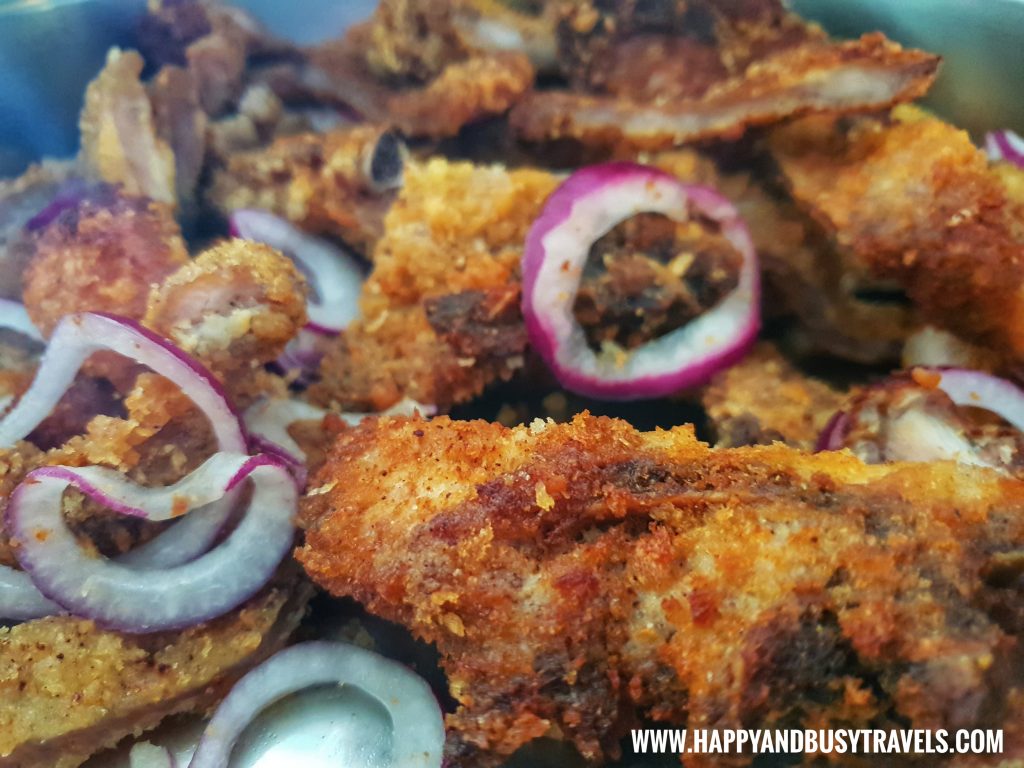 This Pork Tonkatsu was also one of my favorite dishes. Especially eating it with onion!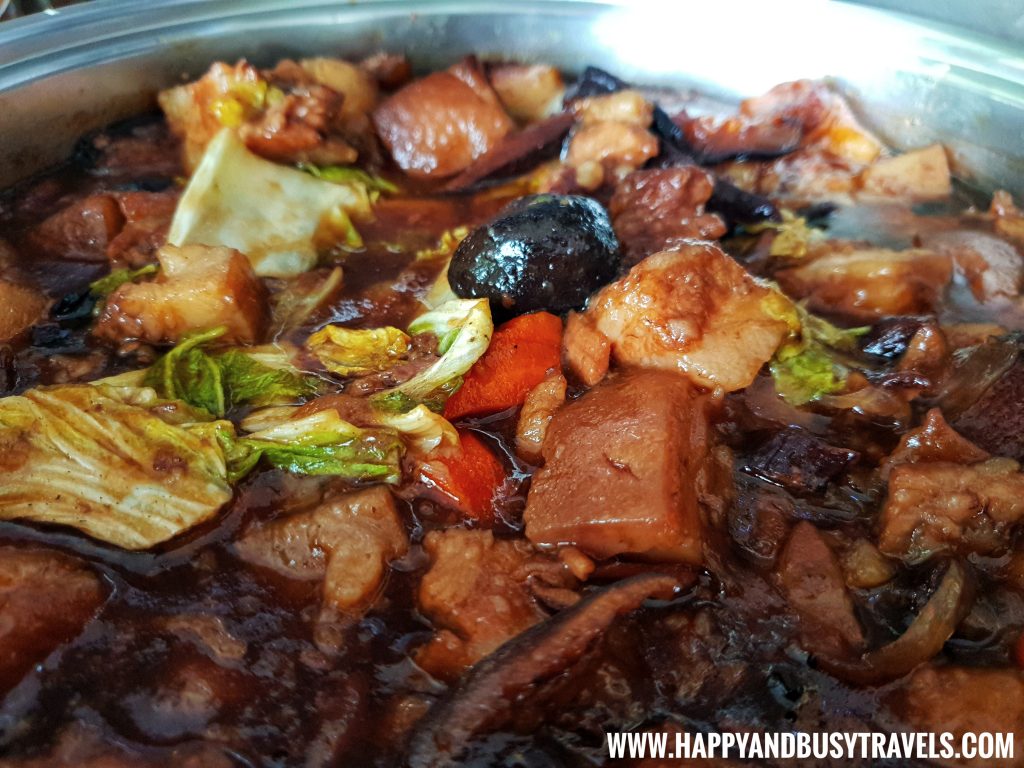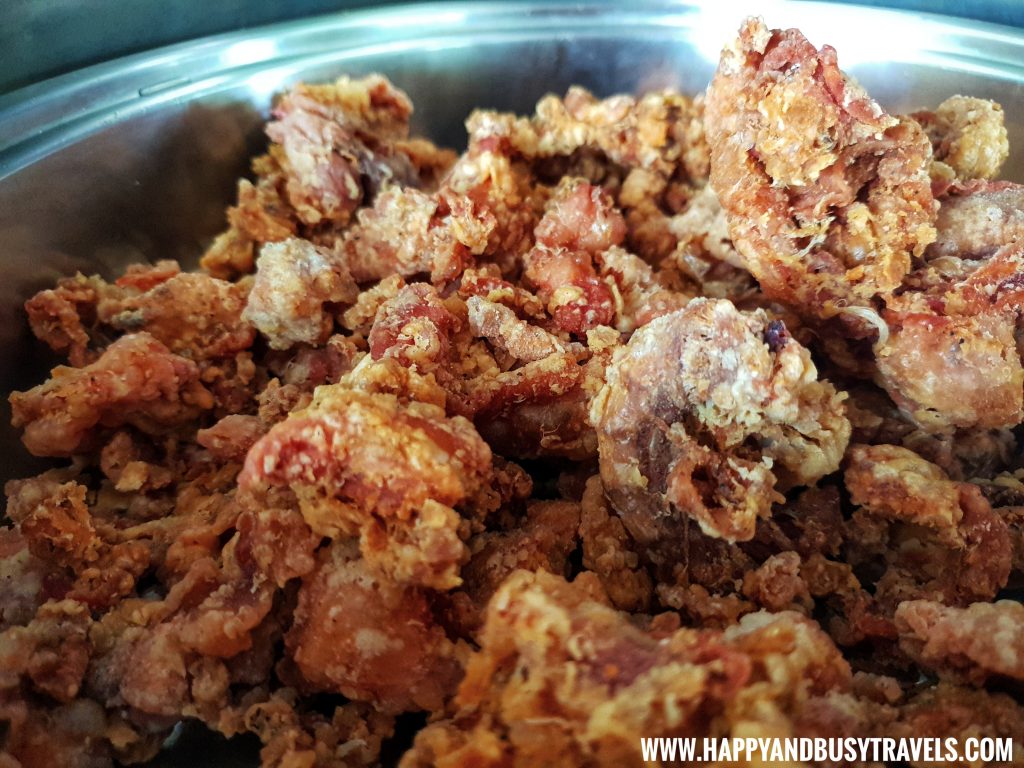 Sushi were also available in the buffet even though the theme of the buffet is Filipino 🙂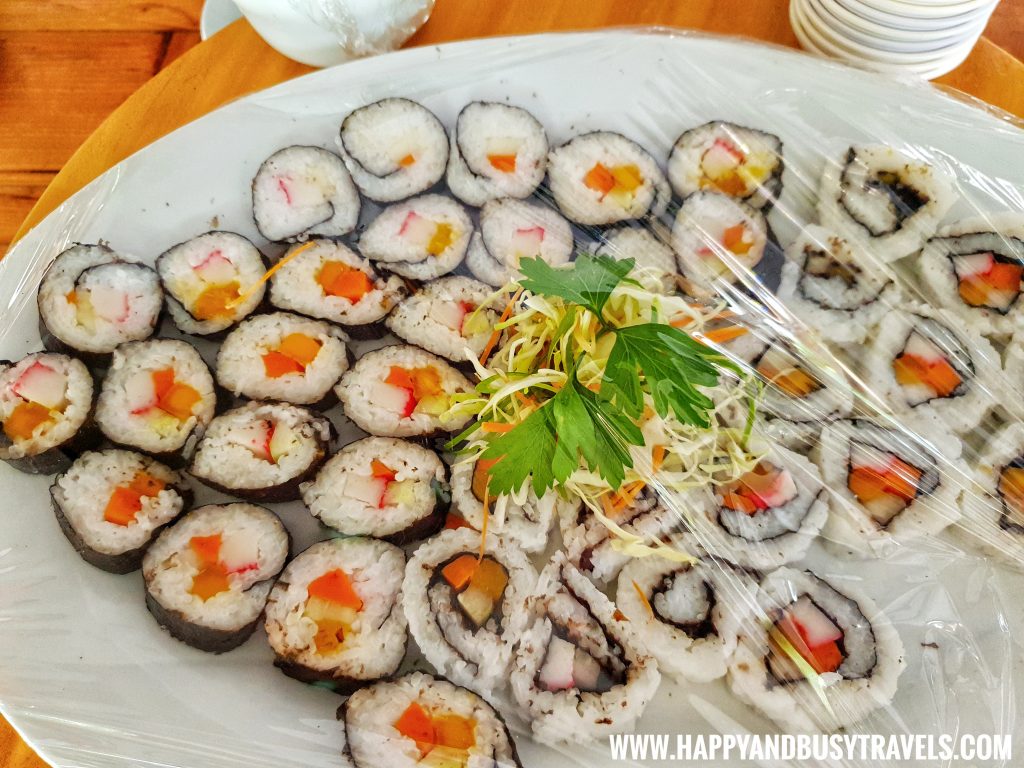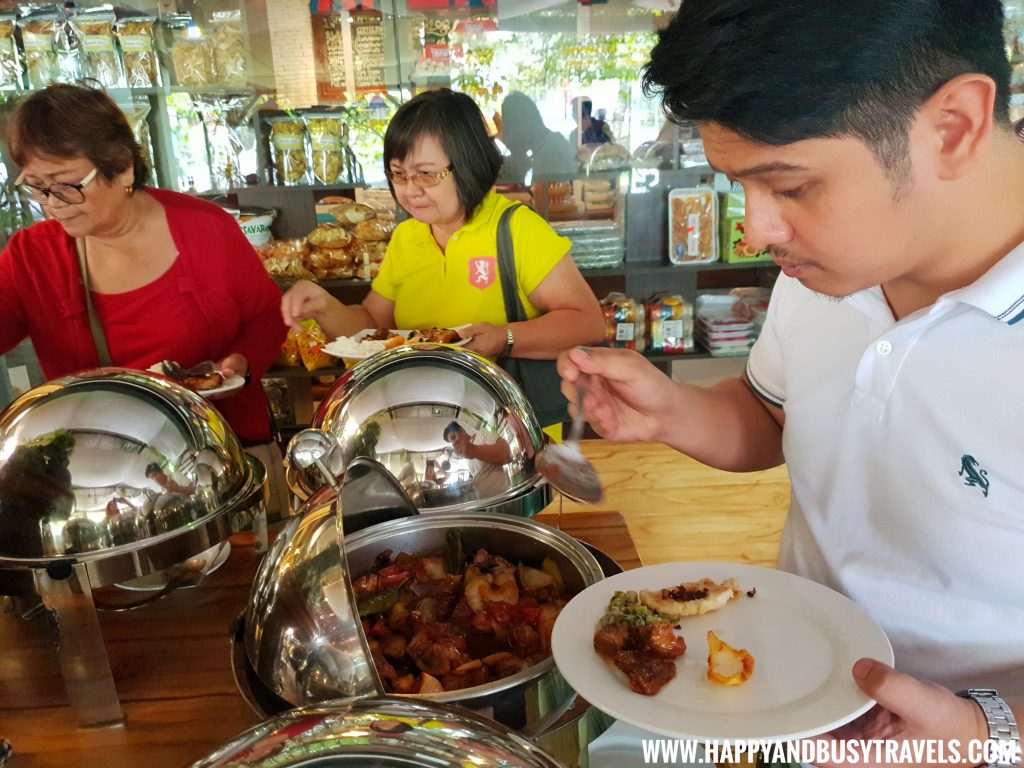 New Station!
The restaurant recently created a new station at the back!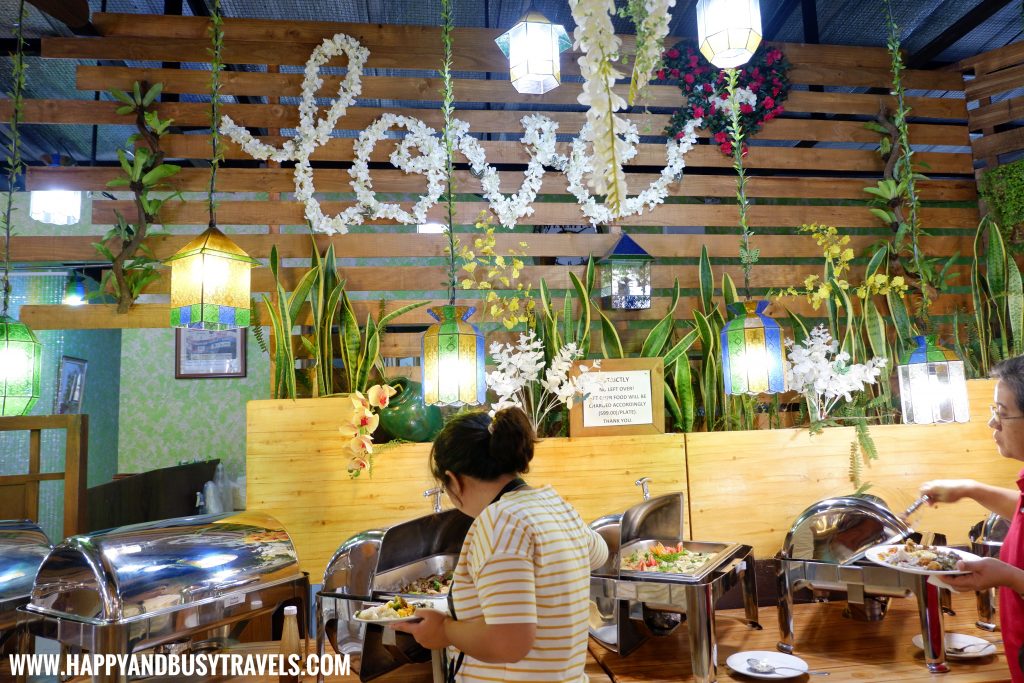 Carbohydrates
Carbs! Hahaha These were also available!
Like this bread which you can partner with different jams, or just butter 🙂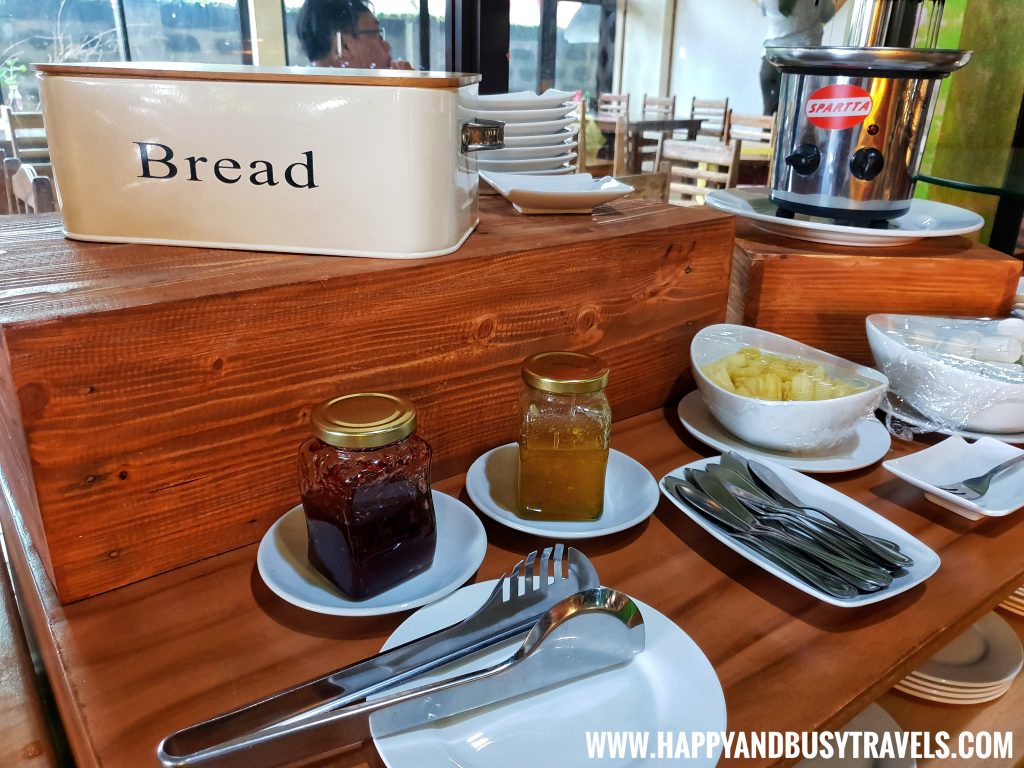 Pasta!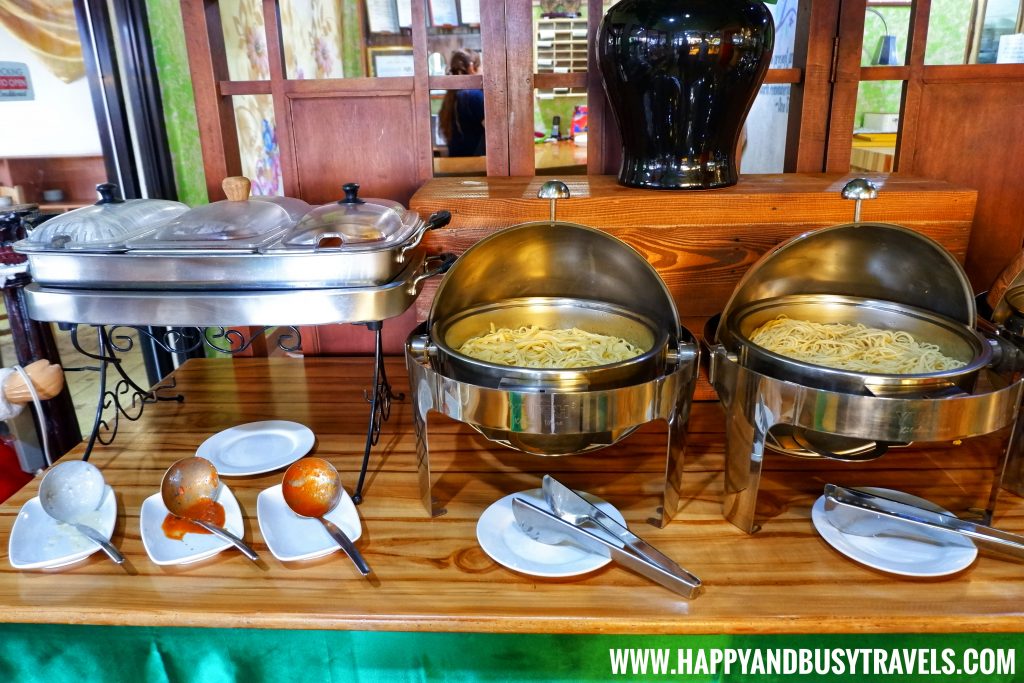 There were 2 choices of pasta, Fettuccine or Spaghetti. For the sauce there were 3 choices, Bechamel Sauce,  Regular Tomato sauce, or the sweet Tomato sauce.
I tried the Sweet Tomato Sauce and it was good.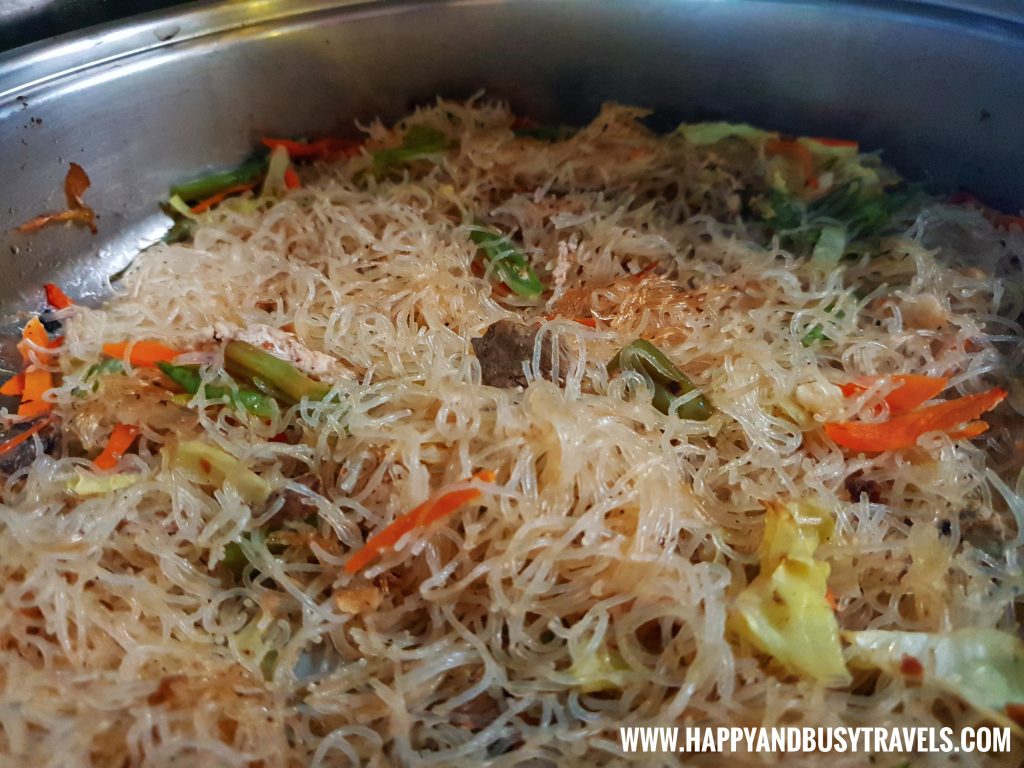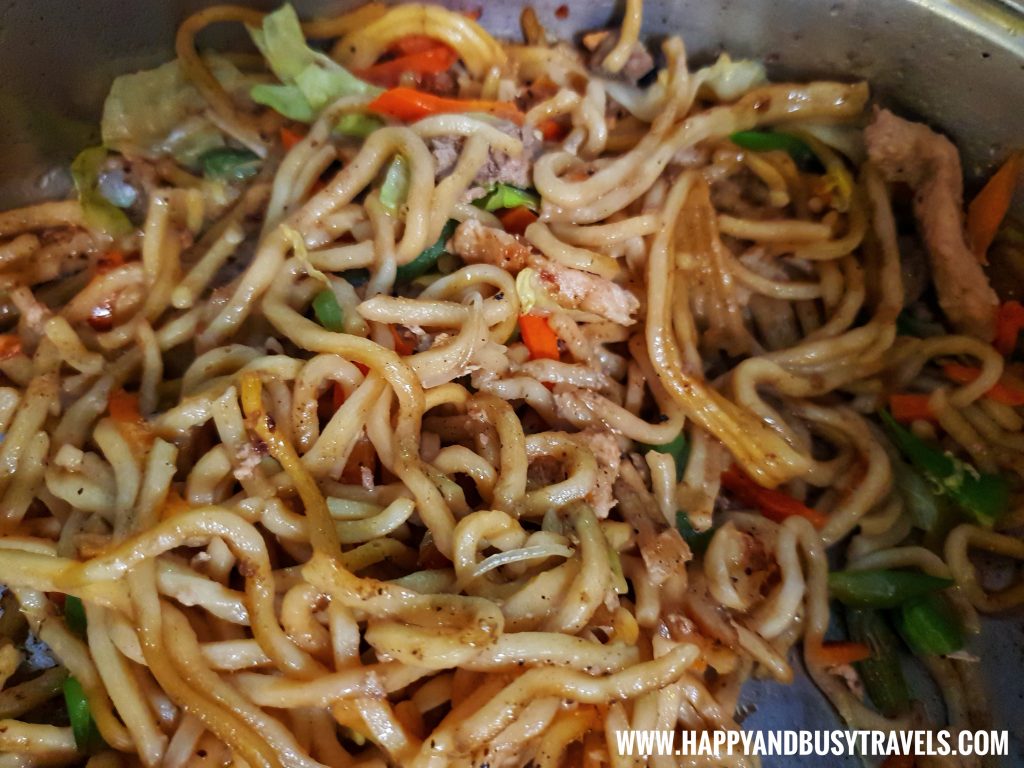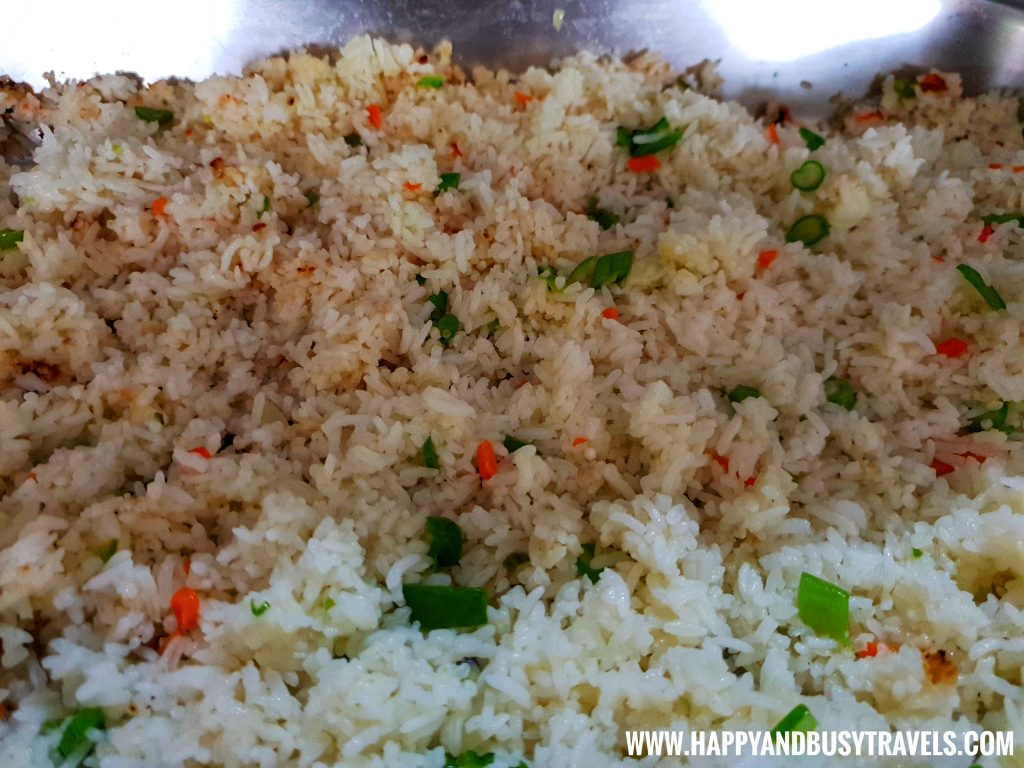 Regular steamed white rice was also available.
Drinks
For the price of Php 550, the drinks were also included.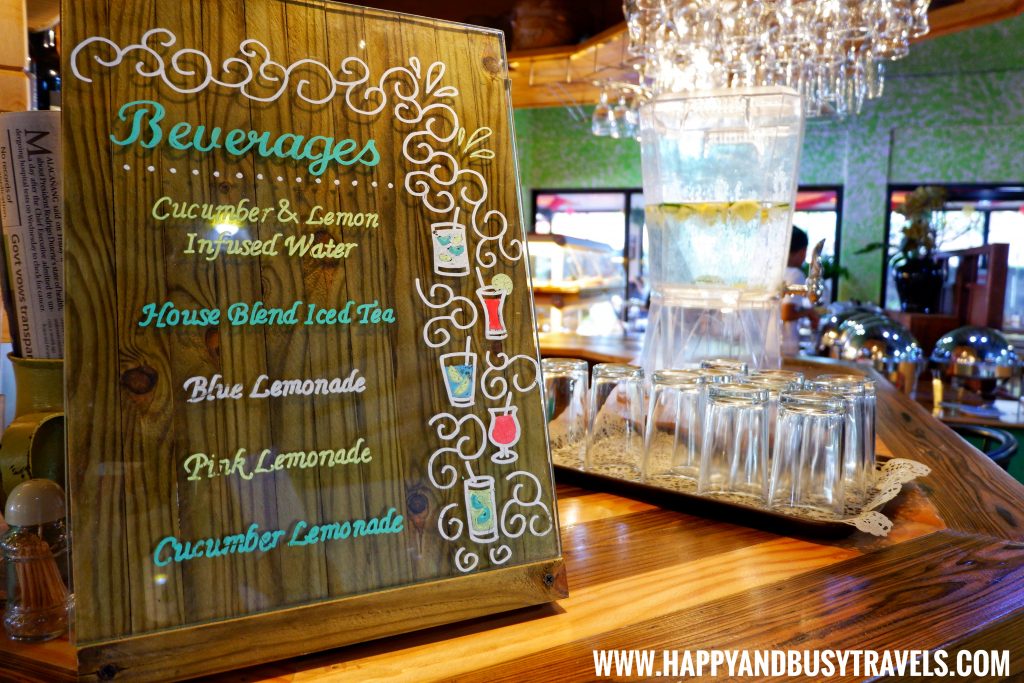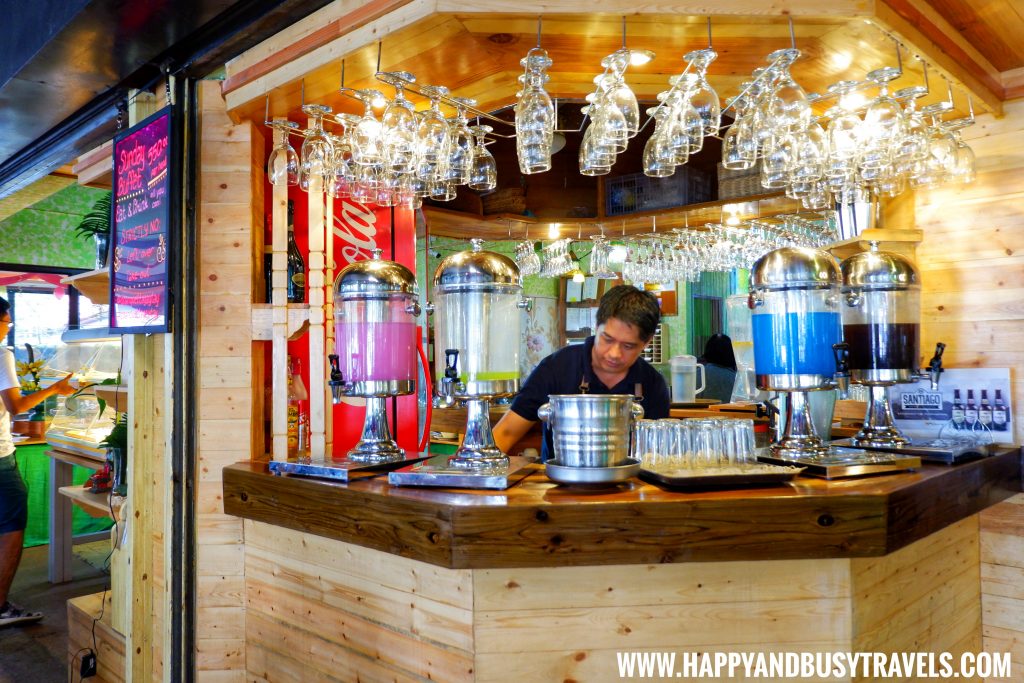 My and Busy's favorite was the Cucumber Lemonade 🙂
After seeing all of the appealing dishes, we tasted some and enjoyed our lunch ?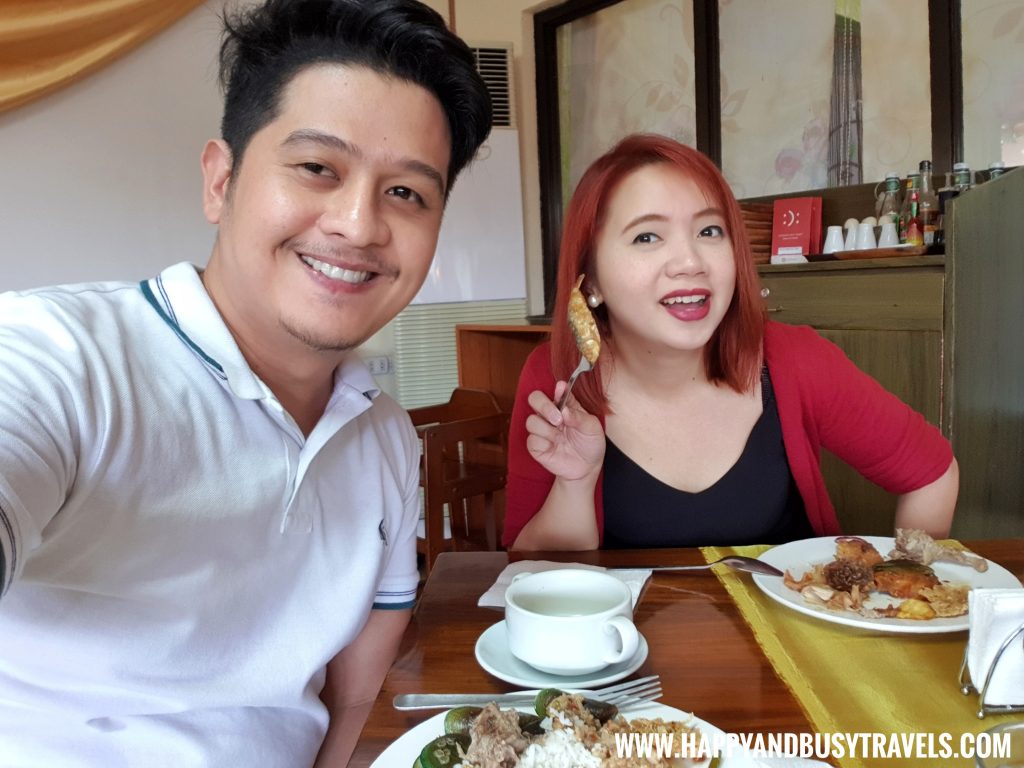 Dessert
Even though our stomachs were full, we always have a room for dessert ?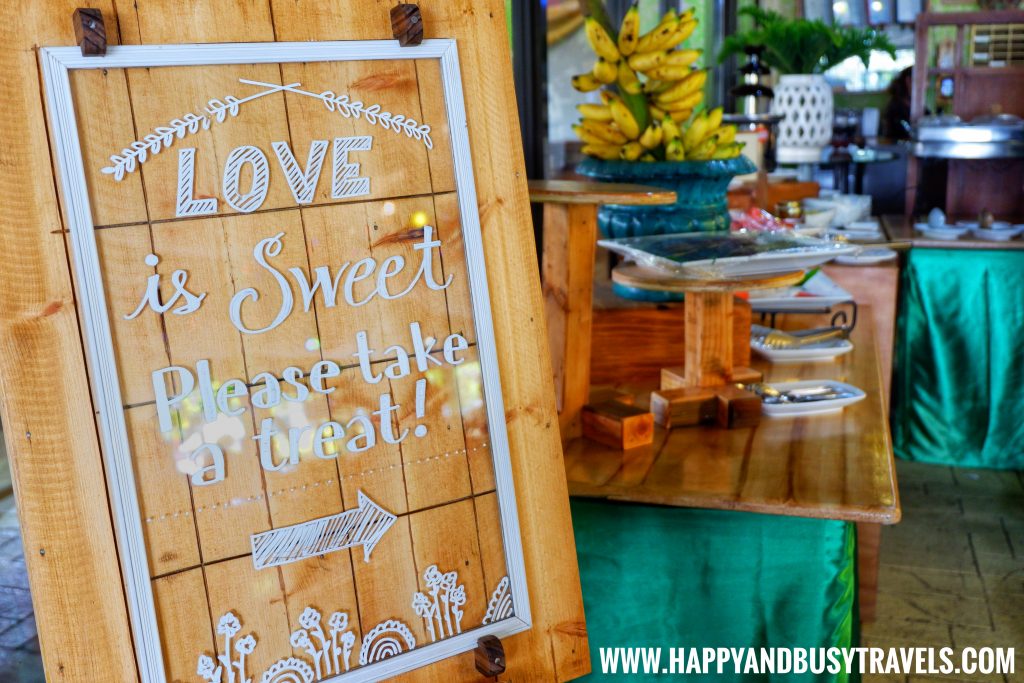 Ube and Fresh fruits were available. Just look at the Banana! It was like taken straight from the tree!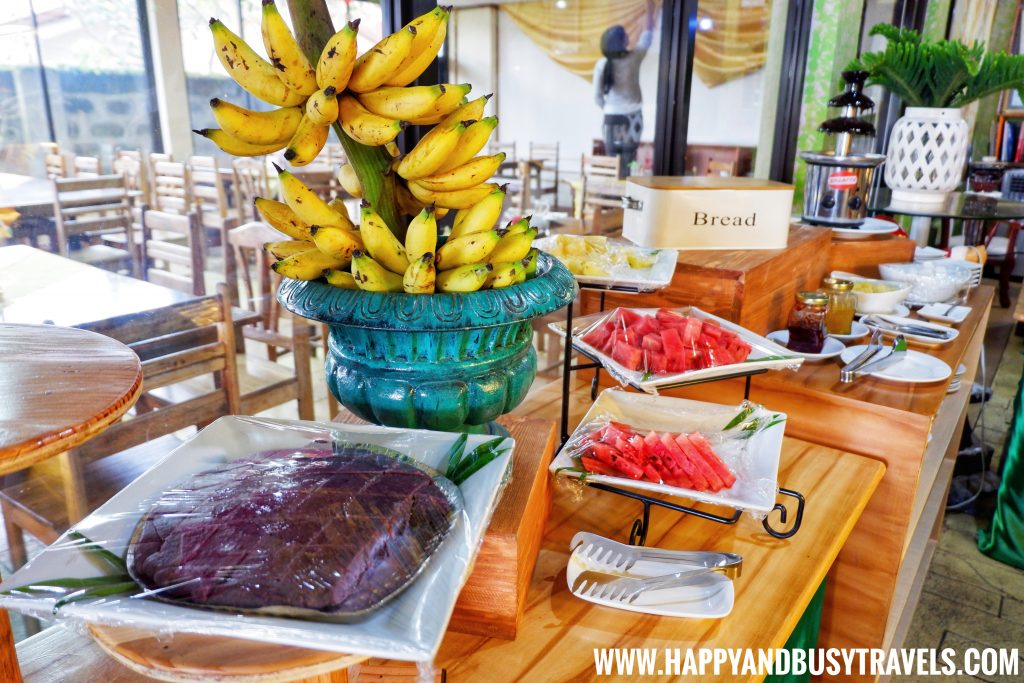 A Chocolate Fountain for fondue was also available.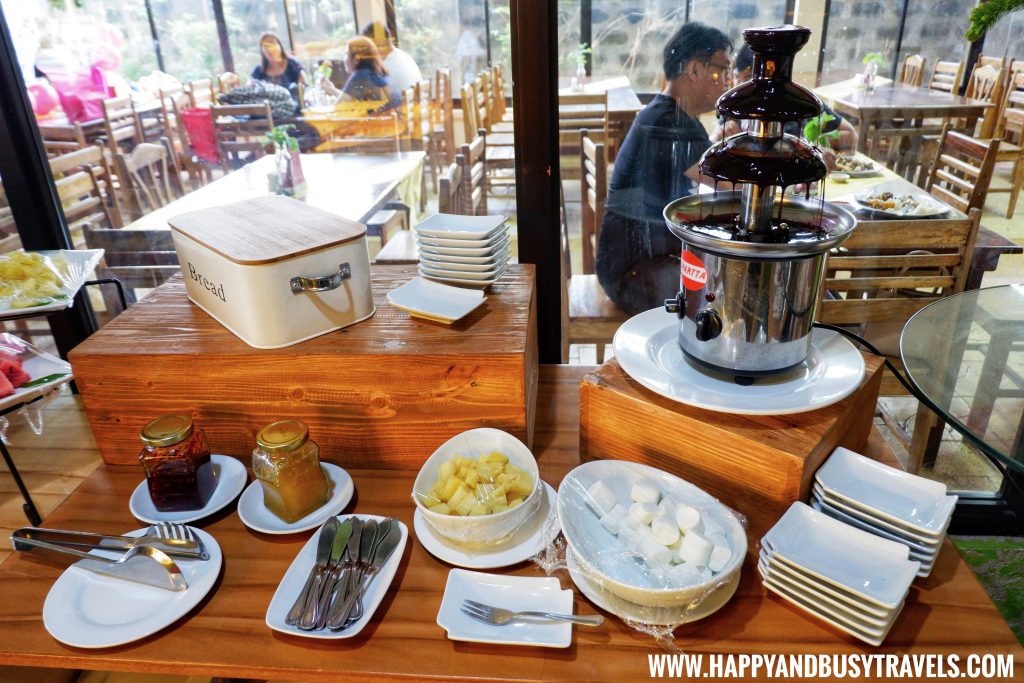 But my favorite desserts were placed in this fabulous dessert cabinet. The desserts in this cabinet were from the famous Amira's Bakeshop!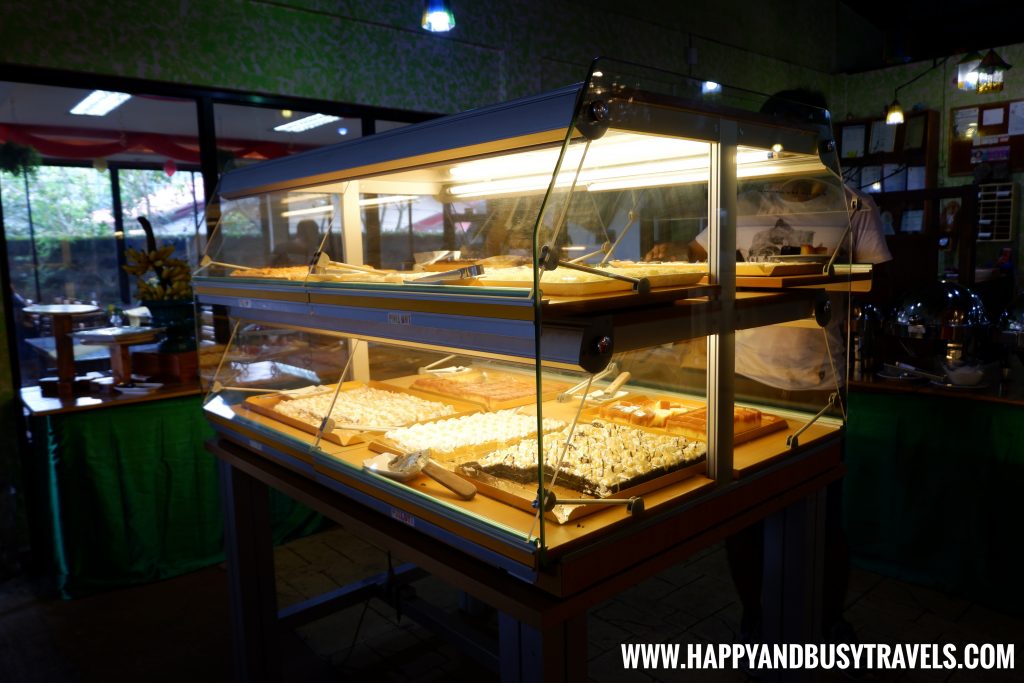 Time to get some Amira's desserts!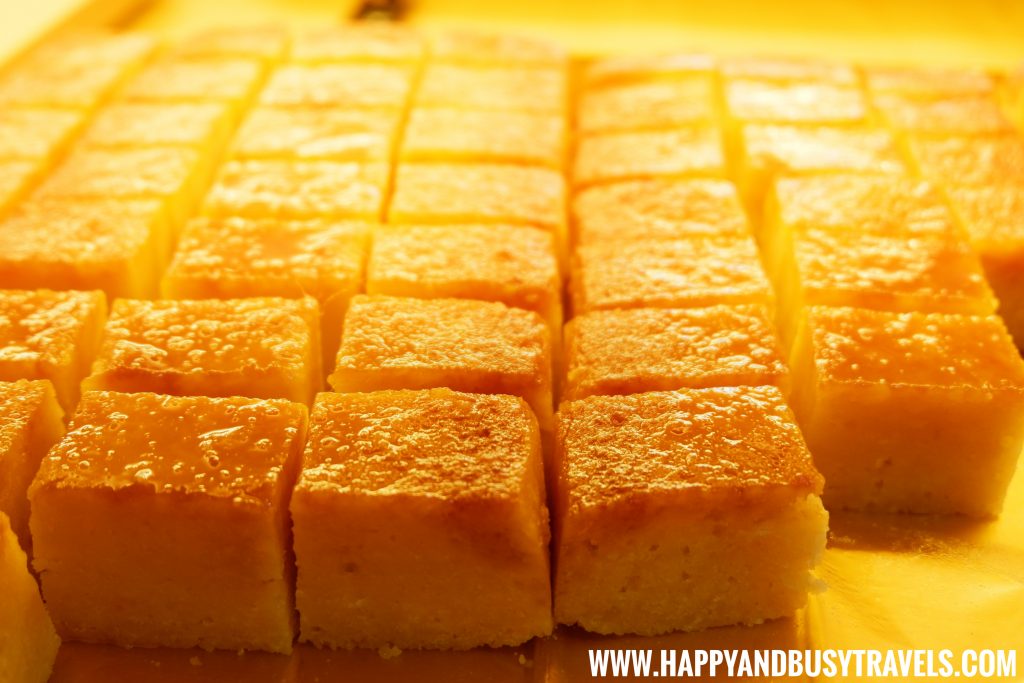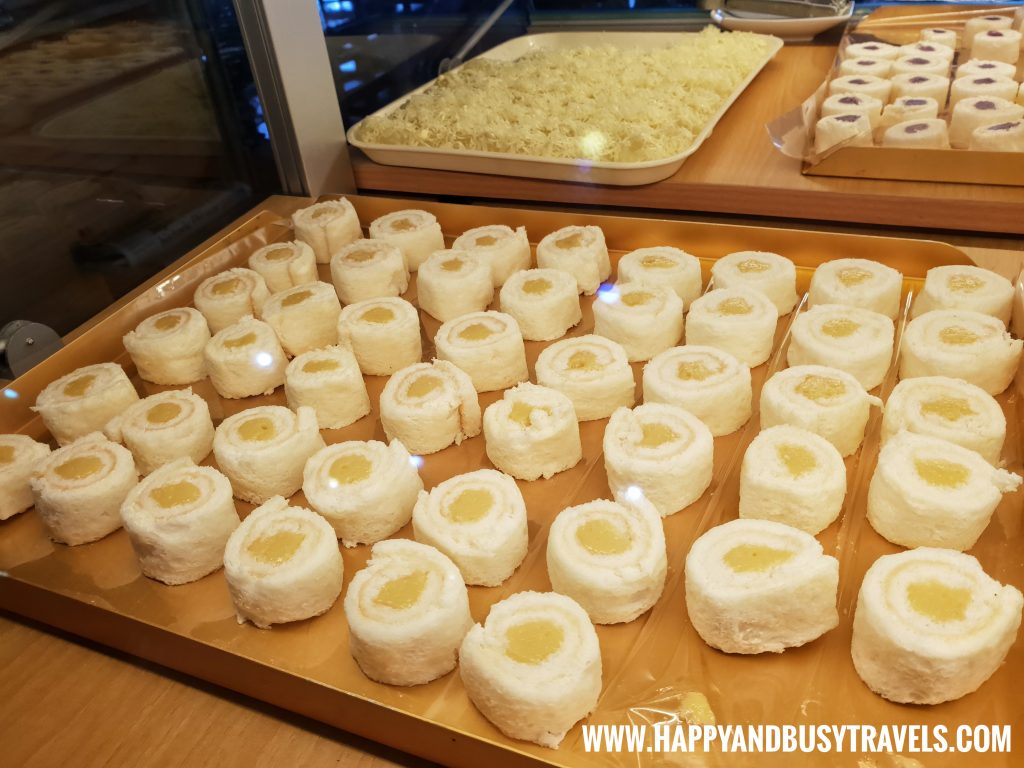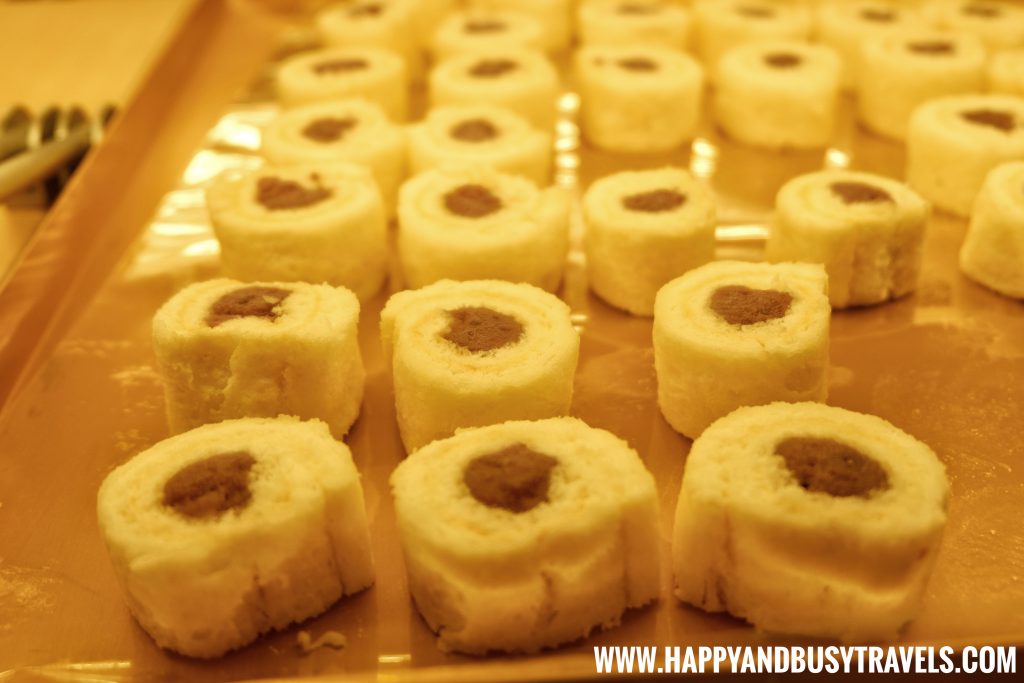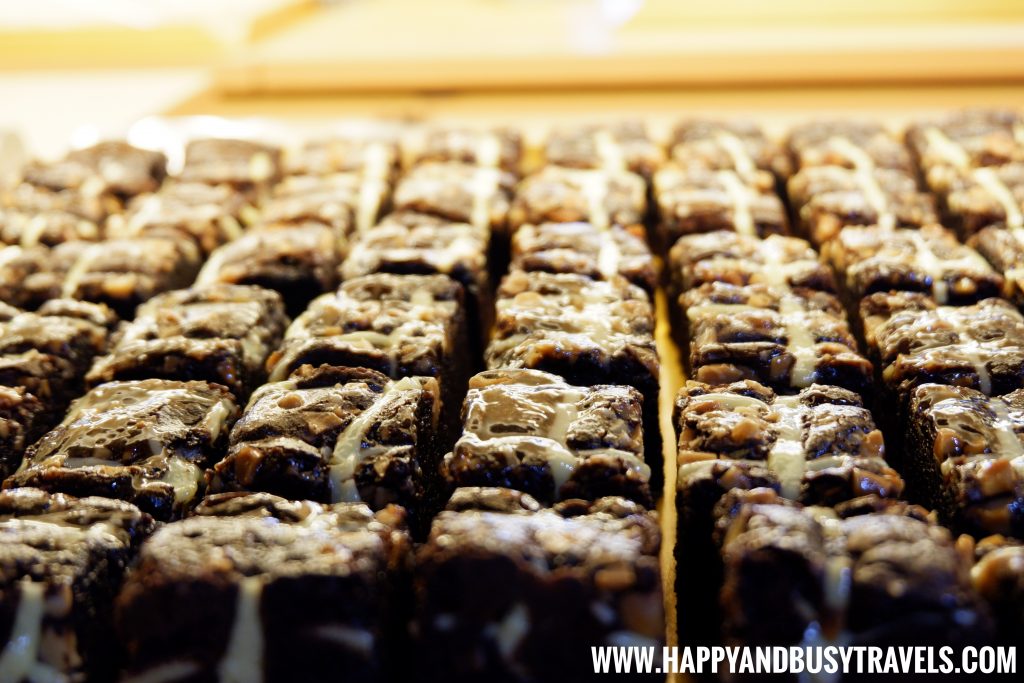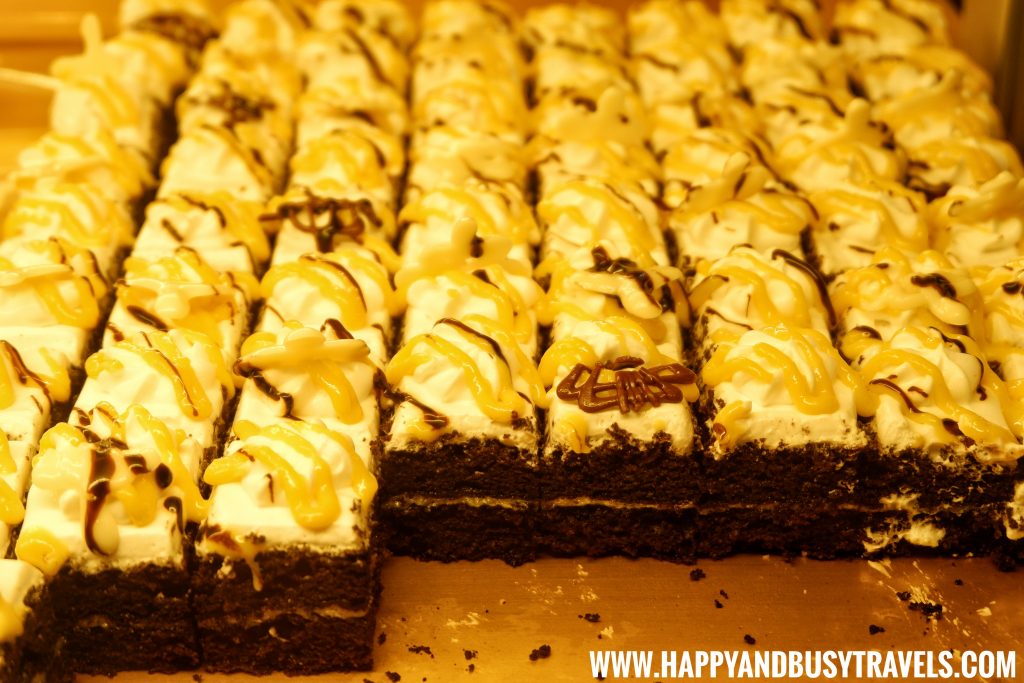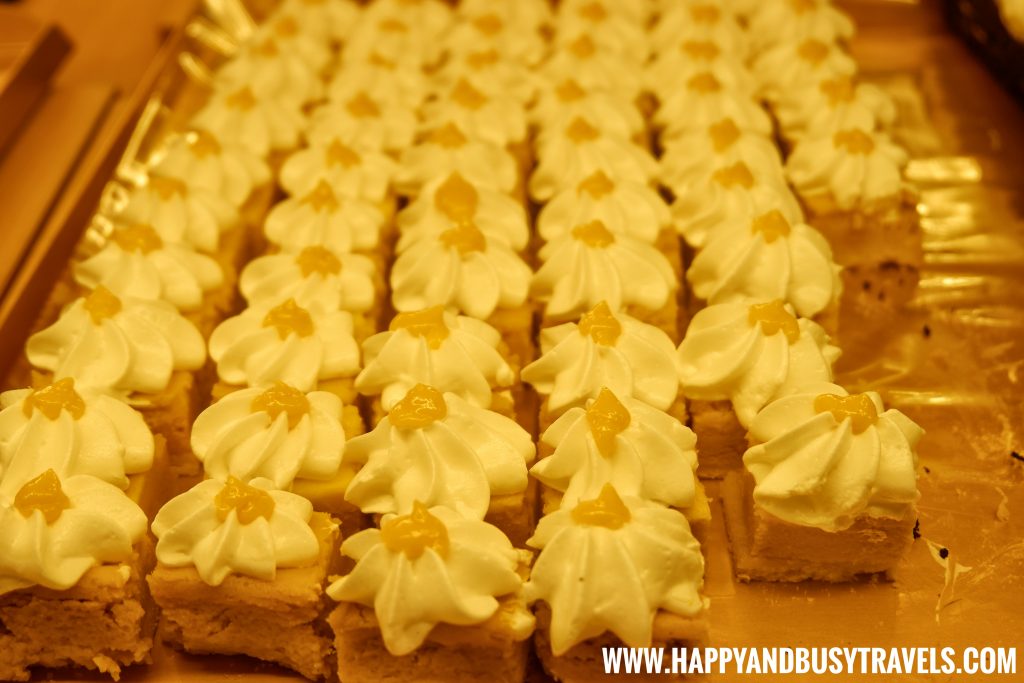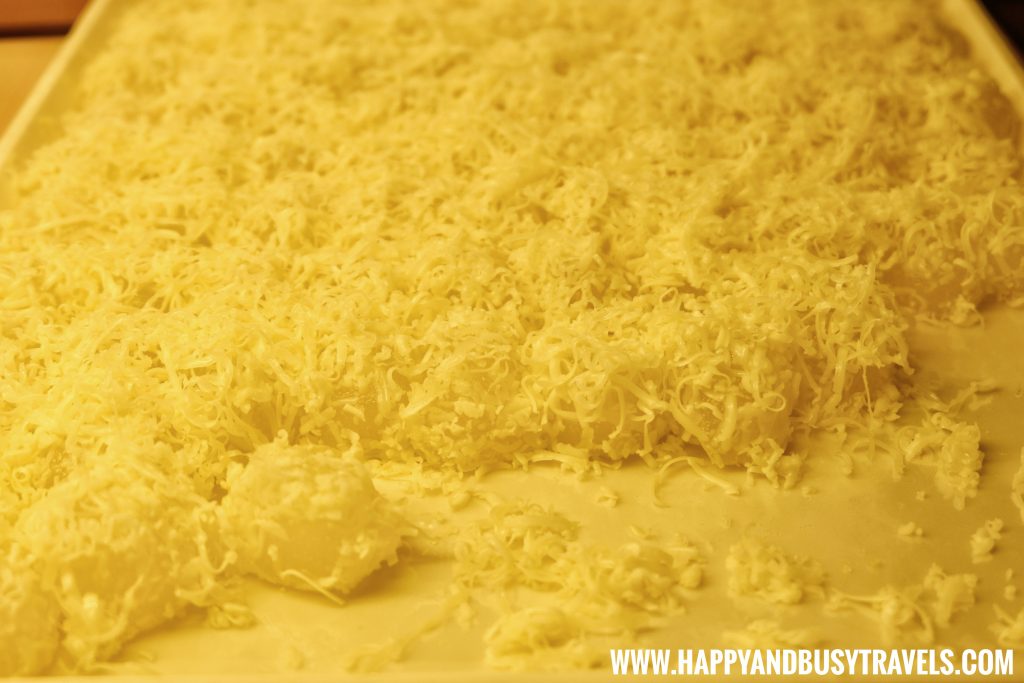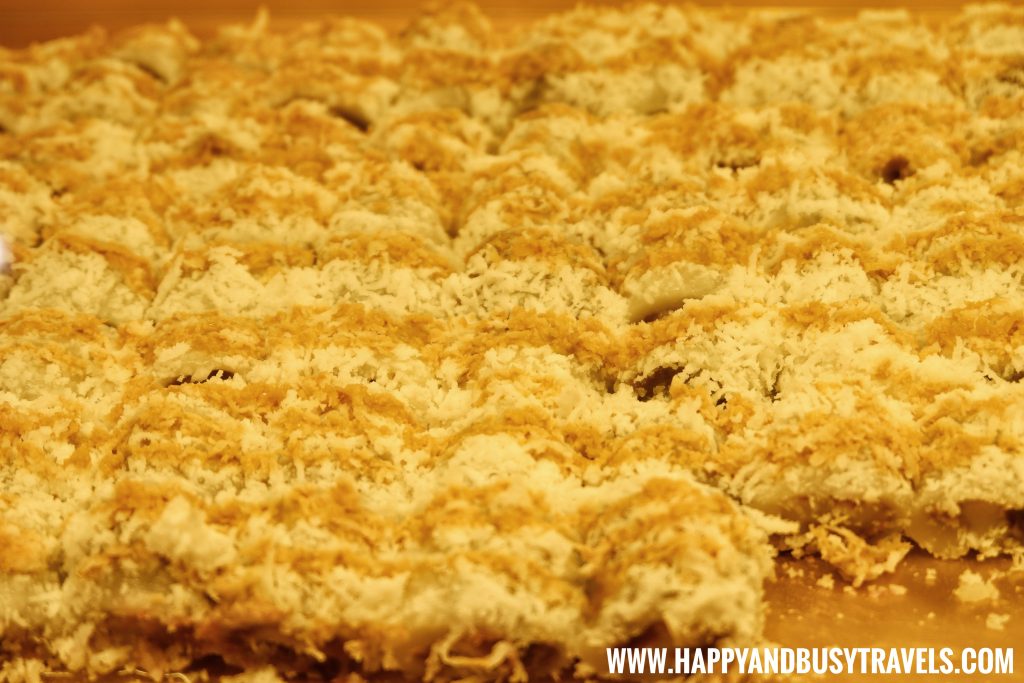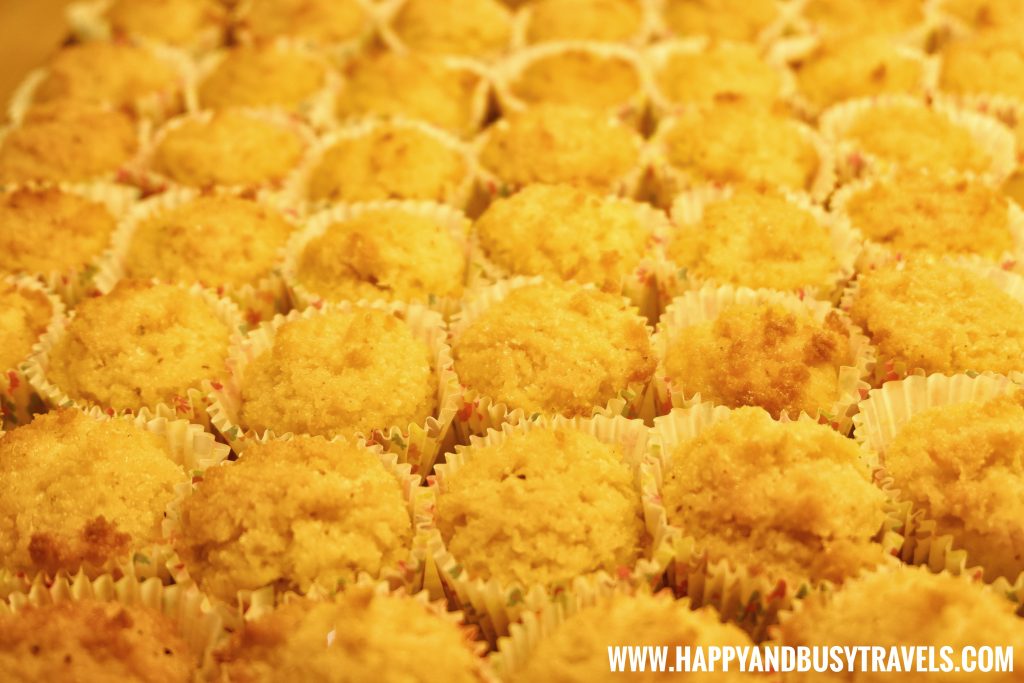 If I had two stomachs, I will fill the other one with desserts! ???
Special Occasions
Celebrating in the restaurant can be a blast. You can either eat and had your simple birthday celebration here.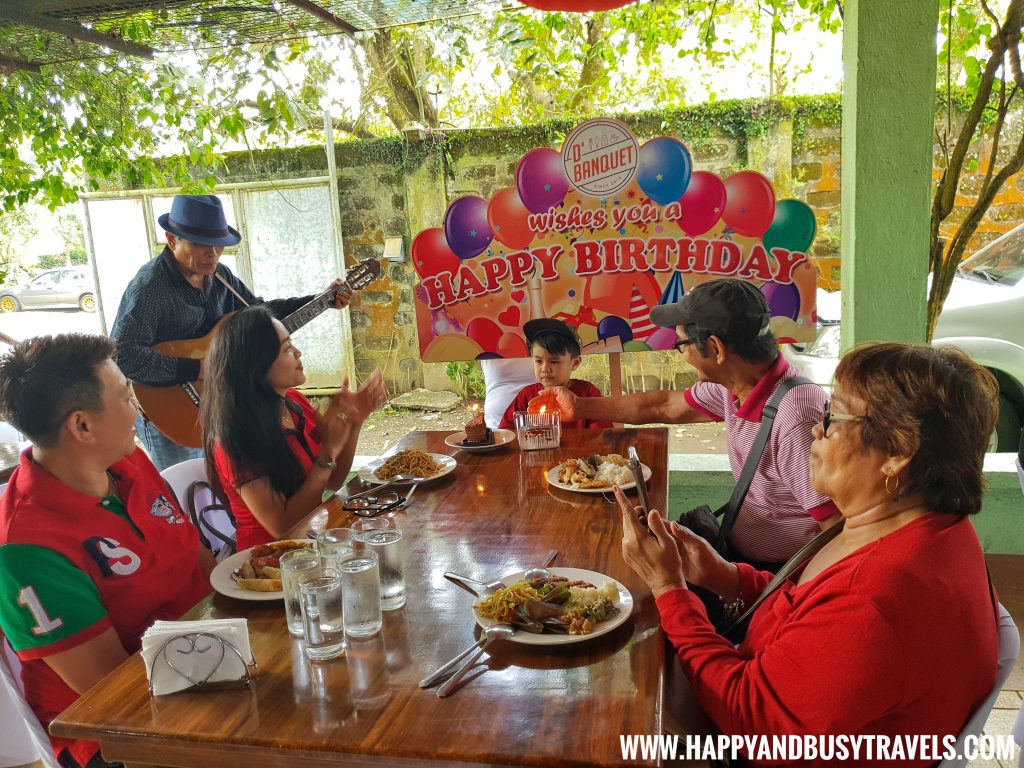 Or rent the events area. Did I mention that renting the events area is for FREE? Yes for FREE! You just have to book the event area in advanced and there will be a minimum number of guests to get the area for free.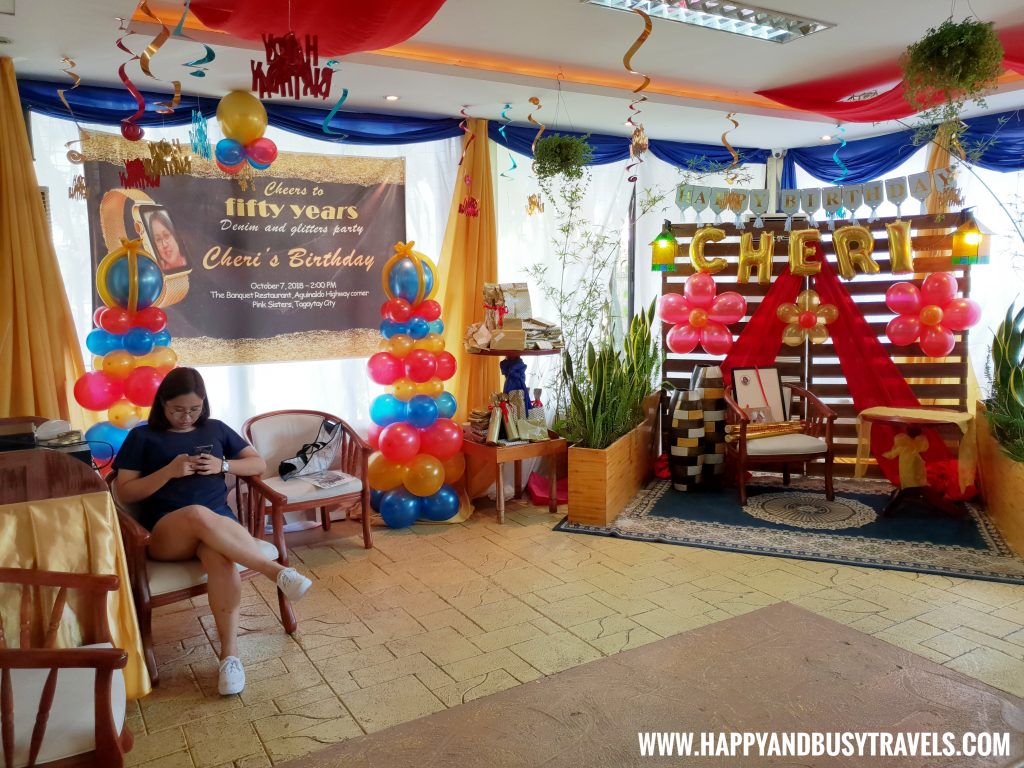 The sound system is not a problem because they can provide it. Plus, the guests can enjoy food to their limits!
Coffee and Pasalubong Shop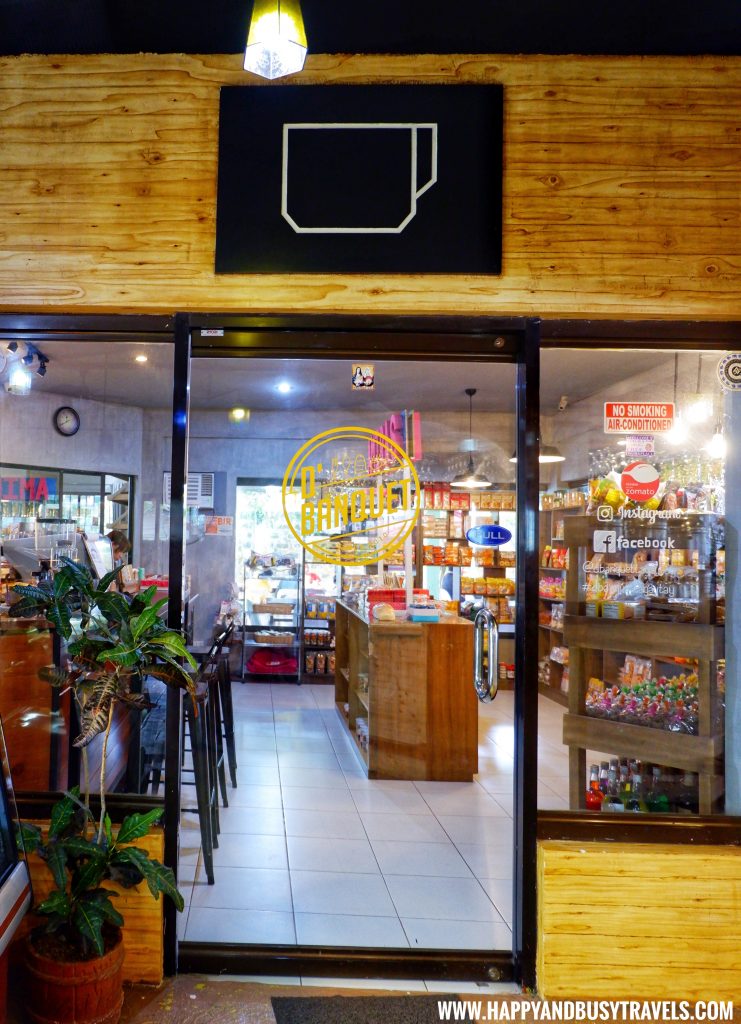 The restaurant also has a Coffee shop and Pasalubong Area. Pasalubong is a Filipino term for items bought from a foreign place and given to friends or family when the tourist arrived home.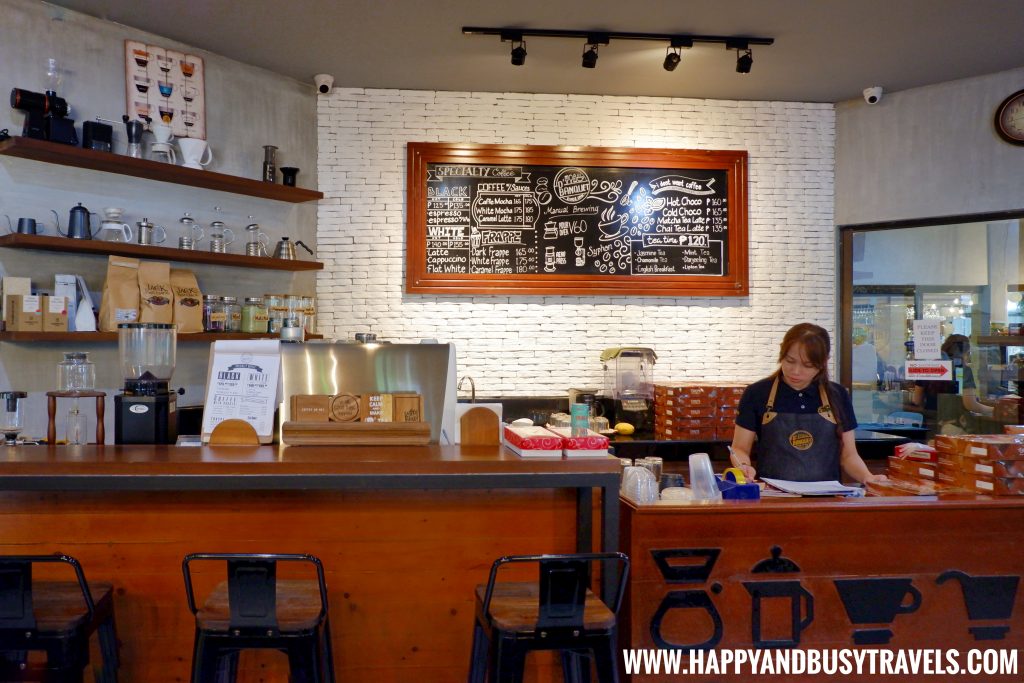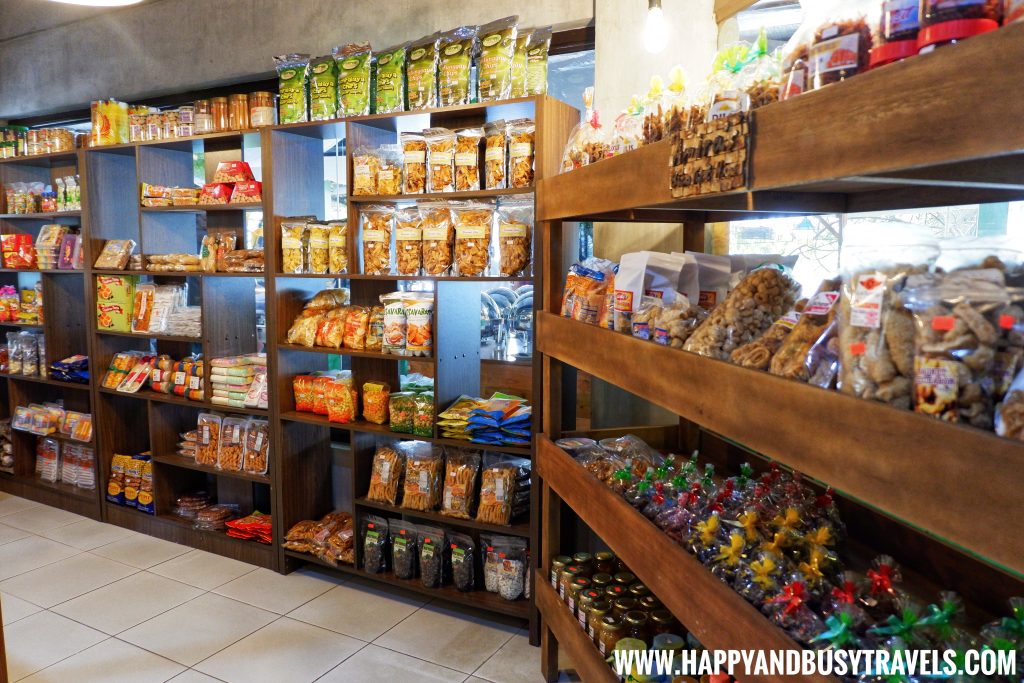 Of course the restaurant also sells Amira's goodies! Like their famous tarts!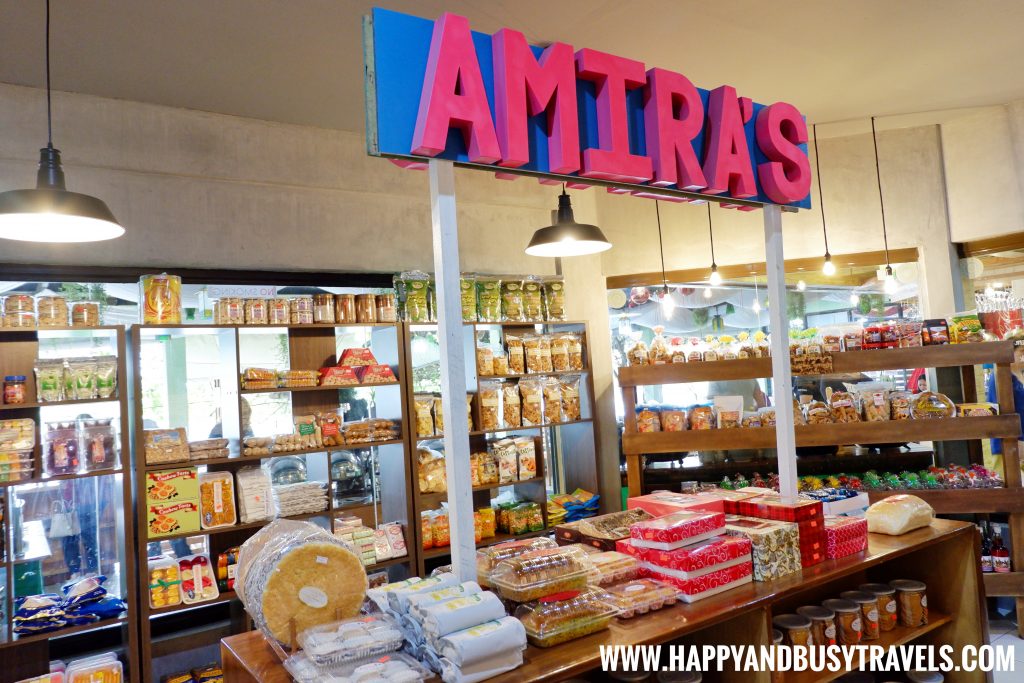 Here were some of the Amira's delicacies ? which were available during our visit.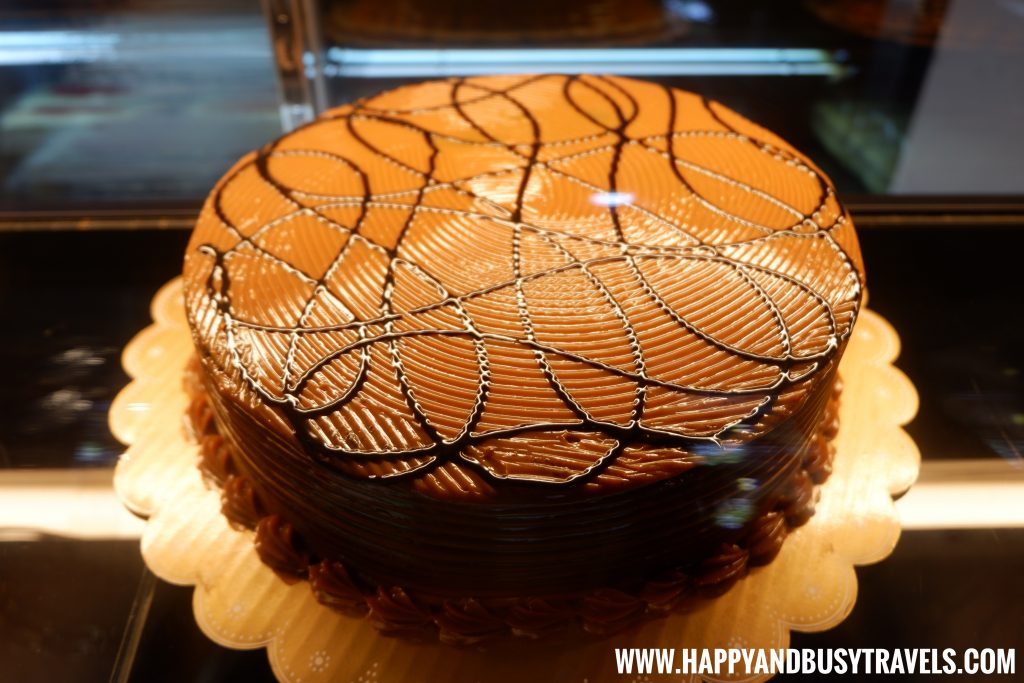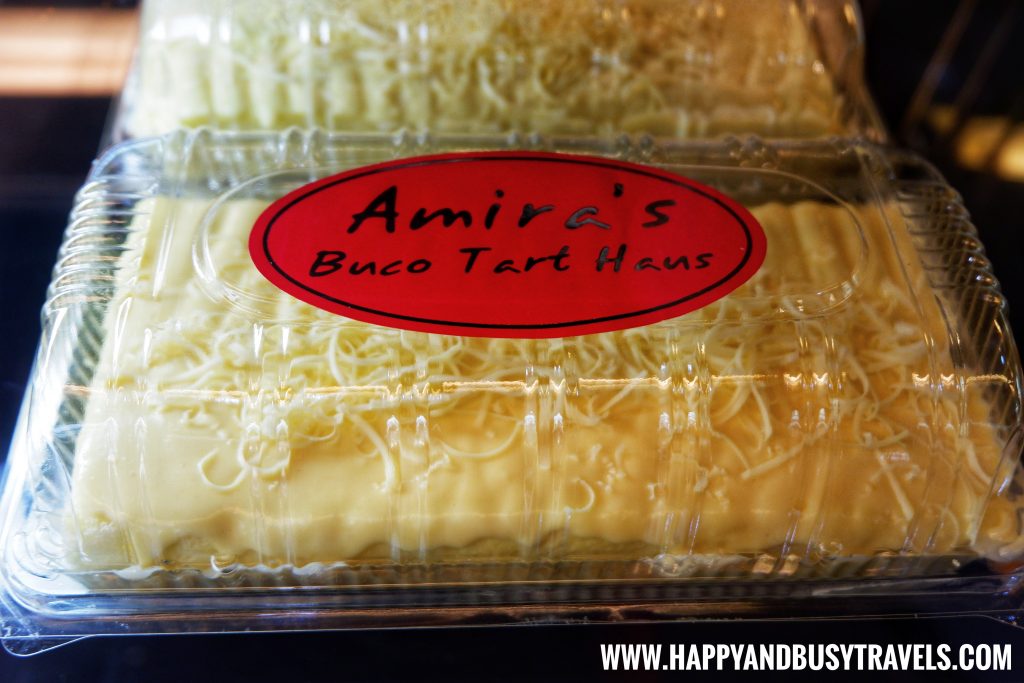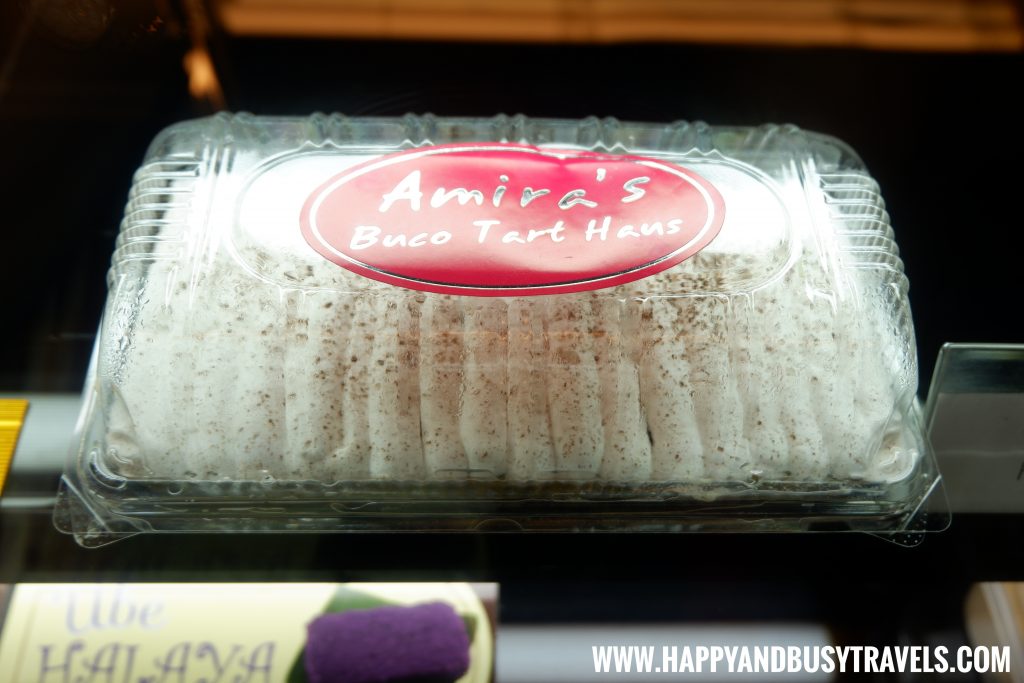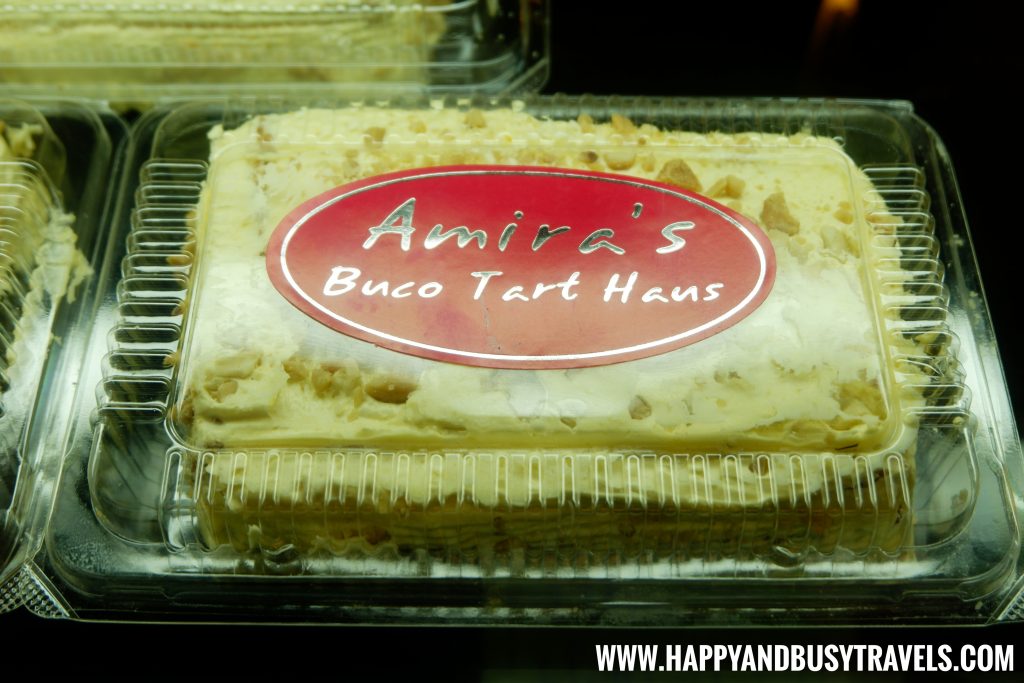 Ala Carte Menu
Buffet in D' Banquet were only available during Sunday Lunch time. So, here is their menu if you wish to visit them and eat there.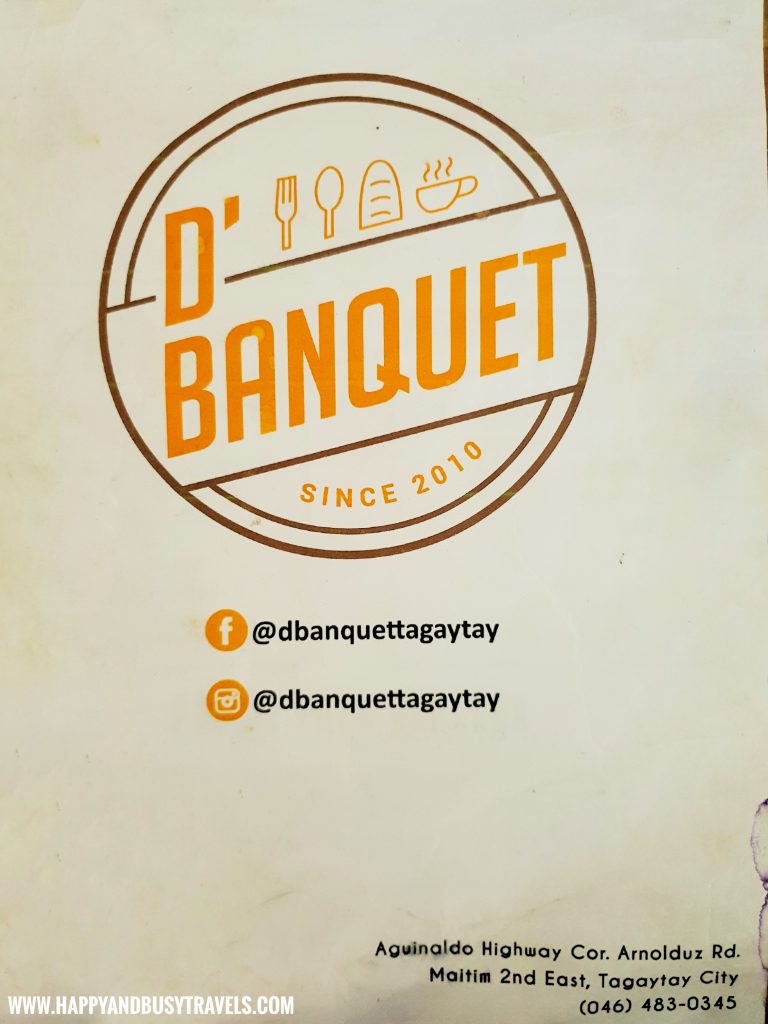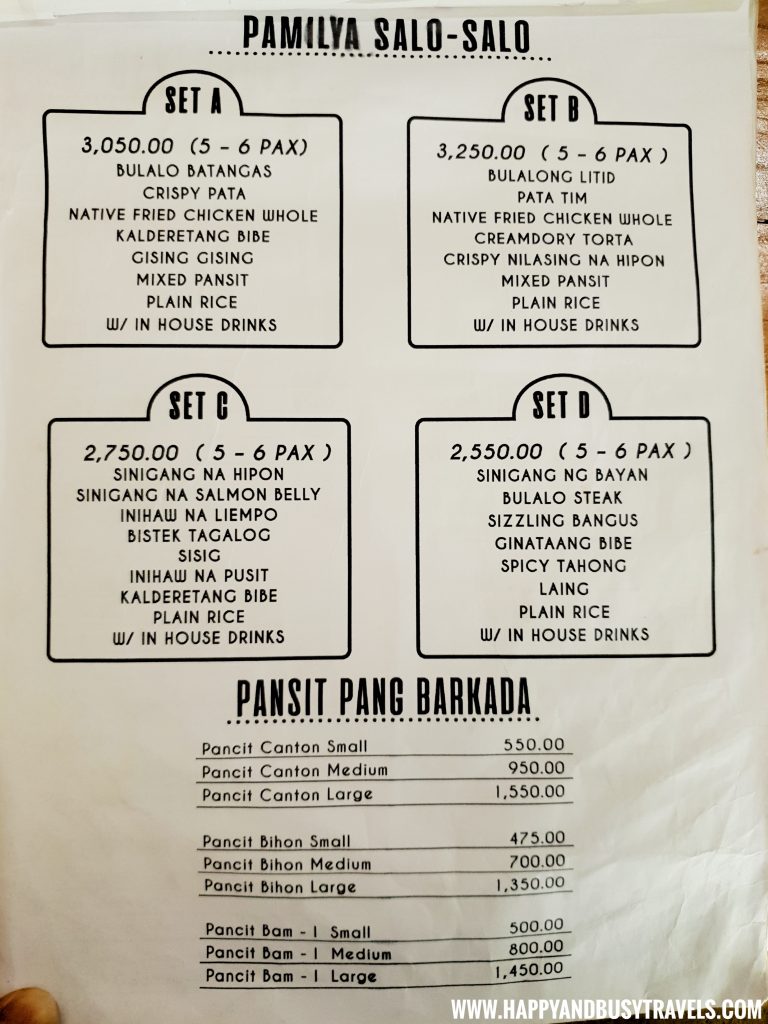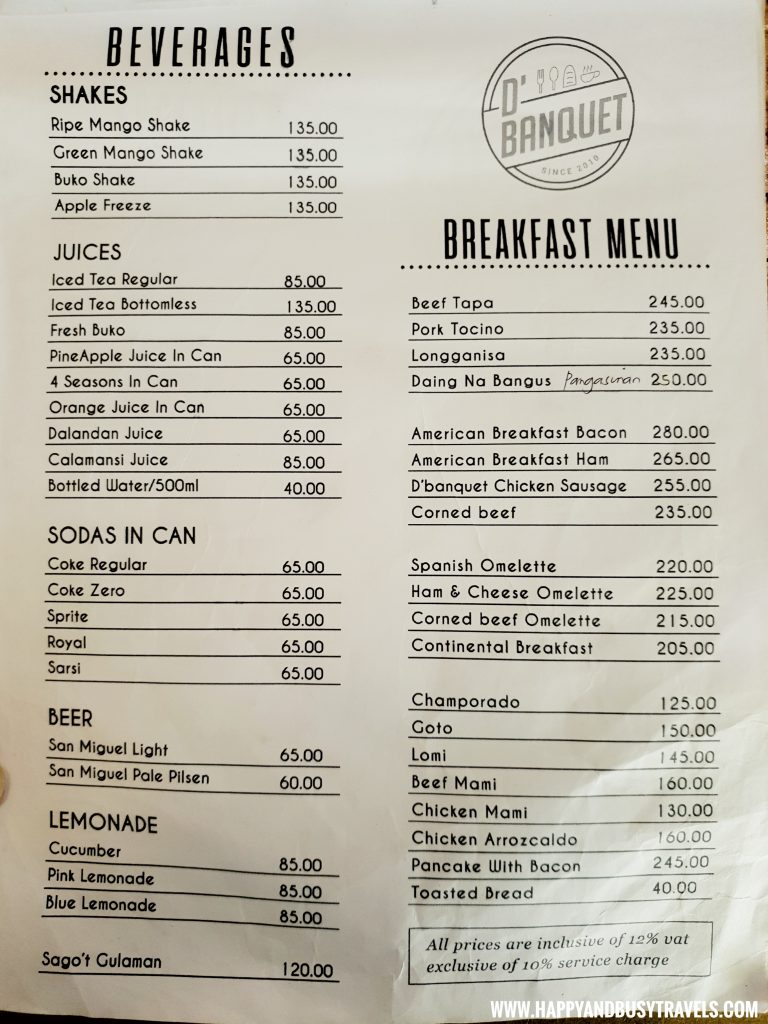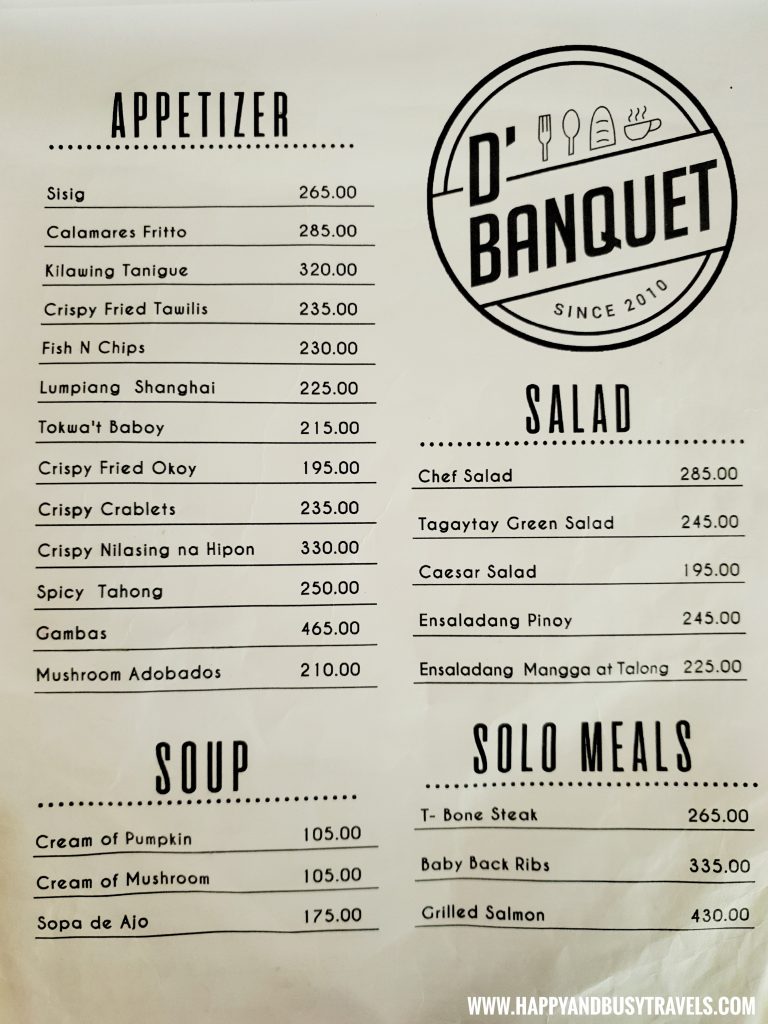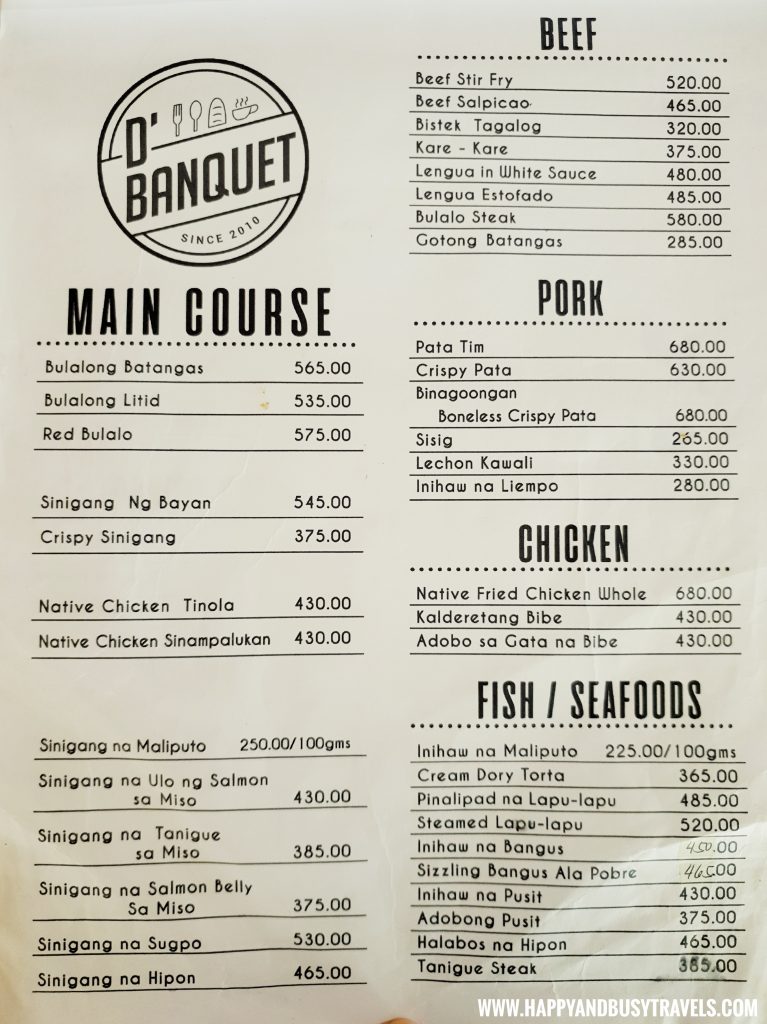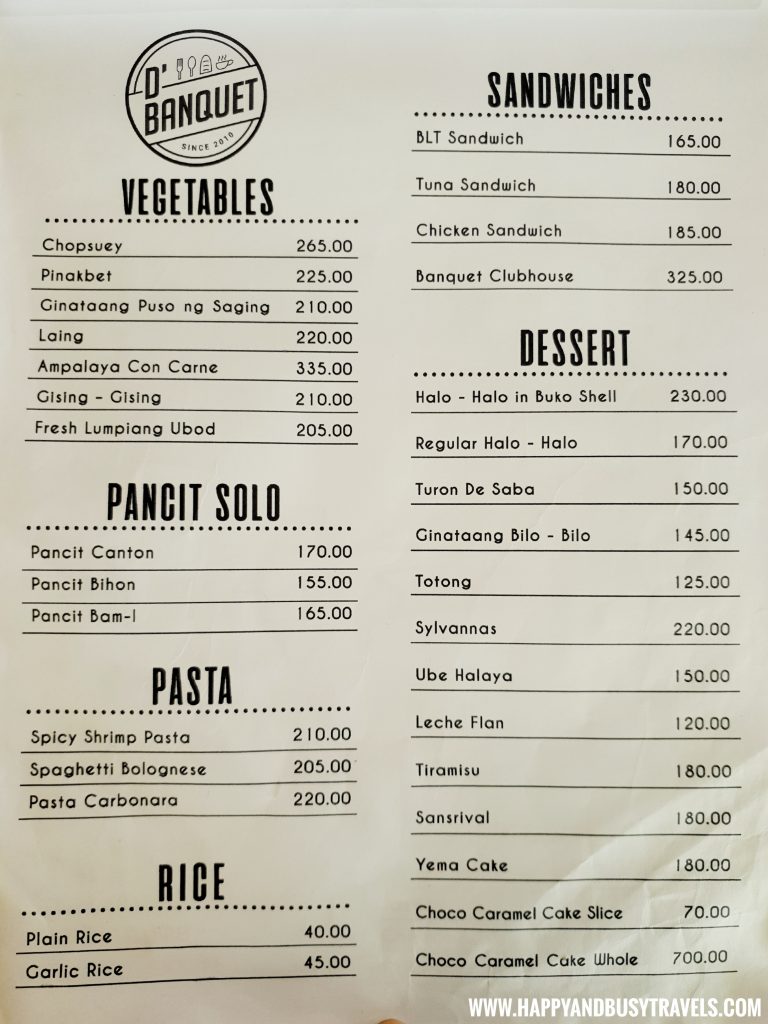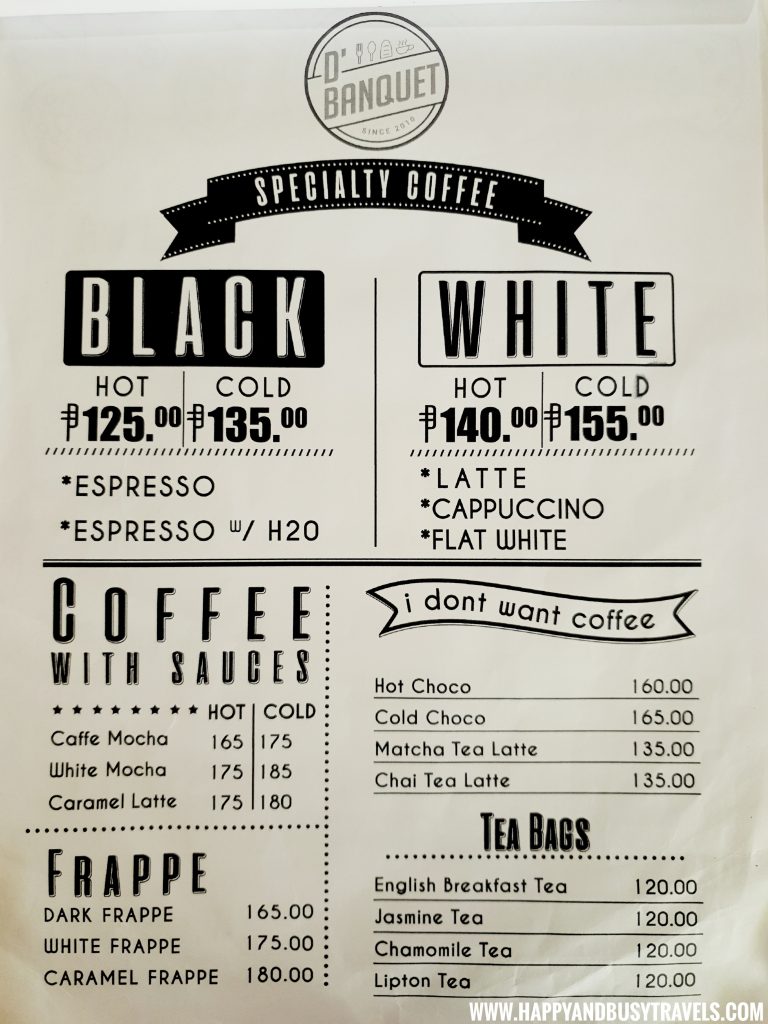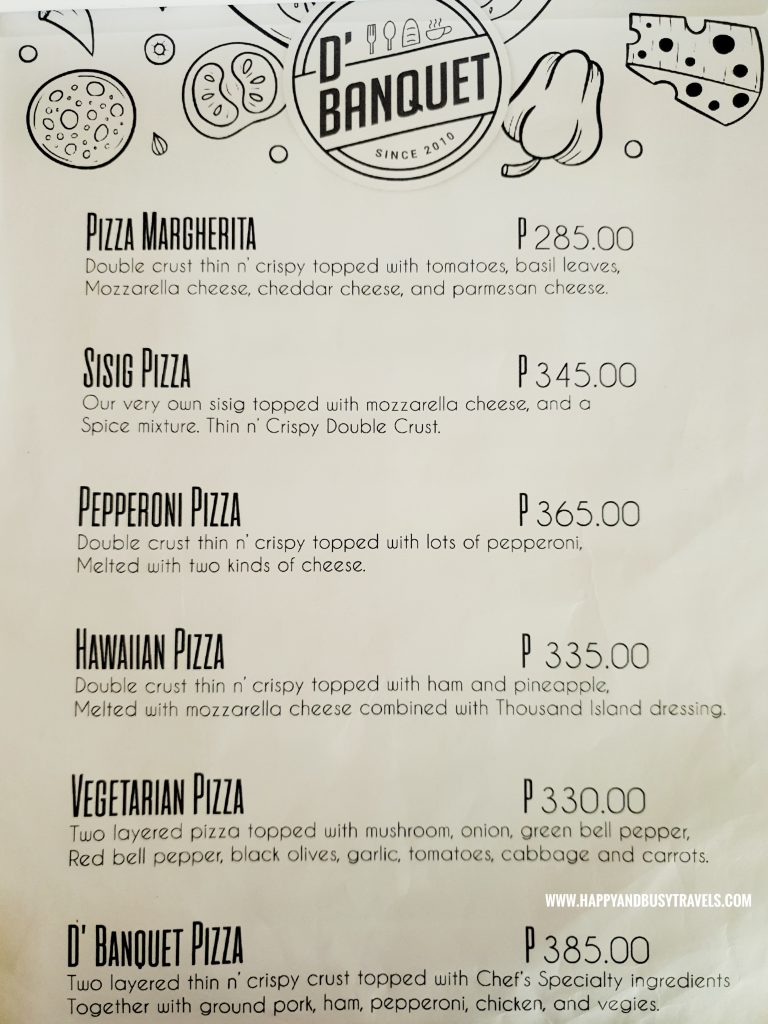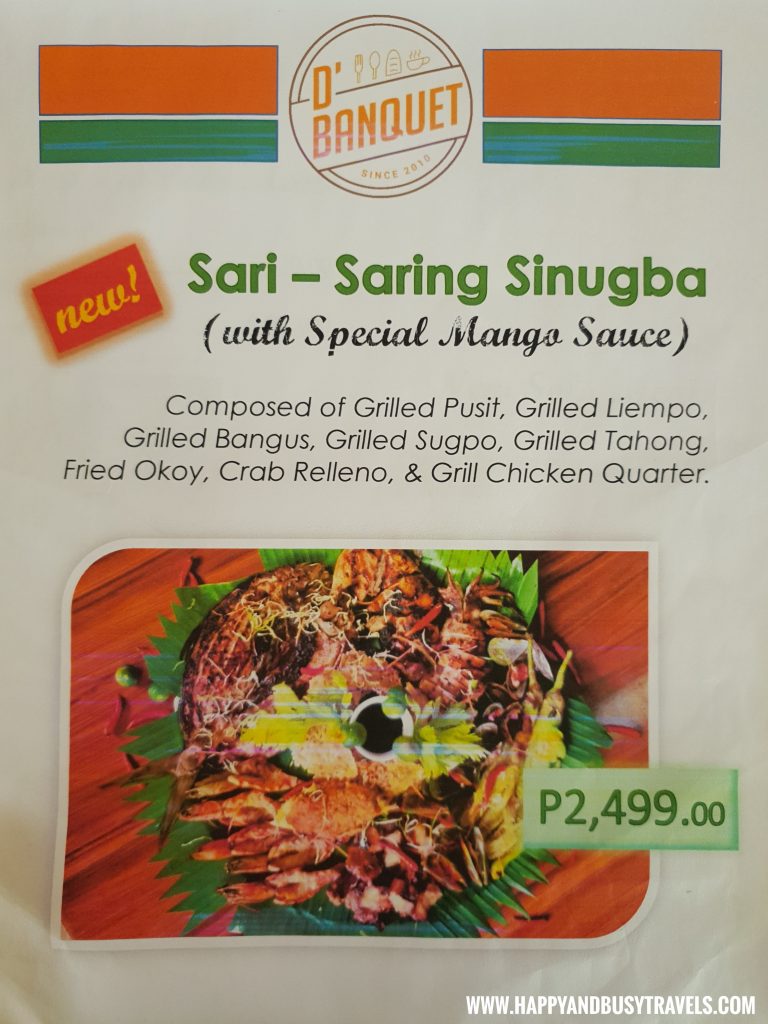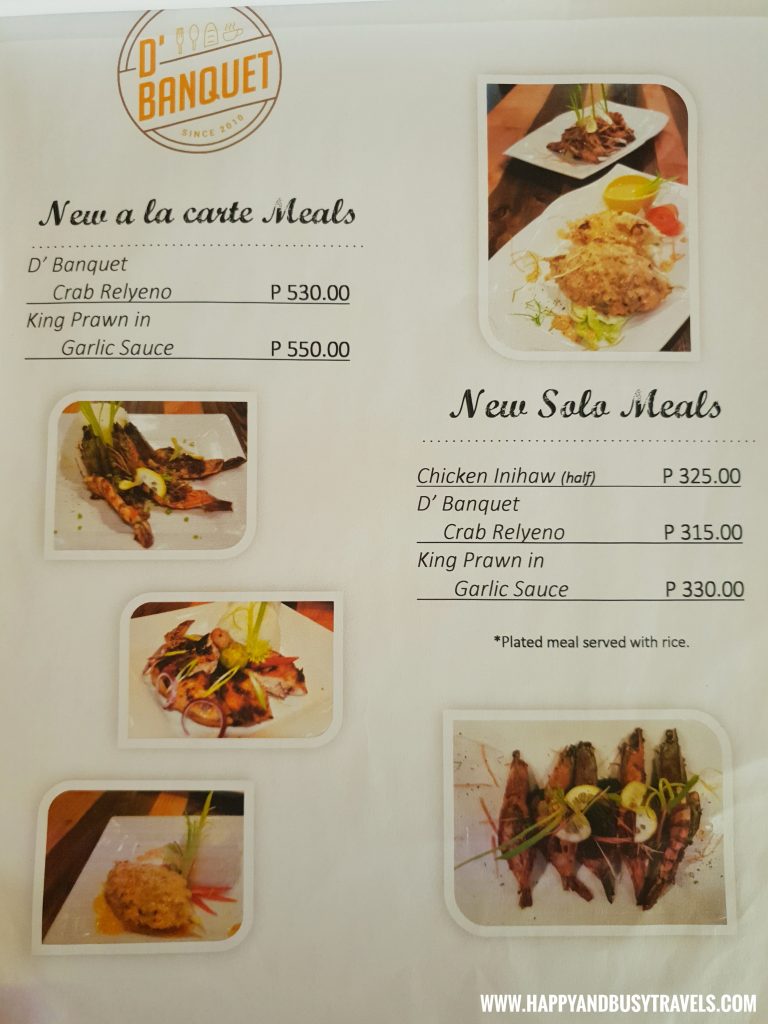 Other Information
Notes
Children below 7 years old can enjoy a discounted rate.
WiFi was available
The restaurant was easy to find
The menu for the buffet changes every week! It only repeats when requested or after a month 🙂
OTOP.PH
D' Banquet recently created a OTOP store in the restaurant. OTOP means One Town One Product, this is a pop up store that sells the specialty of one town. Make sure to visit the store and buy products from local producers.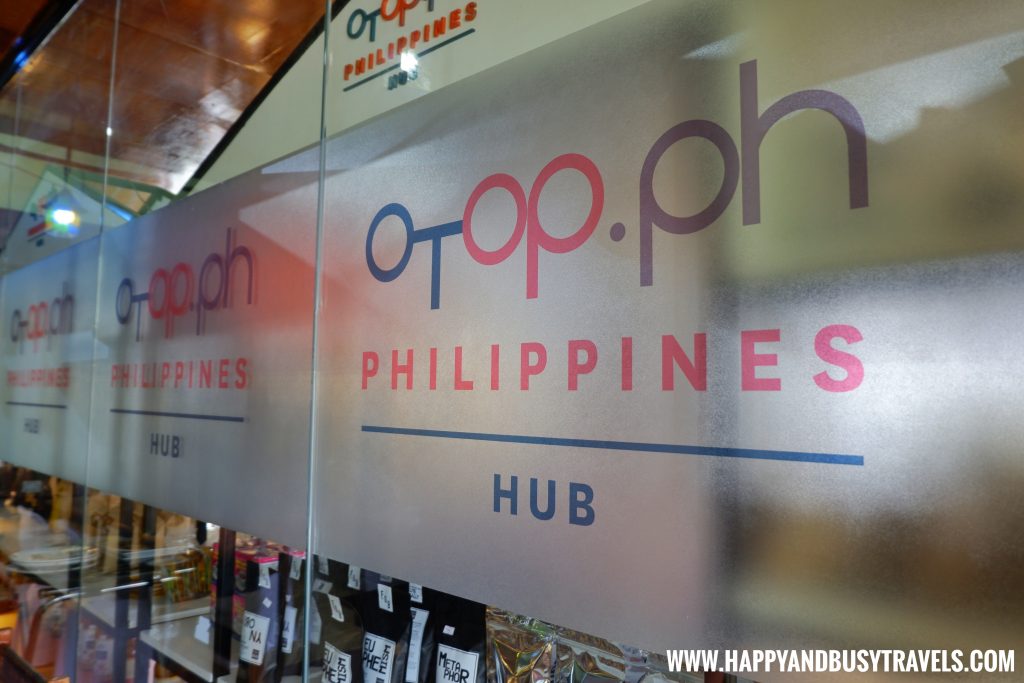 Happy and Busy's Smileys
Food


The food were delicious, nothing too salty. There were a lot of choices either vegetables, seafood, meat, or sweets.
Location


Great location! Just beside the highway and near Pink Sisters.
Ambiance


The ambiance was okay.
Value for money


The food was good and there were a lot of choices. The buffet was never empty! They kept on refilling!
Service


The staff were very friendly and helpful. They also get your plate immediately as soon as you finished eating so you can grab another plate 🙂
Comfort Room


The comfort room was average.
Thank you for the warm welcome
We would like to thank Ms. Virginia Malipol the owner of the restaurant and also the owner of Amira's Bakeshop, and Sir William the manager of the restaurant for the warm welcome. Our stomachs will never be empty again! 🙂