We had our early dinner in Harbour Cafe, this was suggested by our tour guide, because we wanted to have pasta. The area is not that appealing at first, but as we went inside, we were in love with it!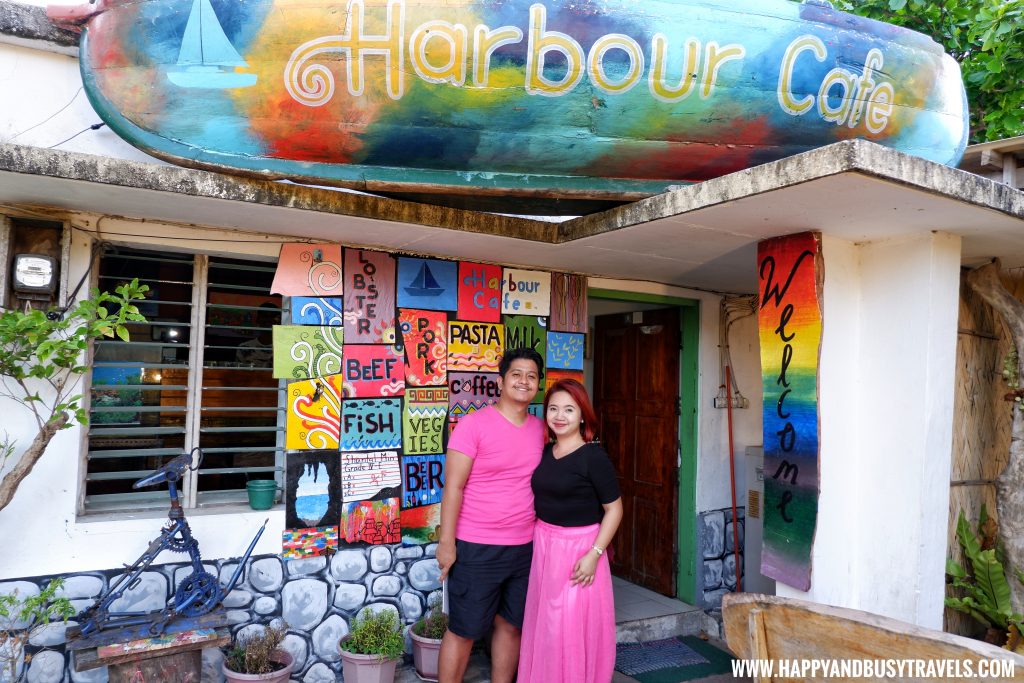 We had a great first dinner in the restaurant, so for our second night, we invited our friend to eat here with us.
Batanes Travel Guide and 5-day Itinerary at: https://happyandbusytravels.com/batanes-travel-guide-and-itinerary-for-5-days/
How to go here?
Google Maps Link:
It is just in the town, so from the town to the entrance…
Walk: It will take you at least 2-3 minutes.
Vehicle: It will take you at least 30 seconds.
Bicycle: It will take you a few seconds to 1 minute.
Other Information
Facebook: https://www.facebook.com/harbourcafebascobatanes/
Contact Number: +63929 316 3685
Email Address: [email protected]
Address: National Road, Basco, Batanes
Google Maps Link: https://goo.gl/maps/jCu9qce2L5v6SwrA7
Tip: Seat at the garden, near the cliff to see the sunset.
Inside Harbour Cafe
The cafe have Nipa Huts, and seating near the entrance, but we chose the simple seating arrangement near the cliff.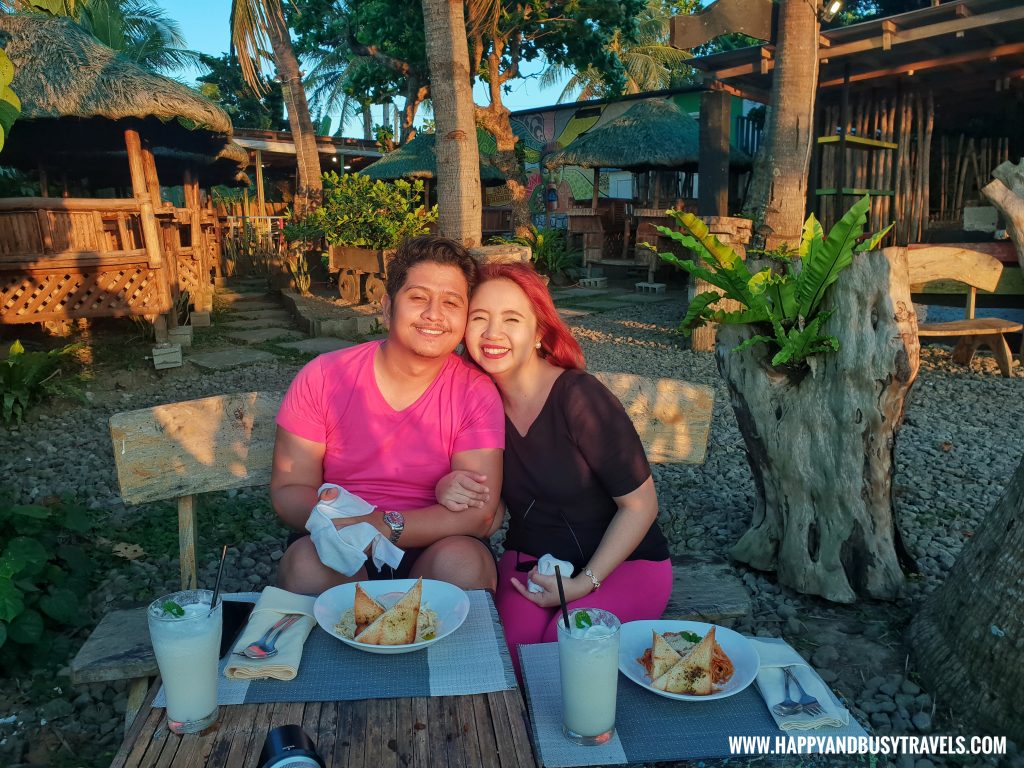 This spot is perfect because we can get a great view of the sunset, the ocean, and the ships at the harbour.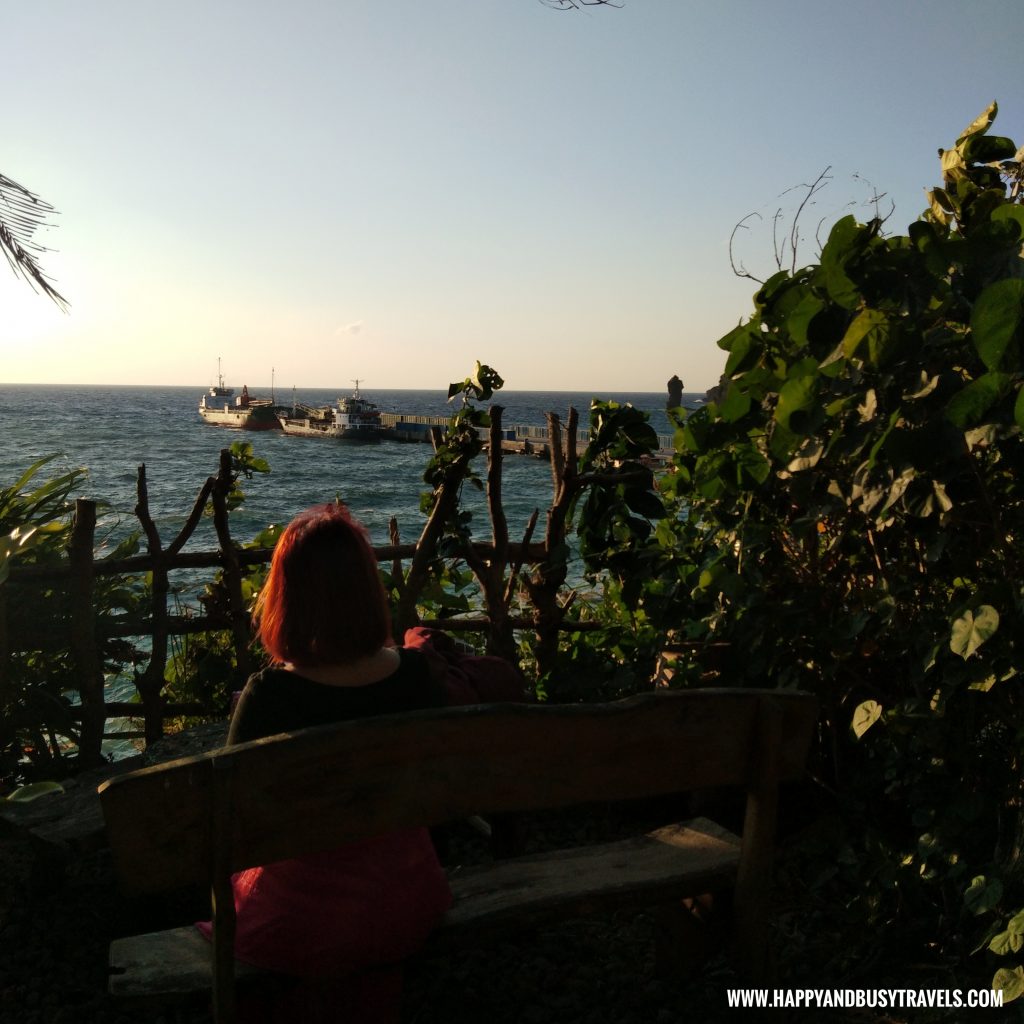 The Menu of Harbour Cafe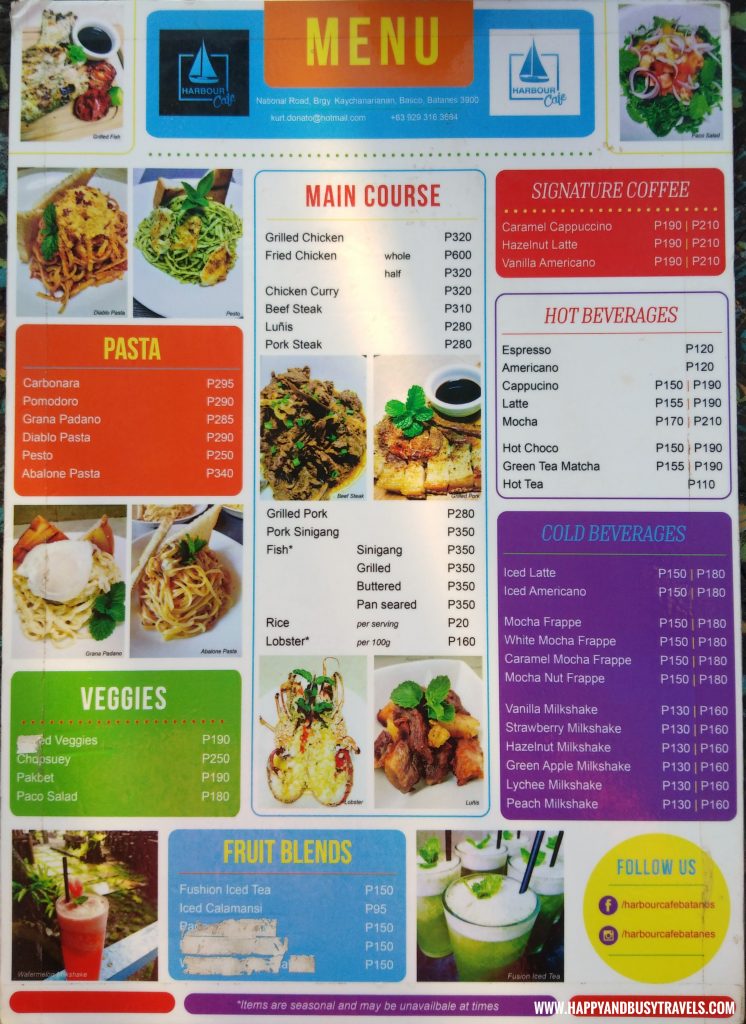 As soon as our dishes were served, wet hot towels were provided so we can clean our hands.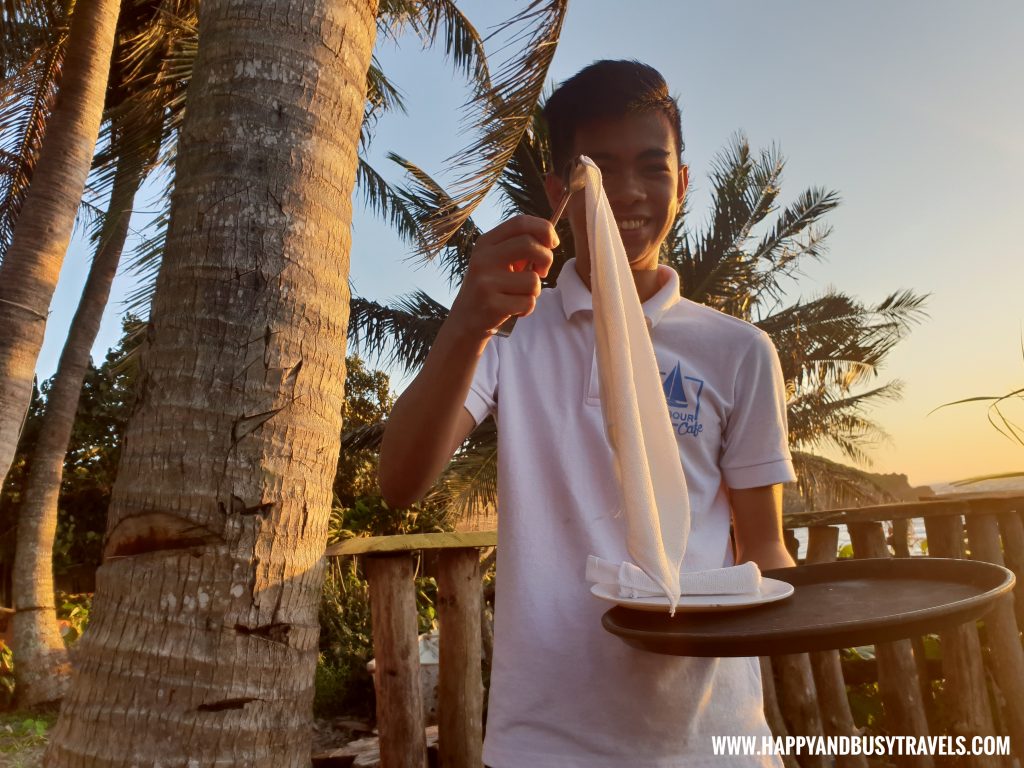 Dishes of Harbour Cafe
The view while we are having our dinner…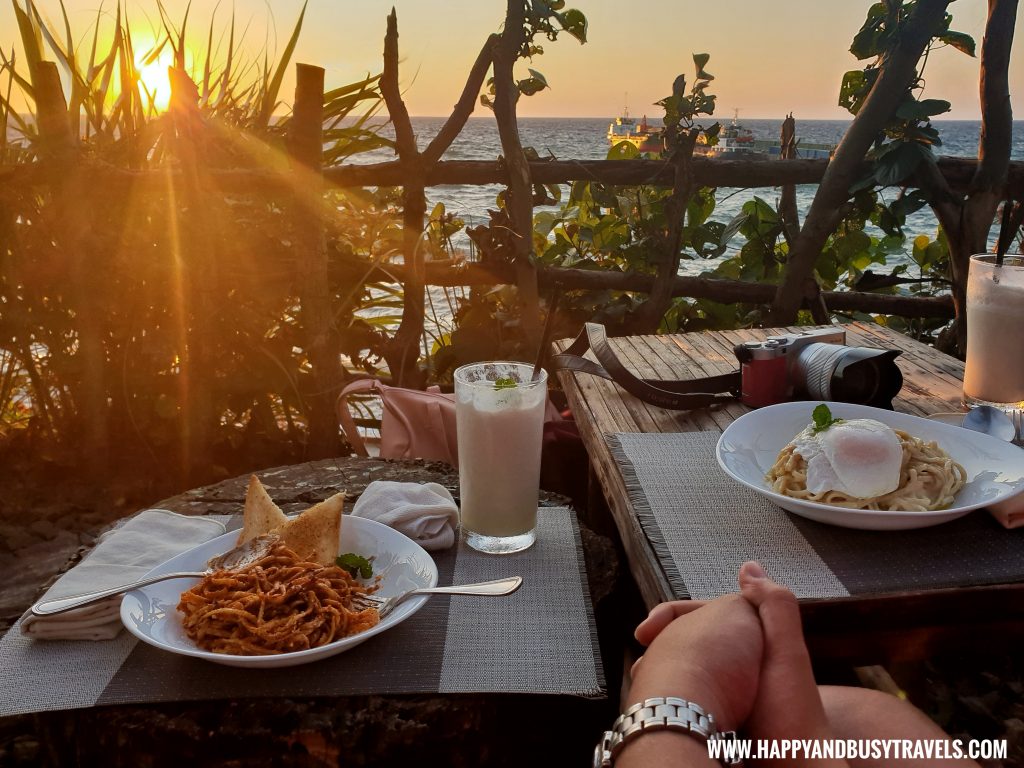 1st Dinner
Busy and I had pasta and shakes for our first night.
Grana Padano
I first wanted this pasta but I changed my mind, so Busy ordered this one. Grana Padano is a white sauce based pasta with Truffle oil, topped with a poached egg, and served with toasted bread.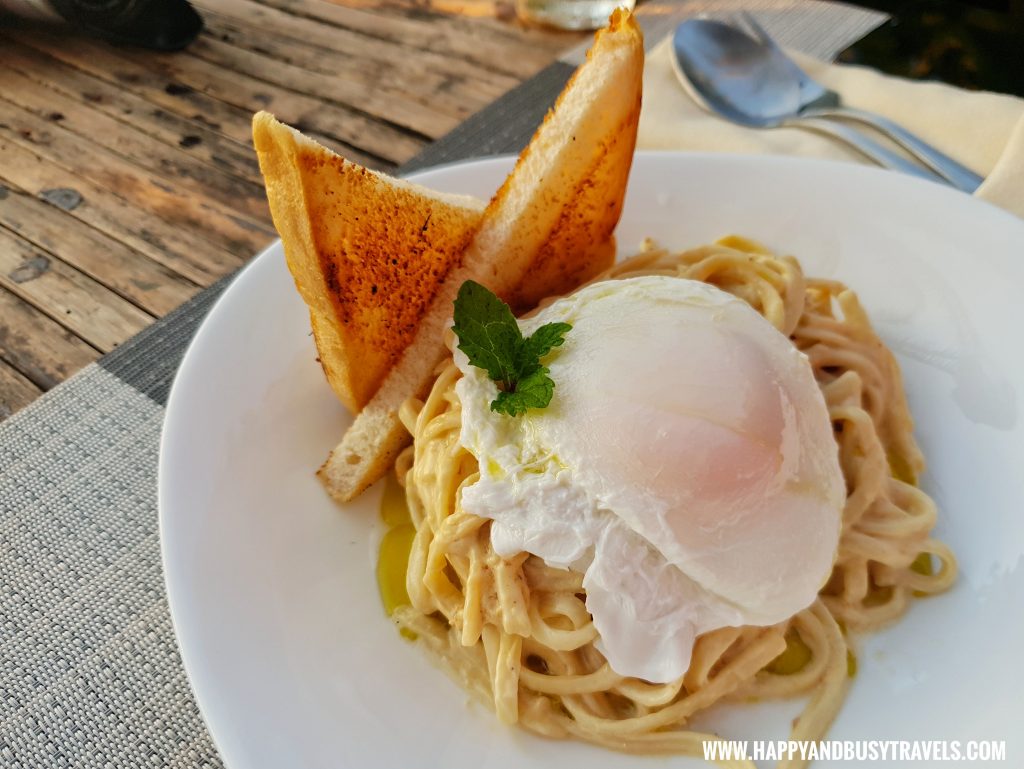 Busy loved the dish! I also loved it! Hahaha yes I tasted some… and a bit more hahah. This was supposed to be my dish!
Diablo Pasta
I ordered Diablo Pasta because I wanted something spicy. It was a red sauce based pasta with ground meat, topped with a lot of Parmesan cheese, garnished with mint leaves, and served with toasted bread.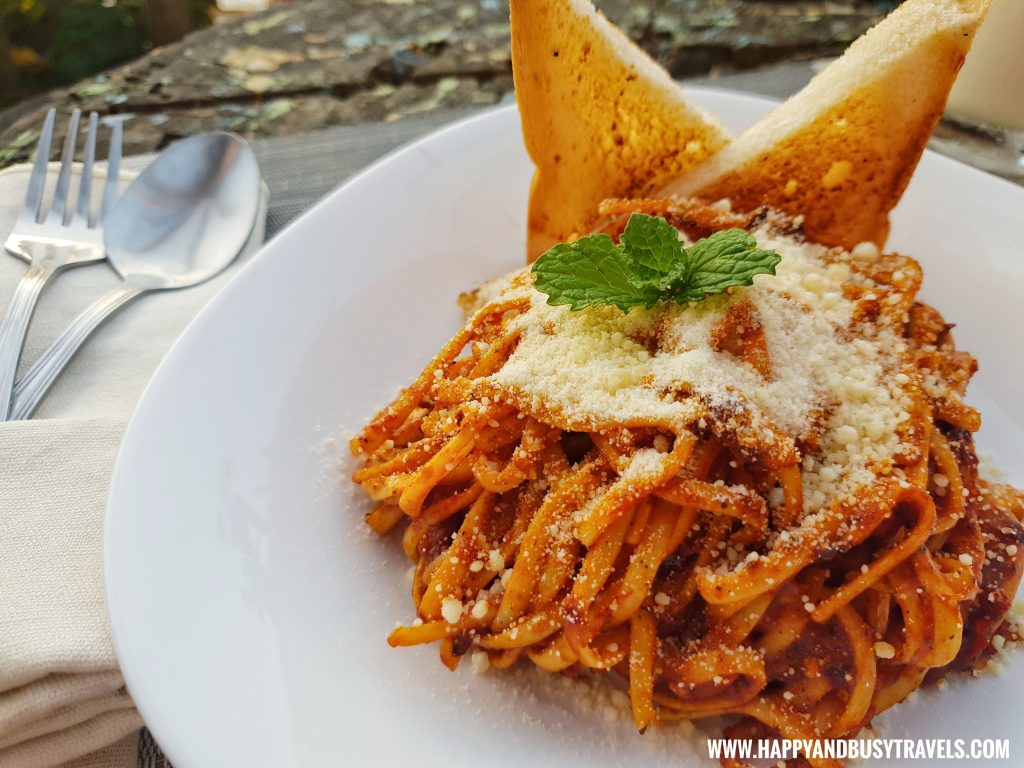 The dish was spicy, and it was also delicious.
Lychee and Peach Milkshake
The shakes looked the same but they have a different flavor and size. Busy ordered Lychee Milkshake (left), and I ordered large Peach Milkshake (right).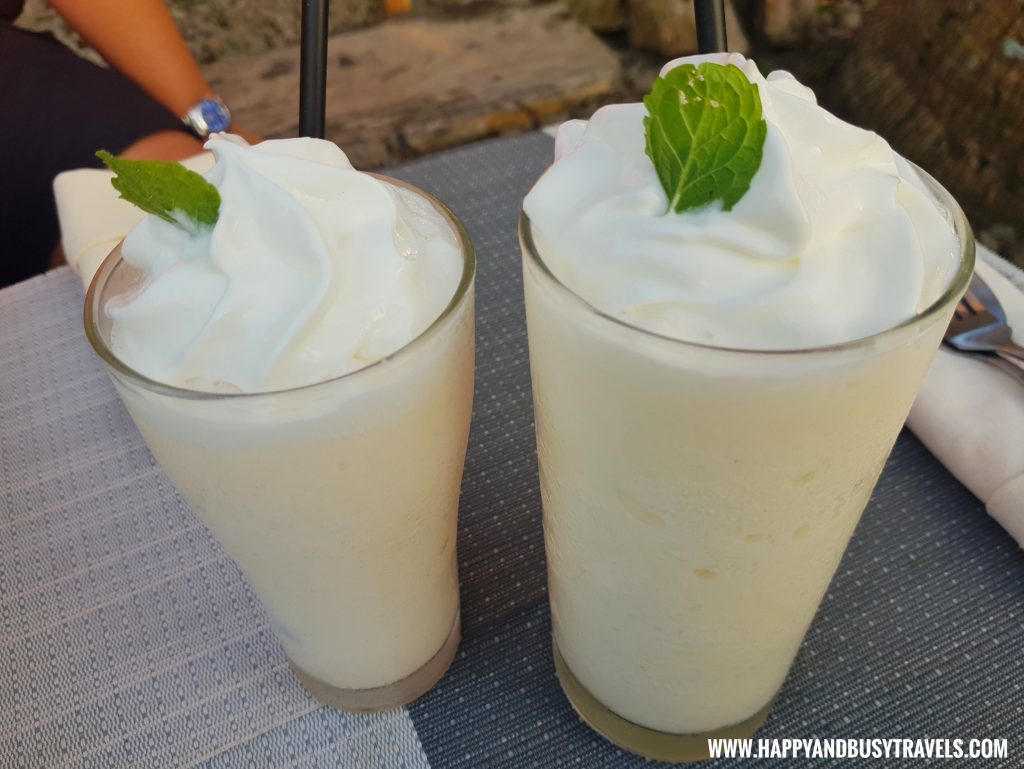 The milkshakes were okay, but I liked the Lychee Milkshake more than the Peach.
2nd Dinner
As mentioned earlier, we love the cafe so the next night we brought our friend to eat with us here. Even though the table close to the cliff is small for us, we insisted to seat here because of the ambiance.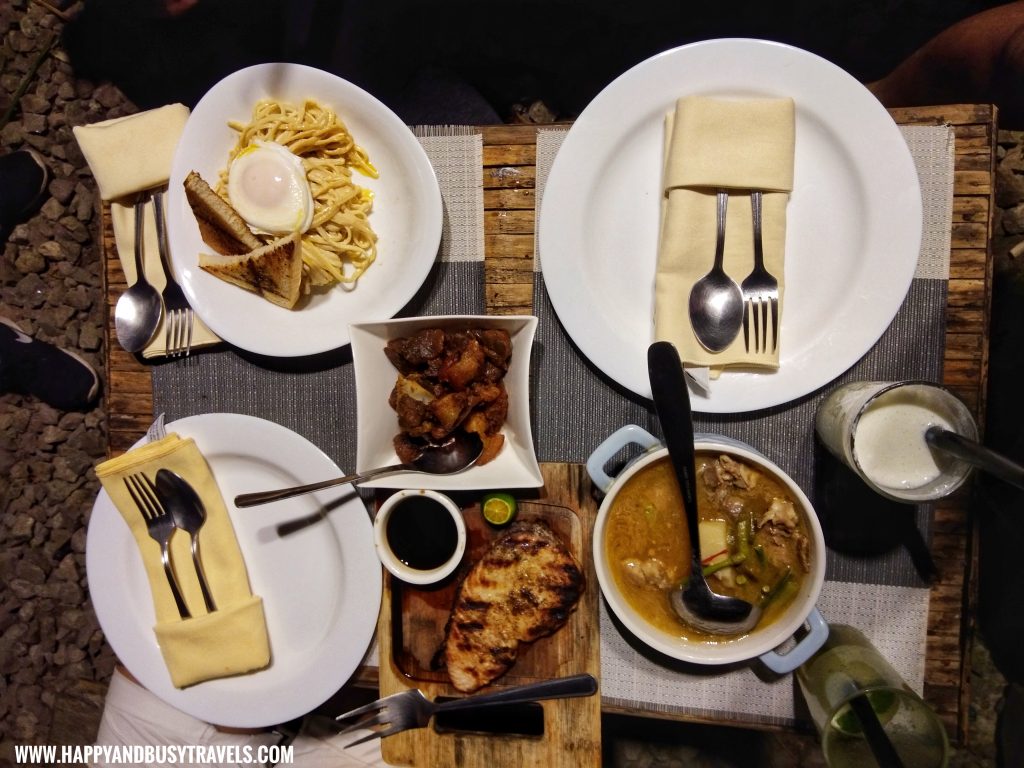 I ordered Grana Padano for our 2nd night because I really liked truffle 🙂
Lunis
This dish is the Ivatan's version of Pork Adobo.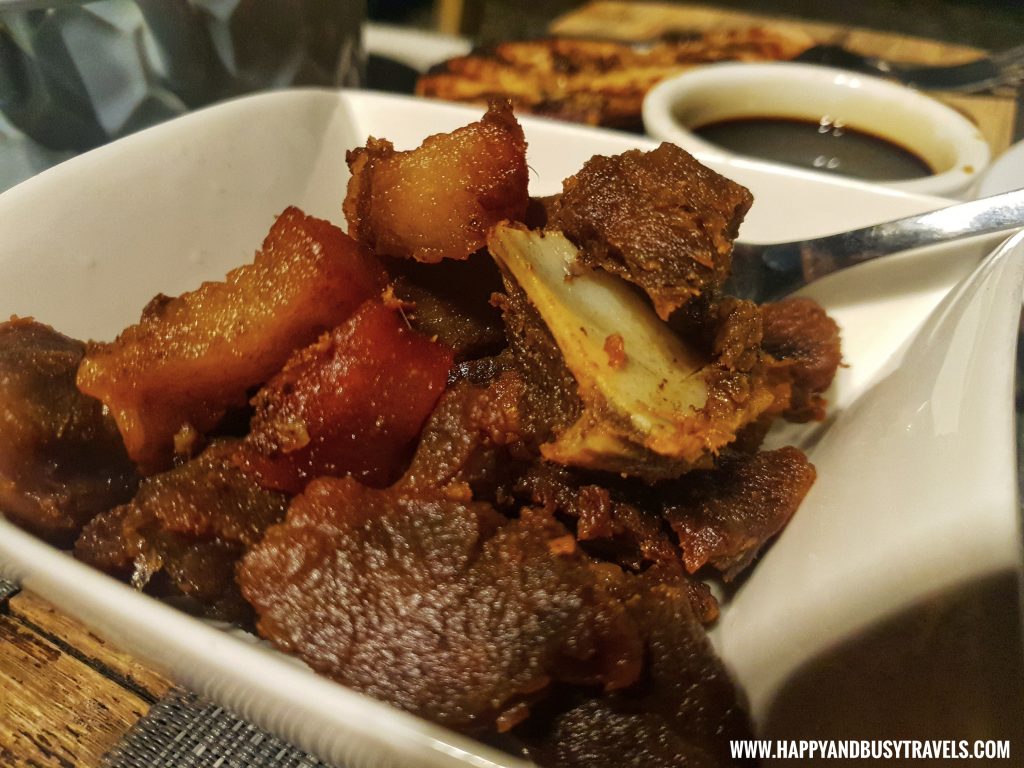 The dish tasted okay, and we like how it was served dry.
Grilled Fish
Our friend wanted fish so he ordered this one. We forgot to ask what fish is this, but from our guess, we think it is Tuna.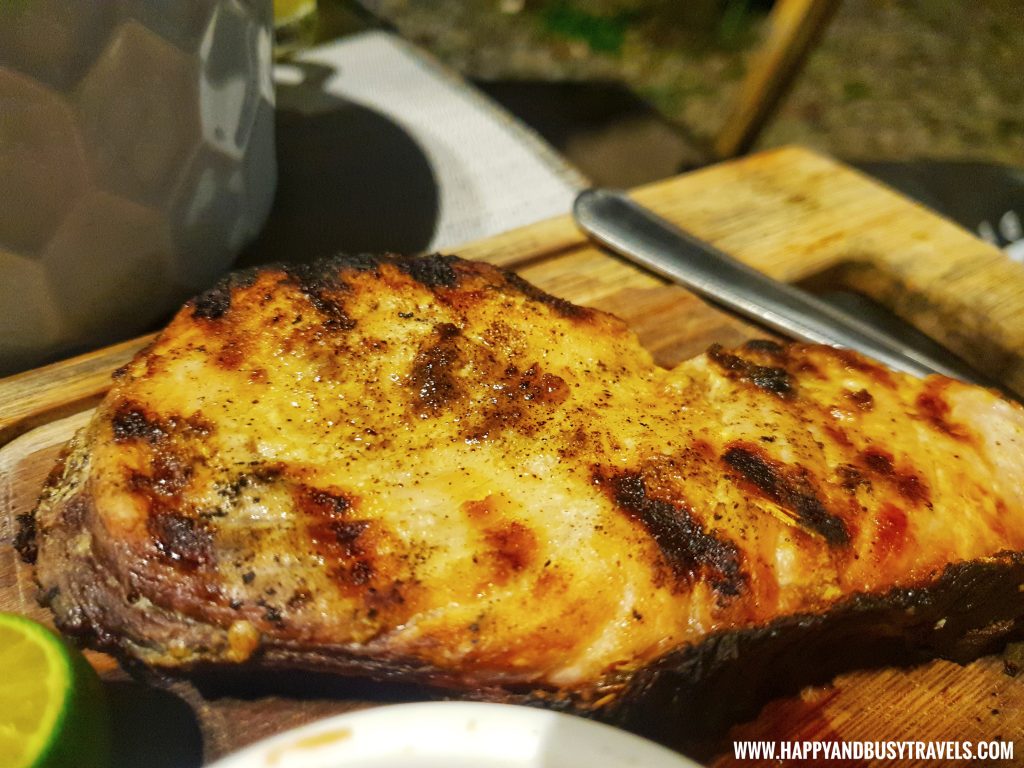 The fish was grilled properly and has the right marinade. It was not salty and the taste of grill is present.
Pork Sinigang
Busy and his friend also want to have a soup, so they ordered Pork Sinigang.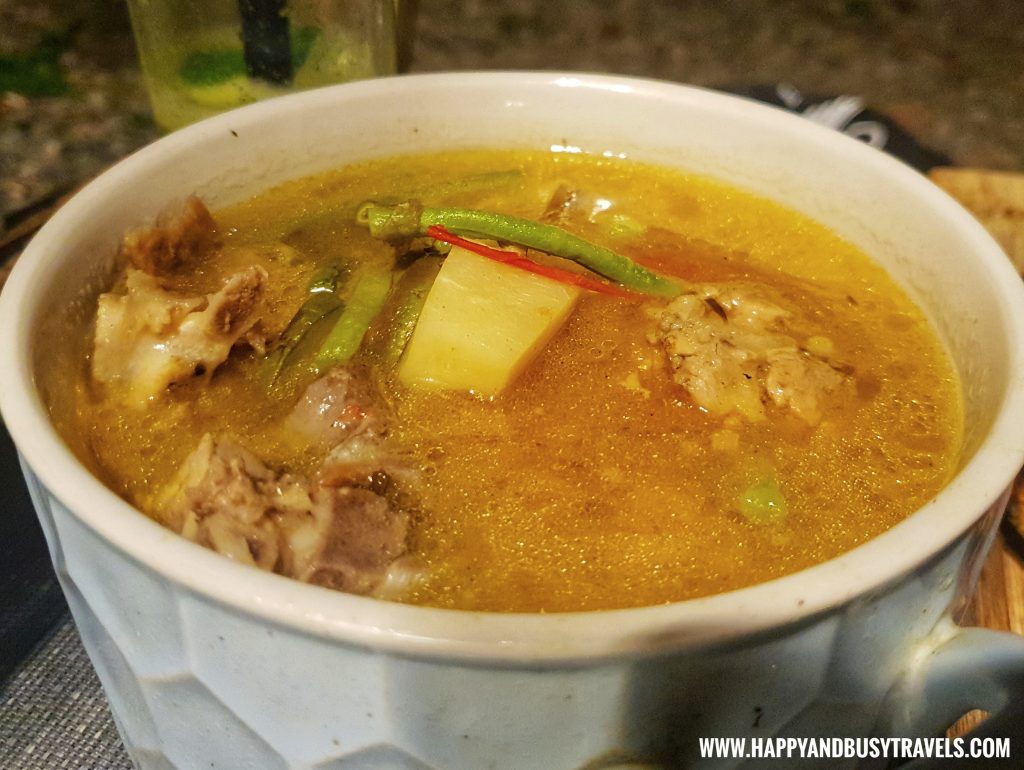 It tasted good, just like the usual Pork Sinigang.
Mocha Nut Frappe, Strawberry Milkshake, Iced Calamansi 
We again like to have something cold because weather in Batanes is scorching hot. Busy had Mocha Nut Frappe, I had Strawberry Milkshake, and our friend had Iced Calamansi.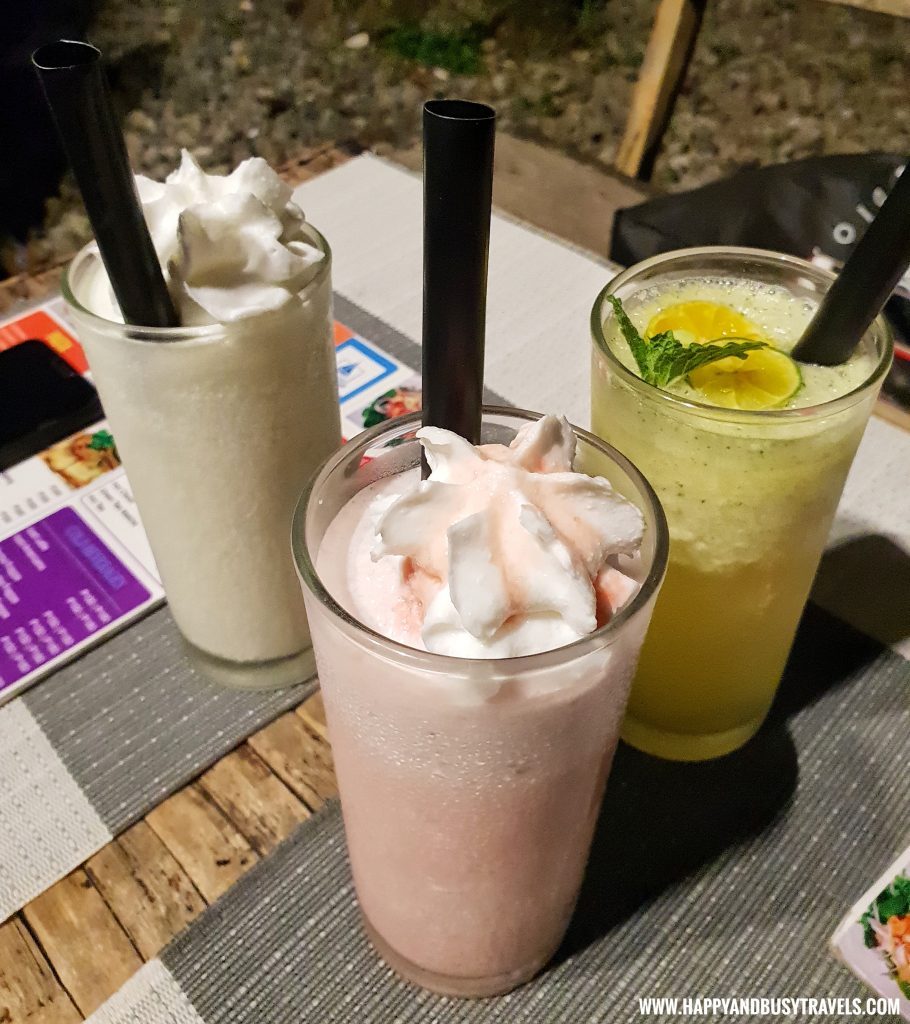 Happy and Busy's Smileys
Food


The food were all delicious! Plus they have a wide range of dishes, from Filipino, Western, and Ivatan.
Location


It was very easy to find and to go to. So, we just walked from our hotel to the restaurant.
Ambiance


Just look at the great view! The sunset, ocean, and the harbour.
Value for money


Serving was a lot! Food is delicious! Plus, service is good!
Service


Even though we were seated in an area that is not that noticeable, the staff had a great service. They even gave hot wet towels to their customers. I really wanted to give them 5 smileys, however we had a long time waiting for our bill and our change. I guess they were really just busy serving their guests.
Comfort Room
We did not have the chance to visit the comfort room, so we can't rate it.
Overall, we would like to recommend the restaurant for those who would like to have the usual Filipino food, Western food (like pasta), or those who wanted to try some Ivatan Food.
Our Amazing Batanes trip at https://happyandbusytravels.com/batanes-travel-guide-and-itinerary-for-5-days/
Our 2nd night in the Cafe!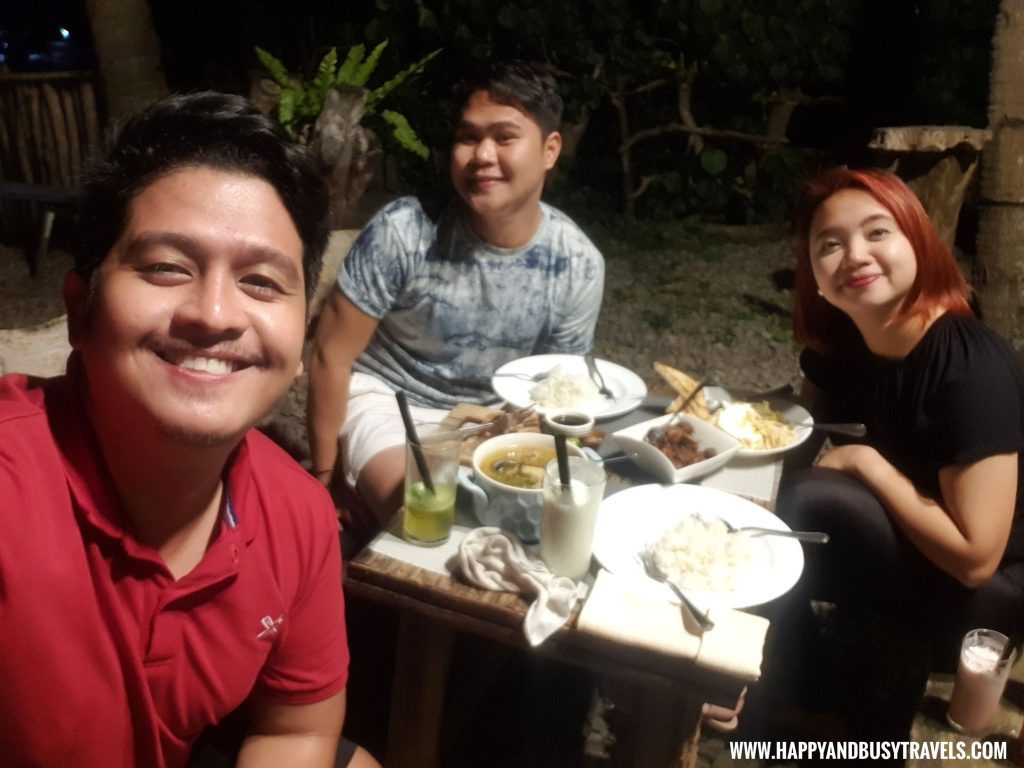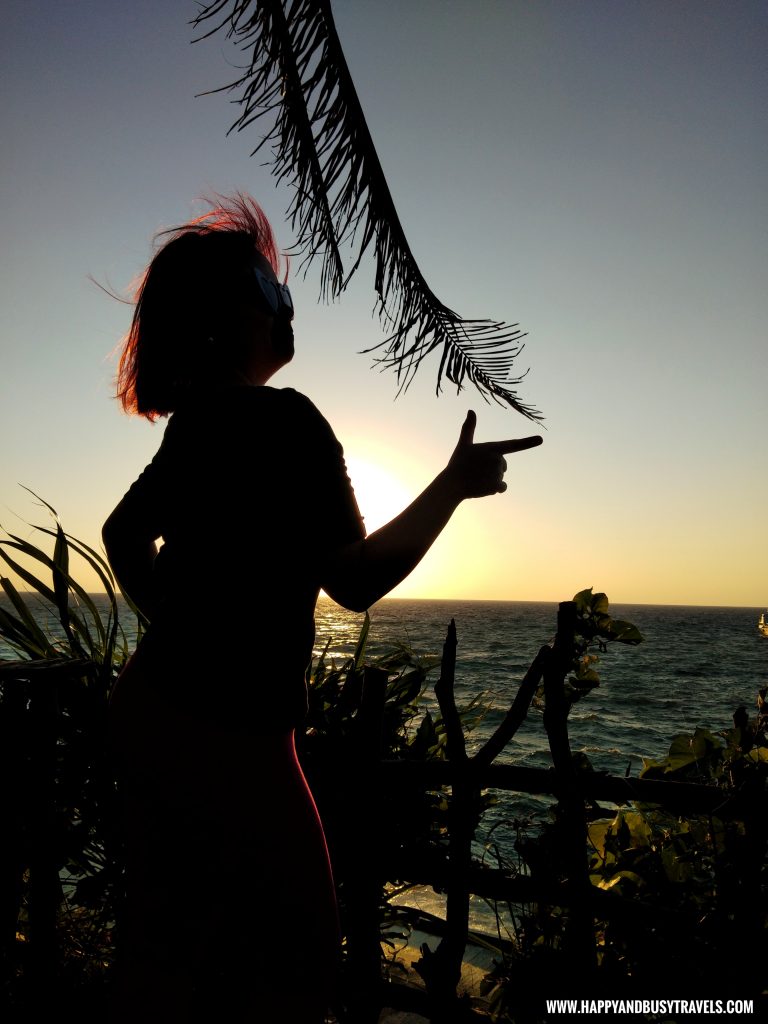 Batanes Travel Guide and 5-day Itinerary at: https://happyandbusytravels.com/batanes-travel-guide-and-itinerary-for-5-days/