We celebrated Busy's birthday differently by biking in Batanes. After our half day tour with Amazing Batanes, Busy and I borrowed a bike from Tawsen's Place Inn. Our friend, Imac, rented from a shop. Then we started our journey to the Fountain of Youth. Our journey started around 2:30 PM.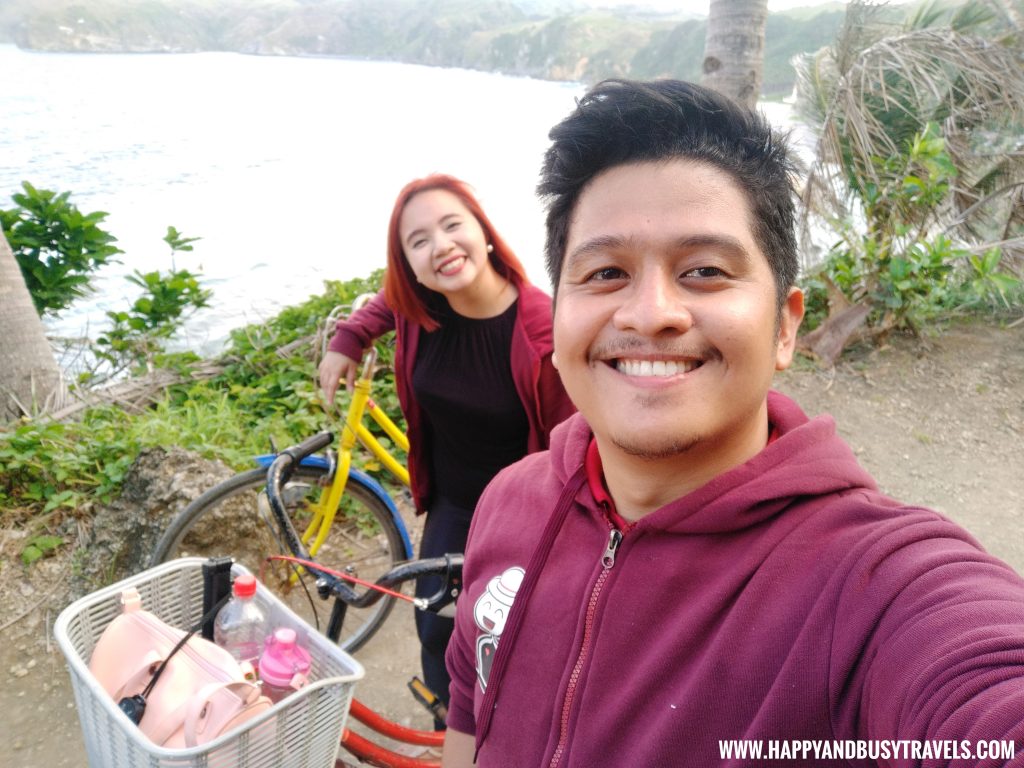 The weather is too hot in Batanes, so we put on sunblock lotion, wore our shades, used our couple jacket, and brought water.
Visit our 5-day Batanes Itinerary and Guide at https://happyandbusytravels.com/batanes-travel-guide-and-itinerary-for-5-days/.
Start of our Biking in Batanes
At first I tested the bicycle from our hotel, it was a bit big for me, so Imac insisted that we switch our bicycles because he has a smaller bike. So, I used his bicycle with a basket.
When we told our tour guide that we planned to use a bike to go to the fountain of youth, his facial expression changed, he was in shock. Now we know why! Biking in Batanes is a challenge because there is a lot of zigzag roads, and there is A LOT of ups and downs…. We were literally going up and down mountains! Plus, the road is in between the mountain, and the ocean, it was literally a cliff! Hahaha it was a bit scary for me.
If the road is too steep, we just walk because we can't use the bike anymore haha. I planned to take a video while in the bike, but I struggled so… there is no video of our activity hahaha.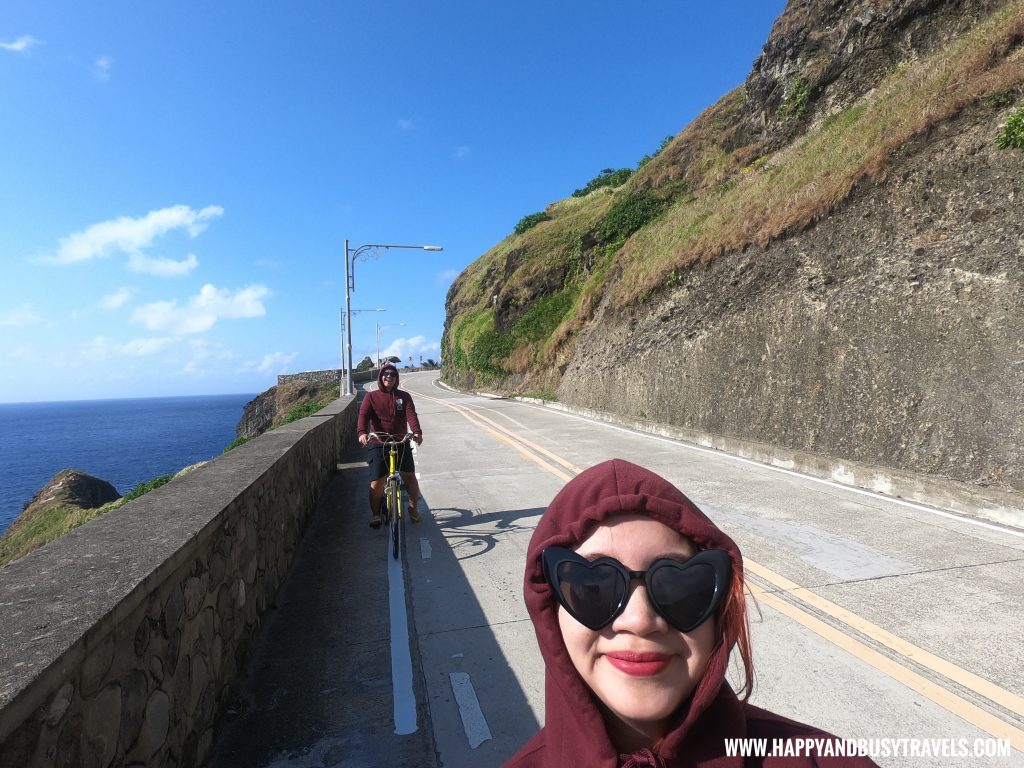 As shown in the picture above, Busy insisted that I go first and he will go last, by the way Imac is in-front of us. I think Busy just wanted me to be safe, and whatever happens to me he can see me and assist me immediately. Ohhh I feel loved 😊
The View While Biking in Batanes
Even though it was a challenge biking in Batanes, we enjoyed it! It is because we get to laugh at our stumbles and we get to enjoy the view.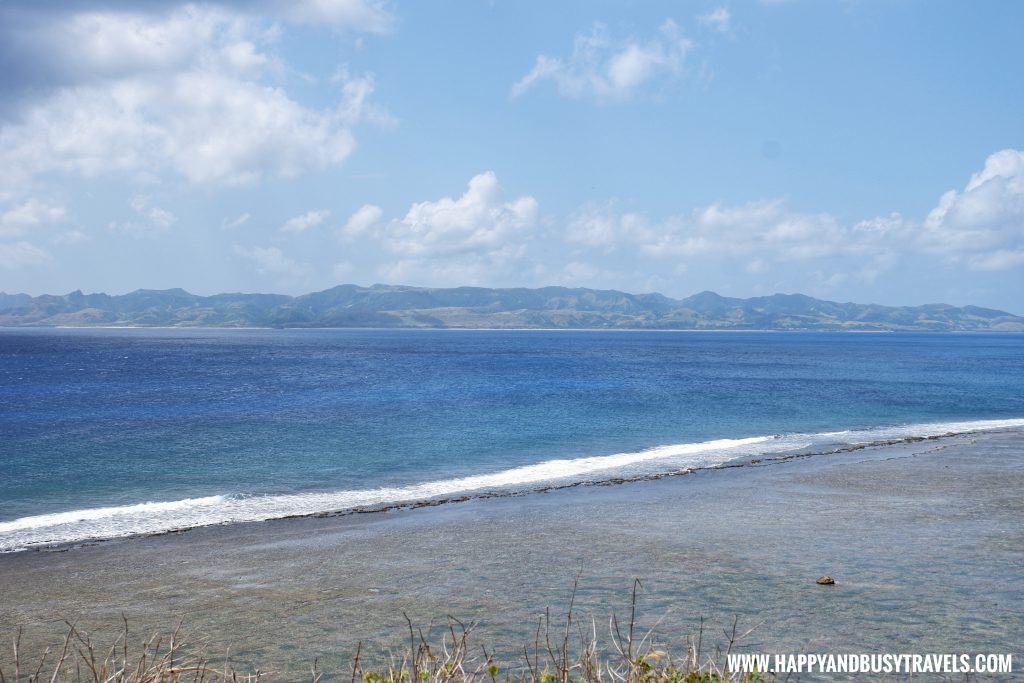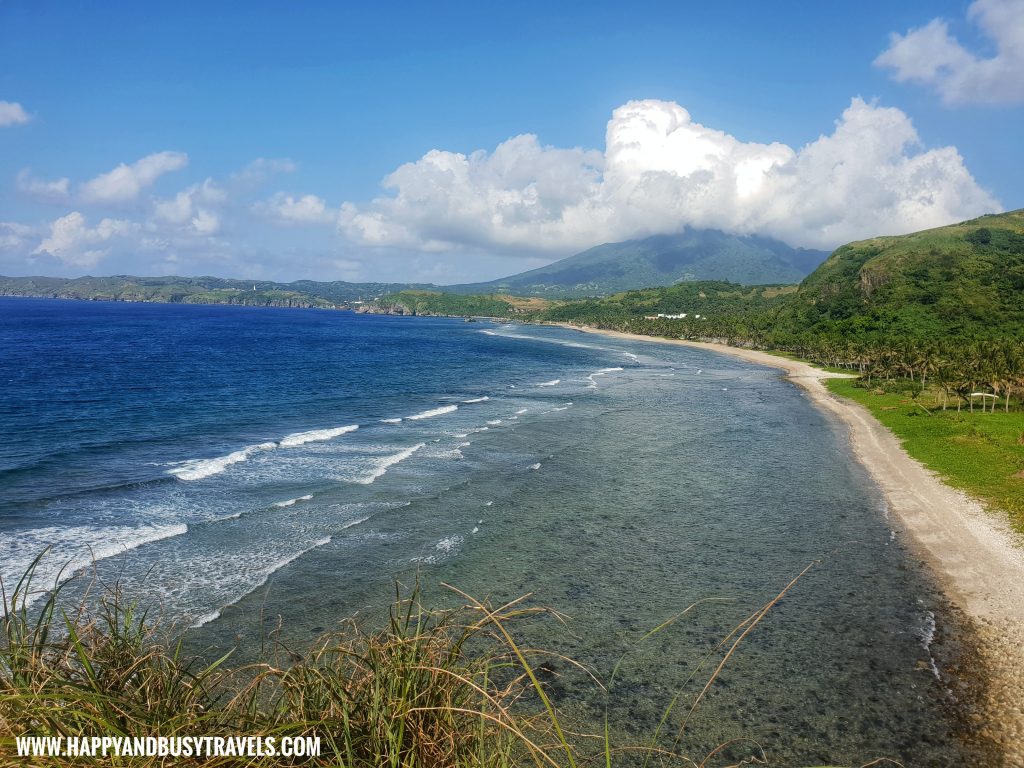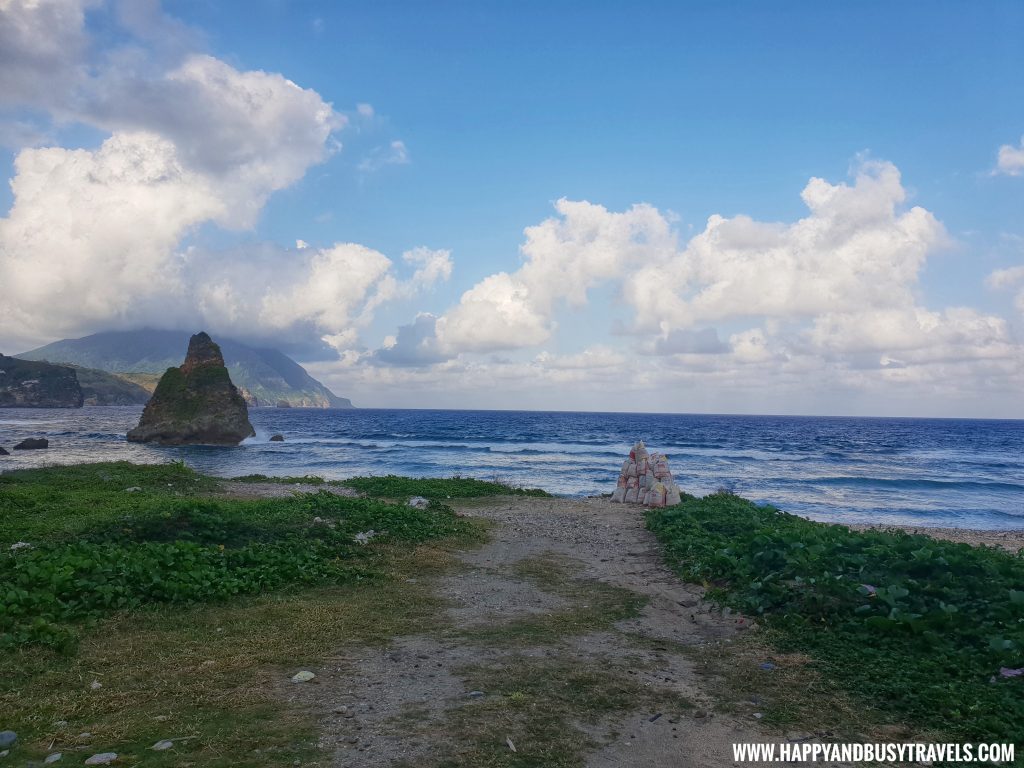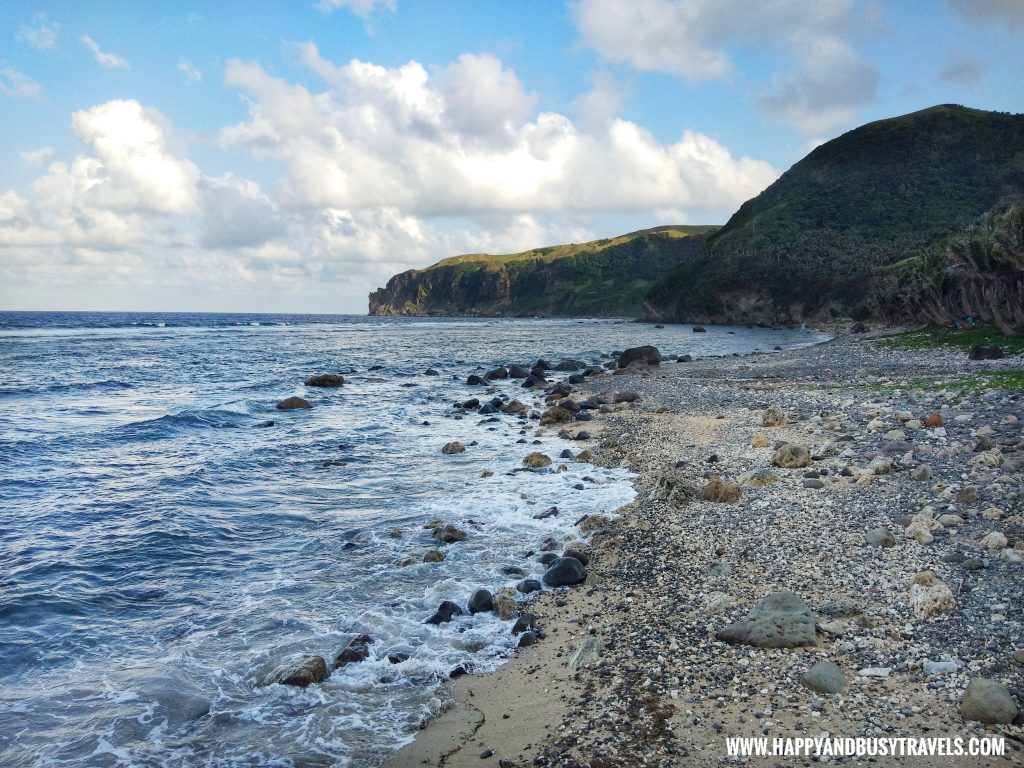 Do not worry, we stop and parked our bicycles properly beside the road whenever we take these pictures.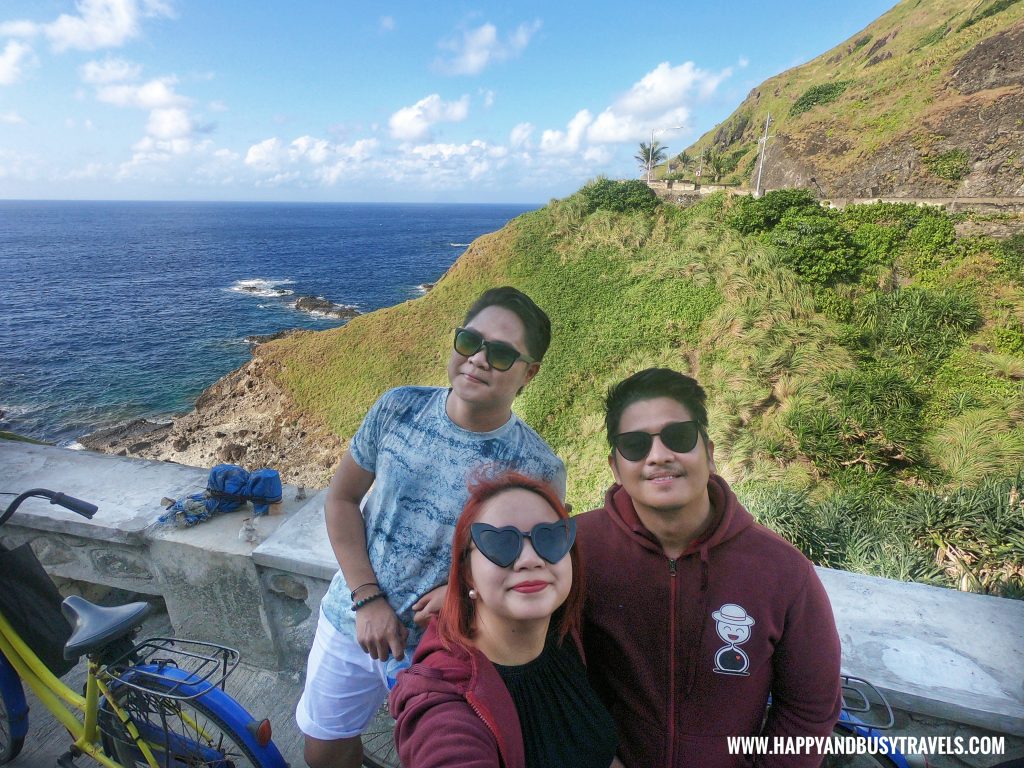 We also took some videos whenever we stop. Do not worry, we always cautious, we look left and right if there were vehicles.
Even though I brought water, I bought cold drinks whenever there is a store 😆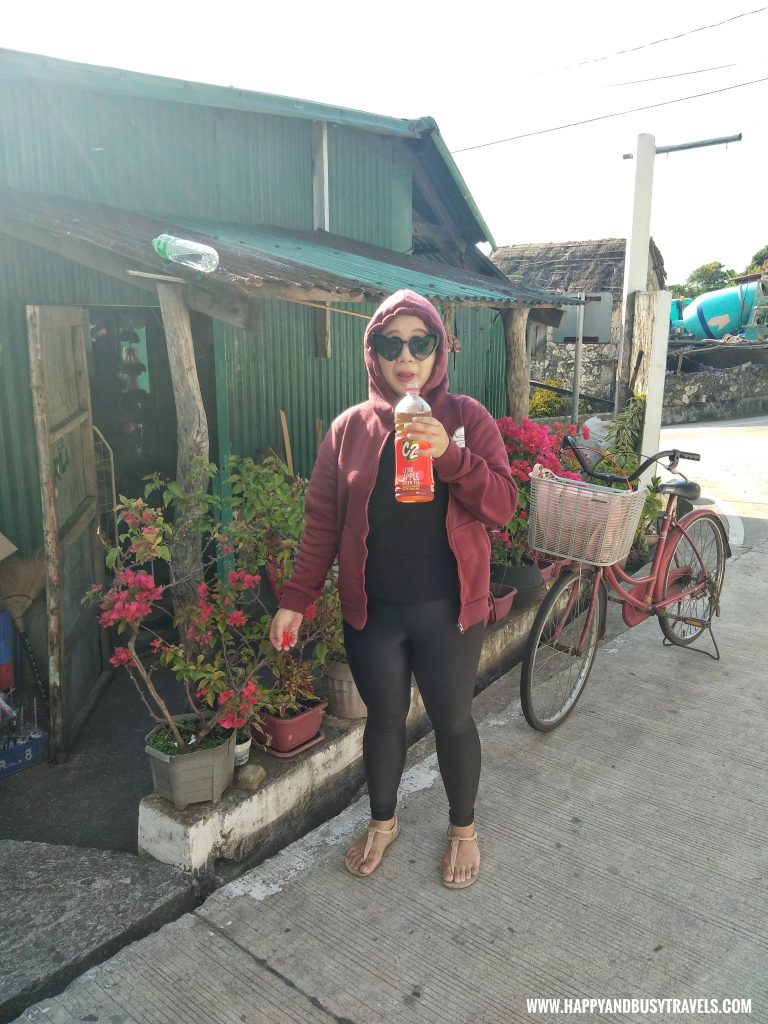 Arrival in Fountain of Youth
The location of fountain of youth in Google Maps is wrong! Do not follow it! We thought it will just take us a few minutes, but in reality it took us 2 hours! According to Google Maps, the fountain of youth is just beside the road, but it was wrong, so we did not anticipate the rough roads to the fountain of youth.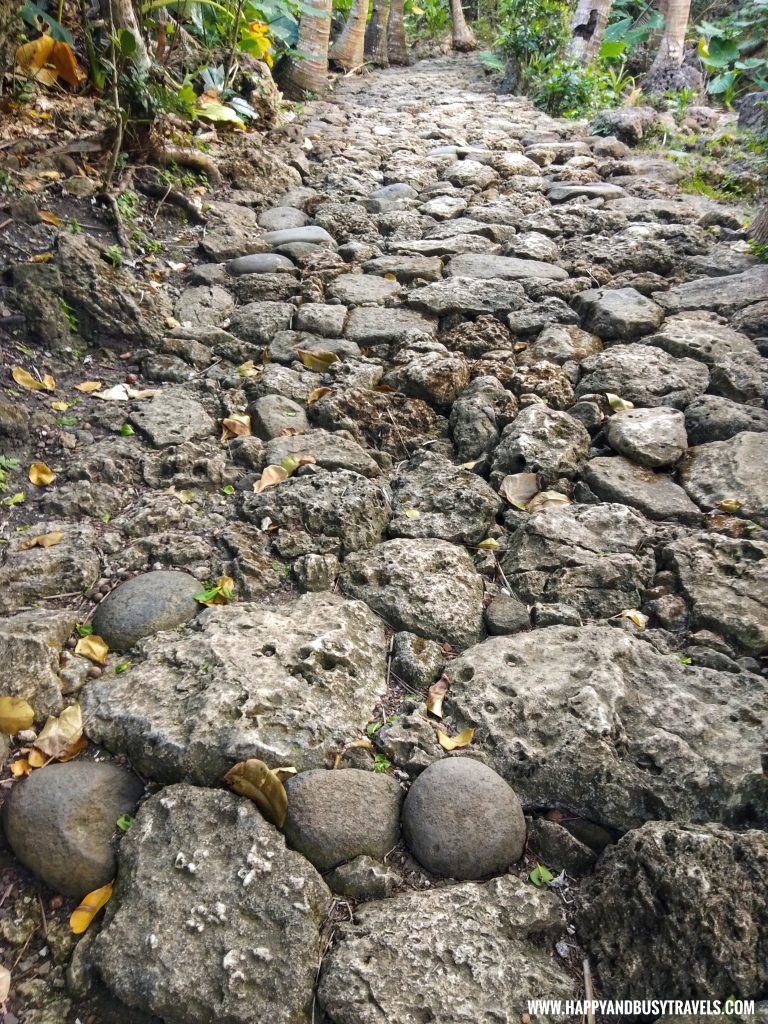 We really would like to jump in the fountain of youth and swim because we were very tired biking… So when we arrived in the fountain of youth, we immediately looked for the body of water. To our disappointment, there is no water!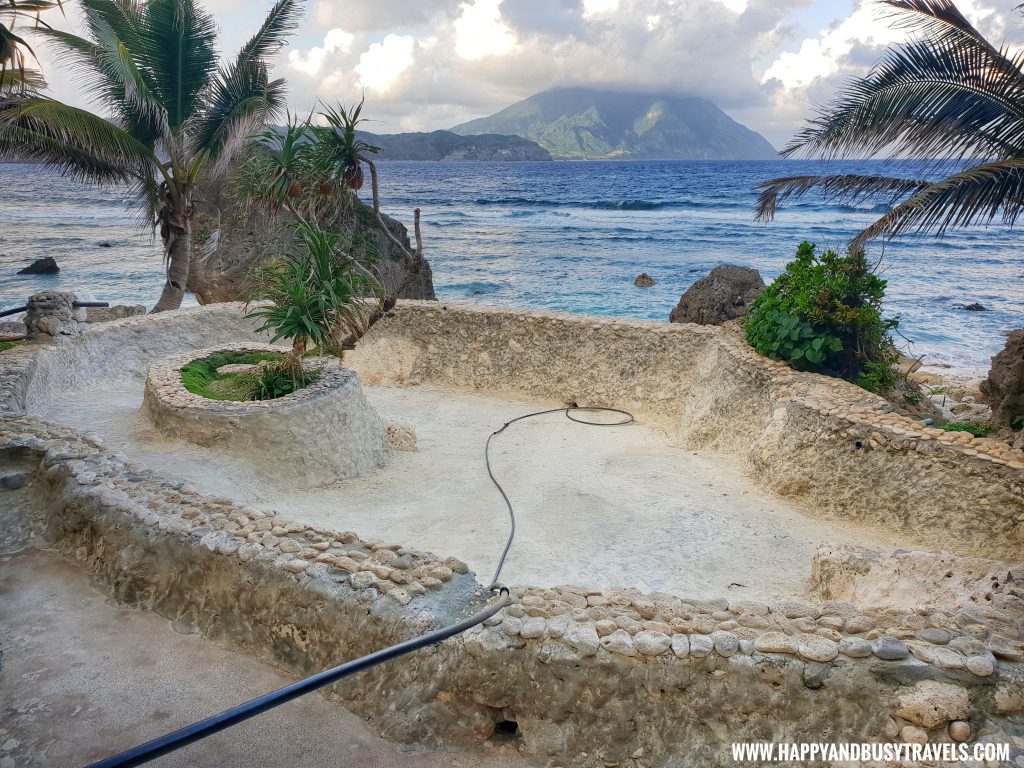 It was a Monday so the spring is scheduled for cleaning. So, we just stayed for a while and rested.
Biking Back to the Town
After we think we have the energy to bike again, we went back to the town. We left around 5PM and it started to get dark. Unfortunately our bikes do not have head lights and tail lights, so we did not use the bike and decided to walk through the road. To be safe, we turned on the flashlight of our phones. One phone is the head light, and the other is the tail light. We know it was not enough but that is what we have by that time.
It was really scary because as I have mentioned earlier, there is a lot of zigzag roads and there were no streetlights! Plus the road is just enough for 2 vehicles. We were not expecting this because according to Google Maps it will just take us 20 minutes to go to the fountain of youth, but as I have said, Google Maps is wrong. We should've asked the locals or do a lot of research before doing our activity.
FORTUNATELY! Ivatans are normally nice and caring. One of the trucks passing by stopped in-front of us! The passengers went down and helped us with our bicycles! They brought it inside the truck and they let us ride the truck! Even though it was evident that they were tired because they came from work, they still helped us.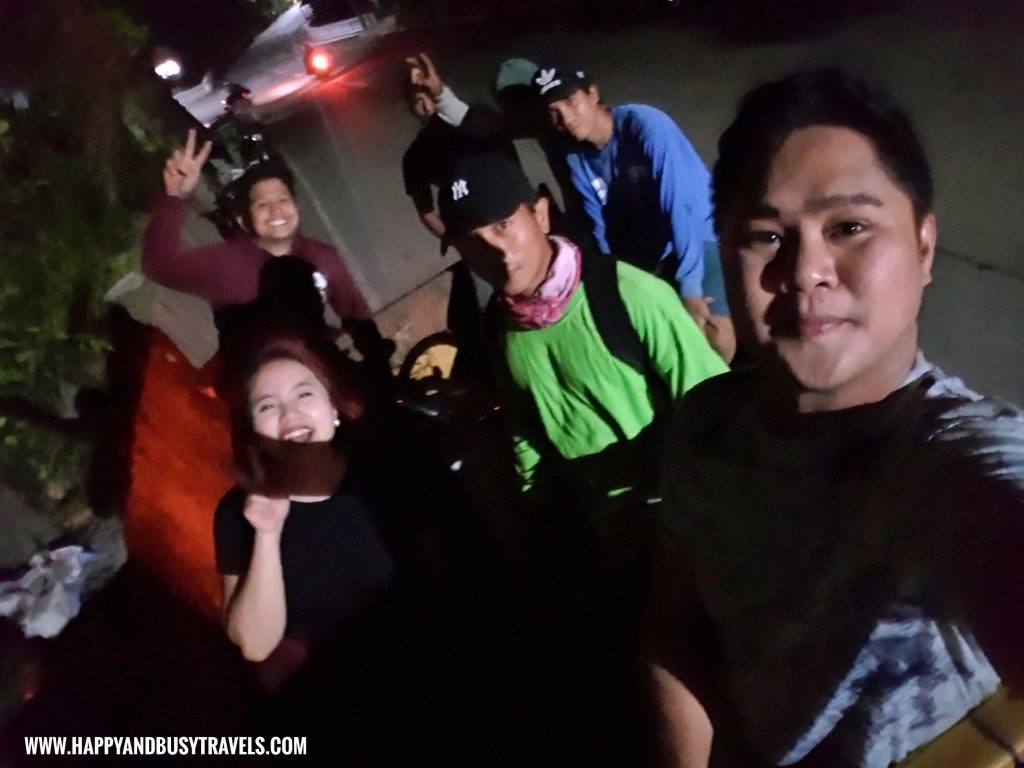 We were very lucky because we have a long way back to the town. It will take us at least 3 hours of walking with our bicycles to go back! We thanked them so much because they were a blessing! They were so shy they just smiled whenever we say Dios Mamajes (Thank you). We asked for their names but they did not tell us. These Ivatans were the reason why we came back to the town safely!
Overall we had a blast! It was a different way of celebrating Busy's birthday. Even though there were a lot of challenges in our trip, we will do it all over again!
Happy and Busy's Smileys
Location


Batanes is really a great place to bike. We would like to suggest to every tourist to take a bike and appreciate the beauty of Batanes.
Ambiance


Even though the weather is very hot, we love the view while biking. We get to enjoy each view in our own pace.
Value for money


For Busy and my case, there is no cost for renting a bike because it is free from Tawsen's Place Inn. So technically it is free for us. Imac rented his bike for Php25 per hour, but it was okay because it is just cheap.
Fun


This was an activity that we will never forget. We were glad that we had the guts to bike.
Like us in Facebook https://www.facebook.com/happyandbusytravels
Follow us in Instagram https://www.instagram.com/happyandbusytravels