During our stay in Taiwan, we had the opportunity to book our tour with Ownrides.
What is Ownrides?
Ownrides is a Taiwan based travel agency that focuses on customized trips. The agency has tour packages already, but what we love about the agency is we can customize our trip.
We had a lot of places to visit in our minds, and we can't find any travel packages that fits whatever we want, so we got their services and customized our own trip.
We are sharing this step-by-step guide on how to customize your trip so you can also have a good time in Taiwan.
Quick Links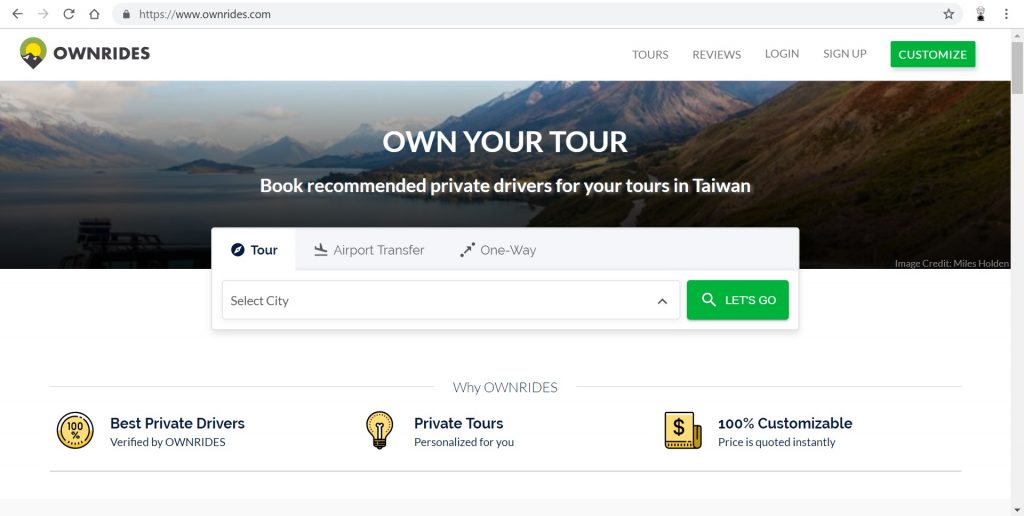 How to Customize your Taiwan Trip?
Step 1 – Plan Your Itinerary
Go to their website https://www.ownrides.com
In their homepage, there are a lot of different tour packages already. But if you want to proceed in customizing your tour, continue to follow the next steps.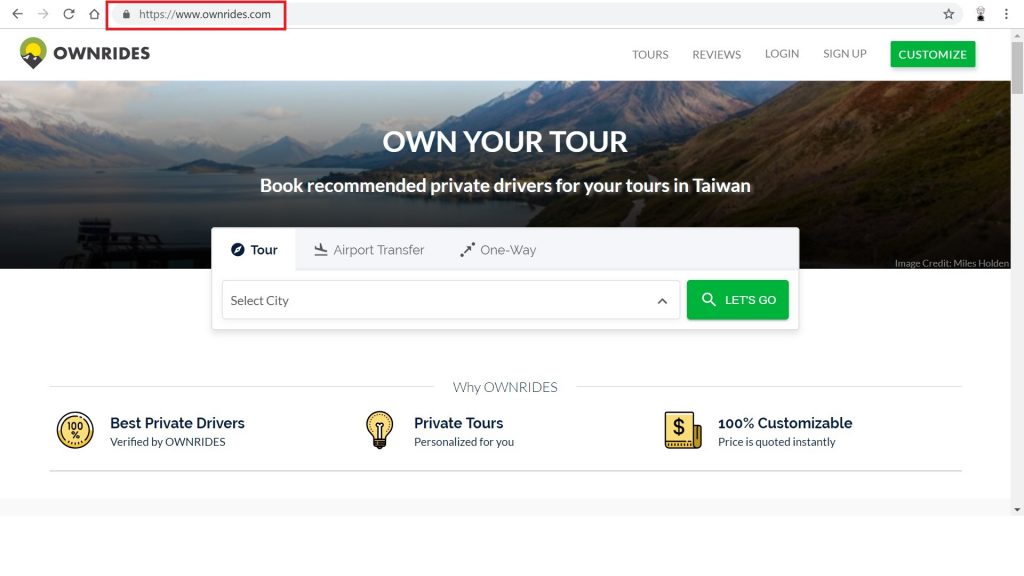 Click "Customize" located at the upper right corner of the screen.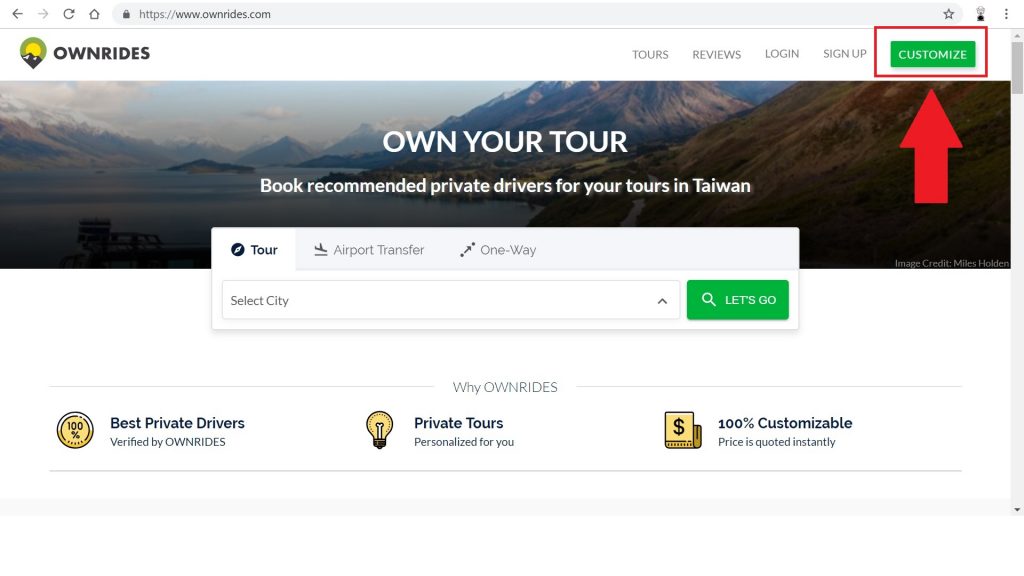 After clicking on the button, it will bring you to https://www.ownrides.com/itinerary/customize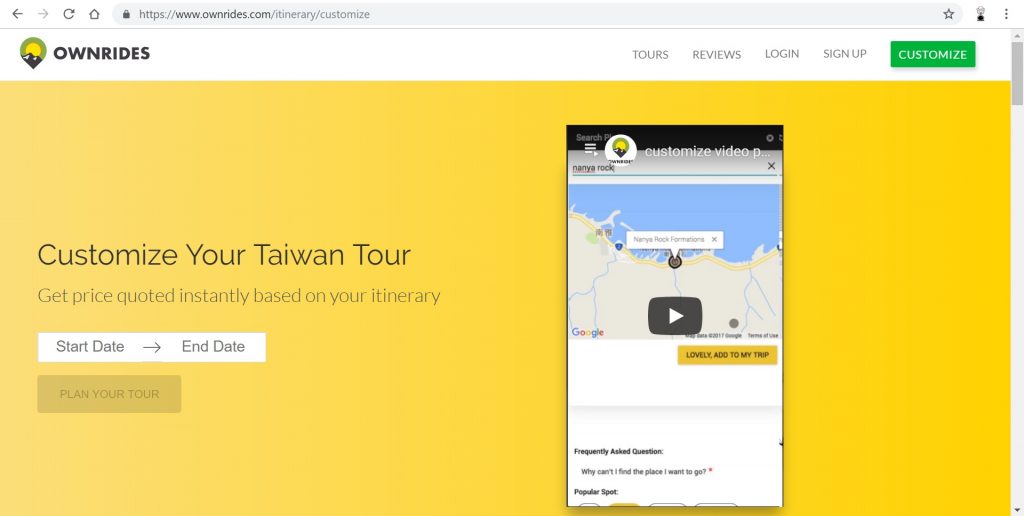 Choose your start and end date.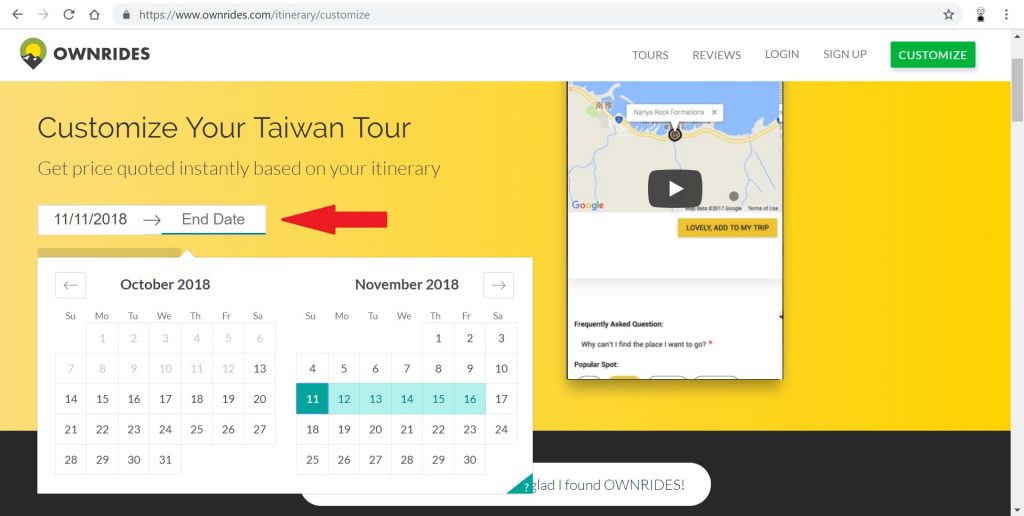 Then click "PLAN YOUR TOUR"
I wanted to change the title of my itinerary, so I edited it haha 🙂 This step is optional.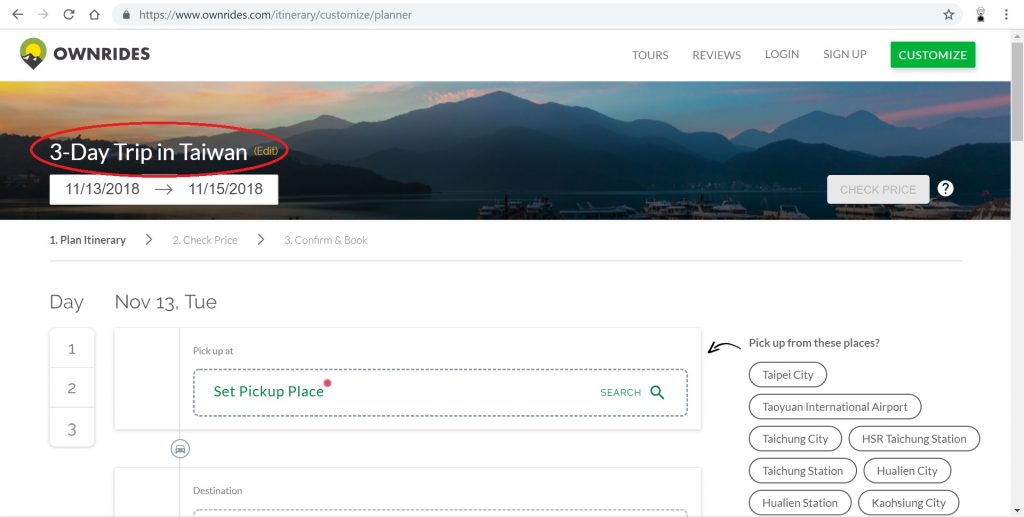 Click the "Set Pickup Place"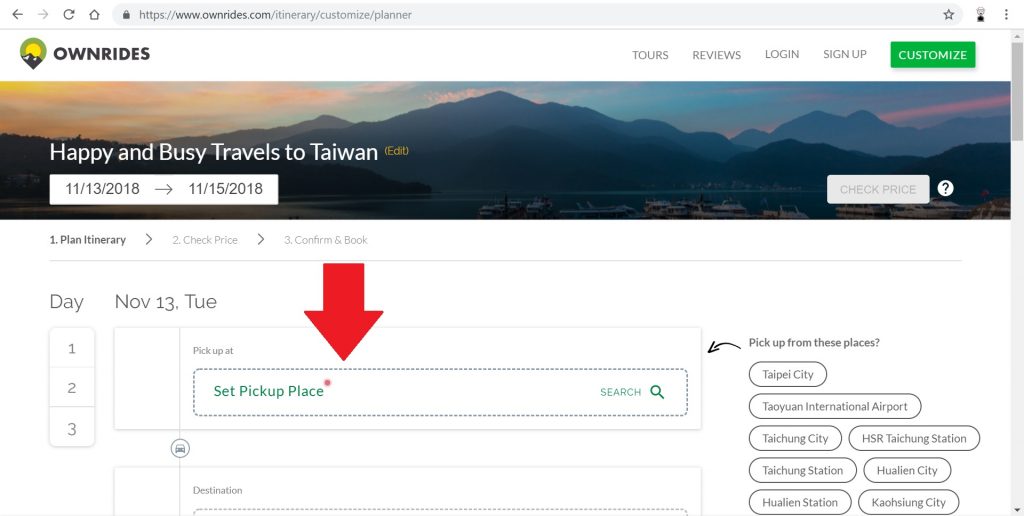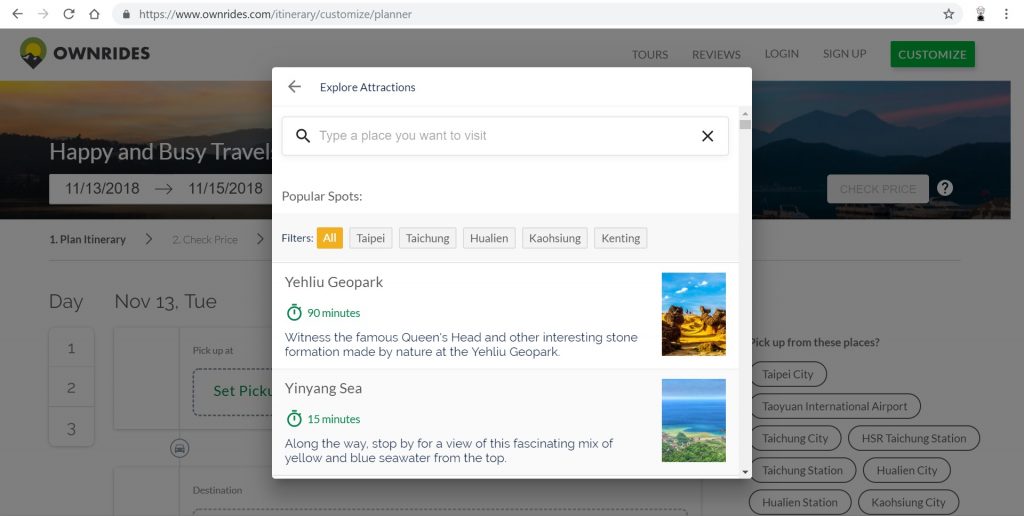 Type in your pick up place. In our case, our pick up place is Orange Hotel. We wanted to be picked up in front of our hotel.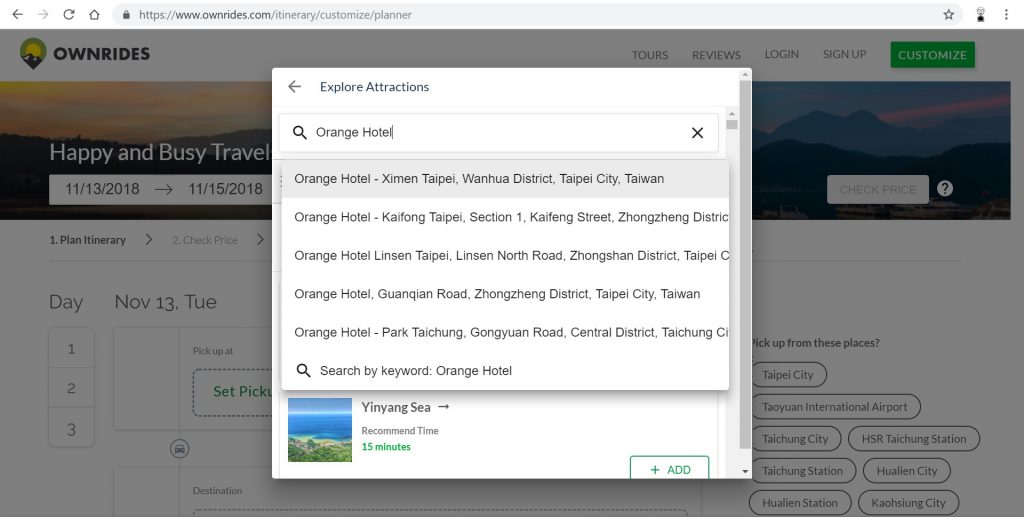 After searching for your pick up place, click the "Add to route" Button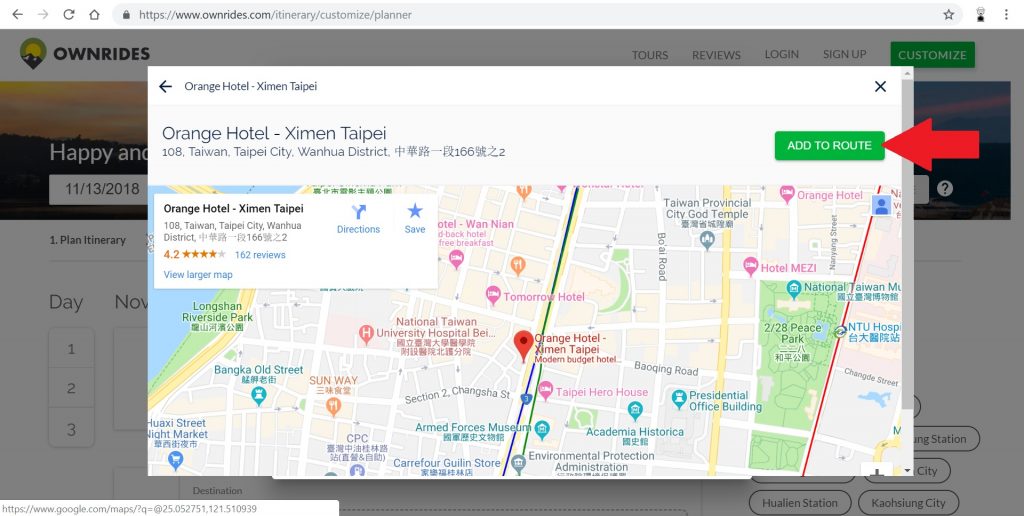 The chosen pick up place will be added to the itinerary as the starting point.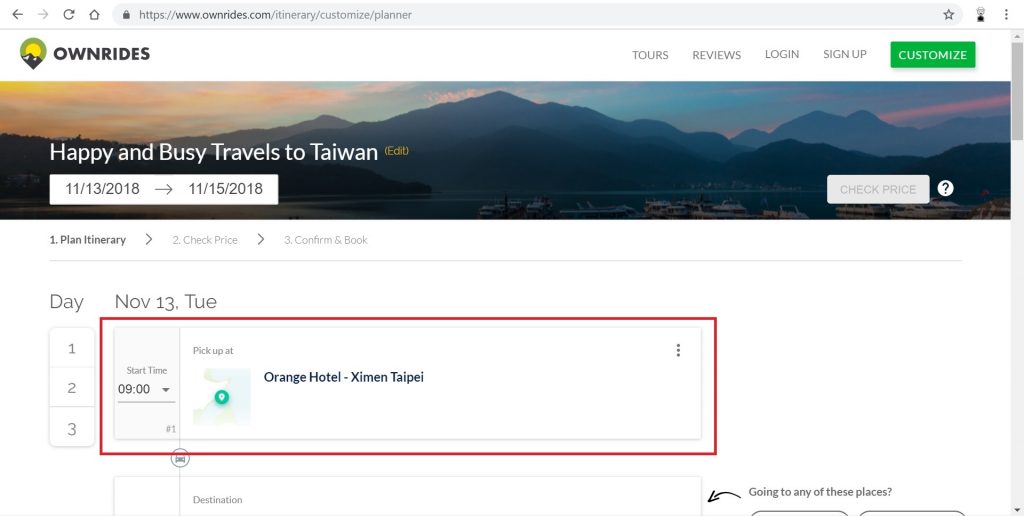 Then, just add the places you wanted to. In example, we wanted to go to Rainbow Village first. You also have the option to change the staying time in a certain location.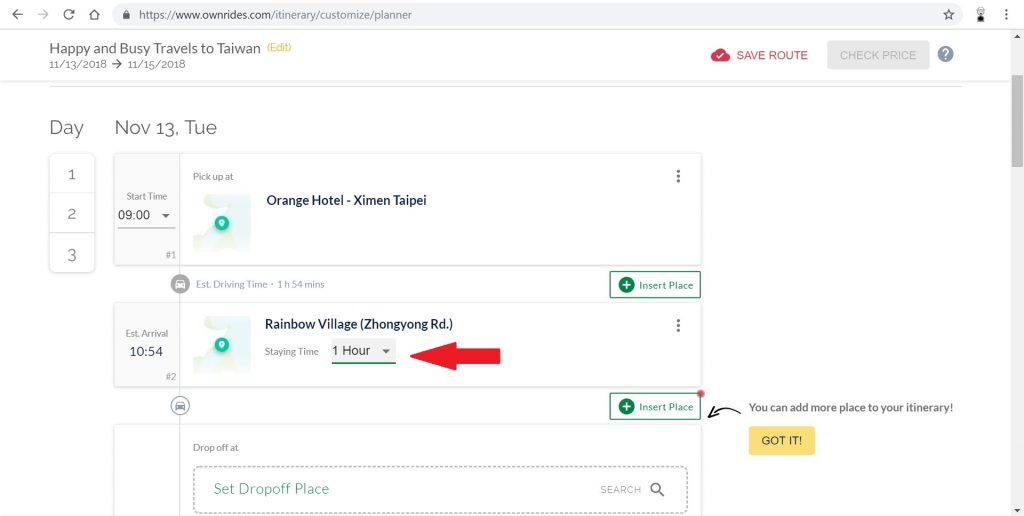 We changed it to 45 minutes instead of 1 hour.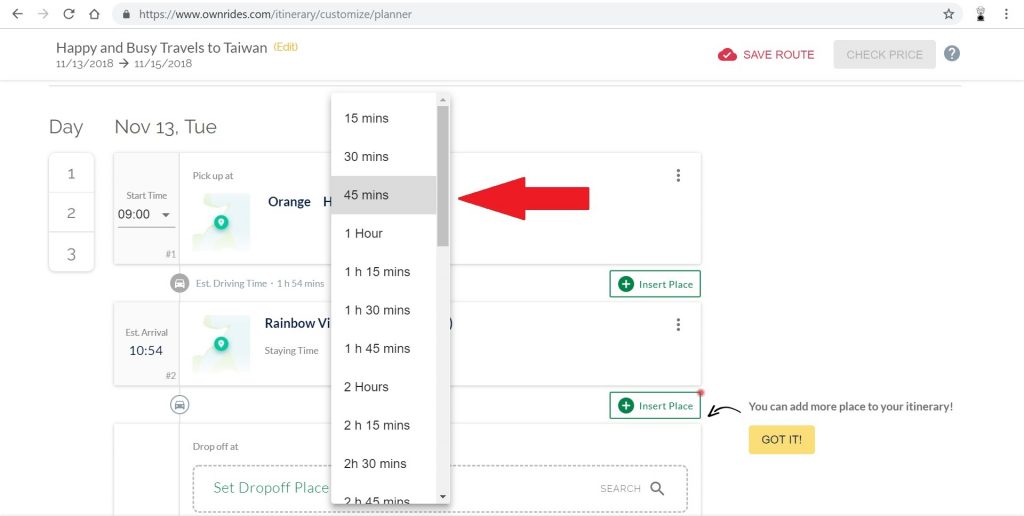 At the bottom of the screen, you can find the total number of hours to accomplish your itinerary.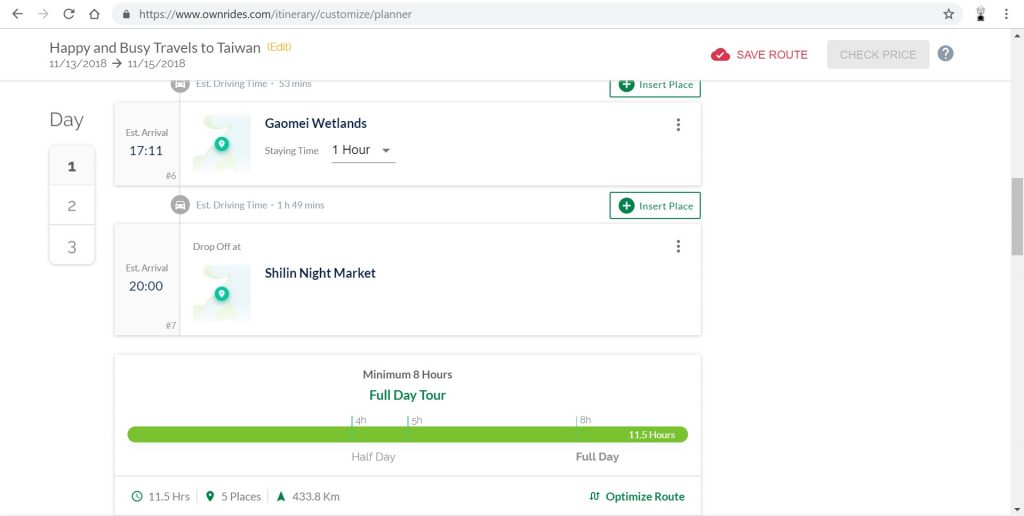 Minimum is 8 hours, and maximum is 11.5 hours.
If you wanted to edit your itinerary and move up or down a tourist attraction, you may do so by clicking on the symbol with three dots at the upper right of the tourist attraction, and click move up or down.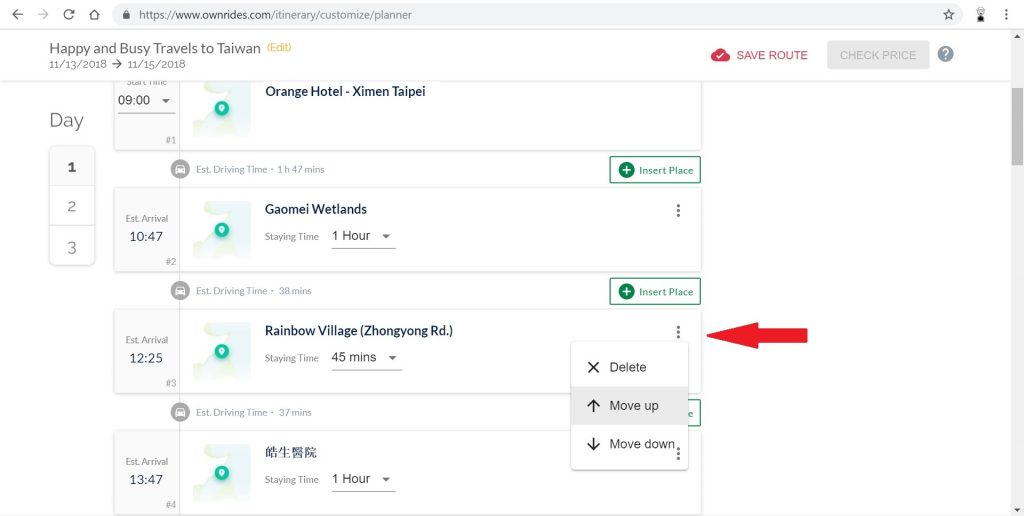 If you do not meet the 8 hours, it is okay, however the website will suggest you to add more places so you can enjoy the private car in its maximum.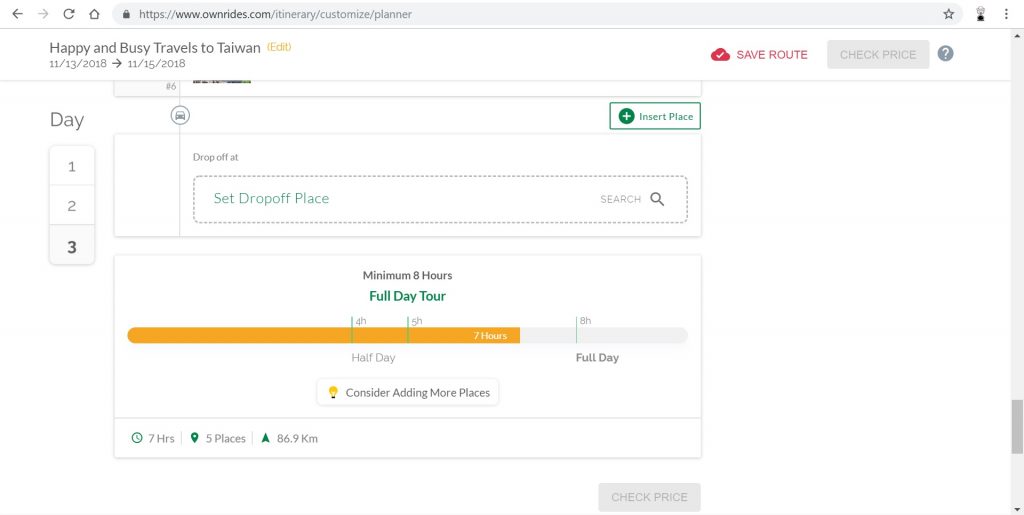 After doing the itinerary, click "Save Route" at the upper right corner of the screen.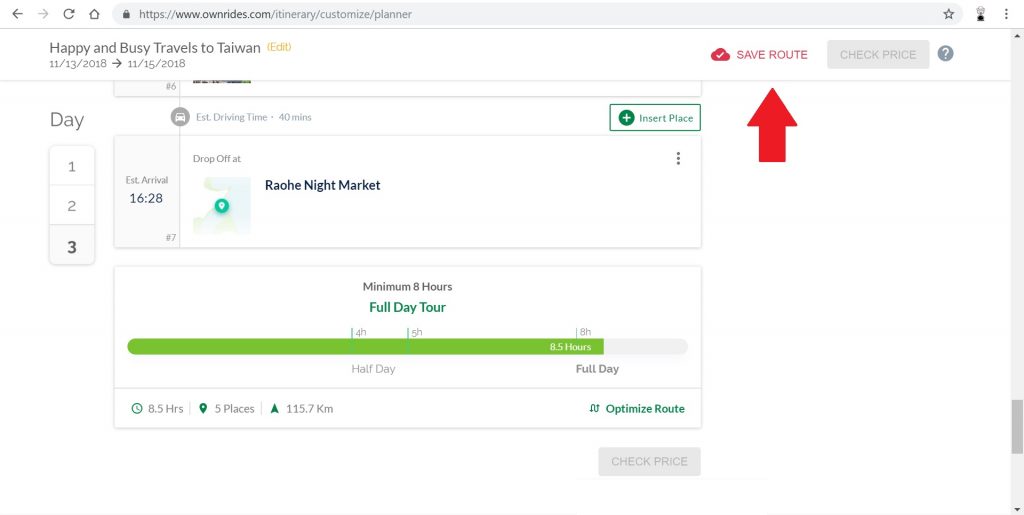 The website will give you a link. You may copy this for reference.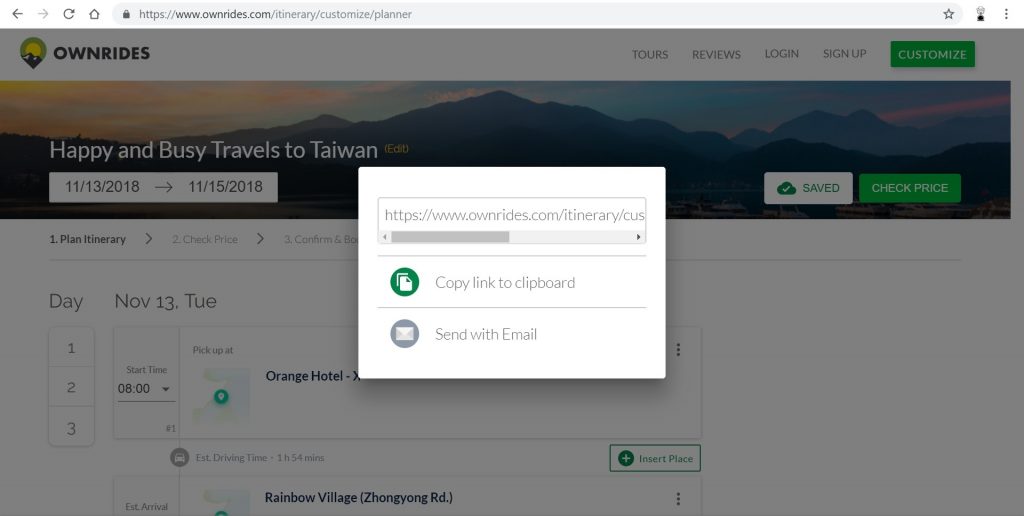 You will notice that the "save route" button turned into a "Saved" button. Now click on the "Check Price" button.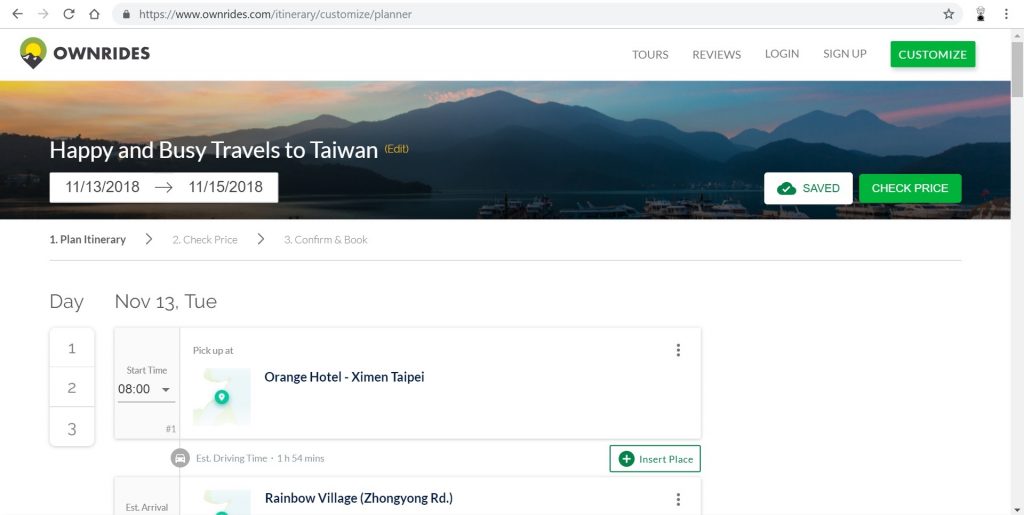 Step 2 – Check Price
The check price button will bring you in this screen. In this screen, you have to choose 1) What car would you like to rent.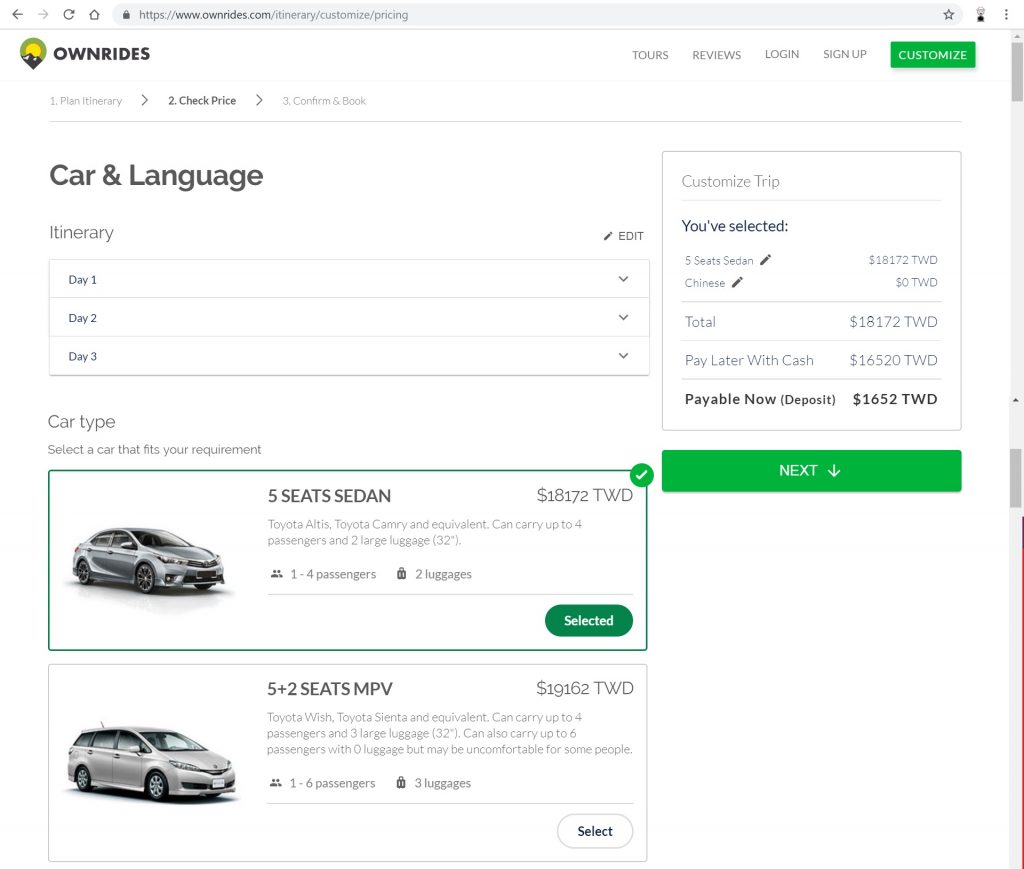 and 2) What language do you want your driver will speak. We of course choose English because we do not know how to speak Chinese. By choosing this option, there will be a minimal additional fee.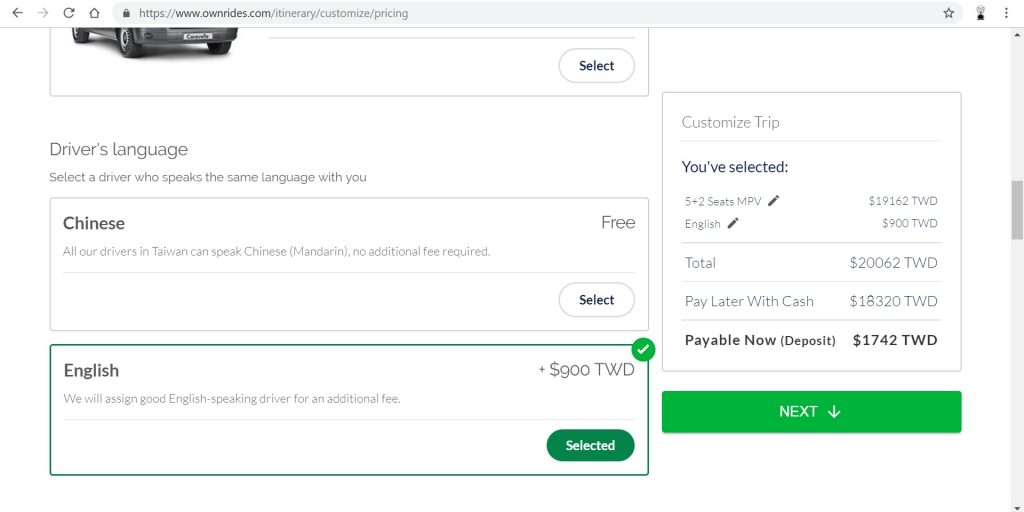 At the bottom of the screen, the website will summarize your booking.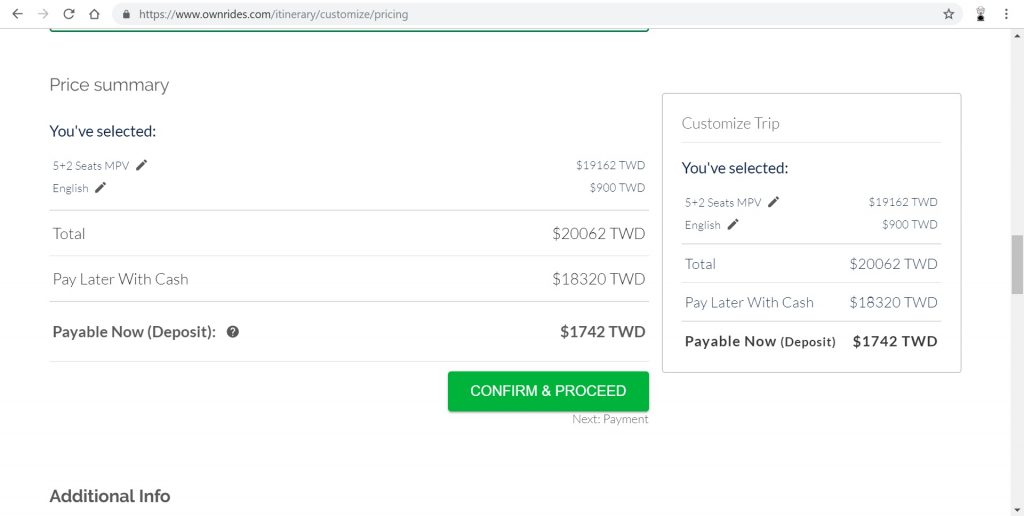 There were also some additional info that you must pay attention to.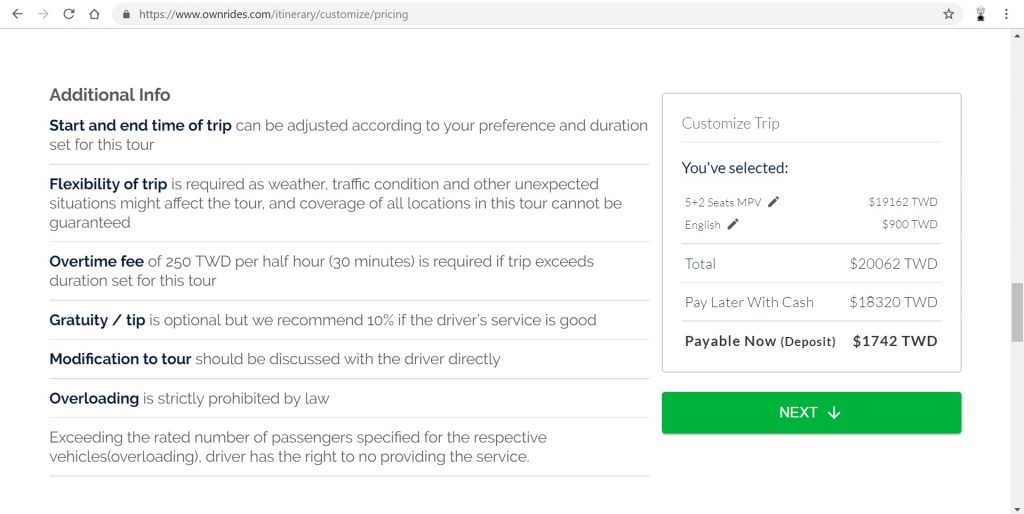 Scroll further down and you will find the inclusions and exclusions.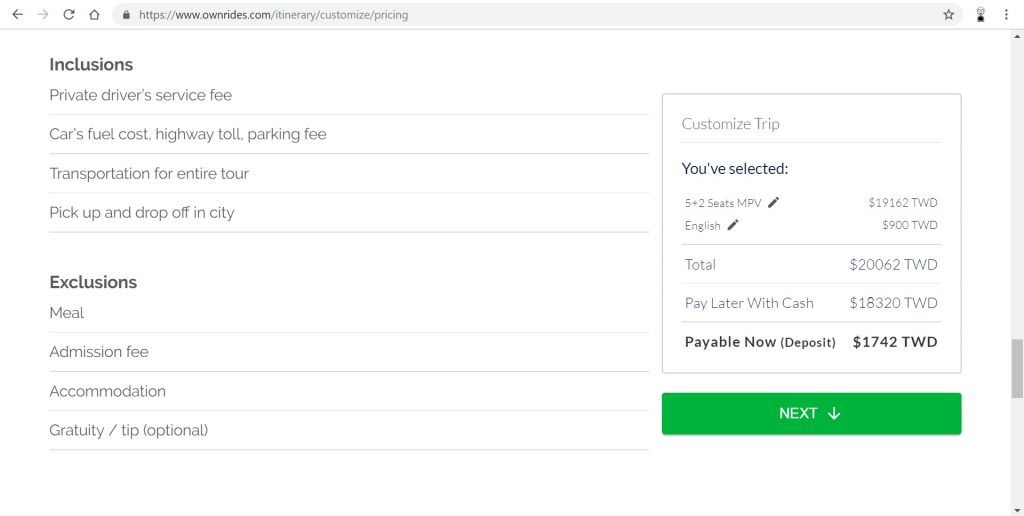 Before paying you have to log in. You may use your Facebook Account or create an account in Ownrides.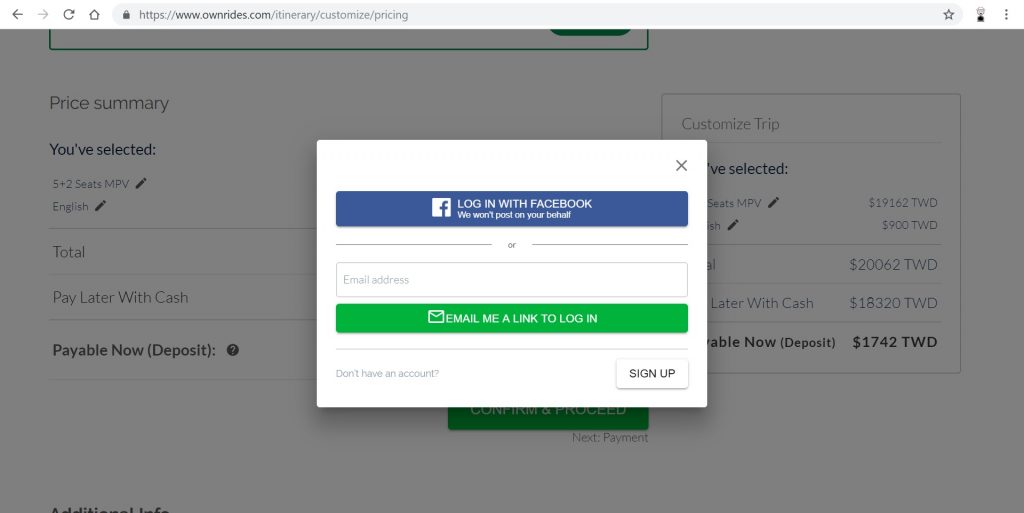 Step 3 – Confirm and Book
After logging in, you will be asked to confirm some details like the date and time, pick up and drop off place…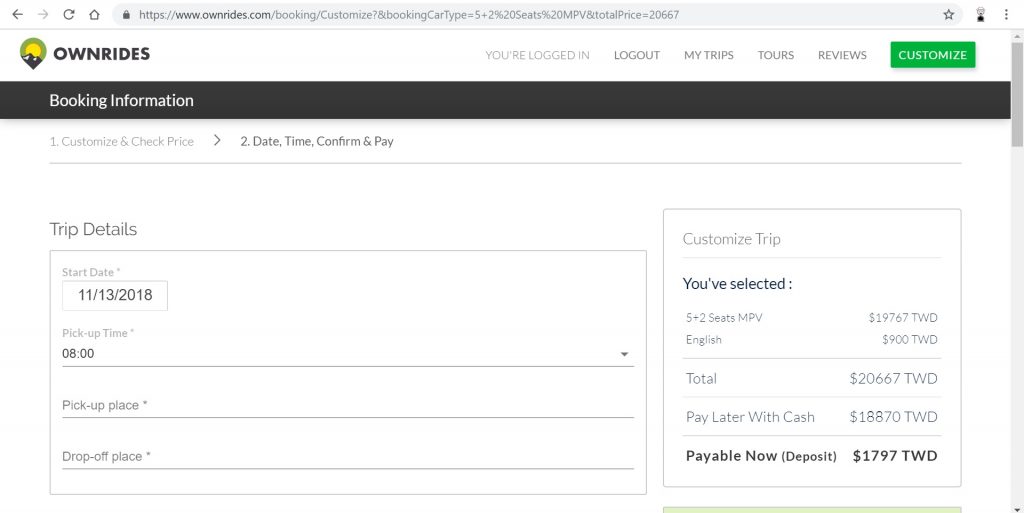 Number of passengers, number of luggage, and the contact information.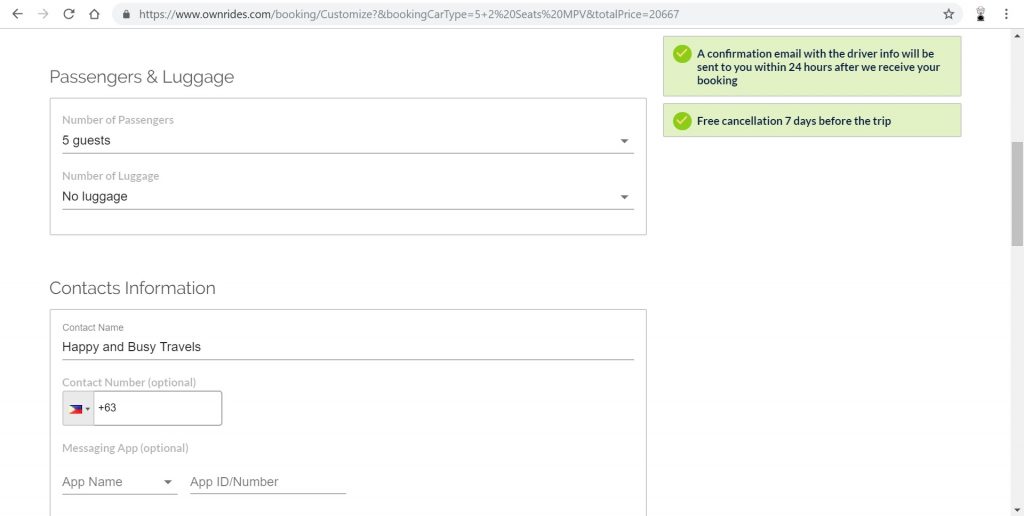 After confirming the details you have to pay through credit card. Enter your details and click "Confirm"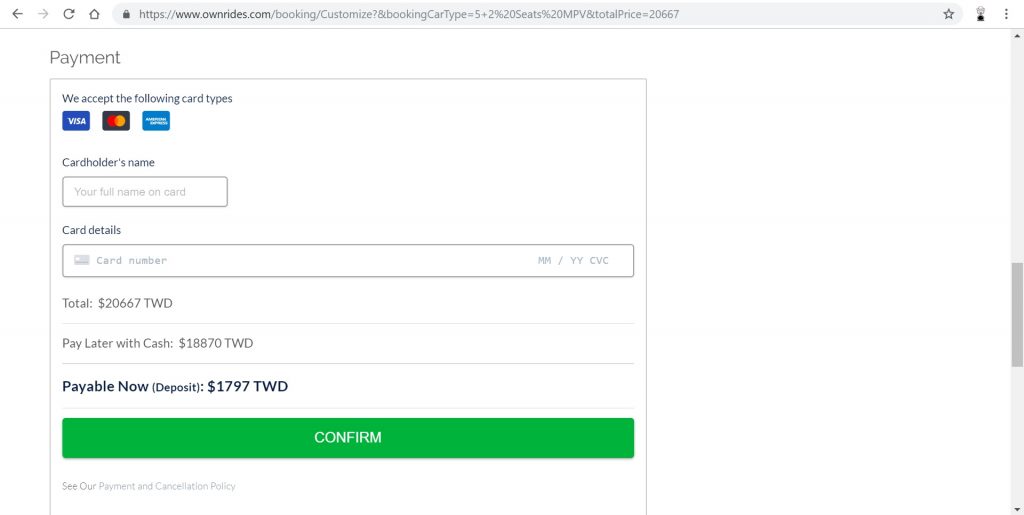 Then the screen will say "Booking Successful"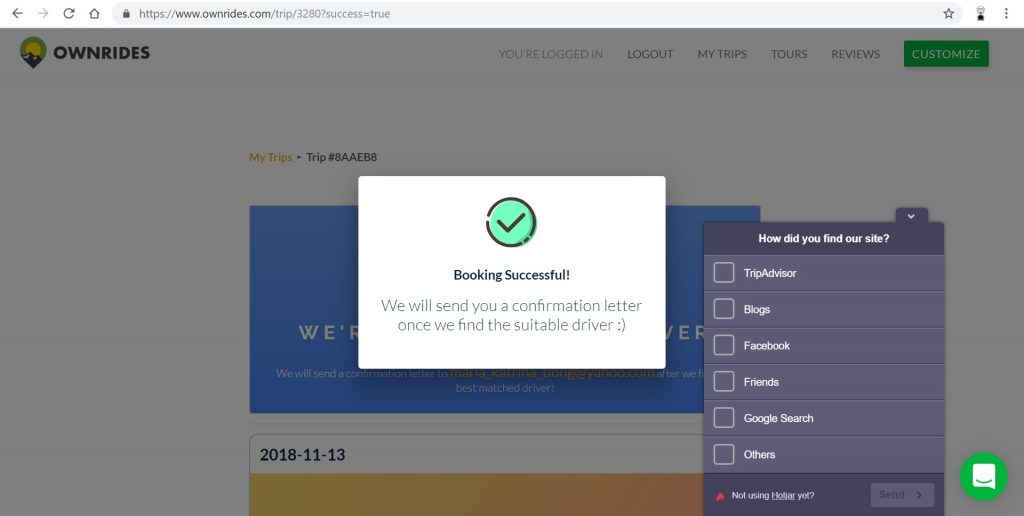 An email confirmation will be also sent with your itinerary details and link.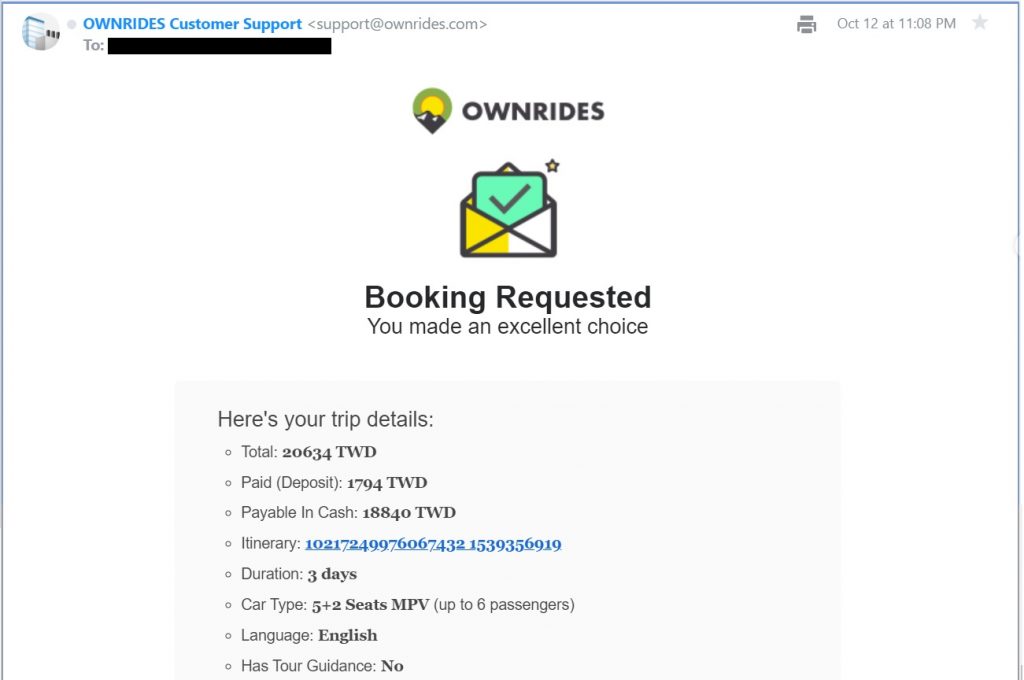 After the trip
We were asked to rate the driver. Our driver is Mike Huang, he was excellent so of course I gave him a review.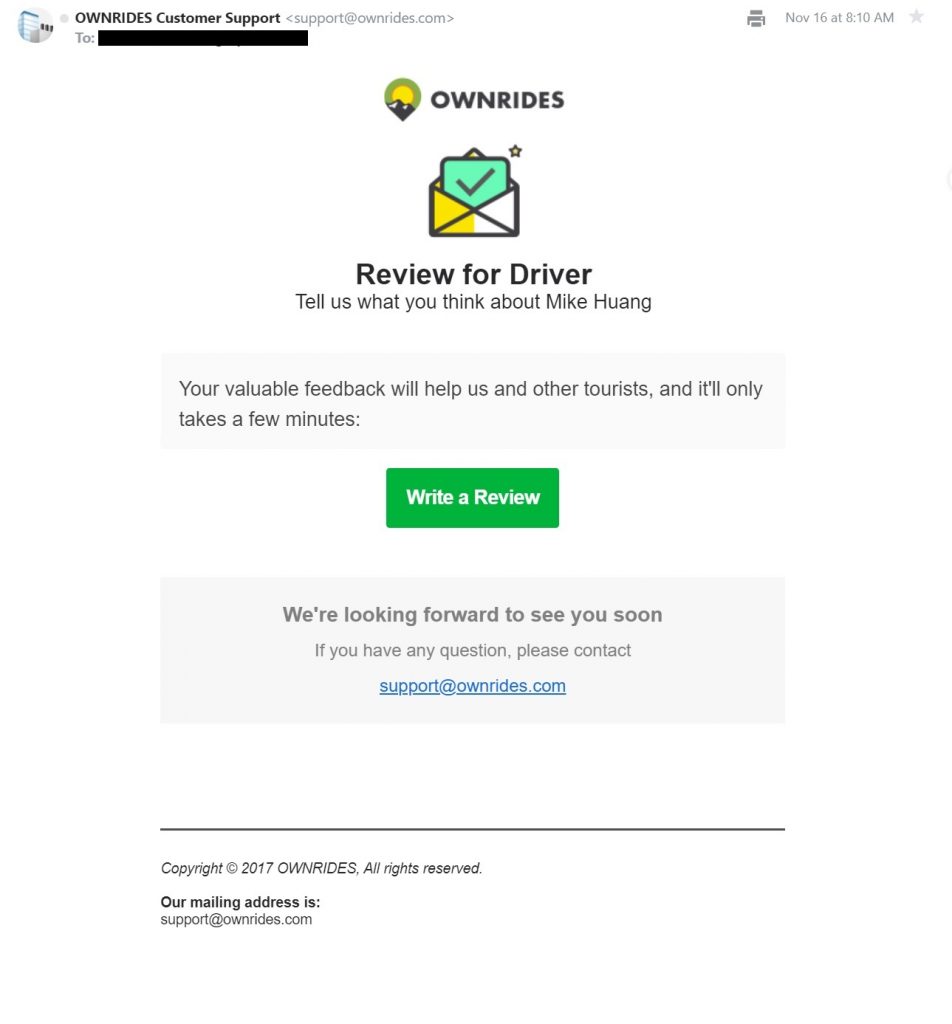 Mike was already 65 years old but he acts like he is just 20 years old. He gives good suggestions and he takes good photos of us, and he even made a video out of it! He was so polite and very good in guiding us through the tour.
Happy and Busy's Smieys
Service

Ownrides customer service – The company's customer service was great! Whenever I had questions or concerns they always accommodate me.
Driver – Our driver Mike Huang was excellent! When we come back in Taiwan we will definitely book through ownrides again and we will request for Mike.
Value for Money

Renting a car may be a little bit more expensive than riding the public transportation, but the money that we paid for the car rental was worth it! Because of Ownrides, we reached a lot of places in a little span of time, plus we have a translator 🙂
Cleanliness

The car of Mike was clean, and it even has a tissue paper for all haha love it!
We will definitely book through Ownrides again in we visit Taiwan!
Discounts!
Because you are one of our readers, get to enjoy a discounted rate!
Book using our code and have your discount in booking through Ownrides website!
Use the code: 
HAPPYANDBUSYRIDE
Simply enter the discount code into the "Other Info" blank at payment to claim the discount.
For trips lasting 3 days or more, Ownrides will remove 400TWD, while for trips of just 1 day, Ownrides will remove 100TWD.
Please note that the discount will be made via a refund to your credit card.
Promotion ends on 20th December 2018. 🙂