What is Bangkok without party, shopping, and exotic foods right? So Busy and I, together with 2 of our tour mates went to Khao San Road.
Khao San is a small road with the complete package. You can rent a hotel, shop, relax, party, and eat a lot!
From our hotel, we asked a tuk tuk to take us to Khao San Road, we arrive after 10 mins. We went there early, around 10pm so as expected the party is not yet beginning haha. So we just started by eating different kinds of Barbecue then we proceed with the exotic food extravaganza!
Yum!
If you just want to take a picture, they will just charge you 10 Bhat. But why waste such delicacy without tasting them? hahahah

Different kinds of insects, 60 Bhat (assorted)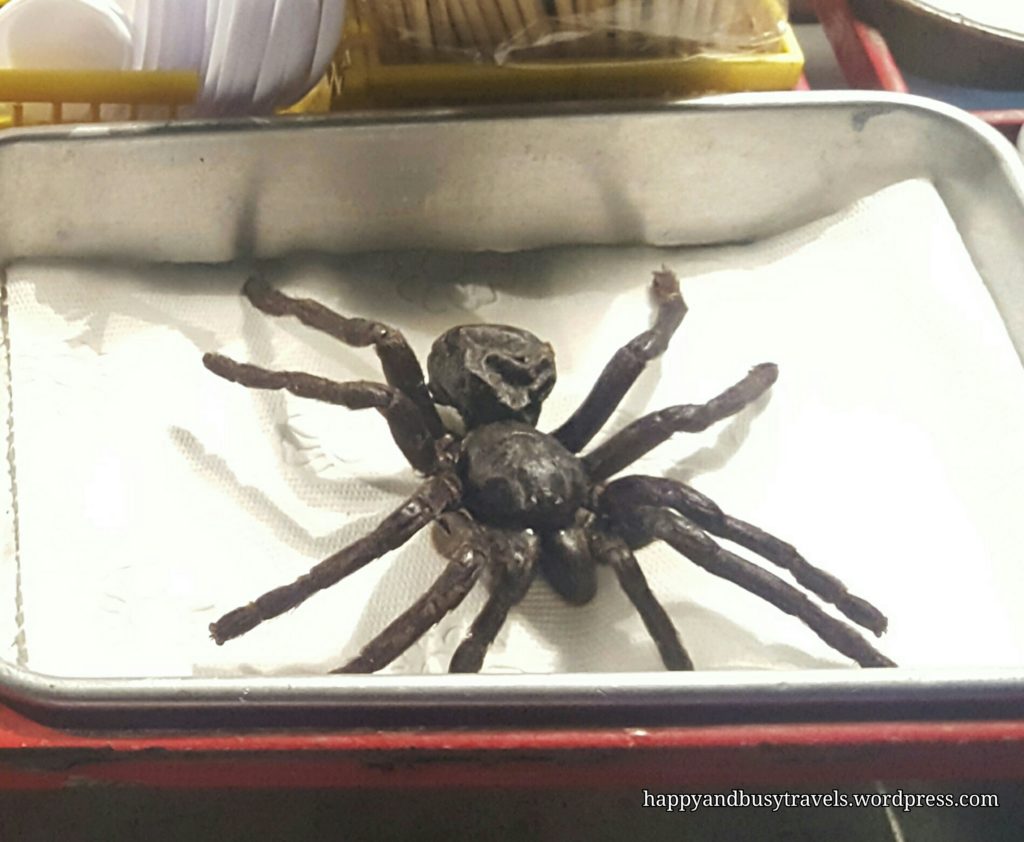 Tarantula, 100 Bhat (per piece)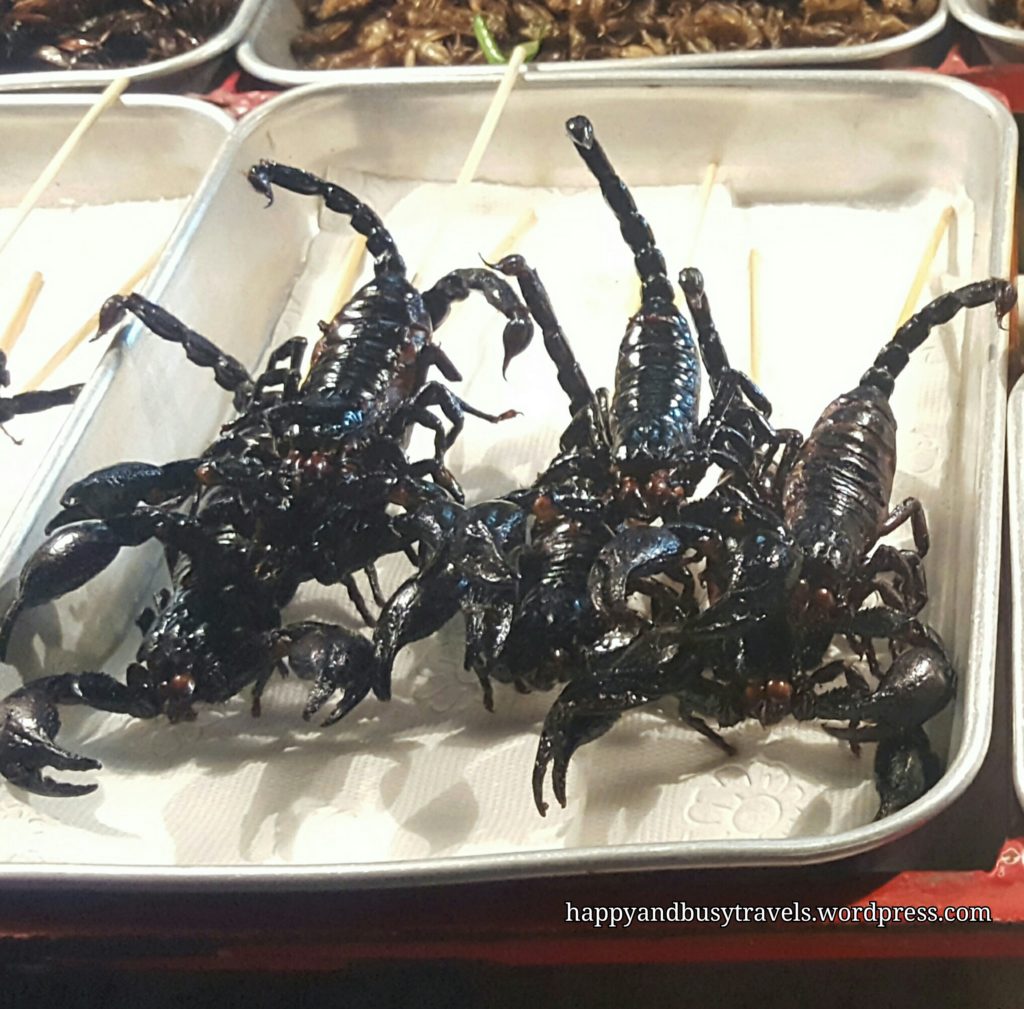 Here we go!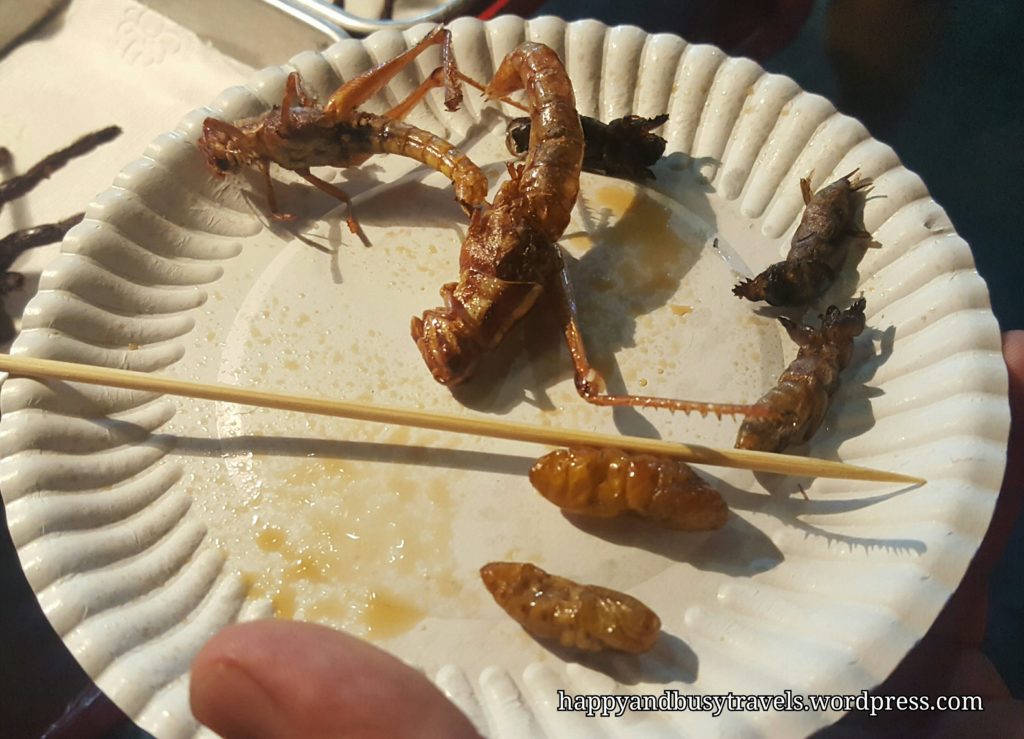 Here's our plate, we just bought the assorted hehehe. The food was sprayed by a sauce, I think that's fish sauce. Fish sauce is a salty condiment, which is made out of fermented fish and salt. This is a usual household condiment in Southeast Asia.
I do not have a good photo of Busy eating the insects, but our friend has a video haha I can't upload it though. But here is his picture. Our friend at the back is taking a video here hehe.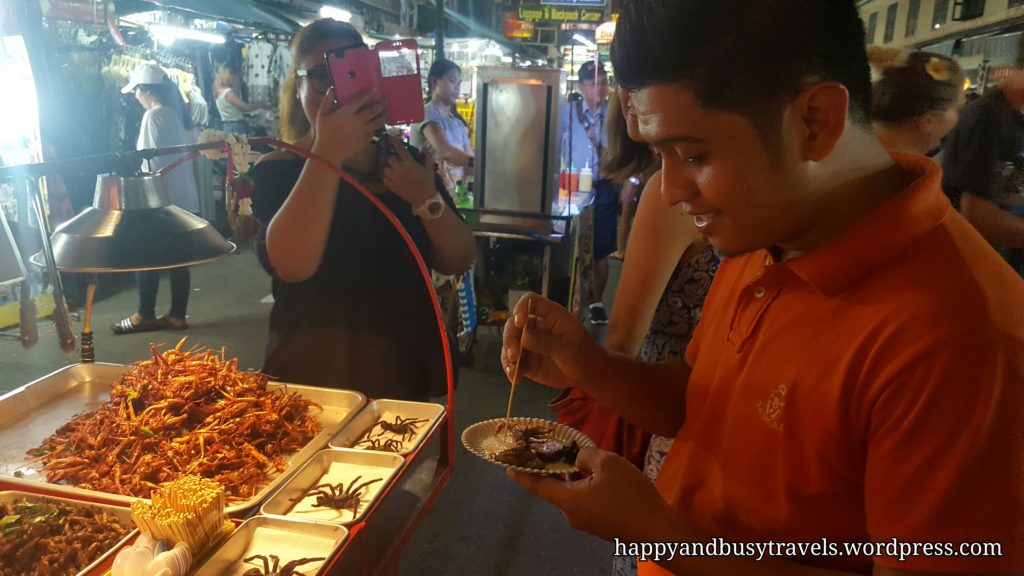 Ohhh yeesss cricket legs! hahaha Here's my photo taken by Busy hehehe. He took a better photo I think.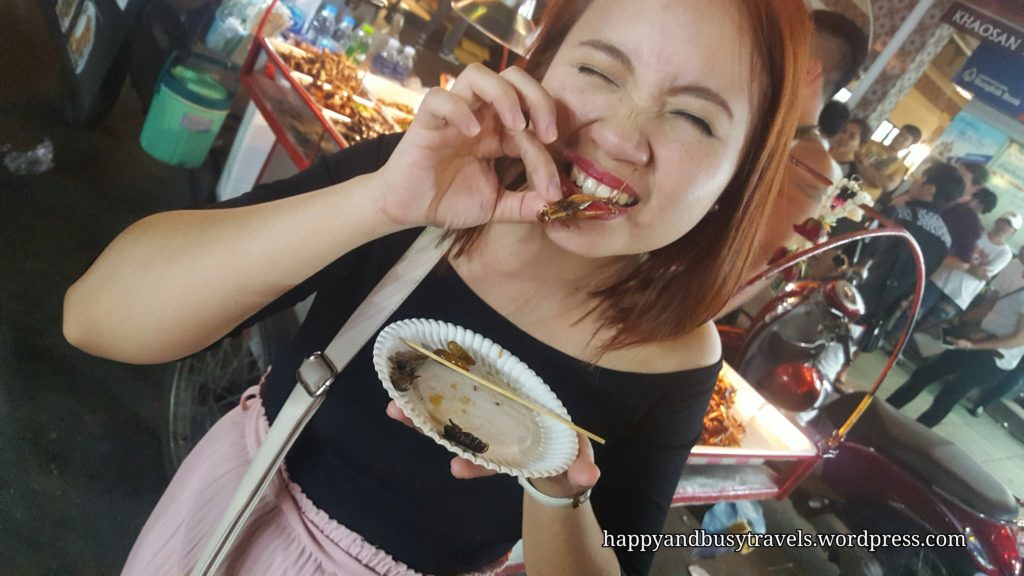 The insects does not tastes that much, that's why we think the vendor sprayed fish sauce. Without the fish sauce, the food just tastes like paper I think? hahah It does not tastes that much it really tastes like nothing… bland?
After that we just wanted a dessert so we bought their mango sticky rice. They sell it from 25-30 Bhat, but I got mine at 20Bhat. It tastes like (of course) Mango, with rice which is a bit sweet.
Sticky Mango Rice, 25-30 Bhat
Aside from the exotic food, you can also relax in Khao San. There are a lot of spas in the area. Price of the massage is cheap here.
Oh did I forgot to mention, there's a lot of gimmick in Khao San. Just look at the picture below. Mr. Bean look-a-like and a very tall person is present! You can have your picture taken together with them for a minimal price, or you can call it a tip.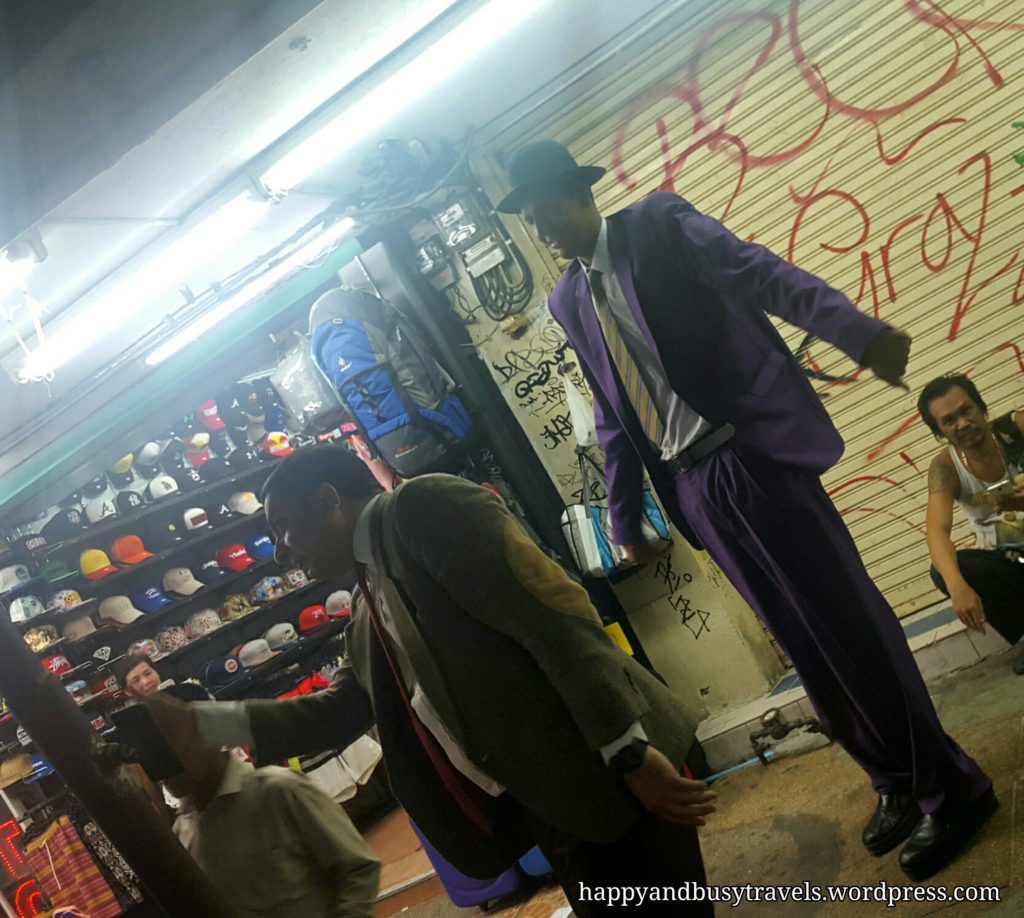 Beside Khao San Road is another quiet road. It is kinda nice so we have decided to visit it. It is like a gentle version of Khao San Road hahah. You can also dine here and drink quietly.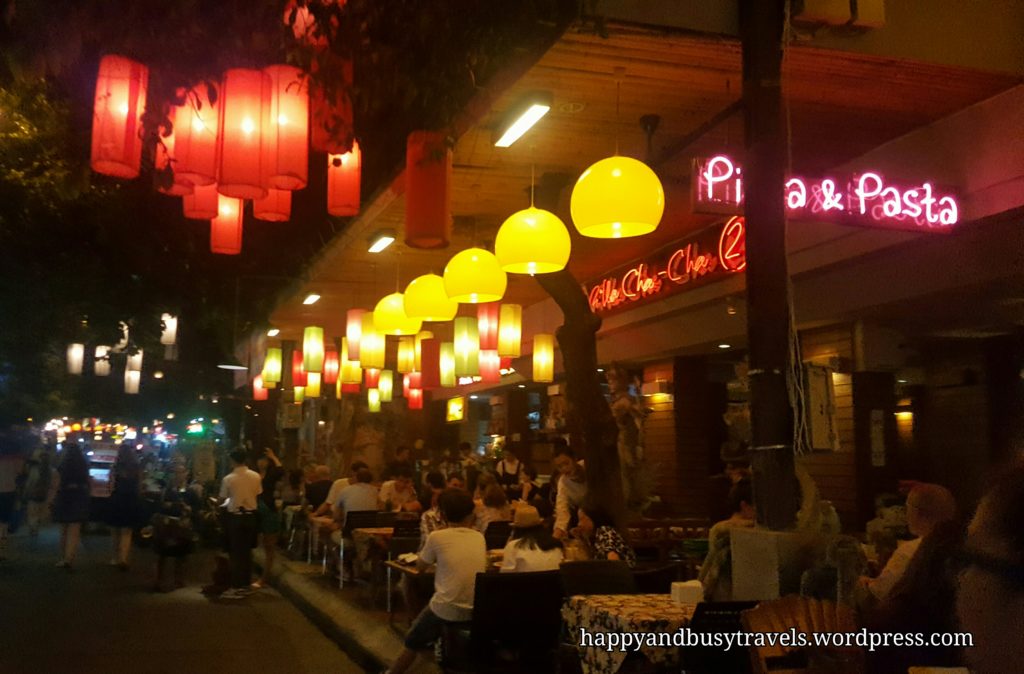 Anyway, we returned to Khao San Road and checked if the party has started. There are a lot of bars in the area.
Aaaaaand the party has started! There are a lot of people partying! bump here bump everywhere haha woooo!! So long guys! see you tom! hahhaha
Time to parttteeehhhh!!!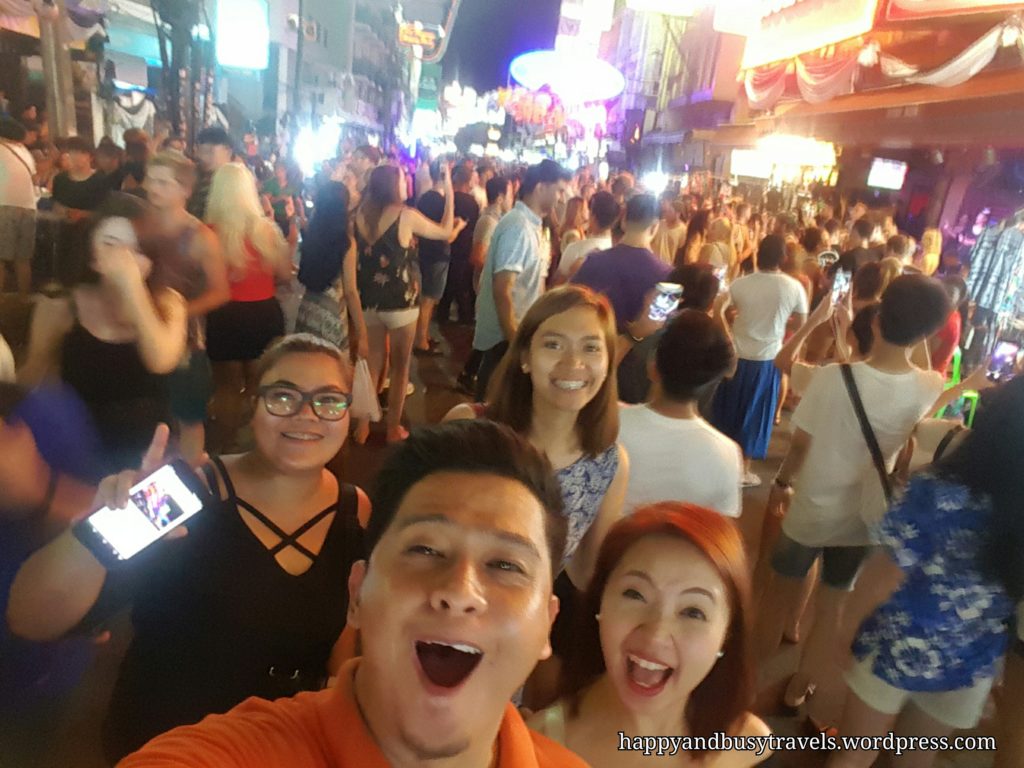 Notes:
It's so easy to go to Khao San. Just grab a tuk tuk or taxi, tell them to take you here and they already know it.
Bring a lot of stamina haha 'cause you'll be partying hard
If you want to shop here, prices are a little bit higher than most shopping places in Bangkok. I can just compare it with the prices from the stores outside our hotel vs prices in Khao San Road.
Be friendly! there will be a lot of bumping haha keep your hot head at home!
Happy and Busy's Smiley
Location 

Ambiance 

Value for Money