Masungi Georeserve is a huge area abundant with life. Plants are everywhere, and some animals and insects lives in the area. As discussed during our orientation, they told us that Masungi is from the word "masungki" or "sungki sungki" a Filipino word meaning "spikes that are not aligned". They also told us that this is a conservation area, and from our perspective, the journey also taught us how to love our environment.
The people who discovered the area developed it, and since 2015, it was opened to the public. From there, a lot of people wanted to visit it, of course we are one of them.  🙂
Everyone can visit Masungi however, I am advising that people who wishes to visit should be generally healthy, not that afraid of heights, and can do simple obstacle courses. There is also a visiting fee of Php1,500 (weekday) or Php1,800 (weekend) per person. They also have a restaurant, but reservation is also required. If you wish to visit, you can send a reservation through their website. You can access my blog (link below) on how to do a reservation.
Let's Go!
We are from Dasmarinas City, Cavite soooo we (actually "I" haha) have decided to depart around 2am and we picked up some friends along the way. Take note that we used a private vehicle because using the public transportation going here will be hard. The conservation is located in Km 47, Marcos Highway, Baras, Rizal, Philippines. As soon as Waze says we are near, we started to look for the entrance. It was a very foggy morning because it was raining the past few days… and until that moment. My friends were even worried that it will rain throughout the trail. Anyway, as mentioned in the email from the caretakers of Masungi, Waze will give you an estimate location. Well the location from Waze is really wrong haha. In our case, we were taken to the Garden Cottages, but we move forward and we used Google Maps. Then…. along the curve, we saw the entrance.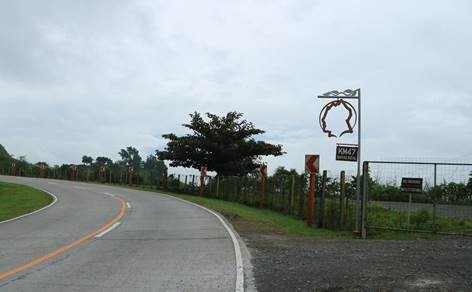 We arrived around 4am, too early for our schedule of 5:30am hahaha. Well it's better to be early than to be sorry hahaha. They can cancel your reservation if you arrive very late. The gates open at 5am so we parked our car safely beside the gates, but around 4:30 the guard are already there and told us to go inside because it is dangerous on the road. Then around 5am the guard told us to proceed and begin our journey. It was a long walk through the foggy and dark road hahahaha (insert spooky background music). Luckily, it is not raining anymore, oh yes! After a while, we arrived at their reception/ briefing area that they called "Silungan"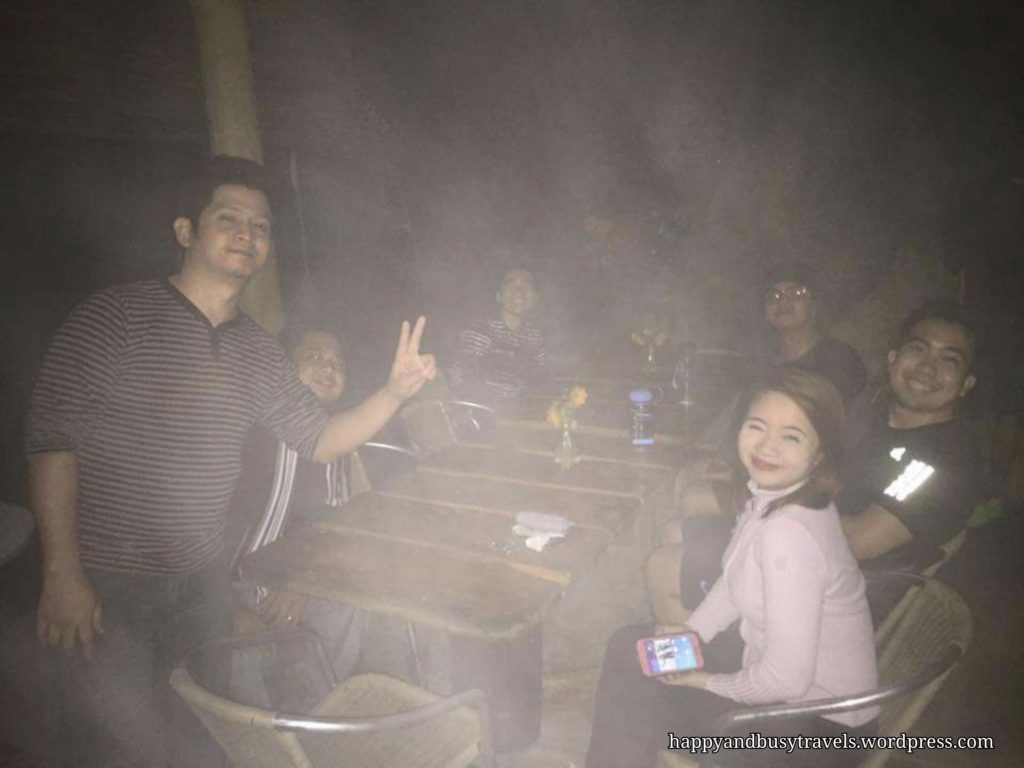 We were briefed about what is Masungi Georeserve, and what are the DOs and DON'Ts. One of the DOs includes observation of silence throughout the trail, because there are animals in the reserve who can be distressed. We should also keep our trash to ourselves and do not pick flowers or get anything from the park, as the old saying goes "Take nothing but pictures, leave nothing but footprints…" We were given helmets and ponchos (light weight raincoats), it was rainy the last few days so it is expected to rain while we are in our journey. We were also supposed to be given sling bags for our things, unfortunately the bags are still wet. So our tour guide Kuya Mac-Mac placed our valuables in a dry bag and brought our stuffs. Thank you Kuya! We also have dry bags but it is in the van, and we do not want to go back. We were also expecting to borrow the sling bags that's why we did not bother to bring it with us. If you forgot to bring your water bottles, there are water bottles for rent available, 70php per bottle. We also showed our proof of payment, and we were asked to sign a waiver. After the preparation, we are ready to start our journey!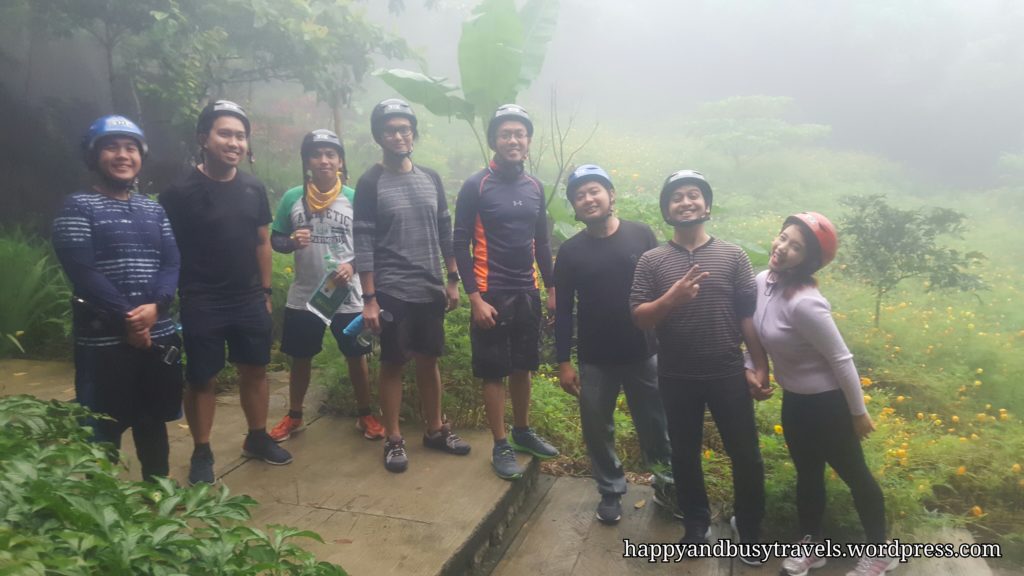 Start of the journey
As soon as we started, kuya Mac Mac gave us a lot of information. Just like this one, this is a sinkhole.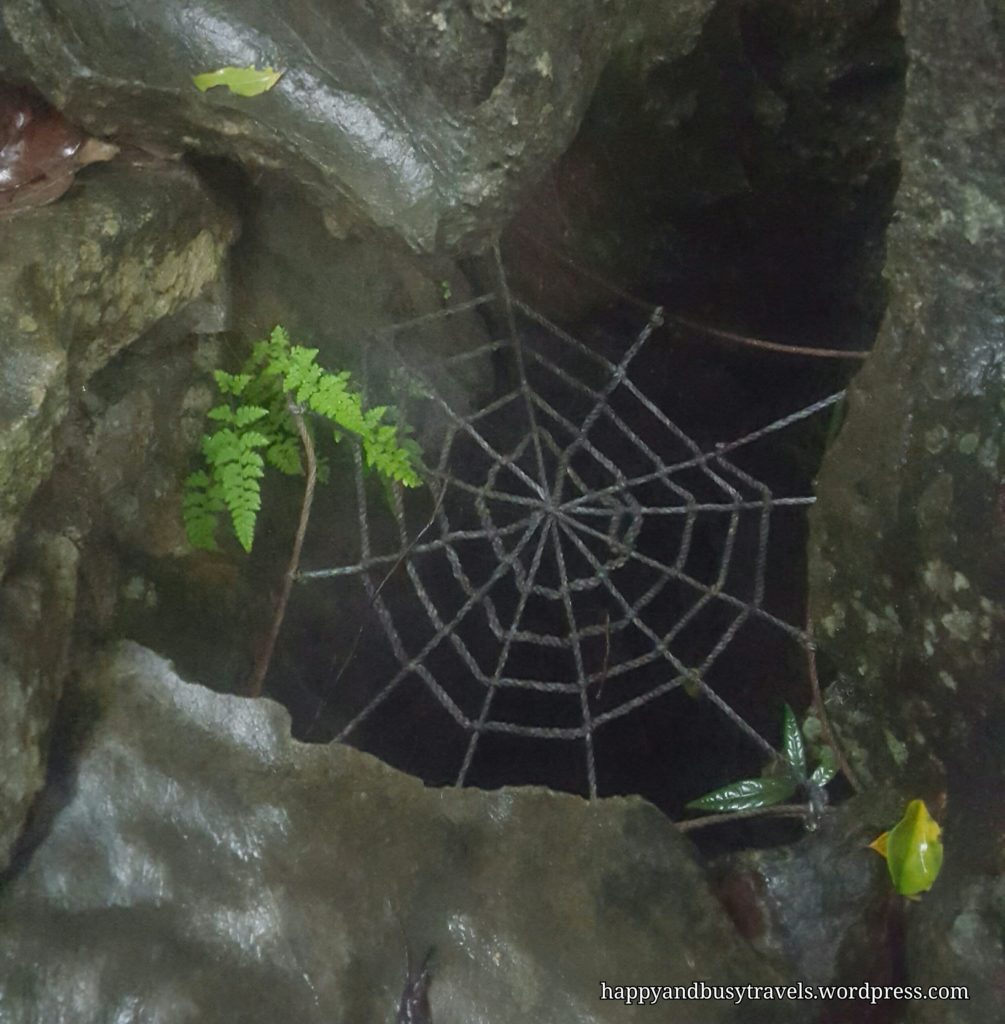 The hole is very deep, I can just describe it as "very deep" because there is still no measurement on how deep is this sinkhole. Limestone can be found throughout the area, so this sinkhole is not the only one.
Not that far, we arrive in the area where we can see their art representing "Paroot", or the Civet Cat in English. We were told that Paroots can be seen in the Georeserve.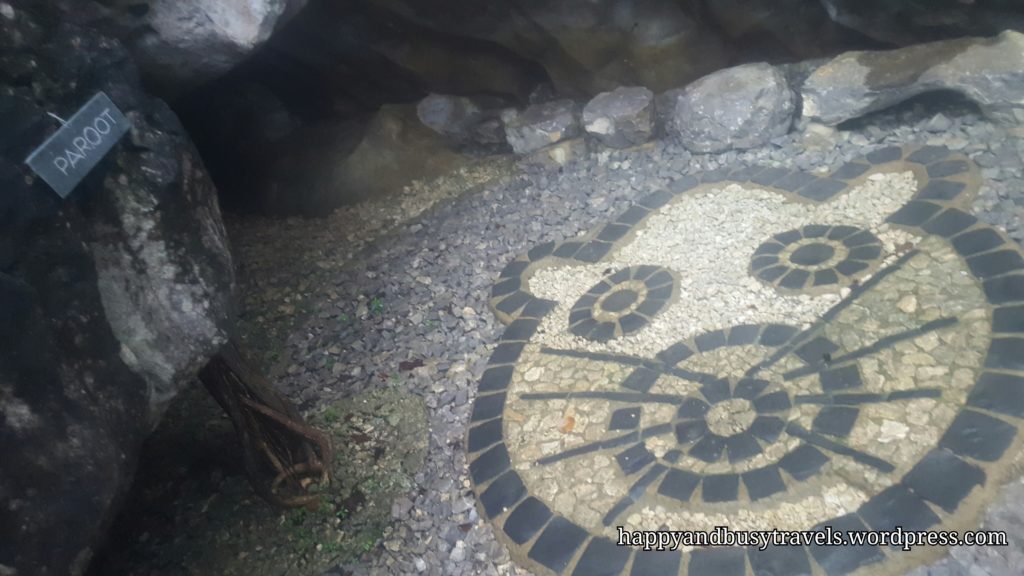 Just beside the Paroot is the rope stairs that we have to climb to proceed. I took the easier side which has smaller holes, and Busy took the normal side (because he's the man! haha). By the way, there are cleaning stations before every obstacle course, you have to brush your shoes with water. The cleaning station can be slightly seen in the upper center part of the picture below.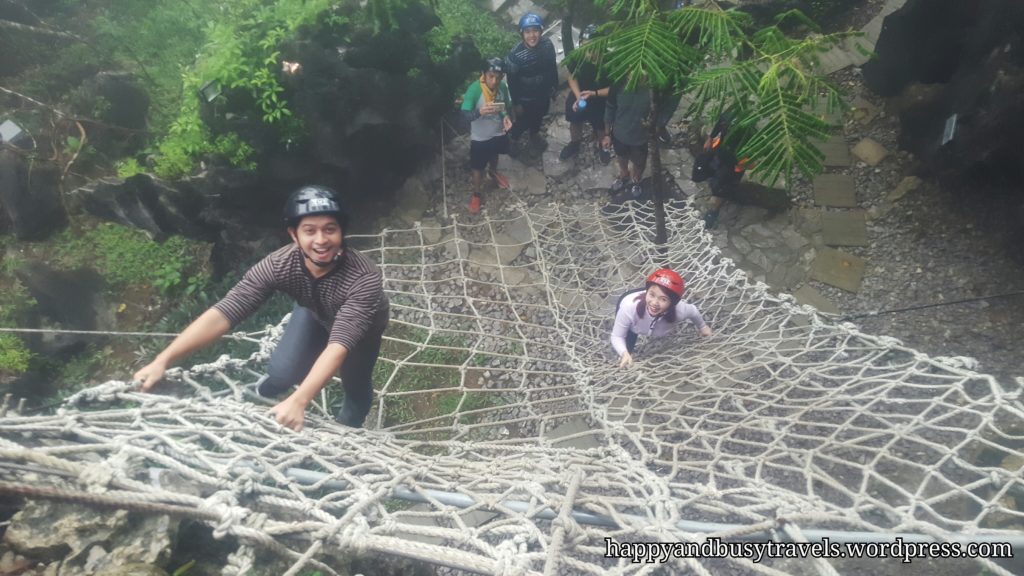 After this rope climb, if your team mates are tired, or scared, they can take the easier path. However this path will lead you to the end of the trail. You can not also see the other attractions.
The next attraction is the most famous attraction in the georeserve, the "Sapot ni Ric" or as translated in English "The Spider Web of Ric". It was named after Ric, who discovered and created this attraction.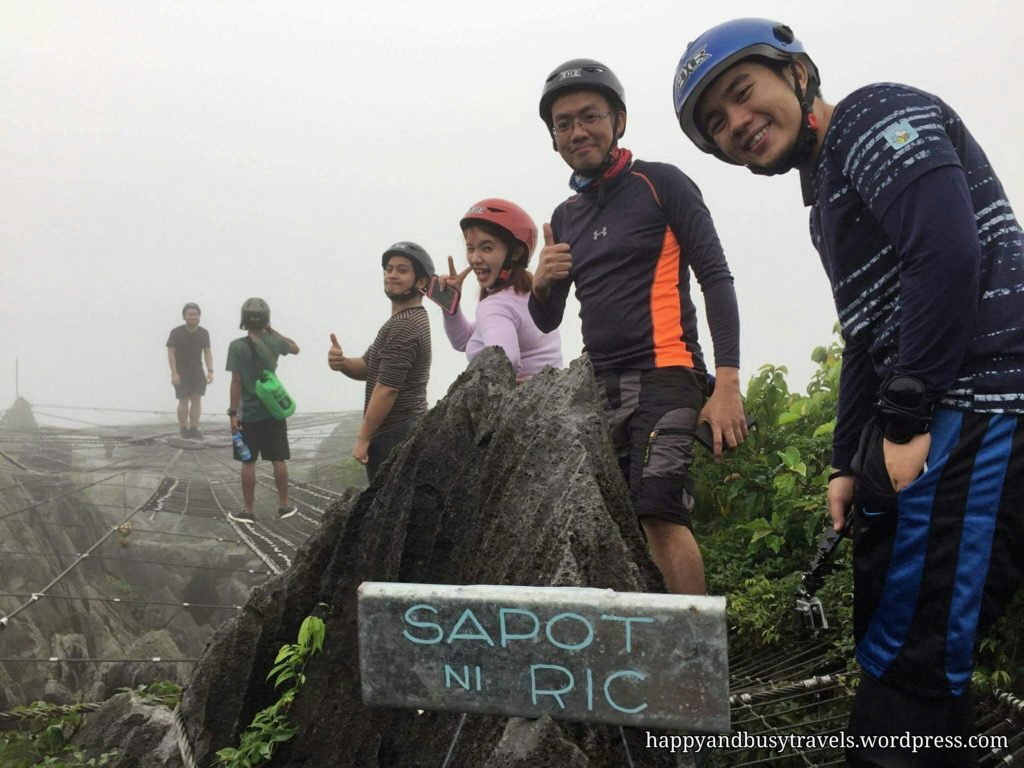 This attraction is the web like structure that was build above the spikes of big rocks.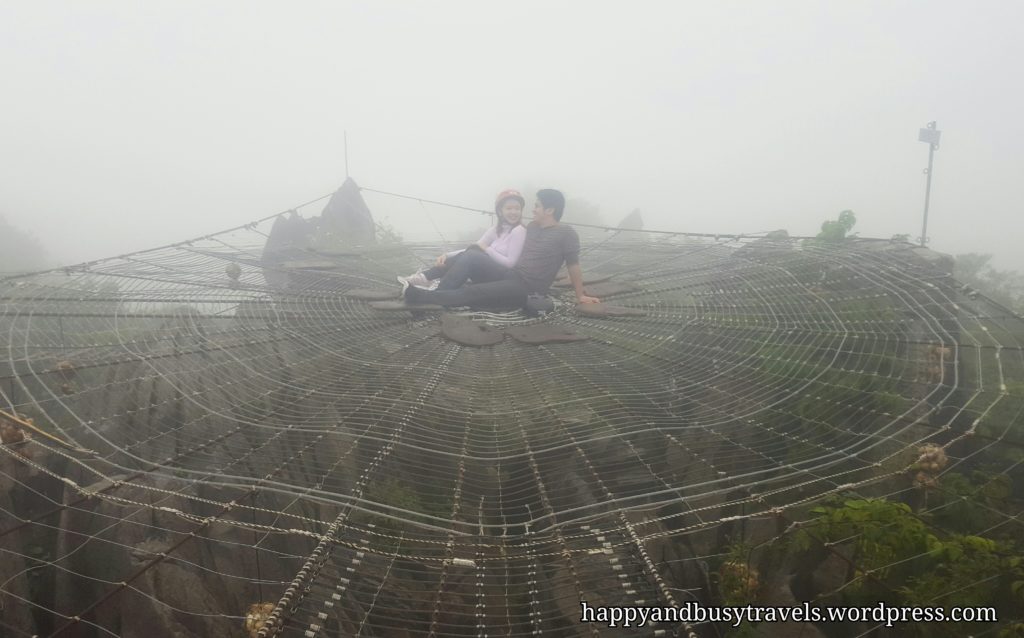 As I mentioned earlier, it was foggy, so we can't see the view of the Laguna de Bay and the forest below. But it was okay because the fog made the attraction peculiar hahaha. Add the spider and it is really creepy!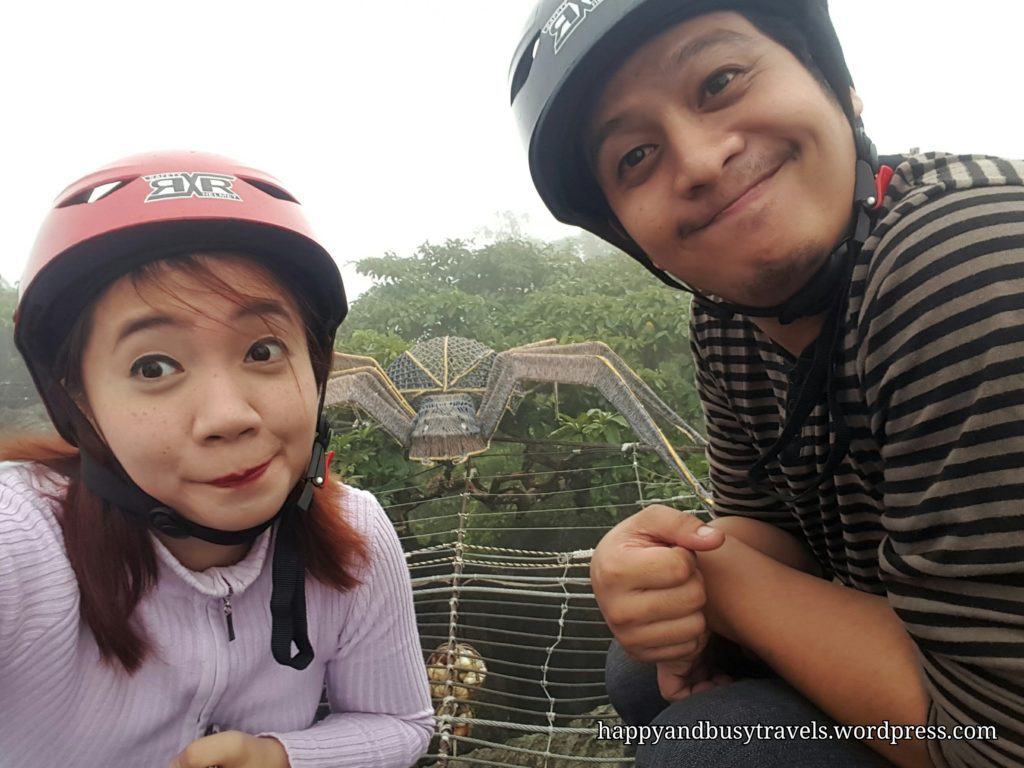 Visitors can take as much pictures as they want, but 15 minutes is usually given per attraction because the park has to follow the schedule. The schedule was made by the park to keep the noise down, and visitors can be alone with each attraction.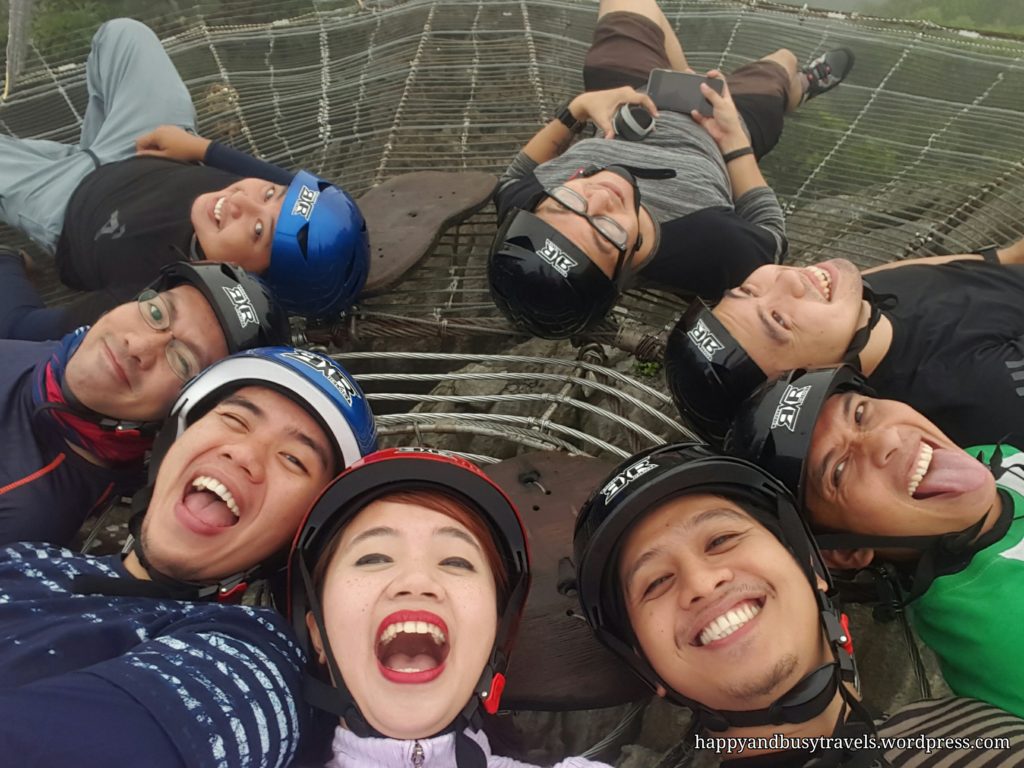 The next attraction will take a while before we can arrive. It is a bit far from Sapot ni Ric. But don't worry because there is a lot to see and the trail is not that hard because the caretakers already created a cemented path for the visitors.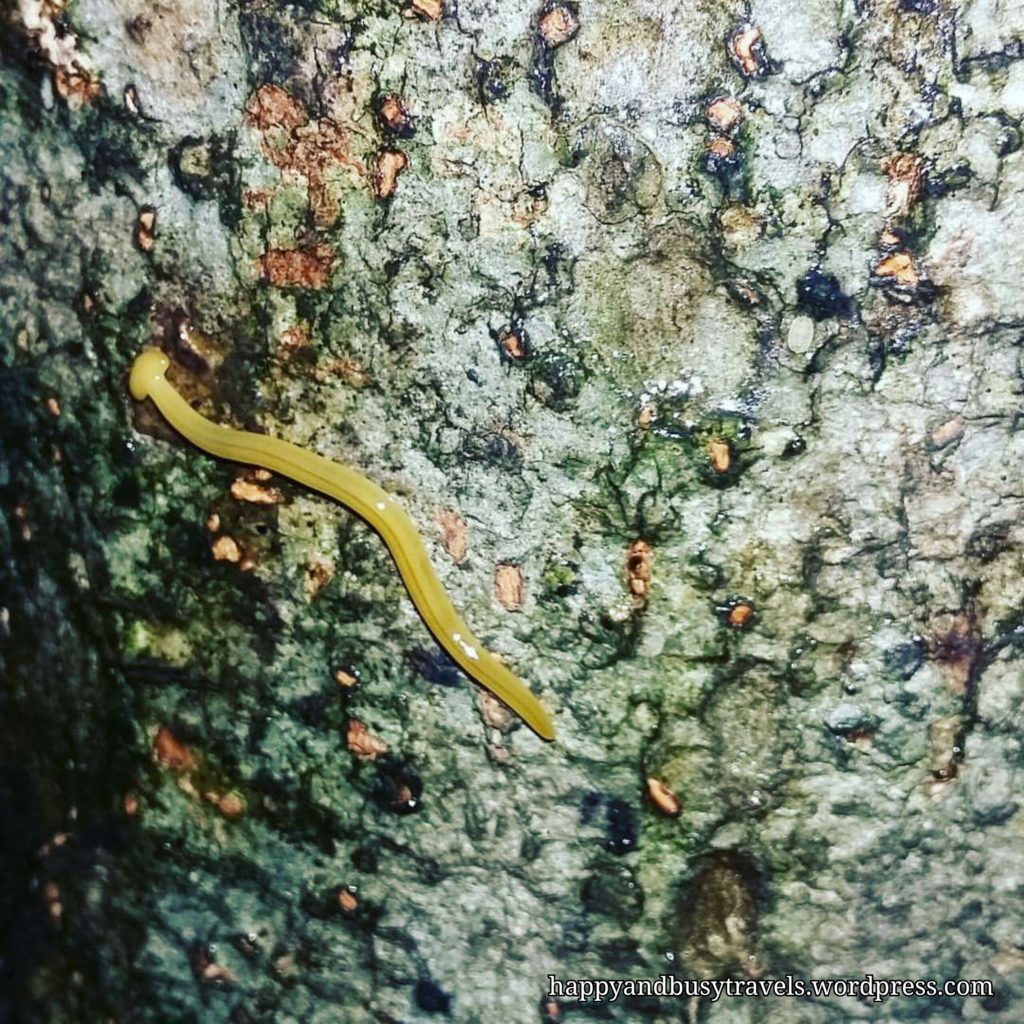 As I mentioned earlier, there's a lot of plants, and animals and insects around. Those are just one of them that you can see during your journey.
We also came across this area, wherein the dark history of the conservation area was discussed.
In the dark history of the georeserve, around 80s and early 90s, illegal loggers are very abundant and this one is found in the forest. The chain from one of the chainsaw used to cut down trees. Illegal logging is also the reason why there are no large trees in the georeserve, trees here were planted in the late 90s and early 2000s.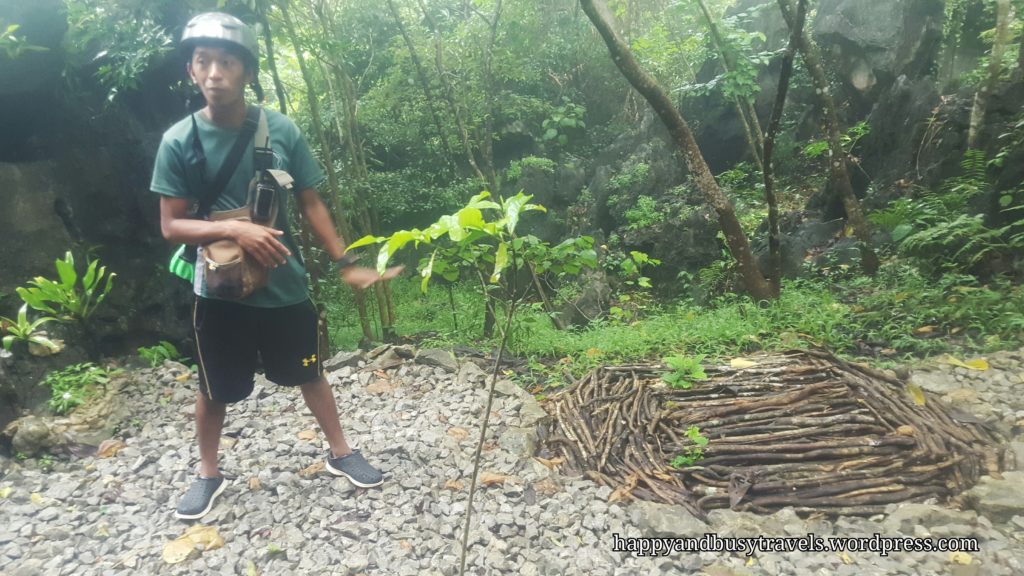 Kuya Mac Mac also showed us the old way of creating charcoal back in the day. Illegal logging + charcoal making = destruction of the environment 🙁
Through the long journey to the next attraction, there are a lot of places to rest. This is one of them.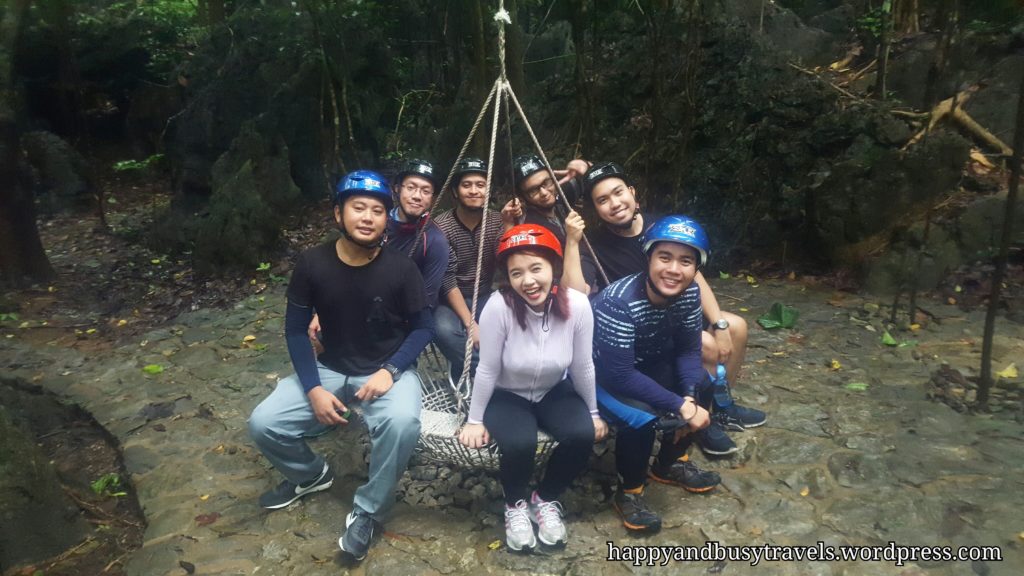 Next is the "Tagpuan", also a Filipino word which means a place where you can meet somebody.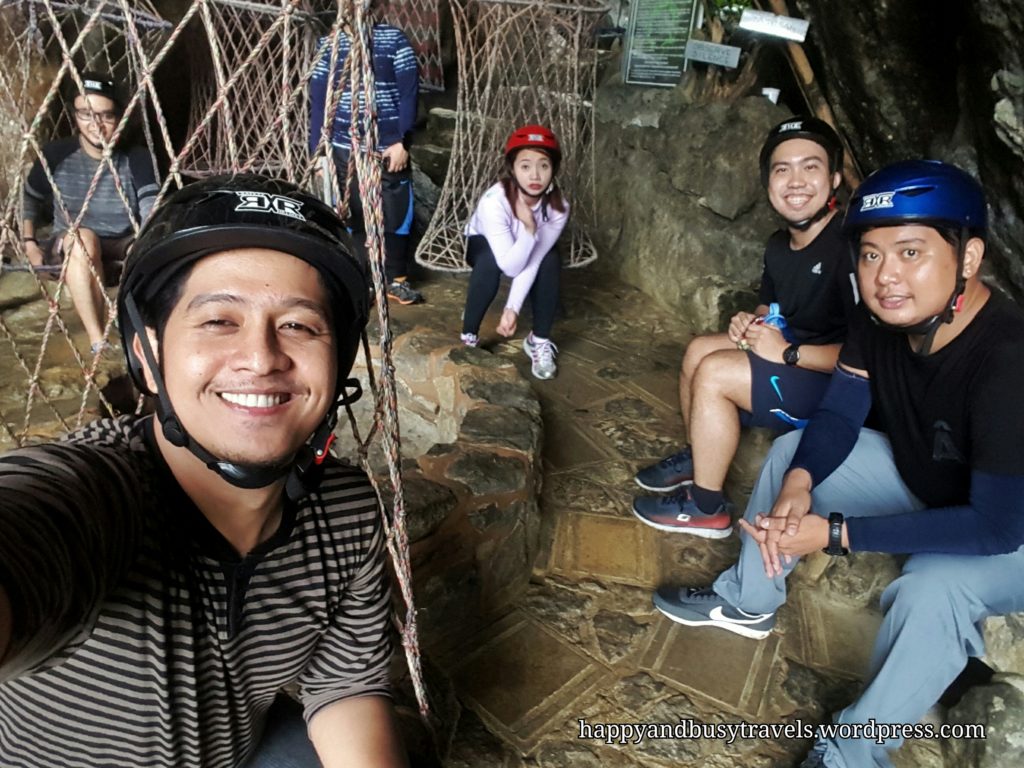 At night, the fire place in the middle is lit and it gives the camping vibe.
Enough of the rest, let's continue our journey.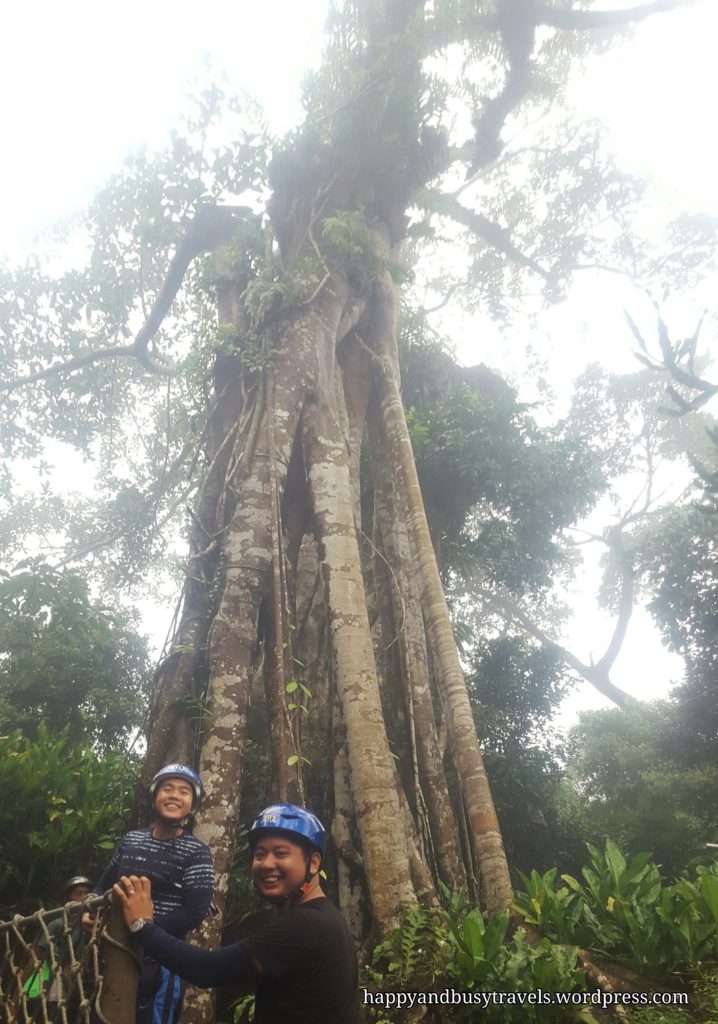 This is one of the big trees that were left behind by the illegal loggers. This was not taken because the tree is made up mostly of water and will shrink drastically after the water evaporates.
One of the experiences in the journey is the "Suutan" or a pathway in English. Just be careful in going inside, you might bump your head.
Another art, the "Unggoy" or Monkey can be found through the trail.
The next attraction is the "Ditse, Patak, at Duyan". You can see the cactus garden, then the air house. The air house is a round mini house suspended in the middle of the forest.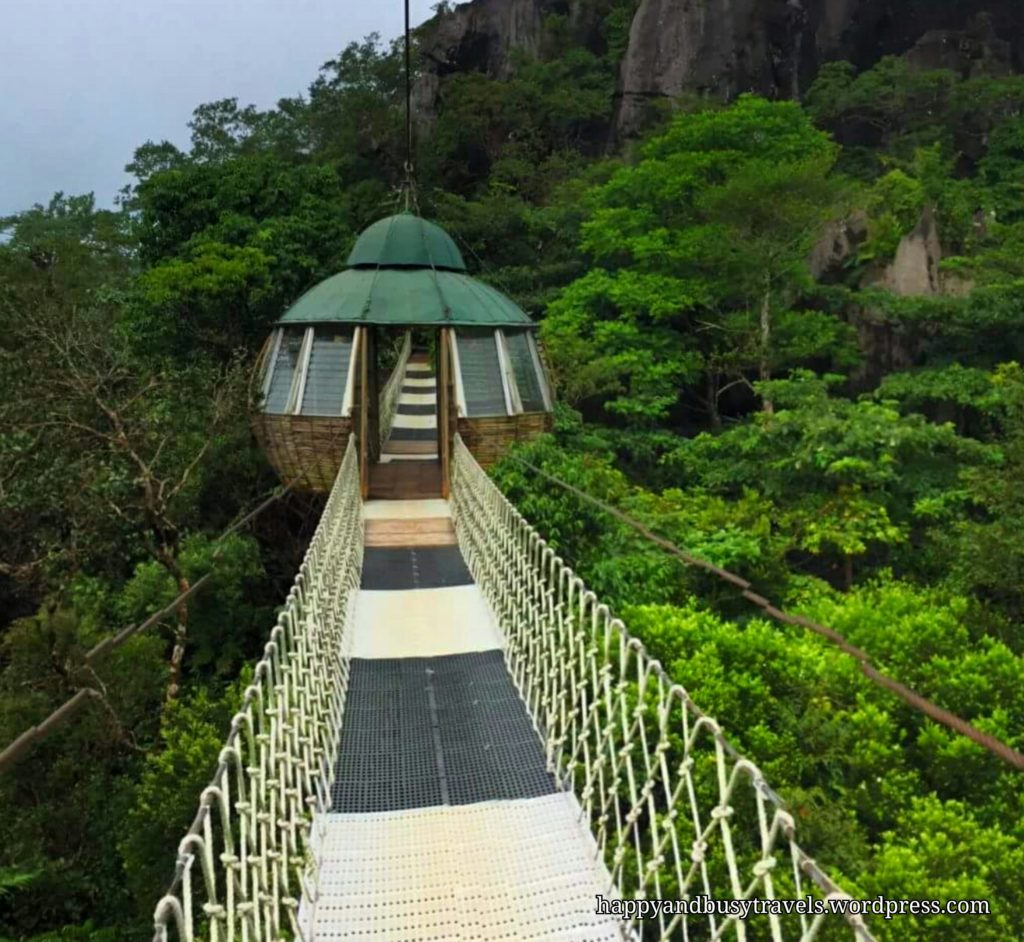 There are chairs inside the air house which you can sit on and rest, and of course, you can have your picture taken.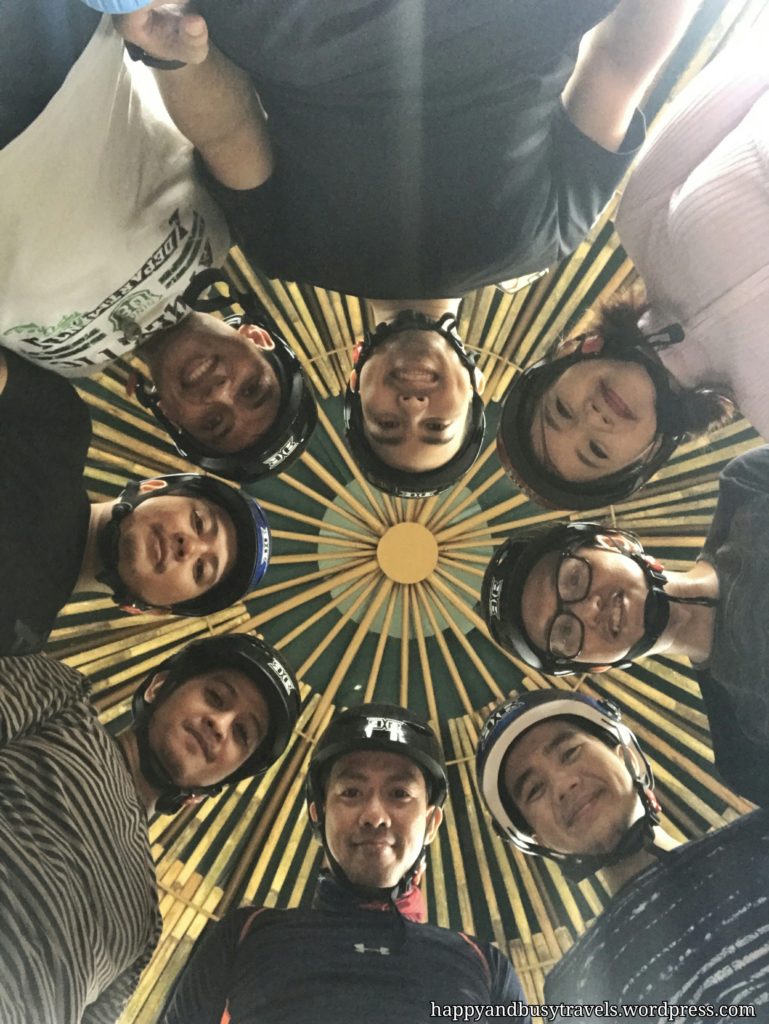 After the air house, we walked to this high point and get a better look at the surroundings. Just be careful because you might fall… well Busy and I fell… fell in love with each other hahahaha (too cheesy?).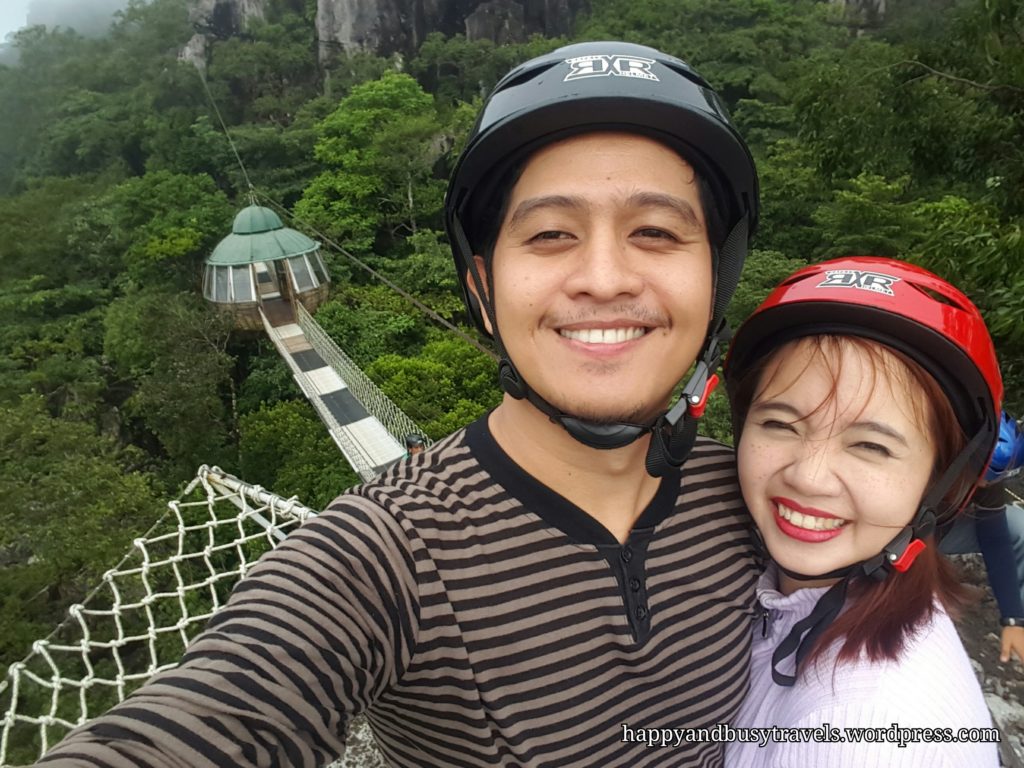 After the air house is the "Duyan" or hammock. An enormous hammock! But before we reach the hammock, we have to go down trough this…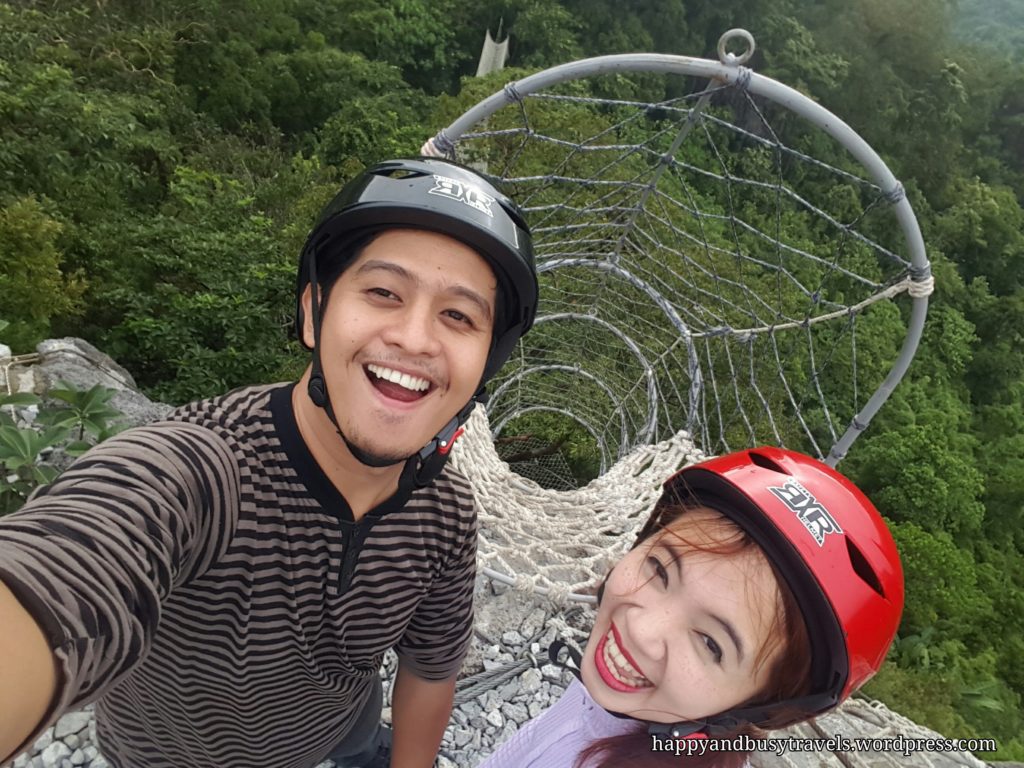 It may not look like a lot but…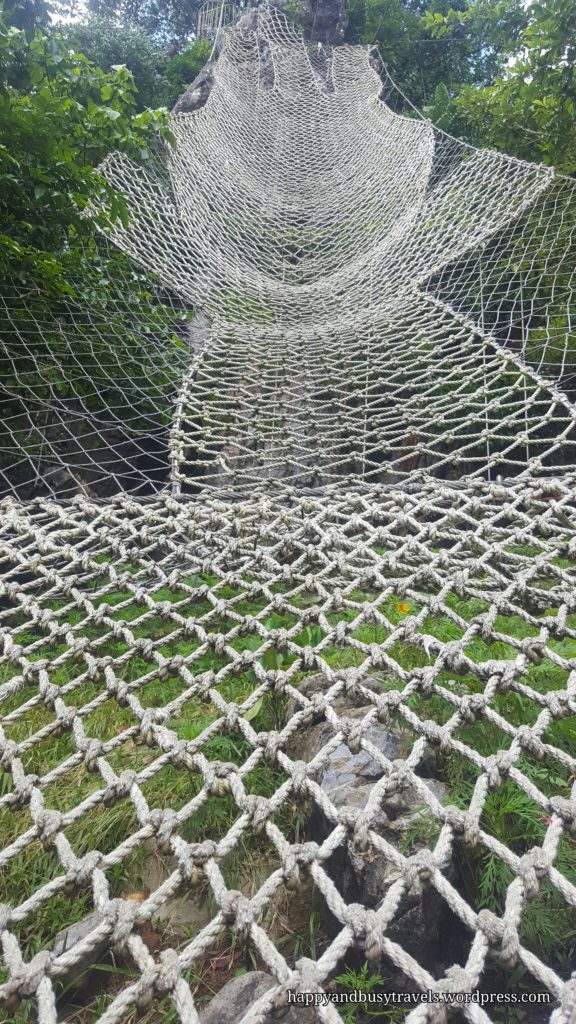 It is a looooooong way down…. this can be hard on people who are afraid of heights.
Busy and I were first to go down so… let's take a moment to appreciate everything and take a photo… of ourselves hahaha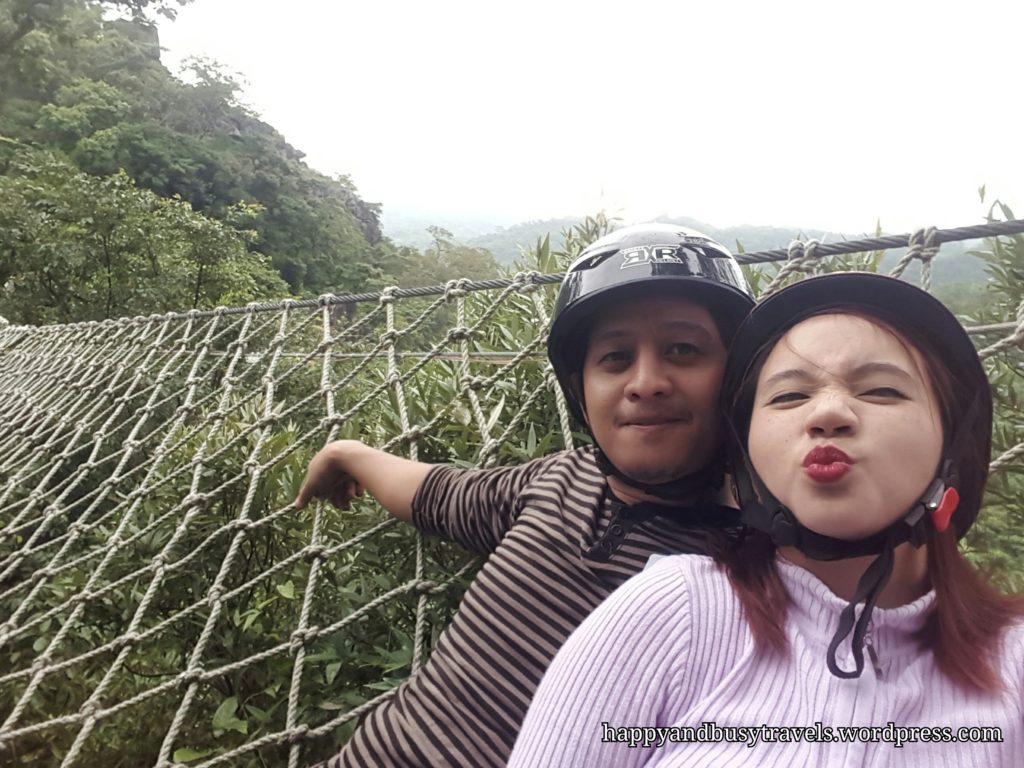 Oooppss here comes the rest of our friends… let's move!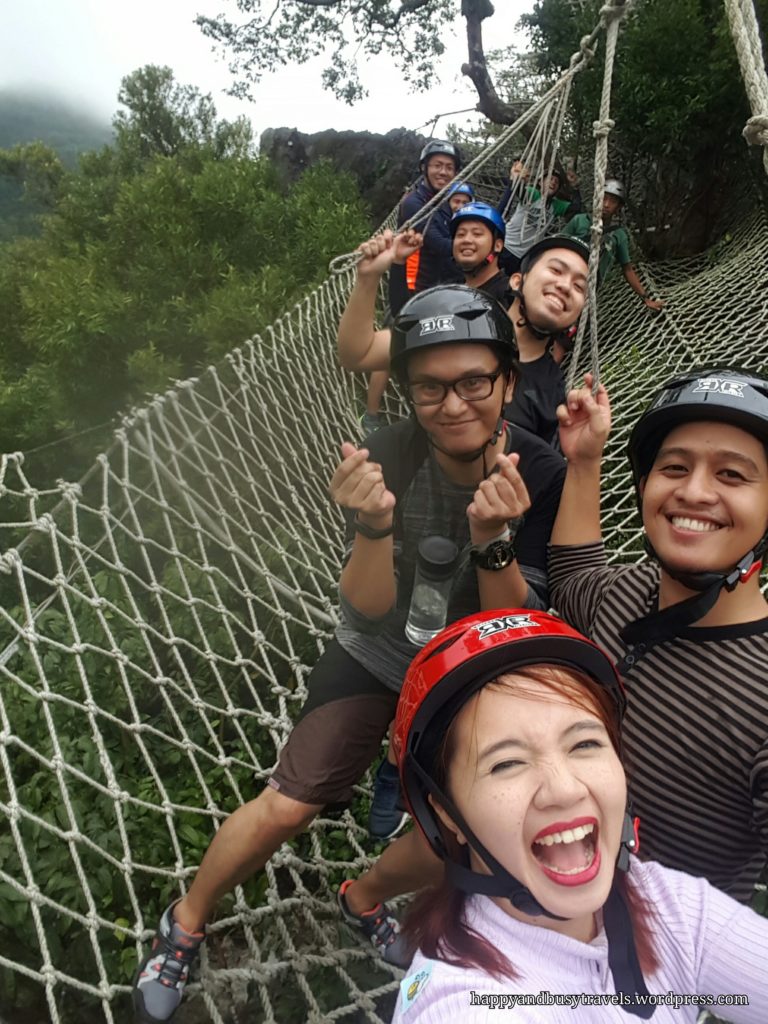 Here we are Duyan! The Duyan is a enormous hammock made out of giant ropes. even though it's a hammock, it does not swing, though I wanted it to swing hehehe.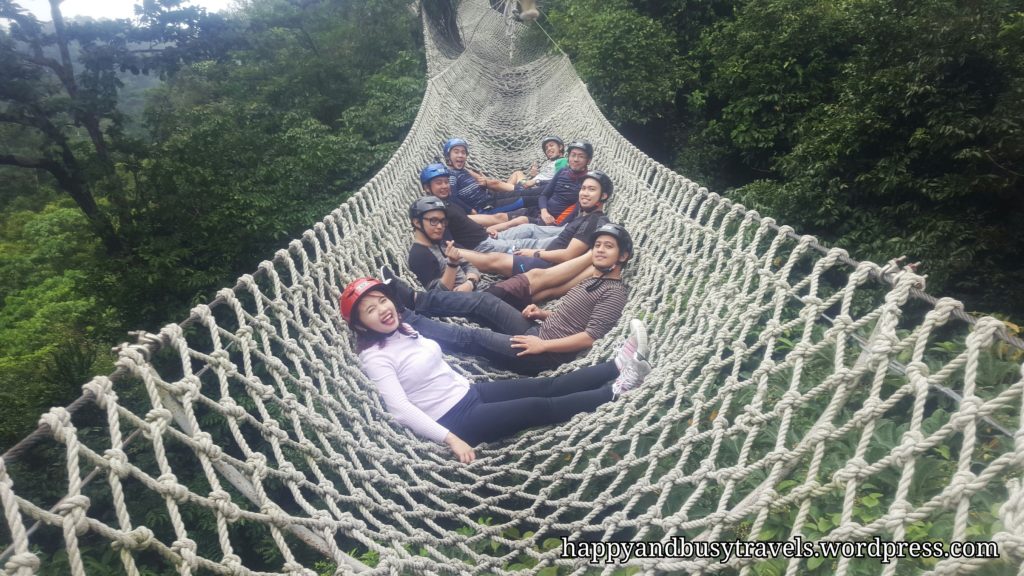 It feels good to rest here… the wind passing over the hammock, the relaxing feeling while lying down…. however we have to go because each batch of visitors were only given 15 mins per attraction.
Next is the "Yungib ni Ruben" translated as the cave of Ruben. It was also named after the creator or discoverer of the attraction, Ruben.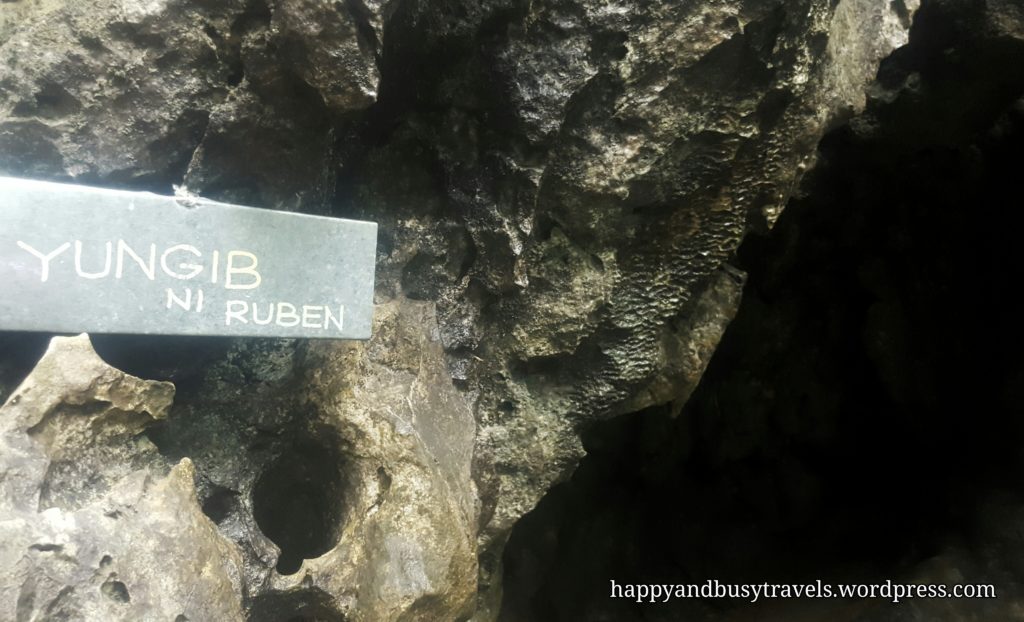 Inside you will immediately see dripping water and a catch basin with a plant on top.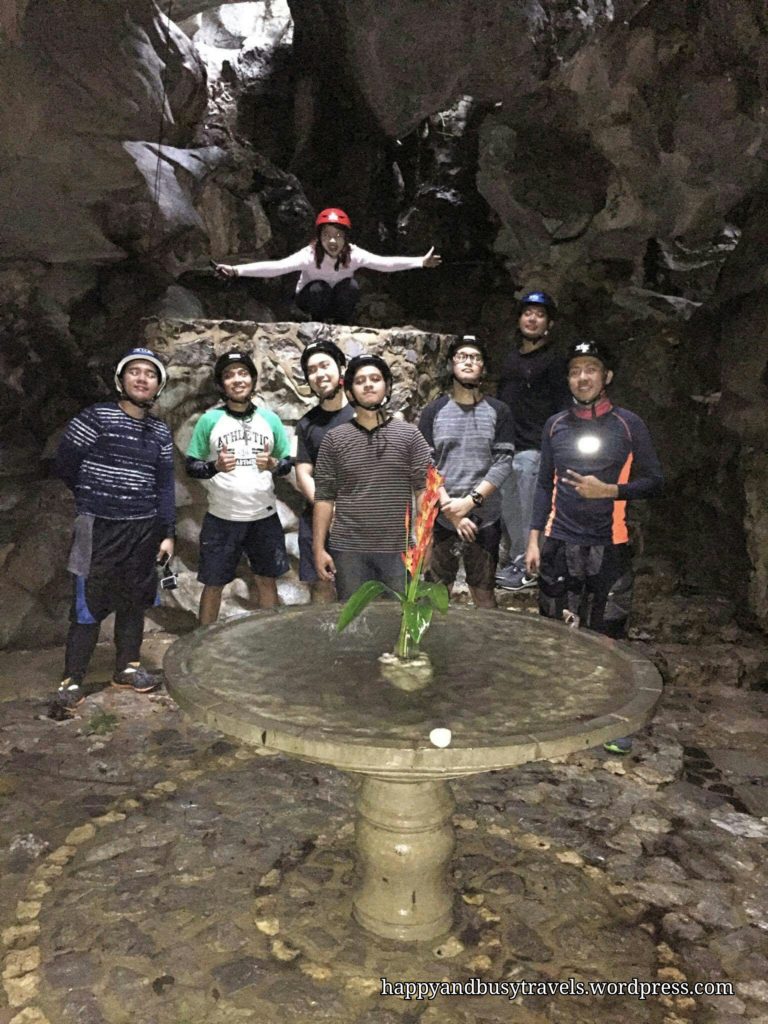 The next attraction is the "Tatay" or father in English. This is the tallest peak among the peaks along the trail.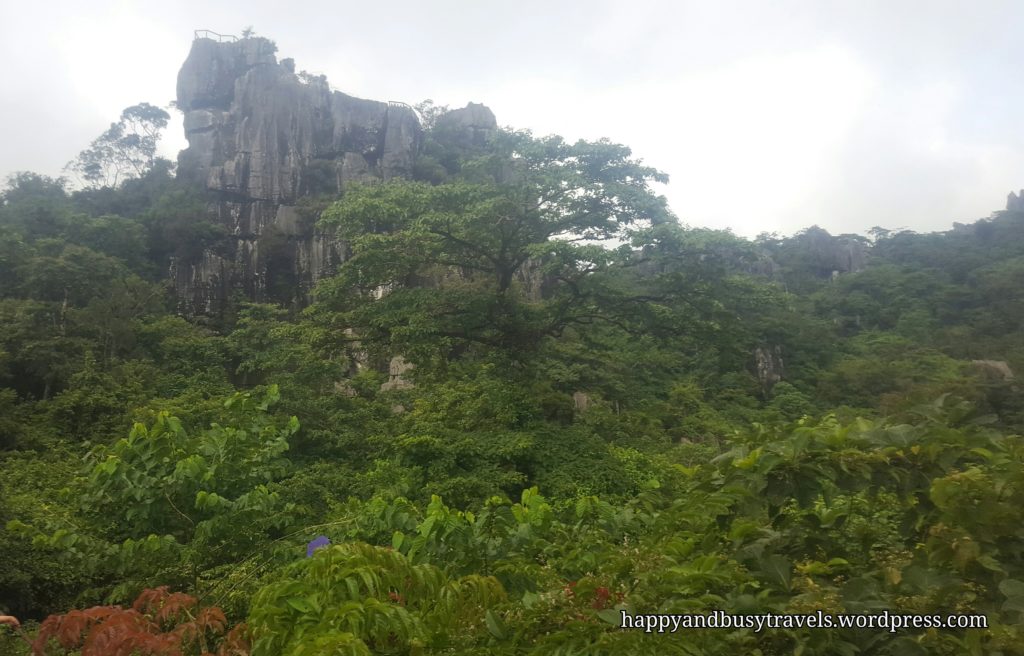 We are on the top of the peak! haha the sun showed up already! Bars were installed to keep everyone safe. There are limitations on where to stand on the peak for safety reasons. Always remember to be cautious! Do not go to dangerous positions on the peak just for the sake of getting a great photo.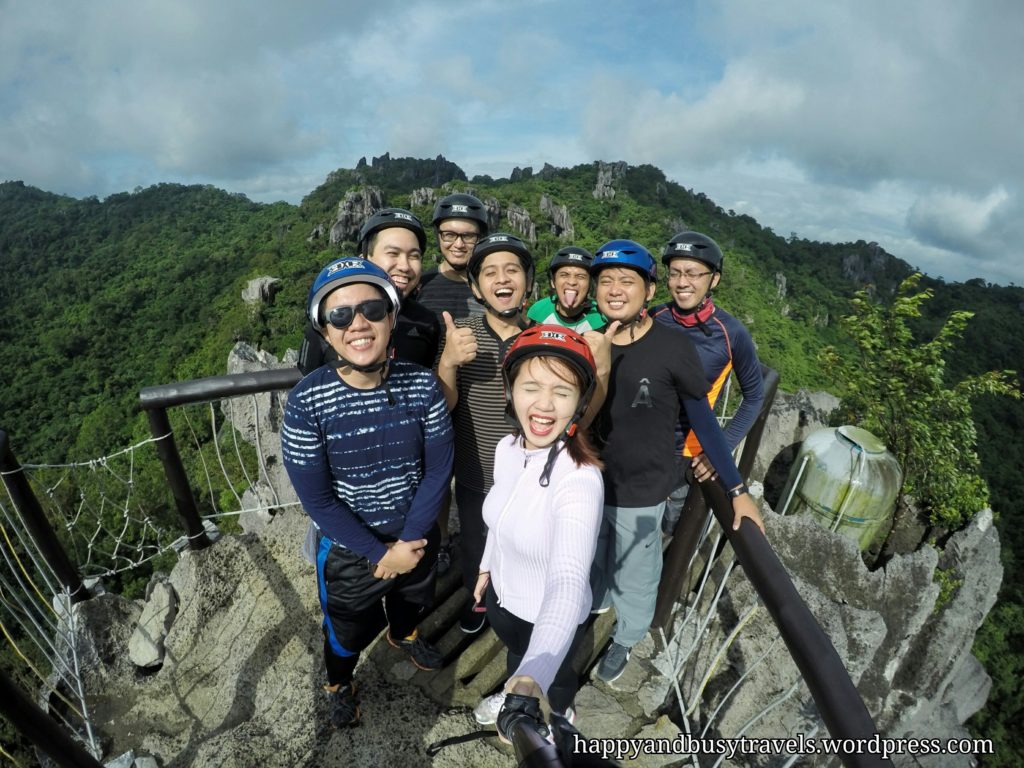 During our stay at Taytay, we were entertained by the majestic view and this tiny entertainer…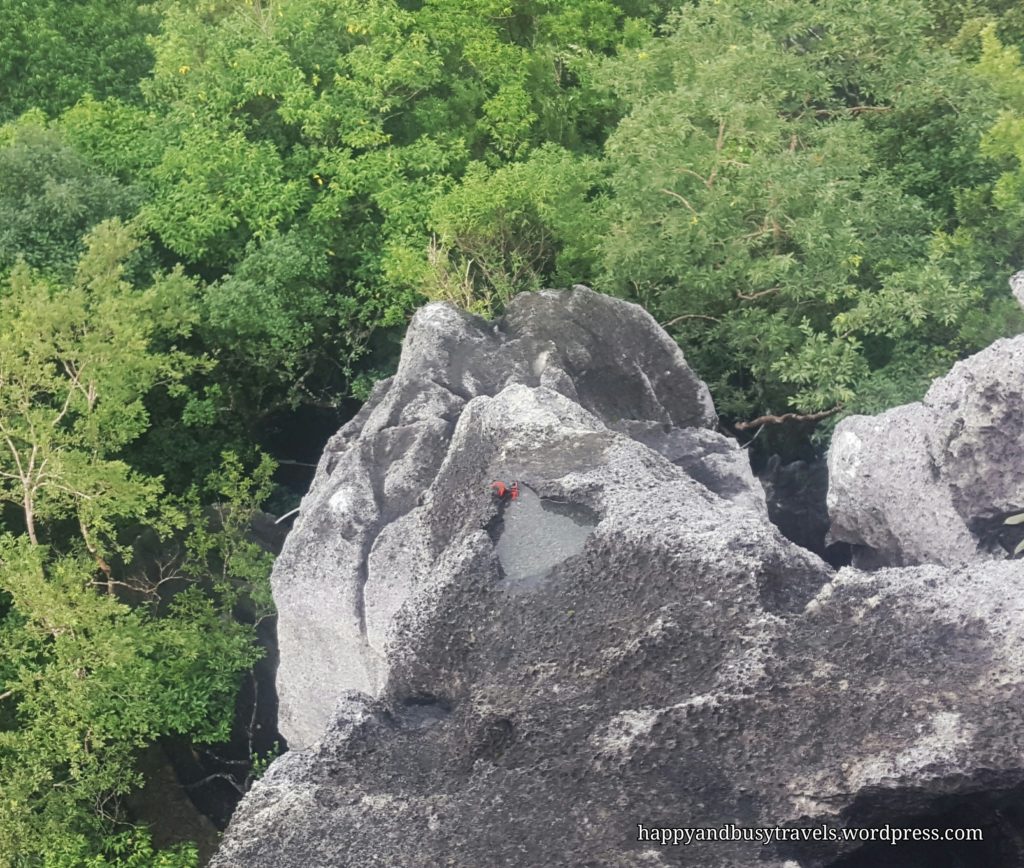 Did you see it? Did you? Did you??? Oh my gosh! a cute and tiny red crab!!!! hihihi ♥♥♥
The crab kept on going back and forth to the small body of water… swimming… walking… and ohhh the water is shaped like a heart hihihihi. Think of it, how can a crab go up this high! We are currently on the peak of Tatay and the crab manages to climb up! To those who are already tired, just think of these little creatures. If you are experiencing any hardships in your life, remember you are still lucky!
Then we move forward and go to the peak of "Nanay" or "Mother" in english. The peak is not that far from Tatay's peak. You can also view Tatay from Nanay's peak.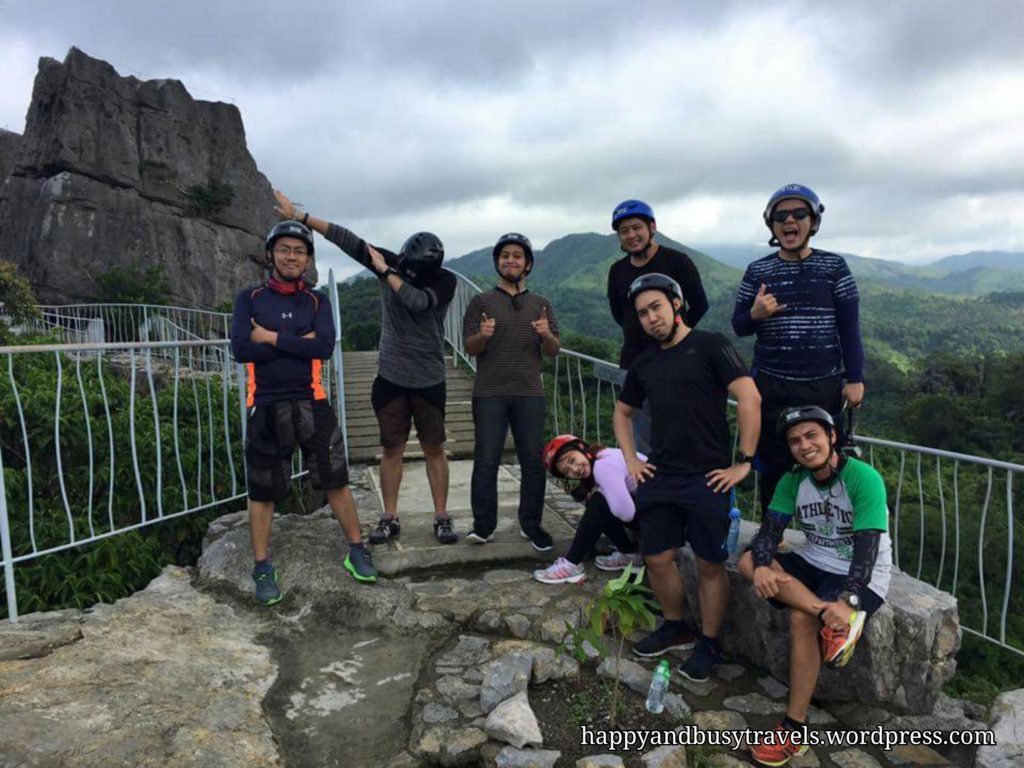 Nanay is the last attraction before we proceed to "Liwasan" or park in English.
Here we are in Liwasan, we had the complimentary snack and drinks.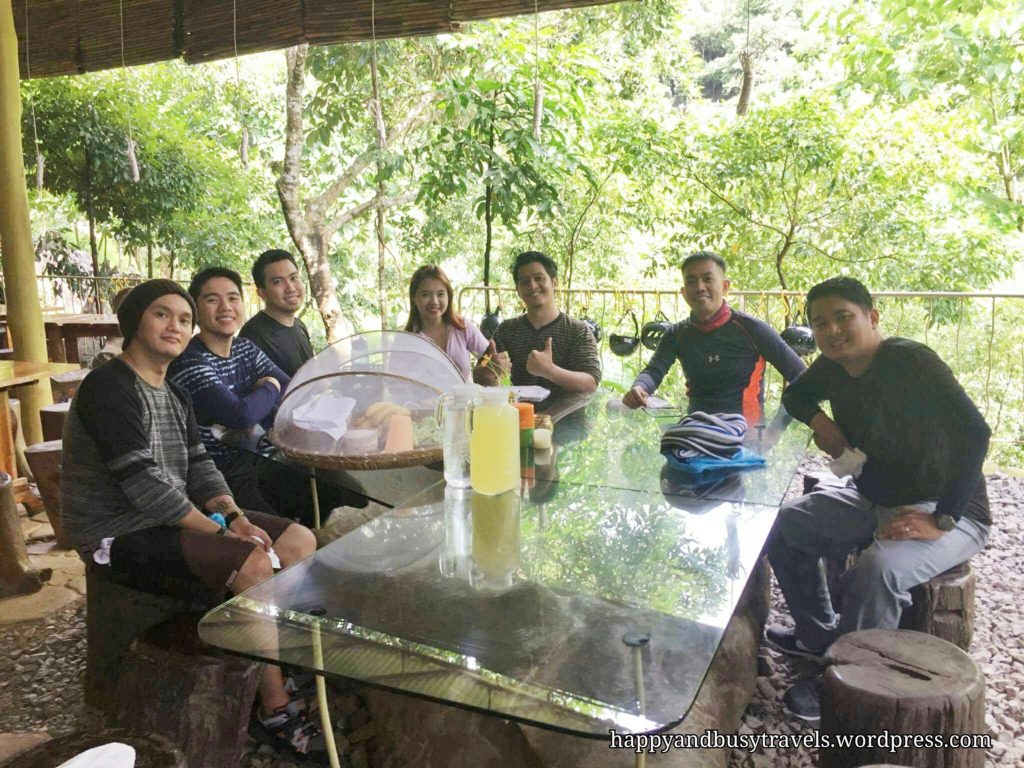 The beverages are water, and Dalandan Juice. The snack is a do-it-yourself sandwich composed of Wheat Bread, home made Tuna Spread, and Lettuce. Bananas are also served. They also gave us ice cold towels! Ooohhh super refreshing. We immediately put it on our face hahaha. I'm thinking of doing it at home hahaha.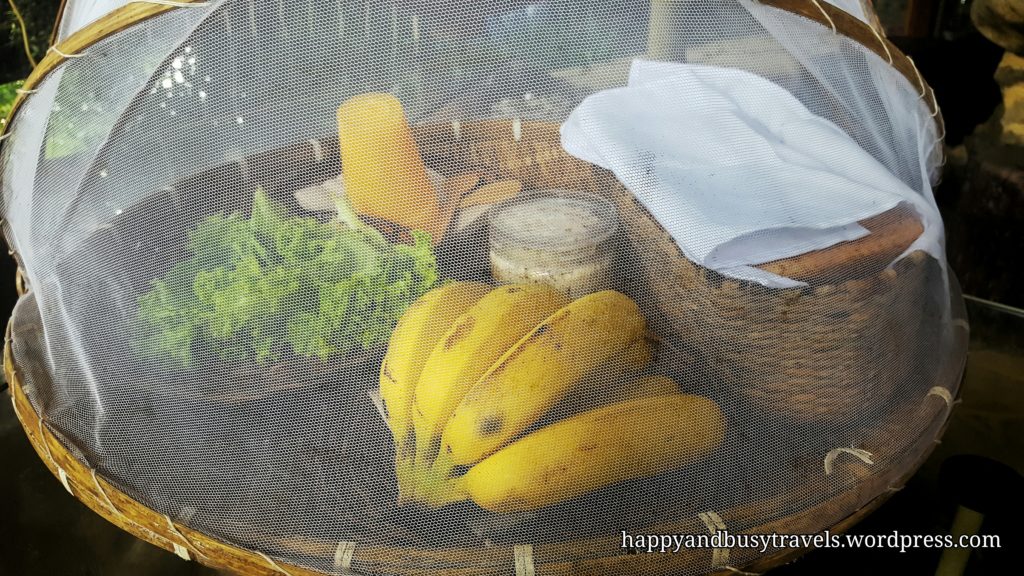 At this point park rangers/ tour guides will leave the visitors to enjoy their meal. So Kuya Mac Mac left us and he will now go to the starting point to meet the other visitors. We stayed there for a while, some big lizards greeted us. Too bad I did not get a picture haha.
After our snack we proceed to the relaxing area, the area is full of different swings. There are swings for yourself and swings for a lot of people. Well.. relaxation is needed after a tiring journey hahaha.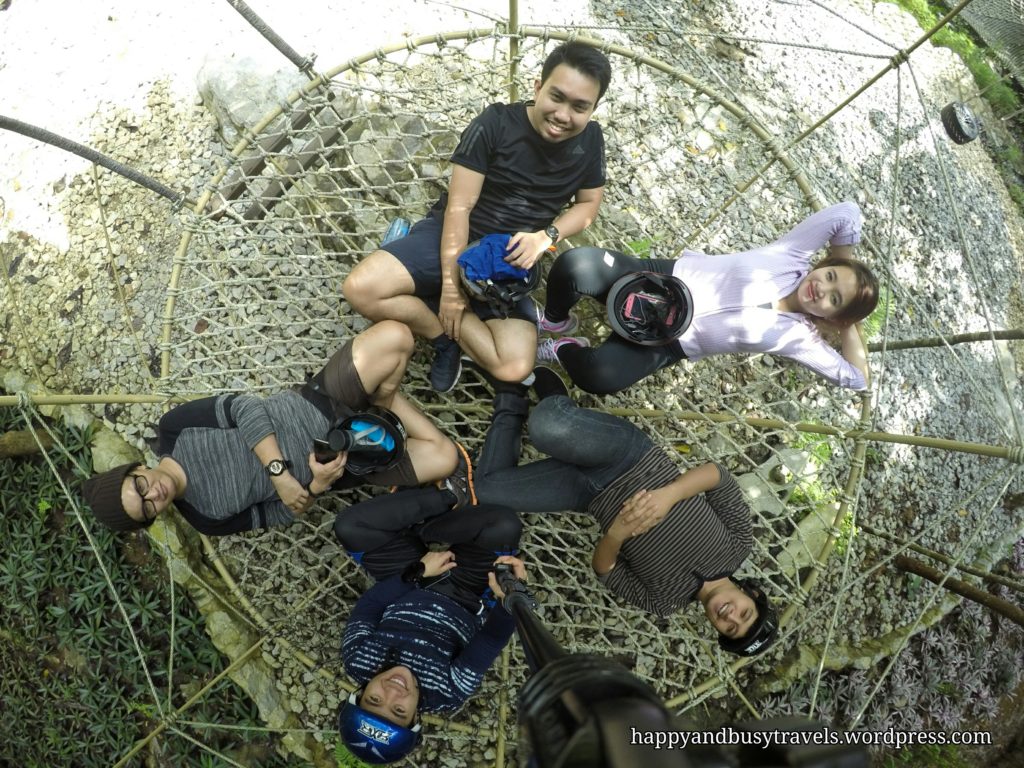 But wait there's more! hahhha The "Sawa" or Snake in English is the last attraction. Obviously it was named Sawa because the entrance of the hanging bridge looks like the mouth of a Snake with its tongue hanging out.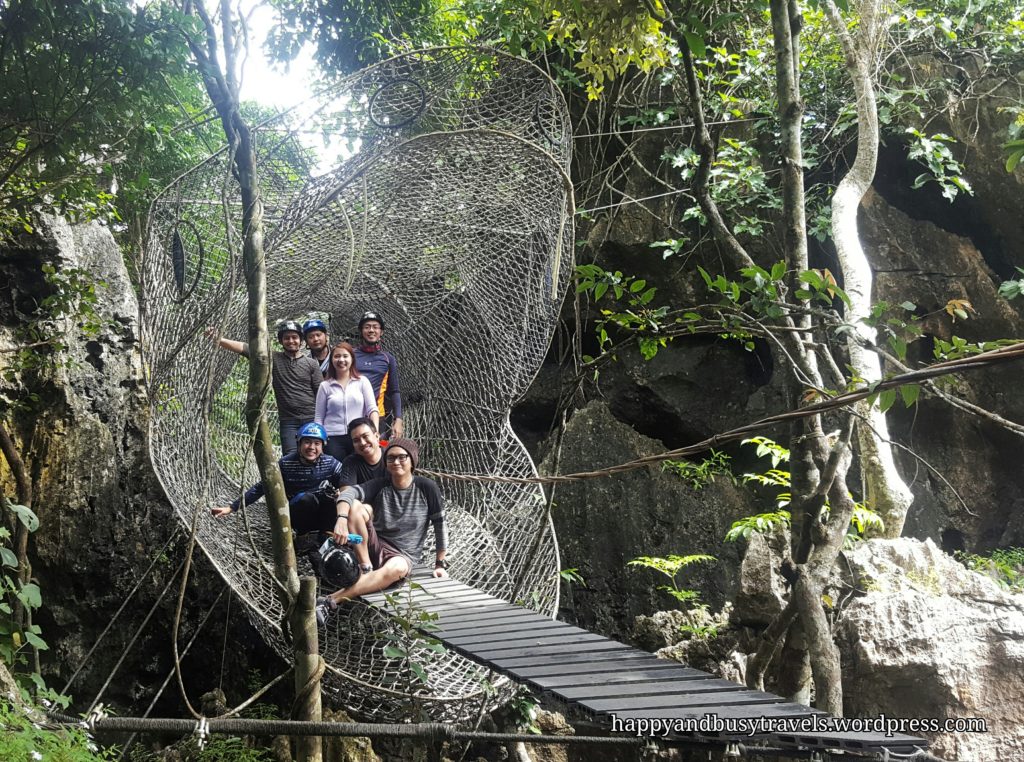 There our journey through Masungi Georeserve has ended. It was just a 4-hour journey but it was a great journey indeed. Our bonding as friends became stronger as we push each other to conquer each other's fear and move forward.
The Legacy Tree Project
If you want to leave a legacy in the Georeserve, you can join their tree planting project called "Legacy Tree Project". During our trip, the project has not yet started. But as far as I know, you can go to the trail and plant trees. The trees will be taken cared by the caretakers of Masungi Georeserve. For more information, do contact the Georeserve through their website's contact us page or email them at [email protected].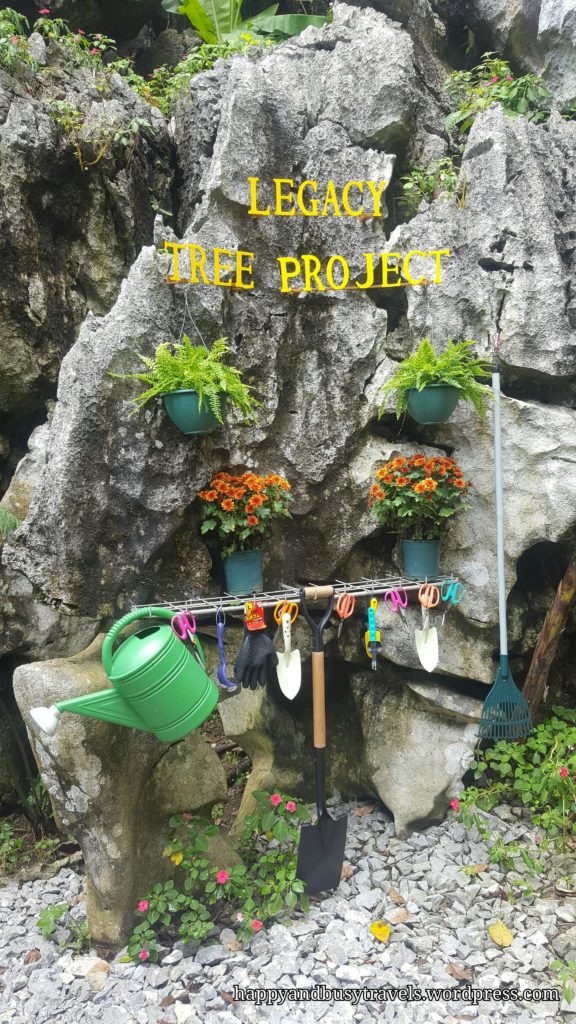 Here is the link for my blog on how to request for a visit at the Masungi Georeserve: https://happyandbusytravels.wordpress.com/2017/09/09/masungi-georeserve-reservation-process/
Notes during reservation:
Finalize the number of participants on or before 4 banking days on your visit. They will no longer accept additional participants.
There is a minimum of 7 participants and maximum of 14 participants in each group.
Fees are Php 1,500 (weekday) and Php 1,800 (weekend) per person. You can settle your payment through bank deposit. They do not accept cash on the site.
If you do not like too much heat, choose an earlier slot. Like ours, it started at 5:30am
Reserve right away! Because if you will visit their website, the slots during weekends are going out so fast.
Notes during the visit:
Wear comfortable clothes.
Get plenty of sleep before your visit, especially if your slot is like ours, 5:30am.
Go to the area 30 mins before your actual schedule.
Follow the rules or you will be penalized, or they can also cut your adventure, and worst ban you from visiting the place again.
Bring your own water bottle. There is a refiling station before and after the trail.
Enjoy the environment.
Be careful on your steps
They do not accept tips individually
Masungi Georeserve's Contact Details:
Website: http://www.masungigeoreserve.com/
Contact Numbers: 09951869911 and 09088887002
Email address: [email protected] and
Happy and Busy's Smiley
Fun  

Service 

Value for Money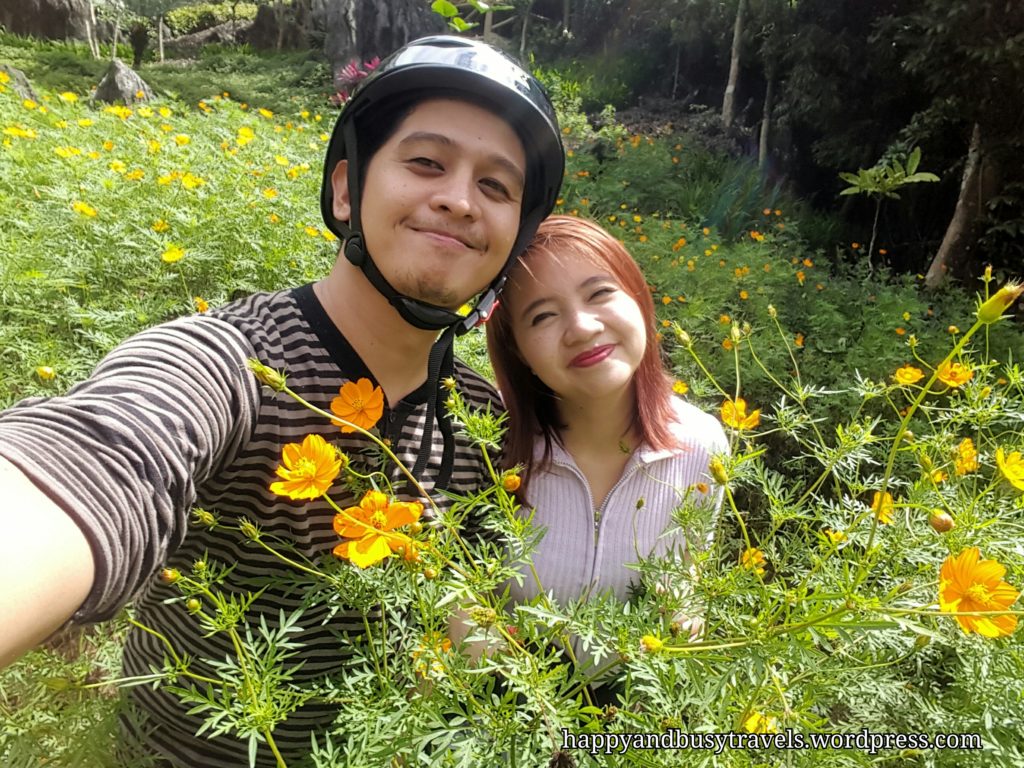 Here's me and Busy enjoying the flower garden, this is located in the Silungan, but we did not see it this clear due to the fog.
We'll that's it! I hope you visit the conservation area and have a great time.