Kota Kinabalu Scuba Diving
One of the top activities that Kota Kinabalu offer is Scuba Diving. They have nice diving spots that certified and non-certified divers can enjoy. So, when Busy and I went to Kota Kinabalu, we booked scuba diving lessons right away from Downbelow Adventures by Adventures in Borneo.
View this post on Instagram
Important Information
Scuba Diving lessons provider: Adventures in Borneo
Facebook: Adventures in Borneo
Instagram: Adventures in Borneo
Contact No.: +60 88-486 800 ; (+6) 012 866 1935
Email address: [email protected]
Address: KK Times Square, Lot 33-G, Block F, Kota Kinabalu, Malaysia
Diving Address: Gaya Island, Kota Kinabalu, Malaysia
Time spent on the activity: 4 hours
Rates: Contact the provider for the rates.
Going to Gaya Island – Kota Kinabalu Scuba Diving
We went to Sutera Harbour Marina Jetty to wait for the other guests and the boat. It is good to wait here because this place is nice, it has a lot of yachts and Doves that are very friendly.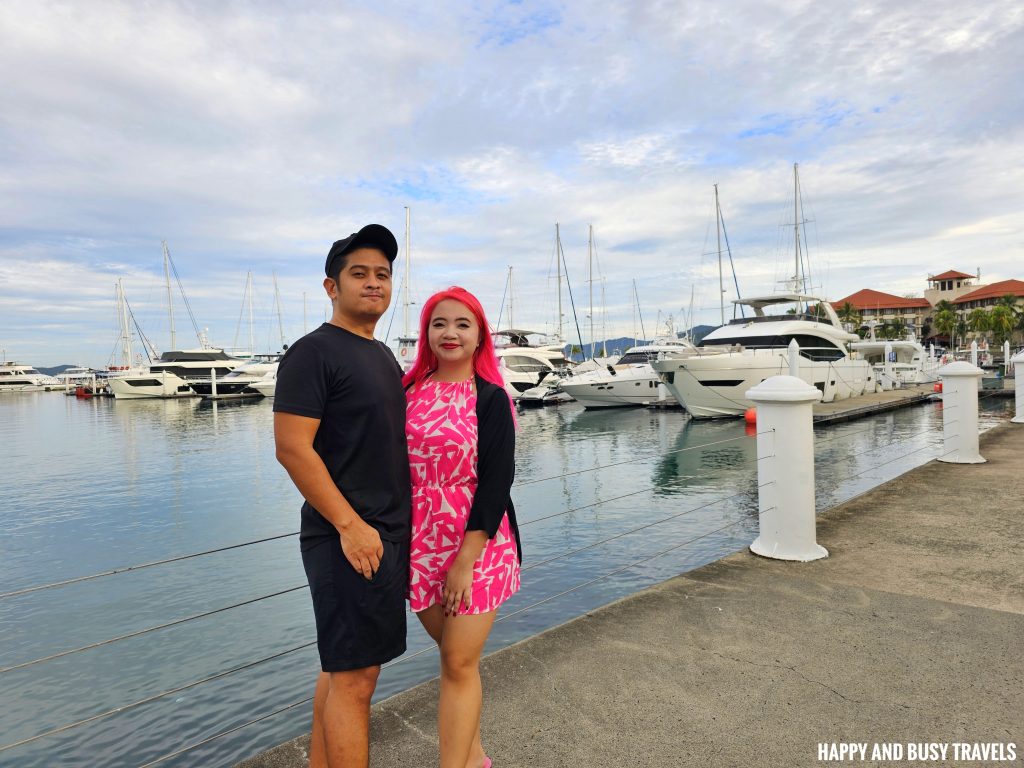 This boat is nice, a little upgrade than what I expected.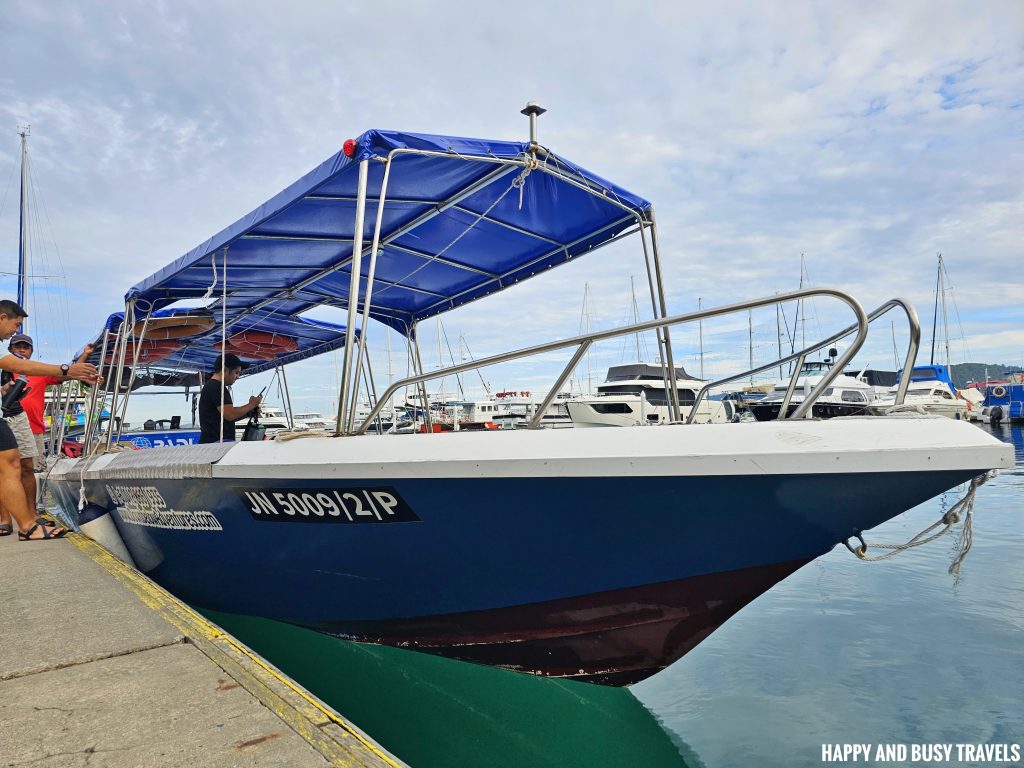 We are just a total of 5 people on the boat, the captain, guide, another guest, and Busy and I. So, we had a lot of space for ourselves.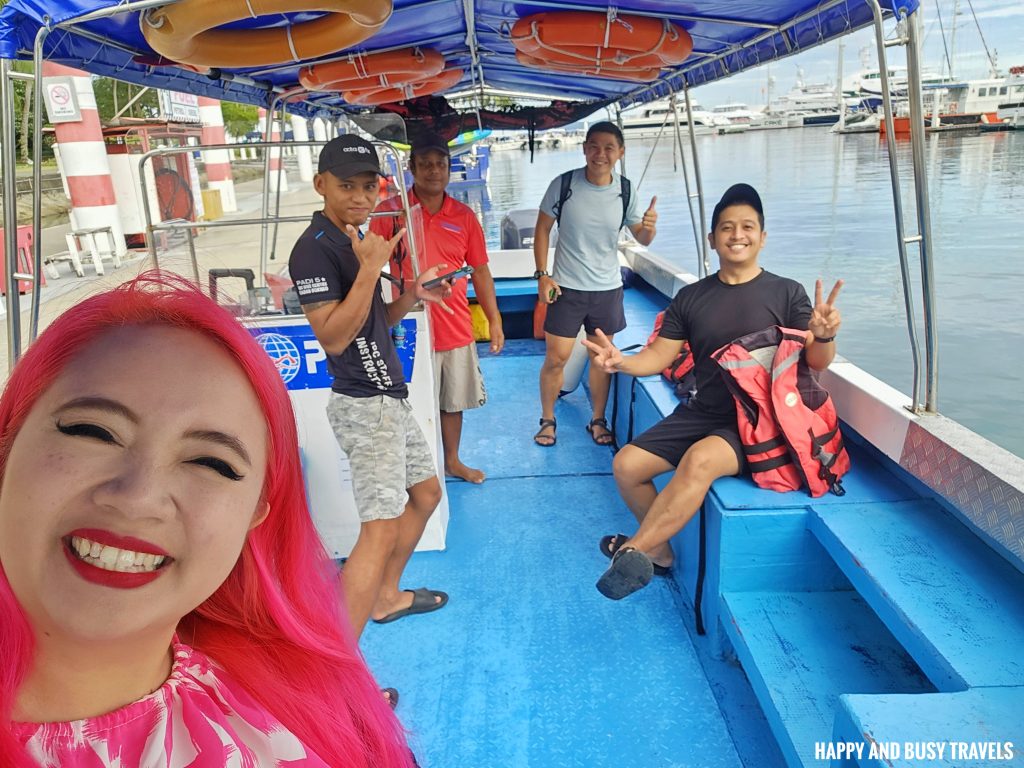 At first, it was okay to sit in front and take videos and pictures, but after a while, we were told to sit at the back because the boat will start to go really, really fast. The boat ride is around 15 to 20 minutes.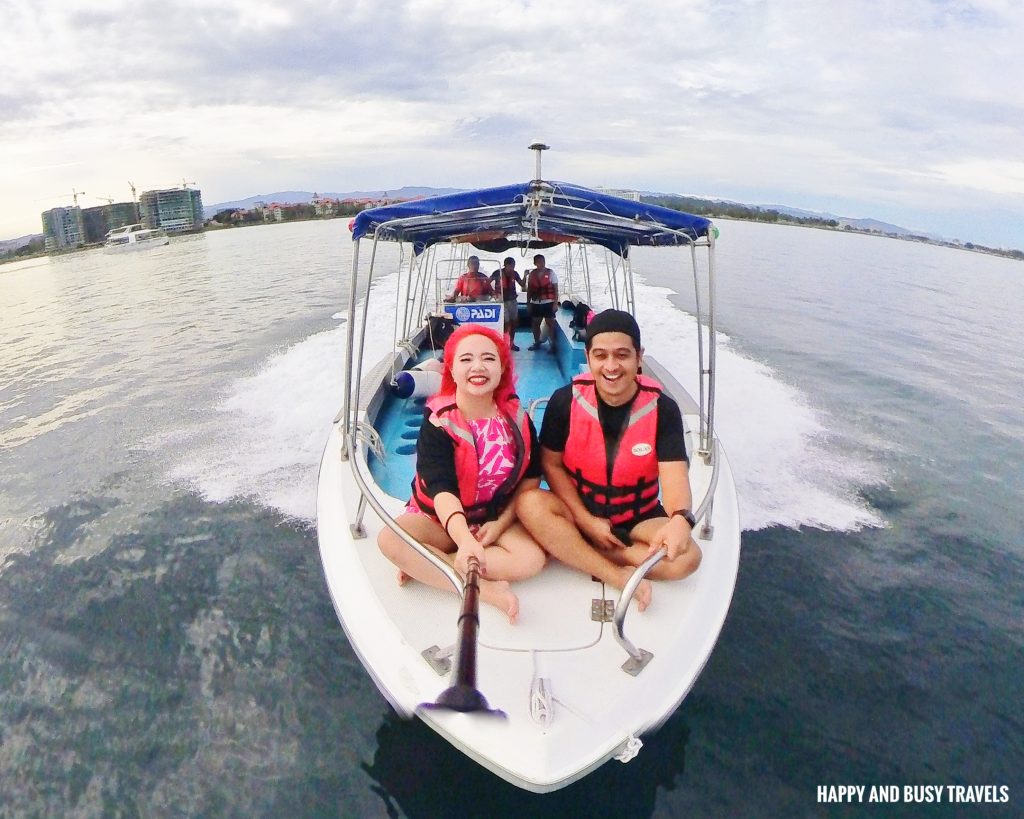 Gaya Island
We immediately saw Gaya Island a few minutes after leaving the marina.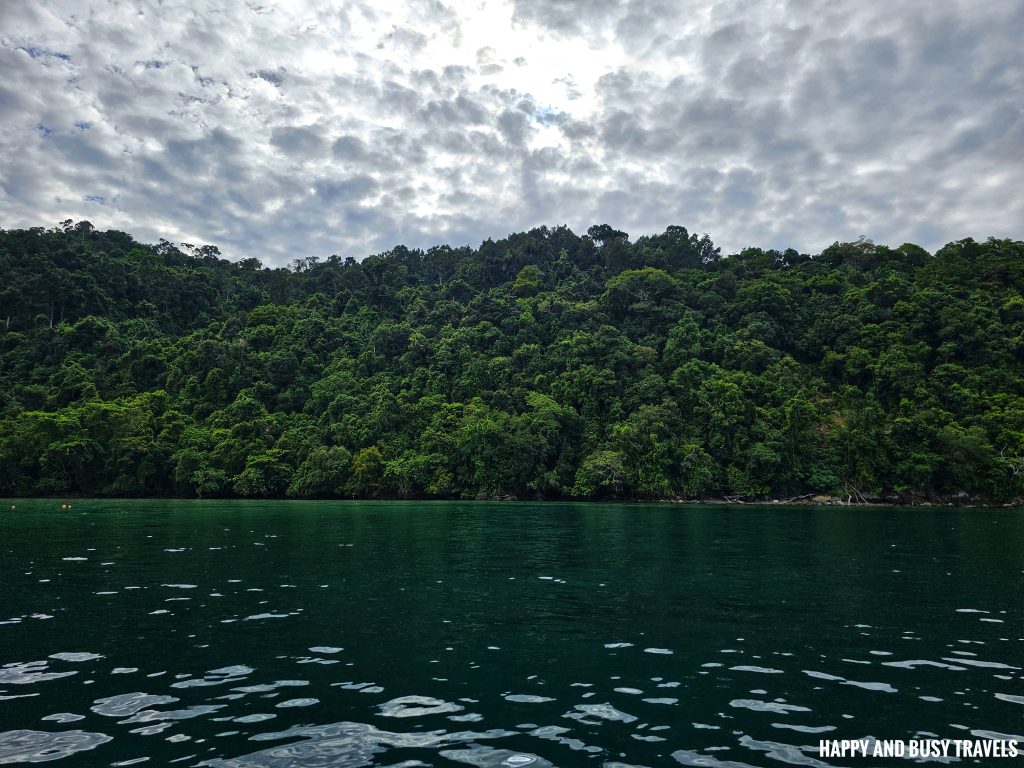 The island is full of trees and life, we even saw some Hornbills while we are on the boat.
View this post on Instagram
After a while, we saw the jetty of Downbelow Adventures.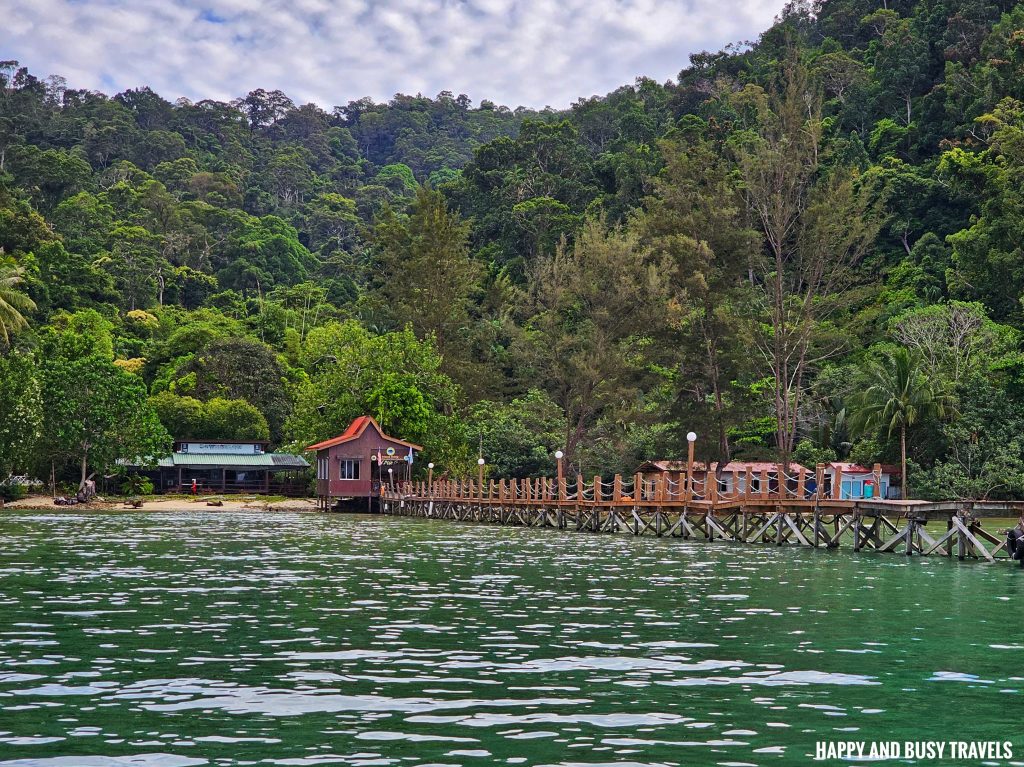 Scuba Diving gears are lined up on the jetty because the owner Richard and his team will go out and dive to remove a reported fishing net that was left behind. They always do these jobs that can save our ocean.
Start of Kota Kinabalu Scuba Diving
We do not have a certificate/license for scuba diving, so it is mandatory that an introduction is given to us even though we've been through this a lot of times already. Plus, there is a newbie soon-to-be instructor who is taking his first dive today, so he sat down with us during the introduction.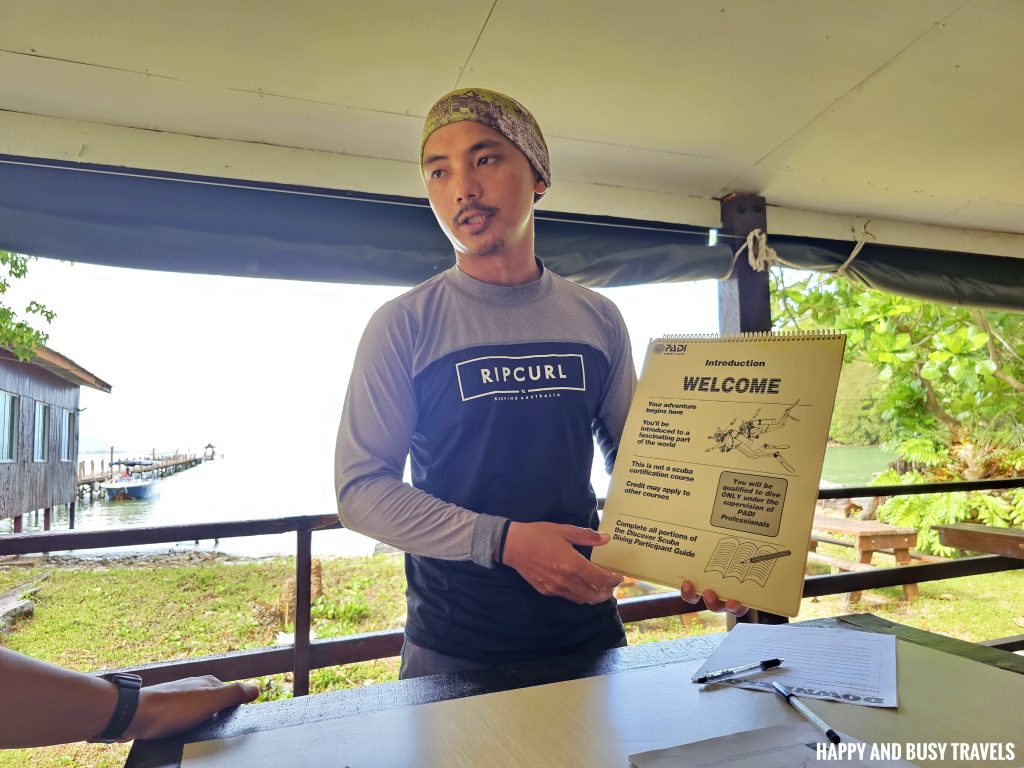 Then, Kerry arranged all of our scuba diving gears so we can start already.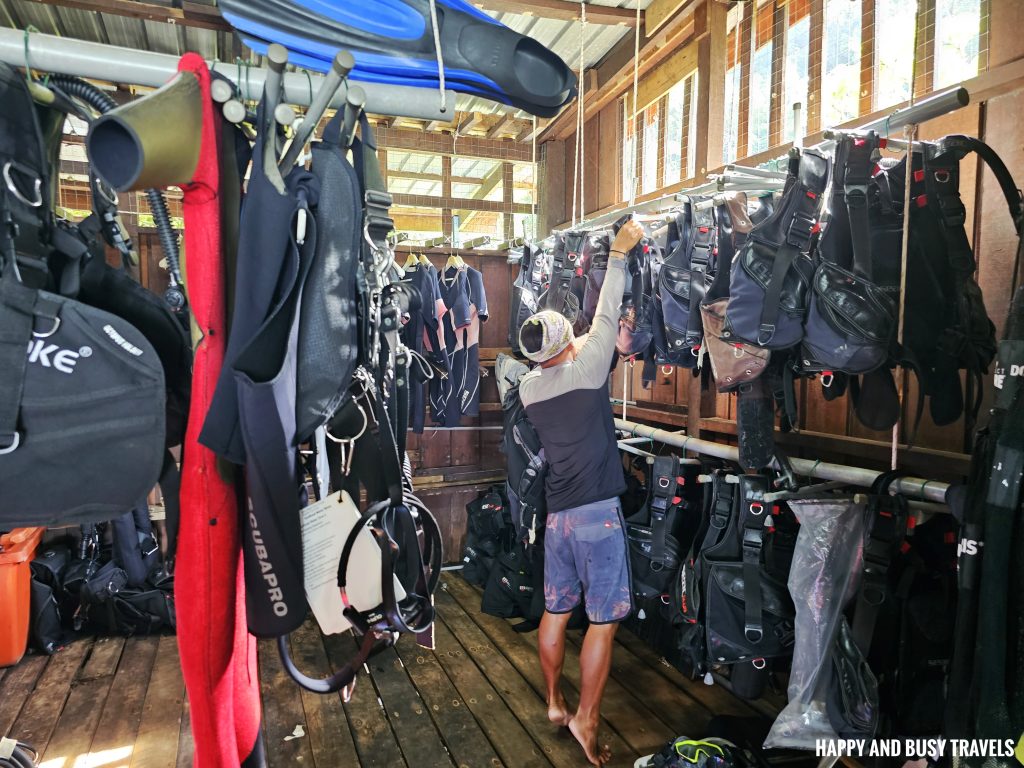 As mentioned, we are not licensed scuba divers so we took a quick exercise under the shallow water. The usual exercises were made like what to do when water gets inside the mask and what to do in case the mouthpiece is taken out of the mouth.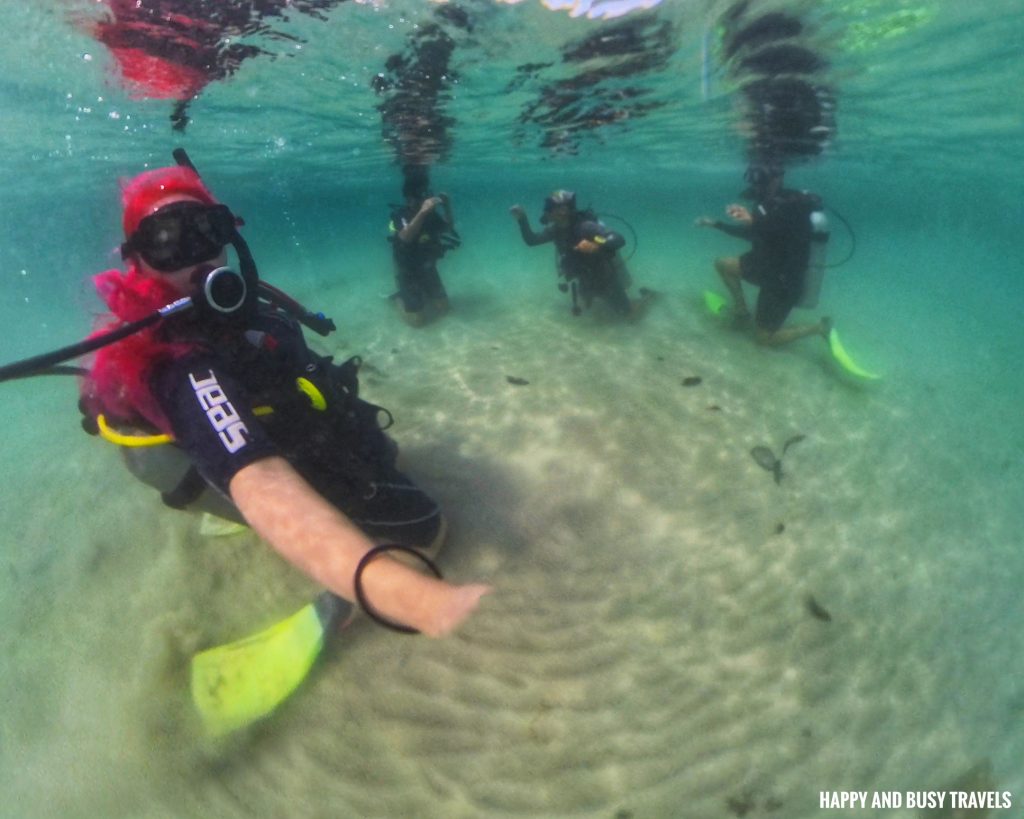 After we passed, we went back to the island and had a snack.
Adik Reef – Kota Kinabalu Scuba Diving
After the quick snack, Kerry showed us that we are going to dive into Adik Reef which is just around 12 meters deep. It has good marine life, there are coral reefs, different schools of fish, Turtles, Blacktip Reef sharks, and Whale sharks (sometimes).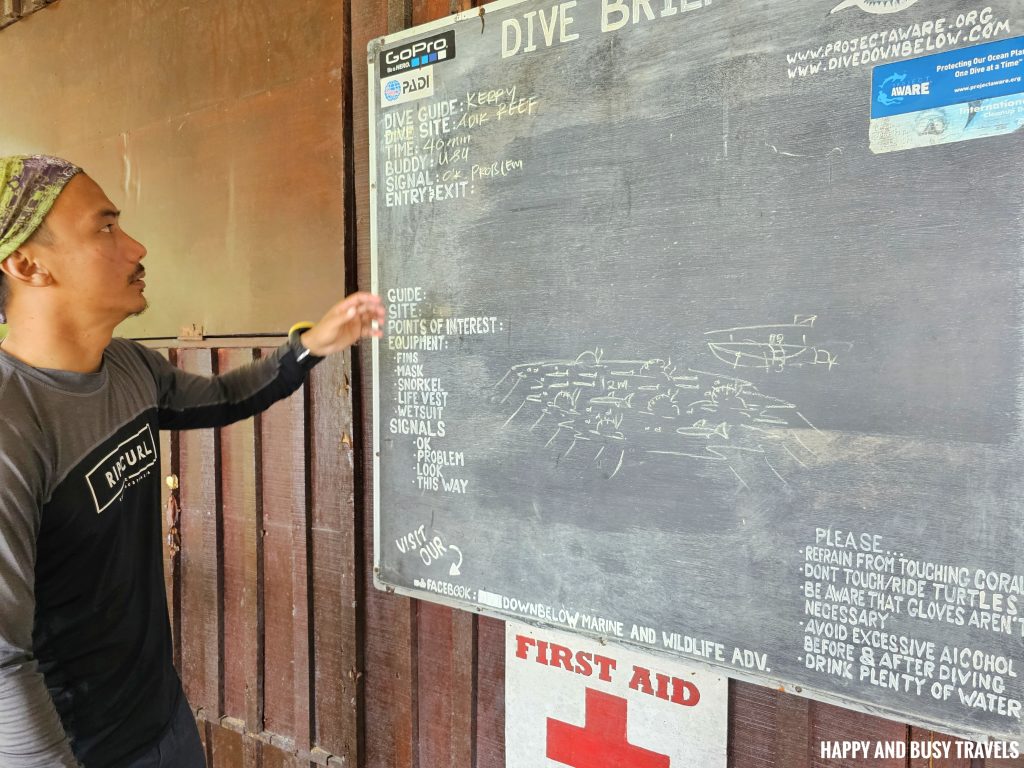 This time, we will be diving with Kerry and Richard.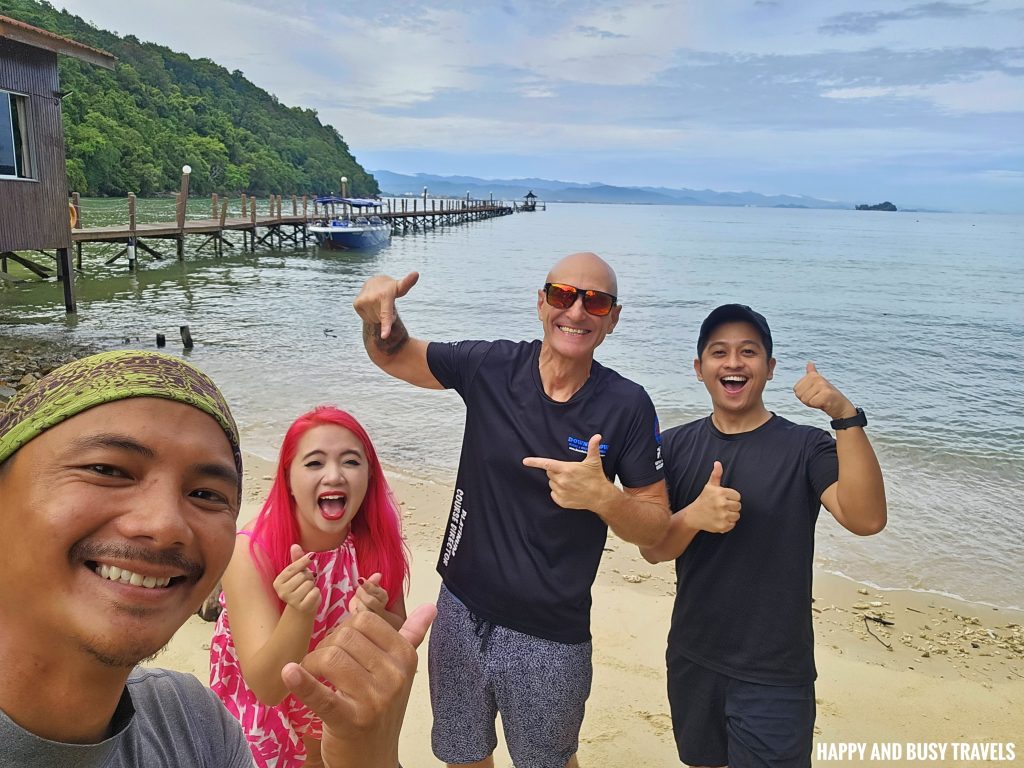 After the boat stopped, we went down to Adik Reef.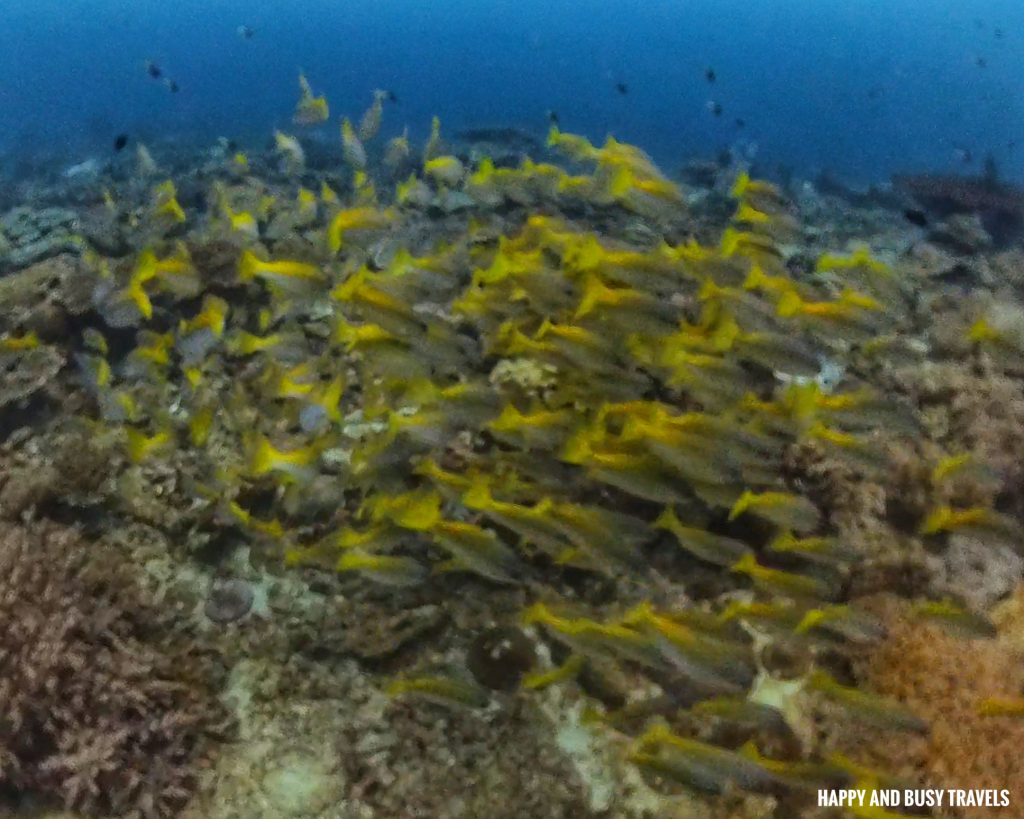 There is a lot of marine life here, there are various schools of fish, like this school of jacks.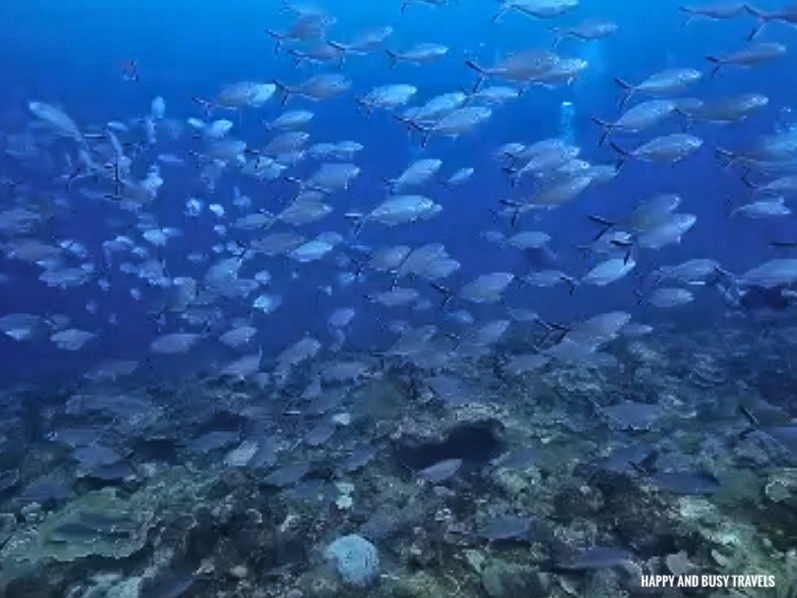 And a school of Yellow Tail Snapper which keeps on swimming near us.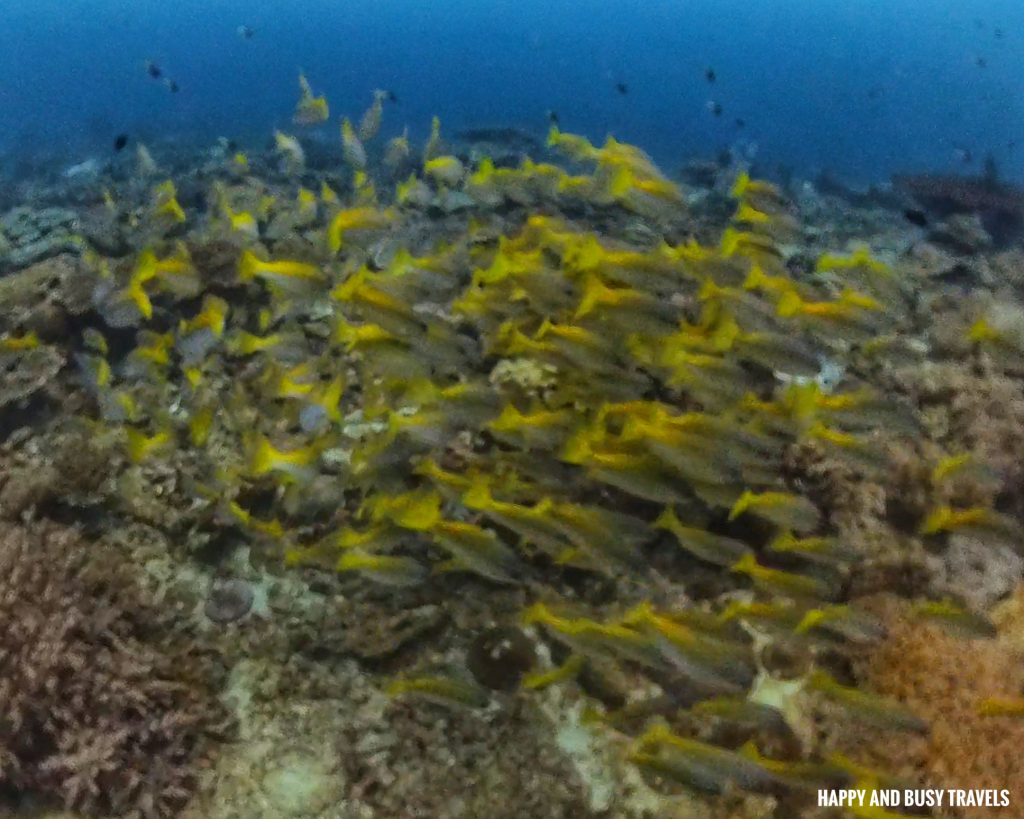 There are also various Barrel Sponges around.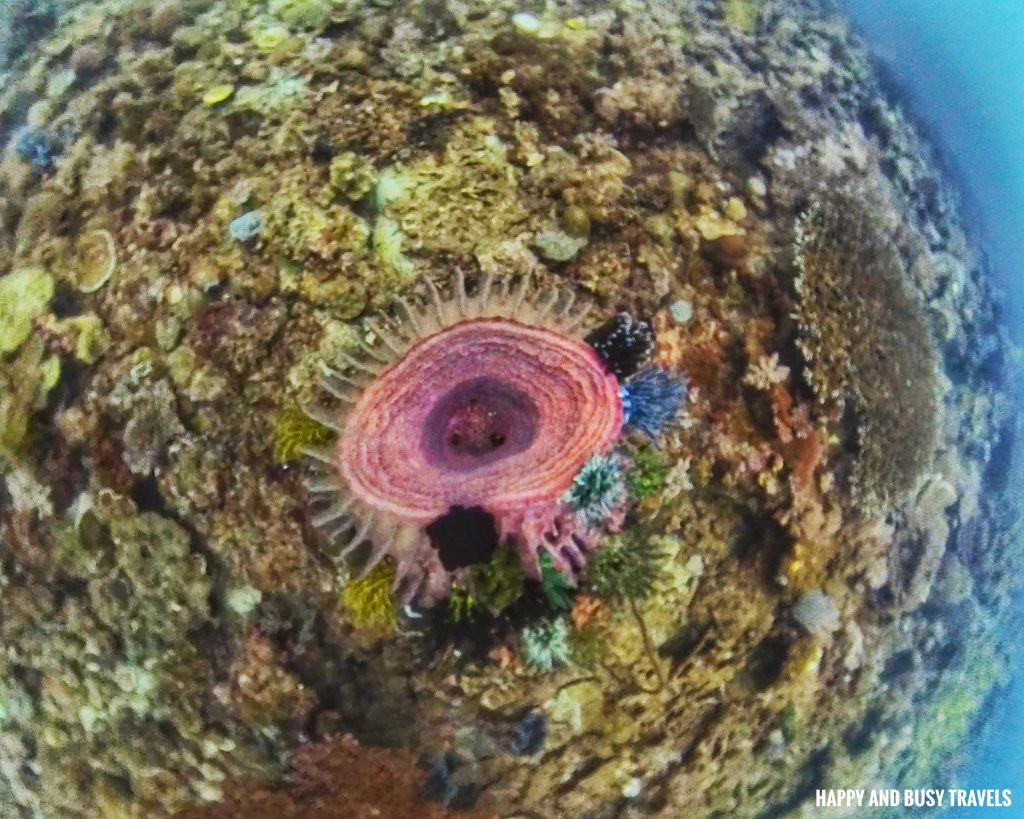 Finally, a Green Sea Turtle showed up! Here's his picture with Richard.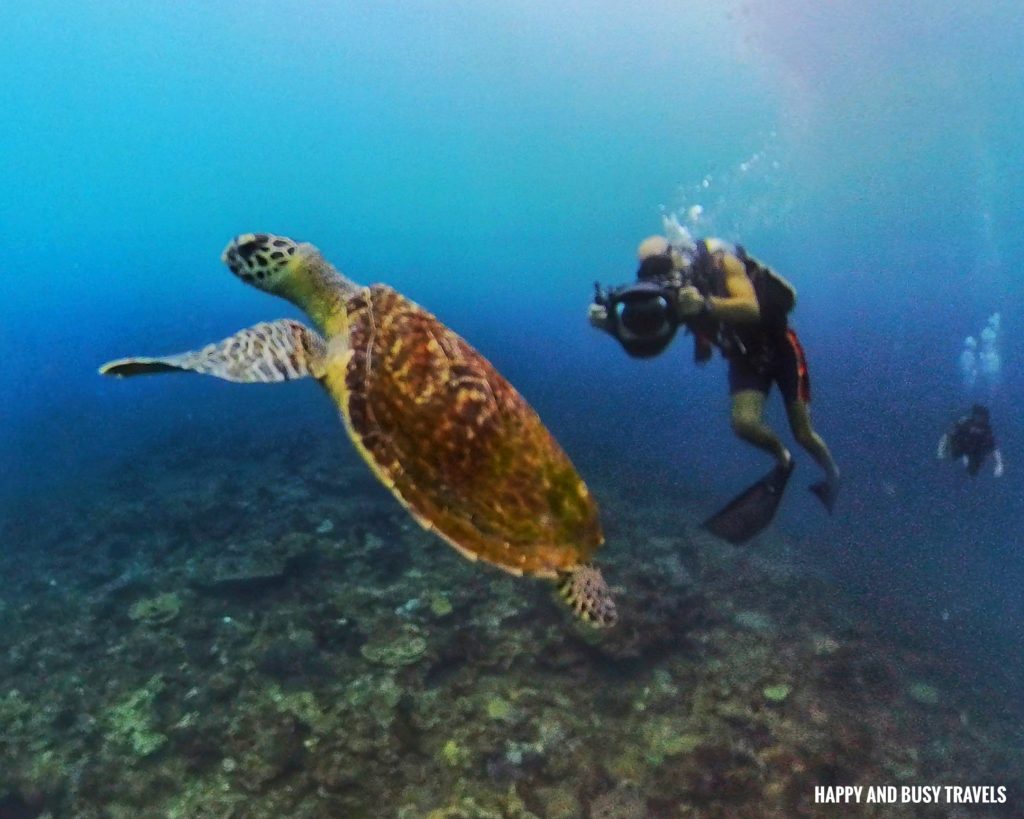 It is busy and not minding us at all. It's like he is used to people being around.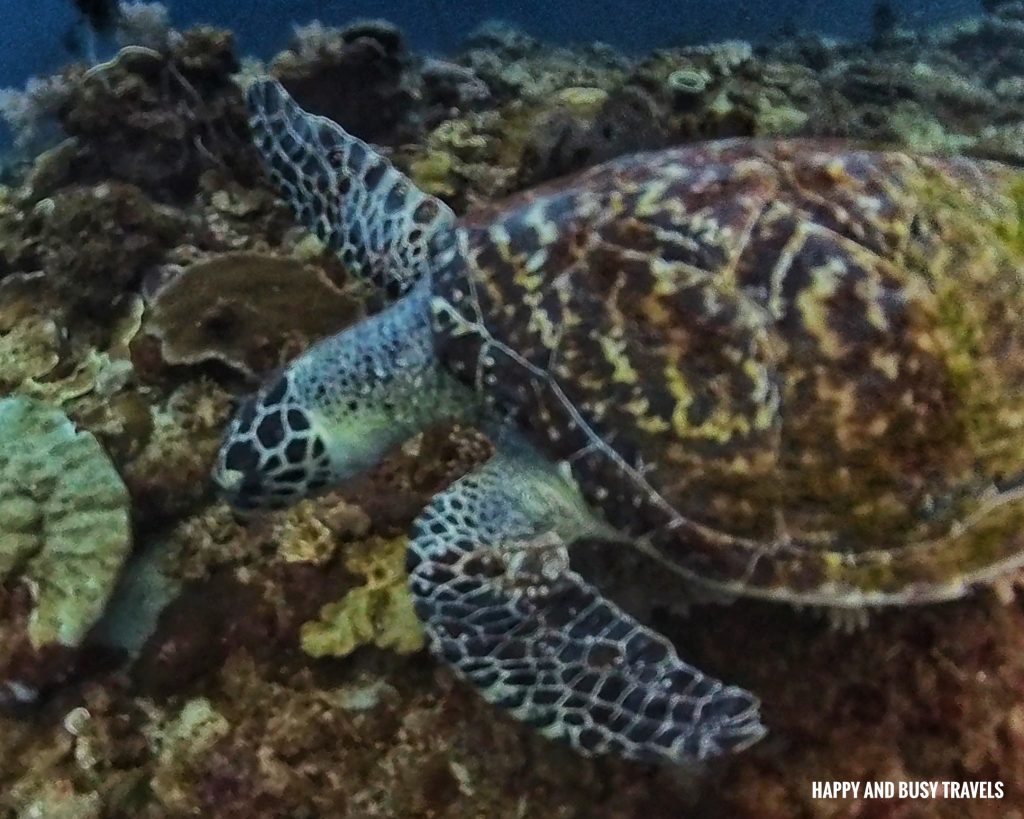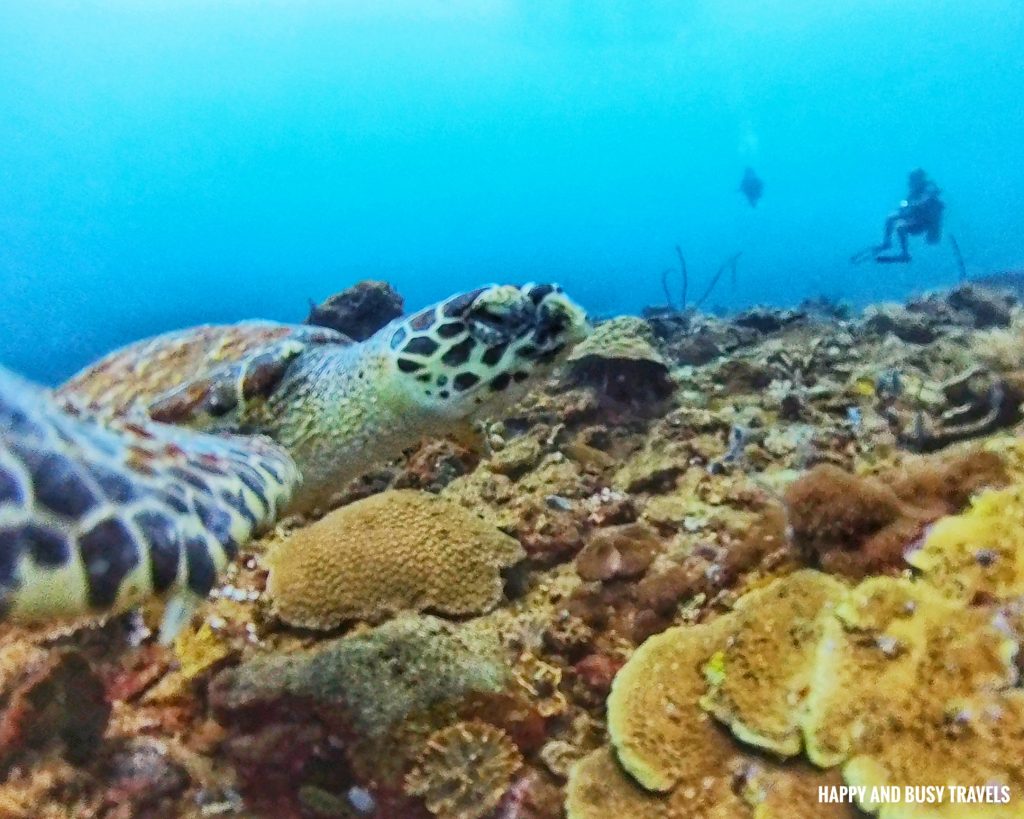 Thank you Richard for this picture, I am trying my best here to keep my distance from the Turtle and the coral reefs.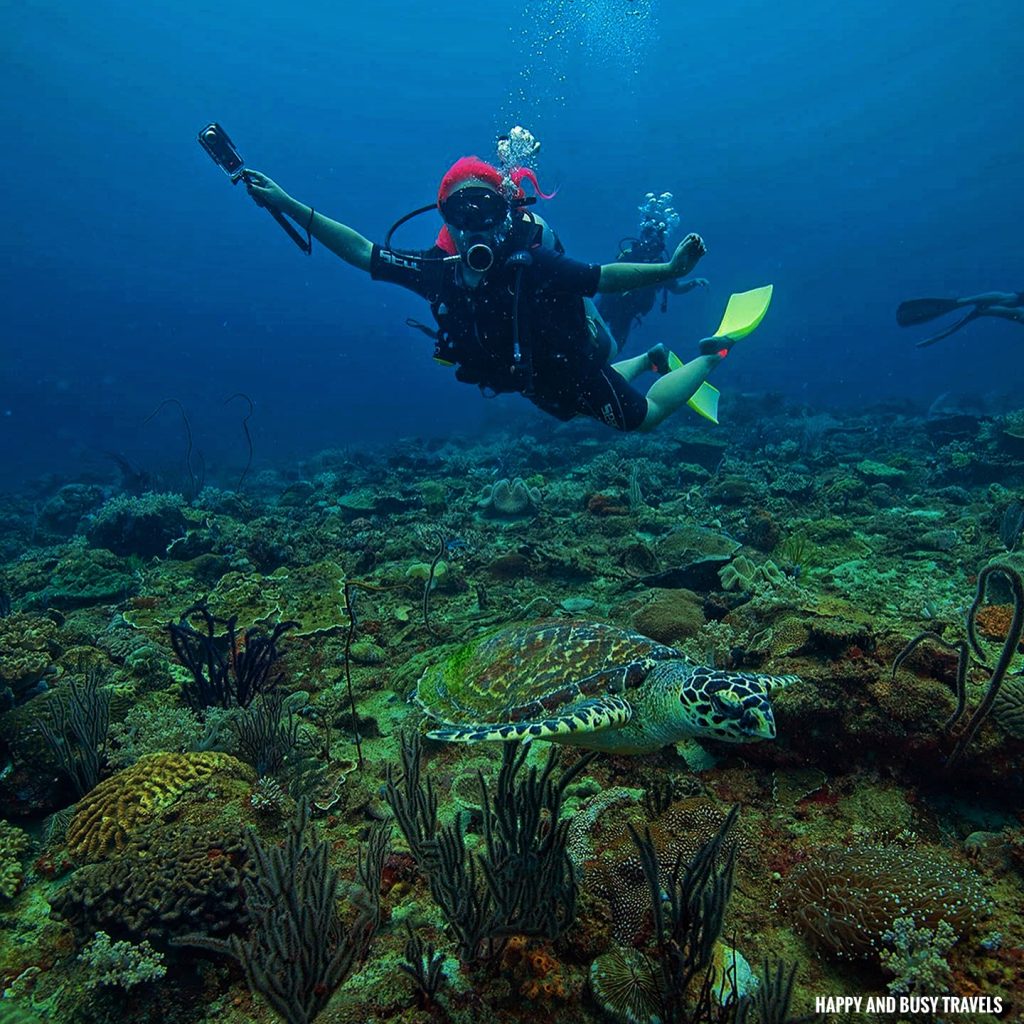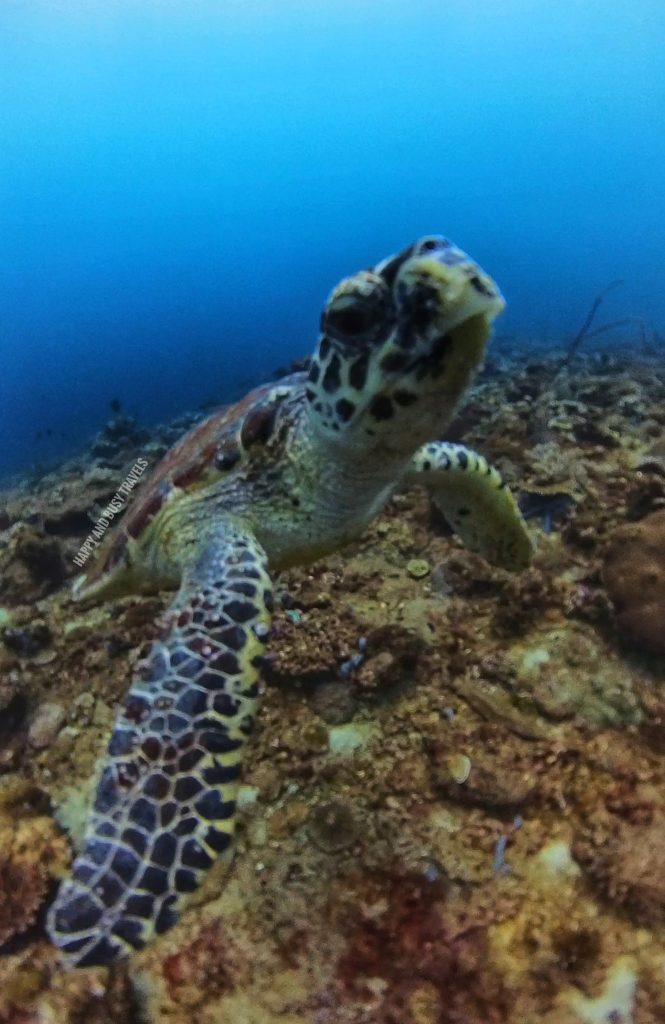 We also saw a Blacktip Reef Shark, but we didn't get a chance to take a picture of it. I tried to swim toward it, but it really swims fast.
It was Fun!
We had a fun morning dive, we even met a few friends like him from Singapore. He even wants to bring his son the next day to dive because he find the activity enjoyable.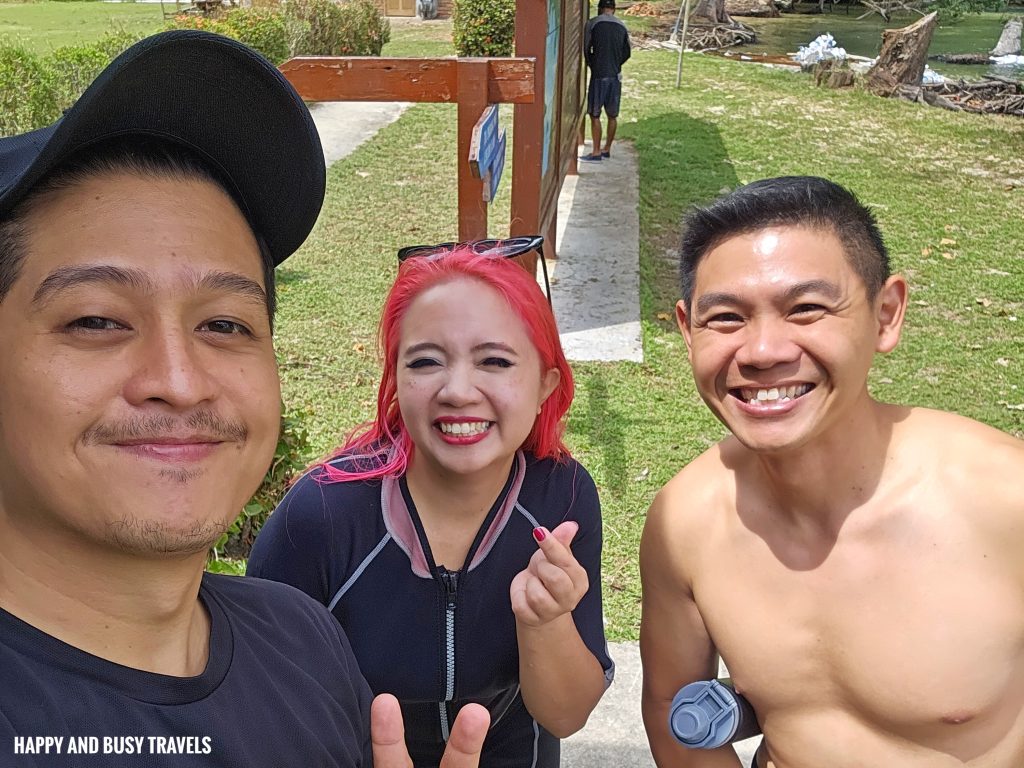 Plus, Richard has been in Kota Kinabalu for a lot of years.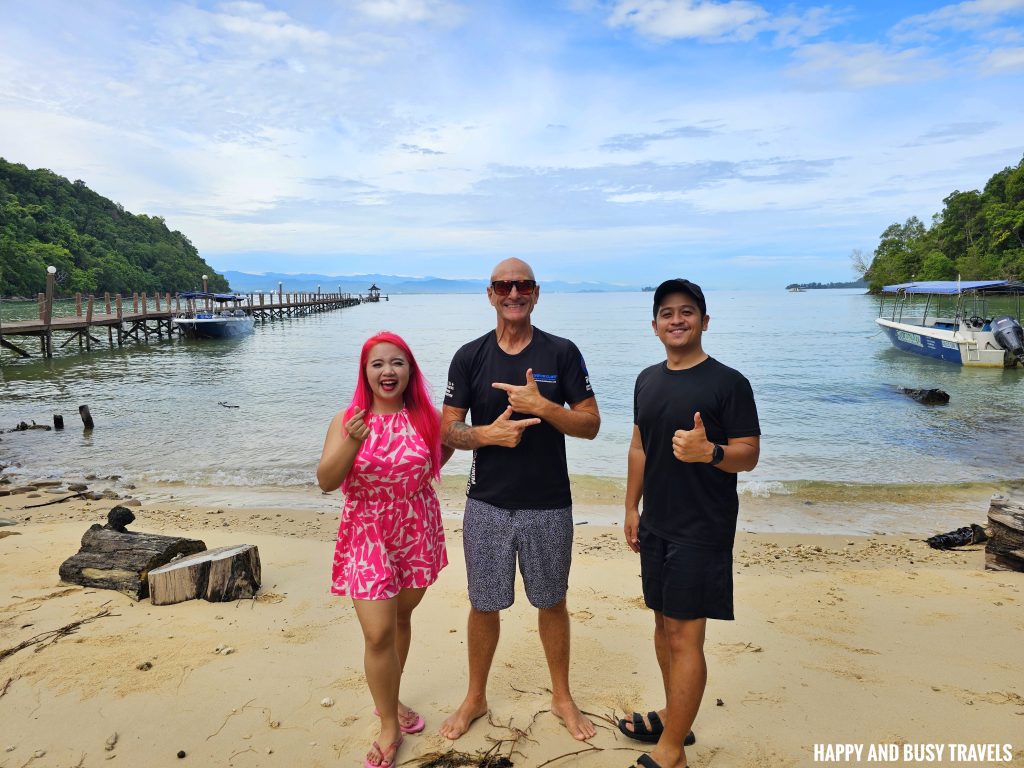 Happy and Busy's Smileys for Kota Kinabalu Scuba Diving with Downbelow Adventures
Overall our experience is good. The place is not crowded, there is a lot of marine life throughout the reef that we visited, all of the instructors are friendly and fluent in speaking English, and
Location 


Ambiance


Value for money 


Fun


I took underwater pictures using my Insta360 x3 for the first time, and I am not pleased, most of them are blurry. Apologies for the blurred pictures. I might be going back to Go Pro for underwater pictures and videos.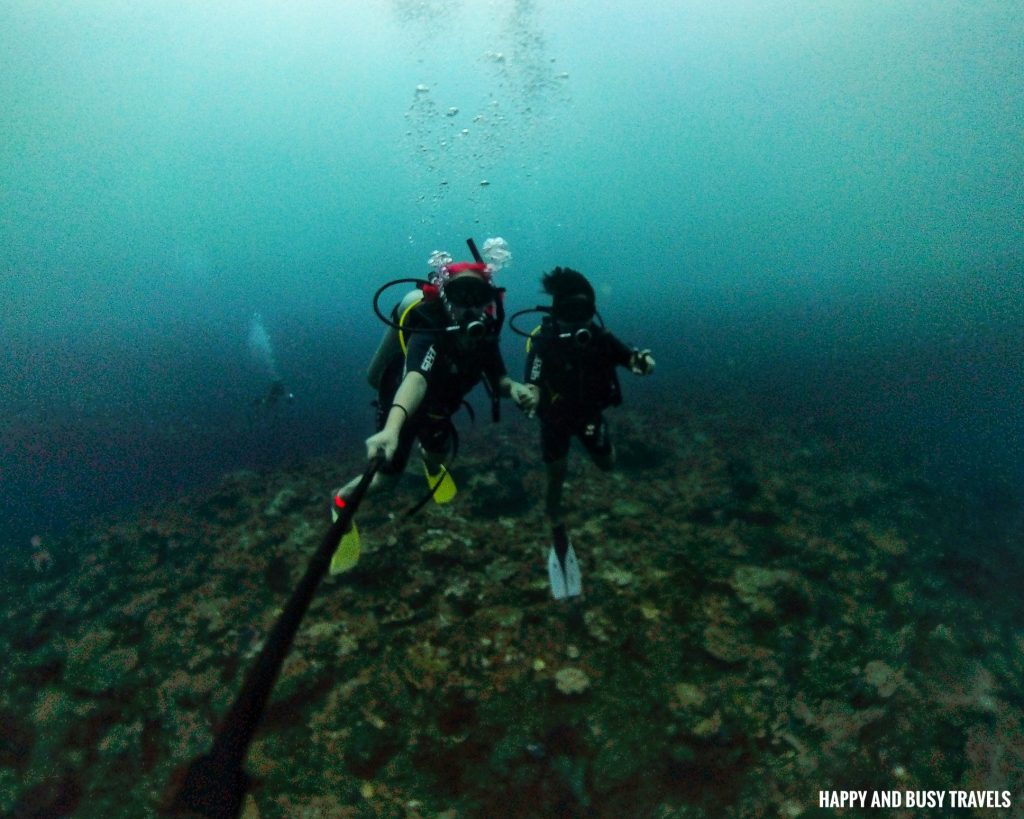 More exciting activity reviews at https://happyandbusytravels.com/category/activities/
Like! Follow! Subscribe! to our social media accounts: