Marcus Cafe – Villa Julia, Silang, Cavite
While on our way to Tagaytay, Busy and I saw that there's a new cafe in town, the Marcus Cafe in Villa Julia, so, Busy and I visited it.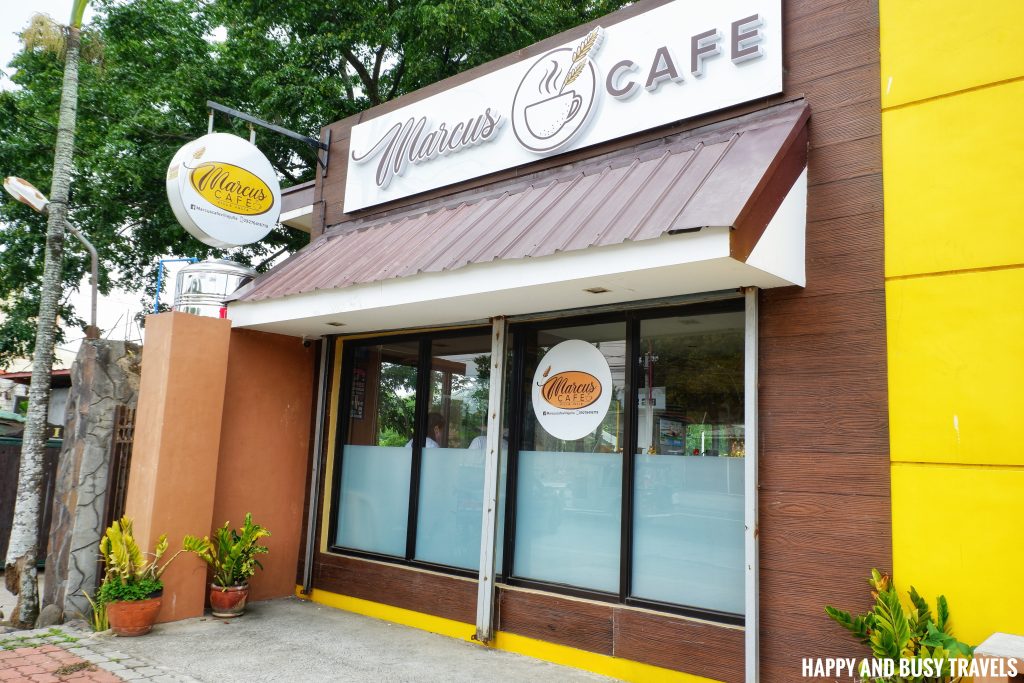 Important Information
Facebook: https://www.facebook.com/Marcuscafevillajulia
Contact Numbers: 0927 641 6719
Operating Hours: 11:30 AM – 8 PM
Dining Options: Dine In, Take Out/Pick up, Delivery
Address: Villa Julia Resort, By-Pass Road, Km 43 Emilio Aguinaldo Highway, Silang, Cavite
Google Maps Link: Google Maps – Marcus Cafe
Inside Marcus Cafe
There is no parking space available right beside the road, so we went inside.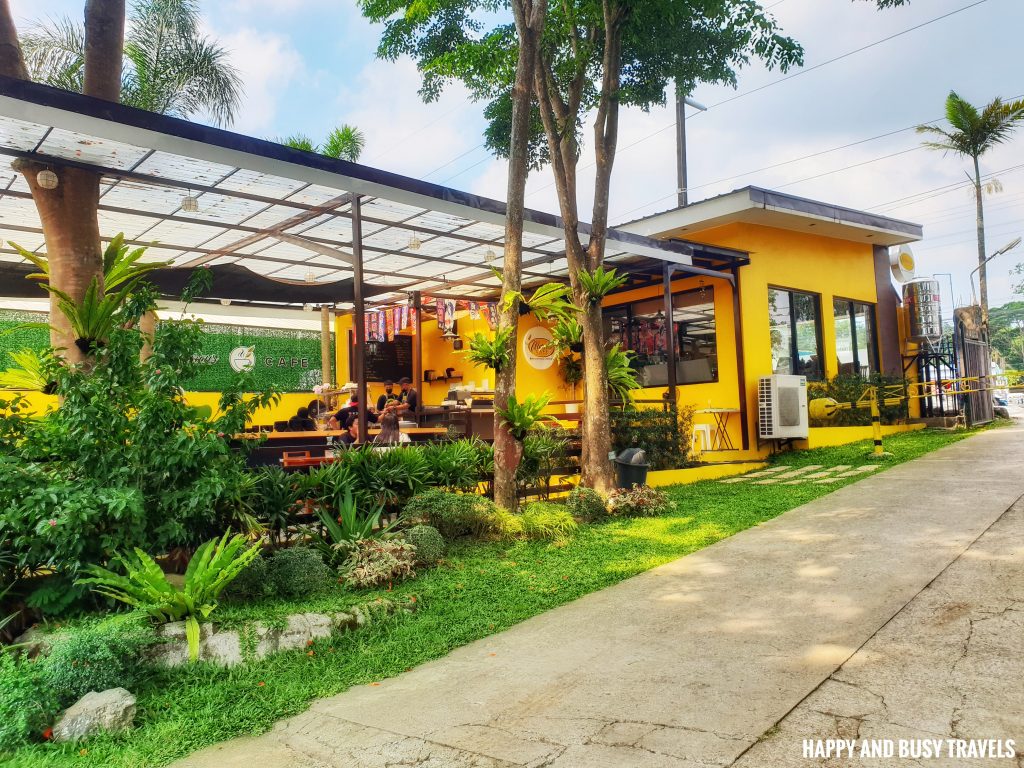 This is nice because there is a lot of parking spaces inside, plus we can see the ambiance of the dining area immediately.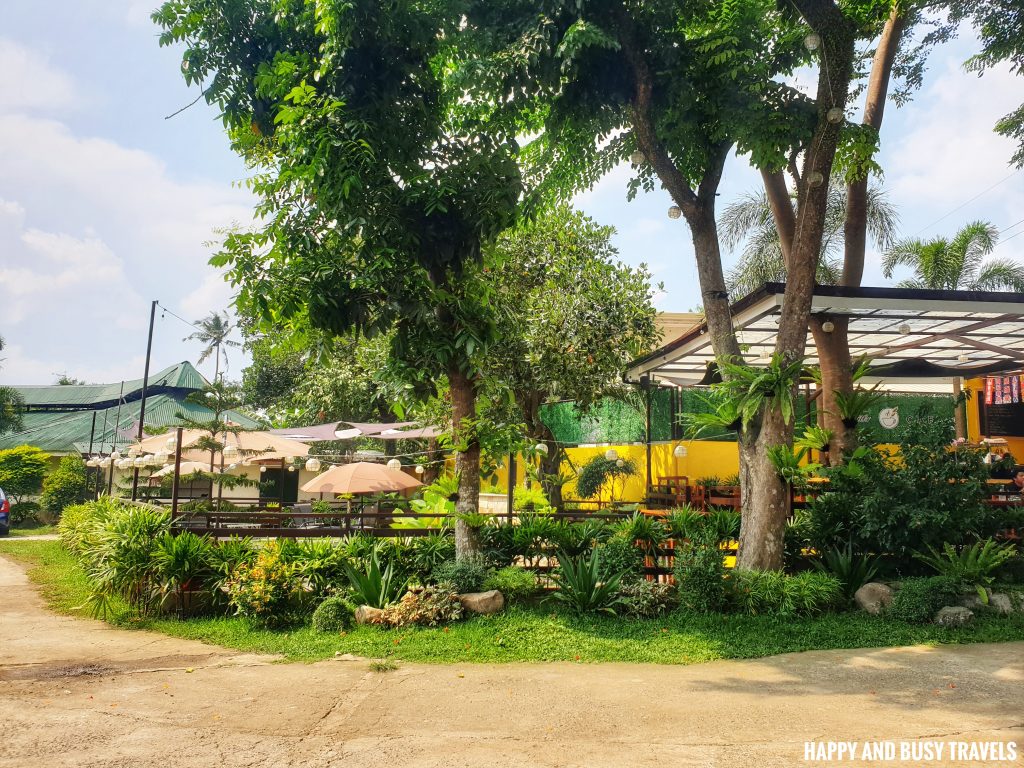 Guests can dine-in inside the airconditioned area.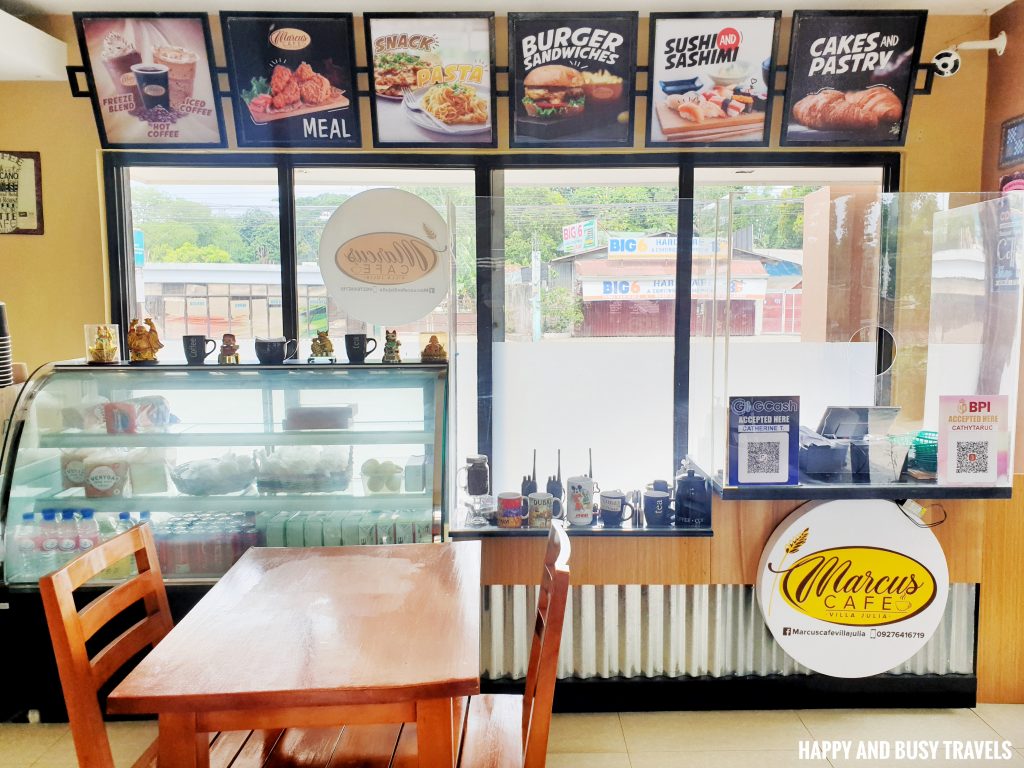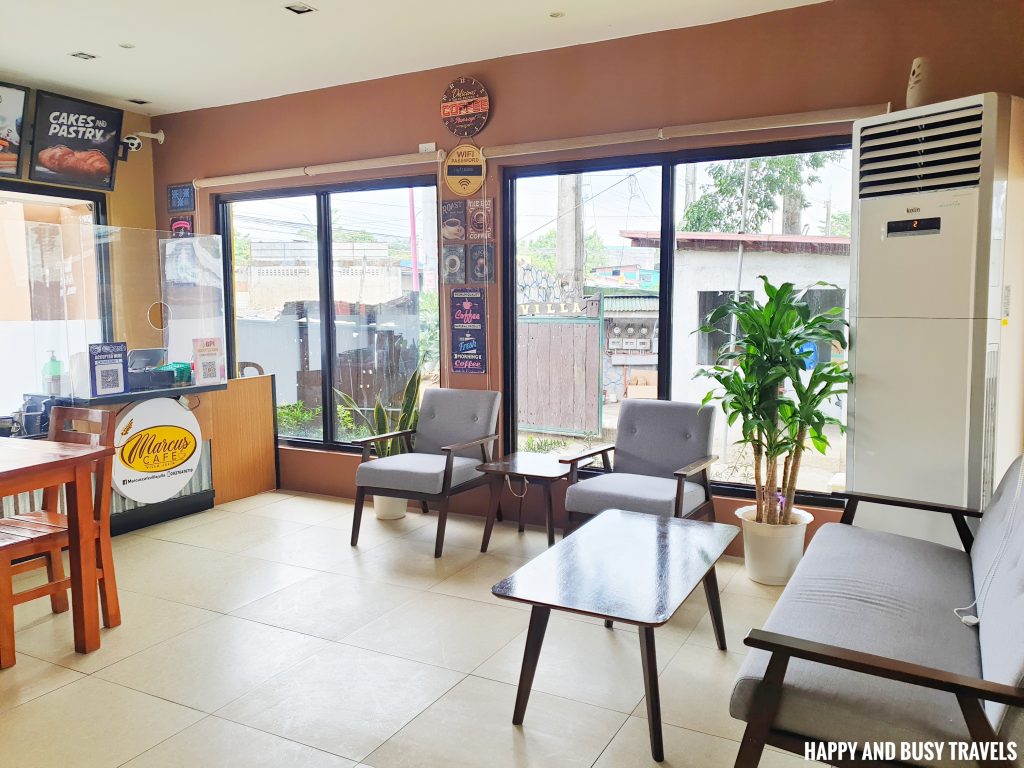 Or get the chance to dine-in alfresco style. We wanted this way so we stayed outside and explored the area.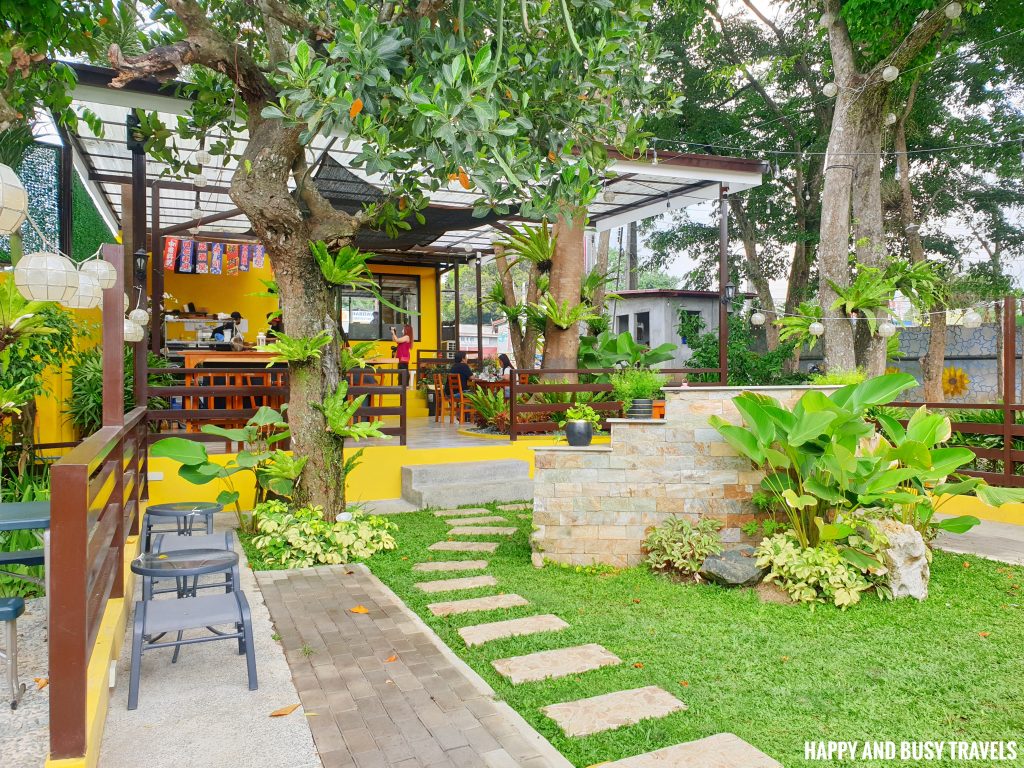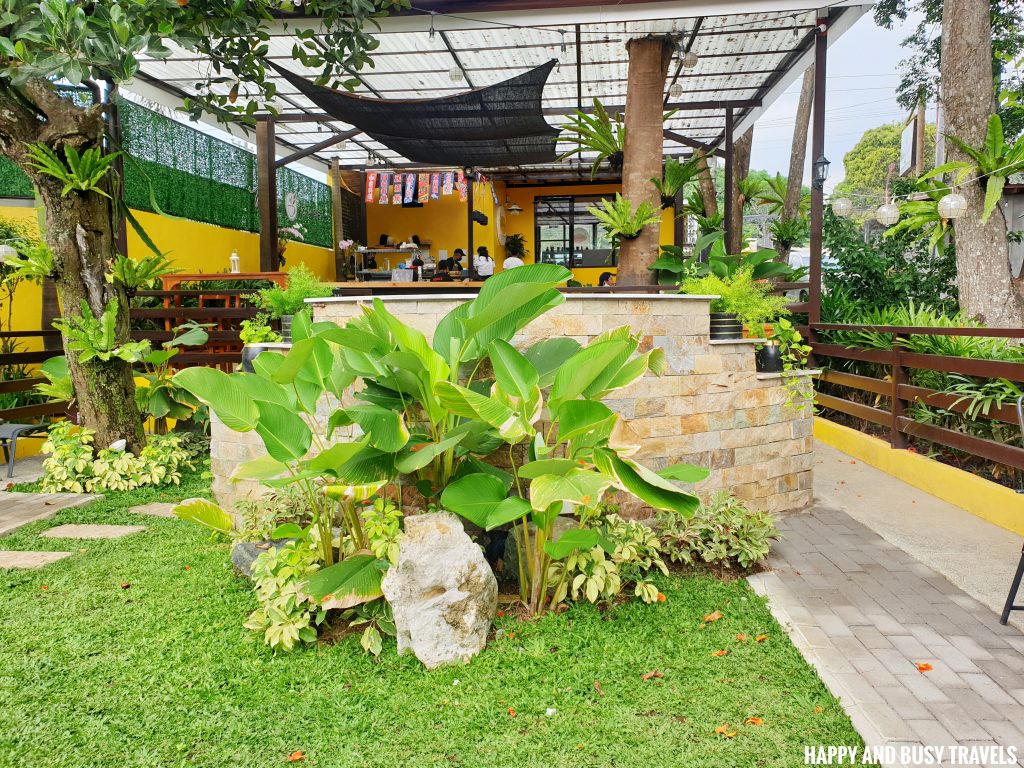 You can see all of the chefs in the Japanese cooking area preparing your dish while dining outside.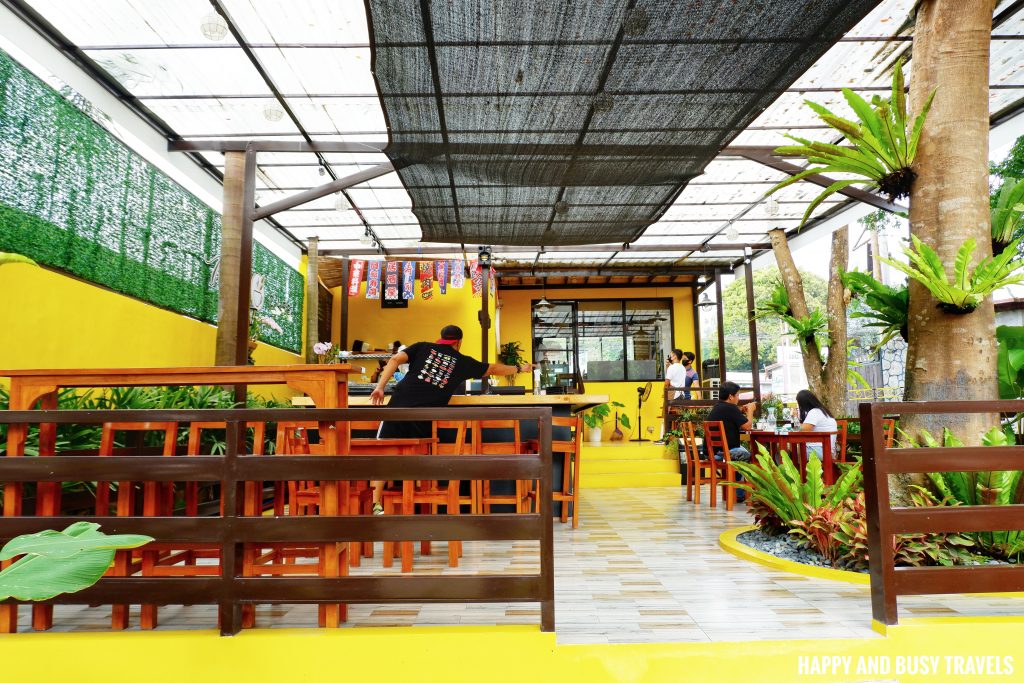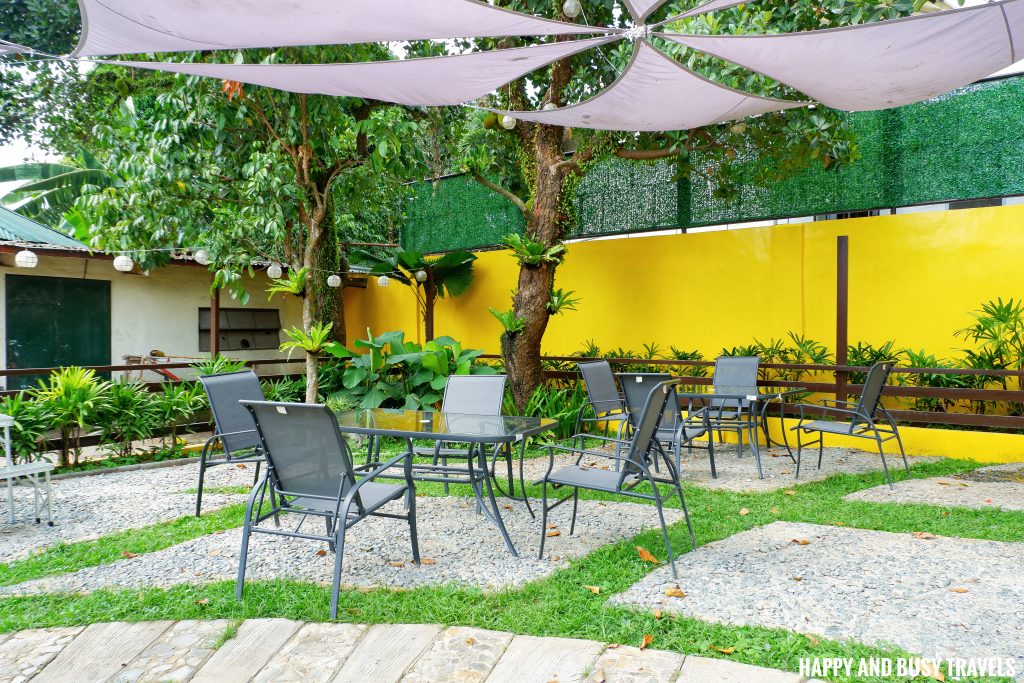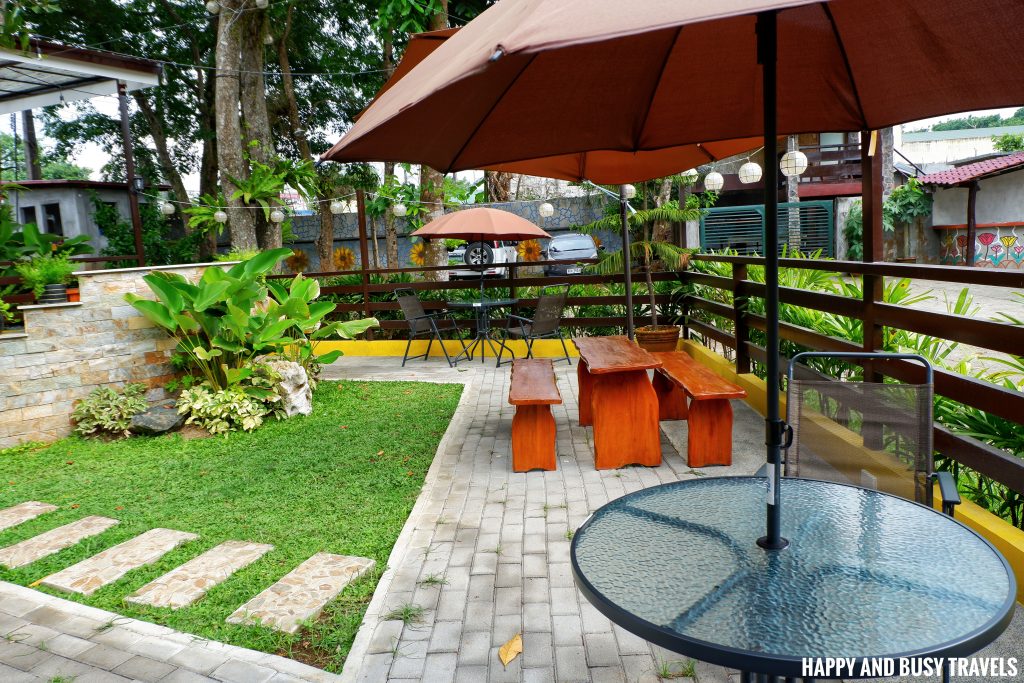 Dishes of Marcus Cafe
The cafe offers a wide range of dishes on its menu. So, we got their best sellers and tried it.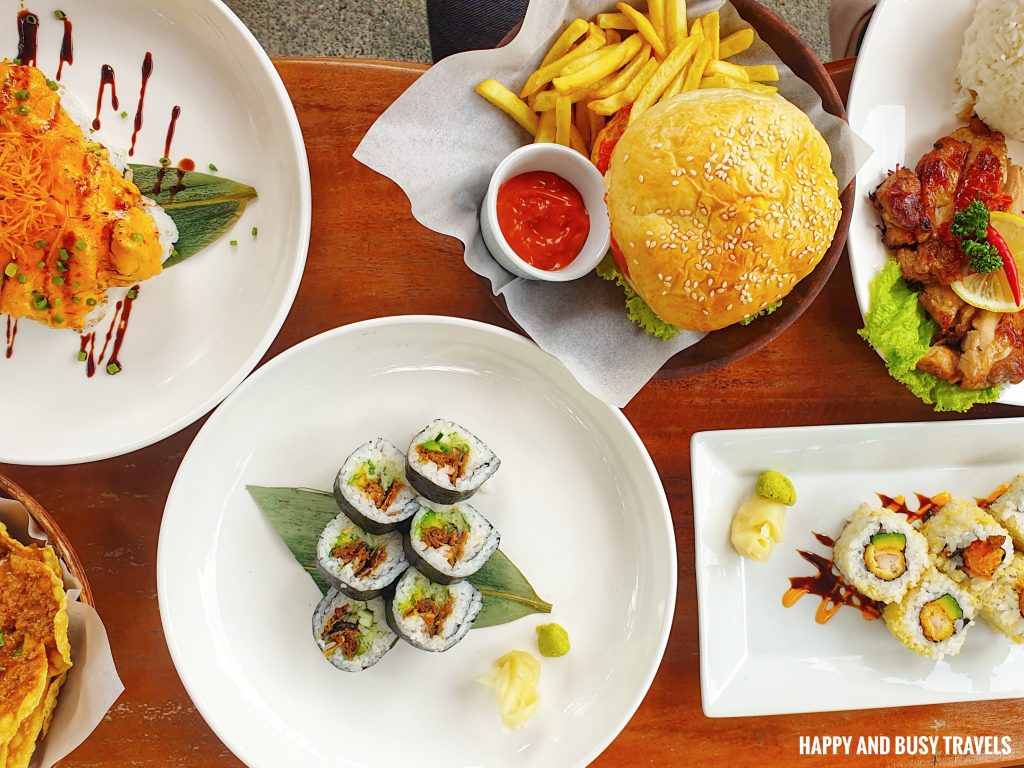 Cold Drinks
Usually, people will go to the cafe to get a coffee or any cold drinks. Here are some of their cold drinks.
Iced Caramel Machiatto
This one is a simple drink to brighten up your day.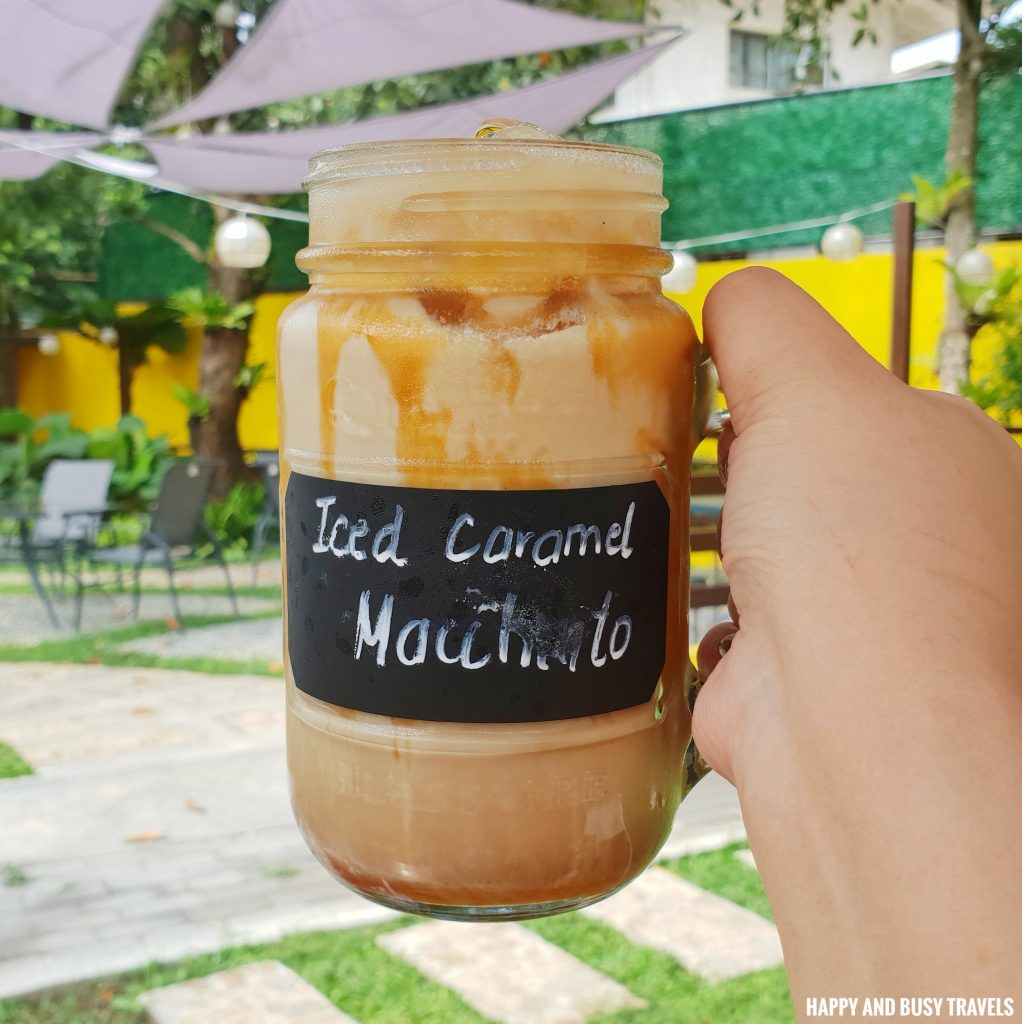 Blueberry Smoothie
I like berries so this one is my drink. This one has the right taste of sweetness and sourness to it.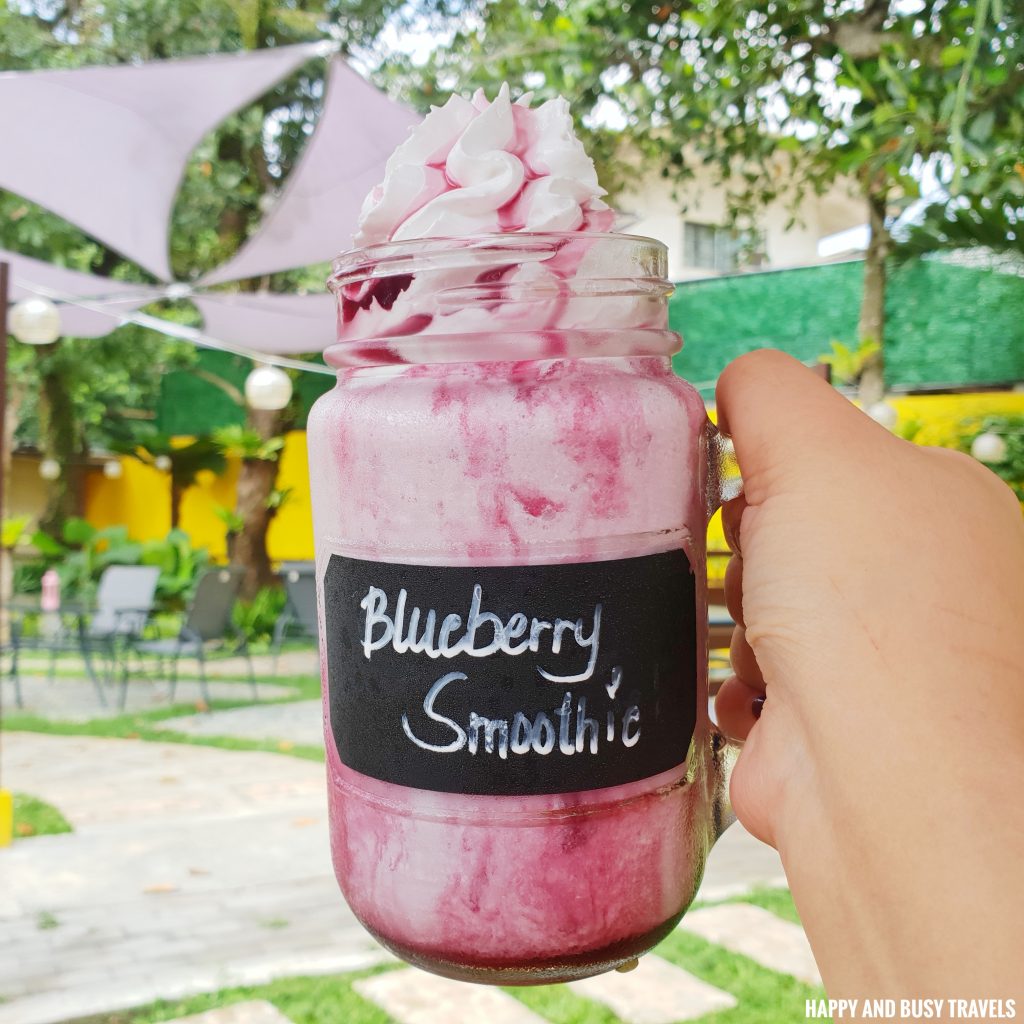 Dulce De Leche
Finally, here is Busy's drink. The drink is sweet, but just the right kind of sweet.
Appetizer
Chili Con Carne Nachos
To start off, we had their Chili Con Carne Nachos. As expected it tasted good and the sauce is enough for the Nachos.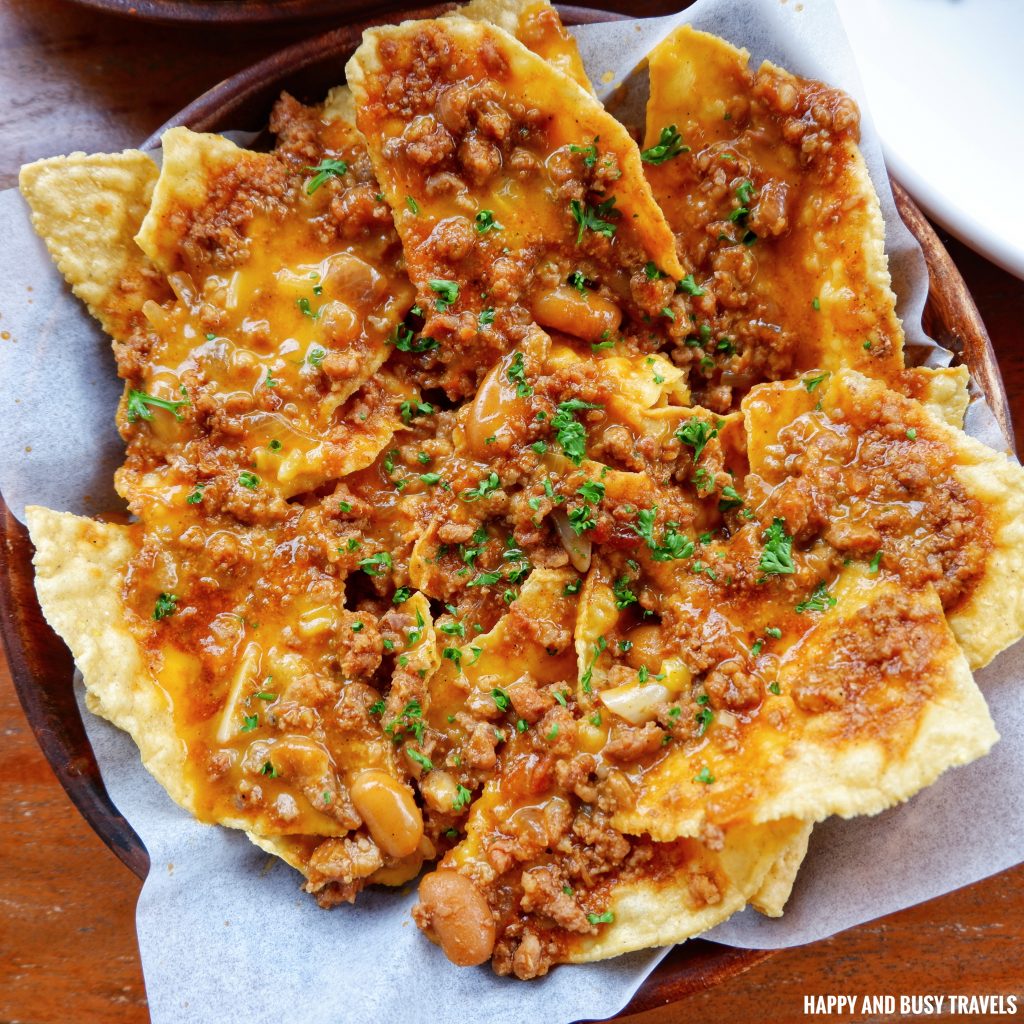 Sushi
We both love Japanese food, but Busy loves Sushi, Maki, and Sashimi more than I do. So we tried some of their Sushi Rolls.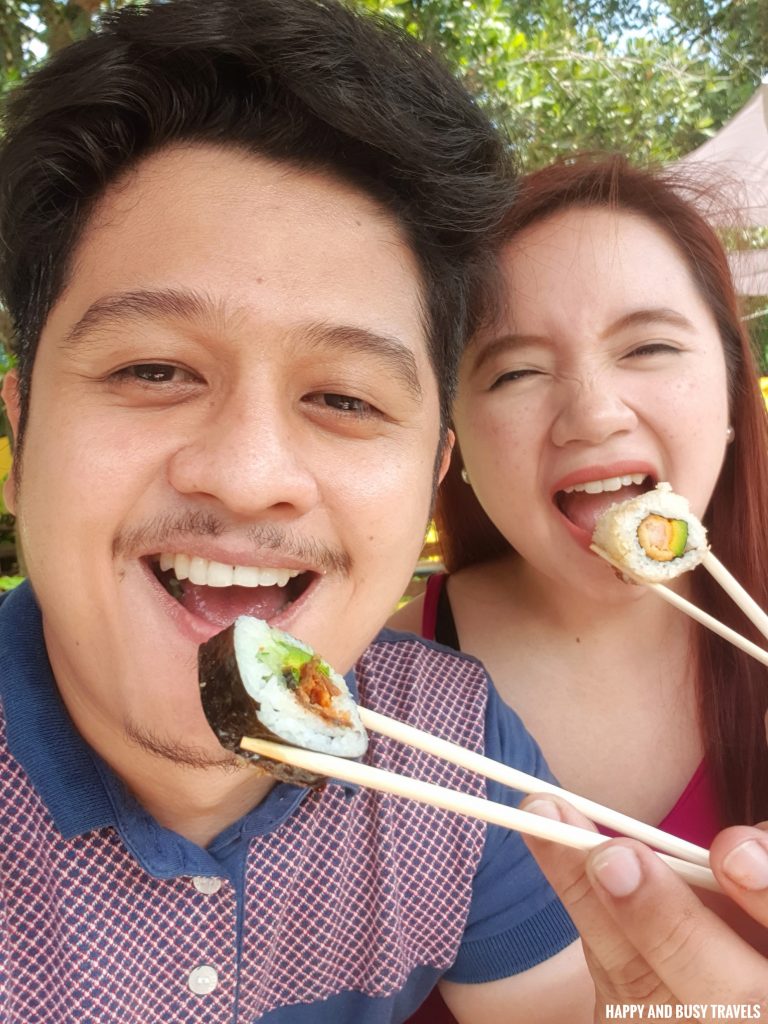 Tuna Tataki
First is this Tuna Tataki, which is one of their signature sushi dishes. This one is made out of Seared Tuna, Ginger and Daikon Oroshi, Scallions, Fried Garlic, and Ponzu Sauce.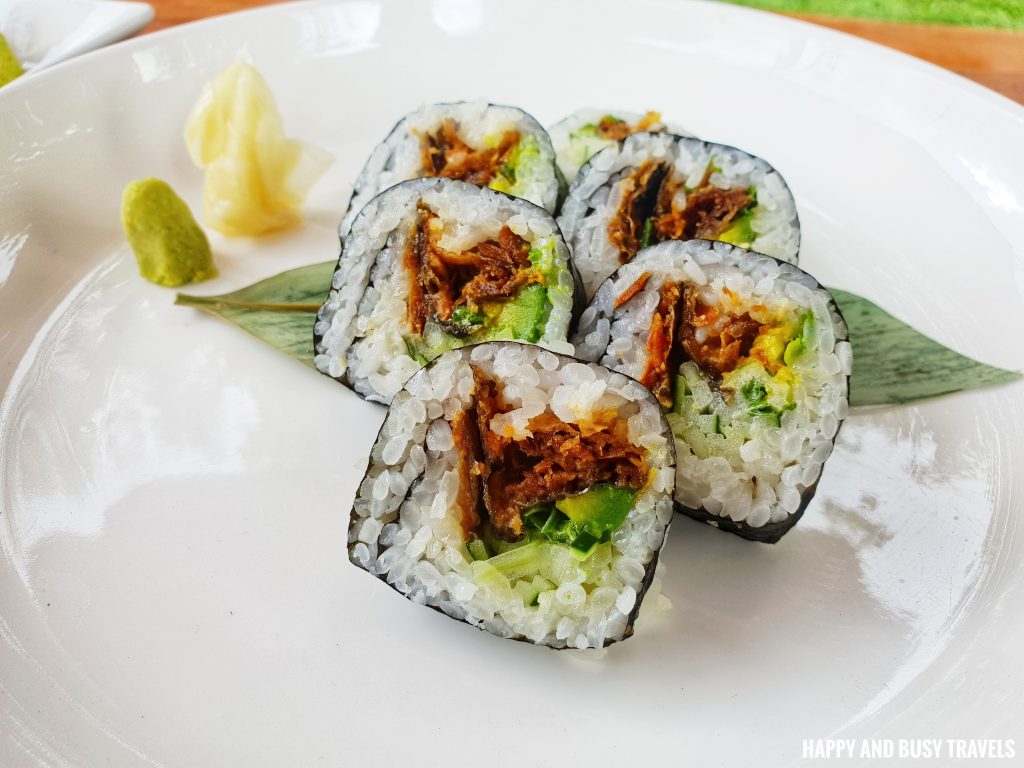 Busy liked it and almost finished everything haha.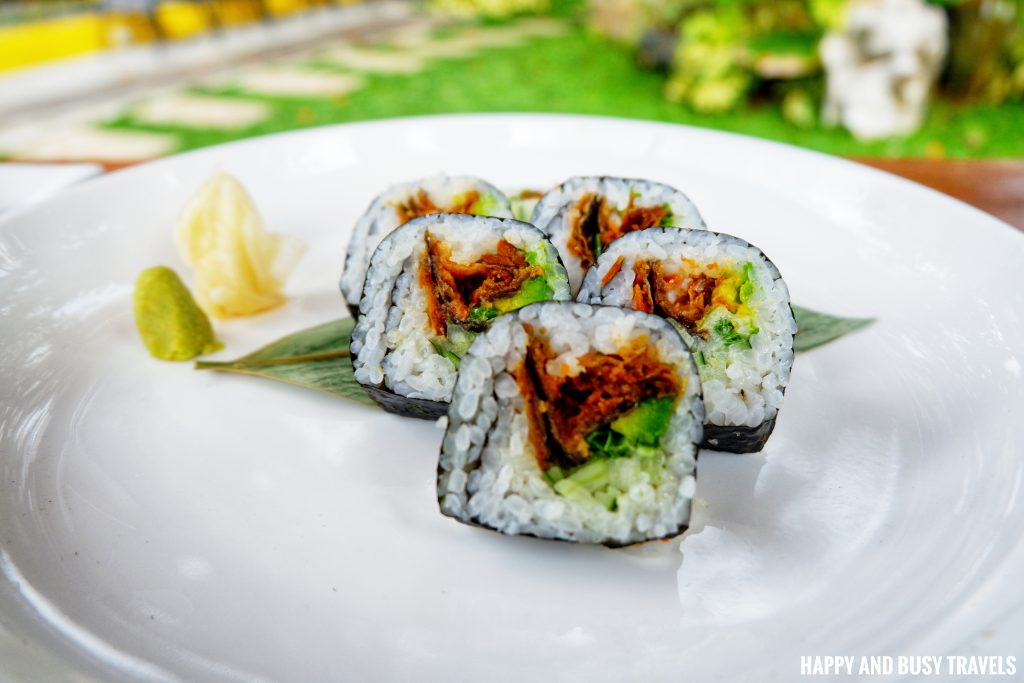 Shrimp Tempura Rolls
Next is this Shrimp Tempura Rolls. This is made out of Ebi Furai, Avocado, Chili, and Garlic Aioli.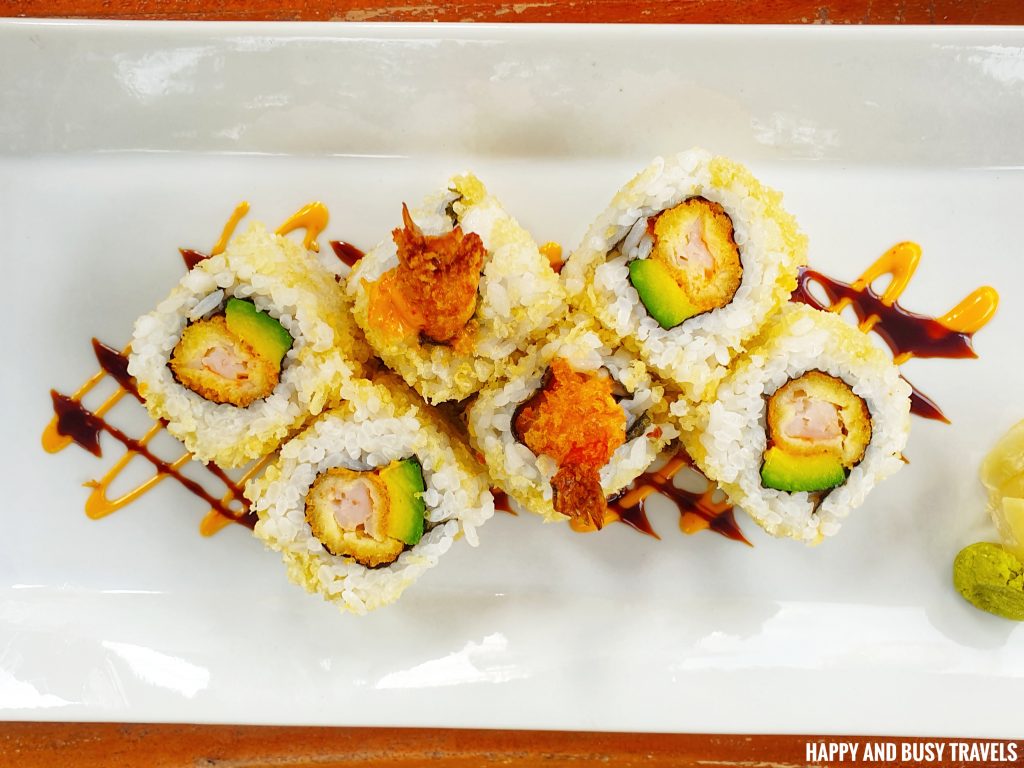 Busy liked the first one, but I liked this more than the first one.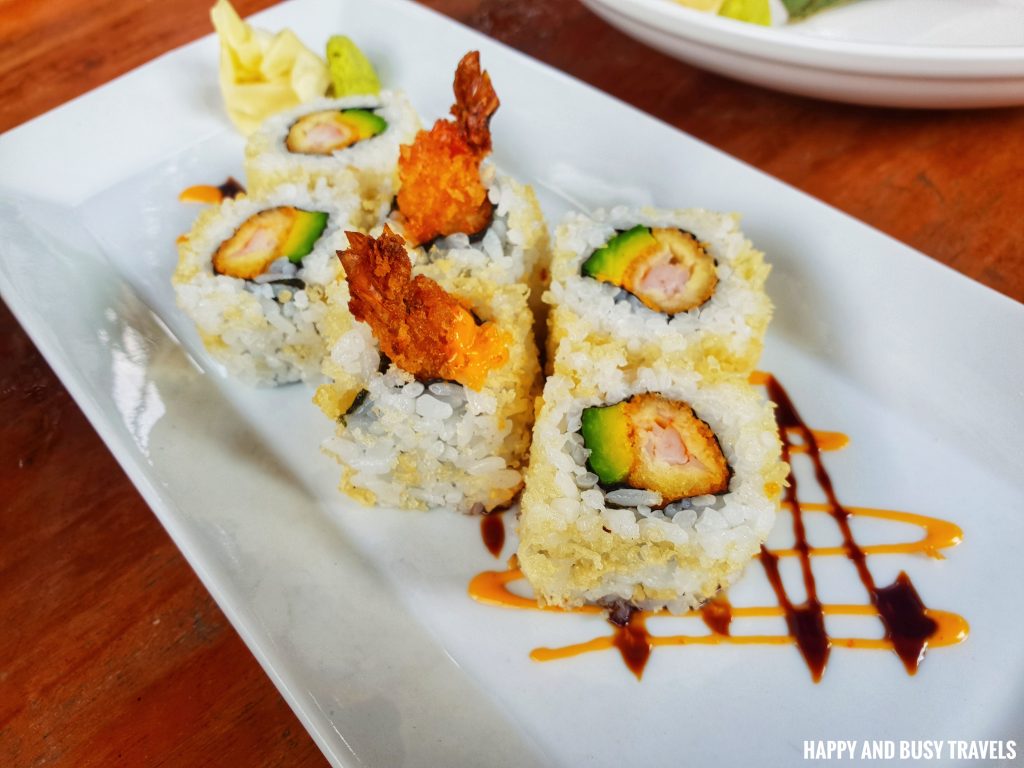 Aburi Salmon BTS
Third, we have this sushi which looks like baked sushi, this is Aburi Salmon BTS.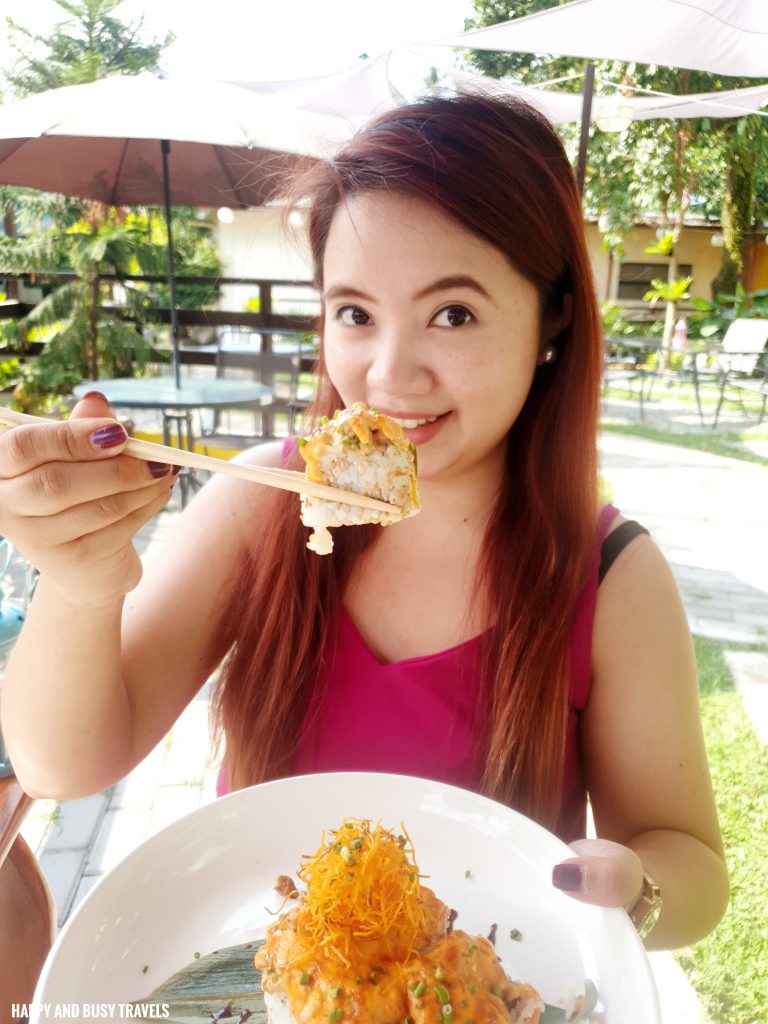 It looks so lovely personally and in pictures. Very IG-worthy!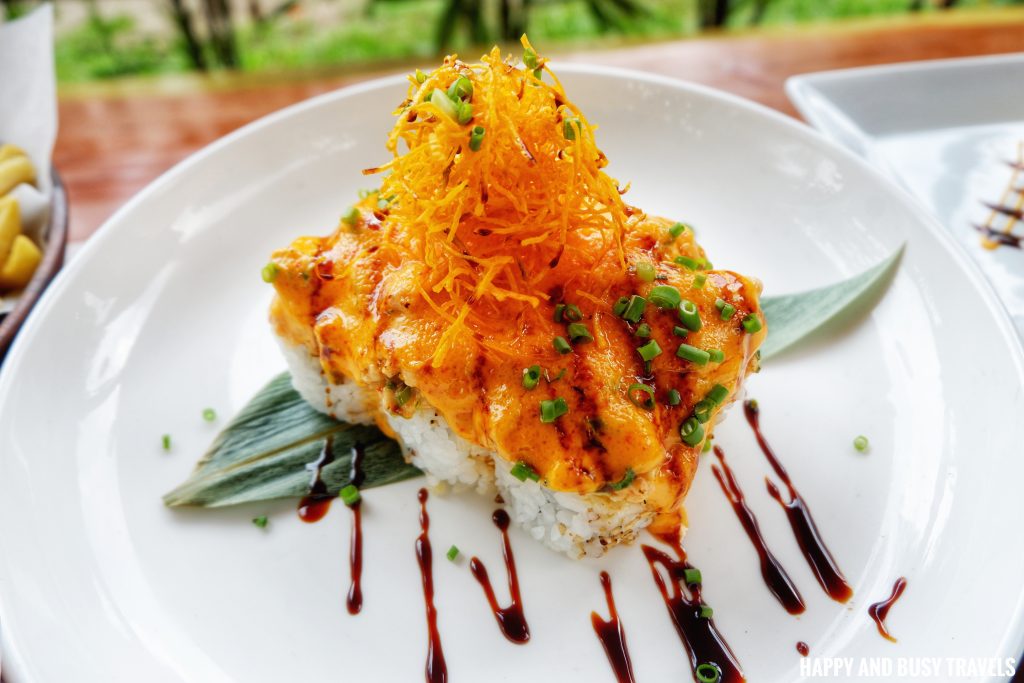 This one is made out of Salmon Tartare, Scallions, Mango, Cucumber, Chili Garlic aioli, and Sweet Gochujang BBQ Sauce.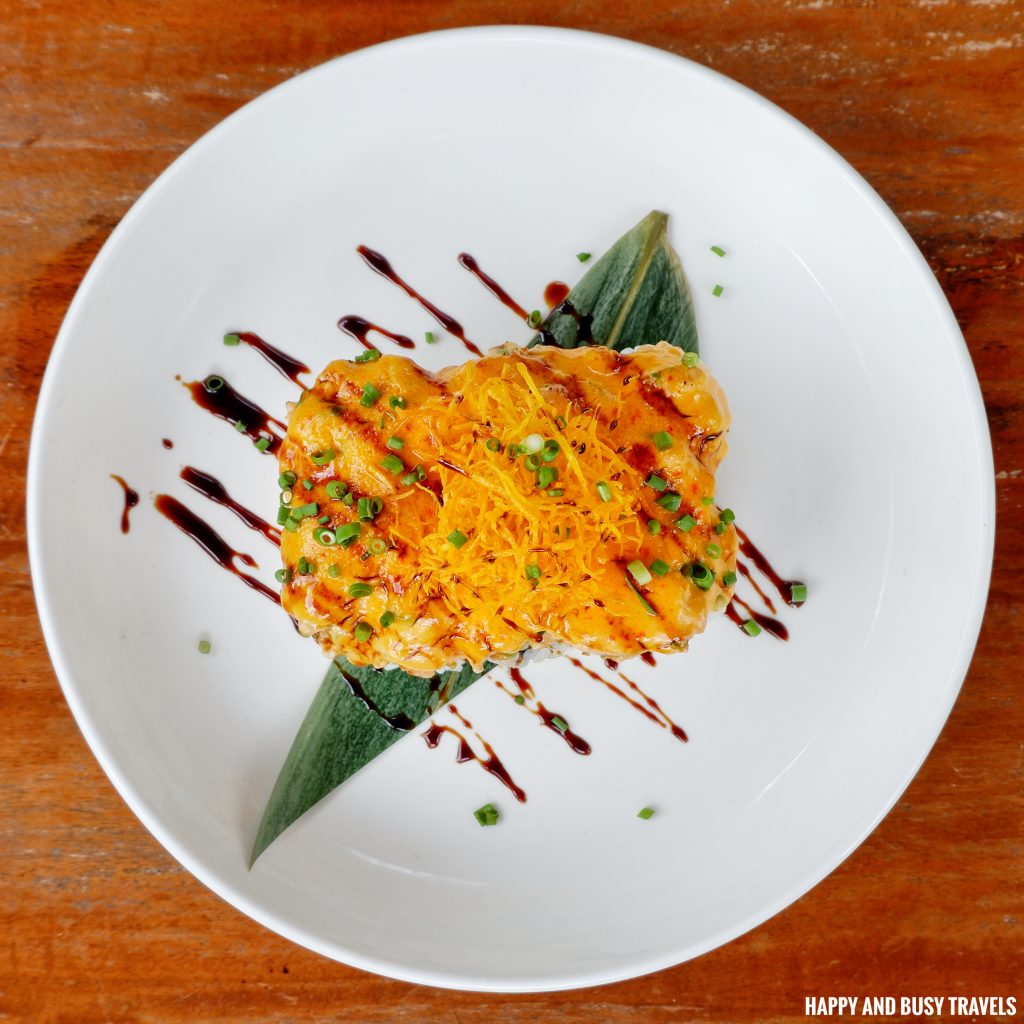 This tastes nice and we both enjoyed it.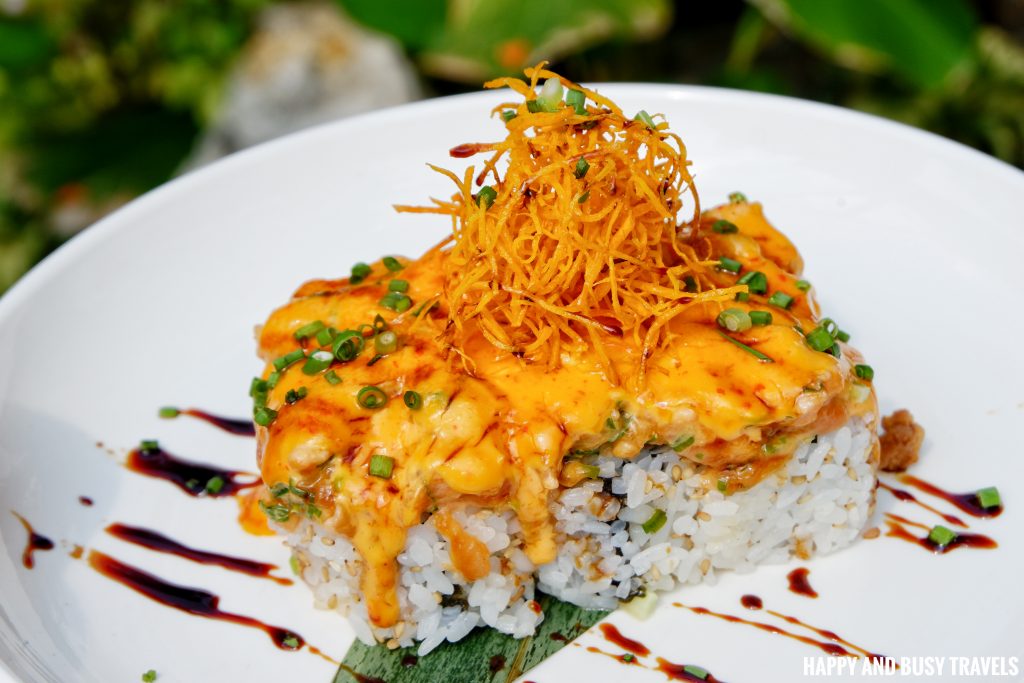 Spicy Tuna Salmon Crunchy Rice
Lastly, here is the best in the sushi batch, it's the Spicy Tuna Salmon Crunchy Rice.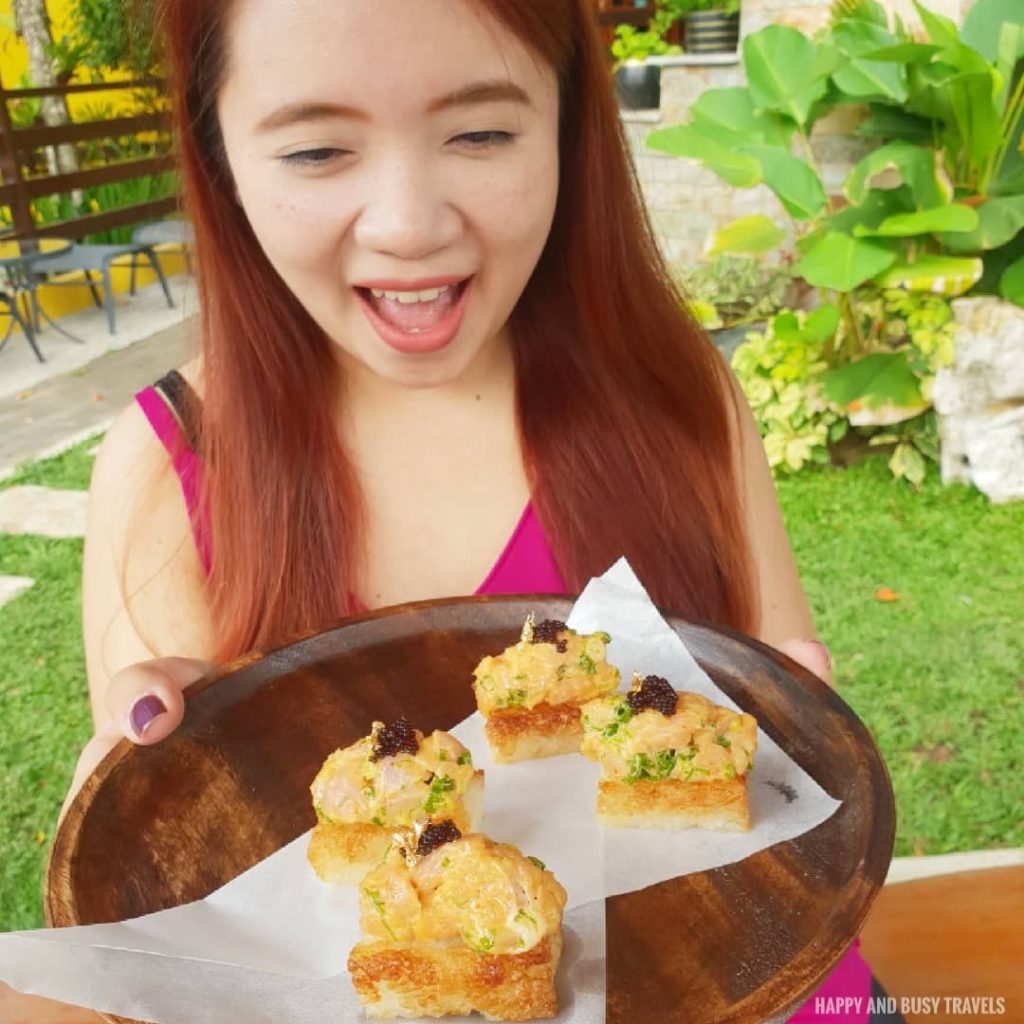 You know why is this the best? Just look at the picture below first, do you notice anything shiny?
If you are thinking about gold, you are correct!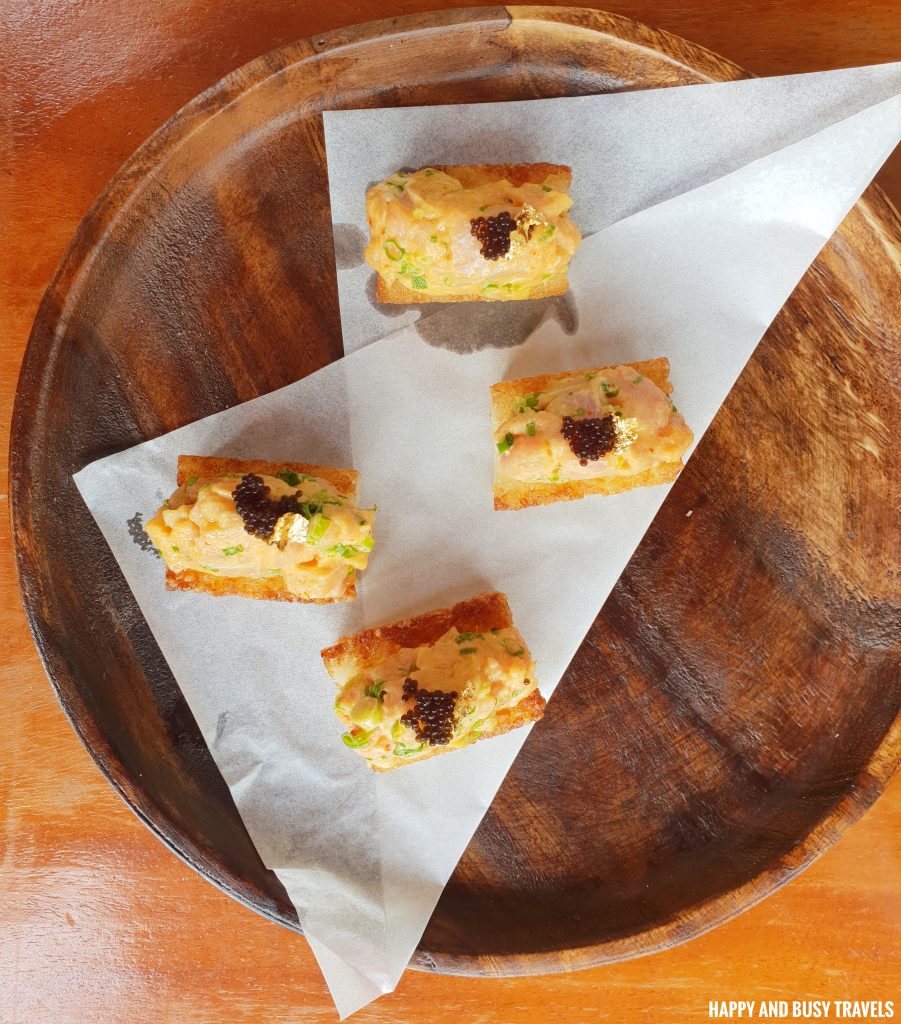 This one is made out of Tuna/Salmon Tartare, Scallions, Chilli Garlic Aioli, Truffle Oil, Caviar, and 24K Gold! Yes, GOLD!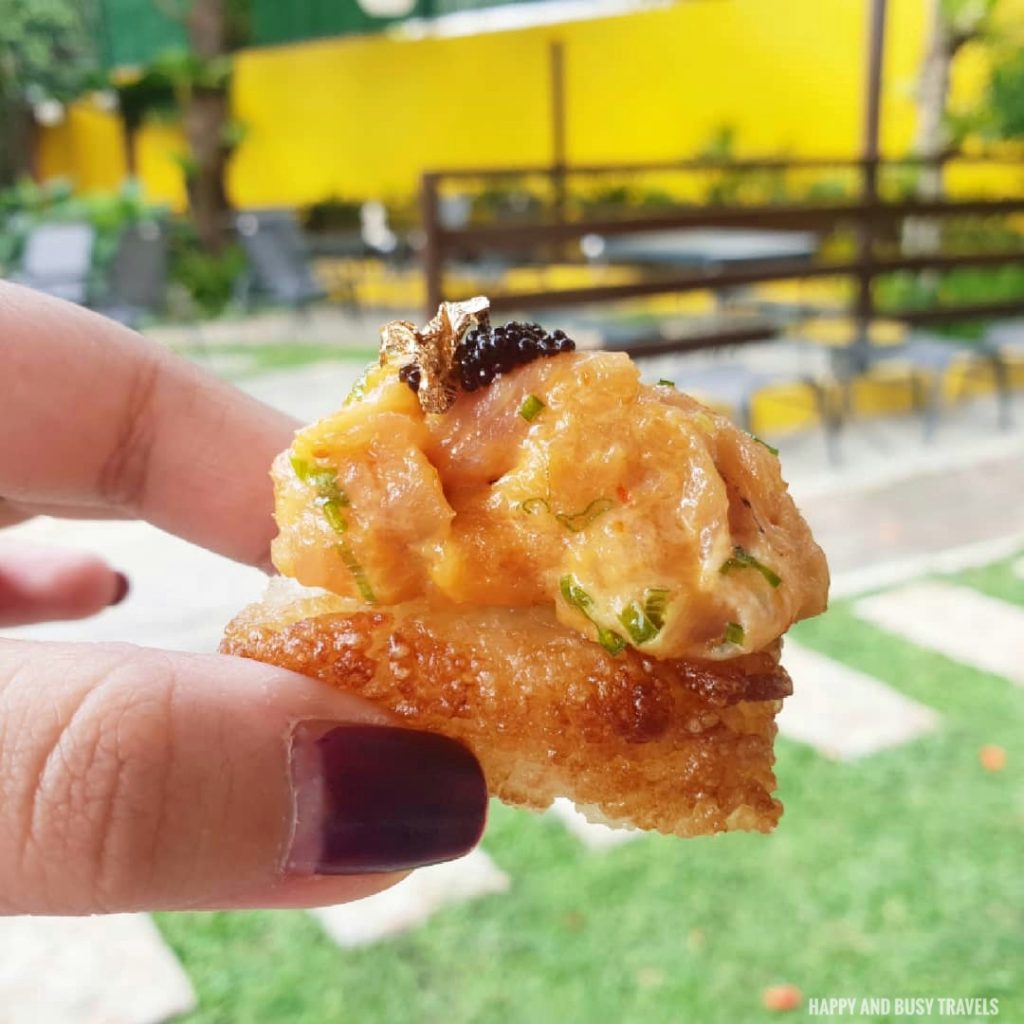 So, if you want to try and eat gold, you have to come to Marcus Cafe and try some. You can try gold but at a very affordable price.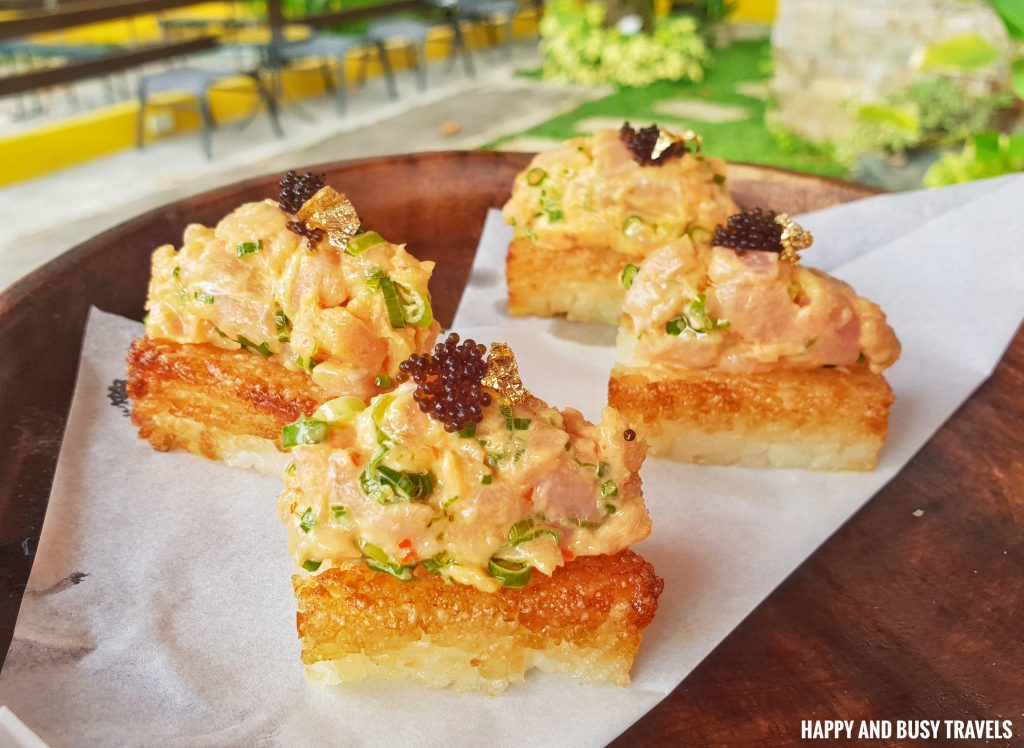 Main Dishes
Angus Burger
This burger is made out of a thick beef patty, tomatoes, onions, lettuce, and a dash of ketchup and mayo. Plus, it is always served with fries on the side. It tasted good and you'll really get full when you eat everything.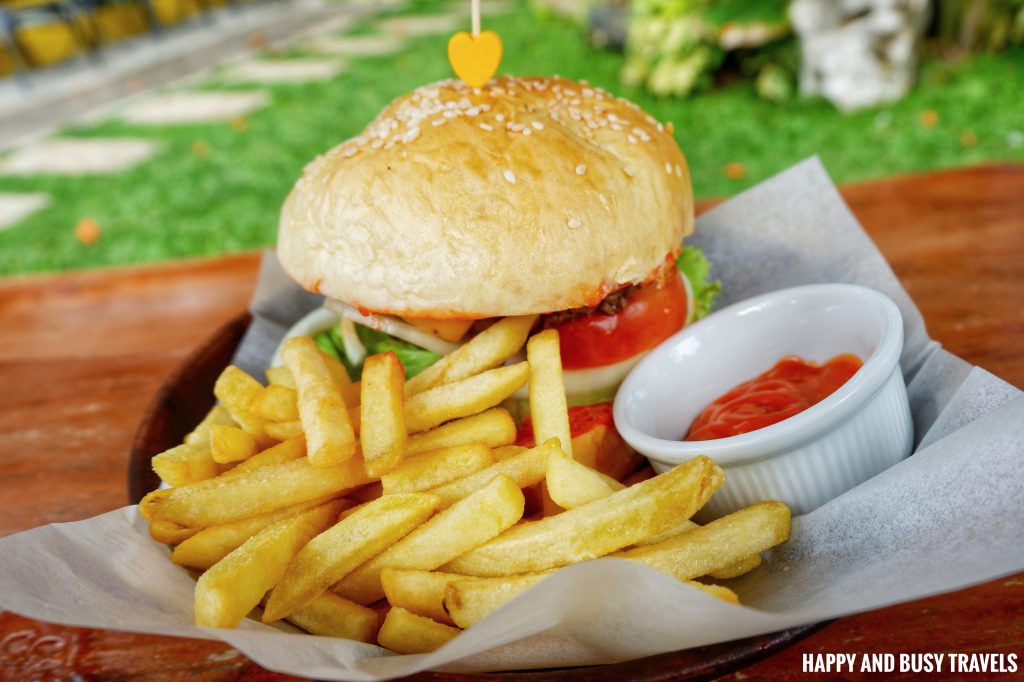 MC Carbonara
If you prefer pasta, this is one of their best on the menu, the MC Carbonara. Our first bite got us already! This one tasted so good and even though we were full we wanted more! I'm not so sure but I think it has Truffle which made it tasted so good.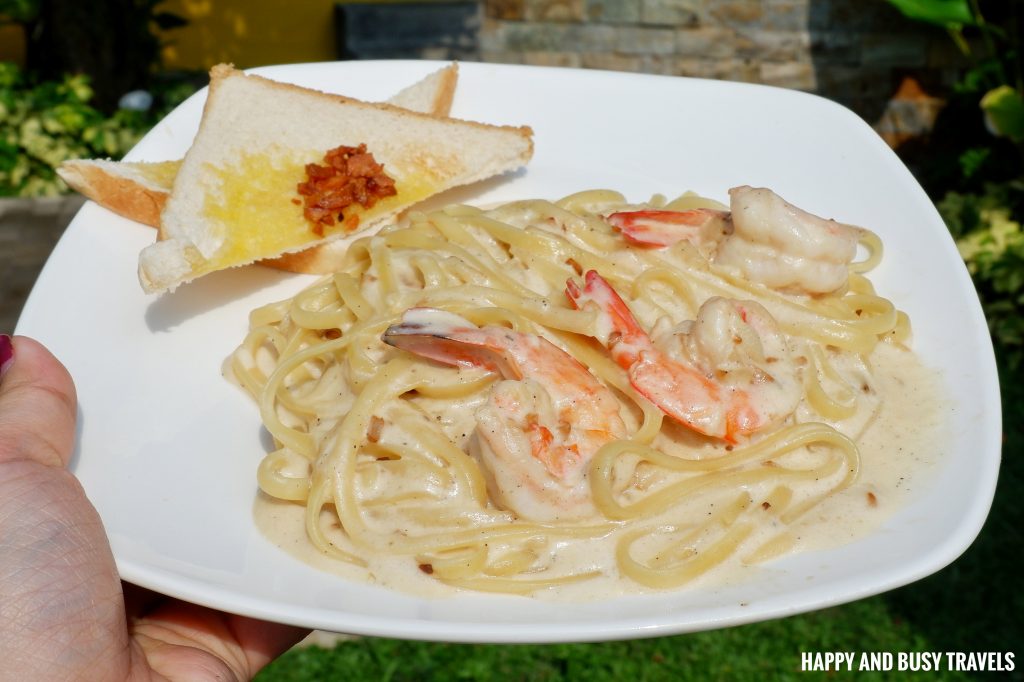 Chicken Hot Spicy
This dish is composed of a chicken fillet, a cup of rice, and two sauces. The chicken fillet tasted good and it's not so spicy for me.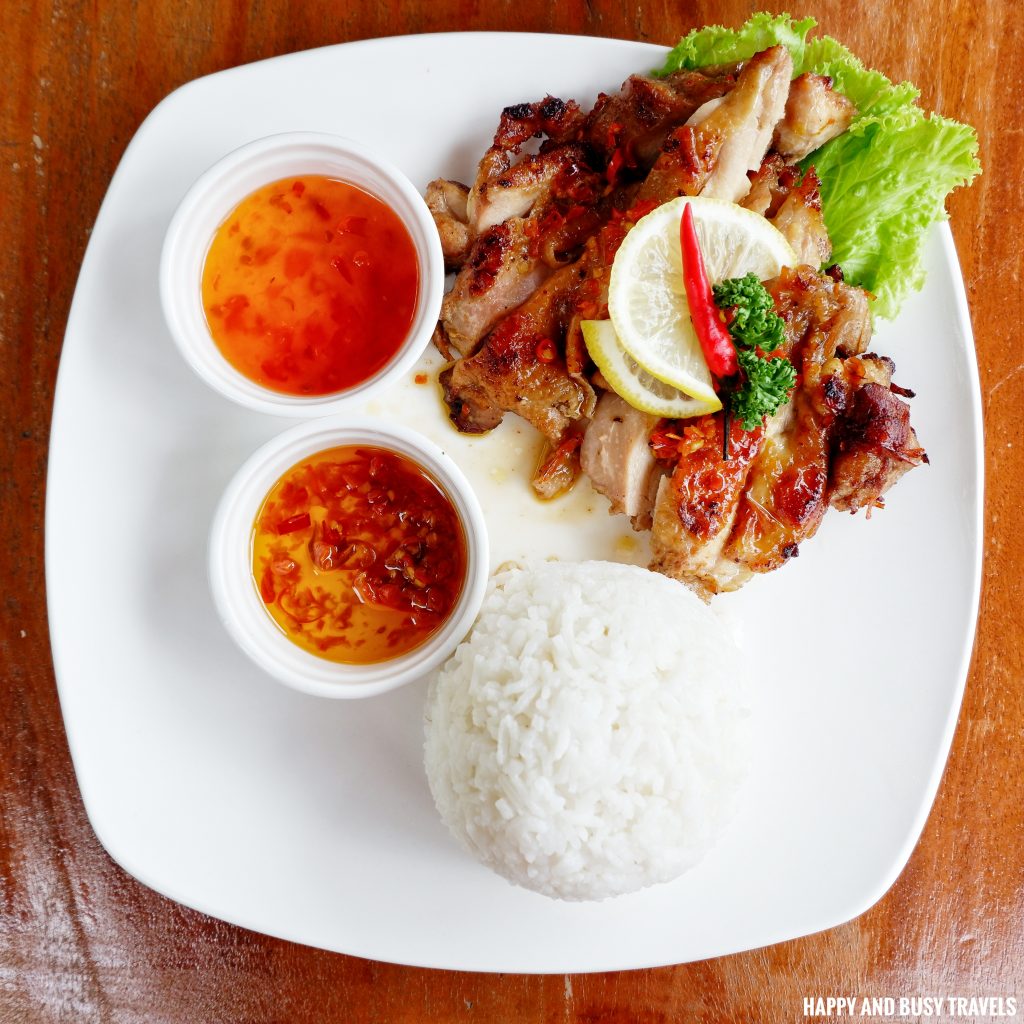 Just look at this, the chicken is really juicy and tasty.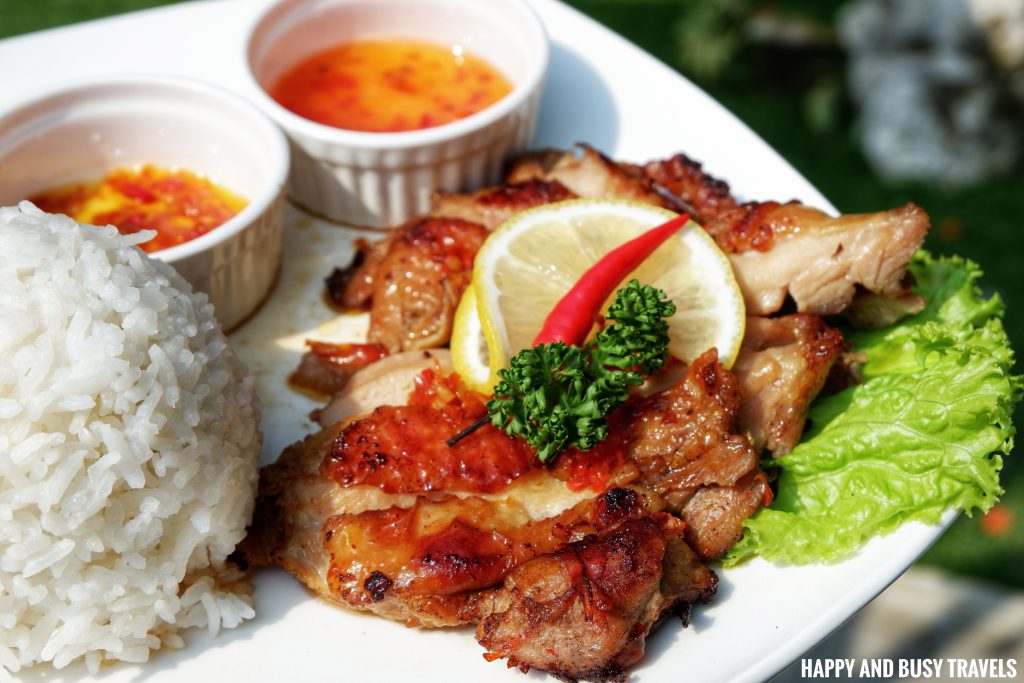 Menu – Marcus Cafe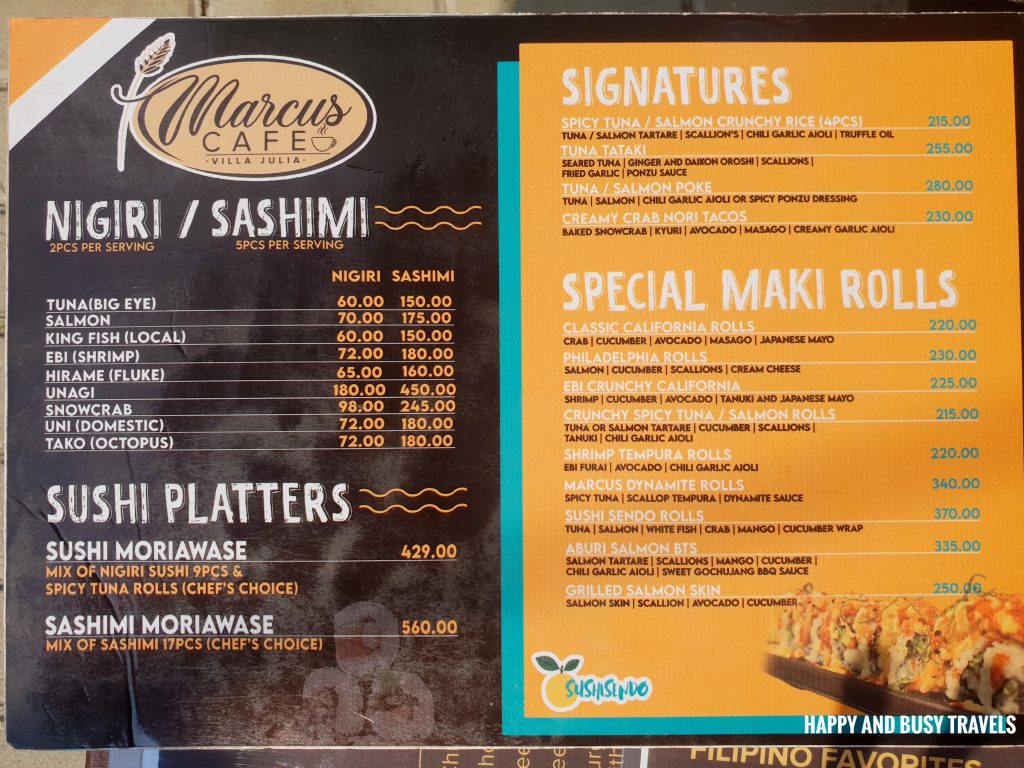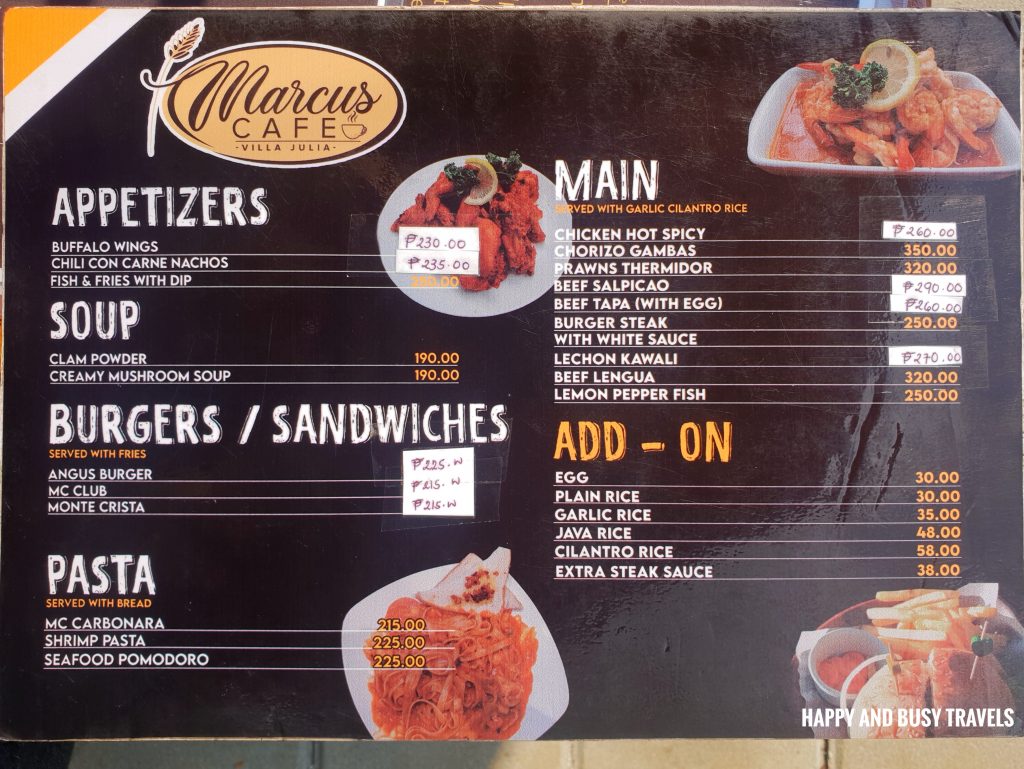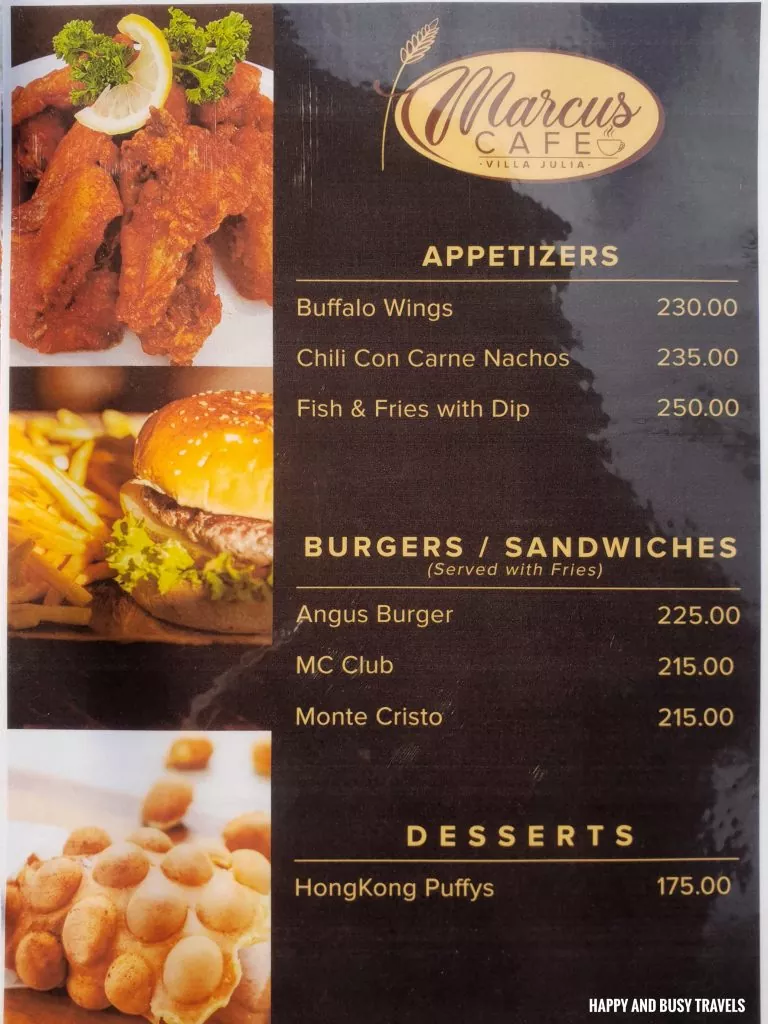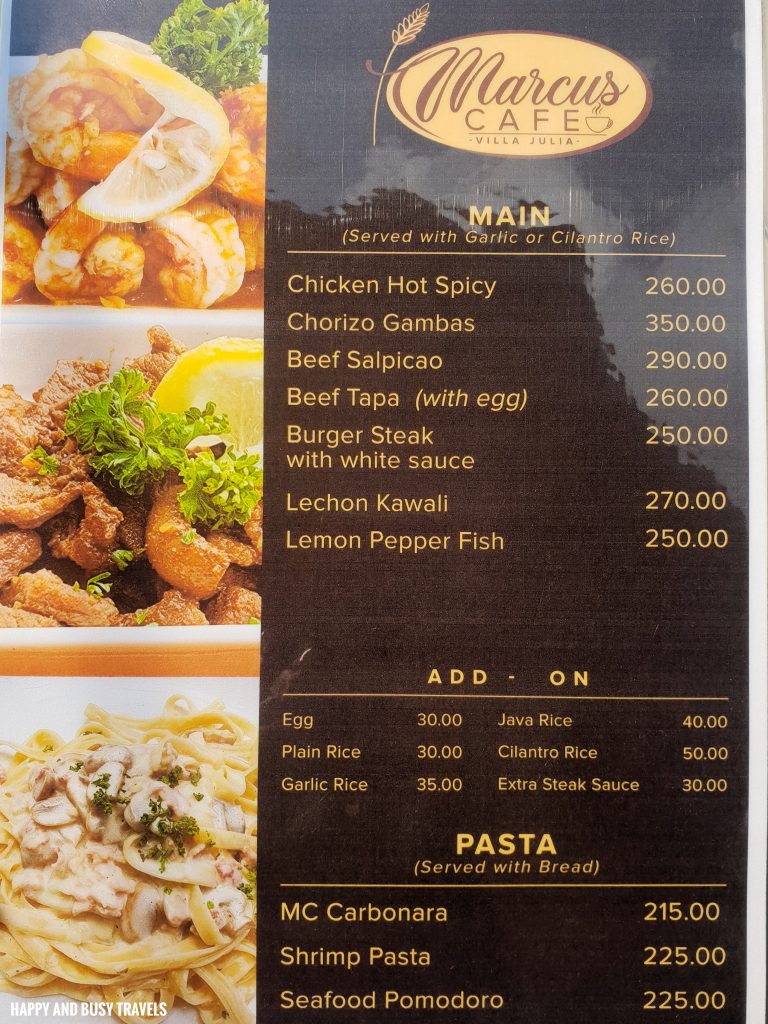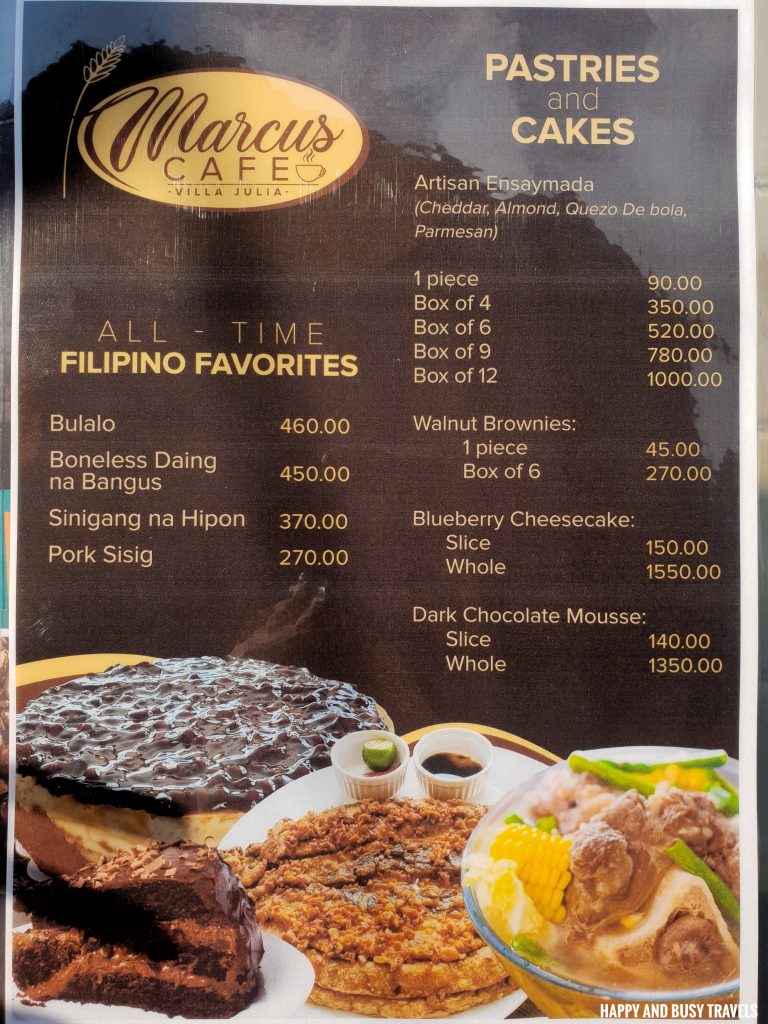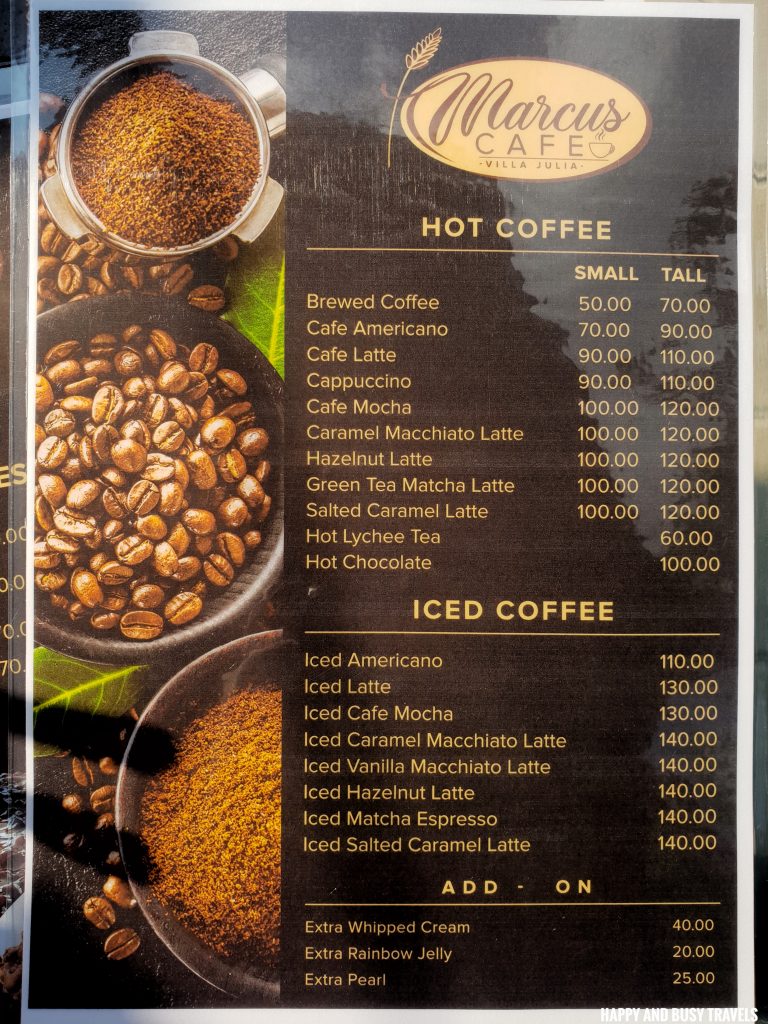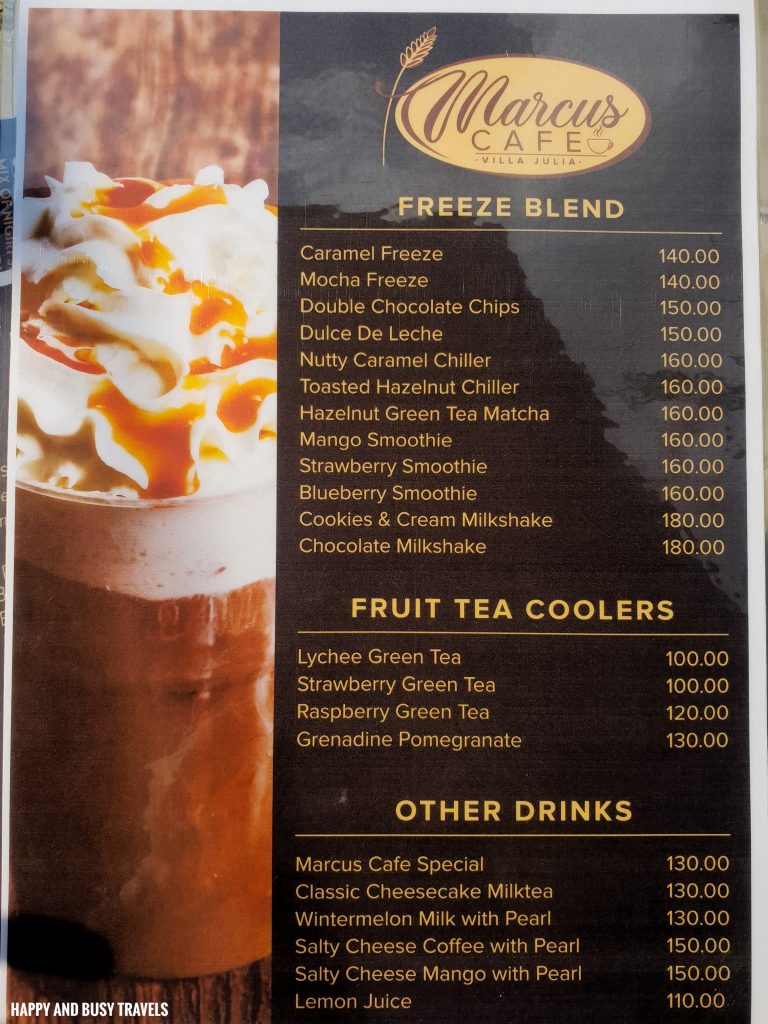 Happy and Busy's Smileys for Marcus Cafe – Villa Julia
Overall we had a great experience in the cafe. Every dish is good as it looks, the ambiance is nice, and the staff are very friendly.
Food

Location

Very easy to visit because it's just beside the main highway.
Ambiance

Value for money

Service

Comfort Room

It's so bright so this picture is very exposed, plus the temperature is so high, haha but we definitely had a blast!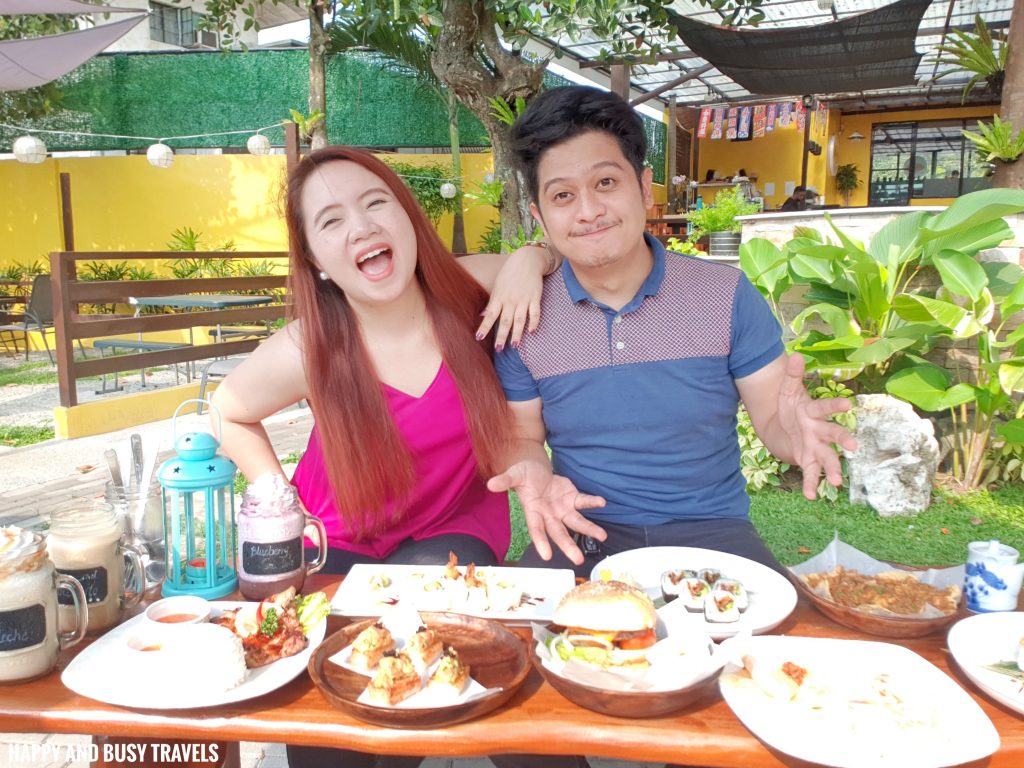 More exciting food and drinks review at: https://happyandbusytravels.com/category/food-and-drinks/