Visiting Masungi Georeserve requires a reservation. I hope this step-by-step blog on the reservation process can help everyone.
To view my blog about or journey, please visit: https://happyandbusytravels.wordpress.com/2017/09/09/masungi-georeserve/
Disclaimer:
I DO NOT OWN ANY OF THE PHOTOS, THESE WERE SCREENSHOTS FROM THE WEBSITE OF MASUNGI GEORESERVE. 
Here is the link to their website: http://www.masungigeoreserve.com/
Step 1: Go to Masungi Georeserve's website.
Step 2: Click "Request for Visit"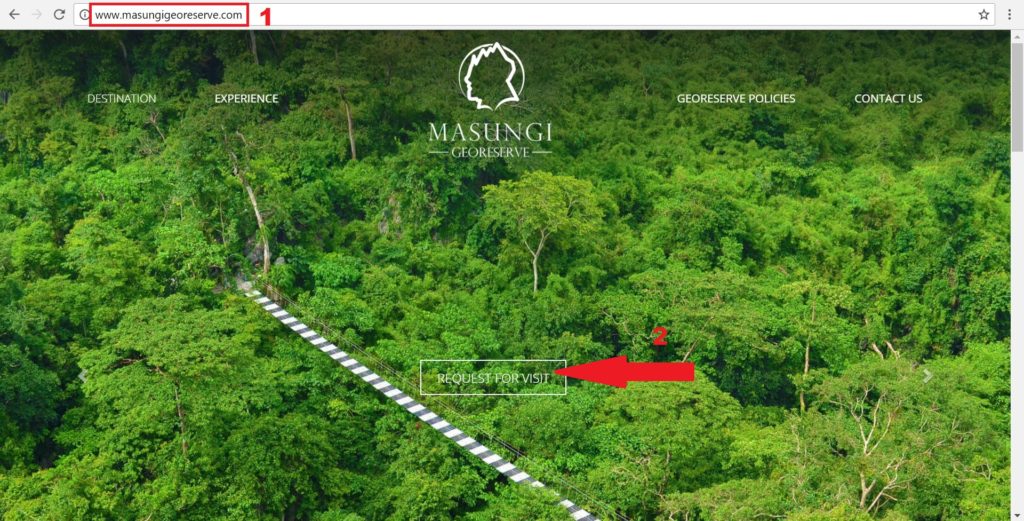 Step 3: If you would like to just do the trail, click on the "Trail Visit"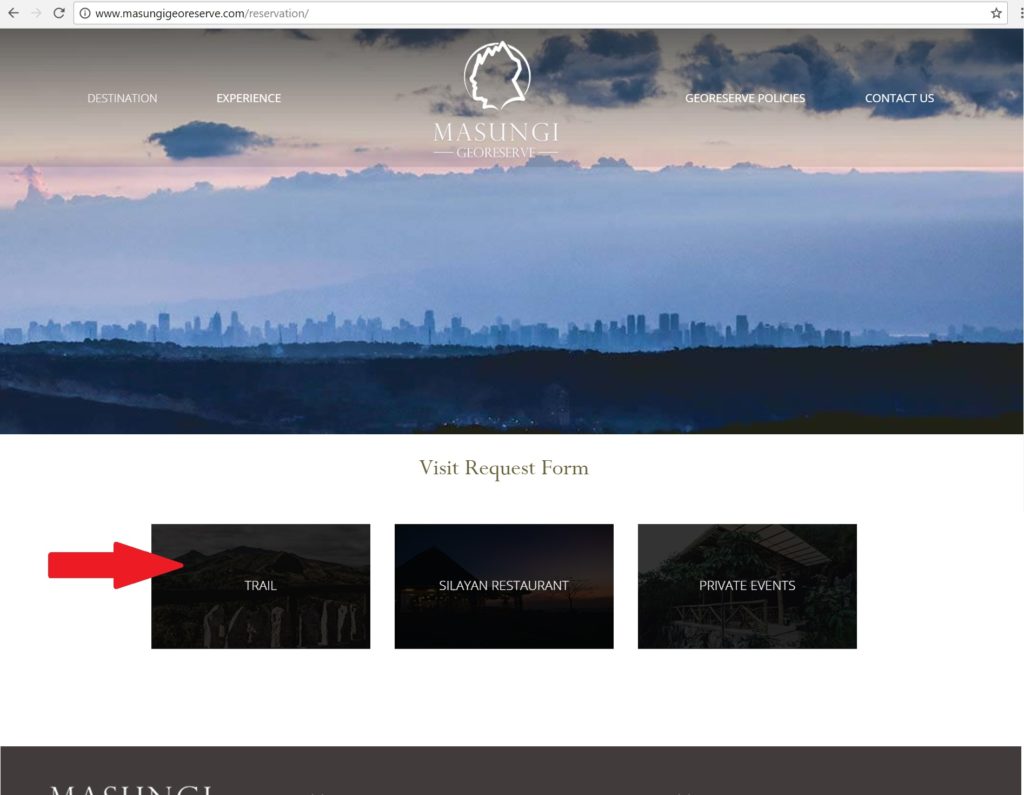 Step 4: Choose between the morning trail, morning trail with food in Silayan, or night trail. In our case, we choose the morning trail. So click "Discovery Trail"
You can also see the differences between the choices in this page.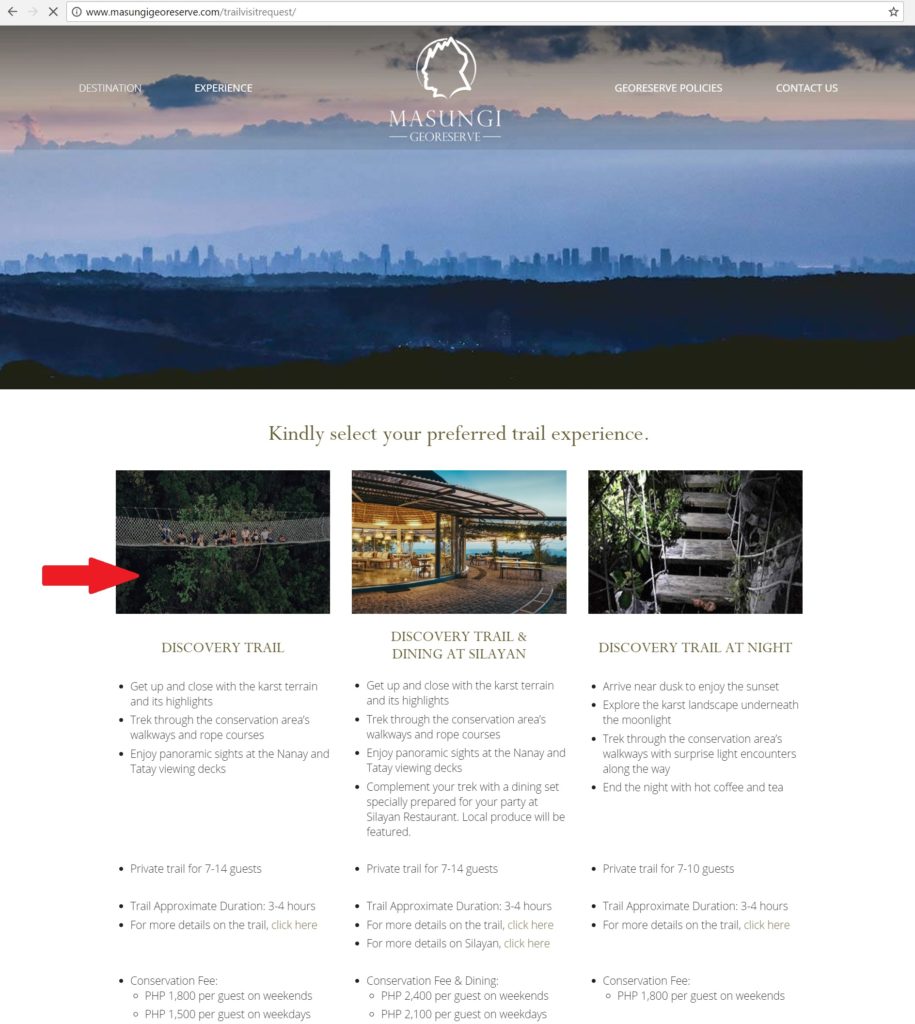 Step 5: Select number of guests
Minimum is 7 and maximum is 14. If your group is less than 7, that will be fine but you have to pay for 7 people.
Scroll down…
Step 6: Choose a date and time of visit
Be fast! slots are limited. Usually schedules on a weekend run out faster than the slots on a weekday.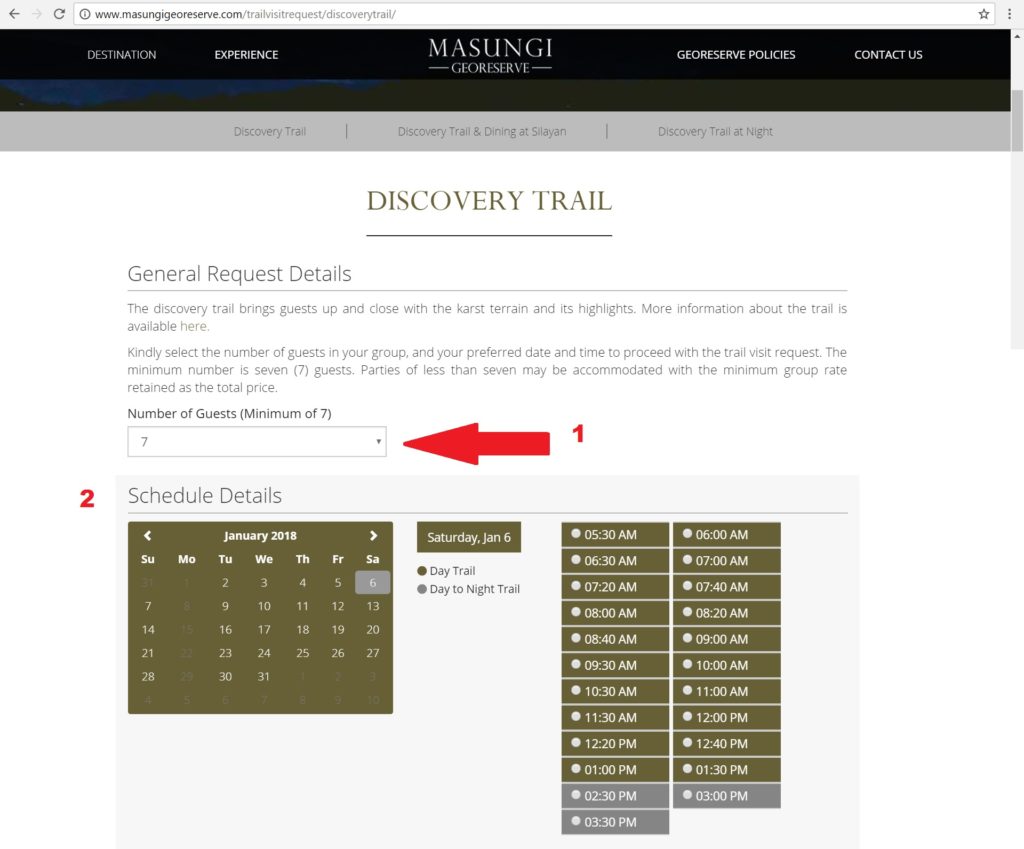 Scroll down…
Step 7: Indicate the main contact person
On this page, you can also choose your complimentary snack. Tuna with onions and pickles sandwich, or the Chicken Celery Sandwich.
Also, make sure that your contact details are correct.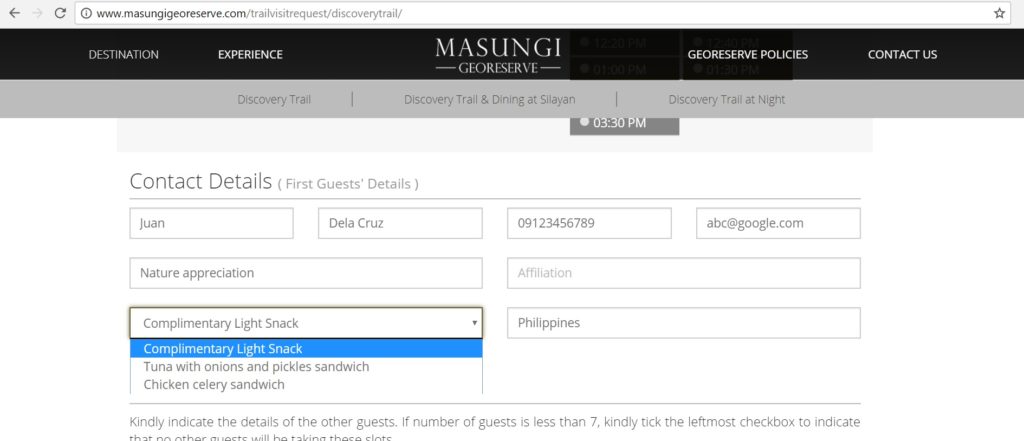 Scroll down…
Step 8: Indicate the details of the other guests
Make sure that the participants are 13 years old and above. If your group is less than 7, just check on the box beside each name.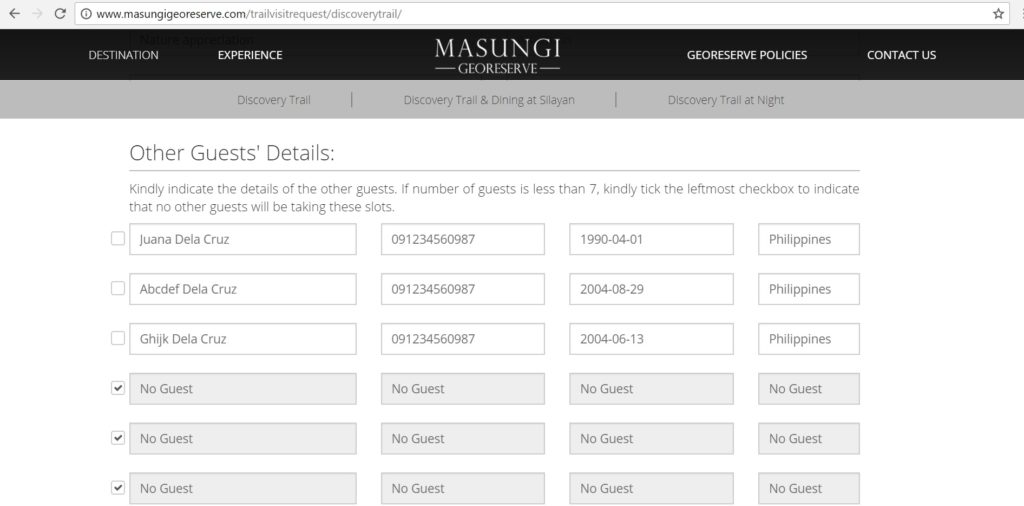 Scroll down…
Step 9: Choose a payment option
You can pay the half payment only, but make sure to settle all of you balances on or before the 4th banking day before your visit. You can choose from bank deposit, paypal, or credit card payment.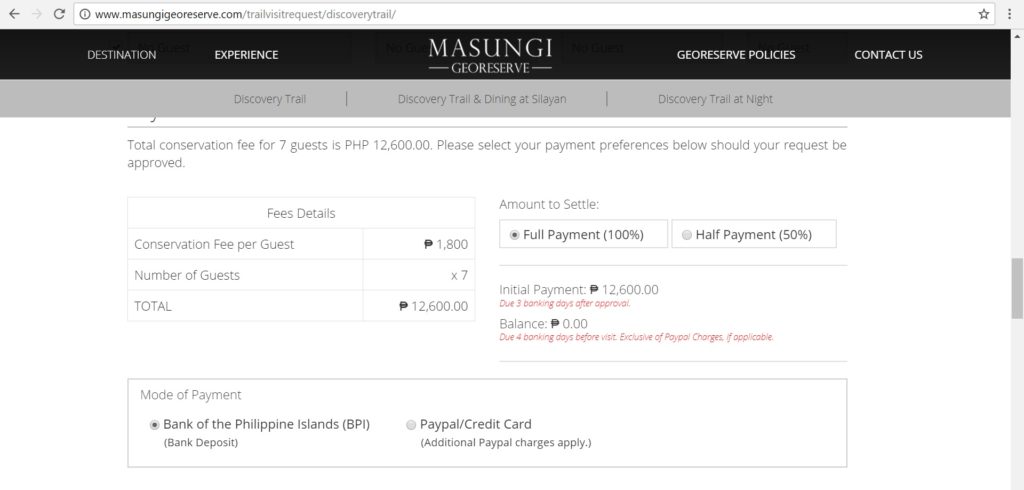 Scroll down…
Step 10: Read the Terms and Conditions and check on the boxes to agree. Click "Request for Visit" at the bottom to finalize.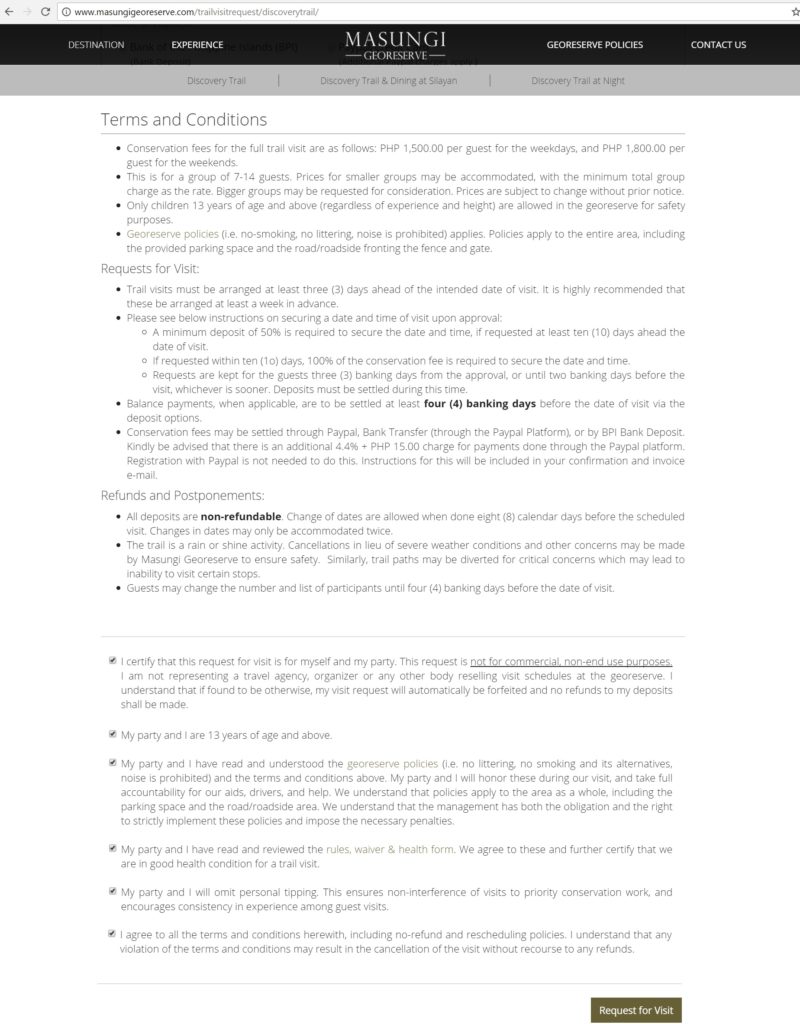 Step 11: You will receive an email which looks like this
This means that you submitted your request successfully.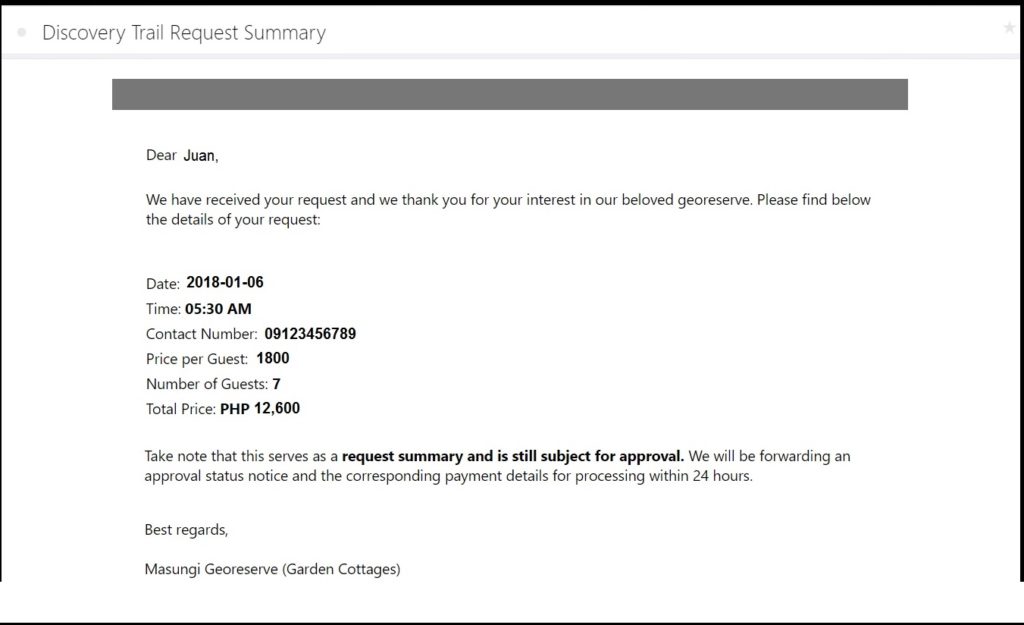 Step 12: Wait for their confirmation email. This means they have approved your request for a visit.
Follow what they told you, deposit the payment within 3 days of approval or else your request for visit will be open for other visitors.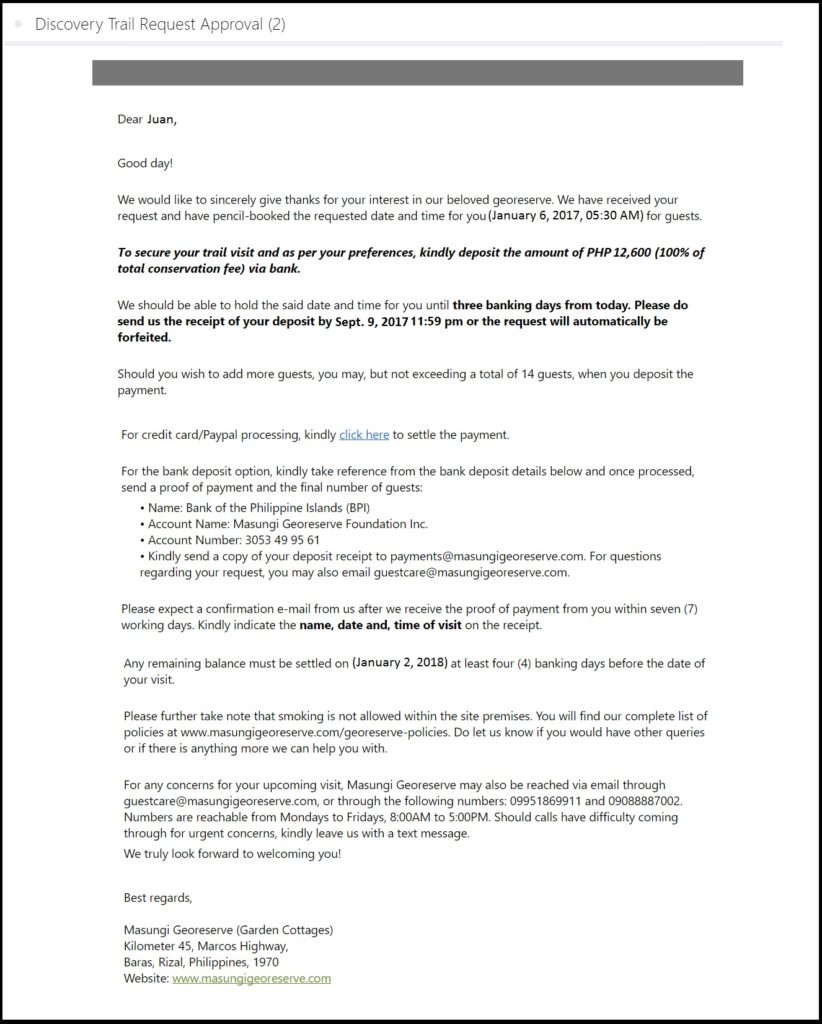 Step 13: Send the proof of payment to the email indicated on the email address: [email protected]
Step 14: After the payment was acknowledged. They will send another email that confirms your slot. The email will also contain on how to go to Masungi Georeserve, and their rules and regulations. Make sure to read it to be guided.
That's it!
See you!