Meat Here Tagaytay – Unlimited Korean BBQ
There is a new samgyupsal place in Tagaytay, so Busy and I visited it. Meat Here Tagaytay, an unlimited Korean BBQ, is the third branch of the restaurant. We were very excited to check it out because we heard their samgyupsal is one of the best.
Important Information About Meat Here
Facebook: Meat Here Unlimited Korean BBQ Tagaytay
Email Address: [email protected]
Operating Hours: 10 AM – 9 PM
Payment Options: Cash, Debit/Credit Card & GCash
Price per person: Php 349, Php 499, and Php 649
Dining Options: Dine In, Take out
Address: TCC Building, Gen Emilio Aguinaldo Highway Mendez Crossing East Tagaytay City, Cavite
Google Maps Link: https://goo.gl/maps/
Inside Meat Here Tagaytay
The restaurant is easy to see since it is located in the newly built building near Mendez crossing. Plus, it is one of the two establishments that are open during our visit.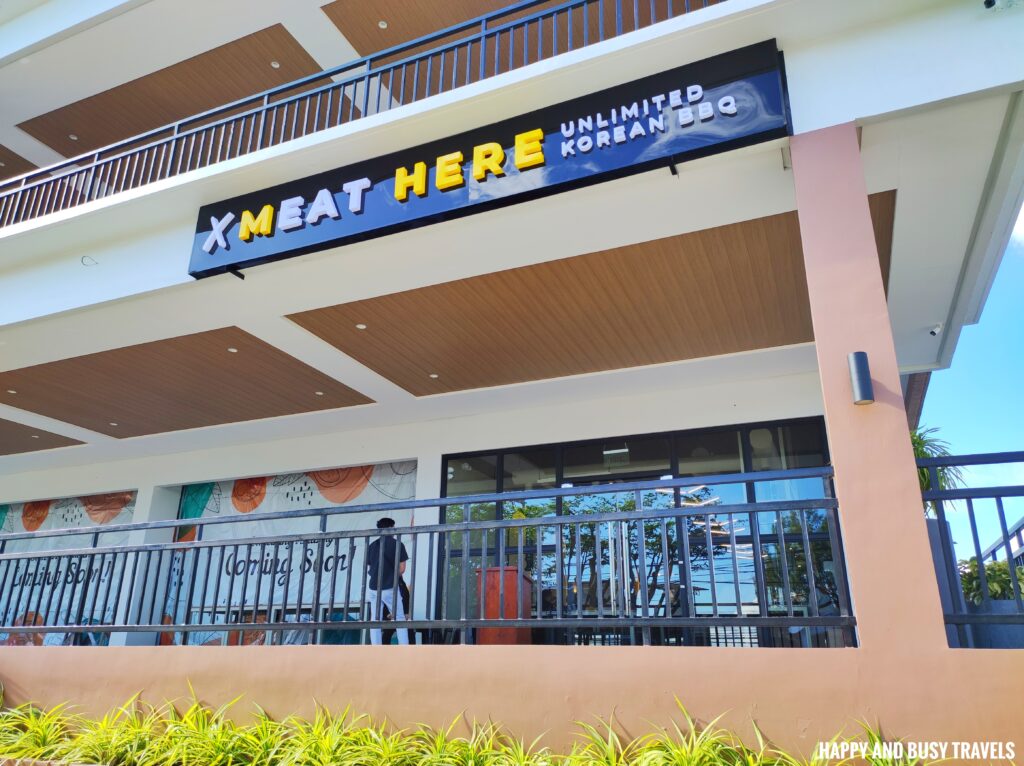 There are a lot of dining areas, and it can fit up to 72 people.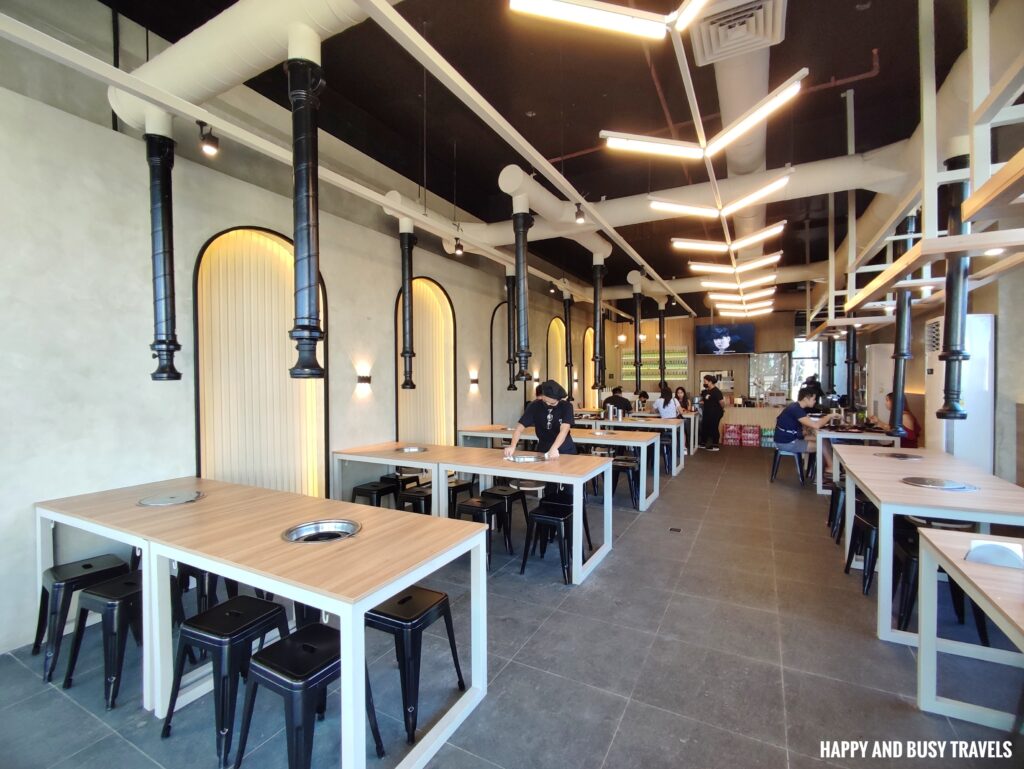 They use charcoal as the source of heat, so tables can be moved if you are in a large group, plus it is one of the safest ways of dining with samgyupsal.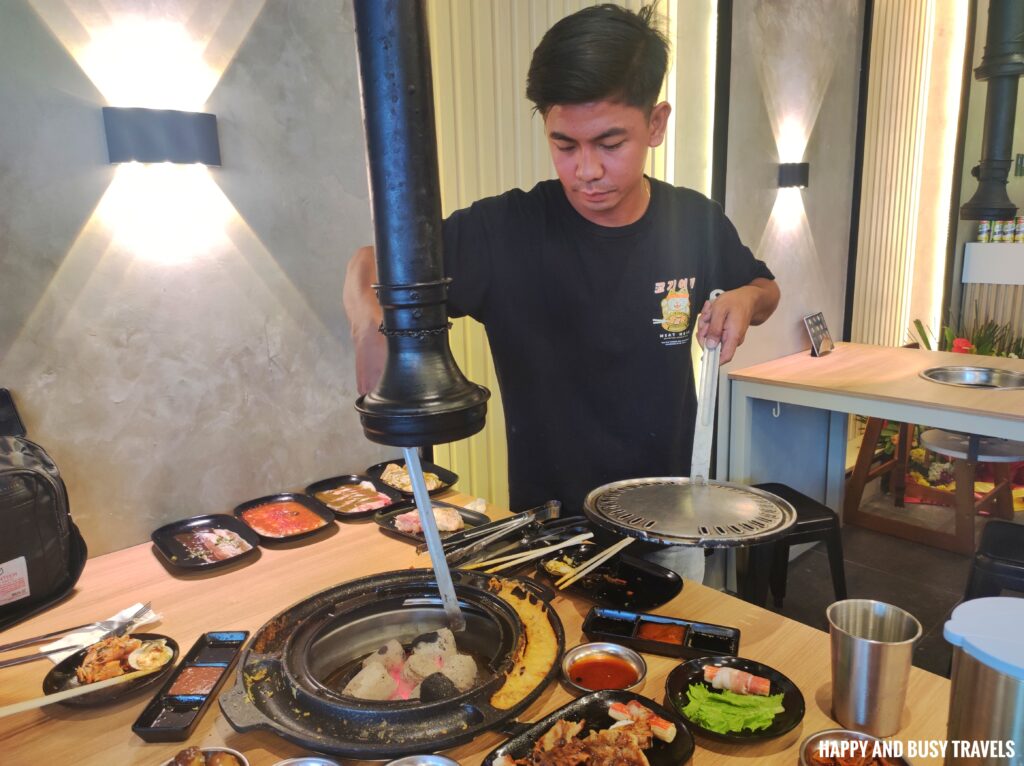 15 Pork and Beef Selection of Meat Here Tagaytay
There are 15 kinds of Pork and Beef here, yes it is a lot and yes you can order everything.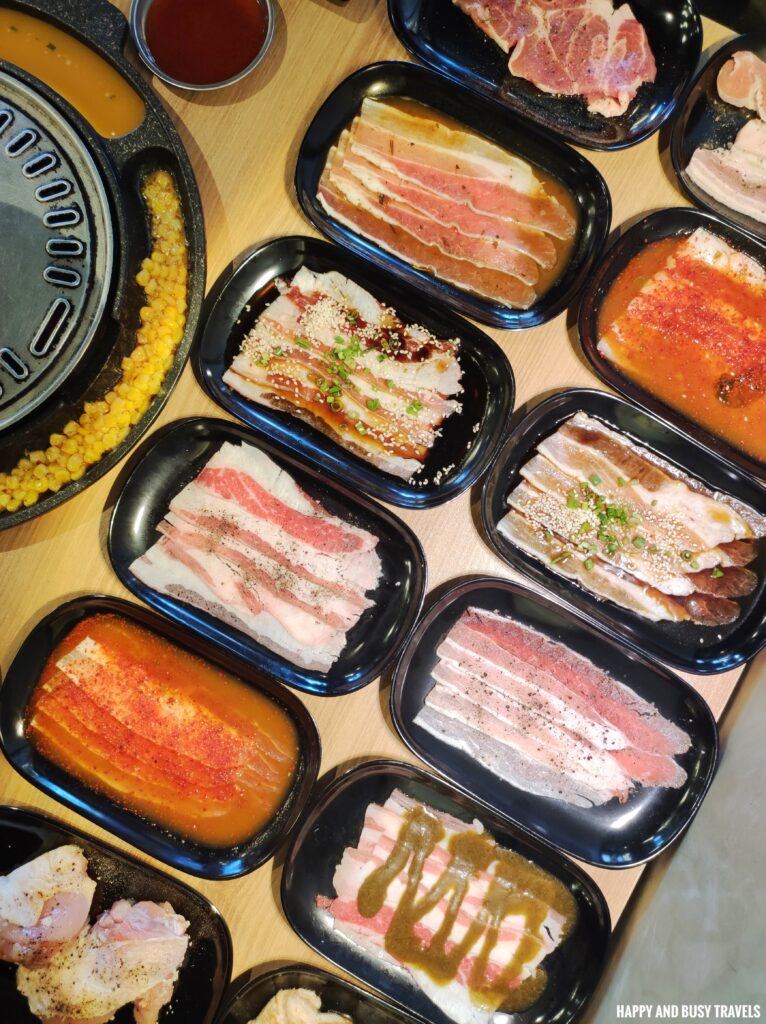 Pork Choices
Samgyupsal
First, these are thickly sliced Pork Belly which is slightly seasoned with Salt and Pepper.
Daepae Samgyupsal
Second, this is almost the same as the first Pork meat, but this one is thinly sliced Pork, seasoned with Salt and Pepper.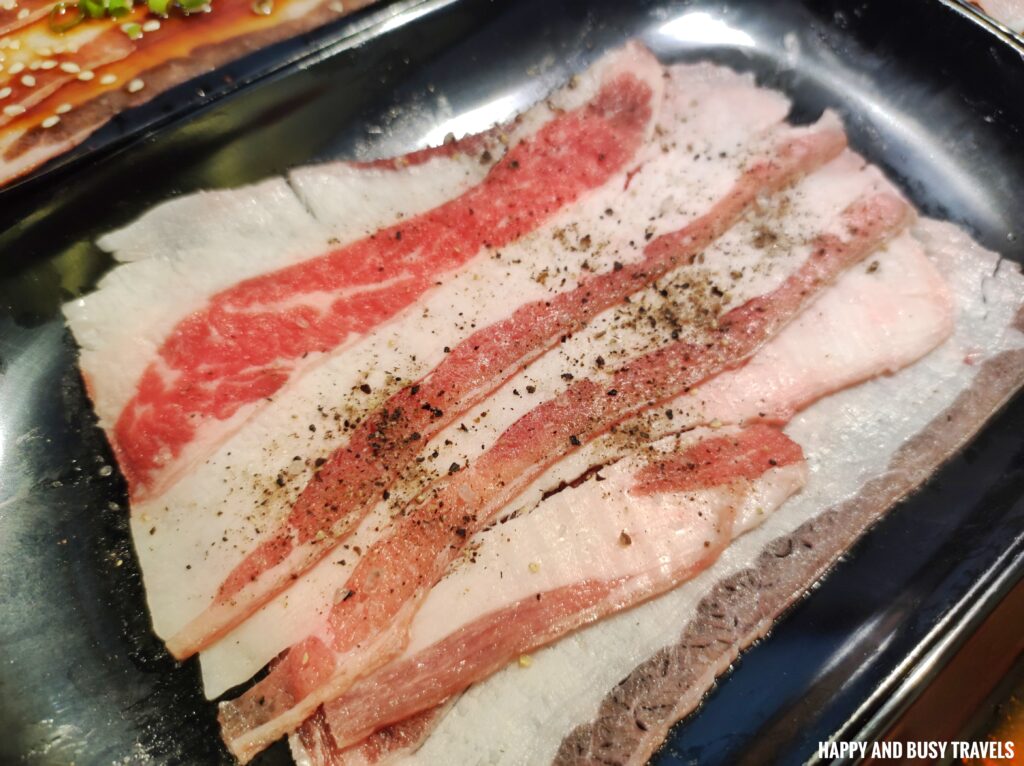 Moksal
Third, this is a steak-cut pork neck slightly seasoned with Salt and Pepper.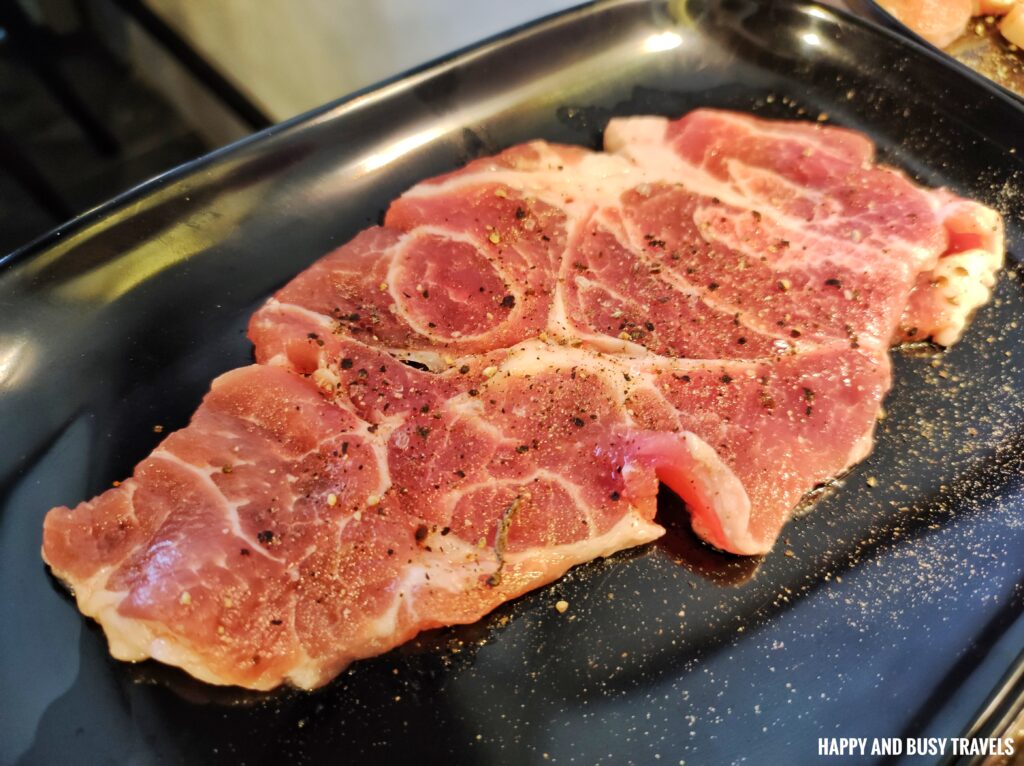 Pork Gochujang
If you are a fan of spicy food, this is the best choice for you. This is thinly sliced Pork Belly marinated in sweet and slightly spicy garlic sauce. This is one of my favorites because I love Pork, and anything spicy.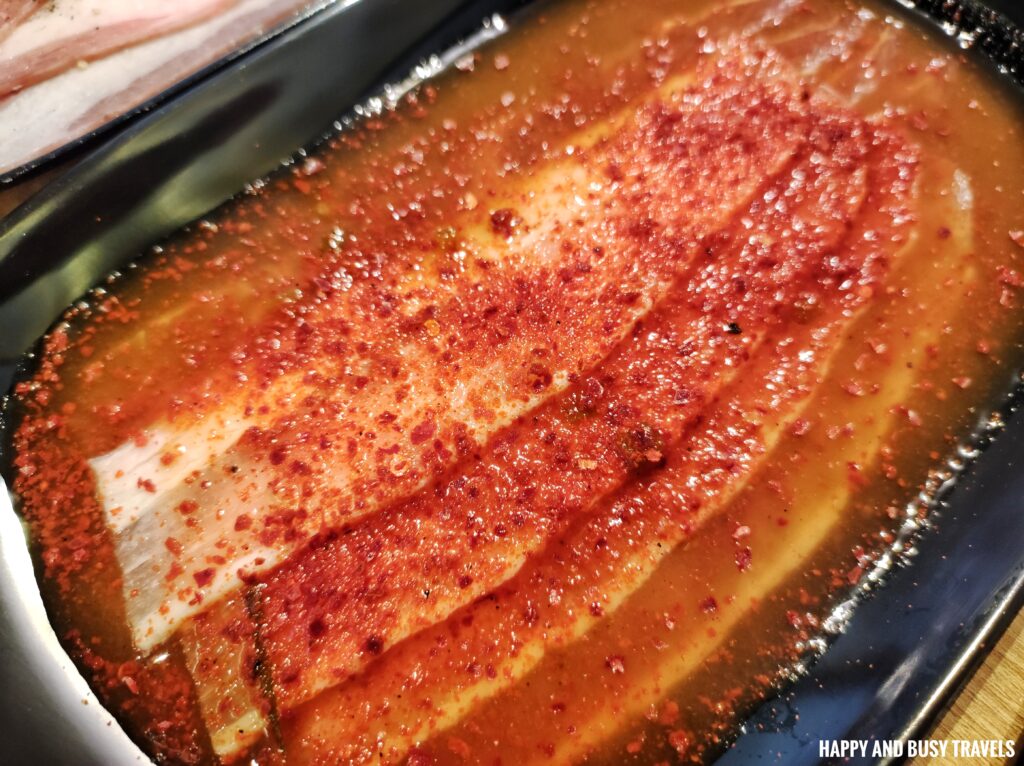 Pork Bulgogi
Fifth, this is a thinly sliced pork belly that is marinated in Sweet and Savory Bulgogi Sauce.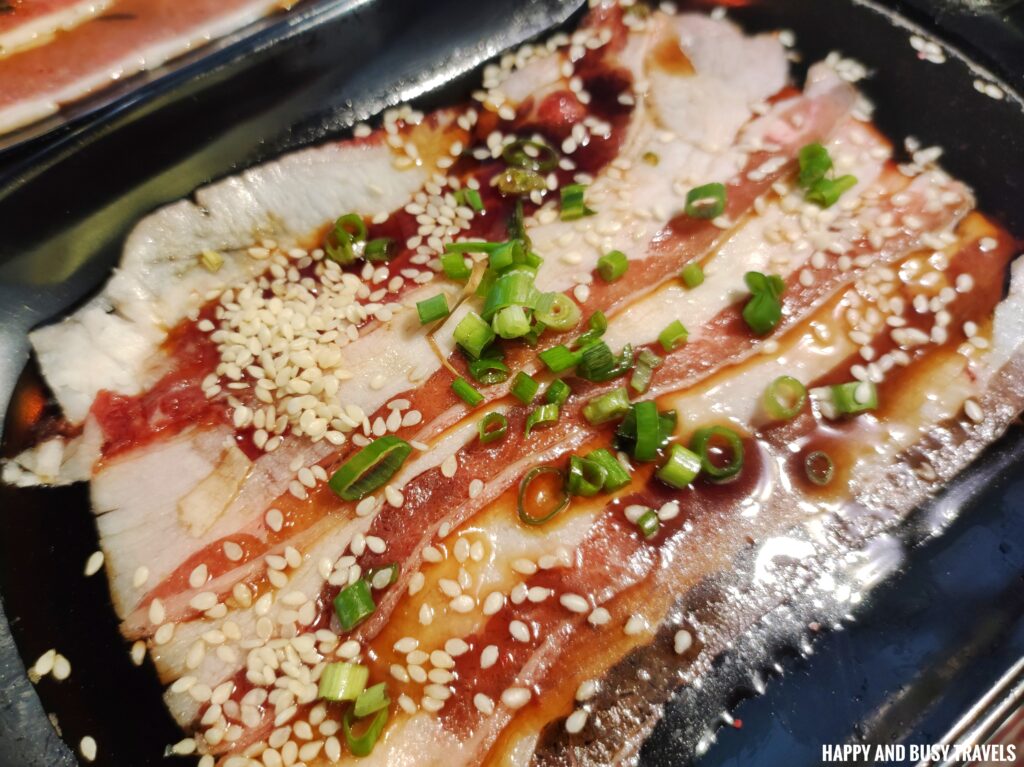 Gopchang Pork Intestine
These are marinated pig intestines, which is the same meat used in Chicharon Bulaklak. This is paired with sweet BBW sauce, that I LOVE, so I kinda used in in a lot of meat.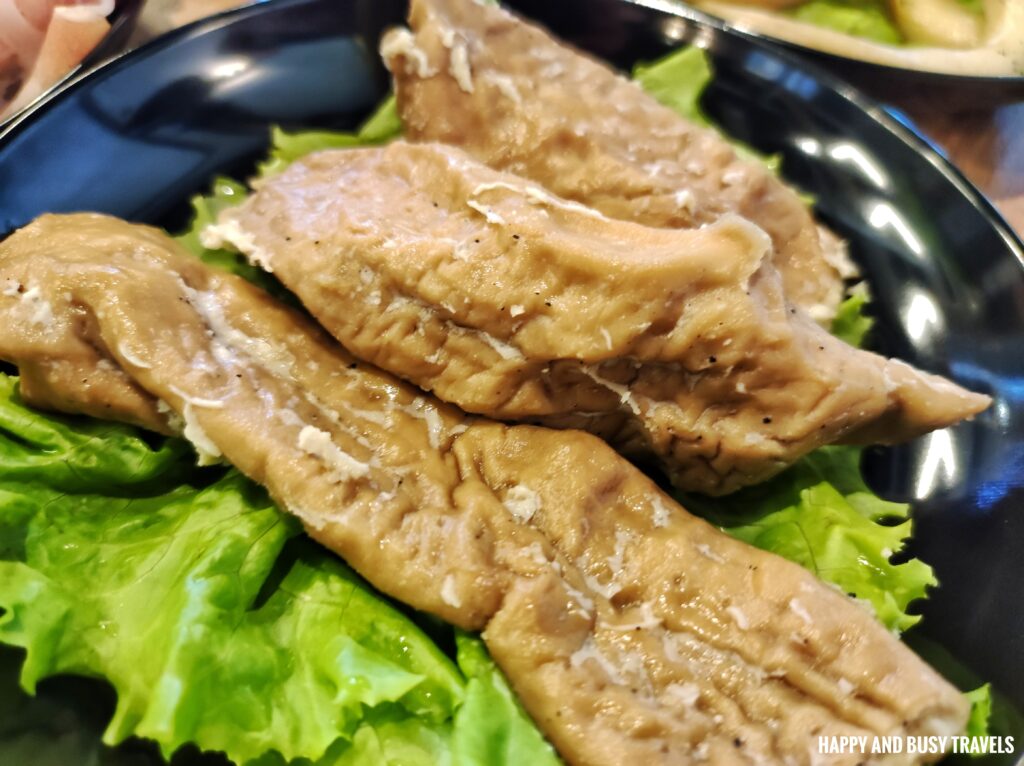 Pork Cajun Daepae
Next, this is a thinly sliced pork belly again, but it is seasoned western style and slightly spicy.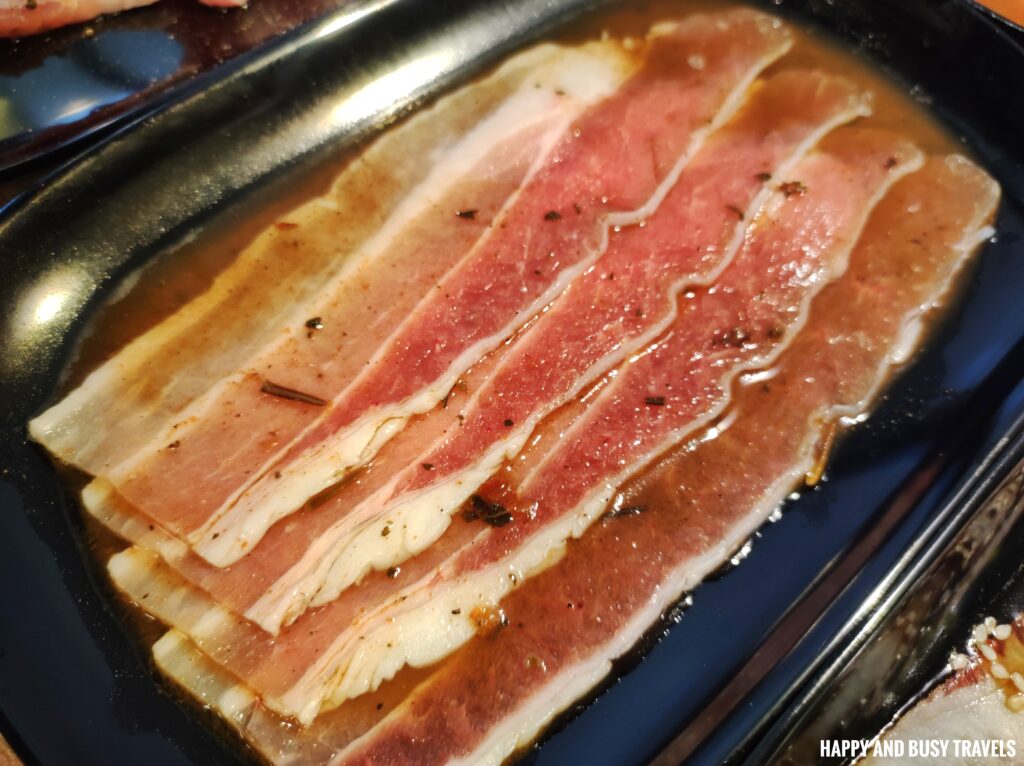 Herbed Samgyupsal
This is one of  Busy's favorites! These slices of pork belly are seasoned with herbs and spices. Busy likes earthy flavors that's why he likes this one.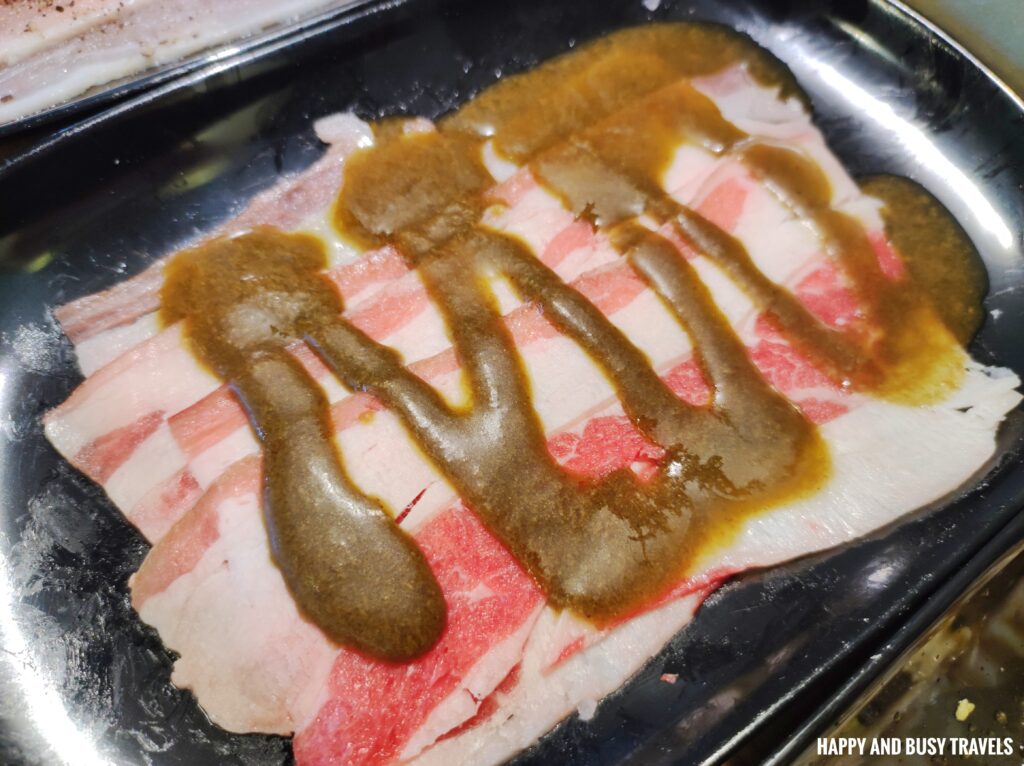 Chicken Choices of Meat Here Tagaytay
Salt and Pepper Chicken
These are Chicken thigh fillets seasoned with salt and pepper.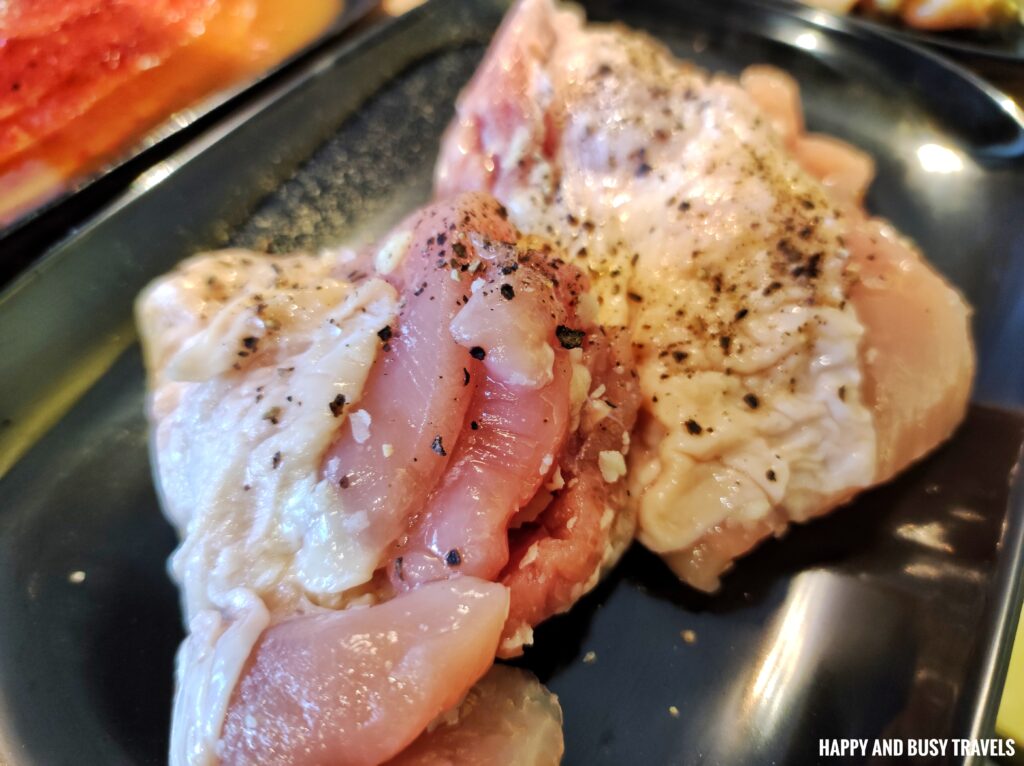 Herbed Chicken
Lastly, this is the chicken version of the herbed pork. This is seasoned with various herbs and spices.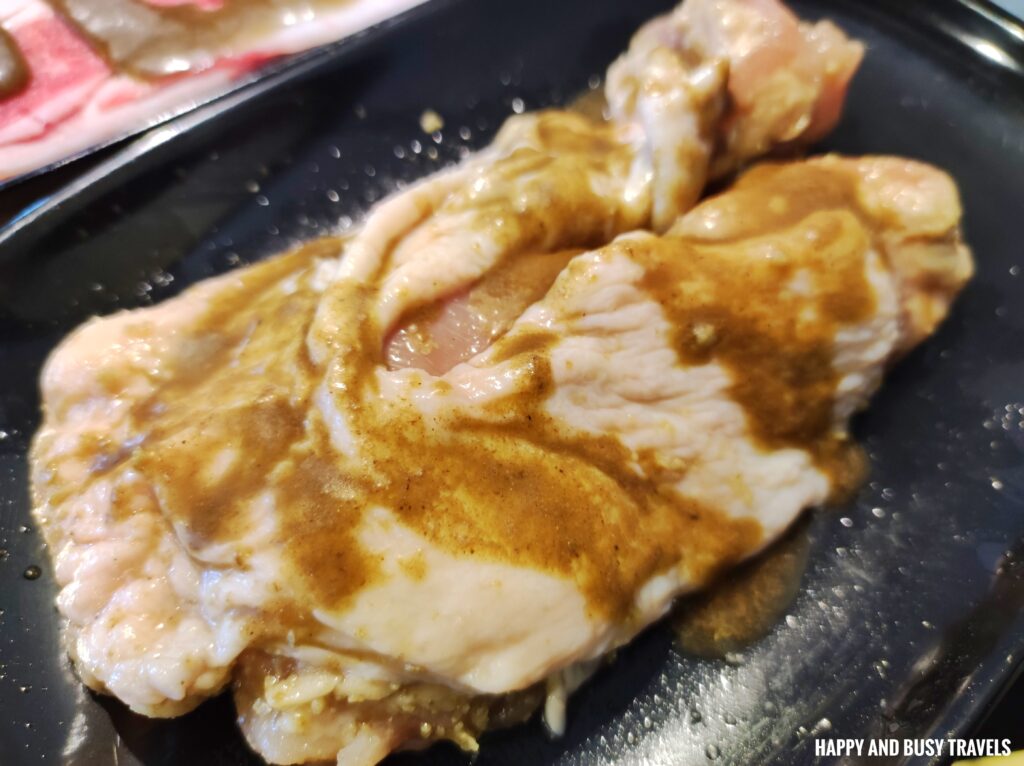 Beef Choices
Woosamgyup
These are thinly sliced Beef belly that is slightly seasoned with Salt and Pepper.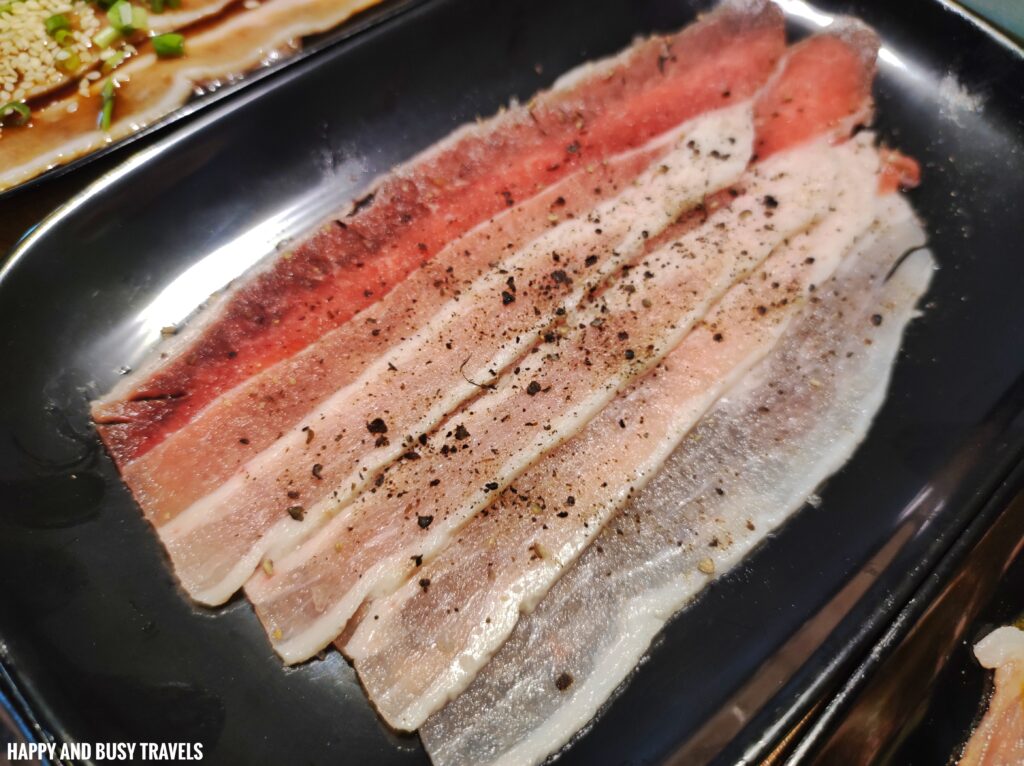 Beef Bulgogi
If you prefer Beef to Pork, this is the Beef Bulgogi version. Thinly sliced Beef Belly marinated in Sweet and Savory Bulgogi Sauce.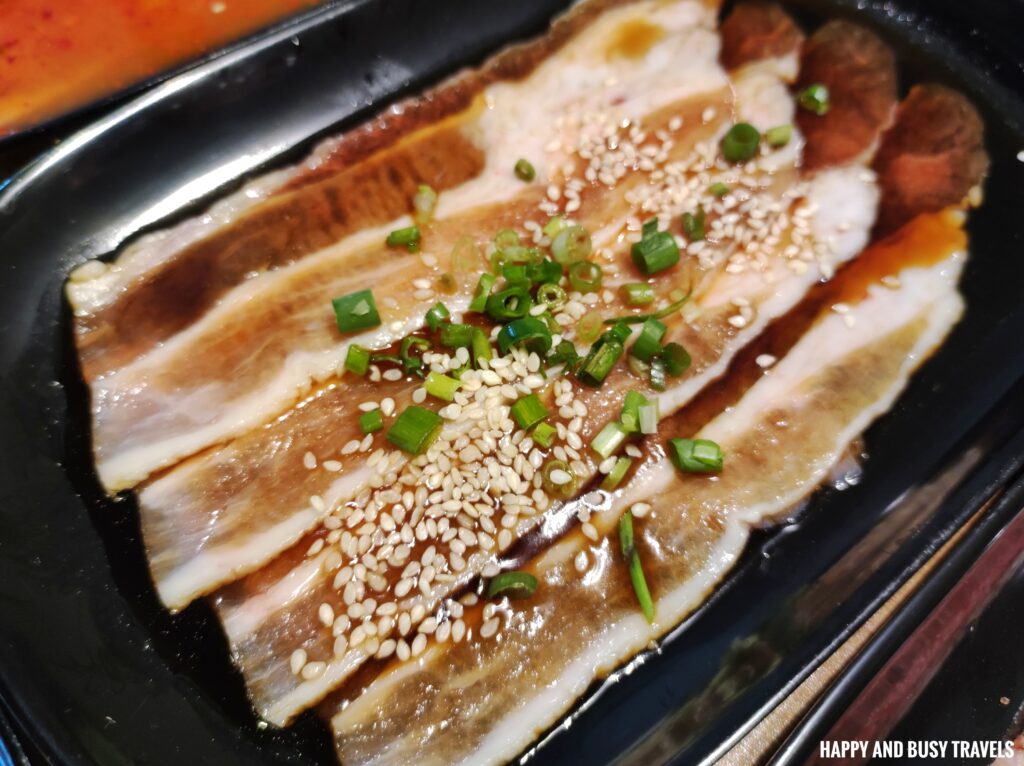 Beef Gochujang
Here's another meat choice that I love, the Beef Gochujang. This is again thinly sliced Beef Belly that is marinated in Sweet and a  bit spicy garlic sauce.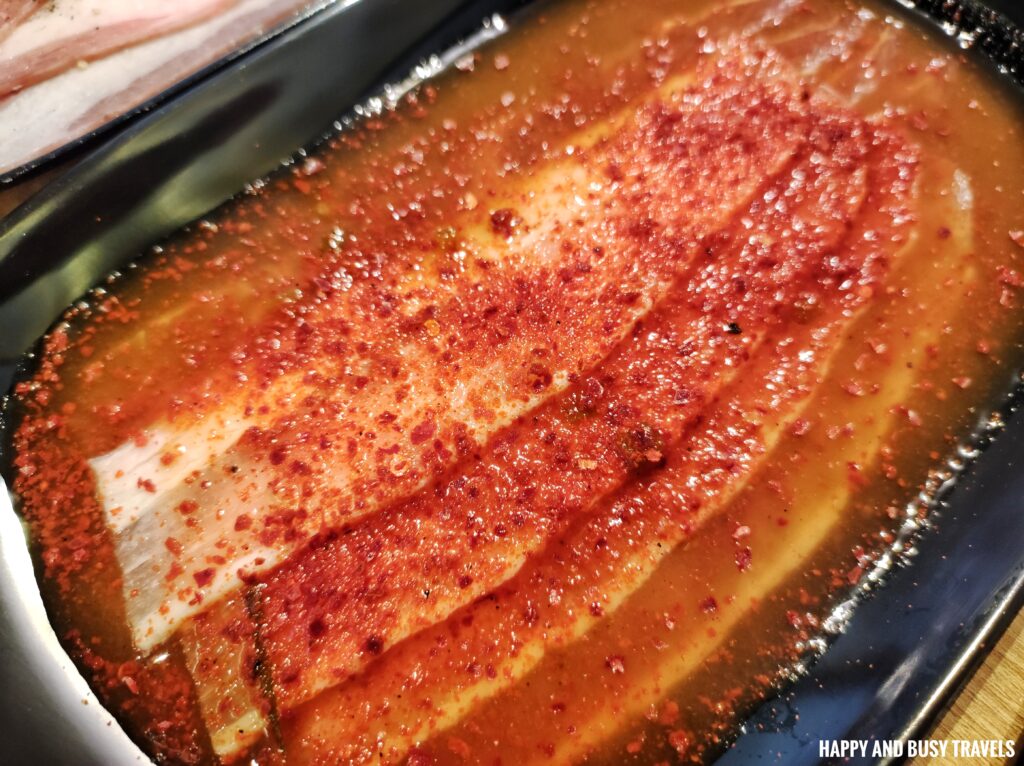 Beef Cajun
This is another slightly spicy Beef Belly, which is thinly sliced.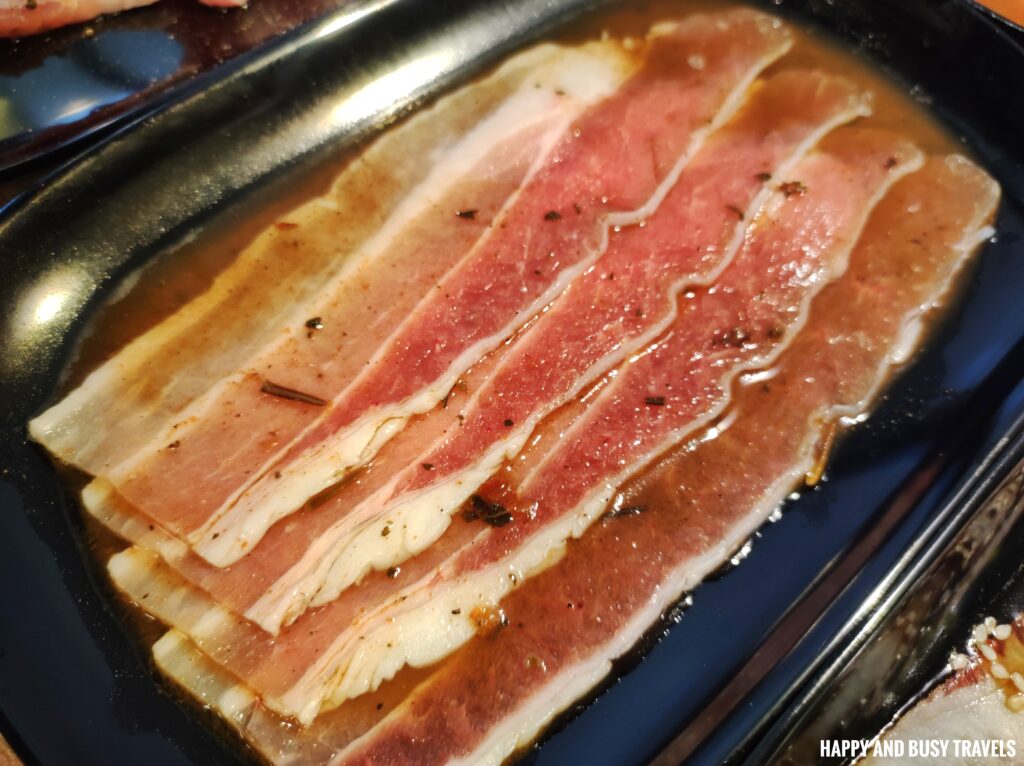 Herbed Beef
Lastly, this is another herbed meat. Thinly sliced Beef Belly marinated in different herbs and spices.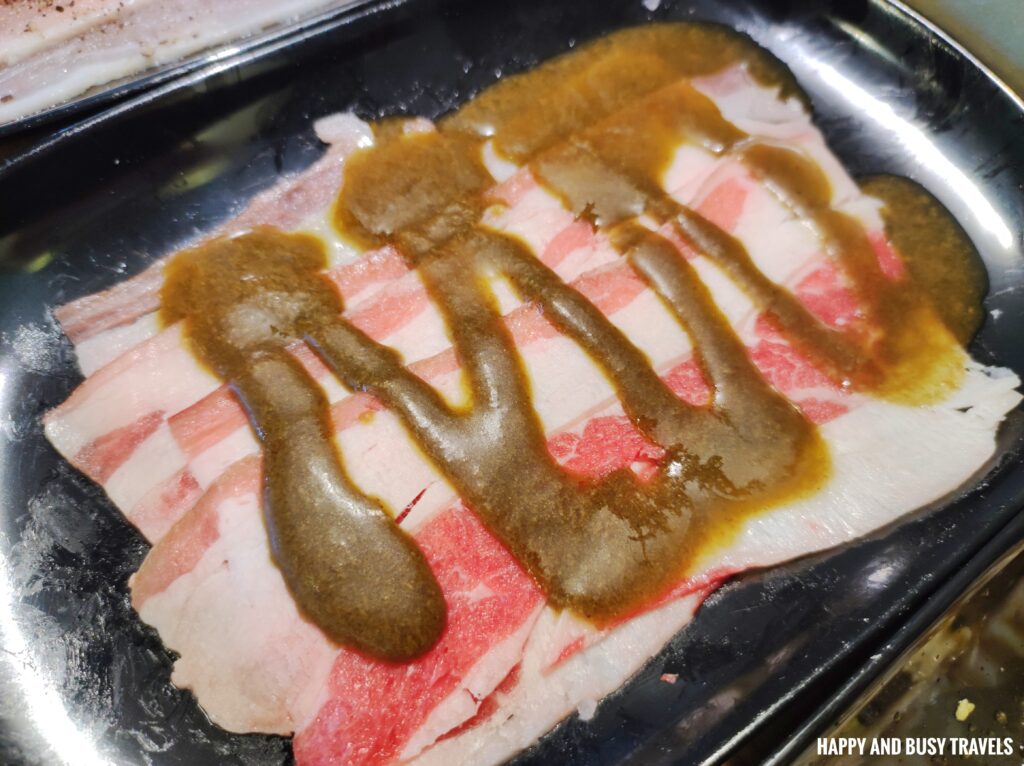 Seafood and Other Items of Meat Here Tagaytay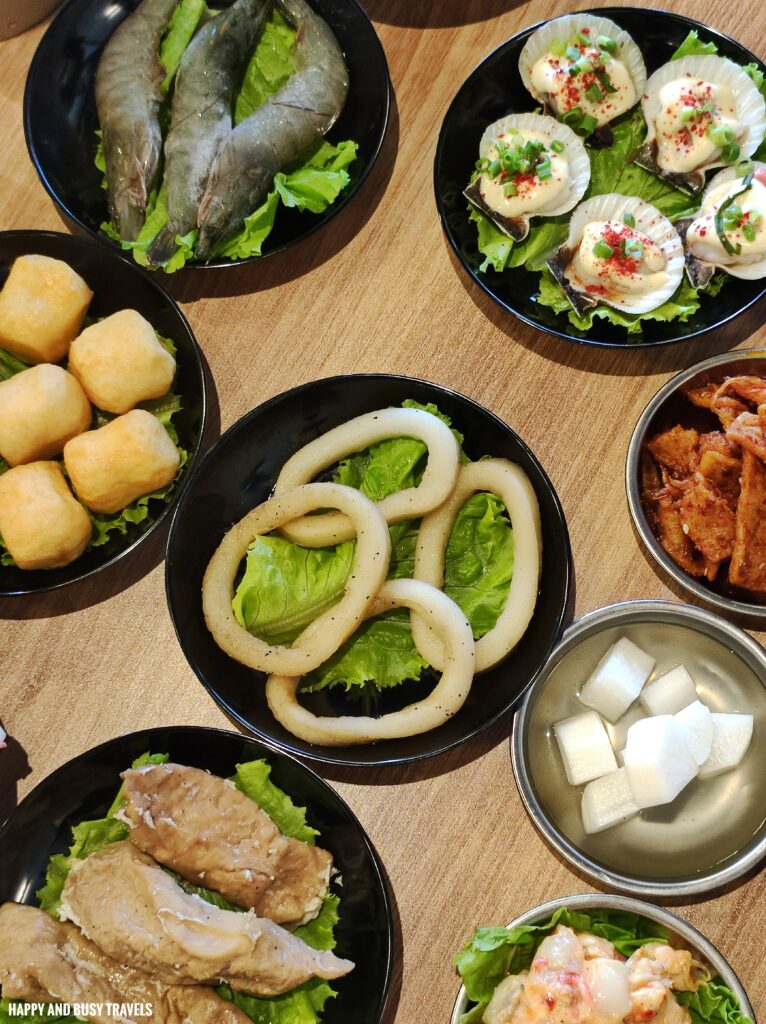 Shrimps
Just plain Shrimps so you can enjoy them as it is.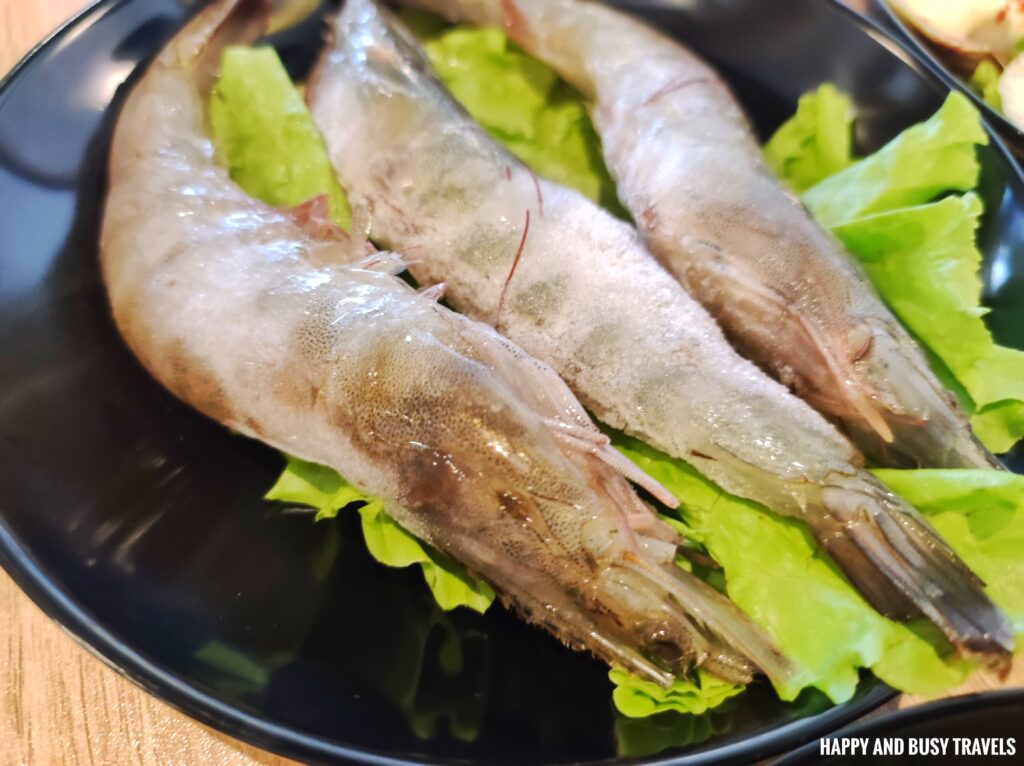 Shelled Scallops and Cheese
These are Scallops in their shell and topped with Cheese and Spring Onions.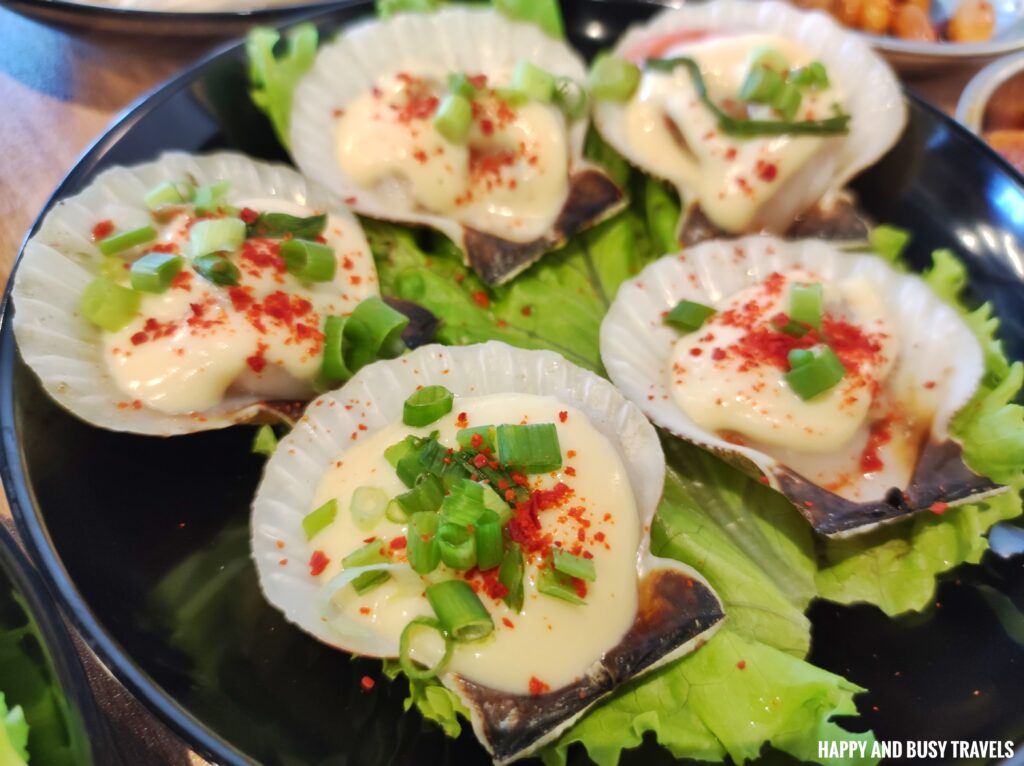 Scallops Meat and Cheese
This looks different so Busy and I were excited to cook this one. It is made out of cheese some spices and Scallops meat. We prefer this over the first Scallop.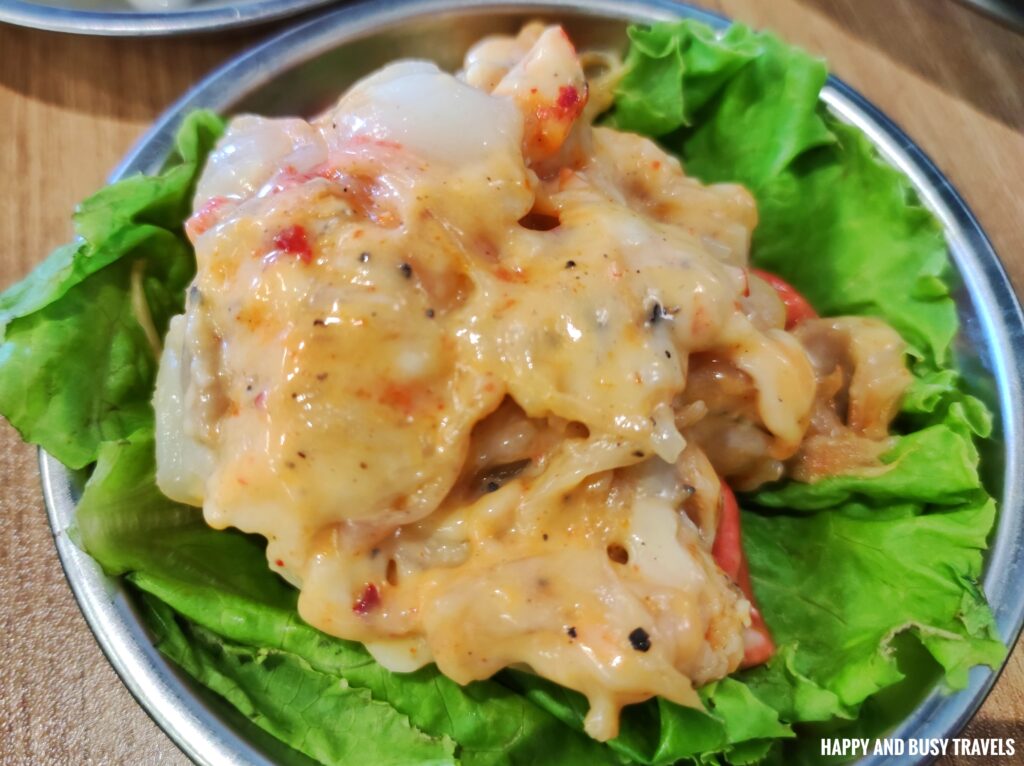 Marinated Squid
These are marinated Squid, which is also seasoned with Salt and Pepper. This one is easy to cook because it tends to be chewy when overcooked, so a minute on the grill is already good.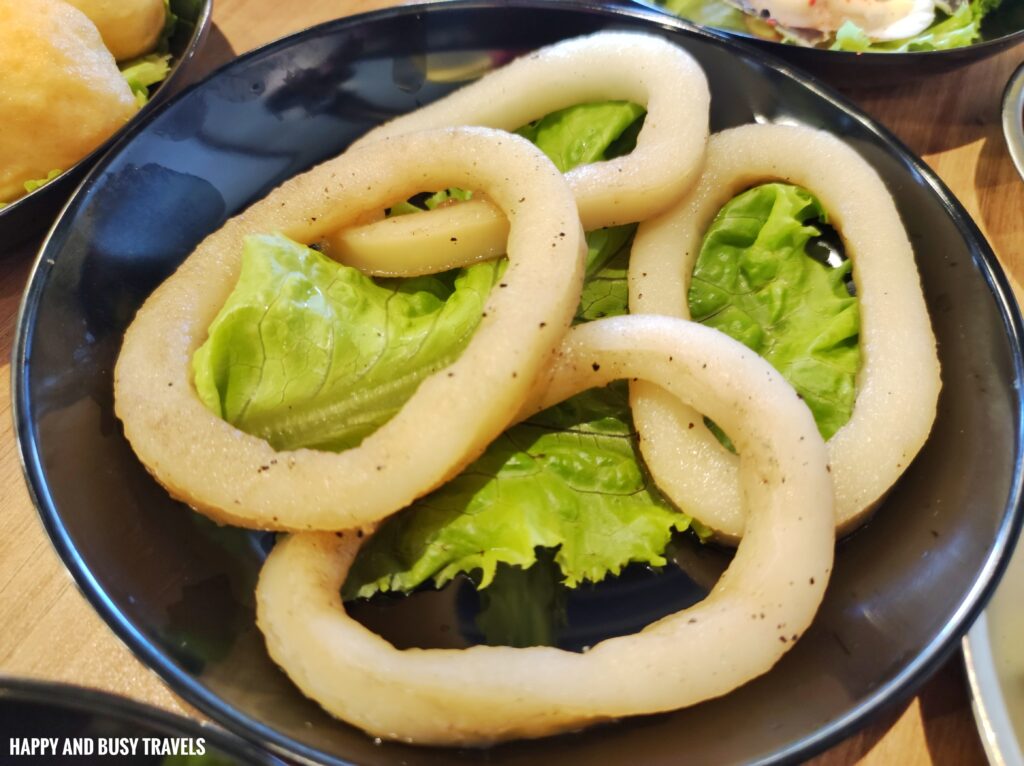 Mozzarella Cheese Balls
Everybody loves Mozzarella, so this one is also one of my favorites. A seafood ball with Mozzarella Cheese in the middle that oozes when cooked.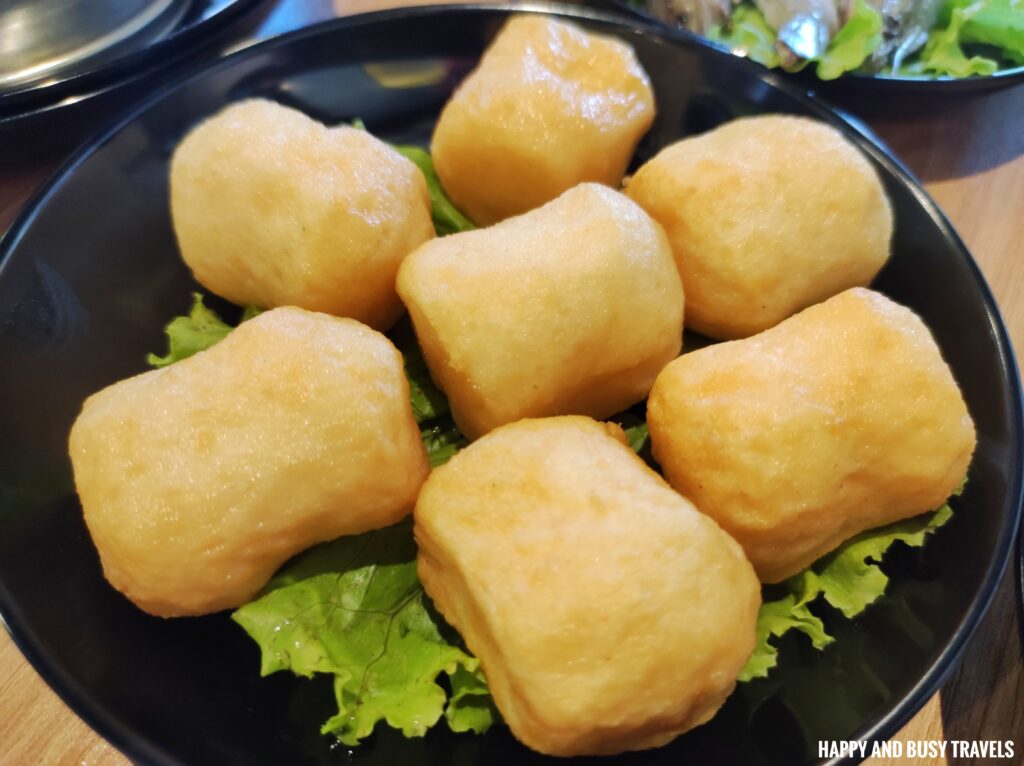 Bacon Wrapped Crab Sticks
Meat and seafood lovers will love this too. Crab Sticks that are wrapped in thinly sliced Pork Belly. This is also a nice way to cook Crab Sticks because it usually tends to break, so when it is wrapped in pork, it retains their structure.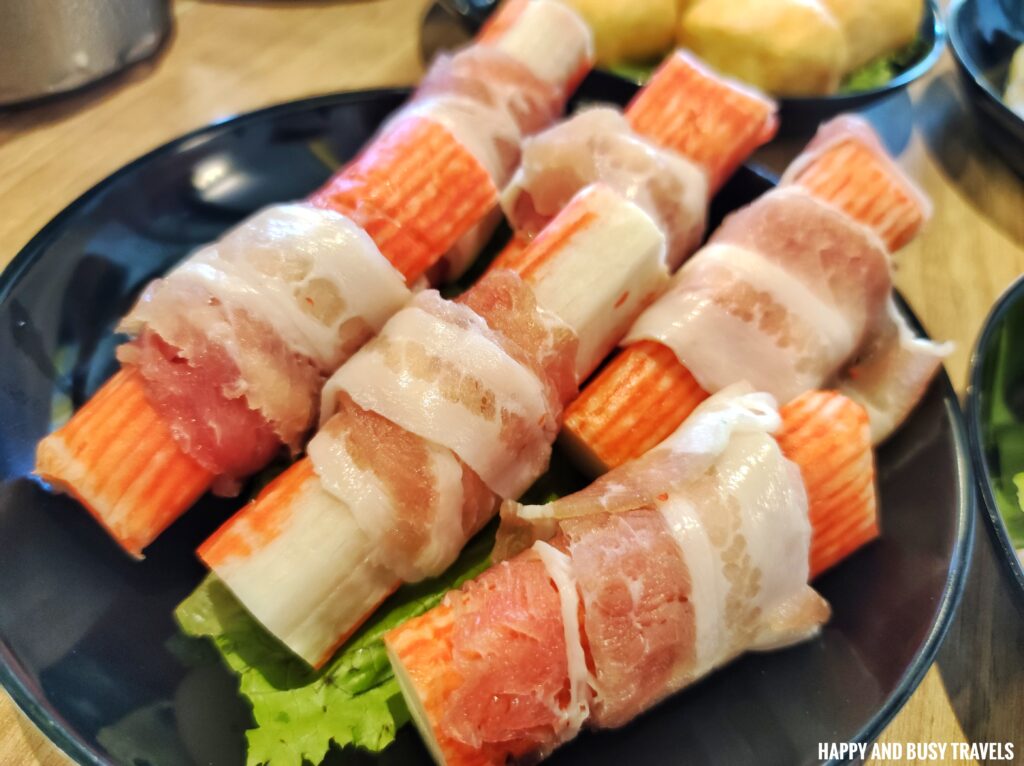 Bacon Wrapped Enoki
If you love mushrooms, they also have them here so you can enjoy them too. Enoki Mushrooms are wrapped with Bacon to add additional taste.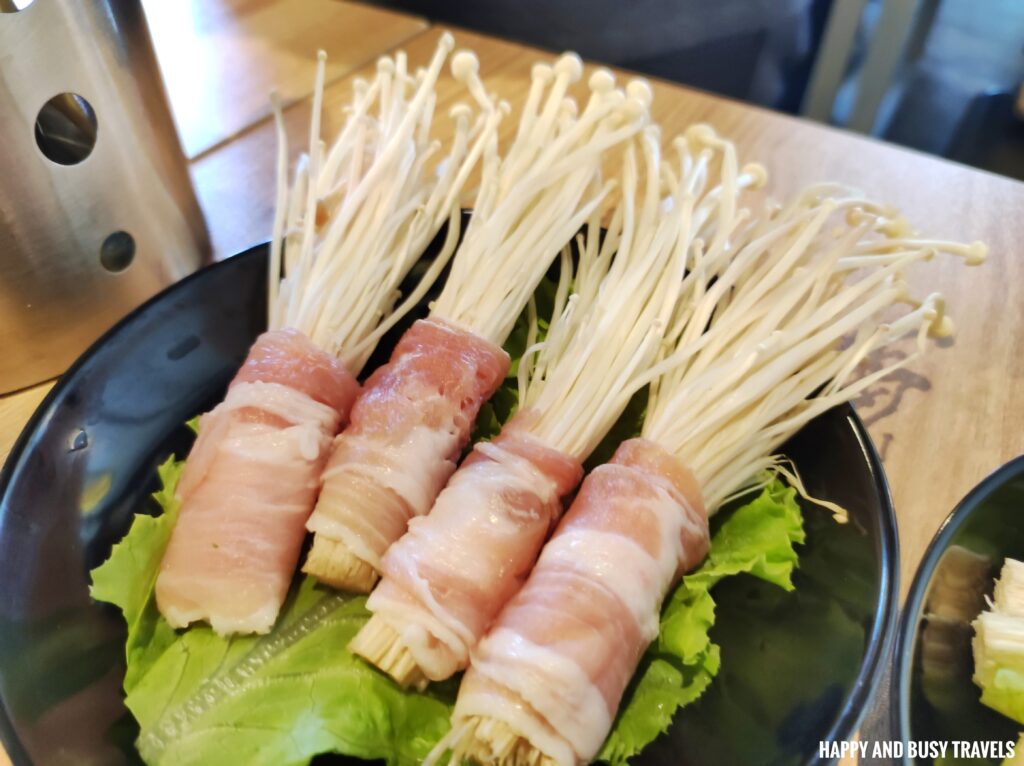 Enoki Mushroom
If you wish to have the mushrooms only, it's okay because they have plain Enoki Mushrooms here.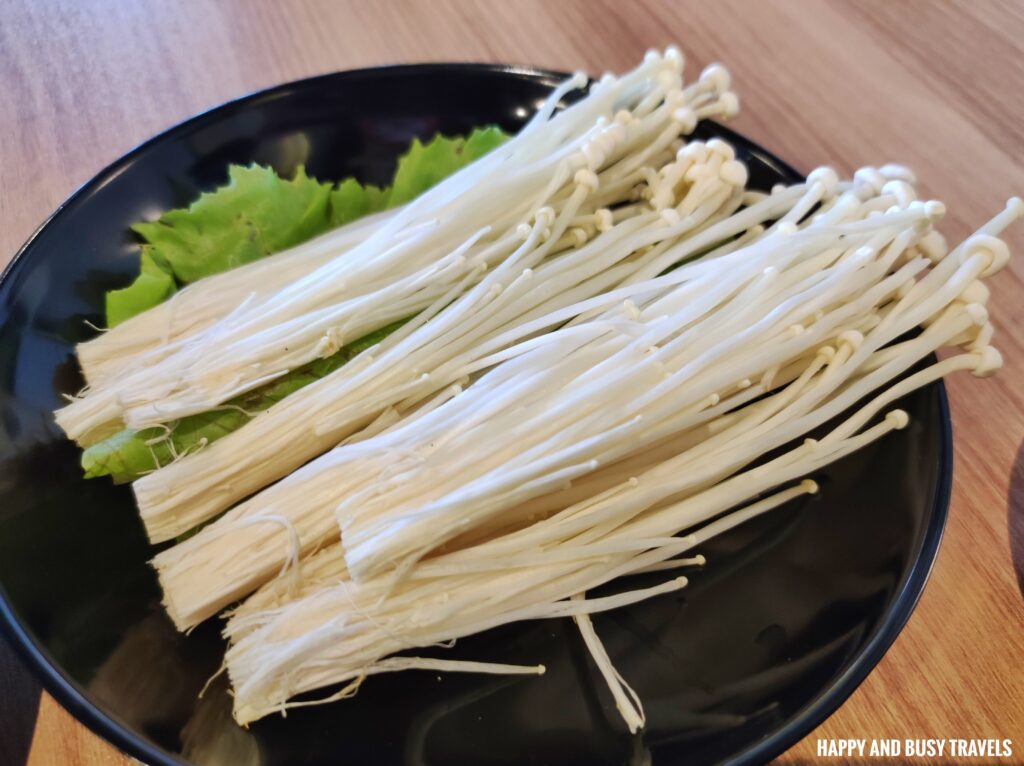 Side Dishes of Meat Here Tagaytay
Here are some of the side dishes of Meat Here so you can still eat while waiting for your samgyup to cook.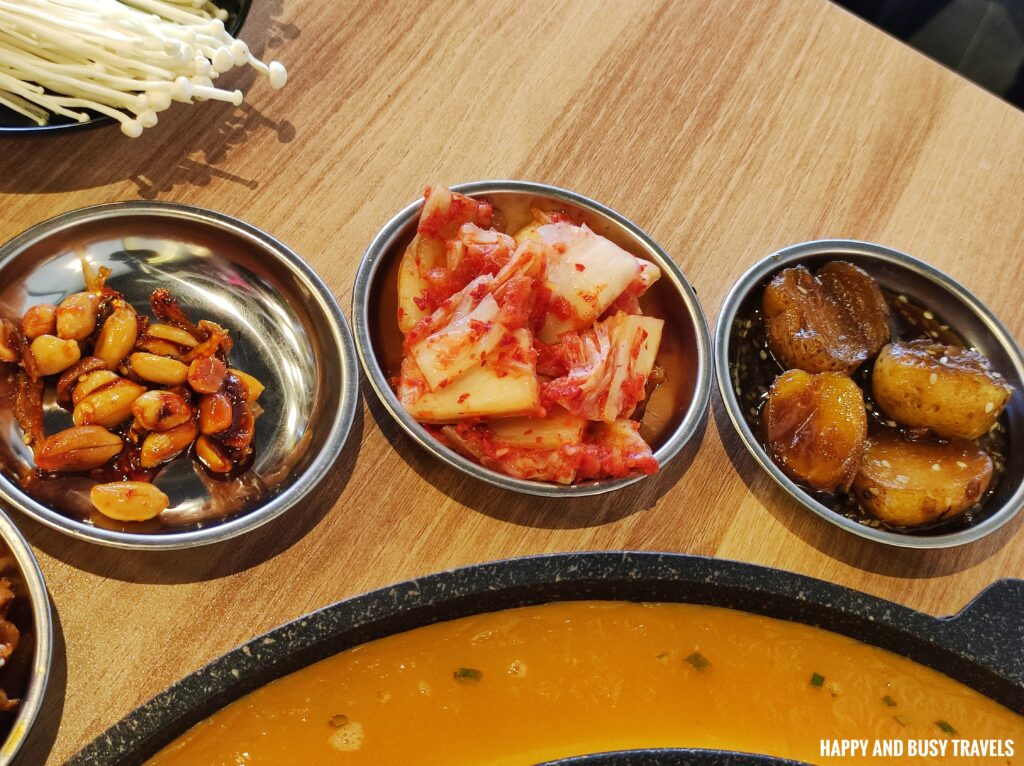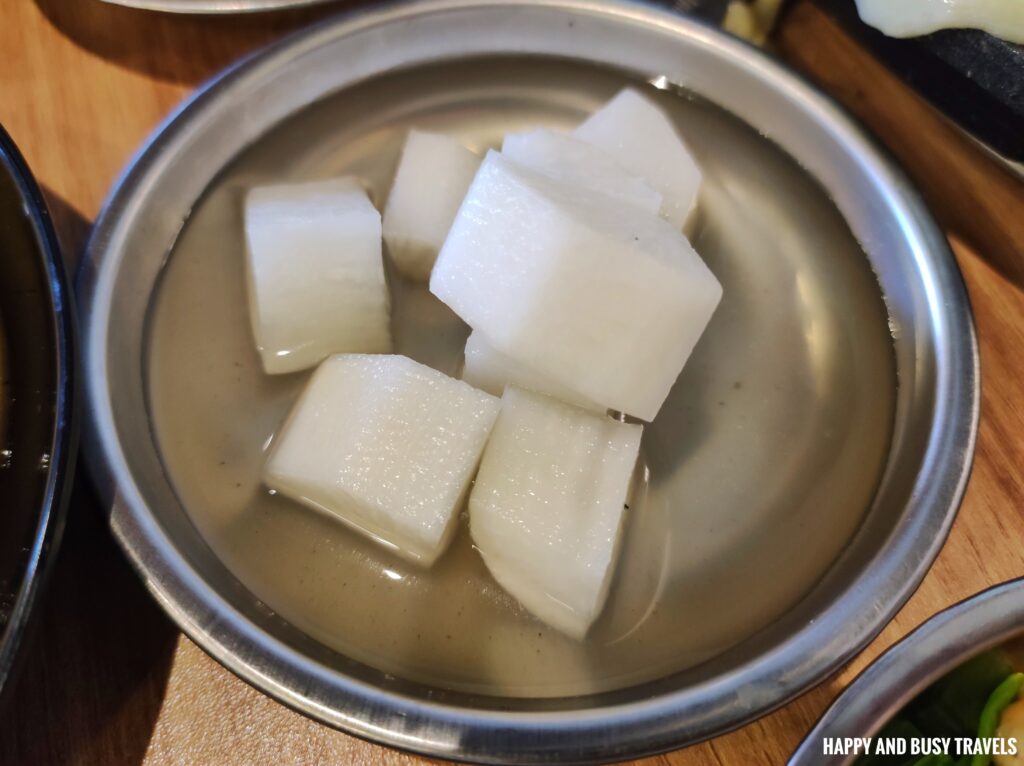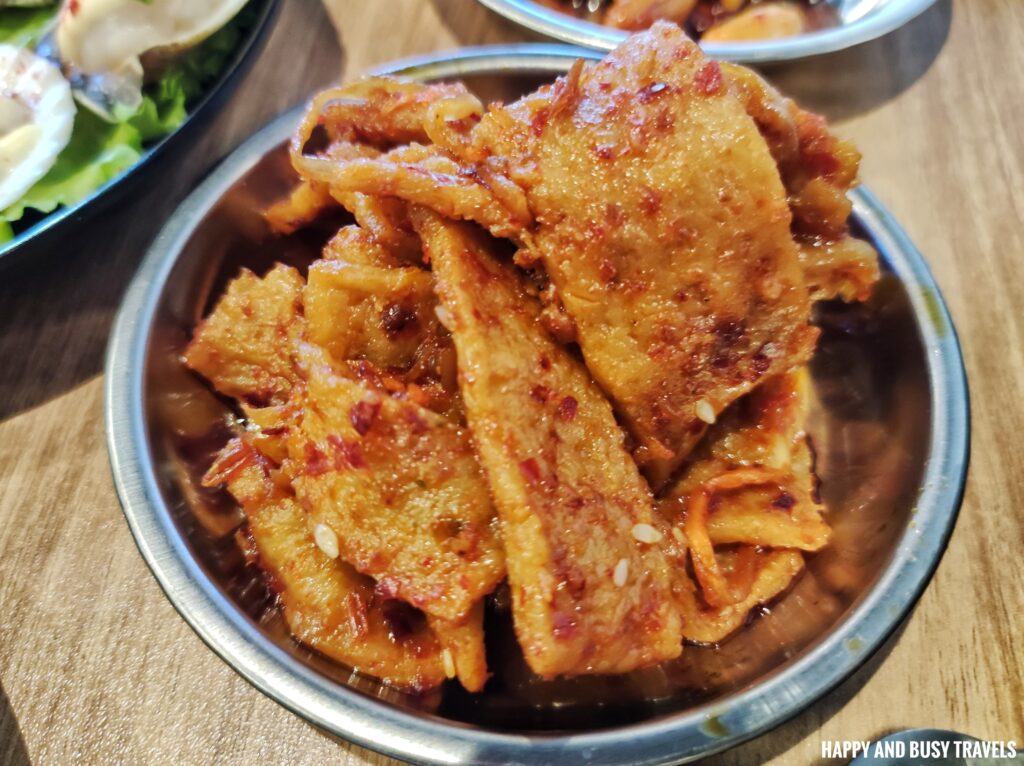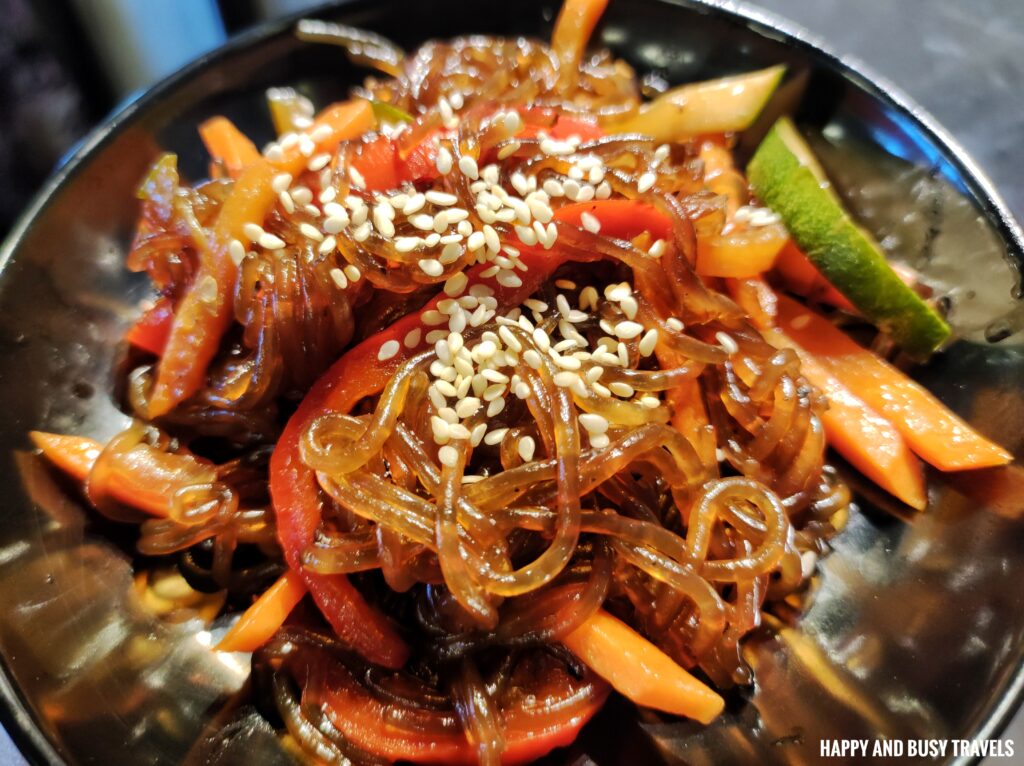 They also have buttered corn, cheese to dip your meat (or eat it as a snack like what I did haha), and scrambled eggs.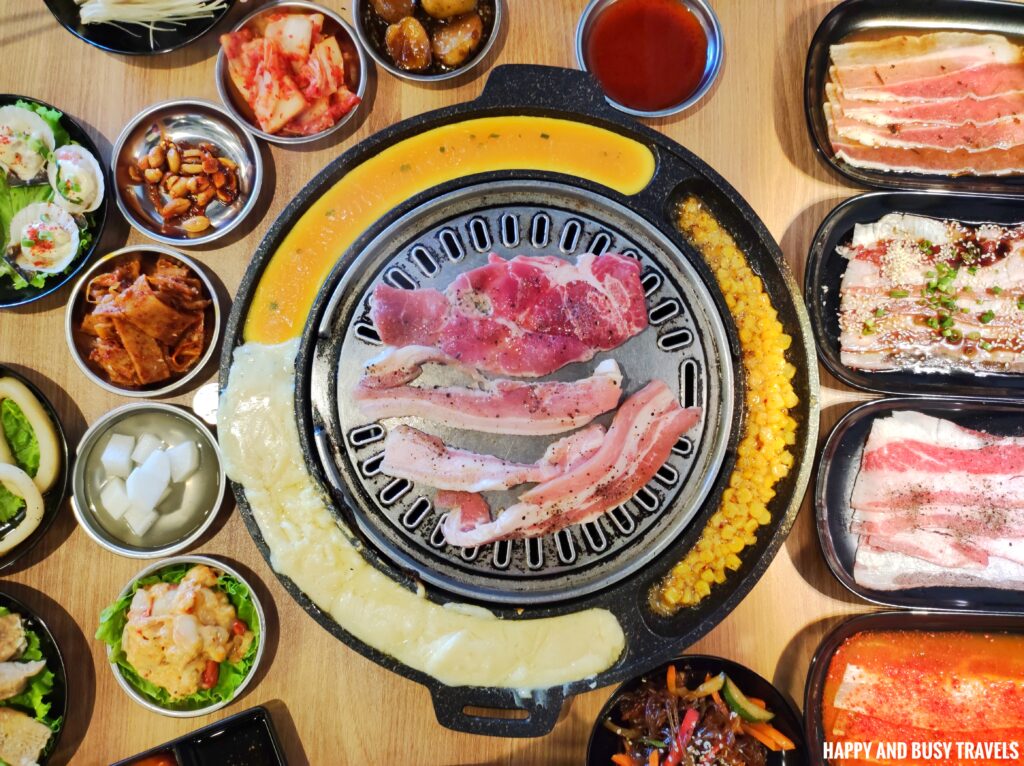 Sauces of Meat Here Tagaytay
There are various sauces available here like Soy Sauce, Gochujang, and Sesame Oil which you can use to complete your samgyupsal experience.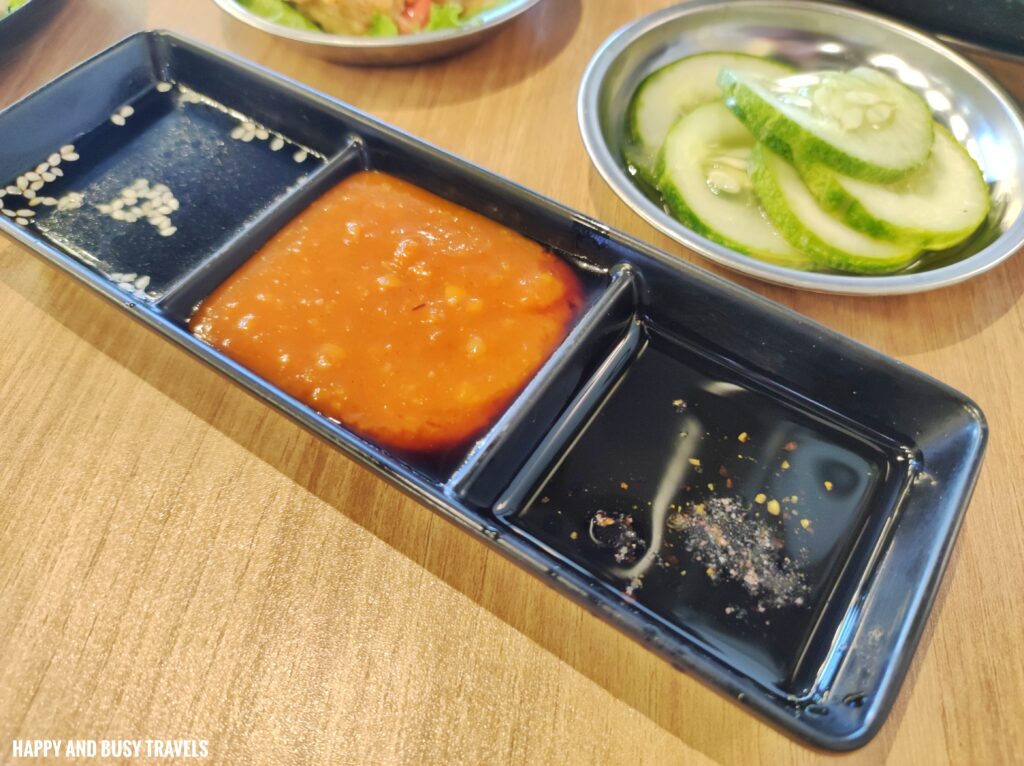 This is my favorite sauce, the sweet sauce for Gopchang because it can be used in other kinds of meat too.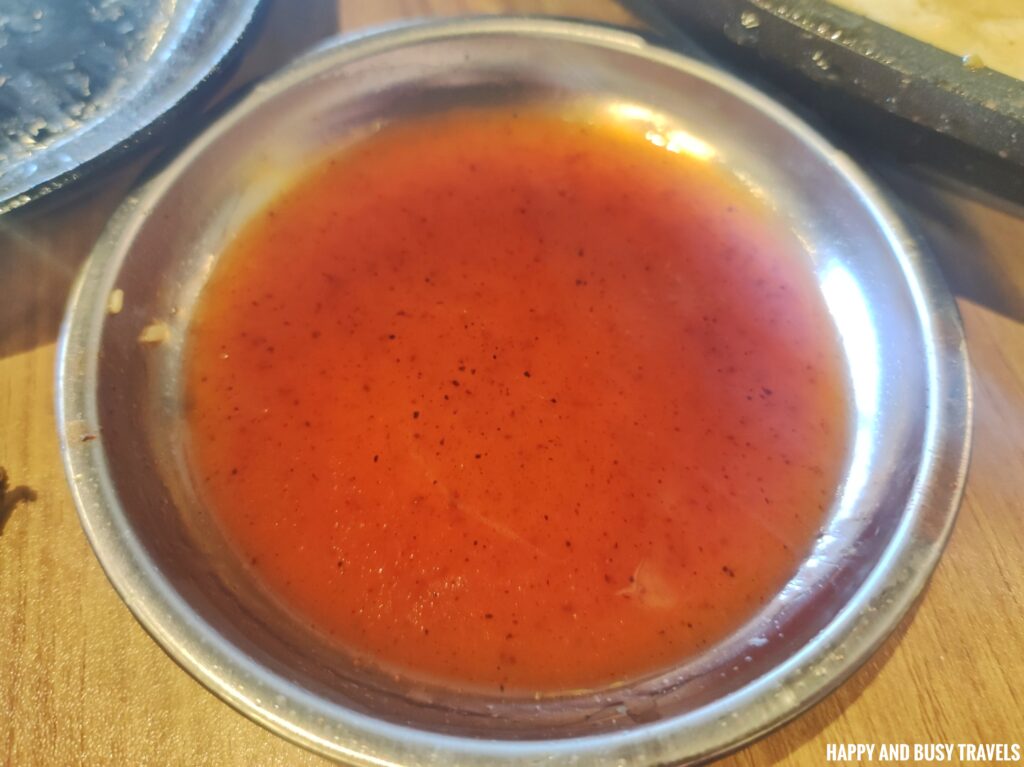 Unlimited Juice
Before I forgot, each dining experience includes unlimited juice too.
Terms and Conditions of Meat Here Tagaytay
We were very excited to try everything that they offer because everything looks so good. But here are some of the Terms and Conditions that you must know.
Leftovers are not allowed so if ever you have any, there will be a charge of Php 100 per person.
The time limit is 2 hours, which is more than enough.
They usually offer promos, so if there are promos that you would like to avail, they can not be combined with other promos and discounts.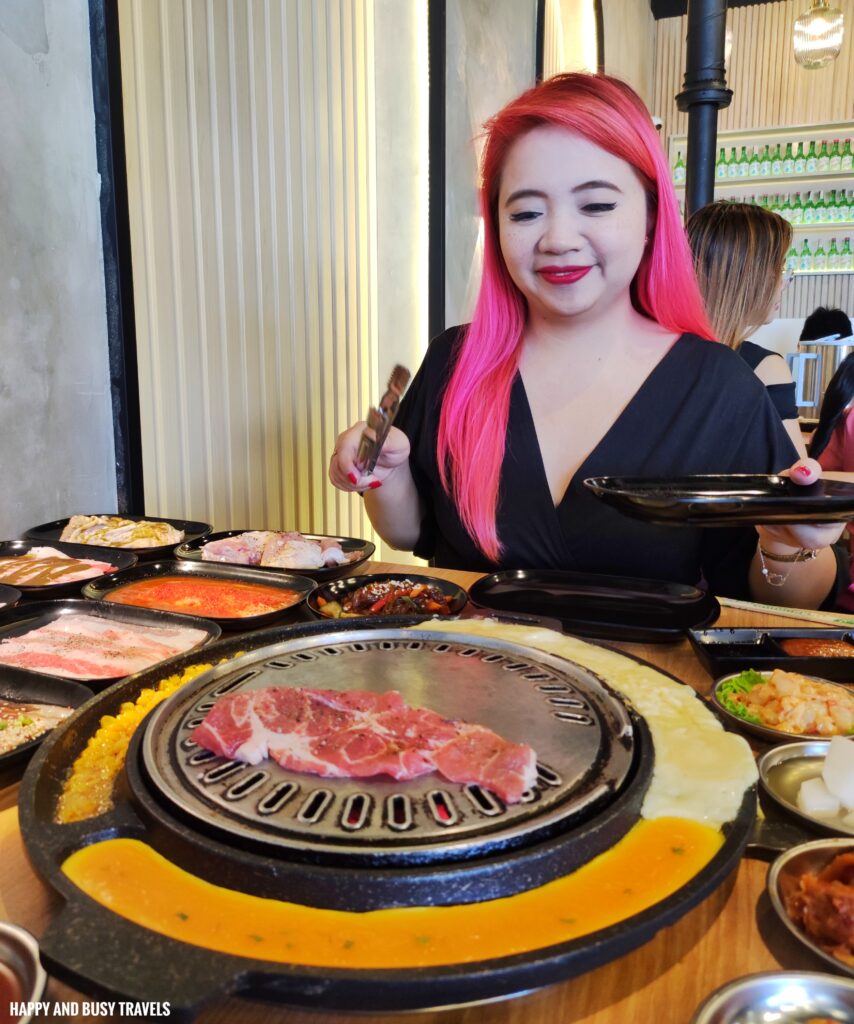 Menu of Meat Here Tagaytay
Take Out Menu
If you want samgyupsal to go, you can order from their take-out menu.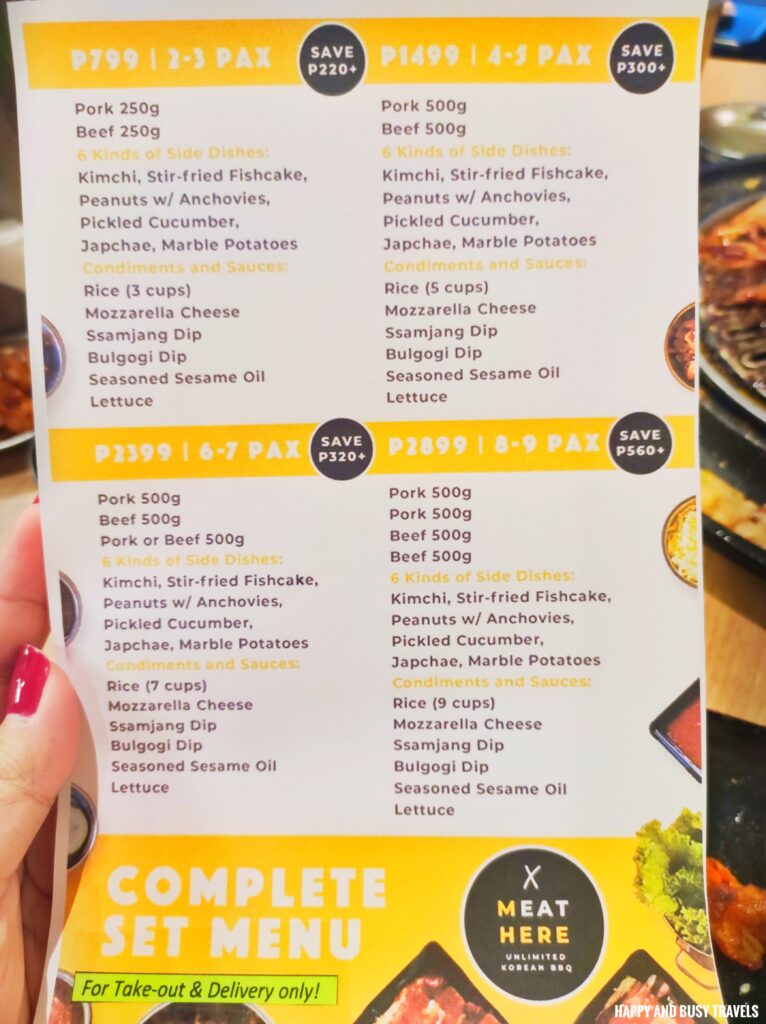 The Unlimited Pork and Chicken Package
This is the basic package of the restaurant that is very affordable so almost everyone can eat here.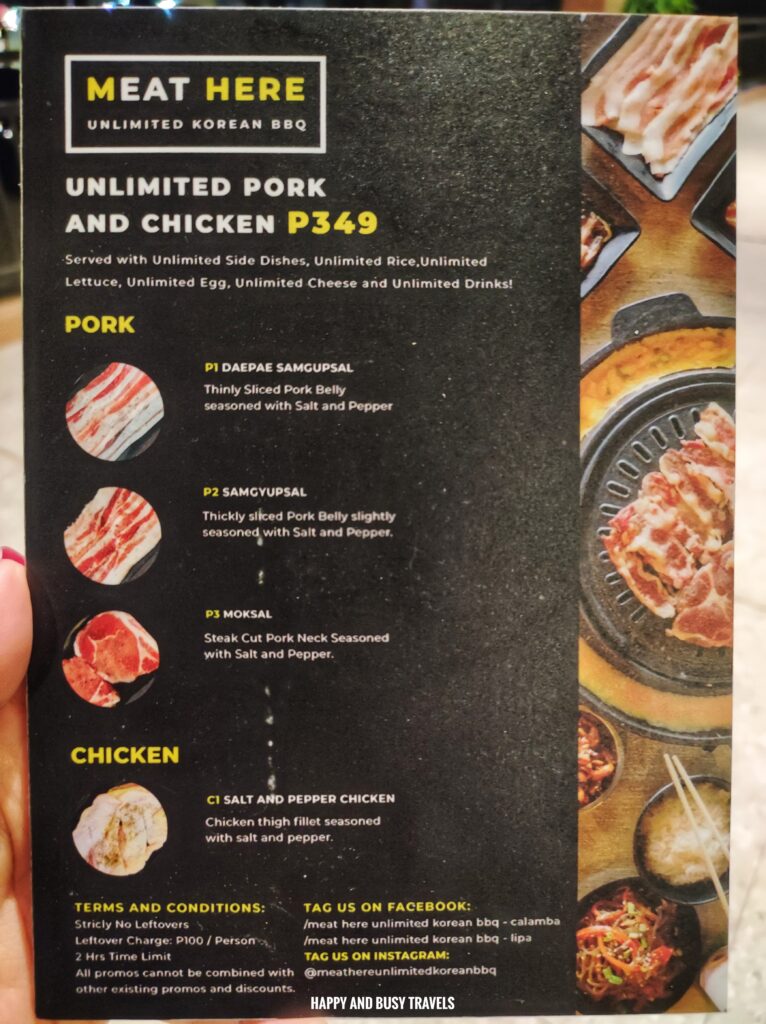 The Unlimited Pork, Beef, and Chicken Package
This is the next tier package, wherein you can also eat Beef, and more Pork choices, aside from Pork and Chicken.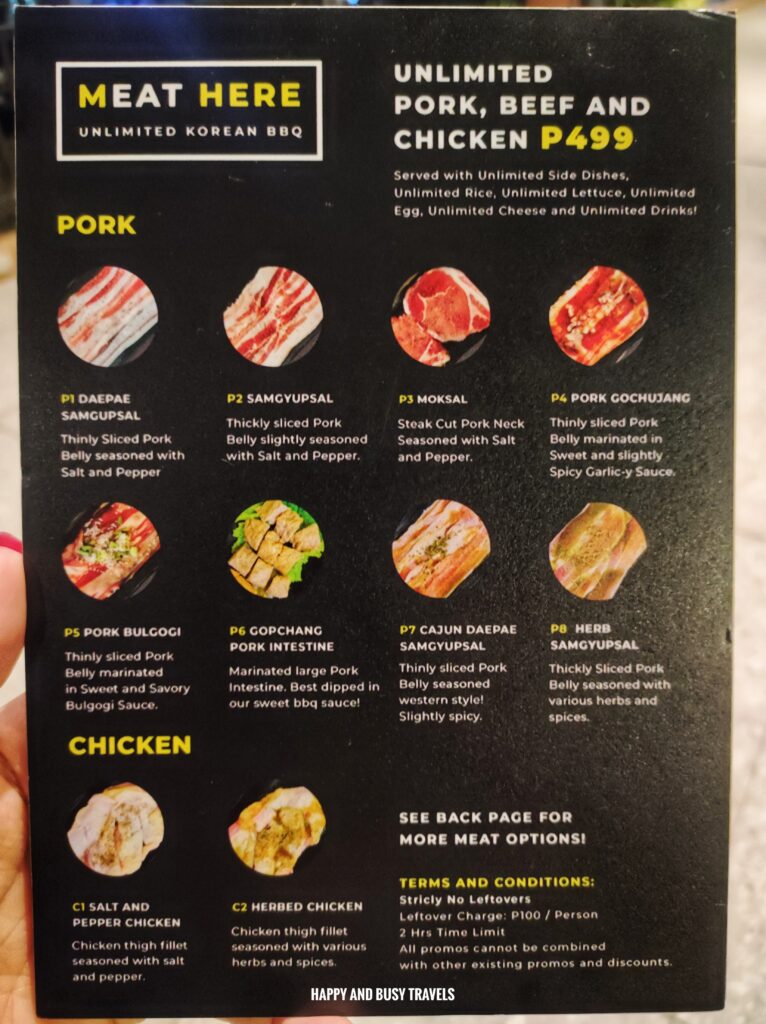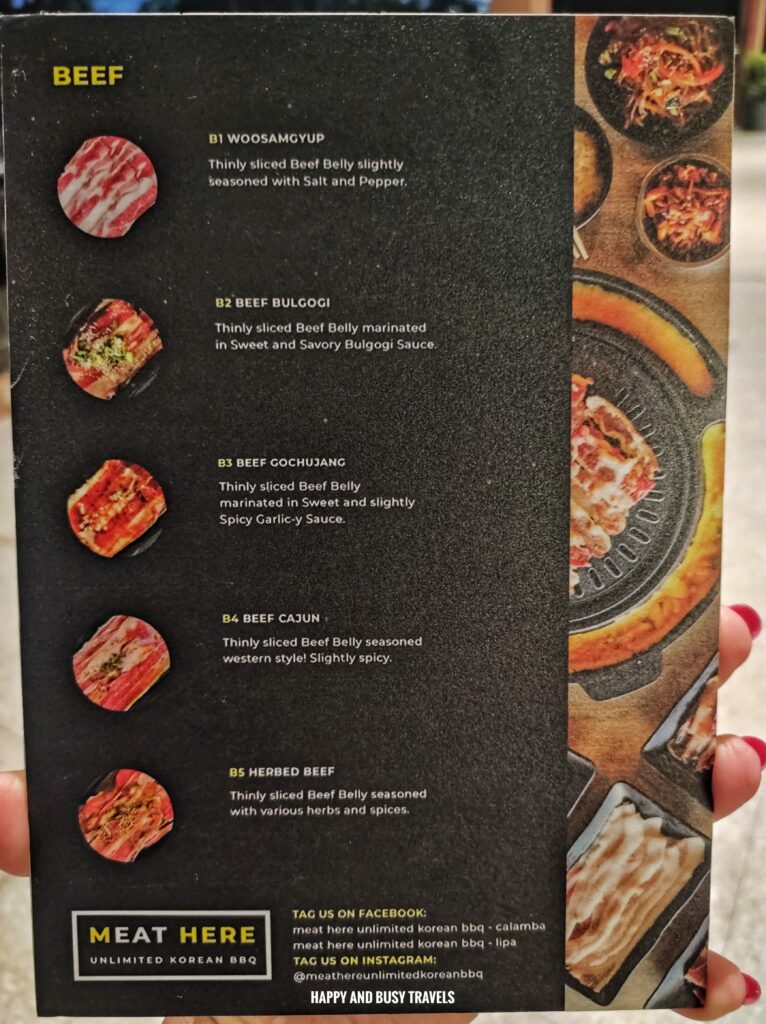 The Unlimited Pork, Beef, Seafood, and Chicken Package
This is the best package wherein you can order everything in their menu.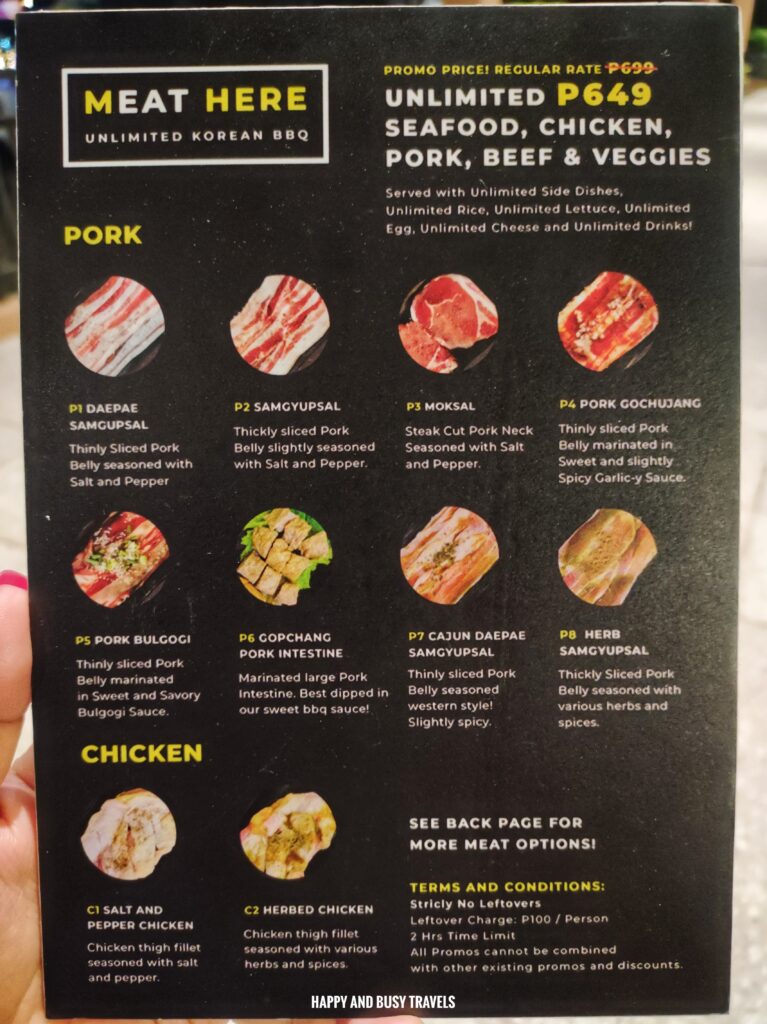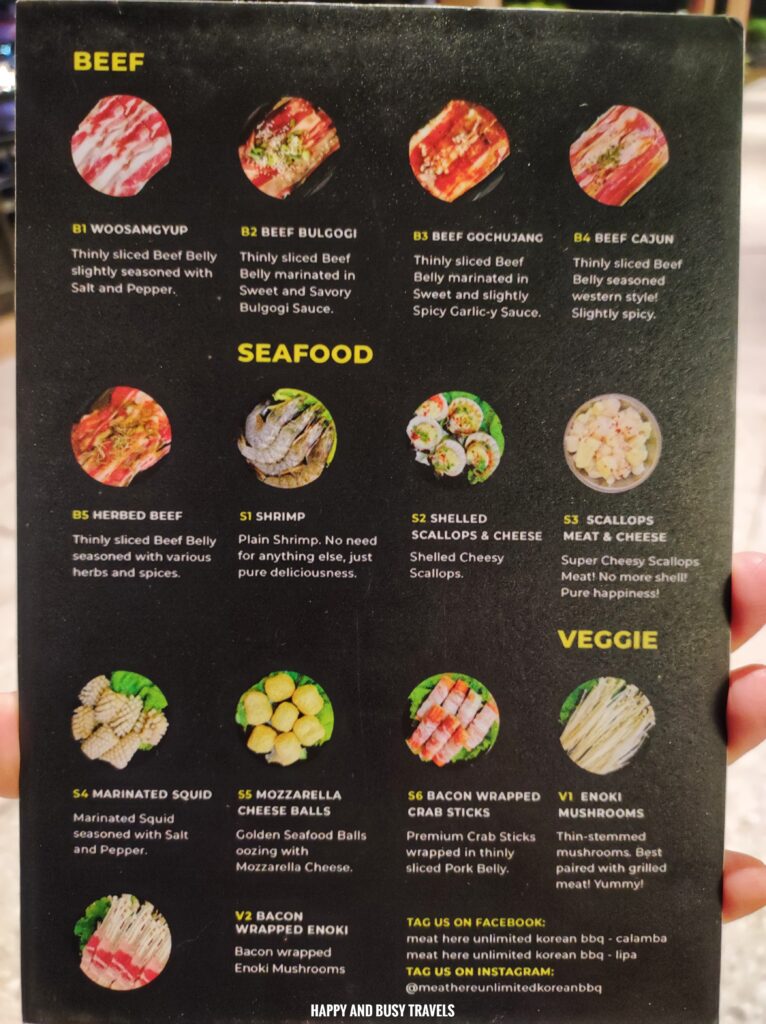 How to Get Here?
Via Public Transportation
Ride a bus going to Mendez.
Tell the conductor that you will be going down after Mendez crossing.
After passing by Mendez crossing, go down after Balinssayaw on your right.
The restaurant is located in the new building.
Via Private Transportation
The best way is to use Waze and pin Meat Here Tagaytay.
Happy and Busy's Smileys for Meat Here Tagaytay
Overall, we had a great time dining and eating until we are full in the restaurant.
Food

Every item tastes good.
Location

The location is also okay, there are a lot of parking spaces, and it is just beside the highway.
Ambiance

The ambiance is okay, the restaurant doesn't smell too much smoke.
Value for money

You have the freedom to choose your samgyup package, but in any case, whatever you choose, it is really worth every penny.
Service

All of the staff are friendly and attend to our needs immediately, plus the owners are very hands-on. They are always in the restaurant to make sure everything is going smoothly.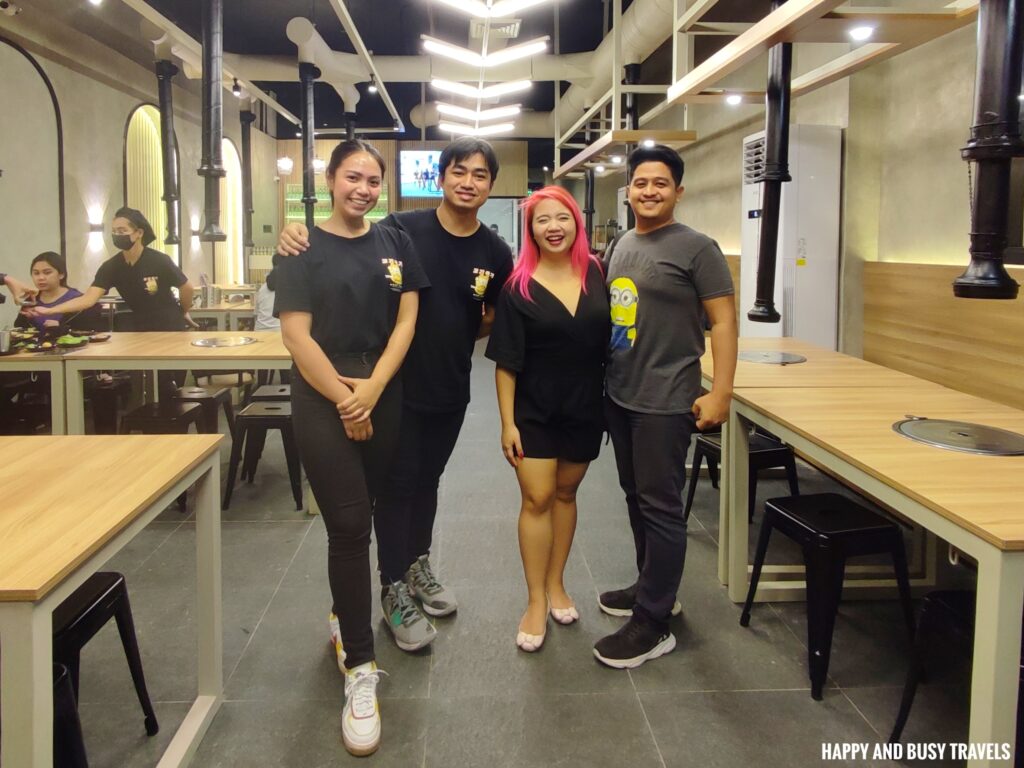 Yas! Busog nanaman kami!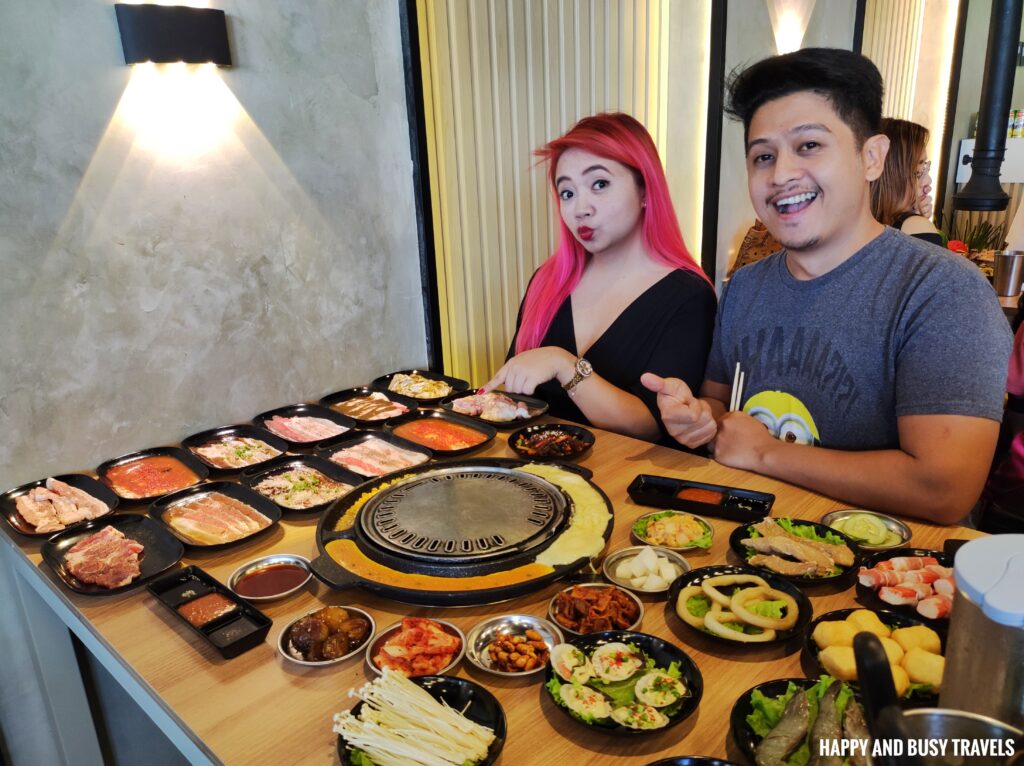 More exciting food and drinks reviews are at https://happyandbusytravels.com/category/food-and-drinks/ so do not forget to check it out!
Like! Follow! Subscribe! to our social media accounts: