Nalka Seafood Restaurant
There are a lot of buffet restaurants in Boracay but Nalka Seafood Restaurant is the best on the island. Aside from they are a beachfront restaurant, the food is served freshly cooked and customers do not have to stand up and get food.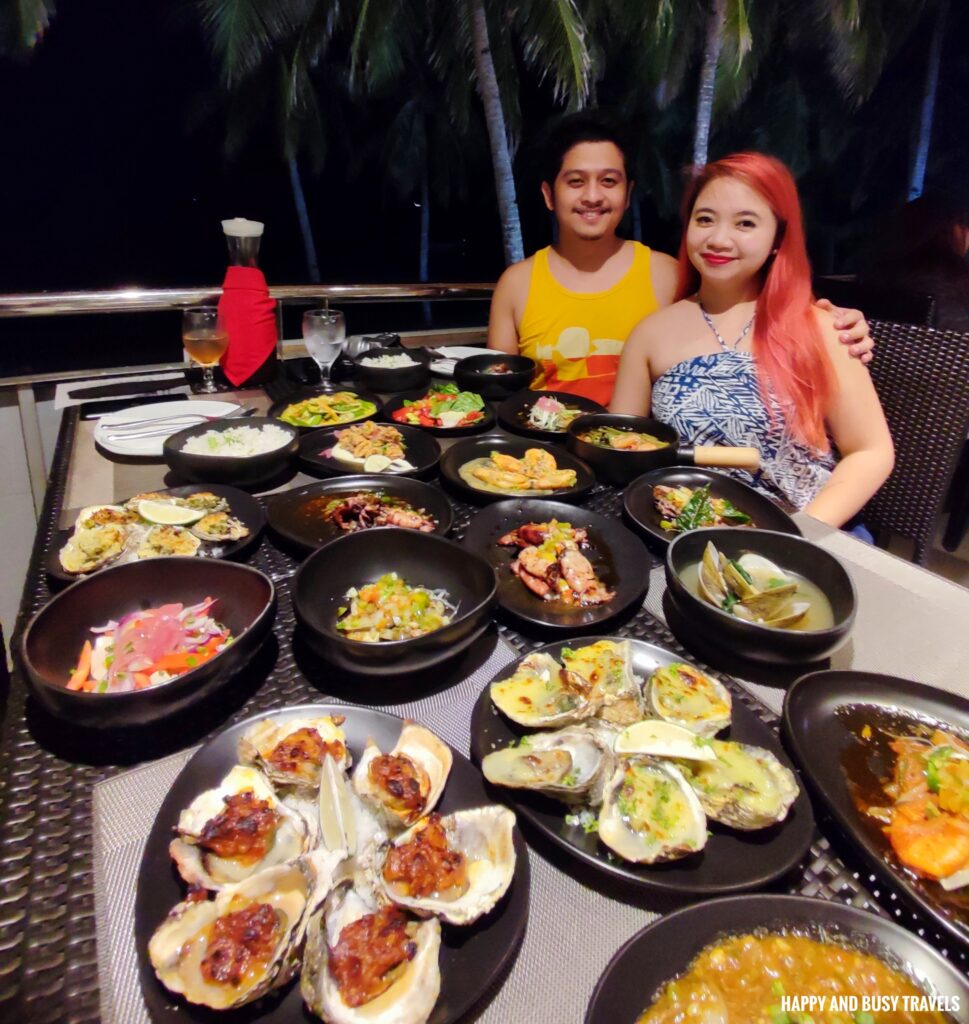 Important Information
Facebook: Nalka Seafood Restaurant
Usual Operating Hours: 10 AM – 9 PM
Buffet operating hours: Lunch 12 PM – 2 PM; Dinner 6 PM – 8 PM
Reservations: Accepted
Contact Number: (036) 288 2288
Email: [email protected]
Payment Options: Cash, Credit Card
Dining Options: Dine In
Address: Station 1, Balabag Boracay Island, Malay, Aklan, Philippines
Google Maps Link: https://goo.gl/maps/
Inside Nalka Seafood Restaurant
We were instantly called by the signage in front of the restaurant, it is a red rectangle laser beam on the sand. So, we checked it out and went inside.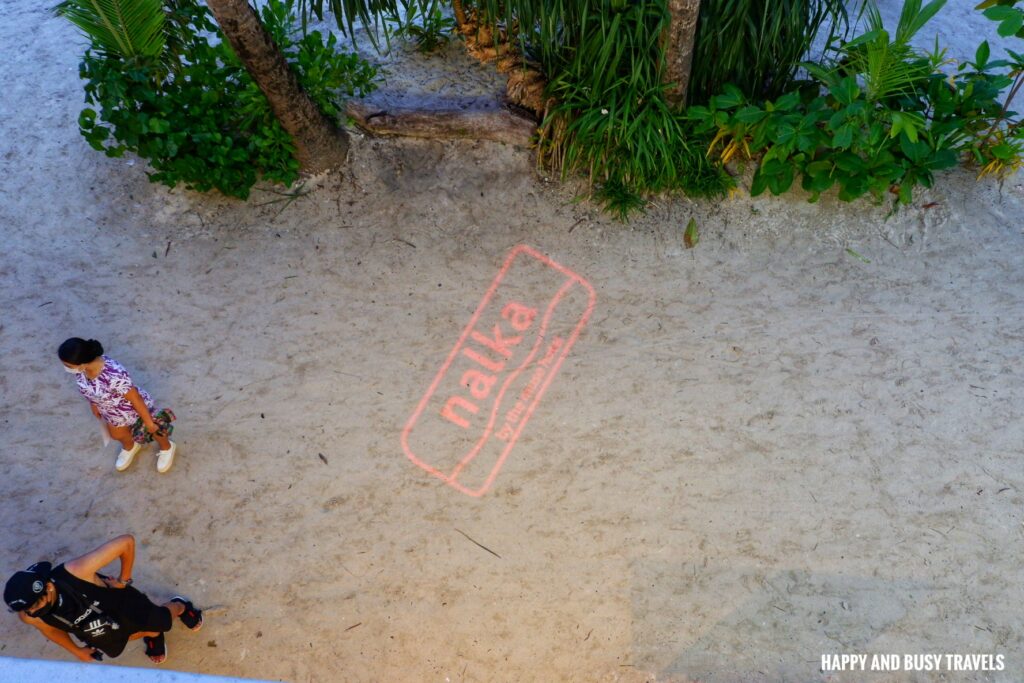 Their menu is posted just outside the restaurant, so customers can browse before deciing to eat here.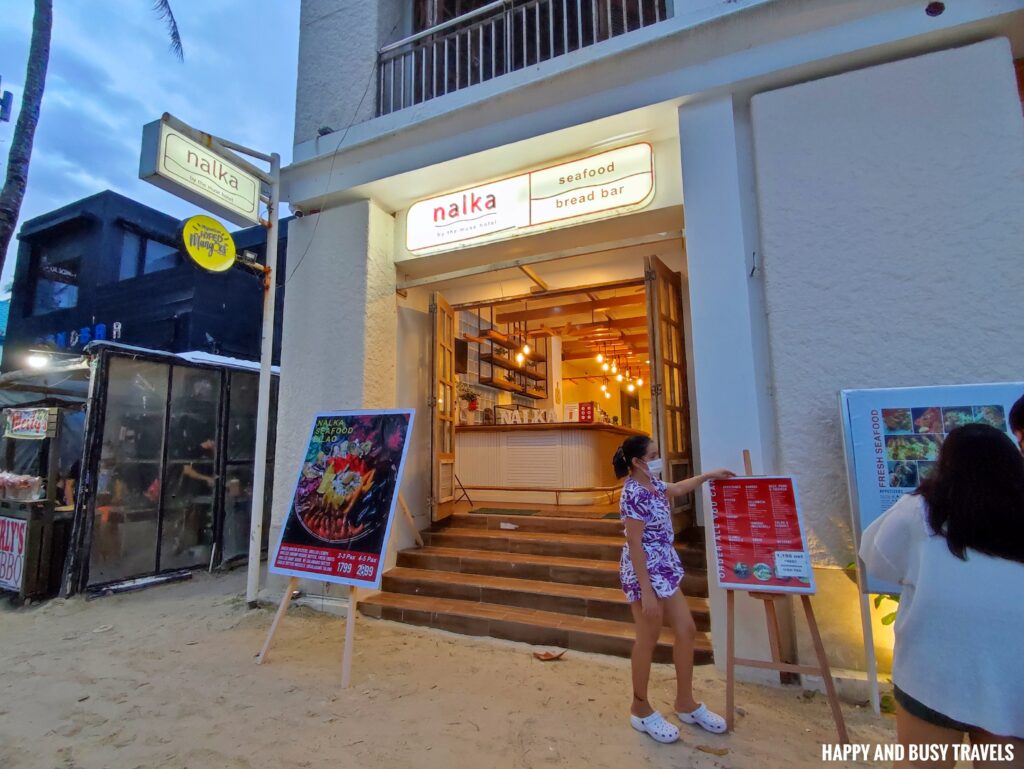 First-floor seating is available, but we were informed that the view from their second floor is better. So, off we go and head to the second floor.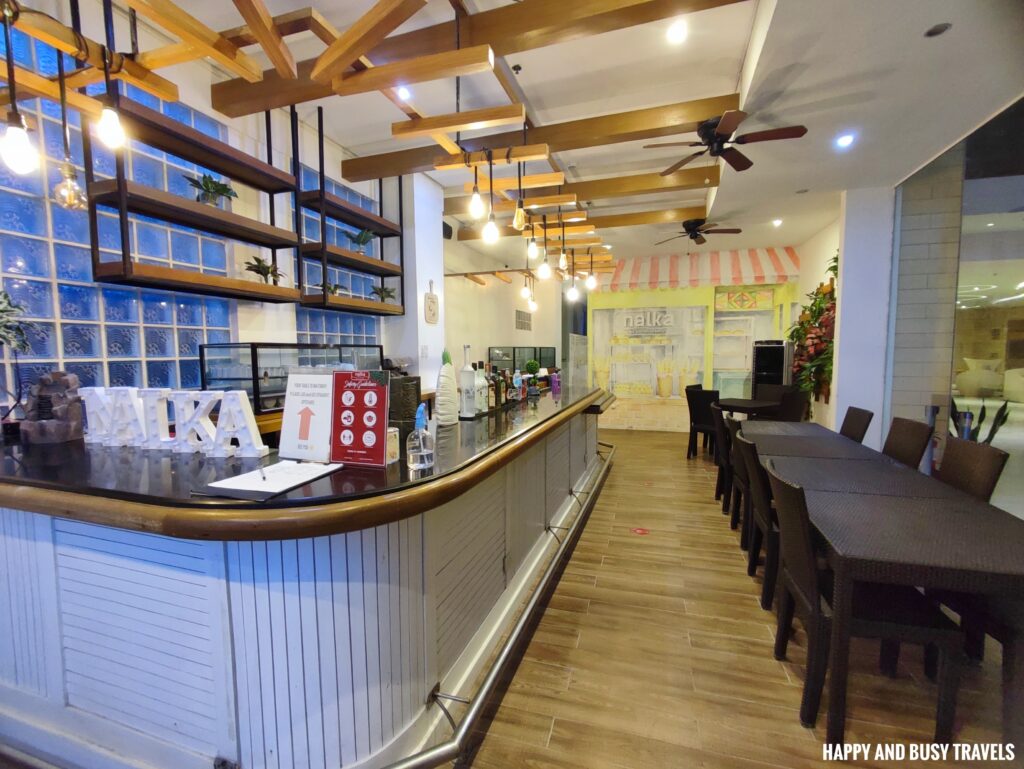 Ohh yes!!! Their second floor looks nicer!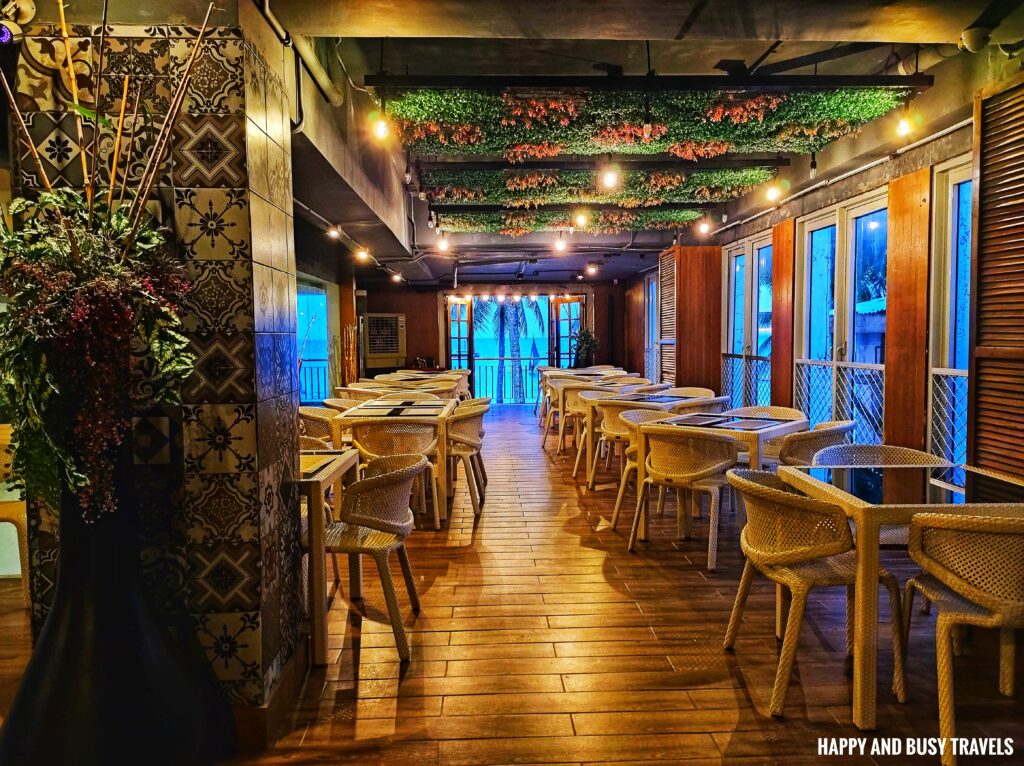 Guests can enjoy the sea view.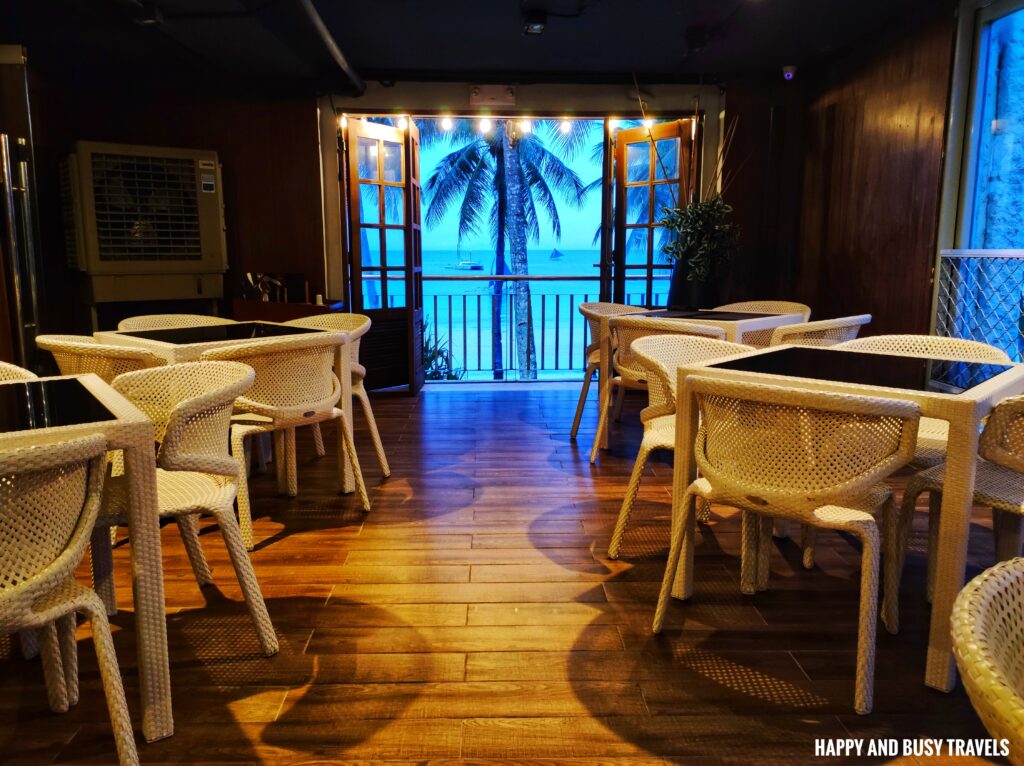 We looked around and decided to seat here in this spot because it has the best sea view.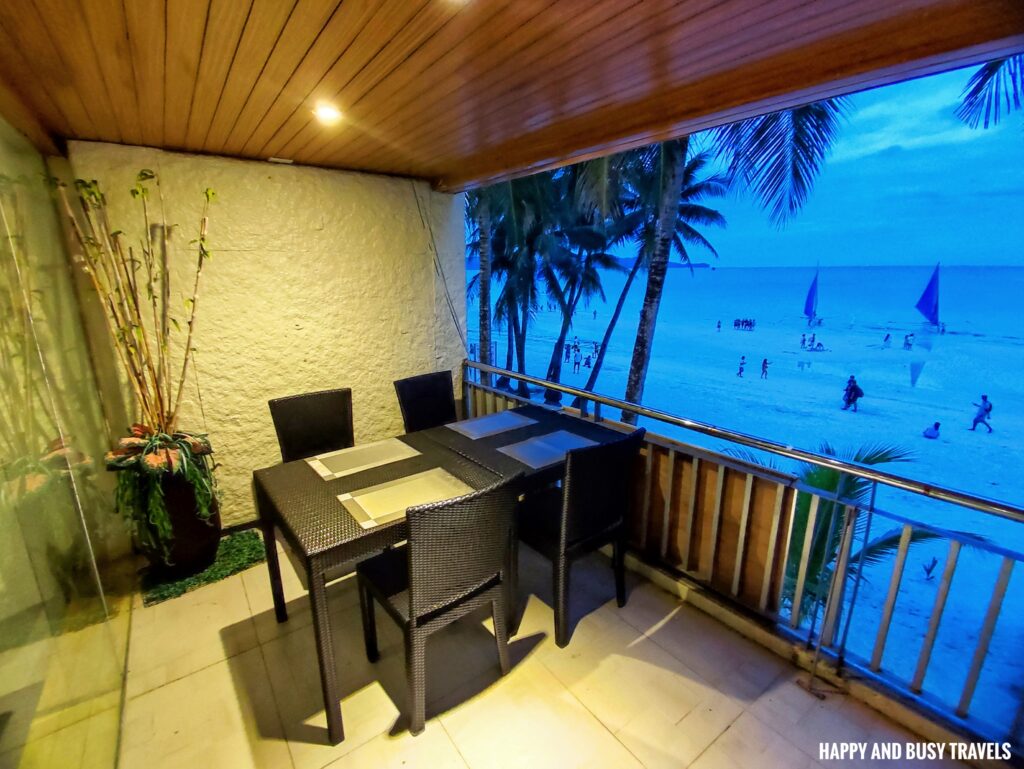 We know the sunset is over and it is getting dark, but we still want the view. Haha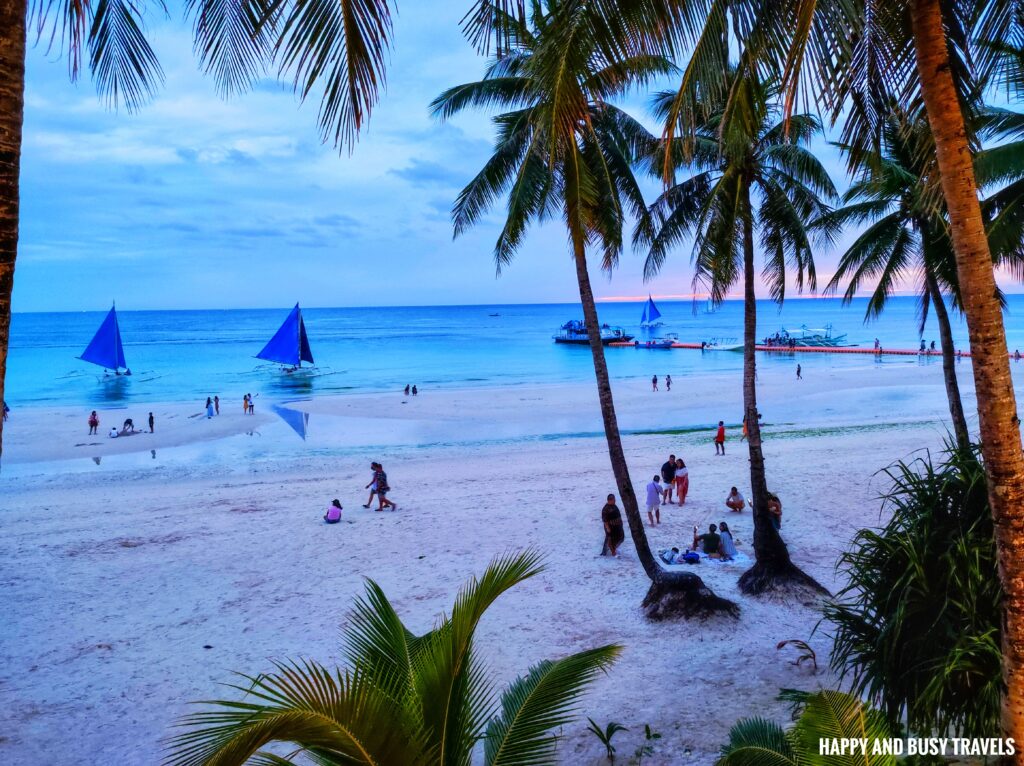 There are two tables here, good for 4 persons each, but if you are a group of 8 to 10, you can take the whole area.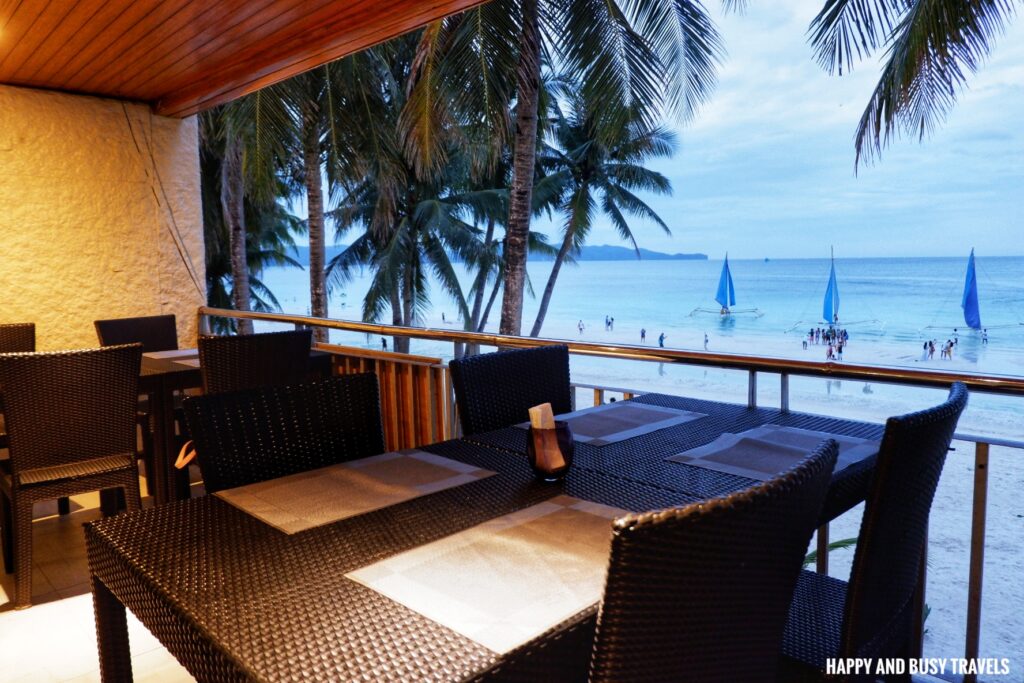 So we finally sat down and enjoyed the view.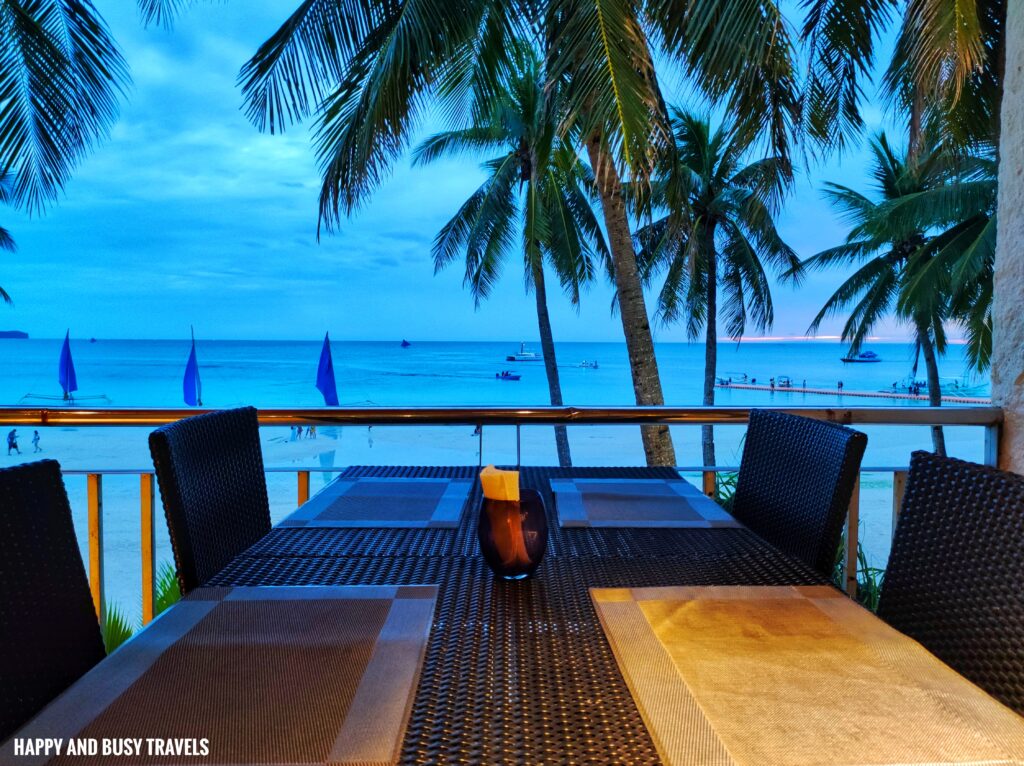 How to Order from Nalka Seafood Restaurant?
Nalka Seafood Restaurant's buffet style is like this, you order then they cook. With this style, food is served freshly cooked, and guests do not have to stand up and get their food.
We also like their style because the Filipino trait of "takaw tingin" can be avoided. We usually get food from the buffet table because we thought that we are still hungry, but we are actually almost full.
Ordering here is simple, just choose anything from the menu, and write it on the paper that will be provided. Then, give the paper to the staff so they can give it to their kitchen and prepare your food.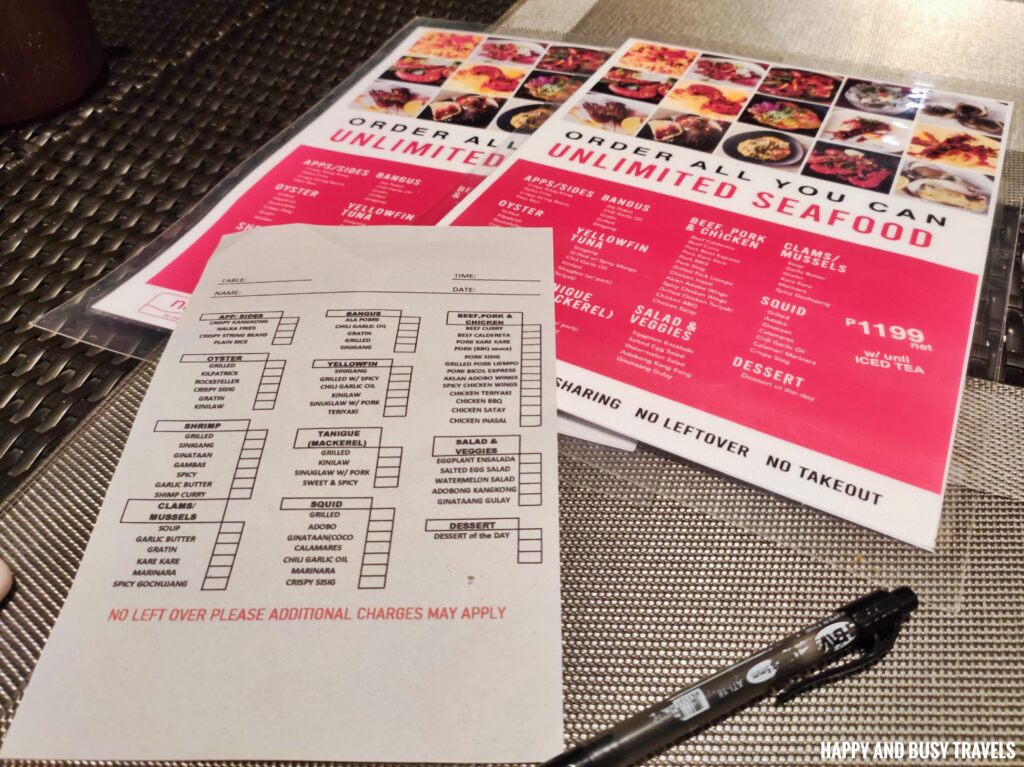 Please order one at a time, or one plate at a time to avoid waste. There is also a "No leftover" policy in the restaurant.
While waiting you can take your photos inside, their interior is also good. I should've worn my dress 'cause it looks good together with the restaurant.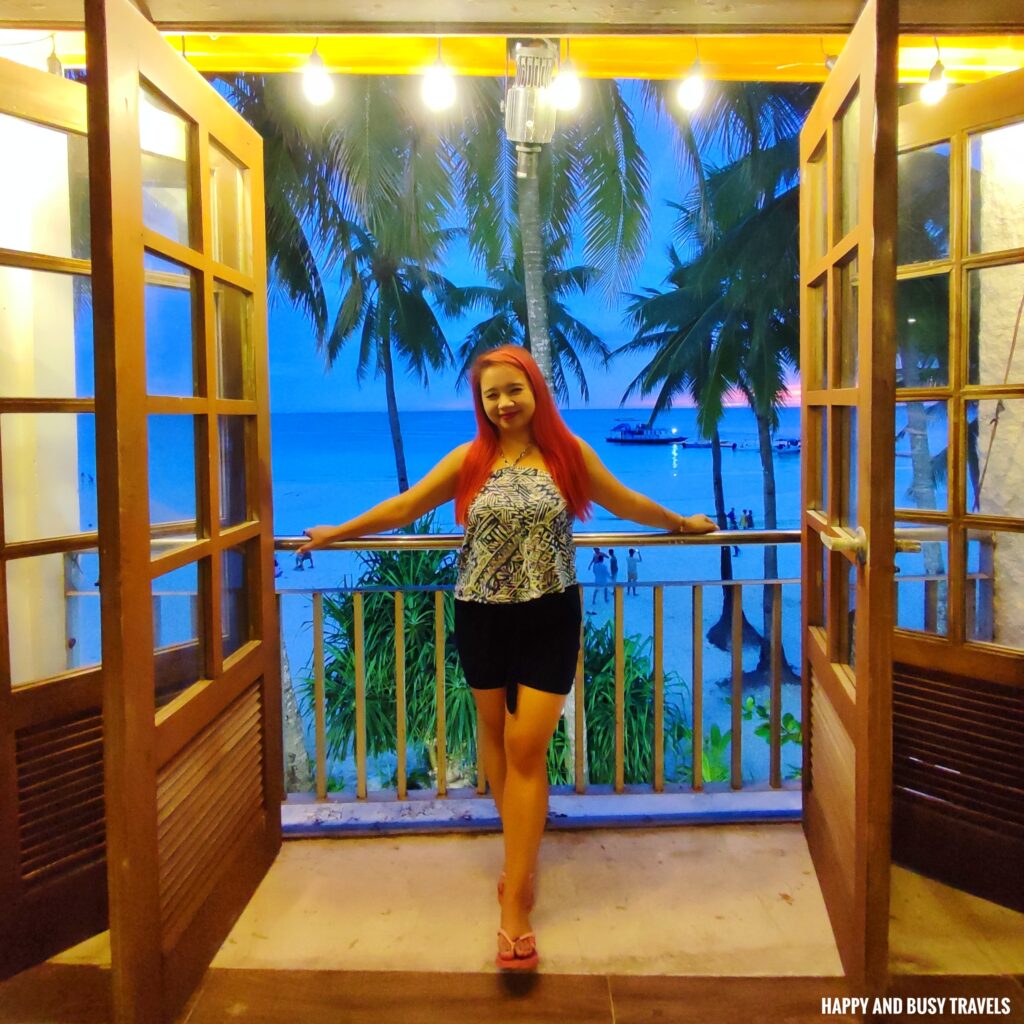 Dishes of Nalka Seafood Restaurant
Here are some of the dishes that we ordered from the restaurant. By the way, we went here twice, so we have a comparison on the consistency of the dishes. Some of the pictures were taken at night and during the day.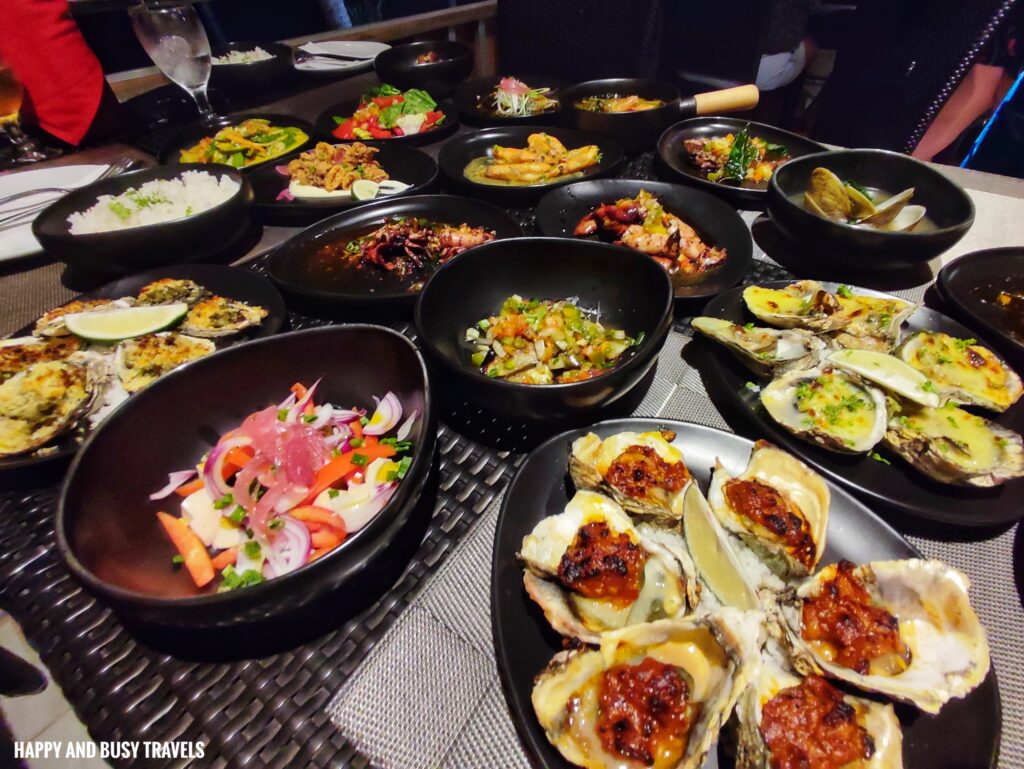 Fish Dishes
Grilled Yellowfin Tuna
I am not a fan of fish, but this one is an exception. The sauce and the grilled tuna complemented each other, it has a little bit of sweetness and spiciness on it. I actually ate a lot of this dish.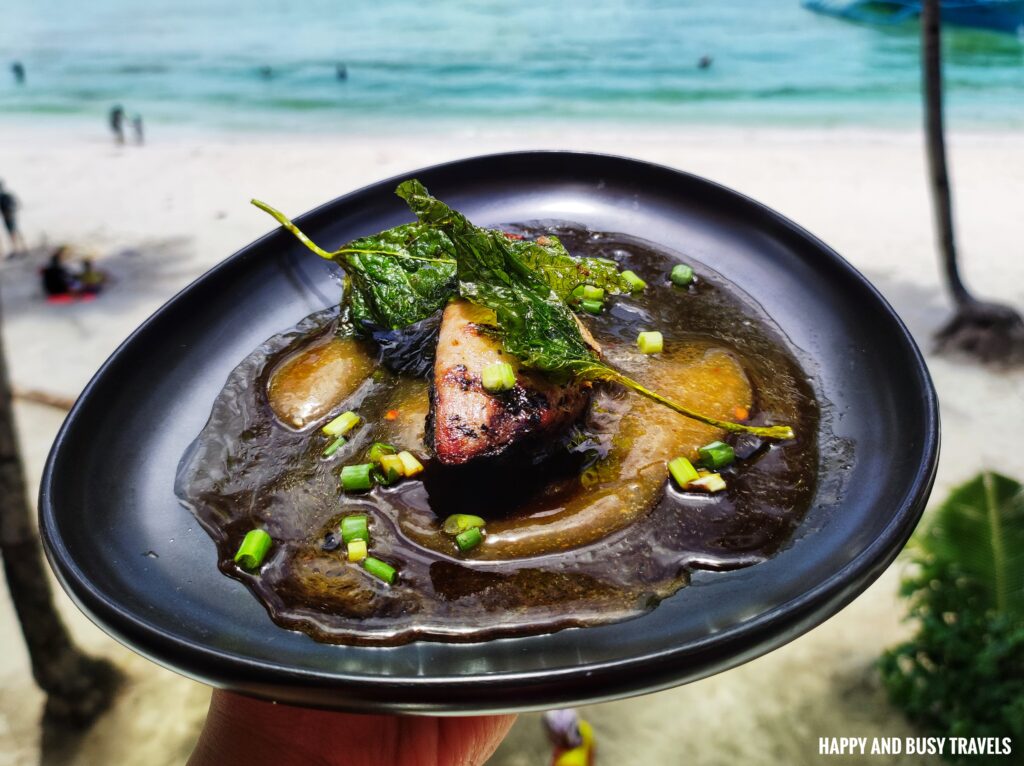 Grilled Tanigue
This one is a classic grilled fish.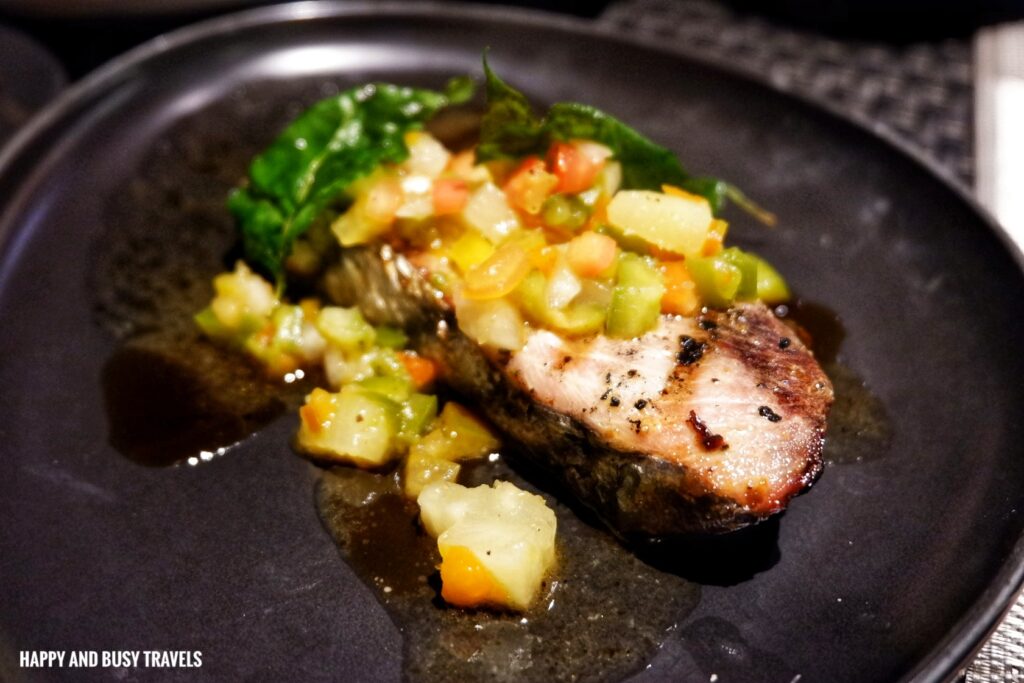 Sinuglaw na Tanigue
I also like this one because I like Kinilaw na Isda (ceviche) and pork.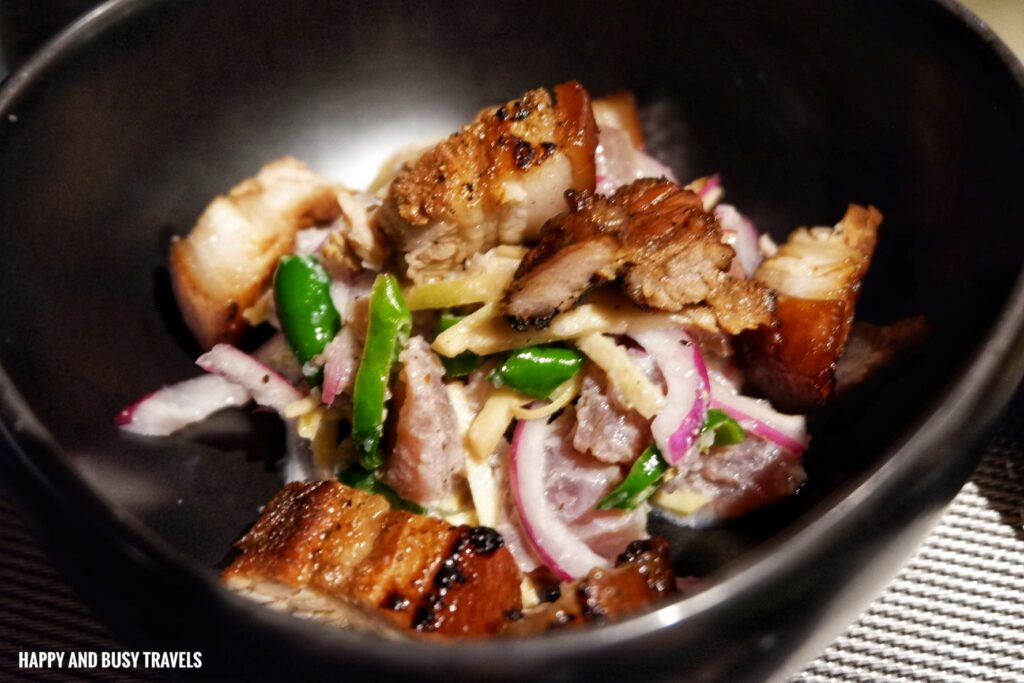 Shrimp Dishes
I like their Shrimp dishes because they remove the poop shoot in every shrimp, and the skin can be easily taken out in every Shrimp. This means the Shrimp is fresh and properly cooked.
Shrimp Gambas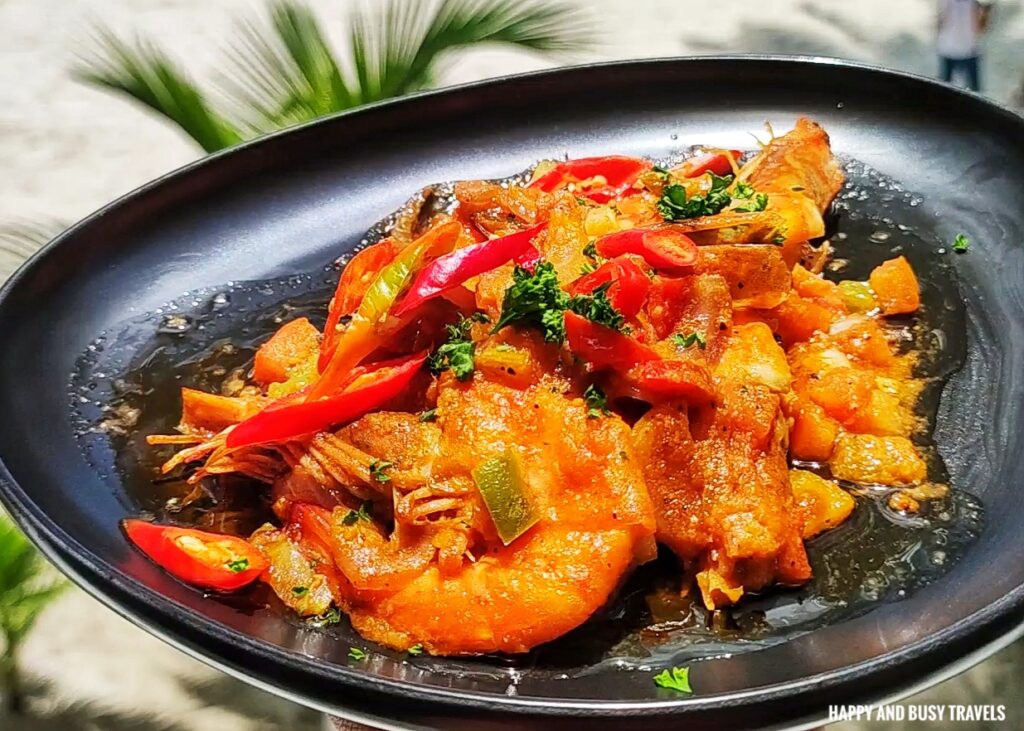 Spicy Shrimp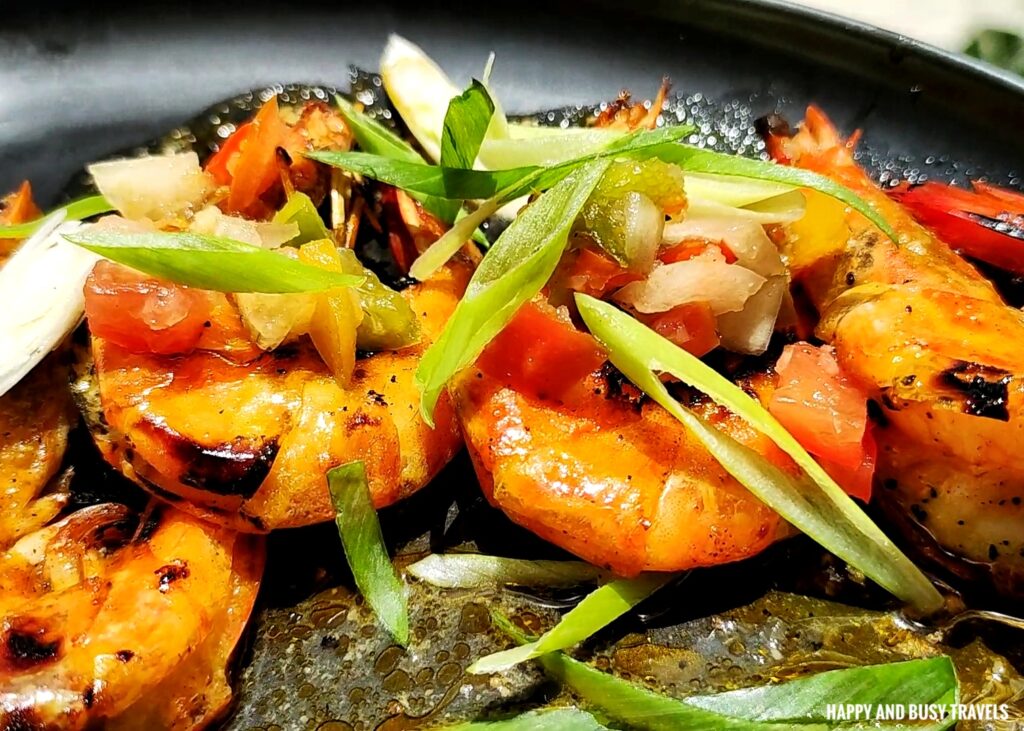 Garlic Buttered Shrimp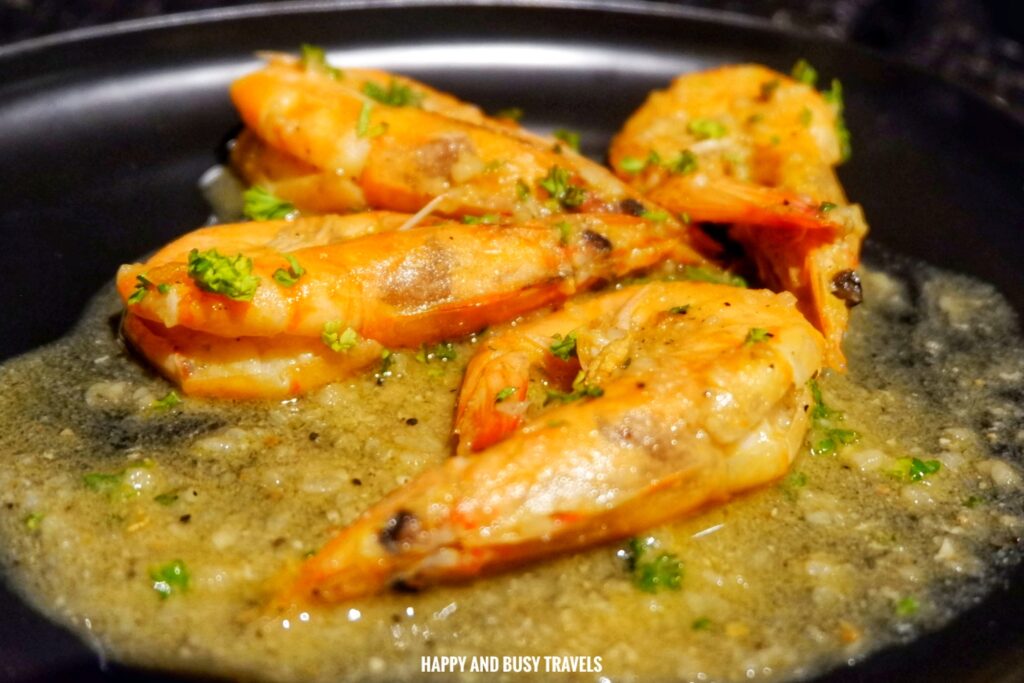 Shrimp
I actually forgot what is this dish, but this tasted good too.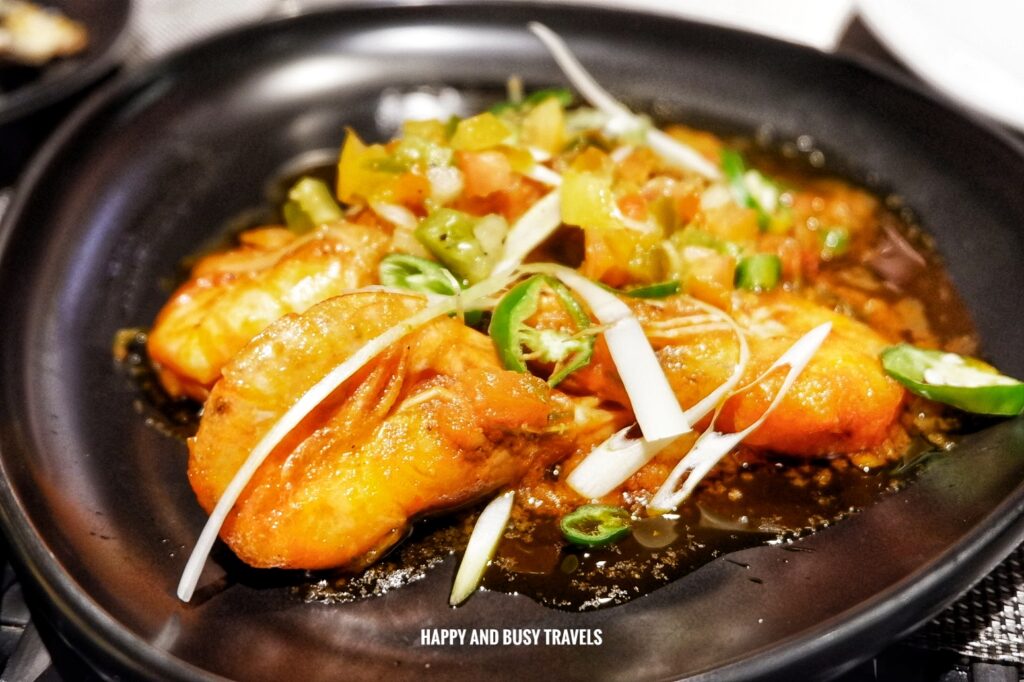 Shellfish Dishes
Mussels in Marinara Sauce
If you like Marinara Sauce on your mussels, you have to try this one.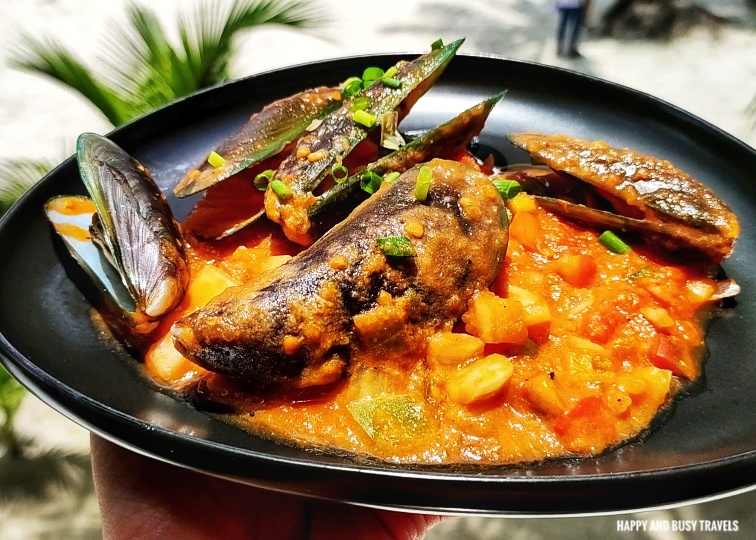 Mussels au Gratin
Here are the classic baked mussels with cheese on top, yum!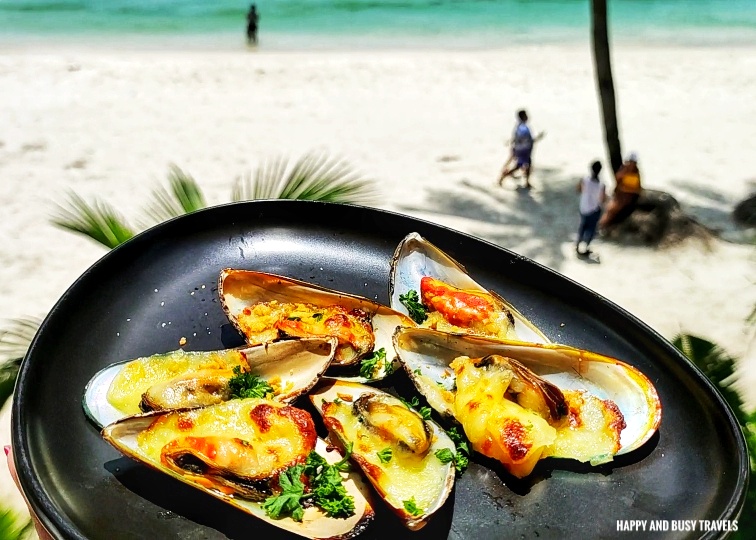 Mussels Soup
This is the spicy version, but you can also order the non-spicy soup. I like how they serve a little bit of soup only because I can easily get full from the soup.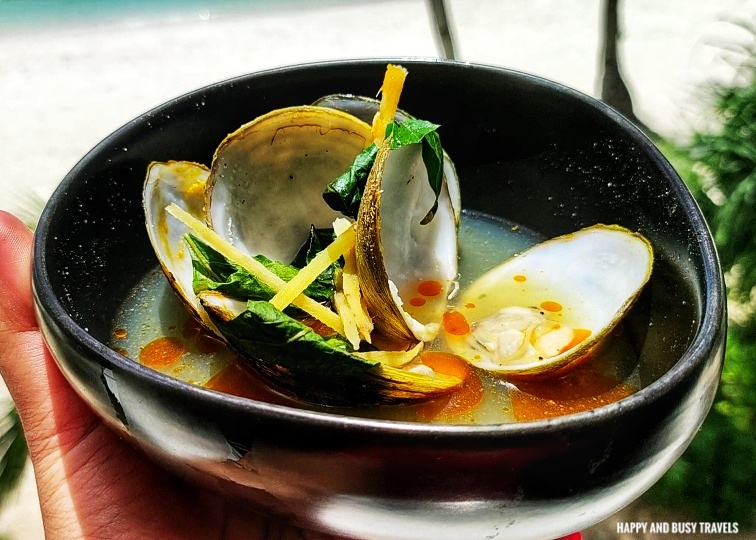 Oysters au Gratin
These are basically baked oysters with cheese on top.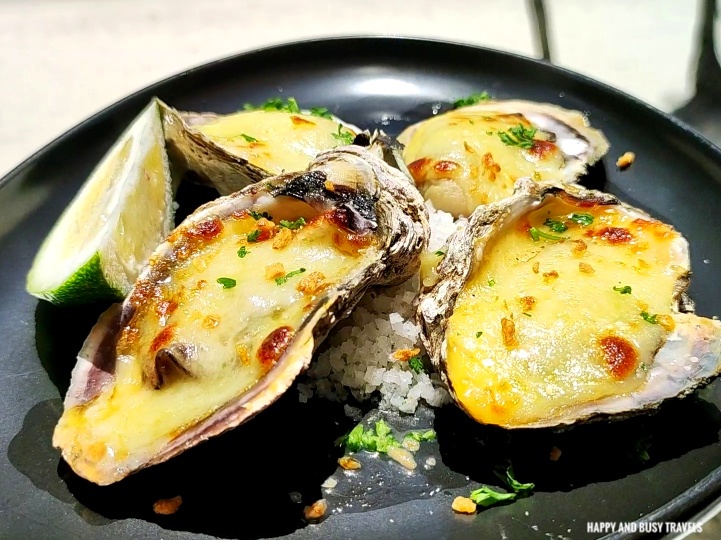 Here is the picture from our dinner, consistency is perfect!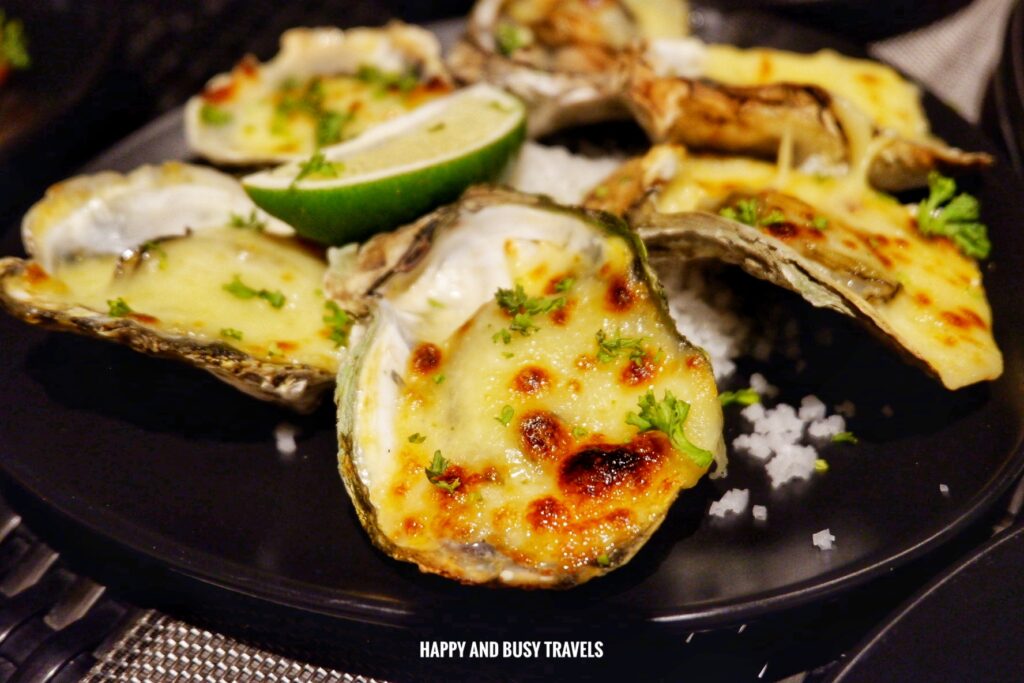 Kilpatrick Oysters
Have you heard of Bacon on Oysters? Yes, they also have it. I personally like this one because I love Pork.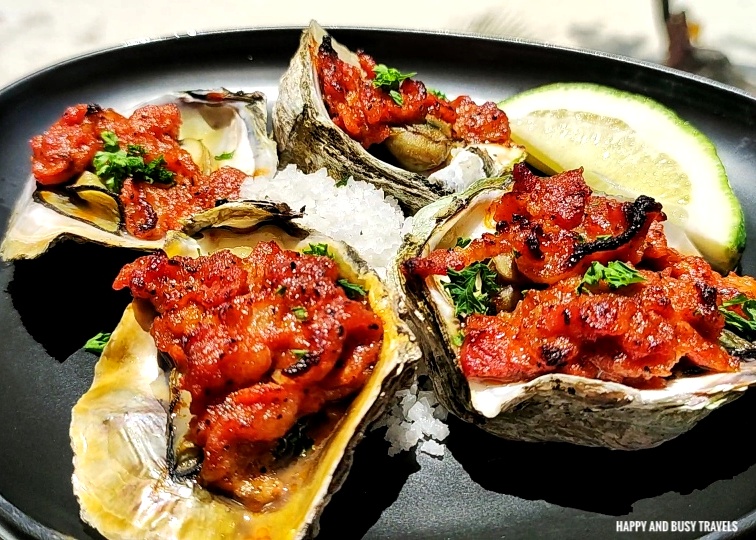 Kinilaw Oysters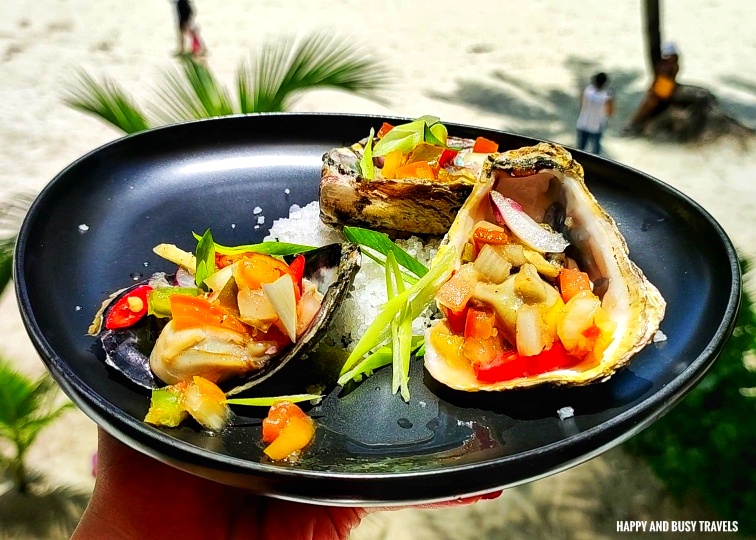 You can also order fresh Oysters even though they are not on the menu but you can ask the staff for them.
Squid
All of their Squid dishes are properly cooked, they are soft, not chewy.
Calamares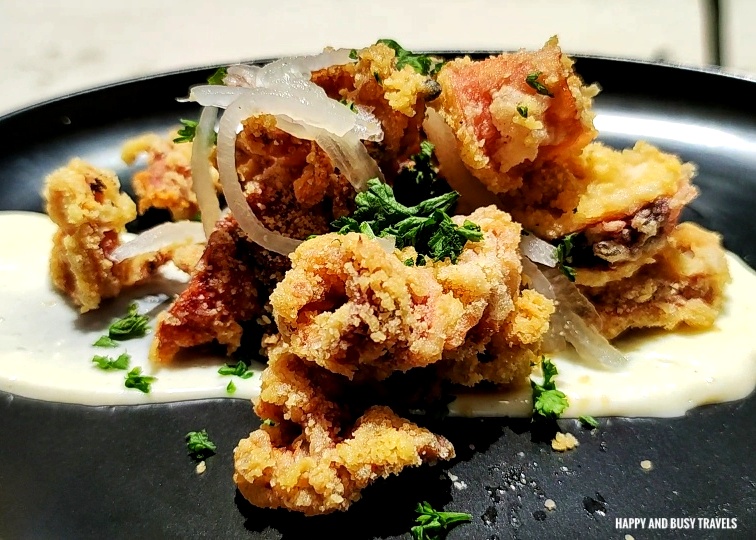 Consistency check! Yes they are the same as our first visit.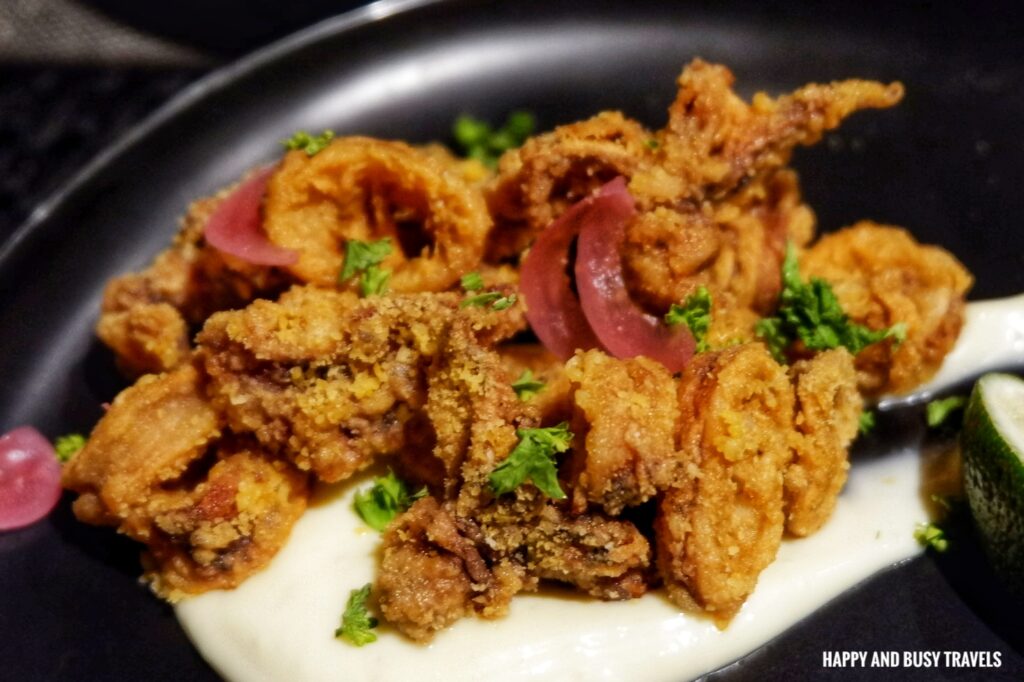 Squid in Chili Garlic Oil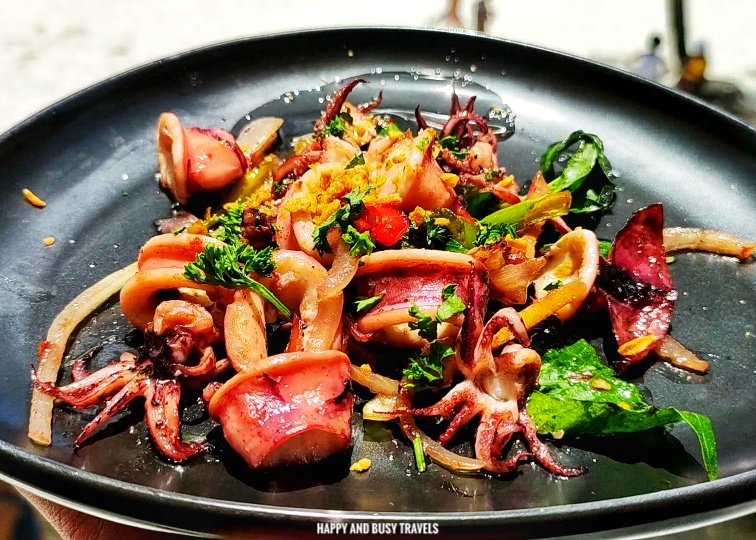 Grilled Squid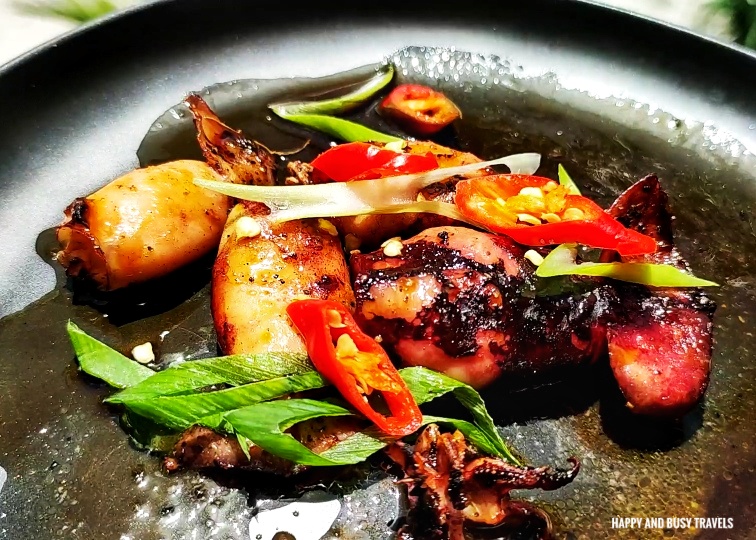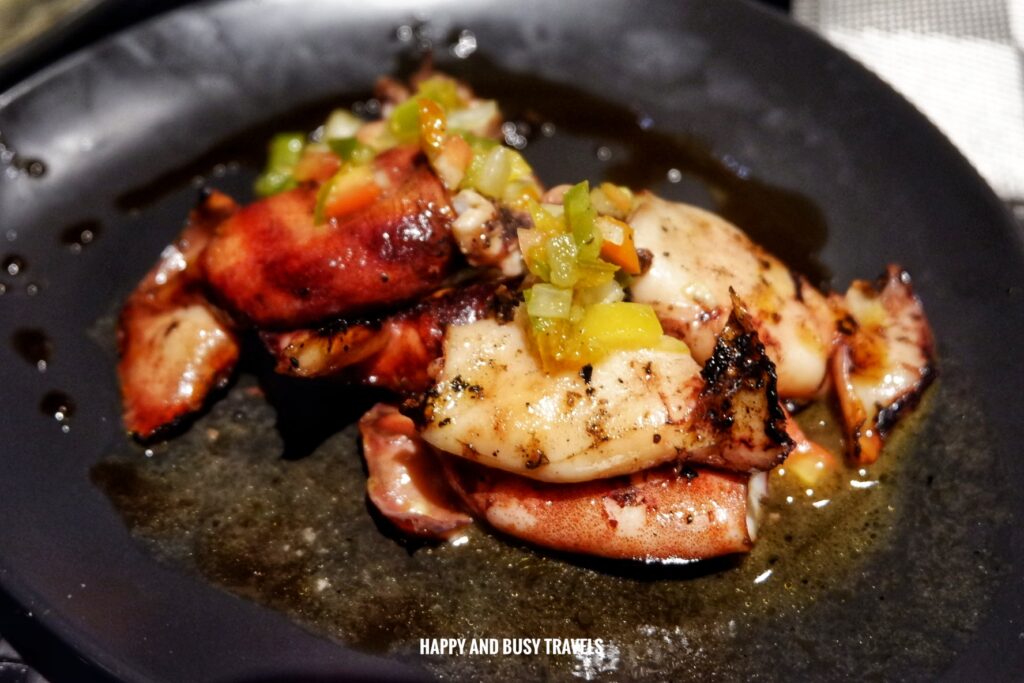 Salad and Veggies Dishes
Watermelon Salad
I like this one because it is so refreshing, but this can be heavy for me.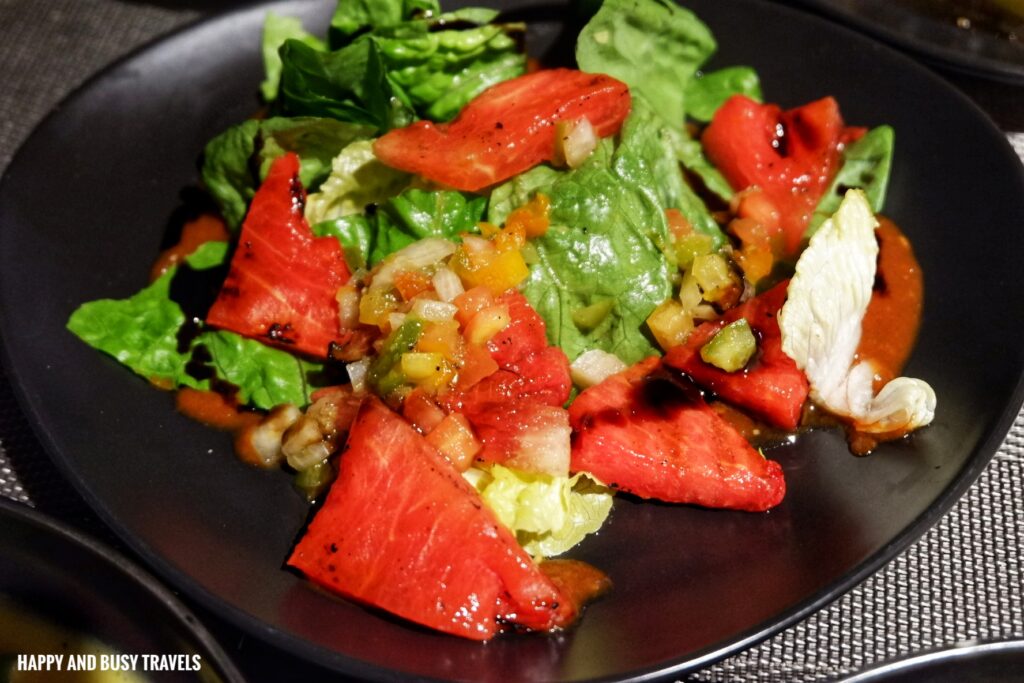 Salted Egg Salad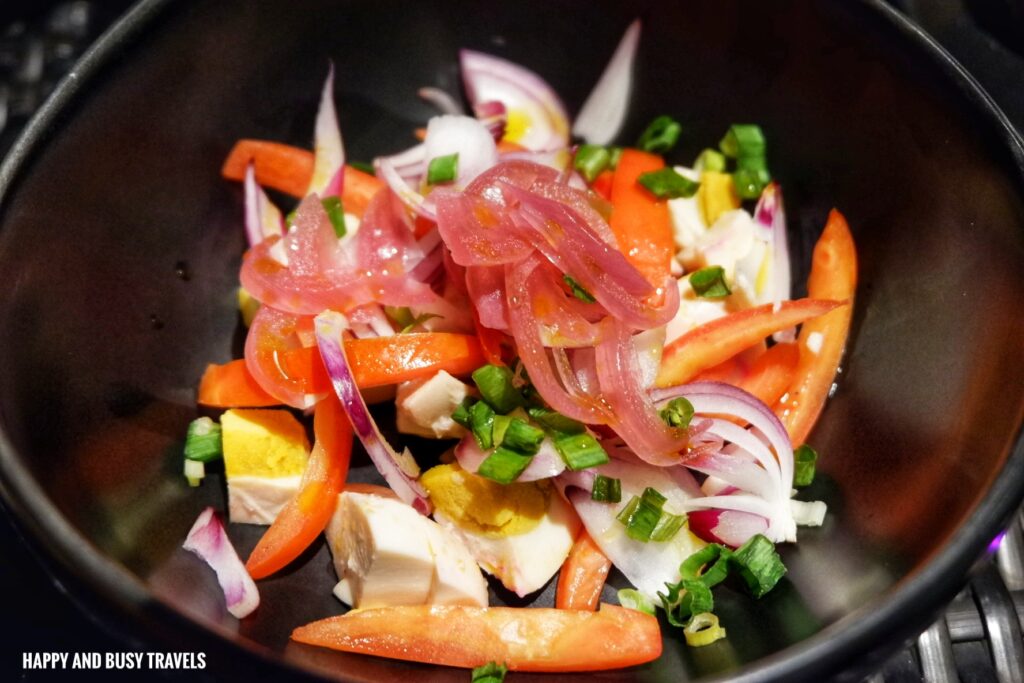 Eggplant Ensalada
The classic salad that people love to eat together with seafood.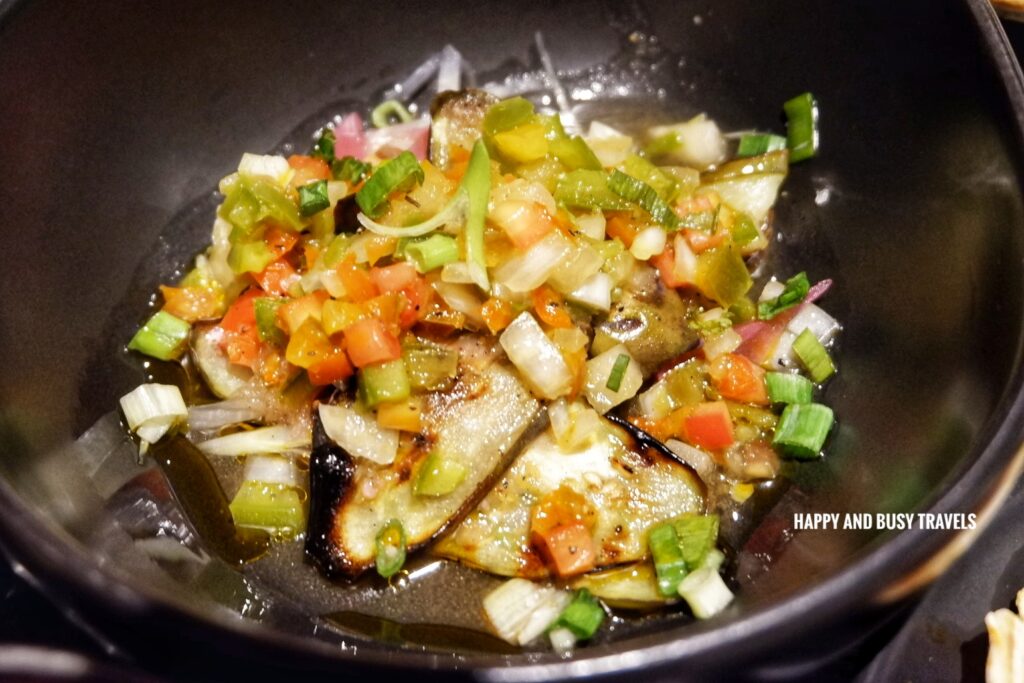 Ginataang Gulay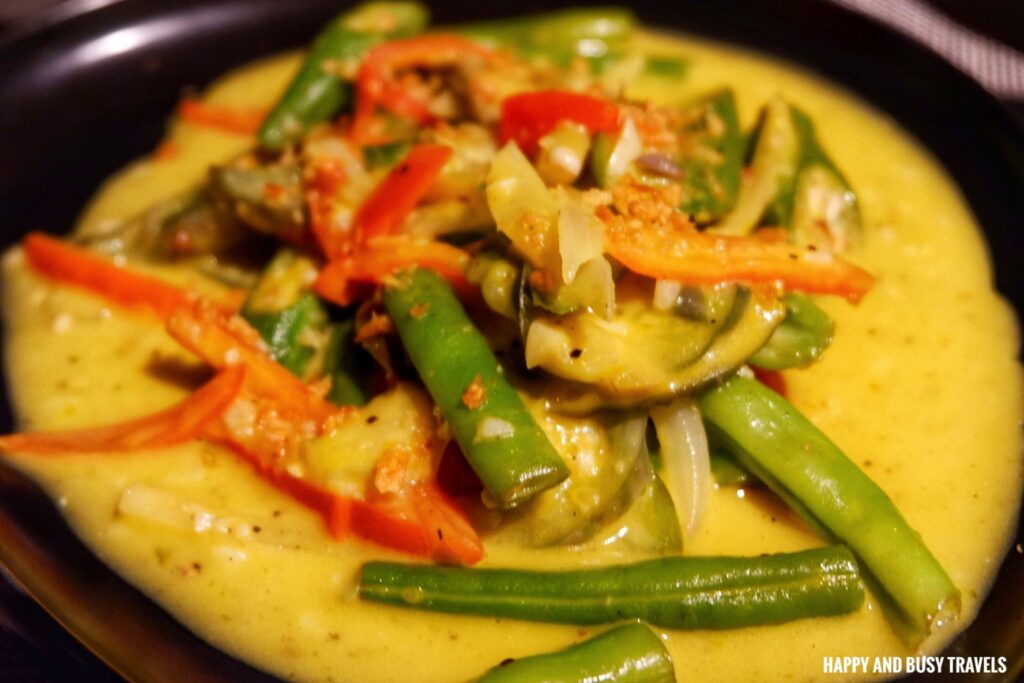 Pork, Chicken, and Beef Dishes
Even though they are a seafood restaurant, they also serve Pork, Chicken, and Beef.
Beef Kaldereta
As expected, this tastes good.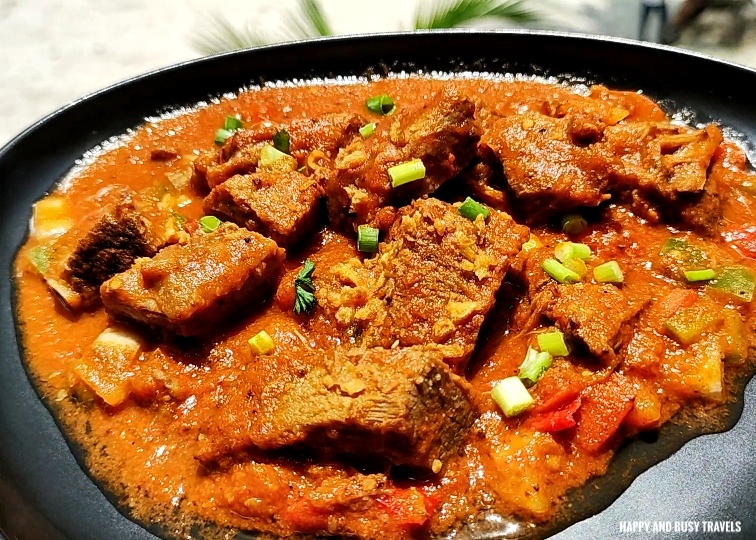 Pork and Chicken BBQ
I love this BBQ! The chicken skin is still on, and there is no bone, then the pork is so soft.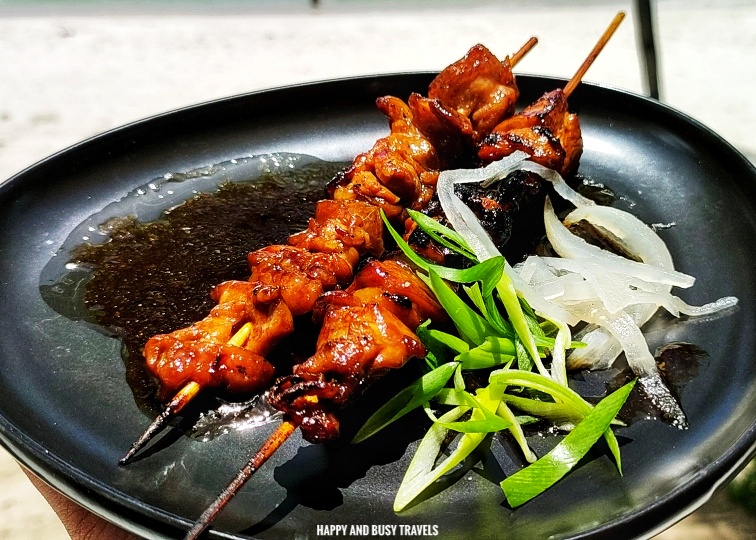 Grilled Pork Liempo
Ohhhh… extra rice, please! Their BBQ is so tasty, very pinoy style.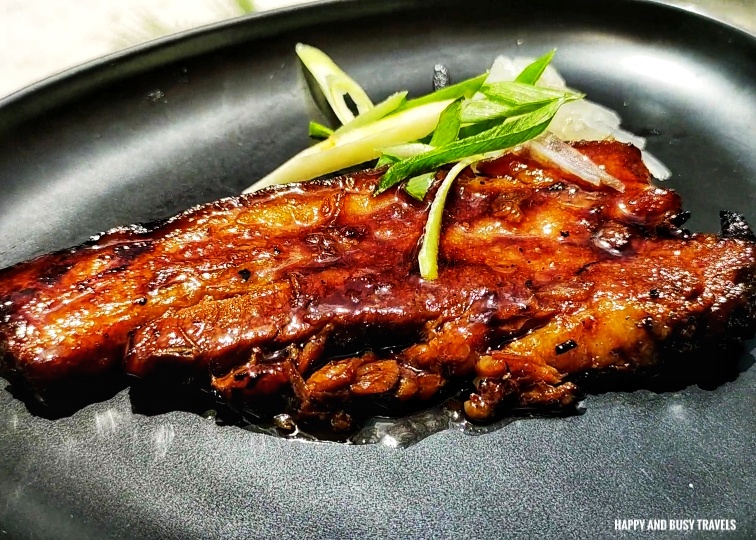 Pork Kare-Kare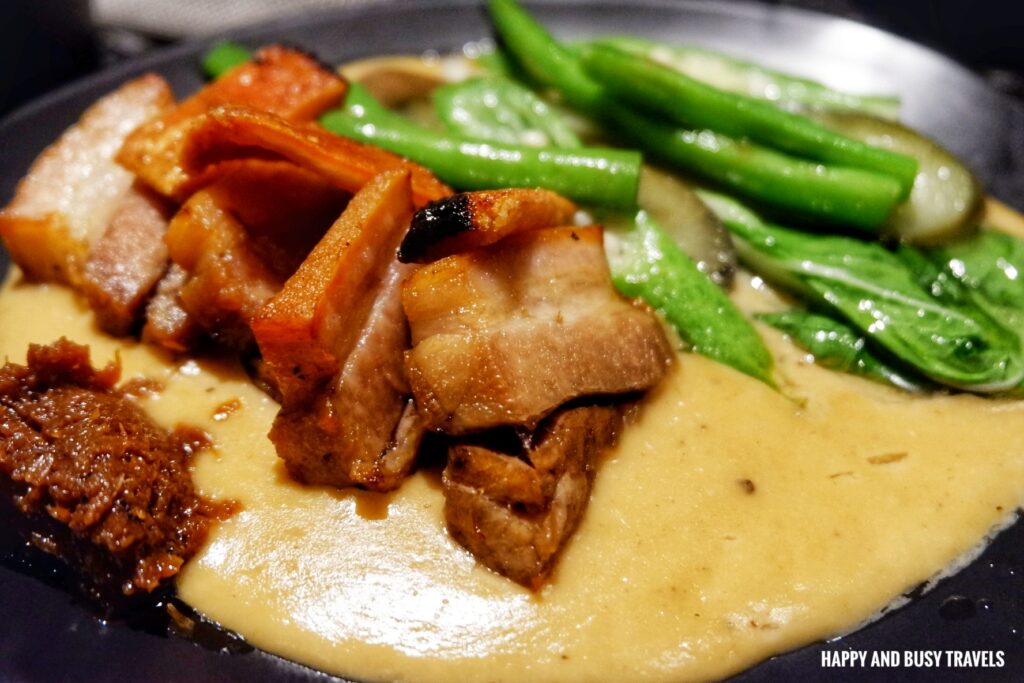 Desserts
Even though we ate a lot, we always have some room left for desserts.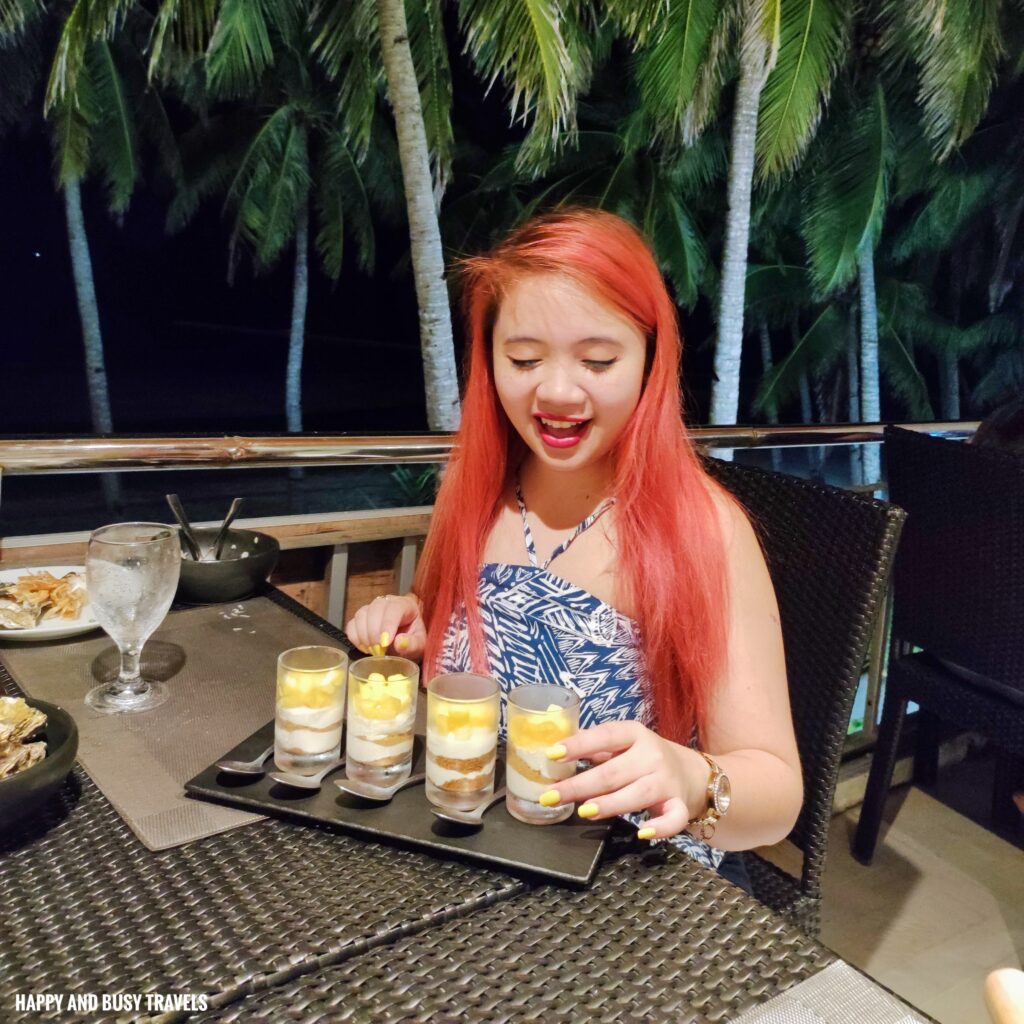 Mango Float
This dessert is made up of layers of cream, cake, and diced Mangoes.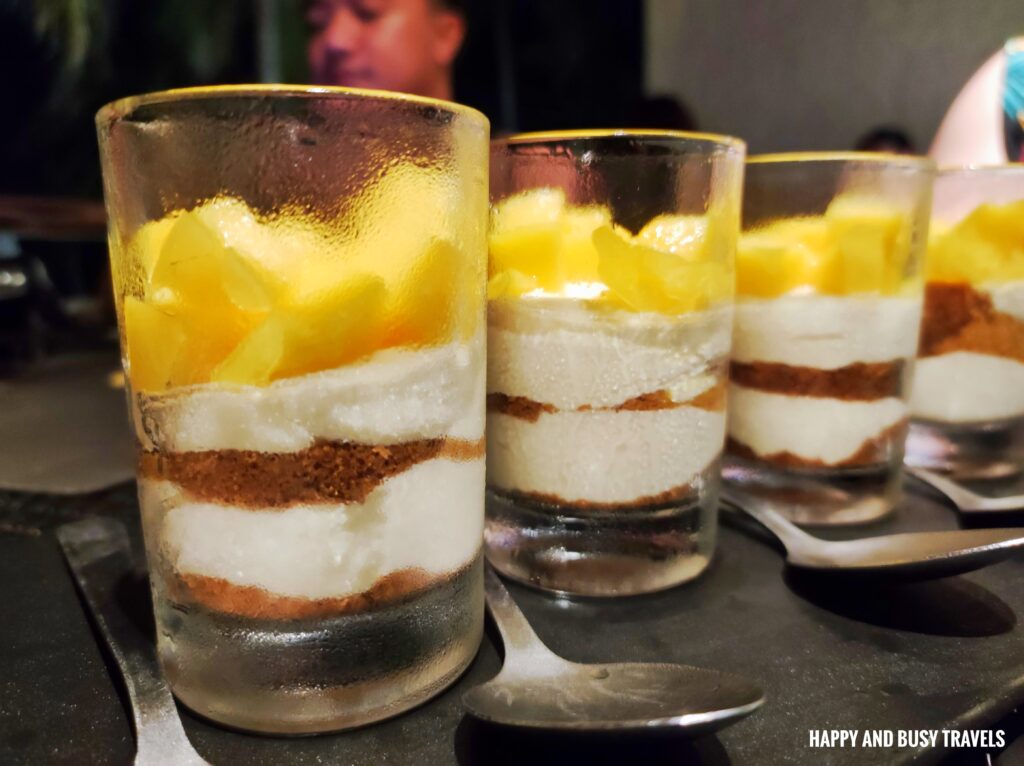 Saging / Mais con Yelo
Here are some classic Filipino snack/dessert, which is made up of shaved ice with sugar, milk, and Corn or Banana. This is really refreshing and a good way to end our dining experience.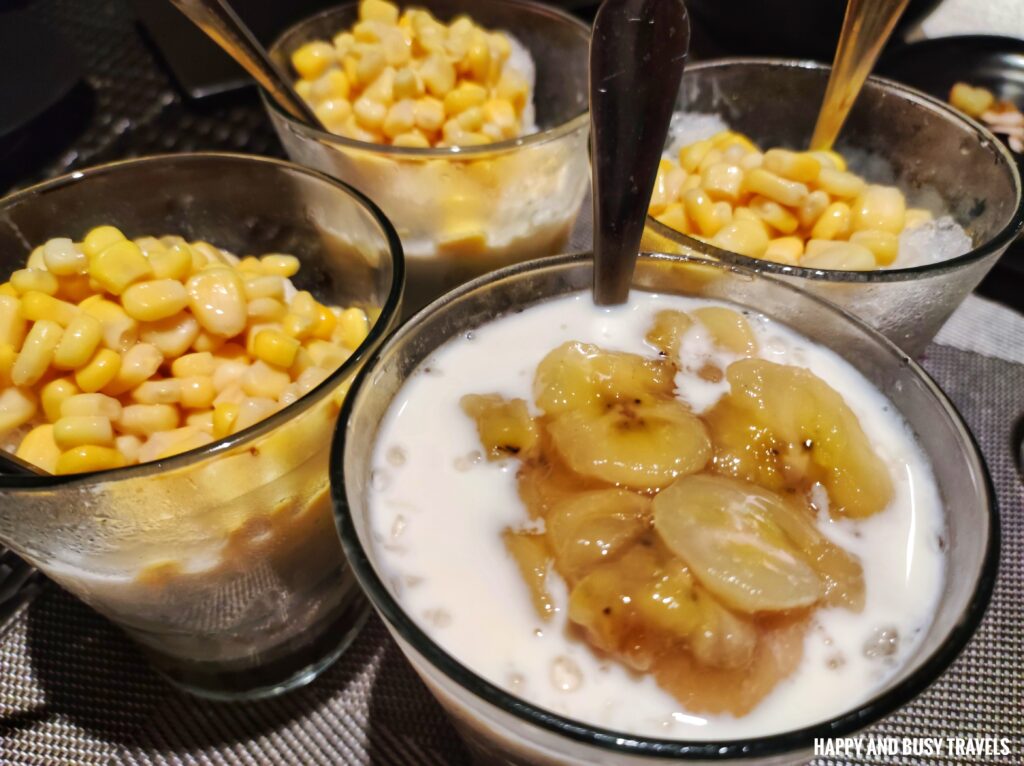 We really had a great dining experience here, after 2 visits we hope we can come back again.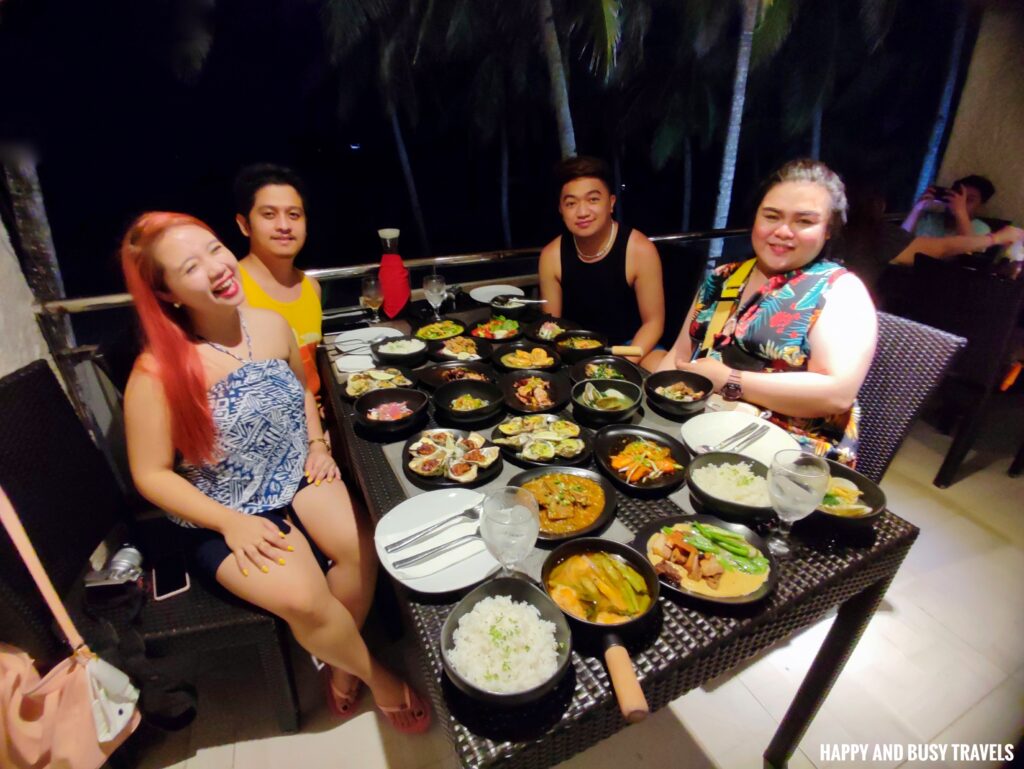 Menu of Nalka Seafood Restaurant
The buffet is priced at P1,199 per person, which is reasonable because everything is fresh and tastes good.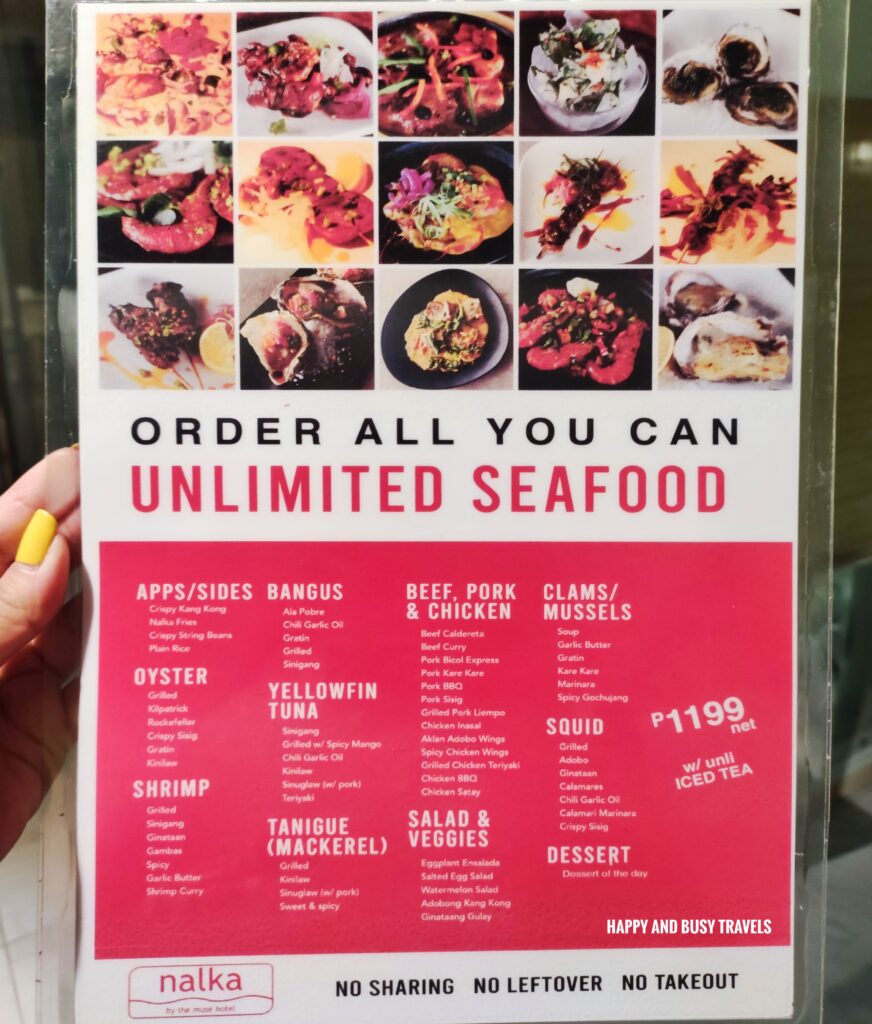 Here is their regular menu.
Happy and Busy's Smileys for Nalka Seafood Restaurant
Overall, Busy and I had a blast both our first and second visit. I am actually not a seafood lover, but whenever I am in this restaurant I eat a lot of seafood because it tastes so good. We also like their buffet style because it is easier for the guests, plus there is no build-up of people on the buffet table.
Food
Location
Ambiance
Value for money
Service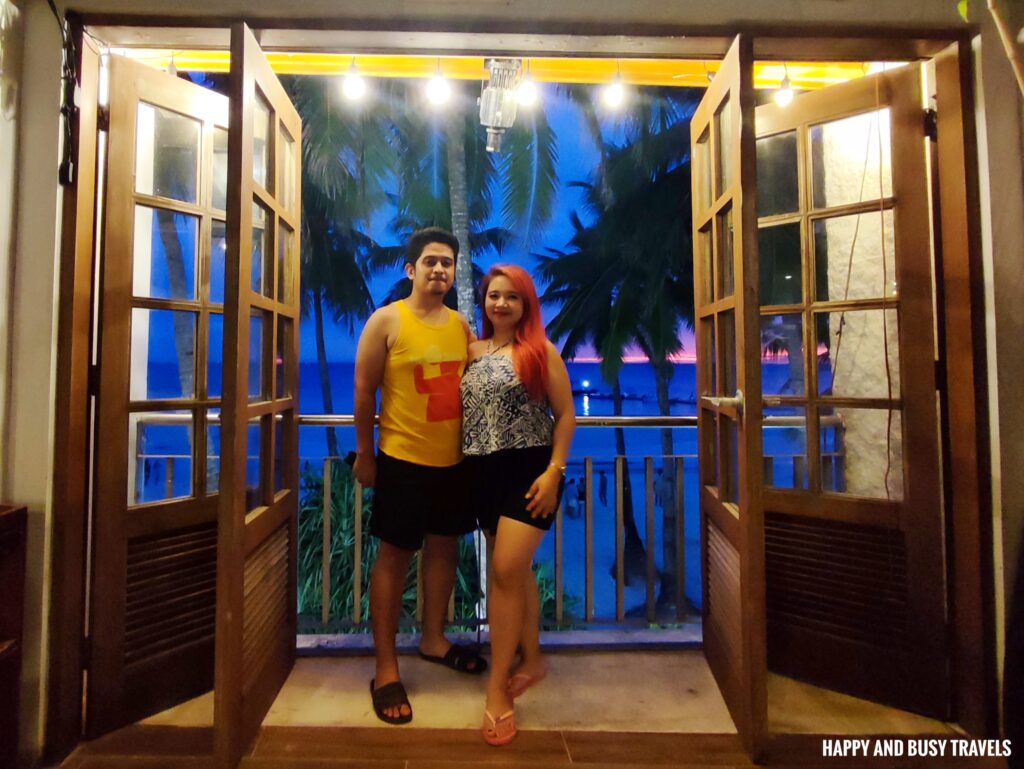 More exciting food and drinks reviews at https://happyandbusytravels.com/category/food-and-drinks/ so do not forget to check it out!
Like! Follow! Subscribe! to our social media accounts: