Staying in a beach-front resort in Boracay is the best way to enjoy your stay in Boracay. So we have decided to book a room in Residencia Boracay for the second half of our stay in Boracay and for the summer outing of my officemates. Residencia Boracay is a beach-front hotel in station 1 with affordable prices but it comes with a great staying experience.
Website: http://www.residenciaboracay.com/
Facebook: https://www.facebook.com/residenciaboracay.ph/
Contact Numbers:
Manila Office: +63917 250 3916 ; +63922 854 4503
+63 2 9289363 ; +63 2 4338913
Boracay Front Desk: +63917 574 3246 ; +63919 990 8263 ; +63922 854 4501
+63 236 2881359 ; +63 236 2885394
Google Maps link: https://goo.gl/maps/kueKh5LBzfp
Rates: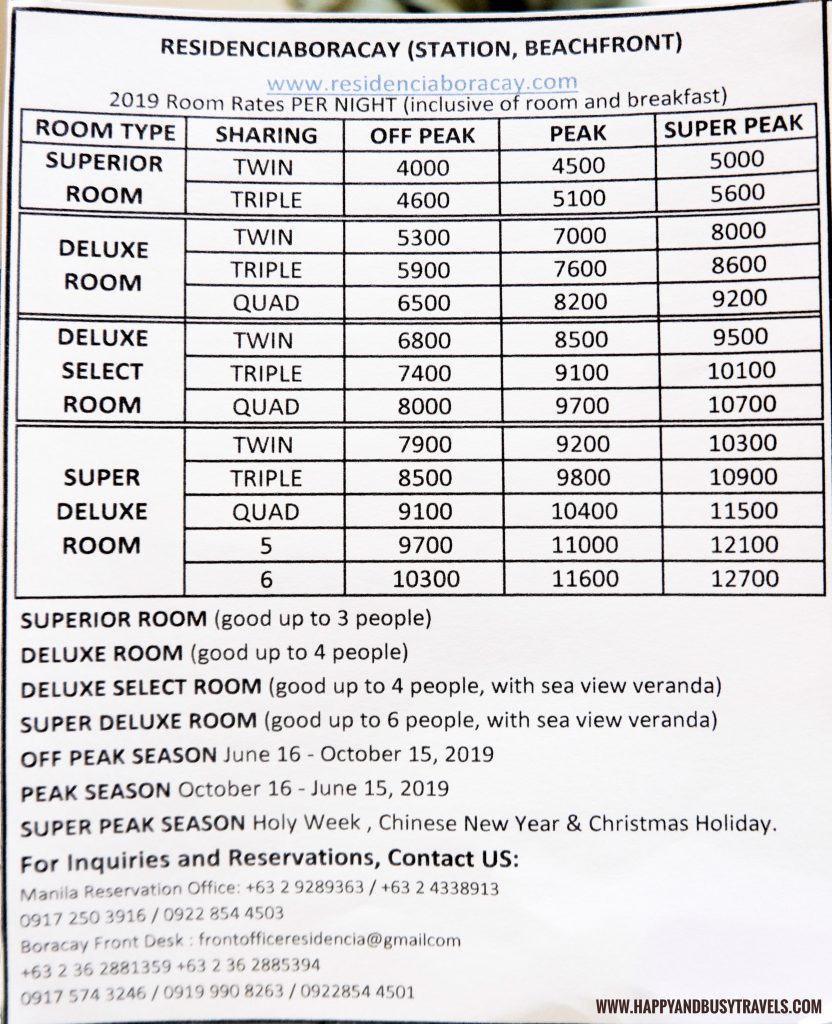 Quick Links
Checking In
Everybody in Boracay Island knows the resort so Residencia Boracay was very easy to find.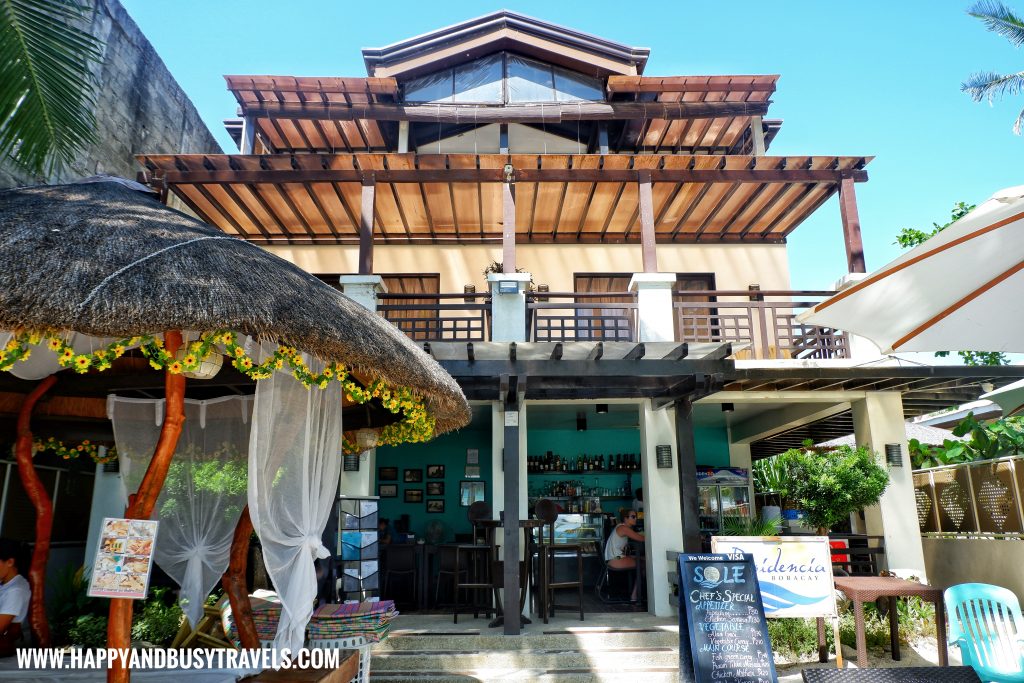 The resort was also easy to access to because it has an entrance just in-front of the road. After Busy and I went down the tricycle, the guard of the resort assisted us and brought us to the reception area.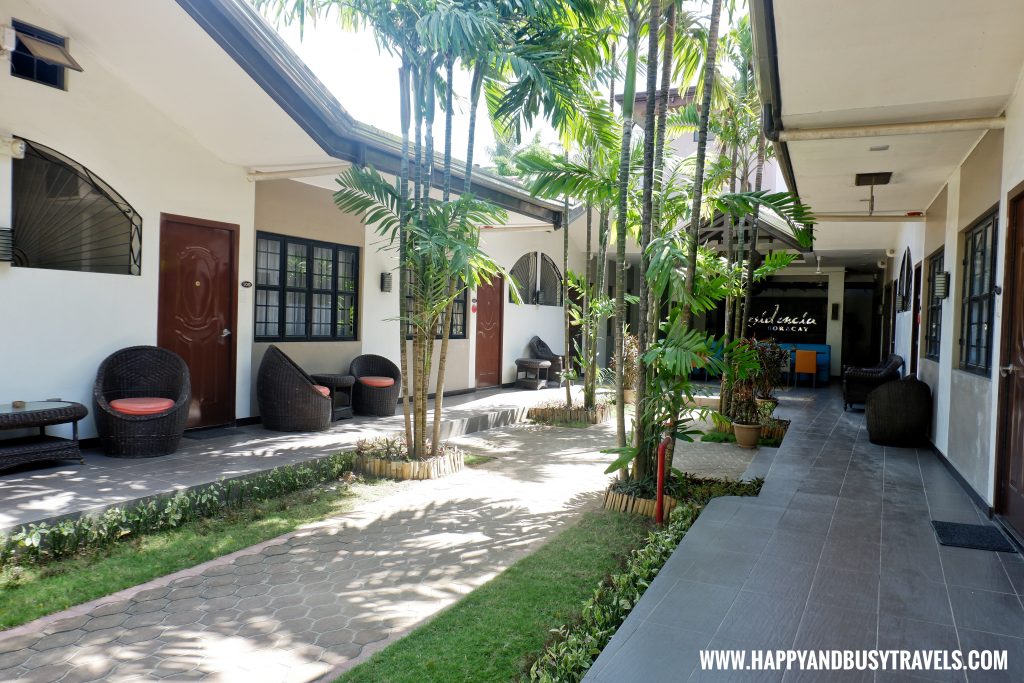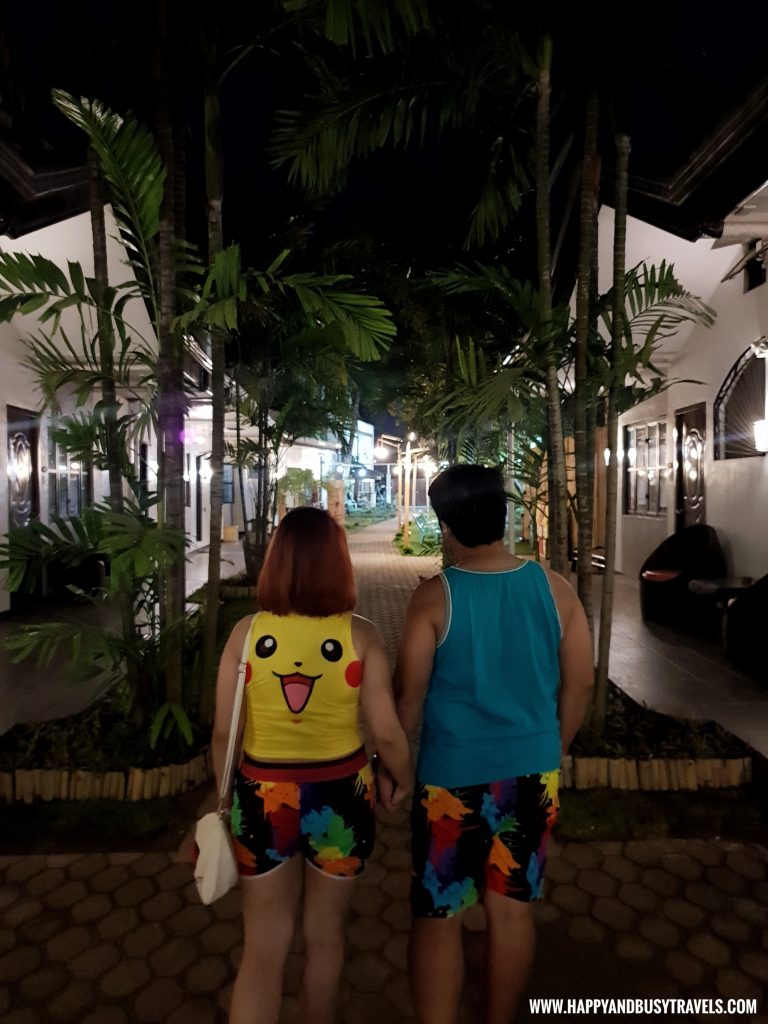 Jen and Juvy, the lovely receptionists assisted us and checked us in immediately. We were given an introduction of the resort, the new rules and regulations of Boracay, and we were given our keys and breakfast stubs, then, we were assisted to our room.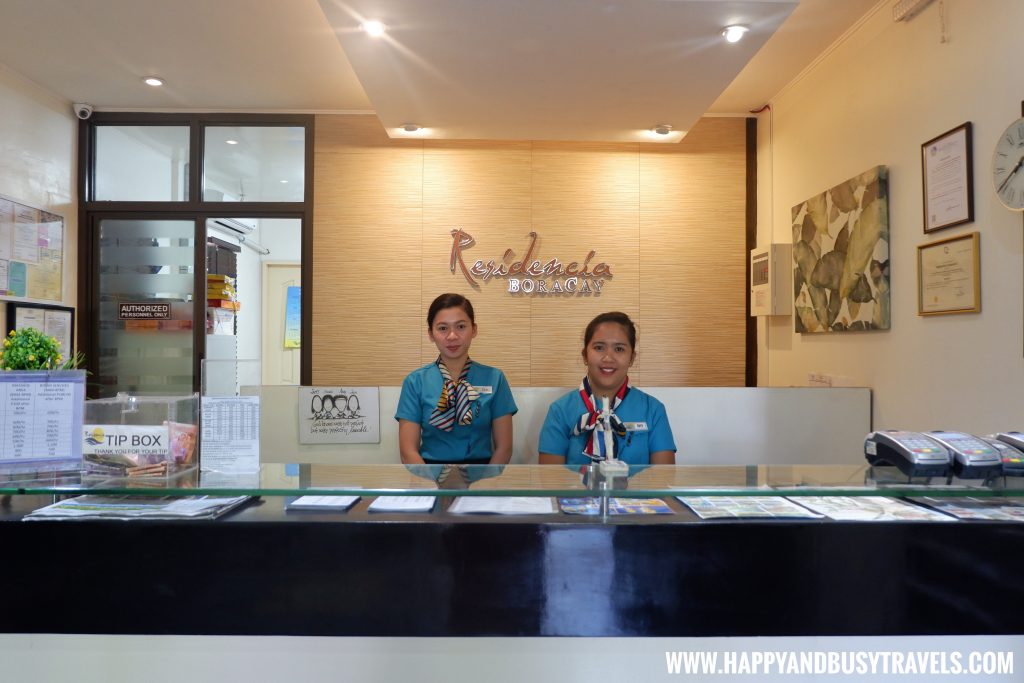 Deluxe Room
The deluxe room near the reception area was assigned to us.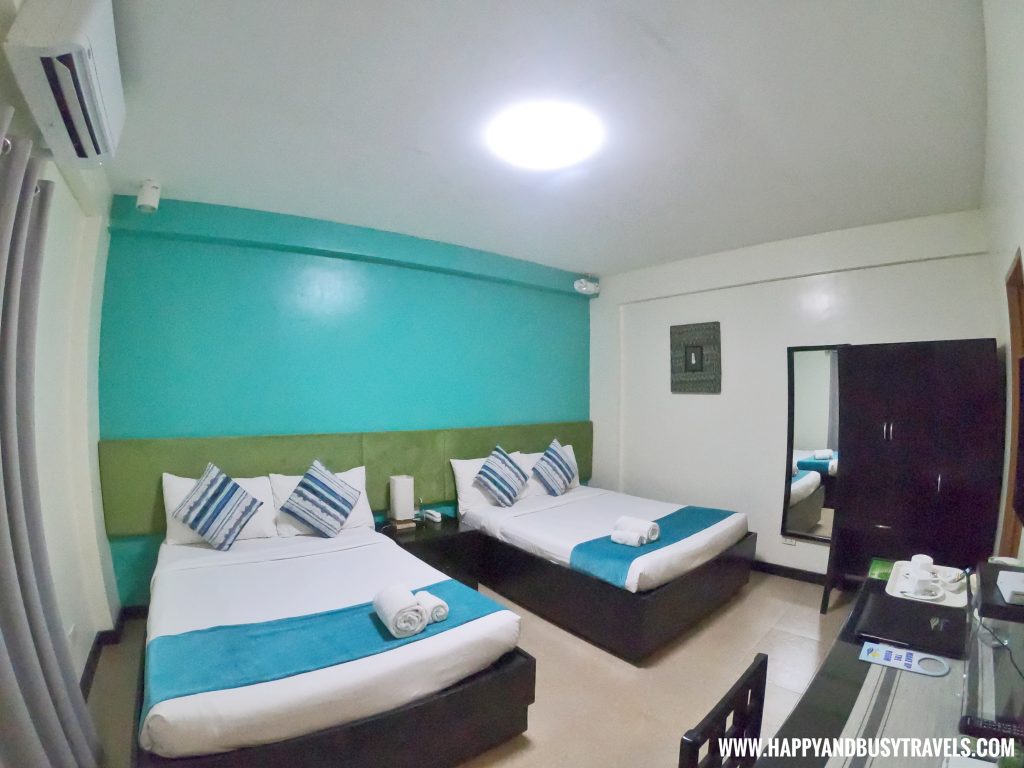 Beds
There were 2 queen size beds with clean sheets, and comfy mattress.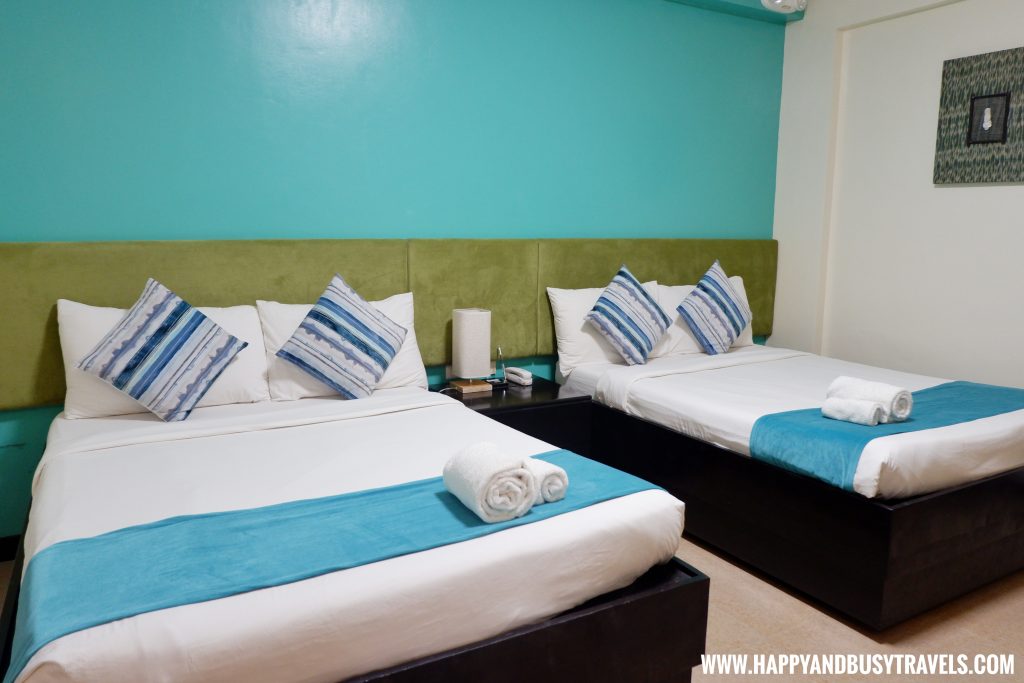 Comfort Room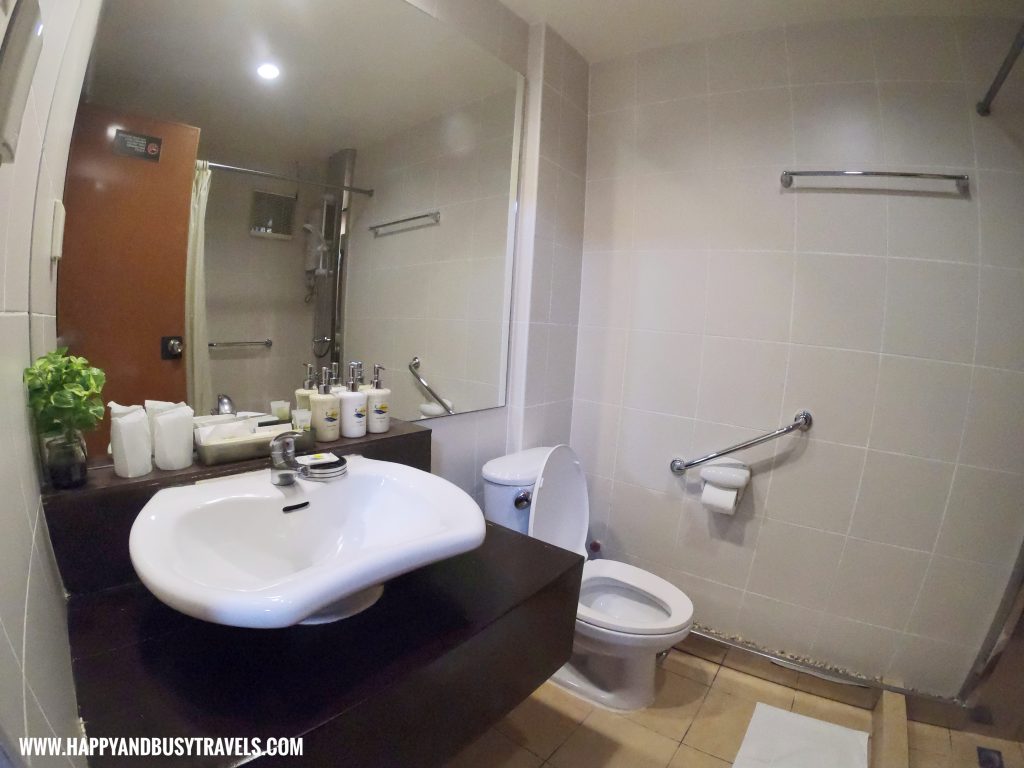 One of the factors why we love the comfort room of Residencia Boracay is because they provide A LOT of toiletries!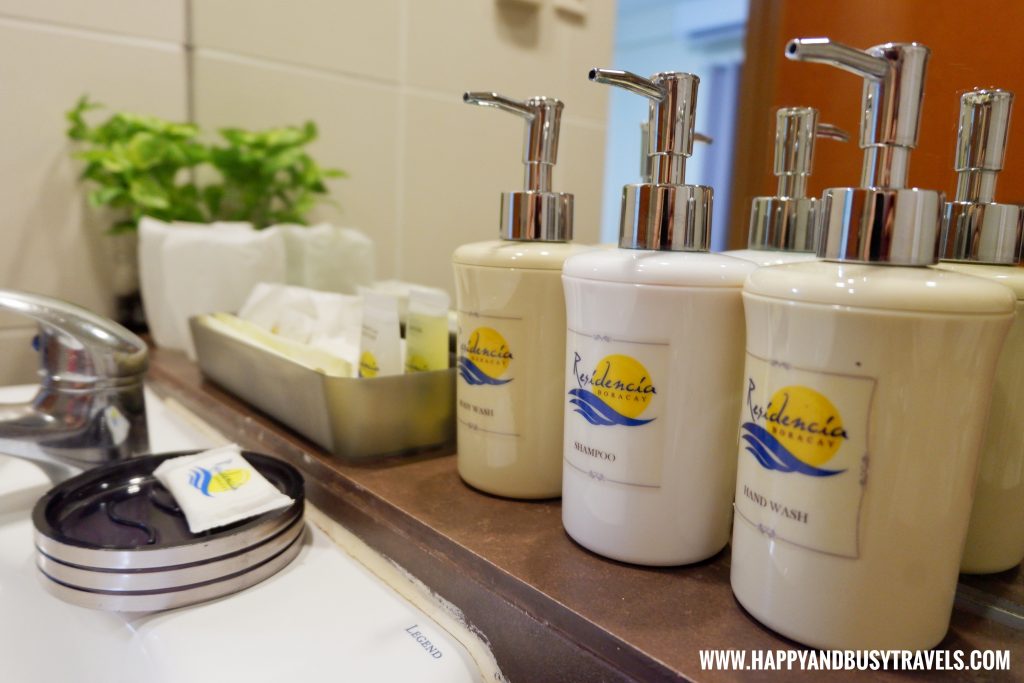 Hot and Cold Shower is also available.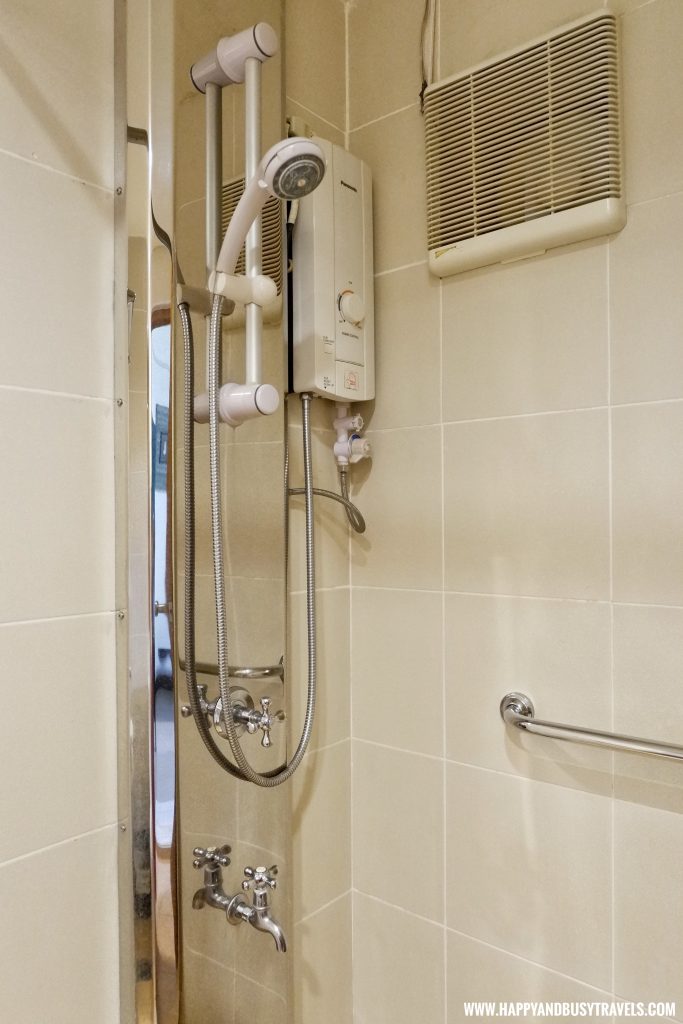 Prep Room
We actually do not know what is the name of this mini room, but we'll call it the Prep Room.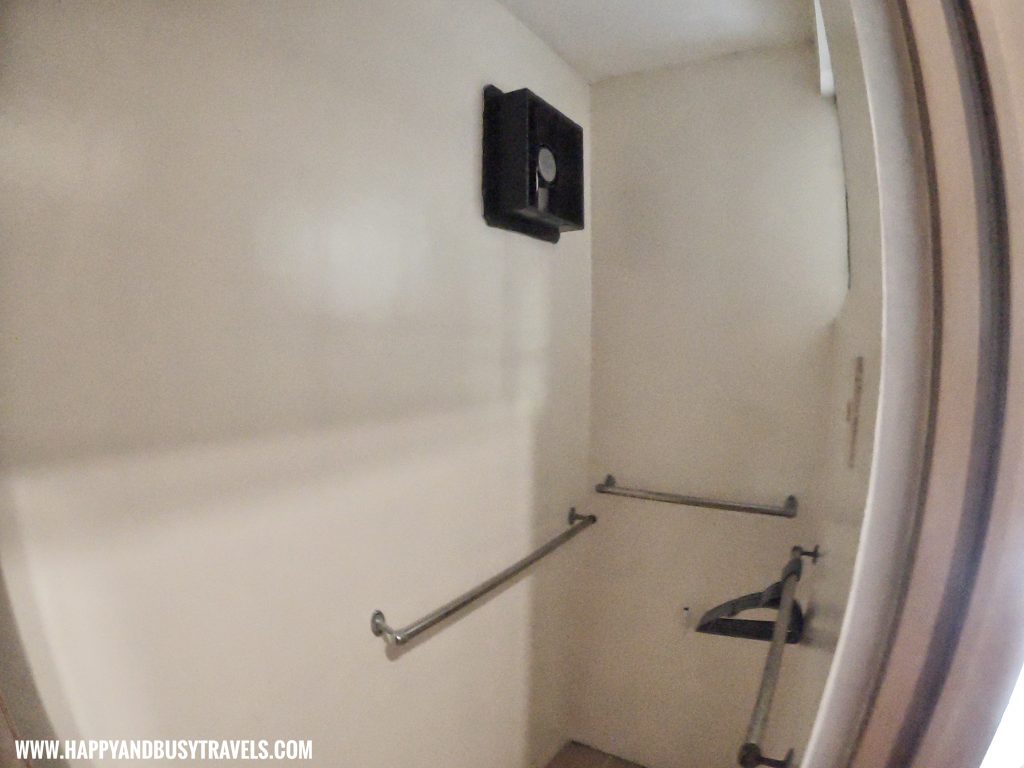 Why prep room? Because it is a small room located beside the entrance door of the room, and it serves as a preparation room wherein you can wash your feet, leave your slippers, and hang your wet clothes. This room makes sure that the sand won't go inside your room 🙂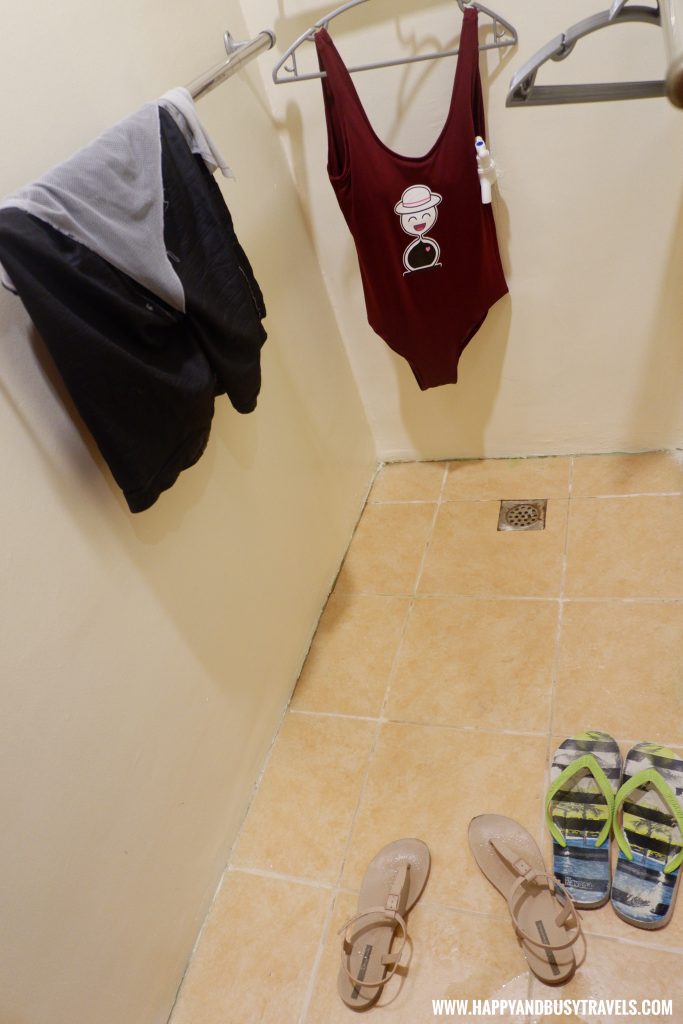 By the way, this was Busy's favorite feature of the room! He really does not want sand inside the room hahaha.
Other features
The room has a refrigerator, flat screen television with cable channels, electric kettle, complimentary coffee, desk and a chair, and a pitcher for water. The resort supports keeping the waste to a minimum so we have to use the pitcher as the water source. Do not worry if it runs out of water, the resort has a lot of water dispenser all around.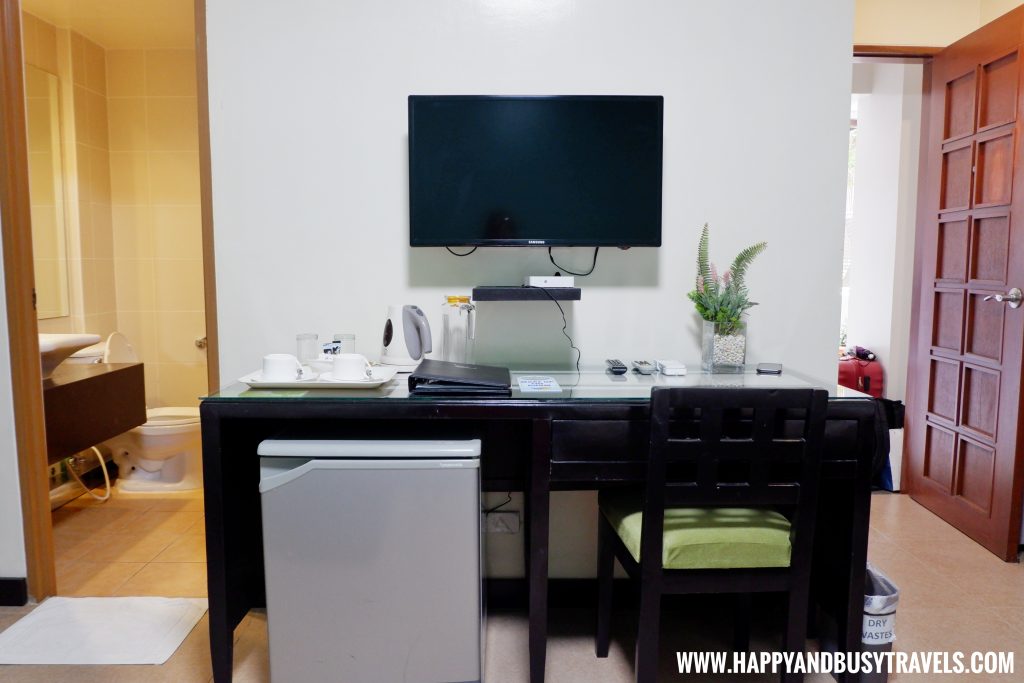 A large cabinet and a full size mirror are also available.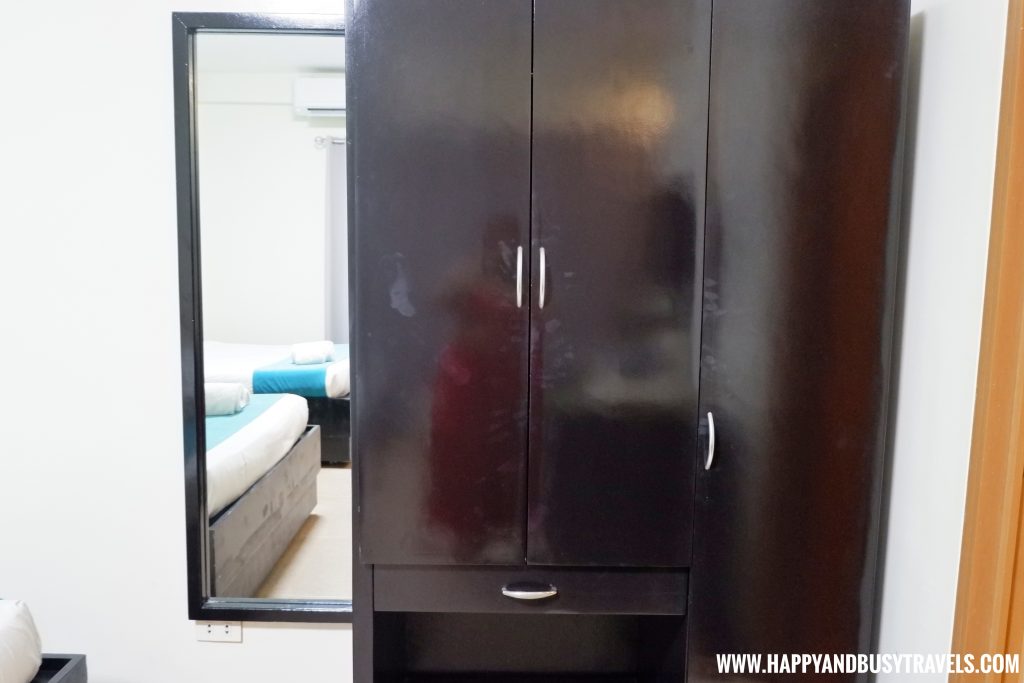 Inside the cabinet, there are hangers, a safe, and the hair dryer.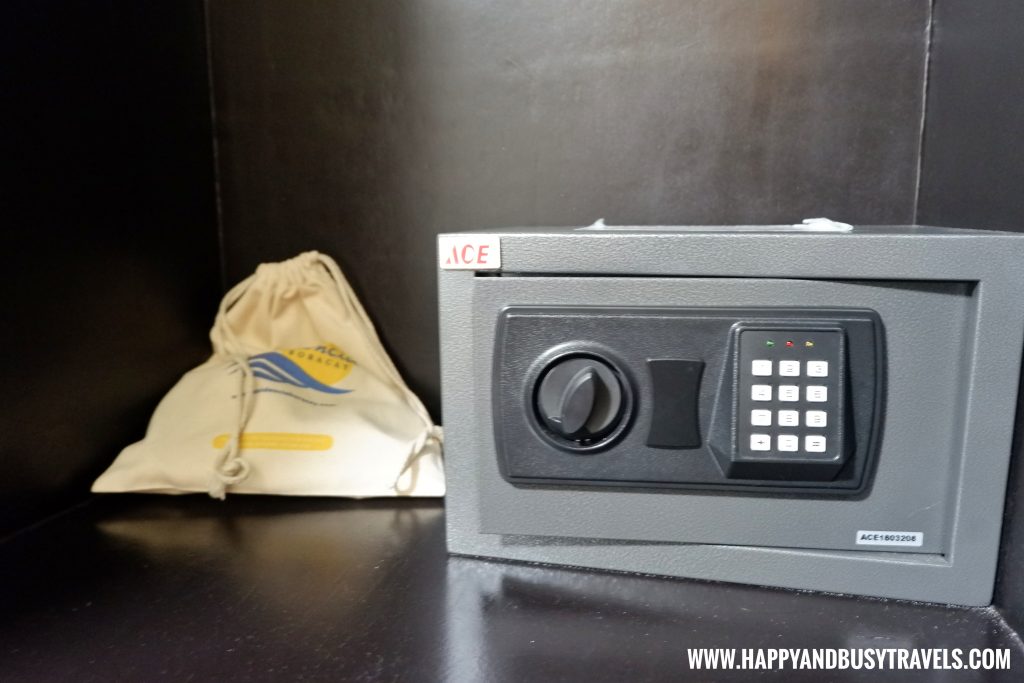 Surroundings
Beach Front
Every morning, Busy and I take the time to relax at the beach just in front of the resort.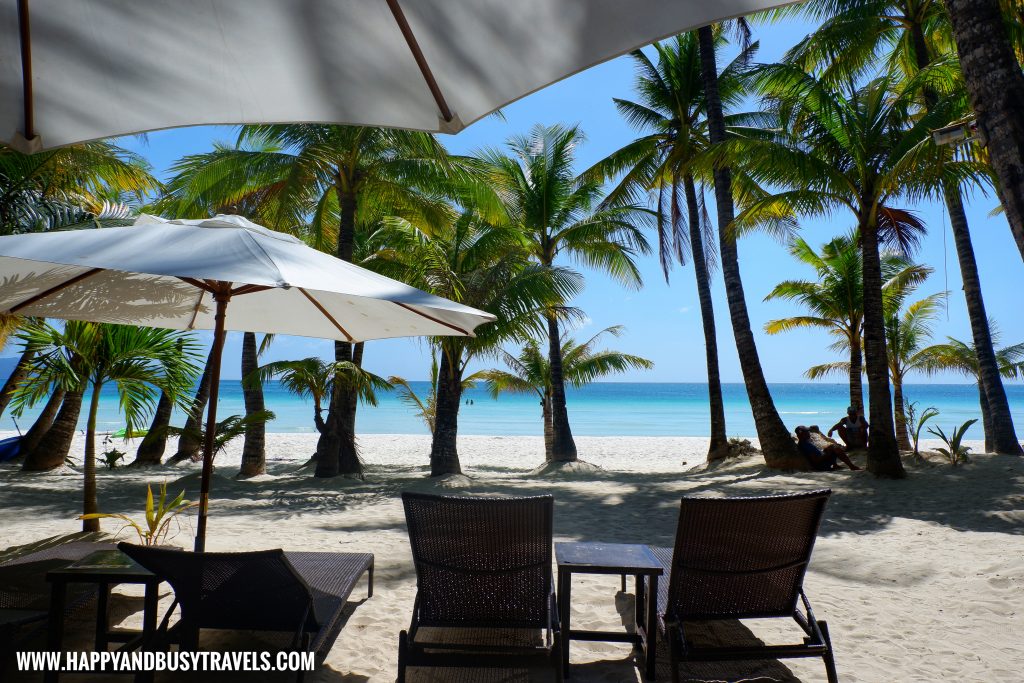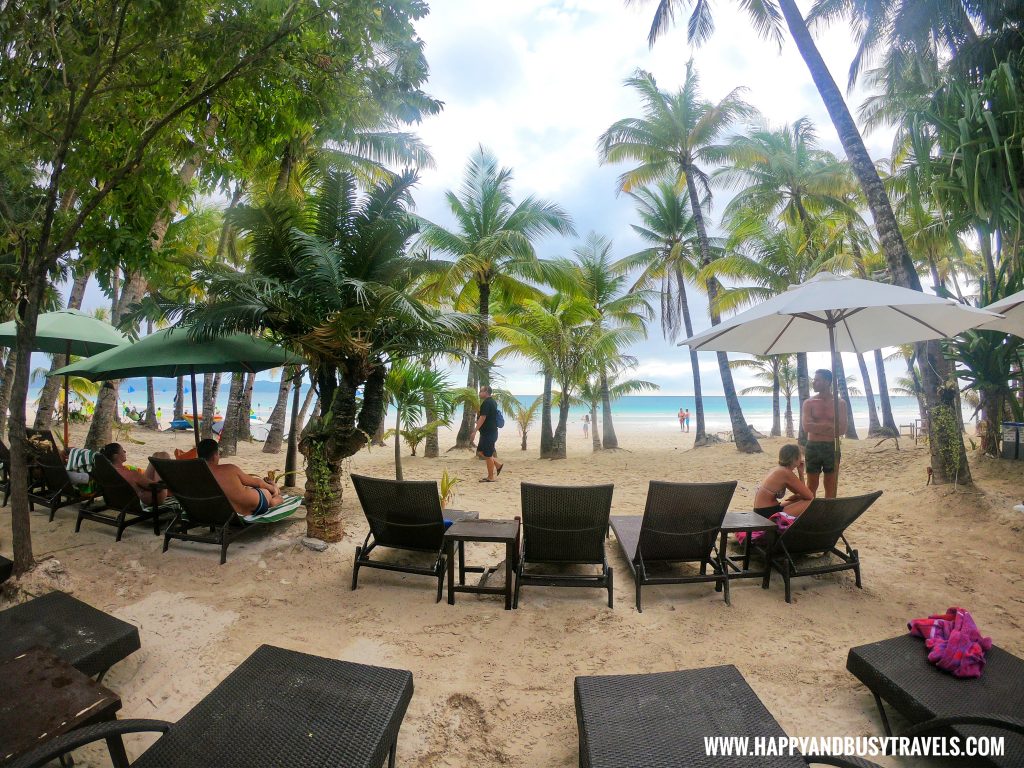 Staying here for hours, made us relax and feel the summer vibe.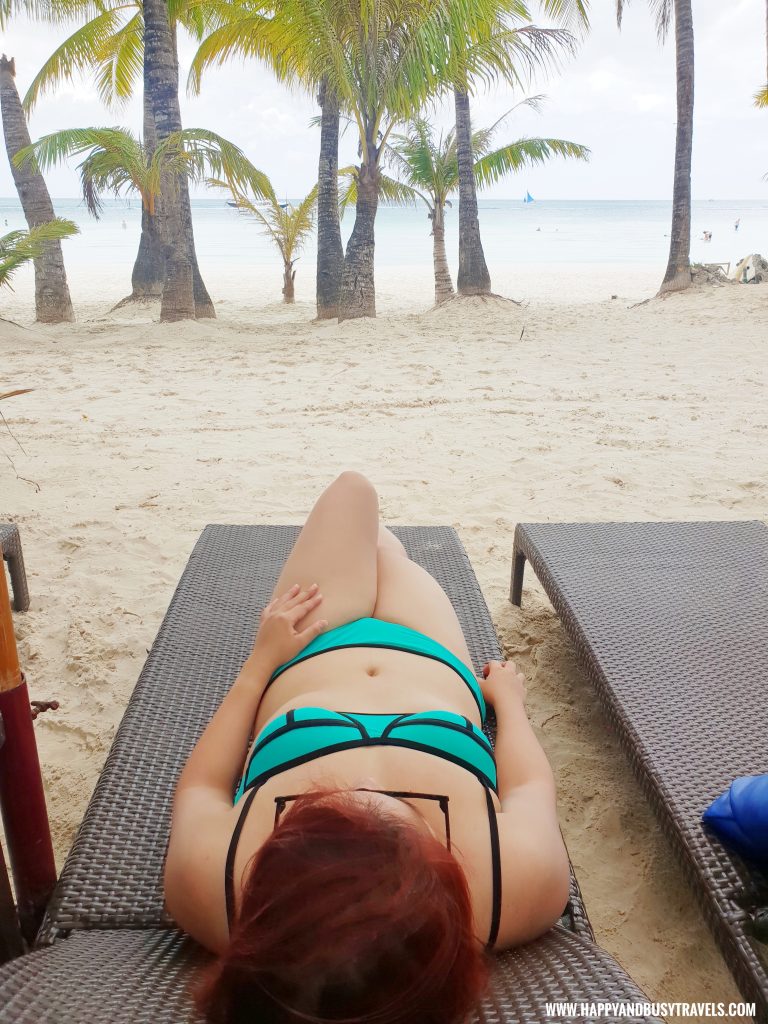 My swimsuit from Monadikó completed my outfit for the day while chilling at the beach.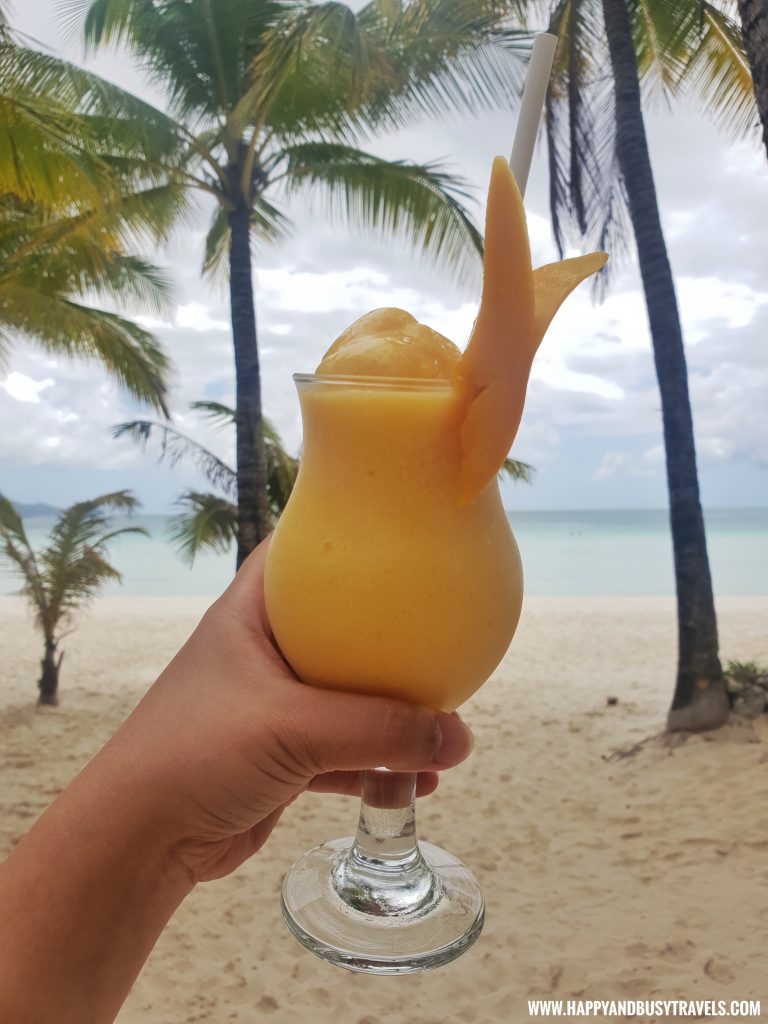 Residencia Boracay also has a great location in Station 1. The resort is after a few meters away from the Mama Mary Grotto, so there are lesser people around the beach area. The great location was an advantage for us to take great sunset photos.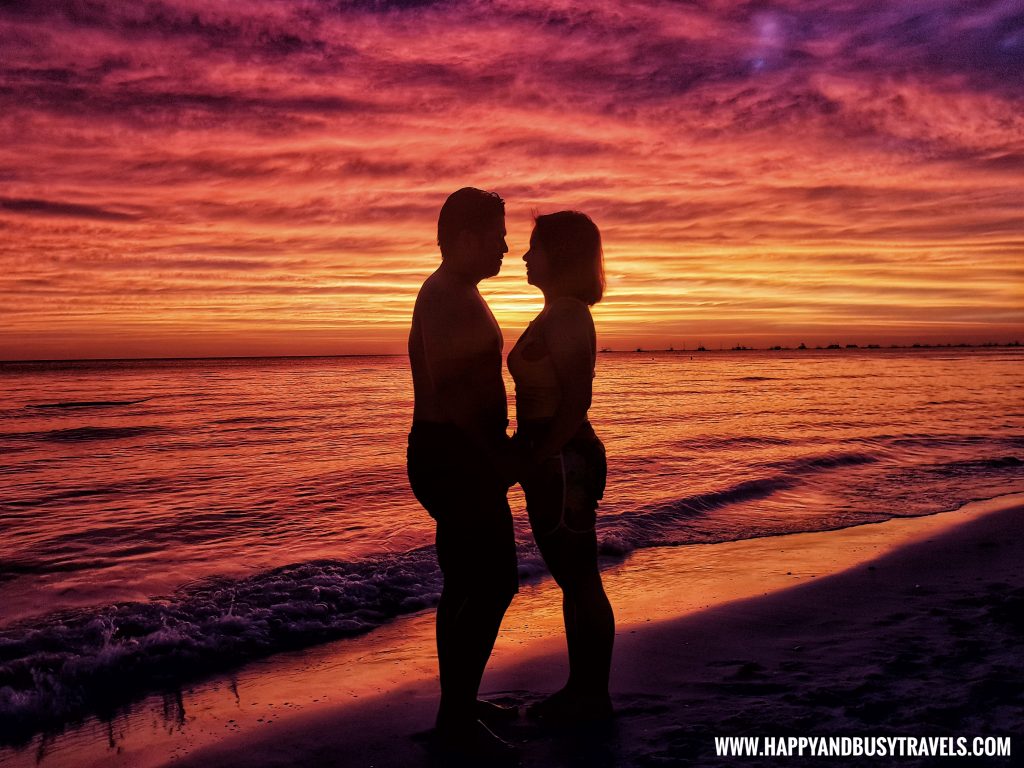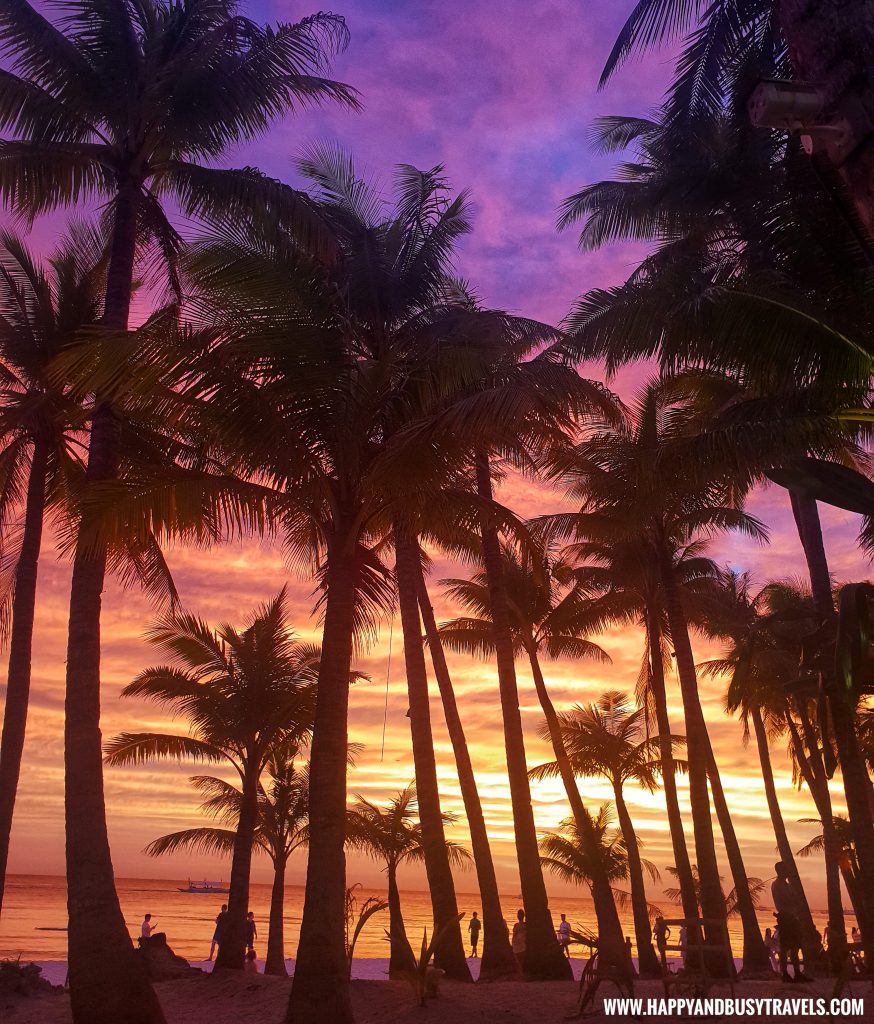 Massage Area
If you are also yearning for a massage, do not worry because Residencia Boracay offers massage services. You can have your massage either in your room, or here in this lovely hut on the beach.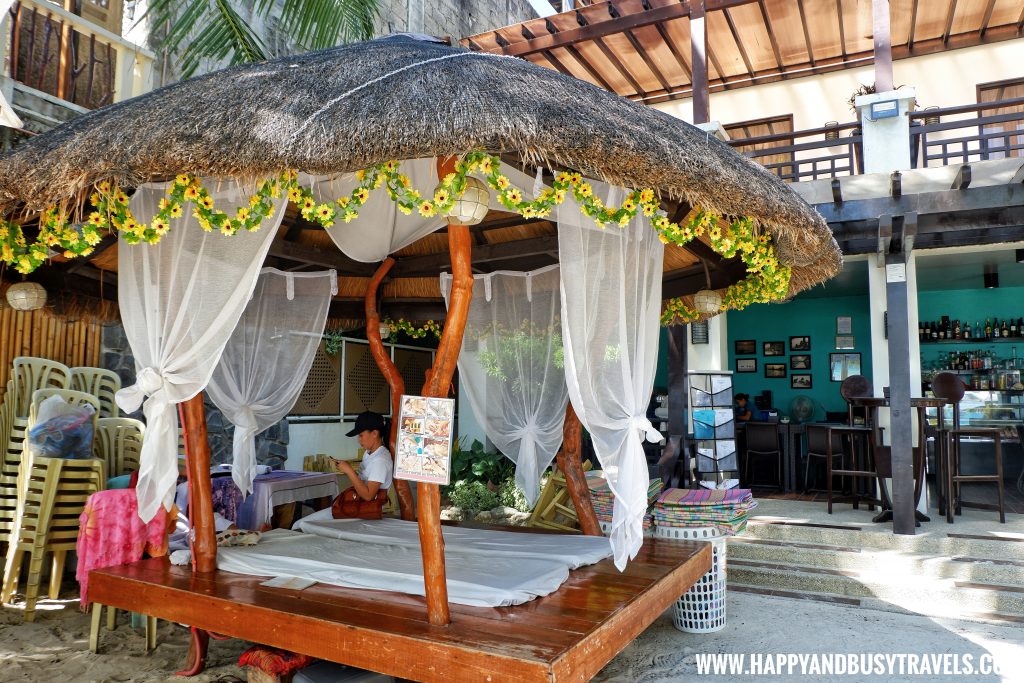 Smoking Area
There are smoking areas in the resort including this one. This is the favorite smoking area spot of my officemates 🙂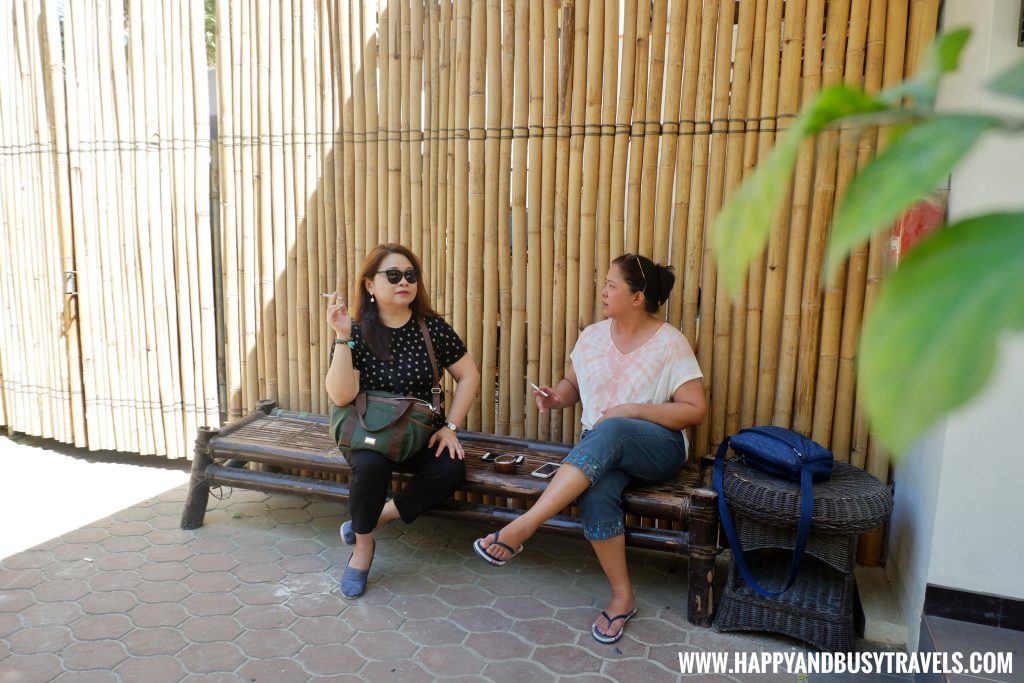 Breakfast
Our favorite part of each morning is having our breakfast!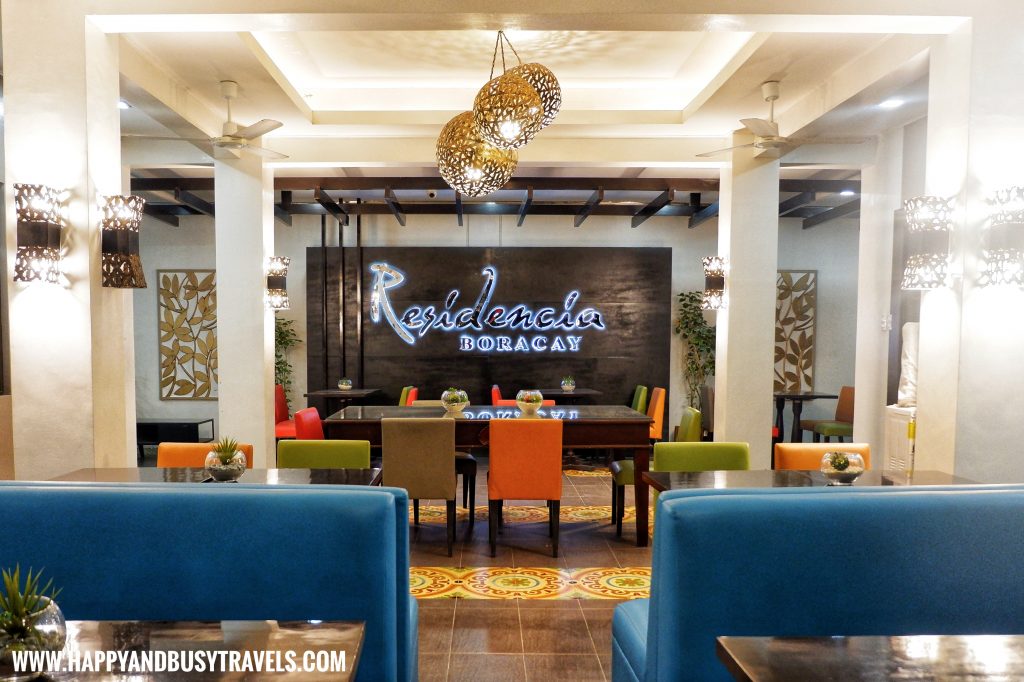 During our stay, there were just 5 occupied rooms, but there is always a lot of food served in the buffet table.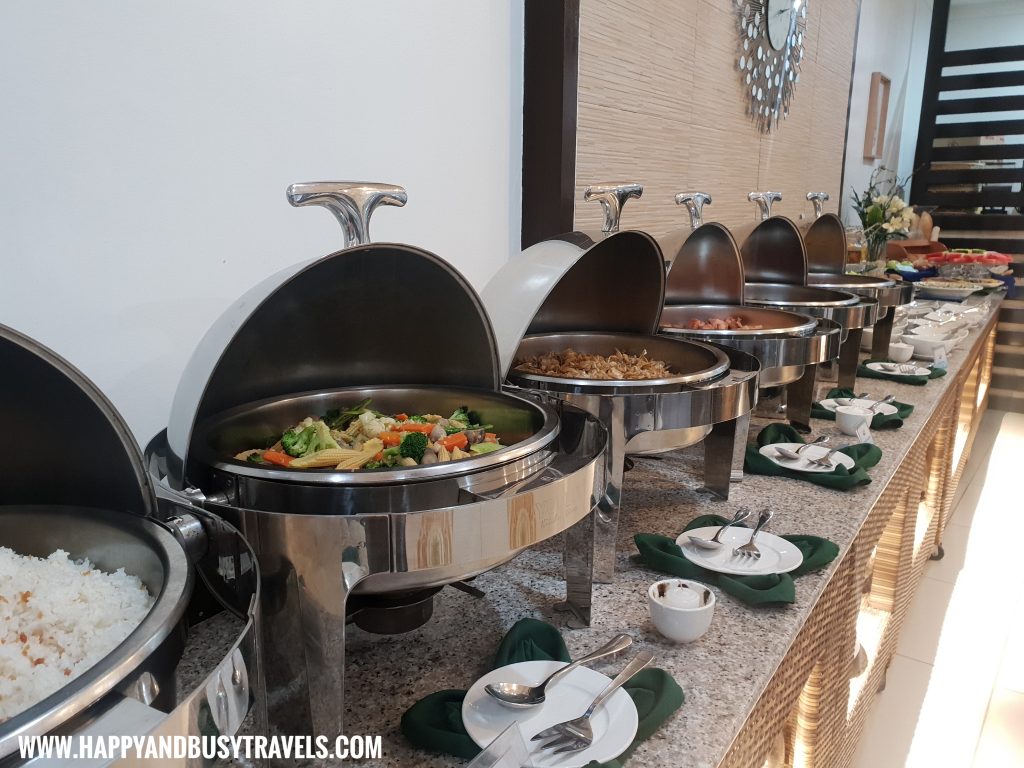 During our 3-night stay, the dishes were all different. Here are just some of the dishes: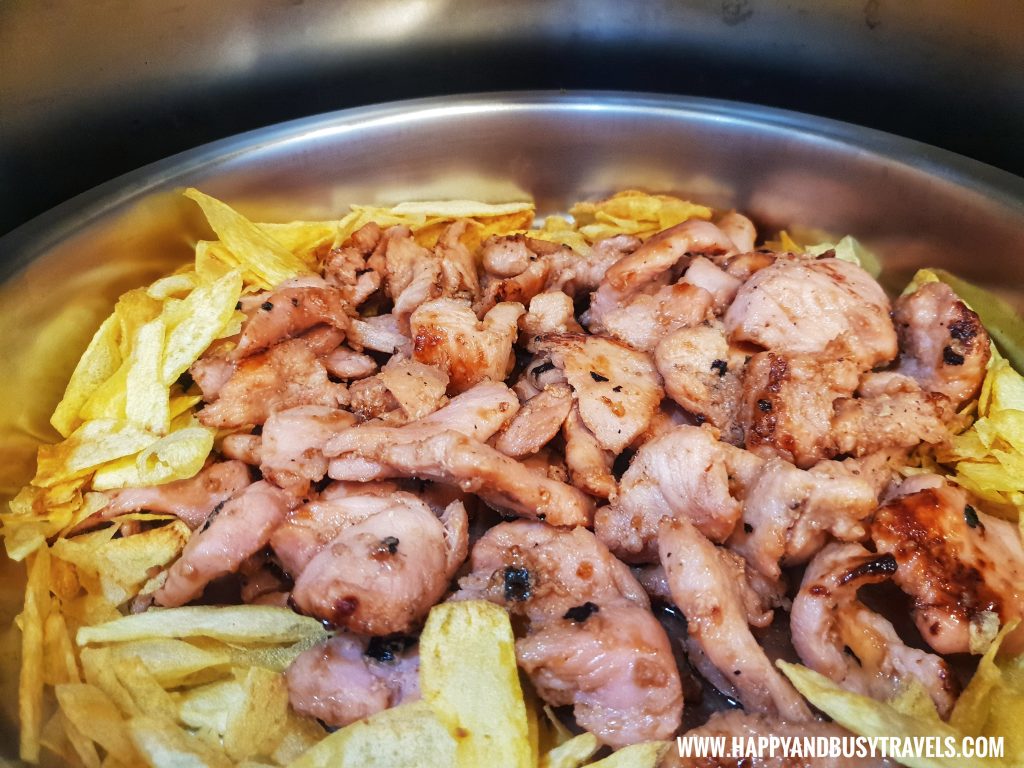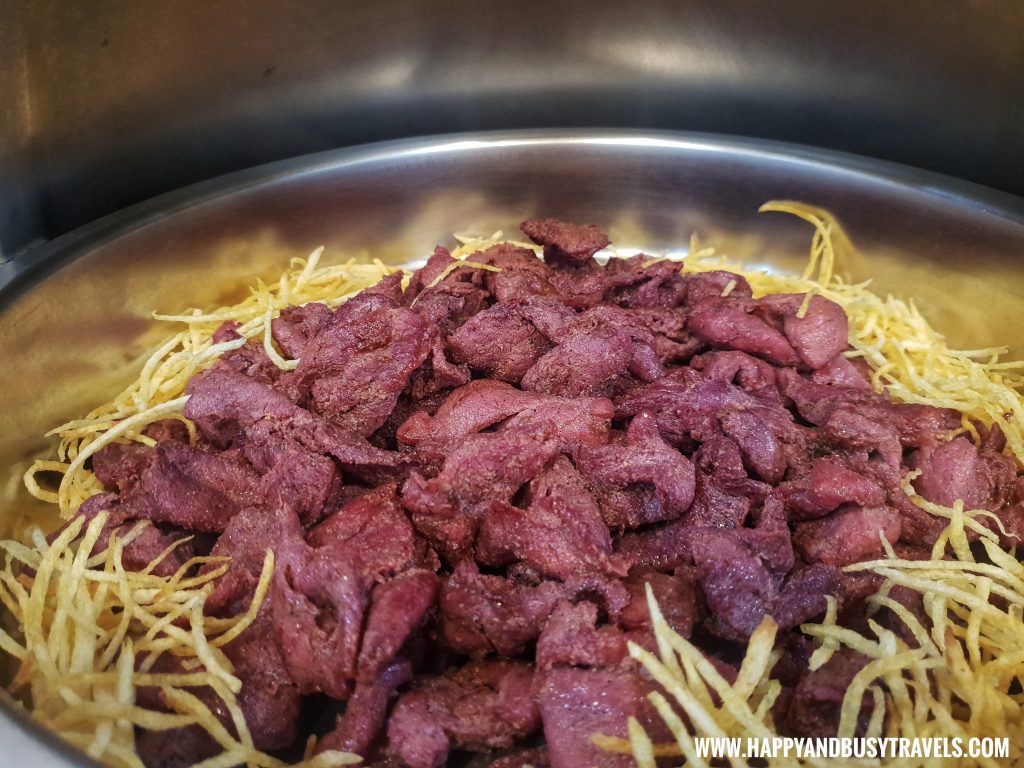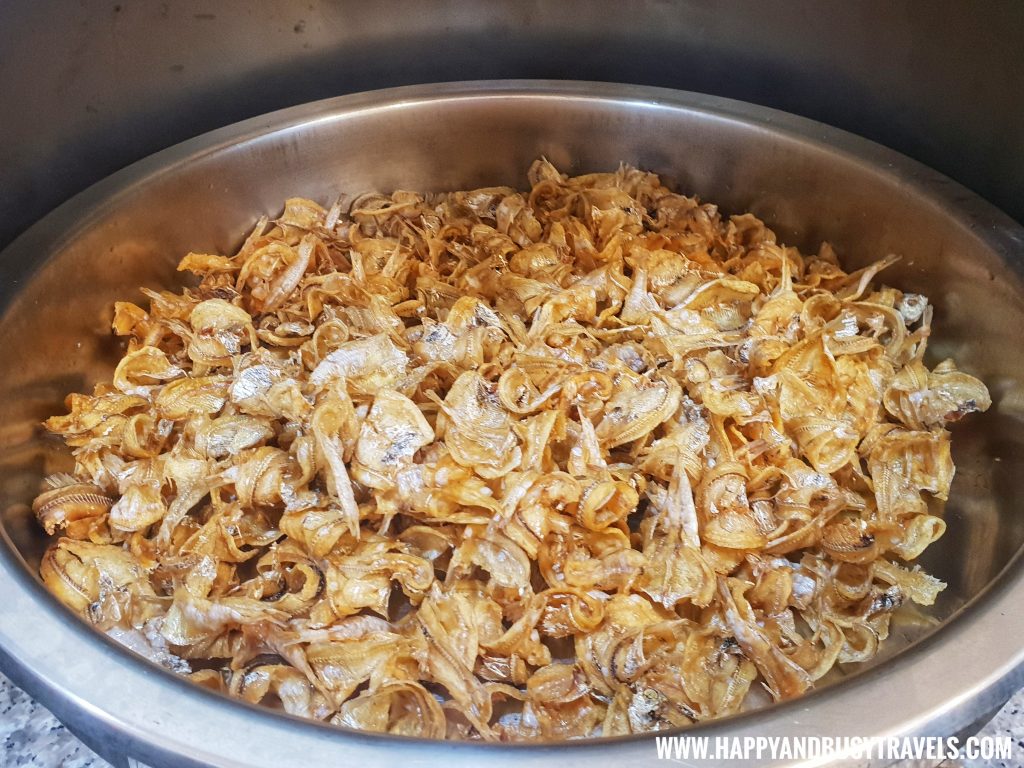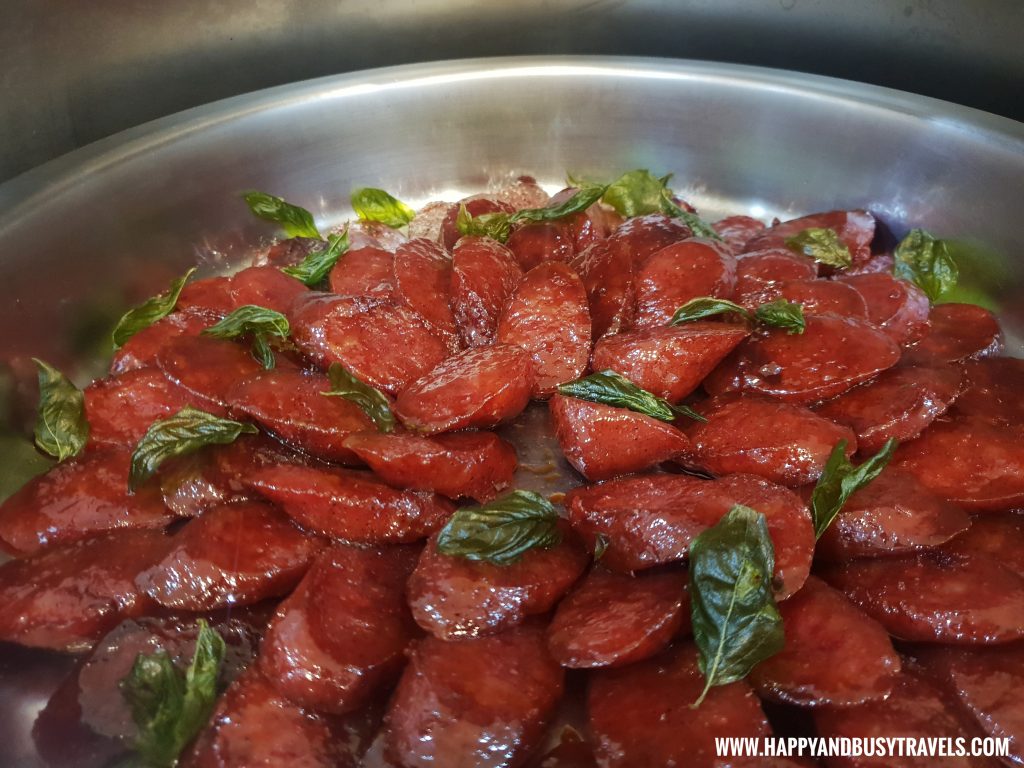 Aside from the viand inside the chafing dishes, there are also other choices.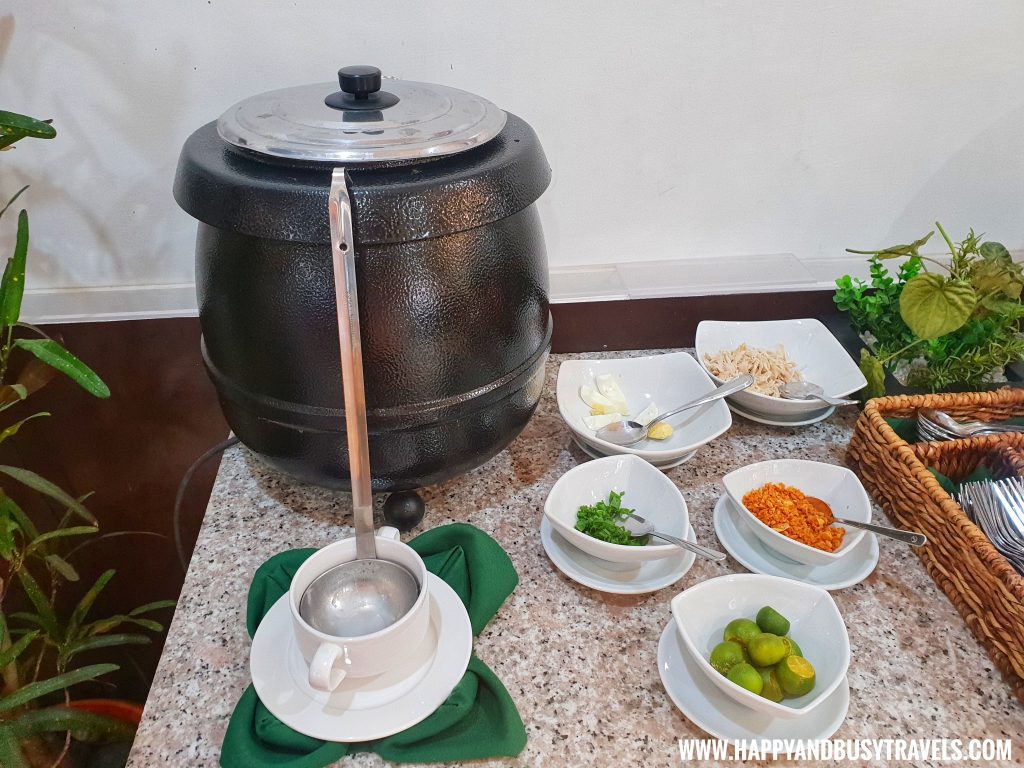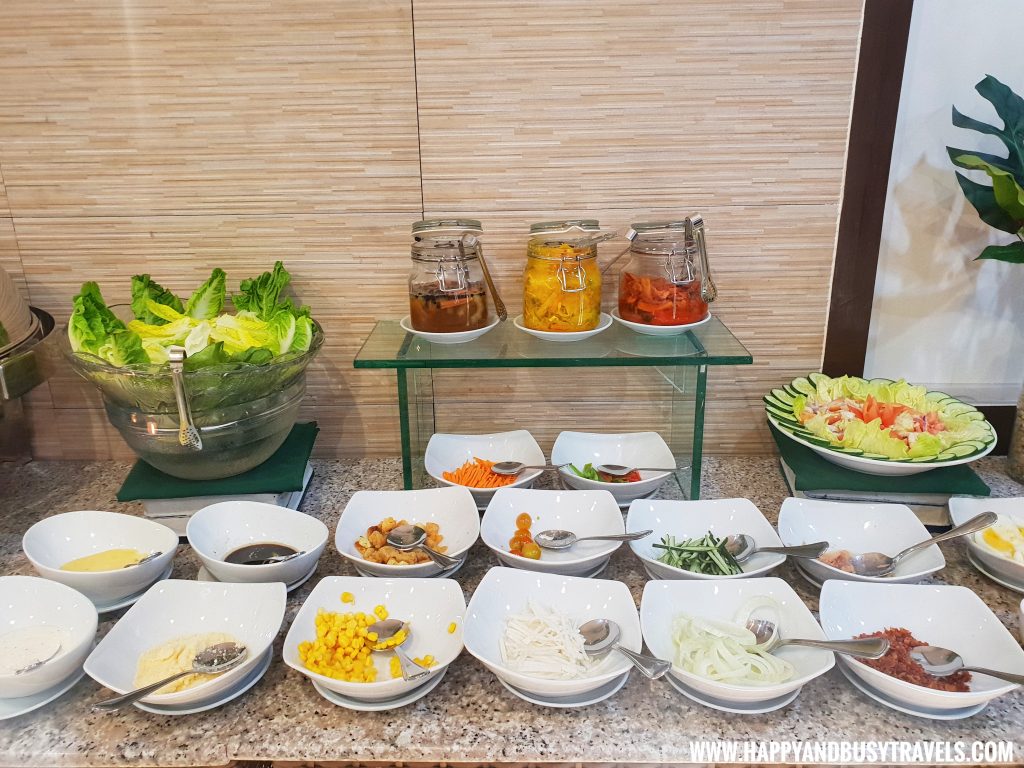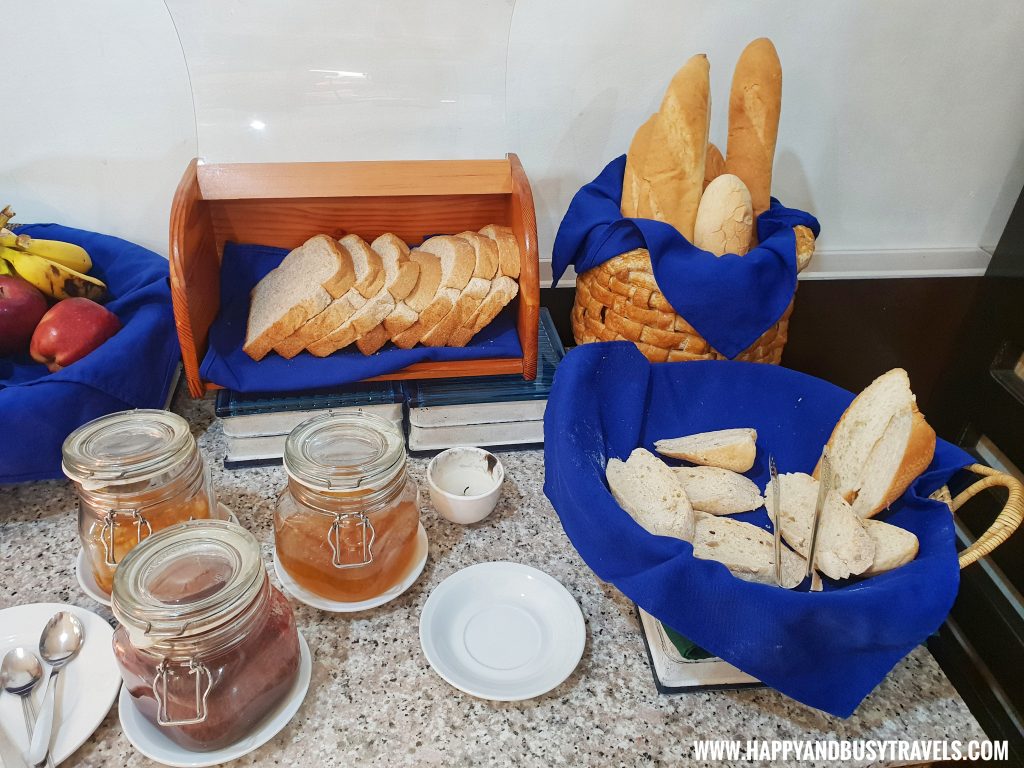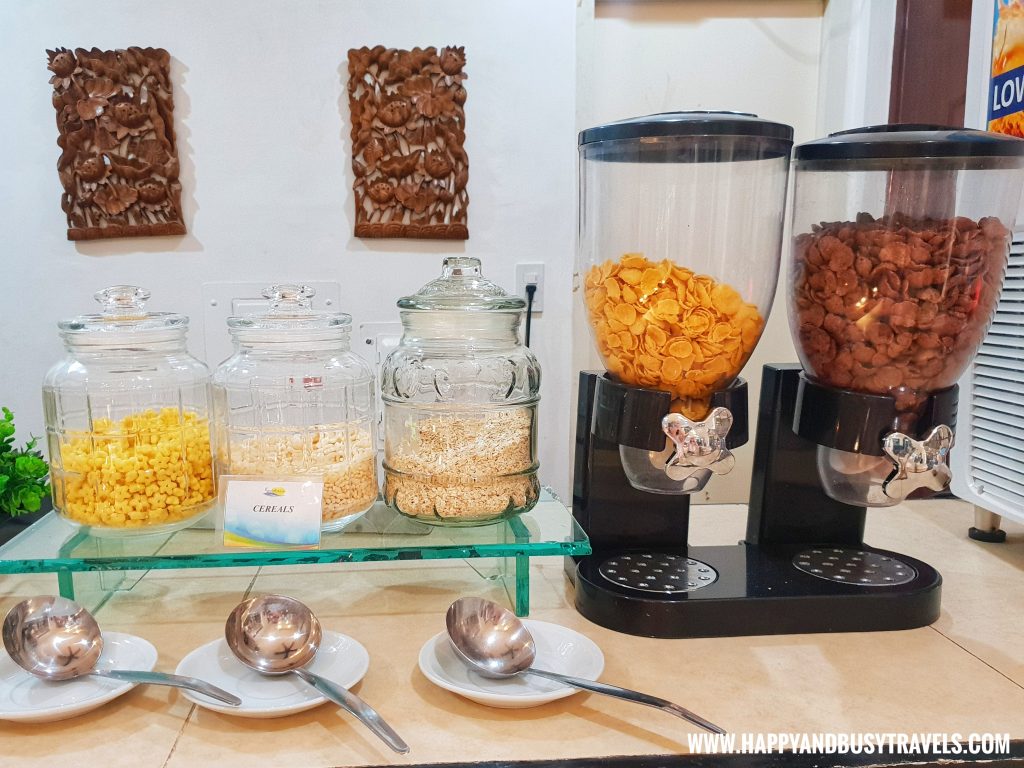 Eggs, french toast, and hotcakes were also cooked on the spot in the dining area.
Drinks like Coffee, Tea, various juices, and several condiments were also available.
Here is a quick recap of our stay in Residencia.
Happy and Busy's Smileys
Cleanliness


The surroundings of the resort were always kept clean. The staff always sweeps the sand, the sun bathing beds were always kept clean. Our room was also clean when we checked in, we did not request for a room make up, but the staff informed us that we can always request for it.
Facilities


Everything that we need were in the resort.
Service


I felt like we were like in a luxury hotel because their services were great! Even though it we stayed late at night to very early in the morning (3am) there were staff who are in the beach area, reception, and the gate beside the road. They were there 24/7 to assist their guests.
They even assisted us in our games in front of the resort during the outing with my office mates even though they do not have to 🙂
Value for money


Staying in the resort is not that pricey but they have everything that a guest will need. We think this is the best resort in Station 1 in terms of value for money.
Location 


Perfect! It is a beach-front resort with access on the road. Plus it is located in Station 1, after a few meters away from the Mama Mary Grotto, so there is lesser people in the beach.
Ambiance 


As I mentioned earlier, we can chill in front of the resort for hours. This is because of the great ambiance of the resort.
Food 


Breakfast was delicious, plus they serve different viands everyday.
We also had a chance to eat in their restaurant, the food was also delicious, has a nice serving, and has an affordable price.
Happy and Busy Travels would like to thank Residencia Boracay for making our Boracay experience awesome.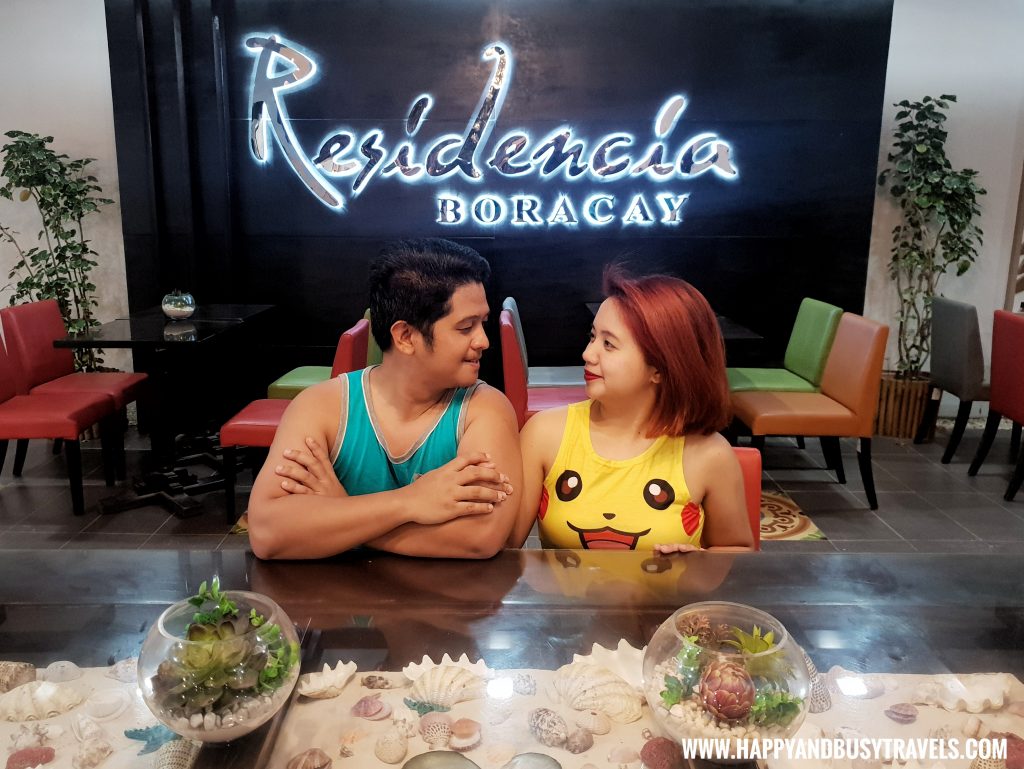 Whooah! That's all! Our stay in Residencia Boracay was quick, but we had a great time. We hope we can be back SOON!