Japan is very well known for their advance technology and weirdly great entertainment. One way to enjoy it is to watch a show at the Robot Restaurant in Shinjuku, Tokyo, Japan. So, we, Happy and Busy, together with our friends went to watch the famous show.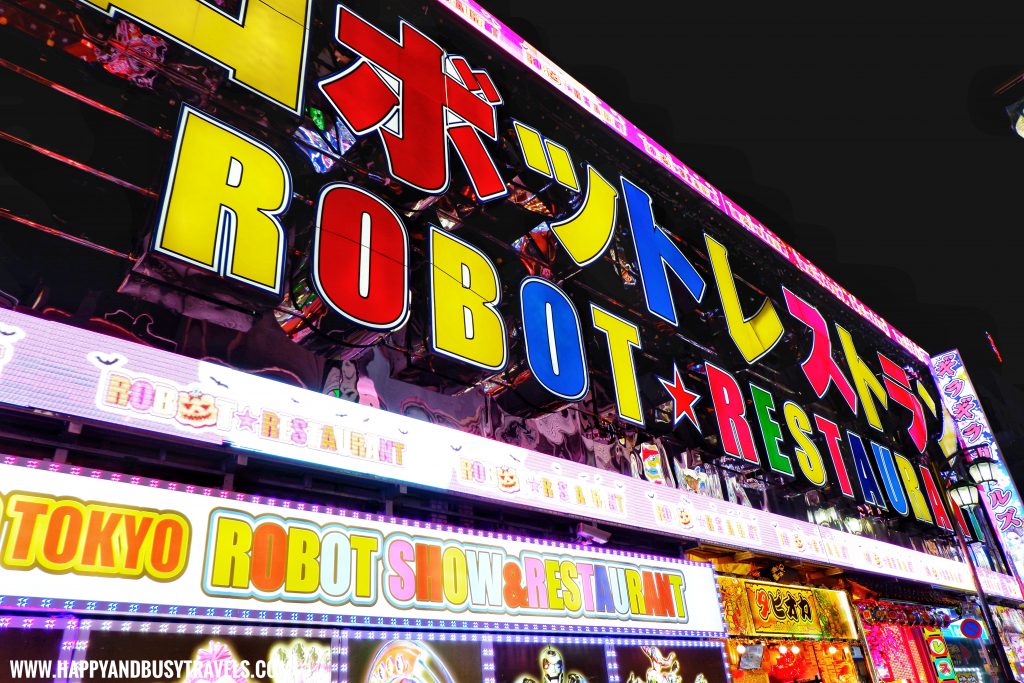 Website: http://www.shinjuku-robot.com/pc/index.php?lng=en
Address: 1-7-1 Kabukicho Shinjuku-ku Tokyo, Japan
How to get here?: Ride a train, then exit at JR Shinjuku Station, or Shinjuku Sanchome Station (Exit A8 or A9). From the exit, walk for 5 minutes to Kabuchiko area.
Google Maps link: https://goo.gl/maps/iQpdWTtVo7UG3Cpu8
Schedule: Robot Restaurant show schedule
What is the Robot Restaurant?
The Robot Restaurant is one of the attractions in Shinjuku, Tokyo, Japan. Aside from serving Japanese food, the restaurant also provides great entertainment to its guests.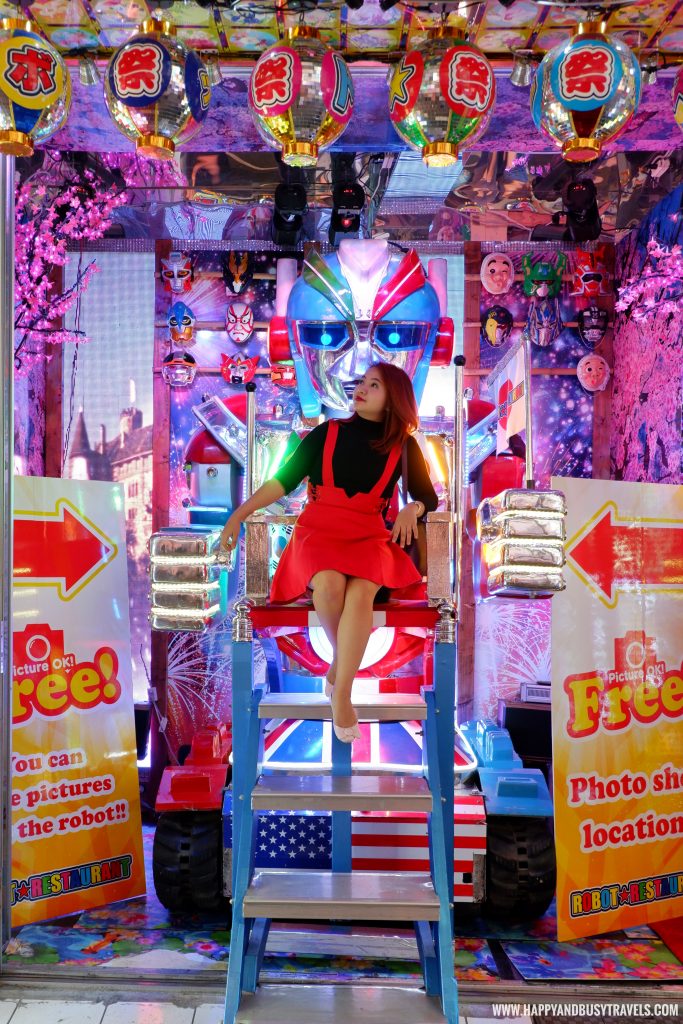 The show is composed of a laser light show, live performances of the pretty dancers and singers, robots, and which are performed in a very tight space.
Where to book?
The best way to book a show in Robot Restaurant is from Klook. Click here
 or the banner below to book.
Why book with Klook?
They have the lowest price for the show.
Discounted tickets with bento meals are also available.
A special Klook VIP lane is available.
Freebies are given to those who bought a ticket through Klook.
Getting our Ticket
We easily found the ticket counter, which is just in-front of the restaurant. A ticket should be picked up from here, because seats are assigned here. Plus, if you have some stuff that you wish to keep away, there are lockers available here.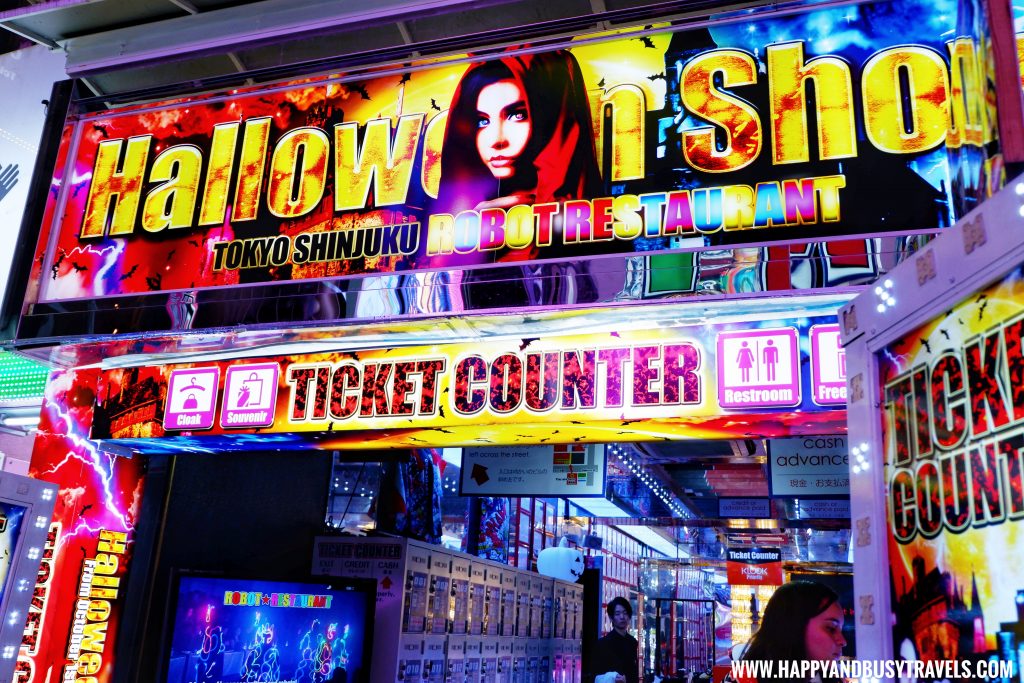 We bought our tickets through Klook, so we went right straight to the VIP counter.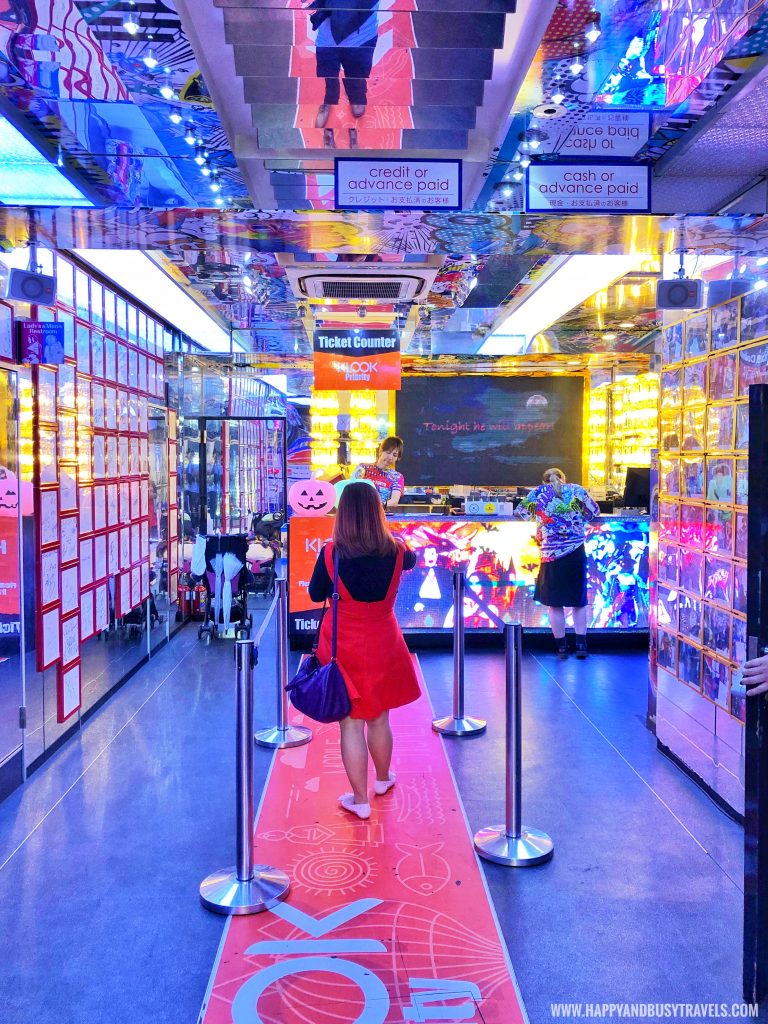 The Klook VIP ticket counter can be easily found because it has a big orange banner, and a lot of signs.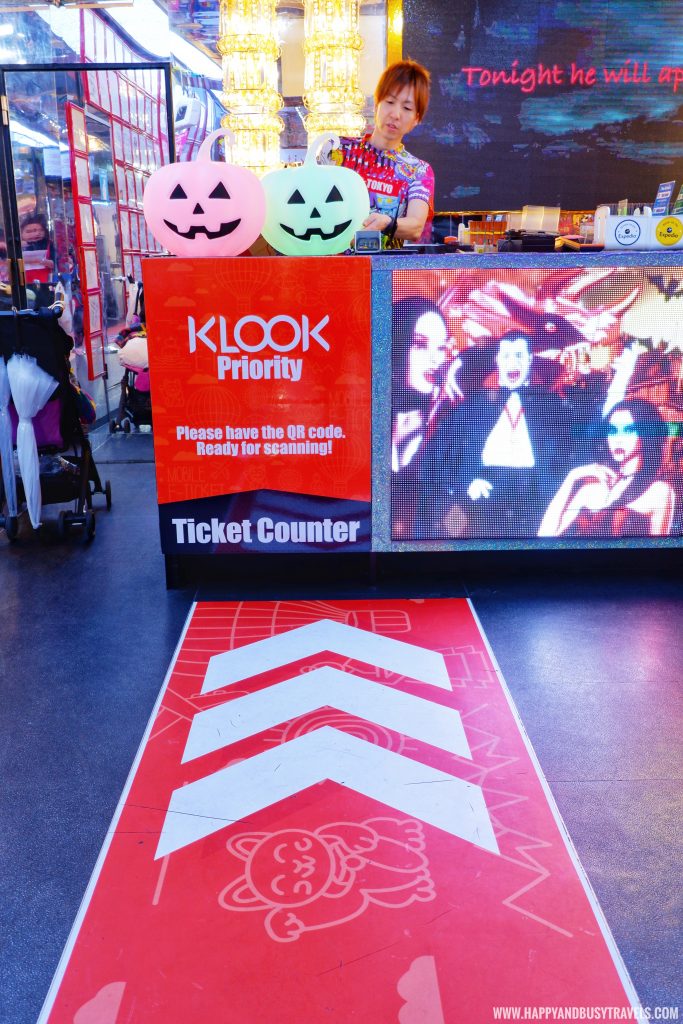 Tickets were immediately given to us and our seats were assigned. Of course we wanted the front row seats, so we requested for it.
We went in the Robot Restaurant in October, so the Halloween Show was available.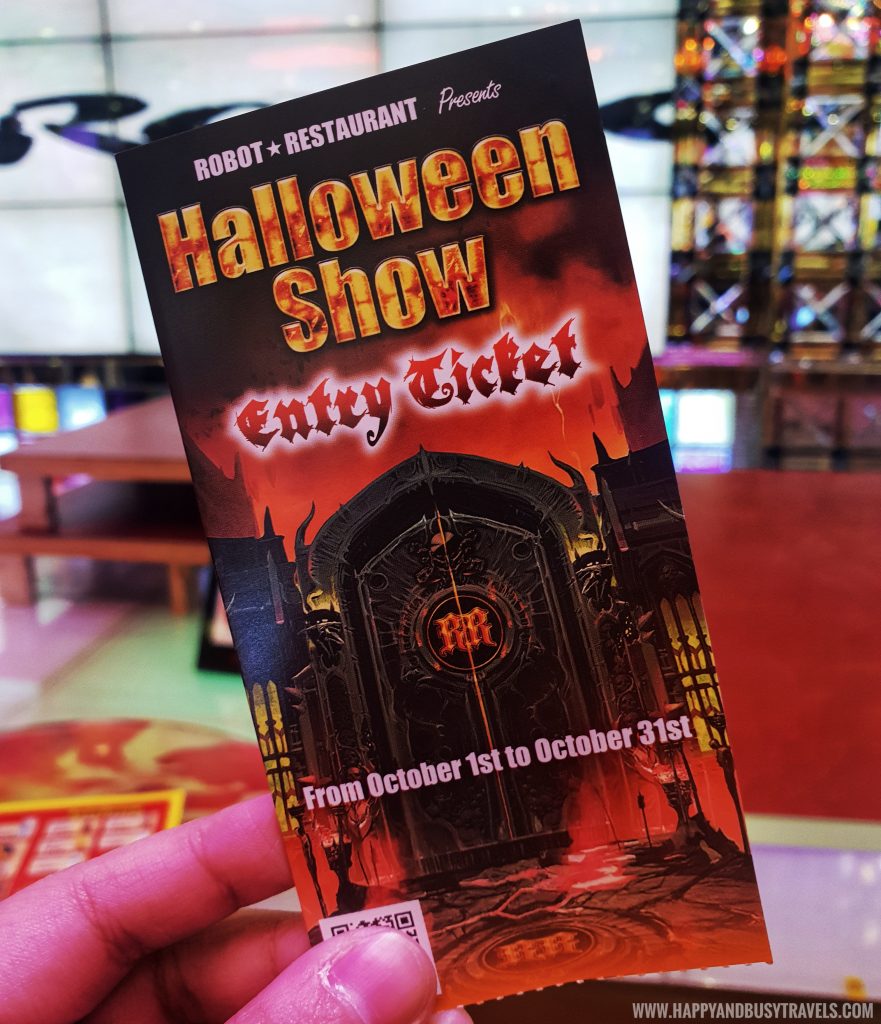 Freebies were given to us because we booked the show through Klook. These freebies changes once in a while.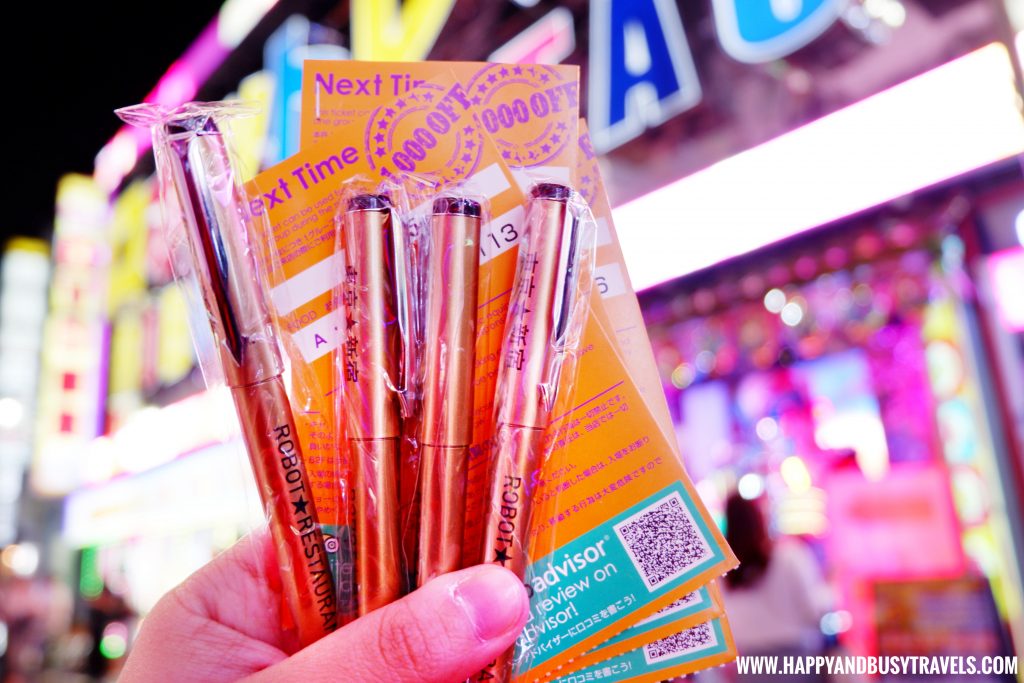 Going in the Robot Restaurant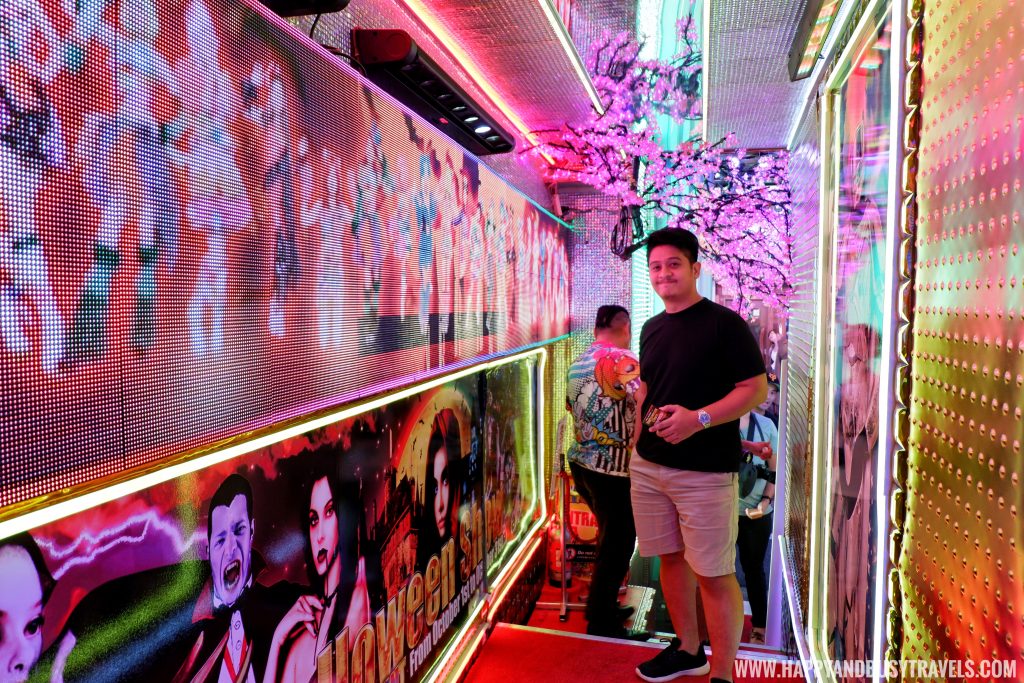 After passing by the colorful pathway, we were directed to the elevator. We rode the elevator up to the 2nd Floor. It was so colorful and bright because everything is covered with LED lights.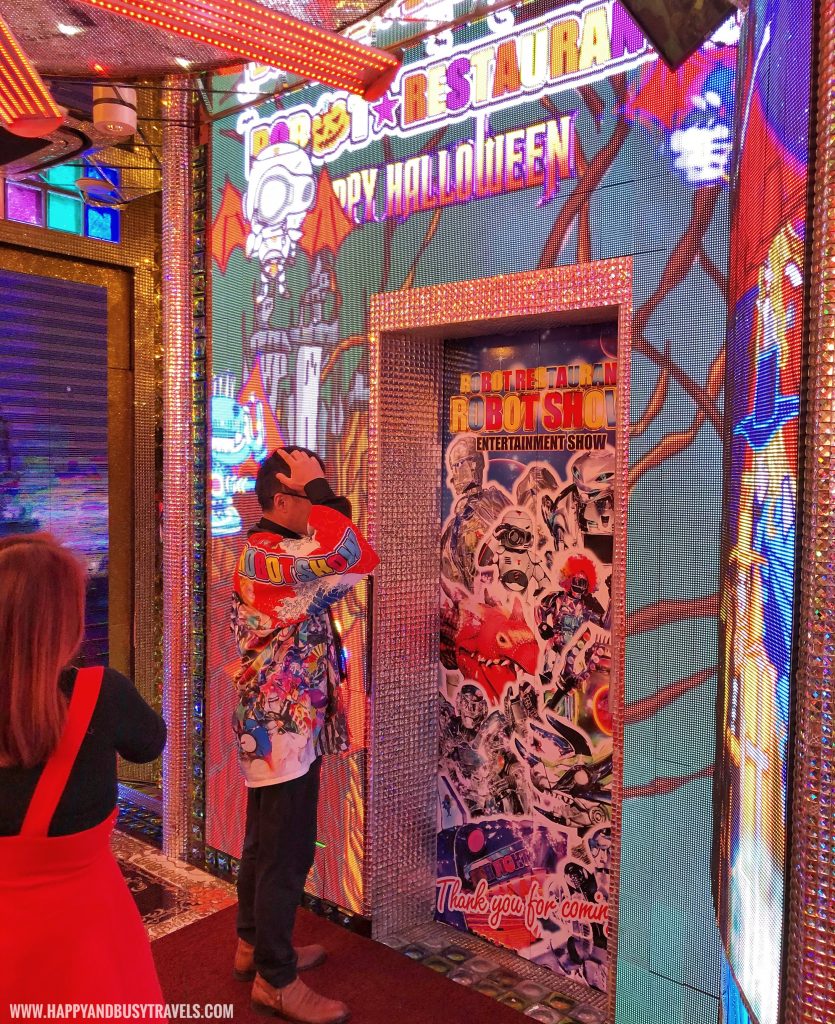 While the previous show is still on-going, we seated on the 2nd floor of the building. This is the actual restaurant. We bought some snacks, and listened to a man in a robot costume play live music. We arrived very early for the show, so we waited for a little bit long.
Robot Restaurant Actual Show
The 2-hour show is divided into 3 major parts, a few mini parts, and a break in between. In every break, there is a chance for the guests to go to the comfort room, or buy some souvenirs or snacks.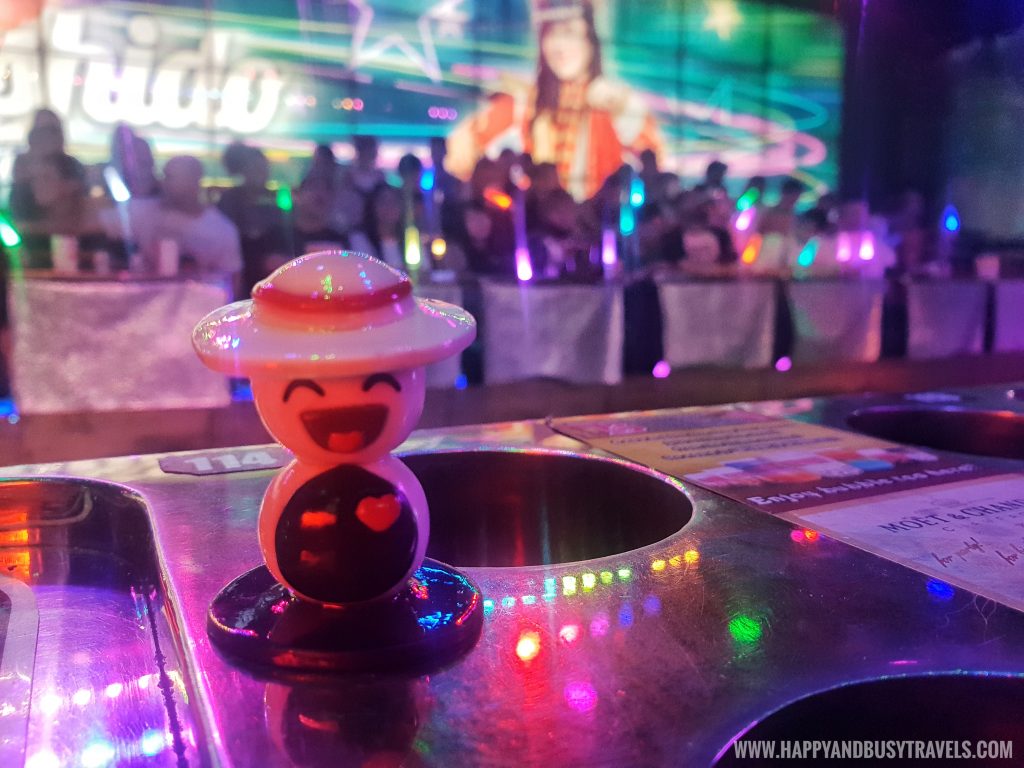 Before the show started, we were given some instructions. First, we have to turn off our wifi because it can interfere with the signal of each robot. Second, we were told not to touch the dancers and robots, plus we should not go beyond our desk for our safety. Lastly, we should enjoy the show!
Start of the Show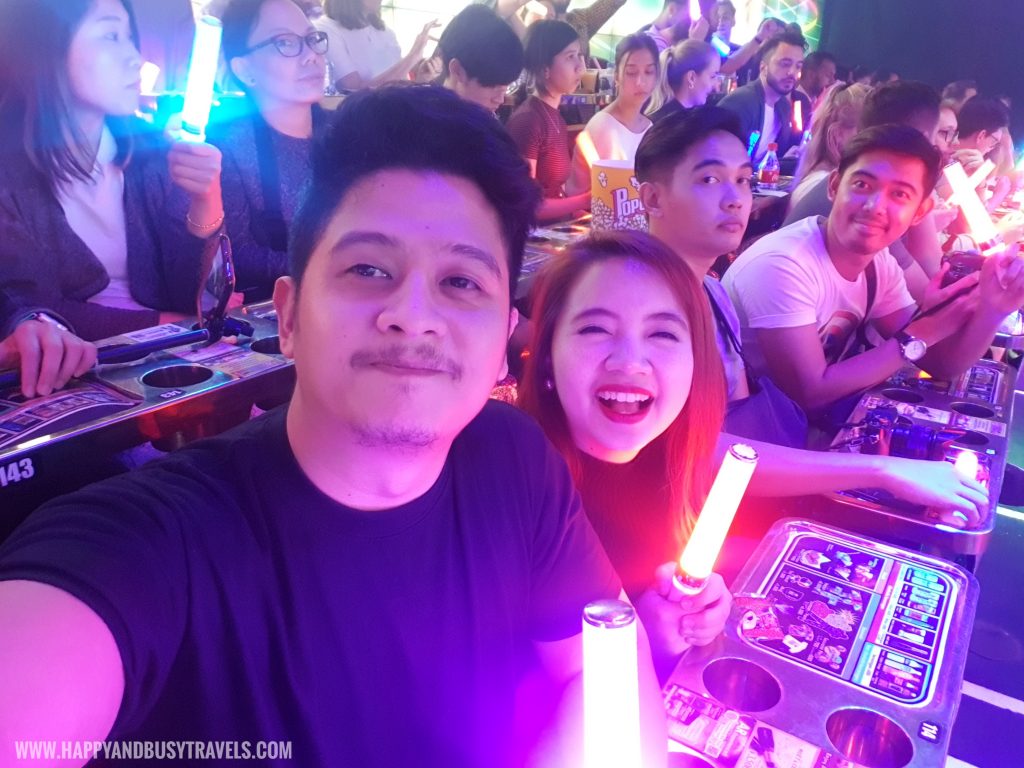 Right from the start, the show immediately excite us with the extravagant costume, props and design, and a bit weird culture of the Japanese.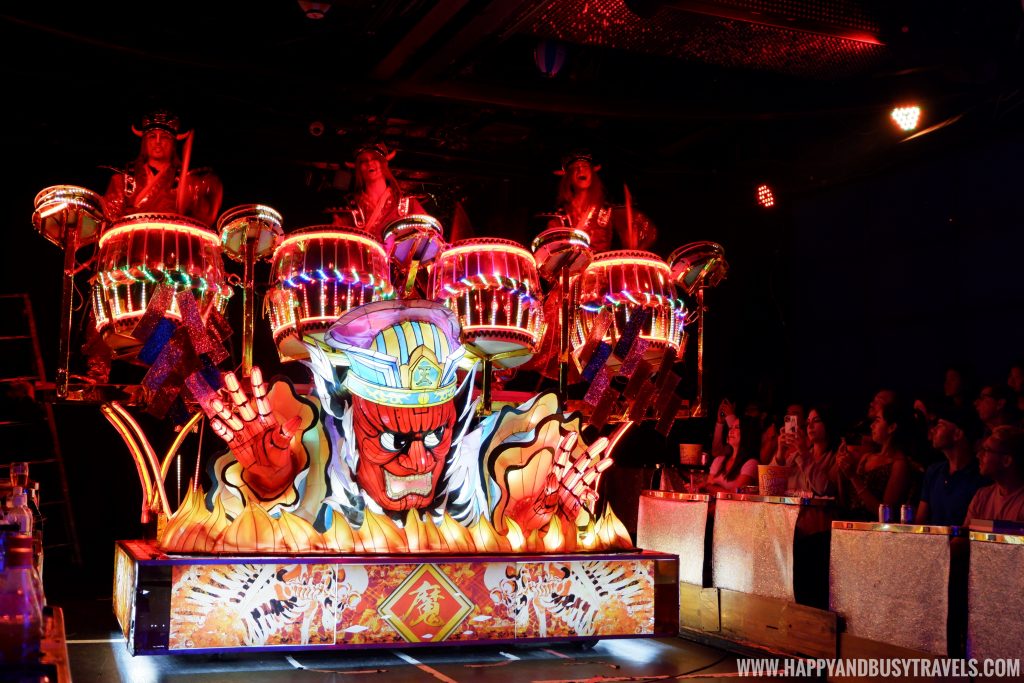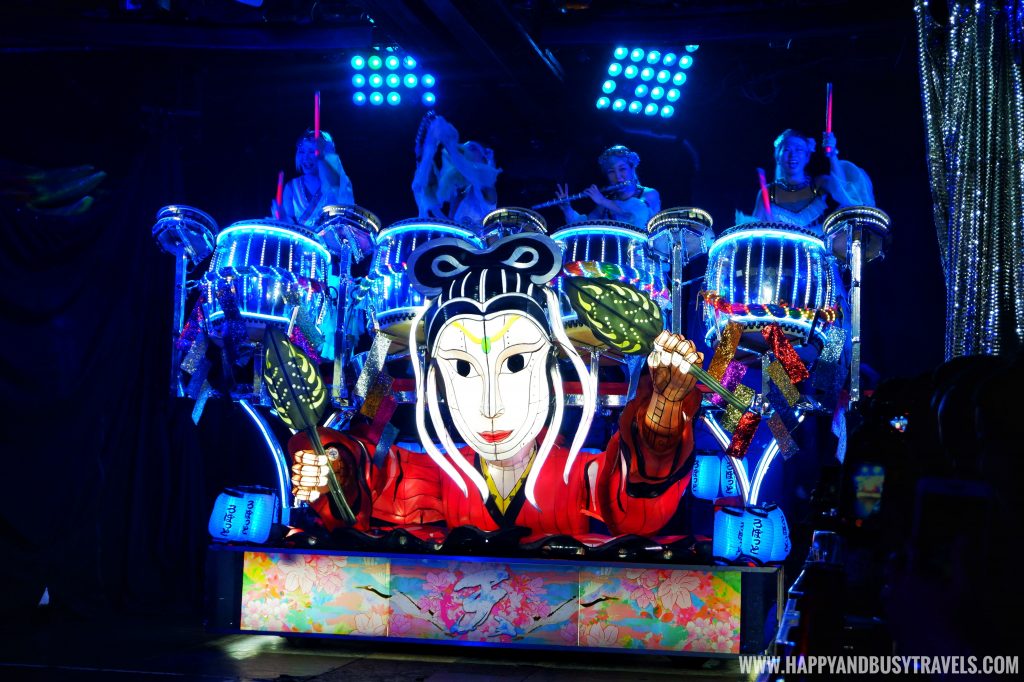 There are two back stages, so we are so thrilled of not knowing where to look because there is a lot going on (in a positive note). There are big figures, which are robots…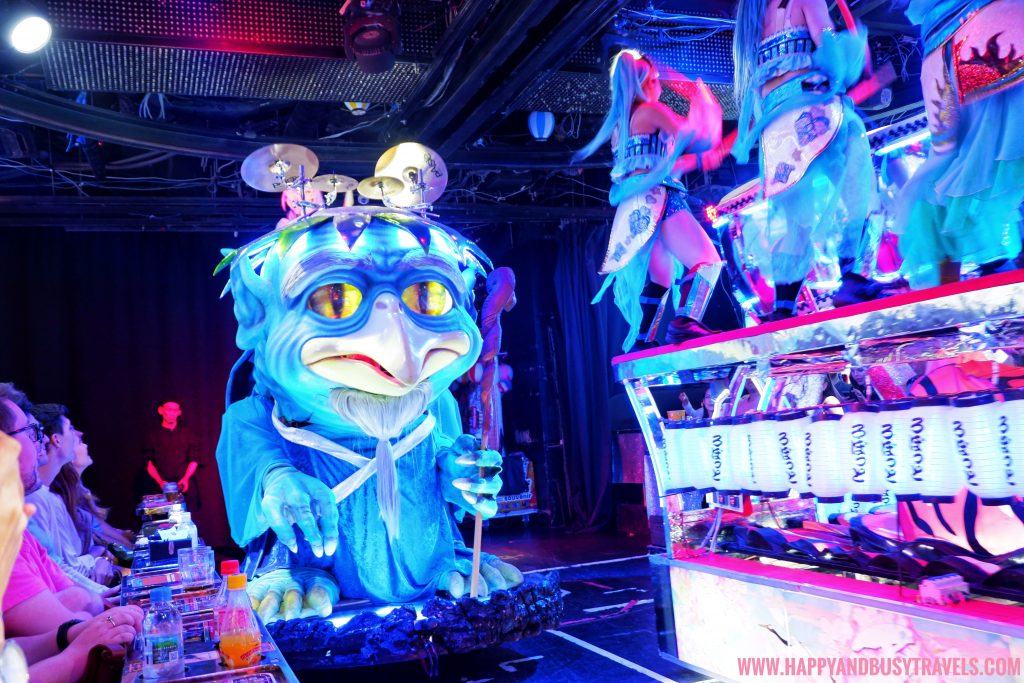 Pretty dancers…

and drummers…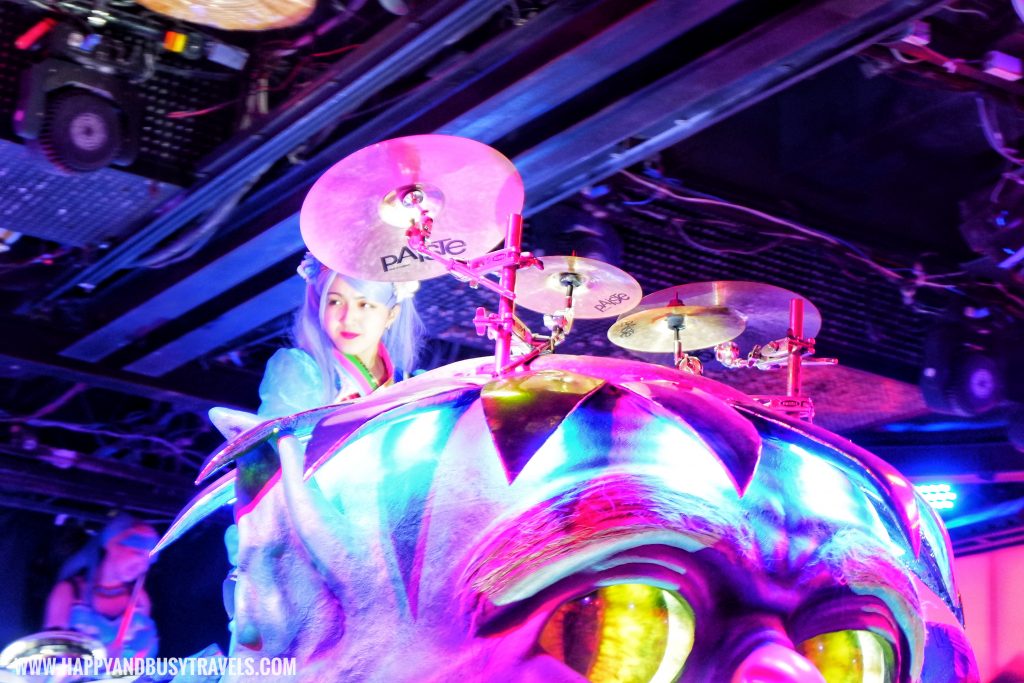 plus these weird figures. 😆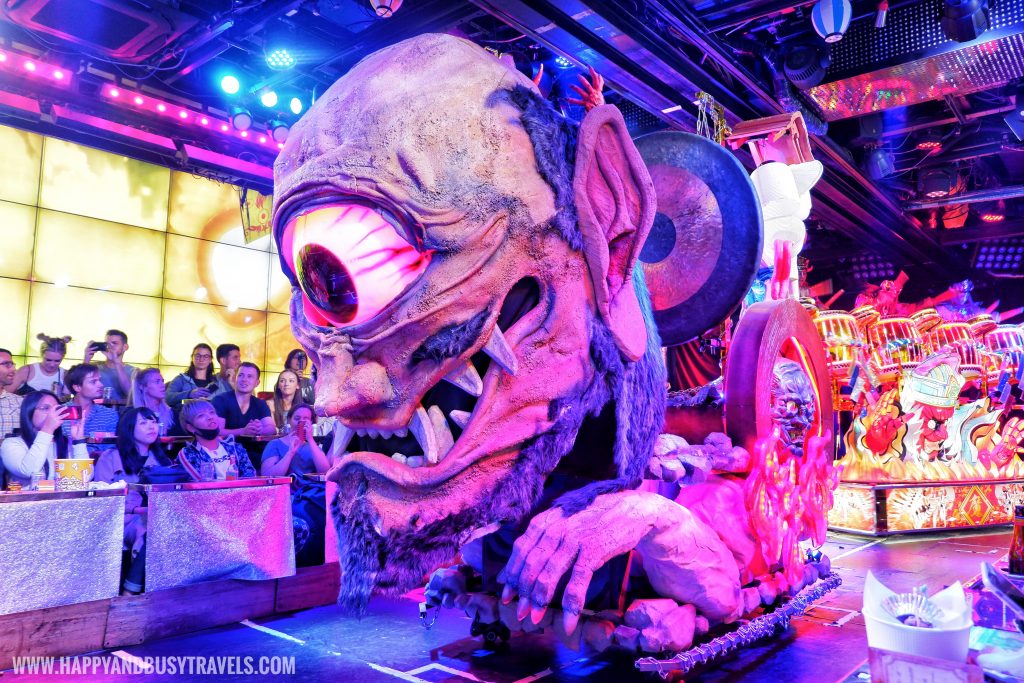 There is really a lot going on, but there is a theme on each part. In this second part of the show the theme was bad vs good.


As you can notice, there is a chain in front of the audience during this part, it is placed before one part for the safety of the audience.

Halloween Show
As I have mentioned earlier, there is a Halloween part in the show because it was October. Here are some snapshots of the Halloween part.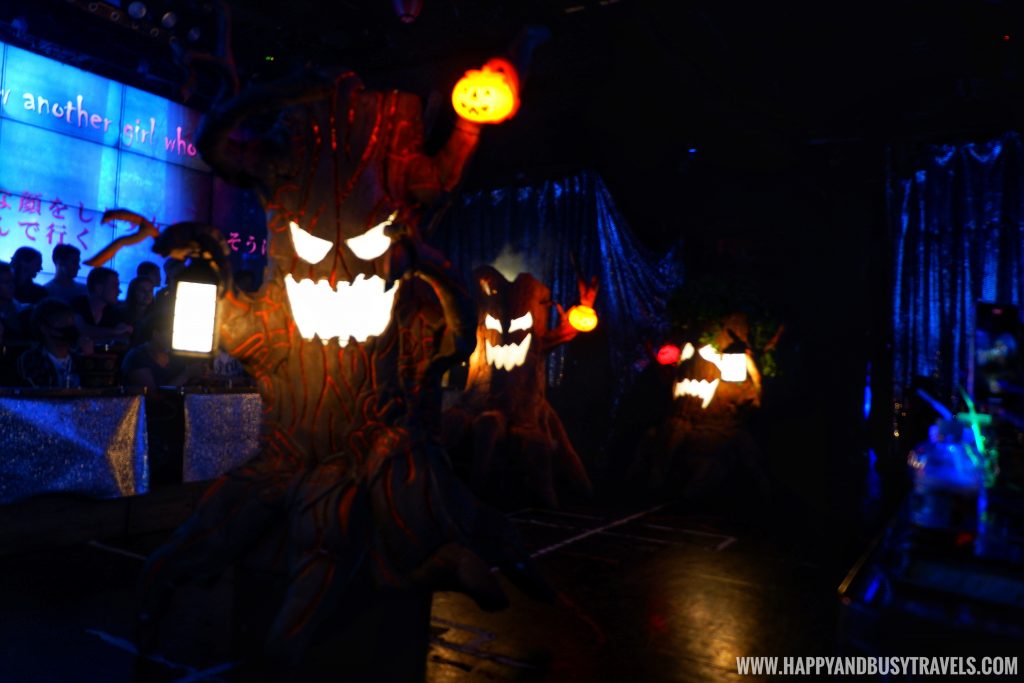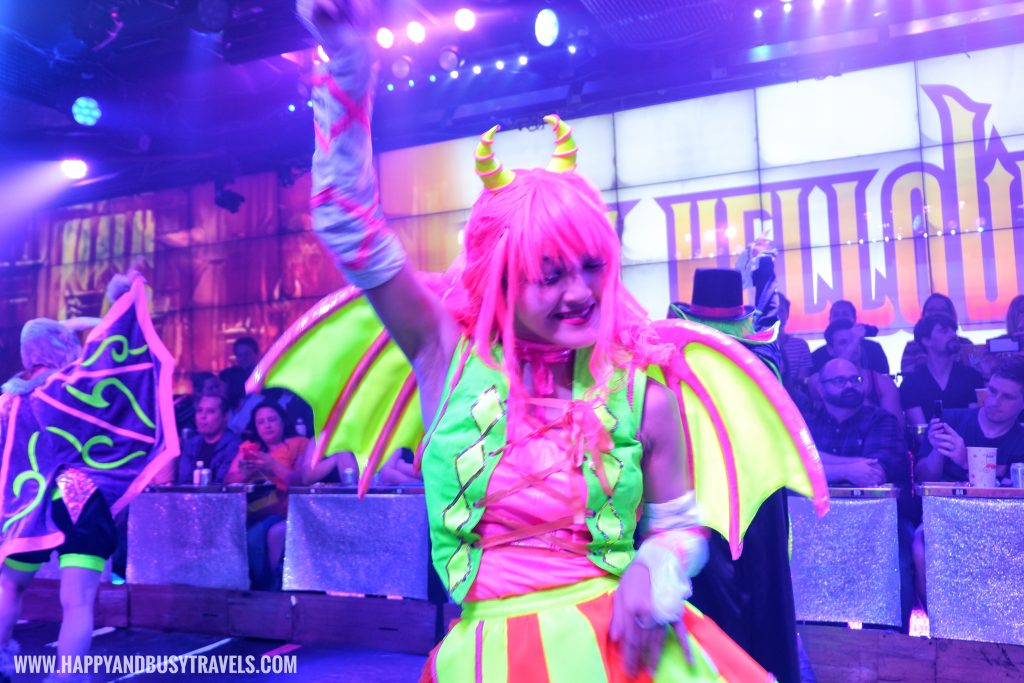 Lastly, candies were distributed to the audiences as a part of their treat after their tricks 🙂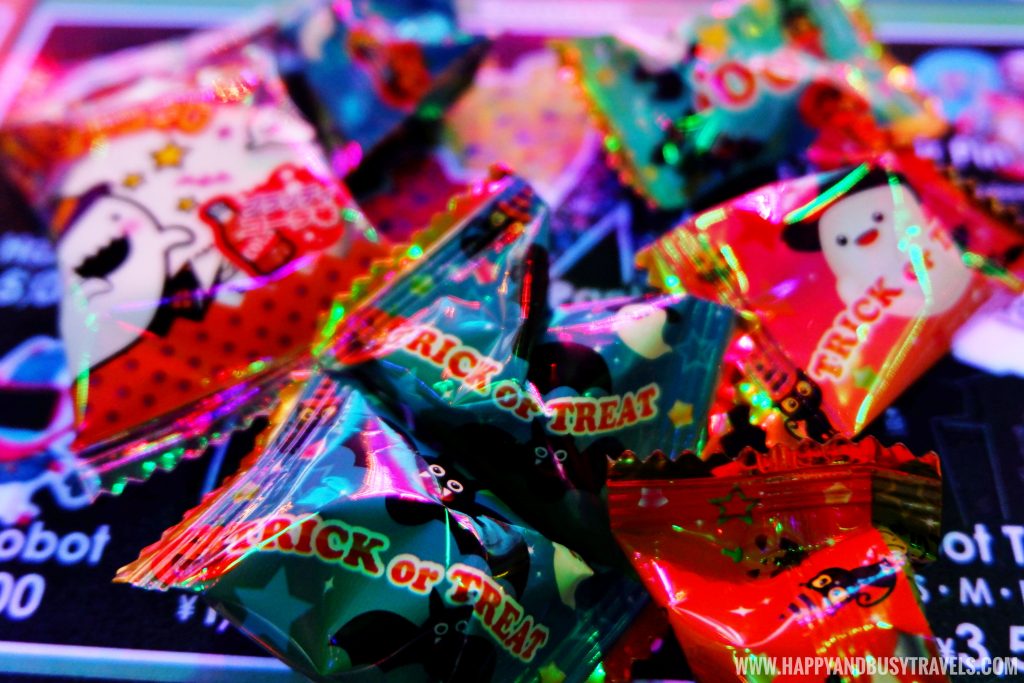 Happy and Busy's Smileys for Robot Restaurant Show
Location 


The Robot Restaurant is very easy to find, it's just in Kabuchiko in Shinjuku, Tokyo, Japan. It is just a 5-minute walk away from the train station.
Ambiance


From the facade, to the hallway, to the lobby, and to the stage, we really felt like we were in another world.
Value for money 


It is a bit pricey, but it is really worth watching it!
Fun


While watching, we kept on dancing and singing in our seats. Even though we do not know the words, we just follow the music. It was so good! Plus, we also can't stop talking about the show until we got home, and until I am writing this review. That's how good it is.
More exciting activity reviews at https://happyandbusytravels.com/category/activities/