Scandi Divers, Puerto Galera
Busy and I went to Puerto Galera to celebrate my birthday. I wanted to go and scuba dive again so I am wondering where to stay in Puerto Galera? Tada! we stayed in Scandi Divers in Brgy. Big La laguna, Sabang. We choose this one because they specialize in scuba diving and their location is near the diving spots in Puerto Galera.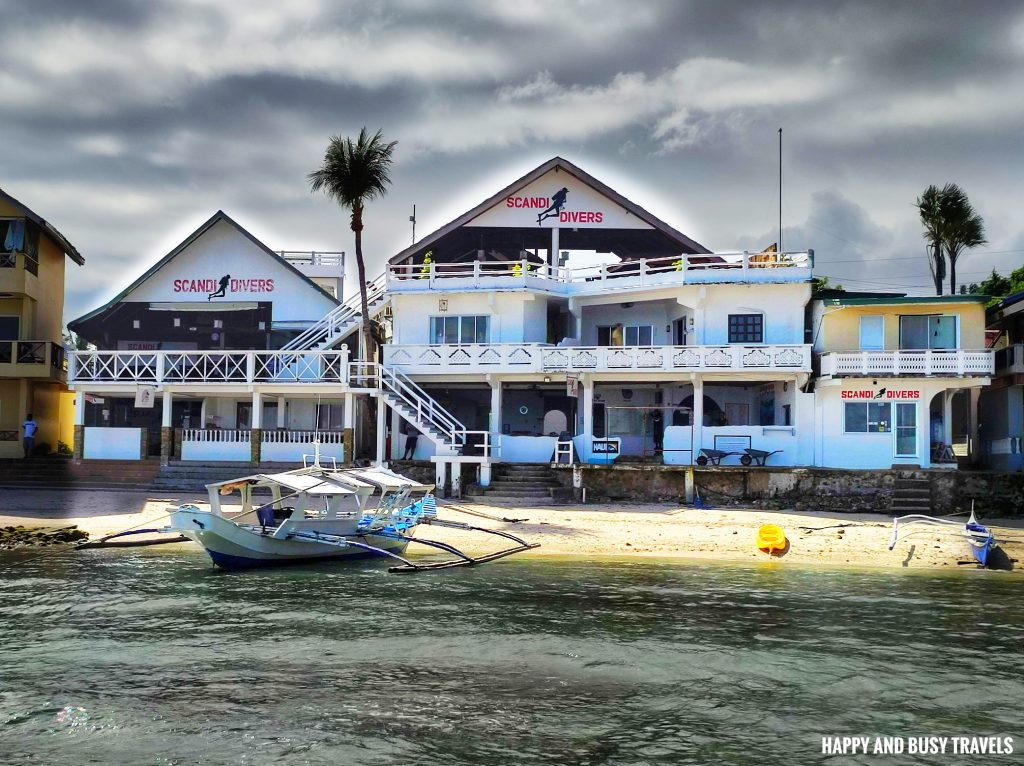 I just wanted to share, it's so funny because the owner's name is the same as Busy's name.
Quick Links
Checking In Scandi Divers
When we arrived, we were immediately greeted by the staff and they assisted us in checking in. They have a reception area where guests can wait to be checked in, but in our case, we didn't wait anymore because our room is already available, so we immediately went into our room.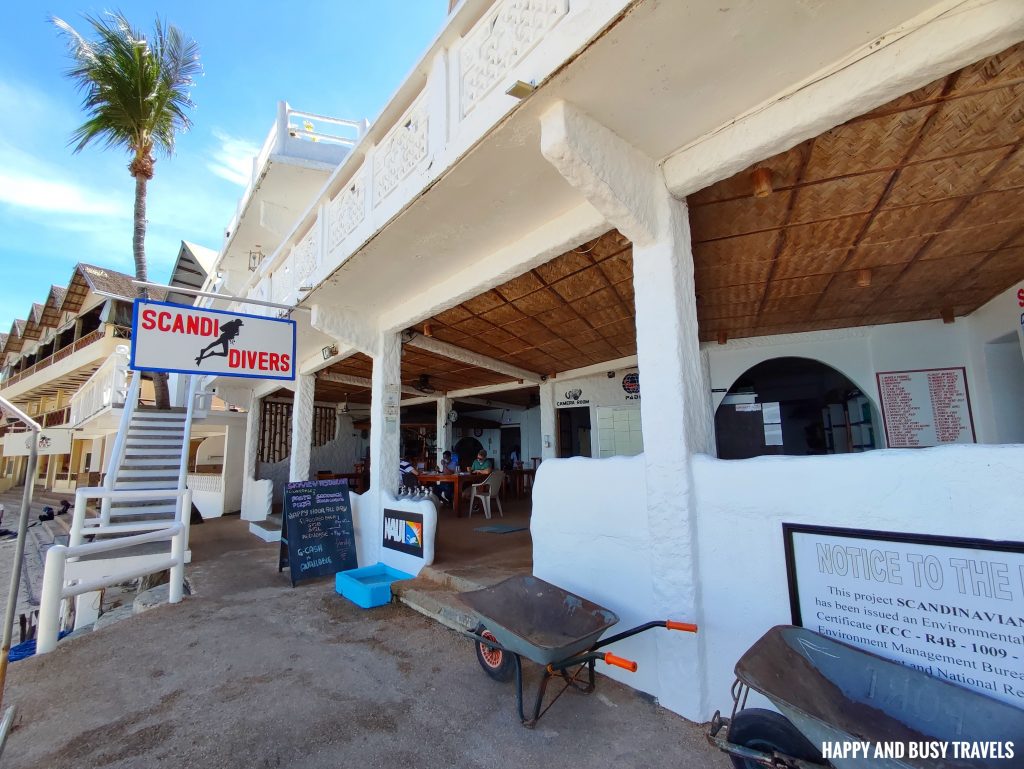 Types of Rooms – Scandi Divers
Scandi Divers has a lot of rooms to offer to their guests. They started small in the past, and one by one they buy the nearby properties so they can turn them into accommodation.
Beachfront Deluxe Room
This is our room, it is just in the middle of the reception area and the dive shop. It is a beachfront room so we have immediate access to the beach.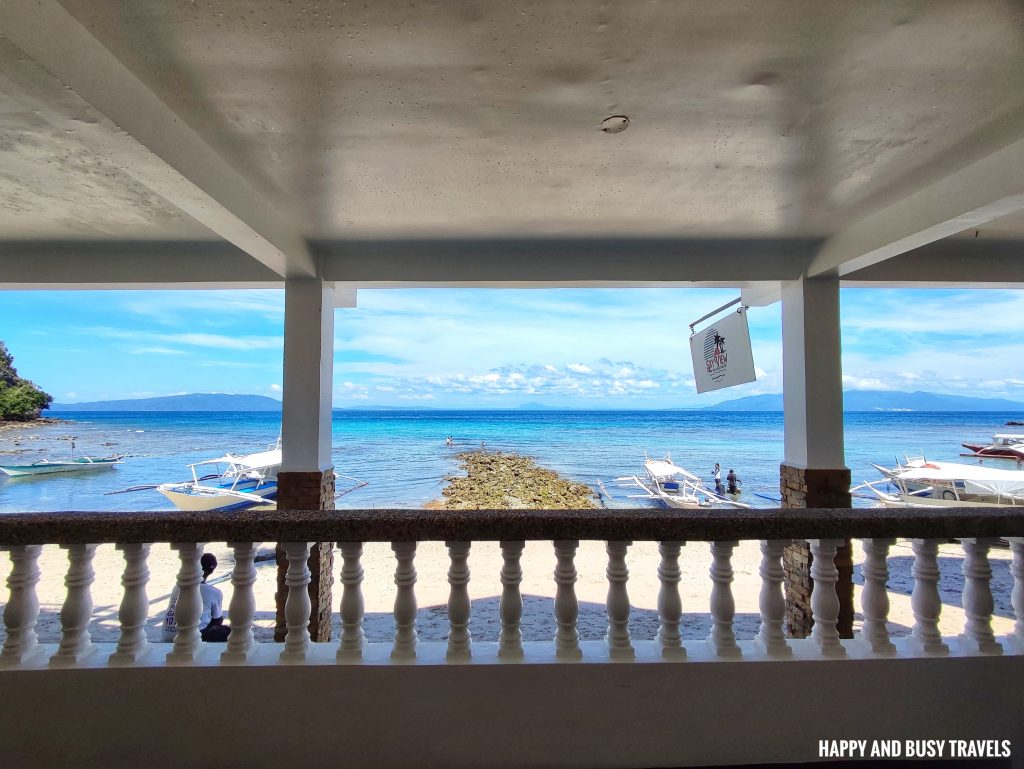 Balcony
Here is the balcony where we can stay and appreciate the view.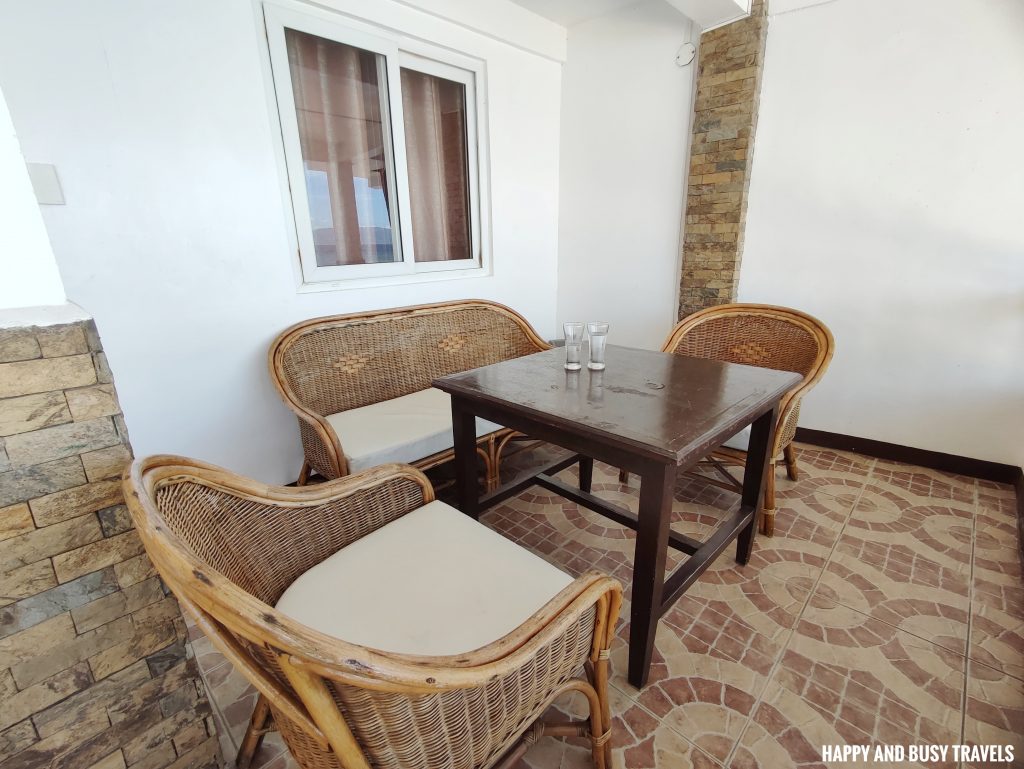 Bedroom
Here is what our room looks like inside.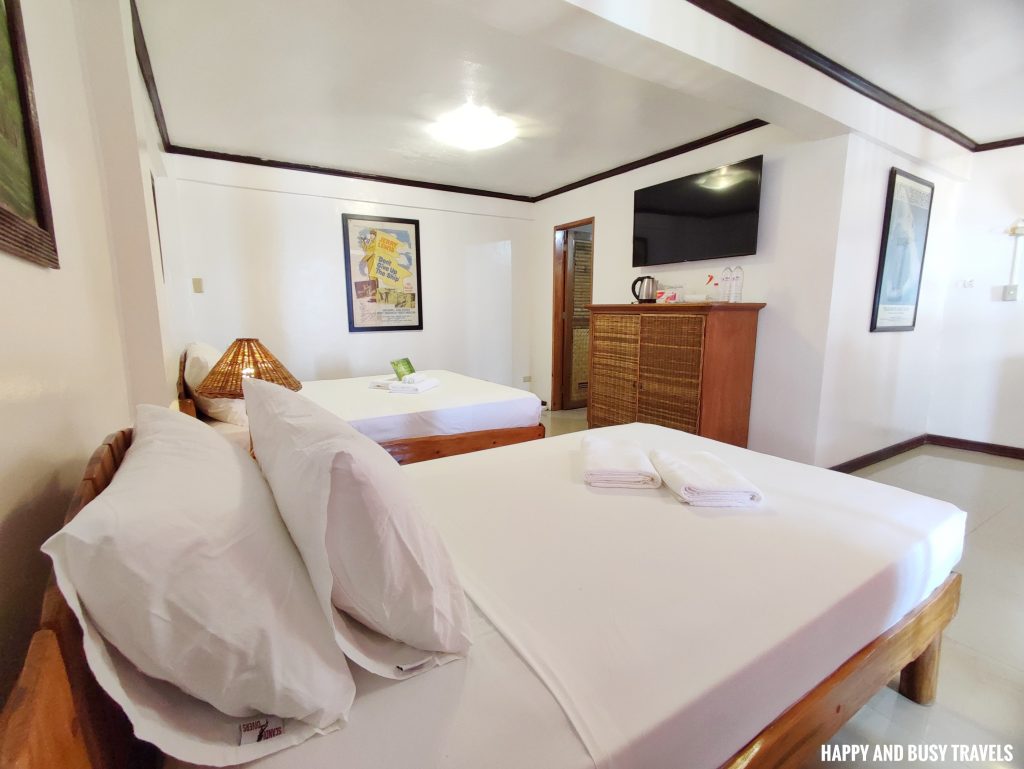 There are two beds, a single bed, and a double bed.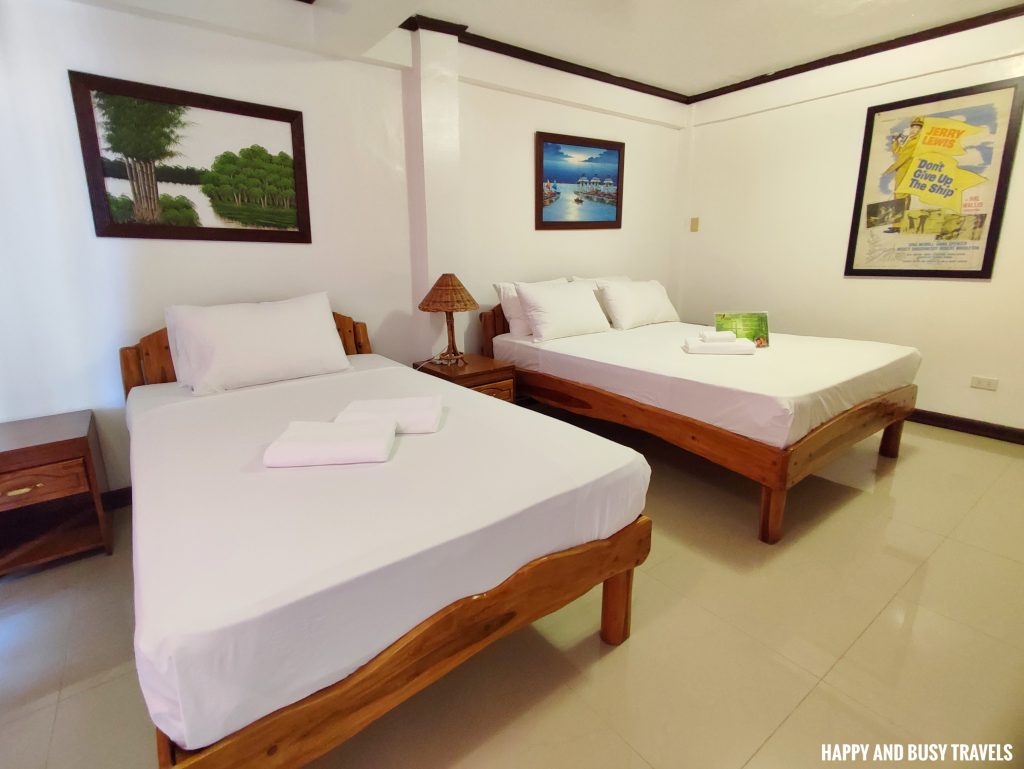 We also have a refrigerator, and of course an air conditioning unit.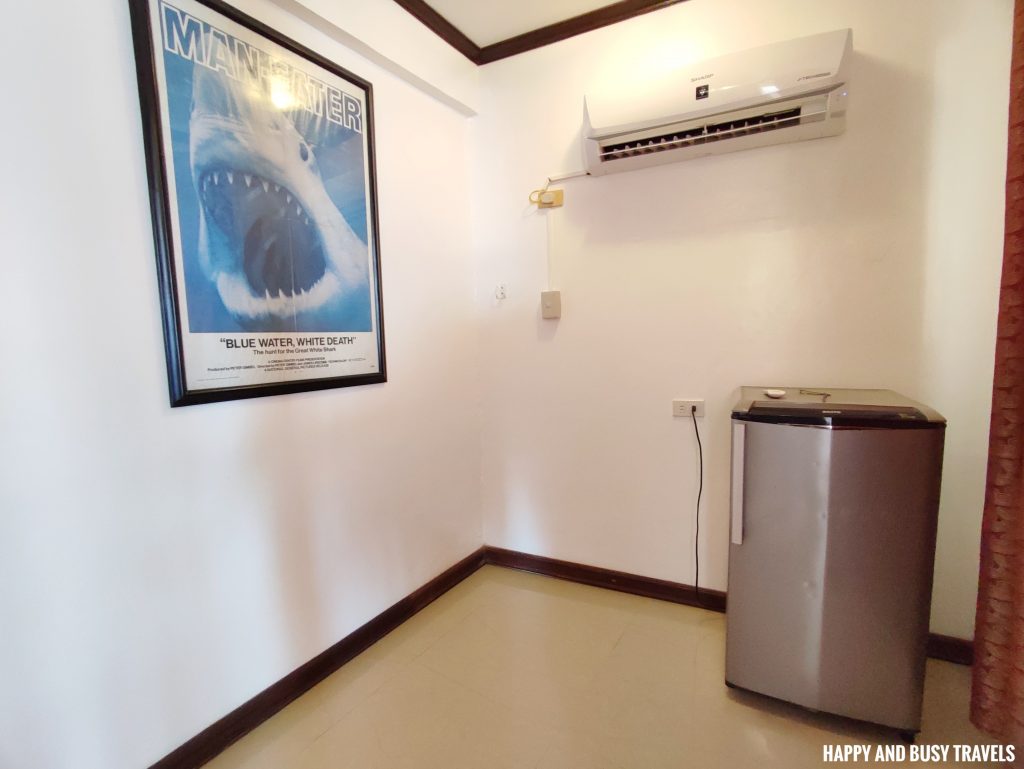 Plus, we also have a flat-screen television with cable channels, a cabinet to store our things, and a safe for our valuables.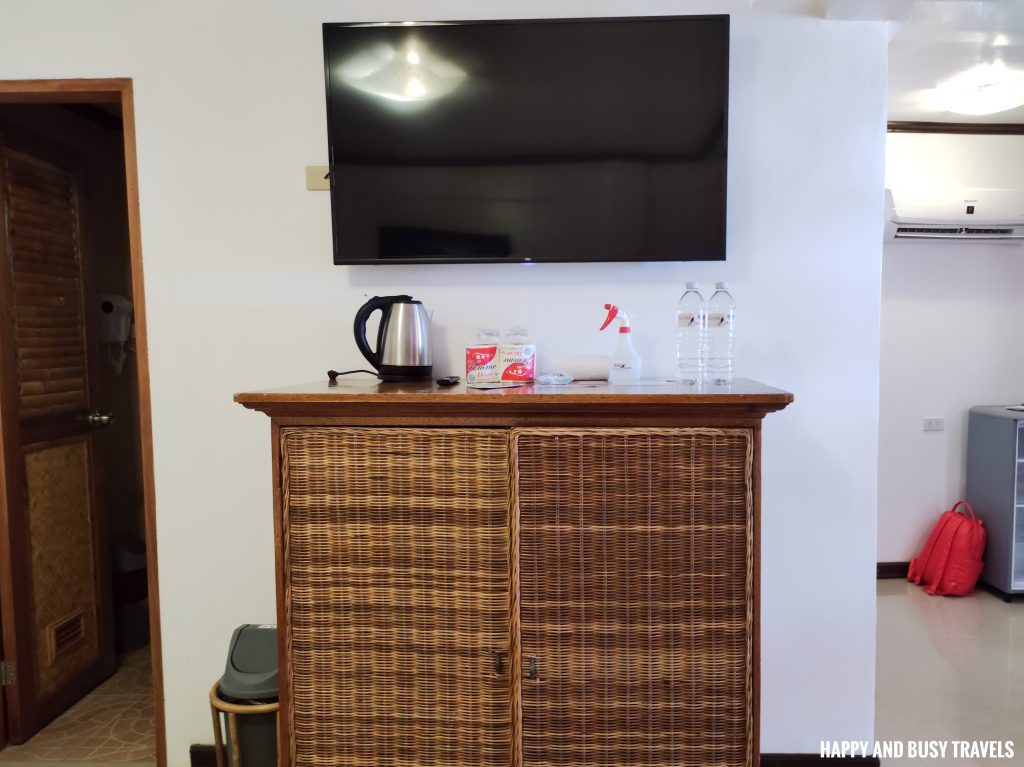 I love how Scandi Divers lookout for their guest, they provide toiletries, plus a sanitary kit that includes alcohol, gloves, and face masks.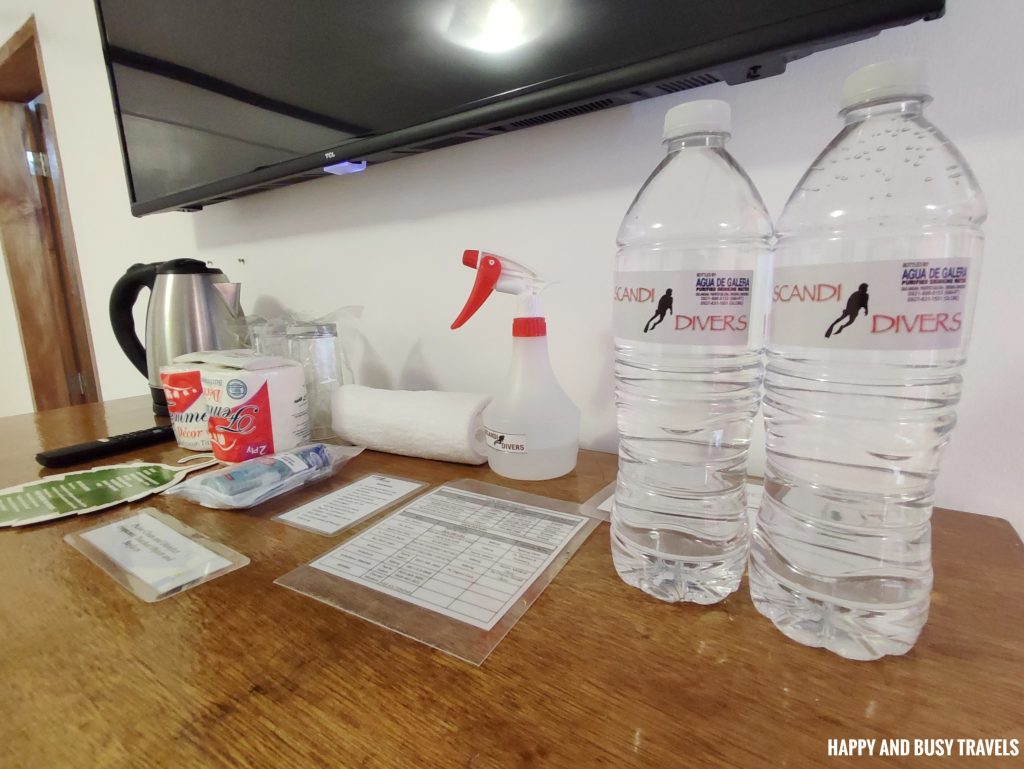 Comfort Room
Their comfort room may look basic, but it has everything that we needed. Hot and cold shower, a toilet bowl with bidet, and a sink.
Beach Cottage Room
If you want to have quick access to the beach but on a budget, this is the best room for you, the Beach Cottage Room.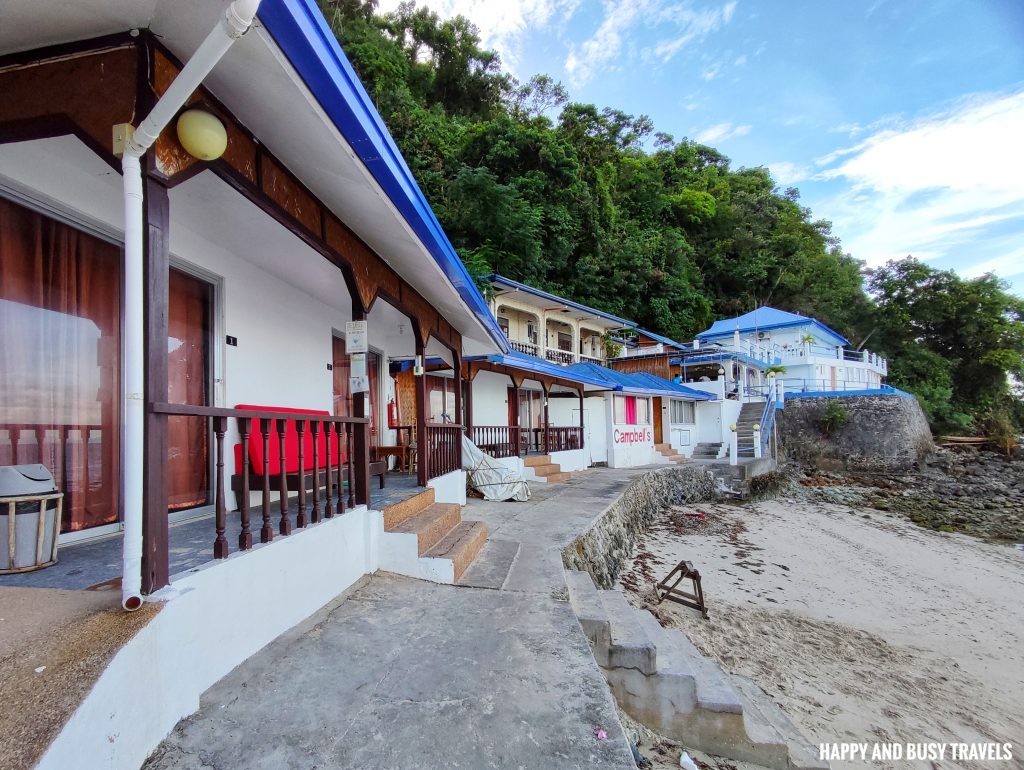 The room is just straightforward, it has a double bed good for up to two guests. It faces directly the window which shows the ocean. It may be small but it still has a cabinet and toiletries.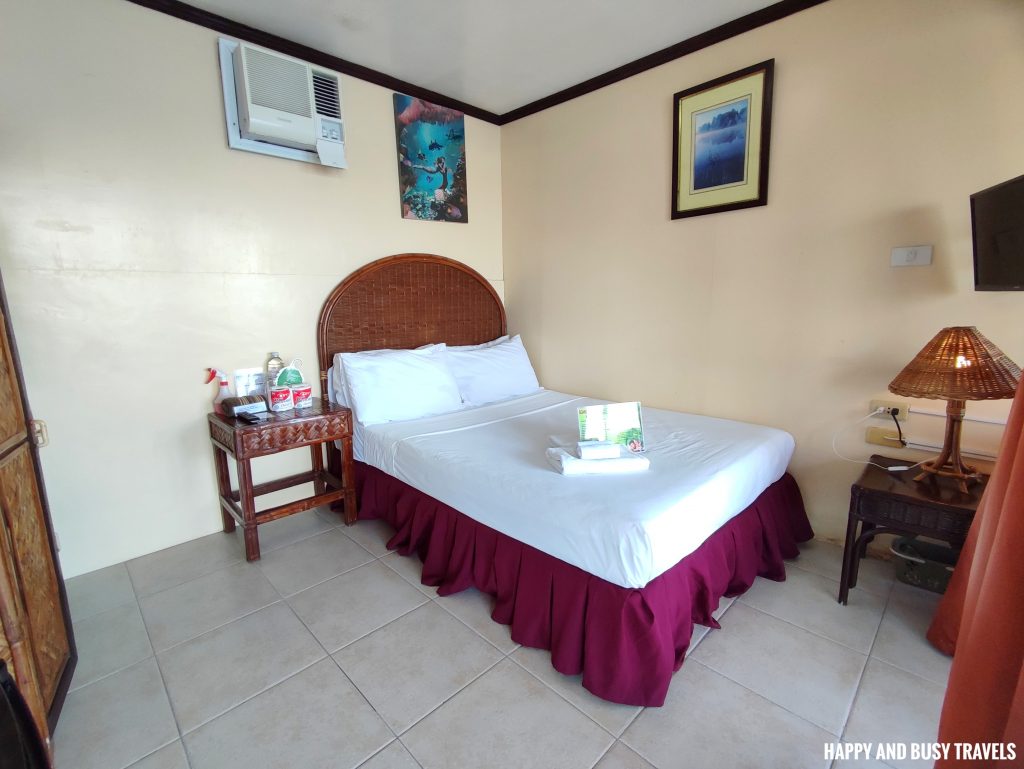 Here is what their comfort room looks like. Clean and neat, and has everything you need.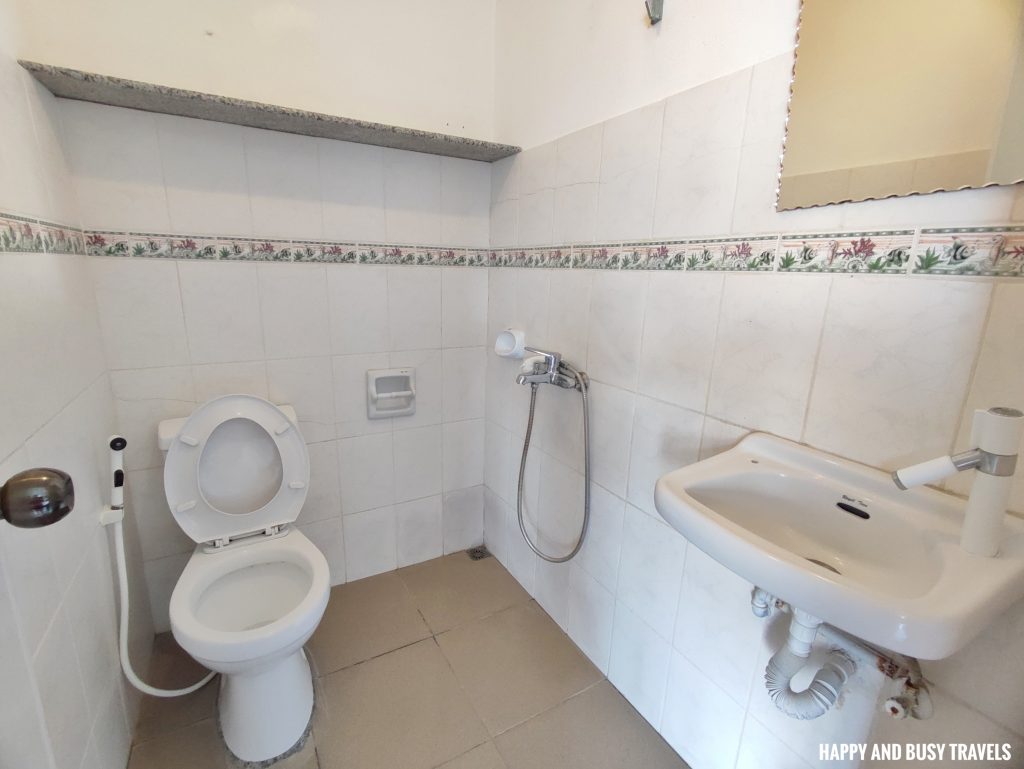 Deluxe Room
These rooms are just beside the Beach Cottage Rooms. This room is actually big because this room is made out of two beach rooms, and it is just newly renovated to become one room. It has a Queen-sized bed and a dining table. This room has never been booked since it was renovated, so you can be the first one!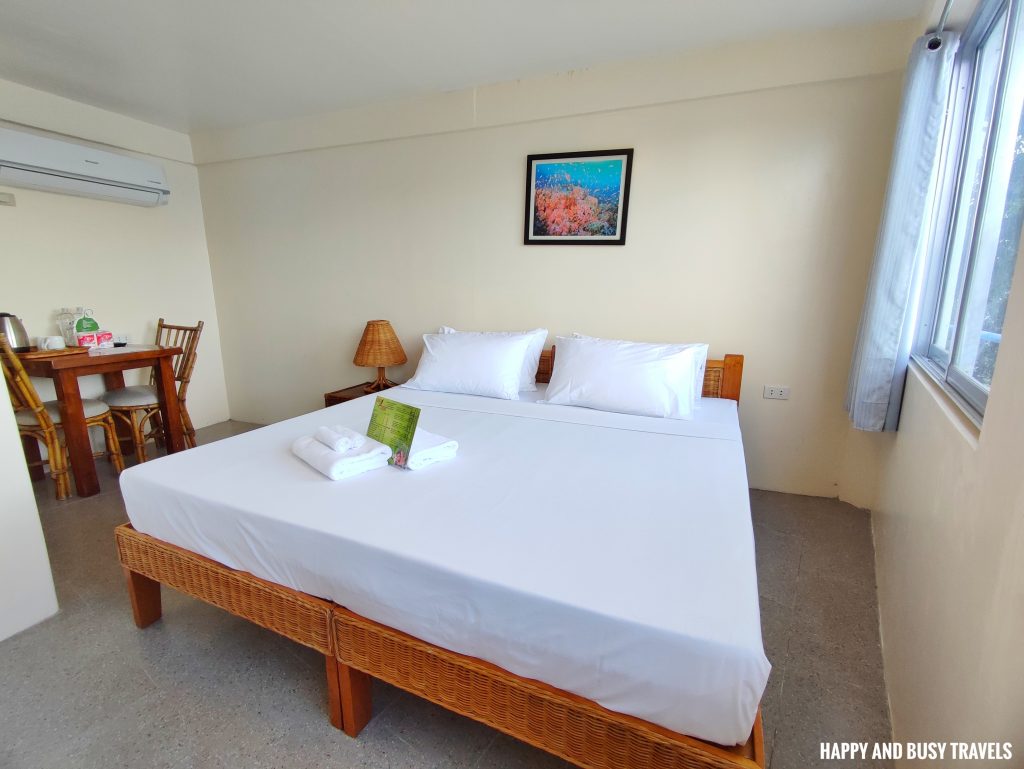 This is also one of our favorites because it has a nice view which is direct to the ocean.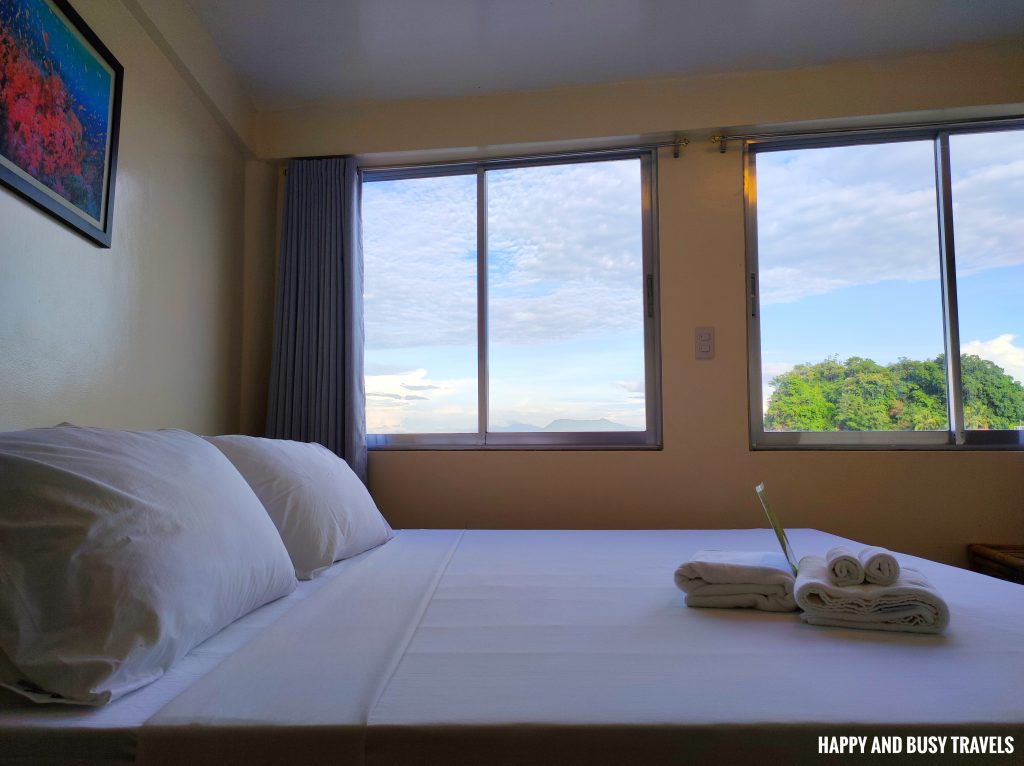 On the other side, there are other features like the study table, sofa set, cabinet, refrigerator, a safe, and a full-size mirror.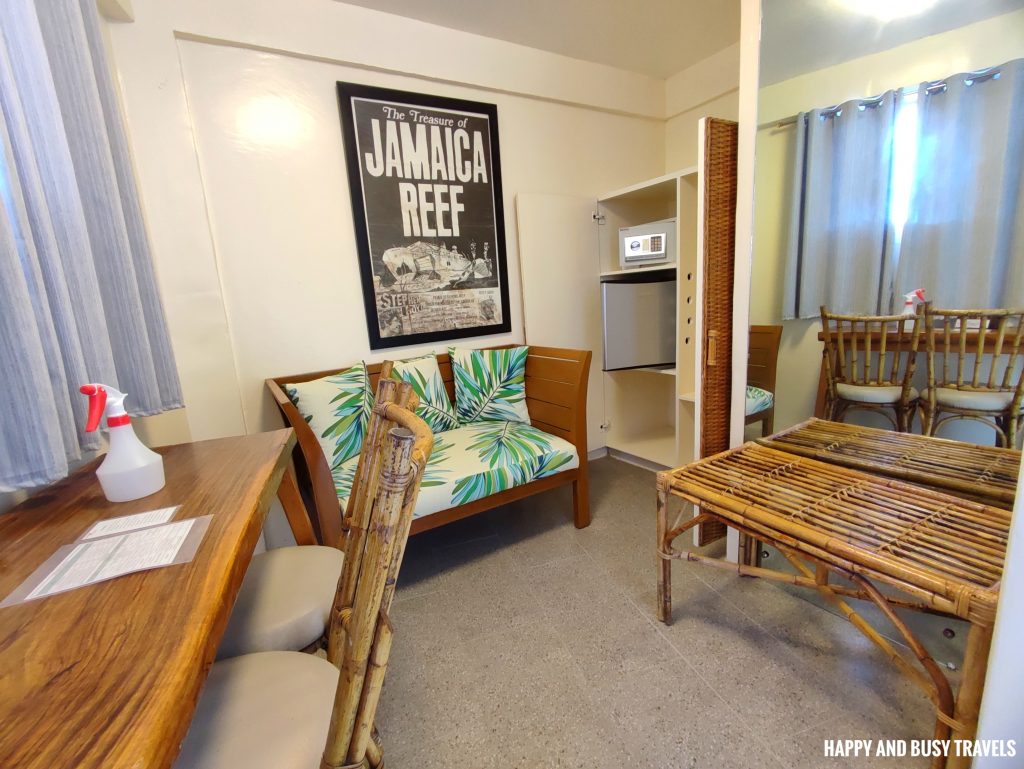 The comfort room is also nice, it still smells and looks new.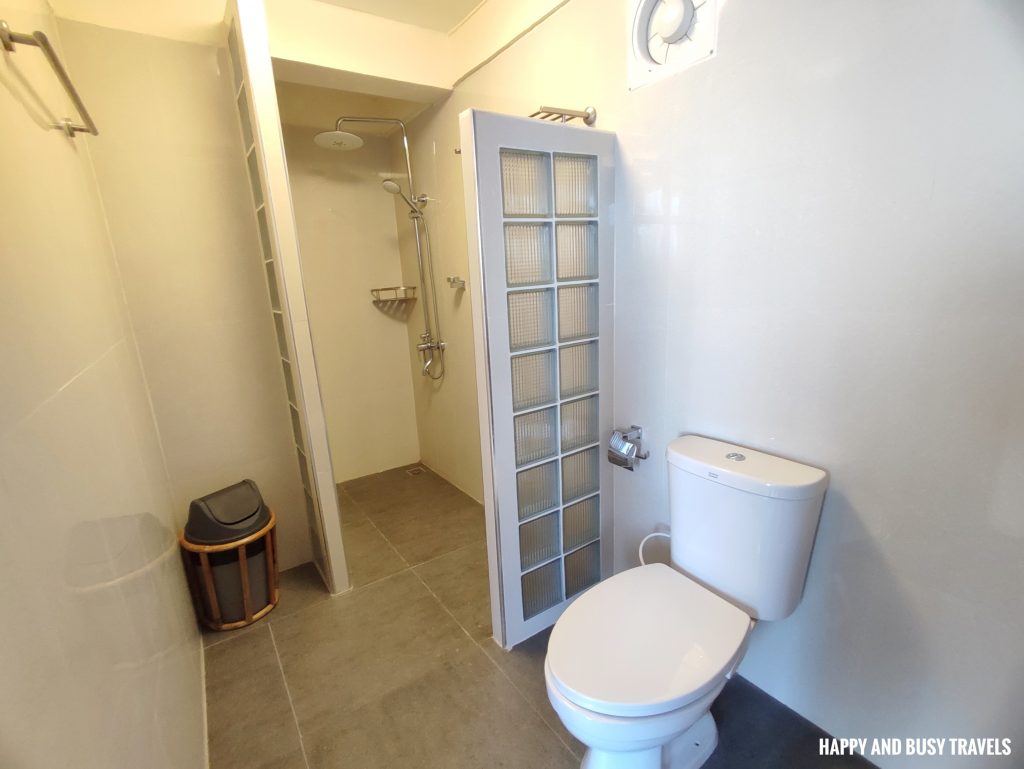 Penthouse Rooms
We moved further up and visited the Penthouse rooms. Of course, these are located in a higher place so the view is prettier. These rooms are also newly renovated plus there are still no guests since it was renovated. You can also be the first one!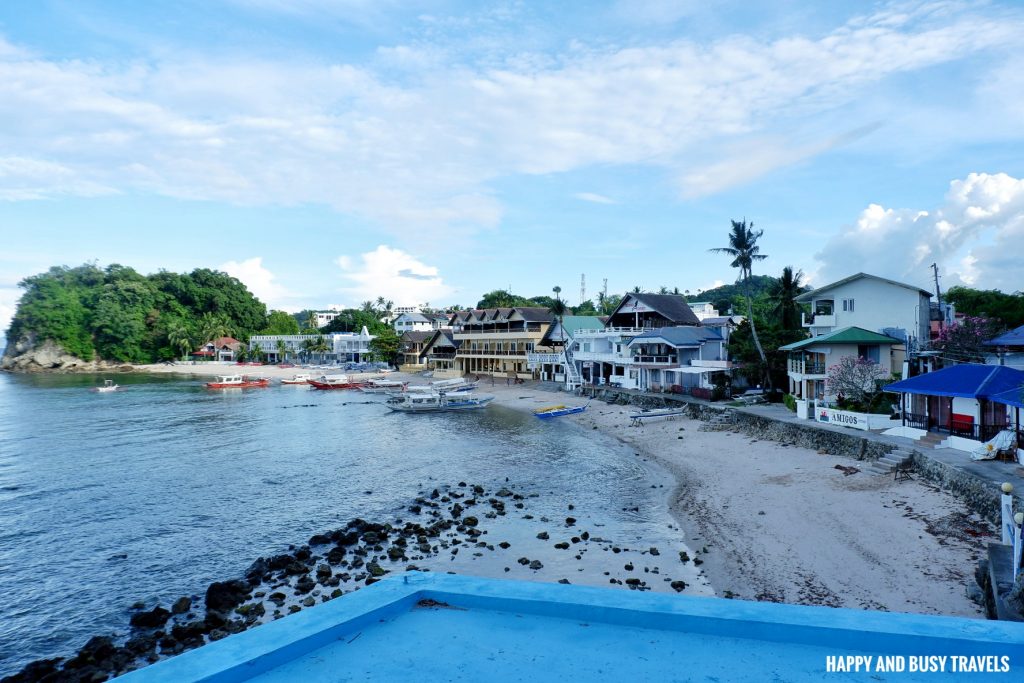 Twin Beds
This is the first Penthouse Room, it has a twin bed, ceiling fan, tables and chairs, sofa set, cabinet, and a safe.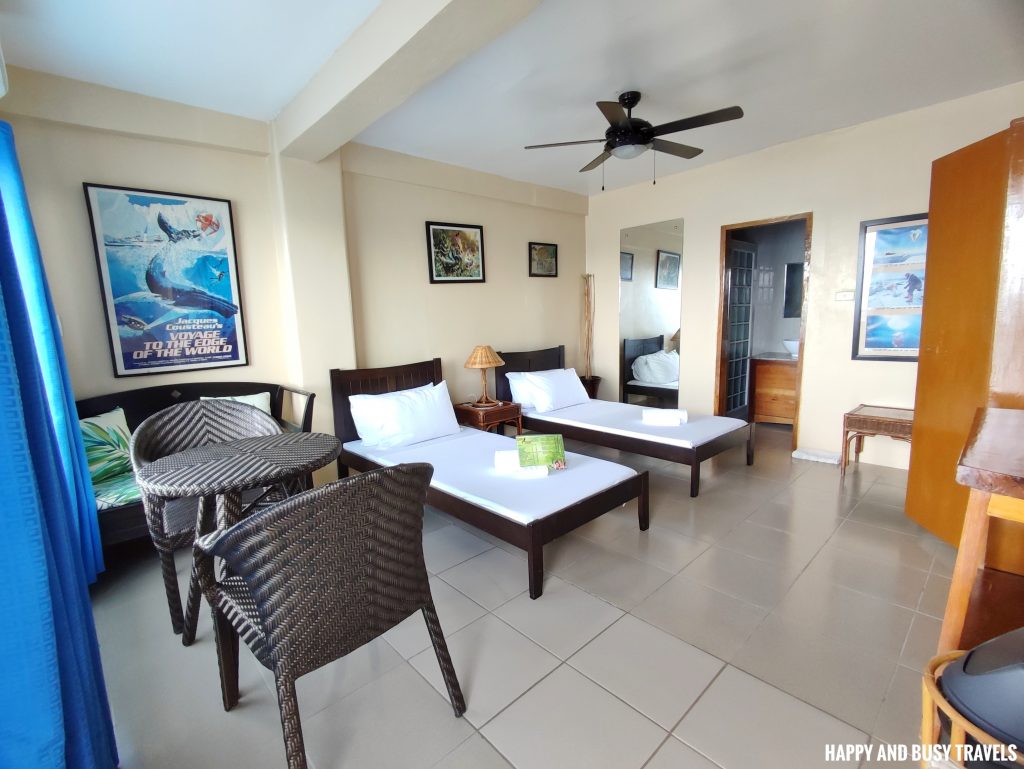 Here is the view from the other side.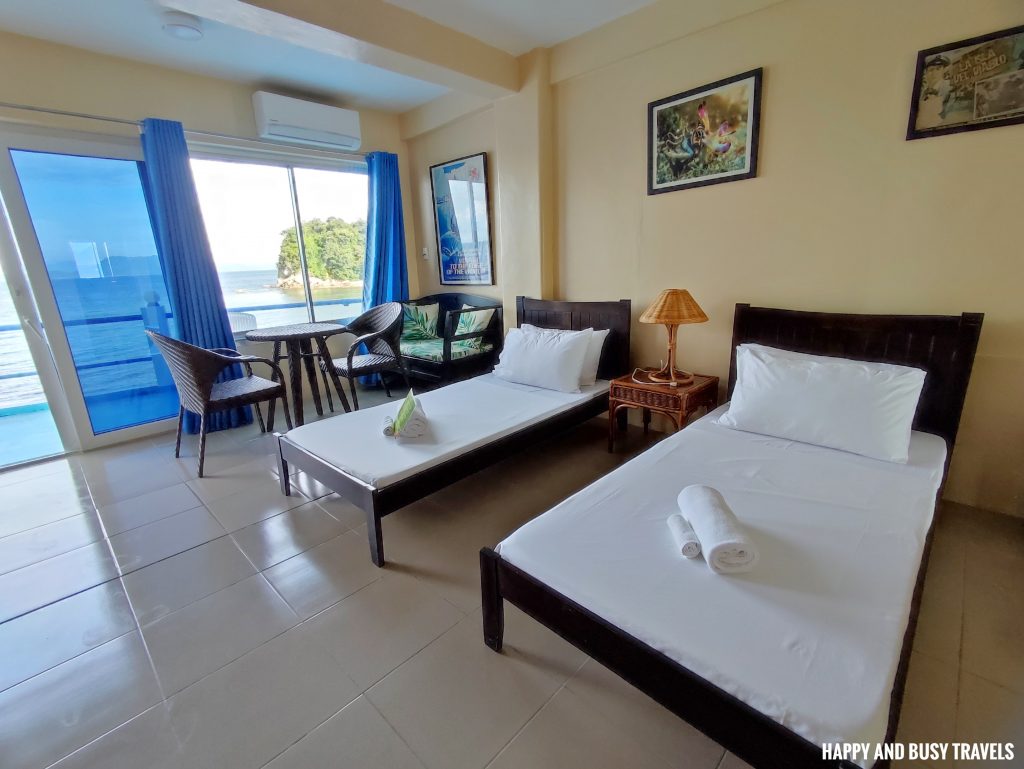 Of course, the toiletries also include the COVID kit.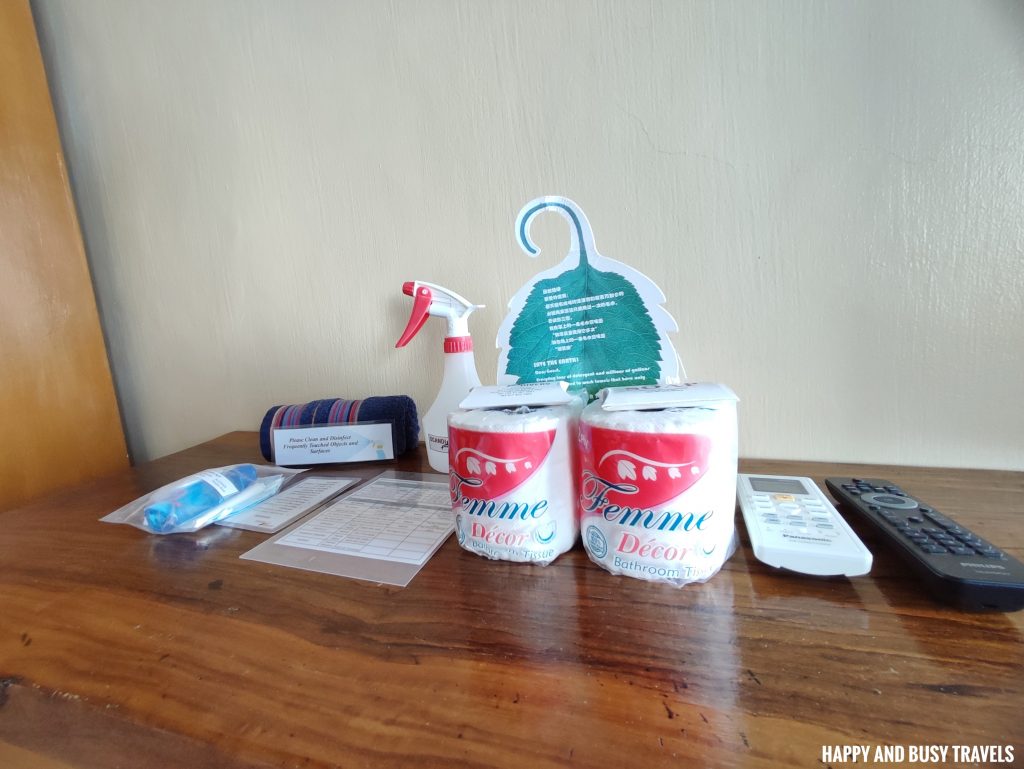 Queen Size Bed
This is the next bedroom, it has a queen-size bed and has the same features like the other room.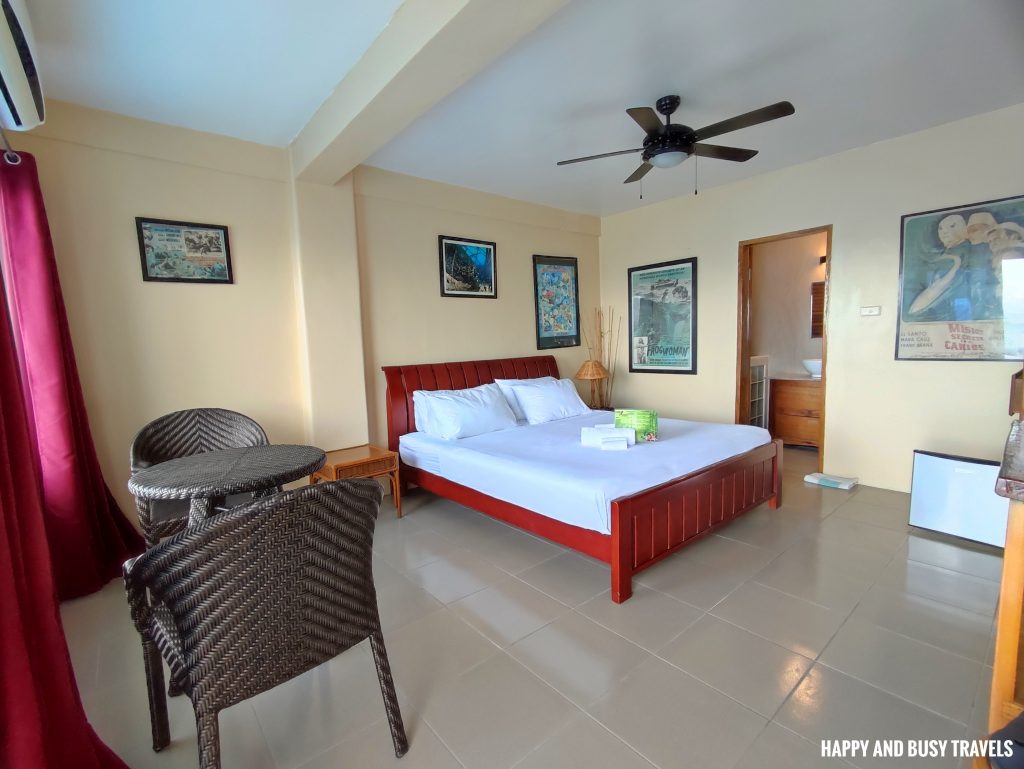 Again, here is the view from the other side. It's really nice to wake up and see the ocean immediately.
Both penthouse rooms have a pretty comfort room too, it is just like what the comfort room of the deluxe room looks like.
Features and Amenities of Scandi Divers
Scandi Divers has a lot of features and amenities that we enjoyed.
Swimming Pool
They have a swimming pool which is usually used for scuba diving training, but guests can use it for fun too. It is located in the middle of the hotel, so there is usually a shade blocking the pool from the sun.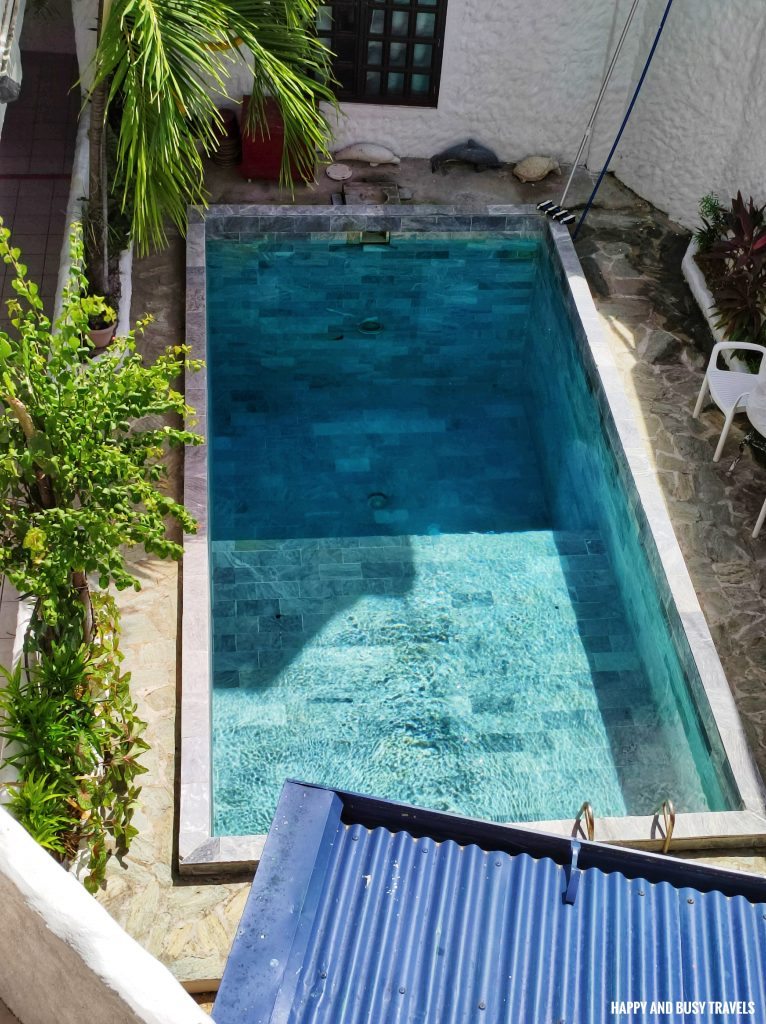 Lovely Surroundings
The hotel is a beachfront property, so first, we get to enjoy the ocean immediately. This part shown in the picture below is a rocky part, but we love to stay here or beside it because there is a lot of fishes and corals. We even used the snorkeling gears and just look around the area.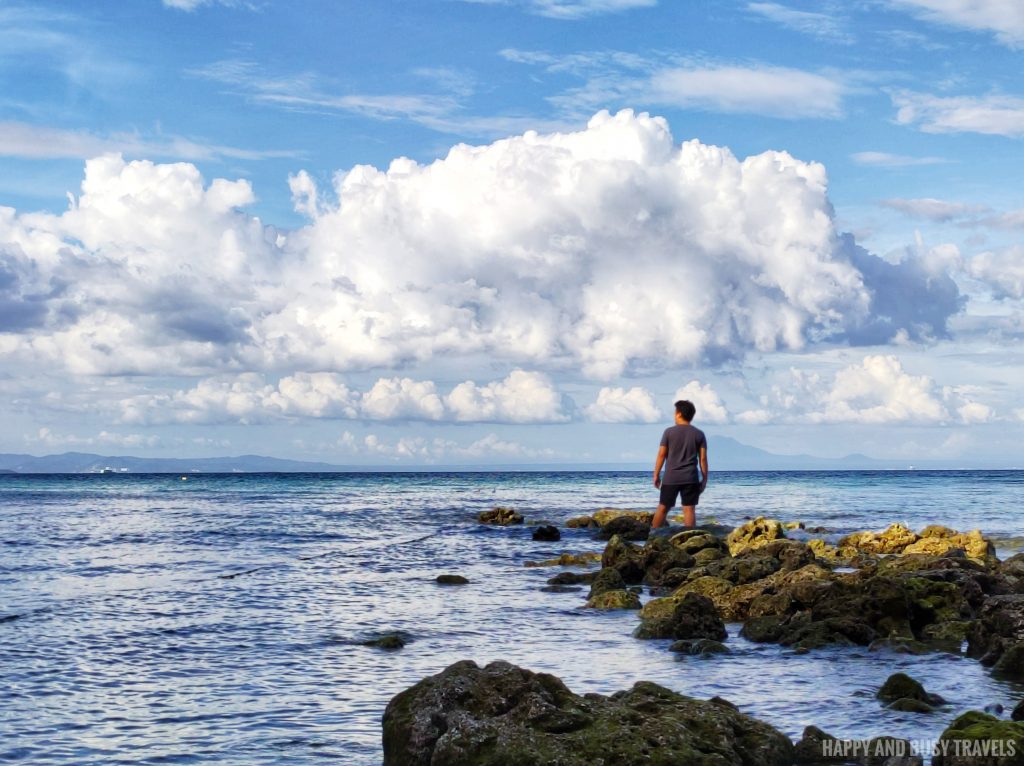 There are also some plants along the beach area.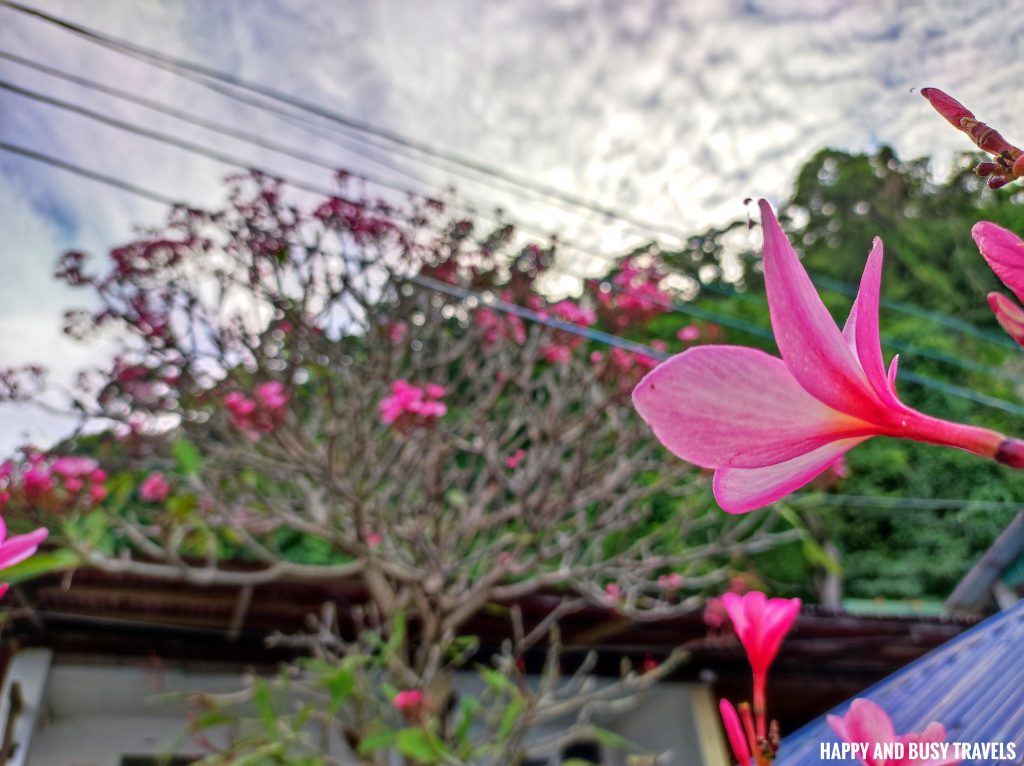 Own Boat
Scandi Divers has their own boat so renting one is very easy.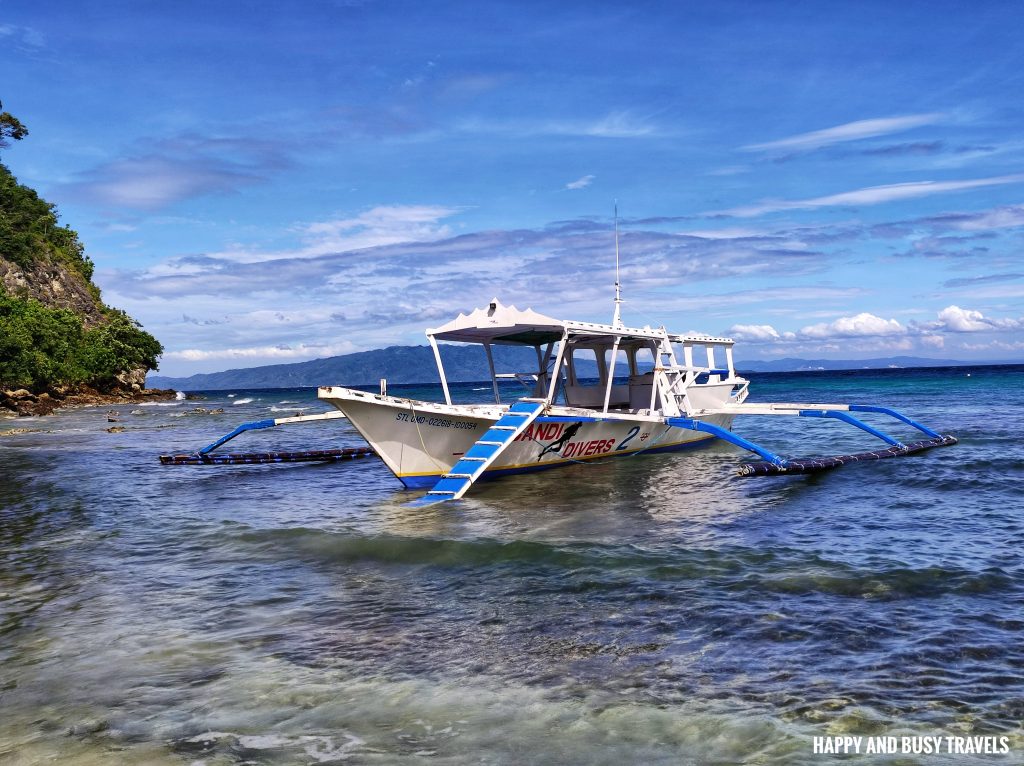 Sky View Bar and Restaurant
They also have their own bar and restaurant, which serves good food and drinks, plus it has the best view.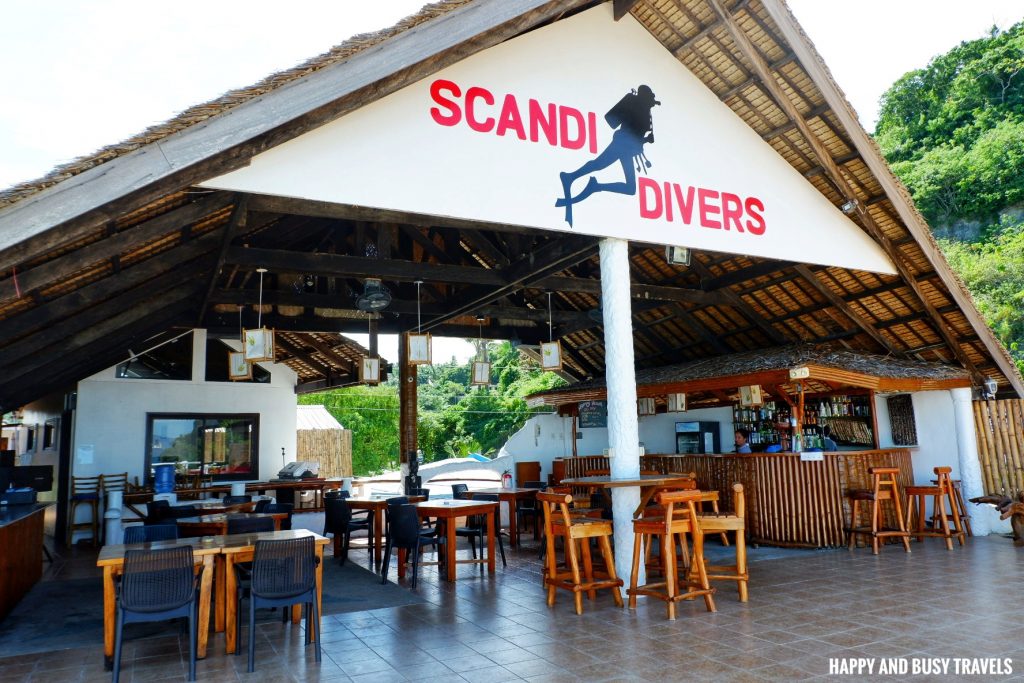 Here is the view from the restaurant, you can see the whole shore area, the ocean, and the nearby mountains.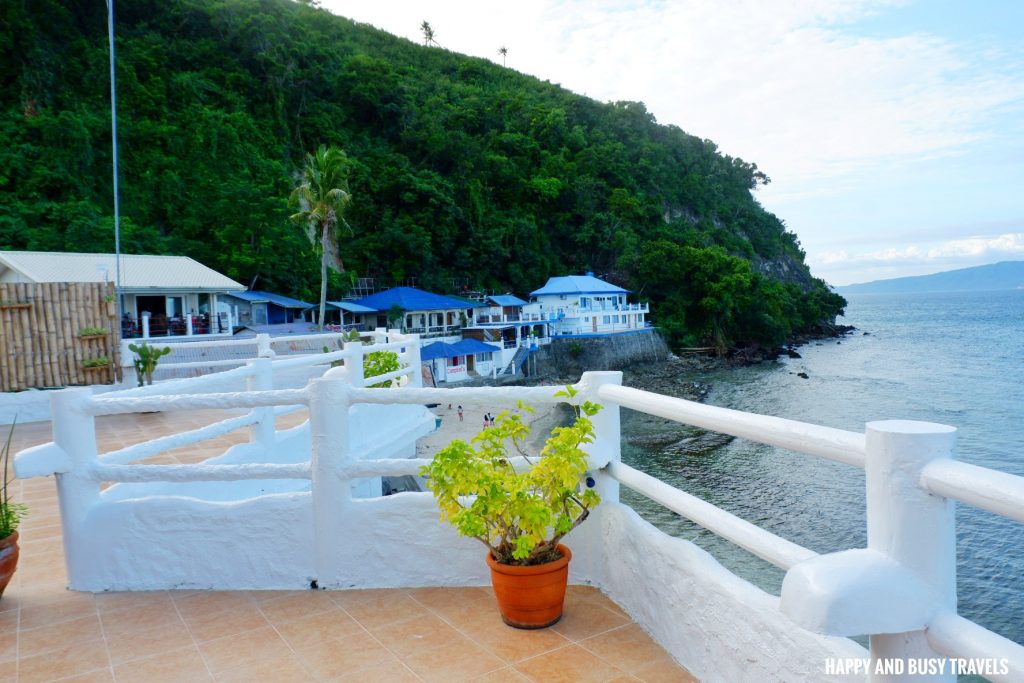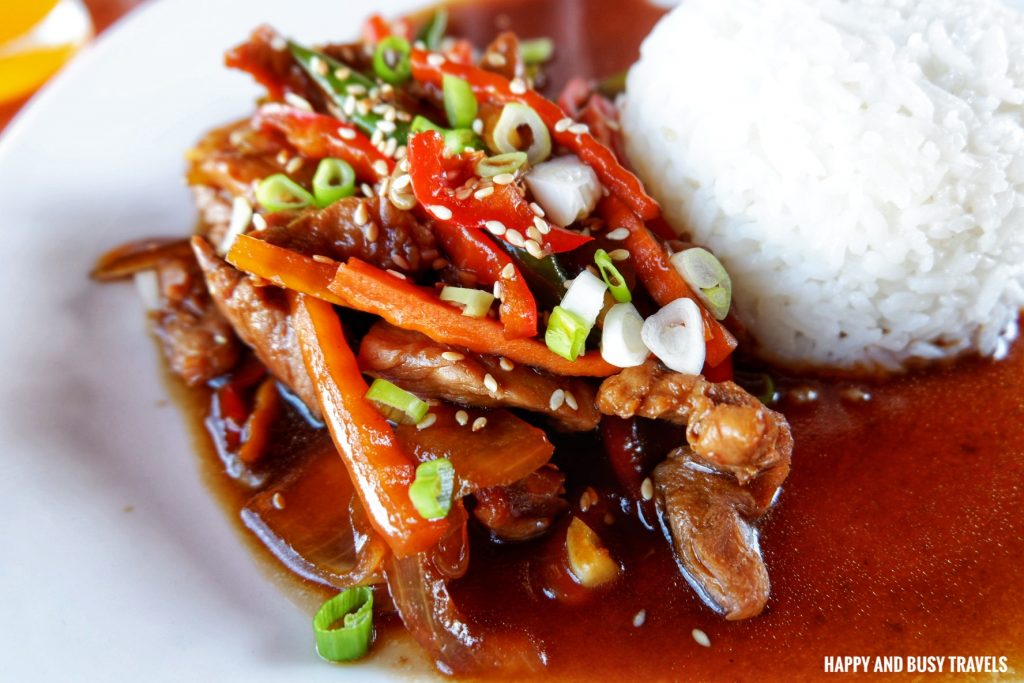 Massage Services
If you need a massage, Scandi Divers offers different spa and massage services too.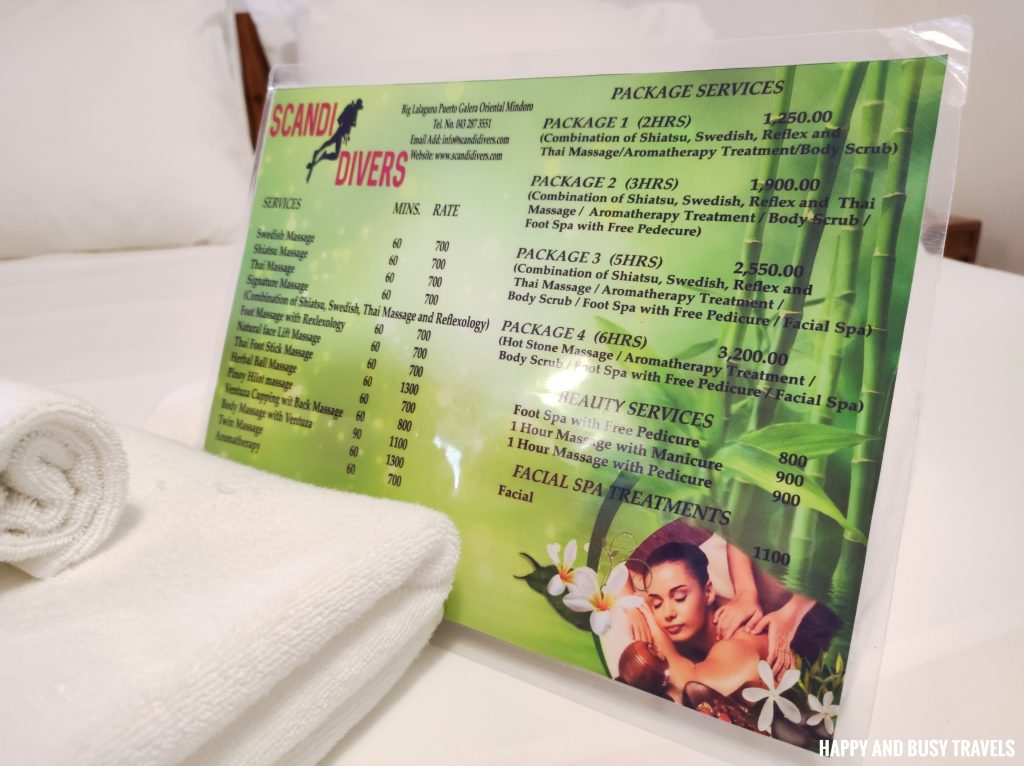 Scuba Diving Lessons
This is one of the reasons why we are here, their scuba diving lessons. We availed this one and took the discovery scuba diving.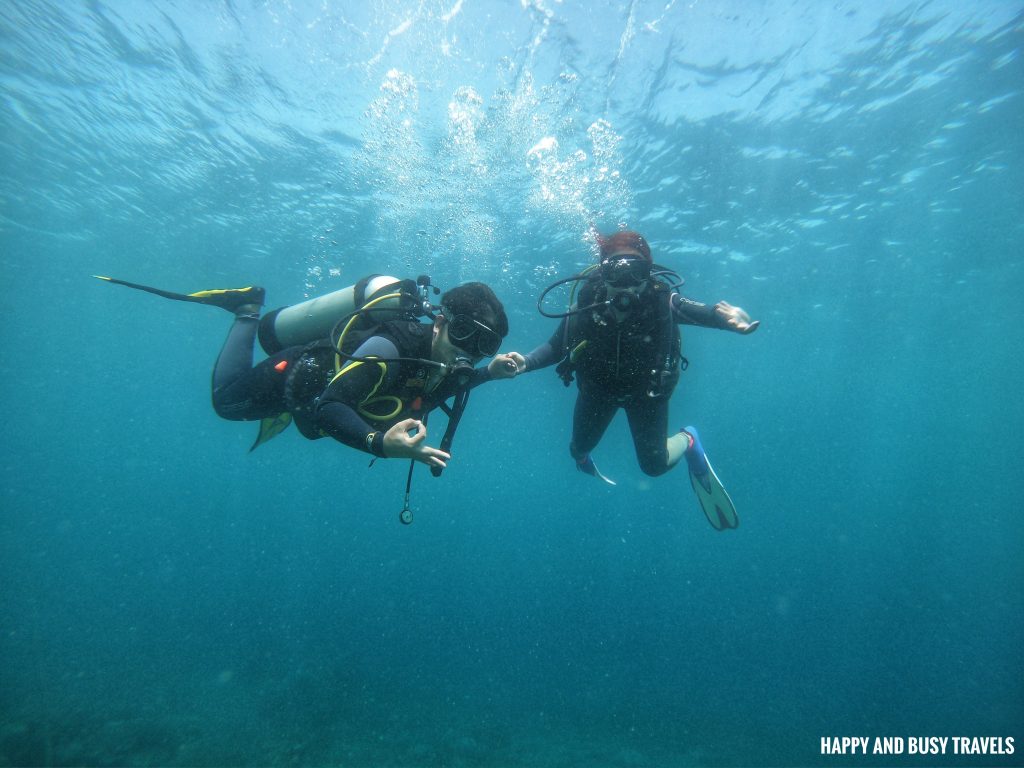 In this package, we get to do Scuba Diving on our own but with the supervision of one diving instructor. We get to do our own thing even though we are still newbies.
Here are some grumpy clown fishes haha.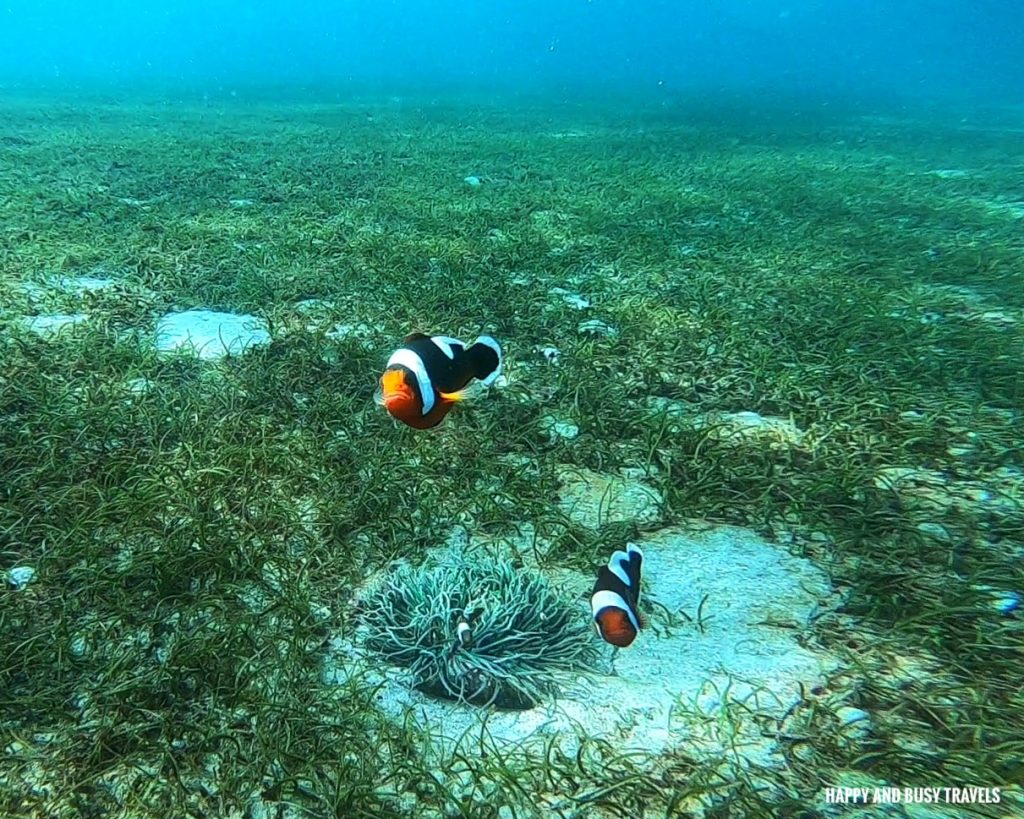 Snorkeling
For a few hours, we also went just in front of the hotel and snorkel through the corals nearby. It is really easy because it's just a few meters away, just look at where we are below. We are stepping on the sand on this one, but around us there are sea grass and corals.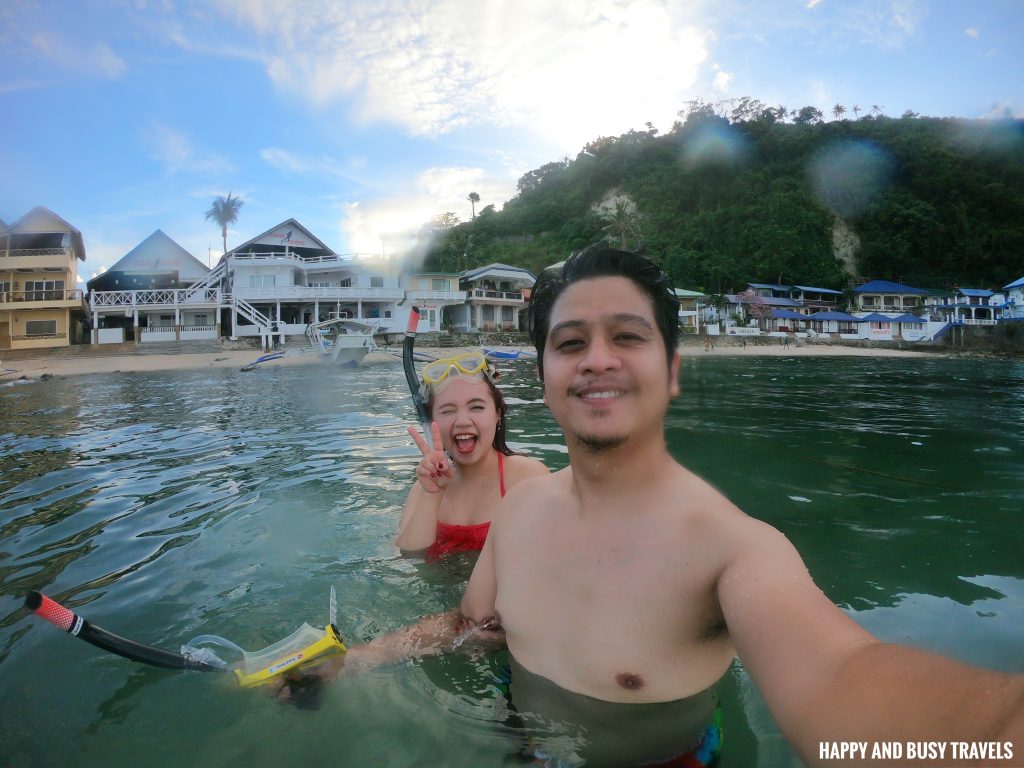 Reception and Shop
Here is the reception area wherein the shop is also located. If you need anything like dry bags, sunblock lotion, or even diving gears, they have it here.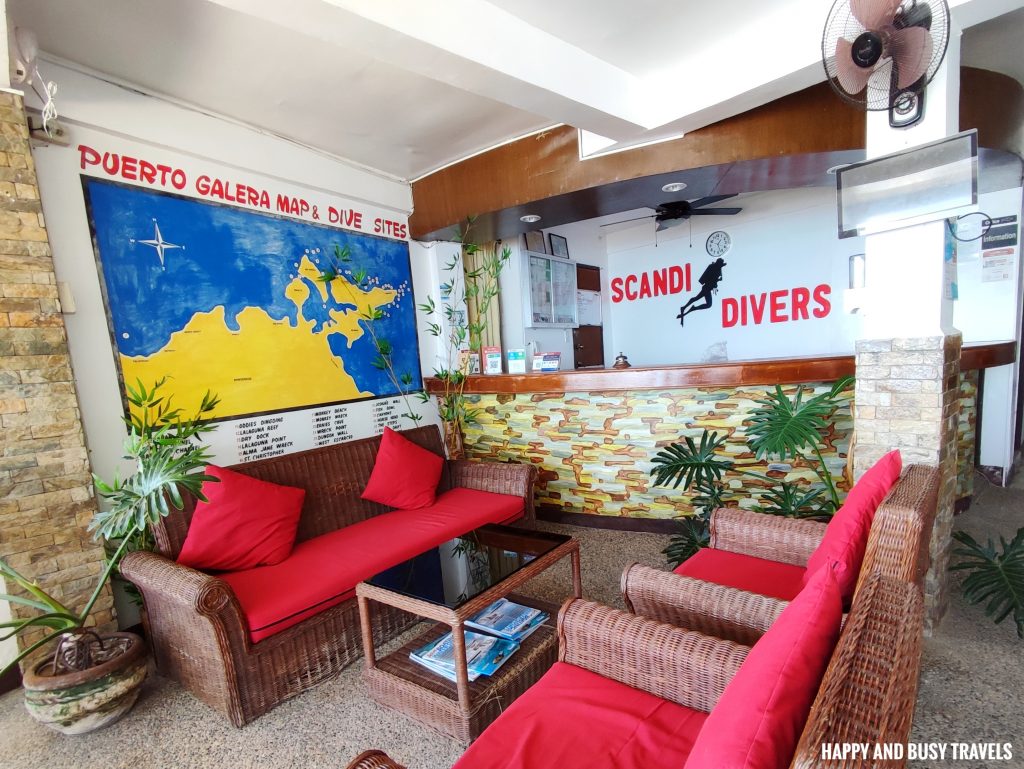 Important Information of Scandi Divers
Website: http://www.scandidivers.com/
Facebook: https://www.facebook.com/ScandiDivers
Instagram: https://www.instagram.com/scandidiversresort/
Contact No.: +63917-558-7547 ; +63917-656-7380
Email address: [email protected] ; [email protected]
Address: Brgy. Big La laguna, Sabang, Puerto Galera, Mindoro
Google Maps Link: https://goo.gl/maps/
Pandemic Requirements: Fully Vaccinated (no need for antigen or RT PCR tests), SPASS
Rates of Scandi Divers
Prices are subject to change.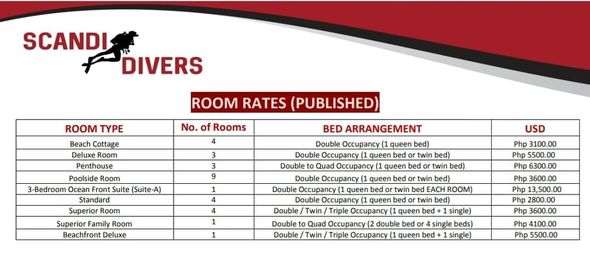 PROMO!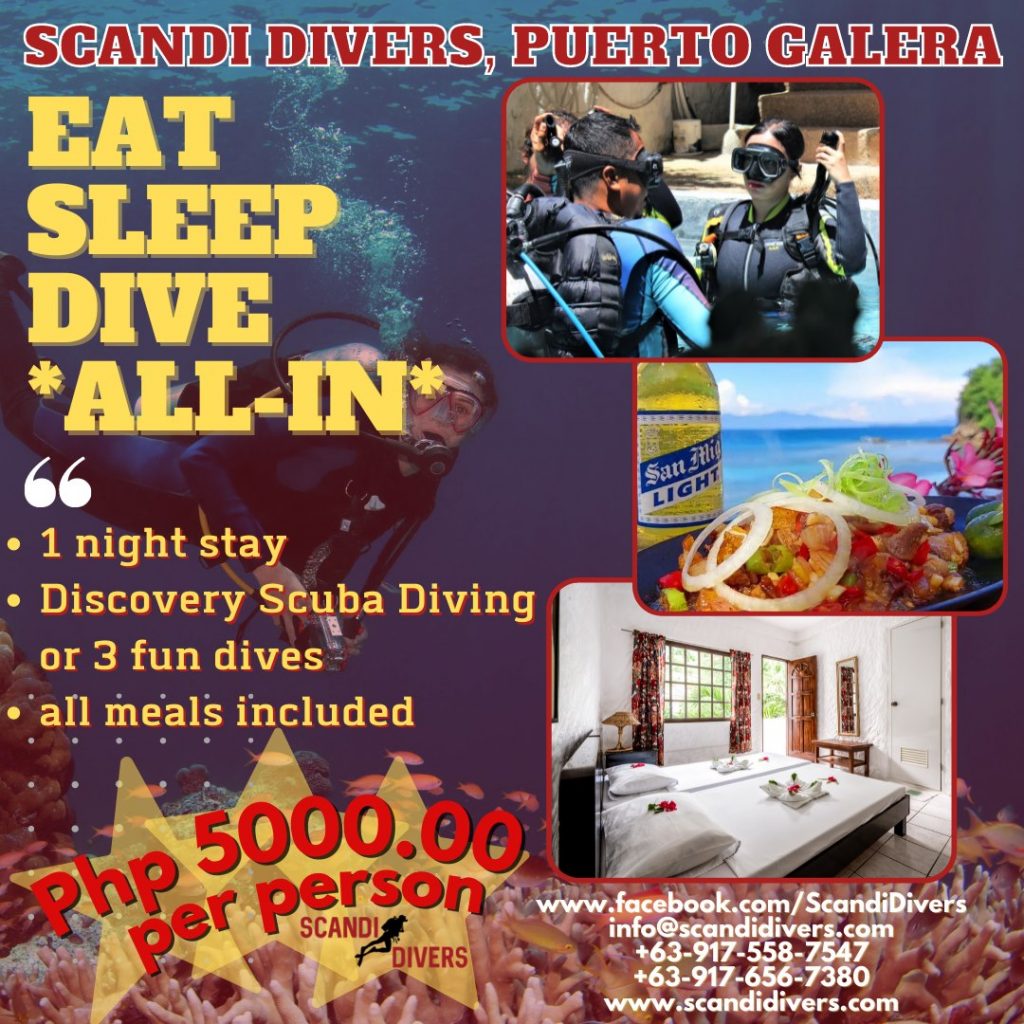 How to Book a Stay in Scandi Divers?
Option 1:
Book through Scandi Divers's website (CLICK HERE)
Option 2:
Call or message Scandi Divers directly through their numbers, email addresses, and social media accounts mentioned above.
How to Get Here in Scandi Divers?
Public Transportation 
Ride a bus going to Batangas Port
Buy a boat ticket and ride a boat going to Balatero Port (Choices are RORO, or Fast Craft)
At Balatero Port, get a tricycle, tuk-tuk, or motorcycle and ask the drivers to take you to Scandi Divers.
The staff will greet you on the walking trail to the actual hotel. Just follow them.
Private Transportation
Go to Batangas Port by passing through SLEX and Star Tollway.
If you will take the private taxi (which costs Php 8,000 per trip), park your vehicle at the port. Rate is Php 4 per hour. Then follow steps 3 and 4 in the public transportation.
If you will be bringing your car with you, buy a ticket for the RORO boat. Then upon arriving in Balatero port, ride your way to the parking area near the walking trail.
Happy and Busy's Smileys for Sandi Divers
Overall we had a great time in the resort. We accomplished everything that we want to do in the island. We really want to go back again when time permits.
Cleanliness

Facilities

Service

They have an efficient team that immediately answers all your questions while booking and before your trip. Then, all of the instructors, reception, bartender, waiter/waitress, everybody works well and provides great service for us and all of the guests.
Value for money

They have affordable rooms for each budget level.
Location 

They are in front of the beach, which gives a nice ambiance.
Ambiance 

I would like to thank Scandi Divers for making my birthday special. They even made a crepe cake for me.