Sky View Bar and Restaurant by Scandi Divers
If you are asking where to eat in Puerto Galera especially in the Sabang area, you have to eat here at Sky View Bar and Restaurant by Scandi Divers.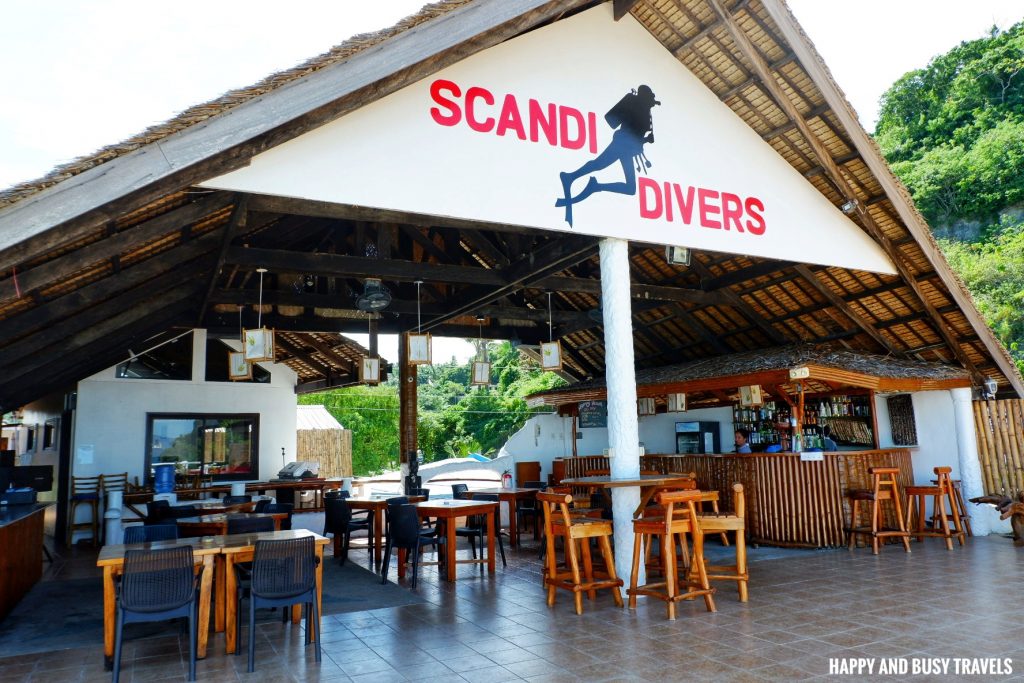 Important Information
Operating Hours: 8 AM – 8 PM
Payment Options: Cash, Credit Card
Contact No.: +63917-558-7547 ; +63917-656-7380
Address: Scandi Divers, Brgy. Big La Laguna, Sabang, Puerto Galera, Mindoro
Google Maps Link: https://goo.gl/maps/
The Restaurant – Sky View Bar and Restaurant
Sky View Bar and Restaurant looks nice in the morning and has a party vibe in the evening. I am really wondering how this place looks like pre-pandemic. They said this is usually packed with guests. So, maybe after this pandemic when everything turns back to normal, I'll go back here and give in the party.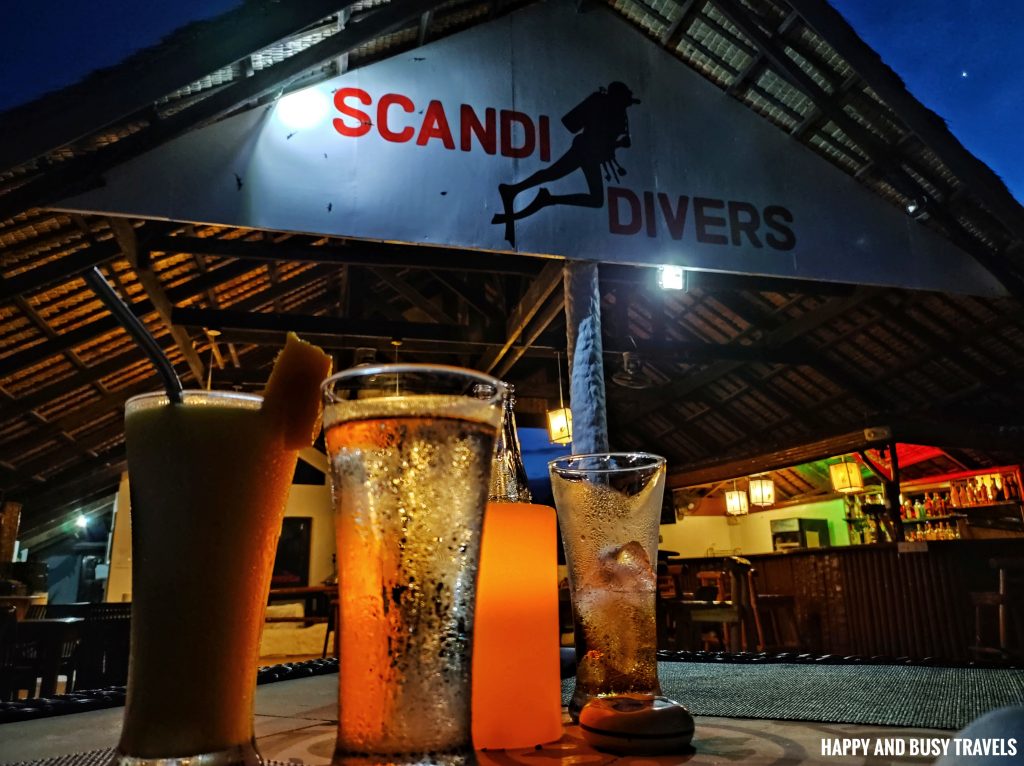 In the morning, the view from the bar and restaurant is nice, we can see the ocean and the nearby mountains. Plus, the ocean breeze gives a boost to the ambiance.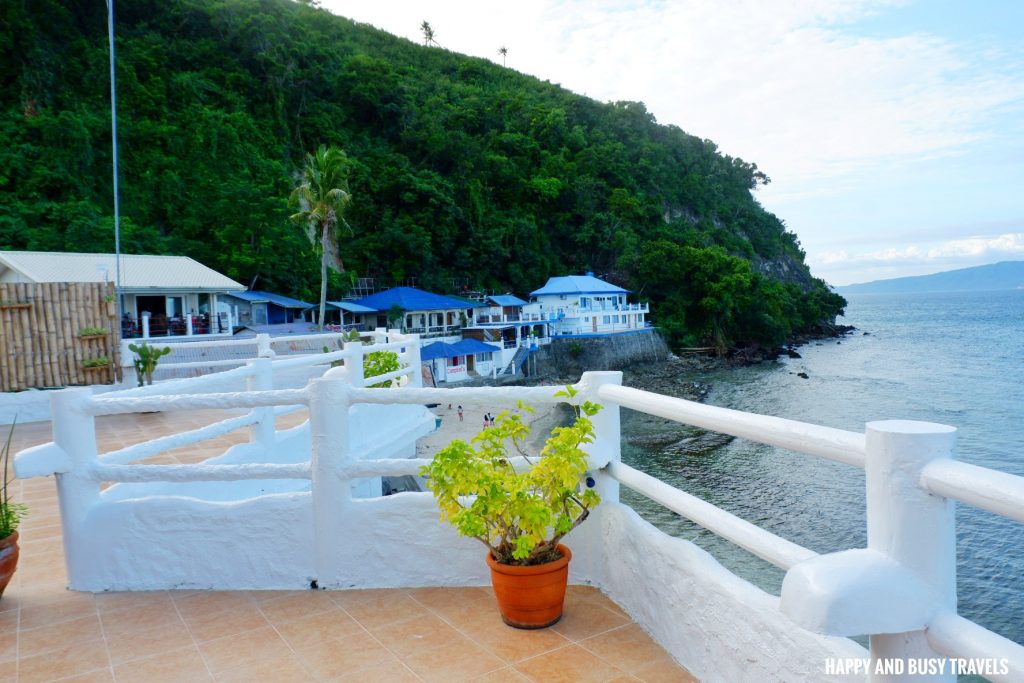 We had our breakfast, lunch, and dinner here during our stay.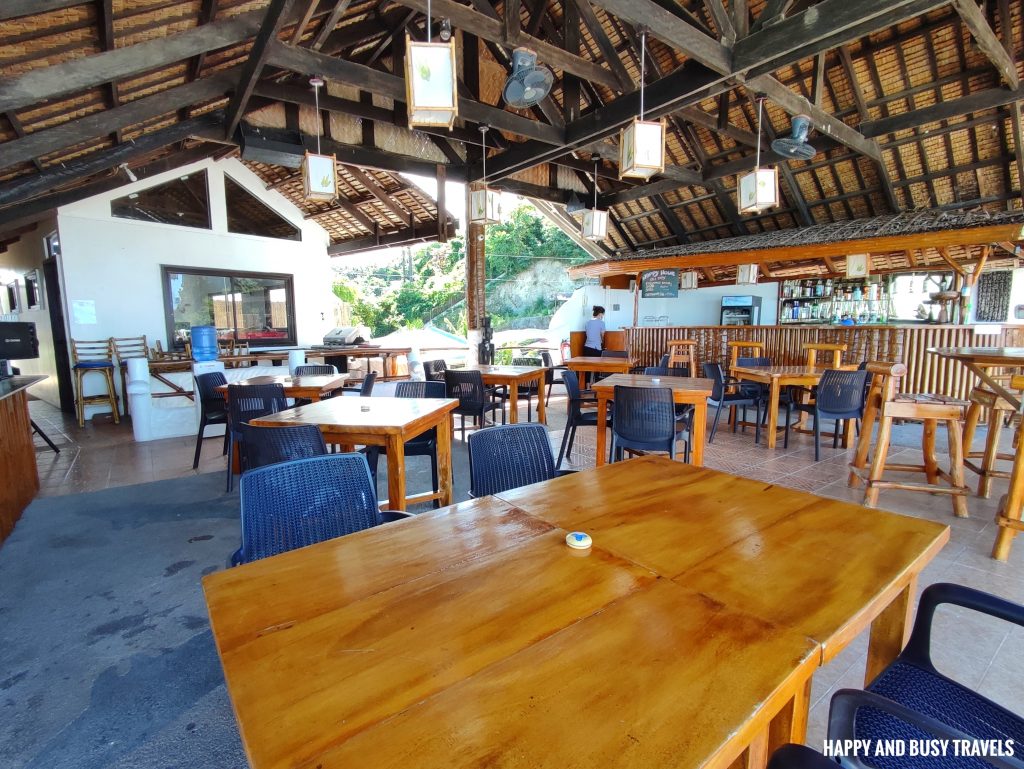 Dishes of Sky View Bar and Restaurant
Sky View Bar and Restaurant offers a lot of dishes and drinks. Here are some of the dishes that we tried during our stay at Scandi Divers.
Appetizers
We'll show you the appetizers first or what they call Crispies to share.
Onion Rings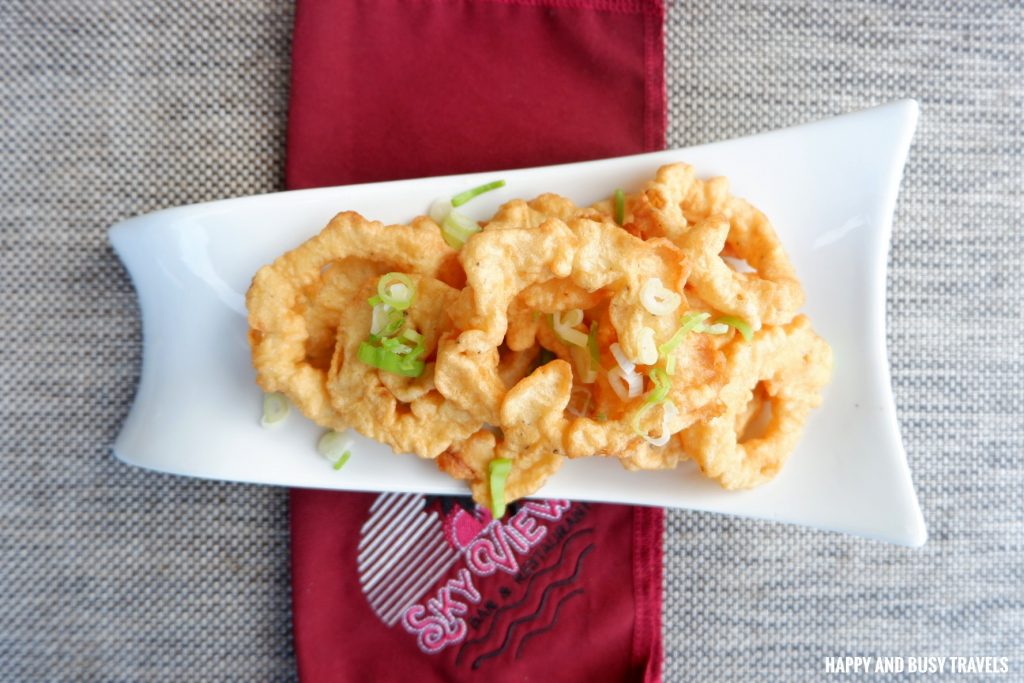 Onion Rings Php 140
Here is their Onion Rings dish, it tastes and looks good.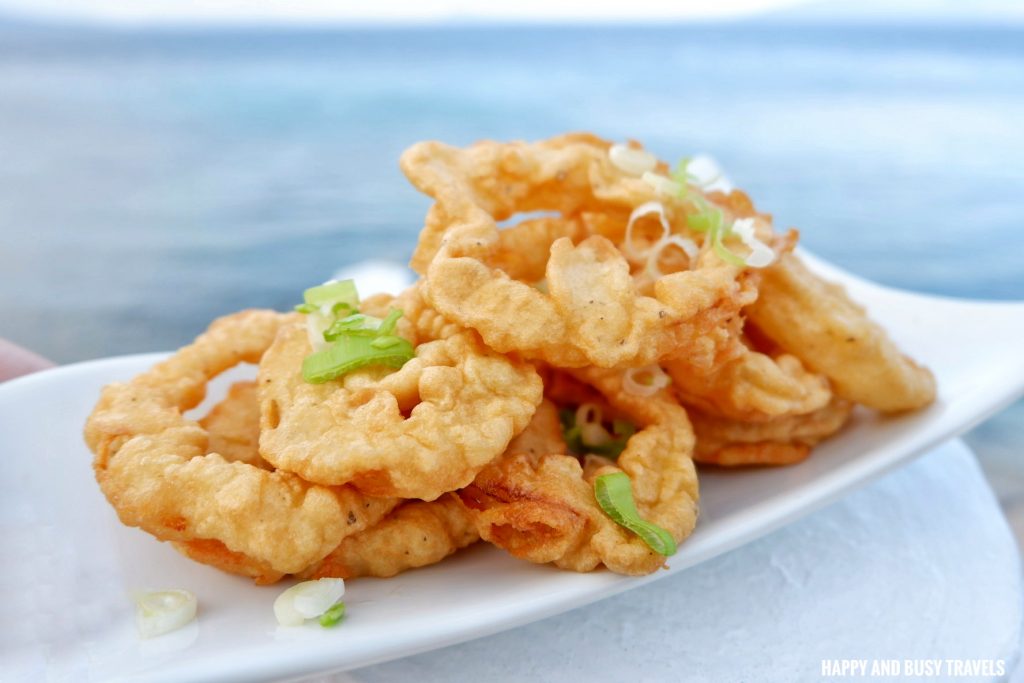 It also comes with a mayo garlic dipping sauce.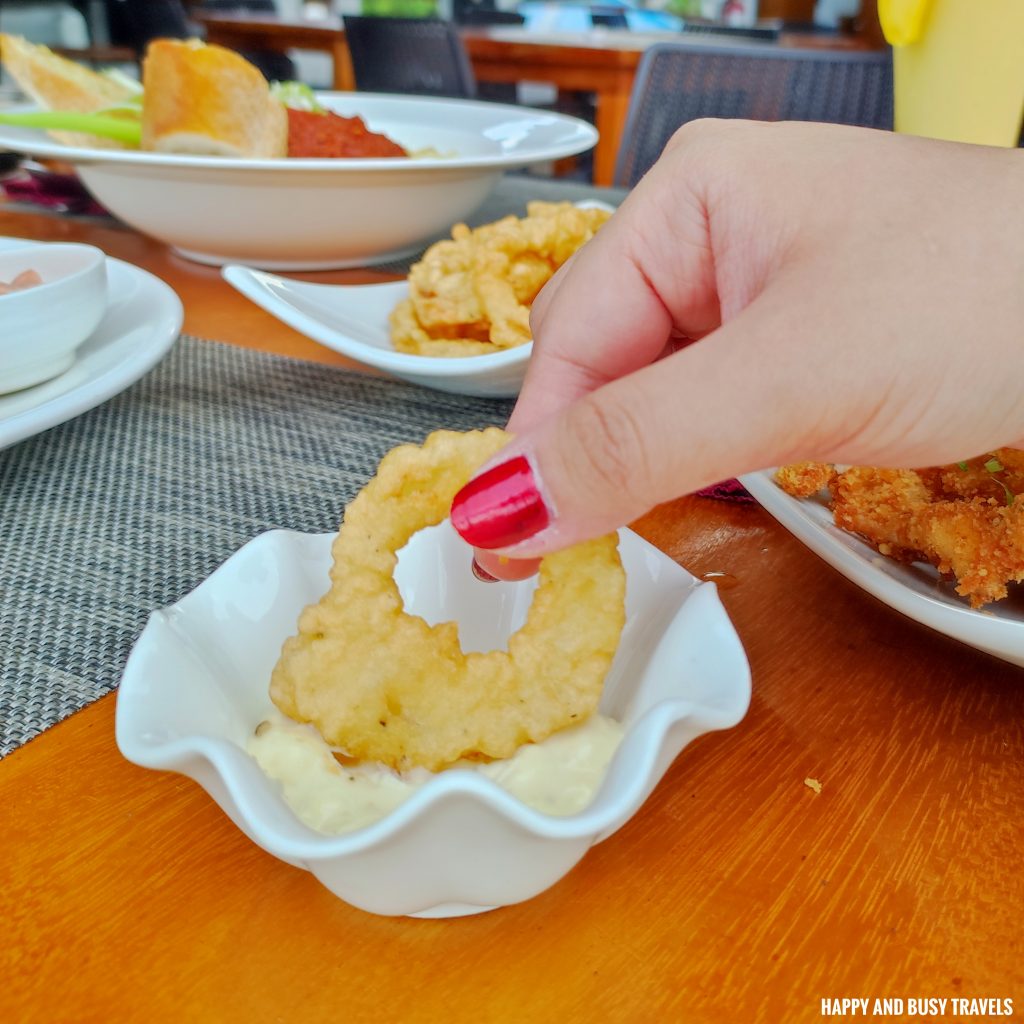 French Fries
You may say that these are just the usual fries, but what I like from their fries is, it is fried until the outside is crispy but the inside is still soft. So, even when the fries get cold, it is still crispy and yummy.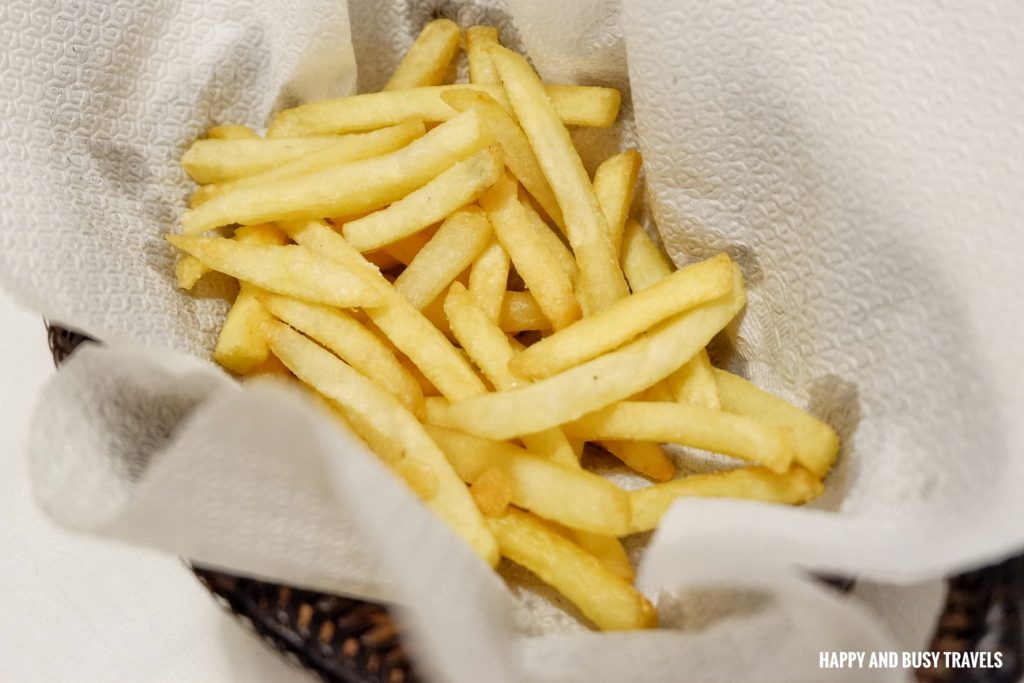 Crispy Chicken Fingers
This is made out of deep-fried chicken fillet strips coated in crispy breading. It tasted good and juicy in the inside.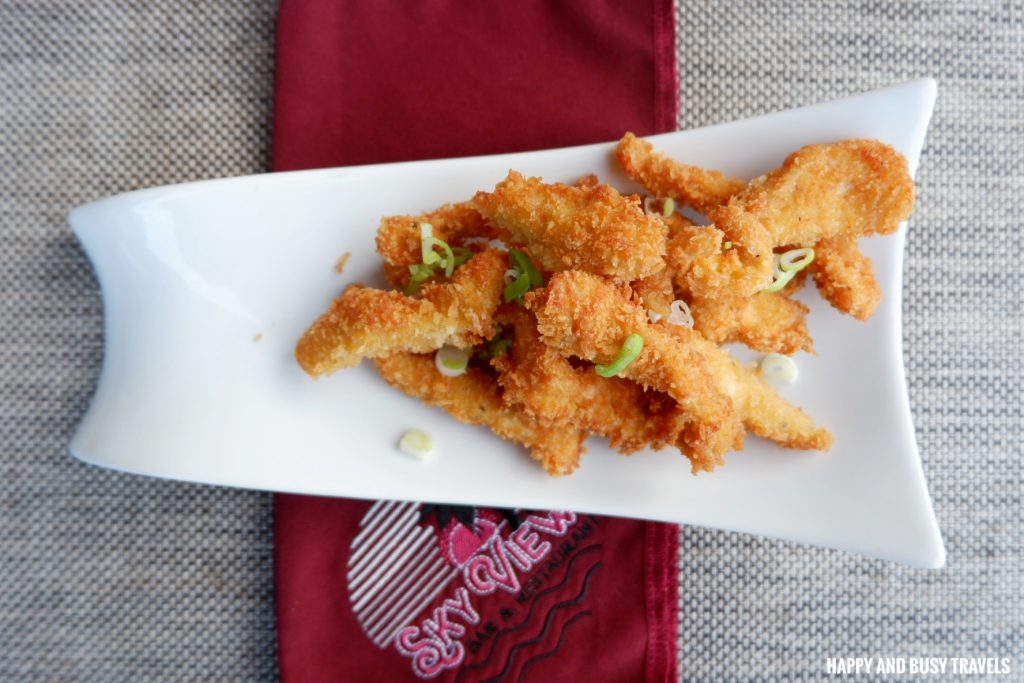 Just like the Onion Rings, this one also comes with a dipping sauce.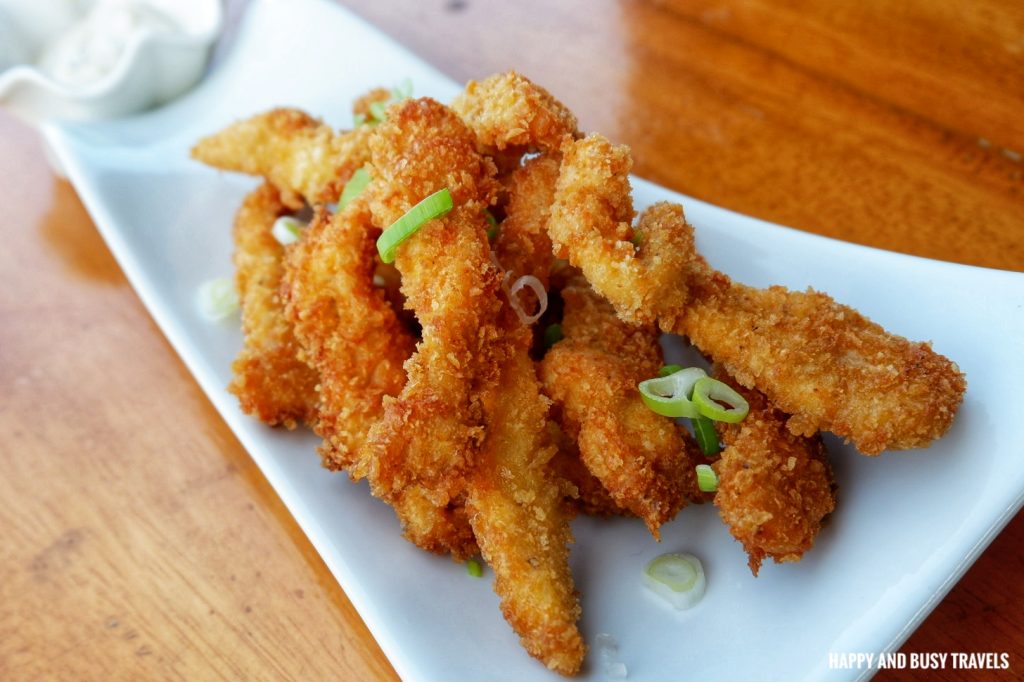 Breakfast
American Breakfast
Here is what we had for breakfast, the American Breakfast, which is composed of Crispy Bacon, two eggs (you can choose what type of cooking), Hash Brown, 4 pieces of breads, and Butter and Jam.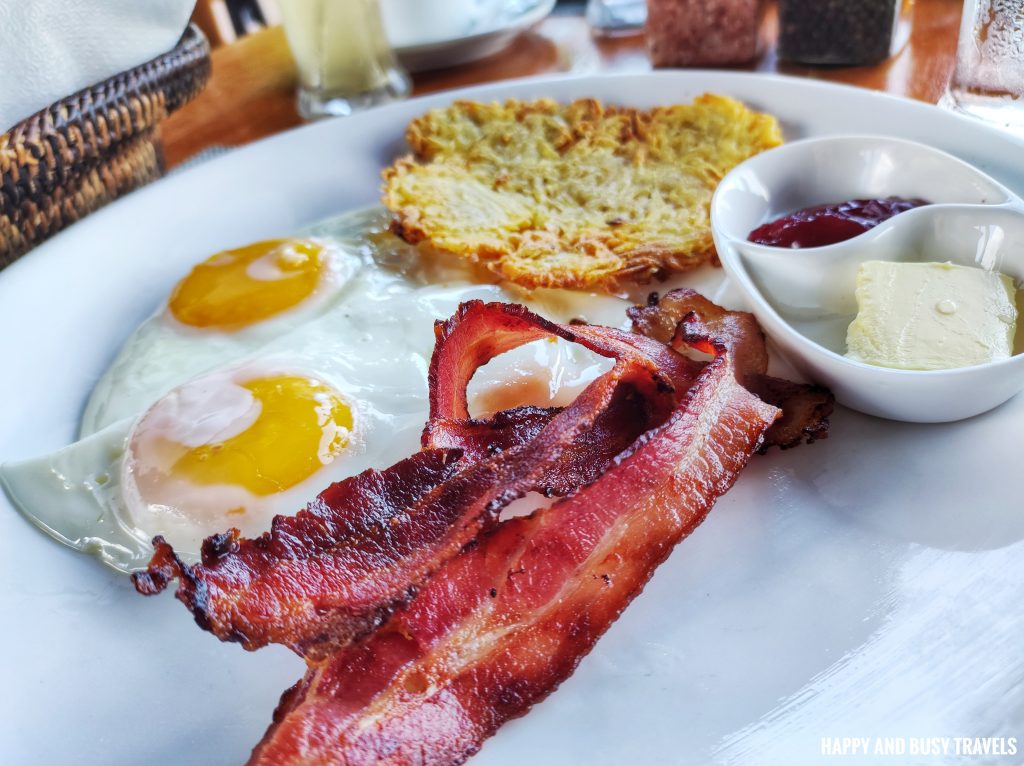 Sandwich
Clubhouse with Potato Chips
On their sandwich menu, we ordered this one, the classic Clubhouse Sandwich with Potato Chips.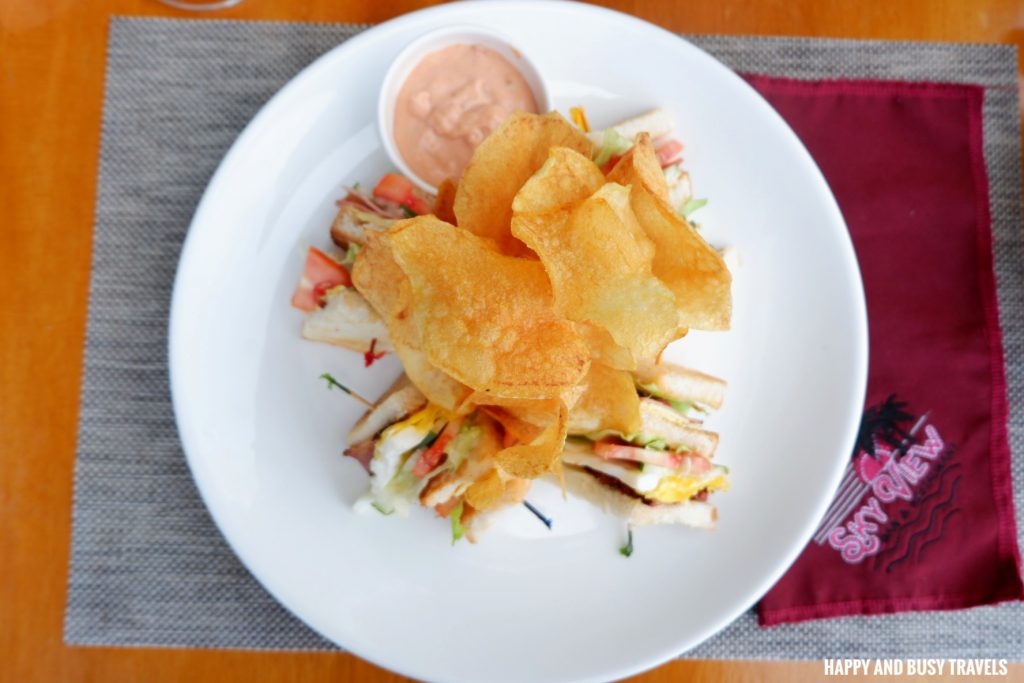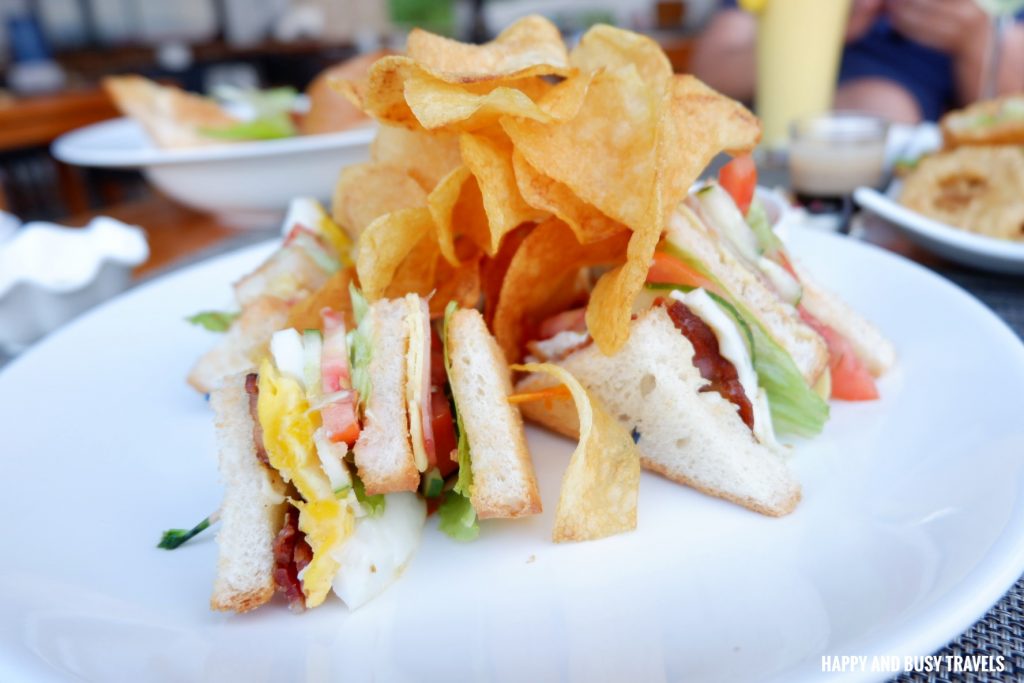 This dish is composed of layers of bread with Cucumber, Tomato, Lettuce, Egg, and Bacon.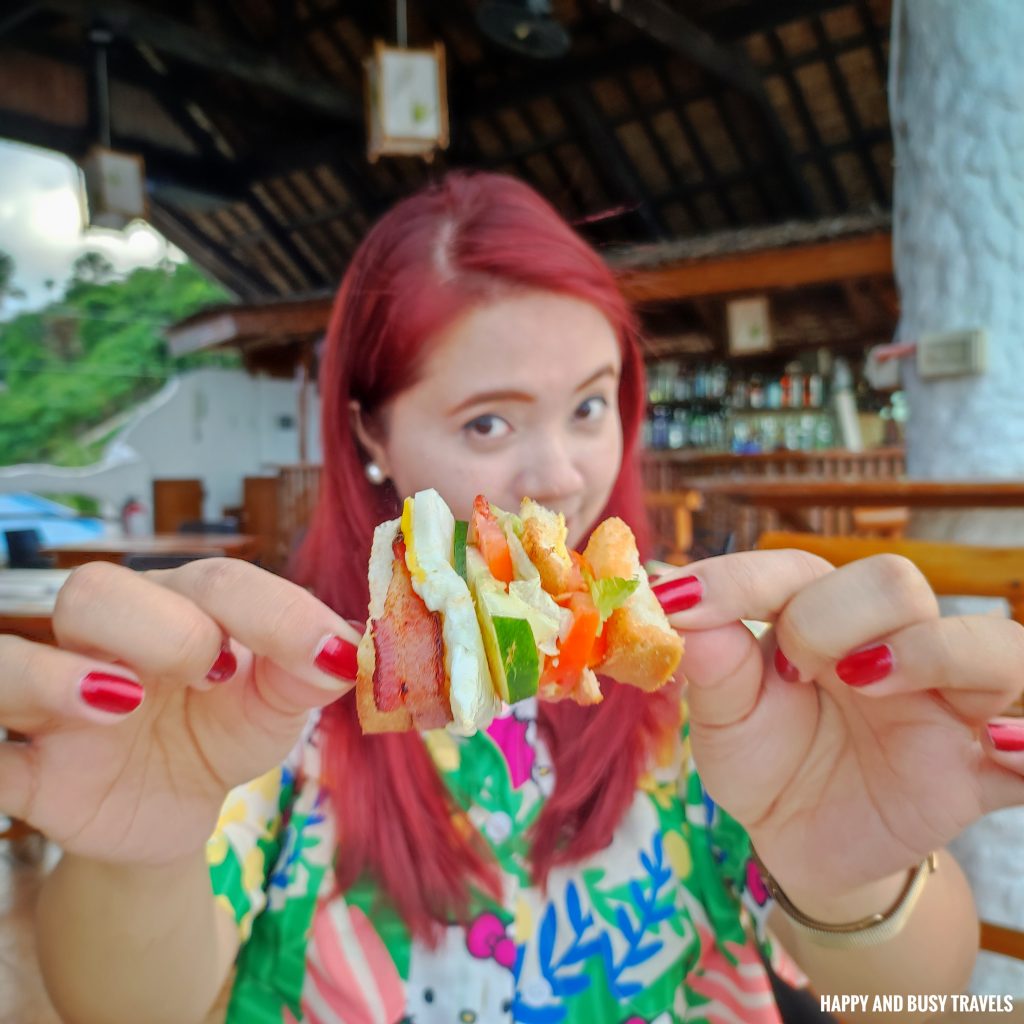 Pizzas
Busy and I ordered two pizzas for our lunch haha we thought we can eat everything but the pizzas are big.
Hawaiian Pizza
Busy ordered the Hawaiian Pizza, which tasted good, and I think it has an extra herb, maybe Taragon.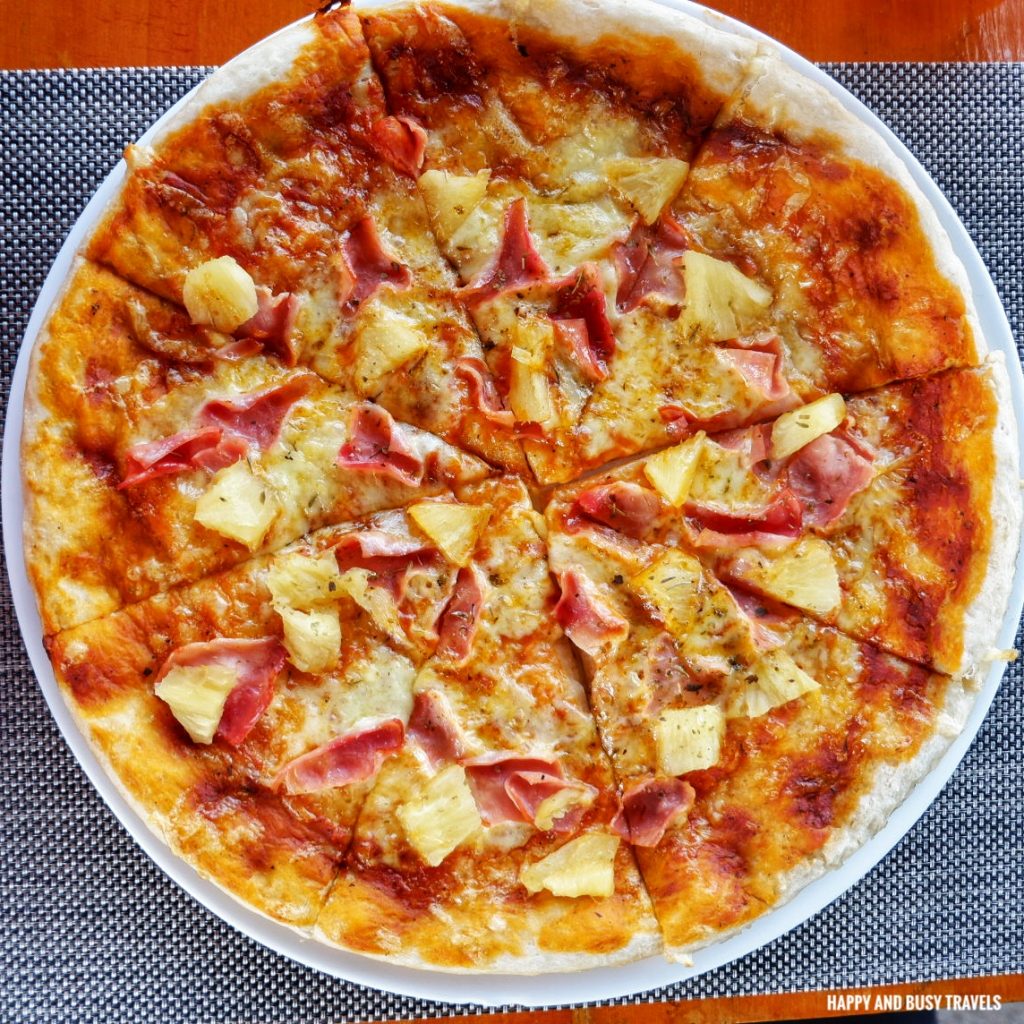 Meat Lovers Pizza
On the other hand, I ordered the Meat Lovers Pizza which has a lot of meat, Bacon to be specific.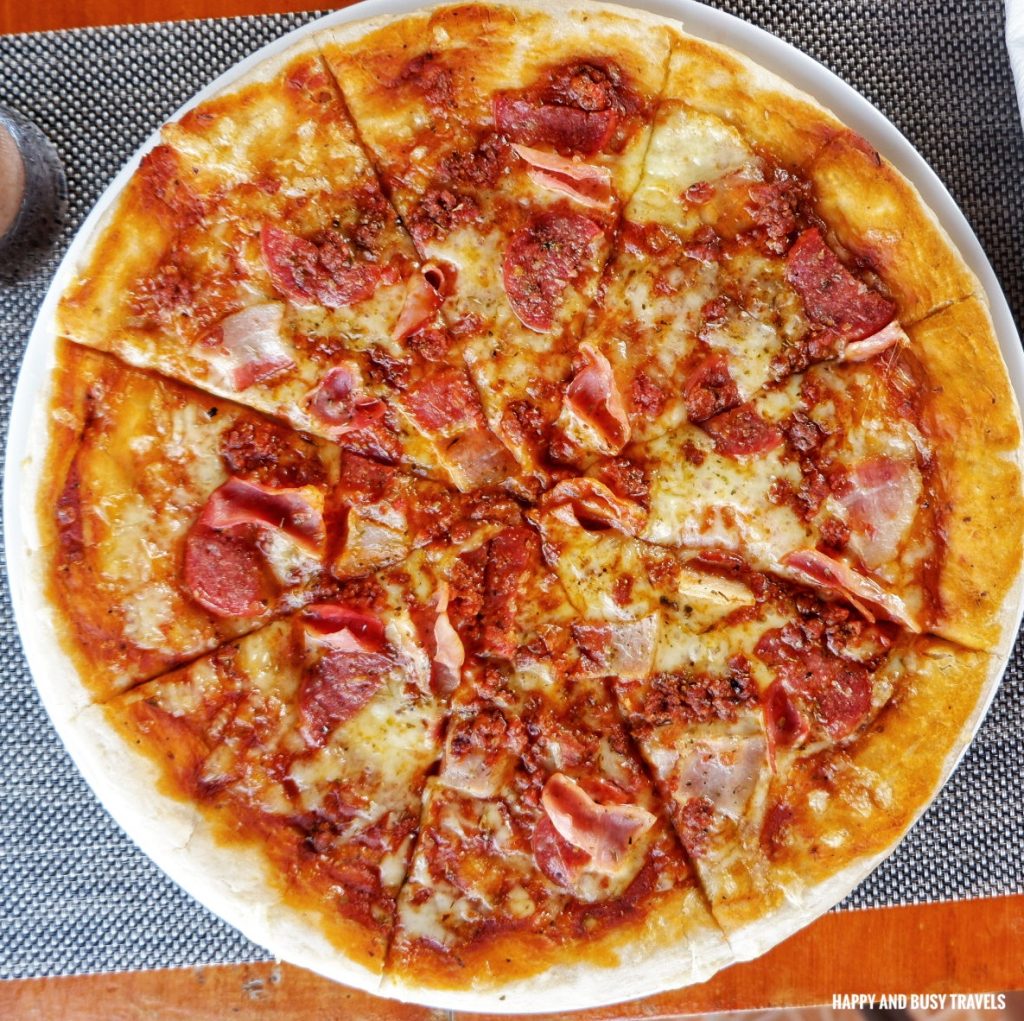 Pasta
Bolognese
This is their Bolognese, spaghetti pasta in meaty red sauce served with two garlic bread.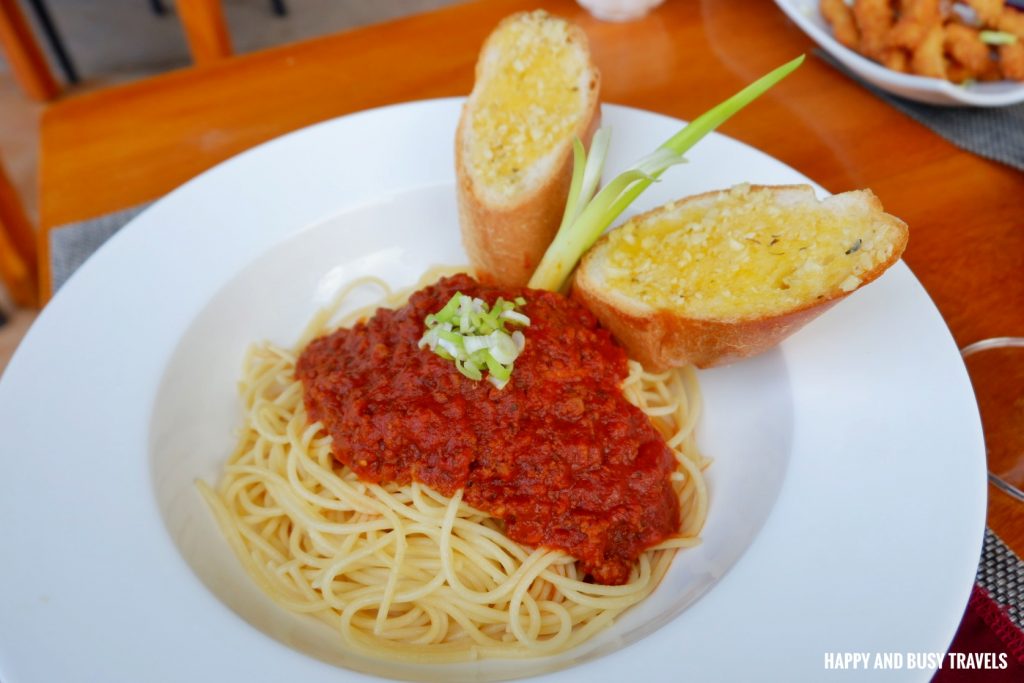 This dish tastes good too, and has the correct pasta and sauce proportion.
Carbonara
I had Carbonara in one of our dinners which tasted good too.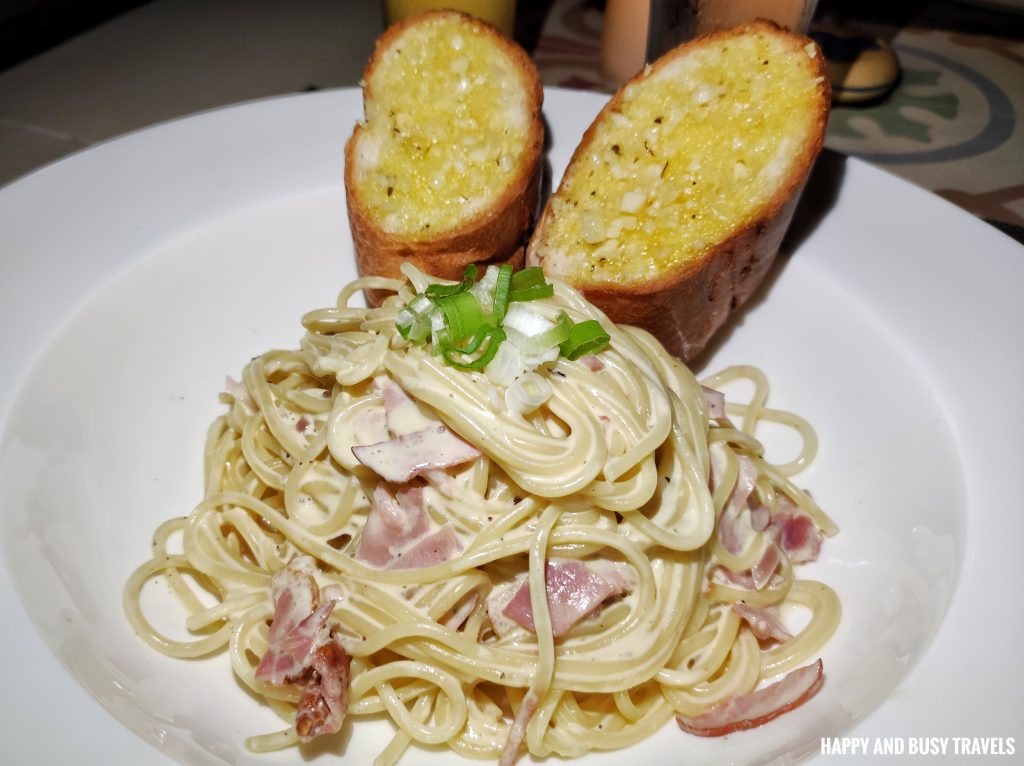 Sizzling
I ordered this Spicy Asian Buffalo Wings together with my french fries, and it is the perfect combination. Plus, this one is not so spicy but also delicious.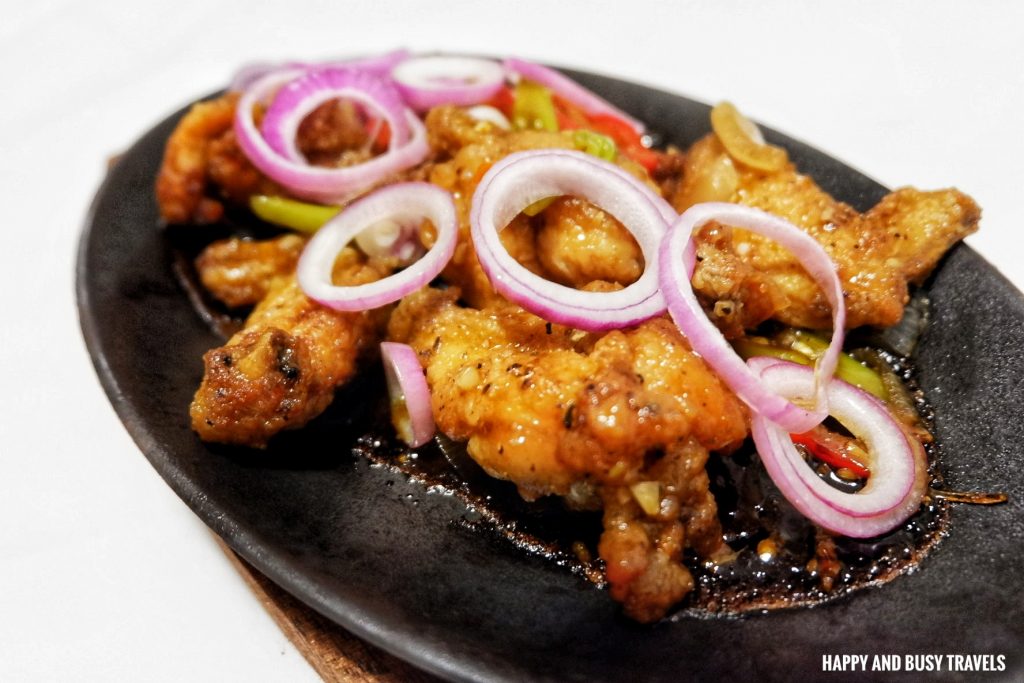 Solo Meals
There are a lot of solo meals that the guests can choose from.
Pork Binagoongan
Bagoong is one of the unique dips in the Philippines and sometimes it is also used for cooking, which this dish is made out of.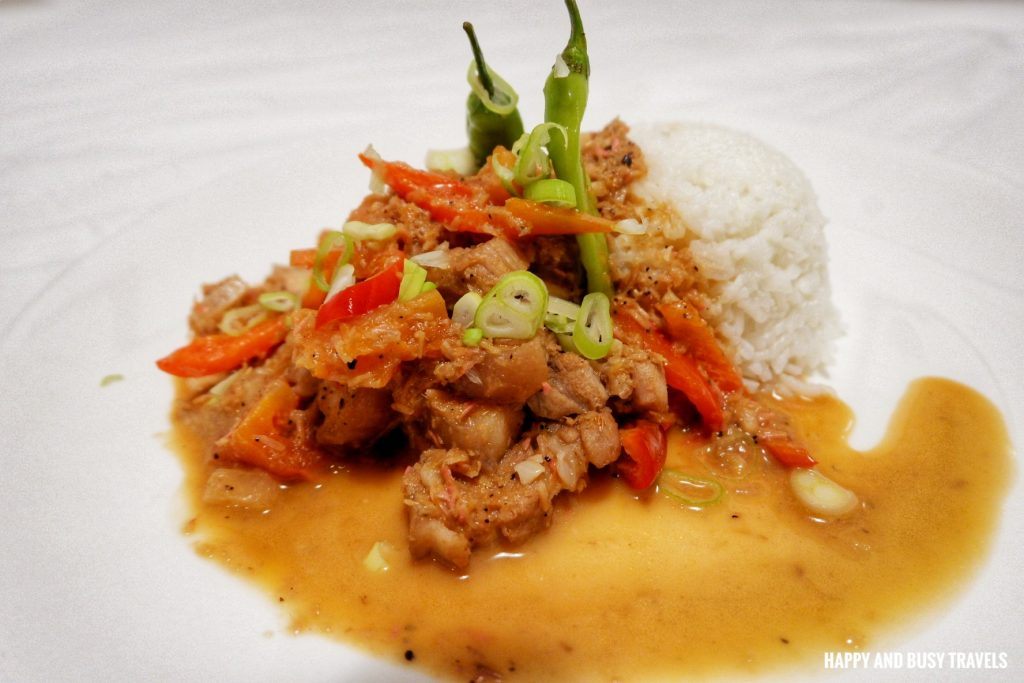 Pork Binagoongan with Rice Php 240
Pork Teriyaki with Rice
This is the first dish that I ordered, and it gave me a nice first impression of the restaurant.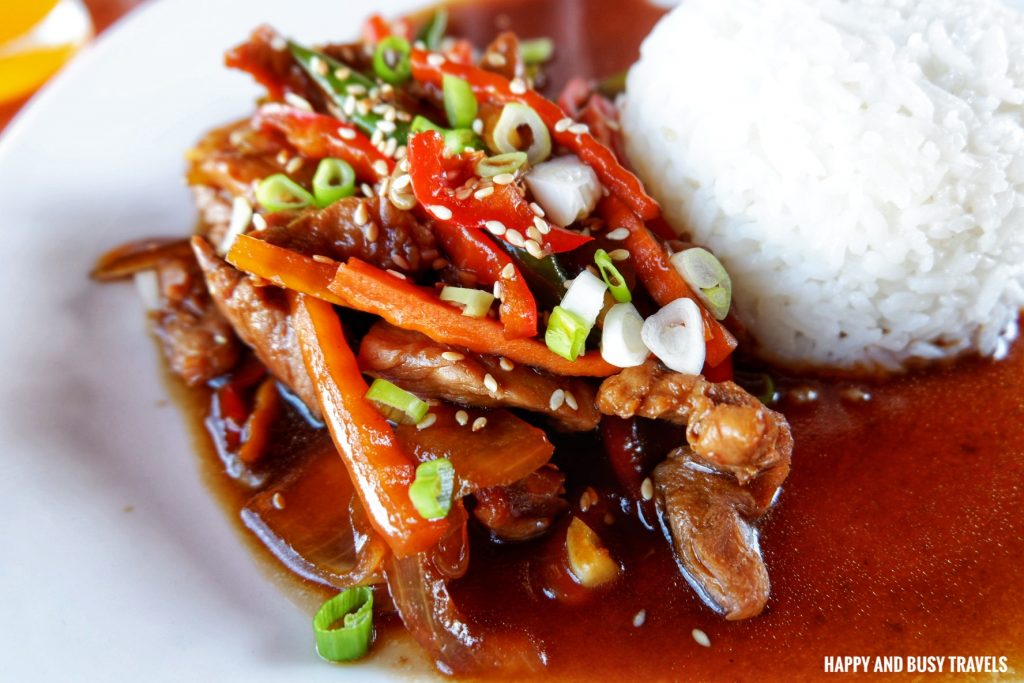 Pork and Chicken Thai Curry
Aside from the usual Filipino food, they can also serve some internatioal dishes like this one.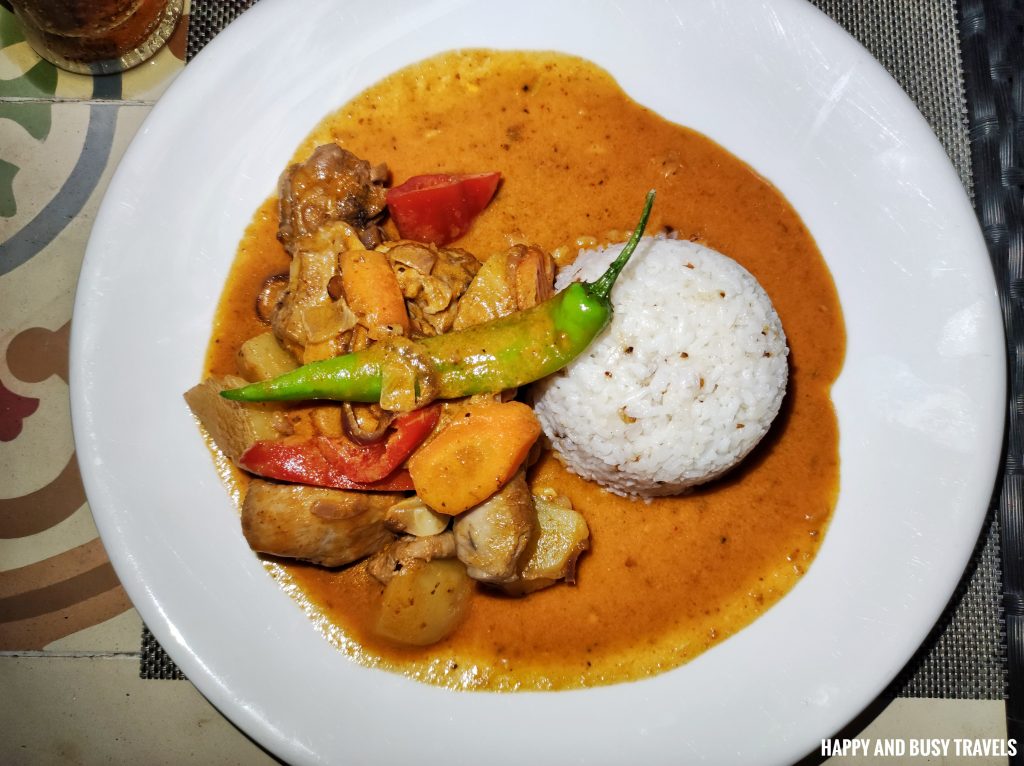 Sweet and Sour Fish Fillet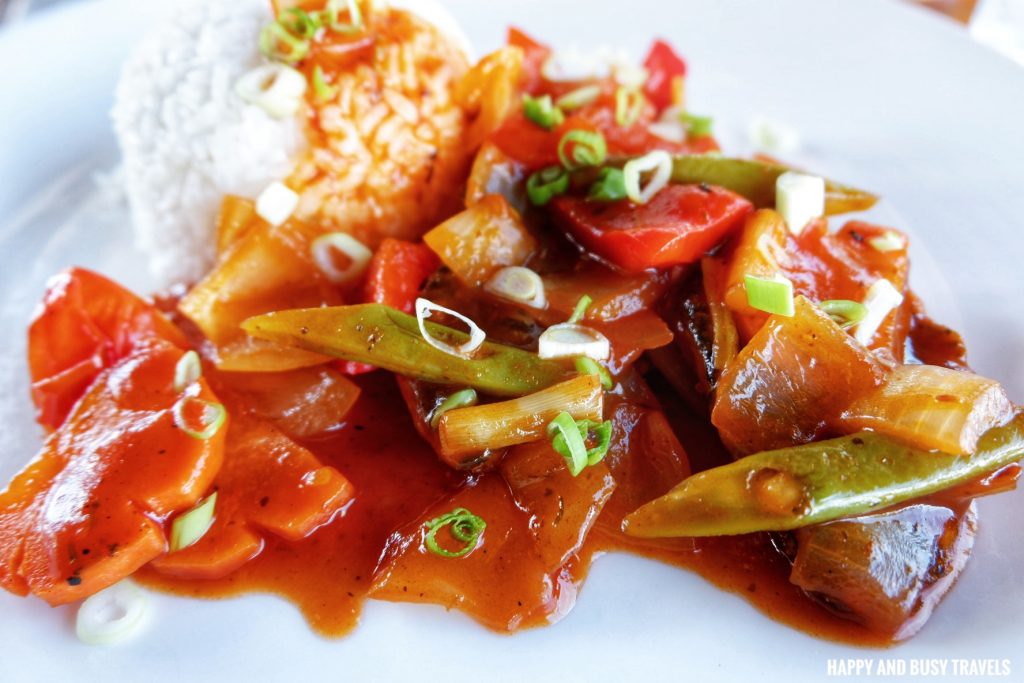 Drinks of Sky View Bar and Restaurant
Here are some of the drinks that we ordered.
Mango Shake
I ordered some shakes during the daytime to refresh.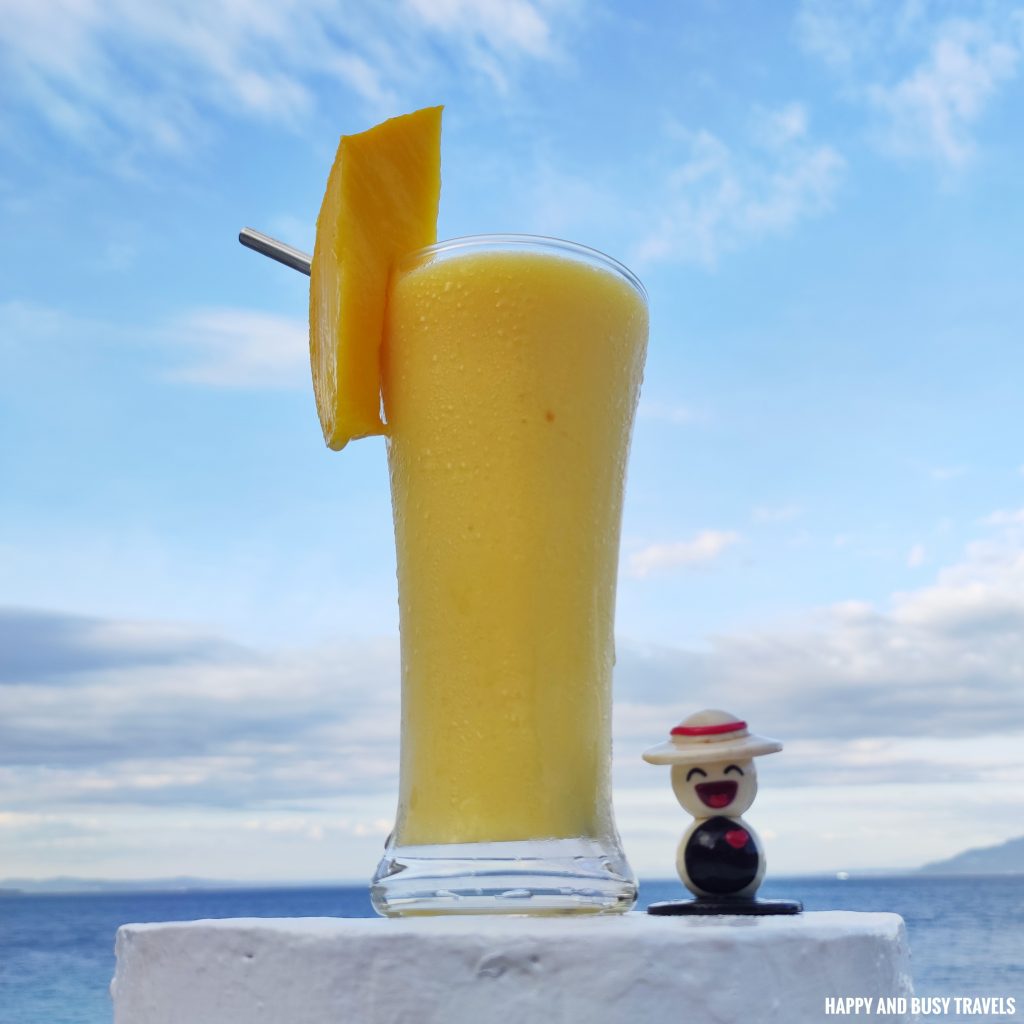 Chocolate Shake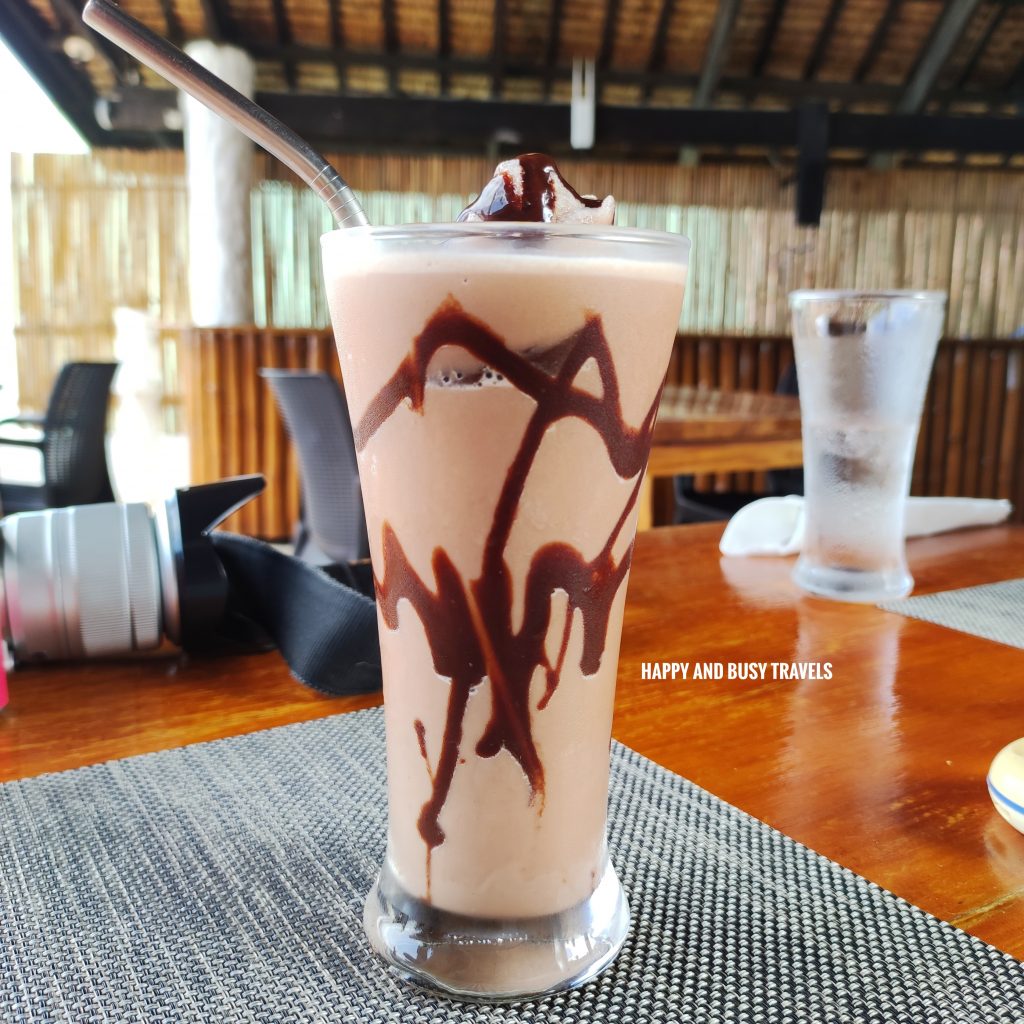 B52 Alcoholic Drink
We are not that experts in alcoholic drinks, but this one tasted good. This is served in shots because there is a high alcohol content in this one.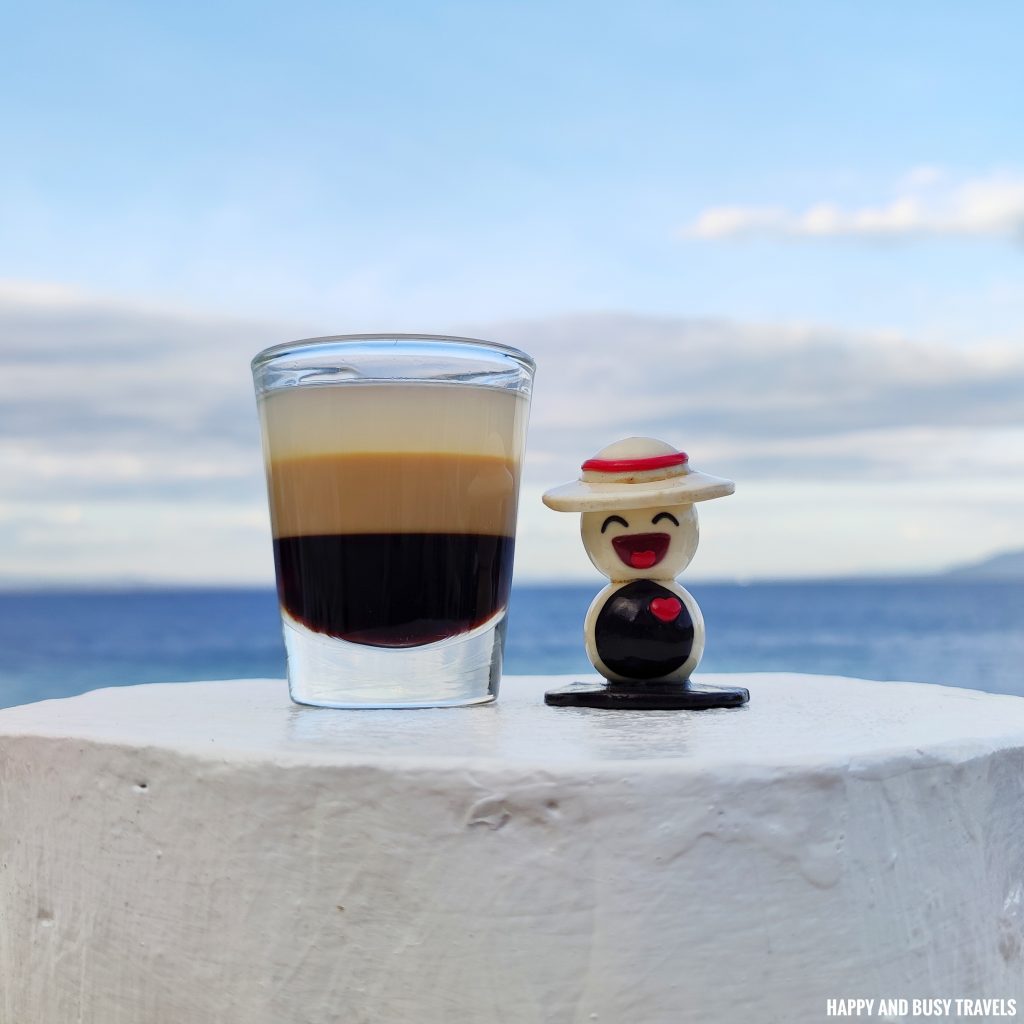 Cocktail
We also had a refreshing cocktail while waiting for the sun to set.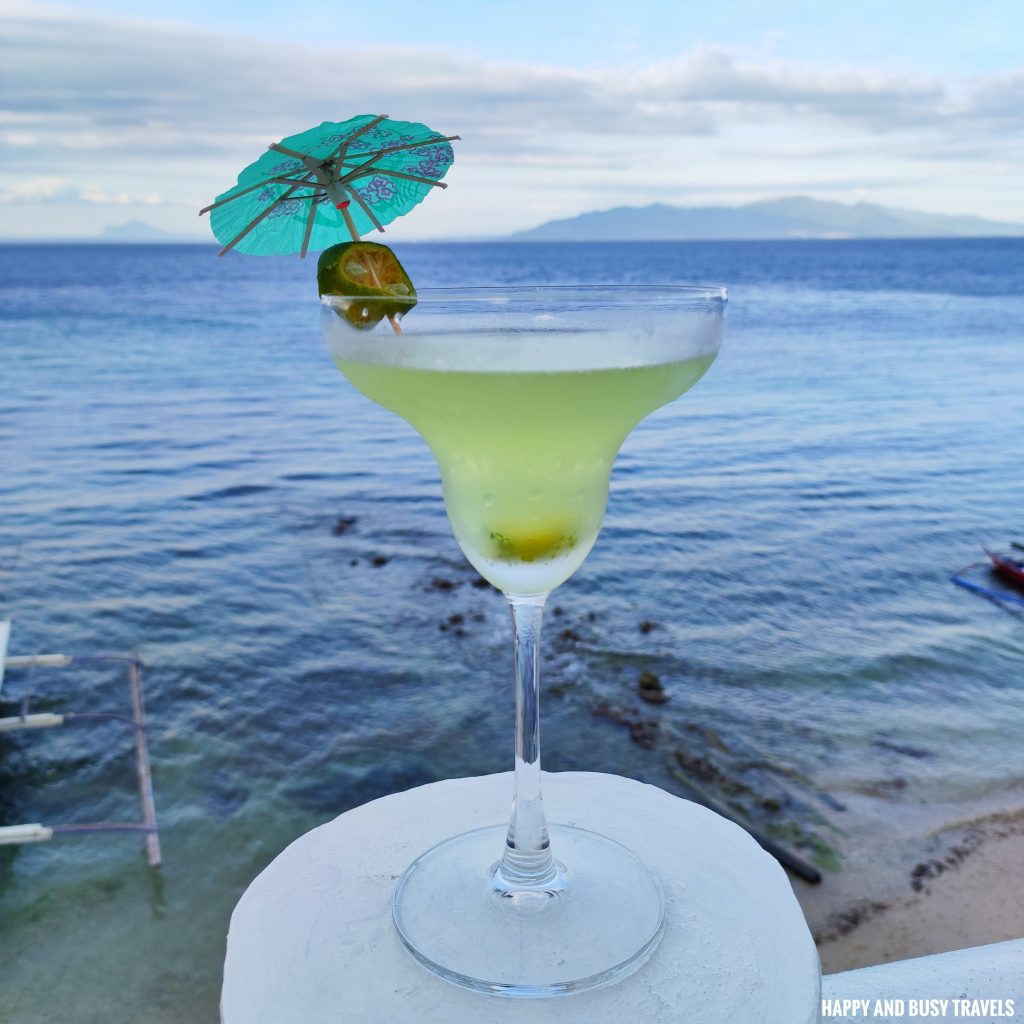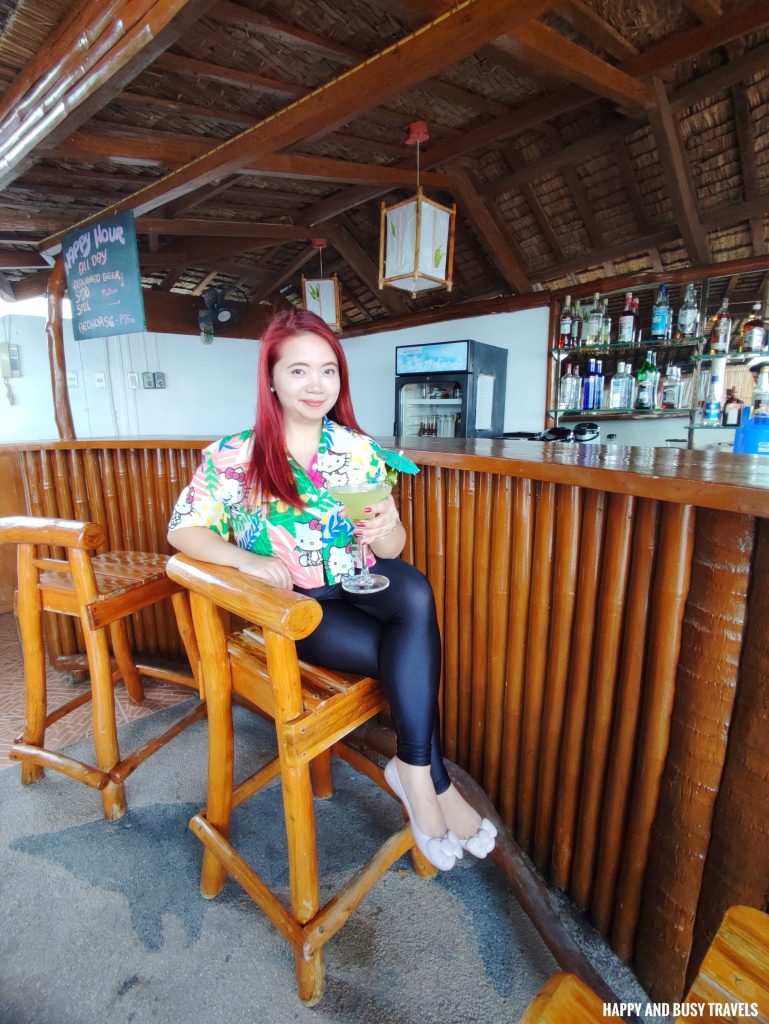 Menu of Sky View Bar and Restaurant
This is their current menu, but pre-pandemic this menu has more to offer. Maybe after this pandemic, they will go back to their old menu.
My Birthday Crepe Cake from Sky View Bar and Restaurant
I would like to thank Sky View Bar and Restaurant and Scandi Divers for my Birthday Crepe Cake.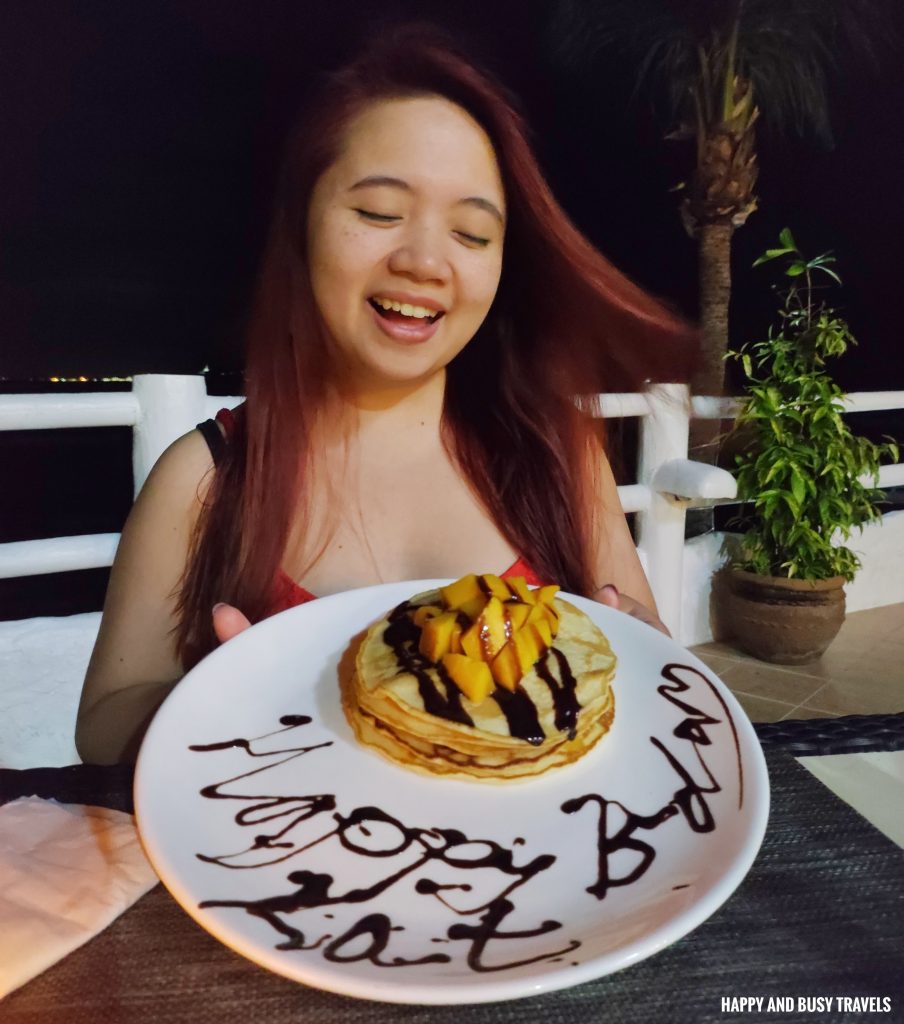 Hapsy also enjoyed dining in the bar and restaurant.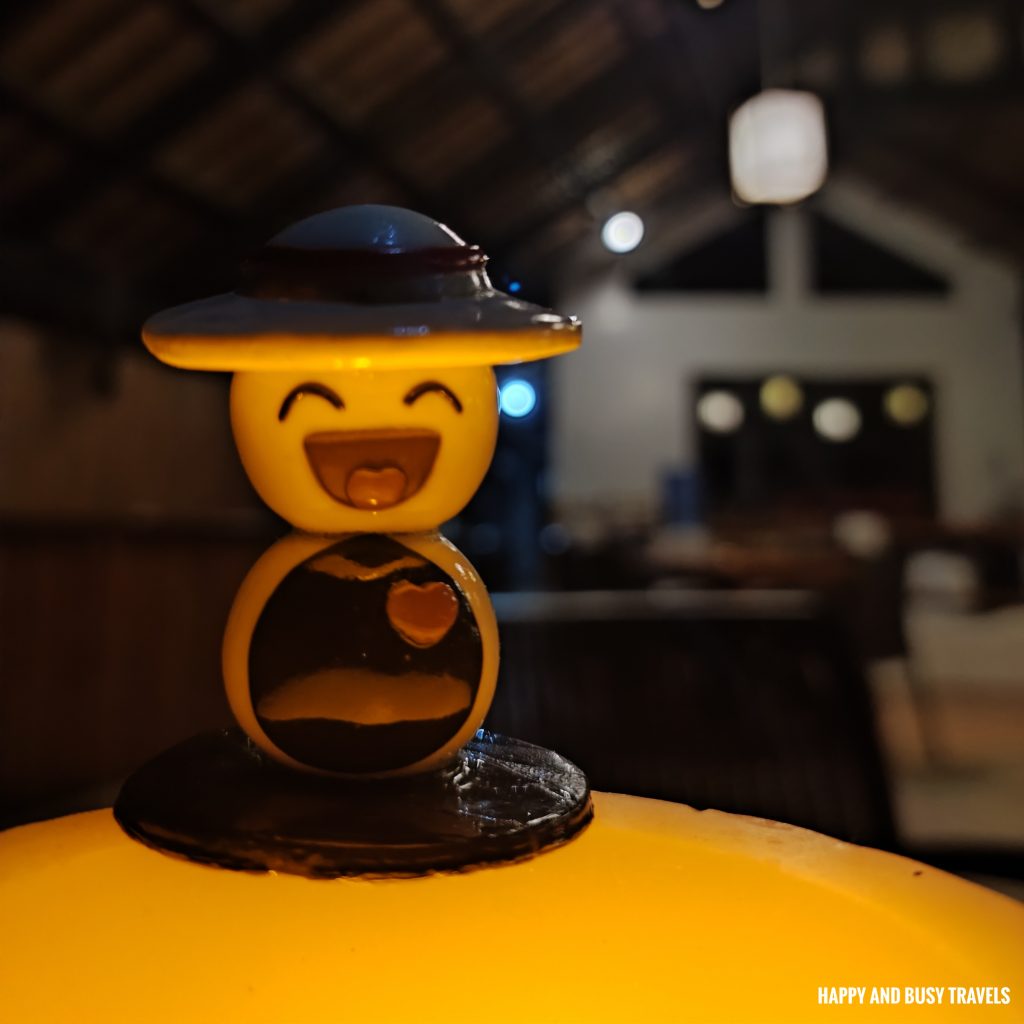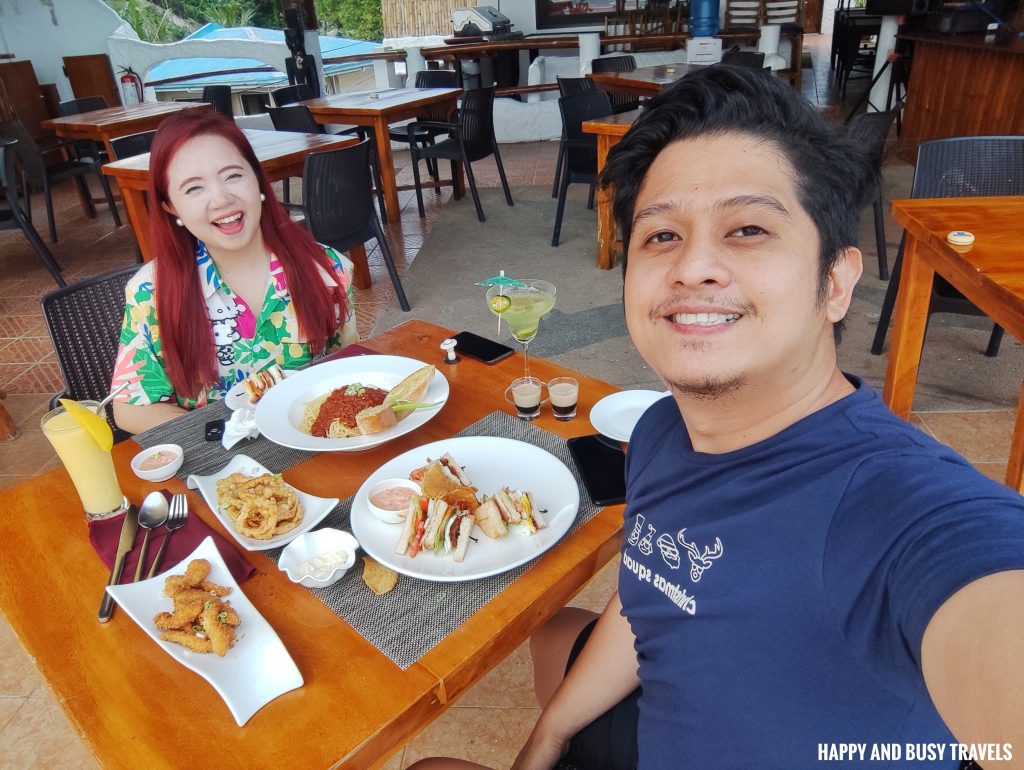 More exciting food and drinks review at https://happyandbusytravels.com/category/food-and-drinks/ so do not forget to check it out!