Shilin Night Market 士林夜市 – Taiwan Food Trip
Taiwan has a lot of night market, but Shilin Night Market is one of the best.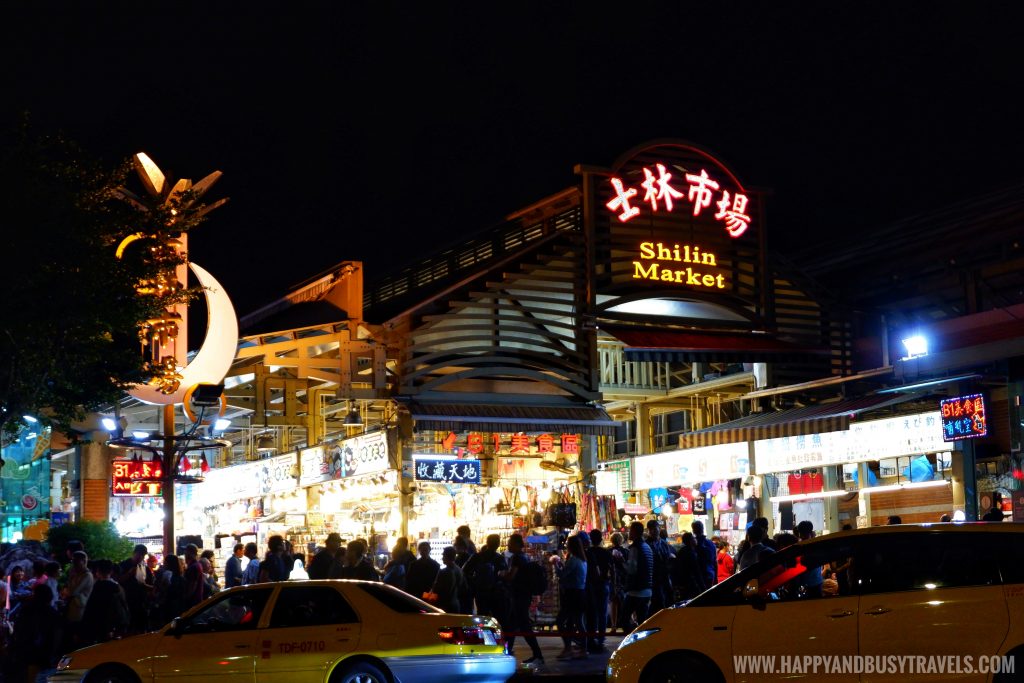 Other Information
Operating Hours: 7PM – 11PM (some stores are open before and after these hours)
There are a lot of people.
Buy a small piece of each dish so you can taste a lot of the delicacies before getting full.
Shilin Night Market is one of the best night markets in Taiwan.
Time spent: 1 – 2 hours
How to Get Here?
Addres: Taiwan, Taipei City, 111, No. 65, Section 5, Zhongshan North Road
Google Maps: https://goo.gl/maps/KZmUpXtCfw7n1L1d9
Ride the Red MRT line and go down at Jiantan Station. Leave at exit 1, you will notice the entrance of Shilin Night Market right away after the road. Note: Do not go down at Shilin station, this station is a bit far than Jiantan Station.
Our Shilin Night Market Food Trip Experience
After our whole day tour at the south of Taiwan, we went to Shilin Night Market to have our dinner, or just a simple food trip.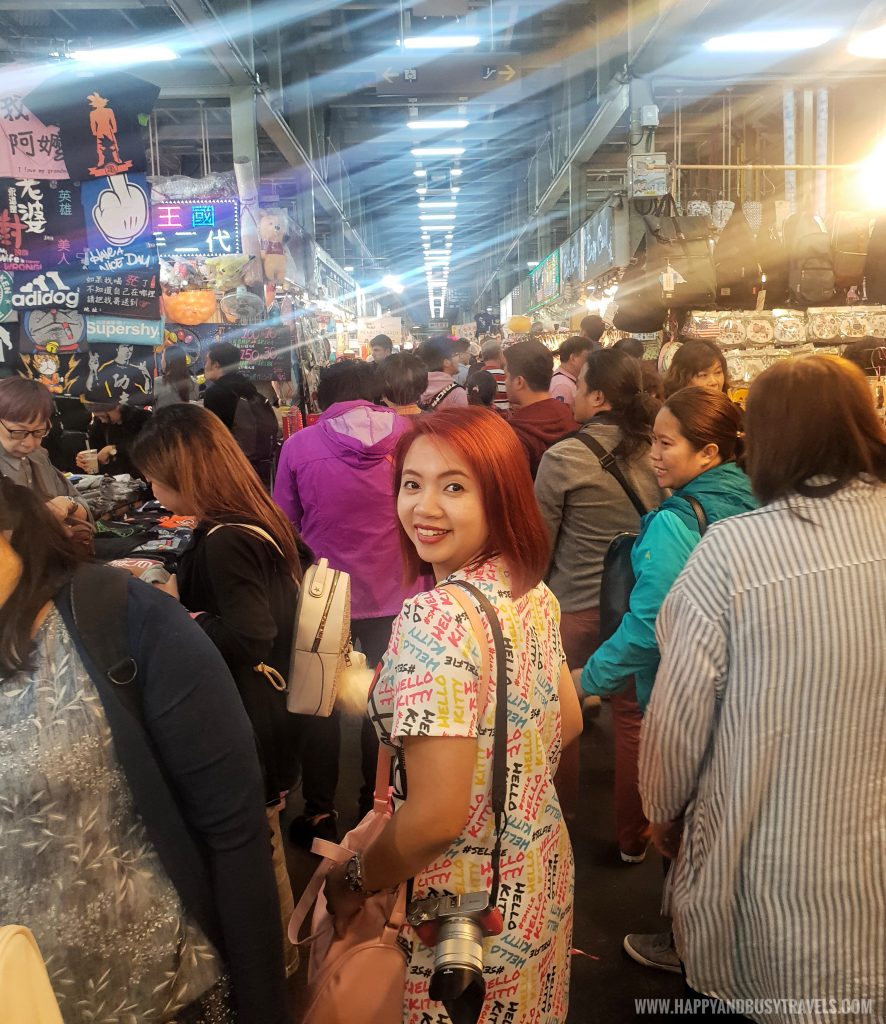 Oh yes we will turn into this pig after this food trip in Shilin Night Market 😆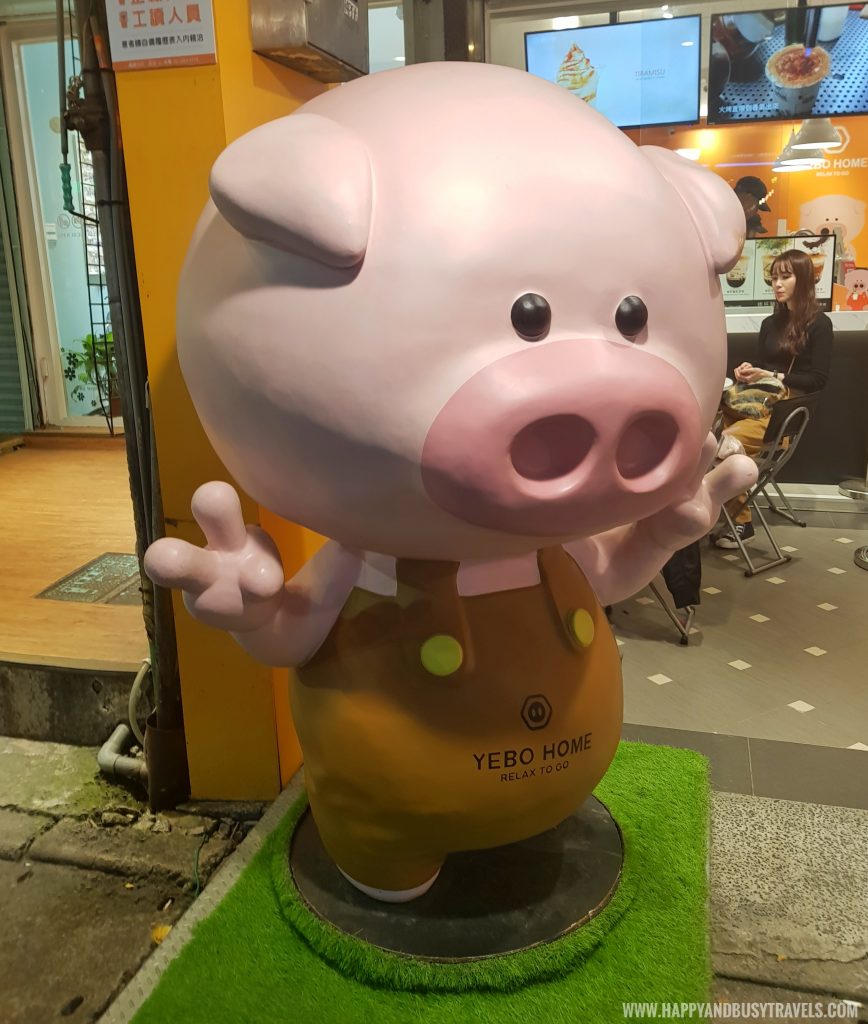 There is a lot of people in the night market. Most visitors are tourists, but there are also a lot of locals.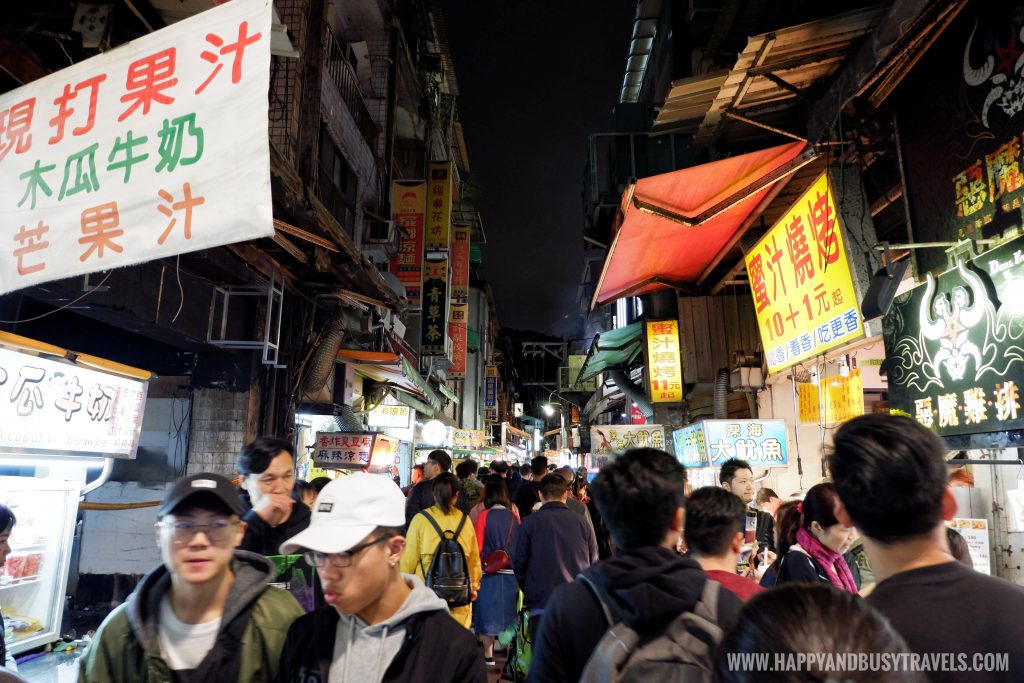 Crispy Pork Paper
As soon as we entered the night market, this man called us and said "Ito masarap" (This is delicious) he really knows we are Filipinos.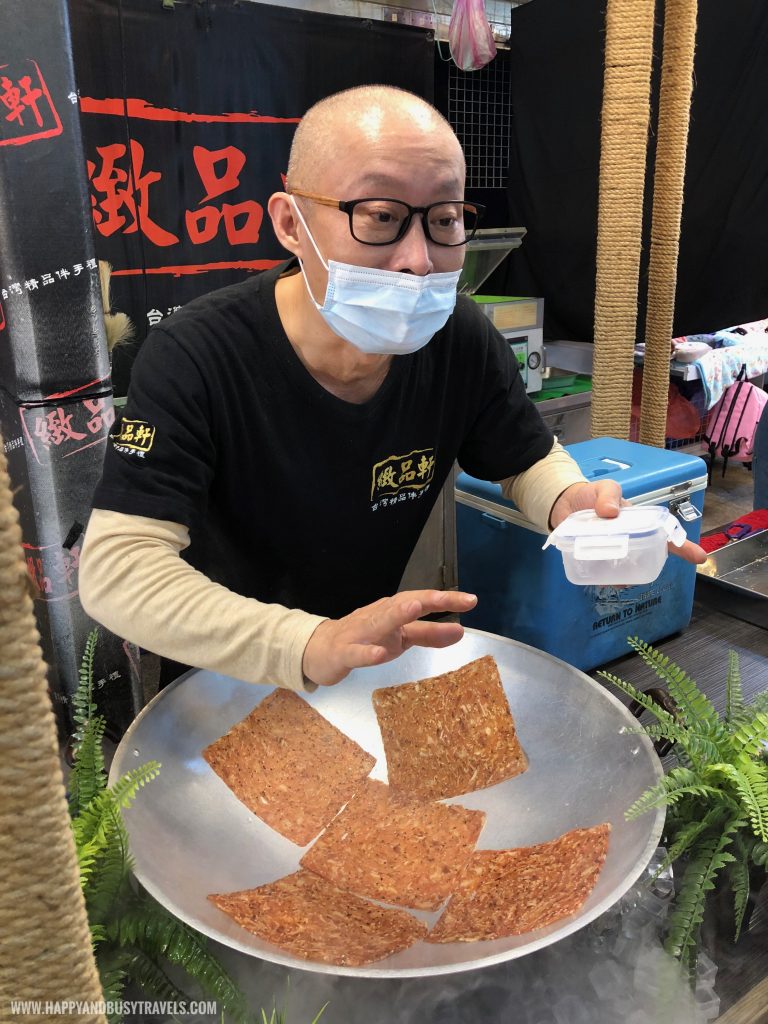 He gave us free taste of the Crispy Pork Paper and had a demo that it is nicer to eat if it is cold. I bought some because I really want to buy this hahaha. I like to eat it even if it is cold or hot. 🙂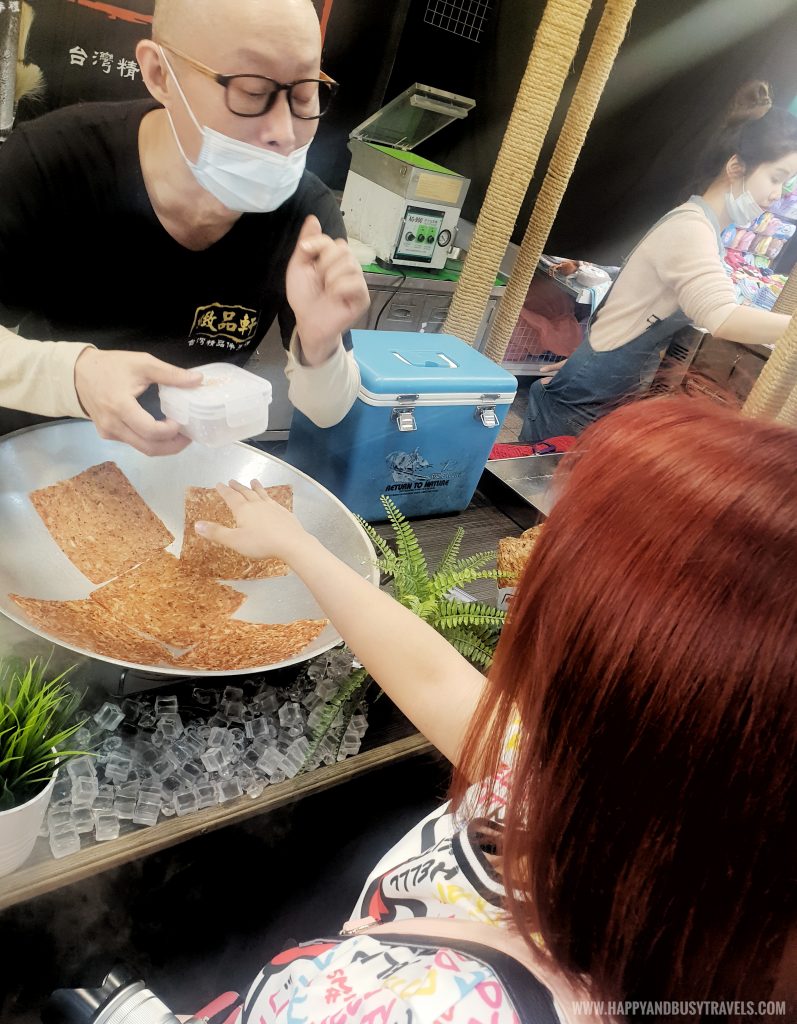 Taste: The Crispy Pork Paper tasted like Pork Jerky but with a crunch. It is also easier to eat than the jerky.
Price: One box of Crispy Pork Paper costs NT$100 (US$ 3.5 or PHP 170) or you can buy 3 boxes for NT$250 (US$ 8.50 or PHP420).
Sweet Potato Balls
Next we bought the Sweet Potato Ball, one serving is very much enough for 1 person.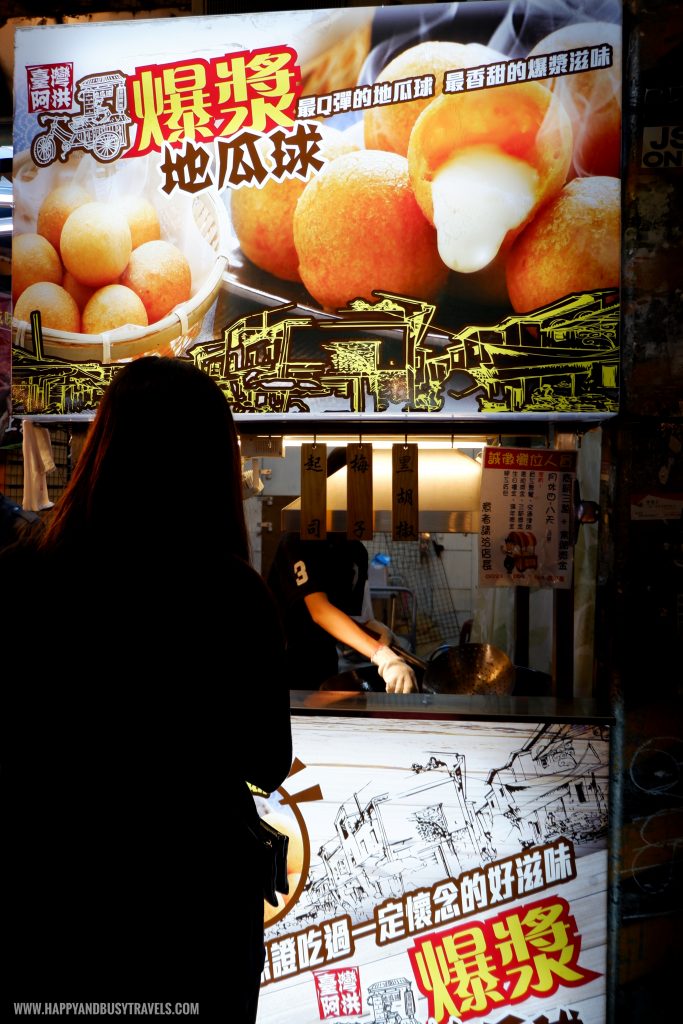 There are… I think 13 or 14 balls in one cup…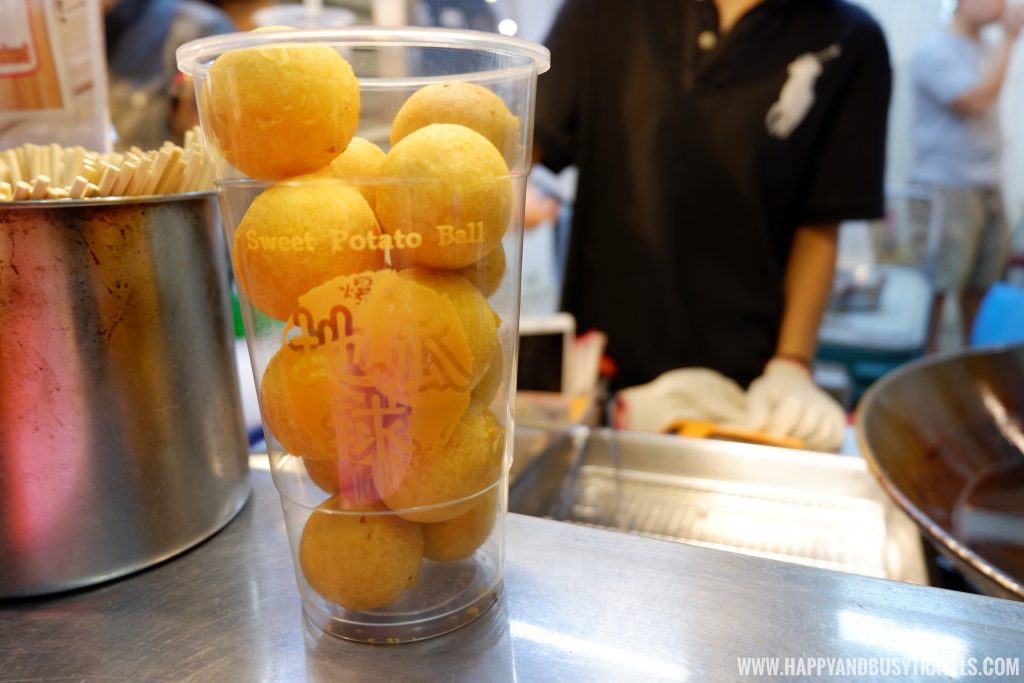 One serving can make you full immediately, so we just shared.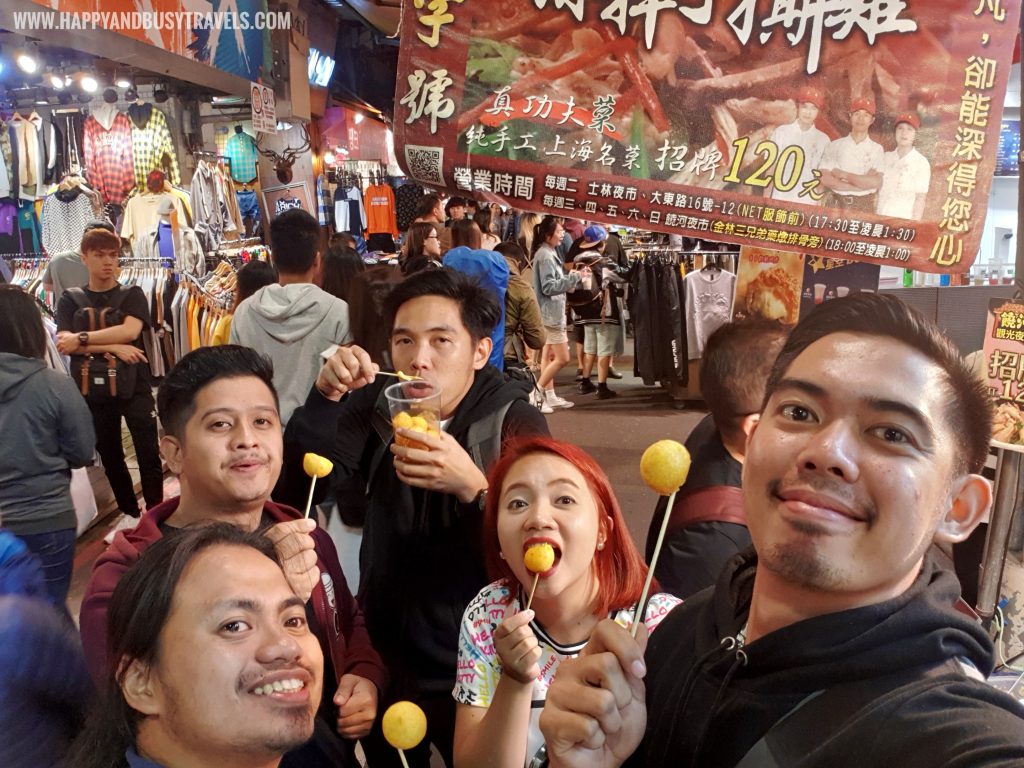 Taste: The ball itself tasted like Potato and it has a milky filling, it was like condensed milk.
Price: One cup costs NT$100 (US$ 3.5 or PHP 170).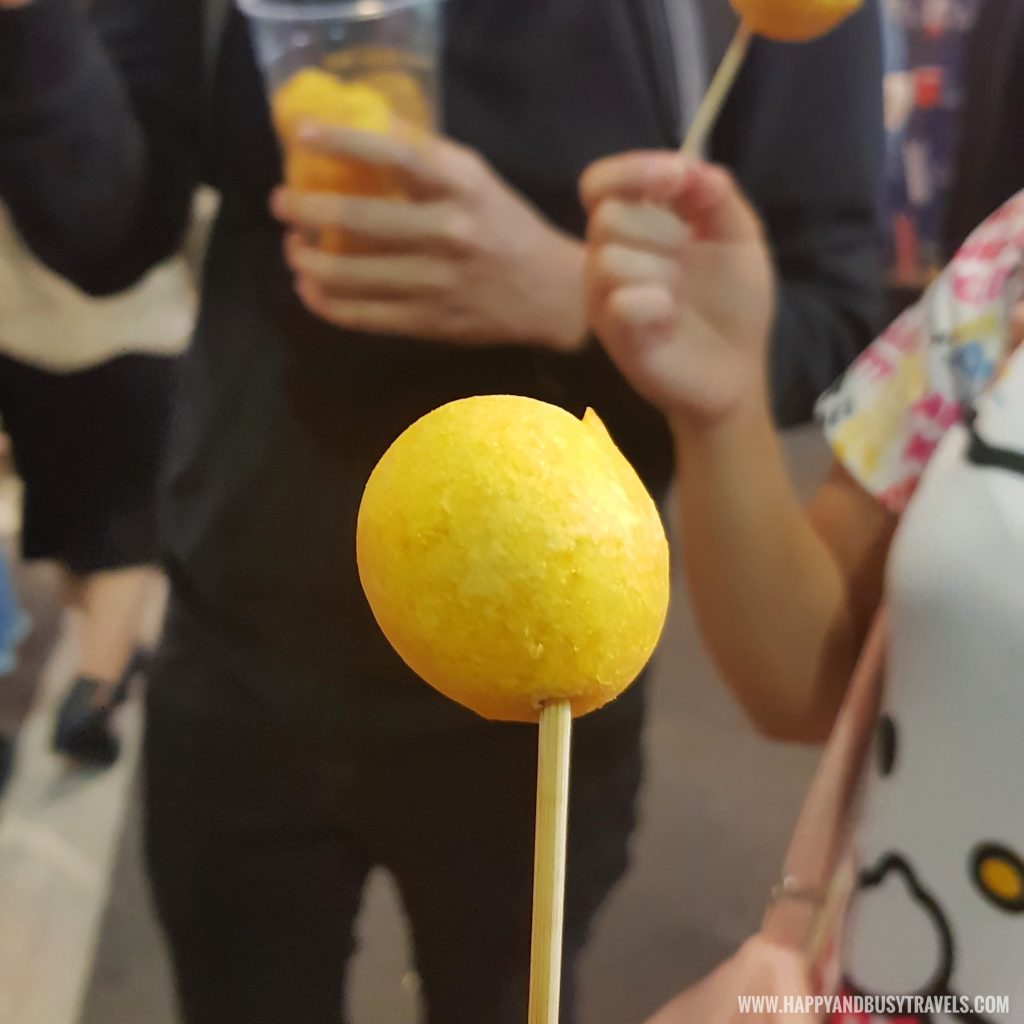 Carbon Barbecue
Then, we saw this one. The name is a bit strange, Carbon Barbecue.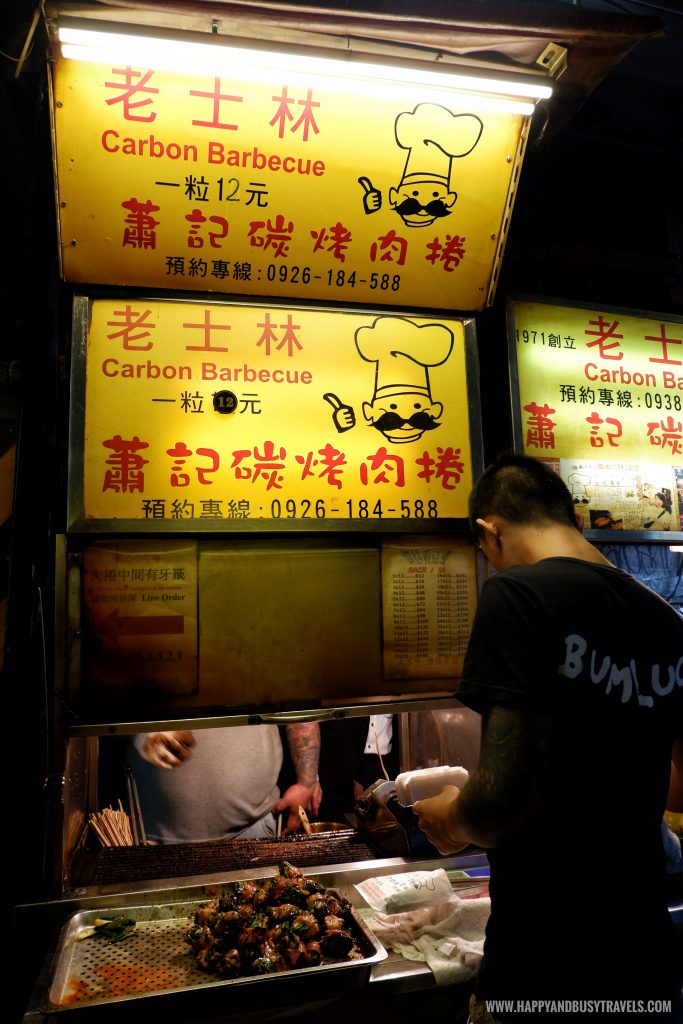 Carbon Barbeque I think is made out of Bok Choy wrapped in pork, and grilled with a sweet and salty sauce.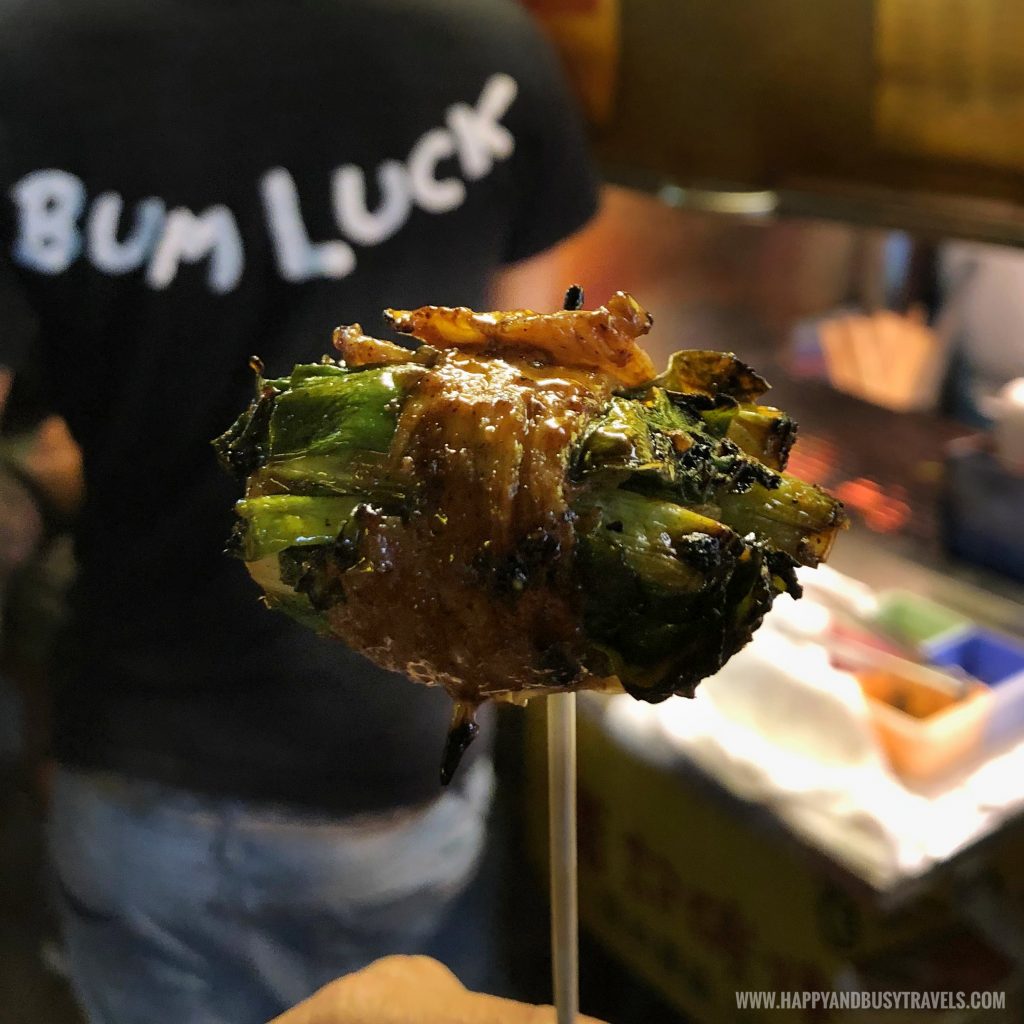 We took a selfie with the barbecue, and this very friendly Taiwanese smiled with us. 😁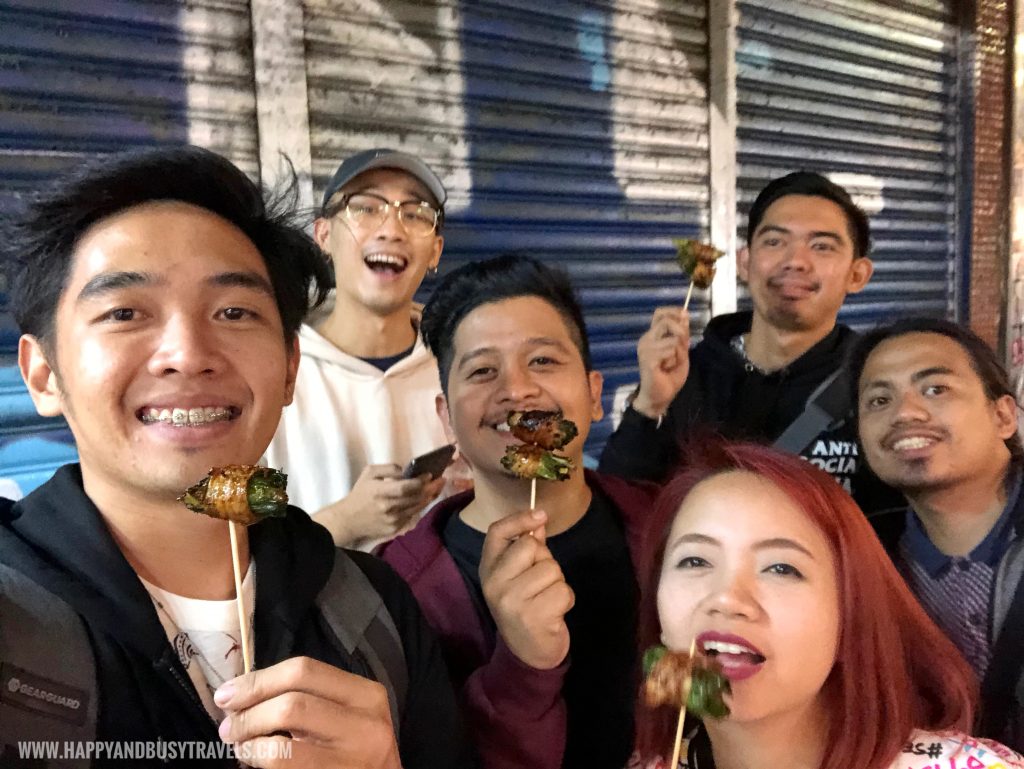 Taste: It tasted good. It tasted like barbecue with of course pork and veggies with it.
Price: One piece costs NT$ 12 (US$ 0.50 or PHP 20)
Chicken Pie
We started to get full with this dish, the Chicken Pie. The stall serves a lot of chicken dishes, but we ordered the Chicken Pie.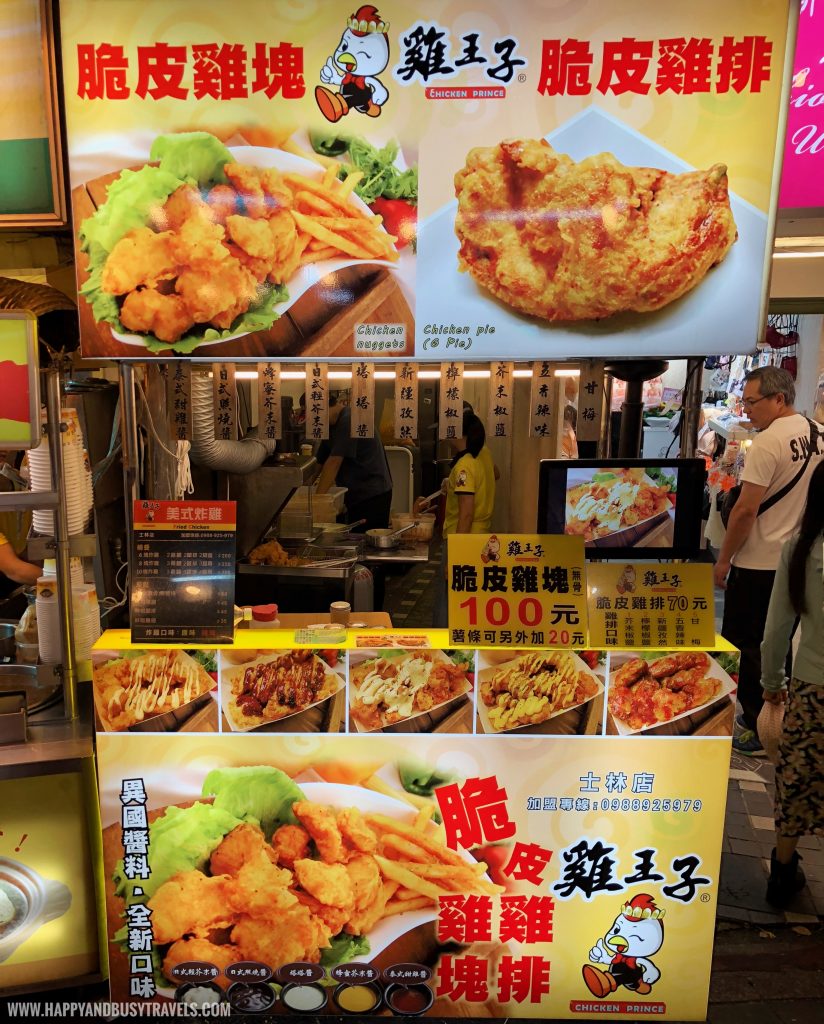 Look at this big slab of chicken. The Chicken Pie is made out of a fried big piece of breaded chicken.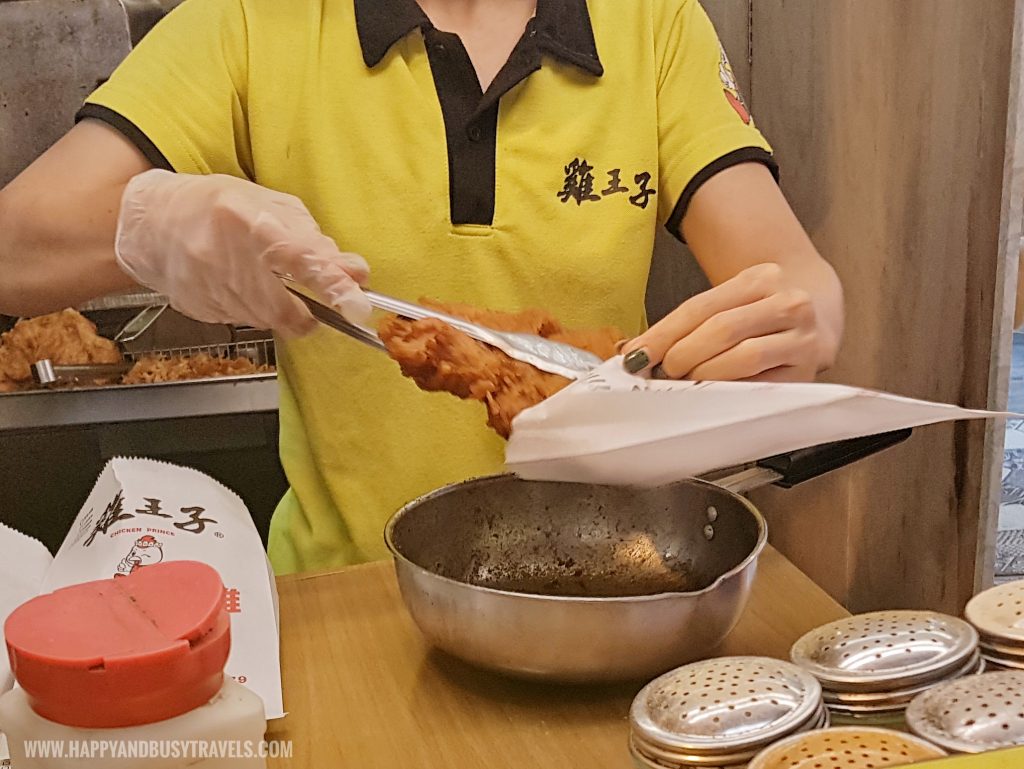 Each serving is big, and can make one person full.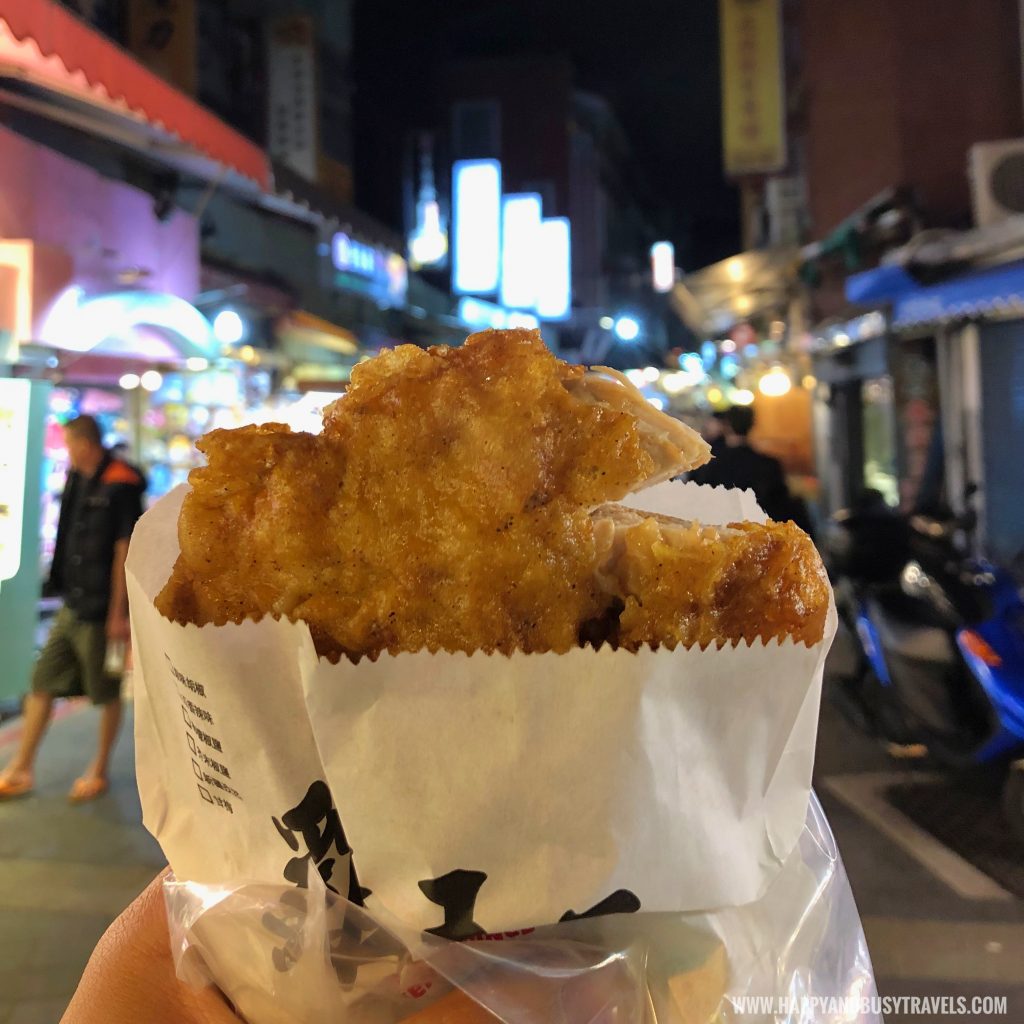 Taste: The chicken pie tasted like the usual friend chicken.
Price: NT$100 (US$ 3.5 or PHP 170).
Mini Fried Dumpling Balls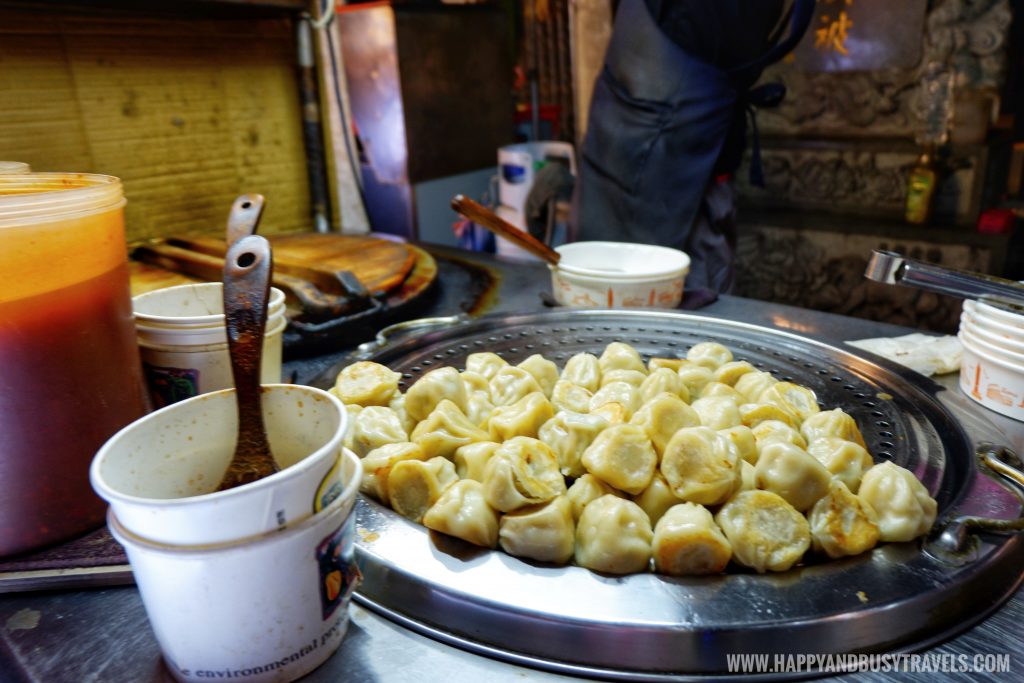 One order consists of 9 pieces of mini fried Dumpling Balls with soy sauce and served in a small box like container.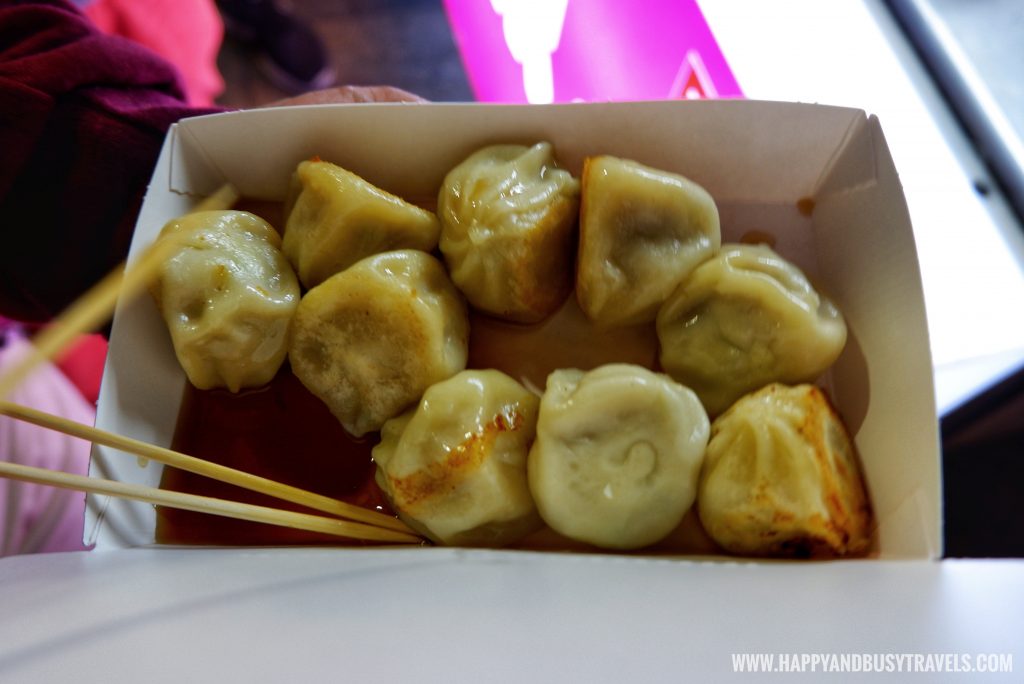 Taste: It tasted like fried Pork Siomai.
Price: NT$ 50 (US$ 2 or PHP 90)
Shrimps on a Stick
We also took a picture of some stalls even though we did not buy. Like this stall which sells Shrimps on a stick.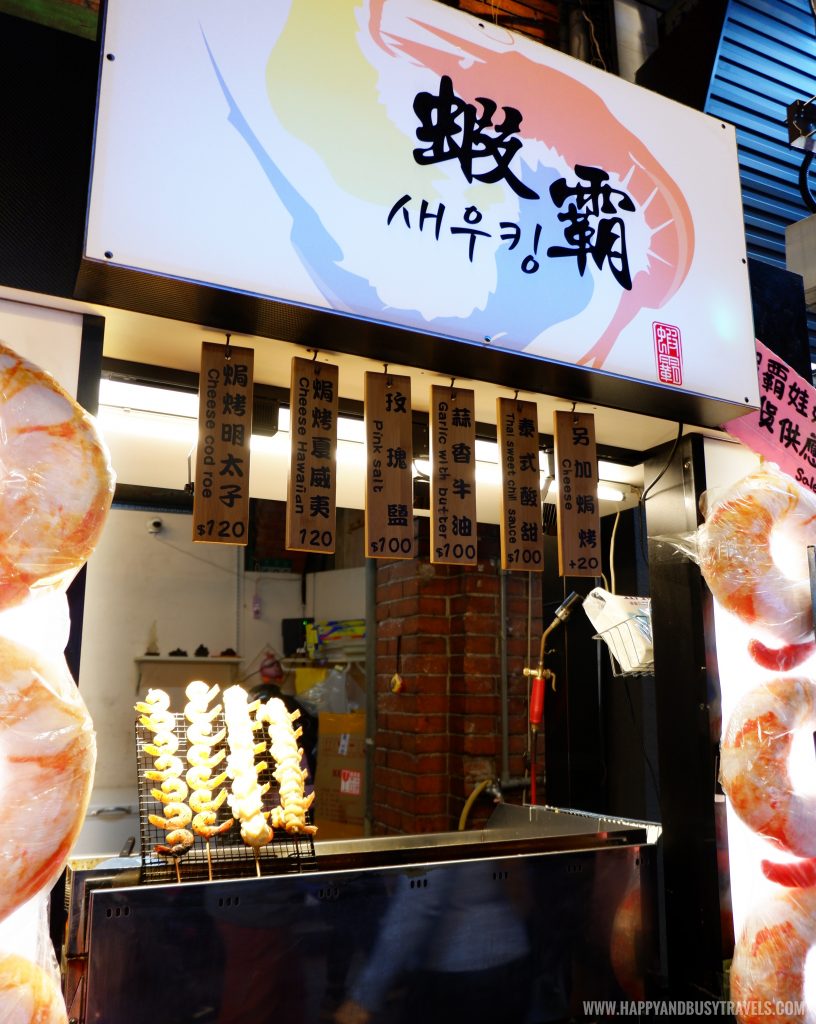 Prices:
Shrimp with sweet chili sauce/ garlic butter/ pink salt NT$100 (US$ 3.5 or PHP 170)
Hawaiian Shrimp / Shrimp with Cheese NT$120 (US$ 4 or PHP 205)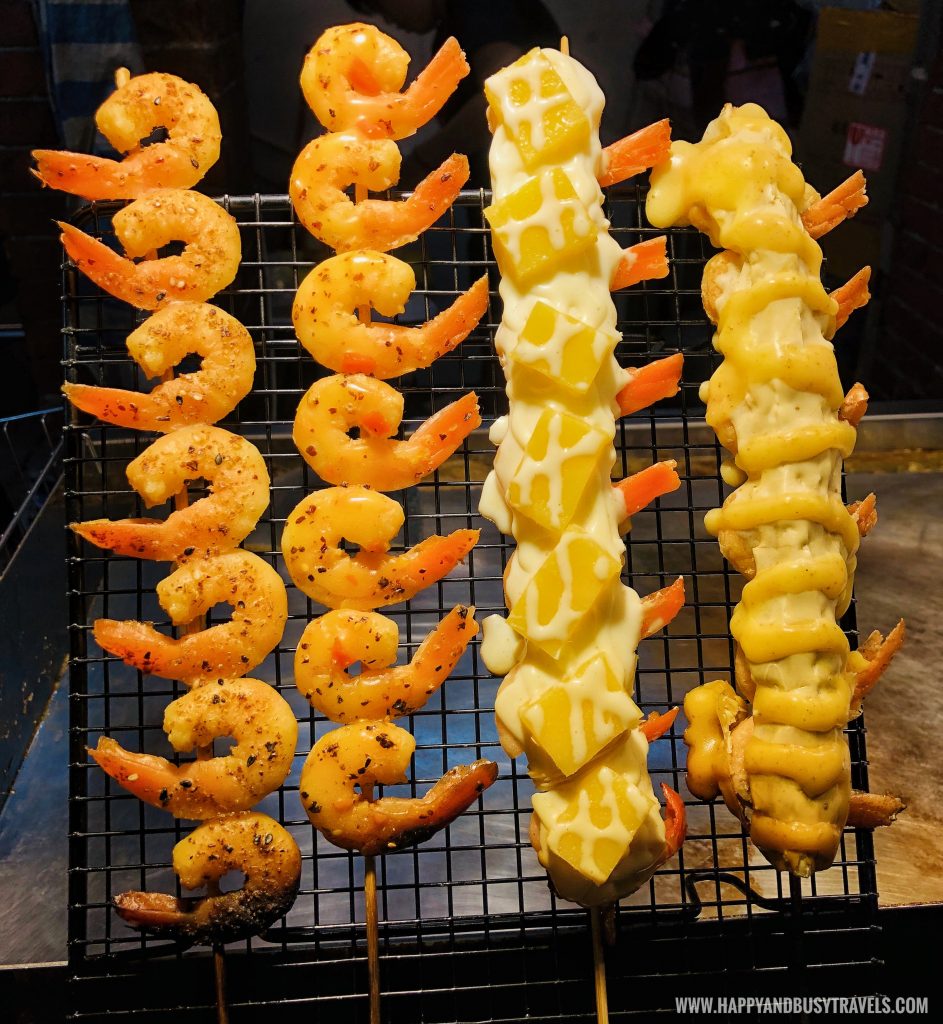 Seafood stand (Shrimp, Lobster, Crab, Clam)
This seafood stall sells a lot of crustaceans which looks yummy, but we didn't buy. 😅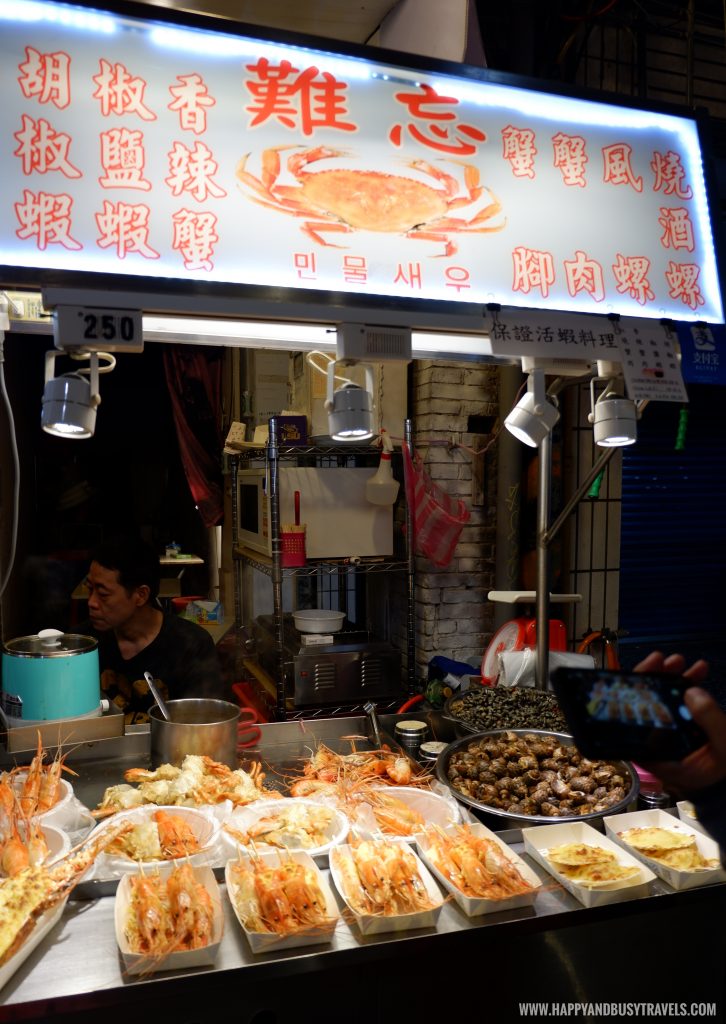 As you can see from the pictures, one serving is one paper bowl.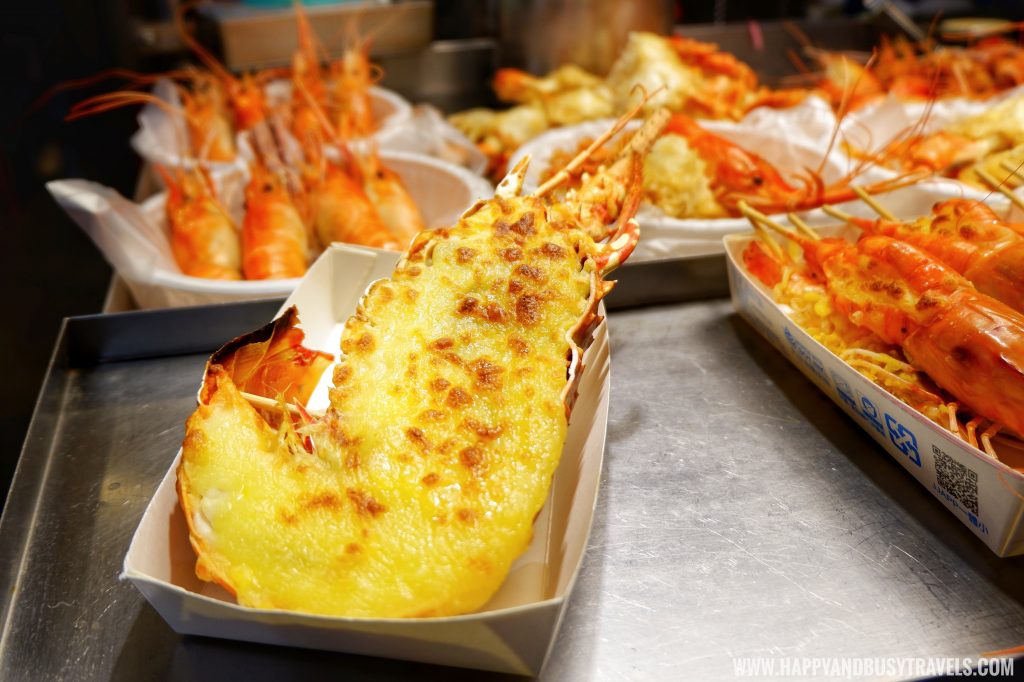 Why we didn't buy? Aside from it is a bit expensive, we have these in our country.
Price: NT$250 (US$ 8.50 or PHP 425)
Clams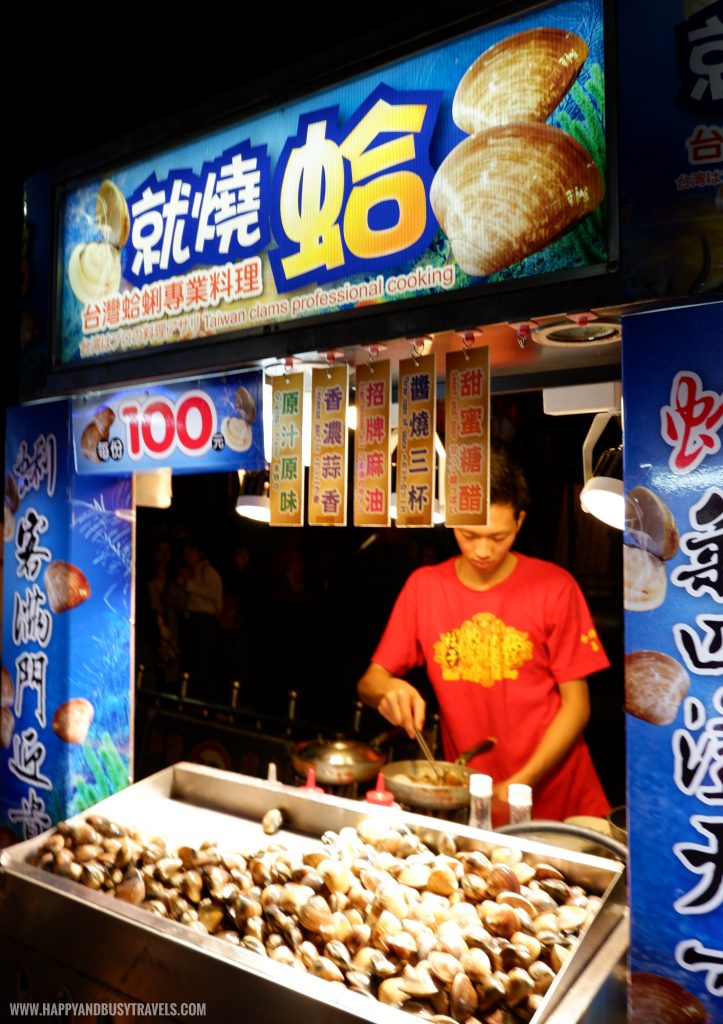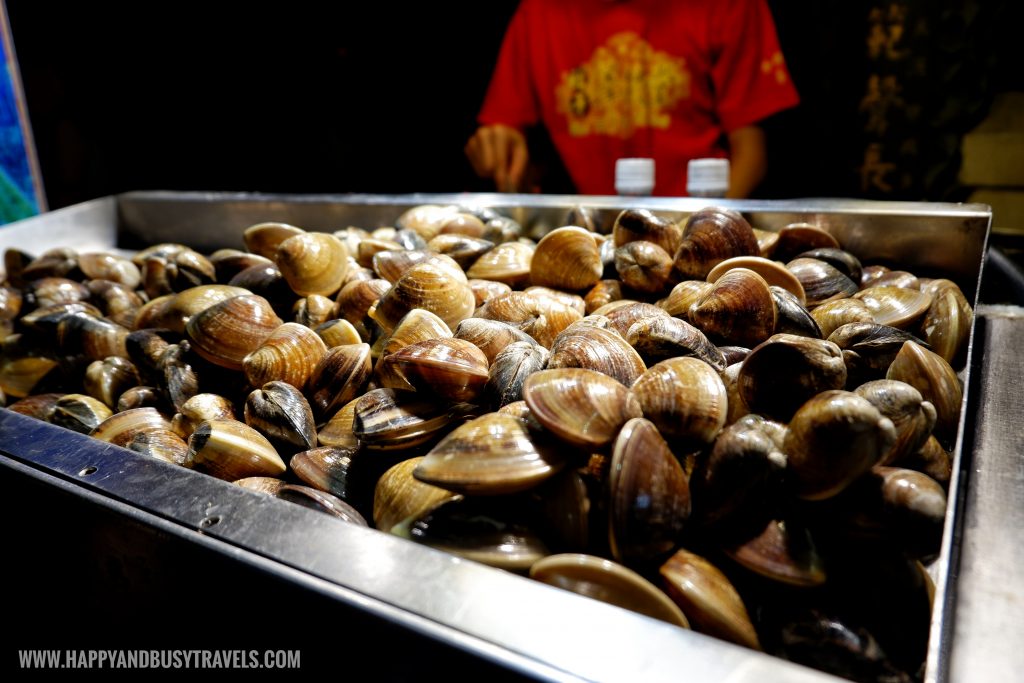 We again did not buy this because we have this in our country.
Price: NT$100 (US$ 3.5 or PHP 170)
Grilled Squid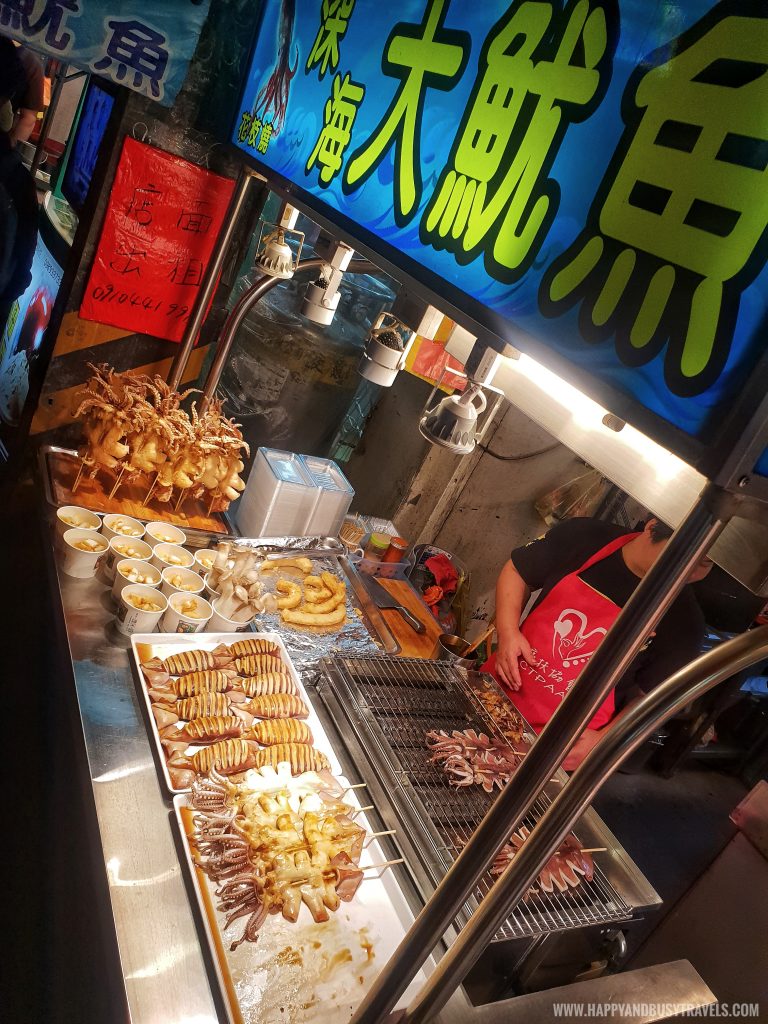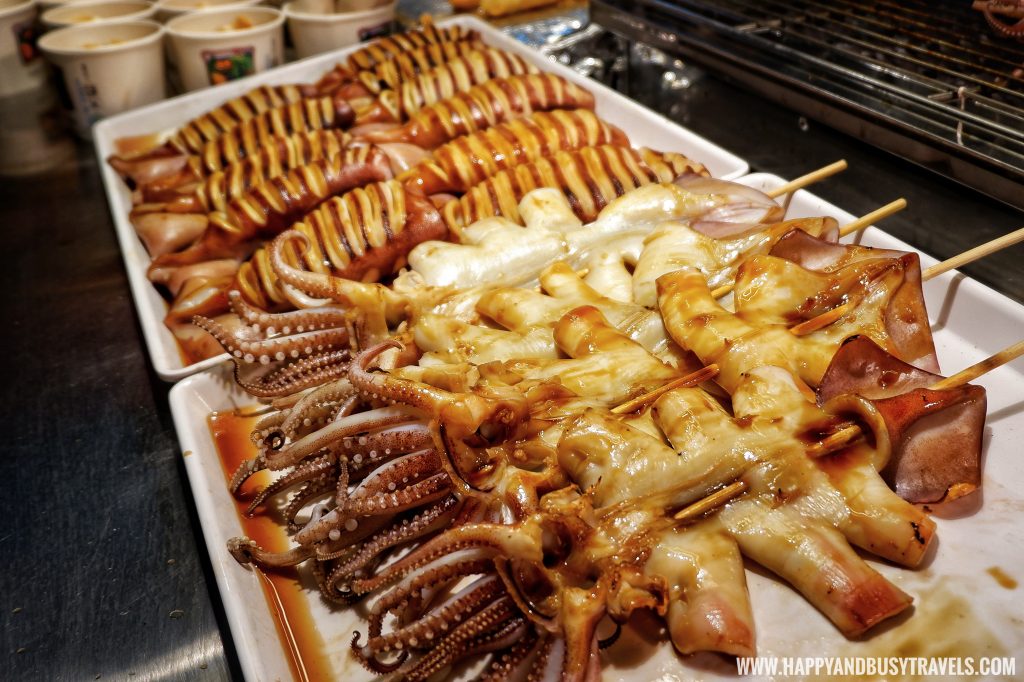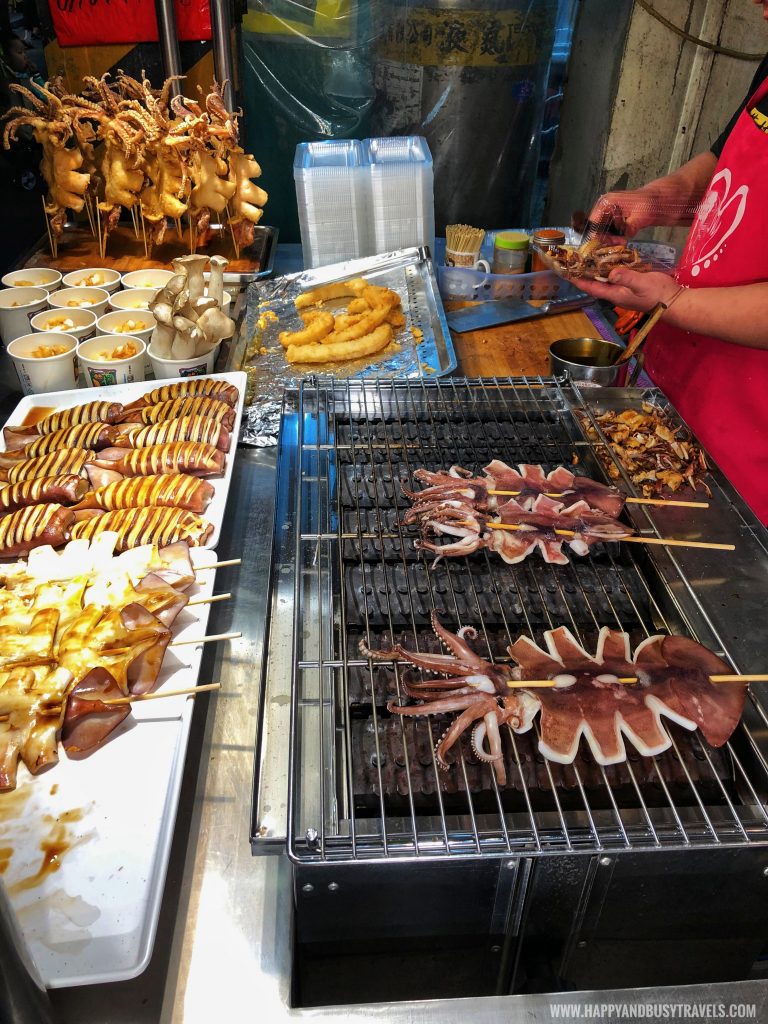 Burned Octopus
The stall translated their specialty as Eight Claw Octopus Burned, but I think this is just the same as the Takoyaki. The difference is the octopus in this can be really seen, while in Takoyaki, the octopus is cut into small pieces and it can't be really seen through the ball.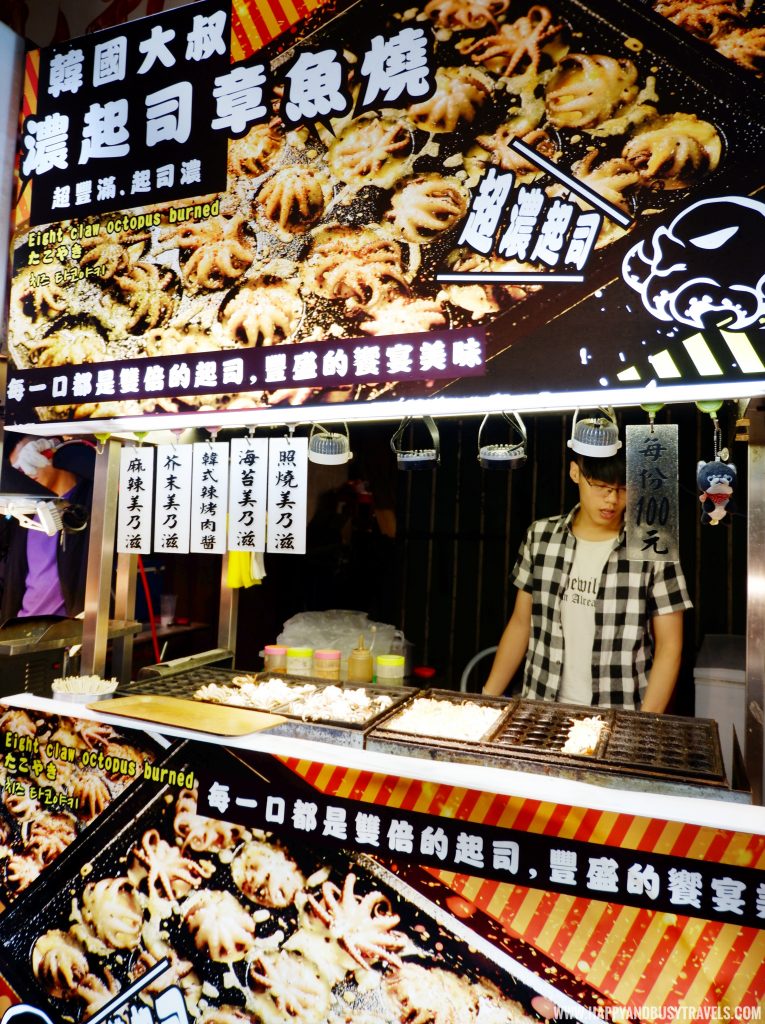 We saw the actual cooking of the burned octopus, the shredded veggies were first placed, then the octopus, finally the secret mixture.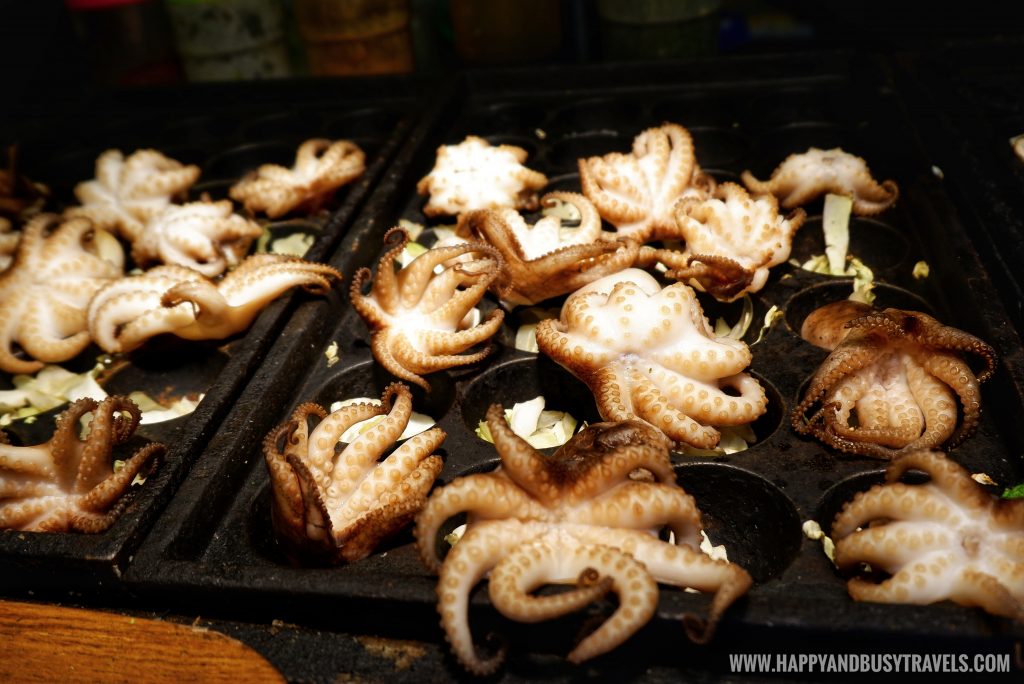 The mixture looked like it has a lot of cheese.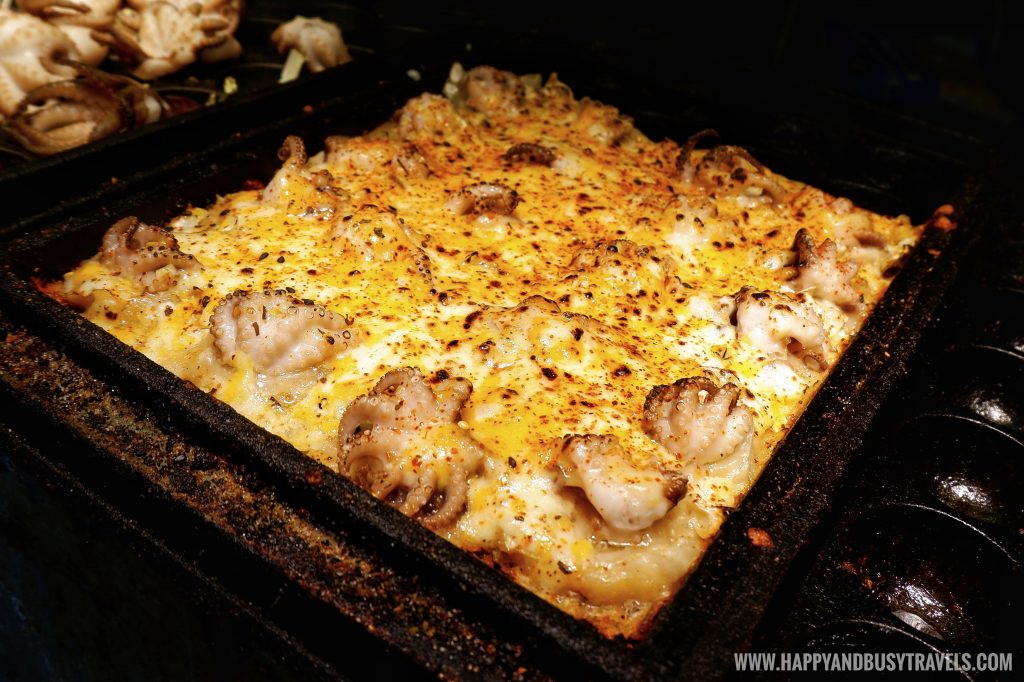 Price: NT$100 (US$ 3.5 or PHP 170)
Fried Milk
One of the unique food here is this Fried Milk. They also have fried Oreos, and fried milk balls.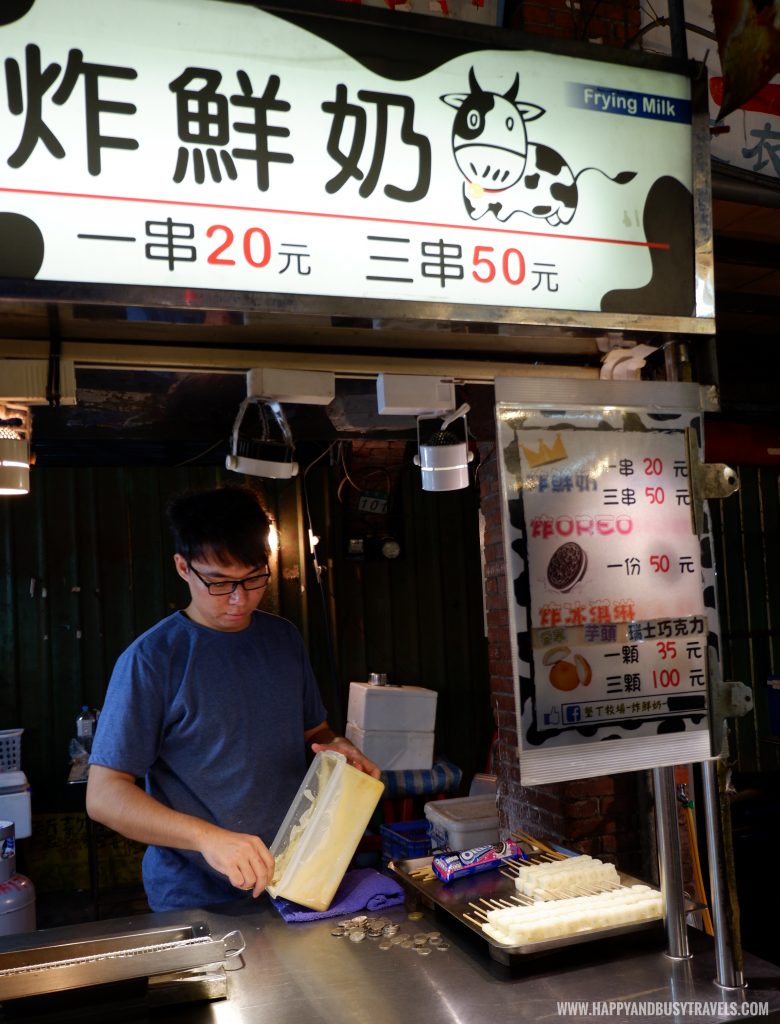 We just bought their best seller, the fried milk.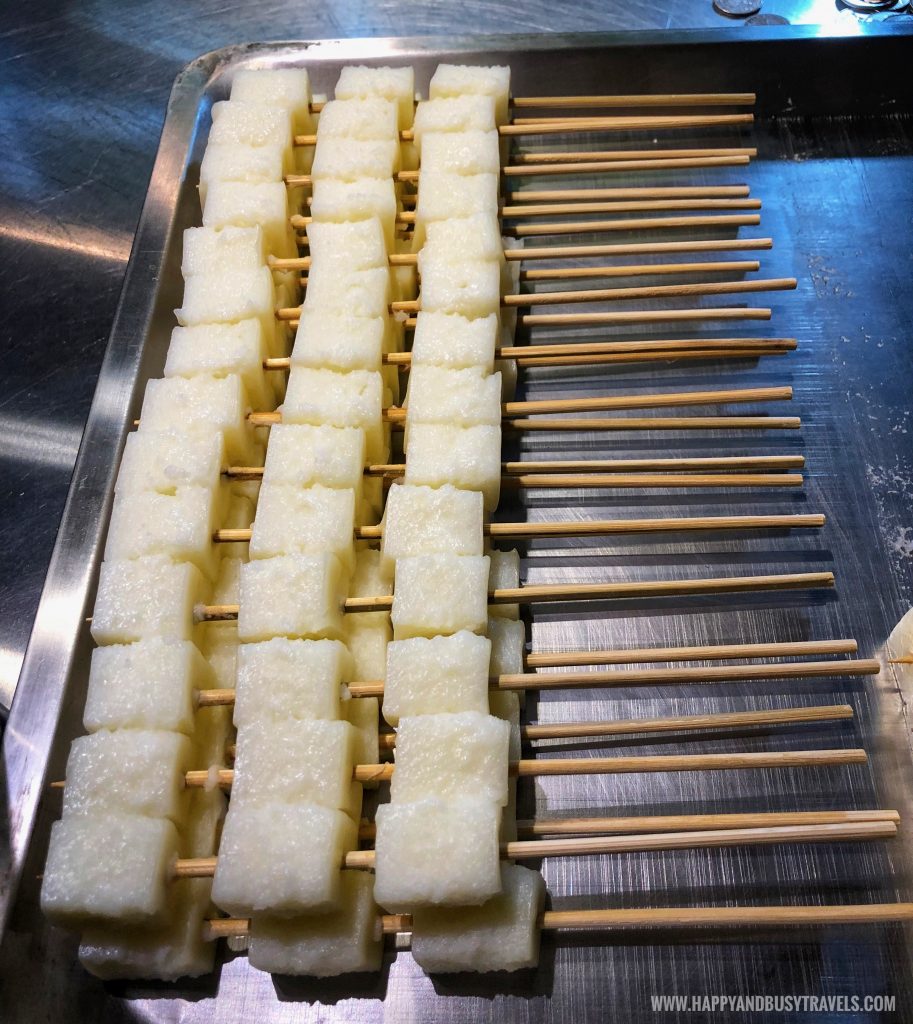 The solidified milk was dipped into the breading.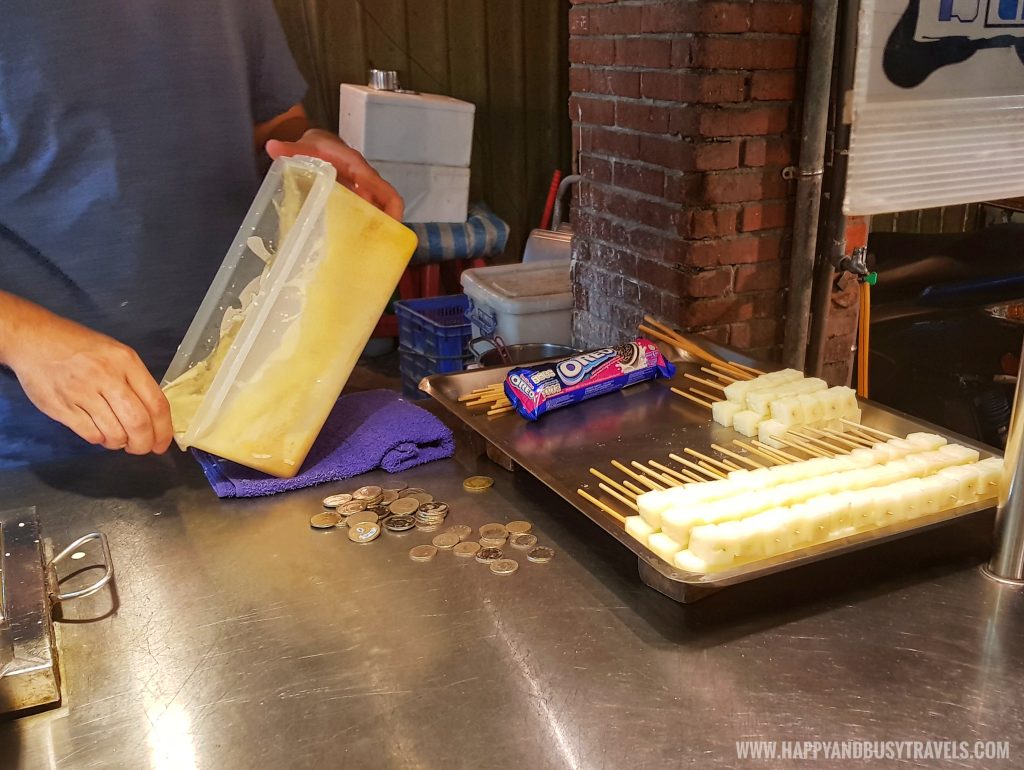 Then it was fried.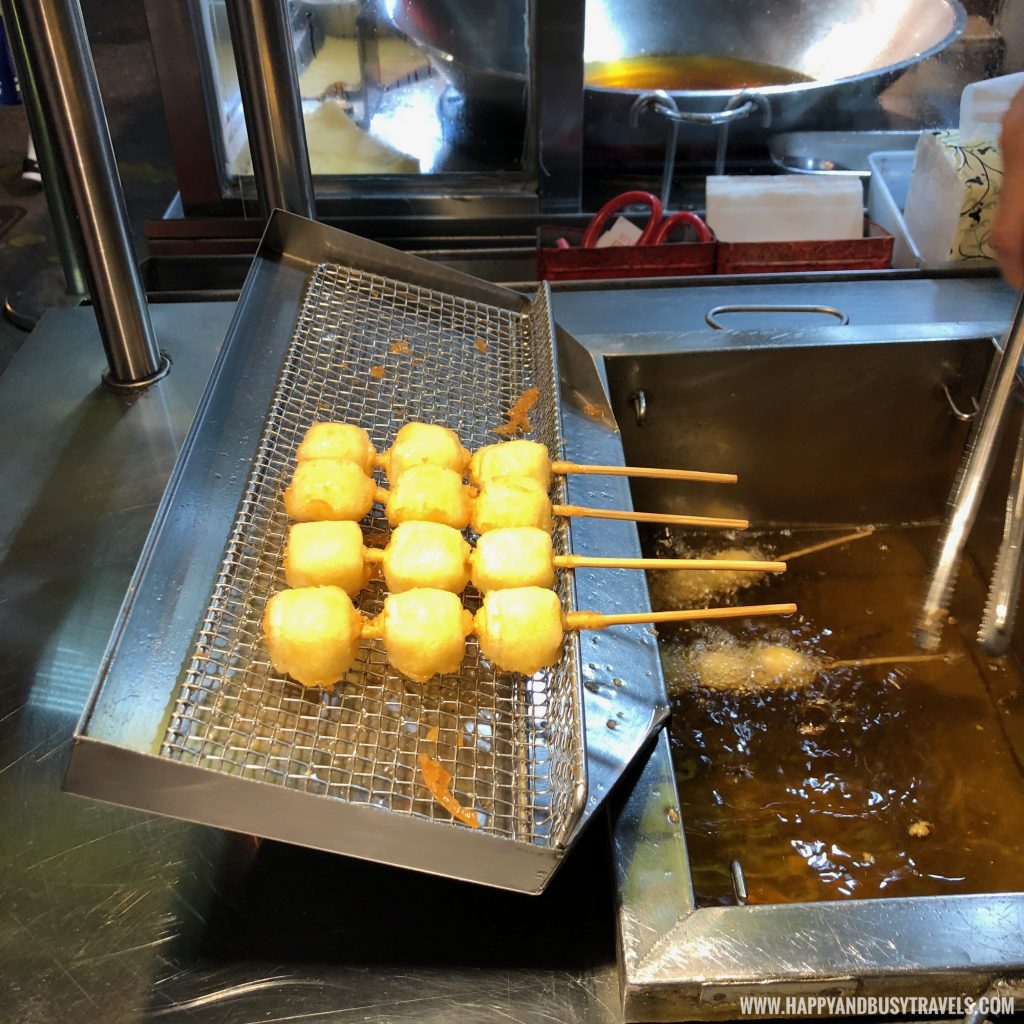 Taste: It tasted like milk that is fried haha I can't really describe it but it was good. It is okay for a dessert. I think chocolate syrup will be a nice addition to the balls.
Price:
1 stick = NT$ 20 (US$ 0.70 or Php 34)
3 sticks = NT$ 50 (US$ 1.70 or Php 84)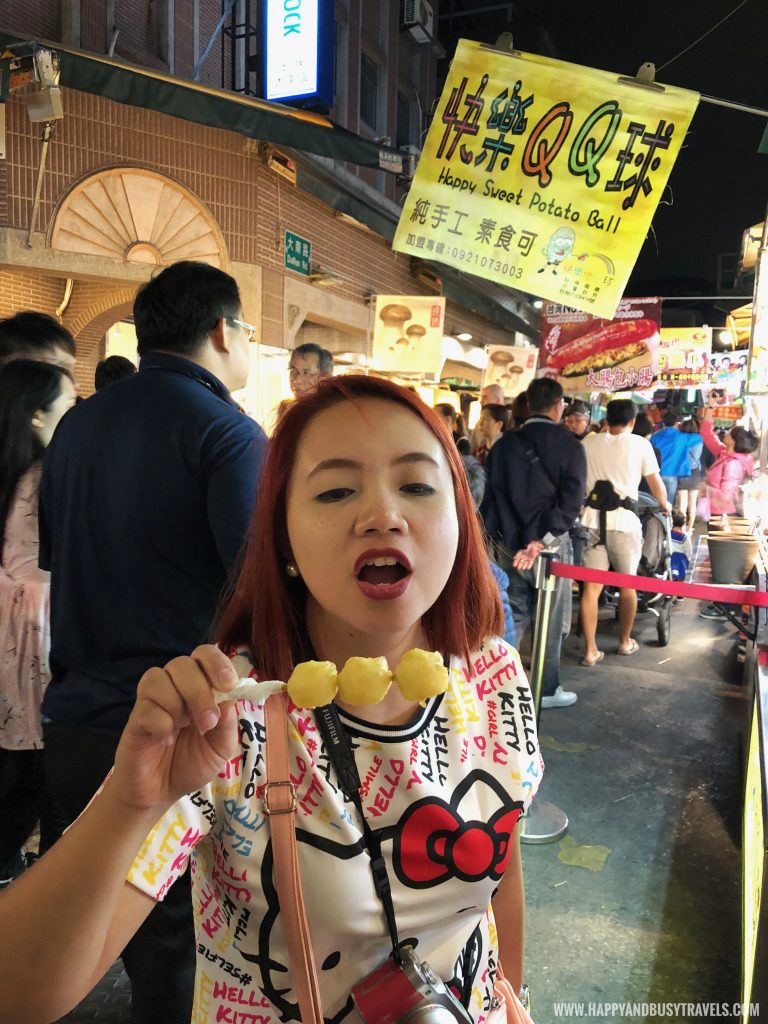 Grilled Meat
There are various stalls in the area that sells different grilles meat, here are some of the shops that we bought some.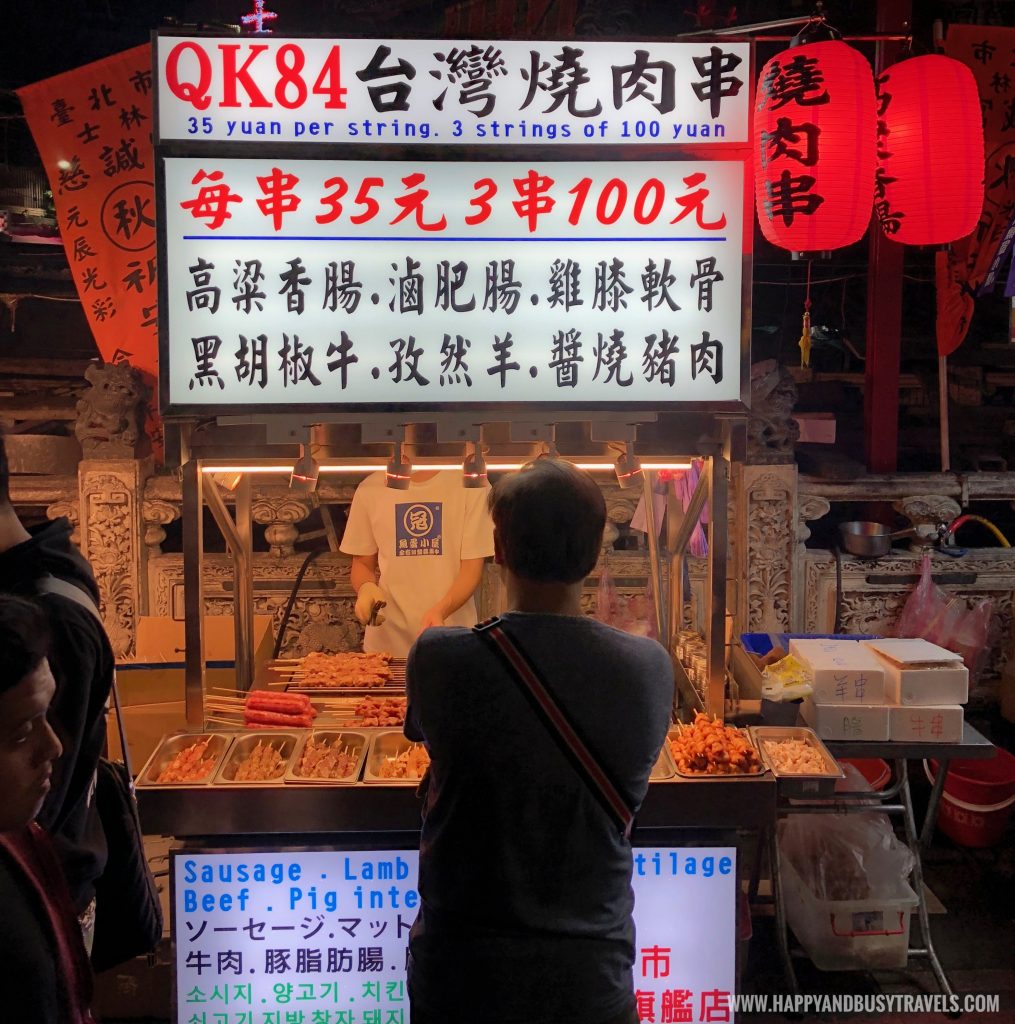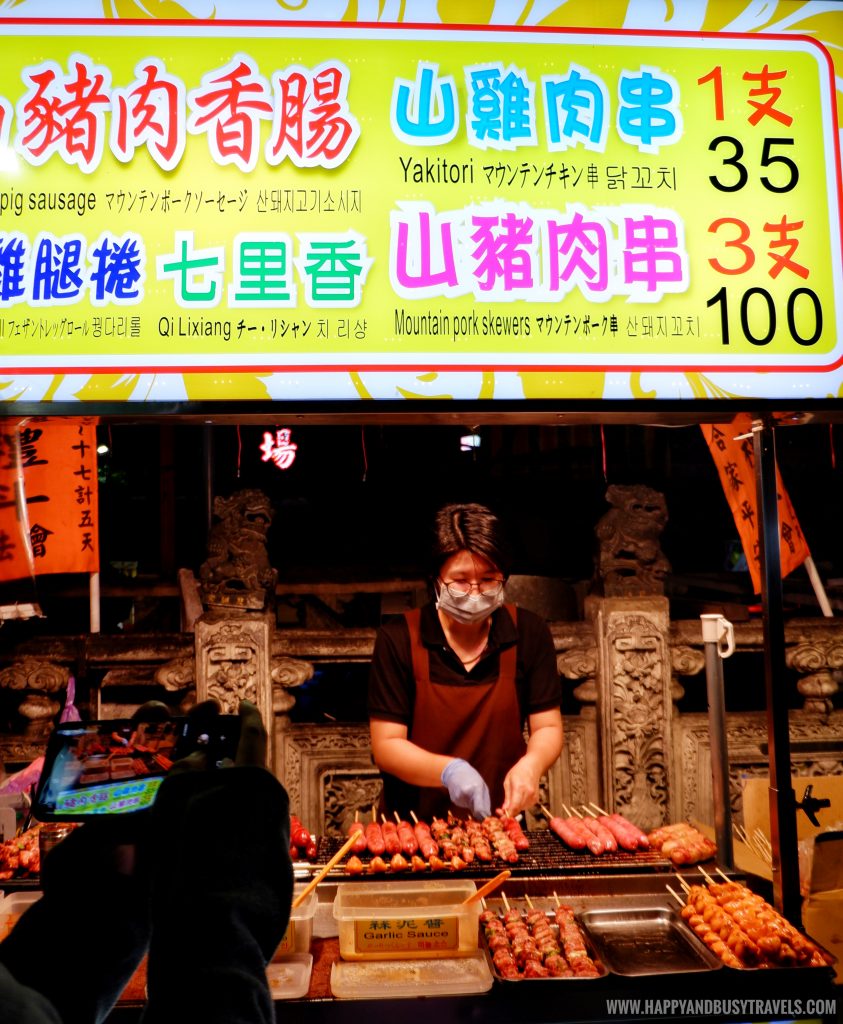 Price: Almost all of the grilled meat stalls in Shilin Night Market has the same price.
1 stick = NT$ 35 (US$ 1.2 or PHP 60)
3 sticks = NT$ 100 (US$ 3.5 or PHP 170)
Here are some of the available meat.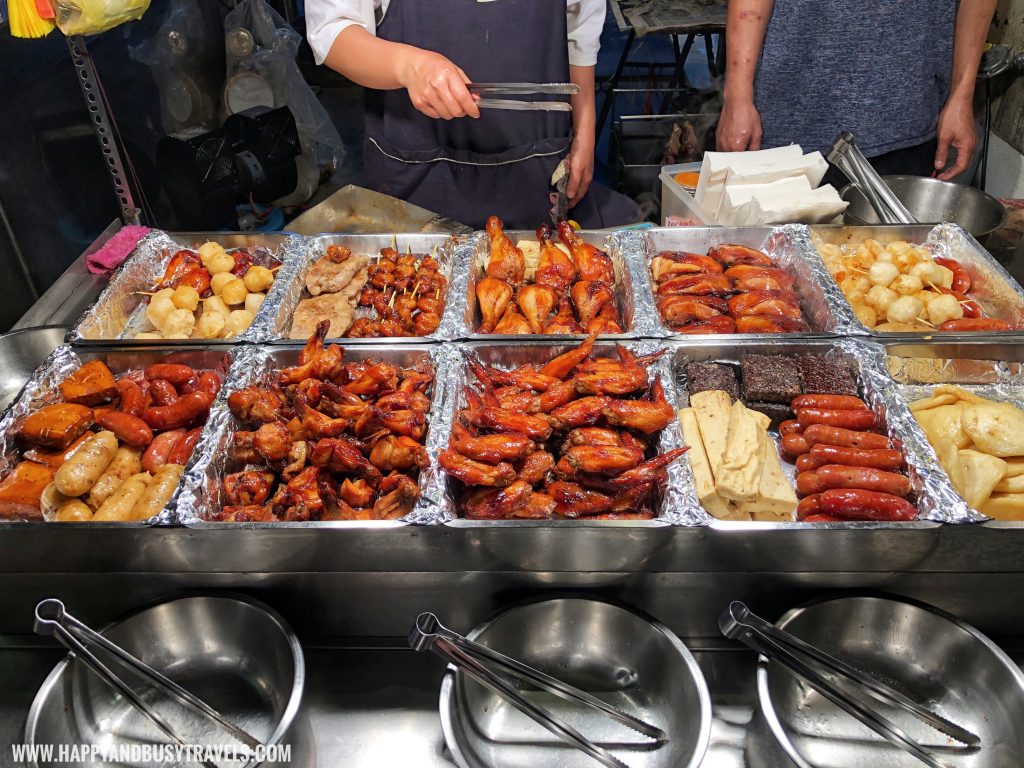 Most of them are already cooked, so as soon as the customer orders the seller will just heat it on the grill for a few minutes.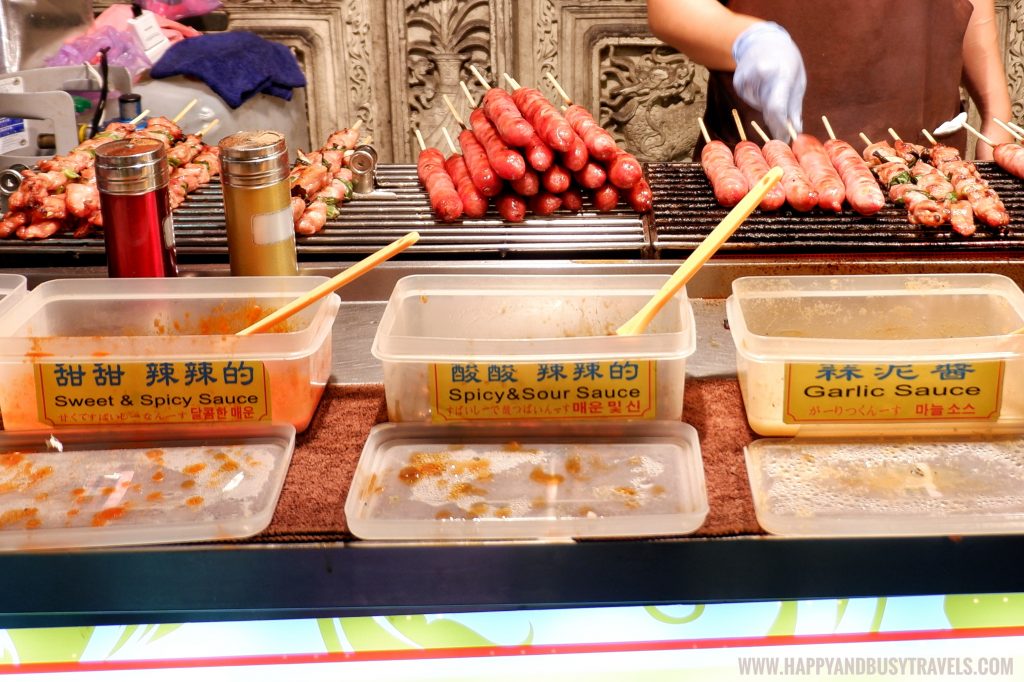 Here are some of the meat that we ordered being heated…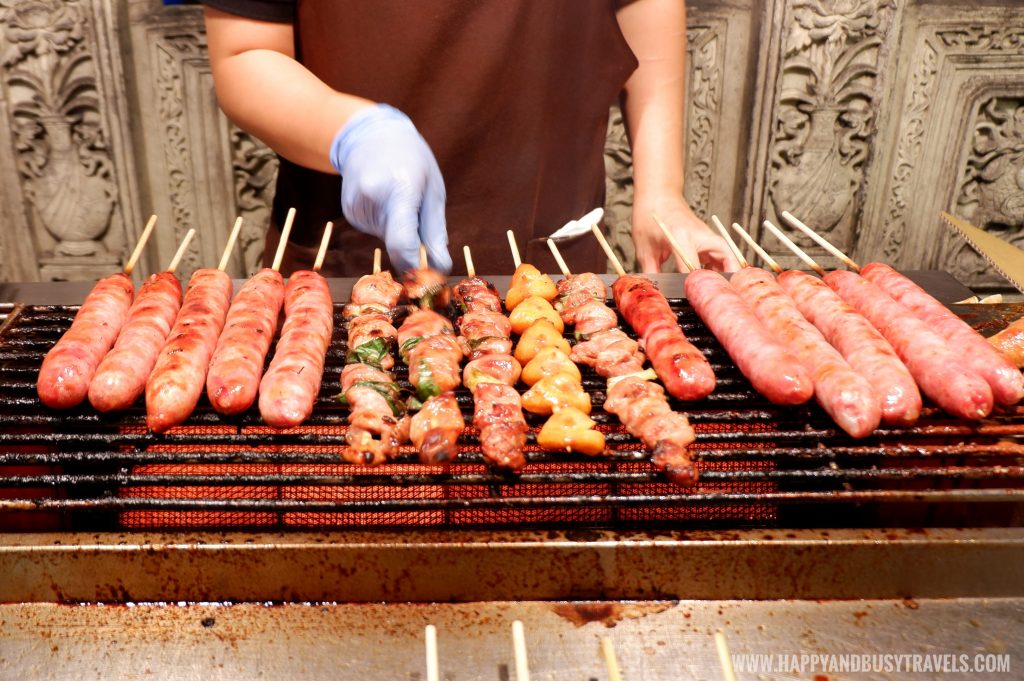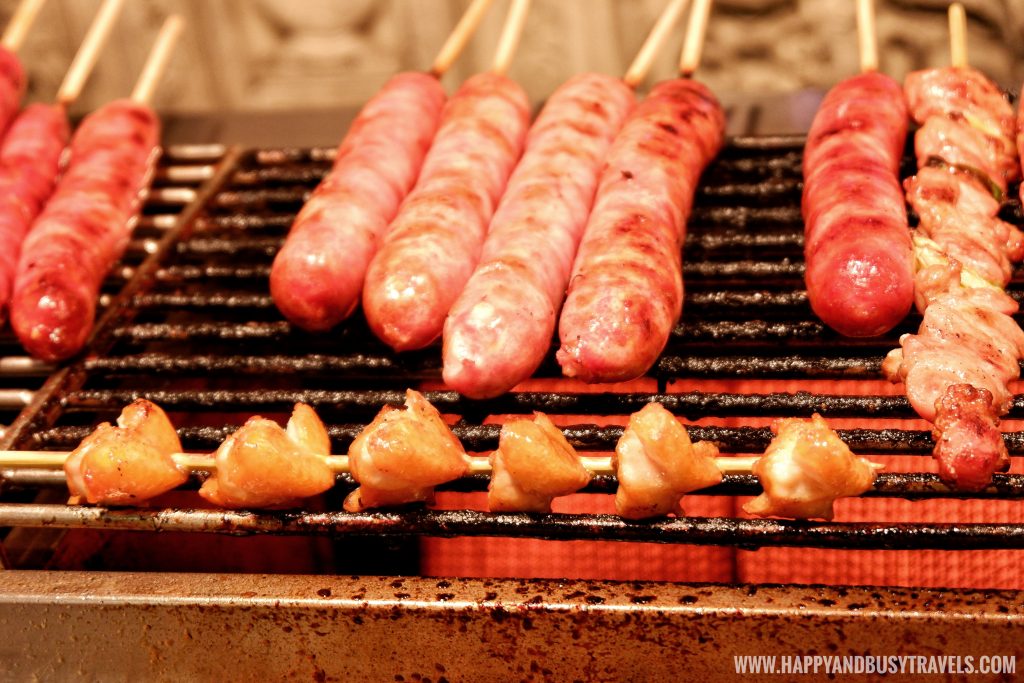 Here is the classic barbeque…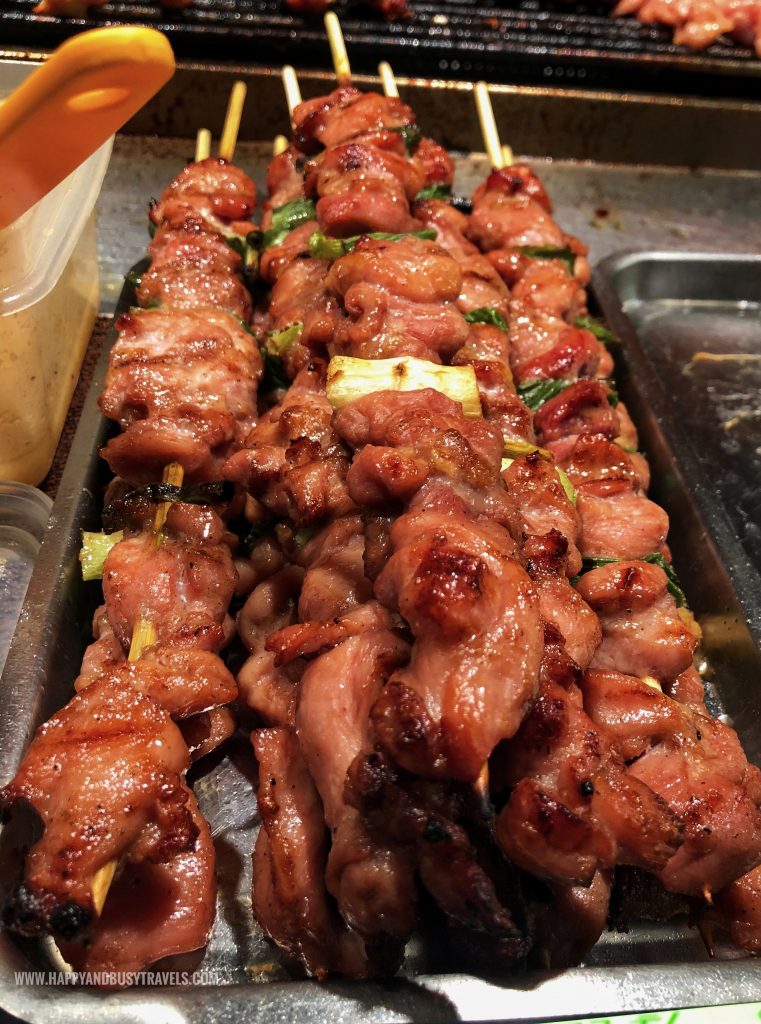 Then, here is a lot of Chicken butt.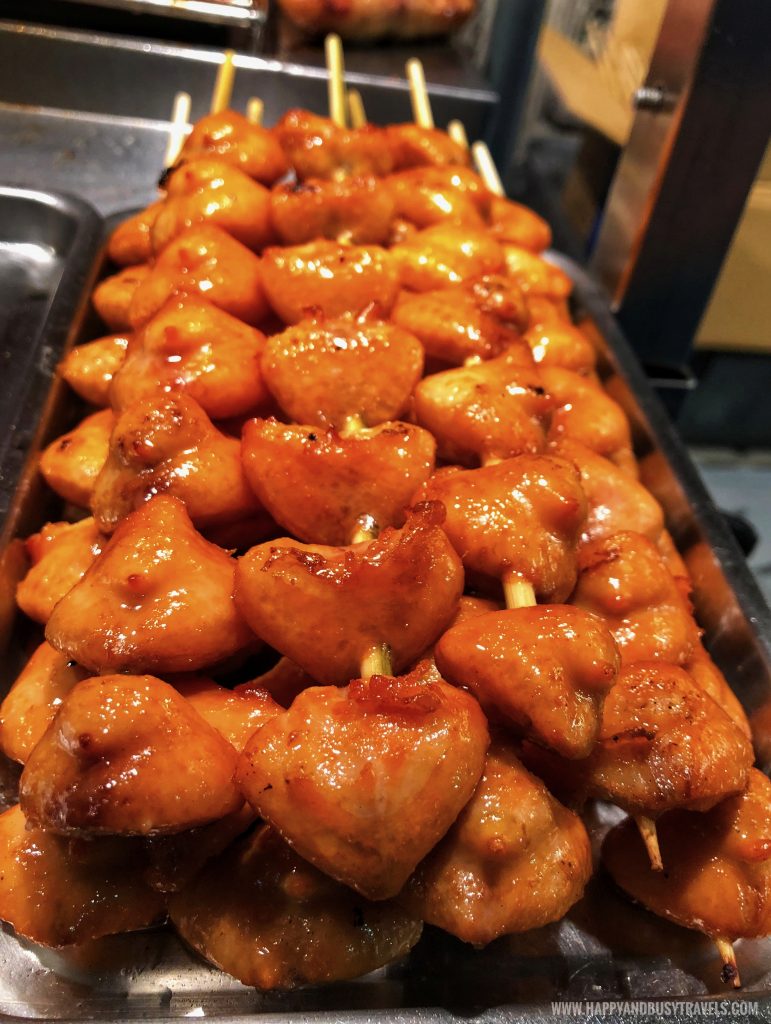 Stinky Tofu
One of the famous delicacies in Taiwan is this Stinky Tofu, unfortunately we were all full so we didn't bought some.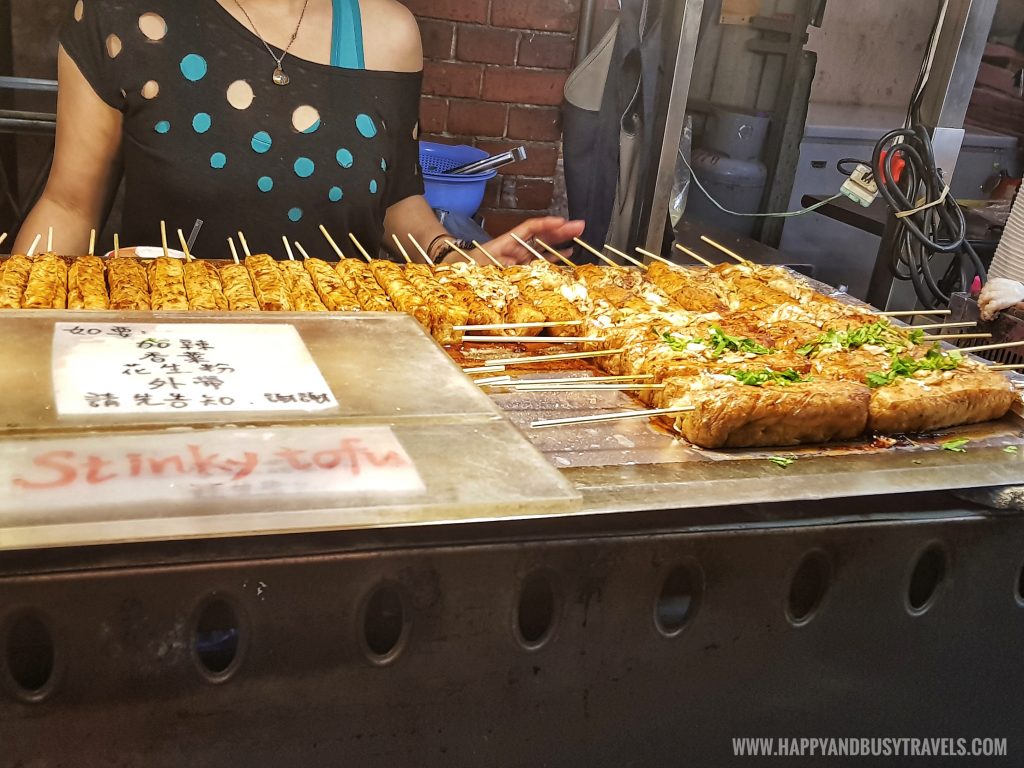 Other Meat Options
There are also other meat options, like this Roasted Suckling Pig. We call this Lechon in our country.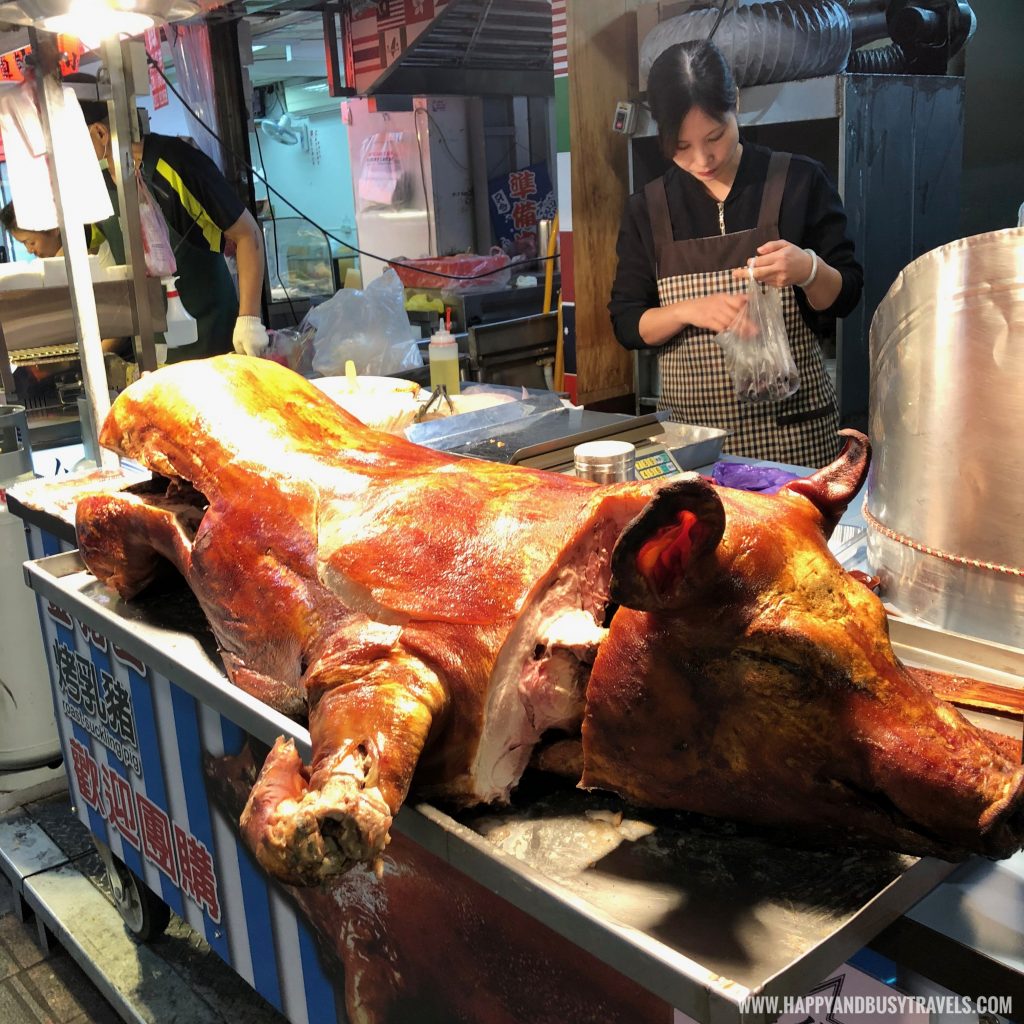 Sumptuous ribs…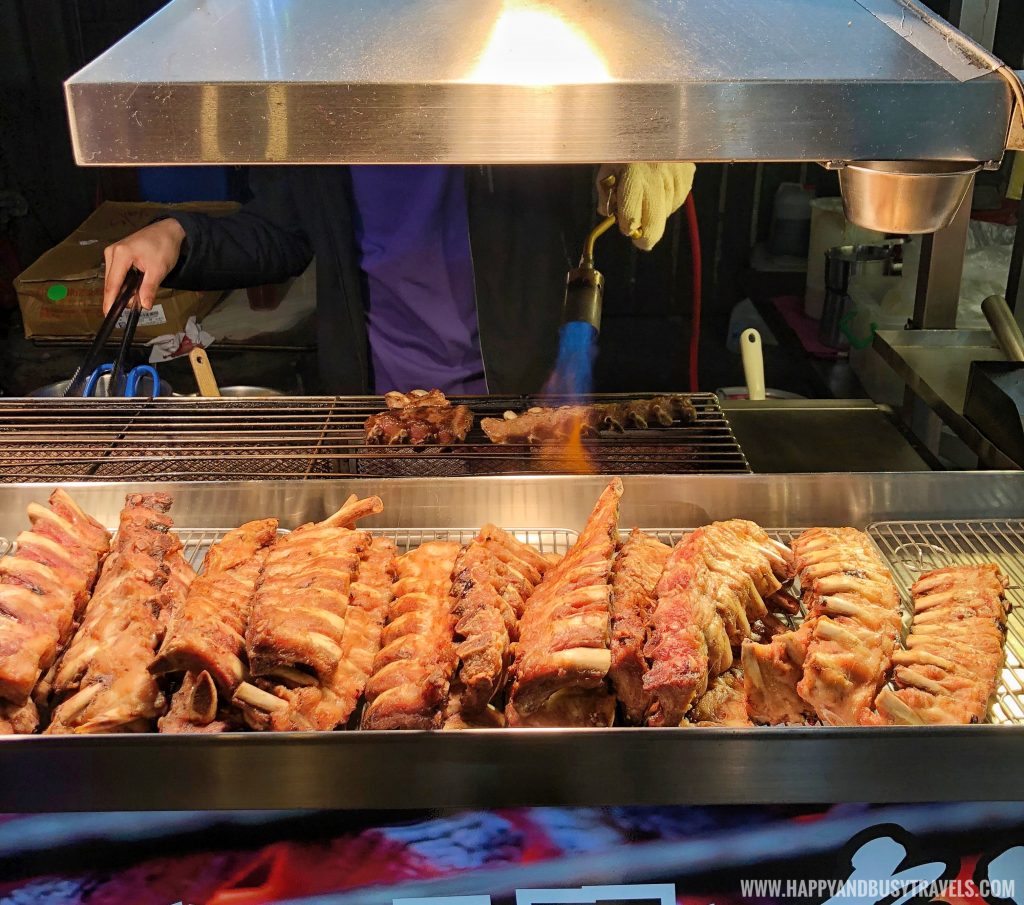 and roasted sausages and ducks.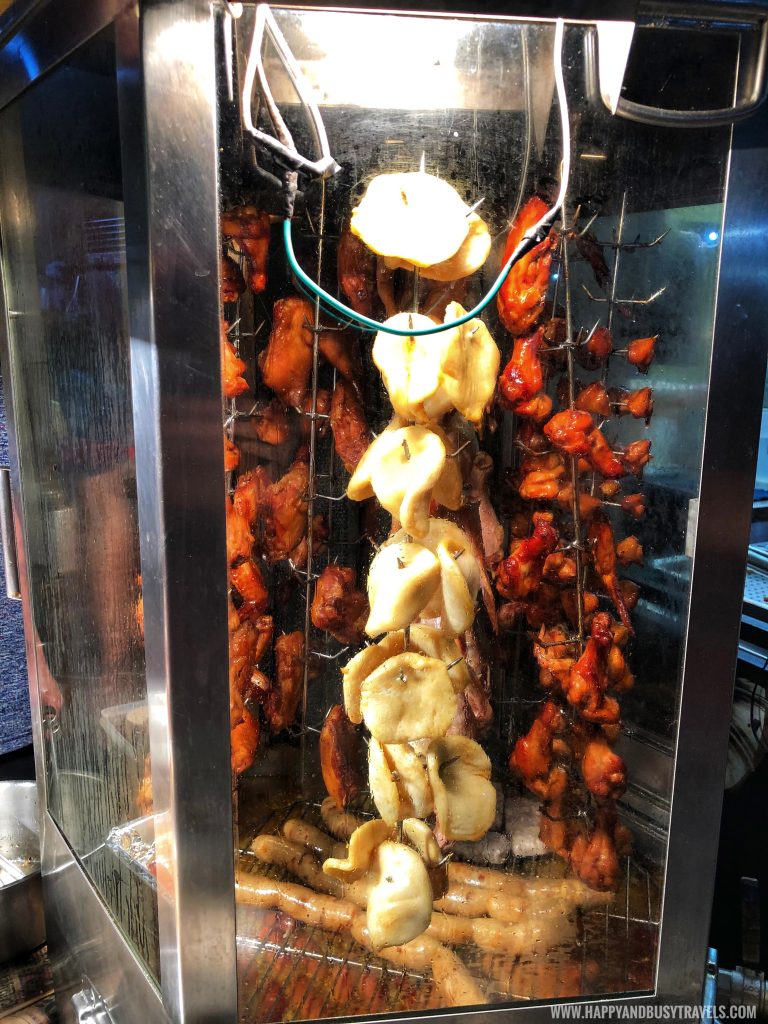 Sesame Balls
There is always room for dessert! Some stalls in the market sells dessert like this one, Sesame Balls.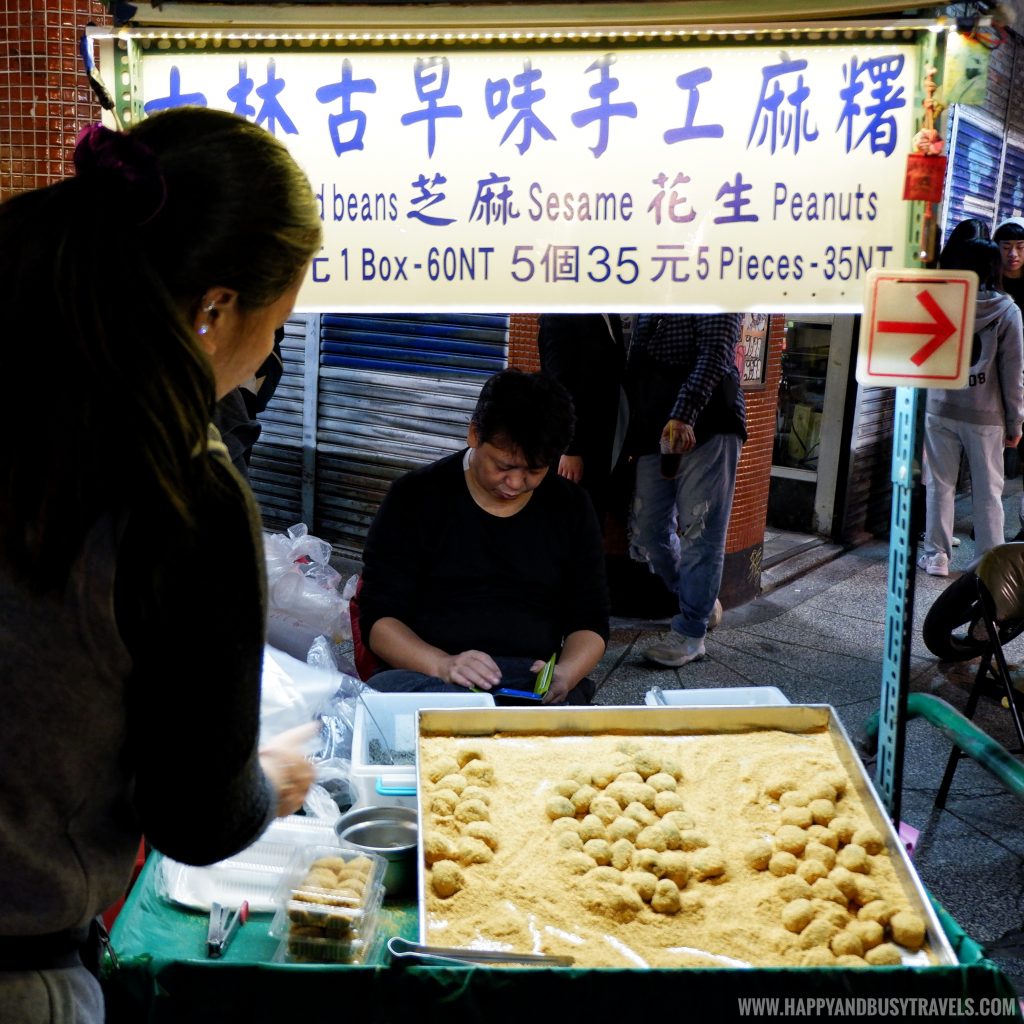 Prices:
5 pieces = NT$ 35 (US$ 1.2 or PHP 60)
1 box (10 pieces) = NT$ 60 ( US$ 2 or PHP 102)
Candied Fruits
This stand sells candied fruits such as Strawberries, Plums, and Tomatoes.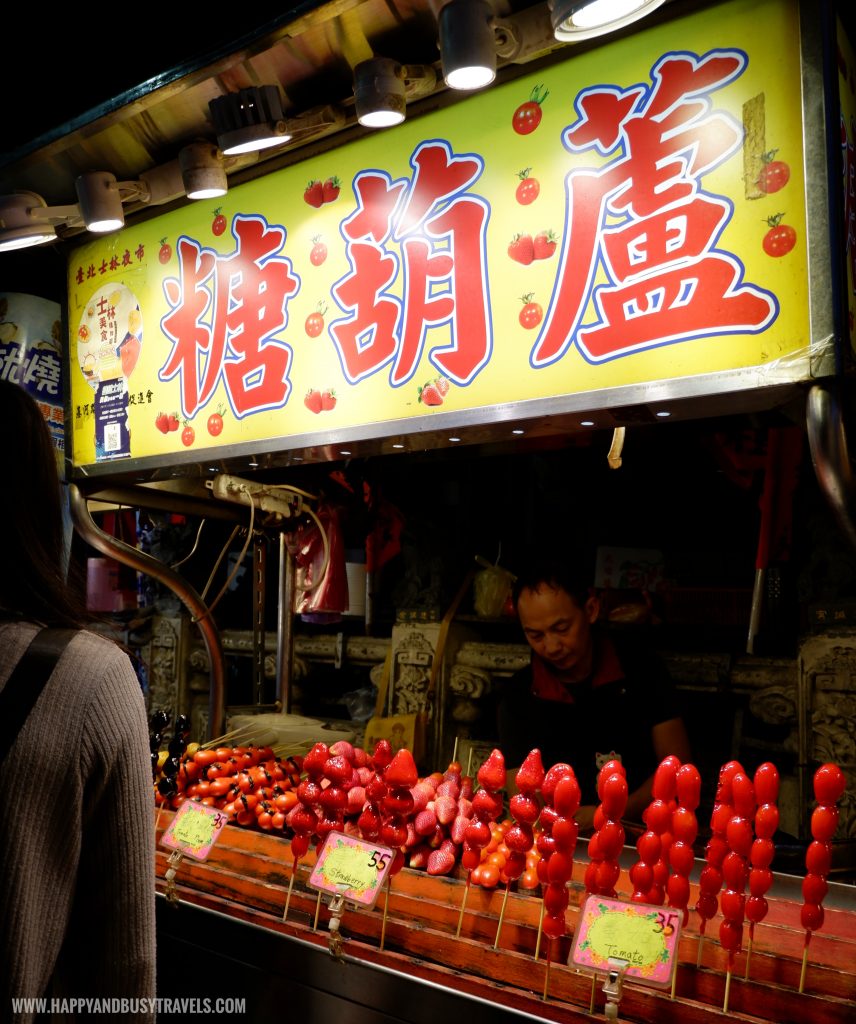 I wonder how does this candied Tomato tastes like… I didn't dare to eat one.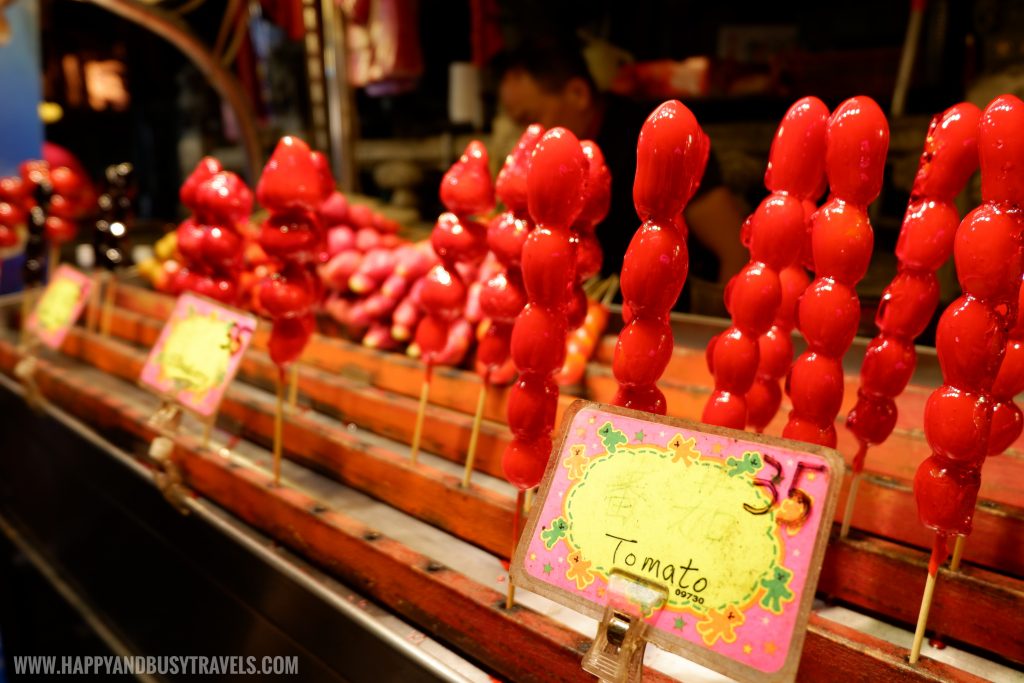 Price:
Tomato/ Plum NT$ 35 (US$ 1.2 or PHP 60)
Strawberry NT$ 50 (US$ 1.70 or PHP 84)
Fruits
There is a lot of fruit stands in the market. Most of them gives free tastes of their fruits.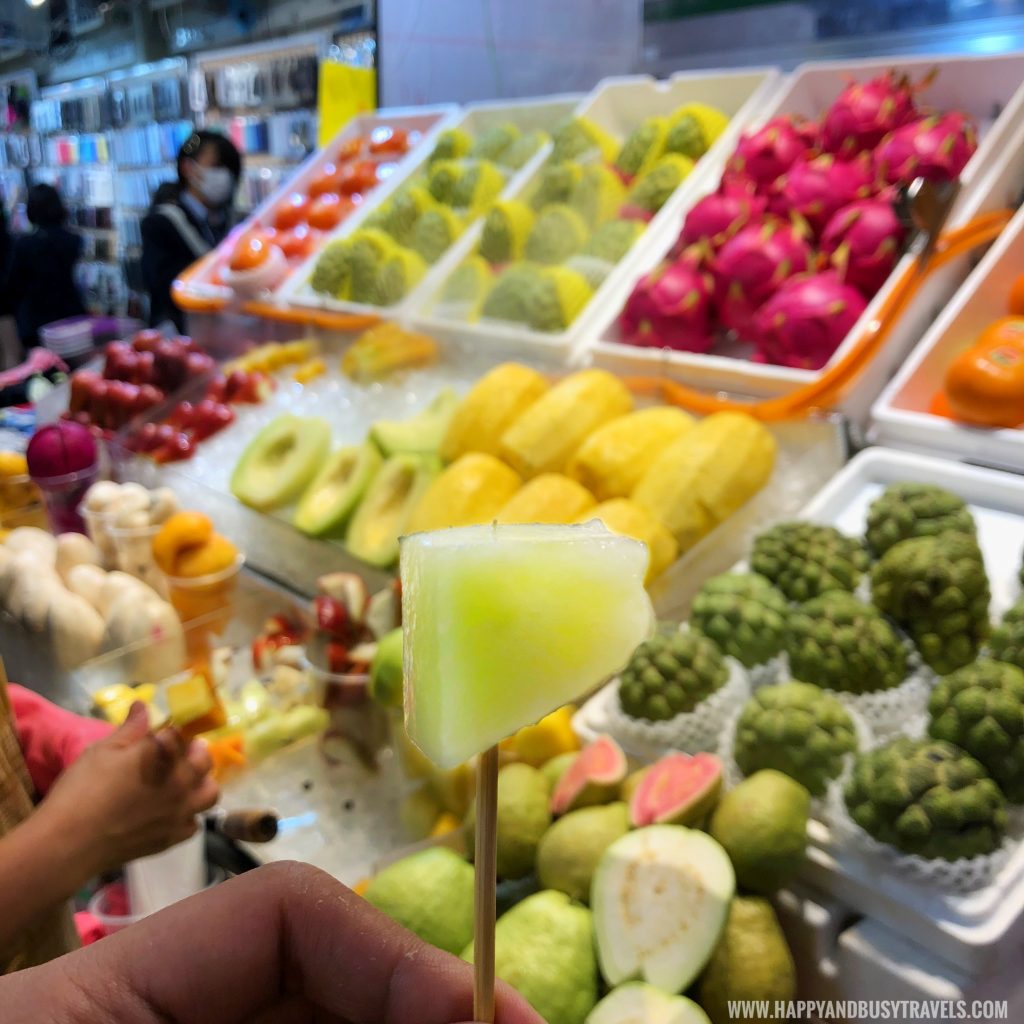 Games in Shilin Night Market
Aside from the food, there are games available in the night market.
Fishing
Kids and adults (kids at heart) can play, you just have to catch the fish for a certain time and place it in the small bowl.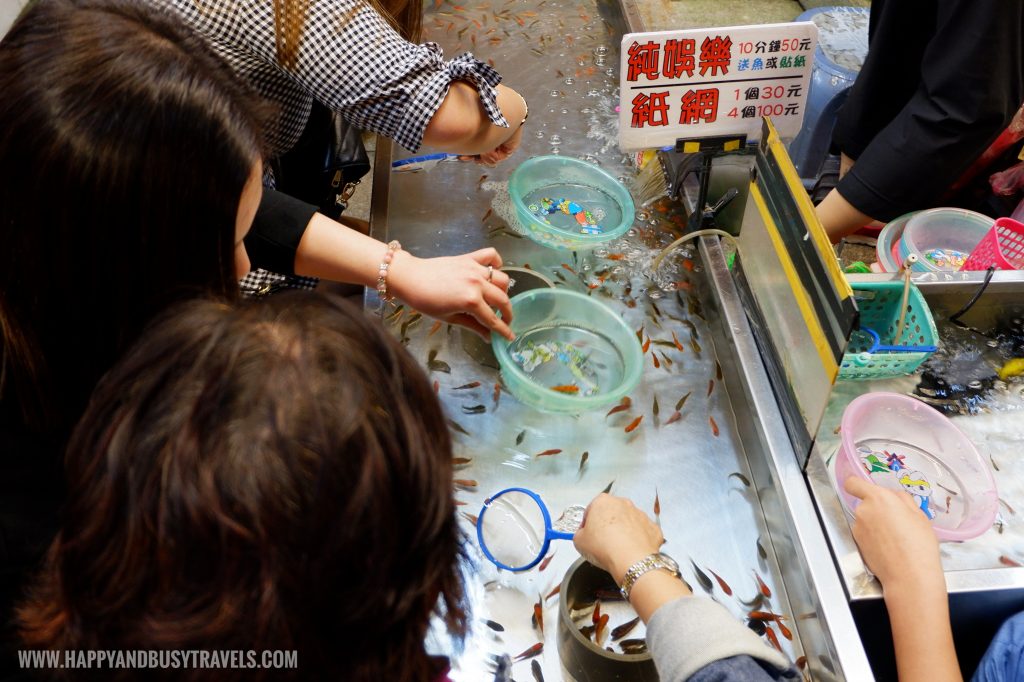 Shrimp Fishing
This is the same as the fishing game, but you just have to catch the shrimps.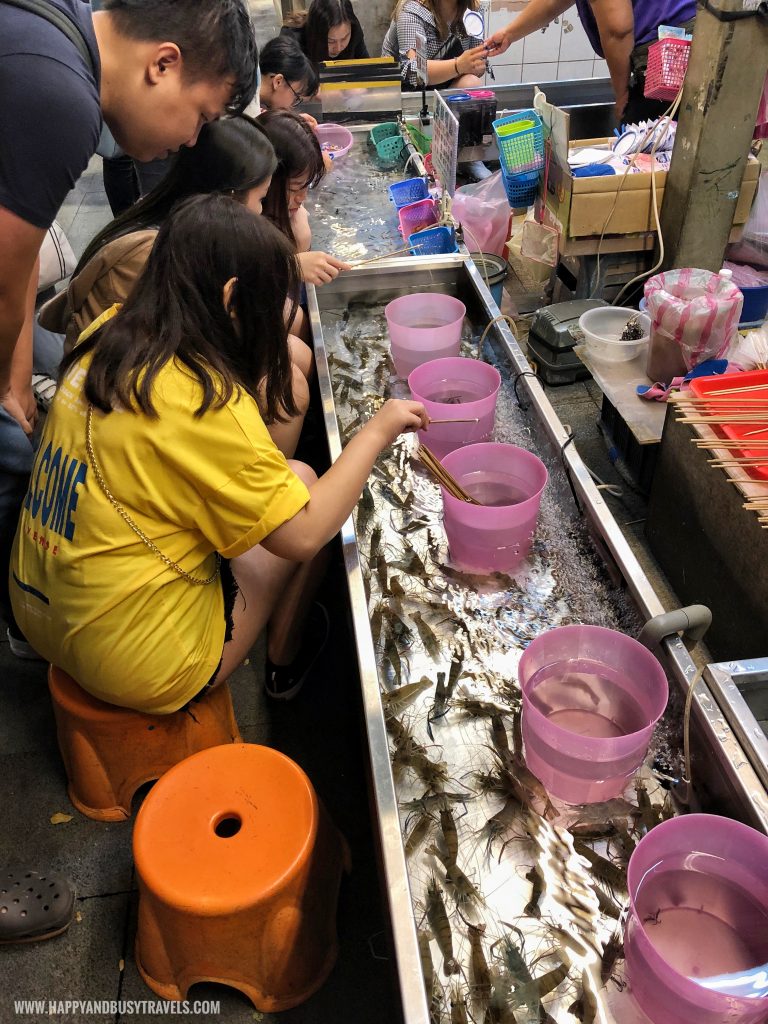 Balloon Games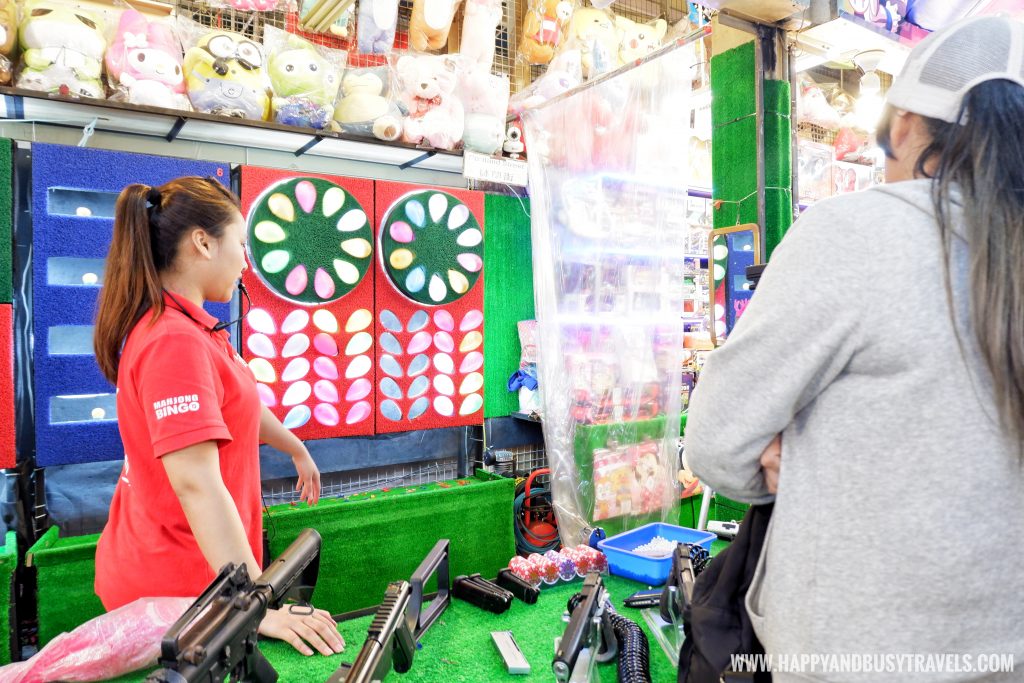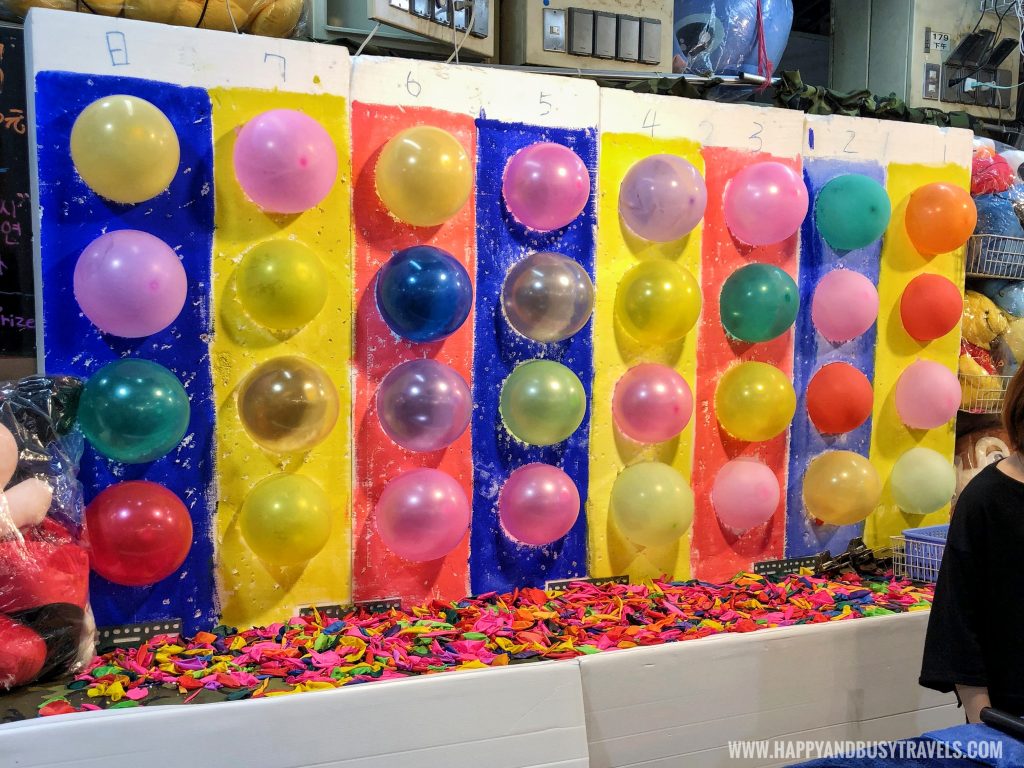 Prizes
Here are some of the prizes if you win the games.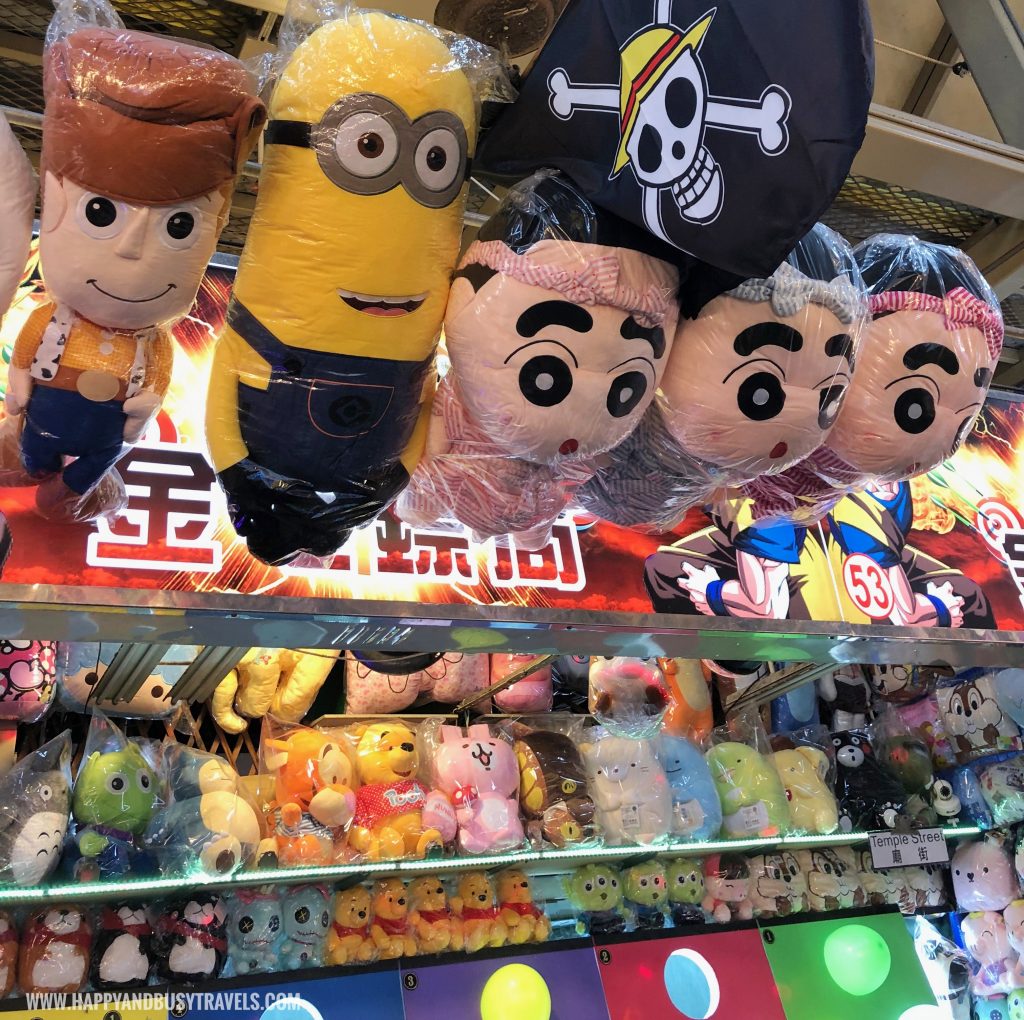 Happy and Busy's Smileys for Shilin Night Market
The night market is nice, there is a lot of food choices, games, and there are some stalls that sells clothes and souvenir items too!
Food

The food were okay, I wish we could eat a lot and have an unlimited budget.
Location

It's so easy to go to and easy to locate.
Ambiance

The place really feels like a night market.
Value for money

The costs of each food is good for the serving and the taste of each food.
Service

Service of each stall were okay. They acted fast on each order and some are even friendlier.
Comfort Room
Not applicable. We are not sure if there is a comfort room around, we didn't needed one while we were there.
Happy and Busy would like to thank our friends
Kel Sarabia of Daylight Wanderers – Happy's bestfriend, he provided some of the photos.
Viz – Busy's bestfriend for providing some photos