Shinpuru Japanese Restaurant
One lazy Sunday afternoon, Busy and I went to Shinpuru Japanese Restaurant to try their bestsellers because we saw them and think they have good food at reasonable prices. Plus they even have unlimited sushi, sashimi, and ramen on some days.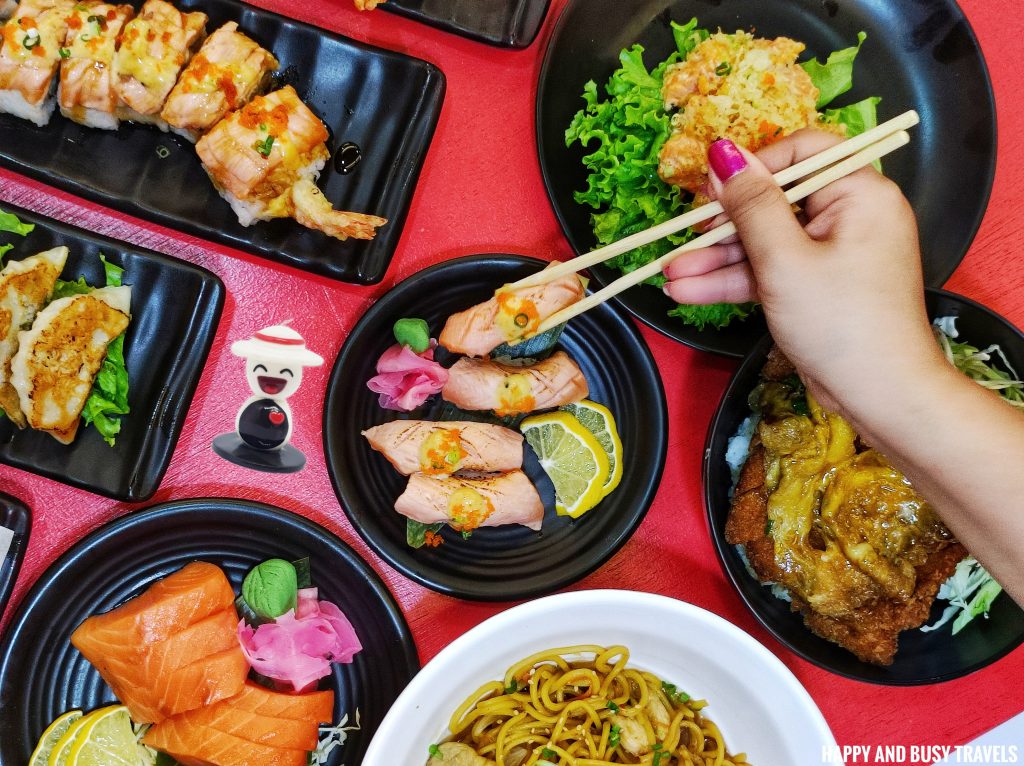 Important Information
Facebook: Shinpuru Japanese Restaurant
Operating Hours: 10 AM – 9 PM
Payment Options: Cash, Gcash
Dining Options: Dine In, Take out, Delivery via Grab Food or FoodPanda
Contact number: 0919 095 5465
Email Address: [email protected]
Address: 2F Brique Plaza, Diversion Road (Going to MCI), Imus City, Cavite
Google Maps Link: https://goo.gl/maps/
Inside Shinpuru Japanese Restaurant
The restaurant is located in Brique Plaza, which is very easy to see and has a lot of parking spaces.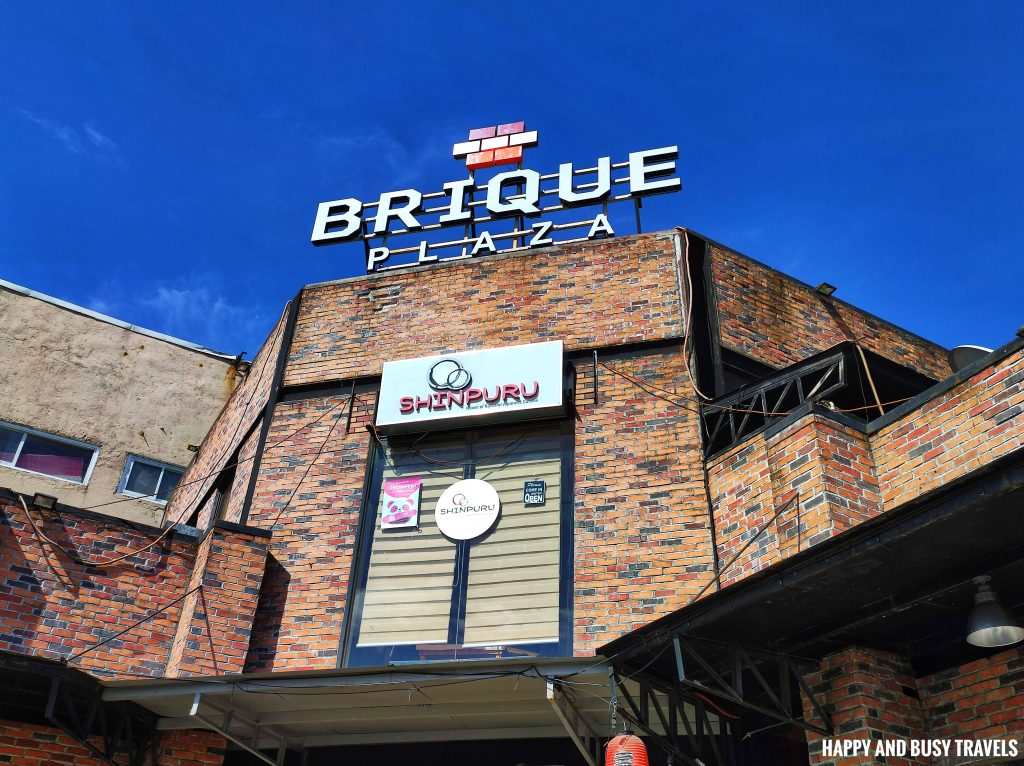 Inside, it looks like a simple restaurant, as shown by the display on their wall. But, our hopes were up because we were thinking that the food here would taste good.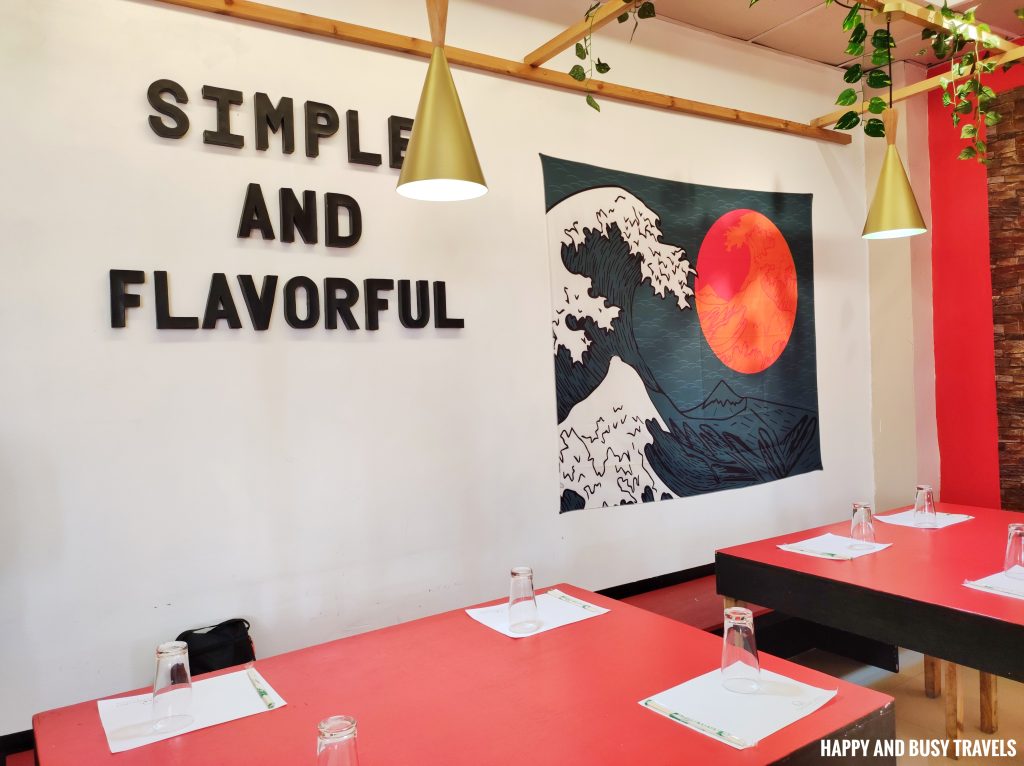 After we ordered, Busy had a chitchat with the staff and the owner. He even had a chance to say "Hi" to his favorite fish, the Salmon. Busy LOVEs S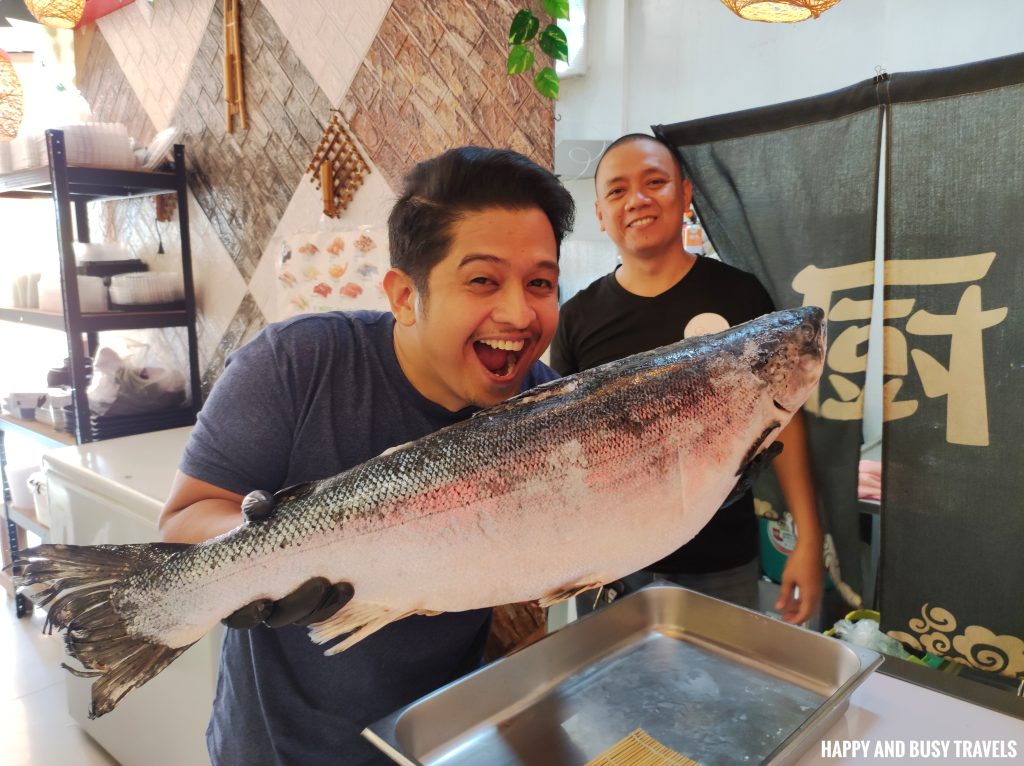 Here is the owner of the restaurant, Chef Gian. He is a former OFW, and Grab Driver, who saved money so he can establish his restaurant. His staff are his former colleagues from abroad, so they already know how to work together.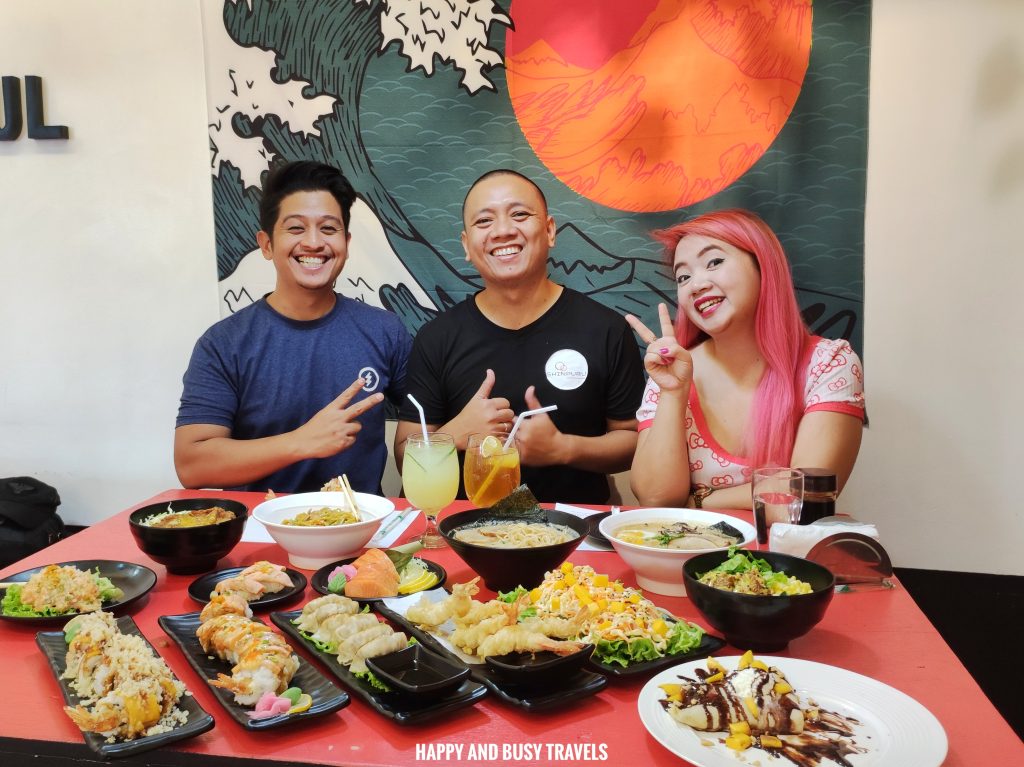 The Bestsellers of Shinpuru Japanese Restaurant
They have a wide range of dishes to choose from, so you have a lot of choices.
Kani Salad
This is the classic Kani Salad which is made out of Crab meat, Cucumber, Carrots, Tobico, Japanese Mayo, and Mango. One serving is good for one to two persons, but you can order a larger one if you want to.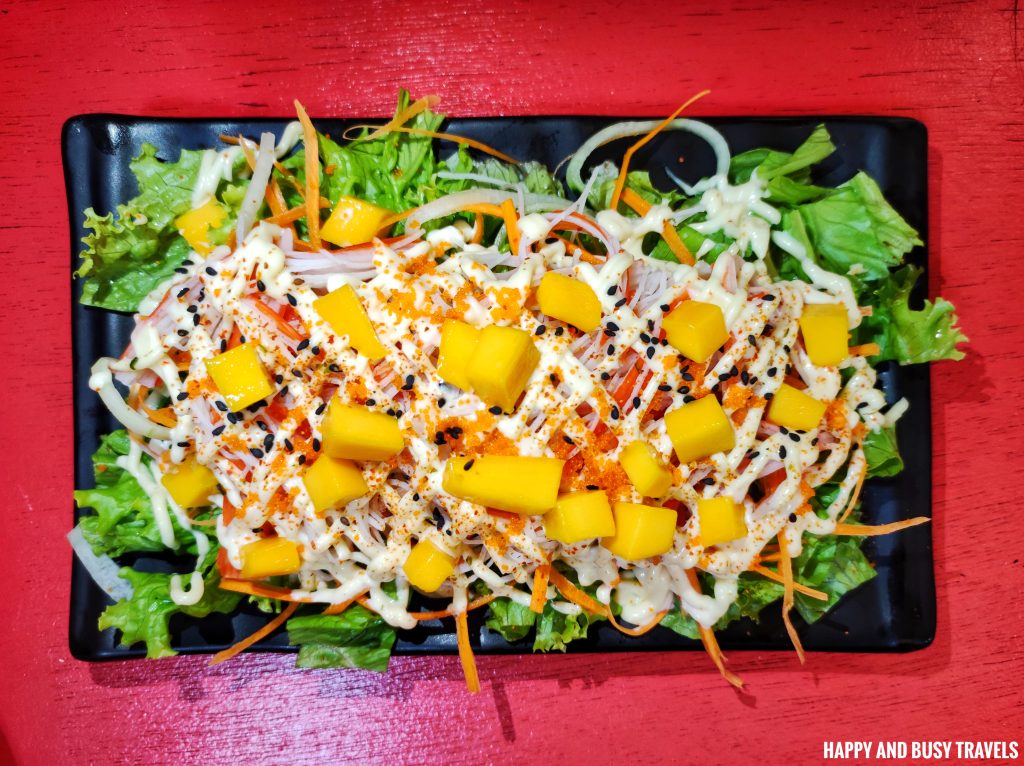 It is refreshing to eat this salad, so whenever I want to taste something different, I grab a bite of this one. This is my favorite salad.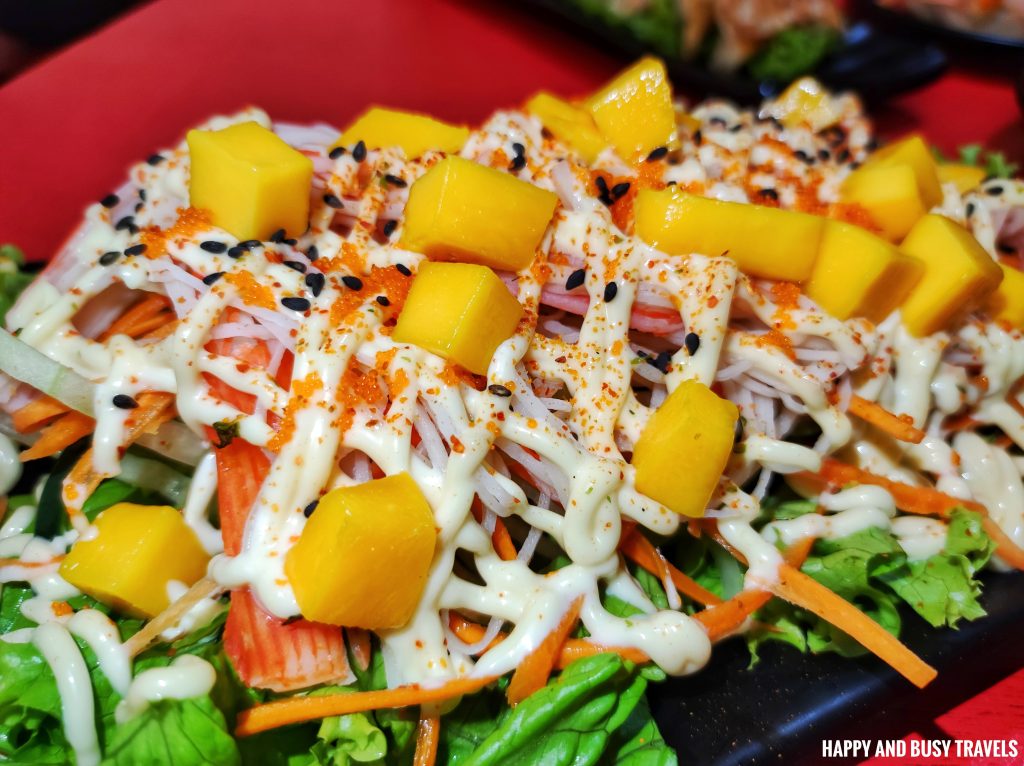 Crispy Salmon Salad
This salad is made out of Salmon, Crispy Fried Tempura Batter, Spring Onion, Tobico, Spicy Japanese Mayo, and Lettuce.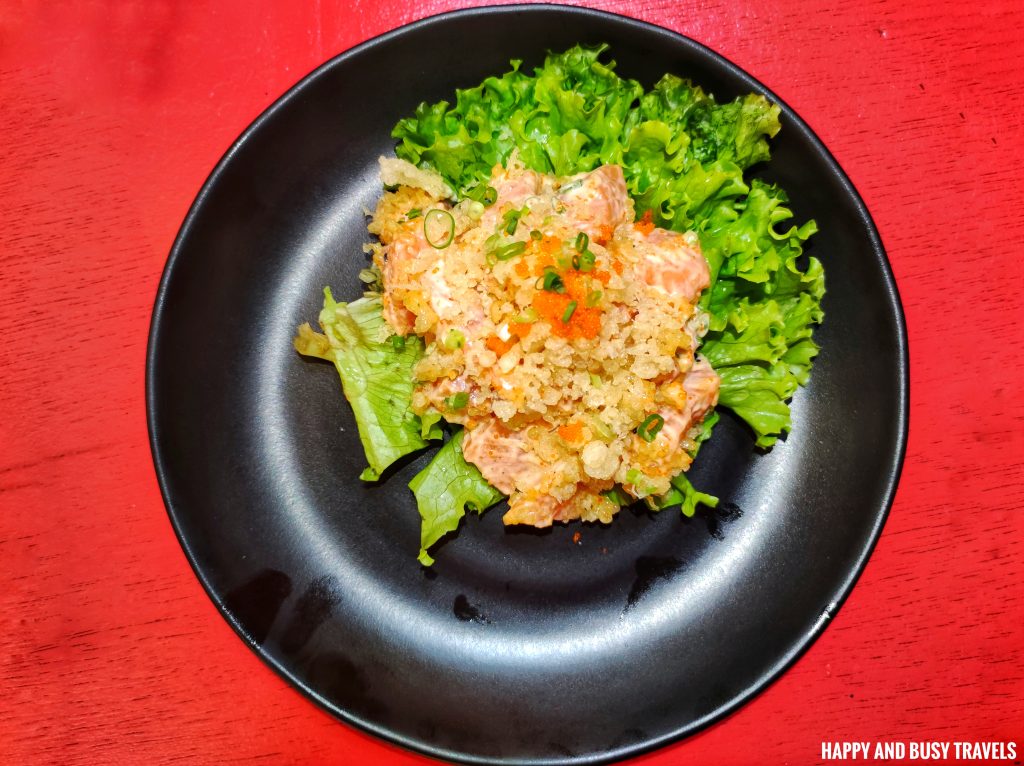 Busy loves this salad because, of course, it has Salmon. Each serving is good for one to two persons.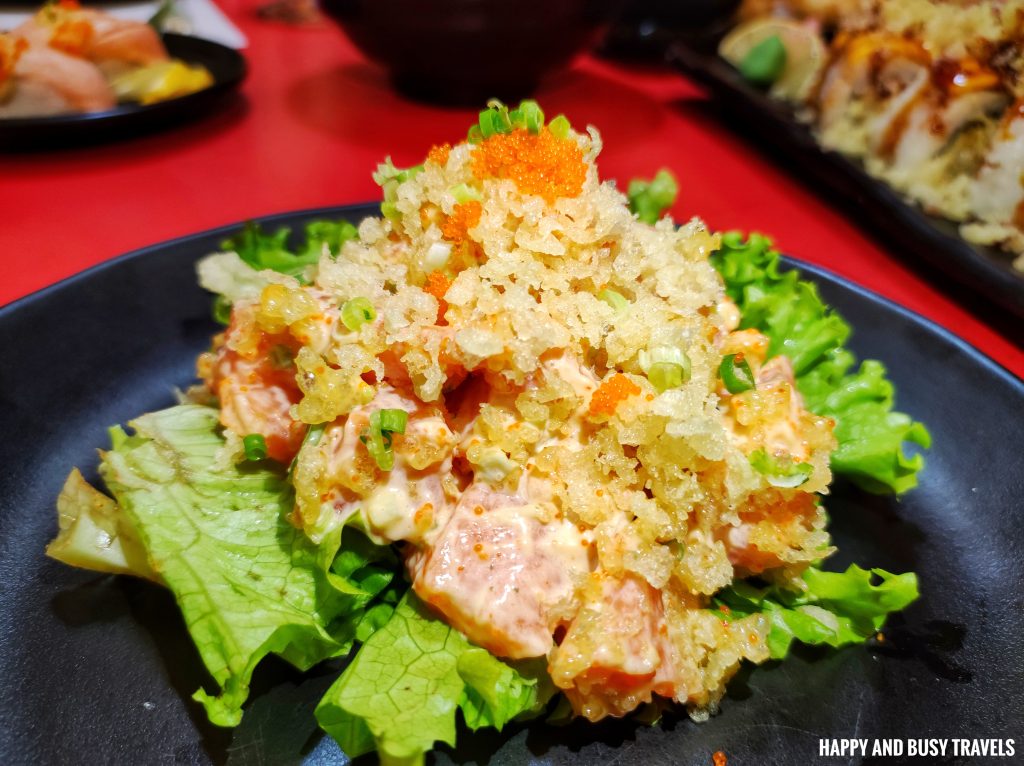 Ebi Tempura
Of course, they also serve Ebi Tempura. These are deep-fried Shrimps with Tempura batter that is loved by many.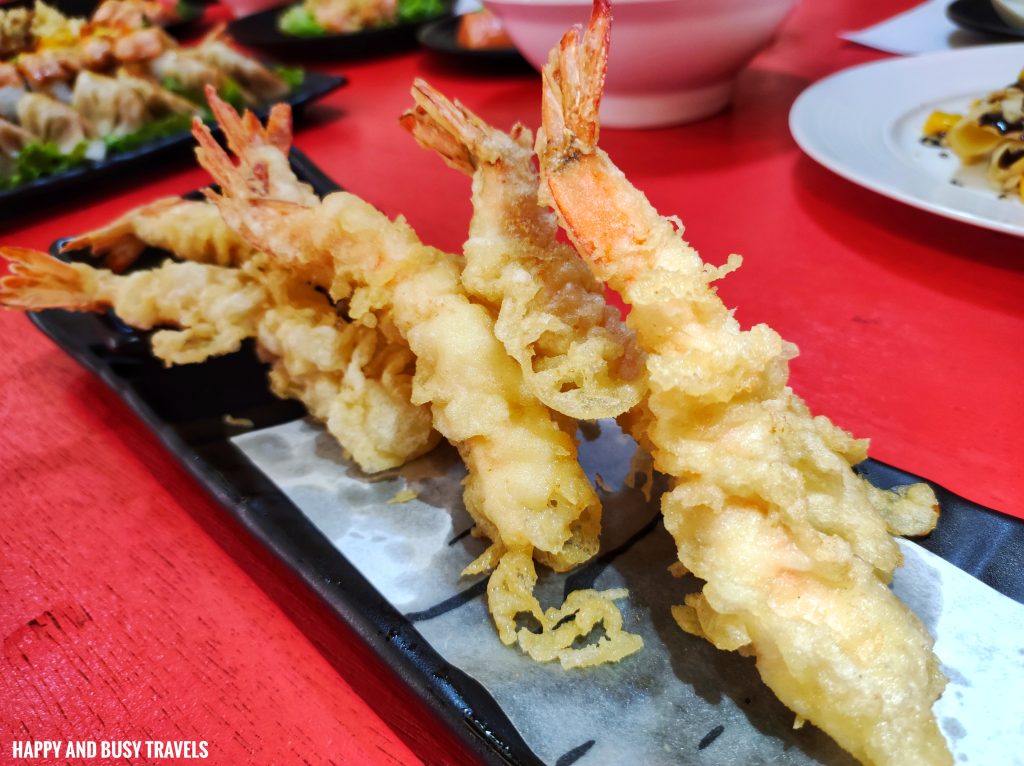 We like how this Shrimp is coated just right and there's not a lot of batter.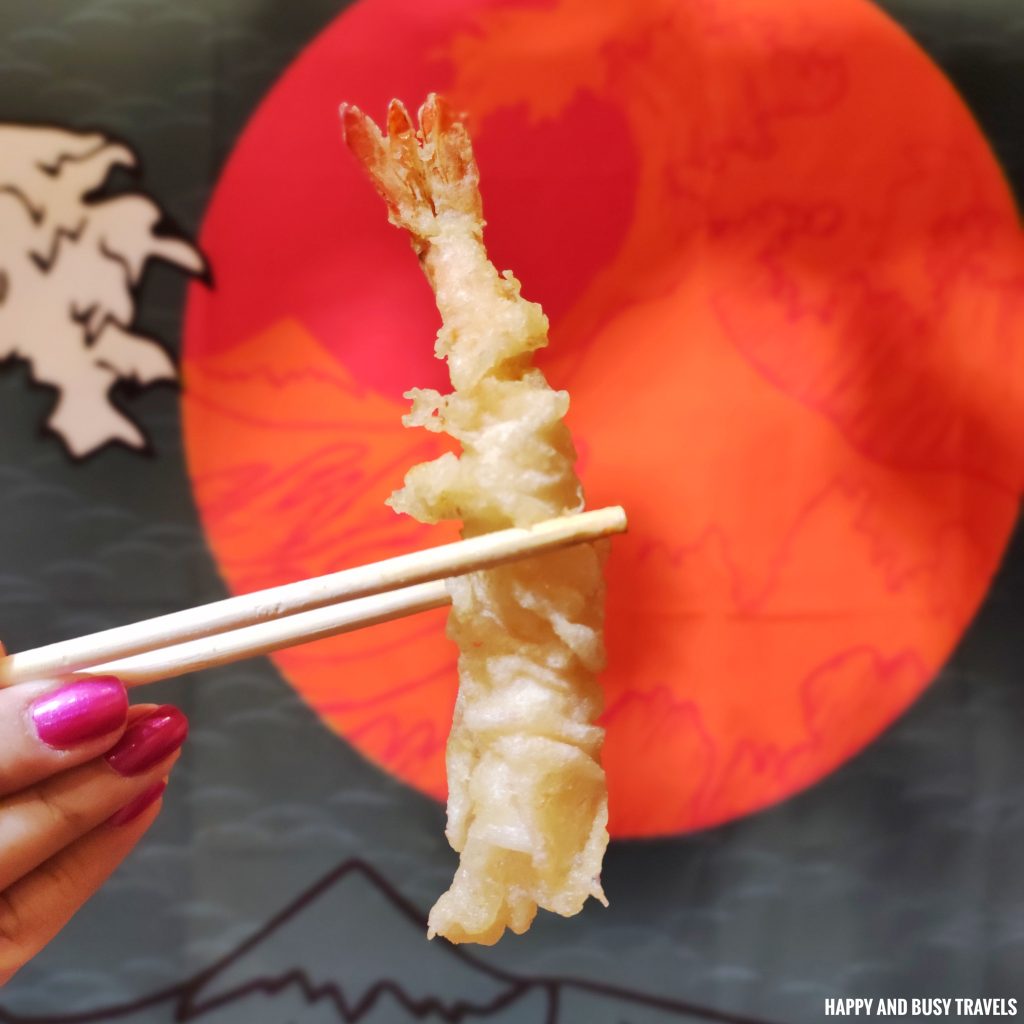 Gyoza
These are Japanese Fried Dumplings which is a good dish eaten together with Ramen. It is usually made out of cabbage, ground meat, ginger, scallion, and mushrooms.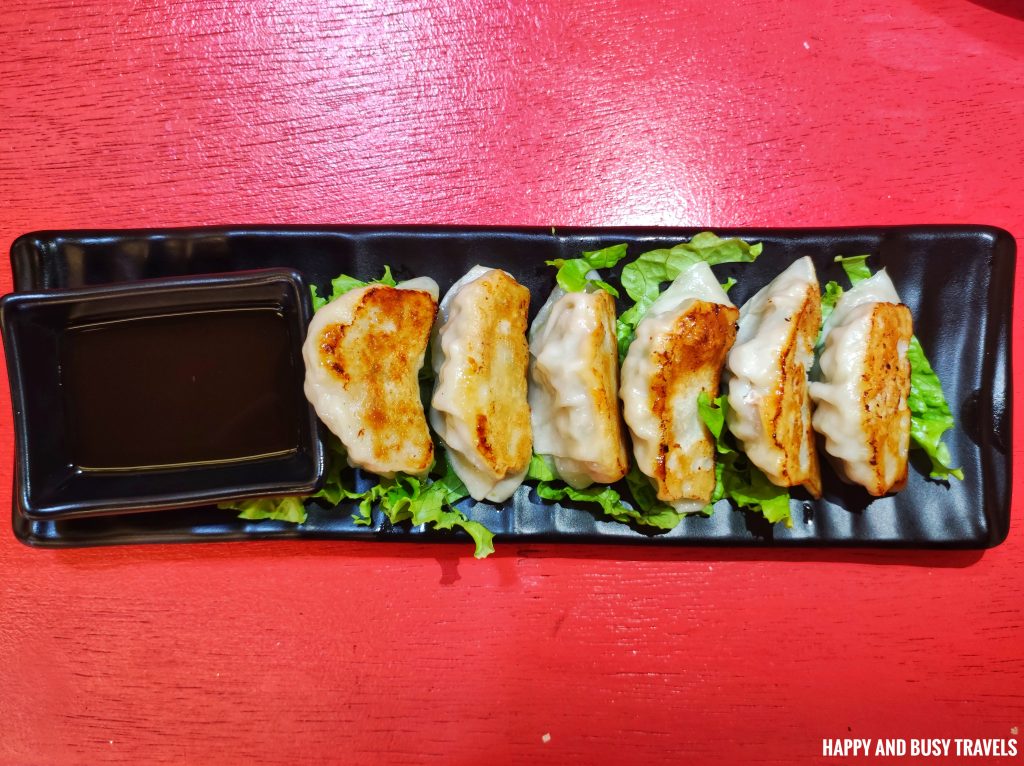 Each serving has 6 pieces for just Php 150! It's so affordable and it closely tastes like the Gyoza that we buy from Mendokoro.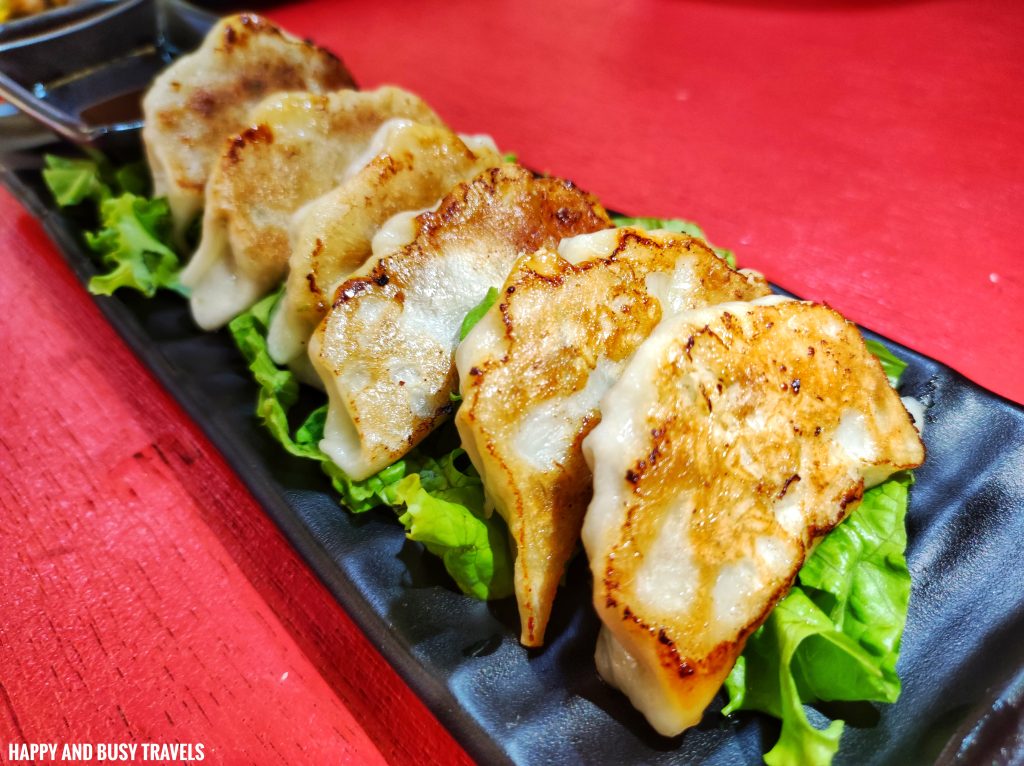 Aburi Salmon
This is Aburi Salmon which is like Sushi with Salmon on top, but the Salmon is gently seared by flame until it is cooked a little bit.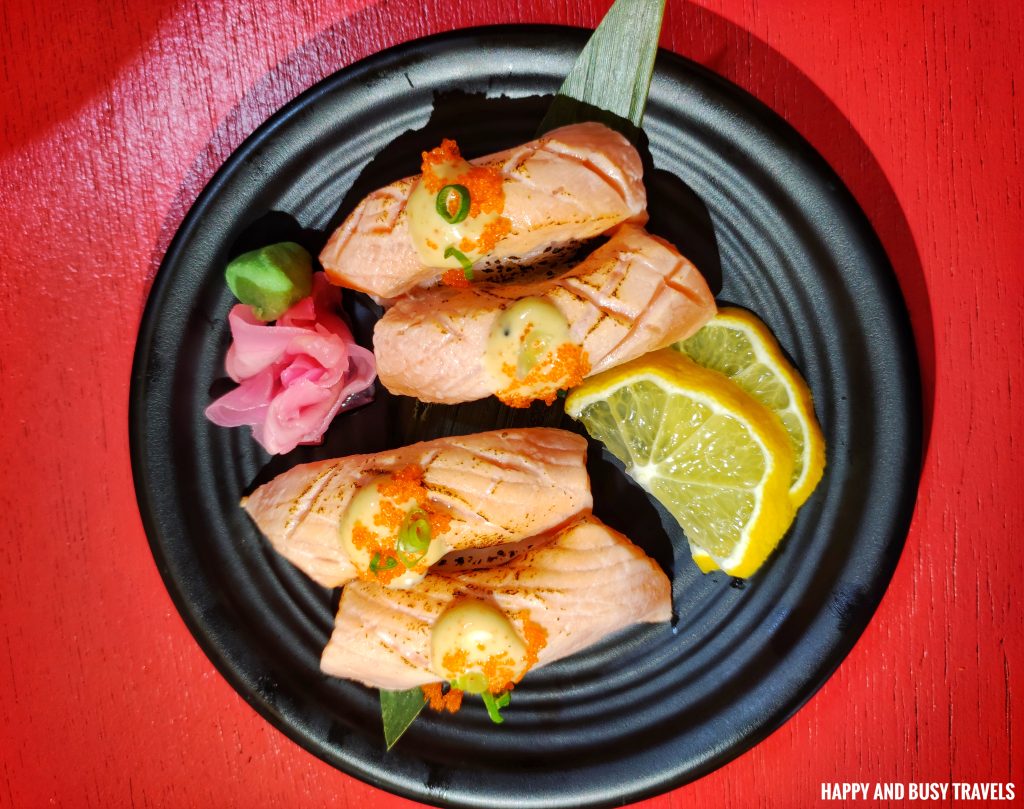 Each serving has 4 pieces and is good for 1 person. Of course, Busy like this again.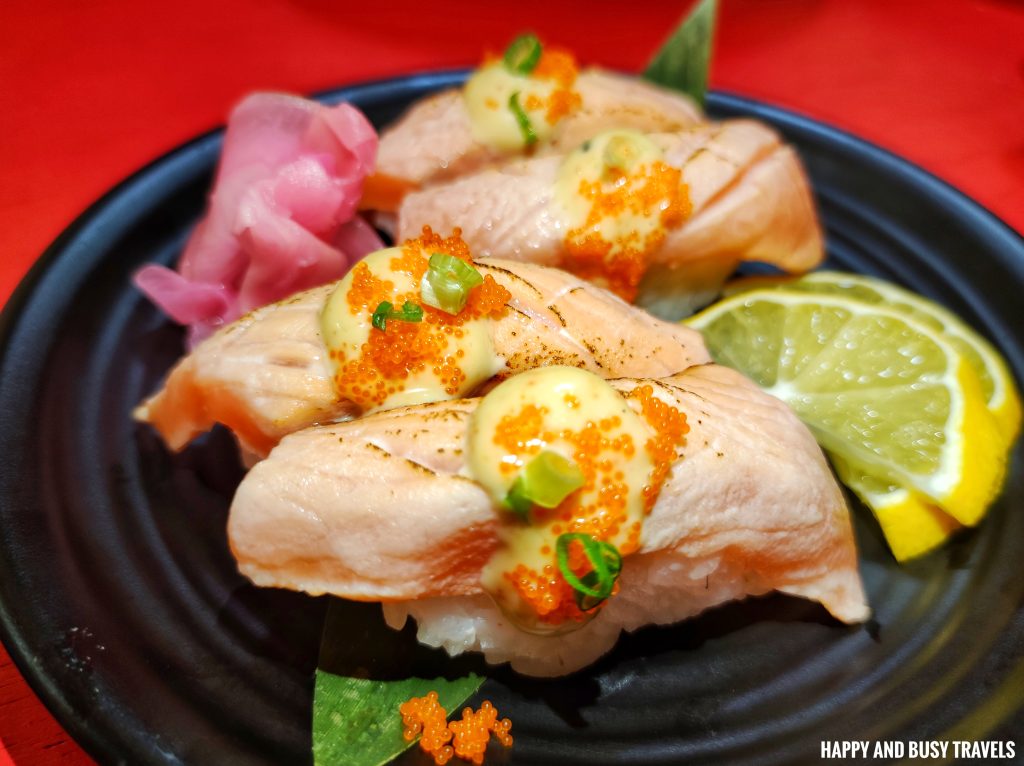 Ebi Salmon Maki
If you are a fan of Shrimp and Salmon, this is your go-to Maki. This one is made out of Shrimp Tempura, Cream Cheese, Grilled Salmon, Spring Onion, Ebiko, Spicy Mayo, and Teriyaki Sauce.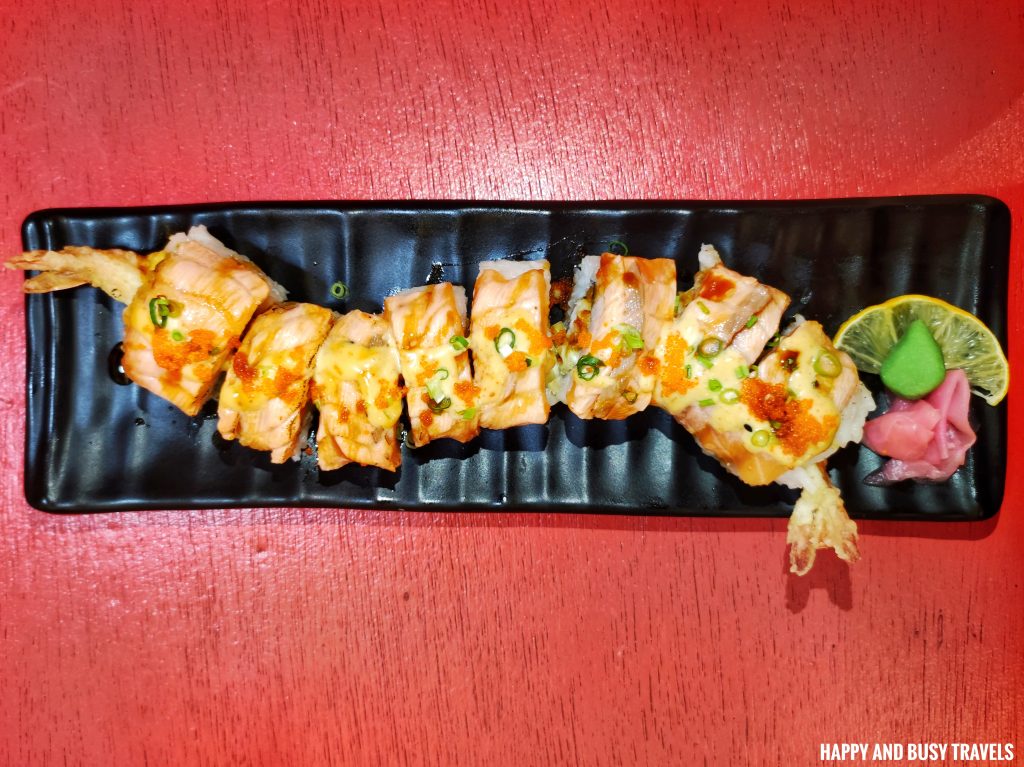 Each serving has 8 pieces and is good for one to two persons.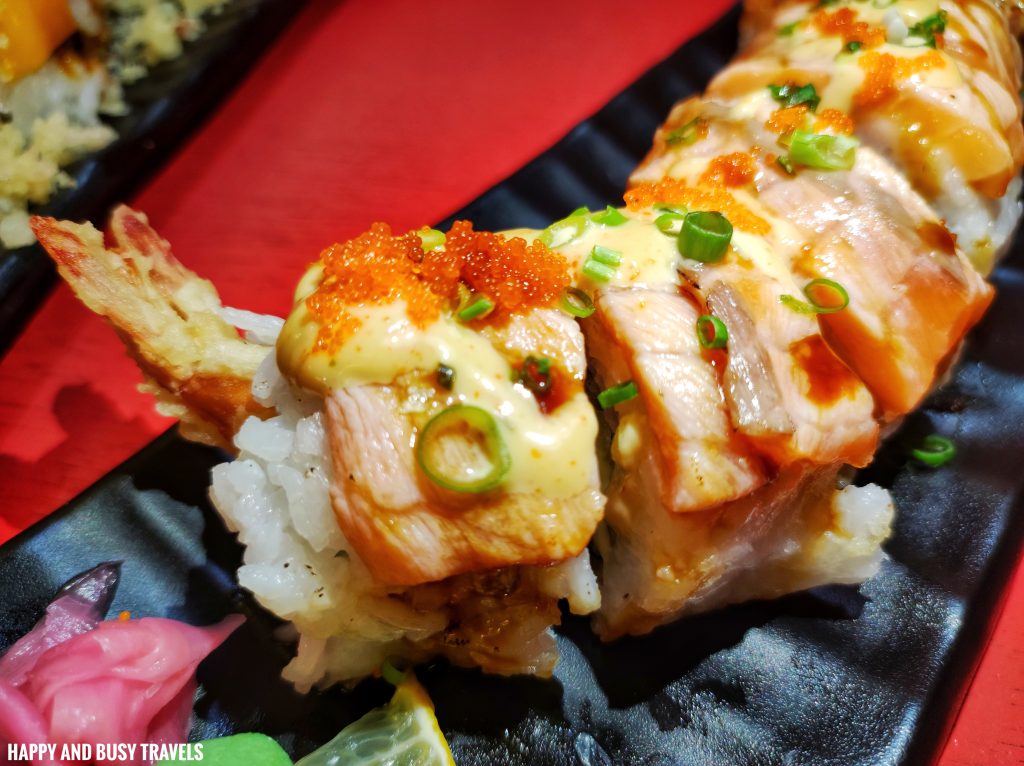 Dragon Maki
Here is another Maki made out of Ebi Tempura, but this one is combined with mango instead of Salmon.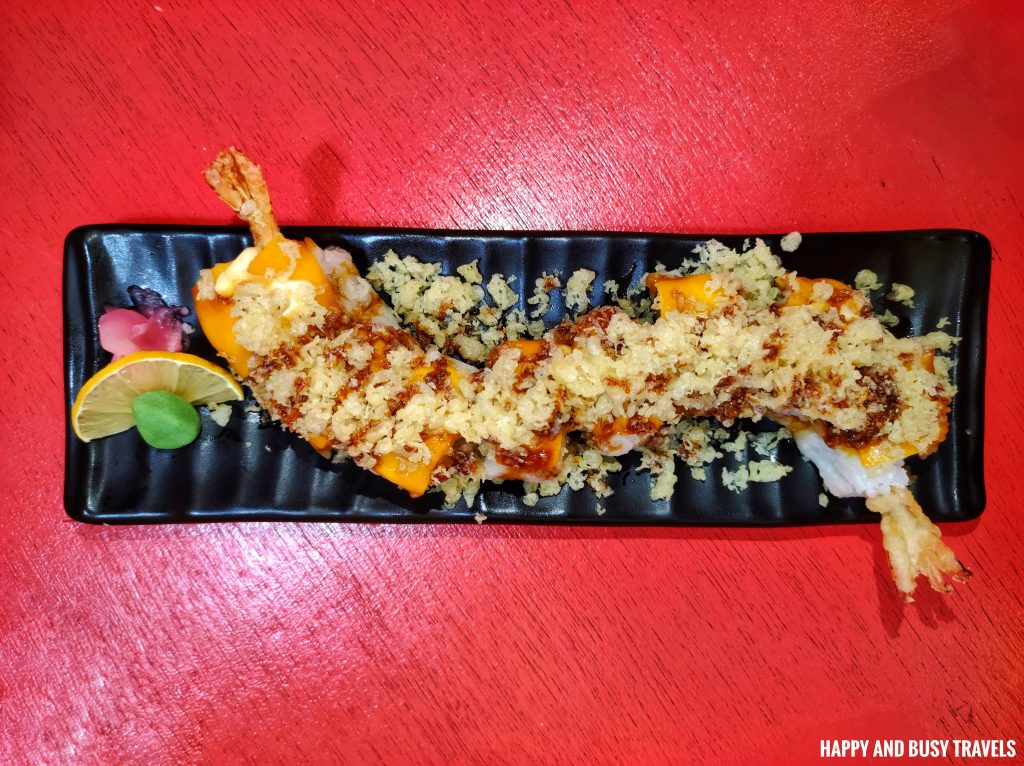 Each serving has 8 pieces again, and is good for one to two persons.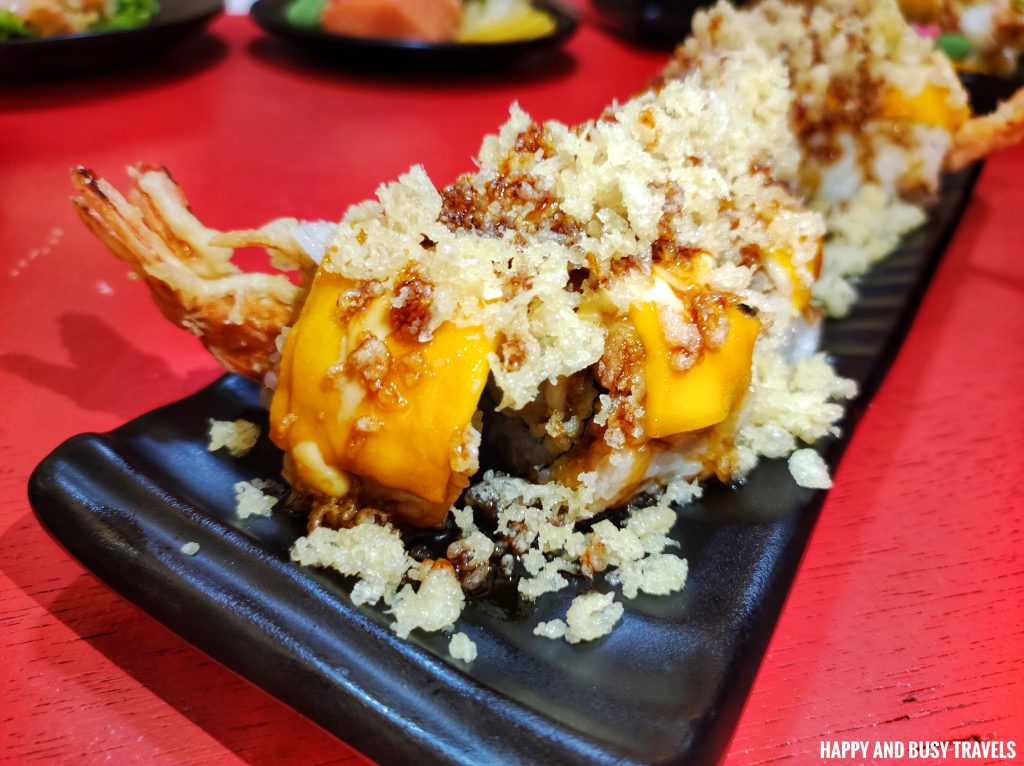 We like their Maki creations, I liked the Dragon Maki and Busy liked the Ebi Salmon Maki.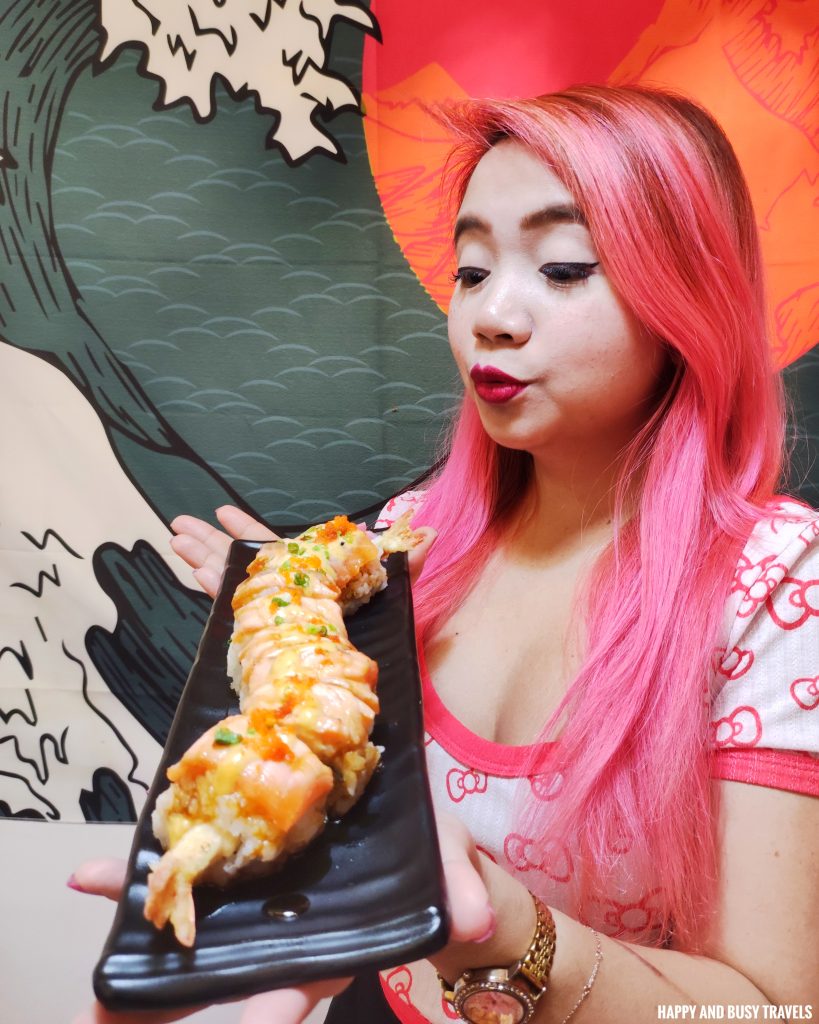 Chicken Yakisoba
We will now show the noodle dishes that they have. First is this Chicken Yakisoba, which is Japanese stir-fried noodles with Chicken and Veggies.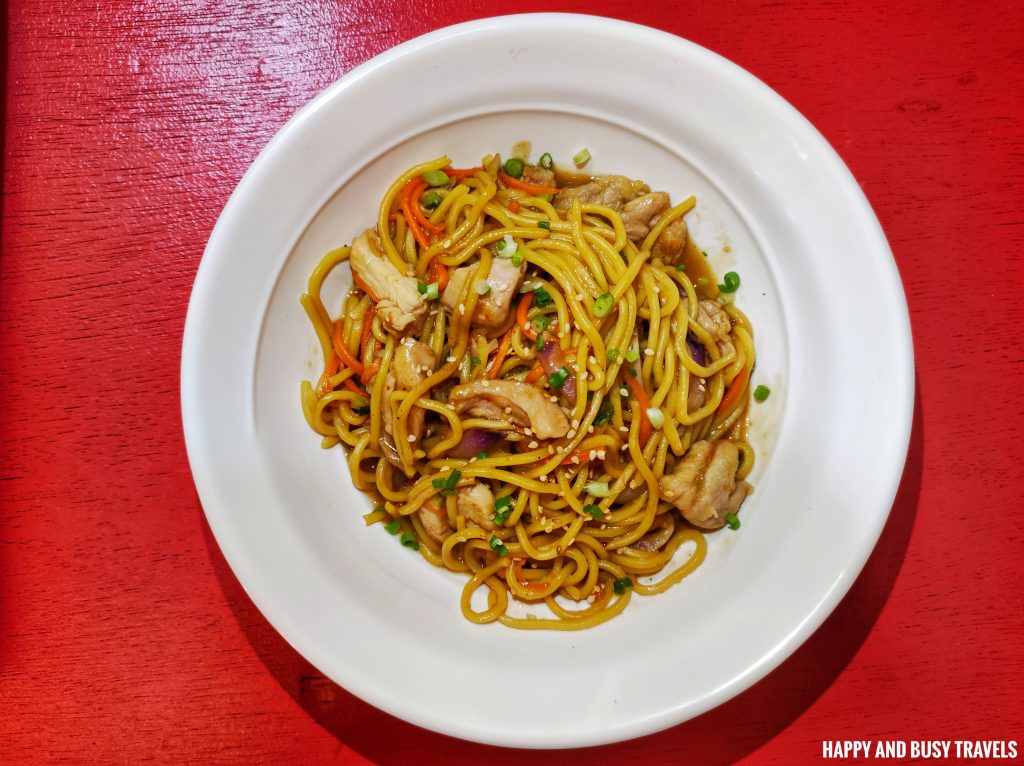 This one is a little bit salty for me, but for Busy it is just right. Anyway, this tasted good and I even took a lot home to be eaten the next day. One serving is good for one person, but it can be a lot if you order another dish with it.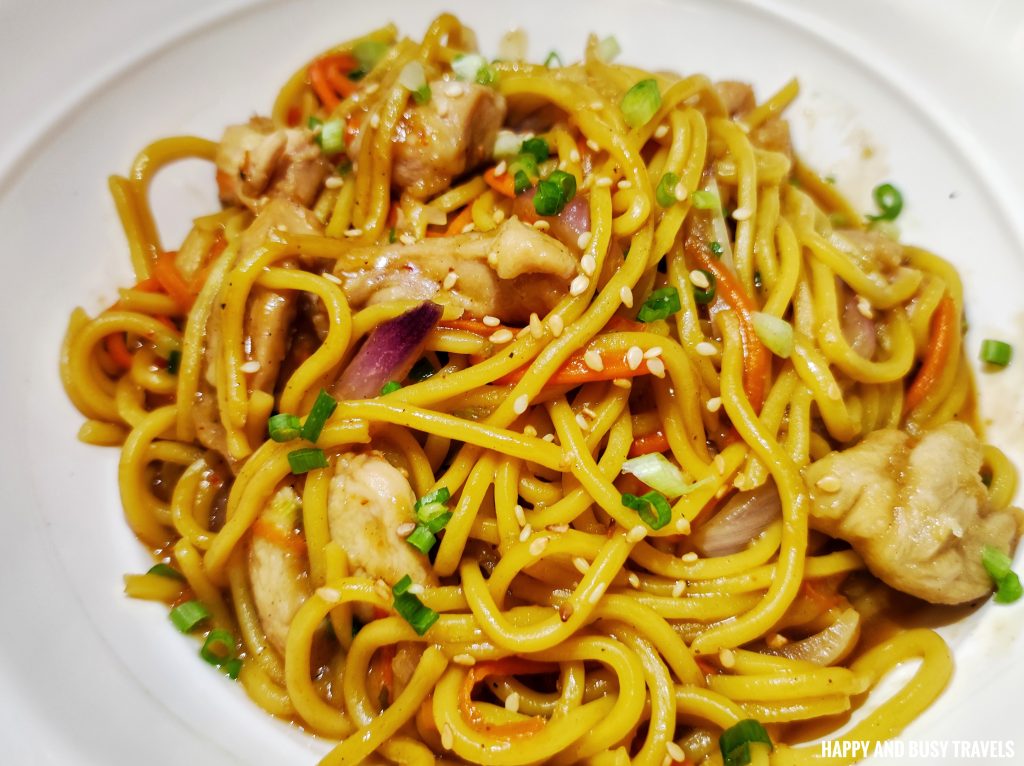 Spicy Miso Ramen
This is my favorite among the noodle dishes because it is a little bit spicy (which I love) and it tasted good. This dish is made out of noodles, with rich Miso broth, spring onions, and Shitake Mushrooms, and topped with Pork slices and Soft boiled Egg.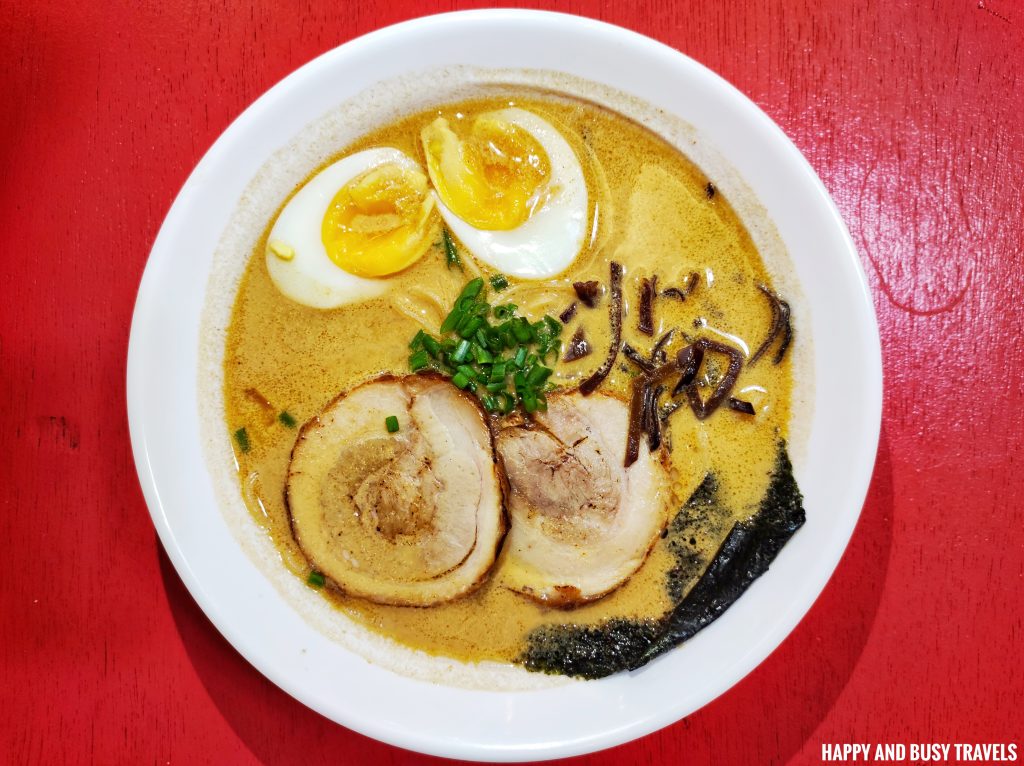 Each serving is a lot, so I can easily estimate that this is good for one to two persons.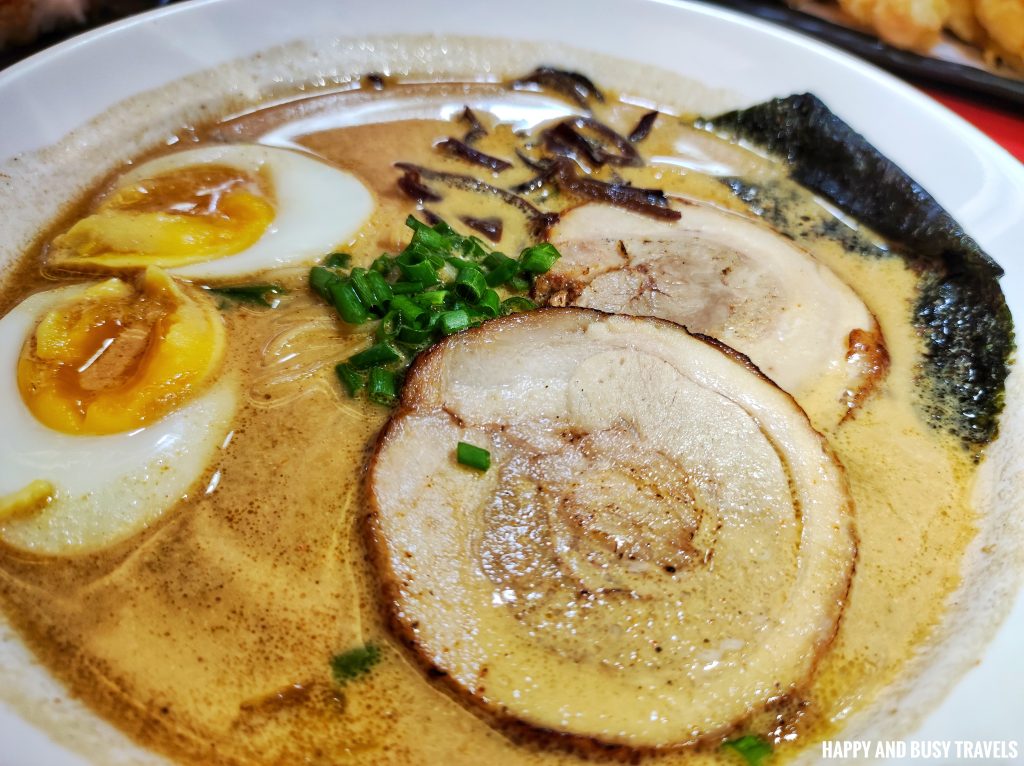 Tantanmen Ramen
Just like the first ramen, this one is made out of noodles with a rich broth with peanuts, Shitake Mushrooms, topped with Slices of Pork, and a Soft-boiled Egg.
This one also tastes good, but I do not usually order Tantanmen because I am not a fan of peanuts in savory dishes. But this one tastes good and my brother said this one tastes good.
Pork Katsudon
We are now in the rice bowls section. This one is the Pork Katsudon which is made out of deep-fried Pork with egg and topped on a bowl of rice with Cabbage shreds.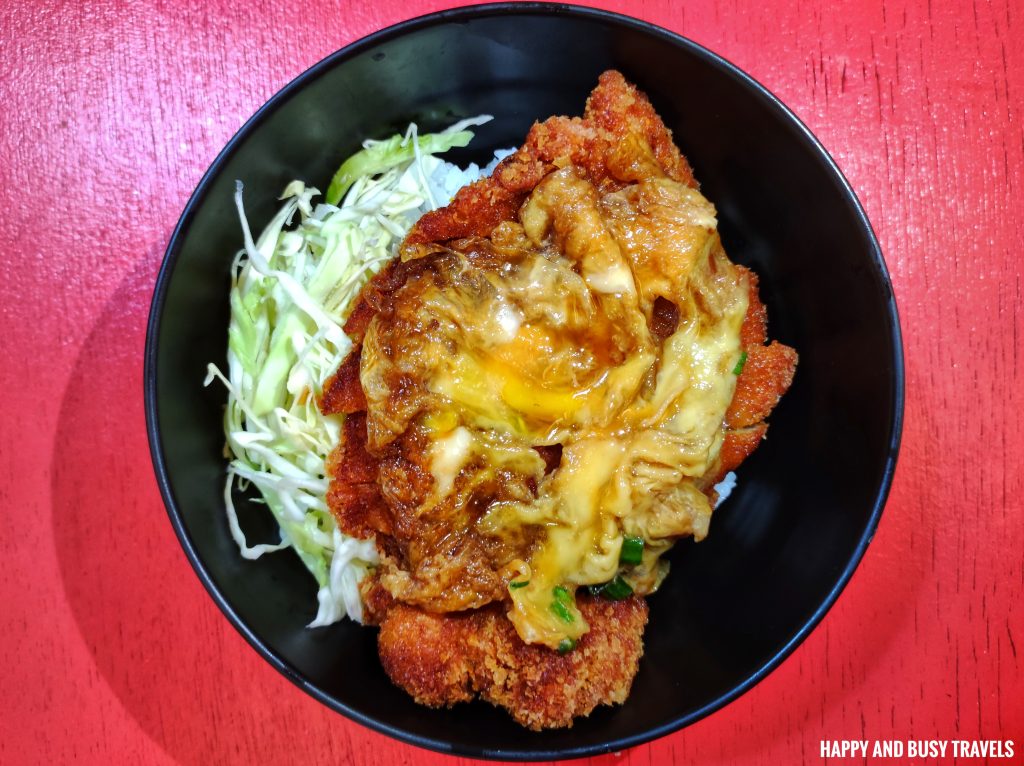 This one is tasty and made us eat a lot of rice. So, if you are a fan of fried dishes and rice, this one is good for you. Each serving is good for one person only.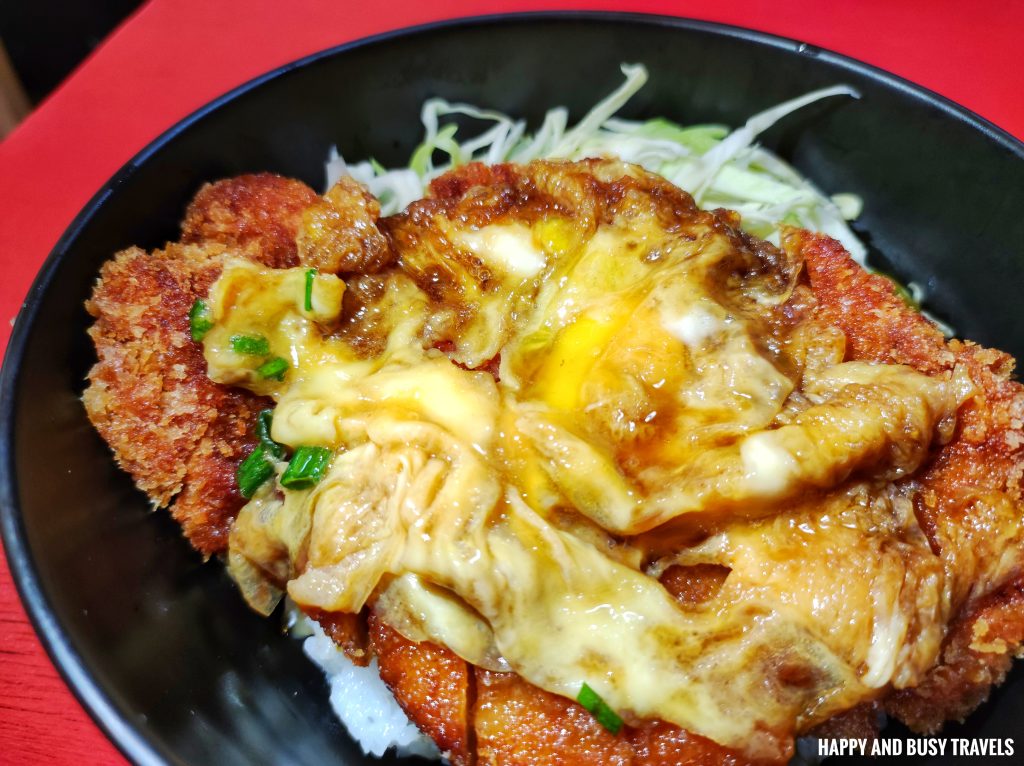 Chicken Karaage
This is a rice bowl with deep-fried Chicken slices with veggies.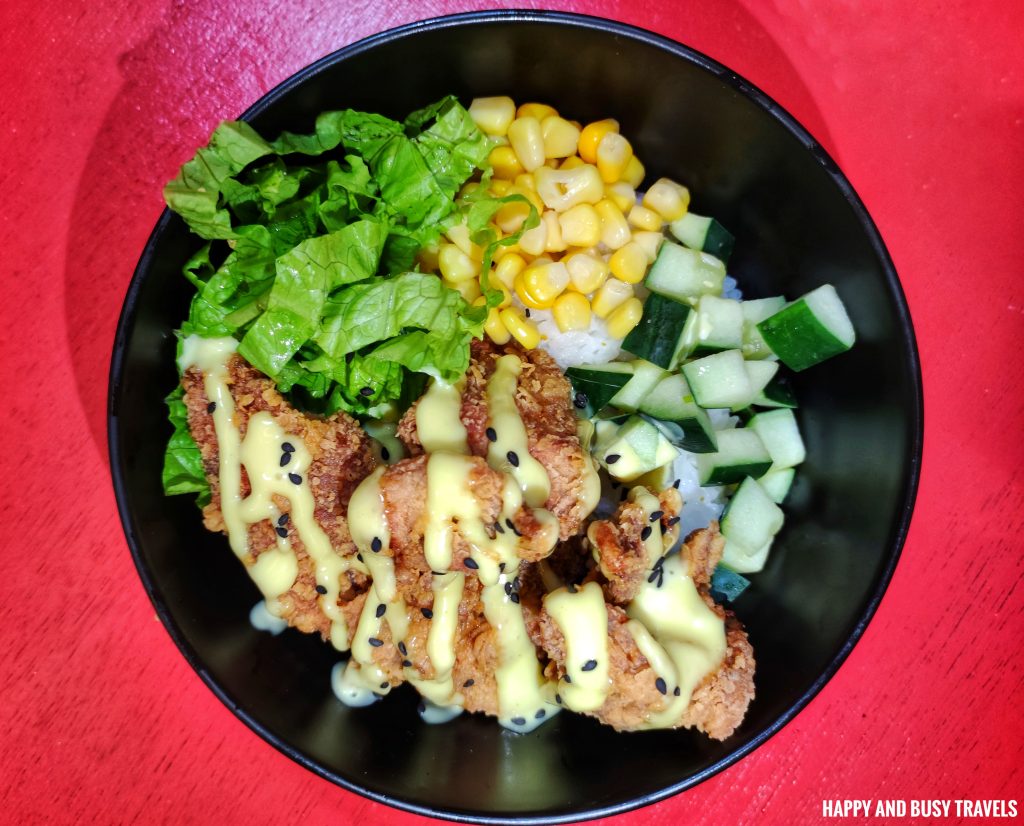 If you are on a budget, this one is perfect because it costs Php 170 only but you already have Chicken, rice, lettuce, cucumber, and corn! I like this rice bowl because it is a bit refreshing considering that this is a fried dish.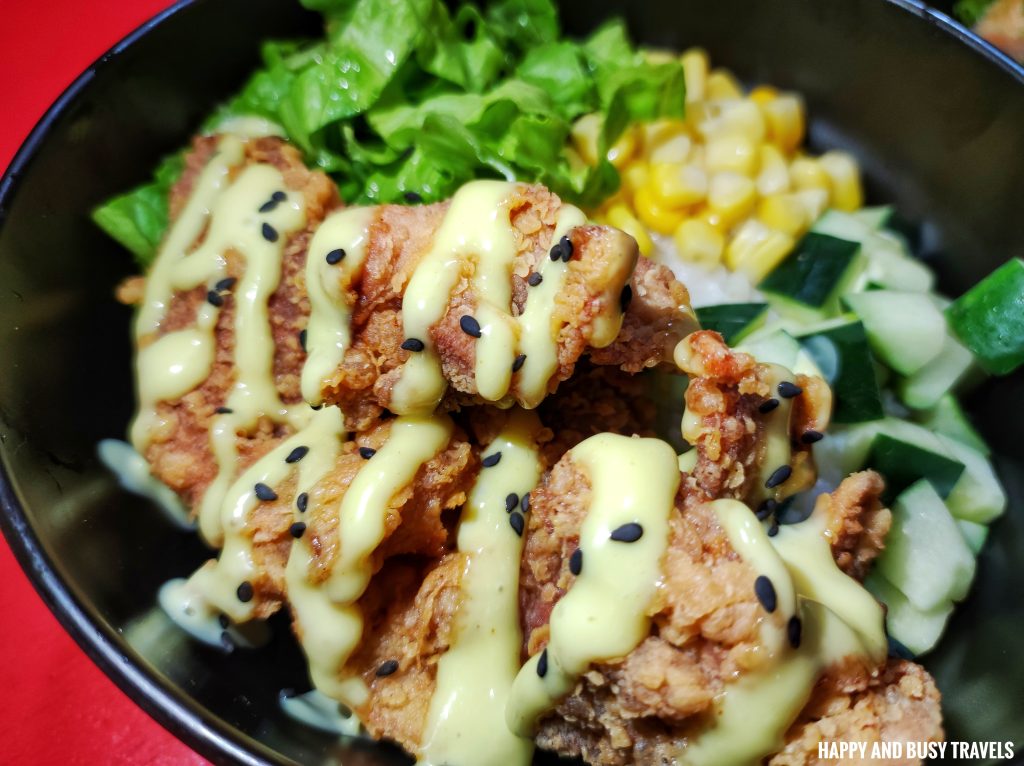 Mango Crepe
Even though there is a lot of dishes that we tried, we still manage to eat dessert. Well… it's just actually me haha. We had Mango Crepe for dessert which is of course made out of crepe, with Mango slices, Nuts, Chocolate, and Whipped Cream.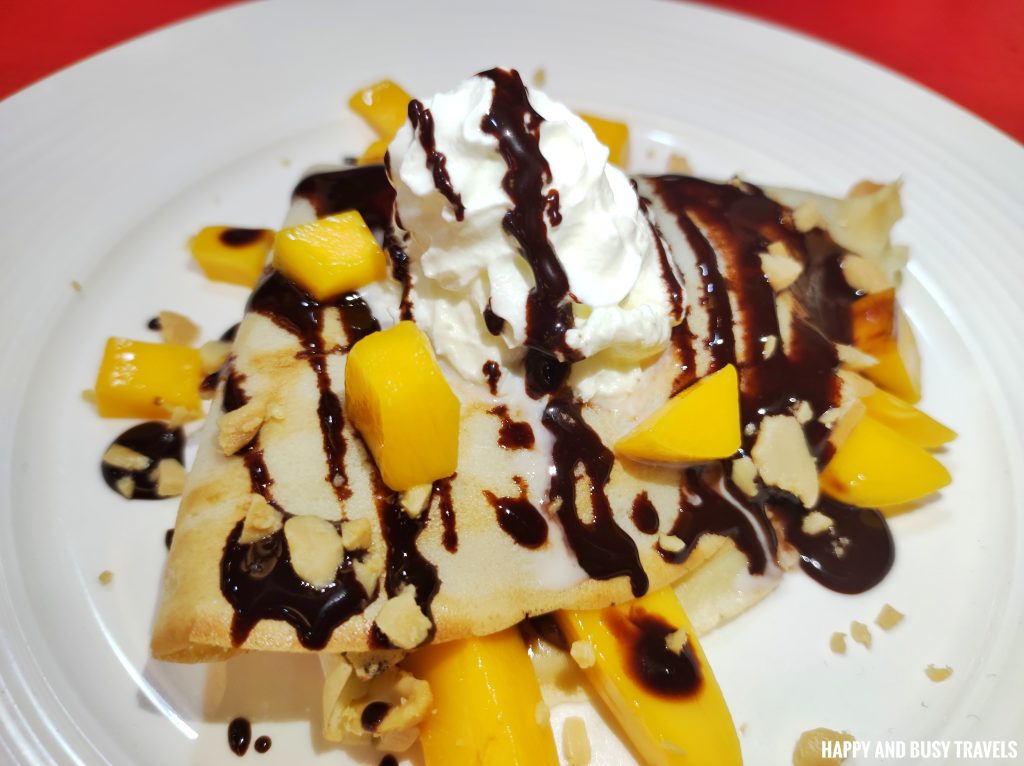 Drinks
For the drinks, we tried their Honey Lemon Iced Tea, and Cucumber Lemon.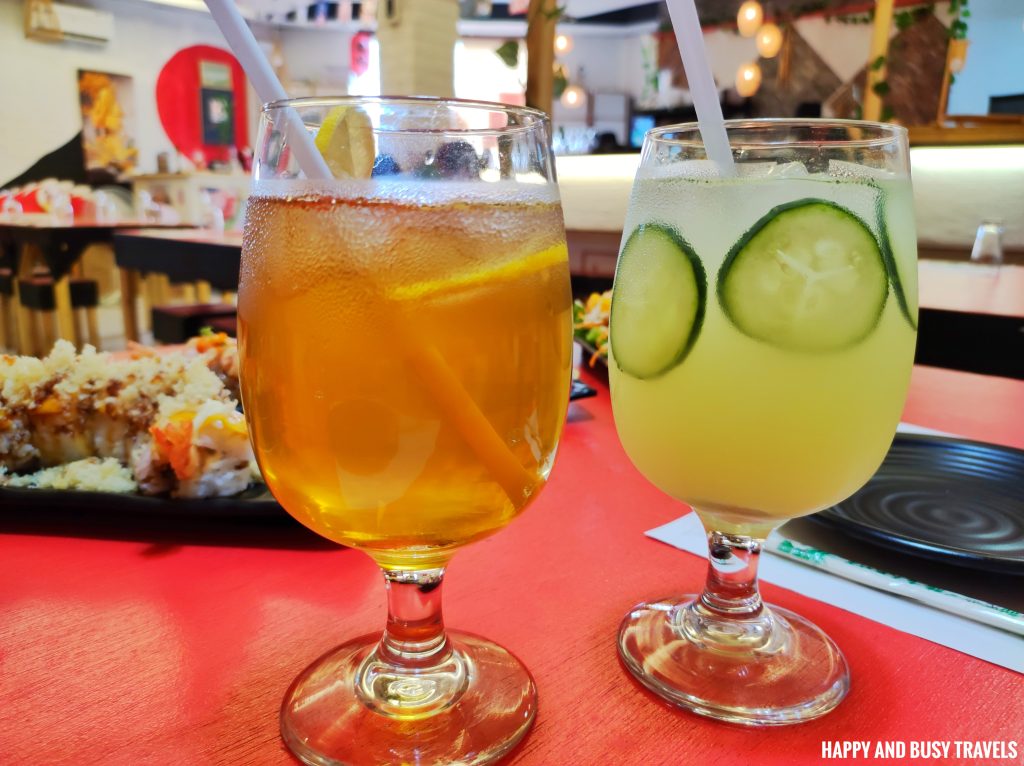 Menu of Shinpuru Japanese Restaurant
Here is their menu so can choose your dishes already before going to the restaurant.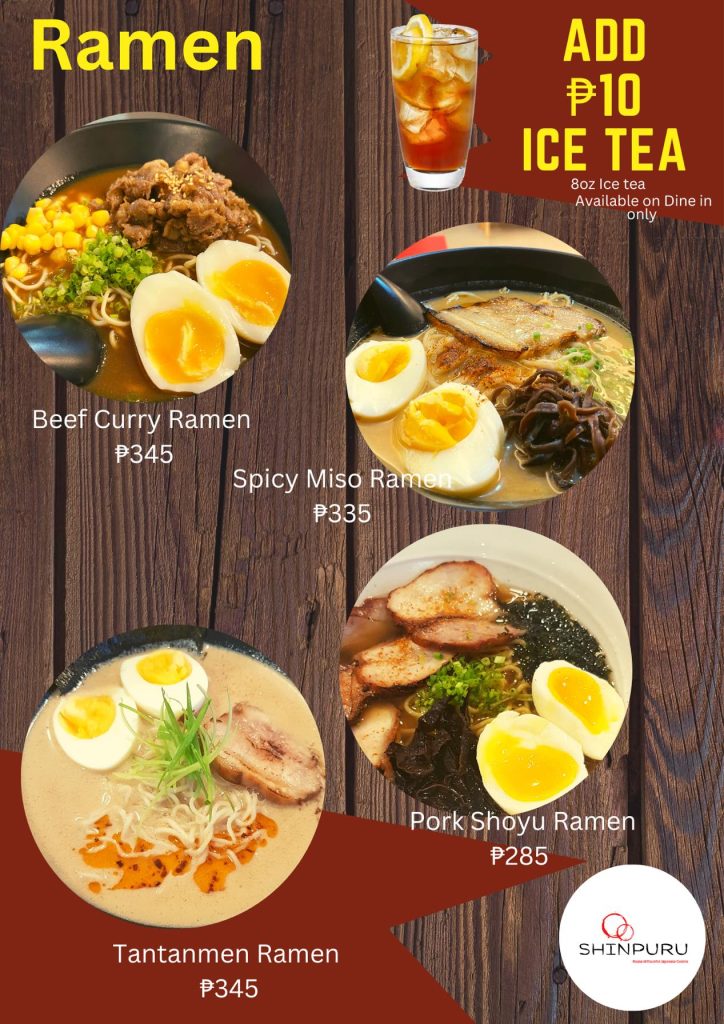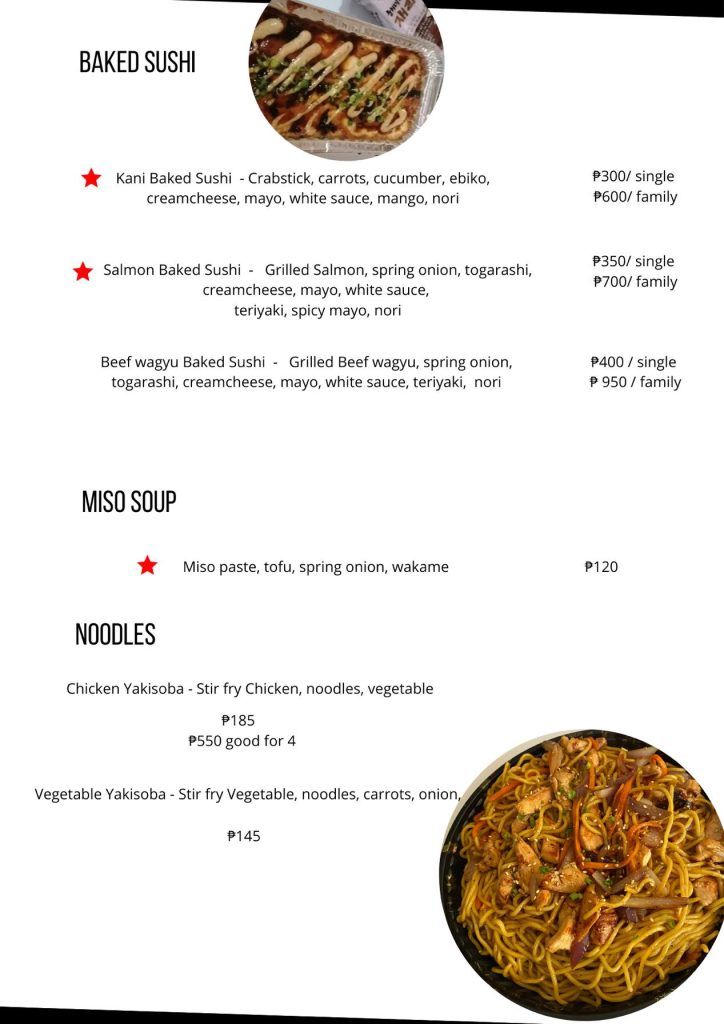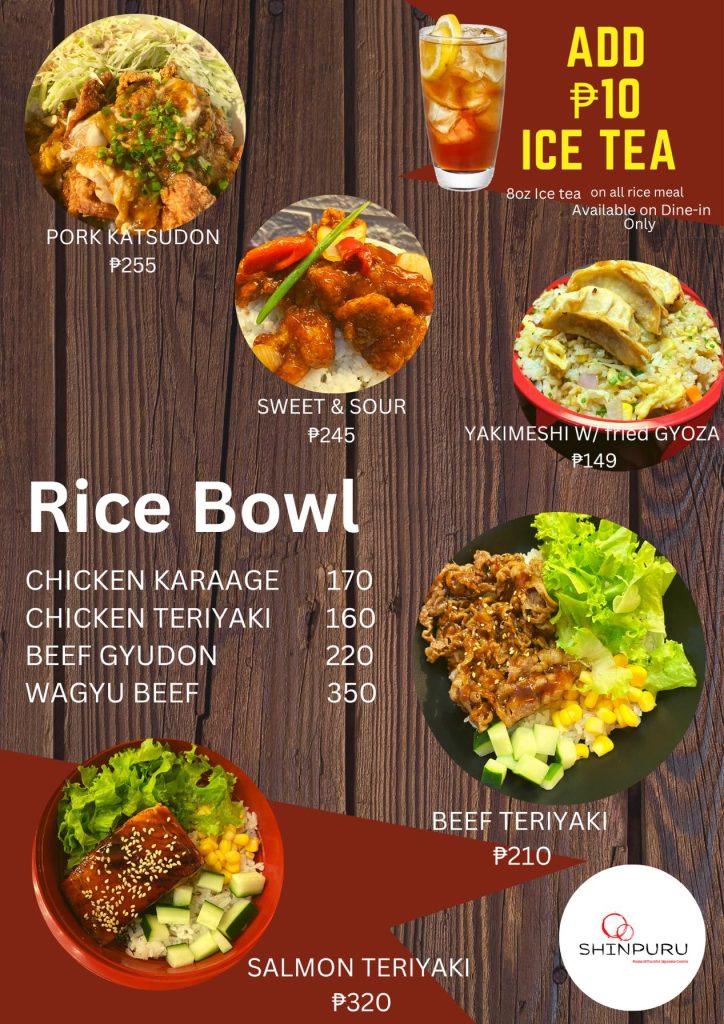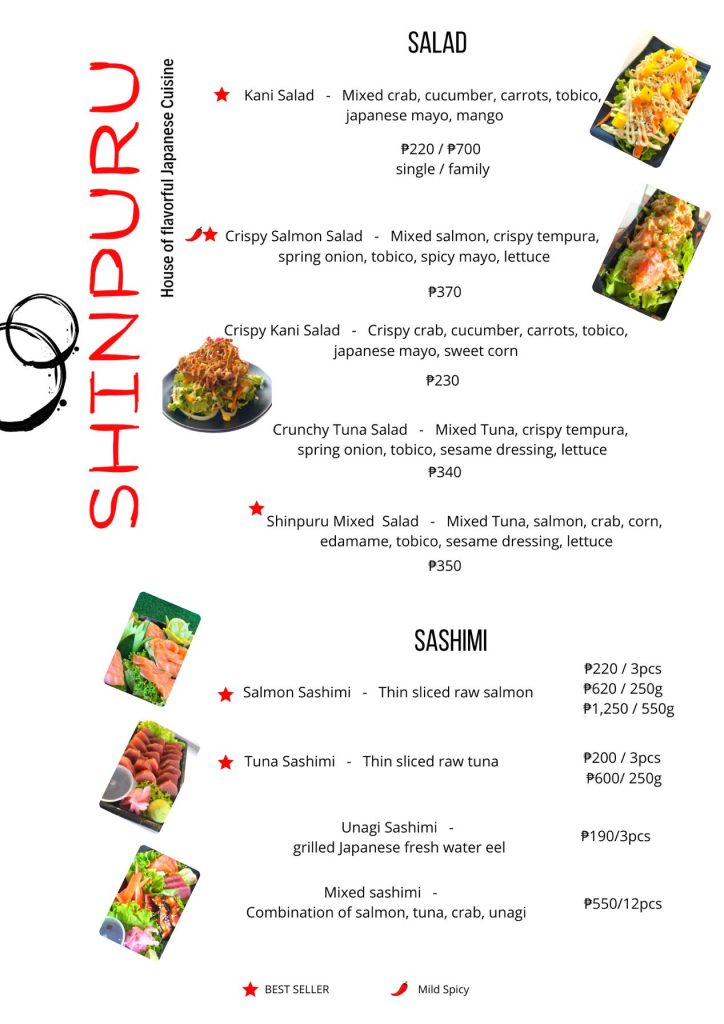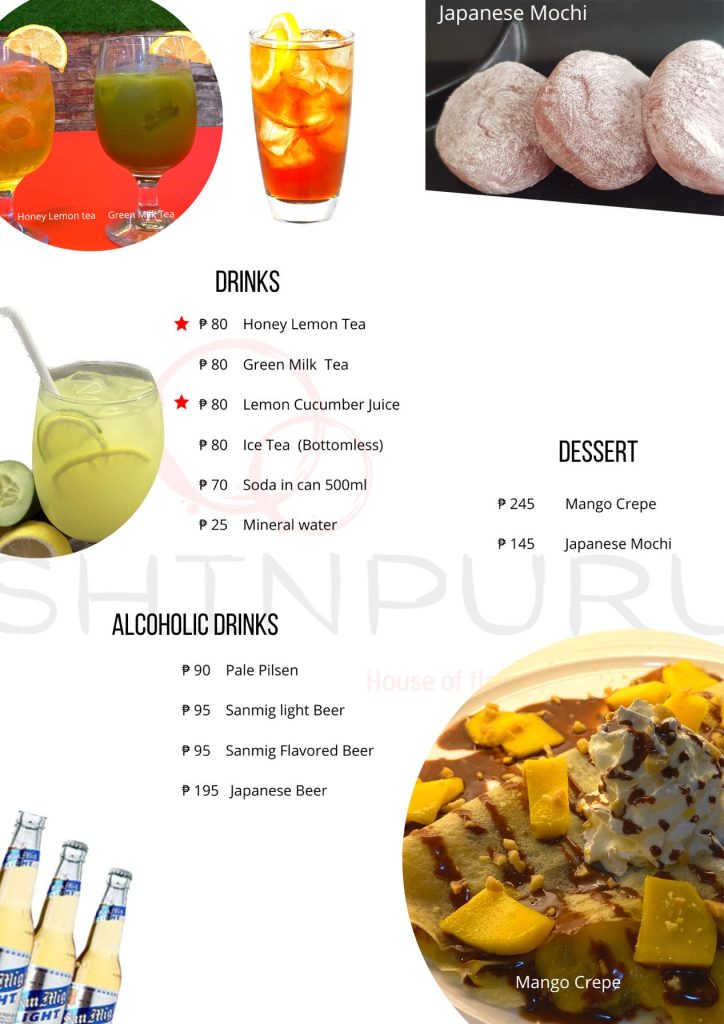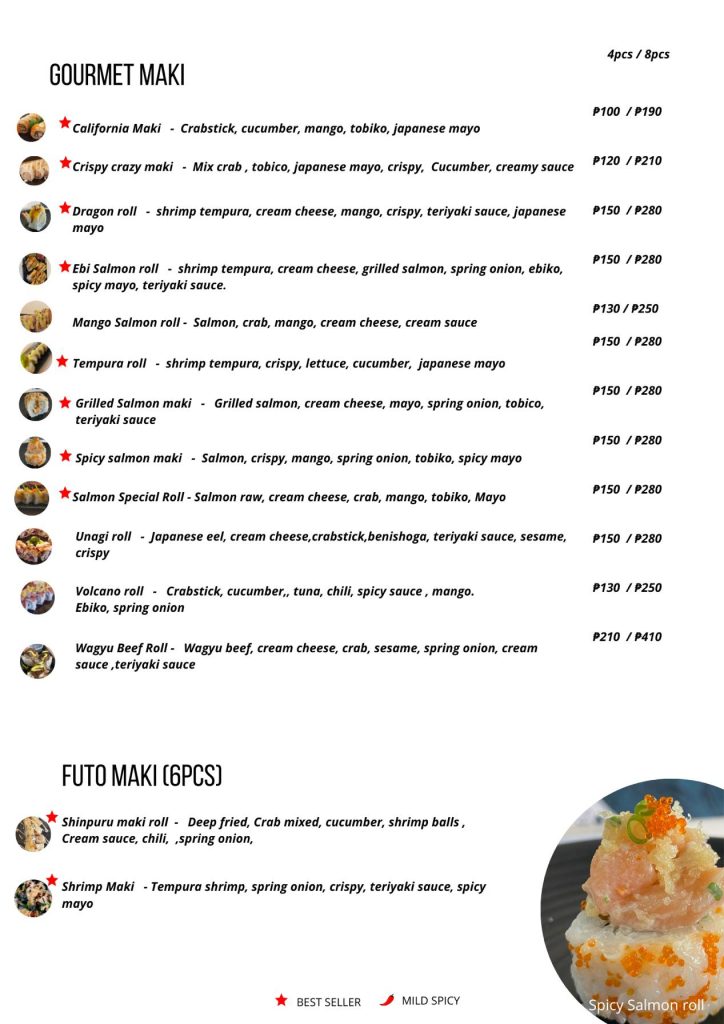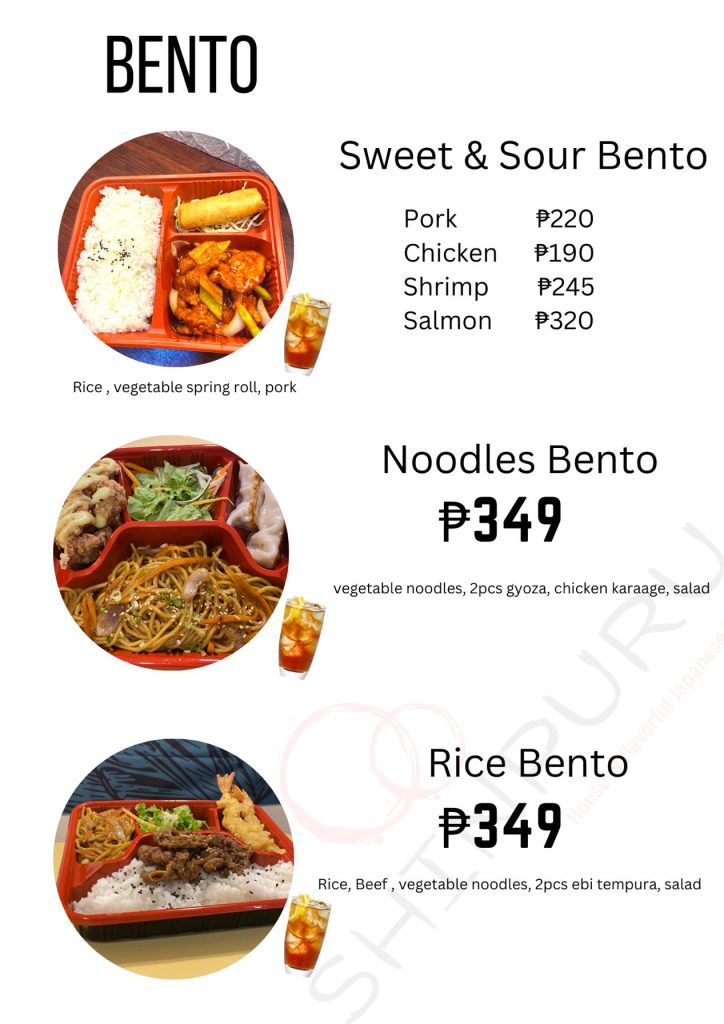 They also have party platters so you can order some for your parties and get together.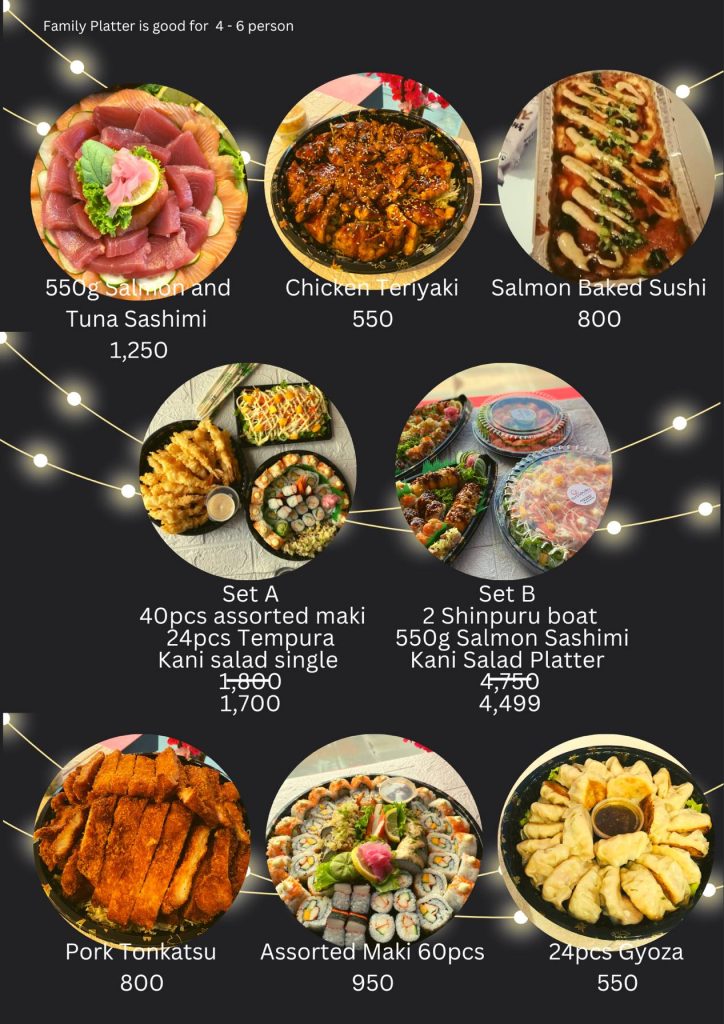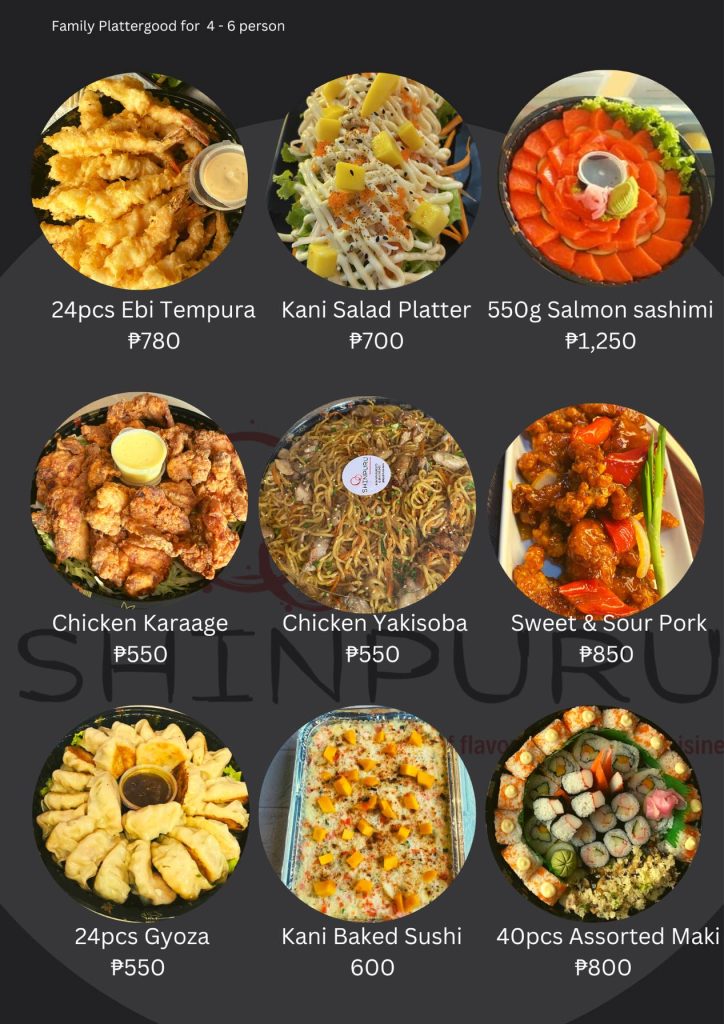 Happy and Busy's Smileys for Shinpuru Japanese Restaurant
Overall, Busy and I like all of the dishes, and the service is good that's why we want to go back soon. Some dishes might be a little bit salty for me, but it is just right with Busy.
Food

Location

Ambiance

Value for money

Service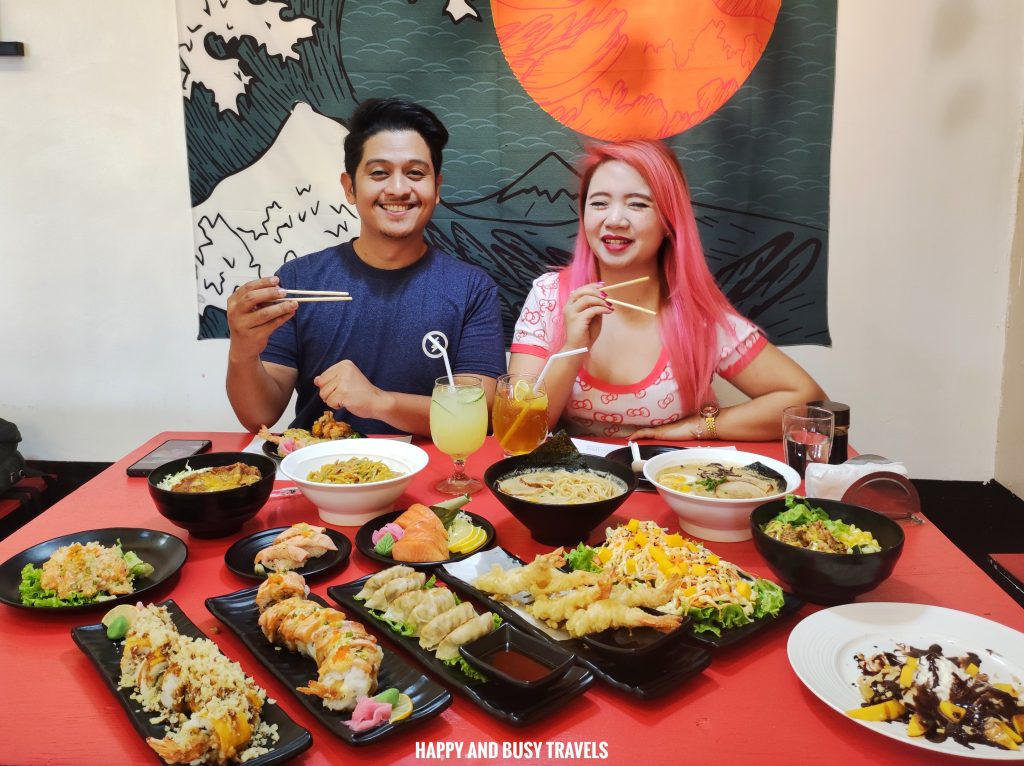 More exciting food and drinks reviews are at https://happyandbusytravels.com/category/food-and-drinks/ so do not forget to check it out!
Like! Follow! Subscribe! to our social media accounts: