Sitio Gubat, Amadeo Cavite
Being one with nature is the best way to remove stress in our lives, so Busy and I went to Sitio Gubat. This resort is just a few hours away from Manila.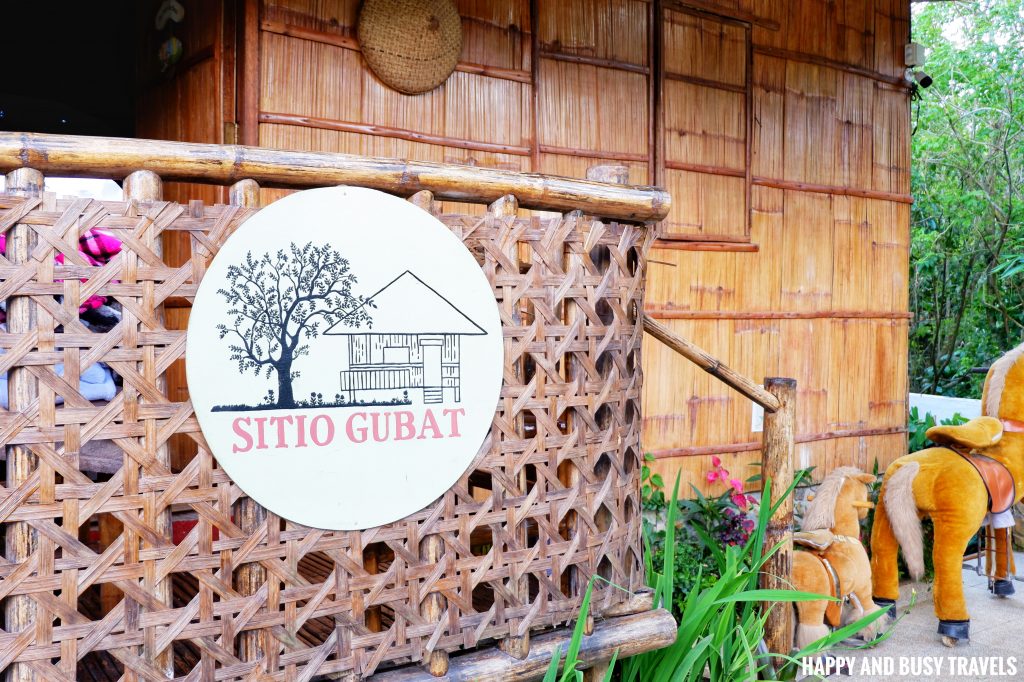 Sitio Gubat has at least 6 parts, the Front Garden, Bahay Kubo, Sitio Grande, Hardin ni Diwata, Events Area, and Edna's Garden.
Quick Links
The Accommodation
There are two main houses in the area, the Bahay Kubo and the Sitio Grande.
Bahay Kubo
The Bahay Kubo is the first type of accommodation in the area, which we immediately saw upon entering. It gave us the province vibe and the feeling of excitement because we are really on a vacation.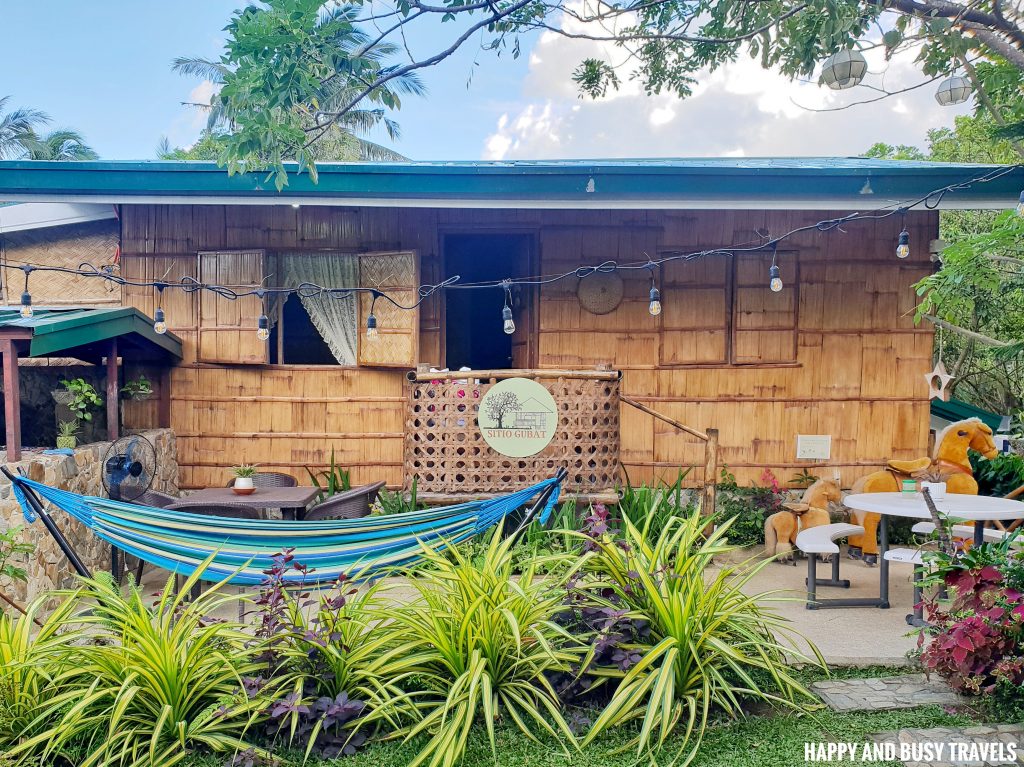 Living Area
Just like other houses, the Bahay Kubo has a living area. Their living area is nicely enhanced with native decorations.
Tiny Kitchen
There is also a small kitchen inside the house which you can use to store your food. But if you would like to cook your food, you can use the kitchen just outside the Bahay Kubo.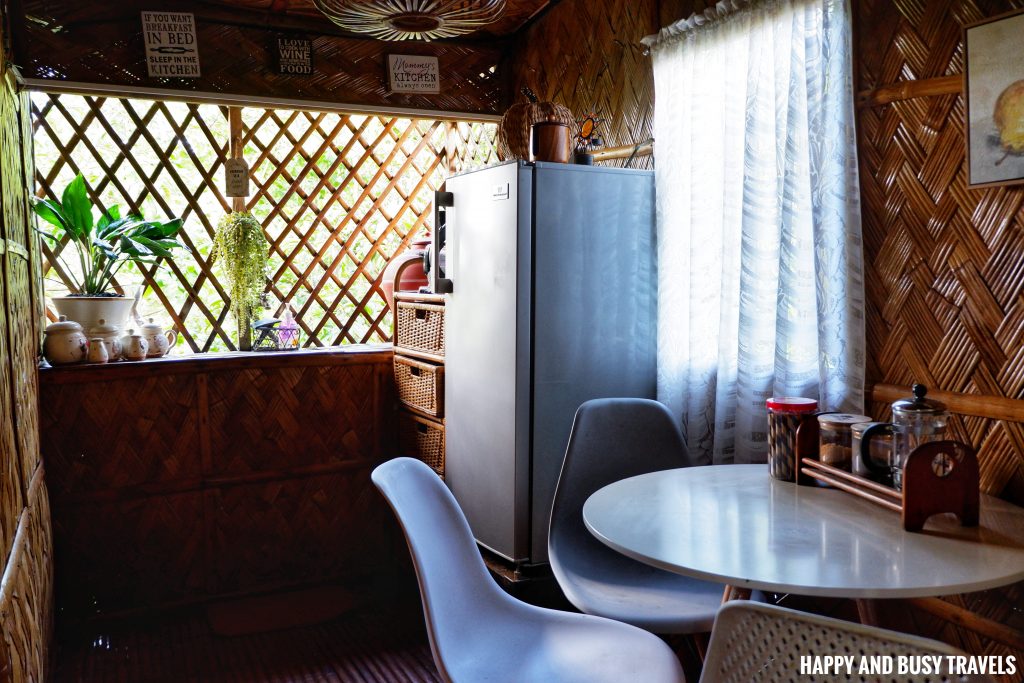 Features of the kitchen (both inside and outside):
Refrigerator
Dining Sets (knives, spoon, fork, plates)
Gas stove
Microwave
Electric Kettle
Thermos
Cooking pans
Grilling station
First Room
This first room is good for 2 persons, but it is spacious. There is a double bed, plus chairs, a table, television, electric fan, and an airconditioning-unit.
Second Room
This second room can accommodate more, up to 4 persons, because it has two double beds. The room has the same amenities as the first room but with bigger beds.
Third Room
This is the room where Busy and I stayed because we think this is the best.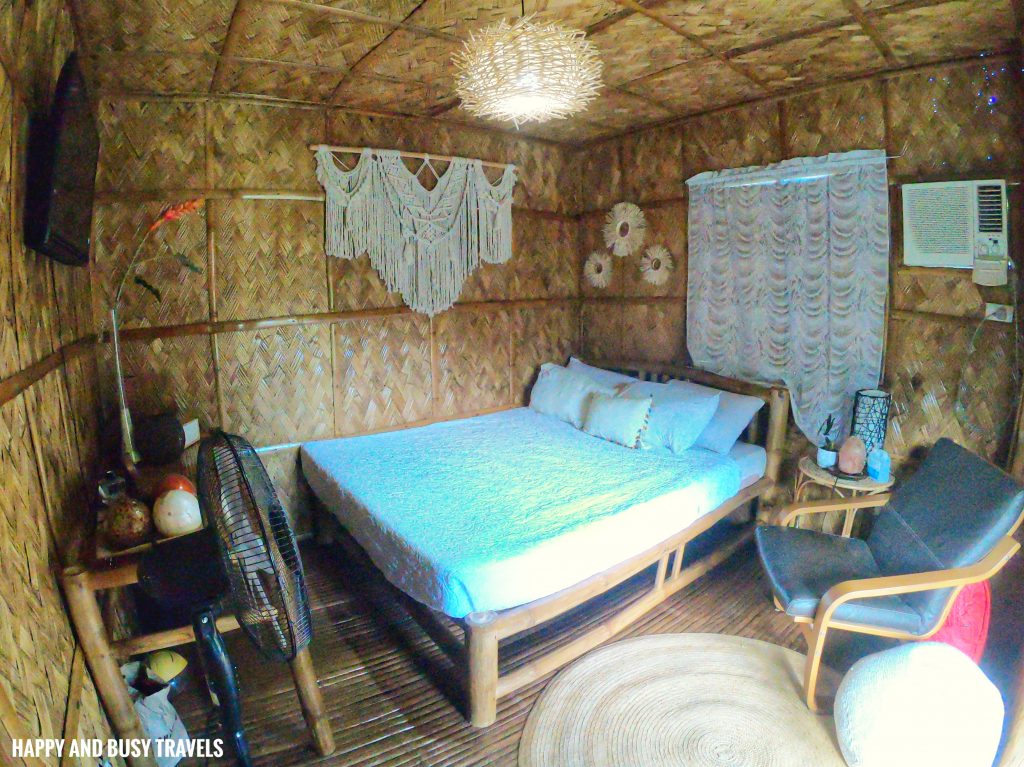 The bed is a double bed, which is bigger than the other available beds.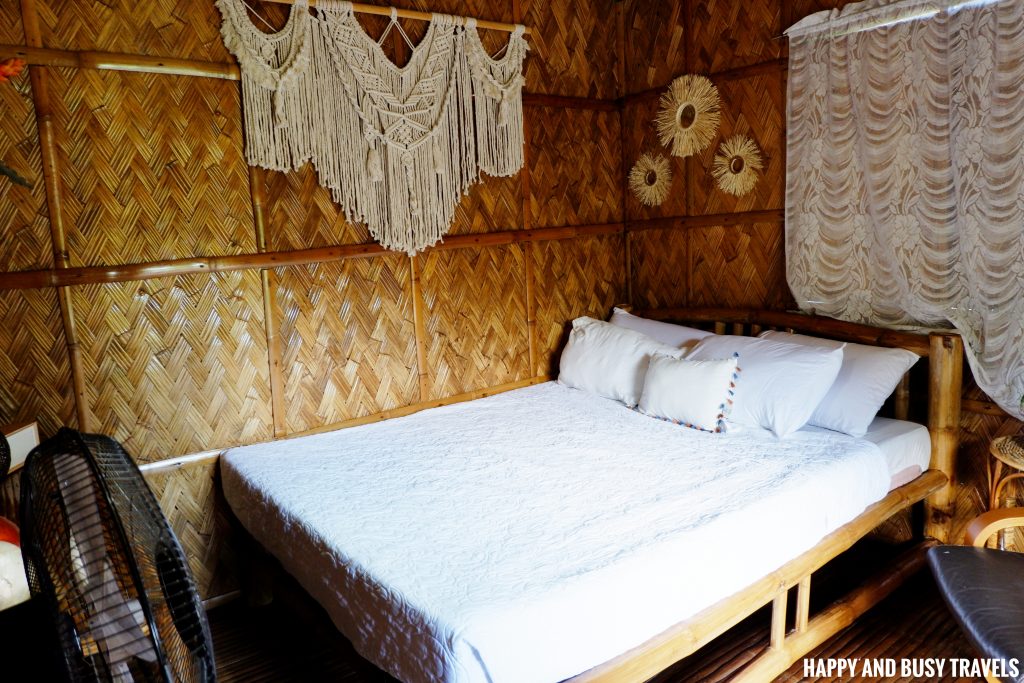 Just like the living area, this one has nice native decorations too.
Lastly, our room has a balcony wherein we can stay and relax.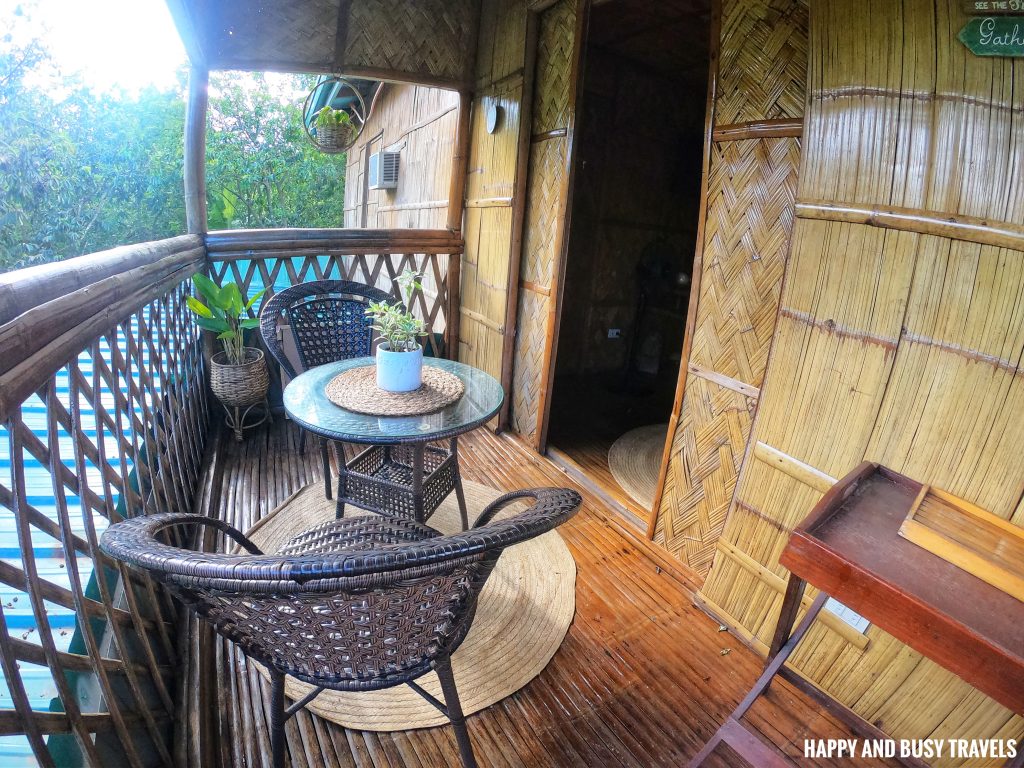 Comfort Room
There is just one comfort room in the Bahay Kubo, which is located beside the tiny kitchen.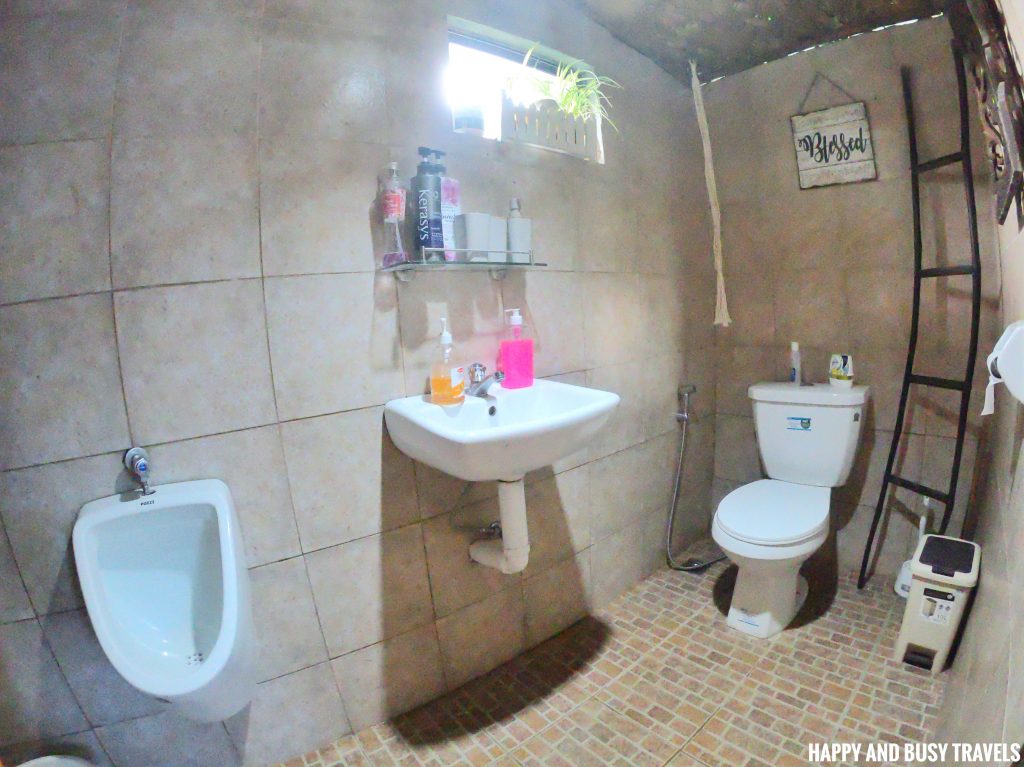 Sitio Grande
The next type of accommodation is a bit modern than the Bahay Kubo, and it looks like it is newly built.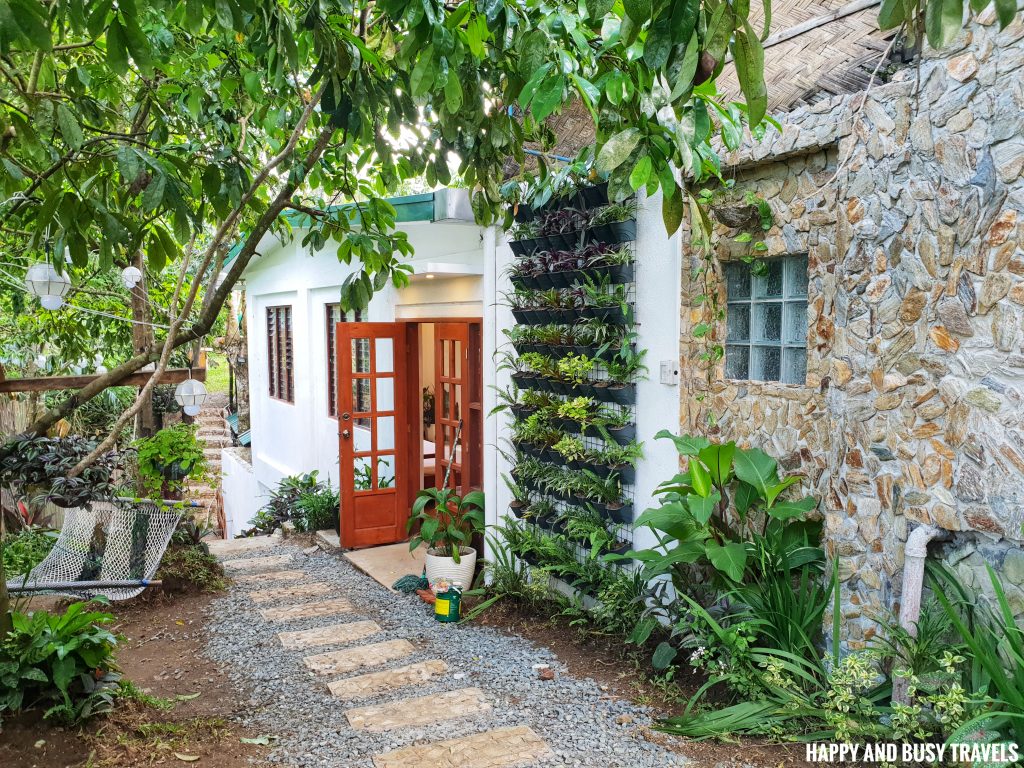 Living Room
The Living Room of Sitio Grande is nicely decorated too!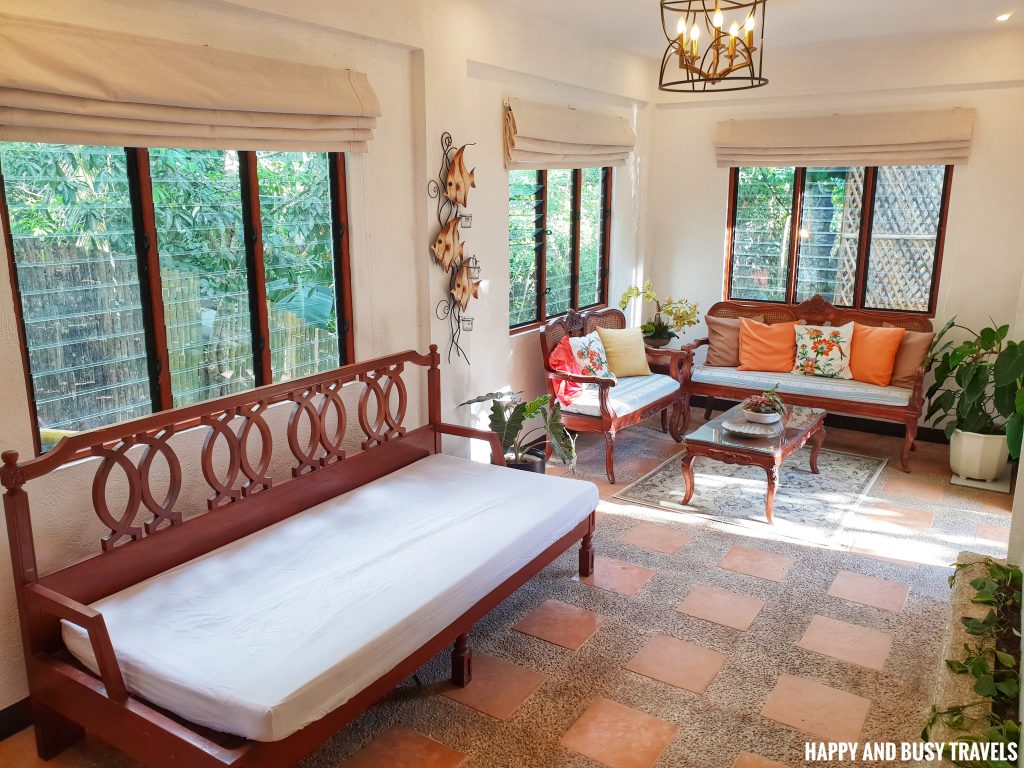 Plus, there is also an outside seating area that is connected to the living room.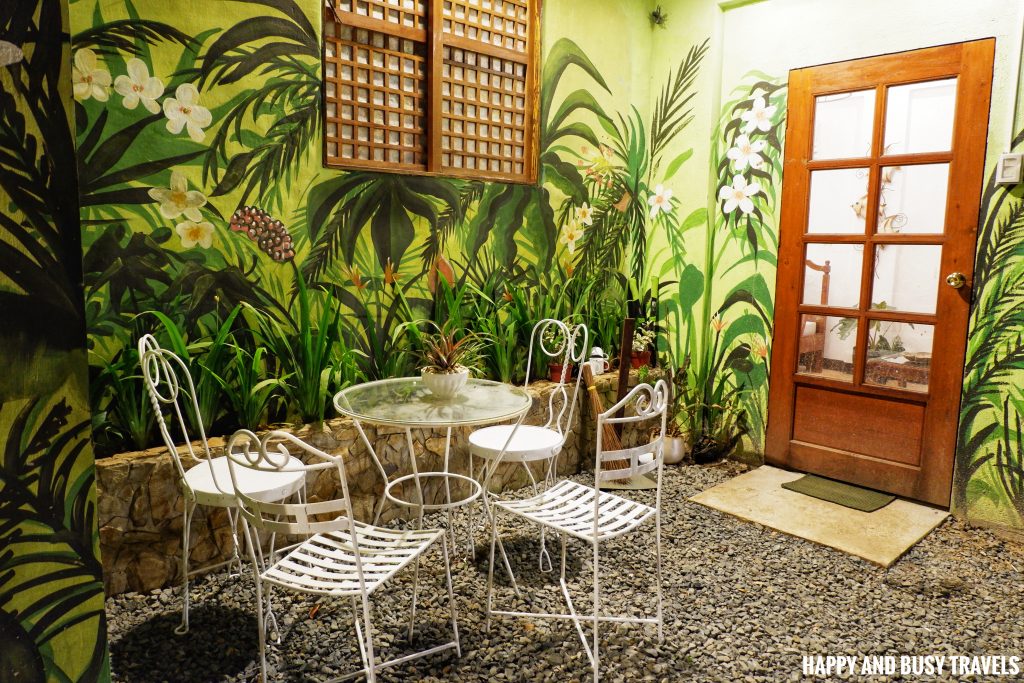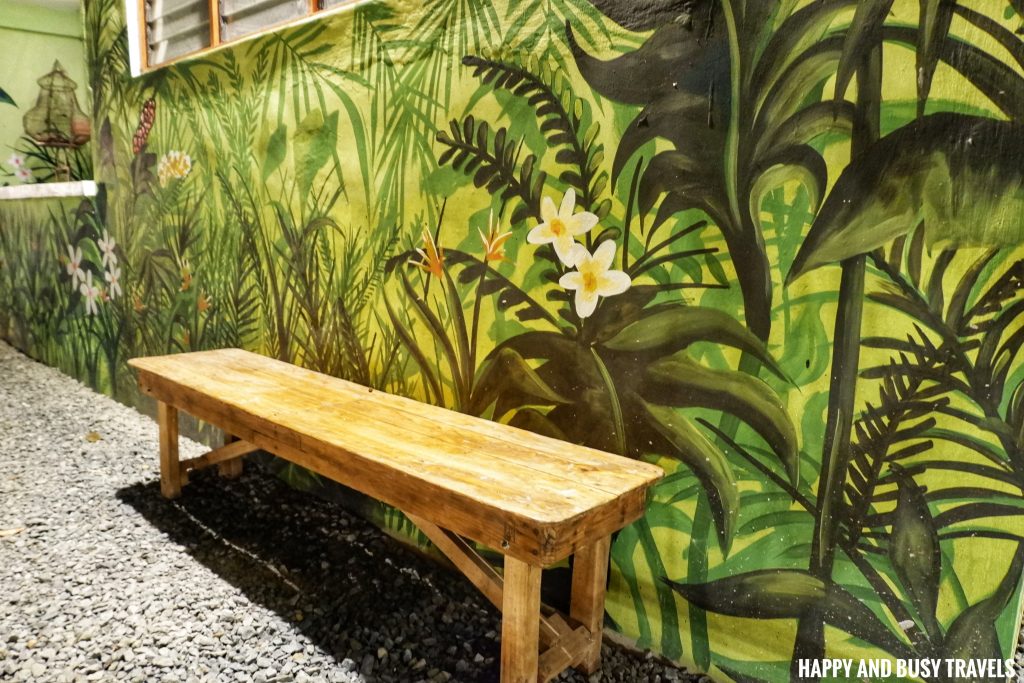 Kitchen and Dining Area
The kitchen is also gorgeous, just look at it. This one has more equipment than the Bahau Kubo kitchen. Aside from the usual kitchen items, this one also has an oven, large freezer, wine glasses, and a lot more.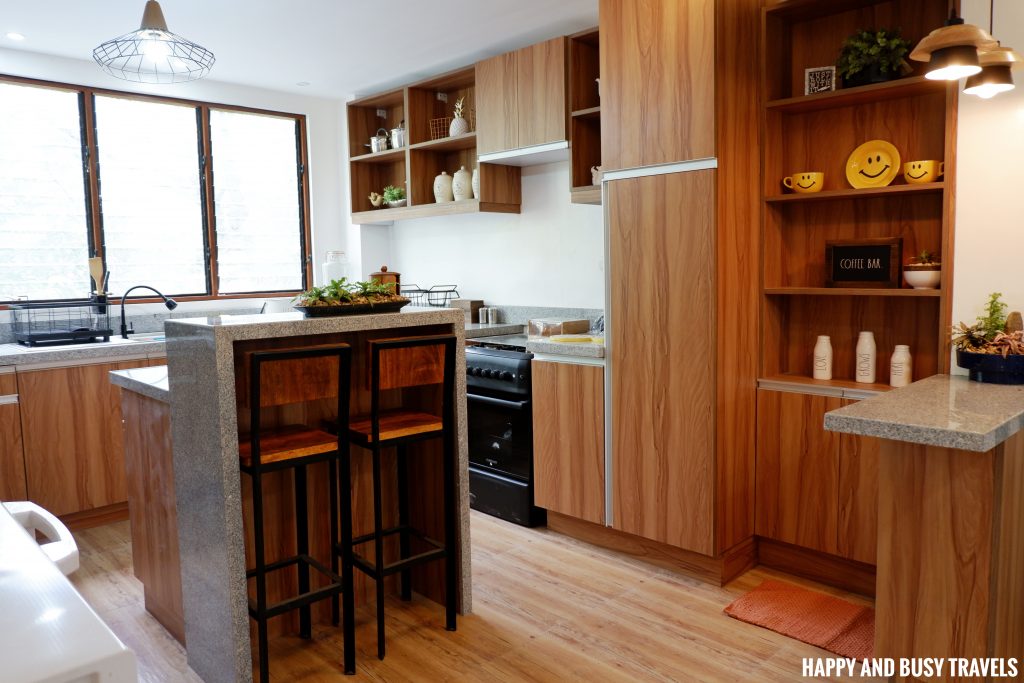 Here's the dining area, which is just in front of the kitchen.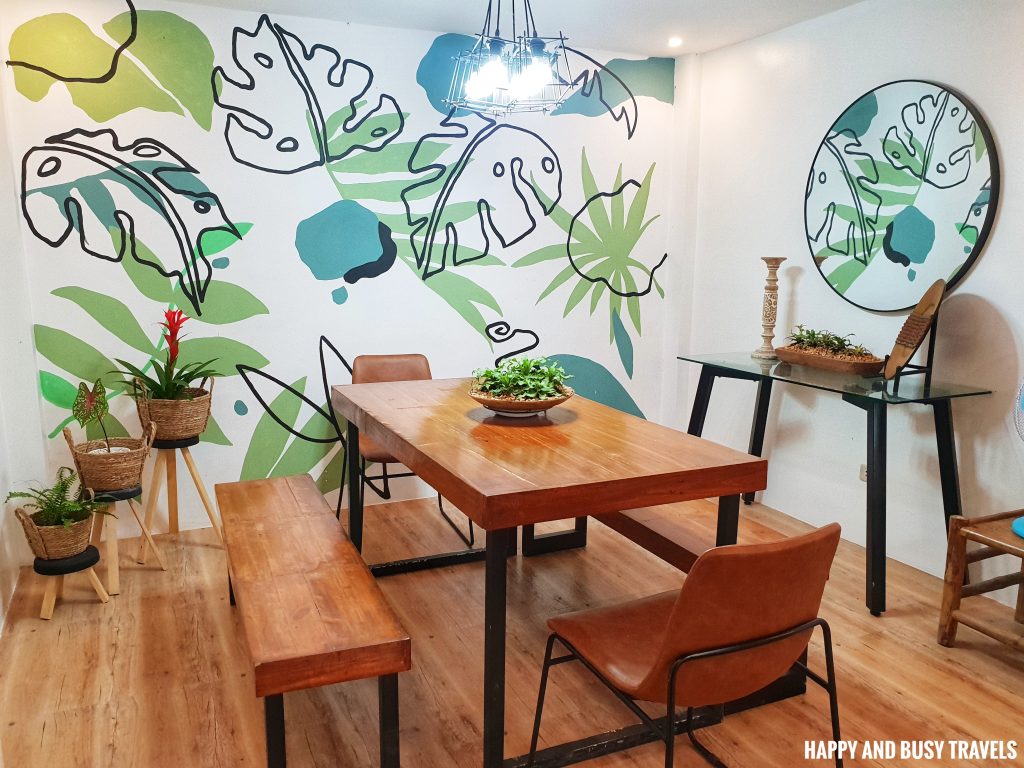 Bedroom
There is just one bedroom in Sitio Grande, but it has complete facilities too. A double bed, sofa chair, television, and an airconditioning unit.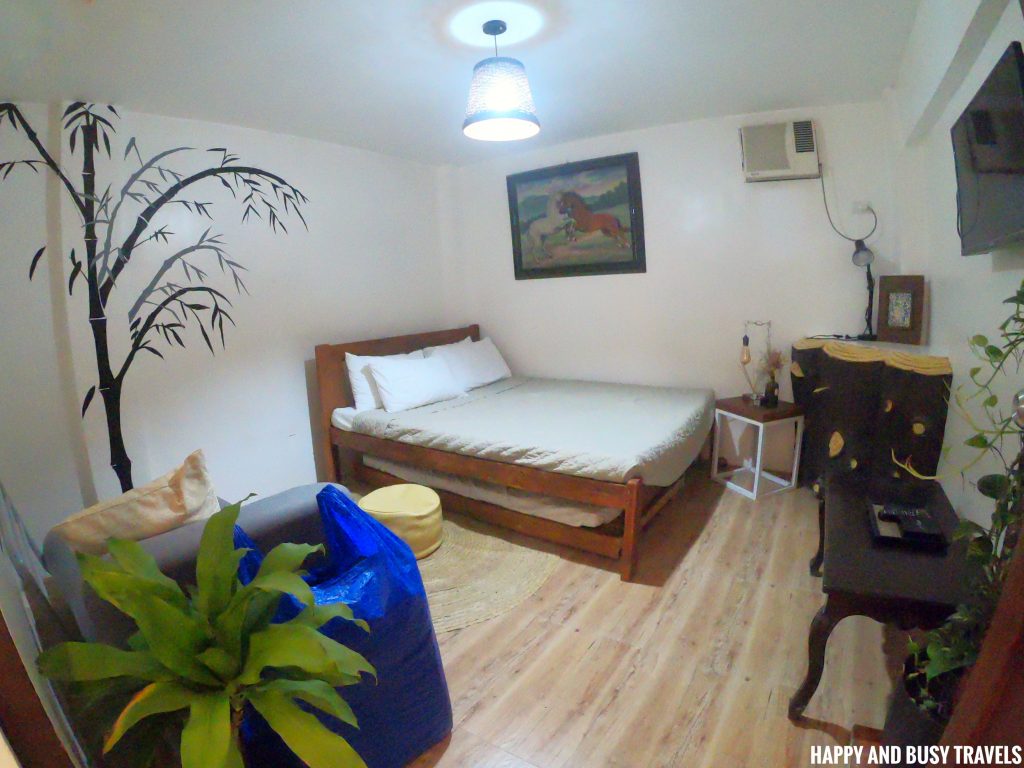 This room is nice, although we prefer our Kubo room because it makes us feel like we are in the province.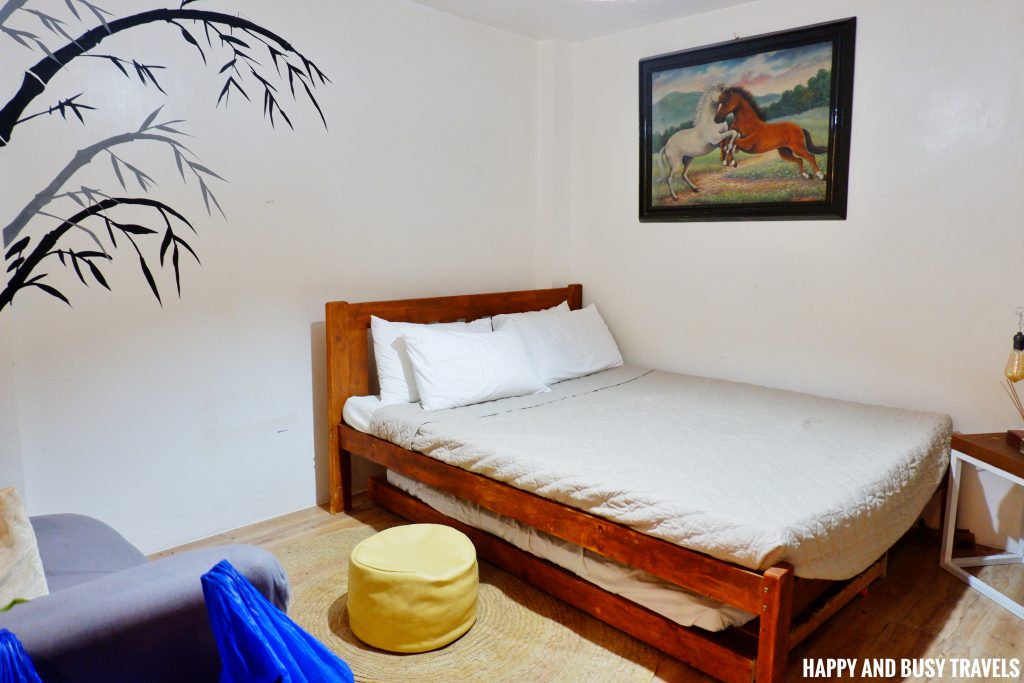 Comfort Rooms
There are two comfort rooms in Sitio Grande. This first one is a simple comfort room, but it is styled nicely.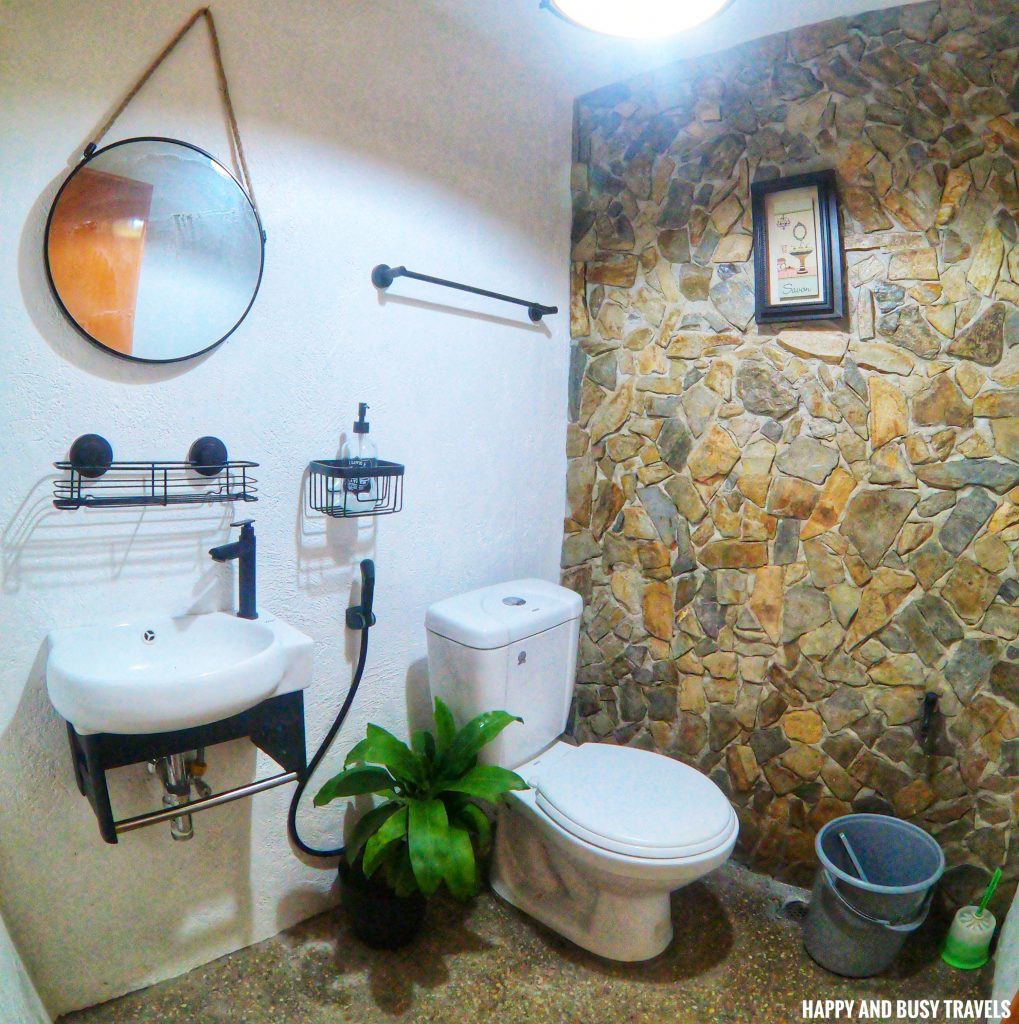 Next, this is the second comfort room. This is better because it is bigger and has a bathtub, plus I really like the motif, black and white, plus a touch of the garden.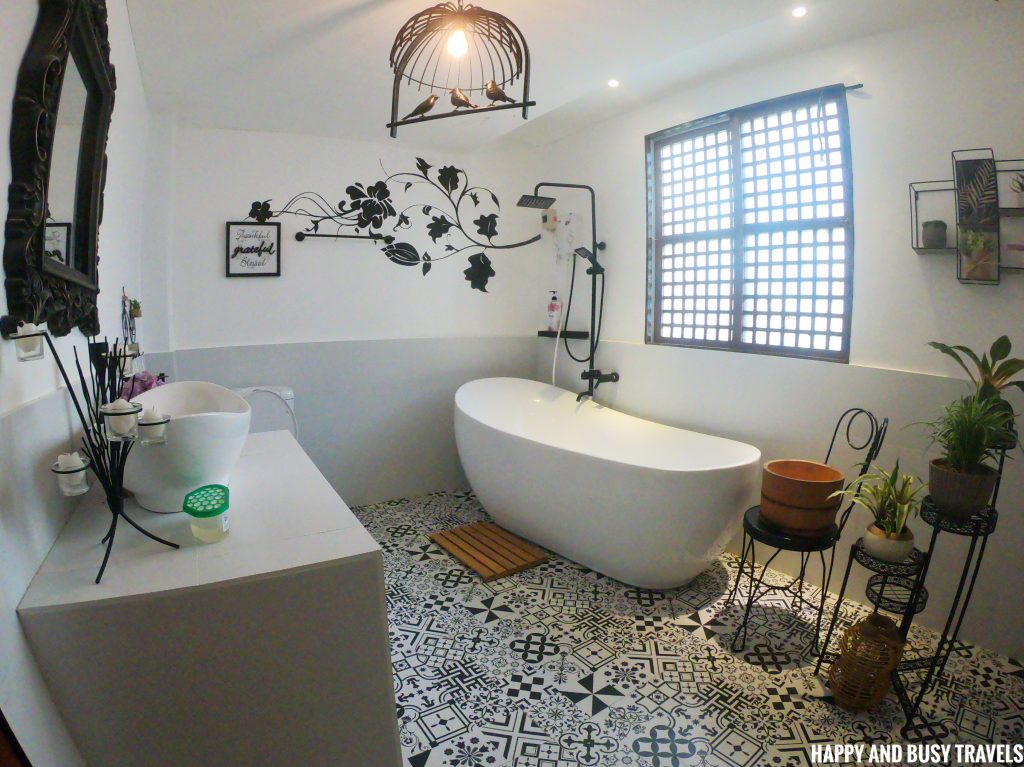 Amenities of Sitio Gubat
One of our considerations in booking an accommodation is its amenities. So, Sitio Gubat is perfect for us because we get to do a lot of things in their amenities.
Videoke Room
One of our favorite amenities in Sitio Gubat is the Videoke Room because singing is one of our hobbies. Back in college, we were like in a competition because even though we are singing, we are already placing a lot of songs on the playlist.
Front Garden
This is the first portion of the property, the front garden, which greeted us and gave us the first impression of Sitio Gubat. There are a lot of amenities in this area.
Swing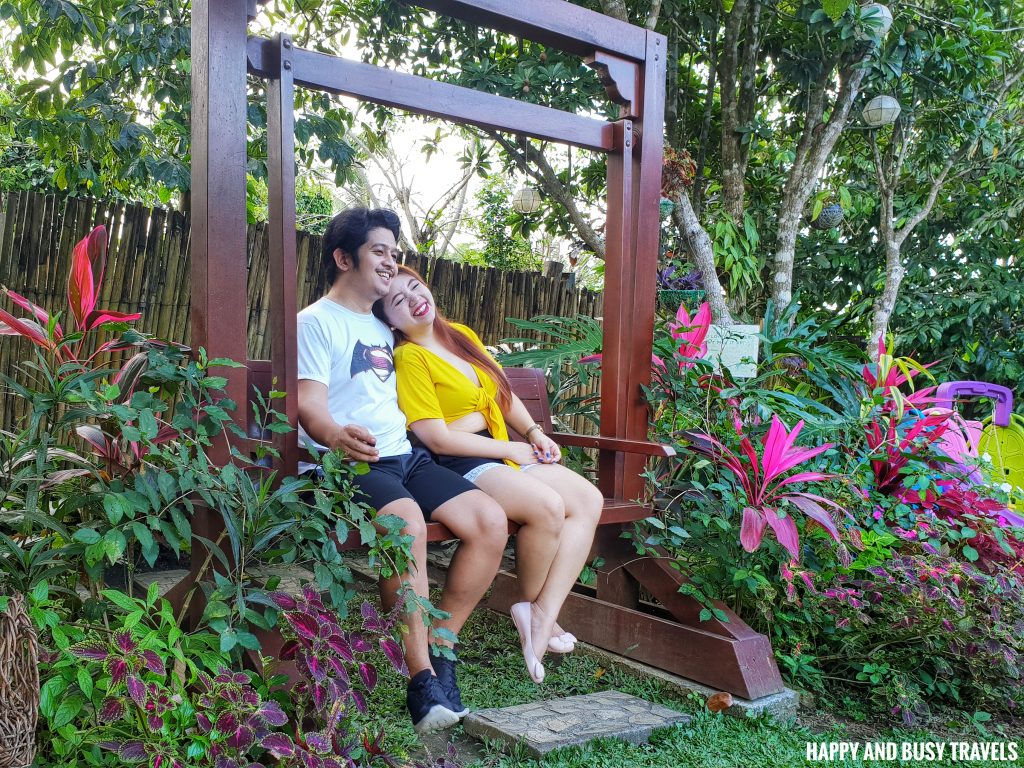 Gazebo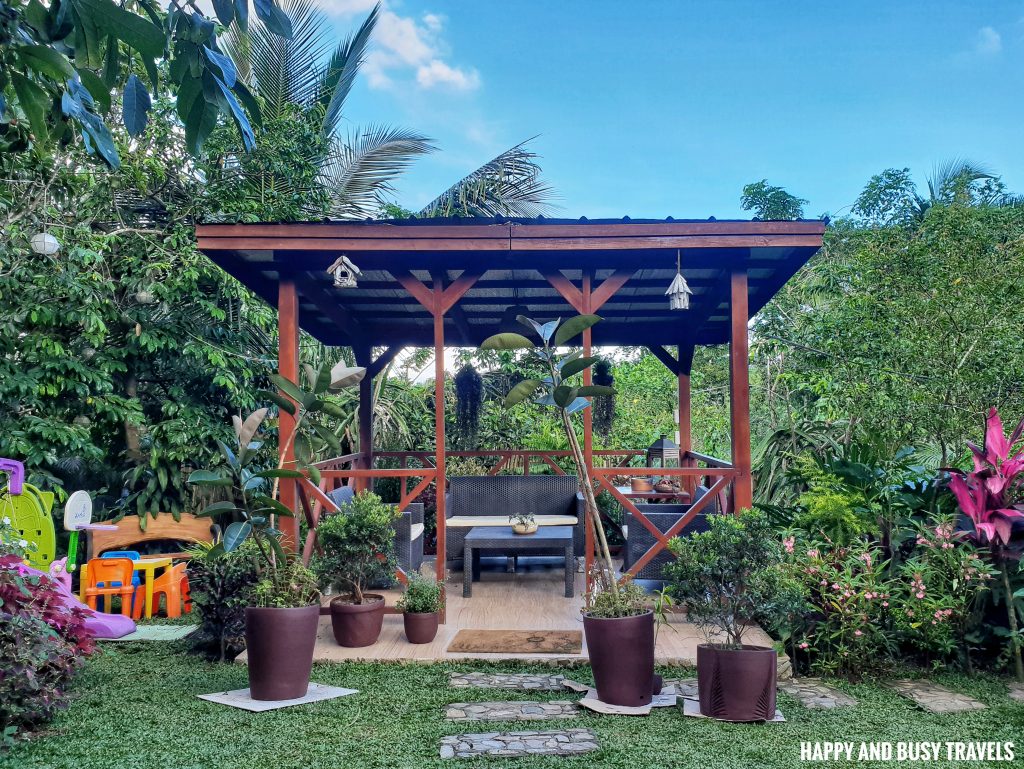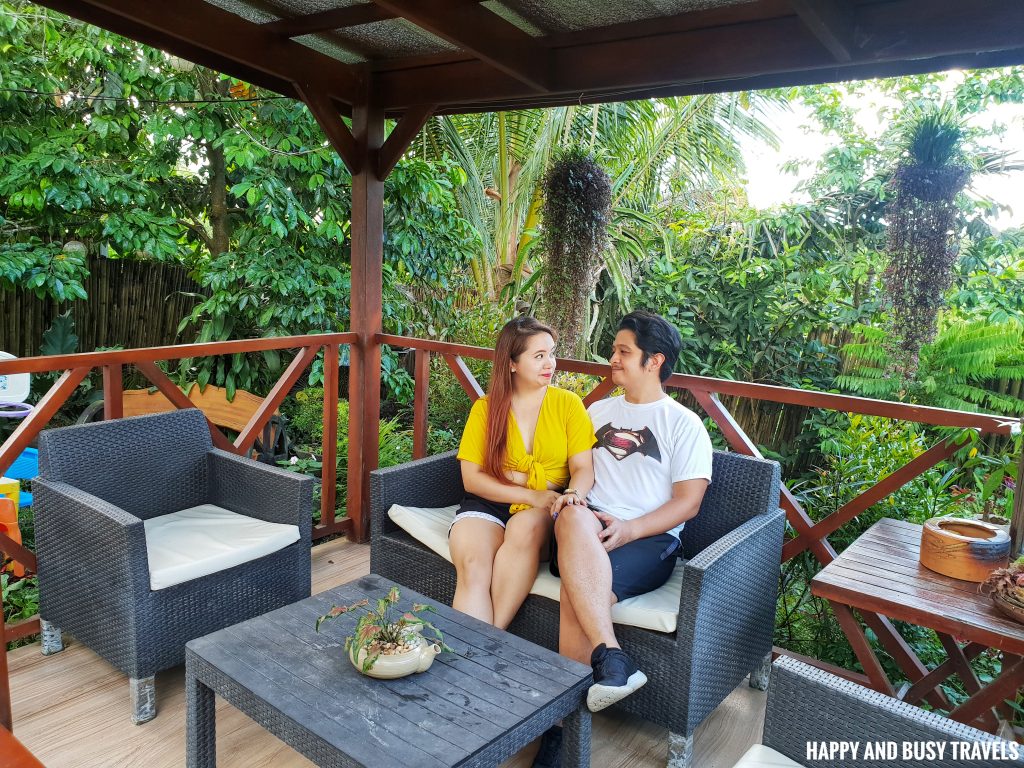 Mini Playground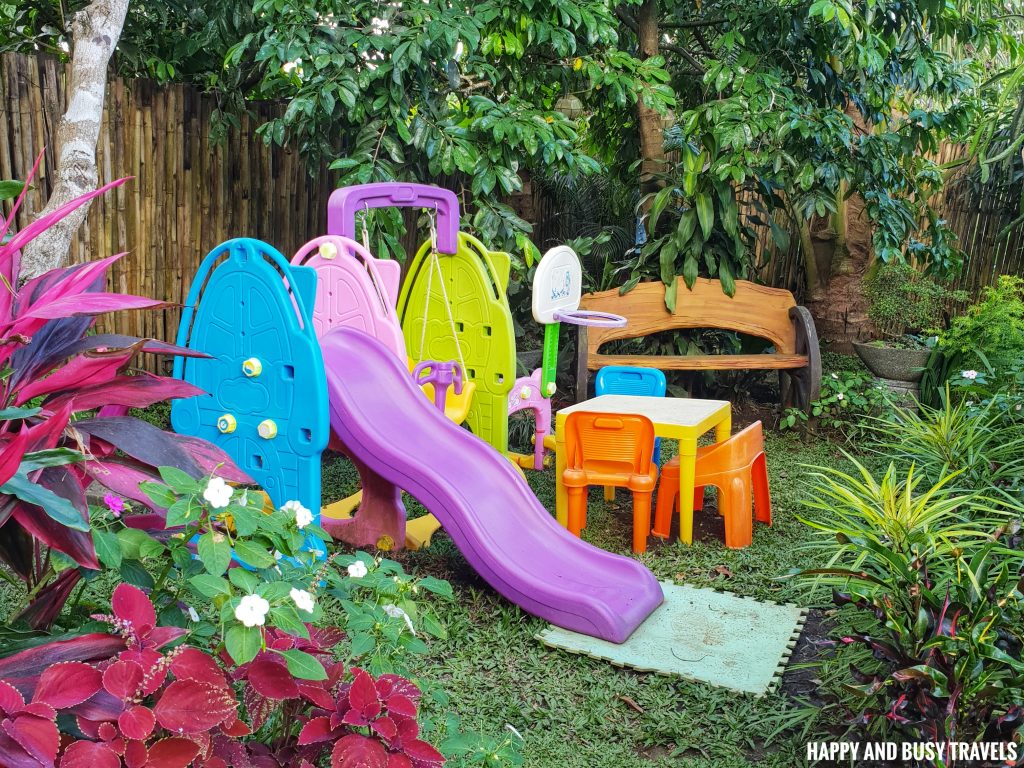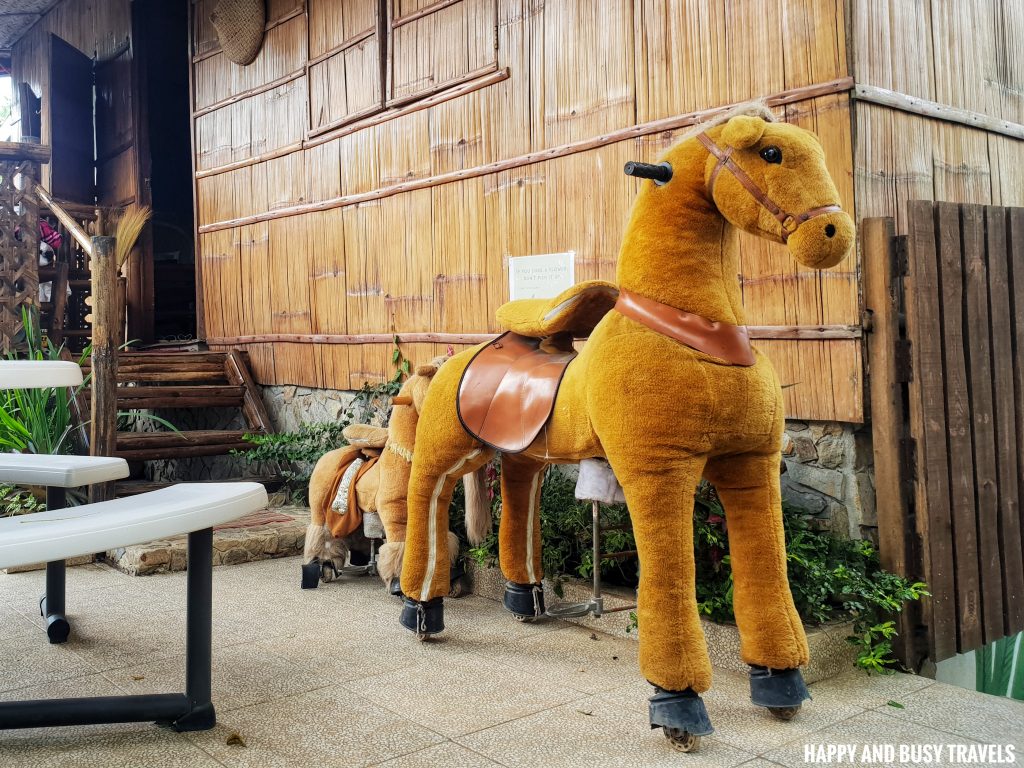 More IG-worthy chairs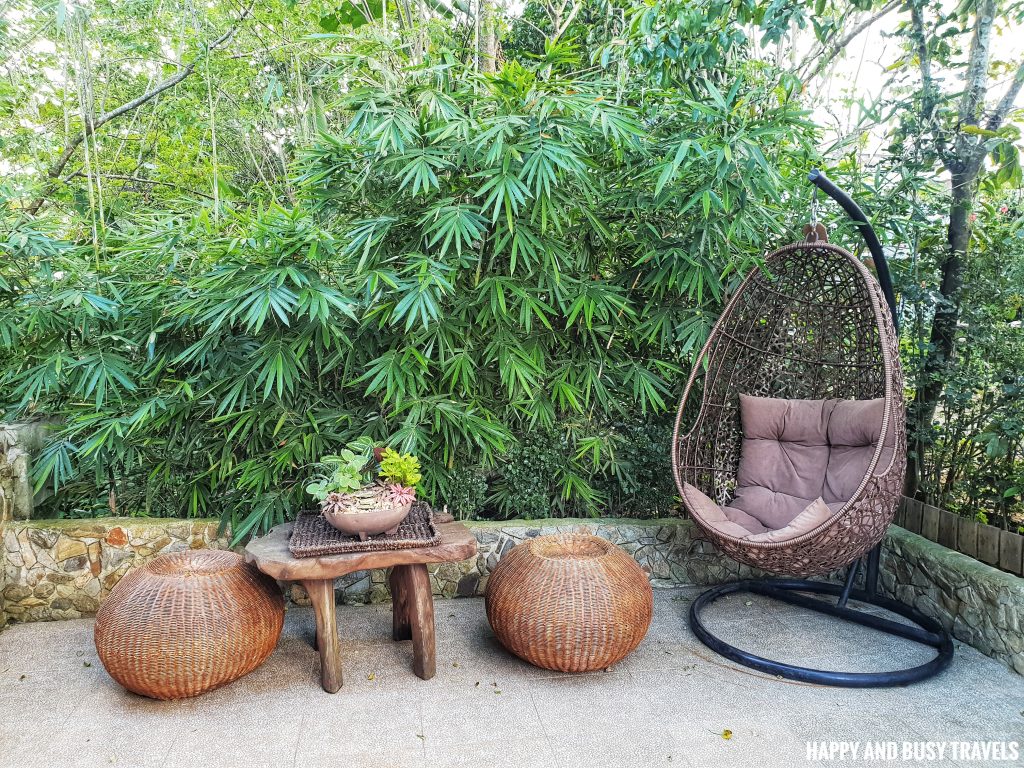 We didn't notice this portion during the day, but we saw its beauty at night.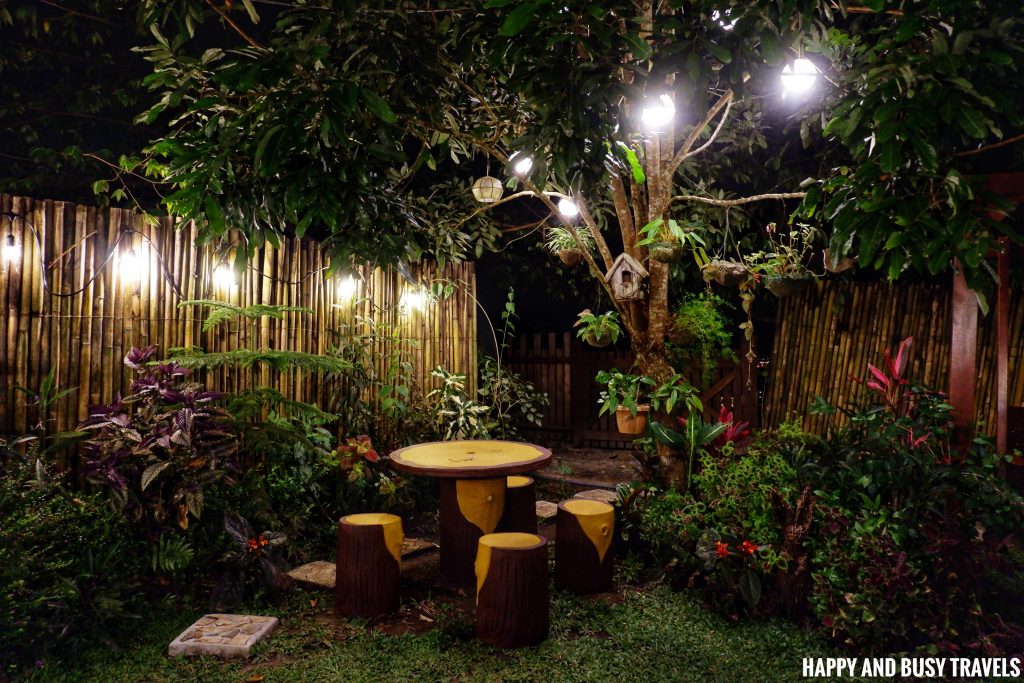 Hardin ni Diwata
This is the fourth portion of the property, and it is one of our favorites.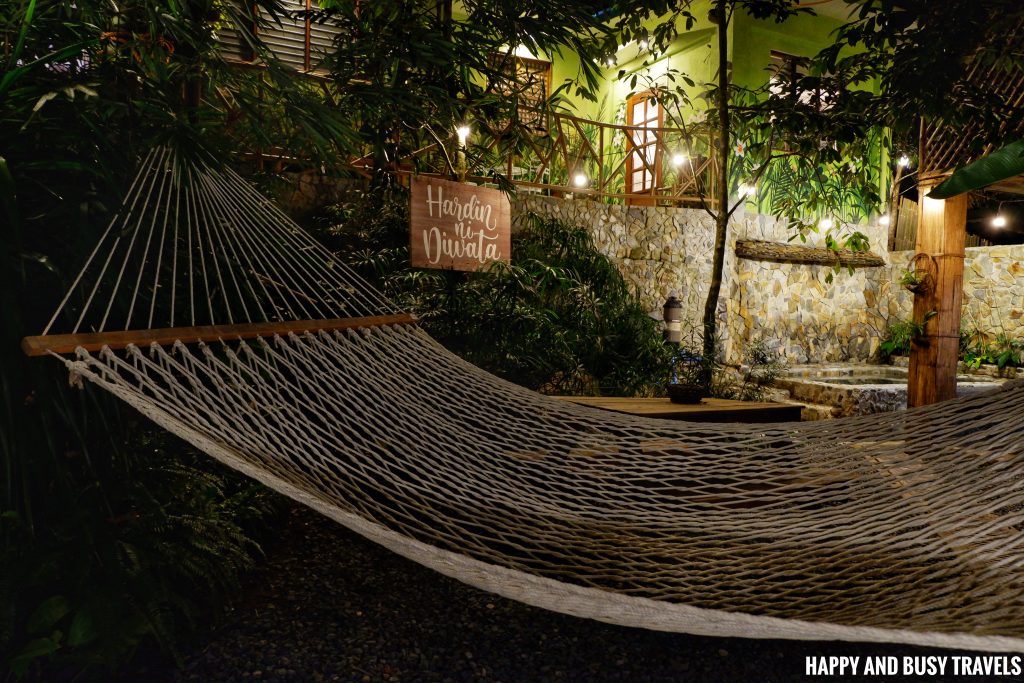 Hammock
It's nice to relax here with your loved one… Just like what Busy and I are doing. This hammock is huge and can accommodate us.
Bonfire
We cooked our smores here and enjoyed the sugar rush. If you do not have marshmallows, you can buy from the caretakers.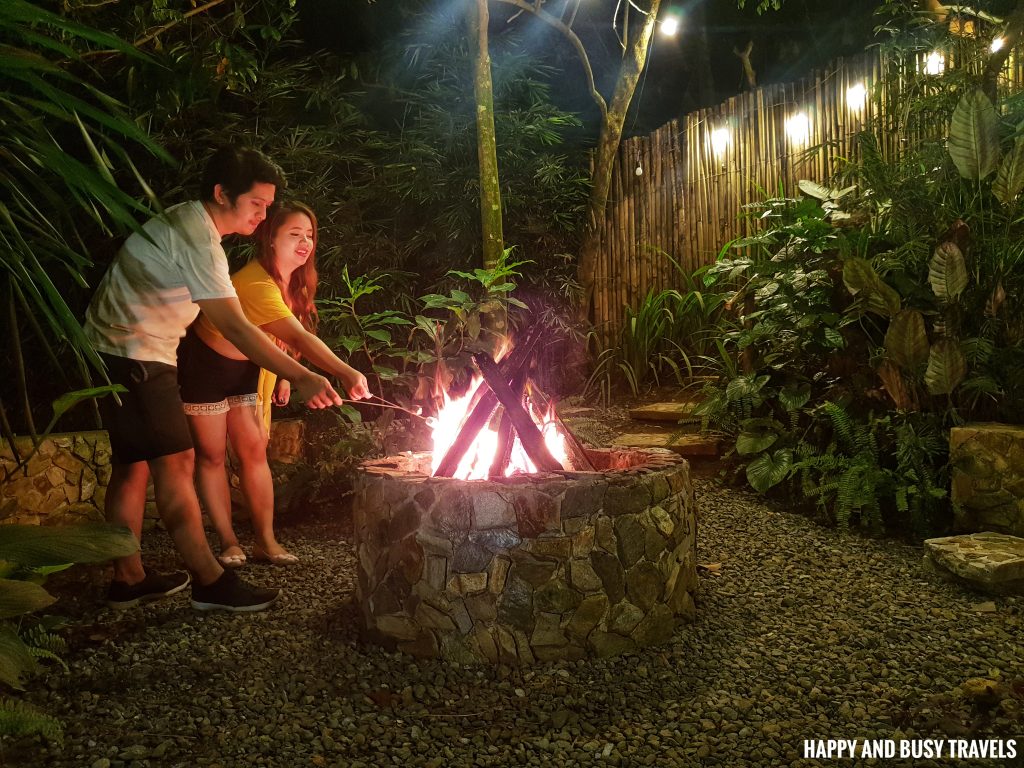 Dipping Pool
This is their dipping pool, I like how they did not make this one modern because the design goes with the forest theme of the place.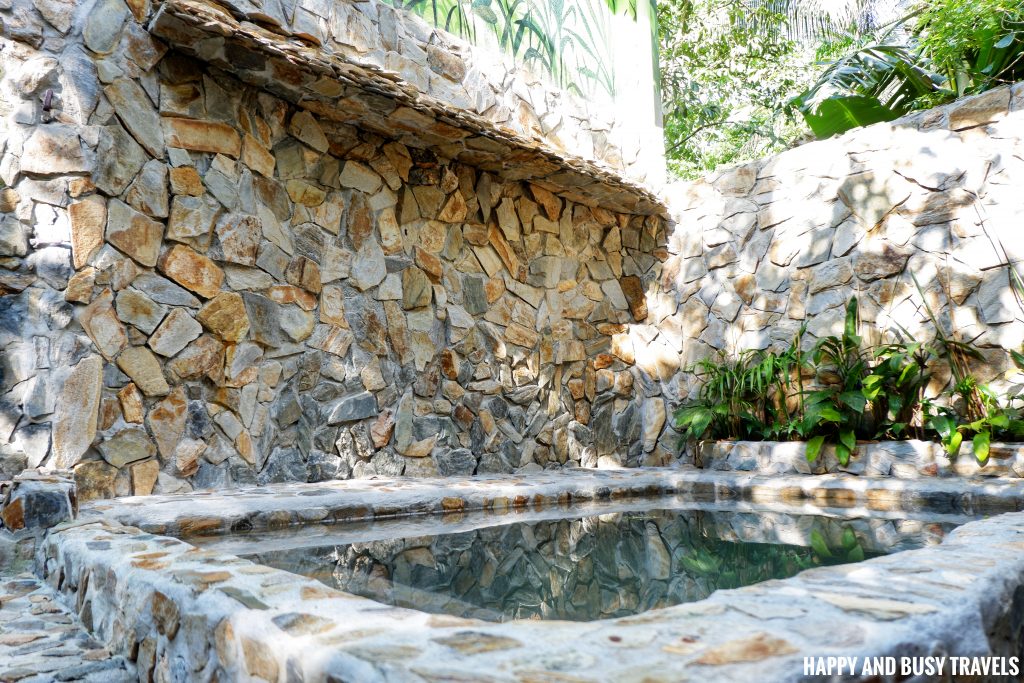 Picnic Tables
Just beside the dipping pool, there are picnic tables that guests can use.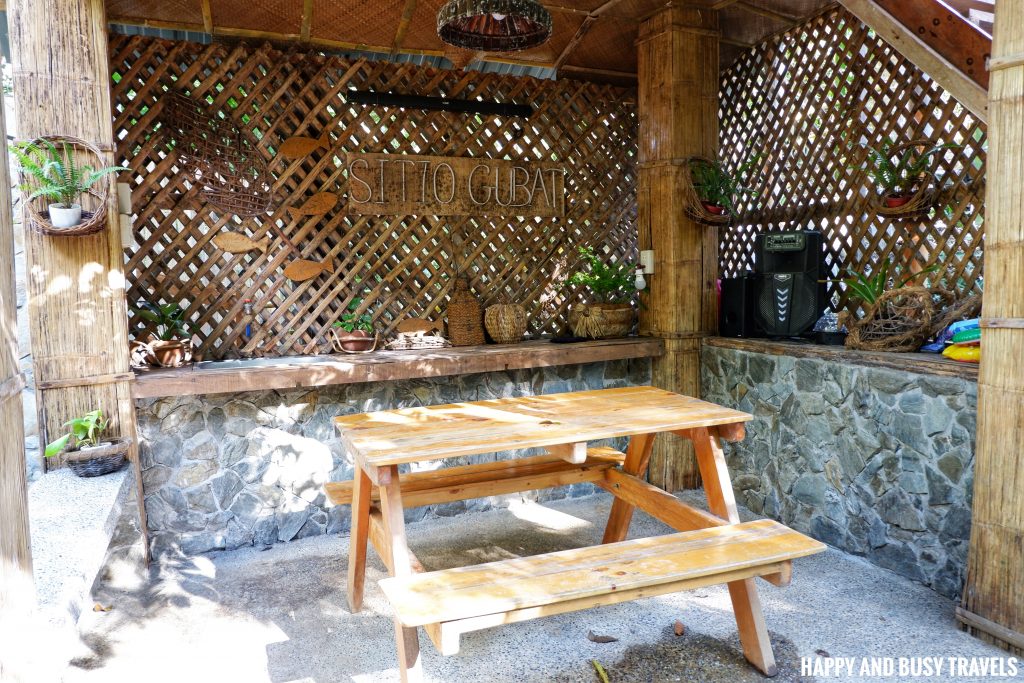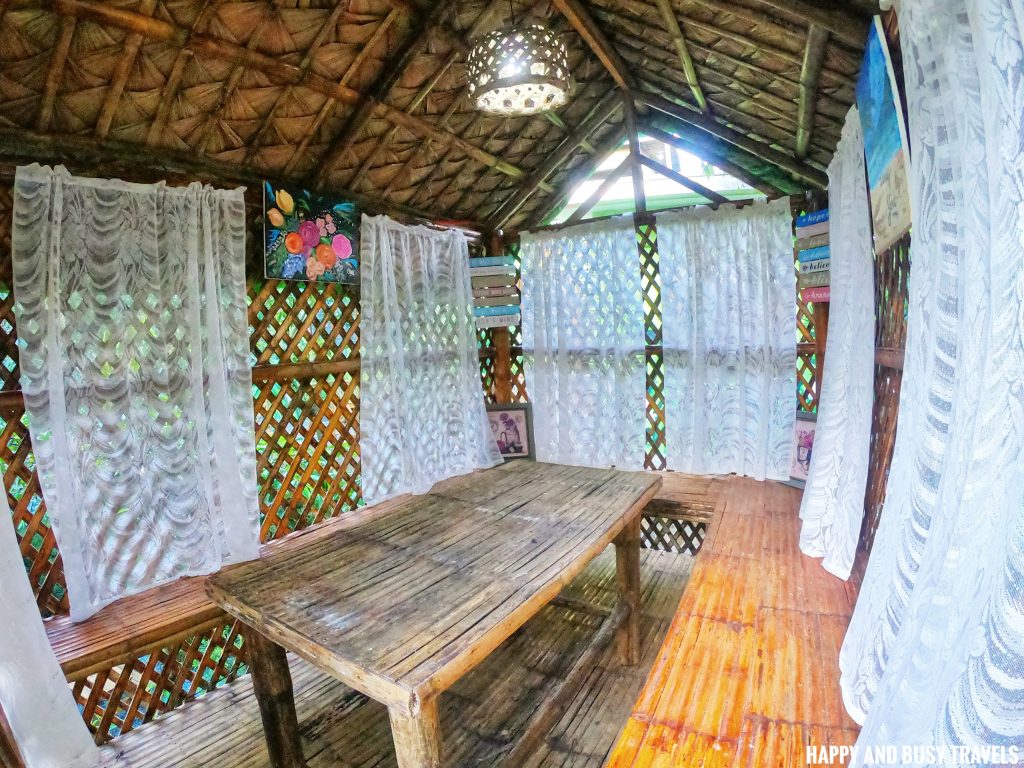 Events Area
The fifth portion is the small events area, wherein you can have your intimate gathering here. You just have to ask the owner for permission and special rates.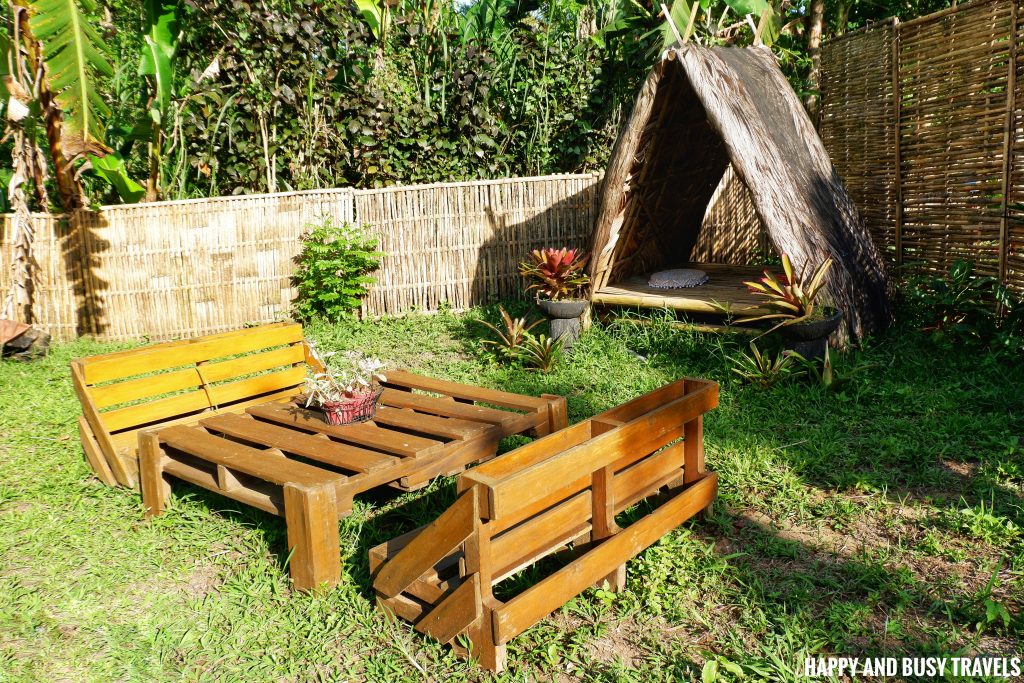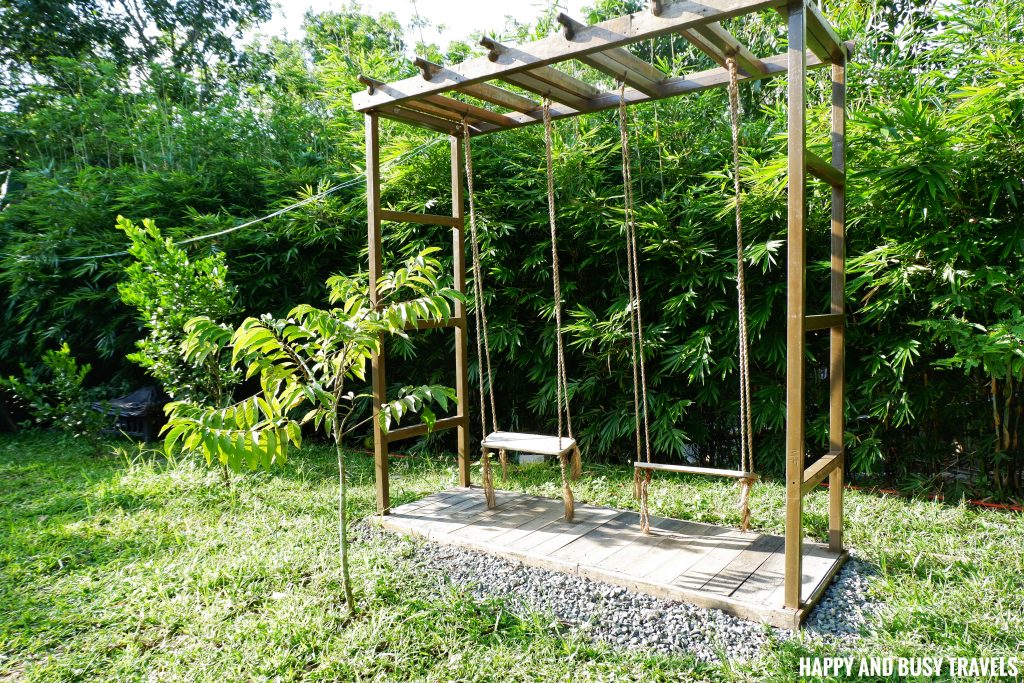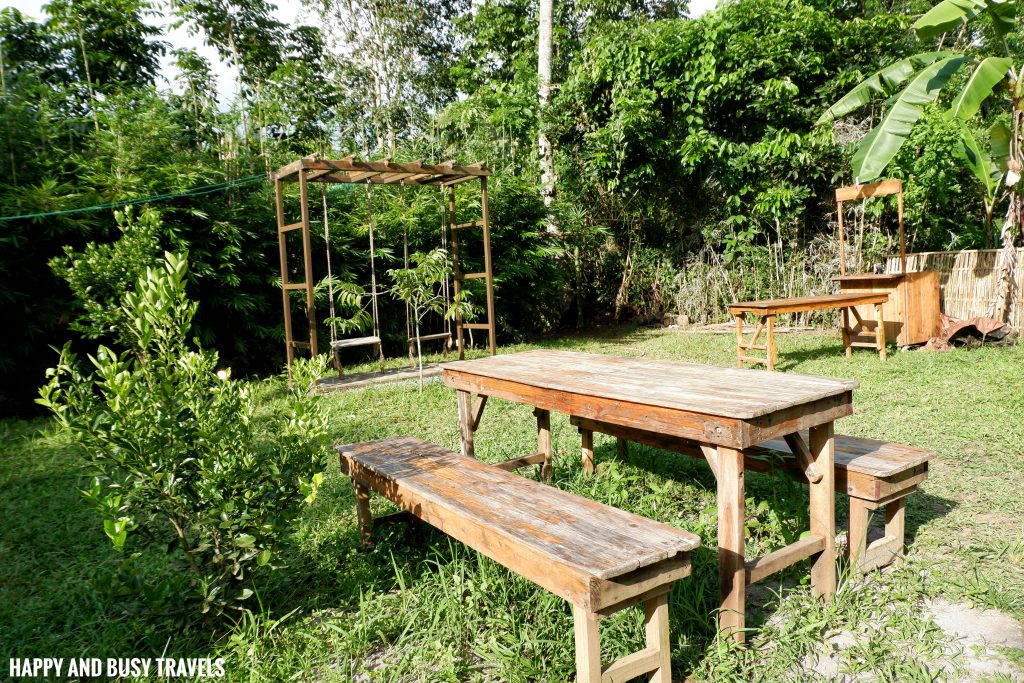 Edna's Garden
Finally, the last portion is Edna's Garden.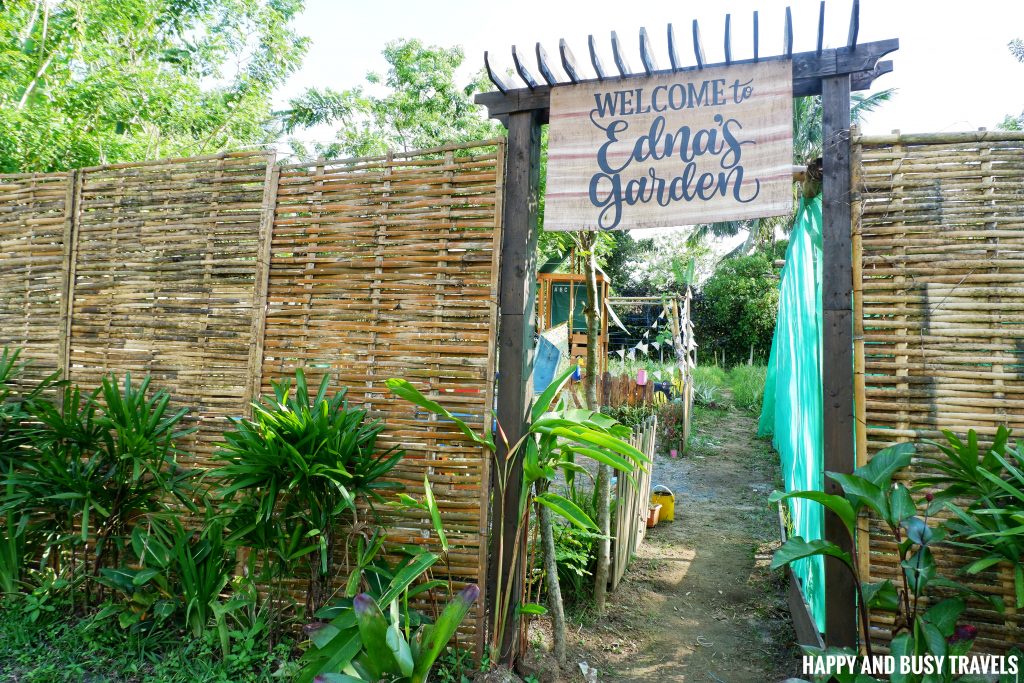 After entering Edna's Garden, we immediately saw the large playground. My childish heart is excited hahaha. I like playgrounds.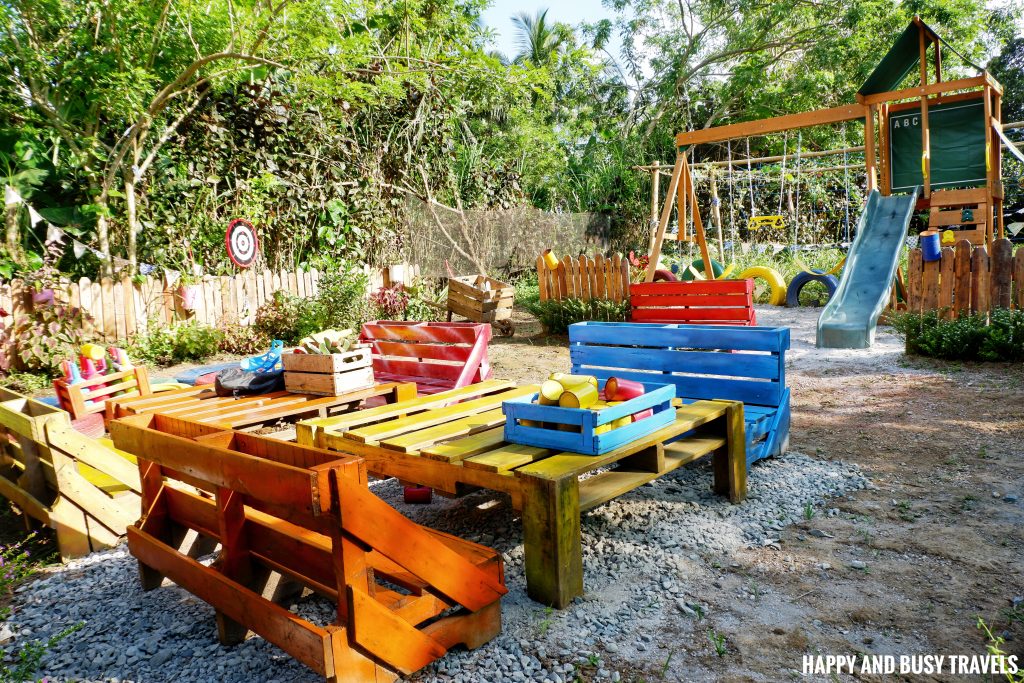 Aside from this playground, there is also a garden on the right side, which I can't properly take a picture of because it is surrounded by nets haha. So, I'll just show you this cute signage on the property.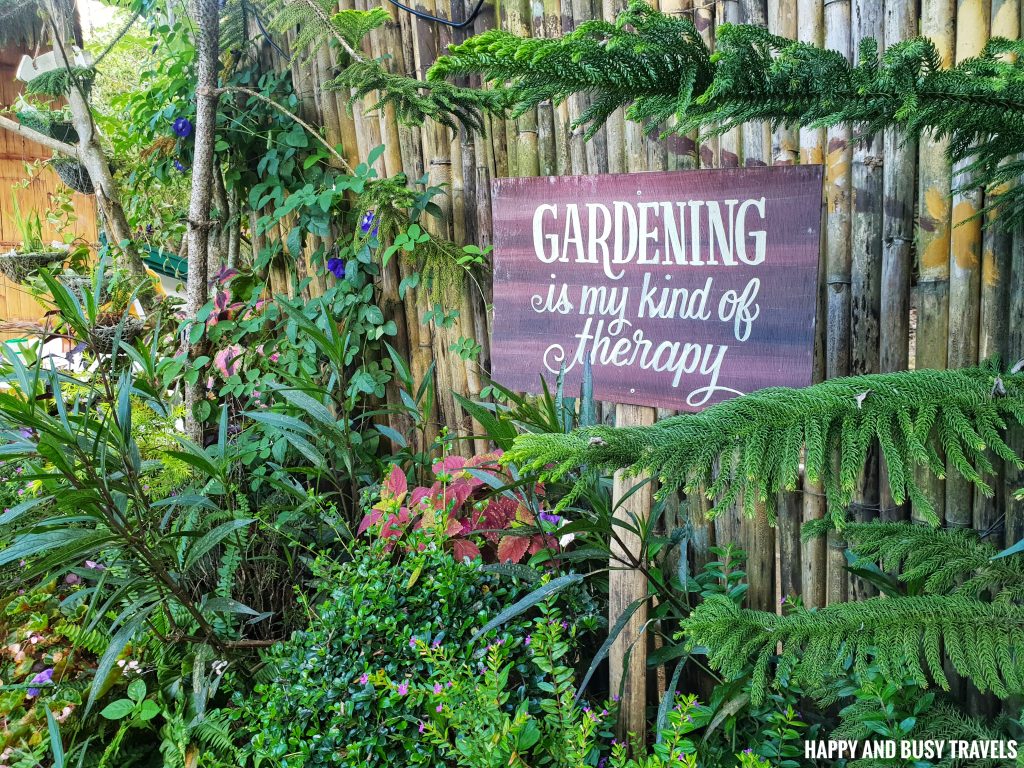 Important Information
Facebook: https://www.facebook.com/sitiogubat
Contact No.: 0915 211 9055
Address: Brgy. Maitim First, Amadeo, Cavite
Google Maps Link: https://g.page/
How to Get Here?
Public Transportation
Ride a bus going to Tagaytay, go down at Fora mall or any other Tricycle terminal.
Ride a Tricycle to Sitio Gubat.
Private Transportation
Go to Tagaytay, and use your Waze or Google Maps and search for Sitio Gubat.
Rates of Sitio Gubat
Buhay Kubo
2 -9 pax = 8k
10-14 pax = 13k
Sitio Grande
2 – 20 pax = 18k
Promo rate 15k with BOODLE FIGHT PLATTER package (limited time only)
*Additional 800 / head for exceeding pax
How to Book Sitio Gubat?
Just contact the owner through their Facebook page, or cellphone number to book.
Happy and Busy's Smileys for Sitio Gubat
Overall we enjoyed our stay in Sitio Gubat. The property is huge, and there is a lot of things to do here. We were kinda tired after enjoying everything haha. If your family or friends would like to go on a vacation, this place is perfect. It can accommodate A LOT of guests, plus you can also have your party here.
Cleanliness

It's pleasant to see that the place is well maintained, and there are almost no scattered leaves.
Facilities

There is a lot of facilities that we enjoyed.
Also, there is a lot of security cameras around the property, so we felt safe during our stay even though it is in a rural area, far from the city.
Service

The owner swiftly replies to our questions, and the caretakers are friendly.
Value for money

Renting the place is very affordable especially if you are a big group.
Location 

It is in the rural areas, far from the city, and it is best if you go here in your private vehicle. But this made the ambiance of the place the best.
Ambiance 

We love the ambiance, we even wished that we can stay longer, or come back because we really didn't think about our work, or our lives back haha. Our stressors were really placed aside during our stay.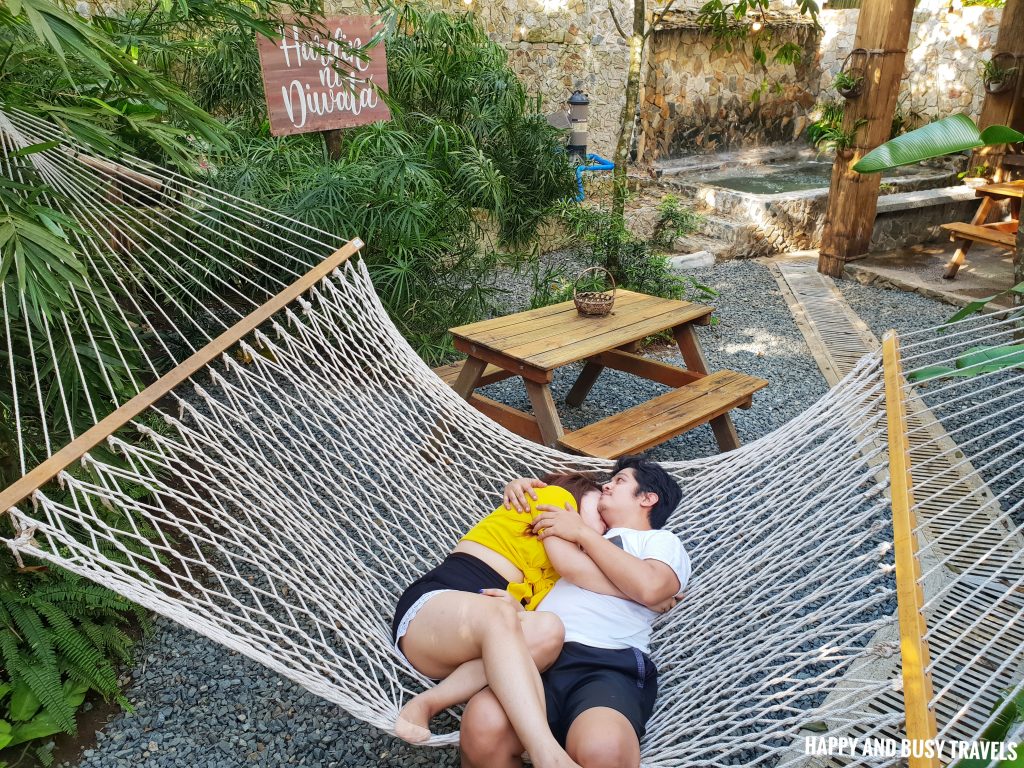 More exciting hotel reviews at https://happyandbusytravels.com/category/hotels/