During our tour in Negros Oriental, in November 2017, we went snorkeling with the Pawikan or giant turtles around Apo Island in Dauin, Negros Oriental, Philippines.  Apo Island is a volcanic island which also has a marine habitat around it. The marine habitat in the area is declared a marine reserve which prohibits anyone from fishing or getting any life from the ocean.
The full Negros Oriental itinerary at https://happyandbusytravels.com/2017/11/27/dumaguete/
For our snorkeling activity, we got the services of Harold's Dive Center. The price is just Php 1,200 per person. This includes the transportation to Dauin, the boat, instructors, all of the gears, and the food for the day. Gears included are fins, life vest, and snorkeling mask.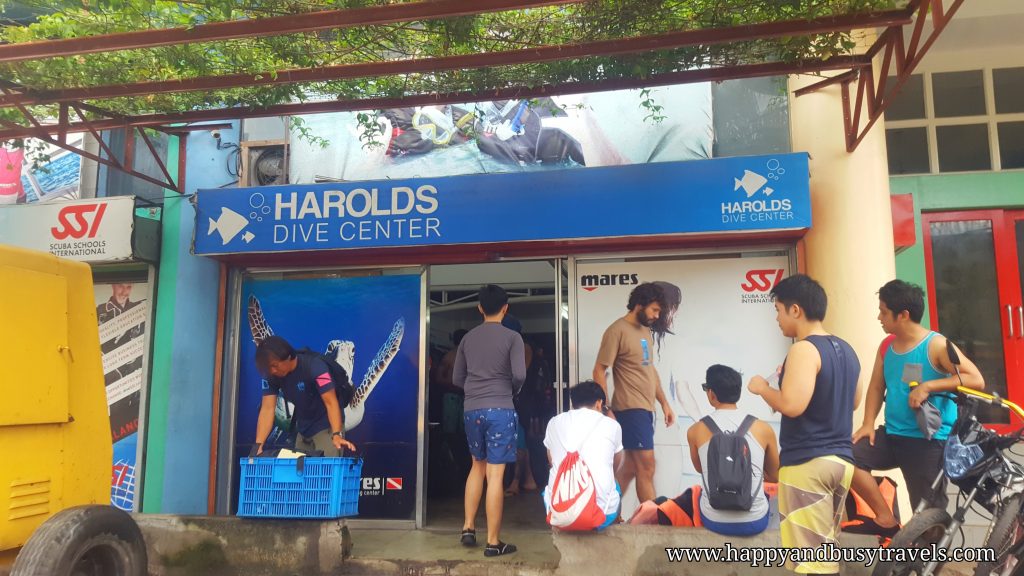 Address: 205 Hibbard Avenue, Dumaguete City
Contact numbers:
+63 917 302 4455; +63 939 925 6322; +63 917 783 5172 ;  +63 977 739 3662
+63 35 422 3477; +63 522 0144
Email address: [email protected] ; [email protected]
Website: http://www.haroldsdivecenter.com
Facebook: https://www.facebook.com/haroldsdivingcenter
Take note that advanced booking for the activity is needed. Harold's Dive Center needs to count and limit the participants on every activity.
6:40 AM
We arrived in Harold's Dive Center and we signed our waivers and gave our payment. Advance payment is not required for booking.
We also fit and picked up our gears. Make sure to get the gears which perfectly fit you. You will not have a chance to change it when you are in the ocean.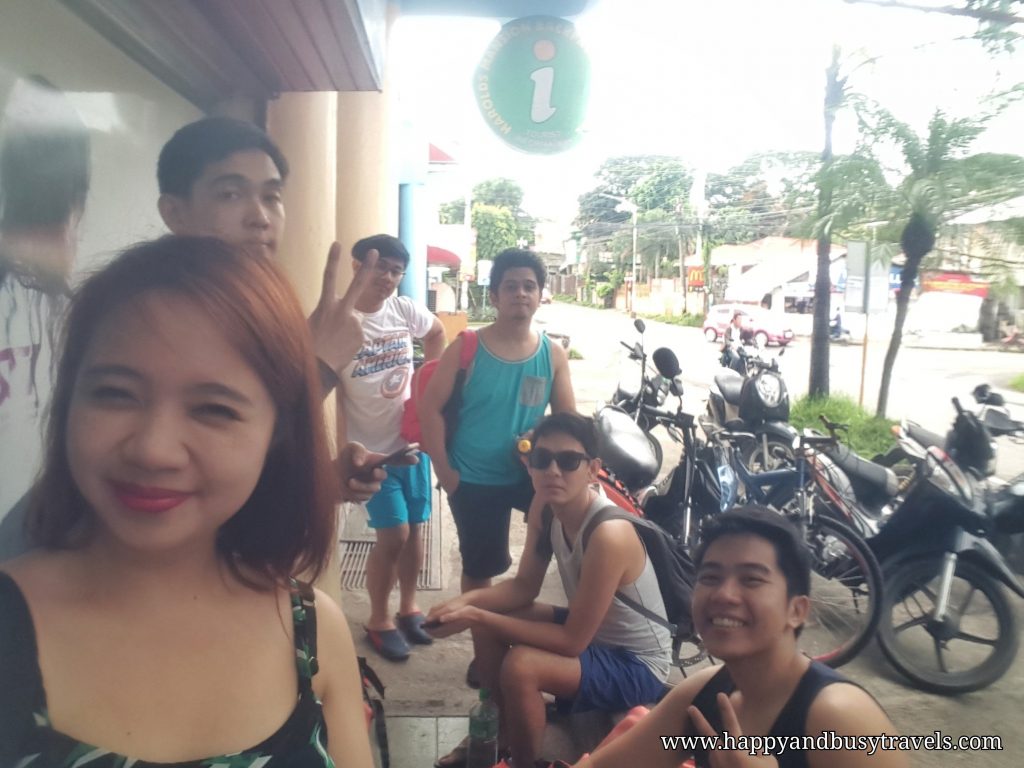 7:00 AM
We rode a multicab from the diving center to the jump off point from Dauin to Apo Island.
We had fun during our ride. We joked about several things… and we did not forget to take our pictures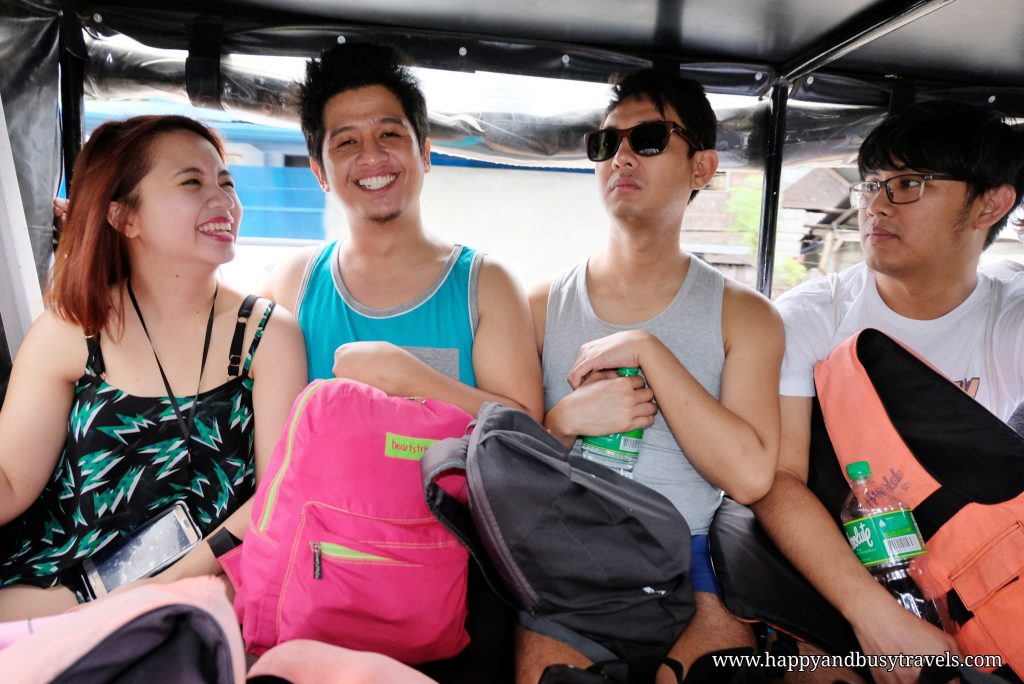 7:30 AM
We boarded the boat around this time, the boat is big and can carry a lot of people.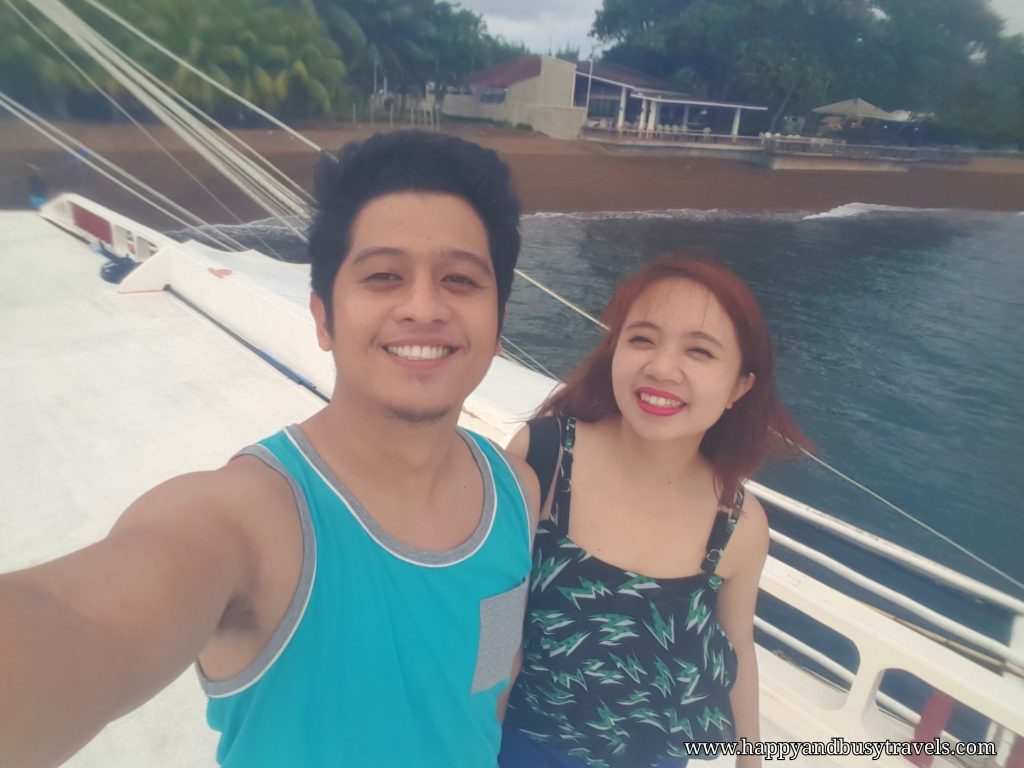 While we move to the first diving site, the instructors gave us an introduction. The DOs and DONTs were also mentioned.  One of the most important DONTs is do not.. NEVER… step on or touch the corals and the turtles.
We were also informed that the people who will dive will go first, then those who will just snorkel will jump to the ocean after them.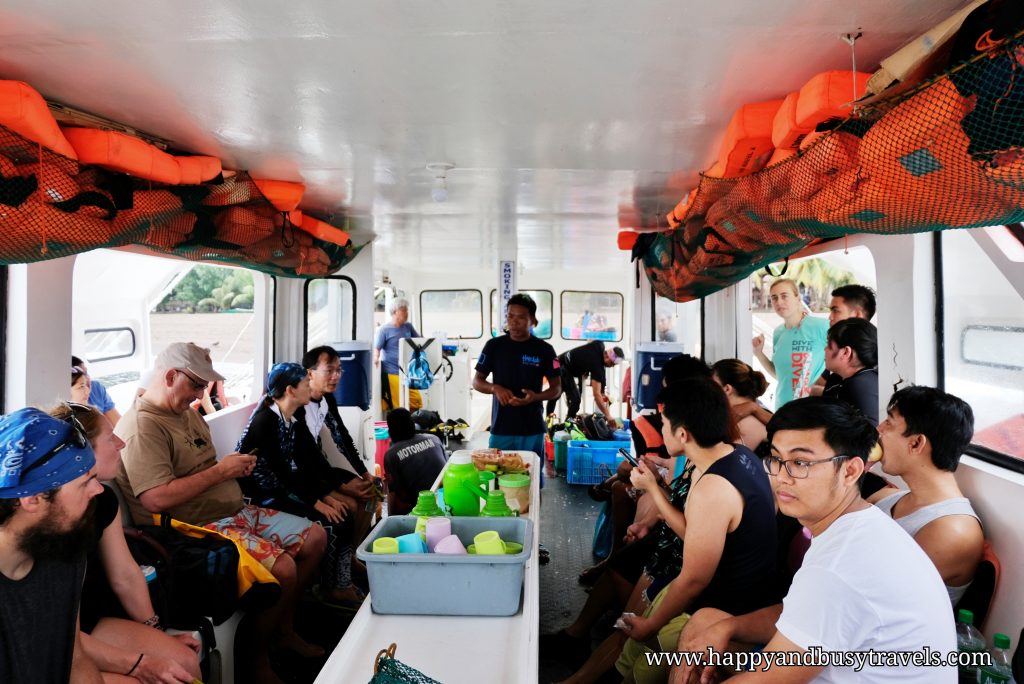 In the package, snacks for the whole day is included.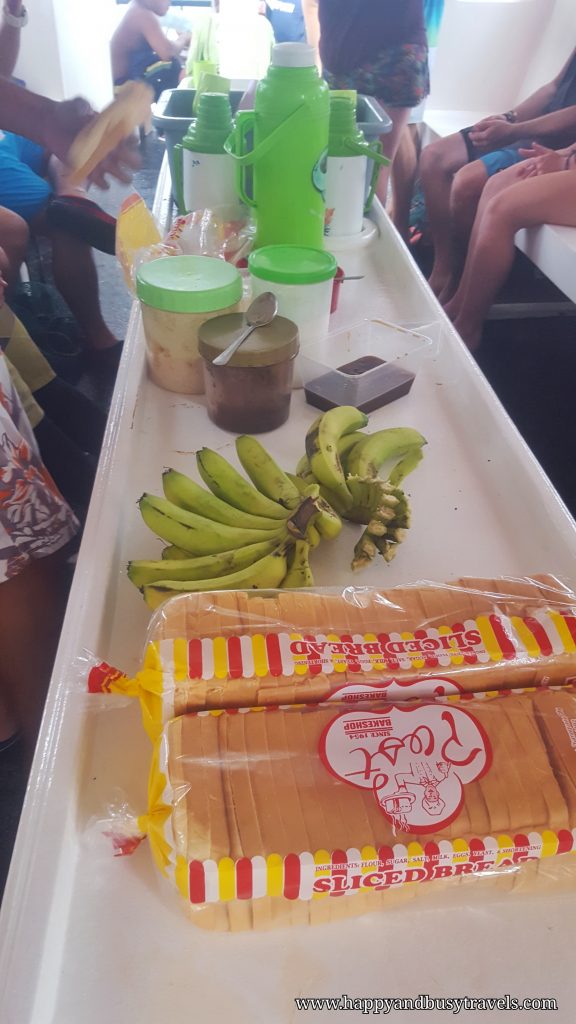 We made and ate our own sandwich using different jams, and we also ate Bananas. Coffee and tea were also available.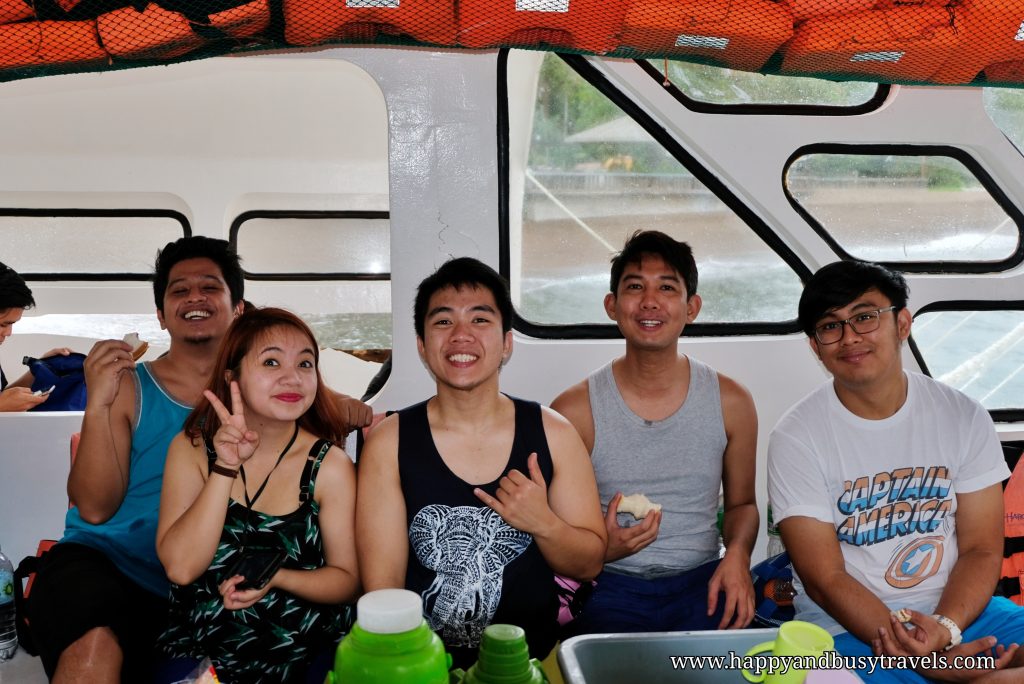 The weather was gloomy…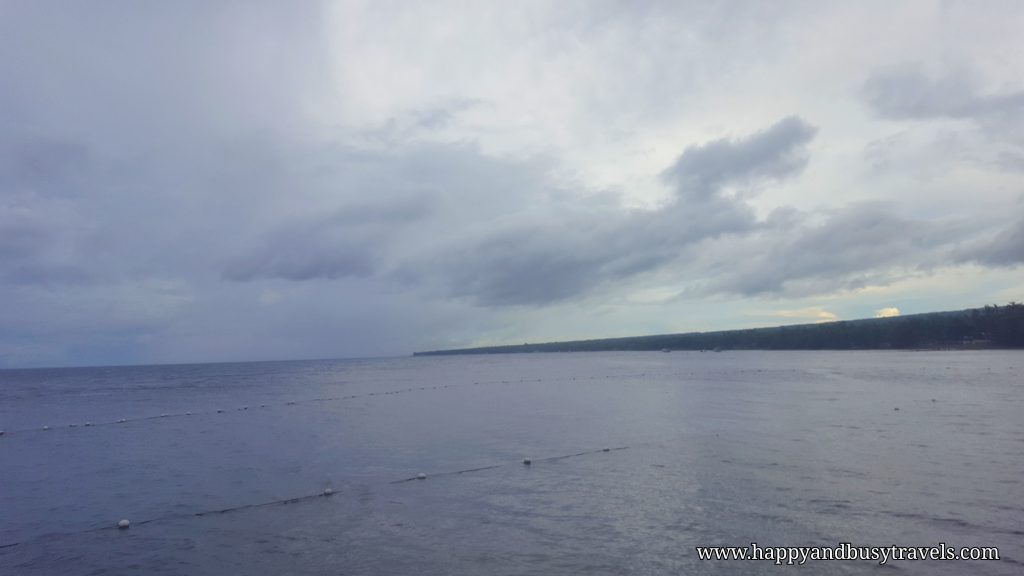 After a while, the rain started to pour…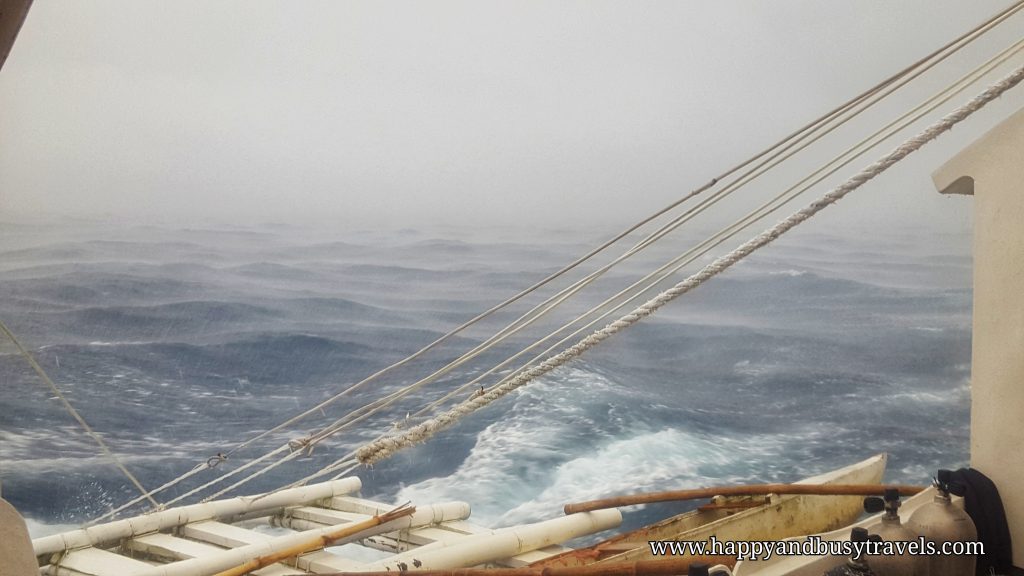 Let's make it more dramatic ?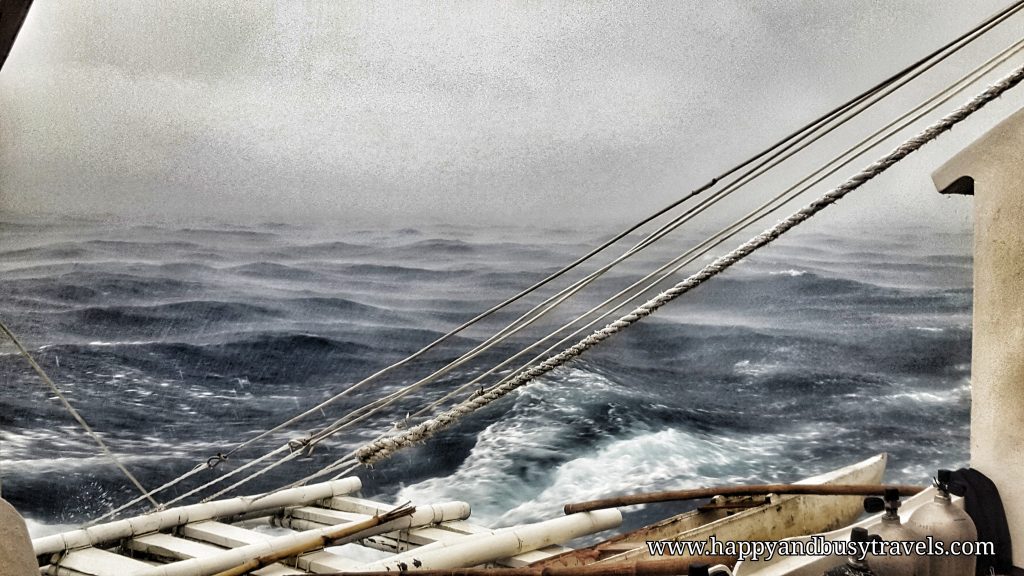 The waves were stronger and rain drops entered the big boat.
Katipan Reef
We arrived at the first diving/snorkeling site, Katipan Reef, at 9:30AM. The reef is at the south western part of Apo Island.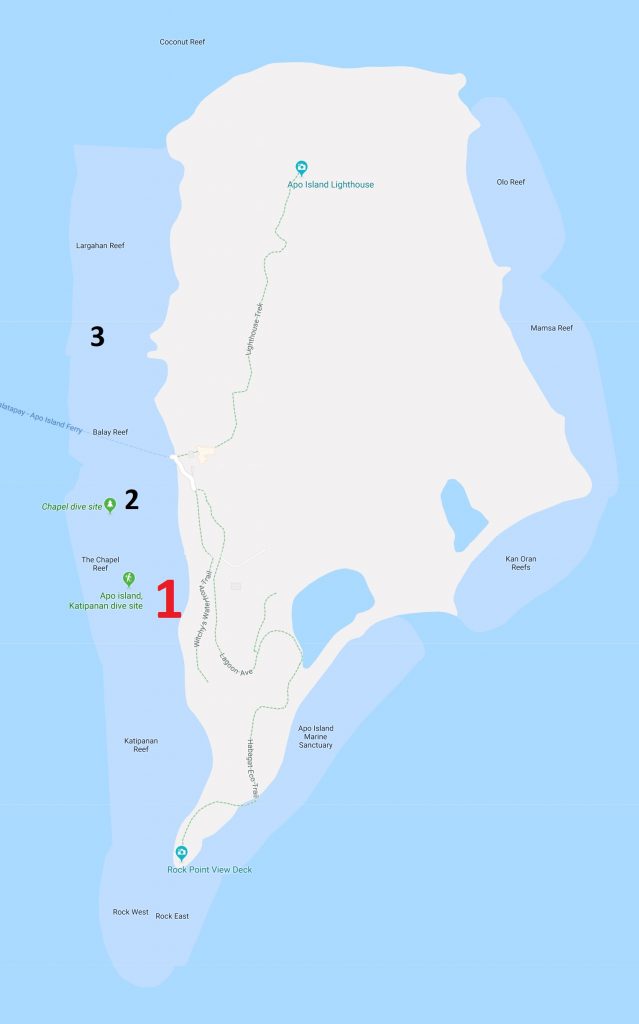 After the divers plunge into the ocean, we immediately jumped together with our guides. For every 3 people there should be 1 guide, we are a group of 6 so we had 2 guides.
At first, we have all of our gears on, like the life vest…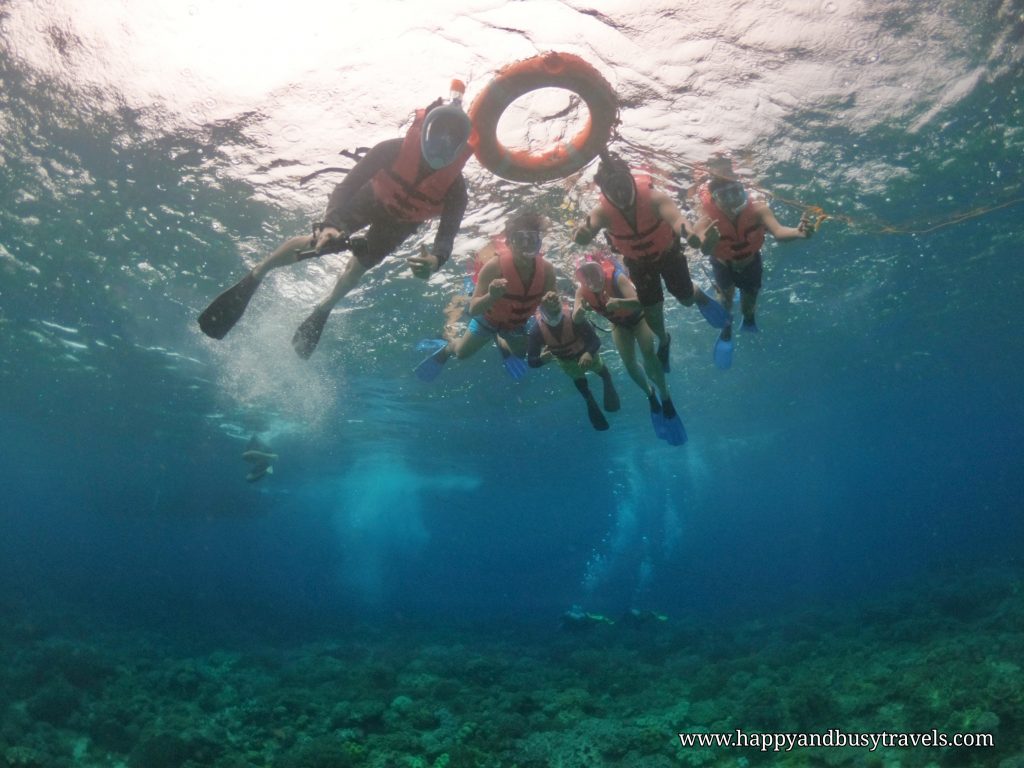 But we removed it because we all know how to swim ?
Here is Lherry, he really knows how to dive properly.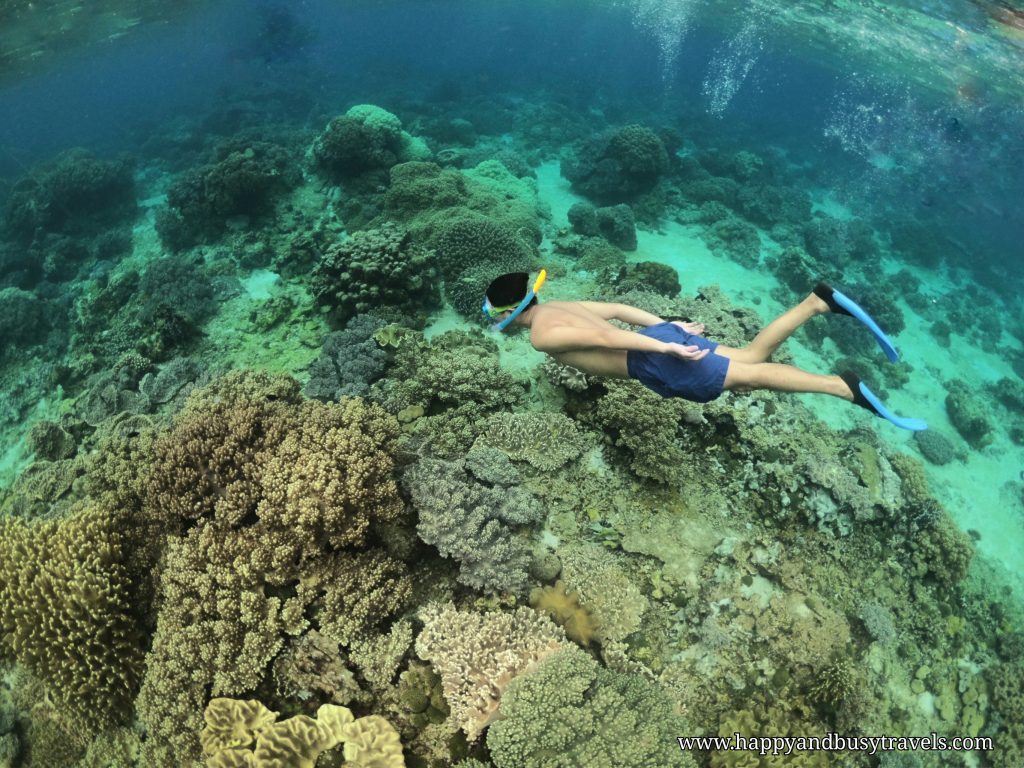 While me…
and Busy… struggled to dive down ahahaahah we needed the rope or a push from the guides. ???
We were informed during the introduction that there is a 100% chance that we will see turtles, they did not lie! Hahaha There were a lot of turtles, there are even turtles which were bigger than me! Giant Turtles are called Pawikan in the Philippines.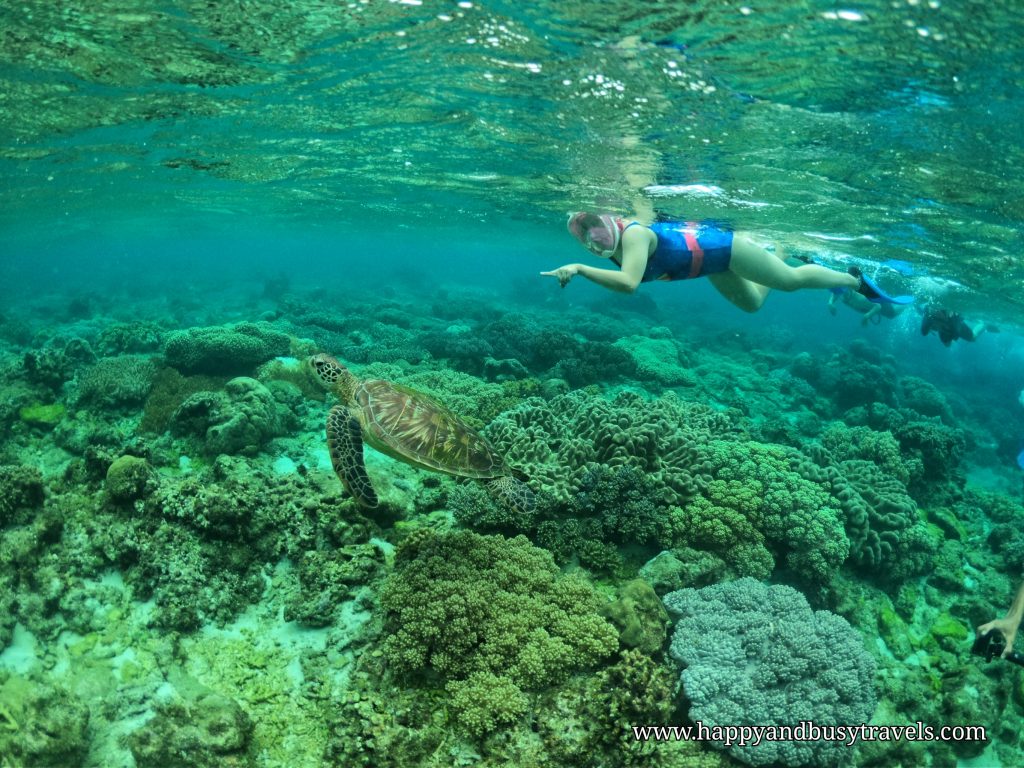 Whenever our guide sees a turtle he informs us… and then this is the usual scene… ???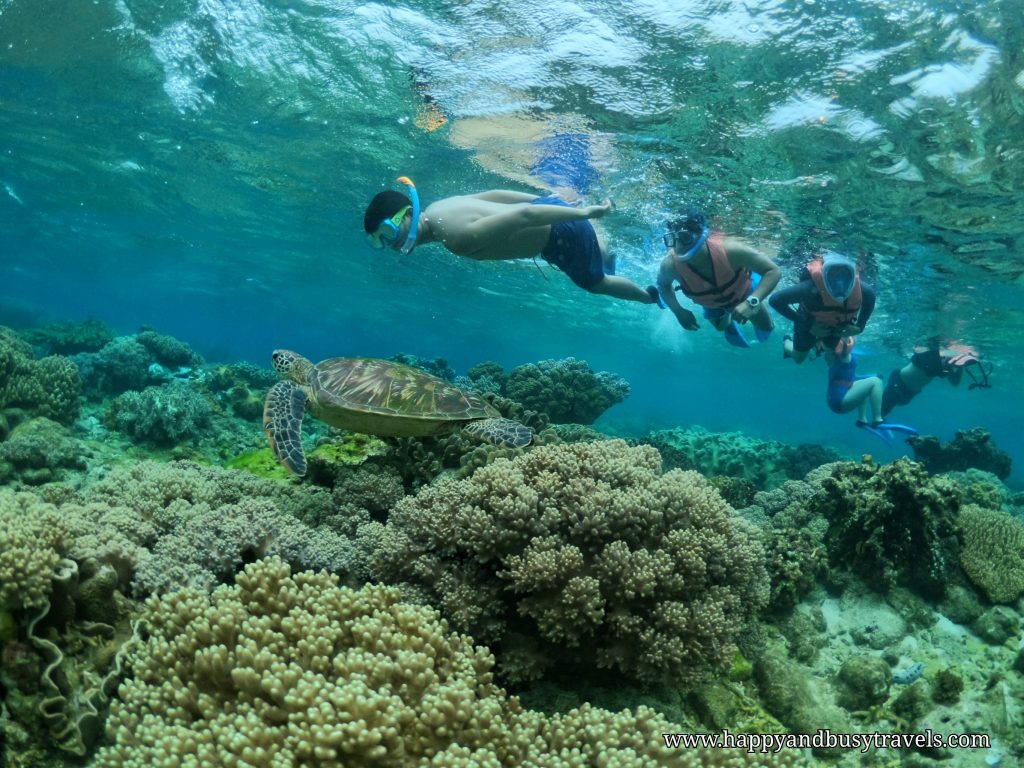 Oh yes we always follow the turtles hahaha but of course we always keep in mind that we should not touch them or the corals.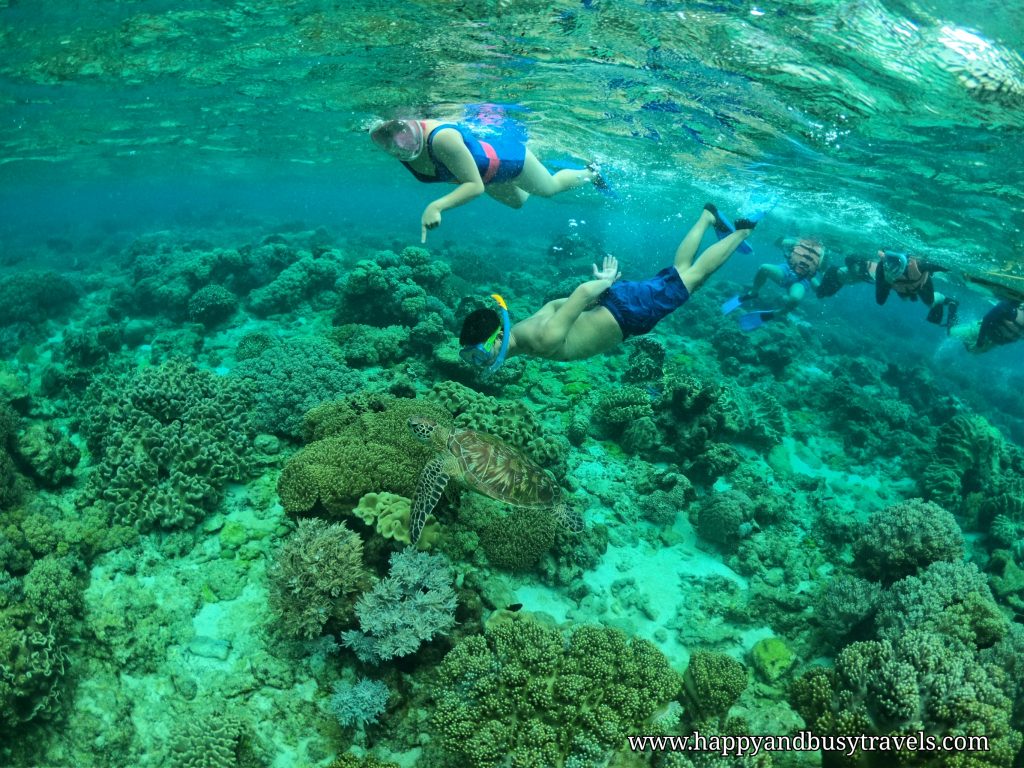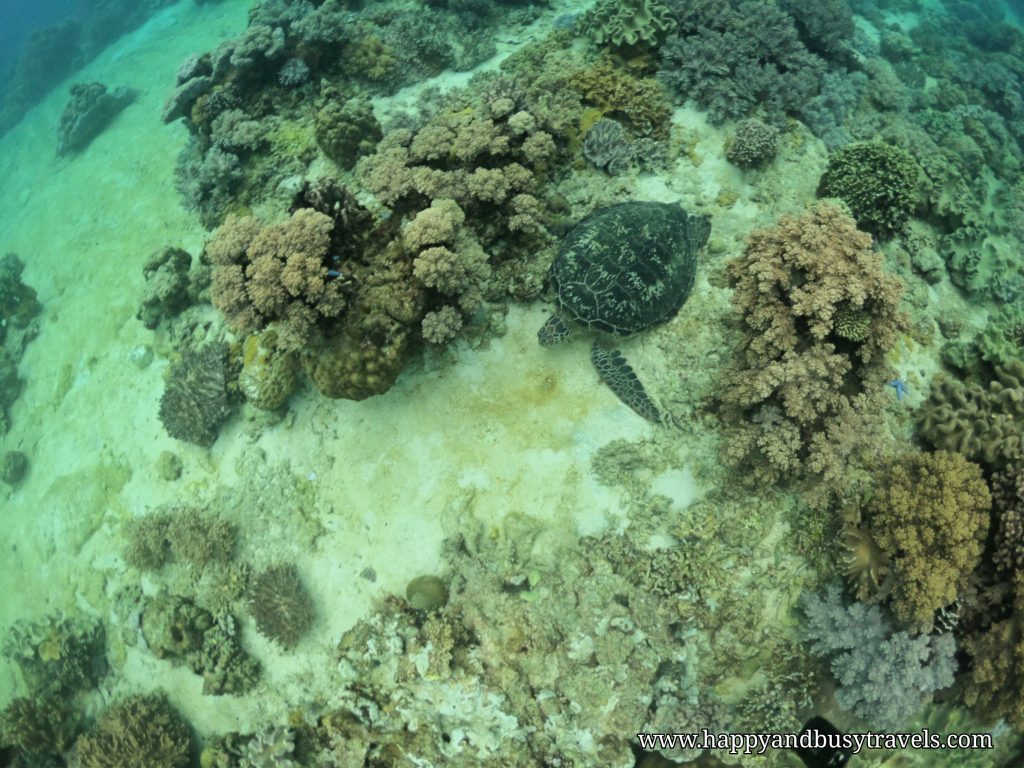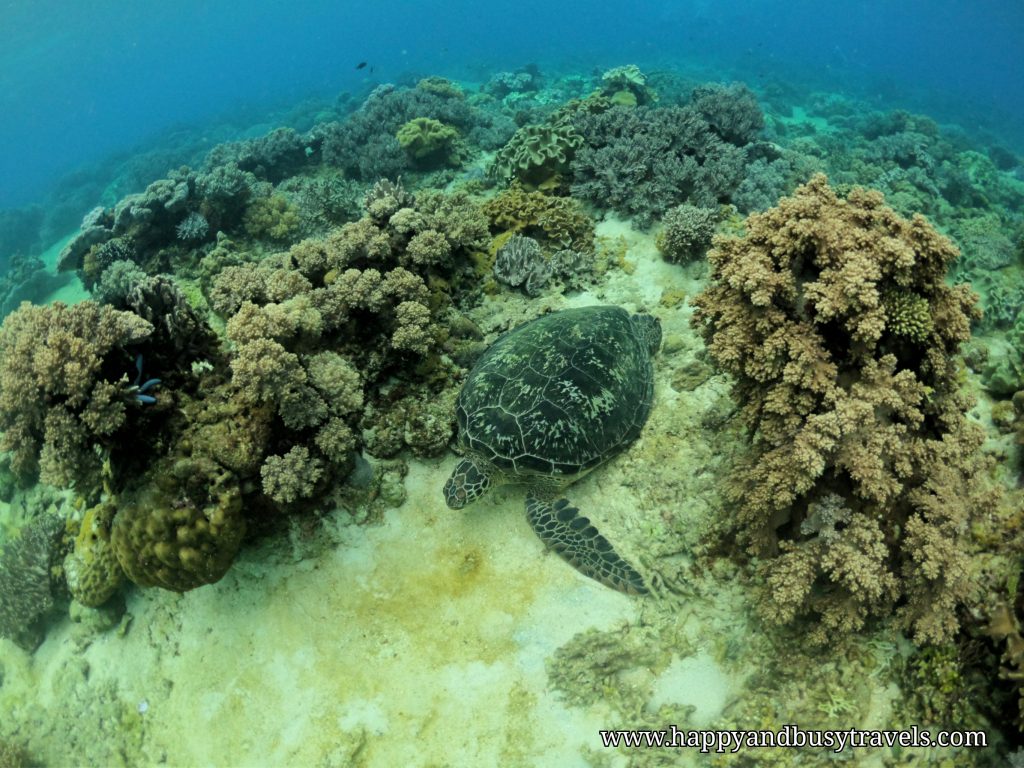 Is was wonderful looking at the turtles in their own habitat and not inside a zoo.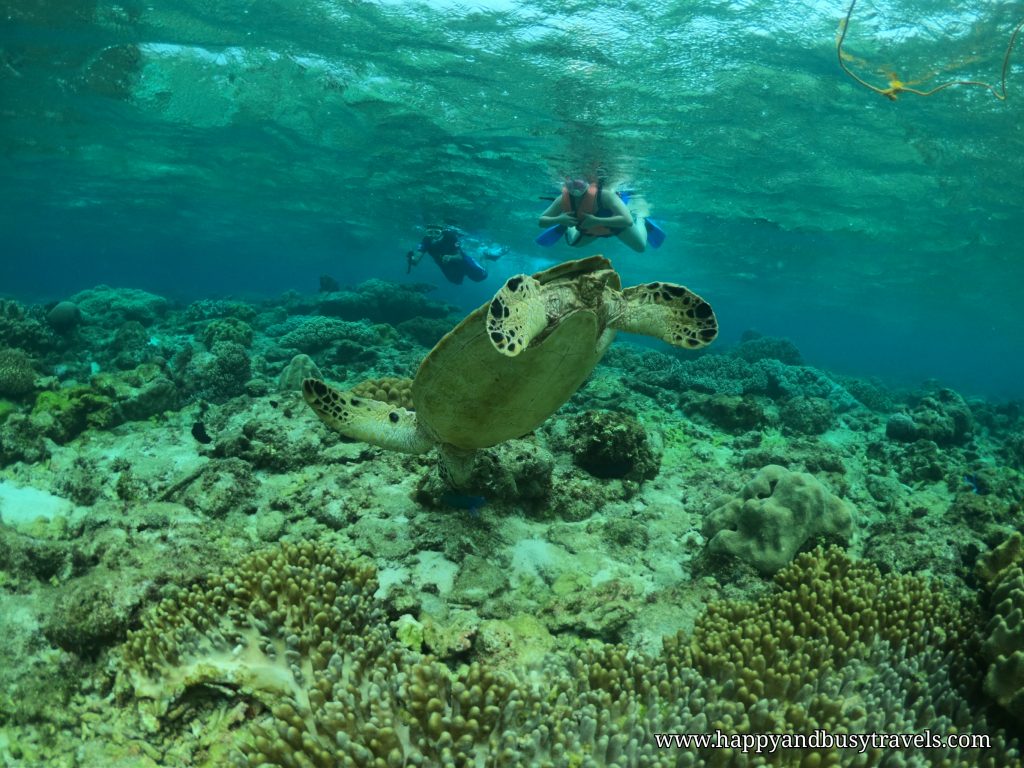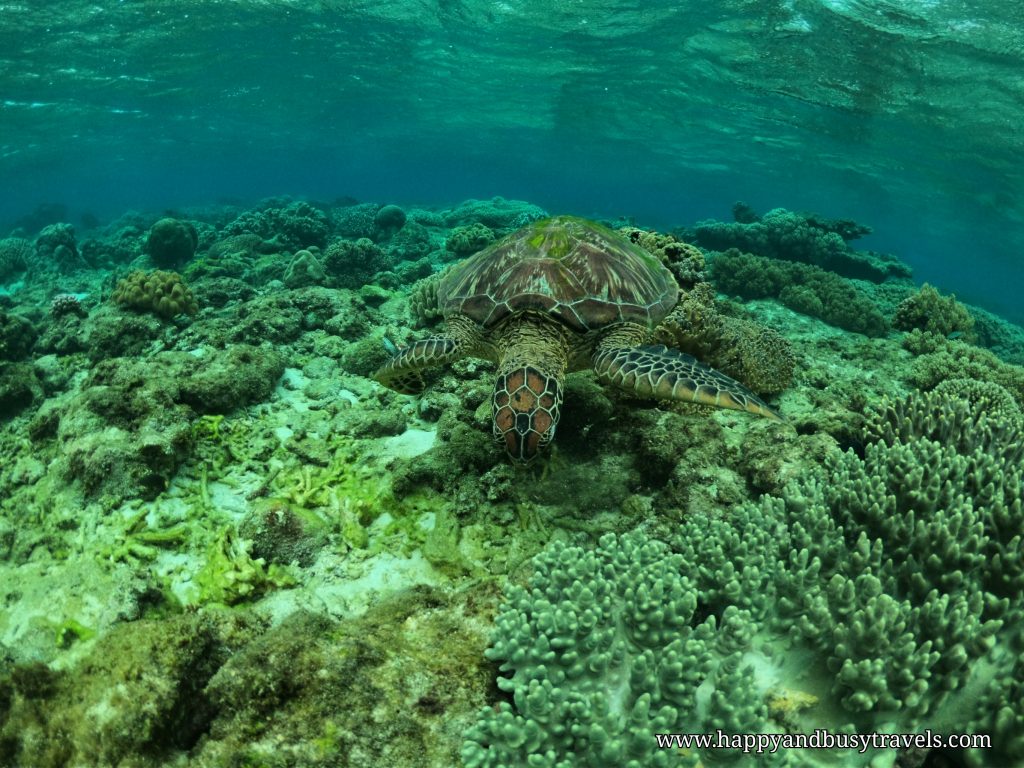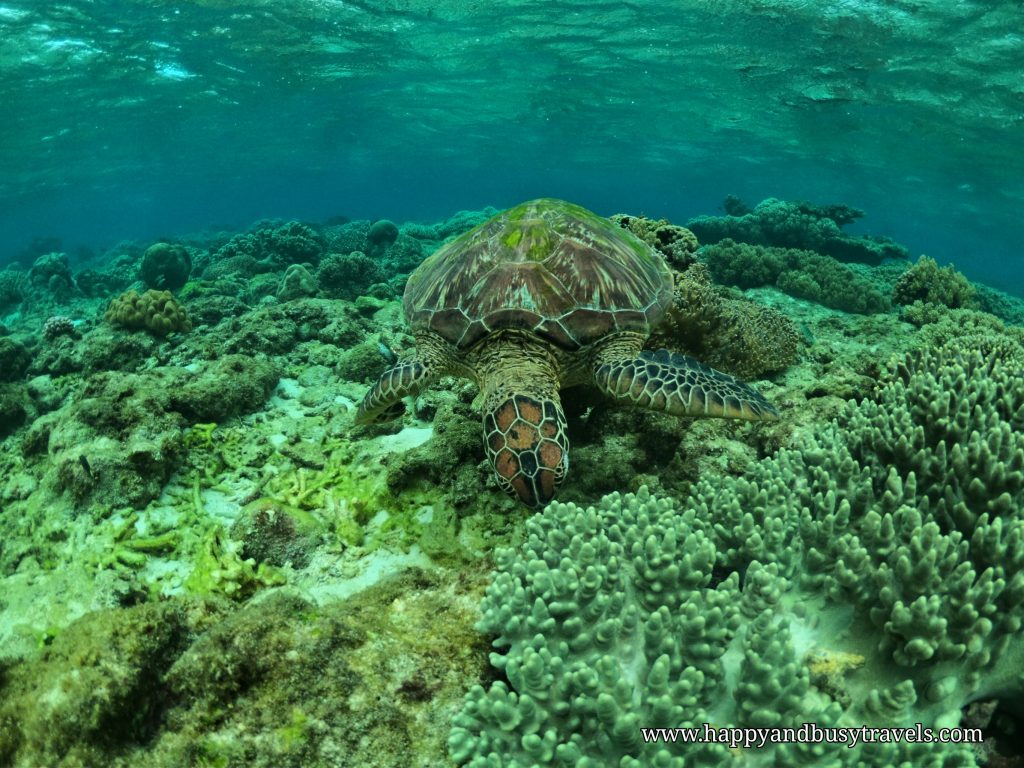 An hour was given to us for each diving sites. Do not worry because you will not be left behind hehehe the guides will inform you if it is time to go back to the boat.
Break
While transferring to the next spot, we had a small break. Some of us drank coffee and tea to keep their body warm.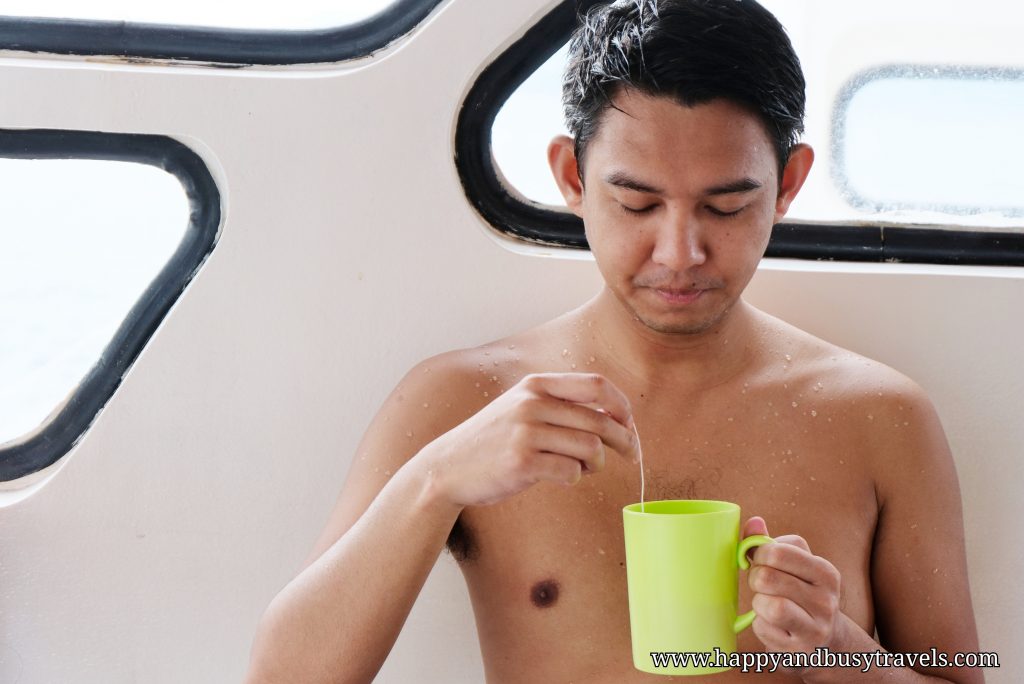 Chapel Reef
We arrived at the second diving/snorkeling site, The Chapel Reef, at 11:30AM.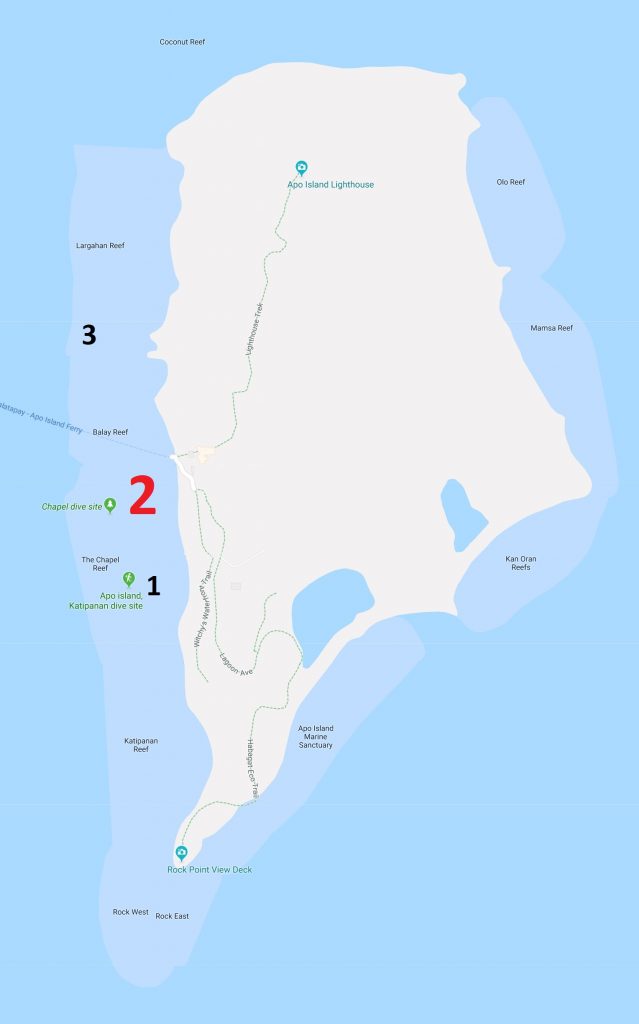 This time, Donald and Karl stayed on the boat. They were a bit sea sick. So it's just me (Happy), Busy, Michael, and Lherry, plus our 2 guides.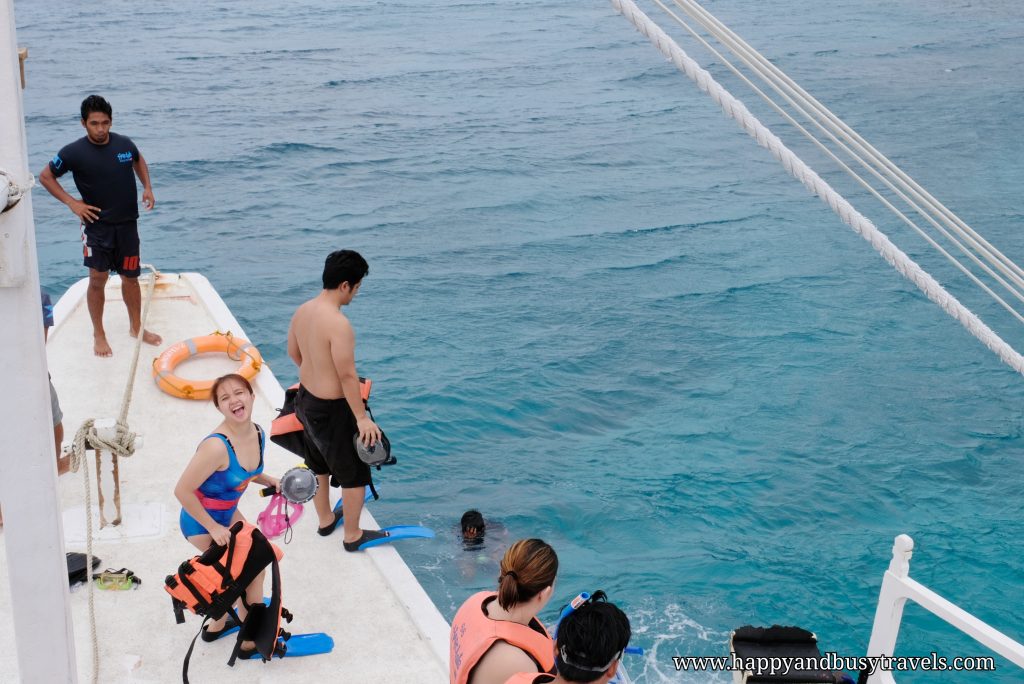 We still brought our life vest even though we did not wear them. We used the life vest every time we were tired from swimming. The current was very hard due to the strong winds and rain.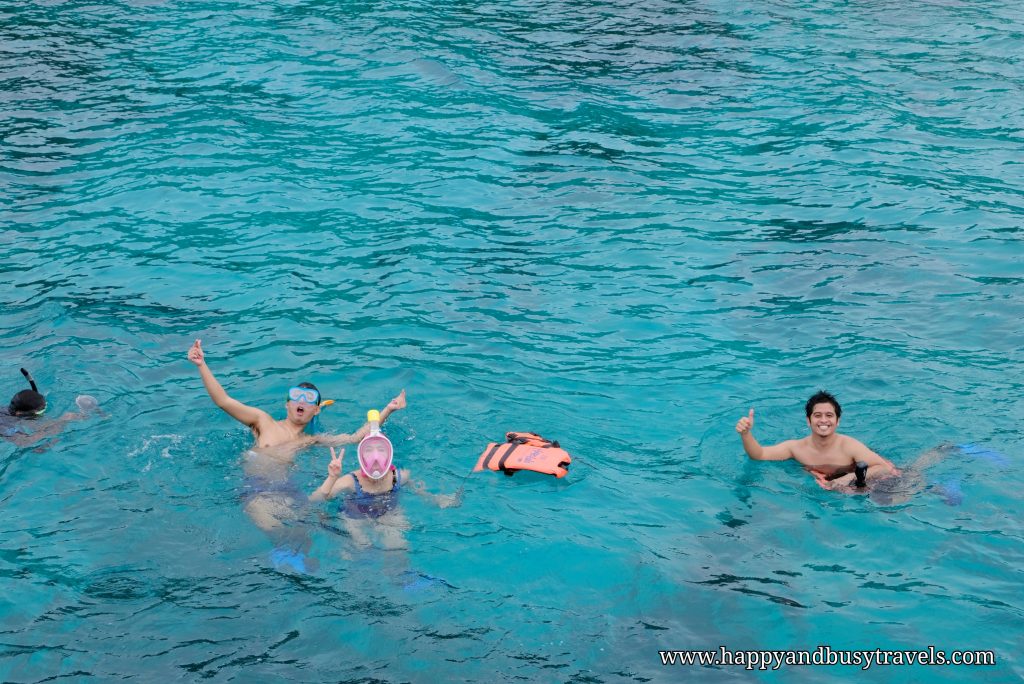 My life vest looked like a balloon hahaah.
Again, we immediately saw turtles.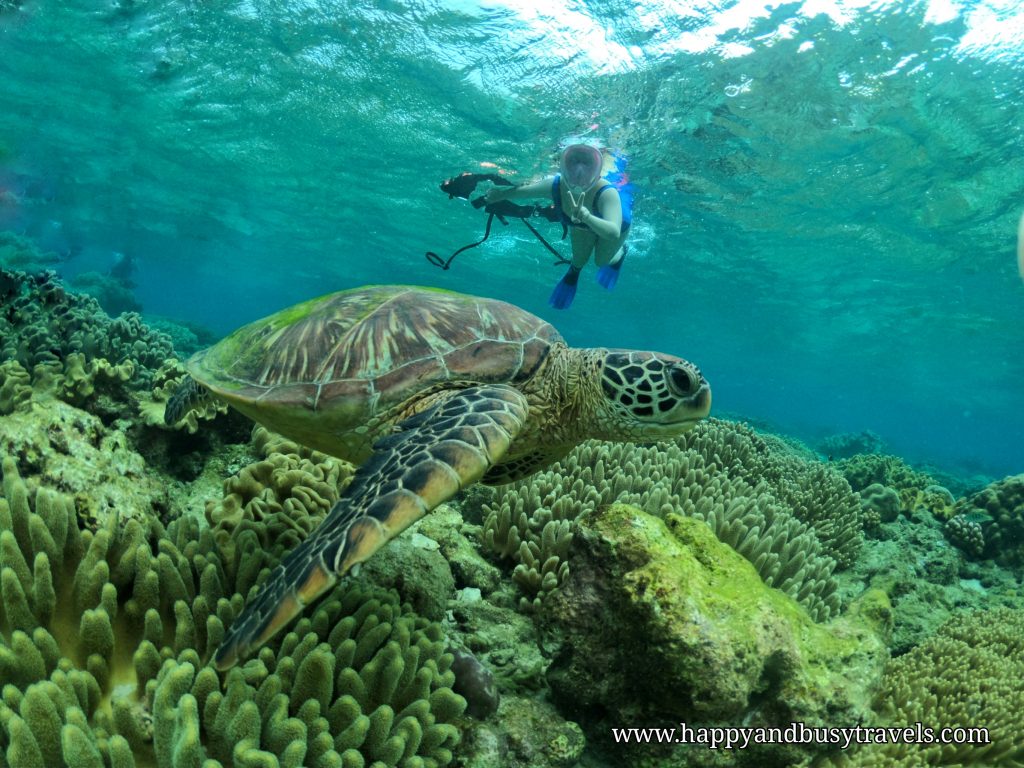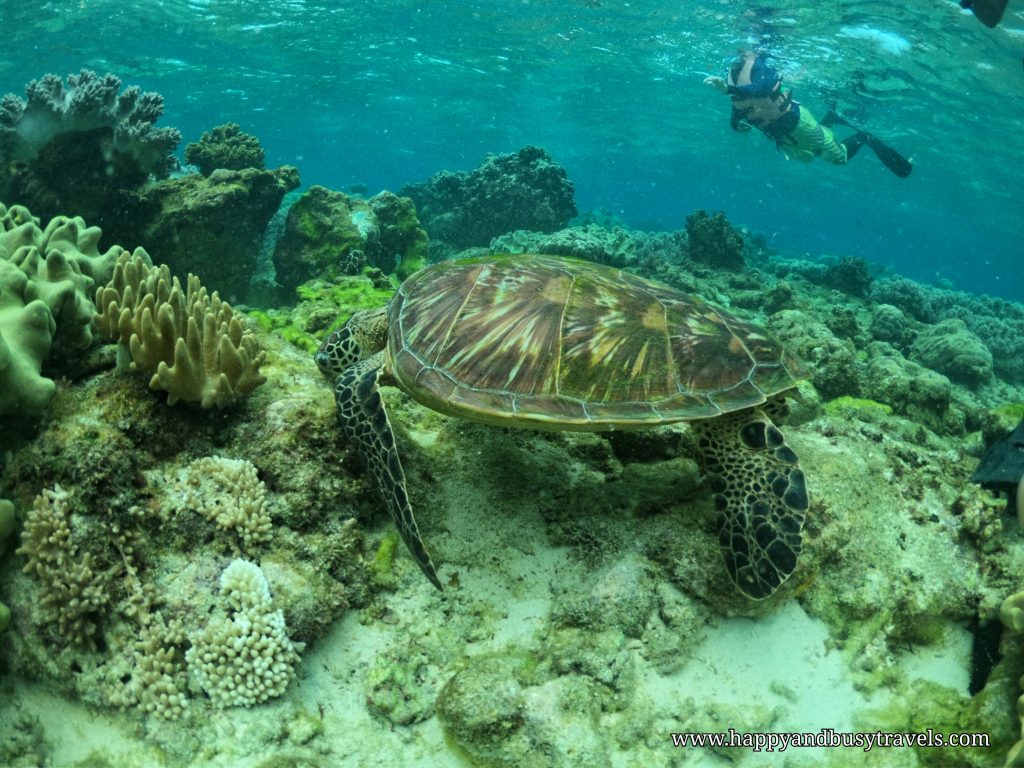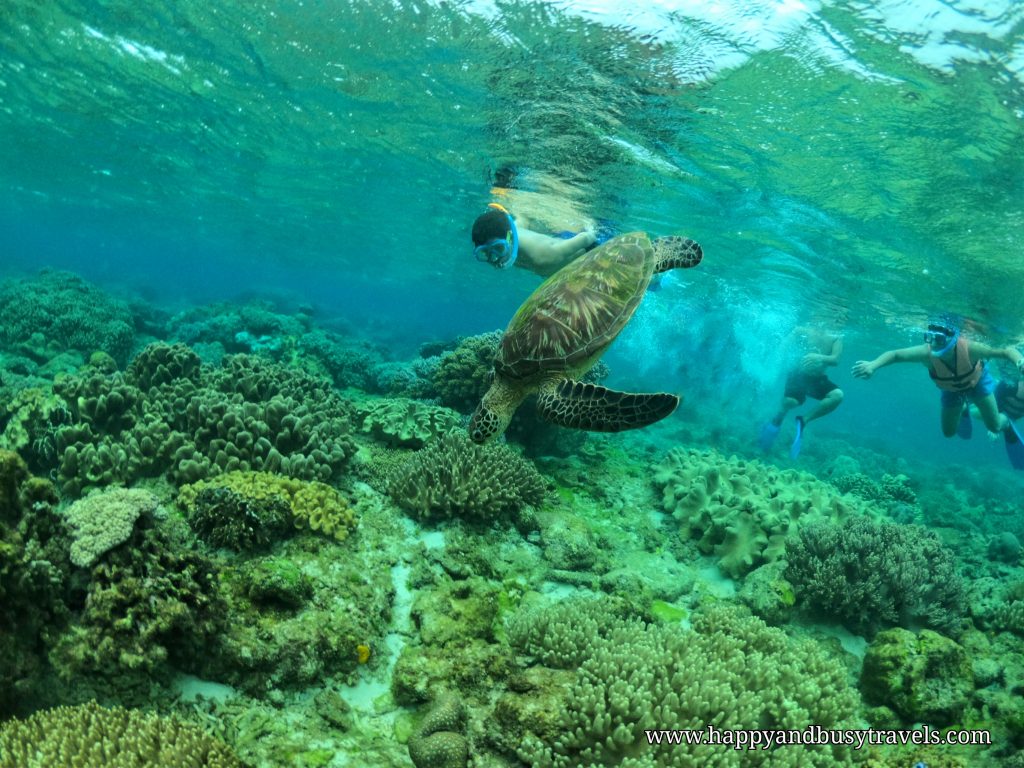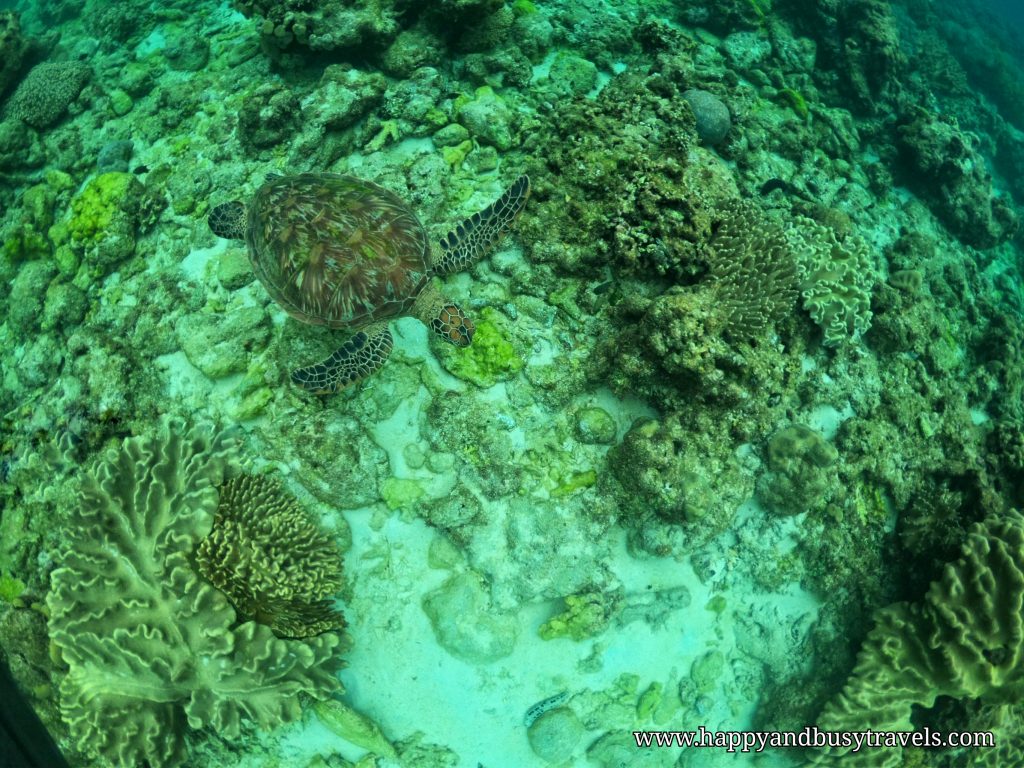 Aside from turtles there were a lot of marine life. We saw fishes…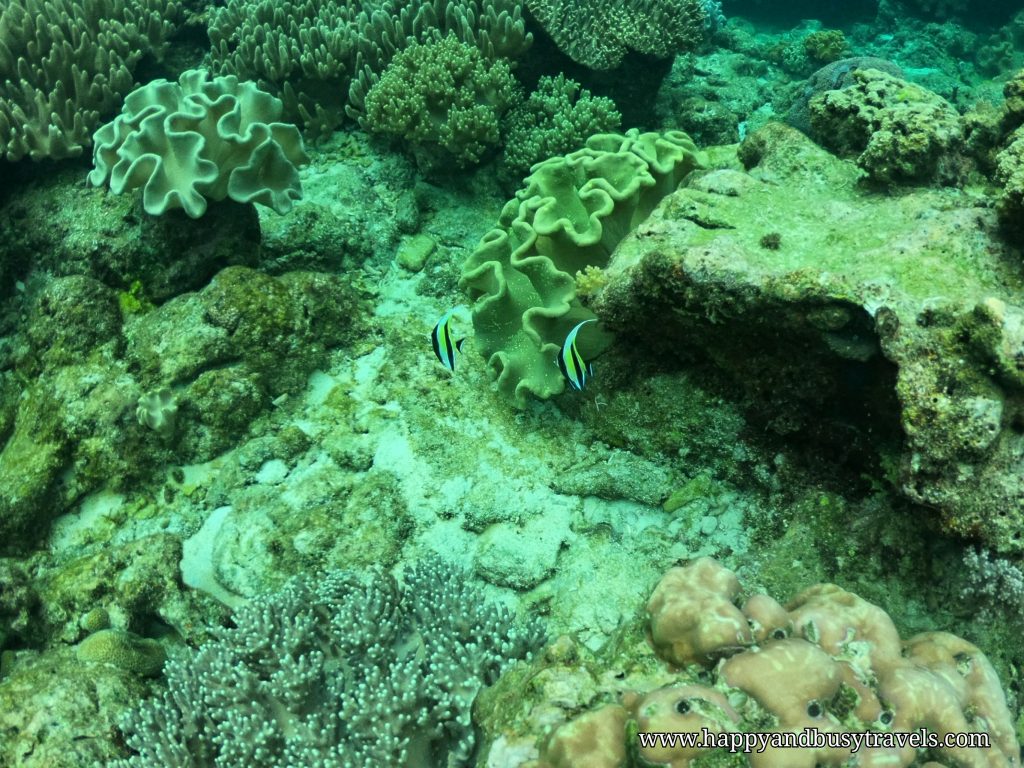 there were Clown fishes…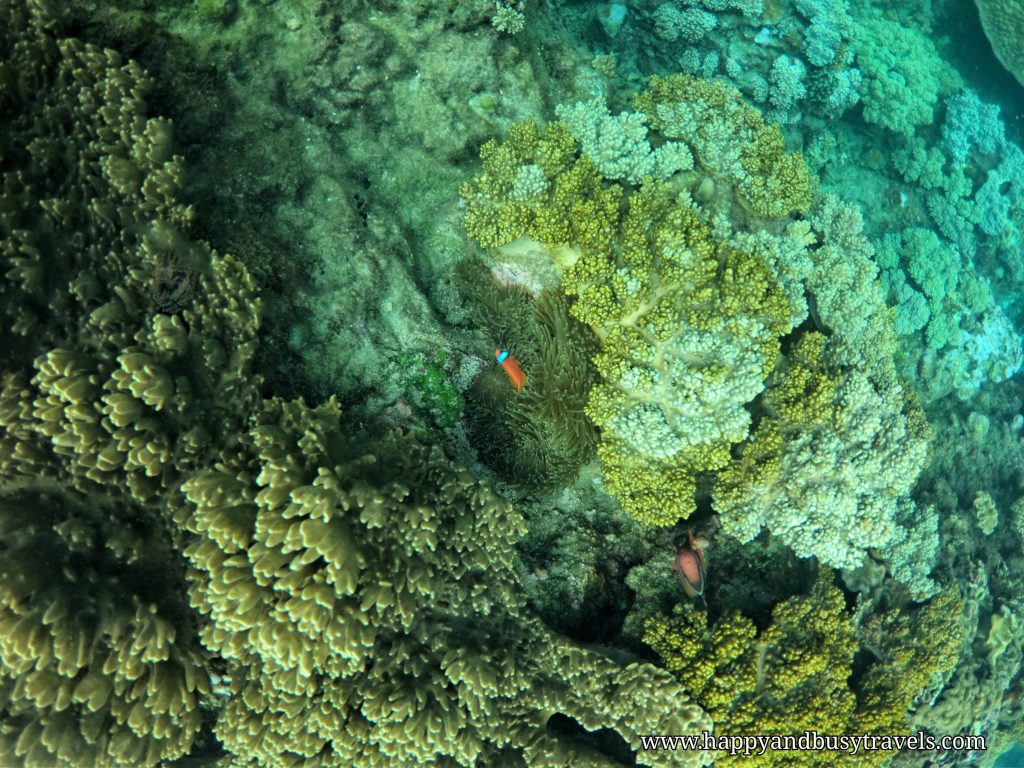 Starfish… and a black clam/ coral like creature…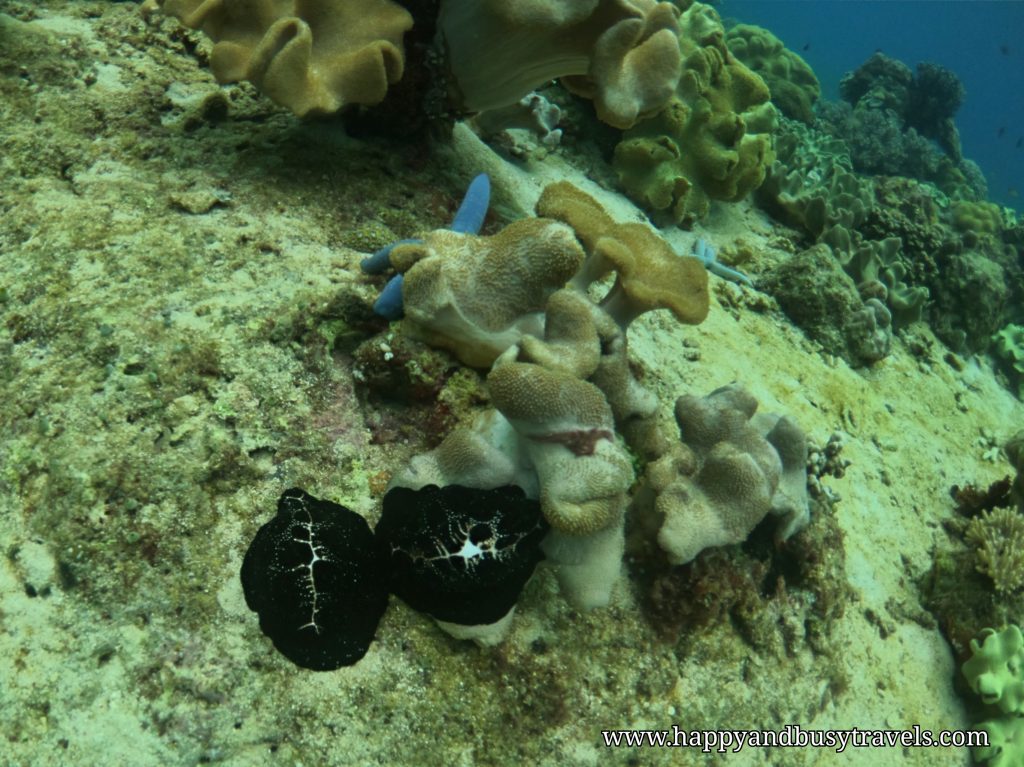 and the scariest… Sea Snake!!!! ?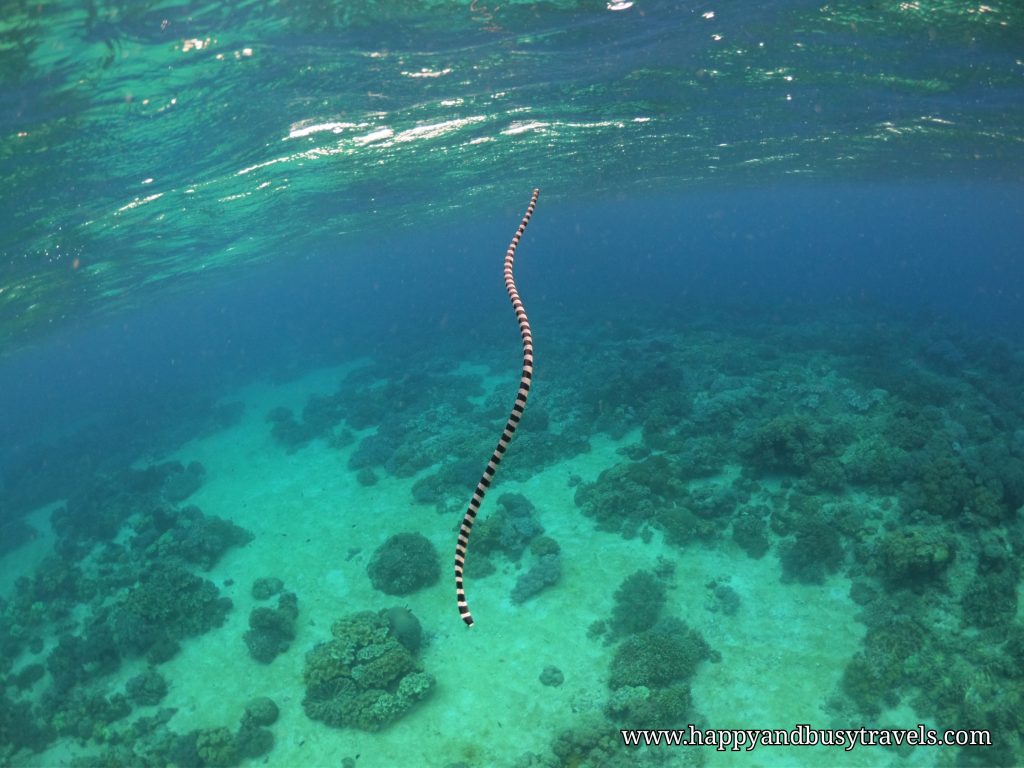 Luckily it swam away from us immediately.
Lunchtime
Around 12:45 we had Lunch on the boat.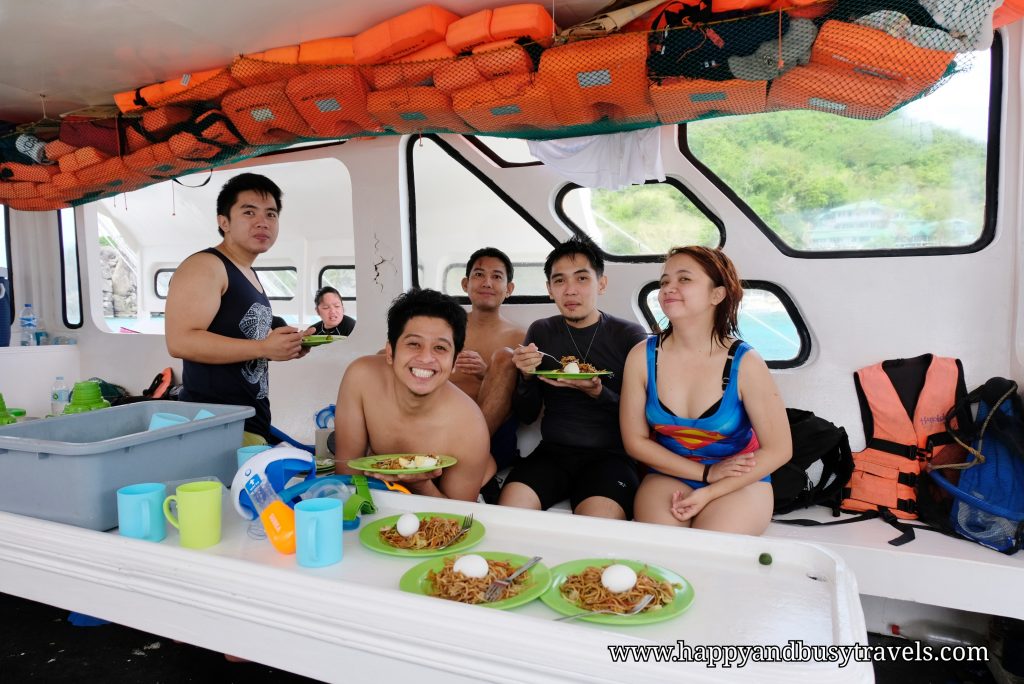 There were Filipino Pansit Canton and an hard-boiled egg.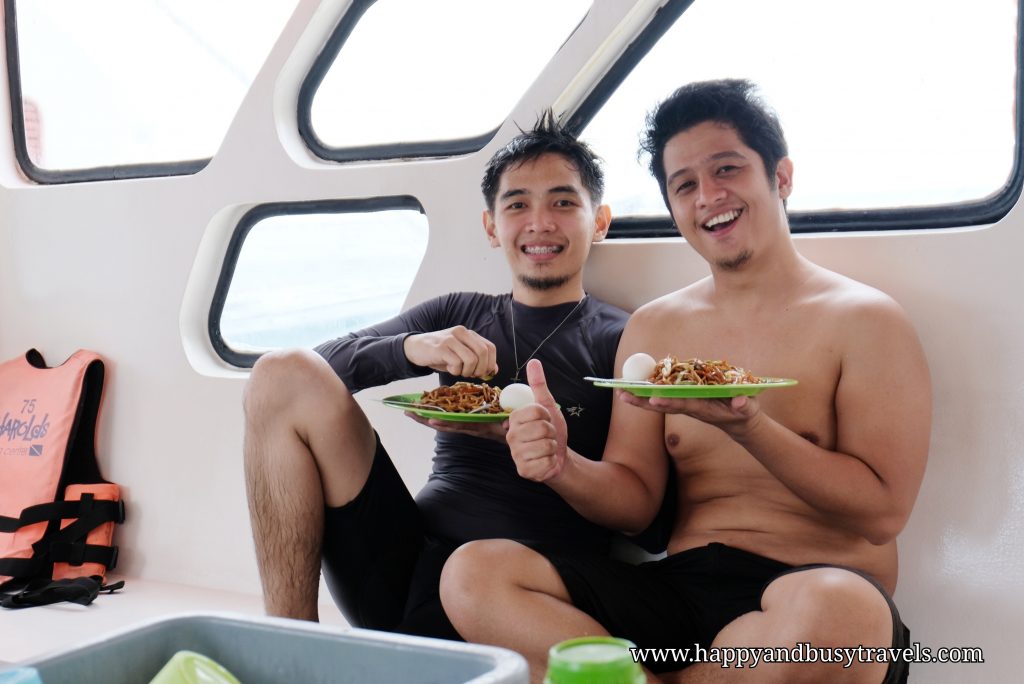 They also did not forget the dessert. Watermelon slices were also available. Some of the participants did not want the watermelon so we dig into the Watermelon. More Watermelon for us! ???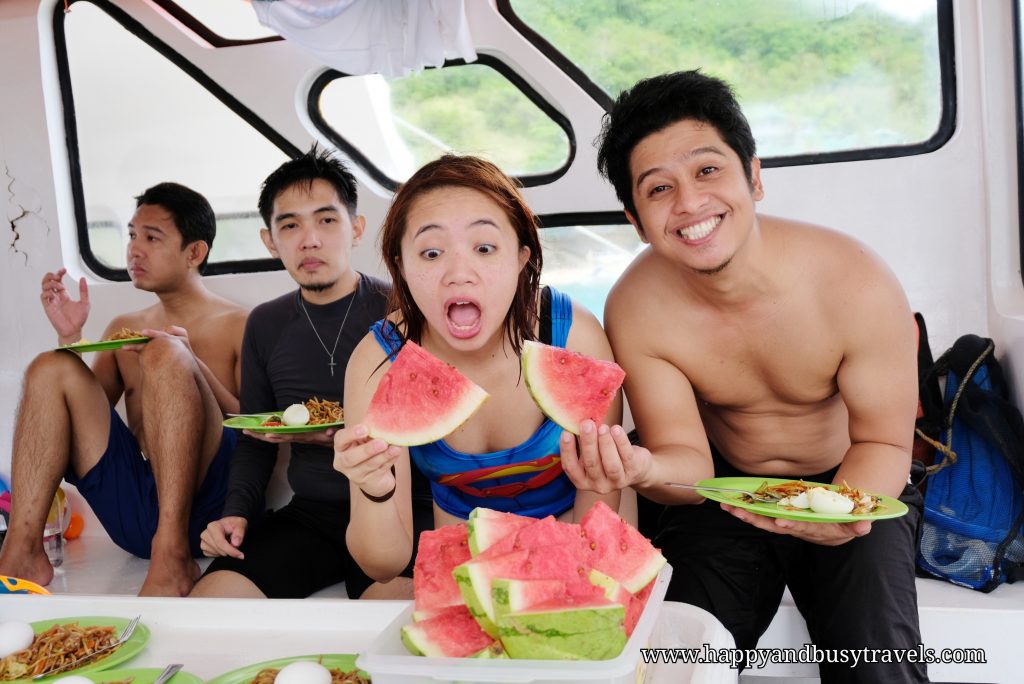 After eating we were given free time. Some of the participants slept.
But we…. we saw this as a photo opportunity! ?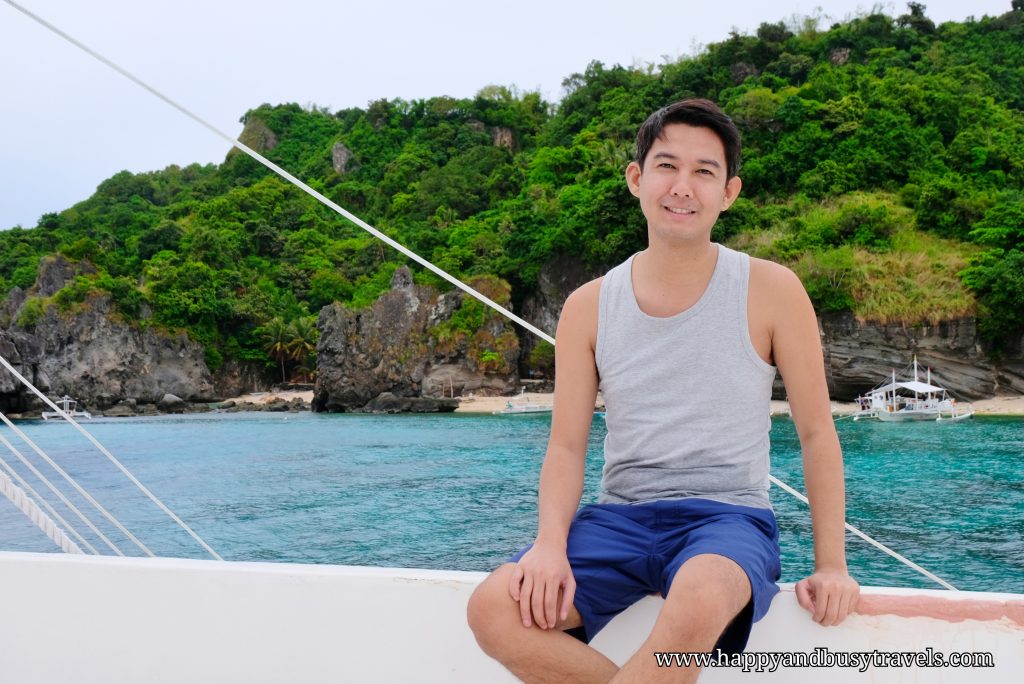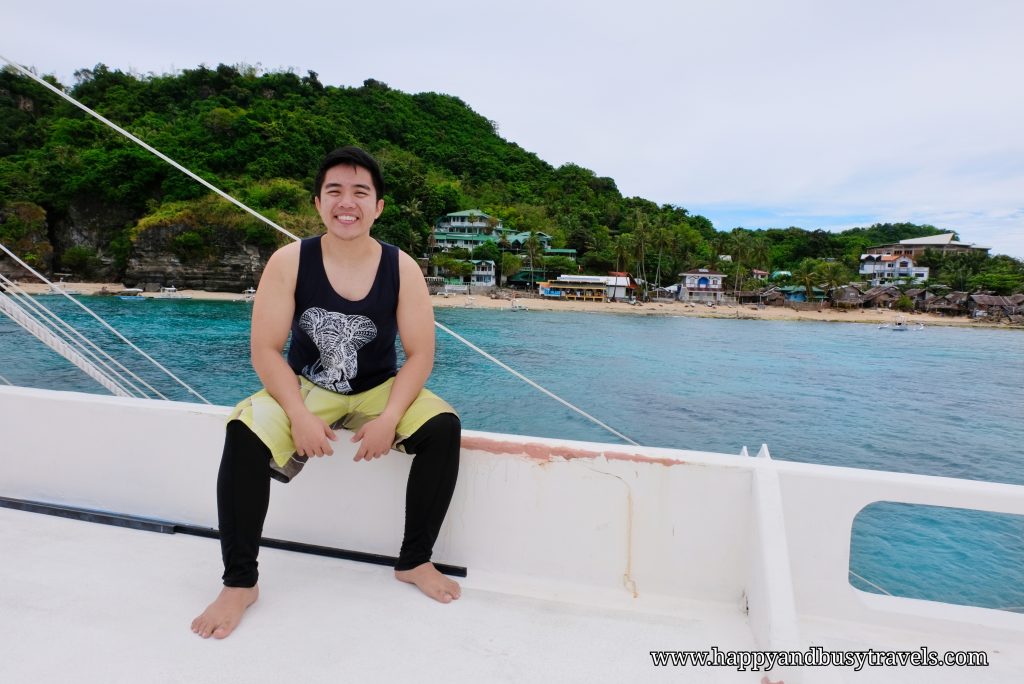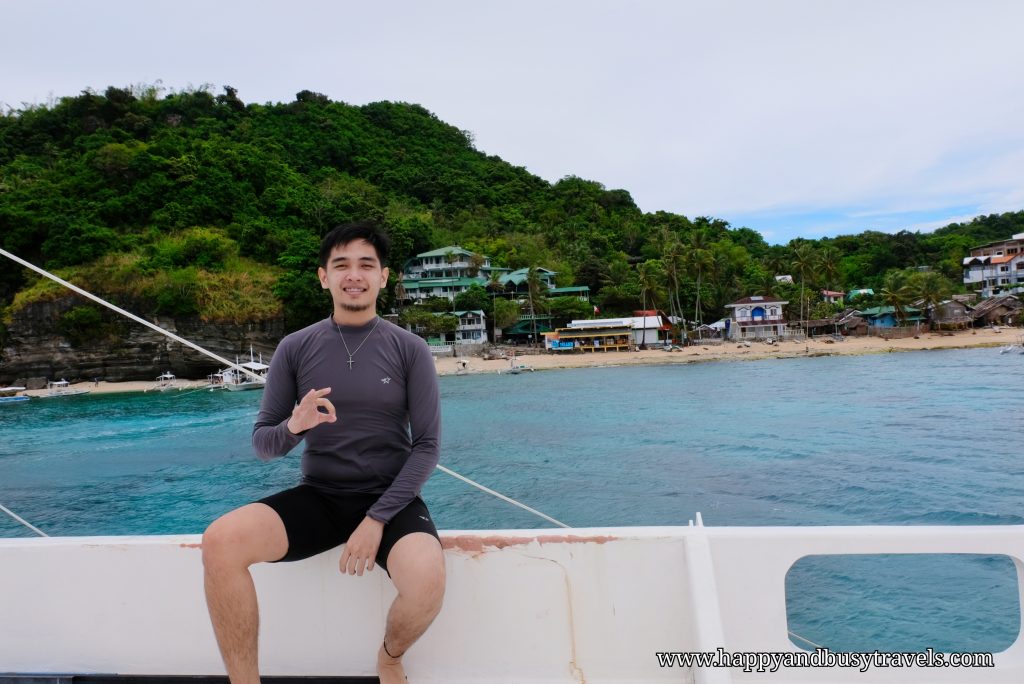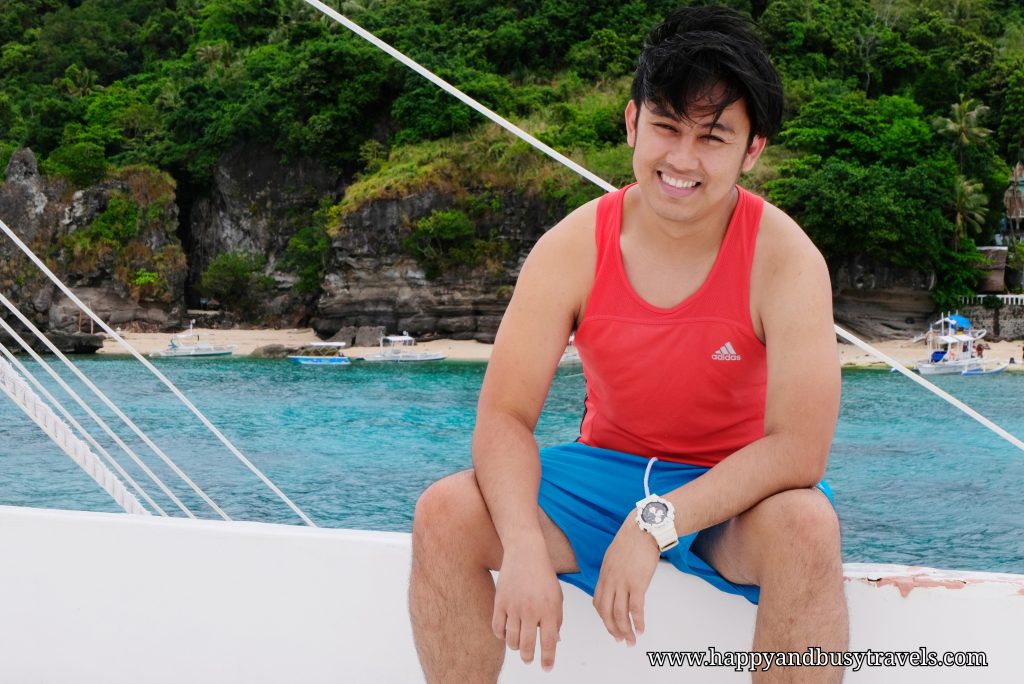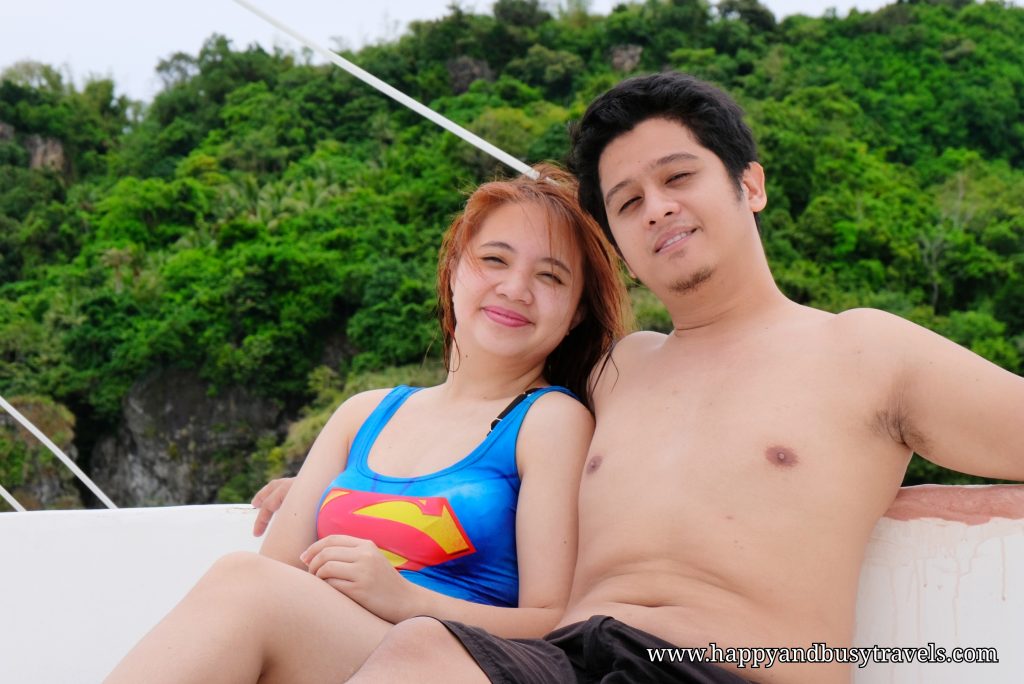 Group picture!!!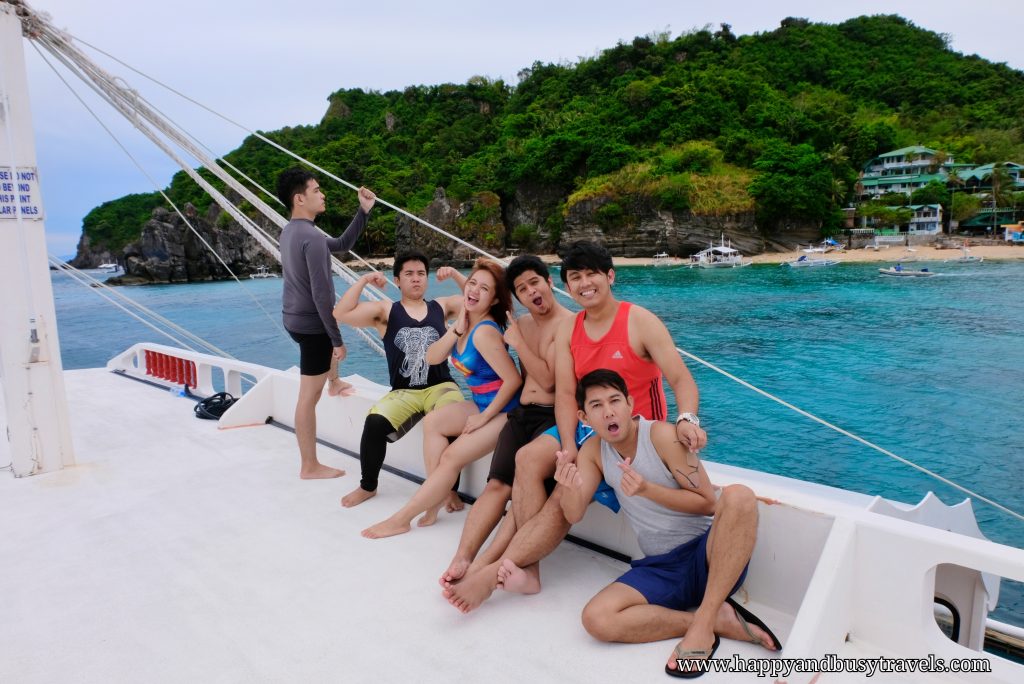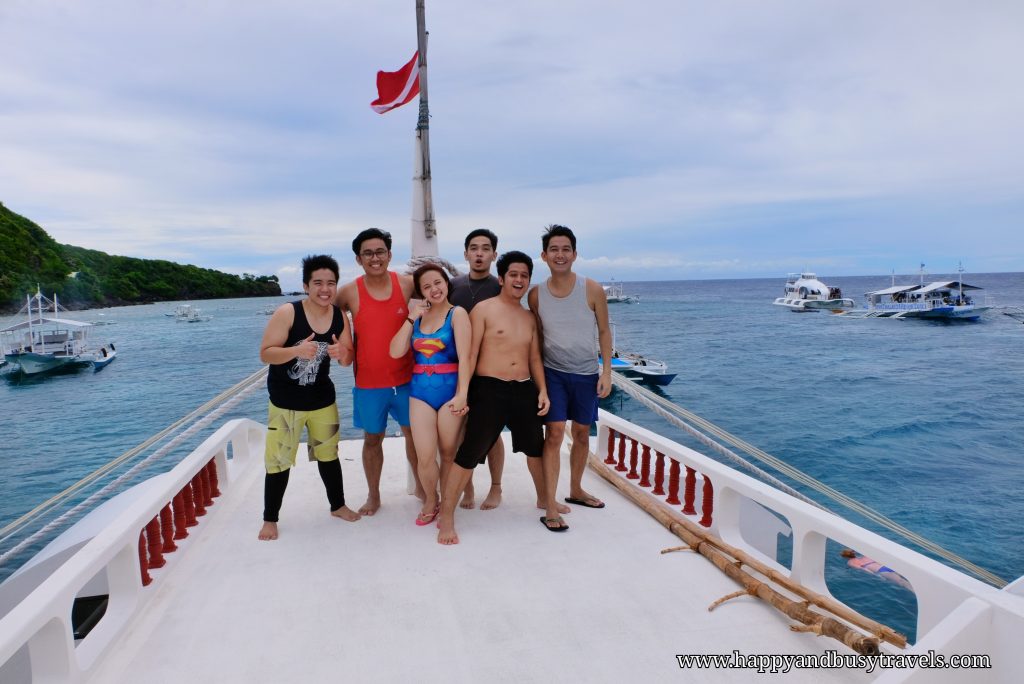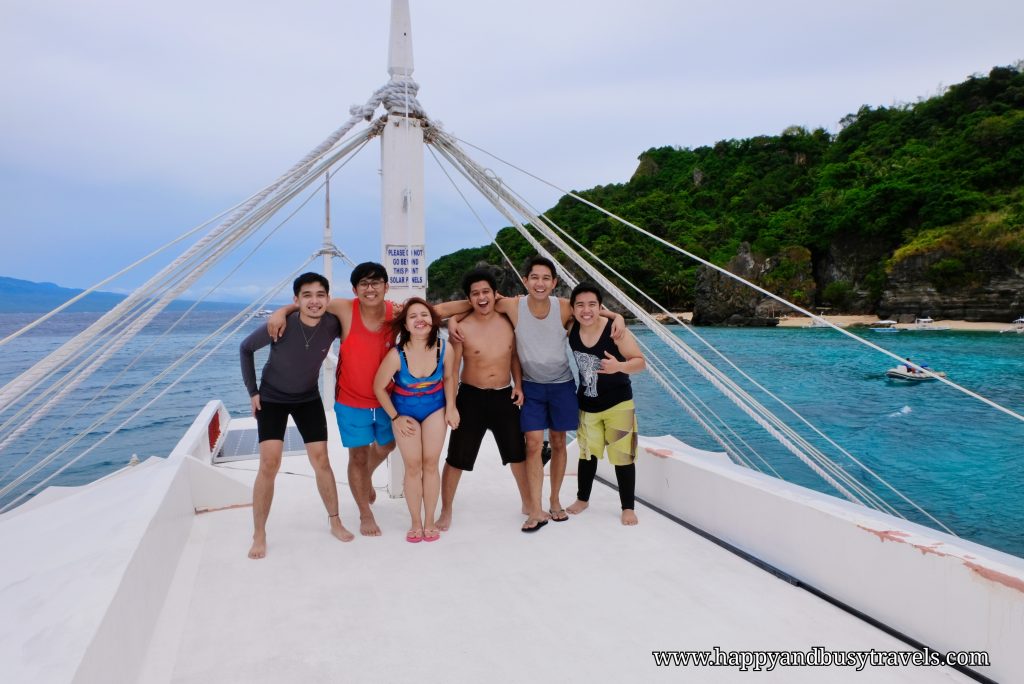 Busy also had a time to check on his business hihihi he always work even though he is on vacation.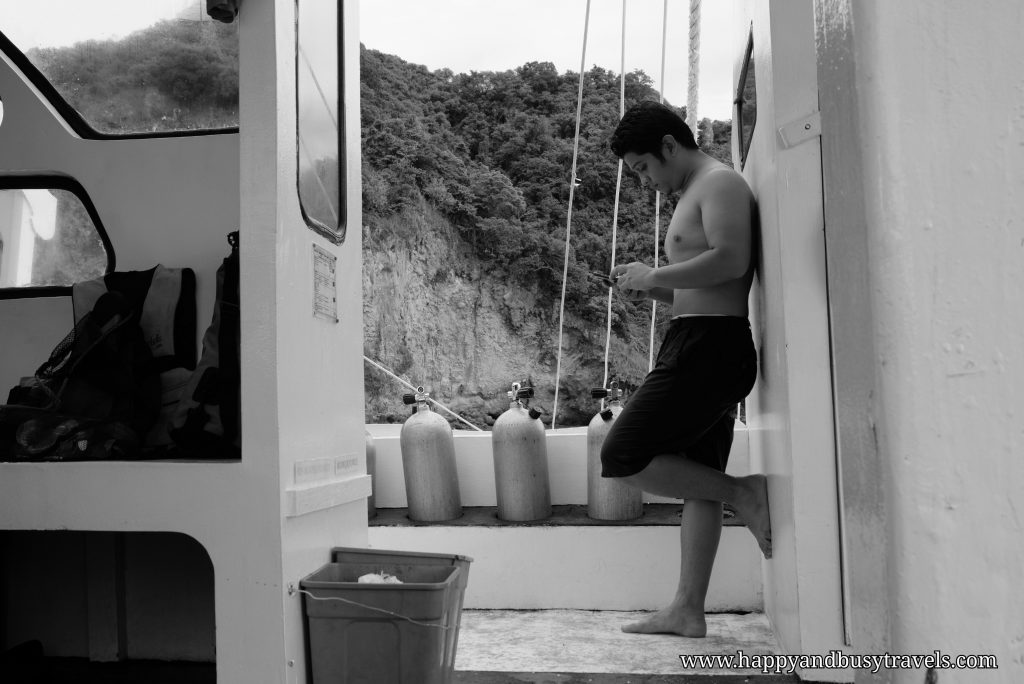 Largahan Reef
We arrived at the third and final diving/snorkeling site, Largahan Reef, at 2:00 PM. The reef is at the north western part of Apo Island.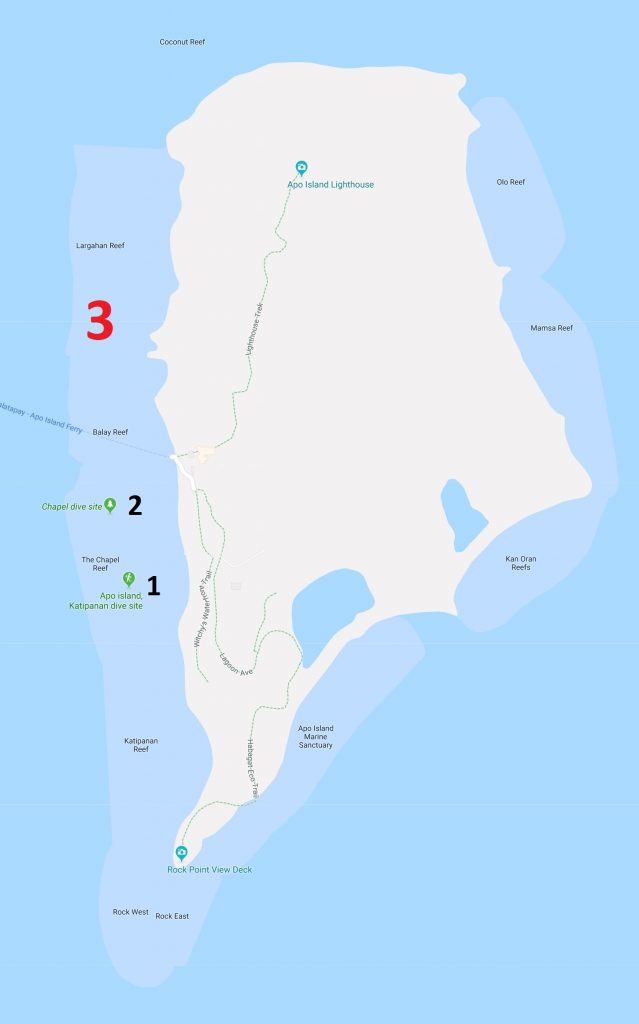 Karl was already okay at the time so he jumped immediately!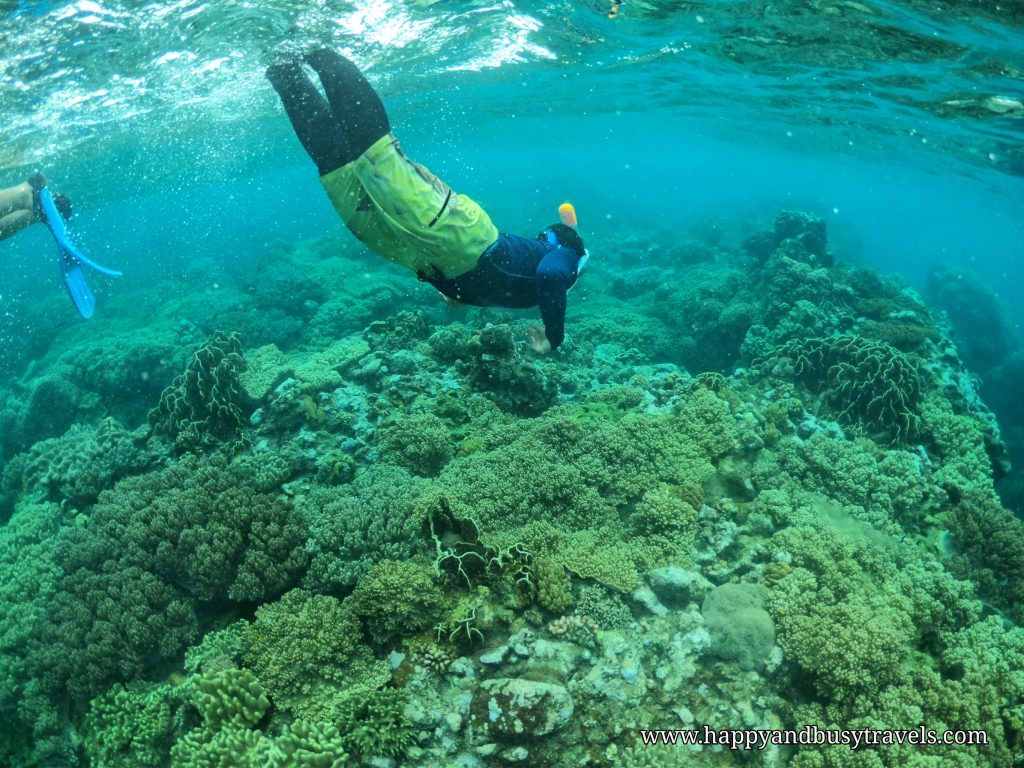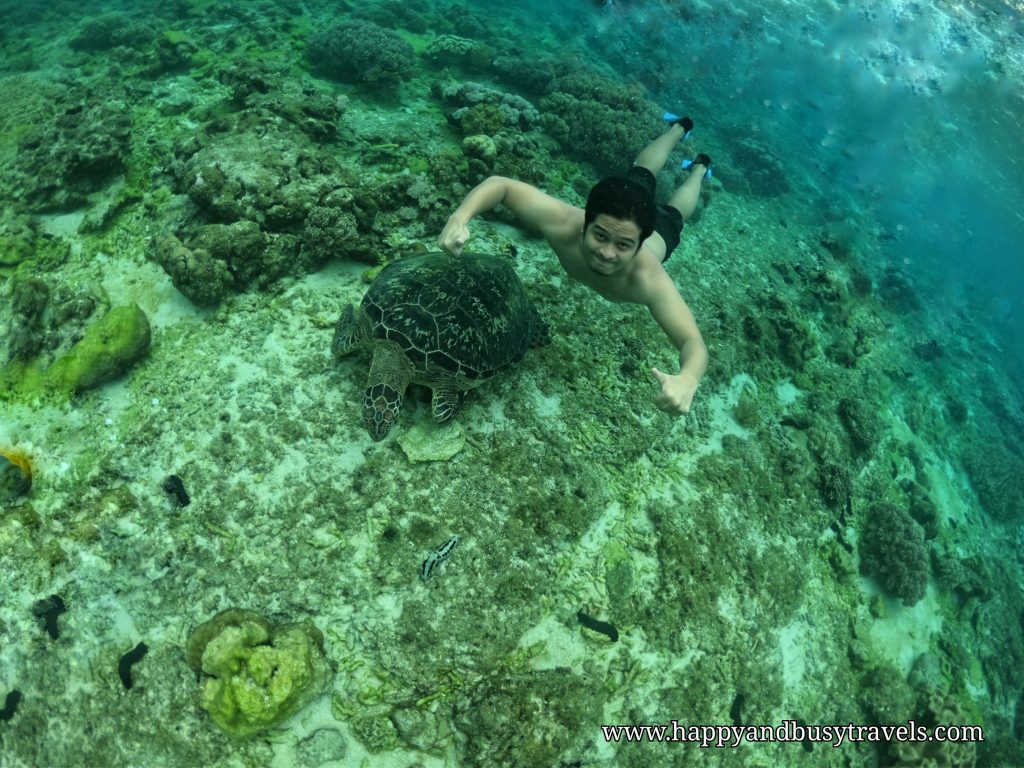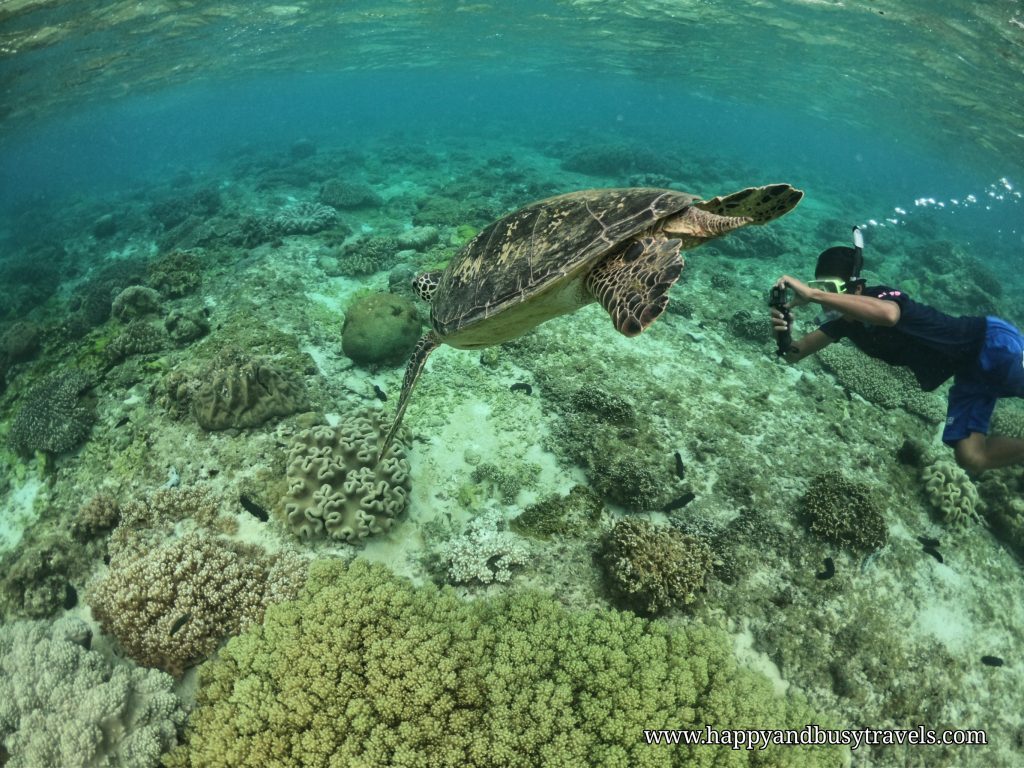 More turtles!!! We've also noticed that the turtles in this area are larger than the first 2 spots.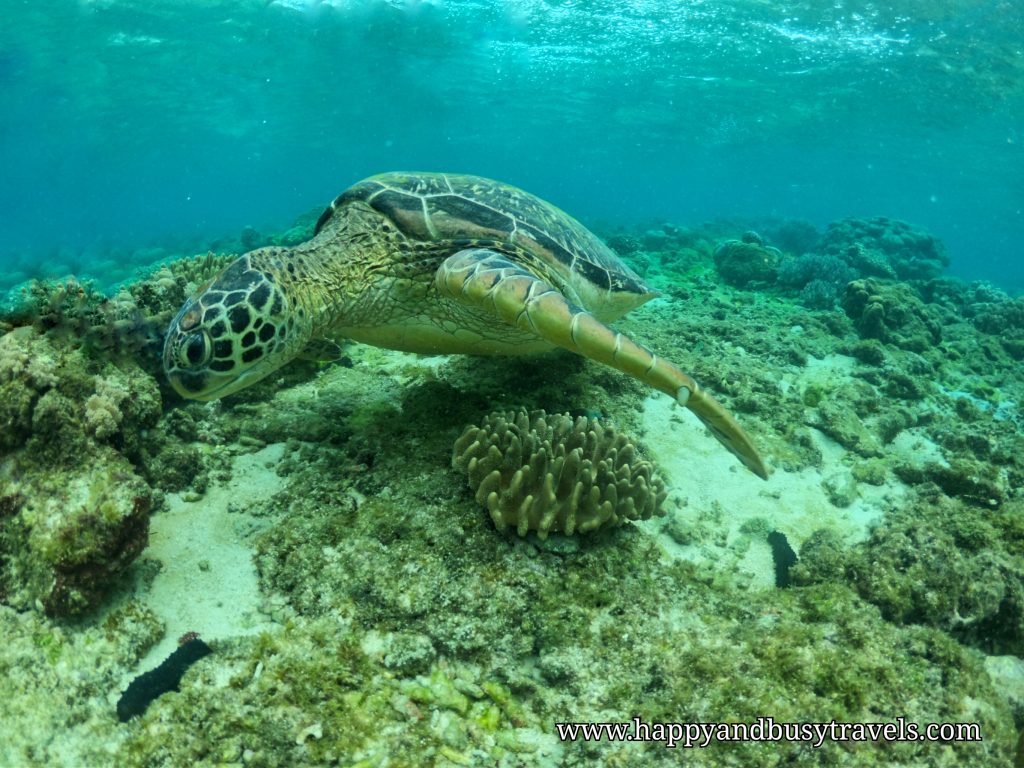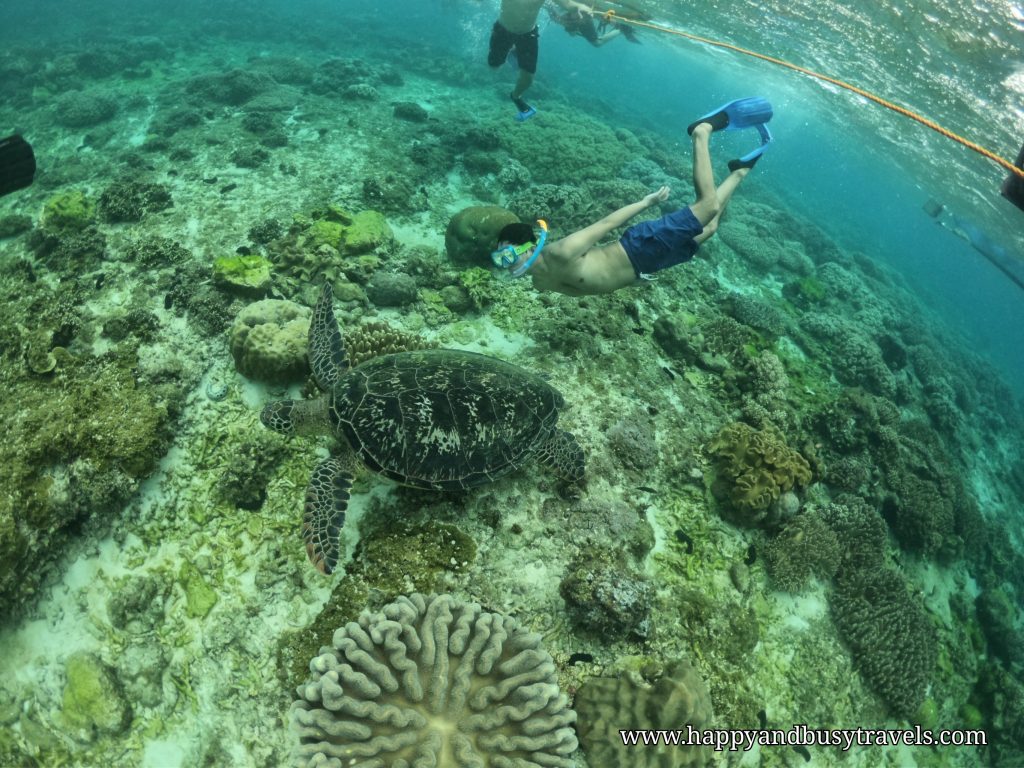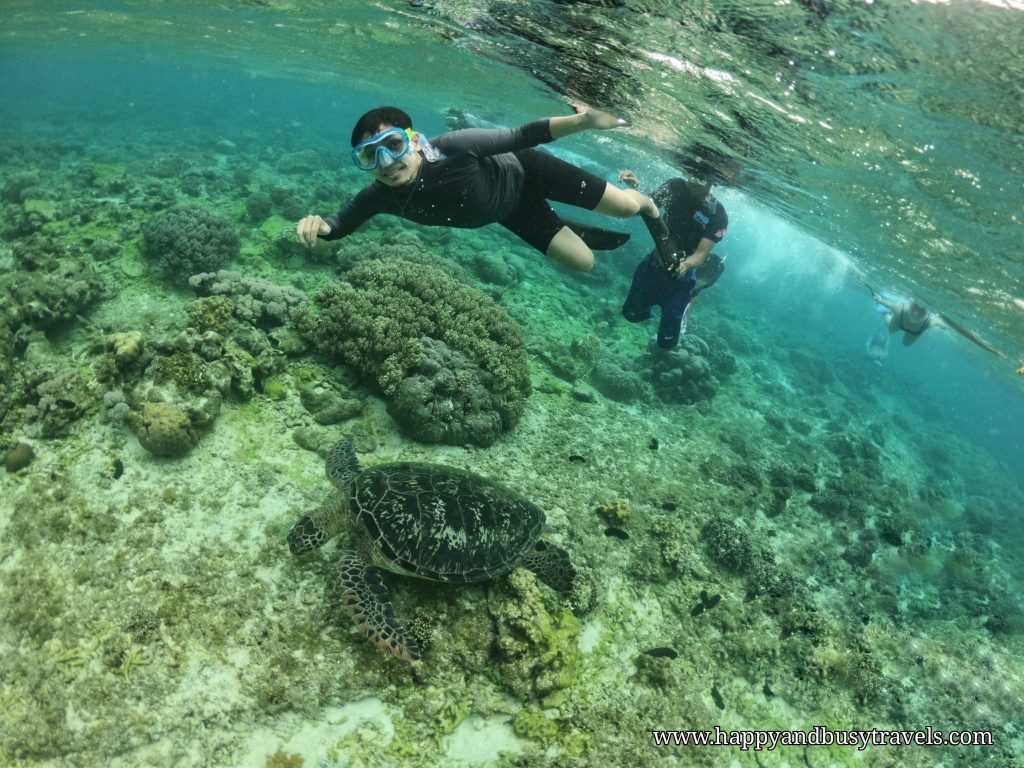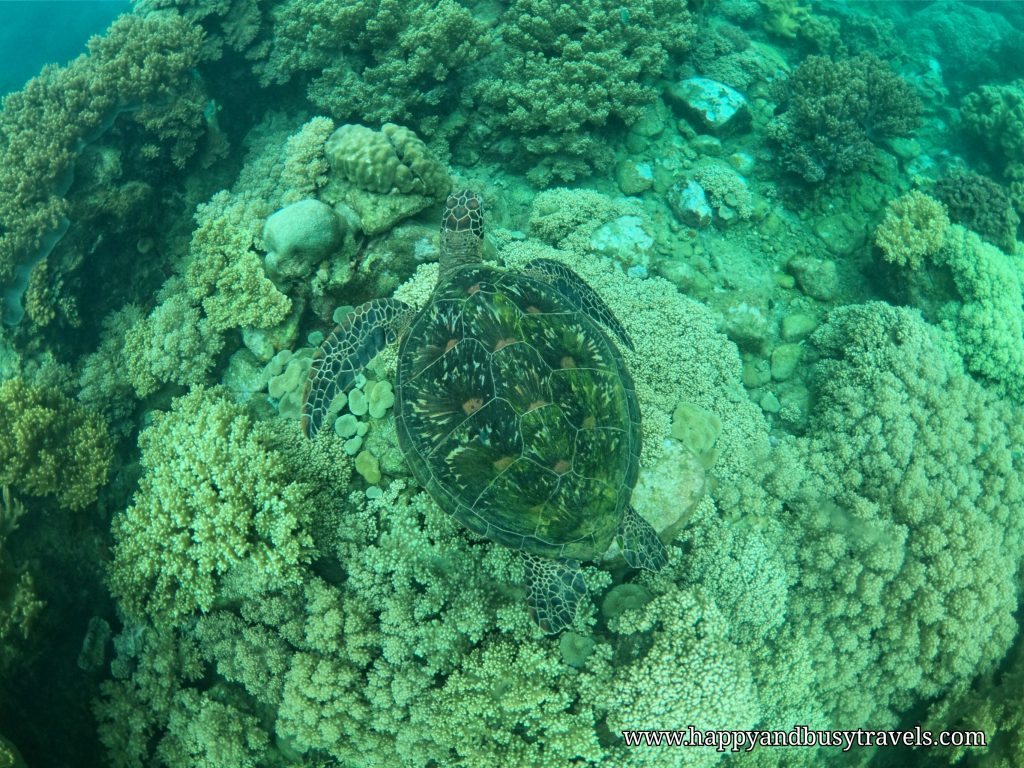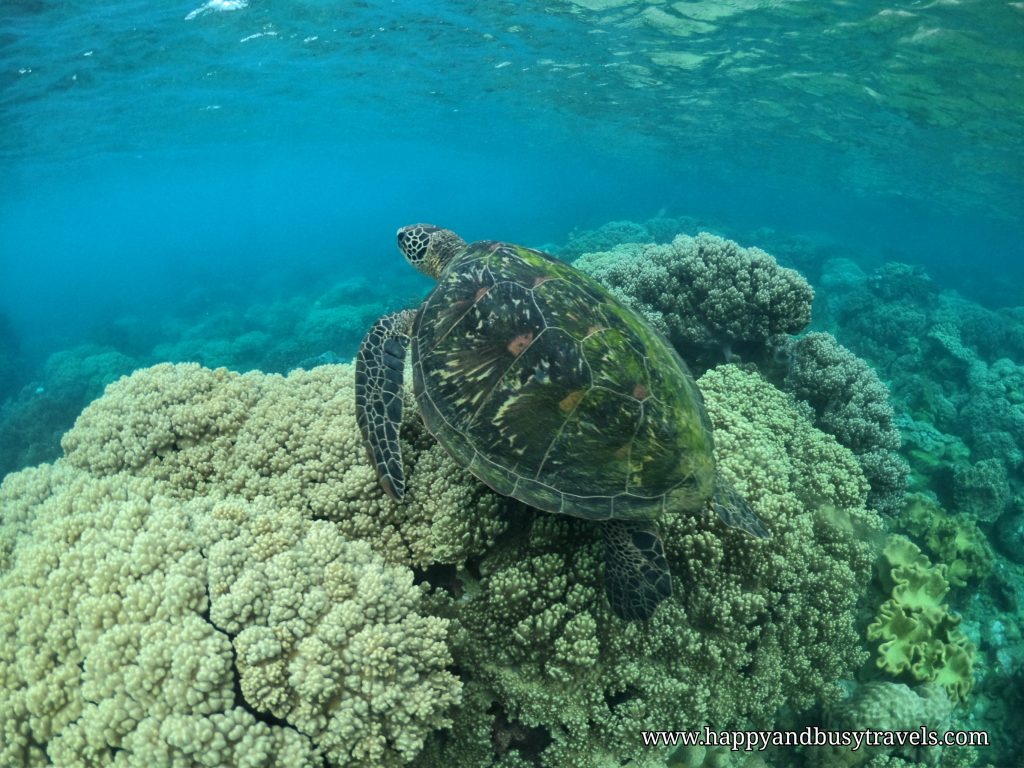 After our last dive and while waiting for the other participants to come back, Busy and I tested the currents…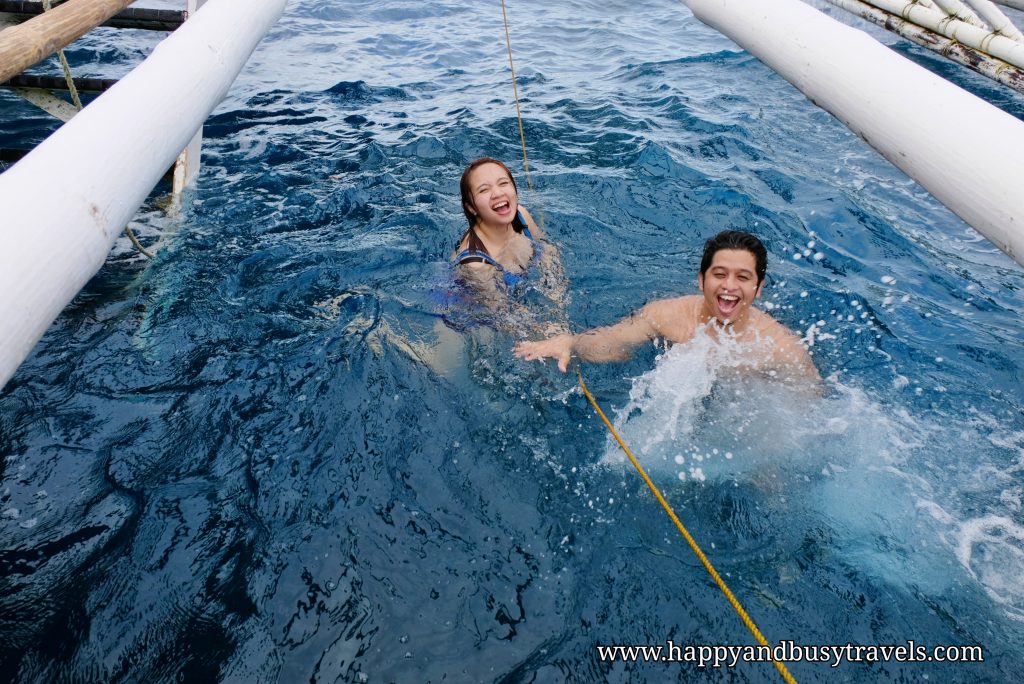 Oh yes, the currents were still really hard. We removed our fins already so it's hard to swim.
Of course, we again had our photo opportunity…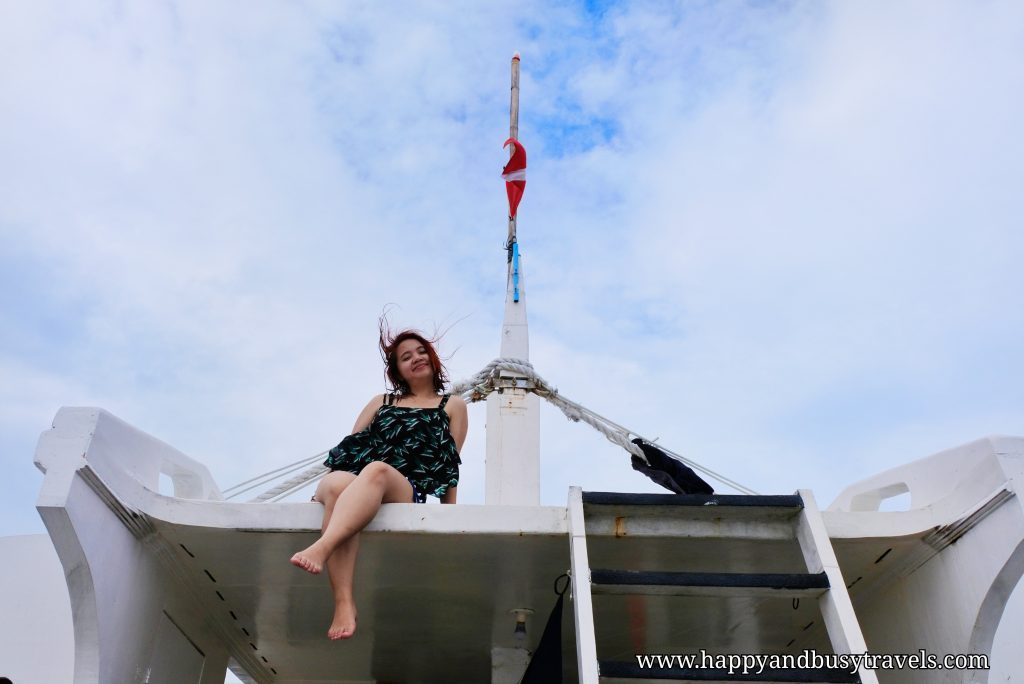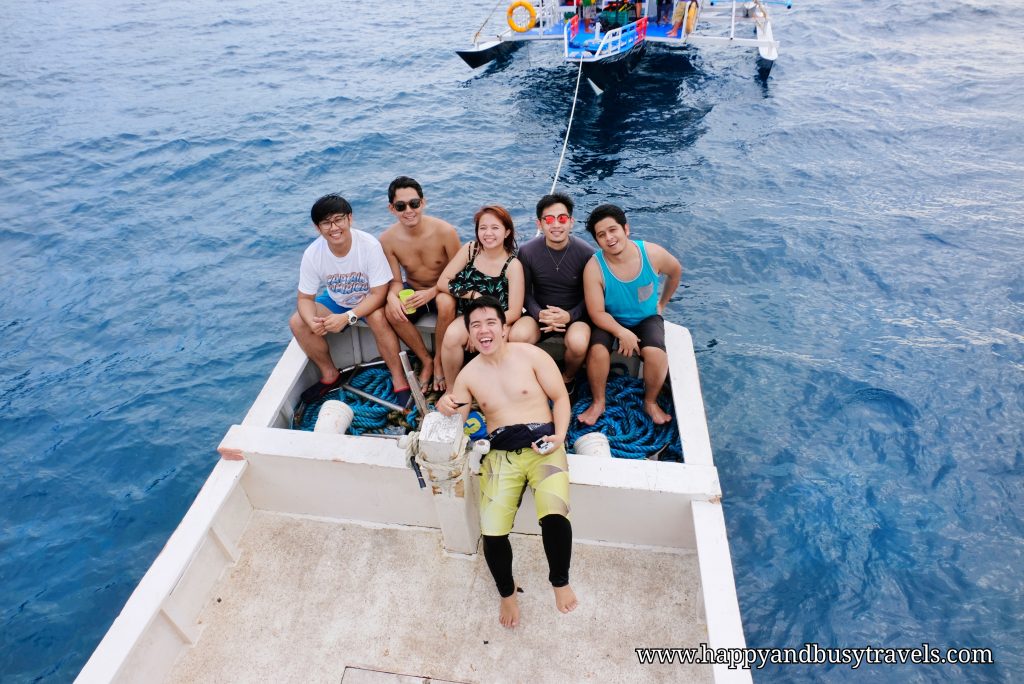 Thank you to one of our guides. During the activity, whenever we can't swim anymore, they have life rings that we hold on to and they kept on pulling us.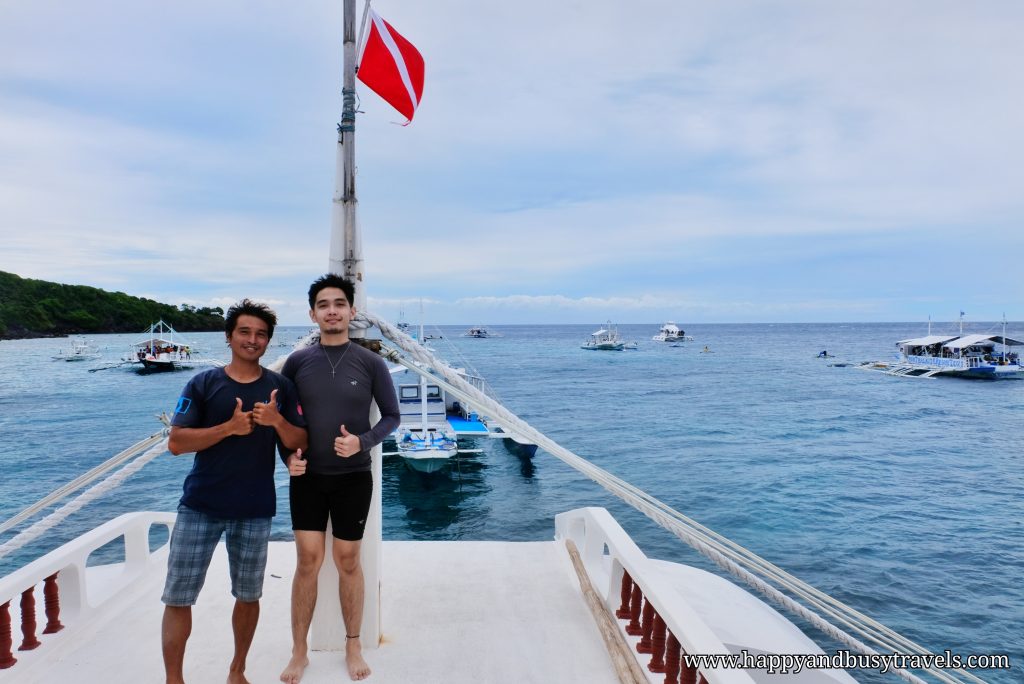 Around 3:00PM our boat departed the reef, and around 4:00PM we rode the multicab again to go back to the diving center.
We returned the gears and we went back to our hotel to freshen up. We also did not forget to give a tip to the guides. They were the best!
Overall we enjoyed the activity. The activity is also sulit! Sulit is a Filipino word which means the money that we paid for the activity was worth it and well spent.
Notes:
You can bring your own gear, but if you really wanted to dive, do not use your full face snorkel mask. It will make your dive harder.
Arrive on time. Harold's mansion will leave you if you are not inside their shop for your schedule.
The activity needs a whole day.
We did not stopped on the actual land of Apo Island.
There are comfort rooms available on the boat.
If you eat a lot, you can bring your own food. The food in the boat is good for one serving per person.
If you do not want to be in the sea for the whole day, you can take a boat going to the Apo Island itself and see the turtles there.
Happy and Busy's Smileys
Location – 

Ambiance – 

Value for money – 

Fun –