Tenderbites Tomahawk Steak
As we have mentioned in our previous post, we want quality and affordable meats. So, we tried Tenderbites again, this time we tried the Tenderbites Tomahawk Steak cut.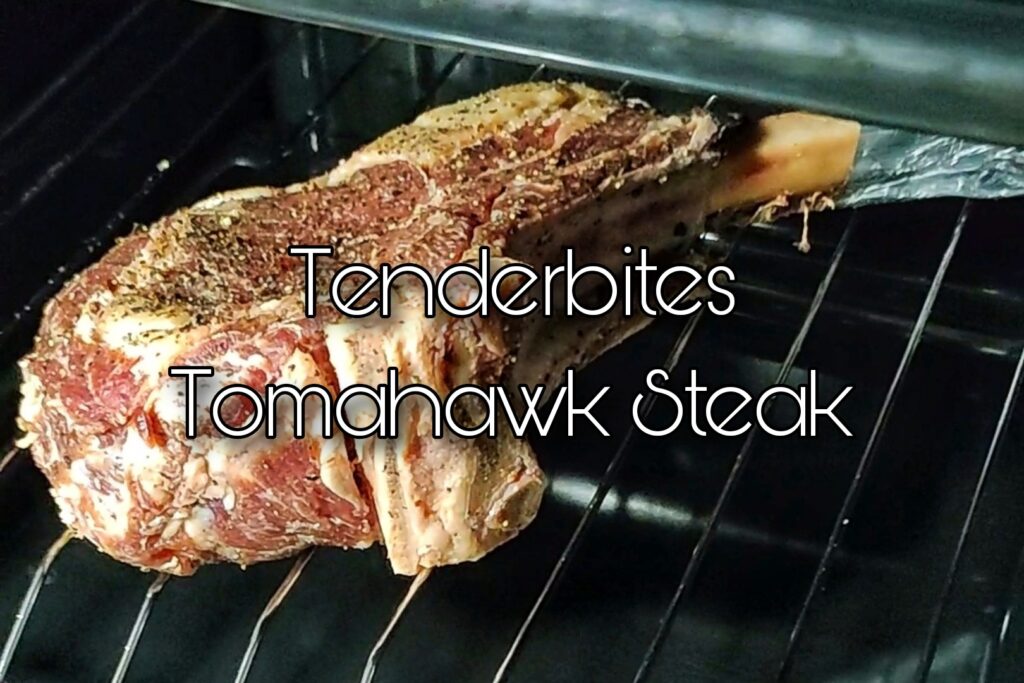 Important Information
Website: Tenderbites
Facebook: Tenderbites
Phone number: (+632) 8400-1817
Email address: [email protected]
Locations:
Unimart Supermarket Greenhills, San Juan City
Landmark Trinoma, Quezon City
Unimart Supermarket Capitol Commons, Pasig City
Cash&Carry Supermarket, Makati City
The Marketplace, Rockwell
The Landmark, Makati City
Makati Supermart, Alabang Town Center, Muntinlupa City
The Landmark, Nuvali, Sta. Rosa
Tomahawk Steak
Here is the Tomahawk Steak that I ordered, and delivered to our office. It was frozen but it looked so good.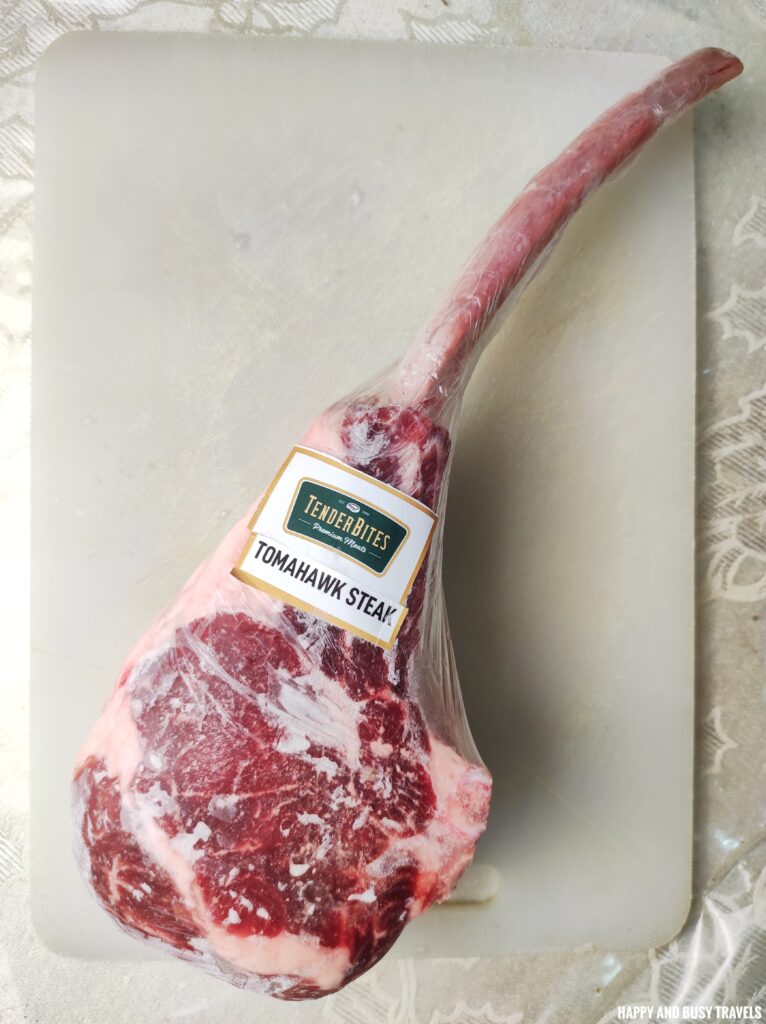 Tenderbites Tomahawk Steak Cooking Time!
This is our first time cooking a Tomahawk Steak, so please bear with us. Hahaha, My brother and I were excited. We first thaw the meat, pat it down on a paper towel, then rubbed it on salt and pepper.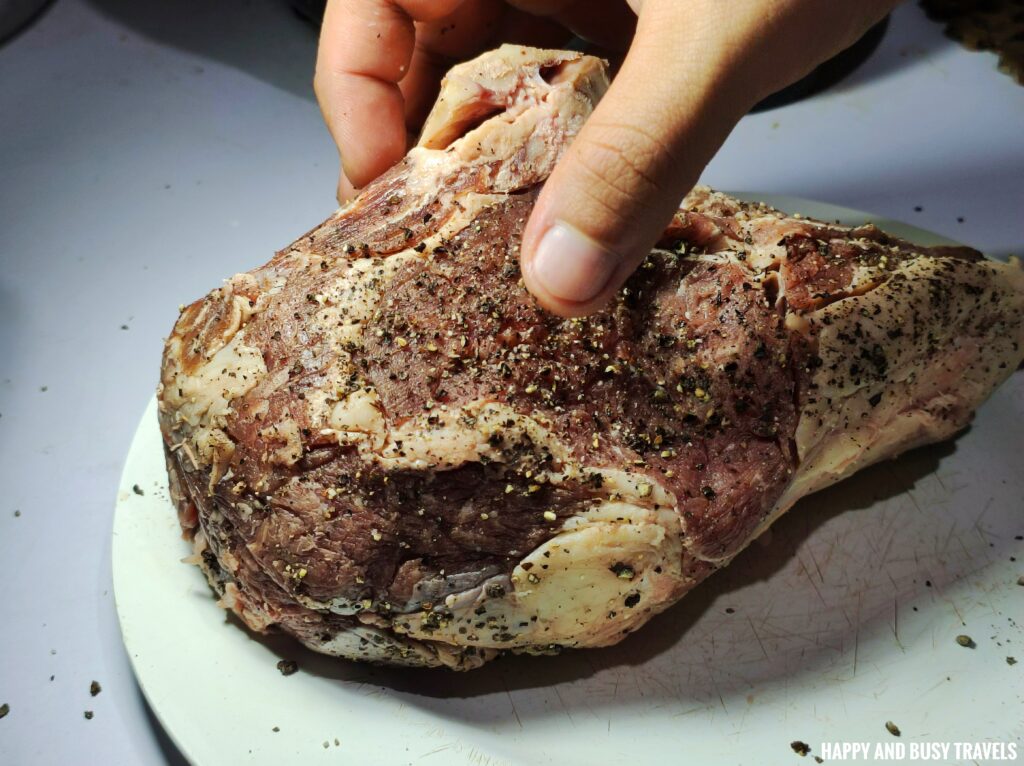 After a few minutes, we cooked the Tomahawk Steak in the oven. We had arguments about how long it will take, I said shorter and my brother said longer. Anyway, we went with the longer time.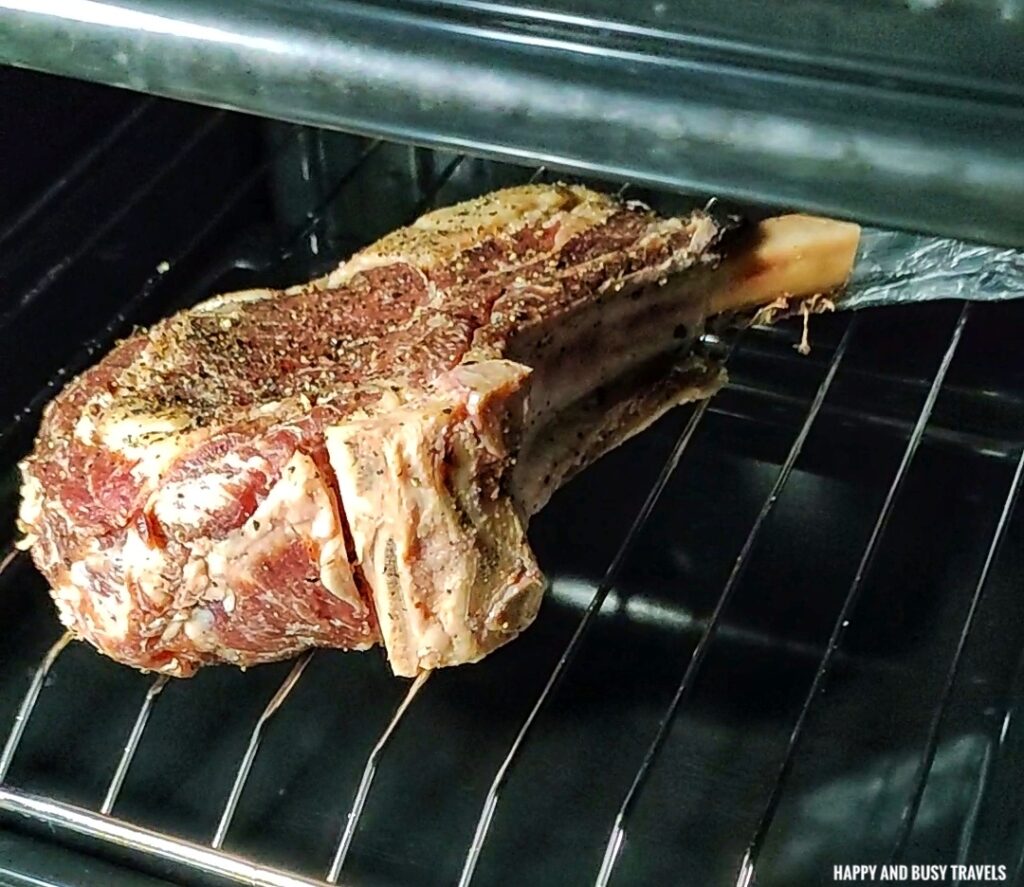 After baking the Tomahawk Steak, my brother pan-seared the steak with butter and Rosemary so we could achieve the proper sear.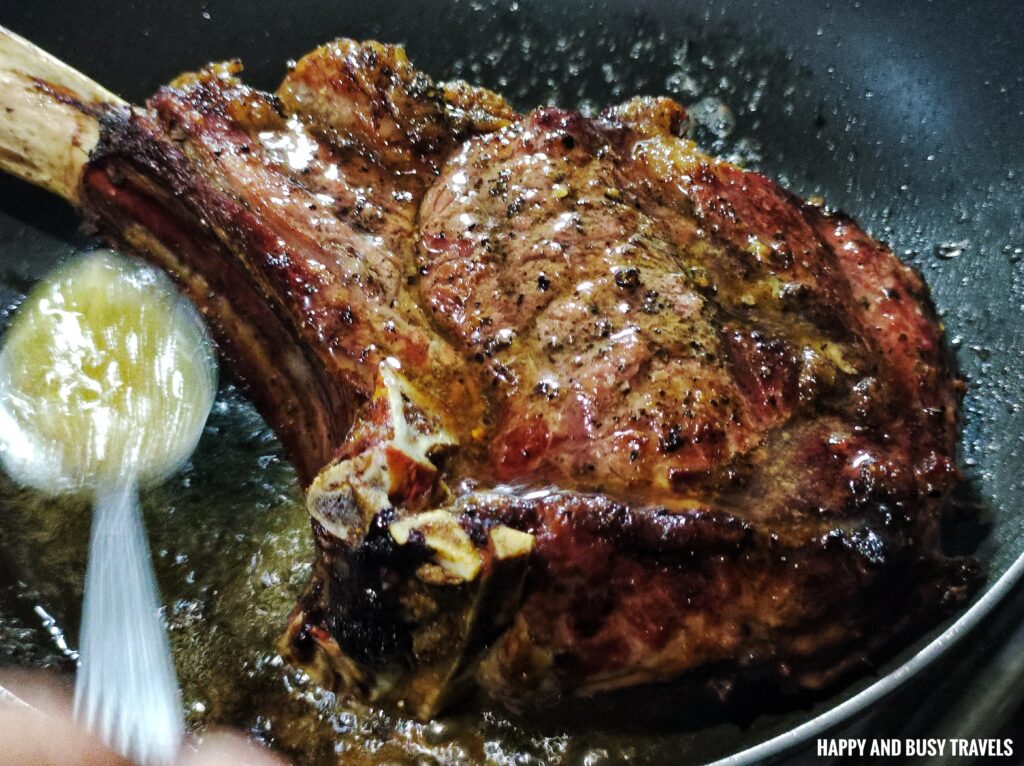 Ohh it looks so good!
Then, here is the cooked Tenderbites Tomahawk Steak! We rested it for a while before we cut into it.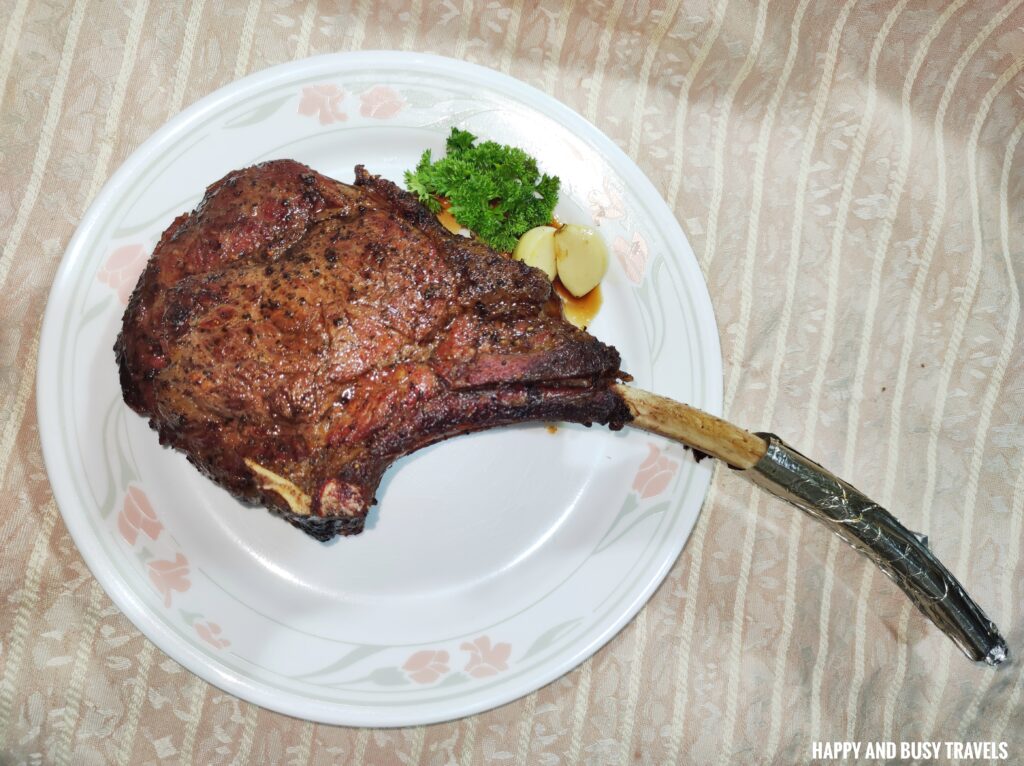 We wanted to achieve medium rare, but yes we know we overcooked it… Oh well, we will order again hahaha. Even though this one is overcooked, it is still tender and delicious!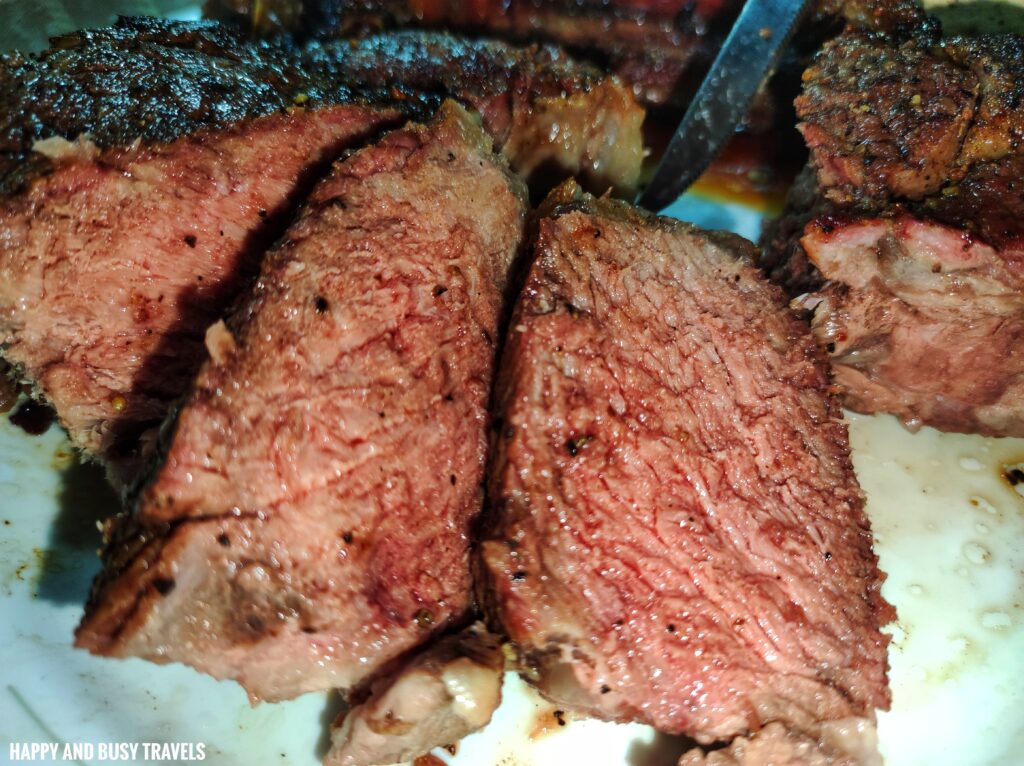 Price
As of this writing, the meat above is priced at P1,649. So, the whole meat costs Php 1,500.
If your items are more than Php 2,000 you can avail of their delivery for free.
How to Order from Tenderbites?
1. Order through their website.
2. Message and order through their Facebook account.
3. Go to the nearest branch.
Happy and Busy's Smileys for Tenderbites Tomahawk Steak
Overall, buying meat from Tenderbites is highly recommendable. Each meat is fresh and really has good quality.
Quality
Value for money
Service
Ordering is easy and fast, then the delivery is also on point.
More exciting food and drinks reviews are at https://happyandbusytravels.com/category/food-and-drinks/ so do not forget to check it out!
Like! Follow! Subscribe! to our social media accounts: