Verdiview Restaurant, Tagaytay
My friends and I heard that Verdiview Restaurant is one of the good restaurants in Tagaytay. So, after an overnight in Hidden Vibs Resort, we went here to eat.  They mainly serve good Filipino Food from breakfast to dinner, and can even cater events.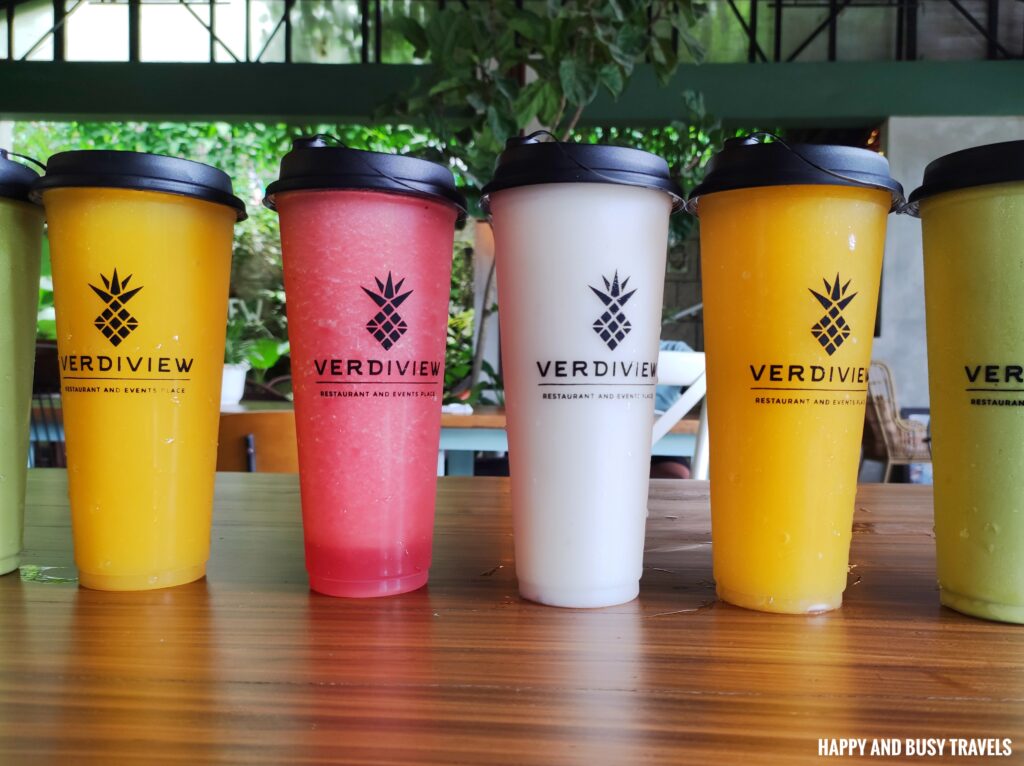 Important Information
Facebook: Verdiview Restaurant
Operating Hours: 7 AM – 9 PM
Telephone Number: (046) 686 1712
Email address: [email protected]
Payment Options: Cash, Credit Card
Dining Options: Dine In, Take out, Delivery, and Events
Address: Tagaytay – Nasugbu Highway, Alfonso, Cavite
Google Maps Link: https://goo.gl/maps/
Inside Verdiview Restaurant
As soon as we entered the vicinity, we saw the lovely arrangement of plants and the dining area. There are various Nipa huts surrounding the site which are placed away from each other so that guests can have a private moment with themselves. Each nipa hut is also designed in a very Filipino way, the festive way.
One famous festival is the Pahiyas festival in Quezon, so they had one area dedicated to it. Here is the Pahiyas Kubo.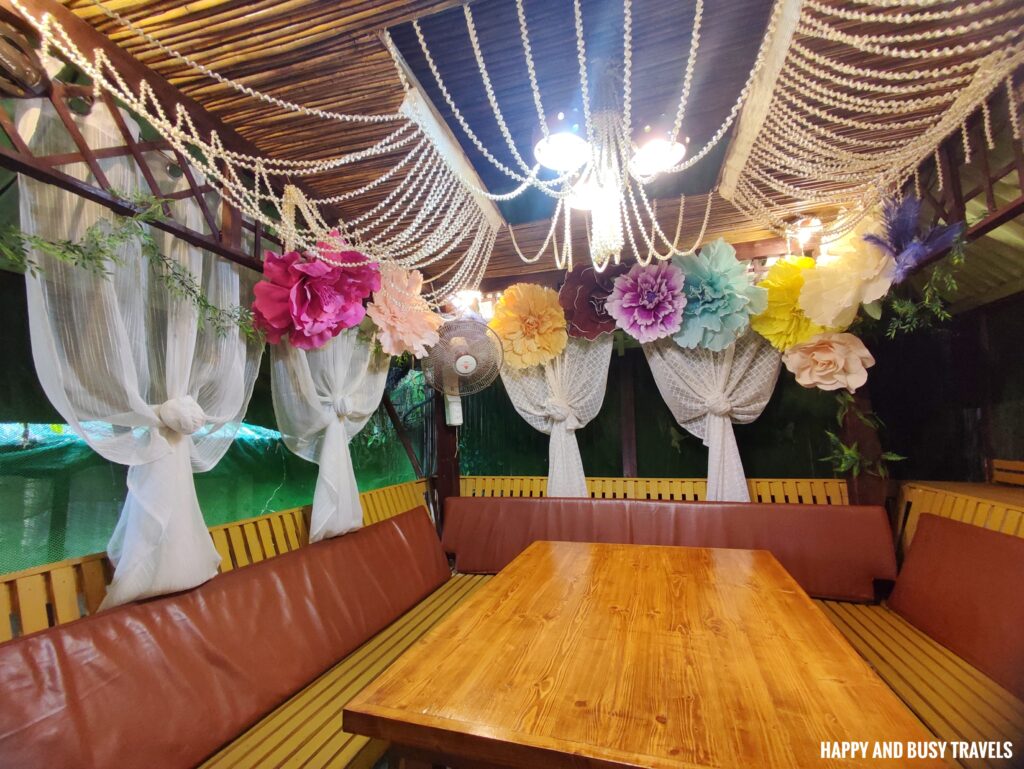 In addition, here's another one, this is the Maskara Kubo, which is inspired by the Maskara festival in Bakolod.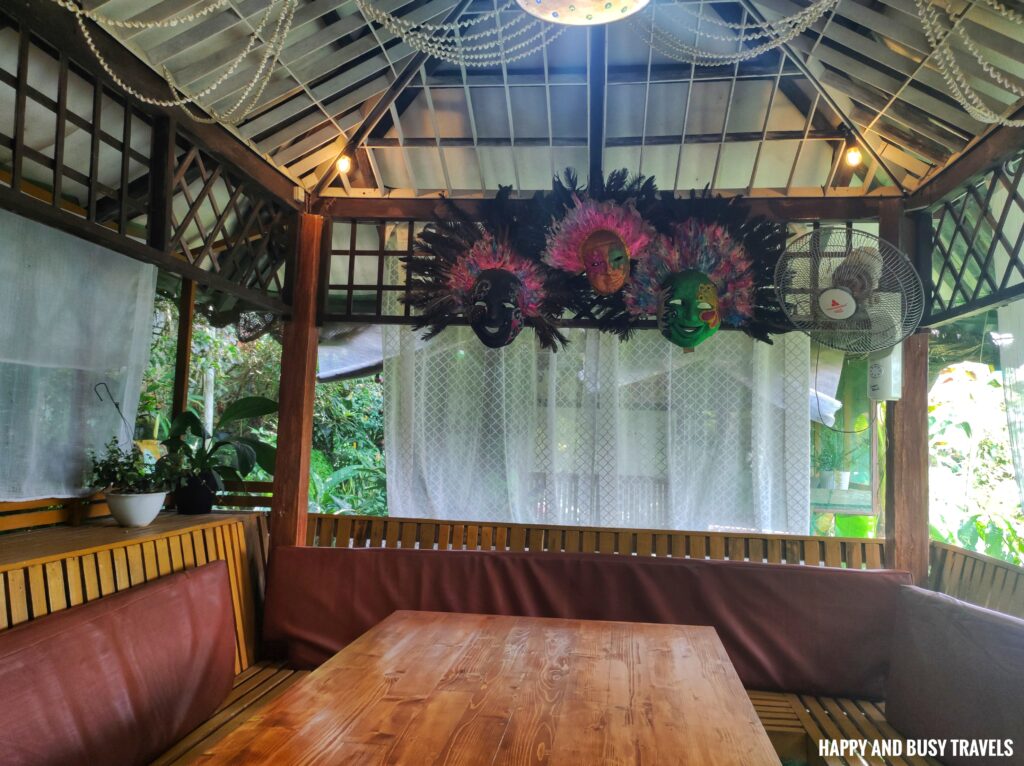 Their dining option here is alfresco dining, so we get to experience Tagaytay weather.
Verdiview Restaurant also has an events place, so if you have any events that need a larger space you can rent this one.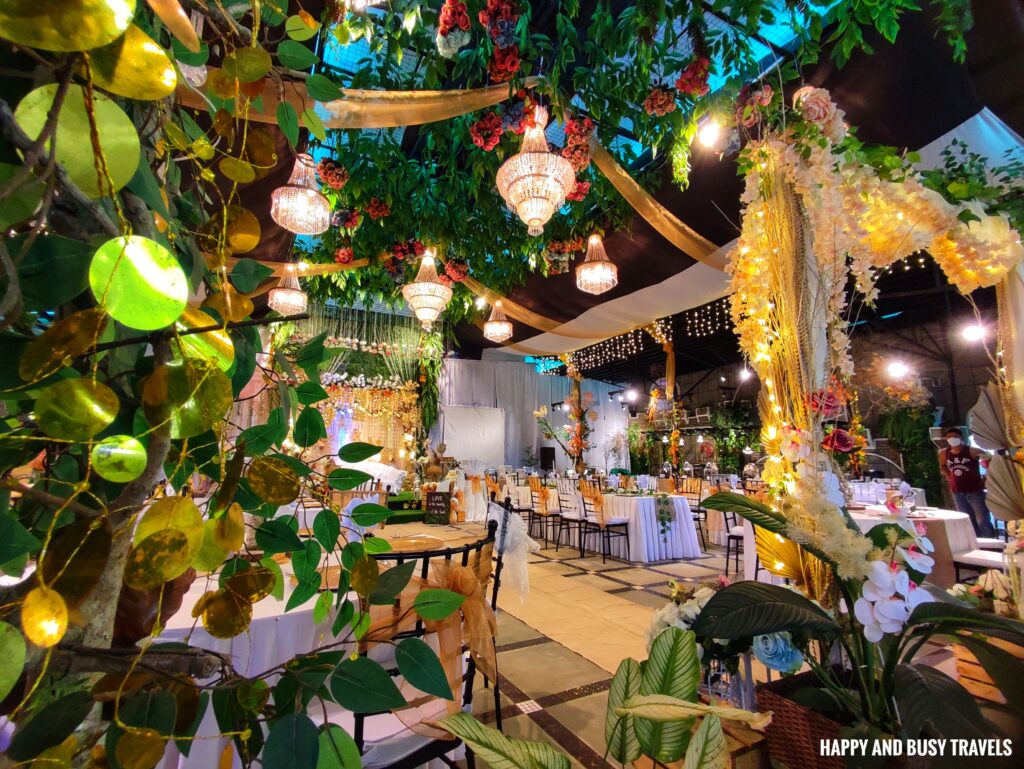 Our timing is perfect because we get to see how the restaurant prepared the events center for the event later.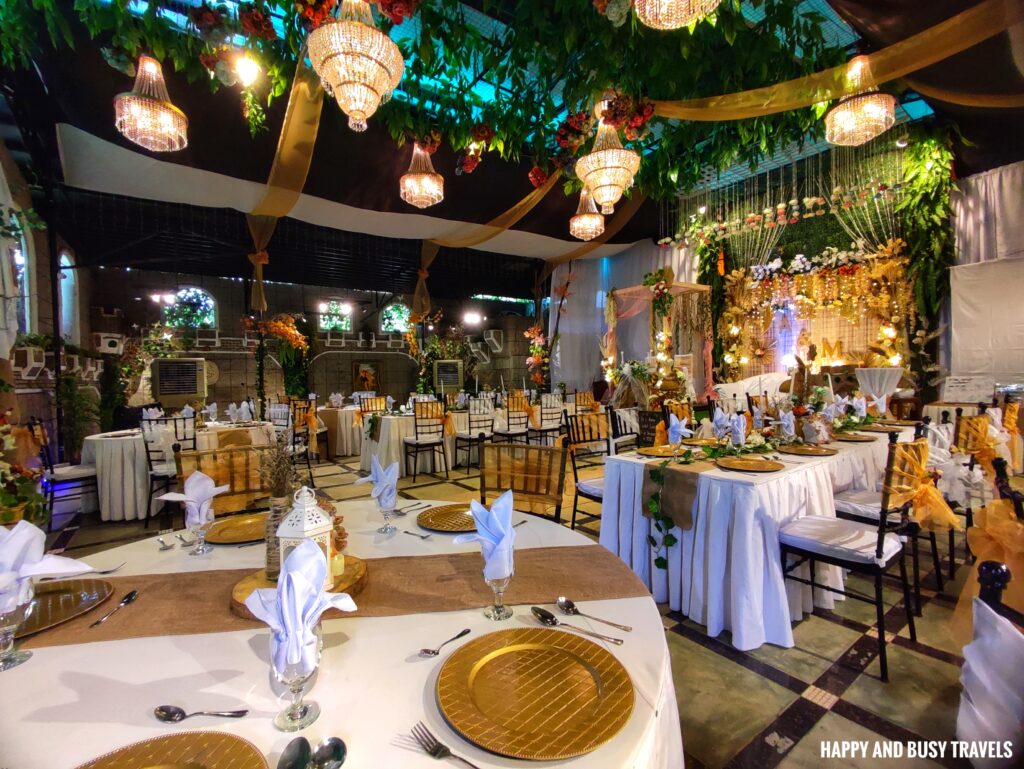 Dishes of Verdiview Restaurant
The restaurant serves various Filipino dishes ranging from Filipino Breakfast to Sizzling Sisig for Dinner, so if you are craving for Filipino dishes, you have to check them out.
Shrimp Burger
I'll show you first this Shrimp Burger. This is made out of toasted burger buns, cheese, mayo, shredded Lettuce, and Breaded Shrimp. It is served with French Fries and Coleslaw on the side.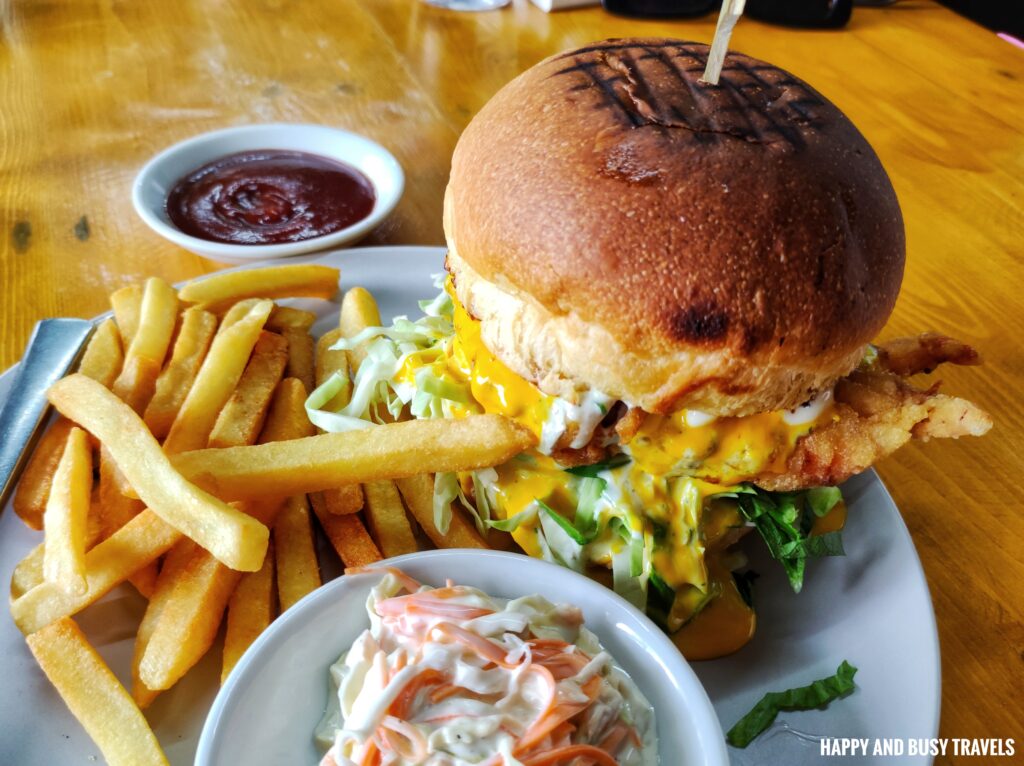 Special Lomi
This Special Lomi is huge, so it can be eaten by up to 2 people. The bowl is full of hot Lomi noodles and soup and topped with a lot of Pork, Chicharon, and Chips, which overflows the entire bowl.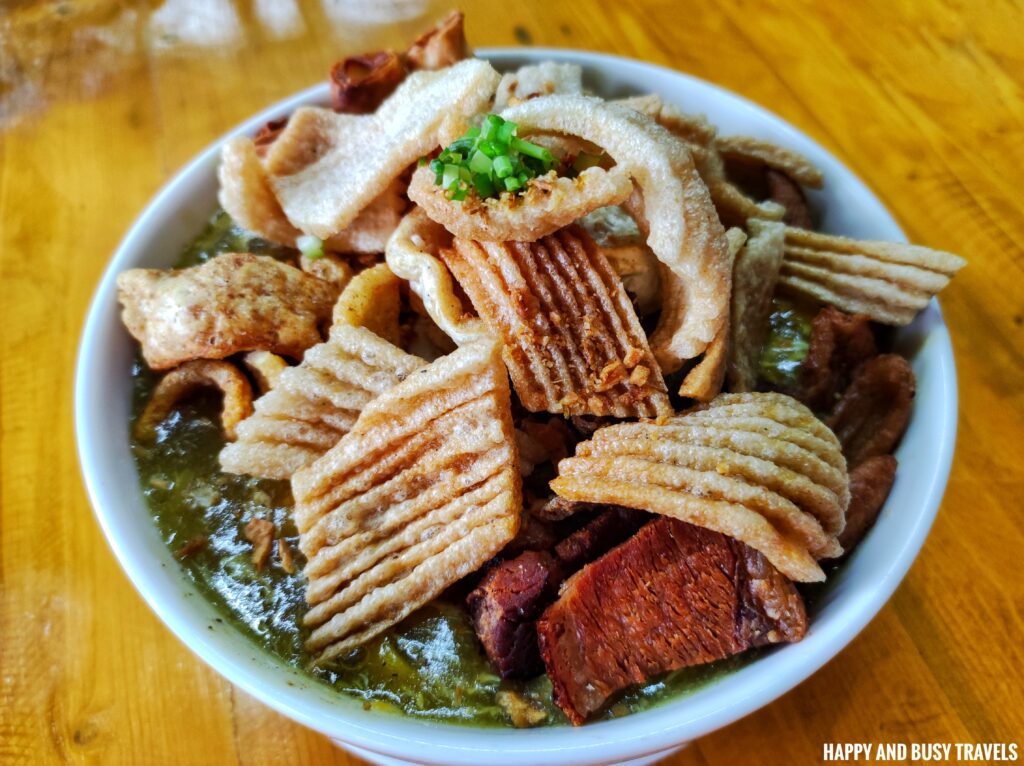 Sizzling Pork Sisig
Filipinos love Sizzling dishes, so here's their Sizzling Pork Sisig. Each order is good for 2 to 3 people.
Sizzling Bulalo Steak
Here's another Sizzling dish, the Sizzling Bulalo Steak. Bulalo is a dish with lots of soup, but Filipinos love to take everything up a notch, so the Sizzling Bulalo Steak was invented.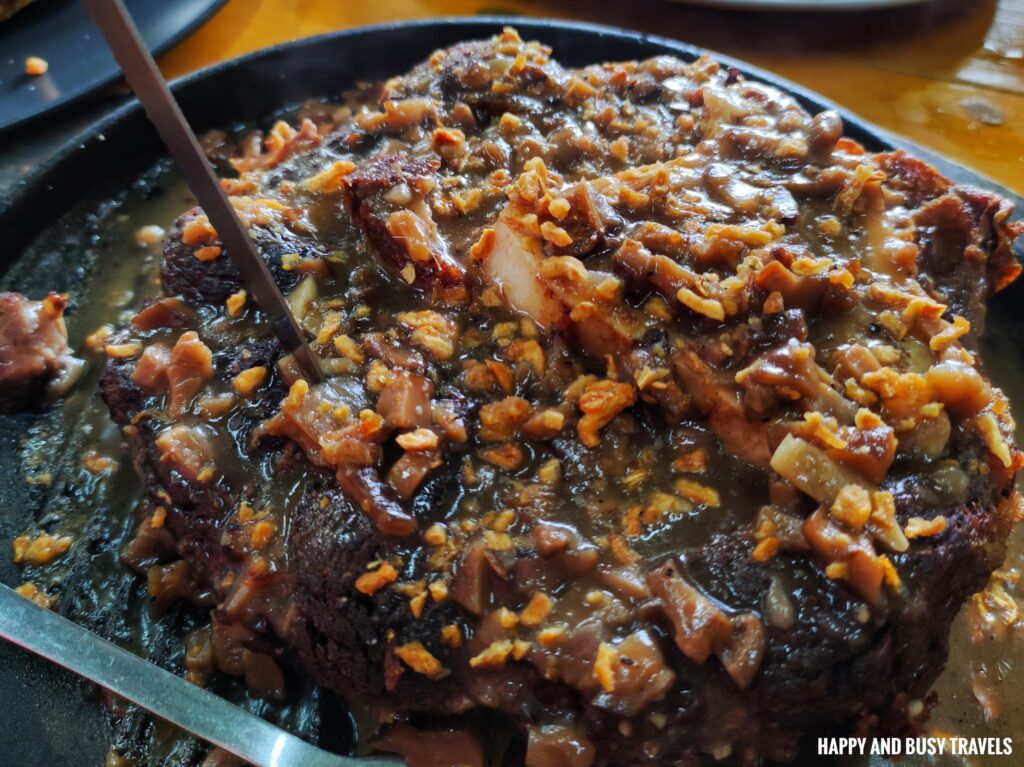 Grilled Porkchop BBQ
Here is my favorite dish, because I ordered this one haha. I was at first hesitant because it is served in Peanut sauce (which I am not a fan of), but when I took a bite, it tasted good and the peanut sauce is perfect for it.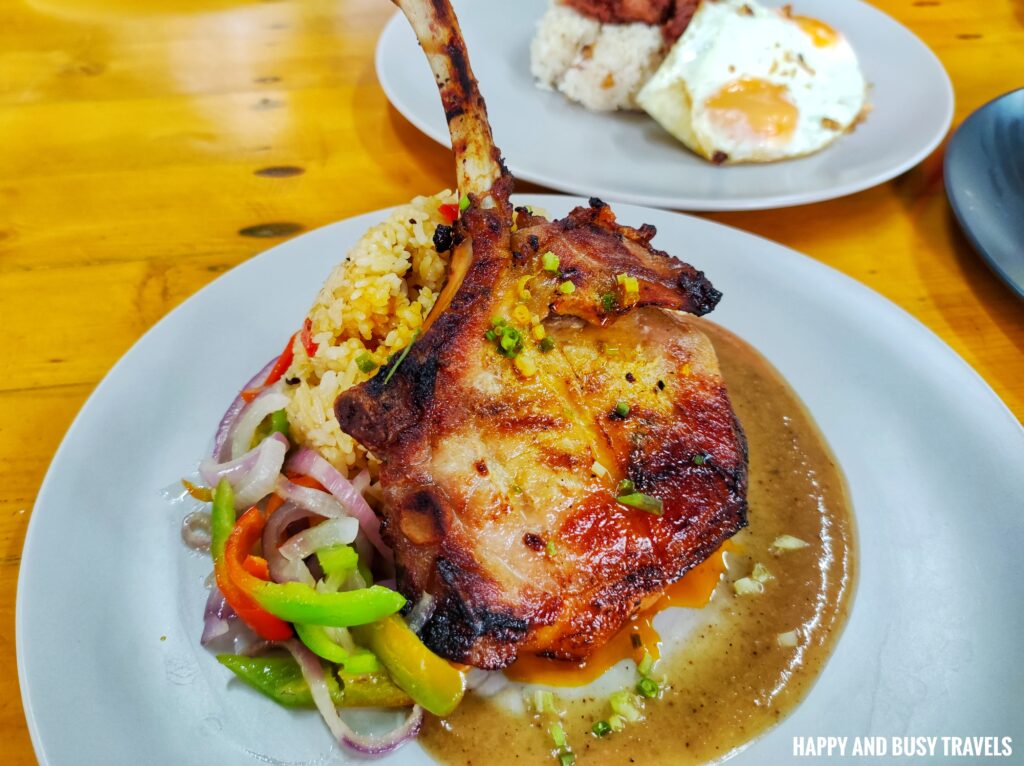 The Grilled Porkchop BBQ is served with Java Rice, which is perfect for the BBQ and peanut sauce. Everything on the dish is cohesive.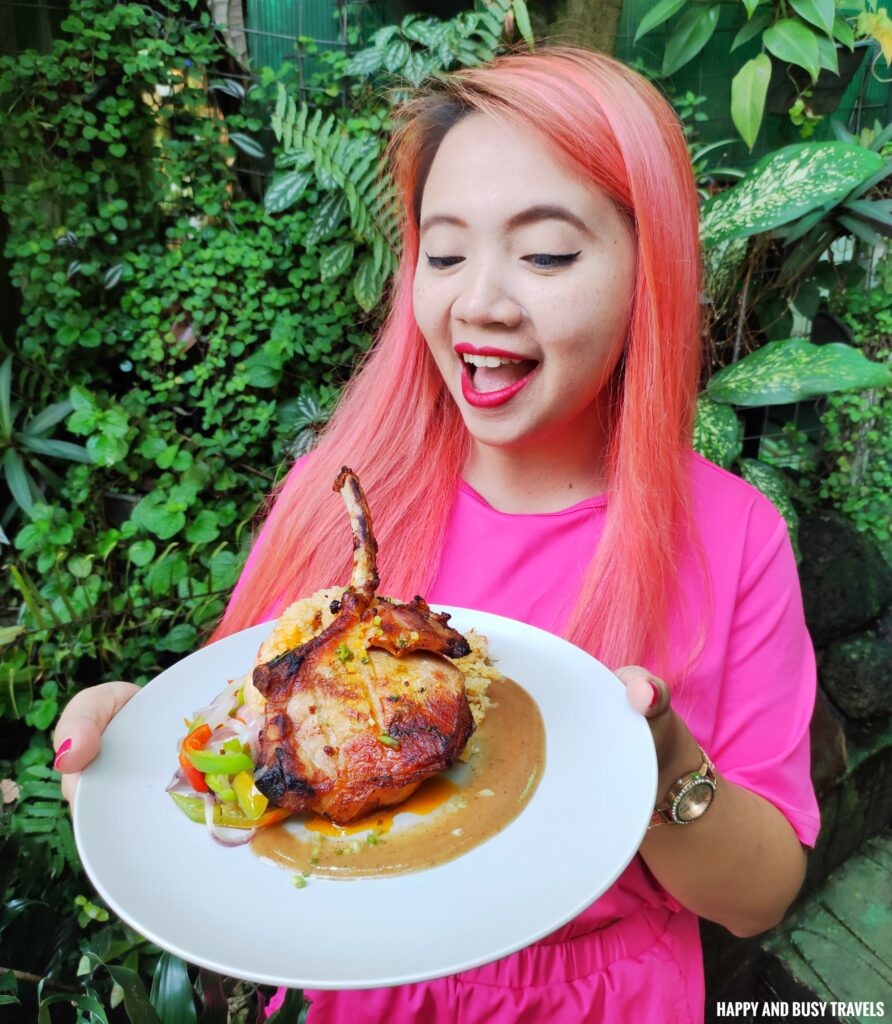 8-in-1 sa Bilao
Verdiview Restaurant also serves group meals. This is highly recommended because you can save money and try a lot of viands in one order. So, we tried their 8-in-1 sa Bilao, which is shown in the picture below.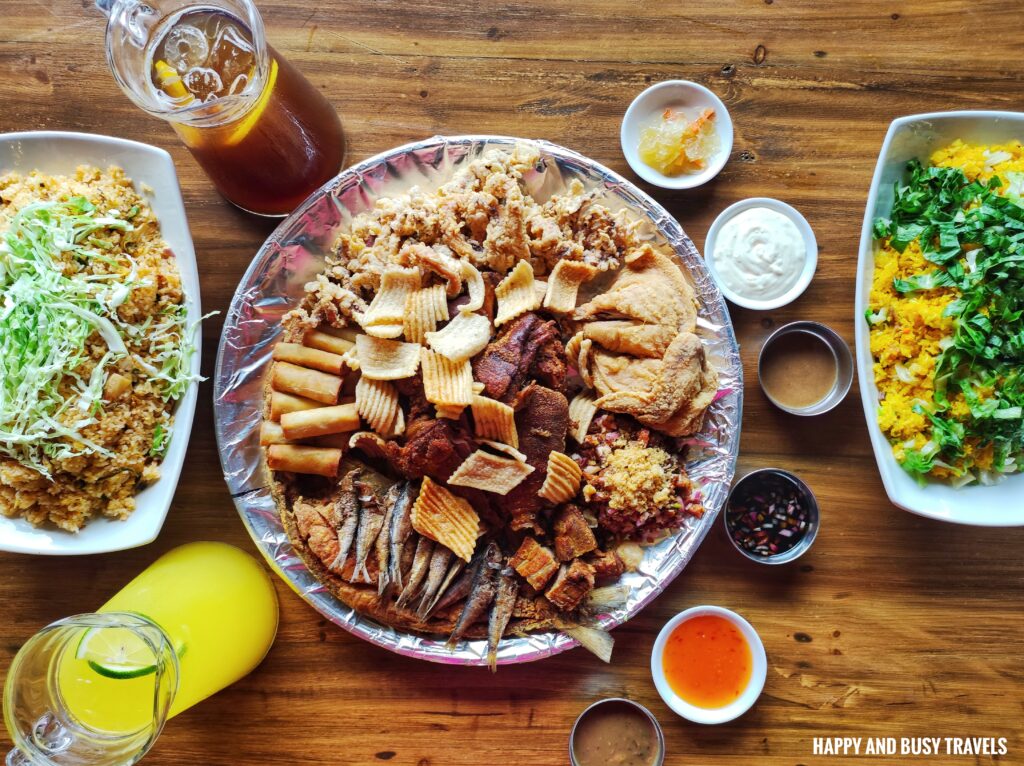 This group meal has two pitchers of drinks, Lemonade, and Iced Tea, two kinds of rice, five kinds of dip, atchara, plus eight viands.
Guests can choose two kinds of rice: Garlic Rice, Aligue Rice, Yangchow, Binagoongan, and Kimchi Fried Rice. So, we had Yangchow and Kimchi Fried Rice.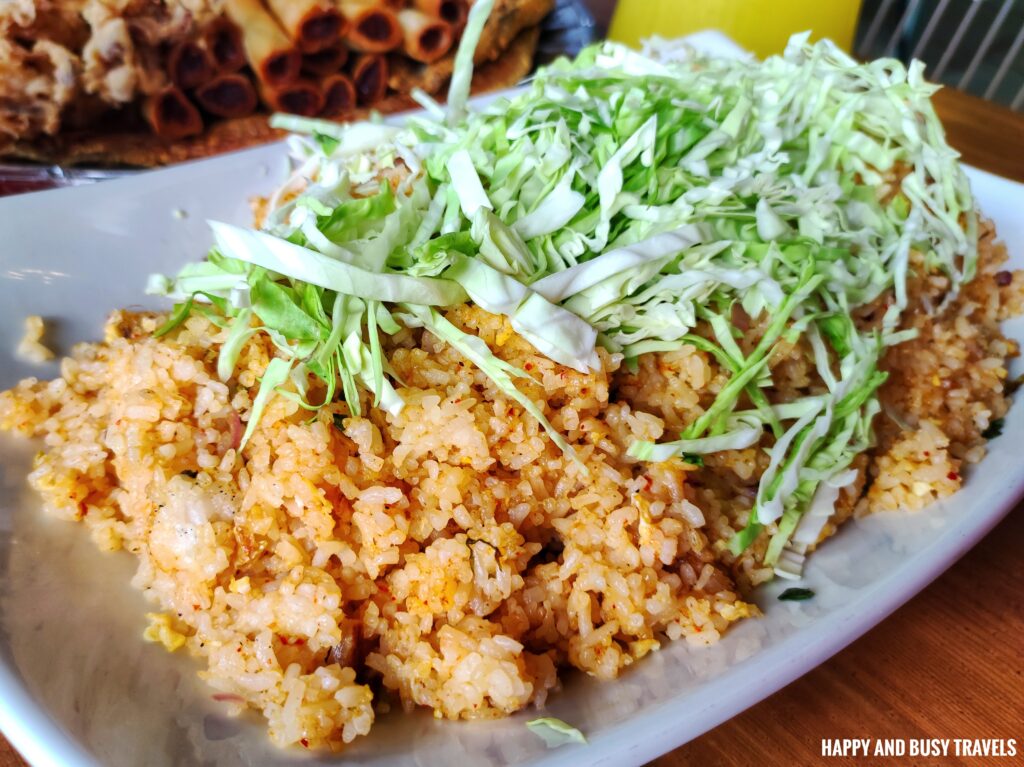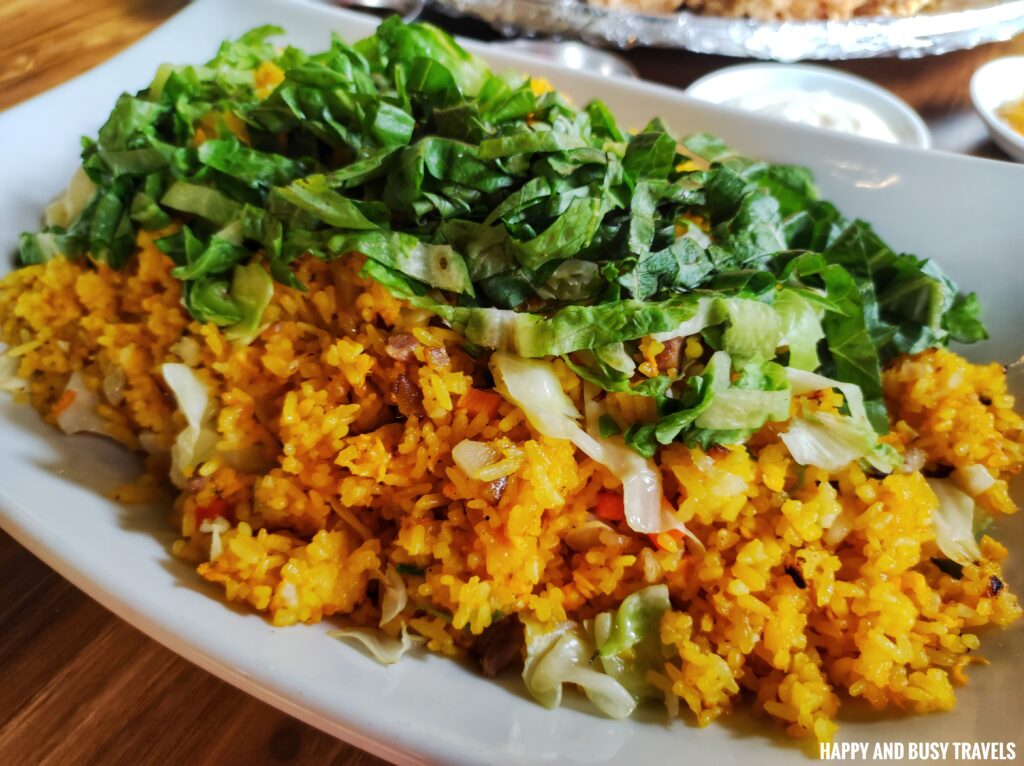 The Bilao consists of eight viands:
Crispy Pata
Fried Chicken
Pork Sisig
Lechon Kawali
Boneless Bangus
Crispy Tawilis
Lumpiang Shanghai
Calamares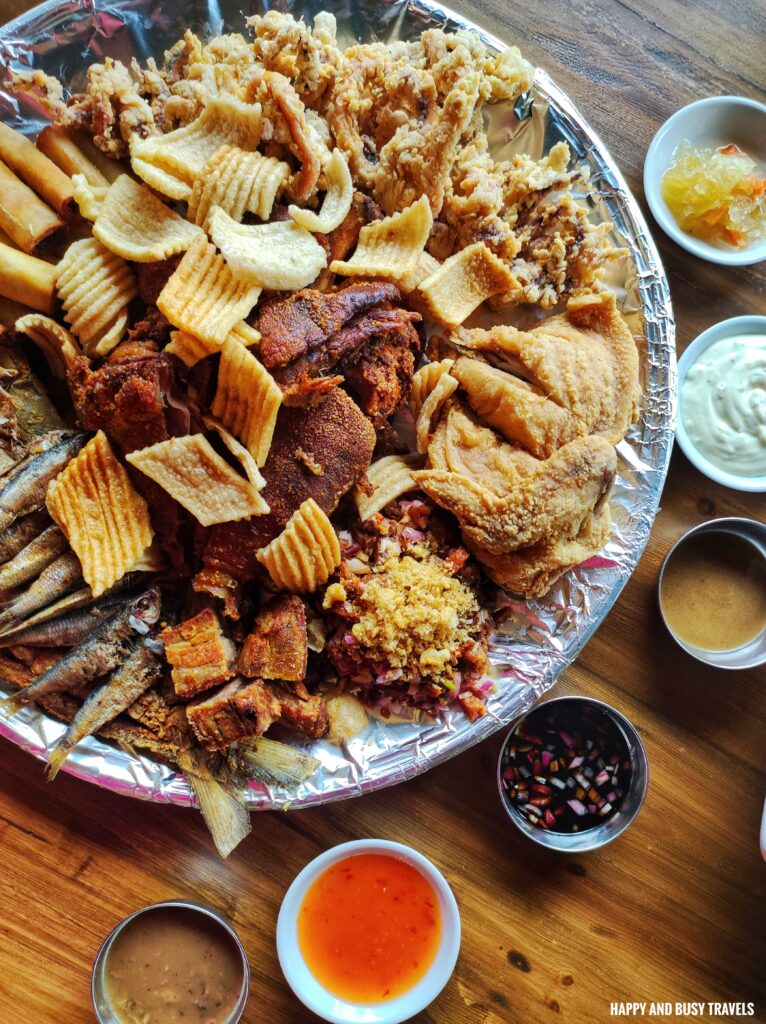 I tasted everything and it tasted good! I love this set meal because I love fried food.
Breakfast Dishes
There are various breakfast dishes also available for the whole day. Each dish costs Php 285, and it is served with Garlic/plain Rice, and Two Eggs.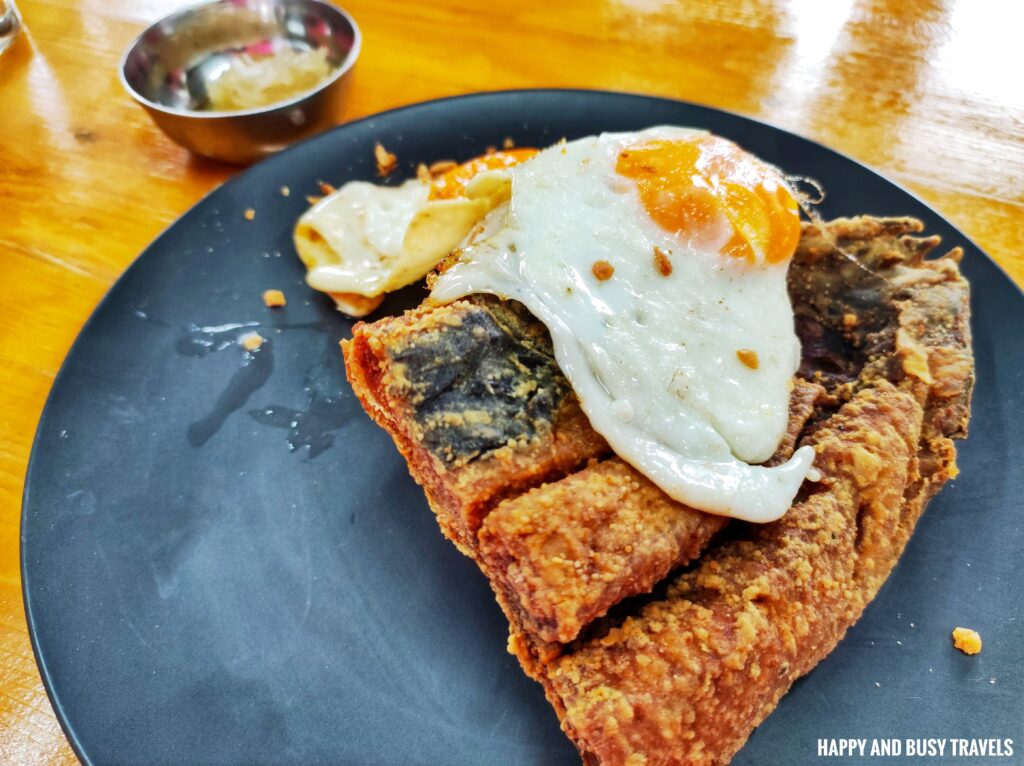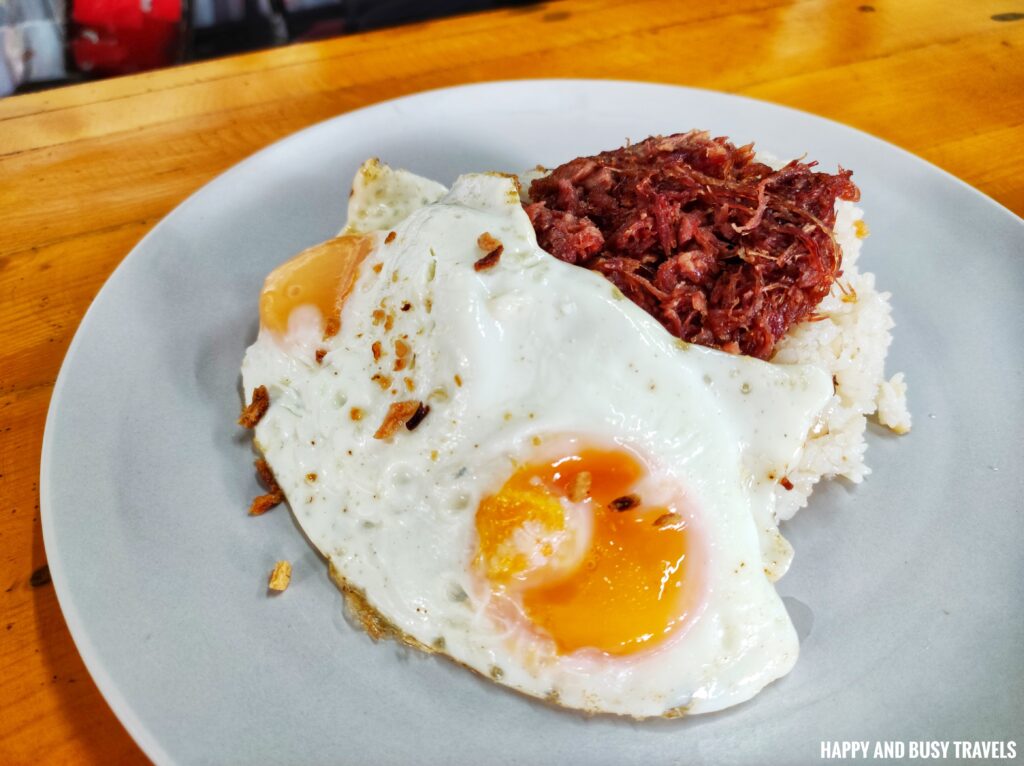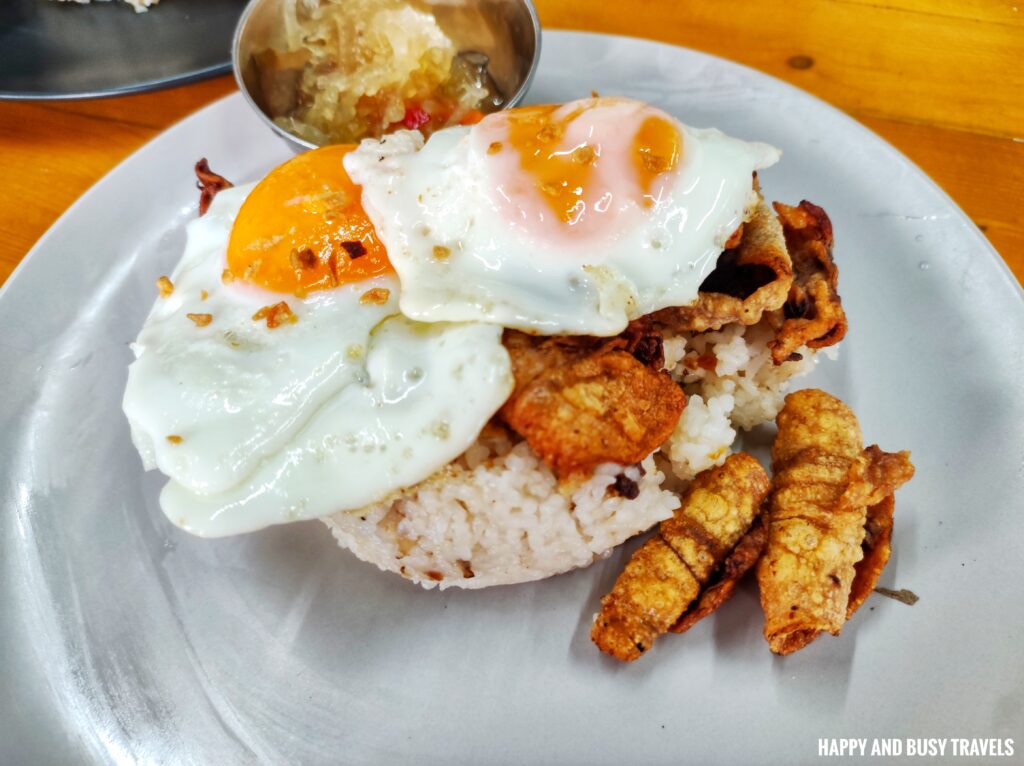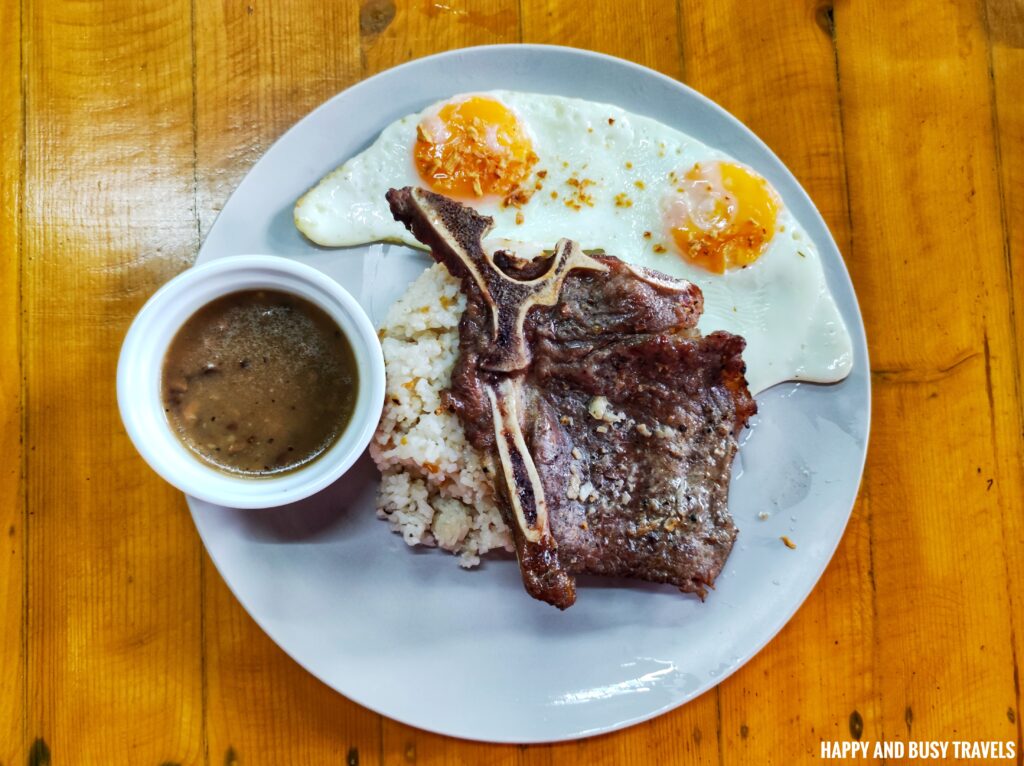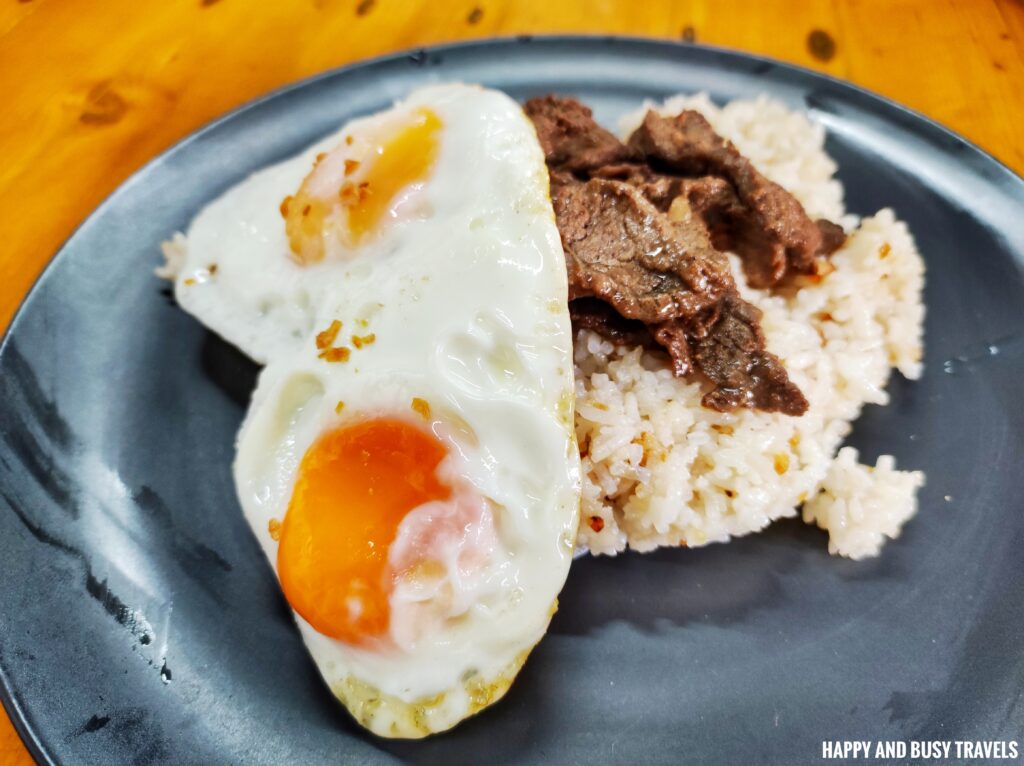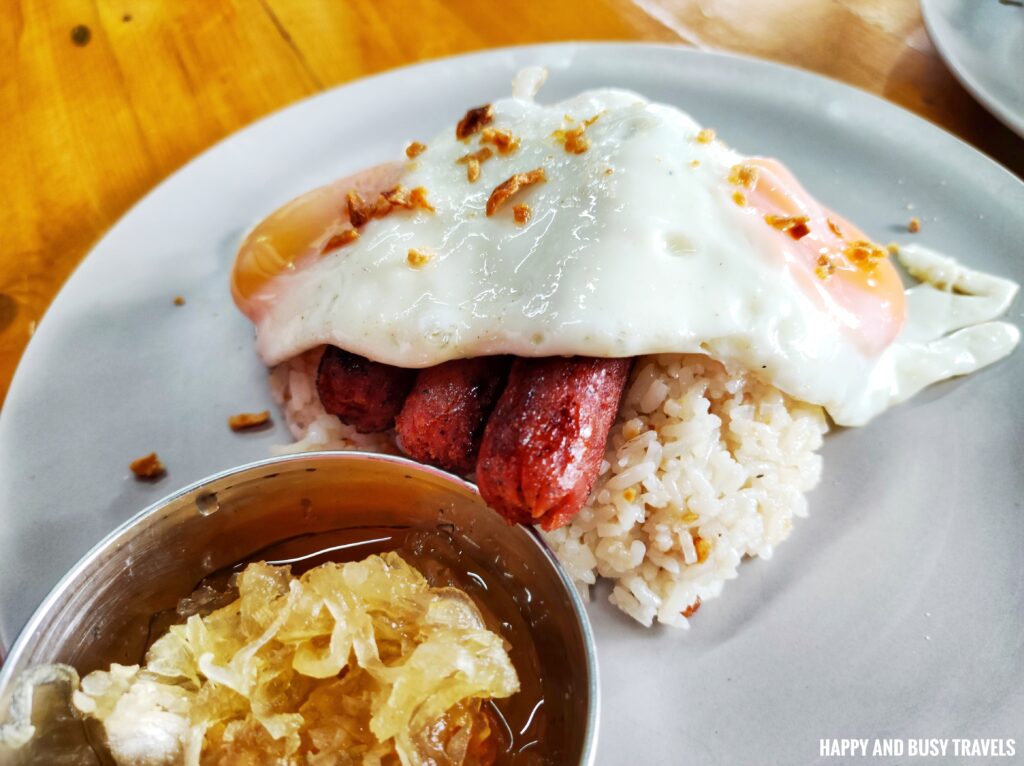 Fresh Fruit Shakes
Even though the weather in Tagaytay is cold, we still wanted to take a sip of their Fruit Shakes, so my friends and I bought a lot of fruit shakes. The flavors are Mango, Avocado, Watermelon, and Guyabano, which are just a few from their long list of available drinks. Everything is made out of fresh fruits, so we really enjoyed our drinks.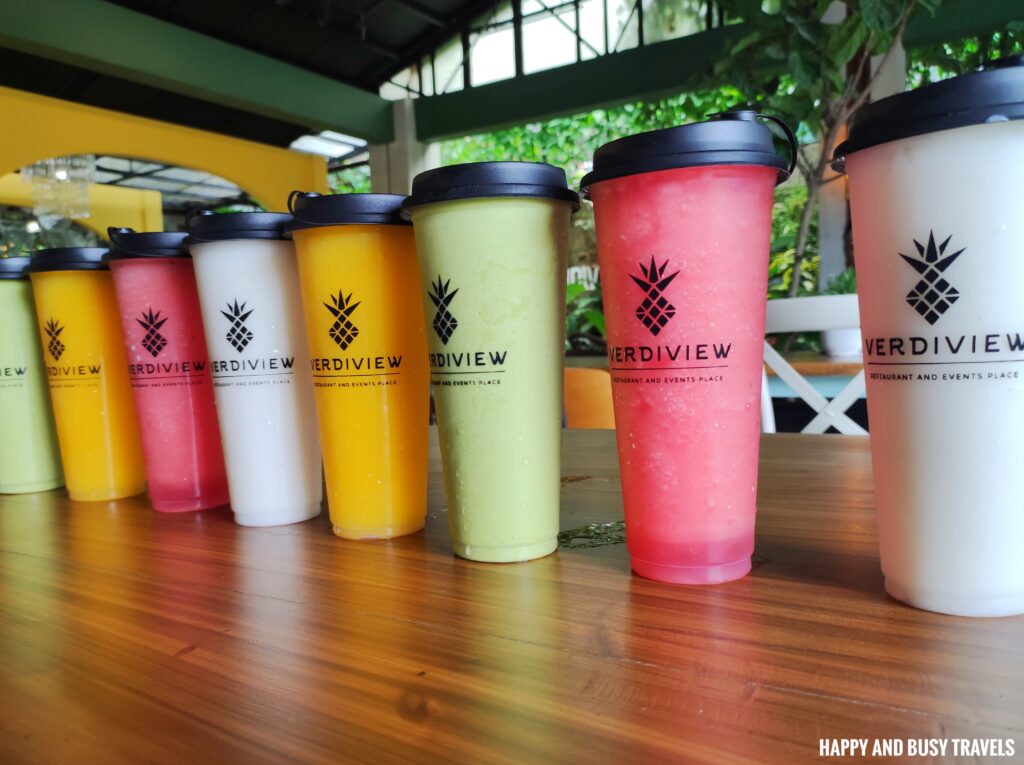 Menu of Verdiview Restaurant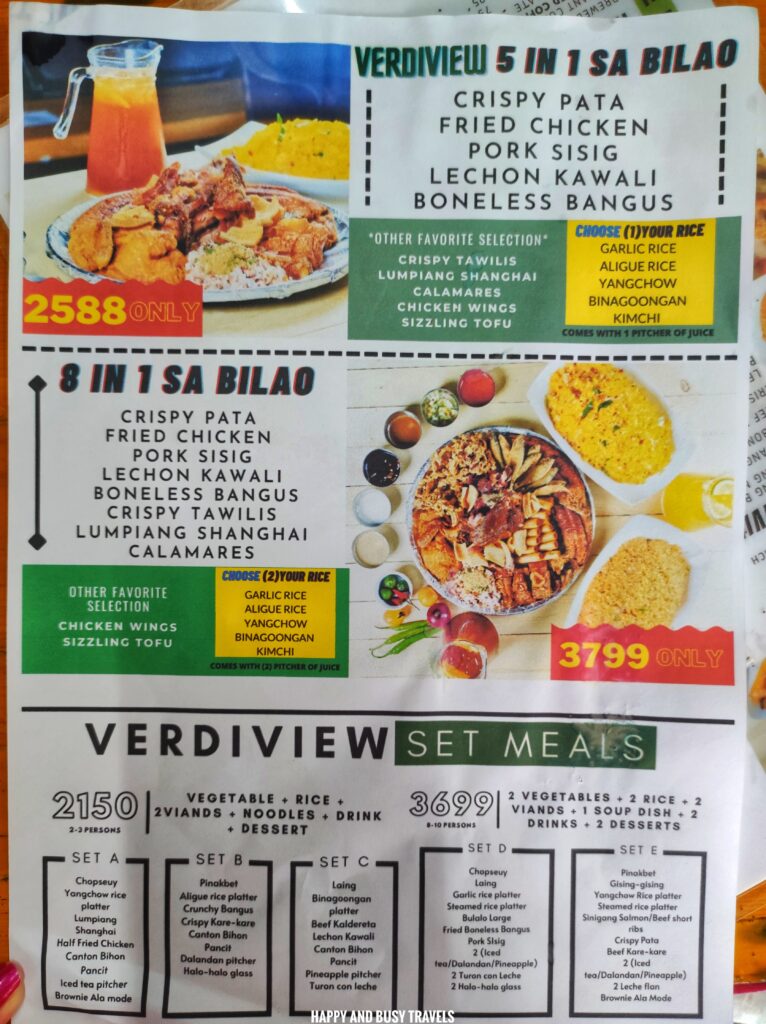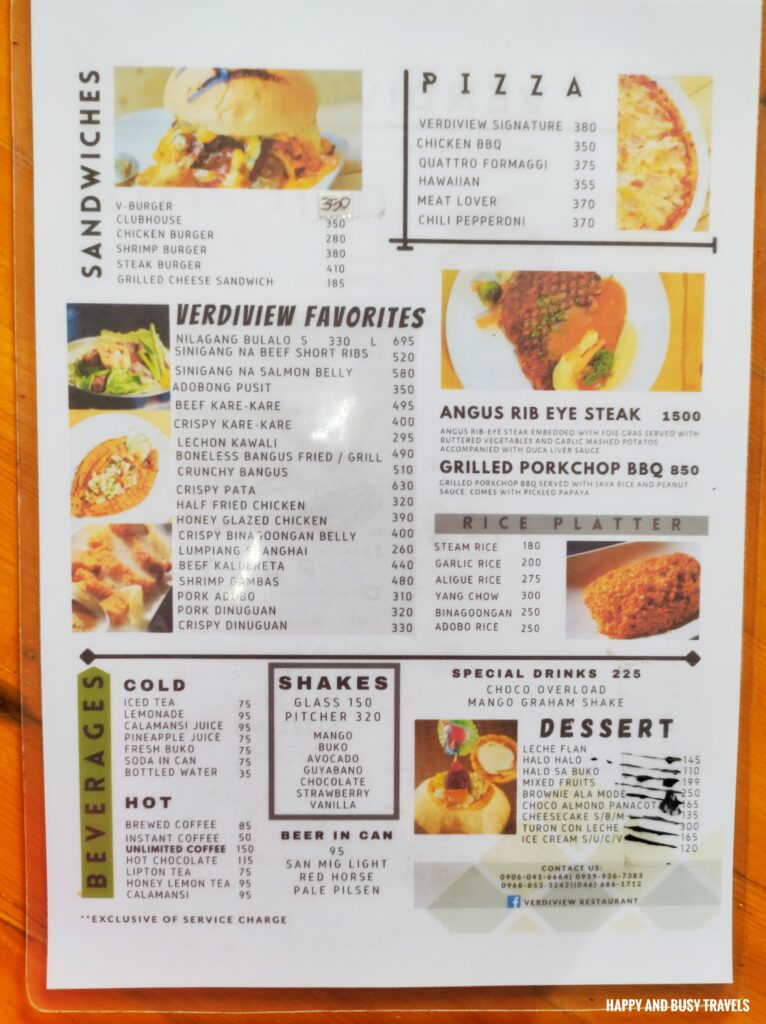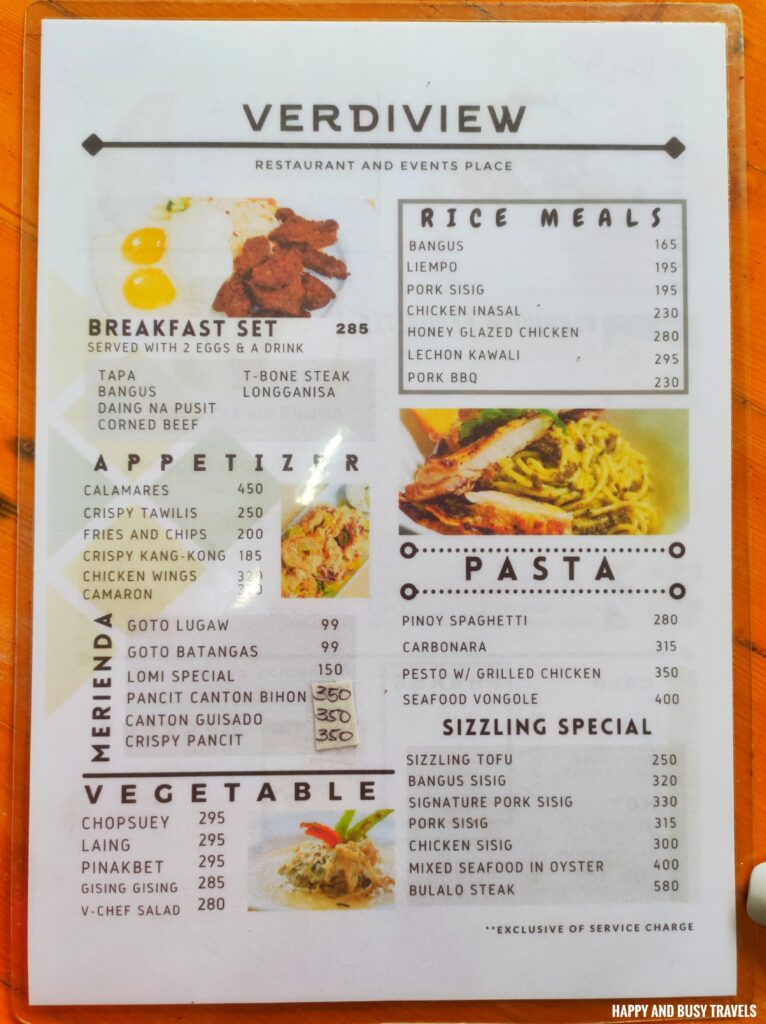 Happy and Busy's Smileys for Verdiview Restaurant
Overall, my friends and I enjoyed our dining experience in the restaurant. Aside from the nice ambiance, and good food, the service is also great, so each guest including us will really want to go back again.
Food
Location
Ambiance
Value for money
Service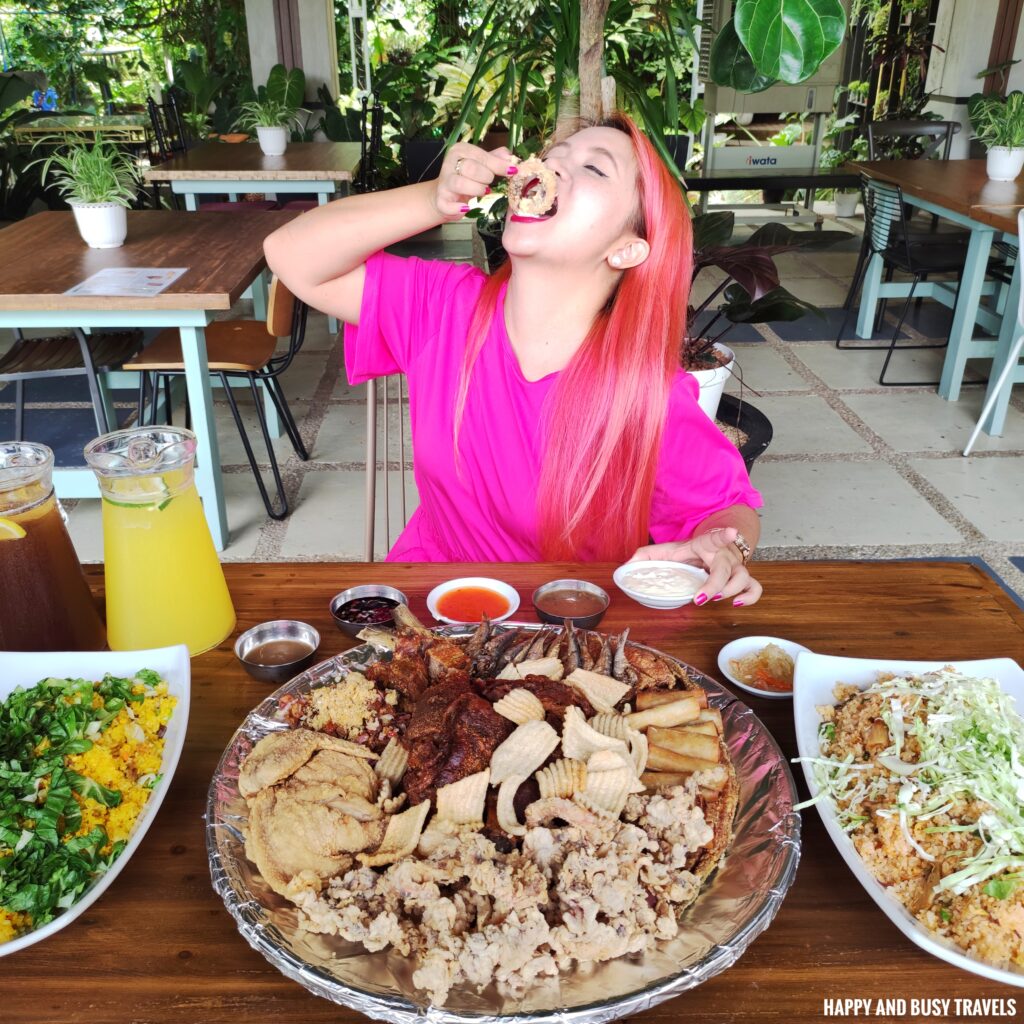 More exciting food and drinks reviews are at https://happyandbusytravels.com/category/food-and-drinks/ so do not forget to check it out!
Like! Follow! Subscribe! to our social media accounts: