Yello Hotel, Cebu City
My mom and I went to Cebu and stayed here in Yello Hotel. This is the only smart hotel in Cebu, so if you are still wondering where to stay in Cebu, you have to read this blog and book them right away.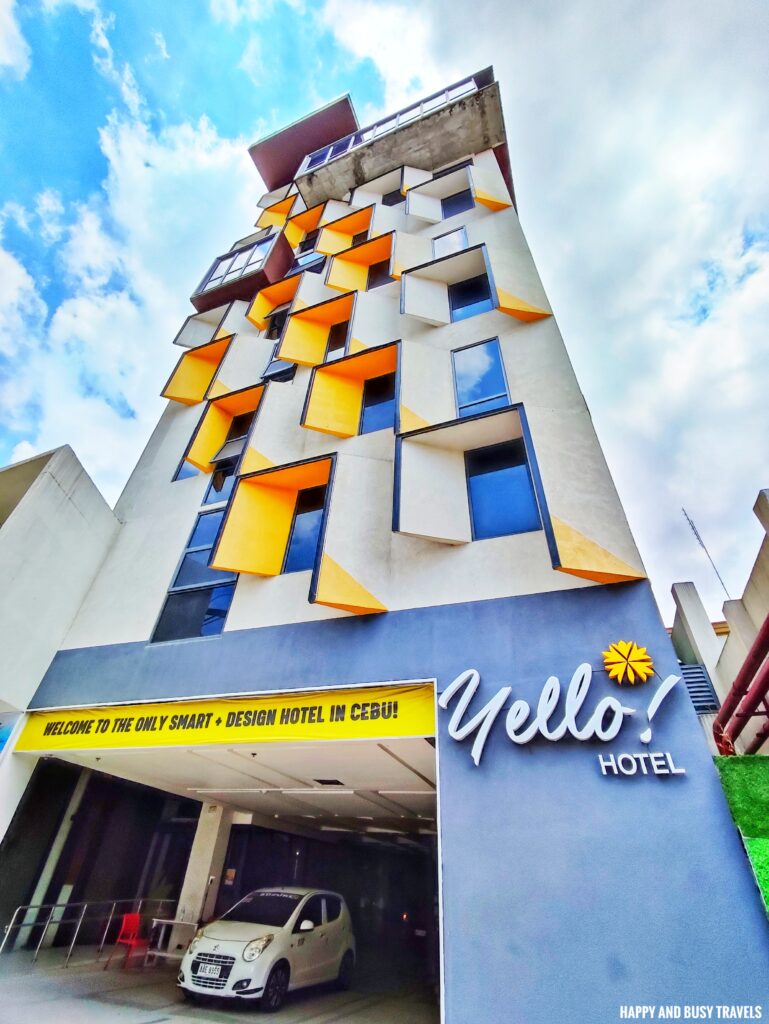 Quick Links
If you want to see a quick tour of the hotel, watch and enjoy our TikTok video.
Checking In Yello Hotel
We arrived late at night but did not worry because the hotel has a 24-hour reception. So, we swiftly checked in and went to our room.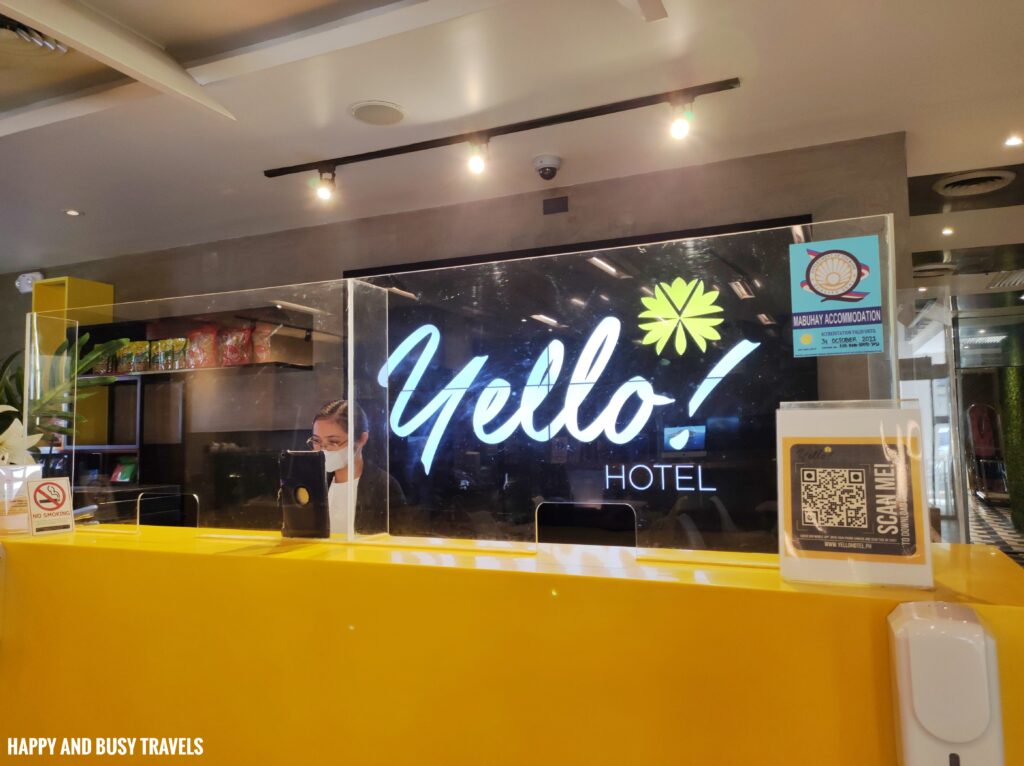 We were assigned to the seventh floor.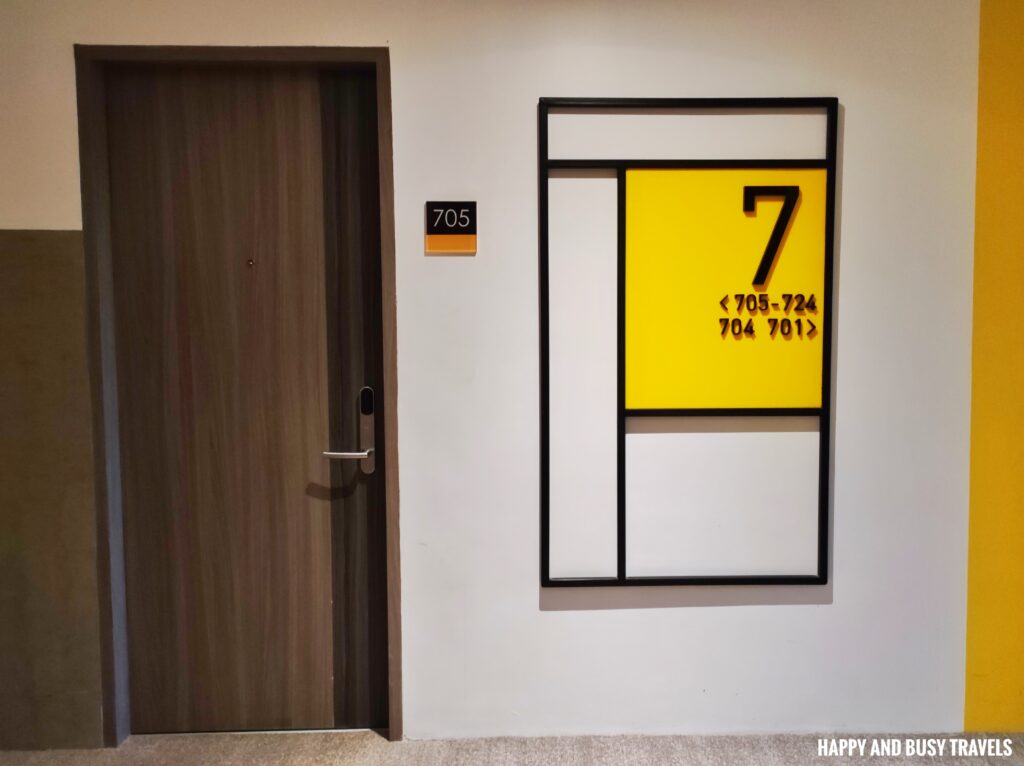 Superior Twin Room
We booked a superior twin room and here is what it looks like.
Bed
There are two single beds which are soft and comfortable.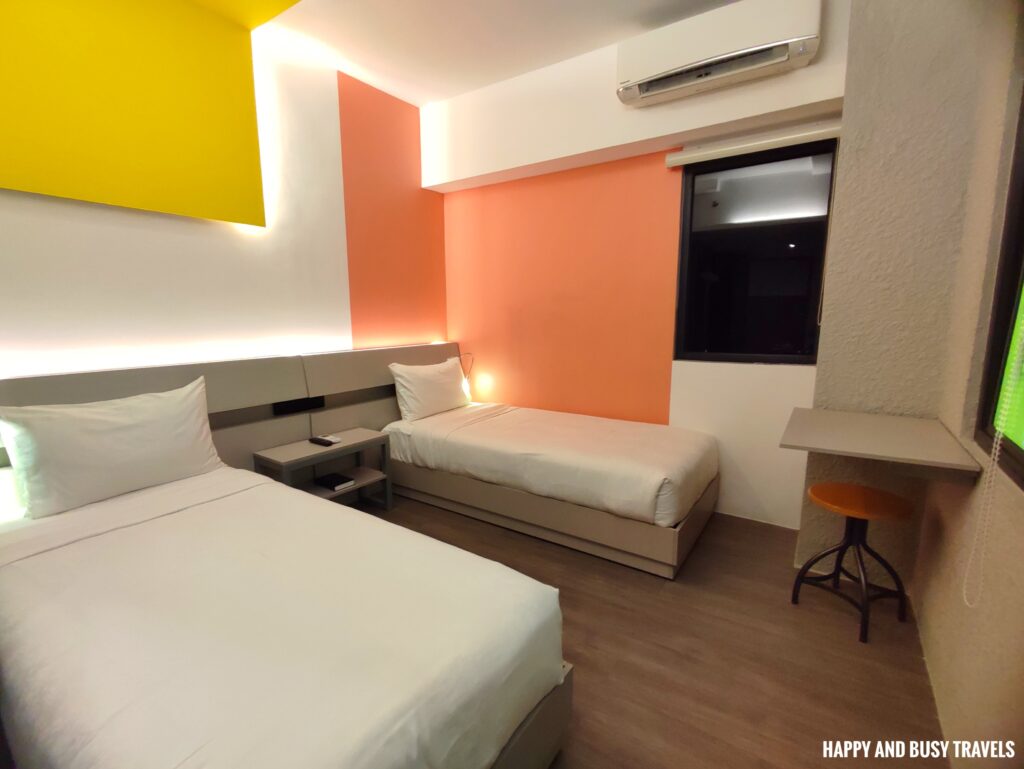 Large Table
There is a large table that serves as an area to place our things.
We placed our baggage and my fins here.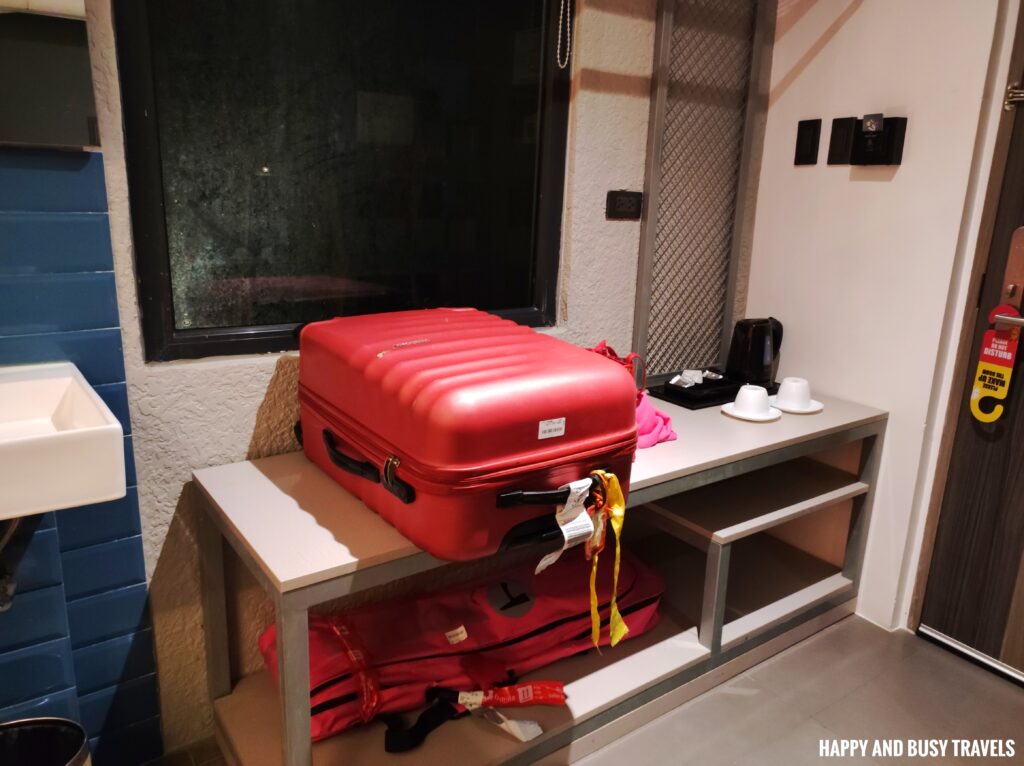 Electric Kettle and Coffee
There is an electric kettle, coffee, and coffee mugs.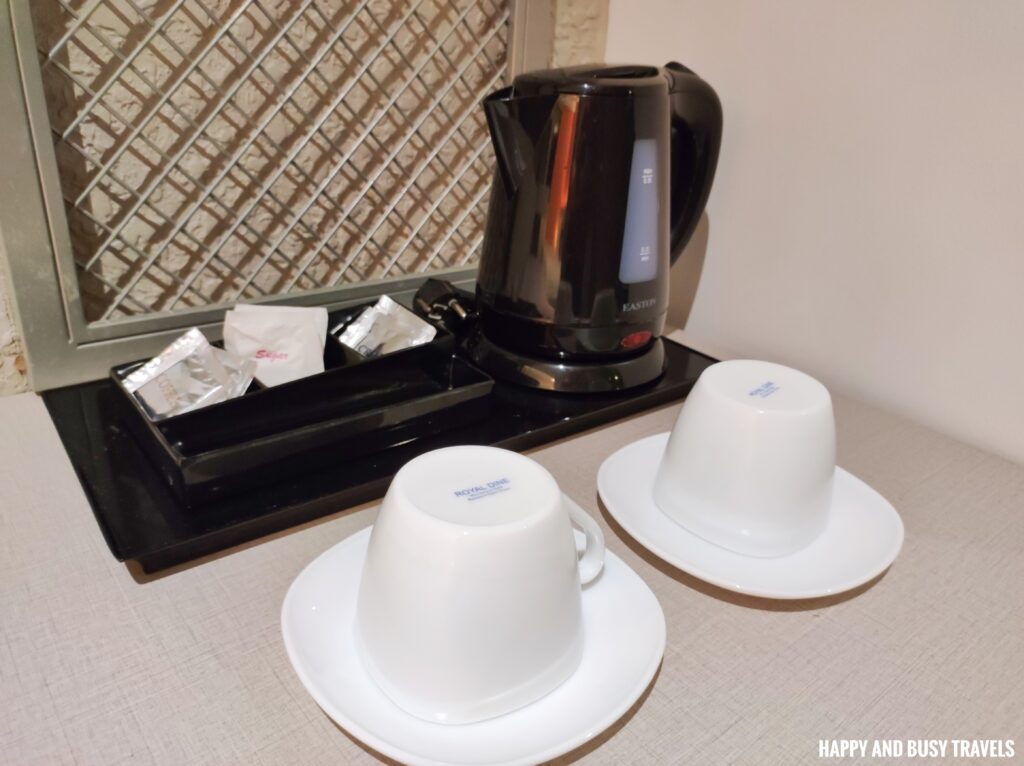 Sink
The sink is placed outside the bathroom.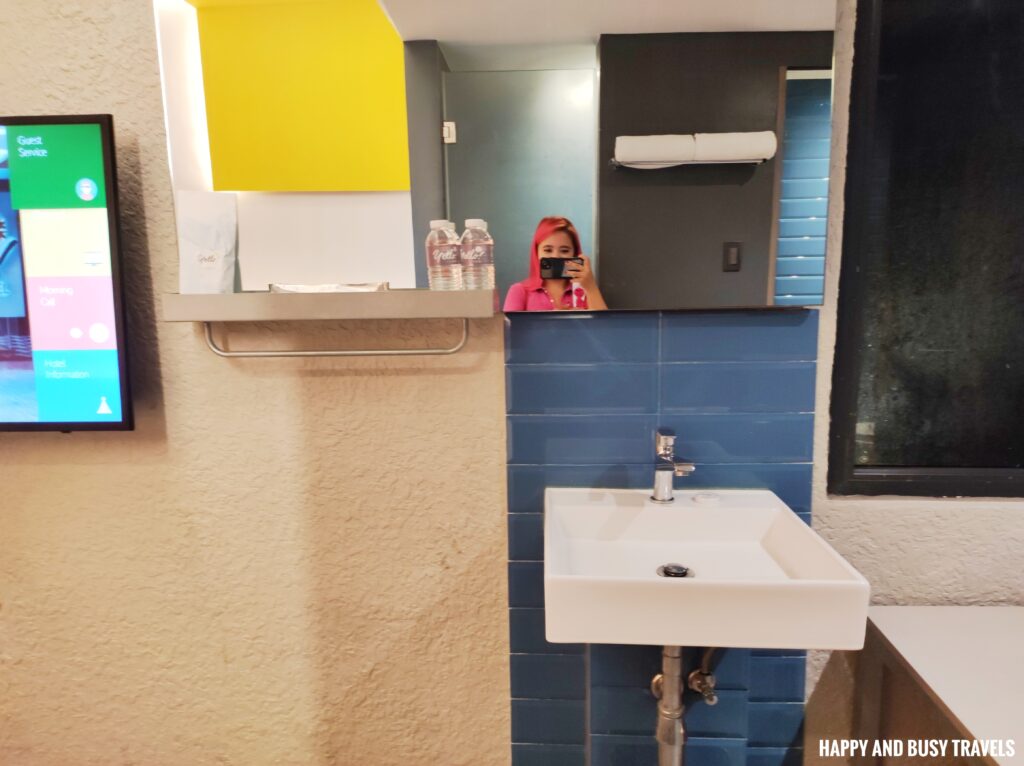 Toiletries
There are bottled water, toiletries, and a care kit too. The toiletries include toothbrushes, toothpaste, shampoo, and soap. Then, the care kit contains a mask and alcohol.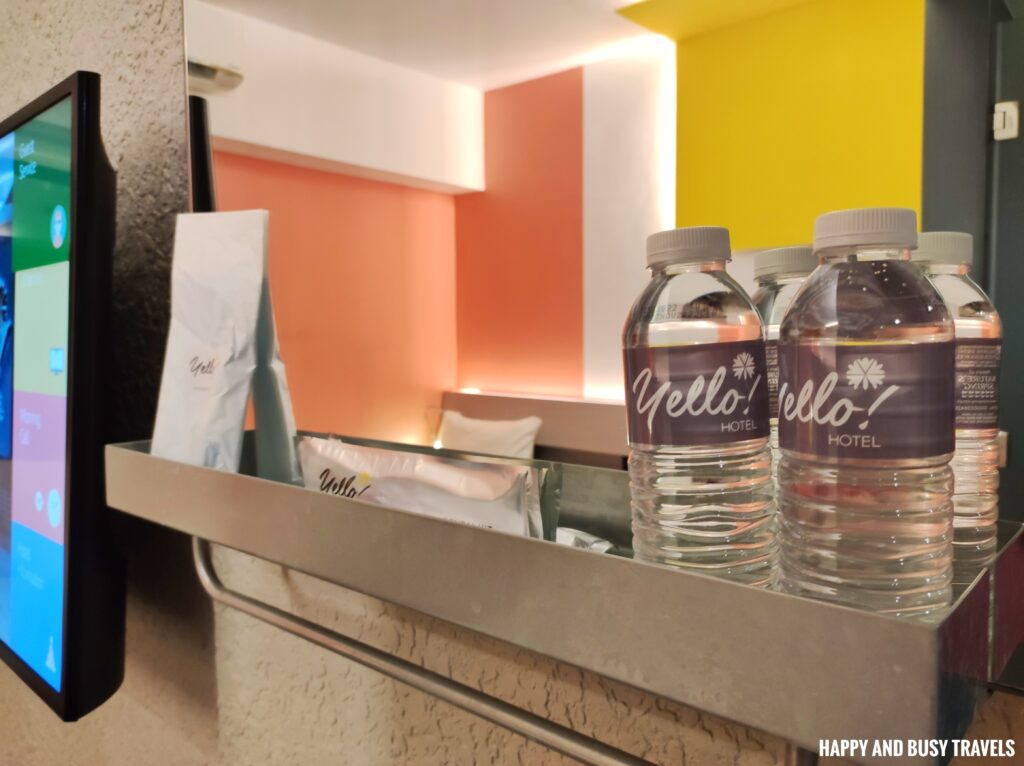 Comfort Room
Here is the comfort room area. The shower and toilet bowl are separated, the bath towels are smartly placed beside the door of the shower area, and the full-length mirror acts as the door of the toiler bowl area.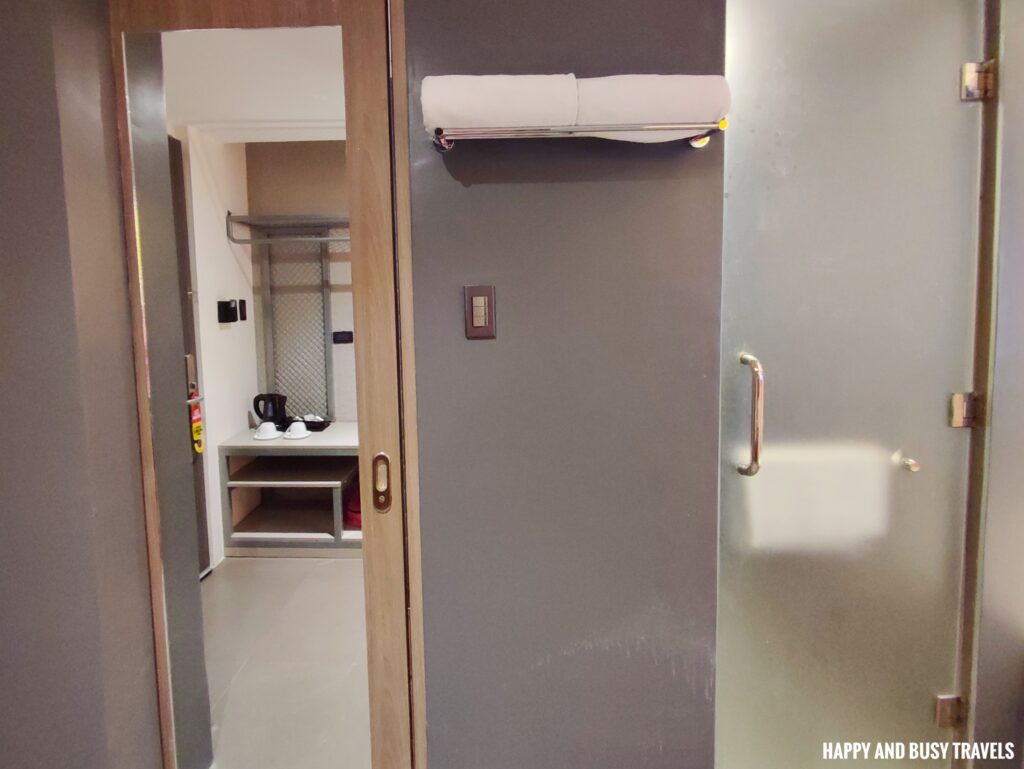 Toilet Bowl
Here is the toilet bowl area, and yes there is a bidet.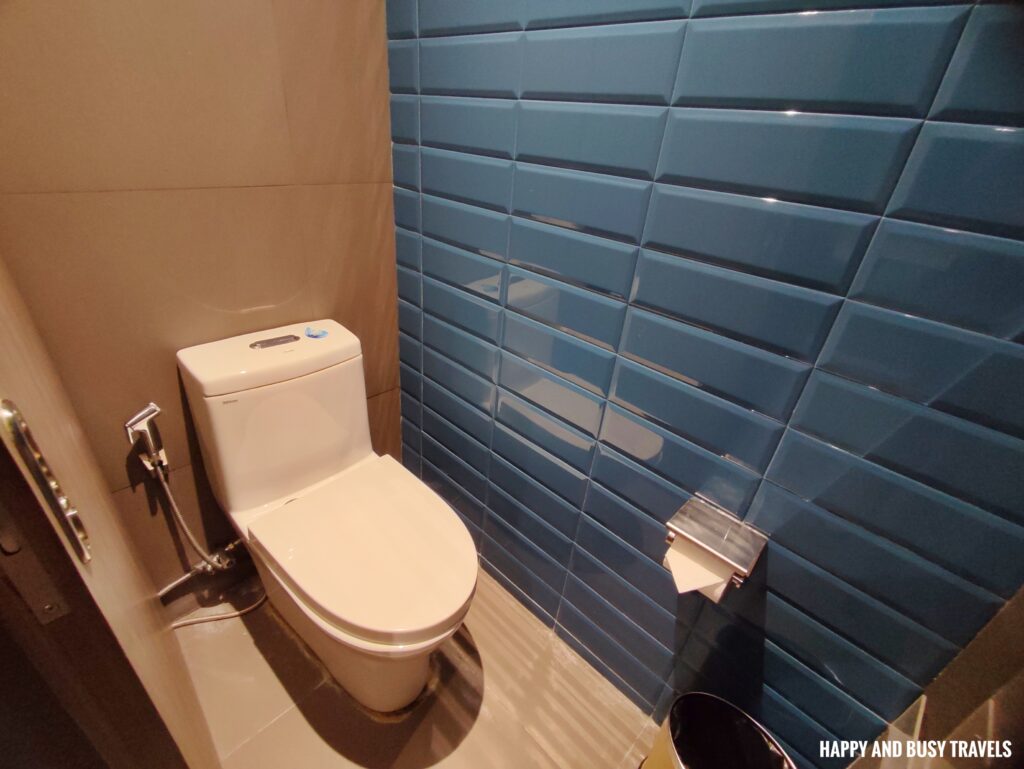 Shower Area
There is a hot and cold shower, and we can choose between the rain shower and the head shower.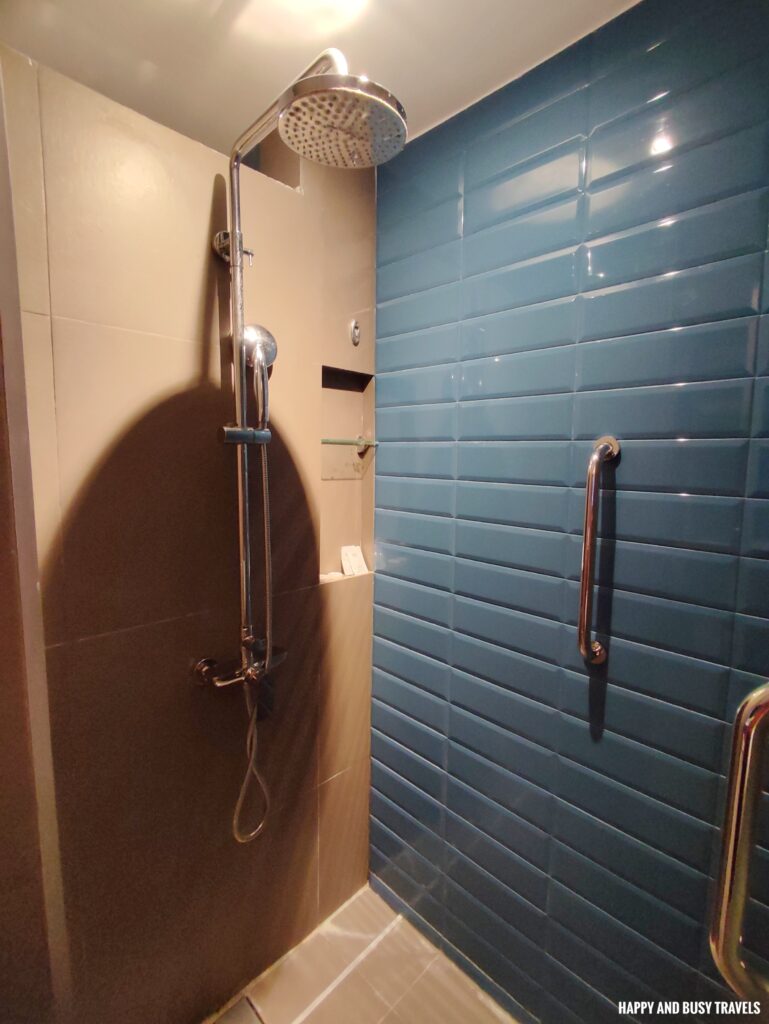 Television
There is also a television with cable channels, and there are a lot of windows here wherein we can see various large houses.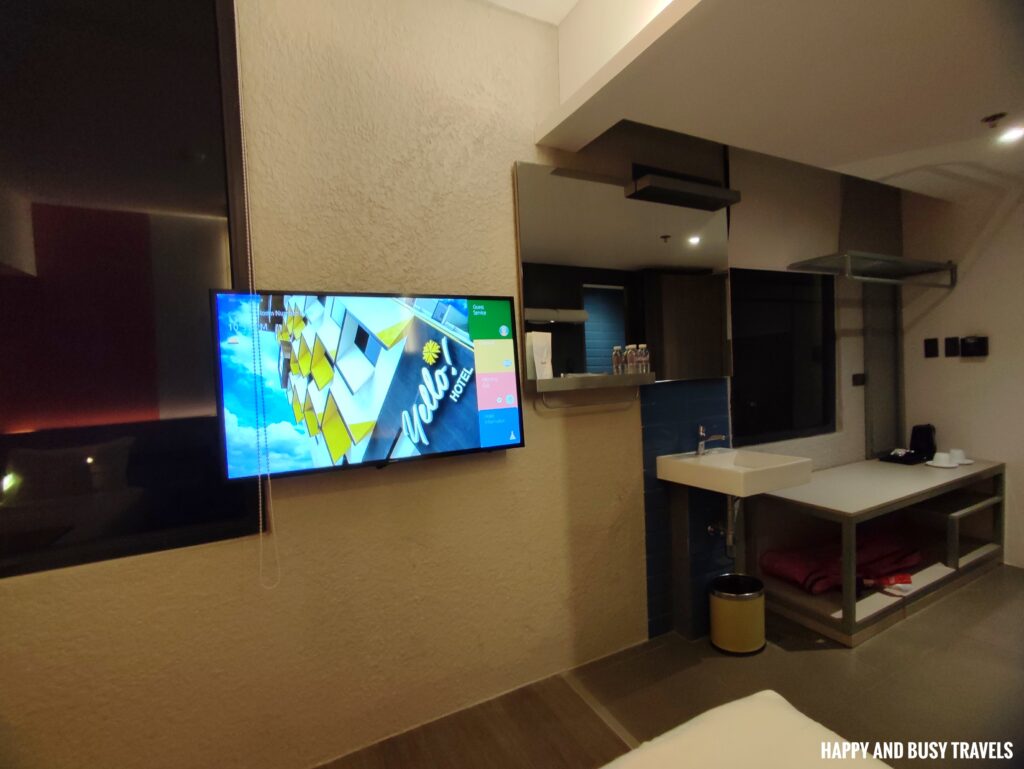 Summary of the Features
Two single beds
Lots of windows
Airconditioning Unit
Television
Reading lights
Desk and a chair
Sink
Large table
Electric Kettle
Coffee and mugs
Bottled Waters
Toiletries and care kit
Bath towels
Own comfort room
Separate shower and toilet bowl area
Hot and cold shower
Lots of electrical sockets
Full-length mirror
Wifi
Features and Amenities of Yello Hotel
The hotel has a lot of features and amenities, which I will show you.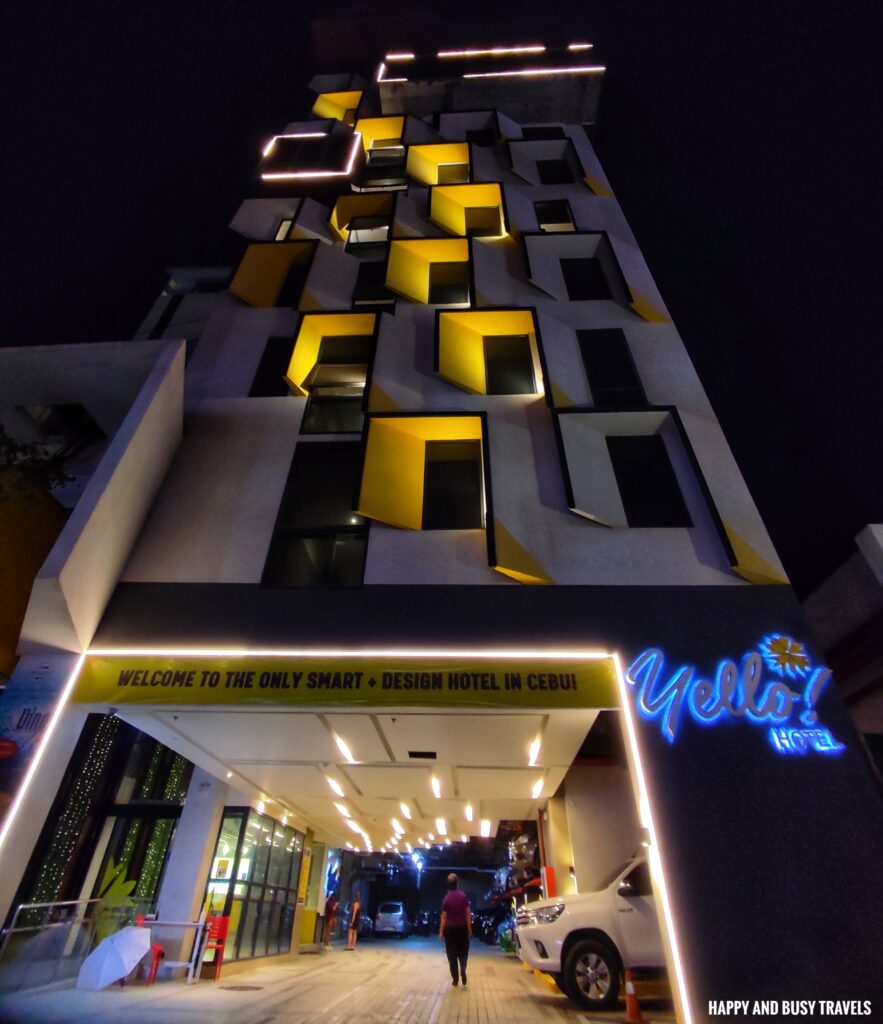 Fujinoya Cafe
There is a cafe beside the reception area, they serve coffee, drinks, and delicious cakes.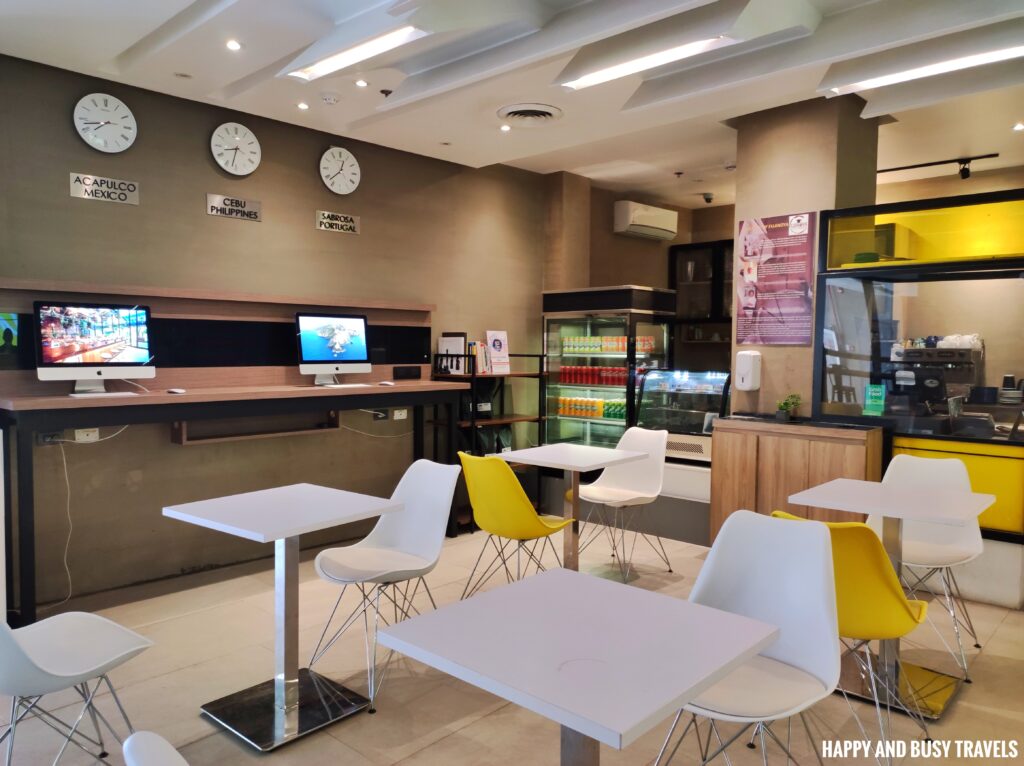 This is one of the cakes, all of their cakes are very delicious that's why my mom and I tried all of them alternately after every dinner.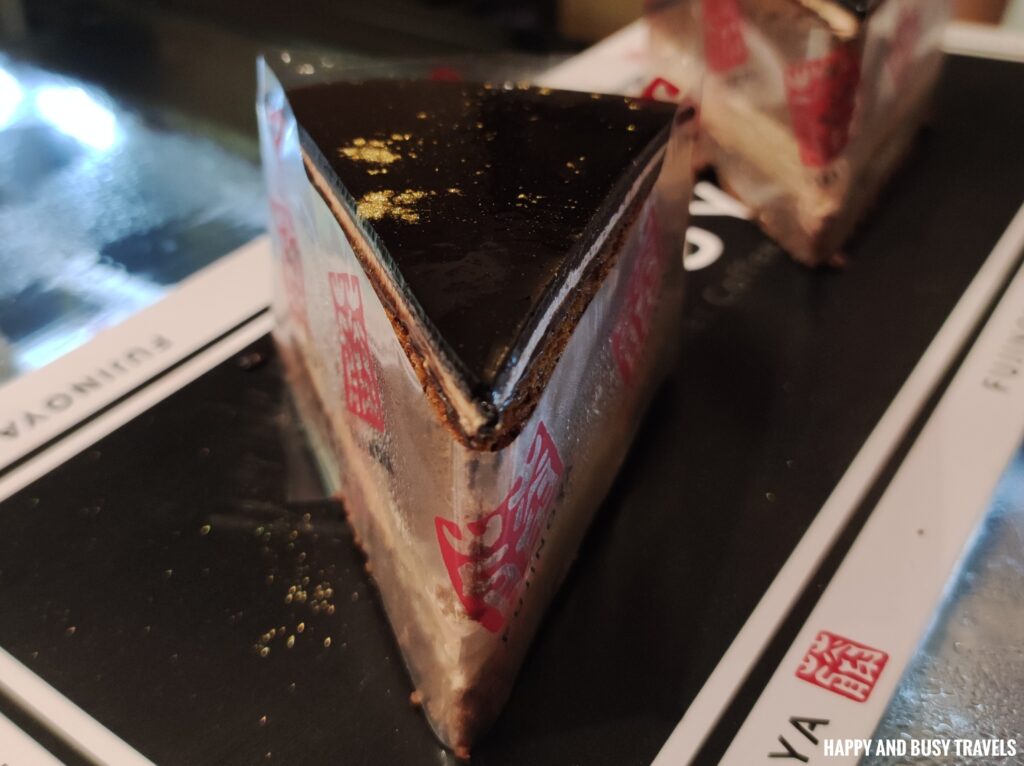 You can also wait here if ever your room is not yet ready for check-in, or you just checked out and waiting for your ride. Aside from the delicious food, there are also books here that you can read.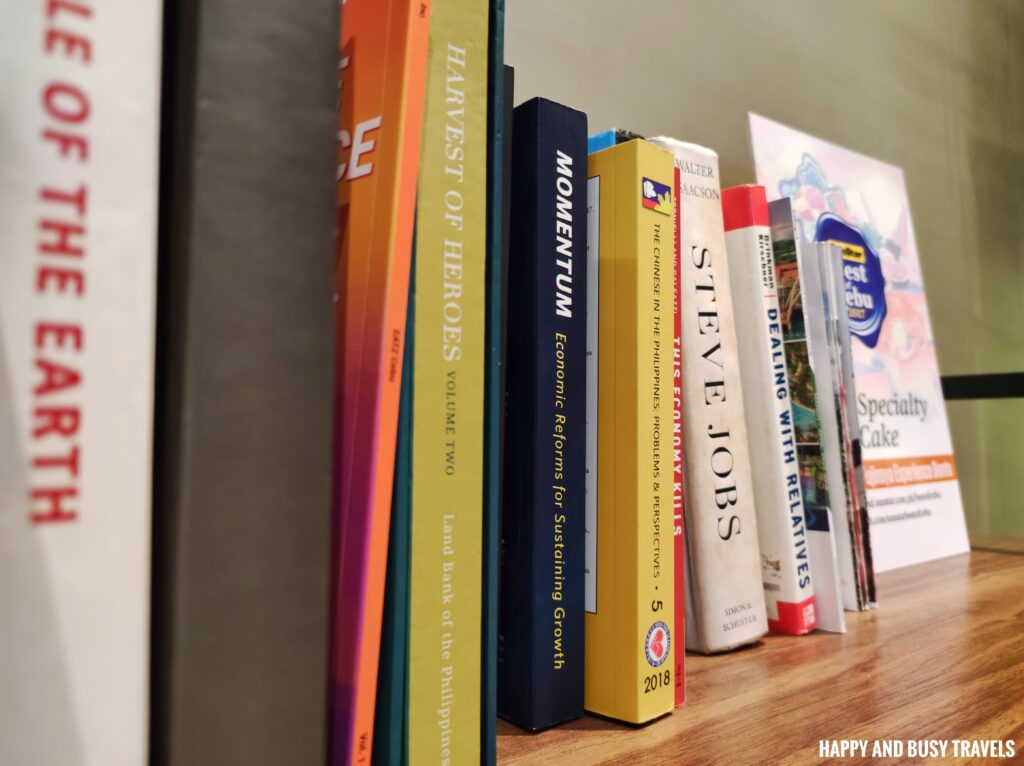 Computers
There are computers here that guests can use. Perfect for those who are travelling light and can't bring their laptop.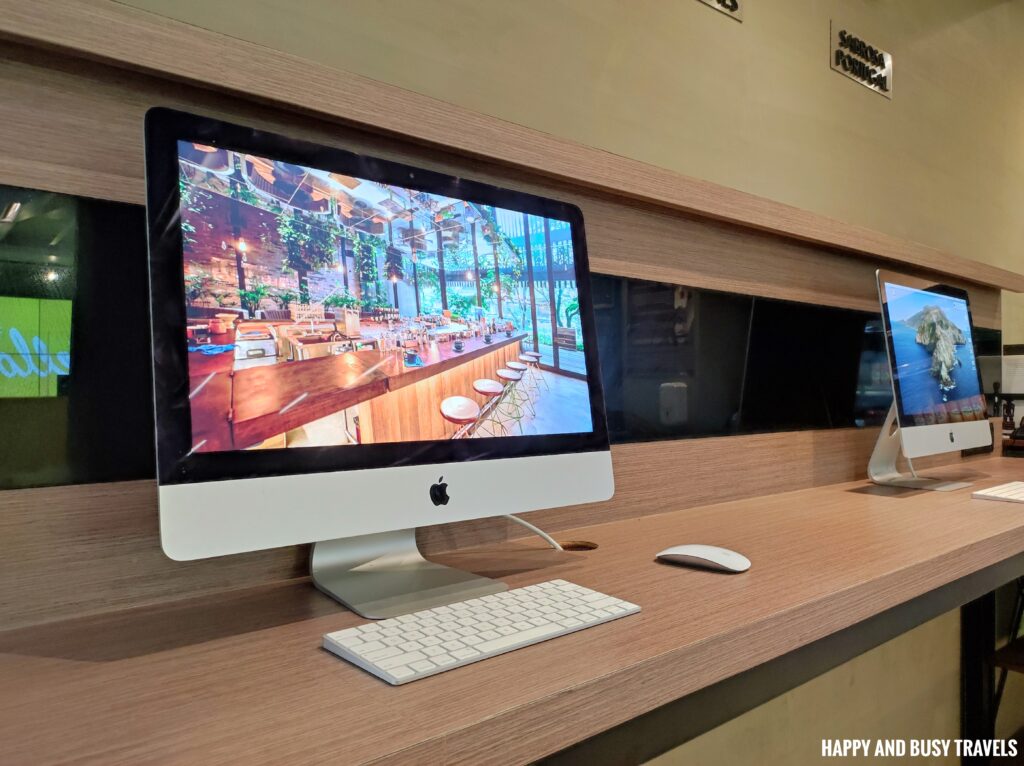 Dipping Pool
Those who love to swim can also enjoy their dipping pool. It is located on the roof deck so you can also enjoy the nice view while relaxing.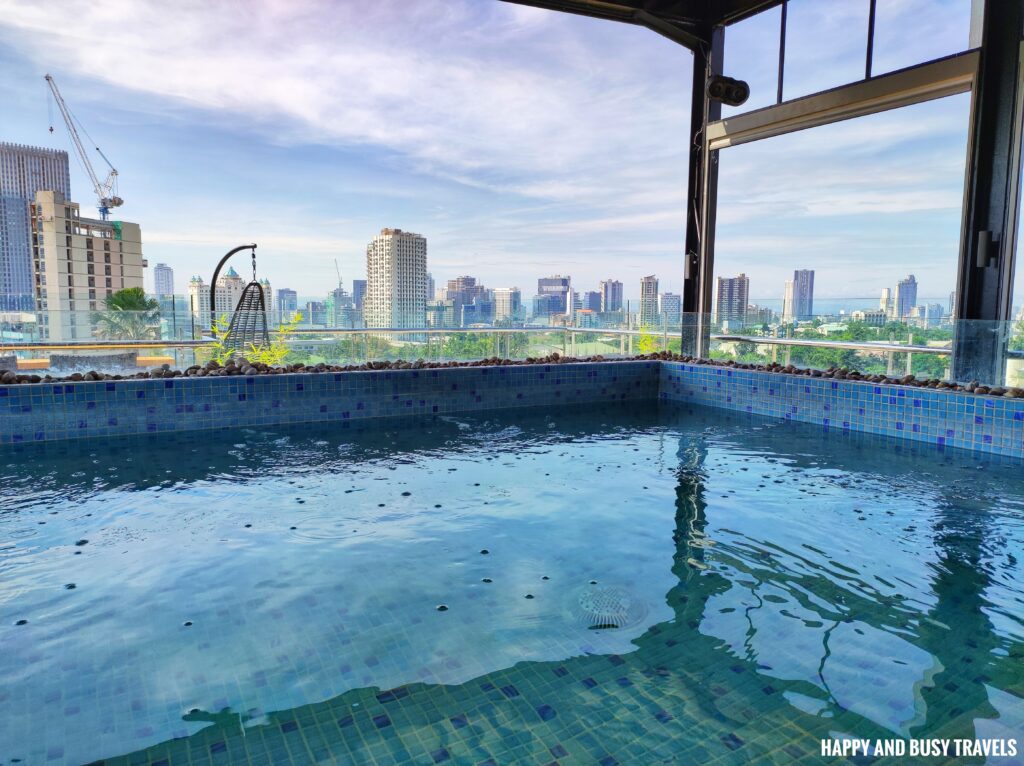 Mechanical Parking
Pardon the blurriness of the picture, but the parking of the hotel is so cool, just look at it, two cars can fit into one space.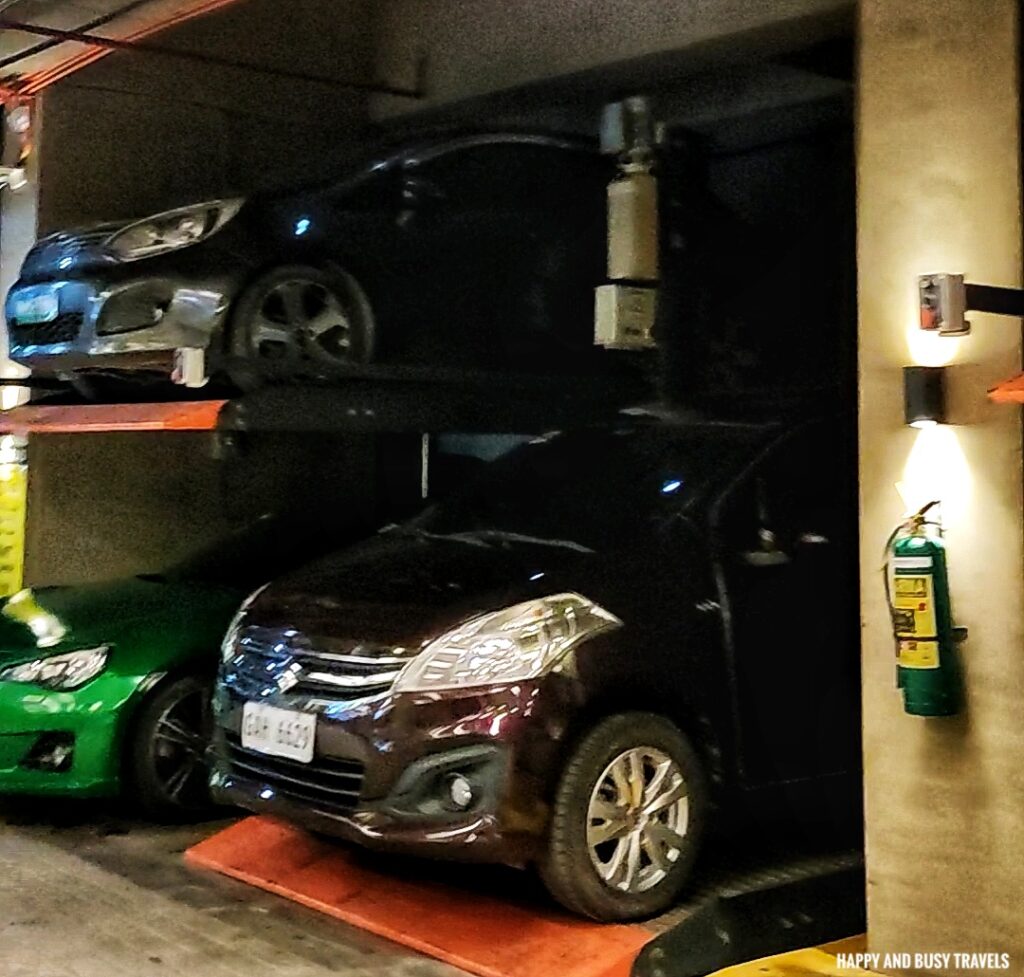 Buffet Breakfast
Every morning we go to the roof deck and have our breakfast. I really like it when the breakfast is buffet styled because we get to taste all of the food in small portions.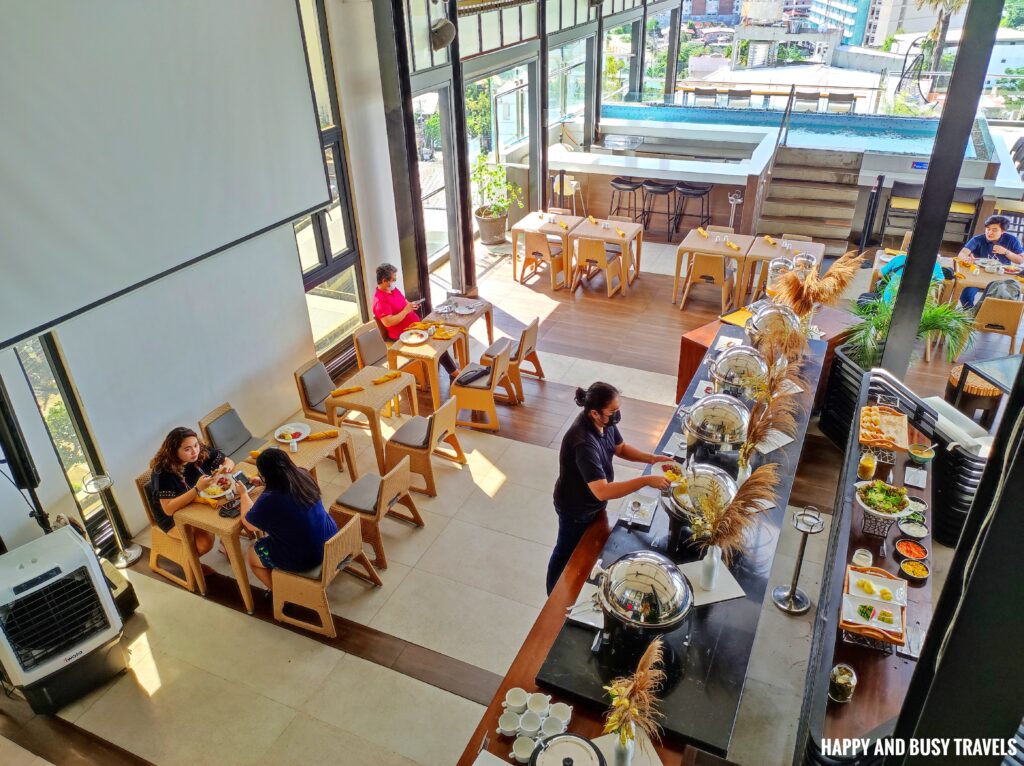 There are a lot of choices in their buffet breakfast. Usually, they have fresh fruits, salad, slices of bread, various spreads, juice, garlic rice, eggs, and different meat choices (pork, beef, and fish). Some of the meat choices that we had are Longganisa, Sweet and Sour Fish fillet, Corned Beef, and Dilis.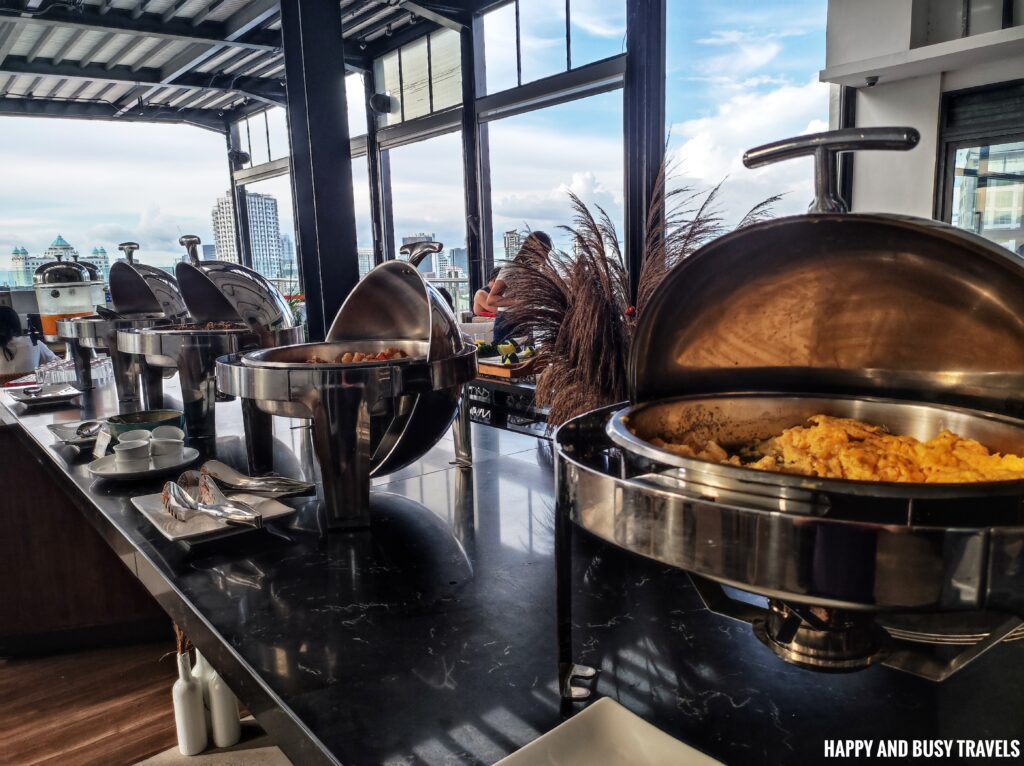 Here's my mom and I enjoying our breakfast.
Near a Lot of Places
The hotel's location is also good because it is near a church, a mall, various restaurants, and IT Park.
Amarillo Restaurant
Aside from Fujinoya Cafe, the hotel has Amarillo Restaurant. We had dinner here throughout our stay because the food is delicious and the service is good.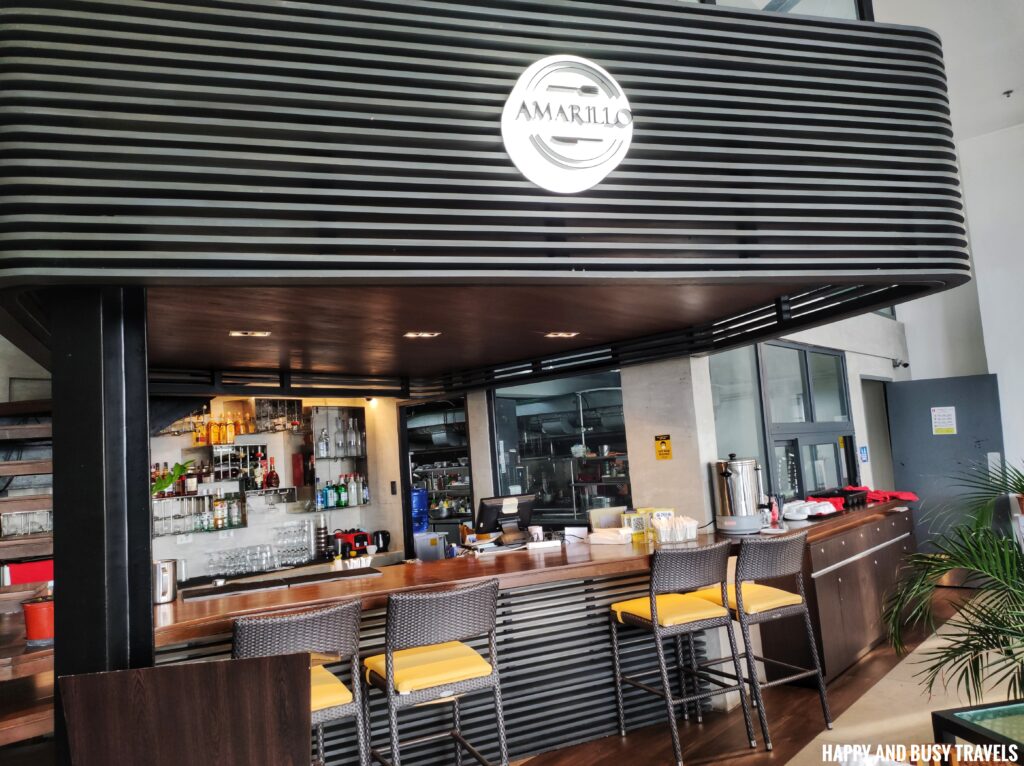 It is also located on the roof deck so we also have a great view.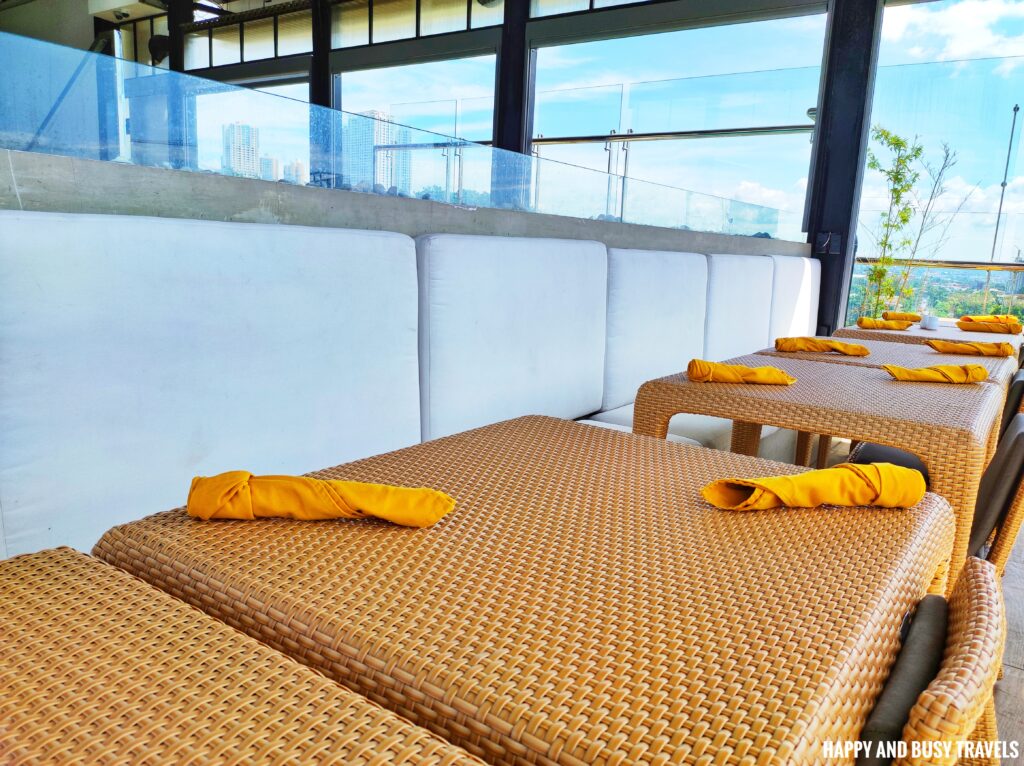 Here are some of the meals that we had.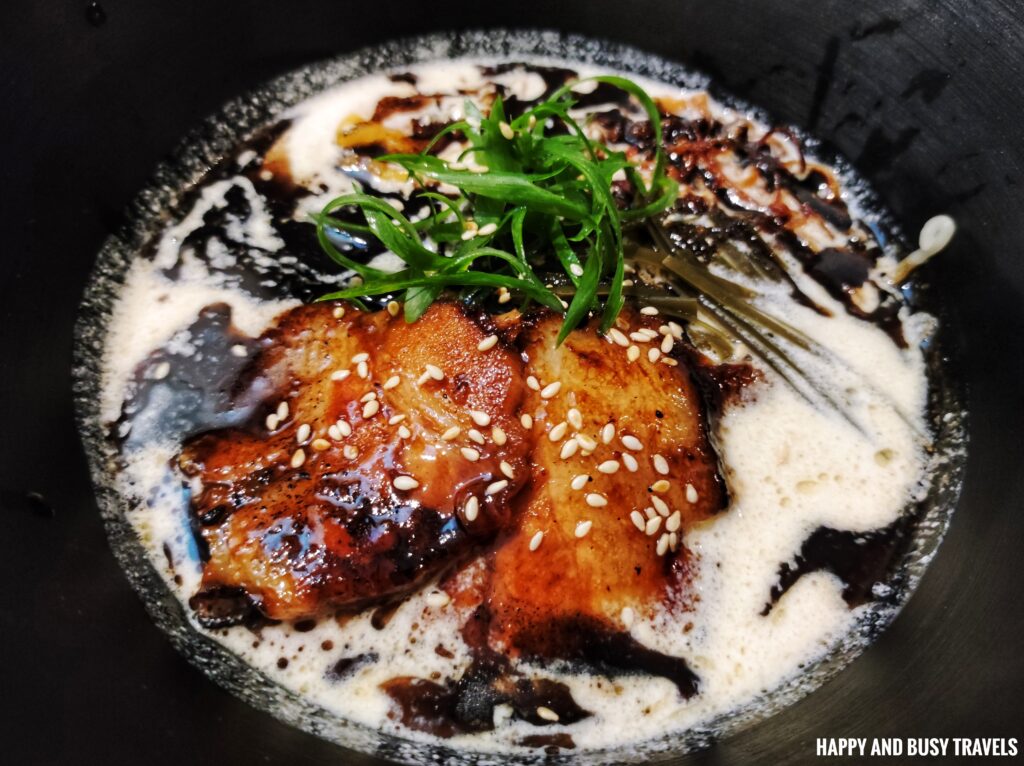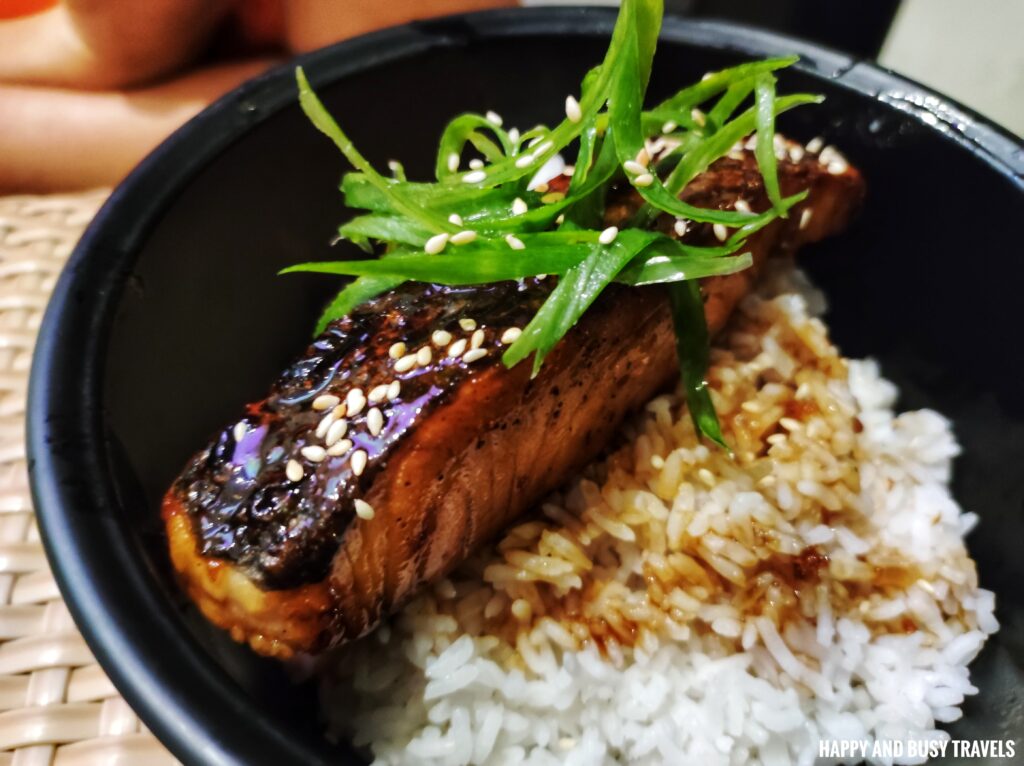 Function Room
There are various function rooms here that can accommodate your needs. You can rent the room for a conference, or for a party.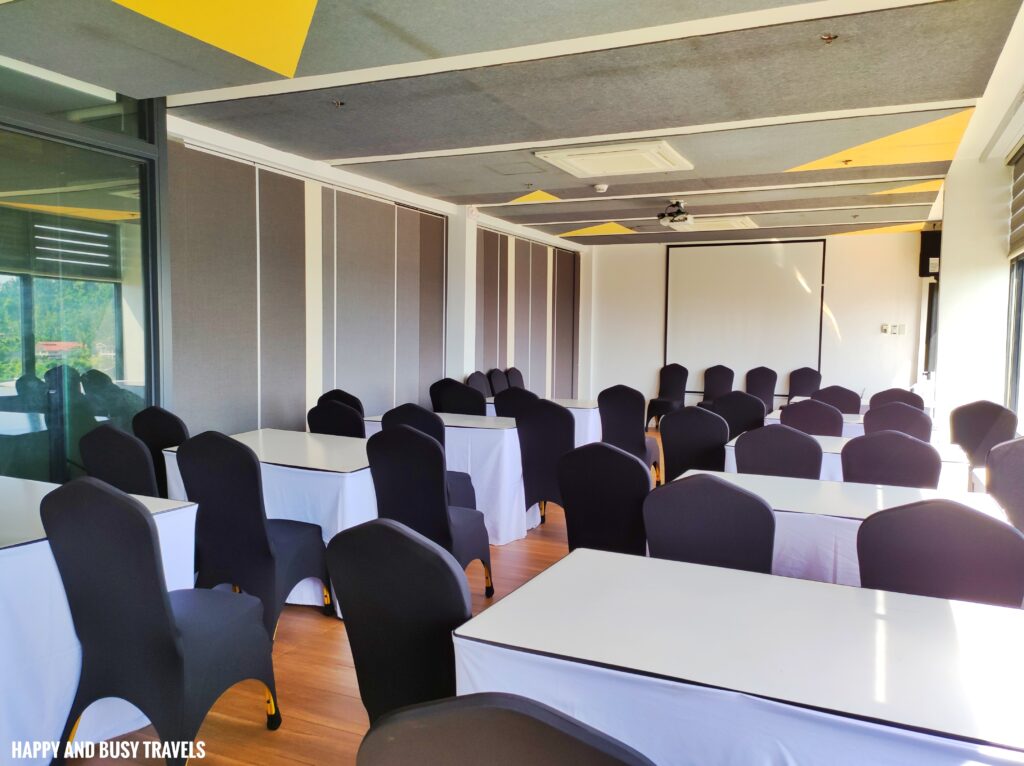 If the event is small, you can rent a smaller function room.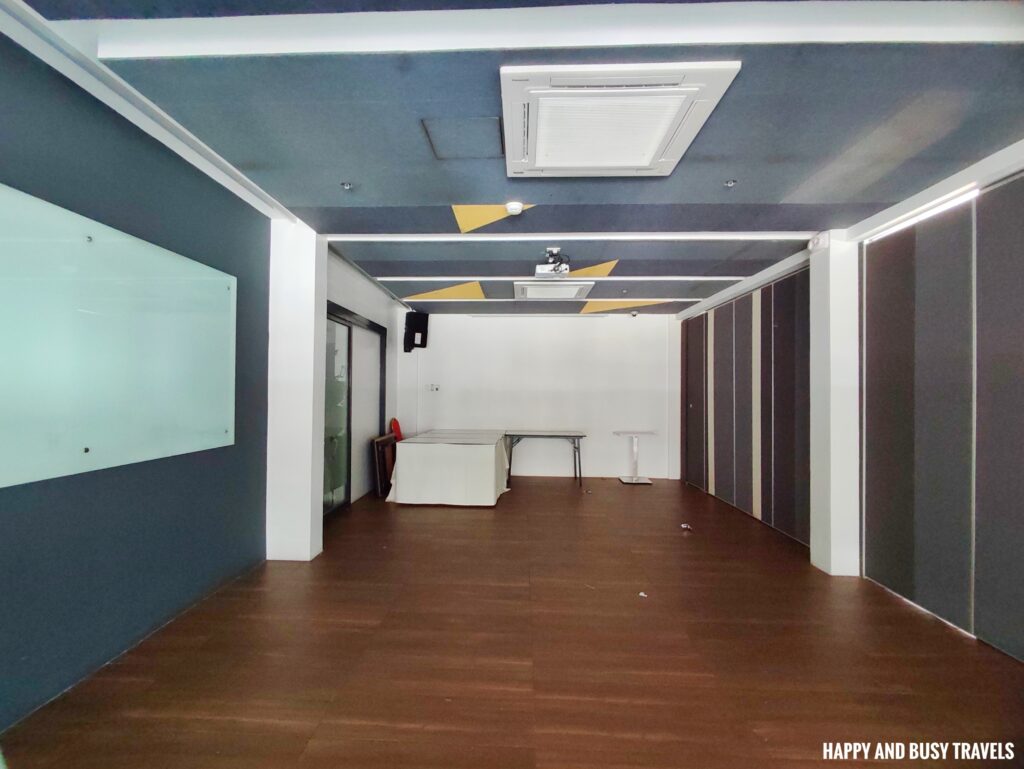 Smart Boardroom
They also have a boardroom that can be used for meetings.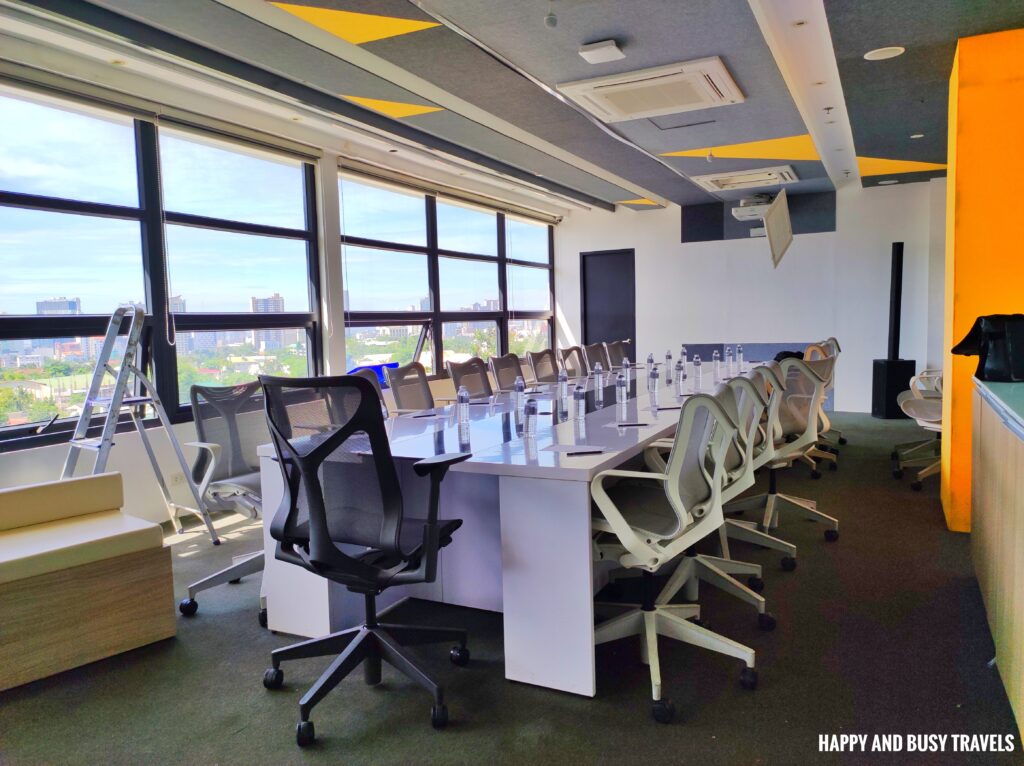 Why is Yello Hotel a Smart Hotel?
Checking in and checking out doesn't need any paper works. You can also use your mobile phone as a guest key.
You can check in ahead of time by using their pre-arrival check-in.
Notice that there are no telephones because if guests need anything, they can contact the hotel through Facebook, or the app.
There is a robot guide that can tell you anything about the hotel and assist you throughout your stay. He is just under repair when we get there.
Rates of Yello Hotel
Below are the published rates but they have a promo if you book via Yello App and website.
BOOKABLE VIA YELLO APP AND WEBSITE
Standard Single – Php1,388 per room per night good for 1 with breakfast
Superior Twin – Php1,788 per room per night good for 2 with breakfast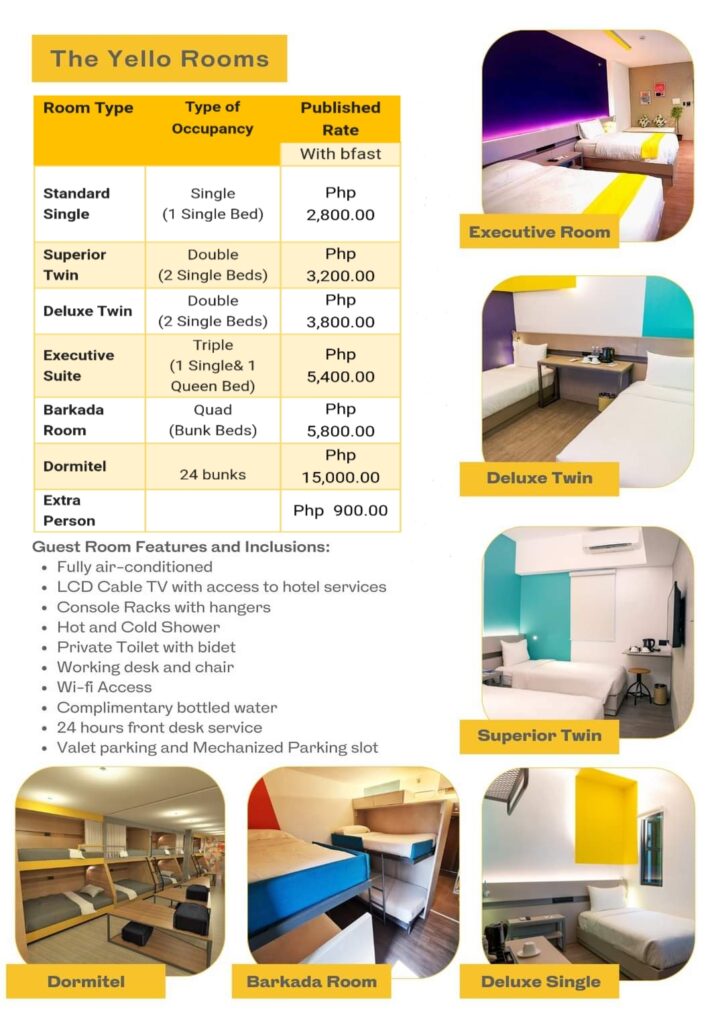 Important Information about Yello Hotel
Website: https://yellohotel.ph/
Facebook page: Yello Hotel
Phone numbers: +63 32 346 7775
Cellphone numbers:
+63 917 849 4964
+63 32 266 3888
Email address: [email protected]
Check-in at 3 PM, and Check-out is 12 PM
Address: Wilson Street, Cebu City, Cebu
Google Maps Link: https://goo.gl/maps/
How to Book Yello Hotel?
Here are some options:
1. Contact the hotel directly.
2. Book through their website or app for discounts.
3. Any hotel booking websites like Agoda.
Happy and Busy's Smileys for Yello Hotel
Overall, my mom and I had a great time during our stay in the hotel. Everything is smooth and we didn't have any problems. The location and service are nice, there are various facilities and amenities, and the relaxation level of the hotel is good.
Cleanliness
Facilities
Service
Value for money
Location 
Ambiance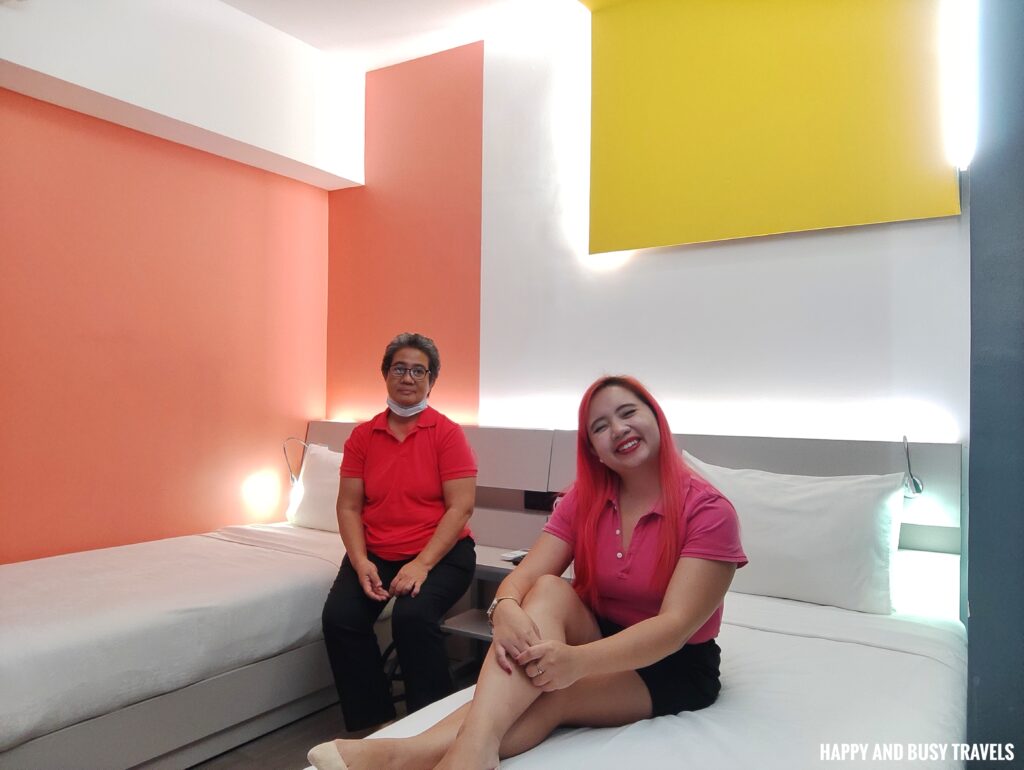 More exciting hotel reviews at https://happyandbusytravels.com/category/hotels/