Amega Hotel, Tagaytay
Amega Hotel is one of the best hotels in Tagaytay that has a view of Taal Volcano, that's why Busy and I stayed here for a night to experience how true it is.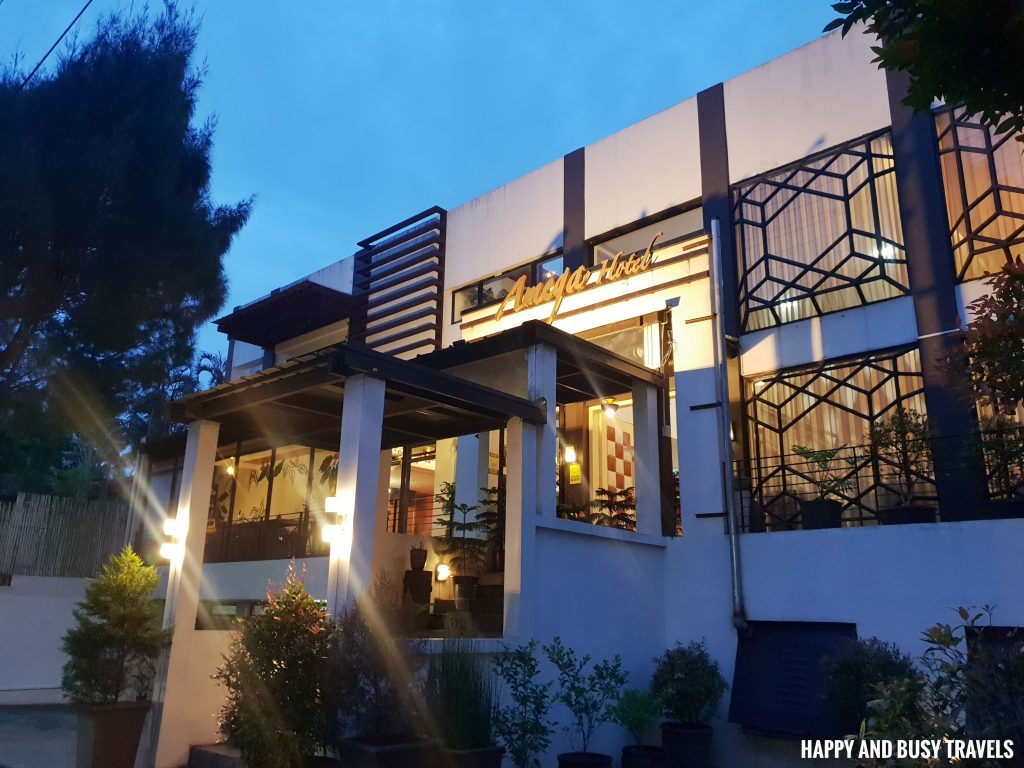 Important Information
Facebook: https://www.facebook.com/AmegaHotel
Email Address: [email protected]
Contact Number: (046) 487-7098 / 09088108527
Address: KM 54, Emilio Aguinaldo Highway, Silang Junction South, Tagaytay City, Cavite
Google Maps Link: https://goo.gl/maps/
Quick Links
Checking-In Amega Hotel
Searching for Amega Hotel in Tagaytay is very easy, it's just along Emilio Aguinaldo Highway and just in front of Ayala Mall Serin. So, we went inside and checked in.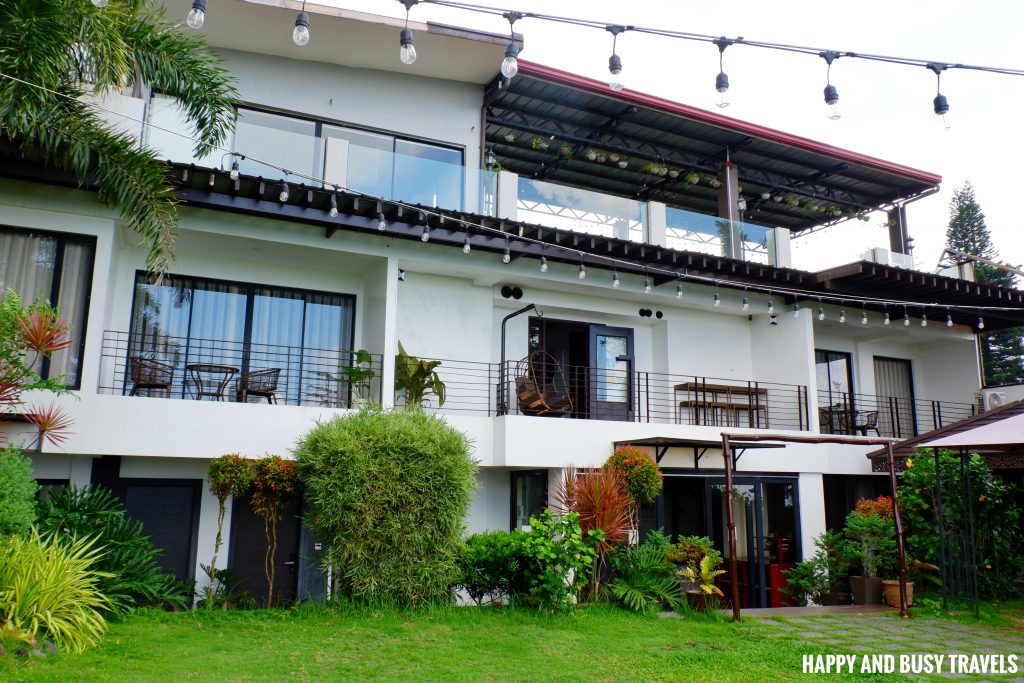 I just want to share this picture that Busy took, he's an engineer so whenever he saw anything good looking in structures, he always get a photo.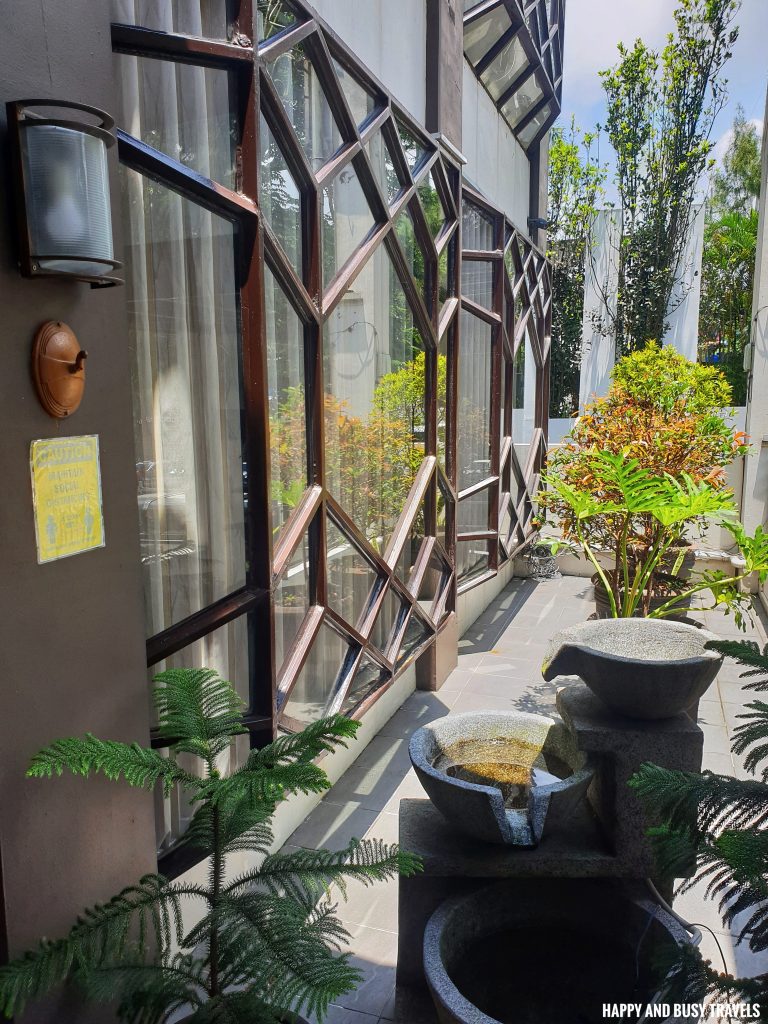 Their lobby is nice and very neat.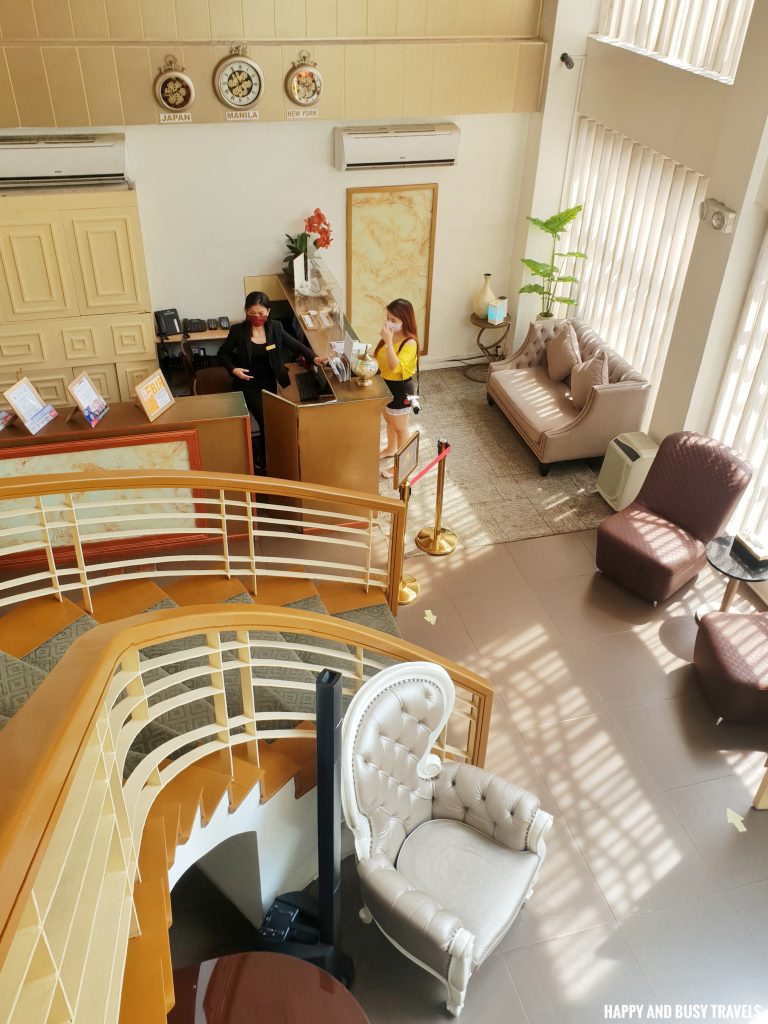 Plus, there are chairs so guests can wait, and a piano that you can play.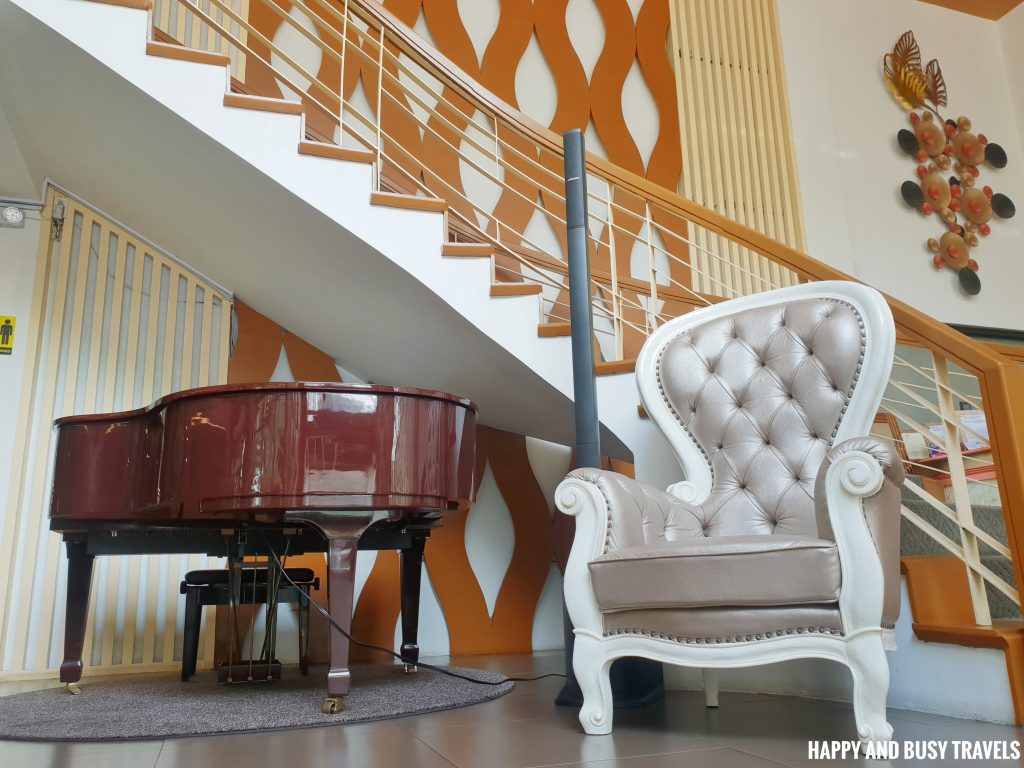 Love the aesthetic!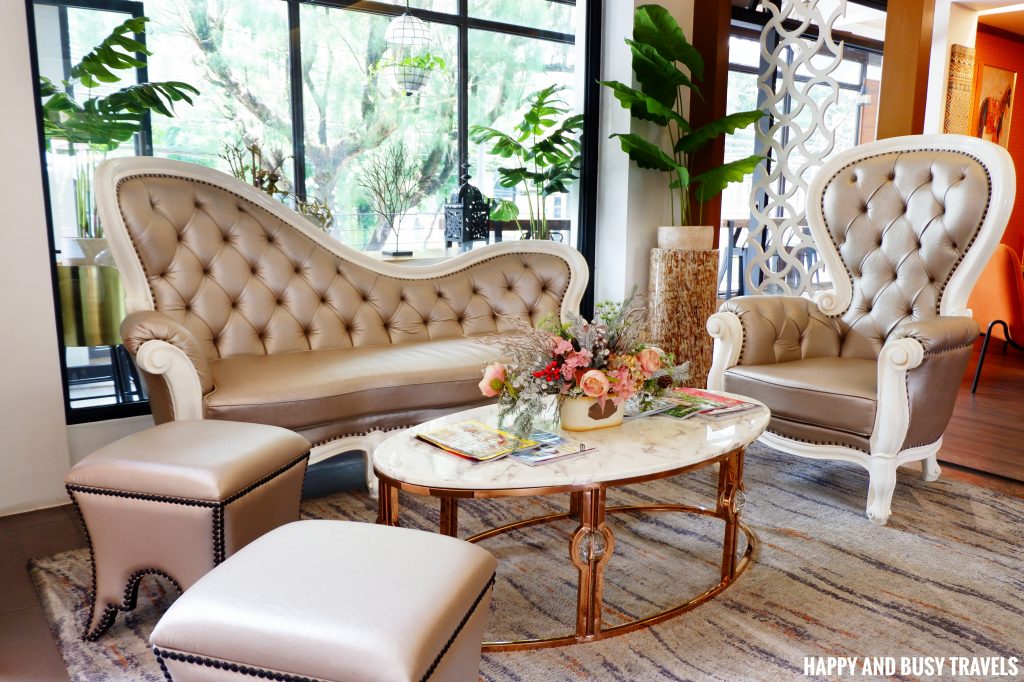 After checking in, we went to our hotel room located on the second floor.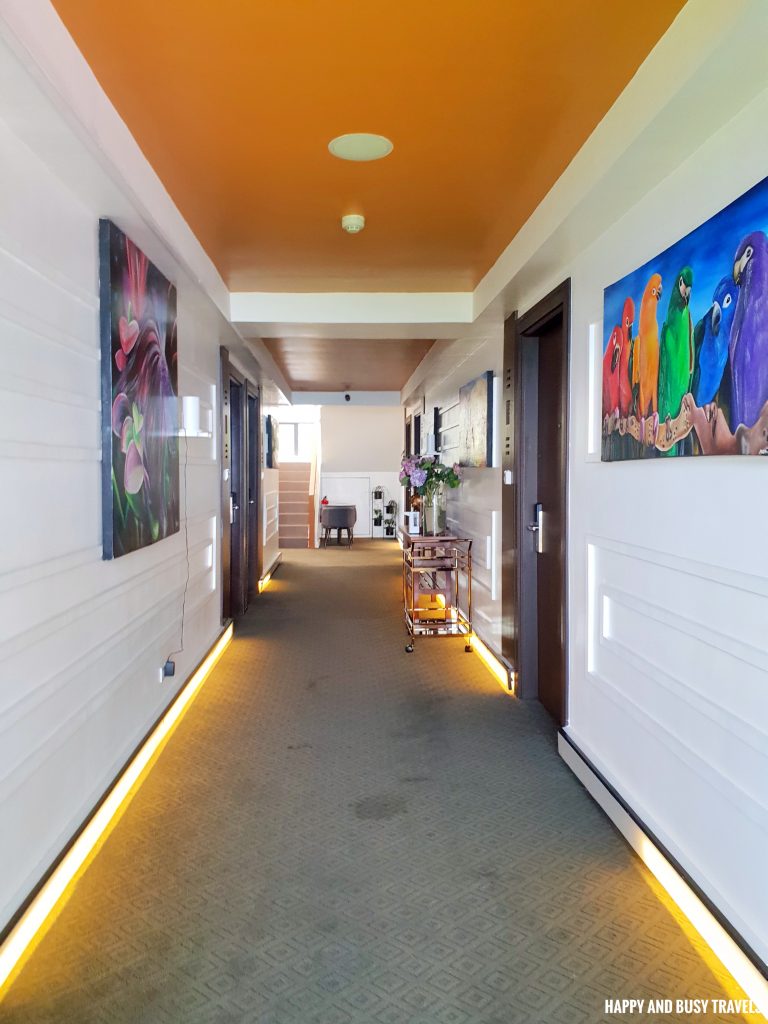 The Rooms of Amega Hotel
There are 4 types of rooms in the Amega Hotel, some rooms have a Taal Volcano view, Garden view, and Roadside. Let us show you all of them.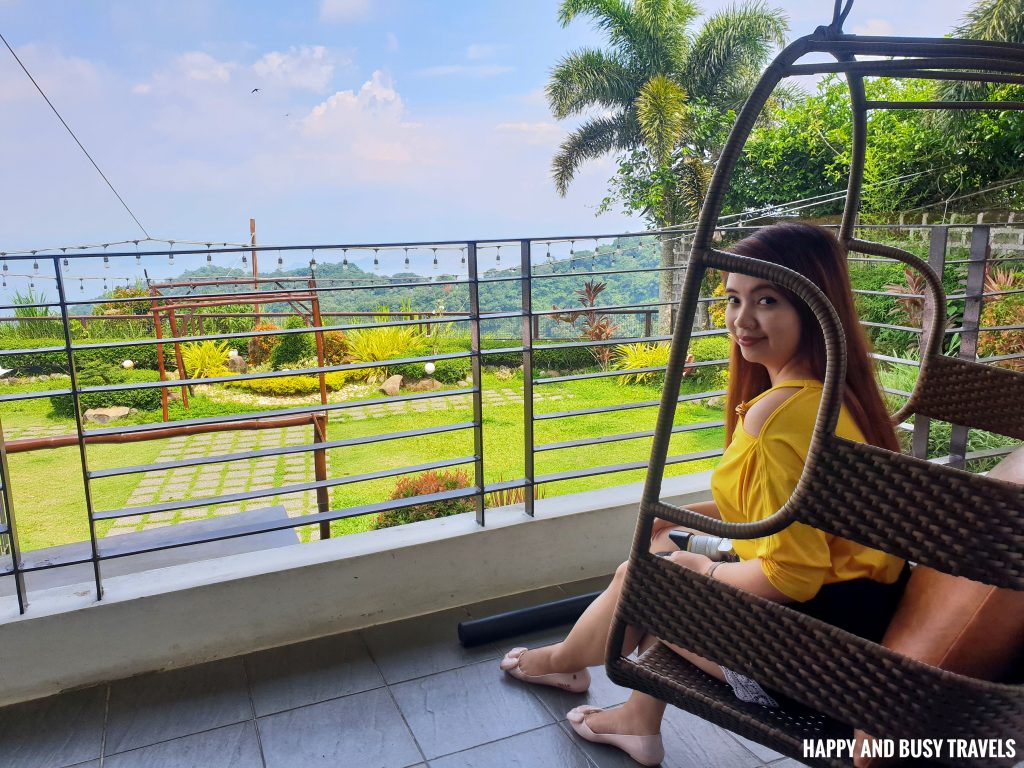 Deluxe Room – Taal View
This is our room, the Deluxe room with the view of Taal Volcano.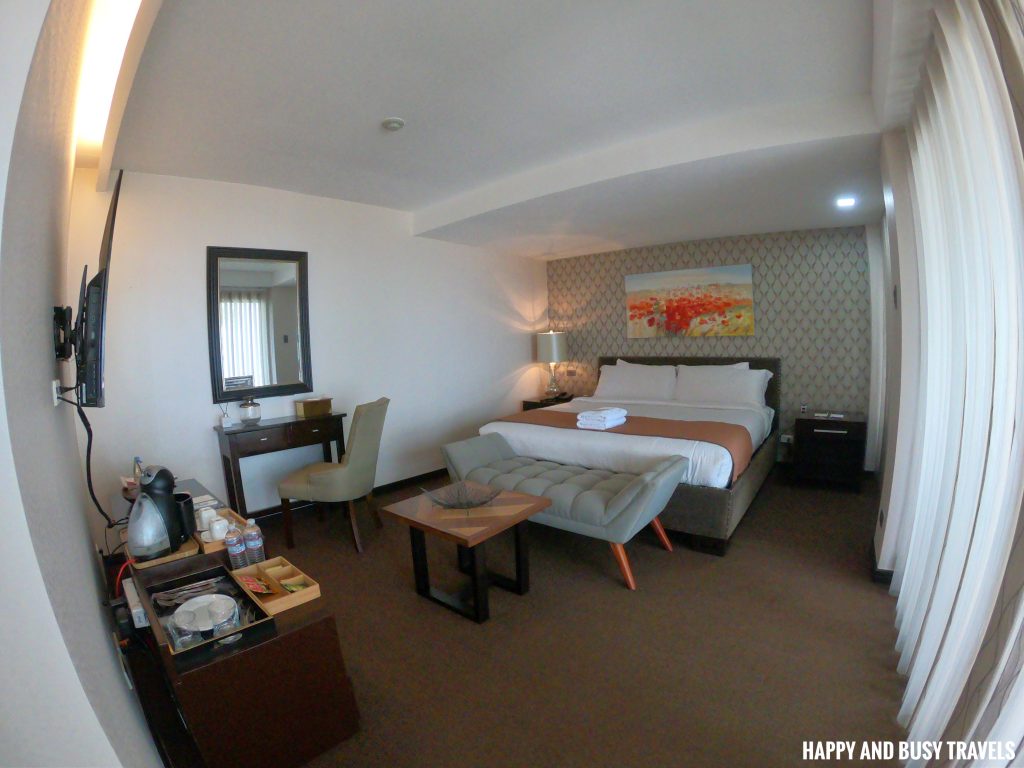 Features of the room:
Balcony with Taal View

Queen-sized bed

Sofa
Tables and chair
LED TV with cable channels

Coffee Maker

Free coffee, tea, and water
Refrigerator
Electric Kettle
Toiletries

Hot and cold Shower

Bathtub

Pajama

Wifi Access

Cabinets
Safety box
Hair Dryer
Laundry Bag
Bedroom
Here is the lovely queen-sized bed, and beside it is the sofa and a table.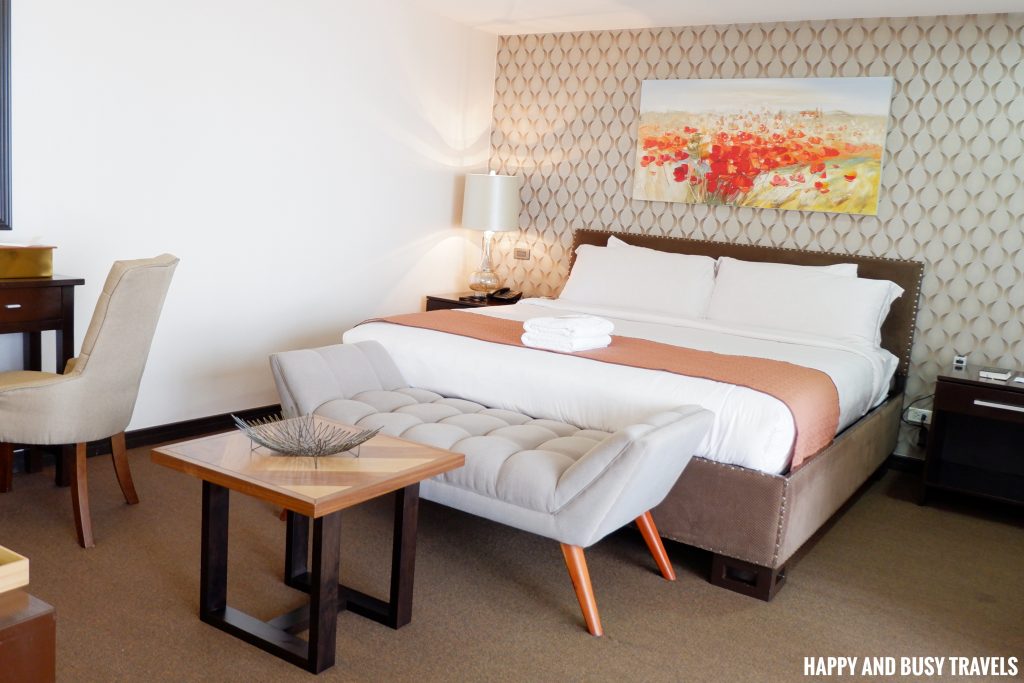 Other features
On the other side, the television and other features of the room are located.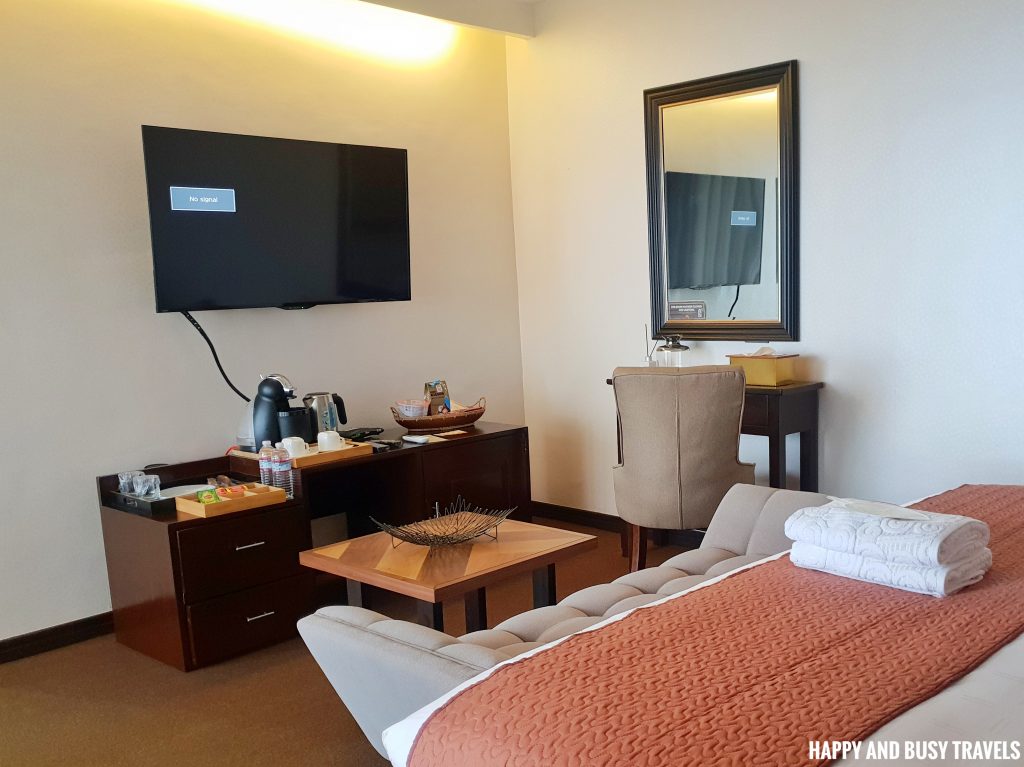 Of course, this is my favorite part, the freebies haha. There are free water, coffee, and tea.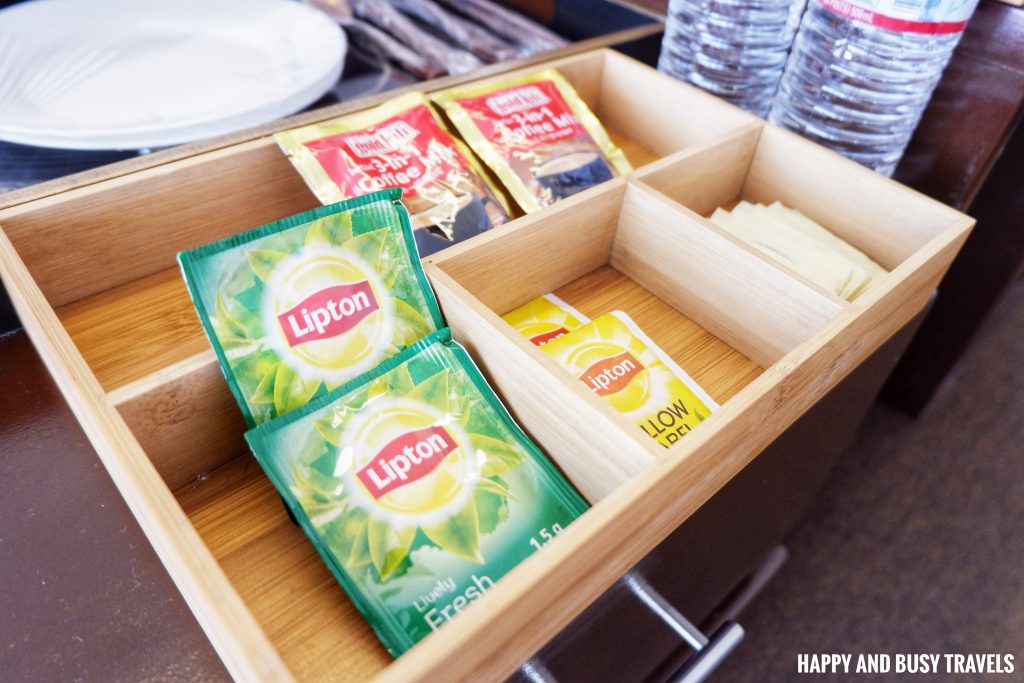 Balcony
We love the balcony of our room, aside from it's a nice place to just look at outside, and talk to each other, it also has the view of the Taal Volcano.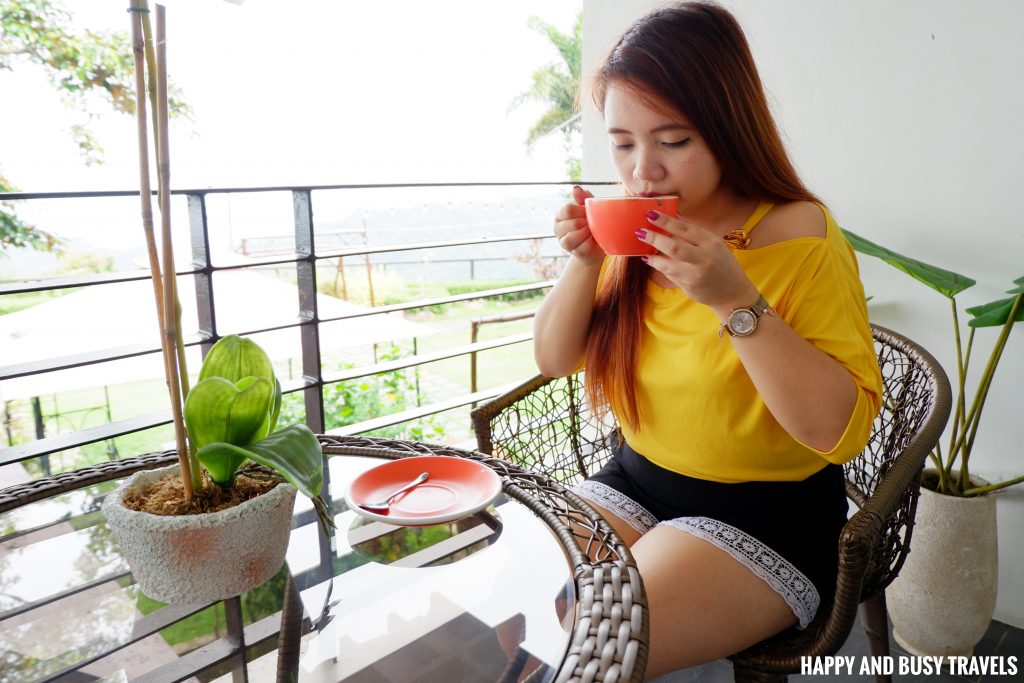 It's so nice.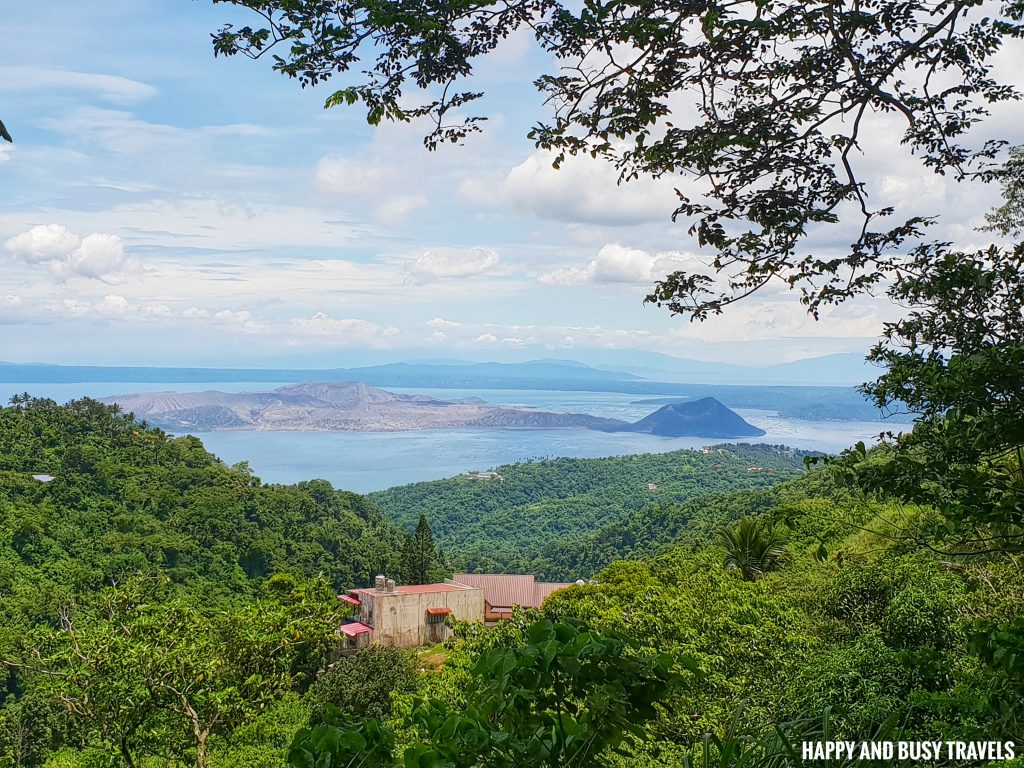 Comfort Room
Their comfort room is also nice. It is simple but it looks elegant! Here is the toilet bowl and the shower area.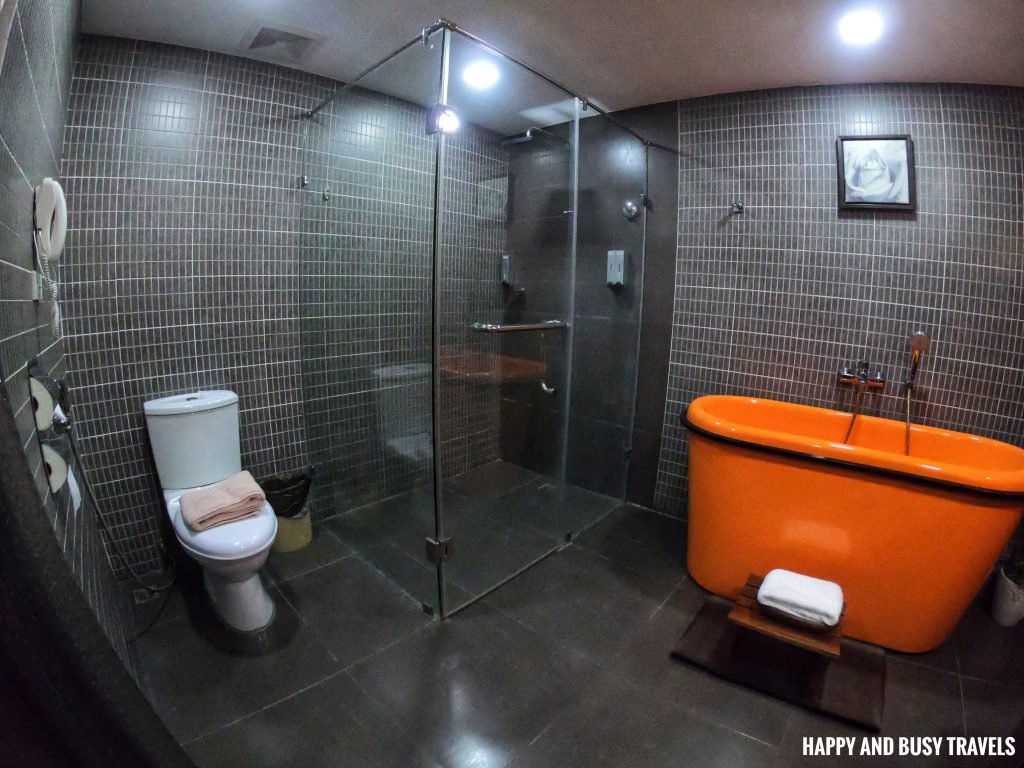 Ohhh I like it when 2 toilet papers are immediately available haha. I usually consume a lot.
Here's the bathtub which is so nice. I like that the tub pops out from the comfort room. It's like an accent tub haha. Both the shower and the bathtub has hot and cold water.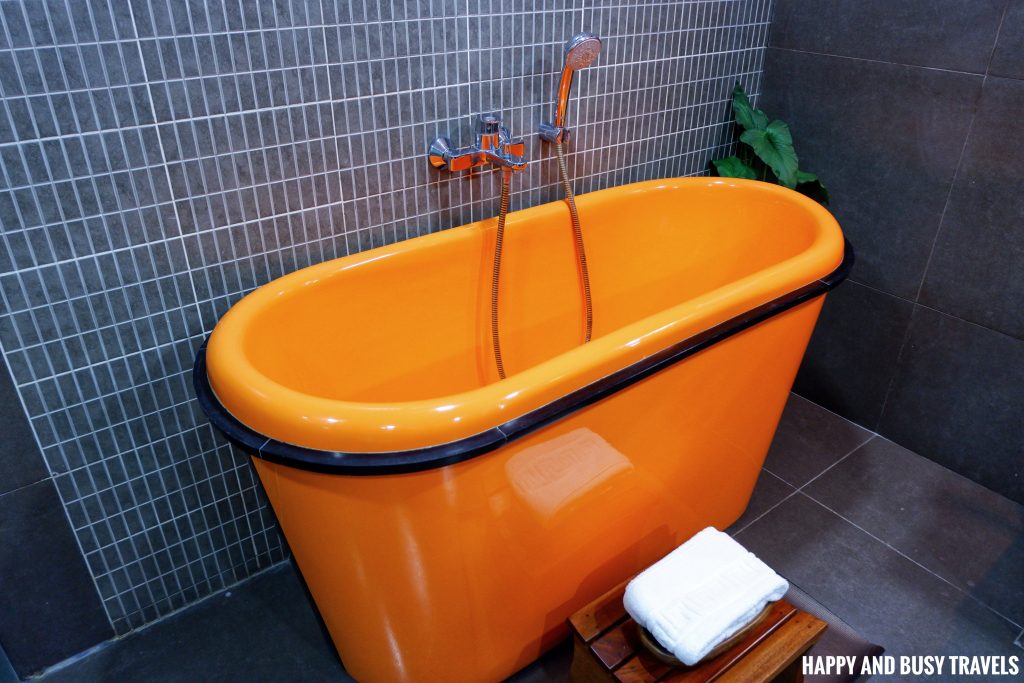 Here's the other side of the comfort room.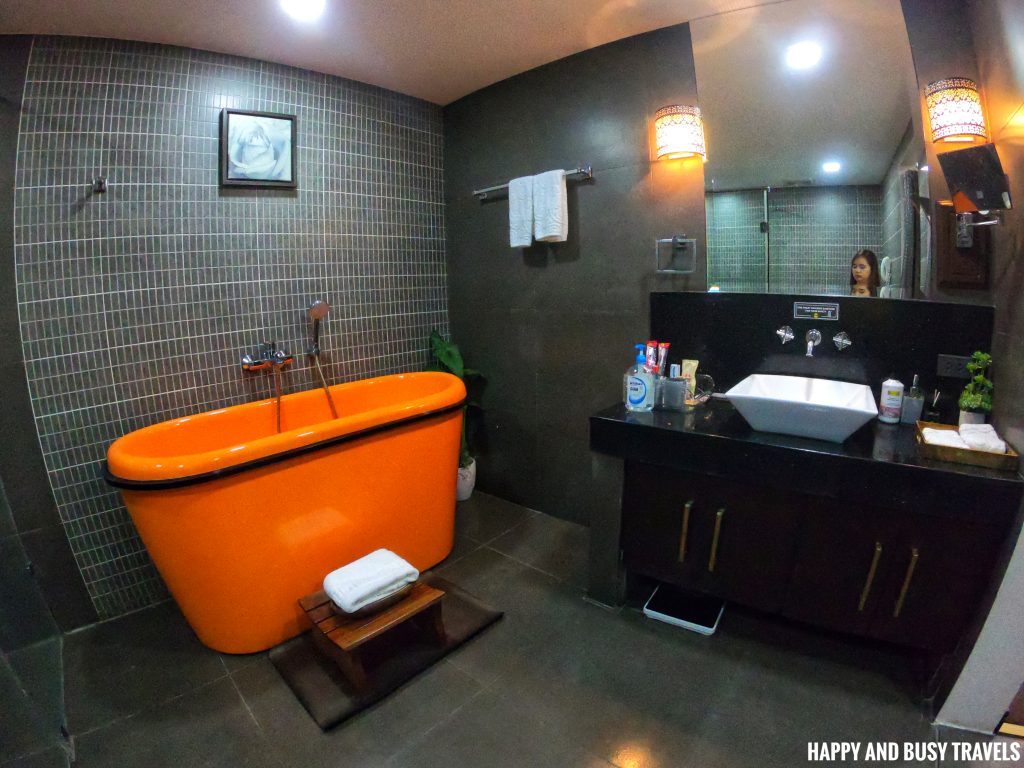 My favorite again, toiletries! Their toiletries are actually good, these are not just cheap stuff. They provide quality toiletries to their guests.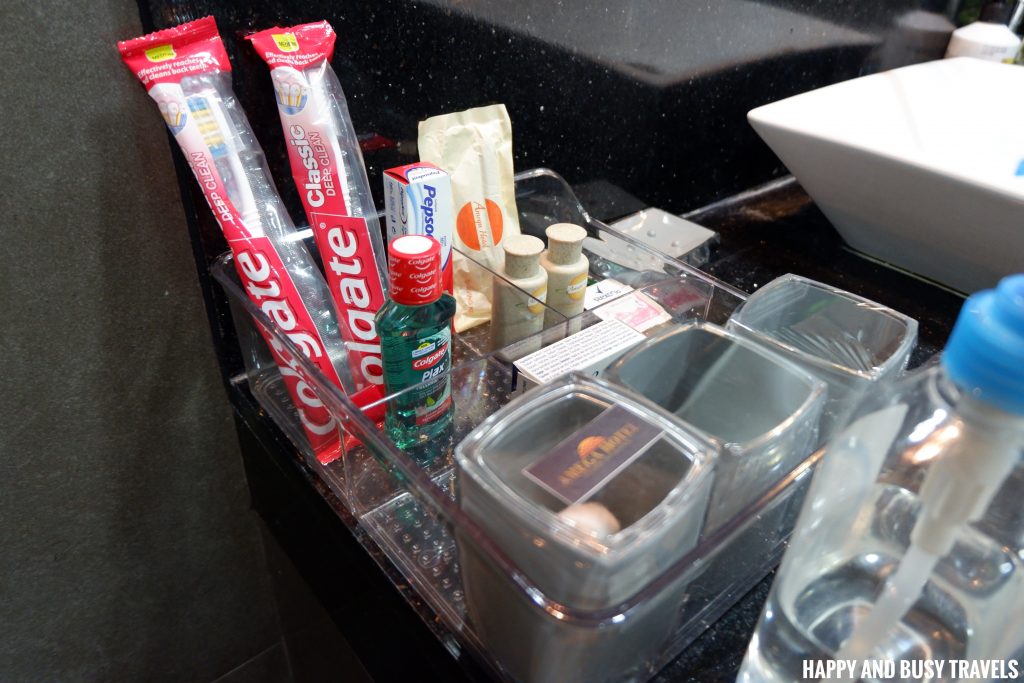 Available toiletries:
Toothbrush and toothpaste
Shampoo and body wash
Mouthwash
Lotion
Deodorant
Soap
Shaving kit
This is also one of our favorites, the pajama! Haha we have matching pajamas. This brings us back to our memory of staying in Japan wherein all of the hotels provide pajamas to their guests.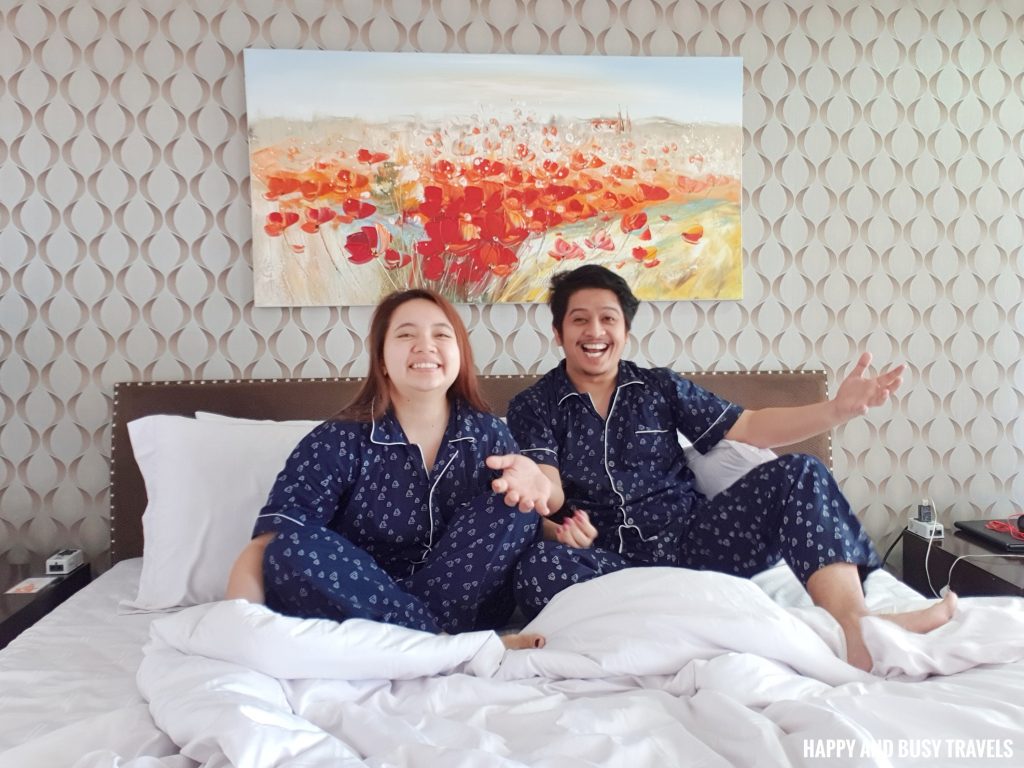 Oh yes we woke up like this haha
Deluxe Room – Garden View
There are also rooms just beside their garden, which has a relaxing vibe too.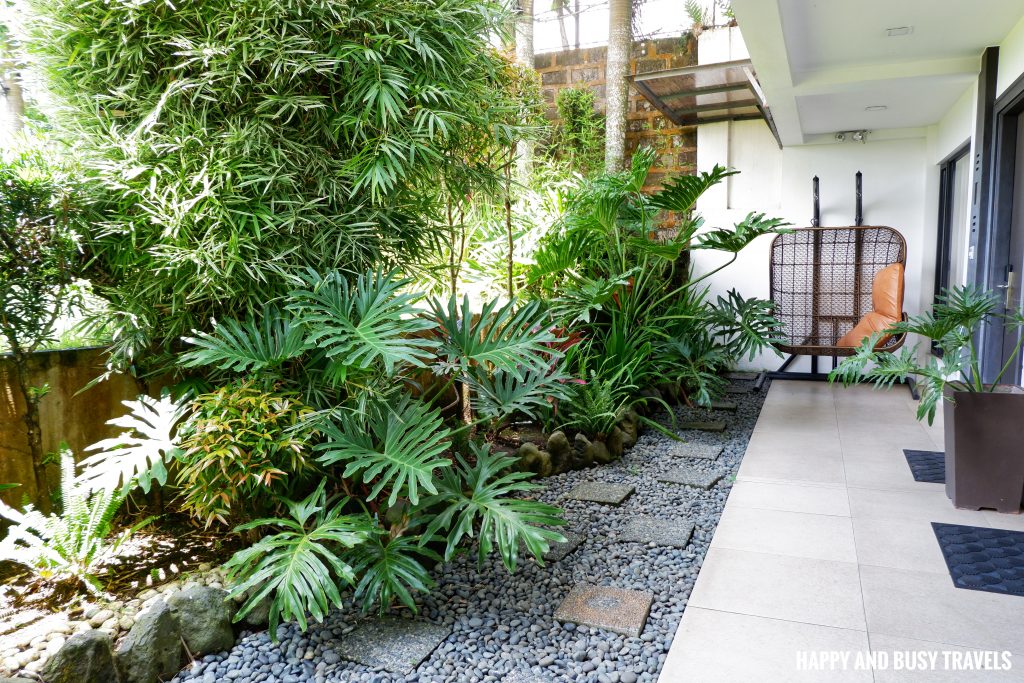 This room is basically just like our room, there are few differences like the view and a small portion of the bathroom which I will show below.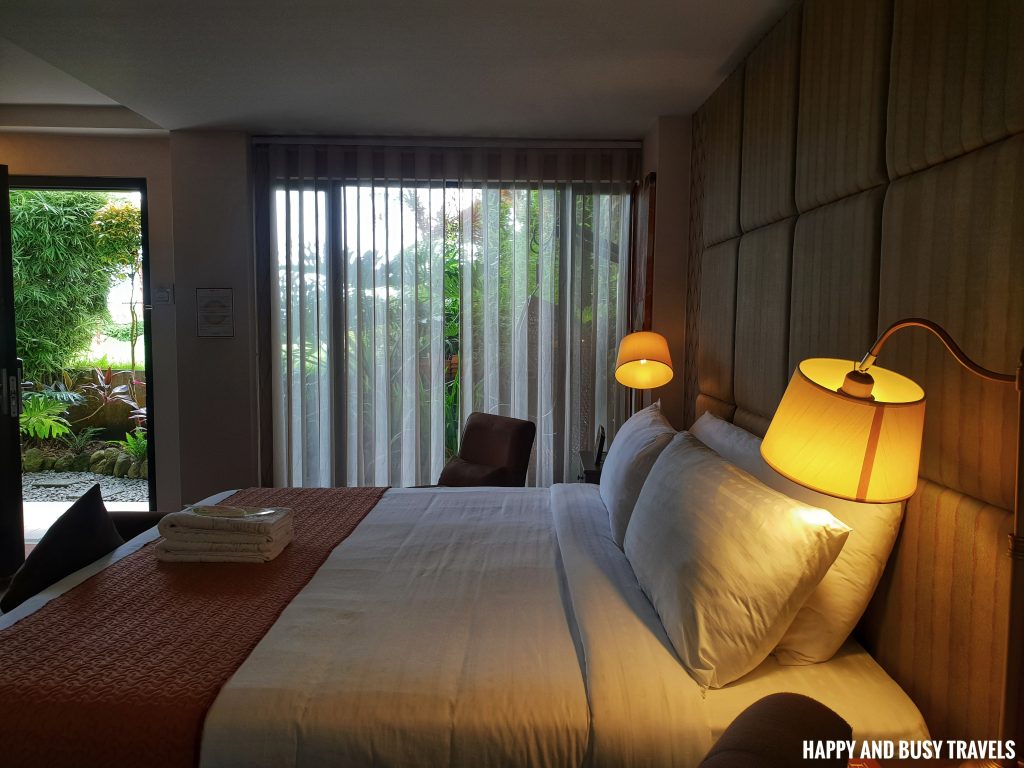 Here is the bed, just like ours, it is a Queen-sized bed.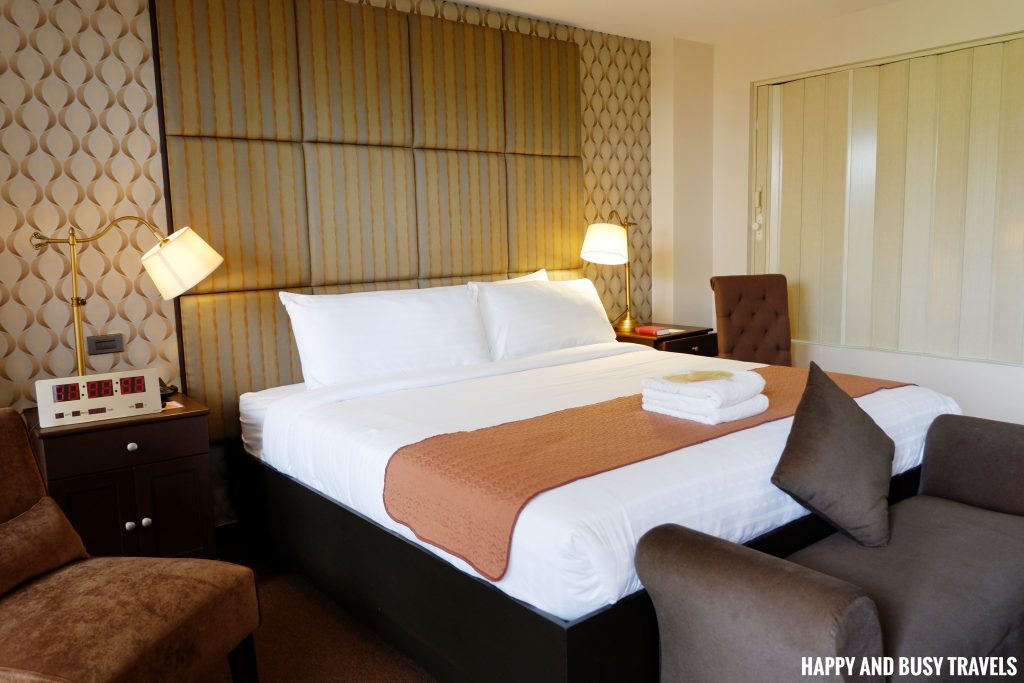 The television and snacks are all here.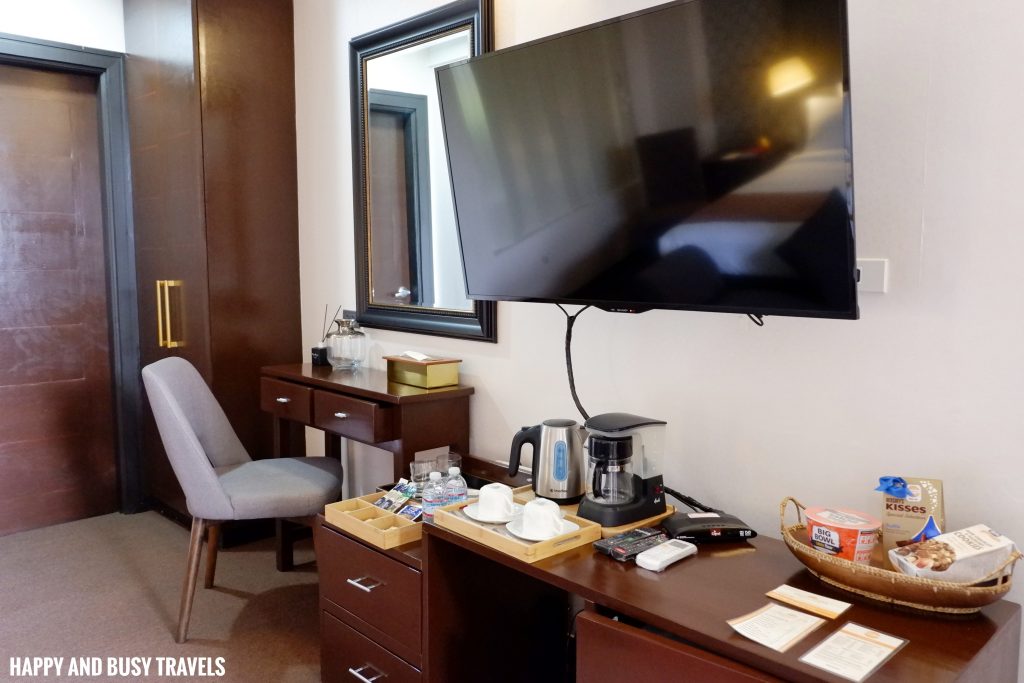 Here is the bathroom.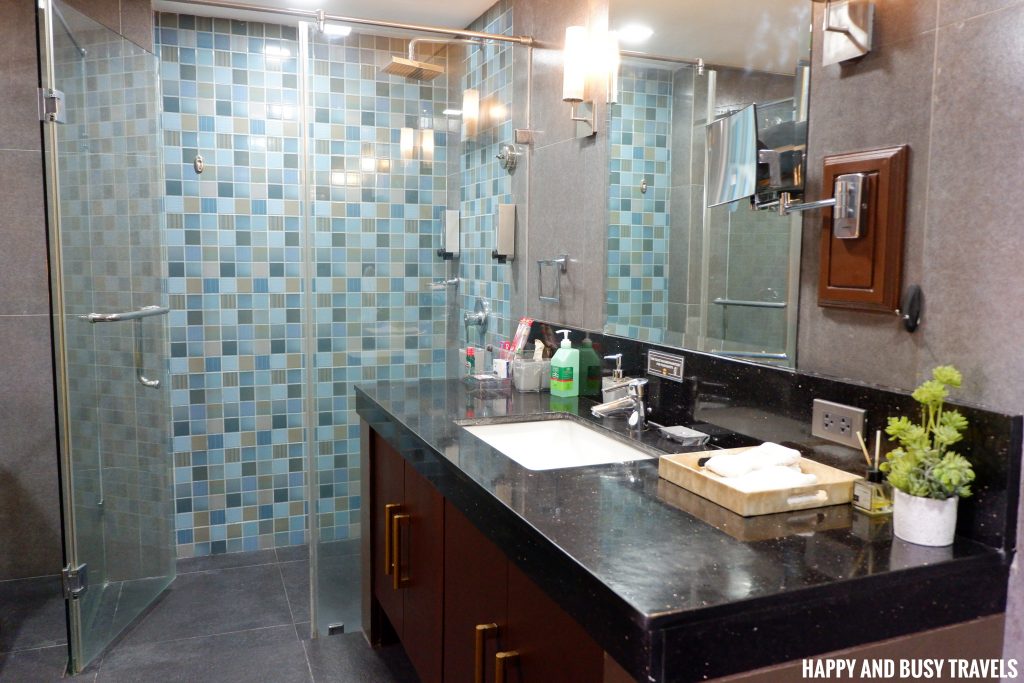 Just like our bathroom, there is a bathtub here too, plus the small portion that I said earlier. You can open the side of the bathtub and see the bedroom from it.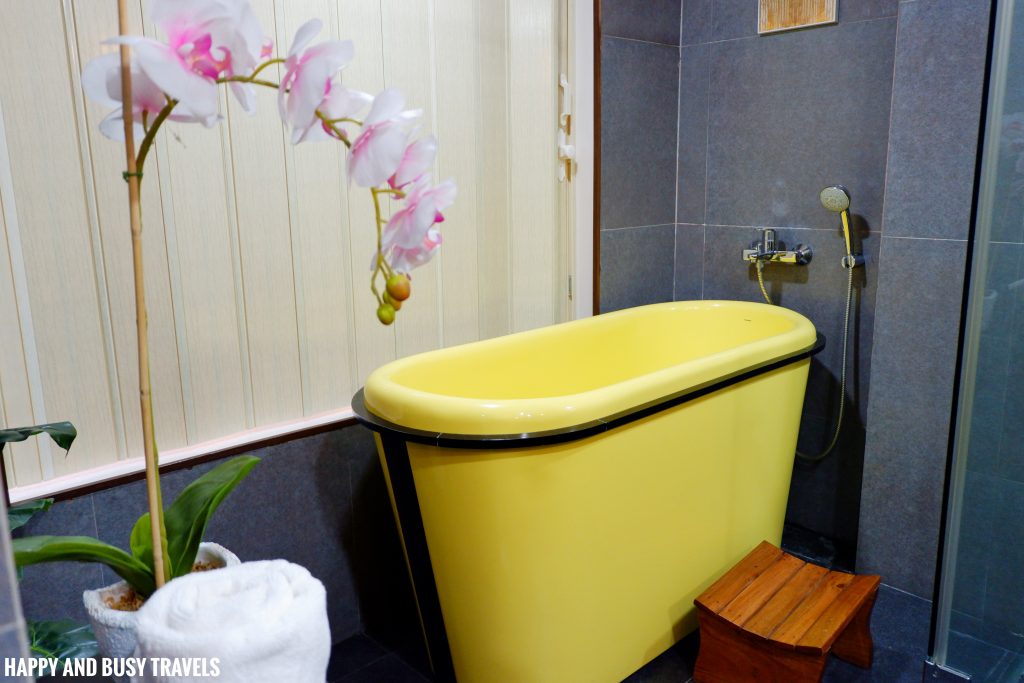 Premiere Deluxe Room – Taal View
This is a better room from our room, the Premiere Deluxe Room with Taal View. It basically has everything that our room has, plus their sofa has leveled up and the room is bigger than ours.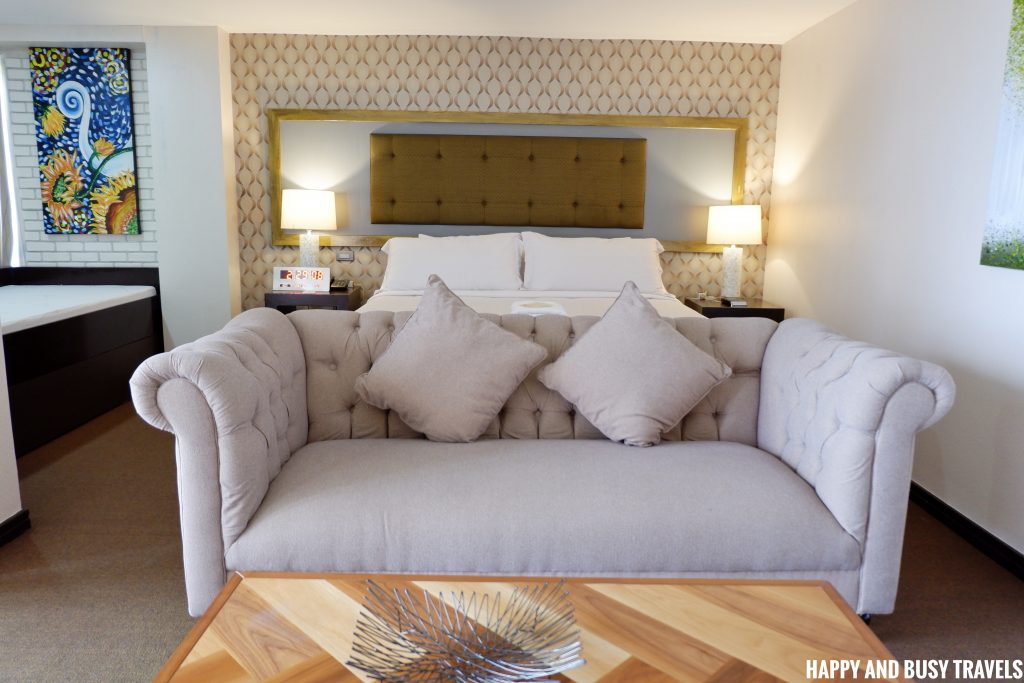 Here is the bed, it's a queen-sized bed too.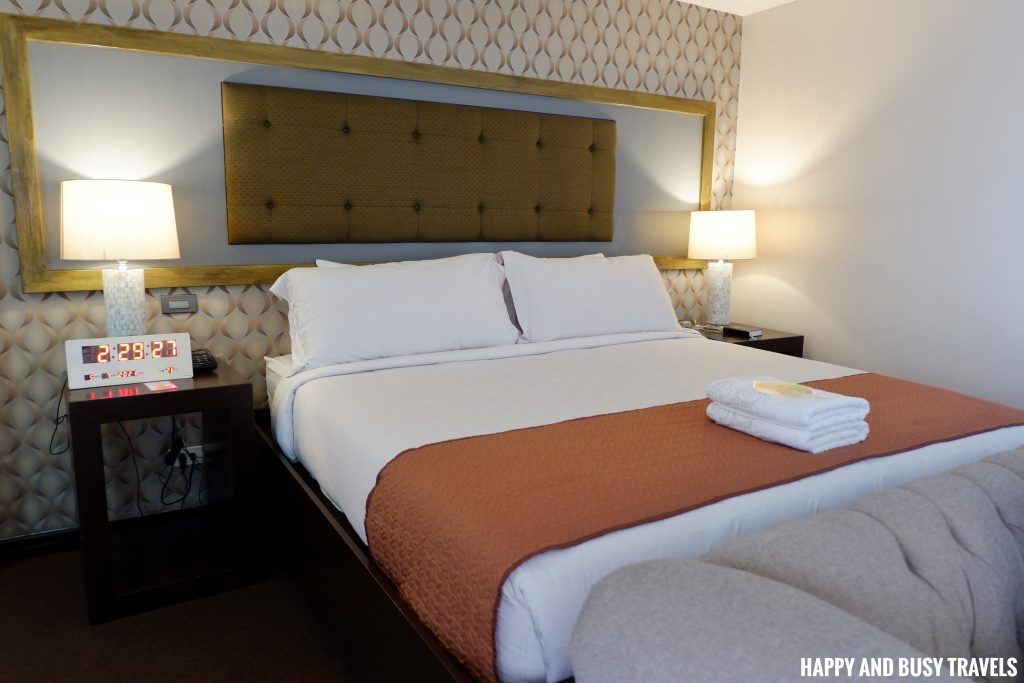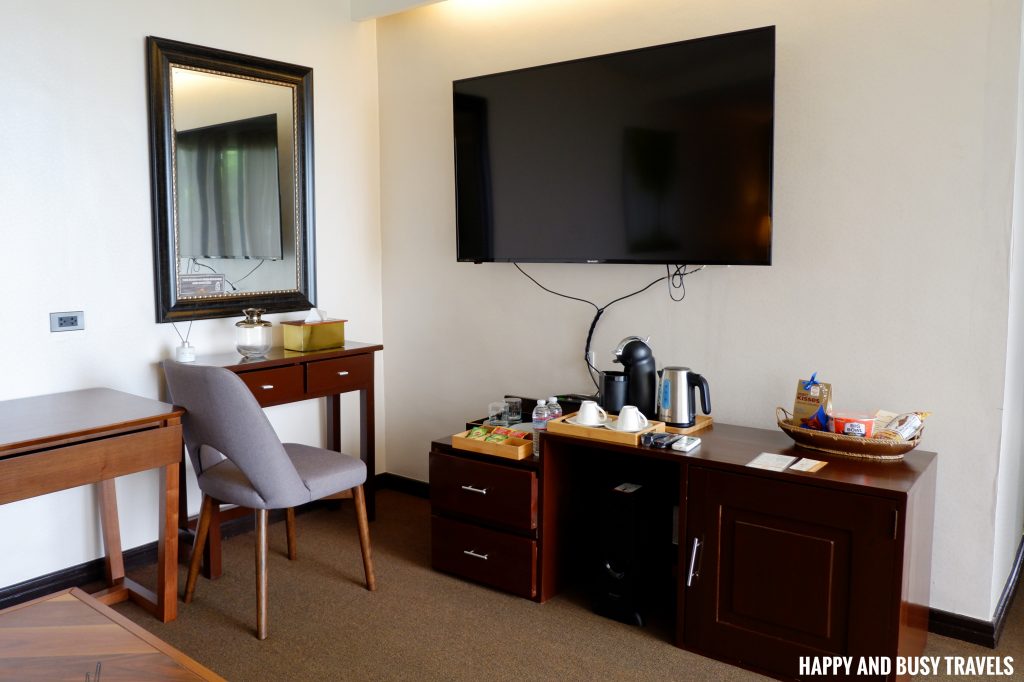 There is also an extra bed in the room.
Then, they also have a balcony, and it has Taal Volcano view too.
Of course, there is also a bathtub, which is green this time.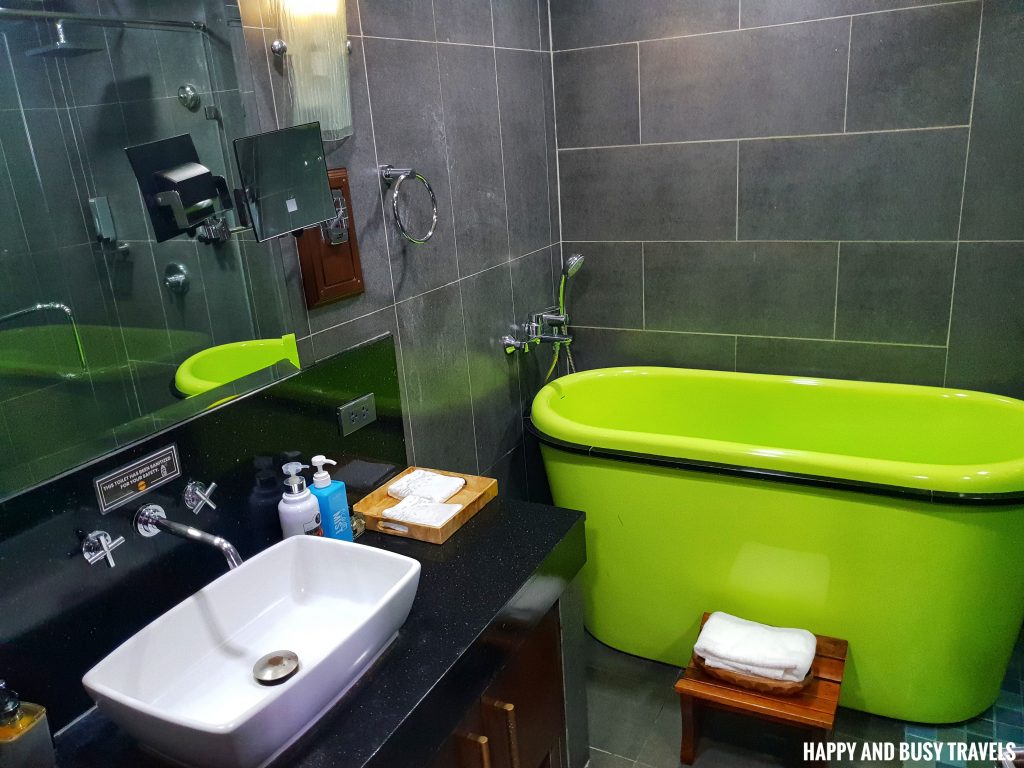 Premiere Deluxe Room – Roadside
Here's another Premiere Deluxe Room, but this time it has the view of the road.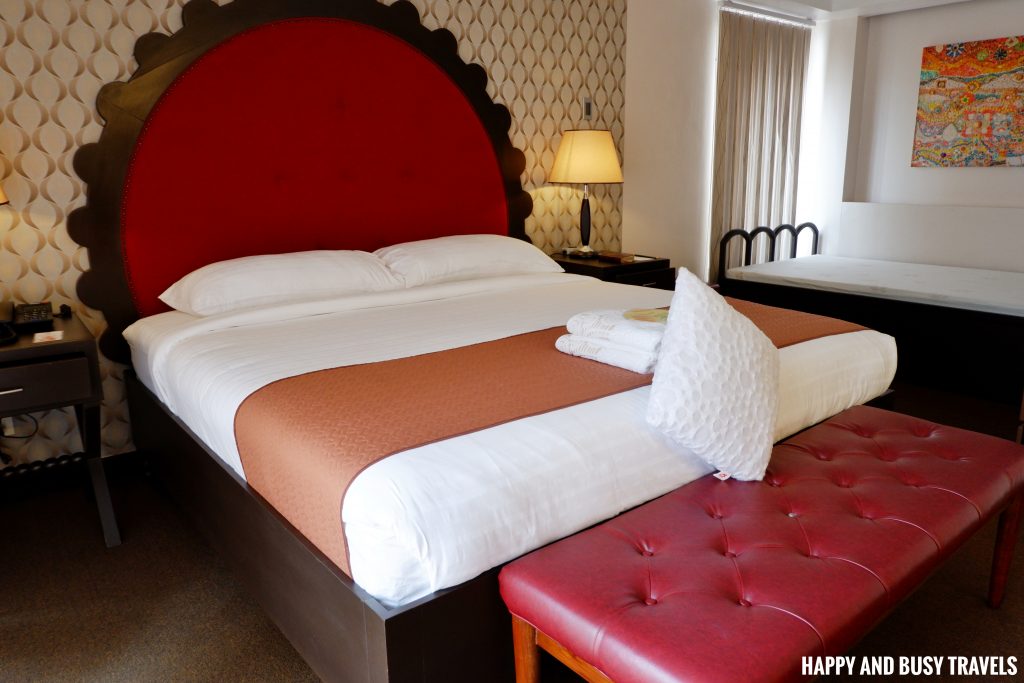 It also has an additional bed.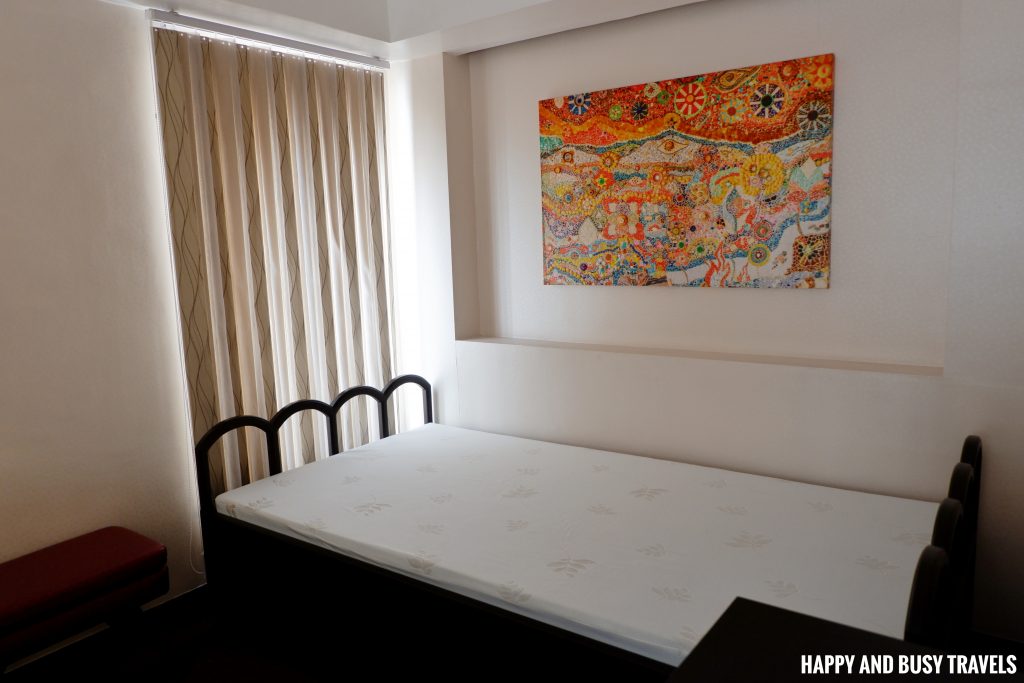 The usual features are also here.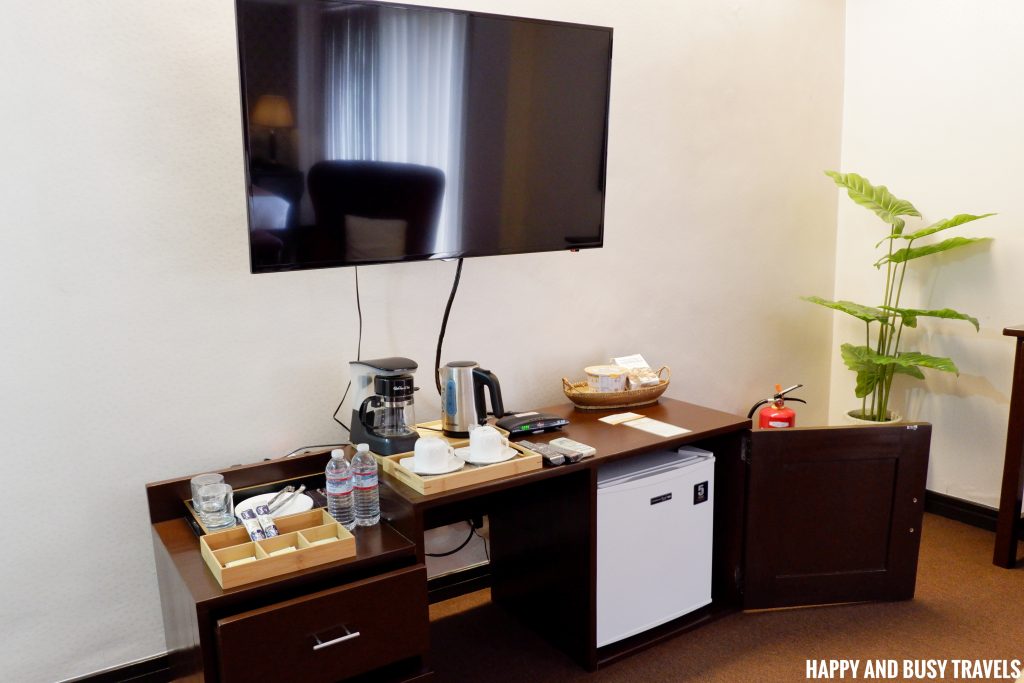 Finally, it also has the nice sofa set.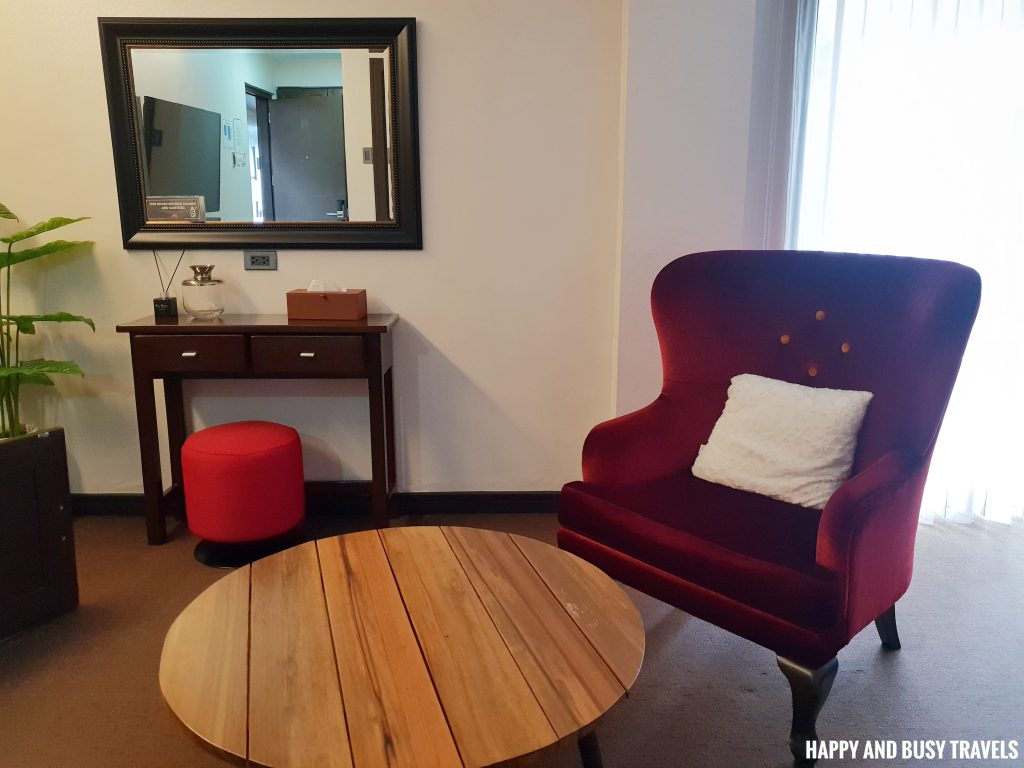 Superior Room
This room is the simplest, but it is nice too. It's the Superior Room.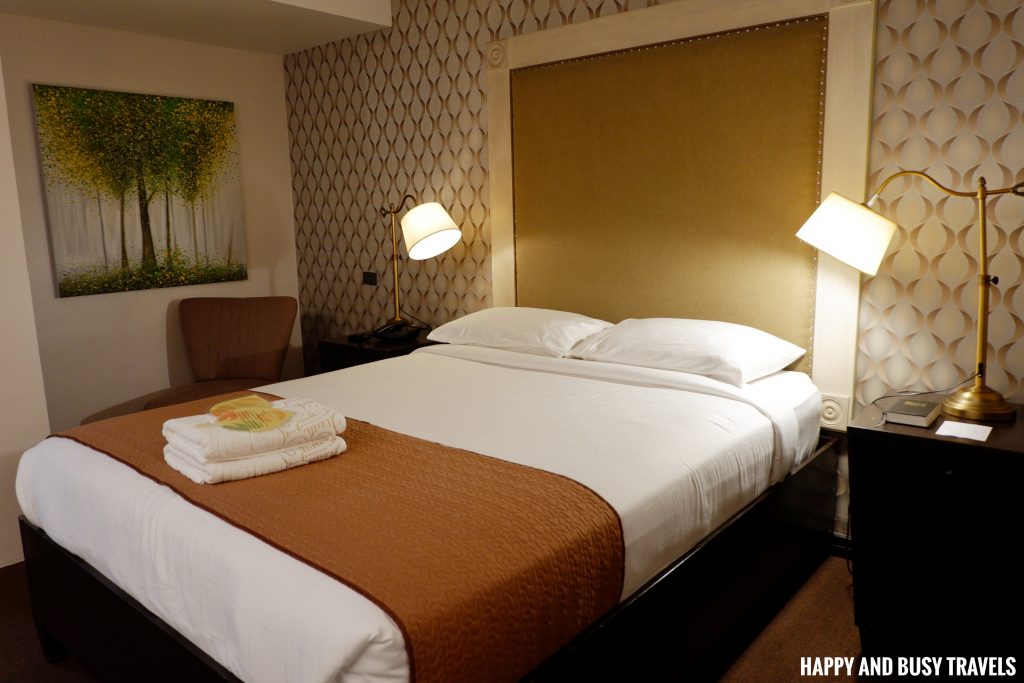 Features of the room:
Balcony with Taal View

Double bed

Chairs and tables

LED TV with cable channels

Coffee Maker

Free coffee, tea, and water
Refrigerator
Electric Kettle
Toiletries

Hot and cold Shower

Pajama

Wifi Access

Cabinets
Safety box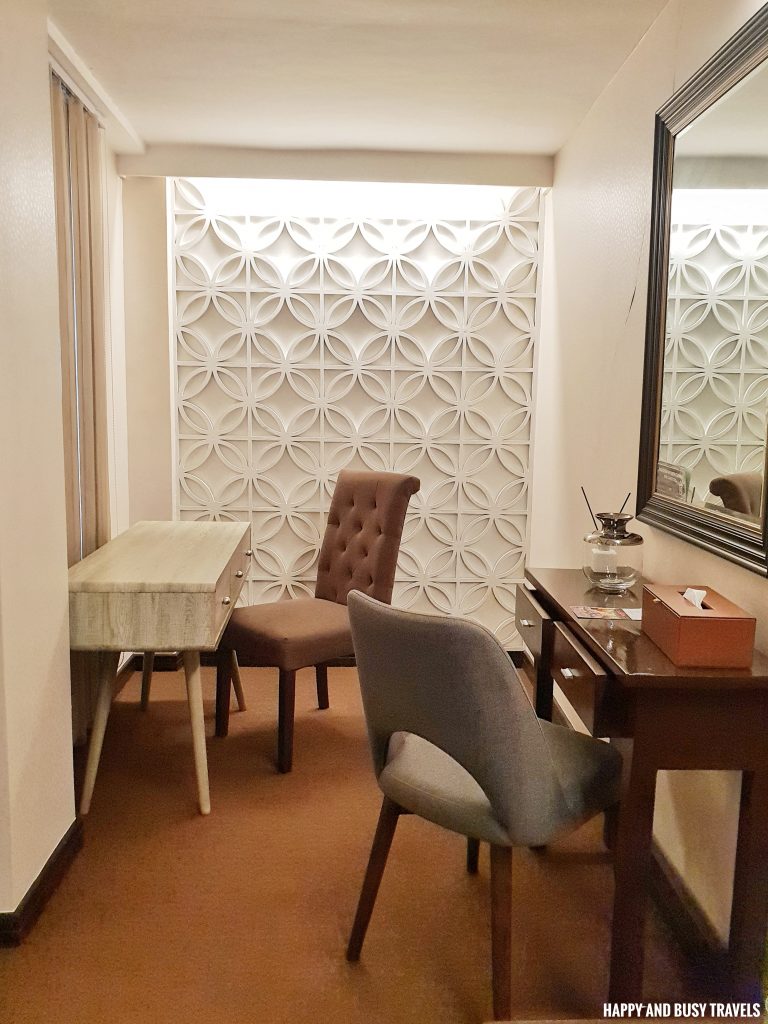 Here is the comfort room, it is smaller than our comfort room but it has all of the toiletries that we have.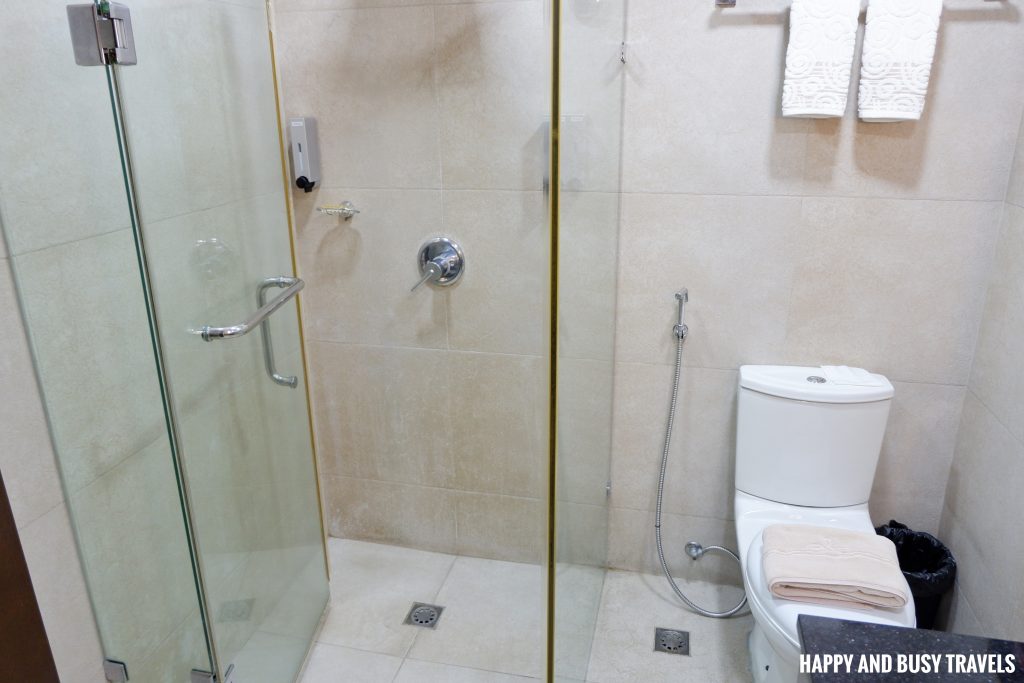 Premiere Superior Room – Family Room
If you are looking for a family room, this one is the best for you, the Premiere Superior Family Room. There are two double beds which can cater 4 people.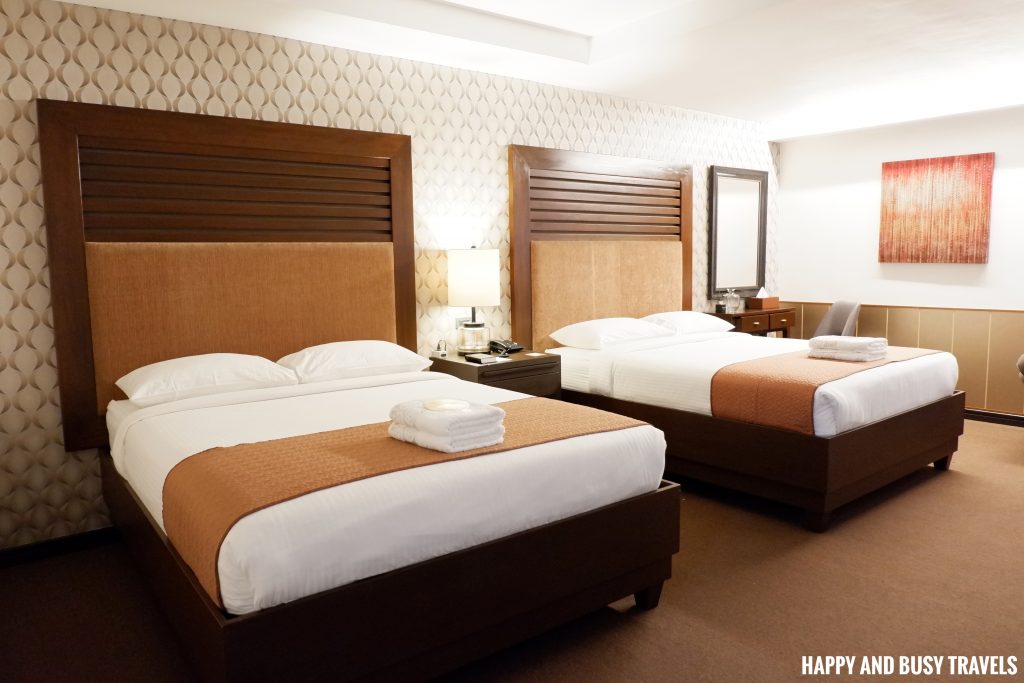 There is a sofa too, and some chairs and tables.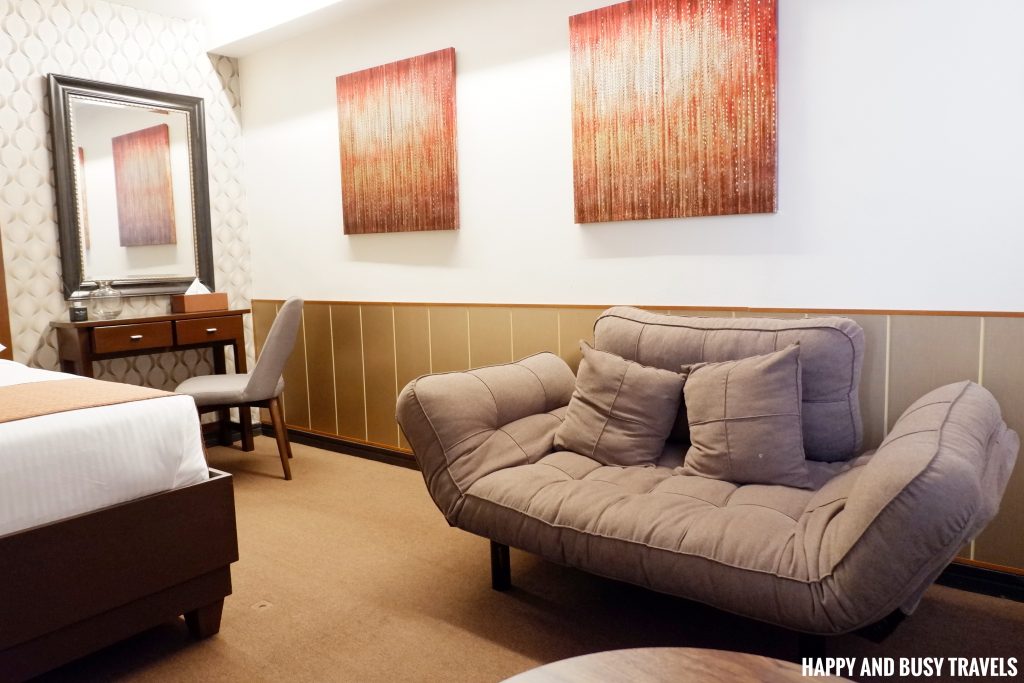 The room also has a television, coffee maker and some freebies.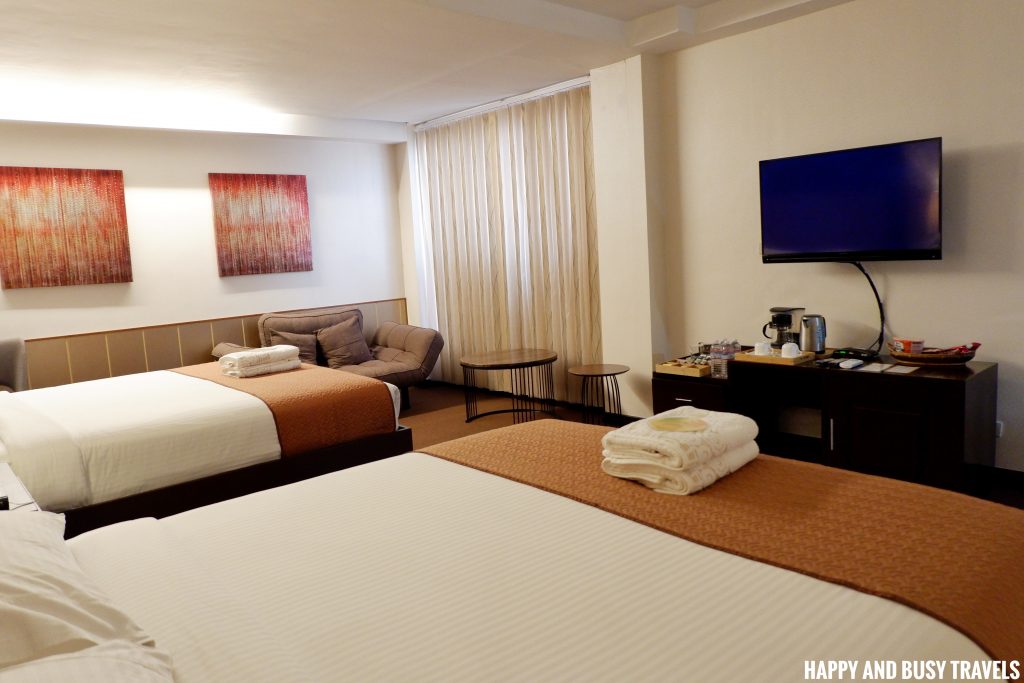 We like how they designed the comfort room of this family room. It has dividers that can maximize the use of the comfort room. While the other is taking a  shower, the other can use the toilet bowl.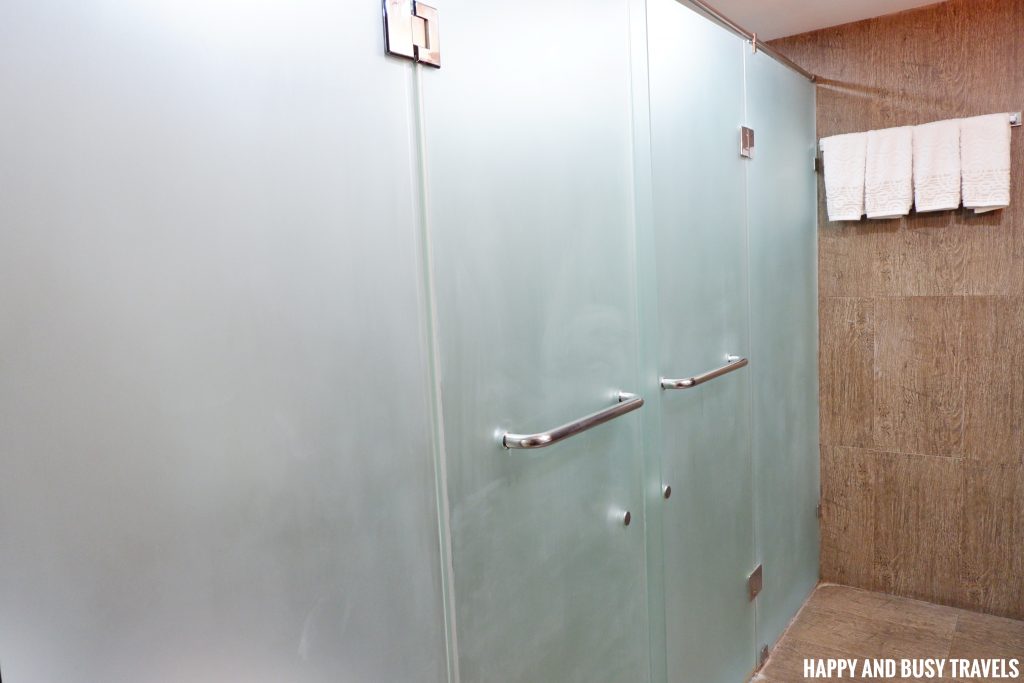 Amenities of Amega Hotel
Amega hotel has some amenities that guests can enjoy.
Amega Hotel Garden Events Area
First is their garden area which can be used as an events area.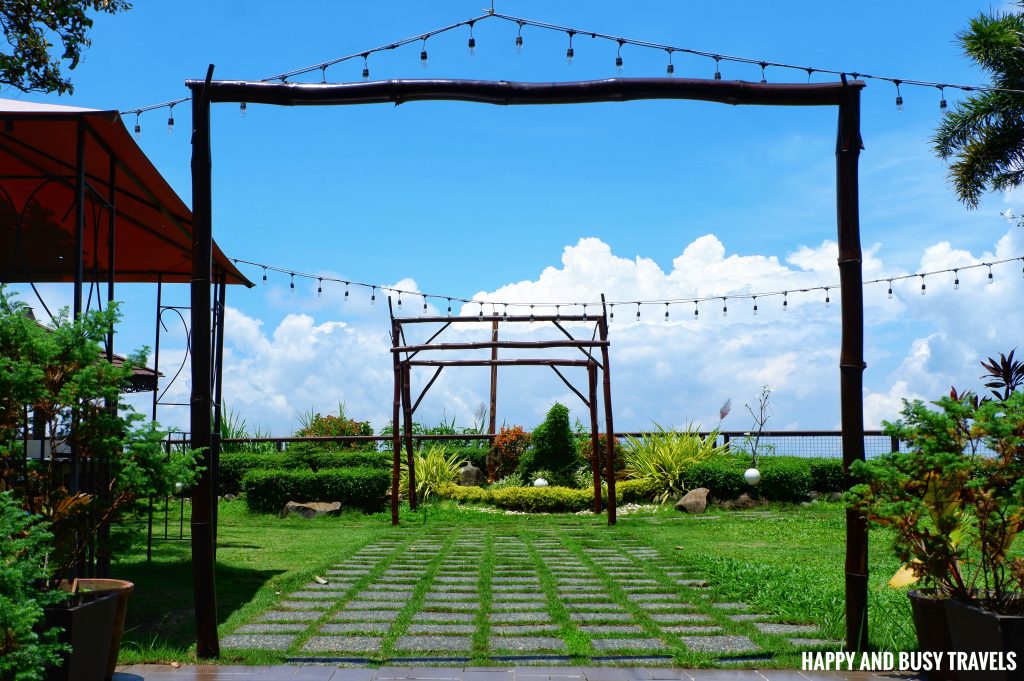 Intimate gatherings can be celebrated here perfectly.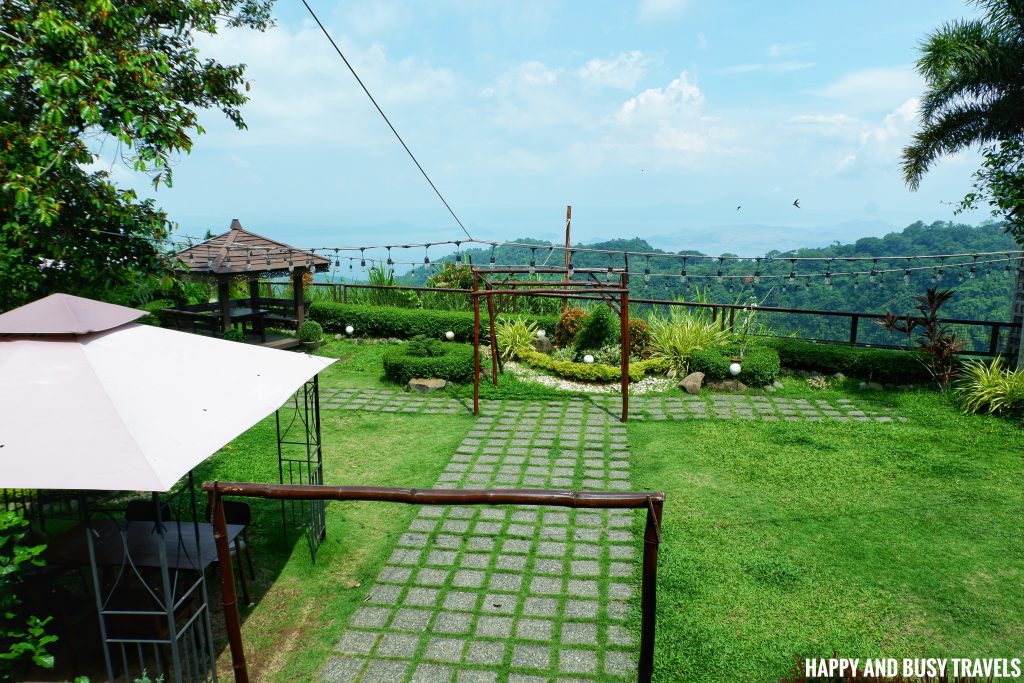 Plus, there is also an IG-worthy spot.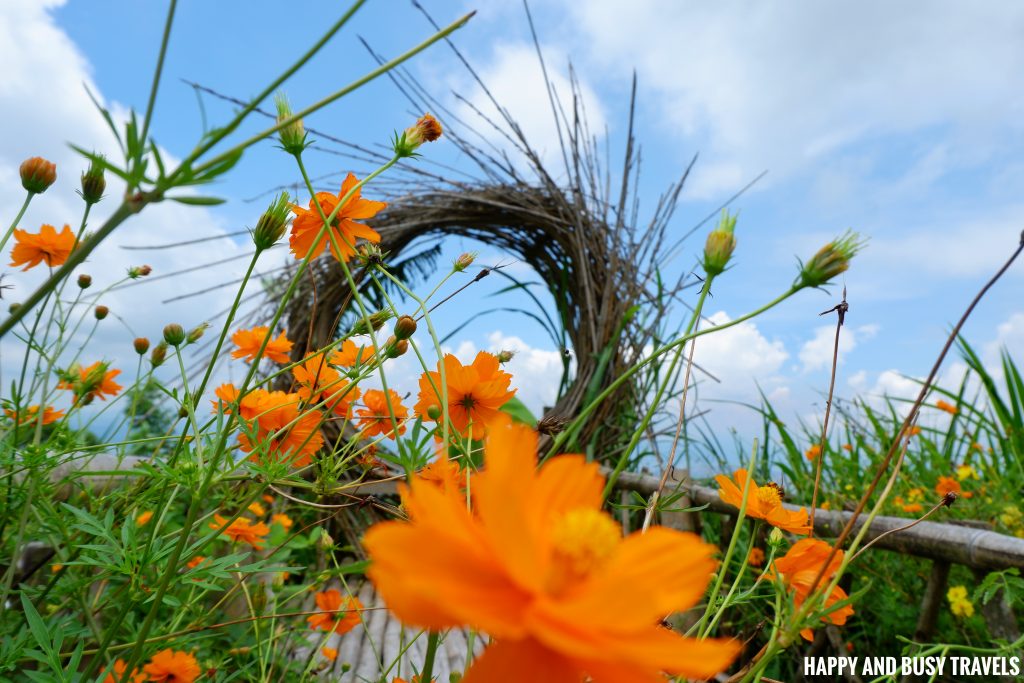 Which of course, we also used haha.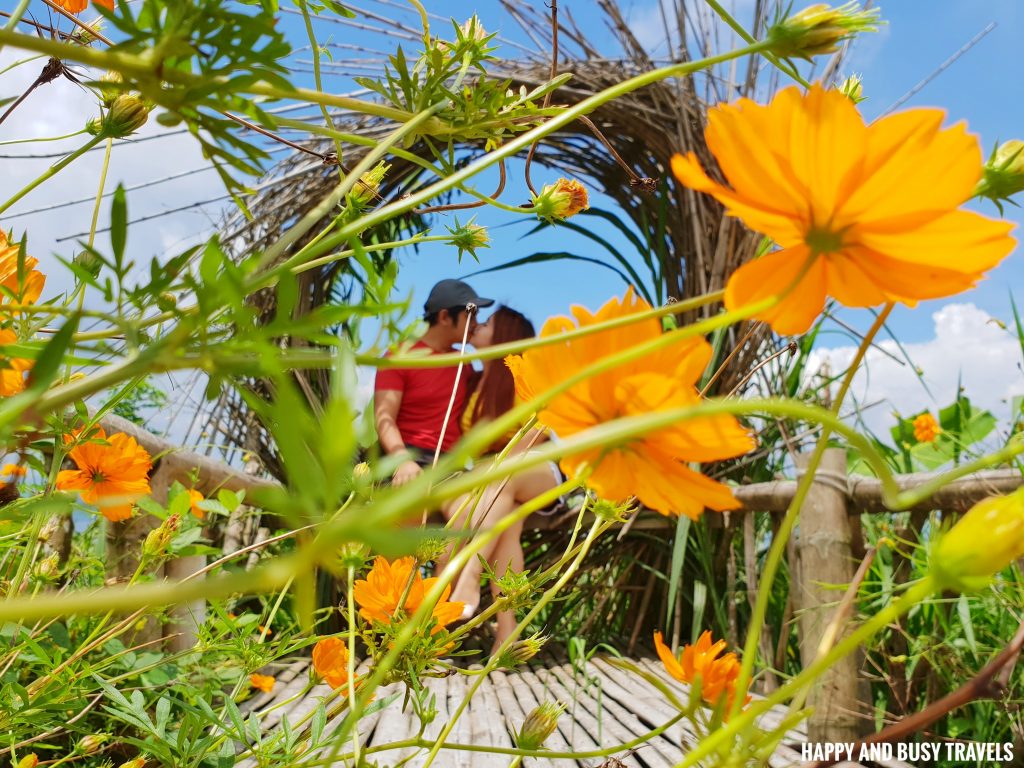 Spa of Amega Hotel
If you want to have yourself pampered and be relaxed, you have to try their spa.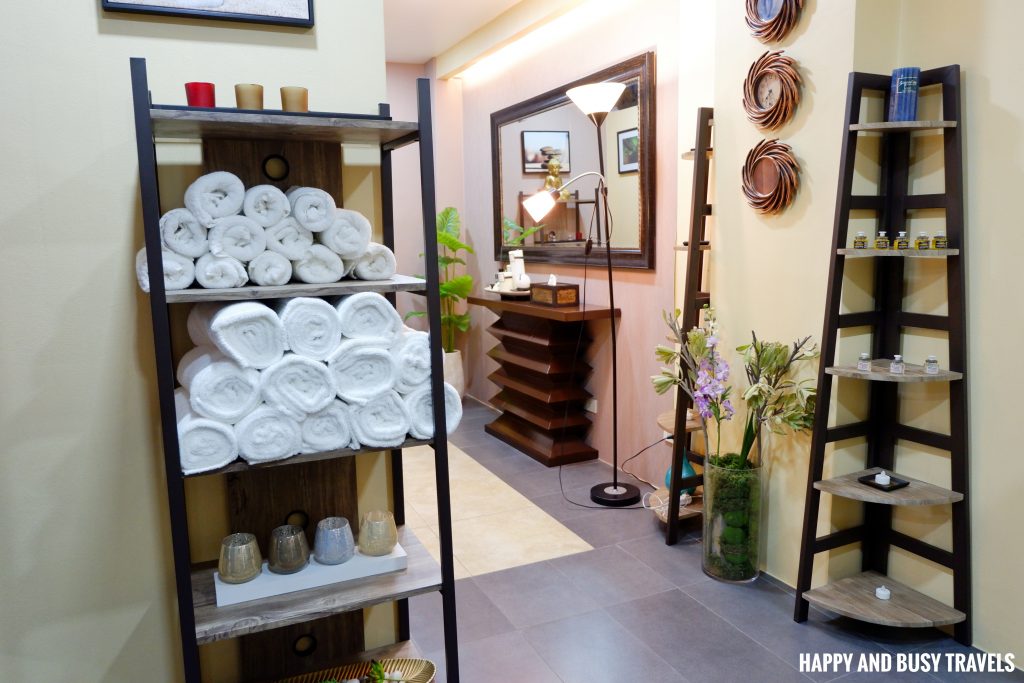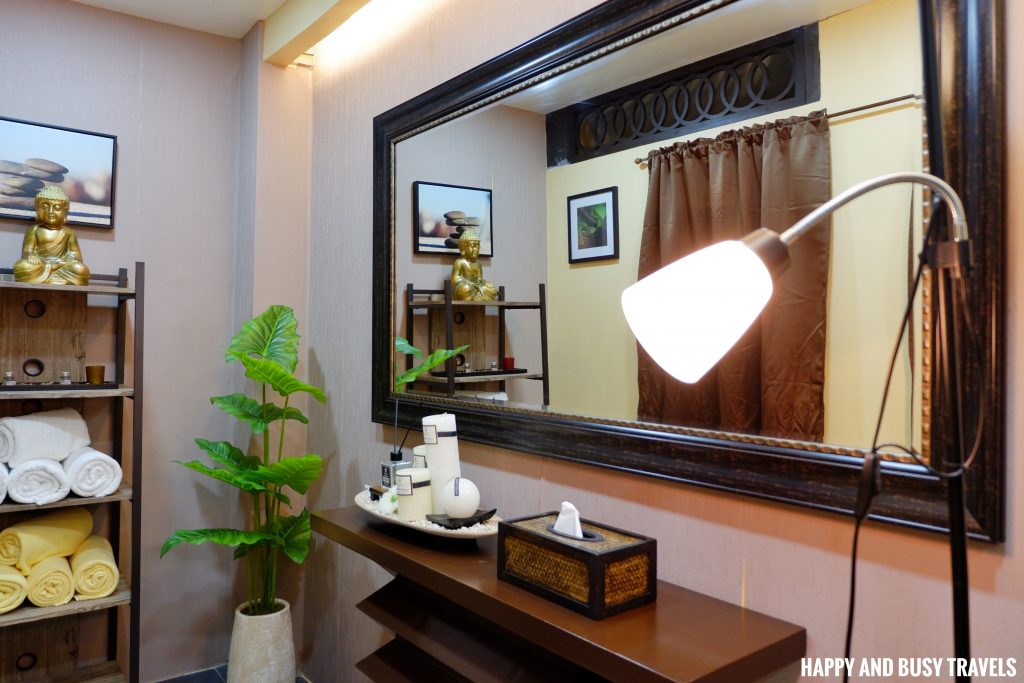 You can book a massage session for one or two. This room turns into a couple-room if you prefer it that way.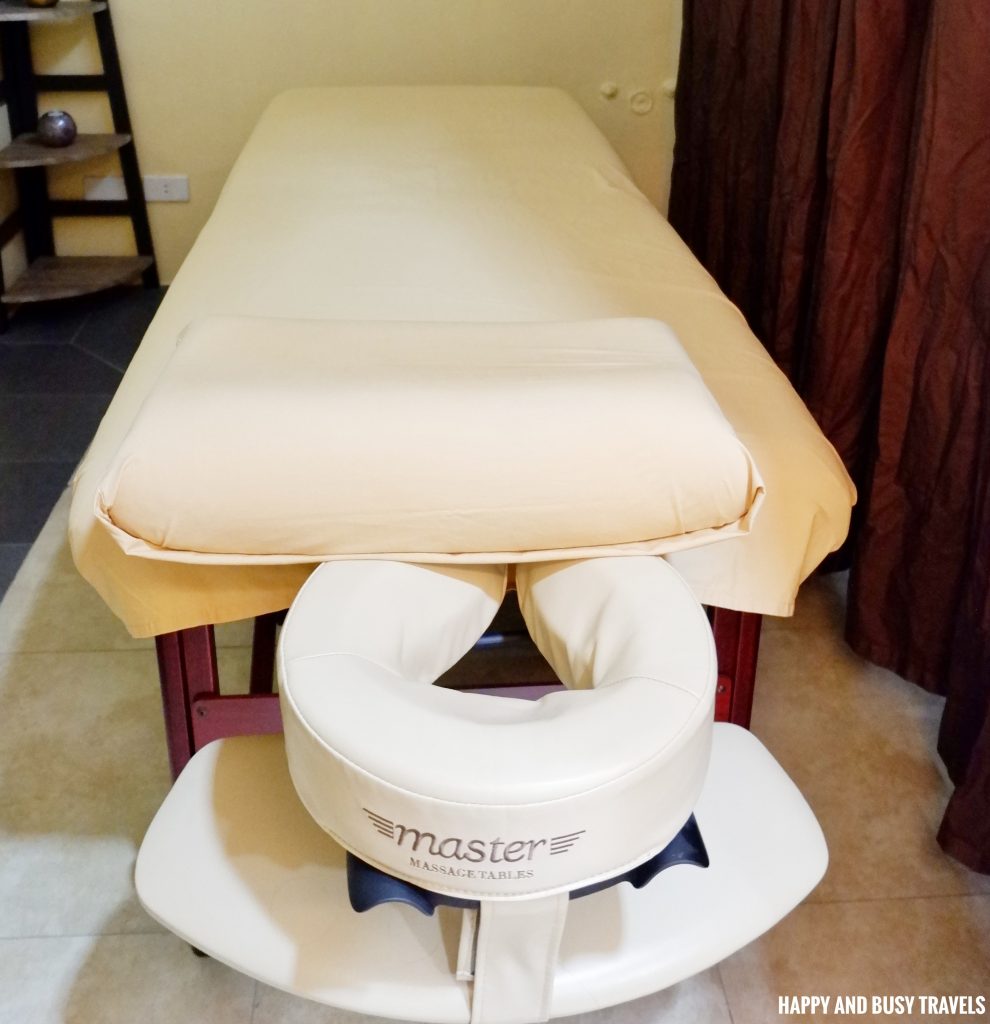 If you just want to take the sauna, you can also do it here.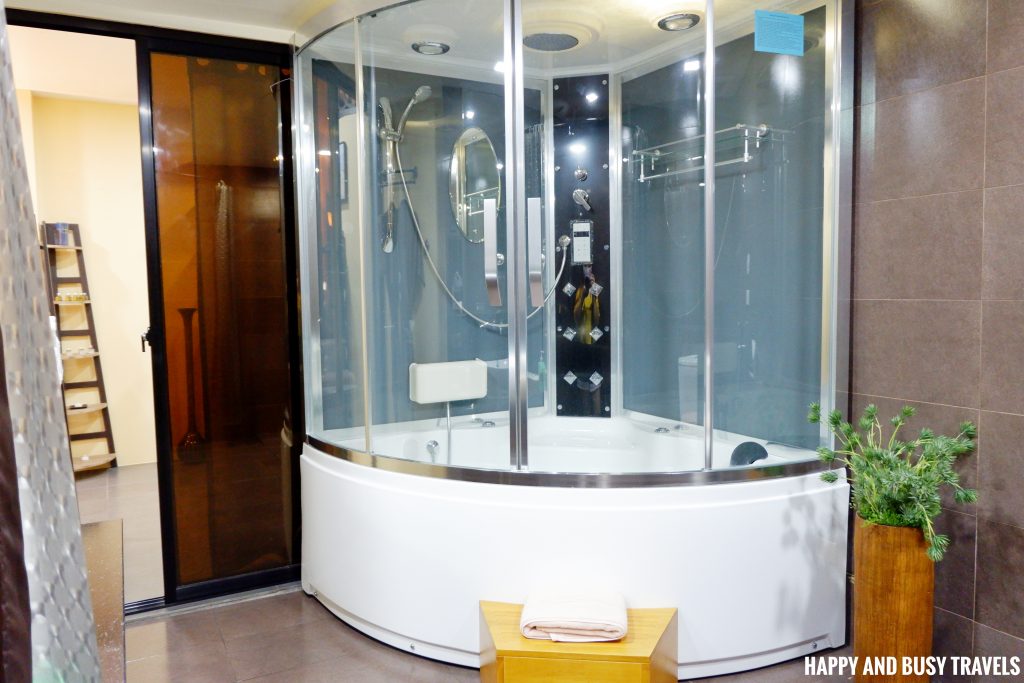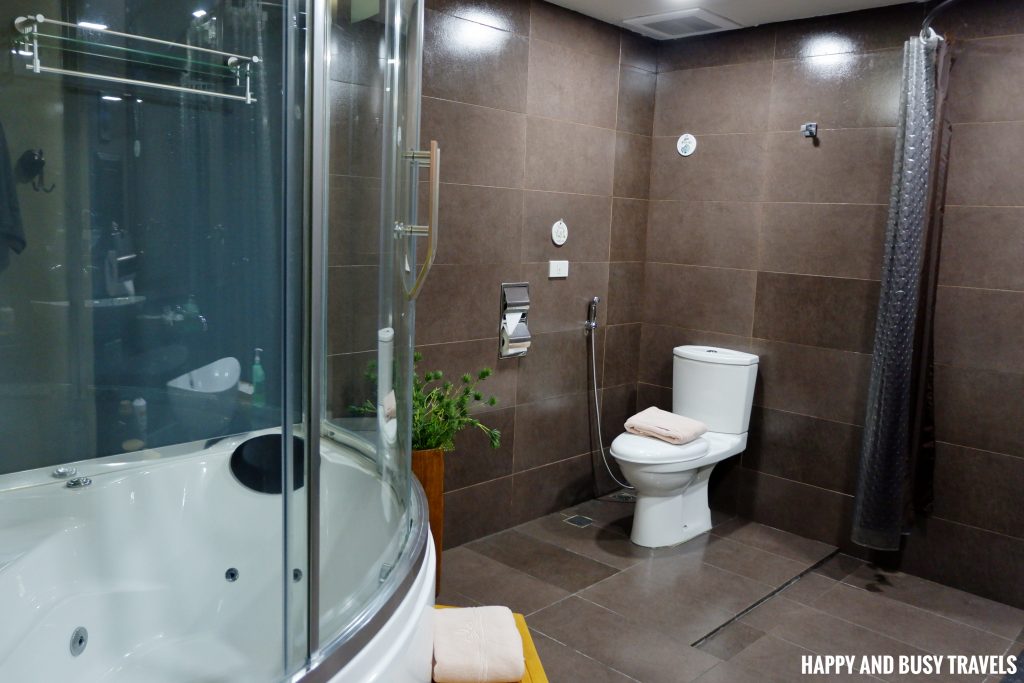 The use of the spa can be booked together with your room.
Roofdeck
They also have a roof deck which is available for guests too. By the way, the view of Taal Volcano is the best if viewed from their roof deck.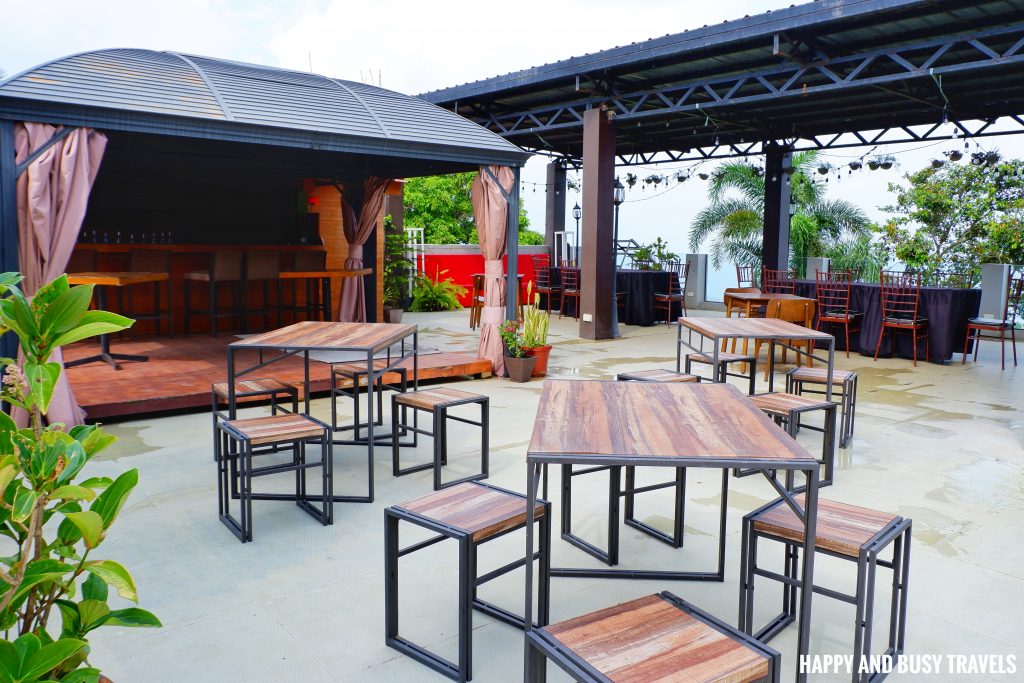 Guests can dine here or just relax.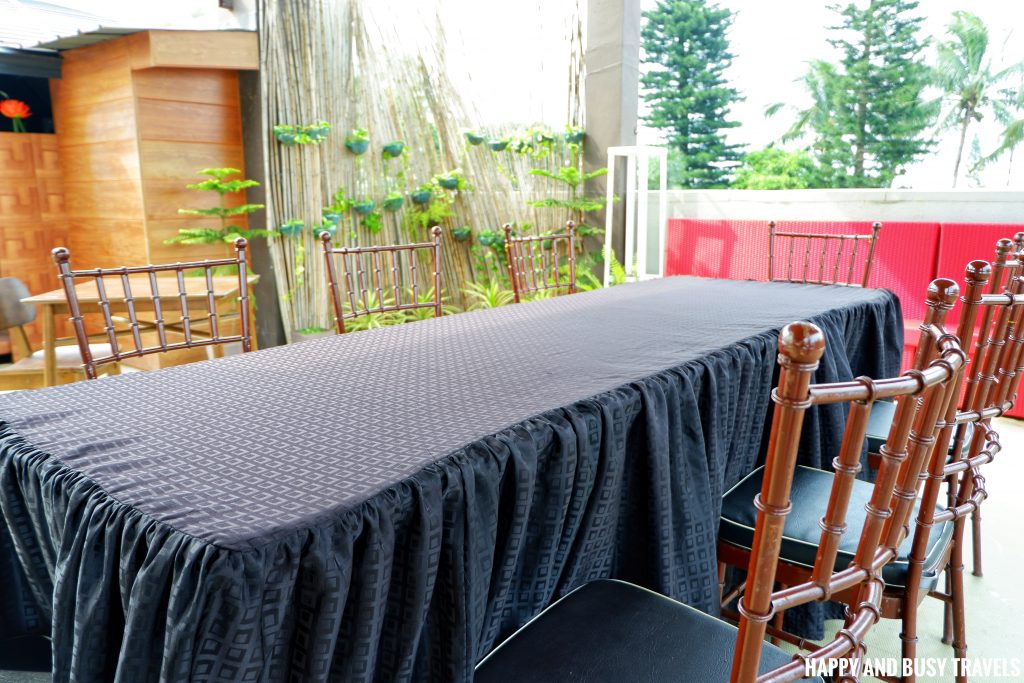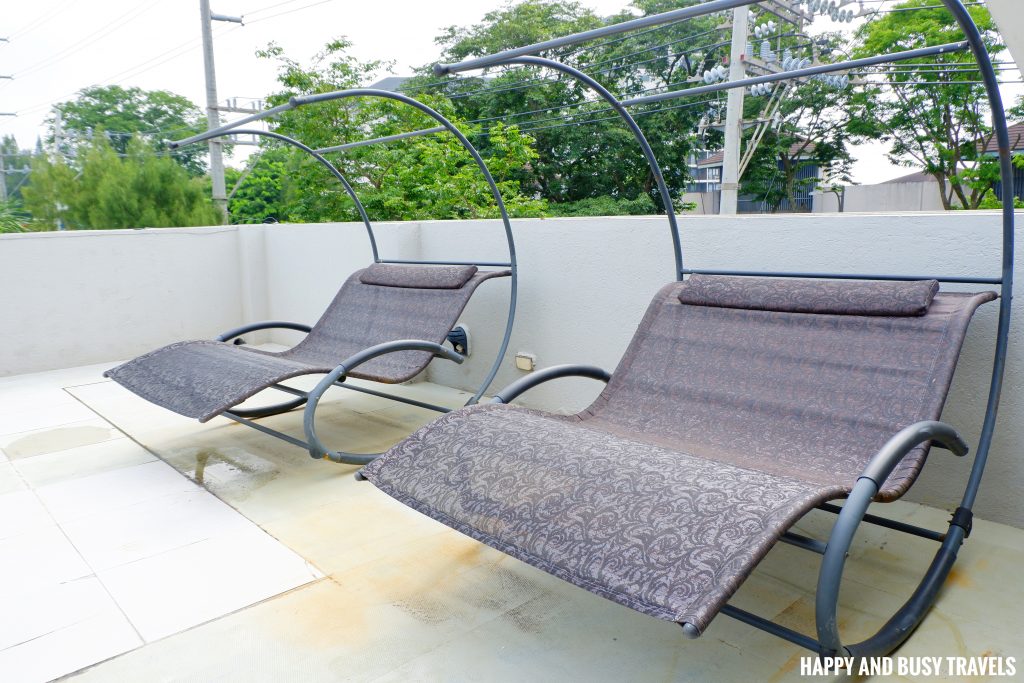 A small conference room is also available on their roof deck, which you can use for your meetings. If you are not a guest in the hotel, you can still use this just ask them for reservations.
Cafe Di Amega
They also have a small cafe in the hotel, the Cafe Di Amega.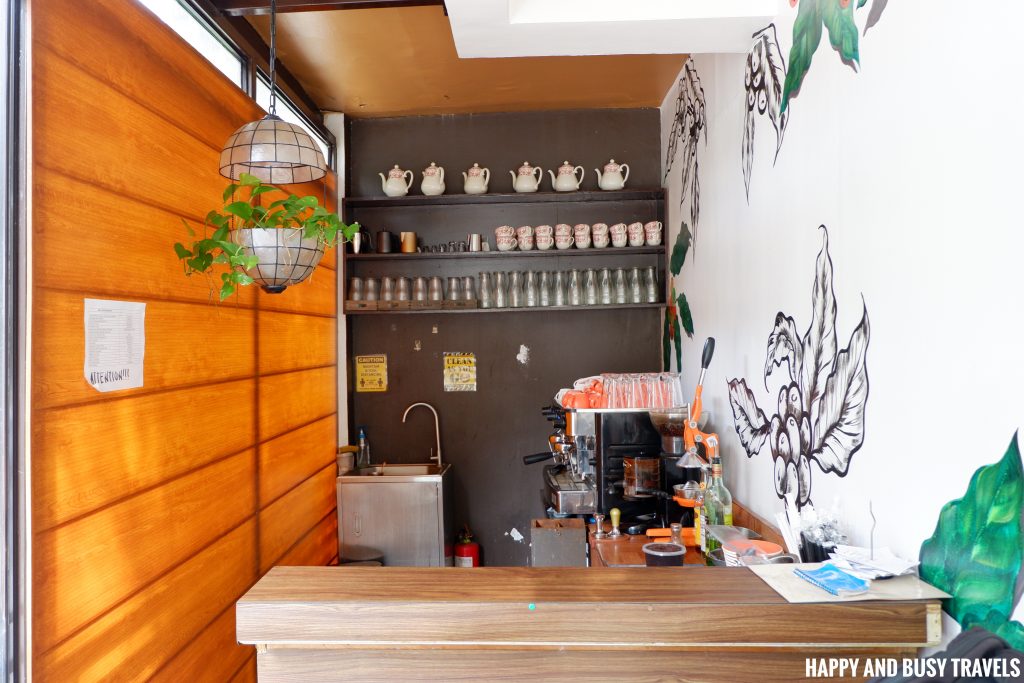 That's where we got my cup of hot chocolate which is perfect for the cold Tagaytay weather.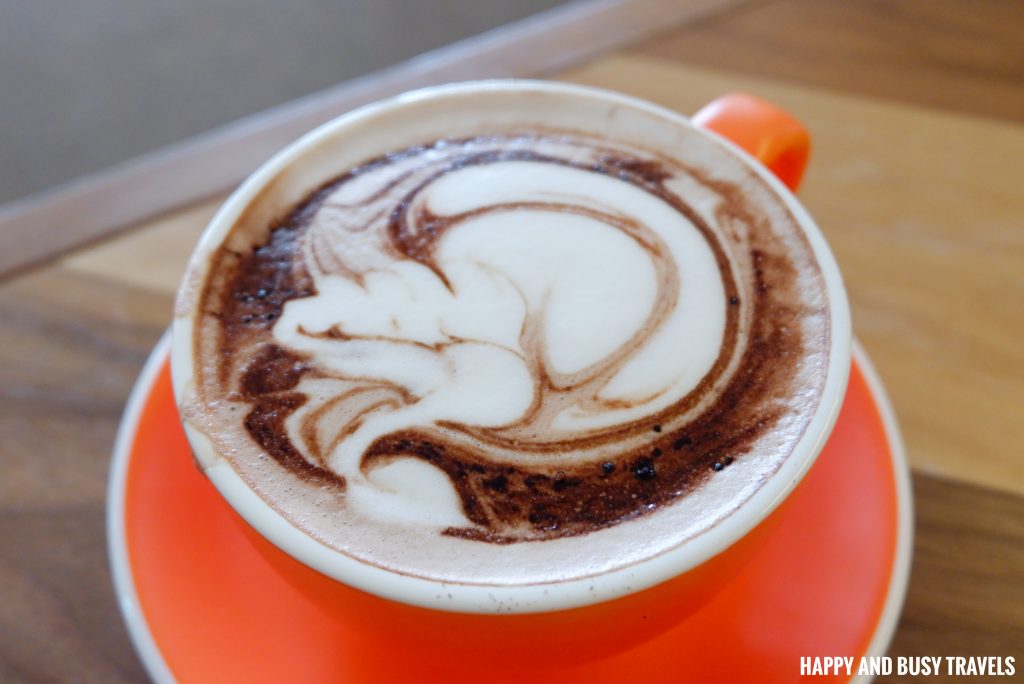 This is a part of the cafe, but it is just located in their lobby. You can read books while drinking coffee, tea, or chocolate from Cafe Di Amega.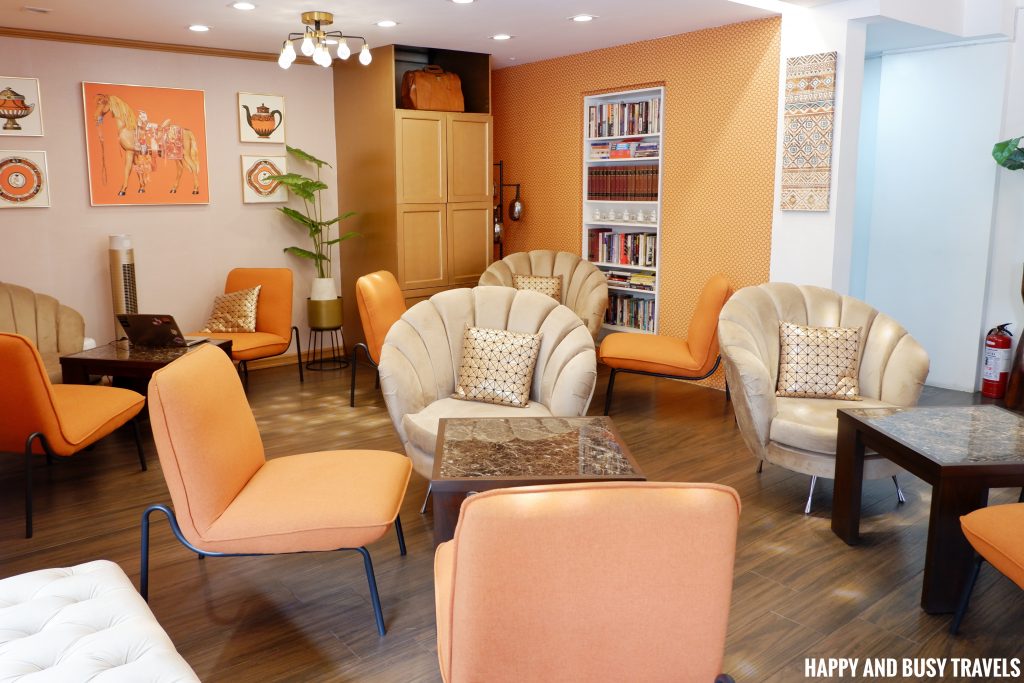 Guada's Bistro
Finally, the hotel also has Guada's Bistro which is one of the restaurants in Tagaytay that serves good food.
Full details at https://happyandbusytravels.com/guadas-bistro/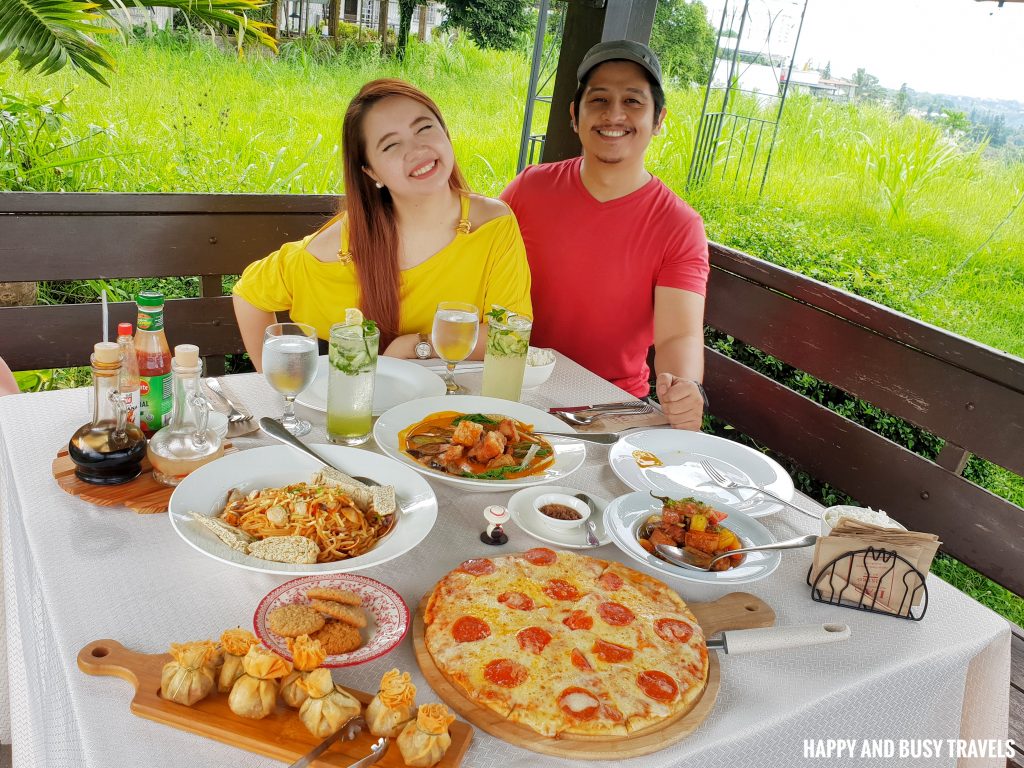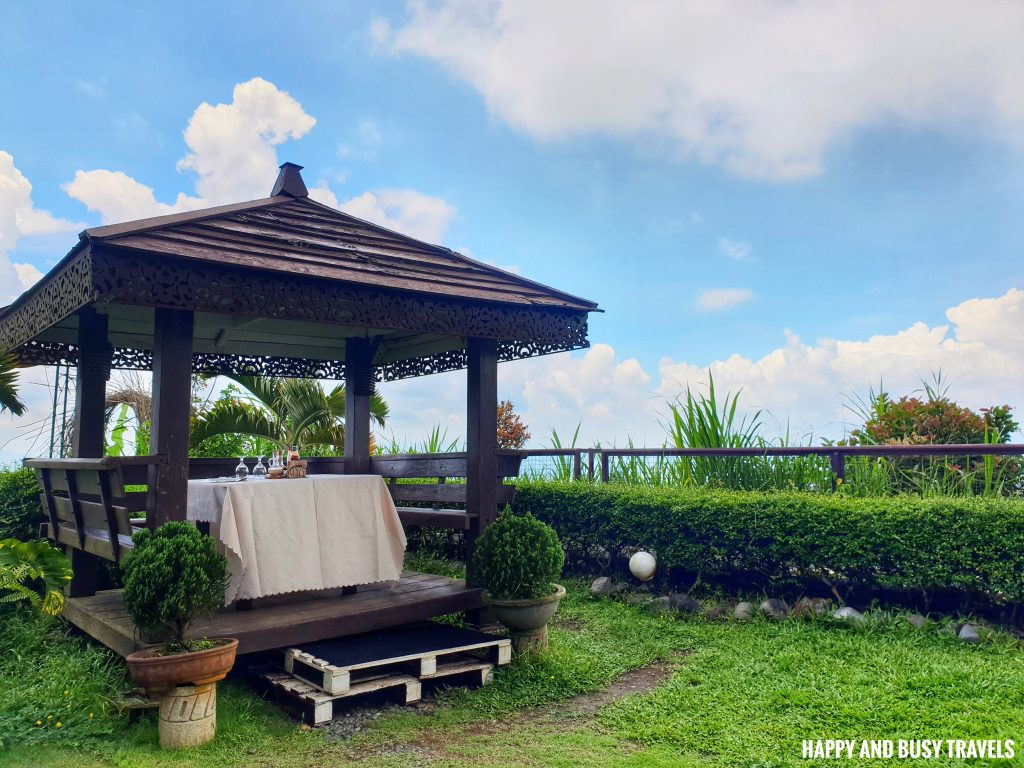 Room Rates of Amega Hotel
Here are the room rates of Amega Hotel, which can change depending on the season and their discounts.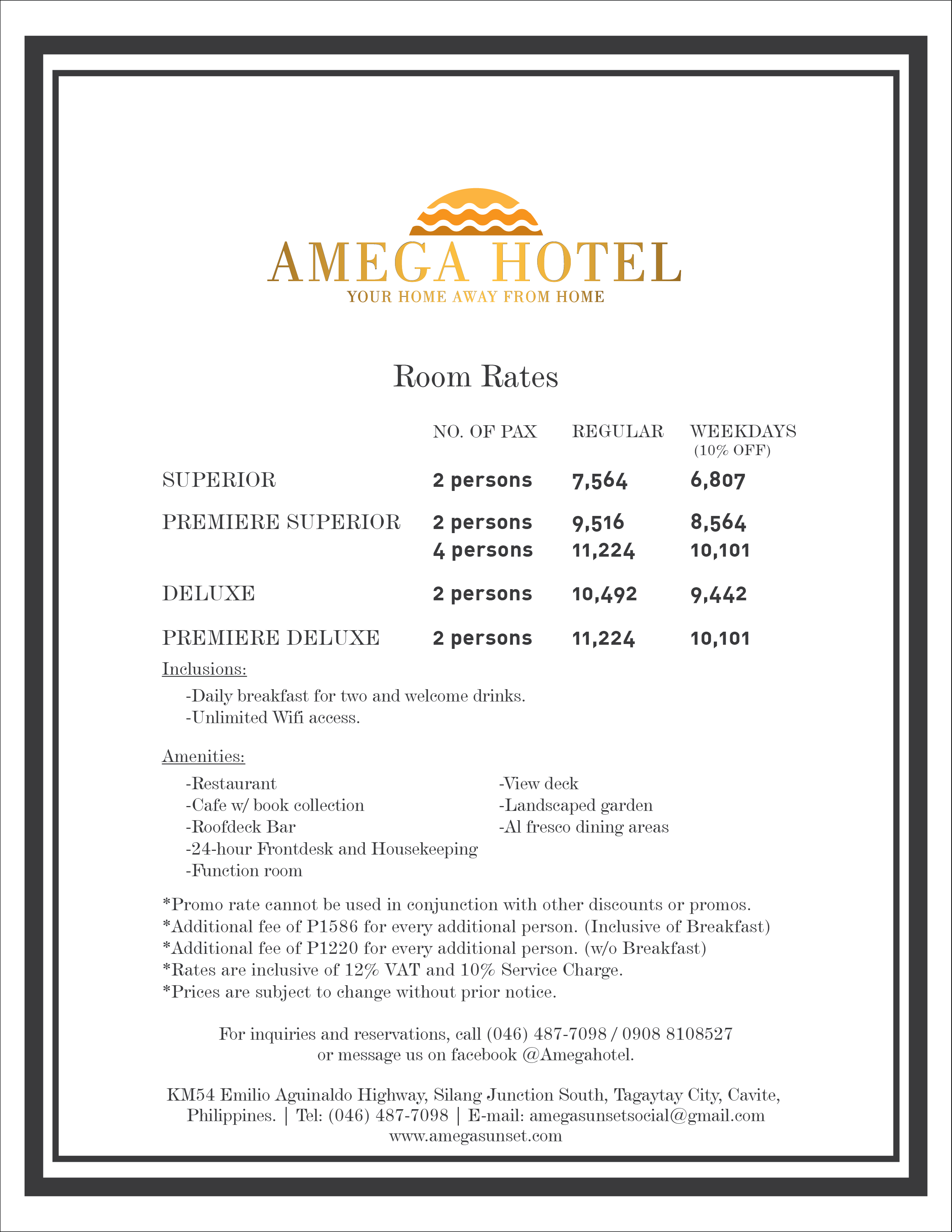 Happy and Busy's Smileys for Amega Hotel
Overall our experience in Amega Hotel is superb. I was supposed to check out early and go to work the next day, but I have chosen to take the day off because a night spent in the hotel is not enough.
Cleanliness

Everything is well maintained, proper COVID precautionary measures are followed, and the rooms and amenities are clean.
Facilities

Service

All of their staff and managers have given the best service!
Value for money

Location 

The hotel is just in front of a major mall, and it is just beside the major road.
Ambiance 

What more can you ask for aside from the view of Taal Volcano? I love the ambiance that the hotel gives, provincial life but kinda modern.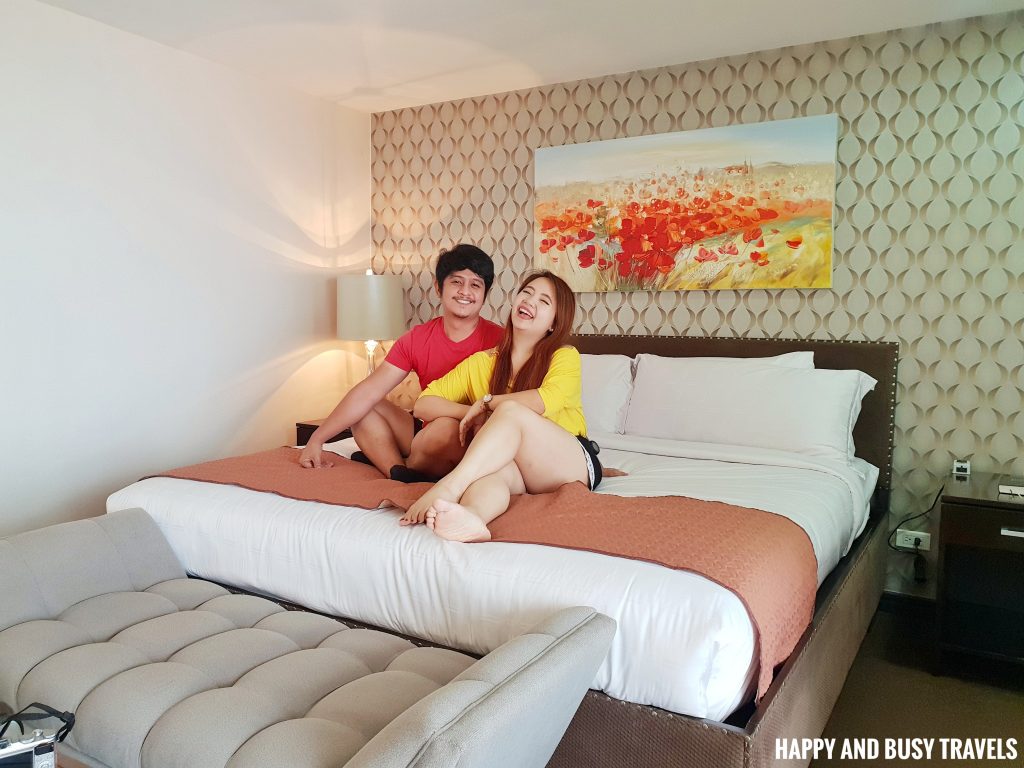 More exciting hotel reviews at https://happyandbusytravels.com/category/hotels/