It's time to say goodbye to Siquijor and hello to CEBU! Here is the 3rd and last part of our 8-day trip! Here is Cebu Itinerary (Part 3 of our 8-day Dumaguete, Siquijor, Cebu Trip)
You can check the end for the summary of our contact persons 🙂
SIQUIJOR – OSLOB – TRANSFER TO CEBU
Day 6 – November 11, 2017, Saturday
It is noted in our itinerary that we should enjoy the morning in the hotel weeeee
Soooo…..
After we had our breakfast in the hotel in Siquijor ( Blue Wave Inn )
we took a dip in the pool….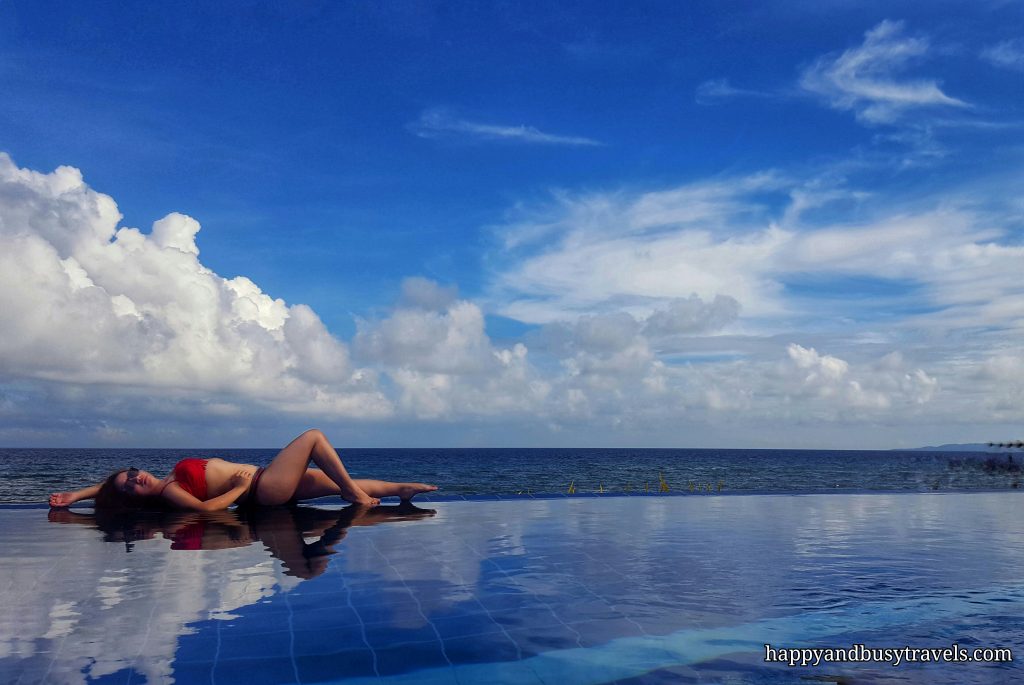 and enjoyed the beach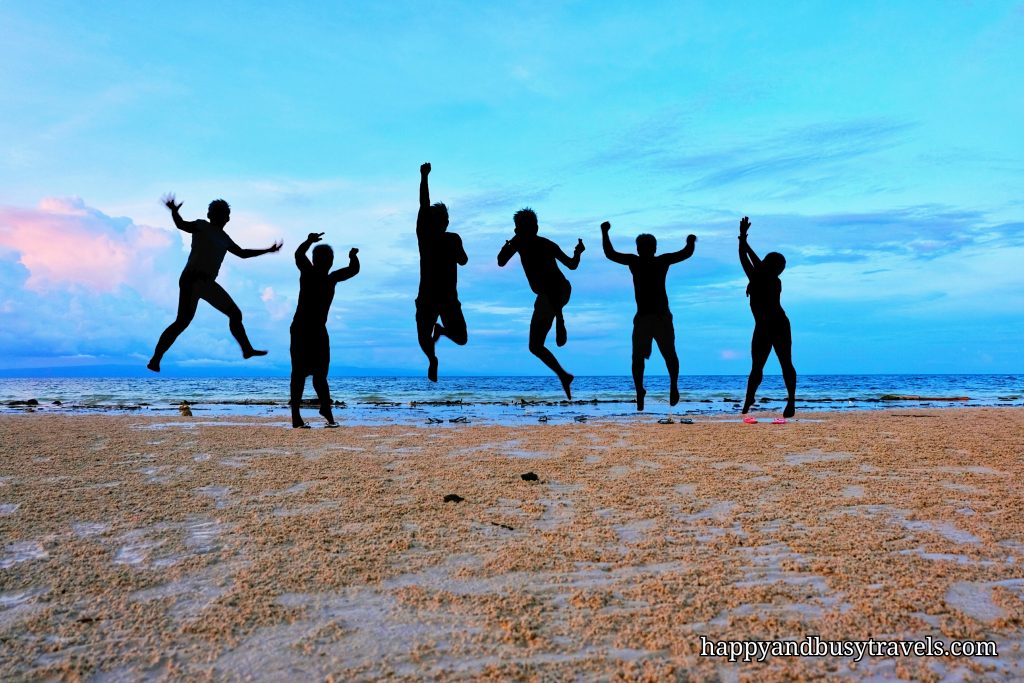 11:20 AM
We checked out because we have to catch the 11:30 AM boat to Dumaguete
We were picked up by George again and we headed straight to the Port. We need to hurry up because we might be late.
11:25 AM
Just in time! We were able to catch the boat.
We took the boat via Alesson Shipping LinesInc.  from Siquijor Port to Dumaguete Port.
Ticket prices: Php 120 for seats inside the air-conditioned room
Php 100 for economy seats
Plus terminal fee of Php 14 per person.
Contact numbers:
Manila Office: (+632) 736 9546 or 994 0549 ; +639177215724 ; +639228585035; +639989703761
Email Address: [email protected]
Schedule:
The boat keeps on honking because we are the last passengers to go aboard and the boat will leave in a few minutes.
Believe it or not, we are in a hurry hehehe but first…. SELFIE! 🙂
Even though they are strict in time and also in a hurry, they managed to smile when I took their photo
1… 2… 3… SMILE! 🙂
Zoom in to see their smiles 🙂
12:40 PM
Around this time, we arrived in Dumaguete Port. It is about to rain so we have to get a tricycle immediately.
Tricycle is not a problem in this area because they are all around asking passengers if they are going to Sibulan Port (our next port). We got 2 tricycles (3 people each) and we asked them to take us to have our lunch and proceed to Sibulan Port
12:50 PM
We had our lunch in Sans Rival Cakes and Pastries Shop
Address: #3 San Jose Street, Dumaguete City
Store hours: 8:30AM – 8:00 PM
Contact No: (+6335) 225 4440
Facebook: https://www.facebook.com/sansrivalcakesandpastries/
They specialize in making delicious Sans Rival Cakes, Sylvanas, and other Pastries. So we bought some Sylvanas to take home and we also had our lunch here.
For a detailed review, please visit my blog on Sans Rival Cakes and Pastries Shop through this link: FOR UPLOADING 🙂
1:30 PM
The rain stopped just right in time for us to go to Sibulan Port.
2:30 PM
We just arrived right on time for the 3:00 PM departure of the boat. We need to go to Lilo-An Port in Cebu.
We first planned to buy a ticket through Maayo Shipping Inc. because they have a great customer service. They are very active and they reply to all of my queries in Facebook, and their 3:00 PM boat is just right for us. However, we were taken to the other part of the port, and due to the overwhelming number of people I've just decided to book our boat through Cuadro Alas Navigation Lines, Inc., which is just right in front of me. Their boat will also depart at 3:00 PM and the regular fare is just Php 62.00. (terminal fee of Php 10 is already included).
I'll just share Maayo Lines' contact details because I was pleased with their customer service:
Contact no.: +63917 710 7080
Facebook: https://www.facebook.com/Maayo-Shipping-Inc-179750595411063/
Cuadro Alas Navigation Lines, Inc.
Contact numbers:
Cuadro Alas Office 480 9888
Lilo-an Port +63922 428 9497
Sibulan Port +63943 054 4876
Schedule:
3:30 PM
We arrived in Lilo-An Port, Santander, Cebu
We hopped on the Ceres Bus to get to our hotel
4:30 PM
We checked in Lagnason's Place. We will just stay for a few hours in this hotel so we have decided to take 1 room.
Address: Lagunde, Oslob, Cebu
Contact No.: +63915 184 3073
Facebook: https://www.facebook.com/Lagnasons-Place-Resort-1398133687160298/
Our room can accommodate 6 people, it costs Php2,268 (including VAT, breakfast not included)
You can book the hotel through Agoda
The resort is okay, there is a pool and karaoke.
Cuartel Ruins
We immediately went out the resort, took a tricycle, and went to Cuartel Ruins
The museum is already closed when we arrived so we just took the opportunity to photograph the place.
We also wanted to attend the mass, however the language is in Visayan so we have decided to just pass by. Visayan dialect is different from Tagalog.
Here is Cuartel Ruins at night. Thank you to our friend Michael Sarabia for capturing this  wonderful picture.
6:00 PM
Not far from the ruins is their market. We passed by Paul & Madz Restaurant to buy our dinner. We just ordered take out because my friends wanted to go back to the resort. I also wondered why 2 of my friends went out on their own. Anyway, we ordered food and went back to the hotel.
12:00AM
Busy, together with my brother and our friends woke me up because they surprised me for my birthday!
That's why 2 of our friends went out on their own. I was delighted that they remembered my birthday and they bought a cake in Dumaguete when we are in Sans Rival restaurant, they bought a Hello Kitty frame and placed our pictures there! They even went in a computer shop just to have the pictures edited and printed! Ohhh I love you guys! Ohhh before I forgot! They also bought flowers in the market that night hahah good thing there are still flowers available at the time hahahaha.
OSLOB
Day 7 – November 12, 2017, Sunday
6:00 AM
We checked out our hotel and we were picked by Nonoy through his van
Contact Nos: +63 928 168 5660 ; +63 915 510 5033 ; +63 32 481 9151
It seems that he knows a lot of people in the area, he is friendly. He is already a senior citizen but he is still working.
By the way, I also  have a van contact who is based in Cebu City. Please contact Kuya Raul at +63905 904 8790
7:00 AM
Swimming with the Whale Sharks
We went straight to the Whale Watching area
Address: Natalio Bacalso Avenue, Oslob, Cebu Province
Snorkeling fee: Php 500 for Filipino Php 700 for foreigners
This includes the boat, life vest, and snorkeling mask.
Last year we're also here but there are few people, this year there are a LOT of people. I guess because today is a weekend.
People are oriented first before proceeding with the Whale Shark watching/ snorkeling. People should not use sunblock because this is harmful to the animals, and we are not supposed to touch the Whale Shark. There is a penalty and imprisonment if you disobey.
So here we go, we went on the boat and we jumped into the ocean.
Whale Watching in Oslob, Cebu, Philippines is one of the most controversial activities in the country. This is mainly because the Whale Sharks are being fed that's why they stay in the area, and they swim based on where the food is dropped. We have a friend who is not supporting this activity, that's why he did not join us. Anyway, we wanted to see the gentle giants that's why we went through this activity again.
8:00 AM
We proceed to Sumilon Island to explore the sandbar. Our contact is Arthur for the boat.
Contact No. +63 922 928 1828
From the whale shark area, they will take you to the docking area of the boat.
Price of the boat: Php 1,500 (usually, but you can ask for a discount, we asked for a discount and got it cheaper)
Environmental Fee: Php 50
Insurance Fee: Php 20
The insurance fee started in November 7, 2017 and is mandatory for all of the visitors on the island.
During our visit, the sandbar due to the high tide.
It is a bit hot so I stayed on the shelter beside the sandbar while my friends explored the sandbar. There are sea urchins and fishes there so we have to be careful.
Some of the visitors, together with the lifeguards caught some fishes in the sandbar. I'm not sure but I think these are Parrot fishes.
10:00 AM
We went to Kawasan for our Canyoneering
We arrive in Matutinao Beach Resort to meet Pipz, our contact.
But first, we ate… a lot 🙂
We had breakfast food in Matutinao Beach Resort.
11:00 AM
We are ready for our Kawasan Canyoneering
Our contact here is Pipz from Kawasan Canyoneering
Fee: Php 1,500 per person
Including full meals after the activity, snack and water during the activity, life vest, helmet, and tour guide
Contact No: +63918 6544111 ; +63905 3332623
Email: [email protected]
Website: http://kawasancanyoneering.com.ph/
Facebook: https://www.facebook.com/kawasncanyoneering/
We also did this last year, so 2 of my friends who participated there did not join anymore. It's just me, Busy, my brother, and one of our friends.
For a detailed review, please visit my blog on Kawasan Canyoneering through this link: FOR UPLOADING 🙂
3:00 PM
At the end of the activity, you will see Kawasan Falls, we have decided to take the Bamboo raft, and experience the impact of the falls. One ride costs Php 600 for the whole group.
The water is so cold and the impact of the falls really leave a big impression hahaha. The current is too strong it's hard to stand up.
I edited the picture too much to show the dramatic effect of Kawasan Falls hahahaha
THE STRUGGLE IS REAL!!!
4:00 PM
We are back at Matutinao Beach Resort and had our early dinner. This is the meal included in the Canyoneering package.
5:00 PM
We went to Moalboal and check in our hotel Savedra Beach Bungalows
Address: Moalboal, Cebu
Contact No: +63 32 474 3228
Website: http://www.savedra.com/
We LOVE the place! The actual place is better than their photos in the internet hahaha It is beside the beach and beside the Sardines! (We do not know that the sardines are just near during this time haha)
For a detailed review, please visit my blog on Savedra Beach Bungalows through this link: FOR UPLOADING 🙂
7:00PM
For our late dinner, we ate in The Pleasure Principle Restobar. We have decided to eat here because it is just in front of our hotel and it has a good rating in the internet.
Address: Panagsama Beach, Moalboal, Cebu
Operating hours: 7:00 AM – 9:00 PM
Contact No.: +63947 747 1838
Facebook: https://www.facebook.com/The-Pleasure-Principle-240944032757268/
For a detailed review, please visit my blog on Pleasure Principle Restobar through this link: FOR UPLOADING 🙂
After eating, some of us explored the street of Panagsama Beach, there is a lot of restaurant and bars here.
MOALBOAL  – PESCADOR ISLAND & CEBU CITY
Day 8 – November 13, 2017, Monday
6:30 AM
We were picked up by MCDC Travel and Tours
Rate: Php 750 per person for the tour (Plus Php 500 for van pick up)
Contact No: +63977 8830662
Facebook: https://www.facebook.com/mcdctravelandtours/
We headed straight to the docking area of the boat to Pescador Island
We should've just walk to the area because it is a few minutes away from the hotel (And the Sardines are just there, at the back of our hotel hahaha anyway…)
The boat took us to Pescador Island to snorkel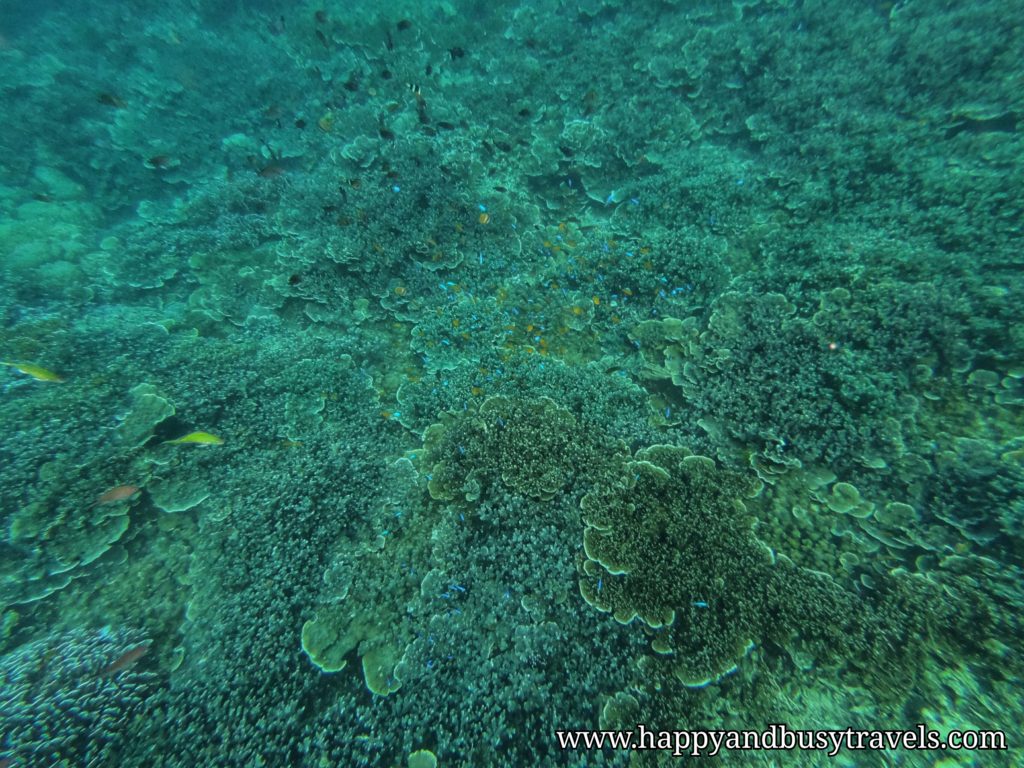 The corals in this area is full of life! There is a lot of corals and fishes! I saw a Trigger fish (I think), a Puffer fish, Clown fish, and a lot of fishes that I do not know hahaha.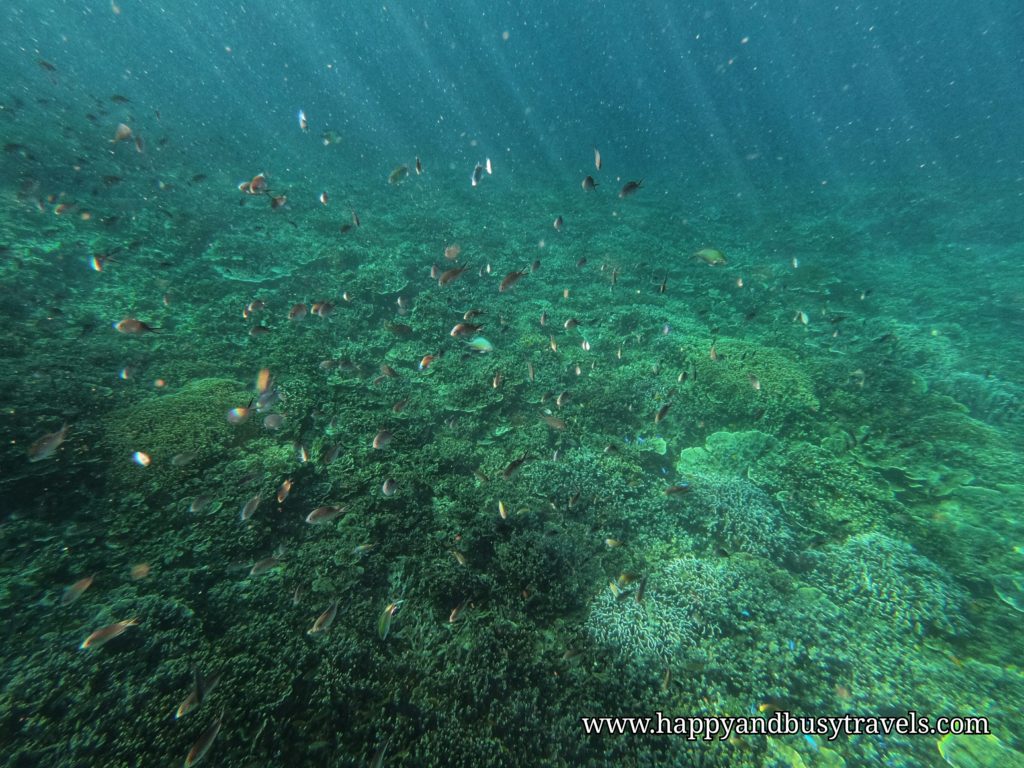 We then asked the boat to take us to the Sardine Run area.
To our surprise, it is just behind our hotel! Hahaah We really should've walk hahaha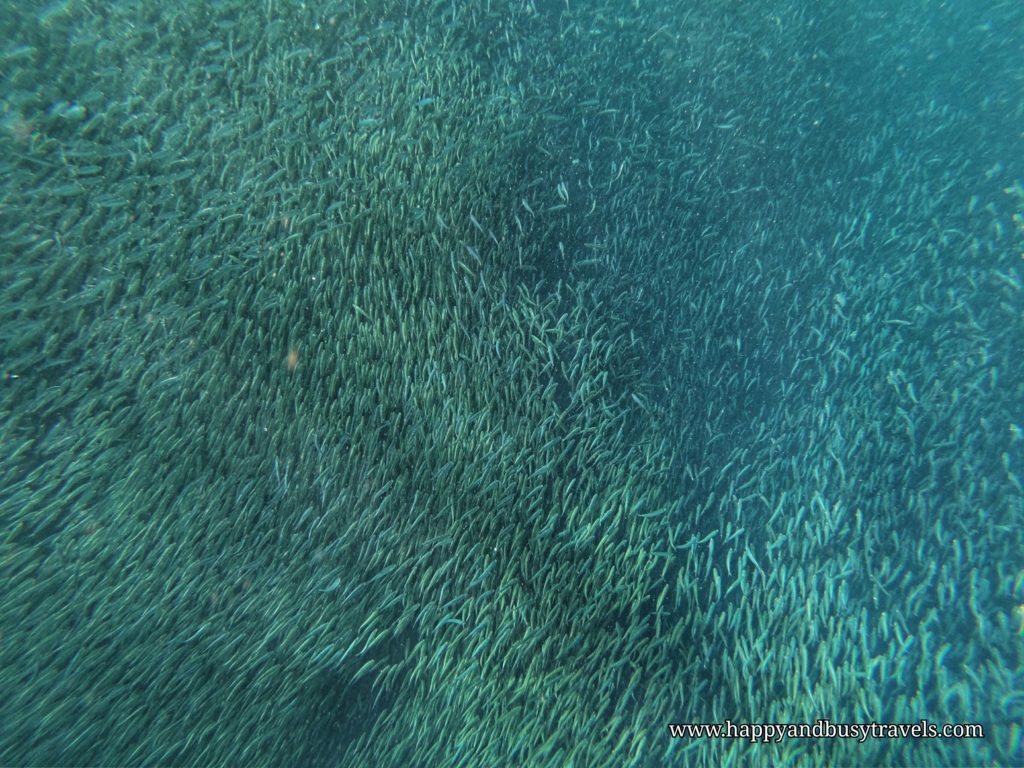 There is a LOT really a LOT of Sardines! I don't know why but they are staying in that area. I did not see any net or anything that stops them from going out of the area. There are also some bigger fishes that feeds on some of the Sardines.
The area is protected and net fishing is not allowed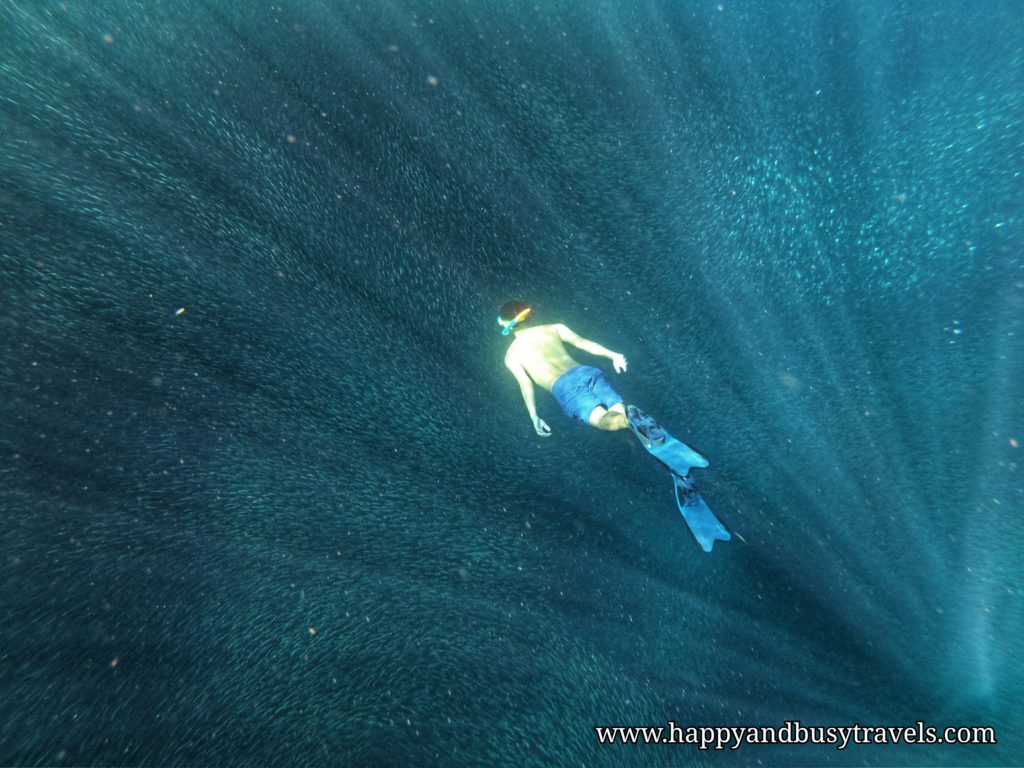 For a detailed review, please visit my blog on Pescador Island and Sardine Run through this link: FOR UPLOADING 🙂
9:00 AM
We were back at the hotel and we prepared ourselves to check out.
10:30 AM
We had our early lunch in Silver Ray Seafood Grill Restaurant, just infront of our hotel
For a detailed review, please visit my blog on Silver Ray Seafood Grill Restaurant through this link: FOR UPLOADING 🙂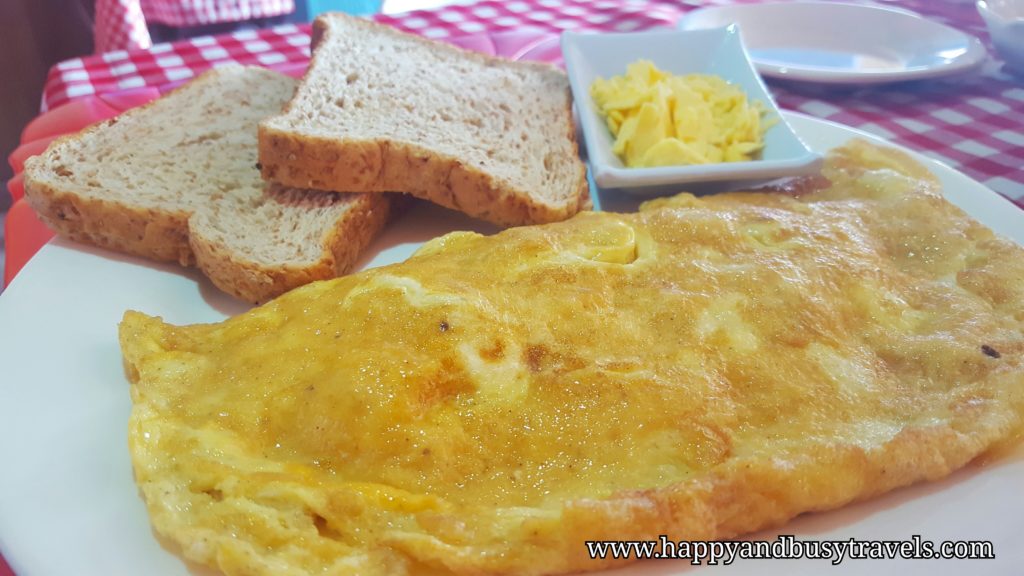 11:00AM
We checked out of the hotel and we were picked up by Nonoy again.
We will now begin our Cebu City tour
Simala Parish Church
From the West we are not at the East side of Cebu. We arrived here after a few hours, around 2 hours. The church compound has a breathtaking view. I expected the church to be big but it is just a small percentage of the huge compound.
Take note! There is a dress code especially for women. Sexy outfits, shorts, sleeveless tops are not allowed inside. You can use cover ups so you can enter.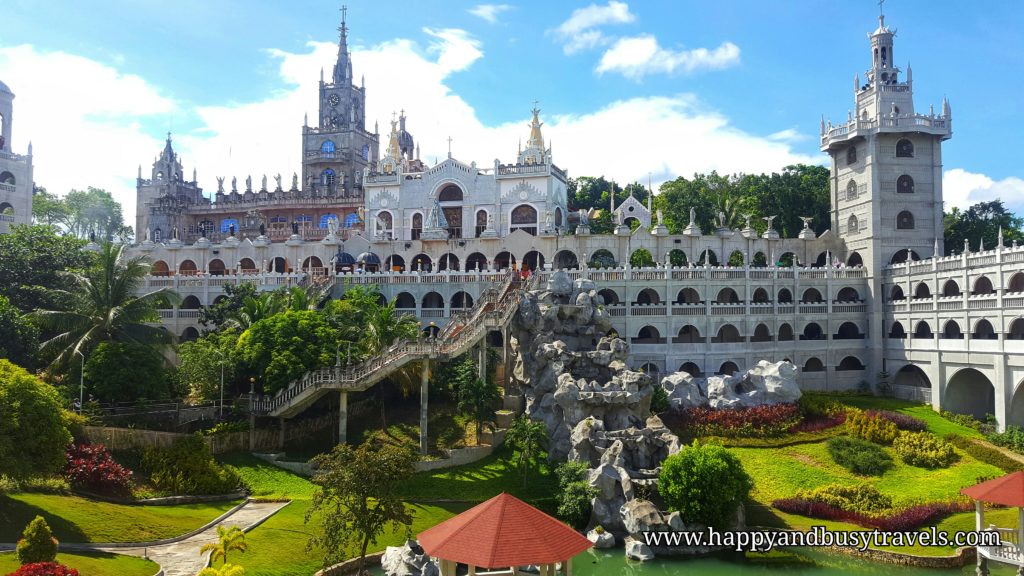 We prayed inside the church for a while and we had a few pictures and we are on our way again. We did not have the opportunity to go inside the Mama Mary gallery because we are in a hurry.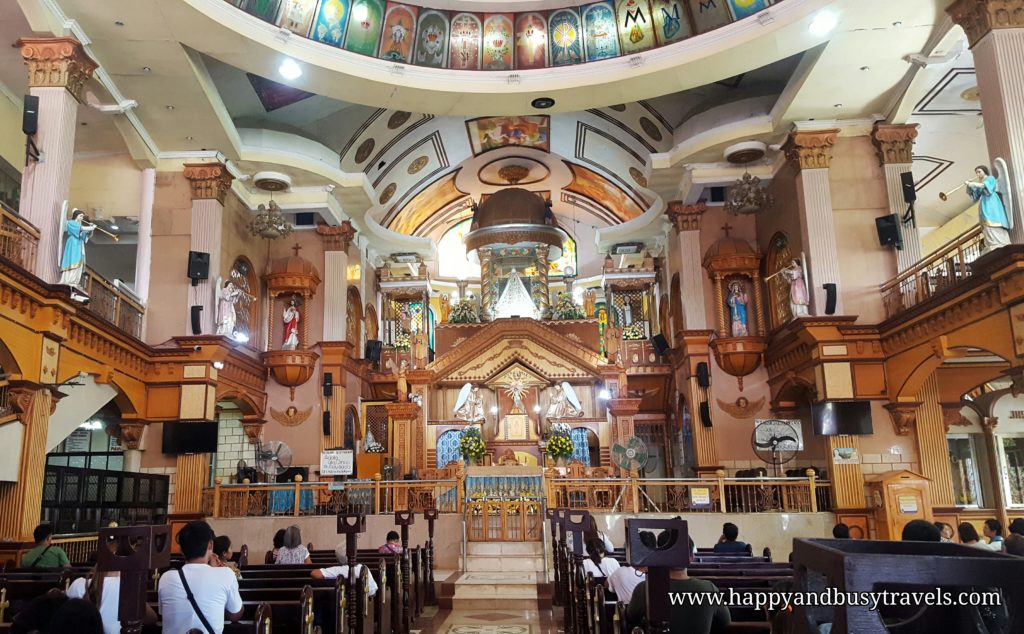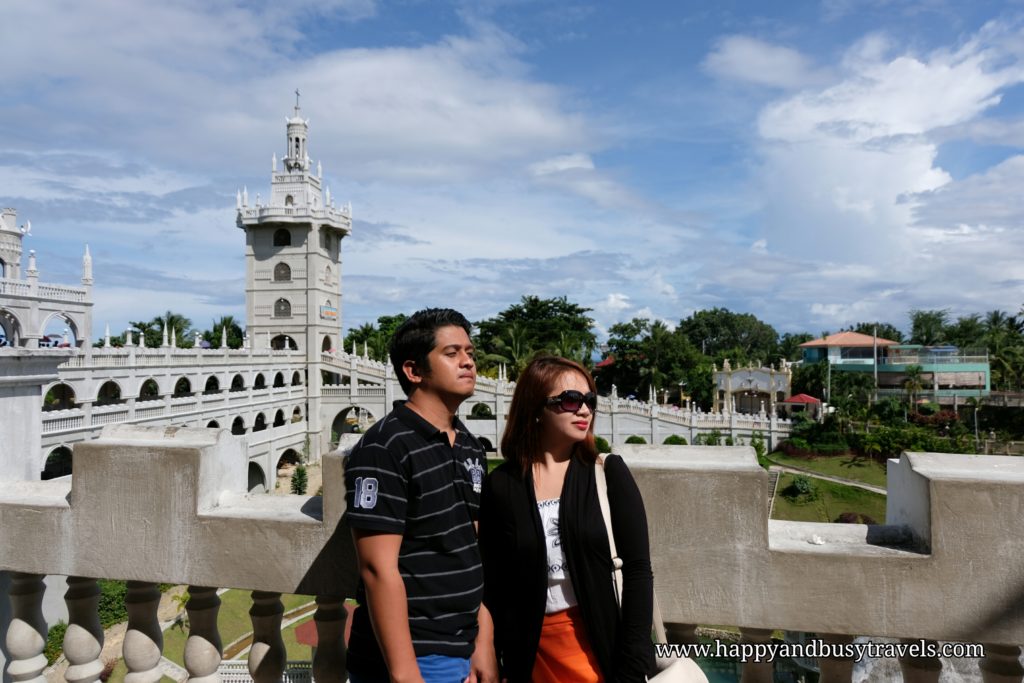 We also quickly passed by Carcar to buy Chicharon very fast. Chicharon is a crispy Filipino snack made out of Pork skin (sometimes with fat). YUM!
In our itinerary we wanted to go to the following:
Buwakan ni Alejandra
Surao Flower Garden
Temple of Leah
Taoist Temple
Cebu IT Park
Basilica de Sto. Nino
Magellan's Cross
10,000 Roses Café
However, time and traffic is not in our side. Traffic is HORRIBLE! We only managed to go to some of the tourist spots
Temple of Leah
The temple was built in the honor Leah Albino-Adarna from the love of her husband Teodorico Soriano Adarna. The temple is still under construction but most of its structure is already done.
Entrance fee is Php 50 per person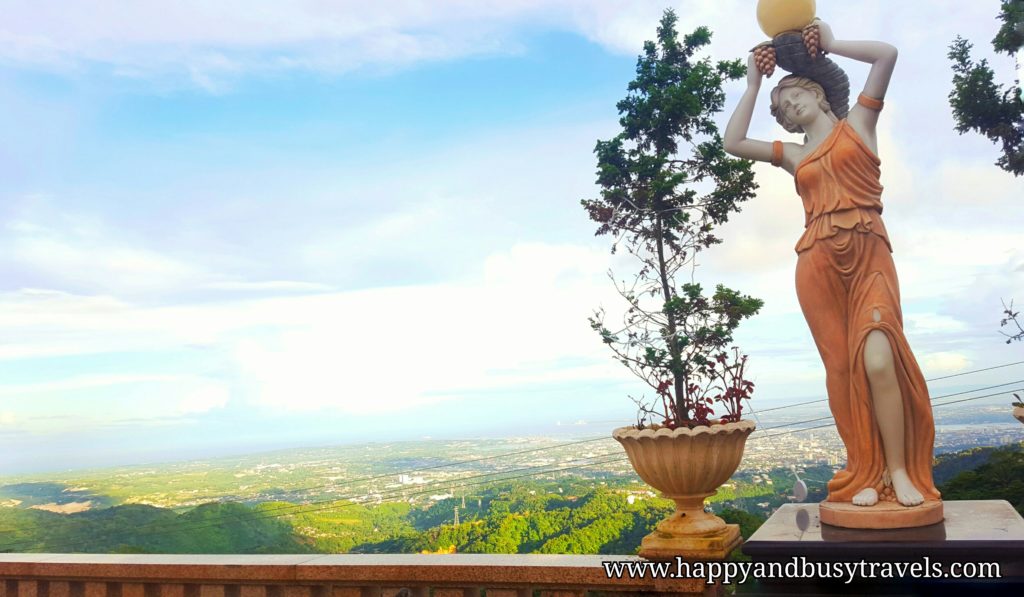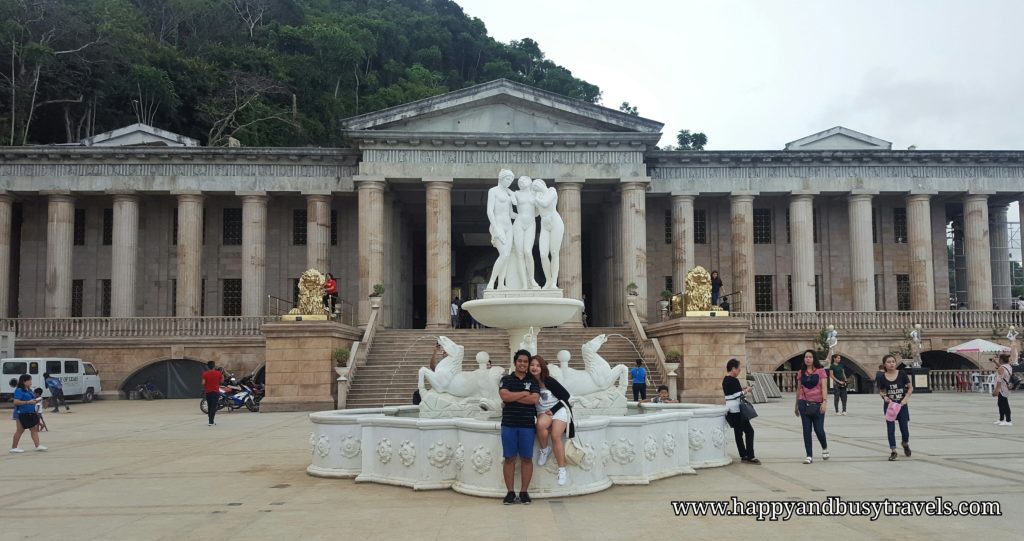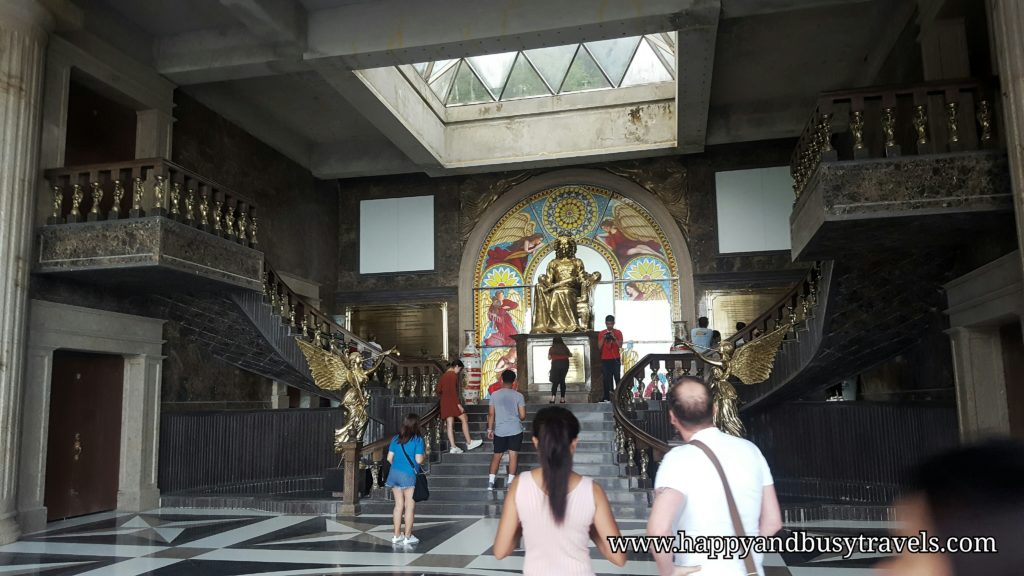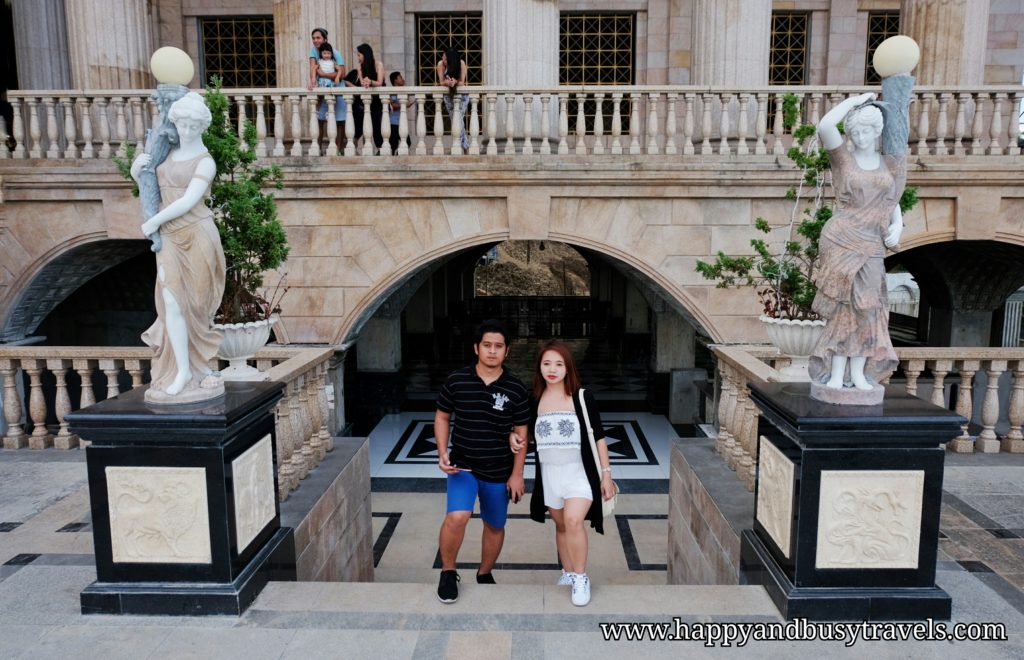 Basilica de Sto. Nino and Magellan's Cross
The basilica is already closed when we arrived. But we just made our prayers outside. We really want to pass by the basilica every time we go to Cebu. So we just took a quick photo of the Magellan's Cross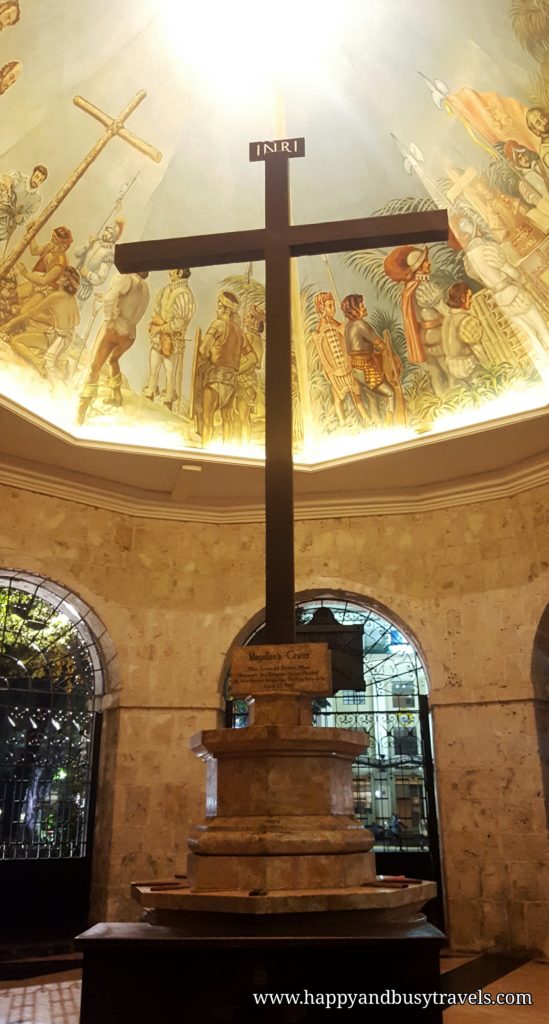 Cebu IT Park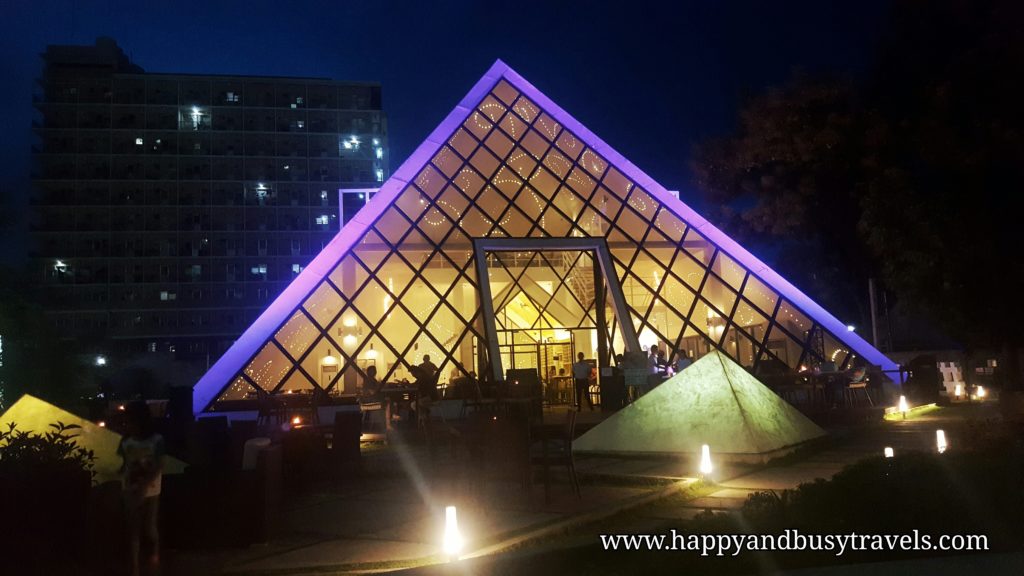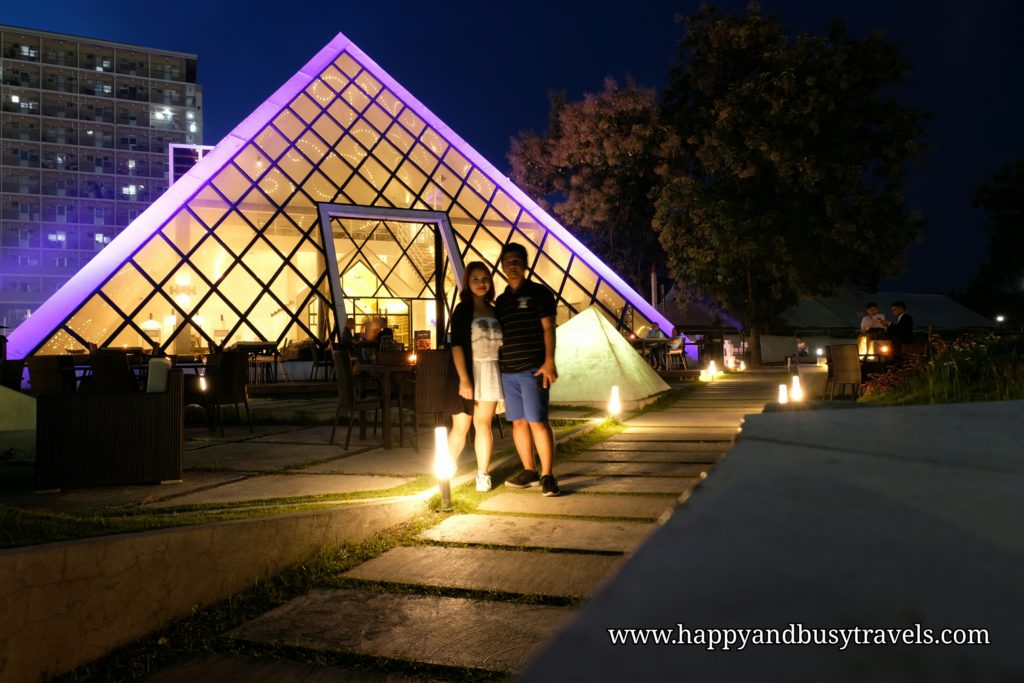 We also saw some Christmas decorations along the streets of Cebu IT Park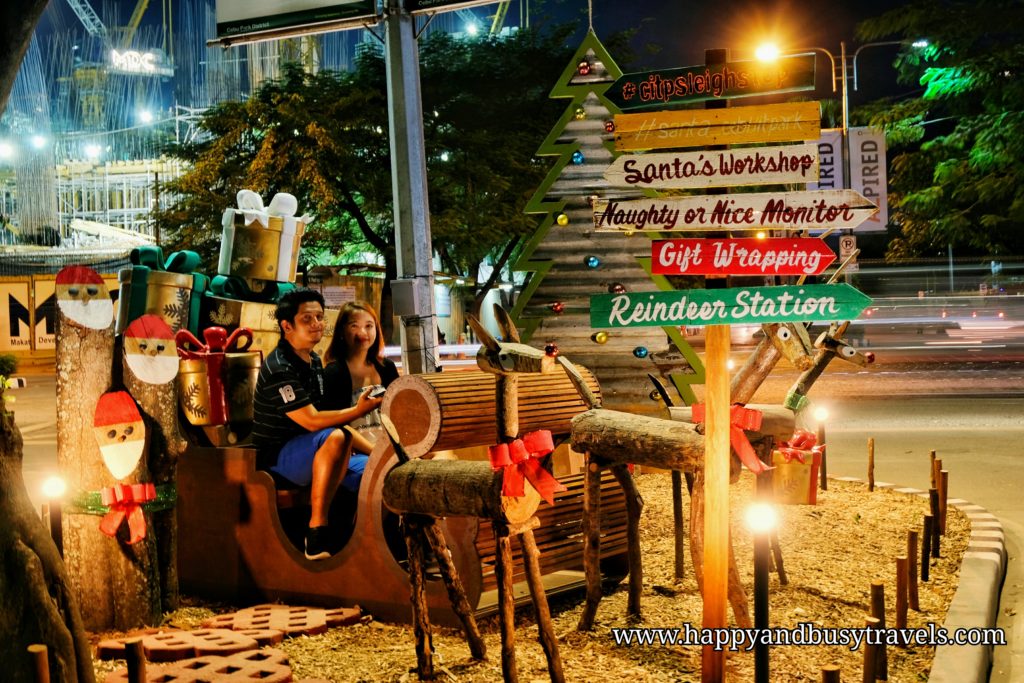 Casa Verde
We went here to eat in again. Their bucket of Ribs are delicious and at the same time very affordable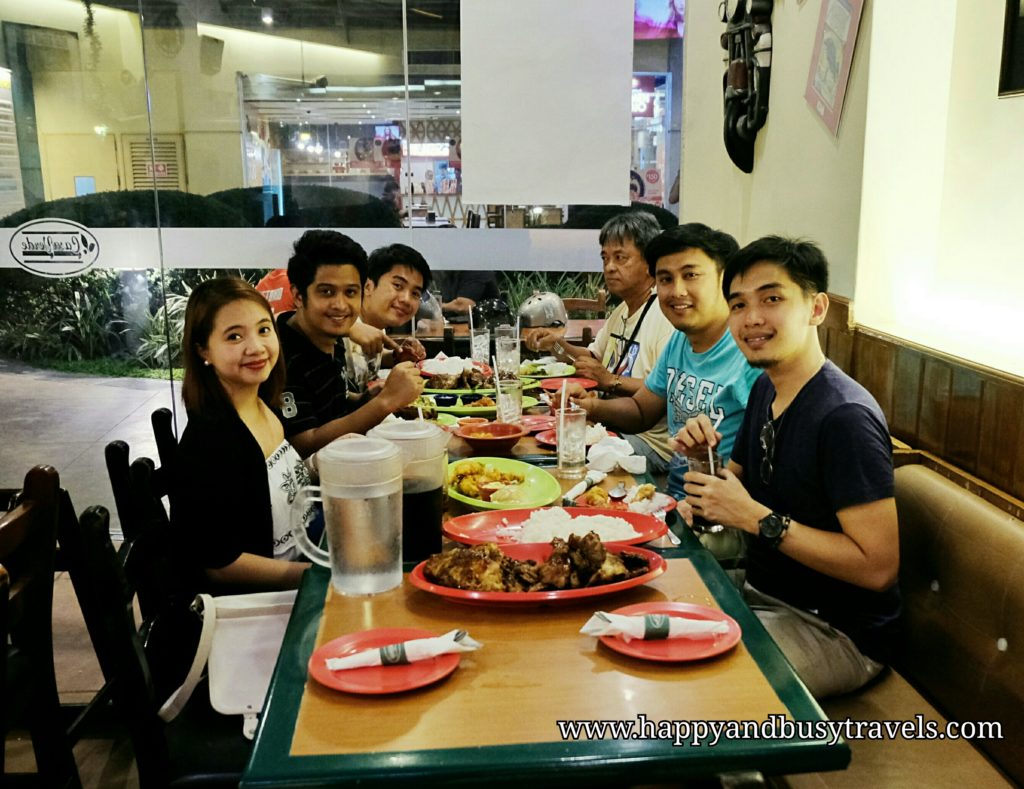 10,000 Roses Café
From the IT park, this café is far so it took us, again, a few hours. We have to hurry for our flight so we just took our photos and left. The place is crowded with people, it's hard to take a picture by yourself hahaha.
Entrance fee is Php 30 per person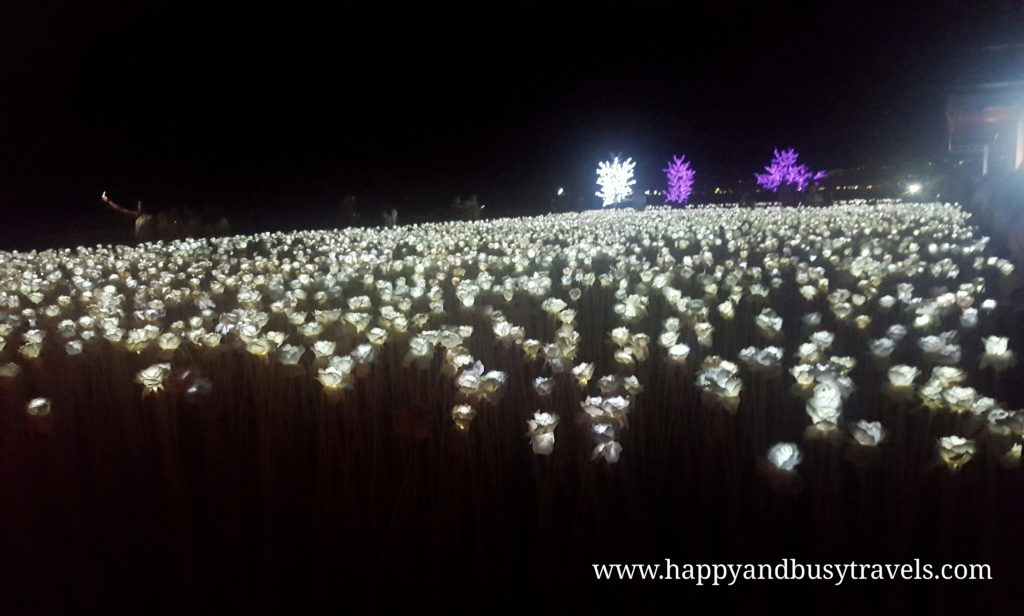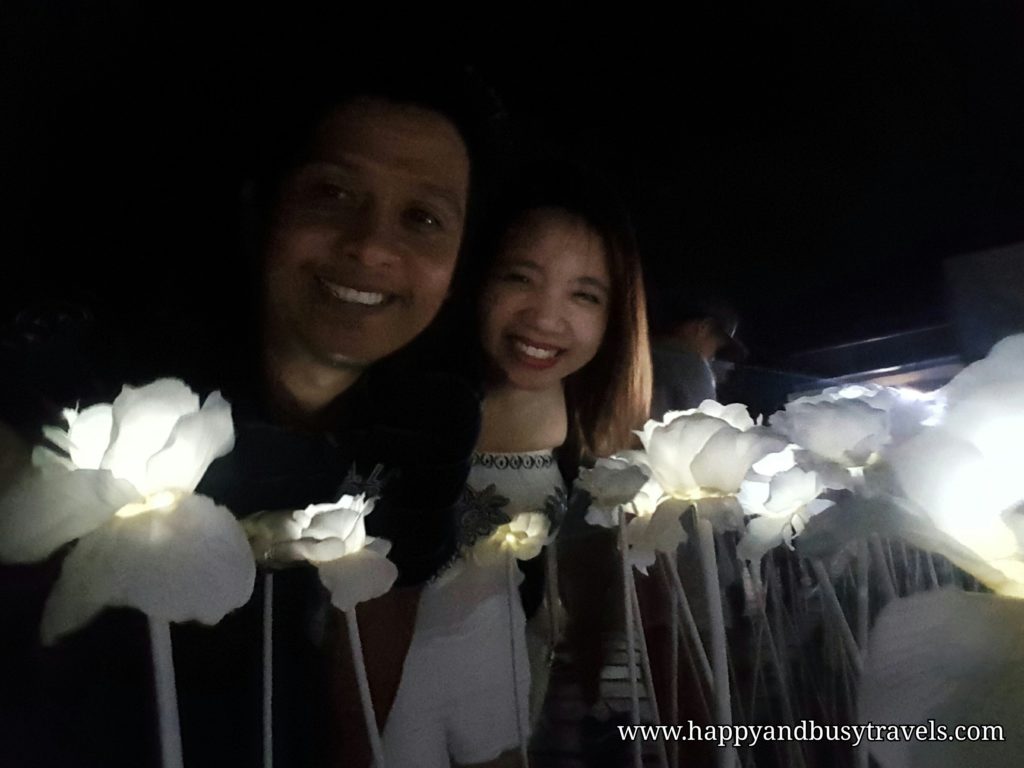 After this we went to Mactan Airport for our 12:20AM flight back to Manila.
Soooo that's it! Our Dumaguete – Siquijor – Cebu Trip has ended!
8 days is not enough but we tried our best to go to a lot of attractions.
Dumaguete – Siquijor – Cebu Trip links:
PART1 – DUMAGUETE – https://happyandbusytravels.com/dumaguete/
PART 2 – SIQUIJOR – https://happyandbusytravels.com/siquijor/
PART 3 – CEBU – This blog 🙂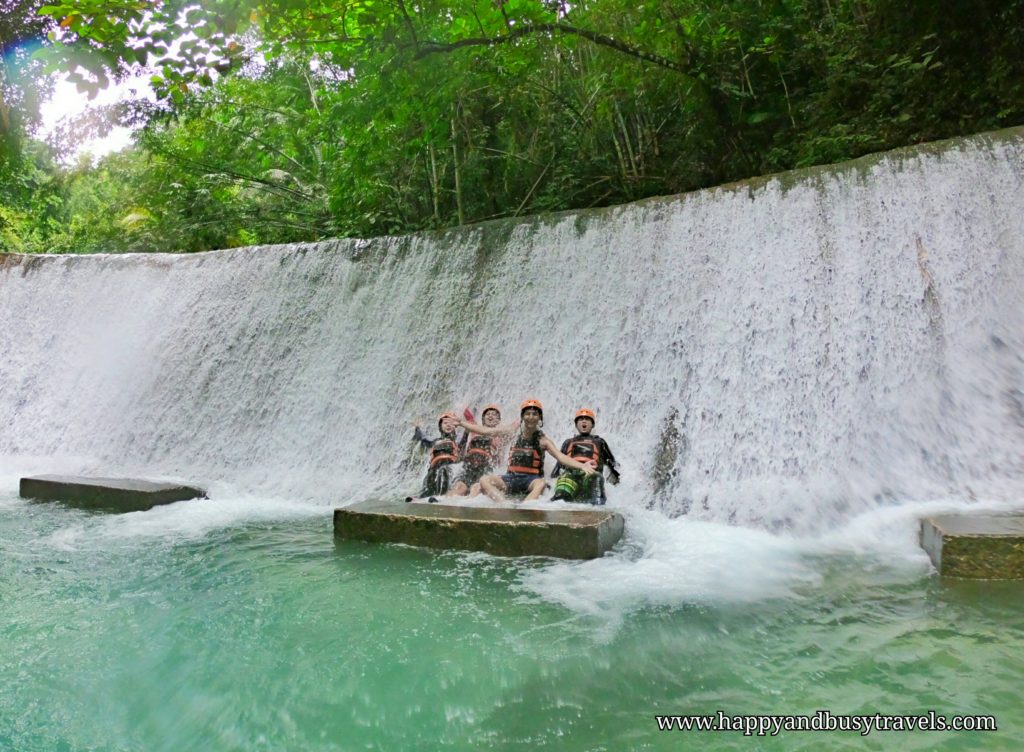 Contact Persons
Van
Oslob based – Kuya Nonoy +63 928 168 5660 ; +63 915 510 5033 ; +63 32 481 9151
Cebu City based – Kuya Raul +63 905 904 8790
Hotel
Lagnason's Place +63915 184 3073
Savedra Beach Bungalows +63 32 474 3228
Restaurants
The Pleasure Principle Restobar +63947 747 1838
Activities
Boat to Sumilon Island – Kuya Arthur+63 922 928 1828
Canyoneering – Kawasan Canyoneering – Pipz – +63918 6544111 ; +63905 3332623