Intro to Scuba Diving in Buceo Anilao
Have you been to any introduction to scuba diving? or would you like to experience scuba diving? Here is how we were taught and our experience in our intro to scuba diving in Buceo Anilao.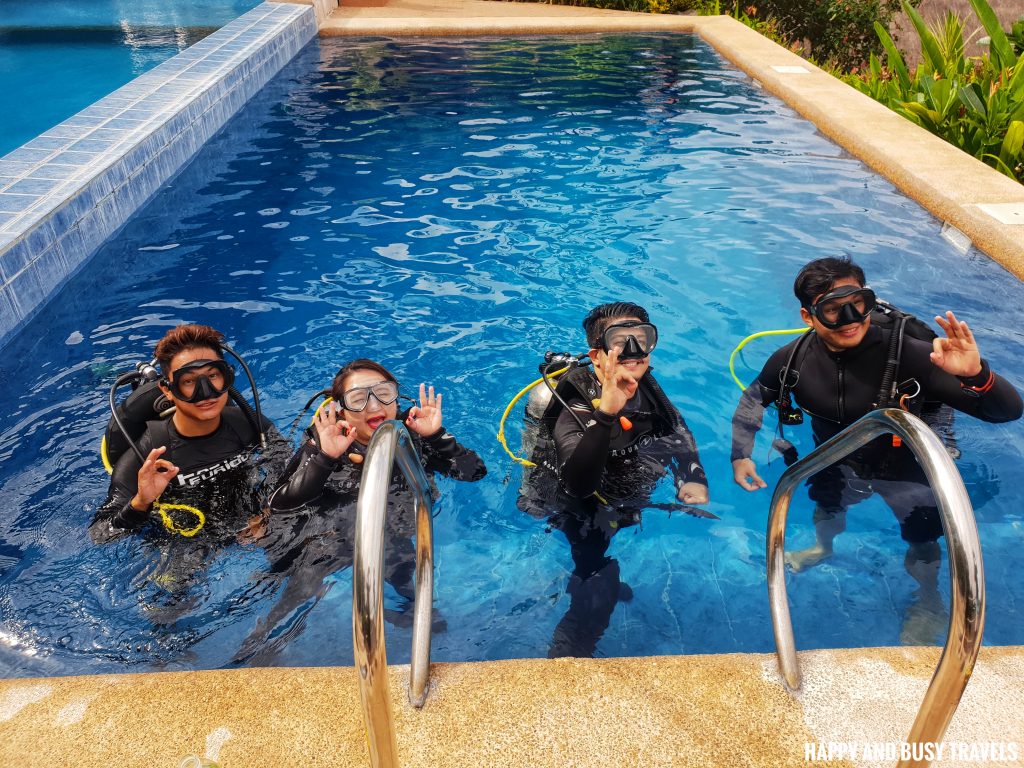 Scuba Diving is a fun activity that lets people explore the ocean without taking a breath up the water. We cannot breathe underwater, so this is the best way to do it.
Quick Links
Important Information
Scuba Diving lessons provider: Buceo Anilao
Address: Anilao, Mabini, Batangas
Time spent: 1 to 2 hours
Rates: Kindly see pictures at the end
Start of the Intro to Scuba Diving
First, we went to the Equipment Room and tried out our wetsuit and fins.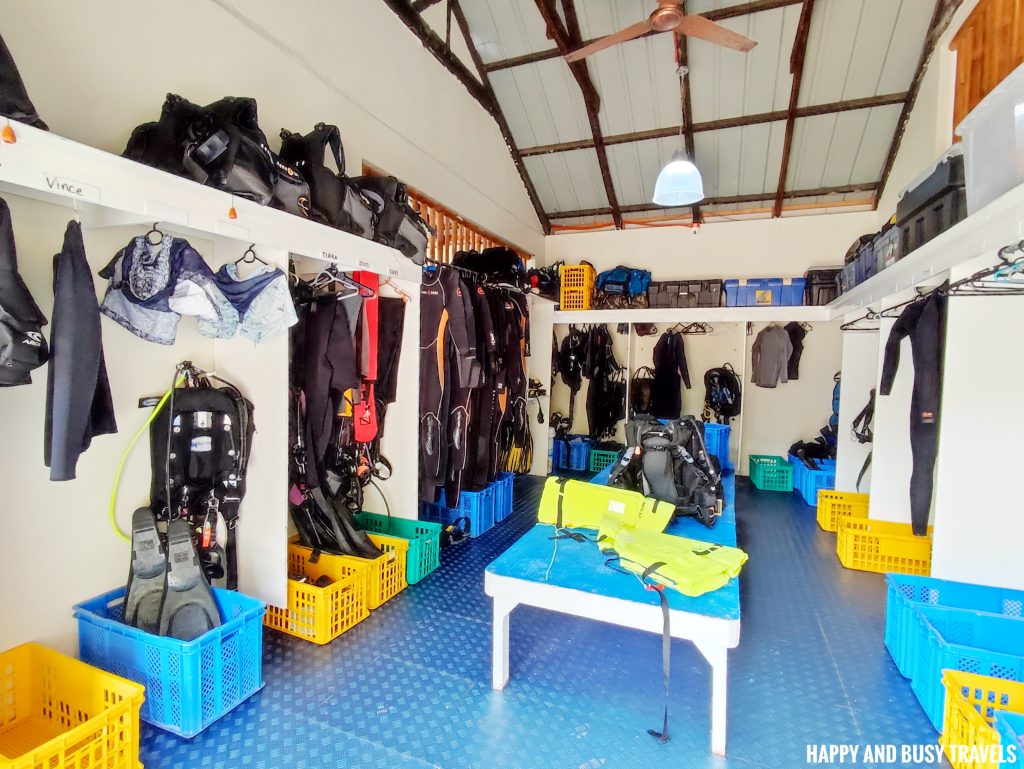 After that, we went to the pool and started the orientation. Our Scuba Diving instructor is one of the owners of the resort, meet Dood Santos. He has a passion for scuba diving, which he inherited from his father. Actually, their whole family loves scuba diving.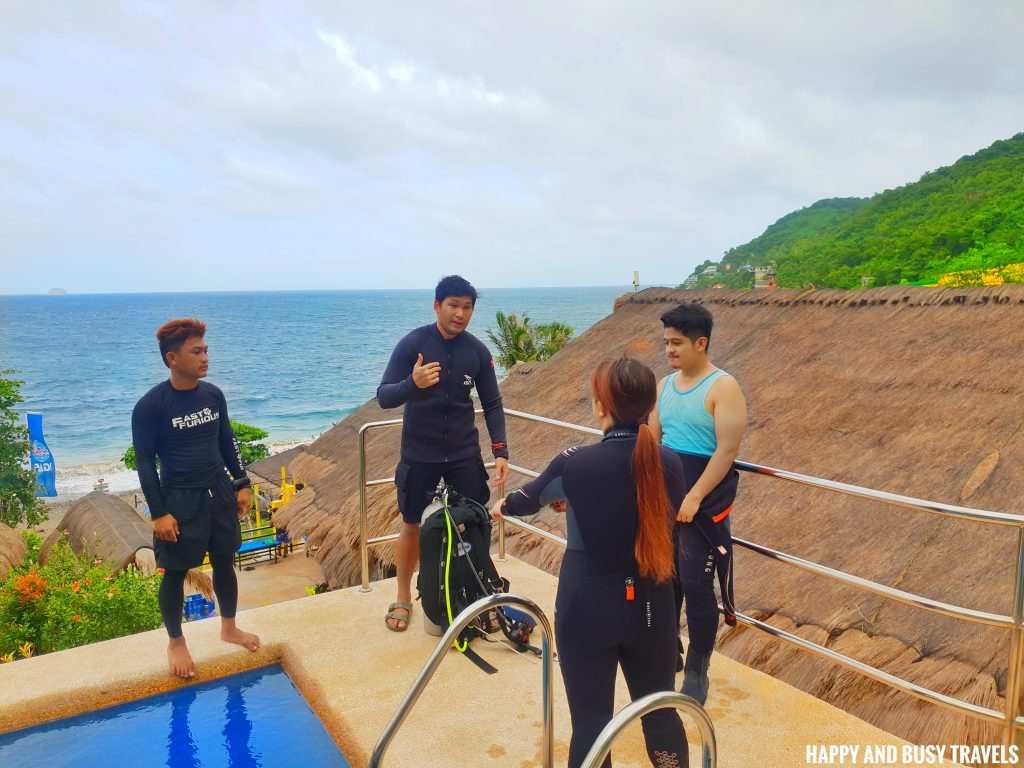 After the introduction, a heavy belt with metals was placed into our waist.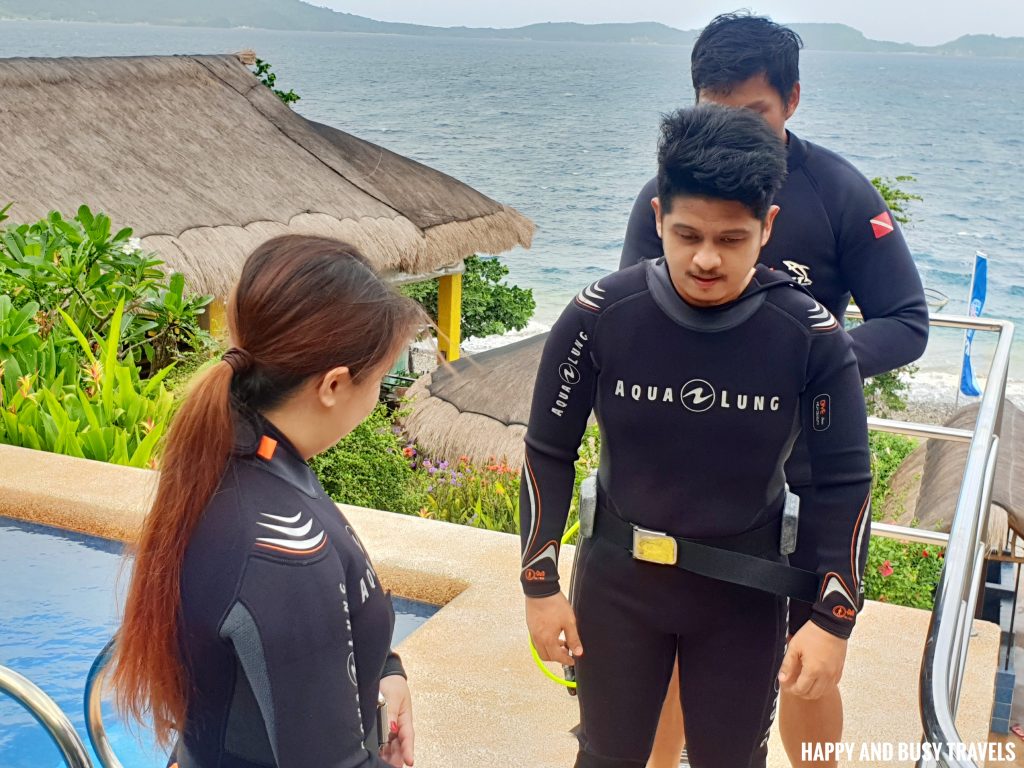 Then, we went to the deep swimming pool wherein we were given further instructions.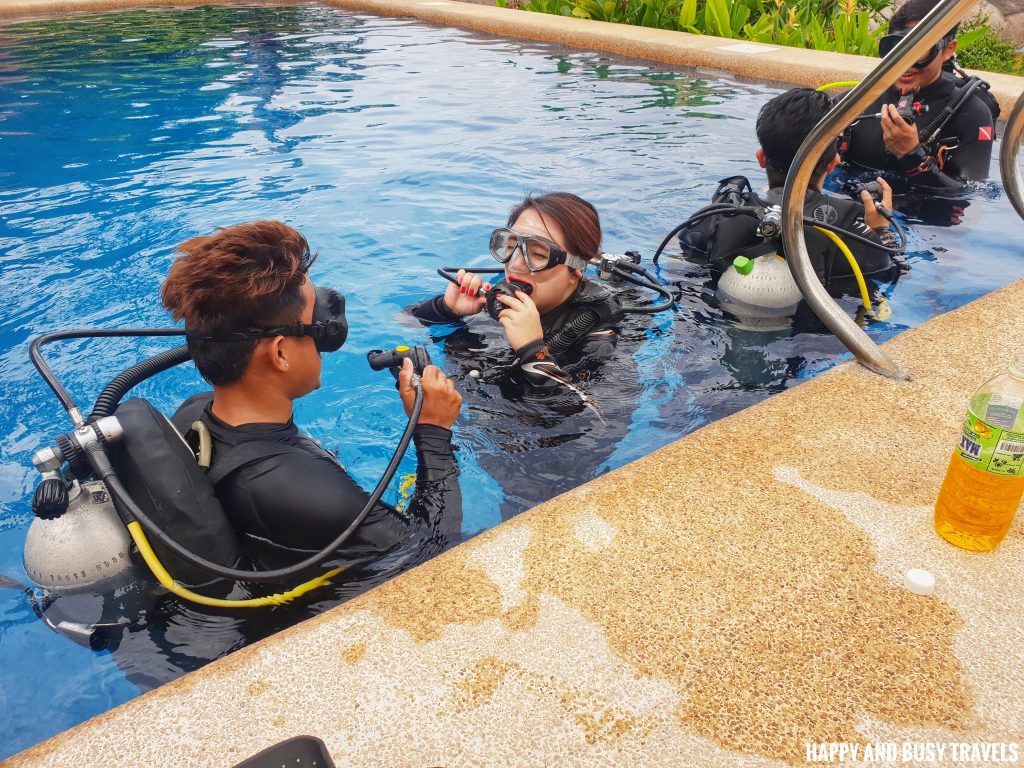 Some of the things that were taught:
If water comes inside the mask, hold on to the mask in the middle of your eyes, look up and blow hard from your nose.
If water comes inside the regulator (breathing apparatus), just breathe out hard, or just simply press the circle in front.
Every diver should look at their oxygen level moderately to avoid losing breath. Although of course, our scuba diving instructors will do this for us.
There is an extra oxygen tank with us just in case our oxygen runs out.
The buoyancy control device is attached to us so we can easily control if we have to go up or down. Anyway, our instructor will control it because we are not yet experts.
We will experience pressure in our ears so we have to remove it by pressing our nose and pumping out our ears.
Signs are used under the sea because we can't talk to each other. (The signs are easy to remember)
Do not dive alone.
We were scuba diving in the pool! I like this process because using the pool first before diving in the ocean, gave us enough time to adjust to scuba diving.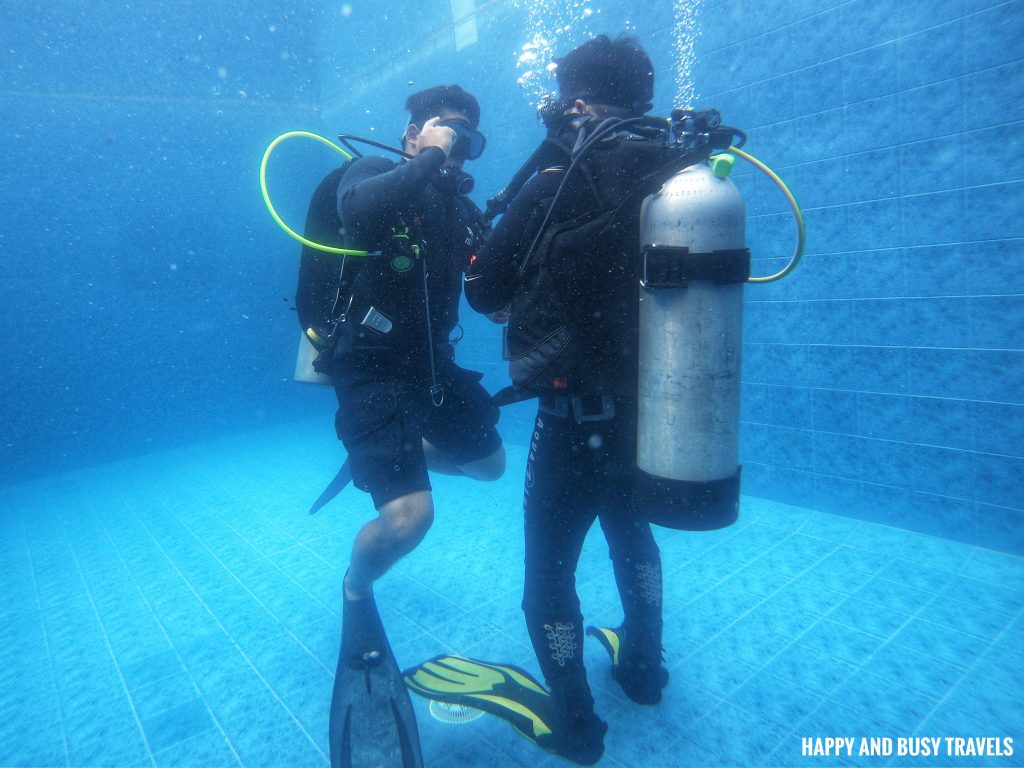 Into the Ocean!
We used Buceo Anilao's boats and went to the ocean to start our scuba diving.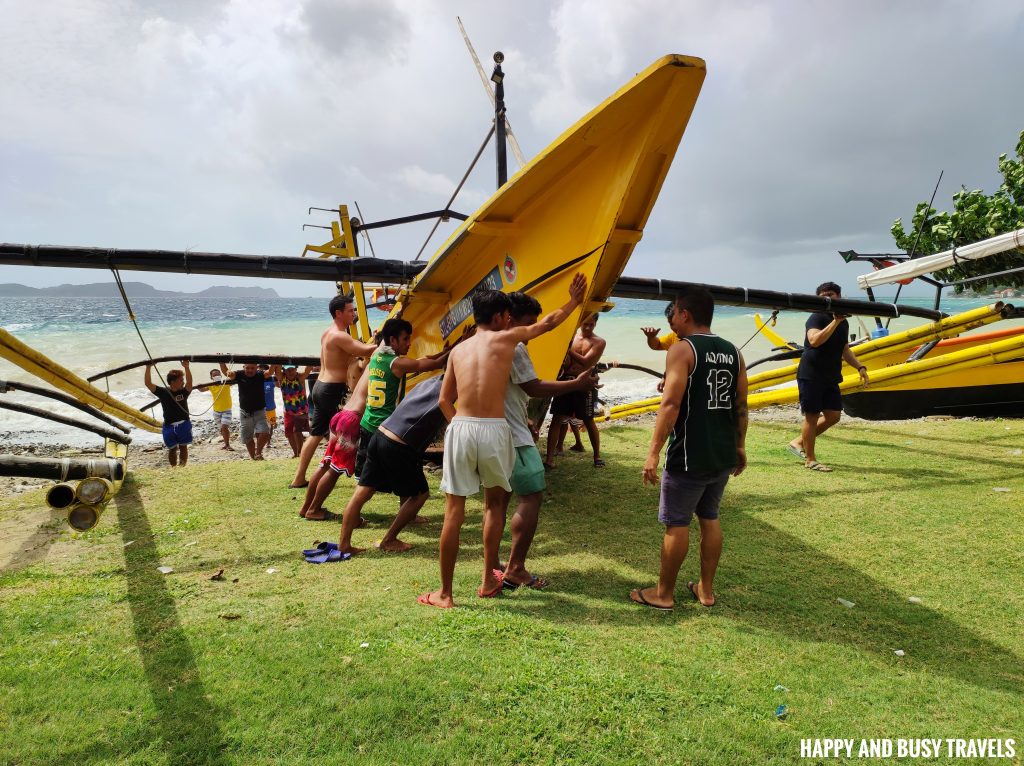 So, here I am with my buddy, Kuya JL (John Loyd haha).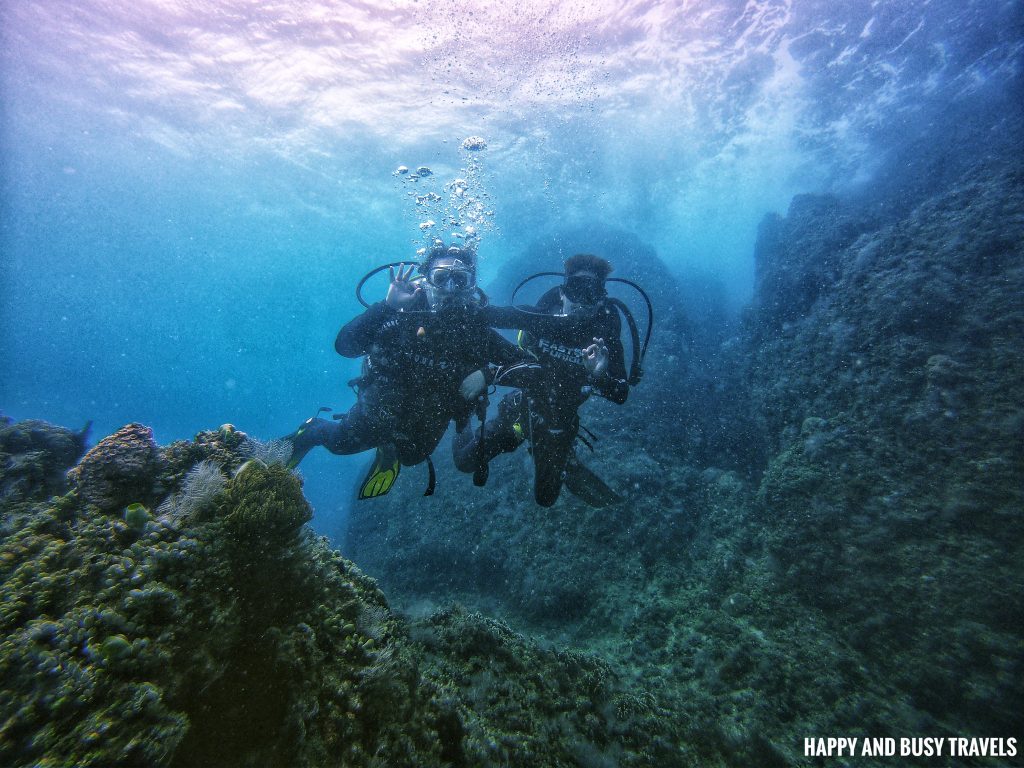 Quick Tips!
When taking pictures underwater, use a filter. A Violet filter is recommended if the water is still shallow but use a Red filter already if you are very deep into the ocean. You can notice what filter will be needed if you look into the screen of your camera.
Even though your camera is waterproof, you still need a waterproof casing. It adds protection to your camera. It's better to be safe than sorry 
DO NOT ride a plane after doing this activity. You should wait for at least 24 hours before riding a plane.
Then, here's Busy with Dood.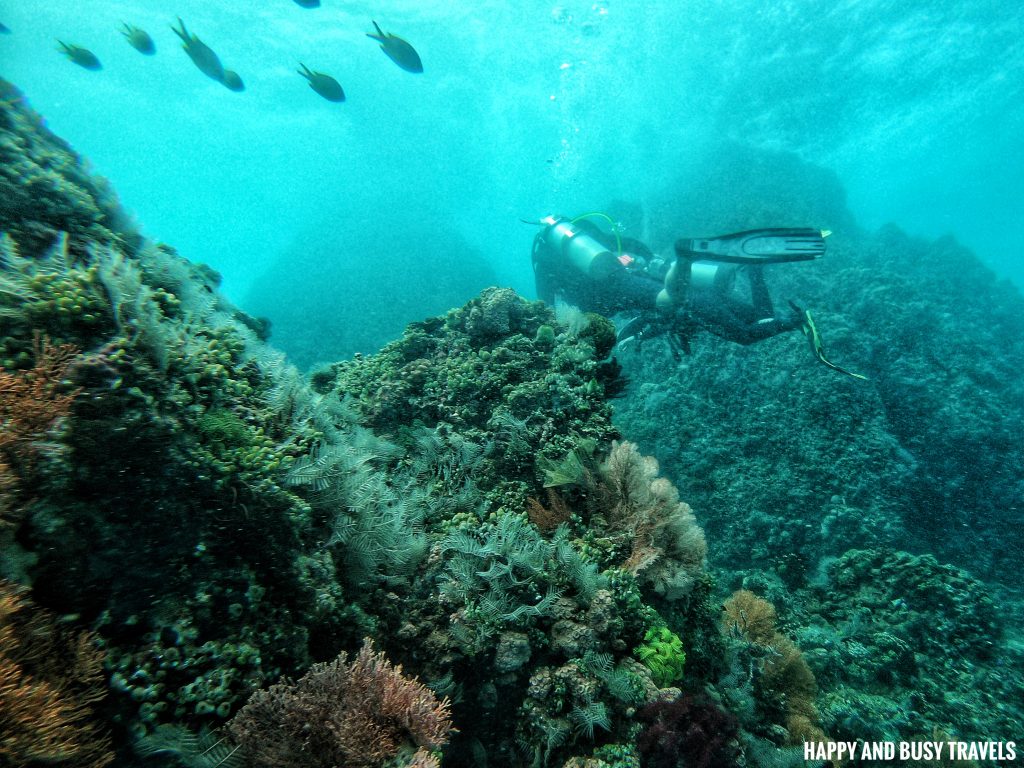 We continued our scuba diving and go near coral reefs.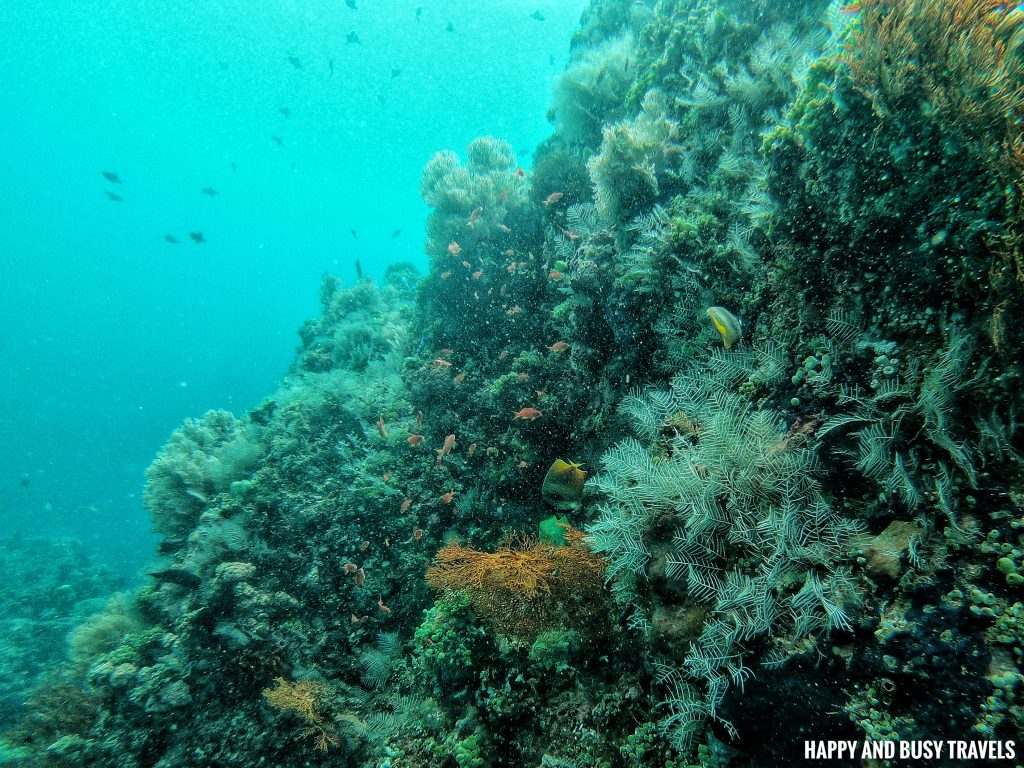 We saw some Angelfish swimming away from us haha.
Ocean Plants
In this diving site, there are lots of beautiful ocean plants, which are nice to see.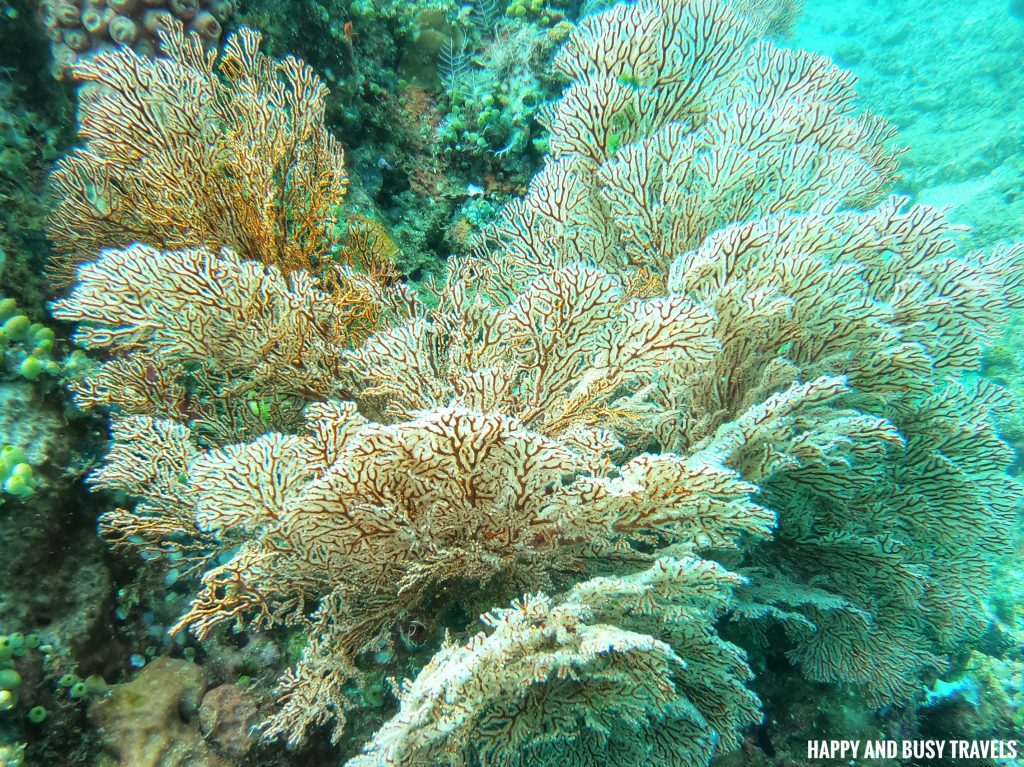 Like this red plant which I saw immediately from afar.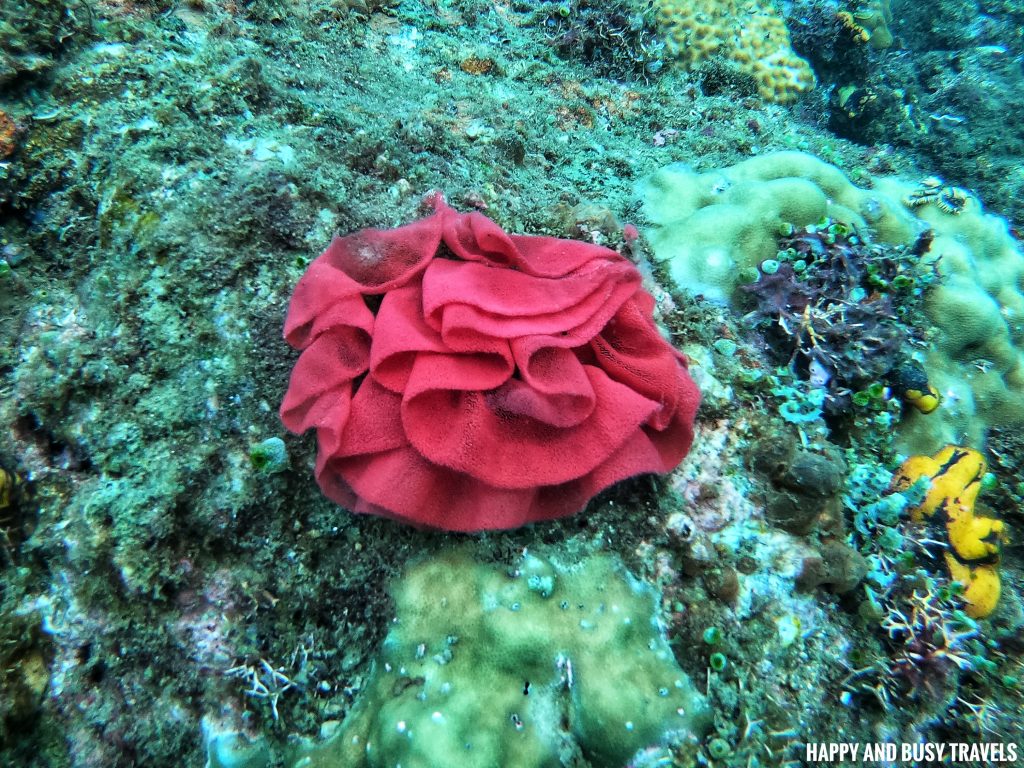 There are also lots of neon-colored plants here.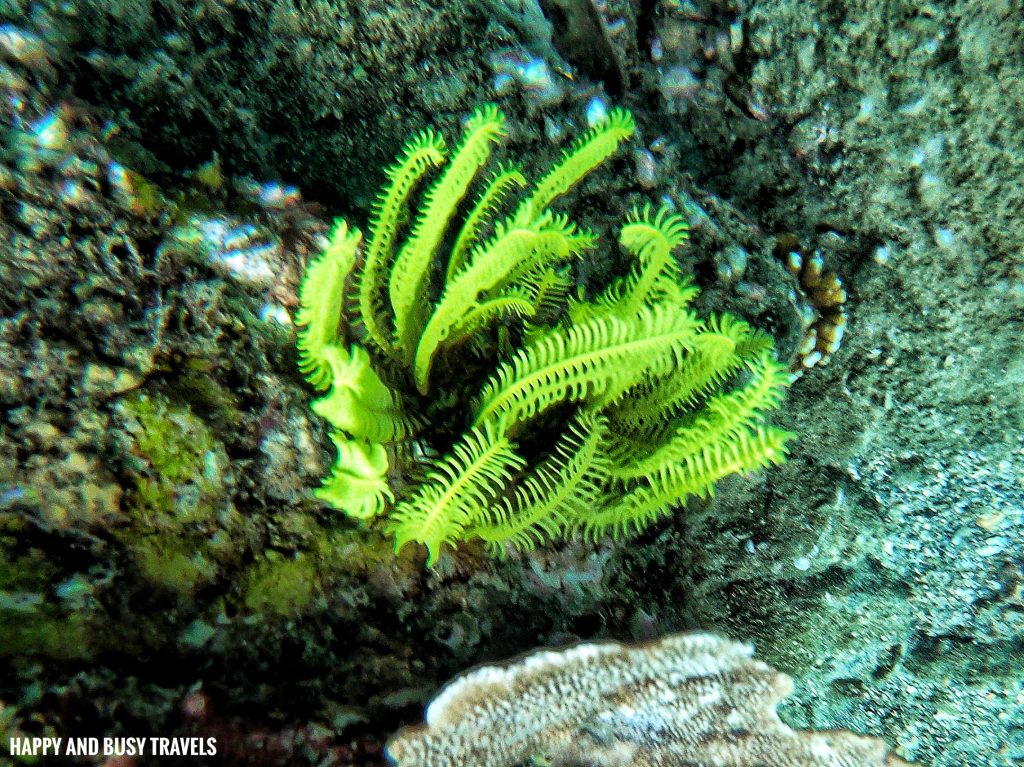 There is also a lot of Yellow tunicates here in this diving area. Their color pops out, so they can be easily seen. This is an animal too just like the corals.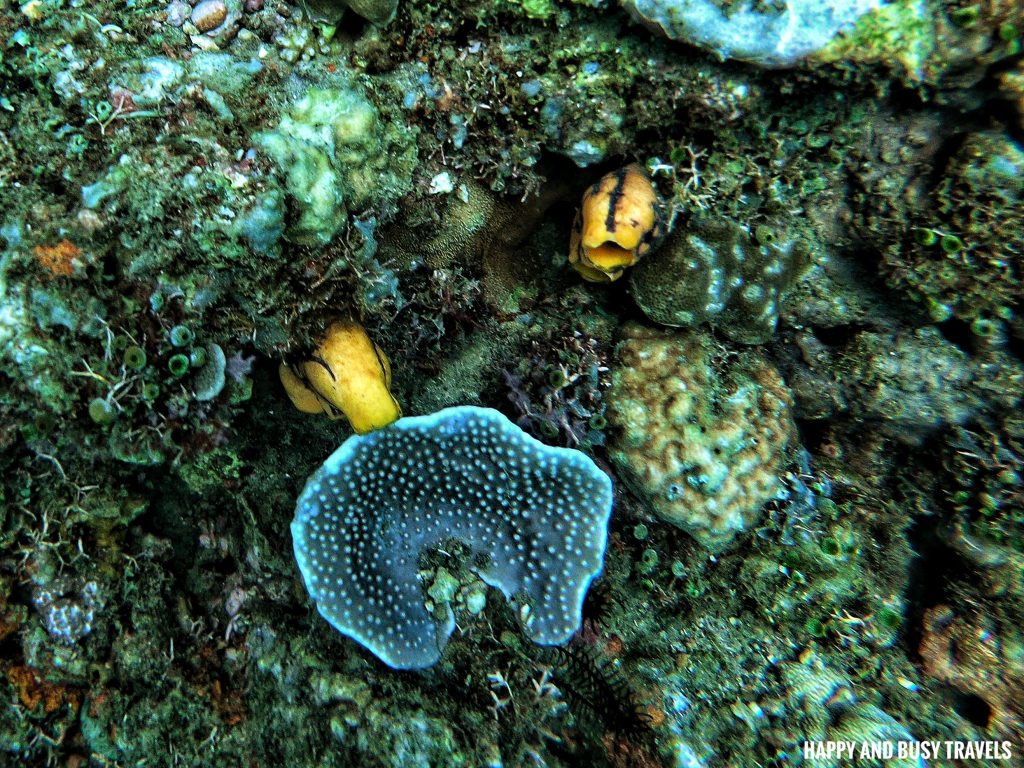 Cornetfish
It's not so clear but here are some Cornetfish. They look like long threads from afar, can you see them? They are extremely elongated fish. Their average length is 3ft but can grow up to 6ft, depending on the species.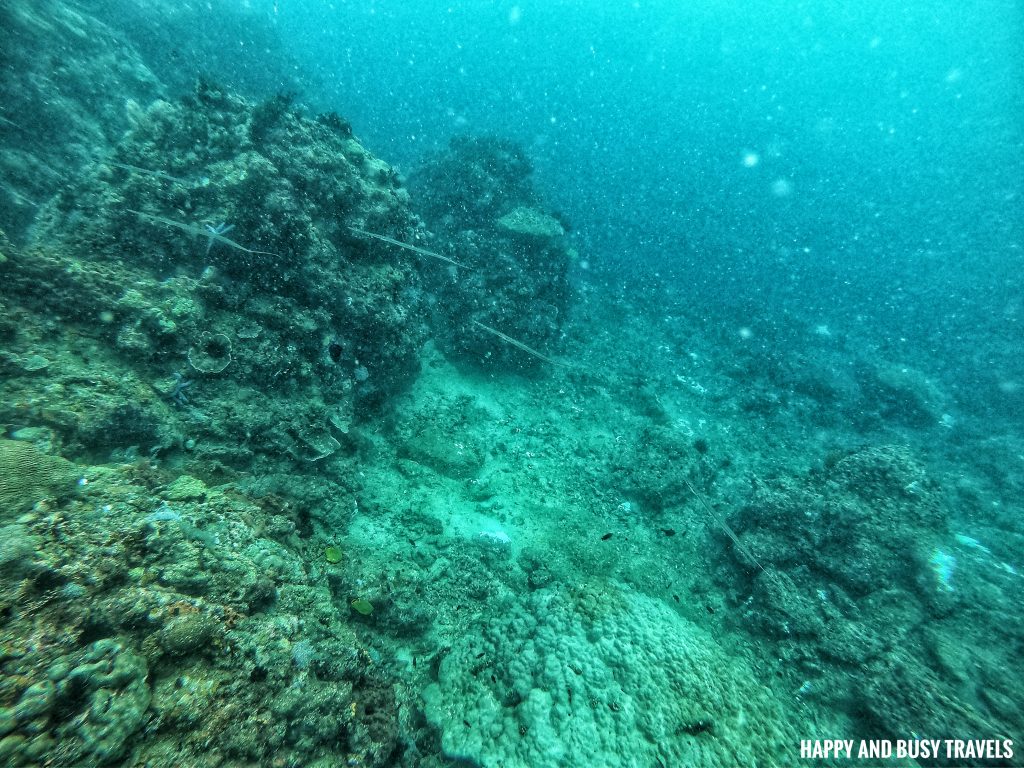 Starfish
Then, some Starfish are also here. This one is a blue starfish with long legs. Did you know that their legs can regrow? Yes, they can detach it whenever there is a predator and they need to save themselves. Just like the tail of a lizard.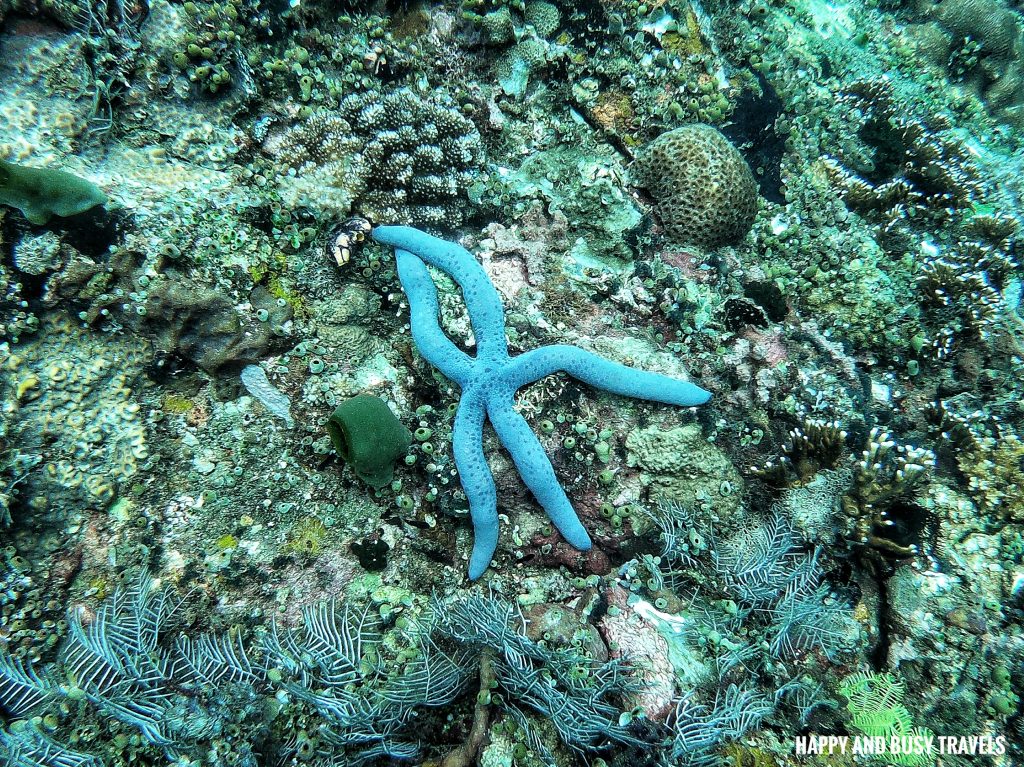 Few Facts About the Starfish
They are also called Sea Stars.
They can reproduce in 2 ways.
There is a starfish called Crown of Thorns, which is considered a pest because it can destroy coral reefs. They are one of the factors that caused the destruction of the Great Barrier Reefs. That's why most divers do clean up to prevent infestation of these creatures.
They do not have a brain or blood.
Lionfish
Then, when I am looking at this orange plant, I saw something on its left side…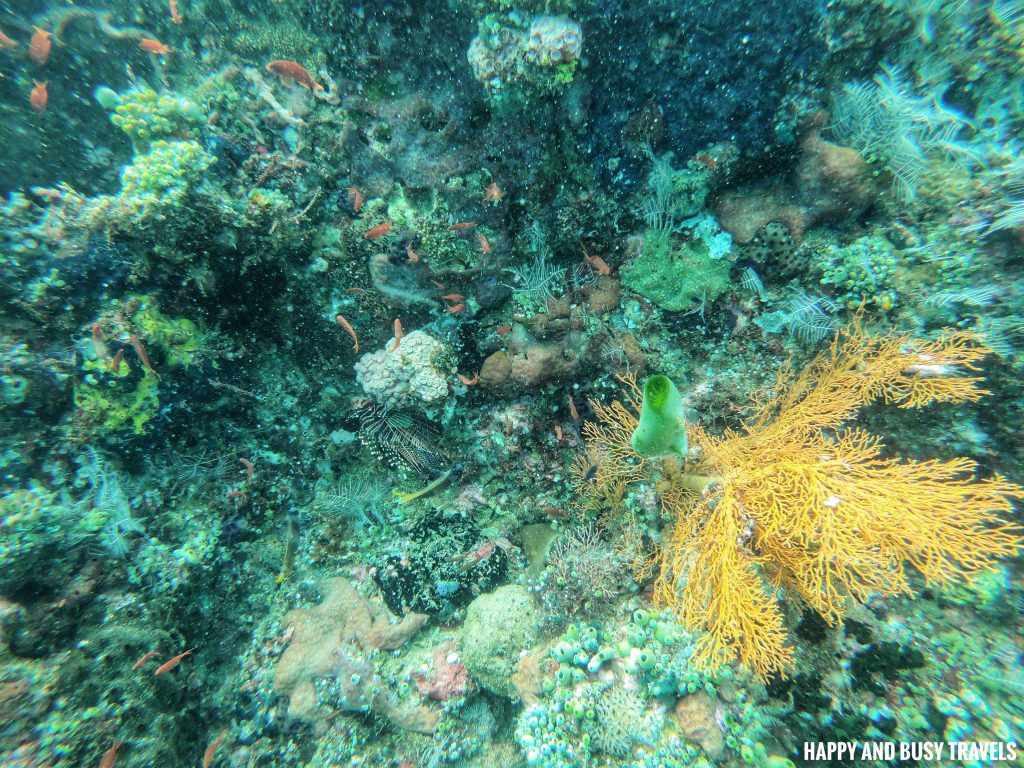 It's a Lionfish! Sorry for the blurred picture, but here it is! They are nocturnal so I guess this one is sleeping, I don't want to wake him up because those stings are venomous and cause pain.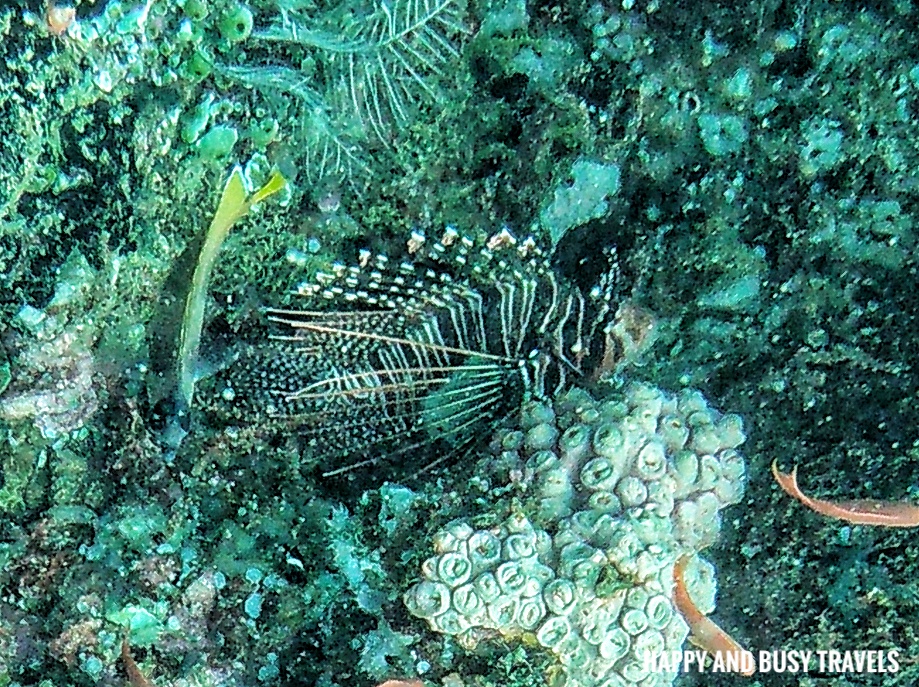 Clownfish
The most awaited fish whenever there is a dive, say "Hi" to the Clownfish. These fish became famous after the movie Nemo premiered.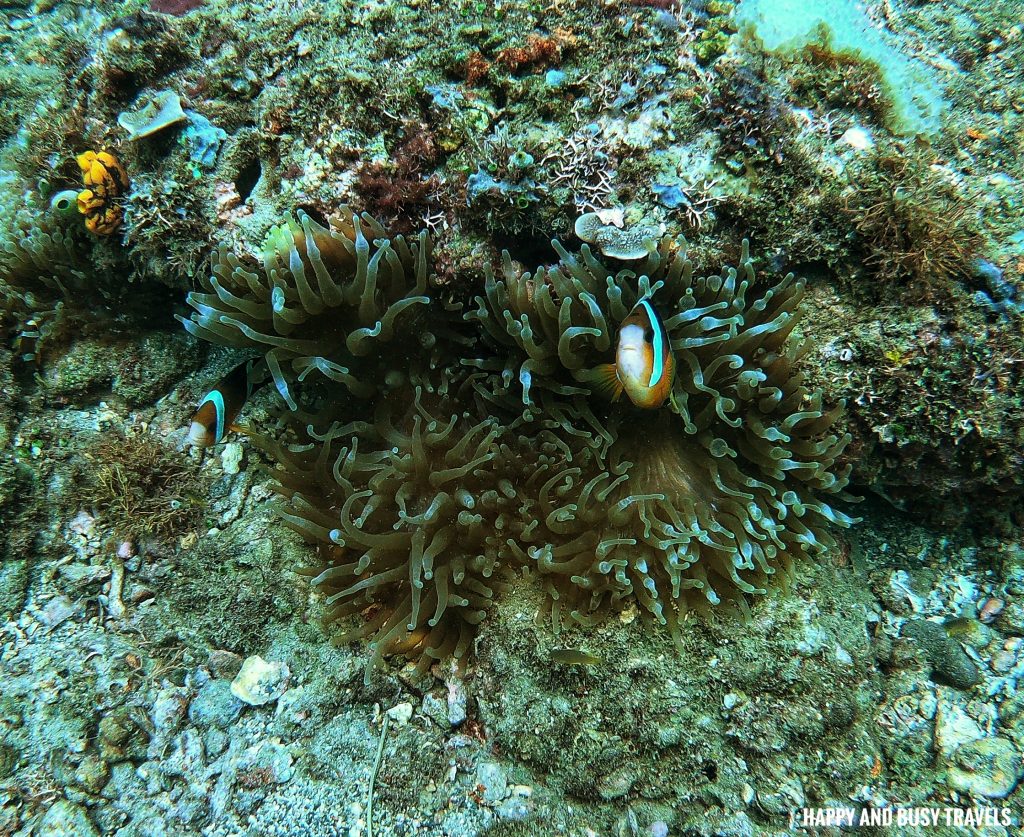 Did you notice that the Clownfish and the Sea Anemone are always together?
The Clownfish and the Sea Anemone have a mutualistic relationship. The Clownfish live in the Sea Anemone because it protects them and gives them leftover food, in exchange, the Clownfish keeps the sea anemone clean and keeps predatory fishes away.
The Sea Anemone has a poison that can be fatal to other fishes, but not with the Clown Fish. This is because the Clown Fish has a thick mucus layer that acts like a protective shield, which keeps them safe from the poison.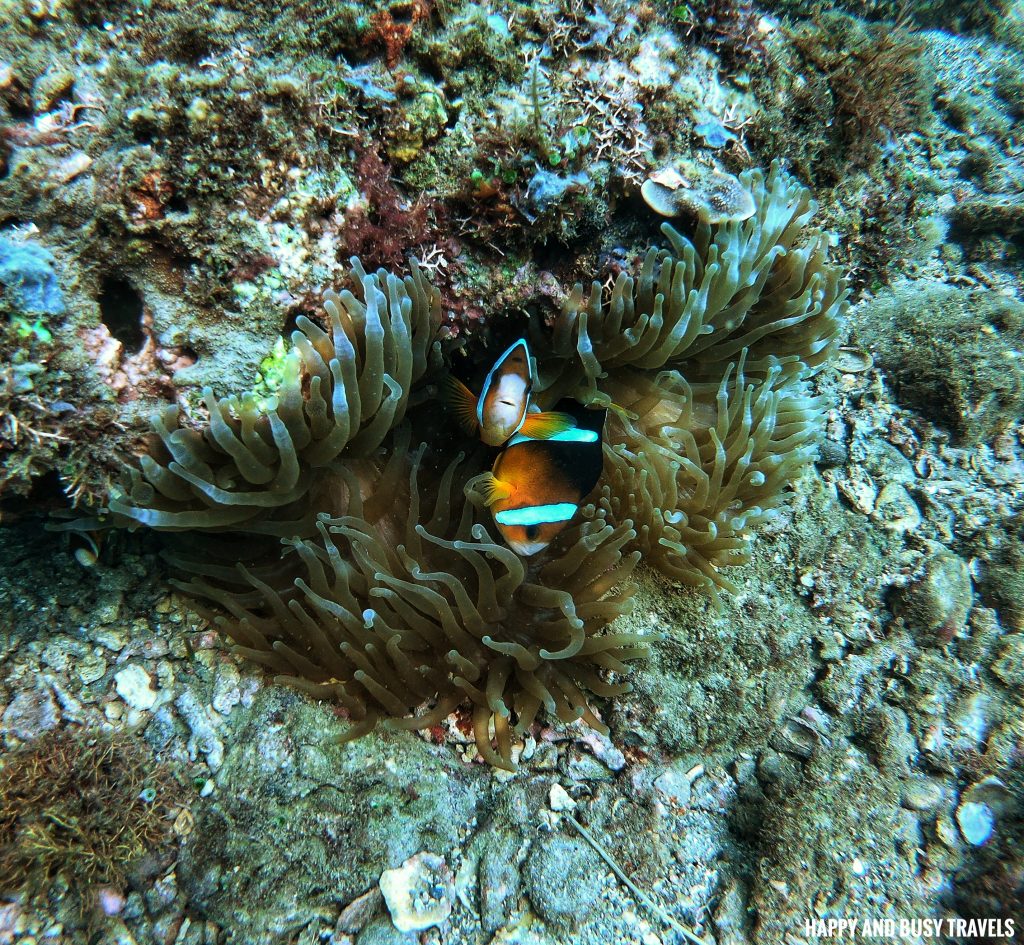 There they go!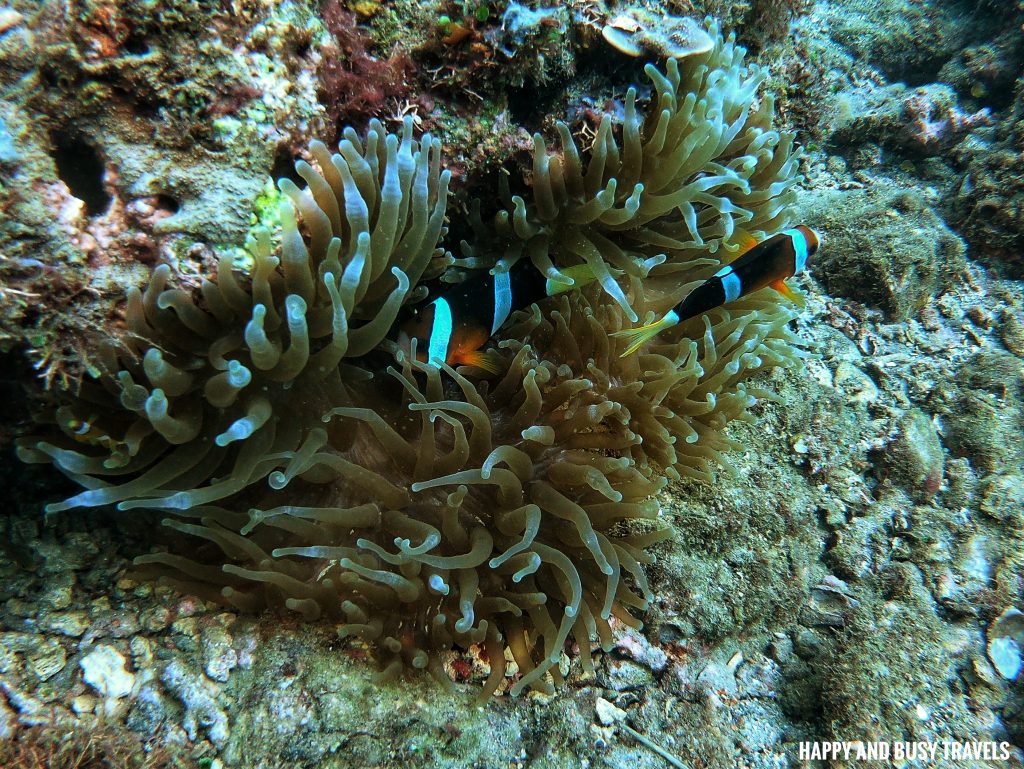 Moray Eel
Not far away, we saw this Moray Eel sticking its head out. I really wanted to take its picture up close but I am also kinda nervous and taking precautions because when these are disturbed, they are vicious and they can attack humans.
Are you wondering why are they always sticking their heads out with their mouth wide open like that? It is because they are resting while sucking water through their mouths to keep the water passing through their gills.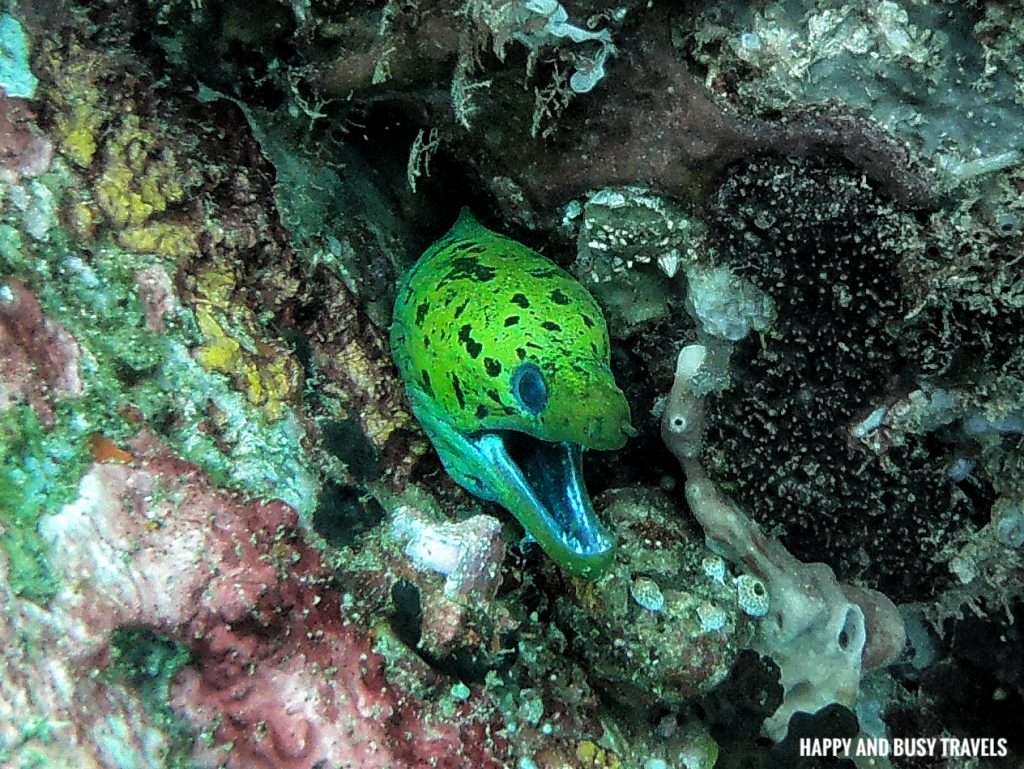 Did you know that there are small Catfishes? Yup! Just like this one, these are Striped Catfish also known as Oriental Catfish. They are so cute and can be always seen in a ball like this one. Even though they are cute, we should be careful too because the first dorsal and each of the pectoral fins have venomous spines that can cause pain to humans, or sometimes can be fatal.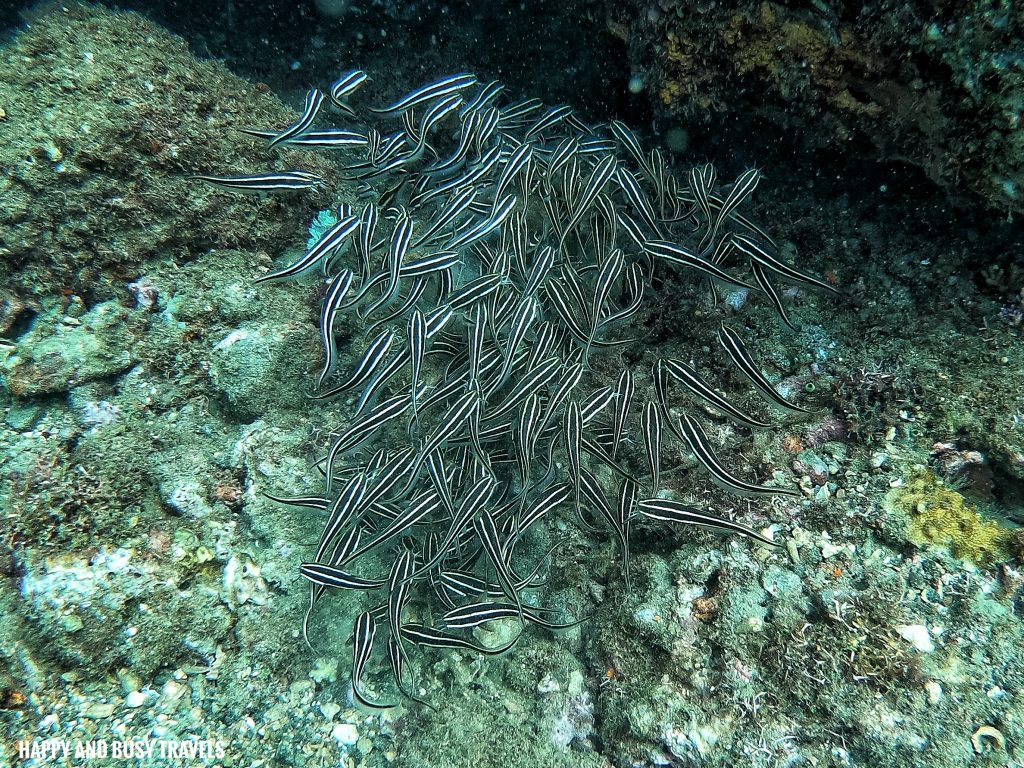 Nudibranch
Finally, here is the creature that I've been waiting to see in this diving spot, the Nudibranch!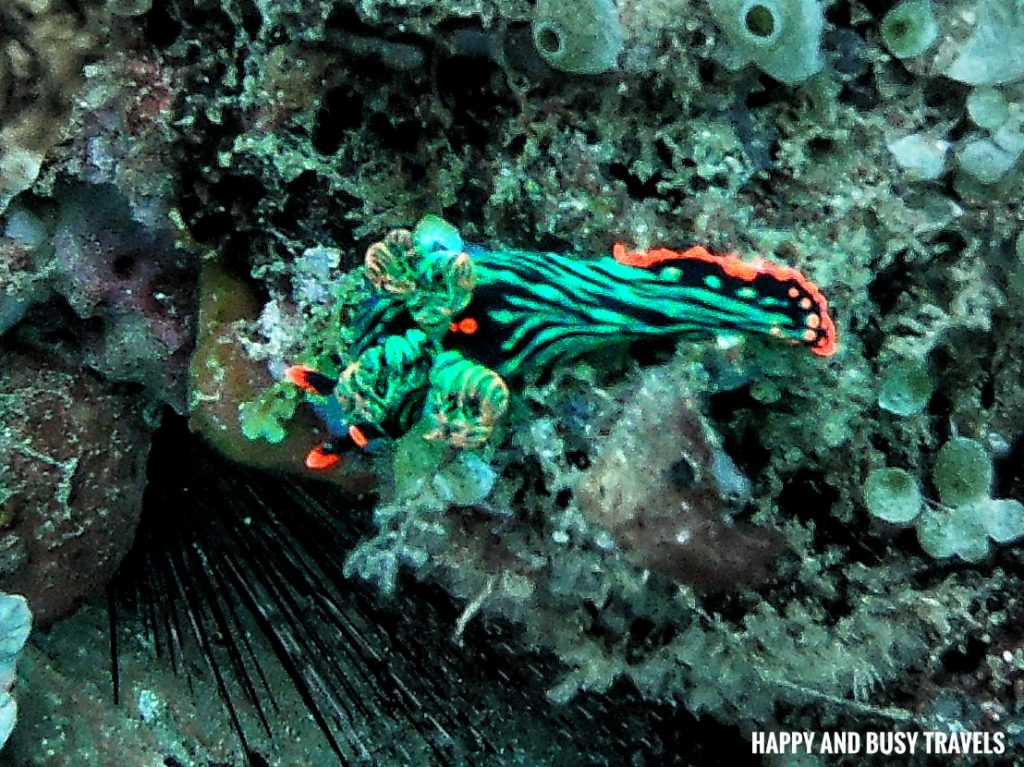 We usually call them Sea Slugs, and they have nice neon colors on their body.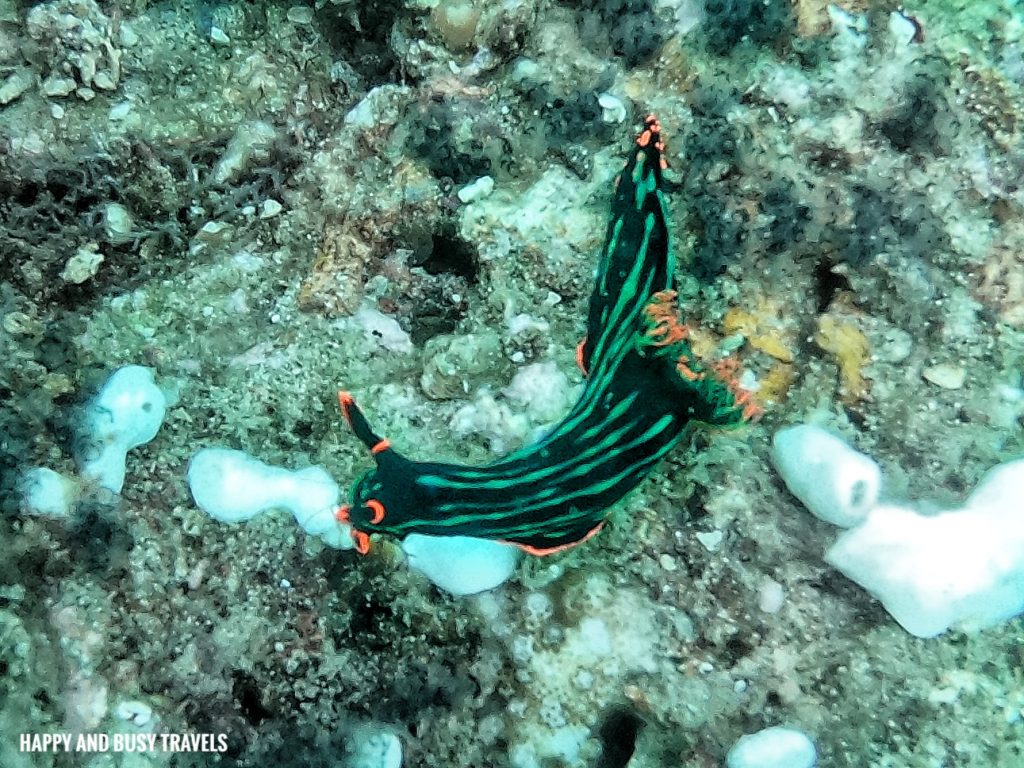 Few Fun Facts About the Nudibranch
They are hemaphrodites. This is a nice feature because as we all know these type of creatures move so slow. So whenever they meet any Nudibranch, they grab the opportunity to mate with them whenever they are a girl or a boy.
Usually, slugs retain their vestigial shell, but the Nudibranch does not. They lose it during their larval phase.
They live from 1 month up to 1 year.
Their name is derived from the Greek words "nudus" and "brankhia", which means naked gills.
Some Nudibranch species can use the toxins from their food as a weapon. They keep the toxins from the food, then release them whenever there is a predator.
So, that's it! We would like to thank Buceo Anilao for making us experience this fun intro to scuba diving. I hope everybody will go and experience scuba diving too because this is a nice experience.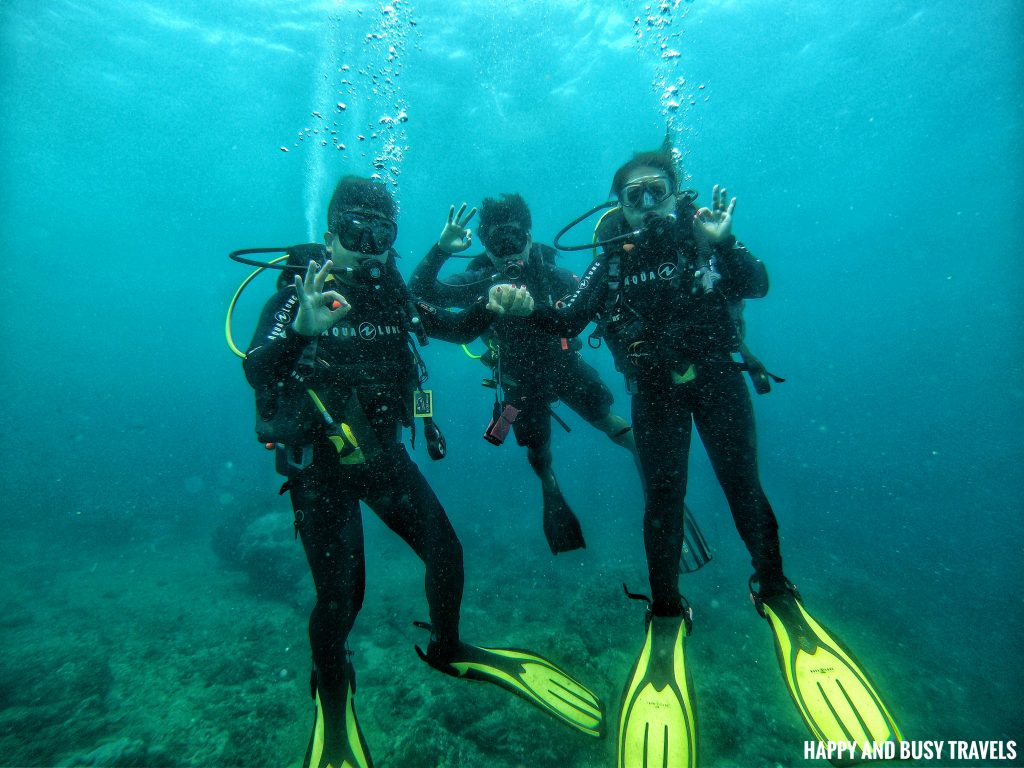 Intro to Scuba Diving Rates
How to Book an Intro to Scuba Diving Lesson?
Contact Buceo Anilao at any of the following ways:
Website: http://www.BuceoAnilao.com/
Facebook: https://www.facebook.com/BuceoAnilao
Instagram: https://www.instagram.com/buceoanilao/
Contact No.: 0917 579 7333
Email address: [email protected]
Happy and Busy's Smileys for Intro to Scuba Diving at Buceo Anilao
Overall our introduction to scuba diving at Buceo Anilao is nice and it was a success. The steps were taught to us one by one, which is nice to avoid panic. We also like that we were first taught in the pool before we went to the ocean.
Location 


Ambiance


Value for money 


Fun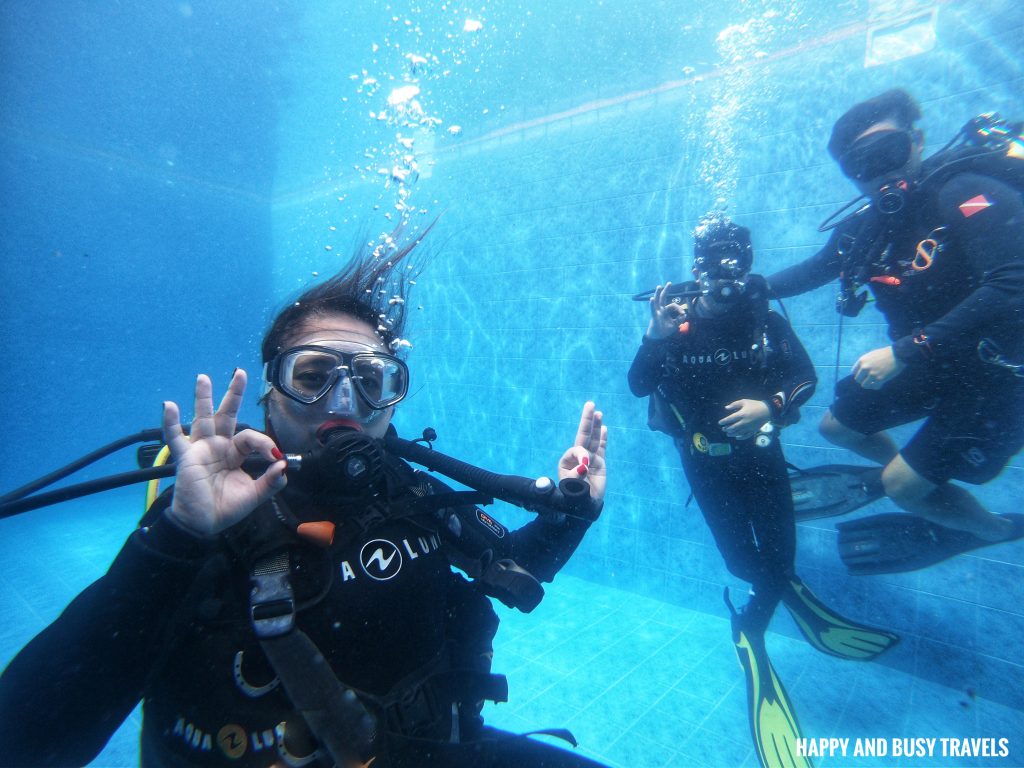 More exciting activity reviews at https://happyandbusytravels.com/category/activities/