Raohe Night Market 饒河夜市 , Taiwan
The Raohe Night Market is one of the oldest night markets in Taiwan, and it showcases the traditional look of the night markets. It is not as huge as the other night markets, just a stretch of road approximately 600 meters.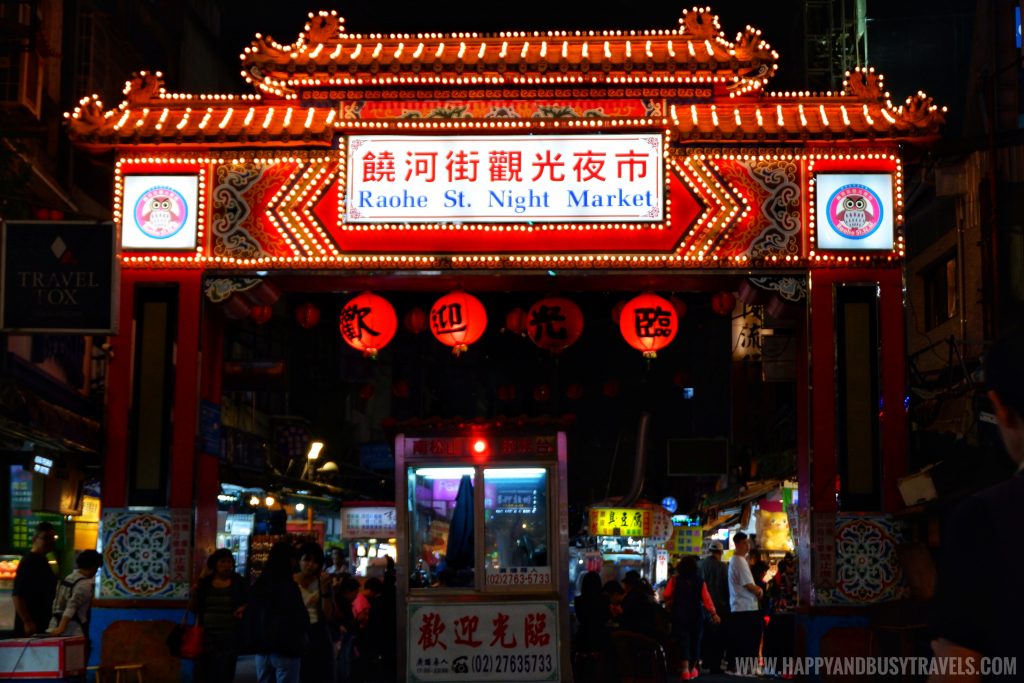 Other Information
Operating Hours: 7PM – 11PM (some stores are open before and after these hours)
There are a lot of people.
Spaces are a bit tight than Shilin Night Market.
Buy a small piece of each dish so you can taste a lot of the delicacies before getting full.
Time spent: 45 mins – 1 hour
How to Get Here?
Address: Raohe Street, Songshan District, Taipei City, Taiwan
Google Maps: https://goo.gl/maps/vTnWXAcHe8Nrs3CH8
Ride the MRT Green Line 3 towards Songshan Station, then go out at exit 5. Once you are out you can immediately see the entrance on your right just across the street.
Our Raohe Night Market Experience
Ownrides dropped us near the entrance of the night market. We asked them to drop us off here instead of our hotel because it was our last destination before going back to the hotel. We first noticed the huge temple, and in-front of it is the entrance to the night market.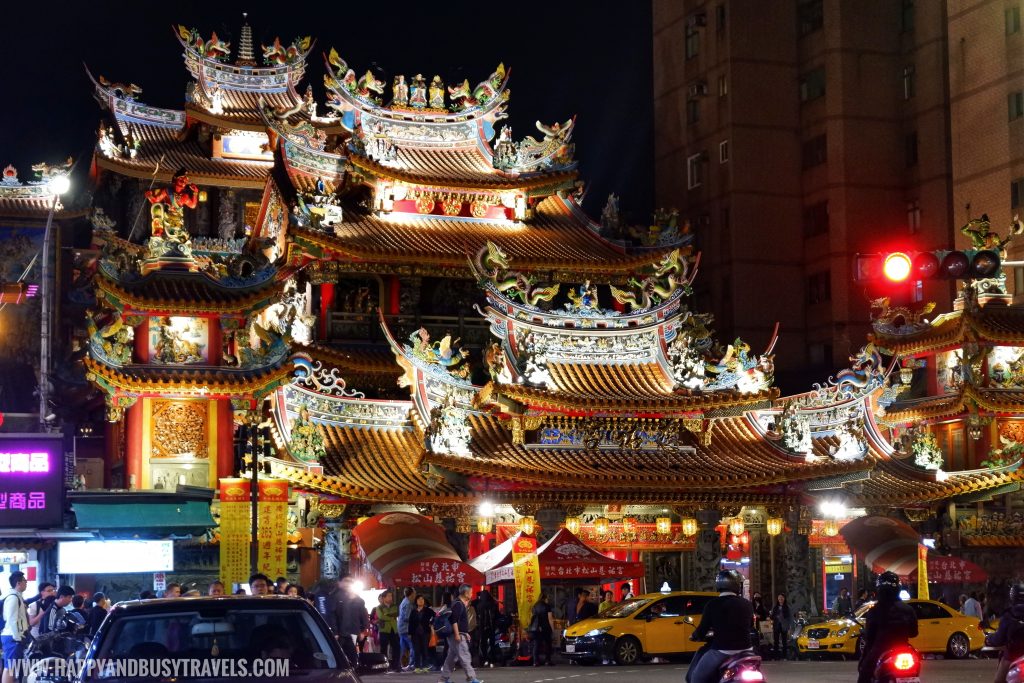 Food
There is a lot of food stalls in the night market.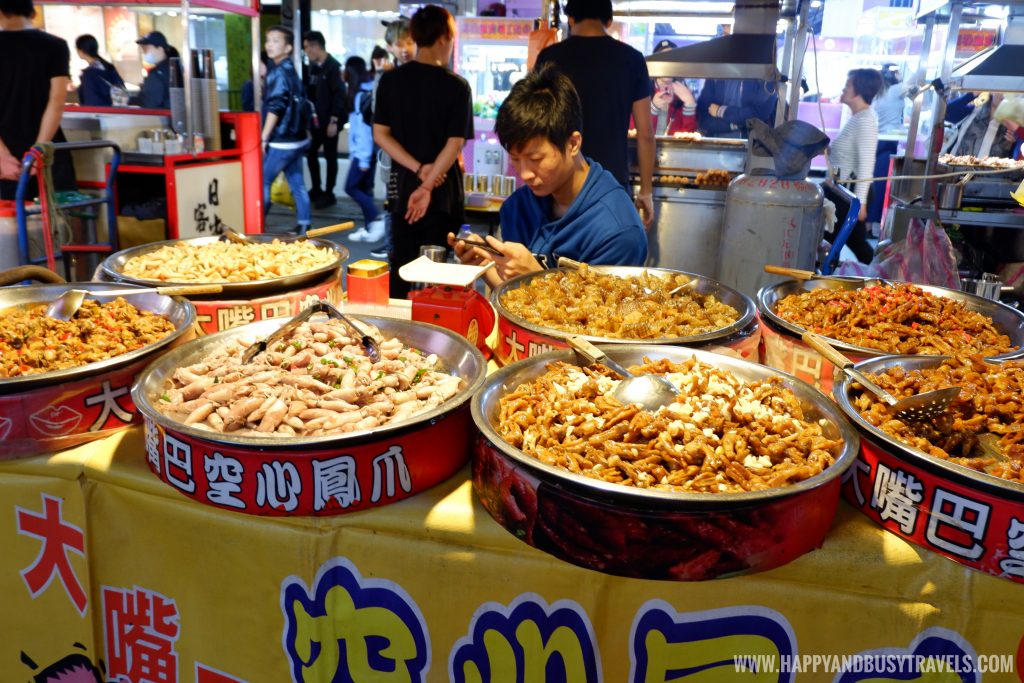 Some stalls even have small tables and chairs so their customers can eat comfortably.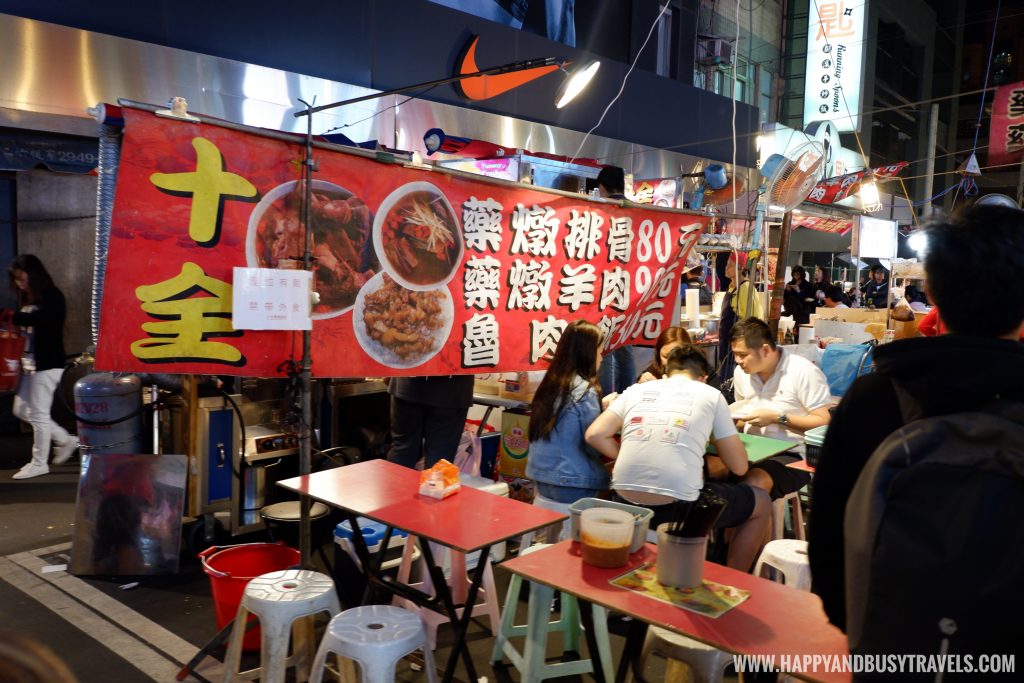 Here are some of the dishes which are for sale in Raohe Night Market.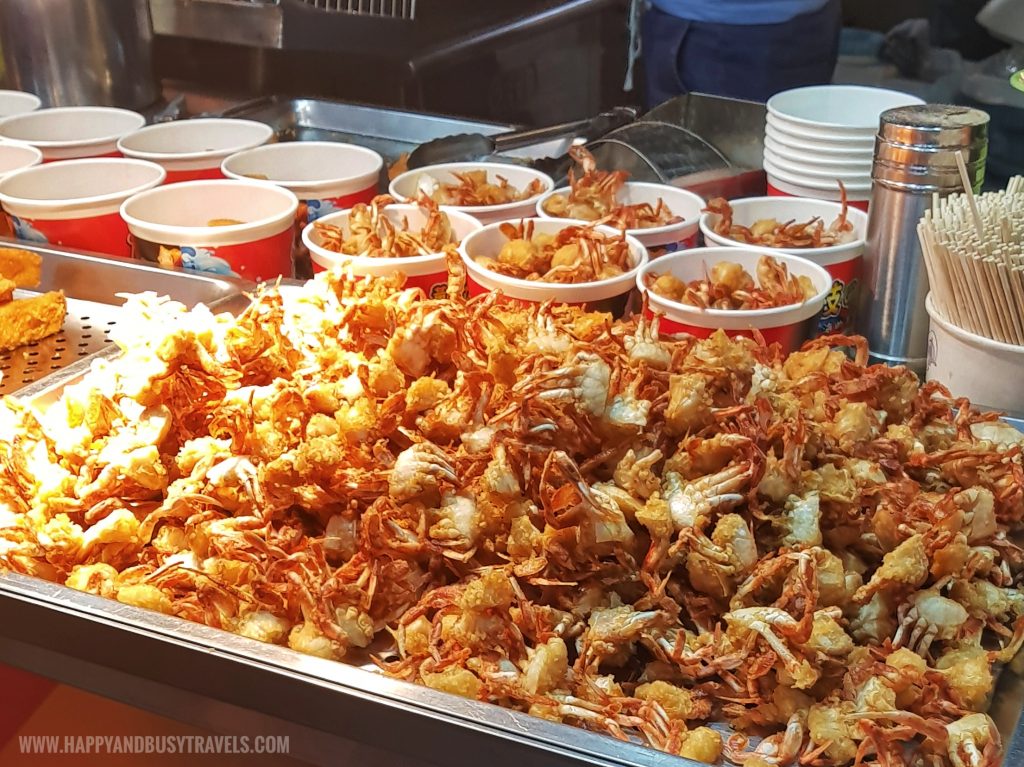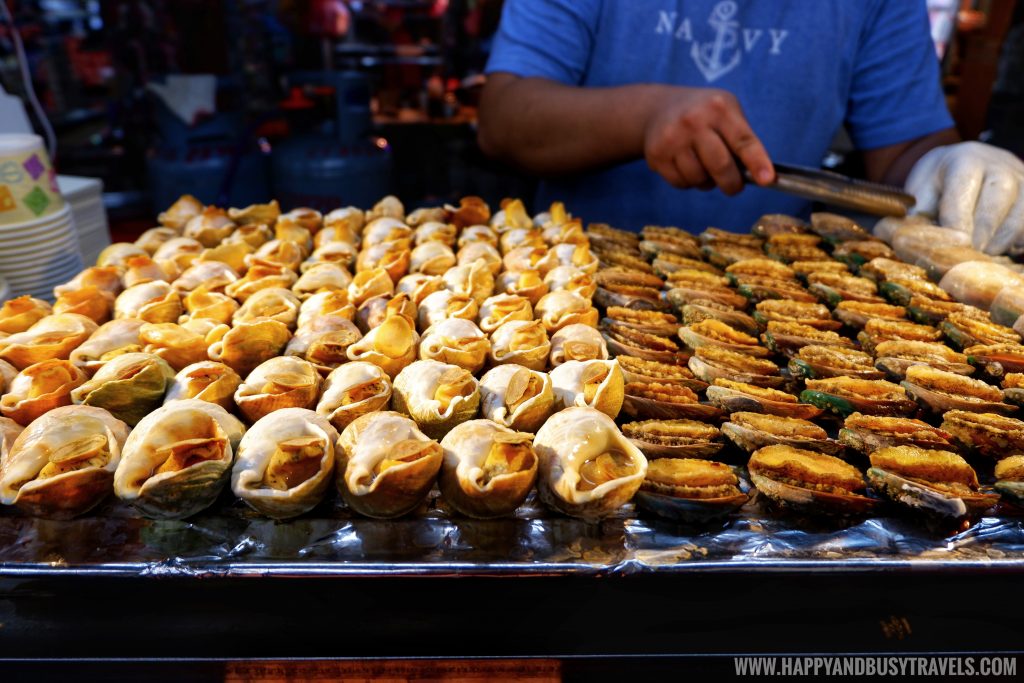 The seashells are a bit pricey but the price looks just right because they are fresh.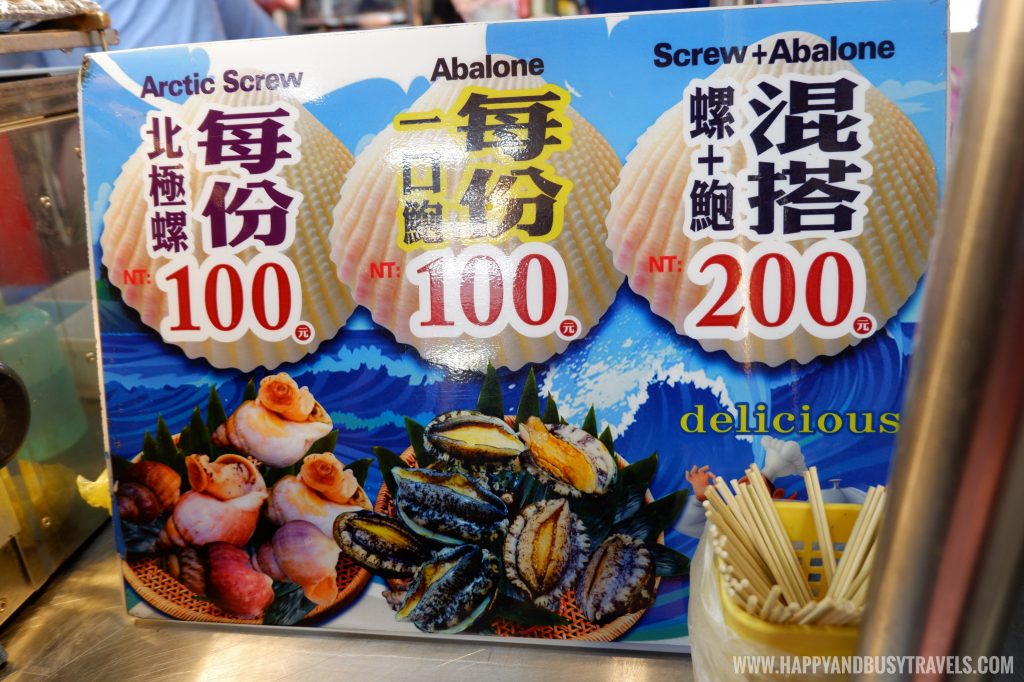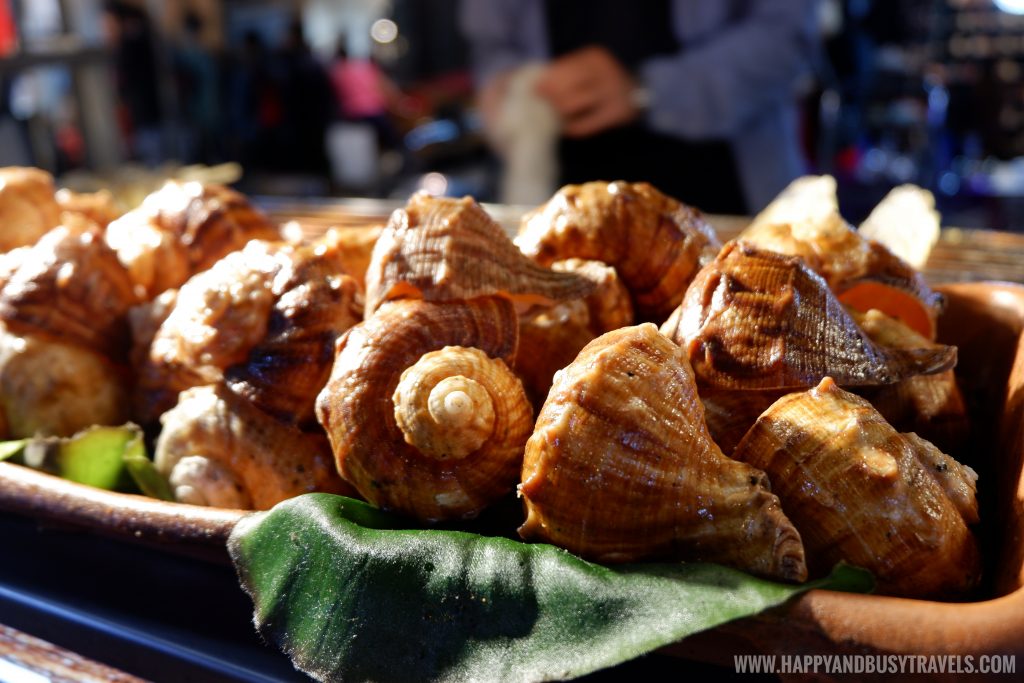 Cheesy Chicken legs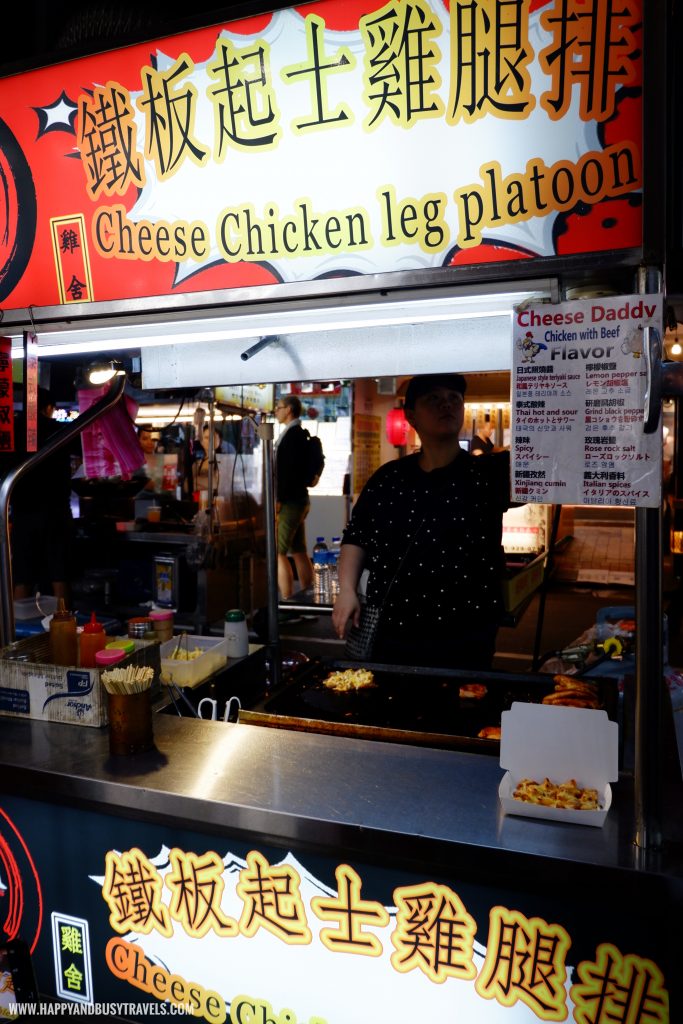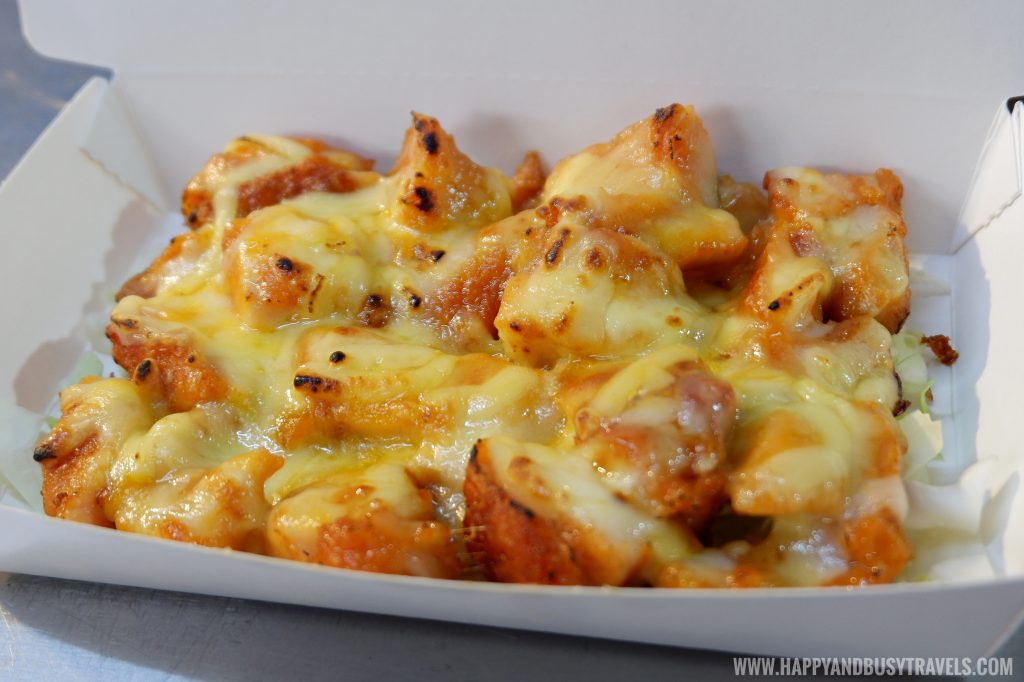 Grilled Seafoods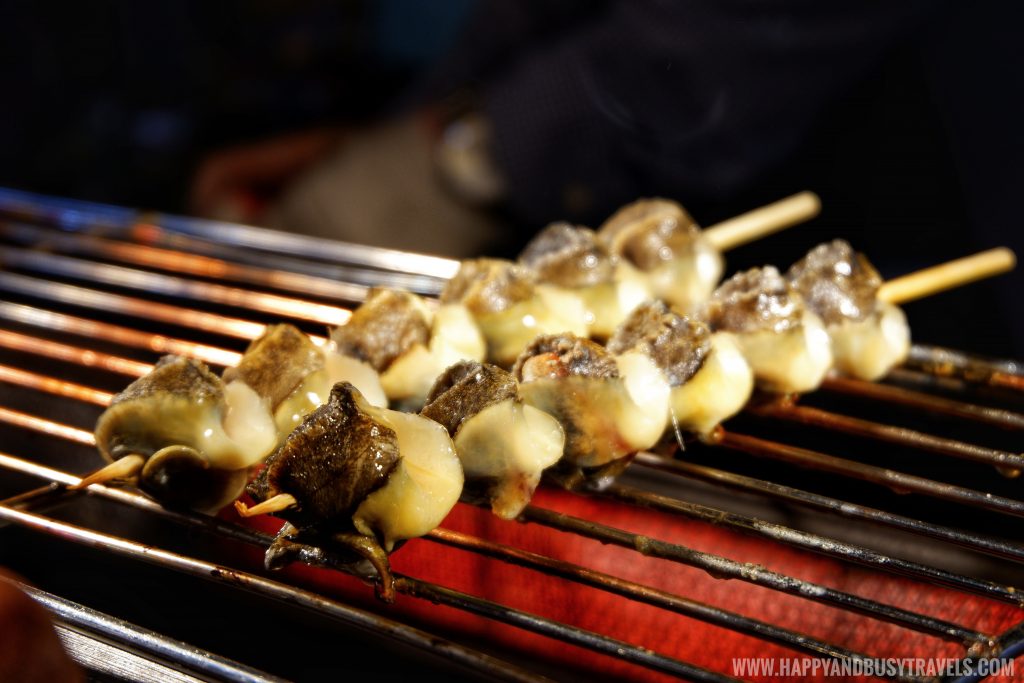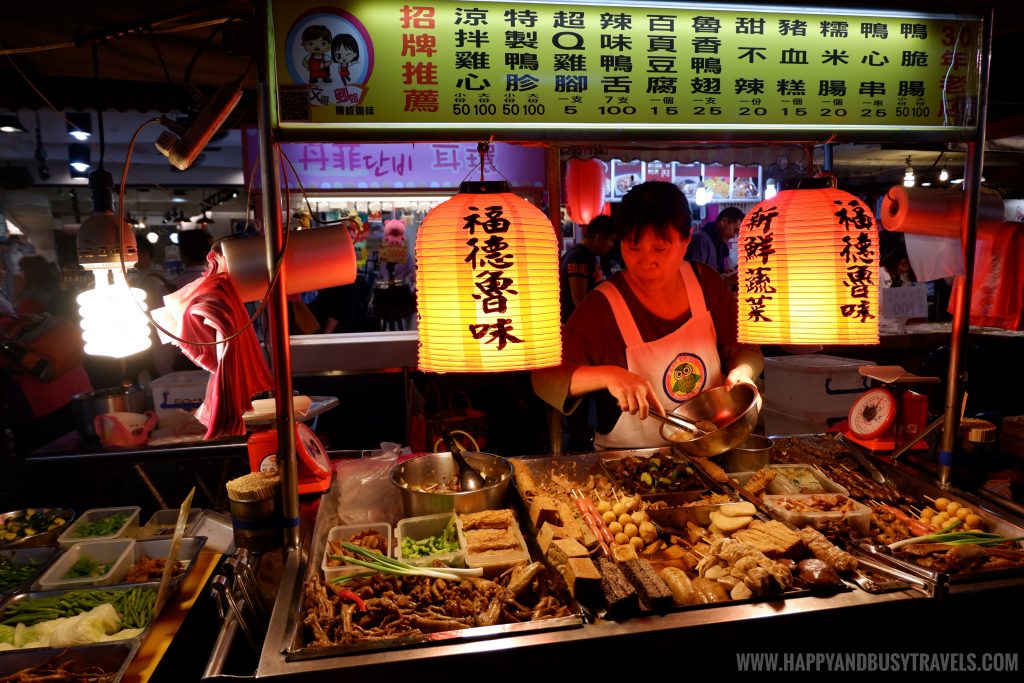 Artsy Lollipops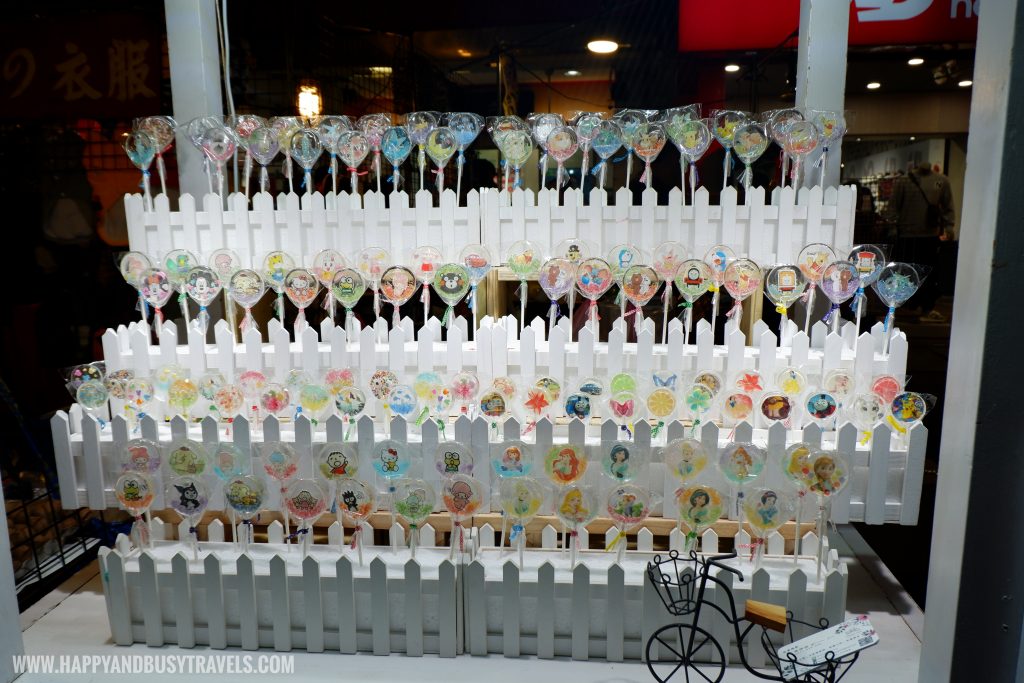 We really love how these lollipops were designed, the Disney character is in the middle of the clear sweet candy.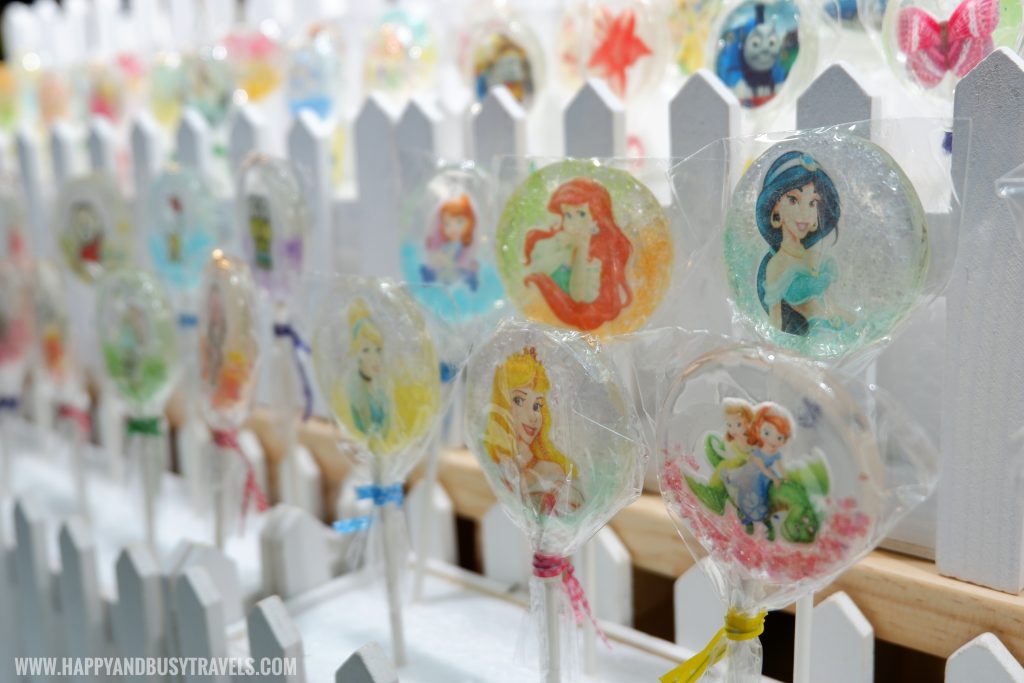 Food Souvenirs
There are also a lot of famous food souvenirs for sale in the night market.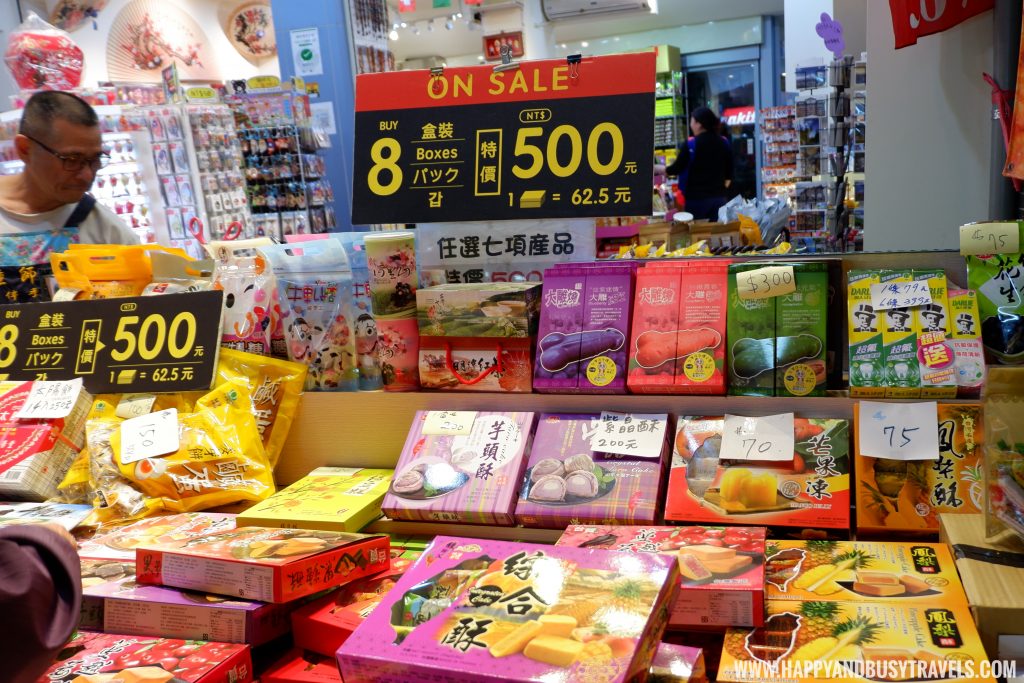 The prices of the food souvenirs here are okay, although, the prices in the Ximending area are a bit cheaper.
Shoes and Clothes
There are also shoes and clothes for sale in the night market.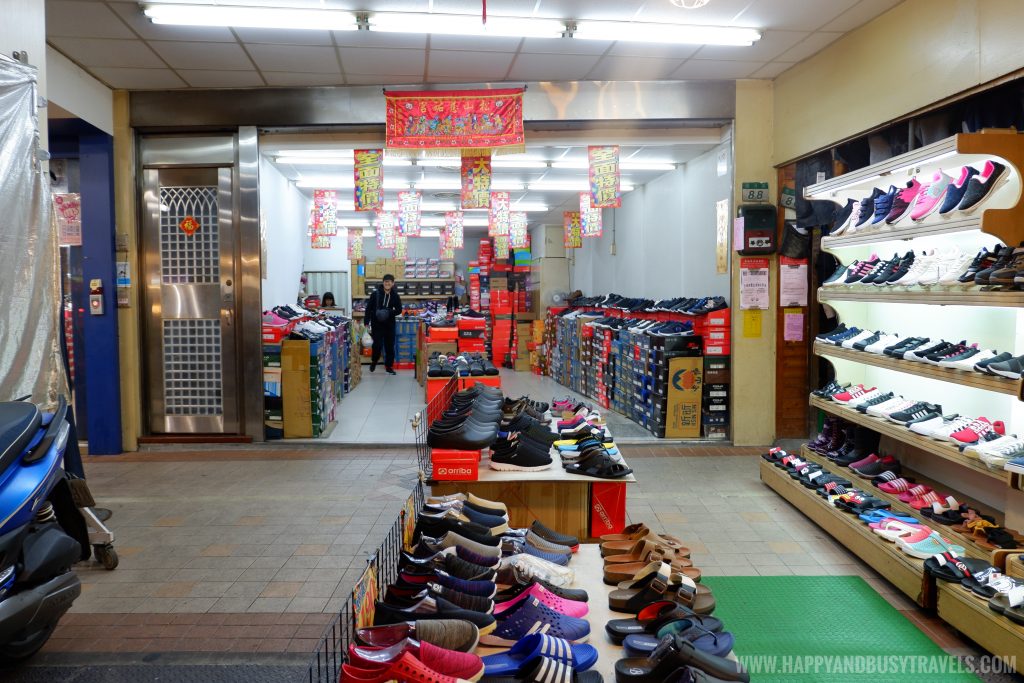 Pets
We also saw a store that sells pets, specifically fishes and turtles.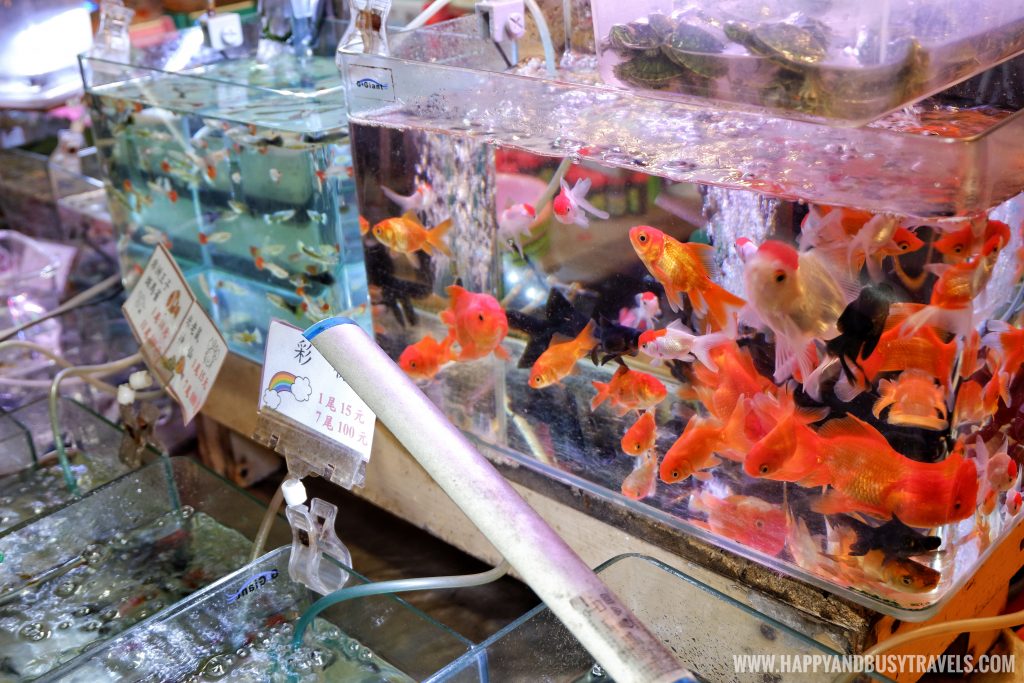 Happy and Busy's Smileys for Raohe Night Market
The night market is nice, there is a lot of food choices, clothing stores, and there is a temple too.
Food

Location

It's so easy to go to and easy to locate.
Ambiance

The place really feels like a night market, it's kinda hard to move around because of the tight spaces.
Value for money

The costs of each item for sale has reasonable prices.
Service

Service of each stall were okay.
Comfort Room
Not applicable. We are not sure if there is a comfort room around, we didn't needed one while we were there.
Happy and Busy would like to thank our friends
Kel Sarabia of Daylight Wanderers – Happy's bestfriend, he provided some of the photos.
Viz – Busy's bestfriend for providing some photos