The STEAK Cartel, Calamba, Laguna
When I heard that there is a new steak restaurant in Calamba, Laguna, Busy and I immediately visited it. Hello, The Steak Cartel!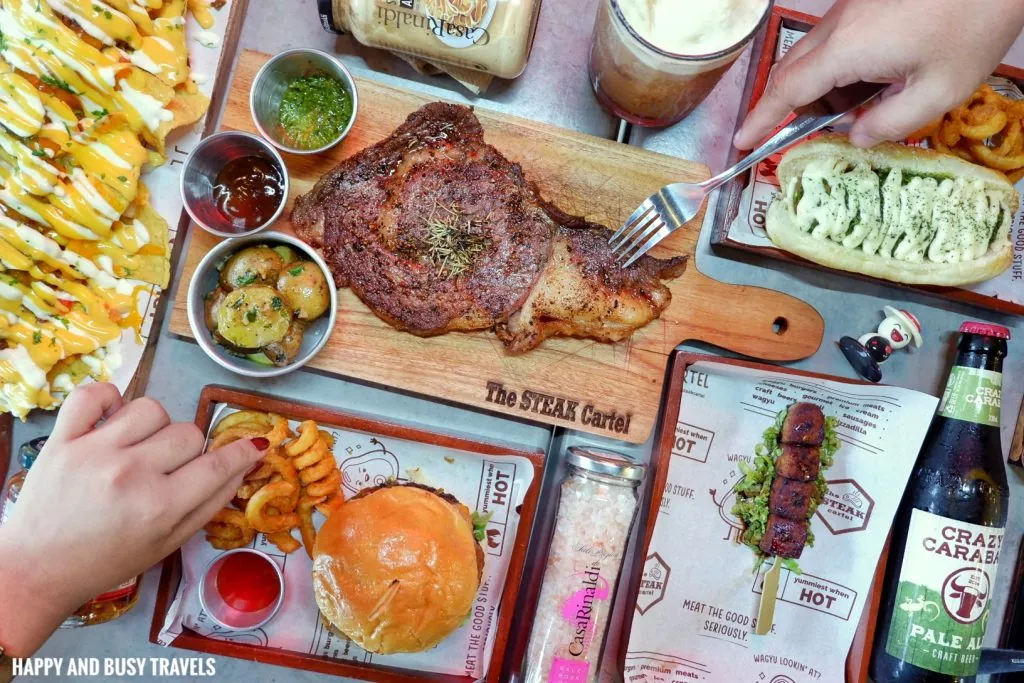 The owners of the restaurant are originally steak suppliers that turned into restaurant owners, hence the name "The Steak Cartel." The restaurant opened just last May 2021.
Important Information
Facebook: https://www.facebook.com/thesteakcartel
Contact Numbers: 0945 895 3994
Email Add: [email protected]
Operating Hours: 11 AM – 9 PM
Dining Options: Dine In, Delivery, and Take Out
Payment Options: Cash /GCash / BPI transfer
Address: 2nd Floor, D'Fresco Building, National Highway, Calamba,  Laguna
Google Maps Link: https://g.page/thesteakcartel
The STEAK Cartel
When we reached the second floor of the building, we immediately saw the restaurant. It is a small-sized restaurant but it has IG-worthy spots and has a lot to offer.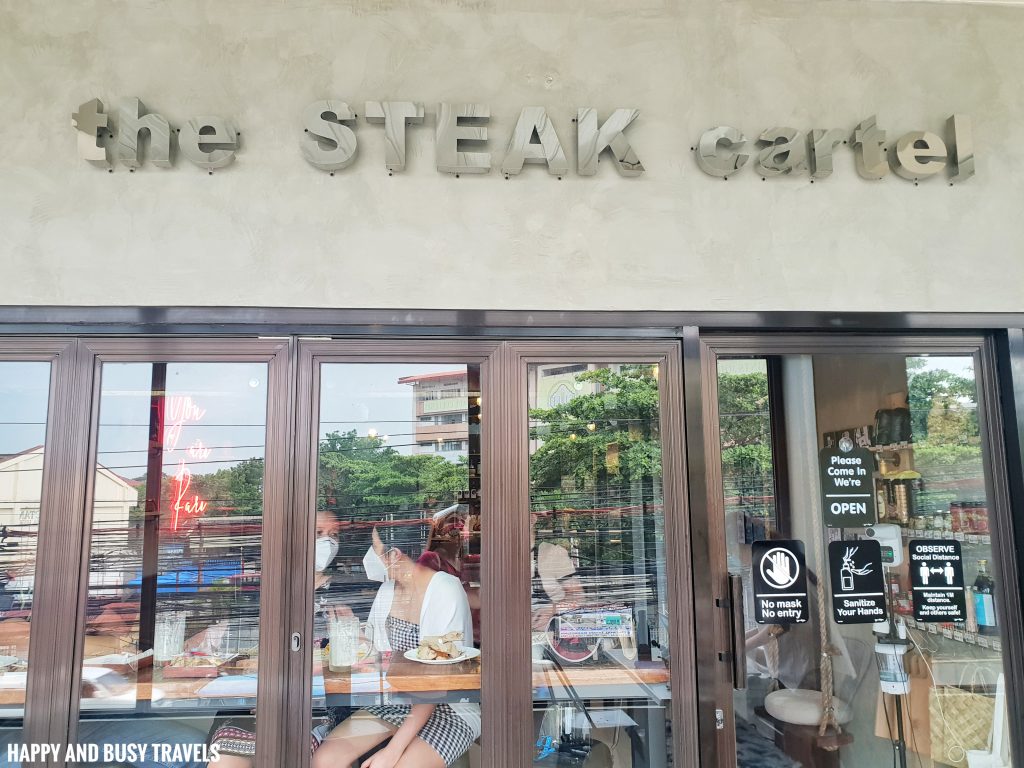 Swings are at the side for customers who are waiting for their turn to dine, or for those who wanted to take pictures 🙂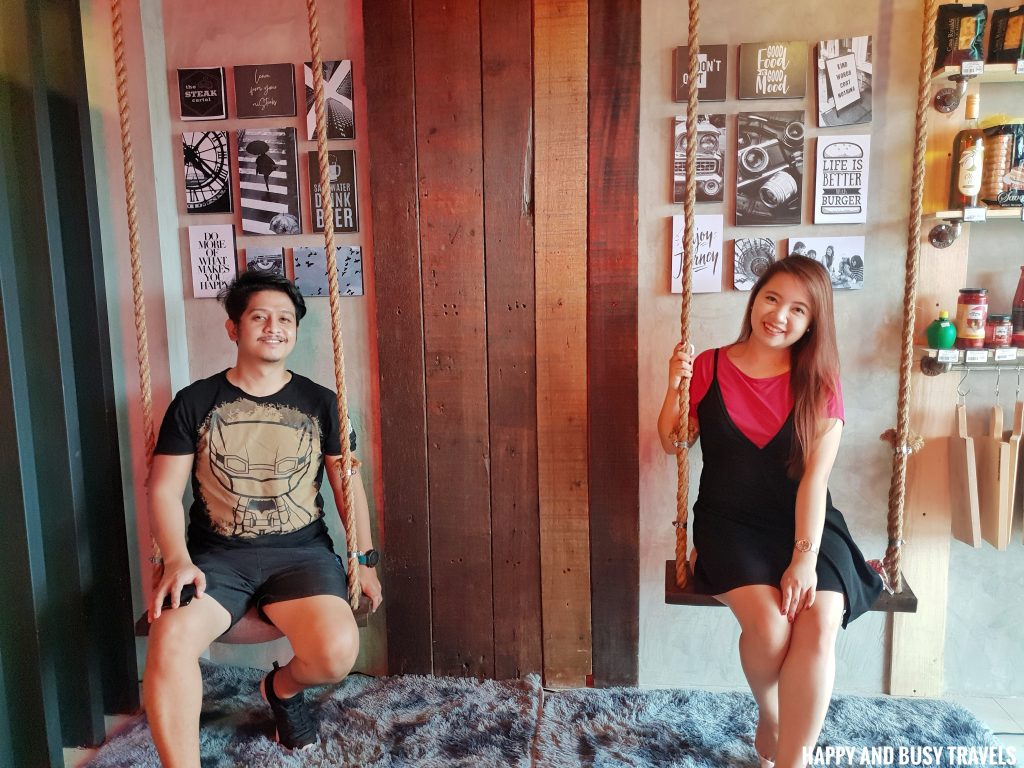 Here is this dining area with a sofa. So, we have decided to dine here 'cause it looks so cool.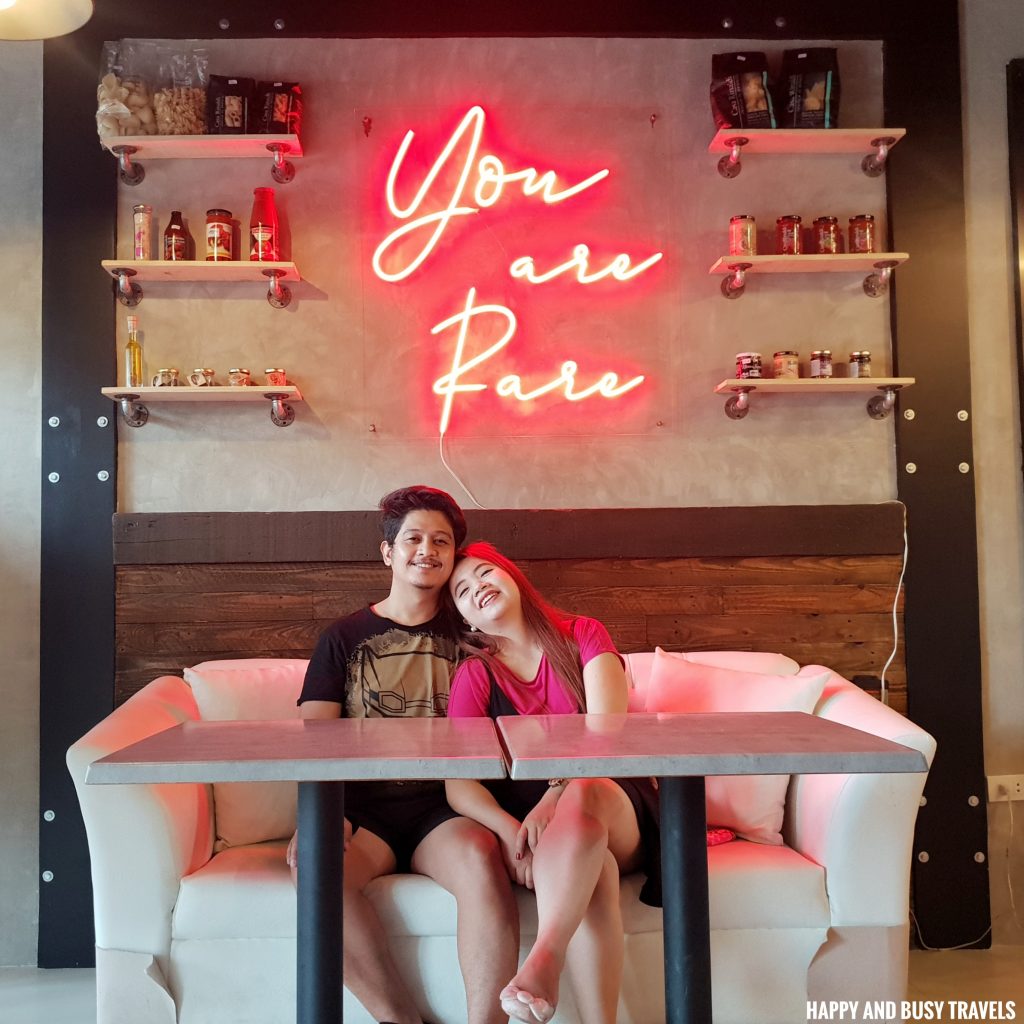 Finally, here is the counter where you can see the various drinks, cheese, and meat you can order to eat in the restaurant or take it home.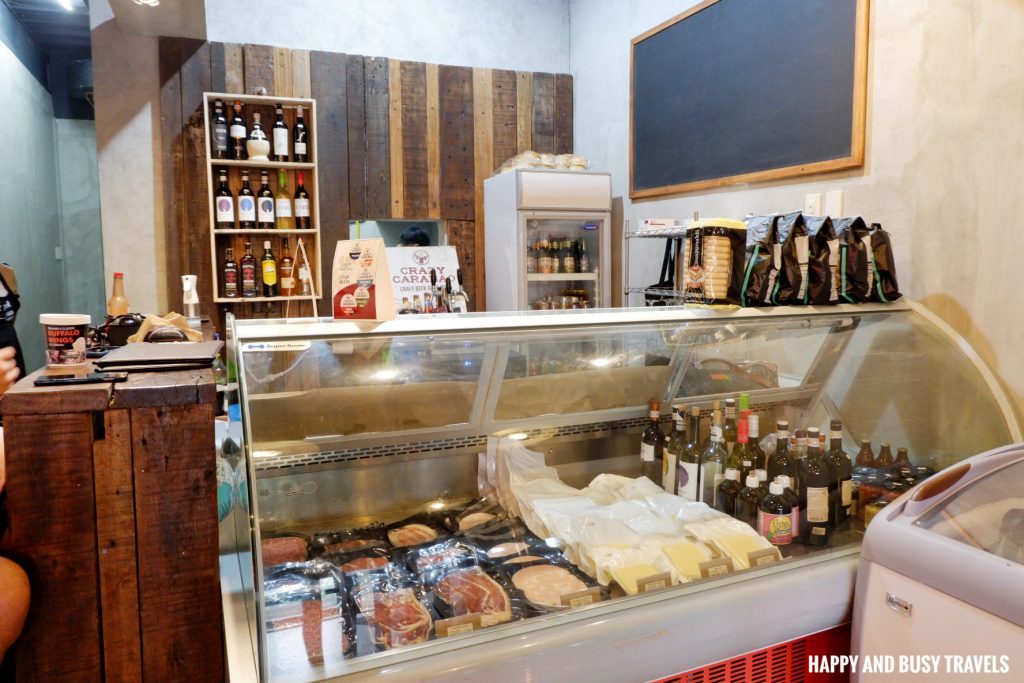 The Food
Steak is the specialty of the restaurant, but they also have a lot of other dishes.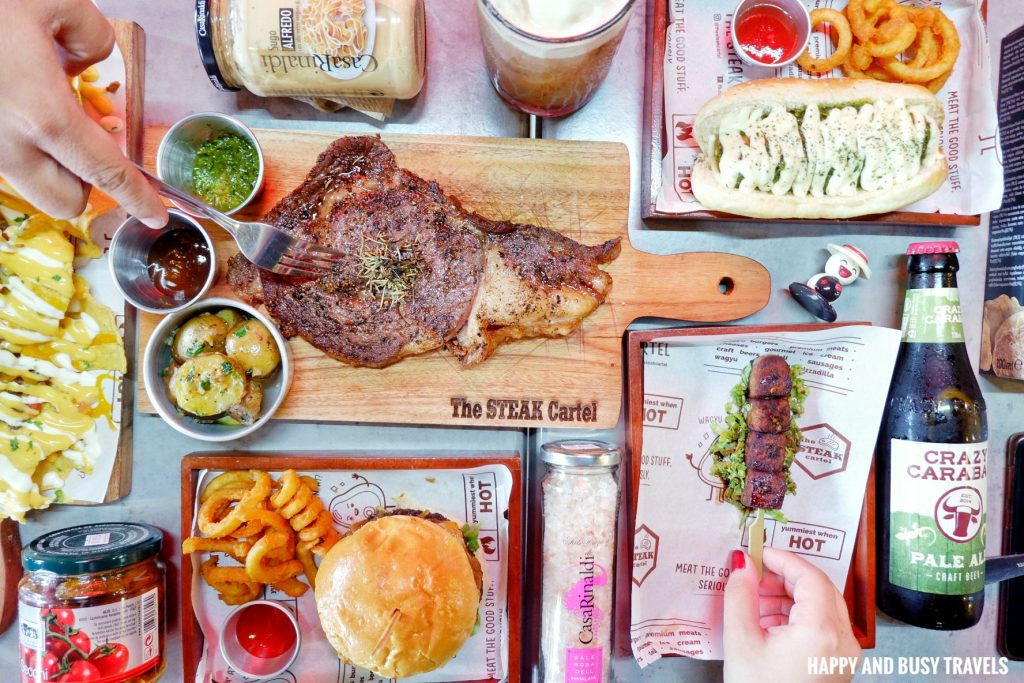 Wagyu Skewers
First is this Wagyu Skewers which is composed of four Wagyu cubes placed on a bed of lettuce drizzled with TSC signature Yakiniku Sauce.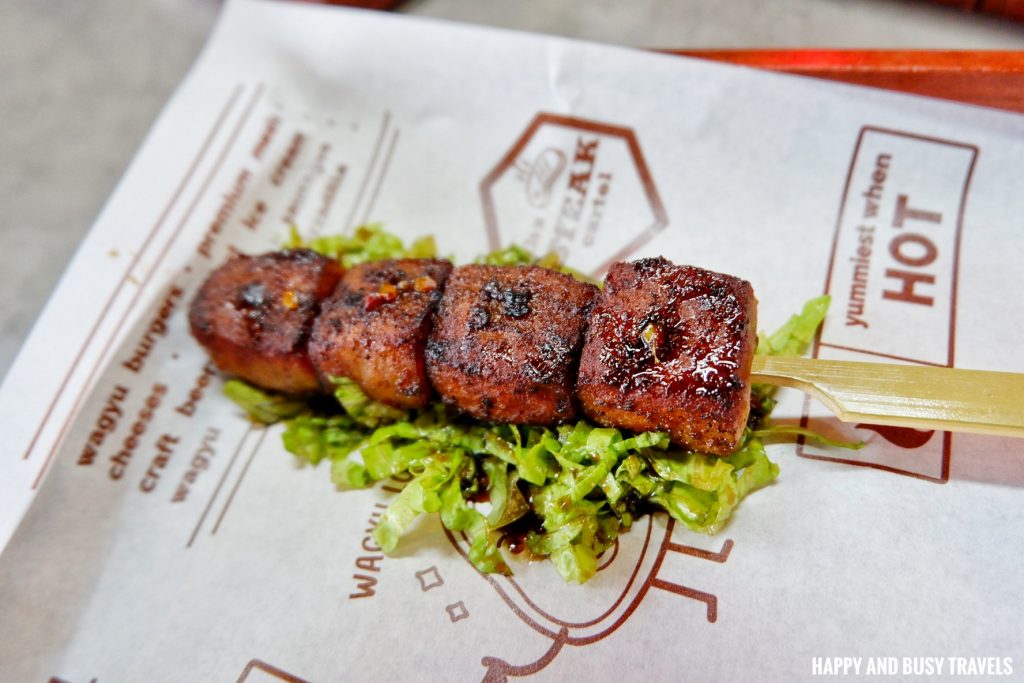 Just look at this cube, it looks small at first and you'll think "how does this taste?" because it's so small. But when you bite into it, the taste of the Wagyu will burst into your mouth and you'll want more.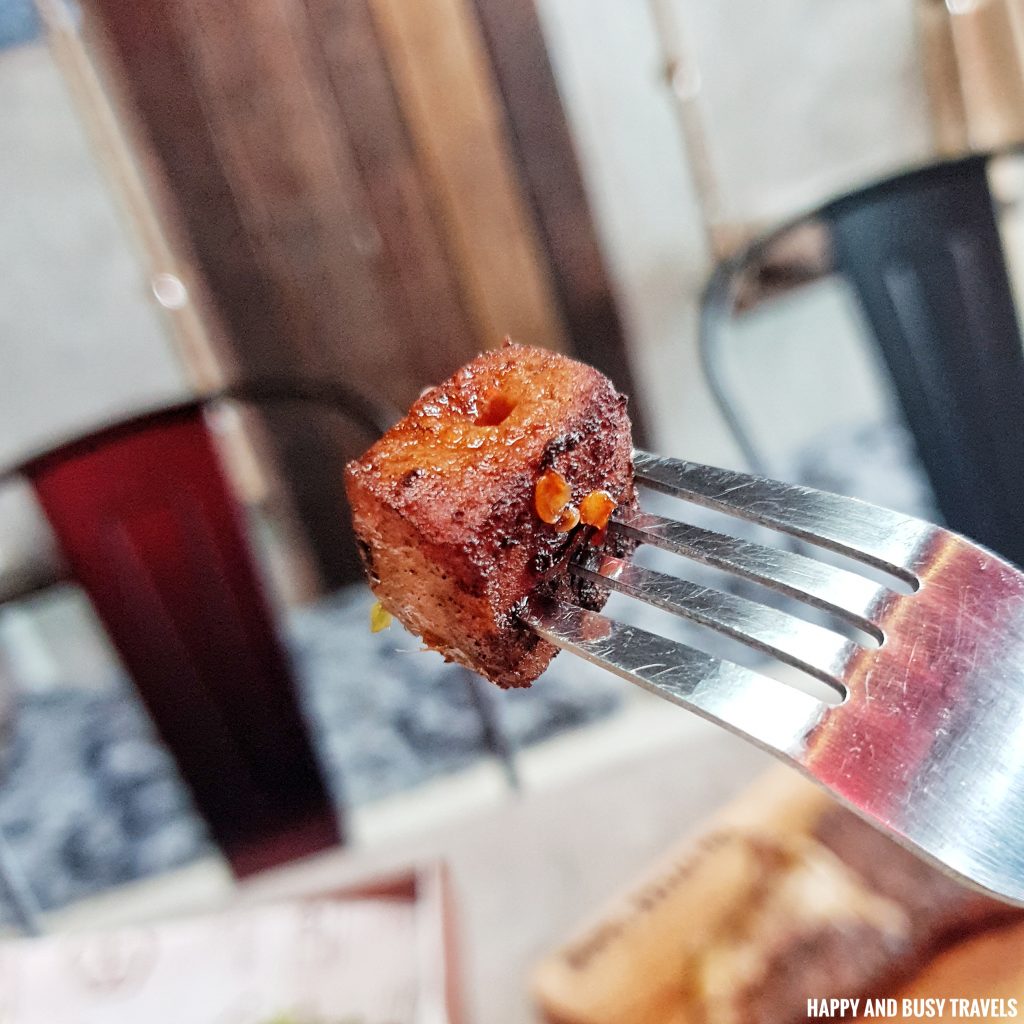 Each stick costs P109 but the quality and the taste is more than that.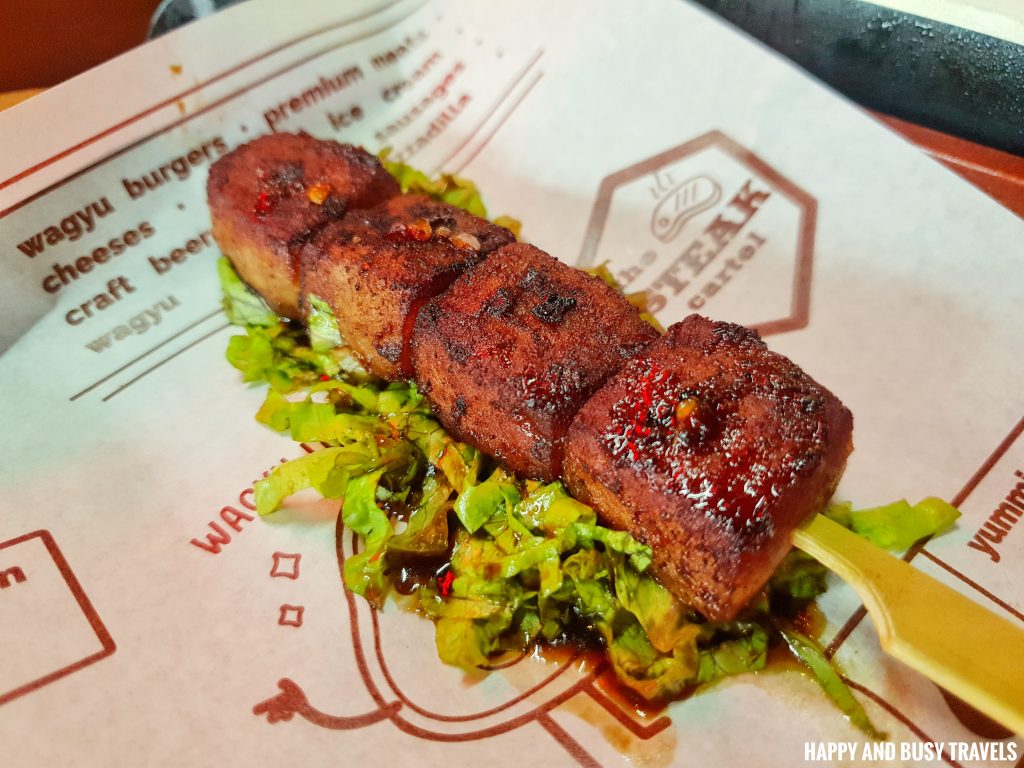 Cheesy Nachos
This Cheesy Nachos is made out of Fresh Corn Tortillas, shard red cheddar, Jalapeno, Tomatoes, Onions, Cheese Sauce, and Truffle aioli.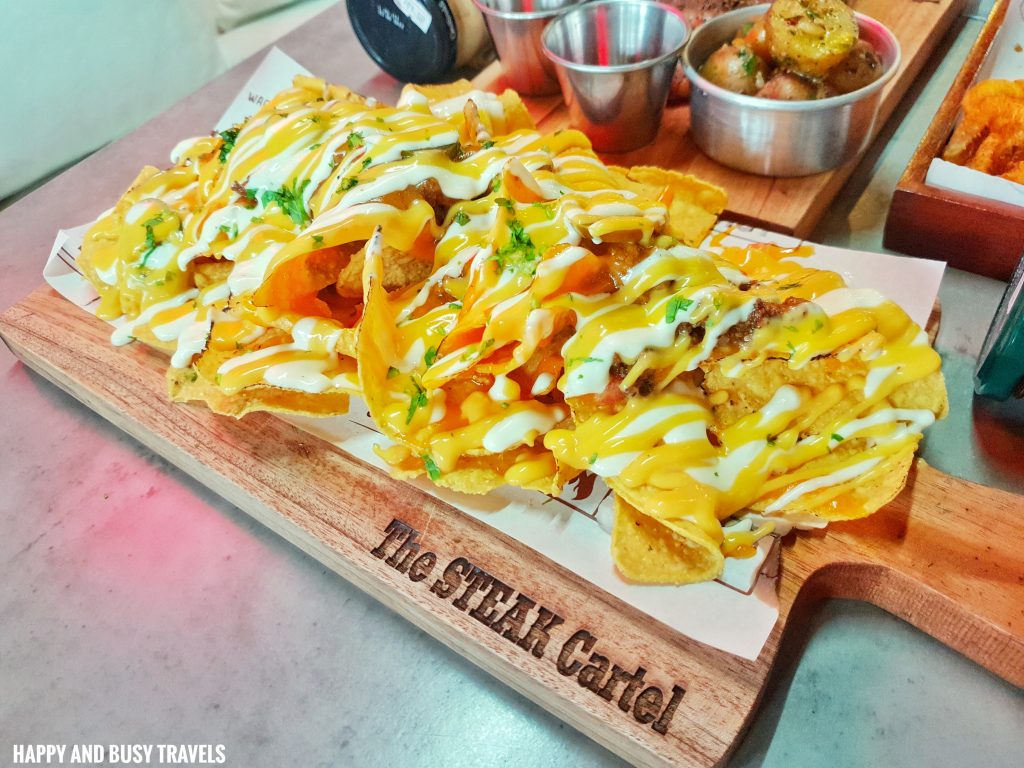 One order is already good for 2 to 3 people, and an excellent choice for an appetizer.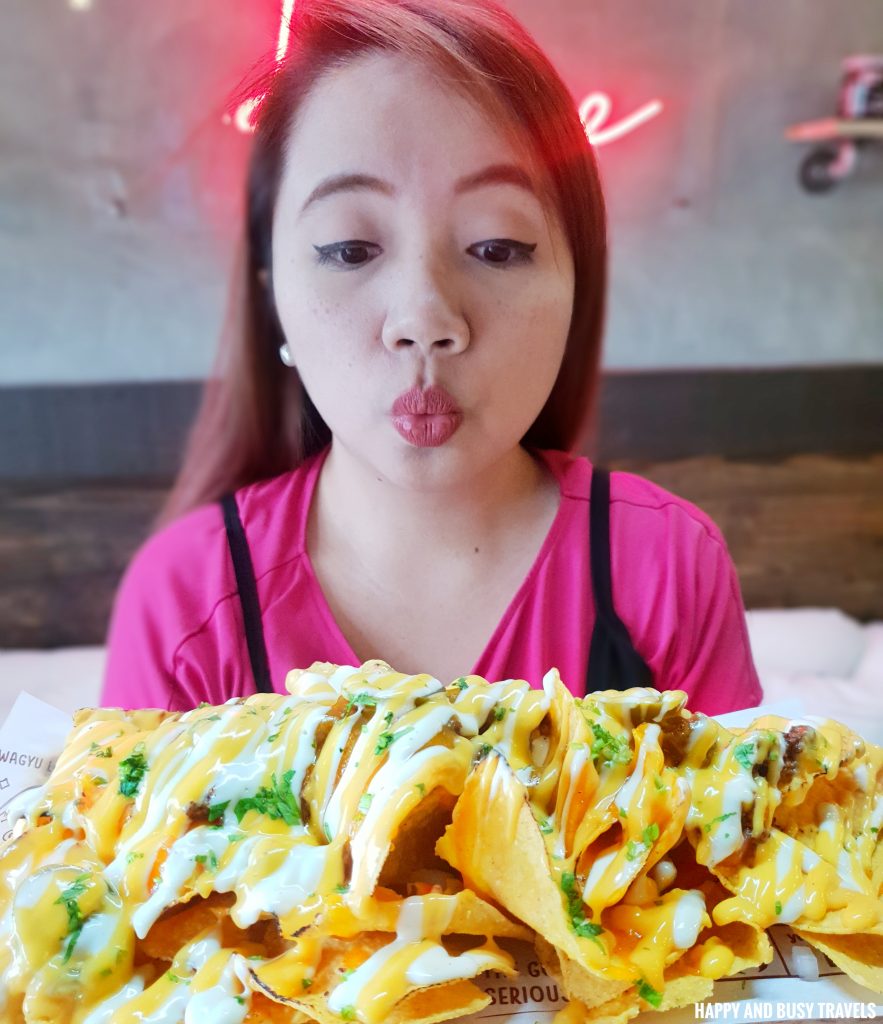 Super Onion Burger
Then, after the Cheesy Nachos, we had the Super Onion Burger. This one is made out of a Brioche bun, 1/3 pound 100% pure Wagyu beef, orange cheddar cheese, a lot of caramelized onions, fresh arugula, burger sauce, and served with curly fries.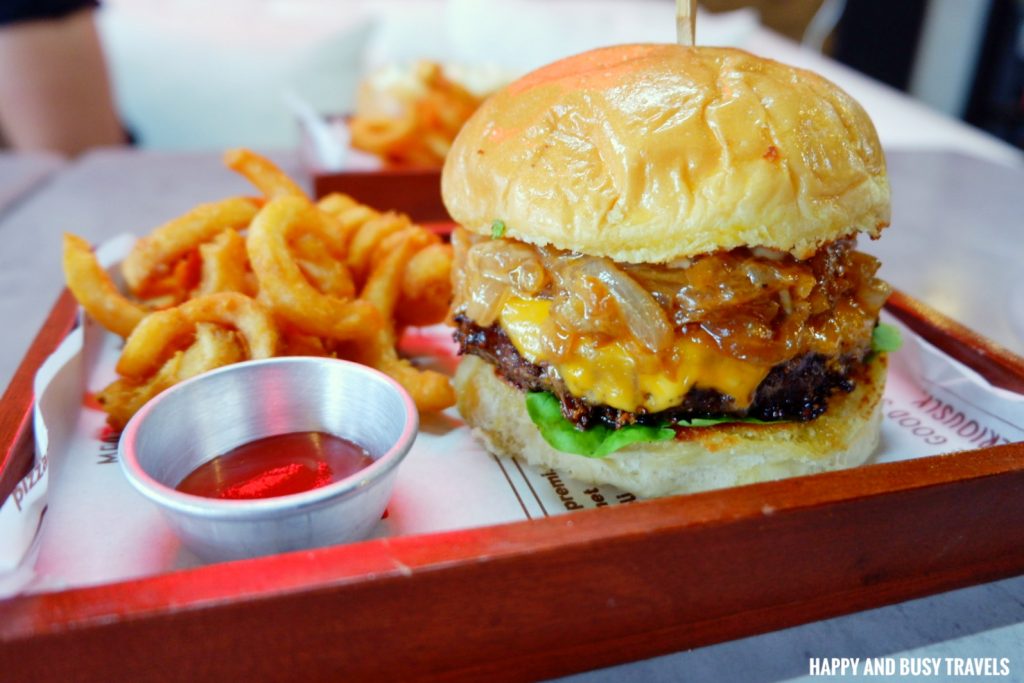 We can't get enough of the Wagyu that we even have to order a burger made out of Wagyu haha. Just like its name, the burger has a lot of onions! We love it!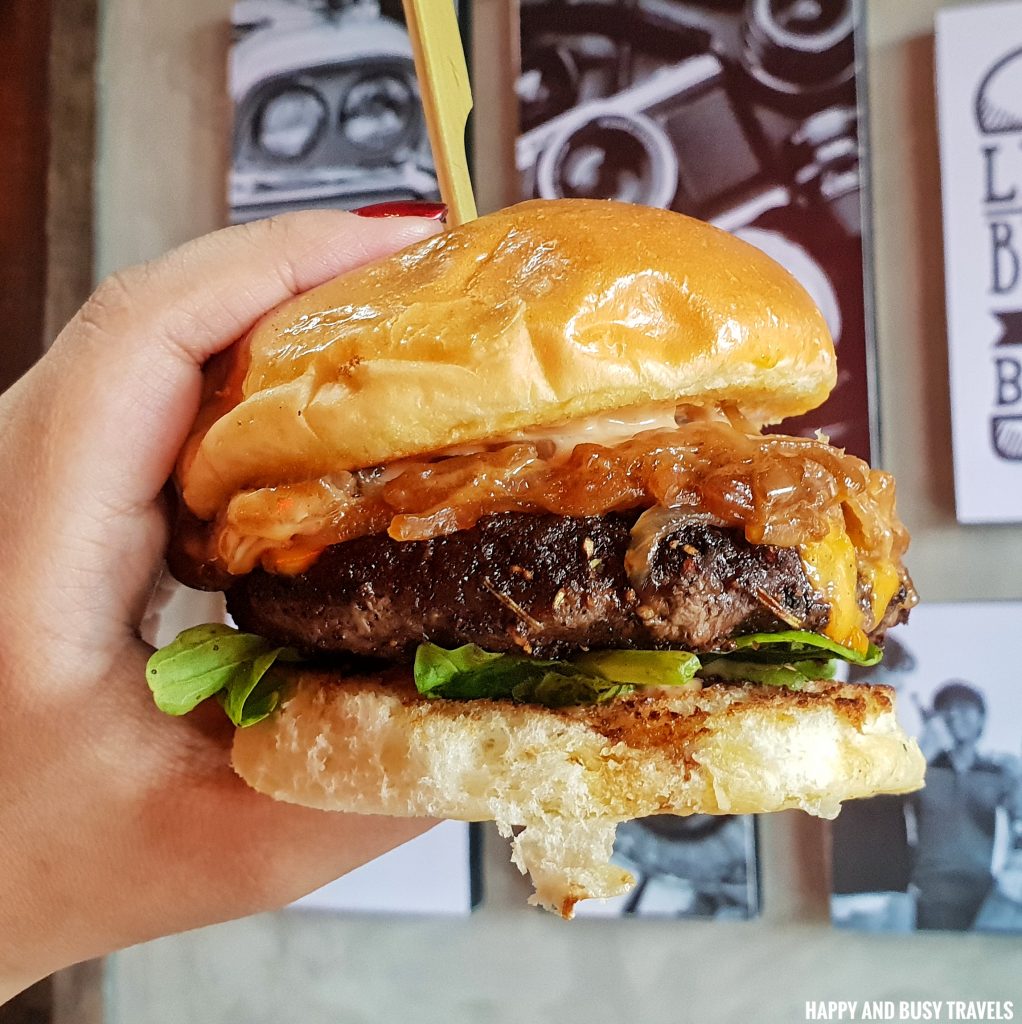 The burger tastes so good! Even I am already full, I really enjoyed eating more of it.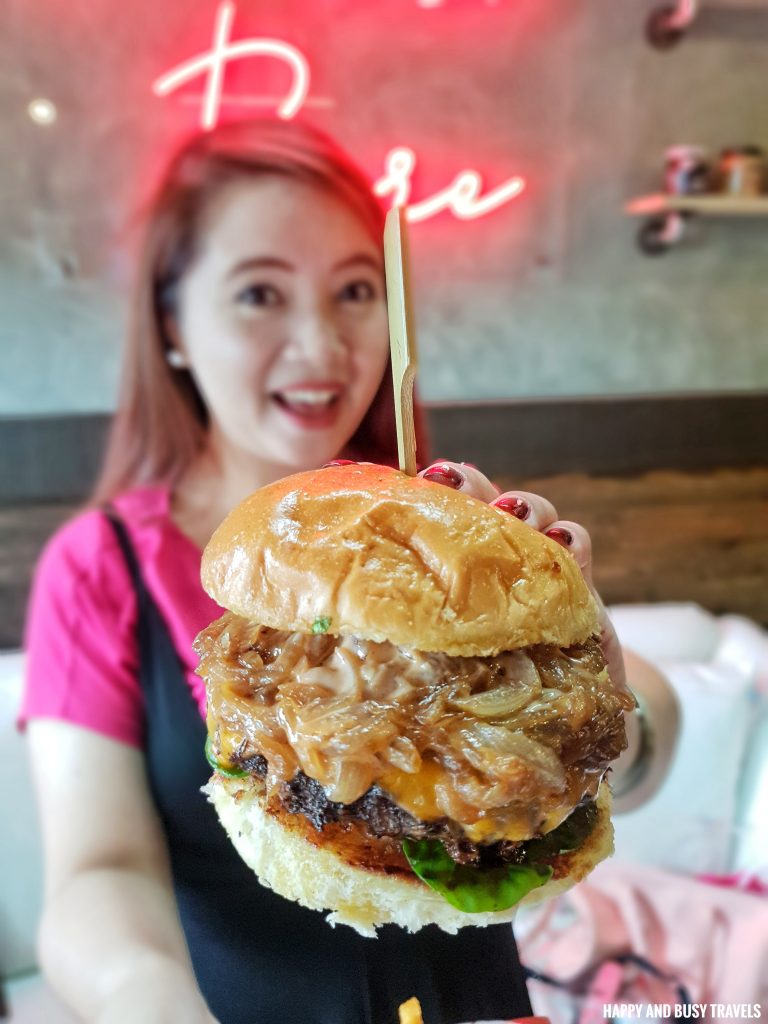 Hola Amigo
One of their best sellers is the Hola Amigo, which is a hotdog sandwich (It is actually a sausage not a hotdog haha). It is made out of Brioche bun, meaty sausage, TSC signature chimichurri mayonnaise, and served with fries.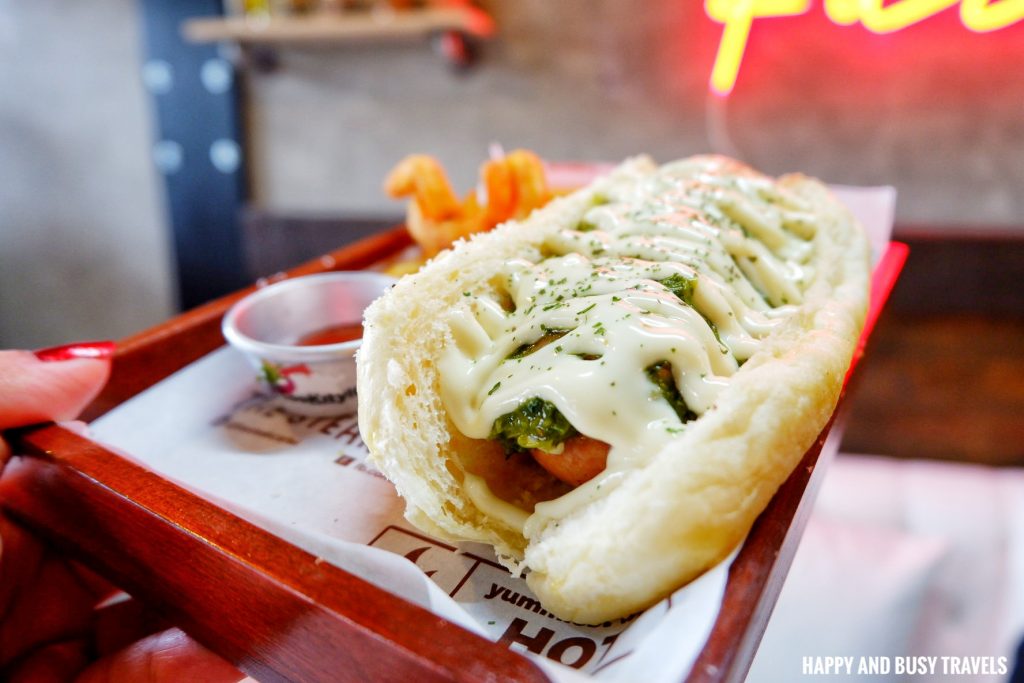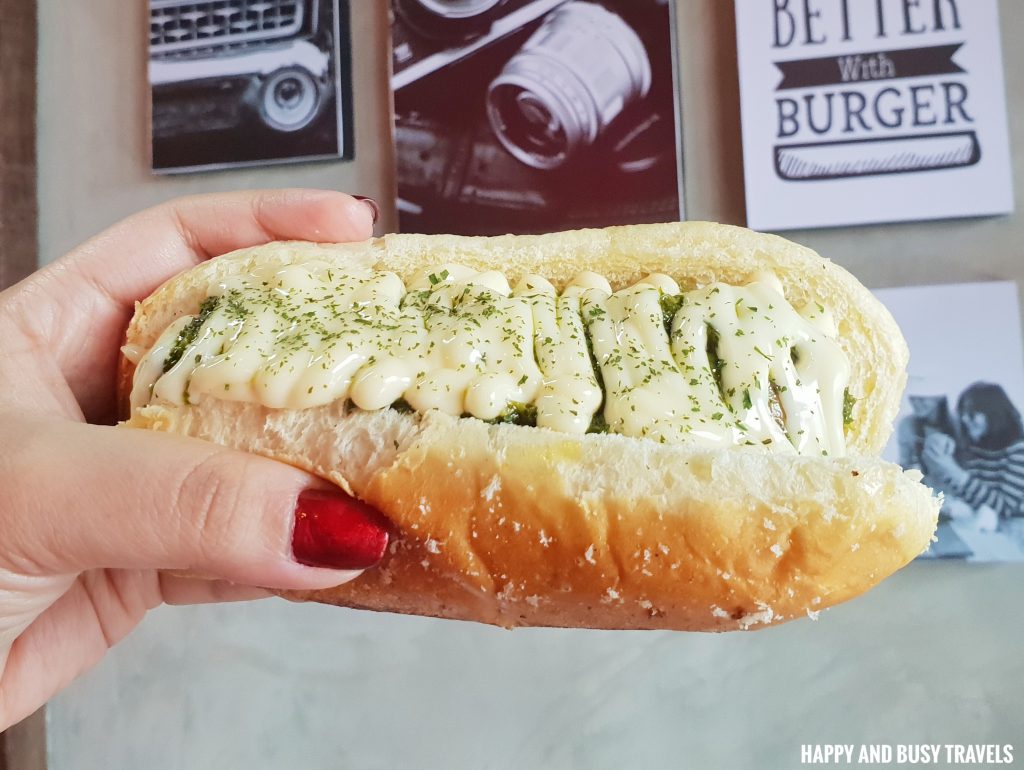 USDA Ribeye Steak
Lastly here is the USDA Ribeye Steak! This is our favorite out of all the dishes.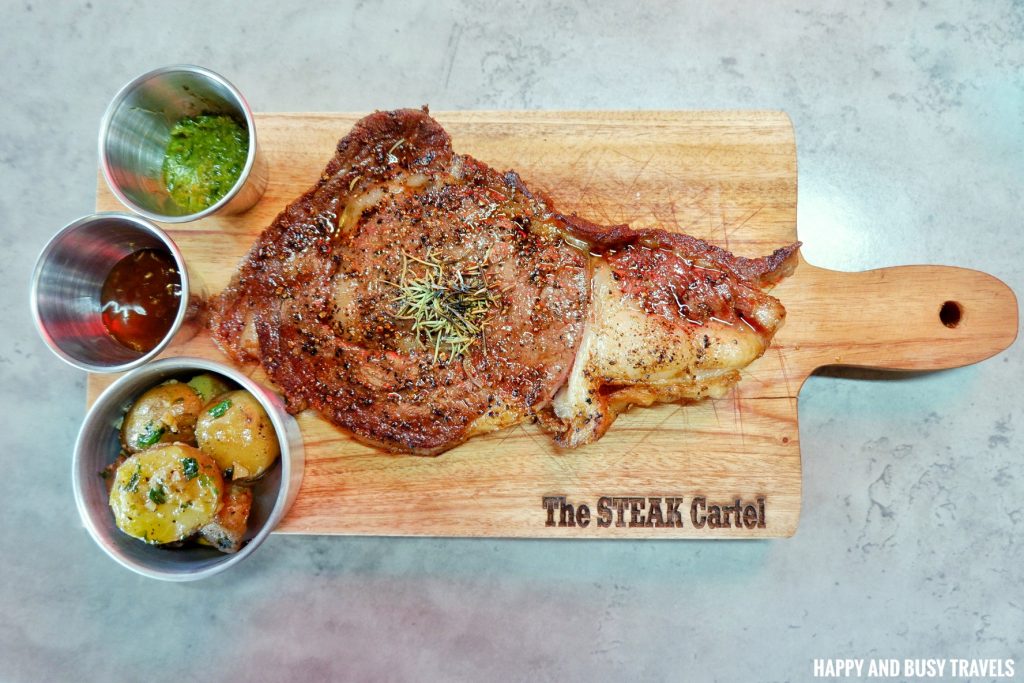 Upon ordering you will be asked how do you like your steak. Medium-Rare, Medium, Medium-Well, or Well done. We recommend that you order it medium-rare, well just because that's how I like my steak haha. Each order of steak is served with potato marble, chimichurri, and barbecue sauce on the side.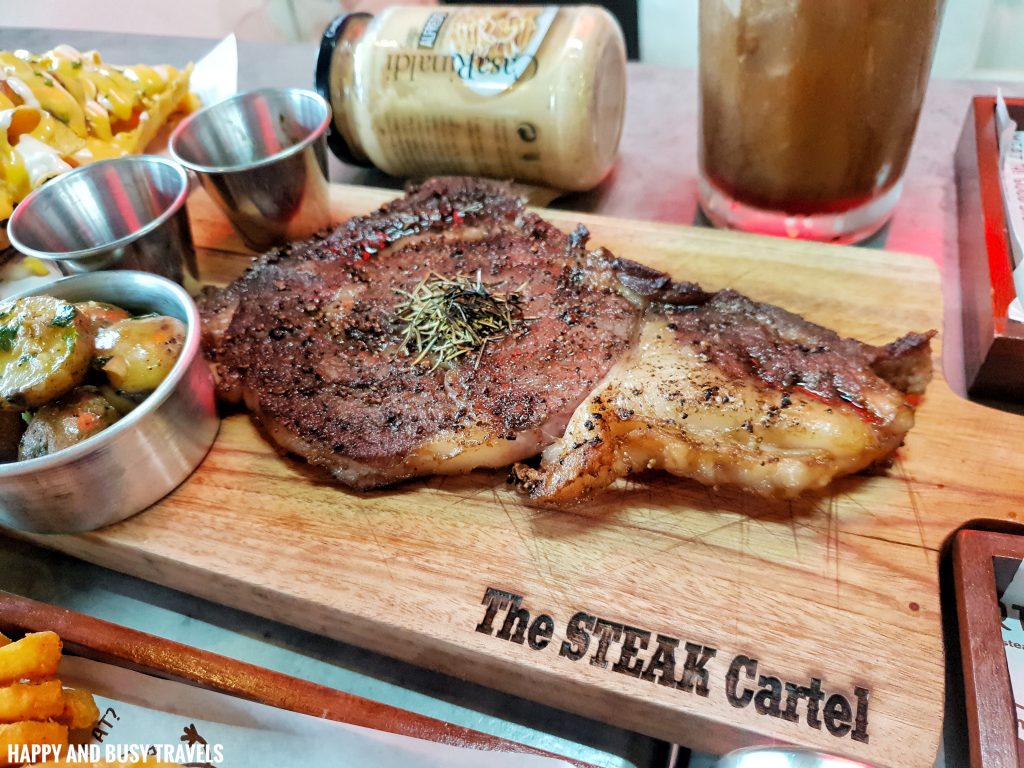 Just look at this steak, It looks and smells so good!
This is the focal point of their restaurant… steak! That's why I am placing a lot of our steak pictures here haha.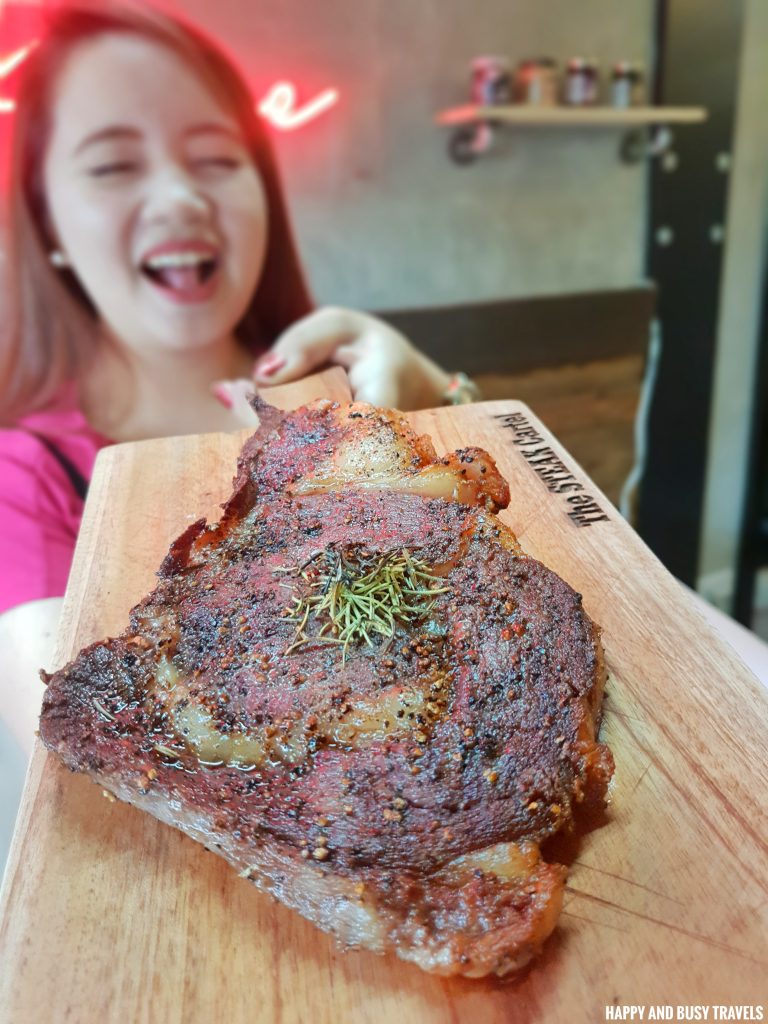 After taking a lot of shots (haha) I cut it in half. Woah!! Just look at that sear on the side and the pinkish middle! Perfect!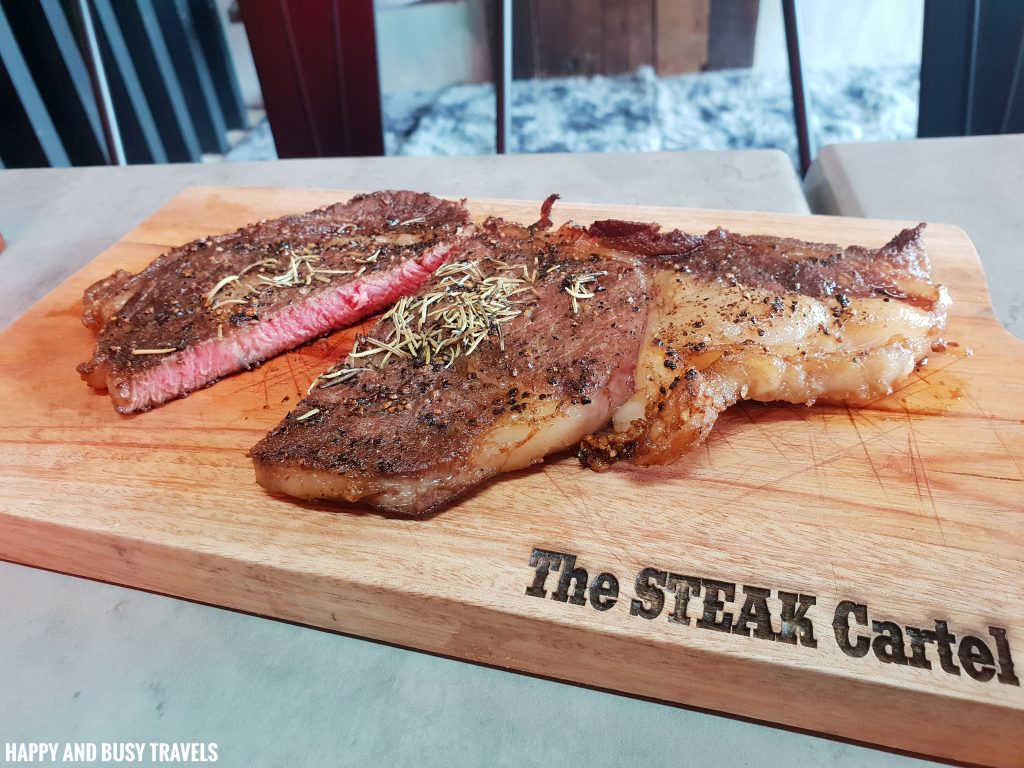 Here's a closer look! Well… you really can't resist!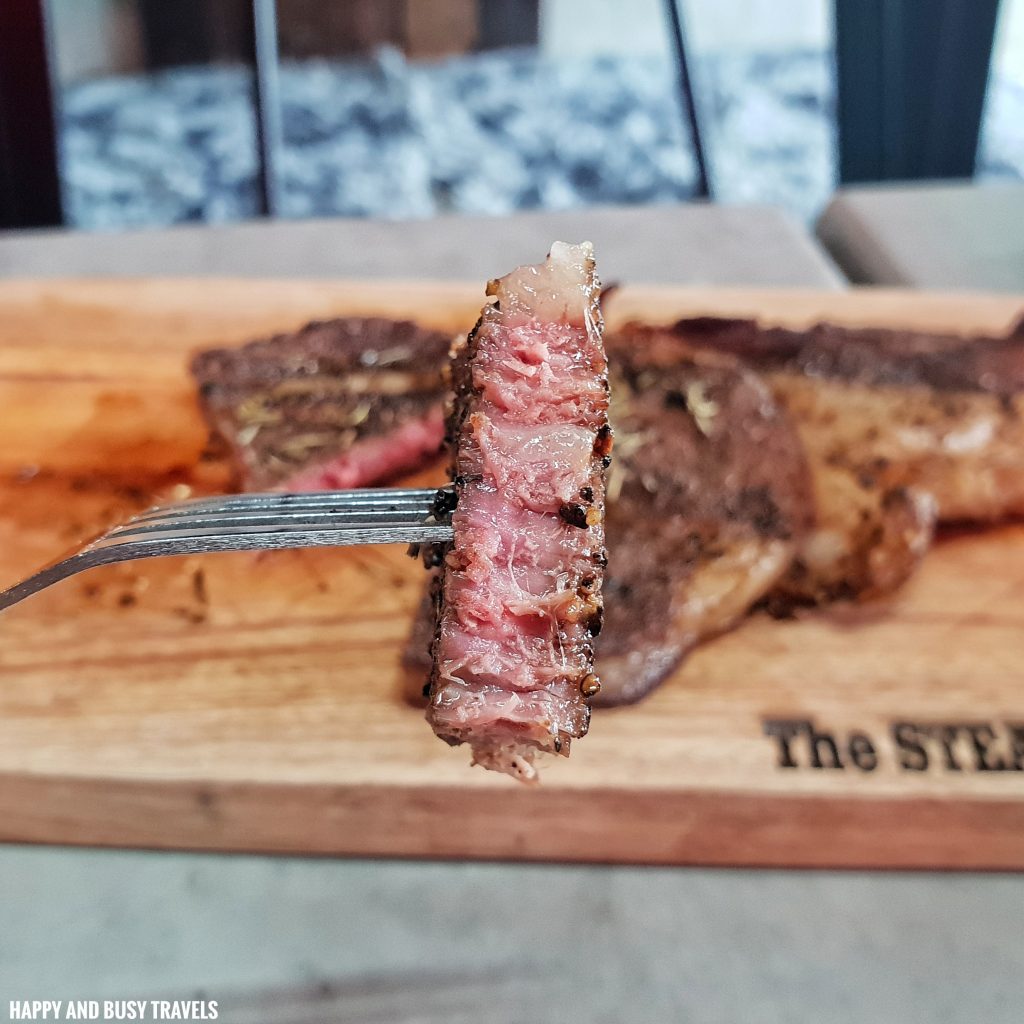 Drinks of The STEAK Cartel
A&W Rootbeer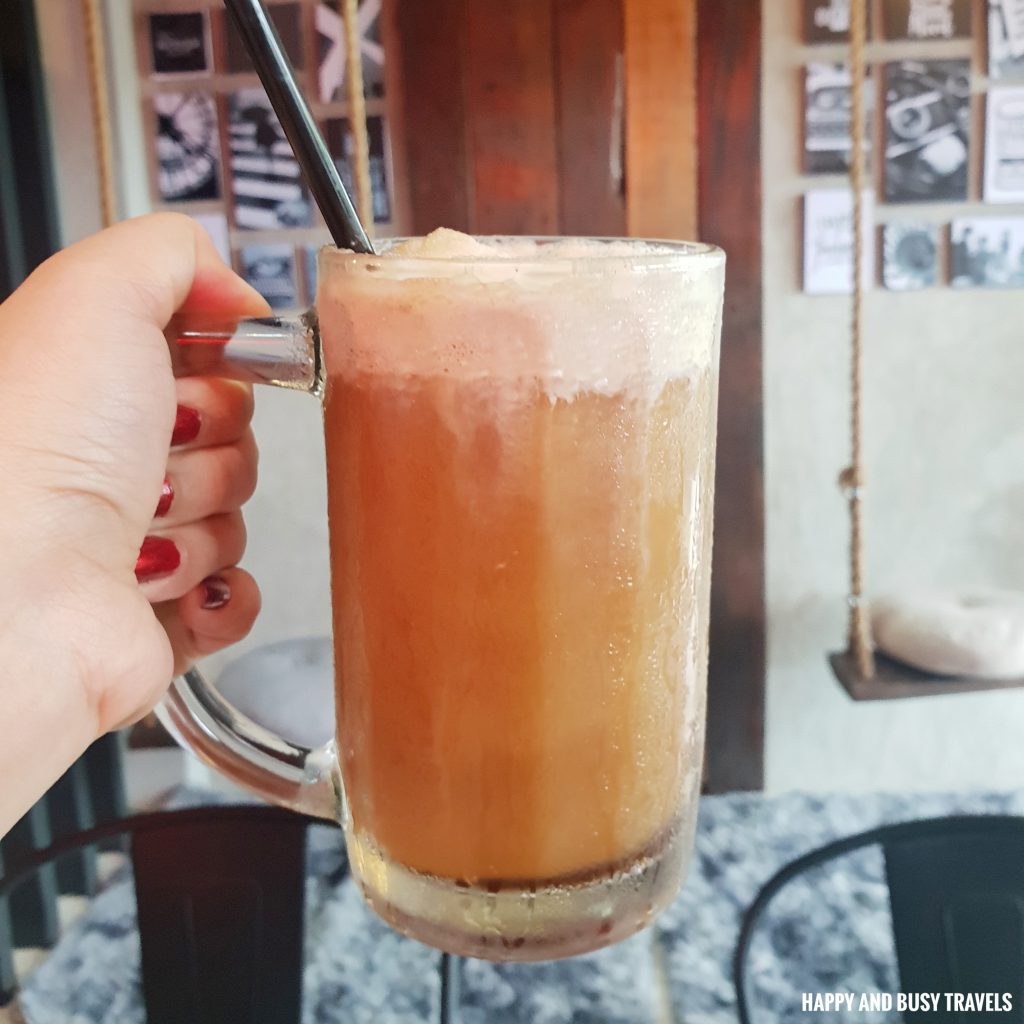 Crazy Carabao Pale Ale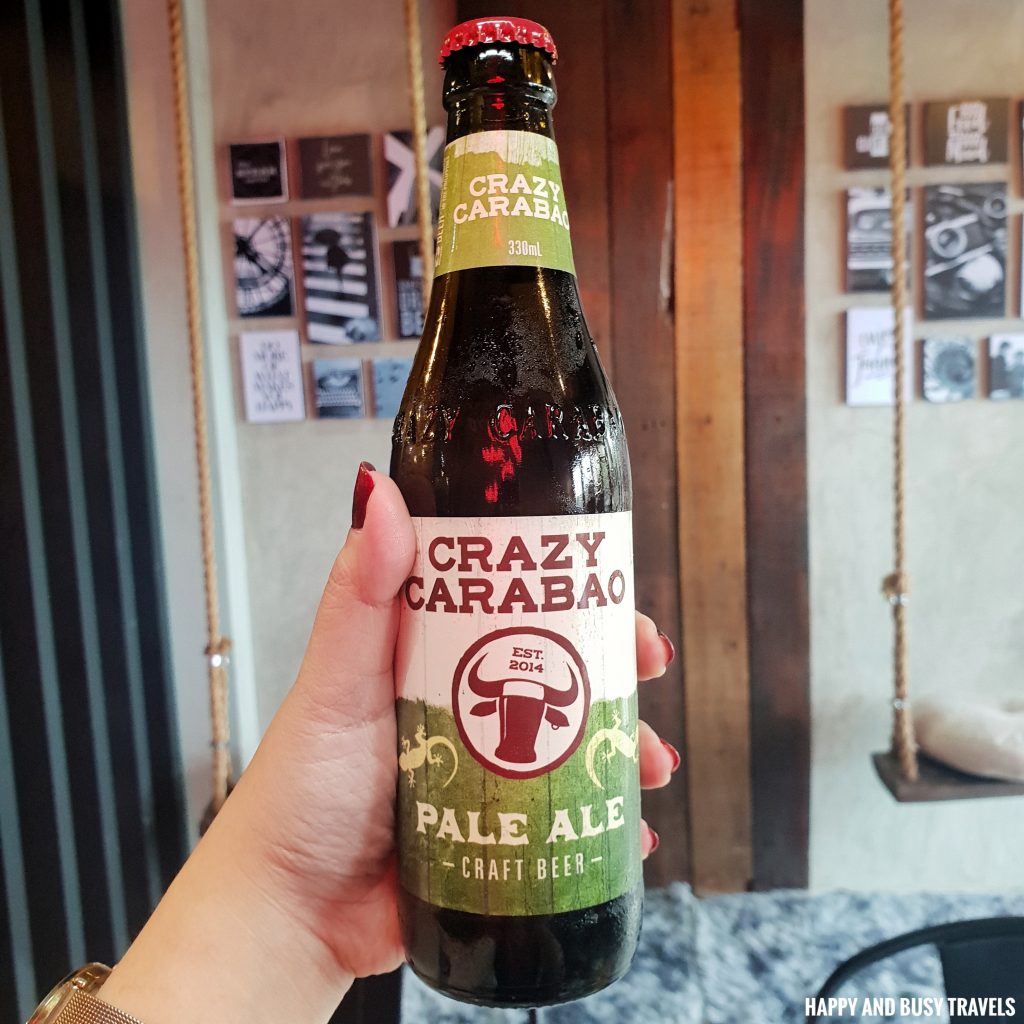 Other Items for Sale – The STEAK Cartel
Aside from the delicious meals, the store also sells different kinds of meat, cheese, and different sauces.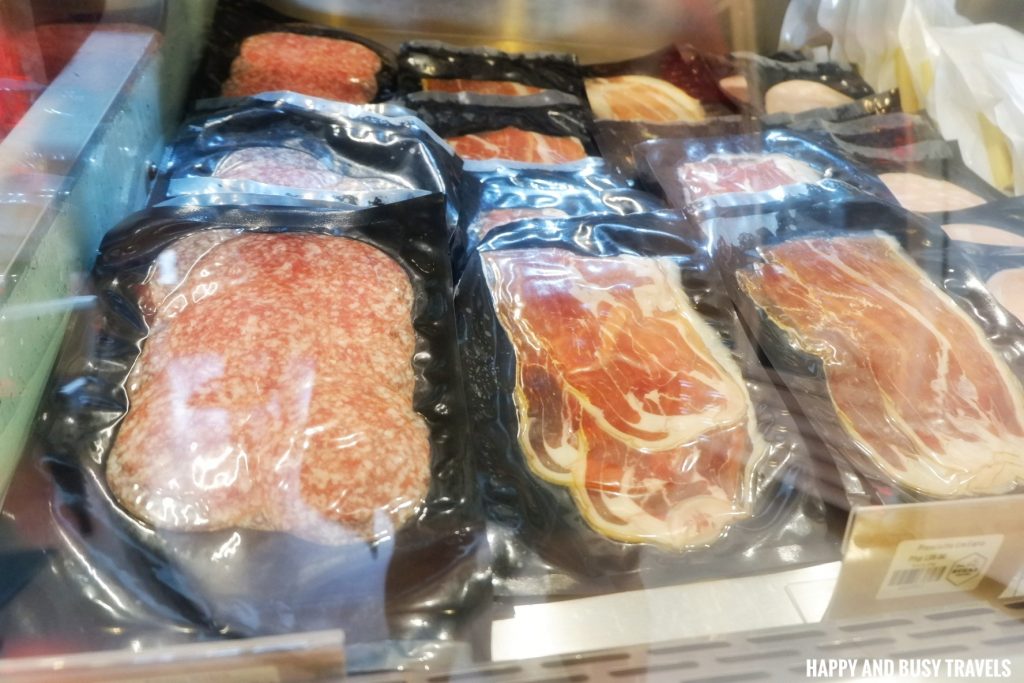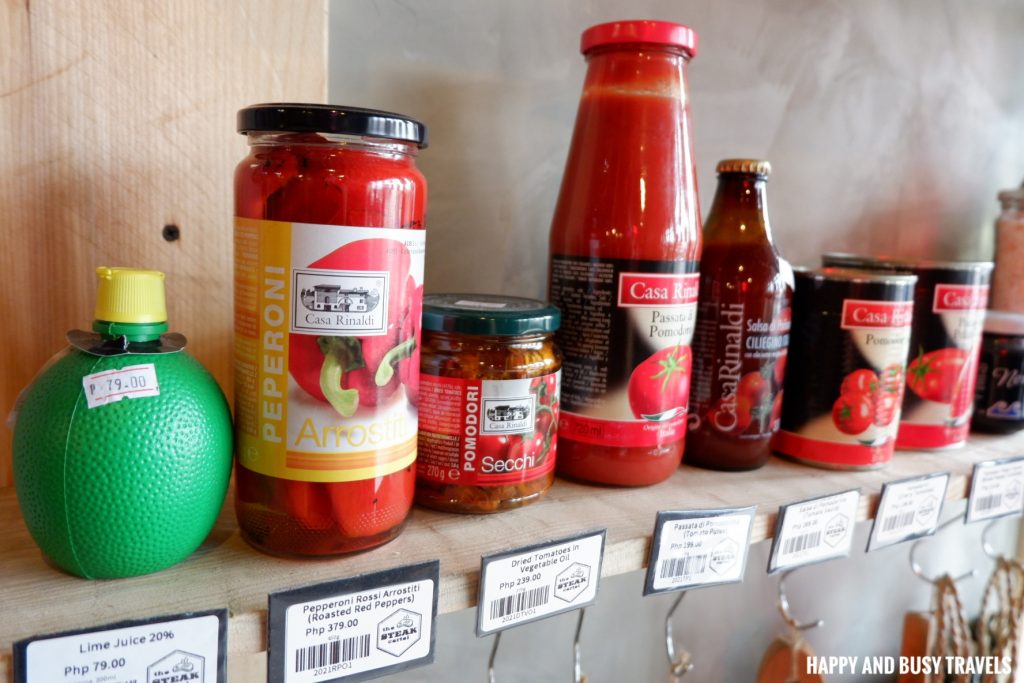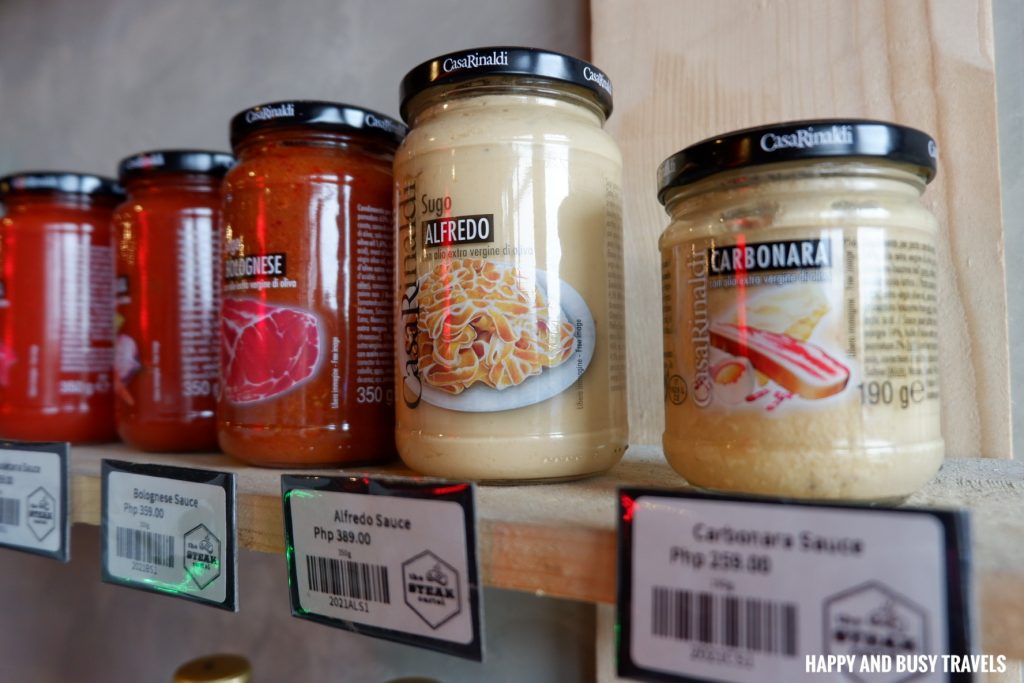 I love how they placed our orders in a bayong. It's so eco-friendly.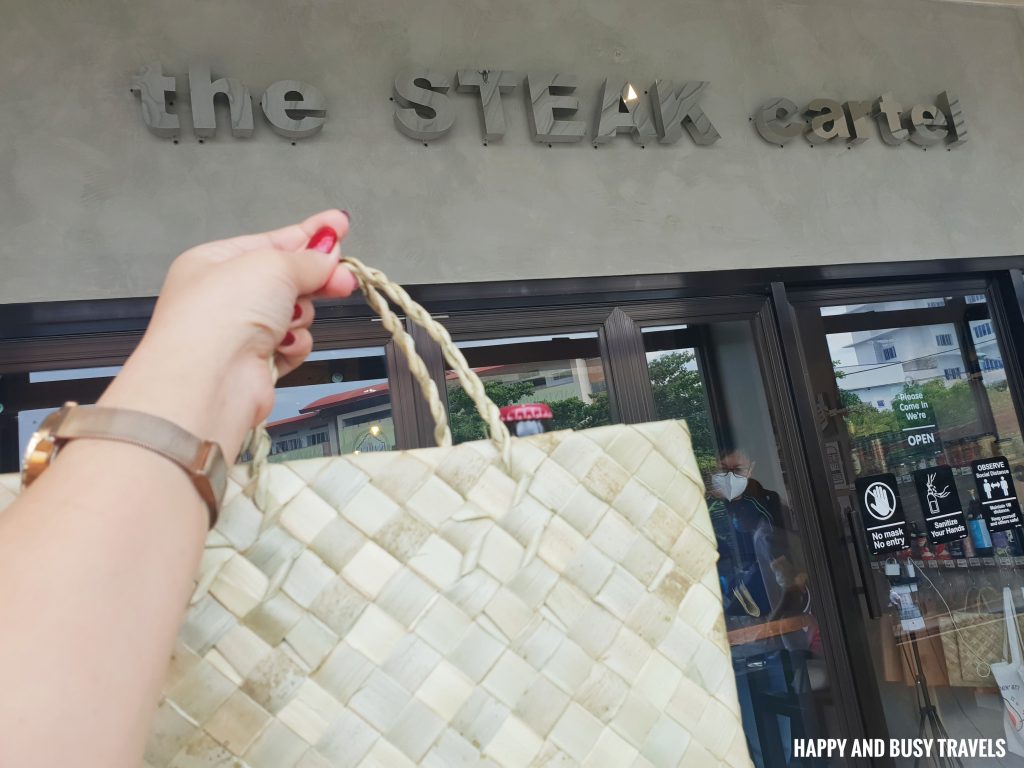 The STEAK Cartel Menu
Happy and Busy's Smileys for The STEAK Cartel
Overall we had a great experience in the restaurant that I would even like to invite all of my friends and family to visit the place. If ever you are far from Calamba, a trip to the restaurant is worth the long drive.
Food

All of the dishes are delicious and I can't say anything negative about them.
Location

It is just a few minutes away after the Calamba exit in SLEX. Plus, the building where it is located is just beside the main road.
Ambiance

Value for money

Each food costs just right.
Service

All of the staff are friendly and the service is very fast. The owners are all also there to accommodate the guests.