Yehliu Geopark ( 野柳地質公園 ), Taiwan
The Yehliu Geopark is one of the top tourist destinations in Taiwan because of its unique geological formations. The sedimentary rocks on this land is just a plain land back in the past, but over time, these eroded because of the ocean and the wind.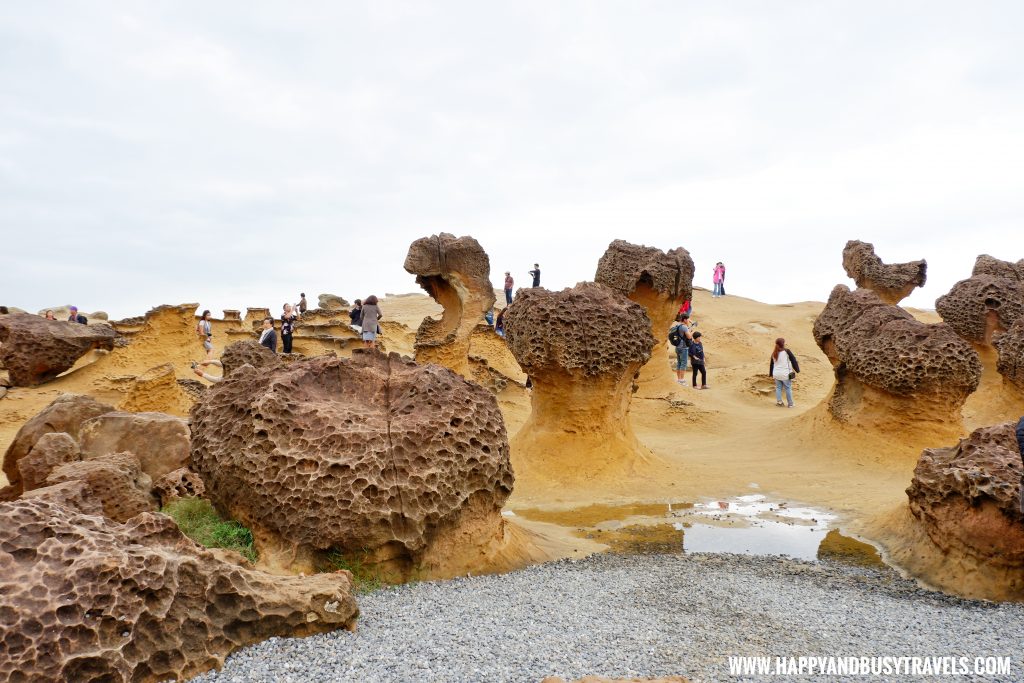 Other Information
Operating Hours: 8AM – 5PM
Entrance Fee: NT$ 80 (US$2.80) or get discounted tickets in Klook
Time spent: 1 hour (suggested time 2 to 3 hours)
Yehliu Ocean World is just beside it.
Contact No: 886-2-8635-5100
Website: http://www.northguan-nsa.gov.tw
Where to Buy Entrance Tickets for Yehliu Geopark?
You can buy at the actual entrance of the park, but it is better if you buy an advance ticket in Klook
First you don't have to fall in line and second, they sell discounted tickets.
How to Go to Yehliu Geopark?
Address: 207 Wanli District, New Taipei City, Taiwan
Google Maps: https://goo.gl/maps/ViEcBeGqH7w13Zvy7
It is easier if you rent a car from Ownrides or get a tour package from Klook.
DIY: Ride a bus. Go to Terminal A of Taipei West Bus Station in Taipei Main Station. Look for KuoKuang ( 國光 ) window and buy a ticket to Yehliu Geopark. The ticket costs NT$ 96 (around US$ 3.30 ). After around 90 minutes, the bus will drop you on the entrance of Yehliu Geopark.
How to Use the Ticket Bought from Klook?
A ticket bought from Klook can be printed, or just show the QR code in your phone. In our case, I gathered all of the QR codes and printed it in one sheet of paper. I always do this because I want to save batteries. Also, don't worry I printed this on a scratch paper. 🙂
I showed the QR code to the staff.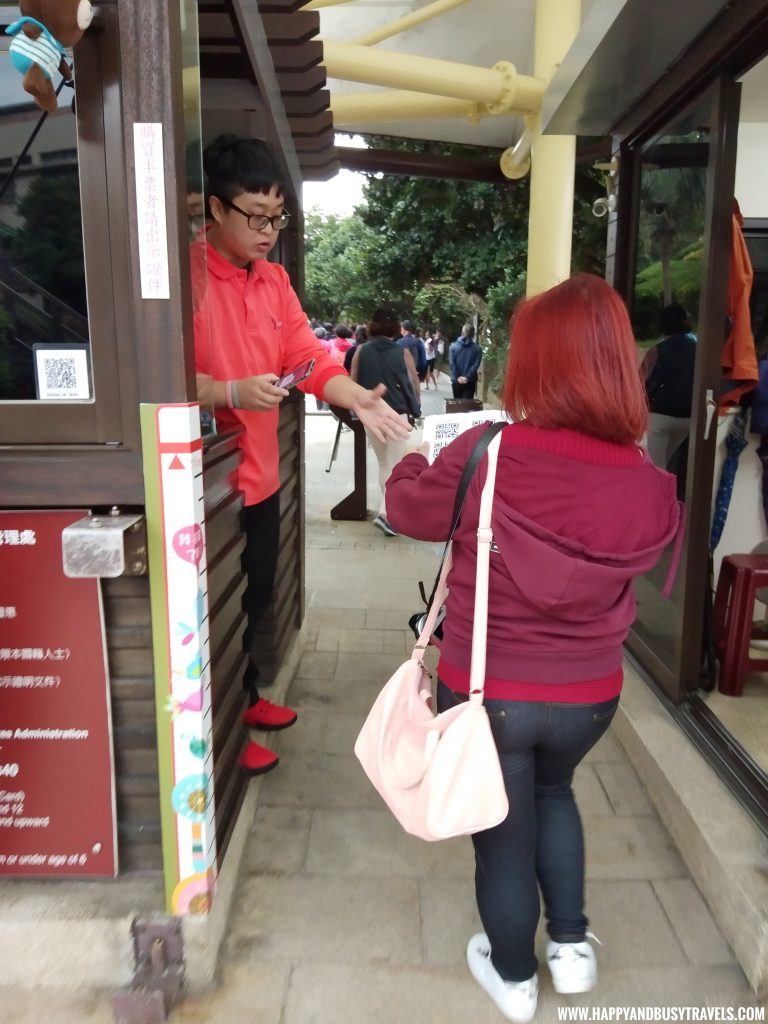 Then, the staff scans the QR code to verify.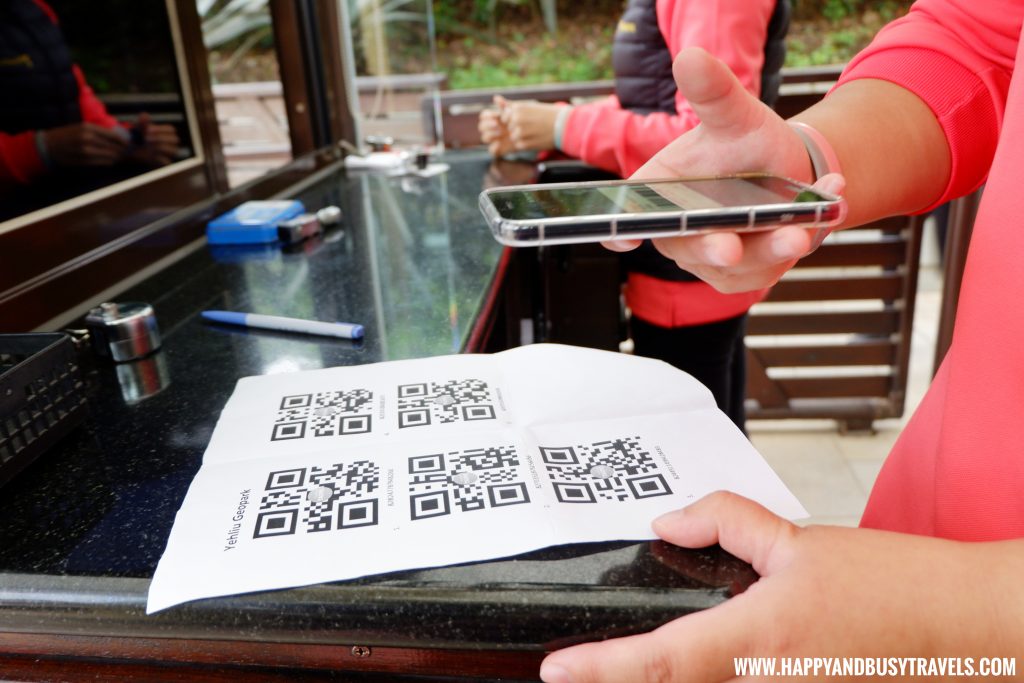 After a few seconds, we have successfully entered the park.
Yehliu Geopark Map and Leaflet
Feel free to zoom in to see the leaflet clearly.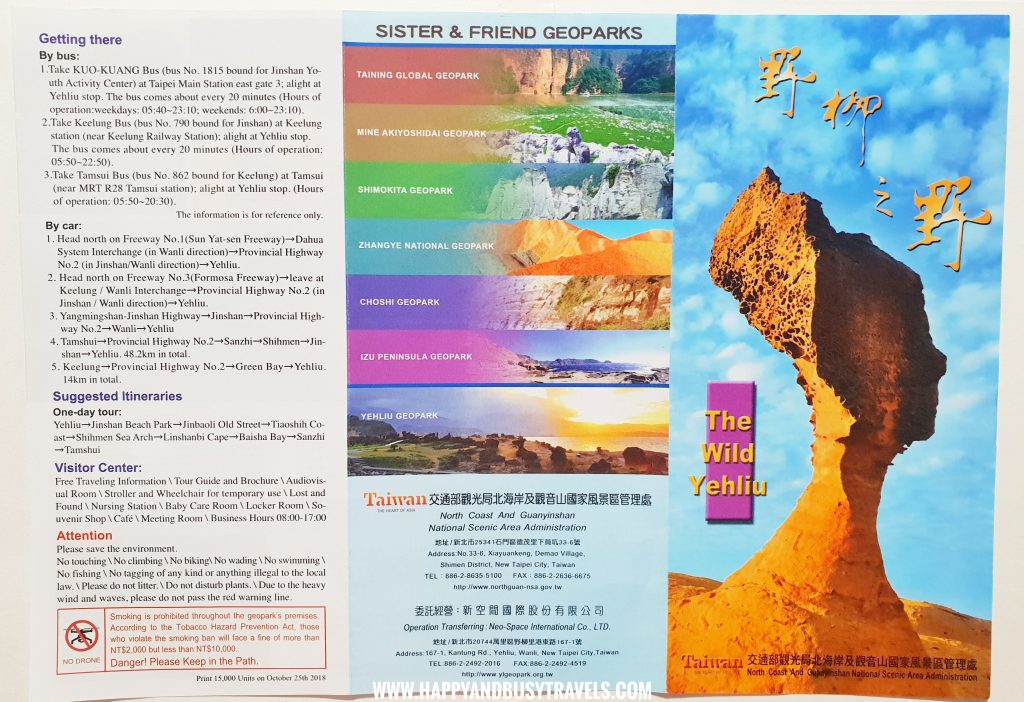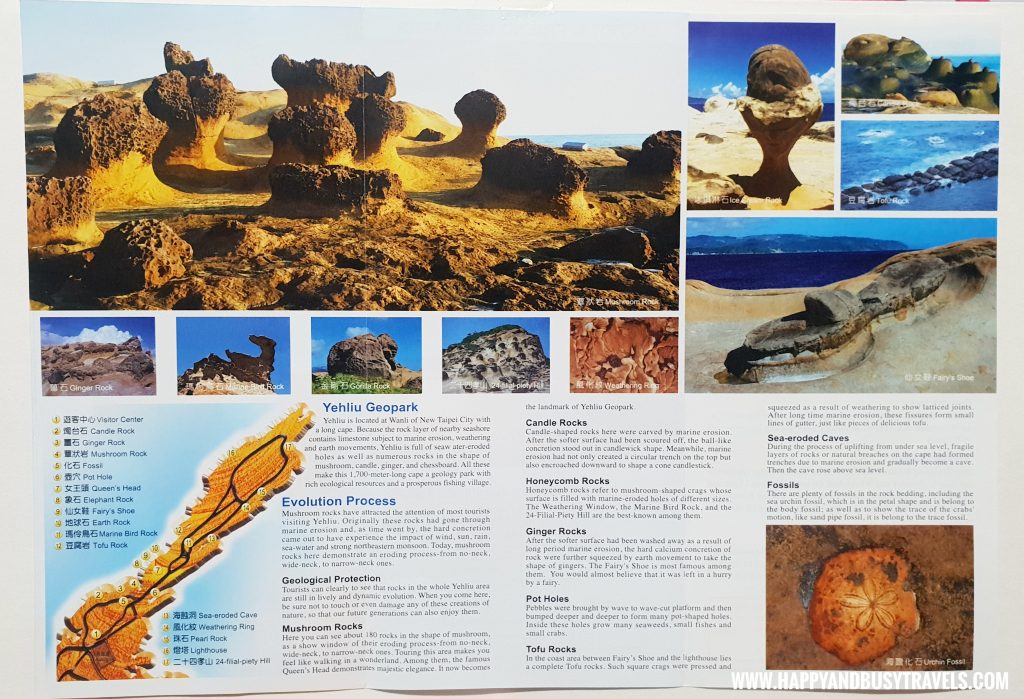 List of Rock Formations in Yehliu Geopark
Here is the list of noticeable rock formations in the park.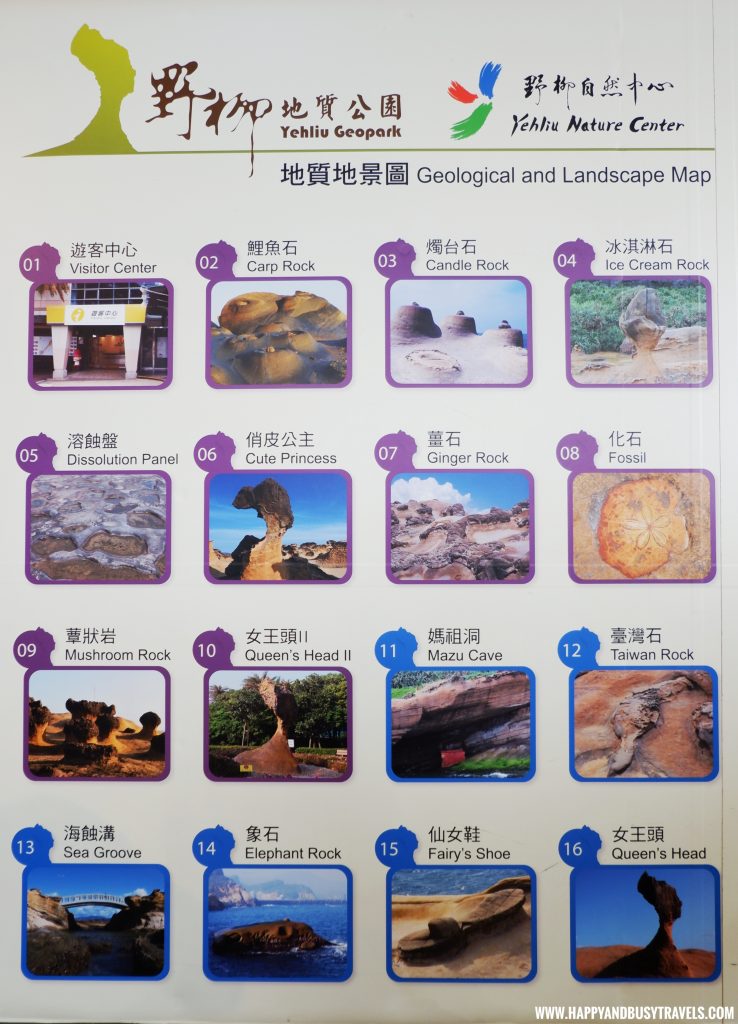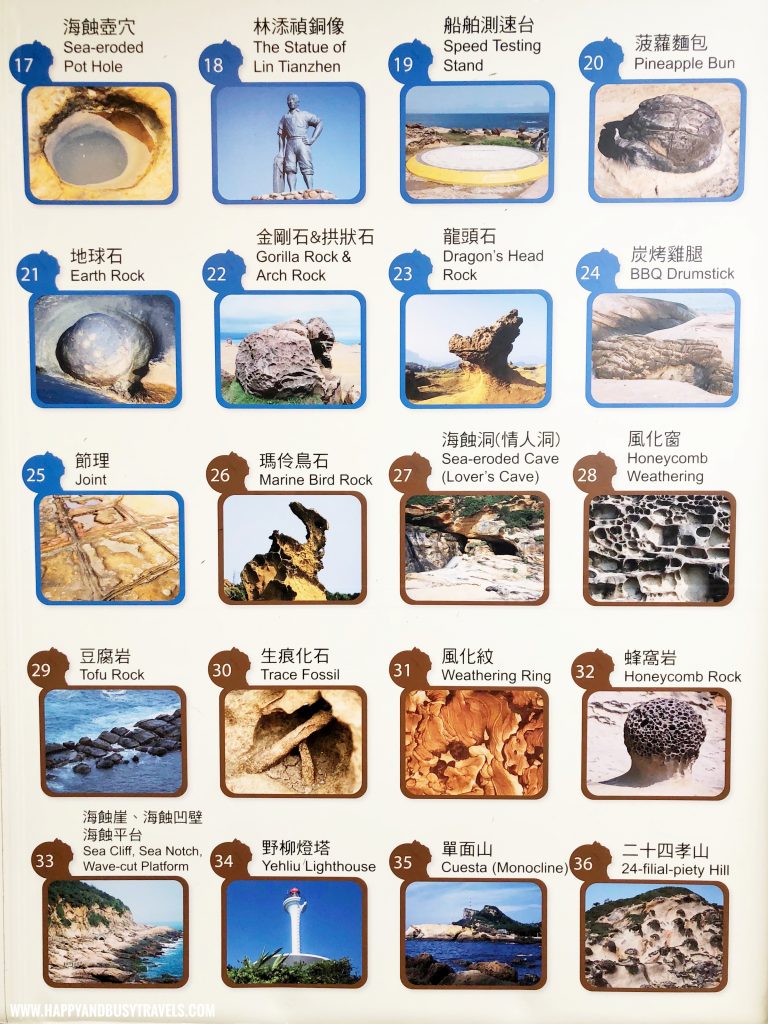 Our Yehliu Geopark Experience
As soon as we entered, the ambiance was refreshing because there is a lot of trees. Plus, we were in Taiwan during their cold season.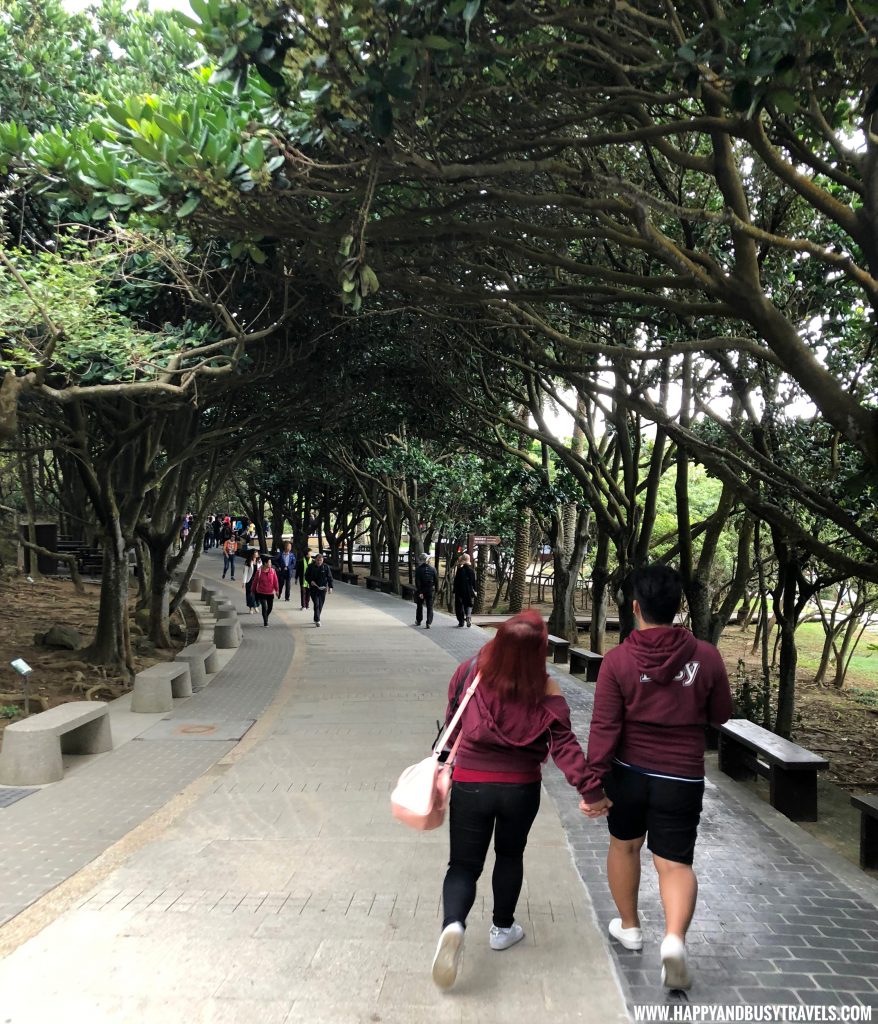 We have a list of the noticeable landmarks in the park, so we planned to visit all of them. But reality strikes when we arrive in the actual rock formations. The temperature is hot! and there is a lot of visitors!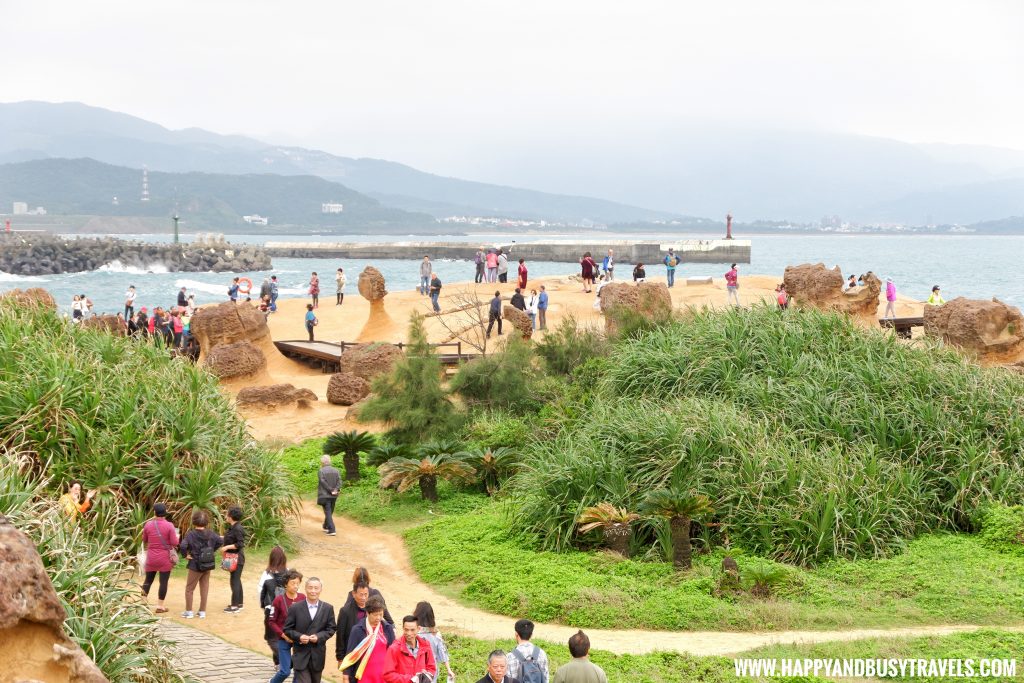 So, we just walked, went with the flow, and took photos of rock formations if we think they are one of the must-see formations.
Carp Rock (No 2) and Candle Rock (No 3)
These rocks are Carp Rock and Candle Rock, which can be found just beside the ocean.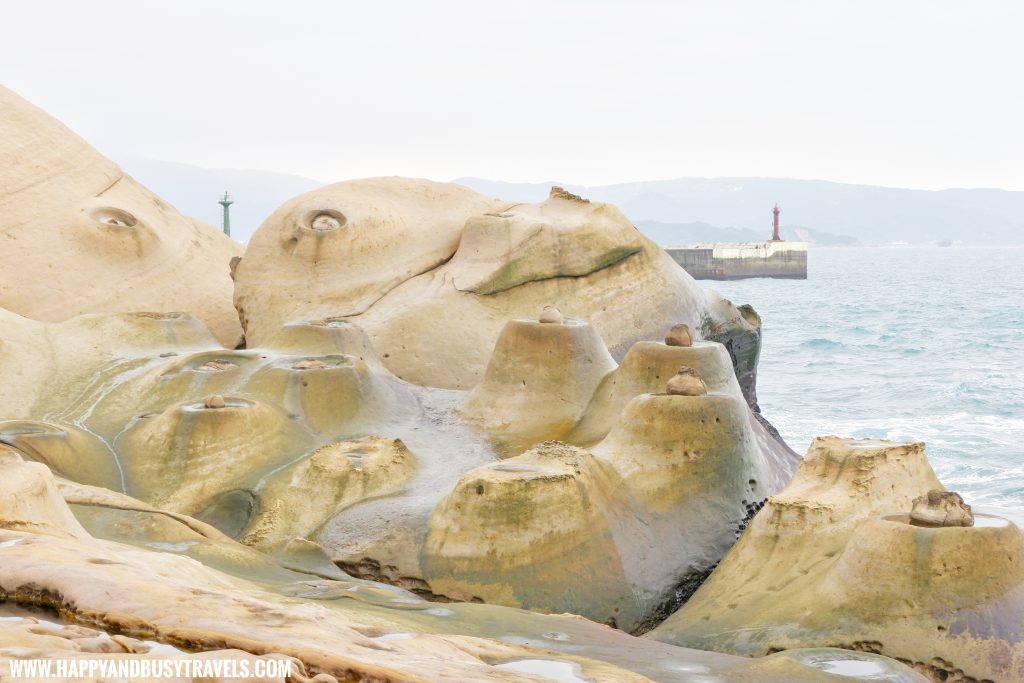 Sea-eroded Pot Hole (No 17)
There are a lot of sea-eroded pot holes in the park. These are some of them.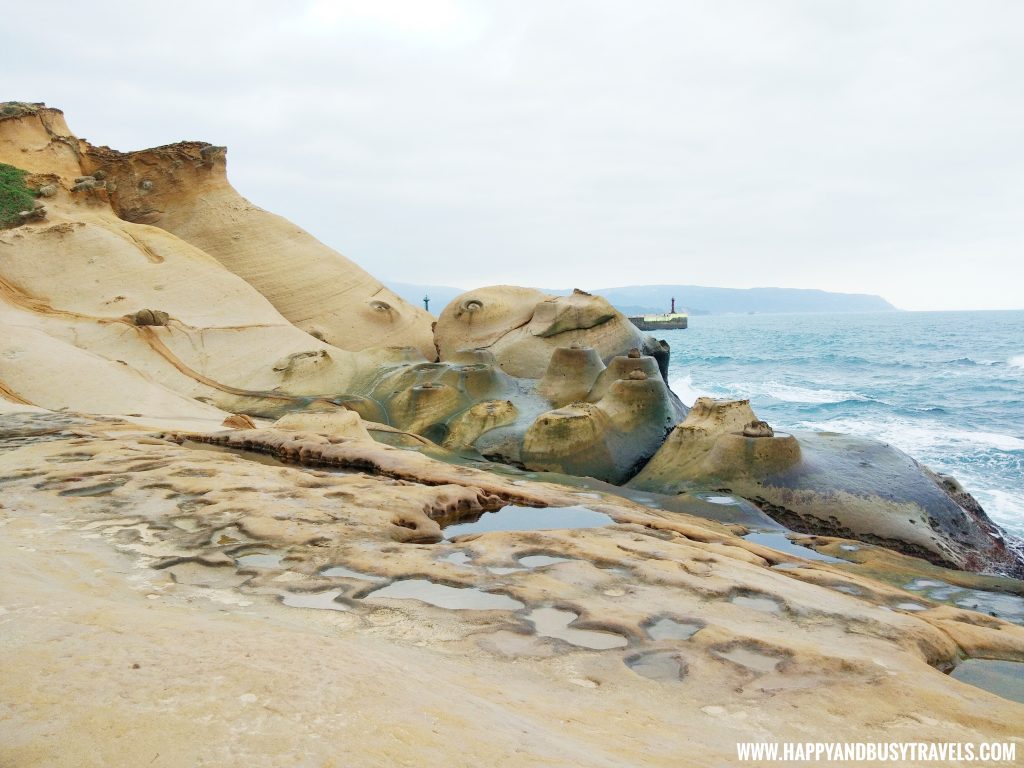 Here are more sea eroded pot holes from the other side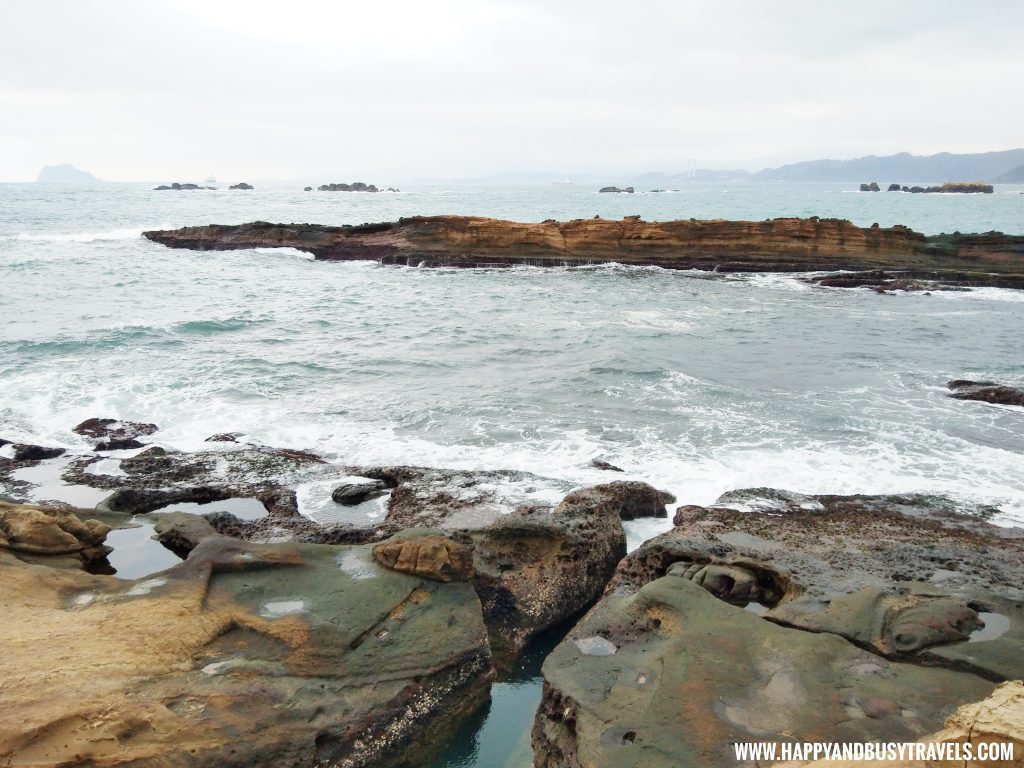 Joint (No 25)
I took a photo of Busy while he is taking a picture… surprisingly the tiles-like formation on his left side are called Joints.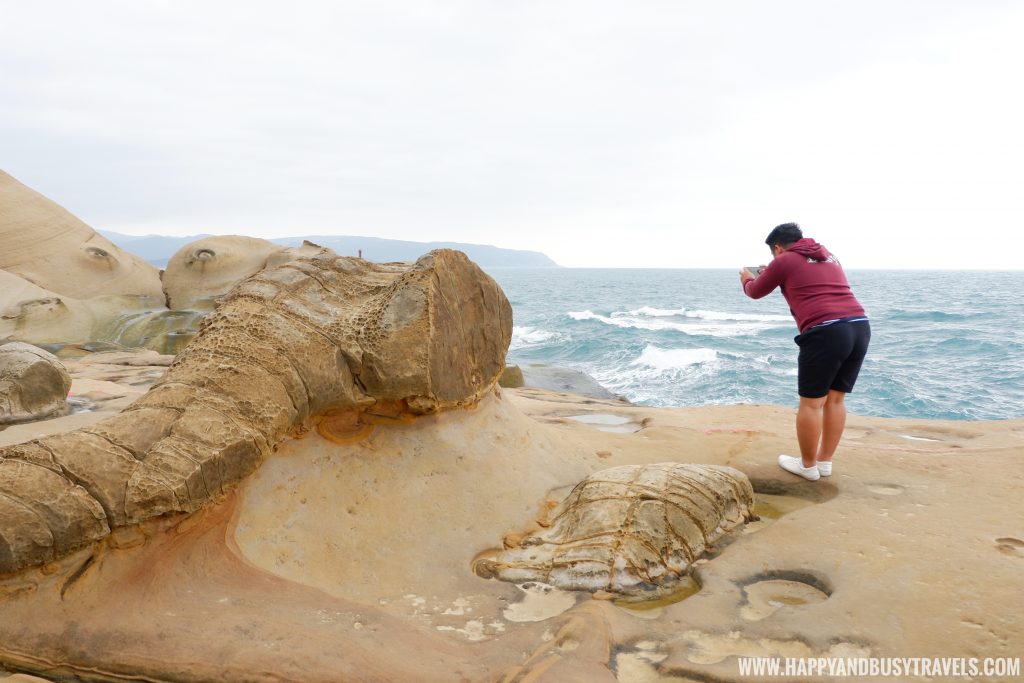 Here is what Busy is taking a picture of. There are a lot of signages which are like this in the area because if you go to far, you might fall off the cliff.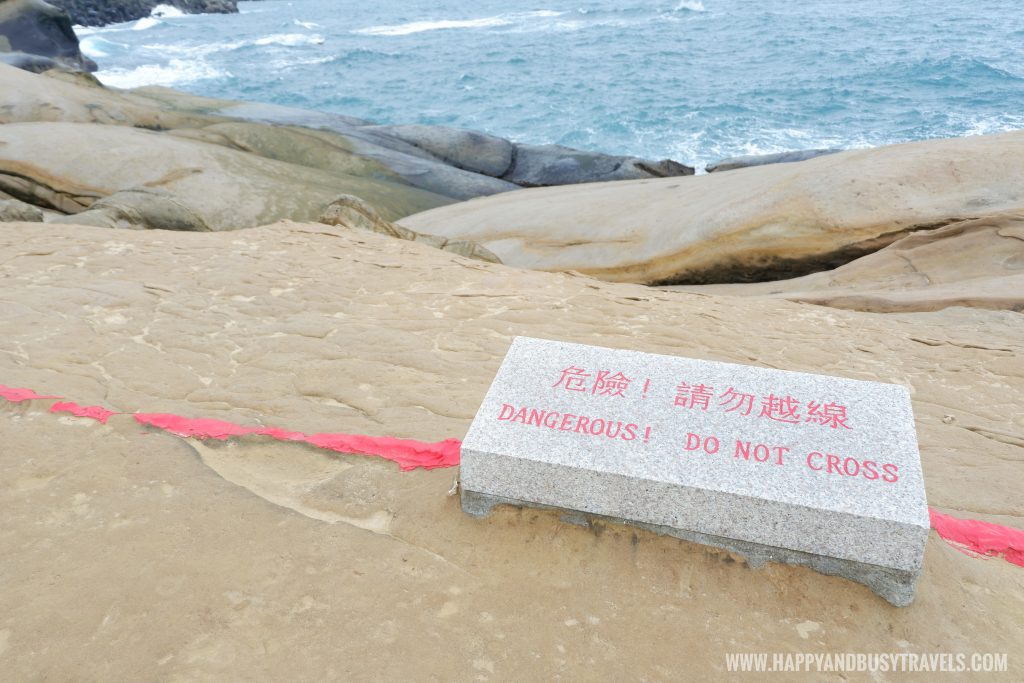 There are 4 formations in just a small location so we thought we can take a photo of everything… fast.
Cute Princess (No 6)
This formation is called the Cute Princess after the name won the internet poll in 2010.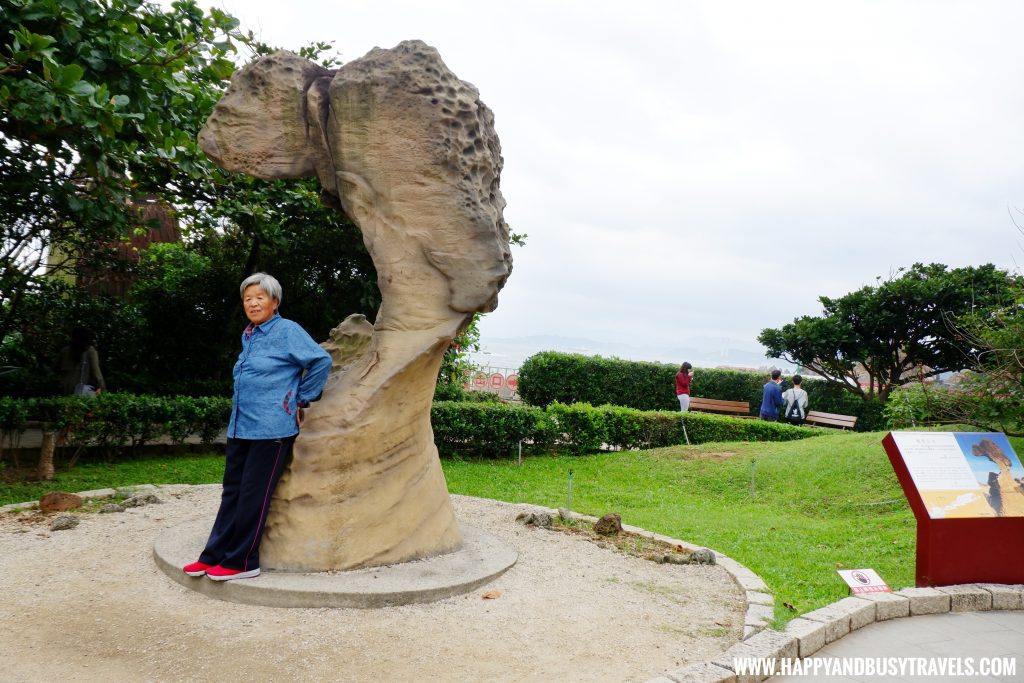 Mushroom Rock (No 9)
The rock formation which is the easiest to take a photo (even though there are a lot of tourists) of are these Mushroom Rocks. They are tall rocks which has a mushroom like appearance.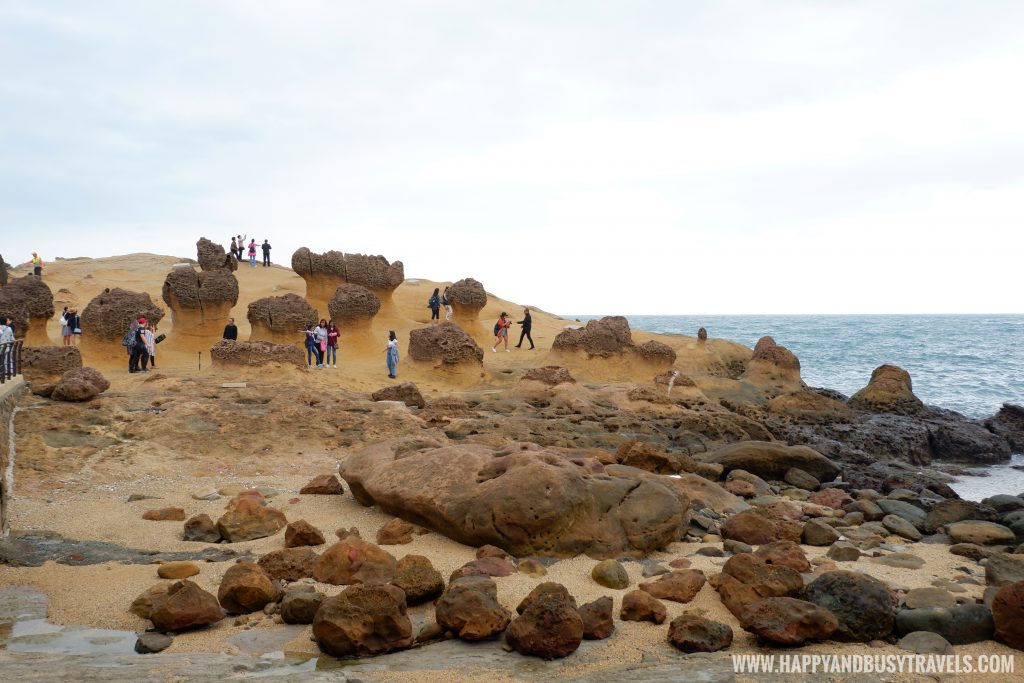 We just went through them and looked at them closely.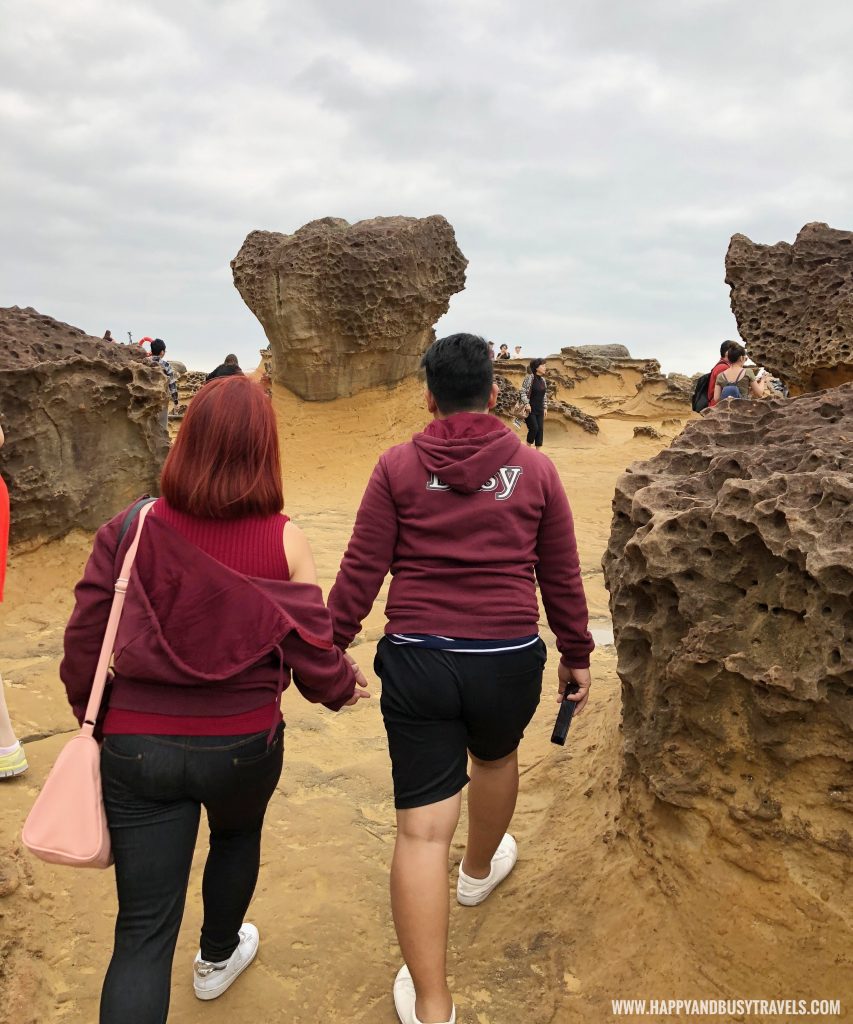 Honeycomb Weathering (No 28)
Most of the rocks in the park has this formation, the Honeycomb Weathering.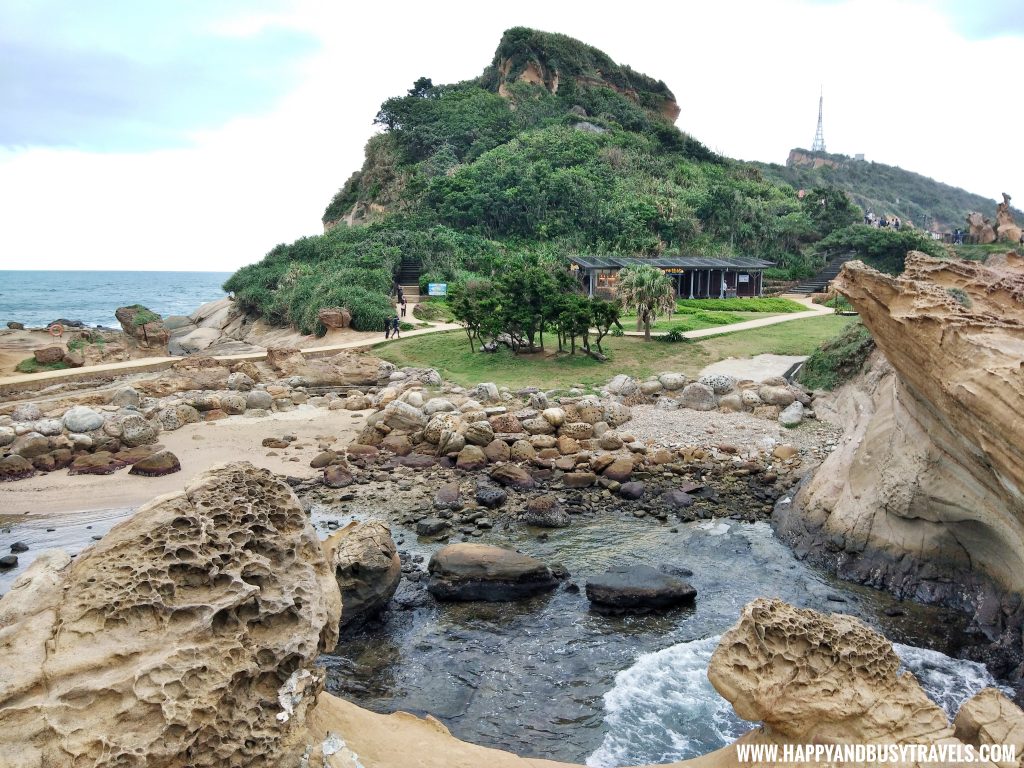 These are the honeycomb look-a-like surfaces of some rocks.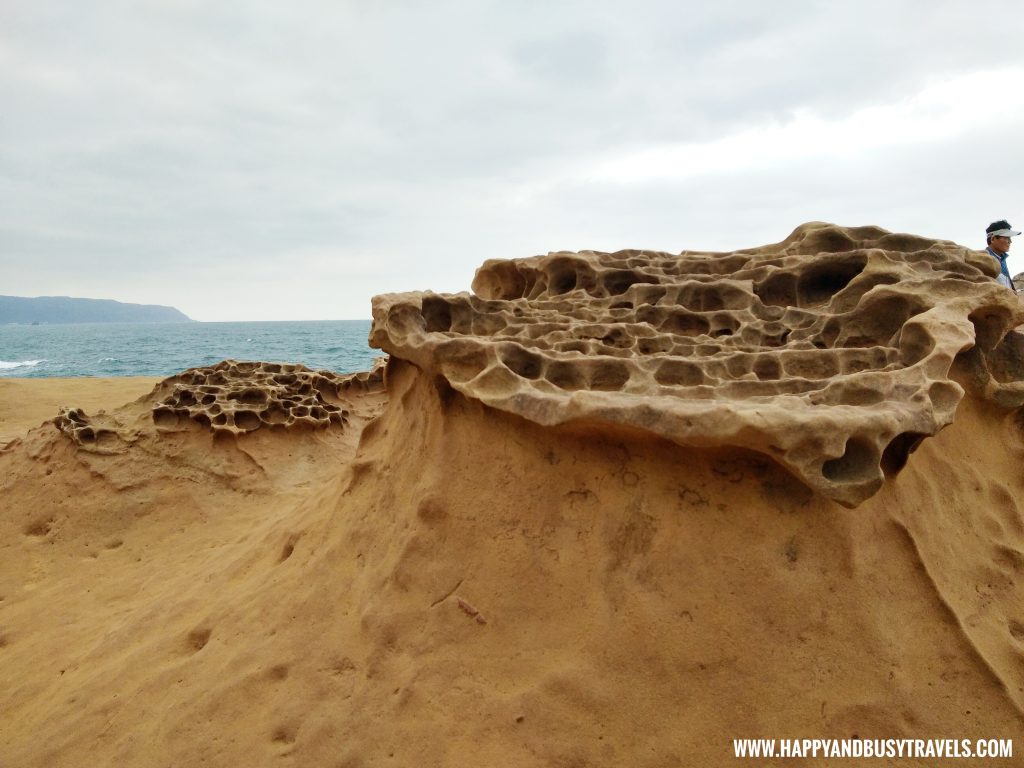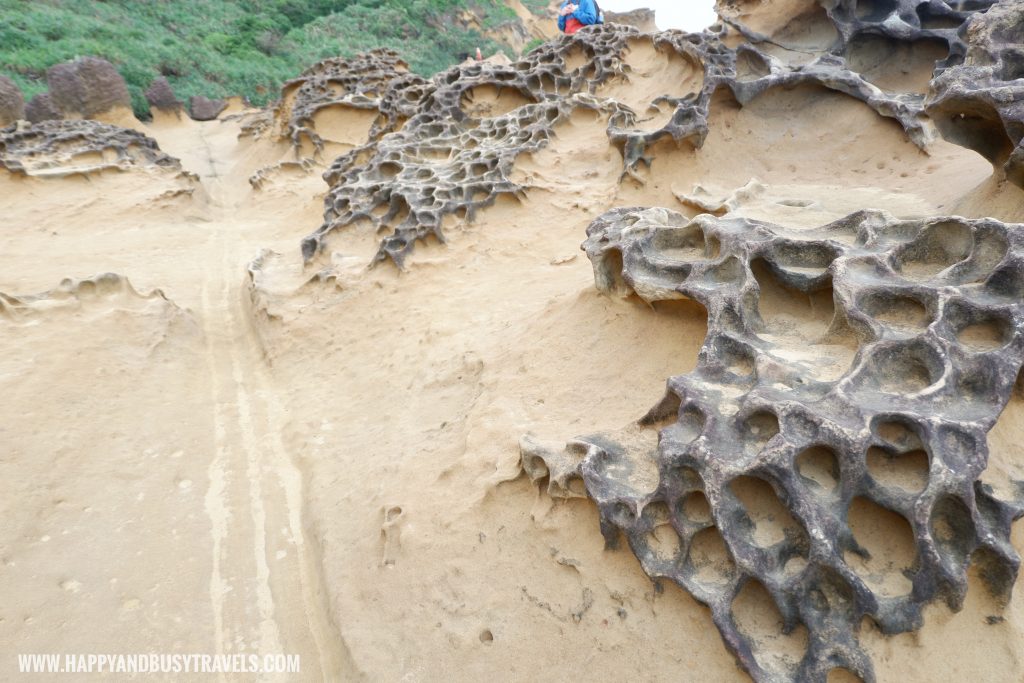 Queen's Head (No 16) or maybe not…
Even though we haven't seen all of the rock formations, we have decided to see the last one and go on our way. So, we went to see the Queen's Head, the most famous formation.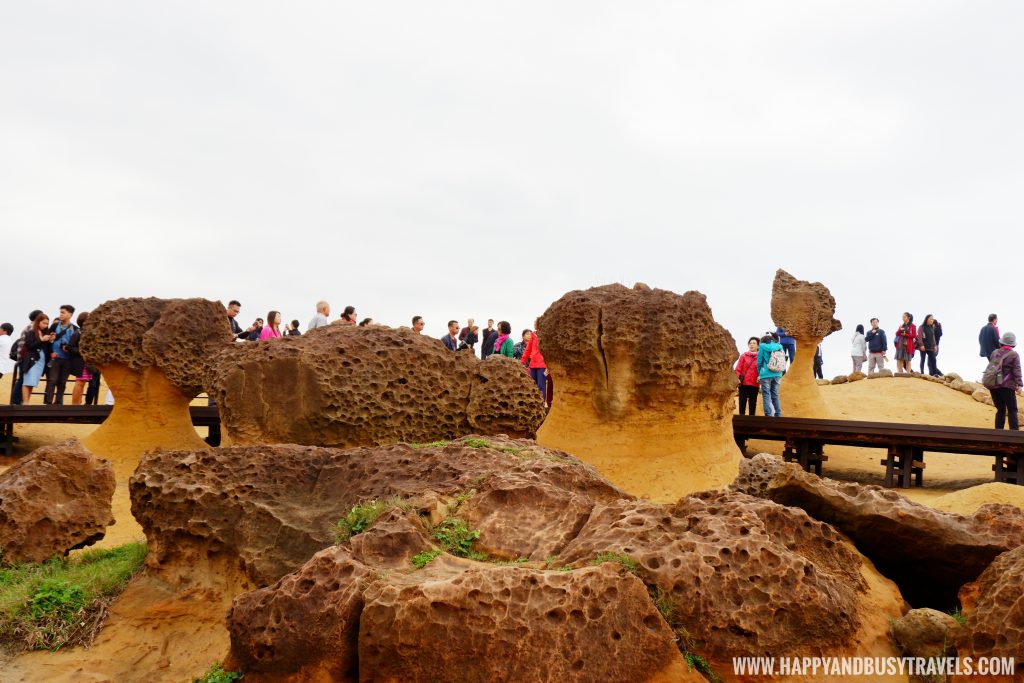 However, when we arrived in the area, we saw the long line of people who wanted to take a picture with it.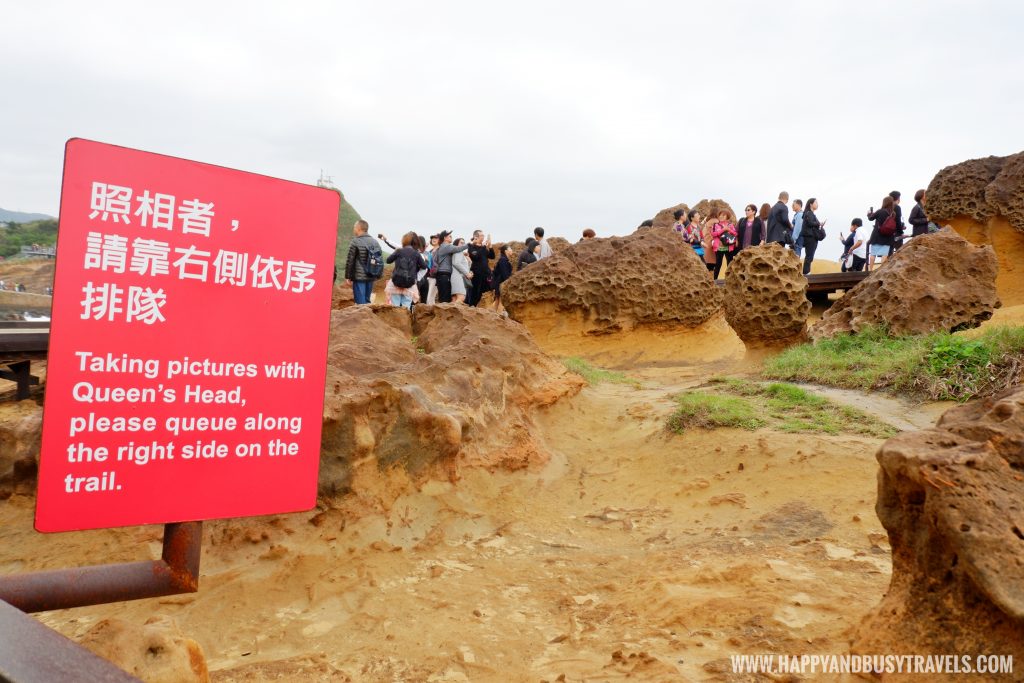 So, we just looked at it from afar…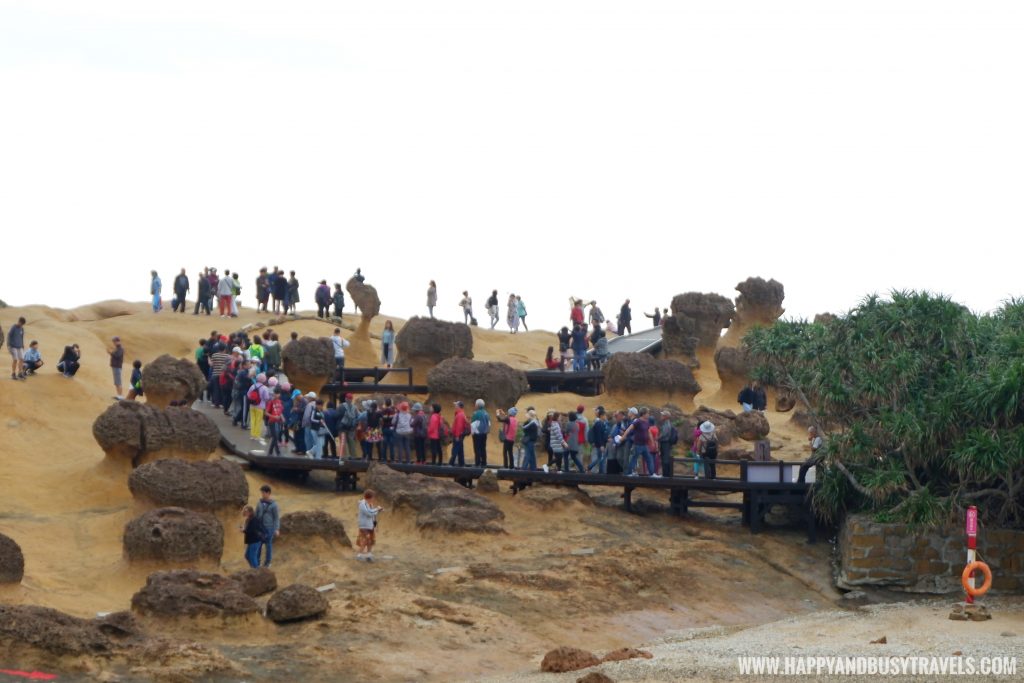 More Rock Formations
Here are more pictures of the rock formations.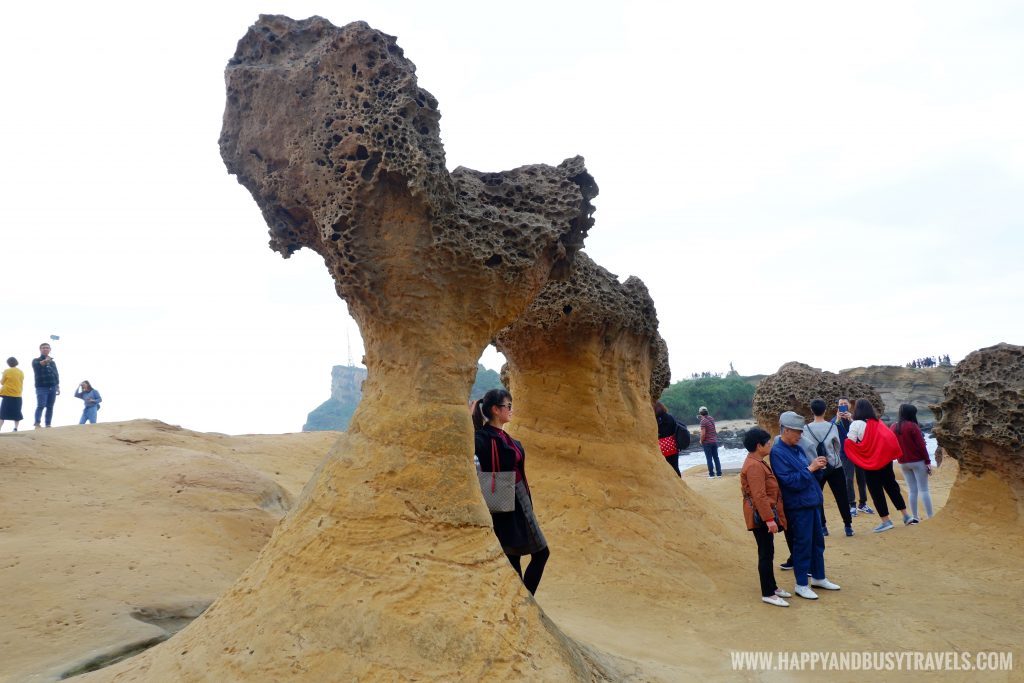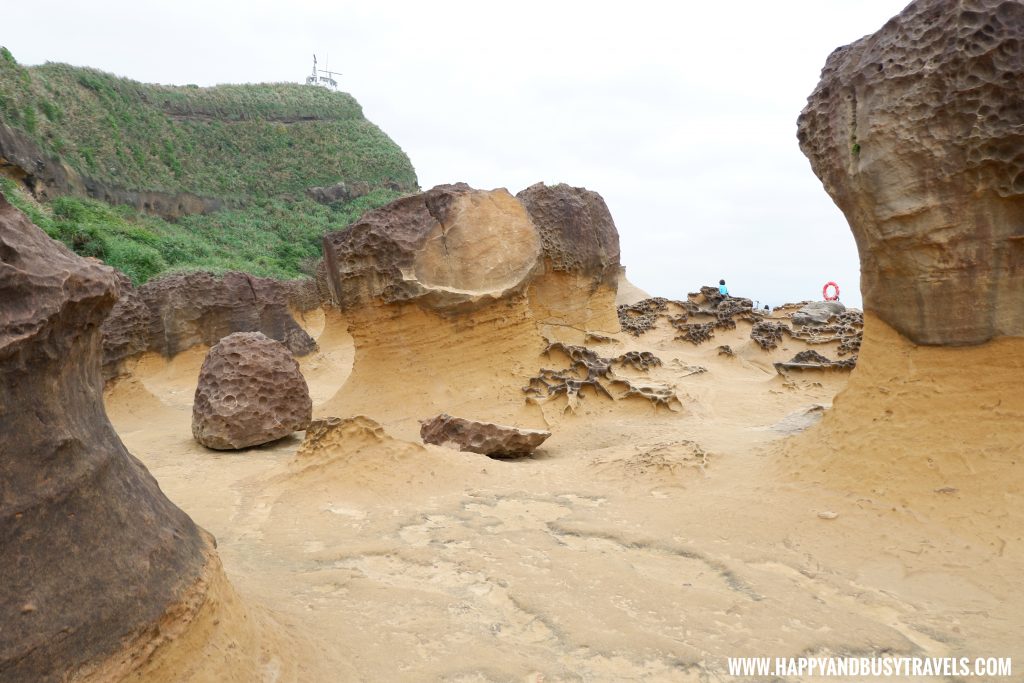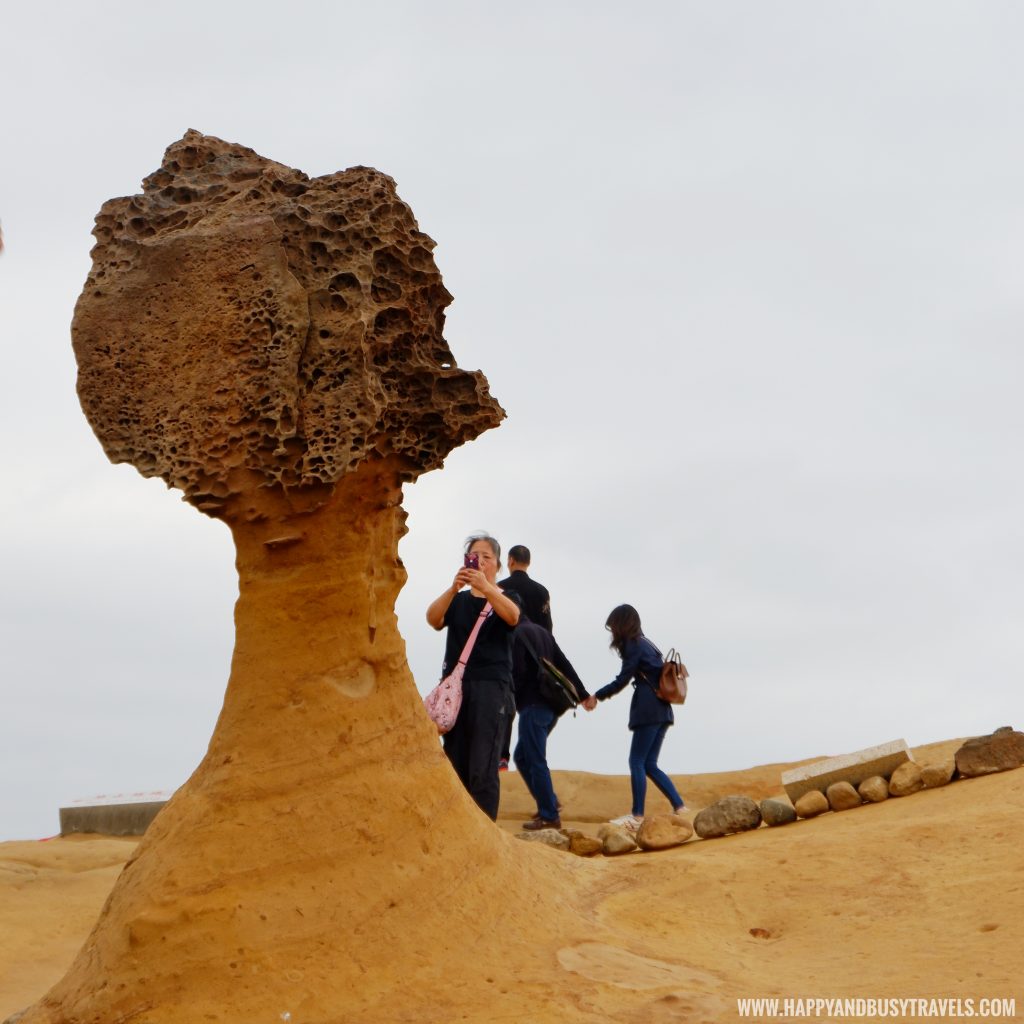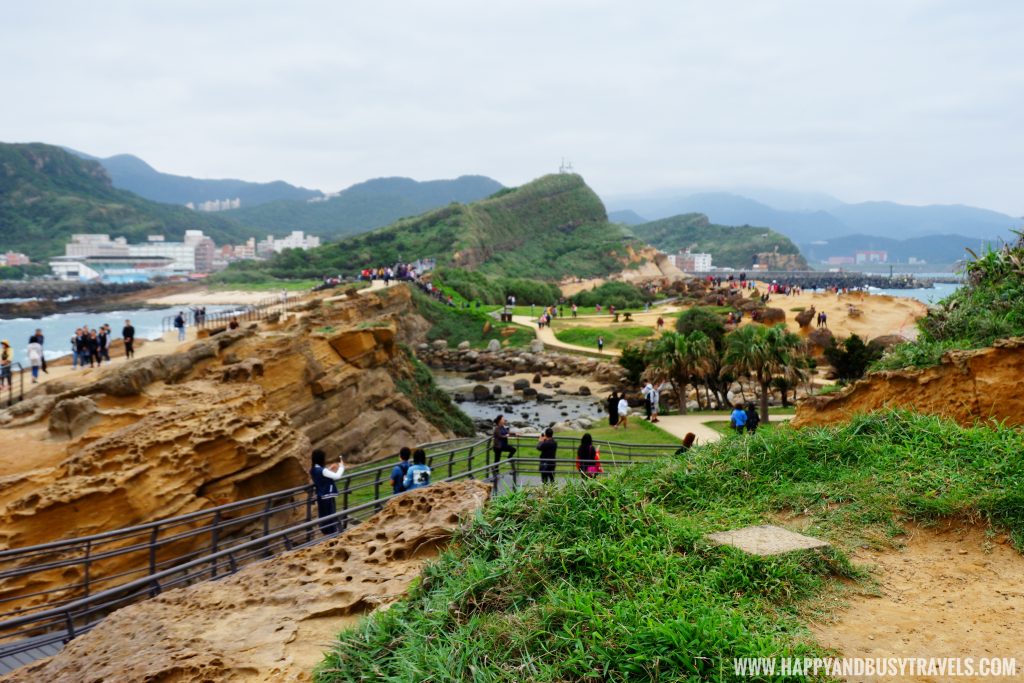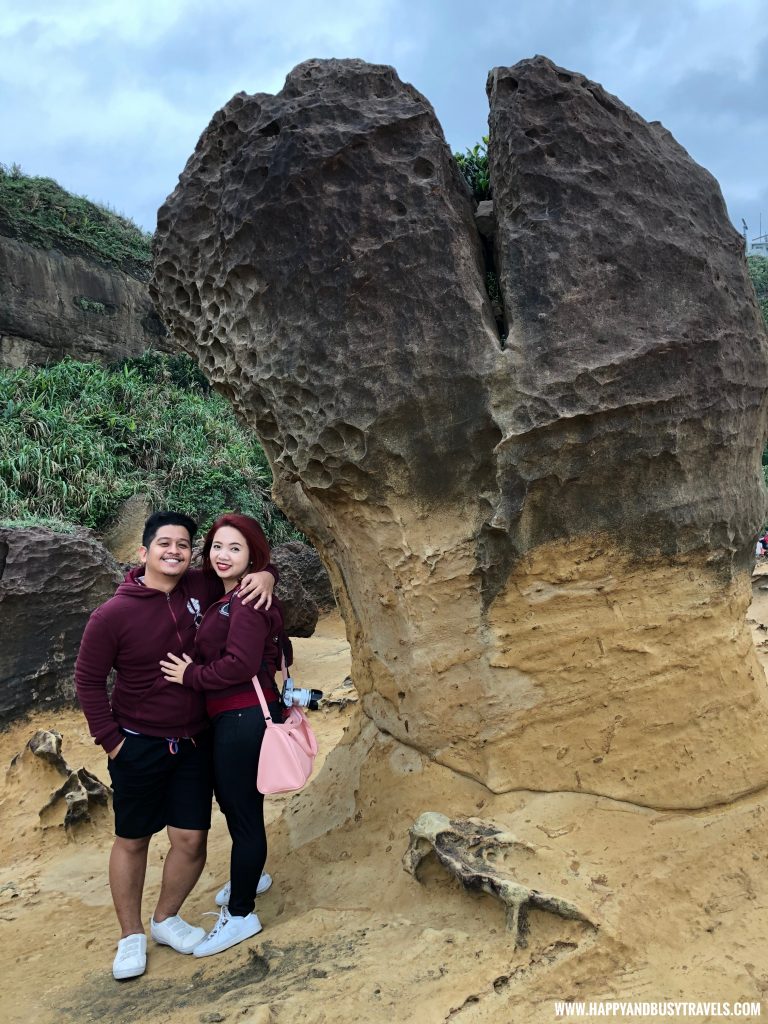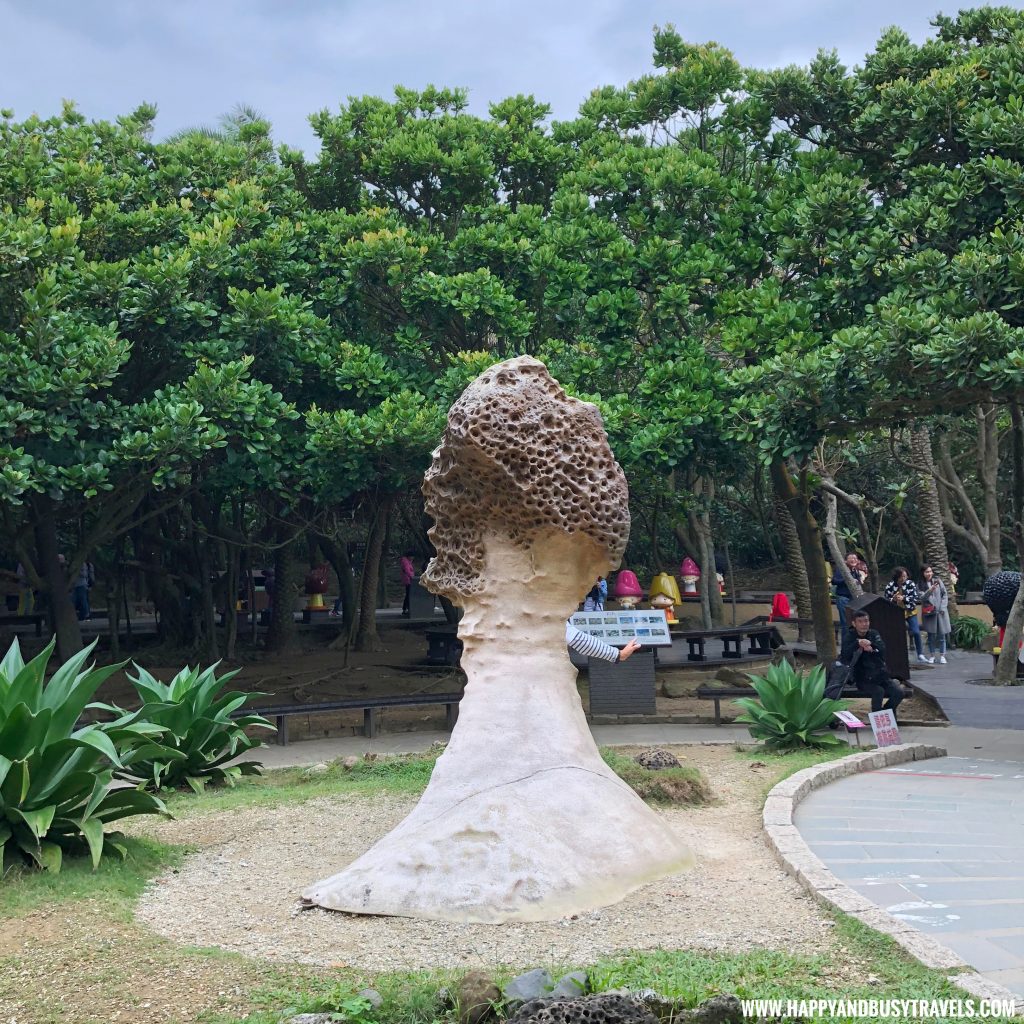 Going Back
We were so tired after almost an hour, so we just asked mike to pick us already. Even though it was the cold season, it was really hot in the area.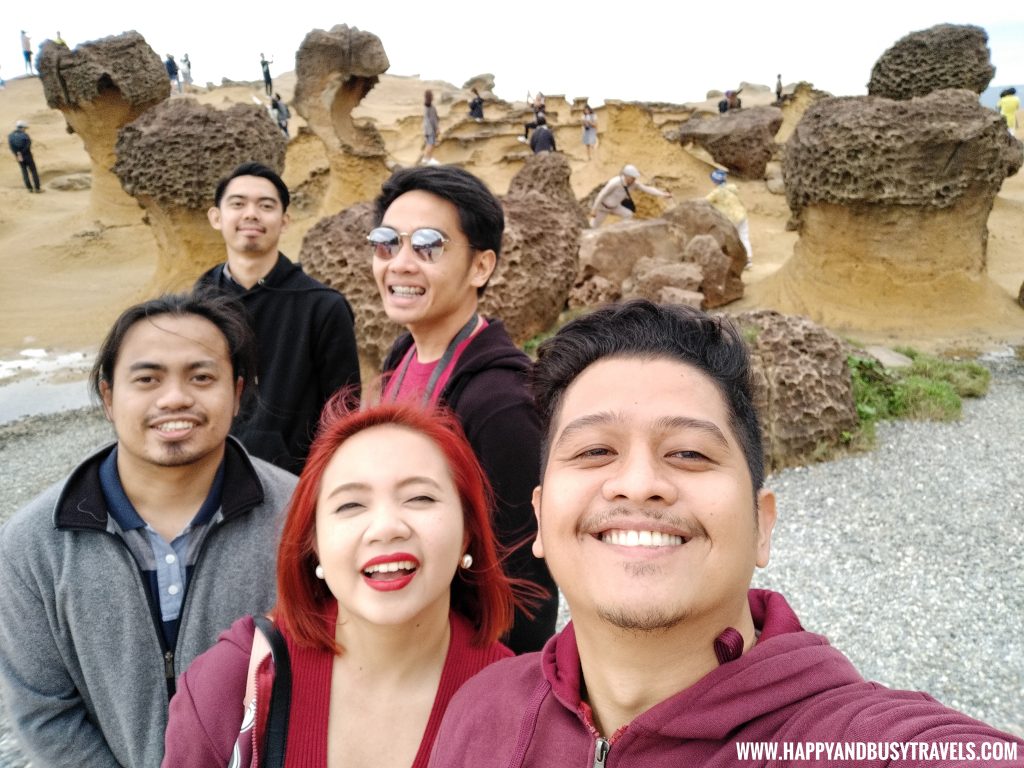 If you want to grab something to eat or drink, you can have it here in this recreation area just beside the hill.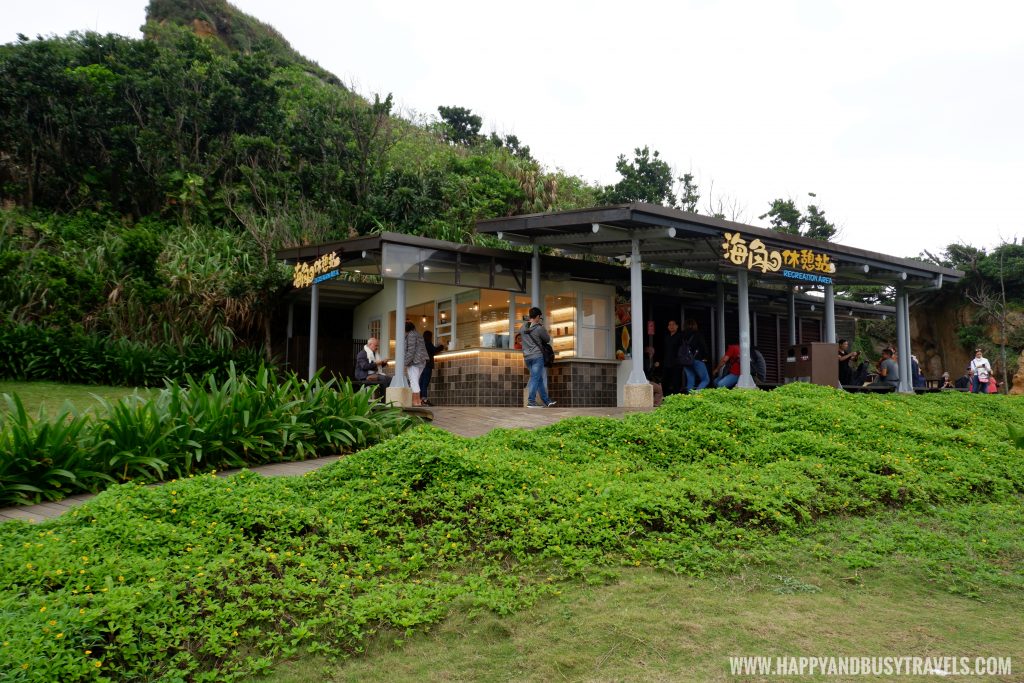 Happy and Busy Travels' Smileys for Yehliu Geopark
Location 


The park is a bit far from the actual city, but it is very easy to go to.
Ambiance


The entrance and the part wherein there is a lot of trees has a nice ambiance, when we reached the rocks area it was also something different. But the temperature is very hot, it can easily make you tired.
Value for money 

There is a minimal fee to enter the park. The park was generally clean and there is no vandalism or whatsoever, but we do not like the volume of visitors. The park is one of the most famous tourist spots so the large volume of visitors can't be avoided.
Fun


We had more fun in Camel's Peak.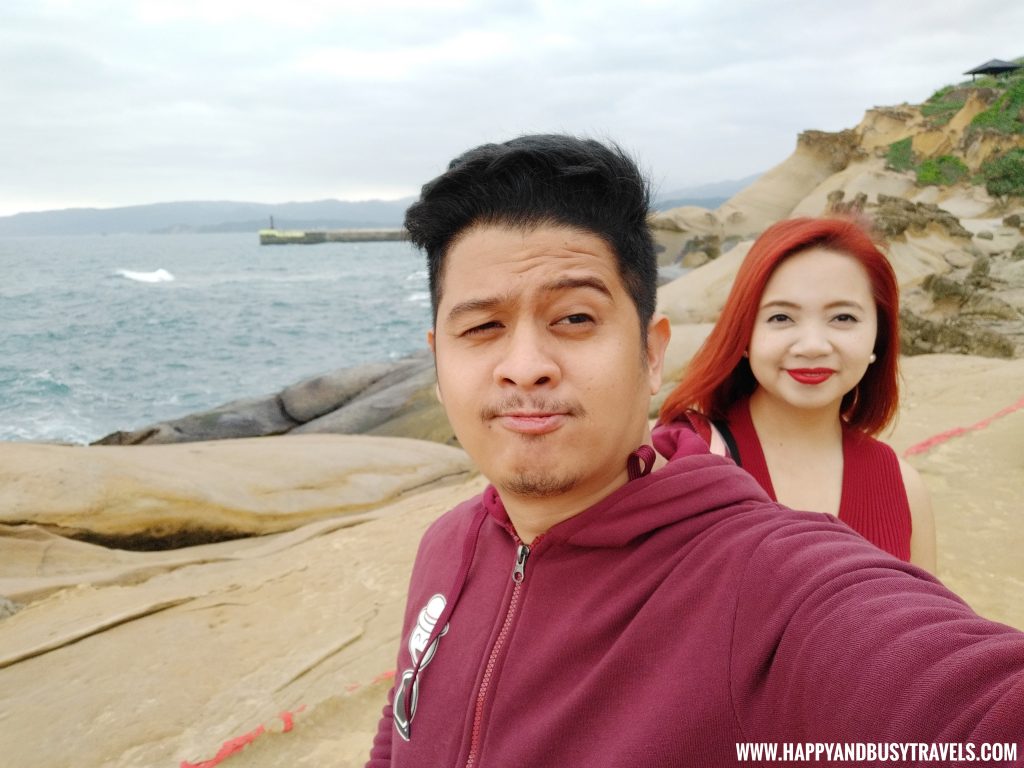 More exciting tourist spots review at: https://happyandbusytravels.com/category/landmarks/
Happy and Busy would like to thank our friends
Kel Sarabia of Daylight Wanderers – Happy's bestfriend, he provided some of the photos.
Viz – Busy's bestfriend for providing some photos