Looking for an island where you can find tranquility? Carabao Island is the island for you! It is just near, and the best alternative to Boracay.
We visited the island in October 2018, and we did not bumped into any tourist. So, we assumed that we were the only tourists! While the hype is not yet there for Carabao Island, I suggest that you should visit it soon.
Continue to read on below as we share our itinerary in our quick and relaxing stay.
Where is Carabao Island?
Carabao island can be reached by a 30-minute boat ride from Caticlan. If you look at it in Google maps, it's just a gray island. Roads can't be seen, I think Google maps car haven't been here yet 🙂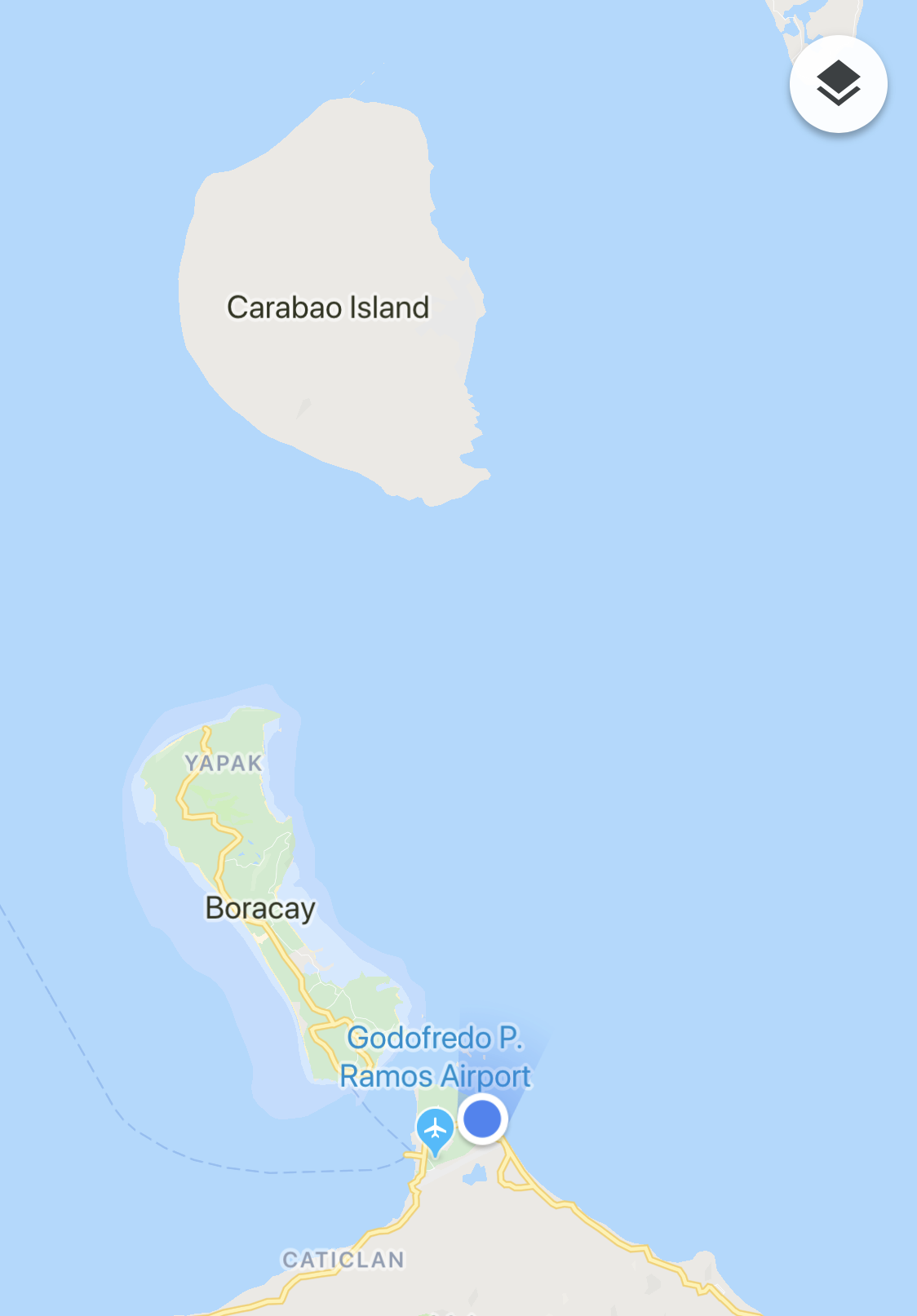 How to get here?
The easiest way is what we did. We rode a plane from Manila to Caticlan, then we rented a private boat to take us in the island. We rented the boat through Kuya Rey, his contact number is 09096154962.
Renting a private boat can be a bit expensive, so you may opt to take the public boat. Just take a tricycle ride from Caticlan Airport, then take the morning boat from Tabon baybay port.
Take note! Boats from Tabon Baybay Port to Carabao Island leaves around 8AM only! Then Boats coming back from Carabao Island to Tabon Baybay Port leaves around 6AM only!
Our Experience
Day 1 – Resort Check-In and Quick Visit to the Town
During our visit, Boracay was closed to the public, so there is just one plane going in and out of Caticlan Airport. We arrived in Caticlan Airport around 3:00 PM, then Kuya Rey (09096154962) fetched us. If you also wanted a private boat, feel free to contact him.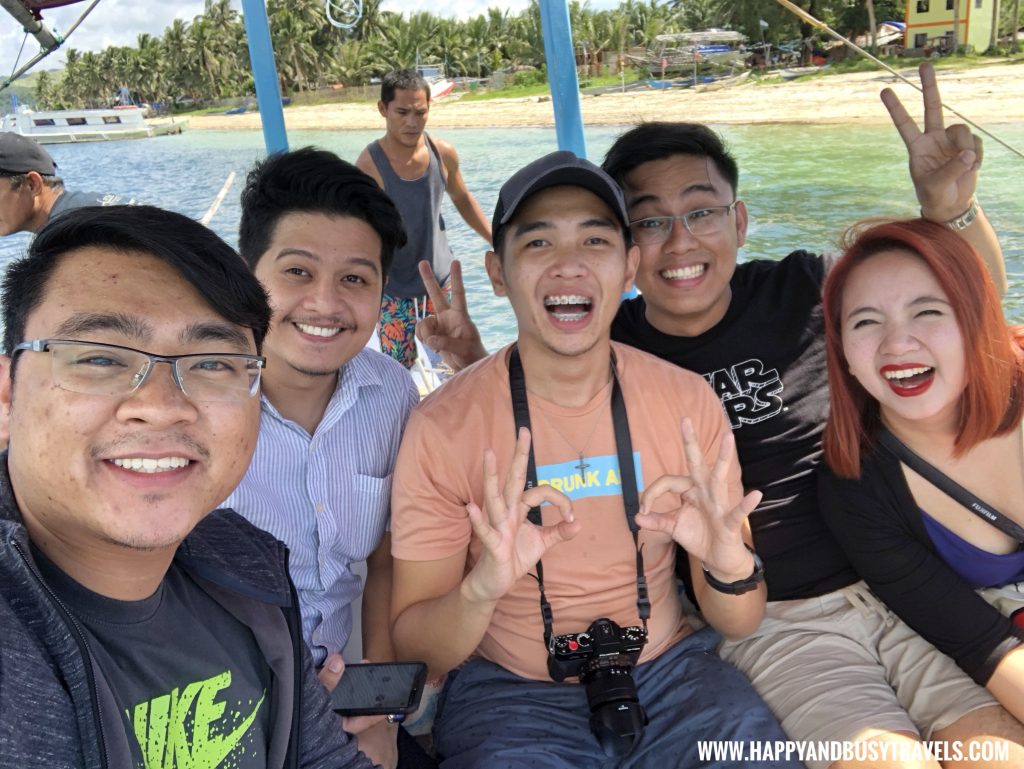 Lanas Beach Resort
After the 30-minute boat ride, we arrived at Lanas Beach Resort.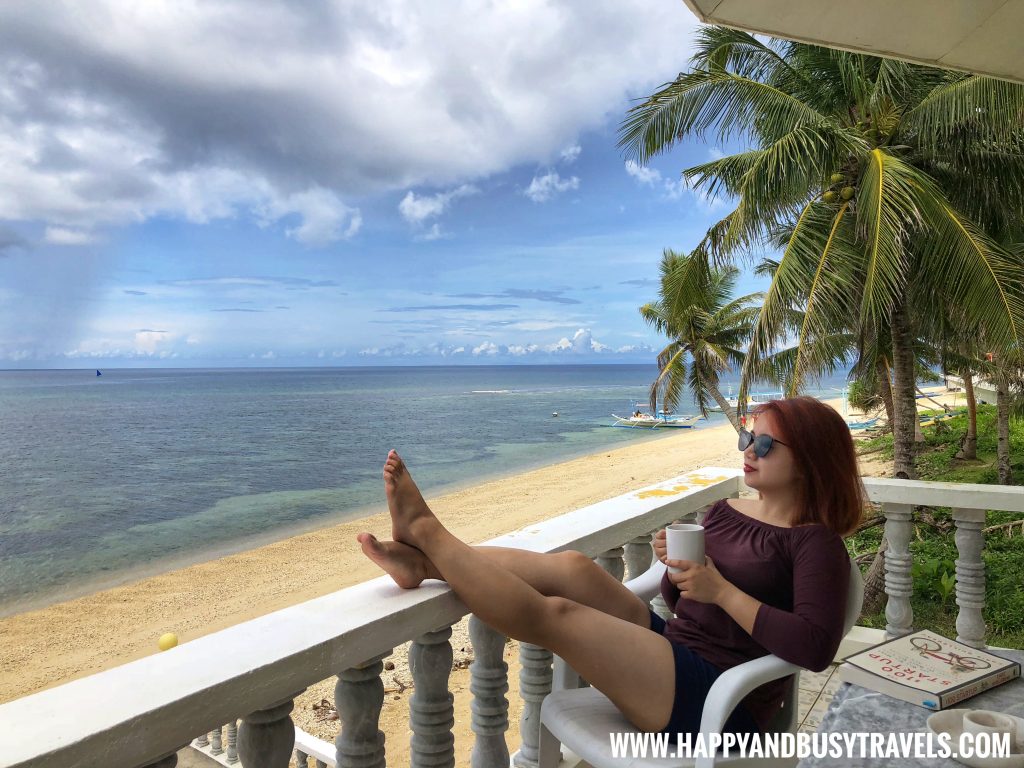 We checked-in, had lunch, and relaxed for a while.
The view from the resort was great, especially during dusk. Seeing the sunset in the resort was breathtaking.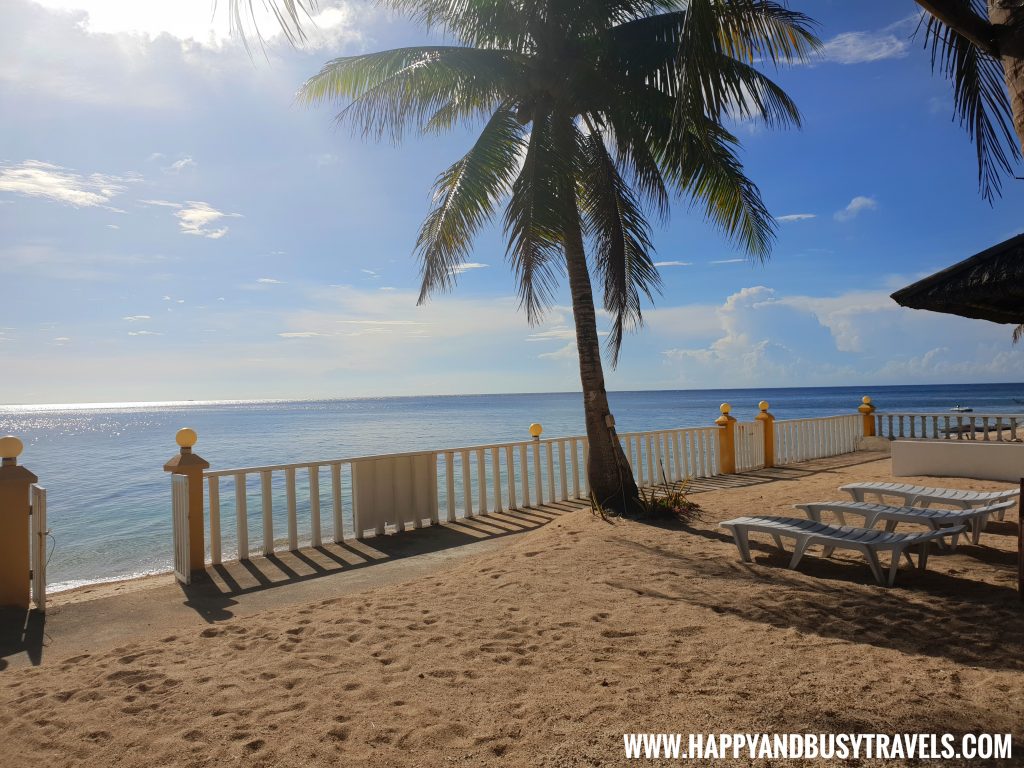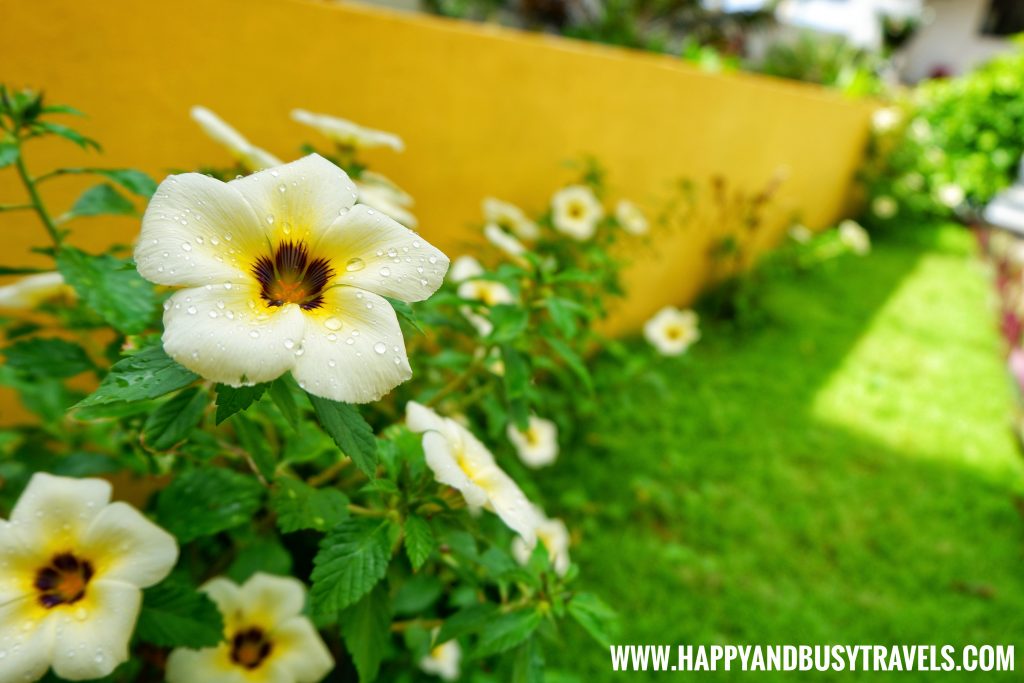 The resort has spacious rooms and it was just in-front of the beach!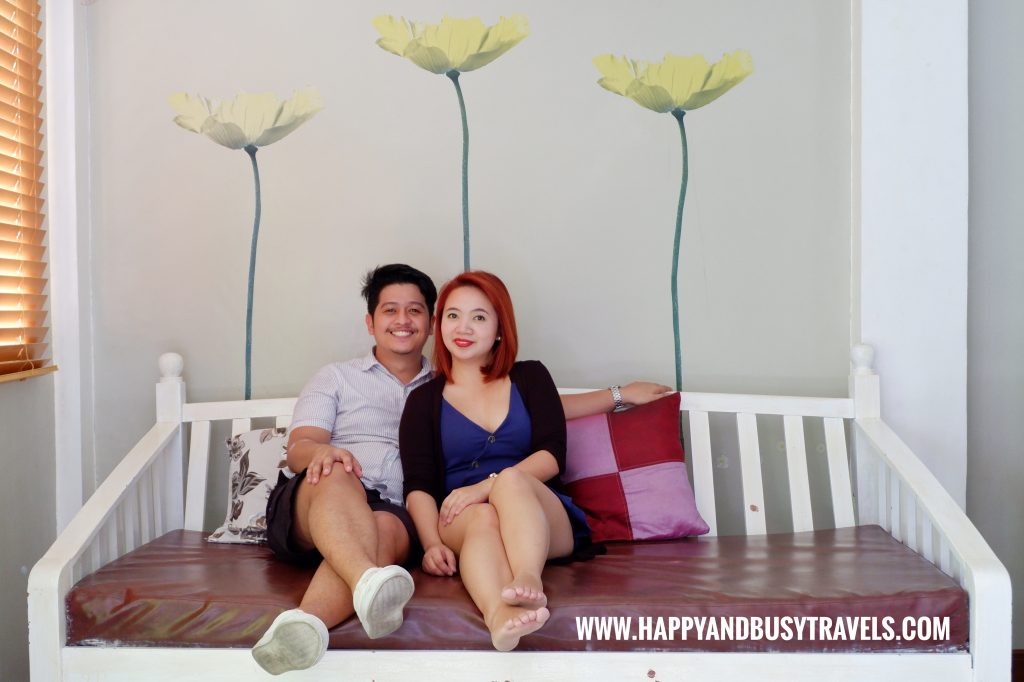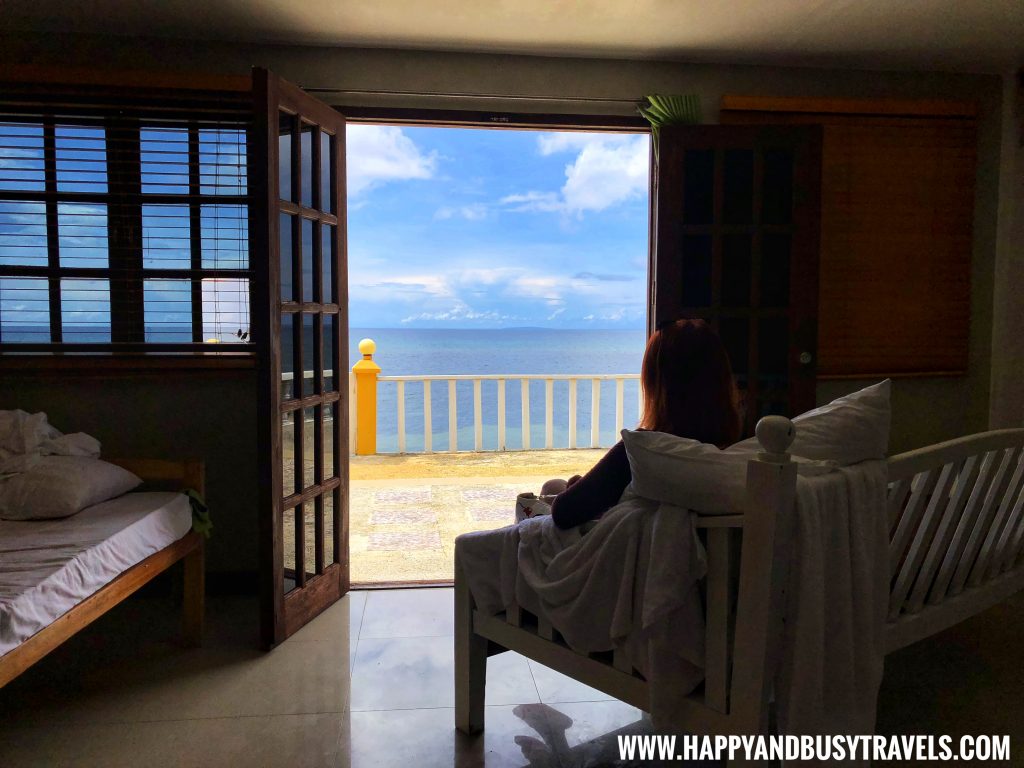 The resort also serves delicious food!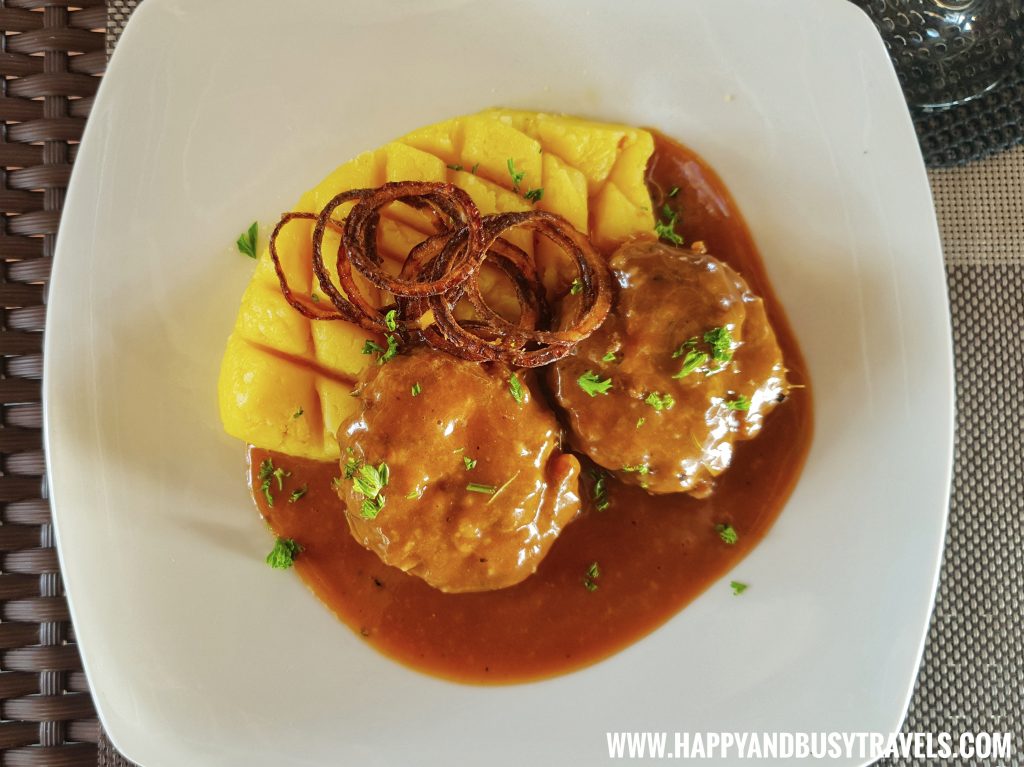 To view more of our experiences in Lanas Beach Resort, kindly click on this link: https://happyandbusytravels.com/lanas-beach-resort/
Motorcycles
After we checked in and had lunch, we rented motorcycles and went to the town.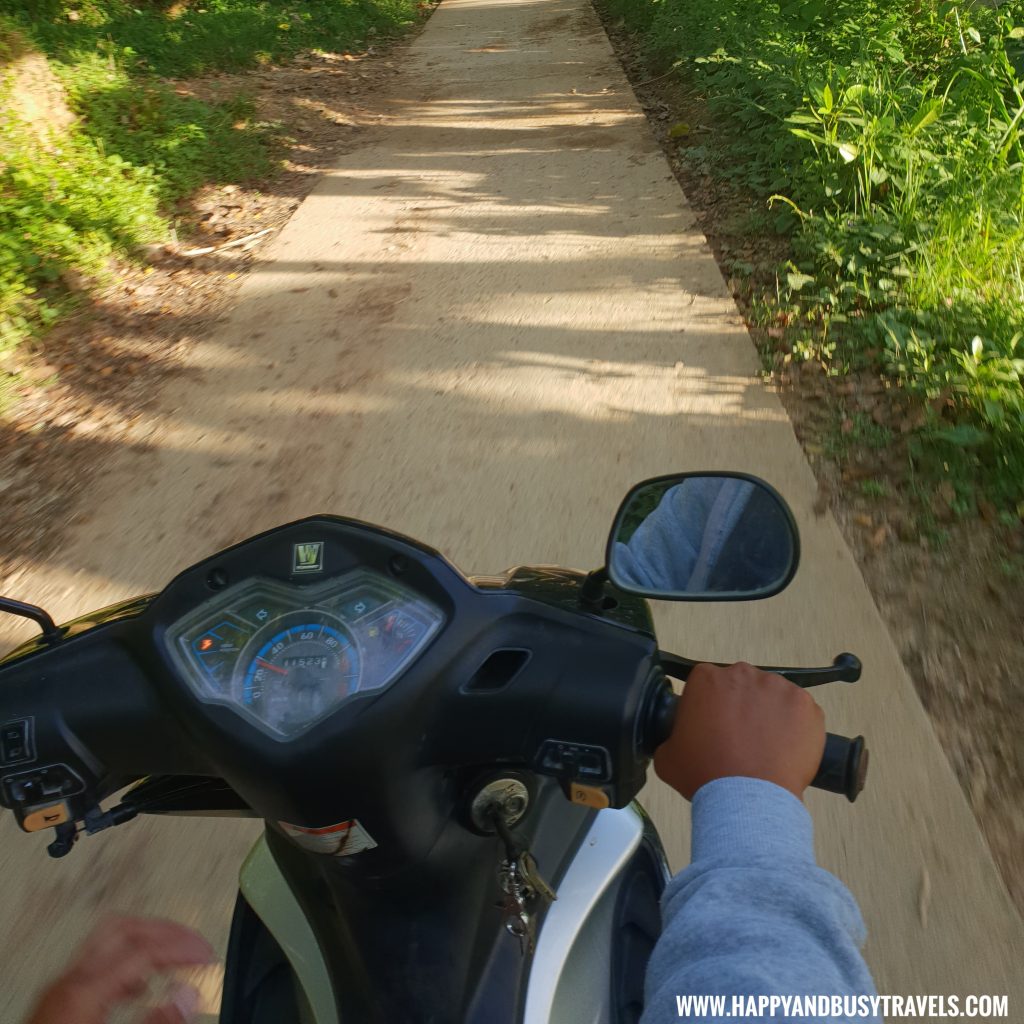 These motorcycles were the only mode of transportation in the land. As you can see from the picture below, the road in the island is so small. It's a two-way road that can only fit motorcycles.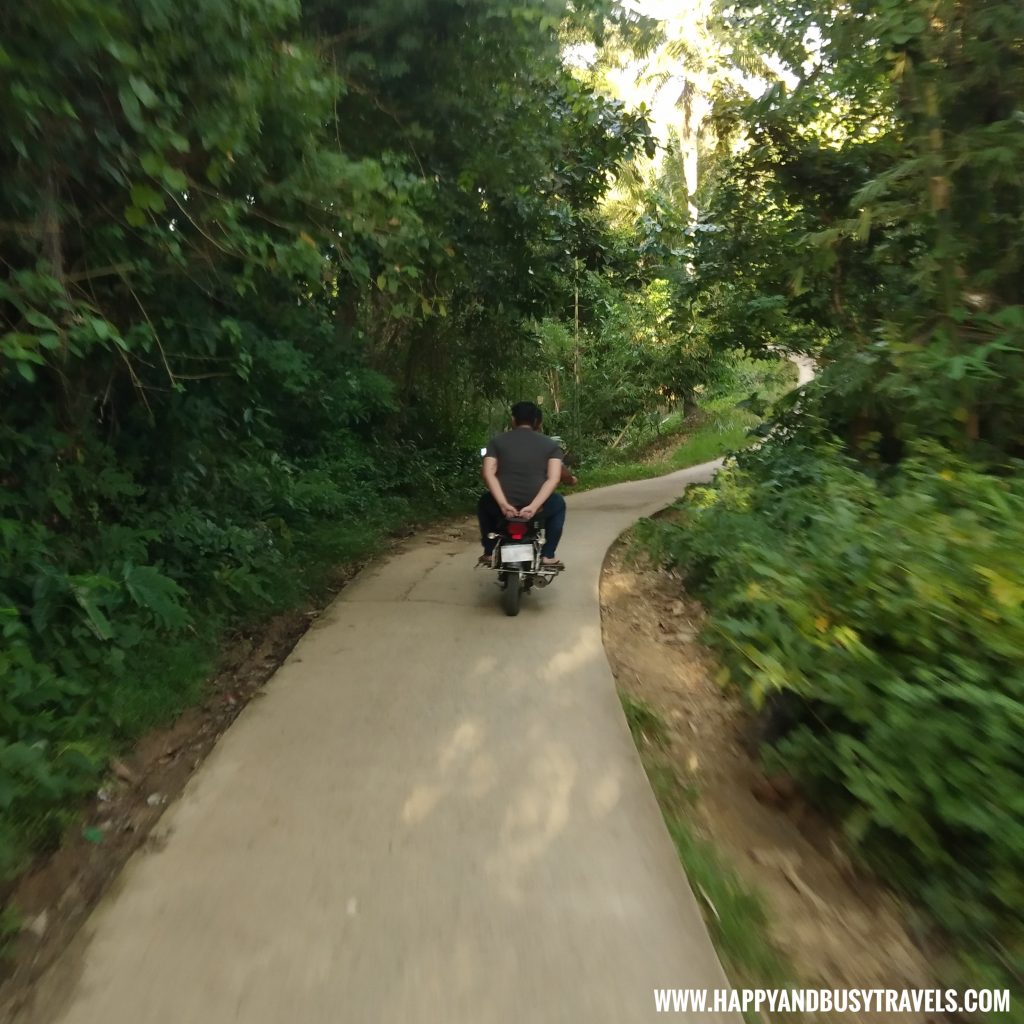 Most of the people in the island has a motorcycle so you can easily ask people to take you to different places in the island.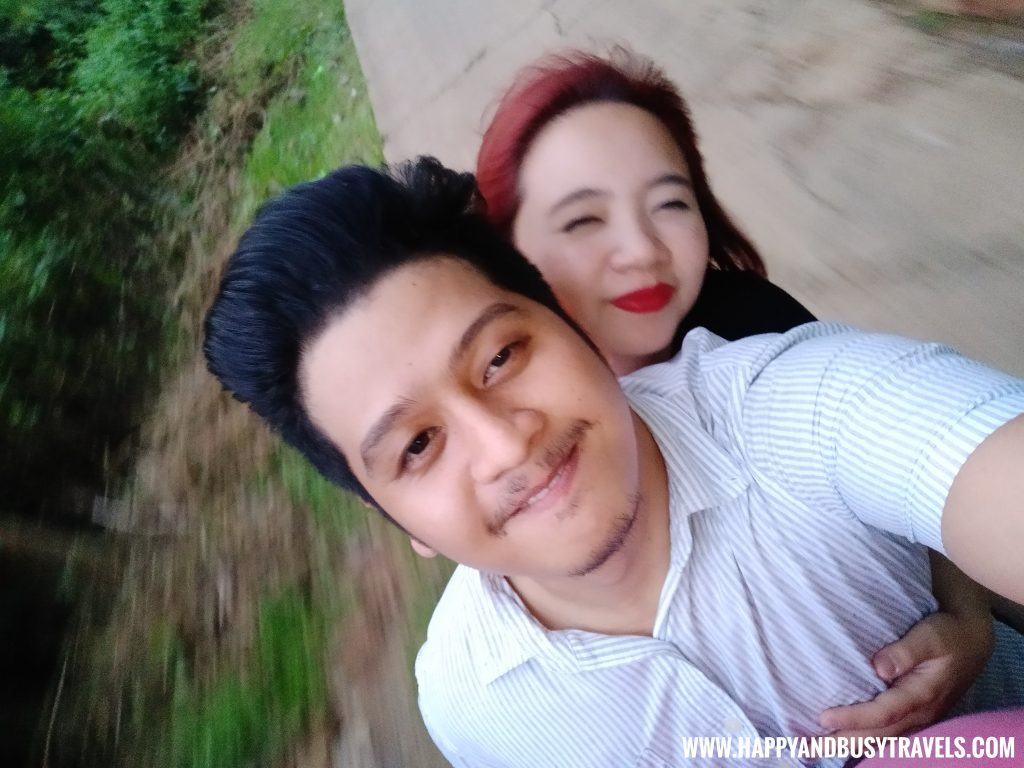 A motorcycle ride to the town costs Php 100 per motorcycle. Some drivers allows 2 passengers, but some can only transport 1 passenger.
Town
Here is the welcome sign in their town.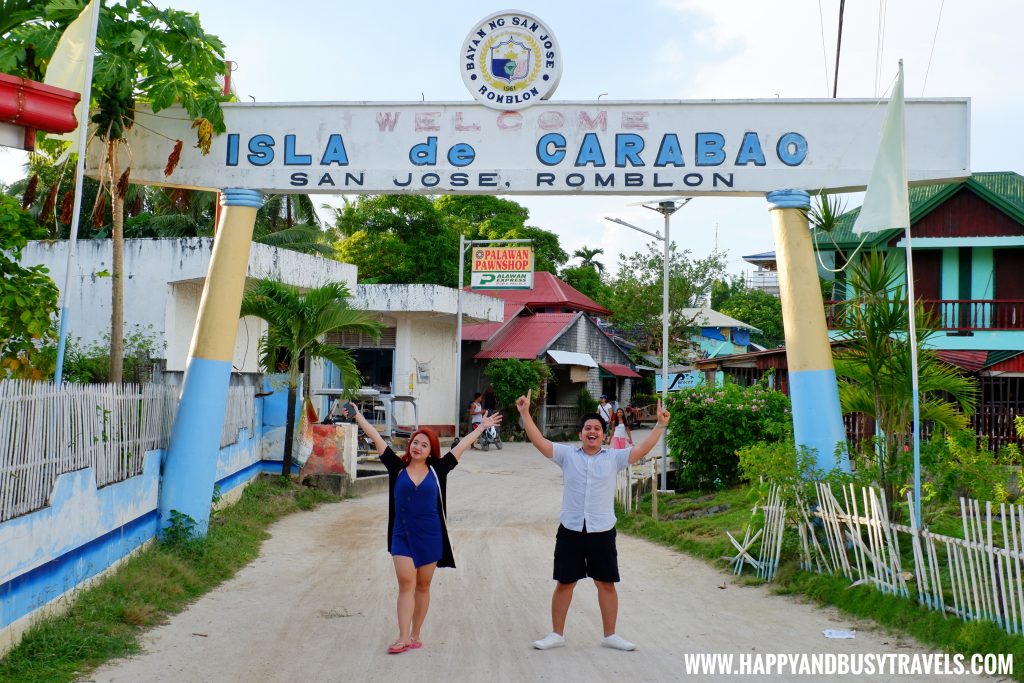 Would you believe that their town is just beside the sea? That's how dynamic the island is 🙂
Our first day in the island was a Sunday, so we went to their church, St. Joseph spouse of Mary Parish.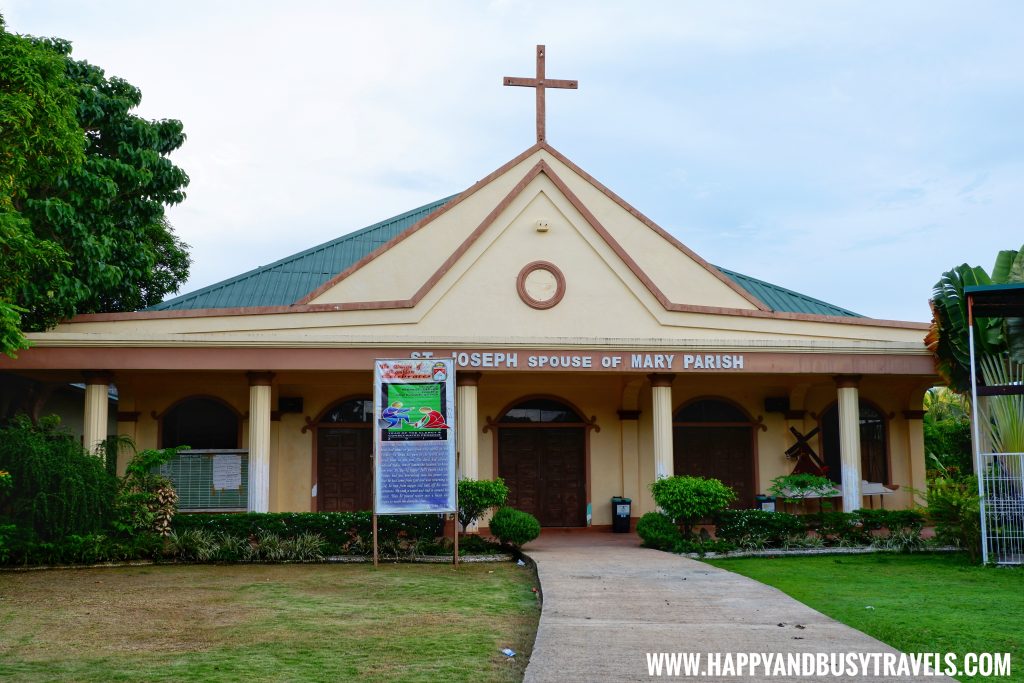 However, there were no masses in the afternoon or evening, and the church was closed. So we just peeked through the door hole 🙂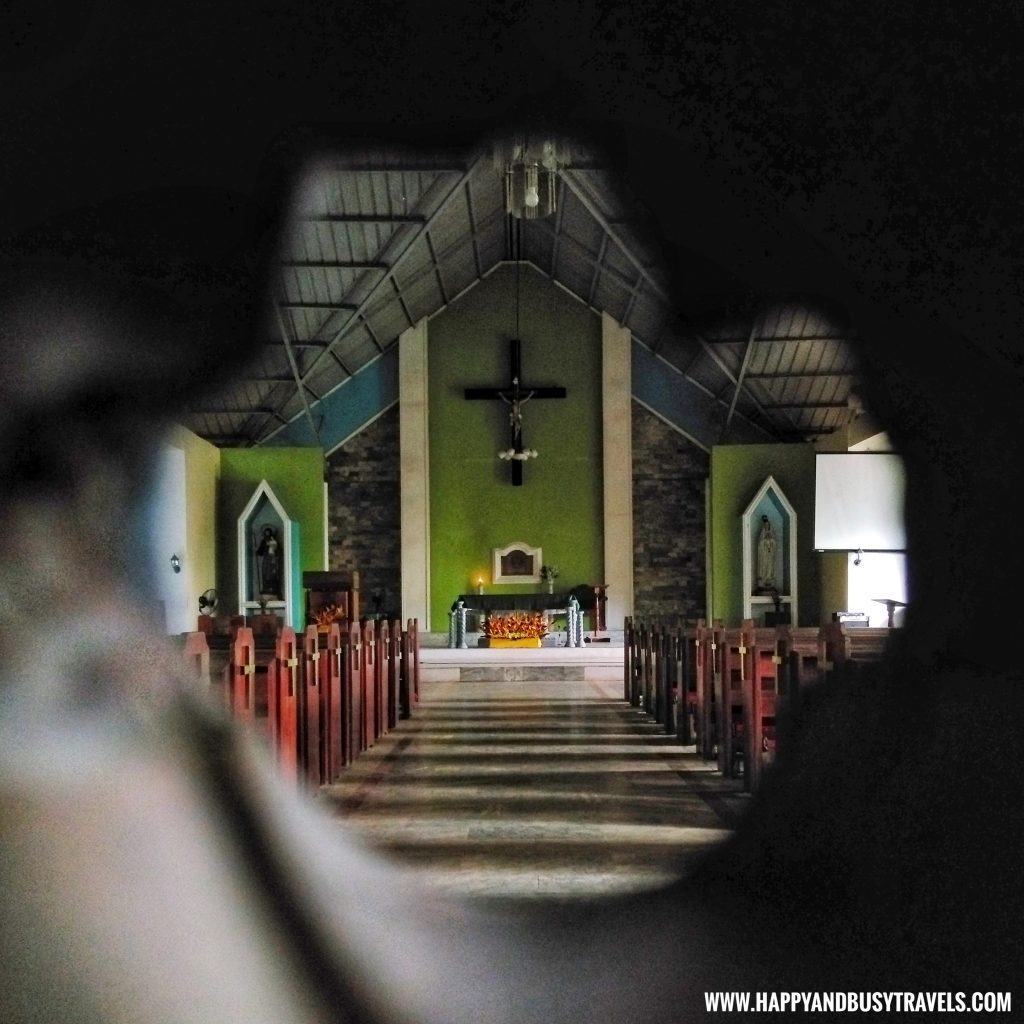 After visiting the church, we went to the market to buy some fresh seafood.
Ohhh here is one of the stores that we passed by, the vendor is a dog 😆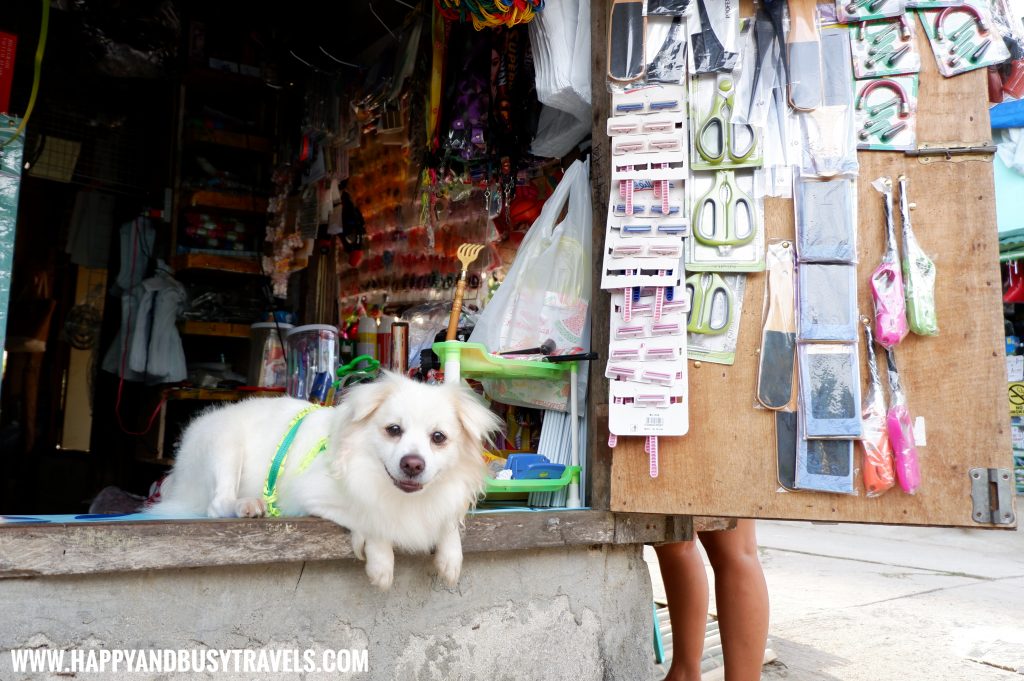 The public market in town is just small.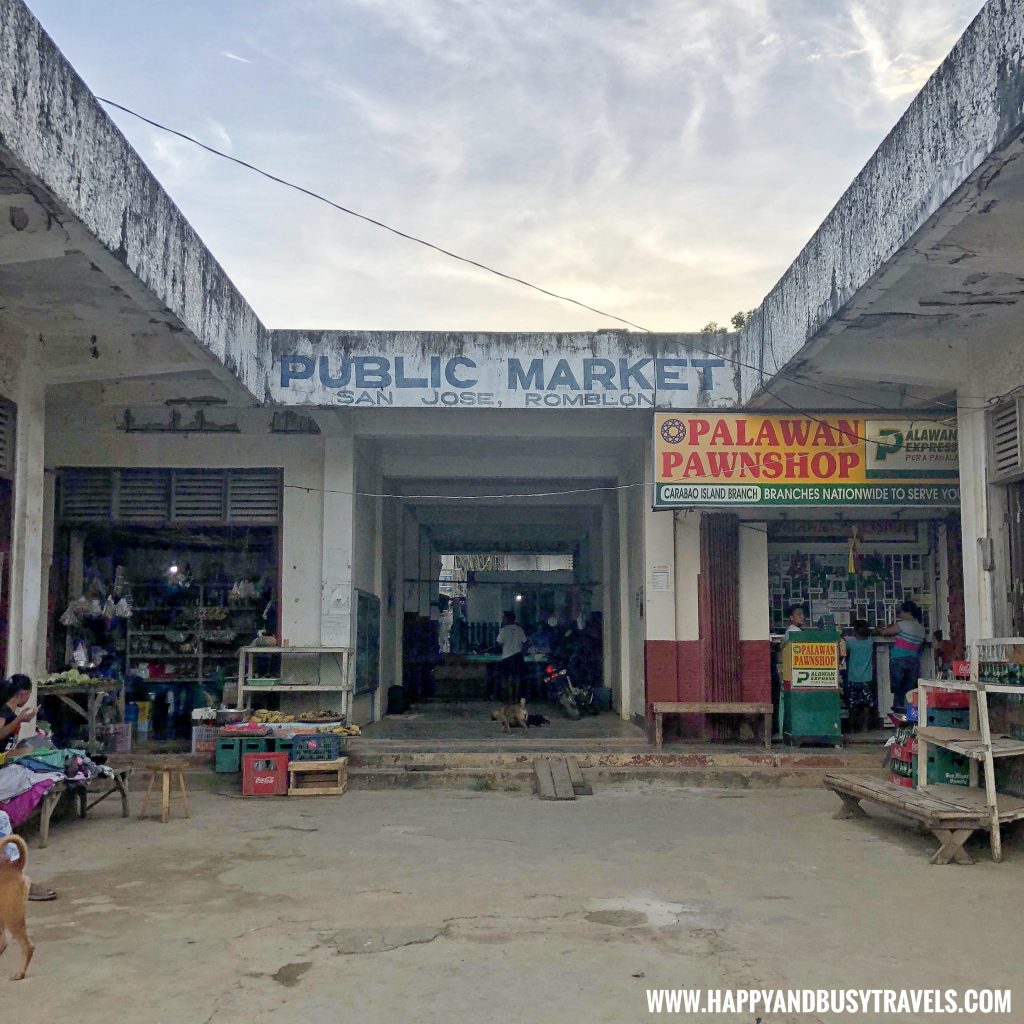 But even though the market was small, the seafood for sale in the afternoon were still fresh!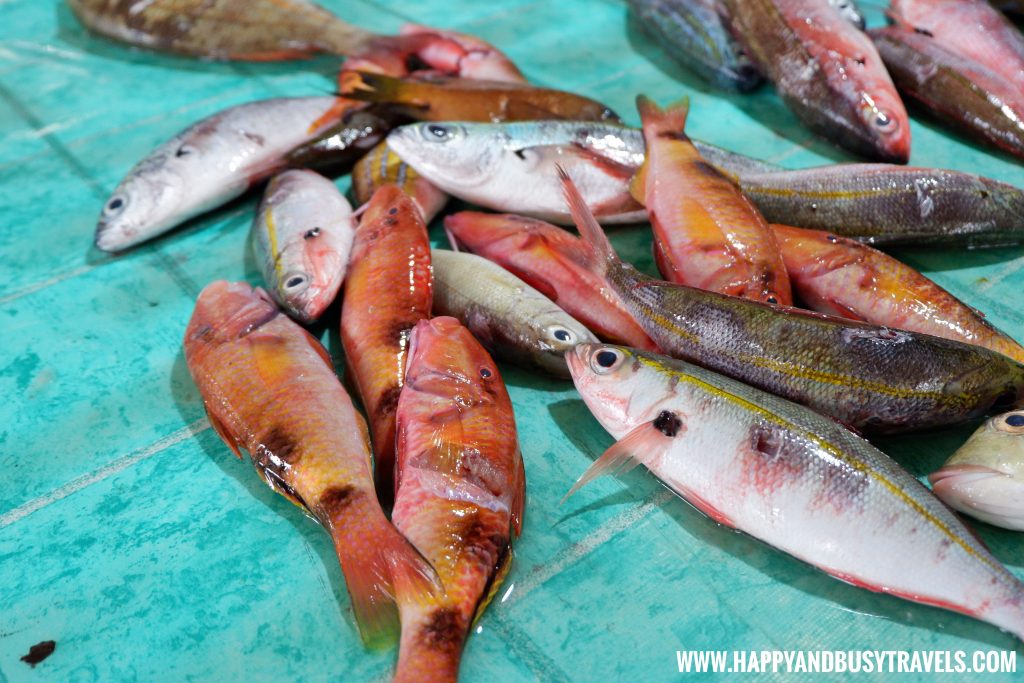 Just look into these fresh Surgeonfish or Labahita in Filipino. Labahita this big costs too much in Manila, but here in Carabao Island it is affordable.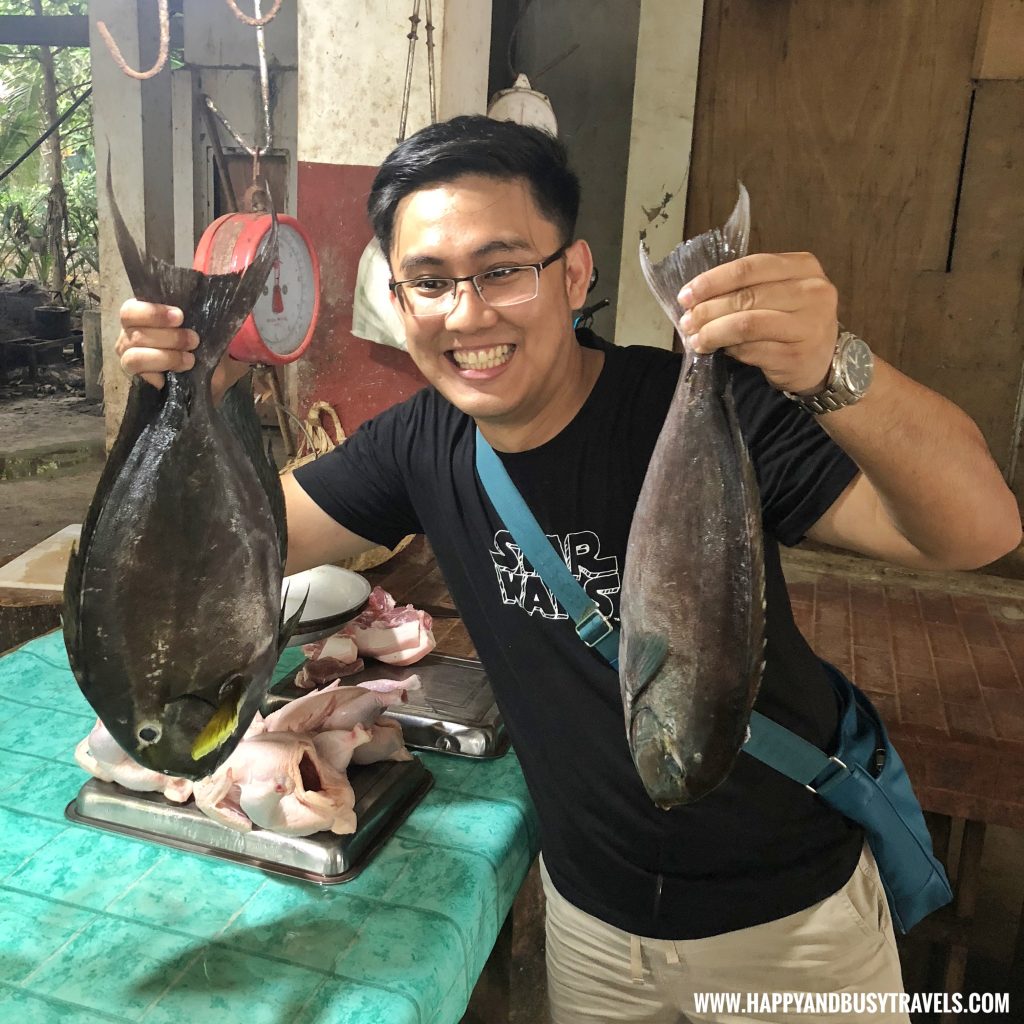 After we roam around the town, we went back to Lanas Beach Resort.
Day 2 – Around the island through a boat
We woke up early and started our Carabao Island tour through a boat. A boat costs around Php 4,000-6,000 depending on the number of persons and on your bargaining skills. But if you prefer to travel through land, a motorcycle costs Php 600 for every 3 hours.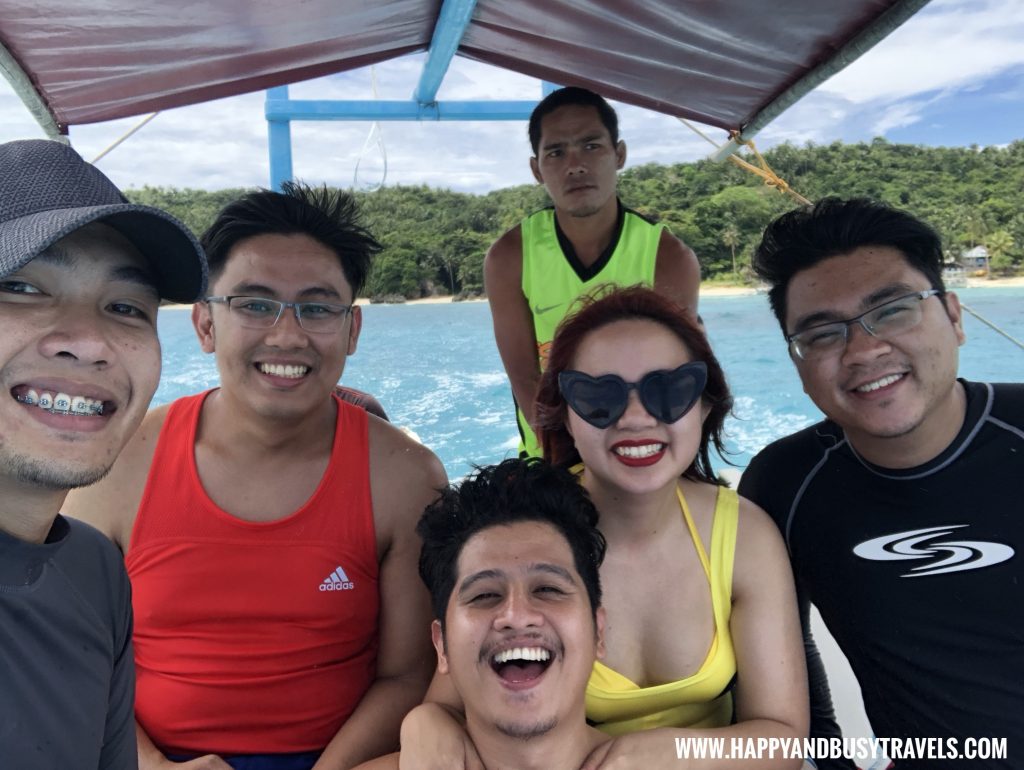 Snorkeling
According to the boatmen there is a spot in the island wherein there were a lot of fishes, so we head on there first and wear our snorkeling gears.
I used a full face snorkeling mask which I bought through Lazada.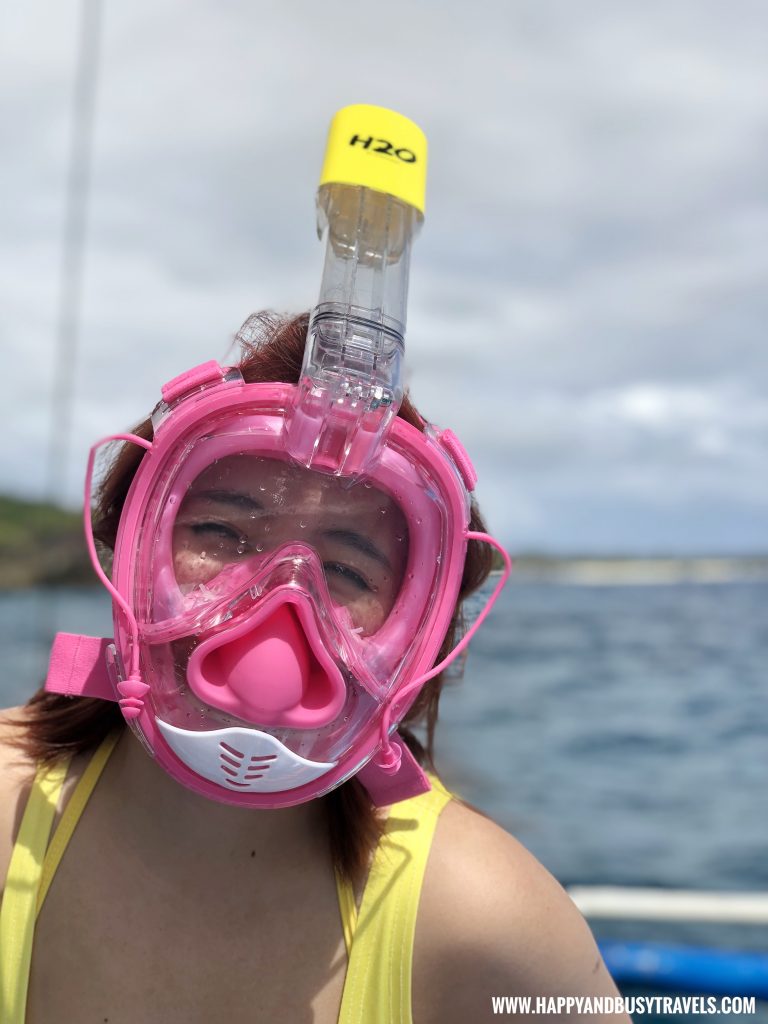 To be specific, I bought it here: Lazada Full Face Snorkel Mask
This full face snorkeling mask looks different from the others because it is already the second generation mask. It has ear plugs which I can use to prevent water from coming inside my ears, and the nose portion is made out of silicon which made me easier to pinch my nose.
We were very much ready to snorkel, however the waves were strong, the fishes were not that abundant in the area.
So we moved on in our next activity after a few minutes.
Poblacion Beach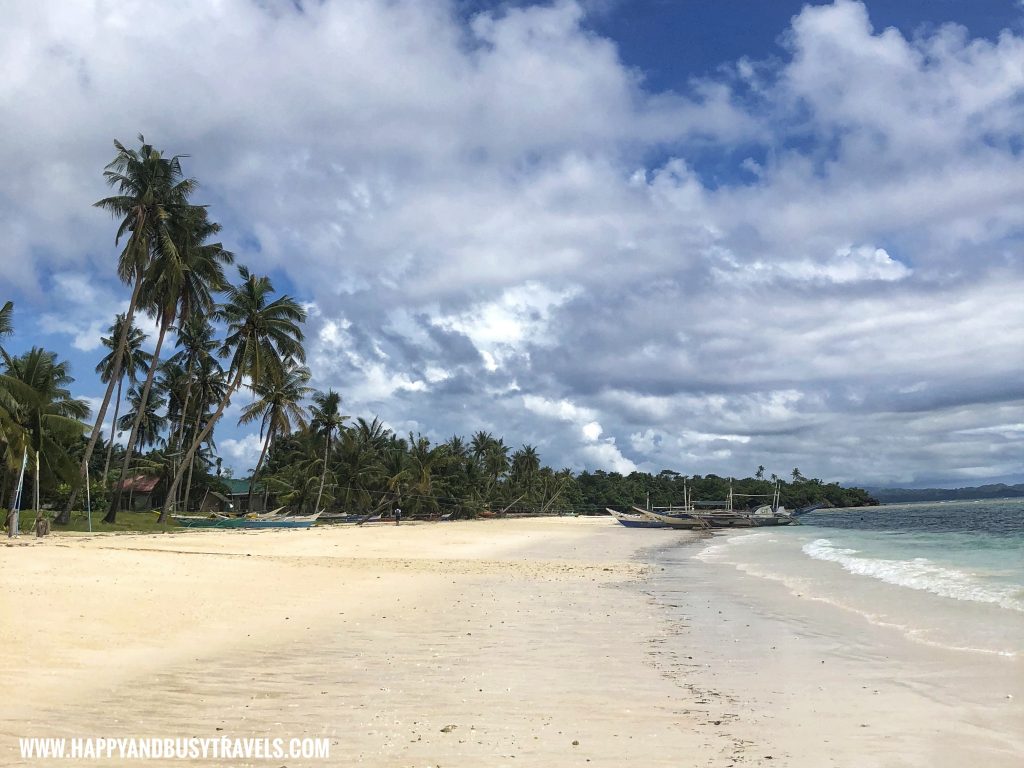 Who would've thought that they have a beach this gorgeous? It was like I am in Boracay but with lesser (or none at all) tourists.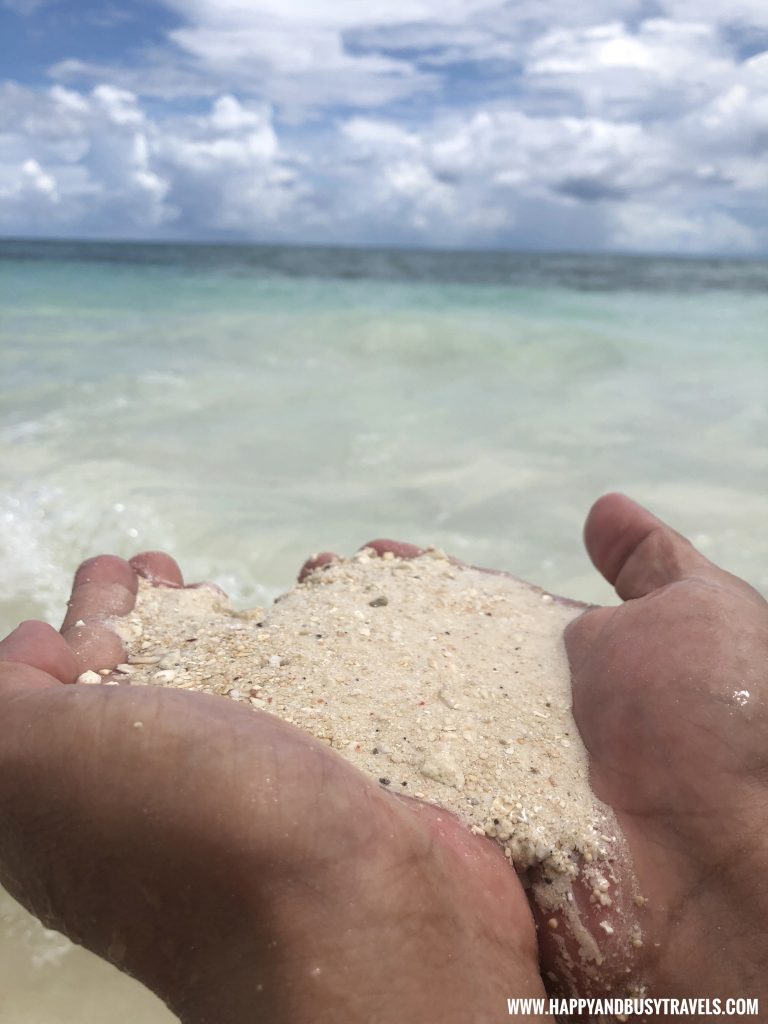 Locals just walk by the shore everyday, either to go to work, or to go to school.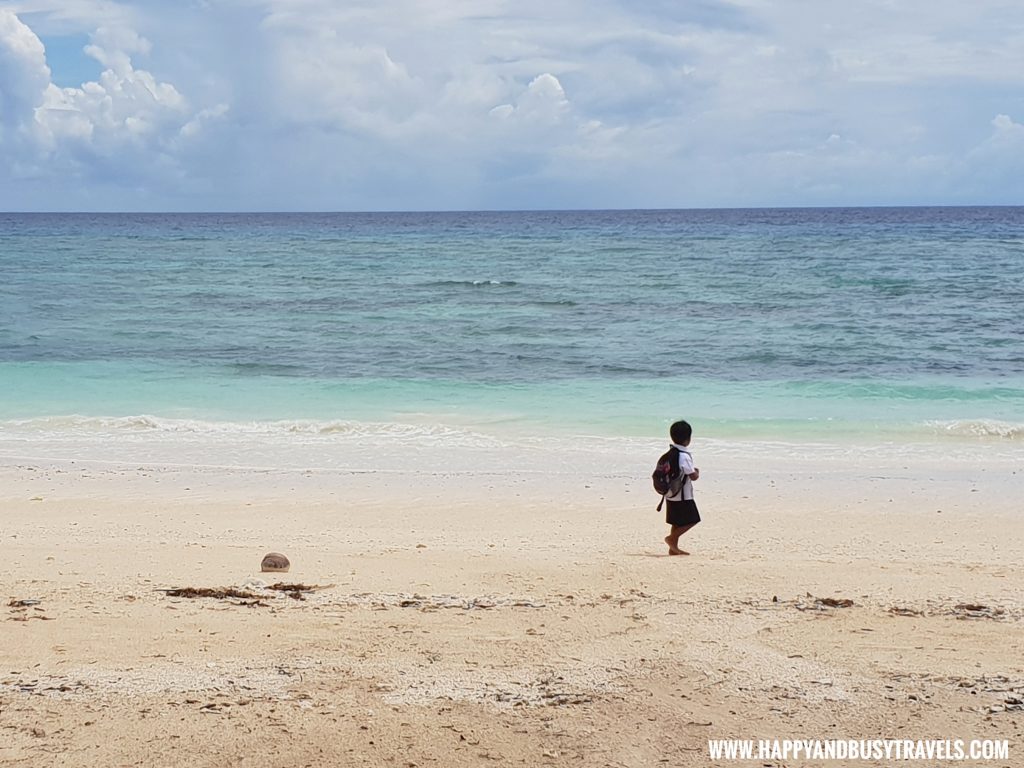 Well we… we saw a great spot to relax and be fascinated with the beach.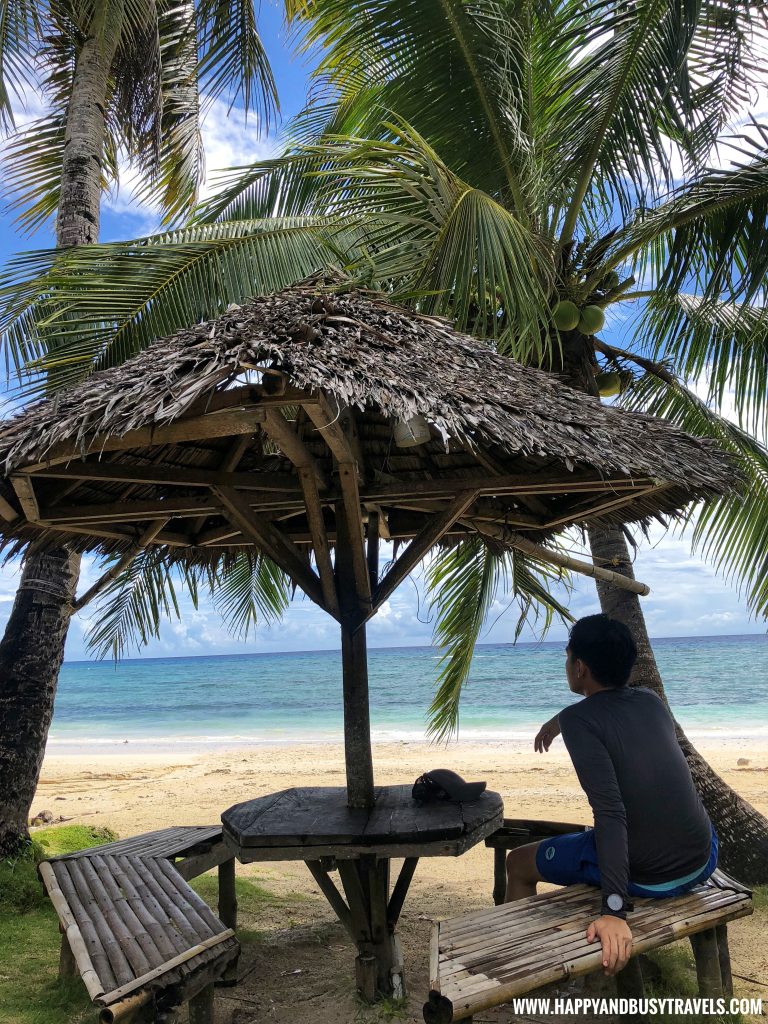 We ordered some snacks from the nearby store.
First, we had home-made pizza.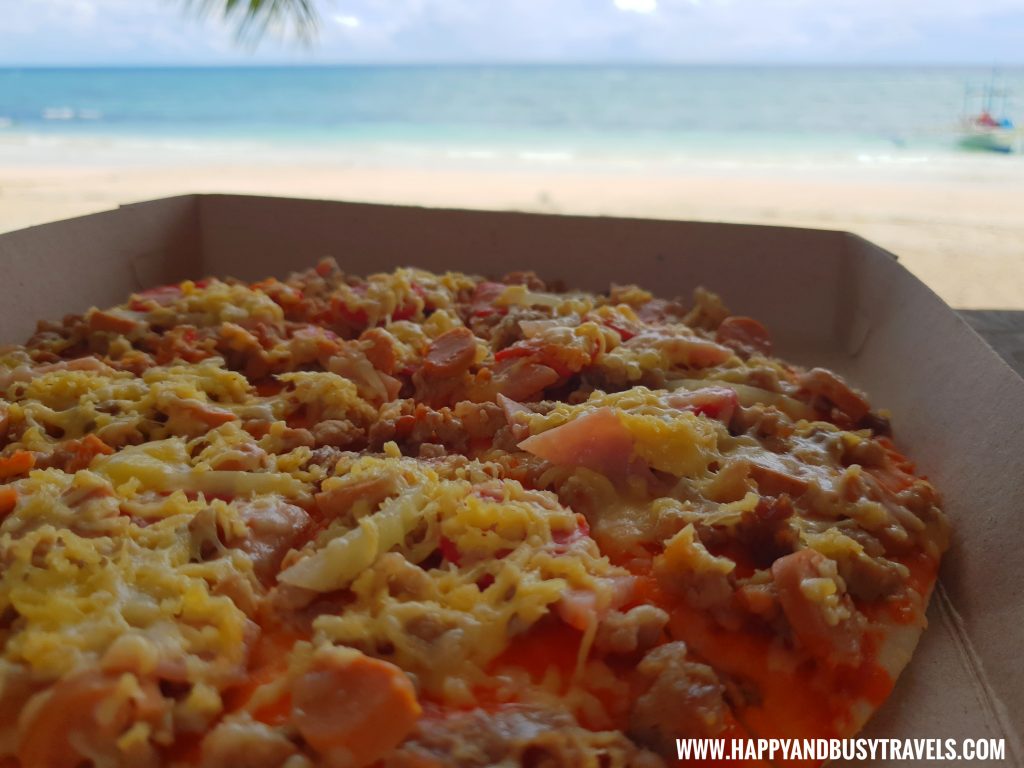 It tasted better than what I expected, literally every inch of the dough has toppings.
Then we also had Siomai dumplings.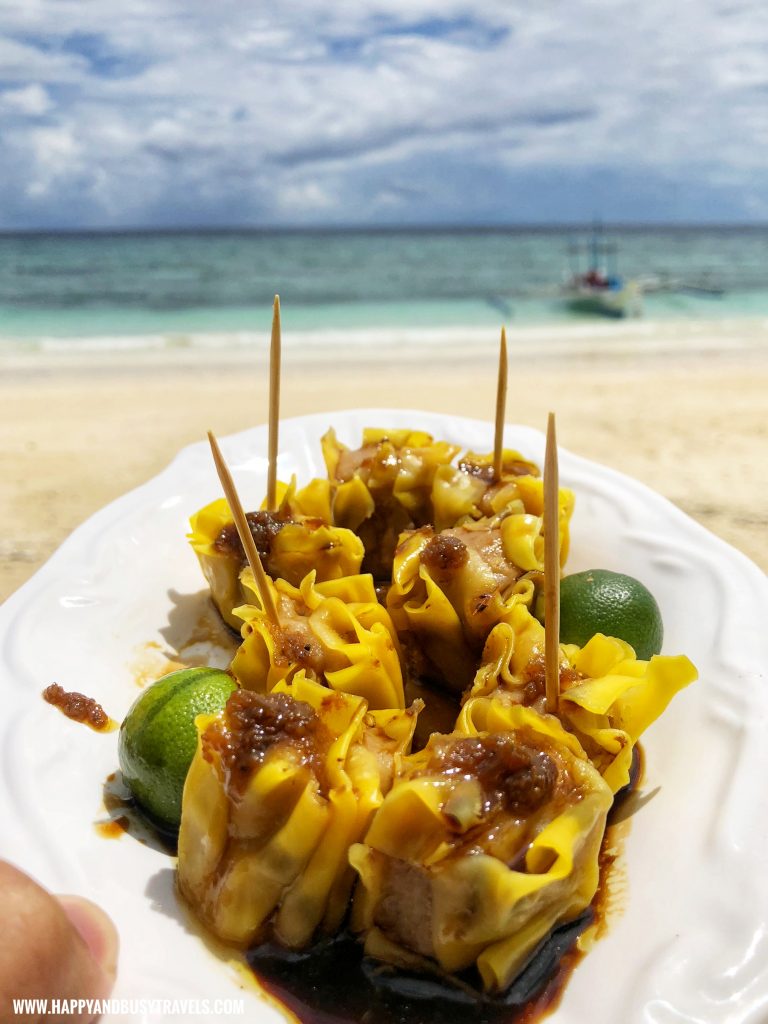 To cool off, we had Mais con yelo. This is a local snack in the Philippines which is made out of crushed ice with corn, milk, and sugar.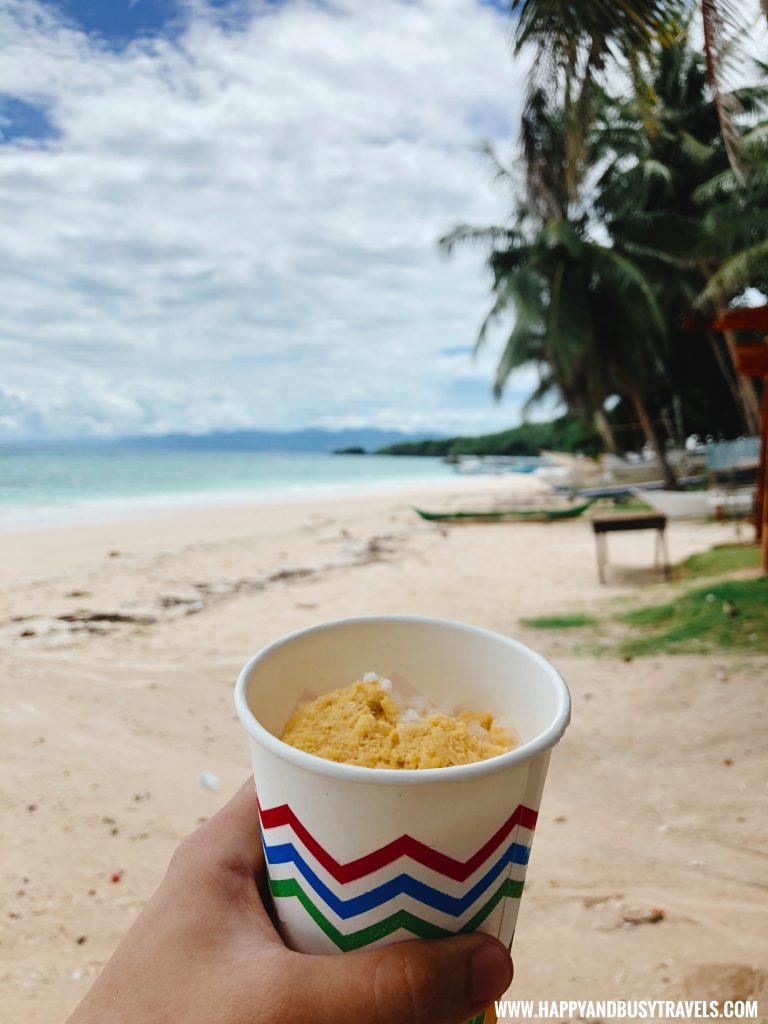 Then of course, we enjoyed the beach!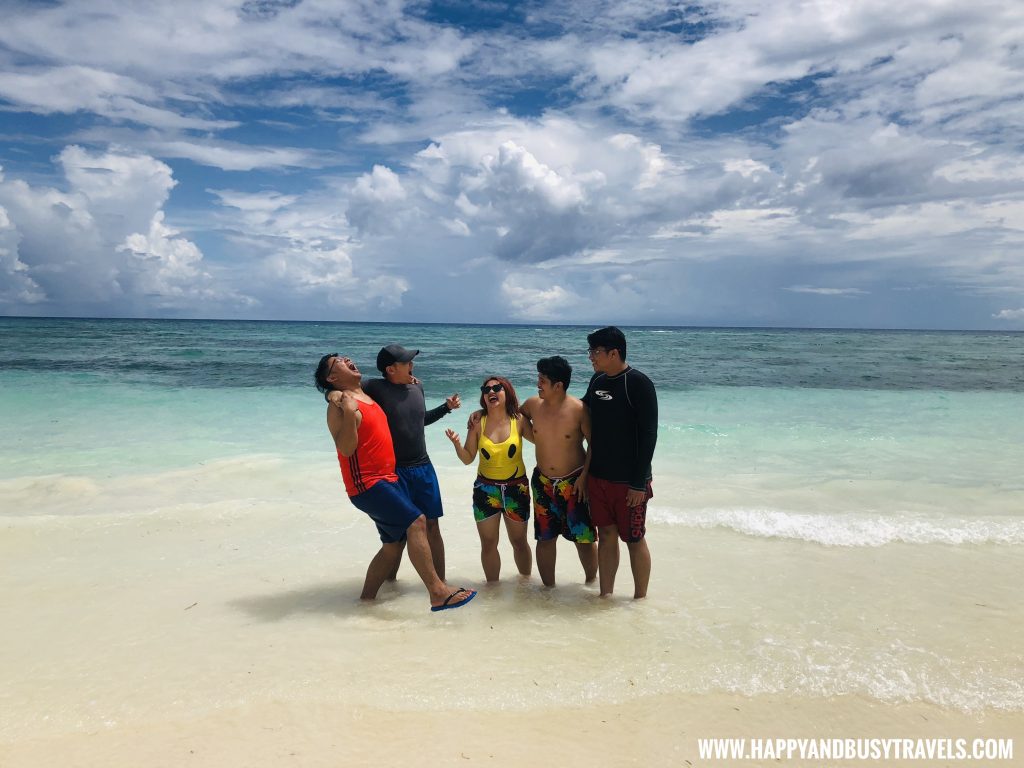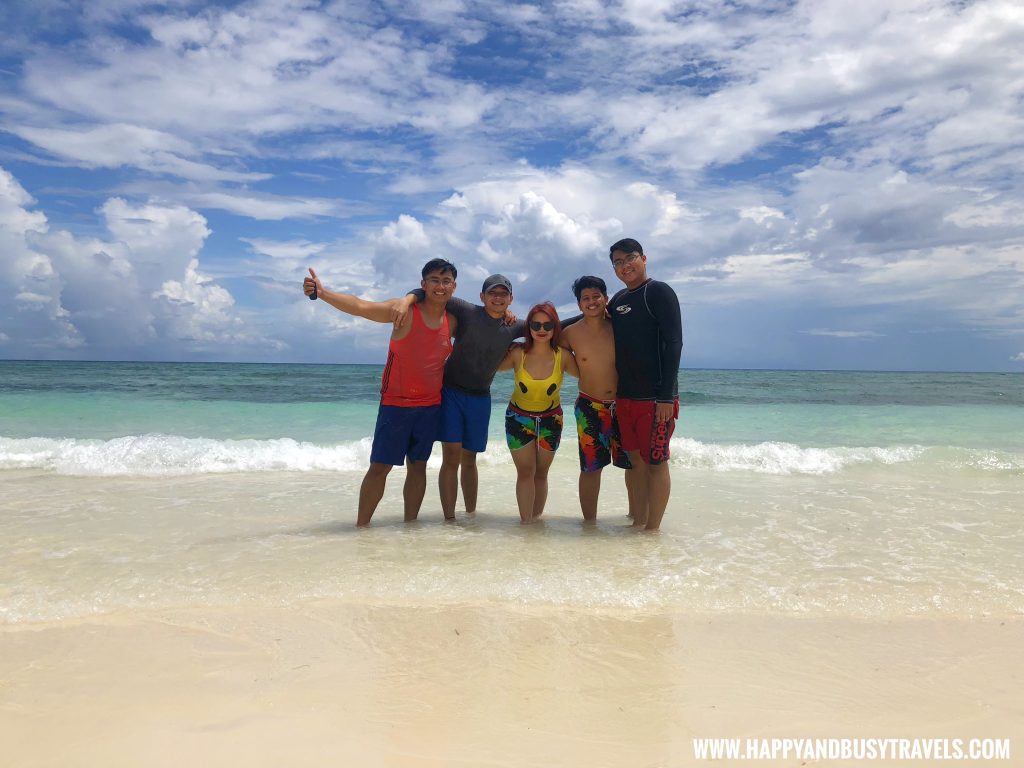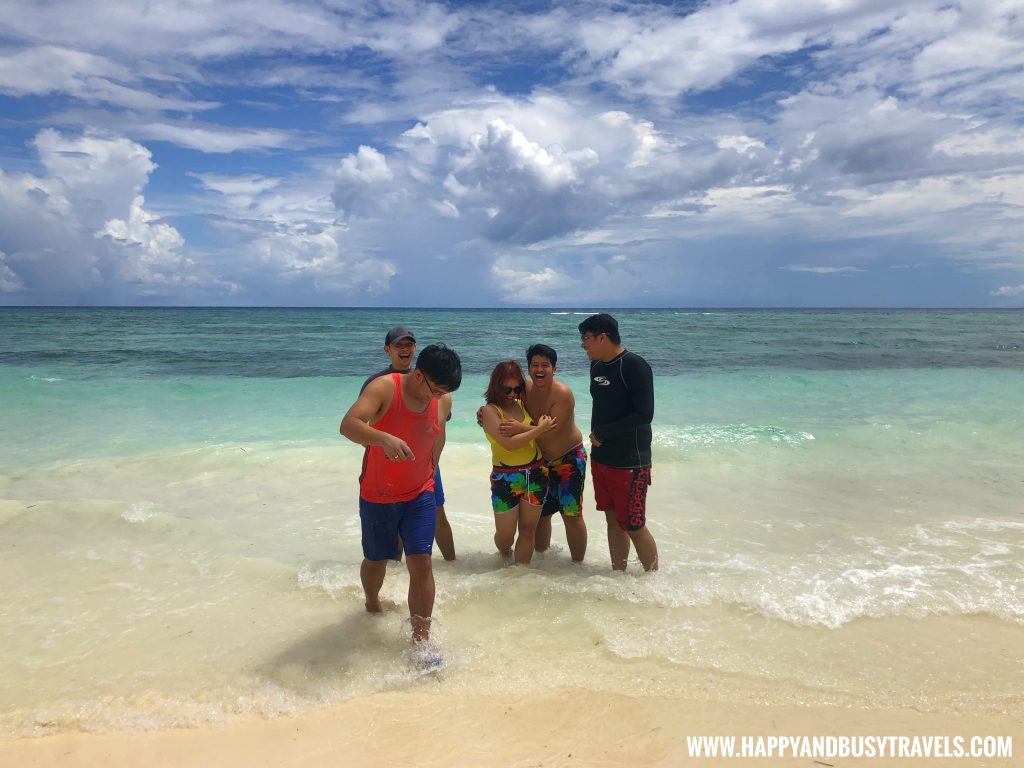 I also had fun on the beach 🙂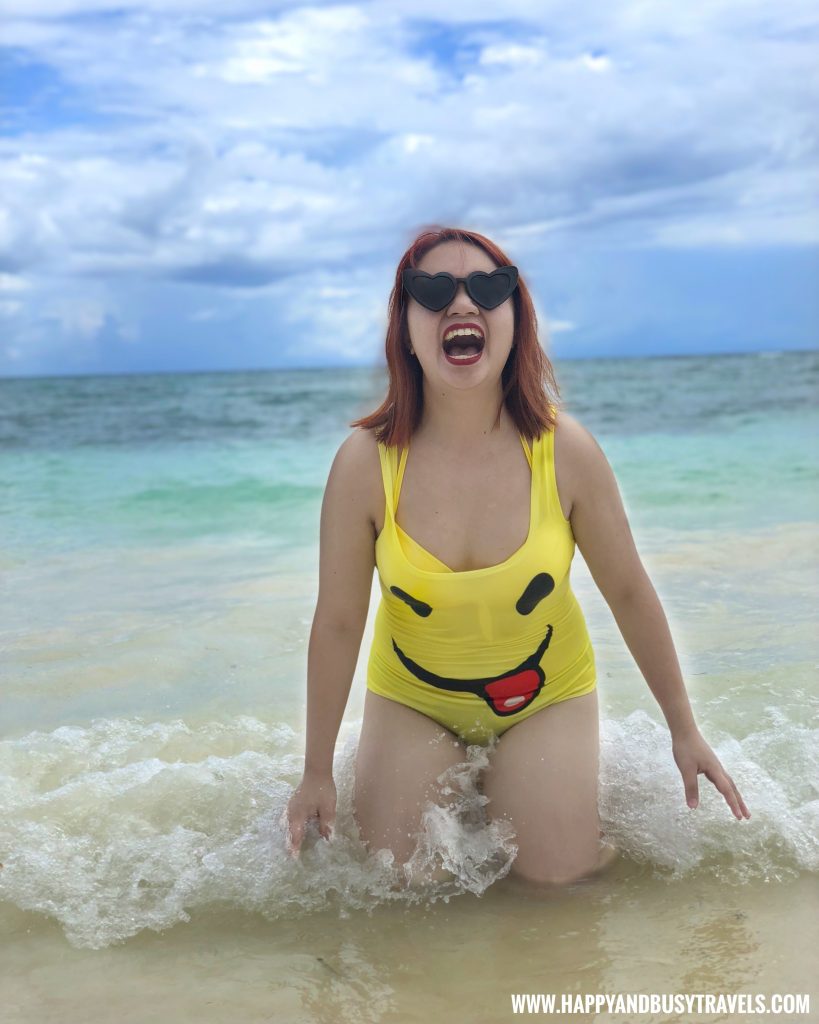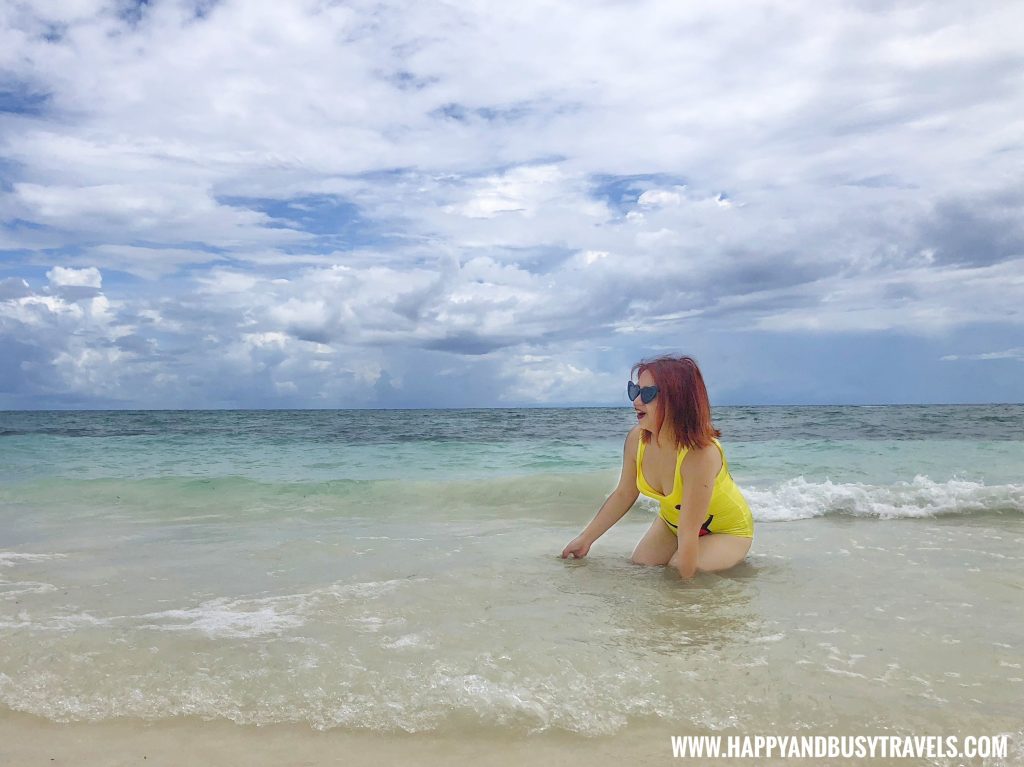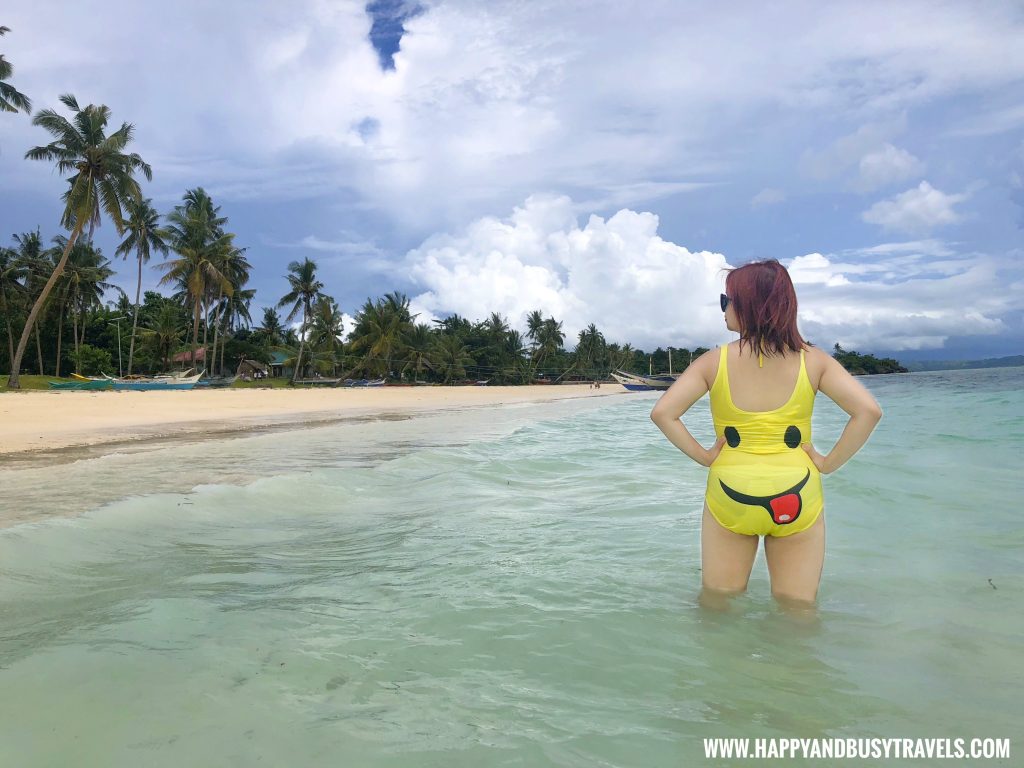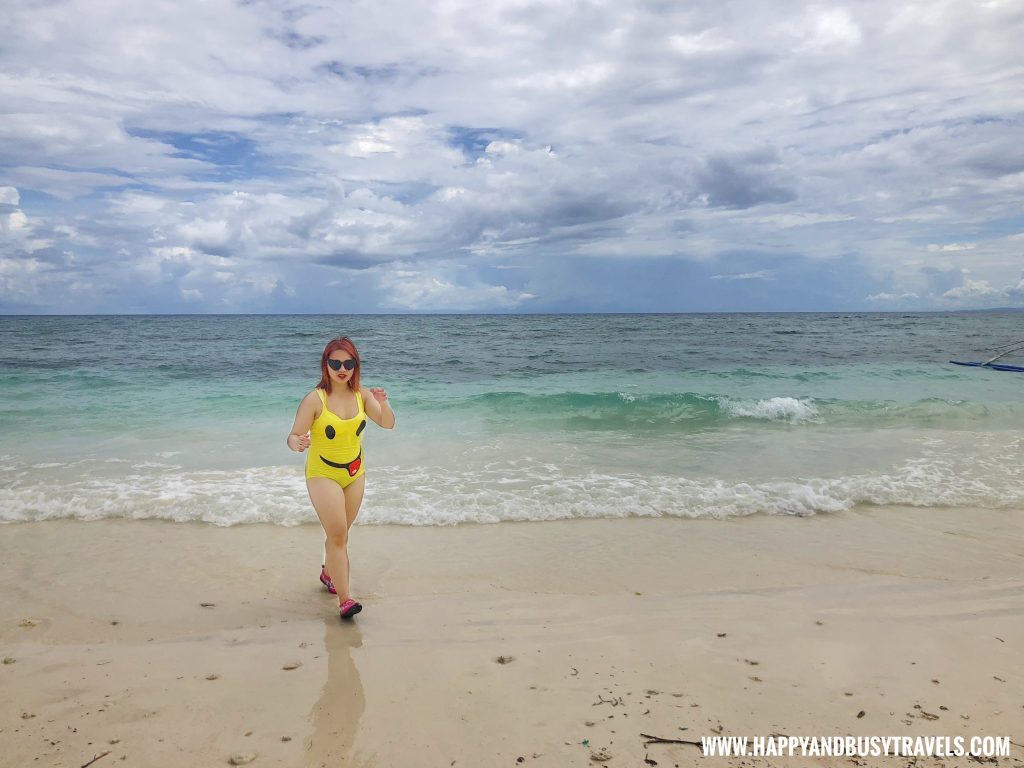 Koding Koding Point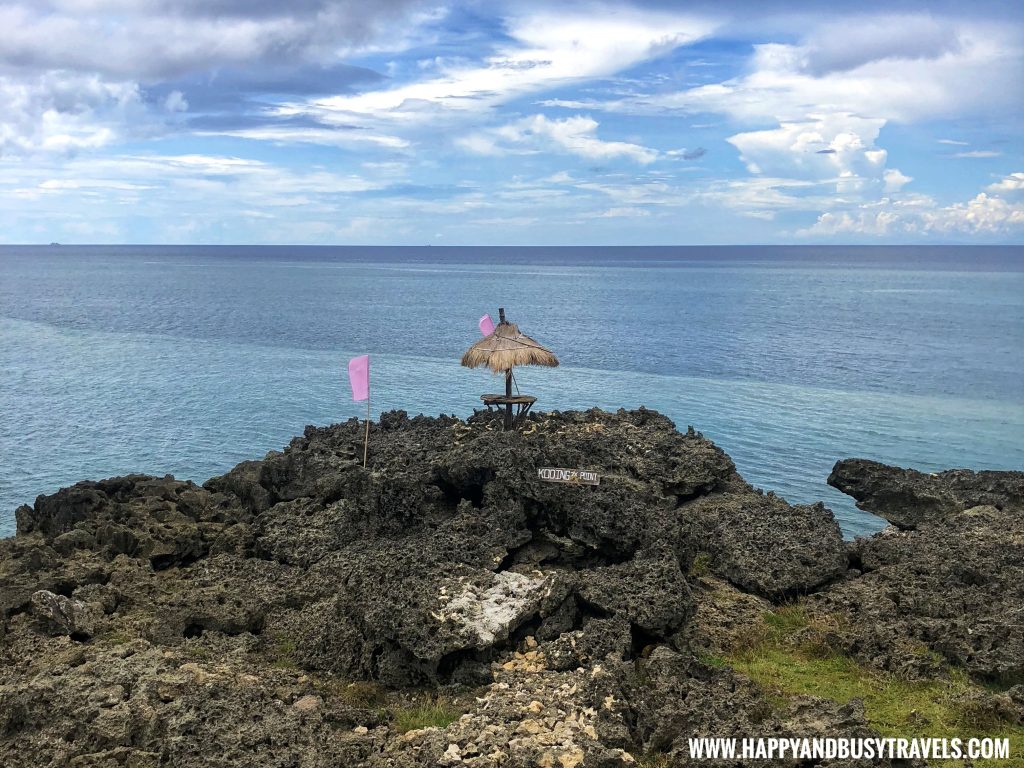 Our next stop was the Koding Koding View Point. Entrance fee is Php 100 per person.
There are three activity options in the view point. First, for the thrill seekers, cliff diving is available.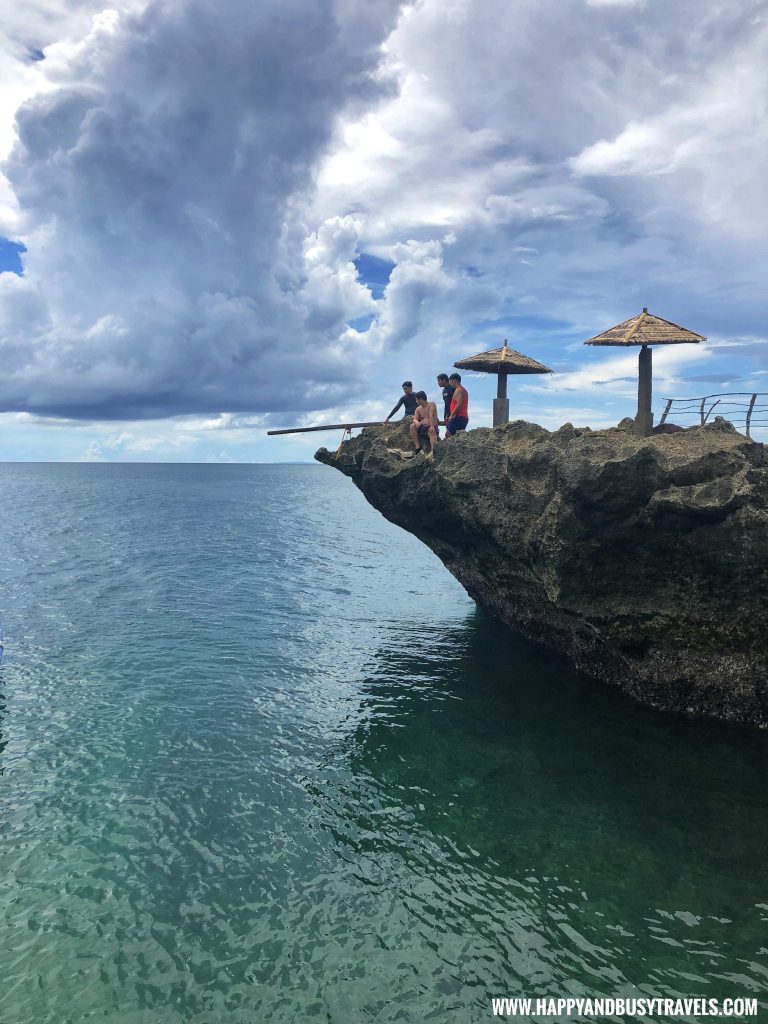 Second, those who would love to chill, can choose a Nipa hut and relax.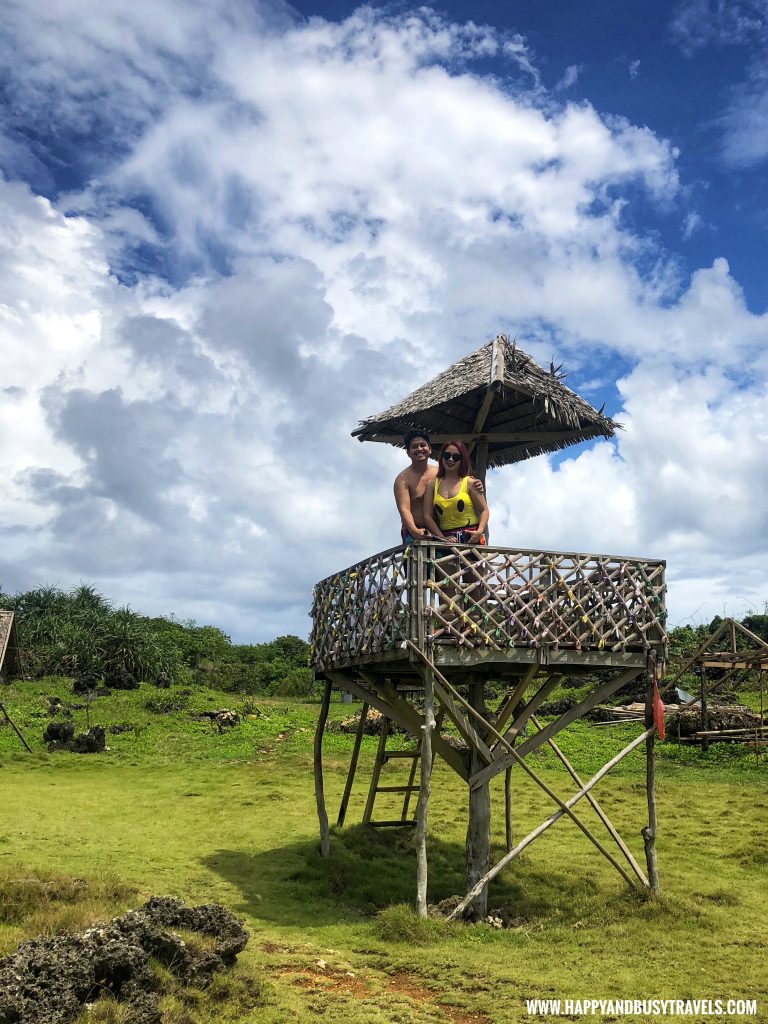 Last activity in Koding Koding is going inside the mini cave.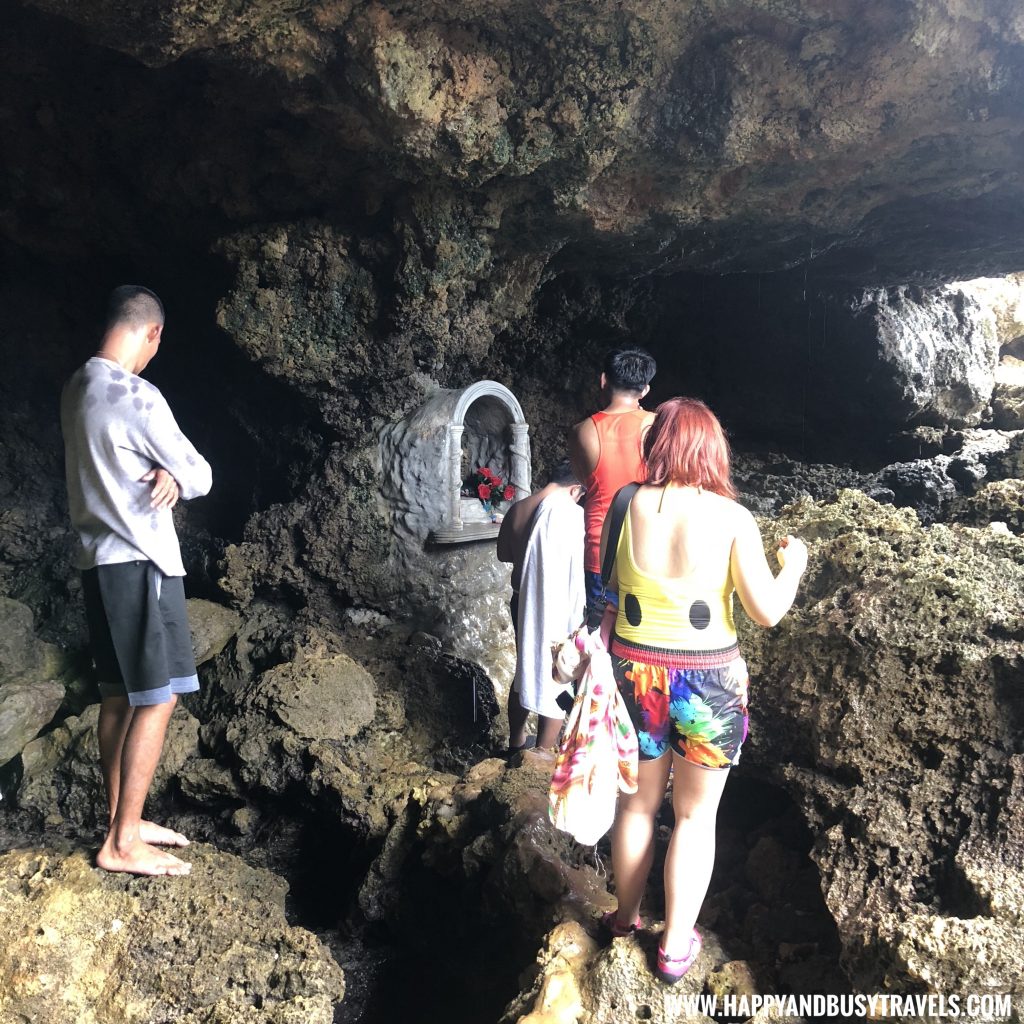 Before we entered the cave, we saw this cool rocks which has a color mixture of purple and green. It looks cool!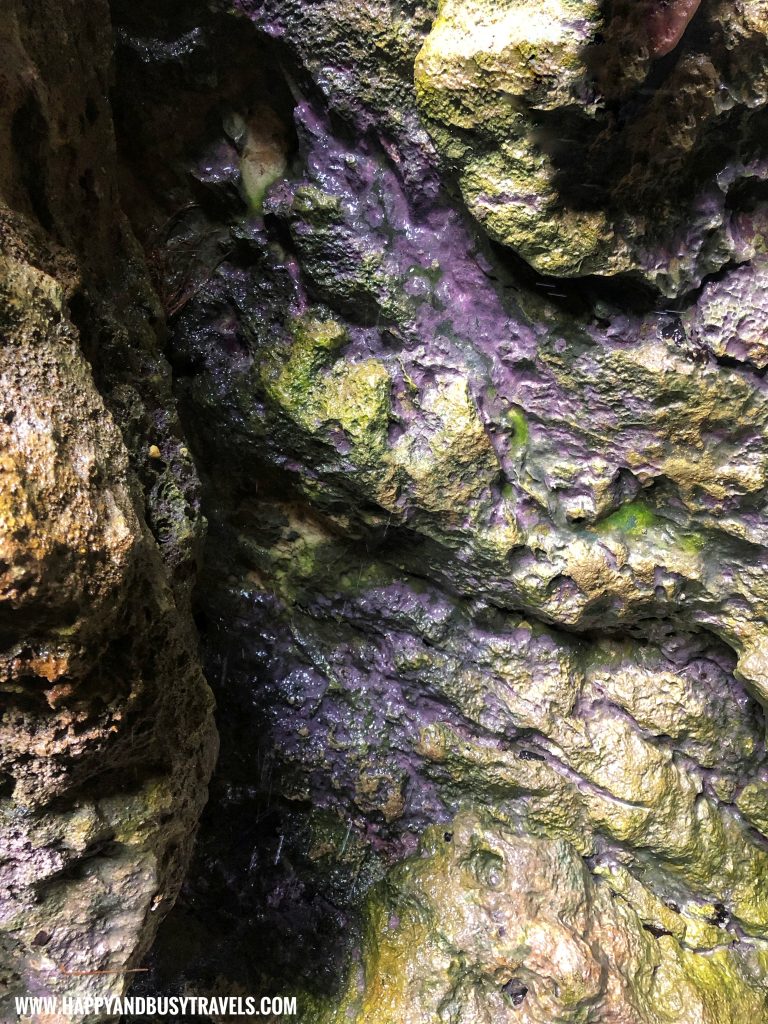 It was a bit hard to go down, but all of the hard work was worth it.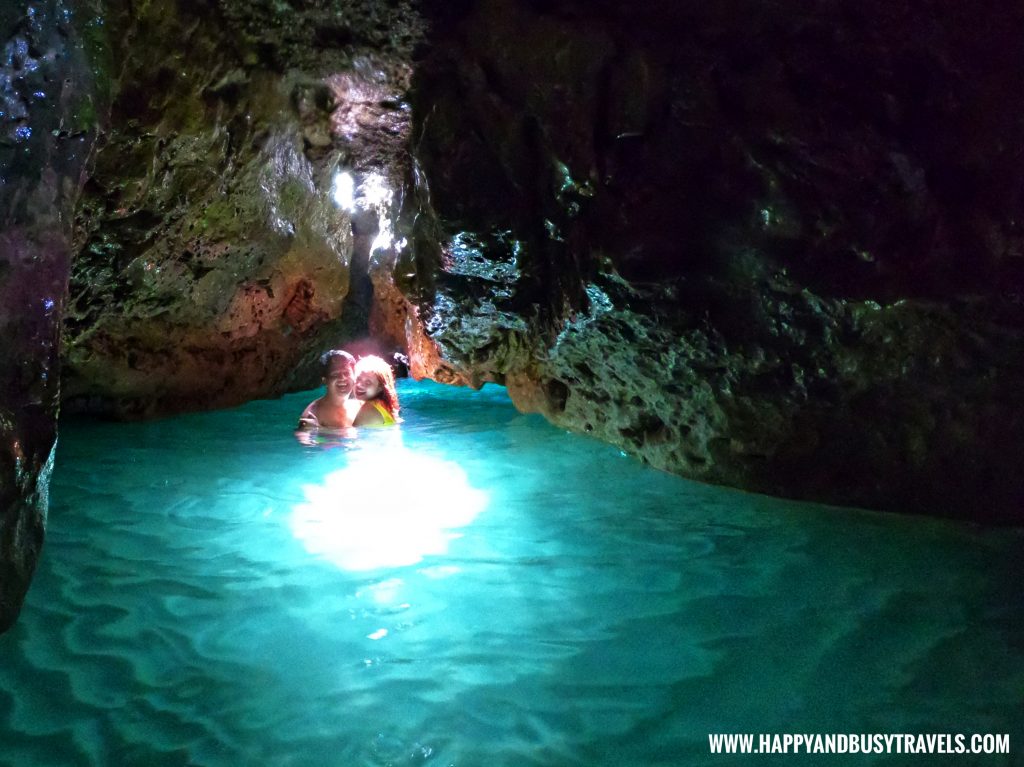 Noticed the ripple like shapes below the picture? Those were sand which formed into these ripple due to the water which comes inside the mini cave.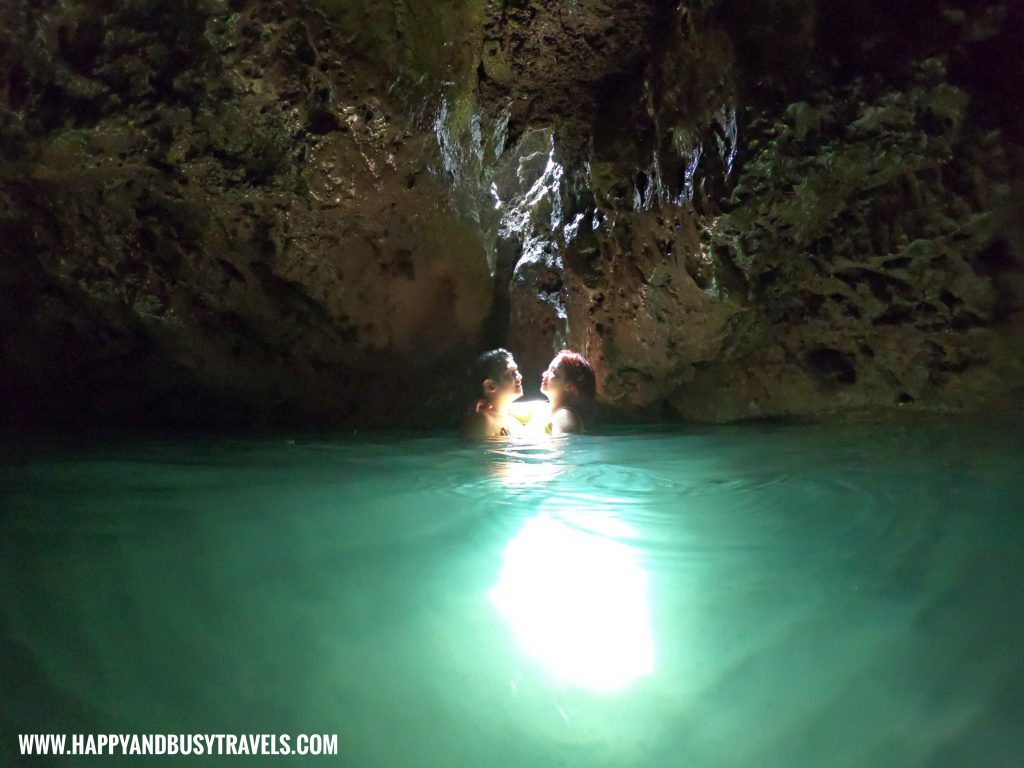 I kept on holding tight to Busy because the water drastically becomes deep in some parts of the mini cave.
By the way, we were always careful in each step that we had in Koding Koding because the rocks were very sharp! If you fall, you will surely have bruises, or worst broken bones!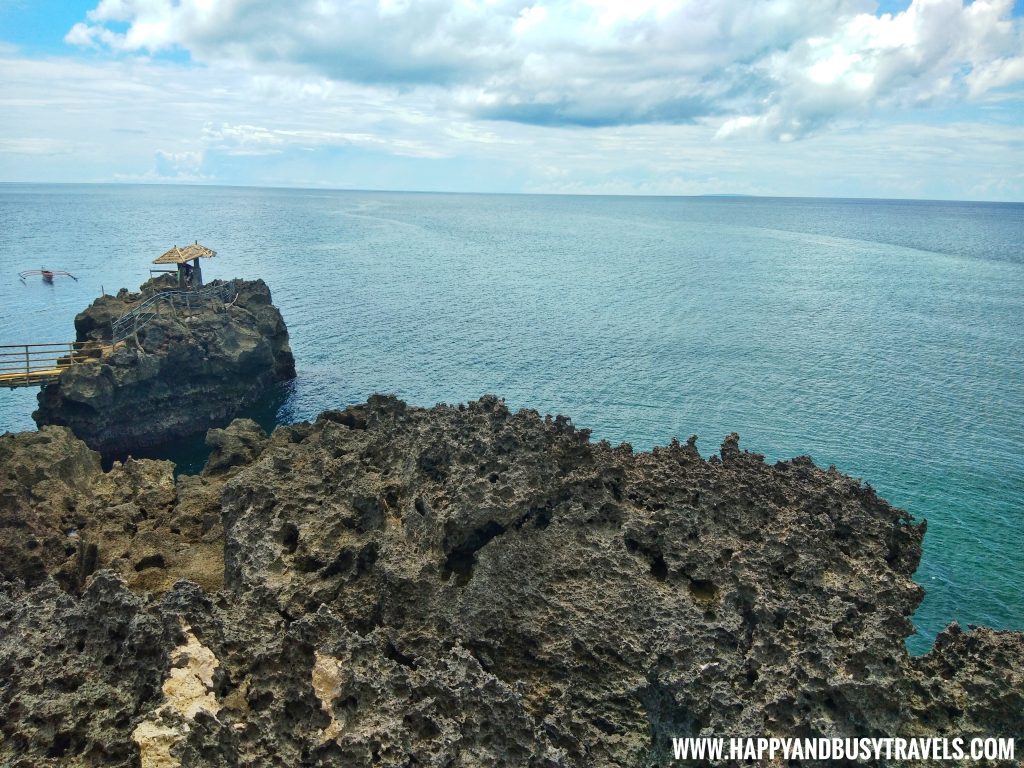 Cathedral Cave and Cliff Diving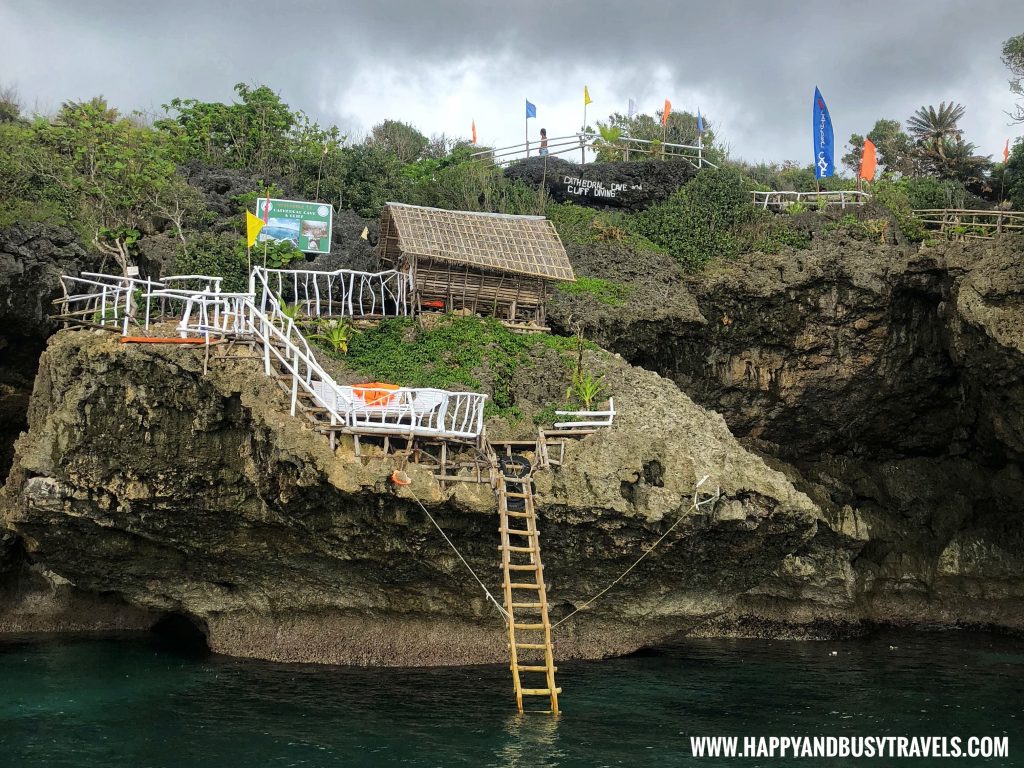 This is another cliff diving spot in the island. Entrance fee is also Php 100 per person.
Just like in Koding Koding, Cliff diving is also the main activity here.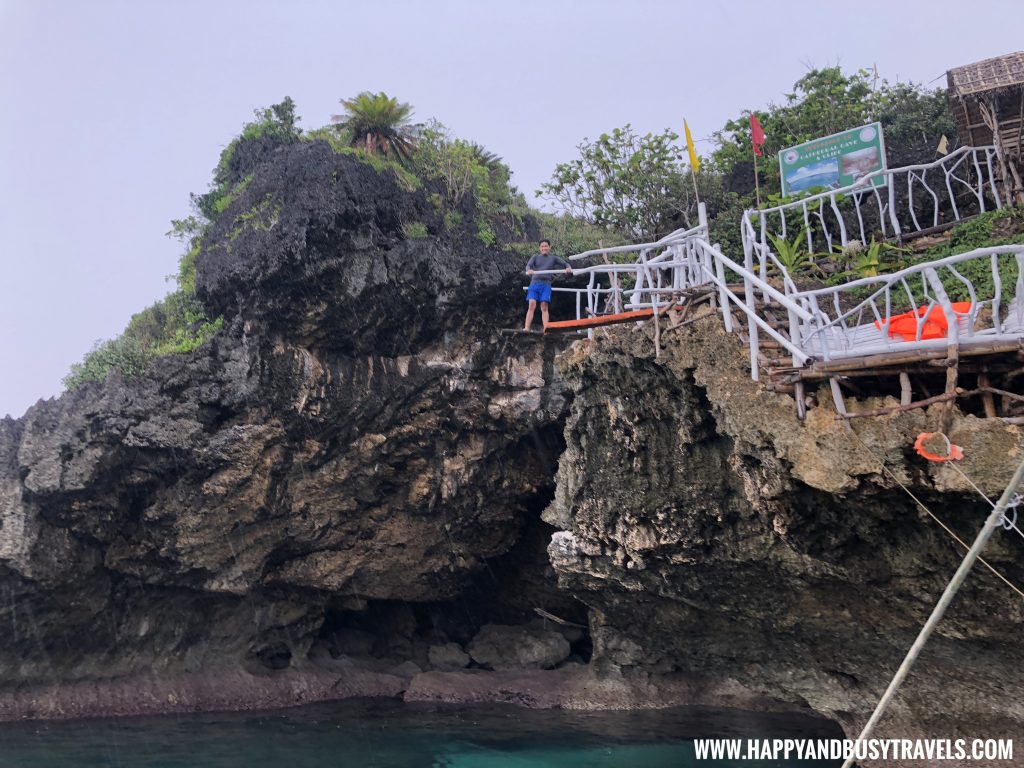 But we opted to go to the other main activity… going inside the cave. There is no additional fee if you wish to go inside the cave.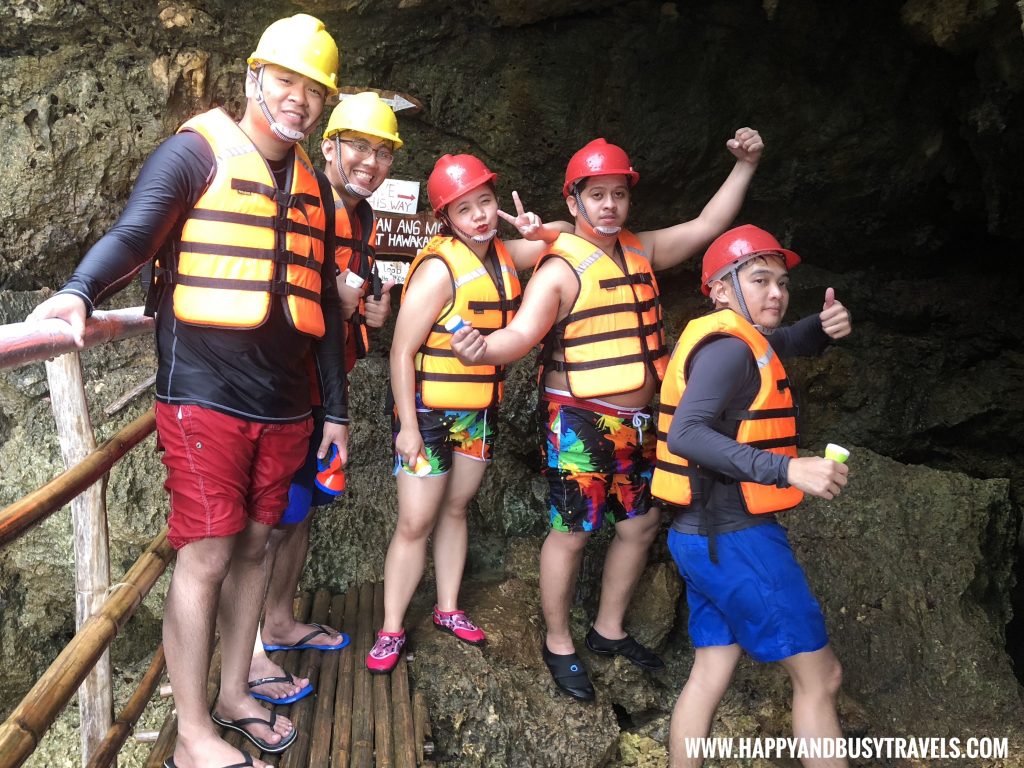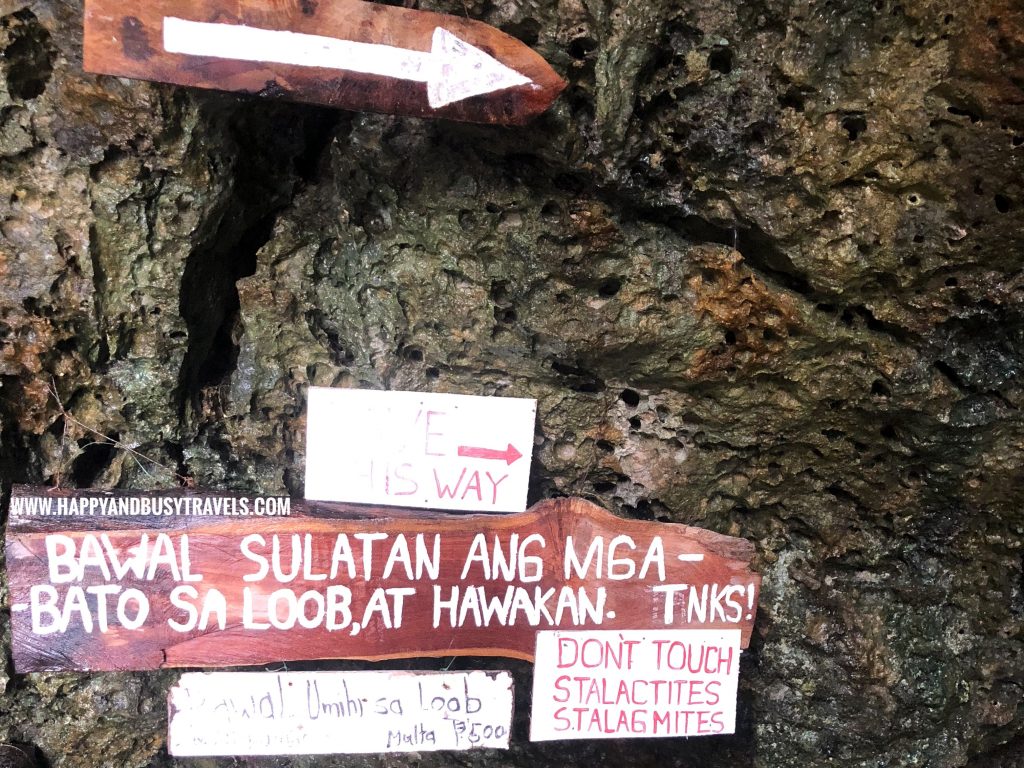 Before we went inside the cave we were given safety gears like helmets and life jackets, and flashlights. We were also given an introduction and the DOs and DON'Ts in the cave.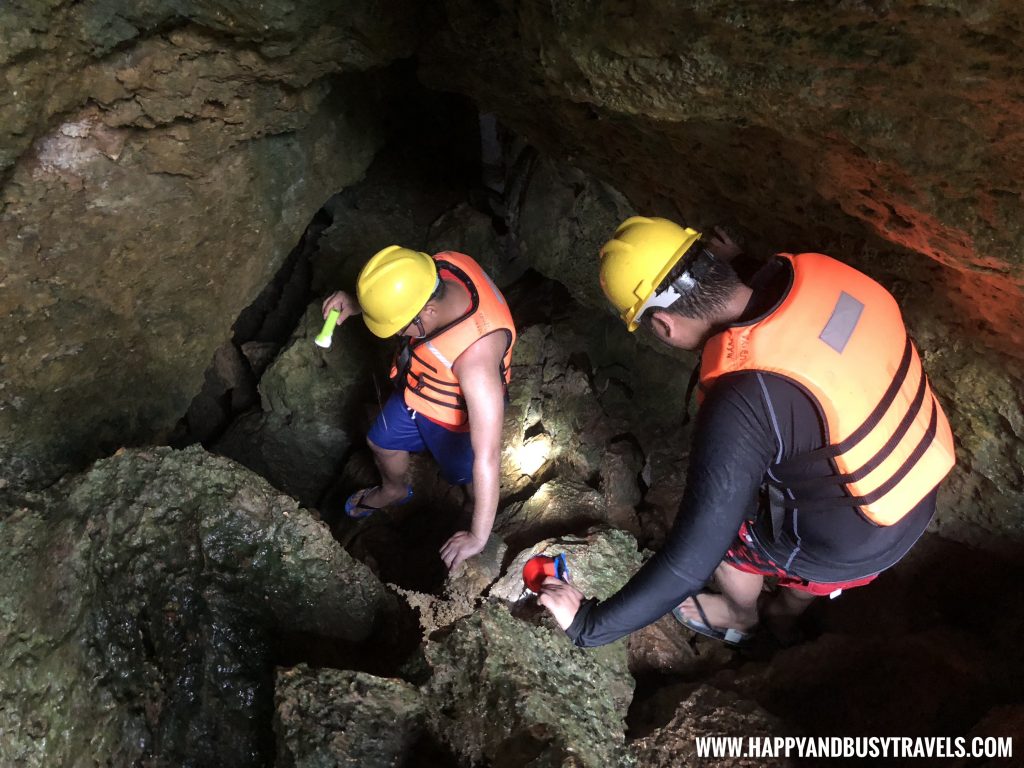 There were various rock formations inside the cave.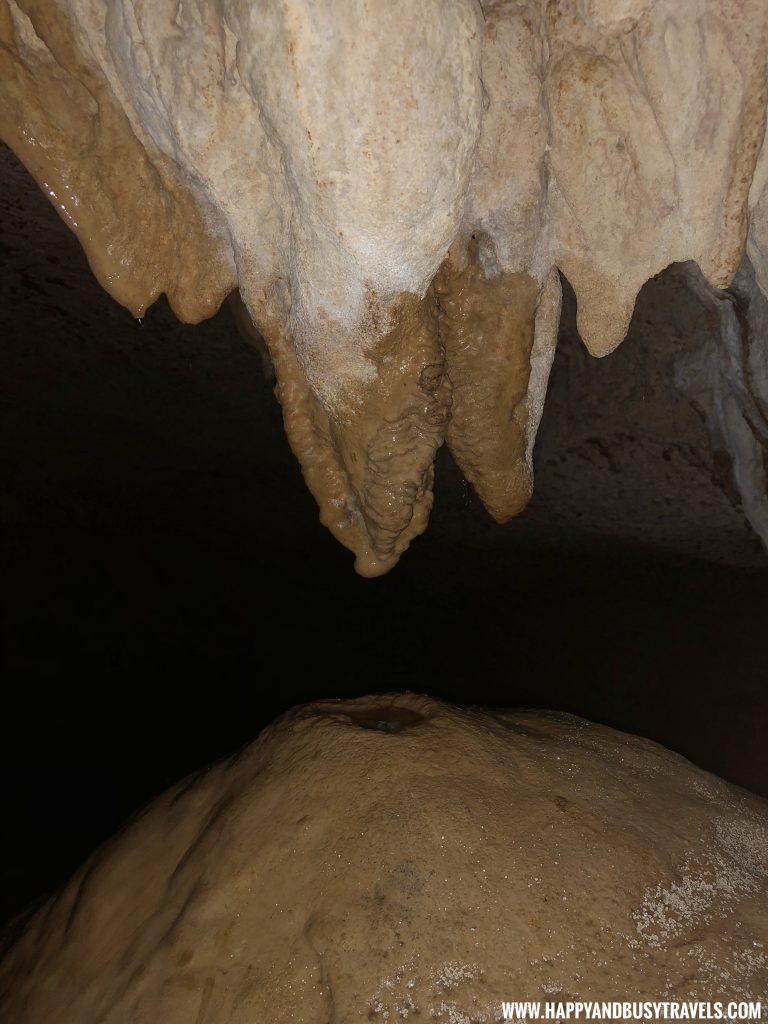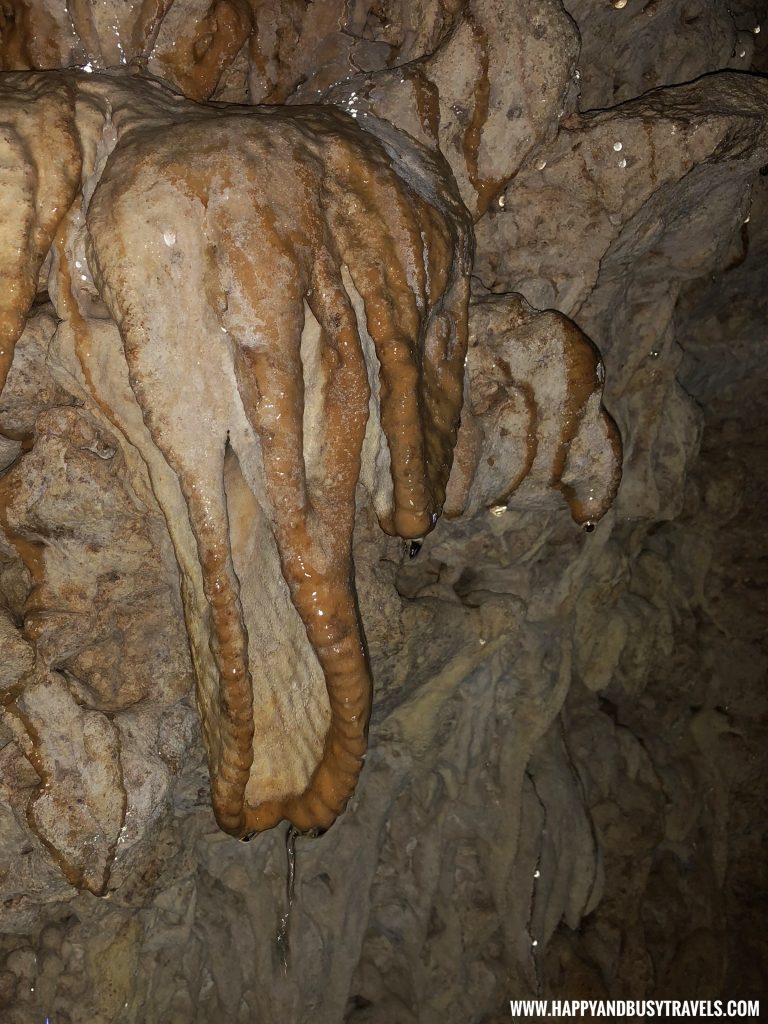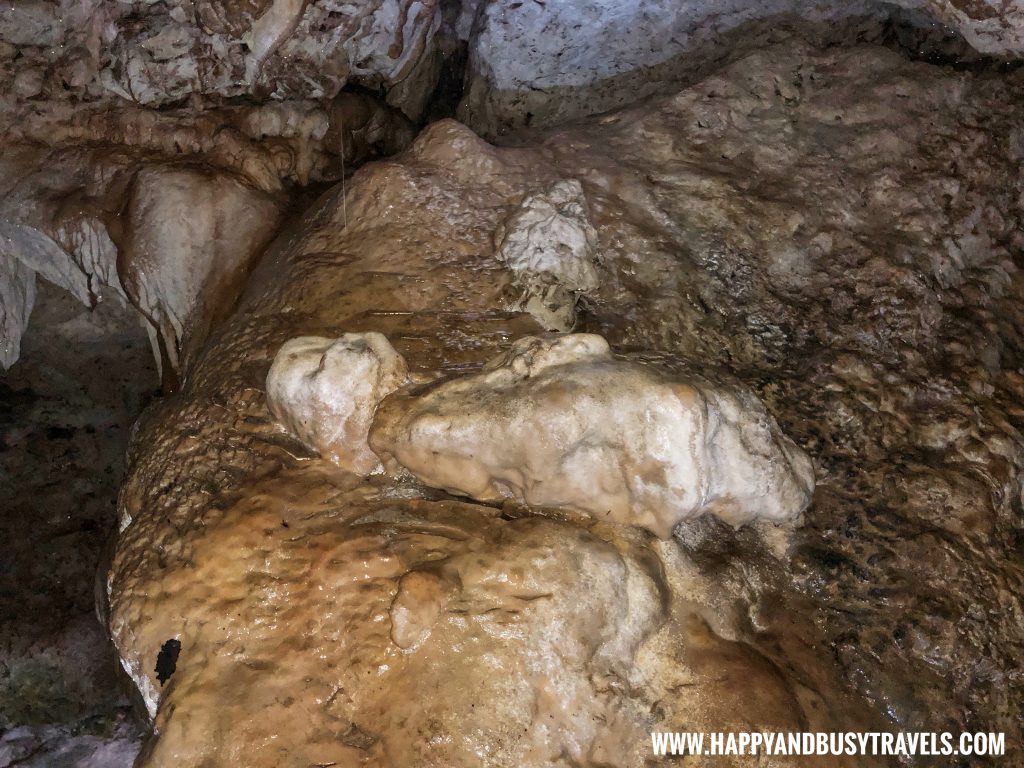 Pictures can be taken, just be careful when taking pictures, you might fall and hurt yourself.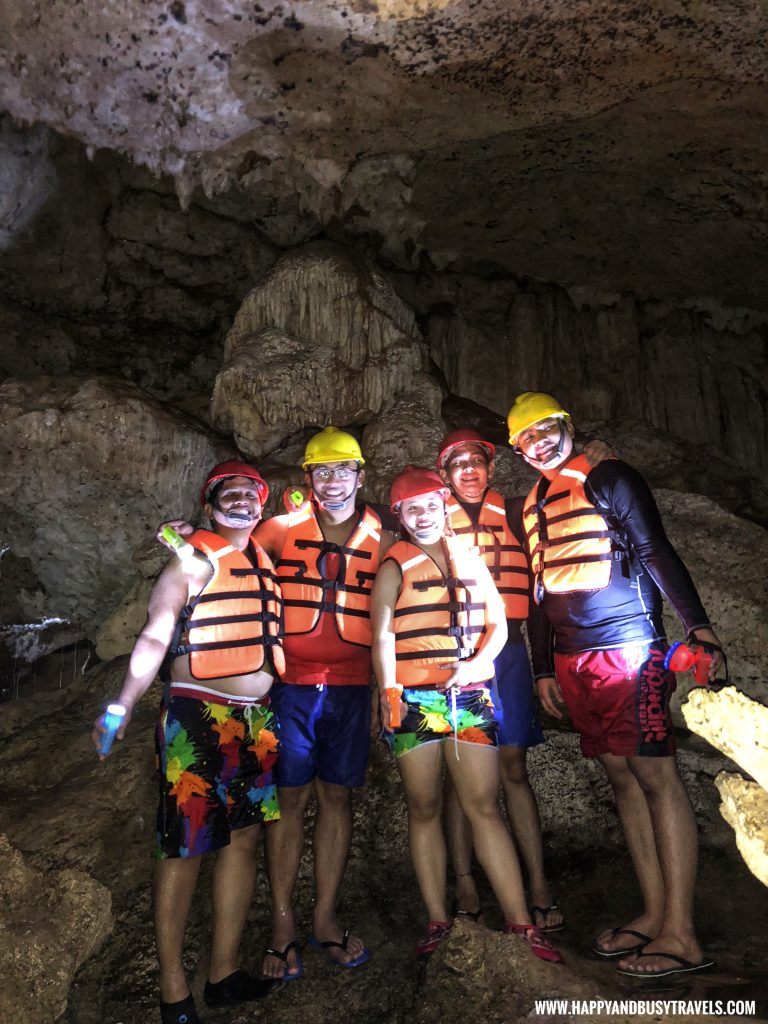 Going inside the cave can take 30 to 40 minutes depending on your pacing.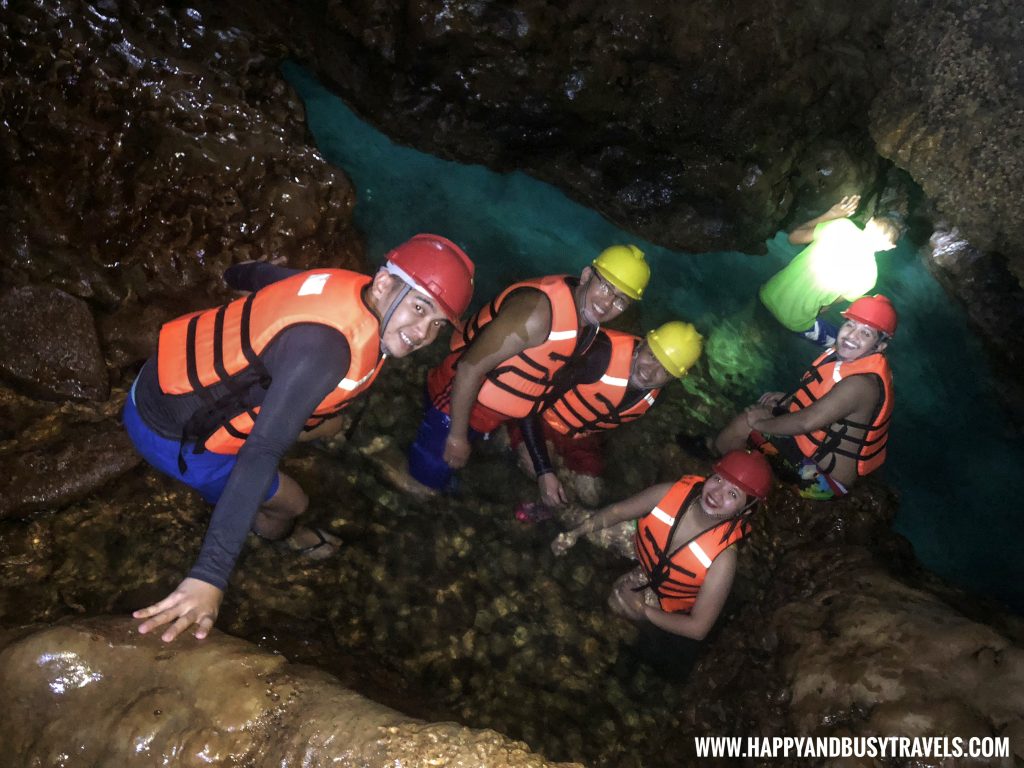 After the few activities, we went back to the resort to relax again. We did not go to Tagaytay Point anymore because we just wanted to rest in the resort.
Day 3 – Ocean's Edge Resort
In our last day, we just have until 10AM before our boat fetches us. So we made the best out of our morning.
We had a chance to visit Ocean's Edge Resort while it is still under construction.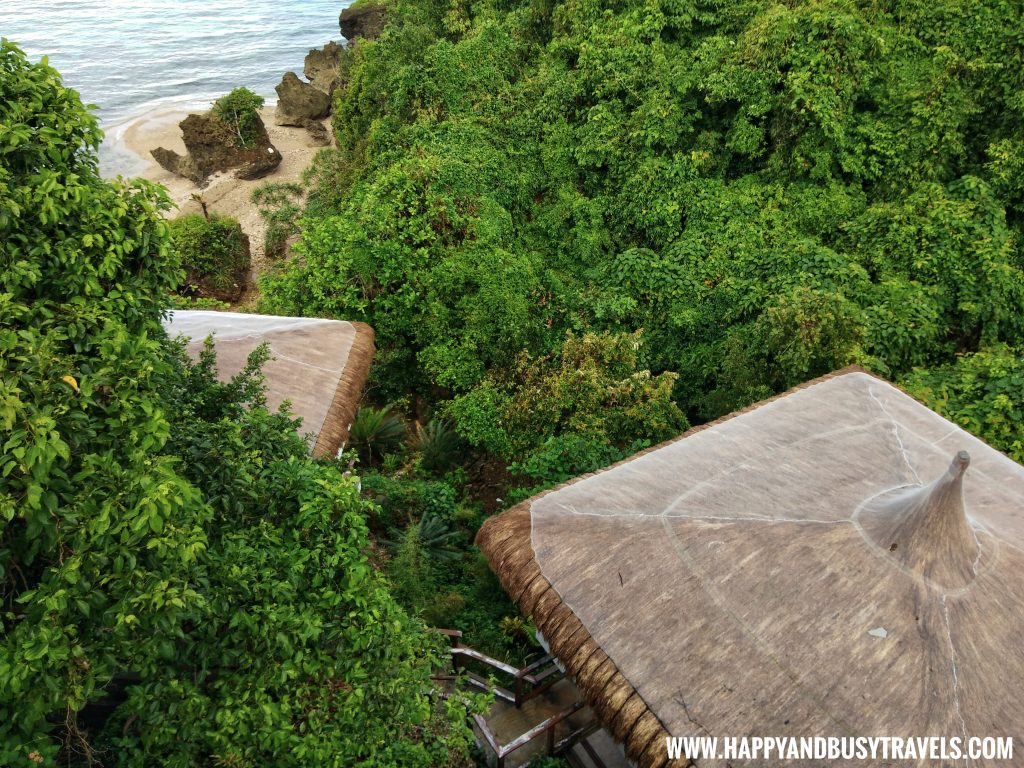 Even though it was still under construction, we already visioned that the resort will look great! By the way the resort will be a 5-star resort which will have their soft opening in February 1, 2019.
While we roamed inside the resort, we found this Coconut Crab. These creatures were already listed as endangered. It was a great coincidence because the resort also supports the protection of the environment in Carabao Island.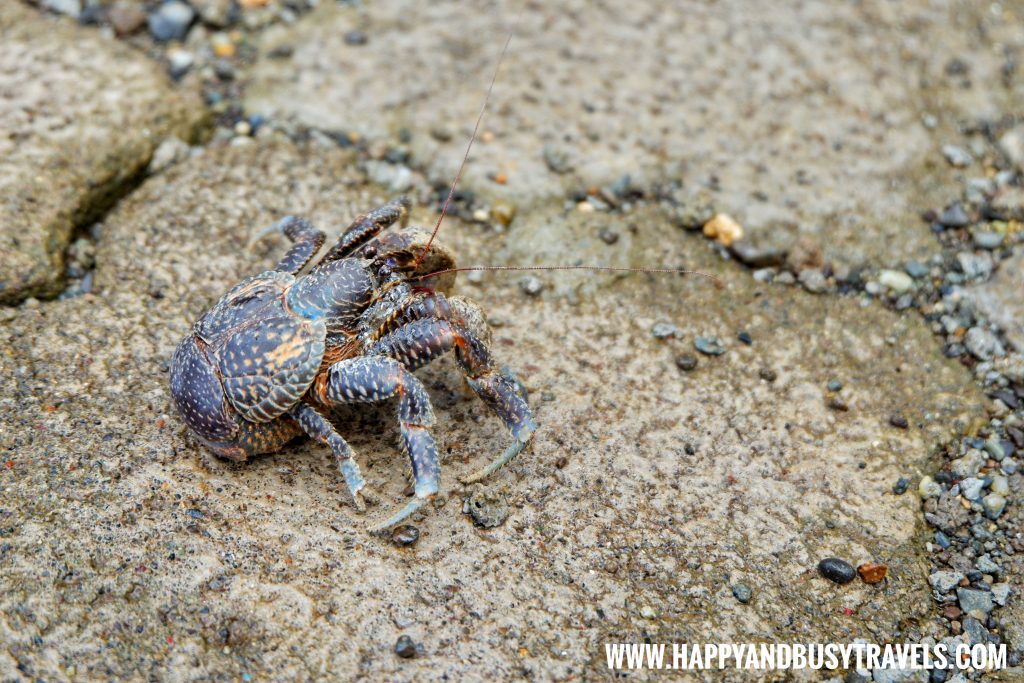 By the way, we will go back to Ocean's Edge Resort in April 2019 to share our experience with you guys 🙂
After we visited Ocean's Edge Resort, we went back to Lanas Beach Resort, packed up our things, and we were fetched by our private boat. We went to Caticlan Airport, and had our flight back to Manila.
Conclusion
Carabao Island is not yet a main stream tourist destination so you'll get to enjoy the island for yourselves.
There were some concerns in staying in the island, like the electricity is not available from 6:00 AM – 2:00 PM. It may make you think twice in having a vacation in the island, but do not worry, because you won't really need electricity in that period. It is because you should be swimming, chilling by the beach, or roaming around the island.
Minor improvements should be done in some tourist areas.
Overall, the island is worth visiting. We recommend staying at least 3 days in the island to enjoy it.